Blues' leaders summon Goodison's 12th man
by

27 Comments [Jump to last]
| 06/01/2016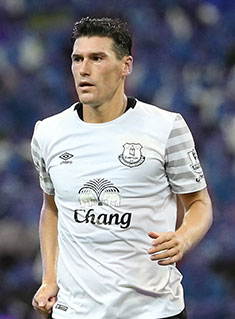 Gareth Barry knows all too well how hostile Goodison can be from his days as a City player
Roberto Martinez, his club captain Phil Jagielka and stand-in skipper Gareth Barry have all called upon Goodison Park to revive the bear-pit atmosphere that has characterised so many pulsating games under the lights of the Grand Old Lady as Everton seek to draw first blood in the Capital One Cup semi-final against Manchester City.
The manager is hoping to use the team's Premier League display against Tottenham Hotspur on Sunday as a springboard to an even better performance in this evening's first leg. The Blues weren't able to keep a clean sheet against Spurs and they gave up another two points from a winning position but Martinez was hugely encouraged, particularly by his team's superiority in the final half hour of the 1-1 draw.
He feels that having the 12th man of the home crowd behind them can spur his players on to earn a lead to take to the Etihad Stadium later this month, a sentiment echoed by both his club captain and his stand-in skipper.
"I feel that playing at home with our fans, Goodison at its very intimidating best, we can face anyone and replicate our performance against Spurs and have a very good game," Martinez told the press in his press conference at Finch Farm yesterday.
Speaking in the Liverpool Echo, Barry said that the players are expecting the air to be thick with anticipation but, speaking from experience, he knows how difficult a place Goodison Park can be for opposing teams when the crowd is up for it. He was the victim of some raucous atmospheres as a City player in the David Moyes days.
"We know what the atmosphere is going to be like," Barry said. "You will feel that tension in the air. This club are waiting to make the step to Wembley. The players are aware of that. I am. It is down to us to get on the pitch and achieve the performance that will set us up to get through.
"I have experienced the atmosphere as an opposition player and, for me, Goodison is the toughest away ground to come to. At the minute we are not using that to our advantage for some reason. That is what we need to set up on Wednesday.
"If you are an opposition player and you want to take a touch but the crowd is on your back, it is a difficult place to play. Under the lights here, the atmosphere is that much stronger. We need to use that to our advantage."
Meanwhile, in his programme notes, Jagielka recalls another bouncing cup night from a few years ago that might have ended with a famous victory with better luck from the penalty spot.
"Watching from the sidelines for a couple of months, I have noticed the anxiety amongst out supporters at Goodison," the England international writes. "That's down to a few frustrating results but tonight we need this place to be like a bear pit. The night we played Fiorentina here in the Uefa Cup in 2008 was an atmosphere the likes of which I had never known. It still makes me tingle when I think about it.
"Make it the same tonight – get Goodison rocking!"
Patience
For his part, Martinez also acknowledged the frustration that has led to some tension in the stands during home games recently and he has pleaded for patience while his side builds a collective know-how to close down opposition teams and grind out the results they deserve based on recent form.
"We need to be very much aware of the very good side that we have. We shouldn't be worried about losing players because if we lose anything from this squad it will be for footballing reasons that ultimately the squad will benefit from. There's been a big turnaround of footballers in the past three seasons [to] the players that we have now – for me they are world class, they're experienced players who know what it means to play for Everton and we've got young talent ready to play big roles in the team.
"[They're] players at the age of 21 and 22 and that needs a bit of a process to become a winning team. The fans are showing the frustration that we share. We know that we showed great signs this season but need to be patient. We cannot just click our fingers and expect that we can become a good team and the kind that can score goals and be attractive to watch in the way we like to at Everton and then expect to have the kind of experience and know-how to keep leads and win games with ease.
"The performances have been very, very consistent and probably that's where the frustration comes [from]. We all need to learn as a football club that we've got a special group of players and that we have to help them, that we need to be part of the process of making them stronger in ... getting points that our performamces deserve. We want to work hard to correct [our poor defensive record at home] and we know that we're very close to becoming a winning team."
---
Reader Comments (27)
Note: the following content is not moderated or vetted by the site owners at the time of submission. Comments are the responsibility of the poster. Disclaimer
Jim Bennings
1
Posted 06/01/2016 at 07:53:30
It has to be the same as the Fiorentina and Manchester United nights of 2005 & 2008 respectively.
I always think even for the big games at Goodison these days the atmosphere is rather flat.
10 years ago or so before a Merseyside Derby the ground would be full to the rafters 20 minutes before kick-off with a wall of noise, when do we get that now? It's like everyone is just content to waltz to their seat a minute before kick-off.
I honestly believe we need to start taking a few lessons from other stadiums in the league, sadly Goodison has to be one of the quietest.
Well tonight, forget how cack the team has been at home all season and make this place a lion's den for Manchester City.
This could be our last really big match that means something for years, don't let it pass in the usual damp squib!

Dave Abrahams
2
Posted 06/01/2016 at 09:28:58
It's all down to you, Mr Martinez: pick a balanced team, left and right, as in the last 30 minutes versus Spurs, and you saw the Everton crowd roar the team on.
Pick an unbalanced team as in the first sixty minutes and you will get the library crowd biting their nails and waiting for the inevitable mistakes which we got away with on Sunday... So we all await your team selection with interest, it's in your hands, Robbie.
Dean Adams
3
Posted 06/01/2016 at 10:48:32
Well put Dave.
David Connor
4
Posted 06/01/2016 at 11:11:58
Put our differences behind us and let's get right behind the lads tonight, whatever team Martinez picks and give City hell. Great opportunity beckoning. COYB
Ernie Baywood
5
Posted 06/01/2016 at 11:16:24
You just can't expect the crowd to roar approval for each sideways pass.
I'm sure blue voices will be primed. The game dictates the atmosphere though.
Minik Hansen
7
Posted 06/01/2016 at 11:49:35
I wonder if a "mediocre" line-up plays and the crowd roar with a solid atmosphere, then what would happen. It won't hurt that's for sure.
Abhishek Saha
8
Posted 06/01/2016 at 11:51:46
Right on the money Dave!
Mr Bobby Brown, get Mirallas, Barkley and Deulofeu to start behind Rom and see how Goodison sends shivers down the spine of every Man Shitty player.
Even Cleverly on the left will do the trick, if Mo partners Barry.
COYB!
Ray Roche
9
Posted 06/01/2016 at 12:26:08
Also, we've conceded 29 goals this season, 9 away and 20...twenty...at home. The defence must be filling their collective kecks at the prospect of playing at Goodison. Maybe we DO need to get behind them from the off?
Dave Ganley
10
Posted 06/01/2016 at 13:22:13
Jags is right the atmosphere was spine tingling against Fiorentina but the players went for them from the off too. They never let up all night and if the players share the same commitment as they did that night then we should be up for a cracking night.
As for Martinez, I wish he would just shut the fuck up. A constant stream of excuses just doesn't do it for me. "The performances have been very consistent" No they haven't, they have been very inconsistent. Blah blah can't listen to him.
Looking forward to tonight with a touch of trepidation. I would call on the fans to make it as noisy as it has been for years and hopefully the players will respond. COYB
Jim Bennings
12
Posted 06/01/2016 at 14:32:43
What I'd actually like to see tonight is the players just going for it themselves, forget all this playing it out from the back or rigid strategies, just get out there, get yourself turbo charged and have a right go!
I mean if any of them need to be motivated for a Semi Final at Goodison Park under the lights then I'd seriously question whether they should really be playing football.
GET INTO THEM!!!
William Cartwright
13
Posted 06/01/2016 at 15:07:37
Jimm (1) Times have changed but I remember those atmospheric times. The wall of noise when the teams emerge from the tunnel would have lifted the spirits of every player to the maximum. Now is just a pale imitation. Ruined by the TV and the media influence on the self-righteousnesss of the top teams. (Plus the redshites, mustn't forget them what would Aunti Beeb say).
Mind you it aint all bad. I am enjoying a beer on an sun setting beach waiting to watch the match later on a big screen TV so perhaps we are being too cynical.
Mind you I have just watched a rare soundbite of Roberto on BBC Sports (after yet more non event broadcast crap regarding the Redshites)where he gives a double "phenomenal, phenomenal" reference to the atmosphere to be created. . . . Oh dear, he's not getting any better. COYB
Jimmy Salt
15
Posted 06/01/2016 at 16:14:36
I was at that Man Utd game, what a night.
And what Dave @2 said.
Jay Harris
16
Posted 06/01/2016 at 16:44:18
For those that remember we need a Bayern Munich night.
I have been lucky enough to be at a number of special nights at Goodison over the last 55 years and hope we can achieve something for the long suffering younger toffees.
Come on Blues make us proud.
Terence Leong
17
Posted 06/01/2016 at 17:02:36
It's the age old discussion of who should be responsible for rousing who.
On the one hand, the players / management ask the fans to be the 12th man to help them raise their game;
On the other hand, the fans expect the players to give them a reason to cheer them on.
While I understand the fans who pay a hefty sum want the players on the field, who are supposedly professionals who are paid millions.
I think the arguments can go both ways till the cows come home. But it misses the big picture, that both fans and players want to win.
So, rather than quibble on who is entitled to do what, why can't we decide that the more important thing is to help the 11 (or more if you include the squad and the coaches) to deliver on the field to deliver.
If I may ask – if my putting aside of what I am entitled to, and it that cheering relentlessly will guarantee wins, would I do it, even though the team didn't give me a reason to?
I think the answer is "yes" ie if cheering like a mad person no matter what, for 90 mins guarantee a win every time, I am happy to do so, and not be calculative about who should be the ones who should take the first step.
Eddie Dunn
18
Posted 06/01/2016 at 17:24:29
I'll be happy if we go to their place level. We play better away, and it suits us to play on the counter.
I'd love us to play two wingers and have a real go tonight, but if it backfires and we get caught out on the break, then we will be out of the tie. We need to go there still in the game.
Also, would anyone trust us to go there to defend, say a 2-1 lead? Kiev, and all that. If we can win 3-0, then great, otherwise a draw will do me!
Jim Bennings
19
Posted 06/01/2016 at 17:27:28
Terence
I agree totally!
Without going into deep fine detail, this is no ordinary match at Goodison, it is a Semi Final against Manchester City and for a club like ourselves who have been completely starved of genuine big matches for 20 year's, the fans, like the players should need no motivation tonight, it should be a natural given.
Don't get me wrong I could understand a flat atmosphere at the usual mundane league game against some middle rank side but tonight, under the floodlights, at such a massive occasion that could decide the shape of our season, please please be "up" for it!!
Jim Bennings
20
Posted 06/01/2016 at 17:34:41
So far in Roberto Martinez's time in charge I do feel we still haven't quite had that real "bear pit" atmosphere at Goodison, something which despite our grievances with Moysie we haven't seen since his day's as manager.
I think back to the two obvious ones of Manchester United and Fiorentina or the Dan Gosling FA Cup derby in 2009, maybe the visit of Chelsea on a Monday night before Christmas 2008, another that sticks out in the memory of the Gwladys Street trying to suck the ball into the net.
Even in Martinez's first season when we were chasing the Champions League, we were at home to Crystal Palace on a midweek night on a 7 match winning streak, it was strangely subdued prior to kick-off.
We need to get the stadium rocking once again, it's been too long!
Tony Waring
21
Posted 06/01/2016 at 17:40:17
Jay #11 - Spot on. What a night that was, probably the best I've ever attended and to think I only decided to gho at the last minute ! That's the sort of atmospheric support we need to find tonight. COYB
Tom Roberts
22
Posted 06/01/2016 at 17:44:28
Absolutely gutted I can't be there tonight. Texas is a long way away though. Having been present at the Bayern Munich semi-final and numerous big games under the lights I can testify that Goodison Park under the lights is something else.

I was one of the lucky ones to be around through the success of the 80s and really want this success for the younger generation. I always felt that my first trophy as a supporter would somehow mean more because it was Everton. No other team mattered then and it's still that way for me. I genuinely feel that we are not far away and success in this competition could be the catalyst for something special although I still have plenty of doubts over the manager and team selection.

I hope the 40,000 fans channel all that anger and aggression in a positive manner and get behind the boys tonight. Score prediction 3-1 Everton. Bring the house down..
Michael Williams
23
Posted 06/01/2016 at 17:44:58
I don't care what the reason is the fans are not really behind the team, especially at the start of games: "playing it out of the back" which 80 percent of the teams in the league do now, Stones dribbling in his own 18 years box instead of "sending into row Z", passing the ball sideways twice in a row or even giving up too many late heart-breaking late goals at home.
All I know is the team is asking too much of these fans. In a recent Guardian article about Lukaku I remember a comment from a Mancunian who wrote about how much flak Lukaku caught from EFC fans last year and wrote that the "Toffees are hard to please." So True.
I look at this season this way. This team is not even in its second year. Sure Barkley, Lukaku, Jagielka, Coleman, Barry, McCarthy and Barry have played together for two and a half years but Stones, Funes Mori, Deulofeu (away from team last year), Galloway, Cleverley, Kone (finally healthy), are playing together and with the others for the first time. Even Barkley and Baines are almost newish to this team as they were not 100% healthy last year. This team is talented but very young and needs time to gel. It also needs a couple more very good players.
I hope it can stay together one more year.

Ray Said
24
Posted 06/01/2016 at 17:47:13
We hear the thrilling sound of 'Johnny Todd', we roar and scream and the hairs rise on the back of your neck. Then the team kick off, we roar them forward and they start fannying around at the back. It deflates the atmosphere straight away. Get at the oppositions throat and the fans will be right behind the team.
Finally don't lecture US about OUR support levels you overpaid pricks-get a few tackles in, cross the ball , have some shots and get the crowd on their feet!
Craig Fletcher
25
Posted 06/01/2016 at 18:28:09
To some of the lads on here, do you really need to search for reasons to support our team? FFS.
Cheer them on, give them everything (irrespective of which 11 takes the field for us) make the Mancs shite themselves. We can do this, Everton. COYB!
Dave Abrahams
26
Posted 06/01/2016 at 18:37:56
Craig (20) if you go to Goodison Park you know the reason for the quietness, there is nothing to get excited about for at least one half of the match.
Ian McDowell
27
Posted 06/01/2016 at 18:53:43
The crowd need to get behind the team. The stick directed at Howard and Stones during the game on Sunday doesn't help anyone. However 3 wins only at home this season, the players need to get there fingers out. Fortress Goodison is gone and we have conceded 20 goals at home this year.
Jamie Barlow
28
Posted 06/01/2016 at 18:57:06
Jim@9 That's the only way to get the crowd going. Give it a go!! If we're shit, we're shit. If they see the players fighting though, the crowd will respond.
Tony Abrahams
29
Posted 06/01/2016 at 19:02:03
As Ray Said, fantastic
Drew O'Neall
32
Posted 07/01/2016 at 20:03:35
Just a thought...
If it takes events on the pitch to get the crowd interested, how about starting the game from the kick off by smashing the ball high in to the corner of the ground rugby union style and having our lads chase it down at full pelt then smashing whatever opposition player is unlucky enough to be near it in a blood curdling 50/50.
Just like the Neville v Ronaldo tackle, that would get the crowd off their feet from the off. It could be our thing. Come to Goodison and you're going to get smashed right from the off.
Alternatively, if the kick off isn't ours, every player harries the ball at full tempo until possession is retrieved, a foul is committed or the ball goes out of play – again the crowd would be electric and up for it from the start.
Bit of a gimmick but it would get the crowd up for it and baying for blood from the start.
Add Your Comments
In order to post a comment, you need to be logged in as a registered user of the site.
Or Sign up as a ToffeeWeb Member — it's free, takes just a few minutes and will allow you to post your comments on articles and Talking Points submissions across the site.
© ToffeeWeb