Martinez pleased with resilient Blues
by

64 Comments [Jump to last]
| 13/01/2016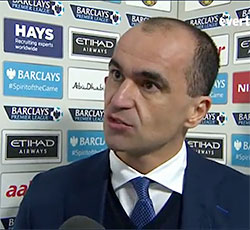 Roberto Martinez was hailing his side's new-found defensive fortitude as they held off concerted second-half pressure from title hopefuls, Manchester City, to earn a 0-0 draw at the Etihad Stadium this evening.
Everton went toe-to-toe with Manuel Pellegrini's much-admired outfit in a first half that was on balance fairly even in terms of attacking play but found themselves under the kosh after half time as City tried to grind out the win that would have taken them back to the top of the Premier League table.
After conceding seven goals in their final three matches of 2015, the with this latest result the Blues have let in just two in 2016 so far and they also prevented the Citizens from scoring at home for the first time in a year.
It took impressive performances from returning captain Phil Jagielka, under-fire goalkeeper Tim Howard and Ramiro Funes Mori in particular – not to mention some fortune when John Stones profited from referee Roger East's lenience when he brought down Raheem Sterling in the box in stoppage time – and limited opportunities for Romelu Lukaku at the other end but the manager was pleased with hias team's overall display
"In the second half we allowed Manchester City to have a little bit more of the possession than we wanted but we looked very resilient and we defended really well," Martinez told evertontv after the match.
"We always carried a threat when we were in good scoring postions and it seemed as though it could easily open up for us.
"But I thought the mentality that we showed today was enormous because Manchester City, at the Etihad, have the best home record in the League and to keep a clean sheet in the manner in which we did was very impressive.
"You always want to win the game but, overall, it's a very hard-fought point that shows resilience and character."
Martinez was asked about Howard's performance, one which vindicated his decision reinstate the American between the sticks despite recent criticism of his performances and Joel Robles's good form as deputy in the cups.
"I thought it was a huge performance [from Tim]," the Catalan replied. "I never thought it was in doubt. He's such an experienced character, he's someone who takes responsibility when he faces any sort of adversity.
"It's that sort of influence that you like to have in a dressing room full of youngsters with incredible potential – you have to know how to cope with adversity, you have to know how to be ready whatever the situation is.
"We can all have good and bad moments of form and a goalkeeper will always be highlighted in certain moments but I thought today that he showed he is a very valuable part of our squad and a really special footballer. 350 Premier League appearances is not easy to achieve. Tim Howard is an enormous ambassador for our football club."
---
Reader Comments (64)
Note: the following content is not moderated or vetted by the site owners at the time of submission. Comments are the responsibility of the poster. Disclaimer
Clive Lewis
1
Posted 13/01/2016 at 23:55:14
Delusions... We were very close to losing easily. Nothing has changed; something happens at half time to make the players not perform in the second half.
Phil McKeown
2
Posted 13/01/2016 at 23:59:32
Unfortunately in Martinez's eyes this will vindicate his decision to stick by the American.

Having 1 good game in 10 and making no mistakes for once doesn't in my eyes.
Dave Abrahams
3
Posted 13/01/2016 at 00:00:03
Of course Robbie, Howard has been great all season, it's just us silly fans who haven't seen it.
Neil Shanahan
4
Posted 14/01/2016 at 00:19:57
Great to see the positive voices so quick to comment!!!

Clive (#1) – We were not very close to losing "easily" or anything like it. City got a tough game from us and we did defend brilliantly. We were slightly the better side in the first half and, although we were under the cosh second half, only once was there a defensive error (Funes Mori got caught the wrong side of Aguero) and they also should have had a penalty. That makes up for the one given against Stones in the Stoke game that wasn't one. Something did change. It's called us keeping a side scoreless. A good one at that.

Dave (#2) – No. Howard has been crap and most of us know that's the case but he did have a superb game tonight. That's just fact so credit where it's due. We've slated him when he's played poorly and will do again I'm sure.
Jim Bennings
5
Posted 14/01/2016 at 00:22:02
A very pleasing result and clean sheet but there's no getting away from the fact we are so far behind teams like even Leicester now which is sad.
I don't feel we really supported Lukaku enough tonight, my fear when I saw the team.
Deulofeu flatters to deceive too much, Barkley just doesn't get forward enough, we definitely need more central midfield attacking options.
Besic was fantastic, the defence was admirable and Howard (for once), but for Christ sake, will John Stones stop going to ground in the penalty area when there's no need, I must be the only one who feels he's an accident waiting to happen.
Phil Walling
6
Posted 14/01/2016 at 00:56:53
All hail Jagielka and Funes Mori as the central defensive partnership to lock the door.
Whither John Stones?
Dave Hall
7
Posted 14/01/2016 at 01:50:41
Just no pleasing some of you lot. The team gets excoriated for its defensive frailty and 'Howard Out!' was on the minds of nearly every (myself included) Evertonian through Christmas. We've just drawn the toughest team to beat away from home on the back of a brilliant performance from the defensive half of the squad and maligned that much goalkeeper, and it's still complaining about Martinez putting a positive spin on things.
Tough, gritty point today from a team that most of us thought was too soft to get that job done. Jagielka, Besic and Howard were all terrific. POSITIVE.
And no Jim, Stones going to ground in the area now sends my blood pressure up 5 points. He must feel a very lucky boy tonight.
Anthony Dwyer
8
Posted 14/01/2016 at 02:00:48
The Blues played well tonight against the Champions elect at the toughest ground in the country, there is no getting away from that.
The problem is, though, a draw against anyone right now is useless as we have drawn far too many already so the only way we can make up the ground on the front runners is by winning matches.
Howard did better tonight, Barry and Mo Besic looked good too, as did Ross .
Can anyone please explain why our 21-year-old Spanish wonder boy is not fit enough to last the game out. He is blowing for tugs five minutes into the second half of ever game. Boot camp time I think.
Also Bobby has to be taking the piss – how can he put Pienaar on the pitch in that state, the lad was goosed within 10 minutes; what must Mirallas be thinking?
Stones looked the best I've seen him in a right back roll, but it was certainly a penalty by him on Sterling.
Hopefully we can take the same result when we meet next week and go on to Wembley to give us our European experience next season.
Gavin Johnson
9
Posted 14/01/2016 at 02:35:52
I don't think we should get carried away with Tim Howard making that great save last night. He has always been a good shot-stopper. It's his positioning, judgement and a slowing of reflexes that continues to worry me.
That all said, he deserves some credit. He proved me wrong. And I'm happy to eat more humble pie if he can play like that in a run of games.
I still expect Howard to fluff crosses whenever he plays. Last night he didn't have too much to worry about. But I think that also had much to do with Jags and Funes Mori fitting together as much as City not being a side that relies heavily on scoring from set-pieces. Had it been a Stoke or Palace would we have conceded on a set-piece?! Who knows?!
I'm a massive Stones fan and he's as good as any one I've seen play in an Everton shirt. For all his talent he's still quite raw in some areas, particularly attacking the ball from crosses and he has a habit of switching off and losing the man he's marking.
I think this will definitely improve and he could be as good as Bobby Moore or Alan Hansen. I think he's that good. I also think he's a luxury we could afford to sacrifice if we get a £50m offer in the summer.
I don't understand the criticism in the 2nd half. I think much of it was by design and we wanted to sit with men behind the ball and hit them on the break. In many ways it was a very David Moyes type performance where we looked to put not conceding before anything else.

Mark Andersson
10
Posted 14/01/2016 at 04:07:21
I enjoyed the game thought we were a match for them in the first half. 2nd half was all city but the defence was resilient and will give us confidence in the 2nd leg of the cup.
Howard deserves credit, I hope he continues in that kind of performance.
Top four was lost before the new year. What would be nice is to win more than we lose or draw from now until the end of the season.
It's only January and I'm already thinking of next season, that is down to poor management and he will still be here then.
Barry had another good game, Ross was a bit infective in the 2nd half as too was Rom but we got what we have craved for which was a decent defensive display with a clean sheet.
Phil Walling
11
Posted 14/01/2016 at 04:09:30
Gavin, I thought that Jags was more proactive in his captaincy than at any time under Martinez.
Perhaps, just perhaps, he was told to control things at the back. If so, he certainly reverted to Moyes-like tactics which were supremely effective although must have offended the purist philosophy of his manager.
I bet tonight's central paring with FM is not long on show.
Andy Peers
12
Posted 14/01/2016 at 04:46:51
Howard was good and shows what you can do when there is a legitimate threat to your position. Besic, who seems to be everywhere on the pitch, has made a team-changing influence.
COYB
Brian Porter
13
Posted 14/01/2016 at 06:18:56
I have no doubt that Jagielka and Funes Mori looked the best central defensive partnership we've fielded in a long time. Will Martinez have seen the same thing or will he instantly put Stones back in there when Coleman is fit again? With the current paring we have an experienced England international together with a current Argentine first-choice international together and on last night's showing, it works! Funes Mori has gradually found his feet in the PL and is becoming to look a steal at ٧m.
So what about John Stones? As Jim and Dave have rightly pointed out, he's an accident, (or a penalty) waiting to happen. Maybe he needs a rest, or perhaps he should be moved into the right back position or even in a midfield position where his skills at carrying the ball forward can be put to better use. We'll see if Martinez abides by his own words re picking the form players in each position. The one good thing about the situation is that I'm no longer quite so worried about Stones being sold as we have an able replacement in Funes Mori.
Last night, Besic again showed us what we've been missing, and Howard for once got through a game without any major blunders. One match however, does not a season make. Can he continue to perform as well? We'll soon find out. Overall it was a great team performance though draws are really not what we need right now. Let's so a few wins in the coming weeks and the fans will really have something to cheer about.
Mark Andersson
14
Posted 14/01/2016 at 06:25:27
Andy and Phil think you are both right.
As good as Besic is he makes me nervous with some of his passes in dangerous positions. I much prefer him than McCarthy and he seems to bring out the best in Barry too.
I think Pienaa'sr inclusion over Mirallas was down to trying to control the game, maybe Martinez was happy to play for a nil nil and can shit or bust in the 2nd leg using super Kev.
It's hard second-guessing Roberto – I don't think he knows what he is doing himself half the time

Darryl Ritchie
15
Posted 14/01/2016 at 06:42:15
I have to agree with Phil@11. In an injury free squad, neither Funes Mori or Besic, make Martinez's starting 11.
Howard
Coleman Stones Jagielka Baines
Barry McCarthy
Deulofeu Barkley Kone
Lukaku
Unless we make a significant purchase in this window, I think this will be the starting 11 for league games, if all are fit, until the end of the season.
Mohammed Horoub
16
Posted 14/01/2016 at 06:50:54
Great game by Howard and we can finally say he stole us a point. I agree that Jags and Funes Mori looked good together and yesterday was the first time I felt that Stones has overstayed his welcome. If we can get £40-50M for him then that money will help replace a lot of the fringe players who will be leaving in the summer.
Stones is very far from the finished product defensively and I feel sorry for him that all this pressure has been put on him so soon but he hasn't helped himself out with his defending over the last few weeks.
It was really good to see Pienaar and Baines linking up again. It's amazing how players develop an almost telepathic relationship and we saw a few glimpses of that last night. Besic has to stay in the team. If Martinez really trusted his squad he wouldn't have rushed McCarthy back and forced him to miss a lot more time than he needed to.

My biggest issue with RM is that he never 'finds' his best 11. It's always forced on him through injuries. Moyes had his favourites but Martinez is taking it to a whole new level. Hopefully the Besic situation also teaches him and provides a 'lesson' that he can learn from.
Anthony Jones
17
Posted 14/01/2016 at 07:01:59
Great result, but like the muppet before him enforced changes have got him an improved defensive performance. All of the best managers play their greatest assets.
Trevor Peers
18
Posted 14/01/2016 at 07:59:50
Would Jags have been selected if Coleman was fit? I doubt it. Like others have said, the selection was forced on Roberto. He also managed to bring Kone on, which proves he's always likely to play his favourites whenever possible.
No doubting it was an excellent result, though. January is turning out much better than we feared.
Jim Bennings
19
Posted 14/01/2016 at 08:09:26
It might not be a popular choice but I'd be looking at starting Lennon or Mirallas on Saturday and giving Deulofeu the last half hour or so.
Whatever it is, I'm not sure but Gerry seems to really struggle with his stamina and fitness in the second half of games, he gets to the point we are almost down to 10 men, he just loses it completely.
Start Lennon, get him to do a shift for an hour then throw Deulofeu on to run at them, Chelsea are as clear as day there for the taking but we need to offer more in attack on Saturday, more support of Rom, let's not go back to isolating him, I was looking for Barkley last night arriving in the box but he didn't do it.
Great result last night but we are woefully short of wins again, need to win some games.
Alan Newton
20
Posted 14/01/2016 at 08:36:57
City didn't throw in many crosses last night (they don't really have the height) but I was looking out for how Howard dealt with them as, end of the day, if he can raise his game in dealing with crosses and gets some confidence form it I'd quite happily keep him in the side (for now).
I think he did pretty well. He looked decisive and in control of his 6-yard box for the first time in a long time.
One cross in particular stood out, the one he kicked away late on. Stopped a certain goal IMO. It was a low one which hasn't really been a weak area for him but still pleased that he saved us a point last night.
I have absolutely no words for Stones at the end there. He needs to work on his decision-making.
Brin Williams
21
Posted 14/01/2016 at 08:41:45
Another result like that and we're at Wembley.
Alex Carry
22
Posted 14/01/2016 at 09:14:56
I thought Osman had a very good game, a few dodgy passes but so did Kevin de Bruyne and Yaya Toure. Besic needs to be starting as he's the hard-hitting defensive midfielder we needed to break the opposition down in midfield.
James Thornhill
23
Posted 14/01/2016 at 09:16:58
We got lucky, the defence stood solid, Funes Mori & Jags looked like they had been playing together for years, but Man City still had a number of chances & we never had one shot on target.
It frustrates the life out of me that we can't break with any sort of tempo, and when we do break on the counter, it doesn't result with an attempt on goal! Instead, we give the ball away with a poor pass or get so far up the pitch turn back, pass back, keeper!! Arrrrggghhh !
Dave Abrahams
24
Posted 14/01/2016 at 09:20:50
Neil (#4), I was having a go at Martinez – he takes us for fools. I gave Howard the praise he apparently deserved on another thread. I never saw the game, that's why I say 'apparently'.
Jim Bennings
25
Posted 14/01/2016 at 09:27:16
James
It's partly down to a lack of willingness from our attacking midfielders to get close to Rom.
I said before yesterday's match, I want to see Barkley take one of these games by the scuff of the neck but he just seems in a comfort zone at times.
Deulofeu is too wide too really support Lukaku with anything other than crosses.
Osman did okay and at least went closest to hurting them but the future he is not.
We need to be bolder at Chelsea and commit more men in our attacks, watching the highlights of Leicester's win at Spurs, the amount of men they have in the opposition's penalty box is admirable, they at least attempt to support the striker.
While last night was a really pleasing result, two wins since November 1st, that's poor going.
It is something in the second half of the season we must drastically improve on.
Peter Carpenter
26
Posted 14/01/2016 at 09:35:30
Time for three at the back, Stones to step forward into midfield when required and Baines and Coleman to push on like they used to do.
Eddie Dunn
27
Posted 14/01/2016 at 09:50:40
Continuing on the centre-back pairing, Jags and Funes Mori seem to gel well, and I think Stones did well at right back. I may be in the minority, but for me Coleman, while good going forward, leaves much to be desired in defence. So often he lets the winger cut inside him. Perhaps we should give Stones a run at right back.
Stones has this habit of stretching out a leg in a last ditch effort, and we have already suffered the consequences this season. Obviously he should stop doing this, as I nearly had a coronary last night.
The ridiculous thing is that if the ball is going out, then there is not a scoring opportunity, so the defender (Stones) even by catching the forward's leg, is not stopping a cross or shot, so how can a penalty be given?
Over the years, a striker running to the touchline gets tripped almost on the whitewash, and the ref gives a pen! Why? The player on the run would not be able to stop and shoot or cross – surely the refs should look at this "letter of the law"?
Laurie Hartley
28
Posted 14/01/2016 at 10:06:31
Brian (#13),
Stones is a centre half in my opinion. If he was moved to midfield it would have to be in place of Barry which is not going to happen any time soon.
I asked the question on another thread earlier in the week what was the manager going to do with Jagielka now that he was fit. Well I got my answer last night – he will play him with Funes Mori – a left footed centre back who can head the ball. It makes sense when you think about it. So when Coleman is fit the manager has a hard decision to make.
I don't think he'll drop Besic for McCarthy. The only way McCarthy gets back in the team is at Cleverley's expense. That's another hard decision for him to make.
Deulofeu does seem to run out of steam in the second half but you can guarantee that two or three times each game he will either get in behind the oppositions defence or put Lukaku in with a killer pass. I really rate Deulofeu but like Jim Bennings (#18), I would start games with Lennon until his stamina builds up.
It's good having choices.
Paul Kelly
29
Posted 14/01/2016 at 10:08:22
Talking about favourites, do you think Besic will make way for McCarthy once fit? Banker if you ask me.
Peter Carpenter
30
Posted 14/01/2016 at 10:11:01
Eddie, I don't think it matters where the ball is, as long as it is in play. If it's a foul inside the area, it's a penalty, even if the ball is outside the area. (Trying to remember 'You are the Ref' from Shoot magazine.)
Tony Waring
31
Posted 14/01/2016 at 10:16:28
Eddie (#24) you took the words out of my mouth.

I don't have the rule book to hand but I am sure that a penalty should be awarded ONLY when the opponent is on course to score. Sterling was NOT in that position, ergo no penalty. I think the same applies to the penalty awarded to Stoke at Christmas.
Jim Bennings
32
Posted 14/01/2016 at 10:30:46
With regards to the right back dilemma, I wouldn't be too surprised if Sam Byram is brought in soon.
I can't see Martinez wanting to rush back Coleman in case he has a setback so going for Byram, an England U-21 despite being 22, would be a shrewd move.
Steve Pugh
33
Posted 14/01/2016 at 10:52:02
Any foul in the penalty area is a penalty. Scoring opportunities only come into play with regards to cards.
Eddie Dunn
34
Posted 14/01/2016 at 10:58:40
Peter & Tony, it just seems illogical in my opinion. A penalty is far to generous a reward for such a challenge.
John Hughes
35
Posted 14/01/2016 at 11:24:01
Steve Pugh is absolutely right. Any direct free-kick offence that takes place in general play is a penalty if it takes place inside the box, irrespective of the position of the ball.
With respect, I suggest anyone following football even in a half-hearted way should get familiar with the basic rules.
Tony Waring
36
Posted 14/01/2016 at 12:11:57
Point taken, John @32, but in the back of my mind, I am almost certain that at one time in the dim and distant past – I've been a Blue for 66 years – there was some provision or wording to support "my case". Perhaps somebody has an old edition of the rule book!
Harold Matthews
37
Posted 14/01/2016 at 12:14:03
We were up against a cracking side, no doubt about that. They closed down like tigers all over the pitch and went at us with skill, speed, power and determination. Three important points were at stake and they meant to get them.
Unfortunately for them, we stood in the way. Howard made two decent saves but his blocking with arms and feet was absolutely superb. I lost count of the numerous Funes Mori blocks. A brave lad indeed. I love the way he can clear the ball with both feet.
Mo Besic is a wonderful all round player. Intelligent, skilful and tough. Not sure he'll lose his place when McCarthy returns. Martinez scouted and signed this boy and will have big plans for him.
Good to have Jags keeping things organised at the back but Barry was the one filling all the holes. Constantly looking foe weaknesses in our defensive shield as younger players flew here there and everywhere, he slotted into the gaps and kept us solid. An old pro with vast experience.
I'm a big fan of Barkley but the lad is still not getting it right. Like Scholes and Alan Ball, he should be looking to pass the ball in his first two strides instead of running into trouble. He does it for England where he dare not run and lose it, but he doesn't do it for us. One particular moment when he could have sent Deulofeu in on goal made me scream.
As for the subs. Without knowing what the manager is planning for certain players, it's impossible to comment.
Stones filled in as well as he could but a tall, slow turning fullback against a quick winger with a low centre of gravity is not always a pretty sight.
A well earned point but I'm not filled with confidence for the Chelsea game or Cup 2nd leg.
Eddie Dunn
38
Posted 14/01/2016 at 12:21:49
John @32:
"With respect, I suggest anyone following football even in a half-hearted way should get familiar with the basic rules."
You miss the point! Perhaps the Law is an ass is this case.

Conor Skelly
39
Posted 14/01/2016 at 12:35:08
We defended well last night. Backs to the wall, second half... but overall it didn't fill me with too much confidence for the cup semi.

One thing that worried me was our inability to keep the ball after clearing it away. I lost count of the number of times we had no outlet for the player clearing the ball away which just invites another wave of attack.

Something that really bugged me last night was Ross Barkley. We all know he is great on the ball but, without the ball, it's a totally different story. I'm not expecting him to fly around like Besic but he actually seems to run away from the player on possession.

There were several incidences last night where he's three yards away from a Man City player in possession and he just stays routed to the spot. In one instance he literally gives way to a runner who just glides by while Ross marks space. Bizarre.

I'm not sure if he's told to take up certain positions and is exempt from putting a foot in but on three occasions his apathy to the attacking player resulted in good chances opening up for City. If we want to keep it tight in the semi-final, then we have to bench Ross – he's a luxury we can ill afford. If McCarthy is fit, I'd play him with Barry & Besic. I also agree that Deulofeu is far more useful when used sparingly.

To be honest I'd cash in on Stones now if we got a proper offer. No point in delaying the inevitable. We could get a solid centre-back to replace Jags next season, and have money left over for another proper centre-forward and goalkeeper.

As for Howard, he did well last night but one swallow doesn't make a summer – he's a liability and is the wrong side of 35.
Steve Pugh
40
Posted 14/01/2016 at 12:46:17
Tony (#32) & Eddie (#35),
I appreciate what you are saying, but how can you be sure what is or isn't a goal scoring opportunity?
Look at this:
At 40 seconds in, there is a clip of a Pauletta goal. By your reckoning if the goalkeeper had brought him down as he ran away from goal it shouldn't be a penalty because he wasn't in a position to score a goal. Who is to say that Sterling couldn't have done something similar?
Ernie Baywood
41
Posted 14/01/2016 at 13:11:38
Harold, I recall the missed opportunity from Ross and I felt the same.
That said, and holding my hands up as a huge fan of Ross, I'll back his judgement from his vantage point. It's easy for us to disagree with 100% of the passes he doesn't play, because that reality wasn't lived out. He could have a pass away in two touches every time as I'm sure he sees them but chooses the ones he wants to play, and the way he wants to dictate our play. Again, he's proving his judgement better than mine. (At least recently – I think I had the edge over him previously!)
In comparison, Deulofeu plays whatever he sees... if the whole team did that, we'd hardly see the ball!
Ernie Baywood
42
Posted 14/01/2016 at 13:17:06
On the penalty, I still can't believe it wasn't given. 99% of the time and maybe even higher away to a 'big' club that gets given with the usual yellow card (because refs aren't allowed to think about the intent).
Seemed like a bit of a Poll/Hutch decision to me. i.e. the ref decided a draw was a fair result.
Not complaining, but I would if that happened to us.
Steve Carse
43
Posted 14/01/2016 at 13:23:26
Harold (#340), I'd have used your description of 'hunting down like tigers' and playing with 'skill, speed, power and determination' as more applicable to Everton in the first 45 minutes than City. We were much the more fluent and expansive side in that period, witness the critical noises that were coming from the home fans as we passed the ball around and constantly were getting into the spaces between the lines.
City we much the more dominant in the second half though I put much of this down to Besic not wishing to risk a second booking, plus the disappearance of Osman.
John Hughes
44
Posted 14/01/2016 at 14:03:52
Tony & particularly Eddie,
If you take the scenario we had last night whereby Stirling is not in a clear-cut position to score but is nonetheless clearly fouled by Stones, what would you expect the referee to give? Nothing? He can't give a free kick inside the box – if it is deemed to be an infringement (and it certainly was in this case) then it has to be a penalty.
BTW, apologies – when I re-read my post, it did sound somewhat snotty and I didn't mean it to.
Tom Bowers
45
Posted 14/01/2016 at 14:15:24
A creditable result but another draw and 2 points lost. The question is: can they build on this? So far this season, they have had few wins... but, when they did, it did not motivate the team to better things.
Martinez is quick to applaud his players, which one expects from the manager, but does he really believe they can get a winning run going, even if it's only 3 or 4 games???
Despite some good play yesterday by the Blues, and they have shown they can play with the big teams, they seem not to have the belief they can elevate themselves to the next level, results-wise. Until Martinez can instill this in the team, then sadly things will not change.
Michael Penley
46
Posted 14/01/2016 at 14:17:28
I've had another look at the "penalty" and you know I don't think it was.

Sterling changed direction and didn't go after the ball, he sort of turned sideways and tapped the ball out while running towards Stones sliding in. If he had followed the ball then there wouldn't have been contact.

In real time I thought it was a pen during the game, so there you go. It's still an impossible job for the ref and I wish they had video replays available to them, like every other game does aside from our Neanderthal sport.
Michael Penley
47
Posted 14/01/2016 at 14:19:59
Martinez is spot on (for once) about the penalty in this post-match interview:

http://www.theguardian.com/football/2016/jan/13/manchester-city-Everton-premier-league-match-report
Trevor Lynes
48
Posted 14/01/2016 at 14:23:33
I honestly think that we have stamina problems with Deulofeu and Barkley. It is understandable that Osman tires, he is getting towards the end of his career but recently both these youngsters show signs of flagging early in the 2nd half of matches and are kept on for too long.Osman and Barkley should exchange at half time or shortly after. I reckon that Barkley would be a fine impact sub. I see the same situation for Deulofeu and Mirallas. Kone should exchange with Naismith if he is still with us.
Brian Harrison
49
Posted 14/01/2016 at 14:28:37
A very creditable draw, and to keep City from scoring at home a rare feat indeed. You have to give Howard a lot of credit for his performance last night.
I just wish this resilience had been there earlier in the season, and it might have been us in Leicester's position.
I would hope that John Stones learns the lesson of not going to ground in his own box, he did it against Stoke and was penalised when he shouldn't have been, and maybe last night he got away with it. When you go to ground in your own box you are giving the ref a chance to penalise you.

Eddie Dunn
50
Posted 14/01/2016 at 14:33:54
John (#41), Ha ha, don't worry! I know what you mean, perhaps it underlines what a silly sliding tackle it was.
It does seem that the trend is for penalties to be given for very slight contact, when often the attacker could easily stay on his feet to continue, but decides, due to the angle, or whatever, that it would be better to go down in a heap.
Ironically these "slight contact" instances occur one minute, but when a striker is being bear-hugged at a corner, nothing is given! Surely this also "contact" – and not so slight!
Frank Wade
51
Posted 14/01/2016 at 14:55:56
Harold (#34).
I agree with regards to Ross often missing the chance to move a ball quickly. While still playing well, I think he often passes up opportunities by just not seeing an opening in time. Maybe we are expecting too much but would like to see more first time passes like the one for Rom v Villa or Mirallas v Leicester.
When we were young(!), we used play a lot of two-touch football in training and even one-touch sometimes. Makes you run more to support the player on the ball, but you also need to focus on what's on around you, before you receive a ball. Increases awareness. I expect Barcelona play a lot of this, Gareth Barry too.
Conor (#36),

I noticed that last night a few times where Ross seemed to leave players run by him rather than just shuffle across to cover. Who knows, maybe he is instructed to hold his position. Maybe we were instructed to allow Fernando or the centre backs have the ball in space as they were unlikely to hurt us, whilst closing down on others like Toure or De Bruyne or Silva when he came on, who were very likely to hurt us. If you think back, was Ross more exercised in defensive mode when Toure was on the ball? All part of the cunning master plan perhaps?
Tom Bowers
52
Posted 14/01/2016 at 15:05:02
Everton's passing still needs some work. The midfielders in particular do tend to pass too quickly and generally in today's game many players just don't have the vision to make a decent pass longer than 10 yards.
Barkley seems to have most opportunities on the ball and one would have thought his percentage of completed passes would be much higher. He, like Cleverley, all too often screws up when it seems easier to find a team mate.
I am sure these things are worked on in training but, in today's game, when most teams park the bus when not in possession, it just takes a few seconds more patience before releasing the ball, which some of the modern players don't have.
Keith Monaghan
53
Posted 14/01/2016 at 15:22:50
The criticisms of Ross above have been valid for ages. Too many touches on the ball in one incident resulting in the attack losing momentum and/or him getting himself or a team-mate into trouble. I'm afraid he's very ineffective in our team and we need to try other options (eg, Deulofeu or Mirallas – or is this why we may be after Yarmolenko?) in his position.
He's had loads of time to learn and shows no sign of doing so. Alli of Spurs looks far more effective. Way over-rated for me, rumours re large bids for him have evaporated – Neil Warnock was spot on. He's a gifted lad, but shows no sign of fulfilling his potential. His bad injury is years behind him, so that should no longer affect him.
I'd defo play Lennon & Mirallas for Deulofeu & Osman in the semi-final, maybe bring Deulofeu on later if the situation justifies it. Like someone else said above, for all his talent, he flatters to deceive and in spite of his assists, his crosses are very poor – like Barkley, he contributes very little defensively; top teams attack and DEFEND as a team.

Tony Hill
54
Posted 14/01/2016 at 15:51:52
Barring injury, Ross Barkley will be one of the finest midfielders in Europe in a couple of years. He is currently refining his game and this season – especially over the last couple of months – and has seen a major improvement on last year's stutter; his shielding of the ball and recycling of possession, in particular, are significantly better.
There are criticisms still to be made, certainly, but dropping him now would be extremely unwise.
Michael Williams
55
Posted 14/01/2016 at 16:03:43
Where is the pride in your team, you people?
As an American who loves this team but probably has a bit more distance from this team than you, here's what I saw.
A bunch of 20-22-year-olds with not much experience, players coming off injury and players playing out of position because of injury, stood up to one of the top teams in Europe.
It's amazing to me that Everton held Man City scoreless at home for the first time in a year and people are not happy. Going into the season, which one of you would not have been happy with a point at The Etihad? Even Arsenal, Man Utd, Liverpool and Chelsea would be fine with a point at The Etihad.
Yes, we were on back foot in the second half. Guess what? Many teams are going to be on the back foot when they're playing one of the biggest teams in Europe at their home ground. Remember, they have a squad too... and it just happens to be filled with world-class international everywhere.
The team was set up well and the defenders, midfielders and 'keeper did not buckle against veteran, high-priced mercenaries that almost score for fun.
Two games against City – a win at home and a draw on the road. Yep. I see a lot to rip here.
Denis Richardson
56
Posted 14/01/2016 at 16:13:08
Good result overall. Amazed we kept a clean sheet. Now let's see if we can get a result on the weekend.
We may not have been beaten much in a while but we've only managed one win in 7... still, a good result.
Mike Oates
57
Posted 14/01/2016 at 17:13:47
I think the substitutions were correct; we were struggling to keep hold of the ball anywhere on the pitch and particularly Lukaku was having a poor evening. He brought Kone on for us to try and keep the ball in their third.
As regards Pienaar, I'm sure he wants to reunite Baines and a fit Pienaar ASAP. He has got to give Pienaar game time so that he can prove he's got another season or so in him. No one else on our books brings Baines into a game with real threat than Pienaar.
Pienaar also helps out at the back; Mirallas is a liability anywhere near our own box. I think Martinez's problem is where to fit Mirallas into the team, we can't have Mirallas and Deulofeu in the same 11, our full backs would be knackered!

Frank Wade
58
Posted 14/01/2016 at 17:33:21
Michael (#53),
You can take it as read that we all have great pride in OUR team, that most of us have been following for many years, 54-ish in my case. It's all part of football that we comment on how things might improve, on how players might improve etc. This shouldn't be construed as criticism. I made a couple of comments about Ross above.

I am a huge supporter of Ross, delighted he's an Evertonian and hope he will be for a long time to come, but unless he is Messi, some of us are going to point out flaws, some out of ignorance on our part, but most as part of the general ToffeeWeb banter. All together now "We've got a diamond called Ross Barkley"
I agree that it was a great performance to hold out against players who have been hand-picked from the best in the world. The clubs are miles apart off the pitch but we have shown that on our day, we can match them.

City wage bill in year-to-end May 2014 was £204M compared to our £69M. Some of their players demand birthday cakes from the club. We arrange birthday greetings for our most deserving supporters. So a point away to them is a great boost.
Please don't get disheartened, Michael. Great to have you on board our topsy turvey blue machine.
Eddie Dunn
59
Posted 14/01/2016 at 17:58:19
Mike, I agree that the idea of getting Kone on was to help Lukaku, who was failing to hold the ball up. The idea didn't work, but I could see the sense. Also, as much as Mirallas gives us an attacking threat, he often neglects his defensive duties.
I wonder about our stamina in the second half, as we stood toe-to-toe with City in the first half, but tailed-off worryingly in the second.
In the Semi final second leg, I would keep Del for introduction in the second half, so he can have a go at some tired legs. I would have Lennon on from the start.
Tom Bowers
60
Posted 14/01/2016 at 17:59:20
A draw away from home even at City is not a good thing given the league position. Yes, one agrees it is creditable but that doesn't mean acceptable. With the talent Everton possess, they should be moving ahead in the league but are not.
Martinez has younger, quicker players but reverts to slower older players like Osman and Pienaar. Why no Lennon?
It took me a while but I can now understand why he failed at Wigan. The next manager can't come quick enough for me.
John Keating
61
Posted 14/01/2016 at 18:00:00
Cannot fault the result.
What I cannot fathom is the apparent lack of fitness throughout the squad. As the season progresses and we have only played 20-odd games, we look jaded, none more so than Deulofeu.
As important, I cannot remember a match where our first half performance has mirrored the second half and vice versa.
Is there a reason why we can't play a full 90 minutes?
Joe Clitherow
62
Posted 14/01/2016 at 18:24:40
Michael 55
With respect, as a relative newbie to all things Mersey Blue, you seem to buy into the "plucky little Everton" thing. While it may be a practical viewpoint, us older timers don't like this at all. Not one little bit.
Especially when compared against Manchester City; a joke of a club and a team for virtually my entire football watching life who were languishing in the third tier not so long ago and have been relegated numerous times. Amazing how a couple of billion dollars injected can change people's perceptions overnight, eh?
Just a bit of information to get perspective on how people comment on this site. Go easy on us will you?
Peter Mills
63
Posted 14/01/2016 at 19:19:04
I enjoyed the game, it was worth the hassle of trams stopping at Piccadilly and having to walk to the ground in the rain.
I thought we went toe to toe with City, as we did at Goodison, and that has to be good for confidence. Howard played well, as did Jags. Criticism of Stones is valid but some of his play was sublime. Besic is really shaping up, Ross was frustrating. Geri just can't last beyond 60 minutes, but he's good for that hour.
Tony Abrahams
64
Posted 14/01/2016 at 19:28:21
I thought that was a good post off Michael, Joe. I didn't see it as "plucky little Everton" – especially now we have stopped punching above our weight.
Add Your Comments
In order to post a comment, you need to be logged in as a registered user of the site.
Or Sign up as a ToffeeWeb Member — it's free, takes just a few minutes and will allow you to post your comments on articles and Talking Points submissions across the site.
© ToffeeWeb