Naismith completes Norwich switch
by

134 Comments [Jump to last]
| 19/01/2016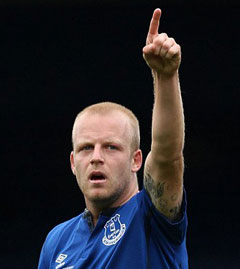 Steven Naismith's move to Norwich City has finally gone through in a deal that is officially undisclosed but is believed to be around £8.5m.
The Scottish international makes a switch from Goodison Park that appeared to be imminent at the turn of the year after a deal was reported to have been agreed between the two clubs.
A knock to Naismith's ankle, Roberto Martinez's desire to keep numbers available during a hectic first half of January and the player's own need to make up his mind are all believed to have contributed to the delay in the transfer but he has now finalised the transfer.
He passed a medical and agreed personal terms with the East Anglian club yesterday and has signed a three-and-a-half-year contract with the Canaries.
"Where I was in my career, the age I am and the way the first half of the season has gone for me, I had to think a lot about the future," Naismith said after tying up his move to Norwich.
"When January came, it was a case of knowing exactly where I stood and the manager at Everton was good and said that he'd listen to whatever I wanted.
"Norwich have displayed class in the way they've done their business all the way through, and they've been very persistent.
"They've been fantastic in the sense of showing how much they wanted me, and I'm delighted to be here."
Naismith arrived at Everton as a free agent in 2012, signed by David Moyes amid the chaos at former club Rangers which eventually led to the Scottish giants being liquidated and reformed as a "newco" that year.
He initially struggled to make an initial impact with the Blues under Moyes who tended to play him in an unfamiliar right-midfield role but he flourished a a second striker behind Romelu Lukaku in Roberto Martinez's first season in charge.
Naismith continued to be an important member of the team throughout Martinez's difficult second season, weighing in with important goals in big games in the Premier and Europa Leagues and enhancing his reputation as one of the most natural finishers at the club, while his off-field philanthropy earned him deserved recognition on Merseyside and back in Glasgow.
He began to fall out of favour towards the end of 2014-15, however, as the manager turned increasingly to fit-again Arouna Kone and Naismith made just four Premier League starts this season despite scoring a memorable hat-trick against Chelsea in September.
He joins the Canaries with the hope of getting regular first-team action and helping them avoid relegation this season.
---
Reader Comments (134)
Note: the following content is not moderated or vetted by the site owners at the time of submission. Comments are the responsibility of the poster. Disclaimer
David Booth
1
Posted 18/01/2016 at 16:11:04
Good luck to a good Evertonian and all round nice chap!
Never quite made the grade here, but a lot of that's due to this ridiculous predilection we have with playing players out of position, just to fit them into the team.
Give Naismith the ball at his feet inside the box, facing the goal, and he's a consummate finisher; the best we have in a tight space.
But we've have insisted playing him either on the wing, out of place in midfield or clearly instructed to track back and cover behind the full backs!
No small wonder then that he's not made as big an impact as he might have done and wishes to move on.
I'm sure he will go with all our best wishes.
He never gives less than 100% and can be a bit of a nark too, which is something we are short of in this 'after you Claude' team of ours.
If Norwich use him properly, he might just give them some much-neded punch up front and save them from the drop.
Tony Doran
2
Posted 18/01/2016 at 16:11:12
Good luck if you go, you always done your best when playing. Sadly the highs where very much outweighed by limited ability. I think you're also a great lad off the pitch and hope you can keep Everton in your heart forever.
Minik Hansen
3
Posted 18/01/2016 at 16:13:03
Well, I thank him for everything, from having something to prove from the start and having a few great seasons with us. Our turn to make some profit of selling a player in his late 20s, in that way he helps our club. COYB.
Tim Wardrop
4
Posted 18/01/2016 at 16:13:29
I can't believe we're letting him go, but keeping hold of Kone.
Mike Hayes
5
Posted 18/01/2016 at 16:18:53
Good luck to him – top bloke good players who was never given much of a chance and when he did scored a couple of goals notable the hat-trick against Chelski.
We need this type of 'get at them' player with 100% grit and determination. We've had Big Dunc, Timmy Cahill and Naismith... now Besic looks like our next nark. If we don't get another striker in and Big Rom gets injured, we are right in the klartz with Kone.
Jim Bennings
6
Posted 18/01/2016 at 16:19:27
Best of luck Steven Naismith!!
Will always be remembered for the constant work ethic and nuisance factor.
I thank you for the goals in all the big game's against Chelsea, Arsenal, Liverpool and Manchester City.
You have been unfairly treated since scoring that hat-trick against Chelsea in September and grossly underused at time's.
I wish you all the best at Norwich, a decent club for you in a nice part of the country, enjoy it and make a mark in your debut against Liverpool on Saturday for the Canaries..
Brent Stephens
7
Posted 18/01/2016 at 16:28:39
Naismith to do the RS on Saturday; us to do Swansea on Sunday.
A great weekend for the Canaries but not the Swans.
Sam Hoare
8
Posted 18/01/2016 at 16:32:02
100% effort every time but that is not always enough. £8.5m is excellent business for a 29yr old squad player so long as we can replace him with someone who can prove a first team mainstay in that left wing/midfield berth.
Perhaps Tarashaj will be that player next season or Mirallas will get a run. I'm still keen on Yarmolenko another Tadic, Eriksen, Pienaar like player.
Jim Bennings
9
Posted 18/01/2016 at 16:45:22
I have to admit though I was a little surprised that Martinez has sold him before next Wednesday night's second leg Semi Final.
I thought reading between the lines Martinez wanted him at Everton to see out this busy period but obviously he was never going to play Naismith anyway with a move in the pipeline so it's more difficult to work out jargon from Roberto.
We must replace Naismith this month, cannot rely on just Kone and Lukaku.
Les Martin
10
Posted 18/01/2016 at 16:50:36
I would like to thank Steven Naismith for his effort and commitment when called upon in an Everton shirt, a true professional and decent human being by all accounts.
I wish him all the best and hope that he enjoys his football at Norwich and stays injury free.

I am assuming that the fee for a 29-year-old player was just too good to turn down; otherwise, I would have loved for him to have stayed with us.

Dave Abrahams
11
Posted 18/01/2016 at 16:51:49
Good luck, Steven.
I think he will score a decent amount of goals if he is played in his proper position – striker.
Dave Hall
12
Posted 18/01/2016 at 16:52:06
Frankly speaking, incredible money and a great piece of business. The RS bid £8 million for Shane Long who, for me, is a much better player and is worth much more than old Nessie.
Joe Clitherow
13
Posted 18/01/2016 at 16:54:27
Jim,
He will want the deal done soonest so he has time to bring in a replacement, I would have thought. Or rather, I would have hoped.
With all due respect to Naismith though, if our chances of reaching the final rested on him, then I'd be more worried than I already am about the second leg.
Michael Williams
14
Posted 18/01/2016 at 17:02:30
This should mean more time for Mirallas as he was getting more time the past few games with Naismith injured. I think with Lukaku, Kone and Mirallas we'll be okay for now and it appears the club is trying to find another quality attacker.
A good bit of business as this sale has paid for Byram, Foulds and Tarashaj with £1.5 million left over.
Bless you, Naisy. Wish you all the best. Thank you.
Paul Tran
15
Posted 18/01/2016 at 17:21:09
Good business....If he's being replaced.
Thanks and good luck Steven. Good pro, good footballer, seems like a good bloke. Not what we need if we're looking to progress and not likely to improve. A pleasant change for us to actually sell a player we don't need while we can get good money for him.
Jim Hardin
17
Posted 18/01/2016 at 17:24:14
Hard worker. Seemingly a grounded and nice guy from all I have read or heard about him. Good luck to him at Norwich. Not quite good enough or maybe unfortunate not to have played for Wigan previously to get a run in the team at his preferred spot.
Always thought he killed plays at times by going to ground trying to draw a whistle instead of just getting on with it, but liked his in your face attitude versus the big boys. Shame we couldn't combine him and Mirallas into one tireless goal scoring player.
Jim Bennings
18
Posted 18/01/2016 at 17:33:36
Joe
I hear what you are saying about not pinning our Cup Final hopes on Naismith but picture this, if Lukaku limps off after 20 minutes next Wednesday night at the Etihad, you bring on one man, the totally jaded looking Arouna Kone.
I'd much rather fancy our chances of nicking the goal with Naismith on the pitch rather than Kone.
It may never happen, Lukaku could remain fit and strong all season but it's a huge risk that potentially damages our season further if we don't bring in a replacement.
Alan Humphreys
19
Posted 18/01/2016 at 17:37:50
£7m in the summer seemed great business, 5 months less on his contract and the rumour is £8.5m. Even better business but like my post in the Byram thread can't we just get it done without all this waiting. Clubs agree fee, player agrees personal contract, player undergoes medical. Player signs. Clubs announce transfer.
But that's not the Everton way anymore. Drawn out for the Sky Sports viewers pleasure.
Denis Richardson
20
Posted 18/01/2016 at 17:38:32
The lad gave 100% whenever he was called upon so no complaints, good luck to him.
£8.5m for Naismith shows how bonkers the leagues become. Great business for the club, about £5m net in the bank after the Byram lad's signing.
With this done, I can see Mirallas staying until the summer, which is good news (assuming he gets on the pitch regularly...).
Now where's that new goalie...

Denis Richardson
21
Posted 18/01/2016 at 17:41:01
Jim 16, Mirallas can play up front if need be (not a like for like for Rom obviously but not a bad one).
Also Barkley reckons himself as a striker...
Patrick Murphy
22
Posted 18/01/2016 at 17:47:00
With or without Naismith, our task of reaching Wembley just got a whole lot more difficult as another one of our favourite officials, Mr Martin Atkinson is to take charge of the second leg at The Etihad.
On a side issue, none of the three officials from Stamford Bridge are to be sin-binned as they each take their place in various stadiums. The Echo reports that:
"The Chester ref will take charge of Manchester United's home game with Southampton on Saturday. And Jones's assistant referees from Stamford Bridge – Mike Mullarkey and Peter Kirkup – are also in action this weekend. Mullarkey will be part of the officiating team at Selhurst Park for Crystal Palace v Spurs while Kirkup will run the line at Watford v Newcastle."

Phil Smith
23
Posted 18/01/2016 at 17:48:34
Steven didn't really fit in with Roberto's style of play as he gave the ball away a lot. Boy can he finish though. Gonna seriously miss that unless we bring someone else in in January. £8.5 mil (at 29) is the only reason we're letting him go. Good business but sorry to see him go. He deserved more than he got at Everton. Bonne chance wee man.
Ste Traverse
24
Posted 18/01/2016 at 17:48:38
Why are we flogging Naismith yet keeping Kone?? He's a much better player and younger too.
It's a decent fee but I would be keeping Naismith until at least the summer.
Dave Hall
25
Posted 18/01/2016 at 17:53:25
To many who've said it, Kone's worth more here (something... not much, but something) than there (nothing). Seriously what kind of fee would you expect? £1.5m? Less because of his wages? There's no point – http://www.transfermarkt.com/arouna-kone/profil/spieler/8552
Brian Cleveland
26
Posted 18/01/2016 at 18:07:18
To those who are saying why are we keeping Kone in preference to Naismith, who exactly are we going to sell Kone to? To sell something, you need a buyer, it's a pretty fundamental part of selling. Where are the offers for Kone? I haven't seen any, did I miss something?
Mixed feelings about Nais going... yes it's decent money, but still think he has something that we don't have in other players. While not the most gifted, he is a canny lad and knows where and when to show up in the box, plus he has that "narky" attitude which we sometimes lack.
Good luck Steven, your work has been appreciated if at times you have been underutilised and you'll receive a warm welcome when you return...
Brian Porter
27
Posted 18/01/2016 at 18:13:10
Disgusted that Steven is leaving while Kone is still here. We'll miss him, his goals,and his 100% effort. If Martinez had any sense, which we know he hasn't, he would have been better utilised since his hat-trick against Chelsea – what kind of effort do we really see from Kone?
We have no effective cover for Rom now, God help us. Martinez should be leaving, not Steven Naismith. Good luck to him and it's almost certain he'll come back to haunt us by scoring the winner against us.
Barry McNally
28
Posted 18/01/2016 at 18:21:19
The problem is nobody wants Kone and he happy enough to stay for another 18 months after that ridiculous clause that triggered an extra year.
Eddie Dunn
29
Posted 18/01/2016 at 18:31:47
Naismith did his best every game, and spent a good many of them out of position. I wish him every success with Norwich, and hope he plays as a striker. Thanks, Steven.
Andrew Presly
30
Posted 18/01/2016 at 18:40:29
There's a nagging feeling we shouldn't be losing a player with this penalty box instinct and character but that's too much money to turn down. Norwich are desperate! Hopefully there was a bidding war between them and Swansea.
Naismith is one of the good guys (albeit one of the few snides we possess, who's left, just Besic?) maximises his abilities and deserves to play behind the striker every week. We've got a diamond called Ross Barkley in that role and with Rom on his own upfront there's no other vacancy. Ridiculously he isn't even back up striker over Kone, so best for all he moves on. Will be fondly remembered.
Kunal Desai
31
Posted 18/01/2016 at 19:36:47
The only way this is a good deal is if the club have a decent replacement lined up. I don't want to hear any of this nonsense we've spent most of the money on three players for the future. Not having that. The club better had someone good with experience lined up.
James Stewart
33
Posted 18/01/2016 at 19:46:41
I wish Naismith well, a great character and his work rate is world class if not his ability. That said, he is a great option off the bench and his goals against the top 4 sides are not something to be sniffed at. There is also the Stones factor, a lot of people close to the players have said what great friends Stones and Naismith are. Surprising but it's something to consider.
I am uncomfortable with Kone being in front of Naismith in the pecking order so I will assume Martinez will be using this money to go for a Yarmolenko, Tielemans or Praet. If we don't bring in such a signing I will take a completely difference view on this as Kone is simply a joke. His 'cold legs' twitter brainfart were an embarrassment not on just him, but the club as well. There would be a buyer for Kone, there always is one we have sold worse.
Tom Magill
35
Posted 18/01/2016 at 20:49:02
I'm very disappointed to see Naisy going, with his effort and work rate. I appreciate all you've done for the Toffees, Steven, and good luck for the future; you deserved better treatment.
Guy Hastings
36
Posted 18/01/2016 at 20:49:06
Norwich need him to keep them up. Hope he does. Love him to bits.
Geoff Evans
37
Posted 18/01/2016 at 21:28:58
Ste 24, chalk another one up to the phenomenal manager.
Albert Perkins
38
Posted 18/01/2016 at 23:09:55
Great piece of business for Naisy, the team and our boss.
I was watching the game on a link from Canada and the commentator said he could understand Evertonians being unhappy with the league table position, but what a great young, exciting team to watch, with such great promise for the future. I agree.

Laurie Hartley
39
Posted 18/01/2016 at 23:31:38
Very combatitive on the pitch yes but off it a role model for any young footballer. I wish him all the best.
MIrallas proved against Chelsea that he is also very good in the box. We definitely can't afford to loose him now.
Ian Smitham
40
Posted 18/01/2016 at 23:53:22
Last home game of the season, I hope that each and every one who is there stands and appreciates a player, who maybe of limited ability, but has given his all each time I have seen him. Added to that, some of the off field stuff he engages in make him a really top man.
When the time comes, I believe he has earned himself one of those roles at Goodison occupied by other folklore heroes.
In the meantime best to him.
Colin Glassar
41
Posted 18/01/2016 at 23:58:00
I want to wish Nessie all the best. A top pro and a gent to boot. I hope he always gets a great reception whenever he comes back to Goodison.
Anthony Dwyer
42
Posted 18/01/2016 at 23:58:41
I for one am very pleased with this deal. Naismith is on of them players who has a good rapport with the fans, but the fact remains that he is around the 30-year-old range and, as far as a Premier League player goes, he is bang average at best.
£8.5M is fantastic money, it will secure a player of similar quality from a championship club or one of the decent European league such as Germany or something who is younger with the potential to grow and develop beyond Naismith.
A nice man and a genuinely honest professional, he will be well suited to Norwich as he will undoubtedly help keep them up with his endeavours.
I've noticed a few people commenting on the fact we are selling Naismith and keeping Kone, but the fact is we have an £8.5M deal on the table for Naismith and nothing for Kone.
I've said it before on here and I'm happy to repeat it: Naismith, Kone, Howard, Hibbert, Gibson, Pienaar, Osman and possibly Oviedo should be told to find another club to pay them. Most of them are either over the hill or simply don't play enough games.
I'd estimate the above players cost us around £250k a week, £1M a month and V12M a year to sit on our bench or injury table Think what that money can do for us , we clearly do not have big funds, the above money would breath new life into our squad, allowing a fresh new crop of players into the mix, making it a healthy but competitive place to play and train.
Players like Cleverley, Besic and Deulofeu should be found and brought into the club to replace the dead wood, costing small amounts of money and allowing us to save funds for a marquee signing.
Liverpool picked up Milner and Toure on frees, Leicester picked up Marez for £750k, Swansea got Andre Anew on a free and Jefferson Montero for £3M, Watford signed Ighalo for less than £3M plus Nathen Aki for a little over £1M, Spurs Deli Alli for £4M-odd and Eric Dier for £3M odd... etc.
Clearly some are better than others, and we don't need certain players listed, also there may be better examples out there too.
This all goes to show the players are out there to improve and shake up our squad with the funds saved by trimming the dead wood from our squad.

Mark Andersson
43
Posted 19/01/2016 at 00:49:59
Good luck Naismith. A good pro that proved his detractors wrong.
Michael Polley
44
Posted 19/01/2016 at 04:16:00
Good luck Naisy. I'll always remember that perfect hat-trick against Chelsea. Any chance you can take Kone with you??

Ernie Baywood
45
Posted 19/01/2016 at 05:11:44
When my kids drop their effort at anything, I still ask them "what would Steven Naismith do?".
Top role model and he's been a valuable squad player. I'm sure he goes with the best wishes of all Evertonians, which is no small achievement.
If we're honest, a player of his ability has to struggle to get into our first team or we're going nowhere.
James Marshall
46
Posted 19/01/2016 at 06:14:35
I don't think he proved any of his detractors wrong at all, Mark. A thoroughly decent bloke, but a sorely limited footballer. He can finish, that I grant you, but aside from that his ability has always been, and always will be that of a hark working run of the mill footballer who covers up his lack of ability by running about a lot.
£8.5m for him is a cracking bit of business by Everton.
Phil Sammon
47
Posted 19/01/2016 at 07:07:10
£8.5M for a 29-year-old Naismith is a fantastic deal. He seems to get better with every game he doesn't play in some people's eyes. To me, he's decent and has a good work ethic but I don't see him being too badly missed.
Colin Glassar
48
Posted 19/01/2016 at 07:24:55
Roberto does seem to get decent money for our players doesn't he? I'm sure that if he had tried he could've got a few quid for McGeady.
Liam Reilly
50
Posted 19/01/2016 at 13:16:30
Suspect £8.5 M was just too good to turn down and the lad himself no doubts wants first team football.
What's interesting is RM wouldn't let him go during the last window and has intimated that the squad will be stronger at the end of this window. His job may depend on that being true, so hopefully there may be incoming in the pipe.
Henrik Lyngsie
51
Posted 19/01/2016 at 13:47:05
At first, I thought £8.5M was a good price for us. But I actually got second thoughts, because we will have to spend more to replace him. (And don't give me the Austin example; he would have broken our wage structure, so he would have been a very expensive £4M signing!!).
Naismith is a superb sub. He gives us tactical flexibility (not that Roberto always uses it) and he is a goalgetter. Always a good sub to play as a second striker if you are behind. Even if you are defending a lead, he could be a useful sub because of his work rate and defensive headers. We would still have three years left in his machine.
Not sure we will find a replacement at a decent price, who would accept our wage structure, and accept to be a squad player (which Nessi in the end did not accept either... but at least he never moaned).
Mark Daley
52
Posted 19/01/2016 at 13:49:40
Such a limited player, could only manage 3 against Chelsea, pah!
On 15th May, he will get a thoroughly deserved hero's welcome at Goodison.
Terence Tyler
53
Posted 19/01/2016 at 13:58:25
This one is starting to drag its feet now. Like him or not, let's get it sorted, so we can all move on.
Michael Williams
54
Posted 19/01/2016 at 14:08:32
Naismith wanted to leave last summer and RM said no. With an £8M price tag, it's time to let him go. This should make all the Mirallas fans very happy. More time available for him.
Liam Reilly
55
Posted 19/01/2016 at 15:12:12
Michael (#49),
You're assuming that Mirallas will get the nod ahead of: Osman, Cleverley and Kone out of position, which I suspect he won't.

Tony Byrne
56
Posted 19/01/2016 at 16:53:50
Naismith has just signed a 3½-year deal with Norwich, according to Sky.
Sad to see the lad go, I believe there's a worse player getting a start before Naismith. Kone is Championship at best, as is our manager.
Kevin Elliott
57
Posted 19/01/2016 at 17:10:42
Farewell Nessie and thank you for all your hard work on and off the pitch.
You were a pleasure to have around and a credit to our great club.
Tony Rutherford
58
Posted 19/01/2016 at 17:11:06
Haven't got a problem with him going, only if we get a replacement.
If Lukaku gets injured that's leaves us with Kone and Mirallas as our only options, and that combination didn't look that great against Dagenham and Redbridge.
Top guy he was though and totally committed always!
Good luck Naisy
Tony Byrne
59
Posted 19/01/2016 at 17:11:16
Gutted he's gone, deserved more from Everton. He is ten times the player Kone is. Good luck lad
All EFC fans wish you the very best. You served the local community brilliantly as well.
Brian Wilkinson
60
Posted 19/01/2016 at 17:14:31
We offered Naismith and Kone for ٦M to Norwich, Norwich offered ٦.5M if they didn't have to take Kone in the deal.
Always liked Naismith but fantastic getting ٦.5M for the guy, personally I would use the money to bring Jordan Rhodes in.
Stephen Brown
61
Posted 19/01/2016 at 17:17:38
Top bloke! Be remembered as good Evertonian, à la Graham Stuart, Barry Horne type!
John Pickles
63
Posted 19/01/2016 at 17:19:52
Top bloke on and off the pitch, who deserves a good reception any time he returns!
Shane Corcoran
64
Posted 19/01/2016 at 17:20:00
Brian, where'd you get that information from?
Brent Stephens
65
Posted 19/01/2016 at 17:24:01
So, now it's all gone through, my thanks to Nais for what he brought to the club and the community. Will always be one of my all-time favourite guys. Wish him well in the rest of his playing career and thereafter. Top man.
Brian Wilkinson
66
Posted 19/01/2016 at 17:25:30
Shane @57 from Chris Kamara, he was having a fish supper in the Blue star.
Dean Adams
67
Posted 19/01/2016 at 17:25:31
Farewell Steven Naismith. Good luck at Norwich. Hope you score plenty for them.
James Stewart
68
Posted 19/01/2016 at 17:26:22
All the best top professional and a good guy to boot. £8.5M is a very good deal for someone who will hit double figures in this league.
Oliver Molloy
69
Posted 19/01/2016 at 17:26:53
It is £6.25million rising to £8 million if they stay up.
Steven was always a stop gap for the way The Incredible One wants the team to play football I guess. Fantastic attitude when picked and the same when not even in the squad.
Also well known for being a very considerate person off the pitch, these type of people are to find these days. I wish you good luck and good health and look forward to you receiving a great reception when you return to Goodison.
Doug Harris
70
Posted 19/01/2016 at 17:31:06
All heart in every game he played. Thanks, Naismith hope you have a successful time at Norwich. Good Luck, lad; you will be well thought of at Goodison.
Barry Pearce
71
Posted 19/01/2016 at 17:33:30
All the best, Naisy. Always gave 100%, and a great bloke as well.
Jason Thomas
72
Posted 19/01/2016 at 17:34:53
I must be honest. If the fee was said to be £3.5M, I would have said, fair business. But £8.5M??? That's £8.5M profit for a player we had on a free! Also, I like the lad and he always gave his all, but in order for us to move to the next level, we need better quality.
Oliver Molloy
73
Posted 19/01/2016 at 17:42:54
Oh, and Steven, do us a favour this weekend if you are fit enough to play!

Tony Cheek
74
Posted 19/01/2016 at 17:43:44
Brian (#25)... I like your comment about Naismith's "narky" attitude! Dead right we need more of our players to have that "edge". Especially when we play teams like the RedShite à la Besic and McCarthy. Players that will run through a wall for the team!
Best of luck, Nais! Norwich is a good club for you, and thanks for your time with us, you always gave your all!
Trevor Peers
75
Posted 19/01/2016 at 17:46:22
Kone is untouchable in Roberto's world.
Good business for Naismith but only if he spends the money wisely, if at all, this January.
Mike McLoughlin
76
Posted 19/01/2016 at 17:53:46
I wonder what other replacements we will get in??

David Hallwood
77
Posted 19/01/2016 at 18:14:39
Fellaini apart never has a player divided opinion as Nessy. IMO him and Defoe (who admittedly is different class to Nessy) careers have been stunted because of so few teams playing two up top, and they are, in old fashioned terms, inside forwards not target men.
So in Nessy's case he's been asked to play midfield, wide as a false centre-forward, in fact every position except the bleedin obvious one.
Good luck, Nessy and thanks for the goals anyone that calls him limited should study his movement and his hat-trick v Chavs, and before anyone says he didn't do it enough, he wasn't given enough game tome to do it.
Hope and expect he'll get a standing ovation when he comes back.
Geoff Williams
78
Posted 19/01/2016 at 18:15:55
I for one wish him a long and successful career at Norwich. He always gave 100% and appears to have been a managers dream. His work with the unemployed and disadvantaged should receive greater recognition.
Colin Glassar
79
Posted 19/01/2016 at 18:18:48
Good luck Steven, you will be missed.
Tom Bowers
80
Posted 19/01/2016 at 18:20:09
A very honest player who gave 100% and had a keen eye for goal. Lacked that little bit of extra pace which would have made a big difference to his game but then he may not have ended up at Everton.
I hope he helps the Canaries, especially in their upcoming game against the RS. Good luck, Nessie!
Ken Jones
81
Posted 19/01/2016 at 18:22:49
Like others, I'm sorry to see Naisy go; I think he always gave his best and just cannot believe how Kone is preferred to him. He struggled initially and took a little time to settle in the Premier League but, when he clicked, his contribution was positive & meaningful.
The hat-trick against Chelsea epitomised his style of play and I'm sure he'll do well at Norwich; I can only wish him well. There's plenty of dead wood left in the squad who won't attract any interest in this or any other window, but he's not in that category...
Peter Laing
82
Posted 19/01/2016 at 18:23:14
Word has it that Elstone has a replacement lined up, he was overhead speaking on the phone to a football agent, apparently the person in question was somebody called John Deer?
Tony Draper
83
Posted 19/01/2016 at 18:26:26
Steven Naismith is a very rare breed, a thoroughly decent human being who is also a good footballer.
It's been an education and a pleasure to call him a fellow Evertonian.
I hope he thoroughly enjoys the rest of his career, genuinely sorry to see such a top bloke leave.
John Hughes
84
Posted 19/01/2016 at 18:31:09
Agree with every word that Tony Draper has posted. All the very Best and Good Luck to you, Steven.
Paul Jeronovich
85
Posted 19/01/2016 at 18:32:21
Good luck Nais, met him once and he is a top bloke with time for the fans and community. Will be missed.
Peter Cummings
86
Posted 19/01/2016 at 18:39:41
Our loss, the Canaries gain. Our little 'blond bombshell'; all Evertonians wish Stevie well and hope he helps Norwich beat the drop. A great person on and off the field and a good signing for a pretty good team.
Kevin O'Regan
87
Posted 19/01/2016 at 19:00:42
Sorry to see him go, fantastic attitude, scored some important goals, great energy and good character. Never a bad word from him, never moaned about not playing enough, great pro.
But boy did he annoy me in that last Ireland vs Scotland international – but that's a kind of compliment in a way. Good business all round. Thanks Steven.
Gordon Crawford
88
Posted 19/01/2016 at 19:03:00
I wish Steve all the best for the future. Hope he scores lots of goals; well, except when he is playing Everton.
Great guy. He will be sadly missed by many.
Paul Ellam
89
Posted 19/01/2016 at 19:07:49
Hope he does well, except against us!
I personally wanted to keep him but, if we use the money to bag a Yarmolenko, I will be pleased.
Richard Reeves
90
Posted 19/01/2016 at 19:10:20
Good luck to him and a good bit of business by the club. I hope that the money is put towards a striker who can partner Lukaku or just simply prevent Kone being on the pitch.
Will Leaf
91
Posted 19/01/2016 at 19:12:15
I am going to miss him.
His character, on and off the pitch, embodies everything I want to see in an Everton player.
Andy Crooks
92
Posted 19/01/2016 at 19:17:04
Good post, Will. Steven Naismith contradicts the Daily Mail shite and the demonisation of working class young men who get a wonderful living out of football.
Top bloke who will do his new club proud.
Matt Muzi
93
Posted 19/01/2016 at 19:27:31
Top professional on the pitch, at the club and exceptional work off the pitch. All the best, Steven, I hope it works out for you.
Gerard Carey
94
Posted 19/01/2016 at 19:31:46
All the best for the future,Steven, top guy on and off the pitch. I will remember that hat-trick against Chelski for a long time. Hope you get to knock a few in for Norwich.
Christy Ring
95
Posted 19/01/2016 at 19:54:12
Hope all goes well for Naisy, and scores the winner on Saturday!!! True pro on and off the field. £8.5 m is good money ONLY if they replace him immediately.
Keith Glazzard
96
Posted 19/01/2016 at 20:16:26
Good luck mate, and so say all of us.
Don't you dare score against us, otherwise you will always be welcome.
Peter Jones
97
Posted 19/01/2016 at 20:35:48
Typical Martinez. Clueless. But good luck to Steven Naismith. He had the true Everton spirit. Hope he does well at Norwich.
John Jones
98
Posted 19/01/2016 at 20:47:09
Hope all goes well for Naismith a perfect professional in my opinion. An example to any young player of how to combine a multi millionaire lifestyle and still remember who you are and where youve come from.
Sadly we will see neither Naismith nor the ٦.5m received for him, no doubt we will snatch a loan signing and the money will be lost to "other operating costs", and so the cycle of mediocrity will continue.
David Connor
99
Posted 19/01/2016 at 21:51:09
He's been a very good player for us over the seasons. It took a while for him to win the supporters over. But a really top pro and a decent lad to boot... Wish we had a squad full of players with his level of commitment.
Best of luck Naisy knock a couple in for us against the red shite this weekend. All the best for the future, just not against us... A good reception awaits you when you return.
Gavin Johnson
100
Posted 19/01/2016 at 22:19:30
Just wanna say good luck and thank you to Naisy. Your hard work, passion, and big match goals, particularly against Chelsea will long be remembered.
Joe O'Brien
101
Posted 19/01/2016 at 23:00:21
Sad to see you go Naisy. Always gave everything. Some massive important goals you scored for us. As Will said, your character suited what Everton are all about-on and off the pitch. Good luck in the rest of your career mate
David Edwards
102
Posted 19/01/2016 at 23:01:57
Steven – may I wish you all the very best. A true blue in the classic era mode. 100% effort, a true gent and not without ability and skill. Another decade and he might have been the king-pin rather than the support act.
I'm actually rather sad. Don't know if training sessions are making RM prefer Kone etc... but I feel he could still offer us something. Good business but as a squad player I think he'll be hard to replace.
I hope you get an absolute hat-full of goals for Norwich and I'll be giving you a true hero's welcome when you come back to the Old Lady! Take care, Steven – a true throwback to a better time for Everton – I think we'll miss you!
Svein-Roger Jensen
103
Posted 19/01/2016 at 23:06:24
Why let Naisy leave and keep the dead wood? Not easy to replace him given his energy and character. A top professional and a good honest bloke with a never die attitude. Very disappointed to see Naisy go! Deserved better.
Thanks Steven! Wish you all the best!
Eugene Ruane
104
Posted 19/01/2016 at 23:06:31
Very best of luck to him, the right attitude always. Supporters have differing opinions on his ability, that's fine. Anyone questioning his will and/or passion would need certifying.
An all round good egg and imo a canny and effective player only lacking a decent touch (his brain, Mirallas's ability, what a player that would be). A good buy for Norwich, personally I'd have kept him.
Paul Thompson
105
Posted 19/01/2016 at 23:11:37
He was a better player than many on here gave him credit for. Good spatial awareness and movement, as well as the hard work and expert finishing. Off the pitch he was an inspiration in an era of too many overpaid, uninterested mercenaries.
I'll miss him, but can't deny it was a good piece of business for the club. Let's hope it's not the last in tis window.
Jamie Crowley
106
Posted 19/01/2016 at 23:19:56
Never mind Steven Naismith on the pitch, I'll miss Steven Naismith the person.
How many times did I read about him doing work in the community, volunteering, providing financial assistance to folks in need? A hell of a lot.
In a day and age where the athlete works his trade specifically to extract as much as he can for himself, we had a golden human being who looked to give back.
I hope he does fantastically moving forward.
Ernie Baywood
107
Posted 19/01/2016 at 23:39:45
Goes without saying that he was admired for his effort and conduct. Most would probably agree that a player of his technical ability won't be able to take us forward.
I am a bit concerned that a squad that generally seems to lack fight and resilience is losing a player with an abundance of both.
Rupert Sullivan
108
Posted 20/01/2016 at 02:04:34
I know this is probably only of some small importance, but to me it highlights the way in which Everton 'manage' their media presence (or fail to).

At 16:45, Norwich City announce the signing of Naismith, The Echo has the story some 10 minutes later with stock photo and all, even the Guardian website has the story. The Official Site – nothing... the site is not even available until 28 minutes later - just white space!!!! Not even a holding page. For comparison, when was the last time you saw ToffeeWeb down without a holding page?

Now I appreciate that this is perhaps of small import, but in a world of Search Engine Optimization (SEO), Web Presence and News/ Rumour compilation sites, how can EFC one of the two involved parties, be 30 minutes late in breaking the story? How can the opportunity to raise the site profile be missed like this? Have EFC heard of affiliate marketing?? Click Revenue???
Jim Jennings
109
Posted 20/01/2016 at 02:48:23
Rupert (#95)
Perhaps Everton were just honouring an unwritten agreement to allow Norwich, as the buying club, break the news?
Next time Everton buy a player, you should check the selling club's website to see if any time difference versus EFC.com in the story being reported.
Sam Hoare
110
Posted 20/01/2016 at 04:12:59
Seems like a good fit for them and him. Hope we will see the likes of Praet or Yarmolenko now.
Darryl Ritchie
111
Posted 20/01/2016 at 06:32:23
Sorry to see him go. I don't buy shirts with names and numbers on them, but if I did, it would have been Naismith-14. He made a name for himself playing #10 to Jelly's #9 at Rangers. Rarely got a chance to play there with us. I hope Norwich get it right.
Brian Porter
112
Posted 20/01/2016 at 06:39:02
Goodbye and good luck, Steven. I'd have been much happier to see Roberto Martinez leave, taking that bag of deadweight Arouna Kone with him. Perhaps Steven Naismith might have got more game time if he'd previously played for Wigan. Watch your back, Mo Besic, McCarthy is reportedly fit again.
Stephen Davies
113
Posted 20/01/2016 at 07:30:54
What a shame Norwich didn't want Kone, I would have preferred to keep Steven Naismith. He played with passion. He was a person who cared for others, a man who appreciated how privileged he was and gave something back.
Good luck to him I hope he becomes as popular there as he has been here. He will be missed
Colin Glassar
114
Posted 20/01/2016 at 07:39:59
Any news on McGeady leaving? I'm sure I read somewhere that Everton were asking for £4M and someone was prepared to pay this.
If this is true then Martinez deserves the Nobel prize for economics and even his most ardent detractors will have to admit that the guy is a miracle worker!
Geoff Evans
115
Posted 20/01/2016 at 09:44:06
Well done RM for getting rid of Naisy, confirms what I've always thought about you... best bit of business since you performed the miracle of signing McGeady, Colin (109) is right, you should be given something and as quickly as the postman can deliver it, once again, well done.
Guy Hastings
116
Posted 20/01/2016 at 10:00:12
When he tucks one past us, I won't know whether to laugh or cry.
Phil Sammon
117
Posted 20/01/2016 at 10:38:11
£8.5M for a free transfer who couldn't get a game. Served us well and I wish him the best, but this fawning overreaction is laughable.
I'm looking mainly in the direction of Darryl @ 106 who will likely be reading this thread through teary eyes.
Iain Latchford
118
Posted 20/01/2016 at 12:28:04
Took my eight-year-old son to his first Everton game earlier in the season when we played Chelsea. Naismith made it a day that neither of us will ever forget, and immortalised himself in the Latchford household.
Good luck. A great pro and an all round decent guy. If everyone in football was like him the game would be better for it. Respect.
Dave Brierley
119
Posted 20/01/2016 at 12:57:52
Thanks for the memories, Steven. Great professional on the pitch, humble and decent man off it. Rare these days. Good luck at Norwich.
Eugene Ruane
120
Posted 20/01/2016 at 13:39:35
Phil Sammon (#112), what is 'laughable' is your attempts to appear all Victor Lewis-Smith and 'too cool for school.' The thread simply contains praise and good wishes (from well over a hundred blues) for a decent player and a decent man. Too cool for school but sadly, not enough knowledge for college. Poltroon!
Dominic Tonge
121
Posted 20/01/2016 at 13:57:33
Top man, Steven Naismith, his attitude and work off the field were a credit to him and to the club. A good honest pro, no moaning when not in the team – 100% when he was.
Good luck to him, I genuinely hope it works out. All the best. He got Everton, and that's what matters to us. He will get a warm welcome from me when he returns.
Dave Pritchard
122
Posted 20/01/2016 at 14:23:33
Naismith will get a great reception at Goodison on the last day of the season. If there is some disagreement on attitudes to Naismith, I wonder what the thread will be like after Ossie moves on or retires.

Chris Barnes
123
Posted 20/01/2016 at 14:31:30
I was sad to see Stephen Naismith go, probably more because of what he represented more so than his actual footballing ability. I've had many long conversations with my Dad over Naismith; his touch wasn't the best and he constantly gave the ball away, our fast passing game was perhaps not suited to his style. There's no denying his efficiency front of goal and his Tim Cahill-esque up-and-at-them approach, which always pleases our fans (see Denis Stracq!).

What now though? If Rom picks up an injury, we are solely relying on Kone. Would Mirallas really work there? Are Rodriguez, Henen or anyone else ready? Who is out there for us to sign, if indeed this is the plan. Southampton have picked up the guys from QPR, any ideas???
Jason Murray
124
Posted 20/01/2016 at 15:55:25
It was worth keeping him past the summer window just for that Chavski hat-trick! Not to mention all his other goals against The Chavs, The Shite, Manure, The Arse - he always managed to do the business against the most horrible teams!
He probably would've made an impact sooner if it wasn't for that wasted year under Moyes on the right wing.
He'll always have a special place in the hearts of the Goodison faithful thanks to his tireless industry on the pitch and his admirable charity work off it.
We got a good price for him though so considering we never replaced Eto'o last January, let's hope Roberto has someone decent lined up to come in and provide an immediate boost to the squad!
Dave Pritchard
125
Posted 20/01/2016 at 16:39:34
Jason, disappointed that your first reference to teams Naisy scored against didn't have a connection to rear ends. Must do better.
Paul Cherrington
126
Posted 20/01/2016 at 17:40:09
Good luck to him and he goes with best wishes. He always tried and was a credit to the club.

I do think it's right to move him on, though, especially as he was never going to get a game up front which is the only position he was any use in.
Ian Cowhig
127
Posted 20/01/2016 at 19:38:56
Naismith's effort was there for all to see. He was one of our hardest workers, and weighed in with his share of goals. He may not have been the best technically. But unlike some of his team mates wasn't a lazy arse. I thought his hat trick against Chelsea was sublime.
He was also down to earth. And his tickets for the homeless showed the character of the man. I wish him all the best at Norwich. Just hope he is injured for our home game against them as he will probably get a goal knowing our luck.
Phil Sammon
128
Posted 20/01/2016 at 20:00:31
Eugene (#115),
No, not a VLS fan, I'm afraid, and certainly not 'too cool for school'. My attendance was exemplary, in fact.
Bit rich of you to accuse anyone of attempting to be a comedian, I might add.
I too have wished Naismith well, but he's not an Everton hero nor is this transfer the worst bit of business ever, as described by Geoff (#110).
Martin Mason
129
Posted 20/01/2016 at 20:24:52
Come on guys, he's just a hard working channel runner who will occasionally get goals and has no further potential. He is not the standard of player that we need to get to the next level; ٦.5M is an unbelievable deal for us.
Ian Cowhig
130
Posted 20/01/2016 at 22:26:43
Martin (122)
So we don't thank him for his efforts at the club then? Personally I loved his attitude when he played. In my view in the Tim Cahill mode. Got stuck in, got in the faces of defenders, and could out jump taller defenders. And the column in the Echo was spot on. His goals post Xmas were instrumental in us getting in to Europe.
Derek Knox
131
Posted 20/01/2016 at 22:33:23
I can only echo the comments of most on here, that he has been a model professional while at the club, and what he lacked in skill, he more than made up for, in effort.
I wish him every success in the future, and hopehe gets a hat-trick on Saturday, if he plays, who would that be against?
Eugene Ruane
132
Posted 20/01/2016 at 22:53:22
Phil 121 - 'Bit rich of you to accuse anyone of attempting to be a comedian, I might add'
A comedian?
Sorry but nowhere did I even get close to accusing you of 'attempting to be a comedian' (do you think VLS is a comedian?)
I was simply pointing out that your post read like contrary-for-the-sake-of-it, Kevin the teenager-style shite (because it did).
Your 'opinion' (as in 'I'm entitled to me...') that the tone and/or content of this thread (basically 'good luck Steven, you were alright') is 'fawning overreaction' is obvious bollocks.

Iain Thomson
133
Posted 21/01/2016 at 11:52:37
Gutted... I hope Norwich play him up front. the fee is irrelevant if its not invested in a replacement. ... also it's frustrating that a player multiple teams would pay money for was kept out the team by someone we couldn't give away.
Wonder if his replacement will help the homeless and buy tickets for the poor and disadvantaged.
Eric Myles
134
Posted 22/01/2016 at 04:32:35
Wish him well, starting with a hat-trick on his debut tomorrow.
Mike Keating
135
Posted 22/01/2016 at 14:03:52
You beat me to it, Eric – it's written in the stars.
Naismith an Evertonian to the bitter end.
Philip Yensen
136
Posted 22/01/2016 at 14:22:57
That is RM in a nutshell: he doesn't want a grafter – just a Fancy Dan footballer with no heart.
Sue Brown
137
Posted 23/01/2016 at 13:29:00
Well there's his first...get in Naisy!!
Mike Gaynes
138
Posted 23/01/2016 at 17:43:13
He kept his promise and then some... not only did he score against the RS, he drew a pen!
Heartbreaking loss for them, but what a game... and what a performance by Nais.
Brin Williams
139
Posted 23/01/2016 at 19:29:58
Good old Nais (special guy), long may he prosper, and he may well have found his ideal club – go tiger!!
Add Your Comments
In order to post a comment, you need to be logged in as a registered user of the site.
Or Sign up as a ToffeeWeb Member — it's free, takes just a few minutes and will allow you to post your comments on articles and Talking Points submissions across the site.
© ToffeeWeb