Barry frustrated by another home defeat
by

13 Comments [Jump to last]
| 13/02/2016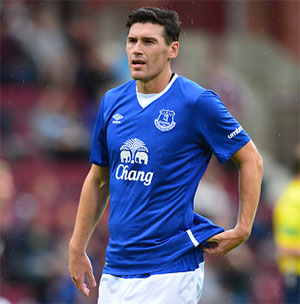 (Mark Runnacles/Getty Images)
Gareth Barry says that Everton did all they could to get back into today's game against West Brom but just couldn't get the ball across the line.
The Blues fell behind when Salomon Rondon helped Jonas Olsson's header off a corner across the line in 14th minute but while the exerted tremendous pressure later in the first half, they were foiled by determined defending from the visitors and twice by the woodwork.
Genuine chances were at a premium in the second period but Barry came as close as anyone to equalising when he smashed one shot an inch over the crossbar and saw another goal bound effort deflected wide.
"It's just a frustrating day," the midfielder said after the game. "First of all, we're disappointed to concede from a set-piece because you know they're going to be a threat from set-pieces and now and again on the counter attack so to concede from that, we're disappointed.
"After that we've done all we can to try and put the ball in the net and it's just not gone on the right side of it for us today.
"[In the first half] we were definitely more of a threat and looked like the scoring; second half we've got a tiny bit frustrated and allowed the game to probably get away from us.
"It was exactly the kind of game you'd expect; we weren't surprised. The key thing was them scoring first. You can tell the lift it gives the opposition here, they then sat back even more.
"We were still making chances but we just couldn't get it across. There's not a lot more you can really say about it, to be honest."
---
Reader Comments (13)
Note: the following content is not moderated or vetted by the site owners at the time of submission. Comments are the responsibility of the poster. Disclaimer
David Pearl
3
Posted 14/02/2016 at 02:41:13
68 comments on the Martinez interview... and zero on here! Hmm
Are we being too harsh ready to jump on anything he says? No doubt we have had some awful luck the last couple of months.
Frustrations wouldn't be so bad if it wasn't the same old story over and over again. I was doubly pissed after being stupid enough to include our beloved blues in a bet.
As the dust settles, the stats say we hammered them. But it's another 3 points dropped and a 6th home loss of the season. I think the moment we go out the FA Cup the pressure will really be on Martinez. Still plenty of points left to fight for but not being able to string more than two league wins on the bounce doesn't leave me optimistic.
Patrick Murphy
4
Posted 14/02/2016 at 02:56:46
David (1) I don't think what the manager or players say is relevant in the aftermath of another disappointing home defeat. There is obviously a need for interviews before and after every match and most of what is said is unimportant, but to the fans who attend and those who watch elsewhere the manner of the defeat came as no great surprise.
The number of people who thought that once West Brom had scored the opening goal, Everton's chances of winning became almost zero, a draw was the best most hoped for as the game unfolded and so it proved as the team struggled and toiled for the breakthrough, but to no avail.
If it had been the first time that it had happened many of us would have shrugged our shoulders and moved on to the next game, but it wasn't the first time it has happened and even our previous home victory against Newcastle wasn't as clear-cut as the scoreline suggested, even against lowly Dagenham we huffed and puffed to secure the victory.
Everton struggling to win home matches has become a monotonous theme in the last two seasons and unless the manager finds a solution to that, the fans will continue to pick holes in his tactics and team selections, it's what every fan does when results are falling well below expectations. As Jim Royle might say "Top five team – my arse!
Anto Byrne
6
Posted 14/02/2016 at 03:24:52
Not set up to for set pieces at either end of the ground. Criminal defending not marking the two posts and getting in front of the man so first to the ball.
Two defensive midfielders and still conceding too many goals – how does that work? Lukaku unfit and isolated and needs a partner unfortunately Kone is not the man.
Yes, we were expected to beat Carlisle, we had two last-minute penalties with Newcastle, and Stoke were feeling sorry for themselves after going out of the two cups. Even so, we needed a penalty to get going.
So on to Bournemouth in the cup and, in all likelihood, end of season looms. At least we got 40 points to look forward to. New owners... I can't wait for a big shake up.
Brian Porter
7
Posted 14/02/2016 at 06:42:01
No, Gareth, not a lot you can say is there? Most of it's been said on the Martinez thread, and it's all damning – the first time I can recall 100% agreement on a TW thread.
Of course, RM is the manager and it would be professional suicide if Barry or any of the players actually came out and said words to the effect that the manager is clueless, has no tactical awareness and the players are getting sick and tired of his ineptitude, lack of tactical awareness and useless in-game management. Now wouldn't that be refreshing, just for a change?
Sadly, a player revolt will probably never happen so perhaps the only thing that might tip the board's hand is a fan revolt. Time for a 'Martinez Out' flypast? A mass walkout at a significant time, maybe coinciding with the number of defeats under Martinez? Or just plenty of vocal heckling of the man and his staff on the bench?
I don't know the answers, but sure as hell, unless Martinez is removed as manager, then possibly the best group of players we've had in a generation will be wasted. Trophyless, we will gradually disintegrate as disillusioned players seek professional fulfilment elsewhere. Quite frankly, Martinez and his favourite, Kone, would probably find their true level in League Two, where he'd probably still end up getting his team relegated.
Harold Matthews
8
Posted 14/02/2016 at 10:03:15
Very frustrating. One of those games where you can't let the opposition score first because you know they can defend a lead. Allowing the giant Olsson an uncontested header with no-one on the back post was real Sunday league stuff.
After that it was a familiar uphill struggle where we again failed to deliver. A possession huff and puff outfit with no intent, bravery or aggression in the box and no intelligence out of it. A brainless passing display with no movement or zip off the ball and no end product. Okay. Barkley hit a post and missed a sitter late on but their very dodgy keeper was hardly tested.
Drastic unorthodox action was needed and that doesn't mean Kone and Osman. Funes Mori should have been moved into the box and told to stay there. Mirallis should have been the first sub.
Martinez stayed true to form, took no risks and appeared to be very proud of his team's performance. We can't win at home but we look great. The victorious opposition say, "Everton are a good team". It's like an old LP record with the needle stuck. He has brought in a fine bunch of footballers but it ain't working and he can't fix it.
David Connor
9
Posted 14/02/2016 at 10:15:58
You're frustrated, Gareth? You can't even begin to realise how frustrated the fans feel. At least you get paid for playing for this totally inept man we have at the helm.
I was listening to a supporter on the radio on the way home from the game who sits next to the players in the dugout; he reckons Martinez doesn't even make the calls on substitutions – it's his assistant manager, Graeme Jones. I cant believe that for one second... but, if it is true, they both need sacking with immediate effect because this is unacceptable behaviour from the manager. And if so, it needs to be explained to the paying punters.
Like the vast majority of yesterday's crowd, we are fast becoming fed up with our performances at home. It has become too easy for teams to come here and get results. The team must give us something to get off our seats for. It's becoming boring going to Goodison Park this season. I for one can't wait for it to end.
Give Martinez one last season. If the results don't improve dramatically next season he must go.
Tony Hill
10
Posted 14/02/2016 at 10:22:22
Barry did mention the crowd's reaction to Lennon's substitution in a way that I thought suggested he was on the fans' side with that one. God knows, someone of his experience and ability must see what's wrong.
Andy Meighan
11
Posted 14/02/2016 at 15:25:08
Harold, what fine bunch of footballers has he brought in? Because I'm not seeing any on the pitch. I keep hearing we've got a great squad – the best since the '80s. Not true – if we did, we'd be riding a lot higher in the league than we are.
The truth is we've got quite an average squad; we've certainly not got any world class players or one true star who could have unlocked WBA's defence yesterday. In my opinion, we've got an ordinary manager and a very ordinary bunch of players – hence the games we've lost at the once impregnable home ground.
Brian Porter
12
Posted 14/02/2016 at 16:05:16
Harold Matthews, you make one very good point. Funes Mori should indeed have been sent into their box and told to stay there. This lad can definitely head a ball, and might have actually git on the end of one of those crosses that Rom for some reason didn't appear to fancy. Funes Mori always gives me the impression he WANTS to go up and score and games like this are just made for a lad with his potential scoring threat.
Harold Matthews
14
Posted 14/02/2016 at 20:08:23
Andy. Can't get into an argument 'cause you'll bring up Alcaraz and Kone, but two or three are not too bad.
As for Martinez. For me, he just doesn't have the strong, brave, ruthless, winning mentality of a successful Premier League manager. When he made those mind-boggling subs yesterday, he was fearful of West Brom scoring a second goal. Possession ruled the roost and Mirallis the maverick was too big a risk.
John Davies
15
Posted 14/02/2016 at 20:08:28
David Connor, why give Martinez one more season? He is so far wide of the mark this season, he should be sacked NOW.
Andy Meighan
16
Posted 14/02/2016 at 21:02:47
Harold,
I don't need to mention Kone or Alcaraz – two woeful additions in my opinion. I'm looking more at the likes of McCarthy, Cleverley, and one or two others who haven't exactly set Goodison Park alight but you are spot on when you say he's made a few good signings: Barry, Lukaku, Lennon, Deulofeu to name but four.
In my frustration, we probably have got a good squad but just haven't got the right manager to get the best out of them and I think, as long as he's manager, he never will.
Mark Eden
17
Posted 14/02/2016 at 23:57:40
New owners... new manager, hopefully.
Add Your Comments
In order to post a comment, you need to be logged in as a registered user of the site.
Or Sign up as a ToffeeWeb Member — it's free, takes just a few minutes and will allow you to post your comments on articles and Talking Points submissions across the site.
© ToffeeWeb