Martinez: Hard to explain latest defeat
by

326 Comments [Jump to last]
| 13/02/2016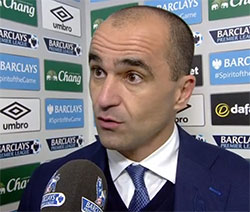 Roberto Martinez was at a loss to explain how his team didn't salvage something from today's game at Goodison Park where Salomon Rondon's 14th-minute goal condemned Everton to another disappointing home defeat.
The Blues dominated the game from start to finish but were frustrated in predictable fashion by a resolute defensive stand from Tony Pulis's men while Ross Barkley and Tom Cleverley also hit the post in the first period.
"If you look at the stats at the end of the game you'll find it very difficult to explain how we didn't reflect any of that dominance in the scoreline," Martinez told BBC Sport. 
"Obviously, when you go out on the pitch you need to perform well, you need to create chances and that's what we did today. You're looking at up to 14 corners, 34 attempts at goal and we got punished heavily at one corner [where] we couldn't stop that ball going in and that's the story of the game.
"I can't fault our understanding of what we were facing. We knew that West Brom were going to be putting a lot of bodies behind the ball but I still thought that we never got frustrated in that respect. We created good enough chances, we hit the crossbar and the post and those little margins in the big moments… we couldn't take advantage.
"But, clearly, we limited West Brom to one shot on target and normally, when you do that, you win the football game."
The Catalan admitted that his team had a strong case for a penalty for a foul on Seamus Coleman but he insisted that the defeat wasn't down to one incident, choosing instead to focus on the fact that his side had nothing to show for it's near-complete control of the match.
"It's very disappointing but … we tried everything that we could and the reflection is that the performance was good enough to win the three points, never mind to get a draw."
Martinez was asked about the audible frustration from the fans at Goodison Park at the team's poor home which now shows six defeats in the Premier League and a paltry 16 earned from 42 available.
The manager reiterated that his players approached the game in the right way and were unfortunate not to take all three points, let a lone another draw, but bemoaned the misfortune that he believes has led to Everton's failure to get the results he feels their performances have merited.
"Two seasons ago we broke the record points tally and now we have a better away record than the one we had then. At home we've conceded too many goals but sometimes that little bit of luck that you need... maybe that feeling [that] the shot is going to end up in the back of the net or you're a little bit fearful of it... maybe that has an effect.
"As I say, as a team you go out on the pitch to perform well and that's what we did today. Again, if you want to try and explain how didn't win that game from a stats point of view, it's very, very difficult and probably that could be part of the reasoning why this season at Goodison we haven't been able to get the points that I've felt we deserve.
"We still have time to improve on that. We want to take the challenge… in the next five games at home  we need to be in a position where we can collect more points than we have done so far."
---
Reader Comments (326)
Note: the following content is not moderated or vetted by the site owners at the time of submission. Comments are the responsibility of the poster. Disclaimer
Dean Edwards
1
Posted 13/02/2016 at 19:24:50
Possibly the 3 worst substitutions this season! Kone is the worst number 9 to have ever played for Everton! He should have been subbed for Mirallas. The sooner this bumbling buffoon gets the bullet, the better.
Carl Sanderson
2
Posted 13/02/2016 at 19:28:05
Well, that was the usual uninterrupted stream of verbal diarrhoea. It would be great if, just for once, he just stated what everyone can see, which is that we can't defend set pieces.
Kunal Desai
3
Posted 13/02/2016 at 19:29:56
Hopefully only 12-13 games more to put up with his bullshit excuses!
Patrick Murphy
4
Posted 13/02/2016 at 19:34:09
Ssn FP Pld W D L GF GA Pts
1997 15 19 7 4 8 24 22 25
1998 17 19 7 5 7 25 27 26
1999 14 19 6 8 5 22 12 26
2000 13 19 7 9 3 36 21 30
2001 16 19 6 8 5 29 27 26
2002 15 19 8 4 7 26 23 28
2003 7 19 11 5 3 28 19 38
2004 17 19 8 5 6 27 20 29
2005 4 19 12 2 5 24 15 38
2006 11 19 8 4 7 22 22 28
2007 6 19 11 4 4 33 17 37
2008 5 19 11 4 4 34 17 37
2009 5 19 8 6 5 31 30
2010 8 19 11 6 2 35 21 39
2011 7 19 9 7 3 31 23 34
2012 7 19 10 3 6 28 15 33
2013 6 19 12 6 1 33 17 42
2014 5 19 13 3 3 38 19 42
2015 11 19 7 7 5 27 21 28
2016 - 14 4 4 6 24 23 16

Colin Gee
5
Posted 13/02/2016 at 19:37:23
Hard to explain the defeat?
I can explain to to you Roberto, you took off Cleverley and brought on Kone....
Dave Abrahams
6
Posted 13/02/2016 at 19:39:22
Wasn't he asked why he took Lennon off, I imagine Aarron would have most people's man of the match, why did he bring on Kone and Osman and leave Mirallis on the bench, why persist with two holding midfielders when WBA were not interested in attacking, I could go on but it has happened all season. Like a lot of Evertonians tonight. I'm totally frustrated and fed up with Martinez.
Colin Hughes
7
Posted 13/02/2016 at 19:49:26
Bournemouth could be the final nail in his coffin next week.Out of all cups and now with us only 2 points ahead of 14th place Chelsea, who play again in the league before we do and things would look decidedly bleak on every front.18 months of shite home form would get most other top flight managers the bullet but sadly we have no standards anymore.
Dean Adams
8
Posted 13/02/2016 at 19:49:53
His last paragraph. How in five games do we exceed 16 points?
Johan Elmgren
9
Posted 13/02/2016 at 19:52:26
Him saying we "didn't do anything wrong" completely sums up his management. He can't acknowledge the few simple things that could have turned this game the other way...
First and foremost, the goal we conceded. It was basic defending errors, things you learn while playing junior football. Always have a player in front of their first player from the corner, in this case Jonas Olsson. If you allow them to get first on the ball and flick it, it creates massive danger. It was not like Olsson ran into the area, he was standing there all along.
On corners you also have to have defending players on the posts. These two simple actions would each of them have prevented the goal. But RM can't set up the team defensively, that's his biggest flaw.
Secondly, the substitutions. Many were critical over him taking Lennon off, but I don't think that was a wrong call. I thought Lennon looked kind of tired around the hour-mark. However, we were crying out for creativity and pace, and he puts on the two slowest players in the entire squad, Kone and Osman.
I would have put on Mirallas for Cleverley, Deulofeu for Lennon, and Baines for Oviedo. Oviedo was okay, but he don't have the attacking quality that Baines has. I mean Baines has a killer left foot and his tally of assists through the years is a testament of that.
Those simple things would have won us the game, and that Martinez can't see such things is not good enough. I've been patient with him and stood by him, but now I feel he just isn't good enough. I was feeling that already after the Swansea loss, but those three 3-0 wins on the trot made me feeling hopeful again, and I thought, with the confidence back in the team, we could go on to challenge for the European spots. However, with this debacle, he has lost me again... Martinez out!
Colin Gee
10
Posted 13/02/2016 at 19:52:33
Exactly Dave, I could have understood taking Cleverley off if he had brought on Pienaar or Mirrales or even Baines and pushed Oviedo further forwards.
Then to take of Lennon who was MoM for Gerry was simply unbelievable...
It's like saying no to that stunning hot date for Valentine's weekend and going out with Cilla Black instead...
Patrick Murphy
11
Posted 13/02/2016 at 19:53:03
I posted that table too soon, anyway the top and bottom of it is Everton's home form under this present manager is abysmal, bad luck, lack of defensive quality, whatever reasons or excuses are made. Judging a manager on his home results is what most fans do and rightly so, this is where their team get all of the usual advantages and the results on home soil often point to how a team are faring in their league.
With five more Premier League encounters to be played at Goodison Park this season, even if the team scored maximum points from those games against Arsenal, Bournemouth, Norwich, Southampton and West Ham we would surpass the heady heights of last season's home tally by a whole 3 points.
Everton have already lost one more league game at Goodison than during the whole of last season. Everton haven't lost six league games at home, since 2012 and that season saw ten victories for Everton at Goodison.
We will be lucky to see our beloved Blues equal last season's number of home victories as that means we would have to win 3 of our last 5 home games.
One of the most astounding stats I read earlier today was in the last 11 games at Goodison when Everton have trailed (by any score) at half-time our record is W0 D1 L10 that is not the sign of a team going places unless you feel the need to visit the likes of Leeds, Sheffield Wed et al on a more regular basis, time to pack your bags Bobby, if not now, then after Norwich at home regardless of our fate in the FA Cup.
Martin Mason
12
Posted 13/02/2016 at 19:53:51
Like Rugby Union now lots of soccer games are decided by the impact of substitutes who replace tiring players. I believe that Lennon was tiring after a superb display so needed to be replaced but perhaps that is crap. Were RM's substitutions correct? No because we lost but I don't believe that they mattered because in the end WB had done their job and had worn us down mentally. RM isn't tactically astute enough to know how to beat teams like this and tbh we lost the game the instant their goal went.
My RM meter swung back to "no hope" today. I'd congratulate WBA for the win but their time wasting and fouling is a disgrace to the game.
Jamie McNally
13
Posted 13/02/2016 at 20:00:30
Spot on, Dave Abrahams, I couldn't agree more! The substitutions were unbelievable!
Just when you start to think the penny has dropped with Martinez... oh no, hang on!
Dave Abrahams
14
Posted 13/02/2016 at 20:01:10
I forgot to add that Everton's goals against, at home, Is the joint highest in the top five leagues in Europe.
Peter Fearon
15
Posted 13/02/2016 at 20:03:01
The error was bringing on Kone. The better substitution would have been Deulofeu for Cleverley, moving Deulofeu to the wing and bringing Lennon to a more central second striker role. Lukaku was just lost in a sea of defenders for most of the match. You can't put enough pressure on a defense with one striker. Maybe Niasse will have a better impact when he is ready but I hope this is the last time I read the word Kone on a team sheet.
Mark Daley
16
Posted 13/02/2016 at 20:19:34
Google Translator does not lie.
Put in "this guy is a bigger pillock than Billy Bingham" and you get "su nombre es Roberto Martinez".

Even if we were to win the FA Cup (ha!) this is the Eternal Truth.
Dave Clark
17
Posted 13/02/2016 at 20:19:58
Last week the fans were singing "Ali Ali Oh, Roberto's Blue Army" and "Bobby, Bobby give us a dance", both made me cringe. If I was in that crowd I would've gone mad, how quickly had they forgotten we lost 2-1 at home to Swansea.
I'm also disgusted at his comments on how Evertonians should have more respect for Howard. And you are Roberto???? Who the hell are you to comment on Everton supporters??? You're a no-one, mate, who got a team relegated and should never be in charge of a mega club like ours.
How anyone an stand to listen to what you say or to even be in 5 yards of you is a mystery. I hate Roberto with a passion... Kone & Ossie??? Are you crazy???
Get out of my club now and stay out. One things for sure, no-one else will employ you, just like that other clown the Redshite fell for!
Get out!!!
David Mosses
18
Posted 13/02/2016 at 20:27:23
How can you bring Kone on for Cleverley? Kone is crap, he waltzed across the 18-yard box and never had a shot, just passed it out wide... what a waste.
Those substitutions were the worst he has ever made, and he's made some unbelievable subs. How can you take your best player off and stick with like-for-like? Martinez just has no idea, and he just doesn't have a Plan B.
Eddie Dunn
19
Posted 13/02/2016 at 20:28:45
I found the game very frustrating. The time-wasting from such an early period was disgraceful, and the ref could have been firmer with this at an earlier opportunity.
The fact that we continue to run out of ideas when a side "parks the bus" shows that Martinez struggles with the tactical side of the game.
Lukaku made the mistake of talking about his all-round improvement and was made to look fairly useless by the Baggies' defence.
Roberto made strange substitutions. Removing Lennon was a mistake as he still looked fresh and was roasting everyone down his wing. Surely putting on another winger (whether it was Deulofeu or Mirallas) and keeping Lennon on, would have enabled us to stretch their defence and get in behind them.
Kone tried hard and atoned for some of his poor touches with some aggressive play, but he was plainly the wrong man to bring on. Ossie could well have opened things up with a trademark precision pass, so I could understand the thinking.
Having said all of this, I must add that we did manage to open them up only to blaze the chances wide or (in Barkley's case) on to the post, so we did have the nous to do it, just not the finishing.
Once more though, a poor team (like Swansea) have poked in a soft goal and we have struggled to come to terms with it. Lukaku seems lost in these situations and his game seems suited to playing on the break, with lots of space to work with. He lacks a striking partner to get in close to him to provide a foil for his layoffs Mirallas could have been that man, as could the departed Naismith, but no-one seemed to get near to him apart from the bulky centre-halves.
We flatter to deceive yet again.
David Barks
20
Posted 13/02/2016 at 20:28:48
That's exactly the problem you clown, you can never explain why we lost. Which is exactly why we keep failing to win in the same manner. Boring, slow, sideways passing 30 yards from goal, passing it back to our own defenders when pressured, then repeat. That's why we lost, because we did exactly what WBA expected and wanted us to do.
He throws out a shots stat, but how many saves did their keeper make? Most of those shots were hopeless efforts that were blocked because we were passing it slowly, dribbling sideways from the wing into the center and running out of ideas/options. So Barkley would have a shot with 3 players directly in front of him that was inevitably blocked.
Lukaku received no service, with no through balls attempted to be played. He was making runs, pinning his man, but the ball never came. So he started coming deeper and wider for the ball, which removed our one striker from the 18 yard box. Meanwhile Barry and McCarthy stood around the middle of the pitch with no forward runs being made.
It's pathetic, absolutely pathetic. We've seen it time and time again with the same garbage spouted by the manager afterward, throwing out possession stats and shots and how they scored from their one good chance. Roberto, that's exactly what their game plan was. They allowed us to pass the ball around in harmless areas. They wanted us to get frustrated and attempt harmless shots from distance with 3-5 mean between the ball and goal. They wanted Lukaku to have to go 40 yards away from goal to receive the ball and pass it back out.
But you Roberto, you had no plan B to counter their game plan. Instead you did what you do every match, which is to say you did nothing. In a match that was screaming out for players who can take on their man to get in behind the defense, you made a joke of a substitution by bringing Kone on. The game was screaming for Mirallas and Deulofeu to be brought on at half time with Cleverly and one of Barry or McCarthy brought off.
If you knew WBA was going to sit back and defend, then why in the hell would you start the match with two defensive midfielders, and persist with that formation for over 80 minutes. And when you finally take one of them off, you bring on the slow Osman, leaving Mirallas on the bench.
This is a joke, a sick joke.
Niall McGurgan
21
Posted 13/02/2016 at 20:37:42
You see, if you build a house without foundations, the house will crumble when put under pressure. Everton are a house without foundations and Martinez is the foreman. When Everton are put under pressure, the philosophy, the tactics, the mentality, the formation, the tactics start to fail.
Everton under Martinez will always have some good performances and victories but Everton will never be consistent winners under Martinez because he never laid the foundations on how he wanted his team to be consistent competitors and winners.
In fact, the foundations were already laid by the previous manager and yet Martinez decided to destroy those. If a foreman builds a house without foundations, he will be sacked and never get another job. So why is Martinez still the manager of Everton?
Gerard Carey
22
Posted 13/02/2016 at 20:41:35
Martinez just doesn't know how to handle teams who park the bus, end of.
Tactics just stayed the same all through the game. Just shows how limited he is. It was the same last season.
Jason Thomas
23
Posted 13/02/2016 at 20:42:09
How many thought before the game 1-1, 0-1? Let's be honest, a lot of us did. Just sums up being a blue. Banker home win? Not us.
I'm sooooo angry! Especially this season. If we had a little more about us, WE could be Leicester!

Winston Williamson
24
Posted 13/02/2016 at 20:43:24
Martinez has had three games against West Brom at GP....and we've failed to fucking score a single goal!!
Now, the first game fair do's! Game 2? Really should be learning from the first game! Game 3?? Absolutely pathetic tactics! After the first two games you fucking KNOW what's going to happen in the third game!!!
Change your fucking tactics you Nobhead!!
John Daley
25
Posted 13/02/2016 at 20:49:54
Patrick,
That stat about failing to tott up a single win when trailing at half-time is scary stuff. Although not so surprising. I already knew our record in that respect was bad but didn't really want to know how bad.
Does make you wonder what goes on in that dressing room at half-time though, as whatever words are said sure as shit don't seem to have any galvanising effect.
Richard Reeves
26
Posted 13/02/2016 at 20:55:09
We'll probably go and give Bournemouth a masterclass lesson in creative attacking football next week, such is the odd split-personality side we are.
I'd take that and a little of the consistency that he had with his FA Cup winning team for whatever path lay ahead in that competition, seeing as we are pretty much safe from a relegation battle and are not going to be able to challenge for The Europa League.
Ian Riley
27
Posted 13/02/2016 at 20:55:19
Today really sums up our season! Osman brought on when 1-0 down! We have the players but not the manager sadly!
West Brom went to penalties in midweek and we still couldn't beat them! You couldn't make it up!!
Eric Paul
28
Posted 13/02/2016 at 20:55:48
Wtf!?! Our two best players off and the two worst players on!
What has happened to Lukaku????
Thank god for George...
Dennis Stevens
29
Posted 13/02/2016 at 20:57:03
It's actually fairly easy to explain, Bobby – Pulis had the beating of you, & you didn't know what to do about it.
Dave Abrahams
30
Posted 13/02/2016 at 20:57:18
Jason (22) I don't think we could be Leicester, we just do not move about or have the energy that Leicester have, we don't defend or attack in numbers or have the complete aim to win, there is no shouting or encouraging each other, we play the same way or change the players and still play the same way, the biggest difference is we have Martinez as manager, he is not good enough for Everton.
Barry Stevens
31
Posted 13/02/2016 at 21:02:01
On the train home once again, just thinking: "Why do I bother?" Then I read the latest crock of shit from our leader's mouth. He can go on about the away form all he wants, but it's the 30-odd thousand at Goodison he needs to start pleasing.
The sooner the takeover gets sorted and this clown gets the sack the better.
Andrew Laird
32
Posted 13/02/2016 at 21:03:01
Roberto is a used car salesman so he fits in well with the other two bullshitters in Elstone and Kenwright. For the good of Everton, the long suffering fans who are treated with contempt and my own sanity this man should be relieved of his duties immediately but he will carry on regardless at the only professional football club which has zero accountability for inept underperformance at any level.
Why does McCarthy not have to play cameos to gain match fitness like everyone else coming back from injury? Why has his game never progressed from running around for 90 minutes while only ever playing backwards or sideways under the tutelage of Martinez?
Does Kone have to be involved in every game to justify his new contract?
Why do we never have two wide players who are actually wide players playing at the same time so we are not so unbalanced?
Why did we play 2 holding midfielders AGAIN against a team who had no interest in attacking except from set pieces?
Martinez loves to make excuses, he has certainly had enough practice during his abysmal managerial career, yet he is still the manager overseeing a catastrophic return of points with, in his own words the "strongest Everton squad he has had, England's football diamond, Europe's best ball playing centre half, One of England's best ever midfielders and the best centre forward in European football". It is not coincidence, bad luck or any other bullshit excuse, the rot set in a LONG, LONG time ago and yet here we are on the end of another déjà vu result and performance. Do the honourable and dignified thing, Roberto and practice what you preach in "sin miedo" – print off a letter of resignation and sign the bottom... and don't forget to take the rest of your staff of losers with you.

Robert Elliott
33
Posted 13/02/2016 at 21:05:29
I'm past the point of being angry or surprised. The last 60 odd league games going back to the start of last season prove Martinez isn't up to the job and we're going backwards fast under him.
The only hope is that this takeover goes through and the new owners have enough about them to realise Martinez is out of his depth. If the current board stay in place, then we're stuck with the clown for a good few years yet.
Ernie Baywood
34
Posted 13/02/2016 at 21:06:39
I've pretty much ignored most of Roberto's comments given how much tripe he talks, but this one got my attention.
How does he have the nerve to come out after a carbon copy of most Goodison games and say "I don't know how we lost"? If you've no idea of the problem, how the hell are you ever going to fix it?
James Stewart
35
Posted 13/02/2016 at 21:13:42
Not really hard to explain at all, it was obvious from minute 1 what WBA's gameplan was.
Sterile crab like possession that was far too slow and predictable. The subs RM made have to be the worst I have ever seen watching us. Took off the best player in Lennon and Kone on the left completely killed any threat we had down that side. Piss poor.

Bill Gall
37
Posted 13/02/2016 at 21:24:24
I may not be the smartest person on here but I believe that once again the use of substitutes to say the least was questionable, and the defending from set pieces was once again amateur. And they scored 1 more goal than us.
David Connor
39
Posted 13/02/2016 at 21:28:39
Substitutions are the worst I've seen in a long time. The man is clueless. Absolutely clueless...
Not good enough for our club and totally out of his depth. Time must be running out for him..
Harvey Miller
41
Posted 13/02/2016 at 21:34:05
This was another poor result caused by poor management. Get rid asap.
It won't get better, it gets worse. RB could get any team in the world relegated, he is so bad.
Andy Crooks
42
Posted 13/02/2016 at 21:34:14
John (#24), can you honestly expect Martinez to inspire anyone? I have never seen anything in him that makes me think, fuck, now there's a man players would give their all for.
I have accused others of looking at players and knowing all about their attitude but the stats seem to suggest that Martinez is as woefully insipid and uninspiring as he looks. He looks – just my view – like the players mate. A bit like Sven at England. Everyone knew it was shite but it suited everyone to pretend it wasn't.
I don't much care for Joey Barton but I suspect if he was at Everton the pretence would have been over some time ago. We are weak and feeble to often and it is a reflection of the coach. Phil Walling described us as being like Ron Greenwood's West Ham. I agree but we lack anyone with the steel of, err, Trevor Brooking?
Tony Hill
43
Posted 13/02/2016 at 21:36:38
Yes, I think we need to get a bit angrier actually. We will be told by pious voices that we are not real fans, that we should all see the thing in historic context, that we don't recognise the magnificent job Roberto is doing really, provided you just ignore the actual results and league position which don't truly matter and which the connoisseurs and visionaries are able to see beyond.
I heard such voices on the radio this evening (Radio Merseyside actually with some patsy in the chair), condescending dimwits telling us that Jesus wants us for a sunbeam and that Roberto is an unlucky genius only let down by his faithless fans.
Fuck off, Bobby, there's a good lad. And take that particular numbskull, Jones, with you on the way out.
Harvey Miller
44
Posted 13/02/2016 at 21:36:57
We got a good set of players and a bad manager. The obvious conclusion: sack the manager. Won't happen here of course.

Steavey Buckley
45
Posted 13/02/2016 at 21:45:00
Martinez brought on 2 players who should not be around next season. Kone has basically given up being an attacker, because he knows he can't score, so lays off every ball to someone else even in a worse situation. As for Osman, why was he allowed to replace MotM Lennon?
Patrick Murphy
46
Posted 13/02/2016 at 21:48:16
If the manager cannot fathom how his team lost today's game and other games which have followed similar patterns, how is this slide in form at Goodison Park going to be arrested?
In the last 33 Premier League encounters on home soil, Everton have won 11 drawn 11 and lost 11 scoring 51 times and conceding on 44 occasions, gaining 44 points from a possible 99 points.
In Roberto's first season he managed 13 victories, two more than his tally for the last two seasons , and his team took 42 points from his first 19 Premier League home games losing just three times on home soil, scoring 38 and conceding 19.
If we are really getting closer to becoming a team that can challenge at the very highest levels where is the evidence?
I agree that Lukaku is the best striker we've had at the club for decades, his goalscoring record proves it, but it doesn't or hasn't as yet created a feeling that we have solved our long-standing problem of being only a player or two away from competing at the top end of the table, and how many really good teams rely on just one source to score the necessary goals?
Barry has been one of our players of the season, Barkley isn't far behind, Del Boy and Lennon on recent form at least, are decent players, and the defence that played today is more or less our best available, yet he we are reflecting on another morale sapping defeat.
Some of the reasons for stumbling in games like today are the constant use of players such as Osman who has been good but shouldn't be anywhere near the team, and Kone who has never been particularly good at Goodison and is unlikely to be anytime soon.
Everton may have dominated the ball today, but they never dominated the game and West Brom for the most part kept us at arm's length and looking less likely to equalise with each passing minute of the game.
At the moment Everton seem to be suffering from an identity crisis, are they the free-running, adventurous team that everybody outside the confines of Goodison believe them to be or are they the hard-working, no-nonsense team that we saw at Stoke?
I wouldn't mind hearing a few more opposition managers decrying the way we play and criticising our style as that would likely mean we are winning more matches at home, listening to the likes of Pulis et al purring over how good we are as he heads back home with 3 points is galling and the Everton manager and players shouldn't be taking any notice of him or anyone else who leaves Goodison Park happy at Everton's expense.
We can't win every game we play at home, but those recent figures at Goodison are not the statistics of a team that's going to be challenging for Champions League places any time soon. If this season peters out in a similar way to last season, I think that Roberto should be replaced because going to a home game should be enjoyable and at the moment it just isn't for many many reasons.
Michael O'Brien
47
Posted 13/02/2016 at 21:53:02
Apparently according to a caller on the football phone in that sits next to the dugout, Graham Jones is responsible for the substitutions... and the coaching staff including Ferguson were even shaking their heads at the subs – just crazy if that's true.
Mike Keating
48
Posted 13/02/2016 at 22:00:44
As Neville Southall told Howard Kendall on set pieces, "I want someone on the back post; I'll deal with anything that goes anywhere else but I can't do both. I can't protect my near post as well as my back post."
Why do we forever ignore such an obvious tactic when faced with a corner? We shouldn't even have to think about it.
As for the substitutions....
Christopher Dover
49
Posted 13/02/2016 at 22:04:12
Can only agree with most of the comments.
Why when we have the ball do the rest of the team play statues? No movement to make room for a pass?
At home with one striker who I wish he would perform as well as he talks.
Taking off the best player to put the worst on and as all are saying why no Pan B and C?
But Roberto Martinez will go home happy with 74% possession and how unlucky (again) we are; if we carry on, we will be the unluckiest team in the Championship.
Gerard Carey
51
Posted 13/02/2016 at 22:20:12
Ah lads, wait till Monday or Tuesday when RM or one or two of the players will trot out the usual stuff like, "We are learning from our mistakes" or "All this is a learning curve for the younger players," or "It's all bad luck, or we are in a false position."
Solution!!?? Get in a manager who can motivate the panel of players we have. Get rid of the deadwood at the end of the season.
Sid Logan
53
Posted 13/02/2016 at 22:30:20
This sort of result is happening too often to be viewed as some sort of bad luck or unfortunate result. We are essentially seeing the results of Martinez's coaching style.
We forever hope for more and Martinez consistently fails to deliver. I have no doubt that the debate on his managerial ability and these sort of mixed but mainly maddeningly frustrating performances will continue until he's eventually sacked.
I just want to make a few points about today's game. Driving home from the game, I heard a guy on the radio talking about the Goodison faithful being more than ready to blame the manager (wrongly on his view) for our reoccurring cock-ups yet always failing to point the finger at the players.
I want to say why I lay the blame completely at the feet of the manager and not the players. Today, the players performed well but they clearly implemented a strategy that they had been given by their coach and that strategy didn't allow for a variation which could have assisted in a victory against a team like West Brom – and in particular a West Brom who were one-nil up.
This is essentially a really good squad, for which we have to give a degree of credit to Martinez for their assembly. We also have to acknowledge Moyes's role. But Martinez has to take full responsibility for their failure to consistently win games and in particular to win the most winnable of games.
Today, every time we attacked forwards in the centre (as we've seen so many times this season), we always play the same ball – out wide. Clearly the intention is then to swing a ball in at some stage for forwards to attack.
I could live with this happening for some of our attacks but I can't live with this being the approach on every single bloody attack. Nor can I accept this being the tactic against a team like West Brom who have big defenders and get plenty of men behind the ball.
Clearly Martinez thinks if we keep repeating this tactic, we will eventually prevail. Yet, more often than not against a team like West Brom in the past two seasons, we have consistently failed to win with this tactic. It demonstrates a complete lack of imagination from our self-styled footballing genius.
Swinging the ball outside allows sufficient time for a defensively minded team like West Brom to organise their defence. It never allows for a fast penetrative attack. We also, under Martinez, never attempt to, directly from the centre, thrust into their penalty area – presumably because it's too crowded. So we never are given the chance to earn a free kick in a decent area, a penalty, or a ricochet shot.
We can only shoot when we have a clear shot on goal – which, against a team like West Brom, is hardly ever. We are therefore always denied the fine margins that Martinez so regularly refers to. I'm never sure exactly where and in which dimension these fine margins exist. Clearly they are not something which our endeavours on the pitch are able to control!
It goes without saying that we hardly ever attack with a speed which will catch out a team like West Brom because every attack involves too many sideways passes which are easier to make but offer little in the way of real penetration against a defensive team.
Then, of course, every high ball in is easy meat for tall defenders. But without fail, we continue to to repeat this unproductive approach.
Then we need, as we have done so many times this season, to talk about set-pieces. Never have I seen such a consistent repetition of unimaginative lacklustre set-pieces. Leicester is a team which has consistently produced some very clever set-pieces and every time I see one, I wonder why the tactical genius of Martinez doesn't permit the occasional inclusion of one in an Everton game?
For me, most of the things I've complained about above are related to the tactical way we play games and not the performance of the players themselves. None of the above makes reference to the distinctly piss-poor way Martinez makes substitutions in games – either by their poor timing (more often too late), or taking off the wrong man and then compounding the felony by bringing on the wrong player.
Much has also been said about booing at the end of games. It's not something I do myself but I would never criticise those who do. But for my money most (I accept not all) of the booing from supporters this season (when not about refereeing decisions) has been about Martinez's tactics more than player performance.
Richard Farrington
54
Posted 13/02/2016 at 22:35:23
Does anyone want this clown to stay – still?
New owners – could we get Pellegrini?
Martinez, your time is well and truly up. I am making the pilgrimage to Bournemouth next week and I would suggest a Walter Smith moment if he fails.
Another weekend ruined.
Andrew Clare
55
Posted 13/02/2016 at 22:38:55
At home when the away teams sole aim is to draw or nick a win we just don't know how to break them down. It happens nearly every time. I would have thought that the training all week before these games would be to work on ideas of how to overcome these tactics but it just seems like we have no clue of what to do.
It happens too often to be just a blip there is a deep underlying problem that RM can't get a grip of. Then today, to cap it all, the substitutions appeared to be made by someone with no knowledge of football at all!
Brian Mahoney
56
Posted 13/02/2016 at 22:41:39
Ah well... same old same old. Everton build you up only to let you down.
As most posters have said, three of the worst substitutions to have ever been made.
Chris Gould
57
Posted 13/02/2016 at 22:46:37
We are rubbish at possession football. We don't know what the fuck to do with the ball. When the opposition has the lion's share of possession, we break fast and look threatening.
When playing against shit sides at Goodison we struggle, and it is clear that we need to change the system at home. Or at least change it with 30 mins to go when it's pretty bloody obvious that it's not going to get the job done. We need to scrap the two central defensive moidfielders and have two right up front.
Incredibly frustrating. We could have been hunting down 5th place and quietly wondering if 4th was still at all possible. Instead, we lost at home to utter shite.
Si Cooper
60
Posted 13/02/2016 at 23:22:39
Michael O'Brien (44) – I think the bloke on the phone-in is struggling with the concept of responsibility.
Graham Jones may be the one dealing with the fourth official but the manager has to be the one deciding who and when.
Ashley Roberts
61
Posted 13/02/2016 at 23:25:05
I know Kone has come in for a lot of stick today but it was not his fault that Martinez put him out wide left!! To be honest, he should have replaced Lukaku who was pitiful today. No control, no interest and no energy. At least Kone can hold the ball up and it does not bounce off him.
Okay he did not get the service but did he put himself about like Rondon did? I cannot believe apart from Lennon that the ball was continually being pumped high into the area for the defence to head clear. Pity we don't have a Plan B for corners as I only remember once that Funes Mori got his head on it first.
The substitutions today just did not make any sense and, as was pointed out above, when a team comes and parks the bus, why do you need two defensive midfield players???
I cannot believe we lost today to a really really poor side.
John Whelan
63
Posted 13/02/2016 at 23:42:04
It doesn't take a genius to figure out why we lost Bobby:
Pulis set his team up to not concede and try and grab a goal from a set piece.
Your insistence on playing with 2 Defensive Mids every home game kills us. Against weaker teams like WBA, who will play deeper than the likes of Arsenal, means we're not going to be under the cosh too much in open play, so set your team up to play to that advantage.
I personally feel Ross is wasted as a No 10 in these types of games. I believe he's better playing deeper and sacrificing Barry or McCarthy (on current form the latter) and playing another Striker (Mirallas, Niasse when he's ready, or even Koné seeing as he's a striker and not a left winger) up front with Lukaku instead of leaving him completely isolated like he was yesterday.
Your biggest fault though is substitutions; you never, ever leave your stringent 4-5-1 even if its not working and our opponents have sussed us out. Changing the players but keeping the same formation plays in to the oppositions hands as it gives them nothing new to think about.
As I said, Bobby, it's not Rocket Science but will you change? Will you fuck. Quicker you're gone, the better!
Michael Penley
66
Posted 13/02/2016 at 23:56:40
The fact that he's talking about stats shows he doesn't have a clue. Stats are meaningless, they don't show what's going on in a game. If he's standing on the sideline thinking about how much possession we've had and how many shots then he's not fit to be a manager.
John Aldridge
67
Posted 13/02/2016 at 00:00:05
We're just going to have to grin and bear it until the summer - he won't be going anywhere until then. Sick and tired of sitting in my seat watching us constantly going for either the sideways or backwards pass with little to no movement ahead. Tactically inept. Pulis had Martinez's number, played a game that nullified us and it worked to perfection. Martinez had no answer to that game.
I was watching what was going on with the subs. 2nd half, three come out to warm up. Mirallas, Kone and Osman. No sign of Deulofeu. Kone and Osman are never the answer. Only after the Gwladys Street started singing his name did Martinez turn to the bench to order Del to warm up. He stood and watched us pass sideways and backwards with game changers like Mirallas and Del on the bench.
As usual, too little, too late. Replacing Cleverley (who was having a good game) with Kone was a piss-take. Hauling Lennon off when Del finally came on was unforgivable. He's an idiot, hasn't got a clue.
Brian Porter
68
Posted 13/02/2016 at 00:05:09
Thank God to see a united front on TW tonight. Martinez has truly outstayed his welcome at Goodison Park. He's had nearly three seasons to prove his philosophy has merit and had failed dismally.
Why does this dunderhead keep sending Kone on to the pitch? He has to be one of the worst players ever to wear the #9 shirt at Everton and I've been watching us for 57 years. As soon as he comes on, it's like we're down to ten men. Slow, ponderous, useless in front of goal... 'nuff said.
Again, the substitutions... crying out for speed and creativity – we got the aforementioned Kone and Osman. I have respect for Leon but there is a time and a place where he can offer something; this wasn't it.
To leave Mirallas on the bench was nothing short of criminal. If there's something personal between RM and Kev, then the manager has to be professional and leave his personal differences at home and do his job as he's paid to do. If that means putting his personal feelings towards Mirallas aside, do it, Martinez. You earn more in one year than most fans will earn in a lifetime and yet you offer us nothing but mid-table mediocrity.
Any other club would have sacked this tactically inept one-dimensional charlatan by now yet he is allowed to go on driving us further into the depths of said mediocrity with not a word from above. Apparently he earns virtually the same as Manuel Pelligrini, soon to be available it seems. Get rid of the clown before it's too late and our best players all request transfers.
Whether Pelligrini or any other top manager would come to us is debatable, as we may have some good players but Martinez may have done irreparable damage to the morale and tactical sense of many of them. I think everyone who loves our great club would breathe a huge sigh of relief if they picked their Sunday paper up tomorrow and saw Martinez Out across the top of the back page.
Niasse, we were told, would be involved today. What happened there Roberto? More lies to keep us happy during the week? Every other club who made signings in January has used them so why not us?
I've truly had it with Martinez,and his 'Book of a thousand and one excuses'. Just go Martinez, go now, please!
Dick Fearon
69
Posted 13/02/2016 at 00:25:26
A referee should have the option of awarding a whole of team yellow card for time-wasting. Pulis deployed his players with a game plan that by any measure was successful.
Our Roberto was at a loss to explain this latest in a long list of defeats in games in which we had overwhelming possession.
I offer him these few hints on where we went wrong.
1. Our main striker was too early in taking a position in the box. This blocked avenues to goal for team mates.
2. Playing two defensive mids in a home game against a struggling side.
3. Poor substitutions. Anyone other than Kone and Osman would have been better.
4. Dreadful Corner and Free kicks begs the question what in hell do you practice at Finch Farm.
5. Lack of concentration that resulted in WBA's goal.
Finally Roberto you should own up to the fact that once again you were out outmanoeuvred by a wiser manager. You could seek advice from your expert panel on the bench or don't you trust them.

Peter Fitzpatrick
70
Posted 14/02/2016 at 00:26:03
I agree that Martinez's substitutions were awful today but we done enough to win that match. Lukaku was piss poor today and offered absolutely nothing. When he comes up against a physical centre half like Olsson or Vertonghen, he is absolutely useless. If Lennon or Barkley would have had a better target up front, we'd have won comfortably.
I don't get why we persist with throwing high balls into the box when Funes Mori is the only player that can attack the ball convincingly. I'd rather we took short corners and played to our advantage, and not run the risk of hitting the first man. I know people aren't happy with Roberto, but will he really get sacked anytime soon?

David Barks
71
Posted 14/02/2016 at 00:32:08
Peter,
That is such a joke. Lukaku offered nothing? No, he was presented with nothing. The passing was all sideways, always. Lukaku would have his man pinned waiting for a through ball and it never came.
As for done enough to win, how exactly is that? Their keeper didn't have to do anything. All our possession was useless and in harmless areas. All our shots were blocked because we created nothing. We did nothing to win. We couldn't even trouble their keeper.
This is not an isolated incident. It in fact is the trend for going on two years now. Lukaku is the only damn reason we're not in a relegation fight this season.
Mike Gaynes
72
Posted 14/02/2016 at 00:34:07
Steavey Buckley (#42), Osman didn't replace Lennon. He replaced McCarthy, and the only thing that was wrong with that substitution was that it should have happened earlier.
It was Geri who came on for Lennon. I thought a good sub then too with Lennon looking tired. Unfortunately Geri's usual crossing accuracy wasn't there.
Kone for Cleverley was the blunder.
Anthony Dwyer
74
Posted 14/02/2016 at 00:38:43
Sick of hearing the same shit excuses for Roberto's lack of tactical knowledge.
Fans on here and on Merseyside choose to pick out individual players such as Rom or Ross for our defeat, instead of facing up to the fact that we are forever starting teams that are wrong from the get go.
We have two defensive midfielders for starters, at home to West Brom, can nobody see the problem there.
We have one striker, we have one winger, again at home to West Brom.
Yes, we have won our last few games, never the less, we have struggled for 18 months, do we just forget that.
I can't even be bothered to dissect the sub's as no one on this planet agreed with any of them, no one needs me to explain what could or should have been done.
The fact is Roberto is out of his depth at Everton and out of his depth in the prem.
I've had a season ticket for 25 years and seen some piss poor games, results and players, and I was willing to accept it.
What I can not accept is to see this manager break up a top squad, because he is not anywhere near good enough at his job.
Wtf must Mirallas think when he can get on, at home, behind to West Brom, with no Niasse on the bench and Naisy gone?
Why is he still at us?
He must be either happy to take a wage or a complete barm pot, who is allowing Martinez to ruin him.
Please please please Everton, bin Roberto now, enough is enough.
Andy Crooks
75
Posted 14/02/2016 at 00:44:16
Good post, Mike Gaynes. Kone, whom I have defended often on here, is well past the player Martinez bought.
Anthony Dwyer
76
Posted 14/02/2016 at 00:50:15
Mike Gaynes 59;
Wow.
Lennon off in anyone's book was suicide.
He was the most lively player on the park and should have remained on the pitch.
Osman should never of entered the field of play. They had big strong men everywhere and our only way through was with Lennon's pace, Mirallas or/and Deulofeu should have been brought on to save the game.
Lennon could have went to right back as West Brom offered no attack for him to defend, or left to run at there other full back and link with Oviedo.
Cleverley should have been given a chance centrally, especially as Martinez has spent all last week singing his praises.
McCarthy needed taking off earlier, Cleverley central to pass forward and Osman left on bench to ready the drinks.
Kone was signed by Martinez even though he had seen him close up for a full season the year before as his manager.
Simply put awful signing.
Peter Fitzpatrick
77
Posted 14/02/2016 at 01:20:23
David (#58), Lukaku could have had all the balls he wanted, but he chose to hide and get involved in a battle with the West Brom centre halves that he couldn't win. Instead Coleman, Lennon and McCarthy were getting on the end of balls in the box that Rom should have. I think he's been great this season, but he still has his limitations.
Ernie Baywood
78
Posted 14/02/2016 at 01:30:06
As good as Lennon was, he could have played 900 minutes against West Brom and we still wouldn't have scored.
There's the problem. By most measures individuals are playing well, and the team is racking up the stats.
But the game is about goals. When we have bucket loads of possession we simply don't score enough. At the same time we look vulnerable at the back when the opposition counter attacks.
So what do we do? We stroll forward with the ball and have more pointless possession. More stats, and some of it even looks good.
There's no point doing that against West Brom. They're a well drilled Pulis team who are going to hold their positions and back themselves to deal with set pieces.
Try something else. Anything else. Draw them out. Play more direct. Anything is better than the inevitable, surely?
Peter Fitzpatrick
79
Posted 14/02/2016 at 01:32:22
As far as I'm concerned, you can blame Roberto all you want for not getting the best out of his team, justifiably. Getting beat with Stoke putting four past us I agree, and some of the draws against Chelsea and Bournemouth etc, Roberto has to take responsibility.
But today, we got beat by a freak goal (three clean sheets in the last four games explains this), but it was a game any other manager would be in a position to write-off. Any other day, we would have put a few goals past whoever the opposition was.
Get Niasse in, use Kone less, and let's kick on for a real UNIQUE end to the season. We've still won three in four. Roberto WON'T be sacked. Let's kick on till the end of the season.

Peter Fitzpatrick
80
Posted 14/02/2016 at 01:40:05
You've go to laugh otherwise you'll cry. On the plus side, Oviedo was quality, Barkley had a decent game again and Lennon looked a threat all game. Did anyone else notice how hard and bouncy the pitch looked?

Ernie Baywood
81
Posted 14/02/2016 at 01:48:57
Peter, when the freak occurrences become the norm, I don't think you can call them freak occurrences anymore.
Granted their goal was an odd one, but we shouldn't be reliant on teams not getting a small amount of luck.
Don Alexander
82
Posted 14/02/2016 at 01:49:39
This is bullshit, from a moronic media darling, in that his 'incredible' (as in the literal meaning, 'unbelievable') quotes are grist to the mill for the likes of MotD, but he's killing our season, as he did last season, and yet he's still employed.
Absolutely fucking 'incredible'.
Jim Hardin
84
Posted 14/02/2016 at 02:21:42
Wait a minute. How was the goal a freak occurrence? It didn't deflect off a freaking bird. It didn't get caught by a gopher who took it and burrowed into the goal and popped the ball up over the line did it?
Stop rewriting the actual game. The goal was actually rather routine. Ball into the first player who tries to flick it on towards goal and does so. Ball goes to back post, no-one is there. Goal.
Are you saying it was a freak goal to excuse the culpability of those involved? It's all right, go ahead and blame Howard for it. You can be damn sure if he were in there and did what Robles did, he would be being skewered for it, despite the fact that that goal might not have been saveable.
Face it, Everton still have a long way to go to correct basic defending errors. That is on the manager first and the players second, to do what is needed. I am not sure RM knows how to do that and is too stubborn to bring in anyone to help. Fix that and you will have your answer, Roberto.
Peter Barry
86
Posted 14/02/2016 at 02:48:10
We can explain it, Bobby – you're out of your depth and you don't have a Plan B; you never have a Plan B and your substitutions which are usually CRAP were today absolutely INSANE.
We know Kone is not a Premier League standard footballer – hell EVERYONE knows he's not – so how come you don't??? That is INCOMPETENCE and that is a sacking offense at a NORMAL club.
But we know you won't be sacked so please resign and put us out of our misery and go away before you turn us in to Wigan for real and get us relegated.
David Pearl
87
Posted 14/02/2016 at 02:55:46
Robles may have misjudged the flight of the ball yes and perhaps Howard may have been more under the spotlight if he was playing. However I think its time to see Robles have a run in the team and deserved to after 3 clean sheets in a row.
We lost today because... ??? 34 shots, a couple of posts and couple blocked on the line a few deflections inches wide. Strange game. Martinez has lost the crowd again like he did last year but its a culmination of having the worst home record that I can remember and some bizarre game management.
We have the Cup game next weekend to take our minds away from the league... probably just at the right time.
Darren Hind
88
Posted 14/02/2016 at 04:24:33
It's pathetic to try to pin the blame on Robles for that goal. It was a fluke of a goal, Olsson had one intention and that was to help the ball on; fortunately for him he got too much on it which created incredible top spin and it dropped in at the back stick.
Were we unlucky to concede it? Were we fuck... we should have had a man on the back post, but to blame the goalkeeper is just plain stupid, it's like blaming Howard for Shaqiri's goal against Stoke. The most difficult save for a goalkeeper to make is a hit and hope. No goalkeeper in the world would have saved that goal yesterday.
I believe the person who is popping up on this and other threads, trying to accuse others of "rewriting the game" is trying desperately hard to make a case against Robles by making up a list of perceived "mistakes". It won't wash. Evertonians are not so easily fooled.
Robles may be well below the required standard, but because he has been denied any chance of getting a run, we don't yet know that. What we do know is that the overwhelming majority would prefer to take a chance because the alternative is a complete and utter disaster.
Fair play to Olsson, he got across his man and deserved his luck, but if you gave him a thousand more chances to repeat that header and generate that sort of top spin, putting it in that place... na!
I repeat, NO goalkeeper could have saved that, regardless of the claims made by people who seem to base all their opinions on inaccurate and irrelevant stats dreamed up by a TV channel still trying to get to grips with the game.
Darren Hind
89
Posted 14/02/2016 at 04:33:20
Oh and reason we lost the game?
Pulis did what everyone who takes the slightest interest in the game knew he would do. He put up his 5&4 banks and challenged us to break them down. We couldn't.
It's staggering that Pulis can still make a living with his primitive game plan... but, then again, it's equally staggering that clubs like Everton employ managers who are unable to overcome it.
Steve Brown
90
Posted 14/02/2016 at 04:50:35
The goal was a failure of defensive organisation and managerial incompetence. Funes Mori beaten to the corner at the near post, an overcooked flick loops over to the far post. Now this is where your defender is waiting, unless the defence is organised by Martinez and Jones, in which case their forward can stroll in unopposed and chest the ball in from a yard. An absolutely scandalous goal to concede.
And which Evertonians in their hearts really expected us to come back from it? I certainly didn't. But what finally did it for me was bringing on Kone to play off the left. It was the turning point in the League Cup semi-final and did for us there as well. I personally have slaughtered Kone on here, but if he was to come on at all it should have been to replace Rom.
A squad this good cannot be wasted on such a tactically limited manager, so he has to go at the end of the season.
Ged Jacques
92
Posted 14/02/2016 at 06:33:42
New to TW, so greetings one and all. Haven't read through all comments so apologies if this has been stated.
Yes, the Kone substitution was bewildering but sadly predictable. A couple of things, other than poor substitutions, that jumped out at me:
1. We had something like 34 shots. Barkley hit a post (unlucky), Cleverley hit the woodwork with a cross, but other than tipping Lennon's deflected shot over the bar, I can't remember Foster being forced into a save!
2. It was obvious after 20 mins we were no match for WBA in the air yet we continued to put all corners and way too many crosses into the box. We were most dangerous when Lennon got to the byline and pulled the ball back... but he was subbed!
Neil Pickering
94
Posted 14/02/2016 at 08:00:25
I manage a team on a Saturday, not at any great level like, but even I know that, if a team is dug in like West Bromwich were, you have got to try and make the pitch as wide as you can.
I will probably get slaughtered for this but I didn't really have an issue with the first sub of Deulofeu for Lennon, as I happen to think that Lennon's end product is poor; with the exception of the past few games vs poor opposition, it still is, and was today. So, like I say, no problem with that sub.
It's the Kone and Osman subs that show our manager's ineptitude. Kone is a centre forward, and if you are going to bring him on with Lukaku then that's fine; but, when we bring him on left side, it's absolutely criminal when you have Mirallas on the bench who can give width. The Osman sub is even more mystifying given that he has no legs whatsoever and again, like Kone, narrows the play.
Ross Barkley also showed in this game his lack of football intelligence by trying to thread the ball through the eye of the needle through the middle of the pitch were West Brom had about 8 players instead of constantly dumping it wide like he should have done. Absolutely brain-dead, Barkley is at times... But, then again, he is being coached by Martinez.
In terms of buying players and assembling a squad, I think Martinez has done OK, but as far as coaching them the basics, being flexible, and also being able to change a game with subs, he is the worst manager I have ever seen at Everton, and I include Smith and also Walker in that.
Sam Hoare
95
Posted 14/02/2016 at 08:04:05
How many times can you blame bad luck? At some point you have to take responsibility. I won't hold my breath.
This year the door has been open to do something special. Spurs and Leicester in particular have seized that opportunity. We have floundered and choked. Not sure I will ever be able to forgive Martinez for that. His interviews compound rather than alleviate my frustration.
Trevor Peers
97
Posted 14/02/2016 at 08:19:17
Anyone who thinks our bad home form is just down to bad luck, need only look at Roberto's overall record as a Premier League manager. Losing many games at home is in his DNA so why should we be surprised?
If we do get new owners, I'm sure they will quickly replace him, but finding a successful manager is the hardest part of any winning formula... best of luck guys!
Kim Vivian
98
Posted 14/02/2016 at 08:19:36
The goal wasn't a fluke. It was a bit of luck and a load of shite defending.
Why is it that whichever end it is, the first man is never wearing the Chang shirt. We have had our share of lucky or 'flukey' goals but at the end of the day, that goal should have been about as relevant as Newcastle's yesterday. We should've blitzed them.
Our finishing is toothless. We should at least have troubled their keeper. Problems exist at both ends I think. Out of our last 6 league goals (I am not including fucking League One Barnsley against whom 3 is the least to expect) I would only put maybe two down as good finishing and not gifted to us.
Dick Fearon
99
Posted 14/02/2016 at 08:31:28
Martinez finds it hard to explain the latest defeat!
That would be the closest he came to saying he hasn't got an effing clue.

Paul Setter
101
Posted 14/02/2016 at 08:33:29
Everything that came from Wigan with this idiot is garbage – and I include the overrated carthorse McCarthy in that.
I used to travel to Liverpool from Exeter most home games... but now (and since Xmas) I'm not putting another penny in the club until he has gone and we have sold every crap player from Wigan.
He was the easy option when Moyes left as it was cheap. Him and his Wigan muppets have turned us into a Punch and Judy show.
Laurie Hartley
102
Posted 14/02/2016 at 08:56:14
No full back on the back post. Lennon & Coleman running riot on the right wing. Pulis subs his left back. Baines and Pienaar sitting on the bench for the last 30 minutes?
Pulis must have been laughing his head off all the way home.
Nigel Munford
103
Posted 14/02/2016 at 08:58:46
I asked the question on the match forum yesterday: Where's our new 㾹.5 million striker? He wasn't even on the bench!
I know he hadn't played since early December, but he's not injured so should be able to be match-fit in a short space of time, I would have thought.
Most other teams make an investment like that and they're playing the player first game possible. It's now nearly 3 weeks since he arrived, let's hope he's not injured!
Tony Hill
104
Posted 14/02/2016 at 09:22:45
Yes, Nigel, it's typical of us. Nothing ever clear cut or streamlined.
Mike Gwyer
105
Posted 14/02/2016 at 09:23:55
RM can blame luck all he wants, but every blue in every seat around me knew, as soon as West Brom scored, we were fucked. There was almost an acceptability; it's like a bi-weekly hangover whereby going to Goodison leaves you with a feeling of total fucking shiteness.
RM must have known that Pulis knew exactly what to do, he fucking must've because every blue in the ground did. For me, though, Pulis left his best move for the end, his post match chat. I mean he really took the total fucking piss telling the media that this blues team is a top 4 outfit. But guess what? You can take West Brom to Goodison, do absolutely fuck-all with the ball, get a cheap goal, and just sit there and defend. Of course Pulis is right, I mean every other team comes to Goodison and it's like "day jar view", it's a given that all top 4 sides have trouble breaking down the likes of West Brom.
Brian Porter
106
Posted 14/02/2016 at 09:41:30
Kim, I think you mean League Two Carlisle, not League one Barnsley. That one was ages ago in the Capital One Cup and we won 5-3.



Neil Quinn
107
Posted 14/02/2016 at 09:43:48
Kone is a centre forward (whether he's a good or bad one is a different argument). If you're going to bring on a centre forward, then play him there....not on the bloody wing. If you want someone to play wide left, then bring on Pienaar or Mirallas.
One of the most baffling substitutions I've ever seen.
Ian Robert
109
Posted 14/02/2016 at 10:10:55
Top post from the boy Hardin...he still managed to get Howards name in there....excellent...well done!!
Harold Matthews
110
Posted 14/02/2016 at 10:17:36
Yes Mike, I was trying to make a quick cup of tea when my brother shouted, "They've scored. We've had it now. No chance".
Peter Barry
111
Posted 14/02/2016 at 10:20:47
Niasse wasn't playing because he has not been fully indoctrinated in to the Martinez 'Way' yet...
David Greenwood
112
Posted 14/02/2016 at 10:22:13
Darren has pretty much nailed it.
No one would have blamed Howard if we had lost that goal and he had been in, despite Mr H trying to claim differently.
We lost that goal because no one was on the post. That is 100% down to bobby and how he chooses to defend.
Ray Robinson
113
Posted 14/02/2016 at 10:22:14
Neil #89, I too was baffled by Kone playing so wide on the left. To me, Lukaku was isolated in the middle and we needed more bodies in the box, so I wasn't entirely against bringing Kone on (albeit certainly not for Cleverley). Why take off Lennon who was having a blinder? Why not bring on Mirallas who knows where the net is? Why bring Ossie on?
Bad luck contributed to us losing the game but poor finishing and atrocious substitutions also contributed.
Matt Butlin
114
Posted 14/02/2016 at 10:28:03
I can explain it. They came to defend knowing we'd not changed our tactics in 2 and a half years hoping they could pinch one. And they did. The fact that we've not scored against them at Goodison is a while now went unnoticed by the phenomenal one as he continued bumbling along. Kevin Miralllas must be doing his nut!! Who knows what goes on behind closed doors but it's crazy that he's not given a chance. This game is about kicking the ball in the frickin net more times than your opponent.
Kim Vivian
115
Posted 14/02/2016 at 10:30:42
Brian - doh!!!
...of course you're right. Too much going on in my brain. I think RM fkd that up as well!
Joe Foster
116
Posted 14/02/2016 at 10:30:57
The real bad luck is having RM as our manager. This season is a bust. I spend more time now looking at the results of the teams around us hoping they drop some points so we can possibly slither in an upwards direction. My annoyance at RM even bores me now. At least we only have him until the summer.
Daniel A Johnson
117
Posted 14/02/2016 at 10:44:23
Look at Mahrez coming out and saying that if he neglects his defensive duties at Leicester then Ranieri benches him.
The whole team has defensive discipline from top to bottom, its been drilled into them, rewards for clean sheets etc.
Contrast that with us the 4th worse home record in Europe.
We simply cant defend, Martinez doesn't know how to coach it either.
The bed rock of any successful team is being hard to beat.
Paul Thompson
119
Posted 14/02/2016 at 10:57:03
To be fair, 'I don't know how we lost' really means 'we didn't deserve to lose'. And that's true but we are a good counter-attacking side whose manager has no clue how to beat a park the bus formation. We were unlucky in the first half, but on the second, like most blues, I couldn't see us scoring, especially with those subs. My favourite quote from Roberto was 'we never got frustrated in that respect'. It's not a feeling shared by the fans.
Kunal Desai
120
Posted 14/02/2016 at 11:03:05
Last 11 home games where we have trailed at the break we have overturned one match to draw. I think this was Watford.
Clearly shows this man has no tactical nous or inability to change a game.
I'm hoping these prospective buyers have already drawn up a short list of managers to takeover in the summer.

John Moore
121
Posted 14/02/2016 at 11:04:31
Everyone on here it seems wants Martinez out but accepts that it won't happen anytime soon, Well, one thing we have learnt recently is that fan have an influence on the events at their own club, and we need only look across the park to our lovable neighbors to see this is so.
I'm staging a protest at the next home game and going for a prolonged shit on 77 mins and every home game until this clown is sacked. Who's with me? Although I don't know how many I'd be able to accommodate in my one cubicle. Some of you may need to find somewhere else to hang out.
Brian Harrison
122
Posted 14/02/2016 at 11:08:43
I used to be excited going the game, but RM has completely killed my enthusiasm. Apart from his first season when I thought maybe I had misjudged this guy, but since that first season he has only gone on to prove that my original assessment of him was correct. He should of course be judged by results alone and I am sure even his most ardent fan would find it hard to defend him on the results of last season and this season.
I didnt understand why he subbed Lennon, most of the guys sat round me were all astonished when we saw Lennons number being held aloft by the 4th official. Yes the crowd were singing the Deulofeu song but that was to bring him onto the other wing.
The only way you beat a mass defence is getting the ball out wide and getting round the back of them, which Lennon was doing very succesfully. Sadly very few of our players want to gamble to go into the box to give him a few options. When I came out of the ground a guy was telling me that he sits behind the dug out and that when we brought Kone on Mirallas took his gloves off and through them in the direction of Martinez.
As many have said we all knew the negative non footballing tactics Pulis would adopt, so we cant say we were surprised by their tactics. Even RM himself said we expected West Brom to play that way. So why not play a straight 4-4-2 starting with 2 wide men and if they werent having any success then he had another 2 widemen on the bench to replace them. Now having that luxury why did he bring on Kone and Osman.
I heard his interview with the local radio station while driving home and he was asked why he took Lennon off. He admitted he was having a great game but said that he could be tiring. Now it didnt look loke Lennon was tiring to me, but RM said he could have been tiring well he either was or he wasnt.
Neil Gribbin
123
Posted 14/02/2016 at 11:22:09
The man is an idiot. Plain and simple. A stubborn, foolish idiot. I'd had enough of him last year.
Paul Tran
124
Posted 14/02/2016 at 11:22:33
Yesterday he picked the team everyone wanted and we played well first half, unlucky to be one down.
Second half we ran out of ideas. I can see why he brought Kone on, but couldn't see why he turned up on the left wing. He was also very poor. Lennon looked tired, so I could see why he was taken off. I would have given Mirallas a go, I had a hunch Geri would get kicked out of the game and he was, fading before he got going. I could see why he brought Osman on, for those quick passes that often unlock a defence.
It just didn't happen for us yesterday. In isolation, you'd say it was one of those days. In reality, it's the umpteenth time we've played well, created chances and not won.
This team is less than the sum of its parts and has long lost the winning mentality it had two seasons ago. I find it hard to accept the 'almost there' argument when we were pulling wins out of nothing back then, but can't do it now.
Someone on this, or another thread, made the excellent point that maybe Roberto will be the man who laid foundations for a more successful replacement.
Big game for us all next Saturday. He owes us one and I'm sure the prospective owners will be watching....
James Marshall
125
Posted 14/02/2016 at 11:34:10
I think our failing to score yesterday were more than just blaming Kone - everyone loves to blame one player and of course the manager. I would have preferred to see Mirallas for Cleverley as well but I think the issue yesterday was more than that.
Going 1-0 down to a spawny goal, Pulis then parked the bus, and here's the thing - we've done it in games and Evertonians have been delighted with a whole-hearted defensive display when it comes off, but when another team does it to us, we all lose it. Fair play to West Brom in that respect.
I also think we were quite wasteful at times, a lot of shots missing the target, but we did have 34 shots and failed to score which is testament to WBA's commitment to the cause, as much as it is our failure to score a goal. It happens - blaming the manager for the defeat seems like habit to me, more than looking at the facts and the way the game panned out - would Mirallas have scored or changed the game? Maybe. Did Kone himself being on the field mean we lost the game? No.
Joe Clitherow
126
Posted 14/02/2016 at 11:39:24
Sid Logan 48
Pretty much the perfect post in my opinion. The only thing I would add to the sentiments on here is that every single thing about the Martinez style of play is far far too slow and too static. Every single time someone actually does shape to shoot it is after a touch to steady and the opportunity is gone. Split seconds like this make critical differences in the PL. The reason we never trouble opposing goalkeepers is because we are so slow and static in the build up that every team can enact their defensive plan to stop us. What Kone does do (and sometimes this could be useful) is slow the game down even further. We never, ever, ever play fast one twos or the little triangles which is the basis of penetration football, it always, always, always goes out to the wing. That is not how you play Lukaku, whatever people think of his abilities. When he runs at defences he is often unstoppable and we score goals on the counter with him more often than not. Breaking down a packed defence with Lukaku isolated and with back to goal is never going to work, he isn't that type of player. Yet again Martinez tactics make good players look bad.
Oh and, I don't know why people make such basic errors on here and then build cases around them - viz, on the substitutions, I only watched once at the game itself but my recollection in real time was:
Kone on for Lennon - which is why we (including me) were booing and at Martinez and his clowns, nothing to do with the players. Just utterly insane and inept game management;
Deulofeu on for Cleverley (who I thought was having a decent game - an intelligent footballer);
Osman on for McCarthy - the only one that actually made sense to me. McCarthy is a very limited footballer and certainly was not suited to that game where the opposition did not actually want to attack.
Out of thirty odd thousand people in the stadium yesterday, and given almost total consensus in the posts here, seemingly the only ones who found the defeat "hard to understand", were the only ones who could change things, namely Martinez and his inept yes men staff. Everyone else comprehended things perfectly well. How on earth can people still defend the idiot?
Martinez Out!!!!
PS Jim Harding - yes, a gopher burrow in Goodison Park would have been a VERY freak occurrence
Brian Harrison
127
Posted 14/02/2016 at 11:41:08
James
The reason people are blaming RM for the results is because he buys the players picks the team and selects when and who to substitute. So as the saying goes the buck stops with the manager, yes some blame can be attached to the players but ultimtely RM has to take the blame. I mean 4 home wins all season and apart from the Newcastle win no home wins since November. I don't know if you are a match going fan but the fans who sit by me have had enough, in fact I don't hear many defending him.
James Marshall
128
Posted 14/02/2016 at 11:42:22
Joe@104
"The reason we never trouble opposing goalkeepers is because we are so slow and static in the build up that every team can enact their defensive plan to stop us"
Errr, where do you get this stuff from? Fantasyland? Only Leicester and Man City have scored more goals than us this season, both with 47 to our 46.
Sorry but lines like that are pure nonsense.
James Marshall
129
Posted 14/02/2016 at 11:45:25
Brian, I'm not defending him - I agree he made the wrong subs. I just think there's a little more to it than the emotion of being a supporter at the ground.
I've been out of the UK for about a year and only just got back, so no, not been at Goodison for a while.
Brian Harrison
130
Posted 14/02/2016 at 11:54:36
James
What I will say is that there seems a slightly different perception of what the fan going to the game thinks as to the guy who didnt get to the game. I think this is because any TV coverage can only show players on the ball and not players out of picture.
To be honest I hate watching us on television, for some reason the TV directors want to show pictures of a player who had a shot 20 seconds previous and the game is still going on. I think the most notable time of this happening was we played Liverpool and Everton had scored, and they were that busy showing the goal again when they switched back to the game it was just in time to see Rush running away after scoring.
Tony Hill
131
Posted 14/02/2016 at 11:57:55
We have a very good scoring record but we can't achieve balance. When we score a few, we concede more; when we tighten up by stacking the midfield, we carry nowhere near the same threat at home when sides back off. That's a management issue.
Joe Clitherow
132
Posted 14/02/2016 at 11:59:05
James Marshall
No-one here is blaming West Brom for parking the bus, we all expected that and fair play to them as you say. Everton under Moyes were often criticised for this (usually by the Sky darlings or their media flunked). It is a perfectly good "come and have a go if you think you're hard enough" tactic.
The issue is that Martinez keeps repeating the same inept failing tactics.
On Radio Merseyside yesterday on the way home someone was saying that it was difficult to play against the packed banks of 5&4 as there was very little space.
The only problem with that logic is that given WBA's record this season not many other teams have actually struggled to beat them or score against them. Those other teams did not have the luxury of them being taken to extra time and penalties 72 hrs earlier either.
Peterborough (twice, three goals), Newcastle, Swansea and Bristol City (two goals) have all managed to score goals against the impregnable Pulis defence this year but the ridiculously over rated (by some on here - I could reel their names off the top of my head, there aren't that any of them) Martinez attack could not.
That's not bad luck, that's total ineptitude.
James Marshall
133
Posted 14/02/2016 at 12:05:53
We had 34 shots, they blocked 16 of them, we hit the post twice.
They played very well defensively.
Eddie Dunn
134
Posted 14/02/2016 at 12:06:26
One thing stands out on the comparison between our home record and our away one. We do well away because we can sit deeper and hit teams on the break and players like Ross and Rom, and Lennon/Geri are great in lots of space to exploit.
At home we often have to work hard to open up teams like the Baggies, who park the proverbial bus, but we lack the nous to overcome the problems they set.
Lukaku struggles in a confined space, and the insistence on keeping the two holding mids on reduces the attacking possibilities available.
Rom is still learning his trade, and would do well to pull defenders out of the area to open up channels for the midfielders to utilise.
When I see Rom coming wide it is usually to search for the ball, and if he gets it, I usually despair at the sight of the box devoid of Everton players.
The brain-numbing crossing yesterday was infuriating. Four centre backs heading it out all day! The manager is a dullard. His subs are always ill-timed or wrong, which makes you wonder about his intelligence, oh yes, he is a fan of that awful Jason Derulo.
James Marshall
135
Posted 14/02/2016 at 12:07:53
The point I'm trying to make, was that it wasn't for the want of trying.
I'm off to watch Leicester hopefully beat Arsenal.
Rob Halligan
136
Posted 14/02/2016 at 12:13:37
Spot on Darren #75 and David #92. You will never find more players from the team taking a corner than the team defending the corner, in the penalty area. So why not have both posts covered? There must be at least two, maybe three defenders, who have nobody to mark, so stick them on the post. Fuck what the manager says. The six yard box belongs to the goalkeeper so it's down to him to organise his defence from corners & free kicks, not the fucking manager. How many goals do we see scored which could have been prevented by having the posts covered? It's not fucking rocket science.
Joe Clitherow
137
Posted 14/02/2016 at 12:15:55
James
Yes of course we have scored goals. But not consistently is my point. We score goals in gluts where teams toe to toe with us, and usually score more than us because they defend better. When teams. We have one of the lowest points to goals ratios of any team.
The point I make is that when we play teams like WBA who decide to concede possession and let us attack, we virtually never work the keeper for the reasons I describe.
Andy Meighan
138
Posted 14/02/2016 at 12:26:28
That's why I never got carried away after those three wins. This man is a joke and his substitutions absolutely summed him up.
Yes, we might have had 30-odd attempts at goal but Foster never made one save. I'd have more respect for Martinez if he came out just once and told the truth about how we really haven't got a clue how to break teams down once they get men behind the ball.
Everyone in that ground knew when WBA scored what would happen. Yet that cretin just stands there stroking his chin waiting for a lucky break – it's laughable. He insults our intelligence bringing the likes of Kone and Osman on when Mirallas is sitting there... No wonder he had a strop – who wouldn't, hot getting on before them two?!?
I'm sick to death of hearing how weve got a great squad. We haven't – the league table doesn't lie and the home form is some sort of sick joke... I mean WBA and Swansea. Laughable.
On another thread a couple of days ago, someone posted that we are better than Leicester – do me a fucking favour! Six home defeats with probably a couple more to come – you couldn't make it up.

Matthew Workman
139
Posted 14/02/2016 at 12:33:09
Hard to explain? Yes, you're dead right. With a fully fit squad of players that you have brought to the club and your philosophy about attacking and entertaining football, it is hard to explain how something as fucking simple as set pieces and proper defense could in fact win matches.
West Bromwich Albion proved that, with proper organisation and decent movement at a set-piece, they can go away and win at Goodison Park.
You need to leave. I can not think of anyone else who can lose to Stoke, Swansea, Leicester & WBA at home and keep a job at a massive club like Everton!

Mark Andrews
140
Posted 14/02/2016 at 12:54:12
It was the predictability that did for me yesterday. After they scored I just knew that they'd sit deep and defend like their lives depended on it; fair play to West Brom, they did just that. We are just not able to play this way and break down teams defending a lead.
As for the the substitutions? Well I think that's been well commented on already. Bizarre!
Why continue to pump high balls into the box when they defended them well all afternoon? Surely he must have seen that we created more by running at them? His inability to change his tactics has worn thin.
Geoff Evans
141
Posted 14/02/2016 at 12:56:17
The explanation is that you and your bunch of overhyped primadonas are a bunch of no hope twats
Paul Kelly
142
Posted 14/02/2016 at 13:02:42
Tried to be positive predicting a goal fest for us and a clean sheet, naivety at its best, shame on me, ran out of expletives summing up our manager, we're on a road to nowhere or the championship I should say, he has to go, end of.
Don Alexander
143
Posted 14/02/2016 at 13:15:47
As if I needed it, another thing comes to mind re our "Incredible One". He says Lennon was substituted because he "seemed to be tiring", begging the question why wasn't he fit enough to play for 90 minutes?
I and many others on this site have repeatedly noticed an apparent lack of fitness in the entire squad for a very long time. The training regime is at the core of that and Martinez has 100% responsibility for it, but from his own mouth in effect he's admitting he's demonstrably poor at that too.
You couldn't make it up.
Raymond Fox
144
Posted 14/02/2016 at 13:40:07
The simple explanation for the defeat is that the players didnt have the skill to overcome their defenders and score.
Thats why Aquro is priceless.
Disapointing yes, but not the end of the world.
James Marshall
145
Posted 14/02/2016 at 13:56:23
Agreed Raymond. All the people talking of the manager being sacked - what planet are you on exactly?? Seriously.
Tony Abrahams
146
Posted 14/02/2016 at 14:01:11
Rob 114, that's why I sometimes Jim, might be Tim!
Tony Hill
147
Posted 14/02/2016 at 14:01:41
A planet in which we are not in 10th position having won 4 games at home.
Tony Abrahams
148
Posted 14/02/2016 at 14:06:25
Think Rob, I missed out think!
Paul Conway
149
Posted 14/02/2016 at 14:30:30
I have taken one positive out of this game... give up betting on football bankers!! But, for every positive, there is a negative... and in this case the negative is... Aroune Kone!
Normally I don't like including Everton in my bets but, after seeing West Brom v Peterborough the other night, I couldn't tell the difference between who was the Premier League side and who wasn't. In fact, it was like looking at two Championship teams and Posh were the better team. So I decided that we would be queing up to score against WBA and this was my banker!!
given all the hype surrounding our successive three-nil wins and after listening to Martinez use all the English bullshit expressions that he learned by heart, I was seduced, or shafted once again. Arouna Kone, with his blonde bombshell hair, actually looks like a negative of a photograph! And a negative negative at that, apart from the fact that he has completely lost his way and is not worthy of the Number 9 shirt or any shirt playing for Everton. So, once again, when it was time to make a substitution, I was dumbfounded when Cleverley (a positive) was changed for Kone (a negative negative).
Sometimes I ask myself, like so many fellow Blues: What goes on in RM's head during matches? his stubborn insistence on negatives instead of positives! Even Wigan would not accept this lot back!! Let's get positive!!!
Tony Hill
150
Posted 14/02/2016 at 14:39:58
Make that 11th place given the happy news from Villa Park.
Dave Ganley
151
Posted 14/02/2016 at 15:05:21
Its just too hard to listen to another dose of your verbal diorehha
Joe Clitherow
152
Posted 14/02/2016 at 15:22:35
Raymond
So if it is the players' fault (presumably for not executing the genius' unfailing masterclass since you imply that there was nothing wrong with that) then - again presumably - this was the case with all the other failures this season. Yesterday, I will remind you, was not a one off. It is a pattern that is consistently being repeated.
Surely then *that* is the manager's responsibility to address that by changing the players if they are at fault? And does the fact that he has not addressed that issue by changing - following your logic - mean that he has failed then? Or is he blameless in that too?
Since you like the simple explanation (I do too by the way, it's usually the right one) is it possible that the simplest explanation, the one you constantly deny, is the correct one?
The one I refer to, based on a very very consistent league performance over several years and at different clubs, is that Roberto Martinez is a manager who falls far far short of the the ability required to be successful in the Premier League.
Mike Keating
153
Posted 14/02/2016 at 15:26:10
Just watched the Arses undo Leicester in the second half.
Martinez should be superglued to a rocking horse with his eyelids stapled to his forehead and made to watch Wenger's substitutions turn the game around over and over and over again.
Red Shite just scored a fourth to make my weekend complete.
Kim Vivian
154
Posted 14/02/2016 at 15:42:34
Now 6-0.
I am actually saddened for the Villa. They are a good old school and ok club.
Most worrying is this could be us in a couple of years if we do not get our act together. Only about 4 or 5 yrs(?) ago we were vying with Villa for European slots. Sad and worrying indeed.
Mark Daley
155
Posted 14/02/2016 at 15:45:30
RS now 6-0 with 15 minutes to score more. I hate them but you have to admit they show a spirit we don't. We have too many lightweights, and it is the manager - the most lightweight of all of them - who should be motivating us.
Roll on the takeover. The devils we don't know cannot possibly be worse than the ones we do.
Trevor Peers
156
Posted 14/02/2016 at 15:46:21
Kim that could be us in a few weeks time, we play RS soon.
Tony Hill
157
Posted 14/02/2016 at 15:52:02
We're away at Villa too. Let's see how ruthless we are.
James Stewart
158
Posted 14/02/2016 at 15:52:57
@124 & 125.
Planet real world we call it. A lot more objective and based in reality than planet Martinez (cloud cuckoo land).
Yesterday was unlucky sure Raymond, I mean no one without Aguero could possibly hope to break down Wba's world class defence could they. I particularly liked bringing on our slowest players in osman and Kone to pick their lock. Mirallas terrified Chelsea's back line but would have been useless against West Broms class. Martinez really is a master tactician if only we can tie him down to a new contact we might even make the top half next year.
Mike Gwyer
159
Posted 14/02/2016 at 15:55:39
Whose to blame? Players or the manager. You know what, who gives a fuck, it's be going on for so long it's becoming laughable.
Every manager of every team that comes to Goodison raves on about how good Everton are, then they go about giving us a lesson in how to win a game of football. No team has any fear when they come to our place, not one of them, from the top EPL teams to the totally shite teams at the bottom. They all know that we will pass the ball to death, that we are utter shite at corners and that our players will not hound them to get the ball back.
I'm absolutely pig sick at seeing Everton being turned over by shite teams like West Brom. RM can say what he wants but Pulis turns up, with whatever team he's managing and shows Martinez how to go about winning a game. For me RM can't continuously say that we are unlucky or "not in the right moment" when teams continue coming to Goodison and walking away with 3 points. At the end of day all the shit and I mean every single bit of shite, has got to land at the feet of Roberto Martinez.
Gary Carter
160
Posted 14/02/2016 at 15:57:35
No Roberto, I'll tell you what's hard to explain, how the hell you are still in a job after the disaster that was last season and the even bigger disaster that is this season.
It's even harder to explain when you consider that after 4 seasons of nearly getting Wigan relegated and then actually succeeding in doing it you managed to get a job at a top 6/7 side. You had a one-off first season off the back of what was one place from the previous regime, we'll call it a blip on your record, and then continued with your totally inept tactics and footballing philosophy that includes lack of player fitness, no closing down, no pressing, no practice of set-pieces, no defensive unit capabilities and an arrogance that is based on not caring about winning a game of football as long as the team plays the way YOU, and only YOU, think the game should be played.
You are a disgrace and totally and utterly out of your depth, but the real disgrace is a board so weak they appointed you in the first place, a board so weak they didn't sack you the very second last season finished and then quite astonishingly has for all of this season allowed you to continue dragging this excellent club and squad down!!!
Kim Vivian
161
Posted 14/02/2016 at 16:00:52
Should finally be able get one over on the shite - but I've given up predicting anything now.
Just high hopes and low expectations will keep me from feeling like I did last night.
Mike Powell
162
Posted 14/02/2016 at 16:05:53
Is he for real? Hard to explain it's so obvious – to defend corners, put a man on the back post and don't bring Kone and Ossie on when we had Mirallas on the bench.
I've had enough of this buffoon... get out of our club.
Paul Conway
163
Posted 14/02/2016 at 16:06:20
Tony Hill (#132),
Chelsea, Crystal Palace and West Brom are all breathing down our necks for that coveted 11th spot!
John Moore
164
Posted 14/02/2016 at 16:20:31
Martinez has got to be removed from his position asap. I've said it before and I'll say it again, he'll take us down given time. This team has got no leaders, no fight, no-one to lift the team when it matters, and I certainly wouldn't like to see them in a relegation scrap.
Martinez has no tactical nous, it seems to me that he just picks a team and just tells them to go out and play, well that's okay in a kickabout but here's the problem: there's an opposition manager trying to stop you doing that.
Martinez plays the same system whether it's Norwich at home or Arsenal away. I mean what the fuck, we've had two holding midfielders every single game I've seen, and don't give me that bollocks it frees up the fullbacks to bomb on. I want my fullbacks to defend first and my centre midfielders to control the game.
The man is a charlatan and we need to let the board know we're not going to put up with him anymore. Someone arrange a mass walkout at the next home game. I'm definitely up for that, we don't have to put up with this knob anymore.
Joe Clitherow
165
Posted 14/02/2016 at 16:28:25
Well said Mike Gwyer.
In footballing matters the buck always stops with the guy at the top, and that's Martinez. Not good enough
Peter Cummings
166
Posted 14/02/2016 at 16:29:49
Tony #140 Just watched the Rs destroy Villa who gave no resistance at all so the signs are they will give us a hard time and get the points
Brent Stephens
167
Posted 14/02/2016 at 16:30:15
Bar a very small minority, most on here (me included) see Roberto as the cause of the problem, and see the nature of the problem as "obvious". But what is "obvious"? One man's "obvious", etc. Here's a just a selection of things actually said, in this thread alone:
get it down the wings and across;
thread it through the middle into the box;
not playing the ball fast enough; we need pace;
we need guile, somebody to come on, slow it down and and pick the killer pass;
we need to draw them out, to create space in the box;
we need to bring Mirallas on, down the wing;
we need more height alongside Rom - get Funes in there;
we shouldn't have been playing high balls into the box;
Lukaku not getting the service;
Lukaku needs to get on the end of the good balls into those box;
our main striker was too quick to take his position in the box;
we don't have the good enough players;
we have the players but Roberto has ruined them;
Osman shouldn't have replaced Lennon;
Osman didn't replace Lennon;
Lennon could have gone to right back;
etc etc etc - I could go on.
And that's before we consider the ref, lady luck, the conceded goal, who's not on the bench, Other Operating Costs, etc. Of course, the problems listed above aren't all mutually exclusive, but many of them are; so the point is, the problem is "obvious" to whoever's posting but not to everybody.
It's not hard to explain, Roberto; it's "obvious".
Paul Conway
168
Posted 14/02/2016 at 16:34:11
The following is a recent quote from RM talking in riddles:
"We've got a good squad in numbers, and Aaron performed really, really well, and just to have a bit of fresh legs when you see a player who is defending for 90 minutes, like the left-back was, and obviously he was booked when you've got a fresh pair of legs,"Ă'Âť Martinez explained.
"Deulofeu is someone that in one-on-one situations can create something out of nothing, so it's making sure you use your substitutions and the quality we've got in the squad.
"It wasn't anything about the performance of Aaron Lennon, I think he was outstanding for the time he was on the pitch."
Quality?? Arouna Kone??
Bill Gall
169
Posted 14/02/2016 at 16:41:47
James #128 I believe that the planet you are talking about is the planet of reality . How many managers in the premier league have a poorer home record over the last 7 seasons than Martinez. You have to include Wigan because it was his time at that club that he was hired for.
Patrick Murphy
170
Posted 14/02/2016 at 16:47:53
http://www.liverpoolecho.co.uk/sport/football/football-news/Everton-Roberto-Martinez-tony-pulis-10890564
Interesting stuff from Chris Beesley in the Echo. Comparing Pulis' Premier League record with that of Roberto he writes:
This equates at Martinez: won 31%, drawn 29% and lost 40% with an average of 1.22 points per game; Pulis: won 32%, drawn 29% and lost 39% with an average of 1.25 points per game.
Different philosophies, similar outcomes, both not fit to manage a club with European ambitions?
Mark Stone
172
Posted 14/02/2016 at 17:05:07
That the Arabic version, Dave?
Jim Hardin
173
Posted 14/02/2016 at 17:06:13
Darren, I didn't say Robles would be at fault for the goal. I said we won't know if either keeper might have saved it. I then indicated the defense allowed a free man unmarked to score the goal. I am glad that you and others, so critical of Howard when goals are scored have finally realized that while goals could always be defended better, some goals are justly earned by the opposing team through their skill, execution, and sometimes good luck.
What I said in my prior post was Howard would have been blamed and has been before. Example: Chelsea's offside goal. Second example: the Stoke game, Shaqiri's lob/shot. It appears to be a bit of a double standard on here but I am sure I am just imagining it, right?
That said, I am glad that the focus is not on the keeper but rather on the defense. The negative posters must now be accepting the fact that it is not the keeper that is leaking goals. It is the defense or lack of organization and basic understanding of defending. The goal scored was a result of execution on one team's part and the failure to execute by another. This lack of understanding is attributable to the manager.
Brian Porter
174
Posted 14/02/2016 at 17:08:46
Mike Keating #134, re your point about stapling or even super gluing Martinez's eyelids open, I though that had already been done! If you watch his interviews you'll see he has a sort of bug-eyed eyes wide open look about him. It's as if he is so convinced of his own words his,eyes virtually pop out with the intensity of trying to get his point across. In my eyes he just looks like a rabbit caught in a pair of strong headlights. The more he talks, the more his eyes bulge, it's quite unnerving at times. I think this innocent, little boy lost look is what makes him a popular media darling, no matter that he spouts the same old poppycock after every game. Any manager who publicly states 'I don't know why we lost" should be instantly dismissed for incompetence, terminal blindness and sheer inability to assess and act on a given situation.
Garry Taylor
175
Posted 14/02/2016 at 17:17:04
Jim - you are absolutely spot on. If Howard had been in goal yesterday, there would have been all sorts of abuse directed at him.
Garry Taylor
176
Posted 14/02/2016 at 17:21:23
I would also add, the abuse Howard has received on here and at GP has been nothing short of a disgrace.
Jamie Barlow
177
Posted 14/02/2016 at 17:23:54
Absolutely right Garry.
James Marshall
178
Posted 14/02/2016 at 17:42:07
Managers of mid table teams, that are mid table and in the midst of a takeover, do not get fired. That's the reality.
James Marshall
179
Posted 14/02/2016 at 17:44:29
Oh and Bill, to call upon his home record when he was the manager of a completely different team, is also hardly grounds for dismissal.
I despair.
Joe Clitherow
180
Posted 14/02/2016 at 18:04:52
James
How about managers that take established Top 6/7/8 sides and then MAKE them mid-table sides (or worse, I don't think he is finished yet)? Do they get sacked? I would contend that they do, although granted the takeover timing complicates matters.
In terms of bringing his previous record with other sides into the equation, I would also contend that that is entirely relevant when he demonstrates absolutely consistent results and behaviours even with much better players than he had previously.
Your faux, affected despair at the opinions of other posters on here is absolutely insignificant in comparison to the despair I and tens of thousands of others feel having paid for the privilege of sitting through the absolute dross provided by our so called manager, a serial failure in the Premier League.
Brent 144
Good post and agreed some of those posts are contradictory.
I'd have taken any or all of them rather than persisting with the failed tactics that were on offer yesterday. Couldn't have been any worse
James Marshall
181
Posted 14/02/2016 at 18:14:36
Failed tactics - which bit about the 34 shots on goal did you miss, Joe?
You and Bill are now both using his previous record at another club as grounds for his dismissal - that will never happen. That's what my 'faux despair' relates to.
If you want us to go back to being an established 6/7/8 side playing the dullest football seen for years, then great, knock yourself out. Personally I can actually see what Martinez is trying to achieve, despite it not always working.
I too see his failings, his subs yesterday for example - but had we won yesterday, we'd have been 8th, 2 points behind 6th.
Small margins. As someone from Spain once said.
Brent Stephens
182
Posted 14/02/2016 at 18:16:35
James, I think the point is not that Roberto should be dismissed for his Wigan etc record. He's no longer there. But his record there confirms that his record with us is no blip. I think that's the point.
Amit Vithlani
183
Posted 14/02/2016 at 18:17:06
Brent. The obvious problem is er, obvious. We don't win enough home games.
As to which of the list of factors you cite is the key contributor – could be any, as there are some pretty compelling posts on this thread.
What I am absolutely certain of is that finding the solution to our dire home form is what our 3m per year manager (allegedly his pay) is paid to do (and after last season's dismal home record, had to fix).
He has not. The reasons to why are open to conjecture and will continue, so long as he remains incapable of fixing the problem.
Brent Stephens
184
Posted 14/02/2016 at 18:17:41
PS, James, which bit about the conceded goal yesterday did you miss? Also part of a long-term pattern.
James Marshall
185
Posted 14/02/2016 at 18:18:36
I'll get murdered for this, but I think the atmosphere at home games plays a large part in the way our players perform.
Away, we have much more positive support and a good atmosphere – at home it's poisonous and unsettling.
So shoot me.
James Marshall
186
Posted 14/02/2016 at 18:19:43
Brent - was the goal yesterday the managers fault? If you think yes, then you're simply following a pattern of habitual dislike towards the manager. He doesn't control what all 22 players on the field do at all times.
Andy Crooks
187
Posted 14/02/2016 at 18:24:47
James, there is not talk of Martinez being sacked because we all know it isn't going to happen soon. However, there are many who would LIKE him to be sacked and wbo think he is utterly useless.

Game after game his admirers blame bad luck, one of those days, etc. It happens too often to be anything less than there being something fundamentally wrong with our tactics, training, approach and attitude. We are soft, easy to play against and seem to take defeat in our stride. There are some Evertonians who, it seems to me, would defend him right into the championship.

Liverpool supporters would not tolerate this, in fact few teams with ambition would. Some might say we are Everton, not rs, well, fair enough if that's the way you see it. For me, there is not enough anger about Everton in many ways.






Bill Gall
188
Posted 14/02/2016 at 18:28:05
James,
I never mentioned in my post about dismissal, I simply asked you to name a Premier League manager with a worse home record. My reference to Wigan was, as he was hired from that club, our chairman must have looked at his managerial experience at Wigan during his four seasons there, before hiring him. Therefore talking about Premier League management, as this is Martinez's 7th season in the Premier League it is a simple question to name a Premier League manager with such a poor home record.
Don't despair, he is not going to be fired as BK has to maintain the "plucky Everton" image who do not fire the manager. The reason for this is BK is not the type of person to admit he made a mistake.
Brent Stephens
189
Posted 14/02/2016 at 18:28:59
James, the corner for that goal should never have been conceded as Seamus should not have momentarily paused as the ball came across, allowing the man behind him to win a corner. A pattern under Roberto - not seeing the ball out.
Patrick Murphy
190
Posted 14/02/2016 at 18:30:34
James (160) I think you can sleep safely in your bed after all everybody is entitled to their opinion, however, to lay the blame at the feet of the fans is a little bit silly, after all many believe that Everton's away support is amongst the finest in the league so why haven't the team picked up more victories on the road? Also given we have won 11 home games out of 33 would indicate that there is a major flaw in the way Everton play at Goodison, particularly in the last 18 months.
Watching a recording of the game earlier today, I saw how the Albion Captain Fletcher? was fully focussed on the matter in hand when he stood waiting to lead his team out for yesterday's game. What was our Captain doing, having a laugh and a joke with their goalkeeper, perhaps not that important in the grand scheme of things but also perhaps an indication of how this current Everton team are prepared for battle?
It's such a shame that Roberto's master plan is being undermined by the Goodison faithful, it wouldn't happen to Arsenal, City, United or Liverpool would it?

James Marshall
191
Posted 14/02/2016 at 18:32:16
Brent, perhaps Martinez' remote control of Seamus Coleman wasn't working 'in that moment'.....
Steven Copp
192
Posted 14/02/2016 at 18:32:55
Martinez states its hard to explain another home defeat. Might I suggest that we never seem to have a Plan B when we come up against teams who set themselves up to defend for 90 minutes.
Tony Pulis has been doing this for years, that is why teams who need saving from relegation turn to him. Come on, Roberto, you are wasting a good side who should be challenging for European competition. It's currently very, very frustrating.
James Marshall
193
Posted 14/02/2016 at 18:35:21
Patrick – I'm merely suggesting the atmosphere contributes. Not that it is the be all and end all.
I do think RM wants to play a certain way, and I do think it fails sometimes – I couldn't exactly defend that could I!
I was also one of those who was not at all happy about him becoming manager in the first place and I don't think he's necessarily going to win us the league either.
What I do think is that the 'fine margins' he talks about all the time are true.
Garry Taylor
194
Posted 14/02/2016 at 18:40:24
James - you may want to add for every home record there is an away record.
Do we sack our manager because we have only lost one away from home this season?
I too don't want to return to a 6/7/8 side, playing dull football with no future prospects to see develop.
We are certainly in the minority James or appear to be on TW.
Jamie Barlow
195
Posted 14/02/2016 at 18:47:01
Joe@142, that is absolute bollocks. A defender/defenders not concentrating and going missing at the near post is Martinez's fault? How? Barkley missing a sitter is Martinez's fault? How? 32 shots and not one goes in is Martinez's fault? How? The buck shouldn't always stop at the top.
If the players who started yesterday (the players everyone on here wanted starting) did their job properly, we would have murdered them. He made 2 bad substitutions yesterday but that's not what lost us the game. Great defending (West Brom), not concentrating, and bad finishing is what lost us the game. It can't be bad management and bad tactics if you create 32 chances to score.
Brent Stephens
196
Posted 14/02/2016 at 18:48:04
Come on, James. Nobody is expecting Roberto to use "remote control" to manage his players. But you do expect him to emphasise one of the basics for any defender - see the ball out in that sort of situation. But as we've seen with Stones, he doesn't drill that into them.
Dave Abrahams
197
Posted 14/02/2016 at 18:48:35
James how do you know what the atmosphere is like at Goodison Park this season, you haven't been have you?
Patrick Murphy
198
Posted 14/02/2016 at 18:49:07
James (168) Let's say that the current group of players are still at Goodison this time next year, what reason is there for us as supporters to believe that we will be riding high in the league at that point in time? I can't see it happening because this style of football just isn't suited to the English league.
Roberto may well have a point that over time it will bear fruit, but patience has worn thinner with each passing home game, the silent treatment started before Christmas 2014 and has continued, it will not stay silent for much longer and then Goodison will truly be a horrible place for the home team to play. Something has to give and if the manager won't change, we have to change the manager.
Joe Clitherow
199
Posted 14/02/2016 at 18:51:48
James
You are as bad as Martinez. Don't swap numbers for the big picture. I saw every one of the so called attempts that statisticians counted. I also saw Ben Foster not break a sweat or make a save worthy of the name so I don't really care how much you or Martinez claim that that was an acceptable performance, because it was not. 34 attempts, pretty much every one worthless. Ross hit the post, and Cleverley was deflected onto the bar, but they are both misses as the Opta gurus will tell you.
You are also trying to twist things certainly where I am concerned. I am not saying his performance at another club is grounds for dismissal (although my opinion it is very strong grounds for not employing him in the first place but that is a different). It absolutely IS relevant to look at previous work with a different employer when he repeats the same failings in order to predic where he takes his team now.
Again, you trot out another trite soundbite, that the 6/7/8 side was the dullest football in years, and again that is wrong. I have never been so bored or frustrated watching Everton in over 40 years as I am watching a Martinez side. The dullest football I have seen is now as it is the most predictable. Even more of a crime is that the quality of player is nowhere near the worst I have seen. Clearly, you either didn't watch or have selectively removed the quality of football played in 2007/8 as an example.
Personally, I don't think you see what Martinez is trying to achieve, you only think you do, because ain't happening. Or at best, if that is provocative, what he is *trying* to achieve he hasn't a hope in hell of accomplishing. There is the little matter of an opposing team who my also know what he is trying to achieve and are generally two or three steps ahead in imposing their own game plan in the full knowledge he will not change his. It isn't particularly difficult, and quite embarrassing to be outthought (consistently) by managers like Tony Pulis.
And on the crowd, yeah you're getting slaughtered. Firstly if you think it's not great then they will let you in to change things. The turnstiles aren't wide enough to get an armchair through though.
You can't complain about yesterday though, the crowd was very animated in the second half. Shite substitutions also upped the crowd reaction several notches too. The real problem though is that it is very difficult to get animated or encouraging when most of our precious possession is sideways passes between centre backs, and back to the goalkeeper. The onus is on the team and manager to create an atmosphere to encourage the fans, that's what they are paid very handsomely for.
Tony Hill
200
Posted 14/02/2016 at 18:52:02
Round and round we go, talking about it, turning up every week, being disappointed more often than not, finding reasons why somehow it will all come right.
We're losers, serial losers I'm sorry to say, and this manager fits right in. I thought he was going to change it in 2013-14, as many others did. Seems ridiculous now. If we're honest, you can feel the mediocrity permeating the club, it's there in the stadium and in the waffle about how warm and marvellously good-hearted we are.
I think this is it, actually. For the first time in a very long time of supporting the club, I am starting to feel that we are just full of shit. Whenever it matters, we are cowards. Whatever the Latin is for that might be a new and fitting motto.
There are those who think it is a matter of being positive and waiting for the sun to start shining. Good luck to them, I'm tired of it after 60 years of support.
Joe Clitherow
201
Posted 14/02/2016 at 18:56:20
PS 9000+ away supporters also attend the home games so this distinction between home and away support is risible. As someone who travels away sometimes, not always, I often see the same faces.
The fans are the same, the circumstances are different. The attitude of the team should not be different.
Joe Clitherow
202
Posted 14/02/2016 at 19:02:57
Jamie 142
Sorry but you're talking bollocks. Where did I say the goal was directly Martinez' fault? Although having a man on the post is a decent argument, I didn't say every single incident in a game is the fault of the manager. Otherwise no team would ever score against us and yes that's bollocks.
The point is when all these incidents add up and cannot be dismissed as statistical means but are in fact systemic and inherently repeated time and time time again, then yes that is the responsibility of the manager if he can't stop them, which is increasingly irrefutable. If that isn't the case then no manager is ever culpable would ever lose his job and that's as big a statement of bollocks as anything I've ever heard.
Brent Stephens
203
Posted 14/02/2016 at 19:04:54
Joe "The turnstiles aren't wide enough to get an armchair through though."
Now that did make the laugh! I think the stewards on the turnstiles wouldn't let you in any with an armchair- but they don't seem fussed if you wear blinkers (and by that I mean that we're probably all blinkered in a way, me included probably) - or are carrying a big greasy chip on one shoulder.
Raymond Fox
204
Posted 14/02/2016 at 19:13:20
As James says, it is very small margins between good and bad results.
We did dominate the game again, what we didn't do was get the result we wanted. It's always feast or famine on here, get beat and it a disaster of mega proportions! It's easy to be critical after the event, the subs didn't work so they were bad subs, easy ain't it.
There's 12 games left yet, lets see where we are at the end of the season, if we are still 10th or 11th then Roberto's position will be in doubt.
Jamie Barlow
205
Posted 14/02/2016 at 19:21:32
So the buck doesn't always stop with the manager then?
Trevor Peers
207
Posted 14/02/2016 at 19:24:23
Appalling that the only three teams we have beaten at home in EPL, apart from Chelsea, who were in crisis. Are the three teams who occupy the relegation positions.
Some people think it's just our best ever premiership squad that is to blame, not our beloved manager, how sad is that?
Dennis Ng
208
Posted 14/02/2016 at 19:35:33
12 games left, 12 points from last year's total. Not very flattering. I'm looking forward to the takeover more than the end of the season. Nothing will change unless ownership change, or we fall below 15th.
Darren Hind
209
Posted 14/02/2016 at 19:36:10
Jim Hardin
The only double standards being applied here are being applied by you. You must think we were born yesterday. Just because you didn't blame Robles on this thread, doesn't mean we missed your snide remarks about being too slow to get back on another.
I'd love you to show me where Howard was blamed for the Shaqiri goal, just so I know you haven't made it up... and Howard was not blamed for the Chelsea late equaliser, he was blamed for his air shot letting them back into the games.
Everyone who watches Everton knows the defence is brittle, but there won't be many buying your desperate claims that all those goals were down to defenders. Tim Howard has been dogshit, and has been far and away the chief culprit.
Robles will be criticised when he makes a mistake. Not when you try to claim he has made a mistake. The reason your guy gets so much criticism is because he makes so many mistakes.
Jamie Barlow
210
Posted 14/02/2016 at 19:36:54
No Trevor, we just don't think it's "only" Martinez to blame.
Joe Clitherow
211
Posted 14/02/2016 at 19:41:53
Yes Jamie the buck - i.e. the final tally - always stops with the manager. He is not necessarily responsible for every single mistake but if the same mistakes do not get addressed then he is responsible when they keep re-occurring.
This is not that difficult to grasp. It's very basic statistical maths
Keith Glazzard
212
Posted 14/02/2016 at 19:47:04
Kone for Cleverley? Kone for Cleverley? Kone for Cleverley?
We might as well have substituted Robles for Howard!
Seamus was playing in attack. Deulofeu instead? Lennon at right back. Oviedo was playing in attack. Mirallas instead?
Their bus contained 4 centre-halves, and we kicked crosses into the box, from our 14 corners.
Total bloody ineptitude.
Joe Clitherow
213
Posted 14/02/2016 at 19:50:02
It was Kone for Lennon. Even worse.
Deulofeu for Cleverley.
Osman for McCarthy.
Jamie Barlow
214
Posted 14/02/2016 at 19:55:12
So a manager puts out a team that everyone wants him to put out. We play the game, dominating possession and creating chance after chance that our faultless players continue to miss. Then we concede a goal for the first time in 3 matches when our faultless defenders switch off and this is all Martinez's fault. The buck stops with him because he's in charge? The players get off absolutely free? That is too difficult for me to grasp.
Look, we could go on all night. You think Martinez was at fault for yesterday, I don't. We'll have to agree to disagree
John Roberts
215
Posted 14/02/2016 at 19:55:22
Such a shame the board are holding on to Martinez. Two seasons now bringing the same frustrations. He's had money, got a very competitive squad, with no improvement.
I'm sure Roberto knows his excuses won't last much longer. Sometimes we need to win ugly but we never do.
Trevor Peers
216
Posted 14/02/2016 at 20:02:01
Think were all agreed, Jamie, he's a piss poor manager at home, and if we start losing regularly away we'll become relegation fodder.
Does that not convince you we need to try someone different next season?
Andy Crooks
217
Posted 14/02/2016 at 20:04:30
Jamie, if that was a one off, you would be spot on. I isn't, it's the story of our season,in fact it is the story of Martinez; nearly there but never quite. Give him more time, Christmas, Easter, next season, halloween. It is NEVER going to work buthe is slippery and plausible enough to suggest that it just might.
We have a coach who is not good enough for many and not quite bad enough for some. So here we are, going nowhere.
Darren Hind
218
Posted 14/02/2016 at 20:04:32
Jamie
We did not dominate the ball. West Brom are better without it than they are with it. . so they let us have it.
They sat back in two banks and whenever we tried to go forward they were happy to give away free kicks and corners. They were supremely confident that we would not score from a dead ball situation and they were right
Andy Walker
219
Posted 14/02/2016 at 20:07:55
Tony 175, it did change in 2013, we went from a team that usually won or drew, to a team that now usually loses or draws, but this really shouldn't surprise anyone who knew anything about Martinez.
He was a lower league journeyman pro as a player, who had only been a manager for 6 years when he was given the job of managing our great club. His managerial record was nothing to write home about (to say the least) 50% win rate at Swansea, 29% at Wigan. He fluked an FACup win mainly down, ironically, to us (Phil Neville to be precise) and Man City not turning up at the final. Without that fluke he never would have got the job having just relegated Wigan - through stupid over attacking, stubbornness (ring any bells?). The disastrous Arsenal v Wigan match at the end of his relegation season (Wigan got in winning position should have won and stayed up, but lost) being the classic example, which he has since replicated on several occasions as our manager, because he never learns.
Nothing that is happening surprises me, he's a naive, fantasist, casino manager that lives in his own world.
Sid Logan
220
Posted 14/02/2016 at 20:17:15
James Marshall,
I can't allow you to continue with this line without making comment.
Martinez in the past has mentioned the danger of quoting statistics (and to be fair he's not alone). Statistics as, many of us know, hardly ever tell the real story and can even be used to give credibility to something that is far from the truth.
I'll have to accept that we had 34 shots on goal – I didn't count. Bit I will say that we never looked as though we'd score. We were often blasting aimlessly in to a packed goalmouth when there was little chance of getting through – yet we did this repeatedly.
Some of out best chances, where there were openings, were no more than back passes – such was their tame news! We are one of the teams who don't have players who can rocket the ball in to the net from outside the area except for Ross in rare occasions. The clearest-cut chances fell to McCarthy, who as much as I like him can't hit the broadside of a barn, and Barkley who had a bad day in front of goal.
The real point about our (on the face of it) good 'goals for' record is that the goals have either arrived in gluts (as I think your current adversary Joe Clitheroe – who incidentally is making a real fist of challenging your views – pointed out) or when we've scored them, the opposition has scored an equal or greater number and we've drawn or lost the game! For me, this is not something which causes me to leap about in happiness at the final whistle.
I've also seen a mass of games, both this and last season, where we've hardly had a single shot on target – mainly as a result of passing ourselves into oblivion. The last three games lifted my spirits and I really thought we were on our way. But, to be perfectly frank, we never really looked like scoring on Saturday. Partly because of a bit bad luck but mainly through a lack of imagination from Martinez about how you break down a team who parks the bus, together with a lack of understanding about which of our own players are most likely to achieve that. In that respect, would you put your money in Kone or Mirallas to score against a packed defence? Take your time on that one!
The issue that's consistently galling about Martinez is how he constantly refers to fine margins while he continues to display a complete lack of understanding about how we can play to affect those margins.
This lack of understanding (as with many of Martinez's flaws) stems from his footballing philosophy which dismisses many of the tools that managers who live in the real world make use of to secure a win – particularly in evenly contested games. The debasing of set-pieces is probably his biggest and most consistent crime in this context.
Finally, I want to mention the crowd. Until Lennon's substitution, the crowd were in good form on Saturday. There's no chicken-and-egg situation here. It's always up to the player to get the crowd roaring behind them. The easiest way to do this is to start the game at a high tempo – a rarity under Martinez, which is probably why there is increasing crowd anxiety at Goodison these days.
One final point about Saturday's game: Niasse should have been on the bench for a 20-minute cameo role at the least. Under Martinez the brave – not a chance. We must wait until he's in a good moment. As for the fans and their good moment... who cares!
Joe Clitherow
221
Posted 14/02/2016 at 20:29:15
Darren (#193),
Bang on. Pulis dragged Martinez hook line and sinker into his game plan.
Jamie I'll correct you in the same way you corrected Trevor. Not all of us wanted the team he put out. I don't agree with the way he puts out two defensive midfielders every single game without fail. Sometimes it works, sometimes it does not. Usually it does not.
Certainly anyone could see it wasn't working very early in the game yesterday. Tom Cleverley is not a left sided midfielder either. It worked against Stoke, Carlisle and Newcastle were never at the races. But any manager like Pulis who can competently set up a team to defend in an organised way can quickly exploit an imbalanced team.
Bill Gall
222
Posted 14/02/2016 at 21:10:36
James #154 James I am not completely against you as I thought as you did that Martinez should never been hired. Because (a) people may correct me, but this is the first manger that has just been relegated from the premiership hired for another team in the premiership, especially after he did not think he was the right person to bring them back up.
I like a number of other supporters were willing to give him the benefit of the doubt and in his first season was pleasantly surprised,even if at the end of it some of the defensive frailties that are showing up today were there. In his second season a lot of the criticism was overlooked by the games in the Europa Cup being believed to be the cause , even though our results were poor during the period were we had no European games, and I think Tottenham are destroying that theory.
During that period from last season and the majority of this season my take on Martinez was not for him to be fired but to,(a) bring in a quality midfielder that can help to unlock defensive teams and (b) bring in a defensive coach preferably an Italian one were defense seems to be in their blood, to help him in his philosophy, unfortunately neither happened .
Myself and most probably you and a lot of supporters have played or coached in a number of sports and even relating to your employment it does not matter what level you are at, once your performances drop consistently, you are relieved of your duties.
The position that Martinez is in he is able to hire top class people in various aspects of the sport but the people he brought with him from Wigan for his first team squad just do not seem to be up to the task, and these poor results reflect on them as well as him, as they are his coaching team.
I have an video of the history of Everton on which J.Moores says Everton supporters are the best and they disserve the best and by golly I will see they get the best and this is the attitude I believe Everton should be looking at in their hiring, and I do not think we have the best because Martinez is to stubborn to change although at times it looks good he is unable to see that football is not one dimensional it consists of attack and defense and you have to rely on both aspects of the game to be successful .
I do not ask for him to be dismissed as with this board and chairman it is not going to happen , but remember in valuating Martinez, tactics and styles in football are constantly changing and you must be willing to change with it and it is useless in trying something that does not work consistently. As they say (if you live by the sword you will die by the sword ) You can not hope that what worked successfully 2 seasons ago is suddenly going to work again. Remember other managers are paid lots of money to study their opponents and provide tactics to stop them.
Jim Hardin
223
Posted 14/02/2016 at 21:30:57
Darren,
As well as on the Live Forum where he was getting slaughtered, which I cannot pull up. Here you go lad from the article "Yet More Exasperation at Goodison Park":
There are several articles from which you may choose.
Anto Byrne
7 Posted 29/12/2015 at 04:19:18
The most galling aspect of the game was when their second goal went in. It was with out doubt pure class and a wonderful goal and right up there for goal of the season. Howard's reaction or lack of it, his positioning off his line that when the ball floated over him he was somewhat bemused by it all.
Then we have in the same article from Eddie Dunn,
Paul, a minor point about the penalty, Howard didn't guess right, he went to his right and Arnautovic put it right where Howard had been, despite losing his footing in his run-up. If Tim had stayed put, it would have been straight into his midriff.
So now we blame Tim again for a PK?
These are two of the nicer ones from the comments.
Then we go to Everton Beaten at the Last in 7 Goal Thriller,
Anto Byrne
5 Posted 28/12/2015 at 15:56:26
Two sucker punch counter attacks and a keeper all at sea, he made no attempt whatsoever with the second as he was so obviously out of position. How much longer do we have to endure this clown in goal?
and,
Oliver Molloy
232 Posted 28/12/2015 at 22:14:38
Howard at fault again for their second goal, what is he doing that far off his line? Why is he palming the ball, taking the pace off it for their third, he should have punched it in my mind.
It isn't double standards. It is a case of your shifting standards. You prefer to call every thing Tim does a mistake by him whether others do or not. You prefer to excuse or ignore wht could be deemed as mistakes by Robles.
Perhaps it is the standards (your standards) that need defining? Yours are more prone to change than the level of beer in my glass, and that sir, I can assure you gets refilled often during these games and discussions.
You continue to blame Howard for everything while I continue to say fix the freaking defense and then judge the keeper.
My point was that it was nice to not see people jumping all over the keeper for a goal by an unmarked man. If you truly believe that had Howard been in goal he wouldn't have been skewered for the goal being caught out and then falling forward into his own goal hopelessly like Robles did, you sir are being dishonest. As for your claim the goal couldn't be saved, well if Robles had been on the line, maybe it would have, but we will never know will we?
Patrick Murphy
224
Posted 14/02/2016 at 21:31:56
Bill, even during his first season in charge there were instances during the early games that if the woodwork hadn't have come to our rescue we would have conceded goals at important periods of the game, add to that we lost the lead at Norwich in his very first game in charge of the Blues as TW reported "But Norwich were back level off a miss-hit cross from Whittaker that Van Wolfswinkel too easily headed past Howard to equalize with Everton at that stage rampant and looking solid for the win."
In his first home game against WBA - TW reported Overall, it was a fairly flat start to Martinez's tenure on home turf, with a performance illustrative of the argument that you can have all the possession and passes you like, but you still have to carve out enough chances to win the game. It also highlighted the lack of a genuinely incisive playmaker in the centre who can make things happen on a consistent basis. Barkley provided plenty of moments of spark and he was, by and large, the most purposeful of the Blues' midfielders but while he is still learning his craft, someone else needs to be taking the initiative.
One-hundred and twenty-odd games later and it doesn't seem to me that any of the issues that we had at the start of Roberto's regime have been solved and possibly they have gotten worse - but hey ho give him until the end of this season, ten games into next season, until Christmas 2016, until we are out of all the cups, until the end of 2016-17....repeat and fade....
Don Alexander
225
Posted 14/02/2016 at 21:56:42
Patrick Murphy at #203 shows solid evidence of Bobby's various serious failings, and unfortunately there's far more games than those he cites to corroborate that evidence.
Those who see a future of success under this clown need to cite some games where we've taken someone other than relegation fodder by the scruff of the neck and walloped them.
I'm gutted that our mediocre board were never able to fund OFM like they have the Incredible One. With the teams he built, a proven goal scorer like Rom would have thrived.
James Marshall
226
Posted 14/02/2016 at 22:02:39
I'll just say it again - if we'd won yesterday we'd be 8th, 2 points off 5th.
Small margins.
As it is we're only 6 points behind 5 spot.
Small margins.
As someone above said, it's always feast or famine on here.
Ron Marr
227
Posted 14/02/2016 at 22:04:27
Howard was the analyst on the City vs Spurs game for NBC today. He's picking Leicester to win the league.
Pochettino, Pellegrini, SAF, Ferguson, Wenger, Mourinho et al sit on the bench during the game, listening to coaches opinions. Has RM ever set on the bench? Maybe if he listened to some opinions during the game, he might make better adjustments and substitutions. He has a good fast break plan for road games, but appears devoid of ideas when the other team scores first and then parks the bus at Goodison.
Christopher Dover
228
Posted 14/02/2016 at 22:14:49
As a season ticket holder for the first time in many many years I had hoped to see entertaining football with a good standard of play with the team we have.
I have not, they make the same mistakes over and over the play is slow they play statues when going forward so who ever has the ball cannot make a pass.
The manager who sets the team up does it the same every game win lose or draw only some of the players on the pitch may change.
Why did he not sell Mirralles? He will not use him but will play Kone who as others have said is a centre forward not a winger. But on the bus coming away from the ground one comment I heard was as a number nine he is a disgrace to the previous players who had that shirt.
I am not a manager have not played at any level but have been an Everton fan since a kid so was brilliant that I could get a season ticket, but if this goes on much more it will be the last one.
If I can travel and turn up I expect the team to Every week, if they cannot why should I.
James Marshall
229
Posted 14/02/2016 at 22:15:34
I'd like to see RM watch the odd half from up in the stands. Give him a bit more perspective on proceedings.
Patrick Murphy
230
Posted 14/02/2016 at 22:16:59
James (204) The game has always been about small margins, even our greatest teams only managed to win some matches due to a slice of luck, a late winner, a bad refereeing decision in our favour etc. But and it's a big but, we sort of knew instinctively that those teams of ours were good teams who would likely win more matches than they failed to win.
I can't say the same about Roberto's team apart from that long-forgotten winning streak in his first season. Perhaps, I'm not as naive as I was in my youth, but this Everton team is as likely to lose a match when it's head and shoulders better than any given opponent and it doesn't instil much confidence in many Evertonians even when it's playing well.
That might be a psychological flaw on my part or I have lost that belief over the years due to witnessing so much failure at the club in the last 3 decades, or it could be that the manager really isn't cut out to be an Everton manager and no matter how we dress it up, he has a litany of failure behind him and shows no real signs of becoming a serial winner, but small margins may well be the reason and whoever we have as manager will suffer the same consequences because we unlike our neighbours are just a very very unlucky club.
Winners are always on the right side of the margin, Mr Martinez has found himself on the wrong side of that margin far too often, perhaps an unlucky manager has found an unlucky club or perhaps both the club and the manager are born losers.
Chris Jones
232
Posted 14/02/2016 at 22:17:59
Just wondering - who (at the club, not on TW) makes the decision to sack him and on what criteria? You'd expect for someone on a salary of a prem. manager there would be performance targets or indicators built-in to his contract. What are they - not get relegated??!! Beyond that, who at the board level can look at what RM does and judge him on what he's paid to do? Many of us have commented on the poor quality of many of his tactical decisions and substitutions, but is he assessed on this stuff internally? I have a performance appraisal at work a couple of times a year - who does RM's and do they know sod-all about football?
Genuinely interested - does anyone have an idea?
Christopher Dover
233
Posted 14/02/2016 at 22:27:31
We are a very unlucky team?
Who was it who said"the more I practise the luckier I get"
Perhaps if he practised defence more and adding pace to the attack we might even get lucky?
James Marshall
234
Posted 14/02/2016 at 22:35:47
Arnold Palmer
Gerry Quinn
235
Posted 14/02/2016 at 22:46:07
It was Gary Player who used "the more I practice the luckier I get" term first...probably stolen from golfer Jerry Barber
James Marshall
236
Posted 14/02/2016 at 22:50:59
Oh well, I was close....at least he's a golfer!
Gary Carter
237
Posted 14/02/2016 at 23:15:07
It really pisses me off when people say stupid things like "If we had won yesterday we'd only be 5 points off"!! What sort of stupid inane statement is that!!! We didn't win!! In fact we rarely win and have rarely won for the last two seasons.
How many small margins, bad refereeing decisions or bad luck are we supposed to have before people see the blindingly obvious!?!?! Martinez has had 7 or 8 seasons in the Premier League and has been utter dogshit in all of them bar one, and that was because of what was put in place by the previous management team!!
Jack Mason
238
Posted 14/02/2016 at 23:55:12
Chris, @ 69. In my opinion his performance might be judged on wages spent, cup runs, transfer outlay etc. So in that respect, if we finish between 6th and 13th and have a decent run in the cup. Under this board that would be considered , satisfactory. So Roberto Martinez in bang on target.
Jamie Barlow
240
Posted 15/02/2016 at 00:43:08
"We did not dominate the ball. West Brom are better without it than they are with it... so they let us have it."
Probably one of the funniest things I've read on ToffeeWeb.
Joe@200 "Certainly anyone could see it wasn't working very early in the game yesterday."
I thought we played very well in the first half. Just goes to show how people see things differently.
As a matter of interest, I know you say you wouldn't play two holding midfielders (I'm in agreement) When would you have changed it? 10/15 minutes in?
And it was Cleverley that came off for Kone, not Lennon. Lennon came off for Deulofeu.
Andy@196 It was a one off. We haven't battered a team like that and got fuck all for it this season.
Ernie Baywood
241
Posted 15/02/2016 at 02:27:23
I'm not even worried about the subs except that they were made on a like-for-like basis (in terms of position).
Lennon played alright but could you really say him being on the pitch would have made a difference? Well it didn't for the majority of the game!
It just seems to me that we play teams on their terms. If they want an open end-to-end game, we play an open game. If they want to sit deep and counter, we faithfully play our role and have plenty of unthreatening possession. Every now and then we get a team who fancy camping in our half and we drop their trousers.
Why not aim to play the game on our terms? We want West Brom out of their half, right? Well let's come up with a plan to do that. It's got to be better than accepting their invitations to send crosses into the box.
All season we've looked better when we've sat deeper and had less of the ball. And all season we've played a possession game high up the pitch. So I don't give a shit about whether it's Lennon, Kone, Deulofeu, Osman, Barkley, McCarthy... they're all decent enough players. We just have to play smarter; then we can start thinking about the intricacies of individual player selections.
At the moment we're back to being a good sparring partner. We just play out our role based on what the opposition are trying to do.
Peter Barry
242
Posted 15/02/2016 at 04:30:13
Roberto does not have a Plan B – he NEVER has a Plan B and his plan A is CRAP.
I have said many times, the chapter on 'How who and when to make substitutions' is obviously missing from Roberto's 'How to Manage to get your team in to the Championship' book.
Phil Walling
243
Posted 15/02/2016 at 04:51:56
For all the criticism of Martinez on this site, the record shows that over more than 250 games, he is only marginally behind Mr Pulls in terms of win percentage of games!
A strong finish to this season may even see our man improve his win ratio to the 32 per cent required to overtake the Baggy Dinosaur. Keep the faith, won' yus!
Jack Mason
244
Posted 15/02/2016 at 05:40:56
You're quite right Phil. That's what he was hired for. He's meeting his targets. Let's beat Bournemouth on Saturday. As Gareth Barry says, we should all be looking towards the cup.
Forget the league, for a club like Everton it's not important. We should concentrate on the bigger picture, developing young talent to play for other clubs and make sure we're the most entertaining mid-table club in the Premier League.
Darren Hind
245
Posted 15/02/2016 at 06:36:59
Jim
I see only two people (out of thousands on here ) really criticising Howard for that goal and both appear to me to be complaining about the accumulation of errors rather than this one in particular. "How much longer do we have to explain this clown in goal" represented the views of the overwhelming majority of those who don't have an allegiance to either keeper, but simply want a decent one.
You failure to see your double standards, is as staggering as your failure to see Howard's blunders.
You howl at the injustice of it all when Howard is criticised for clear errors, yet when Robles concedes under fluke circumstances, you're on it like a tramp on chips.
Fair play to to you, you bided your time, it must have been so frustrating for you that you had to wait for four games to stick the knife in.
I don't recall ever seeing a post from you that wasn't defending Howard or attacking Robles. Broaden your horizons son. Howard's finished.
Darren Hind
246
Posted 15/02/2016 at 06:41:47
Jamie @218
I would probably laugh too . . if I didn't understand the point
Kim Vivian
247
Posted 15/02/2016 at 08:14:19
Going right off topic here... so apologies if needed.
Its' a funny old thing isn't it. Life. Criticism. Judgement. etc.
We post on here, and I have swung both ways, criticising and defending RM. Vilifying and protecting him.
As with most posters since Saturday the exit pols are not good for Bobby – clearly very anti-RM.
I work down south and in the company of mainly Spurs, Arse and West Ham fans. Yesterday my boss (Spurs) started to have a bit of a 'go' at us and RM. I said "Hang on, leave off, that's our man you talking about here."
"Your man?", he says, "a couple of weeks ago you wanted him walking the plank."
"That might be right", says I, "I may have said something like that, but he is our man and we can say what we want. You're Spurs – so save it for Pochettino."
That was the gist of the conversation – a few f's and c's thrown in for good measure – and the usual banter (we do get on ok) , but it makes you realise, does it not, that whatever we are feeling, RM figuratively does wear the Blue shirt, and he IS our man. For now at least.
I don't know how others on here react but ALWAYS find myself stepping up to defend any of our men, or ladies for that matter (won a really top Chinese meal off an Arse fan when we beat them in the ladies fa cup final a couple, or more, years back) who are getting knocked by other supporters – be it Howard, RM, Delboy, Barks, Kone, Ossie, Moyes, whoever – all who get a bit of slating because they are OURS.
I do think sometimes there are a couple of 'sleepers', redshite agents or whatever, lurking around on ToffeeWeb but like I said – funny old lot aren't we. Loyal to the roots most of us whatever we are saying.
Jack Mason
248
Posted 15/02/2016 at 08:32:22
@ Kim 224. Don't confuse sticking up for Everton and standing your ground for defending Martinez; they're not mutually exclusive.
And please don't accuse fellow ToffeeWebers of supporting the other side. Wind ya neck in, people have different opinions. Respect it. You could learn something.
Brian Porter
249
Posted 15/02/2016 at 08:38:20
Whatever Martinez might say, and he says a lot without really saying much of substance, the league table doesn't lie. Only 12 games left of the season and we sit in the bottom half of the table with only two wins more than relegation threatened Bournemouth, Newcastle and Sunderland. Surely our board cannot see this as acceptable for a manager who came to us with promises of Champions League football within four years?
Well you've used up almost three seasons, Roberto and where are we? David Moyes at least had us thought of as a perennial top-eight club, but this clown is turning us into a perennial bottom-half club. Whatever good work Moyes did (and even his detractors have to give him credit for a lot), Martinez lived off the benefits of that work for the first half of his first season, since when he's thrown it all away until we now look like one of the Titanic's lifeboats, afloat on an open ocean loaded with a group of brave souls waiting to be rescued.
All the excuses are wearing thin as he trots out the same old rhetoric every week as we slide slowly towards oblivion. Statistics, and we all know Martinez loves his stats, show his win ratio to be slightly less than Pulis's over the last three years, totally unacceptable for a club like ours. Our form and results over the last two seasons are really just one small step from being genuine relegation form.
For God's sake, let the board grow a pair and give potential buyers a positive sign by dumping the Catalan clown and showing them we do have ambition to be better than he is making us appear. Roberto Martinez is slowly strangling the life and the passion from our great club. Whoever replaces him certainly can't do much worse.
Jamie Barlow
250
Posted 15/02/2016 at 08:39:21
Sum of us are just to fick to understand Kim.
Clive Rogers
251
Posted 15/02/2016 at 08:43:27
Chris #210,
We are very much a one man band. Billy Boy may consult with the other directors but at the end of the day he makes the decisions apparently. I remember him being quoted that he deliberated for 2 days before sacking Smith. Earl has only set foot in Goodison twice.
It it down to his lack of vision that the 2 managers he has appointed were from Preston then Wigan.
17 years of treading water.
Kim Vivian
252
Posted 15/02/2016 at 08:44:50
Hey Jack - think you're completely misreading that post mate. No beef with you though.
Do you not feel like sticking up for OUR'S when others are dissing?
Dave Abrahams
254
Posted 15/02/2016 at 09:10:18
James (208), have a go at that yourself, you might have a different viewpoint from watching the game on TV.
Not having a go at you for watching on TV but you do see a better aspect watching the game live. I understand you haven't been able to see the games due to other commitments.
Mark Andersson
255
Posted 15/02/2016 at 09:15:06
I hate the media at the best of times. So just before they show the highlights of the game we just lost there was a few interviews with some fans outside Goodison.
Fan 1 said, "The majority of fans are right behind the manager."
Fan 2 said, "Martinez is building a great squad and we're near where we want to be. "
Fan 3 said "Thousands of fans can see what the manager is doing right, we just need a bit more consistency."
So it's only fans on this site that want the manager sacked. Now I am really disappointed.
Paul Conway
256
Posted 15/02/2016 at 09:37:56
All this talk about our team under-achieving. Hindsight is 20/20 vision but I am now convinced, at this stage, that David Moyes actually over-achieved. He said on TV the other day that he was only promised £5M to spend each season!
He was a good judge of horseflesh and although Martinez has brought some talent to the squad, he did have the funds available. But what is mixing this talent with mediocrity? As long as Martinez insists with this philosophy, we will stay as simple fodder and also rans!
Phil Walling
257
Posted 15/02/2016 at 09:58:01
Clive, I'm no fan of BK but I believe the man has done well to keep us 'treading water' over the time of his major involvement. I say that in relation to how we have performed on the pitch where both Moyes and Martinez have rarely given us worries about relegation.
We have never suffered the indignities currently afflicting the Villa and on a modest budget have GENERALLY out-performed the likes of Spurs, Stoke, Southampton and Leicester.
In business and commercial matters, it's a different story and the showman's reign is littered with bad decisions, poor judgement and obfuscation – particularly in his treatment of the fanbase.
In short, Kenwright has run the Club like a sycophant, respecting its history and loving being involved with his heroes. The trouble is that lacking the funds to 'make a proper job of it', it became a survival game and, lets be clear, he's certainly managed that.
I never thought I'd say it but 'now the end is near' I have much greater concerns about those rumoured to replace him!
James Marshall
258
Posted 15/02/2016 at 10:19:45
Dave@230
Fair point mate. You do certainly get a much better idea of everything when you're there, I agree.
I always thought Barry was a shite player till I saw him in the flesh for us the first few times, now I see what a fine footballer he really is.
I do think RM could benefit a lot from watching a few halves from higher up so he can see what we see (albeit not me this season). I've been to loads of games and sat right at the front and it's nowhere near as good as when you're higher up as your perspective is totally skewed and you can't really see what's going on.
RM strikes me as someone who can't really see what's going on.
Zahir Jaffer
261
Posted 15/02/2016 at 10:52:59
I've taken a moment to think why Martinez, hopefully to be OFM, would react in such a manner.
1. Is it possible that he doesn't want to vocally address the problems to the media, that every-one here can see, because if there's no change after he states the obvious, it gives more reason to sack him? Knowing him, he doesn't know how to change the game or his philosophy up.
2. Is it possible he's embarrassed to publicly state that the majority of his players have been quite lethargic for many of the games? No drive, no passion, no ambition,
3. Besides becoming the Aston Villa that was 7 years ago, can he do anything else to our team? The counter attacking football that Aston Villa was known for didn't last very long, now, did it?
4. The substitutions are so robotic, same pattern over and over... does he even need to be there at the game?
5. Why would he even talk about more possession and controlling the game and what not when Leicester is a prime example of excellence?
6. His players aren't disciplined. Moyes had his players disciplined, not that I liked him very much. The only thing they are disciplined to do is pass sideways and backwards.
7. Subs were alright with me. It's just who he took off that really ticked me off. He should have switched Barry for Kone, he was on a yellow, doesn't have pace if they counter; Deulofeu for Cleverly, and Osman for Oviedo in the last 5 mins. Have McCarthy, Jagielka and Funes Mori at the back.
Players who played well: Lennon, Barry.
Players who played shit: Lukaku, Barkley.
Lukaku was a step too slow today, he won around 3 out of 20 50/50 balls. Never had the desire to score. I would have actually liked him taken off cos he was playing like that £2.5 mill Championship striker of last season. Cleverley crossed in a cross a bit too deep to indirectly tell Lukaku "Move your ass". He was too idle, too slow... too useless.
Barkley besides that shot that hit the post was playing for the other team. He slowed down the game on our counter attacks, never really looked a threat and scuffed the easiest chance of the game.
Dave Abrahams
262
Posted 15/02/2016 at 10:58:38
James (#232),
I've never understood how managers and coaches stand in the technical areas and observe the game from there.
I have sat in the Uppur Bullens for the last 30 years or so and it is the best stand, for me, to watch the game from. Halfway point, you don't miss much and get an excellent view of the match. I hope you get to Goodison soon.
Christine Foster
263
Posted 15/02/2016 at 11:18:39
Deep breath... We have a bunch of really talented players who can play. We have a manager who believes he can turn us into Barcelona. The desire is there to make it happen; the ability is not.
The absence or sacrifice of sound defensive tactics on the altar of attacking, possession-based football has not, and never will, work. Without someone marshaling the defence on the pitch, critical defence coaching is required; however, even that means nothing if you end up with your fullbacks trying to bury chances, consistently in an opponents box. What are they doing there? What happens on a break...???
It comes down to a philosophy, but it is one that has no pragmatic basis. No-one takes responsibility, but crucially neither does our manager. It just is not good enough. We quote the School of Science, but no longer have we men of steel in defence, in midfield.
I doubt Roberto can or will change, which means someone has to tell him to move on. He gave us a glimpse of what could be, but failed to be pragmatic when faced with the reality of our limitations. His failure to adapt, sadly will be his undoing. And that's sad because, on those occasions when it comes together, it's a delight to watch. But so were Wigan.
Mike Gwyer
264
Posted 15/02/2016 at 11:18:58
Why do some posters blame the home support for our current shite displays, then also state that Everton are the dogs bollocks when we play away??
I get tickets for away games quite a bit and have been doing so since the early 80's. At this time most home grounds are quiet and funny enough at the likes of the Arsenal (known as the library), United and at City the away support do all the singing and I mean always, even when we are getting beat and the home support mainly sing when they score. The only grounds I go to where there is constant chanting by the home support are Stoke, the Spuds & West Ham.
Times have changed (immensely) and the Goodison home support is no longer the bulk of working class people who chanted songs, took the piss out of the away end and provided a blue unity primarily in the Gwladys, however if there was a small away support then we could go into the Park End. I can tell you that chanting and singing at Goodison Park would start a good hour before kick off and would continue well after the players left the pitch. By the way, the constant chanting and singing didn't seem to affect the players that much, as we did lose occasionally.
For me, I do not agree that our players are currently affected by the home support at Goodison Park. Do you posters think that Oviedo did not stick to the far post, for the West Brom corner, because the home support was giving him shite or that Kone comes on and plays like a twat because he has the hump with a section of the ground. Fuck no, these players do exactly what RM tells them to do, because believe me there is not a blue supporter on the entire planet, not one, who would put Kone onto the pitch and play him on the right or left wing and then leave Super Kev on the bench.
West Brom had us where they wanted us and Pulis knew that RM did not know how to use the right creativity to break their defence down. Yet every blue around me could see that we should hit them wide, on both sides and drag their defence out.
Dave Abrahams
265
Posted 15/02/2016 at 11:29:54
Mike (235) good post, your two last paragraphs should be read by Martinez, maybe he would learn something. Then again, he only sees what he wants to see, and it seems that he doesn't listen to anybody.
Paul Conway
266
Posted 15/02/2016 at 11:38:05
Let's hope the Leicester-like Villa revival does not start against us!
John Jones
267
Posted 15/02/2016 at 11:51:37
I have read the comments on here, well they probably sum my feelings whilst watching the game and after. I really hope that the only reason Bullshit Bobby is still in a job is because of the impending takeover.
Pulis said after the game that we have a top 5 squad. We do... but we have a Championship manager. Hopefully the guys that take over look at the stats and see through the sugar-coated BS Bobby spouts and he escorted from Finch Farm.
Bobby comes out with that much BS that the Pundits rub there hands together every time he opens his mouth.
Martinez talks about "bad Luck" well you sir must be the "luckiest" football manager around to still be in a job. Worse record than Walter smith and catching up with Mike Walker at a rate on knots.
Paul Nicholls
268
Posted 15/02/2016 at 12:03:23
Watching the City v Spurs game yesterday, it did simply ram home to me what a difference a tactically astute manager can make.
On paper, there is not a huge difference in quality between the Spurs team and our own. Of course, Lloris in goal is infinitely superior to our own guardian(s), but I'm not sure you would pick any of their back four from yesterday – Walker, Alderweireld, Wimmer (who?) and Rose – ahead of ours. Not much to choose between Dembele and McCarthy/Barry, and Son Heung-min would struggle to get a start with us.
Yet, as it stands, Spurs are in with a real shout for the title and we are looking nailed on for mid-table mediocrity.
Is their squad better than ours? No. Sadly, they have a coach with tactical nous who understands organisation and game management. We've got Roberto.
Andrew Clare
269
Posted 15/02/2016 at 12:06:05
A very very disappointing result on Saturday which really in my mind confirmed that our only hope is that the takeover happens. If not I can see us continuing in the same vein ad infinitum.
We persevered with a mediocre manager for 11 years and it looks like we are going to give Martinez far too much time to go nowhere. It's a shame because we play good football and we have a good team but the reality is we are tactically inept.
I just hope to god we don't appoint a British manager because tactically none of them have a clue (unless you call a manger like Pulis a tactician!).
Keith Conchie
270
Posted 15/02/2016 at 12:27:16
So many people on here complaining about the subs we made. Well I completely agree with you all. I have been saying for a while on here that Kone is finished (infact he never really got started). He offers nothing when he comes on, and gives the ball away too much. He slows our play down and can't hit a ball on target.
I have said for the last few games we should have Rodriguez on the bench instead of him, and hopefully Niasse for the next game. And to bring Osman on instead of Mirallas, I just can't get my head around.
What I will say in Martinez defence is that he has built probably the strongest squad I have seen at Everton in many many years, and I love our style of play under him. Against WBA we were in total control and played some really good football.
But if the opposition are going to just park the bus then you have to find a different way to get through them. We should have brought McCarthy and Oviedo off for the 2nd half gone 3 at the back and put Mirallas and Deulofeu in straight away and played with a bit more pace and counter attack. They might have come out a bit more if we sat back a bit and waited.
I might be wrong, I might be right. But we could have at least tried it.
Just finally, we're all entitled to our own opinion on here, so why do some have a go at others for having a different view?
Steavey Buckley
271
Posted 15/02/2016 at 12:55:17
At the 65th minute and with WBA packing their defence to hang on to a 1-0 win, Everton should have gone for broke to force a 2-1 win with just a couple of substitute changes that would have given them a better cutting edge than what they ended up with:
Deulofeu, Barkley Cleverley Mirallas
Lennon Lukaku
Instead Everton ended up with:
Deulofeu Osman Barkley Barry Kone.
Lukaku
At least my selection looks a damn site more hopeful than what Martinez ended up eventually putting out to upset the faithful.
Ernie Baywood
272
Posted 15/02/2016 at 12:56:20
Keith, I'd agree with your entire post if it wasn't for the reference to us being in control if the game. Having the ball isn't the same as having control of the game. West Brom didn't want the majority of the ball, Leicester didn't want it either.
Both fancied their chances of catching us on the break more than they did breaking us down with sustained pressure. And both fancied their chances of defending against our sustained pressure.
Paul Saleh
273
Posted 15/02/2016 at 12:59:59
I do not know where Roberto is taking Everton to. This will be the second successive season where it looks like we are going to finish mid table, which for a team of players that Everton have, I consider to be not good enough.
We do not seem to have a Plan B when we come across a team like WBA and I cannot see us achieving anything better next season if he is still in charge. Like someone on here has already said, the only hope is either the takeover happens and they can see through him, or BK grows a pair of balls and puts him out of our misery.
Johan Elmgren
274
Posted 15/02/2016 at 13:01:57
Christine (#234) and Paul (#238). Very good posts and've you hit the Nail on the head. RM's not tactically good enough to take our team upwards. We will always slip to defeats such as this while he is in charge. Why? Because we let in silly goals, which could easily have been prevented with some basic defensive training. And then we have to chase the game while the other team just defends...
It was the same against Swansea, Crystal Palace and more games which I can't recall right now. All these games should have been three points because we were so much better than the opponent. But the silly goals we let in practically makes it impossible for us to win the game. So much energy is wasted on chasing the game.
Around the 83rd minute the TV-cameras zoom in RM and you can see him saying "Patience, patience"... It's the 83rd minute for gods sake!! Get the ball into the area along with plenty of our players at any given moment. That is not the time to be patient. We are a goal behind, it's time to PUSH everything possible into the box to force a goal.
Things as such orders, his defensive (not)knowhow along with those inexplicable substitutions just tells me that he's not up for the job. I have supported him the first two seasons, but this season we have really had a chance to challenge the top, and he has ruined it with his cluelessness.
We have some really good players, and played some brilliant attacking football that could have made us top 4 contenders, but the team's defensive setup has let us down... I'm so frustrated right now, and the only thing I can see will help is MARTINEZ OUT!
Phil Walling
275
Posted 15/02/2016 at 13:18:47
Keith, I think it's only fair to say that this manager has been provided with more money than any of his predecessors in the Premier era. That does not make him a genius in the transfer market.
And, for all the 'good' signings he has made, I'm not sure he has always deployed them to best use – particularly in their use as substitutes !
Dick Fearon
276
Posted 15/02/2016 at 13:31:52
Ernie, 242, You are spot on about possession not being a measure of which side controls the game.
Martinez is paid an absolute fortune for his football acumen yet he played right into Pulis's hands.
On that basis, it is clear that Pulis with far less resources was the daddy.
Our chap was confused, bamboozled and with not a clue on how to respond.
Johan Elmgren
277
Posted 15/02/2016 at 13:34:52
By the way, I'm new here. I have read this forum a lot, but never written... But the latest result against WBA frustrated and infuriated me to the degree that I had to sign up, so I could write some posts and let the steam off...
I'm a patient man, but my patience with RM is over. He's had his chance, and he blew it.
Dave Abrahams
278
Posted 15/02/2016 at 13:35:21
Steavey (241), Yes, I'll have that part with Lennon inside with Lukaku, Lennon running at WBA in the centre part of the pitch, but I don't think Martinez has tried anything that will fox the opposition since he put Lukaku on the wing versus Arsenal in his first season with us.
The unorthodox doesn't fit into Bobbies way of thinking.
James Hughes
279
Posted 15/02/2016 at 13:35:53
Roberto can't explain the latest defeat and we were just unlucky, is his middle name Jonah? as the amount of 'bad luck' we have had this season means the whale should be visible soon.
Someone keep an eye on the Mersey look out for humpbacks.
Paul Conway
280
Posted 15/02/2016 at 13:36:30
I think we are a team who has potential to have potential to have potential...
Tom Bowers
281
Posted 15/02/2016 at 14:14:56
You don't need to be a rocket scientist to understand that RM just isn't the man for the job. Sure he has given the team a fresh look offensively and the goals have been coming but at what cost?
When a team parks the bus at Goodison and many teams like Albion do then at least you expect to keep a clean sheet and salvage a point but to lose all three to one sloppy goal is hard to stomach. Yes, they pummeled Albion and save for poor finishing and some bad luck may have won but they didn't and the awful season continues.
The next two games could be the end for Martinez and his lack of defensive strategies. He has run out of ideas and excuses.
Colin Glassar
282
Posted 15/02/2016 at 14:28:08
I think we were fine until the substitutions although, to be honest, once they scored I thought it was going to be a long, long afternoon.
Why he didn't leave Lennon on and then brings on our oldest, and slowest, player in Ossie is a mystery to me. He does lack the knowhow to break down teams who shut up shop and his substitutions are usually ineffective but, and I've said this before, he's under no pressure as the club is rudderless, in limbo if you like. There's no one above him calling the shots so we will continue in this vein for the foreseeable future unfortunately.
Patrick Murphy
283
Posted 15/02/2016 at 15:16:08
Colin (255),
If we carry on as we are for another season, we will have nobody below us, which is even scarier than having nobody above Roberto – the silence from the club about anything that isn't Everton in the community related is also a bit scary.
The takeover rumours remain just that, as there appears not to have been any formal bids made for the club. When does the Early Bird window begin? Evertonians suffer a death by a thousand cuts both on and off the pitch.
Winston Williamson
284
Posted 15/02/2016 at 15:28:16
Has there ever been as much contempt for an EFC manager as there is for RM??
I've been supporting EFC for 29 years and cannot remember a manager being as disliked??
I also cannot ever remember a manager who has subdued the GP crowd as much as RM's Philosphy has??
William Cartwright
285
Posted 15/02/2016 at 15:28:55
We do have a top 5 squad, no doubt. I would say top 4 even. However 99% of ToffeeWebbers have got the same agreed view. So what is to add? Let's explode a few myths:
1. Effective Youth Policy – The number of young players to come through this season is actually very limited. I seem to remember it was a seasonal thing to have at least one youngster make the breakthrough. This season, it looked like it was going to be Galloway but he seems to have disappeared? I love the respect the Club give the 'old guard' of Hibbert, Osman, Pienaar, Howard, but really they do take up spaces that could be used to bring the youth policy forward. The U21s and U18s are doing brilliantly, and the loan policy is looking OK but I would love to see game time for some of the youngsters.
2. Attacking Football – Seems the bees knees at the moment but why do we persist with the two-man defensive midfield posture and never have two wingers on the pitch at the same time? Interestingly Barry, who has been phenomenal this season (and I'm not being sarcastic), seems to be taking on more and more offensive duties with great success.
3. Possession Based Football – The amount of tippy-tappy along the back line, and passes back to the goalie has been greatly reduced from last season and replaced by a willingness to break out with speed. However, this relies upon Lennon and Deulofeu who are both effective. Would be wonderful to see them on the pitch together, but we don't really play a possession based game and we look the better for it.
4. Best Squad in Years – Undoubtedly. However, the team should be greater than the sum of its parts, one of the core definitions of teamwork effectiveness. Why is it not working for Everton right now? Well this is the statistic that damns Roberto's credentials to little more than an overenthusiastic supporter. To openly admit he cannot understand why we are not getting favorable results when the team's performance is better than the opposition then you know he's out of his depth.
5. Wonderful Memories – The bad memories outweigh the good ones, considerably.
6. The 3-year Cycle – Onwards and Upwards... It usually takes a manager three seasons to establish 'His Team'. This is correct and is the norm. However, Everton are reversing the trend and we are losing more games, points and the supporters' trust and respect as we under-perform compared to the previous seasons.
7. Goodison park is a Fortress – Fingers crossed for the FA Cup, and we get drawn away in the next round if we progress past Bournemouth.
Paul Conway
286
Posted 15/02/2016 at 15:31:07
John Elmgren @ 250
I am also new here, I only started posting yesterday. I have been an EFC supporter since I was 10, I am now 59. I, like you, felt that I had to let off steam, especially after the hope we had after three successive 3-0 wins and hoping to keep it up (although I would have settled for 1-0) against a WBA side who stumbled and stuttered past Peterboro the other night.
Well, here comes around another Monday where we want the week to fly past, to our next match and a possible triumph.
People have described us as being like Spurs, but I can't agree. The only thing we have in common is both teams have the best squad in years. Except, Spurs are progressing and are realising their potential; they are well equipped in every department.
Arouna Kone would never walk, into the Spurs team, even on a free transfer, and we are still having potential to have potential!
William Cartwright
287
Posted 15/02/2016 at 15:47:56
Kim and Jack 224 and 225;
Interesting point Kim. Probably describes deep rooted bias standing in the way of enlightenment! I have the same emotions regarding Martinez. I find criticizing him leaves a bad taste in my mouth. Why, because I want him to be successful as I want any Everton manager to be successful.
Jack's view sums it up more for me in that we are now seeing real damage Roberto is causing to our club far outweighing the positive things he has done. Speaking out about that, in a thoughtful but passionate way is fine by me. I also like the inconsistent mood swings he brings about in me. Love him, hate him, sack him whatever! Makes me feel alive!
Thomas Surgenor
288
Posted 15/02/2016 at 15:47:57
Colin #255.
Not justifying the substitution of Lennon - that was a farce!
However, I think he brought Ossie on as he felt we had them penned in and needed a neat tidy footballer for intricate passing around the box. Not saying I agree with it, just trying to second guess Roberto's thinking.
Personally, (I'm no football coach), I felt a more direct, higher tempo, selfish player like Mirallas would have been the better option to Ossie. Especially after seeing the joy that Lennon had with his pace.
It's infuriating that we keep trying to score the perfect goal and are fully justifying the Arsenal-lite tag that I've heard muttered around. Our best and most dangerous football this year have been from quick, early and direct passes.
Denis Richardson
289
Posted 15/02/2016 at 16:04:51
Thankfully missed the game, although RM took the interest out of it for me a long time ago.
Judging purely on the stats it sounds like we battered them on the day and were unlucky. However, given they'd lost, I believe, five on the trot and every man and his dog knew they'd come here to park the bus AND they always play like that at GP since Pullis took over, I have to say I was not surprised by the result one little bit. The fact they scored off a corner was also all too predictable.
At least the fanciful 'we can still make 5th' and ridiculous '4th is still mathematically possible' statements might finally be put to bed. We will finish around 10th, just accept it.
The league was over ages ago. Hopefully with Bournemouth being away we might get through (and then pray we get an away tie!).
Can't wait for this takeover to happen.
Brian Harrison
290
Posted 15/02/2016 at 16:18:21
We all knew that WBA would come and for most of the game play 10 men behind the ball. So you would think that, all week leading up to the game, RM would have been making the players aware of what we would need to do to combat this approach.
I mean WBA lose on a regular basis so other teams find a way to score against them. Maybe RM could have said that when they do come forward and we win the ball, break swiftly in numbers, get the ball up to the front men early. But, for large periods of the game, on the rare occasions they did attack our build up was too slow.
And yes, we were a little unlucky that either the Barkley shot or the Cleverley cross didn't go in instead of hitting the post. But our failure to put away these teams has been symptomatic of last season and this season, so it's not just luck that is stopping us. It's our coach's failure, especially at Goodison, to beat teams who defend with 10 men behind the ball.
Now we go on about being a top 6 side; well, can you tell me a team that consistently finish in the top 6 who would put up with our league position for last season and our current position this season?
Man Utd are 5th and the papers are full of LVG being sacked, Pellegrini has already been told he his sacked at the end of the season. Chelsea – despite winning the Premier League last season – have already sacked one of the best coaches in football... now if Mourhino wasn't allowed to have a bad season after his record with Chelsea, why are we hanging on to a man whose last job was to get a team relegated from the Premier League?
Tony Marsh
292
Posted 15/02/2016 at 16:32:26
There is no leadership at the club on or off the field. It's been like this for decades now. Kenwright is seriously Ill and probably has more concerning things on his mind. We are not a sacking club and never have been in my life time.
The truth is, we are an average club run by amateurs and owned by fools. Roberto is good for another 5 seasons if the Moyes era is anything to go by!!!
Michael Polley
293
Posted 15/02/2016 at 16:50:33
No Plan B. Incomprehensible substitutions. Poor Defending. Inept tactics & manager. Same old story!!!
Jamie Crowley
294
Posted 15/02/2016 at 17:07:32
I appreciate Roberto building this team and think he's done an amazing job doing so.
I think Roberto comes in for way, way too much stick. I'd argue most of it short-sighted.
But to be fair, he completely missed the plot this weekend.
He "did right" in my opinion by keeping an unchanged side.
But the subs... I don't understand them in the least and frankly Roberto just shit the bed.
Football can be cruelly unfair. That's what we witnessed against West Brom.
But Roberto not only didn't help himself and the team with his substitutions, he hindered us from winning. And that's just stupid and unforgivable.
Colin Glassar
295
Posted 15/02/2016 at 17:17:12
Patrick, the club is in a perilous state. The ship's rudder has broken and the captain has done a bunk. We are heading straight for the rocks and the crew are paralysed with uncertainty and we are taking on water at an alarming rate.
Unless this takeover happens quickly, the lunatics will remain in charge of the asylum.
Robin Cannon
296
Posted 15/02/2016 at 17:19:00
If we'd lost while maintaining the form of the first half then I'd have sympathy with the argument of being unlucky, and give credit to WBA for an exceptionally good defensive performance. And certainly WBA did park the bus as well as I've seen in a while.
The problem for me was the loss of momentum in the second half, and then the inability of RM to change things to get that momentum back. In fact, his substitutions exacerbated that loss of momentum and just played into WBA's hands. I find his refusal to use Mirallas in that situation to be nearly incomprehensible, when his preferred option is someone who's struggling to such a degree as Kone.
He seems to be falling into the same trap as Moyes did; with this weird desire to continually play players out of position. Kone is a striker, Cleverley is a central midfielder, and he keeps forcing them into wide positions even when we have actual specialists in those positions. It's perhaps partly because we're heavily stacked on the right side (Mirallas, Lennon and Deulofeu are all ostensibly right wingers), but forcing someone like Kone out there consistently seems just stupid.
Jamie Crowley
297
Posted 15/02/2016 at 17:21:38
Patrick,
The Club are in due diligence. They're keeping their fat mouths shut for good reason and purpose.
The Early Bird season ticket thing... they're probably not publishing anything because if the sale of the Club comes to fruition...
Gulp.... ticket prices are going UP! As soon as the deal goes through you'll get your Early Bird offer – with a 25% increase.
Cynically yours,
Sir James C Crowley IV
Tim Michael
298
Posted 15/02/2016 at 17:23:57
For those regulars at GP, Patrick's comment in #178 is so right. The whole place during home games has become a horrible place to be. Its been like that since the start of 2015 when that season started to unhinge itself. This season has just compounded it further with the home form, particularly against the strugglers.
With regards to the WBA game, those of you that were at that Monday night last season will see parallels with Saturday's game. The only difference was that WBA scored. Besides that, the two games were dismal. The former game voted the worst Monday game of the season.
So if you are blatantly honest, the same old failures exist for this team/squad. I know many fans that are finding it difficult to be up for a game at GP. That's how bad its become.
Jim Marray
299
Posted 15/02/2016 at 17:33:03
Explanation of how Everton lost to West Brom, just to help Roberto "Clueless" Martinez.
We lost because, by the time we had the ball in the other team's half, they had all their players bar one behind the ball.
Lessons to be learned #1: When you have two players like Lennon and Lukaku, you give them the ball as fast as you can and race up the field before the opposition have time to get behind the ball.
Lesson to be learned #2: When you are one-nil up, you defend like West Brom and don't concede three goals to put you out the League Cup.
Lesson to be learned #3: You leave the club you are screwing before the fans become so bitter and disenchanted they start calling for your head on a plate. (Although this lesson also needs to be learnt by the Board if they want to remain being seen as committed Evertonians.)

Colin Glassar
300
Posted 15/02/2016 at 17:42:41
Thank god we no longer provide cushions then, Tim, because I've heard, and seen, far worse at Goodison.
Brin Williams
301
Posted 15/02/2016 at 17:47:28
Colin (#266) – 'Patrick, the club is in a perilous state. The ship's rudder has broken and the captain has done a bunk. We are heading straight for the rocks and the crew are paralysed with uncertainty and we are taking on water at an alarming rate.'
And the fans are thrashing one another with the lifebelts instead of throwing them to the floundering crew!!!
Michael Kenrick
Editorial Team
302
Posted 15/02/2016 at 17:59:24
Kim Vivian's point comes up now and again on here and it can be a challenge for some because discussing our play, our results, our manger, etc can of course come across as being critical.
Yes, Kim, defending Everton to your colleagues is one aspect of being a fan. But that has little to do with what we provide here on ToffeeWeb... for avowed Evertonians.
I guess I need to make the point again that the association Kim made with there being "redshite agents" on here is totally unacceptable ad hominem nonsense. We court a wide range of views exchanged from a wide range of Evertonians. Some Blues will find some views hard to accept. That is fuel for discussion; there is no tolerance for playing the 'redshite' card.
Brian Porter
303
Posted 15/02/2016 at 18:00:59
I wish people like RM and BK could be forced to read threads like this. Perhaps then they would begin to realise the depth of feeling against Martinez and his continued failings. I think Martinez seriously believes he's doing a good job and is so blinkered he just won't admit the ship is, indeed, sinking.
I can clearly remember us saying virtually the same things last season, which surely goes to prove we have made absolutely no progress at all under Martinez. Just hope we don't have to suffer another season with him in charge. Get rid now, please!
Darren Hind
304
Posted 15/02/2016 at 18:06:46
We should always defend Everton to the infidel.
What goes on in here and other EFC forums is family business and families don't wash their dirty laundry in public.
Colin Glassar
305
Posted 15/02/2016 at 18:17:06
Sod the crew Brin, it's every man for himself!!
Jim Hardin
306
Posted 15/02/2016 at 18:25:03
Darren,
You asked for proof, I gave it to you. I didn't pull them all. I can show you similar posts from other games but maybe you should do that bit of research yourself. If you could go back over the comments on the live forum you would also see what I mean.
Howard or Robles was not supposed to be the point. Again, it was that it was nice to see the focus of the criticism was on the defending. However, continue to play devil's advocate or whatever counter-point debate you wish. By all means please, continue to keep sliding the focus of your commentary. You are adept at the "yeah, well... but" style of argument.
My point is fix the defense first before blaming the keeper whether it is Robles or Howard. Stop talking about poor form, or not, of the last player on the defensive side on a team that has a poorly organized and drilled defense. Fix the defense first, then judge your keepers as to what they can and cannot do. Case in point, Begovich, Butland, and now even De Gea are suffering because of the defenders in front of them. Is it poor form or poor defending?
James Marshall
307
Posted 15/02/2016 at 18:48:19
Last week everyone on here was jumping up and down about out 3rd 3-0 win on the bounce, and how RM had perhaps found the right balance and got the team right... everyone wanted him to pick the same team, not drop Joel and win again... so he did what everyone wanted, it didn't work this week and we got beat 1-0 by a very well organised Pulis team who did a number on us, and all of a sudden it's "Martinez Out" again.
Now I agree he made the wrong subs, and personally I think the game was crying out for a wildcard player in Mirallas (not Kone) but he didn't and we lost thanks to a jammy/flukey goal and excellent defensive unit.
I was never keen on RM from the off when he joined the club, but I do think he tries to play the right way. His problem is his stubborn nature, and lack of flexibility – he just changes like for like players and doesn't really have an effect on the nature of games, and is unable to change patterns of play.
If we win our next game, people will back off, then we lose and people will attack him again – unfortunately as many of us said when he was given the job, he'll win you a few games, we'll hammer a few teams too, but we'll also lose games due to the way he plays and that's exactly what we've got. Inconsistency. It's why he's a good cup manager but will never make a decent league-campaign-manager.

Sid Logan
308
Posted 15/02/2016 at 19:10:38
This has been a really good thread and shows TWebbers at their best.
I could pick out quite a few posters as being exceptionally good but I particularly enjoyed # 237 Mike Gwyer's post.
Earlier on there was discussion about the position Managers take up when viewing the game. All Managers stand on the touch line because it's from where they can best get messages to the players. Having said that it seems Martinez only has a one-gesture-does-all approach. A sort of spinning the wheel gesture. It doesn't seem to make any difference to the players whatsoever even if they know what it's supposed to mean!
Anyway the point is fans get a far better strategic view of the game from a higher position than Managers and coaches do with probably the seats around the directors box giving probably the best overall view.
Anyone who's ever been on the pitch at Goodison will know that because of the camber from Bullens Road side to Goodison Road is so great that from where Martinez stands you can only see the heads of players on the far side (wings) of the pitch. Whether this affects his judgement of the game ot his just naturally stupid we may never know.
There is one manager (I can't remember who) who has an aid in the stands with a line to the bench giving him a better tactical view of the game. I'm sure if he was having major success with this stategy we'd all know about it!
I thought this was is one of the few post I've mad where I've not continuously moaned about Martinez from start to finish. But on re-reading I realise I pretty much have. I can't forgive him for the way he's made me feel this week!
As an afterthought: - Is Martinez the only Manager whose name has never been chanted by the supporters and does this indicate a huge lack of connection?
James Marshall
309
Posted 15/02/2016 at 19:14:34
Ally ally ally oh.....ally ally ally oh......Everton FC.....Roberto's blue army.....
We do sing his name.
He does need to watch from the stands.
Guy Hastings
310
Posted 15/02/2016 at 19:23:27
Good point, Sid. Maybe he could employ someone to sit in the stands and let him know what's going on as they do in the NFL. Or maybe he could sit in his car and listen to the commentary on the radio and let Baines, Barry and Jags run things on the pitch
Brent Stephens
311
Posted 15/02/2016 at 19:29:54
I prefer the idea of Roberto sat at home reading the TW Live Forum during a match.
Jay Harris
312
Posted 15/02/2016 at 19:35:44
Yes I agree James.
He needs to watch from the stands....... as an ex manager.
Never have the club tolerated such a managerial record and backed the man with a record amount spent on signings.
I just hope our prospective new owners have a replacement in mind.
Mike Morrissey
313
Posted 15/02/2016 at 19:39:17
I'm very new to this and there have been some quality posts here.
Always good to see some healthy dissent in the ranks, it's what makes us in my opinion... unlike the clones across the park who are always waiting for the latest ex-player / pundit to throw out the party line so they can quickly adopt it.
Just a thought, how we laughed in the faces of the old school cloggers when we appointed Bobby. Warnock, Pulis, Pardew, Allardyce, Bruce etc..
They've all managed to outfox Bobby at some point with their "bags of smoke straight down the middle" approach. Each time he has been totally flummoxed. Surely this is the most damning of all.

Sid Logan
314
Posted 15/02/2016 at 19:41:37
James (#277),
James, just have to take issue with you again. It's the continuing pattern of Martinez' reign that we are seeing that is wearing people down. It appears that he is completely unable to have the team perform well enough to produce results over a prolonged period – say 6 or 7 games for the sake of argument.
Additionally you cannot ignore the abysmal home form (by which I mean both performance and results) that those of us, at the end of each defeat by small margins; poor refereeing decisions; and sheer bad luck – according to the arrogant one) have had to deal with every time trudge wearily away from Goodison Park on occasions far to numerous for it to be someone else's fault!
Yes we did think and hoped we'd turned some sort of corner after the Stoke game but Saturday demonstrated clearly we hadn't. Let me also ask you whether it would have been reasonable for us supporters to expect him to have drafted a cunning plan to be implemented if we fell to a goal behind against a park-the-bus Pulis team. The answer is, of course, yes but there was absolutely no evidence of this being the case on Saturday!
Patrick Murphy
316
Posted 15/02/2016 at 20:16:46
James (272), I don't disagree with most of what you wrote, as the man should never have been appointed in the first place. It was a wildcard choice by our Chairman and he's got it wrong.
Many of us were hoping that – with a better standard of players and a proper football loving fan-base – Roberto would thrive and take us to a new level. Unfortunately he can't handle the pressure.
Some of his purchases have been very good; some have been mysterious. On Saturday, when he needed a catalyst to help the team in the last 20 minutes, he omitted him from his squad entirely.
Why did he pay 㾹m for him in the first place or is he saving him to win the Cup Final in May? Nice man, bad manager, same as the Chairman who is also a very nice man.

Colin Glassar
317
Posted 15/02/2016 at 20:26:23
Brent, that's just too cruel.
Andy Crooks
318
Posted 15/02/2016 at 20:51:53
Jim Hardin, I like some of your stuff, honest to God I do. Here's a thing, why do you not put some of your debating skills to better use. Forget goalkeepers for a couple of hours and find a new hobby horse. Here is where you like might to start.
A few years ago, we had a real young old-fashioned centre-back called Shane Duffy. An old-style centre-half who was a proper defender. Well, Roberto fucked him off and, to be honest, it's been downhill all the way since.
I feel about him the same way you feel about Tim, and I doubt that both of us can be wrong.
Ian Cowhig
319
Posted 15/02/2016 at 20:52:32
The defeat was frustrating. Especially as it was a Pulis side again. But the substitutions just about finished me off.
If Martinez had put Mirallas, Deulofeu and Baines on taking off Oviedo, Cleverly and Barry and went all out attack taking the risk. Then I would have taken the end result being still 1-0 (or even worse).
But going like for like Lennon for Deulofeu, and the other two substitutions showed exactly where Martinez is as a manager. Nowhere.
Sid Logan
320
Posted 15/02/2016 at 20:55:58
Until Jay's suggestion that he watches as an ex manager comes about, I'll go with Guy's suggestion that he sits in his car during hames and leaves game management to players who I bet will know how they'd really like to play!
Brent Stephens
321
Posted 15/02/2016 at 21:00:02
Colin, I could have suggested the Offside Forum!
Darren Hind
322
Posted 15/02/2016 at 21:01:28
Jim
You really are something. You repeatedly criticise Robles, even when he was keeping clean sheets.
You couldn't criticise the defence because they where denying you the goal your heart ached for, They were giving you what you claim you wanted, a solid base, but they were doing it without your man . You could have praised them, but all you could do was bleat that Robles had nothing to do. Your frustration became even more apparent when you made the ridiculous claim that he hadn't made a save... did you think the rest of us were not watching? When others were commenting about the improvement in defence, you were embarrassing yourself by criticising Robles for not making any "successful long throws" or enough successful goal kicks ?
Your agenda isn't just obvious, it's unavoidable, other defenders get criticised on here, but I don't see you howling about that
Howard has hardly endeared himself with his arrogance. There's an old Chinese proverb,"He who is arrogant, better not be shite."
Brin Williams
323
Posted 15/02/2016 at 21:01:32
Colin 275 'Sod the crew Brin, it's every man for himself!!'
Tend to agree with you – I, in fact, jumped ship a couple of seasons ago – did not renew my Season Ticket. Have I missed going the game? Not really, BUT I get just as stressed watching and listening – Live Forum often does my head in.
I really should relax and accept that we are mid table (lower) material especially with the way we are now, I hate to say this, being managed – as I quite like the fellow and think that when he gets his head round the problem, his own stubbornness, he may be quite good.
Whether he is ever be good enough for Everton only time will tell.
Peter Askins
324
Posted 15/02/2016 at 21:02:05
So, to these dreadful, incomprehensible substitutions.

Deulofeu for Lennon. An obvious one to make. Lennon, as always, had given 100%, and run himself to a standstill. We could all see it at the ground. Also, bear in mind against the same opposition earlier in the season, Deulofeu had put two on a plate for Lukaku, with his delicious crosses, in our comeback 3-2 win, from being 2-0 behind.

Kone for Cleverley. More difficult to understand, but again, bear in mind that Kone scored in the reverse fixture in the 3-2 win. Horses for courses. Also, Kone and Lukaku have a track record on "clicking" every now and again, and the chances of Kone nicking a goal are greater than Cleverley's.

Osman for McCarthy. A simple one to understand. Again, Osman is more likely to score, or create more chances, than McCarthy.

In this game, we were unlucky. Every tabloid report has it the same. The scoreline is hard to swallow, but we battered another Premier League team, and the performance deserved the 3 points.
Jack Mason
325
Posted 15/02/2016 at 21:05:43
@ 229, Kim I gave up arguing with other clubs supporters in the 70's, especially that lot over the park. I used to get my point across on the pitch, if I ran across them. By and large, Evertonians are the most informed and knowledgeable supporters around. So they always get my instant respect, I'll listen to them whether I agree or not.
James Marshall
326
Posted 15/02/2016 at 21:14:39
Sid@283
I'm not sure what any of us can really add to this conversation any more - it's fair to say we all have a view, and it's fair to say that every one of us raises at least one point that makes sense on some level.
Football is of course a game of viewpoints, which is why it's the game it is - mine may differ from yours, or anyone else's on here but I think that we're all essentially in agreement. The team should be doing better than it is, and though I may appear to be less scathing than many people on here about Martinez, you'll see from my last post that I'm also not convinced and never have been by him either.
Patrick Murphy
328
Posted 15/02/2016 at 21:25:24
Peter (293) Three consecutive home matches against the Baggies and we've failed to find the onion bag in any of them, does that tell us anything? Even if we did batter them on Saturday - well in the fifteen minutes up to half-time we did, but the second-half was all huff and puff and not many clear-cut chances created. Also that old adage about top teams winning when playing poorly has been re-written by this Everton team because even when playing well they often struggle to win.
For his Goodison baptism against Steve Clarke's West Brom team Everton manager Roberto Martinez said "It's fair to say we were frustrated, if you look at the amount of possession we had and the opportunities we had.
"West Brom were really organised and stayed deep, trying to counter-attack, but we coped with their threat really well.
"We had the chances to win the game, we deserved a win and we deserved three points. We were magnificent off the ball."
Last season's game summarised by the BBC: West Brom had few chances at Goodison Park but hung on and are unbeaten since Tony Pulis took over as head coach.
Everton were in contention for a Champions League place at this stage last season, but following this result they look more likely to be involved in a relegation battle in the remainder of this campaign.
Strangely the referee in charge for the last of those three matches was Mr Oliver.
Sid Logan
329
Posted 15/02/2016 at 21:25:30
James,
I accept what you say entirely. We all have our views on Martinez but I think it's fair to say the longer he's here the greater will be the swing against him.
If things continue the way they've been gradually going you may also be calling unconditionally for his head at the end of the season.
I hope for a turn around but fear the worst but I fully accept your right take a bit of a different view at this moment in time.
Patrick Murphy
330
Posted 15/02/2016 at 21:34:58
Just to add a footnote to my previous post.
Everton beat West Brom 2-1 at Goodison on 30 January 2013. The result moved Everton within a point of 4th-placed Tottenham, while West Brom's worrying dip in form continued and they have now claimed just one point from their last five Premier League matches.
Guess the referee.... correct! Mr Oliver 3 out of the last four matches he's been in charge of Everton v West Brom – the other match was refereed by Mr Roger East.
Peter Askins
331
Posted 15/02/2016 at 22:14:16
Good background info, Patrick, especially in regard to the referee being Michael Oliver.
My point was to show the logic in our substitutions on Saturday. It's very easy in hindsight to pick holes, but in my mind at least, the substitutions made sense, so I can't understand the hysteria that they were completely wrong.
I'm very reluctant to jump to your conclusion, that a Martinez Everton can't score against a Pulis West Brom. In the most recent meeting, which therefore must be the most relevant, we scored three at their place earlier this season, with very similar teams on show. West Brom played the same way, especially when they went 2-0 up, but on that occasion, we found a way, largely down to a front four of Barkley, Deulofeu, Kone, and Lukaku.
Jay Harris
332
Posted 15/02/2016 at 23:06:16
Peter,
How can you say the substitutions made sense when he takes the best player on the pitch off and replaces him with an exactly the same type of player but not in as good form lately.
And anyone with an ounce of football knowledge will tell you that the way to break down massed defence is to get wide and behind them something Mirallas, Lennon Delofeu, Pienaar and Baines are good at except not one of them was on the pitch together at any point in the game.
Martinez is obsessed with playing narrow which is why we have McCarthy, Barry, Barkley, Cleverley, Kone, Osman, and Lukaku all of whom are central players who just end up running into brick walls.
It is not rocket science. Imagine how good Barkley and Lukaku would be if they could play it left or right and get forward for the return ball facing the opposition goal. Nine times out of ten they have to try and hold the ball up, play it backwards or sideways with their back to goal or run into opposition players.
Martinez isn't even good enough for Tranmere let alone Everton.
Jamie Barlow
333
Posted 15/02/2016 at 23:14:25
Jay, the way I seen it was Lennon was constantly getting behind the defenders and constantly crossing the ball to a West Brom player. He was on the pitch for over 70 minutes (I think) and as we seen, the full back was for the taking.
Lennon wasn't giving us the end product we needed. Why not put Deulofeu on and see if he could do better? I suppose Peters reasons for the other subs are as good as any.
That's not to say I think the others were the best substitutions that could have been made. Far from it.
James Marshall
334
Posted 15/02/2016 at 23:22:12
At least the players can now have a nice break in the Qatar sunshine.
I wonder if Bob wears brown sandals?
Laurie Hartley
335
Posted 15/02/2016 at 00:20:47
Jamie my understanding of Jay's point is that if the manager had put Pienaar or Mirallas on the other wing and left Lennon to do what he had been doing all game ( or got Deulofeu to take over from him), it would have given West Brom two fronts to contend with and created more space and better conditions for Lukaku and Barkley to operate in. For what it's worth I agree with him.
Christine Foster
336
Posted 16/02/2016 at 00:29:18
Michael, would it not be a good idea to invite Roberto to read and contribute ToffeeWeb with a match report and answer fans questions? Has he the wotsits to do so? What is to gain, more understanding on both sides of the line, his view on what was trying to be achieved and the fans view on what should be happening.
It would make a great read and clarify a great deal for manager and fans alike.
Jay Harris
337
Posted 16/02/2016 at 02:41:58
Christine, as usual, a well thought-out point but I feel it is too late for that.
Roberto has already lost the majority of support (a recent survey said 78% wanted him out) and I feel if he came on TW the backlash would be so negative it would not be productive at all.
I am sure he is already well aware of fans concerns and viewpoints but continues to believe he is heading in the right direction.
Darren Hind
338
Posted 16/02/2016 at 06:06:13
I'm not sure Jay.
I think Christine's idea is fantastic.
I sometimes feel MK & LL underestimate their own creation. TW has enormous influence within the ranks, discussions which originated here will often spill into the pubs and clubs, just as talking points at the match will find there way back here. For many TW is the link, especially for the majority who cant actually get to Goodison.
I know through past discussions with players that most read/avoid this site (depending on how they are playing, I guess) the Manager will be the same.
I understand your concerns, this place can get a little hostile and an open forum could could easily slide downhill, but if the questions were vetted and presented in a respectful manner. Martinez just might go for it.
Send him an invite Guys. What's the worst that can happen?
Brian Porter
339
Posted 16/02/2016 at 07:00:51
I think it shows the current depth of feeling when you see this thread still going strong, with over 300 posts since first published.
I've just read on BBC sport of Joey Barton's concerns re Roberto's management and the future of our club if he stays in charge. Apparently, his family (all Everton fans) have stopped attending games while Martinez remains as manager. Whether that's a right or wrong thing to do is irrelevant as it simply raises the point, how many more, not so high profile families are doing the same thing?
For me, it's another simple illustration of how Martinez is losing the fans. I feel much the same way. No-one minds losing now and then, it's part of the game, but when losing games at home becomes virtually endemic and the manager appears totally unable to produce any effective counter-measures to halt the trend, then it surely has to be the time to part company before we become perennial relegation strugglers.
Remember that Martinez's win record is only bolstered by his first season's results, when the team in the first half of the season was still displaying many if the qualities instilled in them by David Moyes. We all know how the slide began in the third quarter of that first season, when Martinez's philosophy began to take hold and we climbed into the top four, only to blow our chances with a string of results pretty much like the ones we are seeing now.
From the home defeat to Palace to the end of the season we began to demonstrate many of the faults we are now seeing every week ending up with a Europa League place that perhaps masked the problems that many, not just me, had already identified and mentions more than once, but the apparent success of that season with its record points haul managed at the time to paper over the cracks that were already slowly appearing.
Since then, we have seen all too clearly the narrow-minded, one-way street that Martinez's lack of tactical nous and intractability have led us into. The problem with one-way streets is their lack of an exit at the other end and Martinez has now reached the brick wall at the end of this one, but is unable or unwilling to engage reverse gear to try to extricate himself (and our beloved club) from the situation.
Summing up, poor team selections over a sustained period, playing favourites despite his denials, (Howard and Kone two examples), lack of effective in-game management, incomprehensible in his use (or non-use) of substitutes, and a stubborn refusal to display a shred of accountability for continuous poor results, allied with his inane soundbites which paint a rosy picture as the garden withers and dies around him, all demonstrate his absolute unsuitability for the role as manager of Everton FC.
His overall record as a Premier League manager is hardly inspiring and he would be best suited to managing a club in the lower leagues, but even then, look what he said when leaving Wigan, that he didn't believe he could get them promoted after being relegated. If any statement ever illustrated that the man has no stomach for a fight, that was it. It didn't say much for his loyalty to his employer at the time or the players he'd just helped to relegate.
Somehow, he convinced BK to give him the job of managing a top six club and he has since done a great job of turning that club into a clone of Wigan, fighting to maintain a mid-table position and trying at all times to talk us into believing good times are just around the corner. I think he's been well and truly found out by the fans, and it's almost inconceivable that the board aren't aware of the growing levels of discontent.
As Marie Antoinette once said, being horribly misinterpreted at the time, "The peasants are revolting." In this case however, there's no need for misinterpretation. Roberto Martinez, your time is up, the guillotine is being sharpened and with luck, it won't be long before your head is on the block, and the blade falls, and the good citizens of Goodison Park can go back to their knitting, oops, sorry, back to watching their team playing under a manager who just might be able to instill some pride and some fight into the ranks once again.
Tis time to let loose the dogs of war, but first we must dispose of the great pretender, he has outstayed his welcome!
Chris Gould
340
Posted 16/02/2016 at 07:31:02
I think Peter makes some valid points. I also believe we will win our next 3 games and that all will calm down again.
I would like to see Roberto bring a new team in to support him. Someone with experience who will have his ear. Bringing a team cloaked in failure was a mistake from the start. Roberto is making many mistakes but also building strong foundations.
I look forward to seeing Niasse play this season and the young Swiss lad next season. I also believe that he still has the support of the players. They hint at frustration from time to time, but they still want to play for him.
Paul Tran
341
Posted 16/02/2016 at 07:46:28
Christine, that's a great idea. A great test for his sin miedo policy and a chance for him to connect with us fans.
I'd be happy to join in this, there's plenty I'd like to ask him that journalists seem to shy from.
As for the 'backlash', if people aren't prepared to listen or engage, maybe that says more about them?
Go on, Roberto, join us for a chat!
Paul Conway
342
Posted 16/02/2016 at 11:53:55
Good to see Seamus Coleman saying it like it is: It's the same old story"... I wonder will Roberto listen to him, because he is echoing the sentiments of thousands of EFC supporters.
Surely some of the players feel the same way also. Not only that, a lot of other managers and players from other clubs can see the flaws. We will be even lucky to finish 11th given the usual run of steam from clubs below us at this stage of the season.
Kim Vivian
343
Posted 16/02/2016 at 14:34:02
Re my post at 224.
Apologies to anyone upset by the final para. That was not relevant to what I was saying – I just stuck it on the end, supposedly in jest and it sounded as such when spoken with the correct emphasis in my mind.
I guess it was just worded in a way that caused it to be misconstrued. It was not intended to be taken seriously and I was not, believe me, genuinely suggesting as it appeared. So – sorry all. My bad.
On to other topics now! Like how am I going to get a ticket for Bournemouth which is only about 2 hours away from me???
Les Martin
344
Posted 16/02/2016 at 15:51:14
We are going to need a resounding win at Bournemouth; a cup exit at this stage and Martinez's position may be under real threat as the crowd will vent their anger further. I don't think the board will except it either, especially any new owners.
Poor substitutions; what does Mirallas have to do to get on? Kone and Osman just did not make any sense.
Surely the deftness and accuracy of Deulofeu's crosses was what was needed against West Brom's defence to give Lukaku a chance. He should have been on earlier. And why not two wingers against a team who show no ambition? Baffling.
Martinez only has himself to blame on this occasion. He has made some excellent purchases in my opinion, but can't sort out the jigsaw. The shine on his brown shoes is starting to be caked in mud.
Matthew Williams
345
Posted 16/02/2016 at 16:09:39
We are always set up wrong: no balance or shape. Our 10 outfield players consist of 7 Defensive & 3 Attackers of late; we need to go back to 4-4-2 – our play is still way too slow and we lack any kind of creativity in the middle of the park.
What do my fellow Blues reckon on this team taking on Bournemouth in the Cup:
Robles;
Coleman, Jagielka, Funes Mori, Oviedo;
Lennon, Cleverley, Baines, Mirallas;
Deulofeu, Barkley.
We need pace & more directness from all over the park, giving us plenty of options as the game goes on.
Oh yeah... Bullshit Bobby OUT!.
Jack Mason
346
Posted 16/02/2016 at 17:13:53
Well in Kim @ 314. takes a man to do that. I had to say sorry to my wife, on Valentines night, trying to explain why I was up reading ToffeeWeb posts at three in the morning with a box of Malbec, instead of in bed.
We all feel passionate about Everton, it's in our DNA. I seriously believe we can unite and channel that into a force for change. This forum is the forge that can galvanize that.
Paul Conway
347
Posted 16/02/2016 at 17:57:01
Jack Mason, re Kim @ 314
Bravo, I second that, we all get passionate and frustrated at times. and none more so than now. EFC is like a family to us. and like all families, brothers and sisters can criticize each other. But, we don't like it when outsiders have a go at our family!
Having said that, I think one member of our family has become the black sheep! And I think it's high time now to divorce, or disown him! Gracias y adios, Señor Martinez!!!
Kim Vivian
348
Posted 16/02/2016 at 19:17:54
Cheers Jack - and that's my middle name - Valentine.
The burdens we have to carry eh?
Andy Crooks
349
Posted 16/02/2016 at 19:29:43
Darren, # 109, I disagree. If Martinez came on here, the treatment would be, maybe rightly, deferential. This site is a place where we can vent our frustrations. In my view, a vetted piece from the coach would devalue the site and take away the independence.
Frankly, I would like someone to tell him to have a look at the site and I would hope that he would be perturbed. Of course he wouldn't be because he has an arrogance that suggests he thinks he is a proper coach, in fact a good coach. He is a blight on our club, an utter shameful embarssment, and to have him spew his cretinous shite on here would make me ill.

Christine Foster
350
Posted 16/02/2016 at 19:40:13
Blimey Andy, say it as you see it then...
Contrary to your opinion, I think if ToffeeWeb would offer him the platform to answer our concerns, and to explain his thinking, we might learn something and conversely so might he.
I want the best for our club, so do we all, but our frustrations will only continue until we lance the boil.
Martin Mason
351
Posted 16/02/2016 at 20:00:08
For me, this isn't the place for Martinez's ridiculous and patronising sound bites. It would be nice if he were to read the comments but he won't because his arrogance and inflexibility (they are the same thing) wouldn't allow him to do so.
I can't add to what has been said a thousand times about him already but I can't see him going. Say what you like about BK but he is pretty loyal to managers; the anti-Martinez sentiment is gathering momentum and hopefully he isn't so stupid to ignore it if it reaches critical mass. I don't support the typical anti-board stuff because it's often just subjective but RM's incompetence is as clear as a bell. I do appreciate the "let's wait and see" stance but this isn't just Everton, it was Wigan too; he surely has no defense now.
If he would just go and look at Leicester and Spurs and get Barcelona out of his mind, they would become Leicester and Spurs if they wanted to win the Premier League. It's about attacking and defensive intensity not flowing attacking football on it's own. RM is good at half the required game and he will never get the other half. While he is here, we are limited to periodic wins and mid-table partial mediocrity (we aren't mediocre but our tactics are).
Paul Conway
352
Posted 16/02/2016 at 20:50:12
Roberto Martinez is to Everton as Gary Lineker is to Match of the Day!
No matter how long he stays, he always looks like he is occupying someone else's seat!
James Hughes
353
Posted 18/02/2016 at 09:51:14
More gems from Roberto at his latest press conference, he really doesn't know when to stop talking bollocks.
"I have seen a real consistent performance in our play this season, you can see that in our away form," said boss Roberto Martinez.
"We have a challenge at home and the next five in the league need to reflect being in an advantageous position. Some of the defeats we cannot explain. The performances were dominant but we didn't get the rewards."

Ray Robinson
354
Posted 18/02/2016 at 10:05:05
Deluded gobbledygook!

Paul Conway
355
Posted 18/02/2016 at 16:58:12
if our next performances is as consistent as Bobbie's raves in his interviews, and as meaningful, then we are in freefall!
Add Your Comments
In order to post a comment, you need to be logged in as a registered user of the site.
Or Sign up as a ToffeeWeb Member — it's free, takes just a few minutes and will allow you to post your comments on articles and Talking Points submissions across the site.
© ToffeeWeb