Martinez excited about new investment
29/02/2016

77 Comments [Jump to last]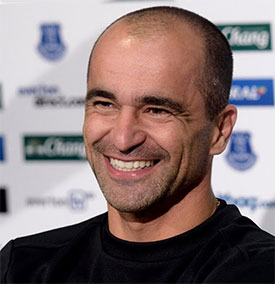 Roberto Martinez has welcomed the news of Farhad Moshiri's arrival at Everton, saying his investment can take the club to the next level.
The manager was speaking to the media ahead of tomorrow's Premier League trip to Aston Villa and he was immediately asked for his thoughts on the news that broke on Saturday that the former Arsenal stakeholder had taken a large position in the Blues.
"It's really, really good news," Martinez said. "I met Mr Moshiri and the impression I got was that he is a gentleman with incredible values and someone who knows the Premier League inside out because he has been involved with another Premier League football club.
"He knows how difficult it is to have a vision in football and to put it into practice. Sometimes you get business people who don't understand it. Obviously that is not the case here. He is someone who has been working closely with a Premier League club and he knows what it takes.
"He's someone that has been introduced to Everton and has followed the club very closely. It is fair to say he has fallen in love with what Everton means, with the heritage and the history, and that's really exciting. Our chairman is the perfect person to introduce someone to Everton and I can speak from my own experiences."
"[He's a] new figure, someone who is going to bring a new vision and completely different push to our club. So you can imagine the excitement that we have. We're awaiting Premier League approval but the arrival of Farhad Moshiri to Everton is something for every Evertonian to really look forward to."
New era
Martinez went on to express his belief that the change at boardroom level and the potential levels of investment that Moshiri can bring signal a hugely positive development for the club.
"What we've got is the perfect person to fit in at Everton and you can't say that lightly. What I'm really excited about is that we're not going to lose any of the good things about the football club; it's the opposite. This is the start of a new era at Everton, without a doubt.
"We are going to show, as a football club, that we are ready to go to the next level. You can feel the excitement around the place and that's something we need to use out on the pitch.
"When I started, I said we have to look for the Champions League positions and we have to become a winning team. That is a very broad statement and it's a difficult aim to achieve. Obviously, the investment and the involvement of Farhad Moshiri takes us into a different level in terms of accelerating the process.
"Clearly, it's an exciting time and every single Evertonian should know he is someone who knows our football club, someone who is a very strong addition and won't bring anything other than getting Everton to where we belong."
---
Reader Comments (77)
Note: the following content is not moderated or vetted by the site owners at the time of submission. Comments are the responsibility of the poster. Disclaimer
Shane Corcoran
1
Posted 29/02/2016 at 15:52:42
Lucky for us that a billionaire fell in love with us. If only I was so lucky.
I bet he bleeds blue too.
Tony Hill
2
Posted 29/02/2016 at 15:56:35
Well, we shall find out.
Nick Entwistle
3
Posted 29/02/2016 at 15:59:05
At least there's one team in blue that don't need money to qualify for the Champions League. Gone in the summer hopefully.

Does FFP exist anymore? What are the rules for player investment with new money?
Vince Furnier
4
Posted 29/02/2016 at 16:02:58
"he is a gentleman with incredible values". Does that mean his values are not credible?
Dave Lynch
5
Posted 29/02/2016 at 16:03:09
He's bricking it...
Mike Oates
6
Posted 29/02/2016 at 16:08:05
With his 𧴜m cash injection and 𧵎m from Lukaku , Stones and Barkley sales he'll be able to build us a stadium on Stanley Park - wow.
Call it the Urmanov Steel Ground and get another 𧴜 naming rights. We are on the up!
Mike Oates
9
Posted 29/02/2016 at 16:19:42
Surely FFP died this season and, with Platini gone, I can't see it surviving.
Raymond Fox
10
Posted 29/02/2016 at 16:28:28
Nick 3, with regards Leicester, people have survived jumping out of planes at 5,000ft with a faulty parachute, but I would not recommend it.
Andrew Ellams
11
Posted 29/02/2016 at 16:34:50
The bloke that owns Leicester has a load more money than our new guy. Mr Moshiri is just behind Peter Coates of Stoke in the Premier League money table. I'm still looking forward to next season more than I was though.
Jim Potter
12
Posted 29/02/2016 at 16:38:30
Nick (#7) – under Platini I believe FFP stood for French Fraud Policy.
Nick Armitage
13
Posted 29/02/2016 at 16:43:58
The money can take us to the next level but Martinez can't. Pay him off.
Ken Reece
14
Posted 29/02/2016 at 16:47:03
If Moshiri is serious about taking us on to the next level, the first thing he will focus on will be a new stadium. That means he will keep Martinez or someone similar in place just to keep us in the Premier League until the stadium is built and then fetch in the man he thinks is capable of taking us to that level.

Not Martinez. A bit like City when they had Father Ted in charge – never going to win anything but safe enough.
Brian Harrison
15
Posted 29/02/2016 at 16:50:43
Andrew (#10),
I am not sure where you get your figures from; Peter Coates is worth £750 million. Moshiri is worth £1.3 billion. So, by my reckoning, Moshiri has twice the wealth of Coates.
Paul Newton
16
Posted 29/02/2016 at 16:59:40
'We're awaiting Premier League approval'.

When might that happen? Could all of this be in doubt? There have been so many false dawns before, I hope this Isn't another one ...
Gavin Johnson
17
Posted 29/02/2016 at 17:12:22
Brian,
Coates is worth £1.6 billion according to a report in one of the broad sheets that were reporting the takeover on the weekend.
I'm very optimistic about this investment and can't wait to see the players we bring in this summer. Top targets are Yarmolenko and Jack Butland for me. Let's pay silly money and bring in the best GK we can get.
Chris Jones [Burton]
18
Posted 29/02/2016 at 17:15:53
Echoing Nick Armitage (#12), I thought Roberto promised that HE was the one who was going to take us to the next level?
David Price
19
Posted 29/02/2016 at 17:46:16
Reference the FFP, it shouldn't be a problem. Average earnings for each Premier League club with the new media deal will be £151m.
The FFP rules allow an overspend of £30m each year for three years, if the club has an owner who can pay off this excess to avoid a build up of debt. So a £100m investment in players during the summer falls well within any restrictions.
Never had to research that problem before, feels good!!!
Peter Larkin
20
Posted 29/02/2016 at 17:55:24
I for one am very excited. Roberto's big tranfers have been excellent. If we manage to get Yarmolenko, Roberto's top pick, he will be a massive game changer.

Get a top-notch center-back, top-notch center-mid, top-notch goalie, and keep all the players top 4 here we come. COYB
Phil Walling
21
Posted 29/02/2016 at 18:00:50
Hey, lads, let's not spend the money before there is any sign of it. What with a new ground and £200M for players, Moshy will be skint within the twelve-month!
Roger Helm
22
Posted 29/02/2016 at 18:03:36
A correction – in my previous posts about how shameful it was that Man City and Chelsea were just buying success as playthings of billionaire sugar daddies, unlike us in the self-respecting People's Club, what of course I was trying to say that it is an obviously good thing that wealthy businessmen are investing in our game and the more that gets spent on Everton FC, the better.
Steve Hogan
23
Posted 29/02/2016 at 18:08:00
A new owner certainly won't put up with three home wins in 14 months, so if I was Roberto, despite his inane optimism, I'd grasp the nettle and change his flawed philosophy quick... Otherwise, it's adios amigo...
Mike Berry
24
Posted 29/02/2016 at 18:08:03
Is he excited cos he knows he's getting the Taxi, when the new bloke gets his feet under the table? Dreaming of a good pay-out...
Colin Glassar
25
Posted 29/02/2016 at 18:11:38
"He knows how difficult it is to have a vision and to put it into practice".
That's our Bobby nailed on until next season at least.
Michael Penley
26
Posted 29/02/2016 at 18:11:46
"When I started, I said we have to look for the Champions League positions and we have to become a winning team. That is a very broad statement and it's a difficult aim to achieve."
Erm, what? You said you'd get us INTO Champions League positions. That is a very specific statement and it's one you've failed to achieve.
Paul Andrews
27
Posted 29/02/2016 at 18:15:25
The mid- to long-term project Roberto set out on will probably come to fruition earlier if he has more financial backing.
He set his stall out to improve the squad, which he has achieved. The next step was moving up the Premier League. Poor defending has halted progress even though we score goals for fun.
The next step, in which we are showing a vast improvement, is more clean sheets. I maintain full confidence in Martinez.
Dennis Ng
28
Posted 29/02/2016 at 18:15:47
I'm trembling in fear of this man wasting Moshiri's millions.
Hopefully Moshiri will put a new stadium as the top priority over letting rm spend his money wastefully on unnecessary attacking talent.
Paul Andrews
29
Posted 29/02/2016 at 18:18:01
Denis,
Can I ask what players Martinez has signed you consider as wasted money?
Colin Glassar
30
Posted 29/02/2016 at 18:22:38
Paul, I'm with you as long as Mr Moshiri tells Roberto that amatuer defending will not be accepted and to stop saying "phenomenal". If he does that we will all be happy.
Right Mr Moshiri, or can I call you Farhad? You need the following players to take us to another level.
Butland or Forster
Right Back
Creative Midfielder
Yarmolenko
Do this and you'll be fine.
Dennis Ng
31
Posted 29/02/2016 at 18:25:35
Paul, I consider the recent signing of Niasse of lesser priority than improving our defence internally, something he does not believe in.
Just because I said waste doesn't mean the signings are bad, but rather spending on luxury players while not addressing what we truly need.
Would you rather we go out and spend 30mill on Mahrez when we're still conceding goals we shouldn't concede? (Not that Mahrez can be had for 30 mill)
Paul Andrews
32
Posted 29/02/2016 at 18:33:53
Colin,
I agree. I would add unique and incredible to the banned words. I think the defence has looked a lot tighter since John Stones dropped out.
Dennis, I agree we need to spend on defensive players. Maybe Niasse was too good to miss at the price? Time will tell.
Denis Richardson
33
Posted 29/02/2016 at 18:38:27
'He knows how difficult it is to have a vision in football and to put it into practice. Sometimes you get business people who don't understand it'
Sounds like he's getting his excuses in early......hopefully the new guy can smell bullshit a mile off.
Dennis Ng
34
Posted 29/02/2016 at 18:39:16
Paul, I actually don't disagree on Niasse. Perhaps the price for that talent is too good to miss, but my main concern is still defence. I cannot understand how a backline of very competent international players make amateur mistakes when playing for us.
I personally don't think we need to spend a lot in defence because we probably have enough cover with the youngsters coming through. If Moshiri can give Martinez a big slap on the head and tell him off about our defence (perhaps even hiring a defensive coach), that might just turn things around. Until then, I can only wait to see how Mr Moshiri starts flexing his financial muscle after the season closes.
Phil Walling
35
Posted 29/02/2016 at 18:39:29
Paul, the trouble is that, in spite of all the cracking players your hero has at his command, he can't get them to win too many matches.
3 out of the last 13 and just 8 all season fails to persuade many of us to share your confidence in the man. Of course, when he's got real money to spend.... !
Denis Richardson
37
Posted 29/02/2016 at 18:44:50
To be fair, Dennis, I think Niasse has been signed to replace Rom as I cannot see us keeping him after the summer. No matter how loaded our new owner is, fact is we're not in the Champions League next season and it will be years (not months) before the stadium issue is sorted out. I can't see Lukaku waiting it out if a club like PSG makes an offer, especially if he has a good Euros.
I agree though that we should have been looking at the defence but my view is that we already have good defenders, the manager just doesn't know (or wants) to set up the team better defensively. We have at least 7 international defenders in the squad so there's no excuse for shipping the amount of goals we do.
Colin Glassar
38
Posted 29/02/2016 at 18:46:19
Phil, you well know our downfall this season has been our defence, or lack of. We used to struggle to score goals but kept quite a few clean sheets, now it's the other way round. Sort out the defence and we can be a top 4 team
Paul Andrews
39
Posted 29/02/2016 at 18:47:39
Dennis,
Re us getting a defensive coach I agree 100%
Raymond Fox
40
Posted 29/02/2016 at 18:47:39
I would imagine, no I'm certain that the value of the shares and therefore the club have risen a few notches over the last few days.
Dennis, our priority is a winning team not a shiny new stadium, all in good time.
Top players can make the managers job a lot easier, an extreme example would be to add Aguero and Hart to our team, how many more games do you think we would have won this season!
As Colin says add a top class goalie/ make that 2 full backs that can defend/a rough tough central defender/a creative midfielder/ and a top number 10 would help a lot.
Jim Hardin
41
Posted 29/02/2016 at 18:50:16
Shane,
What makes you think this person has "fallen in love" with Everton? The only reason he isn't still at Arsenal is because Groenke fended off the takeover attempt by Red & White. He didn't sell his interest in that company because of his new love for Everton.
He was looking for an EPL team to latch hold of for the $$$. Plain and simple. The other two possibilities are Aston Villa and Swansea and neither might be in the EPL next season thus making them not very attractive since the risk is huge if one were to miss out on the TV money.
I am happy this guy bought out a couple of the current people, if reports are true. However, can we hold the "he loves us he will do what is best for us" hyperbole until he actually puts additional money into the club and/or the transfer policy is actually in place and in use. Oh yeah, and the stadium issue is resolved too. He could promise the moon, sit back for a couple of years and do nothing and then sell his less than majority ownership interest while having taken a profit from the club's TV money as well as the return on his investment. Remember, the now former, and still some current owners, claimed not to be taking any $$ from the club. Will this guy do the same?
On the other hand, he could deliver on everything, bring his Russian pal in, and Everton can retake its seat at the big boys' table with Chelsea, both Manchesters, and Arsenal. Expensive players, new stadium and no freaking kitbag deals! This would truly be unchartered waters for Everton in the EPL.
I will root for the latter to occur, but would not be surprised by the former, if it occurs. Anyway, hope for the best and COYB!
Dennis Ng
42
Posted 29/02/2016 at 18:50:51
Denis, agree. Fingers crossed on the Euros. I can't see Rom at most big clubs though. He needs to have an insane Euro (e.g. winning it) to knock some of those top strikers off the starting 11. Unless he's willing to get a pay hike to sit on the bench.
Colin Glassar
43
Posted 29/02/2016 at 18:52:08
If, and that's a big IF, Lukaku forces an exit then Embolo or Batsuyahi will be the natural replacement(s). I think Niasse will be a squad player to replace Kone.
John Raftery
44
Posted 29/02/2016 at 18:52:24
Moshiri is unlikely to throw huge amounts of money in strengthening the squad. That was the mistake Lerner made until he realised that Villa had hit a ceiling and would require even more just to stay in the same position.
More likely is he will put his money into creating the infrastructure for future, sustainable success, ie, a new stadium or a redeveloped Goodison. I certainly hope that will be the case.
Denis Richardson
46
Posted 29/02/2016 at 19:09:52
Colin, I know we're getting more dosh next season but I really hope we're not at the stage where we're paying £13-14m for a squad player....
Don Alexander
47
Posted 29/02/2016 at 19:34:38
I just hope Martinez, if he's lucky enough to survive his appalling performance with the present squad this season, is given instructions that next season, from the get-go, results will be the only way he keeps his job 'til Crimbo at the max. Not performances/game management/intensity or any of the other shite he spouts.
And on "defence", the responsibility for that totally lies with him too. He's turned wine into water there. An incredible achievement.
Trevor Lynes
48
Posted 29/02/2016 at 19:50:13
Like every singer there are likes and dislikes and it seems our fans are divided between negative people and positive. Luckily, I am a very positive optimist and look on the bright side. Fans moaned during our title winning days and this will continue unfortunately.
Temple was castigated regularly and Young could do no wrong and that sort of thing has happened throughout our history.
Fans who cannot even speak English correctly snipe at Martinez for his minor language errors. Most foreign people can speak other languages but along with the Americans we are the worst for speaking other languages and arrogantly expect foreign people to learn English.It always makes me smile to hear us calling Germans arrogant when we are at least as arrogant ourselves.... :)
Raymond Fox
49
Posted 29/02/2016 at 20:02:17
Don, oh to be a player in your team, I could play like a fairy each week and pretend its all your fault!
Darren Hind
50
Posted 29/02/2016 at 20:16:41
Get some dignity, Roberto, lad.
I don't mind people trying to impress the new boss, but Roberto is blowing so much smoke up his arse, the guy must think he's a chimney.
I originally thought Martinez may be worth another season under Kenwright... but, the more I think about it, the more I think we need to unload Martinez.
I would hate him to get a load of dosh and squander it on players like Kone or McCarthy.
Raymond Fox
51
Posted 29/02/2016 at 20:16:55
John (#41), how are we going to have a sustainable success if he sinks all his money in a new stadium?
There's plenty of large modern stadiums in the various leagues but they're lacking the most important ingredient and that's a top notch team.
We need both in an ideal world, but the quality of the team comes first for me.
Jay Harris
52
Posted 29/02/2016 at 20:27:38
Raymond
If the cap fits and all that. LOL
Ernie Baywood
53
Posted 29/02/2016 at 20:31:30
Bobby's like the boy who cried wolf.
If he didn't apply superlatives to just about everything then I'd be reading this piece with genuine excitement.
Trevor Peers
54
Posted 29/02/2016 at 20:34:03
I think Bobby has got the rest of the season to excite the new owner.
That means winning home games regularly, good luck with that, because up to now we've been as exciting as a wet fart.
Don Alexander
55
Posted 29/02/2016 at 20:56:19
Raymond, the younger me would've tore into the players but, well before the advent of the Premier League, professional football became a closed world with its own rules.
Rule one is that players who hope to play must do exactly as the manager tells them. Do that, and with the right manager they get famous and richer. If you get the wrong manager, do it anyway, but if you're rated (our "famous four" for example) just move on to somewhere better, courtesy of your self-serving agent, and bollocks to the failing tactics that stymied your success. For players, it's that simple... and probably frustrates the hell out of them at the same time.
Managers therefore carry the can. It's in their job description, or bloody well should be. This season has been "incredibly" disappointing to most of us courtesy of a bloke with seven consecutive years of experience in the Premier League, unlike the majority of other teams, including little old £30mill-in-total Leicester City.
Jamie Crowley
56
Posted 29/02/2016 at 21:00:49
I actually see this as a perfect fit; manager and new major shareholder.
Roberto's been embroiled in a project, and a long-term one at that. Signing young, incredibly talented players at the genesis of their career and looking to hold them and see winning ways over a period of years, not weeks.
Mr Moshiri has been involved with Arsenal. Arsenal is a Club that is run excellently in my opinion. They do not break wage structures they can not cope with, they rarely overspend on acquiring players, they invest and then look to eradicate debt, and they invest heavily in young players. And, they appreciate stability in their managerial position while attempting to play pretty stuff.
I think Moshiri sees this footprint already in motion thanks to Mr Martinez's vision and believe he's invested wisely with a like-minded Club and landscape.
I see this as a perfect fit, and one that will bear fruit. Possibly not as quickly as many TWers would prefer, but the future, in my humble opinion, is quite bright based upon what Roberto has put in place and Moshiri's history at Arsenal and their business model.
Time will tell. But for me these puzzle pieces are nicely set in place. A damn good fit.
Three to five years from now – completely pulling that time frame out arbitrarily – can you not see this squad dominating? Everton, thanks to new investment in a new stadium or a redeveloped Goodison, challenging for silverware and honors? All the while on a solid financial footing?
I can.
Off to dream about unicorns and rainbows in my utopia-based world.
Anyone willing to take bets it won't happen? Give me odds. You're on.
Smile people. If Ross Barkley is a diamond, I think we may have just unearthed another one at the top of the business pyramid. Hope to God my initial reaction to all these developments is accurate...
Martin Mason
57
Posted 29/02/2016 at 21:07:33
It is incredibly positive but if we are setting our sights high then it can't be under RM.
Les Martin
58
Posted 29/02/2016 at 21:10:00
We aren't short of a few bob these days even without any Mosh Dosh, which is very encouraging. I am excited that Roberto will have a "bit" extra and I trust his signings.

A lot of players have come to Everton because he coaxed them into coming with his philosophy. The problem he has is knowing what to do with them when they arrive.

I think Roberto has set up an excellent scouting network and we seem to have our eyes cast very wide. Niasse and Tarashaj could be excellent acquisitions, Besic, Lukaku, Lennon, Funes Mori and Deulofeu have also been added thanks to Roberto.

I think the added pressure of improvement has got to be a good thing, as Mr Moshiri will rightfully expect at least a top 6 finish.
Jamie Crowley
59
Posted 29/02/2016 at 21:11:03
I'd disagree with that statement Martin.
But that's been done to death.
I would say if it's not Martinez, I'd think it will be someone in charge who has a very, very close "philosophy" and looks to keep a sane business model and invest heavily in youth. Martinez has done that, and I don't see Moshiri, based upon his affiliation with Arsenal, looking to change that.
Dennis Ng
60
Posted 29/02/2016 at 21:15:10
Raymond, I'm of the opinion that we have a good enough squad to compete. Whether Martinez can turn his defensive problems around, we have 12 games to find out.
Hence, the next step in my mind would be to secure a new stadium. I agree if we go all out for the stadium, it would hurt our squad or worse, much like Arsenal's annual finish of 4th, but making a stadium top priority isn't about building it overnight. We need to have a solid plan that is in line with our finances and a timeline that suits and does not affect our business model. As our history under BK has shown, they don't even have a concrete plan for a new stadium. So hopefully Mr Moshiri can do much more than BK in that regard.
Shane Corcoran
62
Posted 29/02/2016 at 21:25:45
Jim #38, that was a waste of a post. I was being sarcastic in my post.
RM said he'd fallen in love with the club. My sentiments echo yours. Tripe.
Paul Andrews
63
Posted 29/02/2016 at 21:37:03
James Crowley,
That is a great post mate. Martinez has massively improved our squad, the vast majority of his signings have been great ones. Yes, he's signed a couple of duds but what manager doesn't? We are scoring goals for fun and are tightening our defence over the last 6 or 7 games.
Patience is needed from the fans, some of our fans want him in one week, out the next and in the next. Make your mind up and stick with it.
Jim Hardin
64
Posted 29/02/2016 at 22:09:22
Sorry Shane. I am still trying to adjust to English humour over posts. I stand corrected (sitting at the moment actually). I would like to get excited over this share transfer/sale but need to see more. If this guy wants to be Arsenal but also win more, then the sky may be the limit. His first act should be to explain the "other operating costs."
James Morgan
65
Posted 29/02/2016 at 22:15:04
Don, if you're American I forgive the "from the get-go" term but if you're British then I cringe at you saying that. Grinds me when people order something and say "can I get a..." – It's can I "have"!!! Sorry, just me being fussy, we all have our nit picks!
Americanisms aside, my view on this guy is that he's a money smart, knowledgeable football man, which is something we can't say we've boasted in recent years. Even if we had an extra £10m to spend in every transfer window for the next couple of years and a vision for the future with regards to the stadium, then I'll be happy!
Eric Holland
66
Posted 29/02/2016 at 22:41:43
And one of his first moves will be to buy Finch Farm back from the council, I heard he was very surprised to hear of the sale and subsequent renting back of our training facility.
Sid Logan
67
Posted 29/02/2016 at 23:36:40
I have no doubt that, by either design or good fortune, Bill Kenwright's wooing of Farhad Moshiri is probably the best thing that's happened to our football club since John Moores bought in to Everton FC. in 1960.
The only downside, as far as I can see, is that we have to be prepared to live with Martinez for rather longer than some of us may have anticipated.
Eventually I'm sure a more clinical analysis by Moshiri of results and table position, rather than Martinez's own assessment of incredible 'performances', will enable him to make the right decision.
Unfortunately for those of us who are committed non-believers, this may require another season of living with the pursuance of the misguided Barcelona project.
Sid Logan
68
Posted 29/02/2016 at 23:43:35
James (#58)
Couldn't agree more. What the fuck does this "can I get" mean? It doesn't make sense.
"Can I have" is what they mean to say but TV speak is what comes out. As my Liverpool born American mate used to say to me: "Shit for brains!"
Mark Andersson
69
Posted 01/03/2016 at 03:06:21
Well said, Don Alexander.
Jamie Crowley I will give you any odds that you're wrong about Bobby becoming successful and will be more than happy to be proved wrong and pay you in jelly donuts, crap American beer, or just good ole US $$$$
Dream on because currently we are a nightmare.
Darren Hind
70
Posted 01/03/2016 at 06:05:57
"Some fans want him in one week and out the next. Make your mind up and stick with it."
You'd have to be a total sycophant or lack the basic ability to think, to even suggest people should "make your mind up and stick with it".
Circumstances change all the time and opinions (if given with any thought at all) should be adjusted accordingly.
If you are skint and fighting relegation, you bring in a Davey Moyes. If you are trying to hold on to your better players, you want a stubborn fucker in charge who won't sell, like Roberto... but, if you have just been taken over by a billionaire, you are in a position to forget about one-dimensional second raters and hire a top-drawer manager.
"Make your mind up and stick with it"? Has there ever been a dafter post on these pages?
Paul Andrews
71
Posted 01/03/2016 at 06:53:24
Darren,
You were one of the posters I had in mind. You repeatedly slagged Martinez off vehemently, we recently got a couple of wins and you posted along the lines of "I am ready to give him a chance, he has got something going here". Now, he is out again?
My post was merely suggesting the "in-out, in-out, shake it all about" posters stuck to their opinion for more than a couple of weeks.
Laurie Hartley
72
Posted 01/03/2016 at 06:56:17
I have decided to hit the reset button
and get right behind our new Blue Leader Mr Moshiri.
From what I have read about him I reckon he is smart enough to sort out whether or not we have the right CEO, Coach, Players, Sponsorship Deals, etc as well as sort out the stadium issue.
The big plus for me – call it intuition if you like – he swapped Arsenal for Everton and backed his decision with a lot of his own money.
I am not going take any notice of any paper or Sky pundit that try's to bad mouth him – I reckon they are rattled.
Paul Andrews
73
Posted 01/03/2016 at 07:13:41
Just a quick point for anyone,and there are a few on here who use the term "sycophant"
Not sure what your definition is on the term but here you go:
http://dictionary.cambridge.org/dictionary/english/sycophantic
Anthony Dwyer
74
Posted 01/03/2016 at 11:53:22
It makes me laugh when Martinez claims the new and much needed investment will accelerate the process of becoming a Champions League club.
He said when he signed his contract he would get us to the Champions League, knowing full well what our financial situation already was, and truth be known, he has been backed much better than Moyes ever was. I mean he was given the funds to absolutely smash our transfer record, he was backed to keep Stones, even when not one Evertonian believed it would happen.
Yet his theory of accelerating our push for Champions League only goes to prove that Martinez was not ever going to deliver on his initial promise.
Martinez signed a 4-year deal, he is now in his third year of that contract, and we are further away from that elusive Champions League spot than we have been in a decade.
Surely this is something our new owner has to look at before allowing Martinez free reign on the upcoming transfer budget?
If we are now able to compete for big players (not saying we are yet like, but IF), then maybe we need a manager who will have everyone believe we can offer them players Champions League football.
Eric Myles
75
Posted 01/03/2016 at 12:24:40
Anthony (#69), didn't BK reward Martinez with a new 5-year deal after his first year thus giving him a total of 6 of which he will be completing 3 if he makes it to the end of the season?
James Stewart
76
Posted 01/03/2016 at 12:39:47
@69 spot on.
Ged Simpson
77
Posted 01/03/2016 at 12:47:17
God... the details of hope!
Harold Matthews
78
Posted 01/03/2016 at 16:55:32
He said that you don't need big money to build a squad to compete with the best. It just takes time. Wealth only accelerates the process. By Everton standards he has had excellent financial support but compared with Man Utd, Chelsea, Man City, Arsenal, Spurs and Liverpool, he's had peanuts.
Oliver Molloy
79
Posted 01/03/2016 at 17:17:35
@ 69....
I'd say you have got that totally wrong Anthony. Loads of us believed we would keep Stones, especially after Mourinho's antics.
I think we may lose one of Lukaku / Stones even with this new guy involved; I think it will be the former but would rather it be the latter.
Martinez has three years remaining after this season.

Anthony Dwyer
80
Posted 01/03/2016 at 18:53:10
Oliver , I really beg to differ.
Having watched every major player we have been offered for under Kenwright taken from us, I was almost amazed to see John Stones stay, as was ever blue I've spoken to.
I'm not shooting you down and agree that some of the big players may jump ship even though we have investment, simply because the likes of Lukaku deserves a crack at a team capable of challenging for major honours.
As for Martinez having 3 years left on his deal, I'm well aware of that.
If you check his initial contract, you will find he was originally given just a four year deal, this was when he claimed he would deliver Champions league football, it was a season after when Kenwright extended Martinez deal, somewhat prematurely, after Martinez finished with a record points haul for us.
My point was that if his promise of Champions league football was to be delivered, then he should be achieving it next season, without any extra transfer funds.
Maybe I'm a bit harsh as I feel Martinez is massively under qualified to manage us.
Darren Hind
81
Posted 01/03/2016 at 18:58:42
Paul Andrews,
"I'm ready to give him a chance he's got something going here"... where do you get this stuff? I was going to challenge you to find that post, but there's no point, you wont, because you have done what you always do – made it up.
I did post saying it may be worth keeping him because he isn't willing to sell top players. That's an entirely different thing and, contrary to it being on the back of "a couple of wins" I said it when Martinez was on the crest of yet another slump.
You may attempt to slag off other posters for no longer wanting to tolerate your hero's shortcomings, but the only hokey cokey going on here is in your head.
There has been a massive change in our club's situation, probably the biggest change in 20 years, and only a bleeding idiot would not to re-evaluate the situation.
We don't need the second rater to hang on to our players now. It might irritate you that thousands and thousands are giving our new situation a bit of thought, but I'm mightily relieved that they recognise the scale of the change and are engaging their brains.
Thankfully the blindly devoted are in an ever-shrinking minority, the shrewder observer has long since recognised we can do an awful lot better.
Anthony Dwyer
83
Posted 01/03/2016 at 22:37:24
As for the above post, in response to Paul Andrews comments.
I for one have said for a very long time that Martinez should be moved on, I never thought he was good enough in the first place.
My opinion was based on interviews I'd seen week-in, week-out were he was saying how happy watching Wigan lose but play well made him.
I find this crazy.
I also based my opinion on the fact he was always destined to relagate Wigan, constantly playing dog shit defenders at the back like Gary Caldwell and Paul Sharner.
The first season, I felt he had over achieved and hit his ceiling early on. To a degree he proved me wrong, doing well in the Premier League. That said, my opinion on him could not have been much stronger after watching us be rolled over like a bunch of school kids away in the FA Cup to Arsenal.
I tried to put that and a few other really bad performances down to it being his first season, and concentrated on the positives.
The next season this all changed. By the middle of the season I was convinced, that when we were still in the Europa League, and still had a replay in the FA Cup vs West Ham, our league form was awful and Martinez looked well out of his depth.
I feel this has been a ongoing situation, Martinez has failed to see any faults in our make-up until it's far too late. Tim Howard is a prime example.
Gareth Barry was a similar case last season, when he desperately needed leaving out to sort out his horrific form, which continued almost all season.
Not sorting out obvious problems in the defensive department, especially when it came to defending free kicks and corners.
Insisting on playing players simply not good enough for the Premier League, such as Kone and Alcaraz.
Giving out loyalty contracts too annoyed me, as Martinez did not have to show loyalty to players who had not played for him for long.
Howard was given a deal that no one else on the planet would have given out.
Hibbert was rewarded with a new deal to sit in the background. Gibson was given a deal despite the fact he is never fit. Yet despite these loyalty deals, Martinez made a scape goat out of Distin who had served us well, and Mirallas who he has totally shit on.
All of the above has made me firmly believe that Martinez is not the man who should take us forward, we should look for better now, while we have a talented squad, and while we have new funding.
Add Your Comments
In order to post a comment, you need to be logged in as a registered user of the site.
Or Sign up as a ToffeeWeb Member — it's free, takes just a few minutes and will allow you to post your comments on articles and Talking Points submissions across the site.
© ToffeeWeb