Martinez feels hard done by with Hammers defeat
by

254 Comments [Jump to last]
| 05/03/2016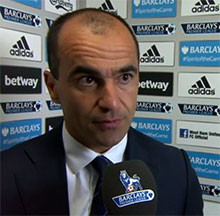 The manager felt his side was outstanding for spells in today's 3-2 loss but admitted the missed penalty at 2-0 was a psychological blow.
Romelu Lukaku, a potential man-of-the-match candidate up to that point having scored one and helped Aaron Lennon double the lead 10 minutes into the second half, had the chance to make it 3-0 from the spot in the 68th minute saw his weak kick easily saved by Adrian.
Even at 2-0, however, the Blues couldn't hold onto the lead and eventually lost to another last-minute goal, upsetting the bookies odds that were stacked heavily in Everton's favour for so long in the match.
"We were presented with a very difficult challenge when Kevin Mirallas got the red card," the manager said after the game.
"But I think we adapted, worked for each other and showed a very good tactical knowledge which meant you couldn't really tell West Ham had an extra man.
"We were the better side, creating chances and nullifying their threat completely.
"The penalty, for me, was a big psychological blow. Romelu Lukaku is such a reliable footballer and I think it gave us a bit of a shock.
"At 3-0, I think the game would have been over - but instead it gave them hope. Then they got a goal from a second phase from a set piece and, all of a sudden, we found it very difficult to be able to do the things we'd done so well in the final minutes.
"It is infuriating in the way we were defeated at home, but I thought for spells we were outstanding."
---
Reader Comments (254)
Note: the following content is not moderated or vetted by the site owners at the time of submission. Comments are the responsibility of the poster. Disclaimer
Kase Chow
1
Posted 05/03/2016 at 20:01:03
Why not teach your players how to close out a game??
You didn't learn last season against West Ham in the cup when we were 2-1 up away with 10 men that we HAD to CLOSE out the game and despite 4 or 5 similar occasions this season (Chelsea, Bournemouth, Stoke etc). YOU STILL HAVEN'T LEARNT!!!!
Teach the darn team to defend. To be nasty. To run ball into the corners. To time waste. To grab a shirt. To take a yellow. To break up play. To do all the ugly things that you dismiss but are vitally important to secure a damn win.
Idiot!!!
Helen Mallon
2
Posted 05/03/2016 at 20:01:14
BLAHBLAHBLAH BLAHBLAHBLAHBLAHBLAHBLAHBLAHBLAH SACK HIM
John Roberts
3
Posted 05/03/2016 at 20:02:15
Martinez – be honest with yourself. We don't want you anymore.
You either don't get the best out of the players or you don't have the right tactics. That's two seasons in a row; same problems – no improvement.
Conor Skelly
4
Posted 05/03/2016 at 20:09:56
You can see what Roberto is doing here. He's insinuating that to only lose by one goal with ten men is understandable and to some extent, it is.
But to lose a game from yet another winning position by conceding three goals in the final 12 minutes is unacceptable. To do it consistently to the point that at two nil up, at home, he can blame a missed penalty for us not winning the game is not only bizarre but completely unique.
Can we blame Martinez? His subs were naïve but does he actually tell the team to stop playing at 2-0? How does this keep happening?
Steve Davies
5
Posted 05/03/2016 at 20:11:39
Bobby boy, missing a penalty did not give them hope, your idiot substitutions did you clown.
I agreed with taking off Stones for Besic. For once I actually thought you displayed some tactical nous and then you went back to form.....
When you need to hold on to a lead, you take off EFC's best player Lennon for a striker who is unfit and has no premier league experience. Then when we need a goal you take off Lukaku for Barry.
You really haven't a tactical bone in your body lad. Gus Hiddink will totally outwit you next week. And I for one would appoint him next season to manage my beloved blues.
You need to take your phenomenal tactical skills back to Wigan or Swansea or anywhere who will have you.
By the way I was proud of the players today, lions led by a donkey. Jags, will you man up and actually act like a captain. Get in the referees face instead of looking away like you did when Mirallas was sent off and this is not the first time you have not supported your colleagues.......
Jim Bennings
6
Posted 05/03/2016 at 20:11:57
I feel hard done by that you are still managing us Roberto making the same damn mistakes.
At 2-0 with 12 minutes left the game is over you buffoon, yes it was a bad pen from Lukaku but he otherwise had a strong game supported by the outstanding Aaron Lennon who's quickly making a claim for player of the season despite only regularly featuring since January.
The substitution to swap Lennon with Niasse rather than the like for like Deulofeu was utterly baffling.
Today is not a one off, it is quickly becoming a trademark of Everton Football Club under Martinez.
Opponents know they are always going to have a chance against us no matter how many goals they are behind or how long is left, you just sensed once West Ham got the first goal we literally shit ourselves and they could smell it.
We are such a soft touch.
I was hardly Moyes biggest fan, but this home record would never have been allowed under him, four home wins by April, FOUR!!!
And we only won 7 from 19 last season too.
John Roberts
7
Posted 05/03/2016 at 20:16:19
Jim at 6 – spot on, the stats don't lie. Poor stats, great squad!!
Something isn't right!!!!!
Amit Vithlani
8
Posted 05/03/2016 at 20:16:54
Resign. You are not competent to fulfill the expectations a manager of this club is expected to meet.
Whether its your phenomenal bad luck, poor refereeing or the player's mistakes, the buck stops with you.
The best thing you could do to mark your reign is to resign. After all the gut wrenching collapses you have overseen, an immediate resignation would allow you to hand over this squad to someone who is more competent. You may even be remembered as the man who assembled a good squad which was bequethed to your successor who would go on to fulfill the squad's potential.
Conor Skelly
9
Posted 05/03/2016 at 20:18:59
Gus Hiddink a great shout.
Ray Smith
10
Posted 05/03/2016 at 20:19:24
Where do we go from here?
Joe Foster
11
Posted 05/03/2016 at 20:20:33
Let me guess – we are "in a moment"...
Rob Halligan
13
Posted 05/03/2016 at 20:25:01
The substitution of Niasse for Lennon was beyond belief. Why the fuck, when you are 2-0 up, down to ten men, take off one of your better players and put another striker on?
Lennon was giving Oviedo cover down the left hand side. Once he went off it totally handed the initiative to West Ham. It's not like we were two down and chasing the game. West Ham had been no threat at all, despite having the extra man. All we had to do was crowd out the midfield, but no, put an extra forward on. WHY?!?!
Martinez says the turning point was the penalty miss. Was it fuck... it was that pathetic substitution.
And why change the team, just to accommodate Stones? Stones was awful in the first half, and the substitution at half-time to replace him with Besic I could understand. No need to play Stones for playing sake. I don't give a fuck if he goes the Euros or not. I don't care about England, only Everton, and at the moment Stones is becoming too much of a liability.
I have always defended Martinez these past few months, but I think it's finally a time for him to go. The man clearly doesn't know how to defend, and as I said at the start, his substitutions are totally beyond belief. Today was the final nail in the coffin for me.
Fran Mitchell
14
Posted 05/03/2016 at 20:25:07
The 5th time we have surrendered a 2-goal lead.
The 7th home defeat of the season.
Nuff said.
Mike Berry
15
Posted 05/03/2016 at 20:25:10
I've always supported our managers – even Gordon Lee. But this bloke cannot game-manage to save his life.
Taking Lennon off was lunatic. Putting a half-fit Niasse on was weird.
Andy Crooks
16
Posted 05/03/2016 at 20:26:46
Eugene Ruane posted, more or less, that you never know what to expect.
My God, Eugene, it is so hard to predict that it is now easy to predict. Just visualize every possible outcome and leave out the unthinkable. Then the unthinkable will happen and in hindsight it will have seemed perfectly obvious.
I doubt that another club in the land can produce this soul-destroying witchcraft.
Ken Reece
17
Posted 05/03/2016 at 20:27:35
It isn't just Martinez and his inability to recognize or instruct the players to defend properly; it's the lack of leadership on the pitch. There's not one player out there fucking screaming instructions or given players who haven't got the top level tactical awareness any guidance.
Jags is like a lamb good defender but not a leader McCarthy the same they need to start acting like winners not just accept this piss weak approach. I can remember standing in the street end hearing Big Nev shouting from the other end of the pitch, get a grip lads and stand up.
Get rid of this nice man who talks absolute shite and put Duncan in charge till the end of the season. If not we will come to the last game of the season and Martinez will be saying there's one game to go and we can push on for that 12th place .
Keith Conchie
18
Posted 05/03/2016 at 20:27:58
Our home form is definitely a concern.
The ref didn't help today tho. Mirallas should never have been sent off, and two penalty appeals in the first half turned down is a joke.
Joe Foster
19
Posted 05/03/2016 at 20:28:43
Good bye, duoffus. The new owners will let you see this season out then you are gone. You have failure running through you.
Jim Bennings
20
Posted 05/03/2016 at 20:29:20
The reality is apart from beating Stoke last month, who have we actually beat since we done Chelsea on September 10th??
We have only beaten a dreadful Newcastle twice, Aston Villa twice, Sunderland and Stoke away...
That's it!
We have barely registered a good win against a worthwhile opponent since September.
We have a truly horrendous record in the league with the quality this team possesses, it's a total waste of a season, with a manager that had more nous we could have been where Spurs or even Leicester are now.
Where do we go from here if or when Chelsea dump us out the Cup next Saturday?
Sit and wait another two weeks while our next league games are Arsenal and Manchester United??
As I said on the previous thread, if Moshiri really is the real deal, then the summer time he needs to show us what his true ambitions are for this club.
We cannot allow ourselves to stagnate in mediocrity for a third successive season.
Tom Edwards
22
Posted 05/03/2016 at 20:32:41
I have said it before and I will say it again..... this buffoon is completely deluded! He thinks a missed penalty is 'a shock for everyone'.
God Almighty, man, the shock was the ridiculous idea of subbing a player who is on fire with a player who is clearly not match fit and not used to the pace of a Premier League game. This stupidity is compounded by taking off a striker who was having a decent game and subbing him with a man who was needed to shore up the midfield/defence about 20 minutes previously!
Under this master tactician, we are slowly but surely sinking into the relegation mire. I appreciate that this won't happen this season, but be assured that if this form continues, we will be in a similar situation to the Barcodes, or even worse, Villa, come this time next season.
Get rid of him NOW. He is killing our club.
Kevin Johnson
23
Posted 05/03/2016 at 20:34:28
I look on in admiration at Spurs, and this is just my belief that we have a good if not better side than them...
The difference is the managers. They have a quality guy who knows how to get the best out of a group players; ours is a total joke. He doesn't know his left from his right.
I'm totally gutted with this result.
Tony Abrahams
24
Posted 05/03/2016 at 20:35:21
Strolling 3-1 away from home, against bottom of the league, and we give Niasse, 3 minutes.
Battling away, against a top 6 team, and down to ten men, he decides to give Niasse, 15 minutes??????????
That has got to be the worst sub, I've ever witnessed in over 40 years, of going to Goodison. The midfielders needed help, so he swapped one for a forward!!!! Crazy.
Glen Garrett
25
Posted 05/03/2016 at 20:35:39
This great football club isn't going nowhere... it is losing touch with the big guns.
Everton are no longer a threat to anyone any more. Martinez is ruining this club – just like he had ruined Wigan... and if Billy ain't careful, Everton will go the same way.
How much more misery can this club take?
Sid Logan
26
Posted 05/03/2016 at 20:38:08
If there's a hope, it's that Moshiri will, at the end of the season, look at the team's finishing position in last two seasons and see what Bill K would rather not see: this manager is quite simple not good enough!
He's had his go and it's time to say goodbye if you want to keep the fans happy.
Joe Foster
27
Posted 05/03/2016 at 20:39:29
Come on... let's hear the excuses please. I am waiting.
Lee Atkins
28
Posted 05/03/2016 at 20:41:08
Since when has missing a penalty been a cause for conceding three goals in 11 minutes at home?
This team reminds me of a slick boxer with fast hands and quick feet that doesn't have a chin. He beats his opponent up for 11 rounds and then gets knocked out in the 12th round EVERY fucking time he steps in the ring!
Nick Armitage
29
Posted 05/03/2016 at 20:43:52
Substitutions which were tactical suicide and not closing down opponents when they were about to cross were the problems today. I got bollocked at school as a 12-year-old for standing off my man and letting him cross. These twats are on 㿞k a week and they don't do the basics and all Martinez does is blow smoke up their arses.
Wiganisation complete. Kenwright is a dickhead for appointing him and a dickhead for persisting with him. Professional football is about winning games. End of.
I'd swap him for Moyes today.
John Davies
30
Posted 05/03/2016 at 20:45:08
Martinez is an arrogant deluded IDIOT. When is this bloody clown going to get the sack? It cannot come soon enough. Wake up Kenwright, you fool.
Brian Williams
31
Posted 05/03/2016 at 20:49:19
Several points here:
I agree that Martinez has to go at the end of the season. I can understand what he's "trying to do" but he's failing and isn't up to it. It's fine having a philosophy but, if you haven't got the smarts to succeed in it, then find your level.
Mirallas is an idiot. The first card may well not have been warranted but diving in in their third of the field is stupidity.
Stones isn't anywhere near as good as he thinks he is. He was poor today. Gave the ball away and put us under pressure through delaying and trying to be too clever.
Niasse was a mistake. Seen enough to know he's not very good.....
Last one, another weekend ruined.
Ray Smith
32
Posted 05/03/2016 at 20:49:43
Keith (#18),
Mirallas, 1st booking he dived! 2nd booking, clumsy challenge, but a yellow = red. However, we managed.
Two penalty appeals turned down by the ref! You may well be right, but that's not ref problem. They are excuses for a manager who cannot manage.
If Martinez could face reality, he would resign. If Bill Kenwright was not such a nice guy, he would sack him tomorrow! He doesn't need Farhad Moshiri to make the decision for him.
Goodbye Roberto, never wanted you in the first place!!!
Dean Adams
33
Posted 05/03/2016 at 20:49:50
Did we see today that you really do make your own luck?
Steven Copp
34
Posted 05/03/2016 at 20:51:19
Roberto, no person associated with the club is going to criticise you for setting up the team to close the game out with 10 or 15 minutes to go when leading 2-0. It's 3 points and an outside chance to secure a top 6 place and European football.
Is there no-one around him to suggest this or is everyone keeping schtum, keeping their jobs and then telling us all he was clueless when he gets the bullet?
I can't say no more... I am just getting myself bloody depressed.
Edward Wallis
35
Posted 05/03/2016 at 20:55:20
Rob Halligan... agree with you, mate, on most points.
I agree with RM that Lukaku and Lennon had run out of steam. But surely you sub like with like... keep the shape!!!! Is that not common sense? We did not need a 3rd, ffs.
When Lennon went off... Payet moved from left to right side and had freedom of Goodison as Niasse was up front!!! No one on our left.
We were Brilliant upto the sub. Our manager let us down again. I would not trust him with the new money. I just saw his press conference... no reference on the poor subs – only to the penalty miss. The press give him such an easy time. Are the 38,000 at the game wrong? I think not...
RM is deluded. RM out.... quickly
Nick Armitage
36
Posted 05/03/2016 at 20:57:12
Stones will be world class, but he is falling to pieces with Martinez managing him. Martinez gives him far too much freedom and as a result he thinks he is Beckenbauer. But you can't play like one of the best sweepers of all time in a flat back four in the Premier League.
I just want Martinez gone. Hopelessly out of his depth.
Kevin Elliott
38
Posted 05/03/2016 at 21:00:01
Apart from the ridiculous substitution of Niasse for Lennon...
Why the fuck is Rom taking the pens anyway?

Brent Stephens
40
Posted 05/03/2016 at 21:00:17
I was spitting chips after that game but I'm now seriously furious at Roberto's comment "The penalty, for me, was a big psychological blow. Romelu Lukaku is such a reliable footballer and I think it gave us a bit of a shock."
To pick our a single individual like that in order to deflect blame away from himself is a cowardly act by Roberto. Shameful. And our best player along with Lennon, both again on the score sheet.
He's ruined Stones, and now he'll piss off Rom.
James Marshall
41
Posted 05/03/2016 at 21:00:22
I firmly believe that Martinez is a good manager – but only in certain areas.
He can pick a player for certain. Some of his signings are excellent. I also think he knows how to make a player believe in his own ability – another good management technique.
His teams are often setup well to attack, and he definitely knows how to score goals and hurt the opposition – another useful managerial trait.
He's a media darling, they lap him up. His patter is very good in a media sense, despite it all sounding like drivel to us.
His problems arise when it comes to actually managing the team during matches. Up until then I think he does a good job.
Sadly as soon as the heat is on during a game, he doesn't know what to do so he just does.....well.....he just does something.
Or in the case sometimes, as per Southampton away, he just stands there and does nothing – in the vain hope that things will come good. We lost 3-0 I think that day, although I don't actually remember the final score because most of us got up and left when Saints scored their 3rd and were all well on the way to the station by the final whistle.
Martinez is a good manager in many ways, but sadly he isn't a good manager when it comes to seeing what's going on during a game – I still think he could benefit hugely by watching from the stands. You can't see a fucking thing when you're in the dugout, and if you don't have that knowhow then you have to learn it by seeing things from a different perspective.
I'm clutching at straws here, which is basically what Martinez does during matches.
Andy King
43
Posted 05/03/2016 at 21:07:41
As a fervent Evertonian of some 40 years, I am slightly confused as to where we are possibly going? To date, I like Martinez's football philosophy but I'm unsure whether it suits the present day Premier League.
We have a great squad which is not fulfilling its current potential, all agreed, but to ditch Martinez now when his playing philosophy is right might be premature. If we win the cup, all will be forgotten; if we lose next week, we will be calling for his head.
The new owner has a major decision to make: stick with him and his philosophy could lead to a new era; sack him and bring in someone else – a big name... a big ego.
Rob Halligan
44
Posted 05/03/2016 at 21:08:36
Standard on the touchline or sitting in the stands doesn't tell you to put another striker on, when you are 2-0 up but down to 10 men, James.
As Edward #35 says, if Lukaku and Lennon were flagging then go like for like, Niasse for Lukaku and Deulofeu for Lennon, and TELL Deulofeu, don't ask him, to track back and give Oviedo cover.
David Price
45
Posted 05/03/2016 at 21:09:14
So many good things today, but we fucked up. Roberto didn't accommodate Stones, he tried something different. He went 3-4-3 and it worked. Attacking was great, Ross in a deeper role was superb. McCarthy stepped up in Barry's absence. Wing backs over lapping, it was a joy to watch.
Yes, we made errors, again dithering on the ball instead of getting quick ball to a front three that really pushed on to the back four of West Ham. Basically we bossed it and they didn't have a clue. Cue the sending off.
Very harsh: ticking off, yes, foolish challenge and gave the cunt of a referee, with plenty of advice from Noble, a decision to make.
Second half, we adapted; great shout from Roberto to bring Besic on. He was superb, Macca and Ross got even better. Then the penalty.
Awful... you could feel the tension in the stands. Before that, the crowd were immense. From experience, you just knew we'd blown it to finish the game off.
I looked at Lennon off the ball: he was gone, he'd given everything. The substitution was next. We couldn't believe it. It had to be Barry with Besic and Macca going wide to support the wide areas in defence. With Ross behind Lukaku where possible.
We all know the rest. So the missed penalty opened the door for a grave error by Roberto. Please guys, let's not forget how brilliant the team was today; in the end, Roberto, you let us and them down.

Brian Porter
46
Posted 05/03/2016 at 21:12:51
Lukaku has never looked convincing taking penalties. If Baines isn't playing, let Ross take them. He was superb taking the two against Newcastle.
The subbing of Lennon was suicidal. He had kept the Hammers defence occupied and his withdrawal basically invited them to attack us.
Martinez has no idea when it comes to game management. The time really has come for him to go. How much longer must the paying fans suffer as a result of his continuing ineptitude, his constant blaming of anything and everything apart from his own failings. Do the honourable thing and resign Martinez, NOW.
James Marshall
47
Posted 05/03/2016 at 21:15:35
Rob – you don't need to tell me, mate. I was sitting here going nuts when he took Lennon off like the rest of you! It's Martinez who needs a different perspective.
Edward Wallis
48
Posted 05/03/2016 at 21:17:23
David Price 45....a great post
Joe Foster
49
Posted 05/03/2016 at 21:18:20
Andy King – we have a small name with a big ego at present...
Andy Crooks
50
Posted 05/03/2016 at 21:20:02
Nick Armitage, I agree with both your posts. I would not want Moyes back but I would have anyone with a coaching badge ahead of Martinez so suppose that lets him into the frame.
Roberto Martinez relegated and destroyed Wigan. That team with Pulis, big Sam or indeed my late gran, could have survived. He stated that he was not the man to rescue them (spineless and devoid of integrity) and then got the best job in football, on the basis of fucking what?
John Austin
52
Posted 05/03/2016 at 21:21:31
Andy (43). Sorry but I have to disagree with you. Today was the final straw. He has lost the fans and I imagine most of the players too.
He cannot coach defending to save his life. He is ruining our great club and he has to go. Key players will look to leave at the end of the season.
Even winning the cup would not change my mind as far as he is concerned. I would love to be proved wrong but I doubt it.
Sean Roberts
53
Posted 05/03/2016 at 21:25:07
Enough of the excuses, this is not the third or fourth time this has happened through bad luck. This is the story of our season and is quite frankly not good enough.
Okay, we created another goal and were awarded a penalty after going to 10 men but we just don't learn our lesson and are incapable of seeing a game out.
Either sort it out or do one, Martinez, as this season is turning into a joke. I can only see one result against Chelsea in the FA Cup too.
Andy Crooks
54
Posted 05/03/2016 at 21:26:22
John, 52, I don't know what you disagree with. I agree entirely with your views.
Jim Bennings
55
Posted 05/03/2016 at 21:29:32
The defeat again today showed us that Aaron Lennon is absolutely priceless to this team performing well as a solid unit.
As soon as Lennon left the pitch the whole game went arse up.
It's not a coincidence that Lennon came in last season and transformed our fortunes and raised the bar work ethic wise. This season has been the same, we have looked a tougher fitter team with the ever working Aaron Lennon on the pitch.
As soon as he was subbed it gave West Ham a huge lift especially after a few touches from an incredibly rusty looking Niasse.
I appreciate that Lennon was shot by the 70-minute mark but, if I had been in that dugout, I'd have brought on Deulofeu for him at that very minute then the only other change at that same time with a two goal lead should have been Barry for Barkley and see out the game.
Ken Jones
56
Posted 05/03/2016 at 21:30:00
I sit behind the dugouts and the body language was interesting from both managers today, Bilic was animated, constantly urging his players on. Our fella just stood in his customary statue-like pose.

The frustration is immense especially when we outplay and demoralise teams to such an extent that victory looks a given only to witness an embarrassing capitulation and subsequent defeat in the dying moments of the game.

I cannot see Martinez being dismissed in the near future, even less likely he will resign, so under the present regime the fans will suffer more of the same, as the manager stubbornly refuses to change and the same mistakes occur time and time again.

His excuses become more threadbare, the turning point was not the penalty miss but the unforced decision to change a system which had been effective and to play a striker who'd never even kicked a ball in the Premier League with only 15 mins left @ 2-0 in front, is something even Mike Bassett wouldn't contemplate.
Tony Rutherford
57
Posted 05/03/2016 at 21:30:40
To be fair, Roberto can spot a player! But he can't manage a football team. 65 minutes and even with 10 men the game was ours... And he blew it!
Thanks for the rollercoaster Roberto but I'm fed up of feeling like shite!
Brian Mahoney
58
Posted 05/03/2016 at 21:32:59
Were do we go from here? I have truly now give up with Martinez. Lennon was dead on his feet he says, I give in.
He takes our two most effective players off and then shit happens.
I truly want to wake up tomorrow and read the headlines MARTINEZ SACKED.
John Austin
59
Posted 05/03/2016 at 21:33:20
Andy – I don't believe that sticking with him could bring a new era nor that his playing philosophy is right. And to dismiss him now would not be premature – it is overdue.
Les Martin
60
Posted 05/03/2016 at 21:34:46
The two "M"s will be gone before the start of next season, Mirallas because he is a fool and a liability with yet another act of petulance, totally lacking in any discipline. And Martinez because he has no idea how to set us up to defend a lead and win matches.

I was sat right in line and looking across the back five! None of them had a clue what to do, what their roles were and who to mark. All the fans sitting around me could see it. Additionally Ross seemed to sitting in front of the defence as McCarthy wasn't doing it and did not seem to know where to play. Why did he set us up in defence so differently from the previous matches? Was this because he was worried about not accommodating Stones, who was subbed at half-time?

Some say we were good today under the circumstances. I think we were very lucky in the first half that we did not pay as the defence was all over the place from where I sat. Martinez changed it at half time to the normal back four, realising what a big mistake he made in the starting formation.

I have totally lost faith in Martinez having witness his formation and bad substitutions, he is on borrowed time. Next up Chelsea, if we lose that then we may have a vacancy to fill during the summer.

Ray Smith
62
Posted 05/03/2016 at 21:38:28
Not sure if local/ national press monitor this website?
If you do! When are you going to stop allowing Martinez to pontificate without challenge?
Nobody seems to challenge him!!!
Steve McClaren gets a full back page of criticism. When did you last see Martinez on the back page of a national? Answer, probably never!!!
James Marshall
63
Posted 05/03/2016 at 21:38:35
I would have left a knackered Lennon on, and taken Barkley off - he's a luxury and with 10 men 2-0 up we needed to be more solid defensively.
Lennon would still run his arse off even when spent, but Ross (and I don't mean to make him the scapegoat for one second) doesn't do much defensively apart from stand in the way.
James Marshall
64
Posted 05/03/2016 at 21:40:16
And another thing - if Martinez feels hard done by, due to the ref and the missed penalty, can someone tell him the rest of us feel hard done by due to his inept substitutions for substitutions sake.
Fucking idiot. If it ain't broke, don't fucking fix it.
Paul Holmes
65
Posted 05/03/2016 at 21:40:26
Martinez needs to go but so does the defence. We need to buy 2 centre backs who can defend crosses and can basically just defend (like John Terry used to do for Chelsea or Nemanja Vidic for Utd ).

We need to find 2 full backs who can stop crosses coming into the box from wide areas. We need to buy a commanding goalkeeper.Sell John Stones to help fund the deals, because let's face it no matter what combination we use, Howard, Robles, Coleman, Baines, Oviedo, Jagielka, Stones, Funes Mori they cannot defend (see home results and goals conceded column)!

The stats don't lie, we score loads of goals but concede just as many, like Wigan!
Dan Davies
66
Posted 05/03/2016 at 21:40:40
Martinez has to go end of season. New board need to target a manager with a proven track record of winning cups and leagues this should be possible with the new investment.

Why not? NSNO
Will Leaf
67
Posted 05/03/2016 at 21:40:46
Baghdad Bob
David Price
68
Posted 05/03/2016 at 21:45:05
James, it wasn't bringing Lennon off that was the problem, it was who he brought on.
Can't agree over Ross, he gave it everything, at 2-2 he won a tackle he had no right to, got up and drove past two and attacked. He was superb.
James Marshall
69
Posted 05/03/2016 at 21:49:01
David – but who do we have in the squad with the workrate of Lennon? Deulofeu isn't going to do it, and neither is Niasse, or Osman....who else was on the bench?
For me the game changed when he took him off, and I don't think we have a single player in the squad who does what Lennon does.
Tony Hill
70
Posted 05/03/2016 at 21:49:16
He should have gone in January last year. Kenwright did not act, predictably, and we are paying the price. We are apparently going to repeat and compound the error. If we do not get rid now, any new manager will not have time to acclimatise and organise effectively ahead of next season.
He has to be dismissed without delay.
Jim Bennings
71
Posted 05/03/2016 at 21:49:24
James
Barkley and a few other's could take note of Lennon's work rate and I think it was Baines last Spring that said Lennon's willingness to work and run had shamed the team.
He's the only attacking player that consistently runs himself into the ground, which is why when Lennon isn't on the pitch we don't defend well as a team from the front.
David Price
72
Posted 05/03/2016 at 21:54:46
I agree James, but he was shot and Barry had to come on. Besic could've done Lennon's role in terms of energy.
So gutted with that substitution. Even Baines at left-back with Oviedo in front would've worked.
Total let-down.
James Marshall
73
Posted 05/03/2016 at 21:56:48
Jim - absofuckinglutely!
Winston Williamson
74
Posted 05/03/2016 at 21:57:52
I could write a fucking essay on why I don't want RM here anymore... but two words are enough: FUCK OFF!
Andy Crooks
76
Posted 05/03/2016 at 22:06:07
John (#59), surely you are mistaking me for someone else. Here are my views on Martinez:
He should never have been appointed.
He is the worst coach in our history.
He will relegate us given time.
I would take anyone ahead of him.
He should be sacked immediately.
David Hallwood
77
Posted 05/03/2016 at 22:08:15
Agree with David Price (#45) with one exception. to accommodate the Mirallas sending off, he should've bought on Besic for Barkley and gone 3-5-1, and protected the lead. There was no need to go gung-ho I watched the Leicester game and they quite comfortably managed a 1-0.
And like everyone else (bar Martinez) the Lennon substitution was bordering on surreal-2-0 up 15 minutes to go and bring on an attacker (a half-fit one at that) to see the game out!! It's a bad a sub I've seen since, erm... the West Brom game.
Please, Roberto, just walk, before the new guy sacks you.
James Marshall
78
Posted 05/03/2016 at 22:08:19
A poll on the Telegraph website as to whether Martinez should be in the job has 1424 voters with a 71% NO vote.
Peter Mills
79
Posted 05/03/2016 at 22:11:47
I made up my mind in early 2015 about our manager. Some sussed him more quickly, others were more charitable. But today, both at the ground and on this site, it has been clear that the vast majority of fans have had enough, he has shown himself to be inadequate.
Now, we have been here before. The death throes of a manager are hard to watch, we've seen it with Catterick and Lee, Walker and Smith. Unfortunately, it takes days like today for the harsh reality to dawn.
Surely the only thing that can save Sr Martinez is an FA Cup win. It is feasible he could oversee such a success, but it would be a very, very dangerous thing, as the man has the ego, stubbornness and ineptitutude to have us relegated.
I hope the new board will make a decision now to relieve Martinez of his duties at the end of the season, irrespective of what happens between now and then.
Steve Guy
80
Posted 05/03/2016 at 22:12:48
Deluded. You lost a game you were winning 2-0 with 20 minutes to go.....AGAIN. Get gone NOW
John Austin
81
Posted 05/03/2016 at 22:17:26
Andy (76). I was disagreeing with Andy King @ post 43. Confusion on both sides. Didn't click you were a different Andy when you first responded. Too many Andys! And I agree with every word of your last post.
Ian Riley
82
Posted 05/03/2016 at 22:19:20
Ray Smith (#62) the press know Kenwright will never sack him. It would be a pointless exercise.
Sadly, the manager just is not good enough for this level. Not got a clue regarding closing a game out.
Our record at home this season is shocking beyond belief. Dropping the prices for next season. I would pay an extra £250 if Martinez was gone. Big decisions for fans renewing is with Martinez in charge means the same.
The man talks complete crap and the excuses are boring and predictable. This season has been what could have been and without Lukaku we would have been in real trouble.
Carl Peters
83
Posted 05/03/2016 at 22:20:53
Sick of the bullshit. Just go.
Chris Leyland
84
Posted 05/03/2016 at 22:26:13
At one point in the second half, my 10-year-old lad, who was sitting next to me in the Main Stand, turned to me and said "Da, you've shouted 'close down and stop the cross' 7 times in the last 10 minutes. It is embarrassing that they can't do this when they are paid thousands of pounds even I know that you don't let the opposition constantly cross the ball when I play on Sundays."
Dave Abrahams
85
Posted 05/03/2016 at 22:27:10
David (68) when Barkley has the ball he does well, when he hasn't got the ball and he is required to act defensively he is an handicap to the team as he was today, superb, David, I don't think so.
Ray Smith
86
Posted 05/03/2016 at 22:27:29
Ian (82)
Ian I quite agree. However, the press never seem to give Martinez a hard time!
He goes unchallenged and as such believes his own delusional philosophy.
Andy Walker
87
Posted 05/03/2016 at 22:28:24
I'm not exactly a Martinez fan but I thought we were excellent for 60 mins. The penalty was the key, if we'd never been awarded it, I think we would have won the game. Missing it in the context of us having only 10 men, was a double-wammy. We thought "Shit that would have been game over" and they thought "We've just been let off the hook." Tables turned.
Martinez did well today but Rom missed. Shit happens.
Rob Hooton
88
Posted 05/03/2016 at 22:29:07
Dumbfounded. The crosses started piling into the box after the sub as we were wide open, never seen a team let so many crosses into the box – especially a team that is so weak in the air defencively.
Just heartbroken yet again, the lads played so well and we were still the better team with 10 men till the genius made his tactical masterstroke.
Mark Andrews
89
Posted 05/03/2016 at 22:30:41
I'm guessing the almost inevitable loss to Chelsea next week will be the final nail in the long closing coffin for our psycho-babble manager? Yet again he's been found wanting in his farcical decision making. The media love him because he's so presentable and gives a lovely sound-bite but my patience wore thin with Bobby the snake oil salesman some time ago.

Time to go Roberto, you can't match the ambition of our club and managing us is beyond your meagre capabilities. If he had any decency he'd have resigned some time ago. He's a poor mans Brendan Rogers.
Rob Hooton
90
Posted 05/03/2016 at 22:30:56
It was a definite red card too, surely Kev has played his last game for us if RM remains in charge?
Patrick Murphy
91
Posted 05/03/2016 at 22:31:27
The home record of the 1997-98 season, the Gareth Farrelly relegation season when Everton had the likes of Madar and Bilic in the team, is looking likely to have a better home record than this current crop of players. Only 3 wins and a draw from our final four games will ensure the current bunch match the points taken at Goodison for that year, how can this be so? In 1998 Everton won seven, drew five and lost seven of their 19 home fixtures scoring 25 goals and conceding 27. The current Everton team have already conceded 26 with four games remaining and the chances of winning our last four home games are looking pretty remote. The FA Cup may offer a little bit of hope but honestly how many amongst us are really looking forward to facing a rejuvenated Chelsea team and even if we go a couple of goals up, how many of us will be dreading the last 15 minutes rather than singing our way to Wembley?
Roberto says that for 78 minutes of today's game we deserved to win, I don't agree, but even if he's correct the game of association football has always lasted for 90 minutes so it doesn't matter how much on top a team is or how many goals in front they are if they don't or can't play for 90 minutes they are doomed to failure. Only Crystal Palace and Aston Villa have lost more home matches than Everton and even Newcastle United have taken more points at home than have Everton. There is so much to admire in this team and so much talent available to it, but that simple ingredient that Everton used to have in abundance and one that Leicester City typify is missing and the reason that it's missing is because of the way that our current manager insists his teams play, from hard grafting safety first football for eleven years to chilled out but ultimately kamikaze football for the last 18 months for us mere fans it is difficult to understand.
If the new investors have any sense they will keep Mr Martinez well away from their transfer war-chest because looking at Niasse, Roberto, might be as profligate with the cash as his teams are in attack and defence.
Those who have attended all of Everton's 28 Premier League games this season have witnessed 90 goals unfortunately 39 of those have ended up in the Everton net. Thank God our away record is decent, otherwise we could have been in real trouble – when Everton lose at home to Swansea City and West Ham – traditionally home bankers regardless of form or players on show – in the same season the manager should come under scrutiny and hopefully the new investors will take a good hard look at his position if not now then at the end of the season – otherwise we might have to go through the whole situation again next term, but this time after having spent real money and all of the high hopes that we had this time last week will have fallen away quicker than a two goal lead at home to West Ham.

Tom Harding
92
Posted 05/03/2016 at 22:32:51
I have long been in the camp of those who argue that we should back RM because he has got us playing good football and I could see the prospects for this team kicking on.
After this capitulation, where on 70 mins we were two-nil up having just missed a penalty for three-nil and then I watched my pessimistic worst fears come true with 3 goals bring let in; I find myself coming to the conclusion that perhaps RM really can't take us any further. This kind of inability to close out games is just not acceptable and it can't go on. It cannot just be bad luck if it keeps happening.
I feel that the new owners might want to change st season end but they must make RM understand what needs to change for him to stay at the helm
David Price
93
Posted 05/03/2016 at 22:38:31
Dave (#85), yes, defence is not Ross's best attribute as of yet, but the only liability was on the touchline in brown shoes.
For me, Ross was superb and adapted his game to suit his change of position.
The diamond shone brightly today.
Ian Riley
94
Posted 05/03/2016 at 22:38:53
Ray (86) I do think the press are turning but it's taken them a while. To finish in the bottom half of the table with the sqaud we have is failure by a mile.
Dave Abrahams
95
Posted 05/03/2016 at 22:43:23
Patrick I think and hope they have to look at Martinez,'s position, as manager NOW.
Andy Walker
96
Posted 05/03/2016 at 22:43:24
The whole general message in this thread would, I think, have been180 degrees different if Rom had put the pen away.
Matt Williams
97
Posted 05/03/2016 at 22:50:20
I genuinely wonder sometimes if an alien has snatched the real Roberto Martinez and replaced him with an android that knows fuck all about football. Some alien life form is using us as some cosmic experiment to see if they can successfully infiltrate human life.
The experiment is so far failing as robot Martinez has been programmed by some interstellar geek using the Shoot annual from 1972, who has never seen a football match and dosen't have a clue how the game is played. Then again footy was loads better in 72.
So do us all a favour Roberto and go back to your own planet.
Joseph Murphy
98
Posted 05/03/2016 at 22:51:52
That's the banner that should be a regular at games now "Lions led by a ........" To get the message across to the new owner.
Also, Gus Hiddink for next manager was a good shout.
Patrick Murphy
99
Posted 05/03/2016 at 22:52:17
Andy (#96),
That may well be true, but Rom didn't put it away and even if he had have, who's to say it wouldn't have ended up 3-3 rather than 2-3?
There is a tangible lack of faith among many fans in this current Everton set-up and a real lack of belief amongst the players which shows itself in games like today, games which have happened more often than I can remember in my time of watching the Blues.
Andy Walker
100
Posted 05/03/2016 at 22:55:24
He didn't put it away, Patrick, but that's not Martinez's fault. I don't believe for a minute we would have conceded 3 if Rom had scored. It galvanized West Ham and made them realise they had 11 v 10. Really can't blame Martinez today for once.
Patrick Murphy
101
Posted 05/03/2016 at 22:58:58
Andy (100) With respect, I beg to differ, the substitutions were puzzling to say the least bringing on the new lad for Lennon at 2-0, when he had Barry available on the bench and then bringing on Barry after we had let the two goal lead slip, that has to be the manager's fault.
Also Lukaku's lack of focus for the penalty is a reflection of the team as a whole and therefore a reflection of the manager.

Dave Abrahams
102
Posted 05/03/2016 at 23:02:43
David (93) "Defence is not his best attribute yet."
David, he is 22, he is showing no signs of any appetite to even try to defend. When I look at players like Lennon and Besic relishing all the work they do all over the pitch, it actually turns my stomach when I see Barkley just stroll around and let players just literally walk past him. He's got to do a lot more than he does; he's far from a diamond, he is plain glass when it comes to the defensive side of his game, but you are turning a blind eye to this part of his game.
Ron Sear
103
Posted 05/03/2016 at 23:17:30
I don't give a damn how Martinez feels – all I want to see is the idiot holding a P45 form.

Peter Mills
104
Posted 05/03/2016 at 23:20:43
Regarding Ross Barkley: I was talking about match stats before the game, and decided arbitrarily to focus on Ross between the 25-35 minute marks. In those 10 minutes he just about won a midfield header challenge, and had 2 touches on the ball in 2 seconds. That was it, 3 brief touches in 10 minutes.
Against that, 20 seconds before that period started he put in a superb volley on goal at the Park End, and in the 3 minutes after the 35 minute mark he made 5 very telling touches.
I'm not sure what that tells us. I think for me it suggests that there is a very good footballer within him, it just needs a bit of help to be brought out.
Andy Walker
105
Posted 05/03/2016 at 23:21:27
Patrick, I thought Naisse for Lennon was okay at the time, we were in control, Lennon was knackered but I assume RM thought "Let's not invite pressure on us so keep the formation the same." It's not as if WH were threatening us at that stage.
Barry was a strange sub, I agree. Rom missing a pen, well many a world class player has missed a pen, I really don't accept his state of mind was not what it should have been due to RM. Rom had been good up to that point. Just one of those things unfortunately.
Andrew Laird
106
Posted 05/03/2016 at 23:22:17
Nearly 3 years in, 20 odd months of abysmal results and a depressingly familiar capitulation and I am yet to hear Roberto ever say he is to blame for any poor result. The fella is deluded and his ego is his biggest problem, the fact that he does not accept he makes obvious mistakes only hightens the tension and dislike the fans have for him.
The team have nothing about them and do not have a winners mentality, they do not possess the acumen, passion or intelligence to be winners because they are carrying out the managers monotonous "philosophy" where every player is the greatest in their position ever to lace up their boots and which also seemingly does not account for not having the ball, where everything is then left to chance.
How many more excuses has this fella got? Just fucking go will you.
Jason Thomas
107
Posted 05/03/2016 at 23:28:05
Andy – he didn't make a mistake until he took Lennon off. That was a monumentally big mistake.
I was also disappointed with Oviedo in defence. I need to see it again but he looked like he was getting out of the way of the ball when they were putting crosses in, instead of throwing himself in the way of them.
David Heaton
109
Posted 05/03/2016 at 23:34:49
That's done it for me; I've given him the benefit of the doubt up to now because he's such a nice man. But after today its clear Roberto is not the manager to take us forward.
It's all been said before what his shortcoming are but he never seems to learn which is the most disappointing thing, what's that saying "only a fool keeps doing the same thinks and expects a different outcome".

Mark Daley
110
Posted 05/03/2016 at 23:36:21
I'm not saying EFC can't punch a hole in a wet Echo, but in a 90 minute fight between them my money would be on the Echo every time.
Jack Cross
111
Posted 05/03/2016 at 23:41:31
For a start the Besic penalty shouldn't have been given as he was fouled outside the box. So you could say justice was done, in Lukaku, missing.
Mirallas, first yellow was a dive and the second was definitely a sending off.
Lennon was most certainly tiring so I think RM did right to put on fresh legs. Should it have been Niasse? Well I know the feeling on here is a definite no. But did RM, put him on pacifically to get further ahead or was he thinking of his pace holding the ball up further up the pitch? Sort of like Marcus bent under Moyes?
And of course we should have had a definite pen at the other end.
I thought it was a very good game. Lennon and Lukaku played brilliant and I think the team gave their all.
Very disappointed with the final score of course, but for some on here to be wishing that we lose against Chelsea in cup, well you should hold your head in shame.
RM, is here for the long haul and I can't see him getting sacked. As for him having a big player kitty in the summer, I've no problem with that. I think he as done pretty good with the player's he as brought in so far.
Joe Foster
112
Posted 05/03/2016 at 23:45:27
The nightmare continues...
Harold Matthews
113
Posted 05/03/2016 at 23:46:04
David P. For their 2nd goal, Barkley stood like a statue while Oviedo tried to deal with Antonio and Payet. His only sign of effort was to lift a leg and turn his back as Payet crossed.
David Barks
114
Posted 05/03/2016 at 23:46:45
Just go to hell and then get lost there. Enough is enough. Nobody can just look at this game and say why if only x had happened then we would have been okay. Because this has been going on for 2 seasons now. It's not a one off, it's a trait.
Every club knows that if they go behind chances are they can get back in the game, so psychologically every side we come up against has the edge. He needs to go. We have a new owner who is supposedly ushering in the winds of change.
Well the first things that needs to change is we need a high profile manager with a proven reputation. Not someone coming off of getting fucking relegated.
Tony Dove
115
Posted 05/03/2016 at 23:56:20
Forget today's result but please Roberto learn some lessons for next week as the importance of the Chelsea game is now immense. Two examples, Ross to take penalties and Oviedo out. Also can Robles not throw the ball out and can he please practice his kicking out of hand.
Peter Cummings
116
Posted 05/03/2016 at 00:00:02
Obviously no one is surprised that we yet again snatched defeat from the jaws of victory because now we all know that a two nil lead is never enough to get the win,or even a point with Everton these days,
As soon as we missed the pen we knew the writing was on the wall, to a certain extent I had sympathy for Mirallas his first yellow was out of order as he was fouled and clearly brought down outside the area, where a dive was pointless, it does not alter the fact that we just aren't good enough as long as RM is in charge.
Tony Byrne
117
Posted 05/03/2016 at 00:06:09
If our new investor wants us to push on to the next level, he needs to approach Southampton to give us permission to speak to Mr Koeman.Pay them 5 million compensation or whatever it takes.
Koeman is a winner first and foremost,played at the top level,instills discipline into his teams,talks a lot of sense when interviewed,tactically very astute.
Our current squad does not need major surgery, just a decent manager who can set up a defence,something RM is not capable of,buy wisely by strengthening in certain areas, goalkeeper being priority.
I have touched on a few very basic points here the same as any like minded Evertonian,yet after almost 3 seasons our football "phoney" has not learnt a bloody thing.
Take your wanky football "philosophy" to Swansea or Wigan Roberto,if not then become an MP!I'm sure the corridors of Westminster would welcome you with open arms as you can spout shite with the best of them!
Roberto Martinez is not fit to manage our great club called Everton.

Peter Bell
118
Posted 06/03/2016 at 00:19:35
Amazing how everyone on here is slagging the manager off without any criticism for the comedian who recruited him, paid compensation to Wigan for taking him off their hands, then gave them a £6 mill bonus in the form of Kone.
He will leave this summer with a big bonus in his pocket from selling his shares with a ground that is falling to bits, Wigan, Roberto and broken leg Whelan have taken us for fools, never thought I would agree with Phil Walling ever, but have to eat humble pie, well done Phil.
Peter Bell
119
Posted 06/03/2016 at 00:23:23
The fact that Barkley and Lukaku are arguing on the pitch as to who is taking the penalty, 14 months after Mirallas and Baines were doing the same against WBA should be enough to tell the board this man is just out of his depth.
Liam Reilly
120
Posted 06/03/2016 at 00:26:33
I've tried to support RM as much as I can, but no pun oitended he has NO DEFENSE to this.
Fucking shocking, replacing our hardest working attacker for a fucking striker when you're a man down and the game is won.
Idiot, needs to go.

Phil Walling
121
Posted 05/03/2016 at 00:40:59
Whatever his shortcomings, I see Martinez as safe until the season's end when a top ten place will be enough to get him another year.
With BK continuing to call the shots even a Cup exit and another lost derby will be ignored as the team continues to play to packed houses and ' the philosophy ' becomes even more infathomable.
Believe me, we're stuck with the bugger.
Peter Bell
122
Posted 06/03/2016 at 00:41:21
Just re run Soccer Saturday on Sky and watched Everton in the tunnel, our so called captain Jagielka laughing in the tunnel with Mark Noble, just shows how fuckin soft we are, can you imagine Roy Keane joking with Viera, need to strip that imposter of the captaincy
Steve Davies
123
Posted 06/03/2016 at 00:45:50
I wanted RM to be appointed full stop. I thought he was a winner but I am 52 but look 40 as a girl in the Grapes told me last week. I now live in Yorkshire and my kids hate me banging on about Martinez on the way home. The guy is tactically useless.
It nearly kicked off behind me in the Lower Gwladys today. But there is no defending RM. He hasn't a clue. To quote my Nan in Kirkdale who loved Jim Reeves "He'll have to go".

Douglas McClenaghan
124
Posted 06/03/2016 at 00:59:11
Penalty should have been retaken. No excuses for that dismal last quarter of an hour but another dud ref did us no favours.
Gordon Crawford
125
Posted 06/03/2016 at 01:03:10
Please Roberto, just go. Your tactics and man management are some of the worst I've ever known. You have a very talented side that you are single handedly destroying.
I hope tomorrow he is gone.
Gary Russell
126
Posted 05/03/2016 at 01:05:57
Jack... You can't be serious. (Said in John McEnroe voice!)
Gary Russell
127
Posted 06/03/2016 at 01:10:47
This moment has been a 20 month one...."Everyone got a bit shocked at that moment. The effort, with a man down, it went to the last 10 minutes we found it difficult to do what we had been doing – the way we had to match 11 men cost us in the final 10 minutes.
"It is a shame we could not win because up until the 78th minute we were well worth winning it."
Andy Finigan
128
Posted 06/03/2016 at 01:16:48
I would agree, Peter, the whole team ethics is way to soft.
To add to that, I watched the game live and couldn't believe how unorganized our defence was. I thought the team put in a shift and we played well in spells. Besic has proved he is our future captain and is everything missing with his tenacity and vision.
Like all Evertonians, I could take losing, especially when we give 100 percent, but it kills when we are giving away good leads with no time left, ie,12 minutes.
I watch the game but all the fans who travel many miles and time and expense... my heart bleeds with you and for you. Please keep hoping...
Steve Davies
129
Posted 06/03/2016 at 01:23:27
There are good coaches but not managers. Brian Kidd, Colin Harvey etc. In football or in any walk of life, as a manager you need to make hard decisions. This lad is not good enough. Of course but I want him out. Guss Hiddink is the obvious choice.
Gary Heywood
130
Posted 06/03/2016 at 01:55:28
I think we need to get Ronald Koeman and Ryan Shawcross ASAP.
Stephen Scofield
131
Posted 06/03/2016 at 01:57:30
I listened to the game on the Everton site and as soon as the penalty was missed, I knew we'd lose. Now if I think that, the players are thinking that. And why? Because the manager does not instill confidence. He is deluded and out of his depth.
I think he means well, just like a mother means well when they knit you a jumper they want you to wear to school. Time we had a manager with some arrogance and some need to win, someone who will chastise when losing.
Tony Rotheram
132
Posted 06/03/2016 at 01:58:25
This is no knee-jerk reaction by me, or the Evertonians who have to put up with this joke of a manager every home game. Let's get shut of him now; he is taking the Blues one step forward, three steps back.
He is going to go eventually so he might as well do it now, I think. New money... and a new manager who knows what he is doing in defence and we will be fine.
Good players... bad manager.
Don Alexander
133
Posted 06/03/2016 at 02:07:43
Ross Barkley's performance against Villa was forgettable. Today's was worse, despite his first-half volley that made the keeper actually work, on the back of a corner.
I have tried to be kind to the young man, citing his hideous injury five, repeat, five years ago, but he is now approaching 23 years of age (Alan Ball was MotM in a World Cup Final, aged 21 by the way).
Up to now his scoring record is about six per season on average, albeit this season's haul has upped it to that unremarkable level. His "assist" record is similarly average across the seasons. His last "worldy" goal was well over a year ago. His last meaningful tackle is something I cannot remember.
In fact he has long since seemingly decided, with management support, that he needs never to make a tackle or a defensive contribution of any sort (Lukaku seems to have the same belief).
Maybe that's because he's still traumatised by that distant injury but, these days, as a professional footballer, how long can that be tolerated? Successful teams always have forwards who put a shift in defensively. They chase, harry and tackle on the periphery of the opposition's penalty area. We are hampered by ineptitude from the front when we concede possession.
Unfortunately I have news for Ross, and Rom, and others like Gerard Deleufeou who share their attitude (and that's why I have sympathy with Kevin Mirallas' on his sending off; at least he was trying to win the fucking ball back in their half!)
None of you are and never have been good enough to do fuck all in defending. You are at grave risk of soon squandering what only sometimes hints as a sublime talent as teams suss you out as wimps (Rom's goal today resulted only from him powering past a mere 18 year-old skinny rookie by the way). You Ross need to consult someone outside football if your head is still in a bad place as a result of "the Wisdom Tackle". The rest of the fabled youngsters need to take a long hard look at themselves in the mirror and thereby hope to get real, because there's demonstrably no fucker in management giving them a clue. Aaron Lennon can show them the way though.
Sounds harsh I know, but it is meant to be positive for their and our benefit.
Don Alexander
134
Posted 06/03/2016 at 02:15:38
Another point occurs to me;
We have just spent days away in the sun to "bond" and whatever other bollocks Martinez fantasises about but we come back from the trip to a bog standard victory over a hopeless Villa and a massive capitulation on our own turf against the "mighty" West Ham, a team who for years we've had the hoodoo sign over.
So, The Incredible One; "What did you teach them in Dubai?"
Pete Owen
135
Posted 06/03/2016 at 02:23:04
This is so absurd that I'm starting to think Roberto is allowing us to concede too many goals so he can justify bringing his boyfriend Tim back between the sticks.
Kill me... then more of Martinez's "philosophy"...
Paul Ferry
136
Posted 06/03/2016 at 02:45:56
Patrick, I am utterly dumbfounded at this statement that is, with respect, patently wrong, and you know how much high respect I have for you:
"Roberto says that for 78 minutes of today's game we deserved to win, I don't agree."
Of course we deserved to win at '78 with ten men bossing the game and hten it went, well Jags & Martinez pear-shaped.
Anthony Dwyer
137
Posted 06/03/2016 at 02:46:59
Everyone and anyone who says Mirallas or Lukaku is to blame, please fuck right off.
Yes Rom should score a pen, although Aguero also missed today, plus Ronaldo and Messi both miss from time me to time.
Also Mirallas was a absolute clown to get sent off, that said, he had no baring on the eventual result.
Mirallas was stupid, but he had nothing to do with the simple fact that we were 2-0 up with less than 15 to play. For me this is when a half decent manager shows his metal, and yet again, like v Man City, like v Chelsea, Bournemouth and so on, our manager fucked it up.
Please please please Mr Chairman, do your job and sack Mr Martinez, as he's simply not good enough to take us forward.

Peter Barry
138
Posted 06/03/2016 at 03:00:35
It's Everton who are hard done by, by having this incompetent buffoon as a Manager.
Brian Porter
139
Posted 06/03/2016 at 06:43:56
After 57 years of following 'my' team through thick and thin, I'm finally coming to the end of my tether. Roberto Martinez's record must surely now rank him as one of the worst, if not THE worst manager in that time, when one considers the individual talent he has at his disposal. People say he's a 'nice man'. Well, nice men don't necessarily make great or even good managers. A good manager reads the game well, and if necessary has the luxury of using up to three substitutions to correct any in-game flaws in his pre-match planning, or to react to the oppositions tactics/substitutions. All we see time and again from Martinez are inept and baffling substitutions that, as happened yesterday, not only weaken our on-field formation but directly play into the opposition's hands. When Slaven Bilic stood and applauded Lennon as he left the field, his appreciation of Lennon's play must have been tinged with great relief that he would not be tormenting his defence any longer and realised his team were in with a chance.

Tired or not, Lennon was almost single-handedly keeping West Ham's defence on their toes and preventing them marauding down the wing. Bringing Del Boy on in a like for like substitution with orders to carry on running at the defence might just have been acceptable but Niasse? He doesn't really know the team, the tactics, or the pace of the game and we immediately capitulated to the opposition. As Lennon walked off, I was shouting "What happened last time you took him off?" and within a minute or two, I was proved right as their first goal went in.

Martinez is proving more and more that he is tactically unaware of the needs of in-game management in the Premier League. His selection of Stones seemed more to please the England manager than anyone else and at least he did right by withdrawing him at half-time.

After the Newcastle game it was clear that Ross lives taking penalties and should be taking them regularly as Lukaku has never really inspired confidence with his penalty taking. Just because he's our leading scorer doesn't mean Rom has to grab every penalty too just to try to boost his goal tally. He doesn't have the ability to take them consistently well.

For a 㾹m signing, Niasse looked distinctly poor. Is he another 'from Russia with failure' signing, a la McGeady? How can he still be so unfit after a month with us?

Our home record now compares with the teams in the drop zone, though Newcastle have picked up more points at home than we have, and look at the hard time their fans are giving McClaren. Surely it's time our own fans became a bit more vocal in our condemnation of Martinez and his tactics, or does this not happen because there's so little time left to do so by the time we throw games away in the last minutes so damn regularly?

Martinez has surely proved his unsuitability for the job and any other club would have already fired him I think. Come on Everton, whoever has the ability to do it, fire this Charlatan now. Put a caretaker in charge if necessary until the end of the season then bring in a top class manager with a pedigree of winning, not one of getting his team relegated. RM just cannot manage a group of talented players into playing together AS A TEAM and that's the simple truth of his philosophy, which seems to place individual performance above collective responsibility.

Time to say goodbye, Roberto.
Tony Abrahams
140
Posted 06/03/2016 at 07:55:54
Just watching "Mean Machine" on sky thriller! Can't wait for Vinny Jones to bring on Niasse, in the second half!
Andrew Burns
141
Posted 06/03/2016 at 08:00:50
There is something clearly wrong with the club. How the team has celebrated some goals this year is not normal. Bournemouth away and yesterday when Lennon got the second, it was almost as if they had scored the winner in extra time of the Champions League Final, it's almost school boy mentality.
I also thought that Besic was going to do a lap of honour when he got the penalty. It's clear that the squad has no belief in anything, it's a mentality issue and I don't think they can believe that they can win anything, a match never mind the FA Cup or anything else. They'll soon be celebrating winning the toss!
Everton, you need to man-up bigtime.
Duncan McDine
142
Posted 06/03/2016 at 08:43:03
Roberto has proved time and time again that he refuses to learn. If the board aren't already sounding out a replacement, they'd better hurry up. By all means, let's see what happens in the FA Cup, but we need someone new before pre-season starts up.
Sharabi Singh
143
Posted 06/03/2016 at 09:28:02
It's the players on the pitch. Not the man in the dugout. Hopefully he'll buy some leaders in the transfer window. Stones can fuck off for all I care – he's rubbish.
Vinny Garstrokes
147
Posted 06/03/2016 at 10:45:59
Eddie Howe would, in my opinion, be the perfect fit for this squad. An advocate of quick attacking play and defending in numbers when needed. I would love him to get the chance of a big budget to see how we could progress. Just a pity that he can't settle 'Up North' .
Don Alexander
148
Posted 06/03/2016 at 10:50:36
Could we persuade Eddie Howe to settle on the south bank of the Mersey perhaps?!
Aidy Dews
149
Posted 06/03/2016 at 11:17:58
He's right, we can't blame the players, not the ones that stayed on the pitch anyway! It was the managers tactics and choice of sub at 2 nil up that cost us. He himself talks about West Ham gaining heart from that penalty miss, and let's be fair, they did, it was a turning point, but why not then make a defensive change and bring Barry on and sure up the midfield and try and weather the inevitable storm that was coming?
Instead he brings on an attacker that is way off the premier league pace and didn't really do a thing for us up top so we could also defend from the front! Like a lot have said before me, the bloke is incapable of changing things during a game to shut up shop and close a game out. He'd rather have us carry on trying to attack and leave ourselves wide open and vulnerable to attacks.
It's unacceptable. Against the teams that me and many others think we should be competing with up near the top and European places, we struggle and can't seem to beat. But it's a good job we can beat the teams currently around and below us or else we'd be in trouble. We've got a talented squad and vs the "lesser" teams their ability shines through and gets us the points even when we don't always play well, but against better teams, we crumble and can't seem to get the wins and a lot of that is down to Martinez. Yes, the players don't always cover themselves in glory but a lot of it is down to mismanagement!
Lose next week and we have nothing to play or fight for. Lose our next 2 prem games, which is more than possible, then we could be languishing down at 13th or 14th position depending on other results around us (Bournemouth currently in 14th and 3 points behind us!) and for a club and squad like ours, it is not good enough at all and IF we do lose all 3, we should sack him, let Big Dunc, Unsworth & Royle see the season out where in that period the "new" board can over look candidates, research them and get character references and take their time to find the right man to take us into a possible new era!
Carl Peters
150
Posted 06/03/2016 at 11:20:49
This surely has to be the last straw for Martinez; if he does not get a win against Chelsea on Saturday, he surely has to go – no ifs nor buts.
I know it's been said a lot but really, even after the missed penalty, who the hell brings a striker on with 10 men 2-0 up with 10 mins to go??? Martinez looking for glory, but glory came back and bit him on the arse.
For me, he's simply not good enough for Everton Football Club. This team with the players we have should have been looking at 3rd or 4th place this season at least. Just take a look at Leicester City with the right manager at the helm...
For me, there is only one reason that Everton are not up there with them... Stand up, Martinez, and do one.
Mike Connolly
151
Posted 06/03/2016 at 11:32:31
When are we going to get a captain who gets into the ref's face. Noble was doing it all afternoon so it was no coincidences that West Ham were getting the decisions. We are just a soft touch just like our manager.
Brian Williams
152
Posted 06/03/2016 at 11:45:43
Martinez out....Hiddink in please!
Paul Conway
153
Posted 06/03/2016 at 11:46:42
Peter Bell @115,
I agree with you, but are you forgetting Alcaraz, Robles and McCarthy? We paid dearly for Championship players and a Championship manager... what the fuck were we expecting??
Now it will be Martinez who will be walking away with the bonus. Fortunately for Martinez, time is a great healer. We will soon forget this disaster like all the others... and, if we don't, the board definitely will.
Out of evil comes good as they say and always look on the bright side! At least we have the consolation of knowing (or guessing), that we will reach the magical 40 before Sunderland, Norwich, Newcastle and Villa!!!
Lee Atkins
154
Posted 06/03/2016 at 12:06:13
What pisses me off more than the pathetic home record and consistently losing home games (from winning positions), is the default Martinez post-match summary. Here it is:
Our players showed a phenomenal attitude and clearly demonstrated our philosophy with incredible awareness during an amazing moment in a game of such intensity with tactical awareness being crucial in big moments. I am incredibly proud of the supercalafragalisticexpialidotious blah blah blah blah.....
He should do them in Esperanto....They would make more sense.
Dennis Jones
155
Posted 06/03/2016 at 12:07:09
Groundhog day. And so will it be next week, and the week after, until somebody shows some imagination at board level and sees what is ever so apparent to everyone else.
Mark Williams
156
Posted 06/03/2016 at 12:08:11
Don't worry, we'll have phenominal final ⅛ of the season.
Roman Sidey
157
Posted 06/03/2016 at 12:13:17
Skipped most of the comments so sorry if repeating. I find it extremely perplexing that at 2-0 Martinez makes attacking changes, whereas in a recent match (can't think which one) we were losing and he changed the fullbacks.
Then yesterday at 2-2 he swapped Lukaku for Barry. Is the manager going out of his way to be different or is he just an idiot? Either way, he has no place at Everton any longer.
Geoff Williams
158
Posted 06/03/2016 at 12:26:01
We lost because of the penalty miss, of that I'm convinced, the substitutions only made things worse.
Colin Glassar
159
Posted 06/03/2016 at 12:29:41
Stop whingeing Roberto and sort it out, you've got ten games left to save your neck
Roman Sidey
160
Posted 06/03/2016 at 12:31:03
Geoff, missing a penalty at 2-0 doesn't lose you a match. Conceding three goals witout reply does.
On the penalty, I feel there needs to be a rule change to knock this stuttering, shitty run-up out of the game. It's a complete wank.
Steve Hogan
161
Posted 06/03/2016 at 12:32:09
Don Alexander, a lengthy diatribe against one of our best players on the day Ross Barkley... I would be interested to know if you actually went the game?
You choose to ignore all the good things Ross brings to this Everton team, then have the audacity to say "I feel sympathy for Mirallas," – the mind boggles, it really does.
Frank Crewe
162
Posted 06/03/2016 at 12:35:27
It's the players' fault.
It's the crowd's fault.
It's the ref's fault.
It's everyone's fault except mine because I'm a tactical genius and just because you ingrates don't see this doesn't mean it isn't true.
Gary Mortimer
163
Posted 06/03/2016 at 12:45:09
I've finally calmed down enough not to turn the internet blue with my thoughts.
If Mirallas hadn't tried to cheat, then he wouldn't have been sent off, but Noble was also very instrumental – he sparked a spat when it looked like the "ref" (I use that term loosely) would let him off.
If Lukaku scores the penalty, West Ham would not have come back, although I thought there as a rule about advancing a couple of yards off the line – one pace forward is accepted but Adrian took a couple. Even though it was a shocking penalty.
If Lukaku scores the one-on-one, West Ham would not have come back. If Martinez had replaced Lennon with Barry, West Ham would not have come back. Lennon may have been flagging, but replacing him with Niasse was as bad a decision as I have ever seen an Everton manager make. Martinez's plan was to give him a run out, but doing it when we were down to 10 men while 2-0 up was insane.
We should have had two further penalties – clear holding at a corner in the first half and a clear arm ball in the second half (as shown on MotD). In my opinion, Anthony Taylor was a cheat yesterday, he had an agenda before Mirallas gave him an easy get out. There were numerous West Ham fouls unpunished by Taylor in the first half – it was very odd.
Martinez didn't react to Bilic playing three lumps up top... no stopping the crosses coming in left our guys under too much pressure.
He's got to go... had enough
Kevin Johnson
164
Posted 06/03/2016 at 12:47:28
Mark my words, this team will disintegrate at the end of the season. And without any question, the strongest Everton squad we have witnessed since the glory days will be a distant memory. And those darks days will return.
Remove this man now.
Paul Conway
165
Posted 06/03/2016 at 12:55:24
I would like to say something on the art of penalty taking.
The object is to score and there is nothing in the rule book that says you have to send the keeper a text message, as to how you are going to take it and where you are going to direct it, whether it be a side-foot poncy pass type, or a risk-taking Panenka. I am seeing more and pore poncy penalties.
Years ago, in my day, the goalkeeper had to be motionless until the ball was kicked. This gave the advantage to the kicker. Nowadays, I think the kicker has less of an advantsge as the goalkeeper is allowed to do star jumps, blow kisses, etc.
When I was a lad, I used to play against my mate Billy. He was a full back and took all the penalties. He would run with his head down and toe it as hard as he could. The result? A rocket straight between the 'jumpers'. We hated him for it, as it was most unstylish, but you would nearly have to catch the number 81 bus to fetch the ball back.
Who says forwards should be the only ones to take them? Come on Jags and Funes Mori, head down and run, there's no law against putting the keeper in the back of the net with the ball!!!

Steavey Buckley
166
Posted 06/03/2016 at 12:57:37
Martinez can't be blamed for Mirallas's reckless tackle, nor can he blamed for Lukaku's feeble penalty effort, but he can be blamed for not bringing on Baines and Barry to stiffen the defence when Everton were 2 up with 12 minutes to go.
And he has form bringing the wrong substitutes on when Everton were in winning positions only to lose them. So he can't be trusted to get it right most of the time. Never in football history has one manager got it so badly wrong.
David Price
167
Posted 06/03/2016 at 13:05:38
Well said Steve (#161). Being at the game tends to make you recognise Ross's contribution and have a more informed view. But the shortfall in his game can be worked on; Koeman for me would polish our diamond for sure.
Mike Gwyer
168
Posted 06/03/2016 at 13:12:29
Geoff Williams (#158).
We were winning 2-0 when we were awarded the penalty and yep, we were still winning 2-0 when Lukaku fucked it up.
We had played almost 25 minutes holding a 2-0 lead so how can you say that "we lost because of the penalty miss"? We lost because we can't defend for fuck, we lost because we have a manager who is simply shite and I mean totally shite.
Finally, we lost because our back four have absolutely zero confidence when the opposition score a goal. After West Ham scored their first goal, I just sat back in my seat and prepared for the worst.
Lukaku must feel that he probably has to score about four goals a game to make the match "safe".
Brent Stephens
169
Posted 06/03/2016 at 13:23:18
This "90 minutes going forward" philosophy is childish, kid's playground stuff, mind-numbingly inane and arrogant. Roberto gave us a spirited game and 2-0 lead, with 10 men... and then, with Lennon going off, I'd had enough entertainment and all I wanted was for us to close the game down and get the 3 points.
The manager must be a laughing stock among other managers.
Dave Abrahams
170
Posted 06/03/2016 at 13:31:38
David, I was at the game and recognise how good he is with the ball, but his "shortfall" as you call it, is massive; it is a weakness that doesn't look like he, or anyone, is working on.
Brent Stephens
171
Posted 06/03/2016 at 13:40:11
Ross should be told to never cross the half-way line (into our half).
Raymond Fox
172
Posted 06/03/2016 at 13:51:22
I'll tell you why I despair, blame the manager/ blame the manager that's all I hear on here.
Substituting Niasse was done because Lennon was legless. No wonder, when were down to 10 men after 35 mins.
That prick Mirallas lost us the game, he wants kicking out of the club quick. For all of you that were shouting for him to be in the side, that's why he's not been, he's just a selfish git.
Then, to make matters worse, Lukaku misses the bloody penalty, 3-0 down and West Ham would have thrown in the towel.
But even after that, we concede 3 goals in just over 10 mins, what's the defence and the other members of the team getting paid for? Are they getting criticism, I've not seen much up to now.
The team deserved praise for getting to close to the end when they were a player short for ⅔ of the match, they were knackered towards the end. Add to that we were not playing a bad side, have you seen their away record! Nevertheless, we should have won the game and at worst drawn it.

Jay Wood
173
Posted 06/03/2016 at 14:22:50
Raymond @ 172.
I think I've told you before Raymond, I admire and like 'contrarian.' However, it must be founded on some legitimate argument that offers a reasoned counter to the popular position.
You are renowned on TW for your stout defence of Martinez at all times. Indeed, as you do here, you frequently mock and rail at those critical of our manager.
So, forgive me, but in the words of Winston Churchill, you come across as "a fanatic who can't change his mind and won't change the subject."
Instead of berating and bewailing at the growing number of posters expressing their concerns at the performances of the team and direction of the club under RM, enlighten everybody:
Offer an eloquent, coherent and plausible defence of Roberto which will convince others to switch to your camp.
I for one would be intrigued to hear it.
Oliver Molloy
174
Posted 06/03/2016 at 14:23:05
Raymond,
"Nevertheless, we should have won the game and at worst drawn it."
Players, coaches whatever – the buck stops with the manager and he is NOT LEARNING.
I want him gone; in my opinion, I think it is now so clear he simply is not good enough to take us forward.
David Price
175
Posted 06/03/2016 at 14:33:04
Dave (#170), agree, it doesn't seem to be worked on. Koeman would sort it I'm sure.
Brent Stephens
176
Posted 06/03/2016 at 14:37:49
Raymond (#172), what you didn't address there was who Roberto brought on instead of Lennon. Why was Niasse the right choice there?
Colin Glassar
177
Posted 06/03/2016 at 14:58:23
Does anyone know what has happened to Deulofeu? Has he played since the Chelsea gaffe? Has he been dropped or is this a move to keep him out of sight of the Barcelona scouts?
Raymond Fox
178
Posted 06/03/2016 at 14:59:11
Jay, Oliver and Brent,
Sorry, guys, I will reply to your points later, I have to go out very shortly. I'll get on to it when I get back.
Joe Clitherow
179
Posted 06/03/2016 at 15:17:19
Prayer meeting at the Church of Blessed Roberto is it Raymond?
It can only be faith not logic that keeps people supporting him in my opinion.
Just joshing, no offence.....
Keith Glazzard
180
Posted 06/03/2016 at 15:22:10
Substituting Lennon might well be the deciding factor in the career of Roberto Martinez at EFC.
There is much to admire about him. But not enough.
Kevin Naylor
181
Posted 06/03/2016 at 15:24:44
And of course 10-man RS beat Palace with a last minute penalty... what a weekend FFS.
Brian Denton
182
Posted 06/03/2016 at 15:30:09
Kevin Naylor. I've just come in from a long walk, knew Shite were drawing and down to ten men, as I turned into our street. Got home, turned on computer and found they had won. Compare and contrast.
Jim Bennings
183
Posted 06/03/2016 at 15:33:01
I just want a complete massive overhaul of the blueprint of failure that has existed at this football club for too long.
For two decades we have settled for mediocrity and simply championed challenging the top 5 under Moyes as punching above our weight.
We all know full well that we will self destruct against Chelsea next Saturday because on big occasions that's what Everton Football Club does better than anyone.
If Moshiri coming in to this club wakes everyone out of their slumber and he can actually change the defeatist "heroic failure" mentality that has existed here too long then so be it.
Here's to the dawn of a new harder more ruthless Everton.
Andy Crooks
184
Posted 06/03/2016 at 15:39:14
Raymond (#172), Mirallas didn't cost us the game, neither did the missed penalty. We remained 2-0 up. However, we conceded three poor late goals. If this was a rarity, it could be written off as one of those days and criticism of Martinez would indeed be unfair. Actually, though it's the story of our season.
If, as you believe, it is down to the players, that we are incredibly unlucky, constantly victim to poor refereeing, then we have a bad squad and cursed luck.I think, though, that we have inadequate, arrogant coach.
I honestly do not believe that he would survive at another club. We must be a pleasure to play against, we are feared by no-one... nice Everton.
Colin Glassar
185
Posted 06/03/2016 at 15:43:03
Jim, one of the reasons why I backed Martinez so vehemently was because I honestly thought he was finally ridding us of our inferiority complex against the "big teams".
Like you said, our lack of ambition and the will to win comes from the very top and seeps right through the club.
If this Moshiri guy eventually turns up I'd expect him to call a general meeting of the squad, manager, back room staff and state in no uncertain terms that he wants and demands a winning team and anything less is unacceptable.
Only by raising the bar and demanding the highest standards possible will we be able to advance as a club so I expect a massive overhaul in the summer as the present set up simply doesn't work.
Rob Halligan
186
Posted 06/03/2016 at 15:45:19
Just watched the worst Liverpool team in years win with a glaring mistake by the Palace goalkeeper and a dodgy penalty, although probably correctly given, could just as easily not been given.
My point is though, they are now 6 points ahead of us, when we should really be miles ahead of them. Only one person to be blamed for that. FUCK OFF, MARTINEZ.
Robert Elliott
187
Posted 06/03/2016 at 15:52:00
There's plenty of blame to go round for yesterday. You could easily blame Mirallas for getting sent off, Lukaku for missing the penalty and the chance straight after or the defence for not stopping or dealing with crosses.
Bottom line though, for anyone seeking to absolve Roberto of blame, is that he takes ultimate responsibility as manager and this sort of thing happens far too often. We have had a chaotic season and chaos rarely leads to success.
How many 2-0 leads did we throw away in eleven years under Moyes? I can only think of one when we lost 2-4 at home to Man Utd, a team that went on win the league, and that with a youth team goalkeeper playing.
Football is about opinions and maybe some fans love the football we play under Martinez, the good and bad. I know the neutrals do. Personally I want to see Everton win. I want a manager who knows how to win. Martinez is not a winner. Moyes wasn't either but for the most part he had us on an upward curve until we reached the point where the limits of his ability and our finances meant we went no further.
Martinez has us going backwards, the stats spell it out loud and clear. We've won 21 of our last 66 Premier League games and are heading for a second consecutive lower half finish after seven years of finishing in the top eight.
I'm sure Martinez has his strengths, but learning from mistakes isn't one of them. Nor is game management or organising a defence. Bottom line, he's not up to it and he has to go.
Colin Glassar
188
Posted 06/03/2016 at 15:53:16
Rob I'm dreading the derby game. Not because they are better than us, simply because they are so lucky and usually (like today) have the refs in their back pocket. But saying that, they never give up, so if they keep going for it something might happen so good luck to the fuckers. If you don't try........l
Everton on the other hand seem to believe games last for 45 minutes or an hour at most. We've blown FIVE 2-0 leads now and EIGHT games in winning positions in the second half this season. That is fucking pathetic in anyone's book.
Ray Robinson
190
Posted 06/03/2016 at 15:58:30
Andy, Raymond is right. Mirallas did cost us the game (as did Lukaku's missed pen and Martinez's substitution). All three are contributing factors. Mirallas's sending off led us to play over an hour with 10 men which contributed to our tiring, Lukaku's miss prevented (even for us surely?) a winning position being attained and while Martinez was right to substitute Lennon (he was completely knackered - and no wonder!), he should never have brought on Niasse, who on first viewing makes Straq look half decent. All three were contributing factors, as was poor defending (again!).
As an aside, I would never let Lukaku near another penalty. All his penalties have been unconvincing to say the least. It just proves that great strikers do not always make good penalty takers (Messi and closer to home, Yakubu - Lineker was useless too). For someone who is as much of a beast as Lukaku is and despite that the fact that he can have amazing power in his shot, he scuffs a disproportionate amount of attempts on goal.
Alan Thompson
191
Posted 06/03/2016 at 16:03:14
Add penalty taking to the growing list of things we don't seem practice.
When will this man pay more attention to detail.
Gerard Carey
193
Posted 06/03/2016 at 16:39:31
The sad but very clear fact is that Martinez does not do defense. Time and time again this season and last season the same thing happens, he has never learned from his mistakes. He is too stubborn to learn. As it was at Wigan so will it be here, another terrible season under his guidance.

Someone posted above the teams we have beaten in the league this season, and they are mostly relegation fodder. Three league wins from the last fourteen.
Tony Rotheram
194
Posted 06/03/2016 at 17:04:57
Can we please have Martinez Out now... it's gone far enough. If he is here next season, I am not going to Goodison. The man is an absolute clown.
Anthony Hanlon
195
Posted 06/03/2016 at 17:13:19
How many fans won't renew season tickets if Martinez is still in charge next season?
Joe Foster
196
Posted 06/03/2016 at 17:52:36
We are now 12th.
Colin Glassar
197
Posted 06/03/2016 at 18:00:34
Just watched the WBA - Man Utd game, whilst not being a Pulis fan by any means... my god, that man knows how to defend a lead. Watch and learn, Roberto.
Phil Walling
198
Posted 06/03/2016 at 18:20:49
Colin, having watched the WBA - Man Utd game and seen the Baggies get above Everton, I can only say that the football we've played to get to 38 points has been a cut above what both those teams dished up today.
But, at the end of the season, there will be no extra reward for that... whatever the picture Roberto paints. No doubt the owners – whoever they are – will give him that warning as he goes into 2016-17.
Jim Bennings
199
Posted 06/03/2016 at 18:24:57
There's only so long we can make excuses for Martinez.
Last season most had lost patience by Spring but many Martinez supporter's used the Europa League as the primary excuse for faltering league form and many of us were willing to give him the benefit of the doubt of a third season.
Well we are now 12th with the next few games against Chelsea in the biggest game of our season followed by Arsenal and Manchester United.
The fact we will likely go into mid-April rooted in the bottom half with a paltry single figure win tally is disgraceful for the money spent over the last 18 months and considering Martinez's bold superlatives of this being the finest young talent in Europe.
We have shown relatively good patience, Roberto, many managers would have been hooked from their duties after that horrendous surrendering debacle in Hull on New Year's Day 2015.
This situation though can not be allowed to fester into a fourth season.
Sam Hoare
200
Posted 06/03/2016 at 18:26:08
It's just so...frustrating!!!
In a way life would be simpler if we were just rubbish but its this constant teasing I can't take. The occasional electric 30 minutes. The win that threatens to kick-start the season. The two goal lead and penalty opportunity that surely mean the game is won.
We look so near to being a great team. So near and yet so far. Because we have looked like that for a while and the mistakes keep being repeated. Its exhausting and frankly rather upsetting.
I quite like Martinez. He seems like a nice guy and has built us a very good squad. But surely it is clear now that he does not have the answers to the questions that keep being asked of us. I think I'd be pretty happy if I read tomorrow that he had been sacked because he's never quite convinced me but that's not going to happen.
At best he will get to the Summer. I really hope he can find the solution which may be as simple as being more flexible in his philosophy. I won't hold my breath.
Colin Glassar
201
Posted 06/03/2016 at 18:35:05
Phil, do you think Moshiri (if he ever takes over) will keep Martinez on? While I love our attacking style we, literally, have no defence. If this guy is going to invest I'm sure he'll look long and hard at Roberto's numbers over the last three season and make his own decision.
I honestly can't see him here unless he wins the FA cup and we go on a 10 game winning streak. In other words........
Tom Bowers
202
Posted 06/03/2016 at 18:40:43
You know most teams would be glad of a point when down to 10 men early in a game especially against quality teams like the Hammers. However, Everton play well enough to get a 2 goal lead, even have the luxury of a missed penalty but wouldn't you know it they blow everything. That unfortunately is the story of this woeful season which may come to an early end this coming Saturday against an improving Chelsea.
How can long suffering Evertonians be sure they can win at home after having a 2 goal lead with 10 minutes to go lead to defeat. The resolve and concentration levels defensively are non-existent so what next? RM does not have the answer and quite naturally he will laud the teams best efforts in the media whilst not showing any capability of stopping the rot.
If by some miracle they win the FA Cup, it should not camouflage Roberto's shortcomings and he should be replaced anyway. He is a nice guy but, many times, nice guys finish last.
Brian Porter
203
Posted 06/03/2016 at 18:52:56
And now even West Brom are above us. What will it take for someone in charge to say enough is enough and get rid of this joker? How much more are we supposed to take?
Patrick Murphy
204
Posted 06/03/2016 at 19:02:26
Colin (201) I think Mr Moshiri's tenure as an Everton shareholder is to be rubber-stamped by the Premier League this coming week and ironically his first visit to Goodison may be the match with Arsenal. I would hope that we will hear more from the man in the coming weeks and get a flavour of what he wants, unfortunately I also think that Mr Kenwright has only brought him to the club to help fund the new ground and the football side of things will be run exactly as it has been run for the last sixteen years – which will mean that Roberto is safe in his job until at least Christmas 2016.
The only thing that will make Mr Kenwright sit up and take notice will be the reaction of the fan-base, if there are enough people who demonstrate their displeasure with Mr Martinez, Bill will act, if the ground is full for most of this seasons' remaining fixtures and the uptake of Season Tickets for 2016-17 remains the same or better than this, no action will be taken. What is that old saying? The more things change the more they remain the same.
Harold Matthews
205
Posted 06/03/2016 at 19:06:13
I've never been able to figure out why people consider Martinez to be a nice man.
Phil Walling
206
Posted 06/03/2016 at 19:11:50
Colin, in short, I have every expectation of starting next season with Roberto at the helm. I suspect that BK will already have told Moshiri that he has given his word that the manager is safe as long as 'he gets top half' (as I'm sure he will) or wins us a trophy (as I'm sure he won't).
However, I do think he will be on a short fuse in 2016-17 as the new regime beds in and puts up more challenging targets as money is released.
Patrick Murphy
207
Posted 06/03/2016 at 19:12:02
Harold (#205),
He certainly didn't look like a nice man when he was giving the referee verbals yesterday. I also think that there are two sides to him as there are with many people, but many Scousers don't particularly like those types and it is one of the reasons that his job is under threat from the fans at least.
I prefer people who are in charge to tell things the way they are, rather than sugar-coat issues. Moyes may or not be a nice man, but a lot of people trusted him and that always goes a long way. I would argue that many people don't particularly trust Roberto, rightly or wrongly.

Dave Ganley
208
Posted 06/03/2016 at 19:19:05
Brent #171, I'm not sure whether your reference to Ross not entering our half is a damning indictment on Ross's inability to tackle or the fact that he's more use in the opposition half. However, it matters little as the fact you make this observation just typifies Martinez's inability to make Ross into a proper footballer.
Ross has the potential to be an unbelievable player. There is a complete midfielder just dying to get out of him. You watch the turn and shot he did in the first half and just purr. Then conversely, you watch him stroll about knackered in the 2nd half, watching players just waltz by him, not bothering to even put any kind of pressure on them. I just wish we had a proper football coach to get hold of him and actually teach him how to be the complete player. He certainly has the ability, but Martinez just lets him get away with murder by not pulling his weight. His progress is being stunted by allowing him to stroll around not competing for balls in the centre of the park. The most frustrating part about this is he can actually tackle. We have seen this on very isolated occasions. He just doesn't do it often enough. We watch players like Lennon, Besic, McCarthy covering every blade of grass, then we watch players like Ross, seemingly too knackered to do the same.
Before anybody comes on and starts spouting nonsense suggesting Ross shouldn't be doing such things, take a look at all the top players and their work rate when they don't have the ball. Messi, Suarez, Stevie me, all the United players of the late 90s, we can go on, all work and chase and harass the opposition when they don't have the ball. Ross should be developing into the mould of Stevie me at his peak. He has the potential to be far better given his talents.
Regardless of what you think of Stevie Me (and I do think he was a twat) he was also a top midfield player who Ross should be aspiring to reach and surpass those standards. That he is not is down to Martinez and his passive style of management. That work ethic is just not there at the moment. I'm not just picking on Ross. John Stones, Delboy, and others, their progress is being halted due to Martinez's stance of just letting them do what they want and stroll through games.
Maybe Martinez just doesn't want to upset people, maybe he just doesn't have the know how to turn players into top top players, who knows. What I do know is that he is not turning this talented squad into a decent team. Please don't give me the "they're only young" excuse, just look at the Man Utd kids when they were performing. Ferguson had them expressing themselves whilst also being disciplined. Martinez is going to waste this talented squad. The results over the last 2 years prove that. Saturdays result was just typical of the Martinez reign. Great for 75 minutes and then fall apart. Mental strength is just sadly lacking. Heads drop at the first opportunity when things go against them. You just cannot play football the Martinez way and win consistently.
An interesting stat came to light this week. When Barcelona (the team Martinez is obviously trying to emulate) beat Madrid's record of going 35 games unbeaten, they had scored something like 102 goals. That stat, while impressive, is not what caught my eye. The goals against was something like 14, in 35 games!! Just saying like. Sooner he is gone, the better and we can actually get a manager who can properly coach the talent we have into great footballers.
Colin Glassar
209
Posted 06/03/2016 at 19:26:33
Patrick/Phil, I'm under no illusions that one of BK's conditions was to keep Roberto on until the end of the season but, if this guy Moshiri is really serious about investing in the team, and seeking finance for the stadium, he will want a manager who can match his ambition surely?
Would any serious investor trust a manager who's overall record is quite poor? If Moshiri wants to raise the profile of the club and attract top players would he not prefer a better known manager with a proven track record? In his cutthroat world of high finance I'm sure he doesn't suffer fools (not calling Roberto a fool btw) as ultimately he (his investment) will suffer. That's why I can't see Roberto surviving the summer, a bit like Rainieri at Chelsea when Abramovich took over.
Dave Abrahams
210
Posted 06/03/2016 at 19:30:23
Phil (206), are you saying Kenwright has told Mr Moshiri that he has given his word to Martinez that, if he keeps Everton in the top half of the Premier League, then his job is safe?
And if he doesn't agree to that the deal is off?
I wouldn't think much of the incoming shareholder if that was the case and he had agreed to it.
Raymond Fox
211
Posted 06/03/2016 at 19:44:40
Jay (#173), I don't mock or rail anyone for their views, I'm disagreeing with their conclusions, that's ok is it not.
As for the fanatic label, I could just as well use it for the fans that are constantly on the manager's back no matter what. In this match my defence (apt in this discussion) is that the sending off after 35 mins and the penalty miss had in the end a bigger bearing on the result than the substitution. Do you not think that with a full team and the penalty converted we would not have won this game? You can't blame the manager for both these happenings.
As for the sub, he had a choice of leaving a tired Lennon on the pitch or bringing on fresh legs. He had a choice of Baines, Osman or Deulofeu instead of Niasse, it could be Niasse has been showing up well in training, who knows, not us! I presume he was told to do as Lennon had ably done, again we don't know.
West Ham then scored 3 goals, but what was the cause, was it the sub. was it because all our players tired ( to be expected ) add to that WH had nothing to lose and threw everyone into attack? What about our players, are they blameless, after all their paid a kings ransom to carry out well their individual tasks, I for one am not overly impressed with their game sense.
Oliver, Brent and Andy my reply is as included in the above.

John Malone
212
Posted 06/03/2016 at 20:03:36
The manager second only to the chairman is the most important man at the club!
Martinez is not good enough for Everton the fact's don't lie!
The first season was a blend of the new manager/new faces factor plus the bedrock of a settled back four/dressing room!
Would Pochettino, Ranieri, Klopp even Pulis do better with our squad? Say no more!
With the new investment the first signing should be a proven top quality manager and build from there, no more bullshit excuses!
Brent Stephens
213
Posted 06/03/2016 at 20:14:09
Raymond #211 "Do you not think that with a full team and the penalty converted we would not have won this game?."
The point for me is that we didn't have a full team nor convert the pen. The point is who to bring on for Lennon. As you say, it could be Niasse has been showing up well in training but we don't know - but in any case that was no situation in which to bring him on.
"I presume he was told to do as Lennon had ably done" - and he didn't do it.
John Malone
214
Posted 06/03/2016 at 20:16:53
Frank de Boer has got to be worth a shout!
Someone who will put us on the map and make us into a top European club again!
Patrick Murphy
215
Posted 06/03/2016 at 20:17:07
Brent Stephens
216
Posted 06/03/2016 at 20:22:52
Dave #208 " I'm not sure whether your reference to Ross not entering our half is a damning indictment on Ross's inability to tackle or the fact that he's more use in the opposition half."
Both really, Dave. Deffo a damning indictment on his ability (or being generous, his confidence after a terrible leg break) to tackle. So leave him where his superb talents will hurt.
It's worse than this – he doesn't even need to tackle but just jockey, keep goal-side of his man. As you say, all others show the energy for this. I blame one man for this and it ain't Ross.
Trevor Peers
217
Posted 06/03/2016 at 20:25:05
If we keep losing home games we should definately see the back of Roberto by the summer. That has to be the only conclusion possible, no manager could escape that kind of pressure, even at Everton.
His only salvation is to do the impossible it seems and start winning at home, having looked at the remaining fixtures none of our home games are against the bottom three, so it would now be a major surprise if we managed to win at home again this season in the EPL. A few draws maybe possible.
Away from home is a different matter, we employ different tactics away from GP which seem to get some results, although most of our remaining away games are pretty tough. Roberto's develish luck may have run out it seems.
Oliver Molloy
218
Posted 06/03/2016 at 20:28:21
Raymond,
Martinez just doesn't have a game plan when the team is under pressure, how can you not see this. It's not coincidence that we keep losing football matches from winning positions with 10 mins or so time remaining.
This total football philosophy till the referee blows his whistle may be admirable, but a good manager should know when to do whatever must be done for the points.
Waste time, kick the ball into Row Z, whatever to halt the opponent. I have said before, his attitude of you score 3 we score 4 is bullshit and history has proved any manager who sets out to play like this will ultimately fail.
Of course Martinez can not do anything about referee making dodgy decisions, players being plain stupid and getting sent off, missing a penalty but he is supposed to able to see what the rest of us NON FOOTBALL MANAGERS can see.
We are a mess at the back, and every other premier football manager knows it – who's fault is that Raymond?

Raymond Fox
220
Posted 06/03/2016 at 20:35:55
Brent, he didn't do it you say, Del doesn't do defence, Baines is not fully fit, so were told, Osman could have been our best bet, but we are being wise after the event.
Let me say it's no skin off my nose who is the manager, Martinez will be well paid whatever happens. While as already has been said, the buck stops with him, it's a results oriented job and for whatever reason we are leaking points. My gripe is that the people on the pitch are getting off very lightly, while he's copping for it all!
Brian Harrison
221
Posted 06/03/2016 at 20:37:14
Michael/Lyndon
Might it not be an idea to replace the who should be left back poll, and instead ask how many want RM in place for next season.
I don't know maybe as a fan site you don't want to be considered disloyal by putting a poll like this on your website.
Dave Ganley
222
Posted 06/03/2016 at 20:37:54
Brent, yeah thats my opinion too. A waste of Ross's talents.
Raymond, #211, to be honest mate, even allowing for having the compliment of 11 players, I'm not sure we would have seen the game through. Previous results against Leicester, Stoke, Bournemouth, Norwich, Chelsea, and those are just off the top of my head and also against some teams with less ability than a talented WHU side have shown that we are fragile and cannot see games out when having a lead.
So on that basis, no I don't agree that we would have won on your basis. The penalty is subjective and all part and parcel of the game, some you score some you miss. You may as well include all the chances WHU had and missed or saved if you're going to use a penalty miss for your argument.
Fact is we are a poor team results wise. I read a stat earlier that we would have to win 3 out of the last 4 home games just to equal the 98 teams achievements of 7 home wins all season....and we know how shit we were then. Some achievement eh?
Brent Stephens
223
Posted 06/03/2016 at 20:40:17
Raymond, I think you're right in that there is sometimes an element of the manager taking the blame for every little thing regardless (witness the Finch Farm announcement details).

Max Murphy
224
Posted 06/03/2016 at 20:49:22
An email from my brother:
"When I go to the games I tend to sit near enough opposite to the dug out in the upper Bullens. Bobby Martin's assistant Jones, who was at Wigan with him, seems to control the substitutions. This was confirmed by a supporter who sits next to the dug out with his kids.
After the WBA game this supporter came on the radio, Snods & Saint show, when I was driving home from Goodison and stated he heard all the conversation on the bench and confirmed Bobby did not bother himself or intervened on any of the subs. However he did say that Big Dunc was argueing with Jones and disagreeing with his sub choice along with some of the players on the bench. This Jones bloke is not well liked at Goodison and what the supporter says, he has control of Bobby?
Then again, if you are the Manager, then you are the decision maker. "
Raymond Fox
225
Posted 06/03/2016 at 20:49:54
Oliver, I'm not attempting to paint Martinez blameless, he has faults.
We have a defence full of Internationals, have they not got the experience to deal with situations as they arise.
How many times have we seen our central defenders out-jumped to concede a goal for instance.
Brian Harrison
226
Posted 06/03/2016 at 20:54:27
Raymond/Brent
Guys the buck stops with the manager, always has and always will. Nice of you to try to put a positive spin on the manager, but he has managed to do that without any help.
Forget any personal likes or dislikes, just stick to the facts, last season we finished 11th and with 10 games left we are 12th.
Yes he has bought some good players, but as he says himself football is a results business and his results say this is not good enough. His record through his whole career has been poor, so don't expect a change in our circumstances anytime soon with RM in charge.
Brent Stephens
227
Posted 06/03/2016 at 20:59:51
Brian, read all my other posts on this and other threads over the last 12 months or so. All saying Roberto is our problem. I've wanted him out for a long time.
I also want honesty in what people say but some blame Roberto for every little thing. That's dishonest. As you say, let's just stick to the facts!
Oliver Molloy
228
Posted 06/03/2016 at 21:05:42
Max,
if that is true, I find it unbelievable!
Raymond , Martinez and his coaches "coach" the team in all aspects of the game. Martinez said some time ago that "they don't really practise defending set pieces in training " or something along those lines – I forget the reason he gave but it was alarming he said that to say the least don't you think.
His continued excuses are now insulting the intelligence of us all. It's time to get real, Roberto...
Kunal Desai
229
Posted 06/03/2016 at 21:19:42
Moshiri is a multi billionaire – do people honestly think he's going to listen to Kenwright regardless of him staying on as chairman? This man owns nearly half the club. He is putting his money forward not anyone else's.
He will have seen or at least noted what has taken place on the field over the last two seasons (around the time when talks started between him and the club). He will have drawn his own conclusion long ago that this third-rate manager does not fit into his plans to take the club to the next level.
Trevor Peers
230
Posted 06/03/2016 at 21:24:45
Correcting my earlier post, one of our remaining home games is against Norwich who are in the bottom three! Maybe a home win is possible after all.
Raymond Fox
231
Posted 06/03/2016 at 21:30:29
Oliver, the thing about not practicing defending corners, I think Patrick found the interview and he didn't actually say that, I forget the actual quote but it wasn't as damming as that.
I think we need defenders that can jump mate, they never seem to get off the ground! How you coach that I don't know.
He does talk for the sake of talking I agree, and he does need to tell it like it is, even I have criticised him for that!
Jim Bennings
232
Posted 06/03/2016 at 22:00:59
Trevor,
Unless Norwich need a draw or win on the last day to have a chance of staying up, whilst we will have nothing to play for much like the final home game last season in 0-1 loss to Tottenham.
I am not even counting my chickens on us winning again at Goodison this term.
Brian Denton
233
Posted 06/03/2016 at 22:11:12
Also, Leicester's last home game is against us. I bet we fuck up the title for them.
Andrew Clare
235
Posted 06/03/2016 at 22:20:10
Brian #233,
Don't worry we won't.
Nigel Munford
236
Posted 06/03/2016 at 22:25:40
Can anyone think how Aaron Lennon felt after the game? We all saw how he ploughed every ounce of what he had into that game, was subbed, which was a mistake by our manager – not subbing Lennon but the tactical change that wasn't made, and once this happened, the team stopped working.
I know if I were Lennon I'd be letting my team mates and manager know exactly how I felt. Unbelievable!
Bob Parrington
237
Posted 06/03/2016 at 22:49:46
Just watched the Australian Women's Ice Hockey team win their Division of the World Championships here in Jaca, Spain to earn Gold. 3-1 up against Iceland, we conceded a goal to a breakaway with 1 minute & 50 seconds to go so 3-2. Now that can be an age in Ice Hockey but close them out they did to get the Gold. Sound coaching and guidance/sensible play from a senior players closed the doors.
RM – How is it that you can't do this in football when yo are paid millions of $$$$ todo it?
Anthony Jones
238
Posted 06/03/2016 at 22:58:26
He just can't help but blame moments that lead to psychological breakdowns for results. Never his decisions, fitness, tactics, or poor organisation.
I get him not taking the blame. Taking the blame helped Moyes get the boot at United, but his bullshit excuses make the players sound like they are all on the verge of a meltdown.
If he doesn't start learning from his own errors of judgement some of our players may have actual meltdowns...or just have their agents get them as far away from Goodison as possible.
Colin Glassar
240
Posted 06/03/2016 at 23:36:50
The sad thing is, Adam, we might get in a big name manager (if we offer enough money) who will come in for a quick fix, abandon the academy, freeze out the kids, buy a few Eto'o type mercenaries who will be off to China before you can say Jack Flash etc.... Then we will become another soulless club like Liverpool, Man City, Man Utd, Chelsea, Spurs etc...who chop and change managers after a few months.
I'm not saying Martinez should stay. What I'm worried about is that we become just another plastic, cold-hearted franchise which will quickly lose its soul and identity.
Adam Smith
241
Posted 06/03/2016 at 23:49:21
Agreed Colin. What we need is a manager who encapsulates Martinez's positives whilst also being free of his flaws. If we can't do that, some kind of compromise, like the one I've suggested above, should be the answer.
I fear that if we make a reactionary appointment who is as different to Martinez as possible, then we will lose much of the good things he has put in place and will therefore, in real terms, be back to square one as a club. Nor am I advocating that he should keep his current job.
Colin Glassar
243
Posted 07/03/2016 at 00:14:57
First of all Adam, he would never accept being moved (demoted) upstairs. He's a young guy who has incredible self-belief, so that's not an option.
As for Sampaoli, I've heard great things about him but then I'd heard great things about Paul Le Guen (Lyons), Pepe Mel (Real Betis), AVB (Porto), Scolari (Brasil) etc... Just a few of the big names who'd done great in their own countries only to crash and burn here.
Our next manager has to be someone who can handle the huge egos of the modern day players but also have a long term plan to develop our own youngsters. Poccetino comes to mind, or Simeone but as neither are available I'd go for a Sanchez Flores. Great record at Getafe and Valencia, doing a great job at Watford, doesn't talk crap etc....
Adam Smith
244
Posted 07/03/2016 at 00:26:09
Of the ones you've mentioned Colin, only AVB was truly talked up as if he was going to be a world great. And yes, that is not accurate. Scolari's achievements with Brazil were not as impressive, relatively speaking, as were Sampaoli's with a limited Chile side.
Point is, I think the time has come for Everton to be more adventurous with an appointment, and by that I don't mean throwing money at Mourinho to come in, ruin our academy and destroy the long term future of club for his traditional return of some trophies and three years service. I too like Flores but as fans we all have a personal 'wish list' of players who are our personal favourites whom we wish to see at our club. Well, same too with managers and I see something in Sampaoli's which I truly believe would work for us.
Sorry, can't really explain it beyond that gut feeling as a football fan!
Jay Wood
245
Posted 06/03/2016 at 00:34:01
Raymond @ 211.
I don't disagree there are 'fanatics' on TW who repeatedly post the same negative bile and lay the blame for everything at the door of the manager. Brent gives a good example of that when referencing the Finch Farm thread on the announcement that the club intends to build sleeping quarters there.
I spoke up on that thread in defence of RM and 100% in favour of the initiative.
You, like it or not, are the reverse coin of that fanaticism, seeing phantoms where none exist, or talking up RM in ways which are just not credible.
On occasion you wade into posts and label the thread and/or posters 'anti-Martinez' when it is nothing of the sort.
Time and again on here you do mock and rail against all comers for their views as - again - you perceive them as 'anti-Martinez.' As recently as the mid-week game at Villa you posted (quoting another poster):
"Some very strange posts here tonight"
Par for the course, Danny, they scream blue murder when we lose, and complain when we win."
On the Stoke 3-0 thread you wrote: "2 wins in a row and we are back in contention, that's how close we've been all along!
"It seems sometimes that some are more concerned with being proved right about RM. If we have a poor performance up they bob again, while if we win they are not around!"
Whilst there is some truth in what you state, such claims cut both ways. You also can be accused of being more concerned on 'being right' on your views on RM. For example, the Stoke win was followed by yet another meek home defeat by WBA ... and you were nowhere to be seen or heard.
You mentioned that 2 consecutive league wins thanks to the win at Stoke had given us a sniff of a European place. This conveniently ignores this is the one and only time this season that we have won 2 consecutive league games and we had to wait 7 months into the season, until February, to achieve that. It was April 2015 when we last won 2 consecutive league games. We have only repeated that achievement once more in the 10 months and 33 PL games since then.
That is simply not good enough. Nor is our truly appalling home form or the fact that no team, regardless of the scoreline, the game time or how dominant Everton has been for the vast majority of the game, is ever 'shut out' or without a chance of getting a result against RM's Everton.
I note with interest, in reply to my very explicit request to you to ...
"Instead of berating and bewailing at the growing number of posters expressing their concerns at the performances of the team and direction of the club under RM, enlighten everybody: Offer an eloquent, coherent and plausible defence of Roberto which will convince others to switch to your camp ..."
... you studiously fail to so, even though you promised to do the same at 178.
All you offer is a list of mitigating circumstances on yesterday's game and a blanket excusing of the manager. Those mitigating circumstances were indeed substantial, and acknowledged by many across several threads.
The key issue you steadfastly ignore is ... the late capitulation against WHU is not a one off this season. There is a systemic failing in how the team is set up and in particular their 'game management,' especially at the death of games.
Taking just 4 games this season, away to Bournemouth and Chelsea and home to Stoke and WHU - we have blown 10 points. That represents more than 25% of our current tally of 38. 48 points would have us in 5th place, squeezed between the 2 Manchester clubs.
Given his numerous statements on his lack of concern on conceding goals (Everton is not set up to NOT concede goals under his stewardship) and his declaration after the 3-3 draw at Chelsea he will never ask his players to play negatively to close out a game, I DO blame the manager that this type of results is becoming too commonplace.
So Raymond, do you want to take another shot at it and not discuss a single game but - as I requested and you promised to respond to - enlighten everybody. Help the rest of us see what you see and why your support of RM remains unwavering: Offer an eloquent, coherent and plausible defence of Roberto which will convince others to switch to your camp.
Anthony Dwyer
246
Posted 07/03/2016 at 00:42:14
I can see your point Colin @240, but if we don't keep up with some of the club's you mention then we will lose our premier league status aswel as our souls.
There are managers all over the world and it's up to the club to find us the right one.
Remember Wenger was in China before Arsenal took him, Alex Ferguson was in Scotland and God only knows were Southampton picked up Pocochino from.
There are plenty of managers just waiting for a cracking at the EPL, maybe the answer is right introit of our face, Ranieri would have been no one's first choice to replace Martinez at the start of the season, but look at the job he's doing.
Gus Hiddink is well worth a punt, experienced and knowledgeable, well respected and will be out of a job, I'm sure we could do a lot worse.
Dennis Ng
247
Posted 07/03/2016 at 00:44:49
Kunal, I agree except Moshiri probably won't flex any muscle till end of the season when the pool of candidates is larger.
Barry Jones
249
Posted 07/03/2016 at 01:56:54
As for the suggestion for RM to be moved upstairs as a general manager of some kind, why would you possibly want a man with such flawed decision making abilities to have anything to do with Everton FC.
Darren Hind
250
Posted 07/03/2016 at 03:19:24
Raymond Fox
You spent two years telling me to "just admit I was wrong" about Martinez. You only stopped in the face of overwhelming evidence, now you are defending him out of sheer determination not admit you were the one who was wrong.
You need to take your own advice, You have blamed the players, the lack of funds (How Leicester have destroyed that myth)... you have even blamed the fans.
Martinez has taken a semi decent top six team, spent £90m and managed to drop us down to the bottom half of the table. It doesn't seem to matter which players get the gig we keep making the same mistakes.
Coleman, Browning, Galloway, Stones, Funes Mori, Distin, Jagielka, Baines, Garbutt, Robles, McCarthy, Besic, Robles, Howard, Barry, Cleverly and Oviedo – all names I can come up with off the top of my head, they are all decent players, yet they have all been part of a defence which has long since gone beyond embarrassing.
There's an even longer list at Wigan... What's it going to take for X to mark the spot for you ?
Laurie Hartley
251
Posted 06/03/2016 at 08:55:37
Jim # 183 – "Here's to the dawn of a new harder more ruthless Everton." I say
here here
to that!!
The trouble with Everton Football Club is that we are just not tough enough starting from the top down – Board to first team squad.
We need a tough leader at the top. I hope our Mr Moshiri is a really hard nosed business man because he will have to be if he wants his substantial investment to be a success. He needs to sort this lot out very quickly – because this is like death by a thousand cuts for the fans.
If this is allowed to continue we will become a laughing stock and lose what is left of our honour.
People berate Sam Allardyce and Tony Pulis for the style of football they play but when did either of those two ever have a squad of the calibre that is at our current managers disposal?
Allardyce and Pulis fight with the weapons at their disposal. They are not interested in pleasing anyone they have a very clear view of what is required for survival in the premier league.
I would take Pulis tomorrow. At the start of the new season I guarantee you:
There would not be a fitter squad in the premier league. They would know how to defend. There would be a new player in the squad who would enforce his managers instructions on the pitch – or else. There would be no favourites. The talented players we have would soon start playing to their true potential. We would finish in the top six. Goodison would be a fortress again.
It's tough at the top. If you want to be at the top you have to be tough.
Patrick Murphy
252
Posted 07/03/2016 at 10:35:08
In the world of Roberto, the game ends on 78 minutes, therefore by omitting all the Premier League goals scored on 79 minutes and beyond Everton's record this season would be won 10 drawn 11 lost 7 points 41 scored 40 conceded 28. Just one win more than we have in the real world, but we would have seen 22 fewer goals in Everton games with an equal split of goals scored and conceded.
At the top of the table, Leicester would be level on points with Arsenal (52) with Spurs in third on a point less than the leaders and Manchester United (49) a further two points behind in fourth. Everton would be in 9th place one point behind Chelsea (42) and West Ham, two points behind our neighbours (43) in sixth place with Manchester City in fifth place on 45 points.
At the bottom of the table Norwich City (25) would be three points adrift of Newcastle (28) who lie fourth from bottom, whilst Aston Villa (21) would be 3 points better off than last placed Sunderland (18)
Roberto Ball
253
Posted 07/03/2016 at 11:33:35
Some great comments on here; most are unhappy with Martinez staying as manager but will we the fans get our wish? Not in the foreseeable future but, if we did, Koeman, Hiddink or Sanchez Flores would definitely fit the bill
I don't think any of these three would accept the shocking defending we have had to witness this season (and last) but at least they wouldn't employ idiotic substitutions.
Tony J Williams
254
Posted 07/03/2016 at 13:01:52
Nope, Nope. It's been two days and I still can't fathom out why he replaced a winger with a forward when we were 2-0 up and only had 10 men on the pitch.
Strangely enough Max, I heard the same rumour in the pub after the game. Someone sitting behind the bench confirming that Bobby doesn't concern himself with the subs..... if that's true...
No. I'll stop there as I have reminded myself that I have been swearing far too much on this site the last season or two.
Patrick Murphy
255
Posted 07/03/2016 at 13:12:21
Tony J (254) Perhaps you should enlighten yourself with the following link - Interesting as it is I don't buy it either but perhaps it was written by one of the back-room staff?
http://royalbluemersey.sbnation.com/2016/3/6/11168678/Everton-west-ham-united-tactical-analysis-Roberto-Martinez-aaron-lennon
Ralph Basnett
256
Posted 07/03/2016 at 14:28:14
I feel hard done by that you still have a job!
Tony J Williams
258
Posted 07/03/2016 at 17:28:20
Interesting read Patrick, but as you, I don't buy it at all.
It wasn't just Lennon helping out that was changed, we effectively went 4-3-1, in a game where we were comfortably leading 2-0 and the midfield was doing its job.
That is until the soft dope decides we need to actually go for that killer third goal... effing .....eff!!!
Raymond Fox
259
Posted 07/03/2016 at 18:19:36
Jay 245, you have repeated a good amount of your previous post 173 which I answered in my post 211.
You've obviously gone back though my past posts, and those examples are the worst you can find? Hardly emotive language are they! I don't see anything that I disagree with by the way, I think they are spot on.
The crux of our opposing views, is Martinez the sole reason we are conceding too many goals or is it the players individual defending, or is it a mixture of both?
Take Saturday's game, the first two West Ham goals, crosses into the box, plenty Everton players in the area but were beaten in the air for both. Their third goal was a head down two flicks for another goal. Part of our main problem in defence is we don't have a defender that is good in the air with the exception of maybe Funes Mori.
Martinez makes mistakes that's a given there's never been one that doesn't, it goes with the territory. Don't forget though that there's always two sides to every story, and opinions are opinions... not fact.
Raymond Fox
260
Posted 07/03/2016 at 18:49:07
Darren 250,
Let's stick to the truth, where have I mentioned the crowd in a disparaging way?
You mention Leicester, but one swallow does not make a summer, name another no-hoper that have emulated them.
The spent £90m is an old topic; yes, he's spent £90m but he's also sold players for a good part of that total, Fellaini for £28m for instance!
Darren, look at West Ham's goals on Saturday, notice anything?
Kevin Johnson
261
Posted 07/03/2016 at 19:19:48
Get this from today's Daily Star. Deluded Bobby says, "We are in the Premier League, it is the most ruthless league in the world football and we all know that."
And here's the fucking scary bit! He then states "Fortunately, I have got seven years of experience in this league and I know what it takes."
Whelan of Wigan, you had our pants down with this fraud of a manager. We're doomed, I tell you! Doomed.
Darren Hind
262
Posted 07/03/2016 at 19:20:49
Yes, Raymond,
I noticed the guy who you say is good in the air getting murdered for all three goals... just as he did throughout the match.
I also noticed a West Ham player on goals on Sunday I was watching a recording just now. Apparently Bilic told them to just keep putting balls into our box. Your boy has been rumbled. The whole of football knows how to put us in trouble... just launch it.
He has what on paper is around £80m worth of defenders and he is sitting below the much ridiculed Tony Pulis.
Raymond Fox
263
Posted 07/03/2016 at 20:01:19
I did say 'maybe', Darren, I didn't notice it was Funes Mori, does not say a lot for Jags and Co. It's been noticeable for a while now, but again who's to blame?
Jags is an International who is not at his best when the balls in the air, Stones has not covered himself in glory the air, our regular full backs I don't rate very highly in defence, never have. Our midfielders might as well have no head, so their no use on crosses.
I suppose you can blame Martinez for not signing a tall no nonsense central defender, maybe he's tried who knows. We definitely need one because its a glaring weak spot for me.
Les Netherwood
264
Posted 07/03/2016 at 20:05:59
We have a really crap defence who just cannot handle balls in the air. We have the England center half who is a liability in the penalty area, even Tom Thumb could out jump him! We have an idiot of a manager who talks rubbish... is it any wonder we are struggling?
We have a really fabulous squad who are being badly directed and should be doing much better. Get rid of the idiot and we will do better... just let the players play. Get rid of BK and give them a new stadium to play in; we have been stagnating far too long.
Jay Wood
265
Posted 07/03/2016 at 20:09:28
Raymond @259.
Errrr ... no Raymond. I didn't do a deep forensic search of your past posts with the intention of finding 'worst examples' of your claims. I just found two TYPICAL posts of yours in recent after match threads as examples of how you constantly ridicule other posters for their perceived anti-manager stance and then suggested you are basically the flip side of that coin in your constant support of the manager.
I take it from your regurgitation - referring only to the WHU game - that you are unwilling or unable to mount a coherent or credible defence to help enlighten other Blues what you see in Martinez that you evidently consider others are blind to, as you promised to do. For example, you also recently said on these pages that this team under Martinez will be challenging for top 4 next season.
As I said in my original post to you in this thread, I would be genuinely interested in just why you believe that and why Roberto still has your unwavering support.
However, as you have spurned two opportunities to be more explicit on those points, I guess you won't be enlightening and convincing us any time soon.
Best leave it there then, eh..?
Raymond Fox
266
Posted 07/03/2016 at 20:34:48
Give over, Jay, stop using emotive words, if disagreeing is ridiculing people – I'm guilty.
If I disagree, I give the reason why I disagree, always have, what more do you want. As I've said before, it's no skin off my nose if Martinez is sacked, I care not.
But to blame him entirely for many defeats is being one-eyed in my opinion, if you fault his tactics fair enough, but he's still at the mercy of how the players play on the day, you have to take that into account also.
I see no point of going over the same points over and over again, let's just disagree.
Jay Wood
267
Posted 07/03/2016 at 23:30:31
Raymond @ 266.
Erhm ... I'm not aware that I've 'disagreed' with you on any issue in this thread.
Why not? Quite simple, really. Because you haven't outlined what your personal assessment and opinion is of RM as to why he continues to have your unwavering support. Therefore, I have nothing to go on, nothing I can agree or disagree on. If anything, my post @ 245 agrees with you on a couple of points you make.
But in response to a request to enlighten us all with why RM retains your total support, all you've really said is that not only the manager should be copping it, but the players too. In case you haven't noticed, the players have most certainly copped it, be it pre-, post-, or during the match all season.
Maybe, just maybe Raymond, one of the reasons you are occasionally challenged on TW is because you seemingly prioritize defending the manager over expressing your concern for the team.
Your first words in this thread reflect that. I quote: "I'll tell you why I despair, blame the manager/ blame the manager that's all I hear on here."
To me, and possibly many others, that is ... odd. I would wager a good wedge an overwhelming number of Blues 'despair' at the frequency of how many winning positions we keep blowing at the death and seeking reasons and exploring possible solutions, rather than 'despairing' at the same thing as you.
My request to you to outline why RM retains your support was/is a genuine one.
It's a little surprising (and disappointing) that you shy away from doing so. Surprising, because such a stalwart of RM as you evidently are, would surely have a ready made list of positives you are able to attribute to him. Disappointing, because the way you respond offers nothing to convince any one to join you in your support of RM.
Hey-ho...
Raymond Fox
269
Posted 08/03/2016 at 09:13:06
Jay, I've continued to post an alternative view to the majority because as I have said before there's two sides to every/most happenings.
Jay old chap, we disagree about Martinez's all round ability, what happens on the field most of the time can be for lots of reasons, certainly there not all down to the manager. In the end he takes responsibility though because the buck stops with him, that's fair enough its a results orientated position.
It depends on our perception of the happenings, and I think we appreciate that fans watch a match and come to different conclusions. I'm coming to a different conclusion than the majority, maybe I'm wrong, it's possible the majority are correct. Nevertheless, it's opinion not fact!
As for his pluses, he's brought some young players though to the first team and they have each been a success. His more expensive signings have proved their worth and have appreciated in value. We are a match for anyone going forward, hence the goals scored. He's been adamant that our best players have not gone elsewhere and has succeeded in that aim.
Of course we need to concede less goals that's obvious, I've said several times before our main weakness is crosses into the box, but in general the players are not getting the criticism, its mostly on the manager.
I despair like everyone else about some of our results, my opinion is that we are losing some games for many reasons, and pointing the finger at the manager as if he is solely to blame is wrong.

Jay Wood
270
Posted 09/03/2016 at 14:53:38
Raymond ... thanks for the list of pluses you offer as to why you continue to be a stalwart of Roberto.
Sorry for the delay in replying, but I'm not on TW 24-7 myself and I've only just seen your reply.
You say "we disagree about RM's all-round ability."
Not sure that is altogether true, Raymond. On Sunday, on the Brian Viner Open Letter thread, I wrote a brief synopsis of the many positive things Roberto has done in his time at the club which is not too disimilar to your own above list.
Things you list and things I listed in the other thread and agree on:
* He's brought some young players though to the first team and they have each been a success. Agreed. He has also signed potential talent to the academy squad (as Moyes used to). Some appear to be progressing well, but as we've seen with many failures down the years, very few kick on to be PL class.
* His more expensive signings have proved their worth and have appreciated in value. Agreed.
The Jekyl and Hyde nature of some posters on TW makes me laugh sometimes on this point. Romelu Lukaku, still only 22, our top ever scorer in a single PL season still with 10 games to go; this season he joined an exlusive group of four other players - Rooney, Cristiano Ronaldo, Fowler and Owen (pretty decent company...) - to score 50 PL before age 23. And yet ... one particular poster constantly calls Romelu a lazy and unlimited footballer... then in the same breath says "we should sell him for £50 million clubs will offer for him!"
That's same lazy, limited footballer at that evaluation!
Ross, Stones, Deulofeu (Barcelona buy-back clause allowing), Galloway and possibly McCarthy have all seen their value soar since Roberto joined us.
* We are a match for anyone going forward, hence the goals scored. Agreed. The stats don't lie. Our PL goals for column is only marginally bettered by Leicester and City, equal to Spurs with the next best being the Arse, 5 goals fewer.
* He's been adamant that our best players have not gone elsewhere and has succeeded in that aim. Agreed. His repelling of Chelsea's attempts to sign Stones has since been celebrated in song, although such is the fickle nature of some, John - another very talented young player - is being dismissed by some after hitting a bump in his form for the first time in what I am sure will be a mega career.
If anything, in the post I reference, I go further than you in talking up RM's positives, recalling how in his 1st season:
* He retained the steely demeanour of Moyes' Everton and welded on to that an attacking flair and a genuine 'sin miedo' 'philosophy' that carried us to 5th in the table with a record points haul for the PL era.
* He regularly introduced effective subs at different phases of the game, who impacted on the game to Everton's benefit.
* He made subtle tactical changes in games which also had positive outcomes.
* His embracing and understanding of Everton's history was impressive.
* His perpetual positivity was uplifting and inspirational.
There was a real sense of anticpation at the start of his 2nd season, given all the positive evidence of his first season, that Everton could seriously challenge the clique at the top table in the PL.
However, it proved to be a damp squid of a season that never ignited. All the good stuff from the 1st season evaporated to nothingness. Rather, there was a disturbing regression in the performance of the manager, the players and the collective, the team.
There is clearly a wealth of talent at the club under Martinez which continues to tease and tantalize, teetering on the brink of breaking through to be something very special, but then blowing it in spectacular fashion.
Whilst the goals have satisfyingly flowed into our 'For' column, so have they poured into our 'Against' column. And that has been an issue for getting on 18 months now.
You acknowledge we need to concede less goals and that our main weakness is crosses into the box, adding "in general the players are not getting the criticism, its mostly on the manager."
As I previously stated in this thread, I disagree with that last statement. Players are also copping it every match week, but the overwhelming criticism is without doubt levelled at the manager.
And I'm sorry to say Raymond, but it is done so with good reason.
You simply cannot dispute the number of times Roberto has come out and said such things as:
* he is not concerned with clean sheets
* Everton under his stewardship will never be set up to be overly concerned with keeping clean sheets
* Hell! Just yesterday he denied the very concern you expressed - that Everton DON'T have a problem defending from crosses into the box!
And he is saying these things as we repeatedly give up winning leads late into games AND trying to convince us that ... "We are learning!"
You bemoan the criticism Roberto gets and so desperate are you to see him suceed you flag up any and every small success you can attribute to him.
For example, after the Stoke game, as I already quoted, you were hooting: "2 wins in a row and we are back in contention, that's how close we've been all along!"
This conveniently ignores it is the ONLY time this season we HAVE won 2 consecutive PL games, and we have to go back 10 months to April 2015, 33 PL games prior, to find the last time we did this.
As for our home form, since we beat the woeful Villa 4-0 at Goodison on 21 November, our PL home reads thus:
P 8 W 1 D 2 L 5 F 13 A 15 PTS 5 (from a possible 24).
A single win against another relegation bound club - Newcastle - is all the home support has had to cheer in nearly 4 MONTHS!!!
Raymond, this flags up a systemic failing at the club IMO.
In the Brian Viner thread I actually described RM in the very terms of another good piece on Roberto that appeared the next day: that he is an idealist who needs to be more pragmatic.
Unless and until HE changes and compromises HIS philosophy, I don't see him as a long term success at Everton.
Now ... that wasn't so bad, was it ..?
Brent Stephens
271
Posted 09/03/2016 at 15:10:09
"Now ... that wasn't so bad, was it ..?"
When it's that long it is! Seriously, I think many of the short posts on TW are the best (eloquent but not loquacious!).
Jay Wood
272
Posted 09/03/2016 at 16:22:38
Brent ... there is no facility on TW to 'personal message' a single poster when two of you are having an exchange of opinion which may not (as appears to be the case with you here...) be of interest to the wider TW community. Sooo ... posts such as mine get posted here on the open forum.
My reply was a personal response, directly and specifically, to Raymond in an ongoing dialogue on an otherwise dead thread. My comment 'that wasn't so bad...' was a little tongue in cheek as Raymond views me as rabidly anti-Roberto which I am most certainly not.
Long or short, what ultimately constitutes a good post IMO is the quality of the content, which of course each one of us is at liberty to judge.
Brent Stephens
273
Posted 09/03/2016 at 16:46:50
Yeh, I know, Jay, on all that. I was being a bit tongue in cheek as well. I do wonder, though, for posts not directed at any specific individual, how many people actually read through or just pass over where it's a very long post (as I tend to, and that's not a pop at you).
Trevor Lynes
274
Posted 09/03/2016 at 16:47:24
IMO the main reason we have surrendered leads is down to player error. Every time we attempt to play out games from winning positions, individual players make errors during the last 15 minutes of games.Fans on here blame Martinez for almost everything. Did he miss the penalty when we were winning two-nil? Did he get sent of? No manager on earth can legislate for those errors.We are continually conceding from corners and set pieces which every pro footballer should be able to defend against without the manager's input. Besic was brought on as a sub and he actually won the penalty Rom missed. I believe that the only mistake was bringing Niasse on instead of Deulofeu but the other subs were reasonable. The players made errors and failed to defend a two goal lead during the last 12 minutes.
Jay Wood
275
Posted 09/03/2016 at 23:41:01
Trevor, you played professional football in the Football League, isn't that right?
Whilst I agree with you on some points – players are making individual errors ... a manager can't legislate for players getting sent off or for a player missing a penalty ... on others I question your opinion.
Is it not a fact that teams train 10 against 11 sometimes in preparation for the game scenario when they are a man down? Is it not also fair to say that for 78 minutes against WHU, with the excellent subbing in of Besic for Stones and the formation reshuffle that resulted, that Everton continued to look the better side and the numerical disadvantage was negligible, as proven when Lennon put us 2-0 up? That things only unravelled in those critical minutes after the change in personnel following Lennon's removal?
I accept fatigue from playing for an hour a man short as one mitigating circumstance. But as is frequently evident, Everton is not a 90 minute - and certainly not a 97 minute – team under Roberto.
Physical fitness has a positive knock on effect to mental sharpness. The same endorphins that make you feel better from physical exercise also help you concentrate and feel mentally sharp for tasks at hand. Everton are not only flagging physically towards the end of games, but also being 'dull' mentally with poor concentration levels which time and again are letting teams back into games they were seemingly shut out of.
I'm quite taken aback by your comment that "We are continually conceding from corners and set pieces which every pro footballer should be able to defend against without the manager's input."
I think that is out and out nonsense. Every pro footballer, certainly defenders, needs to continually hone and improve his skills. As is demonstrated time and again by the different style of different managers, it's not only the innate skills of a defender which should be sufficient to clear his penalty area (which is the implication of your statement), but how they are drilled to work as a unit to stop balls coming into their penalty area and then clearing the threat should the ball threaten our goal.
We are quite clearly deficient in this regard in comparison to many other teams in the Premier League.
Add Your Comments
In order to post a comment, you need to be logged in as a registered user of the site.
Or Sign up as a ToffeeWeb Member — it's free, takes just a few minutes and will allow you to post your comments on articles and Talking Points submissions across the site.
© ToffeeWeb