Lukaku looking forward to Wembley outing
13/03/2016

70 Comments [Jump to last]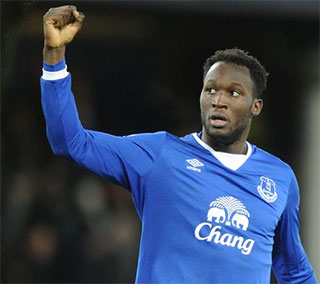 Everton's runaway top goalscorer, Romelu Lukaku, has expressed his excitement at the prospect of his first trip to Wembley with the Toffees.
The Belgian scored his 24th and 25th goals of the season in today's 2-0 win over his former club, Chelsea, to book Roberto Martinez's side a date under the Arch in the semi-finals of the FA Cup next month and he told evertontv after the game how much he was looking forward to it.
"I'm happy to go to Wembley, first of all. I'm happy for the win, for the team, for the club. [It's] something that we all wanted, you know. We've got close many times; no we're even closer. We're 90 minutes away [from the final], 180 minutes away from glory so I'm very happy for the team."
Lukaku, who has played at England's national stadium once before for Belgium, was asked if he only had one thing on his mind when he collected the ball out wide from Ross Barkley for his first goal today.
 "Yeah, just go and score," he smiled. "I'm a striker! I want to score goals and I want to help the team win so that was the only thing I was thinking." 
Asked how important the thunderous atmosphere created by the fans was for the players, Lukaku responded:
"Oh, really important. I mean, wow! It was the best night in the stadium since I arrived at the club. 
"There's a lot of belief. It's all down to us [now]. We are a good team. We know that if we have a good day, it's really tough to beat us. Defensively, we're good. We have good defenders, so it's up to us."
---
Reader Comments (70)
Note: the following content is not moderated or vetted by the site owners at the time of submission. Comments are the responsibility of the poster. Disclaimer
Paul Ferry
1
Posted 13/03/2016 at 05:56:49
I'm 52 years old and with a season ticket missed 4 home games 1973-2000 and then I moved to Chicago – still have the season ticket but it's with one of my best mates who I grew up with in Crosby (Ant) who has been out of work since feck 1998 down to disability (I will be at the final May 21).
I have never seen a more complete number 9/10 at Everton since 1973 than Romelu.
I have laughed – sorry – at his first-touch detractors on here for ages – as I laugh now at the Barkley detractors.
Two goals. Ross & Rom's link-up play, though Number 1 was pure Lukaku brute strength and skill and first, second, third, and fourth touches.
I think Lukaku loves Everton – I see it above. I think he loves the new investment. He and Ross are the only two players in a good team that we cannot replace.
Much maligned Martinez got it spot on today and I wince looking at the vitriolic fight on one thread after another to paint the gaffer in the darkest possible velours.
Two semi-finals. Pretty good eh?
League, I know, but we were never gonna win it.
I want a cup!
Martinez showed today – in that 2nd half – why he can still be a very good Everton manager,
Farhad is going to Wembley.
I'm so loving this!

Rob Nunn
2
Posted 13/03/2016 at 06:11:17
Good call Paul. There were some stand out players out there. We can beat anyone on the day. COY0B
Derek Thomas
3
Posted 13/03/2016 at 06:14:35
Decent draw please...everything else will take care of itself
Garry Corgan
4
Posted 13/03/2016 at 06:17:24
Paul - You've been paying for a season ticket for your mate for 16 years?!
Anthony Hawkins
5
Posted 13/03/2016 at 08:11:50
Barkley, Lukaku and Lennon were outstanding today. Never thought I'd be praising Lennon as he used to be do a good enactment of a headless chicken running down blind alleys. He seems to have developed as a player.
Anyone know what's happened to Del and why he's fallen out of favour?
Harold Matthews
6
Posted 13/03/2016 at 08:31:28
Nice one Paul. Pleased you managed to see this wonderful Goodison victory. Let's hope we go all the way.
Sam Fitzsimmons
7
Posted 13/03/2016 at 08:35:54
Anthony #5
I think you answered your own question about Del when you highlighted how good Lennon is
Les Martin
8
Posted 13/03/2016 at 08:39:48
With composure we can beat any of the teams that are left in the competition.
Wembley is made for Lukaku, and our type of play; let's hope he stays sound.
Mark Tanton
9
Posted 13/03/2016 at 08:41:31
It is remarkable that there have been people who have continually criticised him on here – he is massive for us. Wonder if Moyes thinks about what he might have achieved with him up top. Or would he have had Lukaku grinding himself into the ground in the channels?!
Trevor Peers
10
Posted 13/03/2016 at 08:54:36
Rom's goal was a classic, the game seemed to be heading for a replay until his dramatic iintervention.
Let's enjoy this victory and look forward to Wembley, and leave the inquest about Roberto and his management for another day.
Jim Potter
11
Posted 13/03/2016 at 09:02:17
We're inevitably going to get Arsenal or West Ham. So be it. We can win this.
Paul Conway
12
Posted 13/03/2016 at 09:09:02
Well said, Paul. Myself, I also think that Ross and Rom are irreplaceable and, when they are both having a good game, anything is possible.
I must admit that I was hyper-critical of Martinez up to yesterday's game. Last night , behind the joy, I felt a lump in my throat with guilt... after all, Martinez probably eats, sleeps and breathes Everton, just like us!
Err, does anyone know which wine accompanies humble pie?
Steve Brown
14
Posted 13/03/2016 at 09:13:06
Amazingly, Rom has taken some stick on here over the last three years. Why is beyond me. He is a 22-year-old kid, saddled with a £28million transfer fee who is still developing his game. The transfer fee was paid mainly for what he will become not what he was when we signed him.
Like all young players he needs more consistency and technically he has some work to do.. but wow what a player he will become if he keeps developing. His goal scoring record in the top flight is superb.
I also like his personality – he continually talks about winning and improving. Of course, we may lose him one day. But my guess is that he has added a good £20-30 million to his value this season. We have not had a striker like him since the '80s in my opinion. So let's back him.
Aidy Dews
15
Posted 13/03/2016 at 09:26:43
I'll admit, I'm one of the Lukaku bashers and the reason I am is cos of games like yesterday! That for me was one of his most complete of the season. His touch was on point, the ball stuck, he brought others into play, the movement was there, he won headers, used his strength and scored a worldy along with another and I get on at him has he's clearly got all that in his locker but just doesn't produce it enough on a regular basis and I'm always scratching my head has to why?!
Being strong, holding the ball up, winning headers and being on your toes is just plain and simple striker play and he should do those things game in, game out. You don't have to be the worlds best talent to do those basics during a game, look at the likes of Cameron Jerome & Troy Deeney etc!
But yesterday he put all those things together and put in a complete performance to take us to Wembley so fair play to the lad, he was excellent, and hopefully he takes that performance in his stride and does it more!
Well done.
Ernie Baywood
16
Posted 13/03/2016 at 09:37:32
I recall people saying his first touch was unlikely to improve.
Watching him lately, I don't think it has. Rather his use of his body has improved. He's starting to shove his arse into defenders early and buying himself time and space to take simple first touches.
Great that we have a top, top centre forward now. Any club in the world would take him... scary stuff.
Mike Green
17
Posted 13/03/2016 at 09:53:25
The bottom line is Rom made the difference yesterday, and that's what you pay £28m for. Kudos also to Barkley for setting him up and I thought Jags and Barry led like real pros.
Great to knock such a nasty club out, great to be going to Wembley, and great to show our new owner what a great club he's bought into.
I would take anyone other than Arsenal in the semi – but with a favourable draw this could finally be our year.
COYB!
Daniel A Johnson
18
Posted 13/03/2016 at 10:01:48
Its scary to think Rom is only 22 years old.
He must be worth £100M+ if Raheem Sterling is worth £45M
Nick Armitage
19
Posted 13/03/2016 at 10:02:03
He can improve massively as he still has some big weaknesses in his game, like all players do. He has set such high standards compared to what we've become accustomed to and when he has an off day he gets hammered. He knows he is work in progress and because of that he's only going to get better.
Dave Bowen
20
Posted 13/03/2016 at 10:09:08
Paul @#1. I'm absolutely buzzing like you. However, we should be playing like that every game. Martinez got it spot on & Rom played like the beast we all know he can be. More often than not Martinez is clueless.
We have the best squad of players since HK Mk 1, yet we are struggling to make the top half of the table. If I'm honest I didn't think we could win the Premier League, but a Champions League spot was well within our reach.
There aren't many squads in the Premier League I'd swap ours for, so what is holding us back? Only one answer – the manager. After yesterday, I'd like to think the penny has dropped, but I somehow doubt it.
Jim Bennings
21
Posted 13/03/2016 at 10:41:20
Daniel
£49 million for Sterling actually... Raheem Sterling, the poor man's Aaron Lennon.
I said weeks ago I'd rather have Lennon every time ahead of Sterling; I'd push ahead even further on that statement now.
Lukaku is a 25-goal-a-season striker, he's got power, pace, can head a ball, shoot with both feet...
He's a striker that should in this day and age be worth £70 million.
But that's irrelevant because I don't want to lose him for even that because those goals in the Premier League would be virtually impossible to replace.
Darren Hind
22
Posted 13/03/2016 at 10:41:44
Agreed Ernie @16, His first touch still gets away from him, but he has realised just how powerful he is and he protects the ball superbly. World class? Well he was last night and he is doing it with increasing regularity.
Martinez has deserved every bit of the criticism he has taken, few managers could have contrived to have cost us so many points and those coming on with their I-told-you-so tone would be advised to take a look at the league table. Last night's performance PROVES we can defend; if anything, it serves to highlight his shortcomings. However, he did sign Lukaku – everyone else had the chance, but nobody else dared stick their neck out and meet Chelsea's asking price. So fair play to him for that.
I honestly believe the criticism of Martinez on here would be halved if his supporters did not come on here trying to bait his critics every time we win. Posts claiming Evertonians want us to lose the semi-final are just... half witted.
I don't understand how people who say they love this club can find no better way to celebrate such a fantastic night.
We can't get back the squandered opportunity in the league, but we have a chance of winning the cup; every Evertonian will be desperate for that to happen. Those who are trying to claim they were right all along are simply embarrassing themselves. They can never be right, that ship has sailed.
How about we enjoy last night?

Brent Stephens
23
Posted 13/03/2016 at 10:46:23
I don't get this "Rom's first touch hasn't improved". Yesterday (as most games this season) his first touch, control and layoff under close, robust physical attention by one or more defenders, was superb.
Gary Reeves
24
Posted 13/03/2016 at 11:14:35
Mike Green (#17),
I'd prefer Arsenal. We'd be slight underdogs with the media, and bookies, and those are the games that seem to suit us. And besides, from what I've seen, Arsenal are very beatable.
(Remember 1981 as well! – it was us who stopped them reaching a fourth successive Final – they're on a hat-trick now so...)
Tom Bowers
25
Posted 13/03/2016 at 11:27:59
I loved the way Lennon got after Costa after an early incident which showed his intensity and commitment to the cause. Apart from one or two miscues, the lad was brilliant.
Cleverley works tirelessly but is just a little off the pace to get his tackles in. I don't care if Rom's first touch is poor and in fact even if his second touch is poor – with 25 goals to date, he'll do for me.
Brent Stephens
26
Posted 13/03/2016 at 11:41:57
Anybody know if small backpacks can be taken into Wembley?
Dave Williams
27
Posted 13/03/2016 at 11:47:49
Nice to see Paul Ferry posting again and I agree with everything he said. We all get carried away after defeats like last week but it's days like yesterday when we can take a more reasoned look at things.
Two semi finals this season now and hopefully a trophy and those who have been around a while like I have need no prompting to see how similar this is to 1984. For the younger ToffeeWebbers that season we were awful in the league till around January (defence wasn't bad but we couldn't score goals and the team was timid). We ended up losing in what is now the Capital One Cup Final and winning the FA Cup. That transformed the team into the best in Europe and the parallels to this season are remarkable.
If only supporters could make that atmosphere every week. I know we need a performance or incident to galvanise the crowd and if we play tippy-tappy then it is difficult to get excited but all credit to Costa for sparking it off. His aggression and the way we stood up to it (and then some) ensured that the crowd stayed "on it" throughout and our defending was excellent.
Could this just be the year when it all starts to fall into place...?
Mike Green
28
Posted 13/03/2016 at 12:14:33
Brent – I've seen them taken in, they just get searched on the way in.
Gary – you might be right, isn't it nice to know a ball with our name on it is already in the hat though? They're not even there yet. Sit back and enjoy today's games. :)
Paul Andrews
29
Posted 13/03/2016 at 12:23:14
This lad will go on to be one of the great centre-forwards. He only needs aggression to go with his ability. That will make him the complete centre-forward.
Don Alexander
30
Posted 13/03/2016 at 12:24:29
You don't need to take a stool in these days Brent! :)
Don Alexander
32
Posted 13/03/2016 at 12:37:29
Dave Williams, you're bob-on with that. Signing Andy Gray in November 1983 was the catalyst. He was a 100% in-your-face, brave as a lion revelation. He'd have been even better had he been able to do what Rom did yesterday for his stupendous first but Rom would also be even better if could take on a more Andy Gray attitude. If he had some of that he would at the moment be the best centre-forward in the world.
Ernie Baywood
33
Posted 13/03/2016 at 12:49:01
Brent, I don't think he suddenly learned how to control a ball at age 22. I'm teaching 7-year-olds at the moment – I reckon Rom would have had that technique down.
In my opinion it's the way he's using his body. A year ago he was still playing as if he was a beanpole – trying to control the ball on the move so he was getting away from his marker. Now he's belting up the defender early and simply controlling it in front of him.
There's still development in Lukaku. The more he figures out how best to use his physical attributes, the better he'll be. He might have been working on his technique all his life but he's never been bigger or stronger than he is right now.
Brent Stephens
34
Posted 13/03/2016 at 12:54:31
Ernie, whatever the reason (and I think you might have a good point there about use of his body), I just see the ball ping off Rom's feet much less often, and that's great.
Paul Andrews
35
Posted 13/03/2016 at 13:11:52
Paul @1, me too. It's amusing to read Rom's detractors furiously back-pedalling. One chap mentioned "at his age he won't improve his touch. He controls a ball with his first touch farther than most of us can kick it"
Long may he continue to score the goals in a Royal Blue shirt.
Victor Jones
36
Posted 13/03/2016 at 13:40:13
What's all this talk about wanting to, or not wanting to meet Arsenal? Let's see what Watford have to say about things. I'm sure that they are not going to lie down. And also Arsenal could maybe have one eye on a wee game against Barcelona. So who knows. We could be in the last four with, Palace.... West Ham and Watford. All dangerous teams (on their day). But we can be dangerous also. Especially when Lukaku turns up.
I am now a convert to the footballing giant that is Lukaku. I cannot argue with his goals. He just keeps on scoring. Just a wee thing that I noticed.....nothing terrible....and it is not a major concern....but he does stray into a lot of offside positions. Well most forwards do that...I hear you say. True... but watch how slow Lukaku is to get back on to an onside position. He strolls back. That will cost Everton goals. Yesterday he was screaming for Barkley to pass to him. Barkley shot wide instead. But had Barkley passed to Lukaku......the resulting goal would have been offside. Lukaku needs to get back on side quicker. But as everybody has been saying ......he is young, and still learning.
I am not trying to pick faults. Just watch for yourself, the way that he strolls about. Iron out his few little faults......and we have a beast of a player. Get in a midfield general, who can see a forward pass, and who can split a defence. And Lukaku will score 40 goals a season. Last point.....we need to get in also, proper cover ,should Lukaku miss any games. Not Kone. And I'm not sure about Niasse. ( don't think that any of us are).
And please. I am not criticising the big man.....just stating, that he can only get better. Then we really would have a player. Never thought that I would see another Bob Latchford or Gary Lineker at Goodison. Lukaku could be the best of the three. Not just yet. But he could be. Up the Toffees....
Michael Williams
37
Posted 13/03/2016 at 14:18:20
Ernie.
One thing about very large athletes is that is usually takes them longer to learn to efficiently coordinate their bodies compared to smaller, thinner athletes. We see this all the time in basketball and baseball in America where young players with bigger bodies are noted to take longer to fully develop – especially at the professional level.
It's easier for someone built like Messi, Aguero or David Villa to control their bodies at a younger age than it is someone built like Rom. He's only 22, he'll get there.
Graham Mockford
38
Posted 13/03/2016 at 14:59:22
Michael #37
I think his size and physicality limit him in certain areas of the game. Because he is such a big unit – 6ft-3in and nearly 15-stone he will never be quick of the mark. Once he gets moving he is pretty rapid as we have seen on occasions this year. He will also not have the stamina of smaller players. You don't see many 15-stone marathon runners surprisingly.
And that I believe is the nub of the criticism he receives. He's expected to play like Vardy when he is not ever going to be equipped to do so. Therefore we get all the 'lazy' nonsense. Like another poster I had a proper tool sat behind me, consistently slating the lad as a 'lazy bastard'. I'm often told its all about opinions, which is fair enough. Of course opinions can be horseshit also.
David Pearl
39
Posted 13/03/2016 at 15:06:53
Well well we could be seeing a rerun of the 84 final perhaps. John Barnes and Olivier Newton John... it's all coming back. Though a bit hazy. We might not have a better chance in years.
Kevin Johnson
40
Posted 13/03/2016 at 15:12:52
I predicted Everton vs Palace in the semis, and then Watford in the final... I fancy West Ham to beat the Mancs.
I am still on the ceiling from yesterday. One of the best nights at the Old Lady for many a year .

Kevin Johnson
41
Posted 13/03/2016 at 15:15:42
Arise, Sir Rom, your place in Everton History has been assured. You are now an Everton legend.
John Atkins
42
Posted 13/03/2016 at 15:27:26
We're favourites now.
As you've just said, David, we simply won't have a better chance to lift it now.
Laura Round
43
Posted 13/03/2016 at 15:31:26
Bye bye, Arsenal! It's on now! Wembley here we come! We can beat anyone left... COYB!!
Liam Reilly
44
Posted 13/03/2016 at 15:50:22
Palace, Watford, ourselves and here's hoping for the Hammers. With Leicester on pole for the title, perhaps the age of the Sky cartel is over.
Now wouldn't that be nice...
John Beesley
45
Posted 13/03/2016 at 15:54:24
Who do we want to win – West Ham Utd or Man Utd?
Darren Hind
46
Posted 13/03/2016 at 15:57:44
8/1 for us to win it was readily available yesterday, a couple of bookies even going 17/2.
You'll be lucky to get a third of that now.
What a difference a day makes.
Colin Glassar
47
Posted 13/03/2016 at 16:06:30
Liam, the sands are certainly shifting. I'm sure sky and the rest of the media will work out a plan with Scudamore to restore the staus quo next season.
Michael Williams
48
Posted 13/03/2016 at 16:32:38
Graham #38. I agree completely with what you wrote. I too can't believe how several poster here call Rom "lazy." Lukaku will never be a quick, shifty forward darting in and out all the time like a minnow, for the reason you stated.
People also complain about his touch on "hold-up" plays. If he can handle 50% of 30-yard balls booted to him by defenders he's doing pretty good. He provides an outlet that other forwards don't because they're too small.
Of course if Everton had Aguero or Messi leading the line, you can bet several Toffees here would slag them for not being "good enough in the air."
David Price
49
Posted 13/03/2016 at 17:12:06
Everton vs Leicester City in the Charity Shield next August.
Has a nice ring to it...
Chris Corn
50
Posted 13/03/2016 at 17:34:07
Colin at 47, you are right mate. That's probably why the so called "Big 5" are having these "informal" discussions with yanks about breaking away because the playing field is evening a little bit and some are shit scared their Champions League place is no longer guaranteed. Especially that there is a chance that the fourth Champions League spot may go in the near future unless Man City can do something this year.
A "Euro Super League" with no promotion or relegation. I wonder if they will have a draft like all the other US sports; that frankly the rest of the world has no interest in.
Mike Gaynes
51
Posted 13/03/2016 at 17:38:35
Jim #50, excellent point that we've not topped any of these teams yet.
Sorry, though, Payet is also a top-class cheat. He should have been off for the blatant dive before he scored on that brilliant free, but Atkinson choked on his whistle and fled from the call.
Derek Williams
52
Posted 13/03/2016 at 18:36:15
5/2 favourites to win the cup, now that has a lovely ring about it!! COYB, it's been way too long....
David Price
53
Posted 13/03/2016 at 18:37:28
Sounding a bit nervy already Andrew, on the face it, the five still in it can beat each other. It'll be who wants it more, Watford and Palace it's a good day out, not far to travel.
West Ham Utd believe but their arrogance will seem them fall and Man Utd are enveloped in the fear of failure and past achievements.
If we really want this as a team, with no fear, we will do it.
Liam Reilly
54
Posted 13/03/2016 at 18:42:25
Don't care who we get and none of them will want Everton.
Grant Rorrison
55
Posted 13/03/2016 at 18:47:05
Everton vs Watford final.... has a nice ring to it.
Derek Williams
56
Posted 13/03/2016 at 18:55:24
Just a thought ... if we do win it, the last four FA Cups will have been won by Arse of the Arse and El Bob!!
You couldn't make it up.
Geoff Evans
57
Posted 13/03/2016 at 19:08:49
Weakest team left in. All the others will hope to draw Everton who they all see as a one man team.

Ged Simpson
58
Posted 13/03/2016 at 19:10:41
God... I hope that is irony, Geoff.
Grant Rorrison
60
Posted 13/03/2016 at 19:31:41
Geoff (#57). Fucking hilarious... wait a minute, you were being funny, right?
James Peter
61
Posted 13/03/2016 at 19:33:17
Never forget the train into Wembley Way for the semi in 2009, listening to the United fans singing about their star studded team, and the likes of Cantona and Best to which we started singing "Tony.. Tony-Tony .. Tony-Tony ... Tony, Tony-Hibbert" haha.
Yeah alright Geoff, really getting us going here, lad haha...
Phil Roberts
62
Posted 13/03/2016 at 19:40:02
OK if we don't LOOK like weakest team left in – how about most underachieving team left in? Mind you, with the money spent by LVG, I think we would even not get that title either.
Raymond Fox
64
Posted 13/03/2016 at 20:05:13
Geoff 57, may I politely say total bollocks.
The betting to win the cup:- 9/4 Everton 7/2 Utd 7/2 West Ham 5/1 Palace 5/1 Watford.
That betting is now, either Utd and West Ham will shorten when that tie is decided.
As you can see the bookies think we will beat Palace and Watford if we meet either in the semi.
They don't seem to share the doubters faith in Roberto!
Phil Roberts
65
Posted 13/03/2016 at 20:09:26
Ged – We don't get anything for getting to a semi-final.
Nil Satis Nisi Optimum means nothing satisfies but the best – so being satisfied about getting to a half-final is not in accordance with our motto.
Something about there is no glamour in being the bridesmaid.
David Hallwood
66
Posted 13/03/2016 at 20:23:40
Everton vs Watford...altogether now:

When the Rat went up to to lift the FA cup
We were there, we were there.

What a day that was – no, scratch that, what a weekend that was. Wouldn't mind a repeat, but it'll be a bit more sedate than that mad weekend!! COYB
David Donnellan
67
Posted 13/03/2016 at 20:29:08
We can do this! We are more than capable of beating any of the teams left in the cup.
In the Capital One Cup we had the misfortune of drawing Man City in the semi-final (we still should have won in my opinion), there is no team of their quality left in the FA Cup. COYB!
Gordon Crawford
68
Posted 13/03/2016 at 20:39:05
Some great results for us and our pursuit of the FA Cup.
Onwards and upwards. :)
Alan Bodell
69
Posted 13/03/2016 at 21:11:41
James #61, you reminded me of the train out from Villarreal 2005 and the Spanish police were being heavy with us and a lad started singing the YMCA song because they were all dressed in leather gear flexing and posing. It was hilarious and the police didn't know what to do.
Terry Underwood
70
Posted 13/03/2016 at 21:26:52
We can certainly win this. As for Rom being lazy, if 25 goals (so far) is a result of laziness, give the guy a sedative; he will top 40 by season's end!
Christopher Wallace
71
Posted 13/03/2016 at 21:47:21
Ernie Baywood
You're spot on with your analysis – I've been saying the same thing for ages.
Lukaku wasn't creating the space by backing in before moving towards the ball.
More often than not, what appeared to be a poor touch was caused by the defender nudging him in back, for nibbling the back of his heels.
A player of his strength and size should have no problem with these basics, and he seems to be doing the right things now. He truly is a best and can do anything he wants when he is on point.
COYB
Brent Stephens
72
Posted 14/03/2016 at 09:49:54
Anyone likely to have a spare ticket for sale for the semi final?
Joe Clitherow
74
Posted 14/03/2016 at 11:15:03
I have to say that I have to keep my excitement in check at the semi final and another trip to Wembley. I keep going back to that May day in 1984 when one of the major differences between us and Watford was that they were happy to be there whereas we were determined to win.
That's the attitude and focus we need to keep, not being happy to be in a SF, however difficult or dour that may seem. I want to win the Cup, not get one or two trips to Wembley. and this is the best chance we have had in years. I hate being the favourites but I can't deny that we are! Complacency is the worst enemy of this Martinez side.
Time to celebrate is when Jags lifts old jug ears up at the end of the Final.
Andrew Ellams
75
Posted 14/03/2016 at 12:04:06
Leicester to win the league, Everton for the cup, Spurs to finish runners up in the league and Barca running riot. It's Gary Lineker's year. How are Grampus 8 doing these days?

As for Rom, if he left we'd struggle to attract a better player, or even an equal with or without Mr Moshiri's billions. I can't believe we have a player of his age and ability, has 25 goals by mid March and seems to be an all round decent bloke. He can be as good as Drogba and has to be the man that we build Moshiri's team around. Barkley ditto, but Del I'm not so sure. If we brought in Slimani and/or Yarmolenko Deulofeu could well become a distant memory.
Add Your Comments
In order to post a comment, you need to be logged in as a registered user of the site.
Or Sign up as a ToffeeWeb Member — it's free, takes just a few minutes and will allow you to post your comments on articles and Talking Points submissions across the site.
© ToffeeWeb