Moshiri has options to complete Everton takeover
by

57 Comments [Jump to last]
| 06/06/2016
As documents that have been floating around the Internet for a while now show, Farhad Moshiri has agreements in place to potentially increase his stake in the Blues to around 76%.
The British-Iranian businessman purchased an initial 49.9% holding in Everton in February but it was always assumed that his long-term goal was to purchase a controlling stake in the club once he had his "feet under the table" at Goodison Park.
That intent is spelled out in documents registered at The Isle of Man's Companies Registry that show that Moshiri has options to buy out the remainder of the shares held by Bill Kenwright and Jon Woods — the pair originally sold half of their stakes to the 61-year-old former Arsenal shareholder — as well as those held by former director Arthur Abercromby.
According to the documents, Moshiri's options were granted in February this year to Blue Heaven Holdings Ltd, the vehicle registered in the Isle of Man last August by which he purchased his first tranche of shares.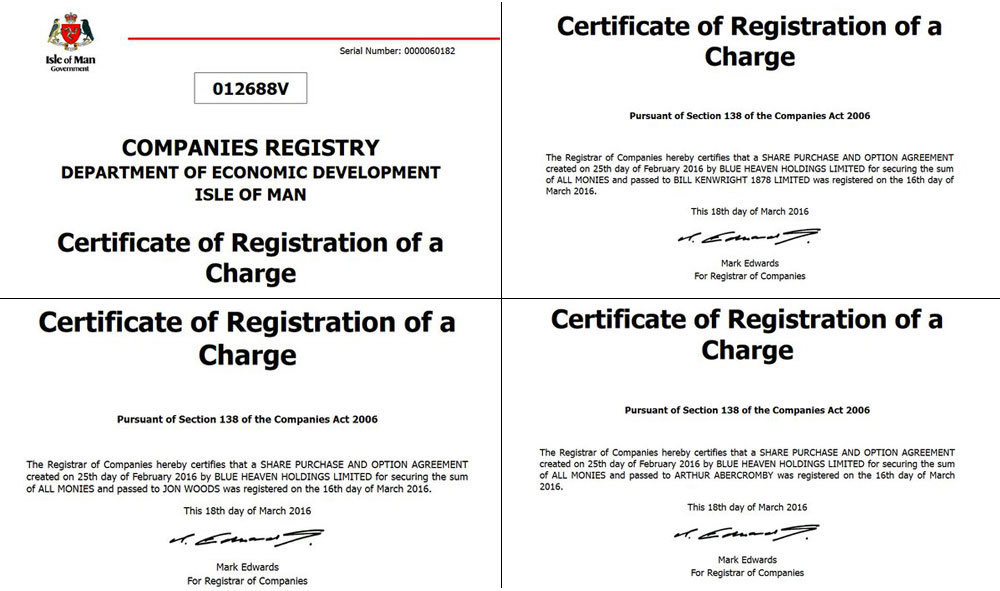 Documents registered at The Isle of Man's Companies Registry show Moshiri's options to buy more from Everton's other major shareholders
They offer further evidence not only of Moshiri's intent to increase his stake in the club but to take full control of the club from Kenwright who has been at the helm at Goodison Park for the past 16 years.
Moshiri is believed to have taken the lead in dismissing Roberto Martinez as manager last month following a run of horrendous results and he has been the point man for negotiations with Ronald Koeman who is expected to be named as the Toffees' new head coach in the coming days.
Movement on the club's long-standing stadium issue is also expected as the London- and Monaco-based billionaire seeks to carry out his ambitions to rebuild Everton as a power in the Premier League.
---
Reader Comments (57)
Note: the following content is not moderated or vetted by the site owners at the time of submission. Comments are the responsibility of the poster. Disclaimer
Mike Mulhall
1
Posted 06/06/2016 at 19:25:33
Excellent news
Vineet Sood
2
Posted 06/06/2016 at 19:30:55
This week just gets better and better !
Andrew McGreavy
3
Posted 06/06/2016 at 19:33:37
Everything seems to all be positive at the moment, fingers crossed it all heads in the right direction and once again we can hold our heads high and proclaim
"WE ARE EVERTON"
Mick Davies
4
Posted 06/06/2016 at 19:33:39
I.O.M.? Well I suppose it's an improvement on the BVI's. Let's hope he buys BK out soon, so he can run the club in a professional manner, unlike the Paddy's Market style of the previous majority shareholder
Mark Ryan
6
Posted 06/06/2016 at 19:53:23
I for one hope that Bill gets to see the whole club transformation over the coming years because without him Mr Moshiri may never have been brought onboard. Please give Bill some credit. He is Everton through and through and only wants the best for the club. He deserves some support. I expect massive changes over the coming years and I see us eating once again at the top table. Lets support Bill, Farhad and the team as we head into the new season. Its good times ahead boys, enjoy it.
Andrew McGreavy
7
Posted 06/06/2016 at 19:53:38
When he gets his hands fully on the club, please please please get rid of that awful Kitbag deal, a premier league club where you can't buy there merchandise anywhere, what a joke, it must strangle the clubs revenue stream.
James Stewart
8
Posted 06/06/2016 at 19:59:10
Where would we be without Moshiri? Scary thought.
John Audsley
9
Posted 06/06/2016 at 20:09:49
Roberto would be in charge next season James.....scary indeed
John Malone
10
Posted 06/06/2016 at 20:12:17
James 8, if were being honest where would we have been without Bill? Think about it!
Mike Green
11
Posted 06/06/2016 at 20:16:44
"Blue Heaven Holdings Ltd"
Sounds like our man has a plan....is this the dawn we've been waiting for...?
Jim Lloyd
12
Posted 06/06/2016 at 20:24:41
Well, we might have been at the Kings Dock, John. But he has introduced Farhad Moshiri into the club so maybe that makes some amends.
Looks like we've got a future now.
Andy Walker
13
Posted 06/06/2016 at 20:25:17
As predicted. There was no way Mosh was going to pile in £100m's when he only owned 49.9%. He will want maximum return on his investment.
I posted on his appointment that step 1 of his plan after the initial share purchase would be increase his equity holding possibly in conjunction with a new partner. Step 2 would be sack Martinez and Step 3 appoint a new world class manager.
Well he sacked Martinez first but I think that was probably a change to the initial plan as things got so bad so quick. Doesn't make much difference in the end, the key point is this guy is serious. Thanks again BK for pulling off the original deal with Mosh. Finding a billionaire who is prepared to invest his own cash in our club at a time of global financial meltdown and with EPL experience, is a staggering achievement. It's sad that not everyone one acknowledges this as it's undeniable BK's final key act was a master stroke. Kenwright was never perfect but this deal overwrites everything else as it will be truly transformational for our club.
Kunal Desai
14
Posted 06/06/2016 at 20:25:44
The club has to move forward, get rid off the dead wood on and off the field. Small steps but hopefully moving towards being run like a corporate business.
Steve Butterworth
15
Posted 06/06/2016 at 20:26:29
Expect changes in both tbe boardroom and management. Moshiri is an accountant by profession; he has brought his own corporate financial advisor. What future Elstone as Chief Executive?
Peter McHugh
16
Posted 06/06/2016 at 20:28:19
Flaming ek Andy. Kenwright seems to have done well selling his shares to Moshiri both personally and for fans, well done. But c'mon his legacy is what it is, showmanship, romance, no personal investments, a load of lies and 2 (although really 3) failed ground moves.
Dan Brierley
17
Posted 06/06/2016 at 20:28:31
This sounds like fantastic news. I personally always had faith that Kenwright would hold out for getting the right owner for us, and this guy seems to be the real deal.
So happy to have someone at the helm that seems to understand Premier League football, and even seems to understand this club. Hats off to Bill for not selling us to someone like Lerner who might have the cash but clearly no understanding of how the league works. Onwards and upwards!
Barry McNally
18
Posted 06/06/2016 at 20:29:26
The deal must have been on the cards well before February seeing that Blue Heaven was registered last August......maybe Bill was working 24/7/365/10 after all! Hope he has picked the right man in Moshiri, have a feeling he has. COYB.
Andy Walker
19
Posted 06/06/2016 at 20:44:44
Peter, his legacy is Moshiri. This is massive. We are back where we belong financially now. It wasn't so long ago that we had to sell to survive and many felt that if we hadn't been able to sell Rooney we could have become Leeds mark II.
Now we are a very wealthy club with an owner (soon to be) that clearly wants to bring success to our club. Whatever happens we now have hope for the first time in about 25 years. Moshiri didn't just wake up one day and thought oh I'll sell my gilt edged golden plated guaranteed income in Arsenal and put it into Everton. A lot if bloody hard work and persuasion will have gone into doing the deal.
As I have repeatedly said Kenwright has fucked up other things, including the ludicrous appointment of Martinez which I said so at the time. But this deal massively outweighs all those past failings. Not everyone is perfect, we will always have to take the bad with the good, BKs lasting legacy will be Moshiri, who will also no doubt do things in the future we don't all agree with. But all the other BK failings like the new ground will now get resolved, so the only legacy will be Moshiri, the other shit will get put right.
Mark Frere
20
Posted 06/06/2016 at 20:55:00
Hail, BK!
Jayne Smith
21
Posted 06/06/2016 at 21:12:19
This guy is just going about getting on with what we have all craved for ages. He's not a stupid guy and unlike Bill will not go on sentiment.
Bill has stabilised the club but like his choice of managers isn't going to take us further. Moshiri will I really believe so
Tony Hill
23
Posted 06/06/2016 at 21:16:51
This is, I suspect,
the truth of the matter, written back in March
. It is interesting that the investment model has been around so long and it is a happy combination of interests that has brought it about for us. This was not a brilliant act of persuasion by Kenwright but I do accept, on this analysis, that he has acted to the benefit of the club with the assistance of brokers like David Dein. He has also obviously made a fine profit, with more to follow, which is his due.
The Usmanov angle is also, of course, interesting.
Ian Burns
27
Posted 06/06/2016 at 21:39:40
Having read this article and viewed the relating documents, as Barry - 18 - pointed out this didn't happen in February, this has been evolving for some months.
David Dein was no doubt a link in this chain but we must give credit where it is due and BK deserves a pat on the back for at leaving the legacy for which we have been praying so long, with a total takeover available for when the right time comes.
I for one would like to say thanks BK, now let's get on with making EFC a club of which we were once so proud and back to where we belong at the top table.
Pete North
30
Posted 06/06/2016 at 22:20:27
I completely lost faith in Bill when he signed Martinez and then straight away let him sign 4 wigan losers, spending about 㿂m of Everton's money on transfer fees in the process. So, I wouldn't put it past him to fall for an 'extra 𧴜m on players' trick from Moshiri. Which Premier League club won't be spending an extra 𧴜m on players using the new TV deals ?
On the other hand, is it possible that Bill and Jon Woods are giving their remaining shares free to Moshiri in return for a genuine huge extra investment in players ?
These thoughts sound improbable but I just don't get why Mosh would pile a load of his own cash into buying players unless he is getting something very substantial in return.
Andy Crooks
31
Posted 06/06/2016 at 22:41:17
Where will we be this time next year? It all seems too good to be true. Perhaps at last it is our turn.
Tony Hill
32
Posted 06/06/2016 at 22:43:24
Pete, it's just a way of structuring the investment by Moshiri. BK won't give away shares but he has not sold them all at once and a slab of Moshiri's cash has been reserved for transfers/infrastructure on this model.
In truth, unlike the American interests, Moshiri (Usmanov?) could, I assume, have afforded to both buy out existing shareholders and to invest the further monies needed but it has been decided to go down this other route which lets BK have continuing influence and means that Moshiri doesn't have to stump up the bigger sums.
Should be good for us on the understanding that Moshiri calls the tune but , like others, I am especially interested to see whether this could be a precursor to something even bigger and more ambitious with Russian money.
You're right, of course, that the investment expects a return and given the state of football as a multi-billion pound corporation, and given their frustrations at Arsenal, I imagine that Mr Moshiri and his friends decided that now was the right time to act and to buy into a great club like ours.
Uncle Bill opened the door to them and let them come in, so that's good.
Douglas McClenaghan
33
Posted 06/06/2016 at 23:07:25
Spot on, Tony. Perhaps they see Arsenal as having reached their limit and see us as a superior alternative.
Jim Lloyd
34
Posted 06/06/2016 at 23:09:11
Well, we've waited long enough Andy. It looks good for us but we've seen so many false dawns, that I suppose we half expect it to end up like the rest. I liked what Mr Moshiri said in the Chelsea programme and, so far, he's live up to his word.
I think he will continue to carry on getting this big club back on it's feet again and the stadium issue at long last, looks like it could happen.
I think that the investment/return angle is not the major driver for Mr Moshiri. I think he was deeply frustrated at Arsenal and decided to take his opportunity with us. I don't think he's just going to shower us with money but he looks a canny player in the finance world so will know how to proceed with our resurgence.
Ii probably isn't that far fetched to see Mr Usmanov play some part, as that American (Kroenke, is it) has just bought some more shares. Whatever is going on, the future begins to look brighter for us at long last.
James Flynn
35
Posted 06/06/2016 at 23:19:20
Well, I'll view Kenwright's "legacy" as clinging to power until he got old and sick enough that he couldn't, and didn't want to, do it anymore.
Reading your posts on the matter, it's as if Kenwright "finally" found the right guy and has graciously stepped aside, leaving the Club in good hands.
Nope.
I'd guess that Moshiri had enough, at Arsenal, helping out his long-standing business partner Usmanov, and struck out on his own. For his own ambition.
Saw the Sleeping Giant run by a fellow in age and failing health and made his move.
Kenwright's genuine and fair legacy is, and will be in the long history of Everton Football Club, hiring the manager who steadied the ship, then got the Club moving up the table.
The rest about old Bill, Andy? Nah.
An aggressive guy, Moshiri, saw an opportunity and his chance to make his own mark in the football world. He's taken it.
We'll see what happens.
Pete North
36
Posted 06/06/2016 at 23:23:06
Thanks Tony. I agree that now is the right time for the new investor to take the plunge but I have difficulty with the idea that a hard headed business man with no lifelong emotional connection with the club structures the investment in this way. Why put in/guarantee tens of millions of extra cash/loans for buying players before he's even got a site nailed down for a future stadium ? A bit of due diligence will have also highlighted the way the Bale and Suarez sale proceeds went down the toilet in recent years and the risk is massive with a newly installed management structure. I just don't get it.
Tony Hill
37
Posted 06/06/2016 at 23:38:25
Pete, I think, as Jim says, that Moshiri/Usmanov's frustration with Kroenke at Arsenal is key here. There is a power issue, going beyond mere economics, though obviously I am speculating.
I hope he/they want to outstrip those who thwarted them at the Emirates - I know Usmanov increased his shareholding but he is still on the outside there.
Anyway, it's all very promising for us - whether or not the Koeman deal is signed and sealed.
Mike Corcoran
38
Posted 07/06/2016 at 00:48:49
Loving the excitement and speculation but I see the elephant in the room. Looking objectively and emotionless, could the monchi koeman dream team be sought out by Moshiri to go down the asset stripping money ball route. They'vee both got good experience of how to handle it well though
Carl Sanderson
39
Posted 07/06/2016 at 00:53:03
Correct, James. Kenwright's legacy will be Moyes's appointment and stabilising the club. It will also be zero investment, no trophies, two failed ground moves, asset disposal, poor marketing strategy and an awful lot of sentimental bullshit.
Calling Moshiri Kenwright's legacy is like saying that Fenway is Hicks's and Gillette's legacy at Arsefield. Convenient idea, but not true.
Dan Davies
40
Posted 07/06/2016 at 01:17:57
Usmanov has increased his shareholding in Arsenal. Proof that he's determined to improve his influence there. The result of that? Kroenke increases his. Fact.
There's a power struggle at Arsenal if you want to see it that way. FACT is Kronke by increasing his shares is a big two fingers in the face of Usmanov. Kroenke calls the shots at Arsenal. Fact.
Moshiri being involved in all this might have thought he would try his hand somewhere else seen as he's getting older. Fair play to him. Bring it on.
I tend to think along the lines of James Flynn@ 35, I don't for a minute believe this has been masterminded by BK I believe he got lucky. He knew the right people at the right time.
Everton were ripe for investment and Moshiri grasped the nettle. BK has done very well out of this deal do not fool yourselves. So congratulate Bill hopefully into the sunset.
As for Moshiri, he's a billionaire because Usmanov made him a billionaire, as astute as Moshiri may be he works for Usmanov, their business partners, whether that partnership unofficially carries on at Everton, who knows?
Is Moshiri striking out on his own? Possibly. However let's be honest Mr Usmanov ain't gonna be happy being a silent partner at Arsenal under Kroenke forever surely?
My line of thinking is this- New manager, players, big money spent, we will know the true extent of this investment when Everton get a new stadium, then we will know we have serious investment.
James Flynn
41
Posted 07/06/2016 at 01:26:18
Dan (40) - There is no power struggle at Arsenal.
Due diligence no further than Wikipedia would show to anyone that Kronke BUYS things. He buys.
God knows why Usmanov bought into AFC. Moshiri too.
Kronke's thing is to purchase, purchase, purchase! It's what he does.
Usmanov bought Moshiri's shares. This we know.
Moshiri has gone his own way. His way is Everton Football Club.
Let's see what he does with it.
Derek Thomas
42
Posted 07/06/2016 at 01:29:35
By luck or good judgement Bill, like the showman he is, has yet again staged a magnificent last act, a finale of glitter, theatrical artifice, with such a big finish it makes people forget the preceding average Acts and poor performances.
Nailed on President for life ( none exec.)
Dan Davies
43
Posted 07/06/2016 at 01:39:32
That's my point James some in the past have said Usmanovs increased his shareholding at Arsenal why would he invest at Everton?
Exactly for the reason you've just pointed out. Kroenke has got Arsenal wrapped up. So I find it surprising people scorn the idea that Usmanov and his best mate could actually look elsewhere!
Just going on gut feeling there's more going on behind closed doors with this than we understand. As I've said previous, the building of a new ground will tell us alot.
James Flynn
44
Posted 07/06/2016 at 01:46:32
Carl (39) - I, purposely, left out dumping Wayne Rooney for some ready.
David Israel
45
Posted 07/06/2016 at 01:49:43
Moshiri is BK's legacy in the same way that King Juan Carlos and democracy were Franco's legacy in Spain, some 40 years ago. But who's complaining?
David Israel
46
Posted 07/06/2016 at 02:14:17
I don't mind Moshiri - far from it, from the look of things. But Usmanov makes me uneasy. "Barge pole" and such. Just check the Wikipedia article on him, especially under "Suppression of online criticism".
James Flynn
47
Posted 07/06/2016 at 03:32:08
Dan (39) - Spoken fairly.
Do you think he's Usmanov's frontman? Why? Nothing indicates that. What we have is Usmanov owning the shares Kroenke doesn't at Arsenal.
And Moshiri neck-deep in running EFC.
If we're extending that relationship to a new stadium Merseyside?
Why not? Usmanov's fortune was made in the Russian steel industry. Wouldn't surprise Moshiri would bring him in while looking for a new stadium deal.
Beyond that, Moshiri is the boss of EFC.
Eric Myles
48
Posted 07/06/2016 at 03:43:36
David #46, maybe he can pick up some tips from Elstone on suppression of criticism?
David Israel
49
Posted 07/06/2016 at 12:25:40
Yes, Eric, fair point! He's probably no more than an amateur when compared to RE, on that score!
Dan Davies
50
Posted 07/06/2016 at 12:47:39
James@47, could Moshiri be Usmanovs frontman? I don't know is the simple answer. Could Moshiri be Usmanovs unofficial proxy? Possibly.
Legally Moshiri will be/is Evertons boss. My gut feeling though is that there's more to this but I could be wrong.
Batman and Robin! Usmanov and Moshiri! Ha ha ha! I don't know why but that's how I feel about them pair, anyways I know sweet fa so I'm just throwing it out there as plausible.
Like I said earlier it's the building of a possible stadium overlooking the Mersey that will be a game changer for us. That deal if it ever happens will I think expose more than we know now.
Build it and they will come!
Andrew Clare
51
Posted 07/06/2016 at 13:09:18
Will we ever know the real facts behind the big business dealings of Mr Moshiri? Do we need to know?
As long as his main aim is to put Everton back at the 'top table' of major players in the league I am happy.
As others have said if we build a new state of the art 60,000 capacity Stadium like Marseille's Velodrome on the waterfront- which we will fill we can then compete with anyone.
Colin Glassar
52
Posted 07/06/2016 at 19:25:49
Is Moshiri Usmanov's Edward J. O'Hare (Easy Eddie)?
Andy Walker
53
Posted 07/06/2016 at 20:20:04
I see the conformists who adhere to the BK is 100% bad narrative are still going strong. The very same group who also said BK would never sell his shareholding. Hmmm.
Taking black and white positions on such matters is simply naive. This isn't a good v evil debate, it's business. BK was far from perfect, made some big mistakes, but he also was pivotal in getting Moshiri into our club. The idea that Moshiri just woke up one day and thought, 'I know I'll go and buy Everton' carries zero credibility, but I guess it does help avoid acknowledging the actual reality.
Some balance and objectiveness called for I think. To those who adhere to the idea that BK deserves no credit for Moshiri's appointment, could BK ever have done anything in your eyes that was good for our club? If the only answers you can think of is either leave the club, or not (insert one of his mistakes) I think you've probably identified that you perhaps have an axe to grind against the man. Being blinded by prejudice is never a smart place to be.
Tom Evans
54
Posted 07/06/2016 at 20:48:25
Finally, I have just figured out who Mr. Moshiri bears a striking resemblance to in the headline picture.
None other than Vic Reeves.
John Critchley
55
Posted 07/06/2016 at 22:29:31
Nah Tom (54) more like Eric Morecambe I think ha ha.
Trevor Lynes
56
Posted 08/06/2016 at 11:30:47
Before heaping praise on Mr Moshiri I want to see what moves he makes pre-season to strengthen the squad and get the right manager in place.We need a turn over of players in double figures.We have too many mediocre players in the squad and we will win nothing with the squad we have.I would keep the defence but the midfield badly needs a creative player to provide the assists.We must stop this two defensive midfielders combination.Surely one should be a true box to box player who can provide decent forward passing ability and a few goals.If we cannot hang on to Lukaku then we must pay decent money for a top goal scorer to replace him.I would love to see the new manager and Moshiri convince big Rom to stay and help make our club a real contender for titles and trophy's.We need to get rid of Hibbo, Osman, Pienaar, Gibson, Mcgeadie, Kone for starters and look to replace Barry sometime soon.I am not sure that Oviedo, Besic, Cleverley and Lennon are good enough for a top team.Niassie is a mistake IMO but there you go.
I would like to see one or two of our youngsters make the grade this season ie; Holgate, Dowell, Davies, Galloway and Garbutt....they may enable us to save some money but they are unknown at the premier league level.usually youngsters are inconsistent and that is quite obvious with Lukaku, Deulofeu, Stones and Barkley who should be reaching their very best more often.
The new manager plus Moshiri need to inject ambition and enthusiasm into our squad to raise the spirits of the suffering fans and get Goodison rocking !!If we could buy a Payet or Silva type of player plus a Yarmolenko to play alongside a rejuvenated Lukaku then the whole club would benefit.
If Moshiri can hang on to our best players and add two or three top players then the fans will be pleased.I do not want to see us continue to use transfer windows to make profits to the detriment of club ambition.We need to invest in the team and perhaps that will result in the long over due rewards on the pitch.
Michael Polley
57
Posted 08/06/2016 at 12:31:21
Kenwright is a true Blue but his unbelievable hesitation in sacking Martinez has seriously undermined him. However, he had brought Moshiri onboard and they this new owner we could be going places. Feeling positive for the future. COYB
Barry Jones
58
Posted 09/06/2016 at 01:02:26
Suddenly Kenwright is a good guy? What utter bullshit. I hope Moshri pursues this goal and turfs Bill out as quick as possible. Moshri has vision and uses expert opinion, unlike Bill and his extraordinary ego who went on hunches.
We would have endured the inept Martinez for longer if Bill had his say. Please led us rid ourselves of that amateur Kenwright once and for all.
Barry Jones
59
Posted 09/06/2016 at 02:39:55
I love this line from Chris Bascome in the Telegraph, which beautifully sums up the difference between Moshri and Kenwright and why we should be happy going forward:
"In selling the Goodison blueprint to Koeman and trampling over a Premier League rival, Moshiri has shown Everton are ready to assume the roll of transfer bullies rather than browbeaten as has so often been the case in recent years. The preys are hunters again".
Eric Myles
60
Posted 09/06/2016 at 03:52:22
Andy #53, maybe the driving factor behind BK's selling some shares is his illness?
If a friend of yours owed you a lot of money and was rumoured to be seriously ill wouldn't you get a bit worried you might not see a return?
Tommy Webber
61
Posted 09/06/2016 at 06:37:50
La, la, la, la, la, la La, la, la, la, la, la..
Oh Moshiri more...lovely as a summer day..
Soz that's all I got
Tony Draper
62
Posted 09/06/2016 at 07:19:18
Just musing upon why Farhad Moshiri purchased 49.9% of Everton rather than (say) over 75% and thanks to Amit for his insight on another thread a week or more back.
To recap, what I understood Amit said was that "The Mosh" may have specified or itemised certain conditions to be fulfilled before he exercised his option to buy up further shares.
Amit then went on to outline some examples. So, I got to wondering quite what those issues might be which Farhad Moshiri is looking to see completed ?
Perhaps the signals are there in Moshiri's message in the Chelsea programme ?
Stadium, he clearly states this as a priority matter. So, does he want an agreement of some sort in place regarding our home ?
Debt, many here have been unhappy with who we have to repay this to. Has Mosh got better ideas which need to be in place ?
Relegation, at the time that Mosh bought in, avoiding relegation was NOT a certainty. But, by the time Martinez was dismissed, it was. Action since that point has been decisive and determined.
I have absolutely zero evidence other than my own meanderings. Nevertheless, these 3 issues could, to my thinking, each or jointly hint at why Mosh had 49.9% and agreement for more. Time will tell.
Danny Broderick
63
Posted 09/06/2016 at 07:49:26
Tony (62),
I suspect it worked both ways - i.e. Mosh couldn't increase his stake until he had given some assurances and finance to the club/squad/infrastructure/stadium.
I think it is a good way of doing it, whichever way.
Tony Draper
64
Posted 09/06/2016 at 08:08:41
Danny @63.
I'm sure that you're right regards the existing shareholders probably requiring certain measureable level of input and commitment. As you say, it's reassuring.
Exciting though, isn't it ?
---
Add Your Comments
In order to post a comment, you need to be logged in as a registered user of the site.
Or Sign up as a ToffeeWeb Member — it's free, takes just a few minutes and will allow you to post your comments on articles and Talking Points submissions across the site.
© ToffeeWeb