Opinion
Hospitality, Heritage and Honours: Gwladys Street's Hall of Fame Returns
Lyndon Lloyd

15/03/2017

14 Comments
[Jump to last]
Share:
Few fans, if any, celebrate their playing legends better than Everton's and no one appreciates the value of bringing Blues together for an evening of familial Blue revelry and worship more than Dr David France.

Inaugurated by "Dr Everton" in the late 1990s, Gwladys Street's Hall of Fame has become a Royal Blue Institution and the accompanying dinners at which Everton greats were inducted had taken on legendary status as an unmissable date in the Evertonian calendar before the curtain was brought down on them in 2009.

David has also been keenly aware of the need to preserve Everton's history and of the financial and medical needs of some of the club's past players which is why he founded the Everton Former Players' Foundation (an idea so good, Barcelona adopted it for their retired legends) and the Everton Heritage Society.

So, with so much water having passed under the bridge since the last dinner and the need to raise further funds for both institutions, David brought Gwladys Street's Hall of Fame back this year with five new inductees and another night of gastronomic carousal last Friday at the Hilton hotel.

It was, for me personally, a special evening; not only was it my first Hall of Fame dinner but I also had the singular honour of receiving an award for ToffeeWeb in recognition of the website's contributions to Everton FC over the years. It was a great shame that David wasn't able to attend what is his own party himself due to ill-health but no one had forgotten whose brainchild the EFPF was and who conceived of such true Blue occasions in the first place.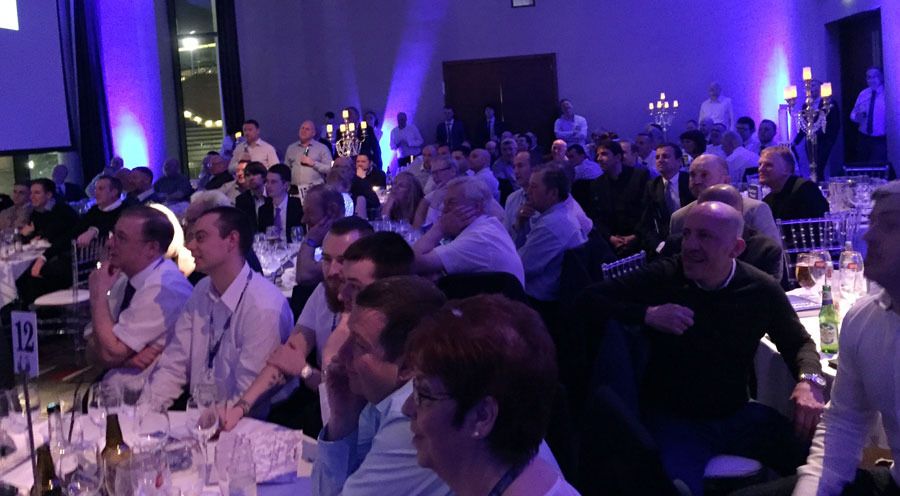 With 300 or so guests in attendance, this was to be a more intimate affair than the saturnalia at the Adelphi in years gone by that were likened to Nuremberg Rallies as 800-plus raucous Blues sang and drank the night away among a parade of club greats. There would chanting and jollification at this year's event, of course, but by all accounts it was a more civil affair than its predecessors.

It's hard to put a price on an evening where you can raise a glass with friends, both old and new, meet a dozen of your Everton heroes, and then enjoy a four-course meal under the same roof but £60 (£80 for the VIP tickets) is great value for money all things considered, especially when you consider the great causes it benefits. No surprise, then, that the evening was sold out long in advance.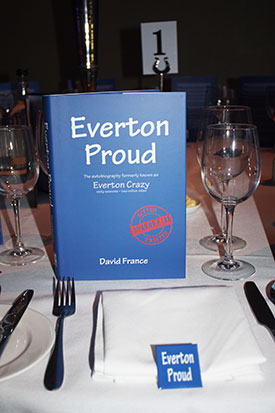 The festivities began with drinks in the 1st floor foyer where the likes of Tony Kay, Mark Higgins, Kevin Sheedy and Derek Mountfield mingled with the gathered throng and Neville Southall signed posters and took photos. Then it was time to take our seats at one of more than two dozen round tables in the dinner hall which were overlooked by a stage and projector screen which would occasionally play video clips of players and the Blues' famous FA Cup successes. We, the Everton Heritage Society members, were split between two tables, with me sitting next to Carolyn Connolly, wife of EFCHS chair Brendan Connolly, and with Lord Grantchester and Sheeds on the next table along.
Each place setting had a complimentary copy of Everton Proud, Dr France's wonderful autobiography formerly known as Everton Crazy, together with raffle tickets, a stand-up bingo card, an Everton Proud badge, a ballot card for 2018's vote, and an envelope of cards featuring pictures of each of this year's five inductees.
Following a welcome from the inimitable Darren Griffiths, an introduction by former communications director, Alan Myers, and a hair-raising rendition of Z-Cars by bagpiper, Liam Monaghan — he would repeat the feat on the pitch at Goodison the following afternoon in honour of Alex Young — Becky Tallentire read a tribute by Dr France to his hero, the Golden Vision whose funeral was the next morning up in Edinburgh.
Then it was onto the meal before the first awards of the evening were given out. While the Hall of Fame has always been about lauding former players, David was keen this year to acknowledge the efforts of non-players or those who have made a special contribution to Everton Football Club.
First up to be given the new Everton Proud award from another guest of honour, Bob Latchford, was Tony Bellew who, sporting his trademark over-sized Everton crest, has made the club so visible with his efforts in the boxing ring and on the silver screen in Creed.
Lord Grantchester, who for many years has been the largest of the minority shareholders, was summoned next to collect his award and then it was my turn to take the stage, shake the Latch warmly by the hand and receive my weighty, glass Everton Proud award.


Everton Proud award winners with Bob Latchford (clockwise from top): Lord Granchester; Lyndon Lloyd; Ronnie Goodlass, Mayor Joe Anderson; Tony Bellew (with HoF inductee Nigel Martyn); Richard Kenyon for EitC
Could a gong have a more apt name? I couldn't be more proud… of our club and everything it has achieved and stands for; to be an Evertonian and represent Everton in the online world as I have for the past 21 years; and mostly that Dr Everton himself has not only been such a champion of the website but also seen fit to honour it in such a manner. It was humbling and immensely pride-instilling to accept the award and then be congratulated by so many fellow Blues afterwards.
Liverpool Mayor, Joe Anderson, was recognised for his own efforts on Everton's behalf, not least in furthering the club's efforts to relocate to a new stadium, an news of which has every Evertonian on tenterhooks. Joe took the mic and mentioned that people have been asking him whether an announcement would be made next week.
"There won't be announcement next week — just don't ask me about the week after!" he laughed and quickly exited the stage to laughter and applause from the throng.
The fifth Everton Proud award was given to Everton In The Community and was accepted by one of its trustees and Everton FC's Communications Director, Richard Kenyon who expressed his pride at the charity's magnificent achievements on behalf of the local community.
And finally, ex-player Ronnie Goodlass was recognised for his charity fundraising initiative, Health Through Sport benefitting disadvantage youth and the homeless.
The main business of the night followed, where one by one the new Hall of Fame members were invited to the stage by Darren Griffiths to have their induction made official by either Kevin Sheedy (he presented Ian Snodin with his commemorative glass award) or Neville Southall.
Big Nev offered humorous and heartfelt anecdotes and assessments of each player but his best banter was reserved for a visibly touched and emotional John Bailey and cheeky Londoner, Pat van den Hauwe. He quipped that he liked playing with "Bails" because he always knew that he was thinking. "With him," he said pointing at 'Psycho Pat, "I never knew what the fuck he was going to do!"
As if to prove the point, Pat was asked by Darren what he was doing in front of goal four minutes into the game at Carrow Road where he scored the goal that would clinch the 1986-87 league title but he said he had no idea!
Nigel Martyn, without doubt the finest Everton goalkeeper since Southall, was the fourth inductee and he recounted the obligatory story of when in 1996 then Chairman Peter Johnson and his deputy Clifford Finch learned of Leeds United's interest in signing him, they gave him directions to Elland Road rather than nail down a deal to transfer him from Crystal Palace.
He also explained the extent to which Everton touched him — all of his kids are Blues despite the fact that he only spent two-and-a-half years at Goodison Park.
The fifth and final inductee, Kevin Campbell, was unable to make the event, unfortunately.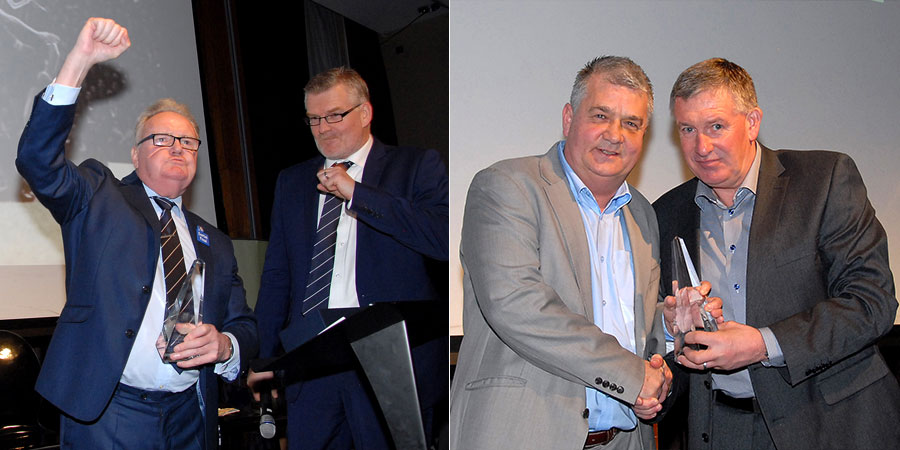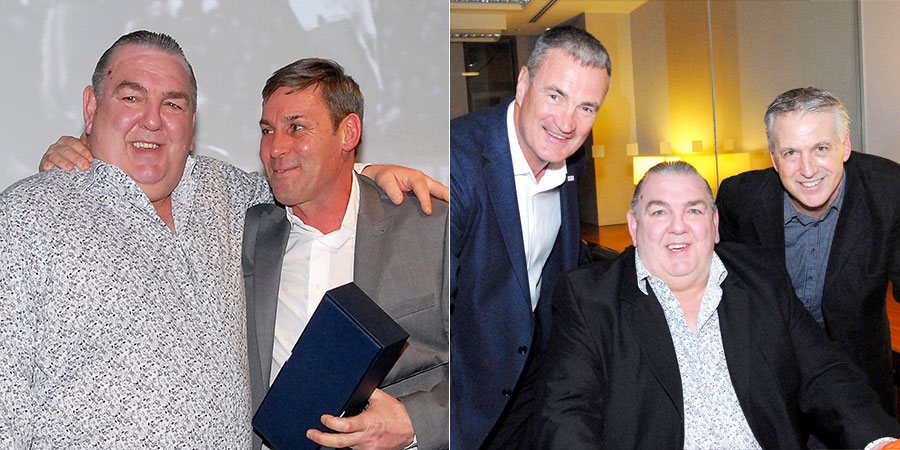 Clockwise from top: John Bailey on stage with Darren Griffiths; Ian Snodin with Kevin Sheedy; Big Nev with Derek Mountfield and Bob Latchford; Southall with Pat van den Hauwe
With proceedings having run behind schedule, the raffle, bingo and the auction of a slew of tempting items of signed memorabilia that I found myself wishing I could afford were completed in swift order before the evening was wrapped up by Darren.
The throng eventually thinned out but for me it was an opportunity to catch up with people I hadn't seen for many years and "talk shop" with fellow denizen of online Evertonia, Toffee TV's Ped McPartland. There was also time to very briefly visit what turned out to be a table full of ToffeeWebbers but there was no time to really even learn some names before the hotel staff ushered us out towards the bar as it was past 2am by this point and they just wanted to go home!
As did I, by that point. The thought of trying to yell conversations over the thumping music in the bar didn't appeal so I slipped away into the chilly evening air with plenty of memories from another great evening spent in the company of the Everton family.
Credit for pulling the evening off goes to David who put the wheels in motion months ago at the launch of Everton Crazy and then to his wife Elizabeth who took up the reins on the Arizona end when ill-health prevented him from continuing preparations. On the logistical side, the thanks of all those attended should go to Dave Cockram of the Former Players Foundation and Richie Gillham of the Heritage Society.
Thoughts inevitably turn to 2018 now and who might be added to Gwladys Street's Hall of Fame. Among the names on the ballot card at the dinner were stars from the past as Tim Cahill, Mikel Arteta, Joe Parkinson, Dave Thomas, Martin Dobson, Andrei Kanchelskis, Paul Rideout, Mike Trebilcock, Tony Hibbert and Gary Lineker.
And which non-playing Evertonians might be put forward as recipients of the Everton Proud award? Who would you choose and why?
Watch: Toffee TV video of the evening

Follow @EFCLyndon
---
Reader Comments (14)
Note: the following content is not moderated or vetted by the site owners at the time of submission. Comments are the responsibility of the poster. Disclaimer
Peter Mills
1
Posted 15/03/2017 at 06:33:41
This award cannot go without recognition and congratulations from all who read and contribute towards ToffeeWeb. The work that Lyndon (and Michael) put into this site is quite remarkable, and it is great that these efforts, and Lyndon's carefully crafted and insightful words, have been recognised by a forum that is held in such respect by all Evertonians.

Congratulations, Lyndon.
Rick Tarleton
2
Posted 15/03/2017 at 09:22:27
It's well-deserved, Lyndon. You and Michael run an honest, non-sycophantic site and a site where honest and varied opinions are welcomed and debated. Long may you both be ale to continue the good work.
Dave Abrahams
3
Posted 15/03/2017 at 09:33:33
Congratulations Lyndon, you Michael and your brainchild ToffeeWeb deserve the award. Glad you enjoyed the night, I hope you enjoy many more occasions like last week's affair.
Dennis Stevens
4
Posted 15/03/2017 at 10:06:53
I envy you being at the ceremony, Lyndon, it sounds wonderful. Congratulations on a fully deserved award. ToffeeWeb is the best Everton site, by a mile & a half! It's probably one of the better fansites in football generally too, maybe the best.
Peter Laing
5
Posted 15/03/2017 at 10:11:45
Well deserved recognition for ToffeeWeb, congratulations on receiving the honour.
Chris Williams
6
Posted 15/03/2017 at 11:08:08
I can only reiterate the congratulation on the award gents.
Well done for creating the best EFC site out there. Loads of opinions, sanities and insanities, hobby horses, insights, obsessions, reportage, contrasts and agreements.
A haven for Evertonians in a sea of Sky Gobshitery.
John Raftery
7
Posted 15/03/2017 at 11:38:49
It was a great night and a real privilege to be there. Thanks for the report, Lyndon, and many congratulations again on the award which is richly deserved.
As a veteran of the early evenings I can confirm you are right about this one being more civilised. There was no lack of passion in the room though. It just may be the case that many of us no longer have the agility to climb on to the tables!
Eugene Ruane
8
Posted 15/03/2017 at 13:08:42
Well done, looks like a great night.
Not sure what the late Oliver Reed was doing there though.
(or Buster Blood vessel or Stan Ogden)
Andrew Presly
9
Posted 15/03/2017 at 13:59:26
Slightly worried about the health of Big Nev from these pics.
Congrats Lyndon and all at ToffeeWeb!
Sue Brown
10
Posted 15/03/2017 at 15:35:36
Many congratulations Lyndon and Michael on the award, very much deserved. ToffeeWeb is THE site for all of us who live and breathe Everton. Sounds like you all had a great night, well done!
Andy Crooks
11
Posted 15/03/2017 at 21:11:13
I admire a lot of your football stuff, Lyndon, but this is a bit special. A top piece that honestly made me feel the sheer enjoyment you got from being there. Well done!
Jeff Armstrong
12
Posted 15/03/2017 at 21:53:24
Eugene, I was wondering who the blind boxers where in picture (5) and how come Gabriel Oberton (2) won an EFC award? Oh and Psycho looks like he's gone all Brucie!
Karl Masters
13
Posted 16/03/2017 at 00:20:24
An award well deserved, Lyndon.
I share the concerns of a couple of posters above at the size / premature ageing of one or three stars of yesteryear. I guess we are all getting older, but Mr VDH ( despite his unhealthy lifestyle ) and 'Fat Latch' ( Duncan McKenzie's name for him by the way ) have fared very well in comparison to some of the others.
Dr France is a special man for organising this.
Frank Wade
14
Posted 17/03/2017 at 18:46:18
Congratulations Lyndon, delighted that you get to attend such an event and pick up your deserved award. The Everton fan forum and information on all things Everton that you and Michael supply through ToffeeWeb is fantastic. Thank you once again for proving such a fountain of knowledge and entertainment.
I addition, where else would one be first to enjoy such meaningful additions to the English language as "Sky Gobshitery". Thanks Chris Williams #6 above. While I'm at it, thanks also to the wit of John Daley, Eugene Ruane and Mike Gaynes and others.
Well done you Blues.
---
Add Your Comments
In order to post a comment, you need to be logged in as a registered user of the site.
Or Sign up as a ToffeeWeb Member — it's free, takes just a few minutes and will allow you to post your comments on articles and Talking Points submissions across the site.
© ToffeeWeb