Report
Heroic saves from Stekelenburg deny City
By Michael Kenrick
15/10/2016

165 Comments [Jump to last]
Share: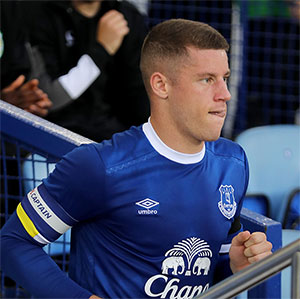 Ross Barkley is dropped to the bench for the Etihad clash
Barkley was dropped for the Man City game with Gerard Deulofeu getting the nod from Ronald Koeman; Baines did not start, with Oviedo playing left back. De Bruyne started for City.
With Leighton Baines failing to recover sufficiently from his recent injury, Ronald Koeman made some surprise choices for the biggest task of the season so far, with Bryan Oviedo preferred over Funes Mori at left back, and Ross Barkley dropped to the bench in favour Gerard Deulofeu, with Tom Cleverly also starting who has probably showed he can provide more of a pressing presence in midfield.
For Manchester City, John Stones starts in a defence that sees Vincent Kompany on the bench, De Bruyne returns, while Aguero is on the bench.
Man City kicked off and the early play was around the Everton penalty area. De Bruyne getting in an early low cross, Everton struggling for possession, and not keeping it when there was a turnover. Sane got close in to fire at Stekelenburg, pushed behind for a corner and the pressure from City was intense, broken only by a free-kick awarded to Everton
Bolasie got forward but could not find a yellow shirt with his cross. Deulofeu tried to release Lukaku, who ran the other way, and City attacked again. But Everton had survived the early pressure and did better to take the ball up the right wing, Deulofeu got an excellent cross in that Lukaku failed to head [properly. Everton won a dangerous free-kick that Lukaku fired high and wide, hopelessly off target.
Sane again attacked Oviedo and tripped over his legs... no penalty. But Everton were still being pressed back and unable to get their foot on the ball, wasting it when they do finally win it.
De Bruyne lashed in a shot that was deflected well over for a corner that came to nothing. Coleman tried to hold Sterling but gave up another corner that was fed back in low, Everton struggling to keep them out, giving up a free-kick on the edge of their penalty area that De Bruyne smacked into the wall and Oviedo needed a touch to deny Sane for another corner.
De Bruyne and Sane again cut Everton's left-side defense apart with only the finishing ball lacking as the Koeman's charges rocked under the relentless barrage. Sterling was next to test Stekelenburg after a brief Everton foray forward came to nothing.
City switched to the ball to the left and won a free-kick for a nothing touch from Cleverley, but they once again defended the threat. But City's ball movement was so slick, the Everton players so slow to press, it was painful to watch at times. Still, the thin yellow line were holding off everything the sky-blue shirts threw at them. With Everton unable to clear a surge saw Silva fire well over.
Deulofeu picked up the ball and was able to run forward but his pass failed to find Lukaku and City returned play, De Bruyne firing a cross/shot well wide. Coleman went in quite heavily on Sterling's ankle but seemed to avoid censure as the ex-Liverpool player received extended treatment, providing an opportunity for Everton to regroup a little.
Gueye helped Oviedo to double up on Sane and win the ball only to lose it back again. Coleman did a lot better to steal the ball off Sterling but his forward ball just came straight back and the ball was pinged around again, with Everton reduced to ball-watching. if the ball did go forward, Lukaku was immediately under pressure and unable to keep the ball.
A period of Everton possession looked better with Bolasie getting in some crosses from the left but the quality was lacking. The tempo changed a little as City seemed to run out of ideas a little as the break approached.
Under more pressure, Jagielka lazily stuck out his leg behind him and tripped Silva, giving De Bruyne a chance to test Stekelenburg from the spot... and fail! A fantastic save from the Dutchman, to deny what would have been a killer goal.
Everton looked very relieved and did their best to expand the game but could still not threaten Bravo in the City goal as Mark Oliver brought the half to an end.
Everton got forward from the restart and Bolasie fired in a great cross that was defended back and Deulofeu got himself offside for the fourth time. City resumed their forward intent but Everton broke free and had a short spell of attacking possession until Coleman gave it away cheaply after Lukaku had done well to hold the ball up.
The best move from Everton saw Bolasie feed out to Deulofeu who fired in a tremendous shot that Bravo palmed away for a corner. But Lukaku could not hold off Sterling and City threatened again, then Deulofeu was offside yet again. Sane whipped in a wicked low cross that Iheanacho almost converted but for good positioning from Stekelenburg
Gueye stole the ball off Iheanacho's toe and fed Bolasie but Lukaku had no idea how to anticipate the tempting forward ball that should have been in his path. There was much more back and forth now, Everton perhaps more open at the back as the ball was deflected behind, but Everton still not using the ball when released. Aguero replaced Iheanacho ;Deulofeu was hauled off before the hour, with McCarthy replacing him.
The pattern of play resumed after the subs, City probing but not as smoothly as in the first half, with Everton looking to break, but Bolasie double-teamed again and City surging forward, Sterling cutting inside, only to have his effort blocked by Jagielka. The next prolonged attack finished with Stekelenburg plucking Sane's cross out of the air.
Another sweeping attack, De Bruyne whipping in a tremendous cross superbly intercepted by Jagielka's and that allowed Everton to break, Bolasie getting in front of John Stones to clip a lovely ball forward, Lukaku picking up the ball and running at the City goal, firing in a superb shot low into the far corner to give Everton a precious, precious lead.
The Etihad, suitably stunned, and only too well aware how few real chances their side had created in terms of shots on goal, wanted to see their clear superiority exerted against the yellow shirts. But Jagielka gave up another penalty, thrying to clear the ball off Aguero's toes. Aguero stepped up and incredibly, Stekelenburg made exactly the same save as he had against De Bruyne!!
Another superb save kept them out only for him to finally be beaten off a wide cross from Silva with sub Nolito heading it back and into the corner of the goal.
Everton were looking tired, not breaking at speed as they needed although Lukaku tried to win a foot race. The game was a lot more even but Everton needed something different... Barkley perhaps?
De Bruyne pulled an unbelievable shot from nothing, that was sailing inexorably into the top corner but for a fantastic leap and fingertip save onto the post by Stekelenburg. Koeman's choice was to replace Bolasie with Mirallas with less than 10 minutes left.
Williams was booked for a nothing intervention with De Bruyne at speed down the City right wing. Another set piece defended away again by Everton. Oveido stayed solid, blocking Sterling again. But Everton seemed to be happy with the point as they failed to put together much forward movement, with lazy balls played into open space for City to collect.
More subs in the last minute, Funes Mori on for Cleverley, with four minutes of added time as Everon looked to steal a point from the Etihad, rather than push for the win.
Everton did finally push forward, and eventually won a free-kick with Barry getting a kick in the process. One last chance for the Blues to win the game, a very central free-kick, 40 yards out, but wasted, allowing City to return to the Everton area and more hearts in mouth until Mirallas was awarded a free-kick and Michael Oliver blow the final whistle.
Manchester City: Bravo, Otamendi, Stones, Clichy, Gundogan, Fernandinho (90' Kompany), De Bruyne, Silva, Sane (71' Nolito), Iheanacho (56' Aguero), Sterling.
Subs: Caballero, Zabaleta, Kolarov, Fernando.
Everton: Stekelenburg, Oviedo, Jagielka, Williams, Coleman, Barry, Gana, Cleverley (90' Funes Mori), Deulofeu (57' McCarthy), Bolasie (84' Mirallas), Lukaku.
Subs: Robles, Holgate, Barkley, Valencia.
Kick-off: 3pm, Saturday 15 October 2016
Referee: Michael Oliver

---
Reader Comments (165)
Note: the following content is not moderated or vetted by the site owners at the time of submission. Comments are the responsibility of the poster. Disclaimer
Ben Mackenzie
1
Posted 15/10/2016 at 14:15:28
Strong bench.. Shame there's no room for Dowell or Davies.
Patrick Carty
2
Posted 15/10/2016 at 14:17:29
Oviedo and Cleverly start!!!
That's me in a downbeat mood even before a ball is kicked.
Christy Ring
3
Posted 15/10/2016 at 14:23:56
Baines was supposed to be back, hamstring still not right?. Oviedo has to step up to the mark. I'd have kept Galloway.
William Cartwright
4
Posted 15/10/2016 at 14:24:45
Interesting line-up. Surprised at some choices but then again we don't have the insights the management team do. I am looking forward to watching 11 players giving their best and then hopefully the result will follow...
Chris Gould
5
Posted 15/10/2016 at 14:25:43
No Aguero? Is he injured?
I would have preferred to have seen Baines start, but guess this game has come to soon for him.
Dave Abrahams
6
Posted 15/10/2016 at 14:26:34
You are going to press them, I would have preferred Holgate at right back with Seamus upfront instead of Deulofeu, but I can see that the Spanish kid is capable of providing Lukaku with goal chances, we can still win this.
Andy King
7
Posted 15/10/2016 at 14:27:18
Containment for the first half-hour with a packed midfield. If we get the chance to break though, we do it with purpose.
Tell Cleverley and Deulofeu to run their bollocks off for an hour, then introduce Barkley and Mirallas with a point to prove.
C'mon you Blue Boys!
Michael Lynch
8
Posted 15/10/2016 at 14:28:04
Will De Bruyne be up against Oviedo, or will he be over on their left? Mind you, with the players Citteh have got, whoever they stick on the right will be licking their lips at the thought of being up against our lad I'm afraid.
Mark Morrissey
10
Posted 15/10/2016 at 14:34:18
1-2 ...GD & RL to score Stones & Bravo to drop a couple of bollocks...ha ha
Eugene Kearney
13
Posted 15/10/2016 at 14:54:19
Our first "biggie" of the season. I have a feeling we're gonna win this one!
Hope Bolasie runs his way in behind Stones and nips one in!!!
COYB
Adam Rambow
14
Posted 15/10/2016 at 14:55:10
Here in the States, Rebecca Lowe just referred to our team as "High-Flying Everton." Let's hope they live up to that today.
Ciarán McGlone
15
Posted 15/10/2016 at 15:13:29
Interesting tactic this... Standing off, not pressing and allowing them time on the ball.
Joe Duffin
16
Posted 15/10/2016 at 15:22:27
IMHO Oviedo having a shocker so far (as is Oliver).
Not sure Lukaku has touched the ball yet.
Joe Duffin
17
Posted 15/10/2016 at 15:24:51
Only for a final ball, City would be 2 up by now. Tactics don't seem right, whilst City are a good side, it's a matter of time before they score at the minute.
Joe Duffin
18
Posted 15/10/2016 at 15:25:21
BTW anyone wanting to watch – http://www.livefootballol.me/channel/match-football-1-acestream.html

Jay Wood
19
Posted 15/10/2016 at 15:55:52
Phew! Dunno how our midfielders and defenders are feeling, but I'm reeling with exhaustion just watching!
Not convinced by the way the team is set up, but defensively Koeman has transformed this side. With Stekelenburg's penalty save, we get to half time still all-square.
Beyond that, has he really been called into action much, for all Shitteh's possession?
It's a helluva ask to continue in the same vein for another 45 minutes. At some point, we need to have some threat going forward. If we can do that, I wonder if we could pull off an unlikely 'rope a dope' victory?
Jay Wood
20
Posted 15/10/2016 at 16:23:11
WHAT! A! GREAT! SCUFF!!!!!!!!!!!!!!!!!!!!
Clive Rogers
21
Posted 15/10/2016 at 16:35:50
What has happened with Baines?
Ciarán McGlone
22
Posted 15/10/2016 at 16:54:43
Awful on and off the ball today... Mostly off.
The point on the board shouldn't change the analysis of that game at all.
Gareth Barry's feeble feigning of injury summed up that game for me. Pathetic.
I'll be interested to hear Koeman's no-nonsense, shooting-from-the-hip thoughts on that game.
Jay Wood
23
Posted 15/10/2016 at 16:55:36
Any doubts on MotM?
Take a bow, Maarten Stekelenburg.
Patrick Murphy
24
Posted 15/10/2016 at 16:59:18
The mentality of the squad was summed up with that free-kick which followed Barry receiving a knock to his head (not a play-acting thing in my opinion) why the hell did we not try and score or put the ball into a dangerous area at that point? It was dealt with easily and City very nearly went on and scored a winner of their own.
Not a pretty game by any means and not much football on show from Everton, but in fairness they battled well at the back, but that won't be enough to achieve anything in this league.
Chris Gould
25
Posted 15/10/2016 at 17:00:28
Ciaran, I fully expect Koeman to be well chuffed with that gritty performance.
A few people on here were saying this week that Stekelenburg wasn't good enough for us. Well that's at least 3 league performances that he's saved us points this season.
And as for those saying we're not reliant on Lukaku for goals...?
George Cumiskey
26
Posted 15/10/2016 at 17:02:15
Fantastic goalkeeping display, terrible defending for their goal. No pressing up front and Cleverley is just not good enough, made no impression whatsoever. A very very very lucky point!
Amit Vithlani
27
Posted 15/10/2016 at 17:04:34
Goalkeeper – MotM deservedly so, and a great goal by Rom the highlights. Oviedo is not a Premier League full-back.
Happy with a point, but another game highlighting what we already know. Koeman has made us hard to beat, but Martinez's legacy lives on. Far too many players – Deulofeu, Oviedo, Mirallas, Cleverley, flatter to deceive.
Ste Traverse
28
Posted 15/10/2016 at 17:05:08
I'd have taken that result anytime. Decent point against a side costing an absolute fortune.
Can't understand the cry-arsing of some people.
Colin Glassar
29
Posted 15/10/2016 at 17:05:41
Still a frigging good point, George. Would you prefer an heroic loss?
Eddie Dunn
30
Posted 15/10/2016 at 17:06:02
Stekelenburg was amazing, preventing us being hammered.
Jags was awful, Coleman must have been told to stay put, and Deulofeu doesn't seem to understand the offside rule!

A stolen point.
Chris Gould
31
Posted 15/10/2016 at 17:06:11
Patrick, how can getting a point away at arguably the best team in the league not be good enough to achieve anything in this league?
It's exactly what you need to do against a side that is technically far superior to us.
George Cumiskey
32
Posted 15/10/2016 at 17:11:32
No, Colin, just saying what I watched, I thought we were supposed to press up front? And please don't make a case for Cleverley!
Chris Gould
33
Posted 15/10/2016 at 17:13:10
All but one of our goals conceded in the league have come from crosses. It's still our Achilles heel.
Apart from crosses, we look rock solid... except for when Jags leaves his leg hanging out!!
Peter Laing
34
Posted 15/10/2016 at 17:13:24
Stek – absolutely immense!
Colin Hughes
35
Posted 15/10/2016 at 17:13:52
A very good point today but the test of our mettle will come next week at Burnley, which for me is a must-win game or it counts for nothing getting a point away at the title favourites.
Colin Glassar
36
Posted 15/10/2016 at 17:14:09
Only Evertonians would diss a point at the Etihad. Any other team's fans would be thrilled. These are the presumptive Champions, ffs. Oh, I suppose I'm accepting mediocrity... so I'll shut my trap now.
Patrick Murphy
37
Posted 15/10/2016 at 17:15:11
Chris (#31),
A point in isolation at Manchester City is, of course, a good one; however, the performance was pretty average, to say the least. If we want to make progress, we have to be able to 'steal' all three points from those types of games. Our lack of creativity is the real issue, whether at Manchester City or Bournemouth or any other venue.
Brent Stephens
38
Posted 15/10/2016 at 17:18:53
Well satisfied with the result. OK, disappointing that we were under the cosh so much in terms of territory and possession; but we battled hard, away from home, against a team full of stars able to put on Aguero from the bench. I think the team selection was a good one.
Oviedo very vulnerable. Jags made some good tackles but those penalties... Stek – take a bow. And a well-taken goal, Rom.
Paul Thompson
39
Posted 15/10/2016 at 17:19:05
Yes, we were lucky to get a point. I'm not convinced that playing two wingers who don't work hard enough to support the full backs was sensible. But the second half was much better in terms of effort and intensity. Even Oviedo improved.
The pluses: confirmation that we are defensively much more solid; we can stop looking for a goalkeeper; Rom will score, even if he gets no service!
Martin Nicholls
40
Posted 15/10/2016 at 17:19:17
Since when did a great performance by your goalkeeper and resolute defending by your back line and defensive mids resulting in an away draw against the most expensively assembled squad in world football constitute a "very very lucky result"? Some posters on here need to get real. Well done Blues!
George Cumiskey
41
Posted 15/10/2016 at 17:22:47
Don't shut up, Col, I like arguing with you, as long as I have 72% of the argument – like City had of today's play. 😊
Jay Wood
42
Posted 15/10/2016 at 17:24:11
Sorry to go against the after-match rising tide, but I enjoyed that!
Totally powder-puff offensively in the 1st half, but mostly solid defensively, but for Jag's trailing leg for the 1st pen. Other than that, did the league leaders really threaten our goal?
In the 2nd half, whilst certainly not fluent, nor overly competent in retaining possession to take the sting out of Shitteh and give the defence some reprieve, at least we carried some threat on some good counters, as epitomized by Romelu's superb goal.
For the most part, the defence continued to stand firm against an extremely talented team and individuals. The two pens given up by Jags look bad on his match stats, but he and Williams were otherwise immense in the heart of defence. Oviedo and Coleman had extremely speedy and tricky opponents to combat, and they stuck to their task well, with little or no help from the likes of Bolasie or Deulofeu in front of them.
Stekelenburg was outstanding. I like a keeper who keeps stock still as he did on the 2 pens, forcing the penalty taker to take a decision only on shooting where to put the ball. Doing so increases the odds in the keeper's favour in making the save.
He made 2-3 other top, top saves, also.
So forgive me for not joining in the condemnation of the side or individuals.
A point at City, in the form they are showing, I'll take any time.
Well done, Blues!
Martin Nicholls
43
Posted 15/10/2016 at 17:25:24
Sorry, George – my quote should have been "very very very lucky point"! And for the record, didn't the Red Shite have more than 72% possession at Burnley?
Martin Nicholls
44
Posted 15/10/2016 at 17:27:14
Jay (#42) – absolutely spot on.
Colin Glassar
45
Posted 15/10/2016 at 17:29:23
George, last season, we would've had 72% of the game but lost (at least) 3-0.
Small steps, I know but at least defensively we are improving and it's something we can build on.
Brent Stephens
46
Posted 15/10/2016 at 17:29:35
George C. For all that possession you still wouldn't win the argument!
Dave Abrahams
47
Posted 15/10/2016 at 17:32:08
I didn't see the match, listened on the radio. Still convinced Lennon (I know he wasn't fit today) will give them a lot more steel up and down the field, especially away from home, but very happy with the point. Man City are no mean team.
George Cumiskey
48
Posted 15/10/2016 at 17:33:59
Bloke on Merseyside saying, unless we get a good Number 10 and a backup for Lukaku, we could struggle later on. I think he is spot on; I hope we are looking now and not waiting till the last minute again!
Danny Broderick
49
Posted 15/10/2016 at 17:34:42
I'm made up by a lot of what I saw there. At half time, I was concerned that Lukaku, Deulofeu and Bolasie had been anonymous. But I thought all 3 were more involved 2nd half, and we looked more dangerous on the counter, culminating in the goal.
Stekelenburg is a good keeper – he was incredible today, which he will get plaudits for, but he's been good all season.
Penalties aside, I thought we defended really well. Oviedo started slowly but had a really good 2nd half. I thought Coleman, Jagielka and Williams were immense – although Jags had two moments of madness, he defended well aside from that.
Dare I say it, but we seem to have discovered some character and game management again. Williams delaying Aguero's pen. Getting stuck in. Running down the clock at the end, Barry going down injured to run down the clock. I think I even saw Lukaku do a slide tackle.
I'm made up with that point. A lot of unsung heroes in midfield there – Barry, Gueye, Cleverley and McCarthy (when he came on) ran their nuts off. Not many teams will get a point there.
Jim Hillier
51
Posted 15/10/2016 at 17:36:41
I much prefer stealing a point to throwing two away. Call me old fashioned.
Peter Jansson
52
Posted 15/10/2016 at 17:37:19
Seriously, you guys trying to talk down the today's display, just stop. Koeman had laid down his tactics and the players fought for it and got one point.
The strategy was realistic and good. The defence looked solid and I don't think Man City should have gotten two penalties. Why the fuck did not city get any yellow cards for their brat theater easy falling downs inside and outside the penalty box?? Good tackle Coleman did on Sterling.
Ian Riley
53
Posted 15/10/2016 at 17:38:09
A great point. Goalkeepers can get you points and today that happened. We needed that for belief to move forward. We don't make it easy with a lead. Koeman must change our mentality when we go in front. Point gained at the potential Champions.
Jay Harris
54
Posted 15/10/2016 at 17:38:21
Knives to a gunfight for the first 30 minutes.
Sharp knives to a gunfight for the rest of the game,
I can't help wondering if we'd have been better really going at them but I suppose it's £200m vs £1,000m so we really can't complain about 1 point.
Great goalkeeping by Stekelenburg and stout defending by the back 4 again.
If we can just get the offensive side sorted in January, we could have a decent season.
Nigel Gregson
55
Posted 15/10/2016 at 17:39:10
Piece by piece, the back line seems sturdier. Stekelenburg's miles ahead of Howard, Ashley is ahead of Stones (at least for now) and Distin.
But our Jags looks broken. Time is up for him, I'm afraid. He was never captaincy material and it seems like his defending nous is deserting him too. Both the penalties given today were needless and this can't go on.
One thing I admire about Ron so far is that he doesn't care for reputations. If you play like shite, you'll be benched. This happened to Ross, will it happen to Jags?
John Graham
56
Posted 15/10/2016 at 17:41:46
Okay, so we got a point. A point against a very good team who are favourites for the Premier League and will definitely finish in the top four.
But let's be honest, we were lucky: very lucky. I'm happy with the point. After all, it is a point. But going on how we have played today and in our last three games I think it's a point to stave off relegation rather than a point towards finishing near the top.
Any team can take points off the top teams. And our players fought hard today to get that point. I just want to go out tonight and have a few pints thinking we are on the up rather than smiling because we got a lucky draw.
Pete Edwards
57
Posted 15/10/2016 at 17:42:37
Possession counts for sod all if you don't put the ball in the onion bag, as we found out most of the last two seasons!
Anyone moaning about how we played... lucky point, blah blah blah – we just came away from the probable Champions (City looked the dog's danglies) with a hard-fought point so go give your heads a wobble. Oh, and we are still only 4 points off top spot!!
John Wilson
58
Posted 15/10/2016 at 17:48:14
Why does Koeman, at half-time, have to keep telling them to come alive? It shows their character though.
Stats: Man City: 18 shots and 1 scored. Everton: 3 shots and 1 scored. 1 in 3 is not bad, therefore.
Goalkeeper, simply excellent, who clearly saved us. Great goal by Lukaku, however.
Alan J Thompson
59
Posted 15/10/2016 at 17:50:15
Jagielka's mistakes for both penalties would have been laughed at in a schoolyard. The first, sticking a leg out backwards, was asking for a penalty, and then to do something similar with an air shot! It could be said that there was no intent but that argument has been invalid for some seasons now and replaced by no intelligence which is rewarded identically.
And as for the goal City did get, why was Williams standing yards beyond the back post rather than in the centre of the six-yard box? I thought he was supposed to be our answer to susceptibility in the air...
We really do need to tell our midfield not only to try and be creative but to occasionally move into the opposition's half.
Before the game, we may well have settled for that result but we should never settle for that performance.
Mike Powell
60
Posted 15/10/2016 at 17:53:46
Lukaku is shite, can't hold the ball up he is lazy useless sell him . Now back in the real world how many strikers in the Premier League are as good as him. Stekelenburg should've been given MotM – and the ref was their MotM.
Jay Wood
61
Posted 15/10/2016 at 17:56:16
John @ 56
We are sat 6th on 15 points from 8 games in a tightly bunched table, but you believe:
"... it's a point to stave off relegation rather than a point towards finishing near the top."
Seriously?
GTF!
George Cumiskey
63
Posted 15/10/2016 at 17:59:10
Alan @59 – well said. I'm happy with the point, not the performance; we can't bury our heads in the sand because we got a draw at the league leaders!
Danny Broderick
64
Posted 15/10/2016 at 17:59:19
Can I just ask, why are people saying we were lucky? Them missing two penalties wasn't lucky – our keeper made two good saves. Where was all this luck we supposedly had?
We defended well and restricted them really well. They huffed and puffed but we stood strong. This is not luck – this is good defending.
They dominated, but unless the rules have changed, domination gets you nothing. Putting the ball in the back of the net is the name of the game. I didn't see anything today to suggest we were lucky – I saw a dogged away performance. Our keeper being outstanding is not luck – we pay him to keep the ball out, FFS!
Martin Mason
66
Posted 15/10/2016 at 18:00:21
Good point; next season,we will win there and, if we were lucky today, then great – the better we get, the luckier we'll get.
John Graham
67
Posted 15/10/2016 at 18:03:10
Seriously, if you want to watch that type of football and be happy, then welcome to the likes of Stoke, Crystal Palace, West Brom, Sunderland, Hull etc etc.
Do you think the fans of Chelsea, Arsenal, Spurs, Man Utd or Liverpool would be cheering about getting a point like that???
Time to get real, I think... Looks like our ambition isn't what some fans want but others are prepared to be very happy with.
Martin Mason
69
Posted 15/10/2016 at 18:06:25
John (#67), what you mean is the ridiculous concept of acceptance of mediocrity? What do you do to not accept what you think is mediocrity other than moan?
David Barks
70
Posted 15/10/2016 at 18:08:50
It was like being in a time machine: defend, defend, defend... and hope to catch one on the break. A classic Moyes performance. Yet we have people celebrating that? I'm not sure about the supporters at this club anymore.
Joe O'Brien
71
Posted 15/10/2016 at 18:09:15
A well-deserved point. Not many teams will get anything from that ground. Other than the two lazy fouls that gave away the pens, we defended very well I thought. Great finish again by Rom.
Only 4 points off top spot after only 8 matches managed by Koeman. I would have taken that all day at the start of the season!
John Graham
72
Posted 15/10/2016 at 18:12:02
Ermmm... what you saying?
Mike Gwyer
73
Posted 15/10/2016 at 18:13:34
Lucky? Fuck that. We did what we have not done for a while and that is defend, defend and then defend some more. I don't know where half you blues have been watching your footy but Man City at their place is usually a home banker, whoever the opposition is.
We played well and we had no choice but to let City dictate the game... but, when you have Lukaku sitting up top, then you know you have an option to hit them on the break.
Mike Dolan
74
Posted 15/10/2016 at 18:13:47
That is a great point. I thought it was a very solid professional performance against maybe the best team in the Premier League. This is a game that last season we would have lost. I can't help feeling that, if we can find a creative midfielder in January, we can begin to play the same but win some of these games. Great goalkeeping, incidentally.

Ian Herbert
75
Posted 15/10/2016 at 18:15:23
I don't believe some of our supporters bemoaning the fact we couldn't defend under our former manager's tenure. Then, when we do produce a terrific defensive display for our new manager, the performance isn't good enough!!!!!!
What do some of you people expect from a new management team? As far as I am concerned, that was a brilliant defensive effort. Yes, we need to improve in attacking areas and we do need improved talent in our creative area, but let's give credit where it's due. A good point earned, no matter what some think.
Brent Stephens
76
Posted 15/10/2016 at 18:15:46
John, we could have had our full backs, for example, bombing up the wings as they do in many other games. Only to leave us exposed at the back and more likely to ship goals.
Against a club with such depth of talent, I think Koeman had the tactics about right – tight as an overall defensive unit, with some fast guys up front in the event of a break. We played well to those tactics, so in that sense, I'm happy with the performance. The tactics, I imagine, were devised to secure a point – so I'm happy with the outcome.
Barry Williams
77
Posted 15/10/2016 at 18:15:58
I can't understand the negativity towards Oviedo on here, he played exceptionally well defensively today against a number of different quality players who tried to 'exploit' him on our left side; he did himself proud IMO!
Well, yes, we were under the cosh, but we would have lost that last season, probably in the last 10 mins or so. Yes, there was a lack of cohesion upfront, due mainly to playing a front 3 instead of our usual 4, thus sitting too far back with 3 proper midfielders instead of the usual 2!
I was critical of this myself... however, we didn't lose; they lost points for the first time at home this season. We still have the 2nd best defence in the Premier League, have lost 1 league game in 8 and we are obviously still work in progress! We may not agree with everything the managerial team do, but we they have made us a harder team to beat in only a short period of time! I will take that!
Ian Riley
78
Posted 15/10/2016 at 18:16:53
John (#67). Everton fans are realistic. Chelsea, Liverpool, and Arsenal will all take a point at Man City. We are five players at least away from realistically competing with the top four.
Koeman is installing a work ethic and belief and adding players next year may lead to something. At present, we play to our strengths. Last season, we may have lost 4-1 and had 70% possession. We got lucky... no.
Max Murphy
79
Posted 15/10/2016 at 18:17:40
Whoever we're playing – doesn't matter –the last 3 games have seen us drop 7 of nine points. That just isn't good enough for Everton FC.
David Israel
80
Posted 15/10/2016 at 18:19:13
It was an awful display. Why can't we take the game to a team like Manchester City, as everybody else does? Penalties are there to be saved.
I am delighted with the result!
COYB
Brent Stephens
81
Posted 15/10/2016 at 18:20:29
Moreover, that result, away to City, maintains the impetus of a gradually improving side, and must surely be reinforcing the developing team spirit. It's not just about performance and result.
Ray Jacques
82
Posted 15/10/2016 at 18:21:26
Yeah David (#70), we should be going to places like the Etihad to play them off the park and come away with an easy win. This is Koeman's 8th game, Moyes had 11 years to sort it. I am not celebrating a point but must admit I am happy with the result.
Chris Williams
83
Posted 15/10/2016 at 18:22:55
Still a work in progress. The defence and organisation looks a lot better, as is the fitness and the ability to see out games. Koeman is also decisive and pragmatic and willing to change things early if required.
However, further up the field is still a real problem. You can see why so much effort went into attempts to bring in more attacking pace and power in midfield and up front.
You would hope that a lot of effort is currently going into setting up about 3 transfers of offensive players in January. In the meantime, we are reliant on Rom scoring and staying fit and Koeman,s ability to sort out the tactics and the shape.
I wish he could sort Barkley and Deulofeu in the meantime though.

Patrick Murphy
84
Posted 15/10/2016 at 18:26:15
Funnily enough we didn't lose to Man City at the Etihad last season in the Premier League, it was a similar backs-to-the-wall display which saw us escape with a point. Unfortunately the team couldn't provide a similar performance in the semi-final a few weeks later.
I'm not unhappy with the result, but I'm not too happy that we created so little and haven't as yet created too much in most of the games we have played this season. There's hope that we may improve that side of our game when Ron decides the time is right to do so.
Allan Board
85
Posted 15/10/2016 at 18:26:47
Great point away at the billionaires – well done, EFC!
For those slating the performance, goalkeepers are paid to make saves and defenders are paid to defend – and Koeman already has us 10 times better at it!
Suck these possession-obsessed teams in and counter hard and very quickly; you will be beating them – home or away. The man knows what he's doing; stop moaning and let him get on with it!
Barkley fully deserved being dropped too.
Jay Wood
87
Posted 15/10/2016 at 18:38:32
John @ 67 and David @ 70.
Why are you both equating the satisfaction expressed by some in this thread at a (merited) hard-earned point as evidence that said fans passively accept 'mediocrity' and 'celebrate' playing like "Stoke, Crystal Palace, West Brom, Sunderland, Hull etc"?
I am celebrating the resilience of the team in the face of the Premier League's most potent and most richly assembled team, on their home patch, where they have absolutely mullered all-comers thus far.
Plenty – including myself – acknowledge we were neither fluent nor competent in possession, but even so, in the 2nd half carried some threat on the counter.
You see, there any many aspects of the game from which it is possible to derive pleasure. And for me, our defensive organization and resilience today was one of them.
When you have that, it enables the team to stay in a game – like today – even when not playing well offensively. After Rom's strike, we could have nicked all 3 points today and I for one would have been delighted if we had. I fancy I wouldn't be alone in celebrating the victory, either.
By the same token I'm quite sure a few curmudgeons (a bit like yourselves...) would still have a grumble even if we had won.
Richard Dodd
88
Posted 15/10/2016 at 18:46:13
Sorry to ask yet again but has Barkley's time come and gone? Forever promising, he never seems to quite make that final breakthrough. A perfect Evertonian, is he to leave us as another Rodwell?
I hope not!
Anto Byrne
89
Posted 15/10/2016 at 18:46:17
There is no satisfying some people on here. When we got forward, it was in numbers. We harried and pressed and everyone put in a shift. The defense looks more solid.
The penalty decisions are always going to be given to the top teams. They have already had 8 so far this season. I thought they were soft.
Tom Cleverly played well and Bryan Oviedo got better as the game went on. It was a full 90 minutes performance against a superstar team costing sqillions. There is still a lot of improving but it's great to see the team play without the ball.
Martin Mason
90
Posted 15/10/2016 at 18:49:01
The most ridiculous posters on here are those who accuse other fans of accepting mediocrity. There is no mediocrity at Everton, we are a top club in the toughest league in the world.

Patrick Murphy
91
Posted 15/10/2016 at 18:52:27
Those teams that Man City have mullered at the Etihad this season include Sunderland (2-1), Bournemouth (4-0) and West Ham (3-1). But Everton are the first team to stop them taking all the points on their home turf and that's a fact.
Andy Crooks
92
Posted 15/10/2016 at 18:57:03
David (#70), a truly lamentable post. The team is being rebuilt after an appalling number of years. We get a hard-fought point against the best team in the country, getting, for once, a bit of luck, and you patronize supporters who are happy.
There is a long way to go but, believe it or not, you are not the only one who sees the problems. I think until we are Barcelona, the good results should be enjoyed.
Phil Walling
93
Posted 15/10/2016 at 19:01:50
As soon as you average less than TWO points a game, you drop out of the top six. It's happened to us today so wins are urgently needed from our next few fixtures. Too many draws will see us amongst the also-rans. Again.
Ciarán McGlone
94
Posted 15/10/2016 at 19:02:09
Mullered Sunderland 2-1... haha.
Did you watch the Celtic game? Spurs game?
We were given a free coaching manual on how to deal with Man City.
Today we did the exact opposite. It's all good and well saying we defended well, but watching 10 men behind the ball with sod-all closing down is not what I want to see from this team.
Simon Bates
95
Posted 15/10/2016 at 19:04:58
Man City have beaten every team at home since Arsenal drew there last season, something like 10 straight home wins or more? That in itself should show the new spirit, resilience and graft Koeman has already instilled.
The confidence levels will rise, we are now hard to beat again, after 8 matches!!! What are we gonna be like after 2 seasons? We will reach the desired levels as our manager is a winner.
Nicholas Ryan
96
Posted 15/10/2016 at 19:16:18
Dr Ryan's Diagnosis:
Anyone who thinks that a point earned at the Etihad is a bad result, is deeply mentally ill.
David Booth
97
Posted 15/10/2016 at 19:16:29
Just back from the game and although delighted with a point, the way Lukaku took his goal
(you knew it was on its way in the moment he took possession)
and a breathtaking performance from Stekelenburg, that is NOT the way I want to watch Everton set themselves up to play.
Those were Moyes and Martinez tactics, and although many will reasonably argue that we achieved what we set out to do, we have used up all our nine lives in one single game.
If we are to employ the same line-up and mindset every time we face a 'top team' away, we are destined for repeated defeats and mid-table mediocrity.
We are Everton, with a new manager and a team more than capable of taking games to people. Today we assumed a subordinate role right from the kick-off. We played like Sunderland.
So happy with a point. But extremely unhappy to see the creeping return of our "knife to a gunfight" inferiority complex – where we are prepared to conceded the initiative right from the start..
Like today, it may well get us a point here and there, but it is not a philosophy that will endure throughout the course of a season, better our standing or reputation and, most importantly of all, win us anything.
James Stewart
98
Posted 15/10/2016 at 19:17:22
Stekelenburg and Williams aside, it was a pretty awful performance if you take off the blue specs. We did not press them at all. In fact Deulofeu barely broke out of a walking pace, he was amateurishly poor.
We got out of jail big time. We desperately need some new creative players brought in.
Patrick Murphy
99
Posted 15/10/2016 at 19:22:50
David (#97),
Exactly my sentiments – which I tried to express earlier in the thread but obviously I didn't do it properly like you have. Despite Dr Ryan's prognosis, it was a point gained but not in the manner we want to see from a supposedly ambitious Everton team.
Meanwhile, Crystal Palace, who we also struggled to take a point off at Goodison Park,have lost to the Hammers at Selhurst Park (0-1).
David Price
100
Posted 15/10/2016 at 19:23:25
Back from the game. Honestly, at half-time it was anti-football by us. Tactics and orders however, carried out perfectly well. Second half, we had a go, Coleman got forward and Deulofeu had a great effort saved. Lukaku's goal was superb and that ended our 20 minute spell of going toe to toe.
After that, the effort and pride in the shirt the team gave to finally gain a point was magnificent. Keeper, back four with Barry and Gueye in front were immense. This is Koeman installing fight and organisation into this team, foundations to expand on as he builds a team to succeed.
No complaints from me today, the boys did us proud today. Good to see no aggro after the game with both sets of fans walking home with no problems.
Liam Reilly
101
Posted 15/10/2016 at 19:24:48
Jesus, 8 games in, a creditable draw, 4 points from the top team in the table in City who would arguably be a match for most teams in Europe; yet there's still moaners.
Last season, the team would've folded and that could've been '7' with City in that form. The defence is unrecognisable from last season.
The guy's managed us for two minutes and has said clearly it will take 2 YEARS to build his team. Give him a chance.
Pete Edwards
102
Posted 15/10/2016 at 19:39:47
Okay, so let's do a quiz as I'm astounded by some of the absolute bollocks being written on here after today...
Question 1. Who would have taken 1 point at 3pm today?
Question 2. How many people thought or expected us to have more than 35% possession? (I know we had less!)
Question 3. How many teams do people think will come away from there with ANY points this season?
Question 5. Does anyone not think defensively we were outstanding today? (You have to ultimately build from the back.)
Question 6. Why are there people who aren't happy with being 6th in the league, 4pts off top spot with the 2nd best defence in the league?
Question 7. At the end of last and start of this season, where exactly do people expect us to be in the league exactly, both points and position wise?

William Cartwright
103
Posted 15/10/2016 at 19:40:21
City, and by definition Spurs too, are destined for the top 4. So too are Arsenal by the looks of it. City really wanted to win today and it really showed straight from the off. However, the defense was superb, and the Stek immense.
No grumbles from me, but it shows how much real work Koeman has left to do. We will get there, I am sure, and possibly a bit slower than we would like, but if the same spirit is shown in future games we will win more than we lose, big time...
Stan Schofield
104
Posted 15/10/2016 at 19:50:52
We're difficult to beat, better at the back than last season, but not playing well overall. If we can be in this position whilst not playing well overall, imagine what can be achieved when we do play well overall.
Patrick Murphy
105
Posted 15/10/2016 at 19:58:57
Peter (#102) in answer to your questions:
1.) Most of us – as is the case with most away games.
2.) Can't say I have ever predicted how much possession we might have prior to a game.
3.) Some teams will stop Man City on their home patch and some teams may indeed take all 3 points away with them. Don't know which teams but I reckon at least half of the usual suspects might fancy their chances.
4.) There is no Q4.
5.) We were very resolute in defence; no argument with that point at all.
6.) Because at the moment we don't have enough up front to create enough chances to cause other teams enough problems and that means we will draw too many games and will not win enough to mount a proper challenge for the European spots.
7.) I'd hoped we could improve significantly on the last two seasons and come closer to matching Moyes's last season or Martinez's first. I don't think we'll do much better than last season because we won't win enough games. We'll lose less but we won't win often enough. Circa 8th place is probably where we'll end up, which is about what I thought prior to the start of the season.

Robert Workman
106
Posted 15/10/2016 at 20:14:26
Is it just me or do we always concede penalties away to Man City in the league? I can't think of any other ground (except Goodison Park last season) in which it happens on a regular basis.
They are always soft penalties, just like those awarded today. That ref was so desperate for them to win that, given another weak opportunity, they would have been given another – and another – until finally Stones would have scored a 'panenka'.
It is not lucky when a goalkeeper makes 3 great saves – the hardest not being either penalty. City did not hit the woodwork directly, have good goals disallowed, or have a torrent of shots cleared off the line!
Colin Glassar
107
Posted 15/10/2016 at 20:17:44
Am I right to think that the people who are complaining about today's performance, or lack of, would've been happy with a heavy loss as long as "we gave it a go"? Answers on a sae envelope please.
John Raftery
108
Posted 15/10/2016 at 20:32:41
Pete – You are right but absolute bollocks is what we expect on this site whenever the team fails to win. City played very well today but defensively we were superb forcing them in the main to attack from wide areas.
Jags and Williams were excellent in making numerous clearances in the six-yard box while Stekelenburg's shot stopping was brilliant.
If we had had another top class forward to play alongside Lukaku, we might well have come away with three points. As it is, the majority of teams will leave the Etihad empty-handed and we can be very happy to have left with a hard-earned point.
Stephen Brown
109
Posted 15/10/2016 at 20:33:52
Martinez's teams over the last couple of years have been castigated for having no backbone, defensive organisation or team spirit. The display today showed those things in abundance! We rode our luck at times but deserved a well-earned point!
I predict Ashley Williams might be remembered as a Goodison great (maybe a bit premature) as fans love a defender who defends like Dave Watson!! I have a premonition that he's the next man to lift a trophy for the Blues!!!
Jon Cox
110
Posted 15/10/2016 at 20:36:12
Robert Workman is completely correct.
City were given every chance to hammer us and because of our fantastic goalkeeper they threw it away.
From what I saw today told me that the powers that be DO NOT want another Leicester type team winning the league, hence the soft penalty decisions.
I also saw that the all-seeing eyes of the Koeman family will next be turned towards our nothingness of a midfield...
Patrick Murphy
111
Posted 15/10/2016 at 20:36:47
Robert (#106).
In the last league meeting at the Etihad, John Stones got away without conceding a penalty in the closing stages of the match. The previous season, "Yaya Toure's penalty, after Phil Jagielka was controversially adjudged to have fouled James Milner, secured a fourth straight league win."
In October 2013, "The spot-kick, awarded after Seamus Coleman tangled with Pablo Zabaleta but hotly disputed by the visitors, was credited as an own goal to the unfortunate Howard as the ball hit the diving goalkeeper and crossed the line after initially striking the post."
In December 2012, "The corner that followed saw Fellaini concede the controversial penalty that led to City's equaliser, with Dzeko going to ground after having his shirt tugged by the Belgian. Referee Lee Probert pointed to the spot and Tevez stepped up to fire down the centre of the goal."
So we haven't had too much luck in relation to conceding spot-kicks at the Etihad in recent years. As far as I can tell, the last penalty we scored at Manchester City was way back in 2002, when David Unsworth converted a consolation goal in a defeat (3-1), although we may have been awarded one in the interim period but I don't remember it.
James Stewart
112
Posted 15/10/2016 at 20:41:08
No Colin @107, there are many kinds of draws; today was an extremely lucky one. Not many could argue if they game had finished 3-1 to City.
I do think there is something to what Stan @104 is saying. We are not playing well yet still in a decent league position with some very average players who will be moved on in the next couple of windows. I look forward to seeing our side after Koeman has had another 2 windows to shape his team.
Williams was excellent and should be Captain. Jagielka and Barry are model professionals but not leaders.
Trevor Peers
113
Posted 15/10/2016 at 20:46:12
Bit lucky at times, but when you pick your General, pick a lucky one yeah! That is a crucial part of having a successful manager. We certainly have done that, especially as great chunks of the team are still missing.
Everybody knows we have virtually no attacking midfield worthy of the name but I'm sure Koeman will put that right in time. A very satisfying point indeed.
Jon Cox
114
Posted 15/10/2016 at 20:48:40
Nice research, Patrick!
Darren Hind
115
Posted 15/10/2016 at 21:21:38
I must admit to glancing over to the dugout a few times to see if TGT was there. This was classic Moyes.
There were lots of pluses out there today: our goal was fantastic, no tricks, no fucking about, just raw power – exhilarating! Two penalty saves when the home fans (horrible fuckers these days) were already gloating.
The defiance was there for all to see, we were run ragged at times, but we never threw the towel in. I'm made up with a point... but Patrick is right: as a spectacle, we were bit-part players.
Fantastic though Lukaku's goal was, he, Deulofeu and Boasie were shockingly poor. That's our problem, all three (actually let's include Mirallas) need the stars to be perfectly aligned for them. Give them a chance to run at a defender and they are all capable of causing problems... but what else do they offer?
We are screaming out for a Graham Sharp. Sharpie wasn't as fast as any of the current four, but he had more footballing nouse than the four of them put together. Until we find a player who can hold on to the ball in the opposition half, we will always be relying on a smash 'n grab at places like this.
Good hard-earned point against a rampant City... but the gulf in class was embarrassing at times... soooo much work to be done.

Paul Tran
116
Posted 15/10/2016 at 21:30:58
Funny isn't it? The one striker has one chance and buries it. Average cheap goalkeeper plays a blinder. Not his first good performance this season.
That's the level of defending and concentration I've been itching to see for a long time. Build from the back, be hard to beat and then get the attacking side right.
We need so much more from our attacking midfield and forward line. The next step will be dealing with that while keeping the defence as strong as it is. I'm confident Koeman can do it.
Stan Schofield
117
Posted 15/10/2016 at 21:31:04
Darren @115:
I didn't think there was such a marked difference in class. City played well, whilst we didn't apart from defensive solidity.
It does cause me to think what the hell we can achieve if and once things really start clicking into place. I say 'if' because nothing is certain, but it's still early days, this is a work in progress, and we need a few things sorting with the current squad, without any new signings.
That's the point as far as I can see; a few things can be sorted with the current squad, there being a lot of ability there. In other words, when we start playing well with this group of players, who knows what could happen...
Kunal Desai
118
Posted 15/10/2016 at 21:37:06
I think we have a manager who knows how to beat the tops sides away from home. He has done with Southampton against the likes of Man Utd, Chelsea etc.
Sometimes you need the right tools for that job. Currently we do not have the right tools. Guaranteed in 18 months time, half that squad which played today won't be at Everton.
Patience is required. A point against the potential champions with the 'current' players isn't that bad of a result.
Jamie Crowley
119
Posted 15/10/2016 at 21:50:56
We got today what most have been craving for the last 2 years or so – defensive solidity.
I'll take an ugly point away against the "big" sides while we play a different brand of football and take 3 points from the teams we should.
Do the math(s). You do that you're 70+ points at season's end.
Heroic effort defensively.
Jags needs to pull his out of of his ass...
David Barks
120
Posted 15/10/2016 at 21:53:36
John Stones was practically camped in our half, passing the ball around our defensive third. Our attack was limited to hopeful counter attacks, with our goal coming from Lukaku having to go it alone having to beat the remaining defenders that weren't still in our defensive half.
We gave away two clear penalties. On any other day at least one of those would be converted and we would have deservedly lost the game. If I want to watch a side just put 10 men behind the ball I'd have Pulis as manager. Last time I checked every time we play his teams this forum is flooded with people complaining about his anti-football tactics. But we do the same thing and people applaud the fine tactics.
Sorry, it's garbage. It's small club mentality with small club tactics. Drop everyone back and just hope. It shouldn't be good enough at this club.
Paul Tran
121
Posted 15/10/2016 at 21:58:44
Good point re Sharp, Darren. We're crying out for someone like him right now!
David Booth
122
Posted 15/10/2016 at 22:00:47
David Barks.
My thoughts entirely and as I expressed in #97.
Low ambition, damage limitation thinking today, where we got (very) lucky.
This is not what we expected(ed) and will not succeed in the short or long-term.
Thought we'd seen the last of this cowardly lion nonsense...
Stan Schofield
123
Posted 15/10/2016 at 22:02:47
Davids @120 & 122: I would be similarly unimpressed if I thought this was the finished article. But it's not, it's only the start.
David Booth
124
Posted 15/10/2016 at 22:02:59
..and interestingly Darren #115, I actually thought how much we missed Graeme Sharp during the game (fabulous as Lukaku's goal was).
He was one of the most underrated players we have ever had. What a wonderful, all-round, centre-forward in every respect.
David Price
125
Posted 15/10/2016 at 22:04:29
Opinions should be respected, rightly so, but David (#122), calling that performance today cowardly is bang out of order.
David Booth
126
Posted 15/10/2016 at 22:08:28
Finished or not Stan (and I agree with you on it being a work in progress), we should be braver and more ambitious than this? The result was OK, but the manner in which it was achieved was embarrassing.
Had they scored first, or taken just one of their two penalties, we'd have been finished. We'd have capitulated, without a Plan B and got a proper hiding.
Are we going to do the same and hope for the best at Arsenal, Spurs, Man Utd, Chelsea and, heaven forbid, Anfield? If we do, we won't get five points from the lot.
Stan Schofield
127
Posted 15/10/2016 at 22:11:02
Football is littered with sides who knock the ball around, often allowed to do so, until they get to the penalty area, at which point they achieve nothing. City looked like this today. If Everton had done this, many on TW would be complaining about too much emphasis on fancy knocking the ball around, and an absence of goals to match.
Well, we're playing solidly, not consistently attractive, but as a basis for progress. This was surely Koeman's primary mission at this stage. I do not expect that as the season progresses this will endure. I fully expect a fuller cohesiveness from defence to midfield to attack.
This was a good result given the circumstances we're in. For City, they could be thinking, if this is what can happen when we play well, let's hope we don't play badly.
Jamie Crowley
128
Posted 15/10/2016 at 22:11:34
Barks and Booth -
If... if... we played like we did today in previous weeks and again this upcoming next week, I think you'd have a point. We'd all be screaming "GARBAGE!!!".
But today, I simply saw a manager employ solid tactics against a side that clearly, no matter what we did, would have the lion's share of possession.
So we gave them the ball, defended, and tried to hit them on the break. It failed / fizzled out time and again the first half. But you could see what they were trying to achieve with the countering. And it worked once thanks to Rom.
Oh and... we can defend! How refreshing is it to be able to say that??!!
I've no problem at all with this game, the way we played it, or the way our manager set us up. Now if this were the norm... But it's not the norm thus far. And that's really the point don't you think?
David Booth
130
Posted 15/10/2016 at 22:14:02
David (#125), I think it was. We thought we were not worthy and it showed right from the kick-off.
Luck well-ridden today and if anyone thinks that is a serious recipe for success, I disagree. We are Everton, not West Brom.
Spurs and Celtic had given us a blueprint to follow in the last two games, and we fortuitously sandbagged it with 7.5 defenders on the pitch (I'll give Cleverley half a point for his attacking ability).
I expect more from Everton. It was like a training match for most of the 90 minutes.
Brent Stephens
131
Posted 15/10/2016 at 22:19:45
Koeman matched Peeps for tactical nouse today. I like that!
Stan Schofield
132
Posted 15/10/2016 at 22:37:36
Brent, Koeman taught Peeps.
Tom Flower
133
Posted 15/10/2016 at 22:52:09
Time for Deulofeu to lose his shirt. I can't recall a less committed performance.
Brent Stephens
134
Posted 15/10/2016 at 23:38:04
Yes, I read that, Stan. I think also that Koeman once sent one of his guys to watch Peeps's training sessions to learn from them. They have a lot of respect for each other. Good to see.
Tony Dove
135
Posted 15/10/2016 at 23:38:14
How depressing was that? City should have won by at least three goals. We never looked to compete just keep the score down as in recent games there under Moyes and Martinez.
For some reason, we have the evil eye on City results wise but really today was men against the boys. On that evidence Koeman has an awful lot to prove.
Rob Halligan
136
Posted 15/10/2016 at 23:46:53
Really cannot believe what Tony Dove has posted. Believe me, if I typed what I thought of his post I would be banned from this forum.
So it was depressing was it, Tony? Seriously mate, I think you need treatment.
Brent Stephens
137
Posted 15/10/2016 at 23:48:05
With you totally on that, Rob. Pure cant.
Andy Crooks
138
Posted 15/10/2016 at 23:52:18
David Booth, I disagree with you but I think your comments have been misjudged. I didn't take from your post any idea that you thought it was a cowardly performance today. I took it that you thought we set out to keep it tight and steal one and started with a negative line-up.
Fair point, if that is what you meant. I really do not think we should start with Cleverley, Gana and Barry in the same team. However, I can see why it was done, I can see that it is a pragmatic approach and frankly, it worked.
If I thought this was the future, I would be endorsing your view and that of David Barks. I see it as part of a plan to keep us solid top half and developing every aspect of the club.
John Raftery
139
Posted 15/10/2016 at 00:02:26
Tony (#135), If you found that depressing, you may need to seek counselling. City are one of the top teams in Europe. In all likelihood they will reach the last four of the Champions League. They played really well today on their own pitch but we took a point. I am very happy.
Tony Kost
140
Posted 15/10/2016 at 00:07:46
Great goal by Rom – he had a lot to do and did it superbly – where was Stones?
Stan Schofield
141
Posted 16/10/2016 at 00:22:11
Tony, that move was great, accurate ball from Gana to Bolasie, who, whilst being challenged by a lunge from Stones, basically flicked it to Lukaku. Nice bit of football. Stones was left for dead.
Mick Davies
142
Posted 16/10/2016 at 01:18:05
Bravo 㾻m. Otamendi 㿍m. Clichy ٥m. Stones 㿞m. Gundogan 㿁m. Silva 㿄m. Sterling 㿝. Nolito 㾺m. Iheanacho ٞ. De Bruyne 55m. Sane 㿑m... that's over 𧷤m.
Stekelenburg 㿷k. Coleman 㿨k. Oviedo ٟ.5m. Williams 㾸m. Jagielka ٢m. Cleverley ٞ. Barry ٠m. Gueye ٥m. Deulofeu ٢m. Lukaku 㿈m. Bolasie 㿅m. That's about 䀀m.
Apart from last season's one-off, the richest clubs buy the best players, therefore win the most games and titles.
Brian Wilkinson
143
Posted 16/10/2016 at 01:21:27
I can remember us battering West Brom a season or so ago, possession, shots on goal, corners, one shot by West Brom and they win the game one-nil.
Lady Luck was well and truly against us that day, today we got a result against one of the richest assembled teams in the world, backs to the wall.. .but also a team that is still on a rebuilding progress at Everton.
For all his knockers, when we get McCarthy at full speed after injury, playing alongside Gueye, that will be a big plus in our midfield.
If we can land a top quality forward in January to help Lukaku out, we can push forward. As I said, still rebuilding; by the start of next season, Koeman should have the type of players and team assembled, but today is a start.
Derek Thomas
144
Posted 16/10/2016 at 02:24:10
So basically we have 2 ways of looking at the 1-1.
a) Is that all we are? – we should be better than this.
b) We performed well as a unit and you can see the progress.
Both aren't completely true or untrue. But I lean towards 'b' with a dash of 'a' – we should be better than this.
Hopefully what we saw today was the foundation to build on rather than the finished product / be-all and end-all. Koeman &Walsh will need all of their nouse, all of the next 2-3 years and a large dollop of Sky / Moshiri money to finish it off.
I think that it will be mainly Sky money as I get the feeling that Moshiri is more Interested in the Dockside Investment than Pitch-side.
Alan J Thompson
146
Posted 16/10/2016 at 06:45:34
Brian (#168); That West Brom game wasn't 1968 was it?
Bob Parrington
147
Posted 16/10/2016 at 07:29:19
Derek, as usual you are on the money. I'll grab the point. Character back in the team (club) is my biggest take-out from this game. Long way to go but do-able.
Some clever guy said "Rome wasn't built in a day". Clever bugger but so right. Looking forward to continuous improvement, new stadium and some trophies. COYB
Kim Vivian
149
Posted 16/10/2016 at 08:32:57
Made up with that. A point nicked but well deserved in it's way.
And that kit looks good too.
Kevin Rowlands
150
Posted 16/10/2016 at 08:52:59
Tom (#133), spot on. Deulofeu should never start another game for us; the sooner he's moved on the better. 'Useless' would be a compliment. How many times yesterday did he get the ball and, instead of taking the man on, turn backwards?
And don't get me started on his pathetic attempts to actually make a tackle. He's not even good enough to call a show pony. Get rid, Ronald!
Ian Bennett
151
Posted 16/10/2016 at 09:31:37
Happy enough with a point given the side is still a work in progress.
How many teams have won at Man City over the last 3 seasons?
Eddie Dunn
152
Posted 16/10/2016 at 09:32:00
Let me just inform those posters on here that the season is only eight games old, and therefore it is premature to claim that Man City are the best team in the land. Spurs showed that they can be pushed back, knocked out of their stride, and beaten.
We were set up to hang on for a point, hoping to catch them on the break, which we did. However, we could have had more goals if the midfield could have got up to support the attack more quickly. The pace of Bolasie, Deulofeu and Lukaku often leave the rest of the team lagging behind and one poor touch later and we are on the back foot again.
McCarthy helped to stem the tide and our front line fared better after his introduction, but we are crying out for someone like Arteta. Most of our performances have been devoid of midfield creativity, and when the wingers run into cul-de-sacs Lukaku is starved. Until we get someone in to fill this gap, we will be unable to dominate games in the manner of Arsenal, Man City, and our neighbours.
So let's not kid ourselves with a point. We were on the rack and, even though some of our boys put in a huge effort, we thank our keeper for making 4 or 5 fabulous saves.
It was telling that, once we had gone ahead, they waltzed through us to claim the equaliser. Our zonal marking allowed Nolito to jump unhindered, as Williams (our second best player) watched two yards away.
Burnley will be just as tough a game but, if we don't win there, we will continue our slow slide to the 9th place that is waiting for us, unless a quality creative midfielder can be found.
Laurie Hartley
153
Posted 16/10/2016 at 10:03:03
My biggest concern last season was our lack of fight when we were under the cosh. I commented in the prematch thread that, if De Bruyne and Silva started, it would be a real test of character for the players and the manager.
I think they came through the test with flying colours against Man City and that augers well for the rest of the season.
Most teams would have folded under the pressure that City put us under for the first 30 minutes – it was like the siege of Tobruk. But they just hung in there. Well done to the boys in blue.
Rob Dolby
154
Posted 16/10/2016 at 10:52:48
The players followed tactics. Dropping Ross for Cleverley ensured that we would be more compact. We went with a game plan to hit them on the break and it worked.
Williams showed why he is keeping Funes Mori out of the team. Jags has enough credit in the bank with me to keep the captaincy despite having a mare. I can see McCarthy replacing Cleverley and Barkley back in for Deulofeu next week.
The Stek is my Player of the Season so far. I am still puzzled that he wasn't even first choice at Fulham.

Henrik Lyngsie
155
Posted 16/10/2016 at 11:20:53
Two points.
1. Tactically I think Pep was the looser. He played 5-6 small technically gifted midfielders and no real striker. (I see the young fellow Ienacho as a half-striker.) So, with a midfield like this, obviously they would have possession, as they had. This was like watching Barca and Arsenal at their worst. A lot of possession but no-one to finish it off.
Obviously they feel they should have won. But I don't think they will become champions if they play that tactic for a full season. Granted they missed two penalties (clumsy by the way, Jags). But, apart from that, it was not that they created a lot of clear-cut chances.
So, in my opinion, they paid the price for their tactics. And they will dominate a lot of games without winning against the bottom half teams if they insist on playing with only midfielders.
2. The second point is that Deulofeu is a frustrating player to watch. In tennis, they have stats for unforced errors. If we had stats for unforced offsides, he would be leading that stat. And when you are in a team sat up for counter-attacking you need to stay clear of the offside.
Either he ran offside by running far too early or on occasions he just stood still in an offside position. Forgive me but it just seemed so unintelligent. Or maybe he just doesn't know the offside rule.
Colin Metcalfe
156
Posted 16/10/2016 at 11:51:37
Lots of knockers on here over Deulofeu's performance and, yes, apart from that one shot on goal, he played poorly... but to say "move him on asap"? Come on, fellas get a grip... he cost us a mere £4M compared to Bolasie £28M who, in my opinion, is no better!
Tony Dove
157
Posted 16/10/2016 at 12:18:27
Rob (#136) and Brent (#137), I think all the points I made were factually correct. It must be the statement that I was depressed by it all which upset you both and I am grateful for your helpful suggestions as to how I can overcome that.
You will be able to judge from future posts as to the success or otherwise of the remedies suggested but, after six decades of supporting the Blues, I suspect my moods will continue to be governed by the team's performances.
Tony Kost
158
Posted 16/10/2016 at 12:24:44
I understand how people feel about Del boy. He showed so much flair in his first season with us ripping defences apart with his fast-paced runs into the box etc. He really should be showing so much more for us now.
If he can't do it now – and personally I want him to rediscover the attacking verve he used to have – I don't now see him having much of a future with us. Maybe it's time to give a good run to the likes of Davies (and one or two others).
Also, I thought Jags had a very good game. The first penalty was very soft. The second was correctly given and Man City scored within a couple of minutes of that miss. If the penalty had been scored, the Nolito goal would not have occurred as the course of the game would have been changed.
Good decision to effectively rest Barkley. Sometimes these decisions have to be taken for the good of the team; good management by Ronald Koeman. Man Utd have shown it too – taking out slow/ineffective players in Fellaini and Rooney for the good of the team.

Martin Nicholls
159
Posted 16/10/2016 at 12:32:45
David (#120) – Stones was indeed "practically camped in our half". That's precisely where he was when Bolasie turned him to set up Rom (the man he should have been marking in his OWN half) for our goal.
Why you and others on this site complain about yesterday's performance as if it is what Koeman's finished article will be producing is just beyond me.
Brent Stephens
160
Posted 16/10/2016 at 12:45:34
Yes, Bolasie's turning of wonder-boy Stones really set up Rom's goal (acknowledging that Rom still had much to do). It was a perceptive and well-executed touch from Bolasie.
Kevin Rowlands
161
Posted 16/10/2016 at 14:00:38
Sorry Colin, Deulofeu is a liability especially in a game like yesterday, Coleman and Oviedo must have been mortified when he switched to their side of the pitch because he offers ZERO defensive help whatsoever, his sorry attempts at trying to make a tackle or win the ball back are absolutely laughable.
Emery knew what he had at Sevilla, I think his words were "good going forward but awful defensively", that's why he never played him. Koeman has stated he wants us to be tougher; that will never happen with Deulofeu, he's as weak as pisswater, he should only ever be used for the last 10 minutes if we're chasing a game or winning a game comfortably.
Also as for his attacking attributes, how many times have we seen him put in a good shift? Once every eight games... the other seven, giving the ball away, losing possession, whining to teammates, headless-chicken play, pathetic tackling. He's not good enough on a consistent basis and needs to be shown the door.
Jack Convery
162
Posted 16/10/2016 at 14:37:23
If Man City want to walk the ball into the net, let them. Give me goals from long shots, crosses / headers, corners, free kicks, penalties any day of the week. This tippy-tappy fucking around on the edge of the box to show how smart arse we are is not for me.
If I was a City fan today I'd be really pissed. 72% possession, 4 shots on target (including 2 penalties from 2 world-class players). Why control the ball for most of the game and come off with a draw? To me, it's like a basketball team that get the ball and only have a real attempt at the net every so often.
We cannot go toe to toe with City – I wish we could – but Koeman obviously decided we could not do a Spurs (again, I wish we could) and Guardiola had set his team up to get hold of the ball and keep it for as long as possible. Perhaps he thought we would lie down as teams often do in Spain when playing Barca?
Well, it's different here. I was annoyed whilst watching the first half yesterday as I wasn't expecting EFC to play the way we did but in Koeman we must trust. I thought our goal was a cracker, starting with a great interception by Jags, a beautiful side step to beat his man by Oviedo, a couple of good passes, a great touch on by Bolasie and then an executioner's goal by Rom – great stuff. If City had done it, we'd still be seeing replays today.
Their goal came from a cross, oh the irony. In fact another of their goals this season against Man Utd came from a long ball and a header on – sometimes keeping it simple is the way to go, Mr Guardiola. In a rebuilding phase, a point at City is not to be sniffed at. COYB.
Mike Powell
163
Posted 16/10/2016 at 15:19:36
I don't understand people who are not happy with a point at Man City. Football is about defending as well as attacking, and we defended brilliantly. If we tried to play more open, we would've got mullered. Football is about results and we got a good result so let's enjoy.
Tony Hill
164
Posted 16/10/2016 at 15:38:03
I'm very pleased with the point since I thought we might lose by a comfortable margin to a side who are formidable at home. Koeman is looking to build a momentum towards success. Momentum, confidence and "luck" (not to be disregarded that last one: it's what Napoleon is said to have wanted in his Generals) – all those things tend to combine in winning sides and the talent and flair come in over time.
With Koeman I somehow feel that we are going to do it more often than not, I don't have that dread that we're going to make a routine mess of it. Nothing scientific in that and I was horribly wrong in thinking similar of Martinez when he started. But this fella is a cold one and he wants to polish up his CV for Barca, for which 7th-8th will be nowhere near good enough – that's where our hope lies.
Soren Moyer
165
Posted 16/10/2016 at 15:49:22
Wow! Passing accuracy percentage just above 60. Why did we misplace so many passes?
Darren Hind
166
Posted 16/10/2016 at 15:49:32
Eddie,
"Zonal Marking"?
Williams was standing well beyond the far post. It was headed in from more or less the centre of the goal. He had an excellent game, but if we are looking for fault for that goal, I think it was more likely down to sleep apnoea than zonal marking.
I hate to say this, but I don't think Oviedo is ever going to get back to his best. The City players were queueing up to get down his side yesterday. Pity, he's one of my favourites, but he's been so poor since that injury. Williams was working overtime yesterday having to get across to cover every time somebody went past him.
Funny really... Seamus wasn't at his best, Jags and Oviedo were all at sea, but we still managed to get lots of compliments for our defending. Amazing how far bloody mindedness can take you!
Paul Conway
168
Posted 16/10/2016 at 17:02:41
Kevin Rowlands (#161) – nail on the head regarding Deulofeu. This is the sort of player Jags was saying are hard to hold down when they 'turn up'.
Deulofeu can only mesmerise himself at the moment, in fact, I dread when he manages to get possession of the ball. The only way he can try to impress nowadays is with a silly new hair-do!

Kevin Rowlands
169
Posted 16/10/2016 at 17:23:32
Damn I wish we had signed that Nathan Redmond, he's so much better than Deulofeu and Lennon... We missed out on that one.
David Booth
170
Posted 16/10/2016 at 17:28:17
We tried when he was at Birmingham, Kevin – and he chose Norwich!
I'd take him and Austin now. Oh, and Van Dijk and Forster too.
Time we pillaged Southampton for a couple of their players. We could give them half a team in part-ex to sweeten the deal.
Ray Roche
171
Posted 16/10/2016 at 17:50:51
Jack (#162).
Someone made a very succinct remark about "possession" on here some time back...
You chat this bird up all night at the bar, buy all her drinks and, at closing time, your mate smooths in, whisks her off and gives her one. Now, YOU'VE had all the possession...
Kevin Rowlands
175
Posted 16/10/2016 at 17:57:18
Agree David, they are very easy on the eye, enjoyed watching them here, Redmond is a fine player plus that Tadic looks very good as well.
I hope we see some changes in January, Redmond, Tadic and Van Dijk in; Deulofeu, Cleverley and Lennon out would be fantastic.
William Cartwright
176
Posted 16/10/2016 at 18:35:59
Kevin, I agree with the Tadic comments, but didn't he have a falling-out with Koeman when he was at Southampton?
Meanwhile, the way I see it is we have now established half a team:- Stekelenburg, Coleman, Williams, Gueye, Bolasie and Lukaku.
For the other half, we have a selection from Baines, Barkley, McCarthy, Deulofeu, Mirallas, Jagielka, Funes Mori, Besic (injured), Lennon, Cleverley, and Valencia, who either have to shape up or ship out so to speak. (Baines, Jagielka and Barry are in the 2nd group by virtue of their age. No disrespect intended...)
It could be said that in one (incomplete) transfer window, Koeman has identified and addressed / replaced the most significant half of the team, the defensive part, with a real value-for-money approach, and will possibly finish the job in the next transfer window, or if not then during the summer. This means by next season another 5 players will be sought.
This next wave of player improvements, the balance 50% if you will, could be made up of the following:- a) a reformed character or two (Barkley or Deulofeu or Besic or all if we are lucky), a Finch Farm product, (Davies, Dowell, Evans etc.) and a new player or 2 of the right quality. ESPECIALLY THE CREATIVE NO 10...
In the process, if we move some peripheral performers on, and unearth a Walsh bargain, then I think we should have 1, possibly 2 star buys to savour.
Lukaku may stay or he may go. If he goes, it would be a loss, no doubt, but at least Koeman will have had the time to sort out an alternative.
Lastly, there is the chemistry that Baines highlighted last season. To achieve that is Koeman's secret and I trust he will get it right.
COYB...
Tony Kost
178
Posted 16/10/2016 at 19:34:37
Ray (#171) – not the best of analogies given a recent court case.
Ray Roche
179
Posted 16/10/2016 at 20:42:12
Ha ha, Point taken, Tony.
George Cumiskey
180
Posted 16/10/2016 at 22:03:13
Kevin @175,
I agree with Redmond and Van Dijk in; not Tadic – too hit and miss... Add Barkley to the list of outs!
Anthony Dwyer
183
Posted 19/10/2016 at 10:14:43
Ray Roche .
Haha... perfect analysis! 👌
---
Add Your Comments
In order to post a comment, you need to be logged in as a registered user of the site.
Or Sign up as a ToffeeWeb Member — it's free, takes just a few minutes and will allow you to post your comments on articles and Talking Points submissions across the site.
© ToffeeWeb