Koeman: 'Everything will be fine' in terms of signings

66 Comments [Jump to last]
27 July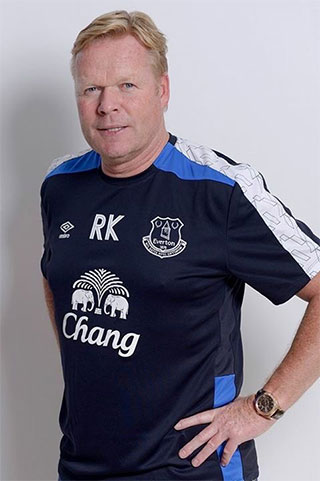 Ronald Koeman says that things will start moving at Everton in terms of signings in the next few days and weeks.
To date, Maarten Stekelenburg is the only new first-team squad member of the summer and the lack of new faces arriving at Finch Farm since the Dutchman's confirmation as the Blues' new manager last month has become a source of increasing unease for many supporters.
Speaking to De Telegraaf in his native Netherlands, however, Koeman sounded confident that there will be more movement in the market where Everton are concerned as the new season and the transfer deadline after that approach.
"Things will start happening in the coming days and weeks," said Koeman. "Everything will be fine."
Everton are linked with new names daily but despite the confident nature of some of the supposed inside information filtering out from club sources and similarly emphatic media reports, nothing appears to be imminent.
A fairly definitive report from Sky Sport Austria suggesting that Marko Arnautović was set to sign from Stoke City was off the mark but there is plenty of smoke around a bid for Aston Villa's Idrissa Gueye, who has a reduced £7.2m release clause in his contract following the Midlanders' relegation from the Premier League.
Sky Sports UK, MailOnline and the Associated Press are all reporting that Everton have triggered that clause in an attempt to bring the former Lille midfielder back to the top flight which is believed to be his preference over a return to France.
Elsewhere, the names of Axel Witsel, William Carvalho, Kalidou Koulibaly and Bruno Martins Indi continue to be bandied around in stories but there is little, if anything, concrete regarding the veracity or extent of Everton's interest in any of those players.
Though transfer activity at the club remains quiet, optimism for Koeman's first season in charge remains fairly high among supporters, particularly given the pre-season form of the likes of Gerard Deulofeu, Kevin Mirallas and Ross Barkley — three players who could be especially vital to the campaign if fewer signings materialise than were first envisioned.
The promise of big-money signings to match the apparent ambition of new majority shareholder Farhad Moshiri between now and the start of the campaign is still there, however, and that could make it interesting to bet on Everton next season given their relative dark-horse status at the moment.
With a Director of Football and head of recruitment alongside Koeman in the form of new arrival Steve Walsh, the Toffees now have the foundations in place on which to build the club's next era following the ultimately disappointing tenure of Roberto Martinez.
---
Reader Comments (66)
Note: the following content is not moderated or vetted by the site owners at the time of submission. Comments are the responsibility of the poster. Disclaimer
Paul Conway
1
Posted 27/07/2016 at 06:58:27
For me, it's already refreshing that we are linked with some very sought-after players of a higher profile. Although there is a lot of rumours attached, there is a lot of truth also.
It's understandable and not the manager's fault if the deal doesn't materialise, as there is a huge clamour for these type of players, usually moreso after an international tournament.
There's also the haggling with agents over various clauses, right down to an extra serving of pudding if he eats his vegetables!
Daniel Lawrence
2
Posted 27/07/2016 at 08:06:00
Bet on them for what?!
Mike Hughes
3
Posted 27/07/2016 at 08:09:25
The most significant change in the past or forthcoming weeks won't be an addition. The removal of RM is like signing half a new team.
Getting the current lot fit, playing in position and motivated might be worth 3 or 4 elevated league placings alone.
Kieran Jones
4
Posted 27/07/2016 at 08:28:09
80/1 to win the league! Come on lads a bit of faith. COYB!
Carl Sanderson
5
Posted 27/07/2016 at 08:42:19
How true, Mike. Koeman can organise a defence, get the players fit and formulate a tactical plan. The previous clown failed miserably to do any of these things.
Martin Nicholls
6
Posted 27/07/2016 at 08:59:54
RM has gone. The squad he had, albeit mismanaged, wasn't good/strong enough. Since he went, that squad has lost Pienaar, Osman, Hibbert and Howard with Niasse and quite possibly Stones and/or Lukaku soon to follow. We are in urgent and desperate need of quality signings and to think/suggest we can manage without is living in cloud cuckoo land.
Andrew Byrne
7
Posted 27/07/2016 at 09:06:24
I agree with the comments on here. We have a good squad already which was massively mis-managed by Bobby Brown Shoes. The players were not anywhere near fit enough either. We apparently did not have a single first team defensive coach (what was that all about?) and the tactics never changed.
A properly fit and organised first team should easily be challenging for top 6. Assuming nobody leaves we have cover in every position, except maybe up top (although I'd like to see what Tarashaj brings) and in the goalkeeper position so in my view we don't need masses of signings.
Personally I'd like to see a bit more trust placed in youth. The likes of Davies, Pennington, Galloway, Connolly, and Dowell all look like first-teamers already and being young should be looking to give everything to be in the first team. If they can have good pre-seasons, Koeman has form for selecting youth so they'll hopefully get their chances.
Oliver Molloy
8
Posted 27/07/2016 at 09:09:59
I agree with Martin, some better than good players required at Everton.
Whether we can attract some remains to be seen.
Ian Burns
9
Posted 27/07/2016 at 09:14:11
Martin - 6 - we may have lost the names on your list but you are forgetting they are being replaced by Davies; Dowell; Pennington etc; along with Koeman's ability to bring the likes of Ross; Kev; Geri; Besic etc up to speed we only need two or three decent signings and we will be good to go this season. No need for panic - yet
Carl Sanderson
10
Posted 27/07/2016 at 09:21:53
Martin, where did anyone suggest that we don't need strengthening? Of course we do, but the indications are that Koeman will be able to extract value from the current squad that proved beyond Martinez's poor ability.
As for your crack about "cloud cuckoo land" - well, why bother, really? I look forward to a day when we can debate these points without snide comments like that. In saying this I am recalling the absolute shit-storm of abuse I and others experienced for opposing the appointment of ... Sr. Martinez.
Sam Hoare
11
Posted 27/07/2016 at 09:24:49
Yes Koeman will hopefully improve what we have but we still look short to me.
We undoubtedly need a new starting GK, I am surprised this has not been addressed yet.
We clearly need to replace the likes of Stones and Lukaku if they leave.
I'd also argue that we need a top class CM, striking cover and possibly a starting LM/LW depending on what Koeman thinks he can get out of Mirallas/Tarashaj.
Brian Williams
12
Posted 27/07/2016 at 09:31:07
"Ronald Koeman says that things will start moving at Everton in terms of signings in the next few days and weeks."
Did some of you miss the above paragraph, or simply choose to ignore it?
Mike Hughes
13
Posted 27/07/2016 at 09:33:55
Nobody is saying we don't need additions to the squad. Just that the removal of RM might be as / more significant than one or two touted newspaper names people on forums get suckered into.
The only ones in Cloud Cuckoo Land are those who misread / misinterpret / extrapolate a point beyond its intent. But then this wouldn't be ToffeeWeb without the odd nark in the park, would it?
Andy Sommer
14
Posted 27/07/2016 at 09:37:35
As much as I'd like to see a couple of marquee names come in, having seen how too many additions affect other teams and the form of some of our youngsters, I won't be disappointed if it's not a huge influx.
This season is one of transition for me. Build a good base and kick on from there. Success won't come overnight.
Paul Johnson
15
Posted 27/07/2016 at 09:37:51
Have to disagree with you Martin people talk about losing Pienaar, Osman and Hibbert when actually between the three of them they played very little football in the last two seasons. I believe we need a goalkeeper, and then replacements should Stones and/or Lukaku leave.
The other area I believe needs strengthening is centre mid as I think Barry will be off the pace this year but I can see him plugging gaps at the back. Also McCarthy suffered with the same niggling injuries last season.
I don't think we need to panic buy for the sake of spending money. Let Koeman get a good look at what he has see if we have gaps (in his opinion) then target who we want and not who agents want us to have. We now have the finances to be that clinical.
Pete North
16
Posted 27/07/2016 at 09:40:53
Kone, Barry, McCarthy, Garbutt and Rodriguez have all disappeared. Are they all training with Niasse next to the Finch Farm exit ? We will need 1 or 2 to cover that lot and McGeady when he joins them.
Mark Pierpoint
18
Posted 27/07/2016 at 09:54:44
I think that people need to show a bit of patience here. The club have done the right thing in building the foundations first; bringing in Koeman and Walsh was undoubtedly the correct thing to do.
1) I agree with the more optimistic here. We have lost Howard admittedly. Out of the others mentioned, only Osman had anything like a decent role in last years' squad. In Davies I think we have someone who can have a similar impact as Osman did last year anyway in being back up for the first team at 18.
2) I do think we need a goalkeeper. My preference would be for Begovic out of those mentioned who are likely to sign (i am not sure Forster or Butland are in that camp this season. I think Schmeichel is no better than Begovic and more expensive anyway). We do have two goalkeepers in the squad though. I would rather wait for the number one choice in this department, even if it means a few weeks more, than take second best.
I also think we need a new LM and CM. Again though, it isn't as if we haven't got a decent team in the meantime. 'Marry in haste, repent at leisure' springs to mind.
3) Stones and certainly Lukaku have gone nowhere yet. Cross that bridge when you come to it.
4) I do think that we have a good squad and Koeman will improve them anyway simply by being there. Our problem last year wasn't lack of talent. It was lack of tactical nous and belief in the management. I see no change in this.
Chris Gould
19
Posted 27/07/2016 at 09:56:29
I suspect Koeman and co have already lined up 3-4 deals that will be completed as soon as other deals elsewhere at other clubs have been completed. We have absolutely no idea who we have been negotiating with behind the scenes. Neither do any of the shite red tops or websites that purport to have inside knowledge. If Koeman is saying we will bring people in over the coming days/weeks then we will. People need to chill. Koeman and Walsh have barely put their feet in the door.
Oliver Molloy
20
Posted 27/07/2016 at 10:05:46
Perhaps we may see some movement out if Martinez gets the Hull job!
Karl Meighan
21
Posted 27/07/2016 at 10:16:28
I have to agree with Martin@6 here,Martinez lost the plot and wasnt upto the job but at the same time he didnt play. For all his faults and insistance on playing in a way that done us no favours the points tally was imo down to us having bad tactics but more important having a squad that needs reinforcements desperately.
Gareth Clark
22
Posted 27/07/2016 at 10:33:25
Butland (£25mil)
Koulibaly (£40mil)/Van Dijk (£20mil)
Gueye (£8mil)
Witsel (£20mil)
Ziyech (£10 mil)
Bony/Haller (£15mil)
I'd be willing to spend the most on Butland! He is ready now, and is only going to improve.
Brian Williams
23
Posted 27/07/2016 at 10:37:41
Gareth.
£138m?
Realistically?
Andrew Ellams
24
Posted 27/07/2016 at 11:14:50
Brian, if Stones goes then you can add £50million+ to the budget so Gareth's targets probably aren't unreasonable.
John Belshaw
25
Posted 27/07/2016 at 11:24:24
Hull chairman, Elah Allam, is said to have been blown away by Roberto Martinez following a private interview with him. Apparently this interview was quickly arranged following a ringing endorsement of Martinez's qualities by his former chairman Dave Whelan. No endorsement from Kenwright... yet!
If Martinez does get the Hull job – and here's hoping – maybe Ronald Koeman can try offloading the likes of Robles, Gueye, Cleverley, Gibson, Barry, McCarthy and especially, McGeady, Kone and Niasse onto him.
Hull should be guaranteed up to 8 or 9 goals a season shared between Kone and Niasse with McGeady supplying the crosses!
Sam Hoare
26
Posted 27/07/2016 at 11:37:13
I'd go with that list Gareth though suspect what we get will be a little different and possibly a little less glamourous.
Denis Richardson
27
Posted 27/07/2016 at 11:45:50
Martin (#6) – have to disagree with you. You say we urgently need players because we lost the likes of Pienaar, Osman, Hibbert and Howard and possibly Niasse, Stones and/or Lukaku.
Well of the players listed, 4 hardly played at all last season so it's they won't be missed and Stekelenburg is better than Howard. Stones and Lukaku are still here, for now. As mentioned above we also have at least 2-3 players stepping up from the academy to the first team.
I agree we need to sign players to improve but 2-3 quality signings should be enough to start with as the squad size is okay, assuming the rest of the squad are fitter and better drilled than they were by Martinez.
Victor Jones
28
Posted 27/07/2016 at 12:04:50
Just a few comments: I've just had a look at the BBC transfer gossip column. Crazy prices being touted about. IMO. Average players with stupid 30 to 40 million £ price tags. Are they really that good? Most untried in the Premier League, they could be anything.But I suppose in modern day football...that is the nature of the beast.
As for Everton and Koeman and Walsh. I would rather that they took their time. Identify proper targets, no knee jerk signings. Bring in players that are going to add something to what we already have, improve the squad... grasp the Everton ethos. (Simply understand the history and what the club means to the supporters).Does Lukaku even know our history? Or am I expecting too much from modern footballers.
We can all name poor Everton signings. Our buys from Russia have been poor. We bought some utter rubbish in the early 1980s and 90s and what was buying Harper and Belfitt all about in the 70s? Different times, I know but Everton have a long history of poor signings. So I have no problem with Koeman having a good look at our youngsters and all our players before looking to dip into the crazy crazy transfer market. Let's not add any crazy money to some leech of an agents pockets until we identify a proper target. Let's get everything right. Well that's the theory.
I have to agree with trying to get Butland in. That would be a great signing. Restore our tradition of have a great keeper at the club..this lad could be a top top keeper for the next ten years. WTF was Martinez playing at with his selection of keepers? We should have signed Butland a few years ago but there again we should have done a lot of things differently a few years ago. Let's get everything right now.
Jason Broome
29
Posted 27/07/2016 at 12:14:00
I like Moshiri (a lot) and I am warming to Koeman but a little uninspired with rumours of Gueye and quiet a few others.
We need to inspire our own, plug weak areas and make a statement...
Koulibaly, Butland, Schneiderlin, Slimani. Introduce youth, sell Stones, Niasse etc and keep Lukaku... Simple.
Our attack is fine. They always scored under Martinez. Any team would be happy with Lukaku, Deulofeu, Barkley, Mirallas, McCarthy (the £30M rated version), Schneiderlin, Besic, Lennon and possibly Slimani.
The last 3 years we always scored goals and played well against the top sides. We just had a confused, soft manager who couldn't coach defense and who couldn't set up a Monopoly board.
Just want to add that I'm an optimist but i'm completely uninspired with the arrival of Walsh. Everybody is riding Ranieri's bandwagon. Ranieri's arrival tightened up and propelled Leicester City, not Walsh. Measure the man since 2011 not since Ranieri's arrival and brilliant man management. Leicester will be fine without Walsh.
Where was the praise for Walsh in 2014-15. 41 points and Vardy's 5 goals in 36 games. 'Oh he will find us bargain basement talent...' So did Moyes. Doesn't make him good enough to be our DoF.
Brave new world. From Monchi to Walsh. If you want to Orchestrate the London Philarmonic you hire Hans Zimmer not P. Diddy. Here's hoping that at least Koeman's the former.
Waiting for them to shove my words down my throat and win something like a true Awakening Giant. I guess over time we will see, but I hope we don't waste the money like Andres Villas-Boas.
Karl Meighan
30
Posted 27/07/2016 at 12:15:03
Dennis the players mentioned may not have been used a lot but the ones who did play couldn't break the top ten in a poor quality league.
Whilst I'm hopeful some of the kids become great Everton players, there's nothing in the present squad that makes me think the top four is achievable.
Gareth Clark
31
Posted 27/07/2016 at 12:16:34
Jason - go be a manager mate... Seems like it's so easy.
Victor Jones
32
Posted 27/07/2016 at 12:17:17
Dennis Richardson, spot on. Hibbert, Osman, Pienaar will not be missed. We have youngsters who are now better squad additions than those players have been in recent years. And Tim Howard should have been dropped about two seasons ago... Total mismanagement of the playing squad in recent years from RM and for handing out extended contracts. BK, take a bow. Let's hope the the new regime can get everything right. I think that they will. The bar by the old regime was not set that high.
Tony Abrahams
33
Posted 27/07/2016 at 12:23:23
I would say Jason, would make a better director of football Gareth, because The four players he mentions could possibly turn Everton into champions
Craig Walker
34
Posted 27/07/2016 at 12:25:15
I hate this time of year where we all start banding about names and creating dream teams.
I trust RK to add to the squad wisely and expect us to be harder to beat next season as a result of his management. If we can close games out successfully and win more home games then we should be in for a better season.
Stephen Brown
35
Posted 27/07/2016 at 12:30:28
This is proving to be such a tricky transfer window. Do we overpay for a 'marquee' type signing to make a statement of intent? This could encourage other players to join! Or it could upset the dressing room?
Or do we take our time and sign the players we need at the correct price meaning we go with what we've got for a while? Either way I'm happy to trust Moshiri and Koeman – however frustrating it is!
I'm not fully advocating this but could a cheeky bid for Rooney be the statement to attract other players – huge salary yes, past his best yes but would attract good attention and let's face it improve the team whilst selling lots of merchandise and improving our standing to other suitable players?!
Interesting times ahead! I will continue to log into ToffeeWeb 20-30 times a day hoping for news!
Kunal Desai
36
Posted 27/07/2016 at 12:32:00
People also need to understand that the calibre of players we are now going for have gone up a level, meaning transfer negotiations are more protracted and drawn out, with many parties involved. The competition for these players will be far greater and not just from PL clubs but also those from tops clubs around Europe.
Patience is required here, we'll have a couple of players in by the Spurs game. I'd rather wait to get the right type and quality of players then the club just making signing that aren't likely to make a difference.
The other point to take into account is Koeman isn't going to make wholesale changes in his first season, he will give the majority of the squad atleast one season. As mentioned already Koeman will get these players back on track and that in itself should elevate us up a few places higher in the table come the end of the season.
Gareth Clark
37
Posted 27/07/2016 at 12:38:27
Anyone can throw names out there... but Koeman & Moshiri definitely know more than us, so trust them, before you start saying who would be good and who wouldn't.
We don't necessarily need big names & big egos to make us better – and therefore an "uninspiring" target, such as Gueye, who puts in the hard work and has the right attitude, might just be a bit better, in Koeman's system.
James Marshall
38
Posted 27/07/2016 at 12:56:13
All this talk of players people like the look/sound of, but what is your choice based on? What do you know about any of those players character? Their personality? The way they'll fit into the team/dressing room? I'd say pretty much nothing, agreed?
They're just names on a screen.
Managers have scouts out there working on these deals, because A) all of the above matters, and B) the many millions being quoted is actually real money and not a computer game.
Gueye for example is clearly a quality player, who was playing in a shit Villa side last year - comparable to Kante who just went to Chelsea for a lot more cash. The kid obviously has the right mentality, otherwise we wouldn't be in for him.
As for all the other players quoted in the press, and then regurgitated on here......see above.
I have no problem with the way things are going - look before you leap. Everton may have cash to spend, but so does everyone else.
Brian Williams
39
Posted 27/07/2016 at 12:56:51
Andrew (#24).
His targets may not be unreasonable but the prices he's attaching to them certainly are.
Denis Richardson
40
Posted 27/07/2016 at 13:24:32
Karl 30 - undertand your logic but I feel we already have a lot of players who are capable of playing top 6, they just had the misfortunre of being managed by Martinez.
The likes of Baines, Coleman, Mirallas, Mori, Deulofeu, Jagielka and Barkley are quality players who should be better than last term under RK. Left out Stones and Lukaku as I think they will be sold but will be replaced. We'll hopefully add 2-3 others so that'll be a decent first team plus the youngsters coming through. Other senior players we have are ok to pad out the squad.
Won't win the league anytime soon but Rome wasn't built in a day. RK can't change the whole side in one summer.
Kevin Tully
41
Posted 27/07/2016 at 13:43:23
It was clear the forward three in any Marinez side were coached only to go forward, and the DM's were expected to do all the dirty work in the middle of the park. Barry & McCarthy must have been totally pissed off trying to plug the gaps as Barkley & Lukaku were jogging along the front line with no help.
This won't happen under Koeman. As far as I can tell, he expects the 10 outfield players to press across the pitch, so we will hopefully see the likes of Barkley putting his foot in.
We were 19th out of 20 teams for interceptions last season, so that tells you all you need to know about our workrate off the ball. A new start for everyone, but we will still end this transfer window with at least 5 new signings.
Tom Bowers
42
Posted 27/07/2016 at 13:45:54
When established ''money clubs'' show interest it appears the asking fee doubles. Some teams have really been conned by this concept such as Sterling to City and Benteke to RS.
Despite more money being available I think Koeman will be cautious initially as I believe he has to weed out some of the ''undesirables'' at Goodison (in his opinion).
Things may indeed start to happen between now and the end of August so let's not get too excited about a lot of trash media reports.
Gareth Oughton
43
Posted 27/07/2016 at 14:11:17
The squad itself isn't too bad and has cover in most places:
GK - New / Robles / Stekelenberg
DR - Coleman / New / Connolly / Kenny
DL - Baines / Galloway / Oviedo / Garbutt
DC - Stones / Jagielka / Funes Mori / New / Browning
DM - McCarthy / Besic / Barry / Cleverley / Davies / Gibson (plus Gueye...?)
AM - Barkley / New / Tarashaj / Dowell
WA - Deulofeu / Mirallas / Lennon / New / McGeady
ST - Lukaku / New / Niasse / Kone
I would rather we took our time and not get dragged into silly season. With a new keeper if nothing else, there's the basis of a decent starting eleven with moderate cover until Koeman has figured the full squad out.
In terms of business, I'd say we need a first choice GK, a backup right back, a backup centre half, a rotation attacking midfielder, a rotation wide attacker and a rotation striker. Six players, only one of them desperately needed before the start of the season.
Obviously that gets added to if Stones and/or Lukaku go, but we'll get hefty fees for them to replace them.
Koeman has done this at Southampton before and they always punched above their weight, so I'm still quietly hopeful.
Stan Schofield
44
Posted 27/07/2016 at 14:22:32
I agree with Tom @42. Us having a few bob means first and foremost that we don't need to sell our best players. I can't see that we need to buy much if at all at present. Even a GK, Stekelenberg looks good to me, so I can't see that as a problem especially if we improve in defence, which Koeman is supposed to be expert at.
Obviously if Stones and Lukaku go then replacements are needed, but talk of them going is still media conjecture and hype at the moment.
Brian Williams
45
Posted 27/07/2016 at 14:45:48
I see Arnautovic has signed a new four-year deal with Stoke. I think unscrupulous agents may be using our new found wealth as a bargaining tool to secure their players nearing the end of their contracts a better deal with the club they're already at.
They simply put it around that we're interested and ready to make a move... next thing the player signs a greatly improved contract... and the agent scores too!
Mike Allison
46
Posted 27/07/2016 at 15:05:47
This probably belongs somewhere else but we've been drawn against Bolton, Blackpool and Cheltenham in the EFL Trophy.
I hope we take it as seriously as possible and play hard to win.
Jay Harris
47
Posted 27/07/2016 at 15:06:19
I thought it was interesting to find Koeman has been having the squad do extra drills on corner and free kick routines.
Koeman as things stand IMO is worth an extra 10 points next season and if he says be patient signings are coming then thats exactly what he means.
We can put forward as many names as we want on a wishlist but there are a large number of factors in any deal.
Does the player want to come to us?
Does his agent want him to come to us?
Is he the right fit for what we want and need?
Are his wage demands reasonable and will not upset the status quo?
Has he got the right personality that will not break the harmony in the camp?
Is the fee being demanded sensible (stupid question I know)?
We have to trust RK and Steve Walsh to do the right thing and take us forward.
It upsets me that there are already Evertonians knocking Steve Walsh. FFS lads he is one of us now and has only been here 2 weeks.
Mike Allison
48
Posted 27/07/2016 at 15:12:25
Gareth (43), I quite like your post but with one
massive
caveat: never buy a back-up.
We should only buy players who will make us better. If we buy a right back, it should be someone who has Seamus Coleman worried for his first team place. If we only want a back-up then Connolly, Kenny, Stones, Tom Davies, Pennington, Browning and Mason Holgate have got it covered (throw in McCarthy, Besic and Lennon if you like).
Stekelenburg will probably end up as a back-up, but at time of signing is a serious contender for the no.1 jersey. All new signings must be serious contenders or they're not worth buying.
Gordon Crawford
49
Posted 27/07/2016 at 15:21:47
Never said a truer word Mike. No good buying a bench warmer. The transfer market at the minute seems to me like we are trying to shop in Marks & Spencer, when all we can afford is Tesco and Sainsburys.
Rome wasn't built in a day and neither will Everton's reputation. COYB
Andrew Byrne
50
Posted 27/07/2016 at 15:31:04
I don't believe the squad needs any major tinkering. Bobby Brown Shoes made an unbelievable job at mis-managing decent players, they were not fit enough, and apparently we didn't even have a single first team defensive coach under RM...what is that all about?
So if Koeman gets the players properly fit and can do even a slightly better job tactically than Bobby did then we will be much better off this season.
Assuming that Stones and Lukaku stay (it's looking more likely that Lukaku will stay) then I would say that perhaps we need another striker to challenge/partner Lukaku and possibly a GK. We have plenty of youth players coming through, Galloway, Pennington, Davies, Garbutt, Dowell (Dowell looks quality to me) to name a few.

Koeman has form for selecting youth so I hope these lads get a decent pre-season under their belts to challenge the first-teamers to up their performances. Maybe a marquee signing in CM would lift the squad a bit but I don't believe it's absolutely necessary given that we have Mo, McCarthy and Barry available...not to mention psycho-eyes if he can stay fit for any period of time. I'm not convinced by Idrissa Gueye (even if it's based on his surname alone).

I can't think of a single Villa player let alone one I'd want us to buy ;-) Plus I hear that Tarashaj looked in decent nick last night. I thought he was a striker but from comments I've seen he looks like a decent no.10. So all in all I feel we have a bit more strength in depth from youth rather than from "big names" and I would hope that the youth players would be a bit more hungry than perhaps established big name players would be.
Mark Pringle
51
Posted 27/07/2016 at 15:41:40
Mario Gomez would be a great buy!
Terence Tyler
52
Posted 27/07/2016 at 16:12:49
Chelsea just bid 㿒 mil for Koulibaly.
Paul Needham
53
Posted 27/07/2016 at 16:58:54
From what I see of Koeman he has more football nous about him than Roberto had in his left foot. He knows that the fans are not stupid, we know football, we live and breath it so just tell it how it is. Koeman does that and heh we like it.
No so called 'big star' is going to come to EFC straight away but under Koeman (who has an aura, a presence) we can build, win a trophy, get into Europe and have a new stadium. Then the bigger names will be interested. Chelsea and City did not get from A-Z in one bound. We need to do it over a couple of seasons to ensure we do not catapult back.
Things are changing big time. More than I have seen for 30 years. I for one have buckled up for a very interesting flight. At least this season I am confident we can do the RedShite home and away. Not been able to say that for a while!!
Come on, lads. Let's enjoy... we are on the way back.
Mike Dolan
54
Posted 27/07/2016 at 17:34:31
Wether Stones stays or not we need a decent starting centre half and a back up for this season. We are going to get diminishing returns with Jags, Funes Mori is solid but mistake prone in the current set-up, and Stones is just an atrocious defender.
Blow all of the money on Koulibaly – the man's a rock. You could put my aunt Nellie in goal because Koulibaly and Funes Mori would give us the best central defense in the Premier League.
Mike Allen
55
Posted 27/07/2016 at 19:17:33
Just hope they get it right in the transfer dealings. Anyone that does come in must be quality; we have more than a couple of quality footballers coming through. Any signings must not hinder their progress.
Les Martin
56
Posted 27/07/2016 at 19:30:41
Ronald Koeman knows exactly what type of player he wants, and in what positions, so do we.
Firstly his priority will be to set us up not to concede as he knows we have quality in creating and scoring goals, therefore.
A top goalkeeper
A solid experienced no nonsense clear your lines defender.
A new defensive midfielder to sit in front of that defender.
Cover at right back.
Another creative midfielder.
A possible replacement for Lukaku.
I expect several of the old guard to be gone in 12 months, including Jagielka, Barry McCarthy Kone McGeady who either will not be up to it or getting past their best.
The team this time next year will be very different in personnel and playing style than the one we have now, and this can only mean progress and for the better.
Alastair Donaldson
57
Posted 27/07/2016 at 21:24:31
Just skimmed the above, but enjoyed John 25 comments..hope indeed!
Think it's inevitable things will go on well into August, other teams working out the same problems, who's staying who's going... there isn't a lot of movement period currently, let alone incoming to EFC.
We're probably already in the "they'll pay extra for so and so" category, so it's a case of more patience I'm afraid.
I'm inclined to believe RK knows who he really wants and will have a realistic opportunity of getting them. We are fishing upstream now, but there'll be bargains for those who don;t just check "who's for sale.com".
IMHO we need . 1st choice GK, no.10 & striker..leave the rest for now.
NSNO.
Jason Broome
59
Posted 27/07/2016 at 00:27:28
Gareth Clarke @ 31
May I introduce you to Mr. Gareth Clarke @ 22.
Black - Kettle -Pot. I always get them confused.
Only joking... Have a goodnight mate.
Andrew Byrne
60
Posted 28/07/2016 at 09:00:19
Paul Needham (#53). I totally agree with your comments. Koeman obviously can mange given his track record plus he played at the very top level... neither of which Bobby did.
The future's bright, the future's Orange (and Blue)
Paul Holmes
61
Posted 28/07/2016 at 20:37:36
I agree with the dark horses for next season, it will take Koeman a season and a couple of transfer windows to get 'his' Everton team because, let's face, it he has a lot to do if the rubbish we watched last season is anything to go by.
This season will be a season of transition, so I hope the fans give him the time to spend the money wisely, and not all of it in the next 2 weeks (panic buys like Niasse etc).
Ian Riley
62
Posted 29/07/2016 at 22:39:50
Four to five signings are required. A reality check is needed. The squad is not good enough to be challenging a top seven place.
Pace and bite in midfield is required. Last season was not all about Martinez. Some players failed to step up. It may take a season or two to see Koeman's team.
Jay Davo
63
Posted 31/07/2016 at 06:53:05
Stones has all but gone so has Lukaku so stop living a dream and start replacing players, to think we will do better this season with less players is ludicrous to say the least.

Stop dreaming that a manager will make the difference. Yes he will have a good impact but players having to work harder to get into the team is what makes a difference, we don't have that and we wont unless players are brought in. Without more players the ones we have won't play to their best.

Other teams have brought in new players so they will ALL be fighting hard to get into their teams, we will have a team that will sit back knowing they will be chosen every week. No signing could result in us being nearer the bottom not the top.
Dave Abrahams
64
Posted 31/07/2016 at 09:07:01
The thing Ron Koeman needs more than anything is time, don't Judge him after a few pre season games.
I think I am right in saying Klopp at Anfield was doing no better than Rogers on the field months after he had joined Liverpool, it was what he was doing on the training pitches and preparing for the next few seasons was what will count, the same will apply to our new manager.
Tony Draper
65
Posted 31/07/2016 at 22:27:42
"Stones has all but gone, so has Lukaku, so stop living a dream."
Eh ?
Name the club.
Quote the price.
When you can, then fine.
Otherwise, it carries as much weight as . . .
"Everton to build new stadium in hollowed-out volcano. Farhad Moshiri strokes white, deaf, blue-eyed tomcat!"
Colin Glassar
66
Posted 01/08/2016 at 10:40:05
Just read this again to feel reassured that Ronald isn't worried about getting players in. In Ronald I Trust.
Rob Esteva
67
Posted 01/08/2016 at 10:55:02
Spot on Colin. My only wish is that we bring players in before any go we'll be held to ransom just like we will hold Man City and Chelsea to ransom for the two.
Paul Hay
69
Posted 01/08/2016 at 12:42:40
Much common sense being said here. I particularly think Gareth (#37) summarizes the situation very well. We do need to trust Mr Koeman and the Chairman and I certainly see no reason at all to doubt the footballing insight of the former.
Patience is required as he assesses the situation but I have a feeling that, by the end of August when the true nature of the transfer merry-go-round unfolds, Koeman will have the additions that he has concluded we need at that given time.
I read today that Chelsea have upped their bid for Rom to £68 million and if true then it will be hard to prevent the move. I don't want him to leave but, if his heart is set on going, then so be it. Same with Stones unfortunately but I do think that, given his age and potential for development, we should hold out for more than what Man City are currently offering.
I cannot see Mr Koeman being mugged off by anybody – so keep the faith!
Add Your Comments
In order to post a comment, you need to be logged in as a registered user of the site.
Or Sign up as a ToffeeWeb Member — it's free, takes just a few minutes and will allow you to post your comments on articles and Talking Points submissions across the site.
© ToffeeWeb