Koeman pleased with second-half reaction

74 Comments [Jump to last]
12 September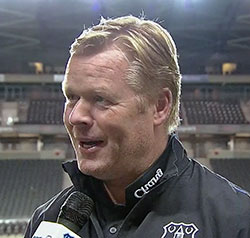 Ronald Koeman has praised his players for their reaction after half-time this evening as more of his decisive management paid dividends following a sluggish first-half performance.
The Everton boss was forced into another early change and was rewarded by a tremendous response from his players as they beat Sunderland comprehensively at the Stadium of Light behind a scintillating hat-trick from Romelu Lukaku.
The Belgian had the only clear-cut opening the Toffees were able to fashion in the first half when his header off Yannick Bolasie's pin-point cross was turned over the bar brilliantly by Jordan Pickford.
However, after Gerard Deulofeu was introduced at the break at the expense of Ross Barkley, Everton looked a different side and two headers by Lukaku in the space of eight minutes broke the deadlock midway through the second period.
Lukaku completed his hat-trick with 19 minutes left when he raced into the clear behind the Black Cats' beleaguered defence to slot past the stranded 'keeper and round off a third successive Blues win of the season.
Koeman was purring afterwards but he made it known in no uncertain terms that once again his team's first-half display was not up to standard.
"I was very impressed and satisfied with the second half," Koeman said after the game. "but I was very disappointed with the first 45 minutes. It was not the level we need to show.
"Our ball possession was poor [but] you saw the difference in the second half. We kept the ball much better and with good movement in the attack and created goals, three for Romelu and we had some more opportunities to score.
"The hat-trick was important for the boy because the press has been talking about the long time where he didn't score for Everton and I said to Romelu, the best answer is always on the pitch and gave that answer tonight.
"He's a great player and a target man up front, he's strong, he's a scoring player and you need goals to win games."
Just as was the case in the last away game at West Bromwich Albion, Koeman moved to address what he saw as a stagnant performance from his side in the first half and Deulofeu's introduction proved significant in that regard.
"I wasn't happy about the first half and I was thinking about getting a reaction at half time," Koeman explained. "I needed to change it. This time it was Ross Barkley who I took out and maybe the next time it's a different player but we had to change something because I was not pleased with the first half.
"I know the qualities of the players. We are strong and we made some good signings. The team is stronger than it was last year in my opinion and we need to fight but I think [Europe] is a realistic target that we've set for everyone.
"The start [we've made] is very good but it's only been four matches and we need to continue. [To be unbeaten] is important and the clean sheet is important that makes everybody happy."
---
Reader Comments (74)
Note: the following content is not moderated or vetted by the site owners at the time of submission. Comments are the responsibility of the poster. Disclaimer
Don Alexander
1
Posted 12/09/2016 at 23:18:24
This guy is the dog's chunks. I'm beginning to wonder if he'll be an even better manager than he was a player. If so it'll be a nice change from the last clown who was a way better player than manager. Onward and upward please but it's so rewarding to see something we all recognise as good football.
Ian Riley
2
Posted 12/09/2016 at 23:31:14
This is the man for a five-year contract!
Honest appraisal of the game. Makes changes to win games. Players brought in are quality. Keep on the tales of the top four and buy in January and who knows... Night night.
Les Martin
3
Posted 12/09/2016 at 23:33:01
Do you think Martinez would have taken Barkley off at half-time? Sadly he had a shocker. That's the difference between a manager who knows how to win from another who was clueless.
Tonight we may have seen an exciting tactic of playing Deulofeu just behind Rom in the No 10? It caused them a lot of problems.
I thought the defence was tough and snuffed out their chances. Gana was magnificent, 79 minutes before he wasted a pass. Bolasie is looking sharper and more dangerous. Williams commanding in defence. And then there's Rom... gets his hat-trick and all smiles with the bench.
A great night's work.
Trevor Peers
4
Posted 12/09/2016 at 23:47:10
Life is so much easier when you have a class manager. Koeman pulled the plug on Ross and bingo! We're in business as a football team.
So much more movement through the midfield, chances galore, and a solid defensive display – all adds up to a winning combination. Life feels good again !
Things can get much better as well, as this team knits together, and more class signings to come.
Terence Beresford
5
Posted 12/09/2016 at 23:47:23
Fantastic gesture by the blues for the 5-year-old. Hope he is on the road to recovery soon.

Just a mention for the travelling blues. Brilliant support all night with all the old songs. Everton have never shone so brightly!

Safe journey home, blue boys!
Clive Mitchell
6
Posted 12/09/2016 at 23:49:31
Best thing about tonight was his rubbishing of the first half display – one of the worst displays I've ever seen in Everton shirts from our front four.
I know the way it works and Lukaku with a hat-trick has to be MotM – but we all know Gueye was Man of the Match by a mile.
John Daley
7
Posted 12/09/2016 at 23:58:54
Any one of Barkley, Mirallas or Lukaku could have had few complaints at being hooked at half time. They just weren't in the game and posed few problems for Sunderland. It's not like Barkley was the sole player cock blocking goal scoring chances from being created.
Obviously, it was never going to be Lukaku pulled as Kone isn't really an adequate replacement, but Mirallas must have let out an audible sigh of relief that it wasn't his arse told to make way.
The most pleasing thing was that the manager didn't automatically see going in nil-nil at half-time, away from home, as satisfactory and acted decisively to drag something more out of his men. You could imagine his opposite number today simply instructing them to keep doing as they were doing and look to sneak a winner off a set-piece or something.
Tony Hill
8
Posted 12/09/2016 at 00:05:15
Ross is a worry. Koeman says he's going to speak to him. This is what can happen when your confidence goes and your mind works against you: every touch goes wrong, every decision takes a fraction too long.
It's so frustrating to watch; if only someone could release the block. Let's hope Ronald has that skill, or knows someone who has it.
Jason Pullen
9
Posted 13/09/2016 at 00:06:09
It's that winning mentality I don't think we've had in a manager for a very long time. Not everything will work like it has so far, but the decisiveness is so refreshing.
Jamie Sweet
10
Posted 13/09/2016 at 00:19:33
Mr Koeman is impressing me more and more with every game.
By making the substitution at half time, it sends a message to every player that you can't feel your way into games anymore. You've got to hit the ground running and be prepared to pay the price if you aren't on point from the first whistle.
His post-match interviews are truly a breath of fresh air.
And each of the four signings on display today have vastly improved our team.
What a time to be a Blue!
Bobby Thomas
11
Posted 13/09/2016 at 00:25:39
Ross has too many touches in possesion, slows the game down and gives the ball away too much. Not exactly what you want from a number 10.
I keep cutting him slack but if I'm honest tonight was just a very typical Ross Barkley performance. I didn't think he deserved to make the England squad in the summer, never mind being gutted about not making the last one.
The last manager filled his head with shit. At least he now has a manager who will make it crystal clear that that kind of performance is unacceptable. He needs to forget England for the foreseeable, he isn't good enough, and concentrate on improving. If he didn't play for us I'd probably just say he wasn't up to scratch.

John Raftery
12
Posted 13/09/2016 at 00:35:59
Les (3) Deulofeu mostly played on the right wing. It was Mirallas who played in the number ten role.
Bobby (11) Spot on about Ross. He needs to unclutter his brain, stop trying to be the world class player his last manager told him he was, and concentrate on doing the simple things on the pitch like running, passing and shooting. If he cannot develop consistency of performance under this manager he probably never will.
Victor Yu
13
Posted 13/09/2016 at 01:13:23
Imagine Moyes was the one managing Everton tonight.
1. Play more defensively in the 2nd half to keep it at 0-0
2. Try to get a lucky goal from free kicks or corners
3. Put in Holgate and take Mirallas out with 10 minutes to go
4. "...if I was offered a tied game before kickoff I would have taken it..."
What a difference RK is making!
Dan Davies
14
Posted 13/09/2016 at 01:23:46
Would love to see Ross come good. Koeman will make or break him I reckon. Still think he needs somebody to take the pressure off him, and show him the way.
Rooney or Mata would have been ideal in that sense. He will come good he just might not be the superstar we hoped. C'mon Ross, we need you to come through lad.
Anthony Dwyer
15
Posted 13/09/2016 at 01:36:14
Ross has 2 goals and 2 assists in 4 league games and 1 cup game, that's a decent enough start to the season.
Yes his head was gone tonight, and yes he wasn't at the races, but every player has a few bad days at the races, tonight goes down as one for Ross.
I think a lot of blues expect the world of Ross, but it's never going to be that way, he's a very good player and most clubs in the EPL would love to have him at there disposal.
One problem is probably that England dropped him, it's possibly toyed with his head and had him over-thinking his game.
Another problem with Ross is he seems to suffer from confidence issues; hopefully that's something that he will over come under Koeman, plus getting more experience and a little older will also help.
Let's get behind him and watch him blossom into a great player, and hopefully a loyal one. That's what we want from our young stars, loyalty, so in return what is the minimum requirement from our fans towards Ross?
On a separate note, it's great that the blues can bag 3 goals and make bags of chances without Ross.
Mike Gaynes
16
Posted 13/09/2016 at 02:21:04
Few mentions anywhere of the player who has been, for me, MOTM in every game this year.
Gueye is amazing. First to every loose ball, immaculate on the ball and invariably chooses the perfect pass. Gorgeous chipped assist on the first and put the ball at Lu's feet to create several other opportunities, including the shot off the bar.
And I hate to add a cheap shot, but the way Kone was "marking" Lu tonight made me glad we missed out on him. He looked totally lost.
Lovely day.
Phil Sammon
17
Posted 13/09/2016 at 02:58:45
Does anybody else think Rom is looking very heavy? Even his face looks to have really filled out. Not really the day to criticise the lad, but it was on my mind from the first minute.
I think some are going a bit overboard on the first half display. It was lacklustre but by no means terrible. Bolasie looked a threat whenever he had the ball.
Deulofeu changed the game in his first 10 mins but on the whole I'm starting to think he'll never be top class. His legs move twice as fast as his brain.
Lots of pleasing things to dwell on til the next game. I just feel like our young stars are yet to really start fulfilling their potential.
Mark Pringle
18
Posted 13/09/2016 at 03:39:39
Made it down from Scotland for the game. Can't stop singing:

"Yannick, Yannick Bolasie, runs down the wing for me,
Yannick Bolasie, Yannick Bolasie,
Yannick Bolasie, Yannick Bolasie!!

Oh yeah and that other favourite: "We're going to win the league" You never know.

Class manager who is not afraid to make decisions. We need a song for Idrissa Gueye because he is a phenomenon. Him and Barry = different level.

As for the earlier poster who said Geri was great in the No 10 role, well I'm afraid he was on the right wing since he came on and Mirallas played as a very good No 10.

Smashing 2nd half performance from the lads and as frustrating as Big Rom is, he knows where the onion bag is! By Christ, it felt good to look at the dugout and see Moyes in the opposite one. We even got a wave from Big Ron, proper manager!!
Anto Byrne
19
Posted 13/09/2016 at 04:03:13
Barkley was doing okay and Sunderland were playing deeper. Our possession was 63%. He could do no more than watch how Gana goes about his work. However, I think he is a better player in a 4-4-2 system.
Mick Davies
20
Posted 13/09/2016 at 04:37:49
Interesting stat:
Goals at 23 years old:
Lukaku - 121
Ronaldo - 110
Suarez - 107
Rooney - 100
Ibrahimovic - 65
Jamie Crowley
21
Posted 13/09/2016 at 05:11:13
As Anthony above pointed out, Ross had a bad day at the office. But I agree the start to his season has been good overall.
It was just a poor outing for the kid.
How good was that ball by Mirallas to put Rom through for his third? That was just beautiful.
David Price
22
Posted 13/09/2016 at 06:34:06
Ross is playing like a kid with the world on his shoulders. Maybe time on the bench will cure that as I can't see him starting the next game.
As for Rom, is it me or even though he scored three goals, two of which any striker would have put away, his first-half performance and general play still need to be worked on? Mirallas must have been fuming when he didn't play him in towards the end of the game.
MotM was Gueye – he is a class player and what a steal at ٥ mil!!!
Paul Conway
23
Posted 13/09/2016 at 07:22:02
Great win – taking Barkley off was a game-changer. Honestly, I can't understand how before last night's game ,so many Evertonians lost patience and slagged off Lukaku, yet kept faith in Ross Barkley and still find excuses for his utter shit and wasteful performance. The basis of a consistent successful team is a team littered with full internationals... which he is not.
The boss will loose patience with him. This bollocks of potential is becoming boring, he has had enough time. He is definitely not a top 4 player, he is too hit and miss.

Paul Mackie
24
Posted 13/09/2016 at 08:44:13
I'm now thoroughly convinced that Koeman is a born winner who is going all the way to the top. He's not going to be here forever (if we get 5 years out of him, I'll be pleasantly surprised) but he'll certainly drag us up a few notches on his way to the Barcelona job.
He has the kind of winning mentality that you can only get through being a top player. He looked furious at half-time and rightly so.
Tony Abrahams
25
Posted 13/09/2016 at 08:45:44
I think this must be one of the most sensible threads I've ever read on ToffeeWeb, with people just talking about the football.
I thought John's last paragraph@7, summed it up perfectly, just like Bobby@11, summed up Ross Barkley.
We all want Ross, to succeed, so hopefully an honest, intelligent football manager, who played the game at the very highest level, can help him really come through, but as Anthony says, wasn't it great to see Everton, attack with pace, and create loads of chances in the process?
John Davies
26
Posted 13/09/2016 at 08:54:59
Gueye, Bolasie and Williams all terrific last night. Three great signings for the Blues – but the best signing of all is Koeman. Calm, astute and decisive.
Don't worry long term for Ross, the big Dutchman will sort him out. Happy days!!!
Mohammed Horoub
27
Posted 13/09/2016 at 09:08:26
Great game, better result! Koeman continues to earn his pay and the team is responding...
Lukaku scores goals. We all want him to be the 'complete' striker but for this season we need 20-25 goals from him and yesterday was a good start.
Barkley had a bad day at the office and I know he will bounce back with Koeman's help.
Bolasie was impressive but Idrissa Gueye was amazing! My favourite moment was when Gueye and Coleman harassed their winger and stopped him putting a cross in. They automatically high-fived each other... That's the fighting spirit we have been missing and it's so good to have it back.
Gareth Barry's 600th Premier League appearance on Saturday. Hope the club celebrate it and I'm sure his teammates will want to win it for him... NSNO
Sam Hoare
28
Posted 13/09/2016 at 09:08:43
Moyes knows how to organise a team but we tore Sunderland apart in the second half. 5-0 would not have flattered. And perhaps most importantly we looked sound at the back with their best chance coming off a deflection that fell kindly.
Gueye is the guy. £7m. Extraordinary. Will be the signing of the decade if he continues this form.
Very encouraging stuff. Let's hope it continues.
Bill Gienapp
29
Posted 13/09/2016 at 09:15:37
I couldn't possibly be more impressed with Koeman and think he can go toe-to-toe with any manager in the Premier League.
Everyone worships at the altar of Pep and not saying he isn't great, but it's not as hard when you keep getting handed the most loaded squads in the world. Having Manchester City roll out the red carpet while gifting you a blank checkbook doesn't really constitute a "new challenge."
Watching Koeman clean up Martinez's mess while completely re-shaping the club in the space of just a handful of matches – now that's a challenge.
Clive Rogers
30
Posted 13/09/2016 at 09:16:25
Really good comments guys. Nothing left for me to say.
Scott Hamilton
31
Posted 13/09/2016 at 09:21:58
Sam (28) – You're right about our defence. Unfortunately I'm still scarred by the Martinez era. Every time a team attacks us I expect them to score!
Hopefully after a few more performances like last night's (and therapy) I can regain my faith in our defensive abilities...
Tony Dove
32
Posted 13/09/2016 at 09:38:45
MotM by a mile was Gareth Barry. The way he played would have been immense if he was 25 but at 35!
Colin Oakes
33
Posted 13/09/2016 at 09:55:02
And to think some, myself included, questioned the 3-year deal that Barry was handed when he signed two years back. The way he has started this season makes his age look totally irrelevant. One of the fittest players out there.
Tony Abrahams
34
Posted 13/09/2016 at 10:16:53
All about opinions, Tony, but I also thought Barry, was our best player. You have got to have some football brain to be as slow as Gareth yet still put in performances like that in such a robust league. Still, I think his lack of mobility will catch him out sometimes against the better teams but he keeps Everton's football constantly ticking.
Also, I agreed with Phil @17 that our first half performance wasn't as bad as some have made out but, as Sam says @28, it's only because we look so much more organised from the back.
Ciarán McGlone
35
Posted 13/09/2016 at 10:21:05
Gana offers far more than McCarthy.. superb vision, passing and defensive work.
Bolassie is better on the left.
Mirallas should start number ten next time. Although Del did play predominately on the right, he was switching with both Mirallas and Lukaku at times. He also needs to start. Offers far more than Ross.
Great second half.. clearly our best eleven started it.
Ian Burns
36
Posted 13/09/2016 at 11:01:58
MotM = Ronald Koeman – terrific post-match interview. As was the one on Sky with Baines – very diplomatically stating that they started again this season from basics.
I have to agree with the praise for Gana – he is last season's Kante and so far this season with a little more to his game. Please may it continue!
Paul Kernot
37
Posted 13/09/2016 at 11:10:48
I just watched Villa V Forest and was again impressed by Jordan Ayew's direct running and intelligence as I was a fair few times last season in the Premier League. I was surprised no Premier Leauge team took a punt on him during the window. Sorry to say but I think he's a much better version than Ross in that role.
Clive Rogers
38
Posted 13/09/2016 at 11:22:09
Just a word about Tom Davies. He looks so comfortable when he comes on and slots into midfield so easily. Incredible for an 18-year-old. Big future.
Brian Harrison
39
Posted 13/09/2016 at 11:30:18
I wanted Koeman from the minute we sacked the charlatan, but with the press reporting Frank de Boer as the favourite, I thought we were going to appoint the wrong manager again.
So I was delighted when Moshiri decided that Ronald Koeman was his choice and did a great job in persuading him to come here. He then followed that up with the appointment of Steve Walsh, who with the signing of Gueye has proved what a shrewd cookie he is.
Koeman has started to put his stamp on the side, the tempo is quick he has his team pressing all over the park. But most of all, this man is a winner and, as Barkley found to his cost, if you are not performing, you will be replaced. How refreshing to see a manager who knows exactly what he wants from his players and isn't afraid to make changes at half-time.
Also, by taking Barkley off, it sent a message to the rest of the squad, that under perform and you are all at risk. I thought Baines comments after the game were very telling –he said the atmosphere amongst the players is the best he has seen for quite a while. Which tells you they all believe in what Koeman is doing.
Now yes we will have the usual suspects come on here and say we have only played 4 games and only Spurs from last season's top 6. They will also remind us that the charlatan finished 5th in his first season. The difference is that this man is the real deal. Someone who will build this club to where it belongs. As he said after the game, the least we should aim for is European football every year.
I am sure there will be some disappointments on the way but this guy is the real deal. Our biggest challenge may come if one of the big boys change their manager; Koeman rightly is ambitious so we have to show him he can achieve all his goals with Everton.
Olalekan Taofik
40
Posted 13/09/2016 at 11:32:31
Mick (#12), that was good research for the goals scored by highly rated 23-year-olds and our own Rom came top.
The match was a good one and the team can always do better.
Games will always be won if coaches are not afraid to change players who are underperforming, coz they will be axed if the team is not doing it.
Koeman is on the right path as well as the lads.
Andrew McKernan
41
Posted 13/09/2016 at 11:52:31
Ross Barkley – great talent but hasn't progressed since great goals against Newcastle Utd and Man City two years ago. How many times did we see him lose possession under Martinez? Was anything said or done? – very doubtful...
Now, under a proper coach (Koeman), he is being told straight and hopefully (given time) will eradicate these errors from his game. Perhaps being dropped by England and a (very public) substitution at Sunderland may prove to be a turning point for Ross...
Liam Reilly
42
Posted 13/09/2016 at 12:27:00
Baines also made the comments that the players needed to get back to basics and the cruncher 'GET FIT'. The difference in fitness levels is telling already.
Ross just had a poor game; probably still smarting over his omission from the national team; but he'll come good.
Would do him no harm to sit the next one out and come on for Del Boy or Mirallas
Jack Convery
43
Posted 13/09/2016 at 12:33:46
Mark (#18) – Song for Gueye has to be to the tune of Enola Gay – over to the songsmiths for the appropriate lyrics.
Peter Lee
44
Posted 13/09/2016 at 12:48:47
Only on for a short time but Tom Davies' approach just highlighted Ross' shortcomings.
Tom D was on his toes, moving all the time, head up looking for space and our players as he made himself available.
Without the ball he pressed close and got in two tackles that sent the ball backwards, which he then chased.
For someone light of frame he both got stuck in and made his physical presence felt when tackled himself.
Seems ideally suited to defensive midfield but given the lack of impact from Ross in all of the above I'd like to see him at 10 in the league cup game. That said we are light in DM if we rest Barry, astonishing show last night, looked like he'd been encouraged to step out more, sublime weight on pass for third goal, and Gueye.
Nathan Rooney
45
Posted 13/09/2016 at 12:54:58
Great thread, after a great result. Sensible comments, and hard not to agree with most of them.
First half not great, but as others have said, brown shoes wouldn't have touched anything until 70 minutes and Ross would have stayed on, trying and failing.
RK addresses the issue and isn't afraid to change things, as all the best managers can do.
I'd say were about 85% fit on the RonKoe scale – still work to be done, but I'm not saying anything this manager doesn't already know.
Bill #29 - superb mate, absolutely spot on.
He has fundamentally altered the psychology of the dressing room & club in a few short months, and I think you can tell the players understand that poor performances will not be tolerated.
I just hope the upward curve continues, and we achieve everything that we possibly can while Koeman is with us – if we are winning things why would he want to leave (kidding myself, but I can dream) - please please get us a pot!
Gana Gueye – immense performance, my MotM. Stick the 𧵎 million release clause in the contract now Billy Bullshit – Pogba ain't fit to shine this kid's "old skool" black footy boots.

Colin Malone
46
Posted 13/09/2016 at 13:54:42
Ross has got to lose a stone or two, go with Mo Farrow for a month or two, Ross, and get your stamina up to standard. Then come back and ask Peter Reid to show you how to tackle. These two elements of the game determine a great player from an average player, especially with the skill you have, Ross.
Good luck, Ross.
Jimmy Sørheim
47
Posted 13/09/2016 at 14:41:38
The big thing for me about Koeman is discipline and fitness. There no longer is a slide as I see it, but we still are very light in the squad for quality back-up players.
Tony Kost
48
Posted 13/09/2016 at 15:26:11
I was at Goodison to watch Barkley's full first team debut August 2011 against QPR.
Both teams were drab – quality of football was poor apart from a very intelligent and creative display from young Ross on the left side of mid-field. He stood out head and shoulders from the rest and was warmly received for his display.
Everton missed their chances and QPR had just one – and took it.
The lad has got it – I think he feels the pressure on himself though . Hopefully a great manager like Koeman can help him overcome this.
Ray Said
49
Posted 13/09/2016 at 17:17:16
I agree with Colin (#46), Ross looks like he is bulky – put the weights aside and do more running.
Also, being dropped from the national team should not affect his performance for his club – it should make him more determined to do well for us and get picked for England. The reason he got for picked was because he was doing the business for us. He stopped doing the biz for us and so lost his place.
Concentrate on the side that pays your wages and don't worry about international matches. I hate it when our players get picked for England anyway as they always have some numpty down their ear: "Come over to Chelsea, Man City, Man Utd" etc. Funny how hard Hart worked to get Stones unsettled only to be sent packing himself...
Frank Crewe
50
Posted 13/09/2016 at 17:37:54
What we have is a manager who manages. He won't let the players coast anymore. Doesn't matter who you are, McCarthy, Barkley or anyone else. If you are not producing on the pitch you're hooked. Quite right too.
The players got used to mistakes and poor play being overlooked. Well that's stopped. Uncle Roberto isn't going to kiss it better anymore. He's gone and he ain't coming back.
The players have to take responsibility for their own form. Barkley was subbed because he was playing lousy. Koeman knew it. We knew it and Barkley knew it. You don't get to stay on anymore while the manager hopes you'll just get better. No point sulking about England either. If you want to get picked train harder, take in what the manager and coaches are teaching you and play better.
The players are on the spot. The manager isn't going to cover for their mistakes. Now they all know it. Play well you get picked. Play lousy you're dropped.

Paul Hughes
51
Posted 13/09/2016 at 17:47:04
The veteran Gareth Barry had a brilliant game, I wonder if he has had the "wunderkind" Januzaj removed from his pocket yet?
As for Ross, he's got to listen to Koeman and get the joy back in his game again. He just has to look at Jack Rodwell to see where his career is going otherwise.
Ian Hanes
52
Posted 13/09/2016 at 19:12:12
Jack (#43) – What a great call for a tune for a song for Gueye. How about the following lyrics to the tune of Enola Gay?
We have Gana Gueye, so you should have stayed at home today
Ah-ha words can't describe the feeling and the way he plays
We've got Gana Gueye, so your going leave here with no points today
Ah-ha Gana Gueye, he's so good he never gives the ball away.
Be gentle lads!
Clive Rogers
53
Posted 13/09/2016 at 19:16:40
Peter (#44),
The pass for the third goal was from Mirallas.
Mick Quirke
54
Posted 13/09/2016 at 19:53:52
https://daviddownie17.wordpress.com
Koeman is the perfect blend of the best of Moyes and Martínez and the way he's handling Barkley is showing that. If Barkley doesn't flourish under Koeman he won't under any coach.
I'm not happy about the revisionism going on about both the Moyes and Martínez spells.
It's true that Moyes was overly negative and his record at Anfield, OT, Stamford Bridge and the Emirates was disgraceful. But he definitely steadied us and we wouldn't be where we are now if it weren't for him. To get a team with the likes of Gary Naismith, Kilbane, Pistone, McFadden, Steve Watson and Tony Hibbert into 4th was an amazing achievement.
While it was right to sack Martínez for his joke defending and the lack of steel and basic fitness in the squad, the football we played in his first season, for example home and away to Arsenal, was the best, purest football I've ever seen from an Everton side, including the 85 team.
We played good football in Moyes's last season but there's no way we'd be playing the passing football we are if it hadn't been for the 3 years under Martínez.
Koeman seems to combine the hardness and defensive organisation of Moyes with the touch football of Martínez. And we are clearly fitter than we've ever been.
No worker and employee likes a dictator boss but they don't like weakness either. Koeman seems to be no nonsense and straight, almost in the way players like Labone and Royle talk about Catterick.
Paul Conway
55
Posted 13/09/2016 at 20:05:57
Anthony Dwyer (#15)
With respect, it's a good job Koeman didn't show the same loyalty as your good self and kept him on. Otherwise it could have been what could have been for Lukaku. As for most clubs in the EPL would like him at their disposal? There would be certainly no callers from the Sky darlings.
Barkley is fast becoming the '40-year-old apprentice', here to learn... But for how long? He has been snubbed by two England managers simply because he is not up to the standard. None of those managers would take a gamble on a player who is hit and miss, for fear of being pilloried from pillar to post for poor judgement! He is walking on thin ice with his present manager and is in regression. He is certainly not the player that Koeman would have brought to Everton had he been playing for another Club.
If his game doesn't improve to the Ross Barkley we all invested in, the only callers coming could be Moyes to Sunderland to squeeze what could be out of a player who showed so much potential. I hope I am proved wrong as being an Evertonian it would be great for us to see what could be unleashed. But up until now we have heard the bees, but can't see the honey!
Tony Kost
56
Posted 13/09/2016 at 21:47:06
Hi Mick Quirke@ 54
I agree it was 2 great performances against Arsenal in Martinez's first season. Many pundits admired Everton's performances last season (up until the home Leicester game). After that game, our season went downhill.
I don't think you can compare what amounts to two one-off games (as good as they were) with the overall quality of football played by Everton in the 84-86 seasons with that (inmho of course)
Let's be honest, the 84-86 team was very special.
Steven Jones
58
Posted 13/09/2016 at 23:01:22
Ronald Koeman is very clever and straight. He actually said it could be anyone and next time if similar it wouldn't be Ross... Koeman did it to shake the team up, not take Ross off because he was the only one not at it!
For me Ross will be back in on Saturday and Mirallas can make way. If we think that Ross may lack confidence, I get the feeling that Koeman knows Mirallas is in the last chance saloon and his head really does drop and he gets moody...
Deulofeu does look sharp and with competition for places and building up the fitness, pressing and aggressive attacking, we are slowly getting into shape... possession wasn't bad too!
Bob Parrington
59
Posted 13/09/2016 at 23:48:59
Tony (#56). Agreed. 84-86 team was a great team.
Ref Ross Barkley. As I've stated a few times on TW, the lad worries me. He's got so much talent but we see only odd flashes of it. Hopefully Koeman will find a way for him to remove "the block" as was so ably stated earlier in this thread.
Dan Egerton
60
Posted 14/09/2016 at 09:08:26
Gueye is class. I'm buying a shirt with his name on it. It was also good to see Baines doing some of the things we have not seen for him in a while, like winning possession in their half.
Geoff Trenner
61
Posted 14/09/2016 at 09:56:20
Dan (61), best have Gana on the shirt as he does. Cheaper if you pay by the letter!
Joseph Mullarkey
62
Posted 14/09/2016 at 10:42:50
Jim White has just read out another statement from Moshiri saying how pleased he is with the team and how RK has turned things round, So it seems the TDD statement was real.
Fucking RS Dean Saunders said that Koeman has been disrespectful to Martinez by saying the squad was unfit.
In Saunders's words, he doesn't believe the squad was unfit and that the current form was due to the fact a new manager makes players work harder to impress.
Raging that this Muppet gets a pundits job, he knows fuck all.
Sam Morrison
63
Posted 14/09/2016 at 10:45:31
Colin Glassar
65
Posted 14/09/2016 at 11:07:04
Early days I know but I do enjoy looking at the league table - 3rd!!! Long may it continue.
Colin Glassar
66
Posted 14/09/2016 at 11:11:44
Is that for real Joseph? Was it a formal statement or a tweet? This is a real concern for me. Just hold a bloody press conference and answer a few questions.
Joseph Mullarkey
67
Posted 14/09/2016 at 11:16:28
Thanks for the link Sam #64, It confirmed what I already knew (that he is an absolute twat).
Shame on him for cashing in on a football great like Cloughy in such a disgusting manner.

Joseph Mullarkey
68
Posted 14/09/2016 at 11:23:33
Colin #67
White read out a message that he said was sent to him personally.
He went as far as to say that Everton fans had disputed the validity of his previous TDD message and that it is true that he does get messages sent directly to him personally from Mr Moshiri regarding EFC.
Joseph Mullarkey
69
Posted 14/09/2016 at 11:26:52
It seems Mr Moshiri thinks of White as a mouth piece for his statements regarding Everton.
Colin Glassar
70
Posted 14/09/2016 at 11:48:21
Worrying. Don't we have a press office anymore?
Phil Sammon
71
Posted 14/09/2016 at 11:54:00
I agree, Colin, it's bizarre. Surely the Chairman should be going through the Club's own media team. Very odd behaviour.
Kevin Tully
72
Posted 14/09/2016 at 12:39:25
Whilst we are off to a very encouraging start, we still need to keep our powder dry regarding the manager and the possibilities for success. Watching a Martinez side go from sumptuous football and a record points haul in the Premier League to a ragbag shambles of a side in 4 short months was a lesson to us all. (Plus a 㾶m pay-off anyone?)
Each time Koeman speaks, I am more convinced he is the man to put us back where we belong, but we are only 4 games in, people! We will go through a rough spell this season and we are probably only a Lukaku injury away from a barren spell in front of goal.
If Koeman does prove to be the man who can take us into the Champions League, then what if Arsenal offer to double his wages next season when Wenger retires?
As a long-suffering Blue, it's just too early to get excited about anything Everton just yet, in case we do an 'Everton.'
Eugene Ruane once summed the life an Evertonian brilliantly:
"It's like getting hoofed in the plums and going back for more."
Ian Horan
73
Posted 14/09/2016 at 12:55:28
On reflection on Mondays game, is it just me or was Ross Barkley having his own version of "A Christmas Carol"?
He looks across at Rodwell and sees what could happen to himself; then, towards the end, he sees the bright new young thing come on!!!
Ross, for all your talent, bin the weights and wanting to look like a doorman. Focus on you ability, fitness and cardiovascular fitness levels, and leave the bulk to the meatheads of this world.
Brian Hennessy
74
Posted 14/09/2016 at 13:15:14
Colin @71 - yes very worrying. I had hoped the McCarthy comments from Moshiri were a once-off, but this latest interaction with White shows he has learned nothing.
Tony Hill
75
Posted 14/09/2016 at 13:30:09
It does seem very odd indeed. I'm sure someone will have a word or perhaps Mr M is just a bit eccentric. Perhaps he thinks that using Sky as our media arm will enhance our prospects. As with everything else, as long as we keep winning then no-one will mind too much.

Patrick Murphy
76
Posted 14/09/2016 at 13:37:57
Mr Moshiri can send messages directly to Jim White once a month if the team keep winning as far as I'm concerned. However, it does seem strange for Mr Moshiri to be using a direct link to SSN via Mr White rather than using Everton's PR/Media department. It's football, Jim, but not as we knew it!
---
Add Your Comments
In order to post a comment, you need to be logged in as a registered user of the site.
Or Sign up as a ToffeeWeb Member — it's free, takes just a few minutes and will allow you to post your comments on articles and Talking Points submissions across the site.