Everton vs Middlesbrough

88 Comments [Jump to last]
16 September
Match Preview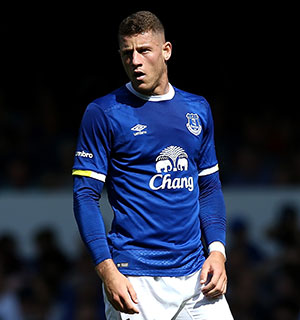 Ross Barkley will be hoping to keep his place in the side after being substituted at half time against Sunderland on Monday
Jan Kruger/Getty Images
It's still very early days but there can be no denying how satisfying it is to see Everton sitting in 3rd place in the table. Blues fans are fully aware of the caveats — it's only been four games; the team has only faced one bona fide top side so far; etc — but, regardless, the team has made its best start to a Premier League season in a decade.
It's notable because there are no easy games in the top flight anymore and that was brought home last year in the season opener against Watford — Everton needed Arouna Kone to rescue a point against the newcomers — and in what was supposed to be a comparatively easy run of games over the final five weeks of 2015 but which yielded just one win in six, that a last-gasp win at ultimately doomed Newcastle.
Unbeaten in five games and on a four-match winning streak in all competitions, Everton under Ronald Koeman have done all that could be asked of them since the 1-1 draw with Tottenham: beat the team in front of them. At times it has required decisive intervention from the touchline but that has, of course, been welcomed and long overdue.
Evertonians have seen enough false dawns over the past three decades that they will be taking nothing for granted, though. It may feel very much as things are different this time but the vast majority of Blues will surely await more evidence that the sun is indeed to rise again over the club's fortunes before getting too excited.
In that sense, a home match against newly-promoted opposition will provide a very "Everton, that" acid test of the new regime. Middlesbrough have made a solid start to life back in the Premier League with a win, two draws and last weekend's first defeat at the hands of Crystal Palace and they're the sort of team that might have posed a problem for the Toffees in previous years.
In Aitor Karanka, 43 on Sunday, they have one of the game's most promising young managers; former Manchester City striker Álvaro Negredo gives them the kind of potency up front that will be vital in their attempts to stay in the top division this season; and the likes of ex-Blue Adam Forshaw will provide some unpredictability in midfield.
More importantly, in the context of an away side who might come to Goodison looking to contain Koeman's potent attack, they have shown themselves to be dangerous from set-pieces so far and that will likely be in the Dutchman's mind as he prepares his men for this one.
However, having hinted that there would be few changes — Gareth Barry will start his 600th Premier League game, the boss has confirmed — uppermost in his thoughts will be whether to go with the team that turned Monday's game at the Stadium of Light so convincingly or to stick with the same XI that started against Sunderland. Essentially, the question concerns Ross Barkley and whether the manager feels the young midfielder is ready and able to shake off his undoubted disappointment at being hauled off at half-time in that game.
Koeman revealed in his press conference that he has spoken with Barkley about his need to eradicate the ball-retention errors that littered his performance on Monday and to improve the defensive side of his game. The latter criticism has dogged him since his days on loan at Leeds United as a teenager but his current manager has made it quite clear that defence in his team will start from the front and that all his forward players will need to press the ball.
He also outlined to the print media afterwards that there was nothing personal in his decision and that he wouldn't hesitate to drop any of this players if they fell short of expectations. Still, his decision could go either way — with this weekend's game being in the more welcoming confines of Goodison Park, Barkley could get the nod to start, although he could be just as effective coming off the bench, as Gerard Deulofeu was against Sunderland.
Mindful that he and his players still have plenty to prove, Koeman stood behind his assertion that the Europa League is Everton's most realistic target. He also argued that the biggest danger in a game where you're expecting to win as Blues fans might be this weekend is players losing focus and not making sure they're ready.
"Why after the win last Monday do I need to change from 'we need to fight for European football to we need to fight for the Champions League'?", he mused. "I don't know… I think that's not realistic. It's a big ambition what we have and what I mentioned in the press is that, really, we can fight for [the Europa League] but we need to continue and this Saturday is the next one and we need to prepare for that.
"[The game] can be dangerous if the player is not prepared or is sloppy at the start of the game but we know we need to play at our level to win the game. Middlesbrough has also started the season positively and it's a well-organised team with some good individual players. They're strong physically and it's a new team and we have to put our best [players] out there on the pitch."
Whether that is with Barkley or Deulofeu in the line-up, Koeman will be fielding just that. With Romelu Lukaku back scoring again, they just need to carry on doing what they've been doing.
Kick-off: 5.30pm
Referee: Lee Mason
Last Time: Everton 1-1 Middlesbrough (16 November, 2008)
Predicted Line-up: Stekelenburg, Coleman, Jagielka, Williams, Baines, Gueye, Barry, Deulofeu, Bolasie, Mirallas, Lukaku
Full details: ToffeeWeb match page
---
Reader Comments (88)
Note: the following content is not moderated or vetted by the site owners at the time of submission. Comments are the responsibility of the poster. Disclaimer
Matt Traynor
1
Posted 16/09/2016 at 06:35:17
I'm on holiday in Manila at the moment – just my luck the two games are late kick-offs. Did try to stay up for the 3am start on Tuesday, but was a bit "over-served" and failed.
The good thing is there'll likely be a few of us watching at half midnight tomorrow – I'm always amazed how far flung Evertonians get, and talking to a few of the locals, and a few expats here, even a few of the neutrals would like to see us do well.
COYB!
Kieran Fitzgerald
2
Posted 16/09/2016 at 06:58:49
I'd be very tempted to start Deleufeu on Saturday. I know it means dropping Barkley but I think that he does need to get his head and attitude right. Handing him a start if he isn't in the right frame of mind isn't doing him or the team and favours.
Lukaku will be full of confidence at present. We will create more chances for him with Deleufeu on the pitch than with Barkley.
Ian Herbert
3
Posted 16/09/2016 at 07:01:47
I actually live in the Philippines, Matt. I just wondered if you have enjoyed your holiday there? It used to be very easy to watch Everton on TV out there, all highlights were shown every week, plus there were 3 live games.
It's a bit more difficult now though. I have a small, but growing, army of Evertonians locally where I live and, of course, all the family follow the Blues. Unfortunately, almost all the Asian nations are football crazy, with the exception of the Philippines!!! Just my luck to choose the one place where football isn't a way of life!!
Still,a promising start to life under Ronald Koeman, long may it continue. NSNO
Kunal Desai
4
Posted 16/09/2016 at 07:18:39
Give Barkley another 45 mins. Let him show Koeman that he was correct to pick him from the start after their chat.
Ian Bennett
5
Posted 16/09/2016 at 07:30:36
Another sell out at Goodison Park. Roar them on!
Steve Brown
6
Posted 16/09/2016 at 08:00:31
Matt, you are right. I'll be watching from Singapore.
Denis Richardson
7
Posted 16/09/2016 at 08:01:48
13 points from the opening 5 games would be one hell of a start to the season. No easy games but would be disappointed if we didn't take the points at home to Boro.
I would start with Deulofeu myself, getting hooked at half-time for poor play shouldn't get you a start next game but I'll leave it in the hands of Ronald Koeman. Seems Mirallas and Bolasie are certs with Barkley and Deulofeu sharing the other spot for now. I would like to see what Valencia can offer as well off the bench.
Nev Renshaw
8
Posted 16/09/2016 at 08:03:52
If results go our way, we could be top of the league this weekend. COYB
Gareth Clark
9
Posted 16/09/2016 at 08:15:33
Stekelenburg
Coleman Williams Jagielka (c) Baines
Idrissa Barry
Deulofeu Barkley Bolasie
Lukaku
Subs: Robles, Funes Mori, Holgate, Davies, Cleverley, Mirallas, Valencia
Neil Wood
10
Posted 16/09/2016 at 08:23:01
Gareth that would be my team to start. Although Barkley was brought off the other day he has something to prove. Mirallas was pretty ineffective also and I would leave him as a sub.
I want maximum points going into the Man City game then stick it up 'em!
Ciarán McGlone
11
Posted 16/09/2016 at 09:13:32
It's an interesting one this. If he starts Barkley ahead of Deloufeu... What signal does that send to Gerard?
It's a toss up for me as to who has the most potential between these two. I don't think we should be protecting Ross at the expense of Gerard.
Liam Reilly
12
Posted 16/09/2016 at 09:27:50
I'm not convinced Deulofeu is fully fit after his injury earlier in the season; so I'd say Ross will start and the Spaniard introduced at some stage for one of Barkely, Bolasie or Mirallas.
John Malone
13
Posted 16/09/2016 at 09:27:58
The manager will soon realise that Barkley is ineffective in a game where the opposition sit deep and leave no space. He is too slow in his decision making and release of the ball; very rarely he play's a forward pass first time instinctively!
On saying that I have no problem with giving Ross as much time as he need's to sort his game out and get to the level's expected! He is one of us and undoubtedly has the physical qualities and a lot of natural talent to keep improving but he has to do better more often to maintain his place, the team and result's come first!
If he bring's Barkley back in which I think he will I won't have a problem as long as Bolasie play's on the left and either Mirallas or Deulofeu on the right. Bolasie was much better on the left against Sunderland and stated when he signed that is his preferred position!
If we get an early goal Saturday, it could be a rout!
Dave Ganley
14
Posted 16/09/2016 at 09:40:53
Gareth (#9) same team for me, apart from Mirallas instead of Deulofeu. I don't think Gérard has done enough to start a game yet and I'm still not convinced with his fitness. Mirallas has started the season well for me and deserves a place.
It's a long time since I've been so excited about match days, 3-0 win to blues. (With my prediction success, that's a kiss of death!!!)
Brian Hennessy
15
Posted 16/09/2016 at 09:41:51
I too would be tempted to give Ross a start and leave Mirallas on the bench, Kevin was poor enough the other night.
Brian Harrison
16
Posted 16/09/2016 at 10:03:51
I cant see Koeman starting with Barkley, just imagine if he starts him and he has another poor half and he has to substitute him again at half-time. So I think it will be a case of watch and learn for Barkley but with the League Cup against Norwich in midweek, he will probably start him in that game.
Dave Pritchard
17
Posted 16/09/2016 at 10:29:32
I would start with Del and Kev and leave Ross on the bench. This gives Ross the chance to come on and look good with half an hour to go and hopefully get a confidence boost. Del can't last a full game anyway. Anyone else wonder why Del tries to pass and shoot straight at defenders legs? Sometimes it'll work, usually with a deflection but so often it just cannons off their legs. Very frustrating.
David Pearl
18
Posted 16/09/2016 at 10:38:09
I'd also be surprised if Ross starts. However if it's a competition for who out of our forwards loses the ball the most it would be a close run thing.
Let's see if we can keep this rum going COYB
Kevin Gillen
19
Posted 16/09/2016 at 10:50:03
I expect us to win. Their left back was roasted by Zaha last week. I don't expect a rout as their coach is a good defensive coach. I'll settle for a convincing win. I've got my brother and my son as guests and my older brother is hosting a viewing at his house so the full Gillen roar will be heard all across Liverpool.
Laurie Hartley
20
Posted 16/09/2016 at 11:03:08
I've noticed in two or three of Koeman's interviews he talks about "the three strikers". I think the three starting this game will be Mirallas (L), Lukaku, Bolasie (R). So I am going to tip a surprise start for Tom Davies in midfield in this line up:
Stekelenburg,
Coleman, Jagielka, Williams, Baines
Davies, Gueye, Barry
Bolasie, Lukaku, Mirallas.
I think Deulofeu will come on for Mirallas at some stage. Sadly, Barkley is dropped and won't get any game time unless Davies is struggling.
Under Koeman, all the players will have to earn a start based on how they perform in training and on the pitch.
Have we found another Nigel Martin in Maarten Stekelenburg? The back four looks really solid; Barry and Gueye in midfield are a terrific, and the frontline looks extremely dangerous.
Lyndon, I understand your comment about caution but I am getting too long in the tooth to subdue the excitement I am feeling about the way things are going for us. Like Dave (#14) I am looking forward to every game under Koeman's management. It's great. I am just going to enjoy it and if I make a mug of myself so be it.
As Ken would say (no report on Monday?)... Up the Blues!
Jay Harris
21
Posted 16/09/2016 at 11:20:20
Big Ron may surprise us all and play Valencia instead of Barkley or Delofeu.
Ross definitely needs a spell out of the limelight to reflect on things and Valencia will be keen to show what he can do.
John Raftery
22
Posted 16/09/2016 at 11:42:57
Laurie (20) – not a bad shout to start with Tom Davies. Deulofeu was far from convincing on Monday.
Starting with Ross would heap more pressure on the lad at a point when he probably needs a bit of space to sort out his game if not his mind.
Paul Taylor
23
Posted 16/09/2016 at 11:43:06
Looking for a comfortable win, as we need to keep up the momentum of winning, before the really difficult fixtures. Incidentally, only five players have scored successive hatricks, one of them being Rooney. It would be good if Lukaku could add himself to the list...
I am going for 3-0 (and another Rom hatrick), but only if he gets the service and the defence holds up again.
Early days, but is great to be an optimistic Evertonian again...
Tony Heron
24
Posted 16/09/2016 at 11:54:04
Dave @17 I've noticed that about Del boy and the number of times he hits a ball at a defender. It's almost as if he imagines they're not there!
Although I think he can be very exciting and produces really dangerous crosses I do find it exasperating the number of times he runs up a blind alley or overuns the ball. He did it again on Monday late on and cocked up a great chance for a fourth goal.
Steavey Buckley
25
Posted 16/09/2016 at 12:26:29
It was Deulofeu who kick-started and upped the pace in Everton's impressive second half display at Sunderland on Monday night, when Everton could not string any passes of note together. The same second-half team as in the first with the exception of Deulofeu for Barkley, when he and Mirallas were very disappointing.
Matthew Williams
26
Posted 16/09/2016 at 12:35:25
Another win coming methinks; we need to rack up as many points as possible before the Man City game.
2-0 Blues... onwards.
Btw, I do rate their left back, George Friend: good solid player in the Baines mould. I would love him here at some point, with Baines playing the Barry role... just a thought!
COYB.
Jamie Barlow
27
Posted 16/09/2016 at 12:35:44
Geri was blowing out of his arse after 35 minutes against Sunderland. Until he sorts his fitness out, he has to be on the bench.
Give Barkley a go again and see if the little chat he had with Koeman has worked. If not, hook him off again and send him to a shrink.
Same 11 as Sunderland for me.
John Malone
28
Posted 16/09/2016 at 12:35:45
Deulofeu done great when he came on Monday night, he dropped between the lines in space, ran at them and was a constant threat!
I fancy him on the right and Bolasie on the left both providing quality deliveries for Rom who I feel will score loads this year under Koeman!
Save Lennon for when Delboy enivtably tires!
Eugene Ruane
29
Posted 16/09/2016 at 12:35:57
Tony (24) - A fourth goal would have netted me 200 nicker. I'm thinking of contacting Geri to ask him to pay me and might use your post as back-up.
Nicholas Ryan
30
Posted 16/09/2016 at 13:01:33
Just reflecting on how far we've come in a short time. So far this season, the only 'blot' on the EFC landscape is a draw against Spurs.
How long is it, since we beat ourselves up about 'only' getting a point against Tottenham!!!
Dave Abrahams
31
Posted 16/09/2016 at 13:03:07
John (#28), glad you mention Lennon; I would never leave him out of the squad. If Middlesboro play defensively, then it could be a tight game and Lennon with his energy could make the difference.
Andrew Clare
32
Posted 16/09/2016 at 13:06:20
Home games always seem to be more difficult than away games because the majority of teams come to defend. With this in mind, I would be tempted play Valencia alongside Lukaku at the beginning and then bring Gerry and Ross on if we are unable to break them down.
Gordon Crawford
33
Posted 16/09/2016 at 13:23:25
Start Del and bring on Ross when Del tires or under performs.
I would also take a 1-0 win. 13 points would be fantastic start. :)
Anto Byrne
34
Posted 16/09/2016 at 13:54:47
Leave Barkley for the Norwich game and have him playing deeper but to up his tempo and perfect his defending. Tom Davies is a good shout.
It's a long season with plenty of games for Ross to get back to basics. I would relieve him of all corner and free kicks and get him in the box on the end of them.
That's my two bobs worth for what it's worth. Lol

Gordon Roberts
35
Posted 16/09/2016 at 14:12:27
Stekelenburg
Coleman Williams Jagielka Baines
Gana Barry
Deulofeu Mirallas Bolasie
Lukaku
Subs:
Robles
Funes Mori
Holgate
Davies
Barkley
Lennon
Valencia
Peter Cummings
36
Posted 16/09/2016 at 14:40:07
It would be great if we can continue the second half form v the 'Boro tomorrow and even better if we can go six points ahead of 'them' if they go down at Chelsea today, will be watching their game from 1:30 pm our time (Ontario) with everything crossed.
Like many on TW, I would love to see Barkley come good and reach his true potential but I think it will take time to iron out his many faults, if they ever can be. The lad is a dyed-in-the-wool Evertonian and deserves better, and if anyone can get him to perform, it will be Koeman.
Looking forward to tomorrow and, hopefully, another three points as we are again live on TSN at 10am COYB.
Brian Furey
37
Posted 16/09/2016 at 14:50:26
It seems amazing how Geri seems to have this problem every season with his fitness levels. Don't get me wrong, I love having him in the squad as he brings that excitement and flair to our attack but I suppose, every since I first saw him, I just see a young kid with so much talent who doesn't know how to channel it properly. It's like the talk about Barry who knows what he can and can't do and plays accordingly.
I think the kid is still quite immature judging by his social media and the interviews he gives and he seems happy enough to be a bit part player rather than pushing on and reaching his potential. With the pace and skills he has he should be a lot more effective taking men on, playing one-twos, shooting much more rather than looking for Rom all the time.
No doubt Koeman will work his magic on him but most managers he's played under so far get frustrated with him and even Bobby ended up dropping him last season.
Tony Heron
38
Posted 16/09/2016 at 16:14:09
OK with me Eugene @29. 50/50 though mate!!
Ray Griffin
39
Posted 16/09/2016 at 16:18:30
I hope there's a proper show of recognition for Gareth Barry tomorrow, he was by far & away our best player last season and has continued his fine form this season. Top man!!
Laura Round
40
Posted 16/09/2016 at 16:48:06
Peter 36 BUT if RS beat Chelsea and we win and IF Bournemouth can beat Man City (I know, I know) we could be 1st tomorrow!
Mark Morrissey
41
Posted 16/09/2016 at 17:34:13
I fully expect Ross to start. It would make no sense to drop him to the bench. I just hope that he can perform the way he did in the first two games. We need to get behind the lad. 3-0 to the boys in blue. Bolassie, Ross and Rom.
Trevor Peers
42
Posted 16/09/2016 at 18:03:37
I expect Koeman to show us he has balls of steel and stick with the 11 who started the second half against Sunderland.
It will be good to see Valencia involved at some stage, a debut goal would be magic.
Ross will be given a chance in the Norwich game; hopefully he will show a big improvement.
Phil Malone Jnr
43
Posted 16/09/2016 at 20:58:22
Second-half team against Sunderland has to start the game:
Stekelenburg
Baines
Coleman
Jagielka (not a fan)
Williams
Gueye
Barry
Bolasie
Mirallas
Deulofeu
Lukaku
Andy Meighan
44
Posted 16/09/2016 at 21:03:24
I just know what's going to happen tomorrow They'll get 10 men behind the ball we 'll struggle to break them down and they'll hit us with a sucker punch. I've seen this with us too many times.

I don't know why but I've got a bad feeling about this tomorrow. False dawns and all that but as an Evertonian I've become used to disappointment. Make me dream, Ronald, please.
Lev Vellene
45
Posted 16/09/2016 at 21:36:39
I must admit I'm divided when it comes to Ross starting this game. He may hit back by instinct from the last game's substitution, or maybe he needs to rest for a game to absorb what RK's got him to think about...
In my dreams, he starts, and he reacts quickly to pass the ball forwards instead of fondling it for another second! Or if no pass is there, he turns and just puts it somewhere between the posts... Keeper, posts or defenders may put it back in the right place for another EFC player... :P
Ross has good instincts, from what I've seen so far. Don't make him stop to think!
Mike T Jones
46
Posted 16/09/2016 at 21:49:59
Second in the league with a game in hand on 3rd and 4th
Ian Jones
47
Posted 16/09/2016 at 22:00:41
Aim high. When Man City draw or lose at weekend and we win by 3 clear goals we will be top of the League. Let's hope Jamie Carragher doesn't do a Lineker.
Geoff Williams
48
Posted 16/09/2016 at 22:11:04
Wow, we are now second in the league!!!
Laura Round
49
Posted 16/09/2016 at 22:15:24
Coyb
Lev Vellene
50
Posted 16/09/2016 at 22:15:52
I've unfairly prepared myself for this season by unbridled optimism... Shitee, Manure, ThatLotOverThere, Chelski, Tottingham (er, is Arsenal around by now???...) They'll all have their surprise defeats this season waiting, by my estimate!
Can we live with our own seemingly inevitable surprise defeat if/when it happens? Will our doom-mongers swarm?
Well, yes/no to the first. For the last part, I LOVE doom-mongers. Why else would I still be here since I caught the bug around the mid-70's... :P
Gerry McGuirk
51
Posted 16/09/2016 at 22:16:37
Second without kicking a ball... and courtesy of the RS – sweet! All we need now is for Bournemouth to do us a favour and us to do our stuff against Boro and the unthinkable might happen... league leaders!!!
Patrick Murphy
52
Posted 16/09/2016 at 22:21:20
Gerry, as long as we're up and around where we are now at the end of the season, I'll be delighted, I don't want us to be top too soon, unless of course we go on to do a "Leicester".
However, we are Everton and our best friend Mr Mason is the referee tomorrow, so stand-by for some groans and moans tomorrow afternoon.
Lev Vellene
53
Posted 16/09/2016 at 22:21:28
Eugene, we shall all pretend you didn't go all priestly on us there. Ask any regular contributor here to correct your non-standard vocabulary to the proper standard... ;D
Richard Lyons
54
Posted 16/09/2016 at 22:28:00
I see Middlesborough have a player called James Husband... Could he be any relation to our great Jimmy?
Raymond Fox
55
Posted 16/09/2016 at 22:31:35
Barkley wont start, he'll probably start with Deulofeu and look to get off to a flyer.
Regards Deulofeu's 'unfitness', he's maybe a sprinter type who is not great on the stamina front. Olympic sprinters would be soon puffing if they played Premier League football.
I've been impressed with Gueye and Bolasie, they have put our play up a notch, it's looking good so far. I think we should win cosily tomorrow, although I thought we might find it tough at Sunderland, so who knows.
Patrick Murphy
56
Posted 16/09/2016 at 22:34:13
He's not alone though is he Gerry (70)? Some of their best players down the years were reputed to be Evertonians in their youth, mind you we've had a few of theirs who have become Blues, such as Reidy and Watson. (At least I think Dave was – I apologise if he wasn't.)
Matt Butlin
57
Posted 16/09/2016 at 22:36:35
Paul, I'm hoping. It's my youngest son's first time at Goodison on Saturday. Although a win would be good enough.
Dave Abrahams
58
Posted 16/09/2016 at 22:37:38
I'm sure he was Patrick along with his brother Alex.
Jamie Crowley
59
Posted 16/09/2016 at 22:43:41
If Bournemouth do their part, and we do ours, top of the table...
In ten years I can't remember ever seeing that.
I'm taking a screen shot of the table and saving it as my wallpaper on every electronic device I have.
We'll be so high in the table about a million Everton supporters world-wide will all simultaneously get a nose-bleed!
Gerry McGuirk
60
Posted 16/09/2016 at 22:47:56
Patrick, True you win nothing or qualify for nothing in September! Still when experienced the highs of the mid 80s and the lows (1995 excepted) and silverware drought since, you get a bit carried away at the thought of heading the league!
I very much doubt we can sustain a challenge over the whole season... but then again, I was totally convinced Leicester would blow up at some stage. Hope springs eternal!
Freddy Maldonado
61
Posted 16/09/2016 at 22:56:00
I think we should go with the same lineup that started the Sunderland match. Koeman has proved that he isn't afraid to make an early change so that is a fact that will drive all players on the pitch. Let's see what Barkley is made of – and that goes for Mirallas and Bolasie as well. With Deulofeu and Davies on the bench waiting to pounce, that forces our starters to perform or be benched.
We have some serious talent on the bench – young too! Kone is the oldest and then everybody else is under the age of 30.
James Watts
63
Posted 16/09/2016 at 23:17:18
I'm 99.9% convinced Barkley will start, reading between the lines from his presser. Also interesting to hear that Cleverley is NOT injured, just didn't make the 18 on Monday. Think it's fab news that he is picking Davies over Cleverley for the bench.
Ernie Baywood
64
Posted 16/09/2016 at 23:25:03
I would imagine that it's either the same 11 or Del in for Ross. That decision probably doesn't come down to what we've seen but instead what Ronald has seen in training - i.e. Ross's reaction to being hooked.
Early days but sitting second with a game in hand over 3rd and 4th... Let's push on with a big win. COYB!
Paul Conway
65
Posted 16/09/2016 at 23:35:04
Ross Barkley = Daniel Cadamateri = Francis Jeffers. = Jack Rodwell = obscurity. Hello, potential!
Andy Crooks
66
Posted 16/09/2016 at 23:41:40
I really don't think Gerard is unfit. I think that coming on to make an impact induces a desire to do well, quickly.
There is nothing more energy-sapping than a bit of anxiety. He needs a run in the side. He can be great.
Bill Gienapp
67
Posted 16/09/2016 at 23:49:17
James (63) – I don't have anything against Cleverley, in fact I think he's a perfectly decent squad player. But I do find it amusing that Martinez doted on him so feverishly and Koeman's already all but kicked him to the curb.
Fairly or unfairly, he really did come to symbolize the Martinez era at its hyperbolic worst ("One of the best free transfers in league history!" "I wouldn't sell him for any price!" "He's phenomenal!").
Dan Davies
68
Posted 17/09/2016 at 02:11:41
Everton 2-0 Middlesbrough.
Stale Haverstadlokken
69
Posted 17/09/2016 at 07:24:04
Bolasie and Delboy on the wings and Mirallas behind Lukaku. Tricky game this is. Would be typical Everton to loose or draw when we have the chance to climb up the table.
Daniel Joseph
70
Posted 17/09/2016 at 08:00:39
I was sat in a bar in Spain on Monday before the game reading the pre-match moaning on ToffeeWeb. Keep it going lads and lasses as I quite enjoy watching Mr Koeman ram it down your throats. :-)
Stu Smith
71
Posted 17/09/2016 at 08:15:50
Absolutely buzzing for this game. I haven't been to Goodison (due to the arrival of the kids etc) for at least 4 years. Is that car park where the school used to be still there? Bear in mind I'm coming from Hull so don't know the area well!!
Paul McIntyre
72
Posted 17/09/2016 at 08:43:01
I'm enjoying the decent start as much as anyone, and no doubt Koeman has changed the level. But a bit of realism needed. We have beaten relegation fodder and drawn with Spurs.
Ian Bennett
73
Posted 17/09/2016 at 08:50:35
2nd half team for me to reward the performance. Not sure Deulofeu can last, so he might start Lennon.
I would get at their left back George Friend. A good Championship player, but doesn't have the pace for this league. He will get exposed for them. We do need to keep Negredo quiet, he's someone I'd have liked for on our bench instead of Kone.
Good luck blues.
James Hughes
74
Posted 17/09/2016 at 09:42:55
Looking forward to this game even though I am running my mate's bar tonight, so glimpses of the game and no beer for me! We are now up to second thanks to Chelski losing so lets get another 3 points and keep the momentum going.
Mirallas and Baines in a two-nil win is my punt

Laura Round
75
Posted 17/09/2016 at 11:03:59
Stu, best place for parking is by the park next to you know where!
Damian Wilde
76
Posted 17/09/2016 at 11:52:09
Daniel, it continued after the game about Rom even though he'd got a hat-trick, unbelievable!
Looking forward to today's game, hope Barkley is not even on the bench, been garbage and lazy for a long time.
I see it's reds for the title now, ridiculous media. Where's our mention!
Easy home banker today. COYB.
Colin Glassar
77
Posted 17/09/2016 at 12:02:04
I'm always wary of these games. I remember a few seasons ago when we started really well and hosted a very poor Sunderland team. One mistake (Ossie?) and we lost 0-1. I can't remember how we did that season but it just goes to show you can't underestimate anyone at this level.
And, Middlesbrough are a decent team. I'm looking forward to seeing Adam Forshaw as he looks like a very good player.
Alan Bodell
78
Posted 17/09/2016 at 12:32:06
I think today will show the real Lukaku, he's fit and confident so no more excuses then.
Andrew Clare
79
Posted 17/09/2016 at 12:33:59
Going back 50 years I remember losing 0-1 to Stoke at Goodison. We had all the play, We were practically camped in Stoke's penalty area and Dobing received the ball on the half way line West came running out to no avail and they scored.
These games happen in every era to the best of teams. n early goal is vital, then more will follow.
Colin Glassar
80
Posted 17/09/2016 at 12:44:22
16/10/16 Title decider?
Paul English
81
Posted 17/09/2016 at 12:56:03
Andrew, I remember that Stoke game; Sandy Brown put a penalty in Row Z of the Gwladys Street stand!!!
Steven Jones
82
Posted 17/09/2016 at 13:00:26
Gareth Clark 9 - that will be the team - Mirallas given a wake up call to press more ... everyone getting a message ...
Barkley to play a blinder couple of assists and a goal and Goodison roaring him on!
Neil Wood
83
Posted 17/09/2016 at 13:58:30
25/1 on another hat-trick for Lukaku!! Just got a feeling...
I'd start Deulofeu all day long against their left back, he will absolutely frighten them to death. I'd start the following:
Stekelenburg
Coleman Williams Jagielka Baines
Gueye Barry
Deulofeu Barkley Bolasie
Lukaku
Colin Glassar
84
Posted 17/09/2016 at 14:00:17
100/1 to win the league, Neil.
Neil Wood
85
Posted 17/09/2016 at 14:13:47
Right at the start of this season Colin I told a lad at work to put 𧴜 on Everton and Huddersfield. Was for around 𨀼,000 return!!!! If only I listened to myself sometimes I could of cashed out now for a couple of grand! Ha
But is winning is far more important than a few quid!!
Brent Stephens
86
Posted 17/09/2016 at 14:48:12
I suspect Koeman might start with Ross. Point made on Monday by hauling him off. An immediate place back in the side to let Ross show us his response.
Robert Workman
87
Posted 17/09/2016 at 15:01:49
Just arrived in Vancouver, so looking forward to watching next 3 Everton EPL games on TV.
Colin (70) – wish you hadn't reminded me of that game, as I was also in Canada at the time. Anyway, that was Montreal, I have an unbeaten record in Vancouver as it is my first visit!
Gerard Wood
88
Posted 17/09/2016 at 15:14:58
I hope Ross starts today to give him a chance to redeem himself.
Richard Reeves
89
Posted 17/09/2016 at 15:35:53
7-0 to Everton is 300/1.
Add Your Comments
In order to post a comment, you need to be logged in as a registered user of the site.
Or Sign up as a ToffeeWeb Member — it's free, takes just a few minutes and will allow you to post your comments on articles and Talking Points submissions across the site.