Rare bore draw for uninspired Everton

48 Comments [Jump to last]
Saturday 22 April 2017
West Ham United 0 - 0 Everton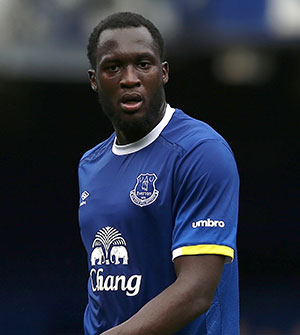 Romelu Lukaku failed to score against the Hammers for the first time as an Everton player
Everton undermined their claims to a top-six finish with a lifeless display at the London Stadium where they failed to register a single shot on target.
The Blues were looking to translate their fine home form to the first of their three remaining away games but found themselves singularly unable to make inroads into a disciplined West Ham defence in what was ultimately an awful game.
Much of the talk coming into the match surrounded Romelu Lukaku's magnificent goalscoring record against the Hammers but he was unable to extend his streak to 10 matches against them. The closest he came to an effort on home goal was a hopeful long-range shot that was charged down from close range in the second half.
With the exception of Maarten Stekelenburg coming in for Joel Robles,Ronald Koeman had named an unchanged line-up from the side that had started against Burnley last Saturday and it seemed from the early exchanges as though Everton were the more likely victors.
The visitors were enjoying plenty of possession but were forced to be patient in trying to break West Ham down. For the Evertonians who made the trip down to East London, their wait for any excitement from their side would not be rewarded.
It was West Ham who had the first real chance from the first corner of the match after 10 minutes but when Stekelenburg misjudged the flight of the ball, Cheikhou Kouyaté failed to connect at the far post.
There was almost a costly mix-up at the other end when Lukaku closed Adrián down as he was dealt an awkward bouncing throw-in to deal with but the home defence managed to escape.
Apart from that, a deflected Håvard Nordtveit shot that was comfortably gathered by Stekelenburg was the only incident of note before half time.
Koeman attempted to breathe life into his curiously subdued attack with a a double change at the start of the second period. Idrissa Gueye, booked again in the first 45 minutes was withdrawn in favour of Ademola Lookman and Tom Davies, busy but unable to affect much going forward, made way for Gareth Barry.
Lookman's introduction gave the Blues an encouragingly attacking look on paper and one good run eight minutes after the interval opened up a half chance for Ross Barkley but he elected to over-elbaborate rather than shoot and it evaporated.
Lookman's impact on the overall performance was fleeting, although he did have a couple of cracks from outside the box midway through the half, one that he dragged wide and another that dipped a yard over the crossbar.
Ultimately, however, with Kevin Mirallas struggling to make an impact, Ross Barkley battling through one of his worst performances of the season, Lukaku isolated and almost completely ineffective, and Everton generally playing too narrow, it made for frustrating viewing.
In the final reckoning, it would be a day where the two defences reigned — Phil Jagielka and Mason Holgate were, arguably, the pick of the players in yellow on the day — and a tedious contest was played out mostly in midfield. The point adds another unbeaten game to Everton's record in 2017 but it does little for their hopes of displacing Arsenal or Manchester United in the top six come the end of the season.
It also underscores the paucity of genuine difference-makers on Koeman's bench, further emphasising the need for significant work in the summer transfer window to add some more quality to the ranks to sustain an assault on the top four in 2017-18.
---
Reader Comments (48)
Note: the following content is not moderated or vetted by the site owners at the time of submission. Comments are the responsibility of the poster. Disclaimer
Peter McHugh
1
Posted 23/04/2017 at 07:27:39
Koeman has reminded me of Moyes (who I wasn't impressed with) this season in terms of tactics and style of play. That said, it's not often we get a bore draw and we've had some unfortunate injuries to key players.
I think this season has been okay; he's new to the job, he has introduced a couple of young players, one who seems a mainstay in the team for years to come.
Looking forward to the summer and next season – if he ain't the man, he will be gone soon enough.
Mike Mulhall
2
Posted 23/04/2017 at 07:44:46
The odd poor performance aside, this has been a very good first season for Koeman.
Darryl Ritchie
3
Posted 23/04/2017 at 07:47:06
So many things not right all over the park, it's pointless to try to pick and choose who screwed up, and who didn't. There weren't any heroes out there today.
Ray Robinson
4
Posted 23/04/2017 at 07:48:53
Watching the quality of play in the FA Cup semi-final yesterday underlined just how much ground we still have to make up before we can challenge for the top four.
However, Koeman has proven that he can turn around the home form where his tactics have resulted in eight wins and 29 goals in the last eight matches. I'm reasonably confident that some changes in personnel in the close season will result in us becoming much more dynamic and therefore competitive in away matches.
Gordon Roberts
5
Posted 23/04/2017 at 08:10:29
Let's not forget the state our club was in towards the end of Martinez's reign. This is as good as we could have hoped for at this stage in the rebuilding programme.
The next transfer window will hopefully introduce a further 3 or 4 quality players into the ranks, but there will still be bumps in the road before we can compete with the top 4.
Anto Byrne
6
Posted 23/04/2017 at 08:20:50
Well it was a game WHU had prepared a week for. Bilic said he would double team Lukaku and get everyone behind the ball defending and allowing no space.
Okay, we had 70% possession but tended to go backwards – it reminded me of a Martinez performance looking to hold the ball without any purpose.
I was surprised when Davies and Gana were taken off as Barry and Lookman were supposed to do what?
I thought a change of formation was the way forward: 3-4-3, Holgate off for Lookman and Calvert-Lewin on for Lukaku after 70 mins, accepting Collins was having a field day, so let's see how he goes with a more mobile forward as the ponderous Lukaku was having no impact.
So 0-0 against a home side that parked the bus and content with a point to get to 40.
Hopefully Chelsea will be a different game.
Mike Mulhall
7
Posted 23/04/2017 at 08:58:58
Totally agree. When was the last time our home form was so rampant where you go to games knowing we will win? Hardly ever in my lifetime – I can tell you that much.
It will be a few years before we are top four, I think, but we are certainly heading in the right direction.
Chris Gould
8
Posted 23/04/2017 at 09:17:38
Many on here moan that there is often an acceptance of mediocrity. Well, clearly Koeman doesn't accept it.
The players let him down yesterday, but it was a game crying out for a fit Bolasie on the left and Coleman down the right. We had little to no options to change the game.
There will be some big changes in the summer. I just hope that the impending Lukaku circus doesn't distract us from our targets. If he's going then he needs to go early in the summer. We need to know where we stand with Rom before the window opens, and then implement a transfer strategy accordingly.
Stan Schofield
9
Posted 23/04/2017 at 09:40:46
The away problem should be solvable with the current players, and getting new players doesn't guarantee a solution. We're champion material at home, mediocre away. That's an issue of tactics and mentality (yesterday was mentality), not simply replacing players. Yes, we do need new signings, but let's not assume this is the solution to the away problem.
David Hallwood
10
Posted 23/04/2017 at 10:17:51
Home – Champiole! Away – a bit better than Burnley, in the words of a game show host – Ronald I want you to 'Solve that conundrum'.
Agree with most posters that there's been lots of progress, but to quote the cliché, it's the hope that kills you. A few weeks ago, we were looking at the table saying "If we win at Mordor, and Old Trafford, we'll be 4th." Friday, it was "If we beat a struggling West Ham, which we always do, we'll be 5th; and we didn't manage a shot on target.
Big job close season.
Geoff Williams
11
Posted 23/04/2017 at 10:20:34
The odd poor performance away from home has to be expected but this season there has been a succession of inept performances which indicates that there is something fundamentally wrong.
One wouldn't normally expect all the players to be below par in any one game but, with Everton, when they are bad it's everyone playing poorly.
I don't know if it is team selection, a change in systems or the game plan. Maybe the match preparation is wrong but Koeman should try to identify what he is doing wrong.
Damian Wilde
12
Posted 23/04/2017 at 11:06:26
"The odd poor performance aside this has been a very good first season for Koeman."
Whilst we have progressed, I'd hardly call a season with no cups – very early cup exits and a 7th place league finish, 'very good'. We need more ambition than this!
The fella needs to sort our away form out, disgraceful.
Stan Schofield
13
Posted 23/04/2017 at 12:04:58
Damian, agreed. It's a bit weird that the away form is so bad compared with the home form. It's frustrating as well, because we clearly have a decent enough squad to get top standard home form, so why we can't even come close to replicating that away from home is beyond me.
Brent Stephens
14
Posted 23/04/2017 at 12:13:06
Re the away form, I can't say I've noticed a massive difference in team selection, home vs away. And we can play shit away from home against any of them. And Koeman was annoyed at the lack of width and slowness in moving the ball yesterday.
So my guess is there might be something in the mentality of the players that makes them more timid away from home. But I'm not sure why. We did have a spell not long ago when the reverse seemed to be true. Decent away form but they froze at Goodison Park.
Joe O'Brien
15
Posted 23/04/2017 at 12:33:55
Compared to the state we were in, Damian, I think it wasn't that bad of a season. Last season every team fancied they're chances at Goodison; this season, it would be a great result for most to get a draw there.
Our tactics were brutal and had a lot of deadwood in the team. Koeman has got us playing some good football and got rid of a lot of rubbish. Yesterday's match was awful but, in fairness, we haven't seen anything like that since Christmas.
Mark Andrews
16
Posted 23/04/2017 at 13:38:53
That was 92 minutes of holiday planning from a well below par team, they looked "on the beach" already. There are very few, if any, positives to take from a game played in a Martinez possession-type slow tempo game.
The lack of aggression was very apparent, the positive, fast, forward-looking football was as absent as was the ability to pass or control the ball, though it shouldn't come as a massive surprise as our away form is not entirely inspirational.
We looked like a team that was satisfied with the Best of the Rest tag. Some ambition, eh, boys?
Julian Wait
17
Posted 23/04/2017 at 13:39:47
I think the players looked really tired yesterday. West Ham played very deep, perhaps looking for just a point initially, and then we started to sit back as well, inviting West Ham on at times.
Jags was MotM, if we should even declare such a thing from that overall performance, and I thought Davies was unlucky to be hooked to be honest as he seemed to be the one most likely – still not very likely – to make something happen. Ross's first touch and control overall seemed erratic, and (perhaps related, though not sure which was cause and which was effect?) there was a lack of movement around him, especially Lukaku and Mirallas.
Lookman seemed to be too deep and too central when he came on; I'd have dropped Barkley back a little so he could get his head up, and pushed Lookman on to make space, as "even" Lookman wasn't finding space (credit to West Ham for their defensive posture); when he came on at Palace, Lookman changed the game imho by pulling them all over the place.
To break down a team like West Ham (a decent team with some good players who've had a rough season) when they're lined up like that, we need more quality overall and more energy to go with it. We didn't have either.
I hope we start looking at some of the U23s in these last games, as I don't think we're going to reach 6th anyway, so we may as well try a few out unless we get a great result against Chelsea (possible, but I wouldn't expect it, they've got so much quality).
The last four games won't be easy either way; Chelsea still need to wrap up the title (and have wobbled a bit just recently, until the FAC SF), Swansea looked good at home yesterday against (a lifeless – sound familar?) Stoke, Watford at home should be 3 points, and then if Arsenal away might will be tricky, unless it's a dead rubber anyway; we're 14 points ahead of WBA and while we're approximately level with Man Utd and Arsenal, they each have 3 games in hand.
However, Arsenal have mixed run in, with Leicester (H), Spurs (A), Man Utd (H), Southampton (A) Stoke (A) Sunderland (H) and then Everton (H). We want them to win today so they get a little distracted by the FA Cup (the only thing they can win besides "winning" top four).
Man Utd have a much tougher run in, plus the Europa League (again the only thing they can win besides "winning" top four); they have Burnley (A) Man City (A) Swansea (H) Arsenal (A) Spurs (A) Southampton (A) and finishing with Palace (H). Imho, Man Utd are playing too well for us to catch unless they get distracted
In that context, I think we should hopefully wrap up the U23 title against the RS on May 8th, and meanwhile try a few of those young men out over the coming games to see whether they can possibly step up and to give them a taste of things in the top flight.
I expect/hope Koeman will be taking it one game at a time, hoping we can get a win against Chelsea, and seeing how other results unfold in the coming weeks .
Max Murphy
18
Posted 23/04/2017 at 13:49:44
Ray (#4) – I thought the same thing after watching the semi-final, the gulf in class is vast. It will take many seasons if we are to reach those levels – and with Koeman, we may never achieve it.
David Hallwood
19
Posted 23/04/2017 at 13:52:21
It's not weird, Stan (#13), it's schizophrenic!
If you compare the home and away records, it's like a different team:
Away: P7 W1 D4 L2 5-7 GD -2 Pts 7
Home: P8 W8 D0 L0 29-6 GD +23 Pts 24
Peter Roberts
20
Posted 23/04/2017 at 13:52:50
Tired? No cup games, no Europe... No excuse.
Denis Richardson
21
Posted 23/04/2017 at 14:00:09
Looking back 10 months, had we been offered 7th place, an Europa League place and the vast majority of the deadwood gone – permanently, plus the players we did bring in, I think most fans would have been happy with that in what was always going to be a transitional season.
Still a few games left for youngsters to get more experience but I hope Koeman and Walsh already started the summer transfer plans a long time ago.
Top class creative mid, top class CB, top class striker and a new RB should be top of the wish list.
Steavey Buckley
22
Posted 23/04/2017 at 14:16:55
Everton yesterday were simply not good enough. There was a lack of creativity from when the referee blew the whistle to begin the match and to end it. Yet, to play Lukaku all by himself up front without a striking partner gave him an impossible task to take on West Ham's 3 centre backs and score.
The match yesterday gave reason why Everton should not build a stadium like the one West Ham now have, the crowd are too far away from the playing action to make any real impact.
Will Mabon
23
Posted 23/04/2017 at 14:20:21
Julian, yesterday finally determined our finishing spot as 7th I think. I'm actually really looking forward to the Chelsea game though. If we can dig up the best of our work at home this year and throw it at Chelsea, it could be a fantastic game.
Julian Wait
24
Posted 23/04/2017 at 14:23:26
Peter – not saying tired is an excuse, just saying they looked tired. Perhaps caused by a combination of the style of play, the lack of squad depth, and obviously the fitness levels which hopefully go up another notch this summer.
Could also be a mental thing of course, but you'd hope not given how much these fellas are paid and the fact that 6th is still within reach, however improbable it probably is.
A bit disappointed myself, like everyone else; 5th seemed attainable a few weeks ago, now 6th seems unattainable after yesterday.
Michael Kenrick
25
Posted 23/04/2017 at 16:38:25
Peter (#1),
"Looking forward to the summer and next season – if he ain't the man, he will be gone soon enough."
Ah, that must be a new rule, then. Good to know... coz it certainly weren't the case with the last two incumbents, who rather overstayed their heartfelt welcomes.
Hence the painful irony of logic like that applied by Gordon (#5) that our progress is impaired because of how bad it got before Martinez was ditched.
I'm not saying "Get Rid of Koeman" – I'm just questioning the "he will be gone soon enough" statement. I think he gets to stay as long as he wants to see out his 'project'.
Mike Gaynes
26
Posted 23/04/2017 at 16:46:47
Yes, we were poor... but due credit to Hammers, Bilic had them well up for it and they pressured the ball all over the pitch for 90 minutes and worked their asses off outside the area. Gave us no openings at all.
Never seen or heard of Masuaku, but that kid can play. I guess he's been injured much of the season and stuck behind Cresswell at left-back, but he was their MotM in this one and a player we should consider IMO.
Andrew Clare
27
Posted 23/04/2017 at 17:59:04
We have cleared a lot of deadwood away but there's still a lot left. Including players who have been good servants of the club but are now past their best.
As someone earlier said there is a massive difference in class between us and the top teams. We will need at least five players of the highest quality to have any chance of challenging next season.
Our away form has been dire, as highlighted yesterday, and none of our so called 'star' players seem to perform away from home especially against the top teams. It just makes you wonder if they are as good as we think. If we got the right players in, I don't think we would miss them.
A very important summer coming up.
Brent Stephens
28
Posted 23/04/2017 at 18:02:26
Well, Benteke just scored a second, so Palace leading Liverpool. All he does, though, is score goals. Big Sam has got them playing pretty well.
Charles Brewer
29
Posted 23/04/2017 at 18:37:07
Brent, since we drew and the RS lost, that presumably means we are an extra three points behind them. Correct?
Brent Stephens
30
Posted 23/04/2017 at 18:50:38
Charles, unwavering logic!
Mark Morrissey
31
Posted 23/04/2017 at 20:30:22
Just a bad day at the office for us. I'm sure we will pick it up again next weekend.
Gordon Roberts
32
Posted 23/04/2017 at 20:32:32
Michael (#25),
I assume by your last sentence you are of the opinion that the Board, in particular Moshiri, is prepared to give Koeman as much time as he (Koeman) thinks is reasonable to allow his project to succeed?
Gio Mero
33
Posted 23/04/2017 at 21:16:13
I agree, this awful run of away results and performances needs sorting, but our season is nevertheless a huge improvement on the last one.
The spirit and hopes for the future to begin with; the joy of seeing so much success at Goodison (sorry for the travelling fans), the youngsters, the points, a top goalscorer. Are we really discussing Koeman after his first season on the back of all of this?
So what about Guardiola at Man City? Mourhino at Man Utd? (Remember he used to ridicule the Europa League?)
And the other buffoon of a manager whose team imploded farcically after being talked up to league favourites level (and he's not even in his first season).
Do we change our manager every year until we miraculously win the League?
Matthew Williams
34
Posted 23/04/2017 at 21:51:38
Only two signings needed for me in the summer for next season...
Robles
Kenny Williams Galloway Garbutt
Deulofeu Schneiderlin Mahrez McGeady
Rooney Barkley.
Feel free to rip it to shreds, my fellow Blues... at least we wouldn't be fucking boring to watch anymore. We might even win the League Cup (finally).
Tom Bowers
35
Posted 23/04/2017 at 21:55:07
Why do I just love Palace when they play the RS?
Not worried about the Blues performance as they are allowed a few poor games in a season.
Koeman hasn't done anything more than was expected of him in his first season at Goodison and of course we all expect him to do more next season.
Losing Bolasie wasn't as bad as losing Seamus but, if both are back fighting fit next season, then Everton could be a bigger force against the top four and even RS.
Andy Meighan
36
Posted 23/04/2017 at 22:02:24
Can someone please tell me why we call Anfield 'Mordor'? I haven't got a clue...
Nicholas Ryan
37
Posted 23/04/2017 at 23:35:18
People are saying we are 'The Best of The Rest' ... well, as so often happens, the hard facts and statistics say otherwise.
We are, effectively, 7th and West Brom are 8th; we are currently 14 points clear of the 'Baggies' and an amazing 'net' 26 goals ahead of them (plus 23 as against minus 3). Nowhere else in the League is there such a chasm between two clubs.
The figures do not lie; whatever anyone thinks, the numbers show that we are at the bottom of the 'elite' group.
It is West Brom, and not Everton, who are 'the best of the rest'.
Joe O'Brien
38
Posted 23/04/2017 at 23:45:05
Spot on Nicholas. There is room to make up before we can challenge for the top four but when I hear that we're miles behind the other 6 I think that's just rubbish. We're a good bit behind Chelsea, Spurs and Man City... the gap between us and the other 3 is only slight, if there's even a gap at all.
Denis Richardson
39
Posted 23/04/2017 at 23:54:25
Tom (#35), unfortunately I think we need to plan for next season without Bolasie and Coleman.
It's likely that neither will kick a ball in anger before January 2018 by which time half the season will be gone. Hope they make it back earlier but current prognosis doesn't look great. Also, it's not guaranteed either player will be the same when they do come back.
Nigel Johnson
40
Posted 24/04/2017 at 02:10:09
I don't understand why Koeman didn't take a little gamble and play Kone for the last 20 minutes. Now before jumping down my throat with "he's rubbish", my question is why put him on the bench?
Now surly he's not on the bench just in case Lukaku get's injured. He is never going to replace Lukaku but against West Ham he might have linked up with Lukaku in the last 20 minutes or even 10 minutes, just something different. If not, he should have given another Under-23 player a chance.
Colin Metcalfe
41
Posted 24/04/2017 at 03:22:14
Andy (#36) have you ever read or seen Lord of the Rings?
Dan Egerton
42
Posted 24/04/2017 at 05:53:34
Sam Allardyce, who has turned relegation fodder, Crystal Palace, into mid-table safety, beating Chelsea, Arsenal and now Liverpool in the last 3 weeks, explains how his team beat Liverpool 2-1. I hope Koeman read what Big Sam said in the paper today:
"We (beat Liverpool) by not getting involved in things that wouldn't allow us to counter-attack against the opposition or expose the opposition's weaknesses. With our limited possession, we exposed Liverpool's weaknesses time and time again and ultimately that has brought us from 1-0 down to win it. I give the players a huge amount of credit for the way they defended and how they exposed the weaknesses of Liverpool defensively which, in the end, they couldn't cope with."
Philippe Coutinho put Liverpool ahead with a brilliant free-kick before Benteke levelled from Yohan Cabaye's cross and capitalised on yet another set-piece lapse from Klopp's team to head home an Andros Townsend corner. The Palace manager said both visiting goals had been prepared on the training ground.
Allardyce explained: "Liverpool at home play a superb attacking style which means both full-backs will go right up the pitch. It is very similar to Arsenal which means Matip and Lovren are very exposed and, because they are very exposed in that position, if you get the right runners in behind, then they are two big men that don't like turning and going back to goal. That is exactly where Yohan Cabaye came in today. The ball over Lovren's head to Cabaye left those two centre-backs dead and then you ask your players to deliver the quality you need in the Premier League and Cabaye's ball to Benteke was outstanding. "On the corners everyone knows Liverpool are pretty weak. They conceded six off corners which we told the lads about. It's now seven off that corner that has got us the winner."
Derek Thomas
43
Posted 24/04/2017 at 07:04:49
Nicholas Ryan @37; Tom-ay-toe, Tom-ar-toe... but keep up with those positive waves, baby.
Peter Gorman
44
Posted 24/04/2017 at 07:44:22
Matthew Williams – a team with Rooney and McGeady?!? Now there is a thought to get the pulses racing.
Mike Gaynes
45
Posted 24/04/2017 at 08:30:31
Matthew #34, no, that wouldn't be boring.
It would be fascinating... sorta like watching a car crash in slow motion.
Remember the AC/DC song "Highway to Hell"?
It might have been written about what our left side would look like with Galloway (untried at CB), Garbutt (failed at both Fulham and Wigan) and McGeady (no comment necessary) covering that half of the pitch.
Jim Hardin
46
Posted 24/04/2017 at 23:24:27
Dan,
Big Sam should have said, "We beat Liverpool by watching two game films, their away game at Burnley, and the home game versus Everton. The first was to show us how to play and the second was to reinforce how not to play."
Jim Hardin
47
Posted 24/04/2017 at 23:29:49
Matthew Williams,
Congratulations, you have actually put together a balanced team. It is equally as poor in the defense as it is in the midfield and forward positions.
Steve Ferns
52
Posted 26/04/2017 at 13:39:50
Matthew Williams – have you sold Davies and Holgate? And what makes you think Mahrez can play In the middle?
Also, 4-4-2 is dead. Name one top manager playing it.
---
Add Your Comments
In order to post a comment, you need to be logged in as a registered user of the site.
Or Sign up as a ToffeeWeb Member — it's free, takes just a few minutes and will allow you to post your comments on articles and Talking Points submissions across the site.