Report
No goals... no shots on goal for poor Blues
By Michael Kenrick
22/04/2017

490 Comments [Jump to last]
Share: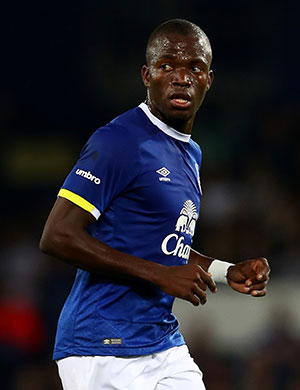 Enner Valencia is ineligible to face his parent club
For Everton's first visit to the London Stadium, Koeman switches out Robles for Stekelenburg in goal, the only change in line-up but Everton had no answer to a determined Hammers defence that denied them a single shot on target.
On-loan striker Enner Valencia is ineligible to play against his parent club with Arouna Kone on the bench alongside Ademola Lookman and Dominic Calvert-Lewin if more strike-power is needed as Everton take on old boy Slaven Bilic's side.
Everton kicked off with the obligatory aimless hoof forward and continued to employ the tactic to get the ball out of defence early on. Holgate tried to pick out Lukaku in the dee but it was intercepted.
Referee Robert East penalised Davies for a tackle that got the ball but seemed to damage Kouyate's knee leading to an extended break. Williams did well to stop new boy Calleri advancing down the byline but the game was a little scrappy at best.
West Ham got forward for the first time and swung in some decent crosses, wining a corner that was delivered superbly to the far post, beating Stekelenburg easily but Kouyate thankfully did nothing with it.
Everton's midfield possession was improving but they had still been unable to penetrate the West Ham area until a poor throw-in put Adrian in serious trouble, just recovering to deny Mirallas.
A clever pass from Barkley hit Mirallas on the heel, then Williams almost lost the ball and West Ham pressed Everton back deep into their own half where they struggled to make any meaningful progress beyond the middle third.
Davies was spoken to after going in a little too strongly, this time catching Reid on the top of his foot. Everton were trying to play a passing game but it was a little too intricate and not creating anything remotely qualifying as an attack — never mind a chance to score a goal.
Gueye saw yellow for an urgent tackle back on Calleri after that passing had been intercepted, West Ham winning another corner from the free-kick. Clearing headers from Barkley then Davies before a shot from Nordtveit forced Stekelenburg to save. Then Kouyate in a lot of space passed the ball behind with Stekelenburg covering.
Fernandes was booked for stopping Baines, giving Mirallas a chance to swing in a looping ball that was too easy to defend away, but this time Everton finally advanced with more intent, Holgate's cross forcing their first corner, and outswinger that fooled everyone.
That saw an equally bright move from the home side, Masuaku crossing well and winning a corner but Collins could only head behind under fine pressure form Williams. Jageilka tried a very long ball forward that gave Lukaku something to chase but against two defenders that he could not beat.
The midfield passing game resumed, Everton going nowhere fast with West Ham defending very deep, denying them any access to the West Ham penalty area. And the game switched on a free-kick delivered harmlessly enough but Williams bizarrely headed it right into the danger area and panic ensued before it was driven behind for a corner.
Schneiderlin was next to catch a West Ham player but this free-kick was also defended away until it looked like Barkley could break out with the ball... only for him to turn and play it backward. The Hammers were getting more of the ball in the final 5 minutes but Everton defended well enough, without making any meaningful use of the ball in terms of structuring an attack on the West Ham goal — the story of a rather disappointing first half in a nutshell.
Koeman clearly agreed, making an almost unprecedented double switch with Tom Davies and Idrissa Gueye off, Gareth Barry and Ademola Lookman are on. But the problem continued to be the fraction of extra time and deliberation Ross Barkley needed seemingly on every ball.
At least Everton were finally getting the ball into the West Ham area, but still no chance created. At the other end, Lanzini lashed a shot that hit Jagielka and knocked him flat. Suddenly, it was more like a proper game of football.
Some brilliant ball control by Lookman in the West Ham area but Barkley crucially dithered rather than digging out a shot and any half-chance was gone in an instant, West Ham countering but Masuaku lashing over.
Barkley picked out Lukaku wide right with a beautiful ball and he jinked inside but lost his way before he too could pull the trigger.
Williams got mugged by Kouyate, a yellow card to go with a very dangerous free-kick given up, but it was clipped off the Everton wall by Ayew, albeit for a corner, outswinging and defended away. But The Hammers continued to press, having failed to read Koeman';s revised script for the second half, another corner that was taken short, blocked away.
Roger East continued to penalise Everton shirts whenever a West Ham player went down, Barry getting his 10th yellow card for blocking Ayew; Stekelenburg the recipient of the ball from the free-kick. Lookman finally took a shot, but it was well off target from a long way out.
A final gambit: Calvert-Lewin on for Kevin Mirallas, with 20 minutes left. But it was Lanzini who galloped forward and forced Stekelenburg into a low save to his left. Barkley's game summed up by Nordtveit stealing the ball off him as he paused and looked up.
Lookman in space again drove forward and fired inches over with Adrian covering, and Lukaku glowering. Fonte wiped out Calvert-Lewin and saw yellow. Holgate won a corner, Barkley swinging in a good corner but nothing doing,
Holgate swung in a beautiful cross, perfectly placed for Lukaku but he simply chose not to risk injury by going for it! But it set up some better play from a couple of corners, Collins tugging back Williams by the shirt.
West Ham seemed set on a strong finish as the visitors tired, Fonte not getting a clean header at the far post on a dangerous corner, whilst Everton were again unable to fashion anything meaningful going forward as the final nervy minutes ticked down to a hugely disappointing goalless draw.
West Ham United: Adrian, Fonte [Y:76'], Reid, Collins, Kouyate (79' Cresswell), Nordtveit, Fernandes [Y:76'], Masuaku, Ayew, Calleri (62' Sakho), Lanzini.
Subs not Used: Randolph, Fletcher, Rice, Holland, Makasi.
Everton: Stekelenburg, Holgate, Jagielka, Williams [Y:60'], Baines, Schneiderlin, Gueye [Y:27'] (46' Barry [Y:68']), Davies (46' Lookman), Barkley, Mirallas (72' Calvert-Lewin), Lukaku.
Subs not Used: Robles, Kenny, Pennington, Koné.
Referee: Roger East
Attendance: 56,971
---
Reader Comments (490)
Note: the following content is not moderated or vetted by the site owners at the time of submission. Comments are the responsibility of the poster. Disclaimer
Dave Abrahams
1
Posted 22/04/2017 at 14:23:28
Never change a winning team, Stekelenburg hasn't played for a few months.
David Hallwood
2
Posted 22/04/2017 at 14:30:29
Maybe Ronnie thinks the Stekelenburg is a braver in the air than Joel and is worried about the aerial threat?
Mark Frere
3
Posted 22/04/2017 at 14:38:58
Robles has been guilty of plenty of clangers lately. Correct choice in my view. I would've liked to see Kenny start at RB though
Nathan Jones
4
Posted 22/04/2017 at 14:40:15
The team makes sense, we've been playing well this year. Unfortunately Robles has made a few mistakes and losses his place, fortunately we have a compident back up.
If/when we are comfortably ahead I'd like to see more of Calvert-Lewin
Robert Leigh
5
Posted 22/04/2017 at 14:40:19
Shocked at the goalkeeper switch. Stekelenburg is not going to be here long term so why not continue with a guy who might be the No 1?
I know he's made a couple of errors, but does more good than bad...
Chris Gould
6
Posted 22/04/2017 at 14:41:48
I think the penalty Robles gave away against Burnley was so ridiculous and stupid that he deserves to be dropped. There really isn't too much between the two 'keepers. They are both capable of making great saves and making absolute clowns out of themselves.
Don't really mind which one starts.
Dave Older
7
Posted 22/04/2017 at 15:01:49
Let's see how Stekelenburg goes today, he deserves a chance as Joel Robles has been a bit dodgy lately. Either way, we need to buy a new No 1 in the summer.
Phil Greenough
8
Posted 22/04/2017 at 15:03:35
Gillette soccer Saturday excelled itself today. Out of a 3 hour show, they spoke about Everton for a total of 5 minutes from 2.52 to 2.57. Marginally better last week, where they discussed the Burnley game for 10 minutes, from 2.55. To 2.55.
John Daley
9
Posted 22/04/2017 at 15:04:28
Robert @5,
I don't think either of the two merit being mentioned as a prospective 'Number 1' past this season. Robles might remain at the club longer than his 'rival', but if it's in any capacity other than 'competent back-up' then Koeman isn't the ruthless bastard he's often bigged up to be and/or Walsh's 'famed' antenna for talent is about as wide ranging as one of those useless twisty twats on the back of an ancient black and white tv.
Gary Carter
10
Posted 22/04/2017 at 15:35:52
Stekelenburg is better than Robles no matter whether either of them should be considered a number one goalkeeper.
My dad has a bag of wood in the back garden ready for the fire in winter, the bag of wood is a better goalkeeper than Robles.
Ciarán McGlone
11
Posted 22/04/2017 at 15:48:19
Getting a lot of the ball but doing sod all with it. Some awful passing and tackling on show.
A good game for the anti-Lukaku brigade... he's not getting a lot of support but awful touch, control and passing when he does get the ball.
A dull non-event so far.
Michael Kenrick
12
Posted 22/04/2017 at 15:50:30
We seem to have absolutely no idea how to break this lot down. Are they really that good at defending or are we making it look that way by not really driving at them with any pace or invention?
Ed Fitzgerald
13
Posted 22/04/2017 at 15:50:33
Jesus that first half was awful to watch
Michael Kenrick
14
Posted 22/04/2017 at 15:52:53
I thought it might be just me, Ed... Maddening stuff. But we will be informed there is another team on the field and their remit is to deny balls into Lukaku. And they have clearly succeeded. But why haven't we been able to create ANYTHING???
Michael Kenrick
15
Posted 22/04/2017 at 15:53:46
Meanwhile... at Hull, Niasse red card for nothing at all! Strange.
Ernie Baywood
16
Posted 22/04/2017 at 15:54:07
It's a classic example of when possession is a pointless statistic. West Ham are happy for us to keep the ball as they get their bodies back as close to the penalty box as possible.
If I were Ron I'd be telling Schneiderlin to use his brain and stop playing these cheap pretty crossfield passes out to the full backs and go early and direct to open the game up. Until we give Rom something to chase it's a bit harsh complaining about him not chasing.
Jay Wood
17
Posted 22/04/2017 at 15:54:25
A truly awful, inept, pedestrian 1st half by Everton.
Everything needs to speed up. Faster crisper passing, quicker movement on and off the ball and more forward, rather than incessant sideways and backwards play.
WHU sat deep for 30 minutes. Our toothless performance encouraged them out and invited them on to us. We have created our own problems.
Barkley, Gueye and Schneiderlin all so ponderous, careless and unimaginative on the ball.
Barry on for Gueye at half time, Everton to push up 4-5 metres all over the park and FFS, quicken everything up!
Chris Williams
18
Posted 22/04/2017 at 15:56:48
Koeman going apeshit on the touchline. Changes at HT probably.
Gueye on a yellow, like last week, so may be subbed.
He's not been brilliant to say the least, but then neither has anyone else.
Absolutely rank.
Don Alexander
19
Posted 22/04/2017 at 15:57:06
Before the kick-off I read the pre-match thread and wrote about the need for our attacking three to show their worth individually and together as a unit. Then in the spirit of trying to be positive I deleted it unsent.
They're not the only ones going through the motions by any means but any sort of vigour, imagination or, in one particular case, sweat would be very acceptable indeed in the second half. That is the area I want to see addressed before any other this summer.
Colin Hughes
20
Posted 22/04/2017 at 15:58:52
This is the type of game that would be crying out for Delafeou to come off the bench, somebody with pace who will run at defenders and get to the byline.
George Cumiskey
21
Posted 22/04/2017 at 15:59:38
I don't blame Lukaku one bit for wanting away with that shower behind him. A Martinez performance at it's best.
A new goalie, two full-backs, a centre-half, a Number 10 and striker needed desperately!
Peter Cummings
22
Posted 22/04/2017 at 16:02:31
Not ONE goal attempt from us against a West Ham team who are missing several of their first team regulars, not good enough by far, no urgency, no cohesion, passing rubbish, West Ham at least trying harder to score, not the way to challenge for a top spot.
George Cumiskey
23
Posted 22/04/2017 at 16:02:47
Let's hope he gives Lookman a game, he's exactly what we need. Someone to run at them.
Peter Fearon
24
Posted 22/04/2017 at 16:03:59
We have no invention, creativity or flair in attack. Lukaku is mentally already elsewhere. Interesting changes at half time, although Davies was not the worst culprit in the first half.

George Cumiskey
25
Posted 22/04/2017 at 16:04:41
How the hell has Mirallas stayed on?
Jay Wood
26
Posted 22/04/2017 at 16:05:31
Lookman and Barry on.
Let's get at them!!!
Kevin Rowlands
27
Posted 22/04/2017 at 16:06:29
Glad he's made changes, but Davies did not deserve to be hooked, Barkley, Mirallas and Lukaku have all been much worse than Tom.
Charlie Waddell
28
Posted 22/04/2017 at 16:15:03
I agree Kevin; Davies was punished for looking lively.
Ciarán McGlone
29
Posted 22/04/2017 at 16:24:50
I'd have hooked Schniederlin for Lookman and allowed Gana to drop back into his natural role. Not sure what Barry adds to this game...
Mike Powell
30
Posted 22/04/2017 at 16:30:53
Davies and Holgate have been very poor
John Pierce
31
Posted 22/04/2017 at 16:52:45
In the context of a single game – horrible.
In the context of a Koeman away performance – predictable.
In the context of our season – soul destroying.
In the context of my weekend ... Jameson!
Tony Hill
32
Posted 22/04/2017 at 16:54:51
Well that removes any chance of improvement this season. I thought it was an utterly shameful performance and an insult to the fans attending. I'm afraid it shows again why we are so far away from getting close to being a side which seriously challenges.
Very, very depressing.
Brent Stephens
33
Posted 22/04/2017 at 16:58:33
Terrible team performance. Nothing positive to come out of that.
David Price
34
Posted 22/04/2017 at 16:59:21
Now that was solid but uninspiring.
And a tad shite...
Ernie Baywood
35
Posted 22/04/2017 at 16:59:23
I'm always happy to blame Koeman for negative tactics away from home, but I don't think that was the problem today. The starting side was attacking and the changes he made looked pretty good.
I just think West Ham set out to negate us and we struggled brainlessly throughout. Schneiderlin continued to play cheap passes all game. Why? Why are you passing the ball? If the reason is anything but dictating the play then don't bother. Might as well just give it back to them for all the worth you're providing to the game.
West Ham are so low on quality yet we had no answer to what they offered defensively. FFS we made Collins run once and he nearly crippled himself... any clues for you there lads? Nah, we sent him straight back to his position on the edge of the D to carry on his 'battle' (nowhere near a battle) with Romelu.
Pathetic.
Jay Wood
36
Posted 22/04/2017 at 16:59:23
Awful game, awful performance.
No energy. No guile. No passion.
Barry and Lookman on for the 2nd half IF you withdraw the right personnel. Gueye - again! - was a liability in the first half and deservedly got hooked. I cannot recall one decent thing Schneiderlin did all game. Davies did not merit being subbed out. He would at least have carried the fight to them and had some energy about him.
Ross had one of his 'light jogging' games when he fannies about on the ball, neither moves it on quickly enough, nor powers forward with the ball. Time and time again he was caught in possession and did nowt to recover the lost ball.
Just awful. Grateful of the point in the end.
Peter Morris
38
Posted 22/04/2017 at 16:59:45
Last again on MotD. Good job I'm going out!
Chris Gould
39
Posted 22/04/2017 at 17:01:25
Boring dross. WHU treated us like a top team and looked to defend a point. We were clueless and predictable.
Barkley tried hard, but nothing came off for him today and he was marshalled well.
Nobody stood out. Although, at least Lookman tried to shoot the ball in the general direction of their goal.
Kevin Rowlands
40
Posted 22/04/2017 at 17:02:39
Horrible game, horrible place to watch a game even on tv, poor team performance.
Special mention though for our two 'superstars' Barkley and Lukaku, both of them were fucking dire, and please don't give me the shite that he didn't get the service, practically everytime he received the ball it went straight back to the opposition. How many times did he head fresh air? I lost count.
Only plus: Lookman looked decent when he came on, needs to get in the weight room and bulk up a bit though, too easily knocked off the ball.
Brent Stephens
41
Posted 22/04/2017 at 17:04:13
It's a good job only Ross and Rom were poor, eh.
Tony Hill
42
Posted 22/04/2017 at 17:05:44
I suspect that a number of players have now stopped for the season. Why should the fans retain interest when the team doesn't? It's this type of game which truly makes me wonder why we keep on paying our money and the fans there today have been betrayed.
Max Murphy
43
Posted 22/04/2017 at 17:06:22
Pofessional footballers? Professional dickheads! The usual misplaced passes, failure to control possession, bad decision-making, etc. etc. etc. 7th place flatters us. Absolute crap.
Kevin Rowlands
44
Posted 22/04/2017 at 17:06:23
What part of "poor team performance" didn't you read or understand, Brent?
John Pierce
45
Posted 22/04/2017 at 17:08:06
Not one of our star players in a game devoid of any skill above a under 10s game had any idea how to change it, shake the game up, try something different.
Utterly brainless would be about right as not one player showed any nous, cleverness or thought.
The one move of any note got pulled back to Ross, 10 yards out. Shoot? Nah I'll do my auto twirly thingy I do every time I get the ball.
Arrrgh!
Chris Williams
46
Posted 22/04/2017 at 17:10:01
Awful match, awful performance . WHU will probably be pleased for the point they set out to get. It was clear in the first half that Koeman was going mad at the performance and lack of pace, drive and energy.
He changed things at half time, and you can quibble with the changes if you like, but not a whole lot of choice, was there? Kone? Kenny who played 90 minutes lat night?
Missing Seamus, Bolasie, McCarthy, and it shows. Sometimes playing the kids works but often it doesn't
Still crap and disappointing though and sometimes shit happens but no positives there whatsoever.
Brian Williams
47
Posted 22/04/2017 at 17:11:01
That game has to have been the subject of a betting syndicate scam for a nil-nil scoreline. Otherwise how can you explain such uninterested, lackadaisical, lethargic, absolute shite performances from just about every player.
How many air headers can Lukaku have in one game?
How many passes can Holgate give to the opposition in one game??
How little can Barkley do in one game???
It was actually really difficult to watch because there was little effort from anyone. And the really annoying thing is that West Ham were expecting to get tonked and were pretty shite as well.
A really strange and very disappointing performance.
Ernie Baywood
48
Posted 22/04/2017 at 17:11:07
Well, that's the first time I've competently agreed with one of Ron's interviews.
Grant Rorrison
49
Posted 22/04/2017 at 17:11:09
A few nice 'lay-offs' (attempts to control the ball that went wrong) aside, what did Lukaku do today to make anyone think he is worth £100 million and is irreplaceable?
Tony Hill
50
Posted 22/04/2017 at 17:11:11
I thought I was going to have a stroke at that point with Barkley, John (#45).
Mike Berry
51
Posted 22/04/2017 at 17:11:17
I feel sorry for the travelling fans. At least on MotD, you can tape and fast-forward our game out!
Ciarán McGlone
52
Posted 22/04/2017 at 17:11:44
Utter cack. Hard to single anyone out for a hiding... but I thought Barkley was awful. Needed ten touches and wanted to beat the same man four times before he decided what to do... which was all to often to concede possession.
At least Lookman looked lively when he came on, I really didn't understand the point of bringing Barry on at all.
Awful performance... Calls for a Bushmills 16 to cheer me up. Cack.
Graham Mockford
53
Posted 22/04/2017 at 17:14:11
Mike,
I suspect there will be nothing to fast-forward past...
Jim Bennings
54
Posted 22/04/2017 at 17:17:25
Utter dog food that!!
We know exactly what we need to do now in summer anyway.
How the away form can be so opposite from the home form is a conundrum that Koeman fast needs to work out because it's seriously holding us back.
Ernie Baywood
55
Posted 22/04/2017 at 17:20:01
No issue at all with Barkley trying something and losing possession in a game like that. We needed more of that and fewer players who were simply happy to retain possession.
He was shit but so was everyone else. Yes, Lukaku too.
If I was going to have a go at one player, it would be Schneiderlin. He's the deep playmaker. In that position, it's his job to dictate how we play. He was the one player who actually got to receive the ball where he wanted it and dictate how the game went. Today, he was far too happy to rack up stats knocking the ball left and right. It was pretty clearly the wrong play but he repeated it for 45 minutes until Koeman put Barry in his place. Schneiderlin then just disappeared same as the rest.
Brent Stephens
56
Posted 22/04/2017 at 17:21:06
I wasn't referring to your post, Kevin! Too quick off the mark, mate. Relax.
John Pierce
57
Posted 22/04/2017 at 17:22:08
Koeman has to pick a lane with Gana. Either don't pick him for a more attacking player or learn to trust the lad when he picks up a yellow.
Brent Stephens
58
Posted 22/04/2017 at 17:22:20
Ernie, I agree about Schneiderlin. He really disappointed for me today as a creative player. But he wasn't alone.
David Barks
59
Posted 22/04/2017 at 17:22:54
I don't think there needs to be any arguments or debate about that match.
It was garbage, the team was garbage, the options off the bench were garbage, Koeman's set up was garbage, everything was lethargic and slow.
There really isn't any point in going player by player. Nobody deserved their game checks for that other than the center backs and keeper.
The only thing I'd ask is, will the manager come out with that same lineup again despite having to make changes at half-time twice in a row after seeing it be completely negated by extremely poor opposition?
George Cumiskey
60
Posted 22/04/2017 at 17:24:17
For me, only Jags and Lookman came away with any credit from that match, the rest were abysmal and Barkley was the worst player on the pitch. Please someone come in for him with a lot of money.
We were outplayed by Burnley for most of the match last week, and by West Ham for the whole of the game today. Aiming for the top four? He must be joking.
Koeman has got to take a long look at himself as well. As I said earlier we need two full backs a centre half a number ten and another striker ASAP.
Jon Cox
61
Posted 22/04/2017 at 17:24:34
We have to rid of this mentality before next season. It's turning into a malaise.
We need something to make us snap out of this lethargy. On today's performance, they should donate their wages to cherridy.
Shane Corcoran
62
Posted 22/04/2017 at 17:24:48
I'm surprised so many of you have been able to come up with something to say from such a non-event. Well done to all on ToffeeWeb.
Booooo to players.
John Pierce
63
Posted 22/04/2017 at 17:29:03
David (#59). Utterly concur with the last sentence see my post 57, hinting at it. Koeman's early substitutions betray his poor selections and or formations. Most frequently away from home.
Yes, he changes it often with an improvement but lets get it right first, Ronko, give yourself options later in the game. It leaves him only one tactical sub, and one in case of injury. Limited!
Tony Hill
64
Posted 22/04/2017 at 17:30:17
This was the latest in a long line of woeful away performances and it does make you call into question a great deal about the team and its direction. Are we really just a few astute buys away from top four? No, indeed not.
7th is where we should be and the job of getting us beyond that point is enormous. One thing I would love to see is serious pace in the side – my God we need it; but I'm back to putting my ambitions firmly in check.
Dave Abrahams
65
Posted 22/04/2017 at 17:31:55
I didn't see the game, read some of the comments on Live Forum, can't believe we didn't have one shot on target the whole game.
These players will still be applauded onto the pitch next home game, they should run on to complete silence to remind them of the rubbish they played today, see if they respond to that after being cheered onto the field today by thousands of genuine fans, who have been up since dawn and spent their hard earned money to watch these overpaid millionaires produce that absolute muck.
Well done Michael for getting a report out of that game without losing control – Lukaku and Barkley could have shown you how to lose control, they are fuckin' expert at it.
Brent Stephens
66
Posted 22/04/2017 at 17:35:19
Koeman is a relatively quiet guy on the touch line. I wonder whether he should be "changing" things earlier by rollocking them from the side.
Kunal Desai
67
Posted 22/04/2017 at 17:48:53
Absolutely awful performance.
The summer should see another big clearout, the likes of Kone, Niasse, Lennon,Valencia, McCarthy all leaving the club.
Although it would be unfair to single out players, our big players don't seem to do it on the bigger stage or in away games, Barkley and Lukaku remain ominous. Not enough leaders in the side.
Koeman will hopefully put this right in the summer and bring in players required to step up to that next level challenging top four and winning matches away from home.
John Williams
68
Posted 22/04/2017 at 17:52:31
Dave (#65),
How can you possibly comment on a game you didn't see???
Terry White
69
Posted 22/04/2017 at 17:53:01
Dave (#65), calm down. This is football. Next week there is a new game.
It does seem as if Gana and Schneiderlin do not fit well together. I thought Gana and Barry were hitting it off earlier in the season. Neither Gana nor Schneiderlin are sufficiently creative and Gana is not being allowed to play his normal game which so impressed us earlier in the season, running all over the pitch trying to win back the ball.
As for Barkley... words fail me.
Don Alexander
70
Posted 22/04/2017 at 17:54:40
On the Beeb at lunchtime Ruud Gullit said Fabregas was always "cheating" in the way he feigns to press or get near to making a tackle but always in such a way as to ensure he's never quite there to do it. He said in this day and age that is unforgivable.
Today's team were almost entirely cheating by that measurement.
That said, well done to Lookman and Calvert-Lewin for at least looking interested in scoring and to the goalie and defenders, who at least didn't concede. They did their job. Shame on the rest of them.
Mark McParlan
71
Posted 22/04/2017 at 18:02:53
Get Rooney and Sigurdsson in the summer, and Bolasie back fit. They'll add so much more to our attack.
Colin Malone
72
Posted 22/04/2017 at 18:08:26
It's an absolute that Everton don't get a bowl-shaped stadium. That was proved today.
Danny Broderick
73
Posted 22/04/2017 at 18:11:05
The trouble we have had for about the last 3 years is the balance up front. Whichever 3 play behind Lukaku, they all seem to blow hot and cold. Today, they were all cold. That is the problem area we have to address.
We need some consistent, quality players in these positions – players who are capable of playing away from home. We need players in these positions who don't go missing. Gana and Schneiderlin are not the problem.
Jim Bennings
74
Posted 22/04/2017 at 18:12:31
You do wonder whether Koeman's exclusion of wingers like Deulofeu (even from the bench) has seriously hindered our attacking prowess away from home.
We look dreadfully short of attacking cohesion and frankly the team style and team selection all season has never been set up to go and win, it's virtually always been set up to not lose.
I honestly can't really remember a truly entertaining away performance this season where we have created bags of chances and shots on goal.
Anyway we will most likely end now with just the one more win at home to Watford.
Can't see us beating a Chelsea or Swansea (away) desperately needing the points for various reasons and well Arsenal away?? We don't win there even when we are great away.
Dave Abrahams
75
Posted 22/04/2017 at 18:12:35
Terry (#69). Today, last week, next week, no matter how you play, good, bad or indifferent you try, no matter how you play, you try. I can't say it often enough – there is no excuse for not trying.
You can see it in a different way but if you excuse not having a go then you are more easy going than me.
Jon Withey
76
Posted 22/04/2017 at 18:17:01
Well... we weren't beaten, but we aren't going to win anything playing like that. I was disappointed Davies was subbed as at least he is combative.
Lookman looks decent on the ball but is a bit lightweight, he'll have to figure out how to make up for that.
Holgate wasn't terrible but isn't much of an attacking outlet, the defense were okay.
Was Mirallas on the pitch?
Tony Hill
78
Posted 22/04/2017 at 18:22:11
Dave (#75), I entirely agree. We've been waving through this sort of dire performance now for 30 years. Every single game matters completely. That's the mentality of winners.
Clive Lewis
79
Posted 22/04/2017 at 18:22:56
What is clearly evident is that Barklay is not good enough, far too inconsistent and ponderous, Lukaku for all the goals he's scored that's positive is cancelled out by his negativity when he loses the ball. Too many plodders and no creativity; we still need to finish the clearout.
Brian Williams
80
Posted 22/04/2017 at 18:23:34
Koeman seemingly said in his post match interview "I wanted to sub them all."
At least he saw it as we did.
Patrick Murphy
81
Posted 22/04/2017 at 18:26:50
I didn't see the match and it sounds as if I was lucky, Everton's away form for years has left much to be desired, you can understand it when we are playing at the elite grounds, but at Boro, West Ham, Burnley, Bournemouth et al?
If and its a big if Everton are to challenge the top four or six in the coming seasons, they will have to maintain their impressive home form and vastly improve their form on their travels. I haven't checked the figures in the table below but apparently they are the points won by those sides on their travels. We know Everton aren't quite as good as some of those teams, but surely we should have been looking to earn more points from those away fixtures?
Chelsea - 36
Man City - 34
Man Utd - 30
Liverpool - 29
Arsenal - 24
Spurs - 24
Everton - 18
Andrew Clare
82
Posted 22/04/2017 at 18:27:13
If that was your first game, I don't think you would bother with football again. Two unambitious teams and free kick after free kick with little goalmouth action.

Paul Birmingham
83
Posted 22/04/2017 at 18:30:22
That was the pits, worst performance of the season and a good opportunity to gain steam for the final 4 games, wasted.
It is a big concern that the team seemingly can't be arsed turning up for away games. A clean sheet, and a point today the only positives. I hope Koeman gets them in for training tomorrow.
Next weekend v Chelsea, will the team turn up?
George Cumiskey
84
Posted 22/04/2017 at 18:31:30
Some people compare Barkley to Dele Alli... what a fucking joke!
Kevin Rowlands
85
Posted 22/04/2017 at 18:32:01
Man... that Christian Erickson is some player, could play for Barcelona, Madrid or even Everton! Ross should be made to watch match videos of him, this is what we want lad!
Jim Bennings
86
Posted 22/04/2017 at 18:32:45
Clive,
I've said for ages, people say Barkley will go to Spurs but he's light years behind Dele Alli and Eriksson.
Terry White
87
Posted 22/04/2017 at 18:33:08
I do think Gana and Schneiderlin are a problem, Danny (#73), compounded by a lack of creative movement in midfield and up front. By comparison just look at Erickson's pass for Alli and Spurs 2nd today. Great pass, great movement by Alli. Anyone see Barkley scoring that?
Schneiderlin holds his central position and Gana is being forced to run straight up the lanes either side of him rather than having a free rein to go where the ball goes. If Gana is not allowed to play his natural game, is he worth a place in the side without a creative part to his game? Not sure who I would replace him with!
Jason Wilkinson
88
Posted 22/04/2017 at 18:35:45
That sums up the challenge Koeman has in the transfer window.
(Koeman Walsh) "Come to Everton – we are looking to compete against Chelsea, Spurs etc next season"
(player) "Got any videos so I can see how you play?"
(Koeman) "Steve did you bin all the vids away from home?"
(Walsh) "Err!!! I recorded the Portuguese Second Division over them. They were more exiting".

Kunal Desai
89
Posted 22/04/2017 at 18:36:36
Barkley cannot perform against the bigger sides or away from home. He simply won't get inton Spurs lineup which is why he will most probably sign a new deal in the summer.
Kieran Kinsella
91
Posted 22/04/2017 at 18:54:33
Typical end-of-season boring game. I thought WHU did quite well. We were poor.
I suspect a bit of complacency is setting in due to lack of options on the bench. Gana and Davies are really the only ones with a readymade replacement on the bench in the form of Barry. The rest of the outfield players know they're going to play regardless.
Peter Roberts
92
Posted 22/04/2017 at 18:54:41
I was watching Barkley and wondered how he was going to find Lukaku with a pass... his passing is pretty good but I don't think he's accurate enough to thread the ball into James Collins's pocket.
Team were abysmal today... Holgate is a player I like – good competitive spirit about him.
Pity we couldn't play Valencia because, with Lukaku moving about as much as a statue on a narrow pitch, we looked toothless.
Desperately need a frontman who can take the ball on himself.
Chris Gould
93
Posted 22/04/2017 at 19:00:04
Barkley had a poor game today.
Berkley, Barcley, Barclay, and even Barkely definitely weren't on the pitch today.
Darryl Ritchie
94
Posted 22/04/2017 at 19:01:04
That was a chore to watch. Pitiful exhibition from both sides.
John Pierce
95
Posted 22/04/2017 at 19:03:24
Some interesting comment on social media that the away form will pass with better players? Hmm.
Anyone think outright we will win comfortably at Swansea? With the caveat they have to win, gaps might be there.
Me, nope. It's character as well as bang awful tactics. Today was yet another free swing and the only pressure was from ourselves to put it back on those above. We tamely subsided. That is not a good portent for the future.
I heard Ronko in the first half. 'Intensity more intensity'.
The game was played at a veterans' pace. Simply he was ignored or they were not good enough?
Let's remember Koeman will keep several in that team. Hope Ronko has a decent Amex 'cos hes getting loads of points for what he needs to spend on!

Liam Reilly
96
Posted 22/04/2017 at 19:12:41
Awful game; neither side deserved to win. Holegate tried hard but jaysus, the boy needs to learn how to find a teammate.
Horrendous place to play football though; the crowd behind the goal are a good 9 iron from the pitch.
Terry White
97
Posted 22/04/2017 at 19:14:08
Anyone seen ANY of our players this season shoot from outside the box like Matic today?
Des Farren
98
Posted 22/04/2017 at 19:17:02
It was abysmal. Every single Everton player did not perform. Ross was particularly poor and showed most of his worst traits ad nauseum.

It is difficult to look at next season with any level of optimism if our manager is as downbeat about how we failed.
Clive Lewis
99
Posted 22/04/2017 at 19:21:28
I agree Chris but Barkley needs to be sold, in fact he needs to change his name also.
Barkley keeps confusing me by messing around doing flicks, turning numerous times on the ball, basically he reminds me of the kid that wants to be noticed by the control he has of a football. His attributes are lacking compared to other midfielders who play simple passes.
John G Davies
100
Posted 22/04/2017 at 19:24:32
Further to the points made above re Barkley, Koeman is in no rush to get his contract signed. We need to improve on him with a better player to take the next step.
I just watched the semi-final. Ross would not get into the Spurs team. Lukaku had one chance all day apart from a run in the box. Perfect cross into the box from Holgate, if I recall. Romelu attacks it, he scores... but takes the butt. He gave it a miss.
Colin Malone
101
Posted 22/04/2017 at 19:29:59
It's a very valid point.
Chris Gould
102
Posted 22/04/2017 at 19:34:29
He was only as poor as everyone else, Clive.
I'd be very upset if we lost Barkley in the summer.
John Daley
103
Posted 22/04/2017 at 19:46:58
"Ross should be made to watch match videos of him [Christian Eriksen), this is what we want lad!"
In return, Eriksen should be made to watch videos of Barkley so he can see how lucky he is not to have the sole burden to 'create' flung slap bang on his shoulders, whilst operating within a squad with (1) no other attacking midfield option whatsoever, (2) laden down with multiple defensive grafters and (3) minus any fucking width for months and months on end.
Mike Dolan
104
Posted 22/04/2017 at 19:49:51
A point is always good away from home. but this was pathetic. Nothing wrong with the team selection – they just collectively stunk. Schneiderlin, Gana and Davis have been brilliant since January so I don't think anybody can say that they don't play well together. Today was just a blip.
The big difference today is that we saw the listless Barkley from last season; he and Mirallas were both crap. Lukaku had one of those games where his only effort was in not getting hurt (or dirty)... maybe he had a date. Pathetic.
Daniel Lim
105
Posted 22/04/2017 at 19:52:43
Both teams should be deducted one point not awarded one point, from what I read of the match.
Matthew Williams
106
Posted 22/04/2017 at 19:53:19
I swear to God... I'd bring back Deulofeu, Niasse & McGeady... we simply have no craft or guile.
We look so poor away from home... WHY???.
Danny Broderick
107
Posted 22/04/2017 at 19:54:52
Terry (87),
I'd argue that Gana and Schneiderlin perform the same way for us that Dembelé and Wanyama perform for Spurs. The difference is that the Spurs midfield give the ball to players in front of them who work their balls off and carry a goal threat consistently - Kane, Son, Alli, Eriksson.
Our midfield plays the ball forward, and you never know what they are going to do. There's only one player who has a goal threat really, Lukaku, but as we all know, you've got to driver the ball on a silver tray to him. Out of the question that he will win a header for you, or make a run.
We need a revolution up front!
Colin Glassar
108
Posted 22/04/2017 at 19:55:05
If I was Moshiri I'd offer a refund to our supporters. The only positive from this is Ronald's post-match interview. Expect big changes in the summer.
George Cumiskey
109
Posted 22/04/2017 at 19:56:21
Chris @102 – you would be disappointed​ if Barkley went in the summer? Can you explain exactly why?
Peter Lee
110
Posted 22/04/2017 at 19:56:32
Unsurprised by the performance. Don't know why Koeman is angry with the first half, we played as he sent the team out to do.
We had no solid base provided by the defensive MFs and, in both halves, even with Barry on the pitch, we were too open.
Asking Gueye and Schneiderlin to follow their instincts and lose touch with the back four is suicidal. I lost count of the number of times they got caught the wrong side of play when it broke down.
I say again, too stretched, too much fire fighting and Lukaku told to stay too far up and distant from the other forward players. They had to come inside to get near to him and it became congested.
This is not solely about the players we have. It is about foolish tactics.
Eddie Dunn
112
Posted 22/04/2017 at 20:04:20
I thankfully had to go out, so missed the unedifying game, but from the reports I have read, one has to ask the question about Mirallas. He seemed to be playing well in his appearances as a recent sub, and many were calling for a starting berth for him.
However, he seems to be doing exactly what he has done in the past. Does he relax into a catatonic state once awarded a start?
Also, the midfield of Gana, Schneiderlin and Davies seems high on graft, but leaves Barkley with most of the responsibility to create anything.
Gana, in particular seems to have gone off the boil in recent games, being hooked on his last outing.
Boy, do we need another creative midfielder.
Chris Gould
114
Posted 22/04/2017 at 20:14:21
John Daley (#103),
Agree completely. Barkley had no support or options all game. If he has a game where it's not working for him, then nobody else steps up.
He carries all of the creative responsibility and everyone else seems to get off likely.
Nick Armitage
115
Posted 22/04/2017 at 20:15:05
Once again away from home, Barkley and Lukaku don't bother turning up. Queue the excuses as to why...
I'm fed up of the same shite from the pair of them. Cash in and move on. I'd swap a 35-year-old Rooney for Barkley tomorrow.
Kevin Rowlands
116
Posted 22/04/2017 at 20:15:21
John,
Lookman and Mirallas both played today so there was width. I am a huge Barkley fan and he's practically unstoppable when playing well but today wasn't one of them days.
What I meant is Erikssen always seems to know when to make the right pass whereas Ross hangs on to it too long trying that extra dribble or turn when he doesn't need to.
Also, yes it must be very frustrating for him at times dealing with his forward option versus Erikssen's, I definitely agree with that.
Tony Hill
117
Posted 22/04/2017 at 20:17:39
I struggle to see what system Koeman is trying to play actually but we have to close our eyes and hope that this is part of a great transitional plan.
John Daley is right about width - at its worst in the Tottenham game at WHL - and the players who might have provided it are either injured, gone or not yet good enough/never will be good enough. As I've said above, the lack of speed (both of thought and execution) is also obvious.
We have a strange ponderousness about us which has been there for years away from home. God knows where it comes from, though timidity probably has much to do with it. Terrified to be bold, to take chances, to honour our best traditions.
I was saying the other day that I thought Koeman was instilling a winning ethos and then we witness this afternoon's garbage. I live in hope but, my word, it's tough to stay genuinely optimistic because there's a weakness at the heart of what we do.
Darren Hind
118
Posted 22/04/2017 at 20:19:59
I can't believe the players – even the younger lads – are taking all the blame.
In some ways, I'm feeling a bit relieved, after travelling around the country for about 50 years, I decided to reign in away trips towards the end of last season. Now I don't bother... but I feel disgusted at the way Koeman has treated the fantastic supporters who make incredible sacrifices to watch their team. The fucker has absolutely no respect for them.
And I don't feel any better when I see people criticise young players who are playing out of position because this shyster doesn't have an adventurous bone in his body. Instead of spending the entire season blaming the players for all these gutless pug ugly away performances, look for the common denominator.
Players change; we've probably used around a couple of dozen this season but, no matter who is selected, we always end up talking about shite away performances where our striker has been left in total isolation.
I despair when I read people claim WHU simply defended, They probably had about three times as many attempts on goal. There is a very simple logic to this, you have to commit men forward in order to break down a resolute defence. If you don't, you end up with yet another stalemate.
£6M quid a year... most of the people on here could do what he's done.
Get Rid!
Brian Williams
119
Posted 22/04/2017 at 20:22:46
Mike (#104)
You touched on something there that I noticed but didn't say for fear of getting into one.of those daft ToffeeWeb spats.
Lukaku on several occasions, that I noticed, pulled out of challenges or jumped out of them in what certainly appeared to be a fear of getting injured.
Kevin Rowlands
120
Posted 22/04/2017 at 20:22:53
Nick, Rooney is 31. I agree I hope he returns this summer, hasn't played much this past year so should be fresh, motivated and with a point to prove next season, plus next summer is the World Cup so he'll have plenty of incentive to do well.
Sean Patton
121
Posted 22/04/2017 at 20:23:05
The display today was like that scene from JFK, " back and to the left, back and to the left".
An abysmal attacking performance
Ian McDowell
122
Posted 22/04/2017 at 20:25:30
Today shows the huge gap in quality between the top six and the rest.
Hopefully some massive changes in the summer.
Nick Armitage
123
Posted 22/04/2017 at 20:25:42
Kev, I know Rooney is 31. My point is that he'll still be a better player than Barkley is now when he's 35.
Colin Glassar
124
Posted 22/04/2017 at 20:25:47
To be replaced by whom, Darren? An honest question btw.
John Pierce
125
Posted 22/04/2017 at 20:31:08
John (#103),
Got to say too much protesting there on behalf of the Wavertree Wonder. Let's say you argument holds water and imo it has some merit.
Even if I take the evidence as a given, the lack of width, poor movement etc. If Ross is as good as billed, why in spite of the lack of help has he not turned in a performance this season were he has singled handed pulled us out of the poo? Because that's kinda why he's a star player, sometimes that's what you have to do right?
You seem to imply he needs help to play to his maximum? Totally correct to a point, most good players should give you a 7/10 performance most weeks and not rely on any one player. But you always need 2 or 3 'class above' players to change the course of any game, do you not?
He just seems to get affected by the team too much when they get stuck, and not just say 'sod this' my game, my team, time to sort this crap out.
Just a side bar to what is in the main fair cop to the team as a whole. Much harder to succeed when the terra cotta army stands before you as an option.
John Daley
126
Posted 22/04/2017 at 20:35:03
"The only positive from this is Ronald's post-match interview"
What did you like about it Colin? The fact he said he would have subbed 10 if he could? 
Like most of his post-match comments following a poor performance I thought he very nearly talked himself into a corner by pointing out "We had a lot of ball possession but there were too many players in the central position in the midfield". No shit! That tends to be the case when you only have central midfielders to call upon and opt to operate without recognised wingers for a large part of the season. 
Given his team selection, where was Koeman expecting the width to come from? That isn't Gana's, Schneiderlin's or Davies's game. Mirallas and Barkley are always going to be inclined to come inside.
The time when Baines was able to get up and down the pitch like a bloke running back and forth between bog and bed the morning after a bad burger have long since been and gone, and Holgate is a centre-half standing in at right back.

Sam Hoare
127
Posted 22/04/2017 at 20:36:00
I think we need to risk a bit more away from home. 6 away draws is the second most in the league and we all know that a loss and a win gets you more points than 2 draws.
Koeman needs to get them to focus on winning rather than not losing and hopefully we might see them playing with the confidence witnessed at Goodison in 2017.
John Daley
128
Posted 22/04/2017 at 20:36:56
Kev,
I don't disagree Ross had a poor game today or that Eriksen produces on a more regular basis, but I do think the type of players they are surrounded with and the tactics they are being sent out to play to, have a significant part to play.
Other than Ross, who was the last creative/attacking midfielder we had on the books? Old Man Osman, a piss weak watered down Pienaar? 
John Daley
129
Posted 22/04/2017 at 20:39:05
"You seem to imply he needs help to play to his maximum?"
So, it's not a lot easier for a 'creative' player to create when there are other like-minded players on the pitch?
John Pierce
130
Posted 22/04/2017 at 20:40:50
Mike (#104), hotly pursued by Brian.
Absolutely Rom lad jumped a la Beckham, World Cup 2002, or more like some double Dutch skipping routine.
Bottled it. Well spotted.
Ciarán McGlone
131
Posted 22/04/2017 at 20:40:56
I wonder would we be better off if we sold Barkley and Lukaku and started from scratch with our offensive 4.
Thomas Newton
132
Posted 22/04/2017 at 20:49:16
More of the same from the Barkley apologists – not his fault, the lack of options; not his fault the lack of quality around him... blah blah blah.
What is his fault is slowing down of play, dwelling on the ball, providing he's not giving it away or losing it, that is... or being totally anonymous. Never mind though – he's a young lad only been in the 1st team squad for 6 years, he'll eventually rid his game of these traits and become the world class player hidden in there somewhere.
Never going to happen, I'm afraid.
John Pierce
133
Posted 22/04/2017 at 20:49:17
John, I didn't say it was easy and supported your point because what you said makes sense, but worth considering with all the fanfare why he can't on occasion do it all himself? Be a virtuoso lad?
You know, beat one beat two bang stick it in the top bin, when the game was as poor today for instance? He never at any point looked like trying to sort the dross out on the field. And has yet to my eye done so this season.
Room for significant improvement on both sides of this coin?
Kevin Rowlands
134
Posted 22/04/2017 at 20:51:41
Agree John, I think someone like Sigurdsson and/or Rooney next season will be a massive boost for Ross, take some of the pressure off.
Also who wouldn't get frustrated when you have that overated 'superstar' ahead of you constantly giving the ball back to the opposition? He must be thinking ,"If I give it to him, my next move is going to be trying to win it back again."
He was poor today. Lukaku, as per usual when he doesn't score, was pathetic.
Michael Kenrick
Editorial Team
135
Posted 22/04/2017 at 20:53:09
Kunal: (#67): "Barkley and Lukaku remain ominous"...!!!
I left that in for pure joke value, but I think you must've meant "Barkley and Lukaku remain anonymous"???
Danny Broderick
136
Posted 22/04/2017 at 20:56:16
Hear hear Ciaran.
It would be interesting to see that team with Bolasie, Rooney and Sigurdsson supporting someone like Vardy, instead of our front 4 today. I'm hoping this will be the case next season.
There's still room for the likes of Barkley in the squad – just not as a nailed on starter.
Kunal Desai
137
Posted 22/04/2017 at 21:10:40
Haha. Anonymous it was meant to be. Thanks for pointing that out Michael.
Trevor Peers
138
Posted 22/04/2017 at 21:14:00
I've said all season we need to buy true quality in the attacking side of midfield. We manage to be in control of most games at home, Koeman has to be given credit for giving us that edge.
Away from home is different, it's obvious he's still learning. Despite all the criticism, I get the feeling with the right signing, all those draws can be turned into victories.
Buying the right players, that turns draws into wins is Koeman's biggest test, as it was for Howard Kendall all those years ago.
Let us all just hope and pray he gets it right in the summer. Everything else is just dross.
Bill Gienapp
139
Posted 22/04/2017 at 21:16:00
Well... Stekelenburg kept a clean sheet, if nothing else.
Peter Cummings
140
Posted 22/04/2017 at 21:17:52
Glad we here in Canada got to see a real classic at Wembley after the absolutely diabolical excuse for football dished up to our travelling fans across London.
Even our 'local' team in Toronto put our EFC (lack of) effort into perspective by winning 3-1 in a really entertaining MLS win over the Chicago Fire last night... pity is Toronto's home kit is all red.
Anyone who thinks we have any chance of cracking more than 7th in the near, or distant, future after today's shameful shambles has to need a brain transplant asap.
Jon Cox
141
Posted 22/04/2017 at 21:18:22
John Daley, the last real attacking mid we had was Arteta.
Brent Stephens
142
Posted 22/04/2017 at 21:22:19
I think John (#126) calls it well. We need some wide boys. I despair at times seeing Baines have to cut back inside and then back, for want of somebody out wide, though he seems to lack confidence in going forward anyway.
Jay Harris
143
Posted 22/04/2017 at 21:24:39
Darren.
What is Koeman supposed to do – buy all the supporters a pint?
This was one game where the team selected was the correct one but not one of the players showed up – and don't even get me started on "Champions league" Lukaku.
He was at his worst today – too lazy to close defenders down and too ponderous to get on the end of passes. Outclassed by James "Who?" Collins...
𧴜M... ??? The mind boggles.
Sean Patton
144
Posted 22/04/2017 at 21:27:24
Ciaran
We might well find out this summer! If both of them did leave, we would have a lot of money​ to replace the pair and start again.
Plus Koeman would be the guy to do it as he has shown at Southampton that selling big players and reshaping a team is one of his strengths.
Dave Older
145
Posted 22/04/2017 at 21:34:03
Hmmm, okay, we were dross today. Okay, our away form is rubbish. I sound like Koeman myself with all these okay's. However, to say "get rid" of Koeman is ludicrous. Jesus, Rome wasn't built in a day.
Our home form is brilliant. Is Koeman expected to sort everything out after one season??? Some people on here have some pretty unrealistic expectations. Or we could just sack Koeman and start the improvement process all over again??!! No. Not a smart move in my view.
We were rubbish today yes but Christ we are in a better place than last year.
Ciarán McGlone
146
Posted 22/04/2017 at 21:35:56
Barkley's had some better performances this year but in my opinion he's an average Premier League midfielder... If we have serious aspirations of the top four I can't see him being our lynchpin offensive player. Hes just too ponderous and I don't see how that improves with better players around him.
It's worrying. We potentially need a new back four and a new front four (Holgate aside if he plays centre half). Two should start from Schneiderlin, Gana and Davies. Other than that, we're looking at wholesale changes across the board. Otherwise we'll be finishing around 7th for some time to come.
Nigel Johnson
147
Posted 22/04/2017 at 21:38:02
What I don't get is why give the players extra time off? We haven't played more games than most teams in the Premier League. Every time Lukaku goes home, it takes him at least one match before he starts playing well. Lukaku will probably show down his scoring goals now that the club has set a high price on his head.
Barkley and Lukaku play well at home games but the cream of the players play well home or away. I would rather have Kane any day of the week than Lukaku. If Kane had played the same amount of matches as Lukaku has played, he would be top scorer and I still think Kane will get more goals than Lukaku by the end of the season.

Graham Mockford
148
Posted 22/04/2017 at 21:42:04
Darren Hind (#118),
"Get rid"?
Well, it was a pretty terrible game, I must agree... but get rid? Get some fucking perspective.
He's been here 9 months. We are about where I would expect us to be.
We have significantly improved on the last two seasons. We have scored more goals in a Premier League season than ever before. We have lost two games in nearly half a season. We are going to qualify for Europe.
Since the December derby, our record is W10 D5 L2 which is Champions League form, ie, 2 points a game
Your Koeman ranting is looking a bit pathetic if I'm honest.
Michael Kenrick
149
Posted 22/04/2017 at 21:50:27
Two factoids from the BBC website:
This is the first time in Lukaku's Everton career that he has failed to score against West Ham – having netted in each of his previous nine appearances against the Hammers.
Lukaku failed to have a shot on target in this match – the third successive away game the Belgian striker has failed to do so. It is the longest run without a shot on target away from home in the Premier League.
John Pierce
150
Posted 22/04/2017 at 21:53:05
Graham, clearly not time to 'get rid'. However why measure Koeman against the lowest bar possible i.e. The last two seasons.
The bar is a minimum of 7th, a default before a ball is kicked we are the 7th biggest turnover, ground financials etc. that's something you seem to concur with?
Koeman has restored what should be acceptable, very little more, he has some serious work to do in the summer, which with the record you cite he has earned.
But if after 10 games next year he ain't looking like ripping up a forest with a significant summer spend behind him then, serious question need to be asked. With the elevation Moshiri is giving us and the direction headed another season of 'transition' won't cut it.
Koeman should be kept on a tight leash, no drifting allowed, real tangible progress, no project crap, do it under the scrutiny as you will be given the funds.
Too much for some maybe, me sick of being sat in neutral not going anywhere.
Soren Moyer
151
Posted 22/04/2017 at 21:59:36
Today's performance wasn't worthy of 7th place, let alone top 4!
We were just awfull.
Graham Mockford
152
Posted 22/04/2017 at 22:08:15
John #150
"Graham, clearly not time to 'get rid'. However why measure Koeman against the lowest bar possible i.e. The last two seasons."
I guess because that's what he inherited. But your point is valid. 7th this season is probably minimum expectation.
10 games might be a bit early to judge but unless we are challenging for top 4 then we are not making sufficient progress.
Kevin Rowlands
153
Posted 22/04/2017 at 22:08:50
Another factoid, Michael: take away his goals and he offers absolutely fuck all to the team. In fact, he's a liability because he keeps giving the ball away.
I will say this again, he is without doubt for me the most overrated player to ever wear the Everton shirt; no, to his supporters, I did not say the worst. Seriously, does anyone who watched that game or the one at Anfield or Old Trafford think this lad is worth £100 million pound making him the most expensive player in the history of football?
It's no coincidence that Stan, David Barks and others are failing to even mention him on this thread, I wonder why? Take away the goals and what are you left with? Today's game answers that question, not much!
Dave Older
154
Posted 22/04/2017 at 22:26:53
Lukaku has to be the most frustrating player we have ever had. The big lad has everything, he scores us goals and can look unplayable at times. However, he drives me, and most of us, nuts, with his lack of running, poor touch and poor attitude.
I don't know what to make of him to be honest. It is almost like he has a split personality because you never know which Rom is going to turn up. We really have a big summer ahead...
Sam Hoare
155
Posted 22/04/2017 at 22:32:59
Kevin @153 – why would you take away the goals?! His job is to score goals and he's bloody good at it.
We all know his all-round game is not fantastic but he is pretty superb at one of the hardest parts of the game, putting the ball in the net. That's why we shouldn't sell him if we can help it.
Nick Armitage
156
Posted 22/04/2017 at 22:36:54
Kevin (#153) it is generally heresy to suggest that about Lukaku but I agree, 𧴜M is a fantasy figure. Nobody is going to pay that because he isn't that good.
We have set up our team around him with Barkley just behind, and people who quote the records of them both seem to forget why everything will go through the pair of them by default.
If I hear anyone else says to me "Well, Ross has the most assists of anyone of his age in the Premier League," I'd say "So what?"
Are you telling me he's a better player than Scholes or Lampard coz he had more assists by 23? Barkley isn't and never will be fit to tie the laces of even the likes of Cahill or Arteta. A fit Pienaar was twice the player. Barkley may have more assists than Hazard or David Silva but how many blues would start Barkley over those two?
Watch the pair of them on the pitch. Over-rated, over-hyped and over-idolised. Lukaku won't do what he does at a top club coz the club won't flex to accommodate his idleness and shite approach play. If this is the form of Barkley's life... then time to cash in.
John Pierce
157
Posted 22/04/2017 at 22:42:27
I guess 10 games next season might be too early to judge, but if we are ambitious and want to make an impression, you cannot really leave it much longer.
Look no further than this season: one win in 10 games over late autumn cost us a much higher position with a relatively poorer squad.
So with a significant outlay, Koeman has to deliver. People can whine about how long it takes for a team to gel. One of the reasons you buy better players is most of the time they can integrate more quickly and take on the style of play more efficiently, that's why they're better, right?
Koeman can be smart, target three wins in the group stage of the Europa and lessen the effect of depleting the squad further down the line.
My guess is, even with the great points we've amassed this calendar year, we've had 4 games to do more, overachieve if you like. Spurs, Liverpool, Man Utd & West Ham Utd, All away, different line ups each time but same defensive tactics and pragmatism. 2 points from 12.
Not sure Koeman can cure that travel sickness.
Frank Thomas
158
Posted 22/04/2017 at 22:48:28
We beat Man City with fast adventurous passing then we had the International break and we have not been the same team since when playing difficult teams.
I think Koeman emphasised keeping possession and that has been taken as do a safe back pass rather than a rash forward pass.
There are two ways to defeat a team like WHU and Chelsea and they are first using unpredictable team selection and tactics like Martinez did when he played Lukaku on the wing against Arsenal it worked – we won. The second is for players to keep hold of the ball and press forward, this breaks the defence up and defenders move out of key positions to stop the impending attack.
On the subject of players who can open defences, have you seen Spurs target Douglas Costa? He seems to operate the second option.
Question: Can anyone tell me if the FA Cup Final is between Chelsea and Man City and both are in the top 4, does 5th place qualify for the Champions League?
Darren Hind
159
Posted 22/04/2017 at 22:54:01
Graham Mockford,
I'll tell you was is REALLY pathetic. Your willingness, sorry insistence, on accepting mediocrity.
We have been beaten at Bournemouth, Burnley and Southampton. We have induced comas at Stoke, Middlesborough and West Ham. barely mustering an effort worthy of the name in any of the games. We have failed to beat Hull. Lost at Watford. Been comprehensively outplayed and soundly beaten at Anfield and WHL. Humiliated at Chelsea.
Don't dare try to apologise for these abysmal facts by putting up half baked stats racked up mainly by beating teams below us at home.
Koeman hasn't just been found wanting today he has been found wanting time and time again... all season long.
These away supporters deserve to at least see their team have a go.
Our record on the road is one to be truly ashamed of, but the club now seems to be saddled with fans like you who are creaming themselves over the fact that we have accumulated more points than we did when Martinez was in charge.
Smell the coffee lad, if you think al those results were bad, you should have seen the performances.
David Barks
160
Posted 22/04/2017 at 22:58:41
Kevin,
The team, the entire team, was absolutely garbage today. Barkley was terrible, Gana useless, Mirallas invisible, Lukaku completely ineffective, Schneiderlin did nothing, Barry useless, Holgate constantly misplaced passes, Davies watched the game fly in the opposite direction than he was facing, Baines couldn't beat the first man with any crosses.
So let me ask you, why do you focus solely on fucking Lukaku? Honestly, the team created absolutely nothing, was horrific, and Koeman said as much. Koeman has to sub off Gana at halftime for the second consecutive match, because the set up was failing so badly. Barkley, my God he looked poor. Takes the man four touches just to turn toward their goal when receiving a pass.
Our tactics were mostly to hoof the ball up to Lukaku against the three at the back of West Ham. That made a lot of sense. Yet the manager persists with always having two defensive midfielders on the pitch no matter how poor the opposition is. But you come on here and have to mention me and others saying we're scared to mention Lukaku. No, we can just see that the team as a whole, including Lukaku, was absolute shite.
But hey, maybe you'll get your wish from earlier in the season and we'll have Anichebe and Shane Long up top next season and then we'll be Champions, right?
Graham Mockford
161
Posted 22/04/2017 at 23:04:12
John,
I agree with most of what you say. The first 10 games all depends on the outcome.
You would look for 20 points ideally depending on how the fixtures fall. But 15+ you are still at the races..
I get the away record thing but again some perspective we have lost 2 games in 17.
Ian Riley
162
Posted 22/04/2017 at 23:05:55
Players like Lukaku and Barkley need to offer more away from Goodison Park. This is the difference between top four and top ten. We need players in games like today who can win games. Koeman sees that and to finish 6th or 7th represents a good season.
Graham Mockford
163
Posted 22/04/2017 at 23:13:22
Darren,
There you go again. We have lost 2 games in 17. We have more or less qualified for Europe.
You manage to mention all eight games we have lost but not mentioned the sixteen we have won.
Oh and you seem to have forgotten we beat both Arsenal and Man City at home.
Your anti-Koeman schtick is getting tiresome.
Kevin Rowlands
164
Posted 22/04/2017 at 23:19:59
A fit Anichebe and Long up front today would have caused them far more problems than the two over-hyped and hopefully soon to be gone Belgians, David. My kid's two pet hamsters would have been more of a handful for them.
And no, I don't blame your hero for everything, see my first post, it was a poor team performance.
Trevor Powell
165
Posted 22/04/2017 at 23:21:43
Last season, we couldn't win at home... and now the reverse with us seemingly scared to play away from home. What is going on?
West Ham were there for the taking and yet there is no threat or desire. Who is behind that attitude? Just think what would have been his season if we had played with some abandon.
How many of our away games have got the pulse really racing? Crystal Palace, Leicester, WBA could all have gone the other way. So one encouraging performance, a win away against the mighty Moyes XI?
Derek Knox
166
Posted 22/04/2017 at 23:23:04
For those of you on here who have been saying Koeman should never have changed Stekelenburg for El Teflon, I personally think he should have done it a few weeks ago.
I think technically, Stek is better; how many goals did we let in today?
Was it 0-0? How then can he be blamed for zero production at the other end of the pitch? I hope he keeps his place.
Dave Williams
167
Posted 22/04/2017 at 23:25:25
Anyone who follows us knows we are a work in progress Lukuka nothing more than that.
Three of the back four are too old. The goalies are not top drawer. We have a decent enough midfield but again not top drawer. Up front, Lukaku is a modern Malcolm MacDonald – scores frequently against the moderate sides but not against a top class defence and lacks the finer skills required at the very top level.
Ron has done well in his first season and got us back to our true position of seventh. Next season is the big test- can he inject the class players to move us onto a par with the top six?
That lot are not that good but they all have players who are better than ours. Eriksen, Coutinho, Sanchez, Silva, Hazard – we have no-one to compare; Koeman & Walsh have to find a few to lift us to that level.
Today was awful but even the top 6 have days like that. I like Ross but he isn't going to be the man to make us tick Lukaku he will never be a Ball or Reid or even Arteta. Lukaku scores goals but is severely flawed. Mirallas will never become a first choice and we have to sort that front three if we are to truly threaten the top 6.
We have done okay this season but need to up our game to progress further.
Derek Knox
168
Posted 22/04/2017 at 23:33:54
Forgot to mention, for all those doubters out there, Enner Valencia, was ineligible to play today.
Okay, normally impact sub, but I would have this guy in the blink of an eye!
If he had been eligible to play, hypothetical I know, but I think IMO, we would have three points instead of one.
Mark Stone
169
Posted 22/04/2017 at 23:35:01
Haha, talk about knee-jerk. Embarrassing. We've been really good since Christmas. Sometimes players/teams have off days. Relax.
Ron Sear
170
Posted 22/04/2017 at 23:40:31
What a thoroughly miserable trek to London that proved to be. A stadium that no football game should ever be played in (capital punishment should be restored for anybody suggesting a running track anywhere near Bramley-Moore Dock).
A team that seemed utterly bored by any notion of playing football and players who seem to have forgotten some basic tactics such as passing a ball to each other or remembering the direction the oppositions goal lay in. However, Koeman was right in commenting that he would have liked to have substituted ten players at the half way mark.
Nice sunset from the coach window on the way back though.
Jay Griffiths
172
Posted 22/04/2017 at 23:41:56
Home, tired, felt I've had a day of my life stolen.
I won't try to be witty, sophisticated or urbane. That is one shit, soulless stadium in which to watch one shit, gutless performance.
If I had a receipt, I'd ask God for this day back!
Andy Crooks
173
Posted 22/04/2017 at 23:49:07
Darren, talking of sacking the coach is ludicrous. We were never going to win the league or, indeed, get Champions League football after the demoralized mess left by Martinez. Can you accept that?
Therefore, our season was going to undoubtedly include some disappointing performances. Today was dire. I was quick to put the boot in the coach after the derby because it was, in my view, coaching ineptitude. However, today wasn't.
It was a smug performance that lacked passion. Flat, end of season dross that insulted the Evertonians who went. Not, though, sack the coach stuff. Surely you can see some progress, Darren. Do you honest to God not see us so much better than a year ago?
For those who say that some of us are easily pleased, I would say we all see shit when it is served up. I can moan after a bad show as well as anyone but give the man a fucking chance.
Kevin Rowlands
174
Posted 22/04/2017 at 23:56:42
I feel so sorry for West Ham fans, imagine having to watch your team play at that place every home game? It's painful even watching on TV, I hope your taking note, Moshiri and Co!
Mark Stone
175
Posted 22/04/2017 at 00:03:06
Darren Hind,
"We have been beaten at Bournemouth, Burnley and Southampton. We have induced comas at Stoke, Middlesborough and West Ham. barely mustering an effort worthy of the name in any of the games. We have failed to beat Hull.
Lost at Watford. Been comprehensively outplayed and soundly beaten at Anfield and WHL. Humiliated at Chelsea."
How many teams wouldn't be able to write something like this?
Liverpool were beaten by Burnley, Bournemouth, Hull and Leicester away in the league. Beaten by Southampton and Wolves in the cups. Beaten by Swansea at home.
Man City were, humiliated by Everton at Goodison, failed to beat Middlesbrough and Stoke at home. Held to a goalless draw against Huddersfield in the Cup. Beaten by Ranieri's Leicester (who were awful at the time).
Chelsea were beaten at home by Crystal Palace, beaten away by West Ham in the cup, humiliated away to Arsenal, failed to beat Swansea away.
Arsenal were beaten by Watford at home, humiliated by Crystal Palace away, embarrassed by WBA away, failed to beat Bournemouth away, failed to beat middlesbrough at home,
Man Utd failed to beat Stoke home or away, failed to beat Hull, West Ham, Ranieri's Leicester and Burnley at home, rescued a point at home against Everton in the final minute, humiliated by Chelsea away, beaten by Watford away.
And so on and so on. It's the Premier League. You don't win every week.
Douglas McClenaghan
176
Posted 23/04/2017 at 00:09:20
Referee did us no favours.
James Marshall
177
Posted 23/04/2017 at 00:11:37
I almost went down to the ground to see if I could get a ticket (I only live about a half-hour or so from Shitford/Stratford), but I'm glad I didn't.
A real non-event from our perspective, and I'm amazed this thread has almost 200 comments on it!
Brian Wilkinson
178
Posted 22/04/2017 at 00:14:47
Everyone knows my feelings regarding Lukaku: great player but frustrates the hell out of me, plays when he wants to, shirks out of the big games, never seems to get that all important 1 nil goal we need when it matters.
I would take a silly offer all Day long, but that is just my opinion, yet he gets defended week after week: poor service etc, never Rom. Today was another example where we needed that bit more from him, fair to say a poor team performance all round.
An overhaul of 4 to 5 players needed for next season if not more with a top class striker, centre back and goal keeper a must.
Damian Wilde
179
Posted 23/04/2017 at 00:16:12
Kevin: "Take away his goals and he offers absolutely fuck all to the team."
Are you taking the piss? I can be a critic of Rom, but goals ate pretty valuable! Stupid comment.
Nick, agree. Barkley isn't good enough – sell.
Paul Birmingham
180
Posted 23/04/2017 at 00:19:43
A day to forget; soulless, heartless and spineless show.
Another bad away day, but we drew... major clear-out due and the club must be ruthless.
The U23s put the first team to shame in terms of heart and application and pride to play for the Everton shirt.
James Marshall
181
Posted 23/04/2017 at 00:20:00
All this talk of an overhaul, and how our players are useless always happens when we fail to win a game – football supporters are a fickle bunch and not just Evertonians. All supporters freak out when they don't win games.
We have been excellent this year though, and the overhaul comments are fantasy-football comments in truth – the manager is overhauling the squad but you have to do it bit by bit – you can't just tear it apart and start afresh, it takes time, and Koeman is doing a good job if you ask me.
We were nailed on for 7th at Christmas, and we still are – we'll play in the Europa League next year, and that's called progress. Slowly slowly, catchy monkey .
Gavin Johnson
183
Posted 23/04/2017 at 00:32:26
Darren,
You are the self appointed ombudsman of Everton managers. Your word is final. You are the David Ike of TW who is laughed at for scoffing at a manager who has lost 2 games in 17, but you will bide your time. You know, when the inevitable bad patch happens, you will stand vindicated.
Mark Stone
184
Posted 23/04/2017 at 00:37:26
Kevin: 'Take away his goals and he offers nothing to the team'. Okay then, if he stops scoring, let's ged rid. If he keeps banging in 20+ goals a season, he is offering a fair bit, yeah?
Kevin Rowlands
185
Posted 23/04/2017 at 00:38:52
Damian, no I'm not taking the piss. Did you actually watch the game today?
He was absolutely terrible, he's terrible most games. Yes he's scored goals, btw most of them goals provided by teamates who isolate him and don't give him the service he needs so we're told.
Even though he's going to win the golden boot because of them very same teamates, he's too good to play with us. Like I said, take away them goals, he is fucking useless – watch the game!
Will Mabon
186
Posted 23/04/2017 at 01:04:07
The team have been excellent at home in 2017, as good as anyone in the league. They've been very poor away from home. The same players, the same manager.
Anyone advocating wholesale changes to personnel when there's a game like this would essentially be asking for our excellent home form to be unnecessarily put at risk by tampering. Who thinks our home form indicates a need for sweeping player changes?
The problem away from home has been team selection, shape and tactics, in varying degrees. These coupled with what looks like low team spirit and belief are the differences. There's a tangible lack of authority when we're away from Goodison. Aside from the occasional random bad one that can afflict the best of teams, the responsibility for this lies with the manager.
Maybe today was a random bad one. To me, it looked like they'd all eaten the wrong food. There was a lethargy pervading just about the whole team.
Mostly though, I think Koeman carries the can. He appears to be setting up/fielding specific home and away teams, as opposed to teams catering to specific opposition.
Adjustments to teams for individual oppositions and their players are necessary, and used unashamedly by even the best of sides. These however are made on top of a basic platform, the essence and identity of a team, it's style and type of play. All the best teams do or aspire to this.
Everton don't have this, yet. We look like two different teams. I just don't see evidence of the team being motivated to go out and really take the game to the opposition in away fixtures, in the way we have at home.
I'm still unsure about Koeman.
Jon Cox
187
Posted 23/04/2017 at 01:48:59
At some point, Lukaku will be gone.
I just look forward to year zero.
Adam McCulloch
188
Posted 23/04/2017 at 02:15:46
I think you can put down the away form to a few things, but to my eyes it's personnel.
We are definitely short of a Plan B: with injuries across the squad and a lack of quality attacking options, sides like West Ham who play to frustrate will do just that.
The fact that Enner Valencia – a player deemed surplus to requirements by today's insipid hosts – has been our most effective offensive option off the bench in recent weeks says a lot.
Give Koeman time. We are where we should be, and after the intolerable performances under Martinez last year I'll take solid, goals-aplenty home form and boring points away at West Ham all day long.
With good recruitment, a bigger squad for some European away days and a squad that looks more organised than the Dali-esque interpretation of a team we saw last year, we will be alright.
Gordon Crawford
189
Posted 23/04/2017 at 02:23:46
Really crap today. We are a million miles away from top four. Long road back to the top.
Nigel Johnson
191
Posted 23/04/2017 at 02:49:44
My only worry is, if Koeman does not get the players on his wish list where will Everton end up next season? It's all well and good saying we need to bring in this player or that player, but it's not as easy or as simple as that.
Everton must not waste time putting silly offers in for players who are worth top dollar. Pay the money and get the players in nice and early.
If Everton are going to sell Lukaku, stick with the £100 million asking price, but have a deadline date; if no club comes in for him at that price by second week in July, then he will have to stay.
Come on board.... get your finger out and get the business done early.

Bob Parrington
192
Posted 23/04/2017 at 02:51:34
Just watched this horrible performance on Optus. Hard pushed to find a Blues player I would give more than a 5 to today. Am I being too hard when I suggest Lukaku and Barkley probably a zero minus?
How many times did we pass direct to the opposition players or were caught lazy on the ball? Even the referee would score less than 5 today. How he couldn't see Collins almost ripping Lukaku's shirt off his back in the late minutes of the game actually amazes me. A clear 100% penalty!
Truth is, we didn't even deserve a point in this one. But I'll take it!
Peter Barry
193
Posted 23/04/2017 at 02:54:16
We need a 'World Class Striker' – you know the type of striker that does not just stand there waving his arms when he is not getting the service he needs... the type of striker who goes looking for the ball himself and puts himself out there, not just occasionally but EVERY game. The type of striker who can control and hold up the ball when it comes to him.
Oh how I wish we had one of those type of World Class Strikers – instead of somebody who just THINKS he's a World Class Striker!
Will Mabon
195
Posted 23/04/2017 at 03:23:21
Bob (#192):
The performance was as bad as you say. Notwithstanding the tactical effects of the opposition being in "Home mode" when we play away games, the question remains: why is our away form so vastly inferior to that at home? It's chalk and cheese.
Jay Harris
196
Posted 23/04/2017 at 03:43:12
Bob,
Sorry mate but before you lambast the ref for not seeing it you'd better look again.
It was actually Ashley Williams. I don't think Lukaku was on the pitch today.
Royson Reja Sagah
197
Posted 23/04/2017 at 04:56:24
Stekelenburg played alright for someone who's been out for a long time. Barkley was pretty much non-existent. It still baffles me how a big guy like Lukaku can't win any headers.
Considering our goal was battered with attempts and nothing at the other end, I'd say a point was all we deserved.
Mike Dolan
198
Posted 23/04/2017 at 05:21:55
I don't think anyone can honestly complain about Koeman's coaching. We have scored more goals already this season than we ever have in the Premier League – not bad for a dour defensive coach I'd say.
We have conceded so many less this season that we have the fifth-best defense as opposed to the seventh-worst. We defend set pieces quite well now even though we probably have the smallest defense in the league.
But don't worry, help is on the way – I just read the Moshiri is trying to get an additional £300 mill Chinese investment into our little 'project".
Bob Parrington
199
Posted 23/04/2017 at 06:26:38
Jay, Yes. Ooops. My youngest son corrected me, too. Senior moment, i'm afraid. Lukaku who?
Cheers
COYB
Bob Parrington
200
Posted 23/04/2017 at 06:39:10
Will (#198), difficult to analyse the psychology of this. Physically, we look a different team – slow and apprehensive – but, likely, the training during the week is similar whether we're approaching a home game or an away game.
Tactically – well, here's a possibility. Many say on here not to be critical of the coaching but something is different. Away from home we look lethargic and timid, pensive with our passing – almost like with each kick we are afraid to make a mistake. Whereas, at home, we are much more energised, decisive and firm with our passing (but not perfect in many ways). Big conundrum!????
When coaching amateur, I would drill in to the team to go out and attack at home games. FFS, it's only a green rectangle!!
Alan J Thompson
201
Posted 23/04/2017 at 06:40:36
I have to disagree with the amount of criticism Barkley gets and agree almost entirely with John Daley.
In the first half, the midfield seemed to consist of Barkley, Holgate out wide and Davies. Schneiderlin and Gana, like McCarthy before them, seem to have some allergy when it comes to crossing the halfway line in support. Schneiderlin got forward more in the second half but that seemed to be because Barry had taken his place in the "back five".
The lack of drive wasn't helped by the lack of movement upfront until Lookman came on.
Stekelenburg looked a little rusty but that should be expected with 3 or 4 months not playing. The defence generally did well but more creativity and attacking support is needed in midfield (I tend to think the game itself suffers from too many defensive midfielders) and a winger who can beat a full back is a must.
However, the question does need asking if the Manager sets the team up more defensively for ALL away games and seemingly tries to change it later in the game.
Darren Hind
202
Posted 23/04/2017 at 06:55:56
Gavin Johnston.
Oh not the old "Let's try to isolate him for not running with the pack" routine. I remember shaking my head in disbelief as you tried the same tactic time and again when Martinez was in charge. It won't wash. I will not blind myself to the obvious.
Our groundhog fortnight was in evidence yesterday. Same failures. Same miserable performances. Same negative tactics. Same isolation of the striker. Same blaming of the players, Same apologies for the one common denominator.
"Give him a chance". Give him a chance? What are you waiting for...? The leopard to change his spots???
I did not appoint myself as anything. I simply gave an opinion, but you and Mockers simply can't bear it. once again you have to make it personal. I'm happy with that, it demonstrates how piss-weak your argument is.
I told you yesterday that you view the game through the wide eyed innocence of an eight-year-old, that you can only ever see the good points and are totally blind to the things that have plagued this club for three decades.... and warraya know; you both provide classic examples on this thread.
We are talking about truly abysmal away performances, not in a knee jerky kind of way, but consistent season long half witted tactics. The best you and Mockers can muster is daft arsed stats in response..
"Yeahbutnobutyeahbutno" . ."we may be dogshit away, but we are good at home" ... Pathetic.
If you think being a rich mans Burnley is cause for celebration, then we may as well all go home. Whoever it was who wound you up by dubbing you 'fanboy' (and it wasn't me) has completely... completely got your number.
Sam Hoare
203
Posted 23/04/2017 at 06:56:19
This board reads like a schizophrenia forum at times: unabated joy, praise and adulation when we win followed by bile, vitriol and 'sell them all!!!' when we don't.
Of course results and performances like yesterday are very disappointing but let's be rational. We are having a better season, a good one even. Not a great one but we are going to get 7th (at least, probably at most too) and Europe and have scored more goals and conceded less. It's Koeman's first season with a fair amount of new players and youngsters playing and we ARE moving forwards.
Every team has bad days where they lose or draw to inferior opposition! It has happened to us a little bit more than the top 4 and that's why we are not with them yet; hardly a surprise given their resources and history of winning matches.
We have to improve our away form; that much is obvious but lets not throw the baby out with the bath water. We are improving and have a good manager and some good players.
Hopefully we will see investment this Summer, sensible transfer moves and can deal with the European schedule. I believe we are still in the top 4 for form in 2017 so if we continue onwards, then there may be even more to cheer about .
Darren Hind
204
Posted 23/04/2017 at 07:25:22
Andy @173
Yes mate, of course I see an improvement, but wasn't that the very least we could have expected? And is the improvement great enough? Are the tactics which are employed away from home ever going to change with this guy in charge?
You say that calls for the man to be sacked are ludicrous, it's probably worse than that, they're probably futile and I don't think I will do it again.
Before I leave this thread Andy I'd like your opinion on something:
Do you think that (for a fraction of the wage) David Unsworth would not have at least equalled if not bettered what Koeman has done? Do you think he would have been as cowardly away from home? Do you think he would not have spent the 㿼 million more wisely?
Everton is a club who do better when we appoint from within, not always, but as a rule we do. I fucking hate the fact that every time we need a manager these days, we seem to want to appoint the current flavour of the month. These hired hands see us as little more than an exceptionally accommodating gravy train.
Moyes, Martinez, Koeman.... what is it with this club? Why do we have so many fans who appear grateful to have their kecks removed?
Paul Ward
205
Posted 23/04/2017 at 07:33:18
Certainly the worst game of the season and possibly our worst performance. It does not serve any purpose to single out individual's because as a team they were pitiful.
Some ToffeeWebers blame the manager, tactics, individuals or a bad day at the office. Some also think the remedy lies in a clear out and replacement of a number of players.
This is unlikely to work if we persist in buying mediocre players like we have done for the last 20-odd years. So-called bargain buys, has-beens, outcasts and general journeymen.
Because of lack of funds in the past it maybe all we could afford, but the media list of our potential signings next summer are ominously pretty average.
Although we did find a few gems in our past signings we now have to either bite the bullet and buy the same sort of players as the top 5 clubs do or continue to finish 7th at best.

Darryl Ritchie
206
Posted 23/04/2017 at 07:33:48
I've had some time to reflect on that pitiful excuse for a game, and I have a few thoughts...
We need to thank Jags and Ashley, because we were outplayed at every other position (except for keeper; hell, they didn't even need a keeper). West Ham's game plan worked to near perfection. I'm not sure we had one.
Every pass we made was contested, while they seemed to find acres of space with nearly every move. Thank the football gods that Caroll and Snodgrass were unavailable because, if they played, I don't think the result would have been as good as it was... if it's possible that anything we did in that game could be called "good".
Maybe, in a long stretch of imagination, Stekelenberg earning a clean sheet could qualify. He made a save or two, but he scared me silly on set pieces and corners. I don't think you can put some of his shaky bits down to be rusty. He needs to command his box a lot better. Koeman's habit of sitting out players if they've made a mistake in the previous match, will bite us in the ass one day.
Our away form is pitiful and the fault lies with the entire club; manager and players. It's almost as if Koeman sets them up to fail, and the players are happy to oblige. The worst we've played all season.
Who the hell did they give MotM to?
Time to put this one to rest, and move on.
Ciarán McGlone
207
Posted 23/04/2017 at 08:31:44
Let's get away from this nonsense that we are brilliant at home. Yes, we've had a lot of good results there this year, but the performances have been less than impressive and the points tally at home glosses over what has been a fairly average season on the pitch.

Thomas Lennon
208
Posted 23/04/2017 at 08:36:23
Last season, Everton were in a similar position to Man Utd when Ferguson arrived. Won very little for years despite occasionally getting close and 11th. Ferguson had a blip at 2nd but soon receded back to 11th. Took four-five years to develop his first winning team just in time for the Premier League to start.
I don't think Koeman will want this to take five years but his task is harder, there are more and better opponents above. His team and results so far seem fundamentally better than his predecessors, score more goals, get more clean sheets, aiming for better flexibility with still several unsettled positions.
It is clear we still have a way to go for top 6.
Brent Stephens
209
Posted 23/04/2017 at 09:21:05
Koeman is going nowhere. End of. I'll pass my judgement on whether I want him to stay or go after more than 9 sodden months!
Sam Hoare
210
Posted 23/04/2017 at 09:46:52
Ciaran @207, not sure you can say it's nonsense that we are brilliant at home.
We are 2nd in the Premier League home table! That's pretty darned good. If we were second in the whole table, I don't think we'd be worrying about performances too much. Over a season, it's the results that matter.
Martin Nicholls
211
Posted 23/04/2017 at 10:07:37
Sam (#203) – the voice of reason! Well said mate.
Ciarán McGlone
212
Posted 23/04/2017 at 10:20:45
Sam,
You cannot challenge me on performances at home and then change the direction of the argument towards the simple accrual of points.
The majority of the teams we've played at home this year have been mediocre and the majority of our wins at home have been disjointed displays of two halves. We've haven't had a solid 90 minutes in this season until the Leicester game.
Form doesn't tell the whole story. I think people should be a little more circumspect with the assertion that we are great at home. There's plenty of threads on here, on winning matchdays at home, replete with criticism.

Rob Halligan
214
Posted 23/04/2017 at 10:33:57
Well, not much to say about that game yesterday. We were in the upper tier, so to be honest couldn't really see what was going on half the time, as we seemed to be miles from the pitch. Didn't even know Stekelenburg was in goal until the second half!!
Only joking about the couldn't really see what was going bit, but it really did feel that way half the time.
Please, Everton, DON'T build a new stadium with a running track around it. The atmosphere was almost soulless. Even the Everton fans below us seemed miles away. That stadium was great for what it was built for, the Olympic Games. A football stadium it is not.
Sam Hoare
215
Posted 23/04/2017 at 10:40:41
Ciaran (#212), I didn't change direction and I wasn't talking about just recent form.
We are second in the home league table over the whole season (which we are near the end of). For me therefore it is fair to say we have been pretty brilliant at home as over a long period results is more important than performance.
Andy Crooks
217
Posted 23/04/2017 at 10:58:32
Darren, I admire Unsworth and I believe he could have done a good job. However, I believe that Koeman has enough of a reputation to attract better players. Fair enough if you argue "not yet" ... but this summer should be the test.
Colin Glassar
218
Posted 23/04/2017 at 11:03:51
Darren, you've been called the David Icke of TW, would you like to respond to that?
I spat out my coffee reading that.
James Marshall
219
Posted 23/04/2017 at 11:08:52
Appointing from within is a very old-school thing to do. Modern football requires a modern approach, and Everton need 'names' in the club to raise our profile. As much as I admire Unsworth, he's unknown outside the Premier League and would do nothing for us in a world/European sense.
Koeman is a big name manager, and nobody can argue with that. He's improved us in a year, no one can argue that point either.
Why change the manager halfway through the project he was brought in to achieve? From where I sit, he appears to have made lots of progress considering he inherited a shambles from Martinez.
We're nailed on for 7th, which will get us back into Europe, which is surely progress again? We've scored more goals than in any season for 20 years – more progress? Unbeatable at home – progress again? 5th best defence in the division – progress? Rubbish away from home – irritating, but cause to drop the manager... really?
Damian Wilde
221
Posted 23/04/2017 at 11:28:25
Kevin R (#185), don't bore me with the 'Did you watch the game'? Yes I did (albeit took me a while to get a link). I have a Season Ticket and go to a fair few away games. Good enough for you?
I think everyone would agree Rom (and everyone else) was crap yesterday. And that Rom can at other times be crap e.g. Man Utd away.
You said: "take away them goals he is fucking useless."
Read this again and see how vacuous it sounds. What's your next one... "Take away Ronaldo's goals and he's useless to Real Madrid."
Well you can't take Rom's goals away, why would you?! Clown.
He is there to score goals, he does and scores A LOT. Could he improve? Yes. Who do you think we could get instead? What you're after is a player who scores a ton of goals, loads of assists, brilliant overall play, works superbly hard, incredible attitude... yeah, I can just see Everton attracting such a striker 😂😂😂
FFS we have a guy banging in 20 odd EVERY season, but according to you he's 'fucking useless'. Dig ya brain out lad.
Matthew Williams
222
Posted 23/04/2017 at 11:28:42
Are the player's aware that in order to win future Cup Final's (a Blue can dream)...t hey won't be playing the game at home?
As for the Premier League... 7th-best sums us up!
Colin Glassar
223
Posted 23/04/2017 at 11:39:17
My thoughts on the match, Darren? Shit!
Brent Stephens
224
Posted 23/04/2017 at 12:09:35
"Take away his goals"! You couldn't write it.
Well, I suppose it's one way to strengthen an argument.
James Marshall
225
Posted 23/04/2017 at 12:14:58
Take away Manuel Neuer's arms and he'd be a terrible goalkeeper.
Brian Harrison
226
Posted 23/04/2017 at 12:20:50
Well you know its bad when Jonathon Pierce, who was commentating for MotD said they will struggle to find any highlights from this game. Poor performance, and no real reason why that should be, but thats football.
Someone yesterday put out a list of the points gained away from home by the top 7; no surprise we were miles behind the other 6. So, if we are to genuinely challenge for a top 4 spot, we need to change that statistic dramatically.
Stan Schofield
228
Posted 23/04/2017 at 12:35:41
Kevin @185: Ffs, are you at it again mate? There's clearly a problem with the away form, and Lukaku and Barkley are not the root cause of that. The home form has been very good, so there appears to be an issue with the team as a whole when away from Goodison Park.
This may be due partly to tactics, or it may be a mentality problem, or a combination of both, but whatever it is, it's not diwn to individual players taking the blame. Get a fucking grip.
Paul Tran
229
Posted 23/04/2017 at 12:38:52
I thought I'd digest yesterday's nonsense and watch the evening game before making any comments.
Jagielka and Williams played well.
Lookman looked bright when he came on, always looking ahead of him, he even had a good shot and set up Barkley so he could fart about instead of shooting.
Stekelenburg, like Robles last few weeks, showed that we need a decent keeper who dominates his box and inspires confidence.
Barkley and Mirallas again showed their inconsistency and the need for at least two quality attacking midfielders this summer.
Lukaku again showed that, if a big centre half dominates him in the first ten minutes, he goes into his shell.
I watched the semi final and marvelled at two midfields chock full of movement, pace, guile and an interest in goals.
This team will not get any higher until we get some guile and goal threat from the midfield. You can piss in the wind about Barkley, Mirallas and Deulofeu; none of them are consistent or disciplined enough to play to the consistent high level we need.
I'm not excited by Koeman. He's done what any half decent manager would do, make us more solid and harder to beat. Big deal. If he's going to make a real difference, he's going to find and gel two attacking midfielders and at least one decent striker. And a keeper and centre-half.
My jury is out. If you're already certain one way or the other, fair enough. For me it's about what he does in the summer.
Peter Roberts
230
Posted 23/04/2017 at 12:43:28
I've changed my mind about selling Lukaku. We need to keep him.
I was all up for the idea of selling him for the reputed 㿨m plus... but that is till I found out that we will be replacing him with Shane Long, Victor Anichebe, or Denis Stracqualursi. It's been repeated that many times that it must be happening.
As much as any one of those 3 players would have done twice as much as him yesterday I don't think they are the answer.
So as much as he's got the touch of an elephant, the attitude of a 13-year-
pld on an Asbo is sooner keep him than these other players we may have to buy with the 㿨m.
Some crazy kids may come on here and tell me that we could spend 㿅m on a couple of quality strikers who have all round games but I'm not having it after all – people have been telling anyone who criticises Rom's laziness and poor attitude that his replacement will be Stracqulaursi or Long.
Chris Leyland
232
Posted 23/04/2017 at 12:44:36
Sam Hoare – Yes, you might be right that we are 2nd in the home league table...oh and we have also scored the 2nd most number of goals at home this season... oh and we have the 2nd best goal difference at home too... and we might well only have lost once all season in the league at home too.
But clearly we have managed all these things whilst playing very, very poorly week-in & week-out at Goodison and it is massively fortunate that all these things seem to have happened by pure chance.
Raymond Fox
233
Posted 23/04/2017 at 12:58:50
The result in itself was not bad; it was the lack of creativity that was depressing. If we don't sell Barkley quick we'll end up getting two bob for him.
Just repeating the bloody obvious for the umpteen time, until we can match the top 6 teams players for quality, we are on a wing and a prayer each season.
Who in our squad would be a starter in the present top 6 sides?
Even Lukaku, 'our star' would struggle, Chelsea maybe, Man Utd maybe, Arsenal probably, Spurs doubtful, our neighbours probably, City doubtful.
The rest of our players apart from a fit Coleman, would have no chance of starting in the above teams.
Graham Mockford
234
Posted 23/04/2017 at 12:59:20
Darren
The whole point was you think we should sack Koeman now. I think that is ludicrous for a number of reasons.
He has only been here nine months which is nowhere near enough to make the improvements we need. He has improved the team to a level about where you would expect us to be given our comparative resources.
We are better defensively and have scored more goals than any Premier League season. The squad of players is stronger than 12 months ago by some distance. He has allowed some young players to develop.
We have been averaging two points a game for half a season. It would cost us another 㾸m and another manager has to start again.
Are we near Champions League football? no certainly not. Do I think with some good recruitment we could be in the next two seasons? Why not?
As I've said before, you may well be right in the long run, he may not make the progress required. But to have taken that view already is premature in the extreme.
Phil Sammon
235
Posted 23/04/2017 at 13:01:25
James (#225),
I'd still take him over Robles or Stekelenburg.
Terry Farrell
236
Posted 23/04/2017 at 13:12:07
We didn't get going. Ron did what he could to shake it up at half-time but we didn't really threaten.
Jagielka and Williams were very good. Mason played well but he is not a right back. Jonjoe Kenny is a natural fit in terms of style but I suppose he is untested at that level.
Rom didn't win a header against Collins and didn't get angry. He was happy to be bossed.
That stadium is impressive but it is not a football stadium. I was behind the dugouts so closer than most but still too far away. The West Ham fans have been stitched up.
Brent Stephens
237
Posted 23/04/2017 at 13:29:38
Graham, I'd add that, in replacing Koeman, you have the issue of his replacement. Who is better (track record at this level), and available, and willing to come to a team not yet in the top group in the Premier League?
Of course, we can all guess at the answers but at the moment it's a Sunday afternoon diversion as he ain't going anywhere (as far as I know).
Kevin Rowlands
238
Posted 23/04/2017 at 13:57:03
I have seen many posts on here claiming our biggest problem is in the final third... Hello! Guess who is a major part of that final third?
Please don't give me the excuse about he doesn't get the service, he's got 23 goals from that service. Yesterday, he gave the ball back to the opposition practically every time he received it, how frustrating is that for his teamates? It's infuriating. Don't forget, this is supposed to be the £100 million man!
Don't even get me started on his futile attempts to try and head the ball. He is the main reason we continue to struggle in the final third, because attack after attack breaks down when it comes to him. But hey, he scores a lot of goals, except in big games, so let's forget about the many faults he has on and off the field, and slag off the posters that point them out.
Stan Schofield
239
Posted 23/04/2017 at 14:13:18
Kevin, there is a big difference between home results and away results. Away from home, the overall performance of the team is lesser than at home. Are you criticising Lukaku with respect to our home games as well as our away games?
Ciarán McGlone
240
Posted 23/04/2017 at 14:23:31
Chris Leyland..
Do I detect a hint of sarcasm?
If so, can you explain to me why we bother watching and analysing these performances if all that matters is the end result? Surely, to improve, you need to analyse the actual performances?
Or is that just plain silly?
Colin Glassar
241
Posted 23/04/2017 at 14:24:34
Kevin, while I understand your angst towards Lukaku, even though I don't agree with you, but it looks (to me at least) that he will be here for another season so why don't you try and get behind him?
Mike Green
242
Posted 23/04/2017 at 14:34:13
I was chatting with a Man Utd fan in the week who's glad that Ibrahimovic is injured as he says they play much better as a team when he's not available. The reason for this, he says, is that, when he does play, everything has to go through him.
I think we have a similar problem. We have a lot of players with goals but only in the low numbers – Lukaku has 25, the next best are Barkley on 5, Mirallas and Coleman on 4 and then the numbers drop.
Chelsea have Costa on 17 and Hazard on 14. Spurs have Kane on 20, Alli on 16 and Son on 12. We need players like that who can add to Rom's numbers.
Kevin Rowlands is right – he gets plenty of the ball when he shows for it but more often than not loses it. No one would dispute how good he is when he's in on goal but we need to play to those strengths, and have someone when he's not free to step up and punish teams who are more interested in marking Rom out of the game.
Rom's very good at what he's very good at but we need more in the team to make up for his shortcomings.
Kevin Rowlands
243
Posted 23/04/2017 at 14:41:35
Stan, somebody who is supposedly world class and worth a £100 million should be able to perform home AND away. I understand a dip in form or the occasional poor game but with him it happens way to many times and almost always in big games against the better teams.
Colin, you mean like he gets behind the team, fans and club in his way too often press releases or conferences? No, I'll give that a miss, thank you.
Steve Foster
244
Posted 23/04/2017 at 14:50:08
It's clear that Koeman will need to radically change things if we need to move on.
If or rather when Rom goes, we have a massive hole to fill regardless on your view of his overall performances, namely goals, he has 24 next come Ross, Mirallas & Seamus with 4.
Everton's problem is that we lack a goal threat from the rest of the team. It's okay for defenders to chip in with 2 or 3 goals each but we need more from midfield & support strikers/wingers. Yesterday is a prime example.
Barkley is a key question over the summer, he is not likely to suddenly become the player that will score 10+ goals a season we need as a No 10. So do we sell or let him play a little deeper to give extra creativity.
I do not see any of the current squad filling the goals void either, Lookman and Calvert-Lewin have potential but that is all it is at present, our need is now.
As many have said both from within the club and on these forums, this transfer window is critical for the club if we are to move forward.
Let's just hope that we really do have the cash and more importantly, the ability to use it wisely I don't envy them the task!
Brian Wilkinson
245
Posted 23/04/2017 at 14:51:50
Colin @241, just to chip in on your post, as a fellow fan, I have tried to give Rom support, watched as his goal scoring improved, season after season thought okay will forgive Rom for the FA Cup semi final, one off in games he plays against the big teams. But, season after season when we need him, he goes missing in the big games, or games were we need to sneak a 1-0 win.
When Lukaku does play, everything goes through to him, whether this is hampering other players I do not know, most seem weary of not playing the perfect pass to him.
Up until this season, I have accepted his constant whinging of Champions League football, forgetting the very players we have, who have fed the guy goals to put him on course for the golden boot.
We all know the squad needs strengthening but weeks ago, with the season still going, he states he will not be signing his contract.
Why not wait until after the final league game and tell the club then instead of now,with matches still to play?
If we bring players in next season and Rom stays, the first hiccup we have and he will be wanting away again.
We could keep hold of the guy as we are entitled to; whether that will boost dressing room morale should we start poorly, God knows. My personal feeling, he has already made his mind up. Get what we can and bring in a striker who will do more than score goals, who will supply teammates, will run about in those big games, go looking for the ball if needed.
Colin Glassar
246
Posted 23/04/2017 at 15:57:20
Brian, I'm not going to try and refute your arguments (or Kevin's) against Rom. I think he'll stay as none of the clubs he wants to play for eg, Manchester clubs, the big three Italian clubs, the top two Spanish sides or Bayern Munich.
So who does that leave? Spurs aren't interested, Chelsea have other targets, Arsenal won't be in the Champions League, Liverpool? No chance. PSG might be his only way out but they haven't, apparently, shown any interest so far.
I think you're stuck with Rom for another 12 months, which is fine with me, btw.
Stan Schofield
247
Posted 23/04/2017 at 16:06:43
Kevin, I agree with you that he should be able to perform home and away, but clearly he isn't. He's performing well at home, but not away. This is the case with the team overall, as evidenced by the results.
We seem to be mediocre away, Koeman's tactics seem problematic away, Lukaku is clearly not performing well away, and other players like Barkley are doing similar.
So, yes, Lukaku has a problem away, but so do the team. Surely you're not putting the mediocre away form mainly at the door of Lukaku? And surely you're not criticising his home form? Or are you, that was my question?
Mike Powell
248
Posted 23/04/2017 at 16:09:01
So what most people are saying is that it's Barkley's fault that the whole team were crap. It's Barkley's fault that we never had one shot on target. It's Barkley's fault that we are crap away from home.
It must be Barkley's fault that my football bet went down. Unbelievable.
Darren Hind
249
Posted 23/04/2017 at 16:12:39
Moyes's wages - Est £26m
Although in fairness he did say everyone in football should volunteer to take a 20% pay cut - he just forgot to put his hand up and go first.
Support; overwhelming . Achievement : Nil.
Martinez's wages - Est £12m .
Although he did demonstrate the "feeling for the club" by taking us through the courts for his compo (£10m ? )
Support; overwhelming . Achievement; Nil.
Koeman wages £6m per year . . .for three seasons.
Although he has shown he is a loyal man at Southampton (not) and he is a big name who can "attract players" - just as long as nobody else bids for them.
Support; Overwhelming. Achiement; A better level of fuck all than Martinez brought.- Apparently
Three complete shysters. I don't know what their exact combined wages were but £70m would be in the right post code. All three served up shite and all have failed miserably to get a result at the ground of a club who have finished top four ... in fifteen years!!!
We as a club make these mercenaries the richest losers in sport. Moyes took the piss for years, Martinez didn't just take advantage of the naivety of our board, he took half the fucking fan base for a ride ... "Roberto had a dream" ... fuck me.
The writing is on the wall is in big fuck off bold letters. The current manager has repeatedly demonstrated that he lacks the necessary courage and nouse to take us forward. Yet once again I hear cries of "give him a fucking chance" "He's a big name who can attract big players" ... what, like Ashley Williams? Bolasie? Valencia? Stekelenburg? It may have escaped your notice, but the guy is struggling to hang onto the players he has now!
Moyes / Martinez? It's them again...
I'm resigned to the fact that we are going to have to waste another two years before we try again.
"Appointing from within is so last year..." Sigh
Jay Wood
250
Posted 23/04/2017 at 17:14:59
Ciaran @ 207
"Let's get away from this nonsense that we are brilliant at home. Yes, we've had a lot of good results there this year, but the performances have been less than impressive and the points tally at home glosses over what has been a fairly average season on the pitch."
I wholeheartedly agree that, in the main, performances have been less than impressive, be it home or away. It is hard to recall when Everton was 'at it' for the full 90 minutes in any one game this season.
And you know what, Ciaran? I find that hugely encouraging. Why? Because our home form is formidable, with a very impressive points tally, goal return and shut-outs.
Imagine what all those numbers would look like if and when the performances are even better than currently on offer?
And imagine if the current poor home performances as correctly labelled by you (a view I concur with) could be taken on the road and converted into similar away results?
Then imagine both home and away performances improving to a level you seemingly demand. Wouldn't that be something to behold and revel in?
Gavin Johnson
252
Posted 23/04/2017 at 17:25:04
Darren,
If you were chairman of Everton Football Club, you would never accept 2nd best. You are amongst esteemed men like Peter Swales, deadly Doug, and Massimo Cellino and would get through managers quicker than passing a dodgy vindaloo the morning after a night on the bevies.
Even these football legends wouldn't sack a manager who has lost 2 in 17 and, until a couple of weeks back, was the top of the Premier League for form in 2017. I doff my cap; nil satis nisi optimum.
Colin Glassar
253
Posted 23/04/2017 at 17:42:37
You know what, Darren? You're right up to a point. We have been taken for a ride by our managers but, I asked you earlier, who would you like as a manager? You've already declared Koeman null and void so who would you like to see replace him?
Brian Williams
254
Posted 23/04/2017 at 17:49:17
Darren (#249).
Who would you hire as manager, Darren?
Brian Wilkinson
255
Posted 23/04/2017 at 17:50:01
Colin, it does look like we may well have Lukaku if we do not shift on our price. When he is on top of his game he is unplayable, but from Day one when we gave him his chance, he has used Everton as a stepping stone. I cannot fault the guy for ambition, what he needs to do is show Everton every week, the player he thinks he is on the pitch and not just certain games.
If he wants to move then good luck to him, but keep bleating on and on through each season when the transfer windows are closed about wanting Champions League football is wearing thin and not helping.
Everton Football Club are bigger than Lukaku, those fans that turn up every away game are bigger than Lukaku. It's time he put aside his wanting a move until the season is over; I think Everton Football Club and it's fantastic supporters deserve at least that.
Brian Williams
256
Posted 23/04/2017 at 18:05:42
At work, a nurse approached me with a medical gadget with a sticky-note attached that said "Needs New Batteries". He pointed out that it would have been quicker to go to the cupboard, find batteries and replace them than to walk to the office for a note and write it out. He wanted to know the word for someone who would do that.
So what do we call someone who would rather point out a problem than find a solution?
What might their name be?
Raymond Fox
257
Posted 23/04/2017 at 18:15:42
While I'm not overly impressed with Koeman, why keep putting the blame at the managers door. A blind man can see our squad or first 11 don't measure up to the present top 6 sides players.
I don't care who our manager is, we are not a top 6 club more a top 10 team with this squad. Add any two of say de Bruyne, Sanchez, Hazard or De Gea to our team and now your talking... Problem is, as things stand, they won't sign for us which shoots that option down.
Same old, same old.
Bill Gall
258
Posted 23/04/2017 at 18:28:10
If we do loose Lukaku, that Benteke looks a reasonable replacement, he at least tries to put some effort in his game.
Colin Glassar
259
Posted 23/04/2017 at 18:33:13
I wholeheartedly agree, Brian, but most players will use us to get a move to their dream team (until we become one ourselves). Even the likes of Man Utd and Chelsea are prone to losing their biggest stars to the likes of Real Madrid and Barcelona.
Lukaku should keep his trap shut and let his boots do the talking. If we get an offer acceptable to us, he goes, simple as. Until that happens he is our player and we will have to suffer his Belgian interviews.
Ray, it's hard to accept but you're right, we don't have a top 6 squad – yet.
Brian Williams
260
Posted 23/04/2017 at 18:36:56
Think we should sack Koeman and bring in big Sam. He wins away against top four teams.

Darren Hind
261
Posted 23/04/2017 at 19:03:57
Brian Williams
What would you call somebody who thinks the problem IS the solution?
What might their name be?
Got a few suggestions if you get stuck.....
William Cartwright
262
Posted 23/04/2017 at 19:17:01
I think it is bleedin' obvious there is a vast difference between playing at home and playing away. Always has been and always will be. That's why the first out of the hat in the cup draw is so eagerly awaited.
The question is, how to address it. And so far, Koeman (who has done well overall so far) hasn't got to grips with that side of our game. The home team will always put the emphasis on attack. The away team will always put the emphasis on containment an counter-attack. Throw in all the other inconsistencies such as luck, refereeing, run of the ball, injuries, form, specific teams characteristics, bad day at the office syndrome etc., etc., and so on, and you start to get a picture of the challenge.
Koeman and his crew must apply their undoubted experience and skill and come up with the goods sooner rather than later. The problem must have an empirical solution just as the Anfield (away game) fiasco.

Brian Williams
263
Posted 23/04/2017 at 19:21:38
Haha, Darren, I knew you wouldn't be able to resist. But you STILL fail to put a name forward to replace Koeman.
Surely you must yourself get frustrated at constantly moaning and being super negative without ever suggesting how these problems might be addressed. Do you do it as some sort of cathartic cure for your apparent rage at, well everything Everton?
No doubt you'll come back at me and tell me how I'll settle for blah blah blah blah, ad nauseam.
For once, break the habit, go on try.
Who would YOU like to see instead of Koeman. Be constructive. You can slag me all you want in another thread and tell me how worthless I am as an Evertonian but, in reply to this, give me a name to replace Koeman and give us some reasoning behind the name because, if it's just to beat one of the top four at their ground once in a while, then why not Big Sam?
Go on, get over the rage and try, if you can.

Brian Wilkinson
264
Posted 23/04/2017 at 19:27:35
Colin @259 – spot on, I cannot fault that post.
Jay Harris
265
Posted 23/04/2017 at 19:34:25
For the record, I think Koeman has performed miracles.
He inherited a demotivated, disjointed, unfit squad of which the better players were from the Moyes days and obviously getting a bit up in years.
With a net spend of about not very much and some serious injury issues to key players, he has in a short space of time brought about a change that means the unbiased media consider us a threat to the so-called Sky 6 again.
Much as though I admire Unsy and what he has achieved with the Under-23s, I don't feel he is ready to manage the big personalities needed to break into the top 4.
When Koeman was appointed, I did have a preference for Emery but I feel Koeman has done an astounding job that will lay the foundation for a very successful future.
The good thing for me is that, unlike the Spanish bullshitter he calls it exactly how he sees it, and will not tolerate poor application.
So, Darren, there you are – pull that one to pieces.
Graham Mockford
266
Posted 23/04/2017 at 19:34:49
Darren (#249),
I'm struggling a bit with your logic, not uncommon to be fair but there you go.
What have previous managers got to do with Koeman? How is the performance of Moyes or Martinez in the slightest bit relevant?
Maybe you could have brought up Walter Smith or Mike Walker. Fuck it – what about that Gordon Lee fella.
"The current manager has repeatedly demonstrated that he lacks the necessary courage and nouse to take us forward." Well that's not quite true is it Darren. We have lost 2 games in 17. We have however repeatedly won 8 home games. We have repeatedly kept clean sheets, 13 this season as it happens.
All this blather about 'courage' is just that, blather. He called it yesterday about right, we were rubbish. And it's not the first time but, guess what, that's what happens. You judge it in the round.
If we are still 7th next season on 60 or so points then it's no progress. But this year it represents progress.
You have painted yourself into a corner as far as Koeman is concerned. Anyone calling for a manager to be sacked who has gone half a season in his first year averaging two points a game lacks nouse (sic) as far as I see it.

Brian Wilkinson
267
Posted 23/04/2017 at 19:35:23
William @262, we follow the great Howard Kendall's example in the eighties. Play the same away as you do home; let the opponents change their formation and not us.
If you can play so good at home, why change it away? It's the same playing field, different surroundings... but still grass they are playing on with the same team mates alongside them.
Belief and a bit more adventure will be enough, stick to the same style playing away as home.
Dave Ganley
268
Posted 23/04/2017 at 19:37:06
Darren actually wants David Unsworth as the next manager. It's completely subjective as to how he would do as he is untried bar that last game of the season last year.
To be honest, I'm not sure how well any manager would do with the players we have. I think Koeman has done a pretty reasonable job up to now. Has it been great? No – but it's a big improvement on our last manager.
We would all like instant success but, after the mess our former manager made of the club, it's going to take a bit longer than 9 months to get the team he wants with the right attitude. A lot of our players just don't have the right attitude. The older ones like Jags and Bainsey and Coleman do, they will actually put the effort in week after week.
Sometimes, like all 3 of those players have encountered, players go through poor form but you could never doubt their commitment and say they are just going through the motions. Barkley, Lukaku, Mirallas, Deulofeu all play when they can be bothered.
I'm sure they will say that they put it maximum effort every week but imo they don't. They coast and play when it suits. It's all very well for posters to continually make excuses for them, especially Barkley and Lukaku, but if you want to be the creator or the self styled superstar then you have to make sure that your effort and attitude is beyond reproach. You have to turn up every week not just when it suits or at home where you are idolised.
Barkley and Lukaku aren't rubbish as some suggest. They are just not as good as some would have us believe. They are not the answer to our problems. Neither perform when it matters. For those just content to blame Koeman for away performances then look at the team that started yesterday. Wasn't it pretty much the same as has started home games recently?
Now maybe Koeman has asked them to be slightly more cautious away from home but you're not telling me that he tells them to completely go into their shells, not be able to pass a ball, not to have a shot on target, tell your main striker, a big hulking 6 foot plus man to get bullied by any old shite defender and stand there and wave your arms about, not to tackle, allow the opposition to take control ffs the players are just not good enough or consistent enough.
Maybe it is unfair to point the finger at Barkley and Lukaku but they are the stars. They are the ones you look to, to do something different. They are the ones that the more limited members of the team look to to be inspired. That's what good players do.
Say what you like about slippy G but he could drag that RS team kicking and screaming into a game. You don't need to look any further than the 2005 CL final. Who have we got that could even remotely do that? Absolutely no one. Lukaku is all about Lukaku, Barkley, I fear will just never be top class. They have their moments but will never, imo, be able to consistently delivering when it matters on a regular basis.
The side Koeman put out at the RS was considered brave by many, with hindsight misguided, but the experienced players again went missing. Barkley and Lukaku may as well have not been there. Same at OT when between them they managed to fuck up opportunities to put that game to bed. Semi final last year, Lukaku completely fucked up again. Barkley crying in the tunnel at half time, ffs grow a pair.
This is why we are 7th Darren, not due to Koeman being incompetent, but solely down to the players just not being good enough and the so called star players actually not being such star players. Not having anybody to call on to inspire the team and lead by example, having players who lose their bottle on the big stage and away from home, just not being good enough on the field.
Koeman has started the cull and I would expect more to leave in the summer. He can't just get a new team in, it has to be done gradually. He may not be the answer, we will have to wait and see over the next couple of years but it sure is way too early to judge with the squad he inherited after a short 9 months.
Being the best of the rest is probably about right at the moment. The fact that until the players lost their bottle at Anfield and Old Trafford we were still in with a chance of breaking into the top 6 is a testament to how well he has done with those limited players.
Brent Stephens
269
Posted 23/04/2017 at 19:40:21
Come on, Darren. You've had the invite. Give us a name. No good having a solution (get rid of Koeman) unless you've got the solution (the repalcement).
Andrew Clare
270
Posted 23/04/2017 at 19:42:21
Spot on, Dave.
Darren Hind
271
Posted 23/04/2017 at 19:44:24
Brian Williams and little sir Echo
What is it going to take? Morse code? Semaphore? Hieroglyphics?
How many ways can you make your point before you have to accept the person you are talking to can't or won't hear what you are saying?
If you don't understand the point ,WTF are you doing contesting it?
I offer an alternative, but you are so busy disagreeing you don't know who it is.
You have two choices: read the posts before you charge in with your daft challenges, or continue to embarrass yourself.
John Daley
272
Posted 23/04/2017 at 19:47:44
"So what do we call someone who would rather point out a problem than find a solution? What might their name be?"
A puzzler for sure, but I'm pretty sure it's a different name entirely to the one on the fucking paycheque from Everton FC.
Since when was it in the remit of a fan to formulate a solution to poor performances and even if such a problem solving, non-financially incentivised, individual hit upon a 'eureka' moment, how could they even begin to put their 'big idea' into motion?
Just get on the blower to Moshiri?
Commission the Jim Henson Workshop to come up with some well convincing Koeman full body prosthetics, go to sleep listening to 'The Soothing Seashore Sounds of Steve McClaren' (six hours of "Shhhhh... Shhhhh... Shhhhh... shorry can't do sheagull shounds... Shhhhhh... Shhhhh... der-der-derderdun-dun-dun-dun... Guyshhhh, that was an ice cream van playing 'Greenshhhhleeves... Shhhhhh") to perfect the 'Dutch accent', stalk the real gaffer around the golf course and snatch him up while he's berating some arl granddad for his bollocks backswing, before bouncing (okay, 'marching'; don't want to give the game away from the get go) into the away dressing room and announcing, "Boys, this week we're going to be doing something completely different"?

Brent Stephens
273
Posted 23/04/2017 at 19:51:50
So, Unsworth it is.
Darren Hind
274
Posted 23/04/2017 at 19:55:48
The penny always drops... eventually.
Chris Gould
275
Posted 23/04/2017 at 20:01:01
Unsworth as manager? Do you mean in the future after he has gained real managerial experience, performed very well, and earned respect? Surely you don't mean now?
We already struggle to attract top players with Koeman (respected all over the world!). Most players wouldn't even have heard of him as a player, let alone a coach or manager.
Man City's net spend in the previous 2 summers is bigger than ours throughout the entire history of the Premier League. We are a long way behind and have a lot of catching up to do.
You cannot dismiss how much money the teams above us have spent. Why does anyone expect us to be above those teams? Unless we buy better players than them, why would we be better than them next season?
Who is the miracle manager that can make that happen? Guardiola and Mourinho are supposed to be two of the best in the world. Man City and Man Utd are more attractive clubs than us. They have outspent us/Koeman massively... and yet some feel we should be higher than them?
7th is where we should be and after the previous 2 seasons, I am grateful to Koeman for getting us there.
Next season I hope we can challenge those above us, but I don't 'expect' us to be ahead of them. What are Moshiri and Walsh going to do that their equivalent in the top 6 can't?
Hope and dream, but be rational. It's going to take a few seasons. We are Spurs 5 years ago.
In saying that, Jay's post at 250 was very rousing.
Brent Stephens
276
Posted 23/04/2017 at 20:03:09
Unsworth! Snort! Well proven at Premier League level? My arse!
Kevin Tully
277
Posted 23/04/2017 at 20:08:58
There is a 'new order' in the Premier League – the much feted 'top 6' which has made for grim viewing every time that mini-league is shown on every single graphic we are treated to by Sky.
The days of Moyes along with Bolton & Villa being our main rivals are long gone. The League has developed at a frightening pace, and we are struggling to keep up. Just as Martinez demonstrated, if the players are not 100% behind the manager, you can sink like a stone. Look at Mourinho and Chelsea.
You are on a certain winner slating any Everton manager, the odds are 1/20 he won't be able to take us to the promised land.
Brian Williams
278
Posted 23/04/2017 at 20:14:29
John. If that's a quote from my post I see I should have put "suggest" a solution.
Suggest a solution as an alternative manager to Koeman. Suggest it merely on here, not to the club, suggest it as an alternative to merely ranting about how bad the present manager is.
At the end of the day, John, constantly berating the present manager amounts to no more than letting off steam. It's merely moaning in public.
Some of us come on here to swap ideas, to comment on all things Everton, and sometimes to listen to the views of others and maybe agree with some of them and disagree with others.
It's not anyone's remit as such, but it makes for more interesting interaction than a constant diatribe of "He's a coward, he's shite, he's not got any nous, etc etc"
Far better, surely, "He's shite, and I think (insert name of alternative here) would do a much better job because... etc etc.
Brian Williams
279
Posted 23/04/2017 at 20:22:52
Darren. It wasn't that I didn't understand your point. It's just that I'd never read your post that suggested Unsworth as an alternative to Koeman.
I must admit I didn't want to trawl through all your posts to see if you had actually named someone because I'd read enough of them to be honest.
I apologize for the oversight on my part but I just couldn't face it.
So Unsworth it is! He's done a great job with the Under-23s.
Gavin Johnson
280
Posted 23/04/2017 at 20:39:53
David Unsworth might be a candidate in the future once we've achieved some level of success and players see us as a top 6 side who can challenge for the title. But at the moment he would be a ridiculous appointment.
Ronald Koeman was hand picked by Moshiri because he wanted a manager who is known in world football. Moshiri knows we need to raise our profile in the game and he recruited accordingly. How could we escape the poor relations tag with a nobody manager like Unsworth?!
The RS and Manc clubs all have name managers now – Guardiola, Mourinho, Klopp and Koeman reads a lot better than when Unsworth is in the sequence...
Darren, you accused others of being like wide-eyed 8-year-olds on this thread, but you need to catch yourself on there. You're being very naïve and child like to think David Unsworth would break us through the glass ceiling in today's game. Maybe in the 80s and 90s but we're a world away from those times.

Kevin Rowlands
281
Posted 23/04/2017 at 20:42:49
Darren, have to disagree with you about Koeman. If Moyes can get eleven years, Martinez three, surely Koeman should get more than one.
I'd rather judge after the summer transfer window and see what next season brings.
Andy Crooks
282
Posted 23/04/2017 at 20:49:05
Darren (#249), that is a good post, indeed hard to argue with. Also, I often argued during the later Moyes and Martinez years that opposing the coach did not require one to name an alternative.
However, in my view it comes down to this: How long do you give a coach? I think you have had it in for Koeman since day one. Fair enough, I felt that about Martinez. But... do you honestly believe that now is time to judge? Surely you can have the patience to give it till next Christmas at least.
I understand that short-termism is life at the moment but you are an Evertonian and as such, patience, tolerance and... well more patience should be part of your DNA by now.
Koeman is it, for now. In my opinion he is the right man. I believe he will bring us success but when turgid shite is served up, like yesterday, when coaching shite is demonstrated, as in the derby, I will not come on here and excuse it.
Also, I think comparing what Koeman earns to what Unsworth might have earned is irrelevant.
Stan Schofield
283
Posted 23/04/2017 at 21:01:35
There was a bloke walking his dog. It was an old dog, struggling along with arthritic joints, not being able to enjoy the walks like when he was younger and agile.
The bloke notices what looks like an oil lamp discarded in the gutter. He picks it up, and starts wiping the dirt off it. A genie pops out of the lamp, and says the usual things that lamp genies say, giving the bloke one wish.
The bloke explains about the dog, says he loves his dog, and tells the genie his wish, that his dog be restored to his past youthful vigour. The genie looks at the dog, shakes his head, and explains that this task is too much even for his considerable powers. He asks the bloke to choose a different wish.
The bloke tells the genie he's an Evertonian, and that he and his fellow Blues on ToffeeWeb have been trying to fathom a problem that their team is having. He explains about how good the home form has been, and how mediocre the away form has been, and that nobody on ToffeeWeb, or the Everton manager, has identified a solution to this problem.
He says to the genie that this is his new wish, that the genie identify a way of making Everton's away form as good as the home form. The genie looks thoughtful, rubs his chin, and says, "Let's have another look at that dog".
Kevin Rowlands
284
Posted 23/04/2017 at 21:08:52
Witty Stan, any chance of the genie being able to get Rom to trap or head a ball or is that asking way too much?
Don Alexander
285
Posted 23/04/2017 at 21:10:19
Facts, rather than mere opinion, that seem to have escaped our Darren;
Koeman was selected by Mr Moshiri, whereas Moyes and Martinez were the anointed ones of Boys Pen Bill.
Mr Moshiri has mega-cash personally and a track record of success in acquiring it, unlike BPB.
He has also gone very far down the road to securing a site for a new stadium, which BPB wasn't able to do.
He has, or it seems he will obtain, funds to build it, unlike BPB who was daunted by 㾾mill.
The removal of that phenomenal Spanish clown occurred immediately after he bought in. Very quickly thereafter players nobody rated were moved out too.
New players were signed but he expressed his dissatisfaction, as did Koeman, about the disappointing reach of that recruitment. That strongly suggests no such lassitude this summer and a lengthy rest on a beach instead, I pray, for BPB and Elstone.
Something significantly better has happened this year than in the past two seasons. We're seventh, an improvement, despite the inadequate signings Darren alone seems to identify. But if he's right in decrying them, what else might have improved us given that Koeman is also, according to Hind-sight, pants? And although it's only 7th it's en route to 6th, 5th, 4th and so on, which is the path the teams above us took.
I'm not expecting an answer from Darren because even naming a potential to Koeman seems a task too far for him but, if he is truly claiming to have the insight of a sage maybe he can add it to his "onion-ness" ('cause he makes me cry – laughing) and perhaps give me and the other deluded fans a good stuffing.
Brent Stephens
286
Posted 23/04/2017 at 21:12:00
That's asking way too much, Kevin! How about he gets him to head the ball?! Nah.
Brian Wilkinson
287
Posted 23/04/2017 at 21:13:19
In defence of Koeman, we really screwed up in the transfer window which did not help him one bit.
On that basis, I see no need yet to change the manager, let's see what targets come in in the Summer, the squad was unfit and took a while to get back up to speed last Summer.
Let's judge Koeman next season, he has a full summer to get the squad fit and bring in players, for me too early to even think about changing the manager.
He was left with an unfit squad, he's got rid of a lot of the deadwood, once we strengthen in the Summer, that will be the time to judge Ronnie next season, for me he's doing the right things and trying to rebuild the shambles Martinez left us.
John Daley
288
Posted 23/04/2017 at 21:13:36
"
For the record I think Koeman has performed miracles."
Miracles? There was me thinking Phil ('Pip', 'Fizzer', 'Floaty Fanny Pass') Neville went a bit over the top when he described Koeman as "the signing of the season". If we finish 7th, then I think he's basically done about as well as was expected. No better, no worse.
People were constantly claiming throughout the last 18 months of Martinez's time that he was a weak, badly underachieving, washing-powder, ball-brained, bumble-fuck and simply having someone competent at the helm would go a hell of a long way towards sorting shit out straight away.
Koeman has been nothing if not...competent.
He hasn't done anything revolutionary. His signings have been largely unimaginative/uninspiring. He went back to basics, tightened things up and instilled more of a work ethic. We look much more of a team now, rather than the motley rabble we were.
Confidence at home has been well and truly uncorked, but attempts to prise it out away have been hampered by an overly cautious hand and a bemused look of 'stubborn bastard's stuck and is just not having it'.
If I had to grade him here and now, I would give him a '6 out of 10'.
No 'miracles' whatsoever, but a solid if unspectacular start and something to build on going forward.
John Daley
289
Posted 23/04/2017 at 21:22:55
Brian @278,
Isn't it a bit of a meaningless, circuitous routine that has been run through many times before? The names might change as the years go by, but that's about all. Throwing a name into the mix doesn't prove anything or add anymore weight to words of criticism. 
Someone proffers a name, some say "Cor yeah, he's class", others "Nah, he's about as welcome round these parts as nob cheese". If it is a manager with a proven track record of success, someone will pipe up with "Well, why would he come to 'little old Everton?" If he's 'unproven', he hasn't got 'the pedigree'Â or put in the miles to be handed the keys to a "massive club like Everton".
You could make a case for almost any manager in the world who hasn't yet tainted their reputation beyond repair, but there's absolutely no way of knowing for sure whether such a suggestion would prove to be shrewd or shit-spewed without it ever transcending the realms of the hypothetical and becoming reality. 
Stan Schofield
290
Posted 23/04/2017 at 21:26:13
Kevin@284: Once the bloke had alerted the genie to ToffeeWeb, the genie had a look at all the past posts to do with Rom. As a result, he's got Rom to practice trapping bags of cement.
Brian Williams
291
Posted 23/04/2017 at 21:33:32
John (#289),
You're right mate, on all counts there. To be honest I was just genuinely interested to know who Darren's alternative was as I really hadn't seen any posts mentioning Unsy.
For what it's worth, I believe we have made progress under Koeman. An increase of four league places may not be the instant meteoric rise some naively, in my opinion, expected but if we improve by half as much next season and then half as much again then it's job done for Koeman.
I think we all accept that to get us from 11th to 4th in one season isn't realistic really.
Paul Tran
292
Posted 23/04/2017 at 21:34:51
John Daley (#288) – you've nailed it for me.
John Daley
293
Posted 23/04/2017 at 21:40:18
Even Djinns have got a downer on the blues now, Stan?
One wish, of a variety no more magical than the confines of modern veterinary science may merit? What a jip.
Everyone else in the world walks away with three wishes.
Unless you rub one out in full red shite regalia and then you probably receive four.
Mike Gaynes
294
Posted 23/04/2017 at 21:45:47
And just when we needed a reminder of what truly great footy can be...
What a Classico. Hope everybody stayed up and watched that. Magnificent.
Bill Gall
295
Posted 23/04/2017 at 21:49:11
Personally I don't think Koeman is doing a bad job considering what he was left with from the previous regime. As far as I can see, he was brought in by Moshiri to bring stability to the 1st team and start a rebuilding of the playing side of the club.
The only experience he had with Everton was to get a result with his previous team. Until he was brought in (I think July) he had not worked with any of the players or backroom staff, so he started off more or less with a clean slate.
We are now in 7th place, most probably in Europe, with a new owner, project for a new ground and only a few more games to go. To judge him after less than one season is to me reverting to panic firing when you are struggling against relegation.
Finishing in 7th place this season he has made, as the saying goes, a rod for his own back. Let's see how he prepares for next season, how he handles players who say they want to leave, who he brings in to either replace them or provide quality support so they decide to stay, and how we do in the domestic cups and Europe, to see if the improvements we have gained this season continue.
Note, Man City signed one of the supposed premier managers in Europe, have ownership that are worth 10 times the wealth of our new owner yet he hasn't exactly set the league on fire.
Question: Who do the people who think Koeman should be fired think we must replace him with? And do you think he will leave his present club if we ask?
Brent Stephens
296
Posted 23/04/2017 at 21:51:35
Mike. Real Madrid vs Barca. Great game. Not just the skill levels but the speed at which it's played.
Kevin Rowlands
297
Posted 23/04/2017 at 21:57:50
Haha, like it, Stan. Personally I'm mailing in the Lukaku comments, yes I know again, till the season and transfer window is done. I actually did lay off him for a while but his gobbing off proved too much for me to turn a blind eye.
Now we want to talk proper world class, just watched the greatest that ever played imho win El Classico, the man is a pure pleasure to watch.
Dave Abrahams
298
Posted 23/04/2017 at 21:57:59
Mike (#294) that is what football was meant to be like, not a defensive thought in either team's heads – all out attacking football it could been 5-5 or 6-5 to either team.
It was a feast of football for everyone who watched it with heartbreak for the Real fans at the death... slightly different to the boring efforts of yesterday's game at West Ham.
Ian Hollingworth
299
Posted 23/04/2017 at 21:58:05
Real Madrid v Barca – very depressing as the thing that struck me most was that we do not have a single player who would get in either squad, never mind team, yet any of the players on show would vastly improve our team.
We really do have a long way to go.
Ian McDowell
300
Posted 23/04/2017 at 22:03:46
Just watched the El Classico. What a game. The first touch, speed and accuracy of passing is light years ahead of what we see every week in England.
Andy Meighan
301
Posted 23/04/2017 at 22:07:46
Ian (#299),
Well, Lukaku certainly thinks he's good enough to play for Barca or Real Madrid, doesn't he. Obviously we know different.
Right... let's see which one comes in for him first in the summer
Shane Corcoran
302
Posted 23/04/2017 at 22:08:49
Brilliant Classico.
Messi decided he really wanted to play tonight.
Looked like they'd blown it but the wee man is far from finished.
22 red cards for Ramos according to the deplorable Palmer and Armstrong on commentary. Gerry is thee worst co-commentator of all time.
Mike Gaynes
303
Posted 23/04/2017 at 22:11:38
Ian (#299), don't be too depressed. There are maybe five or six players in the entire Premier League who would be good enough to be on that field tonight. It's a different world.
Just celebrate the incredible wonder of a game like that and don't get too tangled up in comparisons.
Brian Williams
304
Posted 23/04/2017 at 22:14:36
Mike (#303).
Good point. Anyone getting depressed that we're not THAT good should come back down to earth. Next to nobody is that good.
It's like watching a Cameron Diaz movie then glancing along the couch and gettin' all upset.
Dean Adams
305
Posted 23/04/2017 at 22:14:52
Mike, wise words. Even Messi has his off days!!
Colin Glassar
306
Posted 23/04/2017 at 22:33:16
I like Unsy. Unsy is a good lad, a true Blue if you like. But, Unsy is miles off being our next manager. He's doing a great job with the lids so let him keep on doing his job and stop expecting him to become the next Messiah. He's not.
Brian Williams
307
Posted 23/04/2017 at 22:36:18
You're right Colin. He's not the Messiah... he's a very naughty boy!
Brian Wilkinson
308
Posted 23/04/2017 at 22:46:45
It's fair to say with still having a slim chance of finishing higher than 7th and avoiding having to play earlier in the Europa League, Ronnie's hands are tied in giving the likes of Walsh and Kenny a run out, otherwise I think those guys would have been given a run out earlier.
He is sticking with who he knows but, once our finishing order is clearer, I am sure they will get a run out.
Mike Gaynes
309
Posted 23/04/2017 at 22:49:54
Dean, I'm sure he does. I've just never seen him have one on the pitch.
To my mind he's now firmly established as #2 of all time. Better than Maradona. Better than CR7 or Zidane or Cruyff. Behind only Pele.
Immortal.
Dan Davies
310
Posted 23/04/2017 at 22:58:31
I like Unsworth. He's doing a good job where he is.
If he wants to manage the first team he needs to get out of his comfort zone and prove it somewhere else before he's considered for the main job.
Just saying. No offence meant.
Tony Hill
311
Posted 23/04/2017 at 23:00:00
Well, Mike, he's the most consistently excellent club player I've seen - though I thought he had a poor one the other night against Juventus, actually.
The usual criticism is that he hasn't done it in the World Cup. I suppose that has to be acknowledged. I would agree with your view, though – he defies the law of averages.
Dave Abrahams
312
Posted 23/04/2017 at 23:08:05
Brian (#308), I don't know how well Jonjoe Kenny and Liam Walsh would have played yesterday but I know they would love the chance to get on the field and play for Everton. I would guarantee they would have put a lot more effort into their game than most did versus WHU, a lot more effort.
Stan Schofield
313
Posted 23/04/2017 at 23:13:36
Mike (#309): He reminds me of George Best. I always considered Best the finest player I've ever seen, even including Pele. For pure pleasure of seeing an elegant footballer though, I would choose Zidane.
I suppose it's all subjective at the end of the day. The trio of Messi, Suarez and Neymar is the best strike combo I've seen.
We've come (down!) a long way from the days when we could say we had arguably the finest midfield in the world. I still think about what might have been if Ball, Harvey and Kendall had been England's midfield, and particularly the spectacle of them against Gerson, Rivelino and Clodoaldo. That would have been something to behold.
Jon Cox
314
Posted 23/04/2017 at 23:19:40
Brian (#307), if Koeman doesn't improve our away form next season, then we'll have to get the "Centurwian to fwoe him to the gwound".
Mike Gaynes
315
Posted 23/04/2017 at 23:24:58
Tony (#311), that's why Pele will always be #1 overall. Three World Cups and 77 in 92 for Brazil.
But I agree that Messi is possibly the best ever at club level.
Mike Gaynes
316
Posted 23/04/2017 at 23:30:33
Dave (#312), considering they had both played 90 minutes the night before, I would be a bit skeptical of their ability to contribute.
But I do get your point.
Brian Williams
317
Posted 23/04/2017 at 23:31:01
Jon (#314).
Woughly to the gwound.
Dave Abrahams
318
Posted 23/04/2017 at 23:50:31
Mike (#316) I wasn't talking about playing on Saturday but a game before the end of this season; I knew they had both played on Friday night.
Nicholas Ryan
319
Posted 23/04/2017 at 00:00:57
Just seen the Liverpool - Palace game on MotD. On the evidence of that game – and I stress, on the evidence of THAT game – what about Lukaku out and Benteke in?!
Gordon Crawford
320
Posted 24/04/2017 at 00:25:11
Benteke is a one-match wonder. I'd rather have Naismith back.
Craig Fletcher
321
Posted 24/04/2017 at 00:32:58
John Daley (#288) I think that assessment may be a bit harsh.
I certainly don't think Koeman has performed "miracles" by any stretch of the imagination, but, based purely on results if not where we have ended up on the table, it has been a better-than-average season in my estimation.
On the face of it, 7th place (where we are going to likely end up) is no great shakes, but if we we end up somewhere around 65 points (if we can get a couple of wins out of the last four games, a reasonable assumption) it must be remembered that pre-Martinez that figure was our highest-ever Premier League points season tally.
In 2007-08 65 points was enough for 5th place... and comfortably five points clear of Aston Villa in 6th. Much like 2013-14 when we got 72 points in Roberto's first season, we've been as much undone by how increasingly un-competitive the premier league is becoming, and how the gap between the new "top six" (or "top seven" if you want to include us) and the bottom ten or so clubs is widening.
This season WBA has just 44 points, only four points above what is perceived to be the minimum amount required to stay in the premier league, and yet – a month before the end of the season – they are in eighth place! Quite an incredible statistic which highlights just how difficult it is for the bottom half of the league to stay competitive with the top half.
Generally 75 points is good enough for Champions League football in any season, so we're not really that far off. And if a place good enough for European football at season's end had been offered to Evertonians at the start of this season, I think most would have taken that as a successful first season under Koeman.
John Pierce
322
Posted 24/04/2017 at 00:50:08
John Daley. A rating for Koeman?
It's there staring us in the face – 7/20 .
John Pierce
323
Posted 24/04/2017 at 01:09:42
Nick 319, it's decent shout. Benteke.
No doubt the fella can bring others into play. But he is almost a mobile as Rom, similar work ethic and gets most of his goals from crosses and high balls, not one Ronko would pick me thinks?
John Daley
324
Posted 24/04/2017 at 01:24:20
Craig,
I agree. My post now appears a little too harsh on...err...Roberto.
My original description of him was a "weak, badly underachieving, washing powder ball brained, bumble fuck" ('washing powder ball' being one of these light-weight, tossed about all over the shop, unable to keep their head above water, thingymabobs:
Link)
Now, after Michael or Lyndon's edit, it appears as though I'm not only claiming Roberto was weak and underachieved massively, but that he also had gonads for grey matter and (worst of all) he was "washing-powder".
"Oy, Martinez!! Washing Powder you were mate. Proper washing powder. Not Persil neither. The cheap shit that gives you chemical burns and makes your best clothes smell like the Bingo!"
Washing powder? Even I don't know what that particular 'insult' is meant to mean ("What I think you must have meant John, was that he started out all Bold, before he wet himself and began frothing uncontrollably. Right?")
Michael Kenrick
325
Posted 24/04/2017 at 01:38:38
Don (#285), when you reminisce in glowing terms about the arrival of Farhad Moshiri, your calendar app appears to develop a bit of a glitch:
"The removal of that phenomenal Spanish clown occurred immediately after he bought in."
Er no it didn't. Wish it had. It took three painful months – during which we endured a run of 10 horrible games where we only won once – while Moshiri no doubt had to argue the toss with Boys Pen Billy to finally and reluctantly get him to see sense before the final game of the season.
Very quickly thereafter players nobody rated were moved out too.
Er... no. Firstly, it took almost two months to get Koeman in. Remember how reluctant he was? Then, Pienaar, Hibbert and Osman were already gone (remember the 'shock' of their departures?), and he didn't want to pre-judge too many of the players he didn't know, but it was too late to make any impression on Stones, while he did make snap decisions on the likes of Niasse, Garbutt, McAleny and Tarashaj pretty quickly. But the real culling did not happen until January of this year... almost 12 months after Moshiri bought in.
On the whole... things have happened just far too slow. Too slow kicking Martinez out of the club; too slow getting his "hand-picked" choice, Koeman, established and functional. Far too slow acting in the transfer window to strengthen the squad... leading to the highly embarrassing Sissoko fiasco.
John Pierce
326
Posted 24/04/2017 at 01:39:49
We are 9/10 months into Koeman's crusade. Plenty of lines typed in defense and for the cause on here.
My bent, is towards an early bath for Ronko, but I haven't closed the door on him totally. He has earned a second season at the helm. By that he gets to start the season in charge.
Question is now as the tenure of managers gets shorter in general, my patience has worn thin on several occasions after decades of expectations being lowered to that of a snakes belly. Has the tenure of an Everton manager changed in step with today's market?
Do we think based on Moshiri's investment, and moves to date he will be patient or with a big summer planned expect Everton to win something, finish in the top 6? If that seems in jeopardy will he give the manager the push?
Given the Everton manager will have a fuck load of treasure to spend, the biggest in the clubs history if we swallow the propaganda, bring its own scrutiny?
Michael Kenrick
Editorial Team
327
Posted 24/04/2017 at 02:16:50
What can I say, John... hyphens! Compound adjectival thingies like that need hyphens!
So... the object is a "washing-powder ball" (ours comes in liquid form, in this soggy soft scrotal sack that starts leaking as soon as you look at it). As a descriptive of 'brain', you would need two hyphens, viz, "washing-powder-ball brained".
But you then compounded it even more... making the whole thing a qualifier of 'bumble-fuck'. Jaysus... even the hyphens don't cut it at that point: "washing-powder-ball-brained bumble-fuck"... I think you are at this point flying in the face of acceptable sentence structure and should be strongly punished.
Darren Hind
328
Posted 24/04/2017 at 03:19:07
Gavin
No I didn't accuse others of seeing the game like eight-year-olds. I accused you.
At no point did I ever claim Unsworth would break us through the glass ceiling. That's just you constructing yet another strawman argument.
I am saying that (for a fraction of the cost) he would have done at least as well as Koeman.
I Am saying that he is a more adventurous manager and would have a real go at winning .
I am saying that he would be here because he wants to be – not because the club is paying him £6m a year.
I am saying that claims that a man needs to go and serve an eight-year apprenticeship at somewhere are stupid and ill-informed. "Coz its not the eighties, you know" – Wonderful reasoning btw.
I am saying that any success we have achieved in the past million years has been achieved by appointing a card-carrying Evertonian.
I am saying that the policy of bringing in managers from different countries has failed for so long and proven so costly, that perhaps it may be worth considering going back to what made us successful...
Oh and I am saying that you don't need to wait until your house is completely burned to the ground before you call the fire brigade. Koeman will not change. The miserable excuse for football witnessed at just about every ground in the Premier League will be here as long as he is.
The suggestion that he will "attract big names" would be funny if it wasn't so ridiculous. Can you really imagine a young lad with the world at his feet chomping at the bit to sign for this charmless character? The only thing which will bring players into this club is money. Today's young players don't give a flying fuck who Koeman played for back in the day.
I remember clearly how you stayed devoted to Martinez even when everyone else knew the game was up. I still cringe today when I think about the insults you spewed at those who dared to suggest he was a con man. I certainly wont be losing any sleep over your little digs today.
John Daley
329
Posted 24/04/2017 at 03:31:35
"..hyphens! Compound adjectival thingies like that need hyphens!"
As the tubby tatty bushed bandido from 'The Treasure Of The Sierra Madre' might futilely try and justify it: "Pffft! Hyphens? We don't need no steenking hyphens (not unless we want our sentence to look like a load of stuttery Scatman lyrics stretching out in front of us)"
"...hyphens...Compound adjectival thingies...hyphens...As a descriptive of 'brain', you would need two hyphens, viz...a qualifier of 'bumble-fuck'...flying in the face of acceptable sentence structure and should be strongly punished."
As far as 'scrape-your-jaw-off-the-floor, sting-in-the-tail, shock-twist, surprise reveals' go (too much?), the sudden 'standing up' of the real John Wilson will surely take some beating. 
Say it isn't so, Michael! Say it isn't so!!!!
Alan J Thompson
330
Posted 24/04/2017 at 05:41:22
Gavin Johnson (#280); Please don't take this the wrong way as I do agree that Koeman has to be given at least one more season and probably more. However, his tinkering with a back three, in away games a defensive midfielder dropping into or permanently in front of the back four and playing overlapping fullbacks/wing halves but no recognized winger does start me wondering.
However, when I read your #280, and I know it wasn't meant, it made me smile. A hand-picked manager, known in world football, in order to raise our profile. And where did we go? Southampton.
Tony Abrahams
332
Posted 24/04/2017 at 07:52:09
That's your best ever post Mike, bringing up El Classico! Isn't that what football is all about? Speed, skill, movement, and we want 𧴜 million, for a centre-forward who can't trap a bag of cement!
Dave Ganley
333
Posted 24/04/2017 at 09:08:19
Some seem to think we have a squad of world beaters at our disposal. Get rid of Koeman, he's not good enough, too defensive away, tactically naive, only done okay.
Sorry but the players deserve the lions share of responsibility for the shite served up away from home. I'm not going to go into all the reasons again as I've done so in an earlier post, suffice to say that the players are just not good enough. No heart no bottle.
Where did people expect us to finish? Top 4? In front of both Mancs, and others who have spent vast fortunes? Get a grip, people, we are where we should be. Koeman has stabilised a mess, got the players playing for a full 90 minutes, a feat in itself, now he just needs to get some astute signings to either replace our so called superstars or to give them a kick up the backside. Get rid after 9 months? Do me a favour.
Gavin Johnson
334
Posted 24/04/2017 at 09:48:06
Darren Hind-sight
Stop getting so worked up man. You'll give yourself an ulcer.
Paul Tran
335
Posted 24/04/2017 at 10:07:49
More sense from Dave #333. There is a huge space between thinking Koeman is a 'genius'/'dud', which I think most of us occupy.
When managers are 'hand-picked' by a rich new owner, they don't tend to be sacked after 9 months, especially when they have (slightly) improved the team.
If you forced me to have a bet, my money would side with Darren. While things are inching the right way, I'm happy to see if Koeman can make a real difference this summer and beyond.
Don Alexander
336
Posted 24/04/2017 at 10:08:16
Michael at #325, points taken, thank you. I didn't check the dates but relied on memory, but it seems to me that in comparison to decades of glacier paced decline we are now moving upwards with relative urgency.
Like you and most of us I have read what those in the club have said re transfer windows and the guarantee of much, much better than last summer. As Dave Ganley states on behalf of all like-minded fans, this squad needs to import some serious attitude along with skill after all. Without it we're doomed I tell you, DOOMED!!!!
Darren Hind
337
Posted 24/04/2017 at 10:55:37
Not worked up at all, Gavin, I'm actually amused by you.
Just reminding you that when you showed desperately poor judgement and support for the last manager, your insults, straw man arguments and desperate attempts to be proven right about him, didn't wash.... they don't this time either.
I'd rather debate with people like Mockers and Andy Crooks all day long than the snide comment and echo merchants.
I don't always agree with them (never), but you have to respect a guy who tells you, if he thinks you're talking shite... more importantly (and this is the thing) he tells you why. He offers an alternative view. Know what I mean?
Don Alexander
You didn't get anything at all right. You just dived in with a load of unsubstantiated pap and more than a few strawman arguments.
Terry Underwood
338
Posted 24/04/2017 at 11:03:45
I blame Mike Gaynes. We would have won 2-0 if he had been watching.
Dermot Byrne
339
Posted 24/04/2017 at 12:10:55
Love the hyphen-related (?) posts.
But that may be because I am an on-line (aw jaysus) wimp rather than hard man.
Whilst I may think Darren has got a bit carried away (almost pigeon-holed) with his criticism of Ronald Koeman and demand for a particular kind of counter-argument (stop it!), damned if I am going to take him on.
No, I will let the hard men slug it out until the next game and I will sit here and ponder if "pigeon-holed" will get me a ticking-off (oh for gawd's sake) from Michael K.
Gavin Johnson
340
Posted 24/04/2017 at 12:11:40
Darren
You are like a rubber ball... you keep bouncing back for more.
Even though you are a minority of one asking for Koeman to be sacked. You have taken yourself down a cul-de-sac of stupid, and the only way you know how to get out of it is by attacking others. I think you need to read through your own messages before you start calling other people childish and snidy.
I'm sorry, you're quite right. You didn't say anywhere that you'd like to appoint David Unsworth to break us into the top 4. I thought that would be your logic for sacking a manager who has got us to 7th and 10 points clear of the other teams below us.
No, your argument is that British is best and the manager should ideally be an internal appointment, who would be on lower wages. You would risk sacking a manager who has got us scoring goals and conceding few for an untried manager who might not be able to cut it at Premier League level all because of your irrational hatred of the current incumbent. Your reasons don't stand up and you've been found out Darren.
In case you hadn't noticed, Roberto Martinez is no longer the Everton manager. Why are you still talking about him Darren? Oh, yes, you're going to your default argument that people support the manager over Everton FC. That's getting a bit old now. You need to try a different approach, Dazza.
Tony McNulty
341
Posted 24/04/2017 at 12:30:17
John Daley (288)
As regards an assessment of Ronald (school report time), I would add in that old schoolmaster's qualifying phrase to what you said. This would then give:
"Six out of ten, effortlessly achieved."

Tony Hill
342
Posted 24/04/2017 at 12:46:11
Michael Kenrick (#325) points to something important about us as a club, something which infects our overall mentality including our playing mentality, and has done for many a year. We do not act decisively. When it matters we always seem to be wading through treacle.
That's what we have to alter above all else. We need to act with speed and incisiveness. I know that there are always complications in life, always reasons why something can't be done promptly, but (in sport especially) the winners are the ones who create their own momentum regardless.
Don Alexander
343
Posted 24/04/2017 at 12:58:38
Darren, I suppose I just let my wicked side take over, or maybe you'd prefer me to be Wickerman! Your heat is almost palpable.
Derek Cowell
344
Posted 24/04/2017 at 13:20:46
Sorry if this has already been mentioned above but I haven't read every post...
I watched MotD and saw a fantastic cross from Holgate late on in the game just asking to be nodded home from 6 yards, centre of the goal. One CB was going for it with our 'world class' CF with the biggest head in football. Surely he couldn't miss, especially as it by-passed the defender but no, reality stepped in and the coward (yes, coward) pulled his head back and let the ball sail passed his chest with the goal gaping.
I was so shocked that I had to replay it several times to see that I was not wrong and I wasn't. Don't tell me about him having a lack of service. Show a chance like that to a Shearer, a Hickson a Royle, a Latchford, a Gray, a Ferguson or even a Crouch or Carroll or Deeney and the net would have been bursting. That would have won us the game 1-0 so he cost us 2 points in my book.
The man's a bottler! 6-ft 3-in tall and he has not put an arial challenge in since he was knocked out scoring his first EFC goal, ironically away against West Ham. All his headed goals have been uncontested. Watch him from high balls from the keeper. He jumps early and keeps his head well away from the ball to try and look as if he's making an effort. He is scared of getting a CB's nutting. A coward!! Koeman must be able to see it!!
I, like all other blues, appreciate his finishing, when he can be bothered but I'd take the money and spend it on strikers who give a shit and show some grit and have an all round game.
Tin hat pulled well down now awaiting the fallout from all his excusers!!
Mike Doyle
345
Posted 24/04/2017 at 13:22:07
Mike Gaynes makes a good point about El Classico. I'd go a bit further. Both cup semi-finals reminded us that successful teams tend to have players who can step up and deliver on the big occasion, i.e. Kane, Ali, Hazzard, Sanchez.
We have Rom and (in particular) Ross – who generally don't deliver on the big occasion. Our friends across the park seem to have the same problems – which is why neither of us is likely to win anything anytime soon.
Derek Cowell
346
Posted 24/04/2017 at 13:30:50
...... and don't get me started on corners. Centre-forwards and centre-halves should love corners and the chance to score headed goals. Our 'world class' man is anonymous at most, if not all, our corners.
Grrrr.... he does my head in!! Sorry but he just does.
Great finisher though, I'll give you that. However, he should have scored 30 league goals this season.
Amit Vithlani
347
Posted 24/04/2017 at 13:49:33
One thing is for sure – Unsy is a far more credible candidate to replace Koeman than any of our previous assistants, coaches or youth coaches ever were.
Hopefully the club have a path set out with him which sees him take the first team reigns at some point.
Moyes and Martinez were too comfortable for too long. They outstayed their welcomes, and benefitted from the club not having an obvious replacement. Both Martinez and Koeman were not appointed immediately after their predecessors left. Next time it will be different, with Unsy ready to step in.
What is more, Koeman will surely not be given the same luxury to linger like a fart in a lift should he fail to push us on next season. We have a strong replacement already within the club. Unsy already has a few admirers in the fan base and will surely have admirers at the Board should he win a trophy with his charges.
John Pierce
348
Posted 24/04/2017 at 13:51:52
Mike (#345), I mused on this thread, I think, further back that if the players you cite are that good then why cannot inspite of a poor team performance, and tactics just grab the game and single-handedly make a decisive contribution?
I can't think of a game this season where Ross especially has grabbed a game, even more so away from home, decided to ignore the plan as it clearly hasn't worked by this point, and just go plain old maverick on us and win the game.
I never feel, despite good performances from Ross, since the calendar read 2017, Ross will go past a couple of defenders and blast it in the postage stamp.
It brings me back to thinking Ross is technically that good but doesn't have the character or mental agility to chance his arm.
Everton needed three points Saturday against poor opposition and no-one had the individuality to win it for us.
Time for Walsh et al to find us a maverick, a genuine game winner.
Chris Gould
349
Posted 24/04/2017 at 14:18:59
Washing powder!!!
John, after re-reading post 288, your post at 324 is comedy gold.
Darren Hind
350
Posted 24/04/2017 at 15:00:07
Your not the brightest tool in the box, Gavin, but you don't have to prove it every single time you post.
Let's tackle your foolish points one by one:
1) I'm not in a minority of one, that's just childish wishful thinking compelling you to talk out of your rear end – again. There will be a lot of Evertonians who didn't want Koeman in the first place and there will be lots of others who don't want him now – Breaking news: the dozen or so posters on this thread, do not represent Evertonia in its entirety.
2) I refer to Martinez because you tried exactly the same shit when he was boss, trying to isolate people with a different opinion with this mindless "minority of one" crap. It's both snidey and childish and, like I say, it wont wash this time either.
3) You fool nobody by saying "you are quite right" and admitting you made the bit up about me claiming Unsworth would get us top four. You didn't do it out of good grace, you did it because your latest strawman argument was exposed. You were telling porkies and you were called out.
4) Undeterred by having to admit your latest strawman argument had been exposed. You then astonishingly go straight into another "No, your argument is that British is best" ... What are you talking about lad? are you incapable of having a debate instead of creating an argument? ... "British is best"? ... where the fuck do I say that? Barcelona have a long history of appointing people with an historic association with the club, Are they all fucking Spanish???
I offered an opinion; I did not address it to anybody and, when challenged to name the guy I would give the job to, I named him and I gave a whole list of good reasons why. Your fanboy mentality seems to prevent you from accepting that not everyone thinks the current manager is as wonderful as you do. We have been here before. You were even looking for an argument when I criticised Lukaku the other day. Remember? You made up some ridiculous shite about me slagging off every modern-day player. More lies.
You must go to bed wondering how we don't win the Champions League every year, because you don't seem capable of seeing any faults with any of our players or managers and you are on here frothing at the mouth when somebody else can.
Grow up.
Michael Kenrick
351
Posted 24/04/2017 at 15:43:09
That was a critical moment of the game, Derek. I was annoyed at the blatant missed opportunity and made a mention in my commentary ("Holgate swung in a beautiful cross, perfectly placed for Lukaku but he simply chose not to risk injury by going for it!")
Perhaps he's spent too much time with his NFL buddies in the USA, where the problem of concussive head impacts is an increasing concern, and some studies have linked heading the ball in 'soccer' to the same malady. But you're right – he does head balls when clear of any defenders, so it's probably the risk of clashing heads that he may be understandably fearful of.
'Coward'? Certainly in the context of forebears Andy Gray and Alex Young... yes. But in today's Age of Enlightenment... hmmm. That's a tough call.

Brian Williams
352
Posted 24/04/2017 at 15:44:55
Wasn't it Osman who said that Lukaku had told him he didn't actually like heading the ball?
Shane Corcoran
353
Posted 24/04/2017 at 15:54:02
Has anyone mentioned the way that Adrian jumped with his studs up towards Mirallas when recovering from his blocked clearance?
I don't usually get caught up on such issues as the game should have been won subsequently, but that should have been a red card in my book. And a penalty of course.
Don Alexander
354
Posted 24/04/2017 at 16:01:51
It was indeed Ozzie, Brian, but that'll make little difference to some. The blood and guts centre-forward of yesteryear seems to be a thing of the past but the craven attitude of Lukaku to actually competing with centre-backs and goalies is obvious to any sighted fan. His improvement this season, long overdue as it is, is sadly minimal where physical courage is concerned.
Can anyone identify a winning club that had such a bone-idle, conceited goal scorer "leading" their line? I can't... welcome as his goals, largely against the lesser teams, are.
Peter Gorman
355
Posted 24/04/2017 at 16:06:10
All this talk of straw men makes me wonder might a team full of them have done a better job against West Ham.
Peter Gorman
356
Posted 24/04/2017 at 16:08:25
Wasn't it Romelu Lukaku who almost KO'd himself scoring the winning goal on his debut... away to West Ham!
John Daley
357
Posted 24/04/2017 at 16:47:08
Brian/Don,
Wasn't it the ever 'young' Luke Garbutt who let slip about Lukaku not liking to head the ball.....before he himself took a wrong turn on his way back from Wigan, toppled into a wardrobe and started twatting about with that nice Mr Tumnus?
(Seemingly, that poor lad can knock about in Narnia doing nothing for months and months on end, Â but when he finally finds his way back out, it's like no real time has passed at all and he's still got a full three years of his contract left to run. Who said life as a professional footballer is the stuff of fairy tales? Talking out of their arse!)
Gavin Johnson
358
Posted 24/04/2017 at 17:07:35
Darren Hind... "Grow Up"
Hahahahaha... and breath. Talk about pot and kettle. That's the funniest thing you've said in a while, Darren.
Now you're just making things up to support your straw man argument . Name one poster who has said they want Koeman to be immediately sacked on this thread? You can't because you're making things up again.
Let's look at your argument of making the internal appointment of David Unsworth. By your own admission, it's not the normal turn of events like getting a manager to improve results and break the top 4. Your reasoning is that we need a cheaper internal appointment?! WTF?! You'll be advocating Jimmy the kitman to come in next, such is your hatred for Koeman.
You would bring in David Unsworth, who isn't a manager of any notable level, and replace a manager who has only lost 2 in 17 and until recently the best league form since New Year. You can keep playing ping pong until this thread closes but you've backed yourself into a cul-de-sac of stupid and just coming up with stupid reasons that several people have called you out on.
Darren Hind
359
Posted 24/04/2017 at 17:34:11
Gavin Jonhson,
Again with the straw man arguments. What is the matter with you? Can you not stick to what has been said rather than repeatedly arguing with things you wish had been said.
Where the fuck did I claim somebody else said they wanted Koeman sacked immediately on this thread? And if I didn't say it, how did I make it up???
You my friend are incapable of having debate, you are either a very poor liar or you are exceptionally stupid.
I have just seen couple of threads where you have barged in with personal attacks without provocation – noticeably on the Lukaku £100m price tag thread. That's not debate, its looking for an argument.
I won't be playing ping pong at all, I will debate with people who want to debate all night long... but I'm done with you, it's becoming too embarrassing.
Brent Stephens
360
Posted 24/04/2017 at 17:42:10
Phrase of the week: "straw man".
Stan Schofield
361
Posted 24/04/2017 at 18:13:47
Darren@350: But he might be the sharpest tool in the box, or the brightest kid on the block.
Jay Wood
362
Posted 24/04/2017 at 18:22:01
Stan @ 361.
Naughty Stan, naughty...but very funny!
Darren Hind
363
Posted 24/04/2017 at 18:24:14
That's kinda the point, Stan.
Irony.
Colin Glassar
364
Posted 24/04/2017 at 18:25:58
What and who is a 'straw man'? Please elaborate.
Jon Cox
365
Posted 24/04/2017 at 18:28:59
Stan Schofield
366
Posted 24/04/2017 at 18:30:20
Wasn't the 'Straw Man' that film with Edward Woodward and Christopher Lee? Or is it Worzel Gummage?
Colin Glassar
367
Posted 24/04/2017 at 18:32:31
I thought it was Nicholas Cage, Stan.
Brent Stephens
368
Posted 24/04/2017 at 18:34:33
Stan #361. Touche!
Darren Hind
369
Posted 24/04/2017 at 18:36:55
How the desperate amuse...
Stan Schofield
370
Posted 24/04/2017 at 18:37:04
Colin, you're right, and it was the 'Wicker Man' with Woodward and Lee.
Brent Stephens
371
Posted 24/04/2017 at 18:41:27
All good, clean bar-room banter.
Jon Cox
372
Posted 24/04/2017 at 18:43:24
Colin,
the original was with Edward Woodward but the later version starred Nicholas Cage. Both versions were in fact called The Wicker man.
As an aside, what do you get if you take all the"D"s out of Edward Woodward?
Darren Hind
373
Posted 24/04/2017 at 18:44:13
Stan – you are not your normal sharp self today.
Now you have finally remembered which film it was, you may want to trawl back to post 343... it's been done, fella.
Colin Glassar
374
Posted 24/04/2017 at 18:49:54
Edard oodood?
Stan Schofield
375
Posted 24/04/2017 at 18:54:06
Darren, you've got to cut me some slack mate, I didn't read all the posts. I also didn't get your irony, because I'm basically quite parochial. In fact, I'm so parochial, I thought the 'Wicker Man' was a documentary.
Jon Cox
376
Posted 24/04/2017 at 18:57:12
Sorry Col but I got it wrong first time but re-read and feel free to have another go :-)
Jon Cox
377
Posted 24/04/2017 at 19:01:46
Getting back to the game.
My boss is an RS. So, weekend wasn't all bad.
Monday was positively radiant.
Gavin Johnson
378
Posted 24/04/2017 at 19:07:05
Darren,
You want Koeman out! Don't try and jazz things up with semantics – "Oh, but I didn't say it in those exact words" Bollocks mate. You've been found out and now you are backtracking. It sounds like you've now done a 180 because you realise how idiotic you sound suggesting a total novice manager would know his onions.
Jon, there's actually a new Wickerman 2 written the original script writers from the 1st movie. I wouldn't recommend it though. I tried watching it on the horror channel on my freeview. Absolutely rubbish film.
Darren Hind
379
Posted 24/04/2017 at 19:18:15
Don't worry, Stan
There's been a lot of it about on this thread
"go on name him" ... go on don't give us the problem give a solution" ... 285 "I'm not expecting an answer from Darren, because even naming a potential to Koeman seems a task too far for him" . . . 269 "Go on Darren you've had your invite give us a name"
DH – Err I Guys I already have
"Yeahbutnobutyeahbutno . . we didn't read what you actually said, we just knew we disagreed."
Being in a minority isn't without is LOL moments you know, Stan.
Darren Hind
380
Posted 24/04/2017 at 19:21:55
Oh yeah Stan and theres always;
"Okay Darren, you didn't say any of those things I made up, but you deffo want Koeman out and you think Unsworth should be given a chance... Come on... fess up."
Stan Schofield
381
Posted 24/04/2017 at 19:26:02
Darren, some folks think it's lunacy to get rid of Koeman. You seem to be in a minority of one. George Orwell said that a lunatic is merely a minority of one. But it's okay; he didn't say a minority of one is a lunatic.
Alan McGuffog
382
Posted 24/04/2017 at 19:31:47
Anyway Stan, reverting to Norris Green matters. Do you remember the graffiti on the side of the TA barracks: "Algeria Francaise"? Why? Who? Probably still just visible after nearly 60 years.
Stan Schofield
383
Posted 24/04/2017 at 19:36:16
Alan, I'd forgotten about the TA barracks! On Townsend Lane, near the library. I don't remember that graffiti, but I do remember 'The Fugitive is Innocent'!
Colin Glassar
384
Posted 24/04/2017 at 19:37:10
Written by some bloody pied noir no doubt, Alan. Those pied noirs used to get on me wick.
Colin Glassar
385
Posted 24/04/2017 at 19:38:35
And, 'Free the Prisoner' was one I saw once on Brownlow Hill.
Stan Schofield
386
Posted 24/04/2017 at 19:39:57
It was Townsend Avenue.

Alan McGuffog
387
Posted 24/04/2017 at 19:40:43
Colin, They were called Pied Noir cos they'd found a way to avoid the foot baths in Norris Green baths.
Colin Glassar
388
Posted 24/04/2017 at 19:42:58
No doubt, Alan. My dad said you could grow spuds between a pied noir's toes.
Stan Schofield
389
Posted 24/04/2017 at 19:43:37
Colin, "Hello, Number 6, I am the new Number 2". I've only just realised what that could mean...
Colin Glassar
390
Posted 24/04/2017 at 19:45:51
Careful Stan.
Stan Schofield
391
Posted 24/04/2017 at 19:46:23
'The Fugitive' was a Quinn Martin production, as was 'The Invaders'.
Colin Glassar
392
Posted 24/04/2017 at 19:49:11
They don't make great shows like that any more. The outer limits, one step beyond, honey West etc nowadays everything is cgi crap.
Stan Schofield
393
Posted 24/04/2017 at 19:52:05
Voyage to the Bottom of the Sea, Texas Rangers, and Batman.
All far more entertaining than Saturday's match.
Colin Glassar
394
Posted 24/04/2017 at 19:53:11
Lone Ranger, Bonanza, Wagon Wheel, Crackerjack.
Stan Schofield
395
Posted 24/04/2017 at 19:55:46
I knew we'd get back to the subject of Wagon Wheels.
Colin Glassar
396
Posted 24/04/2017 at 19:56:48
The Big Valley, Peyton Place, Watch with Mother.
Stan Schofield
397
Posted 24/04/2017 at 19:59:41
'Bill and Ben, the Flower Pot Men', a Quinn Martin production, starring David Jaansen.
Brent Stephens
398
Posted 24/04/2017 at 20:00:29
Mick and Montmerency.
Colin Glassar
399
Posted 24/04/2017 at 20:01:04
Thunderbirds, That Was The Week That Was, World in Action.
Alan McGuffog
400
Posted 24/04/2017 at 20:01:58
"Solomon's Mines" (the original, of course) on the walls of the bridge on Walton Hall Avenue.
"Cuba. Si!" on Townsend Lane.
"Victory to Viet Cong" by the 10-storey flats in Sparrow Hall.
Some real politicos had access to emulsion paint in those days.
Brent Stephens
401
Posted 24/04/2017 at 20:03:55
(Alan) Whickerman's World.
Stan Schofield
402
Posted 24/04/2017 at 20:04:12
Alan, that surely wasn't emulsion, it must have been Hammerite, the time it's lasted.
Colin Glassar
403
Posted 24/04/2017 at 20:05:41
Whicker's World, Brent.
Stan Schofield
404
Posted 24/04/2017 at 20:06:07
Brent, I was just about to write pretty much that. We must be about the same intellectual ability. You poor sod.
Alan McGuffog
405
Posted 24/04/2017 at 20:06:36
Colin (#396) – sounds like the meanderings at the end of a Van Morrison track!
Colin Glassar
406
Posted 24/04/2017 at 20:08:18
Ah, I get it now – Whickerman.
Brent Stephens
407
Posted 24/04/2017 at 20:08:30
Stan, at least I've got a bright tool.
Stan Schofield
408
Posted 24/04/2017 at 20:11:36
Brent, have you got a box to put it in?
Brent Stephens
409
Posted 24/04/2017 at 20:11:48
Hard to imagine there was the Black and White Minstrel Show. On 12" TV! Black and White. Converted to get ITV by adding a switch at the back.
Brent Stephens
410
Posted 24/04/2017 at 20:14:10
77 Sunset Strip. Who was the dude with the comb?
Stan Schofield
411
Posted 24/04/2017 at 20:14:20
Our TV was rental from Rediffusion, coin operated, with an indoor aerial. Absolute nightmare to get a decent picture.
Stan Schofield
412
Posted 24/04/2017 at 20:16:43
Brent, he was called Cookie in the programme, but can't remember his real name. Efrem Zimberlist Junior was also in it.
Brent Stephens
413
Posted 24/04/2017 at 20:17:12
Best reception I got was with a metal coat hanger nailed to the window frame.
Stan Schofield
414
Posted 24/04/2017 at 20:20:11
Someone recommended a coat hanger to us, but we still couldn't get a decent picture. Then they pointed out we were using a wooden coat hanger.
Chris Williams
415
Posted 24/04/2017 at 20:21:27
Stan, his name was Ed Byrnes.
There was a hit record at the time called 'Cookie, where is your comb?'
Catchy or what?
Jon Cox
416
Posted 24/04/2017 at 20:22:06
Gavin, there's a film called "The Wicker Tree" which is written by the same author as The Wicker Man.
It's not as good but set in Scotland it gets a bit creepy.
Alan McGuffog
417
Posted 24/04/2017 at 20:22:17
Mick and Montmerency. Charlie Drake? God, he was shite – about as funny as the first half against Wimbledon in '94.
Brent Stephens
418
Posted 24/04/2017 at 20:23:12
You also had to take the coat off the hanger, Stan.
Brent Stephens
419
Posted 24/04/2017 at 20:24:46
I recall a theme song – Ay, Ay, Ay the Beat is Crazy, Suku Suku is Everywhere...
What was that from?
Darren Hind
420
Posted 24/04/2017 at 20:24:59
Two tools short of a picnic...
Jon Cox
421
Posted 24/04/2017 at 20:25:57
Stan, remember the prog. FBI in the sixties. The main star was E Z J. Also at that time Sunset Strip, one of the main guys was called "Cooky".
Brent Stephens
422
Posted 24/04/2017 at 20:26:16
Ha ha. Nice one Darren. The most sensible thing you've said all week.
Darren Hind
423
Posted 24/04/2017 at 20:27:43
Sometimes pays not to be too subtle with the irony... gives everyone a chance.
Jon Cox
424
Posted 24/04/2017 at 20:29:26
Brent, I'm not sure but it could be a prog called "Top Secret".
Chris Williams
425
Posted 24/04/2017 at 20:29:35
Brent,
That was a series with Dalia Lavi and that bloke from the Schweppes adverts in I think maybe Sam Kydd too.
Can't remember the name though sadly.
Charlie Drake was in a series with an actor called Henry McGhee whose character was called Mr Pugh, pronounced Poo.
Brent Stephens
426
Posted 24/04/2017 at 20:32:08
Chris, I just don't remember that.
But I do recall Poo. Pugh then!
Alan McGuffog
427
Posted 24/04/2017 at 20:32:10
Crane.
Chris Williams
428
Posted 24/04/2017 at 20:32:21
Jon
I think you've got it..

Jon Cox
429
Posted 24/04/2017 at 20:32:48
Chris, It was always in a Labour Exchange and it was called "The Worker".
Chris Williams
430
Posted 24/04/2017 at 20:33:44
Crane had Patrick Allen in it. Had a jaw like Desperate Dan, but a bit off to the side.
Brent Stephens
431
Posted 24/04/2017 at 20:33:53
Brilliant, Jon!
Alan McGuffog
432
Posted 24/04/2017 at 20:35:15
If it was Crane it starred Patrick Allen and a real piece of eye candy . Laya Raki? Set in a bar in Tangier or somewhere...
Jon Cox
433
Posted 24/04/2017 at 20:35:58
Alan I'm on a roll. His name was Patrick Allen. He later did the voice for the Protect and Survive nuclear war public info film. This was also featured on Frankie goes to Hollywood – "Two tribes".
Brent Stephens
434
Posted 24/04/2017 at 20:38:09
Jon Cox. I am impressed. (But can you trap a bag of cement?)
Stan Schofield
435
Posted 24/04/2017 at 20:40:12
Jon, yes, FBI came after he'd finished in 77 Sunset Strip. I vaguely remember saying, on seeing the first FBI, oh look, it's the bloke from 77 Sunset Strip.
Similarly, when I saw the first 'Saint', I said, oh look, it's the bloke from 'Ivanhoe'.
Brent Stephens
436
Posted 24/04/2017 at 20:41:52
Highway Patrol, Broderick Crawford.
The RS took the piss out of us when we lost 10-4 to Spurs one year.
Jon Cox
437
Posted 24/04/2017 at 20:42:03
Brent, I used to be able to. Blue circle I think. When I played a wet casey was like heading a bag of cement. Worse though if the free kick got you in the goalies.
Chris Williams
438
Posted 24/04/2017 at 20:43:06
Stan then he was in Maverick as Beau Maverick
Paul Tran
439
Posted 24/04/2017 at 20:44:01
Never had you down as subtle, Darren, but you've pulled it off on this thread. Audience has helped you, mind. Reckon some of these were planted.
Brent Stephens
440
Posted 24/04/2017 at 20:44:38
Those boots before they introduced cut-away sides. The sides were so high and I was short, they protected my knees.
Jon Cox
441
Posted 24/04/2017 at 20:44:45
But Stan, don't forget Richard Greene as "whooosh, doi oi oing" Robin Hood.
Brent Stephens
442
Posted 24/04/2017 at 20:46:10
What was Clint Eastwood in first. Rawhide?
Stan Schofield
443
Posted 24/04/2017 at 20:46:10
Jon, even kicking it wasn't easy. And if you headed the lace bit, it was murder.
Chris, Maverick was James Garner, so was Beau his brother?
Brent Stephens
444
Posted 24/04/2017 at 20:47:00
Wasn't there also a Bart Maverick?
Chris Williams
445
Posted 24/04/2017 at 20:48:10
Some good westerns then. Cheyenne, Tenderfoot, Bronco Layne (who played for Wednesday with Tony Kay), Lawman, Have Gun will Travel, Wagon Train, Rin Tin Tin.
Stan Schofield
446
Posted 24/04/2017 at 20:48:45
Brent, yes, Rawhide was Clint's first, and about the same time as Wagon Train.
'Cheyenne', with Clint Walker was a good one as well.
Jon Cox
447
Posted 24/04/2017 at 20:48:48
Brent, I remember the old boots. They had a sort of dome over the toes section. Just right for a "Toe bung"
I know, heresy.
Chris Williams
448
Posted 24/04/2017 at 20:49:30
Brent, Rowdy Yates who played for Liverpool.
Stan Schofield
449
Posted 24/04/2017 at 20:51:34
Jon, 'Robin Hood, Robin Hood, riding through the Glen'. Was it supposed to be in Scotland?
Brent Stephens
450
Posted 24/04/2017 at 20:51:41
Footballers were multi-talented in those days, Chris.
Jon Cox
451
Posted 24/04/2017 at 20:52:06
Stan,
I think the theme started "Cheyenne, Cheyenne, will you be lonesome tonight?"
Brent Stephens
452
Posted 24/04/2017 at 20:52:20
I suspect Glen was a mate.
Colin Glassar
453
Posted 24/04/2017 at 20:52:45
I used to have to sit on the roof with a coat hanger. Scary when there was thunder and lightening.
Brian Williams
454
Posted 24/04/2017 at 20:52:57
Never mind all that. The Under-23s are just about to win Premier League 2.
Brian Williams
455
Posted 24/04/2017 at 20:53:58
Yeeeeeeees. Never cheered a RS goal before but get in!??!/!!!!?
Chris Williams
456
Posted 24/04/2017 at 20:54:29
I think he may have been an English cousin Stan and his brother Bart was played by someone called Kelly by can't recall his first name.
James Garner played Mavericks dad, his Pappy, in the film from the 90s.
Brent Stephens
457
Posted 24/04/2017 at 20:54:52
Come on Unsie. The first team beckons.
Colin Glassar
458
Posted 24/04/2017 at 20:55:38
Will this be the start of the Unsy for manager movement?
Stan Schofield
459
Posted 24/04/2017 at 20:55:48
Colin, did you have clean the chimney as well?
Brent Stephens
460
Posted 24/04/2017 at 20:56:31
Which takes us to Sootie and Sweep, Stan.
Chris Williams
461
Posted 24/04/2017 at 20:56:57
Stan, that was sung by Dick James who ended up owning Northern Songs which owned the rights to all the Beatles songs.
Jon Cox
462
Posted 24/04/2017 at 20:57:09
Stan , no. It was in Sherwood forest. Just down the road from Nottingham where the evil sheriff of Nottingham (Alan Wheatley) lived. Funny thing is the only job anyone had was collecting taxes every week of the poor people who had no money!
Brian Williams
463
Posted 24/04/2017 at 20:57:28
Woohoo. Game over. Champione, champione, ole ole ole!!

Colin Glassar
464
Posted 24/04/2017 at 20:57:43
Had to do both Stan, we were poor. I had to sweep the chimney with my tongue.
Stan Schofield
465
Posted 24/04/2017 at 20:58:33
Brent, I was thinking of Mary Poppins. Robin's mate Glen, was he in the (Friar) Tuck position?
Stan Schofield
466
Posted 24/04/2017 at 21:00:03
Colin, at least you got fed, with soot.
Darren Hind
467
Posted 24/04/2017 at 21:00:11
Hasn't anybody told Rhino that 7th is as good as it gets?
Brent Stephens
468
Posted 24/04/2017 at 21:01:13
"Funny thing is the only job anyone had was collecting taxes every week of the poor people who had no money!"
That's in the Tory Manifesto now.
Colin Glassar
469
Posted 24/04/2017 at 21:02:38
Obviously not, Darren.
Jon Cox
470
Posted 24/04/2017 at 21:02:45
Colin you were lucky, I used to have to get up half-an-hour before I went to bed!
Jon Cox
471
Posted 24/04/2017 at 21:04:11
Cracker Brent.
Darren Hind
472
Posted 24/04/2017 at 21:07:36
Just as well Colin.
I've got a night off, so I'm off for a bevy before the place is heaving with all the other minority of ones.
John Daley
473
Posted 24/04/2017 at 21:08:20
Has Colin run out of tv shows yet?
Late one night at the Linton Travel Tavern:
Partridge: Ripples
Glasser: Flakes
Partridge: It's good this, isn't it? Even though we're basically just listing chocolate bars?
Glasser: Terry's Pyramint, Spira, Aztec, Banjo, Topic
Partridge: I said it was good not great. Good as a general starting point to "Getting to know you/Getting to know all about you/Getting to like you/Getting to hope you like me/Getting to know you... "
Glasser: Snick...
Partridge: WAIT!! "Putting it my way/But nicely/You are precisely/My...cup...of...tea". Not literally. That would be...
Glasser: Snickers, Boost, Biscuit Boost, Coconut Boost, Fuse, Frys Chocolate Cream, Turkish Delight, Caramac, Star Bar...
Partridge: Thank God...I mean, 'Oh my God'...Lynn's here.
Glasser: Bar Six, Logger, a rifled through in advance advent calender, Co op cooking chocolate, Doggy drops, etc etc etc
Stan Schofield
474
Posted 24/04/2017 at 21:11:50
Herschey Bar, a Quinn Martin production.
Jon Cox
475
Posted 24/04/2017 at 21:16:24
Another QM production,
The Invaders, starring Roy Thinnes as David Vincent.
Brent Stephens
476
Posted 24/04/2017 at 21:18:11
Stan, did you do a dissertation on bloody Quinn Martin?
Darren Hind
477
Posted 24/04/2017 at 21:20:06
"The whole things darft, I don't know why"
"You've got to Larf, or else you cry"
"You've got to win, or else you die"
"you need ambition, to reach the sky"
"Oh Davey Unsworth, Champion"
"Dahavey Unsworth, Champion"
Jon Cox
478
Posted 24/04/2017 at 21:21:40
Darren, why am I finding that hilarious?
Brian Williams
479
Posted 24/04/2017 at 21:29:52
Darren Hind and his mate lead U23s to Premier League 2 trophy. Tomorrow's Echo headline! COYYB!
Stan Schofield
480
Posted 24/04/2017 at 21:34:33
John: David Vincent, an architect, a deserted diner, alien beings from another galaxy, invaders from a dying planet. Probably my favourite one, apart from the Beverley Hillbillies.
Stan Schofield
481
Posted 24/04/2017 at 21:35:29
I meant Jon. Plus Sergeant Bilko.
Stan Schofield
482
Posted 24/04/2017 at 21:37:41
Brent, I'm in the middle of writing up my Ph D thesis.
Brent Stephens
483
Posted 24/04/2017 at 21:38:38
Bilko!!! Loved him!!! Didn't one of them, the small guy, die last week?
Brent Stephens
484
Posted 24/04/2017 at 21:40:35
JW supervising it, Stan? Will I call you "doc"? A real doc. Not one of those medical guys with an honarary "doctor" title!
Colin Glassar
485
Posted 24/04/2017 at 21:43:08
Got tons of them, John.
Partridge Family, Logan's Run, the Liver Birds, Never Mind the Quality, Feel the Width, Are You Being Served? Love Thy Neighbour, On the Buses, The Two Ronnies, Porridge, Magpie, Jackanory...
I'm tired now.
Stan Schofield
486
Posted 24/04/2017 at 21:46:06
Brent, the small guy was Dobermann. I didn't know he'd died, must have been well into his 90s.
Brian Williams
487
Posted 24/04/2017 at 21:46:58
Made up for you Darren. Made up for all of us!
Brent Stephens
488
Posted 24/04/2017 at 21:49:12
Ah, Doberman died 1964 it seems!
Stan Schofield
489
Posted 24/04/2017 at 21:49:39
Brent, I tried to get JW, but he's too distinguished and in too high demand to supervise an urchin like me. You can call me Dr if you must. Or even Sir. Or your Lordship.
Stan Schofield
490
Posted 24/04/2017 at 21:54:46
Darren, if you made all your arguments into song like that, nobody on TW would ever disagree with you again. The lead chorister of Gladwys St.
Brent Stephens
491
Posted 24/04/2017 at 22:06:22
Dr Stan. Has a ring to it. There was only ever one guy I knew who got his Ph D and asked people to now address him as Doctor. Finally came to a messy end.
Stan Schofield
492
Posted 24/04/2017 at 22:13:33
Brent, the thesis is titled 'The influence of QM on our understanding of the universe'. Trouble is, people think I'm a quantum physicist, not realising that the QM stands for Quinn Martin.
Brent Stephens
493
Posted 24/04/2017 at 22:16:49
So you have a title for the thesis. Not much to do now, then.
Jon Cox
494
Posted 24/04/2017 at 22:20:13
Stan I'm back!! Just watched the original M R James "whistle and I will come to you" with Michael Hordon (Sir).
Better than the John Hurt version.
Don't forget, David Vincent a man to long without sleep...
Jon Cox
495
Posted 24/04/2017 at 22:21:52
And here's me all these years thinking it was Quim Martin :-)
Stan Schofield
496
Posted 24/04/2017 at 22:58:47
Jon, that was scary. As was a series called 'Mystery and Imagination'. By the way, I had to double check it was Quinn, not Quim!
Jon Cox
497
Posted 24/04/2017 at 23:27:35
Stan, you've hit gold there pal. Mystery and imagination was defo the scariest thing on telly. One episode in particular was an Edgar Alan Poe story called " a tell tale heart"
Those were amazing Saturday nights ending with Kenneth Wolstenholme on MOTD.
"They think it's all over..."
And for our fantastic under 23s
"It is now"
Phil Bellis
498
Posted 24/04/2017 at 23:50:01
A lonely road Jon, a deserted diner, an architect...

Darren Hind
499
Posted 25/04/2017 at 04:02:27
Minority of ones all over Evertonia brace themselves as the flat earth society prepare fire an extremely rare "winner" out of the Goodison exit door.
"Go and pay your dues in the lower leagues, come back in seven or eight years when you've earned your stripes . . .You just aint ready to get us into the top seven!"
Sighs . . .Checks records to see if any of the top 50 managers in Europe served their apprenticeship with Doncaster Rovers or Plymouth Argyle. . . .

Scans a lifetime of memories for dafter excuses to dismiss a perfectly good suggestion. . . .

Sighs again, fucks off to bed, wondering if the FES will still be still be discussing 1960's telly programs when another club snaps up the only winner we've had for years . . .
David Barks
500
Posted 25/04/2017 at 04:34:17
How in the hell did such a shockingly horrrible, dull, generally awful performance generate nearly 500 comments? The weather is lovely, I suggest some of you might be better off enjoying some time outdoors.
Jon Cox
501
Posted 25/04/2017 at 06:52:22
It's funny you should mention 1960s' programs, Darren, because...
Oh and don't panic Unsys going nowhere.
Dave Abrahams
502
Posted 25/04/2017 at 09:31:12
You lads had a good gab on here last night, enjoyed it very much, were you all extra's on 'One Flew Over The Cuckoo's Nest' I thought you were brilliant, especially when Bilko was mentioned, Dwayne Doberman what a great name for him, he looked like a Doberman Pincher, the actor even played Doberman's sister in one episode,
Doberman was ugly, his sister was really ugly, then there was Paperelli, my favourite, he couldn't hold his own shite. Bilko would say to him when he wanted everyone to know something "Now listen keep this to yourself, don't tell anyone else, I know I can trust you," then tell him the secret and five minutes later the whole camp would know.
Don Alexander
503
Posted 25/04/2017 at 09:45:29
The only quim you ever saw on TV in the 60-70's was Fred Quimby, the producer of "Tom & Jerry".
And he lived up to his name in every way if you believe the actual cartoonists who did the work.
Alan Courtney
504
Posted 25/04/2017 at 11:07:00
Roll on Summer when Rooney comes back. He will slot into Barkley's position immediately and I'm sure that after passing the ball (forward), he won't stand around waiting for plaudits.
I'm fed up of the times that Barkley slows the game down when receiving a pass, shuffling the ball between his feet, allowing defenders to get back into position before finally losing the ball or playing it backwards. Sure, he has talent, but we've been waiting for some years now for it to flourish.
I heard a rumour that he was off to Spurs to replace Real Madrid bound Deli Alli – he couldn't lace Alli's boots.
Brian Harrison
505
Posted 25/04/2017 at 12:13:17
I think the main thing Koemanhas to address for next season is our lack of goals. This is the 4 leading scorers at Chelsea, Spurs and ourselves.
Everton Chelsea Spurs
Lukaku 24 Costa 17 Kane 20
Barkley 4 Hazard 14 Alli 16
Mirallas 4 Pedro 7 Son 12
Coleman 4 Willian 6 Ericson 7

Matthew Williams
506
Posted 27/04/2017 at 18:40:49
Mr Hind might have a few more on his side in the coming months... as we stand 7th is okay considering the top six, but Koeman has to prove himself.
For me he has the time up to the League Cup; if we go out early (very possible), then I want him gone!
A competition that's been going for over 50 years and we've made it to just 2 finals! ...fucking shameful, looking at past Winners... jeez many are no longer in the Premier League... but we always crash & burn, this shit has to end asap.
---
Add Your Comments
In order to post a comment, you need to be logged in as a registered user of the site.
Or Sign up as a ToffeeWeb Member — it's free, takes just a few minutes and will allow you to post your comments on articles and Talking Points submissions across the site.
© ToffeeWeb