Brendan Galloway on life at West Brom

56 Comments [Jump to last]
Sunday 28 May 2017
Defender played only 5 games for Pulis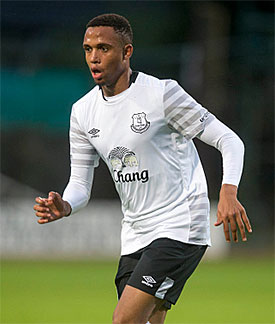 Youngster is glad to be back at Finch Farm
Brendan Galloway has been talking with the Liverpool Echo about his difficult season-long loan spell at West Brom and how he learned to cope with not playing.
The young Everton defender admits it was tough adapting to a different style of play under the direct approach of Baggies boss Tony Pulis. But he insists it has made him a more rounded footballer, and now hopes to get his promising career back on track under Ronald Koeman at Goodison.
And the left-back says his time away from Merseyside has made him appreciate there is "nothing quite like Everton".
Galloway moved to the Hawthorns last August but played only five times during his stint with the Baggies. Pulis described Galloway as a "pleasure to work with" but opportunities ultimately proved limited in the left-back position for the 21-year-old.
"It was a tough season and I learnt a lot," Galloway said. "I experienced something different but now I'm happy to be back.
"It was frustrating [not to play more games] but I learnt a different style of football, completely different to here. As a young footballer, you need to learn other aspects to your game. The lads were all brilliant and I made a lot of friends there — they welcomed me and they are all good footballers and good people.
"I learnt how to deal with not playing, which was very hard, but I'm happy to be back here. It is tough because as a young boy all you want to do is step out on to that pitch but when you are not able to, it gets frustrating.
"It was a tough year but walking back into Finch Farm and seeing all the lads has really made me happy. Now you've experienced something else, you realise there is nothing like Everton.
"Experiencing another Premier League football club and coming back here, you realise every single one of us is in a fortunate position. We've got to work hard to stay here and maintain that level that the gaffer wants."
Galloway was granted permission to return to Everton for the final couple months of last season and play for the Under-23s team in their successful bid for the Premier League 2 title. He featured in their victory over Tottenham Hotspur at Goodison Park before suffering a hamstring injury, and is expected to be back fit for the start of pre-season where he aims to lay down a marker.
"I really want to push on and play now, get back playing in that Blue shirt and doing my best for the team," added Galloway.
"I'll spend some time with my family and then get back into it. I'm already looking forward to the pre-season trips, the pre-season games and having a good season.
"When you are in the off-season, it gets quite boring after a while. You want to be running, kicking a ball, back with the team. A few weeks' break is good, to get some sun with the family, and then come back and work hard.
"I have spoken to the manager [since I returned] but because of my injury, we'll have a good chat when I come back. I worked with him last pre-season and I'm really looking forward to working with him again."
Quotes sourced from Liverpool Echo
---
Reader Comments (56)
Note: the following content is not moderated or vetted by the site owners at the time of submission. Comments are the responsibility of the poster. Disclaimer
Peter Gorman
1
Posted 28/05/2017 at 16:30:31
Galloway has always showed the right attitude, for what it is worth. I would love to see him in a blue shirt niggling the opposition.
Colin Glassar
2
Posted 28/05/2017 at 17:18:56
I still don't know why he was loaned out. He's better than Funes Mori and either Williams and Jags as a left centre-back. He was also a very capable stand-in for Baines when he was out injured. Very strange decision which hasn't helped the lad one iota.
Kieran Kinsella
3
Posted 28/05/2017 at 17:26:22
Colin
I agree. But I suspected at the time they sent him to WBA because for a centre-half he's not great aerially. That's one area Pulis is good in. In hindsight it was a mistake and has set him back a year.
Tony Hill
4
Posted 28/05/2017 at 17:39:00
Our old friend, Harold Matthews, identified early on that Galloway's main problem is his extreme one-footedness. He cannot use his right foot productively on the pitch.
He had a good patch with us in the first team but then fell away and was found wanting. He has a good speed of recovery, which he has tended to need, but I'm not convinced by him. Let's see what the coaches make of him now.
Raymond Fox
5
Posted 28/05/2017 at 18:20:52
I've said more than once before that if he doesn't make a regular Premier League player, I'll eat my biggest hat.
As far as being one-footed is concerned, even if he is, there's been quite a few top players who are one-footed, Messi and Robben for two.
He's plenty young enough to improve his right and he has class written all over him, something you can't train for, not to mention being intelligent to boot.
I do hope the talented lads we now have on our books don't slip through our fingers. It takes a strong and brave manager to risk his future on playing 'kids' though, but that is the Premier League for you.
Colin Grierson
6
Posted 28/05/2017 at 18:34:42
Galloway is quality. Get him back and in the team. Great player IMO.
Tony Hill
7
Posted 28/05/2017 at 18:38:06
Raymond, there have been many high-class defenders who are one-footed too but not many as one-footed as Galloway. I agree, though, it would be wonderful if he could come through for us because, aside from Funes Mori and Foulds (some way off consideration), we have no left-footed centre-backs, including all of the ones we're linked with in the market.
Jay Harris
8
Posted 28/05/2017 at 19:23:45
Tony Hill is spot on. When he went back to being an understudy, he was atrocious and seemed to lose his sense of awareness and concentration when playing for the U23s before going to West Brom, where he couldn't displace a very average Nyom.
For me, the jury is still out on Galloway.
Sam Hoare
9
Posted 28/05/2017 at 20:01:34
My worry is that he's not a good enough passer to play left back and not yet strong, or confident enough to play centre-back. I think long-term he's a better centre-back prospect but that wasted year has really set him back. He would have been better off going to play centre-back in a decent Championship team.
Fingers crossed he steps up next season but I imagine he will start off in the U23s and might be sent out for another loan unless he really impresses in training.
Phil Walling
10
Posted 28/05/2017 at 20:25:45
I suspect both Galloway and Garbutt will soon be shipped out to make way for some more Southampton cast-offs!
Andy Crooks
11
Posted 28/05/2017 at 20:38:32
Phil, when you, some day, make a positive comment, I will back us to win the treble.
Bill Gienapp
12
Posted 28/05/2017 at 21:35:54
For what it's worth, my roommate, who's an Arsenal fan, was extremely impressed with Galloway when he was filling in for Baines and asks me all the time how he's doing.
Dick Fearon
13
Posted 28/05/2017 at 22:43:34
I have seen in real life only these 3 players who ranked as truly top class yet only had one foot. Stanley Mathews, Ferenc Puskàs and our own Tommy Ring.
I am amazed that Brendan like a great many others can go from school child to adult carrying such an obvious one footed weakness.
Were a series of well paid 'expert' coaches oblivious of these technical faults or incapable of fixing them or is the problem an emphasis on winning trophies at junior levels and not on producing all round well balanced players.
Eddie Dunn
14
Posted 28/05/2017 at 22:53:16
He is back to square one and it will be tough for him to re-establish himself in the first team, but he had a good spell deputising for Baines, so I hope he can regain that form.
Tom Bowers
15
Posted 28/05/2017 at 23:01:35
Bainsey has been great but I think he is now past his best. We need new blood in the back line so maybe people like Galloway will get a new lease of life under Koeman.

James Stewart
16
Posted 28/05/2017 at 23:12:19
He's a lot better than Pennington, that's for sure, so it will be good to have him as an option.
Jay Wood
17
Posted 28/05/2017 at 23:15:38
Brendan impressed at the end of the 2014-15 season and the start of season 2015-16 when covering for the injured Baines, as much as Mason Holgate has impressed this season just closed.
However, as Jay Harris correctly reports, once back in the U-23s that season, he looked very shaky and lost his form.
I thought the loan to West Brom was a good one, but clearly didn't work out for the player, or either club. At least, judging by his comments, it has made him aware of how privileged he is to be at Everton with who he made his Premier League debut.
He has a contract until June 2020. It is in his own hands to make something of his career.
And a footnote (oops!) to claims about his 'one-footedness.' Much exaggerated IMO. Whilst it is shocking that professional footballers are not more competent with both feet, he is no worse than more senior pros who have had more than 10-15 years playing in the Premier League than he has.
I for one hope he makes it, but equally, I wouldn't be surprised if he slips down a league or two.
Brian Hennessy
18
Posted 28/05/2017 at 23:16:09
He looked a quality player when first broke into the first team and was a brilliant crosser and corner taker.
I puzzled how his career has stalled but would be delighted to see him back in blue.
John Raftery
19
Posted 28/05/2017 at 23:46:06
He failed to build on the excellent start he made in our first team. After a couple of decent games for Albion, apparently he was responsible for a couple of goals conceded, following which he was dropped. Welcome to the unforgiving world of the Premier League.
Brendan will need considerable mental strength to get his career on track. If he fails to impress in pre-season, it is hard to see much of a future for him in the top flight.
As regards his one-footedness he is surely no worse than Funes Mori who has hearts in mouths whenever he attempts to clear the ball with his right peg.
Andy Crooks
20
Posted 28/05/2017 at 23:57:35
I think he will be a top left-sided central defender. He needs a run in the side.
Mike Gaynes
21
Posted 29/05/2017 at 01:02:03
Tony (#7) and Jay (#17), the problem Harold correctly identified is that Galloway is not just one-footed PLAYING the ball... he's also (or was) a one-footed tackler. Could not execute tackles well with his right foot.
Late in his spell replacing Baines, attackers identified the weakness and cut in on him rather than trying to beat him to the end line, which was usually futile. When they cut in to his right, suddenly he was an open door.
I remain convinced that his future is better at left back than in the middle, because I don't think he's as strong in the air as guys like Holgate and Pennington... but maybe that's part of what he learned from Pulis. We will see.

James Flynn
22
Posted 29/05/2017 at 02:00:29
Can't remember the game. It was when Baines' ankle opened up again and Galloway was thrown in. Asked about having to play (I think against Arsenal), he said, "We're all on the same pitch for a reason." I thought, "Look at this young pup!"
An inexperienced, 19-year-old dropped into the deep end and targeted. He got skinned a few times. To his right AND left.
There's ups and downs. He's acknowledged experiencing them without complaint.
I think he'll come good.
Jim Harrison
23
Posted 29/05/2017 at 02:03:20
I seem to remember him being good for a couple of games, then getting targeted by a couple of teams as a weakness.
Joel Jones
24
Posted 29/05/2017 at 08:04:30
Agree with Phil (#10) here.
I think we could ultimately see some very good young players slip away under Koeman's regime based on stubborness. Garbutt, Galloway, Barkley & Deulofeu spring to mind immediately. And can anybody remember Tarashaj? Do we even know this lads ability???
Now before the "Not good enough brigade" get on my case and round on me let's bare in mind that under Koeman we have see Steklenburg, Robles, Oviedo, Williams, Kone & Valencia all feature. To some extent I would include Cleverley, Bolasie, Mirallas & Holgate in this group also.
Now whilst two of them are no longer at the club, he deemed them both good enough to stay on at club beyond pre-season after bombing out others quickly. The others mentioned have all been given chances not granted to other players despite limitations in their own game (ability/consistency/experience) which is were my bug bare with Koeman comes in.
There seems to be a lack of consistency when it comes to player judgement with no real thoughts for long-term planning. Let's not forget, Koeman, come January, has 18 months left on his contract. If this is a player rather than a manager then usually the club looks to solve that issue by not letting the player hang around until the end. Whilst the context of situation may be different there surely has to be a sense of long term development of the club?
This time next year we may have a short term solution & have consolidated being the 'best of the rest' again but then we have doubts over the managers future. This filters down to players, staff and ultimately any potential signings.
Personally, I feel that some of the criticism aimed at players "not good enough" is harsh and based loosely on nothing more than shouting with the rest of the mob. Martinez's naivety rightly cost him his job, & Koeman has done well to start the repair patch needed. However, there wasn't many blues across forums and social media that were convinced these players were not good enough during that time and got excited seeing them. The four mentioned at the beginning of the post were talked about being full internationals. two of them are, one still has time & another should be given a chance this season.
And still we don't know anything about poor Shani Tarashaj... Can he play in goal???
Jim Harrison
25
Posted 29/05/2017 at 08:27:07
Joel, who signed Shani? Did the manager that signed him give him game time?
So if this manager is so youth averse, why did he start the derby, and so many other matches, with such a young team?
The manager has a way of playing. Del didn't fit that model, or wouldn't do the required to adapt. He is no way consistent enough to make an exception for. Garbutt has done nothing to warrant a place, either at Everton or on loan. Galloway went on loan because he wouldn't get ahead of any of the current centre-backs and could do with some experience.
Barkley?? Played most games, dropped when he played poorly. Won't sign a contract!!
I will agree with you regarding Kone: why he got minutes at the end, only the manager can explain. As for the rest? I think you are being a bit harsh.
Rob Dolby
26
Posted 29/05/2017 at 08:44:09
I agree with Sam @9 – He isn't good enough on the ball to be a class left-back or strong enough to be a centre-half. I do think that he could easily slot into a back 5, similar to Holgate I think he needs to make a step up to make a valid claim to a first-team spot.
Oh and the great Kevin Sheedy only had 1 foot but what a wand it was.
Tony Abrahams
27
Posted 29/05/2017 at 09:25:24
Good player, Galloway, quick and athletic; a bit raw but he can defend and he impressed me with his determination when he played in the first team.
Only a kid the last time I saw him play, I think when he really develops physically he will become a very good defender.
Dave Williams
28
Posted 29/05/2017 at 09:40:24
Agreed Tony (#28). The lad is raw and has weak areas where he needs to improve but he is very promising and has attitude which so many of our squad badly lack.
Some people are far too quick to write off the young players as soon as they hit a rough patch – I recall the young Colin Harvey getting terrible stick from the crowd in his early days, those same people who then lauded him as The White Pele later in his career when he had grown from a raw youth to a mature man.
A bit more perspective is required with the youngsters – they will get a good first run in the side, fade and need a rest then come back much better and more mature for the experience and we need to show patience and not dismiss them as not good enough way before they have completed their development.
I agree, he has work to do, but he has the attitude to succeed.
Clive Rogers
29
Posted 29/05/2017 at 10:29:34
His biggest asset is his pace, which is enormous nowadays. Hope he can sort out the weaknesses others have mentioned.
Joel Jones
30
Posted 29/05/2017 at 11:40:59
Jim @ #25.
Not sure if you've misunderstood my point? I don't believe Koeman is adverse to youth. It was more about a fair crack of the whip across the board.
Tarashaj signed on the basis he was loaned back out, then got bombed the minute he rocked up, yet we kept Kone and signed Valencia?
Deulofeu divides opinion for sure but I find it baffling when Bolasie and Mirallas are given runs in side. All are equally inconsistent as eachother.
Garbutt has struggled out on loan but two years ago was heir apparent to Baines and did look very good when called up in Europe. There is a player in there, surely?
Galloway has suffered from a unfortunate loan spell that hasn't worked out & now people are dissecting his game whilst Holgate gets away with poor positional play and a lack of strength when called upon.
Ashley Williams has been a car crash of a signing. Swansea had our pants down and nicked our undies for good measure!
Koeman's stubbornness on the goalie issue has cost us dear this season, I feel we'd've had another 9 to 12 points with a solid No 1.
So, with those personal opinions in mind, is it not fair to suggest that the manager hasn't been fair across the board?
As for the Barkley issue, I believe wages are a sticking point? Or is it that he's having doubts if the manager isn't all that arsed about it? Huge issue if you're a confidence player!
At Everton, we seem far more concerned with what players can't do rather than seeing what they can!!!
Dan Egerton
31
Posted 29/05/2017 at 12:12:20
I was surprised he went out on loan, before he left he was better than Baines in a lot of departments. Now that Baines is older that list has probably grown.
Surely if it's a training issue, that could get sorted out by a capable manager like Unsworth while still at the club playing U23, so we can at least rely on him if need be. Sending him out on a season-long loan where we are unable to bring him back without the other coach's permission is just absurd.
Gary Edwards
32
Posted 29/05/2017 at 13:32:52
I rate the lad and thought he acquitted himself well when filling in for Baines. He is a more than capable squad member at LB / LCB. Re: LB / LWB I hope that Antonee Robinson gets his chance with the first XI next season. Callum Lees looked promising at one point but has faded out of the picture.
Alan J Thompson
33
Posted 29/05/2017 at 13:44:04
It's my opinion that loaning players out is vastly over-rated unless it is more of a trial period leading to a possible transfer. However, in Galloway's case, I don't understand why the Manager didn't ask for him to be returned in the January window when it was obvious he wasn't being considered.
After all, at the start of his loan, didn't Koeman make a point of saying how well he got on with Pulis, both living near Southampton, and how much the player could learn while at WBA?
Dale Rose
34
Posted 29/05/2017 at 14:45:20
Great player, tough and tenacious. Needs to be back in first team as soon as possible.
Dan Egerton
35
Posted 29/05/2017 at 14:47:54
Alan, I think Koeman asked for him to return, but Pulis refused.
Alan J Thompson
36
Posted 29/05/2017 at 14:59:29
Didn't know that, Dan, but just seems to add to the stupidity of the situation. I mean which was it; "I don't want to play him" or "He's injured so I won't return him" – despite a friend's request.
Alan McGuffog
37
Posted 29/05/2017 at 17:20:31
Imagine what a left back Ramon Wilson could have been if he hadn't been so one-footed.
[I'm experimenting with irony, btw.]
Tony Dove
38
Posted 29/05/2017 at 17:23:02
Not sure why Galloway being one-footed is a problem. Only Ross in the present team can use use both.
Barry Pearce
39
Posted 29/05/2017 at 17:39:35
I believe it was down to the Loan fee. West Brom, wanted the loan fee back if he returned early. Believe it was ٟmillion.
Jay Harris
40
Posted 29/05/2017 at 17:56:38
What we seem to forget is that these young lads have personal issues and lifestyle issues which affect them.
It always amazes me that clubs pay fortunes for and to players but don't make provisions for watching out for players.
Eric Paul
41
Posted 29/05/2017 at 18:15:36
If you lent Pulis an E-type Jag, it would come back a Hillman Imp.
Peter Mills
42
Posted 29/05/2017 at 18:54:52
Alan (#37), I've been thinking about Ramon all day as his old team made their way back into the top flight. What a footballer.
Michael Kenrick
Editorial Team
43
Posted 29/05/2017 at 19:18:45
Gary (#32), you threw me a little there with mention of Callum Lees, who played in most Under-18s games this season just gone, and last season.
Did you perhaps mean Callum Connolly? He played in most of the Premeir League 2 games for Unsie's U23s before going out on loan at Wigan since January. His stats there show 15 starts, 3 more sub appearances, and 2 goals, which doesn't sound too bad.
And he's off in South Korea at part of Everton's 5-man England U20 contingent...
Gary Edwards
44
Posted 29/05/2017 at 19:27:48
Michael, I was thinking of Callum Lees & thanks for clearing that up. I saw him playing for the U23s during the 2015-16 season but lost track of him. He looked a promising talent to my eye.

Trevor Lynes
45
Posted 29/05/2017 at 20:04:49
I also rated Galloway at first sight but he must have gone backwards if he could not get a place in a pretty mediocre WBA. We should only be looking at players who would get into a top six side or at least squad. Galloway does not cut it at that level.
Michael Kenrick
46
Posted 29/05/2017 at 20:46:08
Hmmm... still a bit puzzling for me, Gary.
In 2015-16, there were no U23s. They were still the U21s. And Callum Lees made all of one single sub appearance for them. Is that really what you are going on here?
If not Callum Connolly, then maybe Calum Dyson?
Bob Parrington
47
Posted 30/05/2017 at 03:31:14
With the talk of Brendan only kicking with one foot, does anybody remember Norman Hunter of Leeds Utd in the Don Revie days?Hunter was a great player but was extremely "one-footed".
I'd like to see Galloway build up some strength as he seems a little on the light side!
James Watts
50
Posted 30/05/2017 at 04:00:06
Galloway impressed me most of the time when he was covering for Baines. I'm happy he's back, a welcome addition back into the squad. If he shows enough in pre-season, there is no reason he can't be cover and hopefully push Baines. He'll get plenty of opportunities this season with all the games we have.
His chances at center back will probably be very limited though as that'll be one area that Koeman is targeting for new signings.
He's still young with bags of potential, and showed enough at left back previously. It will be interesting to see if he kicks on after the dip most young players go through.
Laurie Hartley
51
Posted 30/05/2017 at 06:13:53
Bob (#47) – I remember Hunter. I was at the battle of Goodison and remember him lining up to take a free kick (one of several) when a wag standing next to me shouted "Where's your parrot, Hunter?" Even he smiled.
Paul Ward
52
Posted 30/05/2017 at 07:39:53
I thought Galloway played really well when he stepped up to replace the injured Baines. He did seem to go off the boil a little in his last few games but he had very little protection on the left side. His main asset is speed and recovery, and he is a good tackler even if it is mostly on his left side.
I don't think he is anymore one-footed than Baines is, but Leighton is a veteran at his position and it is unfair to compare an apprentice to him. I just feel sorry for a youngster having to learn his trade under Martinez then Pulis.

Alan J Thompson
53
Posted 30/05/2017 at 15:20:30
Bob (#47); That can't be right as I distinctly remember David Coleman (Coalhouse on Wednesdays?) describing his "favourite left leg" which threw into doubt how many legs he actually had and on which side, other than the side in white.
Bob Parrington
54
Posted 31/05/2017 at 01:27:02
Alan, of course! I know it's moving way off the thread but the classic David Coleman gaff still cuts me up!! It was in the 19xx? World Cup in Brazil??
When Scotland were playing and Coleman said something like, "Asa Hartford's work rate has been incredible. He's been all over the pitch. I can only say – Asa Hartford, the whole hearted player!" This was after Hartford had recovered from a hole-in-the-heart operation. :) :)
William Cartwright
55
Posted 31/05/2017 at 03:33:08
Galloway would fit in my fantasy best 11, 4-3-3 team for next season if we did (do?) not make any purchases in the summer:-
Robles (or Stekelenburg), Kenny, Holgate, Galloway, Baines (swansong), Gana, Deulofeu / Walsh, Schneiderlin, Mirallas, Barkley, Lookman (same one who plays for England).
Deulofeu is a potential midfield general and Barkley an out-and-out goal scorer... simple!
Alan J Thompson
57
Posted 31/05/2017 at 16:08:33
William (#55); That's your best 12. I'd drop Swansong if I were you.
Alan McGuffog
58
Posted 03/06/2017 at 14:06:40
Talking of David Coleman, was it the Cuban runner, Juantereno (?), who "opened his legs and showed his class"?
Alan J Thompson
59
Posted 03/06/2017 at 15:54:54
Alan (#58); Fairly sure that was the bloke. My two favourites by others were:
Brian Moore – "He's just pissed a late fatness test." and
Ted Lowe (snooker) – "And for those of you without colour television, the blue ball is the one behind the green."
Add Your Comments
In order to post a comment, you need to be logged in as a registered user of the site.
Or Sign up as a ToffeeWeb Member — it's free, takes just a few minutes and will allow you to post your comments on articles and Talking Points submissions across the site.