Opinion
Diamonds aren't forever: Koeman confirms Barkley will leave Everton "100%"
On the cusp of a major leap forward for Everton, Ross Barkley, the diamond of the club's academy, has decided to jump ship. It's a sad day for many Evertonians; an indifferent day for many others.
Chris Smith

27/07/2017
165

comments | Jump to last
Share:
On the cusp of a major leap forward for Everton, Ross Barkley, the diamond of the club's academy, has decided to jump ship. Leading his new-look, newly rich boyhood club into the top four does not, unfortunately, represent the "new challenge" he is looking for, and so Barkley will be sold "100%" according to Ronald Koeman. It's a sad day for many Evertonians; an indifferent day for many others.
"I knew what it meant to me when Wayne Rooney left. We were all down. I know how the fans felt. Now I want to help us push on. Signing a new contract is a dream. I've played for Everton most of my life. This is a big thing for me. It didn't take any persuading. As soon as I got told about it I wanted to sign".
Four years on, Barkley couldn't be more removed from those comments. It's tempting to slip into cynicism, both at the authenticity of those sentiments then, and at their absence now, but something has gone badly wrong here, and it's not immediately apparent what that is.
To attempt to navigate the quagmire of conjecture about Barkley, that 2014 contract signing is a good place to start. On the back of Everton's thrilling fifth-place finish, and their Premier League record points total, Roberto Martinez, Romelu Lukaku, John Stones and later James McCarthy were given new five-year deals. Barkley, the other star of Everton's new, youthful approach, only agreed to four.
Was this an early hint of scepticism towards Barkley within the Everton hierarchy? Probably not, given Martinez was pulling the strings, and Bill Kenwright was in charge of the money. Offering five-year contracts to all except a key player from the academy? That seems unlikely. The variable here is surely Barkley. Was this his own scepticism towards Everton surfacing for the first time? Months after his breakthrough season, was he already looking beyond Goodison Park?
Excitement and exasperation
Barkley has only lived up to that early promise in two spells since. Between August 2015 and January 2016, he scored six and assisted seven in 19 games. From January to April, 2017, he scored one and assisted six in eight games, and generally dictated play as Everton's form rivalled the league's best. There has been a regular hint of excitement and invention, but equally there has been exasperation and occasional bewilderment.
A fortnight on from the contract signing, Gareth Barry injured Barkley's medial ligament in training. When he returned two months later, Martinez's top four challengers had plummeted to 17th. Neither player nor club has fully recovered. As distance grew between fans and players, Barkley, the symbol of supporters' connection to the team, suddenly became the personification of Martinez's flaws. Recklessly attacking, defensively deficient, naive, soft, prone to unnecessary risk. As Everton's swagger had defined Barkley's breakthrough season, the Toffees' aimless indulgence characterised his follow-up.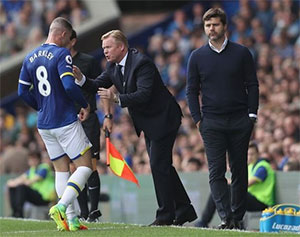 Enter stage left Ronald Koeman, the legendary player and respected coach who immediately warned Barkley "he [needed] to improve". After a goal and an assist in the first two league games, Barkley was made captain against Yeovil. Koeman: "It means a lot to him, an Evertonian young boy who starts in the academy". He scored a second free-kick of the season, then followed up with an influential display at home to Stoke. In the next game away at Sunderland, Barkley was subbed at half-time.
Productivity had masked underlying problems, but he adapted well to Koeman's methods. A closer look at the games after he was dropped last season shows he responded well on every occasion, which runs contrary to popular consensus. Only once in the five times he returned to the side did he fail to score or assist, and even then, he scored a week later. Many believe Barkley needs to be mollycoddled yet here he was disproving that, and it went unnoticed.
Changing perceptions
After a poor spell over Christmas, and a fine one from New Year on, Barkley's unsigned contract loomed large. Everton players don't generally let contracts run down, surely a local lad wasn't about to buck the trend? Koeman began issuing ultimatums and pressurising publicly. At first, it appeared he was forcing the player out of the club, but given he had already learned of his desire to go, Koeman may have been trying to keep him.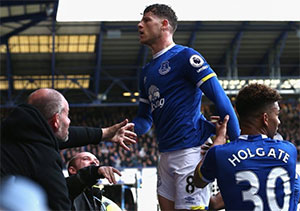 The revelation Barkley categorically wants to leave Everton alters perception significantly. Koeman has been proven right to alienate a player who alienated himself – of course he expressed his frustration. Barkley cuts a different figure too. Kissing the badge, climbing into the Gwladys Street, appearing in new promotional material as he rejects the club in secret and says nothing in public. Confusion or manipulation? It remains a mystery.
He has valid reasons to leave of course. It's reasonable to have expected a better contract offer. Since 2013, Barkley's contribution to the side was eclipsed only by Romelu Lukaku. Plus, anyone would prefer to work under a boss who wasn't, at best, completely indifferent towards their progress. Also, the appalling abuse he routinely receives from sections of Evertonians is enough to drive anyone away.
But none of those explanations will sit comfortably with fans who have bought into the boyhood Blue narrative Barkley has played up to consistently. These are obstacles to overcome in order to attain legendary status, tests of character that must be passed. Instead, Barkley is taking the easy way out in a manner that minimises Everton's benefit, and favours whichever club he joins. You can't talk about what it was like when Rooney left, then force Everton into a cheap sale. You can't market what it means to be an Evertonian then subject fans to months of uncertainty before abandoning them.
That September night at home to Yeovil when he captained Everton for the first time, Barkley celebrated his goal by revealing a message underneath his shirt. 'R.I.P SID BENSON'. Benson was the former coach who spotted Barkley and brought him to Everton, whose wistful recollection is now tinged with bitter irony: "Ross was such a big Evertonian, we had no reason to worry. 'I just want to play for Everton, Sid' – that's all he would ever say".
This article was originally posted at Chris's blog, TheRussianLinesman.com where he regularly writes peculiar and nonsensical views from the sidelines about the Blues.

Follow @cdsmith789
---
Reader Comments (165)
Note: the following content is not moderated or vetted by the site owners at the time of submission. Comments are the responsibility of the poster. Disclaimer
Jim Bailey
1
Posted 27/07/2017 at 18:57:36
Probably the most honest, considered unbiased viewpoint I have ever read on TW. I agree totally.
Mike Gaynes
2
Posted 27/07/2017 at 19:33:38
Well-written, Chris... and well said.
Charles Barrow
3
Posted 27/07/2017 at 19:58:33
I don't imagine we'll find out the 'true' story for a good few years – based on Koeman's autobiography, read in conjunction with Ross's!
Whatever the reason for Ross leaving – I, for one, feel quite sad that it ends like this. He had so much to offer but didn't quite hit the heights for us.
I wouldn't be surprised if he thrives at his next club. Unlike some posters I think he'll end up at a top 6 side and play for England again.
Real shame.
David Chait
4
Posted 27/07/2017 at 21:25:33
Good article, Chris. Enjoy your site, makes for excellent reading!
Barkley's exit is different from every other I can think of in that I can't find a valid reason for it. I have easily been able to make sense of every player we have lost Fromm Rooney to Fellaini and in between.
Barkley to go to (at this stage) Spurs? Yes, they are in the Champions League now but I don't see them as a new challenge or a club that has shown staying power of being at the top. If he were being snapped up by Chelsea say I could even understand it.
The way Ross has strung the fans along without so much as a peep is disrespectful to the fans. I don't expect anything from non Evertonian players. Lukaku can do whatever he pleases for instance. The only place it matters is the pitch for them and us. But a boyhood blue should be doing more to manage the message and right now the even his most ardent fans (of which is was one) have lost patience.
It's a real shame he got injured as the sooner he goes the better for all. Signing a contract now would smack of desperation that no one wanted him and he realized he has no equity.
He has placed himself in a lose-lose situation for the club.
Steve Ferns
5
Posted 27/07/2017 at 23:02:31
We really missed him tonight.
Clive Mitchell
6
Posted 27/07/2017 at 00:06:30
To describe Ross's silence as disrespectful is a bit rich. The lad has been subjected to a concerted programme of disrespect by his current manager.
"I want a new challenge", if indeed he said those words, could well be polite for "I want to play for a team which you're not in charge of, Boss!"
Ashley Roberts
7
Posted 28/07/2017 at 04:14:02
I really cannot believe the amount of stick that Ross gets from the supposed supporters. I don't care what anybody says –the lad is quality and wouldn't have made the England squad over the last few years if he was not one of the better footballers in the country.
He is going to be a great loss to the team moving forward and will be very difficult to replace along with Lukaku. Seeking a "new challenge" is a polite way of saying I want out and so for me he has been very dignified in his approach.
While we may never find out the real reason, my feeling is he does not buy in to the Koeman philosophy on how to play the game or his management style and I have my doubts as well. I for one will be very sad to see him go and will wish him well wherever he ends up. And he will end up at a top team.
I also doubt very much if we will see Ross kiss the badge of his teams shirt in the weeks to come as I believe he is a true blue.
Will Mabon
8
Posted 28/07/2017 at 04:17:49
David, post #4:
"The way Ross has strung the fans along without so much as a peep is disrespectful to the fans."
If he were to say something along the lines of "The manager is improving but he needs to learn that he must get his tactics right every game"... how would that be for you?
Or perhaps "Ronald shouldn't be discussing my failings as he sees them, in public"?
Maybe "I feel I've outgrown the team and deserve to be at a better club"? Or "I want more money"? How about "I want Champions League football but don't feel Everton will achieve it"?
What a shitstorm any of this would cause. Just what do you expect him to say? Seems to me, some want him to throw a turd into the mix to up the ante.
Him and his management have, so far, done things professionally. Someone on his team understands the concept of being careful and considered about what to say and when, if at all. Perhaps what I'll generally call the club, can learn from it.

"Signing a contract now would smack of desperation that no one wanted him and he realized he has no equity. "
...or indicate that ongoing talks and negotiations had removed the impasse?
I have no concrete knowledge, but am suspicious about this new challenge angle. If that were the reason, why wait for so long to say it after not signing the contract? It smacks of a softening, amorphous get-out for club and player. Sadly, it probably indicates that it's all too late and he's away.

Clive, post 6 – I agree.
Steve, post 5 – I agree with that, too. We will miss him even more in the future.
Will Mabon
9
Posted 28/07/2017 at 04:29:23
Ashley, I've tried to stay reasoned and factual as to the possibilities when I've posted. I do though, have my own feelings as to what's behind all this. I believe it will come out eventually.
Rick Tarleton
10
Posted 28/07/2017 at 05:12:27
I find strange the fact that everything to do with Barkley is told to us by Koeman. No doubt his account is objective and unbiased, but I'd love to hear Barkley's perspective on this issue.
I feel that it is a mystery wrapped in an enigma as to why we are getting rid of our most talented home-grown player and he has not said a word, except those reported by his manager.
Karl Masters
11
Posted 28/07/2017 at 09:47:46
Off-the-field issues?
We never did get an explanation of the nightclub punch incident.
Rick Tarleton
12
Posted 28/07/2017 at 10:06:31
I'd just like Barkley (or his representative) to tell us how he sees things. I can accept he wants to move for more money, more playing time, trophies.
What I don't like is that every "fact" about this issue has come from Koeman. It's bizarre, like the history of the slave trade being told by a slave owner and stating that the slaves are grateful for a meal a day and a floor on which to sleep. It's a limited and unreliable perspective.
Alan J Thompson
13
Posted 28/07/2017 at 10:15:07
It appears the Manager doesn't have the ability to mange talented players. He prefers defensive midfielders who don't know how to attack over attacking, skillful players who don't defend particularly well.
James Macdonald
14
Posted 28/07/2017 at 10:39:25
We could have badly done with Ross last night – that additional thrust he has is a quality Klaassen and Rooney just do not have (and ditto Sigurdsson). Keane and Pickford will improve us defensively this season but I see us as significantly weaker as an attacking force.
As to what is motivating Ross, we need to remember he is a human being and he would have changed his outlook a great deal since he signed his last contract. Perhaps the new challenge is not just professional but personal too – perhaps he wants to experience life in London.
There are many variables and permutations we do not know. My impression is of a humble quiet unassuming lad who is a good bloke and does not deserve any vitriol. He doesn't owe Everton anything as he has certainly given far more than he has taken.
Thanks for the memories Ross and most of all thanks for the excitement you generated. I wish him all the best and fingers crossed he is doing the business in Russia next summer
Steve Ferns
15
Posted 28/07/2017 at 10:50:45
Everton should make one last ditch effort to retain him. Offer him the best contract we have ever offered, ie, more than we offered Lukaku. Justify this on the basis that we would have to offer a similar wage to Sigurdsson and that we would also have to spend 㿞m.
We can then spend big on the striker that we desperately need. Try to sign someone who would actually link up well with Ross, though I think he would have linked up well with the all-action game of Sandro.
After last night's abject performance, Koeman needs to seriously reconsider things with Ross and convince him to stay. I believe Ross would stay, and that he needs to hear from Koeman that he will be his number one player, and not someone to be messed around with and played out of position.
David Chait
16
Posted 28/07/2017 at 11:09:21
The point I'm making is he is allowing Koeman to manage the communication. By saying nothing, we are being fed the Koeman version and by not saying anything, he is in silent agreement. If he didn't say he wanted a new challenge to Koeamn, why not say it.
He could even say he is currently in discussions with the club and others and will ensure the right decision is made for his career. Fine. But his chest beating, stand climbing antics seem very hollow now.
Even Lukaku was open about his ambitions.. I had literally zero issue with Rom.
Steve Ferns
17
Posted 28/07/2017 at 11:13:45
Koeman was clearly telling the board to sign a striker, a defender, and another player (Sigurdsson) last night. So, was he also talking to the board, when he said Barkley was 100% gone? Was he telling them not to negotiate further with Ross?
Maybe press-conferences should be done by the Director of Football and the Head Coach, and Koeman should only speak about matters relating to what happens on the pitch?
Stan Schofield
18
Posted 28/07/2017 at 12:15:33
Ross being an Evertonian, it's possible he wants to play for Everton (always has, always will?), but doesn't want to play for Koeman. It happens in many jobs. Perhaps worth bearing in mind, considering that Koeman might be gone in two years time.
Alun Jones
19
Posted 28/07/2017 at 12:18:50
Cracking, impartial article, Chris, and one that I felt the need to contribute to.
I've been a distant 'puruser' of ToffeeWeb for years now but could never be arsed to contribute - this whole truly bizarre/ upsetting scenario has lured my fingers onto the keyboard.
Steve (#15), I wholeheartedly concur. Ross is such a hugely talented (if somewhat frustrating) young footballer. Plus he's a blue. We all know how this shared passion dictates our lives, moods and choices made. So how the fuck have we ended up in this situation?? Someone or thing has seriously pissed him off.
The boy has always demonstrated his love for this club. I'm not having the 'lazy' tag that some titends label him with. Last season you could see the desire that drove him keep demanding the ball, to make something happen even when he'd made a twat of it. As the article and stats suggest, the myth around him needing smoke up is arse is false when he was shot down by his boss, 'coach', chief 'motivator', the boy came back snarling. And as for the boo-boys at the ol' lady, that's another rant pick on the local lad, pricks!!
The direction I want to go in here is balls out, straight at the hairy hen's egg that it Ronald. For me, he's kopped out completely. I get that he sees so much more of these players than we are witness to but come 'ead, how much are you paid a year Ron? How versatile are you in you approach to players, to nurture their attributes and skills? How tactically savvy are you to utilise your workforce and pit them against your foe? You have a raw, highly skilled, young English, Toffee flavoured powerhouse at your disposal and all you do is call him out and belittle his contributions. Fuck me last season, if that's how you deal with 'motivating' your players, on occasions, you may have well sent the lot to Borstall or had them go granny gardening on community hours. We were desperately shite at points and you just gobbed off at one player who has been or most creative force for the last 3 years.
£50 million for a ageing, half decent Icelandic who can wazz in a quality cross now and again or a true blue (that cost nowt) that can only get better with the correct system and with additions around him to compliment/unburden him? You may have guessed which option I'd take.
Ronald has yet to convince in my opinion (last night only adds to the accusation). He seems inflexible with stunted imagination. 'My way or the highway' type shit. One of those knobheads who says, 'Well I just say what I want and if you don't like it .' Which translates into, 'I'm a twat that has the social skills of a rabid jaguar and ill be offensive coz well, I'm a twat'. I digress.
To summarise; I for one will be saddened by Ross Barkley's departure and wish him all the luck in the future. If a Savvy coach can bring him in, play to his strengths and place quality players around him, then I feel that they will have themselves an absolute steal. Just don't come back 'home' and rub our noses in it please.
Oh and Ron, get a striker sorted will you please; if not, this season is shagged before it starts and your Barcelona dream will fade quicker than your two-hour tan.
Karl Masters
20
Posted 28/07/2017 at 12:59:30
More than football going on here?
Chris Leyland
21
Posted 28/07/2017 at 13:04:16
James Macdonald "He doesn't owe Everton anything as he has certainly given far more than he has taken."
I disagree – he is taken millions of pounds of wages for the occasional bit of brilliance. This doesn't equate to me to 'giving far more'.
If he was a consistent match-winner then I'd agree but in the vast majority of games he simply runs into blind alleys or looks for the safe square/backwards pass. In the four seasons he has been a first team regular, I can't honestly remember many (if any) games against the so-called 'big' clubs where he has taken a game by the scruff of the neck and dominated it. Can anyone?
I can't help but contrast him to the fella from across the Park who famously slipped on his arse and think of all the games that he was involved in where he dragged his horrible team over the line with desire and commitment. Think of the number of goals that gobshite scored at Goodison against us and then compare these to Ross.
Brian Williams
23
Posted 28/07/2017 at 13:18:03
I wonder if any of those with the multitude of conspiratorial theories could ever possibly believe that it's simply down to the fact that Ross wants more (salarywise) than Everton are prepared to offer?

If that was the case, then Koeman – far from being everything he's been accused of – is actually being quite professional in his choice of words.
Dan Davies
24
Posted 28/07/2017 at 13:46:31
I'd take a guess that the managers position on Ross is coming from above. Koeman is possibly saying what the hierarchy are allowing him to say or want him to say publicly.
I also guess that this situation is more than just football, maybe Ross just wants to get away from the Merseyside fish bowl and expand his horizons?
Ray Robinson
25
Posted 28/07/2017 at 13:58:25
Dan #24. I disagree. For all Koeman's faults / virtues, I don't see him as anyone's mouthpiece!
Dan Davies
26
Posted 28/07/2017 at 14:30:21
Ray, you may well be right. We'll have to agree to disagree!
Chris Green
27
Posted 28/07/2017 at 14:52:18
I find it really hard to listen to people saying Koeman can't manage people or that he can't manage creative players. I mean seriously!?
At the end of the day, Ross has chosen not to sign a very good deal. No, not the same as Messi or Ronaldo earn... but to date you haven't shown you are that good. He has chosen not to.
Whether that's cos he doesn't like the management style (diddums, Koeman might only be here for a couple of years) or he is paid enough (my heart bleeds for your lack of cash) it doesn't matter. He didn't sign. The reasons are his own.
I completely agree with Chris (#21), look at what the other teams "talisman" did... he got stick... but he had the fortitude to stay at the club he professed to love.
I want Ross to stay, to prove he is what we have all thought he could be. To improve those areas of his game he must know aren't good enough and to get that consistency. Its about aptitude and putting in that extra, things people like Tom Davies seem to want to do to make it work.
If he wants to join Spurs, to sit on the bench and rot for 㾶k more... good luck. I would want to play to prove people wrong and be part of an exciting time at the club.
Don Alexander
28
Posted 28/07/2017 at 15:00:05
Good, dispassionate article which I fully agree with. I also fully agree with Chris Leyland (#21).
In all my life, I cannot recall a footballer with Barkley's occasionally astonishing gifts being so consistently ordinary and often useless in the mundane elements of the game, those being the elements where victories are won.
No, he doesn't ask to be compared to Stevie G but he's shown rare glimpses of that sort of talent. From the neck up, there's unfortunately no comparison at all sadly.
Stan Schofield
29
Posted 28/07/2017 at 16:02:56
Alun @19: Good post, well said.
I'm distrustful of any manager in any industry, football included, who shows the trait of never taking the blame (accountability) when things aren't going right. Of blaming the people who work for him, sometimes the most talented ones. A classic sign of a shite manager.
It amuses me how people cite Martinez blowing smoke up Barkley's arse, and Koeman applying 'tough love'. What I've seen is unskilled verbiage of the political defensive kind. The manager who reacts defensively rather than constructively, who never cites his own methods (tactics in this case) as the cause of the problem.
The only smoke I can see being blown up anyone's arse is the smoke up Koeman's arse being blown by his consistent apologists.
Sean Clarke
30
Posted 28/07/2017 at 16:17:27
Well played, excellent article... and Chris Leyland (#21) is spot on.

Don Alexander
31
Posted 28/07/2017 at 17:44:48
Alun (#19), your dislike of Koeman would be more valid if he didn't have a trait shared by Messrs Moyes, Martinez, Warnock, Hodgson and Southgate in that none of them has been able to get Barkley reliably deliver what everyone, except Ross himself perhaps, wants to see.
Still, what do they know, eh?
Stan Schofield
32
Posted 28/07/2017 at 17:55:00
Everton have been shite for more years than I care to remember. We're supposed to be in a new era, but seem to be losing our 'best players' (in the eyes of the non-Everton football world, apparently) to top-6 sides. Stones, Lukaku, and now probably Barkley.
But some on here will simply focus on the shortcomings of these players, rather than on the clear and systemic shortcoming of Everton for over two decades: the shortcoming of shitness. Shitness that individual players of talent cannot rectify by themselves, because they are simply immersed in mediocrity.
Whatever the reasons behind Barkley's reasons to leave Everton, what I believe is this: If I as an individual employee had been subjected to open public 'assessment' of my performance in the way that Barkley has by Koeman, and I had attractive options elsewhere, I'd be minded to say, sod you lot, I'm off, I've got a career to look after.
James Macdonald
33
Posted 28/07/2017 at 17:55:28
Chris (#21),
I really find it extraordinary your logic that Ross somehow owes us something. On a purely monetary level Ross will have made the club a tremendous profit. the club offered him a new contract and he is not obliged in any way to sign it.
Phil Bellis
34
Posted 28/07/2017 at 18:02:40
Overheard at the match last night..."I'd drive him to Spurs meself." certainly polarised views re our unpolished diamond.
David Pearl
35
Posted 28/07/2017 at 18:09:27
Karl, 11. He was just chatting up the guys bird on Instagram.
I can't blame him wanting to leave Liverpool. At least for a time, for experience... for life in general and football.
He is a nice lad, a bit introverted. He apparently took a couple mates to Las Vegas a few weeks ago.
Let's face it, Koeman has done all the talking for him. For all of his productivity, can you imagine if he didn't lose possession half as much as he does He has the potential to be world class. A couple of years in Italy would do him the world of good. I just don't want to see him play for another team in England.
We've gone from building a team around Ross, Lukaku, Deulofeu and Stones... to selling the lot and starting again. We've made too many changes and are still very short in a couple important places. Wing backs are precious these days... and of course strikers too.
Seems a little odd though they he would want to leave now we can compete more than we have been able to for years... but that's compared to those teams below us, not above!
Brian Williams
36
Posted 28/07/2017 at 18:32:19
From Barkley's situation to the slave trade, Jeez!!!
Will Mabon
37
Posted 28/07/2017 at 18:46:05
"
...blaming the people who work for him, sometimes the most talented ones. A classic sign of a shite manager.
"
Usually the most talented ones. Tall poppy syndrome. The dullest always exhibit the worst of it.
There was a shot of Koeman standing from the bench and angrily throwing his hand out towards the pitch dismissively with a disgusted look on his face, at a Barkley mistake... for all to see.
It struck me at the time as terrible behaviour. If anyone can remember which match it was ('cos I can't), please say. It tells all you need to know.
John G Davies
38
Posted 28/07/2017 at 18:54:44
Rick (#12),
People paraded naked around sales markets for the white masters to view. Family's split never to see each other again. Whipped, raped, lynched. Forced to fight for the entertainment of the massa.
A footballer who is moving on from one club to another.
I can see how you would make the connection there.
Eddie Dunn
39
Posted 28/07/2017 at 19:04:50
A good article Chris, as others have said – quite impartial.
We are not privy to the shenanigans behind the scenes. The players and agents must know what deals the other top lads are on, and it is normal for them to try to get it improved.
I suspect that Koeman doesn't like him and Ross dislikes his manner. People don't always get on. If he is unhappy then he needs to change his environment.
I am sad for Ross and for EFC. However, this manager has a job to do, and we have to hope he gets it right. He is better qualified than any of us and should know if Barkley can sort out his defects.
If we get Sigurdsson we may see what the boss wants, or we may wish for the return of our enigmatic son. I noticed that last night quite a few on TW were bemoaning his absence.
Finally, Koeman is playing politics with the board, trying to pressure them into stumping up more cash. Whether Ross really said he wanted a "fresh challenge" is anyone's guess.

Dave Ganley
40
Posted 28/07/2017 at 19:52:04
Very good post; I enjoyed the impartiality. There are a number of views on here, some I agree with some not.
It is with regret that Ross will leave. Not because he is a shiny star who we will miss terribly, imo, but because I will always have the feeling of what could have been. His talent, for me, has never been in doubt. Showcasing and harnessing that talent has always been one of his biggest problems.
It's a moot point really as to whether Martinez bigging him up affected his concentration and drive,; similarly, it's also a moot point as to whether Koeman upset him with his criticism. To be the best or at least put yourself on that level, it has to come from within. You have to have the drive to brush off excessive praise and also have the attitude that "I'll prove him wrong" whenever criticism comes your way. Personally, I don't think Ross has that.
Every now and again, Ross will have a stormer or do things that you can marvel at. Then, in the next game, his level has stooped to championship level where his desire and effort you would balk at in a Sunday league game.
I heard a good comparison the other day. Somebody was saying that when Rooney loses possession he takes it as a personal insult and makes it his mission to get the ball back; when Ross does so he just looks around and shrugs his shoulders. For me that couldn't be more true.
I thought it wouldn't be long until people came on here saying if Ross was playing he would have made a difference last night. On what evidence? Ross had an awful 2nd half of the season last season, what has changed now, aside from the warped logic that absence makes the player a superstar?
We all wanted Ross to be a star for Everton; anybody who says otherwise is a liar. Why fans vent their frustration is that they hate wasted talent and Ross certainly is wasted talent. We all know what he can do but, when we see such a talented player getting knocked off the ball, dithering on the ball, strolling around leaving everything to others, then we have a right to question their commitment to the cause.
Not only do we want talent at our club we also want players who will give everything to the cause too. That's not stifling talent that's just showing commitment. Ross being local should know that more than most. Alas, if he does then he chooses not to adhere to it.
There are posters directing their anger towards Koeman's role in this. It's not Koeman's fault. He's not driving talent away as some suggest. Stones wanted away well before Koeman came. Hasn't worked out too well for "the best centre-half in a generation" now he's at Man City, it matters that he fucks around with the ball and gives away goals. It's what we were saying but to the "Knowledgable fans" what did we know.
Lukaku wanted away from day one so how the hell is Koeman driving these players away? Barkley has been offered £100k a week to stay. £100k for his supposedly dream club to stay and he's fucked it off. Hardly a pittance given his inconsistent performances. But no, he chooses not to sign, not to show some fight or bottle or "I'll show you" attitude, I'm off mate!!
And that highlights Barkley for me, when the going gets tough, Ross disappears. I wish him well wherever he goes and hope he does finally realise his potential, but as it stands, he will go the way of other players who just didn't have the right attitude to make it to the top.
Evertonians aren't stupid, we know good players when we see them, but also we know shirkers when we see them too. Wasted talent is the biggest slap in the face for Evertonians who love their heroes.
Phil Bellis
41
Posted 28/07/2017 at 21:10:12
David (#35)... not what I was told; Rumour v Rumour v Rumour which I won't propagate.
However, if you find yourself in The Baltic, raise the issue of Barkleygate with the bar staff...

Gareth Stephens
42
Posted 28/07/2017 at 23:04:00
I get the impression that he doesn't handle criticism very well. Perhaps a bit emotionally weak. There's some footage at the FA Cup semi-final when they're coming in at half-time. Jagielka can be heard saying "Roscoe, they're not booing you". I get the impression that he takes it personally.
You can imagine what the last few years have been like for him. From Martinez telling him that he's one of the best midfielders in Europe, to Koeman telling him straight that he expects more from him, to his own fans getting on his back every other week.
Fans pay a lot of money to be entertained and also expect to win. A lot though, seem to think that, because they've paid their money, it's their right to get on to a player or manager if they want to. I think it might have lead to Ross wanting out in this case.
That said, I also think Ross is in for a bit of a shock if he thinks it's going to be any better at either Spurs, Man Utd or Arsenal.
Gareth Stephens
43
Posted 28/07/2017 at 23:55:56
#32 "
Everton have been shite for more years than I care to remember
"
By systematic shortcomings, I assume that you mean the lack of investment. In the absence of a billionaire owner, or season tickets costing upwards of ٟk, where was the investment supposed to come from? Why didn't you yourself put a couple of hundred million pounds into the club?
20 years ago, we were in a really shit state – owned by a kopite and with huge debts. For the last 18 years since Bill Kenwright took over, the club has been slowly getting better while at the same time keeping us from becoming the next Leeds or Rangers.
Koeman has only been with us a year. Considering what he achieved with what was left behind by the previous turd, I think he did quite well. I think we'll start to see massive improvements over the next season or two.
Don Alexander
44
Posted 28/07/2017 at 23:59:01
Rick Tarleton (#12) do you reckon a movie of Ross's time with us might be called "Twelve Years A Slap-head"?
Will Jones
46
Posted 29/07/2017 at 00:39:01
Barkley is making a right mess of everything. He could have been a local hero but is being, according to his agent's approach at least, selfish. Koeman has his principles, but he has said the business side of things lies elsewhere.
So EFC, sort it out! Sell him to anyone for more than 㾶m. To loose him for nothing next year, after paying ٣m in wages on the way, is plain stupid.
Gavin Johnson
47
Posted 29/07/2017 at 01:39:51
Apparently Spurs want to use Ross Barkley as a defensive midfielder. Makes me wonder if they've ever seen him play. Pochettino is a football genius if he pulls that one off.
Karl Masters
48
Posted 29/07/2017 at 02:20:51
I heard today about a man arrested at Manchester airport last Sunday who had allegedly threatened by text and told Barkley he would make sure he never played football again if he didn't stop pursuing his girlfriend.
Martin Mason
49
Posted 29/07/2017 at 04:12:26
Gareth @43
The man responsible for getting Everton into the position that we are in now is Kenwright, that was where the buck stopped. While being attacked mercilessly, and I say irrationally, he did exactly what he said he would do which was to keep Everton stable from a position of being a basket-case to being sold to the right buyer. He was never going to be able to invest in the club himself but he turned it round and eventually got possibly the best deal available.
His mistake was to court popularity by promising more than he could achieve (King's Dock) in the interim. I believe this was why he became a hate figure.
Alun Jones
50
Posted 29/07/2017 at 10:27:40
Don (#31) yeh, I see your point, matey. Maybe my disliking of the moon-faced one is bleeding into my take on this situation it's just that his treatment towards, & the marginalisation of Ross sticks in the throat a tad. Stan #(18) is on point when he states that if we are to liken this to real world employment, Ross has thought, screw this, my boss is a knobber, I'm off.
To single out one player when the team you are charged with are not producing the goods, after once again, they've collectively failed to find a way to eek out victory - reeks of deflecting accountability. Ron's mannerisms, his often disassociation to our beloved club & all round demeanour don't do him any favours but I suppose no one ever drowned in Alex Ferguson's charms did they.
I hope & pray that he robotically leads us to a bounty of silverware but at the moment, I can't see a clear direction or a smidge of humility. Oh aye, this debate is about Ross Barkley.
Leeds fans (I live here & associate with a fair few) were somewhat baffled by Warnocks treatment of Ross & during Martinez 's first season, the boy was a joy to behold.
I'm not saying that he'll become a world beater & I get that within modern football, sentimentality is no longer welcome but it's a crying shame that we've arrived at this point. I any of us fellow blues (like Ross) were offered just 10-bob & a clip round the lug to lace our boots & scamper onto Goodison's dream carpet each weekend, Jesus – we'd weep with joy & high 5 pensioners on the High Street.
Something doesn't sit right & doesn't feel 'Everton'.
Ed Fitzgerald
51
Posted 29/07/2017 at 10:31:28
Gareth Stephens – You are more than a bit of a knobhead for labelling someone a closet Kopite because they have the temerity to challenge your views.
I agree with Stan 100%, the reality is we are still a selling club. Get your tongue out of Koeman's backside and perhaps consider that his handling of Barkley could be wrong. Perhaps the salient question for all Barkley haters on here: If he is so shite, why is it that four of the top six clubs are being linked with him??
That turd of a manager you mention did record a finish in his first season of 5th with our highest points total in the Premier League. Perhaps you were calling him a turd then?? Koeman has been given more money than any other Everton manager in history and the quality of football produced thus far has, on the whole, been dreadful and negative.
Does it make me a Kopite to say Liverpool are more exciting to watch than us and have a manager who manages to engage with supporters rather than alienate them? I don't think so
Don Alexander
52
Posted 29/07/2017 at 13:44:44
Alun, the one thing me, you and every other Toffee wants/ed is for Ross Barkley to shine for us in a way that regularly scares the shit out of the opposition. Ross Barkley didn't do that even occasionally last season.
The one thing Koeman wants is Champions League two seasons from now. To do that he'll need more than one "productive" player to regularly scare the shit out of the opposition and no passengers. He's under severe pressure (and yes, I know ٤ mill/year is the sort of pressure we'd all welcome).
Coldness in him, or abruptness, should not in a 23-year-old be the unconquerable challenge it seems to have been for Barkley. He's had several managers all have seemingly "failed" him but it increasingly seems like the problem's sadly with him, Barkley.
Stan Schofield
53
Posted 29/07/2017 at 13:59:48
Barkley's managers have all looked, to me, quite mediocre. And if course he's played for two mediocre teams, Everton and England.
It'll be interesting see how he performs under a good manager in a good team.
John G Davies
55
Posted 29/07/2017 at 14:56:12
Ed, 51
How many of the four clubs have put a bid in?
Paul Tran
56
Posted 29/07/2017 at 14:56:38
If we're going to liken this to 'real world' employment, here's my take on what an employment tribunal might think. Back in the day, I worked for a national charity, training volunteers & managers in employment law.
Let's go back to last year. Koeman made it clear that he was going to take a good look at all the players in the squad, before diving into the market. Got a lot of stick on here, but I think a tribunal would regard that as reasonable behaviour.
Now let's look at how Barkley has been managed. This is contentious, as there's plenty we don't know. Koeman came out and said Barkley needed to improve, he kept picking him, making him captain for one game, and Ross's form picked up. Then it dipped again and Koeman pointed that out. On the face of it, I think a tribunal would regard this as reasonable, the employee was given the chance to improve, improved then his form tailed off again. Now, if there was actual evidence produced of Koeman harassing or bullying Ross, that would be a different matter.
The contract is reasonably straightforward. Ross was offered a contract. I would be staggered if it had inferior terms to his existing one. If it does, he'd have a potential case for unfair dismissal. The fact that he was picked for, I think, 36 of 38 games would be a counter-argument against him being 'forced out' or constructively unfairly dismissed.
He is perfectly within his rights to refuse to sign a contract and if what Koeman is saying is true, has given his employer ample notice of looking to leave. An employer telling the employee to sign a contract or leave is quite common. It is regarded as reasonable unless the employee is threatened with dismissal or clearly 'forced' out.
I think a tribunal would regard Ross as behaving reasonably. Unless evidence was produced showing repeated incidents of harassment or bullying, or the new contract terms are significantly worse than the existing one, I think it would also regard the employer's actions as reasonable. The employer has offered a contract and the employee hasn't accepted it. It probably wouldn't get to a hearing.
If there are any employment lawyers on here able to contradict anything I've said, please let me know.
People often cite their perception of unfairness as a reason to pursue a tribunal case, yet tribunals take the emotions out of a case and examine the reasonableness of both parties and whether either side has transgressed any laws.
Alan J Thompson
57
Posted 29/07/2017 at 15:13:08
Martin (#49); Does that include deterring the Arabs who turned to Man City after first inquiring about Everton and the unemployed bloke in the one bedroom flat in Manchester?
Ed Fitzgerald
58
Posted 29/07/2017 at 16:10:16
John,
You want a little wager that he won't be at one of the following by the 1st of September – I hope you win and he stays with us:
Spurs, Arsenal, Man Utd or Chelsea
He won't go for the price he should do and for that reduction in the fee we have that poker player par excellence, Mr Personality himself, Koeman.
Let me know if you are up for the bet?
Charles Barrow
59
Posted 29/07/2017 at 16:37:32
It seems to me nearly all of us agree Ross is a real talent but he hasn't shown it consistently for Everton. Certainly he has the skill to do special things on the pitch. I think he is a bit of a troubled soul and needs careful handling – Koeman clearly isn't that person!
Perhaps its fair enough that he has lost patience with him. I just think it's a real shame if Ross leaves and showcases that talent for another club.
John G Davies
60
Posted 29/07/2017 at 17:02:01
Ed,
None of the 4 clubs have made a bid.
It wouldn't surprise me if he ended up at one if them.
My point is why hasn't one of them jumped in if they know there are another 3 clubs after him?

Ed Fitzgerald
61
Posted 29/07/2017 at 18:38:03
John
Probably because they are waiting to see how cheap they can get him for?
I will give you the more favourable odds for the bet? – You can have any side outside the top six and the unlikely event of him staying.
My point is that sides better than Everton are prepared to move in for him. Surely you can concede that Koeman's handling of Barkley from the start of last season was bound to result in him going?
Peter Howard
62
Posted 29/07/2017 at 18:38:26
Anyone who tries to draw parallels between engagement as a Premier League footballer and normal employment is starting from the wrong premise.
Paul Tran
63
Posted 29/07/2017 at 18:44:21
Correct, Peter. I'm sick of people talking about bullying and constructive dismissal about an inconsistent player who won't sign a contract. So I thought I'd stick that piece in.
John G Davies
64
Posted 29/07/2017 at 18:53:22
Ed,
That enhances my point.
You could probably get him now for around £25 million.
If he is the player you and others think he is surely they wouldn't hang around trying to get a £5 million reduction?
Koeman's handling of Barkley doesn't tell me anything except he doesn't see Ross as part of his team plans for the future. He wants him out.
Colin Glassar
65
Posted 29/07/2017 at 18:54:43
I suppose we could offer Ross for Siggurdsson, straight swap, then everyone would be happy.
Stan Schofield
66
Posted 29/07/2017 at 19:23:32
Paul@63: Putting all that stuff (legal shit and all that) to one side, I can imagine if my employer had 'assessed' me repeatedly and publically the way Koeman has Barkley, I'd act similarly to Barkley, whilst thinking 'Sod you Koeman, I'm off'.
All the shit about bullying and constructive dismissal is irrelevant.
Oliver Molloy
67
Posted 29/07/2017 at 19:25:13
John,
Koeman has said that if Barkley is still with Everton after deadline day, he will be part of the first team squad (providing he is respectful) I think he said.
We can all interpret this whatever way we wish.
Koeman is not driving Barkley out of the club, (he has been offered a very good contract – remember) so all those who say that Koeman is chasing Barkley, it's all utter nonsense.
I don't believe there would be many managers who would want a player around the first team squad that has said he wants to leave.
People saying Barkley has said nothing, why?
I predict there will be a few twists and turns in this saga before its all done and dusted.
Any club waiting till deadline day to get Barkley on the cheap will be knocked back by Moshiri, especially Levy who apparently isn't Moshiri favourite person in the world.
If he stays I will support him, if he goes I hope it's soon, but unlikely given he has just had surgery.
Everton FC is bigger than any manager and any player.

Mark Taylor
68
Posted 29/07/2017 at 20:45:23
So if Ross leaves, will he be a Rooney or a Rodwell?
Much as I admire his raw talent, I think the latter. He hasn't found a way of maximising his talent (as for example, Lukaku has done on a lot less skill and ability). And he is no longer the prodigal genius, he has had plenty enough game time to have completed 95% of his potential development.
I'm not sure what his agent is playing at here. As Osman and Campbell said before the game the other night, the idea of telling your manager you want to leave (which supposedly he has done) without having your move pretty much written in blood, is to put it mildly, inadvisable. Has a top 4/6 club promised him something we (and EFC's management) don't know? Maybe but it seems unlikely. Not quite sure how Spurs, who seem to be most implicated, imagine fitting him into their team. Defensive midfielder? It is pretty apparent Ross needs to be kept as close to the opposition's goal as possible.
I can imagine at the right price (the wrong price for us), a top 4/6 side buying him, but more likely as a wild card option off the bench. Is that Ross's 'new challenge'? Is it likely to yield the £150k a week he is allegedly after?
Does he end up getting regular game time at the likes of West Brom or West Ham as the 'new challenge'?
Or, if the offer is too risible, do we just call the bluff of Ross and his agent. A year sitting around not doing much, because the manager can't or won't fit you into his system, does not lead to £150k a week wages. Still less in a world cup year. Out of sight, out of mind
Paul Tran
69
Posted 29/07/2017 at 21:45:19
You're right, Stan. I've been that disgruntled employee and I've been the manager tearing his hair out at the under-performing 'talented' team member. Maybe that's why I'm self-employed now!
But you know what, if Barkley was the player people say he is, he'd rise above this and perform consistently. He doesn't. And some on here are talking about bullying and constructive dismissal. Some are talking about Ross disrespecting the club. I think both sides are wrong. So I thought I'd give a give a legal take on it.
Don Alexander
70
Posted 29/07/2017 at 23:11:53
Stan, your last point at #53, "It'll be interesting see how he performs under a good manager in a good team", just as easily covers any mediocre player in any mediocre team (and, two seasons of Martinez aside, I don't think Everton have been as poor as "mediocre" for the past ten years or so either).
We'll likely never know the full story, but as others have pointed out it's risible to contend bullying/ostracising by Koeman on the evidence we've all seen by Ross playing nearly every game last season.
He just can't or won't do regularly enough what Koeman or any of his managers (or rational fans) require, and I'd wager that there's a number of his team-mates who really won't miss him as much as some extravagantly loyal fans like you do.
Will Mabon
71
Posted 29/07/2017 at 23:30:03
"...extravagantly loyal".
Eh?
Stan Schofield
72
Posted 29/07/2017 at 23:44:18
Don@70: I don't disagree about what you say regarding 'bullying and ostracising'. All I'm saying is that, if I had been publically 'assessed' the way Koeman has Barkley, there's a good chance I'd do precisely what Barkley is doing, whilst thinking 'Sod you Koeman, I'm off'. And that is not dependent on how good or crap I think Barkley is. So any 'loyalty' on my part simply doesn't enter into it.
Dave Abrahams
73
Posted 30/07/2017 at 09:12:00
Chris (#27) and Dave (#40). Amen to both posts.
Ed Fitzgerald
74
Posted 30/07/2017 at 09:18:16
Paul Tran
Across Europe for the 2016-17 season, which midfielder who qualified as 23 or under was responsible for creating more goal scoring chances (84) than any other?
I will give you a clue – a certain manager doesn't think he is productive enough
Clearly he is not consistent enough; perhaps that is why the vultures are circling to pick off another young Everton player?
Chris Leyland
75
Posted 30/07/2017 at 09:46:38
Ed – can you explain a little more about this apparently meaningless stat of 'chances created'?
What counts as a 'chance'? Is there a chances Tsar sitting in judgement on whether a slightly over hit pass counts as a chance or a corner taken that skimmed the top of at attackers head and went out for a free kick? Maybe a Chances Panel like the Pools Panel exists?
In years to come, none of us will be talking about trophies won or goals scored by players, and there will be a statue of Ross next to Dixie Dean's celebrating the year he created 84 chances.
John G Davies
76
Posted 30/07/2017 at 10:34:39
Ed,
What position was Ross in the overall table?
Arthur Westhead
77
Posted 30/07/2017 at 11:26:20
Koeman has a professional obligation to attend frequent press conferences. A typical conference 12 months ago would open with the front row centre journalist asking the direct question "Tell us what you think of Ross Barkley's performance". What the journo really meant was "He was crap for most of the game with the occasional glimpse of great skill." So Koeman answers by saying he must improve his overall game.
Fast forward a year, same front row centre Journo asks "So what is the position with Ross Barkley's contract?" What he really means is "We know Barkley has been stringing you along and is refusing to sign, what are you going to do?"
So how does Koeman answer that? Does he say; "I hope he will sign, more discussions to take place, I've got no idea, ask the Board, ask him," or some other lie? No, he tells the truth by saying that, despite us offering a vastly improved contract, he refuses to sign and if he doesn't sign he will be sold.
Barkley however stays absolutely silent (unlike Lukaku who at least had the honesty, confidence, courage and arrogance to say how he feels).
So all the comments are entirely Koeman's and he just can't win. It's clear Barkley wants away, whatever his reasons may be and I certainly don't know what they are, financial or personal. Perhaps we may find out eventually.
I find it sad that someone who was 'one of us', a 'true blue' (I say 'was' because he certainly isn't now), one of our greatest potential talents, has never got anywhere near fulfilling that potential.
Stan Schofield
78
Posted 30/07/2017 at 12:09:24
Arthur, yes, it's difficult for managers when they face often leading questions from the press. That said though, there's always more than one way to skin a cat. Koeman has often said, on other matters, it's not about individual players but about the team. He could have used a similar approach with Barkley, and Lukaku and Niasse for that matter.
I was strongly supportive of Koeman a year ago, but I've found some of his statements jarring to say the least. Inept at times, even unprofessional. I expect better from someone so high profile and paid ٤M/year.
Putting the ability of Barkley to one side, if it had been me who Koeman had repeatedly made assessments of in the way he has Barkley, I would be right pissed off, just out of sense of pride and self-respect. Money can come a clear second in such situations, and a player could think, 'Fuck this for a lark, I'm not playing for that cheeky sod anymore, I'm off elsewhere, Evertonian or not'.
We don't know Barkley's thinking, but it's clear to me that Koeman's inept utterances are unlikely to have helped.
Gordon Crawford
79
Posted 30/07/2017 at 12:27:31
Stan (#78) I totally agree. I have said the same for ages.
Koeman's treatment of Ross has been nothing short of embarrassing. It will be a sad day when one of our very best talents walks out the door.
Yes, he hasn't fufilled his potential, and sadly he might never. But he is still head and shoulders better than Klaassen and Sigurdsson in my opinion. Maybe someday we will know what really happened.
Colin Metcalfe
80
Posted 30/07/2017 at 12:46:23
Stan, although I agree, Koeman could've handled the situation with Barkley a bit better, we must remember Koeman was a far superior footballer than Barkley and so, if anyone can can criticize, Koeman has the CV to do it.
Maybe you're right and Barkley has decided he has had enough but he has got to respect Koeman's point of view, do you not think?
Charles Barrow
81
Posted 30/07/2017 at 13:00:19
Unfortunately there is not a correlation between how good you were as a player and your talent as a manager or coach. The mere fact that Koeman was a great player means nothing compared to his attitude to players now.
The way things are going, it may be we need Barkley more than Man City, Spurs, Man Utd or even West Ham or West Brom!
Dave Abrahams
82
Posted 30/07/2017 at 13:06:18
Stan (#78), in your next to last paragraph, talking about Barkley and Koeman's assessments of him, you infer that Barkley would be right to be pissed off with Koeman just out of a sense of pride and self respect.
Maybe so, but I'd say – if Barkley watched replays of the games he played for Everton last season – then, out of a sense of pride and self-respect, he'd have upped his work rate and put a lot more into his game, particularly about winning the ball back; he was pathetic.
Brian Williams
83
Posted 30/07/2017 at 13:12:04
Barkely's leaving because he wanted more money than Everton were prepared to offer.
Gordon Crawford
84
Posted 30/07/2017 at 13:17:21
And you actually have prove of this, Brian?
Fran Mitchell
85
Posted 30/07/2017 at 13:18:34
What was Koeman's treatment of Barkley? Barring maybe 2 public statements, we are privvy to nothing.
In the team meetings, in the one-on-one meetings, in the dressing room. We know nothing, yet people make out as if they know.
Anyway, if that is the case I'd offer the lad four choices:
1) Move on to a fellow Premier League team for 㿏 million plus a 20% sell-on fee;
2) Move abroad for 㿅 Million and a 20% sell-on fee;
3) Sign a 2-year extension with a release fee and stay for one year; or
4) Rot in the reserves for a year and move on a free (but lose out on the World Cup).
Brian Williams
86
Posted 30/07/2017 at 13:19:57
Gordon. I don't have documentary evidence but was told some time ago (weeks) by someone who knows Ross and sees him at least a couple of times a week.
Darren Hind
87
Posted 30/07/2017 at 13:21:48
Stan @78,
In a fucking nutshell!!!
Chris Williams
88
Posted 30/07/2017 at 13:22:32
I think we need to remember that Koeman and Barkley were in constant, daily contact, and that it is possible that regular one-to-one coaching discussions will have taken place from time to time. There is evidence that these things happen from the experience and comments of other players.
Barkley's role in the team changed later in the season and, for a period, Ross found some consistency and looked comfortable on the field.
It is possible that this came about because there was a more positive relationship between the two of them than is currently acknowledged by a number of people and that too much is being read into the impact on Ross of Koeman's public utterances in response to questioning.
None of us know for sure, of course.
Stan Schofield
89
Posted 30/07/2017 at 13:36:26
Colin@80, Dave@82 and Fran@85: Absolutely correct that Koeman was top notch as a player, and very well qualified to assess Barkley. That's part of his job, after all. The problem is, it's the public nature of it (just like Niasse), the inept style, the clear possibility of pissing players off.
Being a good manager requires other skills than being a player, and it strikes me that Koeman himself needs to improve. A really good manager looks to improve, looks to identify where he could do better (tactics, use of players), not focus incessantly on the shortcomings or otherwise of individual players. And it is the same in any industry. It's the real basis of leading by example, to get your staff to want to work for you, to get players to want to play for you.
When Koeman arrived, I thought it very likely he'd show these leadership qualities (and said so repeatedly on TW), but I've become very disappointed as I've seen him perform.
Gordon Crawford
90
Posted 30/07/2017 at 13:54:58
I get what your saying, Brian, but I still wouldn't take that at face value. If it's money, then why doesn't Ronald and the club just say he's just a money grabber? Why then do they issue the statement "Ross wants a new challenge"? It makes no sense to me.
Paul Tran
91
Posted 30/07/2017 at 14:01:09
Spot on, Stan. It's the 'look at me, I'm in charge' grandstanding that grates with me. Hard to win with those actions with footballers these days.
I'm not convinced anyone needs to act like that with staff in any walk of life. He may argue that it's his way of weeding people out, especially in a team that had clearly got loose with its attitude and application.
Ferguson had it right; bolllock them in private, defend them in public. Move them on when you're done with them.
Gordon Crawford
92
Posted 30/07/2017 at 14:03:13
I agree with his statement that Ross "wants to be wanted."
Paul Tran
93
Posted 30/07/2017 at 14:09:04
Gordon, maybe, just maybe, the club/Koeman are being more diplomatic about this than some of us think? Doesn't fit with the currently popular narrative, but it's a possibility.
Gordon Crawford
94
Posted 30/07/2017 at 14:22:28
Maybe Paul, but I just can't help but feel this is Koeman's doing. As Adrian Durham has said in the above clip, "Koeman has been nothing but negative about Ross and constantly slated him."
If it was me, then no amount of money and love for the club would make me stay. As I wouldn't want to be treated like crap by my manager.
Brian Williams
95
Posted 30/07/2017 at 14:25:11
Gordon (#90).
Maybe Gordon because the club (and Koeman) DO have a bit of class about them and don't actually want to ridicule/slag/put down Ross Barkley to the general public in matters of a business nature? I know Koeman's criticized him over performance related issues.
Also from a business perspective it makes sense to say such things as he's for sale.
If Ross did actually say he wants a new challenge then theoretically it wouldn't matter what the club had offered him really.
What I was told was that the offer was considerably more than his present contract but he felt it was well short of what he wanted.
He was "allegedly" on a five-figure weekly salary. The club "allegedly" offered a much improved five-figure weekly salary but Ross "allegedly" wanted a six-figure weekly salary.
That's as much as I know. It could all be bullshit, but I doubt it.
Paul Tran
96
Posted 30/07/2017 at 14:34:04
Both sides are to blame, Gordon.
Koeman strikes me as an impatient, driven man who has high standards and wants things his way. Looks great if you're successful; you look an idiot if you're not.
I'm increasingly exasperated with young English players who lack decision-making, resilience and mental strength. Barkley's one of them. I think there's a gap between what we want him to be and what he is.
That list of managers who 'can't improve him' is getting longer every year. Surely it's down to the player as well?
John Pierce
97
Posted 30/07/2017 at 14:45:54
I've preferred to concentrate on the playing reasons for Ross to move on.
However, Everton are being a no-nonsense club. In the clamour to find a reason to alleviate Ross from being pegged as a 'shithouse', all sorts of conspiracy crap is sprayed over the media and these pages.
For me, the club is growing up as a business, sorry if that is distasteful or even offends people's sensibilities.
Contract offered, contract rebuffed. Club and player moving on.
Look at Arsenal, they are being thoroughly dicked around by Sanchez; Van Dijk is pissing all over Southampton.
Everton have bought well and it has the clever effect of pushing this issue into the rear-view mirror.
Club first, always.
John G Davies
98
Posted 30/07/2017 at 15:12:03
1. Manager doesn't rate player.
2. Player changes club.
3. Everton FC continues as it has for the last 139 years.
That's about the sum of it.
Andy Crooks
99
Posted 30/07/2017 at 16:09:02
John G, you have been making too many sensible comments.
John G Davies
100
Posted 30/07/2017 at 16:16:20
It won't last, Andy. 😁
Stan Schofield
101
Posted 30/07/2017 at 16:45:52
John @98: Manager doesn't rate player? Yet the player is offered a new contract?
Paul Tran
102
Posted 30/07/2017 at 16:52:21
For what it's worth, Stan, I'd happily keep Ross and see if he improves with better, more mobile players in the team.
But I wouldn't bank on it. And I wouldn't build the team around him.
Wonder if that's what Koeman's thinking?
John G Davies
103
Posted 30/07/2017 at 16:53:58
Wages per week offered, Stan?
Stan Schofield
104
Posted 30/07/2017 at 17:02:24
John, he clearly fits into Koeman's plans, but not at any cost in wages. All we know is, he was offered a contract, and turned it down. If Koeman hadn't rated him, knowing the way Koeman speaks (Mr Direct, and all that) he'd be more likely to say he didn't fit into his plans than say he'd been offered a contract.
Paul, same here, I'd keep Ross, but not build the team round him. Ross needs to improve, to become more consistent. Koeman also needs to improve. See how that one goes.
John G Davies
105
Posted 30/07/2017 at 17:10:16
I think you should have a look back through the press conferences, Stan. If you think his statements show he was clearly in his plans, you have been watching different ones to me.
If he was in Koeman's plans he would have fought to keep him. He clearly hasn't
Kim Vivian
106
Posted 30/07/2017 at 17:32:37
6 teams allegedly want him (but none of them are Everton, who seem to want shut of him). Surely Koeman must be able to see something in him as well..???
Stan Schofield
107
Posted 30/07/2017 at 17:47:33
John, are you serious? Bottom line is, he was offered a contract (I believe that was mentioned repeatedly in those press conferences, but maybe not the ones you saw in that parallel universe).
John G Davies
108
Posted 30/07/2017 at 17:55:27
Now, now, Stan. Parallel Universe? No need for that.
I agreed he was offered a contract.
"We have offered the boy what we think is a good contract for him."
Obviously what Koeman thinks he is worth differs greatly from what Ross thinks he is worth.
Do you think Koeman plans to have Ross in his starting eleven for next season?
Stan Schofield
109
Posted 30/07/2017 at 18:54:58
John, clearly Ross cannot now be part of Koeman's plans, because Ross has told him so. He refused a contract that was offered. It's not as if a contract wasn't offered. Ross has turned Koeman down, rather than Koeman not rating Ross.
Anyway, you're the one who said I'd been watching different press conferences to you. Parallel universes? There are stranger things in heaven and earth, etc.
John G Davies
110
Posted 30/07/2017 at 18:59:56
And if he's not sold, Stan?
Stan Schofield
111
Posted 30/07/2017 at 19:07:49
That's the future, John, and your guess is as good as mine. If he's not sold, he could see out his current contract (with Koeman either playing him or not) and then either leave on a free or be offered another new contract. These are just some logical possibilities. I'll leave you to identify others.
Oliver Molloy
112
Posted 30/07/2017 at 19:08:34
He will remain part of the first team squad as long as he is respectful!
This is clearly about money and getting a rocket up his arse now and again; Ross obviously takes exception to this.
Stan Schofield
113
Posted 30/07/2017 at 19:14:09
Oliver, I wish I could be clear about what's behind the whole thing. Of course, you're just assuming something, when in fact we don't know.
It's also possible he thinks his manager is an arsehole, and doesn't want to work with him anymore, and doesn't need to if he's got other options.
John G Davies
114
Posted 30/07/2017 at 19:28:30
I will search in a parallel universe, Stan.
In the meantime, again. If he stays, do you think he will be in Koeman's starting eleven?

Stan Schofield
115
Posted 30/07/2017 at 19:31:10
John, as I indicated, I've no idea. Have you, apart from a guess?
John G Davies
116
Posted 30/07/2017 at 19:54:53
I guarantee it, Stan.

Oliver Molloy
117
Posted 30/07/2017 at 20:03:47
I'm sure you may be correct, Stan (that Barkley might indeed think his present manager is an arsehole), but I would bet if Ross was offered £150k a week he would sign the contract.
Money and a tough manager telling it like it is – "new challenge" my arse! This is the favourite new saying for wantaway players who are not doing the business at their clubs.
As many have already said on numerous threads about this, Barkley has a challenge here at Everton but for the reasons I have said he's not up for it. He is a good player and was born with natural skill other players could only wish for but he's no Gazza and never will be.

Stan Schofield
118
Posted 30/07/2017 at 20:08:00
Oliver, that's just you hazarding a guess, rather than making an argument.
John, what is it you guarantee?
Oliver Molloy
119
Posted 30/07/2017 at 20:19:30
No, it's not, Stan, the whole football world knows this about money.
Barkley has been offered roughly around £100 - 110k a week including bonuses – he turned it down months ago, thinking the club would increase their offer because of the timescale on his present contract. We all know they haven't – why? Probably because Koeman reckons he's not worth it. I agree with Koeman and the club.
It's not rocket science, Stan.
Thomas Surgenor
120
Posted 30/07/2017 at 20:33:02
Folks, I thought the narrative was he had to leave the City as he fell foul of "the wrong sort"...
Stan Schofield
121
Posted 30/07/2017 at 20:33:50
Oliver, until you know for definite (which you don't, do you?) – it's actually more uncertain than rocket science.
Jim Harrison
122
Posted 30/07/2017 at 21:08:50
John (#109). In Koeman's press conference before the last match he talked about Barkley. He would train with the first team and be eligible for selection.
He was asked if he would train separately from first team. Koeman dismissed this out of hand and made comments about Barkley being human. It would be surprising if he plays, given that he wants to leave. I wouldn't put a player in the lineup in the knowledge he wants away. See Lescott as a good example.
If it was known months ago that Barkley wanted out, why build around him or make plans including him??
Why he wants to move? His choice. But I am fed up with this shit about how he has been treated. Called out twice on his play, in my opinion fairly. Read and watch the press conferences after he plays well. He is praised.
Who else has an issue with the manager? Incoming players cite his influence on making the decision to come. The one comment he made that I don't think helped was about sign or be sold. Rash, but pretty much to the point. And what the player intends to do is leave, in which case he will hopefully be sold so we get some money.
Modern TV series often have different structures to old style formulaic ones. Happy endings often come at a cost. Things don't always go as you would expect. The heroes are often flawed. They represent life better.
In a perfect world, Barkley would be the hero, playing his career out successfully at Everton. But in the real world, we find him not yet quite the player the current manager feels he needs. He needs Barkley at his best.
If it's about money, fair play to him. Find someone who will pay you lad and best of luck.
Move on. Stop pointing fingers. Life goes on, Everton will keep on.
Gordon Crawford
123
Posted 30/07/2017 at 21:16:31
I agree with Stan; none of us know what Ross has been offered, it's all rumour... period.
Tom Bowers
124
Posted 30/07/2017 at 21:34:09
Ross will not kick a ball for Everton again.
We don't know what's been said but there is a falling out, in my opinion, and Ross want's away.
He hasn't lived up to expectations as we all know and it would seem he doesn't relish another season of being in and out of the side especially with Klaassen coming in and the likes of Tom Davies playing so well last season.
When he goes, Everton will get back a fair chunk of the money spent on Gylfi Sigurdsson.
Oliver Molloy
125
Posted 30/07/2017 at 21:39:51
Stan, I heard from very decent source that Barkley wanted the same £'s as was offered to Lukuka, and of course he never got it. The same decent source told me he had been offered £80k + £20k win bonus and £10k per goal.
The same source has told me Moshiri will not allow Barkley to leave Everton for less than £35 million so we will see what happens.
John G Davies
126
Posted 30/07/2017 at 22:17:09
Jim,
He will undoubtedly be part of the squad if he stays, why wouldn't he? My point is he won't be in the starting eleven.
I agree with your post.
Oliver, if the minimum asking price is 㿏 mil I think he may well be here next season.
Oliver Molloy
127
Posted 30/07/2017 at 22:23:28
You could well be right, John. I think Moshiri is playing hardball with any interested clubs and Barkley also.
His recent surgery hasn't helped anybody.
Nicholas Ryan
128
Posted 30/07/2017 at 22:30:51
There is clearly something odd going on in the background here. What it is, I'm not sure; but I'm astonished at people (vitriolically) blaming the manager.
We know Ross was offered a new contract quite a long time ago. We know it remains unsigned. I am not aware of Ross having problems over the length, or the salary level etc. If he did, they could presumably have been the subject of further negotiation.
If Barkley is going, he has to go now, as he will, literally, be worthless in 12 months time. He is (still) potentially a great player, but has yet to show the necessary consistency.
Koeman is clearly a hard task-master but, after his public criticism, the player responded, and seemed to need the 'push' that Koeman supplied.
Barkley's (total) silence on the subject, is confusing, and somewhat exasperating. Koeman has had to be the mouthpiece, because the player himself says absolutely nothing. Surely, Koeman would only say: 'He 100% wants a new start', because that is what Ross (or his agent) has told him.
Lukaku upset many people, because he said, almost from Day 1: "This club is not big enough for me, I need to be elsewhere." We might not have liked it, but we knew exactly where we stood.
Is that what Ross thinks? Nobody knows. Is there a problem that could be put right? We don't know, because Barkley won't tell us. As for an ultimatum: what else could the manager do? When the question is: "You're one of my best players, will you be here next season?" – it should not require months to give an answer.
Koeman was adamant recently: "He will continue to train with the first team." So that puts paid to any idea of personal animosity. The manager cannot understand what's going on with this player, or why. He is entitled to be angry and frustrated.
Rom took the old mafia approach: "This is business, it's not personal." What is Ross's approach? Nobody knows. Has someone upset him? Can it be repaired?
Most of us want Ross to stay, and fulfil his potential. That now seems unlikely, but it is not (to me) the manager's fault. Ross is choosing to go; Ross has chosen to be silent; Ross has chosen not to sign the new contract (but won't tell us why not).
At any time in the last 12 months (or so), Ross could have brought an end to all this, by simply getting out his pen. Why haven't you, Ross? Don't you have some sort of duty to tell the supporters?
Don Alexander
129
Posted 30/07/2017 at 23:35:49
I do wonder why some of us step back a bit from being in Koeman's corner, by inference, because he seems "a bit driven". Too right he's at least a bit driven. After inheriting the shit-pot Martinez reduced us too, he's agreed to a mega-contract dependant in every way in qualifying for the Champions League within three years.
As a fan with only 1995 to fondly remember from the Premier League era, and plenty of endless shitty memories besides until Moyes arrived (they rarely got me out of my seat either by the way, but at least heart was visible on the pitch, mostly, but Ross seems sadly lacking in that department too) I am way more than a bit driven in hoping Koeman delivers.
Barkley, by not re-signing, shows he doesn't give a shit for us; the fans or the club that made him a millionaire, and is clearly intent on previously unknown improvement. Yes, it's his prerogative as an employee but football is about way more than that for us fans.
Koeman, like any manager, uses press conferences to keep fans informed, sort of, but he will also know that his squad is watching too. Playing it like he has with Barkley will hopefully prevent any other player of the club fannying about like the befuddled one.
Chris Gould
130
Posted 30/07/2017 at 23:46:50
BBC are reporting that the contract he turned down was 𧴰k a week!!! If that's anywhere near the right figure, then it's pretty clear that Koeman wanted him to stay. If he believes he is worth more than that currently, then he's bonkers.
Also, there is no way Spurs will offer anywhere near that figure. Everyone knows they have a strict pay structure and won't even pay Kane that much. I think he's got himself in a right muddle and it's nobody else's fault.

Stan Schofield
131
Posted 30/07/2017 at 23:54:04
There are many reasons why an individual chooses to do something. Money is often the dominant one. But it's naieve to assume that that's always the case.
Don Alexander
132
Posted 31/07/2017 at 00:25:21
Stan, if I ever need a defence lawyer, remind me never to employ you! Best wishes though, a True Blue as you most certainly are. :)
Colin Glassar
133
Posted 31/07/2017 at 00:43:52
Chris, Ross might find himself in a bit of a pickle right now. A few clubs might want him, on the cheap, but it would be funny if he had to take a pay cut to sit on one of their benches.
I've always supported you, Ross, but you are a bit of a thick twat, lad.
Jay Harris
134
Posted 31/07/2017 at 00:53:54
I'm beginning to come round to the idea that this so-called gangster who is dating Barkley's ex may well have told him to get out of town or else and that might explain where his head is.
I would have thought with all his earnings though he could have found someone to "manage" the situation for him.
It is all very confusing and I don't believe it is Koeman's intention to force him out – I just think Koeman has told him to man up so if that is not the problem... and if £120k a week from your "beloved" Everton is not enough, what the hell is it?
Steven Jones
135
Posted 31/07/2017 at 07:21:15
A change of agent on the cards?
Wazza - have a word!
Stan Schofield
136
Posted 31/07/2017 at 09:38:04
Don (#132): Trapping the guilty is more my forte.
John G Davies
137
Posted 31/07/2017 at 09:53:45
I rest my case m'lud.
Stan Schofield
138
Posted 31/07/2017 at 10:38:51
But if I were your defence lawyer, the first thing I'd tell you (certainly based on your posts) is, don't say anything!
John G Davies
139
Posted 31/07/2017 at 10:52:58
No comment.

Don Alexander
140
Posted 31/07/2017 at 15:09:06
Nice one Stan. Ha-ha!
Chris James
141
Posted 31/07/2017 at 15:20:38
"Everton midfielder Ross Barkley will have to lower his wage demands to join Tottenham, who are not willing to pay the 𧴰,000-a-week wages the 23-year-old England international turned down at Goodison Park." [Daily Mirror]
I wonder what Alanis Morrisette would make of all this...
Phil (Kelsall) Roberts
142
Posted 31/07/2017 at 15:36:40
Stan (#136) I wonder whether you were better at trapping the guilty than Rom was at trapping the ball?
Nigel Munford
143
Posted 31/07/2017 at 15:37:52
Didn't Kane, Alli and Dier give Ross any idea of the money he'd be looking at when they said "Come play for us"? The lad certainly hasn't done his home work on salary has he? Or rather his agent hasn't.
He's been poorly advised, I would suggest.
Dave Abrahams
144
Posted 31/07/2017 at 15:57:07
Stan (#138), as a lawyer, the first thing you would tell your client is how much your fee is!!!!
Mike Kehoe
145
Posted 31/07/2017 at 17:50:38
It's a shame he's going because he could have been a very good player for us and been a big part in what I hope could be an era of success. He has well overplayed his hand I feel and he has worked himself into a position from which there is no feasible return; he is either misinformed or thick as pigshit.
I wonder how he may have fared had he been from somewhere else without the inherent pressure of inevitable comparisons to the RS. In Ross's fleeting moments of pure quality, I think we all hoped he could develop his raw ability and power and mould him into our equivalent to Gerrard: as much as I can't abide the charmless tumbling bastard there can be no kind of serious comparison between the two.
Did we expect too much of him because we have been so starved of quality and had to endure their escapades? It's impossible to know whether it was our collective wish for him to become the special player he has occasionally hinted at that served to inflate his ego way beyond the realms of his potential.
Did our desire ultimately blind us to the reality that he is just a very talented, but seriously flawed, player? I rarely don't think he's going to hold down a place in any top six team as his flaws and inconsistencies often overshadow his attacking qualities; if Tottenham see him as defensive midfielder we should throw in Besic as a free-scoring winger.
I feel the only positive from this episode could be another example (along with Jeffers and Rodwell) for the young players to be cautious when listening to the hype: especially when the praise is from those with a vested interest. Ross will become this season's Fabien Delph. His ability is unquestioned but his attitude and drive are deeply suspect.
Stan Schofield
146
Posted 31/07/2017 at 19:28:47
Phil @142: I trained by trapping bags of cement. When I qualified, I had a mortar board.
Dave@144: Good one, the first rule of lawyering!
Barry Jones
147
Posted 01/08/2017 at 01:53:24
People are reading way too much into the personal aspects of this. Ross has been given an honest critique of his shortcomings by his boss. It happens every day in all walks of life.
Ross, being a little bit of a prima donna, doesn't like or accept the constructive criticism and tells his boss that he will take his talent to a better club where they will appreciate his natural abilities more and pay him more cash. End of story.
Will Mabon
148
Posted 01/08/2017 at 03:59:47
"
Ross has been given an honest critique of his shortcomings by his boss. It happens every day in all walks of life
."
Not on the TV and media for all to see, it doesn't. I supposed if that happened to you in your career Barry, and you were exclusively singled out in an under-performing team, despite others being relatively poor too... well, I suppose you'd just man up and accept the more informed view of your boss?
Imagine an article in the company or trade magazine, or on the website – "Director tells Jones he needs to improve". Then again some weeks later. But no mention of anyone else at the company. I guess it wouldn't bother you at all.
If this public "Tough love" approach by Koeman is so professional and effective, then why was it not used to "Improve" others in the team? Anyone else at all?
"Lukaku needs to show more against the stronger teams above us."
"Baines is not showing what we've seen before, passing defenders and getting crosses in. We will discuss this."
"Stekelenburg needs to be sharper and more reactive, he's been caught flat-footed against shots on several occasions. He must improve his reading of shots."
"Mirallas has shown only occasionally. He needs to be more involved in the game, improve his productivity."
Perhaps you could explain to me how criticism of players in the public realm is "Constructive"?
James Watts
149
Posted 01/08/2017 at 05:29:11
Will (#148). You're forgetting one major factor in all this. The media. Each and every single time Koeman has talked about Barkley, it is because the media has specifically asked about Barkley. And the media ask because of the headline grabbing news as they know they will get an honest assessment out of Koeman. Some managers would gloss it up, some wouldn't answer. Koemans style is to answer as honestly as he can.
None of those players you mention, or indeed any other player except Lukaku, would be able to generate any decent headline. Hence relatively few questions about them.
Barkley has immense talent but has been under performing for the majority of the last 3 seasons. He's deserved to be dropped. Even the most for hard supporter with blue-tinted glasses on can see that.
Also, remember Martinez and his lovely-dovey approach? That hardly worked either did it after the first season? And id be willing to bet Martinez talked about Barkley even more than Koeman has.
Has Koeman been harsh? Possibly pushing it. Has anything he said about Barkley been untrue? Not in my opinion. Has Barkley had his feelings hurt? Who cares, he's on x amount of pounds per week to play a game. He should man up or ship out. And he's decided on the latter and shown himself to be made of very soft stuff.
I'm not a massive Koeman fan and I would like Barkley to stay to fulfill his potential with us before I get jumped on but I just don't buy into some kind of hidden agenda with Koeman being the bad guy and Barkley being the saint.
Stan Schofield
150
Posted 01/08/2017 at 07:41:37
James, there's a good chance the reality is, as you say, that Barkley is not a saint. That said, when it comes to Koeman answering questions from the media, there is more than one way to deal with it, as I posted earlier. But Koeman is a journo's dream, he's always likely to open his mouth in the most inept way. And being Dutch is no excuse. I expect better from a high profile manager on ٤M/year.
Koeman has good aspects to him, but clear shortcomings as well. Like the Niasse situation, his utterings can be embarrassing and unprofessional. If I were Koeman's employer, my annual assessment report on him would indicate good work in some areas, but also areas where he needs to improve.
Stan Schofield
151
Posted 01/08/2017 at 08:09:28
Also, James, you mention Martinez's bullshit. Yes, we don't want that kind of shite either. We don't want blowing smoke up players' arses, and we don't want inept utterances when facing the media.
On the 'smoke up the arse' matter, there are quite a few posters on TW that seem not to want to admit any shortcomings on Koeman's part. It looks to me like they're blowing smoke up Koeman's arse.
James Watts
152
Posted 01/08/2017 at 08:21:01
Stan (#150). I honestly think Koeman's only crime with both Barkley and Niasse has been the fact he's been too blunt when asked a question about those players. However, what he's said about the players has been spot on.
Niasse is crap; everyone knows it and he isn't good enough. All Koeman did was say it. Barkley was dropped because he was playing crap and needs to buck his ideas up as he has so much ability he should be doing better. Again all he did was say it and it's what quite a few of us thought; I certainly did.
Now, from what I know of Dutch people, this is their way. Blunt and to the point. Not that that is an entire defence but it's a big factor.
He's been harsh with some comments, sure. But he hasn't said anything that is not true. I personally don't have a problem with it and would still rather have that than the Martinez bullshit.
I'm actually more worried about Koeman's tactics, selections and subs than what he says about Barkley and others. He definitely needs to work on them!
Will Mabon
153
Posted 01/08/2017 at 08:58:16
James, of course the media pose questions. Repetitive, banal, provocative, leading, questions – sometimes even intelligent ones. There are diplomatic ways to deal with that. It should be meat and drink to a Premier League manager, and Koeman's English is up to the task.
There's not a lot else I can say without repeating myself (or Stan). It doesn't matter what's true or not about Barkley's form. Anything Koeman needed to put across to Barkley could and should have been handled within the club. This was a football club last time I knew, not a drama production company. Professionalism would be favourable.
Dave Abrahams
154
Posted 01/08/2017 at 09:13:05
Regarding Niasse, it would be interesting, very interesting, if the club released the full details of how he was bought, who scouted him and who vetted this deal. None of us are any the wiser of how this deal came about.
To be honest, I've seen plenty of players worse than this lad play for Everton but there is a complete mystery of what happened once he signed. Hardly played, a strange wrist injury which stopped him playing.
Then, when Martinez went and Koeman came and in, immediately Niasse was given the cold shoulder. Was this Koeman's doing or was he instructed to do this. More importantly, will we get any money back on him?
James Watts
155
Posted 01/08/2017 at 10:19:04
Sorry Will (& Stan). I really don't see the big deal in what Koeman has said. He's answered the questions as he sees the situation, and I think he's done the right thing.
I honestly don't understand why you're criticising Koeman so much for it, the arguments you guys have stated just don't work for me. But that's cool, I guess we'll just disagree on it.
Don't forget Koeman isn't the only one with this approach. Mourinho does it too. It's a challenge to the player and lets the manager see what they are made off. Sometimes it works; sometimes it doesn't. If it doesn't work, the player tends to move on. Exactly what is happening with Barkley.
I firmly believe it says more about Barkley's mentality than Koeman's tact or professionalism.
Dave (#154). Can't see them ever doing that. It's more likely that he'll leave quietly and it will all be brushed under the carpet. Especially as most of the people involved in it have now left. I think this was Koeman trying to make his mark as a new manager, as at least one of Koeman's signing since is probably worse than Niasse!

Tony Abrahams
156
Posted 01/08/2017 at 11:18:49
One thing is certain James, we will no longer be called plucky little Everton with Koeman in-charge.
Is he good enough to take us forward? Well like Ross Barkley, the player, the jury is definitely still out on Koeman the manager. But he's not there to be liked, he's there to try and improve us, and you don't become a winner in this sport, without having the right attitude or stomach for the fight, or is it now just all about the money?
If it is, I'm glad Ross Barkley is going; and if it isn't, then I hope it is for a new challenge? Especially now Everton, his team, look to be going in the right direction after all this fucking time!
James Watts
157
Posted 01/08/2017 at 11:47:21
Absolutely ,Tony (#156). I have way more reservations over Koeman about his tactics, selections and subs than I do over what he says about Barkley (& Niasse) in his presser.
But the pressure will definitely be on him if we have a bad start to the season, we could easily be in the bottom 3 after 5 games with the run we have. We'll certainly see what he's made of, just like we have with others.
Stan Schofield
158
Posted 01/08/2017 at 14:22:25
Yes, his tactics are a concern. Former great player or not, it's not clear what he's doing.
Regarding his ineptitude with the media, it's one thing dealing with players in-house (work on their positives, but bollock them when needed) but quite a different thing doing it so publically in the case of Niasse and Barkley. Whether he's correct on the detail or not, it's not on to do it in public, it has the likelihood of really pissing players off, which can't do any good, and imo is unprofessional. In-house, yes, publically no.
He never admits in public that his tactics need improving, but is ready to criticise others openly.
Martin Mason
159
Posted 03/08/2017 at 14:07:57
How he interfaces with the press is little short of managerial incompetence. His public criticism of players is inexcusable and his U-turns on just about everything are an embarrassment.
If his other managerial skills such as strategy and selection were brilliant you'd excuse him but so far can anybody see what he actually brings?
I will of course give him his due time and trust the club in its selection but it's not something I rave about. I don't like him personally and that which he totally lacks, charisma, he has none of.
Barry Jones
160
Posted 03/08/2017 at 16:29:00
James (#155). I think that you summed it up well.
Will (#148), I am really flattered that you made a comparison between Ross and I, but it is somewhat "apples and oranges" don't you think? And if Ross wants to leave, I am pretty sure that it has very little to do with the public nature of the statements made by the manager.
Today's players are cognisant of the fact that they are potential "cannon fodder" for the media an take it in their stride, even if they may not like it. Of course, it is not wise to "fuel" the media, but as James pointed out, I feel that Koeman was giving what he thought were honest answers to very direct questions.
Will Mabon
161
Posted 03/08/2017 at 18:55:46
Barry:
"Today's players are cognisant of the fact that they are potential "cannon fodder" for the media and take it in their stride, even if they may not like it."
The media, perhaps. The manager, no.
Brent Stephens
162
Posted 03/08/2017 at 19:03:45
Martin "How he interfaces with the press is little short of managerial incompetence. His public criticism of players is inexcusable".
As you keep reminding us, it's just a business, focussed on the bottom line on the balance sheet. None of our business, as you tell us.
Barry Jones
163
Posted 04/08/2017 at 15:25:22
Dave (#154), I have pondered those same questions about the Niasse deal. It seems to have been a very careless piece of business. I agree that we have had many worse players, but have we had any worse at that sort of price?
Martin Mason
164
Posted 04/08/2017 at 16:10:12
Brent, sorry but I can't see any logical connection between your first and second paragraphs. The second paragraph is also an incorrect generalisation.
Can you do worse business than alienating your best assets by criticising them or bullying them via the media?
Brent Stephens
165
Posted 04/08/2017 at 16:17:49
Martin, sorry but I can't see any logical connection between your first and second paragraph.
Martin Mason
166
Posted 09/08/2017 at 21:16:22
Brent, unlike you I wasn't trying to make one.
Mike Hughes
167
Posted 10/08/2017 at 17:30:58
Well, it looks like Ross Barkley might be staying now.
Not quite "100%" leaving.
(Source: BBC / Ronald Koeman's press conference)

Don Alexander
168
Posted 17/08/2017 at 02:11:29
Stan (#158) you've hit the nail on the head by saying;
"He never admits in public that his tactics need improving, but is ready to criticise others openly."
Koeman therefore has precisely the same trait as Alex Ferguson, Mourinho, Wenger, and every manager who's actually won trophies in the past twenty years.
Still, let's bollock him for not being nice and cuddly eh?
---
Add Your Comments
In order to post a comment, you need to be logged in as a registered user of the site.
Or Sign up as a ToffeeWeb Member — it's free, takes just a few minutes and will allow you to post your comments on articles and Talking Points submissions across the site.
© ToffeeWeb