Opinion
Super Kev Sinks the Shite
Everton victories at Anfield are rare so the last one to date, secured by a solitary Kevin Campbell goal, was extra special. This extract from Everton's Greatest Games recalls that evening 18 years ago.
Jim Keoghan

06/12/2017
15

comments | Jump to last
Share:
27 September, 1999
The late 1990s was a dark period for Evertonians. After Kendall's miserable third stint in charge had been brought to a sad end, Peter Johnson had gone north of the border and brought the Rangers manager, Walter Smith to Goodison. A debt fuelled transfer splurge had accompanied his arrival as Johnson sought to gamble everything on European riches. It hadn't worked. Smith found the English top flight a more difficult environment than the Scottish Football League and Everton had only just escaped relegation during his first season in charge.
In the summer of 1999, with Johnson looking for a buyer, the cash tap turned off and Everton facing debts of £18m (largely attributable to that transfer splurge) Smith had taken a machete to his squad, selling the likes of Marco Materazzi, Olivier Dacourt and Craig Short simply to make ends meet.
And yet, on the pitch, despite the boardroom issues, the shrunken squad and Smith's inability to act freely in the transfer market, Everton started surprisingly brightly.
'Luckily we'd bought Kevin Campbell, who had a come to us on loan at the end of the previous season and played a huge role in our survival. That gave us a valuable outlet up front' says Lyndon Lloyd, the man behind ToffeeWeb.
Eight games in, Everton sat seventh, which wasn't too shabby. Anfield then approached. By modern standards, this might have seemed the ultimate test. But, back then, as Mark Godfrey, editor of The Football Pink explains, Liverpool didn't inspire as much fear in Everton as they do today.
'As a Blue, you're not meant to be confident playing there. But in the 1990s, there wasn't the sense of dread that perhaps there is today. We seemed able to take the game to them. In that decade we'd had the measure of Liverpool to such an extent that not only had we held them a few times at their place, we'd also beaten them there a few years earlier when Kanchelskis had torn them apart.'
As the teams kicked-off, Everton started aggressively, and with just four minutes gone and the game barely in its rhythm, the Blues got off to a flyer. Campbell and Jeffers combined to split the Liverpool back four, providing the former with a clear chance which he just about put away.
'Playing in a Merseyside Derby is a unique experience simply because the game splits families down the middle; dad Blue, mum Red, daughter Blue, son Red. It's not logical yet it works and makes for a fantastic spectacle and atmosphere mixed in with all the usual bragging rights, showmanship and nervous energy the Derbies bring. As for scoring in a derby - it is very special! These are moments that will live with me for life' remembers Campbell.
The goal set the tone for what was to come. As many Blues can attest, it is one thing for Everton to go to Anfield and out-muscle Liverpool, quite another to go there and out-play them. Yet, that is exactly what happened.
Coming on the back of three home defeats and some iffy form in general, Liverpool were there for the taking. And for once, Everton took them.
'Every time a Liverpool player found himself in a position to launch an attack, so first one Blue shirt and then a second, sometimes a third, surrounded him. Those tactics offered were no real surprise, and maybe neither anymore should have been the football that followed it. Swift and incisive, controlled and thoughtful' reported the Liverpool Echo.
During the remainder of the half, Everton continued to dominate and on a couple of occasions, first from Jeffers and later from Campbell, Liverpool had to thank Westerveld for keeping them in the match.
According to the Echo, in comparison to the magnificent Blues 'Liverpool were sloppy, never keeping hold of the ball long enough to properly test Paul Gerrard and their frustration was evident in the 26th minute when Michael Owen was guilty of an awful tackle on David Weir which could so easily have been the first of the glut of dismissals which were to follow.'
Derbies have a tendency to be bad tempered affairs. But even contextualised, this Derby was particularly nasty.
'Tackles flew in. Players were jostled and pushed, it was a real blood and guts sort of game' remembers Don Hutchison.
Surprisingly, Liverpool were the worst transgressors. Evidently feeling the pressure when their natural game failed to trouble Everton, they started getting stuck in.
Not that it had much impact. For most of the game, Everton were in control and should have gone further ahead early in the second period, if only Jeffers had been on better form, the young forward blowing two decent chances.
With 15 minutes left to go, and Liverpool growing increasingly frustrated, the complexion of the game then altered completely when Jeffers and Westerveld, who had clashed in the first half were red-carded.
'The pair traded half-hearted blows inside the penalty area after Jeffers, who was flagged offside by a linesman and had collided with the keeper chasing a throughball' reported the Echo.
With all substitutes used, Staunton took over in goal and didn't do too bad a job. Frustratingly, the Liverpool defender even managed to execute an excellent save, tipping over from Abel Xavier to thwart Everton's attempts to capitalise on his inexperience.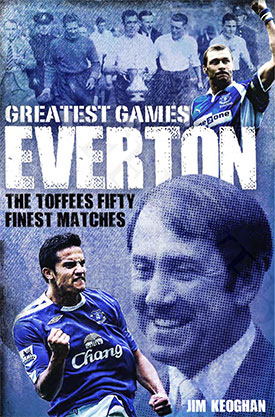 That chance aside, the sendings off seemed to sap some of the energy out of the game. With the seconds ticking along and neither side looking particularly creative, the likelihood of an Everton victory began to look more and more certain.
But the game still had one more talking point to throw up.
In the dying minutes Steven Gerrard received a straight red after a horrific tackle on Campbell, which saw him attempt to cut the Everton forward in half with his boots. The sending off was pretty much the last action of the game and when the whistle sounded soon after, Evertonians could savour a well earned and rare victory.
'Over the years, our club has played its part in many memorable Merseyside Derbies but more often than not ended up on the losing side. It made a nice change for us fans to be part of a memorable game that for once saw Liverpool take on the role of the vanquished. It was a time to celebrate,' remembers Lyndon Lloyd.
This is an edited extract from Everton's Greatest Games, the Toffee Finest 50 Matches, which is available at Waterstones, Amazon and Everton Two

Follow @jimmykeo
---
Reader Comments (15)
Note: the following content is not moderated or vetted by the site owners at the time of submission. Comments are the responsibility of the poster. Disclaimer
Jim Burns
1
Posted 06/12/2017 at 23:01:30
I live in hope, of course – and remember that game well. However, despite the context at the time, to be 'celebrating' a one-nil win at Anfield so many years on says more about us than we would want to admit.
Sunday is a chance to start a new chapter – my heart says 'Why not?' My head says 'Dream on!'
David Ellis
2
Posted 07/12/2017 at 04:34:14
I think we were very surprised to win that game – our team was really struggling – but it seemed in the 90s that we unsettled Liverpool and generally played better against them than other teams, despite the fact that we were generally awful the entire decade.
The real disappointment is that, since then, we've had much better teams but tended to under-perform against Liverpool. So logically, as this year our form has dipped, we're bound to beat them... right??
Andy Codling
3
Posted 07/12/2017 at 04:48:43
Here is a quote from greensleeves Carragher last year:
"When you shake hands before the game, I'd be like a lunatic, steam coming out of my ears, wanting to get stuck in" he added "but the Everton players would be saying Hello and 'Hiya Carra!' I'd be thinking, the game's kicking off in a minute, why are you even saying my name? Why are you even speaking to me?"
This sums up our nicey-nice approach and it needs to stop.
There is definetly an inferiority complex against them and half the time the team is beaten before a ball is kicked.
I hope this changes and we treat them with the contempt they deserve!
Paul Wyndham
4
Posted 07/12/2017 at 06:18:45
Flew out to Cyprus on Sunday for today's game and bumped into Kev Campbell in Manchester Airport on his way to Doha. I just gave him a quick thank you and shook his hand – he saved us that season.
Dave Richman
5
Posted 07/12/2017 at 07:35:11
Andy #3: The old pals act in the tunnel is something that's been irritating me for ages now, but I noticed in recent games that some of our younger players (Kenny & Holgate in particular) have their 'games faces' on in the tunnel. So while Jags is enquiring as to the health of Joe Hart's extended family, the youngsters are psyching themselves up and this can only be a good thing .
Steve Ferns
6
Posted 07/12/2017 at 10:55:44
One of the best days of my life.
I remember watching the game in the big University bar. I went to Uni in the East Midlands, so you can imagine there was lots of RS but none from the city, and I was one of few Evertonians, only one from the city.
When Super Kev's goal went in, I embarked on a mad lap of honour. I imagine I looked like Marco Tardelli in the 1982 World Cup after he scores and runs around like a lunatic.
Celebrating goals like that was not the done thing, and afterwards I found a lot more people wanted to come to watch Everton games with me to "sample the passion".
It was a crap season that year (like all of them under Smith), but Super Kev certainly made the 200-mile round trip, every other weekend, more bearable. It tended to be quite streaky under Smith, with very good spells, very bad spells, and not much in-between. We also tended to be formidable at home and awful away.
Dave Abrahams
7
Posted 07/12/2017 at 10:57:01
Liverpool will be massive odds-on favourites to win this game; odds-on favourites often lose. If we go there expecting to get beat... we will; go there and fight for every ball, frustrate them while still going forward and we have a chance. Their defence is poor, the goalie makes plenty of mistakes so he has to be severely tested.
Go to Anfield like Wimbledon used to, going down the tunnel, looking at the sign ''This is Anfield'' and spit all over it – and let the Liverpool players see you do that. Liverpool and their fans think victory is a formality – let them know from the start that it isn't, go there with conviction and fight them all the way. No other way to do it. I think and hope Allardyce and Lee will drill this into them. Let the theme on Sunday be ''Who the fuck are you?''
Steve Ferns
8
Posted 07/12/2017 at 11:02:24
Paul, wasn't it the season before (like only a few months before as this was September and he did it in April and May) he came in and scored 9 goals in an incredible 7 games? I'm glad he's now gravitated back towards the club and embracing the love he will always get from Evertonians.
I suppose his club will really always be Arsenal, but to their fans, he's a footnote in a barren spell between two glorious parts of their history. Whereas to us, he is one of the few true heroes of his era.
Jay Wood
9
Posted 07/12/2017 at 11:18:17
Dave @ 7.
Time to put your recently declared betting jinx to work, fellah!
Go on! You know you want to...
Ian Hollingworth
10
Posted 07/12/2017 at 12:30:39
Great article and a telling reminder of what a nasty piece of work Stevie G lar really was.
I am with Dave A (7) and the "who the fuck are you" theme.
COYB
James Hughes
11
Posted 07/12/2017 at 13:21:05
We do need to show some backbone and fight, it has been lacking for too long. Especially for this fixture.
There was an interview with the RS player Mane on the BBC recently – Headline was 'Why Everton fear Mane' Only watched a bit, but it started with: 'Playing Everton is a special game, one we must win.'
For me that was the difference, their aim was to beat us and it was expected. We go into the game hoping for a point. We need to change our mindset and expect to beat them.
For me, the derby is the first fixture I look for every season, even though it has been over 12 years since I was able to attend one. I want to beat them and still get upset when we lose, although it no longer ruins my weekend when it happens.
Best Derby Memory:- Andy King, need I say anymore.
Also 2002 at their place, being in the main stand and my RS mate getting more grief than me, we didn't win but a great day.
Worst Derby Memory:- Too many, but big nose Rush getting four, followed by the '86 cup final. Oh and the ex-wife throwing a hissy fit and missing Sharpie's wonder winner at Mordor, had to turn down the ticket.
Big Sam, please put a rocket under them on Sunday and do us proud. You may win me over and a few others too.
Alan Bodell
13
Posted 08/12/2017 at 08:04:11
In 6 decades of me being an Evertonian, Kevin Campbell is the only player I have ever sent a letter too. My DNA is all over it due to my tears when he saved us that year.
Rob Dolby
14
Posted 08/12/2017 at 16:16:40
I was in the Royal hospital that night with food poisoning. I thought I was hallucinating when my brother told me we had beaten that shower.
I loved the Ratcliffe scuffer from 40 yards as I was in with the devils own along with about 3,000 of us going mental.

Jack Convery
15
Posted 09/12/2017 at 12:52:22
If I was shaking hands with Carra and I was the centre-forward, I'd be saying:
"I'm No 9 btw – it's a number you'll be seeing plenty of because you ain't getting near me today. Oh, and if you do – well let's just say it was nice meeting you and where should I send the flowers?"
Don Alexander
16
Posted 11/12/2017 at 00:34:41
Kevin Campbell, the black Ferguson, encapsulates the modern-day "professional".
We signed him on loan, a bloke who done next to nothing thus far in his career, from Turkey because Campbell had quite rightly been outraged to have been publicly described as "a cannibal" by his Turkish chairman/owner and was desperate, repeat, desperate to return to England. He himself had gone on strike and had said so.
That's where we stepped in, signing him on loan to try to stave off relegation, yet again (just a year or two after having listened to Kenwright, in the wake of another escape, tell the world the mere threat of relegation would never again be Everton's fate).
Campbell duly saved us from the drop, scoring nine times in eight games. He was slim, fit, and prolific. So much so we permanently signed him and gave him a contract.
That's when we started to see something like twice the player we'd signed, but only on account of his body mass. After signing the contract, he scored only once in four games on average but, in fairness, he did develop a very interesting side-line in music on the back of the riches we paid him. Again, he himself said so.
And he's now increasingly sponging a media career – not least on the back of his Everton, erm, status.
What status? How low have we sunk in our aspirations?
---
Add Your Comments
In order to post a comment, you need to be logged in as a registered user of the site.
Or Sign up as a ToffeeWeb Member — it's free, takes just a few minutes and will allow you to post your comments on articles and Talking Points submissions across the site.
© ToffeeWeb