Opinion
"Go On." Unboxing the 2018-19 Home Kit
Overall, it looks as though the club have scored with the 2018-19 home strip and another one of those stirring promotional videos to go with it
Lyndon Lloyd

07/05/2018
22

comments | Jump to last
Share: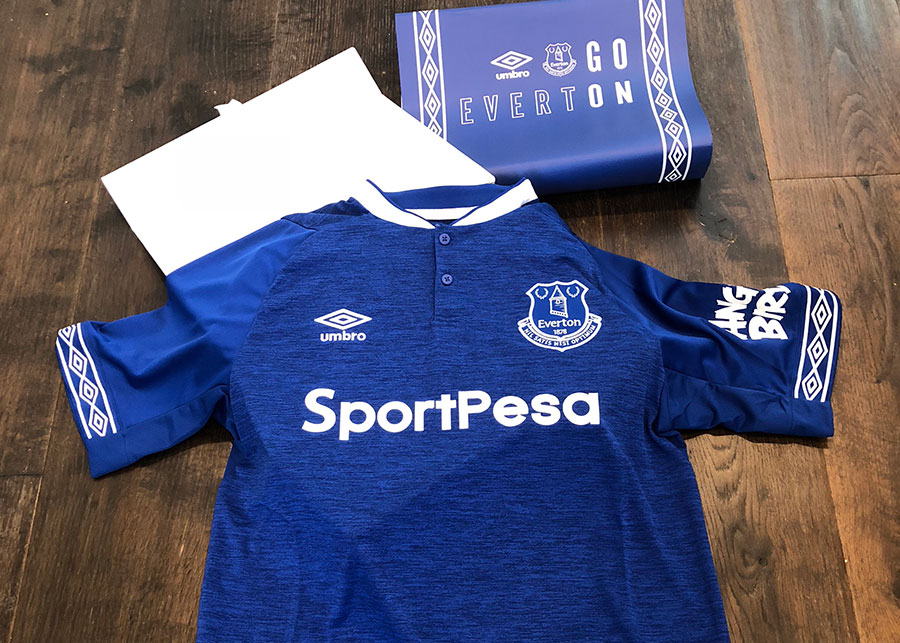 The phased unveiling of the new Everton strips always carries an air of trepidation. Under wraps for months as the manufacturers' designers draw up the look that our beloved team will wear for the season, they're then announced to supporters as a fait accompli to much fanfare in the spring.
It's not a simple undertaking. The commerce-driven need to release new kits every season means that it is incumbent on Umbro, in the case of the past few years, to come up with something each year that is sufficiently different from the last but one which remains faithful to the club's traditions while trying to please as many supporters as possible.
The bar — not to mention expectations — is high and they're never going to please everybody but, armed with the data from last year's survey of Evertonians on what they want to see from the Blues' home and change kits, the Umbro and the club have done a pretty good job of hitting close to the mark, particularly with recent home jerseys.
2016-17's iteration wasn't universally loved because of the yellow flashes on the sleeves and 2017-18's release was initially met with some reservations over the dark panels around the armpits but both were popular because of the predominance of royal — or "reflex" — blue to the overall look. But next season's edition has met with some of the strongest acclaim yet if the reaction on social media and fan sites is any indication.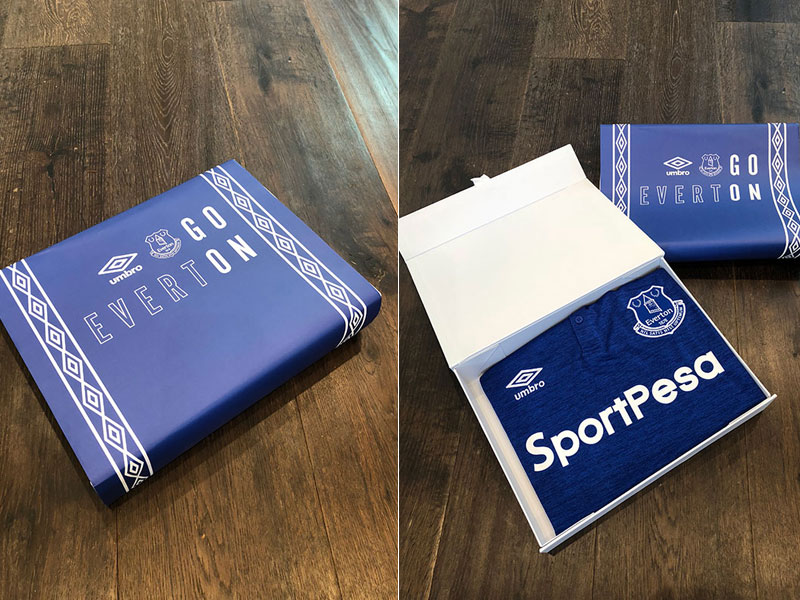 It's easy to see why, particularly when you see it in the flesh. It is classically Everton blue but instead of going with the same fabric to which we've all become accustomed on active wear throughout, Umbro have added a unique marl effect on all parts of the shirt except the sleeves. Viewed up close, it's actually complimentary to the new "camo" range Everton of leisurewear recently released which may or not be a coincidence.
The grandad collar (best worn with the top button undone so it doesn't look too much like a dog collar!), adds a partial nod to the jerseys from the glory days of the 1960s while the instantly recognisable Umbro diamonds make a return as a band around the sleeves. They come close to the line of the kit producer's branding taking over but as a design element it works, if only because it harks back so strongly to the days when Bob Latchford walked on water.
The reverse is plain apart from a Prince Rupert's Tower motif which replaces the Bill Dean silhouette and, of course, the players' name and number. The shorts are white, of course, and, pleasingly, so are the socks.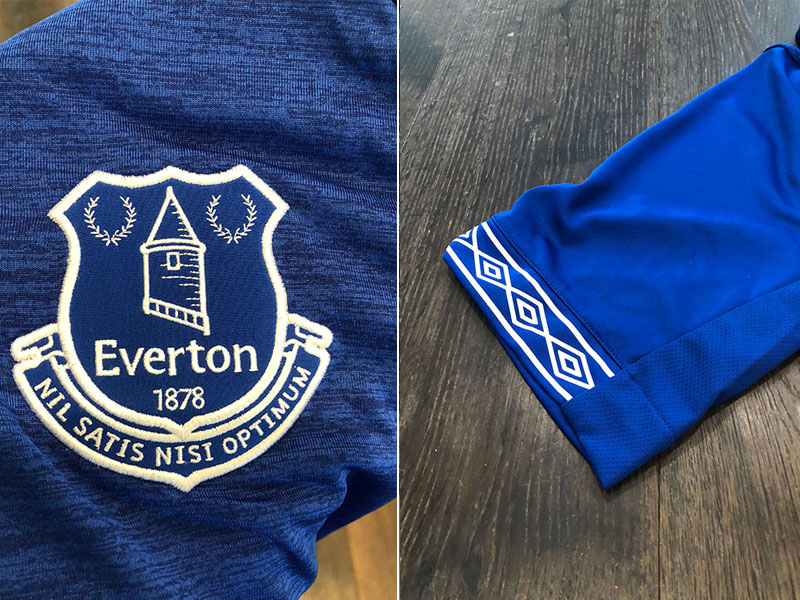 If there is a gripe it's the Angry Birds logo which detracts from what is a really attractive home jersey but, again, those commercial demands make for unavoidable compromises. It would be nice to have the option not to have the game's oversized logo but that doesn't appear to be possible and Rovio's insistence that it appear on all replica kits is almost certainly written into the sponsorship contract.
As far as the goalkeeper's jersey goes, it's a move away from the bright salmon pink number that Jordan Pickford wore for most of this season and a return to traditional green. Black has always looked the most attractive to these eyes but there's also the need to stand out and this mostly bright green number will do the job.
Overall, it looks as though the club have scored with the 2018-19 home strip and another one of those stirring promotional videos to go with it. Running under the slogan "Go On", there is unmistakable undercurrent of progress in the video.
After such a forgettable season, you can't help but hope that with lines like "I'm telling you, there's going to be progress," and "we're moving forward, restless, advancing, improving," Everton are hinting at the big decisions that we all hope are coming this summer that could usher in change from top to bottom and in key areas in the team.
A brand new home kit won't change much — it's early availability is a welcome change, though, and shouldn't be overlooked as a sign of progress in itself — but if those big leaps forward are in the pipeline and improvement on the field is coming next season, the Boys in Blue are going to look damned good doing it!
The new Everton 2018/19 Home kit is available to order now for adults, juniors, infants and babies from EvertonDirect.com.

Follow @EFCLyndon
---
Reader Comments (22)
Note: the following content is not moderated or vetted by the site owners at the time of submission. Comments are the responsibility of the poster. Disclaimer
Ron Sear
1
Posted 07/05/2018 at 21:09:11
Sorry mate, some of us don't buy stuff with gambling ads plastered all over it. It's just one more boring branded shirt at a daft price.
Gavin Johnson
2
Posted 07/05/2018 at 21:12:59
Love this shirt. Best home one in eons.
Mike Gaynes
3
Posted 07/05/2018 at 21:26:57
Well, Ron, I won't be among ya. I can't wait to buy one.
Bobby Mallon
4
Posted 07/05/2018 at 21:52:24
I like it and will be buying myself and son one
John Keating
5
Posted 07/05/2018 at 22:07:29
Have ordered it and glad to see it's on sale before the holidays.
A nice white away shirt would be nice now.
Pity the 3 shirts are not available for seasons end as I'm sure the club would score financially
Andrew James
6
Posted 07/05/2018 at 22:36:11
I haven't bought a new shirt since the Danka period. Mainly because they've been either terrible or there's too much sponsorship or I don't like wearing a football shirt in public unless I'm match bound.
(Can't bear all those Manure and RS "fans" that buy the shirts but never the match tickets)
I like my retro ones (84, 66, 85) yet this one is okay. Might get it if I can find one without the sponsorship.
Simon Smith
7
Posted 07/05/2018 at 23:29:31
Got to say that I do like the new kit and waiting to see what the other 2 will look like even though I've not bought a shirt for years now. I would however like to see us go back to a time when we only release a new kit every other year.
Maybe we could see a new home shirt one year followed by the away shirt the following year with our latest the 3rd choice shirt being replaced every year!
Bill Watson
8
Posted 07/05/2018 at 23:32:56
I'm with Ron #1
I've never seen the point of buying overpriced gear plastered with adverts.
Jamie Crowley
9
Posted 08/05/2018 at 00:48:10
I like this shirt as it combines tradition with some more modern elements - namely the muted pattern on the body of the jersey.
They'd sell a ton of them if they'd throw in those hard wood floors modeled in the pictures.
Michael Penley
10
Posted 08/05/2018 at 01:20:17
They should be paying us to wear it, what with the amount of advertising on there
Alex Parr
11
Posted 08/05/2018 at 02:31:21
I'm not sure about the marl effect...
But I could be tempted. And I'm tempted to use some wundaweb style shit to put something over the angry birds logo. I couldn't care less if its not in keeping with the kit. This will do...
https://www.ebay.co.uk/itm/TEAM-HONEY-BADGER-MILITARY-TACTICAL-US-ARMY-ISAF-MORALE-COMBAT-ACU-VELCRO-PATCH/261567196882?epid=1431655267&hash=item3ce69eaed2:g:wHUAAOSwqu9VLVdd

Lukas Polster
12
Posted 08/05/2018 at 02:57:15
Advertisers pay sportsmen to wear their logos but expect fans to pay for the privilege... not me, call me old-fashioned but when I started going to the game the players wore the shirt, and a scarf was enough for fans. I had footy kits for playing footy. Now though we've just accepted the kits change every season and you simply must have the latest shirt.
It all got too much for me when fans started wearing away kits at away games. Each to his own but I think they change the kit just enough to ensure we can't get away with not buying one every year.
Paul Kelly
13
Posted 08/05/2018 at 06:16:04
The box it comes in looks the nuts, the Umbro band motif looks a lot better on the box than on the sleeves.
Not a big fan of modern kits as they don't cater/fit fat bastards such as myself!

Matthew Williams
14
Posted 08/05/2018 at 14:39:48
Jeez...all Umbro had to do was send someone to one of the club shops to check out the current "1980 Retro Shirt" & fucking replicate it with a smaller collar & add a slight touch of amber to it & charge 25 notes... job done.
Tony Everan
15
Posted 08/05/2018 at 16:35:54
I like the design, dislike the ads, but unfortunately it's part and parcel of the whole circus.
Lyndon, I like the close up of the crest and the Latin, but whilst Sam Allardyce is manager it is taking the mick a wee bit.
What is Latin for "If we reinforce 8th is good enough?"
Mike Keating
16
Posted 08/05/2018 at 23:35:25
Oh dear - here we go again. Fans getting ripped off for these shirts in the belief they are showing their love for the club. The merchandising department (who will sell tat to anyone) love you. Hafnia Meats wasn't very sexy but at least it means something.
BTW – a seagull shat on my Everton hoodie this evening & I'm off to Chester Races tomorrow – is that a good sign?
Brian Williams
17
Posted 08/05/2018 at 00:01:20
Oh dear - here we go again. Fans getting ripped off for these shirts in the belief they are showing their love for the club. The merchandising department (who will sell tat to anyone) love you.
Says the man whose "Everton hoodie" he was wearing got shat on by a shitehawk lol.
Mike Keating
18
Posted 09/05/2018 at 09:09:24
Yes Brian I admit to wearing merchandise now and again (the hoodie was a pressie and is pretty good quality) but the point I am making is one that comes up every year at all clubs; reinventing the strip (and a second strip) having them made for buttons and selling on at great profit. The authorities tried to control this a few years back in the light of allegations (admissions even) that Newcastle were ripping off their fans. It's actually got worse.
Brian Williams
19
Posted 09/05/2018 at 09:27:16
Mike#18. I know mate I was only jesting! Way I look at it is (and it's easier said than done if you have young kids) is to just not buy 'em.
Tony Everan
21
Posted 09/05/2018 at 10:27:48
Mike Keating
Maybe it was just an 'angry bird'.
John Davies
22
Posted 09/05/2018 at 21:41:31
So the new kit will sell, the 18-19 season tickets will sell like hot cakes and yet our club is in the hands of complete idiots and managed by a fraudulent egotist. Where are the priorities? We Evertonians get exactly what we deserve.
Mike Keating
23
Posted 09/05/2018 at 23:47:46
Oops - looks like some of the banter with Brian got axed.
Anyhow I enjoyed Tony's comment and totally agree with John Davies; let's argue about shirts with or without collars, logos and 50 shades of blue so that the real issues to do with the mismanagement of our club get side lined.
---
Add Your Comments
In order to post a comment, you need to be logged in as a registered user of the site.
Or Sign up as a ToffeeWeb Member — it's free, takes just a few minutes and will allow you to post your comments on articles and Talking Points submissions across the site.
© ToffeeWeb