Opinion
A World In Motion Indeed
There is so much magic woven into the tapestry of every World Cup in terms of what happens on the field. In his new book, World In Motion, Simon Hart brings the 1990 Finals back to life with a number of its various back stories and provides so much context to what was a pivotal tournament in so many ways.
Lyndon Lloyd

25/06/2018
44

comments | Jump to last
Share: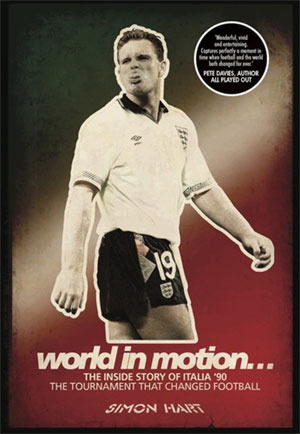 Regardless of how irksome and tiresome international football can be, with it's disruptive international breaks that force unwanted pauses in the Premier League schedule and, sometimes, rob Everton of vital players, the World Cup Finals, when they eventually roll around, can be intoxicating. A month-long feast of football bringing together some of the planet's best players in a melange of contrasting cultures and styles, the quadrennial tournament serves as a temporal marker along the life journey of a football fan.
The 1986 World Cup will always occupy a special place in my heart. It was the first following the advent of my footballing consciousness earlier that year and there are many moments indelibly imprinted in the memory — Josimar letting fly from miles out against Northern Ireland, Negrete's sublime scissor kick, Preben Elkjaer's virtuoso striking performance, the deluge of goals in the quarter-final between the Soviet Union and Belgium, and, of course, the five-goal final, to name a few.
My experience of the tournament, however, was largely framed by England's campaign: The slow start; pride in Gary Lineker but frustration at the initial marginalisation of the rest of the Everton contingent; and the pain and anger at the Hand of God goal that knocked Bobby Robson's team out.
The 1990 Finals were something else altogether. Four years older, a good deal wiser and more enthusiastic about the professional game, I took in the tournament in Italy in a much more holistic manner. As is the case today, I remember wanting to absorb as much of it as I could, immersing myself in the machinations of each group, marvelling at hitherto unknown players and picking my favourites, all the while willing England's progress to its ultimately heart-breaking conclusion at the semi-final stage in Turin.
I followed the national team that summer with almost the same zeal as I did Everton — I said almost! — and despite another uninspiring start to the group phase, their story developed into an exciting narrative that gripped the nation like never before. Perhaps for that reason alone, plus the fact that it would be another eight years before England would feature in the Finals again, the 1990 World Cup was always destined to be an especially memorable one.
Of course, while the football itself didn't always inspire — it had the lowest goals-per-game ratio of any Finals before or since and the final between West Germany and Argentina is regarded as the worst ever — Italia '90 turned out to be a landmark tournament in so many ways; a watershed between the vintage tournaments of old and a modern phenomenon tailored to a global televised audience played out against a backdrop of seismic change.
It was difficult to fully appreciate living through it at the time, particularly as a teenager given more to dividing his time between computer games on the one hand and playing football until it was too dark to continue on the other, but both the world — Eastern Europe in particular — and the game of football itself were in the throes of irrevocable change around the time of the World Cup in Italy.
Communism was collapsing across the Eastern Bloc. Mere months before the finals took place, the Berlin Wall had fallen, Ceausescu was dead and Czechoslovakia had witnessed the Velvet Revolution. A few more months after its conclusion, Germany was officially reunified and the following year, the Soviet Union had been dissolved and Yugoslavia was rushing headlong into a conflict that would lead to further Balkanisation of that country.
Closer to home, the unexpected progress of Ireland had seen the people of that country rediscover a measure of unity around the tricolour that had been strained at the height of the troubles and the IRA.
The English game, meanwhile, was emerging from the nadir of hooliganism on the Continent following the Heysel tragedy and the five-year ban that followed into a post-Hillsborough world, with the changes mandated by the Justice Taylor Report one of the many facets of the Premier League revolution that was to come.
This confluence of revolutions in football and geopolitics is unparalleled and makes for the subject of the fascinating work that is Simon Hart's new book, World In Motion – The Inside Story Of Italia '90, The Tournament That Changed Football.
Had he merely decided to recount the on- and off-field events and describe their lasting effects, that would surely have made for an engaging retrospective on its own. Instead, however, Simon travelled the globe to get the first-person perspectives of some of the many protagonists that illuminated the tournament themselves and he weaves together their narratives, all the while describing how many of them were affected by the transformative winds of change that were blowing through the game and the world at large at that time.
From Roger Milla and the unbridled Cameroonians who crashed into the tournament like a freight train in that memorable opening game and the boom-and-bust fairytale that was Toto Schillaci to Sergio Goycochea, the goalkeeping hero of an Argentina team that limped — almost literally in the case of Diego Maradona — into the final, and Colombia's flamboyant goalkeeper Rene Higuita, there are the personal vignettes from players who left an indelible mark on Italia '90.
Then there are the stories behind those which played out on the pitch from the likes of German winger Pierre Littbarski, Romanian striker Florin Rãducioiu, Soviet defender Vagiz Khidiatullin, Dragan Stojković, and Czechoslovak star Ivo Knopfliček who experienced historic political change in their home countries while the fall of the Iron Curtain and burgeoning globalisation of football transfers opened up unprecedented avenues to players from the Eastern Bloc.
And then, of course, there are the contrasting fortunes of the teams from the British Isles who featured in Italy that year — Scotland who bombed out in heart-breaking fashion in the group phase; Ireland who surprised themselves as much as anybody else by progressing to the knockout phase; and England who went as far in a World Cup as they had managed since winning it in 1966 before suffering agony from the penalty spot in a manner that would become horribly familiar in subsequent tournaments.
There is so much magic woven into the tapestry of every World Cup in terms of what happens on the field. To have so many of the various back stories behind the 1990 Finals brought to life as vividly and extensively in which Simon does provides so much context and brings back so many memories of a pivotal tournament.
"World In Motion" was more than just a World Cup song for England in 1990; whether fascinatingly prescient or mere coincidence (this retrospective in The Independent doesn't hint at any nod towards the shifting tectonic plates of geo-politics) it could have been the slogan for an era. It is, therefore, the perfect title for this book!
Whether you lived through it or not but are enjoying the 2018 edition of the World Cup Finals in Russia and have an interest in the history of the game, it's a highly recommended read.
World In Motion is available for purchase now from deCoubertin Books, priced £16.99

Follow @EFCLyndon
---
Reader Comments (44)
Note: the following content is not moderated or vetted by the site owners at the time of submission. Comments are the responsibility of the poster. Disclaimer
Kase Chow
1
Posted 26/06/2018 at 00:38:03
My favourite World Cup!!!
Probably because England did so well. But also as a 13-year-old, one that I could consciously savour and understand and enjoy
Baggio's run and goal, Mark Wright's tremendous header, Sheedy's brilliant strike, Nessun Dorma, Barnes' rap goodness me it was fantastic!
Platt's last minute winner v Belgium, I was gutted to be 2-1 down v Camerooon. How could it end like this? And then suddenly Gazza's run, foul, penalty and praying, 'Lineker, please please please score'. And then another pen and we're through!!
Ah but we concede a deflected goal to Germany. How's your luck? What a way to lose. Gutted.
But then a crap cross from Paul Parker, a mix up between the defenders and it falls to Lineker on his left ... bang Goal!!!!
Extra time and Waddle hits one from 40 yards and hits the post. Gazza's foul, yellow card and tears; and then penalties
Man, it was incredible
And Football, from being scum and all fans being hooligans was suddenly cool!!! People were allowed to talk about it with pride. Chris Evans talked about it during mainstream radio shows
Overnight football transformed from rotten (thanks Thatcher) to cool and hip and wonderful.
Italia 90 — my favourite World Cup and international tournament.
Each to their own but I'll never understand how you can't support nor take joy in your country playing in a tournament
Derek Thomas
2
Posted 26/06/2018 at 01:17:42
Kase @ 1; I can echo a lot of what you say, especially about football becoming 'hip' again. That World Cup probably hastened the formation of the Premier League, in a 'look - see that, we could do that (think of the money we'll make) manner.
My other abiding memory is taking my local bookie for 28-1 on the Argentina - Cameroon result... "How the fuck did you pick that?" he said. I just tapped my nose and went to the pub next door to lose some of it over the bar while watching the next game.

John Pierce
3
Posted 26/06/2018 at 03:03:06
Mexico was the one for me, the mystique still was there, players were still unknown and Everton had a good number in the side.
Despite England's horrible start, the rest of the tournament had so much to lure you in. The only keeper ever to distract me from Nev was Deysev. That Russian side played with flair, Belanov the talisman.
Denmark, Spain and Belgium all had excellent sides. Hugo Sanchez was a poster boy too.
The nasty Uruguay side and Scotland's ill-fated ship once again did the impossible and failed the most simple. That '86 side easily the best they had in terms of talent.
Josimar spawned long-range shooting in the playground, the park and well just anywhere.
The final was amazing and a true great dragged an average side through a tournament.
Both the Germans and the 'Argies cheated their way there, screwing both France and England in the process, and a lifetime of distaste for both began.

David Baxter
4
Posted 26/06/2018 at 10:41:24
I remember 2 great newspaper headlines from days gone by:
Swedes 2 Turnips 1 when Sweden beat England in a World Cup qualifier;
And from Derek Thomas, Argentine v Cameroon, when Cameroon played as if they didn't know the football rules:
Looney Roons Bargy Argies
Ash Moore
5
Posted 26/06/2018 at 12:39:00
Have to agree with John. The last Brazilian side that was likeable, as well as legitimately good Spanish, Russian, French, Belgian, Mexican and Danish teams, in addition to the Germans, Maradona's Argentina and England.
Italia 90 I remember for the soporific games – wasn't this the tournament they changed the backpass rule because of? England took a long time to get going, just like 86, and only started after they lost their midfield playmaker, just like 86. (Wilkins and then Captain Marvel himself Bryan Robson). In both cases, England ended up playing better after they had been deprived of the supposed essential cog in the side.
They should give the Mexicans another World Cup; the two they've hosted are for me two of the five best ever.
John Pierce
6
Posted 26/06/2018 at 13:38:38
I forgot to ask. Mexico '86 has the best shirt collection ever! So many were just iconic.
Germany, Denmark & Russia the standouts for me.
Steve Johnston
7
Posted 26/06/2018 at 13:55:30
Yep, Mexico 86 was the last real World Cup for me. Josimar (my fave!) Rats, Negrete... some great goals! Great atmosphere! Ingurland only progressing cos of Everton players (and Beardsley)! Reckon it's all been too cynical since then. Then again, so am I!
John McFarlane Snr
8
Posted 26/06/2018 at 14:18:30
It has to be 1966 for me, and it has little to do with England becoming the eventual winners. Having obtained tickets for all five games staged at Goodison, I was treated to some exhilarating football from some of the greatest players in the world.
It all began on July 12th, when Brazil beat Bulgaria 2-0 with goals from Pele, and Garrincha, and finished on July 25th When West Germany beat Russia 2-1, in the Semi-Final, the German goals being scored by Helmut Haller, and Franz Beckenbauer. Russia replying through Valery Porkuja.
We were entertained royally by Brazil, Bulgaria, Hungary and Portugal in the group stages, Portugal and North Korea in the Quarter-Final. Nobody who was present on that occasion will forget how the Koreans stormed into a three-goal lead through Park Seung-jin, Lee Dong-Woon, and Yang Seung-Kook.
However, they weren't street-wise and continued to attack, where a more defensive approach may have produced a better result; as it was, Portugal ran out 5-3 winners, with 4 goals from Eusebio, including 2 penalties, the other goal coming from Jose Augusta.
We were royally entertained, and I will name one player from each team to give you an idea of the quality on display: Pele (Brazil), Asparoukov (Bulgaria), Eusebio (Portugal), Bene (Hungary), Park Seung-Jin (North Korea), Lev Yashin (Russia), Franz Beckenbauer (West Germany).
The highest attendance at Goodison was 58,479, for the Portugal versus Brazil game; the highest attendance at Old Trafford (where this group also played) was 29,886, for the Portugal versus Hungary game, so, as you can imagine, tickets were readily available.
Tony Abrahams
9
Posted 26/06/2018 at 14:38:24
Under 30,000 for a World Cup match in Manchester, is a very interesting stat John. Almost double at Goodison, and it must have been an absolute treat to watch that Korea v Portugal game?
My own favourite tournament was 1982 in Spain. Two of the best games I've ever watched were Rossi's hat-trick beat Brazil, and the 3-3 between France and Germany, which I think is the game that John@3 is on about. Unless the Germans also cheated the French again 4 years later John?
But my greatest memory of all was Tardelli's joy, when he scored in the final against The Germans. Who couldn't dream about being a footballer after watching that?
Chris Jones [Burton]
10
Posted 26/06/2018 at 14:49:21
I loved 'Nessun Dorma' and the Three Tenors concert (so popular Channel 4 re-ran it in its entirelty a couple of days later, for those who'd missed it). So, however, I couldn't understand why the Beeb went for an aria from a Puccini opera set in China. Surely something from Puccini's 'Manon Lescaut' would have been more appropriate?
Tony Abrahams
11
Posted 26/06/2018 at 15:02:39
Just watching "The Marseille" the most stirring anthem in the world imo, and often wonder why our own is so bland. Maybe it was written by Erdegon?
David Barks
12
Posted 26/06/2018 at 15:07:16
I don't know, that Italian anthem every time Ferrari win a Grand Prix is epic.
Dermot Byrne
13
Posted 26/06/2018 at 15:16:43
"God Save Our Queen"
Always tricky for the atheist republican.
Craig Walker
14
Posted 26/06/2018 at 15:57:10
'82 and '86 were the best world cups for me and the first ones I ever watched.
The brilliant Brazilian team of 1982 with Socrates, Zico, Falcao etc. were the best team I've ever seen and were considered by many to be the best team not to win the World Cup. Their elimination against Italy was the greatest game I've ever seen to this day. I remember watching it as an 8-year-old and being transfixed.
Mexico '86 had some wonderful teams and games. Mexico and Denmark were great as were France with Giresse, Platini and Tigana. Brazil were more European than the '82 team but played some wonderful stuff with Josimar scoring some screamers. The game between France and Brazil was an amazing match. Maradona is remembered for the Hand of God but he scored some sublime goals in that tournament against England and Belgium.
I don't know whether it's a case of "football overload" nowadays where we can see all of the world's greatest players week-in & week-out but none of the recent World Cups seem to be the same as those first two that I remember.
Alan McGuffog
15
Posted 26/06/2018 at 16:08:14
Always overlooked because of the final when Brazil took Italy apart, but one of the best games I have ever watched was the semi between Italy and West Germany in 1970. 4 - 3 to Italy after extra time, I think. Marvellous.
Brent Stephens
16
Posted 26/06/2018 at 16:21:36
Alan (#15), one of my favourite games, as well. Action-packed extra time!
John McFarlane Snr
17
Posted 26/06/2018 at 16:27:47
Hi Tony [9] here are the attendances for the 1966 World Cup games at Goodison Park and Old Trafford.
Goodison Park:
Brazil vs Bulgaria – 47,308
Hungary vs Brazil – 51,387
Portugal vs Brazil – 58,479.
Quarter Final, Portugal vs North Korea – 40,248
Semi-Final, West Germany vs Russia – 38,273
Old Trafford:
Portugal vs Hungary – 29,886
Portugal vs Bulgaria – 25,438
Hungary vs Bulgaria – 24,129.
It's fair to say that Goodison had the more attractive fixtures, the figures at both grounds would have been viewed as disappointing, but believe me it was a pleasure to have been there; no doubt Dave has a tale or two to relate.
If you're free on July 15th, I would really like to make your acquaintance.
Ian Burns
18
Posted 26/06/2018 at 17:31:34
John (#8),
I have to agree that 1966 was football sent from heaven as, like me, you had tickets for all of the games at Goodison Park. The Everton fans took to the Hungarian centre-forward whose name escapes me at the moment but it wasn't Bene I was thinking of. Florian or some name of that ilk.
They also took to Park Seung Jin and the crowd were right up for it when North Korea went 3-0 up against Portugal. I can still recall today the disappointment I felt once Eusebio started putting matters right. I was to the right of the goal in which he put away his penalty. But boy – what a player!
Pele was kicked out of the tournament by Portugal's Number 6 and I hated him and them for many years after. I can't recall his name but read of his passing some time ago.
Good game in prospect tonight – Argentina vs Nigeria!
John McFarlane Snr
19
Posted 26/06/2018 at 18:02:42
Hi Ian [17], it was Florian Albert, the crowd were shouting what they thought was his name, but they were pronouncing it as 'Al-bit', instead of 'Al-Bert'; he was superb, but so were many others. I suppose that like myself, you cherish those memories, of the world of football, that has gone forever.
Ray Roche
20
Posted 26/06/2018 at 18:22:12
John Snr.
Albert was indeed some player. We are blessed, those of us lucky enough to see those games at Goodison Park and the wealth of real talent on show.
The biggest disappointments for me was the terrible treatment dished out to Pele, and the FA changing the England semi-final to Wembley. I think that that is one reason why I have never been as patriotic towards the England team (London FC) as I was that glorious year, 1966.
Best single year of my life: FA Cup Final, World Cup Winners... I visited London for the first time, passed my driving test first time after 8 lessons... what a great year – and to see Pele, Eusebio, Garrincha, Jaizhino, Gerson, and Tostao was the icing on the cake. Great memories.
John McFarlane Snr
22
Posted 26/06/2018 at 18:23:47
Hi again Ian, apologies for demoting you from [18 to 17] the chant should really have been more like 'Al-Bear', a silent 'T'. I was at the Park End for the group games, and the Quarter-Final, and on Gwladys Street for the Semi-Final.
The Brazilians brought a colour and enthusiasm the like of which we had never seen. 'Happy Days' indeed.
Dave Abrahams
23
Posted 26/06/2018 at 18:45:54
As Ian (#18) and Ray (#20) say, it was a disgrace the way Pele was allowed to be kicked out of the World Cup and the crowd getting behind Portugal and urging them on, even though the treatment to Pele and others stunk.
It went back to the start of the competition when Sir Stanley Rous, president of FIFA at the time, got the referees together and impressed on them the difference between European and South American football, pointing out vigorous tackling was part of the European culture.
So you got Argentina, possibly the best team in that World Cup, IMO, getting a man sent off early in the game vs England, and called animals by Alf Ramsey, while half a blind eye was turned towards one of the worst fouls Nobby Styles's foul in the semi-final v Portugal. England to play every game in London.
I'm still waiting for the replay of the final, one of the goals took 16 years before it was ratified as a goal, and the final goal was scored while a spectator was on the field, taking everyone's eyes off the ball. Don't think I am going to get that replay though.
Don Alexander
24
Posted 26/06/2018 at 19:17:45
That Hungarian team in '66 scored one of the most beautiful goals ever, by Janos Farcas. He was built like Neil Young of Man City and had a shot to match. The volley he scored at full pace was the definition of unstoppable at the end of a sweeping move. That said, Eusebio's volley against North Korea would have killed the keeper had he got in its way.
Our younger readers (if any exist!) need to realise that Goodison Park was second only to Wembley in terms of facilities and stature in the world game as a UK venue. That it's fallen so far is another story, of course.
And Ian (#18), I think the Portuguese No 6 was Mario Coluna, their captain. They called him their "Sacred Monster". No idea why!!
Dave Abrahams
25
Posted 26/06/2018 at 19:38:40
Don (24), Coluna, couldn't think of his name. He was actually a very good player but got sent out to do a job on Pele that night. He shouldn't have been allowed to get away with it.
In the other game vs Hungary, Brazil were second best and got beat deservedly by a very good team. In the first game vs Bulgaria, a Brazil supporter was doing my head in banging his drum throughout the game in The Gwladys Street Stand... I think he'd been to Southport with The Orange Lodge in the afternoon.
David Israel
26
Posted 26/06/2018 at 20:30:34
Don (#24) and Dave (#25), the Portuguese player who butchered Pele in that game at Goodison was called Joao Morais, and had become famous in his country for scoring Sporting Lisbon's winner in a Cup Winners' Cup Final a couple of years before, directly from a corner kick.
Coluna was actually the midfield brains for that Portuguese team, and had been for Benfica, for some years. No butcher, him.
John McFarlane, great memories of those games at Goodison! I watched the semi, as well as the Portugal v Brazil and Portugal v North Korea games. I seem to remember that one of Eusebio's goals against Brazil was a a header, which must have been a rare feat for him.
Brazil looked a spent force in that tournament. They had already been clearly beaten by a very good Hungarian team, and needed to beat Portugal by three goals in order to qualify. A tough ask, indeed.
Elsewhere, I enjoyed Spain '82 very much. That Brazilian team was probably their best never to win the World Cup. Until Paolo Rossi almost single-handedly beat them, that is. They were a bloody disgrace, that day.
William Gall
27
Posted 26/06/2018 at 21:31:03
Does anyone remember the player that put Pele out at Goodison in 1966? The rumor was he was supposed to have lost an eye in an accident and Pele turned out for a testimonial for him.
My ticket for them games was at the Gwladys Street End. Houses along Gwladys Street were opened up for visitors.
David Israel
28
Posted 26/06/2018 at 21:36:47
I have identified the culprit at #26, William.
But the player who lost an eye was someone else, not the butcher.
Tony Abrahams
29
Posted 26/06/2018 at 22:03:45
Why were Italy a disgrace, David? I watched that game a few years later, and was actually surprised at how good the Italians were that day.
They were very lucky to get out the group, but they showed an iron-will, and a real mental toughness to get past Brazil, and I personally think it takes two teams to contribute to what was an absolutely outstanding game of football.
Brazil had so much talent but, once out the group, then Italy came alive, and I honestly thought they deserved to win the World Cup that year.
David Israel
30
Posted 26/06/2018 at 22:06:25
Tony, I meant to say the Brazilians were a disgrace, that day, not the Italians. And I agree with you, the Italians were worthy champions that year.
Dave Abrahams
31
Posted 26/06/2018 at 23:12:16
David (#26), your version of who did the dirty on Pele in 1966 actually makes a lot of sense because I remember Coluna as a fine player and captain so I'll bow to your version of who nobbled Pele.
Mike Gaynes
32
Posted 27/06/2018 at 00:35:59
Lovely bit of writing, Lyndon. But you forgot one great moment of Italia '90 – Kevin Sheedy, the man who made me an Evertonian forever, scoring Ireland's first-ever World Cup goal against England.
But my favorite World Cup, of course, was USA '94. Saw six incredible games and rode CalTrain to every one of them with the mad, crazy, singing Brazilian fans, who were based in the area. (I was a lot less enchanted with Brazil after Leonardo fractured Tab Ramos' skull with an elbow.)
Now the World Cup is coming back to the US, and I can't wait.
Ron Marr
33
Posted 27/06/2018 at 01:19:48
Farkas was brilliant in the Hungary vs Brazil game. Harry Catterick wanted to sign Farkas and Florian Albert, but not possible in those days. We missed the Bene goal because of the delay getting into the stadium.
Mike G., I was at the Russia vs Cameroon game in 94 at Stanford when Salenko scored 5 goals. Did you go to the Olympic soccer at Stanford in 84? I went to the Brazil vs West Germany game. Dunga played for Brazil.
Dick Fearon
34
Posted 27/06/2018 at 03:38:29
Memories play tricks and mine must be working overtime at it.
From my spot behind the Gwladys Street goal, I remember Coluna, Portugal's captain, was the man who hacked down Pele. After his first scything tackle failed, he finished the of the great one with another.
The referee was English and did nothing despite having a close and unobstructed view of the incident. My last sight of Pele was him being stretchered off.

Lenny Kingman
35
Posted 27/06/2018 at 07:04:24
I too was fortunate to have been present at all the Goodison World Cup games.
I watched from a variety of terraces, Goodison Road, the Street and for the semi-final in the Park end. I agree with Dick about Coluna being the perpetrator of the double scythe/hack on Pele as it happened just in front of the dugouts and myself in Goodison Road.
Farkas's screamer was off the radar and also Garinchas free kick against the Bulgars in the first game. That was as good as it got for the Samba boys unfortunately.
Portugal should have won the 1966 World Cup in my book, but were outflanked by the controlling body who got them to travel to Wembley to play England instead of remaining in their happy hunting ground at Goodison.
I remember the Bullens Road stand being full of Brazilian fans in the final do-or-die group game against their fellow Portuguese speakers. After the game, during which they bongo-ed their way throughout, regardless of the sad events on the field, they up and left their musical equipment behind. I wonder if anyone on here was lucky enough to have salvaged a magic momento of another proud part of our clubs fabulous history? If not, where did they end up?
Just to add I have had goose pimples throughout writing this!
Amit Vithlani
36
Posted 27/06/2018 at 07:56:15
I remember the build up to Italia 90 very well. There were glossy magazines on sale, and the build up to the tournament included some tasty friendly matches. England outplayed the Czechs and Gazza looked world class. Brazil beat Italy on their own patch with a free kick from Andre Cruz I won't forget. I used to look forward to Sportsnight with Steve Ryder and Des Lynam.
The tournament opening was all about Nessun Dorma and the shock the Cameroonians provided. As an African born family we were proud of them, but their tactics against Argentina were pretty brutal.
However, many of the group games were really dull, with the Germans providing the most entertainment. Italy too played some good football, although it took a classic goal from Giannini to beat USA, who back then were a much weaker side.
The Dutch were a huge disappointment. I had high hopes for Van Basten, Gullit and Rijkaard – my 3 favourite players 14 – but they never really did the business for the national team after Euro 88.
The tournament went sour for me when Argentina prevailed to the final. They did well to beat Brazil - Maradona's assist for Canniggia was unreal, but then relied on luck and defensive tactics to beat Yugoslavia and Italy. The Germans I seem to recall had scares in the Quarters and Semis (Waddle hitting the post) and were not particularly good in the final.
It was a tournament that showed how much of a role luck played. I don't think the Germans would have beaten the Italians on their own patch, and Italy missed some Golden chances to beat Argentina in the semis.
The dark memories of the tournament matched dark memories of my school days at that period. I had just left a dreadful board school in Bedfordshire that Summer to join one in Leicestershire. Both were rugby playing schools and my obsession with the World Cup was relentlessly mocked.
My father died in the Spring of 1991 and it took me and my family a full 3 years to get over it.
Around the time of the 1994 World Cup things perked up; I was enjoying my time in University and our family had put its life back together.
Its funny how one's outlook on life could influence the lens through which we see things. I have rose tinted glasses on for USA 1994 and indeed Mexico 1986 – both during times when I was happy at school and home, but I don't look back at 1990 with much fondness.
We also had some strange football shows at the time – Saint and Greavsie was about as cutting edge as it got in terms of punditry and analysis!
Peter Mills
37
Posted 27/06/2018 at 10:47:21
Lenny (#35), one of the Brazilian fans was highlighted a few times on TV banging away on a very large drum in Gwladys Street. At the end of the tournament, he donated it to Nazareth House in Crosby, which was then a children's home. I suspect the nuns let them play with it for 20 minutes before discretely putting it away.
Lenny Kingman
38
Posted 27/06/2018 at 10:56:35
Thanks for that, Peter. So that accounts for one drum. It must have been as noisy in Nazareth House as it will be at the second coming!
There were lots of them left in the Bullens. I'm sure quite a few of the colourful implements found new and welcoming homes.
Brian Harrison
39
Posted 27/06/2018 at 11:29:06
See the gutter press have been mauled in the social media for releasing the England team using ultra long lenses. But the likes of Oliver Holt and a few others trying to defend what they did. These are the same journalists that have complained for years about not getting access to the England players. Now Southgate has welcomed them they do that to him, and they wonder why successive England managers have denied them access.
Now I see Andy Dunn, who writes for the Mirror, is now saying he thinks we could go all the way... so much for keeping a lid on things. We are all pleased with the progress the team has made with expectations not very high. But, after beating two very average sides, Dunn now thinks we can win it – unbelievable! I will be interested to see how certain journalists report on what team he selects for the Belgium game.
John McFarlane Snr
40
Posted 27/06/2018 at 11:56:39
Hi Lenny [38] I think I must've triggered one or two 'Old uns' out of their slumbers, because my post [8], was the first for the 1966 World Cup Campaign. So many memories, there's nothing like being there, as for the Brazilians, they appear to have been everywhere.
I was behind the Park End goal, and the stand above us was filled with them, and of course there were the mandatory 'drummers'. I don't know if you're familiar with the Anfield area – it's probably a location you try to avoid; I lived there myself before seeking sanctuary in Skelmersdale 51 years ago. (Sorry for that digression, back to the subject on hand.)
There was an article in the Echo that stated that, when Brazil were eliminated from the competition, a Brazil supporter gave his drum to a young boy who lived off Priory Road, I think it may have been Bingley Road; it would be perfect if he was an Evertonian with access to 'ToffeeWeb.'
I was tempted to say that, when the young boy received the drum, he was told to beat it, but I thought that may be considered a bit cringeworthy, so I resisted the temptation.
Chris Keightley
41
Posted 27/06/2018 at 13:15:59
Hi Amit (#36), did you go to Bedford Modern or Bedford School ?? Both were indeed rugby and cricket led. I enjoyed 1990, kissed a girl from Dame Alice Harpur School and had a summer romance that petered out by August sadly!! And the summer was a hot one, if I recall... a good year with a good World Cup that I remember fondly.
Tony Abrahams
42
Posted 27/06/2018 at 20:01:46
Sorry John, I forgot to thank you for giving me those attendances mate. I think I'm still shocked at how poor the gates were at Old Trafford.
I've heard Liverpool was the place to be during the "swinging sixties" and was wondering if this might have had anything to do Goodison also getting the much bigger gates?
I know you said we probably got the bigger games, but I'm sure Old Trafford got much better attendances than Anfield during Euro 96.
John McFarlane Snr
43
Posted 27/06/2018 at 22:30:31
Hi Tony [42], If I didn't have cause to do a bit of research, and someone asked me what the attendances were for the Goodison World Cup games, I would have put them higher than they actually were. But, having said that, Goodison boasted the three highest attendances in the group games outside of Wembley, the lowest of which was 47,308; the fourth highest was 46,587 for the Argentina vs Spain game at Villa Park.
It would appear that World Cup fever is greater now than it was in our day; I would think that having it on the doorstep was the icing on the cake.
With regard to Liverpool being the place to be in the 'Swinging Sixties' I must plead ignorance, when the Beatles were all the rage I said, "Give them 18 months and nobody will know who they are", my world then, as it is now, was 120 yards long and 70 yards wide, but I must confess that I don't like the way it's heading.
Lenny Kingman
44
Posted 28/06/2018 at 06:48:47
Thanks John (#40), excellent research as ever.
I think the Brazilians recognized a kindred spirit in us as we did in them. That was a total love of the game of association football. Fellow Corinthians indeed.
John Pierce
45
Posted 28/06/2018 at 13:03:20
Lyndon and moreover several of the posters, not often I say this, but a superb thread.
We all have a World Cup that resonates more than any other, but I really love them, perhaps less from an England perspective and more from learning about global football especially when I was a boy.
I begged my Dad for World Cup books and trivia and come the 90's any vhs that showed complelation footage of previous World Cups. One video narrated by one Sir Robert Charlton was watched repeatedly until it broke.
Born in '75, the ones I think I'd love to have known are Mexico '70 & Argentina '78, it looked glitzy and glamorous, alien and different.
I've watch Mario Kempes goals over and over. An Argentina side I could get behind!
My fascination stemmed from my father, not known for any outpourings of emotion. He was 14 when '66 rolled around, quite possibly the best age to embrace a World Cup winning side?
Anytime we talked about it, as the tale goes when the 4th goal went in he jumped so high the big light in the parlor got smashed! His eyes always engage as if he can remember it just like that!
I desperately wanted to know what it felt like, it drove my curiosity.
Well now 'State side and the Cup coming to the US in 2026, I will like the London Olympics before it, go to every game/event I can. Maybe it might be a final .🏆
---
Add Your Comments
In order to post a comment, you need to be logged in as a registered user of the site.
Or Sign up as a ToffeeWeb Member — it's free, takes just a few minutes and will allow you to post your comments on articles and Talking Points submissions across the site.
© ToffeeWeb