Report
Evertonians just get everywhere
Luckily we didn't book our trip to the Netherlands for Everton's game-that-wasn't against Groningen and so, when the game against Genk was announced, Gaz and I were able to book some flights to Brussels Charleroi. The Ryanair flight times were a little unforgiving – departure options of 7am or 7pm. We opted for the 7pm on the Friday evening, though hadn't factored in it was the busiest day of travel in the whole year, with all the school kids finishing for the summer.
Manchester Terminal 3 was a busy place as we honed in on departure time. The flight out was delayed about an hour. The flight then took about an hour and then the transfer into Brussels also takes about an hour… and they are an hour ahead of course. Just to make things busier, Belgium were celebrating their National Day. By the time we got out in Brussels for some liquid refreshments, it was near midnight though we did have a pretty good evening sampling delicious Belgian beer.
The Saturday was a belter of a day. We boarded the train at Brussels Nord and it was just over one hour to Hasselt which is where we'd booked into a hostel for the evening. A bit further along the line, quite a few Evertonians got on the train and it was nice to see one or two familiar faces. We dumped our bags at the hostel though were too early too check-in. We were also told we had to be back there to check-in before 10pm otherwise we wouldn't be able to get in, more on that later. Outside the hostel stood four lads, one in an Everton shirt though as we got closer to them I noticed they were speaking Dutch so didn't make any conversation with them. More on that later.
The train from Hasselt to Genk was leaving at about 1:30pm so, with about 20 minutes to kill, we had a quick beer at the station before jumping on the train. When we got off in Genk, a gentleman asked us if we knew when the bus went to the stadium, the stadium being some 5.5 km out of town. We didn't have a clue but weren't worrying about that with two hours or so until kick-off and we headed around the corner to a bar called WonderBar where we sat out and enjoyed a few beers.
The gentleman, Dave, joined us and as we got talking it turned out the guy was originally from my home town in Wirral, though now lives in Harlem, Netherlands. Moreover, he is actually an old friend of my brother and knows a lot of the people I know in my local pub. It's a small world eh. My brother, also Dave, was made up to see him when I sent him a pic of the guy on What's App. A really nice fella was he and the three of us had a good laugh over a few beers, too much so in fact that we almost lost track of time...
That said, we had 50 minutes until kick-off when we left the pub, but couldn't flag down a taxi for love nor money. Fortunately there was a load of Everton and Genk supporters queuing for a bus by the train station so we jumped on that and only managed to miss two minutes of the game.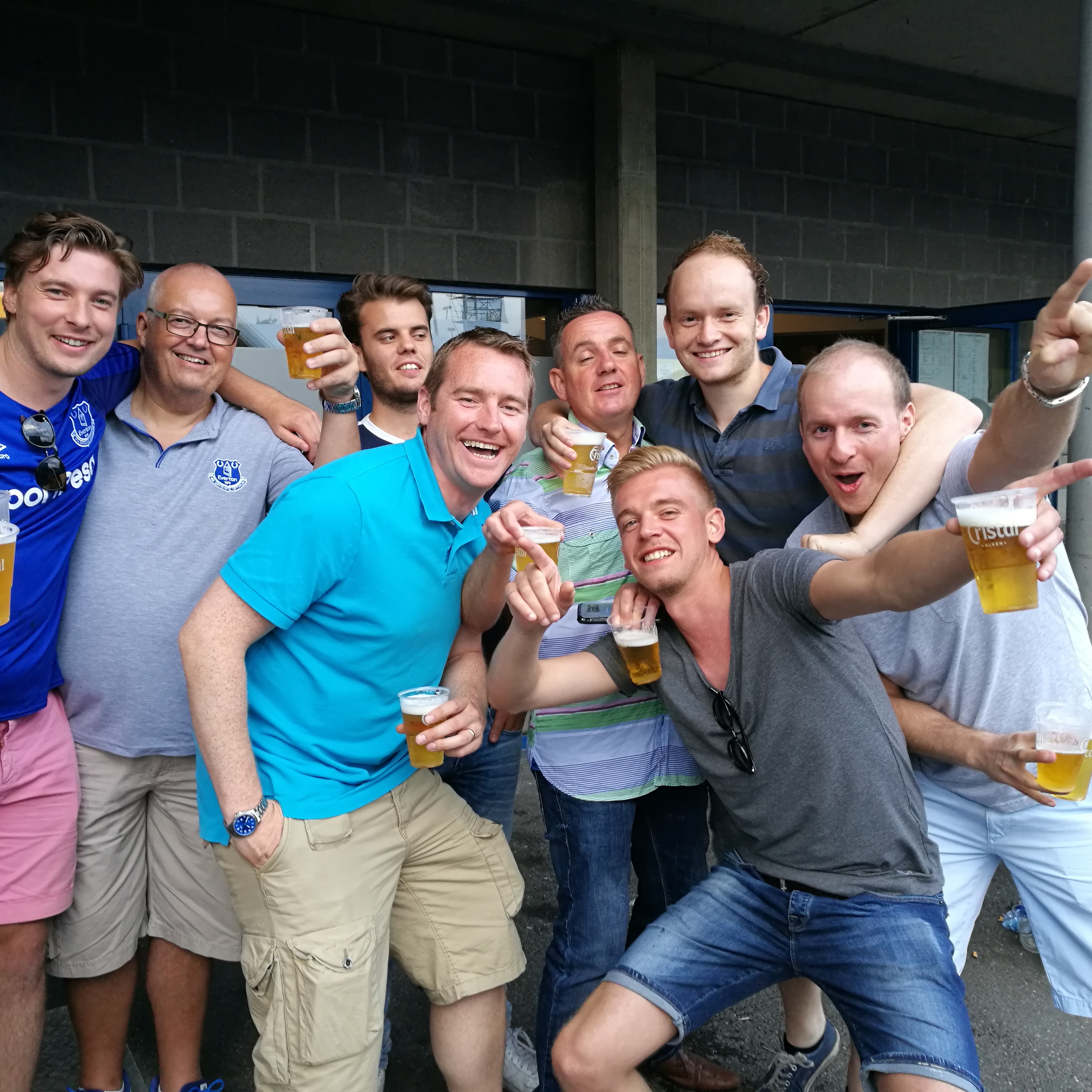 Though allocated seat numbers, nobody was bothered and everyone just sat wherever they wanted. Dave joined us. As a through-ball was just a fraction too far for a Genk player the fella to the right of me sighed. I asked him if he was a Genk supporter, he wasn't, he'd travelled over from Netherlands with his three other mates, one of which was an Everton supporter. As I looked over at them it dawned on me that they were the same lads from the hostel earlier. We all got chatting and they were top drawer. Really good fellas. You could drink during the game also and the beer flowed between the now seven of us. It was just Gaz and me at the start of the day.
The game, for a friendly, wasn't bad and was pretty competitive. I was looking forward to seeing a few of the new faces and, of them, I was very impressed with Michael Keane. He looks a solid and imposing centre-back and could be a big player for us for many a year. Jordan Pickford didn't have a huge amount to do in the first half. Otherwise Davy Klaassen looked busy if not especially spectacular, and though he put in a great ball for our goal, I wasn't especially won over by Sandro Ramirez, but I'm certainly not judging any of them on one pre-season game.
One lad who did give us a flavour of what to expect was of course Wayne Rooney. His movement is a joy to watch and he took his goal ever so well. Already this pre-season, he has impressed and he really looks set for a good season. We may need him too, especially if we are unable to get a target man in. You feel the team is still crying out for one.
There were several changes throughout the second half and our rhythm seemed somewhat disrupted as Genk pressed for the equaliser early on. Mbwana Samatta scored it, thumping in a volley from around 12 yards out, though I must confess to missing the goal at the time while chatting away. I think we all did in fact. Maarten Stekelenburg, who appears to be at least fighting hard for his chance, made an incredible save to deny Samatta a second goal when he tipped his close-range diving header onto the crossbar. You'll do well to see a better save than that.
I asked the Dutch lads about Davy Klassen, and their general consensus was that, though a decent and busy player, that we have overspent. One of them told me he might take a season to get used to the Premier League so I hope we are patient with him. They were Ajax supporters so they may have some idea. I also asked about Cuco Martina and they all pissed themselves. "You won't be winning the league with him," one said.
We were pressed back for quite a period of the second half and it took the fresher legs and busyness of Besic, Connolly, Barry, Davies, McCarthy and Lookman to help us wrestle back control of the game. We were pressing for the winner towards the end though it never quite happened. At full time, a good work out, against a good team. Just what we needed.
Other observations from the game – Gareth Barry still has a bit to give. They'll have to make a decision on midfield as we've got too many to accommodate and they'll have to lose someone, be that this summer or in January. You would say James McCarthy or Muhamed Besic would be the most likely but I would be loathe to lose James in particular as I think he still has a lot to offer. Of the younger players, Kieran Dowell really impressed me as too did Callum Connolly in his 25 minutes or so. Tom Davies is an absolute gem and he should, and will, stay in and around the team. For Genk, Leandro Trossard looked a heck of a player. I'll keep an eye out for him.
When Everton move to Bramley-Moore Dock, they'll do well to follow KRC Genk's 'fanzone'. It's a pretty common model throughout Belgium, Germany and Netherlands from what I understand and one we could learn a thing or two from. They use their space well around the stadium and the pub/drinking area is good fun. There's also plenty of stuff for the younger crowd to do, and they are very accommodating in the club shop. It's all very nice, friendly and enjoyable.
After the game, we went for what was supposed to be a quick beer in the fan zone. This turned into several as, every time you looked up, someone was buying a new round of beers. We also got chatting to another good fella from Newport who had travelled over from Amsterdam that morning (he'd booked a flight for the Groningen game-that-wasn't). We were there that long that, come 9pm when it was all closing up we couldn't get a taxi. We eventually made it back to the hostel in time to check in at 10pm (though that was chaotic). We then got some food before partying on pretty late into the night in Hasselt.
What a day! What a night!! Evertonians just get everywhere!!!
---
Reader Comments (10)
Note: the following content is not moderated or vetted by the site owners at the time of submission. Comments are the responsibility of the poster. Disclaimer
Liam Reilly
1
Posted 25/07/2017 at 16:33:20
Good read, Paul.
I lived in Amsterdam for a couple of years back in the 90s and agree, the Dutch are very welcoming and friendly.
I recall there wasn't many of us but there was always a good showing of regular Bluenoses present for games in the pub.
Peter Warren
2
Posted 25/07/2017 at 16:48:47
Fantastic! Hopefully more great European tours await....
Tony Abrahams
3
Posted 25/07/2017 at 20:02:25
Great story, Paul, nothing better than a few days away with yer mates, watching The Toffees!
Joris Moossdorff
4
Posted 25/07/2017 at 22:58:22
Hi, Paul and Gaz,
We had a great time as well!
Greetings from the Dutch guys!!!
Michael Penley
5
Posted 25/07/2017 at 23:29:59
If I went to the Netherlands, it wouldn't be to watch a football game, I'll tell you that.
Andrew James
6
Posted 25/07/2017 at 23:50:17
Glad you had a good time there, Paul, and your report was as good as ever!
Lovely part of the world that, been cycling there and around. I'm intrigued by how Davy gets on because while some have given him rave reviews, I went to see Alkmaar in the league last September and the standard of Dutch football has really nosedived. It was really slow.
Laurie Hartley
7
Posted 26/07/2017 at 00:26:34
Paul – Pleased to read your thoughts on Gareth Barry who is my kind of footballer. I hope we see some more of him this season. What a signing he was – I wish he was 30.
Paul Ferry
8
Posted 27/07/2017 at 05:47:22
Brilliant pic. Sums up away days in a flash.
Where are the fecking player ratings?
Paul Traill
9
Posted 27/07/2017 at 14:27:03
#4 Joris - thanks mate, catch up next time.
#8 Paul - come on mate, do I really need to give you a stick to beat me with in pre-season. :-)
Andy Meighan
10
Posted 27/07/2017 at 16:23:46
Micheal (#5)
"If I went to the Netherlands it wouldn't be to watch a game of football."
Whatever are you getting at, young man?!?
Add Your Comments
In order to post a comment, you need to be logged in as a registered user of the site.
Or Sign up as a ToffeeWeb Member — it's free, takes just a few minutes and will allow you to post your comments on articles and Talking Points submissions across the site.
© ToffeeWeb