Report
Everton surrender two points to City ferocity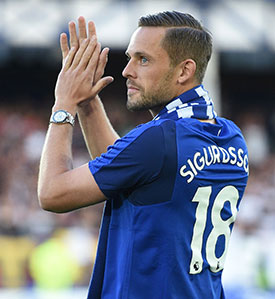 Gylfi Sigurdsson starts on the bench
Manchester City 1 - 1 Everton
Everton begin a difficult sequence of fixtures both at home and abroad as they make the short trip the Etihad Stadium to face highly-fancied Manchester City.
Ronald Koeman goes with a central defensive three again with Mason Holgate deployed in the right wing-back role this time.
Tom Davies starts in midfield while new signings Davy Klaassen and Gylfi Sigurdsson are on the bench alongside Kevin Mirallas. Sandro Ramirez has not recovered from a heel injury in time and is not in the squad.
City kicked off and applied some early pressure, a shot in from Otamendi. Calvert-Lewin showed some great [ace down the right but his cross could not beat Otamendi.
On the next attack, Calvert-Lewin tried his firing boots, lashing one beyond the post to at least show some fine intent. Some fierce close play ended when Baines clipped the ball and Silva's toes, giving up a free-kick that came through harmlessly off Rooney to Pickford.
Schneiderlin put in a poor mistimed tackle on Aguero and was yellow-carded for it on just 7 minutes, as the Blues gave up corners that were defended away effectively.
Some dreadful head tennis from both sides was seriously uninspiring bit the ball was played up for Calvert-Lewin to chase. But Everton could not hold possession and were soon under pressure, De Bryune shooting. But Pickford launched a fantastic ball on to Calvert-Lewin and he beat Stones to play in Davies whose shot was woeful — he should at least have hit the target.
A good move saw Rooney play out a lovely ball for Calvert-Lewin and the move earned a corner that Williams headed down with no power. Holgate showed fine maturity to deny Sane. Some good possession from Everton went backward until Jagielka punted it forward and lost possession, setting up a sharp City move with Holgate blocking Aguero solidly.
With Everton looking lively going forward, incredibly, Davies was booked for diving as he tried to round Otamendi. At the other end, City came close with a shot from Otamendi saved by Pickford but falling to Aguero but his chip was headed behind for a corner.
Everton held the play well enough and moved forward albeit slowly with some close-order passing until the ball was lost and City swept forward again, Jagileka's neat barge on Aguero taking him away from goal.
Rooney had a chance to put in a deep free-kick but it was ballooned horribly when something far better was needed from the life-long Blue.
De Bryune and Aguero broke for what looked to be a certain goal but brilliant covering by the Everton defence, especially Jagielka, nullified it completely. But the next attack came even closer, a lovely clip by Aguero with the outside of his right boot over the Everton defence, fired by Silva against the foot of the post.
In another bright move down the right, after a mistake by Sane, Holgate and Calvert-Lewin combined to get Rooney in on target and the ball defecting off new City goalkeeper Ederson and in off the post, a fine goal for Everton and Wayne Rooney, his 200th Premier League goal.
The Blues were forced to defend even more robustly as City were now suitably aggrieved. Keane did well to put Jesus off, who wanted a penalty.
Two brilliant tackles by Baines on Walker were simply fantastic. Rooney gave the ball away sloppily to Silva but the cross to Jesus was fired weakly at Pickford. Walker then saw yellow again, and was sent off by Robert Madley for barging backward into Calvert-Lewin; it didn't really look that bad, to be honest, but City down to 10 men!
Sterling replaced Jesus for Man City after the break, with Davies and Schneiderlin each on a yellow and on tenterhooks fearing an evening-up yellow for their next offence, however minor.
Baines was at it again, showing perfect execution to tackle Sterling but the City fans demanded a free-kick when Pickford picked up what they though was a backpass which actually came off Aguero. But it was all City, determined to get back into this -- a fantastic test for Everton's new-found defensive strength.
Superb work by Holgate to control Sane with a great last-ditch tackle for a corner that Pickford punched away firmly. Rooney tried to break but ran straight into De Bruyne.
Two kicks forward from Pickford were both bizarrely kicked out of play, as if even he did not want to take responsibility for keeping possession, setting up yet another City attack. Davies lost the ball easily to Otamendi but Keane headed the cross clear. Pickford's next ball was a brilliant clearance onto Rooney's toe but he could not play in Calvert-Lewin.
Gueye was tempted to foul Sterling and set up an excellent chance for De Bruyne, that was bashed poorly into the solid Everton wall, Schneiderlin going down after taking the strike on his body and Koeman took the opportunity to ready Davy Klaassen as a replacement, along with Sigurdsson, for Davies and Williams.
The disruption seemed to have stalled City's resurgence and Baines won a free-kick wide left that Sigurdsson delivered in close to Ederson, forcing a punch.
It was an absorbing end-to-end encounter, with City attacking, but Everton then breaking, Calvert-Lewin in acres of space but his cross needed to be a lot better. Holgate and Klaassen combined well down the right but Klaassen could not get the ball back inside.
Pep Guardiola made his final change with 20 minutes left, and City looked wickedly dangerous as they advanced, but the ball just was not falling for them as they resorted to the long ball forward, so solid seemed Everton's command of this game. But they needed a second goal.
Sterling fired from distance, a foot over. But too often Everton were giving it way; however, a turnover released Calvert-Lewin who almost beat Ederson to it and Wayne Rooney tried to score from 45 yards, overhitting it badly. Sterling got close but lashed his shot over.
Otamendi faked an elbow by Calvert-Lewin after he was hit in the face by the ball, as City surged forward and Pickford brilliantly paried a wicked shot from Danilo. Calvert-Lewin broke and was body-blocked by Kompay, who was only booked for the bad foul. Sigurdsson put the set-piece on Rooney's head but straight at the goalie.
More desperate action as Everton hung on through another onslaught, Aguero hurling himself to the ground well below as the ball came across the Everton area for the umpteenth time.
City kept driving forward, and a lofted ball in, headed by Holgate fell straight for Sterling to volley home as Everton paid the price for not taking advantage of the extra man.
City attacked again with incredible determination, Everton simply useless at keeping the ball. Klaassen did well steal the ball off Aguero, but it was only a brief respite as City surged forward again.
Schneiderlin was finally sent off despite winning the ball, as Aguero duped the ref for that long-awaited second yellow. Besic replaced Rooney with 4 more minutes added, Everton players shattered and unable to threaten.
Calvert-Lewin and Besic had a chance to break but Besic completely messed it up and Sterling was instantly inside the Everton area, but pulling it back rather than shooting. Then Klaassen miraculously clipping the ball off Silva's head to deny a final chance for Man City, who only scored off a gift from Everton.
Manchester City: Ederson, Walker [Y:42';YR:45'], Kompany [Y:76'], Stones (65' Danilo), Otamendi, Sane(69' Bernardo Silva), Fernandinho, De Bruyne, Silva, Aguero, Jesus (46' Sterling).Subs not Used: Bravo, Mangala, Toure, Foden.
Everton:Pickford, Keane, Williams (61' Klaassen), Jagielka, Holgate, Baines, Schneiderlin [Y:7'], Davies (61' Sigurdsson) [Y:25';YR:88'], Gueye, Rooney (90' Besic) Calvert-Lewin.
Subs not Used: Stekelenburg, Martina, , Lookman, Mirallas
Referee: Robert Madley
---
Reader Comments (320)
Note: the following content is not moderated or vetted by the site owners at the time of submission. Comments are the responsibility of the poster. Disclaimer
Dave Williams
1
Posted 21/08/2017 at 19:14:00
Solid selection geared to smothering them in the first hour then bring on Gylfi and others if we are in a position to either win or rescue the game.
Either very sensible or too cautious depending on what the result is!
Dave Ganley
2
Posted 21/08/2017 at 19:17:49
Really disappointed with this line up. It's a team to contain not to win a game. For me this was a chance for a statement of intent that Everton are finally going to make a game of it at places like this and we finally see a change of mentality that says we are not scared to go to the top 4 and try to win a game.
Alas the line up says differently. Hardly any goal scorers in the team, such a negative line up, may as well just say to Citeh, "Here's the ball, try and score." So much for a new dawn.
Really hope I'm wrong and will happily eat a large slice of humble pie but I fear I will be agreeing with Darren Hind's posts later. God help me.
Carl Rutherford
3
Posted 21/08/2017 at 19:24:44
Dave, I shared some of your disappointment but the same could be said of Chelsea's team at Spurs yesterday that contained 4 centre halves. Sometimes in this league your best chance is to nullify the opposition's best weapons. I guess we'll know by 10:00 pm if it is a tactical masterstroke or an early surrender!
Ed Fitzgerald
4
Posted 21/08/2017 at 19:26:53
Personally I'm unhappy about the lack of defensive players Koeman has chosen, this gung-ho attitude won't do at all.
Regardless of the result tonight his press conference told you all you need to know about his ultra negative tactics and mindset. Future manager of Barcelona my arse Calvert-Lewin and Holgate out of position again FFS.
Ciarán McGlone
5
Posted 21/08/2017 at 19:29:50
Hmmmmm..
That looks all wrong.. Koeman got it right in the first half against split. We played with width and looked good. This line up has no width and no balance.
Koeman trying to be too clever for his own good. Set up to defend the nil-nil. I fear a hammering. Hope I'm wrong.
Steve Ferns
6
Posted 21/08/2017 at 19:33:35
Koeman is baffling me this season. It's like he read that article I wrote and has set about proving me wrong when I said:
1. He won't play a back three again,
2. Certainly not if Schneiderlin is in the side.
Calvert Lewin should be furthest forward with Rooney just off him. Behind them will be a midfield triangle with Schneiderlin and Gueye at the base, looking after Silva and De Bruyne. Davies will play in the Klaassen role, but as a false 10. His job is to get at Fernandinho and Stones.
It's very negative, but hopefully it's about tiring them out and trying to get a late goal as they tire. Probably hoping Sigurdsson can come on late and deliver from set pieces. I expect Lookman to come on to win set pieces.
Peter Cummings
7
Posted 21/08/2017 at 19:35:14
Don't need any statements on 'negativity' as realistically, given City's abundance of real talent and class, we have little or no chance of matching them as an attacking force and, unless they have a nightmare, we could be on the end of a hiding. Still, hope springs eternal. COYB
Ian Lloyd
8
Posted 21/08/2017 at 19:35:46
Koeman really winds me up to be fair. I will eat humble pie if proven wrong but why does he insist on playing players in positions they don't play?!? It looks a weird team selection to me and one I'm not looking forward to seeing.
Surely Sigurdsson should be in from the start (and no, I don't want to hear about match fitness) and he insists on picking Calvert-Lewin out of position.
I despair at the moment as we have purchased good players but fail to select them in the right position. It will be backs-to-the-wall stuff, I'm afraid to say.
Christy Ring
9
Posted 21/08/2017 at 19:36:39
Not happy with 3 at the back, It didn't work against Stoke. He needs to buy a left sided centre-back to partner Keane, and Calvert-Lewin should be up front with Rooney.
Sam Hoare
10
Posted 21/08/2017 at 19:36:56
We don't have wing backs!!!
Baines is not fast or fit enough in my opinion for that role and Holgate is clearly not good enough on the ball.
Coleman can obviously play the role well, perhaps Martina or Kenny could. On the left we are short of options. Maybe Garbutt could have a shot at it but has seemingly not progressed over last year or two.
Playing this type of system relies on fast, energetic wing backs, Rose/Walker or Alonso/Moses; we don't currently have the right personnel in my opinion.
Jon Stern
11
Posted 21/08/2017 at 19:40:06
Agreed, Dave W
Ciarán McGlone
12
Posted 21/08/2017 at 19:42:30
Hopefully Pickford is MotM and we scrape a draw.
Paul A Smith
13
Posted 21/08/2017 at 19:46:09
Let's see how it goes. Stranger things have happened.
Dean Cooper
14
Posted 21/08/2017 at 19:46:54
The only thing I'm worried about with this lineup is Jagielka's distribution from the left. Otherwise we've rotated the team well in my opinion.
COYB
Lewis Barclay
15
Posted 21/08/2017 at 19:55:20
How is Lookman not starting?
Denver Daniels
16
Posted 21/08/2017 at 20:00:16
Park the bus and hopefully knick one. It's like David Moyes all over again.
Clive Rogers
17
Posted 21/08/2017 at 20:00:49
Strong defensive team against probable champs. Christy, 9, Calvert-Lewin is playing up front with Rooney.
John Owens
19
Posted 21/08/2017 at 20:07:18
I like the line-up just hope we get the format right!
Still going 2-1 to the Toffees!
Ernie Baywood
20
Posted 21/08/2017 at 20:08:01
If the plan is to frustrate them and then go for it in the second half then it's an improvement on the first match where we had no plan at all.
Struggling to see how we can just defend for 45 minutes with little pace to use on the break but let's see. COYB
Joe Foster
22
Posted 21/08/2017 at 20:13:21
This is making me very nervous.
Ernie Baywood
23
Posted 21/08/2017 at 20:18:44
Maybe when you've got a keeper who can pinpoint a pass to a mobile striker it doesn't matter!
Calvert-Lewin has started really well.
Ciarán McGlone
26
Posted 21/08/2017 at 20:48:35
Well, well... well.
Backs against the wall for most of that half as expected.. but counter attacking football is always capable of producing a goal against the run of play.
With the red card, we must now hammer home this advantage... If we sit back and simply defend the lead we'll be undone.. go for the jugular.
Pleased for those who lumped on at 11-1... Enjoy the sweat.
Dennis Ng
27
Posted 21/08/2017 at 20:49:14
Calvert-Lewin is playing very well as the lone striker!
Clive Rogers
28
Posted 21/08/2017 at 20:49:57
Brilliant. Koeman has out-thought Pep. Tactics and formation spot on.
John Smith
29
Posted 21/08/2017 at 20:50:14
1-0 away at half-time, against 10 men. We might just scrape in a win here.
Congratulations to Wayne Rooney for his 200th EPL goal. Well done, lad.
Chris Williams
30
Posted 21/08/2017 at 20:52:43
Half-time
So far so good, the plan is working. Given our limited attacking options, and City at home who are one of favourites this season, Koeman had little option but to have faith in the strongest part of his squad.
Solid so far but need to keep it going and open it up a bit in last twenty. I'd love a 5th clean sheet on the trot here.
Peter Warren
31
Posted 21/08/2017 at 20:52:47
Calvert-Lewin far better in his proper position. Rooney looking good. But concerned about Schneiderlin.
I would like to see Sigurdsson and Lookman come on.
Alan Jones
32
Posted 21/08/2017 at 20:53:19
Laughable sending off, but can you imagine how many times one of their players would've been rolling around clutching their face if the same thing happened to them!!! Coyb!
Michael Kenrick
33
Posted 21/08/2017 at 20:55:08
Calvert-Lewin simply excellent. More and more confident every time we see him.
Dave Ganley
34
Posted 21/08/2017 at 21:00:10
I'm preparing to eat a large lump of humble pie hopefully.
Dennis Ng
35
Posted 21/08/2017 at 21:00:55
I'm going on a limb to say we don't really need a #9 with Rooney teaching our kids the ropes! Overly optimistic, I know, but we don't need to panic-buy at least.
Jay Wood
37
Posted 21/08/2017 at 21:02:43
Hmmm... looking at this thread at half time, it would appear that a good few have called how the line up will play wrong.
Calvert-Lewin playing superbly in his best position. Absolutely superb link up play between him and the well-advanced Holgate to first win the ball then help set up the goal. Very cool by Calvert-Lewin to put the defender on his arse before rolling it into Rooney to score.
Maybe he is a Premier league footballer after all, eh?
Tom Davies is actually the most forward of the other players, supporting Calvert-Lewin when possible, with Rooney orchestrating things from deep.
There have been some hairy moments in defence but also some good play. The only threat on our goal has come more from our mistakes rather than their creativity.
A goal to the good, one man to the good, isn't some of the game plays exactly what we need to apply to compete at the top end? Calvert-Lewin going down under Walker's challenge to ensure the ref has a call to make? Rooney's innate ability of when to hold still or when to move?
No need to go gung-ho in the second half. Make them work to get back into the game and pick them off on the counter. Keep hitting those diagonal balls to either flank for Calvert-Lewin to chase and pull their defence about and get forward when possible to support him.
Pleasing.
Steve Ferns
38
Posted 21/08/2017 at 21:02:54
I can see why you'd say that, Dennis, but I still want a No 9.
Steve Ferns
39
Posted 21/08/2017 at 21:04:48
Link
I've got mine ready and I'm looking forward to a big slice.
Dennis Ng
40
Posted 21/08/2017 at 21:05:57
Well not if we play a false 9 or some alternative formation, Steve, but I understand why fans would want a proven #9. Its always a tricky mix between experience and youth.
I would just hope Calvert-Lewin and Lookman continue to grow as they do now. Would be glorious when we get Dowell back!
Steve Ferns
41
Posted 21/08/2017 at 21:09:08
We can't rely on Calvert-Lewin maintaining form, staying injury free and of course Rooney staying injury free. There's a lot of games and a proven No 9 is needed. I'd be happy with an older player on the basis Calvert-Lewin could usurp him within a couple of years.
Christy Ring
42
Posted 21/08/2017 at 21:09:25
Very impressed with Calvert-Lewin tonight, leading the line. I hope we can keep our heads, especially Schneiderlin on a yellow, against 10 men.
Steve Ferns
43
Posted 21/08/2017 at 21:22:51
4-2-3-1:
Pickford
Holgate Keane Jagielka Baines
Gueye Schneiderlin
Rooney Klaassen Sigurdsson
Calvert-Lewin
A hint of things to come?
Ian Lloyd
44
Posted 21/08/2017 at 21:42:44
Clueless.
You'd think they had an extra man – not us.
Dennis Ng
45
Posted 21/08/2017 at 21:43:16
GAH! Unlucky drop!
Steve Ferns
46
Posted 21/08/2017 at 21:44:45
Holgate should have done better. Wasn't really bad luck.
Ian Lloyd
47
Posted 21/08/2017 at 21:47:33
We have had a spare man all second half and not strung two passes together! Absolutely rubbish.
Dennis Ng
48
Posted 21/08/2017 at 21:55:27
I meant the strike not hitting anyone on its way it. A good point either way.
Ciarán McGlone
49
Posted 21/08/2017 at 21:56:03
We tried to defend the 1-0... No real attempt to take the game to them in the second half against ten men. Playing far too deep. All to familiar.
We'd take the point before the game... but we're miles behind the top teams.
Calvert-Lewin did well up top. There's a stylish player in there.
Michael Kenrick
50
Posted 21/08/2017 at 21:56:16
Really, really livid we gave that stupid goal away. If ever a match was there for the winning.
Gutted.
Craig Walker
51
Posted 21/08/2017 at 21:57:12
Got to keep the ball better against 10 men. Keep it and knacker them out. Same old Everton failings.
Holgate was good other than that error. I'd have taken a point beforehand but we should win against 10 players and a goal up.
Tony J Williams
52
Posted 21/08/2017 at 21:57:13
To be fair, if Aguerro decided to try and score instead of diving, they might have won it.
Brian Williams
53
Posted 21/08/2017 at 21:57:47
Likewise, Michael. Pig sick we didn't take the three there.
Kevin Tully
54
Posted 21/08/2017 at 21:58:51
One word summary; "Moyesesque"
Max Murphy
56
Posted 21/08/2017 at 21:59:16
Schoolboy error by Holgate. Head towards the effing touchline!
Tony Hill
57
Posted 21/08/2017 at 21:59:34
People will hail that as a good point but it wasn't. We are still frightened to win. Mental courage – we have none. A shame, a real shame.
I can hear the voices now telling the likes of me to get a grip. But I don't care. That showed why we have won fuck all for so long and why we will continue in the same vein.
Brian Williams
58
Posted 21/08/2017 at 22:00:00
Bollocks!
John G Davies
59
Posted 21/08/2017 at 22:00:10
Defensive masterclass tactically from Koeman.
Good point tonight.
Denis Richardson
60
Posted 21/08/2017 at 22:00:21
Shame we couldn't hold on to the win it, we were chasing shadows a bit in the second half. Subs were a bit dodge but can't win them all.
Happy to eat humble pie re Calvert-Lewin, he had a really solid game. Same with Rooney, two goals in two games, can't argue with that.
Sigurdsson got some minutes under his belt and no injuries picked up. Happy with the point; on to Split.
Tony J Williams
61
Posted 21/08/2017 at 22:00:28
What the fuck was Besic trying to do too? Muppet.
Ian Lloyd
62
Posted 21/08/2017 at 22:00:44
He's a Dutch Sam Allardyce.
Ed Fitzgerald
63
Posted 21/08/2017 at 22:00:44
Why is anyone fucking surprised given we had 37 per cent possession against 10 men? I said at the start my opinion wouldn't change regardless of the result and it hasn't.
I watched the match with a bunch of neutrals in Greece their analysts of Everton's performance was spot on to a man –– Negative hoofball. Calvert-Lewin was brilliant and worked his legs off as did Gueye.
Jay Woods
64
Posted 21/08/2017 at 22:00:47
We didn't look fit, but then it's still early days. One little mistake cost us all 3 points, but then again, it was one little mistake by Sane (who needs lessons in how to throw the ball in) that led to our goal.
Brian Hennessy
65
Posted 21/08/2017 at 22:00:50
Plenty of positives, Calvert-Lewin I though was excellent. Holgate had a great game apart from the one bad error. Pickford made some great saves.
A point a City is a very good result.
Mark Morrissey
66
Posted 21/08/2017 at 22:01:33
Should have stolen all 3 points. Never really got a grip with the man advantage. I felt the team did well but why not take off Schneiderlin instead of Tom Davies?
That's my only real complaint other than the Ref, he was total garbage. Both reds were shite decisions. We are so missing a front man who can hold the ball up.
Carl Rutherford
67
Posted 21/08/2017 at 22:02:49
Well that's 6 points in Koeman's 3 games against Man City (2 away). Probably enough to suggest Koeman has got it right tactically.
Steve Ferns
68
Posted 21/08/2017 at 22:03:24
I understand your frustration, Michael, but it wasn't a surrender! That's a bit harsh.
I think we showed that we can defend against the best attack in the league. Just one error cost us three points.
There's a lot of positives to take from this and we just need to see Thursday out now and focus on the next few after that.
Dave Ganley
69
Posted 21/08/2017 at 22:03:29
Really really poor second half. As good as City are we looked like we had 9 men not 11 v 10. The very few opportunities we had were woefully wasted. No composure and no plan apart from defend like Trojans.
If we are really serious about breaking into the so-called elite, we have to take opportunities and, when you're handed 11 v 10, then make it count. Yet again we looked like rabbits caught in the headlights. Lucky not to lose that. If we play like that against Chelsea, then we shall be on the receiving end of a hiding again.
I said earlier that the line-up suggested that we give City the ball and see if they could score and that's how it turned out. We will never progress if we don't have the courage to make a game of it.
City had so many chances in that second half, it could have been 3 or 4. To give them that much possession and that many chances with 10 men is really disappointing. We just haven't moved on from the last few seasons. No bottle to finish off a game. Harsh, maybe... but very true nonetheless.
Joe McMahon
70
Posted 21/08/2017 at 22:03:49
Mmmm, Kevin you are correct. I hoped the 11 years of Moyes had finaly gone. It took 3 teams less than a season to realise.
Chris Gould
71
Posted 21/08/2017 at 22:05:06
Absolutely gutted. Feels like a loss. Holgate had been fantastic, but that was a terrible header. It was a well organised and professional job up until that one mistake.
Bringing Klaassen and Sigurdsson on appeared to be an attempt at a bit more attacking intent against 10 men. Neither really got into the game but I can't fault Koeman's tactics tonight. We should have had all 3 points. Holgate will have nightmares about that header.
Jay Wood
72
Posted 21/08/2017 at 22:08:01
Disappointing 2nd half. We should have managed the game better with the extra man. Lost opportunity to put one over one of the genuine title contenders and we didn't take it.
Koeman made positive changes in going with a flat back four and withdrawing Williams for Klaassen and Davies for Sigurdsson.
Unfortunately, the players on the pitch didn't retain the ball anywhere near well enough to take the sting out of City. Even then, although he had a good game, that was a really poor defensive header from Holgate to set up Sterling's goal.
Calvert-Lewin Everton's MotM for me and by some distance.
No recovery time and I presume travelling tomorrow for the return leg with Hajduk Split.
A draw is a decent result, but it should have been a win given the circumstances.
Paul Smith
73
Posted 21/08/2017 at 22:09:04
Good performance that for me. Silly mistake from an otherwise flawless Holgate. 10 men always difficult to play against especially against one of the best in Europe. Don't understand all the negativity.
Daniel Lawrence
74
Posted 21/08/2017 at 22:11:08
They are a class above anything else in this league for attacking high tempo football. It's a good point however you look at it.
Craig Walker
76
Posted 21/08/2017 at 22:11:27
Klaassen looked way off the pace to me. Good touch to prevent a goal threat but he looked a yard too slow to me despite being fresher. Hope he comes good.
John Pierce
77
Posted 21/08/2017 at 22:12:36
I said in my pre-match ramble 3-5-2 was nothing more than there to nick a point. And it was thus. When you drum a defensive mindset into your team they simply cannot switch to a more attacking style.
Gifted an opportunity to win the game outright rather than hold on, I shuddered at the lack of intent. You had two attacking players on the pitch until the 60th minute?
In contrast, City weren't bothered and set themselves up to attack. They deserved the point, almost more to my mind. Too defensive, too pragmatic. Little has changed.
I feel for Rooney and Calvert-Lewin. Ran their bollocks off and got bugger all support because the rest wanted to defend. It was all percentages and time wasting.
I won't fault the players, some serious effort in there tonight.
Chris Williams
78
Posted 21/08/2017 at 22:13:21
A huge number of positives to be taken from that result. Watch how many teams get fucking mullered there over the season and we were one error away from a win without a recognised centre-forward.
No slight on Calvert-Lewin who ran his tripes out and showed no little skill. Wayne again showing he's far from finished and his narky side too. Good minutes for Sigurdsson, and a young team too.
I'd settle for something similar against Chelsea but a win, and a win on Thursday too.
At the moment, until we gel and get a centre-forward, I'd settle for ugly results.
Dennis Ng
79
Posted 21/08/2017 at 22:14:01
I would have been happy to get 1 point before the game so not as pissed but feel everyone's despair with 2 points lost on just 1 mistake header.
Overall, the team did really well defensively but felt we were too regressive second half going into our shell against a fairly fragile City backline. Koeman did this is 2 games in a row and the second time backfired. Hope he does better tactically from here.
Ciaran O'Brien
80
Posted 21/08/2017 at 22:15:14
I don't know how anyone can call that a good result. After all the money we spent, it was same old same old. They were down to 10 men for most of the game and we didn't attack once or exploit it.
We set up to keep it tight and hope to nick one. It was too slow and with no width whatsoever. We still don't look like beating any of the sky 6 away from home.
On the plus side Calvert-Lewin played well and so did Pickford and our defence. We desperately need a new striker, a pacy creative wide player and a left sided centre half who can play left back.
Schneiderlin wrongfully getting sent off might be a blessing in disguise in that we might play with just 1 defensive midfielder which might allow more creativity.
Paul Rimmer
81
Posted 21/08/2017 at 22:15:16
We went there for a draw it seems and one plus point for me is that we were willing to employ some dark arts to achieve this. That is a skill we have lacked for years.
Big up to Leighton, Wayne & Dominic. We've had it done to us for years and there was City, particularly Aguero, doing it for them. Results matter.
Andrew James
82
Posted 21/08/2017 at 22:16:17
In any other game at 0-1 with a man advantage, I would have applauded the substitutions because one is attacking and the other neat with the ball.
BUT...one was making his debut and the other has clearly struggled thus far.
Mirallas for me as he gives you an out ball and knows the league and his team mates. Koeman tried one of his tactical overhauls and it failed.
But a draw there with so many new players still gelling...I will take it.
Lev Vellene
83
Posted 21/08/2017 at 22:17:30
Tony (#57),
Yes, we could have won! But we had Holgate make that one mistake in an otherwise very good game for him. Should we blame Ronald Koeman? The team? The subs? Should we ban Holgate from ever playing for us again?
So yes, overall, I'm happy we didn't lose in the end! What was the shot-on-goal ratio? I didn't remember to check, but I certainly felt they had more chances than we did by the final whistle.
At just after half-time I was telling an RS mate also playing FPL that I was surprised that both Schneiderlin and Davies were not withdrawn after the first half, as we 'knew' that soft red card for Walker would earn us one as well in the second half...
Well, late sympathy from the Devil's spawn is also sympathy, I guess... :D
Robin Cannon
84
Posted 21/08/2017 at 22:19:22
Gave up a little too much initiative in the second half, so the man disadvantage never really hampered City. Perhaps if we'd offered more threat they'd have felt the 10 men more.
That being said, first half performance was very good. Solid, not particularly threatened, and decent on the break. Calvert-Lewin very good.
Also, even though we sat back too much in the second half, it never felt like a "backs against the wall" kind of defensive effort. Calm and in control rather than desperate blocking. One decent Pickford save apart, ended up being a defensive error from the otherwise excellent Holgate that gave them the chance (and 9 times out of 10, Sterling probably shanks it wide).
Anto Byrne
85
Posted 21/08/2017 at 22:21:30
Not many teams are going there and coming away with something. Shame about the equalizer but the positives far at weigh the negatives. We still require a No 9 and another winger.
Besic is a good player and Sigurdsson had two dangerous crosses one that Rooney got his head on to. All-in-all very promising. I will take a point.
Jamie Crowley
86
Posted 21/08/2017 at 22:21:45
That's a good point - because simply we snatched a point on the road against a very, very good team.
It is disappointing to NOT have all three points. But defending like that is very difficult, especially against that level of talent.
I said it last week.
Seven points after 5 games = very good.
Nine points after 5 games = outstanding
Ten points + after 5 games = sky's the limit.
We're on four points after two games. I'll take that.
I see us setting up the exact same way on the road at Chelsea and ManU, and going for 3 points at home against Spurs.
Pragmatic. Not dour. At least that's my take at this snapshot in time.
Michael Burke
87
Posted 21/08/2017 at 22:21:49
Can Morgan's sending off be rescinded for diving by Aguero? 3rd time he dived during the game.
Shame Bolasie wasn't fit. He'd have had a field day down their left leaving Calvert-Lewin in a more central position giving us a bit more attaching threat. Sterling changed the game for them (through gritted teeth).
Tony Abrahams
88
Posted 21/08/2017 at 22:22:34
Holgate made a bad mistake, but he won't be getting any blame from me. Thought the tactical change back-fired, but maybe the manager had to do something?
One thing the manager did call right was saying that it's what we do with the ball that will determine how well we do tonight, and that's the reason we didn't deserve to win.
When you play against ten, then you should stretch the pitch, and I think at the stage when the subs were made it was crying out for a wide man. I would have put little Lookman on, to exploit the space, but the bright side was the workrate, and a team that is learning how to defend again?
Ian Bennett
89
Posted 21/08/2017 at 22:23:00
A good point.
Everyone would have liked more attacking verve than Kitap1, but let's be honest this side is years behind City's. A pragmatic point where we looked solid at the back.
The squad does need the 3 signings that Koeman has discussed. I hope we get good quality in.
Fran Mitchell
90
Posted 21/08/2017 at 22:24:55
Can't believe the negatives. Away to the probable Champions, we almost won. A lot of good to take, and in the grand scheme, if we get 9/10 points from the first 5 games we have done very well and in good stead for a top-4 challenge, and this result helps us towards that.
They have about £300 million+ in strikers and attacking midfielders alone, having an extra man is never certain to give advantage as it open up space, which is an advantage for the home team.
Calvert-Lewin and Rooney worked their socks off, and deserve praise. In fact, all players put in their all, and deserve praise. They were probably knackered second half, and think our fitness is not quite 100% yet.
We lacked that little bit extra to win the game, hopefully we can attain it before August 31st.
But a good game, good performance (considering we are not yet at full-flow) and a good (not great) result.
Darren Hind
91
Posted 21/08/2017 at 22:26:00
Some heroic performances out there tonight. Calvert-Lewin justified all the calls to play him in his proper position -– he was outstanding.
Heartbreaking for young Holgate. He defended manfully, but a moment of inexperience lead to their goal – he'll learn from that.
The manger was a complete Frankie Howard again. This guy's lack of adventure will be the fucking death of me. 1-0 up against 10 men. The game was screaming out for Lookman or Mirallas to be introduced and really stretch them. I was convinced one of them would come on at the start of the second half.
I felt like putting my foot through the fucking telly when I saw the four centre-halves and the two tackling machines come back out. It was clear he was going to try to hold out just as he did last time we were in Manchester. Did Gana or Schneiderlin manager to get over the half-way line when City were down to 10?
Calvert-Lewin had city defenders blowing out of there arses all night. Rooney didn't have the legs to support him in the second half. We needed to give them something to worry about, but we didn't; we sat back hoping to soak it all up.
I really hope we don't get a load of people happy clapping the fact that we have just squandered a golden opportunity to take a big scalp.
Heroic effort from the players...

Peter Warren
92
Posted 21/08/2017 at 22:27:22
Work in progress. Calvert-Lewin looks good and promising as Number 9. Pickford and Keane look great. Holgate will be miles better for that mistake. That's how you learn.
Rooney looks good. Add another Striker, Sigurdsson and Sandro and give it half a season we will be just fine.
Peter Laing
93
Posted 21/08/2017 at 22:27:57
One criticism – we gave the ball away too much. For the City goal Jagielka surrendered possession with an aimless punt, from there on City had us on the back foot culminating in a naive header from Holgate. Still much to be positive about.
Lev Vellene
94
Posted 21/08/2017 at 22:28:15
Michael (#87)
Sterling was the classical EFC second-half swap of late! Fresh legs to run & run & run at tired defenders! A little more luck, and we'd have made it home with the loot...
Rick Pattinson
95
Posted 21/08/2017 at 22:29:58
Gutted we weathered the storm for so long. Defensively we are brilliant. Pickford – finally we have a shit hot keeper again. Holgate had a good game too.
Not many teams will beat Man City and I reckon they'll hammer a few teams this season. So a point ain't too bad. Klaassen needs to wake the fuck up though and we definitely need that striker.
Tony Hill
96
Posted 21/08/2017 at 22:29:58
Lev (83), I said what I said because I have seen a version of it a thousand times. I never felt we were going to win against 10 men because you could see us shrinking back. More importantly, neither did the team think it was going to win.
It wasn't Holgate's mistake, it's an entire mindset which is buried so deep I just can't see us digging it out.
Tom Bowers
97
Posted 21/08/2017 at 22:30:43
Happy with the result but could have been a really terrific 3 points if they could have held on. Performance was as expected in the first half and not surprised Rooney scored. His experience is invaluable. Calvert-Lewin is improving with every game.
Sending off was wrong and I suppose City deserved a point but Everton as I pointed out before the game do tend to give the ball back to often.
Against lesser clubs Everton would have held out against ten men. Starting to think that Everton are becoming a more assured team now.
Jeff Armstrong
98
Posted 21/08/2017 at 22:31:17
Correct, Darren, we never go on and get the second. Instead it's typical Everton, whether it Moyes, Martinez or Koeman, it's always the same shit tactics.
You just knew what was going to happen, why couldn't he try at least to stretch them with Lookman?
John G Davies
99
Posted 21/08/2017 at 22:31:55
3 points if Mason does what he should do and head the ball away from the danger area.
All part of the learning curve for him. He was outstanding tonight.
All-in-all, I will take the point.
😁😁😁😁 👏 👏
Sean Patton
100
Posted 21/08/2017 at 22:32:28
Old Trafford all over again. Gifted a lead and he just sits on it and it's no surprise that we concede another late equaliser. Only difference this time – it was galling as the opposition had 10 men.
Jamie Crowley
101
Posted 21/08/2017 at 22:33:22
Darren -
Be prepared for a storm of "anti-Koeman" posts.
Anyone not giving your comments credence is, in my opinion, being disingenuous.
I think (nay, am sure?) Koeman was absolutely playing for a point, packing it in against 10 men.
Your shout for an outlet in Lookman or Mirallas is absolutely valid.
Still, 4 points after two games. Pragmatic man! Pragmatic.
Bill Gienapp
103
Posted 21/08/2017 at 22:33:54
The issue was, on a better afternoon, Sigurdsson and Klaassen would have had way more of an impact coming off the bench. But Siggy barely even had a preseason and Klaassen is still finding his groove – though he might very well have saved the point with that fine touch in the final minute.
Thought Calvert-Lewin and Holgate played out of their minds (Holgate's one error notwithstanding). The way Calvert-Lewin controlled the ball and maneuvered it through the City defense to Rooney on the goal was very impressive.
Liam Reilly
104
Posted 21/08/2017 at 22:35:23
A draw is a fine result against Man City at their place unless you're playing a man more, when it is not.
I'm a fan but this is Koeman's team, which should be much fitter (this far into our season) AND playing against 10 men and they dominated the ball.
Missed opportunity.
Dennis Ng
105
Posted 21/08/2017 at 22:36:54
Jamie 101, nope not this time. Koeman might have messed up the second half but no-one gave us a chance before the game. This game should show we are getting closer. Our net spend this year pays for only one of City's substitutes.
Paul A Smith
106
Posted 21/08/2017 at 22:39:00
Tony (#57),
I wish the team had your balls. Playing 10 men and in the last 10 we are still chasing them. That's poor for me.
Who is going to run through teams for us like Sterling did for them? We hardly ever link attacks together and if the quality is poor, everyone is chasing their hearts out to track back. We need a ball carrier as well as a striker. If we had a bought striker tonight would, we have gone toe to toe?
This shows why we need to keep spending, and bigger than we have. That was virtually last seasons city and our performance there was almost identical.
Jamie Crowley
107
Posted 21/08/2017 at 22:39:17
Haven't seen a performance up top from an Everton striker like we saw tonight from Calvert-Lewin since Andy Johnson lead the line.
If Lukaku was still here, I'd be hurling shit across the room screaming, "Lazy twat, run!"
Sam Hoare
108
Posted 21/08/2017 at 22:39:49
Two points lost or one gained? Feels like a bit of both. Certainly we won't get many better chances to win away at a top 4 team
Playing against ten men is seldom as easy as it should be but I do worry about our ability to retain possession. It's a big part for teams hoping to close out games and we have looked poor at it in both Premier League games so far.
But plenty of positives tonight, few more so than Calvert-Lewin who may just be that mobile, physical striker that I've been hoping for. I still think we need to buy another but that kid has something special methinks.
Andrew James
109
Posted 21/08/2017 at 22:40:51
City fan came on Radio 5Live saying we're scared of them.
Sure, we might be nervous of going to a ground where refs give out two penalties to them and don't spot the ball going out before a goal is scored in a semi.
But scared? Having taken 4 points off them last season?
Peter Cummings
110
Posted 21/08/2017 at 22:42:00
Overall... a fair result – but why did we let them dominate possession when they were down to 10? Holgate should have let the ball go over his head instead of gifting them the equaliser, which City probably deserved on the run of play.
At least the signs for the future are looking very encouraging but we definitely need to adopt more of a 'killer' attacking instinct which hopefully Sigurdsson will provide, starting on Thursday.
While most TWs, me included, more or less wrote us off for this game getting a point was a pleasant surprise, COYB.
Dave Southword
111
Posted 21/08/2017 at 22:42:01
Would've taken a point before the game and I thought we nullified them effectively considering the possession stats. Another window or two and one would hope we can give them a proper game.
You have to credit City's performance – they've got a decent team.
Peter Mills
112
Posted 21/08/2017 at 22:42:16
The team is taking shape, and is showing more nouse than it has in the past. Of course I am disappointed we couldn't take 3 points, but I said beforehand we would do well to come away with 1. We have, I'll take it.
Josh Barber
113
Posted 21/08/2017 at 22:42:56
Bad mistake by Holgate but we were always under an assault even though they had 10 men. Like someone said, I think Koeman tried to take control of the game by bringing on Klaassen and Sigurdsson but it didn't work out and we gave possession away too easily throughout the game.
Calvert-Lewin is excellent and really taking advantage of his opportunities. I don't know why Lookman doesn't get similar chances, but I'm sure he'll play against Split on Thursday.
Proud of Everton to take the lead in that environment, but definitely feel we should have been more fluid and aggressive when they were down to 10 men. Wish Koeman would sub Rooney after 70 minutes every game – he provides a lot to our team but he was very poor once he got tired.
Dennis Ng
114
Posted 21/08/2017 at 22:43:34
Fran (#90), 9-10 points would be a dream come true, realistic chance for top 4, if you think about it. 2 more difficult away games and 1 home against Spurs. I would be over the moon with 7, although I do want to beat Spurs at home!
Steve Bird
116
Posted 21/08/2017 at 22:44:09
City away – draw? Yes, please.
Move on; next challenge.
We are already seeing the benefit of marginal gains.
Tony Abrahams
117
Posted 21/08/2017 at 22:44:58
I want a striker, I want another defender who is comfortable on the ball, but if we are going to continue to deploy these tactics, then most of all I would like a midfielder who can break from deep, with pace?
It's early days, I'm not going to,form an opinion until September is out, but I was very happy with the way we were defending, and the amount of times we could have broke better was really frustrating, even if it's going to take time?
William Cartwright
118
Posted 21/08/2017 at 22:45:51
Consistent theme running through the commentaries and the responses and it is crystal clear; Koeman is a defensive minded manager (as opposed to Roberto - so no mystery there). Pressing without skillful game management and application on the pitch will lead nowhere.
Where does it take us? Probably into the to 5 or 6 if we are lucky. Moshiri will see this and he will ensure Koeman earns his corn.
Hugely impressed by City, although Otamendi is a crass cheat. He should be 'disciplined' at least if there was a meaningful tribunal system in place. Schneiderlin's second yellow was another act of gamesmanship. I am really being turned off by this shit approach. The match pundits should also try to put this type of behavior into proper focus.
First match in which I have been really impressed with Calvert-Lewin, but I would like to see attacking players with real skill, strength and aggression (Costa?), and let's see what we get from the Chelsea game. Draws away and wins at home through the difficult start period will suit me fine, which could set the foundation for a top 5 placing by Christmas?
We missed Sandro tonight.
COYB
Brian Wilkinson
119
Posted 21/08/2017 at 22:48:58
Still early days. Calvert-Lewin played his best game tonight, bring in an out-and-out Number Nine and I think we will be fine.
Paul Tran
120
Posted 21/08/2017 at 22:49:04
I would have brought on Lookman to stretch them. Yet another game that was made for Bolasie and his power. I'm guessing that he thought Lookman would get brushed off too easily.
We defended very well, but if you play in your own half, you're one mistake away from conceding and that's what happened. I hope he put his arm round Holgate and told him he's in next game, he was superb, other than that mistake. Calvert-Lewin was excellent as well.
Funny how I used to get pelters on here for defending Martinez when we had a go and lost. I would have loved a display like tonight's in that second leg two years ago.
John Roberts
121
Posted 21/08/2017 at 22:49:41
Point away at potential champions is good. We were better against 11! Calvert changed my mind, great job. Pickford solid showing again although prob best to throw the ball from now on instead of kicking it!
Holgate, head up son, great game, one more learning experience!!
Paul Smith
122
Posted 21/08/2017 at 22:52:31
Big chance missed tonight for me because of the manager's negative attitude. I feel Lookman should of come on for Davies at half time or on the hour. We played like they still had 11 men in the second half.
On the bright side, I thought Calvert-Lewin was magnificent tonight and defensively we looked pretty solid again. Holgate also played well until the very poor header, we're still crying out for more pace though. Before the season started, I would've bit your hand off for 4 points after 2 games though.
Keith Monaghan
123
Posted 21/08/2017 at 22:54:15
I think some on here have forgotten we play in a very important game in Croatia on Thurs and then away to Chelsea on Sunday!
The plan was sound – go gung ho at Citeh and you're likely to get walloped.
Calvert-Lewin was excellent and most played well – yes, Holgate made a slight error but it was the challenge by the City player that caused the ball to go central – but why did nobody get to close Sterling down?
Gutted to only draw but would have been delighted if I'd been told it would be 1-1 at KO.
As Koeman said, we need additions where he identified – most of their threat came from the right wing.
Colin Glassar
124
Posted 21/08/2017 at 22:54:31
Overall, a very solid performance. The subs, except Mo, didn't really work out. Klaassen is still finding his feet and Sigurdsson looked rusty.
I would've brought Mo on earlier for Schneiderlin, and Lookman on for Calvert-Lewin after 70 mins. I would probably have left Davies on as well. But I don't get paid millions to make those decisions.
Dan Brierley
125
Posted 21/08/2017 at 22:54:51
Very happy with a point, but their overall pressing, one-touch football and movement was light years ahead of ours. Even with a man advantage, at no point did we dictate any of the game, nearly every attack had a sense of inevitability that we would lose the ball.
I think Calvert-Lewin, Pickford, Jags and Gana had a decent match, but the rest were chasing shadows. I sincerely hope Sigurdsson is going to be the key that will start making our attacking look more like it is intentional, and not just pot luck.
Danny Broderick
126
Posted 21/08/2017 at 22:55:24
I think Koeman's tactics were superb tonight. Credit where it is due. We were defensive with 3 centre-halves in the first half, with the tactic of playing Calvert-Lewin in over the top as our out ball. It worked a treat.
2nd half, we didn't need 3 centre halves as they only had 1 up front, so he took Williams off and we switched to 4-5-1. This made absolute sense, as we needed to control the midfield.
The trouble is, we are not the finished article. Koeman introduced 2 quality midfielders in Klaassen and Sigurdsson, but one is still adapting to the league, and one is not match fit. We desperately needed their legs, but they struggled to influence the game higher up the pitch. The changes did make sense though.
The manager didn't have another striker to bring on to replace either the tiring Rooney or Calvert-Lewin. That is where our current squad is weak.
It was good to hear Koeman's comments after the game. No hyperbole like Martinez. Just credit to the players, and an admission we are still looking for a striker, and regret that we couldn't keep the ball a bit better.
I don't understand some of the comments criticising Koeman for the result. Man City have some phenomenal players going forward, even with ten men. Try to go toe to toe with them and you will get ripped apart, unless you have a better team than they do (which we don't). But then each to their own.
I thought Koeman got it pretty much right from start to finish. It's a well done from me. The season has started in good stead, and the young lads Holgate and Calvert-Lewin looked brilliant in particular tonight. We have a good solid squad with plenty of young players developing. We just need another striker...
Frankie Miller
127
Posted 21/08/2017 at 22:55:44
If Rooney scores at Old Trafford to a subdued celebration from him, he's not one of us. I can't know what he'll do but every final ounce of respect for him will be gone. That's the test, I reckon.
But just keep scoring, Wazza; 20 this season and win us the league and cup... not arsed. I think we should be fully aiming for that.
If we aren't, then there's something wrong, inferiority complex maybe? Just be solid at the back like we are against these teams and win one-nil, then beat Palace and Huddersfield 1-0, like 2005.
I'm not arsed about winning pretty – just get 1-0 up and see games out... or win 2-0 – that'll be sound as well.
Nicholas Ryan
128
Posted 21/08/2017 at 22:57:17
A point away at the Etihad cannot under any circumstances, be considered, as anything other than a good result. End of!
Derek Thomas
129
Posted 21/08/2017 at 22:58:06
Daft yellows early on did for us... Morgan; Reff nearly always play catch up / compensate. Davies would've surged into the area where Klaassen stuttered and didn't seem to fancy it.
Still, if we'd been offered 1-1 prior, who would've turned their noses up at it?... not many.
Tony Twist
130
Posted 21/08/2017 at 22:58:57
Not good, Koeman just doesn't seem to remember his previous failings. I think City are our closest competition, with Arsenal, for a higher position in the league from last season. I don't think they will win the league.
They were there for the taking and Koeman does what Koeman does which is the wrong move. We all know City's strength is attacking, you don't encourage this, you get them defending.
Considering this is his team, he has no faith in trying to win a game against ten men by introducing attacking directness and speed with Lookman.
Fortune favours the brave, will Koeman ever learn. Well done the players tonight, great effort considering poor direction by the manager.
Don Alexander
131
Posted 21/08/2017 at 22:59:27
The criticism of a draw at the Etihad to me shows that we're in danger of not seeing the wood for the trees. City's spend dwarfs ours at every level and has done for several years. It's not a coincidence that they're therefore rated way better than us. Their bench cost way more than 𧶀M for Christ's sake!
Credit to the manager and team for shutting them out but for one error by an otherwise excellent young defender (who easily stood comparison with their 㿞M centre-back in my opinion, despite not playing in his best position).
Koeman really can't win because there may be criticism of him for putting Gylfi and Davy on at the same time in a bid, presumably, to put City under more threat, but some will contend that he shouldn't have disturbed a team set-up that was 1 up. Who knows?
The one thing about which we all agree with him is the need for at least two more signings, a centre-forward and a left-backas far as he's concerned, to be realistic in aspiring to top four. I just wonder if his silence on the need for a pacey winger might indicate that Yannick is making really good progress to a full recovery? I hope so.
Jim Potter
132
Posted 21/08/2017 at 22:59:31
Should have won, but a point at City ain't a disaster.
We played too deep and encouraged them to come forward. Chance missed. But, to be disappointed with only a point at City is surely not all bad?
Mark Boulle
133
Posted 21/08/2017 at 23:00:59
Just catching up as I was on a flight so missed the game.
One nice statistical touch I just saw on the BBC – apologies if anybody's already picked up on this -– but we had 8 English starters today, not had as many Englishmen in our starting XI since December 1997!
Danny Broderick
134
Posted 21/08/2017 at 23:03:26
Mark (133),
The future's bright. The future's royal blue.
Colin Glassar
135
Posted 21/08/2017 at 23:03:54
I'm a bit worried that Wayne is becoming so important to us that Koeman will be loathe to rest him. If that's the case, he could be knackered by Xmas.
Paul Kelly
136
Posted 21/08/2017 at 23:05:36
"The manger was a complete Frankie Howard again. This guy's lack of adventure will be the fucking death of me.
1-0 up against 10 men. The game was screaming out for Lookman or Mirallas to be introduced and really stretch them. I was convinced one of them would come on at the start of the second half. "
Well Darren, a quote from you above and here I go,
Couldn't agree more; I was on the blower too my old man and our kid saying exactly the same thing, we needed an outlet, to give them something to think about instead of the relentless pressure we were under even though they had 10 men!
I know teams will come out fighting with a man less, but they shouldn't dominate; a fast winger on the pitch would of been the perfect outlet after soaking up the pressure then, bang, counter attack, but the goal aside we didn't have much. Holding on for dear life since we scored. Not right, not right at all.

Dave Williams
137
Posted 21/08/2017 at 23:09:01
I can't understand the negativity. New players still bedding in, young players still learning their trade and we get a point at the home of what most people think will win the league – not bad in my book and we will no doubt improve a lot with a few games under our belts and Sigurdsson and Sandro available fully fit.
Holgate's header reminded me of Ray Wilson's in the World Cup final – if Mason is half as good as Ray was, we will have a fine player.
We should give City credit for being so good too – when Silva and De Bruyne are in full flow, there are few teams who can live with them. We stayed strong and, if Sterling hadn't scored, all on here would be raving about Ron's tactics.
John Pierce
138
Posted 21/08/2017 at 23:11:15
Danny ,you're way off the mark, 3-5-2 is as defensive as it gets, switching it to 4-5-1 against 10 men is even more defensive, Armadillo! We became a congealed immobile blob.
His tactics limited the offensive capability of the team. And, in the light of being gifted half the game against 10 men, he squashed the game instead of playing wide players were the space was.
It was a recurring trait in these games, it smacks of no ambition.
Mirallas and Lookman on both wings would have tired them out and forced the wide players who were over-running us, backwards.
Almost no thought from 2/3 of the team to do anything other than tackle and hump it out or long. Zero composure.
Some rubbish on here about fitness! We played against 10 men for 45 mins and have played 3/4 more competitive games. We were blowing put of our arses because we didn't look after the ball.
Copy and paste for Split & Chelsea.
George Cumiskey
139
Posted 21/08/2017 at 23:11:46
Poor second half against ten men. We should've brought Lookman on for Rooney much earlier – you could see he was knackered.
Koeman not brave enough... and I expect more of the same against Chelsea.
John Raftery
140
Posted 21/08/2017 at 23:12:05
Some ridiculous comments on here. What do people expect the manager to do? Play a load of attackers and take a 5-0 battering? Mourinho and many other managers adopt a cautious approach especially away from home against dangerous opponents.
Sigurdsson looked off the pace when he came on but at this stage the only way he will gain match fitness is by playing in matches so we will have to manage around him until he gets fit.
With Schneiderlin suspended, McCarthy injured and Barry gone, suddenly our options in the holding midfield area look a bit thin with two more tough away games this week.
Paul Kelly
141
Posted 21/08/2017 at 23:14:11
Dave @ 137, possibly a reference to one of the most, off topic and best threads I ever had the pleasure of participating in, EVER on this site!
Mike Keating
142
Posted 21/08/2017 at 23:15:14
I was surprised to see Pickford's kicking out so poor.
Danny Broderick
143
Posted 21/08/2017 at 23:20:20
John (138),
I'm not having that mate. You think he should have brought on Mirallas and Lookman ahead of Sigurdsson? That's baffling. Both blow hot and cold at best.
I accept that Sigurdsson (and Klaassen) struggled to get into the game. But Koeman would have been lynched by 99% of people on here if he had brought on the players you suggest ahead of Sigurdsson.
By that stage, the name of the game was keeping the ball. Sigurdsson and Klaassen are both good footballers and would normally have helped to do this. It was absolutely the right call to bring them on when he did (and sacrifice the 3rd centre half in doing so)...
The team will be better for tonight's experience. They will learn to keep the ball better, particularly when winning away from home. And some of the squad who have not been playing (Holgate, Jagielka, Sigurdsson) have had valuable playing time – bearing in mind our schedule coming up.
There are a lot of positives to take from tonight.
Declan Martin
144
Posted 21/08/2017 at 23:22:21
Pickford already proving his worth!
Last minute save v Stoke and a top notch save tonight – already earning that big transfer fee.
John Hughes
145
Posted 21/08/2017 at 23:22:22
Mike (142) Seemed to be a problem on his right foot but Jags seemed to put it there every time!
Steven Jones
146
Posted 21/08/2017 at 23:22:52
Reid and Bracewell would have dominated that game like Schide and Gana cant
That was the be all and end of the game
Mike Berry
147
Posted 21/08/2017 at 23:26:34
1-1 a great result, most of the moaners would have been happy for that at the start.
I thought Calvert-Lewin had a cracking game so did the BBC, MotM for them too!
John Mckay
148
Posted 21/08/2017 at 23:26:45
Great point, agree against 10 men we should have had more of the ball but this city team oozes quality.
Won't be many teams going there and getting a point. Just goes to show how far off we are.
Even with all their quality tho they didn't create that many clear cut chances, I know it was backs-against-the-wall stuff.
If we played in any other way than we did we would have got destroyed.
Lev Vellene
149
Posted 21/08/2017 at 23:28:21
George (#139),
Always a choice, Rooney was getting tired, Lookman has potential going forwards. But Rooney has proved he's also good at defending. Lookman not so much. So it's an even choice, as such.
Still, I bet our negative Old Ones will now condemn Koeman for not being enough defensively-minded to close off the match, where they before the match bet that he would be betting on saving a point by being too non-adventurous and defensive... ;P
Paul Kelly
150
Posted 21/08/2017 at 23:30:56
But he's a quality keeper Mike.
John @ 140, "Some ridiculous comments on here. What do people expect the manager to do? Play a load of attackers and take a 5-0 battering."
Who's to say we'd of taken a 5-0 battering?
What people are alluding too is that we sat back and invited pressure. No shame against Premier League giants Man City? Well not for me, ten men for most of the game, we needed an outlet for when we got possession, but because we were so deep (negative) we never had that opportunity.
Yes, soak up the pressure, which we did resolutely, but we should of identified were the gap was in their team after a few mins of the second half and exploited that gap.
Barry Williams
152
Posted 21/08/2017 at 23:33:39
Funny, mixed feelings. 1-1 at their place is excellent, but for me we just didn't ask enough questions of a 10-man team.
I like Koeman, but like a few here I would have liked to have seen at least one of Mirallas or Lookman come on and one from Sigurdsson or Klaassen. There was an inevitability about their equalizer.
We couldn't keep the ball and seemed to be to content to stay too far back instead of the midfielders joining the attack, we seemed to lack options and players in the final 3rd. We had too many similar players on the pitch at one time for me. Saying this, if Koeman had gone a bit more gung ho we may have been lambasting him for a defeat instead of a draw.
All-in-all, it is work in progress. We will see a lot of rotation I think and thus different formations depending on the personnel available and the opposition. There will be a lot more earlier substitutions too, it'll be an exercise in keeping everyone's' energy levels up. No easy task. A massive plus is how some of the youngsters are shaping up.
Jay Harris
154
Posted 21/08/2017 at 23:36:19
Darren, for the first time I totally agree with you.
1-0 up against 10 men and the game plan changes to go for all 3 points.
I was sat there thinking at half time "I hope he brings Lookman and Mirallas on and takes Rooney and Schneiderlin (because of his yellow card) off and really go for the kill or at least pin them back.
Instead of which, it was like the Alamo. We just couldn't hold onto the ball because there was no outlet other than a big punt up the pitch in the hope that Calvert-Lewin beats their man to it and held the play up which also then gave them the chance to get defenders back to win the ball back again.
Nevertheless ,we are still unbeaten and have now drawn our last 4 at the Emirates.
Terry Underwood
155
Posted 21/08/2017 at 23:36:31
Okay, hands up all those who still think Rooney and Jags are too old?
Phil Jeffries
156
Posted 21/08/2017 at 23:37:19
Always gutted to lose 2 points so close to the end, but still a superb point when most pundits expected us to get a hammering.
Now let's get into the group stages of the Europa League and onto the next huge game at the weekend. COYB!
John Charles
157
Posted 21/08/2017 at 23:38:48
Just back from the game, it was in no way a surrender of anything.
Yes, City had a man sent off but their movement and speed of thought are incredible ( not to mention their actual speed).
We defended magnificently and played some nice football. While understanding the moves both Sigurdsson and Klaasen, for different reasons, made us weaker.
I am not a fan of Koeman but tonight's 1-1 was light years better than last seasons 1-1.
Special mention to Calvert-Lewin though all 11 starters played well (I think that is the only time I have ever said that about Williams).
Paul Kelly
158
Posted 21/08/2017 at 23:39:12
Lev,
"Still, I bet our negative Old Ones will now condemn Koeman for not being enough defensively-minded to close off the match."
He couldn't be more defensive if he tried!
John Pierce
159
Posted 21/08/2017 at 23:39:34
Danny, the game needed stretching ,not condensing; his changes did exactly that. It allowed City to play high and channel their energy. He handed them the initiative.
Sigurdsson is plainly not fit no matter his ball skills, brought on for a free kick chance only, again defensively minded from Koeman. He was skinned repeatedly by Danilo.
Klaassen didn't have the excuse of poor fitness, but was second to all but one ball. The shape offered no width and gave us no attacking outlet.
Even if I accept your premise, you don't bring on two like-minded players at the same time? You give one a chance to see if it works out. At best, he wasted one sub there.
However, Lookman and Mirallas simply would have had City facing their own goal, when you know someone is quick you give yourself a yard. City just ate it all up. We offered nothing in the 2nd half. You cannot justify that being a decent tactic when you have the extra man?
Really this is less about tonight but more about the same lack of ambition when we go to a place like City. Tonight was a repeat of last season, but with better players and the added extra of a free sending off.
No progress in the big games away. I feel for the players who put so much in, smarter lads not necessarily harder.
Ian Smitham
160
Posted 21/08/2017 at 23:41:31
Just got back from the game. I only live 12 miles away FFS. Them going to 10 men helped, but as a bit of a doubter, I was encouraged by tonight. Against a team in the top 8 in Europe, I thought they looked well organised and drilled.
I really don't like it on here when people "call" our young players, tonight I saw a superb display by both Holgate and Calvert-Lewin. Pickford looks secure, even if his passing needs a bit of work, his time wasting was brilliant,
Wayne was class, he just knows what to do, I was sat with the newly knowledgeable Citeh fans, so funny, I also enjoyed their views that Sane is so bad... Sterling is so bad... De Bruyne took a bit of stick too. Funny.
Keane is top, Gana is too, I left feeling a bit disappointed, but hey ho, City away, a home banker.
Eddie Dunn
161
Posted 21/08/2017 at 23:41:57
Well – I predicted a 2-0 defeat, thinking we would hold out for an hour or so before succumbing.
A good defensive showing until Koeman's subs. Sigurdsson did nothing, and Klaassen's one good touch was to take it out of the air near the end.
For me, Schneiderlin was wrongly penalised at the end but was awful throughout and with them down to ten I would have got on Lookman to expose Stones.
We would have won with a little more ambition. Koeman went there hoping for a point and that's what he got. This is why we will be nowhere near the top four. Koeman is too keen to shut-up shop.
At the end of the season we will be short on points because it isn't the late eighties, it's 3 points for a win did anyone tell Ronald that?
Tremendous performances from Baines and Keane and Holgate (apart from that header!) Calvert-Lewin was fantastic and Rooney excellent.
Ironically, I think we would have won it had we kept Davies and Williams on! would have replaced Rooney with Lookman. What's the lad got to do to get a game?
Ciarán McGlone
162
Posted 21/08/2017 at 23:43:50
Interesting comment Danny... The team will learn to keep the ball better by, er, kicking the ball away and not keeping it... genius.
A managerial masterclass you say. Utter tripe. Negative defensive mindset against 10 men. Psychologically, we lost our lead long before they scored.
Brian Wilkinson
163
Posted 21/08/2017 at 23:44:58
I am sure there are some on here brilliant with stats and past games; I know a fair bit but age sometimes plays havoc on remembering certain things that'others post and you then recall everything.
So here's a question for the stats among you, when was the last time Everton beat a team that was down to 10 men? It does not happen often but would be nice to know. I am struggling to recall Everton scoring against a team down to 10 players.
John Pierce
164
Posted 21/08/2017 at 23:46:04
Where's this gung ho come from? I've seen plenty of posts asking for Koeman to balance the team out to attack, especially in light of having an extra man.
No posts asking for a full-out assault. Simply put more attacking players to push back a team already depleted.
Everton were stuck in reverse for all of that 2nd half. Balance the team out, Ron, laaaa!
Joe Clitherow
166
Posted 21/08/2017 at 23:47:48
Jamie 107
I've been saying for a bit that Calvert-Lewin reminds me of how Graeme Sharp started when he first arrived at Everton and he is just getting better. Excellent first touch, not so obviously good in the air yet and a bit nipper on the deck.
Bags of potential and a lot to learn still but he could prove an absolute gem. Bad players tend not to score winning goals in World Cup Finals.
Brian Wilkinson
167
Posted 21/08/2017 at 23:48:56
Nothing better than Carragher asking Rooney about actually winning a derby, then talking in the studio about Rooney being an Everton fan, with Gary Neville's beautiful cut in: "Like you, Jamie, on being an Everton fan?"
10 out of 10, Gary.
Colin Malone
170
Posted 21/08/2017 at 23:55:39
Calvin-Lewin, not only tonight but also against the hard knocks of Stoke, fucking brilliant son.
Ronald Koeman must've thought The Walker sending off was a bit harsh, so to give Citeh a chance...
"I'll put Klaassen on to even the game and put Gylfi on the left"??? FFS. I can tell you now, Klaassen is not good enough for the Premier League.
Disappointed Blue.
Danny Broderick
172
Posted 21/08/2017 at 23:59:09
Ciaran (162),
The players will learn from the experience. Our top manager will make sure of that. They'll review the tapes of that performance, and realise that the key to winning was better ball retention. It's been a recurring theme, but one which will improve once Klaassen and Sigurdsson have bedded in, and hopefully another striker.
No need to chuck the baby out with the bath water. You learn most out of adversity. We are heading in the right direction clearly, and Rome wasn't built in a day. Onwards and upwards for another professional performance in Split.
Ciarán McGlone
174
Posted 22/08/2017 at 00:04:08
Danny,
Happy enough to accept they're miles ahead of us, but to state that was superb management bears no resemblance to what I watched.
Gordon Crawford
177
Posted 21/08/2017 at 00:06:03
Very good point tonight against a top class team. It's taking them years and hundreds of millions to get where they are. What makes us think it's going to be any easier for us?
It's going to take time to bed in our new players and find a formation that suits. 4 points from two games that's a great haul. If we get that from the next three then I'll be happy. Great start to the season though.
But we do need some firepower up front. COYB.
Clive Mitchell
178
Posted 21/08/2017 at 00:06:04
Well...well done, boys, and well done, Ronald. Very impressive.
Not had time to read much of the comment here but those who think we should have deployed Mirallas or Lookman are just plain wrong. Dominic, welcome to your new home, the Premier League.
Wayne, I was one of those who said it wouldn't be a good idea for Everton to bring you back. In the first two games of the season you've given me two favourite Everton memories. Thrilled for you, you deserve all the praise that's coming your way. What a leader, what a player.
Eddie Dunn
179
Posted 22/08/2017 at 00:06:33
Danny (#172) – "You learn most from adversity." Relegated teams must all be fucking geniuses then!
Lev Vellene
180
Posted 22/08/2017 at 00:07:12
We did what we came there for: We did not lose!
Too bad we broke down at the end, but we still did NOT lose!
We got a point, Shittee might rue their loss of an additionally expected two points more at home a lot more!
Bill Gienapp
182
Posted 22/08/2017 at 00:09:06
I mean... it's easy to say fortune favors the bold, but I don't remember too many happy campers when Martinez was swinging on chandeliers like a fool, constantly bringing on extra attackers and having zero clue how to actually see out a victory.
Of course, I suppose that went beyond bravery into the realm of stupidity.
Danny Broderick
183
Posted 21/08/2017 at 00:10:43
John (159),
We may just have to disagree!
But I'd suggest that, even with ten men, with the movement and ability of their full backs and Silva, De Bruyne, Sterling and Aguero (plus their subs!), you need men behind the ball to counter them. If we had switched to 4-4-2, or 4-4-1-1, we would have struggled to repel their inevitable attacks.
We are not the finished article, it's not an easy task to see a game out away at City, even if they are reduced to ten men.
With our current squad, do you see us finishing in the top 6? I think we will struggle, although I hope we can certainly close last season's gap. This will change if we can get a top striker in though – then we may even be pushing for top 4.
We are not there yet. They have internationals in every position, and like someone else said, they are probably in the top 8 sides in Europe. We had half a team of prospects – albeit good prospects, for my money. We are not yet good enough to boss a game away at a team like this, even if they are down to ten men. But the players will learn from this, and we've had a strong start so far. We are getting stronger.
Danny Broderick
184
Posted 22/08/2017 at 00:13:48
Eddie (179),
You can't polish a turd. If you are shit, you will always be shit, like most relegated teams are.
It's not exactly a valid comparison, is it?!
Our team has some top up and coming players – Pickford, Keane, Holgate, Calvert-Lewin, Davies, Klaassen etc. Will they not have benefited from tonight's game?
Charlie Lloyd
185
Posted 22/08/2017 at 00:16:16
Jay @ 154
I agree. The second half was a tough watch. City down to 10 men should have given us licence to push on a bit.
I at least wanted an almost man marking formation with the extra man at the back but what we got was still a bank of 4/5 with 2/3 sitting in front. There was no outlet and it gave possession to City around 30-40 yards out at which they orchestrated more chances than we should have allowed.
Disappointed, Yes. Would I have taken a point before? Er... Yes.
Clive Mitchell
186
Posted 22/08/2017 at 00:16:45
Now had time to read more of the stuff on here. Those who don't recognise what a top, top quality Premier League performance that was from Everton – sorry guys, I don't know how to help you.
Lev Vellene
187
Posted 22/08/2017 at 00:16:58
Bill #182
More towards lunacy, as we all understood that Bobby did not at all care about anything as boring as "the real world"...
Steve Barr
188
Posted 22/08/2017 at 00:18:11
Being satisfied with one point today sums up Everton's inferiority complex, along with those fans who agree. It's a vicious circle.
With a half decent coach, we would have had all three. Come on, who on this web site didn't see that Schneiderlin was going to be sent off? Be honest.
Koeman had enough nous to sub him quickly against Stoke when he got an early yellow (and they never had a man sent off that needed payback)!
FFS how the hell do these guys command such high salaries? It's a bad joke, especially considering the abysmal tactics once Man City went down to 10 men.
I read an earlier post on this thread citing our historic failings in beating 10-men. I can vouch for that having been at the Man Utd cup final when Moran got sent off. It was all Man Utd thereafter.
We have to do better than this when these opportunities arise.
Just take any of the so called top four managers reaction when they have a bad spell – they go to the owner and ask for millions to buy more world class players! How does that make them great coaches? A gibbon could do the same job with that money available.

Disillusioned so early in the season! Help!
Eddie Dunn
189
Posted 22/08/2017 at 00:19:51
Danny, they would have benefited more from a win we clutched defeat from the jaws of victory!
Encouraging in any ways, it is just an anti-climax to not see it out...and my opinion is that Koeman mangled it!
I'm not advocating gung-ho, just say Lookman or Mirallas to keep their defenders honest, instead of inviting them on to us.
If we want to go to Anfield and win, tonight's blueprint will end in defeat. Get my drift?
Dan Davies
190
Posted 22/08/2017 at 00:20:06
It's Man City with $200 mil worth of subs, Pep as manager, gazillions spent over many seasons with world class players.
New Stadium. Multi billionaire owners.
Everton with a half decent manager who's turning the squad over trying to find a winning formula and compete with the best in the league whilst that's happening.
Yet some are willing to hang the manager after a draw that many would have accepted before the game. Wobble your nose!
Are some that short sighted they cannot see this is a work in progress? High horse springs to mind.
Mark McDonald
191
Posted 22/08/2017 at 00:21:35
Probably been said before but I thought Koeman got it wrong with the subs. I was happy with the point but feel we could have got all three. If Williams was injured then just move Holgate over and put either Martina or Besic at right back. Besic could have been a further option as defensive midfielder as we went into the last 5 minutes if we were still winning.
I would not have bought either Klaassen or Sigurdsson on till very late in the game. Calvert-Lewin was great up front and needed a rest. I would have put Mirallas or Lookman in his place to add more pace.
But as I say, still pleased with the point and congratulations to Rooney!
John Pierce
192
Posted 22/08/2017 at 00:22:58
Cracking argument that, Clive, you're just plain wrong. I stand corrected.
You were aware they had 10 men right? Or did the 'Great illusionist, Koeman, trick you into thinking we were down to 10 men and hanging on for dear life? Seemed that way, didn't it?
Plain wrong is what happens when you play 4-5-1 against 10 men.
The opportunity was there to win the game, he deferred that option and bunkered in against 10 men. A defensive refusenik!
Paul Kelly
193
Posted 22/08/2017 at 00:23:59
Clive, We brought on a midfielder, a very unfit midfielder (left mid was it) and a defensive midfielder. It was kitap1 at its finest, but against 10 men?
I couldn't give a monkeys if they'd (Man City) spent a small country's national debt on players (which they have), not at one point in that game did I think we'd been set up to win that match, even though we looked like we had nine players to their fifteen!
Danny Halsall
194
Posted 22/08/2017 at 00:24:21
Happy enough with a point, but even leading a 10-man team at half-time, you just knew we weren't going to see it through. It seems to be the Everton mentality to throw away winning situations. I appreciate that Man City are streets ahead of us at the moment, but we need to be grinding that sort of game out. In the end, we were lucky not to lose.
Eddie Dunn
195
Posted 22/08/2017 at 00:24:57
John: spot-on, mate!

Derek Knox
196
Posted 22/08/2017 at 00:25:08
To be honest, I would have accepted that score before a ball had been kicked, but on reflection, without the lapses in concentration, we could have won!
That probably sounds greedy, but I think he made wrong subs; that game should have been put to bed.
I am proud of the guys, would not single any one out, good or bad, well nobody was bad.
Danny Broderick
197
Posted 22/08/2017 at 00:26:10
Okay Eddie,
The derbies this season are going to be good gauges of our progress. We are shipping out some of the serial under performers in these games. Most of the lads we have brought in (Rooney, Klaassen, Keane, Sigurdsson) were viewed as leaders at their previous clubs, and Rooney and Sigurdsson have good records in the games that count. Let's hope this year for better results in the derbies, we can all agree on that!
Eddie Dunn
198
Posted 22/08/2017 at 00:28:12
Koeman even made a last gasp attempt to commit Hari-Kari... bringing on the level-headed, ma to turn to in an emergency(not) Mo the unsullied... Besic.
FFS did Ron have a wedge on with Sportpesa to lose 2-1?
Dave Abrahams
199
Posted 21/08/2017 at 00:30:33
Calvert-Lewin, man of the match for me, a brilliant performance from such a young man in a prime position, he's going to be something special.
Reasonably happy with the performance; should have done better when they went down to ten men, never used the ball properly to make them chase the ball.
Rooney had a good game until around the seventy minute mark, he then became more of a hindrance than a help to the team, should have been subbed much sooner than he was.
We should learn from this game and performance but will Koeman look and learn from some elementary mistakes with his substitutions and tactics?
All in all happy with the result but a bit disappointed we never came home with the three points.
Jay Wood
200
Posted 22/08/2017 at 00:31:01
I think this post-match thread is demonstrating that some posters tend to hold to their preconceived notions about the manager, the players, the team, the style of play, rather than judge each and all on a game by game basis.
Tonight, the game plan and tactics worked fine in the first half and nobody had a mare. The goal was clear evidence of the effectiveness of the game plan with two of Everton's better players on the night (Holgate and Calvert-Lewin) pressing well and inter-passing well before Calvert-Lewin in an extremely cool play put the defender on his arse then rolled the ball to Rooney to score.
In the 2nd half, Koeman clearly called for the players to make the pitch wider, but the problem was with our ball retention. He quickly responded to how City had reshuffled, going with a flat back four and introducing two players he thought he could trust to retain the ball better higher up the pitch – two attacking midfielders in Siggy and Klassen.
Nothing wrong with the thinking at all. Wise to keep the midfield compact whilst also looking to retain the ball better.
Calls to introduce Mirallas and Lookman whilst legitimate on one hand could also have potentially also backfired as their ball retention is not great.
At the final whistle in this thread, I commented this was a missed opportunity, given the circumstances, to win at one of the likely title challengers and make a real statement. But for Holgate's single error, we could have.
For my money, Koeman didn't 'screw up', unless of course you wish to completely absolve the players on the pitch of any blame or responsibility. They are all senior professional footballers in one of the most competitive leagues in the world.
Surely, it is not unreasonable to expect them to have some 'savvy' and ability about them on how best to play out the game against 10 men. Namely, with better ball retention and passing to work the 10 men of Man City, wearing them down before picking them off.
Damn frustrating not to win, but not sufficient grounds in my eyes to criticize or condemn the manager, the team, the tactics, the selection, or individual players.
Again, I'm encouraged how things are shaping up this season.
John Pierce
201
Posted 22/08/2017 at 00:31:54
Danny,
Glad you are happy to back your argument up. You give Man City too much credit. It's the balance that kills me. If he showed me some measured effort to attack and make their skillful players defend we would have had a foothold in the game. I think 4-3-3 would have been the right balance.
Both tiring their players out and conserving energy at our end.
We have a squad good enough to finish between 5th-7th. We are stronger both collectively and individually at the back that we can look to be more attack minded. If a team has a blowout maybe fourth, but only if he approaches games more offensively. Draws will not get you 70-75 points needed to qualify for Champions League.

Bill Gienapp
202
Posted 22/08/2017 at 00:32:36
Lev (187) - True! I still remember that game we were up 2-0 on West Ham in the second half and Martinez said "Hey! What a perfect opportunity to blood Niasse!" And then we lost 3-2.
Clive Mitchell
203
Posted 22/08/2017 at 00:39:54
Hysterical reactions on here as usual. And if a young – and tonight very good –defender hadn't made a single mistake that led to their equaliser, most of the criticism wouldn't have been on here. Everton were very good tonight, and the manager deserves a lot of credit for the way he planned getting a result on the night.
David Barks
204
Posted 22/08/2017 at 00:43:14
It was two points dropped, that's how it will go down. It was two points dropped from a winning position. That is a stat looked at during every season and a meaningful one.
We had the lead, with a man advantage, and went on to completely concede all possession and eventually gave up a goal. We dropped two points from a winning position.
Bren Connor
205
Posted 22/08/2017 at 00:44:00
One mistake. That's football. Koeman for me was not to blame today. He learns with each game and we will win at the Bridge.
Danny Broderick
207
Posted 22/08/2017 at 00:49:11
Jay Wood (200),
I agree with all of your conclusions!
Steve Barr
209
Posted 22/08/2017 at 00:51:58
Clive at #203. The young defender wouldn't have been in that position if not for the poor performance from the moment they went down to 10 men.
I don't blame Holgate at all. He was excellent today, along the other youngsters. The "so-called" more experienced players brought on later to settle things down failed them badly.
Paul Kelly
210
Posted 22/08/2017 at 00:52:45
Jay @ 200 "In the 2nd half, Koeman clearly called for the players to make the pitch wider, but the problem was with our ball retention".
Don't recall him shouting that out to be honest, evidence?
We had no natural wide players on the pitch so asking players who would naturally come inside to that job would be plain stupid... oh wait, he did.
To defensive, TGTesque.
Calvert-Lewin, take a bow son, you've earned it.
Fran Mitchell
211
Posted 22/08/2017 at 00:53:51
Those having a Go at Koeman are the same who at the start Said he 'bottled it' and set us up for a 'thrashing'. Well, as It so happens Koeman's tactics were spot on on how to win the game; we just missed out.
Man City, even with 10 men, have £300 Million worth of attackers and attacking midfielders we could only dream of.
After an excellent first half, great pressing and non-stop running, we were bound to tire. If we went 'ambitious', the likelihood is that city would have won. The correct method, with the players we had available and their fitness levels, was to contain City's attack and play on the counter.
It very nearly worked, but for a late mistake. Koeman got it right.
Andrew Keatley
212
Posted 22/08/2017 at 00:57:30
Jay (200),
I think you are making a lot of assumptions as to what Koeman's tactics were - particularly regarding the substitutions. Whatever his tactical thoughts were at the time of those first two subs – on the 60 minute mark, leading 0-1, against 10 men – what we can definitely assume is that those subs were to help win the game.
Whether it was about retaining possession, or making the pitch wider, or choosing two players who he thought would be disciplined enough to keep a defensive shape - it barely matters now. The reality is that we didn't win the game, so the tactical change was not as successful as Koeman wanted it to be.
I wanted either Mirallas or Lookman to come on to give the Man City defence something to worry about – and our players another outlet to hit – and Calvert-Lewin some potential support for when he managed to get a-hold of the ball.
Steve (188) – I think criticising Koeman for not substituting Schneiderlin is pulling at the wrong thread. Schneiderlin was unlucky with the second yellow, and it came in the 89th minute, so barely affected the outcome.
Bill Watson
213
Posted 22/08/2017 at 00:59:07
An excellent defensive display bar one slip against, arguably, the best attacking team in the Premier League. Not sure why Williams was substituted and, perhaps, Koeman could be criticised for altering a defensive formation that looked comfortable.
They all put a shift in and Calvert-Lewin had his best game yet. Pickford continues to impress and some of his passes are superb.
Still not impressed by Besic and even less so after he muffed an opportunity of putting Calvert-Lewin clean through on goal.
I can't understand the criticism of Koeman being negative. We don't have the attacking players Man City have and if he'd have selected a more offensive side there was a real chance of City taking us to the cleaners.
A good point, well earned!
Don Alexander
214
Posted 22/08/2017 at 01:00:12
People such as Jay at #154 (and he's by no means the only one admittedly) condemning Koeman for not fielding Mirallas and/or Lookman "because we needed to pin them back" make me wonder just what they've seen in either of them to feel confident they could have done it tonight. The argument epitomises "hope over expectation".
Ademola is young, quick and talented, but untested. Pitching him in against the likes of Man City when we're winning 1-0 at their place would have been barmy. At 3-0 yes, as in January.
Unfortunately I doubt there's a defender or manager in the entire league who gulps with worry when Mirallas plays. Just what can he be relied upon to deliver 7 years into his Everton career? Apart from what I actually see of him his stats are bog standard too. Just why he was even offered a 3-year contract a little while ago stunned me, and others on this very site.
Instead, Koeman played one of the most gifted players in the country and one of the most gifted players in Holland, each of them having a pedigree way in excess of Lookman or Mirallas. But let's slaughter him anyway on account of a simple error by an otherwise outstanding young defender eh?
Jay Wood
215
Posted 22/08/2017 at 01:00:34
Paul @ 210.
So you didn't see Koeman very animated 5-10 minutes into the 2nd half, spreading his arms out 3-4 times mouthing the word 'wide' (or maybe width)?
Fair enough. I did.
Anything else in my post you need help on?
Joseph Terrence
216
Posted 22/08/2017 at 01:08:51
After I posted this, I came across Fran @ 211. His is an excellent post, said better than my drivel.
Koeman's job was to set up the team to play in a way that would see us win or not lose. He did exactly that, particularly in the first half, by defending our asses off and then exposing their high back line with direct balls to Calvert-Lewin – who was brilliant – and it seemed that a tweak was made to have him drift to the right flank after the realization that Sané would be their 'left back'.
Apart from a mistake by Holgate, who was otherwise great, this would have been a very welcome 3 points. The subs were disappointing but he recognized that they were overloading the midfield and tried to beef up ours.
Lastly, I disagree with the few posters that called for Rooney to have been subbed earlier than he was. His nous and leadership were needed. When Besic came on it really became squeaky bum time.
To end my rant, though I am disappointed we couldn't hold on for 3 points, I'm fine with the point. We will get better.

Paul Kelly
217
Posted 22/08/2017 at 01:09:52
Fran @ 211,
"Well, as It so happens Koeman's tactics were spot on on how to win the game."
I know I missed the last bit out (adds to my arguement) but either way his tactics weren't spot on at all; the double sub in my opinion was plain fucking stupid! We were on the back foot (against ten men no less), two subs in that situation just makes things worse (imo), bring one on and identify the problems if the sub ain't solved it; two in the middle of the park at the same time is too much of a shuffle, especially on the back foot.
And before anyone responds saying what would you have done, well, I'd've taken off Schneiderlin, put Tom in his place (as he'll get up and down the pitch and he's more attack-minded), thrown on Lookman and played him in the channel where Stones was. Reckon the link up play between Davies, Rooney, Lookman and Calvert-Lewin would've caused problems, once Wazza got knackered, I would've brought on Sigurdsson, maybe.
I stand to be corrected.
Karl Masters
218
Posted 22/08/2017 at 01:11:51
Strong performance.
They impressed me tonight with a controlled, professional display.
Calvert-Lewin in particular played so well for a relatively inexperienced young player. Not so sure we need another striker after that performance. We may already have him.
I liked it that the way Walker got sent off and Davies went down to get a free kick. These aren't wet behind the ears kids anymore. The future is bright!
Dave Bowen
219
Posted 22/08/2017 at 01:13:56
It's pretty obvious we lack pace up front. Didn't see who was on the bench as I was working, but we were crying out for Lennon, Lookman or even Niasse (fat chance of that) on for Calvert-Lewin to stretch them with pace & keep them in their own half.
I know Martina has 'ahem' divided opinion on here, but I'm sure he wouldn't have made Holgate's error for their goal. (He might have made plenty of others though.)
Bobby Thomas
220
Posted 22/08/2017 at 01:14:18
We are very well organised & the quality of player in the squad has definitely improved. The bones of a very good side are there.
But it's all about the man up top. We need some genuine pace & movement. And this fella is also going to have to link the play. We need a wide man as well. We are neat & tidy. But there's no thrust or cutting edge. No out ball.
If we go with this squad I can see us struggling for goals as the season progresses. At the moment we are an expensive version of a Moyes side. We are going to grind a lot of 1-0, 2-1s. I can see us drawing a lot of games as well.
Anthony Dwyer
221
Posted 22/08/2017 at 01:14:54
Decent point away at a top side; even against 10 men it's a point gained.
Chelsea are the Champions, Man Utd are easily one of the favourites, if you asked there managers if they'd take a point at city they would answer with a resounding yes.
I'd have liked to have seen Lookman used, but I understand why he wasn't; in an ideal world we could have done with Sandro but other than him I couldn't see many other players in our squad that could have given us the outlet we needed.
We seen some impressive performances, Mason Holgate was brilliant, I think Koeman wants him to play full back against the stronger sides whilst using Martina against sides were we will be more dominant as Martina's deliveries are probably better.
Pickford and Keane also had good games, Calvert-Lewin was absolutely brilliant, easily his best performance in blue. Rooney was impressive, plus Schneiderlin and Gana were solid, Gylfi got minutes under his belt and we even got Besic a run out.
You can argue we should have shown more against 10 men but it was basically 10 player worth 㿊m+ each, there aren't many sides that will replace 3 of the world's top young players with Silva, Sterling and Daniel.
Shame about Schneiderlin getting suspended for the Chelsea game, but it may allow Schneiderlin to play in the Split game, and 3 away games of that level in 7 days is too big an ask.

Paul Kelly
222
Posted 22/08/2017 at 01:18:17
Jay, "For my money, Koeman didn't 'screw up".
Ten men, for nearly 45 mins; subs: non-fit record signing thrown in on the back foot, another new boy who's struggling to find his feet. Man City away is hardly the proving ground for both these players... and then Besic.
He screwed up.
James Watts
223
Posted 22/08/2017 at 01:22:00
Paul (#222). You can't blame koeman. He made the right subs and the right times and if it wasn't for a wayward header we'd have 3 points.
Sigurdsson was brought on to help control the ball. Klaassen struggled? Been involved in 4 goals this season, sub made sense to link midfield and attack.
So no, he didn't screw up.
Jay Wood
224
Posted 22/08/2017 at 01:23:28
Andrew @ 212.
"I think you are making a lot of assumptions as to what Koeman's tactics were – particularly regarding the substitutions."
And the observations of others offering an alternative reading of the tactics and substitutions - including your own - also offer a lot of assumptions.
My assumptions are based on what I witnessed during the course of the game and to a degree confirmed by Koeman himself in his after-match comments in which he mentioned the point I did: we did not retain the ball well enough, particularly in the 2nd half.
Quite funny that you yourself write "we can definitely assume..." (is that even possible? Can you definitely assume anything?) that the subs didn't "help win the game."
Riggghhhttt... whereas your own extremely hypothetical assumption (playing Mirallas or Lookman) cannot be tested because they played no part in the game.
As you again wrote "it barely matters now".
May as well close the thread now to further post-match comments then, eh?
Paul Kelly
225
Posted 22/08/2017 at 01:30:45
Sorry but I can and I will blame Koeman.
He made the right subs at the right time? Are you kidding me or just winding me up?
Sigurdsson 'hasn't had a preseason and can't be any where near match fitness, but on the back foot against a very good pacy, well organised, good movement... blah blah outfit he brought on someone who hasn't had a minute game time in the last couple of months? 3-0 up, yes, getting twatted and struggling- no.
And what did Klaassen do exactly? Link midfield to attack, you say? I don't recall it to be honest. I'll watch it again and if he does, I'll come on and apologise.
Paul Kelly
226
Posted 22/08/2017 at 01:36:15
Sorry, forgot to add, how fucking good is Pickford??? Unsung hero, he's been quality the last two games, a few important saves.
Top Banana!!!
Jay Wood
227
Posted 22/08/2017 at 01:37:33
Paul @ 222.
As you quote it, you clearly saw how I prefaced my sentence: "For my money, Koeman didn't 'screw up". That equates to 'in my opinion.'
Happy to stand by it. Sigurdsson needs the game time. A couple of his free kicks alone from wide left threatened. Klaassen was heavily (and skilfully) involved in both goals against Hajduk Split, so not completely hapless. His crucial interception in the dying minutes of tonight's prevented a very serious goal scoring opportunity for the home side.
Both I would argue have better ball retention skills than Mirallas or Lookman, who I acknowledged as legitimate alternative subs, but understand why Koeman made the choices he did as ball retention in that 2nd half was an issue.
As for mentioning the Besic sub! Don't be silly! He had about 2 minutes on for Rooney after Schneiderlin got sent off.
Not everything in life, football, whatever, is a 'screw up'.
John Pierce
228
Posted 22/08/2017 at 01:38:24
Those tugging away at Holgate either defending him or supporting are, looking at the symptom not the cause. The cross came from the left. Sigurdsson and Baines just got in each others way time after time. They were rampant down the right. Not surprising really since Sigurdsson probably doesn't even know Baines's first name.
The midfielders were camped on the edge of the box, the rest sat on Pickford. At no point apart from very late on could Pickford do what he's being doing; come and get crosses. A major strength neutered by sitting deep. He gets those crosses and has a chance to distribute.
Ah if only we'd played higher up the pitch and put two wide players on? He'd have something to hit in an area were City were vacant. Now even the hot and cold duo of Lookman 'n' Mirallas would fancy a bit of one on one. Not beyond them.
The game was on its own worthy of a thesis on tactics, both Ron's and Peps. But viewed through the lens of almost 50 games under Koeman, his default away from home is defend and bunker down. No change.
Chris Jones
229
Posted 22/08/2017 at 01:40:54
Come on lads really, people are being negative after tonight? When did we last win the league!

If people cannot see tonight's performance as a positive and a step in the right direction then I don't know.

There is not one player that deserves anything but praise tonight.
Andrew Presly
230
Posted 22/08/2017 at 01:43:11
We always lose / draw these with the Moyes approach of defending on the 6-yard line with victory in sight.
These defenders are all old, some are even pretty fat and they looked like they wanted to play the last 20 inside Pickford's netting.
Half-time was a chance to make a statement but it's pretty obvious this is another 7th / "unlucky in the Cups" campaign.
James Watts
231
Posted 22/08/2017 at 01:43:35
Paul (#225). Good game football eh as we watch the same thing but see opposite things. Yes, Man City down to 10 men bit they are still a much better team than us.
Koeman made the right moves for me. He tried to control the midfield more by bringing on those players. I can see exactly what he was trying to do.
I said that's what Klaassen was brought on for, not that he actually did it! As it turns out, he couldn't get involved but don't believe you can slate Koeman for making that move. Don't forget the goals Klaassen has been directly involved in so far this season. Like I say, it made sense to me.
Lookman would have been a huge risk as he gives the ball away too much still in a game we needed to keep hold of it. Mirallas would have been like playing with 10 men as he offers nothing, and hasn't for a long time. Both of those would have been wrong for me.
John Owens
232
Posted 22/08/2017 at 01:44:44
It's a funny old game isn't it!
Man City have spent hundreds of millions on god knows how many players by at least 3 or maybe more managers and we're expected to be at the same level after one decent transfer window! We have numerous new players in addition to lo lots of exciting youngsters!
I'm as desperate as anyone to challenge the top 4 and I want us to rattle the top 4!
Positives are we are still unbeaten, some of the new players have settled in very wel, and the manager is demanding even more new players! 1st review should be after the Europa League qualifying games, when the transfer window closes and 8 league games!
We've made a good start so hopefully that will continue!!
Chris James
233
Posted 22/08/2017 at 01:46:51
One word. Pathetic.
No, not Everton's defending in the second half, but the bleating of some fans here who can't see that a point away to arguably the best squad in the league is a decent result.
We still lack a few players and are still coming together as a squad yet we took the lead and ran the supposed champions-elect very close and have 4 points from two games plus a 2-0 lead in the Europa League.
Fine to have ambition; not cool to pillory a team who's performing well after 2 league games. Please get a fucking grip
Anthony Dwyer
234
Posted 22/08/2017 at 01:49:23
John (#228).
If Koeman's default is as you say, then he's aiming at 18 wins and 18 draws (give or take) which would put us at 72 points which is a fair points tally for the squad at his disposal.
Also the tally of 72 quite often gets you Champions League football in the Premier League.
Soren Moyer
235
Posted 22/08/2017 at 01:50:51
Back to the Moyes era then!!!
Paul Kelly
236
Posted 22/08/2017 at 01:52:53
Sigurdsson does need game time Jay, but on the back foot against the attacking force of a very on-top Man City side who were murdering us is hardly the time or place.
As with Klaassen you've mentioned his previous games, as has other people ( and I do acknowledge you mention his contribution in this game) but this is hardly the game to expect him to shine and bringing him on together with Sigurdsson was dumb in my opinion, (see earlier posts).

"Not everything in life, football, whatever, is a 'screw up'."
Never said it was, but someone else did and I responded, this is about football isn't it, not whatever?

Paul Kelly
237
Posted 22/08/2017 at 01:57:43
James @231, appreciate your well thought, balanced argument; don't agree. But acknowledged.
Chris Jones
238
Posted 22/08/2017 at 01:59:43
The boys done good. End off!!
Jay Wood
239
Posted 22/08/2017 at 02:05:59
And as I've repeated several times now, Paul, as have several other posters, I perfectly understand the choices of substitutions that Koeman made for the reasons I and others have stated.
As I've also repeated several times, the primary problem I saw (and Koeman commented on post-match) was our poor ball retention in the 2nd half which persuaded him to make the substitutions he did.
Again, as already repeated, the failing to hold on to the win tonight doesn't rest entirely with the manager, his selection, his tactics, his substitutions, unlessof course you wish to completely absolve the players of any responsibility as you, among others, seem intent on doing.
Paul Kelly
240
Posted 22/08/2017 at 02:08:01
James, or anyone.
For me, Klaassen ain't hit the ground running, not not acknowledging his contributions, but on the ball, the game, at this moment, seems too fast for him (my opinion). So to bring him on to retain the ball and especially against city's fast flowing, quick moving footy was a mistake, leaving Davies on in that roll would of been better to me.
Another time and place, which brings me on to Sigurdsson – he hasn't played a preseason and to bring him on against Man City, again, whilst they're dominating us, I think the game would be to fast. And please correct me if I'm wrong, but did he play on the left?
John Daley
241
Posted 22/08/2017 at 02:10:01
"We had no natural wide players on the pitch so asking players who would naturally come inside to that job would be plain stupid... oh wait, he did."
Which players in the squad are natural wide players who prefer to take a man on the outside? Neither Mirallas or Lookman meet that criteria. Both may have primarily been played out wide for Everton but would either proclaim it their preferred position, let alone one that comes naturally to them? Both may possess the ability to get down the line, yet rarely ever do. Last time out, both came inside at every conceivable opportunity, even when there was ample space down the flanks in which for them to forage.
"We were crying out for Lennon, Lookman or even Niasse (fat chance of that) on for Calvert-Lewin to stretch them with pace & keep them in their own half"
Did I miss the part where where Calvert-Lewin visibly tired or stopped running? He troubled the Man City defence all night with his speed, movement and intelligent well-timed runs. He was still doing do so right at the death and would have found himself clean through on goal if Besic hadn't acted the flashy fanny by back heeling fresh air. His (on the night, essential) ability to hold the ball up and challenge in the air would also have been sorely missed during the second-half/closing stages if he found himself subbed for a shortarse from the Lollipop Guild.
Paul Holmes
242
Posted 22/08/2017 at 02:14:29
They say football is a game of opinions, and the posts on here reflect that. Imo, I thought the result was great but the performance (particularly the second half) was awful. We were playing against 10 men, ffs!
I was disappointed with the quality of our football and the manager should have put Lookman on to help Calvert-Lewin, instead of having a team full of fucking midfielders against 10 men for over an hour.
What is happening to football? The players are on vast amounts of money and what they serve up is no better than Sunday League standard!
Paul Kelly
243
Posted 22/08/2017 at 02:16:53
Jay "As I've also repeated several times, the primary problem I saw (and Koeman commented on post-match) was our poor ball retention in the 2nd half which persuaded him to make the substitutions he did."
So he brought on a player who hasn't had a preseason and a player who looks like he's struggling to cope with the pace of the Premier League (misplaced passes last night as evidence) against one of the quickest attacking teams in the league, and bringing them on together no less.
I believe the said players will come good but putting them into the firing line tonight whilst we were dodging bullets (shit analogy I know) rest squarely with the manager and he got it wrong.
Andrew Keatley
244
Posted 22/08/2017 at 02:21:49
Jay (224).
I agree with you that much of ToffeeWeb is made up of assumptions, but sometimes an assumption will masquerade as the truth – and I'm not such a fan of that.
With the best will in the world you do not know why Koeman made the substitutions he did, even though you can make an argument for a possible thought process behind it. That was the point I was making. It's not a huge criticism, so I am surprised you've taken it so personally.
You wrote:
"Quite funny that you yourself write "we can definitely assume..." (is that even possible? Can you definitely assume anything?) that the subs didn't "help win the game.""
It's a paradox; I imagine there are degrees of assumption – all the way up to certainty. But, regardless of that, I was being cute; the substitutions did not work judged on the premise I set out – which was for the team to retain the lead it had when the substitutions were made. That is no longer an assumption – it's definite.
Finally, I'm not a big fan of responses like "Riggghhhttt " – if you disagree, or don't understand something, then that's fine. Let's not stoop to that sort of playing to the gallery.
Paul Smith
246
Posted 22/08/2017 at 02:28:53
Andrew Priestly, after two Premier League games that we haven't lost, you're writing the season off. I don't like to criticise posts but that is a shocker.
Andy Peers
247
Posted 22/08/2017 at 02:46:09
I feel we were given a gift today with a 1-0 lead and they had 10 men on the pitch. City were a better team even with 10, so disappointed we didn't win. Makes you wonder why we just didn't kill them off... only Koeman knows!

James Watts
248
Posted 22/08/2017 at 02:51:18
I understand why Koeman made the changes. Did it work? No, as we conceded. Everything is easy in hindsight though.
With what we had on the bench, with the state of the game and the obvious reasons why he made the subs, there is no criticism from me.
Sigurdsson did indeed play on the left. He was obviously meant to help close down that side as we know he works hard. Didn't quite pay off but a better option than either Mirallas or Lookman despite his lack of game time.
Klaassen has struggled at times but has also put in decent shifts and been heavily involved in most of our goals this season. Again, made sense at the time when taking everything into account. There are many times Koeman's subs have left me perplexed, but not in this game.
If we had played like that against Brighton away, I can understand the angst. But City away? Happy-ish but also disappointed. I wanted 3 points but okay with 1.
I don't see how we could have done much different looking back at the decisions made, at the time they were made, with the facts available.
John Daley
249
Posted 22/08/2017 at 02:58:12
Mirallas and Lookman are two players numerous posters on this thread have said should have been brought on to 'add width' and give us a greater chance of winning the game. Both cut inside constantly throughout the last match played. Hence, why they were mentioned. Well, that and the fact there were no other players in blue (or blue, black and purple stripes with radiated tramps pish 'SportsPesa' splashed on the front) anywhere near the Everton bench who would come anywhere near being classed as 'wide players'.
One of the drawbacks of having a decidedly lop-sided squad.
Jay Wood
250
Posted 22/08/2017 at 03:08:37
Andrew @ 244:
Glad that you agree that ToffeeWeb is made up of many assumptions. I also agree that sometimes said assumptions masquerade as the truth. There is many a poster on here who seem to believe simply by posting (what is merely opinion) transforms it into an absolute truth. As a result, when challenged, they often take exception and get indignant.
Like you, I'm not a fan of that. That is why I constantly add a prefix or suffix to my posts along the lines of 'in my opinion.' I clearly do so in this very thread.
So that rather discharges your (implicit? explicit?) challenge to me that I am trying to pass off an analysis – assumption, if you will V as some 'absolute truth.' I am not.
As you acknowledge, I have offered plausible arguments as to why Koeman made the substitutions he did, including the supporting evidence that Koeman made explicit comments in his after-match comments about Everton's inability to retain the ball in the 2nd half.
And it is quite an assumption by you (ironically...) that I consider your comments "a huge criticism" or that somehow I took them "so personally."
Phhttt! I'm a bit more robust than that, Andrew, and didn't see or read your post as you so mistakenly assume, nor feel the 'emotions' you again mistakenly attribute to me.
As for you (assumingly) taking offence at my response "Riggghhhttt," well, that's too bad. The sentence you wrote that drew that response from me is rather clumsily constructed IMO and obfuscates rather than clarifies whatever point you were trying to make.
In conclusion, allow me to repeat the thrust of my position: the game was a great missed opportunity to win at the ground of one of the genuine title contenders, given all the circumstances. A win would also have been quite a statement, so early in the season, all the more so with new players still being bedded in.
That we didn't win, I do not lay the blame solely at the feet of Koeman, his selection, his tactics, his substitutions as many in this thread attempt to do.
In my eyes, being pegged back to a draw at the death was due more to the players inability to retain the ball and manage the game better than they did. They are well capable of it.
Too many, it appears to me, wish to lay blame solely with the manager whilst completely absolving the players. It is a position I oppose, as I have clearly detailed across several posts now.
Disclaimer: My opinion is just that: My opinion. In no way am I claiming my position is the definitively true one on a reading of the match. Other views may be equally valid. Similarly, they can also equally be challenged.
Clear enough for you, Andrew?
Paul Kelly
252
Posted 22/08/2017 at 03:24:46
John @ 249-
I was merely responding to Jay @ 200 about his comment on Koeman telling the players to make the pitch wider, I can't lip read as well as he can, maybe you should ask him, know each other well don't you.
"Believe it or not, there's people other than yourself commenting on here."
No shit, Sherlock, it's a forum last time I checked and
"Given the above gripe, I simply asked who in the squad, available for selection on the night, was a "natural wide player" who doesn't look to come inside almost every time they are on the ball",
My point was that Koeman (if wanting the players to widen the pitch) has umpteen midfielders on the pitch who play centrally and I thought it was the wrong decision if that's what he wanted, good enough for yer.
Ashley Roberts
254
Posted 22/08/2017 at 04:16:17
Some great performances tonight. Calvert-Lewin, Holgate, Rooney and Jags were my stand out performers.
I can understand the substitutions when they were made but I have to say the game just passed Klaassen by. He is just not premiership standard and we paid £25M for him. He should have put Sigurdsson in the central role where he normally plays rather than putting him wide on the left. I thought it all went pear shaped following the changes.
The big difference between City and us is they have so many players comfortable on the ball. We have Rooney alone at the moment and I am hoping Sigurdsson as well when he gets match fit. This game was just crying out for somebody of Ross's quality. I just hope he sees sense!!!
James Watts
255
Posted 22/08/2017 at 04:26:33
Ashley (#254).
This game was just crying out for somebody of Ross's quality.
We had enough players who could needlessly give the ball away without him surely?
Ernie Baywood
256
Posted 22/08/2017 at 04:35:39
The Guardian match report makes interesting reading. I was expecting praise for our performance but instead it seems to put an City in the 'plucky underdogs' category due to going down to 10 men.
You could argue that we don't seem to get the credit we deserve but I reckon it's a sign of the media taking us seriously.
Ernie Baywood
258
Posted 22/08/2017 at 04:43:09
Ashley, I wouldn't be so quick to write off Klassen. He struggled a bit tonight but it's still early days and a difficult time to come on.
I've been pretty critical of Koeman's selections but I thought tonight he had a clear plan that the players were on board with. It's easy to criticise after the event but with a man advantage and us starting to concede a lot of possession, a plan to wrestle back control wasn't a bad shout. In hindsight, we looked reasonably defensively comfortable before and a bit exposed afterwards... who knows how it would have played out otherwise, but as long as they're logical calls then I won't criticise the manager too much.
Paul Kelly
259
Posted 22/08/2017 at 05:02:05
Ernie, "It's easy to criticise after the event but with a man advantage and us starting to concede a lot of possession, a plan to wrestle back control wasn't a bad shout".
See, that's were the problem was, once we got possession we had not much choice other than to pass it sideways, backwards or punt it up to an isolated Calvert-Lewin, hoping that the players behind would support, but I didn't see it. The inclusion of Klaassen was to maybe bridge that gap? but he's a little off pace and I think his inclusion into the 'foray' was ill judged too say the least. Sigurdsson on the left, once again, stupid? Sigurdsson ain't fit, playing gets you match fit but wouldn't've included him whilst we were on the back foot and certainly not out of position either.
I've not really judged him to harshly but I think that tonight it could of been better.
James Watts
261
Posted 22/08/2017 at 05:22:16
Ernie #258. Absolutely spot on for me.
I see the logic in what you're saying, Paul, in hindsight but, with the options we had, at the time we had them and the way it was panning out they were logical changes in my view.
Koeman would have got stick from me if he'd brought on Mirallas for example but others may have thought that was the way to go. We'll never know now but, as I alluded to earlier, if that was Brighton away then absolutely Mirallas and Lookman. Not City away. Not for me.
Paul Kelly
262
Posted 22/08/2017 at 05:39:58
I understand your poin,t James, but I wouldn't've brought on Sigurdsson and Klaassen because one ain't match fit and the other is still getting up to pace, thought it was a bad choice especially bringing them on at the same time (being on the back foot) but I'm not also saying we should've brought on Mirallas and Lookman too, just one of them.
See above for my Captain Hindsight game winning tactics!
Will Mabon
264
Posted 22/08/2017 at 05:59:12
To bring on an unfit new player whilst trying to regain composure in the team, against a rampant opponent, seems a strange decision.
Take off Rooney because he's tiring, bring on Sigurdsson who is unfit, and looked it.
James @ 255 – good to see you sticking to your task of springing into action against anyone that mentions the merits of Ross Barkley. Other than forgetting to include "He wants to leave", good job, Lad.

James Watts
265
Posted 22/08/2017 at 06:07:12
Will #264. I did chuckle when I typed it and wondered whether you'd see it! He still wants to leave though so no point even considering him even if he was fit right? 😂😂
John Daley
266
Posted 22/08/2017 at 06:09:58
Will @264,
I thought it was a little risky bringing Sigurdsson on so early (although I guess most expected to see him introduced at some point), but it was probably with an eye to getting game time under his belt and on the road to match fitness as soon as possible.
Will Mabon
268
Posted 22/08/2017 at 06:22:04
Always around, James – the threads have eyes...
Likely that Barkley's sacrifice will be completed eventually, but people are still likely to compare, with good reason. Whatever the result at Man City, Calvert-Lewin aside, we had no-one on that pitch likely to go past anyone using pace. Others gave the ball away as you said, but they didn't do the stuff Ross does.
Will Mabon
269
Posted 22/08/2017 at 06:26:52
John @ 266:
That may have been in Koeman's thinking, I don't know. Rather a brave decision from a normally safe manager, if that was the case. Dangerous stage and circumstance to be allocating game time!
Nitesh Kanchan
270
Posted 22/08/2017 at 06:30:36
Walker played at wing back, so that is the position we should have exploited after the red card.
James Watts
271
Posted 22/08/2017 at 06:31:18
Ohhh Will! Last time, I promise.
... but they didn't do the stuff Ross does.
I thought we had Sigurdsson and Klaassen who wandered around aimlessly looking out of place?
But seriously, I take your point. Maybe something Mirallas or
Lookman could have done but we'll never know now.
But, on a another note, how good was Calvert-Lewin last night? He carries on like that and we'll have another star on our hands.
Onwards and upwards. COYB!
Amit Vithlani
272
Posted 22/08/2017 at 06:45:15
I would certainly have taken a point, but having got into a strong position, the concession of 2 points with 8 minutes left against 10 men is agonising.
Man City deserved to draw and we continued our inability to play consistently well across two halves.
Against inferior opposition this season we have kept clean sheets and ground victories but today City capitalised on the opportunity given.
There are though plenty of positives from the game. I was pleased for Rooney and Calvert-Lewin and we continued our unbeaten run. It is still early in the season and the transfer window is yet to close.
I hope we can continue and build on our form, whilst adding a good quality centre-forward to the squad.
Hugh Jenkins
273
Posted 22/08/2017 at 06:50:21
John (201). Draws can get you just that. The old formula for winning the league used to be, win at home, draw away.
Of course, that would never happen consistently, but, if it did, nowadays, it would net the team 76 points.
Occasionally, of course, you may lose or draw at home, but against the weaker sides, you may also win quite a few away.
A robust team, truly challenging for the title, will win and draw far more away games than they will concede points in home games.
This year, having already picked up an away point at the side that most pundits tip to win the league, I believe augers well for us for the rest of this season.
After all, we are now on the same number of points as them, having already played them away.
Kieran Fitzgerald
275
Posted 22/08/2017 at 06:56:41
Sandro with his running and work rate would have made a difference last night. People seem to forget that we were missing him and also Bolaise which hampered Koeman's options for the way the game panned out.
I think having a fully fit Bolaise back will make a huge difference to how the team is set up and what Koeman can do in games. The same with Sandro.

Will Mabon
276
Posted 22/08/2017 at 06:57:49
Not going over old ground again, James, but if Klaassen and Sigurdsson wanted to
wander around aimlessly
, might've been nice to see it at a pace greater than I can still manage
now
.
We pulled one out of the fire last night, and we won't throw too many games away if we keep it up. However, attack needs sorting or we won't be convincingly winning too many.
Calvert-Lewin is surprising me just lately. Sometimes things are seen in training that take time to transfer into the match, and perhaps that's why he's been afforded the run he's had. He's also starting to look quicker, too. Hope he keeps it up.
James Watts
277
Posted 22/08/2017 at 07:00:02
Agree with that Kieran and Will.
Re Calvert-Lewin, I guess it helps when he's played in his best position and not wing back. Thankfully were unlikely to ever see that again.
Hugh Jenkins
278
Posted 22/08/2017 at 07:08:41
Clive (203). Regrettably, I can't agree. Even if we had held out and won 0-1, there would be those amongst us who would have criticised the team, the manager, the board, other posters etc, because we did not win by 0-2, or 0-3 etc.
"Quot homines tot sententiae" ("so many men, so many opinions"), as the Romans used to say.
No matter what happens, there will always be the naysayers.
Steven Jones
279
Posted 22/08/2017 at 07:34:37
Klaassen made a goal-saving tackle that was just amazing. Just for that, I believe he contributed well.
When Man City are full force at home with 7 or 8 ball carrying and highly technical players coming at you at pace, which have been together for a good few years now, it is something not to concede 3 or 4 goals.
Good 1 point – almost 3 – I would take that away against all top 8 teams this year.
We look far fitter and sharper than we did just two weeks back – hopefully we can pick up some of that tempo on Thursday!
Paul A Smith
281
Posted 22/08/2017 at 07:45:53
Paul Kelly, they will put words in your mouth, mate. That line you quoted: "What do they want us to do play attackers and get beat 5-0?" Absolute ludicrous that. We scored first for a start and with all them defence-minded players (even the attackers were made to be defence-minded) we still needed Pickford to stop it being something like 5.
How can somebody think that is a clever statement? This is what your up against.
Another comment talks about Calvert Lewin leading the line like Andy Johnson did. I am gutted if he turns out to be that average. Calvert Lewin gave his all I don't doubt that and he does what he can but he is nowhere near good enough yet.
That performance was scared and negative. Talk to neutrals today is far more clear than being told what you seen by Koeman diehards. I am not his biggest fan and I thought the first-half tactics were sound. second half awful; then we had no outlet, yet again.
Stan Schofield
282
Posted 22/08/2017 at 07:46:52
Koeman has made tactical blunders in a number of games in the past, but not in this one. His tactics seemed perfect: we avoided a defeat that many on TW were fearing, and we came close to winning.
For whatever reasons, it can be notoriously hard to play against 10 men. Indeed, City seemed better once they were in that position. It's not really valid to say we threw away a win, because there were so many 'random' factors influencing the game. The substitutions couldn't really be faulted, since they seemed geared towards maximising ball retention, which was a good call by Koeman.
It's certainly disappointing that we didn't hold onto the lead, but what happened is no more significant than that.
Andy Osborne
283
Posted 22/08/2017 at 07:47:53
Agreed Hugh (#273),
76 points would have meant a Champions League place in 4 of the last 5 seasons.
It is very early days for our "new" team, but the signs are good. The next three weeks will be interesting, with Europa League, Chelsea, Spurs and Man Utd. If you offered me a draw in all of those games now, I would take it.
Jim Harrison
284
Posted 22/08/2017 at 08:00:51
For me, the second half just proves how far we still need to go in relation to challenging at the top.
If we were playing let's say West Brom away and they were down to 10 men, then you would expect to go out attacking them.
City with 10 men were still the better footballing side. That isn't surprising given the investment that squad has had for the best part of a decade. I know its not all about money, but the players they had out there were better than we had.
We could have gone after them yes, but for me Koeman probably got it about right. Try and hold for 3 points, if you take 1 point then you have what you came for. Pragmatic. And very nearly paid off.
I for one think Holgate's mistake was forced. He was under pressure making his header. On another day Sterlings shot flies over or at the keeper. Good composure on his part and a decent finish.
A point away at a top team isn't to be sniffed at. The performance wasn't the best, but its early days. After 5 games we will have a better idea of where the team is headed and hopefully see if we can get in a decent striker.

Matthew Svatos
285
Posted 22/08/2017 at 08:43:24
I'm just going to say this. I was upset that we drew away to Man City. I don't think I have ever been able to say that. The fact that everyone is so upset that we didn't win is a step in the right direction.
Three seasons ago, any fan would have bitten hands for the chance at 1 point in this same scenario. Keep calm, it'll only get better from here.
Peter Lee
286
Posted 22/08/2017 at 08:52:07
We have no pacey players at the back. We can't push out against teams like Man City that have pace going forward so we sit deeper and we need to fill the middle. For me you do that best with a back four with two genuine sitting midfield players (just one against sides with less quality) and the full backs tucked in.
Both Schneiderlin and Gueye do not sit close enough in my view and they didn't last night. With a three, it is even more important because the full-backs are too often nowhere near the back line. When we were under the cosh last night, City attacking players found themselves running straight at our back three/five.
This was compounded by Gueye following De Bruyne for much of the first half. I say following because he was repeatedly the wrong side of his man.
In normal circumstances, with City down to 10 men, a move to a back four would make sense as we would seek to press them in their own half, but we couldn't push out. Sterling was brought on to stop us doing that, more pace.
We effectively surrendered the initiative at that point and it was more important than ever that we retained a solid 4/5 around the edge of the D. In the situation we had, taking Williams off was a daft move. Poor header from Holgate that Williams may not have made but Sterling had time to see the ball and get a clean strike on the edge of the box. He shouldn't have been able to do that.
Given the difference in quality and quantity of the players they have, we've got to be happy with a point whatever tactical mistakes were made but the point about the midfield two will cost us dropped points against poorer sides, as will our lack of an additional striker to deploy instead of or alongside Calvert-Lewin, who was excellent last night.
Priorities for me would be left-sided centre-back with pace and a centre-forward. No idea on the first, Galloway looked like he might be that man eventually, and, for now anyway, Benteke.
Steve Harris
287
Posted 22/08/2017 at 08:53:58
Gutted we let it slip but, even after spending 𧵎m, it seems that we can expect the same defensive tactics that we employed last season without success against all the so called top teams after this.
Spends loads on new players but same frightened tactics – does that imply that he's bought the wrong sort of players? He said last season that we needed to spend to change things to be able to compete... but different players, same tactics
Anthony Hughes
288
Posted 22/08/2017 at 09:06:59
It seems that we are going to be sufficiently tight at the back this season. A left back to come in as cover for Baines should complete the defensive team.
We are lacking pace and power in the attacking area of the team though. A wide player with pace who will go and take on the opposition fullback on the outside is something we could do with as an option. I don't think we can afford to wait for Bolasie to get back.
Most of all, a dominant centre forward is required as a pivot for the rest of the team. Calvert-Lewin is coming along great guns but we can't expect him to lead the line all season.
Sam Hoare
289
Posted 22/08/2017 at 09:10:05
Strangely I feel less positive this morning than I did last night. Usually it's the other way around.
Fact is that, if we have aspirations of getting top 4 we will have to beat the teams around us. We will have to beat one or two of them away. We won't get a better opportunity to do so than last night.
Plenty of positives particularly the performances of Calvert-Lewin, Gueye and Holgate. However there are somethings that concern me moving forwards:
1. Ball retention. Good teams can keep hold of the ball for periods to alleviate pressure/create space. We seem unable to do this.
2. Pace. We have practically none. In particular Schneiderlin, Klaassen, Rooney, Baines, Williams and Sigurdsson mean that we are slow to break offensively and, even more crucially last night, slow to close down and to track runners.
3. Koeman. For me his subs were very poor. There was so much space that Man City were leaving but in Sigurdsson and Klaassen he brought on two slow players (one who is not yet match fit) who failed to exploit it and therefore gave us no outlet. I can understand bringing on one of them but both of them really handed the initiative to City when the game was crying out for Lookman or Mirallas to utilise that space and the risks that City were having to take.
This result will mean more in context. If we lose to Chelsea, Man Utd and get little from Spurs then we will look back at this the one we had to win. If we do well in our next 3 games then I think we look back at this as a useful point and first half performance that works as a building block for things to come. Fingers crossed it's the latter.
Oliver Molloy
290
Posted 22/08/2017 at 09:10:29
I would have settled for a point at Man City, but being so close to getting three it's a little disappointing.
For me (at this stage of the project), Koeman got it bang on first half , and then in the second half he makes those two subs that invited more and more pressure. Now Koeman knows more about football than I can ever dream of but honestly taking off Williams just didn't make sense to me.
We had the three points so I do think Koeman must shoulder the blame for losing us two. Whatever he had in mind with the subs, it didn't work.
Jim Harrison
291
Posted 22/08/2017 at 09:11:20
Steve (#287),
We spent £150M, but sold our best player
They spent more than £200M and retained theirs.
If you are suggesting tha,t because we have spent more money than before, we should do better, why doesn't that apply to the opposition?
Ernie Baywood
292
Posted 22/08/2017 at 09:11:56
Steve, we competed didn't we?
You don't have to play the opposition's style to try to compete with them. Going gung ho against City away would be like standing toe to toe with Tyson.
We may have spent a lot, but nowhere near what they have invested in their attacking talent.
Laurie Hartley
293
Posted 22/08/2017 at 09:16:30
I was disappointed that we couldn't finish off 10 men with 45 minutes to go but credit to Guardiola and his team – they went for it and they have got some great players.
On the positive side:-
Koeman started with 3 youngsters
Our double substitutions were Sigurdsson and Klaassen
A point at a top 6 team away from home
Rooney 2 goals in 2 games
Calvert-Lewin looks a centre-forward – the lad has got something about him.
Kevin Tully
294
Posted 22/08/2017 at 09:24:08
I'm not going to heavily criticise the manager for playing defensively on this occasion, after all, we had three kids in there who really cannot be relied upon to compete with the superstars of Man City. Holgate & Calvert-Lewin were absolutely fantastic considering what they were up against, but Tom Davies was fairly anonymous.
How have we ended up selling our star 25-goal-a-season striker and not replaced him though? It's fucking madness!!
Once he brings a couple more in, I do expect to go to these places and not set up like we are a League 1 side playing a Cup game. Let's be honest, this was a backs-to-the wall performance if ever there was one. Jagielka is a good defender, but absolutely clueless going the other way. I lost count of the number of times he passed it back to Pickford.
Eddie Dunn
295
Posted 22/08/2017 at 09:27:34
There are two main sections of opinion on here: one is the "good result at a tough place" and the other is "should have capitalised on the 10 men".
Both have their merits but the one problem that we had was that city's players were mostly comfortable in possession, and more of ours weren't. I suppose this is down to the price of that team.

Paul A Smith
296
Posted 22/08/2017 at 09:30:55
Kevin (#294). What did you make of Schneiderlin? The loved one. Everytime we built more than 4 passes he put it back to the centre-halves.
Watch after about 7/8 mins we get a throw and like a big dope he let Jesus come from about 10 yards behind and take the ball from in front of him. Then the stupid yellow came.
2nd yellow was awful from the ref but the damage was done by then. He is another that will dish a slidey out and we all forget his mistakes. Until we get a midfielder that can run the game, or at least pass and move, we will struggle at big clubs.
Kevin Tully
297
Posted 22/08/2017 at 09:42:18
He is in there to put his foot in, Paul. Have to say though, he looks very, very average so far this season.
We have got to give these new players time to settle in, but another couple of injuries and we may end up with half the U23s playing! Considering our spend, it seems crazy that we ended up with 3 of them starting last night.
On the plus side, Bainsey seems to have started the season well, hopefully he can form a partnership with Sigurdsson on the left.
Definitely missing a bit of creativity in that midfield.
Paul A Smith
298
Posted 22/08/2017 at 09:42:23
Eddie (#295), good point mate. Some of our fans feel spoilt this year. We have talked passionately about ambition for years here but I think too many fans have none or too much affection.
Look at Man City last night. More or less the City we faced last season but our strategy v them was them same fearful sit back style. Give them all the incentive.
Their players they bought 5 years ago are still better than ours. They cost more 5 years ago.
£20M players now are McCarthys and Niasse players. Buy 10 players now for £20M and one or two will be good buys if you're lucky or have some major quality to compliment them.
Steavey Buckley
299
Posted 22/08/2017 at 09:56:35
Taking off Williams was a mistake (unless injured) as there was one less body to deal with any crosses into the box, particularly the one that led to the goal.
Also, Rooney should have come off before the goal because he was knackered and Lookman brought on to give more pace up front because Everton were lacking pace all night long except for Calvert-Lewin.
The manager has to find ways of adding pace to the team, as Everton do at times sit far too deep behind the ball without breaking to support those upfront.
Craig Walker
300
Posted 22/08/2017 at 09:56:59
Martinez was too gung-ho and Moyes was too defensive. It would be good to get somewhere in the middle where we attack with pace but we're not shitting ourselves every time there's a corner or free-kick being delivered into our box. When are we going to start going to the away grounds for the so-called Sky 6 and not making noises beforehand that suggest it would be a minor miracle for them not to score a few?
I said to my twin brother last night that it's hard to believe that my dad took us to our first ever Everton game away at Maine Road. Paul Power scored, we won with 2 or 3 and went onto win the league.
If you'd have told me then that during the following 30 years we would not win the league but Man City would become one of the top teams with the best stadiums, then I wouldn't believe you. If you said that we'd be happy getting a draw against 10 men then I'd ask what you were smoking.
Another thing, we must be one of the worst teams against 10 men. I can't remember us doing well with the extra man too many times.
Shane Corcoran
301
Posted 22/08/2017 at 10:04:53
Hard game to call given how close we were to winning.
As some have said on other threads, maybe we need to accept that City are full of very, very good players and we're not. We have a new team that we all hope will improve but they're not at City's level yet.
Pickford's kicking was very erratic and I thought Jags was caught out a couple of times. Holgate was class and it's good to see that Koeman rates him after being largely ignored this season. Our three midfielders were all on yellows by the 25-minute mark and they really need to work on their decision making when it comes to the tackle. Gana could easily have seen red for persistent fouling.
Rooney again mixed the good with the poor but, although I'll never receive him back as some have, he's proving me wrong on a purely footballing level. Calvert-Lewin was excellent; I couldn't believe what I was seeing but there's a deafening silence on here about Walker's second yellow.
Good result overall, Gylfi got some needed game time, although contributed nothing. Klaassen continues to be a worry but I'll not go there again.
Interesting to see the team he picks over the next two difficult away games.
Chris Williams
302
Posted 22/08/2017 at 10:05:10
Every game you watch drives home the same points really. Our squad is severely imbalanced, lacking in threat, pace, creativity and width.
Our squad is stronger at the back, solid in midfield, but weak up front.
We have some players who lack Premier League experience, and/or fitness who will take time to assimilate
We are still a bit too reliant on younger players in key areas, who despite their good efforts can be inconsistent and sometimes prone to error. Sometimes they can play out of their skins though.
We are missing key performers through injury.
We desperately need a centre forward and the intention is to get one in apparently. Whether that will be sufficient will depend on how Sandro reacts and Calvert-Lewin develops. We also need a replacement for Bolasie, which is not on the agenda at least as far as we know. Wait and see?
We could concede less goals this season than last when our goals against in the Premier League was a bit of an Achilles heel relatively. Whether we can score enough, will depend on who we bring in, and the ability of Rooney, Klaassen and Sigurdsson to take up some of the slack, as well at the two mentioned above. Wait and see?
We miss Seamus badly, all over the pitch, defensively and offensively and just because of his influence and spirit. His replacements seem to be Holgate when we need a defender and Martina if we need to attack more. Neither is the complete article, especially since the default formation, at least so far, is with three centre backs. We are looking for a left-sided defender too, which could mean more of the same. Wait and see?
Despite what we have spent, and what we are promised, there is still a strong element of wait and see in this equation. Whether that is good enough depends on your patience, optimism, experiences with Everton, realism, call it what you will.
What it perhaps indicates is that we will be seeing a lot more of what we've seen so far this season, maybe for a while yet. Wait and see?
Martin Mason
303
Posted 22/08/2017 at 10:39:59
it was disappointing that we threw away a winning position against a team that was one man down but Man City are what we must aspire to be and we can learn from the disappointment. The reality was that we actually played quite well while being under the cosh most of the time.
Are we close to matching City? No, I think that we're miles away and I can't see such a defensively minded team as us with a defensively minded manager ever being as good. Having said that, it was a good point.
Jim Knightley
304
Posted 22/08/2017 at 11:47:25
In with the majority – it was a very good result but could have been more. I felt a little deflated after the match because we didn't attack in the second half - it was what I feared at half time.
Is it a mentality thing? Is it the options in the squad? Was it Koeman? I expect it was all of them in part although Koeman tried to change things with the Sigurdsson and Klaassen changes.
What we need, going forward, is a pacy centre forward. I understand the appeal of a target man, and I could see Slimani arriving, but I think we need a Vardy. The lack of pace at centre-back worries me too – hopefully we can address that before the window.
It is still a good result though and unbeaten season so far. But we could have won and that is where the frustration lies.
Lenny Kingman
305
Posted 22/08/2017 at 12:02:51
Craig (#300),
The 1985 FA Cup final springs to mind, does it not?
Peter Mills
306
Posted 22/08/2017 at 12:49:21
Shane (#301), regarding Calvert-Lewin, and the Walker sending off.
Last Saturday Koeman complimented Rooney on his street-wisdom, falling down to take a foul when hit in the back, citing Davies and Gana for being too honest for always wanting to stay on their feet. It may be cynical but we face it from the opposition every week and I have to admit I cheered when Rooney did it in the last minute against Stoke.
Last night Calvert-Lewin was being forcefully challenged from behind for high balls. Koeman was gesticulating about it to the referee, and the microphone picked him up shouting "Every time".
Just a guess but I suspect he told Calvert-Lewin to play for the foul a bit more, the lad did so but in a pretty inexperienced way. I'm not condoning a player falling to the floor holding his face, he overdid it, but at least it shows we are trying to adapt to some of the darker aspects of the game.
Mike Davies
307
Posted 22/08/2017 at 12:54:44
So much frustration after that result. People blame the manager but the players' ball retention, against 10 men, was nothing short of shocking. Koeman even tried to address the issue in the 2nd half by changing the system and bringing on Gylfi and Klaassen. However this made no difference whatsoever.
The lack of movement and willingness of someone to be brave and demand the ball was disappointing to say the least.
I appreciate there's work to be done on the balance of the team, but apart from Calvert-Lewin who was excellent, the ball retention from players who we expect to push us on this season was very poor.
Defensively we look solid but, apart from the 1st half against Hajduk Split, offensively we have looked inept.
Dale Rose
308
Posted 22/08/2017 at 12:56:24
The bookies and Sky had us written off before the game. It was always going to be a very hard one. The team rose to the challenge very well and defended well.
Holgate was excellent but made a mistake which cost us. These things happen every week in the Premier League.The youngsters are making an excellent contribution and will do us proud.
The display overall was very good, we had to defend against one of the best sides in the world and did it very well. City have a lot of quality, but they didn't beat us because they couldn't.
There is no hiding place in games like this, a great performance. We might not get top three this season but we wont be far behind.
Matthew Williams
309
Posted 22/08/2017 at 13:06:56
Plucky little Everton it still is then. Koeman ain't the man to take us forward, still can't see a game out verses ten men... doesn't bode well.
No points on Sunday methinks... were still way to negative to win away, still no new striker & no width or pace.
Everton Football Club... average, at best. Sigh.
Jay Wood
310
Posted 22/08/2017 at 13:11:47
Peter @ 306.
I very much agree with those comments and said as much at half time last night on this very thread.
Morally reprehensible – possibly.
Ruthlessly professional – almost certainly.
Within the same game last night we saw Aguero pull the same stunt as Calvert-Lewin to get Schneiderlin sent off, even though Morgan cleanly won the ball. Aguero's reaction to Morgan pointing a finger in his face? Laughter.
Walker's 2nd card was a soft one. But, he most definitely looks across to Calvert-Lewin to know full well his position before he pulled the stunt he did. Walker's foul gave the ref the opportunity to make a call. Calvert-Lewin 'helped' the ref make his decision.
Isn't this what many on here have been calling for over many years? Stop being 'nice' Everton and start employing more of the dark arts?
I see evidence this season, as you do Peter, that this is increasingly the case. And I for one have no issue with it, although it comes with the following caveat:
It needs to be cute. Tom Davies has now picked up two yellow cards already this season for 'simulation'. He needs to be careful not to have a 'reputation' for the same against his name, or the opposition, their fans and refs will use it against him.
Craig Walker
311
Posted 22/08/2017 at 13:13:50
Lenny (#305) – or at Anfield in 2010 when Kyrgiakos lunged at Fellaini and got sent off. We had 55 mins against 10 men but still lost. We truly are woeful with the extra man.
Jim Harrison
312
Posted 22/08/2017 at 13:31:14
Jay (#310),
I agree. There is no doubt in my mind Walkers actions constituted a foul. I don't like the fact he faked an injury to his face but he needed to go down. No benefit in standing up pointlessly when fouled
About time we got some borderline calls...
Peter Morris
313
Posted 22/08/2017 at 13:34:42
I do feel for Holgate. On the one hand, he must be delighted to be selected for the first team, but on the other hand, there is little chance of him playing at centre-half, where he is clearly more comfortable.
Wing backs must have pace and energy, and whilst I'm sure at his age, energy is no problem, he certainly isn't blessed with pace and as a consequence will be targeted with angled balls over his head. He must pray that he doesn't get type cast as a utility man.
He must have watched the video of Martina's wonderful headed lay off for the Genk striker in pre-season, as his gaffe was almost an identical carbon copy.
On balance, a good result, if not a great performance, and I just wish these players could learn to hold onto the ball and pass the thing better. The number of times we gave the ball away cheaply to a team it is almost impossible to get it back from was a real disappointment, and, even this early, it is already a common thread this season.
Paul Kossoff
314
Posted 22/08/2017 at 14:47:14
Holgate, you looked a bigger carthorse than Williams when you headed that ball right to the spot you just don't head a ball, you could have let it go out of play, you could have headed it for a corner, you should have headed it AWAY... from any danger zone, but noooo, too easy to do that.
The only reason you're in the first team is Kenwright's cheaper option strategy; same reason we got Fulham's third reserve keeper; same reason we have Southampton's third-choice fullback. You looked a carthorse in the Europa League games against average opposition, this is why we will never compete with the big boys, we won't go all the way.
Brian Williams
315
Posted 22/08/2017 at 14:53:15
Don't be a tit, Paul.
George McKane
316
Posted 22/08/2017 at 14:57:05
Nice post, Paul!!!!!!
Myself and most people I know who saw the game thought Holgate had a really good game – apart from that header. In fact, I recall he made a tremendous goal-stopping tackle on Aguero. All-in-all, he had a really good game and in my opinion has a great future.
Opinions hey!!!!!!!!!!!!
Brian Harrison
317
Posted 22/08/2017 at 15:05:06
I posted yesterday that this game will tell us about our mindset and our belief, and sadly it did. I can only say I was embarrassed by our second half display – nothing short of gutless. A bit like a boxer out of his depth tries to run and hang on.
Yes we had a terrific display from Calvert-Lewin but our lack of belief in ourselves to go and have a go at 10-man Man City begged belief. So I think this showed if we can't have a good go at 1 of the top 6 when they are a man short then when how on earth are we going to challenge for a top 4 place. Yes, I know we have new players trying to settle into a new club, but Koeman should have told them at half time to get on the front foot and take the game to City. Instead it was City who had most of the possession and all the chances in the second half.
So it looks like 7th and have a go in the Europa League as that's the only way we will ever qualify for a Champions League spot.
David Barks
318
Posted 22/08/2017 at 15:07:02
Paul,
That's very weak. Holgate played well and made a mistake. His mistake just happened to be the one that punished us. It could have been Rooney's pass directly to a City player in the middle of the pitch that sent City breaking to our goal, only being saved by the City man playing the ball to the left and not to De Bruyne all alone on the right. It could have been the shot that hit the post. It could have been Pickford's save directly to the chest of Aguero.
The list goes on and on, because we conceded all possession. Holgate's mistake was punished, but he was far from the only Everton player to make a mistake. Overall he did a fine job. It was the law of averages. If you allow another team to dictate the game, control the ball for 2/3 of the match and complete 200+ more passes than you, eventually it will break the right way.
The team failed by not being able to pass the ball and take the game to City. The midfield completely failed to assert itself in the second half, falling back into the box. At times we had all 11 players defending in our box, all 11. We dropped two points because we resorted to hoofball instead of passing the ball and using our man advantage. That wasn't Holgate's fault.
John G Davies
319
Posted 22/08/2017 at 15:09:41
Paul, 314

Alright now, baby it's all right now.
Stop fretting all will be ok.
Jim Knightley
320
Posted 22/08/2017 at 15:17:15
Re. Darren and others – I would also have liked to have seen Lookman. I think Rooney had run out of steam; Lookman would have been perfect for the last 25 minutes.
I know he is young and raw but he is talented and has that pace we are crying out for. We needed that counter-attacking threat.
Jay Harris
321
Posted 22/08/2017 at 15:42:08
We can argue that black is white and vice versa all night long but, to my mind, if we want to be top 4 we should be beating 10 men, no matter how skilful they are.
City are not the greatest ball winners and with a man over we should have been able to retain the ball and get them running around but invariably we revert to hoofing it up the pitch for poor old Calvert-Lewin to run after. We need to learn when to play it long and when to play it short.
I am still a big fan of Ron's but feel we lost 2 points through not being smart enough last night.
David Graves
322
Posted 22/08/2017 at 15:46:29
Rooney may well have been tiring after putting in such a massive shift but who else would you have wanted on the pitch to see us over the line?
Surely Mirallas for Schneiderlin was the obvious choice with Mirallas moved to the left and Rooney dropped back to play in the midfield 3.
Hindsight is of course a wonderful thing but who honestly thought bringing on Sigurdsson, Klaassen and finally Besic was the answer?
Eddie Dunn
323
Posted 22/08/2017 at 15:52:53
Holgate is going to be a superb player. Ironically the position from which he put the headed clearance across goal was from a fairly central position and nothing to do with playing as a wingback. He was otherwise brilliant, and he along with Calvert-Lewin are beginning to bloom.
The team looks to have improved, but apart from a big targetman the one thing we lack is the sort of centre half who doesn't panic when bringing the ball out from the back... mmmm – we could do with David Luiz or, ermmm... John Stones!
Rudi Coote
324
Posted 22/08/2017 at 16:00:16
Ten against eleven... same old, same old. Whenever we play against 10 men – we stink! Every time!!! Yet if we lose a man we get slaughtered!
Koeman's tactics cost us.
Jay Harris
325
Posted 22/08/2017 at 16:08:20
Although we are berating Holgate for a poorly directed header the cross should never have been allowed to come in in the first place... and who the hell was marking Sterling when he had 3 yards of space in the penalty area?
Sam Hoare
326
Posted 22/08/2017 at 16:11:34
I'm worried about Schneiderlin. Looking like a highlights player to me who relies on one or two raking cross-field passes or well timed sliding tackles to make him look like he's doing more than he is.
He's just not very composed. Umpteen times last night he didn't show effectively for the ball for the centre-backs or when he got the ball with time to turn he just passed it straight back.
He's really quite slow. Meaning he struggles to catch up with break away counters and to get to the dangermen quickly.
I don't think he reads the game brilliantly. There was a moment last night when Otamendi was advancing and it was clear that he was going to shoot; Davies had been drawn out but Schneiderlin refused to leave his position to close him down before it was too late and Aguero almost put in the rebound.
He's not a bad player by any stretch and was arguably the best on show in the home leg vs Split. I think he's better when we have most of the possession and his long passing is one of his assets. But against better opposition, when under pressure I'm not convinced.
I think he has a fair amount to do with our poor ball retention and I just think he's a way off the likes of Dembele, Matic, Bakayoko, Fernandinho and even the likes of Henderson and Emre Can.
Perhaps I'm being overly harsh and I do remember being more impressed by him last season but i'd like to see him do more in our next few Premier League games against tough teams, see him take more responsibility when we have the ball like Gareth Barry, who would be happy to receive the ball in a tight space and deliver a forward pass or sideways pass to get us moving.
Trevor Peers
327
Posted 22/08/2017 at 16:23:15
Like others, I'm hugely disappointed with last night's performance. Why can't we destroy teams when handed an enormous advantage? I thought things might change under Koeman, but in truth, they have not.
Rooney showed the required mental steel when going forward, but Koeman had no clue tactically in how to win a game when the opposition was damaged and wounded. I doubt he will ever win us trophies, just hope he proves me wrong.

Brent Stephens
328
Posted 22/08/2017 at 16:27:42
Paul Kossoff (#314) terrible post. Worst I've seen on TW for days. Holgate had a superb match in which one header (one header) was misdirected. Name me one player who didn't make a single mistake last night. His happened to have led to a goal. Dumbo.
John Pierce
329
Posted 22/08/2017 at 16:32:44
This game came down to mindset. The team expected like too many on here to be humbled, thrashed, just waiting to be put out pf their misery.
And yet, when the opportunity presented itself, the mindset from the manager and the team never changed. 'Plucky little Everton getting a point at City'
Was Koeman not brought here to change that?
If I have a criticism of the players last night who to man busted a gut, Rooney running the furthest of any Everton player, it was they simply played to orders. Even Rooney.
The game changed at half-time, a more adventurous manager would have won that game IMO.
The most worrisome aspect of this game is that, come any away game at the bigger sides, is he ever gonna change his ways?
Many on here lauding the managers selection and tactics and subs, fact is we got 1 point after being in front playing against 10 men for half a game.
Pete Clarke
330
Posted 22/08/2017 at 16:44:56
Can it really be that hard for a group of pro footballers to pass a ball to each other? We give away possession so easy it's hard to believe these players earn more in one game than most of us do in a year.
Although pleasantly surprised at our first-half performance, the terrible referee gave us the perfect springboard to victory by sending Walker off but our football after this was shocking with nobody in midfield seemingly capable of finding a teammate or opening up space.
Hopefully Sigurdsson and Klaassen will do this for us soon but I'm sick of this brain-dead hoofball.

Jim Harrison
331
Posted 22/08/2017 at 17:18:34
I have watched Holgate's header a few times now, trying to back up my claim that he was under pressure. Can't seem to find the evidence I require. Poor header. That said, who was supposed to be with Sterling?
Paul Tran
332
Posted 22/08/2017 at 17:50:18
Not seething yet.
Excellent defensive display. The investment in Pickford & Keane is looking good already. Rooney keeps proving my cynicism wrong. Calvert-Lewin & Holgate both played well.
Telling point for me was that playing against ten men, Koeman's tactical switch was to combat their attack. I would have stuck Lookman on to stretch their very average defence. Let's face it, everyone else was giving the ball away, so at least we'd have someone on the pitch with a bit of pace and daring.
I'm not seething over getting a point at City, but if he starts doing this against the teams below us, I soon will be!
Will Mabon
333
Posted 22/08/2017 at 18:09:10
Paul, you might seethe when he does it at Anfield.
John Pierce
334
Posted 22/08/2017 at 18:21:39
Paul,
It is a constant source of ire to me people think Koeman will become more expansive in his second season. Why? Since when to managers go through some cosmic metamorphosis in tactics?
We've played 5 competitive games against a gamut of opponents and not one hint of a change. His supporters think magically we will attack with freedom and verve based on better players and defensive solidity.
It seems that Koeman wants better players to execute the same pragmatism to a higher standard; there's no change in mindset or tactics to my eye.
There's no joy in his football, none whatsoever. My hope it would change is ebbing away.
Andy Crooks
335
Posted 22/08/2017 at 19:11:27
Going to Man City and setting about attacking them could have resulted in a thumping. We didn't. We played a sensible, effective first half and set up a victory.
Then, in my view, the fear set in, the inferiority attitude that has dogged us for years. Hanging on like a non-league team in the FA Cup Third Round. We could have won that game. Good effort by the players; negative effort from the coach.
Anthony Jones
336
Posted 22/08/2017 at 19:22:49
The midfield was clearly imbalanced. Lookman should have been brought on to stretch them. Instead, Ronald clogged the midfield with his workhorses. Very disappointed. Top 4 teams win these games when they are a man up.

Ray Said
337
Posted 22/08/2017 at 19:31:13
I think Koeman went with the right formation. I like that he changes the team, formation and instructions for specific opponents.
I am hopeful for the season if his overall game plan is to have a go for three points when those top sides come over to Goodison and play on the counter trying for a one nil or a draw when we go to their grounds. I think that is the way to battle for the top four, is a good plan for the Europa League and gives us a chance in the cups.
Tony Hill
338
Posted 22/08/2017 at 19:31:59
But what is it that causes this crippling fear in us? There have been numerous times down the years when you can feel the paralysis coming on, and you just know that we are going to fuck it up. It's when something is at stake. The semi-finals, the cup finals, the games to break into the top 4 at any serious stage of the season, whenever we play "better" sides. We have learned to know our place.
Is it a negative loop between players, fans and management? Has it become encoded in us?
We didn't fail to win last night because we were playing giants; we failed to win because something inside of us insisted that we were not worthy to win.
This is the biggest problem facing our club. No personnel, no tactical formation, no slice of luck will bring us the success we crave for so long as we are frightened of actually achieving it.
Dennis Ng
339
Posted 22/08/2017 at 19:43:55
I would agree with the notion that Koeman's plan for the second half backfired but nothing more than that. If there was a man on Sterling or Holgate heading the ball for a corner, perhaps we would have had a famous victory.
Could, Shoulda, Woulda... football is the only thing I do not do that for. Koeman had a plan that worked for the first half, made some miscalculations for the second, but this is a point everyone did not expect us to take. It is fine by me and I would encourage Koeman to go for the jugular next time we have a lead for a usually defensive coach.
A great display by a good team still in the works. I still don't believe we need a #9 purchase but would welcome any upgrades we can get at a reasonable price.
John Pierce
340
Posted 22/08/2017 at 20:10:58
Dennis, you are actually exemplifying exactly what Tony above is stating. A 'famous' victory. You seem grateful for clinging onto a point against 10 men?
Tony, you are bob on there. Inferiority complex, more laughable in that we have in comparison to other teams a decent record there. They hate playing us.
A team and manager who want to be taken seriously don't pass up an opportunity like last night's.
Imagine if this was a pivotal game at the fag end of the season or a cup final and he did the same? Most of you 'happy enough with a point at City' would be enraged by that 2nd-half display.
Just because the league is in its nascent stages, you don't get a free pass.
Every other top 6 contender's manager will look up at that result and then away again immediately, there's no change there, nothing to worry about.
Had the manager been brave, a second more forensic look at a win from opposing managers might have given Everton more respect.
As it stands on that performance, we won't win at a top six side under Koeman.

Mark Boulle
341
Posted 22/08/2017 at 22:34:35
I honestly think the 10 men thing is something of a myth nowadays.
Footballers are so fit and cover so much ground that, unless the player sent off is a team's star man, I don't believe the absence of one body has a material effect anymore.
As such, given that the 10 remaining men included, in Silva x 2 and De Bruyne, 3 world class attacking midfielders, plus of course a world class striker, I don't think it's fair to lambaste Everton and Koeman for hanging on for a very good point. Plus swapping Williams and Davies out for Gylfi and Klaassen could hardly be said to be negative could it?!
Don't forget, our new signings are still bedding in / getting fit, plus we hopefully aren't finished in the market and will be significantly stronger (and quicker on the counter) once Seamus and Yannick are back.
Si Cooper
342
Posted 22/08/2017 at 23:23:19
Sorry Mark, but I can't agree with your conclusion. It has to be easier to play against a team reduced by having a player sent off, and we simply were unable to impose ourselves any better against 10 than we could against 11. They were still able to pass it around at the back and then forwards to a man in space and that shouldn't happen. Either we should have kept their goalie and defenders under constant pressure or denied them any space in our half.
There were positives from last night but our inability to increase the pressure when we had a numerical advantage was very disappointing.
Touching on the sending offs. The ref obviously didn't punish Kyle Walker for an elbow to the face. He gave him a second yellow for an absurdly unsophisticated off-the-ball foul where he led with his elbow into the breastbone area. Calvert-Lewin over-reacted but it was still a reasonable punishment for the offence. Walker was obviously looking for some measure of revenge having been made to look stupid by Bainesy on 2 occasions shortly before that.
In contrast Aguero made a legitimate tackle look like a bad foul. Walker stupidly got himself sent-off; Aguero got Schneiderlin dismissed.
Mark Boulle
343
Posted 22/08/2017 at 23:31:50
Fair enough Si (#342) – it's all about opinions, since I guess none of us has the time to carry out or read a full study into results patterns after red cards... :)
9 days and counting to get that pacy forward and LB/LCB signed up...!
Steve Barr
344
Posted 22/08/2017 at 23:40:43
Spot on, Tony @338.
Having been at a number of those games where we have rolled over I can only agree.
The worst was the FA Cup Semi-Final at Wembley v the RS. Cost me a fortune travelling from the USA with my two sons. I predicted what would happen at half time if we didn't come out attacking – we were one up!
Like last night, a mistake (by Lescott) let them in but he was not to blame. It was the fact that we sat back and tried to defend the lead, just as we did last night and Holgate became the scapegoat.
I read on an earlier thread that we now have leaders all over the pitch. They went missing last night.
Terry White
347
Posted 22/08/2017 at 23:57:46
Mistake by Distin, not Lescott, Steve (#344 and 345!). Pass back straight to Suarez.
Steve Barr
348
Posted 23/08/2017 at 00:21:40
Terry,
Thanks for that. Losing my memory but remember it was Suarez who scored. Then the big fella with a header. He's now now at West Ham and always injured! Correct?
Eddie Dunn
349
Posted 23/08/2017 at 10:04:48
Koeman has a great pedigree, but his philosophy is far from the total football of Cryuff and Neeskens. We are watching him build a team that is physically strong, well organised and hard to beat.
We are being fashioned to stay in the top league, to compete for the European places and in time perhaps, next season have a crack at the top four. I don't expect us to be hammering anyone, anytime soon.
We have a rookie centre forward, a makeshift right back and a dearth of wingers, as well as two centre backs afraid of the halfway line and a left back also feeling his miles on the clock.
The silver lining is the guile of Rooney and the addition of Gylfi Sigurdsson and Klaassen, who, I am sure will help create chances. Sandro will have his moments but the much sought after "productivity" will depend on just who we manage to pick-up before the deadline.
It is very much work in progress and I think we are going to have to have patience, and the reality is, that this coach doesn't yet trust this group to go to a top ground and go for the win.

Dale Rose
350
Posted 23/08/2017 at 13:52:01
We played well against a high quality side, we did what we could not to be beaten. The team is work in progress, and is coming along well. We need a striker I agree, and the window is still open.
Koeman has forgotten more about football than most of us contributing on here will ever know. He is the man making the decisions and up till now has done a good job.
I'm all for free speech and the debates on here are very good, but FFS, let's get behind what's happening, and get back to the glory days which will return. Eight English players, in a Premiership club. COYB.
Michael Kenrick
351
Posted 23/08/2017 at 15:55:32
Couple of corrections:
Paul, to your utterly pathetic 'carthorse' post at #314 – The fact is that Holgate has not played in any of the Europa League games so far, which puts your 'opinion' of him in perfect perspective. Amazingly, it was his first game of the season.
Dale and others. It's been called the Premier League for more than 20 years, already. The "Premiership" is what the rugby wallahs play... FFS, get with it!
Brian Williams
352
Posted 23/08/2017 at 16:56:16
If anyone takes the trouble to watch, or has already taken the trouble to watch Mason's unfortunate header, you'll see that in his eagerness to mark the attacking player he becomes "wrongfooted" meaning he was unable to adjust his position and head the ball away. He made the header knowing the ball may fall to the player if he didn't. It's a subtle thing that happened and difficult to see first, second AND third time around but it happened and he was really unlucky for as he'd had a very good game.
---
Add Your Comments
In order to post a comment, you need to be logged in as a registered user of the site.
Or Sign up as a ToffeeWeb Member — it's free, takes just a few minutes and will allow you to post your comments on articles and Talking Points submissions across the site.
© ToffeeWeb