Report
Better Blues collapse in the last 7 mins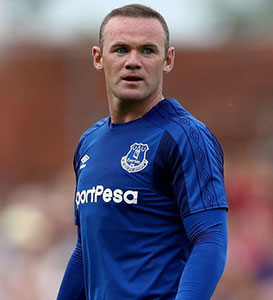 Wayne Rooney's came close to scoring in his first game back as an opposition player at Old Trafford
Valencia scored a screamer after 4 minutes but Everton came close until they gave up three goals at the end after Rooney had gone off.
Rooney, Davies and Martina started in what can only be described as a strange line-up as Koeman looked to reverse a dreadful sequence of performances and results for a team in crisis.
Lots of hoopla about Rooney's first return to play against Manchester United, who feature both Romeulu Lukaku and Marouane Fellaini (in for the injured Paul Pogba) who have made good starts for the Red Devils this season.
Lukaku kicked off and Utd lumped it up into Everton's half where it stayed and it did not take long for Valenica to lash in the first goal, a fantastic first-time volley as he was given yards of space off a clever cross from Matic.
Everton were completely blocked into their own half, completely unable to string together anything even approaching a counter to relive the pressure until Davies and Martina combined down the right but no chance of converting the cross.
Another attack saw Schneiderlin fouled and Sigurdsson curved in set-piece that did not find a blue shirt. Rooney was involved but losing the ball with worrying frequency. But Everton were just starting to play a little. Williams made a superb saving tackle on Rashford and the ball got forward for Sigurdsson to almost play in Davies. Lukaku then ran at the Everton goal but was pushed wide. Rooney then released Martina who played a great cross for Rooney but a poor shot dribbled wide when he could have gone for glory.
Williams took down Lukaku, almost 40 yards out, defended away by Everton. The Blues were actually playing some football. But a horrible giveaway from Keane and Lukaku had a gift as Pickford blocked him well, but the Big Man pushed it wide. At the other end , another deep free-kick, executed same as the last by Sigurdsson, Keane heading well wide.
Everton got the ball in the net after a good diving header by Davies who was fractionally offside> Everton were looking a lot better, pressing and looking to play forward, but not skillful enough but they kept trying to play it through Martina down the right.
Baines did well to track Fellaini and block his cross. But Rashford got wide on the other side and looked to threaten but was eventuality blocked. Everton were looking a lot better with the ball until they got within sight of the Man Utd area until they ran out of ideas.
Williams was totting up a number of significant blocks and interceptions but a stronger break saw Rashford feed Lukaku; Jagielka had tracked him and did brilliantly to deny him a clean shot. A couple of dangerous Man Utd corners followed.
Martina and Keane made a mess of things and the Blues drew pressure on themselves,and Man Utd threatened a second goal but Williams again blocked it. Everton would get the ball but hardly anyone in forward positions meant no or wasted out-balls.
Rooney won a free-kick in the middle, Sigurdsson delivering it straight to De Gea, bringing the half to an end, with Everton showing a lot better following a horrible first 10 minutes.
After the restart, Rooney created a wonderful chance for himself after Davies played him in and only had De Gea to beat... but he couldn't get it past the keeper's knee. Davies was doing a good job of flinging himself to the ground, usually after he was fouled.
Rooney got free again but it was clipped off his toe as Everton kept the home side in check but needed to drive forward rather than backwards and sideways. A cross reached Lukaku but bounced up for him, his lousy first touch allowing Jagielka to get a high boot on it.
The Blues played some good possession play until it inevitably broke down and Utd surged forward, winning a free-kick without Lukaku, off changing his boots! Lukaku looked to strike but Jagielka had the measure of him. Lingard replaced Rashford.
Sigurdsson and Rooney got in on De Gea with sheer persistence, but the keeper was in the way again. Should have scored. Williams again won the ball back but Davies again squandered possession.
Pickford made a dreadful clearance off his right foot, forcing Williams to bring down Mata right on the edge if the area, Mata curled it around the Everton wall and off the face of the post and behind off Jagielka! Sandro replaced Davies.
The Blues were moving the ball well and building in a forward direction but Rooney crossed to an invisible Tim Cahill at the far post... The game, however, was very tight: if only Everton could score. But Utd came closer, Lingard scooping a shot over the bar as Williams again got in his face.
Some lively stuff with Lingard and Keane battling down the Everton right, Martina fouling, the wicked free-kick headed away. At the other end, Sandro tried his best to dig out a shot that was blocked and then Rooney once again gave the ball away needlessly straight to Fellaini and Man Utd surged forward, Lingard shooting over.
With the tension really building, both manager made changes, Calvert-Lewin replacing Gueye, Herrera on for Mata. The changes seem to have revitalised Utd, Lingard falling as he shot, calling for a spot-kick. he Blues were forced to defend and were too s;low in transition, giving up the ball again cheaply in midfield.
The final change was Mirallas for Rooney, given a fine ovation by the Mancs as he walked off. Williams made a horrible error passing it straight to Fellaini and Lukaku then played it to Mkhitaryan and he slotted home with ease. Game over.
Mirallas and Sandro showed some intent but it was now pointless. Baines blocked Lingard for another dangerous free-kick, Lukaku drives into the wall, but the ball comes back to him for an easy tap-in. Game well and truly over.
Sandro gave De Gea some rare exercise with a rising shot before Martial won a penalty as Schneiderlin handballed accidentally on the floor... Penalty: Martial sends Pickford the wrong way. A very sad finish for the Blues who had done better until Rooney went off.
The result drops Everton into the bottom three, tying the worst defensive record and the worst goal difference in the Premier League.
Scorers: Valencia (4'), Mkhitaryan (83'), Lukaku (87'), Martial (pen: 92')
Man Utd: De Gea, Valencia, Bailly, Jones, Young, Fellaini, Matic, Mata (76' Herrera), Mkhitaryan (88' Martial), Rashford (60' Lingard), Lukaku.
Subs not Used: Smalling, Carrick, Romero, Darmian.
Everton: Pickford, Keane, Jagielka, Williams [Y]; Martina, Schneiderlin, Gueye (76' Calvert-Lewin), Baines; Davies (66' Sandro), Sigurdsson; Rooney (82' Mirallas).
Subs not Used: Stekelenburg, Holgate, Besic, Klaassen.
Referee: Andre Marriner
Attendance:
---
Reader Comments (348)
Note: the following content is not moderated or vetted by the site owners at the time of submission. Comments are the responsibility of the poster. Disclaimer
Mark Tanton
1
Posted 17/09/2017 at 15:05:53
Back three with Baines and Martina as wing backs then and Davies floating around from the left?
Anthony Hughes
2
Posted 17/09/2017 at 15:06:00
How is that team supposed to go out and score a goal let alone win a game? Hate to say it but shithouse tactics again.
Gary Mortimer
3
Posted 17/09/2017 at 15:07:09
Schneiderlin and Martina!!! Unbelievable
Chris Watts
4
Posted 17/09/2017 at 15:08:15
2 attacking players. 9 defensive. Worst team ever. Not a chance we will score.
John Pierce
5
Posted 17/09/2017 at 15:09:00
5 at the back, no pace in any areas, no focal point, a team set up to defend for its life and looking to scrape a set piece.
So mind numbingly predictable.
Back in a couple hours to fume. Ale time to numb the pain.
Colin Glassar
6
Posted 17/09/2017 at 15:09:33
This team is all about damage control. A heavy loss today and Ronald could be in trouble.
Steve Ferns
7
Posted 17/09/2017 at 15:09:38
Surprised he's not gone with Stekelenburg to be honest. If you're gonna take the piss, why not really take the piss?
Anthony Hughes
8
Posted 17/09/2017 at 15:09:51
Looks like we're setting up to defend for our lives and hit them on the break with pace... Not!!
Clive Rogers
9
Posted 17/09/2017 at 15:14:00
Martina again? That's a goal down straight away.
Chris Watts
10
Posted 17/09/2017 at 15:15:12
The absolute best we can hope for is 0-0. Utterly demoralising. Lookman not even on the bench.
Karl Jones
11
Posted 17/09/2017 at 15:16:32
That's a Moyes "knife to a gunfight" team. How on Earth does Martina start after the Spurs game? No width as per usual. Once the first Man Utd goal goes in, it's over, because there's no goals in that team. 6-0 Man Utd.
Paul Doyle
12
Posted 17/09/2017 at 15:18:15
Looks like he wants to be sacked.
Ed Fitzgerald
13
Posted 17/09/2017 at 15:19:58
Not enough defenders on the pitch for my taste
Steve Ferns
14
Posted 17/09/2017 at 15:20:11
The biggest problem is Rooney will not stay forward. We will be camped on the edge of our own penalty area and he will drop deeper and deeper for the ball. There will be no out ball. There's no Calvert-Lewin or Sandro to push forward in Rooney's absence. There's no Klaassen to make a run from midfield. There's no height up front to aim at. It's just going to keep coming back at us all game long.
Charles Barrow
15
Posted 17/09/2017 at 15:20:34
Not a lot of speed and guile in this line up - but not much different from previous weeks. Could be a case of re-arranging the deckchairs on the good ship Everton. But . hope spring eternal!
Michael Lynch
16
Posted 17/09/2017 at 15:20:51
Not sure which surprises me the most - the inclusion of one of the worst defenders we've seen in a while in the shape of Martina, or the complete lack of pace when we're likely to be counter-attacking (on the rare occasions that we do attack today).
I'm sure Mr Koeman knows what he's doing .
Michael Lynch
17
Posted 17/09/2017 at 15:21:46
I bet Lookman wishes he'd gone out on loan this season
Mark Fitzgerald
18
Posted 17/09/2017 at 15:22:49
The lineup is no surprise. As has been said, it appears to be all about damage limitation today. And, lets be honest, a point today would be very welcome news. But it better be a 0-0 because it's hard to see us scoring. Surely with a back three, we could for once have forgone the double defensive midfielders in the centre. I would have benched Schneiderlin and included Calvert-Lewin.
Jeff Armstrong
19
Posted 17/09/2017 at 15:25:12
3 at the back with Keane, Jags and Williams has yet to work, all it does for me is increase the mistakes percentage.
Paul Ellam
20
Posted 17/09/2017 at 15:26:29
I fear a heavy defeat including goals from Lukaku and even Fellaini. Roll on January and maybe some reinforcements!
Alan J Thompson
21
Posted 17/09/2017 at 15:26:35
Say goodnight to the folks, Ronnie.
Clive Rogers
22
Posted 17/09/2017 at 15:27:11
Can't believe he has picked Martina again. He has given at least one goal away very game he has played so far.
Tommy Bowman
23
Posted 17/09/2017 at 15:30:13
5 at the back, 2 defensive midfield players... looks like we're going for the jugular.
Jeff Armstrong
24
Posted 17/09/2017 at 15:31:28
We must be due a Sigurdsson free-kick by now.
Colin Glassar
25
Posted 17/09/2017 at 15:32:37
How do you say goodbye in Dutch?
Paul Gallagher
26
Posted 17/09/2017 at 15:36:02
Rashford will rip Martina apart Today.
David Booth
28
Posted 17/09/2017 at 15:38:00
Koeman has spent £200m on new players since he arrived - and we still sh*t ourselves before a ball is even kicked.
I hope he gets sacked as soon as possible.
James E Evans
29
Posted 17/09/2017 at 15:39:05
Martina dreadful against Spurs, dropped against Atalanta but is somehow good enough to play at Old Trafford??
Koeman doing everything possible to get the sack it seems.
Mike Powell
30
Posted 17/09/2017 at 15:40:17
Think we're in for a rough afternoon. What sort of line-up is that?
Paul Gallagher
31
Posted 17/09/2017 at 15:41:02
I have been waxing lyrical about the All Ireland final, you lads should watch it before kick-off, so should Koeman and the team, they could learn something from these lads. Jeff Stelling and Chris Kamara commentating, bit surreal.
Frank Crewe
32
Posted 17/09/2017 at 15:41:09
Colin it's "tot ziens"
Mark McParlan
33
Posted 17/09/2017 at 15:42:42
I actually don't mind Martina playing when we opt to deploy a back 5 system with wing-backs. Cuco's defensive frailties are covered better by having three centre backs behind him. No one else in this team is going to give us pace, attacking movement, or crosses from that right hand flank.
Holgate is better suited to a back 4 where there's an extra man ahead to compensate for his inability to get forward and attack.
Andy Meighan
34
Posted 17/09/2017 at 15:43:07
Another game with Schneiderlin and Gueye in the line-up. It doesn't work.
Don't know if anyone else has hit on this but, when Gueye signed, he was our best player until he went off to the Afcon. When he came back, Schneiderlin was ensconced in the midfield and Gueye's game has suffered since.
No room for them both but this manager still persists with it and will continue to do so...
Jack Convery
35
Posted 17/09/2017 at 15:52:09
Got everything crossed. Makes yours balls ache though.
Mike Green
36
Posted 17/09/2017 at 15:54:20
I suppose, given the form were in, people want us to go away to one of the top performing teams in the league and have a nice, sporting, open game of football...
Steve Ferns
38
Posted 17/09/2017 at 16:04:49
Game over

Denis Richardson
39
Posted 17/09/2017 at 16:04:51
No Mirallas or Lookman again - so no width again.
Team looks like its set up to drive 3 or 4 deckers in front of the 18 yard box and hope.
0-0 at HT eventually losing 0-2 is my
Ian Lloyd
40
Posted 17/09/2017 at 16:08:56
Get this joker gone straight away after the game!
Denis Richardson
41
Posted 17/09/2017 at 16:10:58
Scrap that!
Steve Ferns
43
Posted 17/09/2017 at 16:13:01
1-0 down and we are playing 10 men behind the ball, and Rooney is not even anywhere near the half way line. This is a disgrace. We're playing like we are expected to finish bottom of the league. But judging by the last few games, maybe that is our level.
Ciarán McGlone
44
Posted 17/09/2017 at 16:14:01
Tactics working perfectly.. they're camped on the edge of our box and we don't look like having a single attack..
Thank God it's not an open game of football. Go Ronald.
Steve Ferns
45
Posted 17/09/2017 at 16:15:45
Yes Ciaràn, Go Ronald, and don't forget to shut the door behind you and leave your keys on reception.
Robert Walsh
46
Posted 17/09/2017 at 16:32:39
Koeman is stupid not playing any pace on the "wings" or up top. Rooney doesn't fill the criteria to be a 20-30 goal striker in the Premier League anymore. Look at the others. Aguero, Lukaku, Sanchez. All strong and fast.
No Sandro or DCL is immediately denying us any sort of counter attack. We should play Mirallas in an attacking role. We bought him from Olympiacos as a striker, play him there.
When Bolasie is back, he needs to start. He is strong, quick, agile and skillful. Him joint with Mirallas and DCL/Sandro is what we need as a front three. Not Rooney, Sigurdsson and Klaassen.
Start Klaassen or Gylfi as a CAM/CF behind the front three and just behind him have Gueye with either Schneiderlin or Tom Davies. Rooney will slot into either CAM/CF or ST in the front three. However, due to his lack of pace, if we are to play him up top he needs quick players around him. Not Sigurdsson or Klaassen, but Mirallas and Bolasie or DCL
One player I was really happy to see us sign was Henry Onyekuru. Bring him back from loan Ronald. He is a top quality striker with lots of talent. He's quick and a handful for defenders. Something Wayne Rooney is not...
Anthony Dwyer
47
Posted 17/09/2017 at 16:33:52
£11m on Lookman and he doesn't trust him, not even when were at an all time low.
No Lookman, Niasse, or Kenny even on the bench.
Colin Glassar
48
Posted 17/09/2017 at 16:48:55
Much better than our last three games. At least we're trying.
Kevin Tully
49
Posted 17/09/2017 at 16:50:07
Well done, Koeman. For £120,000 a week, you have my team playing like a non-league outfit. Long balls down the channels, 10 men behind the ball, and players devoid of any confidence. What a fucking shambles.
Ciarán McGlone
50
Posted 17/09/2017 at 16:50:26
I meant 'go Ronald'.. in the, er.. American sense..
The football is just so hard to watch.. we are trying to play further up the field, but the offensive outlet is simply not there.. Rooney is playing well. But he's doing it all himself.. Davies has a lot of industry but not much else and Siggurdsson looks bang average..
I'd switch to a back four and take Keane and Schneiderlin off.. at least put some attacking players on other than that we'll see out this game without a shot on target.
Tony Hill
51
Posted 17/09/2017 at 16:51:21
I think that's a vast improvement at half-time. We've largely kept the ball well and we've actually looked like a proper Premier League side. We could have closed down Valencia but it was a fine finish.
I'm delighted to see Davies looking sharp and I don't think anyone's had a bad half. Good work generally from Rooney and I think the often maligned Williams has also played well. Come on, lads, we can get something from this.
Ian Lloyd
52
Posted 17/09/2017 at 16:51:31
Wait for the "1-0 is a vast improvement" brigade...
It's not! We are hopeless at best and looking forward to "beating" teams like Brighton and Bournemouth to improve our league position is embarrassing.
Michael Morgan
53
Posted 17/09/2017 at 16:55:21
Koeman out and I'd take a chance on Sean Dyche.
Mark Morrissey
54
Posted 17/09/2017 at 16:58:00
I think we'd all agree with you Colin, they are at least trying which is good to see but make no mistake, this all about damage limitation for Ronald so he he isn't sacked in the morning. If we come away from this game with perhaps only a 3-0 loss then he'll be fine to keep his job.
What is not lost on me is the poor team tactics. We are set up to simply defend and never to score. This about Koeman keeping his job, nothing more, nothing less. He'll say " Okay, so we didn't win but okay, I keep my job, I'm off for a smoke and a pancake.

Mark McParlan
55
Posted 17/09/2017 at 16:58:13
Any evidence of Sigurdsson being a £45 million player yet?
Steve Ferns
56
Posted 17/09/2017 at 17:00:13
Michael, have you watched Sean Dyche? He's a dinosaur. He's coaching style is straight out of the 70s. I'd rather see Moyes back.
If we could appoint anyone though. I'd go all out for Bielsa and at least we'd be entertained by blue giving it all for 90 minutes, with 100 mph all action football.
Jay Harris
57
Posted 17/09/2017 at 17:01:58
Tony
Totally agree.
We have kept the ball well and with the exception of Schneiderlin and a Keane a vast improvement in performance.
My only negative is the lack of a proper center forward. Bill????
Ed Fitzgerald
58
Posted 17/09/2017 at 17:02:50
Four and a half games and seven shots on target, says it all.
Simon Bates
59
Posted 17/09/2017 at 17:04:11
So these are his senior players, yet the player showing the most desire and metal, despite bizarrely being played right of a front 3, is a 19-year-old?
Tom Davies is good enough, why is Jonjoe Kenny not ready?
They are vulnerable down that side, so we hit them with Martina... Rooney needs to keep hold of the ball, attacks are breaking down every time he gets it. Gana was outstanding again.
Joe McMahon
60
Posted 17/09/2017 at 17:05:24
Steve Ferns, I watch Burnley every now and then, my Mrs is from there. I take your point about Dyche, but he has won promotion to Premier league (Moyes didn't at Preston). Your man Moyes has also been sacked from his last 3 jobs. I don't want Dyche but Moyes is defo the dinosaur out of them two.
Dennis Ng
61
Posted 17/09/2017 at 17:08:31
I would sub Schneiderlin for DCL and put DCL where Sigurdsson is, move Sigurdsson to slightly above Gana. I think RK is using the players wrong. Not much pace to break on the left and poor ball movement in the middle.
Michael 53, Tuchel is available. If we fire a world class ex-player, we must do better and try hire someone who did well with both Mainz and BVB.
Damian Nolan
62
Posted 17/09/2017 at 17:44:09
I blame Koeman for that pass by Williams as it could not possibly be the player's fault. That isn't allowed. Koeman is at fault for everything.
Ed Fitzgerald
63
Posted 17/09/2017 at 17:44:43
It is his fault for fucking buying him
John Harrop
64
Posted 17/09/2017 at 17:47:50
.. and now the unpleasant Belgian has scored.
Ralph Basnett
65
Posted 17/09/2017 at 17:50:26
Koeman lovers hoping watching this utter shoite!!!!!
Tony Hill
66
Posted 17/09/2017 at 17:51:48
Now then, that is a performance to build on. The result is irrelevant. Lukaku's reaction tells us all we need to know about him, as if we didn't already.
I though we outplayed them for much of the game and the result is an absurdity. The best we've played for ages and I am heartened.
The remaining problem, and it's fundamental, is the absence of a proper striker. But as one of the main opponents of Koeman, I have no complaints at all after that.
David Johnson
68
Posted 17/09/2017 at 17:54:23
Good effort lads
Ralph Basnett
69
Posted 17/09/2017 at 17:54:31
Should have typed "Koeman lovers hope you are watching", but its all the same, bottom three and only Palace with a shit as us goal difference and look at what happened to their manager!!!!!!!
Mark Morrissey
70
Posted 17/09/2017 at 17:54:38
I cannot understand taking Rooney off. Big error. It ought to have been Schneiderlin off, Calvert-Lewin on.
And then, the moment he has been waiting all summer for, Lukaku peeling away from our fans with his hand to his ear, one word, shithouse. Couldn't show any respect whatsoever
Koeman, pack your bags. We are bottom three and it's down to your team set up, you're clueless. Rooney should not have been subbed when we had the unexpected upper hand. Clueless
Tony Kost
71
Posted 17/09/2017 at 17:54:59
Rooney - poor - far too many unforced errors and not intelligent enough when he had a couple of chances.
Ashley Williams - what an error!. I feel sorry for Tom Davies who has too much on his shoulders.
Lots of possession - but no penetration!!
Not one of the team seems to have half the footballing brain that Gareth Barry had!
A sad loss
Just what has our big summer spend bought!! - Koeman - found out so soon.
It reminds me of the waste of the Walter Smith years!!
Another 2 goals shipped while I was typing - Lukaku - Break a leg gobshite!!
PS Stephen Brown # 72 - I don't quite understand
Stephen Brown
72
Posted 17/09/2017 at 17:57:17
Strange as it sounds but that 4-0 loss has bought Koeman a few games to save the season!
Ian Lloyd
73
Posted 17/09/2017 at 17:57:36
OMG – why did he take Rooney off?!? Absolutely clueless – I expect his resignation tonight.
Ed Fitzgerald
74
Posted 17/09/2017 at 17:57:51
You are talking shite, Tony, we have now conceded 12 goals in the last four games and haven't scored a goal. We had a formation that made no sense at the outset and was destined for a defeat.
What other Everton manager would survive such a series of results and the dreadful, dour ineffective tactics. He has spent a fortune and we are third from bottom. Not good enough, sack him now.
Jimmy Sørheim
75
Posted 17/09/2017 at 17:58:23
I refuse to stand by the club selling Lukaku. Kenwright has to go, he has no clue whatsoever of what needs to be done to make Everton great again.
Ciarán McGlone
76
Posted 17/09/2017 at 17:58:31
The absence of a striker is irrelevant in that formation..
Manchester United are nowhere near title contenders and were especially poor in the second half, and yet we continued to play 5 at the back and 2 defensive midfielders for most of the game... Even when we had most of the ball, we had no clue what to do with it.. one shot on target says it all really.
Another startling substitution from Koeman, Gana was giving his usual consistent performance and gets the hook ahead of the hapless Schneiderlin who was having another crap game.
There are no positives from that game. Koeman is out of his depth.
David Morgan
77
Posted 17/09/2017 at 17:58:43
Ridiculous, Tony. That's a performance to build on? Are you kidding.? 4-0 and they had chances to score more. Lukaku the latest in a long line of players who embarrass us. We turned up for a beating, realised they were happy with 1-0 and eventually started to attack.
Nobody should he happy to lose 4-0 with any performance, – those days should have been over; this was not a great Man Utd performance. Hopefully, Koeman has the brains to drop players making mistakes, change formation and attack teams from the start.
Paul Rimmer
78
Posted 17/09/2017 at 18:00:15
We played a bit better today. Rooney guilty of giving the ball away but it seemed it was his job to create everything and score the goal today. Too negative to start and the inevitable tiredness crept in.
Andrew Keatley
79
Posted 17/09/2017 at 18:00:17
I think people saying our performance was better are missing the point. Man Utd allowed our midfielders to have decent possession of the ball on the halfway line – and still we didn't really cause them many problems. We just restricted them from having too many chances as their players put in a lacklustre display.
Not nearly good enough for me, and so Koeman has to go. We are too tentative, too de-energised and too prone to mistakes and capitulation.
Mike Green
80
Posted 17/09/2017 at 18:00:34
Tony Hill #66 - my sentiments exactly, with you all the way.
Phil Smith
81
Posted 17/09/2017 at 18:01:27
We played well there until Rooney came off. Then we fell apart. Never looked like scoring though. Time and time we got into good positions and there was nobody to put the ball into the box to.
If we can't do more attacking, we have to defend more. Hence, we're losing without looking like scoring. Need to start playing with two up top (Sandro and Calvert-Lewin???) with Rooney, who had a great game today, in behind. Need a result next game, big time.
Tony Twist
82
Posted 17/09/2017 at 18:02:21
Hopefully Koeman will have the brains to drop players!! The one that needs dropping is Koeman. It's Valencia all over again for him. Should be sacked, he hasn't a clue.
Joe McMahon
83
Posted 17/09/2017 at 18:02:48
Yes Lukaku is a... whatever. Don't matter as, yet again, he's proved why he was right (for him) to go; he will play in Champions League and win things.
We have Rooney who in 2017 does what exactly? Why, oh why didn't we sign a proper striker, and a Baines replacement? Arrrggg!
I said at the beginning of season we would finish below WBA; what I didn't think was we would also below a lot more.
John Smith
84
Posted 17/09/2017 at 18:02:57
"What other Everton manager would survive such a seies of results and the deeadful, dour ineffective tactics"
Dour Dave... for eleven long and painful no-cup-winning years.
Peter Gorman
85
Posted 17/09/2017 at 18:03:26
Garbage – I would love the club to act now but this is Everton.
Paul Smith
86
Posted 17/09/2017 at 18:04:03
Just left the game.
Taking Rooney off was madness. Sigurdsson is a fuckin hairdresser & hates tackling.
Better display overall but horror show from Williams. Lukaku is classless, makes Rooney look like a Lord & gentleman.
Where next? No idea.
John G Davies
87
Posted 17/09/2017 at 18:05:11
Tony Hill, you stand your ground, mate. We were the better side for 80 minutes. Best performance of the season.
Jerome Shields
88
Posted 17/09/2017 at 18:05:43
Koeman's tactics were to have his senior players defend and frustrate, with the hope of nicking a goal from a set piece. Experienced players who learnt these tactics before they came to Everton where used. Koeman got the result he deserved – just like he did against The Italians.
No wonder creative players are and will be looking away It's all about saving Koeman. The longer he is manager, the delay in revitalising Everton into a top 4 side will continue. Things may also get worse.
Clive Mitchell
89
Posted 17/09/2017 at 18:05:46
Some of the stuff on here is absurd. A dog could see that that was a vast improvement on the last two outings.
As for Lukaku, what a Prince amongst men. But remember Romelu, there'll come a day when you're on the decline. And you'll reap all you've sown.
Kevin Tully
90
Posted 17/09/2017 at 18:06:15
I sometimes wonder just how low expectations can sink at this club. Well played? Really?
It seems we really should be in the Championship after all.
Tony Hill
91
Posted 17/09/2017 at 18:06:23
Ed (#74) and David (#77), since I was ahead of you both in calling for Koeman's head, I really don't give a fuck.
Anyone who watched that game and didn't see a significant improvement is only watching his prejudices. I still want Koeman out but I will give credit where it's due.
George Cumiskey
92
Posted 17/09/2017 at 18:06:52
Terrible, terrible, terrible decision to take Tom Davies off – he was our best player, after that we had no drive from midfield.
Koeman just cannot see our deficiencies, Baines is absolutely finished.
Bite the bullet, Ronald, and resign for everyone's sake.
David Morgan
93
Posted 17/09/2017 at 18:07:18
Happy losers!!! disgrace. When we get beat 6-0 by Liverpool will you be happy? a good performance though. Act now in whatever way that is to change things.
Ian Riley
94
Posted 17/09/2017 at 18:07:37
Steve (#56), Burnley look solid and have pace going forward. They sold Keane and don't look worse off for it. Dyche is a very good manager and similar to Moyes in defensive styles. We can't score or defend, massive problem.
Today, expect nothing got nothing. We are in trouble.
Jaidee Budsabarati
95
Posted 17/09/2017 at 18:10:23
Looks like Baines can't be there after January. He always is not a good defending player and now he's passed his best attacking form for a while. I don't know what I can expect for him any more.
Michael Morgan
96
Posted 17/09/2017 at 18:11:30
Steve, I would have Bielsa too, but realistically I don't think he would come to us.
Sean Dyche on the other hand could possibly be tempted. Reference his tactics, I'd take his tactics over Koeman's anytime.
This season so far, Burnley have played away at:
Chelsea and won 3-2
Tottenham and drew 1-1
Liverpool and drew 1-1
5 points from a possible 9, with a plus 1 goal difference.
Everton have played:
Man City away and drew 1-1
Chelsea away and lost 2-0
Tottenham home and lost 3-0
Man Utd away and lost 4-0
1 point from a possible 12 and a minus 8 goal difference.
Christian Watson
97
Posted 17/09/2017 at 18:11:48
I turned off after second goal (the kids wanted Peppa pPig on) and was heartened by what I'd seen. Now I find out it finished 4-0. Outrageous and very flattering. No doubt the knives are being sharpend by the tabloids for tomorrow's back pages.
Devastated Lukaku scored, and his celebration was apparently full on. Does he not appreciate we put him where he is now and Mourinho fucked him off at Chelsea? It's all about the money, Rom; all that shite last week on BBC saying you wanted to play for Mourinho since you were 11 (you did and he didn't rate you). Utter shite. C'mon Everton!!!!
John G Davies
98
Posted 17/09/2017 at 18:13:21
Tony Hill. Spot on again mate.
Massive improvement on what we have seen this season.
Steve Ferns
99
Posted 17/09/2017 at 18:13:23
Have we ever had a worse run of results? 0-2, 0-3, 0-3, 0-4.
This is worse than Mike Walker, never mind Walter Smith.
Colin Glassar
101
Posted 17/09/2017 at 18:14:17
A lot better than the last few games. The score line flattered the Mancs but, when you've got a defender like Williams, it's always going to be a struggle.
Ronald might just be given a few more games now.
Michael Kenrick
102
Posted 17/09/2017 at 18:14:24
That was significant insofar as we saw what I believe was the very best of form from Wayne Rooney – perhaps the best form we will see from him this season as he had everything going for him and he just could not do it.
Rooney played well in Everton terms but came up woefully short in terms of ball retention, pass accuracy, speed, skill, and – most important of all – ability to bang the ball in past the opposition keeper. That is really sad as it underlines how hugely lopsided the 'trade' of Lukaku for Rooney was, how much it will do for the Red Devils, and how little it will do for us.
Steve Ferns
103
Posted 17/09/2017 at 18:15:39
It was a massive improvement down to players who Koeman then took off. He cocked this one up. How many more errors must we have to put up with?
Mark Andrews
104
Posted 17/09/2017 at 18:16:56
What were Koeman and Walsh doing this summer? Well, apart from wasting money on lots of Number 10s?
Note to Mr Moshiri: don't leave the petty cash laying about, the underlings will waste it.
Brent Stephens
105
Posted 17/09/2017 at 18:17:46
We've got to limp to January and then break the bank for a striker –IF we can attract anybody of worth willing to join a bottom half side, and that's the fear.
This isn't good. Maybe for that reason Koeman might, might, just actually go before then so we don't just limp through to January.
John Smith
106
Posted 17/09/2017 at 18:17:59
Williams broke up that many of their attacking movies and passes, I don't get the hate he gets on here.
Derek Knox
107
Posted 17/09/2017 at 18:18:19
Koeman has proved with his subs that he hasn't got a clue, although the game before then showed signs of improvement.
I really think he should do the honourable thing and resign.
If we persevere with this dross too long, we will be in the Championship.
Mark Morrissey
108
Posted 17/09/2017 at 18:18:34
I think we only started to look better when Man Utd decided to take their foot off the gas. A better effort but Davies off, Rooney off... really? Very bizarre.
I felt Tom was our best player today but I suspect Ronald will still think its Schneiderlin.
Moshiri, sack the Dutchman.
Christian Watson
109
Posted 17/09/2017 at 18:19:11
We'll end up with the 2018 version of Brett Angell!!
Brian Williams
110
Posted 17/09/2017 at 18:19:12
Results often hinge on a split second occurence or an individual mistake.
Today's game hinged on Williams's atrocious pass to a Man Utd player while under no pressure whatsoever. You just can't plan for those moments, other than getting rid if it's a "serial offender".
We played better in the second half up to Williams's fuck-up but still have/had no threat in the last quarter of the pitch. Can't see that changing 'til January and probably not even then.
Having said all that, it is an ABSOLUTE DISGRACE that we're in the state we are!
Mark Andrews
111
Posted 17/09/2017 at 18:19:52
Word is that in the summer holidays, Lookman looked after Koeman's hamster and it died.
Koeman won't forgive him.
George Cumiskey
112
Posted 17/09/2017 at 18:20:29
How sad a club we have become when we are celebrating how well we played when we've just lost four-nil!
Peter Barry
113
Posted 17/09/2017 at 18:20:38
Koeman has got to go – his incompetent inept substitutions caused this collapse just when we looked to have steadied the ship with a battling performance, if not a good result.
But letting in those extra three goals puts us firmly in the bottom three – can anyone see us getting out of there? Because I can't with Koeman in charge...
Brent Stephens
114
Posted 17/09/2017 at 18:20:53
Evidence in that game that we can play going forward. But, my god, that defensive side needs sorting.
Aarron Stobie
115
Posted 17/09/2017 at 18:22:10
Listened to the game; we need to drop Schneiderlin and start Besic. We didn't really play well in defence but showed better attacking threat today.
I think it's time for Koeman Out!
Clive Mitchell
116
Posted 17/09/2017 at 18:22:55
Steve, 99, you obviously don't remember Mike Walker. First 11 games of the season 2-2, 1-2, 0-4, 1-2, 0-3, 2-2, 1-1, 0-2, 0-2, 0-2, 0-1: 3 points.
Michael, 102 - can't believe that's your considered view.
Colin Glassar
117
Posted 17/09/2017 at 18:23:27
Who's celebrating, George? Some of us are saying it was an improvement on recent games. If you can't see it was a better performance for 82 minutes....
Paul Kossoff
119
Posted 17/09/2017 at 18:26:37
I watched the game and would have been pleased with a one-nil defeat, because we played well, and frustrated Man Utd.
We could have had two or three goals with Rooney well placed to shoot but hit the keeper each time. Rooney tired in the second half and five times in succession gave the ball away. Williams actually done well until he passed straight to a red shirt and United scored.
The score does not reflect our performance, we were the better team in parts. The fact we didn't replace Lukaku is hitting us hard.
Calvert-Lewin came on and stood on the wing! Rooney dropped deeper when Sandro came on and Sigurdsson... well, if we payed 㿙 million for him, I hope Bullshit Bill payed in counterfeit cash because we have bought a dud!
Let's hope we get some luck from now till January; if not, we could still be in the bottom three by the New Year.
Henry Lloyd
120
Posted 17/09/2017 at 18:27:01
I don't think there is any other choice than to sack Koeman immediately. I said this would happen and we would be spanked and humiliated. This is the right time to sack him.
Lukaku showed exactly who he is when he scored his goal and he is indeed a fucking scumbag. He didn't do himself any favors for that celebration and no respect for the fans at all. None of that matters anymore.
The facts are we are in the bottom 3 and our goal difference is minus 8 and Koeman has to take responsibility. Ashley Williams, as I rightly said 2 weeks ago is an absolute fucking liability. Jagielka is done and dusted; he had some fantastic years at Everton but your time is up, Philip – please do one asap!
Tom Davies – I don't understand where all the praise comes from; he can't control a ball in any way, is never in the correct place to receive the ball, and I don't rate him at all...
What are the positives from that game? None whatsoever. Suckered like muppets in the Sunday school league when we could possibly have scored on several occasions. We are bang in the shit and need a total change of direction and Koeman has got to go NOW!!!
George Cumiskey
121
Posted 17/09/2017 at 18:27:51
4-0 – an improvement on recent games! Well, I do declare!!!
Fran Mitchell
122
Posted 17/09/2017 at 18:28:09
Koeman's decisions were woeful.
Sandro on for Davies, criminal.
Gueye off? He is the type of player you just don't take off. Schneiderlin on the other hand....
Williams played the entire 90 minutes. Sigurdsson having zero impact as a wide forward. He is just is wasted out there.
Even when we play 'well', we get tonked. These last 4 league games were a test to Koeman's ability as a manager. Four games against four teams who finished above us and who aim to compete with. We lost, were humiliated, in three and scraped a draw against 10 men in one.
Koeman failed that test. No matter what he manages to do, he will never take away this abysmal sequence, a sequence that no top manager would allow to happen. Koeman has proved he will never be a top manager, and for that reason, It is better we end his tenure. Whether wse have to sack him and pay him off doesn't matter.
Dave Abrahams
123
Posted 17/09/2017 at 18:28:16
I think the 4-0 scoreline really flattered Man Utd. We had chances to equalise, a goal fractionally offside, we played a lot better than in any game this season (I know we couldn't have played any worse) especially in the second half, and had two or three chances to score.
We were well in the game until a very poor pass from one of our defenders set Man Utd up for their second goal and it was all over then, seven minutes from the end.
Schneiderlin was poor again, why is he going down on the floor to make a tackle, which resulted in the penalty? Stay on your feet and you would have made a better effort than that.
We got hammered (by the result) but maybe deserved a draw. I'm still not happy with Koeman but agree with Tony Hill – that performance gives me some hope for future games.
Jay Harris
124
Posted 17/09/2017 at 18:28:33
A very significant point Michael.
I was all for Lukaku going as I thought we would replace him with a similarly talented goalscorer with a better attitude.
I have to say pace on the break and finishing together with a huge slice of luck were the only difference in the sides today.
Well done Ronald for extracting a better performance now work out how we can score.
Brent Stephens
126
Posted 17/09/2017 at 18:29:29
Were the subs meant to make us more attacking and get a draw? What many have been calling for – "go for it".
Ian Riley
127
Posted 17/09/2017 at 18:29:31
My only thought: Why Koeman will be given a few more games is the opposition we have played up to now. Risk is we don't pick up points in our next three games and calling Big Sam, Sean or David is a must.
Why one of those managers? Simple: we will be in a dog fight at the bottom of the league.
Ed Fitzgerald
128
Posted 17/09/2017 at 18:29:35
Tony Hill, I will tell you what I saw:
An ultra-defensive formation at the outset condemning us to defeat
An early goal that allowed Man Utd to sit back and think these fuckers are never going to score
A period of relatively meaningless possession by Everton with a couple of chances created by the tireless Davies and some good play from Rooney.
Substitutions that made little or sense, Davies off, Gueye off??? Whilst his favourites Schneiderlin and Sigurdsson stay on.
If you are really happy with that and think credit is due, then you are more easily pleased than I am.
Was it better than Atalanta, Spurs, Chelsea or even for that matter Man City or Stoke City at home? Not really... it was the same cowardly negative football served by Koeman.

Michael Lynch
129
Posted 17/09/2017 at 18:29:43
I tend to agree with Michael @102 - that was as good as it gets with Rooney and he showed some lovely touches but he also gave the ball away again and again, missed relatively easy chances, and ran out of steam after about 75 minutes.
Rooney and Sigurdsson in tandem doesn't seem to be working, perhaps we should play either one or the other. Perhaps if we'd had a striker on in front of one of them, we would have scored when we were dominating the game.
Taking Tom Davies off was a head-scratcher for me, he was our most dangerous player. Martina had a good game, no errors in defence and dangerous going forward.
Calvert-Lewin unfortunately is not the answer, much as I wish he was.
Trevor Peers
130
Posted 17/09/2017 at 18:30:32
Taking off Davies was a huge mistake, he was our only outlet, but it didn't surprise me Koeman just doesn't know what he's doing.
All modern sides have wingers and decent strikers; we don't. Why? Because the manager has sold them all or won't include them – what a joke.
He's got to go, but just when, only the owners will decide. Better not leave it too late though, or we will be doomed.
Tony Hill
131
Posted 17/09/2017 at 18:32:10
What was so encouraging was that we passed precisely for most of the time (I am aware of the times when we didn't) and actually showed some movement. We just looked smart and, above all, this was a side trying for the manager. We fucked some things up but we played football, for the most part, as it should be played.
Of course, it was miles from perfect but there won't be many sides who go to Old Trafford this season and have more possession. We desperately need a striker as we all know, but I can see a side emerging.
I don't think Koeman's the man to do it but that performance today lifted my heart.
Michael Lynch
132
Posted 17/09/2017 at 18:32:16
Koeman blaming the players. Fair enough, it is down to them. So why are we paying him £6m a year?
Jon Withey
133
Posted 17/09/2017 at 18:32:38
Well ,the scoreline was as expected but the performance was better in parts. That kind of highlights just how poor we have been in the last few games.
There isn't really much to be done until January – but I think that was our best side before he started making subs.
Williams has been a poor buy and Jags is past it now bless him.
It makes me laugh how obvious it was we would miss Lukaku – almost too obvious – like it became the elephant in the room that nobody wanted to admit... Why no quality No 9? We were toothless before Lukaku for years; now, here we are again.
Mark Riding
134
Posted 17/09/2017 at 18:34:40
Sean Dyche? Hahahahahaha... Go and give your heads a wobble lads.
James Macdonald
135
Posted 17/09/2017 at 18:35:20
I thought Schneiderlin, Gueye, Davies and Rooney had pretty reasonable games and Martina is ideally suited to 4 at the back. Important we do not despair as we now have a run of fixtures ideally suited to boosting confidence.
While Lukaku missed a real sitter that should have made it 2-0, both Rooney and Sigurdsson had criminal misses. The reality is we still should come 7th and we should still be able to qualify for the Europa League.
If things have not evened themselves out by December, Koeman is going to need to go cap in hand to Ross Barkley to dig him out the hole.
Guy Hastings
136
Posted 17/09/2017 at 18:36:06
1-0, 1-1 (and outclassed by ten men), 0-2, 0-3, 0-4 as my mate Pete pointed out – bit of a pattern here. And we both agreed that Lukaku would get a goal that didn't count – classless bastard if ever there was one.
Tahir Abdullah
138
Posted 17/09/2017 at 18:38:05
Rooney's class and leadership should have been capitalized on while he had the legs... MotM today and his substitution was key to that collapse. Williams's error unfortunately overshadows much of the good work he did get through.
Also... what's the point of Schneiderlin? We would have been better holding on to Barry I think..
Tough run of games done... Koeman's post match reference to lack of confidence is pertinent. Some green shoots today... Onwards and upwards; NSNO!
John Charles
139
Posted 17/09/2017 at 18:38:45
Almost home from the game. We were definitely better but thought all afternoon that Man Utd were in second gear.
I am growing increasingly less confident about Pickford and Keane... though willing to give them a chance. Williams, Schneiderlin, Sigurdsson and Baines, however, offer nothing. Martina, Davies and Rooney were our best players.
Rooney was fucked so I can understand the sub but Davies? Sandro and Calvert-Lewin were like headless chickens.
As I said, we were better... but god knows when we are going to score again ,never mind win a game!!!
We will see Wednesday as Koeman has got to rest half the team who are out on their feet.
Kenny Smith
140
Posted 17/09/2017 at 18:40:51
Yes we've had some shockingly shite results... but sack him? Really?
We've also had some shockingly shite fixtures for the players to bed in. We've made some errors in the transfer market especially in not getting a striker and another centre-half but I think the main issue is too many players coming in at once.
Things should pick up and we should get some points on the board over the next 3 weeks. If we don't, then I think it's fair enough to look elsewhere.
You know Moyes will be back with a 5-year deal if we sack him, don't you? Be careful what you wish for!!!
Tony Hill
141
Posted 17/09/2017 at 18:43:28
Ed (128) , look mate, I hate seeing any Everton side lose. I think we've been generally shit which is why I want Koeman gone. The absence of a serious striker is an absolute shocker and as I have said, rather more frequently than most on here, that is going to cost us, as it did today.
But I'm not going to say we were bad when we weren't. If we're going to get out of this swamp, then we need to tell each other the truth.
Colin Glassar
142
Posted 17/09/2017 at 18:45:03
You know I'm not talking about the result George. We've been beyond pathetic the last few weeks. That, despite the score, WAS an improvement.
Jeff Armstrong
143
Posted 17/09/2017 at 18:47:50
Koeman persuaded Lukaku to stay for another year in the close season last year. He has known for 3 transfer windows he was going, and did jack shit to find a replacement; that is criminal.
So, or all the improvement at times today, we still can't score a goal. We could improve and improve with each defeat, but it means nothing if we don't score.
Also, how can such a defensive team defend so badly?
Sam Hoare
144
Posted 17/09/2017 at 18:47:50
A better performance at least. Something to latch onto.
We've very possibly played the top 4 this season now. And it's gone terribly.
The base test for this new team is how we do against the clubs with more similar resources. It was always unlikely that so many new players would gel instantly. Look at the likes of Mihktaryan, a top class player who took a year to get up to Premier League speed.
We lack a quality striker. That much is clear. I would say we lack a left wingback too. But today there were a few signs of encouragement.
No way Koeman is getting sacked yet. The board will give him more time. If we're still in 18th spot in 6 weeks, then he'll be under serious pressure. Even if you've got new players, you have to get results one way or another.
David Connor
145
Posted 17/09/2017 at 18:49:12
In short, Koeman should have 3 games to save his job. Lose any or, in my opinion, draw any, and he should get a big boot out the door.
Worst defence in the Premier League and – although the side played better today – it was still a 4-0 hammering and scoring goals seems impossible at the moment. Massive games we simply have to win...
Oh, by the way, Ron, fuck that joke of a defender Williams off – he is absolute dogshite.
Martin Mason
146
Posted 17/09/2017 at 18:51:38
Michael @129,
I think a player like Rooney today who was central to every positive move that Everton made is going to be seen to give the ball away a lot and for people to perhaps forget how well he played today. I think that Barkley has the same problem.
I agree with Michael that Rooney had a great game today but he can't do 90 minutes at that pace.
George Cumiskey
147
Posted 17/09/2017 at 18:55:37
Okay, Colin, we'll agree to disagree, but the substitutions were mind-boggling.
Dave Williams
148
Posted 17/09/2017 at 18:55:53
Trying very hard to be objective rather than succumb to my overwhelming sense of anger at the state we are in... and yes, we were half-decent in the second half for half-an-hour.
Terrible distribution from Williams and Jags putting us on the back foot so often. Rooney lost the ball way too much and is sadly well in decline, albeit still a decent player. I thought Martina played very well and agree that the subs were wrong. Surely you don't take off your midfield workers like Davies and Gana for strikers?
Yes we were better but lost 4-0 on top of three bad results and zero goals scored. If we don't score in the next two games, then we really are in serious trouble.
So depressing after such high hopes for this season.
John Charles
149
Posted 17/09/2017 at 18:59:35
He is easy to bash because he definitely isn't what he was but Rooney has been our best player this season by a country mile.
Not much competition admittedly but not only does he work his socks off – he is the only one with some genuine class.
Eric Paul
150
Posted 17/09/2017 at 19:01:54
How can that be an improvement? 2-0, 3-0, 3-0 now 4-0... I'd say that's the worst result so far.
The only stat that counts is goals scored... of which we have fuckin 2!!!!
Colin Glassar
151
Posted 17/09/2017 at 19:02:15
I get were you are coming from, George. I'm not denying that both the team and manager have been utter garbage in recent weeks.
All I'm saying is that, at least, for 80 mins we played like something resembling a team. Recently we've been playing like 11 strangers so, in my opinion, this was an improvement. Saying that, we need a helluva lot more work to do.
As for the subs, I want to believe that he thought with the introduction of Ramirez and Calvert-Lewin, we could get the equaliser. Maybe it's that I'm just being delusional.
Sam Hoare
152
Posted 17/09/2017 at 19:02:27
A huge portion of blame lies at the feet of whoever denied us a proper striker in the transfer window.
Brian Mahoney
153
Posted 17/09/2017 at 19:07:02
On the coach still, outside Old Trafford, the day just gets worse.
Jimmy Hogg
154
Posted 17/09/2017 at 19:09:38
Let's all keep the faith for the next few games and see where we are after the Bournemouth & Burnley games. All will come good.
Jim Bennings
155
Posted 17/09/2017 at 19:11:27
I can't even be arsed to comment or even think about that joke of a club that calls itself Everton, a whipping boy for the top sides. An embarrassment of a club from top to bottom, we haven't even got the spine or backbone of the likes of Burnley or Swansea.
Pathetic away record, won 2 of the last 20 away games, get ripped apart virtually every time we come up against a top side.
And fans called Lukaku a flat-track bully? Nah, it's just that he played for a club with a defeatist loser's mentality that only scrapes wins against mediocre opposition.
I loathe watching this Everton side, it's been shite for months now. I was at West Ham in April when they bored me to sleep almost.
I can't honestly see it ever happening for Koeman now, the loss of Lukaku has simply been something that has been too much for him to adapt to. Whereas Moyes thrived in having few options in injury crises, Koeman seems lost, completely lost.
Let's not forget last autumn too; we went from September to the middle of December winning just ONE match! Really – aside from a decent home run after Christmas (mostly due to Lukaku's goals) – it's all been pretty poor from Koeman in his 16 months to date...
Jim Bailey
156
Posted 17/09/2017 at 19:12:07
So we lose 4-0 and, all of a sudden, lots of posters in various ways say they are pleased. Well, I suppose 4-0 is better than 5-0. No wonder that the club is/has been happy to dole out mediocrity for what seems like an eternity, when people are publicly pronouncing their satisfaction at a 4-0 thumping.
Oh wait. Maybe it was better because it was only 1-0 with seven minutes left and our poor darling players got tired and "collapsed".
Yes, I understand that it is a mental and physical game, which means surely that Koeman and the backroom staff should be aware of this. To me, they don't appear to be due to the head-scratching positions to which certain players are deployed, and the often bamboozling substitutions.
After 52 years watching Everton, I can't believe the comments of some on here insomuch as they appear delighted at today's result. You know what, guys, maybe you have the team and club you deserve.
Ask yourselves for example what the attitude of Liverpool supporters would be after losing 4-0 at Old Trafford, especially coming on the back of such a poor run of results as Everton's?
Me, I'm far from happy and I think the club has made a huge error of judgement in appointing Koeman. I hope Moshiri is as equally underwhelmed as myself and has a plan of action if things get any worse.
Soren Moyer
157
Posted 17/09/2017 at 19:12:24
No wonder this club going nowhere, when we are happy and proud when our team has just been battered by a half-decent Manure team!
George Cumiskey
158
Posted 17/09/2017 at 19:12:45
Yes, Colin ,by all means bring on the subs but not at the expense of our best player. Ànd Baines is definitely finished as a top Premier League player.

Dave Williams
159
Posted 17/09/2017 at 19:14:32
Sam, – or who decided to splash 㿙 m on yet another No 10 without having a striker or centre-back or left-back in first – let alone wide players who he rated as good enough to be selected?
He has had plenty of money and he has the final say on how it was spent!
Michael Williams
160
Posted 17/09/2017 at 19:14:39
Lukaku goal and assist against us. Still a flat-track bully anyone?
Jay Woods
161
Posted 17/09/2017 at 19:15:11
Of course it was an improvement, insofar as they actually looked up for it and played the shirts off their backs for most of the match, unlike in the previous 3 games.
But the collapse at the end looked like a morale issue, which is arguably "only human" after the previous dismal results.
I agree with others who said the substitutions were lethal, but the greatest death blow on the day was the liability that is Williams. He simply has no rightful place in any side with the aims we are supposed to possess. And yet again, he fouled up catastrophically near the end of the game; didn't he do the same last season at Old Trafford and cost us a win?
So, my estimated blame matrix for today's result (ignoring any role United had in it):
Williams for the faux pas that led to the 2-0: 40%;
The previous poor results' effect on mental strength: 10%;
Koeman's substitutions on the day: 15%;
Koeman's lineup and formation: a surprisingly low 5%;
The failure to either keep or replace Lukaku: 25%;
The mistake buy that was Sandro: 5%
Andy Meighan
162
Posted 17/09/2017 at 19:16:16
Harsh scoreline... But those calling Williams today are harsh. Yes, he fucked up for the 2nd goal but overall had a good game.
Koeman and his substitutions cost us that because, when Rooney and Davies were on, we were in with a chance. Why oh why didn't he take that useless twat Schneiderlin off, or the very ineffective Sigurdsson?
And by god that's looking like £45 million pissed against the wall, isn't it? Shocking fee for an average player, in my view. No goals in 4 now and leaking goals alarmingly. Worrying times.
Ed Fitzgerald
163
Posted 17/09/2017 at 19:17:15
Tony Hill,
Thank you for your comment, I take your point about today not being as woefully bad as Thursday. However, to retort, I think people who think they witnessed a significant improvement are deluding themselves for the following reasons:
1. I'm not sure we could have been any worse than Thursday – so we are judging from a very low starting point.
2. For all our possession, there was very little penetration from us.
3. Man Utd were in second gear from the moment they scored until they carved us to ribbons a la Spurs and Atalanta
4. The same nonsensical formation has defenders and midfielders defending so deep, we are always likely to concede.
I am not a fantasist; I don't expect Everton to win every game playing champagne football. I do however expect them to adopt a philosophy that at least shows they have the intent and means to attack the opposition.
David Israel
164
Posted 17/09/2017 at 19:17:32
All right, I agree, this was an improvement in performance, if you forget the fact that Man Utd seem to score most of their goals in the last ten minutes or so.
But it is also an improvement, only in comparison to the utter shite we have been displaying so far.
It is not the next league fixtures that will decide Ron's future; it will be Simon Grayson and Sunderland who'll do it, I'm afraid. Oh, and James Vaughan!
Tony Marsh
165
Posted 17/09/2017 at 19:18:12
Those of you out there who still embrace the Europa League – well, this is what you end up with. A team shattered and already in a relegation fight after 5 games. Sooner we are out of that ridiculous tournament, the better.
As for the bunch of shithouses in charge of our club – shame on the lot of you! That snake-oil salesman Kenwright and his Muppet mouthpiece Moshiri need shooting for allowing this shit to happen.
Koeman should've been fired after Thursday night's pathetic capitulation. I have a horrible feeling that Bill Kenwright will be telling the bullshitting Iranian to keep Koeman because, if we go down, we will dodge the bullet of the imaginary new stadium.
This might sound crazy and extreme but I wouldn't put anything past the horrible slime balls that run this club. The more I watch us go down the khazi, the more I detest Kenwright and his new lapdog Moshiri.
This is so serious for Everton – our Premier League survival is looking doomed. Bring in the Rhino or Big Sam. We need change now. We need rescuing from Koeman now. The players need a new form of energy to feed off now.
The crap being served up by this Dinosaur Koeman is shameful and disgusting. Not only is he ruining the club – he is shitting all over the fans. Basically taking the piss.
I hope we lose to Sunderland heavily; maybe the board will act then but I doubt it. Forget cup runs and Europe – we need to stay in the Premier League or we are finished forever. The way it's going it will be so hard to accomplish.
Koeman out please, FFS – before its to late to be rescued.
Jamie Evans
166
Posted 17/09/2017 at 19:18:42
Much improved despite the scoreline. At last some bottle and fight.
Sean Dyche? – Jesus Christ.
Rick Tarleton
167
Posted 17/09/2017 at 19:18:54
Sorry, I got it wrong. Rooney didn't score at all, Schneiderlin didn't run the midfield, Williams wasn't a rock in defence, Davies was amazingly selected, but as the most constructive influence in our midfield, he was whipped off as soon as he could be.
Koeman selected the team, prepared them and motivated them and we lost 0-4. Enough said.

George McKane
168
Posted 17/09/2017 at 19:21:57
I do not like to call individual players names, and of course there was a very slight improvement in some sort of style of play, but for me today the blame lies firmly at the feet of Koeman – totally.
He has made us into a team that, the minute any player receives the ball anywhere on the pitch, the first thought is to turn backwards. We can see it everywhere and every time.
So goals from mistakes in back passes and bad passes across the back are inevitable – added to that, the truly unbelievable and unexplainable substitutions.
Davies and Rooney were our best players; it was 1-0, we were making half-chances in the game. Koeman takes them off leaving Jagielka and Schneiderlin on – result: 4-0.
Baines had a nightmare of a game – nowhere to be seen all day. Big big changes and big decisions need to be made here, but they won't and we all know that.
It's not the hope that kills but the frustration. I can see Rainbows and Silver Linings because I will be at all the foreseeable next games... but this is unacceptable from The Board and The Management – do they care about us at all.
Time to go, Jagielka, Baines, Williams, Schneiderlin, Mirallas, and few more... Go with the young ones; I'll be behind you – totally. Stick with the same and I will still sit bored and lifeless in my Park End seat.
Time for change, right through. Still a Blue – like you – but things need doing... now.
Aarron Stobie
169
Posted 17/09/2017 at 19:23:03
We had a poor performance and after the Williams mistake we switched off.
We showed better defence but still lack flare in the final third.
Brian Harrison
171
Posted 17/09/2017 at 19:23:29
I thought ,after the first 10 minutes, have we sunk so low as to act like a non-league side would set up at Old Trafford? But, as the half wore on, we got better, and with 15 minutes left, I thought we may just pinch a draw. Sadly, Williams – who was our best defender by a mile – made an unforced error; Man Utd capitalized and it was game over.
Now I know it still ended as a 4-0 defeat but I think even the most ardent Man Utd fan would agree the scoreline flattered them.
I thought he did the right thing with bringing on Calvert-Lewin and Sandro when you are having as much of the ball as Man Utd – why not bring on two strikers to try and get something from the game with time running out?
Let's remember that Sandro, Calvert-Lewin and Rooney will have to share this position till at least 1 January. So you have to give them game time. I thought Sandro looked lively when he came on and brought a great save from De Gea.
The next 4 or 5 league games are important for the team and Koeman. I would hope we will be well out the bottom 3 and moving up the league after these games.
I think, whatever happens, the board quite rightly will give him till Xmas to turn things around. Should we still be in and around the bottom 3 by then, the board will have some serious thinking to do.
Dennis Ng
172
Posted 17/09/2017 at 19:23:46
Sam, that striker wouldn't have mattered much. Even in our good spells, we did not do well spreading the football, the striker would be starved.
As angry as I am right now, we lost to Chelsea, Spurs, Atalanta and United, all top 5 teams in very competitive leagues. We shouldn't have lost the way we did and that's down to Koeman and the players.
But we're not worse than last season... not yet. That will be mid October if we've not turned it around.
Dave Bowen
173
Posted 17/09/2017 at 19:24:59
Maybe it was a better performance today, but the stats don't lie.
Relegation zone with the worst defensive record & worst goal difference. Koeman throws away 2 points against Man City with a ridiculous double substitution. Then takes Gueye off today when we are still in the game, and we then lose the midfield regardless of Williams's mistake.
Koeman is tactically clueless. Time to go.
John Charles
174
Posted 17/09/2017 at 19:26:17
Jay, my blame matrix is Koeman 100%:
He bought and continues to play Williams
He has led us to the last 3 shocking morale-sapping displays
He picks and organises(??) the team
He knew a year ago Lukaku was going
He bought Sandro
Plus
He plays Schneiderlin every game
He got no left-back cover and Baines looks shot
Worryingly, having walked out of the Etihad okay with the result, and slumped out of Old Trafford crushed, I have got to say we were probably better today than against Man City or Stoke City.
We could quite conceivably have no points.
100% Koeman's fault.
Clive Mitchell
175
Posted 17/09/2017 at 19:26:46
Some people don't seem to understand the argument, or perhaps they are pretending not to. It's simple. In our last three games we have looked utterly bereft of hope; we've looked as if the players either can't or won't perform to Premier League level.
Today was different. We made a Man Utd team that most expect to be contending for the title struggle into the 80th minute; with a bit more luck, we'd have been level by then.
The team started to become cohesive, you could see how the likes of Rooney, Sigurdsson and Davies, with support from Calvert-Lewin and Sandro, could be too much for some teams at this level to handle.
It doesn't mean we'll take eight points from the next five games and move up the table. But it shows we might, whereas on Thursday night there was no hope of that.
Brian Wilkinson
176
Posted 17/09/2017 at 19:27:36
A much better performance yet still on the end of a 4-0 scoreline.
I have been calling for Kenny to be given a run out but today I thought Martina was one of our better players.
Maybe some regulars who went the game will be able to tell me if Lukaku was getting abuse from the Everton fans? I certainly did not hear anything; if that is the case, it says everything about the respect Lukaku has... the shithouse.

Chris Watts
177
Posted 17/09/2017 at 19:27:53
I thought the best 3 players today were Davies, Rooney and Gana in that order. All subbed??
Anyone saying we played well today... utterly deluded, I'm afraid. We set up for a draw and lost 4-0. We are worse than this time last season. I honestly don't see what Sigurdsson contributed other than getting in Rooney's way when he took a shot. He did nothing.
And I thought Rooney was class – almost the only point of attack in the whole team. He must wonder why he bothered signing.
Derek Knox
178
Posted 17/09/2017 at 19:29:46
Although, ironically, we looked better than we have been for most of the game, there were too many misplaced passes, coupled with giving them acres of space to exploit.
The substitutions were again baffling and definitely cost us the game.
All-in-all, I don't think Koeman can do the job; I would rather he resigned before long, and the damage, irreversible.
Peter Cummings
179
Posted 17/09/2017 at 19:30:57
Yet again we were punished for mistakes which the ultimate result made the Mancs look like real contenders for the coming gongs and cups. Yet the fact was, we not only competed but outplayed them at times but, when you gift goals to the opposition, you will pay the price, as we did today.
That isn't to say we were in any way unlucky; the first goal was the killer because we didn't have an answer. And yet again we compounded the final result with schoolboy defending, so hope will still have to spring eternal.
Sur Jo
180
Posted 17/09/2017 at 19:31:17
The pundits are all jumping to the conclusion that, had we signed a No 9, we would not have been in this position?
Please remind me the number of crosses or passes we put in the box since the start of this season where we only missed a No 9 to put them in the back of the net? As far as I can remember: 0.
Not sure if anybody else would have scored the goals Wayne did in the league so far.
When one has Schneiderlin and Gueye playing so close with the back line, there are limited opportunities to get the ball forward to a No 9.
Why do we have to play two central midfielders to shield our back line? In any case, we shipped 2-0, 3-0, 3-0 and 4-0 in the last 4 games? Can someone please tell me how playing Niasse in front in these four games would have made the results worse? Or playing Mirallas to inject some pace?
As everybody else, I was very excited when Koeman signed. But his treatment of Deulofeu and Niasse told me right away and right then that this guy cannot bring the best out of players and will destroy us. All he's been doing since is playing his favourites (without regard to their merits), who are no better than what we had.
Williams is his signing. Can someone please tell me how much is he an improvement over Jagielka or Mori? How Schneiderlin is better than Davies or Barry? How Martina is an improvement over Kenny? How Sigurdsson is an improvement over Barkley? How much Lookman is an improvement over Deulofeu?
I can see Sigurdsson and Lookman are good players; but did we really need some of the other signings to replace our existing players and to end up losing the games that we did?
Has anybody realised that, since Barkley has been out of the team, it's been dull?
In terms of signing, with Koeman we only moved sideways but spending a fortune to get the team exactly where it has always been if not worse.
I am not sure what we are expecting from this guy. Either way, I think we are so far down the road with him that I believe a new person won't be able to fix the mess he's got us into.
Koeman has a faint heart for Number 10s and he buys all Number 10s he possibly can to play them all over the midfield and attack? Can we for once have a manager who can play players in their right positions?
Until we sign a Number 9, bring back Niasse; play Mirallas and Lookman on the wing to inject pace; bring in Lennon. We need to try to inject some pace, open the wings and shoot some crosses for Niasse to head in.
David Pearl
181
Posted 17/09/2017 at 19:33:47
Nah... mental strength and confidence is low. That's it.
No striker. No pace or pattern. We did show improvement but that will only matter if that continues.
Subs were not great. He decided to bring on Sandro? He must be showing something in training. He must, and Klaassen, be given time. However I'm not seeing it.
Mirallas is still and option as a striker but I doubt Koeman will see it as an option. Too many changes made from last season. You bring new faces into the team slowly, not all at once.
Two home wins and let's see what a bit of confidence brings, especially if we can bring on Sandro and Klaassen while we are actually winning for a change.
Andy Crooks
182
Posted 17/09/2017 at 19:37:23
Rooney has been our best player this season and I thought he was good today. We did not deserve that defeat but we went today, once again, like a non-league team in the FA Cup.
Don Alexander
183
Posted 17/09/2017 at 19:38:15
I am not endorsing Koeman but some will no doubt think not slagging him off amounts to sycophantic support.
I just think we have to look at these first few games with realism over, for once, hope. The results we've had are in my opinion about one point worse than a pools panel would have given us, that's all. The next month will tell us much. Results need to be good consistently from here.
The quality of play is very disheartening though, even if the results have been near as dammit expected of a newly formed team.
The failure to sign at least one forward with the savvy to make the opposition defend and allow our team to stay further up the pitch is the big failure though, not Koeman, unless of course it was his fault.
I'd expect a guy like Moshiri to sack the bloke(s) responsible, unless of course his money doesn't stretch beyond what he receives from sales in terms of recruitment.
Michael Lynch
184
Posted 17/09/2017 at 19:38:15
Ah well, at least "the season starts" on Wednesday. That pre-season was fucking dire.
I'm looking for a 3-0 against Sunderland, a 3-0 against Bournemouth, a 4-0 against Limassol, and a 2-0 against Burnley.
Barry Williams
185
Posted 17/09/2017 at 19:38:45
Rooney stays on it is 1-0, 8 mins to go.
He goes off, 4-0. Coincidence?
Brian Denton
186
Posted 17/09/2017 at 19:41:10
"Lukaku goal and assist against us. Still a flat-track bully anyone?"
Michael, I don't think you've proved your case – Everton at the moment are one of the flattest tracks in the Premier League.
Oliver Molloy
187
Posted 17/09/2017 at 19:42:07
Our former player...
"Everton had a lot of control but quality was the difference."
We know already thank you very much. It hurts , but he's bang on and we know why he wanted to go, Lukaku is a smart guy.
Man Utd and the rest of top six are years ahead of us and only one thing will get us closer -– money! – and our billionaire isn't going to help in buying players.
The most annoying today for me was Baines switching off once again and just letting Lukuka score , and of course Mayo missing out against the Dubs once again by a point – what a game that was.
Sunderland on Wednesday night with a few ex-Evertonians that will love nothing more than to heap more misery up in us... doesn't bear thinking about.

Charles Brewer
188
Posted 17/09/2017 at 19:44:27
Top of the League! Ronald Koeman is now the highest rated manager in the Sack Race!
Andy Crooks
189
Posted 17/09/2017 at 19:45:40
Clive Mitchell that is a top post. However, I suspect there is a "shithouse, coward" post on the way. We are poor but getting better. I hate this as much as any Evertonian but it is what it is. There are no changes on the way.
Don Alexander
190
Posted 17/09/2017 at 19:45:43
Conceding four was undeserved on the performance. And with regard to Rooney, I always thought we'd do well to get one good half out of him, sublime as that half would hopefully be. His "engine" is "fooked" as they say up North, and the events of the past two weeks give a fookin big clue as to why.
Martin Mason
191
Posted 17/09/2017 at 19:46:17
JC @174, Koeman didn't buy Williams or anybody. He is Head Coach; player identification and transfer business is done by Walsh and the board above him. Koeman has an input that is all.
When people call players Koeman's signings, that is incorrect. They are players who were signed by the club during the period that Koeman was Head coach.
Sur Jo
192
Posted 17/09/2017 at 19:48:24
SkyBet Specials
Next Manager to Leave:
On Wednesday Koeman was 33/1. Right now 11/4
Does it suggest that Moshiri is upset?

Stephen Brown
193
Posted 17/09/2017 at 19:53:41
Apologies if someone has said this already but Niasse was in with the away fans!!!
Sur Jo
194
Posted 17/09/2017 at 19:54:52
On the decision to substitute Wayne, the manager said: "He was tired and Duncan, on the bench, knows Wayne really good and he said take him off. I brought Kevin (Mirallas) in a fresh player."
Blame game?
Simon Dalzell
195
Posted 17/09/2017 at 19:55:43
JC@174 I'm with you.
Joe Clitherow
196
Posted 17/09/2017 at 19:56:10
The clue is in the title of this report.
Chris Jones [Burton]
197
Posted 17/09/2017 at 19:56:41
I agree with Clive Mitchell et al. I saw some fight and determination about the team today. They put a shift in and looked like they cared. That's a start.
I think Koeman will be our manager for a few games yet. I think we saw enough today to suggest all is not lost.

Simon Bates
198
Posted 17/09/2017 at 19:57:34
I'm concerned he appeared relatively happy with that.
He's still ignoring the lack of pace and forward-thinking players, who get in the opposition box. We have them in Lookman and Niasse, who is probably our most experienced centre-forward, obviously Rooney is a number 10.
Niasse is 27, has scored for Hull at big grounds and with Lookman, is making a mockery of his exclusion by showing for the U23s exactly what we need..
A centre-forward playing as a centre-forward and a winger on the wing. If he plays them on Wednesday and it works, he has to give Niasse a run at centre-forward. How worse could it be? But more worryingly – how worse is it going to get before anyone acts?
Steavey Buckley
199
Posted 17/09/2017 at 19:59:44
Another false dawn and another broken promise. Imagine going into this season with a leaky defence, no centre-forward and no wingers having spent £200 million.
What does go through Koeman's mind? It certainly is not footballing sense.
Chris Green
200
Posted 17/09/2017 at 20:00:29
Fran Mitchell (#122) a sequence no decent manager would allow? Feel that to Mourinho after his last Chelsea season. I don't think that went too well.
I saw a bit of improvement today. But as has been said, the lack of forward is the biggest gall. 3 transfer windows we have known he is going and nothing was done.
The substitutions don't make sense and the lack of Lookman, who seems to be doing well for Unsy ,is baffling.
I don't understand what the idea is, although saying all that, we should have scored at least 2!
Mat Smith
201
Posted 17/09/2017 at 20:06:00
For me, it's not so much the results in the Premier league (i say Premier League as the result in Europe was shocking!) as when the fixtures were released I didn't hold much hope in us having many more points than we have now!
it's the way we have played: 9 goals conceded and 0 scored in the last 3 games, we look all over the place, just don't look like scoring and, apart from 35 minutes in the 2nd half of today's game, we just don't seem to have any fight!
It really is shocking – something needs to change and quickly; otherwise, our season will be over before November!
Tony Stanley
202
Posted 17/09/2017 at 20:07:44
Getting beat 4-0 is in no way acceptable, ''This is a results business" and we are Everton football Club.
Barry Williams
203
Posted 17/09/2017 at 20:07:49
I have been backing Koeman to get it right, and I still think there could be time to turn things around. We were better today; however, we still got tonked 4-0 and the last 4 games we are 0-12.
I really really hope I am not proven wrong, but why did Koeman pick many of the exact players that have gotten us into this mess in the first place? Is it a tactic to surprise them by doing exactly the same things as before and lull them into a false sense of security?
I know he got a response, but the result was the same. We have 4 fit first team wingers in the squad and didn't use one of them. We have 1 experienced international forward that isn't Rooney in Niasse and we didn't even put him on the bench.
It could be argued that Rooney isn't a Number 9 these days. We could consider Sandro and Calvert-Lewin as number 9s, but it ain't worked and Koeman is not trying any alternatives.
I am finding it increasingly hard to defend him. I just hope he justifies my previous faith in him. The next few games will be the judge.
Mike Berry
204
Posted 17/09/2017 at 20:08:44
We failed to score and we let in four.
That says it all.
John Roberts
205
Posted 17/09/2017 at 20:12:04
It was better today despite the score line but it had to be. Rooney scenario, ex club, etc helped like the Stoke game. So we can't assume this is, week-in & week-out.
Man Utd not a full strength and off colour today and still beat 4-0 and collapsed like recent games. Williams and Jagielka – I'm sorry but game over, thanks for all; rusty, slow, no confidence.
Give Koeman the next 5 games!!
Simon Dalzell
206
Posted 17/09/2017 at 20:13:35
Regardless of who we did or didn't buy in the summer Koeman continues to make a complete bollocks of what is now available. Totally negative selections and set up again.
Rooney basically up front on his own, and the defence / midfield at times 9 in a row along the 6-yard line. Koeman doesn't even have the nouse to tell them to push up. I've seen enough.
Kim Vivian
207
Posted 17/09/2017 at 20:15:06
Stephen 193 - Ha...didn't know that. The boy's a legend.
John Boon
208
Posted 17/09/2017 at 20:17:43
I couldn't watch the game live but I watched it knowing the score. I feel that it allowed me to be more objective about what was happening.
Blinder that the first goal was it would go over the bar 90% of the time. Valencia hadn't scored in four years. What a way to start.
After that we were always in the game mainly because we had to attack. I don't think anyone played really bad with Rooney Davies and the much hated Martina really putting in good shifts. However we gave the ball to them far too easily on open field passes.
I am as disappointed as anyone, but in trying to be hopeful and realistic we are really a brand new team still trying to get to know each other. The next ten games will really tell what we are.
Sigurdsson has to start performing and hopefully being the star that he was supposed to be. We need to decide who the striker is until we sign a real one. Forget all the "should haves", because we have what we have. I still think Rooney has been our most consistent player so far even though he is obviously past his prime.
For the most part, stop moaning, because it won't change things. Try to get behind the team. Hating Koeman may make you feel better but it won't really help us to improve. There must be better times ahead. I hope...
Darren Hind
209
Posted 17/09/2017 at 20:18:13
Man Utd rattled the woodwork, they missed some really glaring sitters and although we were still beaten 4-0. Some are claiming it to be a big improvement.
Difficult to assess today's game – we were still right in it approaching the ¾ mark. At times, we were even the better side, but this is not a great Man Utd team and they still could and should have scored six.
Attitude better, but the players still don't know what the manager wants.
Koeman faces Dyche and Howe next; both are being touted for his job. He needs to see the pair of them off if he is to have any future here.
Crunch Time.
Steve Barr
210
Posted 17/09/2017 at 20:18:21
What people are citing as "positives" in today's performance are just the basics expected from highly paid professionals. We are desperate!
Paul A Smith
211
Posted 17/09/2017 at 20:19:39
Tony Marsh, I couldn't agree more about the Europa League.
Unless you have a squad with quality in every position, it really is a hindrance.
Anthony Hughes
212
Posted 17/09/2017 at 20:25:17
Have we sunk so low that there seems to be some sort of acceptance of a 4-0 beating?
Yes, the performance in parts was better but it couldn't possibly be any worse than the absolute garbage we've served up lately. So in comparison it was better.
The mentality that "oh well its the big boys" it doesn't matter we're not supposed to beat them anyway really grates.
Oh and "the season starts now" crap, no it doesn't start now – we're in the bottom three and we've lost our first Europa League group game. The season is leaving us behind.
Paul A Smith
213
Posted 17/09/2017 at 20:25:38
I know where everyone is coming from with the attitude and the care etc. Isn't that a worry though? A result like that in a game where the players show great heart!
Were United happy to let us keep the ball and hit our slow defence? We had more of the ball than we expected and were unlucky not to score but we live on the edge for me.
One misplaced pass undoes us no problem. We don't seem to ever capitalise on the oppositions errors.
All I can ever remember in January is how often managers have said its difficult to sign players. Now our hopes are pinned on it.
Who is going to sell us a decent striker in January. I think we lack a winger too?
John Hammond
214
Posted 17/09/2017 at 20:30:24
Thought it'd be 4-0 today but didn't expect that performance. Looks like Koeman hasn't lost the players... yet.
Bournemouth, Burnley and Brighton next in the league - minimum 7 points otherwise we're really in the shit. Let's hope we tonk Sunderland and breath a bit more confidence into these players.
Ciarán McGlone
215
Posted 17/09/2017 at 20:31:09
An improvement on the last performance is slim consolation when the same inane managerial mistakes are simply repeated ad infinitum..
Kevin Tully
216
Posted 17/09/2017 at 20:34:08
I don't consider myself to be a "knee-jerk" critic of any manager. I feel I am fair towards managers and players alike. The fact some want to find positives in a 4-0 defeat is okay with me, it takes all sorts.
My take? It's all a bit 'lower league'. It stinks of: "We went to Old Trafford,and were in the game until they got their second." Something teams have done for the past 25 years.
The fact we have spent 𧶀m over 12 months and pay our manager the 11th highest wage in the world of football seems lost on some. Not me, lads (and any lasses). I expect those poor players and manager to go anywhere in this League and match those teams we face.
We're not fucking Huddersfield. To see my team set up like a Vanarama side in the FA Cup against the mighty Manchester United makes me ill.
Anthony Hughes
217
Posted 17/09/2017 at 20:36:22
The next three league games, Koeman needs to go out with a positive attacking formation and rip into these teams. He can't park the bus.
The problem is I just don't see it with this ultra conservative manager. I don't see the tactical tweaks or the coaching intuition to change a game or even set up from the outset to really threaten our opponents.
Paul Smith
218
Posted 17/09/2017 at 20:36:25
Bryan (#176).
He got plenty mate. Especially when he showed his usual consummate close control (sarcasm).
He goaded the away supporters when he scored as pay back for abuse he was getting. Well merited as far as I'm concerned (abuse that is). He showed very little respect to us.
Paul Birmingham
219
Posted 17/09/2017 at 20:37:24
Great to see a decent shift put in today and the scoreline doesn't reflect the effort put in today. The 1st was a great strike but same old lack of positioning and no midfield or defender close to him. Williams had a good game, his mistake aside for the 2nd, but that then set us up for a typical spawny United route.
Learning is the players must put this in every game as a bare minimum. Let's forget top 6 and aim to be clear of the bottom 6, as we are shipping heavy at the back and show no real signs of sustainable creativity and finishing the scant chances we have made this season.
So a leaking wobbly Keystone Cops defence, with an impotent strike force... The bare elements of football we currently can't do with any quality and that is the big question over Steve Walsh and the transfer policy. So far, Gana has done it, Lookman looks like he can do it, but the rest (with exception of Pickford) look average, at best.
The team lacks balance and cutting edge, and it's gonna be a slog to stay out of trouble. Hope eternal but we need a miracle the next few weeks to stop the rot, as this level of performance unless sustained and we would then have to be ruthless with finishing, then we are in the real fight for survival.
Dust down ready for Sunderland, and hopefully lessons from Norwich last season are learnt..
Difficult when your in it, but we are in it bad style so here's to a win on Wednesday, the AFCB. The next 4 games, the results must happen.

Dave Williams
220
Posted 17/09/2017 at 20:37:48
I have been supporting Everton since 1963 and have seen torrid times like Tommy Casey as caretaker, Mike Walker, Colin Harvey struggling to live up to the legacy of Howard Kendall but I can't remember losing 4-0 and people drawing positives from it.
I know we were a lot better in the second half than of late but we still had no creativity or penetration and gave the ball away too easily.
We all know the club motto and four games without a goal and 12 against is an absolute disgrace.
It's not the fault of the board – we have spent a fortune on the wrong players, assembling a group of No 10s whilst ignoring the positions where we all know we are weak. Don't blame Kenwright or Moshiri for that – I bet Moyes would have bought better than this!
The position is critical – as someone posted above, we now have four games which would normally on paper be four wins. But we can't create, we can't defend and we can't score so either we are going to improve or we get stuffed and Ron must surely be shown the door.
We need a Kevin Brock moment – and quickly!!!
Paul A Smith
221
Posted 17/09/2017 at 20:42:44
Dave (#220), I think you have nailed it in terms of reality.
Now everyone knows what kind of quality we have and people can sack the class shout they were giving Keane after playing Ruzemberok.
One thing you need at Old Trafford is for them to have a bad day. They had a bad day and we lost 4-0. I could narrow the whole game down and still wouldn't feel positive.
Mike Allen
222
Posted 17/09/2017 at 20:44:52
Why the subs when at least we were still in the game? Changing the players just disrupted the team. It was not as if we were bringing on a game changer. Same period pre meditated every week, no matter how the game is going.
Why were Gueye and Davies both in the game? If someone had to come off, why not Baines who was poor?
Why persist in putting ourselves under pressure with stupid passes in and around our box? Do we not know when to lump it rather than give the ball away in their half than round our box again, week-in and week-out.
We set up is like minnows against the top sides. The manager's after-match statement – he thinks we are only minnows against the big boys. In the end, we deserve what we got, so no hard-luck stories please.
Jason Bowen
223
Posted 17/09/2017 at 20:45:11
Yeah, give him time, in our last 4 games we have scored 0 and conceeded 12 goals, but yeah give him time. Sod off, this tit neeeds removing asap.
Mick Conalty
224
Posted 17/09/2017 at 20:55:14
Remember big Fred Pickering who was a fullback at Blackburn Rovers was converted into a centre-forward came to Goodison Park with Blackburn and scored a hat-trick and was promptly signed by Everton and scored a hat-trick on his debut.
I bet the Blackburn manager was on about 𧴜 quid a week. So Keoman on his ٤m a year surely should be able to find a player within the ranks and convert him into a goal-scoring centre forward. Why not try Ashley Williams cos he is doing sod all at the back?
Tony Stanley
225
Posted 17/09/2017 at 20:56:56
Kevin Tully (#216), spot on.
Ian Smitham
226
Posted 17/09/2017 at 20:59:55
Just got back from the game that is closest to where I live.
I thought there was a lot of effort today, saw our Goalie beaten again by a shot from distance. Williams played well then let himself down, at right-back we looked good and, as an attacking option, Martina did well.
I feel any criticism today is unfair. That said the whole back 4/5 are too slow. Ghana always shows for me, Schneiderlin, at first I thought was good last season, now?? Tom Davies is a young lad learning on the job, as is Calvert-Lewin. Wayne put in what he can, great footballing brain, but after an hour, legs gone.
I too thought I saw an improvement on Spurs, and Old Trafford is always difficult, but something fundamental is missing and for me, as I posted the other day, the responsibility rests at the Manager's door.
If the next few games don't yield better results, not sure I would even give him them; we never seem to see off easier opposition, then change is inevitable.
Not Sam, nor Sean; I vote, not that I have one, Rafa before the Reds come calling for him, or Unsworth.
Amit Vithlani
227
Posted 17/09/2017 at 21:02:11
Fucking hell, I am deeply worried at the rot that has set in.
Zero attacking threat and defensively likely to concede at the slightest danger.
This is so reminiscent of the dying embers of the Martinez regime.
I knew on deadline day we would face struggles but I never foresaw 10 goals without reply in the next 3 matches.
This is a calamitious nose dive in form.
Board has to act now!
Rick Tarleton
228
Posted 17/09/2017 at 21:02:34
Defensively, the consensus was that Martinez had no idea how to set his team up. Koeman makes him look better than Herrera.
Of the players that are now at Goodison, it strikes me that Williams was bought when he was two years past his sell-by-date. But it is Schneiderlin who most disappoints me. When he was at Southampton, he broke up play and was an excellent distributor of the ball. At Everton he is miles off the pace and is barely able to pass five yards sideways. Klaassen looks very, very ordinary. Lookman was signed but for no discernible reason.
This manager has got no idea, his player recruitment is appalling, his selection, a mystery, his tactics naive and his motivation is non-existent. We are in the bottom three, we may well stay there if Koeman remains at the helm.
Moyes, Martinez, Koeman who chooses them and why?

Peter Lee
231
Posted 17/09/2017 at 21:07:18
Rooney showed his class in this game, winning balls and tackles he had no right to and making dozens of passes to move us forward. His willingness to run into the floor for the team is clear.
Occasionally his rush to move us forward led to intercepted passes, but haven't we been moaning about the lack of that? Taking him off was bizarre. He had just been told to drop in by the manager.
With the game moving on and us remaining on top they withdrew Rashford, who for all his pace had been little threat, and threw on a midfield player, our response was to remove Davies, who had given Matic so much trouble that he made little contribution as he has so far this season. We removed Gueye. So they increase theirs by 1 we reduce ours by 2. Then we take off Rooney who had just been asked to drop in.
The manager, who I would replace in a heartbeat, got it right at the start with team selection and shape. He then totally blew it with the subs.
Whilst I still have reservations over 5 at the back and some of the players we have bought, we need to play the same players and shape to start on Wednesday, and do the same Saturday. The shape needs to stay the same all through both games. Constantly tinkering might look like tactical genius but it's bollocks.
Jamie Evans
232
Posted 17/09/2017 at 21:11:54
Sorry to repeat myself but the reason our manager selects 2 central midfielders to shield our defence is because 2 of our 3 centre backs (who played today) are – unfortunately – finished.
Also, I can confirm that Oumar was in the away end.
Tony Hill
233
Posted 17/09/2017 at 21:13:35
I think we are all entitled to know why we did not buy a Premier League quality striker. Koeman said he wanted one. What went wrong? Was it all about Giroud?
Since this absence will continue to haunt us until January, at least, why do we not have the courtesy of an explanation?
Was it lack of money, lack of targeting/confused targeting, lack of interest from targets?
As ever, the club will not tell us because to do so would be embarrassing. The best we have had was the guff from Moshiri when he spoke to Jim White.
I believe this is one of the most glaring mistakes in the history of Everton and one which could cost us very dearly, as we saw today. Silence isn't good enough.
Tony Everan
234
Posted 17/09/2017 at 21:14:20
We have no striker, no goal threat. We cannot score.
How long has it been 6 hours ish ? Since we last tickled the onion bag?
Until we get a striker or two we will continue to suffer. The recruitment has been absolutely diabolical. The worst in our history. It is a complete shambles and an utter disgrace not to have made a striker a priority. I wouldn't have minded if it was our only priority!
I'm spitting feathers, sawdust and fire over the whole fiasco. All through the summer, fans were demanding prioritisation of a striker; the manager and board have failed abysmally in strengthening the most important part of any football team.
Now we have the weakest attack in the division. I am sick as a pig and appalled. I want it put right. Goals win games!
Danny Broderick
235
Posted 17/09/2017 at 21:15:28
If the last 4 games have confirmed anything, it's that we can't carry on like we have been doing. I am not going to throw the baby out with the bath water, like some are doing.
We have bought good players in the window, I'm convinced of that. However, we have done ourselves the type of self-inflicted damage that only Everton could have done. We needed at least 2 strikers, having let Lukaku, Kone and Valencia leave. Getting none in is a dereliction of duty. If I was Moshiri, someone's head would be on the block for this.
For me, none of the players is capable of being our main striker up front alone for the next 4 months until January. Koeman needs to change the tactics to reflect this. I think we can only do one thing – play 4-4-2, with any combination of Mirallas, Rooney, Calvert-Lewin, Sandro etc up front.
I am a fan of Koeman, and I believe the club have badly let him down by not bringing in his transfer targets. Steve Walsh and Ronald Koeman seem to have separate agendas when we buy players, and I'm not that is healthy. I just hope Koeman can come up with a solution on the pitch, a bit like when Moyes played no strikers and we had Fellaini and Cahill up front.
Phillip Warrington
236
Posted 17/09/2017 at 21:15:33
The managers post match comment says it all:
"It's really difficult, as a manager you try to help and support them - but when the whistle starts it's all about them".
Now the results have nothing to do with him he has to go, players reading that as well.
Anthony Burke
237
Posted 17/09/2017 at 21:18:49
The Red Shite don't have a striker but get goals from other areas which is why Koeman talks about productivity.
He bought Rooney, Sigurdsson, Klaassen and Sandro for goals to be spread across the team, not just relying on a striker. It's just not worked out so far but, when it does, posters on ToffeeWeb will have nothing to moan about – it will be like a ghost town.
John G Davies
238
Posted 17/09/2017 at 21:18:59
Anyone with a pair of eyes can see that was a vastly improved performance.
Anyone denying it wasn't needs a pair of eyes.

Andy Crooks
241
Posted 17/09/2017 at 21:21:16
I expect we will pick up a few points as the side beds in. We will soon be out of the bottom three. However, we are a million miles short of what is needed. Koeman is here for some time. He will turn it round.
Frankly, turning it round is not what I hoped for a few weeks ago. I fear that, " he right man to turn it round", is going to be a TW phrase over the next while.

Dave Pritchard
242
Posted 17/09/2017 at 21:22:47
John, I agree with both of your last posts. The next 3 league games will show whether we have actually turned some sort of corner.
David Edwards
243
Posted 17/09/2017 at 21:26:01
Dave (#220) – good points. The fact that performance-wise it was a step up, and yet we lost 4-0, says a lot about our present predicament.
Kevin (#216) – we are indeed heading towards the 'plucky little club' attitude we thought we had finally seen the back of. Disappointing does not even come close!
4-0 was a flattering result for United, and several players stepped up for us. However, Koeman's substitutions were ill-judged and his grand plan for today was defeatist and lacking ambition – not least because 'his' players have not reached the standards he has hoped for so far. We still can't attack sufficiently, or defend confidently, or even create from the midfield or flanks!
However, today's match has bought him more time, sadly. The next 4 games should be winnable and may well be such even given our unbalanced squad. But most of us know that there is 'something rotten in the state of Denmark' – and if don't start pulling way from the bottom 3 in the next month after our challenging fixtures of late – then surely even the most ardent Koeman supporter must realise that January's transfer window should involve someone else than Koeman.
John Roberts
244
Posted 17/09/2017 at 21:27:29
I'm not sure any manager could meet our expectations to be honest. Our squad just isn't good enough who ever we would want. Burnley get 5 points away at Spurs, Chelsea and Liverpool; we are getting hammered.
Tony at 234 your right, nobody knows what to do when we have the ball. Morgan sideways passing even when in space, forwards no idea. Gylfi should try cross country instead!
Steve Ferns
245
Posted 17/09/2017 at 21:28:38
We need to get shut of Koeman and speak to Barkley about signing a new contract before the new guy comes in.
The new guy should be someone committed to working with the players we have and have an idea straight away about how to get width and pace in the team. Also, he should have a list of Number 9s for Walsh.
Tony Everan
246
Posted 17/09/2017 at 21:30:19
John, I do agree there was things to be optimistic about. I felt as if the players had some fire in their bellies. Also, we could and should have sneaked at least one goal.
I thought Davies and Rooney gave it their all, there was a few stupid mistakes that need to be cut right out of it. If we address that and get some confidence going with a win next week, it will be a tonic.
I don't think any corners will be turned though, until we strengthen the attack.
Paul Hewitt
247
Posted 17/09/2017 at 21:32:50
I don't understand this, "we played better today, let's be happy." We LOST 4-0. I would rather play shite and win 1-0.
Neal Coyle
248
Posted 17/09/2017 at 21:33:17
All smacks of the Mike Walker regime and the ironic thing being Rhino and Big Dunc could be our saviours again this time in a different capacity. The team seems to have lost that passion, it's identity and what it means to play for Everton.
I just think Koeman hasn't connected in a way he should have, I think there's a genuine lack of trust from the players and the relationship is beyond repair at this stage.
For me, you speak with Rhino asap, then you go speak to Ross Barkley asap, and you say your starting beside Tom Davies. We're going back to our roots and this shouldn't have been allowed to happen. We'll build a team around you two; we have some quality players and Seamus will also help inject that much missing passion in due course.
It's season over if the current regime persists; for me, it's not too late by a long shot if commonsense prevails – I can remember sat at Coventry University in November 1994 hearing Walker was sacked; 23 years on – let's not wait till November to sort this mess out.
Anthony Hughes
249
Posted 17/09/2017 at 21:45:27
Anything on what has been produced lately is an improvement. Doesn't mean it was a good performance. Everyone with a pair of eyes can see we shipped 4 goals without reply today.
Michael Lynch
250
Posted 17/09/2017 at 21:45:57
I'm delighted to see there are people who still see positives in a 4-0 defeat.
Yes, we were better than the Spurs and Atalanta games, but we couldn't have been any fucking worse. Still, optimism is a great thing.
I think I'll save mine for when we've got a couple of big wins under our belts against the likes of Sunderland and Bournemouth because, if we can't beat them, even the biggest optimist on here is going to have trouble finding positives.
James Macdonald
251
Posted 17/09/2017 at 21:46:03
Williams actually had a pretty decent game and, at 82 minutes gone and one down, I can totally understand him taking a risk. Better than just accepting defeat. We should not berate players taking reasonable risks.
Tim Locke
252
Posted 17/09/2017 at 21:48:25
The number of posts where people speak like they are the keeper of the silver bullet. However, history tells me, most ToffeeWebers advice should, in some cases be avoided and in most ignored.
Let's have review of history. Moyes, get him out, he is crap, he destroyed every forward he ever touched and we are fed up with grinding out results. Moyes leaves and in comes Bobby and his brown shoes. One cracking season and then his head's on the block, he is crap, his tatics are poor, he can't defend, we are going to get relegated.
He is sacked and in comes Koeman and it starts again. His tactics are shocking, he doesn't have a clue, why 3 Number 10s? Not just the managers, the players who got it too. Lukaku is a lump, horrors of a first touch, sell him; we are better without him. Talk about "glass half-empty".
Sadly we have a mid-table team who over achieved under Moyes and Robs first year and been on par since. People who think we are better than that need a trip to Specsavers.
The correlation of having a mid-table side and finishing mid table seems to have escaped a lot of supporters. People write like we have a world class side being managed by Ronald McDonald, not Koeman. We have an average side being managed by a good manager.
Look around you: Man City, better side, world class manager (if not greatest manager around) and they can't win the league. Man Utd, better side, better manager, can't make top 4. We sold our best player, and then wonder why we can't win against a side which has improved itself year on year?
People say we should have replaced Lukaku. With whom? We couldn't keep hold of the forward we had, how are we going to convince someone better to come and fill his boots. At best we could get an undiscovered gem, I can count them on one hand.
In reality, we were going to get someone who could bang in about 10-15 goals a season and add a few more from the middle of the park. So we shouldn't be surprised that we are struggling to score.
We get excited because we spent more than ٣ on a player. So did everyone else – have you seen Man City squad before they added Walker and the like. Man Utd hardly had a poor team when they bought Lukaku. Aresnal can't get their stars to sign new contracts. Liverpool have star players who want to leave. Teams who are better than us, on average league finishes, can't hold on to players of quality. How are we expected to overnight get world class players in and build a team?
Take a reality check, we bought in a couple of new players. I would say two improved our side today: Pickford and Keane. The rest will take time to bed in and make a difference. The reality is we will have had a good season if we manage 7th again. Why 7th? Why good? Because our starting 11 is worse this season than last season and other teams have improved, making it harder to get points.
For me, our season starts now; it's all about the teams which finished below us. There are 78 points up for grabs if we beat them all; doing that will exceed anything ever achieved in the Premier League. So we may lose to Man Utd or Tottenham, it's not those games which determine if we exceed the top 7, it's all the others.
Sadly the next couple of seasons are about building, waiting and watching, less excitement and more patience is needed.
Mark Morrissey
253
Posted 17/09/2017 at 21:50:50
He will now tinker with the team thinking that resting certain players is the answer but just watch him rest the wrong players.
We'll get turned over in the cup because he won't be interested in it and we'll be bottom following the Bournemouth & Burnley games.
I half expected a drubbing today, I think I'd figured on 8-0. In truth, I saw a team that tried but are set up wrong. We'll be set up wrong for the cup match and the Bournemouth & Burnley games. He is clueless.

Paul Tran
254
Posted 17/09/2017 at 21:52:18
I didn't see the game today. I had to rely on the live forum in the second half, so I can't comment on the performance.
I cannot and will not regard a 0-4 defeat as some kind of positive, turning point moment.
The next few games will give us a feel for how we're really doing. In the meantime, I'm hoping our 'board' is doing some due diligence on managers, with more options than they had for strikers.
John Roberts
255
Posted 17/09/2017 at 21:53:57
We need to strengthen nearly everywhere, Tony! I would keep Pickford, Keane and Gana. The rest are not good enough with what this club is trying to achieve. Start at the back, make us hard to beat.
No manager can sort this lot out until we can bring in new players.
Peter Lee
256
Posted 17/09/2017 at 21:57:30
Tim, the manager has a 3-year contract. You can't be suggesting that we let him run it out whilst we patiently await change?
Posters have spoken about our team. In one sense, it's true, but in another sense, it is his team. He's brought most of them in and in any event they dance to his tune.
Get rid.

Martin Mason
257
Posted 17/09/2017 at 22:04:33
Peter, Koeman doesn't buy the players in. He coaches them so just as bad.
Ray Jacques
258
Posted 17/09/2017 at 22:08:09
We lost 4-0. How are there any positives in that???
No focal point up front, no runners from midfield, no pace, no creativity and no width. Just pack the middle of the park and hope by some chance we score first and then hold on, a la Man City.
I thought this was the season we were to challenge for the top four with the players signed (although Man Utd finished 6th)?
We are dire, boring and predictable and I am worried we may finish halfway at best.
I suppose for a club that hasn't won the league for 30 years or a cup for 22, that's okay. 50 years a fan and, despite the hype, I don't see a successful future.
Simon Dalzell
259
Posted 17/09/2017 at 22:08:57
Tim (#252),
This post is unfair and bordering insulting. I'm sure nobody thinks they have a silver bullet. and at the moment, they are watching a grossly underachieving team and manager.
There will always be over-the-top comments but I find generally that ToffeeWebbers are reasonable and passionately care about their club. I think you should get more excited and less patient. "Most ignored"!! Wow.
Michael Burke
260
Posted 17/09/2017 at 22:09:21
I must be missing something here. There are many posters finding positives out of a game we lost 4-0?
I have a simple outlook on things, how can a 4-0 loss be an improvement on a 3-0 loss? Regardless of the fixture list, the manner of our defeats has been a disgrace.
Did anyone else think he looked a bit redder and angsty on the touch line today? Hopefully he is panicking about his future. I can only wish
Mark Wilson
261
Posted 17/09/2017 at 22:14:24
What a bloody awful mess. We are left grabbing at straws that suggest a one-nil defeat was progress and four-nil "undeserved"? Really?
We had a bit more spirit, a bit more confidence for 30 mins of the 90. We actually had two, yes, two chances to score. We messed those up which is a shame for Rooney who had a really mixed match, giving the ball away too easily at times, but at others defending like crazy and working incredibly hard.
Truth is, the defence was woeful, again. Williams gets credit for a better performance but what's the point when you cost us an unlikely chance at a fightback with a dire schoolboy error?
Keane? I've no idea but he seems crushed though there were a couple of signs he can deliver. Jags was Jags, aged 35. Baines was Baines: effort, commitment, but missing when it really mattered and not a force going forward.
Martina looked better when he had some runs but he's surely not the answer at right back. Pickford? He is getting a bit of stick for the first time, not sure it's deserved but there's a point about how deep the defence is and how in those circumstances coming earlier for crosses is so important. But I'd still back him to be a cracking keeper and soon.
But defensively as a whole we are a poor unit in the face of quality opposition, with a toothless attack and an over-stocked yet under-performing midfield, and it now remains to be seen if, back in "our league", it's all good enough to hang onto the Best of the Rest title and maybe dredge up enough quality of our own to do something in a cup competition?
Cut your throat stuff, I know! But it's honestly how I feel and looking at this thread I'm in good company. Tell you what though; if Koeman or existing senior players or additional younger faster more energetic U23s, or even bloomin' Niasse ffs, or a combination of the lot, actually turn this depressing start around, they will deserve the plaudits that come their way because right now it looks like one hell of a challenge.
Here's the thing: if Koeman went tomorrow, I'd honestly not see it as a crisis or a threat. I'm not screaming for his dismissal as I ended up doing with Martinez.
Andy Meighan
262
Posted 17/09/2017 at 22:25:16
Tim (#252), I think your missing the point. This manager has had more money to spend than anyone in the club's history and he's absolutely squandered it.
Let's go through his buys:
Gueye – brilliant until Schneiderlin came into the team. His presence limits Gueye's intake.
Bolasie – one or two good games before injury; vastly overrated.
Stekelenburg – ordinary.
Williams – always got a mistake in him and ponderous.
Klaassen – I'll reserve judgement because he's hardly figured but not hopeful.
Sandro – ditto.
Rooney – Brain saying yes; legs aren't.
Keane – looks a bag of nerves at the moment and lacking confidence.
Martina – Southampton's 3rd-choice right-back... enough said.
Schneiderlin – awful; doesn't offer anything offensively or defensively; shocking buy.
Sigurdsson – £45 million... at the moment, he looks a yard off the pace; never been the quickest anyway; unlikely to spark our season into life when fully fit; also played out of position.
Calvert-Lewin – willing, all heart, but lacks the required quality at this level and won't score 5 league goals if he starts or comes off the bench, so not good enough.
The positives – Pickford at this time being let down by a poor defence; and Tom Davies, but seems to be the go-to when a sub is required. Moyes would have set up far better than this clown even if he'd have had half his warchest. We are in a dogfight, whether we like it or not, and Koeman isn't the man to get us out of it.
Andy Crooks
263
Posted 17/09/2017 at 22:29:49
We were better today but lost heavily. That is worrying.
Derek Knox
264
Posted 17/09/2017 at 22:30:53
The thing that really irritated me today, apart from the wrong substitutions, when, we were in a position, to hypothetically get a draw, or get something, at least.
It was Koeman's attitude, when interviewed after the game, he was laughing, probably all the way to the bank, and tried to apportion the blame to the players.
Now come on, he picked the team, and made the wrong substitutions, and yet, the players are at fault.
Conclusion, he has to go, otherwise we will be playing in a much lower division.
Christy Ring
265
Posted 17/09/2017 at 22:34:02
Come back, Martinez – all is forgiven.
Koeman has to go, how anyone can take positives from today is beyond me. He took off our 3 best players, and Garbutt can't be any worse than Baines, who just stood and let Lukaku score.
Ian Riley
266
Posted 17/09/2017 at 22:35:36
Koeman is right about top four expectations, no chance! Until the back four defend as a unit, clean sheets will be a dream. Playing so deep today gave Man Utd players a free run at us. The lack of pace is frightening in the final third. How do we relieve pressure off the back four?
The question is :Do we keep with Koeman, who knows what the problems are? Or is he the man to fix it?
What a difficult run of fixtures to start the season. All I know is we must stop conceding and quick. Whoever the manager is, this must happen.
A clean sheet in our next game will give us confidence to move on.

David Barks
267
Posted 17/09/2017 at 22:46:42
With the number of people going on about all the positives about today's match, I can only imagine what they'd be like if we'd only lost 1-0. Seems like some might have been organizing a parade to celebrate the 1-0 defeat at Old Trafford for plucky little Everton.
This entire mess makes me sick, which is only made worse by the realization of just how little so many supporters expect from Everton.
Tim Locke
268
Posted 17/09/2017 at 22:47:22
Peter – 8 of the starting 11 he bought in. Only 2 of that 8 has he had for more than a season. We are expecting players to come in and just work? One maybe; 6 new players, probably not.
If you look at the top players, most have dipped in form either at the start of their Premier League careers or even in the second season. Kane, Aguero and Suarez to name three.
Nicholas Ryan
269
Posted 17/09/2017 at 22:51:32
Taxi!!!
Jay Harris
270
Posted 17/09/2017 at 22:52:37
My god.... No wonder the other lot call us bitter. We hate the players, the manager, the board, the ground etc. Let's have some realism guys.
As Tim Locke said, we are undergoing a revolution from an aging average side with one or two good players but little or no money spent on star quality players for over 20 years and have just played the probable top 4 (3 away from home) who are spending £50m per player amounting to about £200 or £300m minimum.
I would hate to be in a small boat in a storm with some of you already dooming us to relegation, wanting to appoint Sean Dyche. Please get behind the club and the manager and players and see where it takes us.
Nobody is happy with the current situation but hopefully it is only temporary.
Soren Moyer
271
Posted 17/09/2017 at 22:54:42
All this talk about Koeman having nothing to do with player recruitment is not true at all. Yes, we have a Director of Football for it but, in the end, it's him who decides to buy them or not.
Brent Stephens
272
Posted 17/09/2017 at 22:55:24
Jay Harris. Good man.
Brent Stephens
273
Posted 17/09/2017 at 22:58:59
Michael (#260) – "I must be missing something here. There are many posters finding positives out of a game we lost 4-0".
I think, then, you are missing something.
Jay Griffiths
274
Posted 17/09/2017 at 23:02:53
When was the last time the words "great defending from Baines" were said? Defenders who don't check their shoulders. Really? The kid is finished. Martina, to his credit, worked his arse off today.
I'm ordering tickets for Brighton tomorrow. Must be our penance for past sins.... Jesus wept, I must of been a bad bastard in this life and the last.

Simon Dalzell
275
Posted 17/09/2017 at 23:04:53
Michael (#260), I'd say at least 90% would say you are correct.
Tony Everan
276
Posted 17/09/2017 at 23:06:23
I am with you Jay, someone even touted Big Sam last week.
By the way, Harry Redknapp's free... there will be at least one who will say he can do a job until the end of the season.
John Pierce
277
Posted 17/09/2017 at 23:10:55
Slice n dice it whichever way want. It was poor and for those clinging to a better performance, need to review the game.
Set up not to concede, and to limit the opposition with no thought on how to occupy them, which is in truth how you peg a side back.
So Plan A failed spectacularly within 5 minutes. Then the next 70 minutes Man Utd were happy just to let us have the ball. They didn't over-extend themselves and waited for the mistakes, there were so many it beggared belief.
Williams, apart from booting Lukaku which mostly did nothing, was atrocious with the ball and was culpable for most of the poor play.
Koeman then took off his best players and we lost our collective spine and folded.
I will not deny willing and effort on behalf of the players, but we have no threat – mostly because we are too concerned with the opposition. I saw no improvement at all.
It's over, done with, Everton must act swiftly, or risk further damage to the cup competitions.
Davies and Rooney were good, Martina made a lot of ground down the right, often with Rooney straggling behind. If Rooney had decent runners, we would have a fighter's chance.
Ultimately those players are good enough, but consistently set up poorly in their wrong position impacts their output and now their very fragile confidence.

Ray Smith
278
Posted 17/09/2017 at 23:13:25
Let's be realistic guys. We have played Man City, Man Utd, Chelsea, Spurs and Stoke.
Go back 12 months and none of the results so far would have been a surprise.
We have purchased a number of players who are not yet a team (work in progress). Top 4 forget it. Top 6 maybe, however, 6th but no higher.
Who have we bought that were being chased by the top 6? Answer: no-one. Why? Because they are not good enough to get us there.
Steve Walsh seems to me to be a bit of an enigma. When he does buy potential talent (Lookman), Koeman seems to ignore him and others.
We have been fed numerous optimistic/speculative messages that we are on the cusp of a new era. Well, my interpretation of a cusp is nearly there, but so far, other than Stoke, we have played teams that will finish above us at the end of the season.
We are going to have to be patient; work in progress. Koeman will be given time, so calling for his head will not happen.
Derek Knox
279
Posted 17/09/2017 at 23:14:10
I'd have Harry tomorrow – he'd do a great job in the canteen, or on the dishes.
Colin Gee
281
Posted 17/09/2017 at 23:20:28
Jay (#275),
Baines for some reason gets away with being shite because he called Martinez out and is one of us. Well, he was shite today and has been for a while. When was the last time he beat the opposition full back at the bye line and put a cross in? When was the last time he made a tackle?
As for the rest of the defence: Martina – shite, Coleman would be better with one leg;
Jagielka – too slow, only seems to be able to either pass it back or sideways to Baines...
Keane – still a work in progress.
When your best defender is Ashley Williams, who has been shite all season, then we are in serious trouble.
The only two players to come out of that today with any credit where Tom Davies and Wayne Rooney. Both of whom Koeman took off; Schneiderlin should have come off instead. We lacked pace again yet Lookman, Lennon and Vlasic were nowhere to be seen again!
We have signed 𧵎 million worth of players in the summer, yet the most needed one, a striker who can put the ball in the net, wasn't signed. We knew Lukaku was going yet, for whatever reason, we didn't bother signing anyone to replace him. For this reason alone, Koeman should be sacked, never mind that we now find ourselves in the bottom three!
You can't expect a knackered Rooney and two kids to replace Rom. Challenging for the Top Six? If he carries on, we'll be in the bottom six all season!
Tony Everan
282
Posted 17/09/2017 at 23:25:31
Colin;
I was disappointed with Baines today. There was quite a few occasions when he had the opportunity to run with the ball and try to whip on a cross.It never happened.
I am starting to think now that it never will. I am hoping for a resurgence comes with a few wins and renewed confidence. But the reality is that a quality replacement is needed.
Si Cooper
283
Posted 17/09/2017 at 23:34:12
It seems like many wouldn't be happy unless we had actually won in emphatic style today. Apparently a 4-0 loss is automatically worse than a 3-0 loss. Really? I thought there were a lot more positives from this game than the 1-1 draw against Citeh when we really should have been buried under an avalanche of goals even against 10 men.
That doesn't mean I'm happy though. We are miles off the top clubs, but that was always potentially the case with the gambles on the likes of Sandro and Klaassen hitting the ground running, and the failure to get at least 3 more senior players in the transfer window. The lack of pace was a glaring omission (which Giroud would not solve) as was the lack of reasonable cover for Funes Mori and Baines.
If Calvert-Lewin hadn't had a storming start to the season, or Rooney not shown reasonable fitness, then we would be even worse off. Somebody has to be accountable for the weaknesses in the squad, which dictates how competitive we will be as much as tactics / motivation can.
Returning to today's game, Martina was one of our best performers; Sigurdsson looked like the player who failed at Spurs; Gana actually stymied some of our attacks by halting his forward motion off the ball, which he does too often for my liking; Pickford has to be more wary when playing the ball with his right foot, and we will struggle all season if we continue to rely on Jagielka and Williams passing from the back (Keane was better at this but he seems to be suffering a crisis of confidence at the moment).
I don't blame Lukaku for his reaction to scoring against us. Even if ToffeeWeb isn't entirely representative, he cannot fail to have become aware that a sizeable portion of Everton supporters thought he was a bone idle waste of space, who actually made us a worse team overall, and we should snatch the hands off anyone stupid enough to offer us a decent amount of money (not that any manager worth his salt would be interested, of course!).
I trust that everyone can now see that there is sometimes a tangible worth in sealing the win even when the opposition doesn't score. Our defenders will not be looking forward to facing him again.
John Pierce
284
Posted 17/09/2017 at 23:40:01
Don't worry, folks; now we have 'easy' games, Koeman will undergo a tactical regeneration and go all out to win.
The players' confidence is shot, especially at the back, no surprise since they have to do most of the work.
So you really think those home bankers are easy?
Carl Allan
285
Posted 17/09/2017 at 23:40:49
We have just been beaten 10-0 on aggregate in a week's football, dropped into the bottom 3 for the first time in god knows how many years, and have got the joint worst defensive record in the league despite spending 㿢 million combined on a goalie and centre-half.
Anybody who tells me it was ever this bad under Martinez or Moyes needs a reality check and it is not just the beginning of this season that has been inept; it has gone on throughout the whole of 2017.
So much for Koeman shoring up the defence, we have conceded 3 to Spurs twice this year, 3 at home to Chelsea and Bournemouth, 3 at Anfield and Arsenal and 4 at Man Utd today.
Come back, Bobby Brown Shoes, all is forgiven.
Andy Williams
286
Posted 17/09/2017 at 23:43:03
Contrary to many opinions on here, I am happy to have all the players we have. That doesn't mean we don't need better players in certain positions but I think every player we have can do a job for us.
There is such ridiculous bile aimed at some players that a narrative is created that increases pressure on them (most evident in the attacks on Ross – a player that the top two teams in the Premier League last season believe can improve them). However, the lack of pace and the lack of a target man give no outlet and increases the pressure on players leading to more mistakes.
I don't like Koeman but I think he needs a little more time (not a lot) – but he needs to learn. The failure of managers to accept their mistakes is the key IMHO to how long managers should be given.
He has to try Niasse, Lookman and Kenny. The team is starting to gel but they could gel into one of the greatest passing teams in the world and still get hammered regularly unless there are players available for the outlet.
Mark Taylor
287
Posted 17/09/2017 at 23:43:08
It's not that the squad are all bad players. They are not, indeed most are either proven or rich in promise. The problem is I have no idea what the manager is trying to do with them.
We play with 7 defenders (if not more), there is no pace and barely any ambition. Take Sigurdsson. I've no doubt he is a good player, technically very accomplished, but I have no idea what question he is the answer to relative to our current squad... and I said as much before we bought him.
Why do we have so many players much the same and virtually nothing in the areas where we actually need them (a proven centre-forward, goalscorer, a left-back now Baines is clearly past it, a proper centre-back, rather than the shite that is Williams or a leggy Jagielka, to partner Keane etc).
Where there are options, for example to address the extreme lack of pace and statuesque play, these are not used, perhaps because they are beginners. But then you either believe in them or buy someone with pace that you do believe in.
I used to sense that Martinez was out of his depth but, unless he had far less input than he pretends, Koeman is demonstrating so quite openly, on a weekly basis or in a bad week, twice in a week...
George Stuart
288
Posted 17/09/2017 at 23:53:34
Season starts tomorrow.
We have completed fully one third of our 12 toughest games. No other team even comes close to that. Admittedly we only got a point from them but it's still a predominantly new team.
Also Ronnie has no clue what he's doing. Bring back Moyes (that's scouse humor in the face of adversity).
David Johnson
289
Posted 17/09/2017 at 23:54:28
We'll be alright after all we've got Billy's billionaire and his amazing war chest.
Ernie Baywood
290
Posted 18/09/2017 at 00:22:43
I've no doubt our form will improve. We'll probably 'rally' to finish 7th or so. The manager will tell us it was all under control and it was just a tough run of fixtures.
What's the point though? We've already seen what this manager will do against the 'big' sides. £6 Million a year and there's no hope for anything better. He actually got us to the point where a 4-0 loss is considered improvement! This is Everton Football Club!!!
I don't get why anyone would want to keep him. Pick almost any manager and he'll get 7th with this side. And we might even enjoy some decent football along the way.
Don Alexander
291
Posted 18/09/2017 at 00:32:04
The big question is how the hell did we sell Lukaku, a scorer whose work-rate was negligible, but fail to buy a perhaps less lethal centre-forward but with the ability to receive and hold a ball from and for the various goal-scoring No 10s we now have to feed him or feed off him?
How do those in charge expect the team to make a game of it in the opponent's half if they accept, as they blatantly have, there's absolutely no need for a centre-forward?
And if that's their logic, what's coming next season? No goalie? No centre-backs, but four centre-forwards?
It's that stark, and someone owed it to the fans to get it right in the window just closed, not next January or next summer.
I'm patient to a fault re the time required for "gelling" but a proper gel obviously needs all of the ingredients – otherwise, it remains a watery mush bereft of substance. Southampton had a proper gel in both of the two seasons Koeman did so well for them, what with goalies, defenders, midfielders, attackers and everything together.
Who at Goodison let us/you down so badly, Mr Moshiri, and why are they still here?
Mark Wilson
293
Posted 18/09/2017 at 00:45:21
Jay (#271),
Those with the strongest opinions, the really really pissed-off brigade like me, will be at Goodison Park on Wednesday, supporting those turning out in blue – not hating or booing or anything else.
That's not the same as somehow hiding from what I think quite a lot of us feel right now, which is that the manager is having a torrid time, doesn't seem to understand the shape or setup etc he wants to play because he isn't sure about which of his players he actually wants to turn out. He seems to be repeating his stubborn dour disorganised streak from last season – one win in ten, remember?
There's a sense from many of the fan comments I've seen and heard today that he's genuinely in a mess and it's communicating itself to the players, a number of whom have been... let's see now... utter shite from pre-season to now.
Jay, you suggest that we are in the midst of some kind of evolution from an aging side to some kind of energetic, vibrant, exciting outfit? Our defence today was one of the oldest lineups I've seen us start? We had a five with three players aged 31-35 and up front our sole attacker for a long time, is 31 and, though he's been a superstar, he was I really believe not bought to be a lone forward but a player sitting deeper and picking out a pass.
Evertonians are generally a passive bunch, let's be honest. We are amazingly patient. Koeman has been here nearly 18 months. We improved to 7th last season and yes, we were by miles Best of the Rest... but also a long way off 4th.
I think we are somehow going backwards when measured against those six we now think of as "above us". I don't think we have really spent the money some think we have and arguing that "net" spend doesn't matter – it's "amortisation that counts"? Well sorry, I don't agree.
So, it's not hating. It's not even being unrealistic. I didn't think we'd start too well but never imagined the series of pitiful tonkings we've endured. Winning the next four home games is a must for me, but it's not suddenly going to start signalling a huge turnaround.
Beating Arsenal in the next few weeks will help. Recovering some lost Europa League ground will help. Actually starting to play well, compete, and get some wins against the glass ceiling crew – that will signal we have overcome this horrible start, along with three or four top additions in January because, when added to Bolasie and Coleman returning, that's going to feel like a bloody revolution compared to now.
Sean McCarthy
294
Posted 18/09/2017 at 00:47:15
We started the season talking of our hopes of finishing in the top 4 or at least pushing for it. Surely to do that we would have to play and beat the other top 4 contenders like Spurs, Chelsea, Man City and Man Utd?? Well we've played all four of those and got 1 point, scored 1 goal and conceded 10. That tells us how far away from the top 4 we are.... light-years!!!
The close season optimism has evaporated once the reality of the situation begins to take hold. The signings we made don't look quite so good now. Not one of our new players was pursued by anyone else apart from the mighty Leicester enquiring about Sigurdsson. We bought players no-one else really wanted. And it's not hard to see why.
Pickford –– Young and still with a lot to learn
Keane – looks a nervous wreck
Sigurdsson – 㿙m?????? Swansea must be laughing their collective cock off
Rooney – several years past his best.
Sandro – if he scores 5 goals in an Everton shirt, I'll eat my hat!!
Added to that are two centre-backs that would not get a game in any other Premier League side, a left-back struggling to keep up with the pace of the game, central midfielders without a positive bone in their bodies, and not a single "goal scoring" striker in the entire squad!!
Whoever let it get to this needs sacking. Whether it is Koeman, Walsh or the board. But it's Everton so nothing will change and Moshiri will spin us some bullshit about Bramley-Moore.
David Israel
295
Posted 17/09/2017 at 00:47:28
Tony (#278), has Hawwy been sacked?
But you're right: let's not talk about it too loud. Even Old Brown Shoes is getting some positive references around here. Next up: Mike Walker.
Gordon Crawford
296
Posted 18/09/2017 at 01:07:46
So discouraged right now by what I am seeing on the pitch. But I'll go back on what I said earlier, when I called for his sacking. I'm willing to give him a few more months, but this Wednesday needs to have a very positive result and performance.
John Pierce
297
Posted 18/09/2017 at 01:44:59
Most Evertonians I speak too just want to see progress, tangible markers with a pattern of play.
Brutal facts; we have the seventh best resources in the league. That is the barometer. Any less is failure, any better is good.
If you look at that objectively, within factual measure that you want to see good players, playing a clear pattern of play, the emphasis on winning games.
That simply isn't there; those even suggesting Koeman stays on are stretching credibility. Not one person when countered on here about the style of football played can give me any marker of progress we are, can or will play some form of attacking football worthy of our support.
The arguments, however eloquent, are simply convoluted excuses; bad fixtures, too many fixtures, failing to gel, missing players, missed targets.
Not one positive, constructive arguement in support him staying. When something is rotten, you cut it back completely; you don't wait, let it fester and infect the rest of the organisation.
Gary Hughes
298
Posted 18/09/2017 at 01:58:06
There's people on here who see a 4-0 defeat as a sign of improvement. This is the logic that has facilitated 20 plus years of miserable failure as acceptable.
Our club might embrace mediocrity but they can only get away with it if our fans also accept it & unfortunately too many people are willing to accept this embarrassing shite.
Roman Sidey
299
Posted 18/09/2017 at 02:29:18
I'm not in the Koeman-Out brigade at this point but I do see why some are. The thing I keep reminding myself about is that the side has a lot of new players and were handed an opening five league matches that they were. It wasn't going to be pretty.
Having said that, losing by 12 goals over four games is atrocious. The me from a few seasons ago would be disgusted by what I'm about to say, but, regardless of how toothless the side is in attack, they need to go back to basics and concentrate on defending more than anything at the moment, especially against the upcoming "weaker" opposition who will no doubt throw themselves forward.
In regard to the match, Martina had an encouraging game, so I may end up eating my own words on him. Lukaku pissed me off with his goal celebration until I heard his post-match presser. He is very self-aware and smarter than most people involved in the game.
Peter Barry
300
Posted 18/09/2017 at 03:21:34
That must go down in the history books as the worst set of substitutions any manager has ever made. Koeman is Toast.
Oh and Lukaku is a narcissistic classless twat – but then we already knew that, didn't we.
Ernie Baywood
302
Posted 18/09/2017 at 04:48:32
I couldn't care less about Lukaku and don't expect anything from him. His celebration is an irrelevance – the fact we didn't bother tracking him is a bigger concern.
Just gone back and read a thread on our post-season expectations for the season ahead to see what we were thinking. That's a fair way to judge performance isn't it?
http://www.ToffeeWeb.com/season/16-17/comment/fanscomment/35063.html
Makes interesting reading. We all knew Lukaku was going... but I didn't see a single post that would accept these kind of results and performances.
Personally, I didn't have lofty ambitions. I said I'd accept a similar outcome if I could see a bit of progress in terms of playing style and attitude in big games. So far, Koeman is failing even the most pessimistic of Evertonian targets.
The only arguments I can see for not swinging the axe right now are the cost and alternative options available. There's just no point to having this bloke at the helm – we're going nowhere.
Alan J Thompson
303
Posted 18/09/2017 at 06:43:46
So this was one of our better performances and the scoreline was flattering? Let's hope we don't flatter the next opposition with another better performance.
Koeman says the players lack confidence. Is that surprising given he drops any player who dares to take on a player or makes a mistake. And he won't play anyone who hasn't got first team experience without explaining how exactly that situation is corrected.
Brian Porter
304
Posted 18/09/2017 at 06:59:03
In 59 years as a supporter, I never, ever, thought to see the day when Everton supporters would be reduced to looking for the positives in a 4-0 defeat.
We have a gutless, clueless manager who has even more ready made excuses as the previous incumbent, for the failures if 'his' team. This group of players is turning out the identical dross to the set of players he had at his disposal last season. There is no excuse for that in my opinion.
What it illustrates is that Koeman is inept and totally one-dimensional as a coach. He seems incapable of reacting to changing situations and whatever players he has available will be instructed to play in one way only, or face being dropped from the squad, not just the first team.
Four games with a 0-12 aggregate score is unacceptable for any Premier League club and is without any shadow of doubt, relegation form. If action isn't taken to remove the tumor that is Ronald Koeman from the body that is Everton FC, the only result I can see is a long season fighting relegation. Is that what we want from one of the highest paid managers in the world? Don't we deserve more, better?
Koeman's post match comments only serve to demonstrate his own low standards of expectation. He plainly sees mid table mediocrity as the pinnacle of Everton's potential. Is this what you get for ٤m a year in the current managerial market? Have our fans become so brainwashed that we look on defeat as an improvement just because we played with a bit more heart than in the previous three consecutive defeats?
No, no, and no again! What we are seeing is an almost exact repeat of the situation that saw Koeman sacked from his job at Valencia, a once proud club that in many ways is still struggling to cast off the legacy of failure he bequeathed them. Inability to adapt or change tactics, public castigation of his players, alienating top players, failing to accept any personal responsibility for a horrendous string of results... Sound familiar anyone?
It's still a mystery to me, just what Moshiri saw in Koeman that justified such an inflated salary. At the time, I would have preferred us to go for Unay Emery, not doing too shabby a job for PSG is he? And for far lower wages than the great Koeman the Clueless Conman, who must have talked one Hell of an interview with Moshiri.
Then, having kept Moshiri dangling, and finally agreeing to take the job, did he immediately jet up to Liverpool to set about the pre-season business of his new club? Nope – he jetted off on his second holiday of that summer, only gracing us with his presence after completing his summer jollies. A bit like buggering off to play golf in Portugal on transfer deadline day, when I would think every other Premier League manager was at his desk, doing their damnedest to push for whatever last minute improvements they could add to their squads.
Ronald Koeman doesn't give two shits about Everton. We are nothing more than a stepping stone for him, and a lucrative one at that.
Until Moshiri realises he's been royally conned and made a fool of, we will be stuck with the fraudster. For God's sake, and for the sake of our club, I hope he wakes up sooner, rather than later.
Collin Govender
305
Posted 18/09/2017 at 07:20:40
So sad Everton never played ball like this ever. Players have no guts the manager doesn't have a plan. Playing the ball backwards all the time to the keeper or defenders, holding the ball, not passing as there are no runners from midfield...
Come on – get a formation that works.
Gary Heywood
307
Posted 18/09/2017 at 08:01:16
Shambolic transfer window.
No quality right-back, left centre-back and left-back signed. Why?
No quality creative central midfielder signed. Why?
No quality wingers signed. Why?
No quality strikers signed. Why?
Not addressing the obvious. Why?
Mat McConville
308
Posted 18/09/2017 at 08:46:37
Perversely, after my rant yesterday, I thought the players did okay for 60 'middle minutes' in spite of the formation the manager picked. Again, no width and no pace.
If we are going to work it so our right fullback is our only wide attacking outlet when we turn over ball, then we have to make sure he has delivery. Martina does not.
This is my issue with filling your midfield with central options. It becomes congested, one-paced, and you can see players curtailing their forward movement and looking around on the counter as the options in space or wide are behind them.
We have a run of relatively manageable games coming up, when I believe we will probably see some kind of recovery. For me, whilst this is welcome, it masks the obvious inadequacies behind Koeman's tactics.
I'd like to see Sandro get a run at No 9. 14 goals in a tough league in a poor side suggests this lad deserves more than a token cameo when we are chasing the game. He has pace and I'd like to see him hold his position high up the field and stretch teams. He is keen to make an impression and this draws him deep to get involved, but only increased our midfield traffic.
I'd like to see Sigurdsson at No 10. If you're going to play two holding midfielders then lets play two of Lennon, Mirallas, or Lookman to give us balance and an outlet. It's not rocket science and we don't have to cram our best 11 on the pitch.
Ray Jacques
309
Posted 18/09/2017 at 08:52:35
Burnley have been away to Chelsea, Spurs and Liverpool and not lost a game so those posters going on about our hard start should consider that before saying it's going to be alright now we have easy games coming up (one of which is Burnley).
Our attacking stats are the worst in the league in terms of shots on target. We have no focal point up front and cannot build momentum as we move the ball at snails pace. The 'lesser 'teams will simply sit back and then beat us for pace on the break when they see an opportunity.
You either need a big, powerful centre forward (Kane at Spurs) or lively, mobile, interchanging forwards, like Man City. We have neither and, without a goal threat, we won't win regular games – no matter who we play.
Kevin Dyer
310
Posted 18/09/2017 at 09:20:33
I agree with Tony Hill (#61) and a few others. Easily our best performance of the season, by a country mile, and unjust to lose 4-0.
A lot of comment could have been pre-written as they bore no relation to the game and went after the usual scapegoats (Schneiderlin etc), without justification.
I saw the lineup and thought we'd be battered, thinking "Well, what's Plan B?" when Valencia scored. Slowly we got a foothold in the game and actually outplayed them for stretches.
Until Rooney (who was pivotal to our play) went off everyone had played well, even Schneiderlin. We'd escaped twice with unforced errors from Keane and Pickford but not so with Williams, who'd been our best defender, ironically. Game over at that point.
So what did Koeman get wrong? We were too deep and the midfield sitting right on the back 5, allowing Valencia all the time he wanted. Koeman keeps saying he wants them to push up so that they didn't is likely on the players (probably our slow centre-backs Williams and Jags). Maybe our central midfielders sit deep because the defence never step up to engage runners? I don't know but it's worth considering.
Davies as a right midfielder worked well, his pace and energy gave Young a tough time. In central midfield this season, he keeps vacating his position chasing the ball; not a problem out wide.
Sigurdsson was less effective and kept drifting inside. I think he has to play centrally or not at all. Alarm bells went off when we signed him and Koeman said he can play across the front. No, he really can't.
Subs I didn't like. Sandro tried but we lost something when Tom went off. Ditto with Rooney. We Rooney and Gana off and Herrera on they gained control in midfield and we looked stretched, with too many forwards on. Okay, we were chasing a goal.
So, despite the heavy defeat Koeman will not be sacked. Now, it's the job of him and the team to score some goals and get some wins. The desire, focus and energy was there tonight. If we can cut out the errors and create/finish our chances, we can turn things around and Koeman will get a reprieve. Fail and he is gone.
Mike Doyle
311
Posted 18/09/2017 at 09:40:18
Some posters really clutching at straws. The reason we looked good (by "good" I mean better than the horror shows of the previous 3 games) was down to Man Utd taking an early lead.
They could then sit back and play in 2nd gear for an hour or so, confident that they faced little or no threat (Tom Davies aside perhaps) from a team with zero pace – just like Spurs did at 3-0 up last Saturday.
No surprise to concede more in the last 10-15 mins as our aging side wilted against younger, fitter, more powerful athletes.
Carragher gives a concise summary on Sky (available on YouTube) – worth a listen if you've not heard it.
Paul A Smith
312
Posted 18/09/2017 at 09:51:15
My word, Kevin Dyer. I hope you refereed to Barkley as a scapegoat too? Schneiderlin a scapegoat? Even his biggest fans have said he's been awful.
I agree with Mike Doyle. I have nothing but admiration for our away support but laughing at Lukaku hitting a free kick against a wall when we are 2 down was embarrassing for me. What kind of mentality is that?
Then it comes back and he scores. Last laugh on us again.
Roy Steel
313
Posted 18/09/2017 at 10:01:21
We knew it would be a difficult start but hey. my glass is still half-full; we have to stick with the guy this season and see what happens.
If there are no signs of improvement or a settled pattern of play or any forward planning in our overall MO by the end this season, then it's farewell Ronald Koeman.
We won't get relegated so let's hope he gets it right and get behind him.
Eddie Dunn
314
Posted 18/09/2017 at 10:05:58
Williams may well have put in the bad pass for two-nil but he saved our bacon several times yesterday.
The performance was much better and I don't think united were intentionally sitting back after the early goal. We played our way into the game and Davies and Rooney were instrumental in that.
Gueye covered all over the place and we missed him and Davies in those last poor minutes of the game. Martina was surprisingly good too.
A shame about the result but we did play well for most of the game. Lukaku, as I always suspected, is a complete and utter wanker.
Brian Williams
315
Posted 18/09/2017 at 10:06:49
Paul. Some might say that not laughing at Lukaku just in case he scored and had the last laugh is the sort of fearful, frightened approach that sees us sitting in the relegation zone.
This is the same Lukaku who when asked what he thought about events at his old club (leading up to yesterday's game) said "What happens at Everton doesn't interest me."
If you can't understand why they laughed well......... agh what's the point.
Kim Vivian
316
Posted 18/09/2017 at 10:10:25
Thank Jesus those 4 games are out of the way.
It is worth pointing out, that in 18 games played by Man City, Man Utd, Chelsea and Spurs against teams other than those 4, only 5 points have been collected by the opposing sides (I think) out of a possible 54.
I'll say between now and the end of November, we are going to head back up the league table like a rat up a drainpipe.
Kim Vivian
317
Posted 18/09/2017 at 10:26:23
Correction... Actually – it's 7 points.
Paul A Smith
318
Posted 18/09/2017 at 10:33:12
Brian (#315),
I know what you mean but what do we gain from it? It's more classy to pretend the man didn't exist, like he thinks we don't.
Never give a tit the chance to have the last laugh.
Benny Snow
319
Posted 18/09/2017 at 10:48:05
Lost to Man Utd, Spurs, Chelsea and drew against Man City... Koeman has four home games to save his job
Clive Mitchell
320
Posted 18/09/2017 at 11:15:30
Sean McCarthy, 294 - keep that hat handy, you'll be eating it before the end of this season!
Tim Wardrop
321
Posted 18/09/2017 at 12:19:49
Koeman has to go. It's not that we've lost those games – anyone can lose to Chelsea, Spurs and Man Utd. It's the way we have lost them.
Does anyone on here actually agree with the way he sets up the team and with the method of football he's trying to deploy? I certainly don't. We are a terrible team to watch right now, same as we were last season.
At least under Martinez we played exciting football (at times) especially in the first half of 13-14 and 15-16 seasons.
Brian Williams
322
Posted 18/09/2017 at 12:27:06
Point taken Paul mate.
Dave Abrahams
323
Posted 18/09/2017 at 12:37:23
I was one posting in yesterday that the 4-0 score line flattered United and that was the best we had played in the league all season, adding that we couldn't have played any worse. I stick by that: for all those who think that is ridiculous,well answer me honestly, didn't any of you think, when we were giving as good as we got, 'We can get a draw here'– remember honestly.
These thoughts no way condone the way we have played, the constant changes, poor substitutions, no wingers etc etc, but I did see some hope in the way the players stuck at until the last seven minutes.
I will not fret if Koeman goes but yesterday might be the start of a different attitude by everyone concerned, the board, manager, players and coaches, maybe not. I am as hard to please as anyone on here and if that glimmer of hope doesn't materialise I'll be back moaning (and rightly so) with the rest of you.
Derek Knox
324
Posted 18/09/2017 at 12:45:52
Tim @321, I must agree, but if they do bring in someone, he will want to get rid of some players, and formulate his own blueprint for success.
This of course, takes time, we couldn't get any in until January, unless they are Bosman's, it's not very encouraging, to state the obvious.
I totally agree with your points on team selection, not only that, his substitutions, yesterday, being case and point, he takes off the players who actually did something positive during the game, and brings on players too late, and we concede three goals in seven minutes.
I am worried for the future, but as ever, hopeful.
George Cumiskey
325
Posted 18/09/2017 at 12:47:00
Mick@224 I was at that match mate, it was against Notts Forest. If my memory serves me well big Fred knocked himself out scoring one.
Oh for a centre forward like him now , he was a big hero of mine not like the wimps we have today.
John Smith
326
Posted 18/09/2017 at 13:11:21
I thought the last two games Koeman got it wrong but the vitriol he's received on this game has been harsh. If we played an attacking team and got rolled you would be arguing he should have played a defensive team. He did, and, then tried to steal the game at one-nil down.
Now if he hadn't brought on attacking players at the 65th min mark, you would be complaining that we lost one-nil, and should have attacked the game. He did that, and we lost 4 nil.
It seems Koeman is damned if he does, damned if don't.
Mark Morrissey
327
Posted 18/09/2017 at 13:57:03
My view John of how to change your game and go on the offensive would be to take off a defensive player and trade him for an attacking playing. He failed to do that. He took off a player who was energetic and who was at least trying to move forward.
Davies should have stayed on and he should have taken off Schneiderlin who along with a few others yesterday was playing within himself and doing nothing for the team.
It's a sign of a dithering coach who, when losing a game decides to go on the attack by replacing a forward with another forward.
He needed to "up" his number of attacking players on the park and not simply change like for like.
Schneiderlin was aching to be hooked yesterday and even my son who is 11 said "he needs to get Mirallas on and take Schneidy off, he's doing nowt".
It's all history now but surely if you need a goal you don't take off a forward off, that's how I see it and conversely if you want to shore up your 1-0 lead you put on a defensive player. You don't take off a centre-back and replace him with another defender, you hook an attacker and put on a defensive type player.

John G Davies
328
Posted 18/09/2017 at 14:02:25
Who was the first and second sub, Mark?
And who did they replace?
John G Davies
329
Posted 18/09/2017 at 14:03:58
Dave Abrahams.
Good post mate, spot on.
Tony Everan
330
Posted 18/09/2017 at 14:08:39
Somebody said " the season starts today"
That's how I'm looking at it now, we've got to build some confidence and get in the groove. Get the players playing and understanding each other's games.
I'm hoping that now the tornado season is over Klaassen and Sandro can bed in better and get some form going. And the defence can rattle off some clean sheets.
Sounds good, doesn't it... that's the theory part done and dusted.
John Smith
331
Posted 18/09/2017 at 14:34:06
"It's all history now but surely if you need a goal you don't take off a forward off, "
A forward that most on here claim is old, past it and no longer has the legs to play in a forward position. Based on that alone, wouldn't you agree fresh legs for old legs make sense?
Brian Williams
332
Posted 18/09/2017 at 14:45:46
Paul 318.
Paul forgot to say, you may change your mind about slagging Lukaku if there's any truth in the tale that he was, for several months leading up to the contract impasse, advising Barkley that he needed to be playing for a big team and should be looking to move on!

Brian Wilkinson
333
Posted 18/09/2017 at 14:58:42
I would not like to be Ronnie picking the team on Wednesday. On reflection, I am sure most posters would agree Kenny, Lookman and Niasse worth a run out. If we do that and we get beat, some will be slating Ronnie for not playing his strongest team in the cup; like some have said, damned if he does and damned if he doesn't.
For what it is worth, I will stand by getting slated if it backfires but I would certainly consider the above three players on Wednesday.
Jay Woods
334
Posted 18/09/2017 at 15:00:32
Furious with Sideways-erlin for fraternising with United's players after the game, as if life is one big silly party and the result meant nothing to him. Disgusting, insensitive antics and he should be fined for it.
Paul A Smith
335
Posted 18/09/2017 at 15:01:42
Brian, I wouldn't let that worry me mate. Good players want to play with good players and especially if they are comfortable with them.
I thought the day he left he will be in their ear to sign Barkley because I see how much he likes him. The way things have panned out I still see it happening unless we somehow get Barkley to commit.
Their midfield is another year older and I don't see the likes of Herrera or Mata being at the top of their game for another season. The fact Lukaku wants good team mates doesn't bother me mate he was the same here.
He's been honest from day one to be fair. He was always ambitious and always talking about improving.

Colin Malone
336
Posted 18/09/2017 at 15:21:01
Adebayor, Maroune Chamakh and Bendner, all without clubs. Better than no centre-forward at all till January.
James Marshall
337
Posted 18/09/2017 at 15:47:43
We were decent/competitive for 35 minutes of the second half.
Apart from that we're still fucking shit.
No width. No pace. No centre forward.
You can't play without a striker. You can't have your (technically) best player in Rooney playing every position at once. The bloke was playing centre half and full back half the time.
Play DCL from the start, FFS. Buy another striker in January.
End of story.
John Daley
338
Posted 18/09/2017 at 16:01:54
Chris @61,
Danny Murphy doing his best 'Little Big Man' there.
Ok, Rooney was among the better performers of a pretty piss poor bunch, but to say his display against Man United was "sensational" is disengenous flattery on par with Paul Daniels publicly dubbing his 'Despicable Me' beaked missus the bloody "lovely" Debbie Mcgee.
Rooney put in the effort and tried to make something happen (which is the least one would expect of someone with a point to prove turning out against their former club), but he fluffed his lines when presented with two great chances to drag Everton back into the game. If he buried them both (as he should have done), then you could certainly understand people bigging him up as being "sensational" on the day. The way things actually went down makes Murphy's praise sound like nothing more than a bit of backslapping support for an arl mate having to build his reputation back up.
For me, Rooney has been a big part of the problem with the poorly balanced sides Koeman has been sending out this season. It's problematic playing him up top, as he no longer possesses the necessary physical attributes to pose more than a passing threat anywhere along the forward line and he looks as though he well and truly knows it himself; hence his dropping further and further back to try and find a bit of free space where he can put his foot on ball without fear of being instantly brushed aside, out-jumped or out-paced.
Whilst some people will lap up his 'looking to get on the ball', it conversely leads to the closing off of an outlet vital for any team looking to get out and up the pitch, whilst further clogging up an already fully congested midfield area. Sandro has been guilty of similar in his time on the pitch, dropping deep and haring around in areas where a forward can't harm any fucker (although the impetus there seems to be 'Scrappy Doo'ish desperation to make some sort of mark, rather than him being physically shagged or incapable of running the other way).
John Pierce
339
Posted 18/09/2017 at 16:31:28
Dave 323.
You are pretty consistent with how balanced you are. I will agree it felt like we played better yesterday but I looked at that performance and cannot agree.
The first 15minutes we were all at sea. Davies was doing shuttle runs and we were gagging to concede. Sure the goal was impressive but the mentality was bunker down.
The period of the game, which many think we were an improvement was that middle third. United let us play in soft zones, no pressure on our possession, to which end we bobbed up and down the midfield with an occasional threat.
We had no periods of concerted pressure, no penetration mostly through fear and are only outlet was an right back who is not good enough.
And even in that time Keane had time to set Lukaku up for the miss of the season.
It looked like we were popping it around okay but truly its not an improvement when you cannot exercise the opposing centre halves to more than a brisk jog about and at the same time look like a jenga tower teetering on the brink at the back.
Eventually the substitutions and another mistake saw that jenga tower collapse but in truth there is nothing there highlight an improvement.
The appearance of 'having a go' is not borne out statistically either, our territory map is exactly what youd expect.
United had one hand on our forehead like a bigger schoolkid and 1-0 or 4-0 makes no difference. It was poor.
James Marshall
340
Posted 18/09/2017 at 17:02:41
I know he's ex RS, but Danny Murphy tells it pretty straight on the BBC
Link
Brendan Fox
341
Posted 18/09/2017 at 17:13:57
For all of the other posters saying Koeman needs more time, how much time is more time? If he is given a couple more months, the way the teams put out are currently playing we could find ourselves playing catch up with teams around us just to survive. That is not being melodramatic but is being realistic because a team that doesn't score goals and concedes freely is a relegation candidate no matter who they are.
The rot needs to be stopped and now. Koeman has had 18 months and in that time we have regressed. Koeman has played with genuine width in one match this season and that is the most entertaining footie we've seen which was home to Split.
Koeman for whatever reason believes having 7-9 defensive players on the pitch at any one time is the answer to trying to carve out a result to improve confidence.
Not using all of the players available at his disposal to try different formations and tactics is just ridiculous.
Despite what opinions some of us may have about the likes of Mirallas, Lookman, Kenny, Lennon and Niasse they all offer something the most recent teams picked lack which is pace and an attacking mentality.
All of the above players appear to be sat in the naughty corner for whatever reason. If Koeman won't try something different then he deserves to be binned and quickly to allow someone else (Unsworth) to try and salvage the season who will pick round pegs for round holes and not try to shoehorn players into positions they are not suited for.
Dave Abrahams
342
Posted 18/09/2017 at 17:22:29
John (339), fair enough, but the period that impressed me was from the start of the second half to when we made a very bad pass that led to their second goal. In that time I felt we were as good as them and could have had a couple of goals, not half chances but one's that should have been converted.
At the end of the game I would have to concede that Man Utd deserved to win, but if Koeman has the sense to change his tactics and use a couple of players with speed then there is easy enough heart in this squad to get us out of the rut we are in.
I understand and agree with fans having a go at the manager, he can't complain, he's had enough time to have us playing a lot better than we have, especially in away games since he started with the club.
I just think there was a glimmer of hope in certain parts of the game yesterday that we will soon start the season as we should have done at the beginning of August.
Derek Knox
343
Posted 18/09/2017 at 17:25:15
James @337, it's a long time between now and January, there are many potential points to be won or lost, and at least two competitions to either be, or not be, involved in.
I really don't know what the best solution would be, if Koeman resigns, it certainly makes all, a bit clearer and the Board would have to appoint someone, or get a caretaker, from within.
At least manager's are not only available during a window, but, being the Devil's Advocate, who is going to let a successful manager go, and conversely, if they would, it could be for a reason?
At the end of the day, it cost them a lot of money to get Koeman, and he has spent a large wad, seemingly unwisely on most to date, it's an unwelcome situation, no matter which way we look at it.
Brent Stephens
344
Posted 18/09/2017 at 17:40:54
Dave #342 (etc) with you all the way on that balanced view.
James Marshall
345
Posted 18/09/2017 at 18:03:01
I'm not sure I agree he's spent the money badly – he just didn't sign a bloody striker! Aside from that I think he's bought decent players – we also have a lot of injuries (Coleman & Bolasie) which is hampering things.
The mistake I think he's making based on the players he has available, is that he isn't player a striker Calvert-Lewin) and he isn't using any pace or width.
Seems pretty simple to me!
Robin Cannon
346
Posted 18/09/2017 at 18:08:24
Yeah, that's a fair analysis (with the exception of "Koeman is a good manager who'll fix it", of which I've seen no sign).
On a deeper basis, as a club we just seem risk averse. That goes from the team's approach to the way we run as a business. Everything is safe and "good enough but no more".
Our managerial appointments are as expected. There's never anyone who surprises or who you think "wow, that's imaginative".
And given the way that the business of football is set up, the only thing that a club that's "best of the rest" can do to break that glass ceiling is to take risks. It might not work, risks can blow up in your face. But a risk-averse approach like we take might keep us in and around the top of that best of the rest group, but it'll never take us further.
Lev Vellene
347
Posted 18/09/2017 at 18:11:55
I know this seems impossible to understand, but Koeman did not buy any players (just like he said when he joined us way back, he would not be dealing with player transfers directly, he preferred a Director of Football to handle that side, and Everton brought in Steve Walsh for that part)!
Walsh and the Board did fail us there! I would think that Koeman says Yes or No in the end, but if they brought him no strikers to approve of, what would his Yes/No mean?
To me that seems an alien way to run a team, but then I only know how English football used to work for the past 40 years, not how Continental football might have differed...
Paul A Smith
348
Posted 18/09/2017 at 18:18:48
John (#331) there are so many variables in that answer. Rooney was knackered but still our biggest threat. Maybe fresh legs around him may have allowed him to poach a bit more?
James Marshall
349
Posted 18/09/2017 at 18:25:15
Lev - you're right, the manager doesn't do the wheeling & dealing, but surely he's has a HUGE say in who they try to buy!!
Jay Harris
350
Posted 18/09/2017 at 18:25:24
Panic is not what we need right now.
We already know as Koeman was pointing out for 3 months that we need a good striker and left-back cover.
Losing Bolasie and Seamus in particular was a major blow as was not getting Sigurdsson until the season started.
We need some time to see how the pieces gel and to regain some confidence in the players. Any change should be made in January when a new manager could bring in his choice of players but I really believe Koeman will have turned it around by then.
Christopher Timmins
351
Posted 18/09/2017 at 18:25:32
I was hoping and expecting a much improved performance yesterday and I have to say I am more worried today than I was on Saturday evening. We have the worst of both worlds, toothless upfront and inclined to make basic individual errors at the back.
Calvert-Lewin is not the panacea for all of our ills upfront but he is the best option to lead the line. We then need to pick 1 from 3 to play in the hole. Given the outlay on Sigurdsson, he is the obvious option. We have no problems find two holding midfield players, we possess an army of them. However, I would prefer a different combination to the two that lined out yesterday. We lack an out and out winger and that issue won't be solved until Bolasie returns.
I think we have to bit the bullet at the back and play Kenny at right back and Holgate in the centre alongside Keane. Baines is still the best option at left back. Jagielka and Williams as part of a back 4 or a back 5 simply do not work!
Not easy being a blue!
Graham Coldron
352
Posted 18/09/2017 at 18:31:41
Until Bolasie and Coleman return the only available players with a bit of pace are Mirallis (probably still sulking), Lennon (not as fast as he was), Lookman (appears out of favour for some reason) and possibly the lad from Split.
At the moment, this is what we are stuck with until January. Over to Koeman; get it sorted eh ?
Lev Vellene
353
Posted 18/09/2017 at 18:43:13
James (#349),
No, that is just the point, he just says he wants such-and-such "type" of player, and the DoF/Board are supposed to find them and convince them to sign. He just gives his approval of the choice, or dismisses it.
Heh, and there are enough examples of managers in that style of management that got players they did not want, so I hope Koeman at least can say "no" at EFC!
Brendan Fox
354
Posted 18/09/2017 at 19:57:03
Koeman not buying or choosing the players is just another excuse he is using rather too conveniently. A manager chooses targets as was definitely the case with Schneiderlin and Sigurdsson the DoF/Board do the deal. This is not much different to a manager choosing targets then the chairman/board doing the deal. Koeman just doesn't like taking the blame for decisions he is involved in.
This is reflected by him constantly blaming the player's rather than looking closer to home such as training methods/techniques, team formation/tactics and finally player selection that he is ultimately responsible for.
Koeman is just another brand of bullshit merchant like Martinez who is clueless how to rectify the mistakes he has made.
Robin Cannon
355
Posted 18/09/2017 at 21:08:44
Lev (#353),
I think you're giving Koeman too many excuses. It's a perfectly valid method of managing player purchases.
He identifies the types of players he wants; e.g. "we need to find a left sided midfielder with pace, and a good goalscoring record, with x, y, z other qualities". Walsh and scouting team go out and identify those players and come back to him with options, and no doubt Koeman will have mentioned potential targets himself.
There's absolutely no suggestion that he's having players he doesn't want, or in the wrong positions, forced upon him.
David Hallwood
356
Posted 18/09/2017 at 21:38:57
On Sky's Sunday Supplement, Andy Dunne of the Mirror made the point that Rooney is the first name on our team sheet, wouldn't get anywhere Man Utd's team – such is the disparity.
IMO, it's lack of pace at the back that's the problem, as Jagielka, Baines & Williams don't want to go too far from the 18 yard line, because they haven't got the pace to recover which means the whole team are 25 yards too deep.
Baines looks shot and raids down the wings are getting rare and surely it's a bit too much to ask him to play 2-3 games a week. What's happened to Garbutt & Galloway? Obviously the management doesn't fancy either of them but they're better than nothing, and that's what we've got at the moment should Baines get injured or suspended – nothing.
Agree with the majority that it was a better performance albeit from a very low base, but then again Mourinho is a wily old fox and the best in the business at game management, and it's becoming a pattern this season for United to be in 2nd gear at 1-0, then take the game away from the opposition late.
As good a performance as you can expect from the rapidly ageing Williams, but that's the 2nd season in a row he's cost us at Old Trafford.
George Stuart
357
Posted 19/09/2017 at 04:23:02
I could go on about the players we've got, the players we haven't got and the selection of players, plus strange formations and substitutions, but for me it still occurs that the most important game of the season may have been our first. When I first saw the fixture list a draw or loss to Stoke could have seen us potentially with one or no points at this stage. Imagine the angst in that situation. I was genuinely terrified.
I was more than delighted with a point at Man City and duly expected no more (maybe one if we were lucky). And also no one should lump the RS in with the likes of Chelsea, Spurs or Man City. They'll twat Leicester 4-0 next week and draw 1-1 with some lowly team the week after and lose to us in the derby. One-trick poney, blistering pace in attack... oooo
James Marshall
358
Posted 19/09/2017 at 09:39:50
To assert that Koeman might be having players bought that he doesn't want, or hasn't had a hand in identifying, is pure fantasy.
Of course he chooses the players, along with his brother, and Walsh – anyone who thinks the manager doesn't have any, or much of a say in who we sign is completely wrong.
He doesn't do the deals, but he does choose the targets – along with Walsh who does the scouting, talks to players teams etc.
Personally, I think our problems are very simple – we play too narrow, and we lack pace. Now for whatever reason, Koeman refuses to use our wingers (Lookman, Mirallas, Lennon, Vlasic) and therefore we struggle because teams pin us back; we're vulnerable down the sides (no fullback cover) and we can't break on teams because (A) we have no width, and (B) we have no pace (see above).
I don't see why this isn't so glaringly obvious to the management team. Everyone on here appears to know it; every journalist seems to know it .
Dale Rose
359
Posted 19/09/2017 at 13:05:04
I thought that in the second half up to 80 minutes we were OK and that the draw was on. So did the Sky pundits, even Neville said at the end it wasn't a 4-0 game.
I don't think the team looks good at all, I didn't in the qualifiers for the Europa League, there was something missing. A lot of money spent on not a lot of quality. We are missing Barry, Bolasie, Barkley and Coleman.
Williams and Jagielka did their bit, but to be fair they were under the cosh constantly and have been in every game we have played. There were a lot of schoolboy errors in the basic play, giving the ball away and at times a lack of ball control, bouncing off our players and on to United's players.
I don't know whether Everton are just poor or whether the gulf at the top has just got wider. The top five all seem to play better than us.
The Premier League has now become three tier, the quality at the top and the nearly men in the middle and the knife edge men at the bottom. I don't know if sacking Koeman will make any difference, I doubt it.
The only things I honestly believe will improve things is to bring in Unsworth as manager, and to start to integrate the youngsters into the team; we have enough of them of more than sufficient quality to turn what is at present a dire season around.
James Marshall
360
Posted 19/09/2017 at 19:26:36
Why do people think Unsworth will make them better? The only way that will work is if he plays with some width, and God forbid, a striker in Calvert-Lewin or Niasse. Actually, I reckon I could do better simply by doing that.
Nigel Munford
361
Posted 19/09/2017 at 21:38:02
On a good news note, Leicester have done for our neighbours tonight, so we may be pants but at present we are still in that competition, and they aren't. There is a god.
Dale Rose
363
Posted 20/09/2017 at 08:43:34
James, I think he will make a difference in as much that he is managing a very successful team in the Under-23s. He has them playing well, and to integrate them with this team, cant do anymore harm than is being done at the moment.
The last thing I want to see is the young players being passed over and then sold for nothing.
James Marshall
364
Posted 20/09/2017 at 12:23:16
But there's a reason the entire league doesn't just use all their young players – because they'll be up against seasoned pros and get battered.
It's very different in the Premier League to the PL2.
Jim Wilson
365
Posted 20/09/2017 at 21:49:48
The game lasts for 90 mins plus.
4-0 is 4-0. Following on from three 3-0 hammerings, this is pathetic and a disgrace. It's not even the results that warrants Koeman getting booted out the club. It's what he has done.
Buying too many players was always stupid as it's hard for them to gel quickly. Constantly changing the team doesn't help but constantly changing system is suicide as there is no continuity, no chance for the side to knit together.
Koeman is an utter fool and needs to be sacked now. 20 years of shite and the nonsense continues. It's an incredible shambles. If he doesn't get the sack the Derby will be another humiliation and it will be the boards fault.
Sort it out now – just bring in Unsworth and Ferguson – they can't possibly be as stupid – and hopefully Barkley will then stay and show his true potential.
Dennis Ng
366
Posted 20/09/2017 at 21:53:26
James (#364), they might not use their youths because they are not good enough. A lot of fans clearly rate our youngsters highly, so given the dire results, why not now?
Every team needs a mix of youth and experience and we might be overly cautious when it comes to erring on the side of experience.
---
Add Your Comments
In order to post a comment, you need to be logged in as a registered user of the site.
Or Sign up as a ToffeeWeb Member — it's free, takes just a few minutes and will allow you to post your comments on articles and Talking Points submissions across the site.
© ToffeeWeb