Report
Green shoots cut to shreds by Vardy strike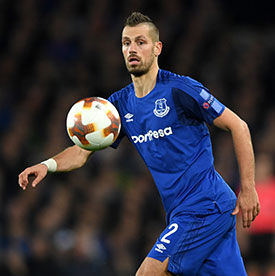 Morgan Schneiderlin fit following illness but only on the bench
Leicester City 2 - 0 Everton
Mirallas, Lennon and Rooney provided the attacking strength behind Calvert-Lewin in David Unsworth's first team selection at Leicester but it would not be anything like enough to match the home side's tremendous speed on the counter, Vardy scoring with ease.
Klaassen, Sandro and Vlasic were absent, with Schneiderlin and Sigurdsson on the bench. Keane was in hospital after a nasty gash on his leg became infected.
Everton kicked off and Baines swung in an early cross although things were a little scrappy, Davies giving the ball away and Gray firing wide. Calvert-Lewin had a good tussle with Maguire but fouled him.
The Foxes got Gray loose down the right and Williams had to concede the corner and it needed some defending, Morgan's shot deflected behind by Williams. It was defended out but Gray did the same thing with and even better cross that was driven over. They then switched sides and cut through again, giving Everton some early warnings.
Everton finally had some midfield possession but looked a little disjointed and could not penetrate forward. Davies at least tried a forward pass but it was too long. Mahrez went down with a head injury in an accidental collision off the ball with Gueye.
From an Everton free-kick, The Foxes screamed forward and sliced Everton apart, Vardy completing a devastating move, Gray beating three players, Mahrez,crossing to him first time. Shockingly simple.
Vardy got past Davies, who pulled him back for an early yellow card as Unsworth's charges were in sad disarray after that stunner. Mirallas tried to run through the Foxes defence but, once he lost the ball, another rapier-like attack was on for the home side.
Rooney fouled Iborra but only got a talking to. Slow build-up saw a brilliant ball from Rooney play in Lennon who might have shot but tried to set up Calvert-Lewin, who was not strong enough to command the ball that was flicked out of his path.
But disaster struck as Kenny sliced a horrible own goal in off Gray's cross, a very poor schoolboy error... things could not possibly be worse for poor David Unsworth, although the goal was later awarded to Gray as his cross was deemed to be on target.
At the other end, Lennon was brought down by Fuchs but no penalty said Marriner, perhaps because Lennon was not in possession of the ball, but it looked clear cut on the replay.
Mirallas pulled off a fine snapshot that curled just wide of Schmeichel's post. Rooney worked the ball to him again and he fired past the other post this time, winning a corner. Davies and Calvert-Lewin got in each other's way and the Foxes looked to break again but Davies won a free-kick that Rooney fired in deep to the far post, winning another corner that was cleared.
Rooney was pushed deep but still tried to cross, a little too easy for Schmeichel to collect. Everton were pressing but being too deliberate and slow, trying to rely on intricate passing through a dense Leicester defence. They were probing and poking but not really getting close, and always wary of the Foxes on the break.
Another slow build-up move went nowhere as Rooney lost the ball and fouled in frustration... Sigurdsson and Niasse on for Rooney and Mirallas at half-time? No, it was Lennon and Mirallas off for Niasse and Beningime. So much for the old guard providing width!
Davies got forward and won an early corner that Baines delivered well enough but the Foxes break was stalled this time. Everton were fighting hard but looked scrappy and were trying many things that simply did not come off going forward.
Rooney picked out Niasse brilliantly and he should have done a lot more than simply pass the ball to Schmeichel from a very threatening position. Davies tried to play in Calvert-Lewin but it was intercepted too easily. Jags stopping Vardy from advancing.
It was helter-skelter stuff in midfield as Everton tried to get a grip on the ball but it was desperate at times, Fuchs almost scoring direct from a throw-in, Pickford having to punch it away late. The ball came through to Vardy who was caught by Williams on the shin after he shot wide.
Rooney set up Gana for one of his typical strikes, this one on target but deflected behind for a corner that was cleared. Ponderous pressure from Everton saw Niasse shoot well wide. Niasse then lost out in a tussle with Morgan but Everton were keeping the pressure on the home side.
Beningime played a beautiful ball for Calvert-Lewin to get forward but Niasse was blocked for the cross and Jagielka tried a far too demanding overhead kick.
Another strong attack saw Niasse's shot blocked for a corner. Everton kept pressing but could not create a real chance. Kenny won a corner after the lineswoman was overruled by Marriner, and Sigurdsson replaced Rooney and launched the corner a little too high and deep.
In a rare Leicester attack, Jagielka took out Vardy who jumped up and took the ball on, but Marriner called it back and Pickford punched away the free-kick. Everton got forward but Niasse fired way too early, high and wide.
There was no lack of effort or commitment from the Everton players who were fighting like tigers for every ball, but the composure, skill, and finesse was sadly lacking as they struggled manfully to get back into the game.
Vardy got past Jagielka but Williams was across quickly to deny the Leicester marksman. Beningime gave Chilwell a good run down the left, concedeing a corner, as Albrighton replaced the Leicester player.
Niasse did well down the byeline and won yet another corner off Morgan, Sigurdsson again looping it in high, Schmeichel punching out. But Leicester got forward and Vardy's cross was almost converted by Iborra.
Another Everton attack and more naivety from the ever willing Niasse, his flick to no-one. Kenny's cross and then Calvert-Lewin's shot were blocked but Baines curled his a few inches over.
Plenty of effort for no return and Unsworth was a forlorn sight as he ruminated on another defeat.
Leicester: Schmeichel, Simpson, Morgan, Maguire, Fuchs, Mahrez (75' Okazaki), Ndidi, Iborra, Chilwell (83' Albrighton), Gray, Vardy (89' Iheanacho).
Subs not Used: King, Hamer, Dragovic, Slimani.
Everton: Pickford, Kenny, Jagielka, Williams, Baines, Mirallas(46' Beningime), Davies [Y:20'], Gueye, Lennon (46' Niasse), Rooney(74' Sigurdsson), Calvert-Lewin.
Subs not Used: Robles, Schneiderlin, Holgate, Lookman.
Referee: Andre Marriner.
*UK clocks go back an hour on Sunday morning
---
Reader Comments (509)
Note: the following content is not moderated or vetted by the site owners at the time of submission. Comments are the responsibility of the poster. Disclaimer
David Pearl
1
Posted 29/10/2017 at 15:02:58
People seem to want Rooney to fail, regardless of form or return. Sigurdsson has been awful. Klaassen useless, Sandro... words fail to describe how utter shite he is. An absolute fortune wasted.
And Lennon retains his place. Kind of goes to show what Unsworth thinks of Koeman's and Walsh's recruitment, doesn't it.
Paul Kossoff
2
Posted 29/10/2017 at 15:20:37
I fear for that back line, behind the couch for me. Coyb😇😇😇
Will Mabon
3
Posted 29/10/2017 at 15:23:45
Mirallas and Lennon again, shows that Unsworth has more faith in the earlier days of play and structure of the team prior to Koeman's tenure. I wonder will Rooney and Calvert-Lewin both stay high.
I hope McCarthy is not too serious. There's a need for him in this squad, I believe.
Mark Morrissey
4
Posted 29/10/2017 at 15:24:02
Most important game of David Unsworth's Everton career. That's if he wants to be our Boss. Fingers crossed for him.
I hope he enjoys an emphatic win and goes on to become our long-term manager. The man to break the mould of the deemed necessity for a foreign name. Best of luck Rhino, it's your time
Steve Ferns
5
Posted 29/10/2017 at 15:25:29
It's got to be a 4-2-3-1 or a 4-4-1-1. As to which depends on how advanced the wingers are / deep the midfield two are.
Mark Dunford
6
Posted 29/10/2017 at 15:29:17
Williams keeps his place through lack of options – too many right-sided centre backs and he is probably best of the options for the left. Not a long-term prospect. There was no reference to Funes Mori in Unsworth's medical bulletin at his press conference, so I guess he'll be out for a considerable while.
Very similar to Wednesday at Chelsea – compared to last Sunday there is more pace, width and you can read the team and know how it will line up. Some of the Koeman signings aren't even on the bench.
I completely disagree with an early post suggesting Pickford should be dropped – he has been our star player this year and points gained by his saves include key moments in both victories.
Danny Broderick
7
Posted 29/10/2017 at 15:30:29
I think Unsie has picked a good team. I agree with the back 4. Kenny is better than Martina, and I thought Jags and Williams played well at Chelsea away the other night. Also, Keane is still bedding in.
I'm pleased to see 2 wingers and Davies retaining his place in midfield. I probably would have gone for Gueye ahead of Schneiderlin also, based on form this season.
Up front, we need Calvert-Lewin to hold the ball up, and Rooney for a goal threat. I don't understand fans slagging off Rooney – he has scored 4 goals, and he will drop in as a Number 10 at times also.
On form, I think this is probably our strongest available line up.
Geoff Williams
8
Posted 29/10/2017 at 15:33:51
So pleased to see the squad warming up together. Never understood having the subs cast to another part of the pitch. Bids well for unity.
Oliver Brunel
9
Posted 29/10/2017 at 15:39:04
I believe it would be Vlasic in the Lennon spot normally but Vlasic is carrying a knock.
Dave Williams
10
Posted 29/10/2017 at 15:40:40
Decent but I can't understand why Vlasic is not on the bench. Interesting still no place in the 18 for Davy,Besic,Martina and Sandro.

Mike Kehoe
12
Posted 29/10/2017 at 15:52:04
That looks like the team we have been calling for all season: pace and width. This will be a good measure of Koeman and the decision to sack him. If we win convincingly then we were right to demand him gone. Good luck to Unsworth I would be delighted to see him do well.
George Cumiskey
13
Posted 29/10/2017 at 15:54:35
Williams, Lennon, Mirallas and Rooney not the team I'd pick I'm afraid. Where's Vlasic ? let's hope he proves me wrong.
Christy Ring
14
Posted 29/10/2017 at 16:04:10
It's a well balanced team, nice to see Davies and Gueye in the middle. Would love to see Unsworth get a result today. I'm gutted for McCarthy, I guess the rumours are true, hopefully it's not too serious, but very worrying that his hamstring has gone again.
David Israel
15
Posted 29/10/2017 at 16:27:09
Looking at this line-up, and at Wednesday's, one could be forgiven for thinking that there is some sort of backlash against Koeman signings. If that is the case, I don't think it is a great principle to work on.
Lawrence Green
16
Posted 29/10/2017 at 16:31:09
Wayne is finished as a PL starter, why doesn't somebody tell him so, he should come on in the latter stages of a game and how is Siggy going to improve on the bench? Not looking very good in the opening half-hour or so.

Phil Smith
17
Posted 29/10/2017 at 16:48:29
Sorry Unsy, first major mistake today in your set-up - no Niasse. Can't play in Europe so HAD to start today! We just don't look like scoring without him in the team. Blows my mind how he's not started this!
Jay Wood
19
Posted 29/10/2017 at 16:59:44
Rooney is clearly the one player today who is trying everything to haul us back into this game.
He was the only one alert to their first breakaway goal, chasing back the length of the pitch to assist the exposed defence.
He is dropping deep, linking play, arguing the toss with the ref, geeing up his team mates, spraying the ball around, like the beautiful ball through to Lennon which was a nailed on problem.
Whatever the problem is with the team today, it isn't Rooney.
Neil Copeland
20
Posted 29/10/2017 at 17:01:07
Hopefully the half time team talk will have the same impact as Wednesday. Need an early second half goal we are going to rescue anything. COYB
Steve Ferns
21
Posted 29/10/2017 at 17:01:56
We concede a goal like Kenny's OG and are denied a certain penalty. When will our run of bad luck end? It's been an absolute nightmare season and shows no sign of getting better. We still deserve to be behind though.
John Davies
22
Posted 29/10/2017 at 17:03:52
Mike at #12. Sorry mate. How wrong can you be?
Jim Marray
23
Posted 29/10/2017 at 17:05:50
At this point in time and looking at the position we are in, Sam Allardyce is probably the best manager for Everton and certainly the best we can get in the current circumstances. If nothing else he would sort out a defence that never seems to know where the attackers are or forget that a key part of the job is closing down the player with the ball.
Unsworth for all his commitment and loyalty is not the next Everton manager. This is not because he would make a bad manager but he simply does not have the experience or knowledge to manage a team like the current Everton team.
Appreciate that many will regards the idea of Allardyce as heretical but ask yourself with the Blues in the relegation zone, not looking like getting out of it anytime soon, why would any manager from Europe or the Premier League want to come to Goodison? By the time we get to the next transfer window our position in the bottom six is likely to be confirmed so a manager who has a record of avoiding relegation is probably the perfect fit for Everton at this point is probably Allardyce.
But here is hoping that we can at least get a draw in the second half.
Paul Carsley
24
Posted 29/10/2017 at 17:10:25
Agree Jim (23) - Big Sam will sort this defence out. Complete shambles.
Anto Byrne
25
Posted 29/10/2017 at 17:11:12
This game was for a point away, how to get the defence sorted. Unsy can't fix it overnight but it has to improve. The new manager might have to bring a new broom and a lot of faces will go have to get it properly.
Hannes Eerola
26
Posted 29/10/2017 at 17:11:41
What a shambles. Gobsmacked. It was a penalty though. Piss off, Marriner!
Thomas Jones
27
Posted 29/10/2017 at 17:23:32
Great piece Lyndon.
Surely we have to in all seriousness reconsider appointing OFM. David Moyes is currently a free agent. What would we give for a top six finish now? Yet under DM for a decade this was the norm. Including on occasions 5th and even a champions league spot. Superior to either of the expensive replacements we have now jettisoned. He would command instant respect amongst the players.
DM was never even given a chance at Man U. Sunderland has been a poisoned chalice for a long time. Look what happened to Martin O"Neil before DM took the job. In fact why is no one talking about MON as a possible replacement? Simply because both men 'failed' at Sunderland? One can only imagine what DM could have done with £150 million of investment. He achieved all he did without us ever spending serious dosh on a striker.
Why the antipathy and animosity towards DM? I've been an Evertonian for 40 years and I cannot understand it. DM to return with Unsworth as his assistant. He will sort this mess and quickly.
John Dyer
28
Posted 29/10/2017 at 17:38:32
Are you mad?!?! Sam Allardyce not for me utter madness please aim a little higher and more quality please.

David Connor
29
Posted 29/10/2017 at 17:40:14
Relegation beckons for this team. Worst I've seen in 30 years...
Bye bye, stadium if the unthinkable happens. But it looks very likely. We are absolute dig shit...
George Cumiskey
30
Posted 29/10/2017 at 17:50:33
If Unsworth keeps picking teams like that I think relegation is a distinct possibility.
Peter Hughes
31
Posted 29/10/2017 at 17:52:54
Distinct possibility? I would say a certainty!
David Israel
32
Posted 29/10/2017 at 17:54:09
Jim #23, cometh the hour, cometh the man!
Tony Hill
33
Posted 29/10/2017 at 17:55:20
Jim (#(23), yes indeed. Those snootily dismissing Allardyce, Dyche and others deemed not good enough for this shambolic team need, I am afraid, to get their heads out of their arses. There are too many on here who think relegation couldn't possibly happen and that we are able to take our pick of the likes of Tuchel, Silva and so on.
I would take Allardyce tomorrow, or Dyche, or Benitez. I don't give a shit about whether we find them quite to our taste - we are in deep, deep trouble and we absolutely must get out of it.
We have relegation stamped all over us. Carragher is right: concentrate on clean sheets first. That's Allardyce territory.
Steve Ferns
34
Posted 29/10/2017 at 17:56:26
If we'd played Schneiderlin instead of davies, we'd have been more solid on the first half.
Second half, we missed the pace and width. It looked nice and pretty so it was better in that respect, but ultimately we didn't really threaten.
As for Big Sam, god no. No matter what. Ever. No.
Eugene Kearney
35
Posted 29/10/2017 at 17:56:36
What now .??????
I don't know what to think any more.
Jim Marray
36
Posted 29/10/2017 at 17:57:44
Would not touch Dyche as I don't think he is capable of making this Everton squad work. Benitez is not the manager to bring in. Too many of us hate him and the atmosphere his arrival would cause just wouldn't be what the team needs.

Thomas Jones
37
Posted 29/10/2017 at 17:57:48
Surely we have to in all seriousness reconsider appointing OFM. David Moyes is currently a free agent. What would we give for a top six finish now? Yet under DM for a decade this was the norm. Including on occasions 5th and even a champions league spot. Superior to either of the expensive replacements we have now jettisoned. He would command instant respect amongst the players.
DM was never even given a chance at Man U. Sunderland has been a poisoned chalice for a long time. Look what happened to Martin O"Neil before DM took the job. In fact why is no one talking about MON as a possible replacement? Simply because both men 'failed' at Sunderland? One can only imagine what DM could have done with £150 million of investment. He achieved all he did without us ever spending serious dosh on a striker.
Why the antipathy and animosity towards DM? I've been an Evertonian for 40 years and I cannot understand it. DM to return with Unsworth as his assistant. He will sort this mess out and quickly.
Tony Hill
38
Posted 29/10/2017 at 17:58:19
Absolute bollocks, Steve (#34), I am afraid. You're in cloud cuckoo land. Just look at us.
Ernie Baywood
39
Posted 29/10/2017 at 18:01:36
What would you do, George?
Under Koeman we lacked shape, commitment and quality. I'm only seeing a lack of quality now. I suppose that's something.
Criminal that we've invested heavily and yet more than half our team are below standard or being filled by kids. Instead of quality we're having to accept willing. Kenny, Davies, Niasse, Calvert-Lewin, they're just their for their effort. Baines, Jagielka, Williams by virtue of having nothing else to pick from.
A bit of bad luck today with the cast iron penalty and own goal... but for all the effort I couldn't see us scoring. I can't think of anything tactical that would change that.
In terms of a new manager, it would be wrong to pick a Big Sam-alike. January needs to bring investment for us to get back on track... so pick the manager who you want to be at the helm when it comes.
Colin Malone
40
Posted 29/10/2017 at 18:02:37
Go back and get the plaudits from Sheedy's early coaching of the under 23's Usworth and let Big Joe get us back on track till we find a replacement for Koeman.
Danny Broderick
41
Posted 29/10/2017 at 18:02:38
We huffed and we puffed but we've got nothing up front. Niasse is not the answer - he's a wild card option from the bench at best. I fear that I will be saying that every week until January, when hopefully we can get a striker in. That was another spirited display, at least in the 2nd half, but we will always be up against it with the current imbalance in the squad.
Regarding Unsworth, I was heartened to see him try to make a positive change at 2-0 down at half time. It didn't come off, but he tried his best with the limited options we have got.
Steve Walsh should have been sacked with Koeman...
Nev Renshaw
42
Posted 29/10/2017 at 18:03:26
OMG. This is just bloody terrible. I can't believe the position we're in so far this season. From finishing 7th in the last campaign to relegation form this year. In my worst nightmare, I see a very real chance of us being relegated this season. Surely losing Lukaku can't have made such a massive difference We're better than this (I think).
Jim Marray
43
Posted 29/10/2017 at 18:04:10
Everton had 16 shots of which 2 were on target and had 60% of the ball. Leicester had nine shots of what three were on target and scored two of them.
I think drastic measures are called for. Drop Rooney, and bring on the Icelander from the start. Stick Niasse up front and drop Williams as soon as we can.
At least Jagielka can normally use his positioning sense to make up for his lack of pace; Williams can't even seem to manage that these days.
Pat Whitmore
44
Posted 29/10/2017 at 18:04:27
This is worse than the Walter Smith / Mike Walker era! Big Sam will struggle to save this lot. We never look like scoring; that is unlikely to change before January and, even then, who will want to sign???
Andy Riley
45
Posted 29/10/2017 at 18:04:28
Sorry but there is no fairytale. Unsworth is not the answer and starting with Mirallas and Lennon was bold but naive. We need a KItapo mentality right now. Think we need Big Sam in the short term.
George Cumiskey
46
Posted 29/10/2017 at 18:05:35
Let's hope all the misty eyed Evertonians including true blue Bill can now see how much we need a top class manager, someone with a lot more tactical nous than Unsworth.
Ernie Baywood
47
Posted 29/10/2017 at 18:06:16
Mirallas is one of the few in our squad with a bit of quality and an eye for goal. I reckon he has to play.
Steve Ferns
48
Posted 29/10/2017 at 18:06:25
I've got principles. I don't want an anti-football man, a crook and thug, in charge of the School of Science. No way.
Phil Rodgers
49
Posted 29/10/2017 at 18:06:34
Allardyce is the correct choice. I have never liked him but we are staring down the barrel here. We're in big big trouble. Worst side in the division.
David Connor
50
Posted 29/10/2017 at 18:06:55
This squad is shot to pieces. We are looking at relegation I think. Nothing but a win against Watford and we are well and truly shafted.
Absolute fucking discrace. Should be ashamed of themselves. Too many of 'em robbing the club of thousands of pounds a week. God knows what all the speckies that follow them week-in week-out think. My heart goes out to them. That team doesn't deserve the following we have.
John Graham
51
Posted 29/10/2017 at 18:07:13
Okay, so now everyone has seen that Unsworth is not our great saviour, it's time to start looking for a new manager.
Yes Tuchel, Silva and quite a few others will come to manage us because basically the pay is good and we do have a great history and hopefully fans with bigger ambitions.
If we consider ourselves just another Crystal Palace, Stoke, West Brom etc etc then yes let's get Allardyce, Dyche, Pulis, etc etc, or do we actually want to be a team that competes and one where I don't have to spend every match day worrying if we can hold out for a draw with the likes of Burnley, Brighton, Stoke, Bournemouth etc etc.
Paul A Smith
52
Posted 29/10/2017 at 18:07:27
George (#46). Do you see us getting a top manager? Do you see one coaching this team to better things?
Name one side in the Premier League that Calvert-Lewin would start for?
Mark Andrews
53
Posted 29/10/2017 at 18:08:28
Make no mistake, we are in a relegation battle I fear we are not equipped to win. An aging defence, torn apart. A reliance on sentimentality, why else would Rooney start? There's a reason he wasn't starting for Man Utd.
The surprise that Lukaku left with no notice (sarcasm) and left us with no time to find a replacement. A lack of creativity in a midfield, no strikers up front. How much money was spent to send us down? Some of the young ones look okay, but they've been put into a struggling team with no confidence.
Davies needs to learn and learn fast. Make a challenge, make it stick. If it doesn't stick, track back and work hard to mitigate the weak challenge. He's cost us 2 goals now, I'm not kidding, I fear for our survival.
Jay Wood
54
Posted 29/10/2017 at 18:08:32
Depressing.
Yes, we were 'in' the game in the 2nd half, but did we honestly at any time look like scoring?
There is little or no potency in this side in attack.
The much-maligned Williams was probably our best defender. Kenny recovered well after slashing at the ball to give them the 2nd. Baines looks shot to me. So sad to see, but he is increasingly out of position and barely makes a effort to get back when we are under threat.
Beni, based on the performances of Schneiderlin and Gueye to date, contrasted to his performances against Chelsea and Leicester, must be seriously considered for a more regular starting place. Unlike the other pair, he stays on his feet, rarely loses out on a tackle, passes consistently accurately and has good peripheral vision of where he and his team mates are on the pitch.
Mirallas and Lennon might consider themselves unlucky to be hooked as Unsworth tried another formula to salvage something from the game. Rooney too was unlucky to be sacrificed - he really put a shift in and showed he cared. Still, a good balanced like for like switch with Sigurdsson. Only, our record signing again failed to come to the party.
Calvert-Lewin continues to impress and whatever else you may say about Niasse, he certainly has nuisance value in and around the opposition penalty area.
Lyon on Thursday is the last chance saloon in the Europa League, but home to Watford before the international break has now taken on huge importance.
We simply have to learn to keep clean sheets, because otherwise we just don't look like outscoring anyone in a free for all shoot out.
The club, the team, the players, Unsworth, the fans. All of us need a win.
Big time.
Peter Morris
55
Posted 29/10/2017 at 18:09:45
Leicester's first goal stems from another woeful cross into the box. Baines has really fallen short in this regard for too long now. Too many crosses behind the line of the attackers and this was another one .How many crosses into the box did we win?
Calvert-Lewin and Niasse spent the afternoon watching the birdies. We could have huffed and puffed away until midnight and still not have scored, or even got a shot away on target. Very worrying times.
Paul A Smith
56
Posted 29/10/2017 at 18:10:38
Unsworth today showed nothing, like the team. He made the usual decisions. He thought we lacked pace and width so started 3 wingers. Then he bottles it and reverts to type.
If we lacked what he thought we lacked then why did we lose both when we still needed it? We actually got in behind them with those two on the pitch.
Jon Withey
57
Posted 29/10/2017 at 18:12:09
Can't fault them for effort in the second half but there is no cutting edge in the team and the defence is frightening at times.
Leicester defended well and had a great counter-attack.
Positives were Baningime. I thought Mirallas was our biggest threat so surprised he was hauled off. Niasse caused more trouble than Calvert-Lewin but is limited.
Can't defend reliably, can't score – it's a relegation team at the moment and the manager we choose will decide our Premier League status.
I'm risk averse so Allardyce would be an option at this point.
David Barks
58
Posted 29/10/2017 at 18:12:50
Let's not forget, in the past two seasons this Board has sold Stones, Lukaku and agreed to sell Barkley. This idea that Moshiri has ushered in an era of big spending Everton is such a damn farce. We're selling quality and buying quantity.
We have a team filled with players from relegated sides or regularly fighting relegation: Gana, Pickford, Keane, Williams, Jagielka, Baines, Sigurdsson, Bolasie... Then we have a past-it Rooney. On top of that we have a load of kids. At least when we signed Phil Neville, he came from a Championship-winning side and with a winning mentality.
Mark Morrissey
59
Posted 29/10/2017 at 18:14:03
This is how it goes when you're around the bottom. It will change but we are in need of some new blood. Seems a strange thing to say after the summer we've had in the transfer market but Williams was signed past his best. Baines is now past his best, as is Jags. The whole back line is slow.
Tom Davies is a live wire but plays in isolation. As for Mirallas. Fuck me. Run fast, run at an angle, head down, keep running, look up, keep running and then disappear without the ball. Sell him please, he's fucking dreadful. Same runs, no idea, sell him.
Sorry for Unsy. I think Wayne should be coming off the bench but he's getting a game because of what he once was. Please not Big Sam or Dyche. Nice to Steve Walsh all smiles with the Leicester mob – does he want to go back there???
George Cumiskey
60
Posted 29/10/2017 at 18:15:15
Paul – name one Premier League team Mirallas, Lennon, Williams Jagielka, Baines and even Rooney would start for? Any team with ambition that is.
jason wilkinson
61
Posted 29/10/2017 at 18:15:41
Pickford; good keeper.
Baines; never been a great left back, slow as well now.
Williams; too slow and clumsy
Jagielka; two seasons too many.
Kenny; lots to learn about the Premier League.
Gana; works hard. Not the answer.
Davies; see Kenny.
Mirallas; frustrating but talented.
Lennon; no end product.
Calvert-Lewin; needs a rest.
Rooney; needs two or three class players with pace around him.
Sigurdsson; plays like his wife is shagging the milkman.
Niasse; not good enough.
Baningime; glimpses of promise.
Andy Meighan
62
Posted 29/10/2017 at 18:15:56
Well said, Tony (#33). Who do some of our fans think they are, asking for a big name manager? This is a mess of the highest order and this squad has 'relegation' stamped right through it.
I seriously doubt there's a manager or coach out there who could get a tune out of this sorry bunch This is as bad as it's been for many years.
Minik Hansen
63
Posted 29/10/2017 at 18:16:49
Luck.. We need luck. Could've had a penalty... and balls placed at the right time in front of our players to score. I hope the luck angel hears our prayers.
Jerome Shields
64
Posted 29/10/2017 at 18:17:21
I think a Unsworth is trying his best with the players he has. He is lumbered with the legacy that Koeman has left. If Koeman had not been sacked, we would have ended up in the Championship.
Unsworth was also hampered by injuries, which meant he had to change his selection from the line-up against Chelsea. Count an unlucky own goal and a penalty not given and a better performance in the second half.
We are still heading in the right direction. Koeman was always heading in the wrong direction. No manager would be able to change the Koeman's situation in one match.
Tony Hill
65
Posted 29/10/2017 at 18:18:32
I agree with Jay Wood about Baningime who looks a jewel. As an opponent of Rooney's return and his continuing selection, I also agree that he played well and laid on two excellent chances.
I have to say that I'm currently less convinced by Calvert-Lewin but that's hardly surprising and we have no obvious replacement.
It's precisely because I want to see our youth investment come to fruition that I am prepared to countenance whatever it takes to keep us in the Premier League this season.
Unsworth? Sadly not.
Phillip Warrington
66
Posted 29/10/2017 at 18:18:37
We are screwed, this team just do not want to play for each other or show any commitment. They don't run into space or create alternatives for players coming forward so they have to go backwards. and never seem to be more than in slow motion. I have never seen a more toothless forward line play for Everton.
Trouble for Everton is, I don't know if you can sell a player twice in a season, and even if you can, you would have to take a big loss (we have twice the amount of midfield players needed). On current form, how the hell are we going to attract a decent striker (only chance there is if we get a big name manager who might be able to persuade one on his reputation; Big Sam would not have that pull).
I really thought Unsworth would get more commitment out of this team but this game it was back to the same Everton team as usual spineless, gutless and a discredit to the Everton shirt. Maybe having a millionaire backer has taken Everton from a team of fighters to a team who don't need to fight anymore because they will get well paid no matter where they finish and just trot around the park without exerting themselves or putting themselves in a position where they might get hurt.
Paul A Smith
67
Posted 29/10/2017 at 18:20:23
Our bench looked like the 90s combined with average signings.
Gana is getting a 5-year deal. Haha. 5 more years of that.
Frank Kearns
68
Posted 29/10/2017 at 18:21:02
I'm not so sure about Tom Davies, those sly, little fouls easily picked up by most referees. I think he needs to stop worrying about his Alice Band and pull his socks up.
Yes, by all means be your own man, but, repeat that goal against Citeh again, and again, and again and again etc and you'll definitely be a legend.
At the moment... you're a concern.
Danny Broderick
69
Posted 29/10/2017 at 18:22:14
Unsie needs to get to work with the team this week in the build up to the Lyon game. He has only had a couple of days training with them so far. The team needs to be something similar to the team selection against Chelsea from now on. We need more strength in the middle of the park if we are playing 2 wide men.
There's no miracle cure though. We still have nothing up front. We need to make ourselves tough to beat, and hope we can nick a few wins, and then try to get a striker in in January. No manager could correct the imbalance in this squad without bringing players in. Unsworth has a thankless task at the minute in many ways. I cannot believe things are this bad already.
Paul A Smith
70
Posted 29/10/2017 at 18:22:21
David Barks spot on mate. This has been one awful con job. Don't forget – he wanted Niasse, Barkley and Mirallas gone on deadline day too. Or was willing to let them go for the right deal.

Lawrence Green
71
Posted 29/10/2017 at 18:22:42
It's a long way into the season and we still don't know what our best defence, midfield or attack is, we are hoping that a few youngsters can step up and by virtue of their natural enthusiasm spark a revival, that old heads with seemingly older legs can somehow manage to turn back the clock and recreate their best form, or that the new arrivals can settle in and become the players we thought they'd be when we signed them.
Unfortunately nothing positive is happening and whilst it is good to have the lions share of possession it's of little use if a) the team can't prevent the opponents from scoring, b) the team create so little to cause their opponents any problems in any given game.
The situation is now serious very serious and it's going to take an almighty effort to get the team back to winning ways. We don't seem to have the personell to carry out a Pulis style revival, we don't have the personell to go all out and attack and hope we score more than we concede. I don't envy David Unsworth or his potential replacement as this squad has so many issues to address it's unreal.
If Unsworth can get Everton to win another dozen points between now and the January window opening he deserves a medal as this is the most pessimistic I have ever been about an Everton team.
Some say that it's only October and it's far too early to panic but the league table doesn't lie and we are quickly turning into a relatively easy touch on the road, which puts so much pressure on the home form and that so far hasn't been great either.
Sean McCarthy
72
Posted 29/10/2017 at 18:24:00
Paul #54 I'm glad you mentioned Calvert-Lewin. I just don't see what he offers the side. Does he score goals? No. Does he unsettle centre-backs? No. Does he provide good link-up play? No. Does he win high balls into the box? No. He wouldn't get next to near another Premier League first XI.
It is unbelievable that we don't have a forward worthy of the title. Rooney is well past his sell-by date as a centre-half and as for the other alternatives, Niasse and Sandro, please do me a favour!!!!
Walsh has a nerve showing his face these days. I wasn't Koeman's biggest fan but he wasn't the only one deserving of the sack!!
And to think some on here were talking about Champions League in August!!!
Kev Johnson
73
Posted 29/10/2017 at 18:24:17
We're are Sunderland in the making.... total shit.
Colin Glassar
74
Posted 29/10/2017 at 18:25:06
Gutted for Unsy. He's Everton through and through and he's been got an albatross around his neck but football is a cutthroat game and I doubt he will be in charge after the international break.
I just hope this experience doesn't effect his future chances to manage his beloved blues. Assistant manager, in the short term, perhaps?
Jim Marray
75
Posted 29/10/2017 at 18:25:36
Reasons why Allardyce is the answer for me are as follows:
1. He can set up a team to defend and between now and the New Year window we need to defend like it is the Alamo. If we can get a few draws then that that is a few more points towards safety.
2. His reputation as a fearsome thug is exactly what some players in blue shirts need to face. Nice guys don't win relegation battles.
3. The next transfer window is not nirvana, picking a manger who can make the most of the investment is not a great idea when you are shipping goals for the next three months. You need to stop shipping goals now!
I would not be looking to give him a long term contract, a season at most. enough time for Walsh to earn his money by finding us a decent centre half, another right back and at least two left backs. But more important than that, at least two 15-20 goal a season strikers.
Once we have a team that can actually perform, then we can go and talk to all the wonderful managers we all want to see at Goodison but right now and right here we need someone who can stop us conceding goals.
Max Murphy
76
Posted 29/10/2017 at 18:26:52
Get Kieran Dowell back from Forest! He scored a hat-trick yesterday!
David Hallwood
77
Posted 29/10/2017 at 18:27:29
It's a bit difficult to decide whether the players are ordinary or just devoid of confidence. Big job, but apart from Chelsea from 2 seasons ago and Leicester last season, I've never seen a team fall off the cliff like Everton this season
Paul A Smith
78
Posted 29/10/2017 at 18:27:33
Sean (#72), the board have conned us again. I am sick of saying the obvious. You don't sell all your best and call it a new era, doing things the right way, or ambitious.... But Everton do.
Tony Heron
80
Posted 29/10/2017 at 18:29:06
Jason @ 61.
Baines has never been a great left back !!?? Okay, time has caught up with him, but he was once the best in England.
As for the comment about Sigurdsson, why the need for crudeness and the totally unnecessary remarks about his wife. Criticise the team, the management, the owners but let's leave the personal insults out of it, particularly to families.
Brian Williams
81
Posted 29/10/2017 at 18:31:27
It's not a manager we need it's quality players.
I saw that team today, and saw Leicesters, and thought "shit they're better than us in EVERY department." Out-played, out-fought, out-thought.
Honestly I can't see where the next points are coming from.

jason wilkinson
82
Posted 29/10/2017 at 18:32:20
Question. Are there three teams who will score less goals than Everton this season?
If not then the championship beckons.
Steve Ferns
83
Posted 29/10/2017 at 18:32:28
Come on, if we'd got the penalty we deserved it'd have been 1-1 and then we'd have seen something different.
The team is shot on confidence. Unsworth doesn't have a magic wand. He can't bring a striker out of nowhere.
Also consider we have the longest Injury list:
- Coleman
- Bolasie
- Barkley
- Keane
- Funes Mori
That's half the first team. All where starters when injured. We also miss a few of the backup players. And yet after a few training sessions we can suddenly start winning games?
Derek Knox
84
Posted 29/10/2017 at 18:32:47
All depressing stuff, as if things could have got any worse, well they have. Feel a bit for Unsy, but having said that, he did himself no favours today at all.
I think he has also proved, although his heart is in it, maybe he needs a bit more, to clinch the job. I think the Chairman should seriously think about appointing someone, very soon, before we find ourselves not only in the Championship, but the laughing stock of the Football World.
Geoff Evans
85
Posted 29/10/2017 at 18:33:17
Get Allardyce in while he's still got time to sort this mess out.

Paul A Smith
86
Posted 29/10/2017 at 18:35:13
George they would all get in the Brighton and Palace 11... although you are correct: they too are not good enough for Everton.
Calvert-Lewin is nowhere near a threat to teams.
George Cumiskey
87
Posted 29/10/2017 at 18:35:49
Paul @78 – and it will keep going that way until we get rid of Uncle Bill, who's quite happy to wallow around mid-table talking about the good old days.
You can bet your life if he's got any say in the new manager he'll go for the cheapest option.
Bill Gall
88
Posted 29/10/2017 at 18:36:39
We need a new manager Unsworth is not the choice, there is a huge gap between under 23 managers and established premier managers
The major problem we now have is who will want to come. Any manager already with another club will have to be given permission by their present clubs to talk to Everton about their vacancy, and I cant see any chairman allowing that to happen. So that leaves us with who is unemployed. Big Sam, no thanks , just to get you out of the relegation zone and then leave. D.Moyes no thanks , left because he believed he could do better than Everton has now ended up being fired by United, relegated with Sunderland and not forgetting his limited time in Spain.
We thought and expected improvements when we got new ownership, but it seems we still have the same lack of premier league intelligence on how to run the first team squad. Hiring people to raise the level of your first team has been a total disaster. Regardless whose fault it was to spend weeks replacing expensive midfielders, and not replacing your leading goalscorer, it is nothing short of gross negligence, and I do not believe that firing the manager solved all of the problems.
i don't know if the board and owner have any ideas who they want as a new manger, but I do believe that it is up to B.K., he will only think of our previous manager as a safe bet.
I don't live in Liverpool anymore but I never fail to find a game on TV, sometimes by what some broadcast companies seem illegal, but this is the first time in 60years I have gone out after the first half of a game. Some people may think we are showing some improvement after the firing of the manager,but to me there is nothing that is going to get them out of the bottom 3.
Danny James
89
Posted 29/10/2017 at 18:37:40
I concur... Allardyce to see us through this season.
Grant Rorrison
90
Posted 29/10/2017 at 18:37:43
If we don't beat Watford next week, we need a new permanent manager.
Paul A Smith
91
Posted 29/10/2017 at 18:38:09
George (#87), I don't believe in all that gossipy stuff, mate, but the fact Martinez cost so much to get rid off makes me believe I am best sticking to what I know.
George McKane
92
Posted 29/10/2017 at 18:38:48
Tony at 80, I totally agree – some of the comments on The Live Forum are disgraceful – not because of the language (I am not prudish at all) but the sheer venom and unpleasantness with dreadful personal comments are totally unnecessary. No need.
This is a squad lacking any confidence at all, and plan or guidance, seemingly with little passion and self belief – as frustrated as we all are personal attacks do not help at all.
Some individuals give some dreadful stick to certain young players especially.
For me, I wouldn't want to see much more of Baines, Williams, Jagielka, Mirallas, Niasse. Lennon and a few more but calling them squalid unpleasant names isn't going to help anyone.
I was at the Lyon game the other week and someone behind me called Klaassen names from the minute ref blew his whistle -– really unpleasant crude stuff.
We are struggling seriously – we need each other – fans, players and manager.

Gavin Johnson
93
Posted 29/10/2017 at 18:39:42
I thought what was effectively a 4-4-2 would be effective. It wasn't. We clearly haven't the legs at the back to play that formation at the moment.
Baines is finished unfortunately and we do need another CB. My big worry is that we might have to lower our expectations of the standard of the players we bring in. If it's a relegation battle, which it is increasingly looking like.
Steve Walsh will need to earn is money and bring in relative unknowns from the continent at LB, CB and striker.
Brian Williams
94
Posted 29/10/2017 at 18:40:07
Just cannot for the life of me understand this ridiculous, and IMO pathetic, yearning for Allardyce. The man embarrassed himself and English football with the recent "goings on." Have you no pride whatsoever?
Desperate we may be/get but please never that desperate.

Colin Glassar
95
Posted 29/10/2017 at 18:41:16
I might be blind, I might be stupid, I might be just deluded but I still think we have some very good players in our squad who, under the right direction, could be far higher up the league.
I don't know if Unsy is the man to turn this around but I wouldn't be so quick to discard our younger (and some older) players and the new ones.
Schneiderlin, Klaassen, Sigurdsson, Keane and Co are all really good players. Combine them with Kenny, Davies, Calvert-Lewin etc...and, with a bit of work, you have the making of a very good side.
What we have lacked this season is (apart from a top striker) is a game plan and the practice needed to make it work. Obviously our pre-season was a disaster as Koeman was too lazy to choose his first team and then drill them till they dropped.
The lack of understanding on the pitch is down to not having a stable team and not putting in the work and effort in training.
The amount of damage Koeman has done cannot be underestimated as Unsy is now witnessing.
Ian Hollingworth
96
Posted 29/10/2017 at 18:41:54
Green shoots, don't make me laugh. We are awful, very little quality and we are in deep shit.
Let's not forget we not only sold Lukaku, but the other two forwards at the club were let go. We needed 2 quality strikers minimum not just one. To start the season with no strikers and bang average players across the team is criminal. We may pay the ultimate price because do not kid yourselves we have a real battle for survival on our hands.
Tony Hill
97
Posted 29/10/2017 at 18:43:04
I think we look as bad as the Villa and Sunderland of recent years.We look utterly lost and there is that awful feeling gathering around us that we are just not going to win, that we just haven't got what it takes. That's a critical danger and we need radical and immediate solutions.
This is going to be a bloody mess and a scramble and I simply don't see what people think is going to happen to make it any different. It's a time for street fighters and, at the moment, we don't have any.
George Cumiskey
98
Posted 29/10/2017 at 18:45:27
Paul, Bill was the one who decided to give Martinez a new 5-year contract after he'd had a decent first season.
Charlie Lloyd
99
Posted 29/10/2017 at 18:45:44
This is a relegation battle no doubt.
How do we stay up? Two words. Sam Allardyce.
Not even sure that would do it and I can't believe I'm contemplating it but what options do we have to bring in an operator who can preserve our status in the Premier League.
John Keating
100
Posted 29/10/2017 at 18:46:58
Look at the league table. Look at the way we are playing, the lack of confidence. The goal difference is only exceeded by Palace. We can ship goals but we can't score.
Losing is becoming a habit. Even after only 10 games, if people cannot see the inevitable outcome of this season then there is something wrong with them.
We are a team with no fighters, we cannot afford to leave this much longer as this squad will not battle us out of a relegation scrap. It's no good us appointing a manager who may well want us to play open and attractive football for the rest of this season, that can wait until we are hopefully still in this league next season.
Right now we need someone to get us out of the hole we have dug ourselves in to. Until the end of the season, we have to bring in the one man who has a proven track record in saving lost causes: Allardyce. People may not want him, bloody hell I don't want him. But what is the alternative?
Unsworth's time will come – it was never fair putting this fiasco on his shoulders. Unfortunately we need a firefighter now. Forget this crap game on Thursday, play the U23s. We should be devoting absolutely everything on the relegation battle we are already in.
Tony Twist
101
Posted 29/10/2017 at 18:47:10
Leicester punish you on the break, that is their thing, what happens, they score on the break, that's very unprofessional. Are you making a note, Kenwright and Moshiri? The decision on the new manager needs to be made and made now.
I have nothing against Unsworth but now is not the time to bring him on board as the first team manager when the team is all over the place. An experienced manager is required, someone who knows exactly the problems and knows exactly how to solve them and gets results.
Wins by any means is what we need right now. Nothing pretty just effective. You have to be water tight, don't give them a sniff of a chance, be professional, park the bus then hit them on the break. It was amateur hour letting them score on the break.
Who to bring in? More like who's willing to take on this poisoned chalice of a job. It would be a miracle if we got the quality of Benitez in, somehow I think Big Sam is the standard they are looking at and who knows if he can turn it around.
Very disappointed on the manner of the loss, just thought we were better than that.
Steve Ferns
102
Posted 29/10/2017 at 18:48:14
George, he gave him a new 5-year deal after a brilliant first season, not a decent one. We've only got more points 3 times in our entire history, and it would have been good enough for second the year Leicester won the league.
Charlie Lloyd
103
Posted 29/10/2017 at 18:48:30
And who is this top striker we will procure in January to shoot us to safety.
Realistically who will we attract in our current plight?
Gavin Johnson
104
Posted 29/10/2017 at 18:48:37
It might be the case of two players turning the tide. A fast LB is an imperative. Anyone of Tierney, Sessegnon, Bertrand or Shaw for me.
We have to bring in an established striker. I remember watching a Kevin Campbell interview recently where he spoke of the goals that kept us up.
Saying that, he saw that the reason we were struggling was because we were relying on the likes of Cadamarteri, Jeffers and they didn't have the game experience needed to be the main men. Seems like we're at that point now relying on Calvert-Lewin.

Dennis Ng
105
Posted 29/10/2017 at 18:49:15
I don't see that many green shoots. We played into Leicester's hands and doesn't seem to have a Plan B when we have prolonged possession. We probably looked better cause they sat back. A proven striker might have helped but there isn't a lot of productive movement when we have the ball in their half so I would say jury is still out.
Please just sign Tuchel now.
Dave Abrahams
106
Posted 29/10/2017 at 18:51:09
Any manager who comes in will have his hands full to get a decent team out of this very, very unbalanced squad. The effort was there in abundance but we need more than that; hardly any of the team put their foot on the ball and tried to calm things down.
Rooney did a few good things, including putting Lennon through and he might have done better than pass the ball rather than trying a shot. It also looked like a penalty on Lennon from another Rooney pass.
This was balanced by Rooney getting caught in possession too often, giving the ball away a lot and too slow to react to passes made to him. Plenty of effort but most definitely not worth the salary he is getting.
After saying that, Sigurdsson took two corners and didn't do anything else. Beni was one of the few who looked for his team mates and tried to play football going forward. Any fan who doesn't realise how much trouble we are in isn't paying attention.
Frank Kearns
107
Posted 29/10/2017 at 18:51:17
Why are most people fixating on the manager? As every general knows, the plans go to shit once the first bullet is fired, but, the troops can win, if they want to.
Steve Ferns
108
Posted 29/10/2017 at 18:52:18
And now Keane is in hospital with an infected foot with the infection spreading up his leg! WTF! What more can go wrong?
John Audsley
109
Posted 29/10/2017 at 18:52:28
Not good, not good at all.
We need a tough manager to sort all this out.
Koeman has destroyed the morale of the squad and we need someone to give them a boost.
Benitez for me.
George Cumiskey
110
Posted 29/10/2017 at 18:52:35
Steve @102, if you remember, we were fighting Arsenal for 4th spot when we collapsed and went on a downward spiral from there.
Charlie Lloyd
111
Posted 29/10/2017 at 18:54:46
Brian @ 94
The clamour for Allardyce is for a manager with a proven track record of helping clubs survive the drop.
Wake up mate this is serious.
What are we going to do play teams off the park. No. We need to scrap for our life's.
I know its not what we want to see but we must survive first and foremost.
I'm finding it hard to even endorse Allardyce but we need someone who will give us a chance to stay up. I'd also take Dyche. Managers like Ancelotti and Tuchel just won't come. And I don't want a "name" to come and cut his teeth with us. We need somebody who knows how to scrap.
Steve Ferns
112
Posted 29/10/2017 at 18:55:45
It's October, Charlie. Not April. We're Everton, not Sunderland. We have class, not Allardyce.
Rob Dolby
113
Posted 29/10/2017 at 18:56:33
Unsy in hindsight was naive picking 2 wingers against a team who won the league playing counter-attack. Even so, Gray should have been fouled 3 times and someone should have blocked Vardy's run for the 1st. We are too nice, we have to start being nasty and hard to play against.
I think Unsy can turn this around, got to give him at least the next couple of matches. Big Sam shout will gain momentum the more this run of form goes on. We need to buy a couple of decent strikers in January along with some quality out wide.
Jason Wilkinson
114
Posted 29/10/2017 at 18:57:18
Look at the players we are talking about coming back into the side
Coleman, a great player but broken legs generally knock the stuffing out of players and they never really come back the same. (I sincerely hope I'm wrong Seamus)
Funes-Mori, I don't remember him looking like the next Kevin Ratcliffe.
Barkley, doesn't want to sign a contract.
Bolasie, I"m not expecting much from him.
Keane, if he'd come into a better team he might have looked better.
In short, I'm not that excited by the players in the treatment room as it is goals we need a la Kevin Campbell or Yakubu when they came. We have sold the best goalscorer we have had since Sharp, Gray and Lineker wore the shirt.
To replace him will be almost impossible but try we must.
Even Bournemouth went and bought a goalscorer.
Steve Ferns
115
Posted 29/10/2017 at 18:57:56
Doesn't change the points total George, 72 points would have got Champions League football and top four ever year bar that year, in at least the last 10 season. And it was good enough for second in Leicester's title winning year.
It's the most we've got in the Premier League. It's the most we've got ever, bar 3 seasons under Kendall. Whatever way you want to look at it, it was a brilliant season.
Dave Williams
116
Posted 29/10/2017 at 18:58:06
My god how people turn! The other week, Calvert-Lewin was being praised; now, because he has a quiet game, he is deemed rubbish! He's a young lad learning the game and Leicester are formidable in defence and very physical. He didn't have any help in the first half but kept trying.
Beni and Tom did well, Gana worked but wasn't very effective and until Beni came on we wandered around leaving too much space for them to play.
Baines was the big disappointment for me – a shadow of his former self, very vulnerable and useless going forward; hopefully this is temporary but I fear he is on a pretty quick descent now with Williams and Jags also getting too old.
As for Unsy, he has had maybe 3 training sessions and will still be forming opinions on players. This is not a magic wand job – without a scorer, we need to get the general play right and how does he tighten a defence with three veterans and a rookie with only Martina and Holgate as options?
This is a very tough job and Unsy needs some time to sort it. Lyon and Watford will be interesting as he has now seen why Ronald didn't trust two wide players in the same team yet it was only with them that we showed any penetration. How did it come to this?
Steve Ferns
118
Posted 29/10/2017 at 18:59:46
We will buy a striker, Jason. But the window does not open until January.
The gossip is we've big 㿊m for Sanchez, I'd file that in the same drawer as the Shearer bid! There's no way we won't sign a striker. I just hope it's a good one.
George Cumiskey
119
Posted 29/10/2017 at 19:00:34
Steve, it was a brilliant three quarters of a season... LOL.
Tony Hill
120
Posted 29/10/2017 at 19:02:22
12 games between now and the transfer window in real terms. But don't worry, we've got lots of time. And we won't be relegated because it's not allowed!
George Cumiskey
121
Posted 29/10/2017 at 19:03:43
Mark@117, thanks a lot, mate. I won't sleep tonight now! !.
Steve Ferns
122
Posted 29/10/2017 at 19:04:21
We won't be relegated because our luck will turn and class will tell. Bad form will go and we will win games.
This is not like chasing down the top 4 where you lose a couple and it's gone, it's relegation where you can win 3 in 10 and still climb the table. Win 3 in a row and you're in midtable at any stage of the season. Win 3 in a row now and you're top half.
So stop over-reacting.
Jay Woods
123
Posted 29/10/2017 at 19:05:16
Allardyce... sends a shiver down the spine.
But the season is an unfolding catastrophe, caused by probably the most unbalanced squad in the club's history.
In turn, that is the result of a combination of:
long term injuries to important players;
the loss of Lukaku;
tactical insanity by Koeman;
disastrously prioritised summer signings.
The board, therefore, might decide we need a specialist in stopping relegation, rather than someone to bring the team forward for now. With the state of the squad, is there a manager on earth who could turn it around and soar up the table? Personally, I don't think there is.
Brian Williams
124
Posted 29/10/2017 at 19:05:40
Winning ONE is going to be difficult enough, let alone three in a row!
Christy Ring
125
Posted 29/10/2017 at 19:05:57
We're in a relegation battle, and the most worrying thing is, I can't see where the next goal is coming from.
Koeman has left us in deep shit. Not buying a striker to replace Lukaku was baffling, not buying a left sided centre-back, and left back to replace Baines. The only other left back is Garbutt, and he was never registered, absolutely shocking.
The biggest worry is trying to survive until the window opens in January.
Ian Hollingworth
126
Posted 29/10/2017 at 19:05:58
I am not sure we have the class we like to think we have.
We need to wake up and realise how deep in the mire we are.
Thanks Bill.
Jason Barker
127
Posted 29/10/2017 at 19:06:09
Until today I've been as pissed off as anybody about how shambolic this season had been going. After that match today my annoyance has, for the first time, turned to worry that we could actually go down. I just can't fathom it after the spending spree in the summer. I really thought that we were on the cusp of upsetting the top four and just look at us.
I remember posting last season about who the hell we were going to replace Lukaku with. Never in my wildest nightmares did I think that the answer to that question would be no-one at all. We're in the shite, no question about it, and I can't see how the chuff we can turn it around. I'm worried.
Jason Wilkinson
128
Posted 29/10/2017 at 19:06:41
Steve, we have the same Director of Football. The same chairman and the same "investor". We didn't buy a goalscorer in the long summer window so who will we get in the notoriously shite January window?
Mark Dunford
129
Posted 29/10/2017 at 19:06:50
We're in very serious trouble now. I'd really like Unsworth to succeed – a genuine Evertonian who has done a wonderful job with U23s – but we need someone who knows the league to get us out of this fix and he doesn't have long torpor he is that person. Two more comparable losses will put paid to his chances.
He needs to drop the public statements of ambition and focus on the immediate job. Big Sam is probably leaving his phone on but I'd go with Dyche if possible. I've always thought that if the answer to a footballing question is "send for Allardyce" then something is wrong with question.
Tony Hill
130
Posted 29/10/2017 at 19:07:50
Steve (#122), I'm sure Villa fans thought the same, along with many other relegated sides. Your complacency is remarkable. "Our luck will turn and class will tell." Fucking hell.
Steve Ferns
131
Posted 29/10/2017 at 19:09:45
Jason, how do you not know that Steve Walsh didn't give Koeman a long list of strikers and had them all but signed and he said no to each of them? You can only blame Walsh once it all comes out, or the same thing happens with the new guy.
I think there will be a difference in that Walsh will be told to bring someone in regardless of who the head coach is, particularly if it remains Unsworth.
Tony Heron
132
Posted 29/10/2017 at 19:10:02
As it now seems nearly all of our summer signings are not even good enough to make the squad, I wonder if we can get our money back? Did anyone keep the receipts?
Steve Ferns
133
Posted 29/10/2017 at 19:11:04
Villa had been on the slide for years and had a bad side. We finished 7th and spent £150m. It isn't the same thing. And I'm not complacent, I'm just not a sensationalist.
Steve Ferns
134
Posted 29/10/2017 at 19:15:15
Aston Villa's side: https://en.wikipedia.org/wiki/2015%E2%80%9316_Aston_Villa_F.C._season
Scroll to the bottom, but consider they had Kieran Richardson, Joleon Loescott, Micah Richards, and Agbonlahor.
Paul A Smith
135
Posted 29/10/2017 at 19:15:56
George 98 I am aware of that but it wasn't on the cheap mate.
David Israel
136
Posted 29/10/2017 at 19:15:57
On the question of Sam Allardyce, the thing is, he has said he doesn't want to manage at club level anymore. And he does have a record to keep: no team managed by him has ever gone down. I believe he once said that was a point he had in common with Sir Alex.
Tony Hill
137
Posted 29/10/2017 at 19:16:42
Sorry, I think you're deluded; we did finish 11th in the two years prior, of course, and in the first of those years we were one lucky win against Palace from being in the shit at that time. It's not the money spent, it's how well it was spent.
But I hope you're right and I am not going to keep saying the same thing, it's too depresssing.
Phil Walling
138
Posted 29/10/2017 at 19:17:21
We look so much like Sunderland, Moyes would complete the picture. But seriously, no self-respecting manager would want to take on this rabble. Only a foreign no-mark would take the job – out of ignorance – or desperation!
Clive Rogers
139
Posted 29/10/2017 at 19:17:54
This club will never achieve anything until Kenwright is gone.
Joe McMahon
140
Posted 29/10/2017 at 19:18:45
Mark Dunford (129), Big Sam against all odds kept Sunderland up, and some of our fans' favourite (Moyes) relegated them. He also kept Palace up including beating Arsenal 3-0. His only crime at West Ham was not being called Samuela Allardycio.
Be realistic: Everton are in crisis with an awful squad and an awful stadium. The future ain't looking that good.
Clive Lewis
141
Posted 29/10/2017 at 19:19:55
Farhad Moshiri is correct:
Ancelotti
Tuchel
Marco Silva
Anyone else... relegation.
Mike Berry
142
Posted 29/10/2017 at 19:21:58
We battered Leicester in the second half and Unsy had the nous to change things and cut off their supply to almost nothing.
The players worked their socks off and closed every Leicester down, proud of them.
I can't believe the negative moaners. Give Unsworth a chance – he has barely got into the job!!!
Jason Wilkinson
143
Posted 29/10/2017 at 19:23:45
I always thought somehow Villa would escape the season they went down. As many have found... escaping the championship is harder than it first appears.
The harsh reality is we look like a team that has been sussed. No pace and no fire. Every game we try the same bludgeoning tactics.
Under David Moyes, we were boring but mostly solid. Martinez tried to be more adventurous and failed. Koeman tried. Er... no he didn't.
Whoever gets the next stab at it needs to get the basics sorted out very quickly. I will take boring sorry football over the abyss of the Championship all day long. Moshiri might need to break the January transfer records to put the mess right as I can't see the players we have being good enough.
David Barks
144
Posted 29/10/2017 at 19:23:48
Mike Berry
I pray that you are being sarcastic. Battered them? My God.
John Charles
145
Posted 29/10/2017 at 19:27:42
We are where we are as a result of 3 incompetent transfer windows under Ronald Koeman – not one. Not one of his many buys has produced the goods with a bang average Gueye probably being the best of a poor bunch. (Pickford maybe?? Time will tell).
That said, this team would look far better with Bolasie, Coleman and Barkley in it.
Allan Board
146
Posted 29/10/2017 at 19:28:45
I seem to remember the same things being said about Villa, Sunderland, Newcastle, Man City, Man Utd, Leeds, Nottm Forest etc – the list goes on.
They were all expected to win the 10 from 28 games to stay up,and fans were exaggerating etc.
Question: Everton have only 2 wins from 10 games,so how the fuck are they going to win 10 or 11 from 28? Perhaps it's plucky Everton's year?
What a legacy, Bill – I hope you're now satisfied. This is Villa all over again.
As I have probably opened a hornet's nest now, may as well add that Allardyce is as near to a guarantee of survival as you will get – need's must when the devil drives.
I sincerely hope I am very wrong.
Mike Green
147
Posted 29/10/2017 at 19:29:10
Time for Big Sam.
Roman Sidey
148
Posted 29/10/2017 at 19:29:33
Today was actually the first time I haven't looked forward to watching. We have a few decent players, but none are in decent form. The back four selected today is quite possibly, on form, the worst back four of any side in the top few leagues in Europe:
Jagielka – terrible footballer
Williams – terrible footballer and a liability
Baines – finished and if he was ever the best LB in England as some say, then that says more about the lack of quality LBs in England
Kenny – zero confidence and still green.
So you start at match with a back four that won't keep a clean sheet, you need to be able to score goals. To score goals you have to create goals. The only chance we had of doing that was negated when both wingers were subbed at half-time.
It also needs to be pointed out to those saying we are playing Championship football at the moment that a more incorrect statement doesn't exist and I think those people haven't watched much Championship football. Our players would have their legs broken in that league because the refs sure don't blow the whistle half as much as they do in the Premier League.
None of our players at the moment have the bottle to make or take a tackle so don't even kid yourselves that we could hack it in that league either without wholesale changes to the playing staff.
Chad Schofield
149
Posted 29/10/2017 at 19:32:10
For me any manager is going to need more time than is being afforded to Unsworth by many people on here.
The next two games are crucial for his push to hold onto the mantle. But if we start to call for the head of managers after losing two matches we'll be tumbling down the leagues, not just finding ourselves "in a relegation batlle".
We have started appualingly. We have a number of injuries and an unbalanced squad. I believe that's Koeman's doing and frankly it's difficult to see how any manager would galvanise us differently in the way Unsworth has tried.
Chris Gould
150
Posted 29/10/2017 at 19:38:22
Can't see us getting a goal away at Lyon and can see Watford bullying us to one side. Unsworth will be back in the U23s by the international break, and Moshiri will be making the most important decision he will ever likely make as our owner.
If we went for Allardyce, it would most likely be a contract to the end of the season with a big survival bonus. However, I would like to see us go all out for Tuchel. He is a guy that always has a plan and would certainly bring news ideas to this group.
In saying that, Allardyce would almost guarantee safety and maybe then we could look to be a little more forward thinking.
I don't envy Moshiri. This decision is massive.
Oliver Brunel
151
Posted 29/10/2017 at 19:38:56
Roman (#148) is on the Bitcoin. This team are too spineless to survive in the Championship. As I said elsewhere we need massive investment in a quality striker, centre mid, left back but I don't think we will get them in January. We will probably be relegated.
Jason Wilkinson
152
Posted 29/10/2017 at 19:39:20
Steve, if Walsh had a long list of forwards / strikers for Koeman I am amazed no one has come out and said so. Koeman may have been stubborn but he still insisted right up to the window closing that we needed a striker.
I'm not blaming Walsh solely for the mess we are in. I believe his role should be to spot good young ones. Basically to rely on a has been Rooney, a couple of kids and a bargain basement striker from another league is something I would expect from a newly promoted side with no money.
This is Everton FC – the fourth most successful club in the league with a billionaire backer. A man who has publicly stated he is ambitious for us to compete in the Champions League. Or is that all just smoke up our arses?
Des Farren
153
Posted 29/10/2017 at 19:39:33
Allardyce – NSNO! He resigned the England job for a reason. Yes, we are in serious trouble... but we are a proud club. Do we want to sell our souls as well?
Steve Ferns
154
Posted 29/10/2017 at 19:40:27
Why go for Allardyce when you can go for a 20-year younger version, who has hunger, and is not a crook?
Moshiri wants Silva, I would be happy with him, he's been my favourite all along. But I would still like to see Unsworth given time to stake a claim.
John Davies
155
Posted 29/10/2017 at 19:41:55
Jesus! We are seriously in trouble. And the truth is that no-one knows what the answer is. We have some shocking , well past it, disinterested, lazy, oh so slow, simply not good enough, money grabbing "players" and no-one good enough to make a silk purse from a sow's ear.
I have followed my beloved football club for 55+ years and I have not seen us as bad as this since those buffoons, Mike Walker and Walter Smith, were in charge. For the first time, since we were 2-0 down to Wimbledon, I really fear that we will be relegated. Joe McMahon @ #140 is right, but not quite right, because the future is looking bloody dreadful !!!
Colin Glassar
156
Posted 29/10/2017 at 19:41:57
Every so often some have us being relegated in late October early November and every time I, and a few others, come on here and say no we won't!!
Now I don't know what will happen or how we do it but, we will not get relegated. Read my lips, we will not get relegated. Stop it, it's not funny.
Chris Leyland
157
Posted 29/10/2017 at 19:44:49
Steve Ferns - yes, it is only October but losing is becoming a habit. The longer it goes on, the more serious it becomes.
Why wait until we are firmly routed in the bottom 5/6 before appointing someone who had the experience and know-how to get us out of it? Why not do it now and grind out results and aim for mid-table by Christmas?
This season is a write-off, get someone in to salvage it and try to establish a platform for next season rather than bury our heads in the sand and assume it will all be alright?
Oliver Brunel
158
Posted 29/10/2017 at 19:44:59
I really hope you are correct, Colin, I really do. But the omens are bleak, the vultures are out. Do you really believe we will be safe with this team?
John Davies
159
Posted 29/10/2017 at 19:45:22
Mike Berry. Sorry mate but what game were you watching? Battered them? How many saves did their keeper have to make?
Kevin Tully
160
Posted 29/10/2017 at 19:45:55
This post has nothing to do with Unsworth & his managerial abilities.
Ferguson, Royle, Ebrell, Unsworth, Jeffers, Baxter and whatever other one of Chairman Bill's special projects who reside at the club ain't going to get us out of this shit, or take us into the promised land.
We're a joke. Carry on 'getting the club' in the Championship with the current decision makers in place.
And our youngsters are no more special than any other club in this League.
Anyone want tickets a table of ten for a goal we scored in the Derby 63 years ago? There are about 30 of these 'dinners' every yeear. But we're special.
Paul Rimmer
161
Posted 29/10/2017 at 19:46:29
Calvert-Lewin is out of his depth i'm afraid. He doesn't look like scoring and opposing defenders can relax. I'd put Niasse up front as he's more of a goal threat although I can't believe I've just typed that as an Evertonian of 44 years. Is there any way to get Onyekuru back??
Baningime has looked the best of a sorry bunch in midfield and Lennon hasn't offered anything in the last two games. Lookman is a better option.
We've got to play Sigurdsson either next to Beni or in place of Rooney which isn't ideal as Rooney is the one with the nouse and eye for a goal.
We can't change much at the back but I pray Seamus is back after the internationals. As for manager, we are in the shit. I'm not sure it's Allardyce depth shit yet so therefore I'm hoping Dyche comes on board. He knows how to organise a defence and win football matches in the league.
Mark Riding
162
Posted 29/10/2017 at 19:49:54
Thank god for that. I was worried for a minute there. But Colin Glassar on ToffeeWeb says it's sound. [wipes sweat from brow]
Roman Sidey
163
Posted 29/10/2017 at 19:51:39
Paul Rimmer, after his bicycle kick today, I'd have Jags up front ahead of both of them.
Oliver Brunel
164
Posted 29/10/2017 at 19:53:42
They need to build a new team around Barkley and Lookman, that way we can move forward quicker in the transition. It's too casual.
Colin Glassar
165
Posted 29/10/2017 at 19:53:48
I do Oliver. I remember when we were in free fall a few seasons ago under Moyes and we went to Sunderland (in December) and scraped a 0-1 win. I think we finished 17th that season but we survived.
These days are squad is full of experienced Internationals and some very promising kids (enough, IMO, to get us out of this mess). It will take time and lots of effort but, ffs, don't compare us to Aston Villa, Sunderland or Newcastle.
Paul Wyndham
166
Posted 29/10/2017 at 19:53:55
Can't fault Calvert-Lewin for effort but he's way out of his depth. We have no choice but to push Mirallas up top and, although Rooney's getting some stick, I'd prefer him at No 10 to Sigurdsson who hasn't got the bottle for this football club.
We've got some real problems down the left where Baines and Williams have become our biggest liability yet we have no alternative and the shocking Gueye who needs to be benched.
Though I'm not a fan, I'd try McCarthy in the defensive roll sitting in front of the back four with instructions to search and destroy and what we would give for Barkley back in this team,we're desperate for a player who can actually go at a defence and commit defenders,i'd have Vlasic in too.
Priority now is points on the board at any cost so we need to start with defence and fighting to keep a clean sheet,wont be pretty but we're fighting for our Premier League lives now, let's have no doubts about it – relegation is a reality.
Pickford
Kenny, Jagielka, Williams, Baines,
McCarthy, Beningime
Davies, Vlasic,
Rooney,
Mirallas
Kevin Tully
167
Posted 29/10/2017 at 19:54:22
One more thing, if 'Rhino' doesn't get the gig, I hope he's true to his word and his statement that 'He's ready for management' ensures he applies for a real manager's post, and not carry on coaching youngsters.
He won't go back to the U23s now, will he?
Jason Wilkinson
168
Posted 29/10/2017 at 19:55:28
Colin (#156) I've seen some crap players at our club. I've seen some clueless managers at our club. I've seen some kids who are never going to make it in the big time at our club.
What I am seeing now is the worst combination. No belief, no desire and no answers. We have some of the best young players in English football. We also have some of the most spineless footballers I've ever seen.
Look at the list of clubs in the championship and tell me all that played in the premier league expected relegation. In the past I've always seen something that convinced me we would be OK. Not this season I'm afraid.
I can only hope we can spend our way out of trouble in January.
John Roberts
169
Posted 29/10/2017 at 19:55:50
We need a whole new back four! Deadwood... Williams will probably end up in League Two if he's lucky!
Lawrence Green
170
Posted 29/10/2017 at 19:57:57
Worst run away from home since 2001-02, leakiest defence at this stage since 1994 but I hope that Colin is right in saying we'll survive just like we did in those two seasons.
However, this league is even more unforgiving than in those early years of the Premier League and therefore it will take a lot more to win the points than it did in those days. Everton FC has no divine right to remain in the top flight, we should be proud of the record of consecutive seasons in the upper tier but we should never ever take it for granted, it has to be earned.
We have fourteen home games remaining and as fans we have to try and generate a positive atmosphere at Goodison in all of those games - a bit of old school support - may result in us retaining our place in the top flight and who knows it might just spur us on to the FA Cup too - but right now I'll take survival and the former Echo reporter Ric George agrees with me.

Dan Davies
171
Posted 29/10/2017 at 19:58:15
Anyone else read what a certain Mr Barton has said about Unsworth? He hasn't held back, put it that way!
David Israel
172
Posted 29/10/2017 at 20:01:11
Clive #139, never have you spoken so rightly. It is my sincere view that the reason it took so long for him to find an 'investor' was that he was looking for someone who would keep him on. Lots of clubs, even many below our status, found buyers (for better or worse) during his infamous 24/7 searching period. Eventually, he got hold of this Anglo-Iranian, through the good offices of David Dein, or so it seems.
Even apart from his performance as chairman, I think the man exudes conformity and mediocrity. He has taken us back, in our outlook and ambition. Depart I say! (not you, him).
Jason Wilkinson
173
Posted 29/10/2017 at 20:01:21
Is any Blue even remotely interested in Joey Barton's comments!!! Ask what he is like on a pre-season tour.
See you next Tuesday, Joey.
Colin Glassar
174
Posted 29/10/2017 at 20:02:52
Jason, believe me I can understand the nerves and apprehension but I've seen it before. If we still had players of the ilk like Pistone, Naismith, Wright, Faddy, Weir etc then I'd be seriously shitting myself.
We've been left rudderless but we've got a decent crew. All we need is a good captain to get us safely to shore.
Tony Heron
175
Posted 29/10/2017 at 20:03:26
Just a thought. In years gone by when teams were short of a striker it was often an option to play a big defender up front. I can certainly remember Jimmy Gabriel as a temporary centre forward and I think Steve Watson was used up front as well. Calvert-Lewin is only young and, to be honest, doesn't look a goal threat, neither does he win a lot in the air. Niasse is a tryer and does make a nuisance of himself. I'm just wondering if it would be worth trying Keane or even Williams at centre-forward. I'd try anything that might spark a win.
Derek Knox
176
Posted 29/10/2017 at 20:03:41
Further evidence, as if it was needed; that the next managerial appointment will have to be researched thoroughly; the recent poor performances, while being very much attributable to Koeman; do actually go deeper and back to Martinez too.
The annoying factor is that both have contributed to the state of the Club now; and yet both have been sacked, with a lottery sized payday. We are left with their folly and not a lot to look forward to either.
John McFarlane
178
Posted 29/10/2017 at 20:05:39
Hi Dave, [106] you and I are old enough to remember the despair of relegation [not yet teenagers], but in 1951 our fate was decided on the last day of the season, and more recently against Wimbledon and Coventry, at the same stage.
I can't recall ever fearing the drop so early in any season, including the 1958-59 season when we lost the first six games, scoring 4 goals and conceding 20. However, I can't see any way out of our predicament, and I believe that the mess left by Ronald Koeman will need a miracle to repair.
I posted on another thread that, whoever is appointed as Manager, could be the best thing or the worst thing to happen to the Club, only time will tell.
I understand the anger and concern expressed by many on this site, but I would the urge the match-going "Webbers" to get behind the team, and to pray for that miracle. I believe we all have players we like, and some we're not too keen on, but at this critical time, I feel it's important we give them our full support.
Ernie Baywood
179
Posted 29/10/2017 at 20:06:10
We'll all have preferences for one player over another but do you really think any of them will make a big difference?
I just can't see it. I still think Calvert-Lewin is our best option up top but none of the options are going to guarantee goals.
I'd try Lookman over Lennon but it's no silver bullet.
We can't change much in defence, and I can't see how a new manager fixes that. Do his organisation skills stop Williams taking a touch in front of Mahrez?
Until we get a striker this is all pointless. And this pointless few months will make the search for a striker even harder. I said before the window closed that we should have signed a stop gap while we looked for quality. I still believe that – with some of the costly gaffes we make what's one short term signing really costing us?
I feel for Unsworth. Finally gets his chance, makes the team competitive, gets a reaction out of the players but he's on a hiding to nothing. We're just not going to be able to score enough goals without a recognised striker for him to prove whether he can do the job.
Phil Greenough
180
Posted 29/10/2017 at 20:06:17
Why do people continue to castigate Allardyce for his shady dealings? Every manager probably does it, the only difference is, Allardyce was caught.
Jay Woods
181
Posted 29/10/2017 at 20:06:40
I'm not convinced Barton is wrong, on this occasion.
Arwel Williams
182
Posted 29/10/2017 at 20:08:02
Disappointing display today, switched off after 60 mins, I would like to see Schneiderlin and McCarthy or Baningime play in central midfield. Davies, although he has talent, gives away too many fouls and is pushed off the ball too easily.
I really believe that the squad is probably as talented as we have had for some time but it is obvious that confidence is rock bottom. It is so obvious that some crucial positions were neglected in the summer.
The player brought in, were outstanding for their previous teams and don't become bad players overnight.
Regaining confidence is not going to be easy, changing the team to try and find the best combination is not going to help but how long do you stick with player who are not performing.
Most Evertonians wanted Howard Kendall out prior to the Oxford game but that was all that was required to change the teams fortunes, I hope that our Oxford game is not too far away.

Colin Glassar
183
Posted 29/10/2017 at 20:09:42
Not that I'm interested but what did Joseph say?
Dan Davies
184
Posted 29/10/2017 at 20:10:38
No need to be so touchy Mr Wilkinson just bringing people's attention to it. Apologies if I have offended you....
Something along the lines of "a glorified PE Teacher" Colin.
Jason Lloyd
185
Posted 29/10/2017 at 20:12:17
I read a quote from Unsworth that said it's important to hear from and work with the senior pros, he specifically named Jags, Baines, Williams and Rooney.
These players appear to have control of the dressing room.
You want to know why we are in the position we are in? The players that are one of the main problems appear undroppable. If they stay and play we will get relegated, it's that simple.
A new manager needs to get rid of all of them and start again.
Fran Mitchell
186
Posted 29/10/2017 at 20:12:45
First step to resolving a crisis is admitting that we are in a crisis. We are in a desperate position, but it has been seen before wit other teams.
Despite having many decent individual players, we have no balance, we have a combination of too old or too young for defense, and we can't score goals. It is a terrible malaise, and a way out will not come easy.
The confidence has been ripped to shreds, team morale at an all time low. It doesn't look like the players are up to fight for each other.
The fact is, we became accustomed to being best of the rest during Moyes years, and we though that the natural progression was upwards. Unfortunately, we have been proven wrong.
The core of our 'success' under Moyes was 'togetherness', 'solidity' and making the most out of the one or two top level players we had.
Now, the overall quality has improved, but all other elements of a team have been stripped apart.
Where do we go from here? The injuries to Funes Mori and Coleman have definitely affected us, and Baines' decline this season has been huge, yet this we should have been prepared for.
Bolasie's return will give us pace, but his stats for assists and goals mean he won't come in and transform our fortunes.
We are up shit creek.
We don't have the defenders for an Allardyce style escape.
For me, the only name that gives me hope is Tuchel.
Colin Malone
187
Posted 29/10/2017 at 20:14:06
If we cannot get a top class coach, then let's go for firefighter Big Sam. But I still say Joe Royle and Sheedy, I did say it before Unsy got it.
You know I did.
Geoff Evans
188
Posted 29/10/2017 at 20:15:04
There's people on here who think we have a divine right to stay up.
Get yer heads out yer arses and stop being arrogant. We fucking don't.

Joe McMahon
189
Posted 29/10/2017 at 20:15:08
Arwel Williams - Kevin Brock was very early in 1984. Football has changed, I'm afraid. Back then Chelsea had The Shed, Man City had The Kippax and Everton had errr Bullens Road stand.
Gavin Johnson
190
Posted 29/10/2017 at 20:15:22
Letting goals in for fun and not scoring is a recipe for relegation. And I am genuinely worried. I've often scoffed at the doom mongers that frequent TW when they said we'd go down over the last few seasons. We always had Rom who would guarantee goals so those claims were always fanciful.
Now we can't score goals and have an ageing defence another year older. Baines looks like Kenny Sansom during his Everton spell. He's sadly only a squad player now. It's so frustrating to know you've got 㿲m on the bench in Klaassen and Sigurdsson. It's money that currently looks wasted. It could have been money spent on a LB and striker.
I would drop DCL (too inexperienced for a relegation battle) and be starting games with Rooney as an out and out striker and tell him to stay in position because he hasn't been when he's been asked to play there. Sigurdsson has to be our No.10 and Klaaseen is a luxury who might come good next season, fingers crossed.
We're not going to be scoring lots of goals until we buy another top striker. Until then we have to set ourselves up not to concede. Rooney is good enough up top to get us a few 1-0 wins until we can address things properly in Jan.
Ernie Baywood
191
Posted 29/10/2017 at 20:15:45
Tony 175, I think I said it on here a few weeks ago. We were so lacking in creativity that our only option might be to go full Allardyce and just opt to all out defend and then take a chance at throwing defenders forward for long balls.
I actually recall Sam doing this against us with Blackburn. Might have been an opening day game under Moyes. They showed no interest in the game until they got a free kick and then lumped everyone up for a high ball from the keeper. And beat us 1-0.
I remember thinking that I couldn't stand seeing my team play that way. He might have made them a mid table side but there's was only one way that club could go - Venkys or no Venkys.
I hope things aren't quite so bad that we'd want that kind of football.
David Israel
192
Posted 29/10/2017 at 20:16:28
Yes, Colin #183, I'm with you. He must have said something brilliant, though.
Jason Wilkinson
193
Posted 29/10/2017 at 20:18:15
My RMD is a blue, we had a lunch on Friday and he was optimistic about a result at Leicester and on to Lyon to win there and resurrect our season.
I was not so optimistic and advocated getting out of the EL as soon as possible to take the fight 100% to the premier league.
Football can at times be hard to predict but it is a simple game. Score goals at one end and stop them going in at the other. WE DO NEITHER.
I can't remember any team staying up that had that combination. We look a lot like Forest the season they went down. Full of talented players but no end product.
Please buy Troy Deeney, Walcott and Rondon in January. Two big uns and a fast one who might get the goals we need to stay up.
Oh and get the bloke from Sheffield United in as manager.
Roman Sidey
194
Posted 29/10/2017 at 20:20:42
Why do people keep pointing our that DCL is young? He will be 21 in less than six months. That is not a baby in football years (especially for a forward) and if he is going to be a decent Premier League striker (I don't think he will be) then at 20.5 years of age he should be a lot further along in his development. This is like when people were still calling Coleman young when he was 26, and Baines when he was 28.
Jon Withey
195
Posted 29/10/2017 at 20:22:48
Labouring a point but I can't believe how much money has been thrown away on above average players - the sort we used to get for under £10m we have been spending record amounts on. Bolasie, Schneiderlin, Keane, Pickford, Klaasen, Sigurdsson - that's over £150m from Koeman.
Are they really better than Lescott, Howard, Baines, Jagielka, Pienaar, Arteta, Cahill were in their day ? What happened to our recruitment ?
If this is 'ambition', let's go back to 'sensible' !
Clive Rogers
196
Posted 29/10/2017 at 20:23:05
Unsworth made a big mistake bringing back Mirallas and Lennon because he wanted to play wide men. Wingers need to get balls into the box and provide assists. Those two certainly don't do that. We simply don't have have them at the club.
Ste Traverse
197
Posted 29/10/2017 at 20:23:18
I said when Koeman was sacked that I didn't want Unsworth even as a stop gap and have seen nothing so far to change my mind.
I found it bizzare so many seemed to welcome the appointment of someone with no experience at this level.
We were as bad as ever today. A total mess.
Tony Twist
198
Posted 29/10/2017 at 20:23:34
I am most worried about the defence rather than the attack though we definitely need a quality centre forward but if we get Henry back from loan, Barkley fit, willing and able and Lookman in a more direct role, we would have a good front three to hit teams on the break but that only works with a rock solid back four.
Baines needs replacing, he seems to have forgotten that his main purpose is to stop the opposition from crossing the ball, he is woeful and has been for sometime.
Mark Riding
199
Posted 29/10/2017 at 20:23:52
Joey has a point like.
Ian Riley
200
Posted 29/10/2017 at 20:27:05
Today the formation was wrong. We have three defenders whom are over 30 years old. Two wingers and two strikers. At home, yes we show the initiative. Today there was no protection for the back four. Let's defend first. Stick Niasse up front let him run around. Today was about getting a clean sheet and building confidence.
We are in trouble. The manager must be announced shortly. Researched yes, by the international break and in place.
Vin Genova
201
Posted 29/10/2017 at 20:27:15
Calvert-Lewin can't finish, create, or even take a chance right now, not sure why he is guaranteed on the team sheet every week over an admittedly still adjusting Sandro.
And if Unsworth wants to play wide, where on Earth was Vlasic!? He's the only wide player to look a threat this season.
I hope Unsy doesn't run out his U23 squad every week, they're miles away from PL quality at this point
Peter Lee
202
Posted 29/10/2017 at 20:27:40
I admit to being a miserable bastard. When I played I was a forward but I'd get pissed off because, whatever we scored, crap defense meant we lost. I realised that success all starts from the back. I was about 23. Klopp has still to understand this, Mourinho has never moved on from it. I chose to play centre back from then on.
At the end of last season we certainly needed a replacement, preferably two, for RL. For me, more importantly, we needed one (two would be better) quick CBs. To be more specific, we needed a quick, left-sided CB. We got neither a quick nor left-sided player. In fact, we ended up with Keane, a player who works well in a rigidly structured defence and middle four, We sent out on loan youngsters who were no worse and one, Galloway, who was much quicker.
Posters have often berated RK and, before him RM, for playing two defensive midfielders. Today we didn't do that. Yayyyy. And for the first goal both of our central midfield players made abortive attempts to make tackles inside the opposition half, on the same side of the pitch ffs.
Football and politics rarely make for parallels but one is true IMHO. Principles are great but winning is all.
Love attacking football but not much point when your approach previously has left you 0-2 down.
We need to get 15 points from the next 9 games. We won't do that with DU as manager. Me, I said I was a miserable bastard, I 'd get big Sam in. Sadly, I'd see DU go from the club at that point.
Len Hawkins
203
Posted 29/10/2017 at 20:28:36
GREEN SHOOTS? For christs sake get this Green in fast one of his shots must go in!
David Israel
204
Posted 29/10/2017 at 20:29:41
Jason, #193, actually I have thought about Chris Wilder, too, but solely on his record at Sheffield United, but I've never seen them playing under him. But anyone who can win at Leeds deserves praise.
Anyway, the net has to be cast wide. Fortunately, there is an international break soon, which gives us just a bit more time.
Damian Nolan
205
Posted 29/10/2017 at 20:30:46
The players today, absent Ronald Koeman, showed how much they are to be held to account for the current malaise. Not one of them should be allowed to escape that fact. Ever.
Barry Roberts
206
Posted 29/10/2017 at 20:33:03
More heartache for we Blues. I'm sorry but I honestly think Alf Ramsey would struggle with this squad. Unbalanced, lacking in pace (shown up by Leicester's abundant pace today) and unfortunately too many ageing players all past their peak (Baines, Jags, Williams, Rooney etc).
We all hope the cavalry of Coleman, Barkley, Bolasie etc will help but if we are relying on Funes Mori we'd better be prepared for away games at Barnsley next season!
If I had to place my money on a preferred new manager, it would have to be Dyche. We are fighting the odds now, need a few results urgently, and need a plan with pace and effort. Why give up at half-time today and take off both wingers and not give Lookman 30 mins? Sorry Dave, I think you've failed your audition.
Mark Riding
207
Posted 29/10/2017 at 20:33:35
Ian (#200). How do we attract a new left back, when ours is totally undroppable no matter how shit he plays?
Alan Burnham
208
Posted 29/10/2017 at 20:35:40
Now in my 55th year watching the Blues and I don't think I've ever seen such a woeful state of affairs. Anyone who thinks relegation is not a realistic prospect needs to think again.
This team falls short on every count – quality, pace, commitment, tactical awareness. Can't defend, can't score.
We are also showing worrying signs of delusion – eg Tom Davies (possibly good prospect, tries his best) shouldn't be anywhere near a Premier League starting place. Consistently loses the ball, easily muscled off, poor choices when he has the ball.
Of course it's not his fault we are crap but madness to think his standard of play is going to dig us out of the shit. We have seasoned professionals with proven track records on the staff and the only way we are going to find points between now and January is by harnessing their abilities – not by chucking a load of unready kids into the fray. We need a new manager asap who can do this.
And just to make it worse – I'm going to Lyon this week!
Dave Williams
209
Posted 29/10/2017 at 20:36:07
Don't write off Unsy yet – anyone needs a few weeks to get to grips with a new job and he stands more chance than most as he already knows some of the squad. He has to see for himself who can do a job for him and who can't or won't.
The lack of a striker is a huge worry but get the team playing to a regular pattern with a solid defence and goals will come. Okay not enough to get us into the top half but certainly enough to get out of the bottom three.
Unsy cannot be blamed for today and he will have learned a lot about his squad for next week. We tried the big name manager with Ron and look what happened.
Give Unsy a proper chance – this is not an easy fix as there is too much wrong but I agree with Colin that there is enough talent to fix it once a plan is in place.
Neil Copeland
210
Posted 29/10/2017 at 20:37:10
Unsworth needs time, he has not been in the job for a full week yet!
Will the same comments apply when we bring in Allardyce and he loses his first 2 games? But that's ok because we can then bring in Silva, and if he loses his first 2 games then Tuchel there are loads to go at.
Yes, we are in the mire but come on lads give Unsworth at least a fighting chance.
Keith Monaghan
211
Posted 29/10/2017 at 20:37:49
Sad for Unsy, but didn't expect him to do it though – we're in a mess which started under Martinez with players being way over-rated.
My top two choices: Benitez (doubt if he'd come?) and Paul Clement.
Definitely no to Moyes, Allardyce, Dyche, Tuchel, Ancelotti – I couldn't imagine the last two would come anyway.
It was obvious that, against Leicester of all teams, we'd be undone by pace. With the possible exception of Kenny, our back 4 is so slow and well past its sell-by date. None of those 4 starters are Premier League players, and neither are Rooney or Lennon. Calvert-Lewin isn't either unless in a quicker and more creative team.
We had no creative midfield player in our starting 11 – the only player who seriously threatened their goal was subbed at half-time.
Kenwright has messed us up – being a true Evertonian doesn't mean you're fit to play for or manage the club. 28 games to go 30 points needed – no new players until 2018 – if we can get decent ones to come then? We have to prepare for the worst; I hope I'm wrong, but that's where we are I'm afraid.
Our back 4 is disastrous – there are not two worse central defenders in the Premier League than Jags & Williams. Re-building in the Championship may be what we need, even though it's not an attractive prospect.
A lot of us need a reality check. Our serious troubles for this season started with the Lukaku - Rooney deal in the first half of July and has Kenwright's mits all over it – he must go and take Rooney. What contribution does Dunc make?
Ian Riley
212
Posted 29/10/2017 at 20:40:36
Mark (#207). We spend 12 million on a central defender 30-plus. Says it all.
Ray Said
213
Posted 29/10/2017 at 20:42:01
I read what Unsworth said about working with the senior pros and, in my opinion, that is one of the problems in that some of the senior pro's need to be cleared out sharpish. Is 'senior pro' what we used to call 'Arl arse'?
Baines and Jagielka are way past their best, look pudgy and slow the play down. They should never have had been offered extensions but thanked for their service and left to find other clubs. I find it easy to believe the rumours they 'downed tools' on Koeman and Martinez in a display of player power and it looks like we are becoming a bit of a rest home for aging players no other clubs wants.
Joe McMahon
214
Posted 29/10/2017 at 20:43:01
Jon Withey (195), I agree – all Koeman's purchases have been way overpriced and are cack, apart from maybe Pickford. But Lescott, Howard, Baines, Jagielka, Pienaar, Arteta, Cahill etc yes were a lot cheaper, but prices were cheaper then.
Moyes tried buying on the cheap at Sunderland, with lots of the shite he brought to Everton, and we know what happened to Sunderland...
Darren Gibson may have been cheap but over 4 years of wages for 50 appearances and 2 goals says he was also an expensive waste of crap too.
Soren Moyer
215
Posted 29/10/2017 at 20:44:23
Oh man! This team is beyond repair and need a complete overhaul. Again!! And nobody takes responsibility for wasting so much money.
We need to hire a good manager right now to assess who should be sold and what sort of players we get during the upcoming transfer window. Its a matter of urgency otherwise we will be relegated, no doubt!
Dave Williams
216
Posted 29/10/2017 at 20:47:45
Soren, I think the fact that Walsh is still there indicates that the decision to spend all that money was down to Ron?
Jamie Crowley
217
Posted 29/10/2017 at 20:48:56
Two games - Chelsea and Leicester on the road - and some people are calling for Allardyce??
Fucking mental that is!
Unsy has been in the job one week, FFS! In that week, we've looked better than at any other time this season.
The schedule will begin, after Lyon, to not be so cruel. Give the man a chance until Christmas and then assess.
Jesus, knee-jerk is an understatement. I understand the very real concern...
But Allardyce? Gotta be fuckin' kidding me, right?
Boring shit football from a snake manager? I'll pass.
Give Unsy at least a little time – and yes time IS short but give the poor fella a bit of a run to see how he can do.
Dave Williams
218
Posted 29/10/2017 at 20:51:32
Jamie – spot on!!
Charlie Lloyd
219
Posted 29/10/2017 at 20:52:21
Steve @ 112
Even Allardyce would be hard pushed to save us if he was appointed in April.
This isn't a hard luck story this season. We are seriously rubbish. Shipping goals, not creating much, confidence shot, desire questionable and it's tough deciding a best 11 and formation from a badly unbalanced and threadbare in areas squad.
I'm not one for knee jerk reactions but we need some help or divine intervention.
Simon Dalzell
220
Posted 29/10/2017 at 20:53:48
Really worrying now. We must go "all out " immediately to at least try and get Tuchel or similar. We cannot afford to see if Unsworth is up to the task... (not for me). The Martinez and Koeman departures where drawn out far too long. Action is needed. Now!!
Mike Jones
221
Posted 29/10/2017 at 20:54:36
Tom Davies is never going to make it. Neither is Kenny or Calvert-Lewin. Every other player just isn't good enough.
Jason Wilkinson
222
Posted 29/10/2017 at 20:54:56
I don't wish to sound like I'm having a go at the youngsters in our team so forgive me if this is the way I come across.
Kenny, Keane, Davies and Calvert-Lewin are not good enough for Everton. We need to replace all four with better players in those positions. All have shown glimpses now and then but you don't keep playing them when they start stinking the place out.
Unfortunately injury and a lack of foresight by the club have left us with a threadbare squad. Spurs have been the pundits model of how to cracking the top four and I can see why. They have blooded their youngsters and took them out the firing line when necessary. They have evolved and replaced the has-beens. They are pretty solid at the back and have oodles of pace going forward.
We on the other hand have hung on to ageing players and relied on untested youth. My eleven to get us out the shit:
Pickford, [Replacement], [Replacement], Jagielka (until we can replace him) [Replacement], Gana, Barkley, Lookman, [Replacement], [Replacement], [Replacement].
Jamie Crowley
223
Posted 29/10/2017 at 20:56:12
Charlie -
What we NEED is something in very, very short supply with the fan base currently - PATIENCE!
Not a ton of it, just a little.
How's this? Let Unsy have a shot at it through my American Thanksgiving. Basically November
If we are still shitting the bed then sell our School of Science soul and bring in Fat Sam.
Deal?
Andy Meighan
224
Posted 29/10/2017 at 20:59:08
Steve Ferns (#122 ),
I can't believe you had the temerity to type them words... Look, we don't score goals and we concede. What part of that don't you understand?
This is trouble them words I've just typed = relegation nothing more nothing less No manager or coach in world football can save us, believe me. We are a fucking disaster.
No creativity. No craft. No guile. No leaders. No defence. No strikers.
Over-reacting? You stupid stupid man.
James Stewart
225
Posted 29/10/2017 at 21:01:29
I just don't know what to say about Everton anymore. We are an embarrassment. Utter shambles from top to bottom.
We pay off two incompetents to the tune of £20m, then put a team costing over £200m in the hands of a guy who has never managed in the top flight.
Unsworth then plays the oldest team he possibly can against a side full of pace and bins all the signings we spent all summer chasing. Only at Everton could the powers that be, be so inept.
Charlie Lloyd
226
Posted 29/10/2017 at 21:02:24
Jamie @ 217
I really like Unsworth and obviously want him to do well and earn the position full time. However he has been dealt a shit hand and my concern is he doesn't have the experience to deal with what is an awful situation.
Did we notice that the formation was changed again at half-time? It probably needed to be but from the start it didn't look like we were step up to stop their counters today. Gray was picking up too many pockets of space from early on that we never dealt with.
I don't know if Rooney has licence to roam but when he does there is nothing close to Calvert-Lewin and one thing this season has taught us, surely, is that you need to get someone near him. Whether that's Rooney, Mirallas or Niasse take your pick. But it was amateur stuff.
Until Beni came on we were overrun in the middle. Then we had little from the wings when we played the diamond midfield. It was a bad showing to be fair.
Jamie Crowley
227
Posted 29/10/2017 at 21:06:00
Charlie fair enough -
But let's give a winning U23 manager and Evertonian whom we all seem to agree (most) will come good...
A bit longer than six days to fix the issues you've pointed out.
Roger Helm
229
Posted 29/10/2017 at 21:09:46
Why are people saying that class will tell and we will be okay? Other than Pickford, who would get in any other Premier League team? Almost our whole squad is not fit for purpose; either too young and inexperienced or too old and slow - how many in the sweet spot of 25-30? There are a few like Sigurdsson and Gueye but they are woefully out of form.
As for those turning their nose up at Allardyce, just remember 1. the financial cost of relegation, and would we ever get back up again and 2. football is full of rogues and villains anyway – it never was a game for saints.
We need someone in soon, and Unsie is not the man, to give maximum time before the January window, when we will have to invest heavily (again), or accept relegation.
Kunal Desai
230
Posted 29/10/2017 at 21:10:07
Make a note of this: our up-coming home games against West Ham, Swansea and Huddersfield are games we ave to win.
We are in a relegation dogfight and the need to get to around 20 point mark at the half way stage will be critical. With our poor away form, we may pick up and point or two, but those three home games in November and December are already emerging as must-win games.
Forget any other competition, this early on, it's all about survival in this league sadly.
Peter Cummings
231
Posted 29/10/2017 at 21:15:05
As I have said repeatedly, we are still not a 90-minute team; at best we can manage one 45 minute shift. And this season especially, not even that, as we struggle from disaster to disaster.
Today was a case in point as we allowed the Foxes the freedom of the park ,gifting them two goals in the 1st half. Doing a lot better in the 2nd but battering our heads, as usual, against 'parked bus' defenders.
Where the next points or even goals are coming from is now anybody's guess as is a manager who can turn things around. But, as has been said by many TW posters, who would want the job except for the cash???? I notice Gueye got yet another booking.
Peter Jansson
232
Posted 29/10/2017 at 21:16:03
Seriously the defence did not look that bad today. The first goal was due to errors of Davies and Gueye in the midfield. Don't blame the defence or Williams and Jagielka for that.
The 2nd goal was just bad luck.
The problem is that the midfield lacks penetration and Rooney needs to go deep down to pick up the ball. Then it is empty upfront. Rooney should play as a midfielder. Calvert-Lewin is good at running, but that's it. He is not the goalscrorer we need. I am pretty sure Sandro would do much better if he gets a serious chance.
Mirallas and Lennon are decent. With Rooney in midfield we have someone who can pass. If we then have Mirallas, Lennon, Sandro, Lookman, Niasse or Calvert-Lewin (pick whoever you want) upfront then we might score a goal or two.
You who are blaming the defence... they actually did a good job today.
And for you who blame Unsworth, he is not the problem here. There is just so much he can do with this team in a short period of time.
Jason Wilkinson
233
Posted 29/10/2017 at 21:16:24
Your thoughts on Mirralas, Sigurdsson, Rooney and Lennon today please guys.
Lookman, Vlasiç, Baningime and Niasse would have started in my eleven before any of them.
Oh and I'm not convinced by any of them either.
Kenny Smith
234
Posted 29/10/2017 at 21:17:32
Let's not get sentimental about ex-players managing the club. We've got a couple of games to turn this round but without a centre-forward to nick is a goal, we're fucked.
We're already looking at other teams to do us a favour a quarter of the season in. Thomas Tuchel is the only real option but we'll end up with Allardyce or Moyes –in which case, I'll proceed to top meself immediately.

Tony Marsh
235
Posted 29/10/2017 at 21:18:06
I was prepared to give Unsworth a go but after today – no chance. Today's starting line up was very Koeman-esque. What the fuck is Unsworth doing bringing back Lennon who has been useless since he arrived here?
The whole thing was a joke. Why start Calvert-Lewin over Niasse who at least scores a goal or two. Calvert-Lewin is not Premier League quality, never will be.The midfield was a shambles. A match in a relegation battle is not the place to experiment and that's what Unsworth did.
I got called a cretin today on another thread for calling Gueye useless and saying it was madness to give him another contract over 5 years. He is slow now... what will he be like aged 34? Absolute joke decision to make for a below-average player. After today's display, am I still a cretin?
Some of our fanbase suffer from Kenwrighitis. Delusional dreamers that don't see the reality of our position. Fans calling for Anchelotti et al – get a fucking grip. Do you seriously think he would come here with us in the bottom 3 an ageing squad and NO money to spend? We are in deep deep shit right now and as much as it hurts or goes against our joke motto, we should beg big Sam to come and put this right. The alternative is the trap door to oblivion.
Top and bottom of it is Unsworth proved today he is out of his depth. That silly line-up and pathetic display was as if Koeman had never left. Forget fancy names from the continent learning on the job as well. We need Red Adaire to put this fire out.
Sorry if Big Sam offends many of you but this is what Kenwright and Co have reduced the club to. It's a sorry mess that needs urgent attention.
Andy Crooks
236
Posted 29/10/2017 at 21:20:18
David Unsworth has been manager for less than a week and already there are those saying he is not the right man or they never wanted him.
Someone is going to need to be given time. Do we bring in Big Sam and sack him after two defeats? Koeman, Walsh and the custodians of the club have dismantled the nucleus of a good team and wssembled a squad bereft of guile and more importantly backbone.
There are too many nice guys, soft guys and invisible guys. Wayne Rooney is the only player in the entire squad who seems hurt by losing.
Ron Marr
237
Posted 29/10/2017 at 21:20:20
Team had a lot of possession in the second half but the lack of creativity in the final 3rd was alarming. Whoever is manager will have a tough time with the glaring weaknesses in the squad. If they were still playing now they would still not have scored.
I've seen Man Utd and Spurs relegated, Everton don't have a right to be in the Premier League.
Imperative the club gets the right manager; otherwise, Kenwright having made his money will ride his rocking horse off into the sunset and Moshiri will be the new Tony Fernandes.
Peter Jansson
238
Posted 29/10/2017 at 21:21:58
We need more creativity in midfield - My best prospect here is to put Rooney in the midfield, our best football player.
As a striker... can we please try someone else than Calvert-Lewin?
Eric Paul
239
Posted 29/10/2017 at 21:23:42
Jason @222
Keane is 24 and is settling into a new struggling side alongside players the wrong side of 30. As for Kenny, Calvert-Lewin and Davies, they are all still teenagers and much better than players in their positions from our most successful period at the same age.
Peter Jansson
240
Posted 29/10/2017 at 21:24:34
Seriously, for fuck's sake. Unsworth is not the problem here... the squad is!!
Roger Helm
241
Posted 29/10/2017 at 21:25:30
I can't remember the last time Lennon or Mirallas provided any sort of attacking threat. But in January the first essential is a new back four.
If you can keep a clean sheet at least you are in with a chance, but when you leak goals all the time, you are chasing the game and we do not have the personnel for that.
A left-back, right-back, centre-half and two strikers, one of whom has to be a proven goalscorer, are the minimum requirements for survival.
Jason Wilkinson
242
Posted 29/10/2017 at 21:28:19
Eric, I'm not convinced. If they are going to come good they need to be pulled out the fire at the moment. None are playing with any confidence at the moment.
Paul Kossoff
243
Posted 29/10/2017 at 21:29:07
I have said for a while now, Kenwright and his cronies want this club relegated. I don't know why, but if you wanted a club to fail, you would copy Kenwright's strategy.
I don't care how much money we have "supposedly" spent. From employing a manager who was clueless in keeping his team from relegation in Martinez, to an arrogant self-centered over-paid prat in Koeman, I just can't see us getting out of the shit he's put us in. It's a nightmare and an absolute joke!
James Marshall
244
Posted 29/10/2017 at 21:31:10
The funny thing is, Unsworth is playing with pretty much the team and formation everyone on here had been crying out for, and guess what? We're still shit!
Without a proper striker on the team, we're royally screwed.
Paul Smith
245
Posted 29/10/2017 at 21:31:19
If only we had that manager or that left back or a 20-goal-a-season striker. Reminds of the alcoholic that needed a new flat or change of geographical area, or if he found the right women, it'd all be sweet.
We need to look within from the board to the coaches to the senior players; a new manager may help but the true answer lies within.
James McPherson
246
Posted 29/10/2017 at 21:32:46
Just back from the game. More I see the more convinced I am that our fate was sealed 31 August @ 23:00 with no forward coming to the club.
I am alarmed. Firing Koeman, in the end, had to be done. However, as has been commented, it was never going to be the answer. Our senior players lack backbone and aren't capable of leading the youngsters out of the mire.
o all those who laid into Koeman feverishly querying where's Davies, Kenny, Calvert-Lewin, Mirallas... well they were all there today... No, I didn't spot the difference either. Shambles.
Mike Green
247
Posted 29/10/2017 at 21:33:57
As much as he may be a top flight player one day, playing Calvert-Lewin in any capacity at this level is a major issue, unless it's a 10-minute cameo here and there.
Niasse might be all over the place but he's a genuine threat. Calvert-Lewin isn't much more than a poster boy at this point, I'm afraid.
Keith Gleave
248
Posted 29/10/2017 at 21:34:08
I have to say it, the performance today was awful. Not one tackle, or dare I say foul put in on Gray for for the first goal. The second shambolic, I feel Kenny is out of his depth.
In the first half we offered nothing going forward. Mirallas tried to no avail, Calvert-Lewin try's but lacks the experience to lead the line with any menace. Rooney needs to stay on the bench.
I could not understand taking Mirallas and Lennon off other than to shore up the flanks. We then had most of the possession but had little idea what to do with it and it was pedestrian.
From this performance, I do not think Rhino is the person to take us forward and I really worry that if the right person isn't brought in quickly we are in a dogfight at the bottom and I don't think we could get out.
Paul Birmingham
250
Posted 29/10/2017 at 21:36:12
Time for a massive salvage job to stay up, as. I can't see how the goals will come from the current squad. Let's forget every thought of any thing else as time is running against us.
Whatever happened inside Finch Farm with Koeman and The Klogg crew, time may tell... Unsy has copped a whopper of a stinking drain to to foster possibly even long term, but today is a reality check.
There's no goals in the team; ironic how the wheeler dealer Steve Walsh was back on his hallowed ground, and living on yesterday. The EFC vautede early spend has sadly been almost a fraud and the team selection tells a story.
I'm not convinced that he appears to be not accountable for what's happened but now and even more than 1998, I sense this squad could take us down.
Already a quarter of the season gone and by Chrimbo and New Year, half the season is gone, thereabouts.
I can't see any way how the goals will come but sadly our defence is "no effective defence" when it counts and on the pitch man management and awareness does always seem to slip. It's Keystone Kops and Blazing Saddles in terms of pathetic marking and repeated game-on-game mistakes.
God help us in the derby, I was thinking today that could be a turning point, but realistically, they're crap, but we are worse, and it hurts to say, they have more appetite and goals in their squad.
Time for a genuine football Salvage Man and save this season. I think the board also must consider carefully who takes control next, as Koeman's record outside of Holland was poor.
We've all said it but this is like some Bible Tale but we all know, anything in the post 1987 EFC, is possible and uncannily our darkest concerns do seem to happen, on a scale. Babel, but who comes next has a hell of a job, but even today no real threat up front and Schmeichel, had an easy day.
I'm sick to the back teeth of being disconsolate about EFC, and it does impact life and I feel for all Evertonians, as now it's agony, pain and angst, with no sign of stopping.
Unsy is bold and in fairness got a decent second half out the players and in time he may get a blend, but we don't have time. Thursday and next Sunday is massive.
No teams too good to go down, and now more than ever, our revered past and history is unique and to be savoured an respected, but now is reality. The biggest war chest ever and EFC has screwed it.
Whom is to blame? Koeman but not just Koeman... Open to all, but we need a win ASAP.
Time to pray as, on current form, we need a miracle. I hope Joe, the squad of 1995 FA Cup Winning team are brought in to try and kindle some spirit and belief. There's no type of the right nark and spirit to take the a game by the scruff of the neck and win it. Now we need a Salvage Manager, to keep us up. I hope fate turns well and a Unsy gets grace, but for me the next two games will decide his tenure, but at least I hope he can carry on his great work with U23s.
Andy Crooks
251
Posted 29/10/2017 at 21:37:12
Paul and James, good posts. This is an expensively assembled collection of duds.
Brian Harrison
252
Posted 29/10/2017 at 21:37:24
The fault with Everton was nothing to do with the man in charge today, the fault lies between Koeman,Walsh, Kenwright and Moshiri. They have made the most monumental cock up in our history and one which could be catastrophic.
This club is synonymous with great Number 9s yet here we are having spent 𧵎 million and we haven't got 1.
If they had been doing their jobs are first signings would have been 2 strikers not 1 as some have suggested. During the summer we let go 3 strikers Lukaku,Valencia and Kone and should have replaced them which we didn't.
None of this is Unsworth's fault, so what choice has he got, at least in the second half they dominated play but with no strikers it makes the job almost impossible. I hear people suggesting different managers to come in, believe me none will make any difference till the Jan window. So Unsworth is left with enthusiastic youngsters who never threw in the towel and tried till the final whistle. So I see no mileage in appointing a manager who will take weeks to get to know his best team, and no doubt go back to the seasoned players that have got us into this mess.
So get behind Unsworth and publicly state he has the job till Xmas and let him get on with the job. Yes, maybe he did go a bit gung ho at the start but wasn't every man and his dog asking for 2 wingers to play with width and pace, and that's what he started. So for all those that asked for this don't criticize the man for doing what most were crying out for.
So let's just accept that until the January window we have what we have, which is some young talented players making their way in the game and some who are just not good enough to wear the shirt.
But I repeat – none of this is Unsworth's fault, so give him a chance.
Neil Copeland
253
Posted 29/10/2017 at 21:40:55
Andy 236, well said although I would add that losing seems to hurt Pickford also.
To me it is ludricous to claim that Unsworth is not the right man after 6 days. Maybe his team selection today was not the best but they at least showed some fight which is more than can be said for a Koeman team.
It may well end up that Unsworth is not the answer but he needs time to prove himself. Personally I think he will do ok if given a sufficient run. My reason being that he truly cares, he is a good man manager and I believe a good coach (as demonstrated with the U23s). I actually think for those reasons he is less of a risk than most.
Unsworth is one of us, ffs let's stop the back stabbing and start supporting him. You never know he might just turn things around.
Tony Marsh
254
Posted 29/10/2017 at 21:41:15
Brian @ 252,
If Unsworth thinks Lennon is a better player that Vlasic or Lookman, then we are seriously fucked, lad. That starting 11 was pathetic. The bench looked stronger than what we put out there. It was Unsworth who picked that side – no-one else.
David Connor
255
Posted 29/10/2017 at 21:44:57
Please, please, please, don't anyone go on about how good Calvert-Lewin is gonna be as he is only 20. Even Stevie Wonder can see he will never be a top striker as long as I've got a hole in my arse. He doesn't even look like scoring and that's against a bang-average Leicester team.
The majority of this team don't even look arsed when they take the field. They only seem to have a go when the game's as good as finished. They are a fucking disgrace to our great club The majority want fucking off ASAP. Baines, Jagielka, Williams, Lennon, McCarthy, Mirallas are finished as far as I'm concerned & Niasse is not far behind. Get rid and start again.
It's gonna take an almighty effort to keep this bunch of dead heads in the Premier League on our showings this season. I thought we might struggle without Lukaku's goals... but I didn't think we would be this bad.
What a joke we have become; 𧵎 million down the fucking toilet.
Chad Schofield
256
Posted 29/10/2017 at 21:48:02
Read that prick Barton's comments. Good God, he's the Katie Hopkins of football. A clown of 'a professional' who people credit for his no nonsense, says-it-how-it-is, sensationalist bullshit that Collymore and all his merry band of awful Talk Sport drivellers will congratulate themselves on... All the while nobody would go near them to run a club. What an utter disgrace to the game Joey Barton has continually shown himself to be.
I'm glad Unsworth didn't lower himself to acknowledge the loud-mouthed, no mark, impotent, insignificant little wank stain.
He can write a hard nosed critique of England footballers lacking passion, but he wasn't picked because he wasn't good enough and is a liability. He can knock professional managers, but he'll never succeed as one himself because all he can do is do the same as he's always done, screw up and rant about other people rather than sorting himself out.
Jerome Shields
257
Posted 29/10/2017 at 21:48:34
Calvert-Lewin is a good footballer, but he is young and too much is expected of him when he is the only forward.
Rooney has the experience and ability for this role, with Calvert-Lewin on the right. He is better in that role and then subbed with Niasse. He is not fit for a full game. If he wants to come deep, he should be taken off, because he is too slow and gets caught in possession.
Colin Glassar
258
Posted 29/10/2017 at 21:49:02
McNulty is convinced Big Sam is on his way until end of season. Aaaaaaaaaaaarrrrgggghhhhhh
James McPherson
259
Posted 29/10/2017 at 21:50:23
The narrative Wednesday had all the hallmarks of ABK (anyone but Koeman). The hype and over- reaction to a reasonable 45 minutes was misplaced.
The club should do the decent thing by Unsworth and not saddle him with this situation in his first managerial role. The board's failings in the transfer window ought not to fall in his shoulders - as much as Elstone will try.
Calvert-Lewin and Niasse are well short. We knew that before the window closed.
Peter Jansson
260
Posted 29/10/2017 at 21:52:11
The problem is that we do not score goals. This is due to two things:
1. Lack of creativity in the midfield.
2. Ineffective strikers.
How can we solve this? Maybe the best thing is to make the midfield more creative. I think putting Rooney in the midfield will solve this problem. Then we have a creative player who can pass the ball in the middle. That will make it easier to be both a striker and a winger.
Getting Barkley back will also be another solution. You can say what you want about Barkley but he is miles ahead of every other midfielder in Everton at the moment. He is in a totally different league.
Gueye will never be a creative man in the midfield. Davis has potential but seem struggle right now. Schneiderlin is definitely not the problem to solve the midfield creativity problem. Unfortunately Sigurdsson is not the man either. Sigurdsson was unfortunately a totally meaningless buy. He needs to play together with a target man, a la Llorente, or else he is unfortunately not very useful.
About the strikers. I think it will be easier to be a striker with Rooney in the midfield. Calvert-Lewin is not the solution to the striker problem. I would prefer giving Sandro a run of at least 4-5 games. He scored 15 goals last season for a relegation team in Spain. He scored against Barcelona. He must have some football in him. I do not buy he is not Premier League quality. Put him in the right setup and he will score again.
Also I would like to see Lookman more at the pitch. He is not a very solid man defensive wise... but so use him upfront. He has got speed and technique. Mirallas also needs to play more. Maybe we could try Mirallas as a striker. Vlasic also has potential and should be used on the pitch.
Brian Harrison
261
Posted 29/10/2017 at 21:54:04
Tony,
I like both Lookman and Vlasic but havent both played this season and I don't think we have won a game with either playing. As for the bench, Sigurdsson has showed zero blank and I said before we signed him for silly money, Pochettino was spot on getting shut of him. Tell me who on the bench has showed that he has made a difference when playing?
I said, when we rightly sacked Koeman, at best this is a group of journeymen players who would get nowhere near a top 6 side. And let's remember – the players signed were supposed to take us into the top 6. So I repeat, I don't blame Unsworth –he has absolutely nothing to work with. Even Guardiola would struggle with this group of players.
Raymond Fox
262
Posted 29/10/2017 at 21:54:54
I was not surprised we got turned over today by Leicester, it was on the cards; the neutrals' opinion was they were evens favourites.
That said, our transfer dealings, with a couple of exceptions, have been a disaster. We are just very ordinary in every position, there's no two ways about it. Koeman along with Walsh have a lot to answer for, add Kenwright to those two as well, we are right in the doo-doo.
David as manager, with this lot of players, has not a cat in hell's chance of being a big success. I said a few days ago get Sam Allardyce in, the situation is right up his street. We need someone who knows the Premier League inside out and can grind results out.
Forget brilliance – it ain't going to happen.

Colin Gee
263
Posted 29/10/2017 at 21:55:59
Can't score, can't defend, it's looking grim. Next away Premier League game is the proverbial six-pointer!
Andy Crooks
264
Posted 29/10/2017 at 21:56:04
Tony Marsh, I wondered, after how evangelical you were on Unsworth's behalf, how long it would take for you to hammer him.
My God, even by your standards this is astonishing. He has been coach for less than a week. Less than a fucking week and you are on his back.
Who do you want as manager and how long are you prepared to give them before you start ranting?
Mark Morrissey
265
Posted 29/10/2017 at 21:56:53
A time for cool heads gents. Time to reflect. The plan hasn't worked.
Project Koeman hasn't worked. There are plenty of good players at our club. If Koeman had his time again he would surely reflect on his monumental mistake of not sorting out the defence first.
This is what needs to happen. It's not a time for wholesale slagging of our players and panic appointments. All rather swell to see Joe Royle offering his advice today but this tells us all that Bill is still pulling the strings here. That's not a reason to rant and rave it's just a fact.
We need to appoint someone as cool as Unsworth was today because he was cool but is he the man ? Those calling for Silva need to do their homework first. Lets not panic. Lots of the season left. Bill, Farhad think long and hard. Don't panic like this thread is doing and don't dismiss a manager just because he used to manage Liverpool or anyone else.
It's the future we need to look at not the past. If Benitez is the man get him. If it's Big Sam get him. If it's Billy Cappucino get him but do your homework and forget project Koeman, it was a disaster but we have some semblance of a squad.
Get in the striker and then rebuild us from the back first. Pickford's a fine goalie, just start pruning the defence, slowly but surely. We'll be okay, we are Everton
Gavin Johnson
267
Posted 29/10/2017 at 21:58:25
Jason (#233),
I'm in agreement. I wouldn't have Lennon in the team. Vlasic has played in that position and looked one of our best players. Lennon looks very rusty and was gave a nondescript performance apart from two runs into the box.
I'd also have Lookman over Mirallas but can understand why Unsworth would opt for Kevin.
I wanted a 4-4-1-1 which is more or less what we got in the first half. I'd stick with that again at Lyon but would go for.
Pickford
Kenny Holgate Jagielka Baines
Vlasic Beningime Gana Lookman
Sigurdsson
Rooney
I think Vlasic will give Kenny more protection than Lennon. I'd pair Beni with Gana because he offers more protection to the back four than Davies in this formation.
Ernie Baywood
268
Posted 29/10/2017 at 21:59:56
After the Arsenal game I looked at the next three fixtures and figured Koeman was safe until after Lyon, simply because it would be unfair to throw Unsworth those fixtures.
But they acted decisively and he's in the seat. Not for one second do I think Koeman could have got anything out of those fixtures so I'm not going to judge Unsworth on his results until Watford come to Goodison.
That said, I think he's got a response from the limited set of players at his disposal. Also, you might not agree with his tactics and selections but at least they make some sense.
Some of the comments on here are very harsh on him. As Jamie said, he's had 6 days!
Tony Dove
269
Posted 29/10/2017 at 22:03:03
Leicester were shite so where does that leave us?
Colin Glassar
270
Posted 29/10/2017 at 22:04:28
Good posts Ernie and Mark. We need cool heads right now, not some torch bearing, angry crowd ready to storm the battlements.
Give Unsy the next two games as I imagine the search for the next manager has already begun.
Ray Roche
271
Posted 29/10/2017 at 22:05:14
Gavin, the only thing with your team, providing Vlasic is fit, is that we have two wide men but no one to cross the ball to. Rooney has shown time again that he has lost the pace to get forward quickly enough and he is not commanding in the air. And I'd drop Gana and keep Davies for his energy and forward movement.
John Charles
272
Posted 29/10/2017 at 22:14:35
Tony all the guff that you spout about ambition and now you would beg Sam "give us a bung" fucking Allardyce – beggars belief. If he comes in and we lose to Lyon or Watford, let's hope we sack the fucker hey!
Gavin Johnson
273
Posted 29/10/2017 at 22:17:57
I hear what you're saying, Ray. The reason I'd play Rooney as striker is because I think he's still our best chance for goals and I want Sigurdsson to have a run of games as a No 10. I think Rooney could do a job there in the short term providing he stays in position and doesn't try to do Sigurdsson's job.
Kevin Tully
274
Posted 29/10/2017 at 22:19:19
Unsworth and the other ex-Blues are not the problem here. Why did Kenwright eventually hand over his shares? Because he could cash in and still keep control of the day-to-day running of the club.
He is still the root cause of this shitstorm.
Mike Price
275
Posted 29/10/2017 at 22:21:33
Rooney is suddenly fat again after looking lean at the start. Sigurdsson looks like the worst buy in Premier League history and this team would be in the bottom 6 of the Championship.
The only good news is that we have time for a radical change and to spend on some pace and some proper men footballers in January. Unfortunately we need pragmatic, big and nasty types. Shawcross, Deeney types aren't school of science but they are what we need to survive this perfect storm of relegation.
Oh, and Baines is a major problem, he's the elephant in the room, he's a massive liability and completely finished at this level.
Steavey Buckley
276
Posted 29/10/2017 at 22:22:20
Everton are just awful in all parts of the team. No defence, midfield or attack. On current form, Everton would struggle in the Championship.
David Hallwood
277
Posted 29/10/2017 at 22:24:21
I know everyone's hurting at the moment, but it's not the time to kick the cat just yet.
a) Unsworth has been in the job less than a week and he took over a seriously under-performing team, so don't expect miracles.
b) This is the same group of players Lukaku & Barkley apart that finished 7th last season, big losses admittedly but there's a stat out there that take away Lukaku's goals we still would've finished 7th!
Somebody is going to have to solve the mystery of what's happened to a reasonable to decent side; don't forget it was only in March this year that we were outside an chance for a Champions League spot (thank God that didn't happen).
But Chelsea & Leicester apart, I've never seen a team fall off the cliff like this, but I'm optimistic enough to think that we've got some decent players, but the long-term injured and the transfer window can't come quick enough.

Colin Glassar
278
Posted 29/10/2017 at 22:25:04
That's why Moshiri has to acquire those 0.02% of shares to make himself majority shareholder, Kevin and give Boys Pen Bill a huge kick up the jacksie.
I could never understand the 49.9% thingy but now I can. It was Koeman's way of staying in control while stuffing his pockets with loads of dough. The crafty old sod.
Chris Perry
279
Posted 29/10/2017 at 22:25:08
We are relegation fodder. There is no fight, no pride, no dog of war mentality. The damage Martinez and Koeman have done is massive. Kenwright and him alone as chairman must take the blame for it; it is shambolic,
Unsworth is not the answer; another yes-man to Kenwright. 𧵄 million spent on fucking shite... Well done, Cowboy Bill and your knobhead side kicks, to fuck a club like you have is special... real special.
Clive Mitchell
280
Posted 29/10/2017 at 22:28:50
We are desperately poor, and it's not clear that Swansea, Palace, Bournemouth, Brighton and Huddersfield is a list of teams that includes any worse than us, let alone three. So we have to do what we can.
Baines and Rooney have to go from the starting 11. If that means Martina and Sigurdsson start, so be it. If it's not clear that Kenny is a better defender than Holgate – and it's not to me – Holgate is the first choice.
We have to play three strong midfielders every week – three of Davies, Gueye, Schneiderlin, McCarthy, Baningime. We have to play Calvert-Lewin and Niasse up front, to give us a chance of scoring. And we have to pray that Barkley, Coleman and McCarthy get fit and stay fit.
Matt Butlin
281
Posted 29/10/2017 at 22:30:07
Don't know whether anyone else has said it but I really hope Koeman was the reason Ross wanted out and he has a change of heart now. Him, Coleman and Bolasie would make a sizeable difference, plus a striker in January...
Benteke anyone? Might give Gylfi something to aim at. If we can pose a threat up the other end, it might stop the defence soiling themselves because they know one slip-up will cost us the game.
Colin Wordsworth
283
Posted 29/10/2017 at 22:32:22
We need a manager who is proven and can handle a team full of egos. To me, Silva is not the answer; at the end of the day, Hull were relegated. And are Watford that good? I suppose we will see on Sunday!
Is Dyche good enough?... Choice of two for me: Benitez or Big Sam, one for no fee and the other for a fee and tainted by the other side. Not popular on this forum, but the head says Big Sam because we are in a mess!
Hugh Jenkins
284
Posted 29/10/2017 at 22:33:30
Unsworth hasn't been in charge for a week yet - and already some have decided he is the wrong man!
That may, ultimately prove to be the case, but let's at least give him a few weeks to see what he can do.
What is now obvious is that the summer recruitment drive was farcical.
The left sided defender was clearly a huge omission - but, not so long back Galloway played there and acquitted himself very well.
So why did Koeman lend him to Sunderland, where in recent weeks, he can't even make the bench?
Why wasn't Garbutt named in the 23 man EPL squad?
Both these things could have ben addressed by our former manager when he knew we weren't going to sign the left sided defender he wanted - so why weren't they?
Regrettably, Unsworth has now inherited a dysfunctional back four and is having to do the best he can with those resources.
Let's give him a couple more weeks on the training pitch to see if he can mould some semblance of a team out of the mismatched and unbalanced squad he has been left.
But, at least, give him more than a week.
Mick Conalty
285
Posted 29/10/2017 at 22:33:54
I wish Unsworth every success as an Evertonian, Manager. But I am dismayed him playing the likes of Mirallas and Lennon they are just fucking losers.
I fear that it could be endemic and that the whole club has a loosing mentality and are destined for relegation, maybe it's written in the stars.
Sad days indeed.
Brian Mahoney
286
Posted 29/10/2017 at 22:35:55
I've been going the game home and away for the best part of 48 years and I can honestly say this is the worst Everton team I have ever seen.
2015-16 Aston Villa – worst team in the Premier League... relegated.
2016-17 Sunderland worst team in the Premier League... relegated.
2017-18 Everton worst team in the Premier League...
Don Alexander
287
Posted 29/10/2017 at 22:38:16
Today's selection might as well have been made by Ken Dodd. We were a team of small stature allied to slowness and a palpable lack of heart with no perceptible goal threat, and I bet Vardy had to nut Okazaki and Slimani to ensure that he played instead of them against our back four.
That said, it ain't Unsworth's fault. Our players don't give a shit or, if they do, it's even more worrying.
Assuming Moshiri wants to spend in January we really need a manager by next weekend. He deserves two months to closely assess what's required to survive in the League and then sign what's needed to improve, including a left back, centre-back and centre-forward as some bugger I can't recall recently said.
Unsworth is unlikely to tolerate being sent back to the woefully ineffectual U23 league (I say this because hardly any club in the league finds top players from their own "academies" and we're no different. Rooney is the only one I can remember in Premier League years) so he'll be on his bike I expect, and good luck to him.
My worst fear, beyond even relegation, is that Moshiri will just cut his losses and bugger off to return to summat he's good at, leaving us all to grow an even stronger bond with "our Bill - serial loser" by having a quiet weep reminiscing about the Cannonball Kid and whoever else caused him to get a totally unexpected hard-on in The Pen.
What a Chairman!
Peter Laing
288
Posted 29/10/2017 at 22:39:00
Odds shortening on both Dyche and Allardyce. With every passing game this is looking more and more like a fire fighting mission. I'm sorry to admit that for me it's got to be somebody who has recent proven experience an we should move for Allardyce until the end of the season. He will be motivated by the prospect of a massive bonus and survival should now be the end game.
Gordon Roberts
289
Posted 29/10/2017 at 22:42:41
Kenwright is still pulling the strings unfortunately. Uncle Joe (Royle) whispering in Unsworth's ear and being told off by the 4th official today was embarrassing.
Fundamental failings at Board level are at the root of our club's problems. As supporters, we should be pushing Moshiri to make changes, to conduct a wholesale review and to be transparent with the findings and recommendations.
Grant Rorrison
290
Posted 29/10/2017 at 22:45:08
David 277. We weren't particularly good last season either if you remember. We went months with terrible results before putting a bit of form together around the turn of the year, at home.
You can add the loss of Coleman, Bolasie and Valencia to Lukaku and Barkley. That and the fact that some clown thought it was a good idea to bring in three players that occupy the same area of the pitch as a means of spreading the goals around while neglecting to prioritise a new number nine and some credible back up.
Expecting a 20-year-old to seamlessly slot into the void left by Lukaku, aided by the contributions of an enthusiastic and willing but utterly woeful Niasse is just plain crazy.

John Pierce
291
Posted 29/10/2017 at 22:45:30
Just watched the game after a long day on the field myself.
Nervous, which was a good thing because, where Everton are concerned, I've been numb for some time.
A touch disappointed Unsworth brought back Gana. His positives are only accentuated when we are on the back foot. Otherwise, I think we get exposed by him going forward.
Hey ho. The goals were gift-wrapped by ourselves. After which I thought Leicester knew we didn't have 2 goals in us, so sat back.
We played in their half and won the ball back but with little composure stemming from what the obvious lack quality did for us.
Now I will say, even after two games, I can see how Unsworth wants us to play. That's more in a week than I saw with Mr. Koeman.
The execution was poor and we had nothing of note on target. To
Lawrence Green
292
Posted 29/10/2017 at 22:48:30
Don (#287),
I share your concern that, if the team doesn't manage to avoid relegation, then Moshiri may take his money elsewhere or give up on the game completely and Everton FC will have to suffer another decade in the wilderness in an antiquated stadium under the stewardship of our current Chairman – Halloween is not half as frightening as that scenario.

Denis Richardson
293
Posted 29/10/2017 at 22:49:14
We need a left-back and one Luke Shaw cannot persuade Mourinho to give him a game.
Given it's the World Cup next year, would it not be an idea to get Shaw in on loan in January till the end of the season?
Eugene Ruane
294
Posted 29/10/2017 at 22:50:36
Bit stream of consciousness but..
I don't know anything for sure, but football's a simple game and today at half-time, we were 2-0 down and needed to change something to attempt to make something happen.
We needed to throw the dice and our best chance would have almost certainly been to have given a half to a confident, tricky, skilful player who could beat a man.
Someone with the ability to put a defender behind him.
Someone who could actually frighten a big, strong, well-organised defence by doing something that might scare them - by running at them.
So when I saw Sigurdsson started to get stripped, it was a case of "you must be FUCKING joking!" (and wondering if one could open a vein with a wet beermat).
At full-time I thought, If Unsworth is the answer, what specifically is the question?
We were, once again, outworked, out-muscled and outthought.
We actually looked (here's word you don't see much these days) puny - shoved easily aside, physically not up to it.
That's NOT to say players aren't trying, I believe they are, but I can't remember any side we've out-muscled for a long long time and we looked like boys V men today.
"Yeah but we don't want a side of fuckin' big horrible grocks"
True, but to compete in this league, you need a few and we have none.
(Morgan and Huth aren't Pelé and Garrincha but I wish we'd had them in our back line for the last few years).
Given our present squad, between now and new year, I'd take any manager who has a pair of bollocks and can use a bit of psychology to convince the team to attack sides in numbers, relax a little and get a bit..'more' from them.
Not saying Joe Royle but he had that about him.
Anyway, better go and pack for Lyon.
Matt Butlin
295
Posted 29/10/2017 at 22:52:24
I'm with you Gordon. Moshiri needs to grow a set and start taking control of his investment. We've had our pants pulled down too many times on and off the pitch.
We were crying out for investment and when we got it, what happened? Some bell-ends made a royal cock-up and wasted it.
Soren Moyer
296
Posted 29/10/2017 at 22:54:26
Dave #216, Ron was saying he had nothing to do with the transfers!
Paul A Smith
297
Posted 29/10/2017 at 23:00:34
Whoever gets the job has a massive task ahead. Who can get a team scoring without conceding like we have lately? Like someone said earlier in the thread, I feel for Unsworth.
Straight away today he's had to revert to type because the quality simply isn't there.
Jason Lloyd
298
Posted 29/10/2017 at 23:00:54
Kevin (#274), this really is the root cause of the problem. No-one is sure who is in control of the club. Is it Kenwright, Moshiri, Usmanov or the useless CEO?
That uncertainty is translating to the playing side, compounded by virtue of taking on board a director of football with head coach structure, which has been a disaster that will cost us our top flight status.
Colin Gee
299
Posted 29/10/2017 at 23:02:59
Mike (#275),
You're not the only one that thinks Baines is finished, noticed it at the Man Utd game and said it on here. His legs have gone, once he goes forward he can't get back like he used to.
For the first goal, Jonjoe Kenny ended up at left back covering for Baines.
I love Bainesy, but it's "Come in, No 3, your time is up."
Grant Rorrison
300
Posted 29/10/2017 at 23:06:07
Matt (#295). What investment was that? We have sold all our top players since Moshiri arrived. Had we managed to close deals for Barkley and Niasse on deadline day, we would have spent nothing net last summer.
We haven't made one marquee signing since his arrival, just paid over the odds for very ordinary players, paid for out of the money brought in through selling superior players to teams we laughably claim to be trying to 'close the gap' on.
Gavin Johnson
301
Posted 29/10/2017 at 23:06:35
Someone on this thread compared Moshiri to Tony Fernandez and it's a good analogy. QPR spent a load of money and still looked like a bag of shite! Everton look the same!
How the fuck can you spend 㿲m on two players that you can't fit into the side. A complete monumental fuck up!
Andy Williams
302
Posted 29/10/2017 at 23:10:04
Jesus . I know it was a hard defeat to take but bloody hell – give him at least 4 games. Unsy tried to go all out because that had almost worked at Chelsea. We were unlucky today. Should have had a penalty and conceding the own-goal then Leicester sat back and we were naturally nervous and snatching at stuff. We have showed more in the last game and a half than all season.
Okay, we know we need a target man but we are improving. Unsy has had less than a week to work out what his best team is. Nobody on here can agree what that is and he is not only massively hampered by the lack of striker, the long term injuries and the recent ones – McCarthy, Vlasic and Keane. Patience
Peter Gorman
303
Posted 29/10/2017 at 23:11:20
Hmmm. So Unsy can't turn a pile of shite into a silk purse in the space of two games and he is deemed unworthy of the job already?
I'll reserve judgement for a bit, though make no mistake he or whoever comes in has been left a virulently poisoned chalice.
Thanks again, Ronald!
Matt Butlin
304
Posted 29/10/2017 at 23:13:27
Grant/Gavin, exactly the point I'm making. Moshiri has brought money. Money that Moyes would have killed for (don't start; I'm not asking for him back) but we've just wazzed it on people who 'might' make a difference.
As it turns out, they haven't. I just think that it was a big opportunity and we blew it. Now it's a long pissing road back.
Roman Sidey
305
Posted 29/10/2017 at 23:13:40
People calling for patience with Rhino are totally missing the point.
Good bloke - probably.
Evertonian - kind of.
Good coach for u23s - apparently.
What he doesn't have is first team managerial experience and that is huge. I want him to do well, but the odds of him doing well in this situation were never good, and are probably worse now than they were a week ago.
I am not sad Koeman was sacked. What I am sad about is now Everton have become a club who sack their manager mid-season without a viable option to take over. For me, that kind of club management is for the elite 4/6 clubs who think they should be winning the title when they find themselves sitting 3rd, and the bottom handful of clubs who prepare for a relegation fight from day one.
Give Rhino til Christmas? If we are in the bottom three at Christmas it may be too late for anyone to rescue us.
My preferred candidate in a fantasy world: Benetiz.
David Barks
306
Posted 29/10/2017 at 23:14:01
Gavin,
I don't think the comparison to Fernandez is accurate. Moshiri has sold off our most talented and coveted assets in Stones and Lukaku. And don't forget he also had agreed to sell Barkley before the player refused the move. Fernandez didn't sell off all their talent and then spend. He spent a load of money, just not well. In that case I totally agree with your comparison, not spending the money well.
Moshiri has sold our coveted players and replaced them with players of lesser quality. I am so sick of the media talking about our £150 million spending spree while ignoring the players we have sold and tried to sell. This really is a monumental screw up. But I get the feeling a lot of Evertonians don't quite see the seriousness of the situation.
Eddie Dunn
307
Posted 29/10/2017 at 23:14:09
Forgive me, I've been out since the match and haven't had time to scan over the previous comments.
For me the big mistake was to remove Mirallas. I think he is the one player who could play as a mobile Number 9.
He is greedy, but he has pace and is always looking to get a shot away. By all means put on a second striker but it was a mistake to withdraw him. Despite our possession in the second half, we didn't look like scoring.
As Rooney was beginning to control the play, Unsworth hooked him, much to his dismay – just like on Wednesday night, when he was really pulling the strings. Unsworth is under a lot of scrutiny and is perhaps making rather rash decisions. We are looking desperate and need some cool heads.
Oh for Barry to have a little word with Davies, who is losing the plot, running around like a headless chicken, playing over-/under-hit passes, at the wrong times, to the wrong recipients!
It's looking like a big job to put this team right.
Brian Hennessy
308
Posted 29/10/2017 at 23:21:15
We have been screaming for months when Koeman was here for some players with pace, for Schniderlin to be dropped, to play Kenny and not Martina, to be less defensive, and to play just one Number 10.
To his credit, Unsworth tried all those things today. By all accounts, Keane was injured so he had little option but to play Williams. Vlasic I hear is also injured. He probably went for Lennon over Lookman as Lennon tends to offer more defensively.
Granted, today might not have been the day to play with two wingers with the pace Leicester have through the middle. The second goal today was down to an individual error.
Unsworth made the right substitutions at half-time. I thought he might have brought Sigurdsson on sooner, but sadly when he did come on, he played just as badly as he has since he joined us and offered nothing.
It's going to take much longer than a week to sort out this mess and I thing Unsworth deserves at least the three home games against Watford, West Ham and Huddersfield to see what he can do.
Derek Thomas
309
Posted 29/10/2017 at 23:22:17
I was glad Koeman went - I just wish he's gone earlier before he spunked what was basically the Lukaku money with a sky top up.
A rousing gee up, some fist pumping , some all get in a circle an win it for the gipper, Oorah-ing is not going to cut this.
Unsworth, Dyche or Tuchel, all or any, have their work cut out, this is a long job - with no absolute guarantee. Too many of the players are so seriously off the pace as to be laughable. It's hard to tell how fit they are compared to other teams because they are a good yard mentally slow and always playing catch up.
Many examples struck me in the first half, Rooney and Baines to mention but 2...But yeah they're ( and others ) are finished is the cry, so what do you expect. - I don't think they are, they're not the force they were 3 or 4 yrs ago true, but it seems they've all been afflicted by this mental thing.
More worrying is the surprise package of those I mentioned above - Tom Davies. 10 months ago (when Koeman should've gone) he was a revelation. He's lost that mental snap and sharpness that you can see Beningime has at the moment.
Davies has lost it in 10 months, he won't get it back in 10 mins. Solve that and apply it through the team and you will be on the way...but whoever gets the job, don't expect quick results.
Soren Moyer
311
Posted 29/10/2017 at 23:26:48
So, 8 points from 10 games is not worrying for some fans! 28 games to go and with this rate, if we even manage to collect 24 points from the remaining games, WE WILL BE RELEGATED. This is serious shit peeps!!!

Peter Gorman
312
Posted 29/10/2017 at 23:28:36
Soren, we know.
Matt Butlin
313
Posted 29/10/2017 at 23:33:43
But... We have got a whole load of shit games out of the way. Yes. No points from them but they're out of the way.
Grant Rorrison
314
Posted 29/10/2017 at 23:34:41
Matt (#304). I agree that we certainly wasted the money brought in this last summer. But, it wasn't Moshiri giving us money, it was through the sales of existing and better players.
Had we managed to complete the sales of other players on deadline day, the spending would have totalled zero. We owe more to Ross Barkley for failing to agree to a move than our billlionare benefactor where ending the window with a positive net spend is concerned.
This, allied to Koeman, Walsh, the toffee girl, or whoever, wasting the money on over-priced garbage has left us in a right state.
Chris Watts
315
Posted 29/10/2017 at 23:35:06
8 points from 10 games. But we got 4 points from the first 2.
That means 4 points from the last 8 games. Plus 1 point from 9 in Europe. And out of the League Cup.
This is genuine relegation form and it could be all over by Christmas. We are every bit as bad as Villa, Newcastle and Sunderland from the last couple of seasons.
Unsy in my opinion got the formation right today playing wingers but chose the wrong ones. Just too many players who look finished and too many kids who don't look good enough.
So many problems – even ToffeeWebbers are at a loss how to fix it. We can't score. We can't stop conceding. No pace at either end of the pitch. Calvert-Lewin was really poor today.
It's depressing stuff at the moment; not sure where we go from here...
Roman Sidey
316
Posted 29/10/2017 at 23:38:05
Eddie 307, bang on. Your brief mention of Barry is also a point I've been contemplating. I was gutted that Barry left but understood why he did. Add him to the list of players that a lot of fans didn't know how important he was until he was gone.
Danny Broderick
317
Posted 29/10/2017 at 23:38:44
Eddie (307),
I fully agree with your call to play Mirallas up front. He is always looking to score, he's got a bit of pace and quality. I think it could be worth exploring, as Calvert-Lewin needs taking out of the firing line, in my opinion. We need more goals, and he is certainly a threat.
Grant Rorrison
318
Posted 29/10/2017 at 23:40:06
Matt (#313). Every game this season has been 'shit'. There is no evidence or reason to believe that the remaining 28 league games and however many cup games will be any less 'shit' on the strength of what we've witnessed up to now.
Trevor Peers
319
Posted 29/10/2017 at 23:40:22
As someone else has pointed earlier in the thread, if you can't defend and you can't score goals, you will be relegated.
We can do neither, in fact the nervous anxiety we display in attack and defence is crippling the club, we only have one more card to play before we are certain to face the drop. Unsworth is a good youth coach but does not have the right kind of experience.

Therefore the owner's must appoint an experienced manager and hope he can steer us in the right direction, until the January window. We can then finally buy a decent striker or two, that could be our only salvation, otherwise all will be lost and who knows for how long, without the sky revenue.
Right now I have very little faith that Kenwright and Moshiri will come up with the right answers, I just pray they do.
Jason Wilkinson
320
Posted 29/10/2017 at 23:41:26
Where exactly does Sigurdsson fit into a team? Surely Usworth brought him on with a plan but he was completely anonymous apart from a couple of over hit corners.
Dan Davies
321
Posted 29/10/2017 at 23:43:03
I totally understand Unsworth starting with experience thinking "These boys will do a job."
The problem is the likes of Baines, Mirallas, Lennon, Jags are all treading water... doing in truth, fuck all, just turning up taking the money. Journeymen.
We need a centre back, a left back and a top striker urgently or we are bang in trouble come the New Year.
Once again, good luck, David. Oh, don't forget – Rooney starts next game, like.
Matt Butlin
322
Posted 29/10/2017 at 23:44:35
Yup. Agreed Grant. My Maui Jim's have rose coloured lenses. I do think we'll build confidence as time goes by without playing Chelsea, Spurs etc each week.
Jay Griffiths
323
Posted 29/10/2017 at 23:46:23
Left early. Had seen enough by 70 mins.
Six weeks ago, I could in no way be persuaded that I would endorse my next utterance: I would take Sam Allardyce on a short-term, one season, large reward contract. I feel soiled and degraded for having such sentiments.
I've watched Everton teams from Catterick's remnants past Bingham, Lee, Kendall, Walker, Smith and all since. My sons and I have invested huge amounts of time, money and especially emotion following the team far and wide. What I state now is my sincerest belief without any hint of drama or exaggeration.
I fear for the prospect of our top league status. Someone may think "Wimbledon". I don't think this squad will make it to the last day to have a hope of heroics. The Premier League now is absolutely brutal. We are the injured gazelle on the Serengeti. Our back line is appallingly fragile. Our front line is appallingly blunt.
We must have one of the smallest teams, height wise, in the Premier League. Still, all our corners keep being banged in high. Not one iota of "let's be cute" and sort some routines out.
Today, we went head to head. We put our Mirallas, Lennon and Calvert-Lewin up against their two wide men and central figure, Gray, Mahrez and Vardy. It was a complete lesson in smash out, counter-attacking fluidity.
Every time we had a corner, they had their three flyers on the edge of their box ready to explode. We would go from hope to despair in less than 10 seconds. They wanted us deep in their half.
The thought of an Allardyce has been anathema to me but I'm now so fearful after today's performance that I believe maintenance is our first priority. This is a seminal point in our recent and mid-term future. We shall keep supporting and I hope in earnest that those that make the decisions act with prudent and wise council.
Steve Carter
324
Posted 29/10/2017 at 23:46:46
Well said, Brian, 308.
Brent Stephens
325
Posted 29/10/2017 at 23:51:24
Jay, I can't understand why anybody leaves a match before the end unless absolutely necessary, but especially when having travelled to an away game. 20 minutes before the end?
Grant Rorrison
326
Posted 29/10/2017 at 23:57:21
Matt 322. Let's hope so.
Brent Stephens
327
Posted 29/10/2017 at 23:59:24
Roman #305 "People calling for patience with Rhino are totally missing the point. Good bloke - probably. Evertonian - kind of. Good coach for u23s - apparently".
"Good bloke" - nobody calls for a manager just because he's a good bloke.
"Evertonian - kind of" - very much, not kind of. But that means sod all to me.
"good coach for U23s - apparently" - not apparently but proven (remind us what that competition was he won last year?).
I don't know if he's the answer but 2 games in doesn't tell us.
Ernie Baywood
328
Posted 29/10/2017 at 00:02:26
Jay "Our back line is appallingly fragile. Our front line is appallingly blunt."
I completely agree but what is Big Sam going to do with that lot?
I don't think this lot can be asked to grind it out. It's just not in the squad.
The only way, in my opinion, is to play our way out of trouble. And it's going to be a white knuckle ride!
We need to find a way to score goals. And there's not much in this squad that is proven.
We know Sig, Rooney and Mirallas can score in the Premier League... how do we get them firing? For me, Unsworth isn't far off the plan. Rooney and Siggy are interchangeable but not complimentary.
I think Mirallas is undroppable with the squad that we have. That's saying more about the squad than it is about Mirallas.
Roman Sidey
329
Posted 29/10/2017 at 00:02:39
Jay, you mention our height and shite corners. When was the last time we scored directly from a corner kick? As in dead ball-kick-head/volley-goal. No second attempts or the like.
I can't recall.
Gavin Johnson
330
Posted 29/10/2017 at 00:06:48
David (#306),
That's true. I wasn't looking at outgoings, I was looking at it purely from the point of wasting a huge amount of money on overpriced players who don't look fit to task.
Unsworth has two more games for me. I can empathise with the predicament of only having 3 training sessions but footballs a results business and if we don't get anything out of those games we need to bring in a manager in the international break who has a proven record at organising a team. That points to Sean Dyche which I'm not against. We could do the unthinkable and bring in Big Sam or Moyes until the end of the season and then look for a manager who will play a more expansive game next season.
I am seriously worried cos the idea of Big Sam or Davie Moyes would at any other time make my stomach turn, but it is what it is. Those two are available and might be the best choice in the short term. We're in a relegation battle and it pains me to say it cos I think of myself as a "glass half-full" contributor on TW.
Rob Halligan
331
Posted 29/10/2017 at 00:09:12
Not long been home from the game. Train back to Liverpool, a couple of pints in Wetherspoon's by Lime Street, then bus home.
For the first time in years, the four of us that have been going the aways together, have been arguing with each other about how bad things are. That's how bad it's got.
I try and take any positives I can from week to week, but unfortunately there are none. The defence must dread going into games, thinking they need to keep a clean sheet just to draw a game. I seriously think that, come January, we could be doomed because never mind thinking where is the next win coming from, where is the next goal coming from?
Anyone on here who knows me (there are one or two) will know I am a "glass half-full" person, but that glass is rapidly leaking. As much as I think in time Unsworth will be a great manager, I don't think he is the man to save us.
We need to get someone ruthless in. If that person is Allardyce, so be it. We need to get to January on at least 20 points and hope we can get someone who can score goals.
Jason Wilkinson
332
Posted 29/10/2017 at 00:10:01
Brent (#325) Watch the match again and tell us what you would want to stay in the ground for. Everton never looked like scoring. The Premier league is supposed to be entertainment. If it was a film you would leave the pictures and go the pub.
I've seen some poor Everton teams over the years but they have always had some way of entertaining us. Not this lot I'm afraid.
Jay Griffiths
333
Posted 29/10/2017 at 00:12:03
Two goals down and playing turgid, drab football, Brent. I've followed Everton long enough to be 99.999% certain when our goose is cooked.
Apart from a late rally at Spurs in the late seventies, I cannot recall us saving ourselves when two down with less than 20 mins to go. We did stay to see us save a point at Hull a few years back.
To me, it's like watching a family member being beat up. I don't want to witness the coup de grace if I don't have to. Each to their own though, Brent.
There was quite a few following the same procedure as us. Makes us feel like masochists, however long we stay. Still, some of us have a plastic bag as a reminder of our folly.
Ernie, fully agree regarding Mirallas. The lad will try his luck and doesn't hide. I was disappointed he was hooked.
Simon Dalzell
334
Posted 30/10/2017 at 00:20:08
Roman (#305), I agree with you.
We cannot waste any time on what I would call a very risky "experiment " on a manager who obviously has his heart in the right place, but has no experience of management at a senior level. We need somebody in now!
Please, none of this "Give him time." Time has run out!!!
Brent Stephens
335
Posted 30/10/2017 at 00:22:17
Jay, I appreciate what it feels like to stay to the end when it's so bad but...
Jason "Watch the match again and tell us what you would want to stay in the ground for".
Jason, I don't need to watch the match again, it wasn't what I'd seen that made me stay to the end, it was (a) the possibility of a goal and (b) wanting to support the team no matter.
Don Alexander
336
Posted 29/10/2017 at 00:32:56
Well said Jay Griffiths (#323). We need so much hope, after decades of fruitless hope, that we could all weep.
We have too many players with abject personalities In terms of being winners. Only Rooney has such a personality but he's really fucked in terms of the stamina needed to let his personality be visible on the pitch. He's spent, hence United got rid. Only clubs in China or Guatemala or wherever showed interest in signing him, except us. Yes he's scored goals and yes he's always had raw talent to a very high degree but without the stamina he's an also-ran increasingly getting in the way of younger potentially good team-mates. He's like Eto'o was for us, a very faded memory of greatness, but for someone else.
Moshiri needs to look at himself. If he really trusted Kenwright to get it right he's a plonker. Not only does he need a new manager NOW, in preparation for January and possible survival thereafter (and not least for his money), he needs to look at the hordes of conspicuously unsuccessful ex-players currently infesting the coaching roles at Everton, all of whom will swear they truly "get Everton" (relegated that is), as do way too many teary-eyed TW'ers a far as I'm concerned, and then get rid of them to appoint people with the acumen to succeed. Ferguson, Ebbrell, Jeffers, Unsworth? For fuck's sake, losers to a one (and the success of the fabled U23 team is hokum of the highest order in relation to improving the squad NOW, which is what we need). Sheedy, a winner, leaving is significant. Royle, another winner, sitting in a position devoid of influence is similar.
Find and pay for a winning manager Farhad, unless you don't care about money.
Roman Sidey
337
Posted 30/10/2017 at 00:33:04
Brent, our U23s may have won their league last season, but what product are we seeing from that?
I'm not saying Unsworth isn't a good U23s coach or not – I don't know enough about the set-up – but unless we see some of those U23s come through and make a name for themselves (Davies was close but seems to have gone backwards) then, for me, that U23s coach is missing something.
Time will tell, of course, and if the man is in fact a very good U23s coach, then leave him there where he is doing well.
Rob Halligan
338
Posted 30/10/2017 at 00:33:36
Jason, the so called experts say, when the score is 2-0, that the most important goal scored is the next goal. If we had somehow managed to score and make the score 2-1, who knows how the game would have panned out? As it turned out there were no further goals scored, but hindsight is a great word.
By the way, there were four of us that went the match, and three left after 70 minutes. As Brent says, I also stayed to the end to support the team no matter what. As bad as it was, it only needed us to score and you never know what would have happened?
Jay Griffiths
339
Posted 30/10/2017 at 00:39:36
Fair play if you stayed in the ground to the finale Brent. As I stated, each to their own.
Today we drove instead of taking the coach. Back up the hill to Welford Road car park and out of Dodge.
Avoiding the hordes and the gloating masses comes into play too. There's always variables to our decisions but no hope is usually the pertinent factor.
Can't really mitigate ourselves too much, this has been our MO for many, many seasons.
Tony Twist
340
Posted 30/10/2017 at 00:40:46
I don't understand this, "Unsworth needs more time to prove that he can do the job." Plain and simple truth of the matter is no-one knows for sure about whether Unsworth or Tuchel will be the right fit, have the right ideas to improve things, the right tactics to win matches.
This is the failing of the board, if they haven't made their decision yet. Unsworth could come good, win the next few matches, get the job and then never win another match.
For god's sake, Everton, yes tot up all the pros and cons but make a bloody decision and then live with it. Big Sam holds a strong hand as he knows how to get out of relegation scraps, maybe he's the best option. Waiting won't make the decision any easier or the right decision any clearer.
Jason Wilkinson
341
Posted 30/10/2017 at 00:40:46
Well done to all who stayed and supported the team. My point was simple: Jay bailed out early and I would not think any less of him as a supporter.
The pub shuts earlier on a Sunday and the more anaesthetic you can supp after watching that, the better. Let's hope Watford at Goodison will be better. We will get nothing at Lyon.
Peter Barry
342
Posted 30/10/2017 at 00:59:03
A sad reminder of the disgusting mess 16 months of Koeman has left us in.
Nicholas Ryan
343
Posted 30/10/2017 at 01:08:03
When we were looking for a striker in the summer, did we enquire about Jamie Vardy? If we did, what happened? And, if not, then why not?!
Bob Parrington
344
Posted 30/10/2017 at 01:19:56
It's been said many times before and so, at the risk of being boring....
Lousy recruitment in pre-season left us with 3 old, slowing players at the back, in Williams, Baines and Jagielka.
Sorry Unsy! I know you've only just taken over from the guilty party in that but I cannot understand how you could pick 3 slowing players against Leicester, when it is as clear as daylight that they have excellent speed of transition and fast attacking players.
Why didn't you use some of the younger guys? Surely it would have offered a better chance to win the points albeit with some [inexperience] risk involved?
Sean McCarthy
345
Posted 30/10/2017 at 01:24:58
Mark (#211). Paul Clements?? Seriously???
Sacked by Derby and now bottom 6 with Swansea. Yea that's just what we need!!!!!

Dean Barton
347
Posted 30/10/2017 at 01:55:29
I went to the game today and just want to add something about Rooney. All I heard at the ground today was people saying he's shite and shouldn't be in the team. Also on here people saying the same.
You're all delusional! He created two clear-cut chances today, played the pass that should have led to a penalty and was by far our greatest chance to create something. He's scoring at a rate that will get him 15 goals this season and he is by far our most experienced player.
Okay, so he is past his best, his touch and reaction speed isn't what it used to be, and if we want to be a top side then he probably isn't good enough but right now he is by far our biggest and frankly, only goal threat and you want to drop him? For who?
Calvert-Lewin, who for me is nowhere near the level required right now or maybe ever. I personally don't rate him at all but I would love to be proved wrong.
Niasse, the next Denis Stracqualursi. Great effort and application but is an awful footballer.
Sigurdsson? Klaassen? Sandro?
I remember Matt Le Tissier telling a great story about Alan Ball recently. When Bally was appointed as Soton manager, they were in the bottom 3 and he hadn't been playing well. Bally walked in and told the team that if they wanted to stay up he was the man who would do it for them. He was the one capable of magic. Anytime they got the ball they were to look for him. Le Tiss went on to score 44 goals in 66 games under Bally.
Wayne is our Matt Le Tissierat the moment... Wayne Rooney HAS to be in this team!
John Pierce
348
Posted 30/10/2017 at 01:58:49
Unsworth, in a bid to stamp 'his' Everton on our collective consciousness, has perhaps stretched the youth policy to its limits.
Often adding 2/3 youth products can enhance the team greatly. It relies on the rest of the team operating at a decent level. At the moment, too many are in the side.
Obviously the situation is extremely difficult and he's been dealt a shitty hand; full marks for trying something.
Perversely every game that goes by without a win strengthens his hand. Each defeat makes an outside appointment less likely as managers steer clear of our car crash.
I feel Kenwright would always favour an Evertonian over a firefighter.
It's grim.
Bill Gienapp
349
Posted 30/10/2017 at 02:20:47
Today's match was, sadly, a reality check. I'm still rooting for Unsworth, but I really felt like he had his pants pulled down today. If Koeman had presided over that toothless display (complete with the requisite panicked double sub at halftime), he would have been eviscerated on here.
Also, I really, really hope I'm just overreacting / misreading things, but there seems to be just a hint of spite/arrogance about Unsworth's approach - as if his master plan was to freeze out Koeman's big signings and show what he could do with his kids and the club's old guard. Well we saw how well that worked out today.
I'm sorry, but like it or not, the season hinges right now on players like Sigurdsson, Schneiderlin, Klaassen, Sandro and Keane finding their form.
Sigurdsson was sublime the past three seasons for Swansea and just led Iceland to the World Cup. Schneiderlin has been a very good player his entire career and was a very good player for us last year. Klaassen was captaining one of Europe's biggest clubs at age 22 and, say what you will about the Eredivisie, but he still got Ajax to the Europa League Final. Sandro scored 16 goals in La Liga and is considered a major talent. Keane is one of the most highly rated young centre-backs in England for a reason.
Yes, Sigurdsson's off to a painfully slow start (in no small-part due to how ill-used he's been). Schneiderlin's form has gone off a cliff, for whatever reason. Klaassen and Sandro have had a torrid time adjusting to the Premier League (though I think Sandro in particular has been yo-yo'd all over the place in terms of playing time and tactics, so what do you expect?), while Keane's confidence has taken a major pounding.
Well guess what? Part of the manager's job is finding a way to get these guys on track. Dropping them accomplishes nothing if you're simply turning to mediocrity in their stead. This team may be going nowhere either way, but it's DEFINITELY going nowhere if Mirallas and Lennon are starting games, or if Niasse is asked to do anything more than go out there and play bumper cars for the last 10-15 minutes.
Nitesh Kanchan
350
Posted 30/10/2017 at 02:33:05
Unsworth deserves a fair amount of games to implement his style and for the players to get used to it. But that does not mean it should take forever.
Give him next 10 games and the target should be 5 wins, which should put us good position to escape the relegation places. After that, when the striker comes in January, along with now injured players, the real judgement should happen after that. From the next remaining 17 games, it should at least 12 wins even if the games are against top 6 for him to land the permanent job next season.
Failing in any of the two objectives, then he should be given the option of becoming assistant or back to the Under-23s.
Even Guardiola needed some time to get Barcelona senior team playing to his plans after leaving the Barcelona youth team job. Barcelona lost to newly promoted Numancia, drew with Racing at home, lost to Krakow away, before becoming the best team to be seen by me on the football pitch.

David Pearl
351
Posted 30/10/2017 at 02:34:24
Baines was left exposed in the first half which is why Mirallas was withdrawn. With two wide men our midfield seems non existent. We had more control of the game second half but then had no width. Niasse needs a few games to find his feet, he was at least involved, never hid and always wanted the ball.
And without Barry (selling him was criminal), Rooney is the only player able to make a pass. He must play. Sigurdsson is the biggest waste of money you'd could ever not wish for. Followed by Klaassen. How could Koeman sign so many players and still be so short of what's needed?
I'd play a back 3 with Holgate, Keane and Jags. Davies or Lennon right and Baines left. Gana and Beni in midfield. Up top Rooney deep behind Niasse and Mirallas... who always made the same runs as Lukaku. I'd also have Robles in goal.
Unsworth needs a bit of time, he's not going to sort out this mess overnight. Pity we can't get a refund from what we spent. The next transfer window is 9 weeks away. Anyone think we've started looking yet??
Ernie Baywood
352
Posted 30/10/2017 at 02:49:51
Dean, 347 I think you're right about Wayne. We need him far more than people realise.
If you just take it down to numbers then we'll probably need to score 45-50 goals to stay up given our defensive record. We've got 7 so far.
Who's getting them?
We only have 3 who have ever been semi-reliable in front of goal - Kev, Sig and Rooney. We have to find a way to get them to 25 goals between them. Tough but not impossible.
Beyond that, you might get a few from Niasse, and ones and twos from a few others. Maybe Ross comes back? He's hit a few before.
Basically, if we don't sign a striker who can replace Calvert-Lewin and hit close to double figures in the second half of the season, along with the three mentioned chipping in, I think our goose may be cooked.
Gavin Johnson
353
Posted 30/10/2017 at 03:09:52
Rooney is one of most important players but we need to find a way to play him with Sigurdsson. I said earlier in the thread that we must play Sigurdsson as the No. 10 and we can use the experience of Rooney as a striker. Rooney's not going to score 20 goals but he's still a better outlet than DCL and Niasse.
The problem is when they've played in the same team is that Rooney has been isolated upfront, gets frustrated and drifts back in Sigurdsson's area. It's up to the manager to give him clear instructions. I don't think it's because of him losing a yard of pace either because that goes for Sandro too. On the few occasions he's played I can't remember him getting into the oppositions penalty area once. He just drifts around the edge of the penalty area.
We need to stop conceding and tighten up at the back, and accept that it's going to be 1-0 wins or draws at best until January when we can buy a striker, LB and CB.
If people don't want to accept Rooney playing as striker put Sigurdsson there. He played upfront on his own and scored against us last season and offers more quality than DCL or Niasse. Also to be fair to DCL, I think he's going to be a great striker in the future but he should not be thrown in game after to game in a team low on confidence fighting at the wrong end of the table. The lad wasn't even a regular at Sheffield United 18 months ago.
Ash Moore
354
Posted 30/10/2017 at 03:19:31
The one thing that keeps playing on my mind is that planets and stars are really lining up against us. The injury list, the fixture list, and just plain bad luck like that own goal today, or the no penalty that looked pretty giveable to me. And McCarthys hamstring apparently too. Hmm.
Unlike other Evertonians, I had no hopes for this season. I knew we'd be shit and it gives me no satisfaction at all to be proven right. Quite the opposite,.
Ironically enough, this is one game I'd have backed Koeman to have gotten a point out of. We were so narrow, and the Foxes really do like to up the middle.
It is very much crunch time. We've played the big boys and, unlike past seasons, got absolutely nothing out of them. A miracle point against Man City. This in itself, is not terminal. Plenty of teams plan and get nothing from the top five. But this is where games like today, Brighton and Burnley are so important to us right now. Somehow, someway we need a result.
John Pierce
355
Posted 30/10/2017 at 03:27:07
I hope Unsworth sticks to a plan. Goals get you wins. I do like 4-1-4-1 v Chelsea.
I think despite his limitations Niasse needs to play up front. He is the only player who hangs on the shoulder. Calvert-Lewin is a game lad but Niasse has and does look more likely to net.
Klaassen and Rooney or Sigurdsson behind is key to the pressing we've seen under Rhino. I'd limit the youth to the wingers; Vlasic & Lookman.
The back four picks itself, we have no options really.
Pickford
Kenny, Keane, Jagielka, Baines
Gana
Vlasic, Sigurdsson, Klaassen, Lookman
Niasse
Balance both across the team & in its attacking/defending balance. That team can press, worth persevering with.
Gavin Johnson
356
Posted 30/10/2017 at 03:58:50
John #355
I quite like the look of that formation. I still think Sigurdsson and Rooney have to be accommodated together so I'd tweak it and play Rooney instead of Klaassen. It's got good balance though, and I think you're on the money about Lookman and Vlasic, at least until Bolasie is fully fit.
Lee Brownlie
357
Posted 30/10/2017 at 04:01:12
Sad facts: This is still the very dodgy house that Dutch Ron the Cowboy built!! (In fact began to DE-construct!!)..
Now that he's been chased out of town and Kid Rhino - a very able apprentice, great with the kids, but nothing more as yet - has been given opportunity to step in and try and fix everything asap, at least get us back on a solid footing, we've nevertheless still got this shaky, very dodgy, house...
Answers? On a postcard please, as I haven't a fuckin' clue!!!
Anto Byrne
358
Posted 30/10/2017 at 04:18:48
If Unsworth had won the first two games it would have been a great start. He was so naive that it was going to fail. Stopped the defence with a game that we don't lose first and then hit on the break.
John Pierce
359
Posted 30/10/2017 at 04:19:35
Gav,
The Rooney/Sigurdsson thing is difficult. Merit in playing both but if you are to play a pressing style, which in two games we have then Klaassen & Sigurdsson get the nod.
They both thrive in a team which presses, Iceland/Ajax. Klaassen to date the proverbial fish out of water. Often he'd try to press get caught as the rest of the team didn't.
Both have goals in them, their record tells me that. I just hope unsworth sticks with it, I think it accommodates the players we have best.
Hopefully Lyon is were is clicks.
Andy Walker
360
Posted 30/10/2017 at 04:21:50
We have the worst back four in the league and no proper striker. In midfield Unsworth is trying to play kids rather than sort out Siggy, Klaasen, Rooney, Gueye, Mirallas, Schneiderlin. We need an experienced, quality manager who can sort out the horrendous mess by attracting new talent and motivating the existing. We won't be able to attract that talent if we're in the bottom 3 at Christmas either, who wants to join a relegation club, other than mercenaries and losers?
The problem that none of us know the answer to but needs sorting, is recruitment. Who was responsible for the mess that is our squad. Full of unproven kids not yet ready and some may never be, and has beens, as well as completely imbalanced. Was it Koeman? I'm not so sure he's the main culprit and if I'm right then we really are in a massive hole.
The new manager needs to be exactly that, a manager rather than a coach, who can sort out the squad as well as coach the team. Walsh has to go, so does Unsworth, the latter will no doubt see the writing on the wall as far as his long term career is concerned, when he loses the manager job. The former, well he's got to be the main culprit and he should take responsibility for us having such a terrible squad.
Lee Brownlie
361
Posted 30/10/2017 at 04:48:26
We need help.. fast!! We know this, but why is anyone touting Davey Moyes as a possible saviour, even just for this season?
His CV since he took the 'High' Road from us last time, says only 'Failure' and, ultimately, 'Relegation'!! Do some on here really not get that?
Andy Walker
362
Posted 30/10/2017 at 05:24:09
Lee it's not about how well Moyes did at other clubs, it's about how well he did at Everton. No manager has won the Premier League with 2 different clubs. It's about the fit between manager and club.
Plato Stavrinos
363
Posted 30/10/2017 at 05:27:57
They need to make a decision this week about Unsworth, fuck giving him time. I don't believe firing a coach and then not knowing what your next move is. Even if that decision is telling Unsworth you are caretaker until we find new man, not we might give you position depending how you do. Or just give him the position.
Darren Hind
364
Posted 30/10/2017 at 05:31:52
I think the scale of the damage done by Koeman and Martinez is there for all to see. Unsworth has a monumental task of trying to restore our club.
To say Unsworth shouldn't be allowed to continue after one Premier League game, one which was always going to be difficult, is truly astounding. It's like calling for the guy who couldn't put the forest fire out with a single hose pipe to be sacked. Calling for the likes of Big Sam is like opting for Stekelenburg because he has more experience than Pickford.
These are worrying times, we need calm heads. Unsworth will know a lot more about who he can rely on when the chips are down... a new manager would have to find that out all over again. That could take weeks.
I was worried by what I saw yesterday: for the umpteenth time, Gana sits on his arse and invites / encourages and opponent to go straight to the heart of our defence; he needs to be rested. He simply can't be allowed to continue doing this. We also need to play young Mason Holgate at centre-half. Opponents lick their lips at the site of Jagielka and Williams walking out together. We need to bring Rooney on when the opposition is knackered.
Much to be done. Please lets get behind those tasked with the repair job instead of calling for another mercenary who won't give a fuck if we go down or not... because he will get paid anyway.
I think it's time we realised that many of our great players are bang average, brought in by bang average managers.
Chad Schofield
365
Posted 30/10/2017 at 05:51:41
Roman Sidey 305, would Benitez need more than 6 days and two games to work his magic?
Those asking for Big Sam, Tuchel, Silva, the second coming of Jesus (or even Moyes): Exactly how long would you expect it to take for them to have turned things around?
I get fans are fickle, but expecting someone to revolutionise things in under a week is ridiculous.
Gavin Johnson
366
Posted 30/10/2017 at 05:52:06
Lee #361
I can't stand Moyes and anyone who's read my posts will know this. That said, I want a safe pair of hands at the helm. Someone you could bet your house on will organise and bring some structure out of this mess.
If we want this kind of manager in the long term. I'd go for Shaun Dyche. He will tick all the boxes and make us hard to beat but is he the kind of manager who could make us a top 4 side in the long term?! The juries still out on his ability to manage an offensive side but he definitely has the most potential out of the British names available.
I like Unsworth but he's an unknown quantity and now that it's looking like a relegation battle I'd prefer someone who has proven ability to make teams hard to beat. When we're guaranteed safety we can look at nice attacking football under a Hollywood name next season. In the short term, and this feels like blasphemy and goes against everything I've ever posted on TW, I'd consider Big Sam, or even Moyes until the summer. It's that bad. I'm really worried.
Andy Walker
367
Posted 30/10/2017 at 06:10:14
Darren, can't agree less with you analogys. Fireman: Unsy is a guy who's never even fought a fire, let alone put one out.
Replacing Pickford with Stekelenburg? For players their experience and age are the factors to consider, but mainly age (and Stek is too old), for managers it's nearly all about experience. Unsy has zero experience as Premier League manager (Pickford is an experienced Premier League player), For example Unsy has never been in a situation where he's got players worth 㾶m's out of form and/or unhappy and he has to motivate them. He's never been in a situation where he has to keep multi millions who are happy, happy. He's never had to deal with the pressure of managing a group of players that's responsible for putting 𧴜mills on the bottom line. He's never had to convince world class footballers that Everton is the club to join. He's never had to answer to an unhappy billionaire, (manage his manager).
Now compare Pickford to Stek, what's Stek got that Pickford hasn't? Nothing. What's an experienced manager got that Unsy hasn't? Loads.
Being a good manager is about knowing how to manage people. Some people are born with it, others develop based in experience. Unsy doesn't strike me as the former, maybe he can be the latter but I don't want him using our club as his training course, thanks very much.
Nitesh Kanchan
368
Posted 30/10/2017 at 06:28:47
There are no world class players in this squad. The best players and national teams are Germany, Spain, Brazil. How many players have we got from these teams? None. Maybe Sigurdsson, but others hardly make the bench of their national teams.
All the young players are not at the peak time right now,they will make mistakes and probably a lot of them.

Look at Real, Barca, Chelsea, Bayern and Man City. They are full of Spanish,German and Brazilian top players, even their bench. Even the RS have Firmino, Countinho and best player from Egypt and Senegal.
The best solution would be to play as a team as Leicester did in their title winning season. Defend as a team and attack as a team. The signs are there in last 2 games under Unsworth with good commitment and effort. I think it will take few more games to find the right passes and understand each other movements in Unsworth system of pressing and making fast attacking moves. Right now the players are getting used to different system from Koeman's disjointed and clueless system.
In other news, what a clown Barton is, to abuse Unsworth publicly. I agree he is physically unfit but calling him a steward and making these comments public. Someone should ask him, how much money Qatari paid him to throw away the match which won them the title.
Amit Vithlani
369
Posted 30/10/2017 at 06:43:02
My observations:
1. Confidence is shot to pieces in far too many players. Even Big Sam - crazily touted on these pages as the next manager of the club, suffered a string of defeats at Palace and Sunderland before turning it around. Big Joe when he took over in 94 was in charge of a team that had kept 2 clean sheets and had already picked up a confidence boosting win. Players need confidence and almost throughout the side we have none.
2. Rhino is doing the right thing by throwing in selected U23s. Some, like Beni, are playing with confidence and can add some short term improvement to the team. I think Gana and Schneiderlin are far too low on confidence and need to be taken out of the firing line. Williams too looks very out of sorts. Sigurdsson, Klaassen, Sandro have been too awful to merit a start.
3. Rooney might be suffering from a dip in confidence too. Another one who needs a spell on the subs bench.
4. Axing these players takes us back to 4-4-2, or a diamond midfield 4 formation, which is where we ended up yesterday. With a team low on confidence we will have to revert to scrapping in midfield, getting the ball wide and having two strikers in the box to compete for crosses.
5. This squad is bloated. Far too many players in the same position and far too many players in general. It is no coincidence when we pruned the squad in January we really clicked into gear (atleast at home). I think some players know they have no future and until shipped out will be a drag on squad morale.
6. We miss Seamus as much as Lukaku. The right sided threat has gone and he tended to defend his flank so well that Baines could get the extra protection he needed without the cover having to worry about the right side.
7. It is going to be a tough road ahead but I am grateful for the Europa League. The games allow Rhino some luxury of trying out formations to implement his ideas. One area we have to look at is set pieces. Baines and Sigurdssonhave good ability and if either player not going to create much from open play then they need to come into their own on set pieces.
8. We have been short of luck this season. Against Lyon we could have led 2-1, against Chelsea we should have taken the game to Extra Time, and yesterday, a penalty changes the match. We will need some luck along the way and the old saying "these things even out over a season" will hopefully apply to us too.
Amit Vithlani
370
Posted 30/10/2017 at 06:48:56
Oh, and regarding Moyes – fuck me. Betrayed the club, tried to pinch our best players, and then has laughable spells at Sociedad and Sunderland.
Brent Stephens
371
Posted 30/10/2017 at 07:28:23
Jay (#339),
"Avoiding the hordes and the gloating masses comes into play too".
So true. It ain't a good feeling. Got to admire the guys who stay beyond the whistle to applaud our guys – afraid I'm away on the whistle (the jeers inside and outside etc).

Brian Porter
372
Posted 30/10/2017 at 07:29:07
For me, the rot set in the day we appointed Ronald Koeman as manager/coach, whatever his title was. Like many others, I was against his appointment in the first place.
I think that others who were against the decision to appoint him also followed the European game on a regular basis and could almost see the eventual downfall of any team with which he was associated. He's left behind a string of unhappy, disaffected players at virtually every club he's managed. Fans at clubs across Europe have complained about the quality or brand of football his teams have produced. Not one of those clubs could say he left them in better shape than the day he arrived.
The day he arrived at Everton, the damage was done and it continued to grow worse with each passing game. He surrounded himself with his little band of sycophantic followers from his brother to the goalkeeping coach, people who would toe the line and not rock the boat, (his line, his boat).
It took a little time, but I think we could see by the halfway mark last season, that the rot had set in. Performance levels dropped, the opportunity for a top six place was spectacularly blown by the run of turgid, limp wristed performances that saw Man Utd cling on to sixth place even though they were dropping points all over the place.
His inability to galvanise and motivate the players was self evident to anyone watching the way we squandered the opportunity to avoid the qualifying rounds of the Europa League.
His credentials as a poor manager and even poorer man-manager were brutally exposed but most failed to see it, the worst of all being Moshiri.
We can't expect David Usworth or any manager to fix the damage in a week or a month. Whether we can avoid relegation is a burning issue, but let's lay the blame firmly on the heads of those responsible.
The creeping sickness that Koeman and his cronies infected our club with is going to be a long hard road to recovery I fear.
Moshiri's lack of broad football knowledge has been cruelly exposed and we are now paying the price!
Derek Knox
373
Posted 30/10/2017 at 07:39:03
Brian @372, I take all on board what you have said and totally agree, but let's face it, when Koeman was appointed, there was no consultation as far as I know.
Moshiri, new owner, new broom as it were, made the choice. This is what happens, when a rich man, who knows little about football makes decisions as if he was running a company; ill informed decisions at that.
So he has to carry some of the blame, sad thing is; he is probably being advised by Bill Kenwright.
The irony of the whole saga, is Everton have craved a rich investor for years, one comes along, and the majority of the windfall, has been well and truly blown away.
John G Davies
374
Posted 30/10/2017 at 07:46:49
Those calling for the appointment of Unsworth and telling us he would perform a miraculous turn around need to reassess.
Totally different kettle of fish managing the Under-23s.

Laurie Hartley
375
Posted 30/10/2017 at 07:47:47
Well I think it would be fair to say we are not going to "defend" our way out of this pit so, stating the obvious, we have to find a way of scoring a few goals.
Rooney, Mirallas, Sandro, and Niasse all have a track record of scoring goals "somewhere". But not one of them is a number 9 which is what we are crying out for.
My view is that the nearest thing that we have on our books to a number 9 is Ross Barkley. I anticipate howls of derision from some quarters but I have seen a few number 9's playing for Everton in my time so I'll say it again – at the moment Barkley is the nearest thing we have got to a number 9.
Put him up front with any one of Rooney, Sandro, and Mirallas and we will start scoring a few goals. The problem is he's a month away so I don't know what we are going to do in the meantime. David Unsworth or "someone" will have to think of "something".
Whatever they come up with, Thursday night would be a good time to try it out. Nothing to loose - Watford is not a game for a new idea.
I also can't see any big name number 9 coming to us in January unless we are well out of the relegation zone so I reckon we should go for Rondon. He's the sort of player we need at the moment – he could help us fend off the unthinkable.
Neil Copeland
376
Posted 30/10/2017 at 07:51:49
A factor that may be driving Unsworths team selection is he is choosing players that he knows can play the system he wants to play. As he takes more training sessions and has an opportunity to weigh up the summer signings in person he may start bringing the back into the gold in their best position. So, although his team selections thus far seem a bit gung-ho they are probably the safest option to get a job done in his eyes.
Let's give home a few more games eh, there are some signs of improvement.
Karl Meighan
377
Posted 30/10/2017 at 07:59:12
Our season and relegation battle was never going to be about these two away games; if we survive it will be how many points we can pick up at home.
Unsworth has done much of what most of us would have done, he cannot play for them. Maybe Rooney up top with Sigurdsson in behind, these two simply have more quality than Calvert-Lewin and Niasse who, for all there effort, are a pair of Championship quality strikers at best.
Davies is a fine prospect but he has been piss-poor this season, out of position he may have been but he looks way off the pace and gives more silly fouls away than Gueye and Barry when he was here combined and needs pulling out.
Let's reserve judgement on Unsworth until we have at least played four or five home games and let's not forget some of his picks need game time.
Raymond Fox
378
Posted 30/10/2017 at 08:21:58
As I said earlier in the thread we were made for Leicester, no pace at the back apart from Jags and he's slowed down.
We have a bunch of players who are just not very good overall. We are lacking class all over field, if I was manager I would be very worried because I cant see how I could change the team for the better at the moment!
Koeman was crap and has left us in a mess, he/we sold Lukaku and bought players that are no better or very little better than we already had.
Make no mistake we are in a dogfight, this not the time to be wanting wonderful flowing football, we need to start winning games any way we can.
Even saying all that we have had a very tough start and we were never going to amass that many points.
Stuff the Europa League, I said from the start its a complication we didn't need, I wouldn't be sending many first choice players on Thursday if I were picking the team.
We are not very good, but I still think we will be good enough to scrape ourselves above the bottom 3 come the end of the season especially if we can get our injured players back and they have not lost their ability.
We need to replace Baines and Williams though and find a quality centre forward from somewhere.
Nitesh Kanchan
379
Posted 30/10/2017 at 08:22:18
Also, the ball reaching the opposition team's box is something new to these players, let alone inside it. They are used to passing sideways and backwards from previous systems rather than going forward.
James Hill
380
Posted 30/10/2017 at 08:22:43
Amazing reading some of the comments on here. I think we pulled the trigger on Koeman too early. I am also disappointed that Unsworth bowed to the populist pressure playing the kids and Mirallas who should be well gone from the club.
So many on here over the past few months have begged for the kids to play, clearly some them need more time to come terms with the league. Koeman was doing it right.
Don't get me wrong: I would love to see Unsworth succeed. When I seen the team this morning though, I thought there was only one result and it did. I don't want another foreign Pep or Mourhino disciple who just think they can buy success. For me I respect Benitez for what he has done for Newcastle, the best Manager in the Premier League, if not Europe.
What we are seeing is the result of the mercenary nature now of the Premier League. Players who just don't give a toss. Look at Drinkwater in his prime and for the money he goes and sits on Chelsea's bench. I suggest we have more than few of those players.
Forget the bullshit about leaving the club to win medals, it's garbage. They leave for money – why else would any half-decent player come to Everton in this era?
I been supporting the Blues since 1968. This is the 1st time I have more than doubted the players commitment and I have seen some bad blues teams as well as the good. Never have seen such capitulation in so many games in the blue shirt.
We have a good solid core of young players we need winners around them, like Rooney still our best player by miles, to help them flourish and for me those who lambast him need to open their eyes.
We are currently playing in the poorest Premier League in years and can't foot it, a real worry for me.
Biggest mistake made by Koeman: selling Gareth Barry. Much more influential than that tosser Lukaku.
Just a point view. For me get Sam or Rafa.
George McKane
381
Posted 30/10/2017 at 08:24:24
It's time for someone to step up and really take charge of this Club – someone to speak to us, The Fans, to and for the players and speak to us all about the real situation we are in and give at least a hint that they at least recognise the situation and at the simplest have some plan to change to situation.
It's called Management.
Trevor Peers
382
Posted 30/10/2017 at 08:30:23
Listening to Barton on TalkSport this morning and as usual some of his remarks were deeply personal and offensive especially towards Unsworth, but I think he hit the nail on the head when he said that Unsworth has no experience as a Premier League manager and if we let him 'cut his teeth' learning the job, we will end up getting relegated.
We are in a desperate situation, but have one more card to play by hiring an experienced manager. The argument that we would be hiring another mercenary is nonsense, most of the managers and players in the game are mercenaries – that's the nature of football, it would be naive to think otherwise.

Paul Smith
383
Posted 30/10/2017 at 08:31:52
I have hope this morning that £60k Seamus, Funes Mori, McCarthy & even Bolasie will save us.
Rooney clearly does what he wants when frustrated, running all over the pitch, ignoring his brief (IMO), pulling rank. I an understand this but it undermines the gaffer. Thing is, him & Barkley seen to be the only two capable of defence splitting balls. So we're fucked if we do and fucked if we don't.
Baines is unrecognisable... what the fuck has happened to him, absolutely no pace left. Criminal that no quality was purchased to cover him. I'm not sure Garbutt would be better unless you count corners (his are better than Baines).
The youngsters clearly aren't the answer. If Beni keeps turning out in a losing side his confidence will be shot. Tom has passion & drive but gives it away far too often; not the answer at the moment.
Not sure why Ademola doesn't get more game time looks quality when he plays.
James McPherson
384
Posted 30/10/2017 at 08:35:13
George (381) a reasonable request. Just one tiny flaw - you're asking Kenwright to step up and do the right thing, in difficult times, acknowledging his culpability in this issue, with s clear plan on what's going to happen to put it right...see where I am going? Chickens are coming home to roost.
Our fate was sealed September 1 when this club thought you can do okay in this league without a recognised and capable striker.
Peter Lee
385
Posted 30/10/2017 at 08:50:21
George, I don't feel the need to be spoken to, to be managed. I want the players to be spoken to and managed in away that produces results on the pitch. I can then see for myself what's going on.
Nail your colours, go on. Who is the man to do it? I'm sure everyone in the Dark House knows, share.
Sam Hoare
386
Posted 30/10/2017 at 09:01:00
Bit too much early doors hysteria for me.
Yesterday was not good but I did think it was a marginal improvement on what we have seen so far. We had more passes in their final third than in any Premier League game we've played yet and we just didn't get quite the rub of the green with things like the penalty decision, the Calvert-Lewin shot with an open goal, and the horrible Kenny slice which found its way perfectly into the bottom corner.
Unsworth has had 6 days in charge and 2 games away to the the last two champions in the Premier League. Sound out other managers (Tuchel and Silva would be my pick) but meanwhile, let's get behind Unsworth and see how he does at home against Watford.
We know it's a poor squad and the board dropped a clanger in not getting a proper striker but that's the way it is till January. Being 18th is obviously upsetting but it's only October. Beat Watford at home and Palace away and we could feasibly be in the top ten. Confidence can change quickly and I hope that we are due some luck.
Arnez Desmond
387
Posted 30/10/2017 at 09:02:24
Put Holgate next to Jags... axe Williams..., play wingbacks (Kenny (till Coleman is back) and Baines (Garbutt (register him) or if we could train Lookman to go up and down the left channel), 2 DMs (Morgan (prefer McCarthy when fit)/Gueye, 2 CMS (Davies/Klassen), 1 AM (Glyfi) and 1 Striker (Rooney).
For all purposes, our Director of Football is piss poor. How could you not replace a forward in the stature of Lukaku when the manager's plays revolve around a target man?
How can you allow a team not to have a backup left back especially with Baines already 32 or 33 and with so the added Europa commitment? It surprises me that we still want big name managers (and their entourage) with no Premier League experience?
We had a similar position several years back... no striker but Marcus Bent... somebody made it work without funds. Yes...I'm calling for someone familiar David Moyes (not not Big Sam)...give him the job and the funds in January!
Paul A Smith
388
Posted 30/10/2017 at 09:09:06
You know in all this rumour of who signed who and who chose the manager and who has a say in this and that. All the things nobody on here has proof of in other words.
Wouldn't it be nice if the club we love came out and explained how its really run.
Russ Quinlan
389
Posted 30/10/2017 at 09:16:35
God, it's hard being an Evertonian! In my 54 years of supporting the blues it never gets easier and this morning I'm still depressed after yesterdays performance. I would never criticise Unsy coz he was handed a squad that was totally fucked by Koeman.
Last season we only got 7th due to our home form and Lukaku's goals; our away form was atrocious however the ageing defence was never addressed over the summer and of course neither was a target man.
Someone on here has said before that, before Lukaku, the whole team chipped in with goals but not anymore; that's due to the coaching and not allowing the midfielders to get forward.
Watching us play this season has been painful, backwards, sidewards, shite. We all know we have no goal threat, so how didn't the mega paid Koeman and Walsh not address it?
Baines is well past it, even yesterday Leicester knew that and just dropped balls over his head coz they knew he couldn't get back and his forward play is now always backwards!
I could go on but there is no point. Nothing against Unsy but I think we need an experienced 'name' manager to give the whole club a shake. The players need confidence, we have signed some crap for lots of money but there is a squad there along with some good youngsters, we need someone who has the nous to get them together and playing as a team. God knows who that will be though!
Kevin Tully
390
Posted 30/10/2017 at 09:26:15
8/1 to be relegated. No striker. Calvert-Lewin hasn't produced a performance in a dozen games or more. Why are we persisting playing the lad? He's clearly not ready, but poor management to put in in this position, he won't suddenly morph into a Premier League. striker overnight.
Rooney is all over the place, like a kid in a playground. It seems everything is going through him in midfield, to the detriment of the rest of the team. He should never have come back.
The youngsters will not pull us out of this slump. Please stop calling for them to play. You do not spend all this money, then piss-off your new signings by dropping them for unproven kids – you need to manage the new signings and make sure they play in a system that suits them.
Make no mistake, we are in deep shit. A home loss to Burnley proves we are in trouble. I would start by sending mostly reserves out to Lyon this week, it's a dead rubber anyway.
Now ask yourself, seeing as we are on the verge of being in serious trouble, do you actually want a manager in charge who hasn't got any experience whatsoever of top level management? This isn't the time to experiment FFS!
If anyone thinks we are not in the shit, think again. We cannot score, and have no striker. Niasse will have to do for now, drop Calvert-Lewin for starters, and go back to being difficult to beat.
If I were Moshiri, I would have the person(s) responsible for this strikerless mess frogmarched out of the club this morning. The fucking imbeciles.
David Hallwood
391
Posted 30/10/2017 at 09:51:51
Everyone's stating he obvious, no striker or left back brought in etc. But we are where we are so what we need to do is get behind the team and become the 12th man.
Yes all the cliche stuff but at the moment they're playing with fear and it's killing the kids. For instance Calvert-Lewin will be a great player but having him lead the line in a struggling side is crazy.
Maybe Unsie should start with the side that finished the 2nd half at Chelsea and hopefully he's worked with the team by the time we get to the Watford game so we can play a high pressing game.
I've looked to the international break so much.
Gordon Crawford
392
Posted 30/10/2017 at 09:54:55
The reality is we don't know what system or team to pick to get us out of this mess. We are in a very serious situation. I don't see these players winning ten games at this moment in time.
Make no mistake about it, we are relegation material on this form. We need an experienced manager to pull us out of this mess.
The scary thing is, the players don't seem to have any fight in them.
Karl Meighan
393
Posted 30/10/2017 at 09:55:46
Out muscled by Arsenal, players who don't trust their own ability to pass a ball 10 yards unless it's three yards overhit and defenders who invite opponents to put the ball in our danger area, 18-yard box these are only a couple of the problems Unsworth has inherited.
We ain't strong anywhere on the pitch, our midfielders look weak and confidence is shot.
We have to play in a English type system, very basic that will be found out at top level but hopefully get us out of the mess we are in.
More crosses have to be put in the opponent's box from both full-backs and wide players and one of the two central midfielders has to get himself into the box regardless of how natural it is.
Lets have a "concede no goals, lose no games" attitude.
Craig Walker
394
Posted 30/10/2017 at 10:00:55
All the euphoria on TW last Tuesday when RK was sacked didn't convince me. People were saying they were looking forward to the next few games on the back of Unsworth saying he'd had a good training session with the lads. Some people mentioned "top 7". I'd honestly settle for 4th from bottom at this moment in time. We look like Villa two seasons back.
I read through our squad and I don't see any players worthy of wearing the blue shirt with the possible exception of Pickford, maybe. Right now, I'd settle for a Jermaine Beckford or a Marcus Bent up front. That's how bad we are.
Baines hasn't had a good game for a very long time – it's sad to watch. Was it just me or did anyone else simply know that when Baines took that free-kick and Leicester won the ball, it would finish up in our net? Is there any other team like Everton through the years so adept at turning a promising position into a goal for the opposition? It doesn't matter who the manager is or who is on the field, we do it season after season.
However bad it was under Martinez, we always had a goal threat. Now we have a powder-puff attack, no creativity or bite in midfield and an ageing and calamitous back four. Furthermore, shuffling the players produces the same problems.
Our only hope is to make Goodison like a bear pit again, starting with Watford and somehow try and win as many points as we can at home because we look lost away from home. We also need to urgently strengthen in January and stop showing sentimentality to experienced old pros who are stinking the place out.
Looking at the teams in the Premier League, which ones would you fancy us against? I can't pick a single team who I would say we could beat. Even Palace would cause us problems.
Lastly, if Moyes or Allardyce are appointed then I'll go cold turkey and cut Everton out of my life because everything this club is supposed to stand for might as well count for nothing – might as well interview Neil Warnock whilst we're at it. We need to start showing ambition and acumen from top to bottom.
Steve Ferns
395
Posted 30/10/2017 at 10:02:03
Karl, we smashed the crosses in against Leicester. Most we've put in all season, and the passing stats were up, and the pass completion was up. We also ran more.
The problem is Jonjoe Kenny's dreadful attempted clearance going into his own net, the ref not giving a certain penalty, and Gray being able to run 60 yards through the middle of the pitch with Davies waving him goodbye and then Gueye lunging in desperately. This then exposed the fragile back four.
We looked better with a midfield three of Gueye, Baningime and Davies. Shift Sigurdsson to the left and then select pace on the right (Lennon, Lookman or Vlasic), and see if we can find the balance of solidity and attacking intent that we need.
Steve Carse
396
Posted 30/10/2017 at 10:04:32
Maybe I'm searching too hard to find positives from last night but I thought I saw the beginnings of a couple of partnerships in the second half. Davies and Kenny began linking up down the right, and Baines and Sigurdsson down the left.
Still no sign though of any central midfield partnership being developed. Davies and Gana should be a good, balanced partnership but Davies is now woefully short of confidence and touch while Gana has become frightened of putting a foot in too early in games for fear of getting a booking and so having to virtually sit out the rest of the 90 minutes for fear of being sent off.
We have big problems. What's saving me from deep depression though is the realisation that, despite abysmal performances all season, we're only in the relegation places by virtue of inferior goal difference. If we want to be more optimistic, we can see the implication in this being that any sort of improvement over the rest of the season should see us safe.
Andy Williams
397
Posted 30/10/2017 at 10:20:56
Laurie (#375) I think you are right – I have been thinking that way too. Barkley could definitely do a job there – pace, strength, skill and an eye for goal. Let's hope.
Steve Ferns
398
Posted 30/10/2017 at 10:26:31
Barkley is crap in the air, he's never scored a tap-in either. He does his best work outside the box. He cannot play as a striker.
The biggest thing we need is someone who can play up top, isolated, and win the ball with his head, bring it down and wait for people to arrive. We don't have that player. But the closest to it, by a mile, is Calvert-Lewin.
Paul Tran
399
Posted 30/10/2017 at 10:31:08
Darren #364, completely agree on the clear heads idea. We have to take a collective deep breath and think.
Unsworth has had two games. Poor selection yesterday. Hope he learns from that. Can't judge him this early.
Let's stop thinking about who bought which player and how much they cost. That's gone. It's time to start focusing on how to get the best out of the squad.
Keane, Sigurdsson, Klaassen, Vlasic are good players that have been mis-managed and confused. The man who bought them has been rightly replaced. We need a system to get the best out of them. They need to know what they're meant to be doing.
I'd have Keane and Holgate at centre back and tell them they're in till Christmas at least. I'd pick Bemi to hold. He stands up, only goes in when he has to and plays simple, quick passes. I'd pick at least one of Vlasic and Lookman. Both have pace, trickery and create & score goals. They will get better, Mirallas & Lennon won't. Again, I'd tell them they've got a run of games. I'd also play Sigurdsson and tell him he's in for a run too, he looks completely lost right now. I'd use Rooney as an impact sub for 30 mins and tell him to stay near the box and stop wandering in everyone else's way.
The teams lacks identity and with it, confidence and consistency. Unsy needs to decide on a team and stick with it. Players need to know who they're with, how they move, where they're running.
Yes we need a pacy centre half, a left back, at least one striker. From now till January and beyond, we need a system, consistency and bravery.
The comparison with 1994 is partially correct. We were adrift at the bottom with a threadbare squad. I think we have better players now, players that will benefit from clear guidance and consistency. Over to you, Unsy.
Off the pitch, we need Moshiri to shut up and appoint a professional to give us a coherent view of what's happening in the club. We're either a sentimental bunch of content underachievers, or we're a professional organisation, desperate to succeed. Over to you, Farhad.
Dave Wilson
400
Posted 30/10/2017 at 10:42:12
8/1 to be relegated?
I wonder if anybody would be daft enough to be suckered in? No way will we be relegated.
I wonder if those insisting we go for a hired hand with experience realize that, it's this policy which has gotten us where were are.
The thing about experience is, nobody starts out with it. The talented ones cope and thrive.
Man United thought they would bring in experience. It will take them years to recover from their last two appointments.
Steve Brown
401
Posted 30/10/2017 at 10:52:17
David Unsworth didn't stink the place up yesterday – although I thought his substitutions were poor making us more solid but removing all the attacking threat we had.
The application in the first half and the quality in the second half from the players was the problem. It was an utter disgrace. We rightly sacked Koeman but the players' lack of professionalism this season is shameful.
I think we need a top manager to turn this around. Blaming Unsy for any of this though or judging him after two games is ridiculous – he can only get so much out of players with such low self-respect. Give him to the international break the re-evaluate.
There are multiple players in woeful form so trying to chop and change them is a waste of time – drop them and leave them dropped. Martina, Williams, Baines, Schneiderlin, Sigurdsson and Klaassen can't play at the moment. Then there are bright young players who are struggling and need a breather, such as Davies and Calvert-Lewin. But I actually thought Mirallas and Lennon posed our biggest threat yesterday so I would retain them in the match squad.
So play the reserves v Lyon and focus on Watford. Subject to injuries, I'd pick:

1. Pickford
2. Holgate
3. Garbutt
4. Keane
5. Jagielka
6. Beningime
7. Vlasic
8. McCarthy
9. Mirallas
10. Rooney
11. Lookman
Steve Carse
402
Posted 30/10/2017 at 11:11:35
Paul (#399), we may have better players now but when Royle took over in 1994 he knew that there were players on the books who were not being selected (eg, Parkinson, Ebbrell) but who he knew were just the types he needed. And so it proved.
James McPherson
403
Posted 30/10/2017 at 11:28:53
Steve Brown (401) - totally agree on players' lack of professionalism. Koeman's dismissal though needed was hastened by them. Many have said that to allow players to down tools to dismiss a manager they don't like is the thin end of the wedge. Some players yesterday have been involved in the last 2 dismissals. Sacking Koeman was never going to be the sole answer to our issues.
Peter Jansson
404
Posted 30/10/2017 at 12:05:48
Play Rooney midfield and Mirallas or Sandro upfront.
Gordon Roberts
405
Posted 30/10/2017 at 12:08:09
There are huge internal failings at Board level. Let's not underestimate the symbolism of Koeman being in Portugal on transfer deadline day, and allowing himself to be photographed.
The Directors charged with getting deals over the line during the last few days of the window have remained anonymous and quiet. Koeman, quite rightly, has been held to account in regard to performances. Why are others not being made accountable and paying the price for their actions or inactions??
Danny Halsall
406
Posted 30/10/2017 at 12:26:00
I honestly think our biggest problem is formation and mindset. We seem to be turning up for every game thinking about how the opposition could hurt us instead of how we can hurt them. We are constantly playing on the back foot and it is killing us. If we'd have played as we did in the second half from the word go yesterday we'd have got something from the game, however, it seems as though we need to go a few goals down in every game before we start playing with the shackles off.
I don't really care about the midweek game in Lyon, but we need a result against Watford before the next international break. We are playing at home, so for gods sake, please don't play 2 holding midfielders. Lets get 2 up top and have a go at getting a result. I'd go with.
Pickford
Kenny Holgate Jagielka Baines
Gueye
Sigurdsson
Lookman Mirallas
Calvert-Lewin Sandro
We are desperate for some pace, and I think this line up at least give us that. Let Gueye patrol in front of the back 4 himself, making sure Mirallas and Lookman are working hard to support. I really think Sandro would do better if played up front with someone who can win something in the air. Just do SOMETHING different.
Soren Moyer
407
Posted 30/10/2017 at 12:36:50
To those who are calling for Moyes's return – he is not the answer. He should be left out of this club for good. Also, have you forgotten Kendall's takes 2 and 3?
Alasdair Mackay
408
Posted 30/10/2017 at 12:46:26
What I saw yesterday was a complete lack of confidence from the off-set.
I think they have believed the hype a little too much. They need reminding that we should be going to places like Leicester and Chelsea and playing on the front foot.
The second half (as with the Chelsea game) was a marked improvement, but we can't be turning up 45 minutes into games.
I have faith that Unsworth will turn it around if he is given time to do it, but at the moment the uncertainty is affecting the players a little too much.
Simon Dalzell
409
Posted 30/10/2017 at 12:51:04
Chad (#365)
It's not about how long Unsworth has had. It's about having a manager with experience. Not letting a novice see if he's up to it. This is not the time.
Kevin Turner
410
Posted 30/10/2017 at 13:04:04
Steve (#401), we can't play that team as most of them haven't been registered with Uefa for this competition.
Ernie Baywood
411
Posted 30/10/2017 at 13:36:13
Watching this thread develop (and calming down a bit) I'm almost comforted by it. Under Koeman it was absolutely hopeless – we all knew that he'd lost the plot. His selections were clearly wrong. It was unanimous and every game felt pointless. We didn't really get into detail on these boards – it was fundamentally broken beyond discussing the details.
This thread lurches from criticism that we didn't setup to stifle Leicester to criticism that we're more worried about the opposition. From a team lacking confidence to a team believing the hype. Selection differences abound.
That confirms to me what I've seen in the last two games. There's a basis to work with now. Differing opinions are normal when there's something worth improving.
I'm not seeing a team that's given up – I'm seeing a team having a crack. Yes it's low on quality at the back and lacks a goalscorer but we have created chances at Chelsea and been unlucky in some big moments at Leicester.
Watford is massive now. I really couldn't care about Lyon and would be happy for us to play lads who won't be involved on Sunday.
I'd go in with the same team as Leicester with the exception of bringing Lookman in on the left and moving Mirallas to the right. Jonjoe needs a midfielder who he can give the ball to with confidence – you could see how fearful he was in passing to Lennon. Baines can't overlap but he can stay home with Lookman ahead of him – needs to use his experience.
Also McCarthy showed enough against Chelsea to suggest he's well ahead of Gana and Schneiderlin when fit. Lord knows if he's fit though.
Ciaran O'Brien
412
Posted 30/10/2017 at 13:47:03
We are deep, deep in the mare. Too many shit players and a geriatric defense. Koeman and Walsh have a lot to answer for this but the buck stops with Kenwright and Moshiri. There the guys in charge and hired the Dutch fool and his staff, Walsh off the back of a freak season for Leicester and Martinez.
Unsworth needs 5 or 6 games but let's not kid ourselves, we need an experienced man to take the job. I would give Big Sam till the end of the season to keep us up and then persuade Simeone to come.
We need to get rid of Stekelenburg, Robles, Jagielka, Baines, Williams, Schneiderlin, Besic, Lennon, Mirallas and Niasse. Holgate, Lookman and Calvert Lewin need to go out on loan.
Then we need to get a solid backup to Pickford, two new dominant Centre half's who are young and good on the ball, should be quick too. A younger, athletic top left back needs to come in with Galloway or Robinson as back ups.
A true midfield general needs to come in who can not only sit in front of the back four but also start moves and has vision and an eye for goal. Two new dynamic, skillful and pact wingers who can score and play on both sides and then a proper Number 9 who's good in the air, strong and can come deep and be able to shoot from range. A backup striker too would help.
But first we need to start picking up points and to keep it tight and grind out results. Fuck Europa now, we're out of it more or less.
We also need to stop this horrible long ball shite which we have been plagued with since Bobby Brown Shoes second season.
Mark Rimmer
413
Posted 30/10/2017 at 13:56:01
Mirallas up top for me no question, yes he's a bit of a luxury player but he seems the type that craves the limelight and there's no better position to feed the ego.
As a few have said, he looked our biggest goal threat yesterday, yes he shoots when maybe he shouldn't, but so do many top strikes and now and again one or two of them may just creep in! Calvert-Lewin is a decent runner but offers no goal threat, his time will come, but it's not right now.
It's gunna be 2 goals as an absolute max for us now in a league game, so it's imperative we shore up the defense and play with a striker who's confident/arrogant enough to have a pop whenever he has a sniff of a chance to try to get that precious goal which would at least give us something to defend.
Christy Ring
414
Posted 30/10/2017 at 14:17:25
The biggest problem we have, and it's down to Koeman, we are so limited in certain areas of the field. Our back 3 are so slow, Baines sorry to say is finished, and has been since last season.
Kenny was even trying to cover for him yesterday, and he was right back! The only option is to play Martina on the left, why we didn't buy Gibbs for ٣m, is still baffling me, and if Keane isn't fit for Sunday, play Holgate instead of Williams.
We need pace at the back, we need our wide men to cover, and limit Watford on the break. We were totally exposed yesterday, we have no choice, but to go back to basics. We need more from Gueye and Davies, McCarthy is a huge loss, he's a lot more aggressive and in your face.
It's back to the dogs of war, to get points on the board, and Sunday's game is huge, and a win would turn our season around, especially with the International break, and maybe a few of the walking wounded back.
James Marshall
415
Posted 30/10/2017 at 14:21:43
Rooney is our best player. He's the best player at Everton. He works harder than any other player at Everton. He has the best touch of any player at Everton. He's the best finisher at Everton. He's the best passer of the ball at Everton. He's the most intelligent player at Everton.
And moreover, as all Evertonians carp on about – he's one of us. Whatever that means.
I hate to say this, but it may well be time for Allardyce, because we simply cannot afford to drop out of the division. That cannot happen, and he would be the best option to stop that happening – we're shit.
We have a team full of individuals who have no direction or idea how to play together. We also don't have a striker, which in case nobody has noticed, is a huge factor in the fact we have no way of putting the little round thing between the white sticks at the end.
I'd swallow Allardyce (so to speak) until the end of the season to keep us in the division, and have a plan in place for the summer to get someone in longer term. Personally I don't give a shit about his shady past, and taking the moral high-ground on that seems odd to me. If Allardyce is the only man in football to have ever done anything untoward I'll eat my hat.
Colin Malone
416
Posted 30/10/2017 at 14:26:43
Big Joe and Sheeds.
Why did Kevin Sheedy leave Everton?
Tony Hill
417
Posted 30/10/2017 at 14:32:34
I think Allardyce has more to offer than just keeping us in the premier league. He's produced some good sides with no, or few, resources. He's not a bundle of charm but I agree with James Marshall that if we are going to sift managers on the basis of their moral records then we will be a long time choosing.
Andy Crooks
418
Posted 30/10/2017 at 14:34:27
I agree, James. If we are comparing him to the young Rooney, well he's not as good. If he was he wouldn't be here. However, compare him with his current team mates and he is in a different league.
Incidentally, I think Shane Duffy has turned out to be a decent defender. In my view he is much better than what we have. His sale was further confirmation of how shite Martinez was.
Will Firstbrook
419
Posted 30/10/2017 at 14:38:08
Constant swapping of players/formations trying to find that magical combination. Bit like rearranging the deck chairs on the Titanic.
While a number of things have conspired to bring us to this point, the biggest issue and the one that will continue to haunt us until it's properly addressed is the criminal failure to find a replacement for Lukaku. While he may not have banged them in every week (close though), the mere threat of his presence on the pitch forced teams to adjust the way they played us. As we are now impotent up top, teams are flooding in attack and exposing how truly weak and immobile we are at the back. Having several players seemingly lose their legs overnight doesn't help either but it doesn't take a genius to anticipate this could happen with players on the north side of 30.
Regarding Rooney, I'll admit it's perplexing what to do with him. At times he appears to be the only one arsed to do anything. However, he roams all over the pitch. I lost count how many times he ended up behind Jags yesterday! It's pretty tough trying to maintain proper shape when one of you CMs is all over the shop. His pass yesterday to release Lennon yesterday was sublime. However, it was overshadowed by how many times he cheaply relinquished possession to the opposition.
For the next few matches, I would like to see Gylfi in there and use Rooney only as a sub. Yes, he's had some anonymous games this year but I think he needs more time to properly bed in. We need to stabilize our midfield. This constant rotation of players is actually undermining our ability to establish some level of consistency in the center of the park.

James Marshall
420
Posted 30/10/2017 at 14:45:24
Will hits it on the head – we're impotent up front so teams have no problem attacking us at will. Our midfield is overrun and our defence is left so exposed it's ridiculous.
I don't point the finger at the defence as our problem as such – our problem lies in the balance of the team which leaves our defenders sitting ducks. There's always more to it than blaming any one player, or any one position on the park.
This issue has existed since Bobby was in charge, and is still with us for different reasons. Our defenders are hung out to dry every week because of the imbalance in our play from front to back.
Rooney does all the work because he gives a shit – his indiscipline is currently his downfall. I think if you could get him to stay high up top, he'd still be a 15=goal-a-season striker. In fact, I'd still back him to get close to that this season, even in our shitty team.
Steve Ferns
421
Posted 30/10/2017 at 14:46:51
You're right about the formations Will.
We should play with a deep backline, to accommodate the pace of Williams, who now must play until Keane is fit. Then have a midfield trio just ahead, compact and defensive. You can then go with a front three, with two wide but pushing on to try to ensure the striker gets some support. I'd start Calvert-Lewin for his hard running, but replace him with Niasse.
Calvert-Lewin
Sigurdsson Lennon
Davies Gueye
Schneiderlin
Baines Williams Jagielka Kenny
Pickford
You can swap Lennon for Lookman or Vlasic and I wouldn't moan. I'd give Lennon the nod for his experience. He's still got the pace as we saw against Leicester. Instead of going for pace on the left, I'd allow Sigurdsson to come inside and try to create opportunities. I'd be looking to bring Mirallas on to do the same if it's not working after an hour.
The back four picks itself, although you could go for Holgate over Kenny, but I feel that if we let Kenny get games, as he should have done all season long, particularly in the early Europa League games, then he will get better and better with every game, and start to get forward like we would hope.
It's more or less a Moyes 4-5-1 and very much in the mould of keep it tight and pinch one. But we need a clean sheet right now. Get one against Lyon, and get one against Watford and build from there.
Steve Ferns
422
Posted 30/10/2017 at 14:49:01
James, Rooney is on 4 in 10 in the league. That's 15 goals at the present rate, injuries permitting. I'm not displeased with Rooney's efforts. Just think we need to play a different way and be more solid for now. If he is chomping at the bit to get on, then let's see if he can play as a rigid No 9.
James Marshall
423
Posted 30/10/2017 at 14:53:12
One thing that would really help us at the moment, is to take a lead in a game – have we led once this season apart from the Stoke game?
I can't remember us being in the lead at all in any game this season... instantly chasing it every match is killing us.
Jay Woods
424
Posted 30/10/2017 at 14:56:28
We were winning at Man City too...
Steve Ferns
425
Posted 30/10/2017 at 14:58:24
You forget the last home game. Can't blame you, I tried to erase those memories myself.
James Marshall
426
Posted 30/10/2017 at 15:00:49
The Man City game doesn't count because they only had 10 men ;)
James Marshall
427
Posted 30/10/2017 at 15:16:28
Given what Will mentions, and seemingly some of us agree with on here, that our formation and lack of cutting edge up front leave us so wide open at the back – I wonder how many people would now advocate the unthinkable, and playing with 2 up front?
We looked more attacking, balanced and able to defend from the front with Calvert-Lewin and Niasse on the pitch yesterday – or was that due to Leicester being 2-0 up and therefore inviting pressure?
I wouldn't be upset seeing 2 of them up front from the start against Lyon and Watford.
Keith Monaghan
428
Posted 30/10/2017 at 15:16:54
We took the lead against both Man City & Arsenal!
And people need to forget about McCarthy – he's not been fit long enough for months & months.
Rooney is an impact sub at best. Too slow, poor reactions & first touch, and gives the ball away cheaply – he's a spent force. And 3 of is 4 goals were set up by the much criticised Calvert-Lewin – and he tried to miss the easiest one against City! Sigurdsson should be played in his proper position and Mirallas should start every game – he's one of our few serious goal threats.
My top picks if we go outside for a manager – Rafa & Paul Clement.
Christy Ring
429
Posted 30/10/2017 at 15:17:04
Rooney needs to stay upfront and not keep drifting back into our half looking for the ball, as we end up too deep, and he hasn't the pace, for the counter attack.
Clive Mitchell
430
Posted 30/10/2017 at 15:18:08
Jay, 323; Rob, 331 -
Impossible to disagree, you're describing what we're all seeing. What makes it worse, they tried their hearts out yesterday.
As Rob said, we need to get to January on 20 points+. Time to be ruthless. Baines and Rooney are no longer Premier League starters, don't start them. Our best athletes and toughest defenders and midfielders get to play.
We're not good enough to play the likes of Mirallas, Lennon, Vlasic or Lookman. McCarthy if ever fit is a must, as is Barkley. Play Calvert-Lewin and Niasse together to keep the opposition honest. Tough it out.
Dave Wilson
431
Posted 30/10/2017 at 15:22:28
Andy Crooks,
We never really disagreed about Duffy. He was always aware and his positioning was sound, but he did lack that yard. Having watched him a lot recently I think he is making up for that lack of pace with very good positioning and reading of the game. He's not a top four player, but you are right, he is miles better than Jagielka and Williams
Ah well... spilt milk 'n' all that
Raymond Fox
432
Posted 30/10/2017 at 17:17:43
We are in a right state in defence, Baines was never a good defender when he was at his peak, Holgate's not a full back and Kenny is inexperienced and not helped by all the additional pressure of playing in a losing team. Our centre-halves are lacking pace especially Williams and Keane.
Add to that we look impotent going forward, the frightening thing is there does not look like we have many options to make an improvement in that aspect of our play, other players have come in and failed to impress.
What state the dressing room is in I dread to think, it wont be sweetness and light that's for sure. Don't get me wrong I'm not feeling sorry for them, far from it, but some who have recently been signed must wonder what the hell they signed for. Again not good for confidence and results.
Duffy was flagged up on Match of the day last night, coincidence you've not mentioned him before Andy? He'll be a 5 minute wonder like most other players, who are highlighted by the EXPERTS when they have a decent game or two, their that good they never go near a managers job.
Match of the Day, 25 mins of highlights and 35 mins of inane analysis usually!

Mike Green
433
Posted 30/10/2017 at 17:31:42
Raymond (#432) – In Andy's defence, he was Duffy's No 1 fan when he was with us and championed his cause constantly for at least two years. I disagreed with him at the time but he may well be proved right as to his quality after all.
Frank Crewe
434
Posted 30/10/2017 at 18:02:02
We don't need to start winning. We need to stop losing. We have to start parking the bus whether we are away or at home. We just have to find a way to stop conceding goals because we are unlikely to score many. So our best bet is to go for draws.
People keep going on about having to win ten games to get to 40 points. We don't have to win ten games we have to win three or four games and draw most of the rest.
It has worked for Pulis, Alladyce, etc for season after season. It may be boring and dour but desperate times call for desperate measures. Until we get ourselves to the relative safety of mid table and we can afford to risk a more attacking style we have to defend for our Premier League lives. A few boring 0-0's or 1-1's won't do us any harm at all.
Go 4-5-1. Stick Niasse up front because he'll run all day and chase every long ball we can hoof up to him. A couple of quick wingers in Vlasic and Lookman. Everyone else defend like their lives depends on it. Three DM's in Schnieds, Gana, Beni, and a back four of Kenny, Jags, Williams, Baines. Davies is a lightweight, Rooney is a luxury.
If we are winning or go behind stick them on but as long as it's 0-0 leave well enough alone and settle for a point. I reiterate. We have to stop losing. Just get a few draws and a bit of confidence might be restored to the squad.
Joe Foster
435
Posted 30/10/2017 at 18:11:44
Personally I don't care if our next manager is Josef Stalin as long as he can turn this around.
Paul A Smith
436
Posted 30/10/2017 at 18:32:48
The more I read this thread and think about how bad the season has been, I can't believe the board are getting away with this and the lack of blame towards the board throughout this thread.
Sorry to bore everyone but this club is not ambitious.
Andy Walker
437
Posted 30/10/2017 at 18:39:00
James 415. The voice of reason, well said. There's far too much hyperbole around playing the kids, and Unsy being a 'true blue'. For those that don't seem to have noticed, the Premier League is the league with the highest standard of player in the world. Deciding to compete in this league with half a side of U23s and most of the rest made up of 'has beens' isn't smart. Add to that a caretaker 'manager' who hasn't any track record at all and surely everyone can see the issue.
Alladyce was England manager, he is a deep football thinker and massively experienced. We need him or we are going down.
Charlie Lloyd
438
Posted 30/10/2017 at 18:43:11
It was a Koeman masterstroke!
Buys lots of players (Pickford, Keane, Siggurdsson, Gueye and Bolasie) who are used to the pressure of a relegation battle.
Charlie Lloyd
439
Posted 30/10/2017 at 18:43:36
Add Williams to that list.
Andy Walker
440
Posted 30/10/2017 at 18:48:01
Charlie 438, if Koeman bought them what exactly is Walsh'ds job?
Neil Copeland
442
Posted 30/10/2017 at 18:58:38
I can see the reasons for wanting Allardyce but we need to consider what had happened to teams when he had gone. Bolton have seriously struggled for a number of years, Sunderland relegated the following season, Crystal Palace bottom of the table now, Newcastle struggled although seem to be recovering with Benitez.
My point is that Allardyce would be a short term fix only and there is real risk that he sets the team up in such a way that the new manager finds it very difficult to do much with it without some major surgery.
So, whilst I do not want us to get relegated and Allardyce is an expert in such a situation, the club must think longer term and have an Allardyce replacement plan in place.
Neil Copeland
443
Posted 30/10/2017 at 19:03:12
Sorry, meant to add; that is if indeed the cloud decides to go for Allardyce.
Colin Glassar
444
Posted 30/10/2017 at 19:05:53
Big Sam shouldn't be considered until late February at the earliest/latest. He's a last ditch throw of the dice and we aren't there yet.
Neil Copeland
445
Posted 30/10/2017 at 19:18:00
Colin, agreed in respect of Big Sam but we need a manager in place by mid Nov latest if we are to be properly prepared for the Jan transfer window. Hopefully, Unsworth will turn things around, despite some of the comments on here, I think he is starting to have some impact. He needs time though and by that I mean longer than 4 games.
I strongly suspect that he won't be given beyond the international break and the wheels are already in motion with a new manager here in November (my guess is it will be Tuchel or possibly Silva – despite his comments about being happy at Watford).
For what it's worth I don't think k we will be relegated either as long as we have stability by the end of November one way or another.
Paul A Smith
447
Posted 30/10/2017 at 19:21:26
I think Evertonians knocking Allardyce is pure cheek. And some of the reasons given are empty. One said have some pride. We signed Rooney back mate.
Getting caught telling the truth has done Allardyce no favours but board members making a profit while selling the fans prize asset is seen as ambitious. What a confused club we are.

Charlie Lloyd
448
Posted 30/10/2017 at 20:02:38
Andy @ 440
Fair enough I can't solely credit(!) Koeman. Walsh could take some credit fir that list of purchases I posted at 438 & 439.
Lamine Kone and Moussa Sissoko are 2 others that we "nearly got" who we can add.
It's a fact that a large contingent of our signings or targets all experienced relegation struggles recently.
Derek Knox
449
Posted 30/10/2017 at 20:05:23
What a turn around, we were all full of expectation a few weeks ago; myself included, and the fans generally have more than done their part.
Roll on a few weeks; we are in disarray, having overspent the long awaited Holy Grail Money; now we are talking about getting Big Sam in.
As Paul Smith so rightly said the Board have acted atrociously in all this; I just hope and pray something positive happens, and soon.
Frank Crewe
450
Posted 30/10/2017 at 20:23:30
Unsy play the kids eh? Didn't see Lookman or Vlasic on the park on Sunday. Yet the totally ineffectual Davies and Calvert-Lewin get game after game. Maybe he's playing the wrong kids.
Laurie Hartley
451
Posted 30/10/2017 at 20:59:56
Steve Ferns (#398) – regarding Barkley you said – "he cannot play as a striker."
You could be wrong. This is what he had to say on the subject in March 2015:
"I'm a striker. I feel I can have my greatest impact there because I'm free to roam around the pitch, take players on, have shots and create chances," he told Premier League World.
I don't know much about formations, double pivots, playing off shoulders, and running channels,etc. I just use my eyes, ears, and memory and on that basis I am sure if Barkley was fit and playing up front for us he would have a greater impact than Calvert-Lewin is having at the moment.
Seamus McCrudden
452
Posted 30/10/2017 at 21:28:54
Colin I think we are there now. A team that ships goals and cannot score is going down.
Colin Gee
453
Posted 30/10/2017 at 21:40:38
Joe #435
Josef Stalin? He knows a good left winger that fella. Wouldn't be any slacking with him in charge. If you had a shite game you'd be off playing for the second XI away at Vladivstock United on a Tuesday night...
Neil Copeland
454
Posted 30/10/2017 at 21:49:19
Colin, sorry mate, but have to disagree – I think it is actually Dinamo Vladistock.
Andy Crooks
455
Posted 30/10/2017 at 21:50:21
Raymond (#432), as Mike Green has kindly said, it is nothing to do with pundits. I have followed his career for many years. Watched him play in Ireland on numerous occasions. Was over the moon when he went to Everton. Was gutted, absolutely gutted, when he was sold (check out the Duffy goes to Blackburn thread).
I have followed his career since he left Everton and do not rely on MotD pundits to tell that he is much better than what we have.
Peter Mills
456
Posted 30/10/2017 at 22:03:11
We are 4 points away from the club in 20th place, and 4 points away from the club in 11th place.
We have just dismissed our manager, and appointed a caretaker who, whilst losing 2 games, has overseen 2 matches from which we could have got something.
This is not a time to panic. David Unsworth has taken on a squad with very little up front, and an aged defence. He also has the Rooney conundrum to deal with. He needs, and deserves, absolute support over the coming fixtures.
Neil Copeland
457
Posted 30/10/2017 at 22:05:44
Peter, spot on
Eric Paul
458
Posted 30/10/2017 at 22:12:28
Jason,
I think we have some special talent on our hands by I agree they need to be protected by being removed from "the fire". Why wasn't Kenny offered support and encouragement by the senior pros after the own goal.
Eric Paul
459
Posted 30/10/2017 at 22:18:18
Anyone who thinks Allardyce is the man for the job, read his autobiography and you will see what kind of man he is.
Paul Ritchie
460
Posted 30/10/2017 at 23:00:39
We have to stop shipping goals, we have the players for that if the manager (Unsie or whoever) gets them organised. Worse players than ours have been dragged into a formation and system that can shut up shop game after game.
Our problem is goals, and even come January, which striker of any calibre is going to sign for us? Does anyone have any thoughts because I can't think of anyone that's good enough who would actually risk joining us...
Sean McCarthy
461
Posted 31/10/2017 at 00:20:55
More than one on here have suggested Paul Clement as next manager. Seriously???
What has he done to justify such a suggestion?? Being Carlo Ancelotti's assistant has been followed by the sack by Derby and narrowly avoiding relegation with Swansea. I know he inherited a relegation battle with Swansea but he's hardly pulling up trees this season is he??
I'm all for looking far and wide to get the best man for the job, but Paul Clement??? No thanks!!
Denver Daniels
463
Posted 31/10/2017 at 07:19:32
Sean Dyche just about sums the club up.
Kim Vivian
464
Posted 31/10/2017 at 07:33:42
As Dyche is looking increasingly likely, interesting read if you've not already seen it.
http://www.bbc.co.uk/sport/football/41670800
Derek Knox
465
Posted 31/10/2017 at 09:51:18
For those knocking the wisdom of appointing Sean Dyche, I watched the Burnley v Newcastle game last night, and they had more attacking ideas than we did against Leicester, and they won.
While I have nothing against Rhino whatsoever, I think although it is early doors, he lacks the experience for a dogfight in the Premier League, Dyche has done this with very limited resources.
I know they got relegated the season before last, and he got them back up straight away, not many have done that.
Besides all this, who says that Dyche will take the offer, should one be made, they are 8th in the Premier League now.
Peter Gorman
466
Posted 31/10/2017 at 10:25:56
Interesting read that on Dyche, thought I'm not convinced we couldn't aim a little higher.
"the gaffer expects you to stand there and take the pain." – You know, right now I'd travel many miles to see the squad doing an open training session, just to see Williams and Co take a ball in the stomach or face.
Paul A Smith
467
Posted 31/10/2017 at 10:34:27
Sean Dyche looking very likely. How is he more qualified than Unsworth? Is it because he has had 5 years as manager and experience of dogfights?
If these are the reasons what happens if he gets to the upper part of the table? (If) Where he has no experience.
Obviously this is not every detail but how he is qualified to manage Everton I will never know?
Derek Knox
468
Posted 31/10/2017 at 10:38:41
Peter, didn't they think they were aiming higher, when they appointed Koeman? Look what happened there.
These allegedly high profile manager's don't come with any sort of guarantee; plus if things don't work out, it costs an arm and a leg to part company with them; in addition, that they would probably have let some players go; and brought others in who were no better, and on lottery wages.
With the likes of Dyche, you would know what you were getting from the off.
Jim Lloyd
469
Posted 31/10/2017 at 10:52:47
Paul, I think he's in the upper part of the table now.
Tony Abrahams
470
Posted 31/10/2017 at 10:58:29
Looking at football in this country now, it seems to me that the foreign managers don't really look at Everton as a great job, whereas the British managers still do.
We all want the best for Everton, but after Koeman, I think,it's a lot more important now, that we get a manager who understands what Everton, once were, and is going to put everything into trying to take us back there?
Kim Vivian
471
Posted 31/10/2017 at 11:29:41
You're right, Jim, and they're sitting in our seat!
Jim Lloyd
472
Posted 31/10/2017 at 11:40:44
That they are Kim!
Colin Glassar
473
Posted 31/10/2017 at 11:59:44
It's looking increasingly likely the board are going with the safe option, Sean Dyche.
I feel like this is a massive statement from Moshiri (if it comes to fruition) in that he has basically given up on the "project" and that the museum custodians are back in charge.
Kenwright has played a blinder here. He's stuffed his bank account. Neutralised Moshiri and has kept his iron grip on the club.
Prem safety, financial responsibility, occasional forays into Europe is the height of BK's ambitions. Forget the stadium, he probably thinks it's a waste of money anyway and could be better spent on paint, cladding and lawnmowers for The Old Lady.
I have nothing against Dyche per se. He will probably do a Moyesesque type job for a couple of seasons before he goes to a more ambitious club. One positive is that he's a squeaky voiced ginger, could he be Bally reincarnated?
Dermot Byrne
474
Posted 31/10/2017 at 12:09:41
I think we all believed we were the new Man City. Not sure Moshiri ever said that but maybe, just maybe, the ground is his baby and he will keep us in Premier League until then.
Then we go.
Long term strategy?

Ian Hollingworth
475
Posted 31/10/2017 at 12:32:53
Ring ring, ring ring.
CA "Hello Carlo speaking"
JW "Hi Carlo this is Jim White from SSN, my mate Moshiri has asked to ask if you would be interested in managing Everton FC"
CA "Everton, hmmm I see, whats the plans for the club."
JW "They are getting a new big stadium on the docks."
CA "good, which players are in the squad"
JW "Wayne Rooney"
CA "Rooney, good, I wondered where he went when he retired. Tell me who is the main striker"
JW "They sold him to Man Utd"
CA "Okay so who are the other 3 strikers"
JW "No they sold him"
CA "Him?"
JW "Yes to Utd"
JW "Carlo. "
JW "Carlo "
That could have been the last phone call of Moshiri's reign before Colin's scenario kicks in.
James Marshall
476
Posted 31/10/2017 at 12:44:14
Fucking Sean Dyche – just reaffirming that Everton are run by amateurs, and we're a tinpot club with zero ambition as always.
All we keep doing is appointing managers that will merely look to us as a step-up from their previous jobs. Same shit, different name.
Moyes, Martinez, Koeman, Dyche – every one of them coming to us from a lower league or a lower stature club. I'm fucking sick to death of Everton and their bullshit from top to bottom.
Aim fucking high for once!!
Seriously, I'm on my last legs here. Supporting this club is a monumental joke, and a lifelong affliction. Much as I hate to say it.
Charles McCann
477
Posted 31/10/2017 at 12:46:11
Sean Dyche is an excellent manager and I'd be very happy if we got him
James Marshall
478
Posted 31/10/2017 at 12:47:06
Also, this from Vlasic, which if true, just backs up the amateur nature of Everton.
Speaking to Croatian outlet 24 Sata, Nikola Vlasic has lifted the lid on what life is like at Finch Farm for Everton's players - and he says that the players can even have a full English before training.
He explains: "In the morning we have to be at the club at 8:30am, we all have breakfast together, then there is a short pause, then a meeting, then pause, training, lunch… We are at the club until 2:30pm and after that we are free.
"The story is exclusively about football, and everything else is a private thing. No one asks you what you are doing, where you were, when you went to sleep, what you ate… You come, do yours, and that's it.
The choice is really rich, you can even eat a classic English breakfast with eggs, sausages, beans and ketchup. I'm avoiding it as it's large portions, I don't know how to eat it and run before training. I keep with the proven, what I'm used to eating and at home, and only fish is missing. There is also fish here, but it's not as good as ours"
James Marshall
479
Posted 31/10/2017 at 12:49:43
Sean Dyche got Burnley relegated a couple of years ago!!
Why on earth are Evertonians so entrenched in mediocrity and failure!?!
Colin Glassar
480
Posted 31/10/2017 at 13:00:17
James, is it true that BK serves them brekky in an Everton apron then they have to listen to his boys pen stories?
This, if true, just underlines the amateurish nature of Everton FC and the unprepared clowns who run it.
Charlie Lloyd
481
Posted 31/10/2017 at 13:02:59
James @ 476
Ok you said aim high. Nothing wrong with that.
Just offer some names who we should aim high for.
Not wanting to second guess the illustrious list you may provide the question has to be:
Would they come?
How much salary do they want?
Motives?
It's not as simple as plucking the best coach out and expecting him to come as your probably aware.
Please offer some names though so at least we can debate their virtues.
Oliver Brunel
482
Posted 31/10/2017 at 13:08:25
Colin (473) sums it up nicely. I would go a step further and add that there isn't any real ambition (look at the crap players bought) and that Premier League survival (perhaps mid table mediocrity) is the total sum of all ambition. Nurture young talent then sell it off. Build a stadium then sell it off.
Anthony Flack
483
Posted 31/10/2017 at 13:13:19
Dyche would be a massive statement of intent - intent for mediocrity. It will be like Moyes all over again. Aspiring to finish in the top ten etc. Pen knife to gun fight etc.
The premier league does not demonstrate many or any successful examples of managers alike Dyche, moving from mediocre success to a bigger stage .
If staying up is a concern, big Sam every time

Colin Glassar
484
Posted 31/10/2017 at 13:22:52
Anthony, Dyche will probably get a 5 year contract, have 1-2 middling seasons then get the boot with a massive pay off. Only then will the Moyesiah return to BK's promised land.
Tony Hill
485
Posted 31/10/2017 at 13:32:27
None of us has the faintest what any manager would do. Most of us thought Koeman would be great and he was shit. There are so many variables.
We're at the stage where all we can do is turn up and hope for the best. I've said my bit as to why I think Allardyce should get the job now, but we're all guessing.
Close your eyes and hold on to your hat.
Bobby Thomas
486
Posted 31/10/2017 at 13:42:51
After the amount we have shelled out on sacking, acquiring, and then sacking managers and back room staff in the last 18 months to 2 years, there is no way the new manager will be given a 5 year deal.
Bill Gall
487
Posted 31/10/2017 at 13:54:41
It comes to something when a club with a supposed ambitious new owner is even considering the names of some managers being put on here. At the start of this season we were looking to get into the top 6 and now we are talking about bringing in a manager to save us from relegation, or one to send us back to 6years ago, or one who is keeping a small club in a decent position.
Also in the race we have a manger who does not need the job and has took a year off, a manager whose has just failed to make the world cup, and never achieved anything in the premier, and a manager with a London club who after 10 games is doing ok with a team that we should be beating on the weekend.
Would as is the rumor ,Everton may be going for Burnleys manager. am I wrong in believing that our beloved chairman has to ask for permission from the chairman of Burnley to speak to their manager, and would you as chairman of Burnley allow him.
It looks to me that the only available manager is the one from Germany, but does any one believe he would come to a struggling club, even though he done it before.
Colin Glassar
488
Posted 31/10/2017 at 13:57:12
I would hope they have learnt their lesson Bobby ie ironclad performance related clauses, minimum targets etc... The last two clowns have cost us £20m in severance pay I believe.
We could've bought Giroud's missus a private jet (for travelling between London and Merseyside) for that.
James Marshall
489
Posted 31/10/2017 at 14:03:18
I'd be going for Tuchel, he's available and fits the profile for a young European manager in the same mould as Klopp, David Wagner, Pochettino and Marco Silva.
We need to go for a European manager in my view, since pretty much every player now understand the European way of playing - English football is in my view, dead, and the PL is a European league.
All this 'up & at em' stuff is entirely 20th century, much like Everton. We need to move on and catch up.
Soren Moyer
490
Posted 31/10/2017 at 14:07:15
Oh dear god please, no! Not another ginger!
Stephen Davies
491
Posted 31/10/2017 at 14:08:59
Tony # 485.
All the rumours are pointing to the board meeting with Sam in the next 24 hrs.
What a sorry mess we have become.
However, beggars cant be choosers and were certainly at the point where we are holding the bowl now.
Moshiris first instinct will be to protect his considerable investment and he has to choose the best way to do that avoid relegation !
At the moment I cannot even see us beating Crystal Palace and they are only 4 points behind us !!
No team will be afraid of playing us and we are in an extremely perilous situation .we leak goals easily and rarely score goals...a recipe for disaster.
Its now come to a situation when tough decisions have to be made and I think ( sadly) that decision will be to bring Allardyce in.
Sadly because the project that was lauded in the beginning is for the moment now dead. ( or at least in a coma)..the question is how long will the contract be?
The board will probably want as short as possible contract, the trouble is Allardyce will want as long as possible contract and we will more likely get something in the middle.
He will want to bring in his own backroom staff and all that team of sport analysts etc but one thing is almost guaranteed is that he will keep us in the PL, which at this time is the very most important thing for this Club...no ifs or buts.
Lots of fans will be upset and there will be much cursing, wailing and knashing of teeth but suvival has to be the prime goal here
I maybe wrong..and I hope I am but as always, money talks .and Moshiri didnt become a billionaire by letting his investments slip away as a result of not protecting them and he will protect them at all costs.
What a mess !!
James Marshall
492
Posted 31/10/2017 at 14:15:27
Personally I would have no problem with Allardyce on a deal till the end of the season - keep us up (although I'm not convinced we're in a relegation fight YET) and then pass the reigns to Tuchel.
This is obviously all pie in the sky anyway, but I'd be OK with that scenario. Sean Dyche is an almighty thanks but no thanks from me - much as I enjoy his interviews and his Burnley team, he's another loser which is exactly what we don't need.
Kim Vivian
493
Posted 31/10/2017 at 14:19:34
James - whats your lunchtime tipple, mate? You seem to have calmed down a (wee) bit in the last hour or so since 12.44. I'll have a glass of that.
My two pennyworth - I think Dyche would be an ok choice for the backs to the wall survival plan but not sure how he would fit with the long term progress, and Tuchel may be the better man for that although I am concerned about his personality as reported and diplomatic failings within his own organisation.
From our (the fans) point of view it is a bit of a lottery and we will have no say so I am not going to work myself into a stew, and just trust that the man we bring in can do a job. The only suspect I can think of that would fit James' remit (@ 476) who MAY be available would be Rafa, but I think it is unlikely he would be persuaded to jump ship from Newcastle to come here. Maybe a return to 'Them' if Klopp was to go, but I would not be too disappointed if we did make an approach.
In the meantime I anticipate we will hear something more definite by the weekend.
James Marshall
494
Posted 31/10/2017 at 14:29:00
Ha! Kim, I'm teetotal - I just got a bit of a bee in my bonnet over all this for a while back there. I'm a bit calmer now...
You're entirely right about it being a lottery - right place, right time, right players, right fit & all that. You never quite know and none of us are right or wrong in that respect.
Opinions/arseholes.
Kim Vivian
495
Posted 31/10/2017 at 15:03:30
Me too, actually James. I knocked it on the head back in Jan for health reasons and stuck with it. Becoming an expert now on 0% beer and lager but sadly not an expert when it comes to football coaches/ managers or whatever they're called these days!
My motto these days - "I'm not calm - get me a fucking coffee"
Derek Knox
496
Posted 31/10/2017 at 15:25:50
James @478, re: the post on Vlasic and breakfast, it wouldn't durprise me if Rhino and Ashley Williams had their own plus Vlasic's, then sent him back for another one.
Would explain the lethargic defending, and Rhino looking like he had eat himself.
Raymond Fox
497
Posted 31/10/2017 at 19:29:19
Andy 455, in that case mate accept my apologies.
He certainly wouldn't find it difficult to be superior to our present centre halves.
Mike Gwyer
498
Posted 31/10/2017 at 21:04:25
What a total mess this great football club is in. Back in June it was all the chat about top 4 then we go and spunk 150 million on utter shite, stick with two CB's and LB who are obviously past it and worse, by a zillion fucking miles, we start the season with NO experienced striker. Well you think it can't get worse. Allardyce?? Seriously??
Paul A Smith
499
Posted 31/10/2017 at 21:53:30
James 478 your total right mate don't be annoyed with yourself. The big name theme seems to have died as quick as a top 4 ambition.
I have shown bags of frustration on here and at times been hostile maybe? But I got so annoyed with the con of 'nothing will be the same' when it was clearly doing business no differently to the previous windows.
To see amazing die hard supporters suckered in by it has drove me mad for ages and I know on here there are some people giving everything to Everton.
Its about time the club gave that back.
I stick by my opinion that a DoF at the club will cause confusion at the club.
If I was ever to employ Moyes again and we were definately sticking with that role I would employ him as DoF. (After a slap).
Otherwise I wouldn't have anyone. How many times are a manager and DoF going to have to compromise?
Obviously some things will go smoothly but the amount of times I hear of DoFs falling out with managers makes me realise the real reason they are at a club.
Ie Monchi. ( the king of sports directors) is simply a book balancer.
Brian Porter
501
Posted 01/11/2017 at 06:25:23
With all that's been happening since Koeman's sacking, why has Steve Walsh apparently come out of all this without his role in our current situation being questioned?
I have never been an advocate of the concept of a Director of Football.. After all, doesn't the manager actually 'direct' the football played by the team? What exactly does Walsh do? If the DOF is nothing more than a chief scout, why give him such a grandiose job title?
We should, in my opinion, be apportioning a considerable share of the blame for our plight on Walsh. Didn't Koeman himself say that he was not involved in transfers? That was Walsh's department. If so, what the hell was Walsh doing in Italy for three weeks, apart from running up expenses for hotels, travel, match tickets, hospitality etc etc? I fully expected him to return with one or two stars of Serie A in the bag, but he came back empty handed. Three weeks wasted when he should have been on his bike seeking striker or two.
Why can't we have a manager who manages? Why do we need this extra level of beaurocratic nonsense with its idiotic misnomer of a title?
The signings we have made, presumably on Walsh's watch are among the reasons we are now in our current predicament. So I say again, why is Walsh seemingly not being held to account for his part in this sorry debacle again, do we really need a Director of Football?
Will Mabon
502
Posted 01/11/2017 at 06:42:44
"
Why do we need this extra level of beaurocratic nonsense with its idiotic misnomer of a title?
"
Seems that's the way of things now, almost across the board. Tinkering and bullshit. Change, change, change... and if that doesn't work - change it.
Soren Moyer
503
Posted 01/11/2017 at 13:38:07
Being linked with Nuno Espírito Santo of wolverhampton now. Better option than Dyche imo.
Tony Williams
505
Posted 01/11/2017 at 14:14:21
If it's true that they are even considering Allardyce then it's all over.
Terry McLavey
506
Posted 01/11/2017 at 14:49:01
All we need is for two teams to be worse than us and we go down, three teams and we won't.
Can anyone name three teams worse than us? I can't, so let's stop kidding ourselves that we are too good to go down with what we have seen this season.
Derek Knox
507
Posted 01/11/2017 at 15:44:41
Soren, with all due respect mate, I had never heard of Nuno Espirito Santo, until a couple of weeks ago; co-incidental with Wolves' good run of games.
I don't think I am the only one either. I thought it was part of a Catholic Ritual.
While I understand everyone is entitled to their opinion, Dyche has been around for at least 5 years, 4 in the Prem.
Maybe that guy is the answer, who can say for sure, but he could be Johnny on the spot, it's whether he can remain on that spot for a sustained period of time.
Soren Moyer
508
Posted 01/11/2017 at 16:51:45
"I thought it was part of a Catholic Ritual."
Nice one Derek lol.
Colin Glassar
509
Posted 01/11/2017 at 17:01:49
Why not Derek? We've already had The Holy Trinity before so why not get The Holy Spirit as well?
Neil Copeland
510
Posted 01/11/2017 at 17:30:25
We are going through Holy Hell at the moment!
Paul A Smith
511
Posted 01/11/2017 at 17:51:55
Brian 501 I have similar worries mate. You hit the nail on the head with your director of football who never directs the football.
Barton called Unsworth a glorified PE teacher and Walsh actually was one.
Neil Copeland
512
Posted 01/11/2017 at 18:12:19
I think the other problem with the DOF role is that it provides a ready made get out for the manager in respect of transfers. Koeman tried playing this card a number of times.
I agree with the posts above that it is none sense for the manager not to be in charge of transfers. How else is he going to take ownership for the team he puts out? In some ways I am not surprised that Koeman went missing on deadline day, he probably felt he wasn't needed. In his mind I think it also gave him the get out I refer to above.
We should scrap the DOF role in my opinion as part of the new manager appointment regardless of who that is. If Steve Walsh is not happy with that then give him his cards. The sooner we get the club structure better balanced the sooner we start moving forwards.
Steve Ferns
513
Posted 01/11/2017 at 18:30:21
We never had a Director of Football, and the position was implemented at Koeman's request. Why? Because Koeman always left Finch Farm at 4.00pm. He kept business hours working 8am -4pm on training days. He'd then go play golf of an evening.
By having a director of football, someone else can do his bidding in negotiations and the like. He can say go get me Giroud and then it's up to the DoF and takes away some accountability.
We cannot fathom how good or not Walsh is at his job until a number of years have passed. We need to judge him on his youth signings, and he's made a load, as these players are the ones that are definitely his and are exactly who we paid him to find.
Walsh is not just Mr Kante, Vardy or Mahrez. He has had a long career. He worked for Chelsea under Mourinho and he is the one who found Drogba. He found plenty of others too. They guy's talent spotting is beyond doubt.
As to whether he is up to the job of DoF and not just Chief Scout, only time will tell. But I do think it is time to move into the 21st century and take deals out of the hands of managers. Do we really need Davie Moyes, Robert Elstone, The player, and the player's agent sat down discussing how much he will get for being an unused substitute? That's not really the manager's business. The manager should focus on coaching the side, he should make the final decision on the player, he should be aware what the budget for transfers and the budget for wages is and he should be able to consider this as a whole when making his decision on players. Such as Koeman saying he would have to make do without a striker until January rather than going for target number 5, 6 or 7, knowing that would mean they could not go for a different big name in January because the money was gone.
The Director of Football is here to stay. But really we should call it the General Manager like in American sports, and refer to the "manager" as the head coach.
Neil Copeland
514
Posted 01/11/2017 at 18:56:22
Steve, the way you describe the DOF role makes more sense to me now - thanks. I remain sceptical about the real need for it but I can see why it is there (hope that makes sense).
It maybe as simple as getting hung up over job titles, I agree that being called a General Manager seems more appropriate.
There needs to be some onus placed on the manager by the club such that it is not acceptable for him to go and play golf on deadline day. If we are to persevere with Steve Walsh's role then the managers contract needs some sort of clause including in it.
Steve Ferns
515
Posted 01/11/2017 at 19:02:03
You're Welcome Neil.
It seems that we were spoilt by the work ethic of Moyes and Martinez, because love them or loathe them, you cannot criticise the devotion they gave to the club. Both reported worked 12 hours a day minimum for 6 days a week. On transfer deadline day both reportedly slept at Finch Farm and worked around the clock to get things done.
I could never really warm to Koeman, and I bet even now he has no idea of our history. We're all mad Evertonians and it means everything to us. and for me, the man getting £6m a year should care that little bit more than he did.
Neil Copeland
516
Posted 01/11/2017 at 19:06:20
Steve, yes agree 100%. The answer lies somewhere between the worth ethic of Moyes/Martinez and business like approach of Koeman. I don't want us to overwork the manager, he needs a clear head and to be kept as fresh as is possible but he also needs to earn his keep. More involvement from Koeman would have helped his cause IMO.
Steve Ferns
517
Posted 01/11/2017 at 19:23:46
I just wish Everton showed more training than slow mo of players jogging and two minute video of players running diagonals and laying it off. It's impossible to judge a manager's coaching ability other than make assumptions based off what you see on the pitch.
Ash Moore
519
Posted 01/11/2017 at 19:28:38
I don't think it's a case of us being "spoiled" Steve (#515). I think it's a case of a high profile, extremely well remunerated job receiving the effort it deserves. There's only twenty Premier League managers in the world at any time. It's a club you probably would give you all to stay in.
You hit the nail on the head with the history bit though. Koeman didn't give a shit - and with his playing background I see why - and it pissed me off no end. I wonder about Mosh too - references in program notes about undersoil heating notwithstanding.
Paul A Smith
520
Posted 01/11/2017 at 22:29:18
Steve 513, found Drogba? You can't be giving credit for finding players that are well known surely?
Watford can pull a 20 year old Brazilian out the bag, Steve Walsh is no one off mate.
I do believe a manager should be focused on his own signings and sit down with them. Its never done Wenger and Ferguson any harm.
Steve Ferns
521
Posted 01/11/2017 at 22:31:24
He wasn't well known though.
Steve Ferns
522
Posted 01/11/2017 at 22:33:17
In those days we were looking at Zola but he was already an Italian international. You still had to make a call. I went to watch Didier Drogba at Marseille and I had seen him before when he was at Guingamp in the lower leagues. I was asked, 'What do you think of him?'
"But it was someone else's call. It was only when I left Chelsea and became chief scout at Newcastle that it became my responsibility to make the calls. It's difficult the first time you do it because you are spending an awful lot of somebody's money and there is the big expectation that fans have."
At St James' Park Walsh took up the position of chief scout under Sam Allardyce. He later became assistant manager and head of recruitment at Leicester City, then Hull City alongside Nigel Pearson, returning to the King Power Stadium in 2011.

Paul A Smith
523
Posted 01/11/2017 at 22:35:17
Drogba wasn't well known. Not if you solely English football.
Do you not think Moyes knew of Drogba at Guingamp?
Steve Ferns
524
Posted 01/11/2017 at 22:44:10
Moyes has an excellent scouting network. He knew of several players long before they made it. So I would expect Moyes knew about him.
The key thing though. Was Drogba had never scored with regularity. There was no evidence that he was not just hitting a hot streak. He also was not young. He suddenly came of age and became prolific, moved to Marseille and moved to Chelsea both in a short time and never looked back.
Drogba was a big call and no one else was making it because they thought he was a flash in the pan and it wouldn't last.
Paul A Smith
525
Posted 02/11/2017 at 06:42:00
Steve I think thats madness. Drogba single handedly destroyed Liverpool the season before Chelsea signed him.
The fee at the time made it clear he was a top player.
You don't buy a 'find' for 24 million mate.
Have a look where some of Wengers signings started out.
Le harve had players make 2 or 3 leaps in short time it happens all over Europe.
---
Add Your Comments
In order to post a comment, you need to be logged in as a registered user of the site.
Or Sign up as a ToffeeWeb Member — it's free, takes just a few minutes and will allow you to post your comments on articles and Talking Points submissions across the site.
© ToffeeWeb