Report
Opportunistic Niasse helps secure a crazy point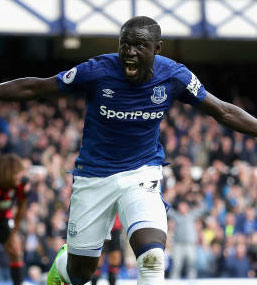 Oumar Niasse spearheads the attack again after his crucial goalscoring intervention last time out against Watford
David Unsworth dropped Davies and Rooney to the bench for today's vital game at Crystal Palace.
Gueye and Schneiderlin are reunited as the defensive blockers in midfield, while Williams continues to kick his heels on the bench. There is no place for Beni Baningimie in the squad.
Everton fell behind in farcically in the first minute. Straight from kick off the hosts attack as Ruben Loftus-Cheek's shot is parried by Jordan Pickford straight to James McArthur, who taps in from close range.
In a nothing challenge at the other end, Niasse runs into Dann, falls over, and wins a penalty! And Baines slams it home from the spot!!! What a crazy start to such a crucial game.
Nasse got a chance to walk the ball in on Speroni but could not produce a finish. Keane did well to pick out Lennon wide right who beat his man and whipped in a good cross but it was cleared.
It was pretty much rubbish football to watch at times: stupid fouls, poor ball control, no structure, no fluidity, no joined-up football.Everton gave up a couple of corners, Townsend's overhit orner poorly summing up the absolute lack of quality.
Palace were seeing more of the play but a turnover saw Niasse advancing clumsily down the left until he felt a tap on his ankle and fell over again, this time earning a yellow card for Milivojevic. But nothing came from Sigurdsson's free-kick.
McArthur was given another chance to score but Pickford had his shot well covered. Lookman was keen to get involved but could only foul his man. That saw Crystal Palace simply waltz through the non-existent Everton defence, a simple tap-in for Zaha after a sharp cross from Ward on the right, Baines nowhere to be seen.
Niasse finally went in the book for faking it when he jumped up with and fell again far too easily. Palace almost walked it in again as Everton rocked back, looking devoid of any ability to take a grip on proceedings that were rapidly going pear-shaped.
Everton won a corner when Dann headed behind needlessly. It was delivered well enough by Sigurdsson and Lookman fired in nicely on the turn but it was always rising beyond the goal. Keane was booked when Loftus-Cheek turned him well, Cabaye thankfully wasting the free-kick.
Another moment of craziness gifted Niasse a goal, Speroni giving Dann a hospital ball with Gueye in quickly to dispossess him and Sigurdsson poncing on the pass, playing in Niasse who took the chance very well, making him Everton's top scorer with SIX! Farcical football in all quarters of the field.
Unsworth made two changes in response to what he was seeing, Calvert-Lewin replacing Lookman, who had struggled, and Davies replacing Schneiderlin, who again had done nothing. But his charges still strugled with the home side outplaying them again at times.
Niasse fouled Cabaye very poorly from behind... (second) yellow card all day long, but Taylor remarkably let him off. Kenny was also looked upon kindly after a couple of crude fouls in quick succession. Palace continuing to present problems, getting forward and winning corners with Everton penned back.
Calvert-Lewin pressured Sakho, wining the ball, getting fouled, earning the Crystal Palace player a yellow card, and winning a dangerous free-kick for Sigurdsson, but nothing came of it.
At the other end, aggressive play by Davies earned him a yellow card and gave Palace a similar opportunity, blocked by the Everton wall. Meanwhile, Everton won some more corners, but could not fashion a direct chance on goal.
Palace were working harder to create openings and it required some stern defending from Everton to contain them with the minutes ticking away. Everton's counters were spirited but lacking in guile and easily thwarted. Sandro replaced Lennon for the final 15 mins.
Benteke came on and was set up well to strike but fumbled his shot wide. Kenny put in a brilliant cross in the last minute of normal time but Sandro got underneath it, At the other end, Benteke fired straight at Pickford, who punched it away.
Crystal Palace: Speroni, Ward, Dann, Sakho, Schlupp, Loftus-Cheek, Cabaye, Milivojevic [Y:32'], McArthur (75' Benteke), Townsend, Zaha.
Subs: Tomkins, Hennessey, Souare, Fosu-Mensah, Sako, Puncheon.
Everton: Pickford, Kenny, Keane [Y:45'], Jagielka, Baines, Schneiderlin (46' Davies [Y:65']), Gueye, Lennon (76' Sandro), Sigurdsson, Lookman (46' Calvert-Lewin), Niasse [Y:36'].
Subs not Used: Robles, Williams, Rooney, Martina.
Referee: Anthony Taylor
---
Reader Comments (339)
Note: the following content is not moderated or vetted by the site owners at the time of submission. Comments are the responsibility of the poster. Disclaimer
John Pierce
1
Posted 18/11/2017 at 14:17:18
All players in their right positions. A platform for a performance.
William Cartwright
2
Posted 18/11/2017 at 14:34:35
Logical team sheet; hope Schneiderlin puts in a shift alongside Gueye. If he does manage to take on board the deep-lying creative midfield role it would be good for the whole team. We have really missed Barry. COYB
Steve Little
5
Posted 18/11/2017 at 14:37:42
I like the look of the side as long as Sigurdsson performs.
Today, we will see what you get for 㿚 million.
Dave Williams
6
Posted 18/11/2017 at 14:38:11
A perfectly balanced selection and interesting that Schneiderlin is selected after the stories last week.
This team should allow Sigurdsson to play his natural game... Here's hoping!
Mark McParlan
7
Posted 18/11/2017 at 14:39:52
I've no major opposition to the back 4, but I'll still maintain that Williams should be playing ahead of Jagielka.
I wouldn't have played Davies on his performance last week, so there's no real alternative to Schneiderlin and Gueye, unless we give Klaassen another chance to prove himself.
There's no need to play Baningime at this point. Still don't see why we persist with Sigurdsson, and especially when over Rooney, our top scorer this season. Sigurdsson does nothing.
Starting Lennon and Lookman on the wings is a damning indictment on our summer transfer policy, they're both poor players, but we've no choice other than to play wingers as we simply cannot create chances without them.
I personally would have started Calvert-Lewin over Niasse, because Niasse only seems capable of scoring or doing anything in the second half of games, he's best used as a 60-minute sub for me.
Brian Wilkinson
8
Posted 18/11/2017 at 14:43:56
Looks a decent line-up put out there. I always think Niasse plays better coming off the bench but fingers crossed he does it from the start today.
Cannot keep giving teams a goal start, heads in front and hopefully everything will click into place.
The longer Benteke stays on the bench, the better.
Ciarán McGlone
9
Posted 18/11/2017 at 14:46:26
Not sure what Sigurdsson's done to merit his inclusion. People have been heavily critical of Rooney, but he's been head and shoulders above our record signing.
Baningime should've been in ahead of Schneiderlin.
Ajay Gopal
10
Posted 18/11/2017 at 14:51:03
The comments above show that you just can't please everyone! :-)
I like the look at of the team – Rooney and Calvert-Lewin coming on in place of Niasse and Gueye in the later stages of the game. Another opportunity for Kenny.
COYB!
Paul Kossoff
11
Posted 18/11/2017 at 14:51:36
Behind the couch for me. Palace have pace to burn and we have a slow defence who get caught out repeatedly. We have to go right at Palace and hope they crumble. Super Kev should have started. Palace have two ex-RedShites also. A must-win for the Blues.
Clive Rogers
12
Posted 18/11/2017 at 14:58:31
The front three don't look good enough to me. What does he see in Lennon?
Brian Williams
13
Posted 18/11/2017 at 14:59:16
Lookman a poor player? Ffs... talk about ignorance!
Dennis Stevens
14
Posted 18/11/2017 at 15:04:54
Good shape, people seemingly in their rightful positions, just hope the selection is right & the buggers get their collective fingers out & perform.
Phil Smith
15
Posted 18/11/2017 at 15:07:44
Keane is utter shite.
We got lucky there with the penalty. Soft.
Raymond Fox
16
Posted 18/11/2017 at 15:11:36
No real argument with team selection.
It doesn't inspire me with much confidence though looking at it. That's as far as winning is concerned, we have too many okay players!
Justin Doone
17
Posted 18/11/2017 at 15:34:50
I can only presume Davies is not fully fit and Beni is injured because Schniderlin had been awful all season. Get rid.
Steve McNally
18
Posted 18/11/2017 at 15:40:21
Problems persist. Getting beat by Palace, who are rooted at the bottom of the league, with just one win all season. Everton need to up the anti for the rest of this game; otherwise, the good work done against Watford will be in vain.
Justin Doone
19
Posted 18/11/2017 at 15:46:22
We can't defend. Everyone knows it. I know Unsworth likes a back 4 but but we need to play 5-4-1 every away game.
Happy for Lookman but wrong formation and time to just throw him in against a team with real pace and skill on the flanks that he's needs to track back constantly.
I wouldn't have William's in the squad, that's how poor he is.
Ciarán McGlone
20
Posted 18/11/2017 at 15:49:29
This Vlasic disappearance is worrying.. we need our best players on the pitch, not on the bench or excluded completely.
On a side note, Michael Keane is playing like he's had a lobotomy.
At 2-2 we are second-best in all departments.
John Graham
21
Posted 18/11/2017 at 15:52:59
I thought the team looked okay. Disappointed that Vlasic didn't make the bench. Why we need Rooney, Sandro and Calvert-Lewin on the bench, I don't know... There doesn't seem much variety with midfield options.
Just hope we can have another good second half.. Fingers crossed.
Jay Wood
22
Posted 18/11/2017 at 15:54:53
Well, thank the heavens for Niasse!
He may be technically limited (and with each passing week, even that label may be misplaced), but by 'eck he puts a shift in. He is the only one showing any sort of zest or energy out there.
It is thanks to his tireless chasing of seemingly lost causes that we got our 2 goals.
Otherwise, what another totally insipid half by Everton.
Do any of these players actually CARE???
John Smith
23
Posted 18/11/2017 at 15:56:44
Can someone please teach Pickford to hold onto the freaking ball. Drop him and give Robles a go.
And I'm glad Niasse is being given a go. It looks like he should score a goal this game.
George Cumiskey
24
Posted 18/11/2017 at 15:58:36
How the hell did Schneiderlin get selected? He's been awful, and if he doesn't take him off at half-time, I'd sack him.
What's happened to Vlasic? He's got to be a better choice than Lookman.
Andy Crooks
25
Posted 18/11/2017 at 16:02:33
This could end up 7-3 to palace. They are poor but we have the worst defence in the league.
Eddie Dunn
26
Posted 18/11/2017 at 16:03:49
Michael- love that..."Sigurdson poncing on the pass"!

Jay Wood
27
Posted 18/11/2017 at 16:05:39
You may be right there Andy.
No team has to work really hard to create chances or score against us. We are shambolic defensively all over the park, not just the back four.
Phil Smith
28
Posted 18/11/2017 at 16:36:49
Lennon? Seriously? He's been one of our best players!
Surely Niasse had to come off as he's off if he does anything at all now.
Ciarán McGlone
29
Posted 18/11/2017 at 16:41:22
I'm afraid Unsworth is failing his audition with his decision making in this game. Bringing Sandro on before Rooney is insane.
Phil Smith
30
Posted 18/11/2017 at 16:54:37
Good point in the end. Palace were good. We weren't.
Ray Roche
31
Posted 18/11/2017 at 16:55:15
Ciaràn McGlone
I thought Sandro did well when he came on. Were you watching the game?
Charles McCann
32
Posted 18/11/2017 at 16:59:12
Very poor performance. Surely that's the end of Unsworth as manager. Lucky to get a draw against bottom of the table Palace is not good enough.
As much as I like Unsworth for his passion, his tactics are wrong. Constant long balls being lumped up the field will get us nowhere. Dyche, Howe or Silva in asap.
Max Murphy
33
Posted 18/11/2017 at 16:59:15
As I predicted - Pickford not good enough. Another dud signing. He should be dropped.
Jay Wood
34
Posted 18/11/2017 at 17:00:34
Yippee!
I'm relieved to get a point from this game.
To Palace.
Bottom of the table.
With just 4 points from 11 games before today.
One solitary win.
4 goals all season until today.
Honourable mentions to Niasse, Kenny (even though he cannot be fully exonerated for the 2 goals conceded) and Sandro, who brought some sparkle up front when he came.
But, bejayzus! There's a LOT of work needed to turn this group of players around.
Steve McNally
35
Posted 18/11/2017 at 17:00:59
Abject. We're definitely one of the candidates to go down. I really don't believe Unsworth can make a big difference with the players at his disposal (not his fault) but, we need someone in asap to get the very best from every player to maintain our top flight status.
George Cumiskey
36
Posted 18/11/2017 at 17:02:43
If Unsworth gets the job till the end of the season, he will take us down without a shadow of doubt. His team selection and tactics were awful.
It shows you what type of club we are, we spent £140 million in the summer and we still need a major overhaul.
Kenny was my MotM with Niasse a close second; the rest were abysmal.
James Stewart
37
Posted 18/11/2017 at 17:03:33
Consistently awful.
The Sandro sub sums Unsworth up in a nutshell. Clueless. Cruel to keep him at it any longer.
MAKE AN APPOINTMENT!
John Pierce
38
Posted 18/11/2017 at 17:05:55
Lookman was a victim of our tactics: when you play that deep very few players can affect the game 60 yards from goal.
The lad had the ball twice in the final third and got a shot off both times. It was awful in the 1st half.
When we pressed for 10 mins after half-time, we looked good, Calvert-Lewin should have buried his chance, no excuses there.
Davies's yellow card signalled the end of that, he has no idea how to play on a yellow. Completely neutered, he faded out of the games as did our fleeting influence
Both Kenny and Lennon were good without the ball today. Kenny is levelling out now, and just defending. Although his cross in '89 min was delicious.
It was almost 4-4-2 for a while in the 2nd half, it was limited but stemmed the tide. Desperate stuff.
Bill Griffiths
39
Posted 18/11/2017 at 17:06:08
As much as I love Unsie and desperately want him to succeed, I have to say he hasn't impressed me greatly so far in his team selection and tactics.
Saying that, I think that if anyone else did come in now, they would find it extremely difficult to turn things around with this current squad of players.
Whether it's Unsie or anyone else, I think we are going to have to grin and bear it until at least the January window.
Brian Williams
40
Posted 18/11/2017 at 17:06:39
How the fuck have we become so bad???
Matt Muzi
41
Posted 18/11/2017 at 17:09:23
As if that game wasn't worrying enough, just looked at the table & I can see us being well & truly in the bottom 3 by Christmas if something major doesn't happen!
John Graham
42
Posted 18/11/2017 at 17:12:16
Not good enough. We desperately need a new manager. Why are we waiting... Why are we waiting?
We were outplayed for much of the game and without Niasse, who tried his heart out, it would have been another disaster.
We've got to get someone in to focus the players and improve the tactics. I hope we will hear something within the next couple of days, then we can stop having so many worrying weekends.
Peter Gorman
43
Posted 18/11/2017 at 17:18:05
Martinez and Koeman
Lawrence Green
44
Posted 18/11/2017 at 17:18:30
Brian (#40),
We have become so bad because we've been on the slide for almost 4 years and we've forgotten how to defend properly. Unsworth is taking a little bit too much flak for my liking, what did people expect him to do with this squad?
Did the team show a desire to battle? Yes? Did they pick up a point from a game that they probably should have lost? Yes. Is it going to change the general ability of the squad? Probably not, but I'd rather be picking up points than not, even if they only come from draws.
The players, most of them, at least showed they are prepared to dig in even if they still suffer from the same issues that have affected them over the whole campaign.
Unsworth is likely not the answer but, then again, who is?

Pete Clarke
45
Posted 18/11/2017 at 17:19:06
Well... that was shocking.
Sigurdsson has just slotted in with an average bunch of players.
Geuye does not know how to make a simple pass.
Keane is looking like he's never played football.
Calvert-Lewin should have put his foot through that chance and bust the net.
Pickford needs to stop hoofing the ball and also try holding onto it it from farty shots.
A valuable point in our relegation battle but a terrible advert for where the club stands in the football world.

Bill Gienapp
46
Posted 18/11/2017 at 17:20:00
The negatives speak for themselves. Can't keep a clean sheet. Can't win on the road. Were dominated for long stretches by a club currently in last place. Allowed a goal in the opening minute to a team that's been held scoreless in nine of their first eleven matches.
But... we did come from behind twice (albeit via a dubious penalty and a moment of madness from the Palace keeper, but still)... and kept a clean sheet in the second half when Palace had us under siege and the crowd were fully behind them. This team definitely has some fight in it.
I'm actually surprised Palace have been so wretched – they have some legitimate firepower in that squad.
Christy Ring
47
Posted 18/11/2017 at 17:20:39
Sad to say, but I was relieved to get a point against the bottom team. I thought Sandro did well, but we are totally lacking confidence. We need a new manager, but you can't fault Unsy, he inherited the most unbalanced squad in the Premier League.
Tony Marsh
48
Posted 18/11/2017 at 17:26:38
Unsworth is not up to it at this level. I called for him to be given a go but it was pretty obvious early on he hadn't a clue and was pretty Koemanesque in his application. Today's line-up was pathetic.
If Unsworth stays, he must get rid of the 2 holding midfielders, play Niasse and Sandro together for a decent run of games. Get Vlasic involved and try and get a settled side. That's for starters.
Alex Mullan
49
Posted 18/11/2017 at 17:26:38
We keep getting let off by the opposing team bottling it.
Peter Jansson
50
Posted 18/11/2017 at 17:26:50
Stop talking bullshit that it was madness to get Sandro on. Sandro was pretty good and should be played much more often.
I personally think they never should start with Schneiderlin and Gueye. They are both useless at playing football. We will always look like a mediocre team with these guys in the midfield. Gueye cannot make a simple pass forward. The only thing he can do is to win the ball and pass it backwards or sideways. You cannot even think about trying to dominate against any team with that level of useless offensive skills in the midfield.
You can say what you want but Crystal Palace have some good players in their squad. If we have underachieved this season, Palace have done so as well.
Tony Marsh
51
Posted 18/11/2017 at 17:29:35
By the way, a few weeks back, I was getting pelters on here for saying Gueye was shite and no way should we offer him 5 more years contract. Were are you who backed him now?
Gueye is totally useless as well as Schneiderlin.
Steve Barr
52
Posted 18/11/2017 at 17:30:20
It's not so much the team selection and decisions regarding the subs that have me so concerned as the complete lack of fight and spirit – which is the least we all would have expected to see when Unsworth was appointed.
Today's performance carried on from where we've been all season and before, with no real attempt to go forward and pressurise the opposition for a full 90 minutes. We just sat back throughout, inviting trouble. We were very lucky that Palace were nearly as poor as we were, except for Zaha and Loftus-Cheek, both of whom I would welcome at Everton any time.
On top of all that, we still do not have a single leader on the pitch!
Anyway, I'm coming home from the USA for a week at the end of November and have timed it badly two home games; v West Ham and Huddersfield!
Dare I hope to witness two wins after what we have seen of late?
Lev Vellene
53
Posted 18/11/2017 at 17:30:51
Sandro was not bad! I think Niasse is a Lord of Chaos, I always expect we might get one stumbled in if he's on the field!
Cudos to Unsworth for starting with Lookman and Lennon! We still need Vlasic in! If he was good when the rest sucked lately, I have to assume it's only Unsworth sticking with the players he knows, while tentatively widening that selection!
Darren Hind
54
Posted 18/11/2017 at 17:31:46
Unsworth has done what was desperately needed. He has stopped the rot. That's all anyone could have done so far.
His players are fighting for him (come from behind four times in two games) and, despite everyone claiming we had no strikers under Koeman, we have scored five in those games.
Calm heads needed. Rhino's got this.
Jay Harris
55
Posted 18/11/2017 at 17:32:12
I thought we played better second half without Lookman and Schneiderlin neither of which pulled their weight but as a team we are still a shambles. Teams can just pick us apart. We now have the worst goals against in the Premier League and I can't understand what is going on. It is surely not just a confidence issue. Keane looks as if he has never kicked a ball before at times but looked world class at Burnley.
WTF is going on at Finch Farm and why do we sit back so sleepily every game.
Danny Broderick
56
Posted 18/11/2017 at 17:32:56
That first half was like a Sunday league game. Both teams were all over the place.
I thought Unsworth picked a good balanced team today, but it was obvious after about 20 minutes that we were too deep, and Niasse was on his own up front.
Credit to Unsworth, he corrected it at half time, his subs were the right call again.
There were a couple of things that surprised me though – Schneiderlin starting, Rooney not coming on...
I think we have a problem with Sigurdsson. He played a nice controlled pass for Niasse to score the 2nd, but that apart, I thought he was distinctly average again. He runs around and tries – but he has not brought us much in my opinion, certainly not enough to justify 㿙 million. He seems to get shunted around the pitch every time we change formation, and I haven't seen him play well in any of them yet. It might seem harsh but it's the truth.
Gavin Johnson
57
Posted 18/11/2017 at 17:34:34
We're so soft at the back we were lucky to get a point. I doubt we'd have been so lucky to get a point against a side out of the bottom 3. If we could tighten up at the back everything else will follow.
It looks like we'll probably get Marco Silva but his teams let in a lot of goals. Burnley and Dyche won again today with another clean sheet. Is he the manager we really need??
Eddie Dunn
58
Posted 18/11/2017 at 17:39:58
We seem to lack anyone who can actually organise, pass and control the game. I would have brought Rooney on for Schneiderlin at halftime and played him in that same spot.
The young lads showed their lack of nous... Pickford trying to get a quick counter going late-on, when he needed to hold the ball, run down the clock and give his mates a breather. Davies, Lookman and Calvert-Lewin all failed to control their play, getting basics wrong. We are full of problems, Baines is no threat on his wing, and Jags and Keane are an accident waiting to happen. Schneiderlin is a half-arsed lazy waster, and Gueye is nothing but a chaser.
The defence all hit it long, and it kept coming back. So they did it again, and again! The Sahko and Dann were there to be roasted by quick footed runners, and so Unsworth took off Lookman and Lennon... The long balls over the top suited the monsters perfectly.
A poor game that we should have lost by three goals.
It's going to be a horrible season and only the existence of 3 worse teams will save us.
Tony Abrahams
59
Posted 18/11/2017 at 17:39:59
Relieved to get a point because Palace didn't play like a team that was at the bottom of the table.
We lack craft, and we lack calmness on the ball, it says something when Calvert Lewin, looks like "our best footballer" but at least we never lost.
Confidence is a big issue, but so is quality too, and it's something that we really lacked today. In saying that it's not a bad point, because Palace have definitely improved, and don't look like they will stay down the bottom for that long to me.

Jason Wilkinson
60
Posted 18/11/2017 at 17:40:55
Gavin I have to agree with you. Everything good in a team is built on a solid defence.
Peter Jansson
61
Posted 18/11/2017 at 17:41:56
How can any of you be so shocked that we do not perform well?
We hardly have any good football players in our team. How the fuck can you expect us to play so fuckin' well?
Can anyone in here name a very good football player playing in a blue shirt right now? Give me one name.
David Connor
62
Posted 18/11/2017 at 17:43:49
Absolute bollocks of a performance. Central defensive players are not upto the job. Schniederlin needs fucking off ASAP. He offers absolute zero to the team.

Give Sigurdsson one almighty kick up the arse then tell the rest of them if they don't start doing the business now they will be shown the door next summer. We will then see who's up for it and who isn't.

None of this squad will get into any of the top 5 sides. Maybe Pickford that's it. The distance the way we are dragged down into the gutter. Sick of the lot of em. Tossers.
Jason Wilkinson
63
Posted 18/11/2017 at 17:44:19
Oumar Niasse.
Peter Jansson
64
Posted 18/11/2017 at 17:44:24
And I don't know but I saw fighting on the field today. I saw a team with limited skills fighting pretty good. I don't know if I watched a different game than many of you here.
Jon Withey
65
Posted 18/11/2017 at 17:45:49
Koeman (or Walsh ?) has left us in a right state as a squad and a bank account – almost Walter Smith like but for far more money.
Joe Foster
66
Posted 18/11/2017 at 17:46:15
I am not sure there are 3 teams worse than us right now. Possibly 2 teams worse.
Tony Abrahams
67
Posted 18/11/2017 at 17:49:27
Agree with that Gavin, Dyche, also comes across as a manager, which Is what we really need right now.
Gordon Crawford
68
Posted 18/11/2017 at 17:51:02
A team needs to have a great spine. Top Keeper, top centre-backs, top midfielder, top striker. We potentially have two in Pickford and Keane. For me, that says it all.
Oliver Brunel
69
Posted 18/11/2017 at 17:51:08
Championship football. Beggars belief Jagielka and Baines are still playing at Everton. I wouldn't be surprised if Usmanov has a change of heart and walks...
John Keating
70
Posted 18/11/2017 at 17:53:41
We really are dire and – no matter what manager we have or get in – they will have a thankless task getting this shower to play even half-decent. How low and poor have we become? A disgrace to the name of Everton Football Club.
I know they are all crap this season but Schneiderlin is taking it to extremes and I cannot fathom how he got a start. Schneiderlin, Klaassen, Williams, Martina, Robles and Sandro should start with all young kids against Atalanta. Although the rest are crap, we cannot afford any injuries on Thursday as the Southampton and West Ham matches are of paramount importance.
I can't see a new manager coming in and believe the board will just hope that our luck – and God knows we've had more than our fair share against Watford and Palace – continues in the next 2 games. Looking at the teams below us tonight only West Brom and Swansea are presently as bad as us.
Woy with the present Palace squad and their pace will come good and I can see Moyes slowly making West Ham harder to beat. I just can't see us getting out of the bottom half dozen. The only positive tonight is that, again, we didn't actually lose.
Kevin Tully
71
Posted 18/11/2017 at 17:56:59
Every metric, every stat, points to a relegation battle. Laughing when people say "only so many points off 8th.."
We are in it, good and proper. We can't pass the ball FFS, and half the expensively assembled squad are pissed off.
No manger is going to magically fix this lot. Deeply concerned.
Oliver Brunel
72
Posted 18/11/2017 at 17:57:09
Keane so disappointing for me.
Alan Bodell
73
Posted 18/11/2017 at 17:58:06
Schneiderlin has to asked to donate his wage to local charities for earning £k's for a 45-minute walk in the park, fucking disgrace if he ever gets the shirt again and I see another incident like Alex Nyarko at Highbury it won't be a surprise.
All credit to Niasse giving it 100% as usual, Kenny MotM and Sandro looks like his touch has returned but Schneiderlin? Woeful.
John Crawley
74
Posted 18/11/2017 at 17:58:37
Peter (#64), no, you saw the same game as me. A team short on confidence but plenty of fight. Heads are no longer dropping if we go behind.
You don't turn this team around overnight. Hopefully they'll gain a bit more confidence from today.
Mark Morrissey
75
Posted 18/11/2017 at 18:04:57
Someone asked "How come we have become so bad?"
We swapped Romelu Lukaku for Wayne Rooney and then spent all Summer waiting for Gylfi to arrive instead of signing a solid defender or two and a goalscorer. It's going to take some investment in the playing staff to change this around.
A summer of calamitous business. It's not terminal but we are the makers of our destiny and we fluffed our lines. Koeman was a massive mistake but we'll weather the storm. We're missing Barkley.
Jim Lloyd
76
Posted 18/11/2017 at 18:06:19
Players fighting for the ball is good, but that should be the absolute basic, I wouldn't even call it a skill, attitude that every player who for us, should have form the word go. It's a start but have to have much, much more than that, to stay in the Premier League; and I don't think we have it.
Colin Metcalfe
77
Posted 18/11/2017 at 18:07:55
Our defense is a big issue, only Kenny came out with any credit today. Baines should be dropped but there is no replacement; ditto with Jags but his replacement is Williams... god forbid!
And as for Keane, he needs to be coached not to jump in and get turned, he done it against Watford and got punished, and again today!
Jason Wilkinson
78
Posted 18/11/2017 at 18:08:19
I don't get this thing about money!!! We have a very average net spend for a team who finished 7th. FFP probably comes into play but if we are ever going to compete with Arsenal, Liverpool and Spurs we will need deeper pockets.
We can't even dream of competing with Man City, Chelsea and Man Utd until (if ever) Farhad gets his bessie mate in on the act.
How do we improve? I hear you ask... Well, I wondered what Howard Kendall was doing when he first came. What he did was to try several players within a structure. The '85 side was the product of systematically finding the best 11 players to fit Kendall's way of playing.
I urge you to look at Kendall's first team squads from '82-'85. We need a single-minded gaffer with the same imagination. A manager whom the board and shareholders will wholeheartedly back even if that means sailing close to the FFP wind.
Oliver Brunel
79
Posted 18/11/2017 at 18:11:22
Kevin (#71), I agree, we are Championship material, make no mistake. Abysmal. My biggest fear is The Emperor sucking us into the Championship so he gets his stock back from Usmanov for peanuts. Unless Usmanov acts quickly.
Brian Mahoney
80
Posted 18/11/2017 at 18:11:25
Can someone explain to me what exactly Schneiderlin brings to the team?

He does absolutely nothing apart from misplacing passes, mis-timing tackles and having a couldn't care less attitude.

The sooner this waste of space is out of the club, the better.
Ciarán McGlone
81
Posted 18/11/2017 at 18:12:05
Ray,
I don't comment on games I'm not watching.
Raymond Fox
82
Posted 18/11/2017 at 18:16:20
Its a point away from Goodison even though it was a lucky point, is good the state we are in at present. I'd stick with Unsworth, if we employ Silva or Dyche how long would it be before the wheels fall off for them as well with these players.
Koeman was a disaster, that's for certain, the recruitment alone was a sacking event. I'm not sure that you can pin it 100% on him though, others at the club probably should shoulder some blame.
Yes, some managers are better than others but any manager will struggle with this squad, we have no flair in the team anywhere on the field.
Our problem now is what's it going to cost to make us a serious threat to the top six? A fortune – that's what, unless some of our young players can make the jump up to Premier League level.

Kim Vivian
83
Posted 18/11/2017 at 18:21:20
Just how has Koeman and Co managed to destroy our team so thoroughly? I am distraught.
The saddest thing is the team he took over from Martinez was better than the team he has left Unsworth with (for now). We have a squad filled with players who have been great, and players with the potential to become great but right now we have no top, top players. They've all either left or aged well past their best. Frankly, I see no way we are going to attract any real quality in January.
Schneiderlin was conspicuous by his anonymity (I had to ask a couple of times if he was playing), Sigurdsson at 㿙m is a complete stitch-up, Niasse works his nuts off whenever he plays and is invaluable for his nuisance factor, Lennon seemed to put in a decent shift today to me, Kenny shows promise, Calvert-Lewin is not (yet anyway) a striker and the rest seem either confused or inept.
There is probably someone out there who could provide the spark to jump-start this renovation project but I personally cannot begin to speculate who that might be. Whichever name gets mentioned, it always seems like a lottery.
Scrappers we are – I just hope our new man can scrape us together enough points to stay safe and start again next summer.
John Keating
84
Posted 18/11/2017 at 18:23:30
Raymond, before we think about top 6, we have to concentrate on avoiding relegation. We have to get our defence sorted and the first day of the transfer window we need to splash the cash on Gibson from Boro and Tierney from Celtic.
Swansea will still be in the shit; if we can sell Sigurdsson back to them for most of what we paid, then good stuff. Sell Klaassen back to Ajax and Schneiderlin to anyone will pay for Gibson and Tierney.
As for a couple of strikers – well anyone. Keep Barkley and we might have a chance of staying up.
John Catto
85
Posted 18/11/2017 at 18:42:21
Kim (#83). Totally agree. I keep seeing posts saying its all Martinez's fault.

Not sure how. We were never this bad. Koeman spent about 𧷤 million in his time. Martinez's team is all but gone.
Steve Carse
86
Posted 18/11/2017 at 18:42:34
Kenny and Niasse were the only ones to perform today -- and they were the two OFM refused to countenance in his sides. Interesting.
Unsworth's league record as manager now reads, P4 W2 D1 L1 Pts 7. Now, if Allardyce or anyone else had got the gig and produced this type of record there'd be many on here who would be praising his appointment. I'm not suggesting Unsworth is the ticket, but let's not be overcritical. The truth of the matter is that the squad he's got to play with is, quite simply, poor and are, Rooney excepted, a bunch of shrinking violets.
David Barks
87
Posted 18/11/2017 at 18:45:22
Gana and Schneiderlin in the starting 11 again, absolutely pathetic. Do all these managers have dementia, not able to recall how horribly this combination has been? It's Crystal Palace and we go in with two defensive midfielders, neither of which are actually any good. And let's throw Lennon into that mix as well.
When you go into a match with only four attacking players, and one of those is Lennon, just walk out with the white flag. There was never any intention of tryin to win that match. It's all just pathetic. And do not give me any garbage about the team showing fight. They were gifted a penalty and should have been beaten easily had Palace been anywhere near clinical with their finishing.
Tony Marsh
88
Posted 18/11/2017 at 18:55:56
Can you imagine how bad things would be right now if the Niasse deal to Palace had gone through on deadline day? We would be rock bottom with about 4 pts.
You have to ask yourself how the fuck did Mr Everton, old teary eyes Boys Pen Bill, allow Koeman and Walsh to destroy this club? WTF was Kenwright doing just sitting back watching his beloved club being dismantled?? Bill Kenwright is supposed to be an Evertonian and knowledgeable about football isn't he??
At what point is it time for a Chairman / Owner to say enough is enough. Abramovich doesn't have a problem putting the boot in when it's needed.
If there is blame to be dished out, it should all fall on Kenwright as he should know better and should have seen the warning signs like some of us fans did in the summer.
Moshiri is little more than a stooge sitting there clapping like a gormless fool while the club sinks and Bill bullshits. What top managers would want to come here and work under these two Muppets?
Ray Jacques
89
Posted 18/11/2017 at 18:56:36
Get Dyche now. The derby is weeks away and, based on the crap I saw today, we will lose by 5 or 6. Rant over.
Oliver Brunel
90
Posted 18/11/2017 at 19:02:01
Tony, Moshiri is on a hiding to nothing he's got The Emperor on one side and Usmanov on the other. He's got The Emperor twisting the knife in and Usmanov leaning on him. The horror... the horror.
Andy Crooks
91
Posted 18/11/2017 at 19:04:39
Darren, good post (#54). The sorting out of the mess left by the worst coach in the history of the Premier League, followed by the abysmal Koeman (yes, I supported him) will not be easy. No coach will find it easy.
I would suggest that David Unsworth knows what is necessary. We are bereft of confidence and still unsure of our best team. In my view, no manager in the world will turn this round quickly. Give the man a chance.
Colin Glassar
92
Posted 18/11/2017 at 19:09:05
I've just got home (from work) and it sounds like we're going from bad to worse.
I don't know if it's due to the fact that Unsy still hasn't had a full week to work with this lot (yet), or it's that he's out of his depth, or just that this squad is shite. I honestly don't have a clue. Maybe it's a mix of all three. I just don't know. What I do know is that we can't continue in this vein or we will be in the toilet.
Tony, well said, mate. Wtf is Kenwright doing? He's supposed to be the football man, the custodian of Everton, the true blue etc... while Moshiri is, supposedly, the money man. Get yer act together or get lost.
Kevin Tully
93
Posted 18/11/2017 at 19:15:05
Anyone supporting Unsworth for the permanent job on the basis of recent performances is as deluded as the people who want to lay any blame at his door.
Apart from some kick-and-rush football, we've been as poor as ever.
Lawrence Green
94
Posted 18/11/2017 at 19:19:17
Colin (#92),
Have we taken 4 points from our last couple of fixtures? Agreed, the team isn't functioning much better than it has done all season but, in order to stave off the threat of relegation, we need to pick up points by hook or by crook. Most supporters realise that there will not be many, if any, champagne performances this season, so any point is to be welcomed if it ultimately helps to keep us in the Premier League.
It's very disappointing compared to how high our hopes were during the summer. Many fans and indeed the owner, would be wise to adjust their thinking and see what we are, as opposed to what we should be or what they dream about us being.
The club is in a fight with perhaps five other sides to stay in the Premier League. Villa dropped out of the Premier League, because they and their fans thought that style and not substance would see them safe. Everton FC and its fans should be wary of making the same mistake.
Colin Glassar
95
Posted 18/11/2017 at 19:21:19
Siggurdsson saying the confidence is returning and they are getting fitter. Fitter? Can we get a refund from Koeman and his "fitness coach" then?
Andy Crooks
96
Posted 18/11/2017 at 19:21:41
Tony Marsh, could you tell me what you like about our club? Could you provide a link to one positive comment you have ever made?
I know you have wished defeat on us which is shameful enough. But, we all know the inadequacies of Kenwright. You are not the only man who sees it. However, Tony, I ask you once again to provide a link to a positive comment.
You will not be able to because you are a barrack-room lawyer who states the obvious and has not got a fucking clue or an original thought. Give us a link to a positive comment you have made in the last 15 years.

Ashley Roberts
97
Posted 18/11/2017 at 19:22:50
I cannot agree more with David (#87); how many more times this season do we start with Gana and Schneiderlin??! I do not think either should be in the team as neither of them can pass the ball forward or create anything.
A very poor decision by Unsworth today. Rooney has been our best player to date and, as I keep saying, I would play Davies with Rooney in the holding positions as at least they look to move the ball forward. You could then play Sigurdsson in the Number 10 position until Ross is fit again.
I thought Niasse put in one hell of a shift today – and to think he could have been a Palace player. Not sure where we would be without him at the moment.
This is going to be a very long season with us struggling to stay out of the bottom 3. I am not sure which Manager can get us out of this mess but, on today's showing it is not David Unsworth and I was hopeful he was going to be our saviour.
Tony Twist
98
Posted 18/11/2017 at 19:23:23
Pickford very poor on both goals conceded, he really needs to learn to stop palming the ball back into open play. I think he has been taught to get a firm hand on the ball but unfortunately that causes it to come back into danger where the opposition can get on the end of it.
I have watched YouTube videos of Sunderland last season and he was doing the same then and they were conceding goals from it. New manager required, a coach type of manager who knows technically how to get us playing defensively secure without stifling our attack.
Colin Glassar
99
Posted 18/11/2017 at 19:24:44
Lawrence, like I said, I've just got home so I'm going by the comments on here and other sites. I agree, we need to battle and scrape out results but it still sounds like a lot of hard work is needed to make us into a solid unit if nothing else.
Tony Marsh
100
Posted 18/11/2017 at 19:28:28
Unsworth is doing himself no favours either sticking with Koeman's two holding midfielders. Schneiderlin or Gueye shouldn't be anywhere near this team.
Also, start with Sandro and Oumar for the next 6 games, let them build an understanding. Find a place for Vlasic as he is pacey and has good technique. Get Lookman playing further up the field and let him or Vlasic feed a front two.
Give the opposing defence something to worry about and take the pressure off our back four. The reason we look so shit at the back is because the defence are under continual wave after wave of attacks. The two holding midfielders aren't protection at all.
I know nothing about football but those saying there's nothing for a manager to work with are way off. Before the results went tits-up, most thought we had a good squad minus a striker but Niasse was brought back so what's changed?? Shit management – that's what...
Peter Jansson
101
Posted 18/11/2017 at 19:30:10
I see her people are complaining about Unsworth.
Can anyone tell me what bad things did Unsworth ever do to put us in this situation?
And how can you expect Unsworth to put a team to make super performances without access to top players?? Can anyone tell me that.
I see improvement under Unsworth, meaning players are actually giving a fight and they do not give up when they are one or two goals down. THAT IS A BIG IMPROVMENT FROM THE KOEMAN REGIME!
Realize that there is no quick fix to this. Unsworth is as good as any other mangager to turn this. Give him a chance and see what he can do. At least for the rest of this season. Give him a couple of windows we might look good again.
Peter Jansson
102
Posted 18/11/2017 at 19:33:17
#Kevin Tully. What pure bullshit.
We look improved under Unsworth. Now we fight continously, under Koeman we did not.
You cannot expect anything else than what you got now with any coach. We simply lack player material. That is solely Koemans fault.
I support Unsworth, not because we played brilliant today or against Watford, but I see improvment. As long as we improve Unsworth is the man for me.
Ian Riley
103
Posted 18/11/2017 at 19:34:18
Ray (#89), I don't think Dyche is in the thoughts of the owner.
On today's point at Palace, I don't see us putting three or four wins together. Take the point, Palace are fighting relegation like us.
Our busiest time of the season is coming and no manager in charge. No time for a manager to organise things and with a transfer window coming up. We've made a right mess of it with the international break gone and no manager appointed.
Tony Marsh
104
Posted 18/11/2017 at 19:35:20
Peter @ 101,
All of Unsworth's team selections so far have been terrible. He should utilize the options he has got. He is doing the same mistakes as Koeman made. The 2 holding midfielders for one no striker or just the one up top when we can all see we are much better with 2 strikers.... No Vlasic. Why??
Unsworth is lost at this level; we can all see his mistakes and they are easily remedied.

Christine Foster
105
Posted 18/11/2017 at 19:38:24
I watched the game over here in France. The TSN commentators made the point that, as bad as Koeman was, he is only matched by the incompetence of two factions in the boardroom.
With no planning they have sacked a manager without having a replacement, publicly making offers for other managers, with an obvious disagreement over who to appoint – Kenwright wanting Unsworth and Moshiri wanting a manager with more style. They summed it up to say it was a mess and the split board are at fault: no planning, no decisions...
The mess, as they so rightly state is appalling. We were bad today... and lucky; Palace were by far the better team. Leaving Rooney on the bench unused only proved one point, that Sigurdsason had the opportunity to stake his claim to the No 10 shirt and was hopeless. I bet Rooney was fuming.
What it also said today was that even though Unsworth has blue blood and loves the club, he is not the coach to get us out of this mess.
Baines – not at the match
Keane– positional play was dire
Jagielka – did he play today?
Schniederlin – did absolutely nothing
Sigurdsson – headless chicken, no impact whatsoever
Lennon – defended okay, but no penetration at all
Lookman – lost, out of his depth, lightweight...
Niasse – his running earned us a point, again.. but eventually he stopped trying
Davies – a terrier that we immediately shackled with a booking and lost its teeth
I really don't know who would be willing to take us on as manager, we are that bad. The good ones will look at it and think, "No thanks!" The untried will just be chancers and more likely than not go down... we need a strong hand at the helm now. Cannot wait another minute.
I cannot believe the mess we are in, but then yes I can. The blame is not just Koeman's but the board for having no plan, no appointment and no idea.
We have a squad of good enough players but not the ones we need to create a good team. We need a manager in now to assess what we have and purchase what they need in January. Stick with Unsworth and we go down.
John Keating
106
Posted 18/11/2017 at 19:39:30
Lawrence, I think you're correct regarding Rooney playing in front of the back 4 as every game he's literally had to come back there to get the ball.
Schneiderlin shouldn't start another Premier League game as it's as well starting with 10 players.
Our team selection is so bad that major changes have had to be made at half team most every game to rectify obvious deficiencies. Pathetic.
Since Moyes's last game, we have never, not once, played a full 90 minutes. Every game consists of one good half and one 45 minutes of shit. We must be the most consistent unfit team in the league.
From top to bottom, this Club needs a clear out. With the money Kenwright and Woods have made out the Club, surely after being shown the door, they can afford a season ticket.
Dave Abrahams
107
Posted 18/11/2017 at 19:43:55
Another poor pathetic performance with no real blame attached to Kenny, Lennon, and Niasse who played with passion heart and endeavour. I wish some of the other players had followed suit.
There is nobody in that side who wanted to get hold of the ball and play with a calming influence on the rest of the players. No-one seems to think, just lash it forward and hope for the best. They don't even find touch with the ball to give themselves some breathing space, I found itvery embarrassing to watch most of the game.
I have to say, I believe in Sandro and he he is obviously, to me, a good footballer who will improve the more he plays. I prefer him not to play on the wing. No-one needs telling it is going to be a very long season.
Danny Broderick
108
Posted 18/11/2017 at 19:46:40
There was nothing wrong with the team selection today, Tony. It looked like a good, balanced team, with two wingers and Niasse up front.
Admittedly, it didn't pay off, because we were too deep. But we are all wise with hindsight.
Charles McCann
109
Posted 18/11/2017 at 19:51:35
Excellent post there, Dave. Agree with you completely. Get the ball down and pass it. It's not rocket science! Try and control possession for at least a bit to take some pressure off the defence. I believe that we have the players to do this but they are not getting the direction from management needed.
Dermot Byrne
110
Posted 18/11/2017 at 19:52:01
Tony... we all want our club to be brill. But to have a forum where some guy just seems to dominate a debate with furiously argued opinions and aggressive speech "regardless of what it is" it is just a pain in the arse.
For fuck's sake, you are creating a vibe that is just miserable... and not because of the play or the club.
Kevin Molloy
111
Posted 18/11/2017 at 19:55:20
I was at the game today, got a ticket with the Palace supporters – they where gutted not to take the points.
From my seat, we have three problems: Gana, Schneiderlin and Pickford. All three should not be in the team at the moment.
I don't know what is going on with Schneiderlin but he is shocking. If ever a player is after a move, that performance said it all. Gana is half a player: defensively he is at it, works hard breaks up play. Sadly he also breaks up play when we attack, he is just not good enough.

Lennon was our best player today, he did everything asked of him and more. Niasse has the heart of a lion and would run through a brick wall, the Palace fans where giving him shit and he just gave them a big cheesy grin. Great to see a fighting spirit in the team but so many individual mistakes cost us yet again. COYB
Tony Abrahams
112
Posted 18/11/2017 at 19:55:21
He's only a kid, he's only played 3 matches, but Beni Baningime looks the calmest of our midfield players by a long margin, Dave, and has got to play in front of Schneiderlin and Gueye at the minute, surely?
I think Unsworth was trying to protect the back 4 with his starting line-up, but it doesn't really leave much in attack, especially with Sigurdsson not really being the type of player that can drive forward with the ball and beat a man.
Clive Rogers
113
Posted 18/11/2017 at 19:58:27
We played really well the first 30 seconds.
Oliver Brunel
114
Posted 18/11/2017 at 20:00:37
What if Usmanov walks? Can you imagine the consequences? Who would blame him?
From what I've heard, he may be having a change of heart. The Emperor is playing a blinder.
Hugh Jenkins
115
Posted 18/11/2017 at 20:01:03
Everyone is appalled that the same defensive midfield pairing was picked – yet again. My concern is that, at the moment, Unsworth is walking the tightrope, trying to land the job permanently.
By his own admission, he speaks to the chairman "every day". How much of his team selection is coming from "advice" from the chairman, that he can't ignore, if he really wants to land the job full time?
I think that if Unsworth is appointed to the post – or given to the end of the season etc – we may well see an entirely different approach to team selection and tactics.
I don't suppose he had to suffer the same sort of oversight from the Chairman with regard to the U23s and they seemed to do alright, but until he gets the job, confirmed, Unsworth can't be his "own man", that's why I think so many of these misfits are being shoehorned into the side – whether they are a good fit or not.
James Marshall
116
Posted 18/11/2017 at 20:03:30
It's funny how so many are slating Pickford today, the same keeper that was heralded up and down the country after the England v Germany game last week. One thing he is definitely at fault for is hoofing the ball back to opposition all the bloody time.
He needs to learn to distribute the ball to our players because he constantly puts us under pressure.
Our midfield is woeful at passing and keeping the ball. Simple, short passes should be bread and butter.
And where are the runners? We always have players attacking alone with nobody running beyond them. It's madness.
This squad seems completely shorn of any confidence which manifests itself with them all looking lost.
James Flynn
117
Posted 18/11/2017 at 20:08:02
I think Kenny is looking like a kid who'll make something of himself.
Seamus will return sometime in 2018. We all want him back at full power. I'll be shocked (happily) is we ever see one of the best RBs in the Premier League back out as we remember him. Pushing 30, coming off a double leg-break? I can't see it.
However long Unsworth has the job, I hope he keeps rolling Jonjoe out there. He's Coleman's substitute for now. His replacement for good, young Kenny.
The kid just has that look about him.
Don Alexander
119
Posted 18/11/2017 at 20:08:42
Peter Jansson (#102), it's a shame you feel the need to deride the comment/s made by Kevin Tully. For the record I think he's spot-on in both his posts (93 & 71).
Unsworth doesn't deserve blame but the now dire situation created by the boardroom demands, if they want to avoid relegation, appointing an established manager asap, because at least three signings in January are needed every bit as much as they were in summer, as voiced by Koeman.
Getting rid of two of our four No 10s would be handy as well, together with our two perennially injured defensive midfielders and Mirallas, as well as the buffoon(s) who gave him another 3-year contract in May.
Ciarán McGlone
120
Posted 18/11/2017 at 20:12:13
The irony of Sigurdsson giving anyone a bollocking is hilarious. If there's an award for most overpriced footballer ever, he'd win first, second and third spots.
Oliver Brunel
121
Posted 18/11/2017 at 20:13:24
It's clear The Emperor is pulling the strings and making us all look like fools. He's picking the team. Unsworth merely the poor puppet and Usmanov is frozen out in one of the greatest confidence tricks in the history of mankind. From Coronation St to The Theatre of the Absurd.
Phil Walling
122
Posted 18/11/2017 at 20:15:36
James, it was odd that in the Germany game his distribution was exemplary, earning plaudits when compared to that of Hart a few days later. Ever thought he might be under instructions from Unsworth to play it long?
The fault he does have, though, is the tendency to make a dramatic save but push the ball out direct to an opposition forward. I think at least four goals have resulted from this lack of technique. But, all-in-all, he is a great improvement on his predecessors, Robles and Howard.
Kim Vivian
123
Posted 18/11/2017 at 20:20:37
Oliver - Don't know if I speak for anyone else, but not being funny, mate, can we drop this 'emperor' thing now. Fun while it lasted but it's getting a bit boring now, not to say cringe-worthy. What is it anyway? - Something to do with Star Wars?
Fair comment though about the empire crumbling! :-)
Tony Marsh
124
Posted 18/11/2017 at 20:24:47
I'm confused here.Why is Usmanov being mentioned in connection to our club? Has he bought Bill's shareholding? Has Usmanov put money in? Are we assuming Moshiri is a front man for the Russian?
Please explain.
Jay Griffiths
125
Posted 18/11/2017 at 20:27:03
Heading back through Warwickshire now on coach 2. Watching a movie about a heist. Oceans 12. Apt. So very apt.
That was a point we dipped today. Palace seemed to have wave after wave of attacks. Without cold reflection and only the ability to recall the game from memory at first hand, I may be open to correction.
My son mentioned how poor Schneiderlin's positional sense is. When playing in the pocket, awareness is crucial. The amount of times we witnessed him marking space and not a dangerous player that was playing between the lines seemed criminal. He's in need of a benching.
We both agreed that Lennon put a shift in and was well applauded when subbed. Kenny got MotM from my lad whilst I chose Niasse. Calvert-Lewin does seem to have real prescience about him this season though he does need to be a touch more clinical. Worked hard today.
We are in a relegation fight at this juncture. Anyone who feels our heritage, history, financial status or any other factor allows us to be exempt from this very real struggle are dangerous. The goals we're conceding are calamitous. We can prevent them with astute defending.
The goals we're scoring do seem to have a touch of good fortune and are not attributed to outstanding build-up. We're in a battle, plain and simple. South coast next week. I feel we can take something from this game.
John G Davies
126
Posted 18/11/2017 at 20:30:08
Tony,
Unsy has got a plan when he plays the two holding midfielders. Koeman, on the other hand, was clueless when he played them.
Christy Ring
127
Posted 18/11/2017 at 20:41:43
We badly need to get McCarthy and Barkley fit, to take command of the midfield. Gueye and Schneiderlin (who is a totally abysmal) are so deep, means we are on the back foot from the off.
Gordon Crawford
128
Posted 18/11/2017 at 20:45:50
USM keeps getting brought up, why is this? The information I have is that he only invested in Finch Farm. Apart from that, he has nothing to do with the first team and management of the club. I might be wrong though.
Today was just another example of how far we have fallen. Our U23s are now being tanked by that shower across the park as I type. Personally we are years behind the top six and, if things don't change, we may not stay in the Premier League.
Some people at our club need a kick up the ass and fired for their part in destroying our once great Latin motto.

Trevor Peers
129
Posted 18/11/2017 at 20:47:55
Good team performance today, that was the best under Unsworth so far, plenty of fight and spirit, but not enough class or pace on the wings to really test even a poor side like Palace. Problems at the back, as usual, although Kenny seems to be growing into his role and was excellent.
I thought Sigurdsson played well enough, not brilliant, but he was behind most of our attacking moves. Not his fault if Koeman paid well over the odds for him, then threw into a team in absolute chaos. Very little for him to aim at today, but he did set up Calvert-Lewin with an excellent chance in the second half, but he blew it.
We are short up front, although Niasse is just what we need at the moment, he has a lion heart and never stops fighting. Good finisher as well when given the opportunity; he needs help, hopefully it will arrive in January.
Paul A Smith
130
Posted 18/11/2017 at 20:48:42
Another poor display. Another example of what Unsworth has to work with.
Youngsters not ready to start pressure games and the experienced players are not the level we require.
Paul Wyndham
131
Posted 18/11/2017 at 20:50:03
There aren't three worse teams/squads in the Premier League, I'd say Swansea are very poor but Palace certainly have better players as do WBA and West Ham. This is no time for the romantics and sentimentalists... we are in deep, deep shit and those turning their noses up at Dyche and even Allardyce need a reality check.
We are getting relegated unless a manager with Premier League experience is brought in asap and brings in his own staff and coaching teams, as whoever is coaching at Finch Farm does not have what it takes to address the challenges of today's Top Division, where a blend of technique, athleticism and pace is essential.
Kenwright Out!
Steve Hogan
132
Posted 18/11/2017 at 20:50:52
Christy (#27)
'We badly need to get McCarthy fit'... Jesus Christ when in the last five years has he ever 'taken control of our midfield'?
He is an absolute total 'sicknote' and should be off-loaded as soon as possible, especially after his shenanigans with Ireland when he should have had some balls and told O'Neill to do one.
We are in deep trouble if you're pinning your hopes on McCarthy getting us out of the mire.
Soren Moyer
133
Posted 18/11/2017 at 20:54:10
Don't get fooled with a solitary point from this game. Any half-decent team will murder us.
Andy Crooks
134
Posted 18/11/2017 at 20:54:21
Are there three worse teams than Everton in the Premier League? I would say that Palace, stuck at the bottom, are much better.
We got lucky today. We are a very poor side with players who simply do not get what playing for Everton means.
Wayne Rooney, like him or not, gets it. He has been good this season. Not Man Utd good, but better than the mediocrity that surrounds him.
Jay Woods
135
Posted 18/11/2017 at 21:03:16
It certainly was an ugly game. Starting with that criminal offence that is our gray away kit.
Am I alone in thinking that we are now playing even worse than we did under Koeman?
Andy Crooks
136
Posted 18/11/2017 at 21:03:44
Tony Marsh, I just read your post# 100... fucking hell, I agree with it!
What has become of Vlasic, by the way? Also, I agree Sandro needs a run in the side.
Ray Roche
137
Posted 18/11/2017 at 21:04:04
Oliver Brunel (#114),
And what have you "heard"?
Phillip Warrington
138
Posted 18/11/2017 at 21:04:39
Why change the team again, still playing crap. Crystal Palace easily played the better football. And why are Schneiderlin, Lennon, Sigurdsson and Lookman starting?
It was like watching a Championship team playing an average Premier League team. There is no fluent play or quick interchange of passes, it's like not signing a top striker has given the rest of the team an excuse not to perform.
After all, it's basically the same team who finished 7th the season before.
John Malone
139
Posted 18/11/2017 at 21:05:37
Paul (#131), well said mate! I agree completely with your comments. The arrogance being shown from this board, which I suspect is more likely to stem from Moshiri, is worrying.
Silva is a massive gamble; he might have a good past record and has had some good results but he has proved nothing in this league... and this squad of players – no matter who is in charge – could easily go down!
In my opinion, no matter who comes in as manager, we will need the January window to sort this mess of a squad out which for me has somehow unbelievably gone backwards since Moshiri's money!!
Paul A Smith
140
Posted 18/11/2017 at 21:07:22
David Barks (#87) and Tony Marsh (#88). Glad you two can just speak about how it is without trying to write like a journalist or being afraid to go against trend.
A fellow blue has been pointing out a fault of Pickford's (which happened again today) but told me he would't say it on ToffeeWeb or social media because people would refuse to see it and he would be accused of picking on him.
He was spot on too and, although I was also slow to see the fault, the evidence is there when I look back. Too often the soppy side of us refuse to see simple faults and nobody learns anything until it sinks in that it's happening all the time.
James McCarthy and Schneiderlin are perfect examples of this. Both lauded by fans for looking energetic in their honeymoon periods but achieved nothing as Everton players and hardly put any effort in away from home.
Look at it now, we have a squad full of homers who struggle at home. Away from home... let's not state the obvious.
The Pickford thing I will leave for others to notice for themselves. I like the lad but he has made a good few errors this season. Sadly, if you say something early, you are laughed at or ignored by people you would be happy to share your point with.

David Barks
141
Posted 18/11/2017 at 21:07:46
Another terrible team selection. Another game where we were totally outplayed. Anyone saying he got the team selection correct, please explain how that can be when we give up a goal in the opening 30 seconds, give up two goals in the first half and he has to make two substitutions at halftime.
I'm sorry, but Unsworth is looking completely out of his depth. This reliance on Aaron fucking Lennon is insane. Going back to Gana and Schneiderlin in the middle, I can't remember a worse central midfield pairing. The football is atrocious. There is no consistency in team selection from week to week. I honestly would have preferred to have kept Koeman if this is all we expect, a lucky draw against Palace. At this point I'd rather they just don't show up for the derby.
Danny Baily
142
Posted 18/11/2017 at 21:19:39
I'd like to see Robles being given a start at Southampton. And when McCarthy is back, I'd get him in the side right away. Proven Premier League players are what's needed in my opinion.
Dave Abrahams
143
Posted 18/11/2017 at 21:20:15
Christy. (127), I agree with you, a fit James McCarthy would make a big difference to our midfield.
Steve, you are correct: McCarthy has been unfit constantly over the last couple of seasons but put the blame firstly on Martinez who rushed him back without James being fit; McCarthy and we Everton fans are suffering the consequences.
As for When did he take control of our midfield? Think back, Steve, to the Arsenal game less than 12 months ago, it was his drive and determination, plus the verbal lashing he was giving his team mates, that had a big part in our win that night. He was giving as good as he got in the game against Liverpool before he had to go off injured.
Yes, Steve, he is no help when he is injured but Christy is talking about when he is fit and unfortunately he may never get back to the way he was so it will be our loss.
Lawrence Green
144
Posted 18/11/2017 at 21:23:17
Funny how people have cottoned on to the Pickford trait since he was more or less castigated for it by Hoddle due to an observation by David Seaman on ITV after the Germany game. Pundits eh? What would we do without them.
I admit I hadn't been concerned by it prior to Hoddle's intervention but Seaman went on to say that it's natural for a young keeper to fail to get a full hand on the ball and with time, practice and experience it will be eradicated. For fuck's sake, we haven't got much to celebrate but having a go at a promising young keeper just isn't right and isn't going to help him or the team.
I'm glad that those who attended the Watford game didn't only listen to the pundits and chose to get behind the team despite its glaring inadequacies, as did the support at Palace today. We are in a mess but I don't see the point of wallowing in it or continuing to find fault in everything and everyone. I suppose if we don't lose heavily in the derby, all will be forgiven?

Drew O'Neall
145
Posted 18/11/2017 at 21:33:38
Lot of negativity on here.
Palace have turned a corner recently and carry plenty of threat now they are playing with confidence so 'a point against the bottom side – we are so shit' comments don't hold up for me.
A point and coming back twice away from home after an international break where no-one got injured is actually a positive weekend from me. That might be an indictment of what we've become as a club but that's where we were on Saturday morning so anyone who thought we were going to win 3-0 and be in sixth place is just kidding themselves.
The side looked balanced to start with and he made the right subs, early at half-time for me. Tick in the box for the manager.
It would have been very easy to just bring on Rooney at the end but when is Sandro going to get back in to the first team if not today? He added something and will grow in confidence for it.
Good performance from the manager and some of the team today. A small step in the right direction which is all we can expect.
Jay Woods
146
Posted 18/11/2017 at 21:39:10
Pick-the-ball-out-of-the-back-of-the-net-ford is the least of our worries at present.
What we are witnessing is a collapse in coaching fundamentals in every department of the team and helmsmanship from someone unfit to be manager.
Can anyone see past a slaughter in the looming derby? The only way we'll come out of it on the decent side of a 4-0 hiding is if Klopp tells his "Jungs" not to humilate us after the requisite goals-for have been secured.
The board continues to fumble, or stall, or "prevarciate about the bush" (as Wallace voiced by the late Peter Sallis would say) while the team continues to play like everyone has two left feet and a blindfold.
It's just a car crash from Moshiri right down to the tea ladies.
John Pierce
148
Posted 18/11/2017 at 21:43:09
Lawrence, Pickford has been under scrutiny way back. The threads are there to see.
He goes hard at the ball. Rebounds come out, not to the side. That will improve.
Temperament is also an issue. Too keen to distribute when a turnover puts us right back in it. Judgement needs fine tuning.
Again time will improve that. Decent, decent keeper but he of the many has least to worry about.
Guy Hastings
149
Posted 18/11/2017 at 21:43:39
Two gifted goals and a not-bad save from Speroni. That was our attacking lot today. I keep going on about it but what the fuck does Steve Walsh do for his money?
We should have started with Tom Davies; when he came on as a sub, he was trying too hard playing catch-up. Sandro needs game time but Rooney, I feel, would have come on with a real point to prove.
Keane is an utter disappointment so far this season. Looks slow, lacks awareness – a 㿊m improvement on Pennington or a fit Funes Mori? Not in my book.
As for Schneiderlin, at least Alan Ainscow gave the impression of trying.
Oliver Molloy
150
Posted 18/11/2017 at 21:43:41
Koeman was the first manager in Kenwright's reign to not be a "Yes-man" and Kenwright knew this would be the case when Moshiri pushed so hard to get him.
There is definitely a power struggle going on in the boardroom, it's been on-going for some time. Kenwright wants another "Moyes" and for me that is the biggest problem of all with Everton.
Schneiderlin will be offered to any interested clubs in the next window, I reckon.

Paul Birmingham
151
Posted 18/11/2017 at 21:45:17
A point's a point, but our good fortune will run out soon. It's hard to see where the next win is coming from and at this rate we'll be in for a long battle to stay up, but some sparks of life but no consistency and when was the last game EFC played for 95 mins from start to end of the game?
This seems harder to stomach than the dark, dark days towards the end of the Gordon Lee Walter Smith, and Mike Walker eras.
I've no hint about what's going on inside the boardroom, but somewhere the club has forgotten how to play football and the players have lost their natural spark and inkling to try and play.
Which manager will take over? As it stands, I'd go for Dyche... I can't see any of the so-called continental managers like Simeone, Ancellotti etc hacking it here, based on the current board set-up.
Criminal but that's life at the moment with EFC, and the next month I don't see much changing and the dark side is sadly ascending.
Terrible times but surely it will improve?
David Barks
152
Posted 18/11/2017 at 21:45:29
Palace had turned a corner and are full of confidence? Really? They had 4 points on the season before today. Four points through eleven matches!! We made them look like contenders for Europe!
My God, no wonder Kenwright has gotten away with decades of failures. When your customers don't demand more, why bother?
Colin Glassar
153
Posted 18/11/2017 at 21:49:37
When will Moshiri grow a pair and finally take over the club and get rid of the creeps who've been destroying us from within for decades?
Andy Crooks
154
Posted 18/11/2017 at 21:49:45
David Barks... I DEMAND MORE – pass that on to Bill for me.

Stephen Brown
155
Posted 18/11/2017 at 21:50:59
Realistically, how much could we get back for Schneiderlin, Sigurdsson and Klaassen? You'd do well to get 㿞 for the three?
Dave Evans
157
Posted 18/11/2017 at 21:57:15
Tony Marsh @100 – Great post.
John Hammond
158
Posted 18/11/2017 at 21:57:37
So far, the only thing I see different from Koeman is that there's a bit of fight in the players. As much as I want Unsworth to succeed, he seems out of his depth.
The first thing you do when taking over a team in our situation is shore up the defence – get the confidence back and build from there. We are still far too easy to play against and guarantee goals for the opposition.
Hopefully it's finally clicked that Rooney shouldn't be starting. I'm not holding my breath though.
Paul A Smith
159
Posted 18/11/2017 at 21:59:23
Tom Davies is another. For weeks on end now, he has been on thin ice with the ref. He is a yard off the pace and has been for ages.
The kid needs to be treated as a youngster again and given time to enjoy his football.
Andy Meighan
160
Posted 18/11/2017 at 22:05:29
Oliver (#150), And what clubs would be remotely interested in Schneiderlin? West Brom, Stoke, Swansea, Burnley, Huddersfield etc. He'd be lucky to get a move to another Premier League club.
Along with Sigurdsson, Klaassen, Sandro and Keane, this has to be the worst transfer window in the history of the club. Awful buy after awful buy... And to think there were fans genuinely excited about the season ahead. Not – I was worried sick, and still am.
Danny Broderick
161
Posted 18/11/2017 at 22:05:33
David (141),
The team selection is not relevant to conceding a goal after 50 seconds. It doesn't matter what team we put out, we shouldn't be opened up that quickly.
I thought the team selection was good today. The team was balanced. Admittedly, I probably would have put Davies in for Schneiderlin, and maybe Rooney in place of Sigurdsson. But we can all nit-pick at the odd player like that.
We had two wingers, with Sigurdsson playing as a Number 10 and Niasse up front. This is what everyone has been asking for and the team looked good on paper. It obviously wasn't working, as we were too deep and Niasse was isolated. But the changes at half-time worked, so again Unsie has got his subs right.
Christy Ring
162
Posted 18/11/2017 at 22:06:37
Dave @ 143, Thank you for your comment, I couldn't have answered Steve any better myself, but as a fan, he must have missed his performances under Martinez, until he overplayed him.
And the reason Koeman changed his opinion of him, after bossing the games against Arsenal and Liverpool, until injury struck again. If he could get through a couple of games unscathed, would be huge.
George Cumiskey
163
Posted 18/11/2017 at 22:13:40
Oh my god! Some people are saying Unsworth is the man to take us forward. He's the man who'll take us down more likely. He's way out of his depth with selection and tactics.
Andy Meighan
164
Posted 18/11/2017 at 22:14:06
Lawrence (#144), Great post. I've been saying for ages that Pickford will make the odd mistake and, being the last line, it'll prove costly.
But he 'll turn out to be up there with the likes of Southall (not as great, like) and Nigel Martyn for me. A cracking young keeper and the only one that Koeman got right. In my own esteemed opinion, by the way!
Simon Dalzell
165
Posted 18/11/2017 at 22:30:11
George @ 163 SPOT ON. No more to say.
Soren Moyer
166
Posted 18/11/2017 at 22:40:31
Keoman had one lucky game and that was against Man City. Unsy has had 2 so far but his luck will run out eventually. Please get a new manager in asap, you useless Board of Directors at Everton Football Club!
Paul Hewitt
167
Posted 18/11/2017 at 22:41:24
Any manager taking over this squad of players will struggle. Not just Unsworth.
Derek Knox
168
Posted 18/11/2017 at 22:41:48
I do feel for Unsy in many respects. He has, through no fault of his own, been thrown in at the deep end, water would have been a learning curve, but this is the worst type of excrement imaginable.
Koeman has done a great injustice, with his arrogance, and implausible purchases with an open chequebook. Whilst walking away with little or no remorse whatsoever, but a heavily inflated bank balance.
Having said that, after grasping the poisoned chalice, today, Unsy showed that the position is far beyond his ambitious endeavours.
The rot is firmly embedded, a lot due to the inflated, and immoral amounts these players receive. (I was going to say 'earn', but that would be a total misnomer in most cases.)
The whole situation is not helped by a Chairman, who purportedly, is a dyed-in-the-wool blue, but can't see the wood for the trees.
We love Everton, Unsy loves Everton, but more than that is needed to rescue us before it is too late.
Tony Dove
169
Posted 18/11/2017 at 22:46:50
Drew @145,
Where do you buy your magic mushrooms from?
It's better than reality though.
Tony Marsh
170
Posted 18/11/2017 at 22:48:04
David Barks @ 141
Spot on. Unsworth has made horrible team selections in every game he has been in charge. I was all for giving him a go due to his success with the reserves but soon realised after two games he wasn't up to it.
People pull me over it in here but I quickly came to my senses and took off the blue-tinted spectacles.
It really is a mess now, and the longer it goes on, the harder to reverse. Kenwright is to blame for pissing about. If it wasn't Unsworth, it would've been Moyes...
Kenwright needs to fuck off out of the club now. How could Kenwright sanction the huge signing of Sigurdsson while allowing Lukaku to leave?
That was the start of our troubles the pathetic transfer policy .
Andy Crooks
171
Posted 18/11/2017 at 22:52:17
George (#163), who do you want? How long will you give him? Not your job to find a coach? Fair enough.
What' s your opinion, though? Do you want a new coach on a 3-year deal? A 1-year deal? A one-match deal?
You know you don't want Unsworth, is that it? Is that your contribution?
Phil Sammon
172
Posted 18/11/2017 at 22:59:34
I don't even know who to blame anymore. Schneiderlin, Sigurdsson and Gueye were invisible. They certainly didn't get any help but how do you account for all of them simultaneously forgetting how to play football?
I was delighted with the signing of Keane and I'm gutted to say that he looks like a complete donkey.
Normally with a struggling team you can at least pick out the problem. Here it's unfathomable. It doesn't seem to matter who plays or what formation, we are just a hopeless, aimless football team.
God help the manager who has to clear this mess up. Short of selling every single player, I don't know how it can be fixed.
Tony Marsh
173
Posted 18/11/2017 at 23:09:18
Andy Crooks, why do you and many others ask contributors on here who they want as manager? I get it all the time. What purpose does it serve? Why do you and others need such information? How does it benefit anyone or the club if fans play Football Manger or Fantasy Football?
Who any of us want as next in charge is irrelevant – just like the guys on here who select starting 11s before kick-off – it serves no purpose. I wish you would all wake the fuck up and start getting real. It's not who we want any more – it's what fucker will come!!!
The Everton supporters have made sure guaranteed Premier League survival has gone with the abuse and disrespectful attitude towards Sam Allardyce. So now either Unsworth takes us down for sure or we take a gamble with our survival and appoint an unknown quantity when it comes to fighting in the bottom 3.
If we do get relegated, you and the baying mob can say at least we stopped big Fat Sam Allardyce, the money-grabber, from coming here. Be great to say when we are playing Ipswich away next season.
Tony Marsh
174
Posted 18/11/2017 at 23:16:14
Phil @ 172,
We do have some decent players but they are either omitted or instructed poorly. Unsworth is just as bad as Koeman for being a fuck-up tactically and with his starting 11.
A proper manager who knows what he is doing can get a tune out of this squad easily...
Remember how shit we all thought the team Mike Walker left Joe Royle? They were 8 points adrift at the bottom – we ended up mid-table and won the FA Cup as well.
We need a good coach and this shit will all go away.
Simon Dalzell
175
Posted 18/11/2017 at 23:26:34
Andy @171 I said less than George today. The fact is we have both gone into detail on many threads. Few words are needed now.WE NEED A MANAGER. Why ask Who people want as manager ? Many have already answered this and don't need prompting.
Bobby Mallon
176
Posted 18/11/2017 at 23:29:13
Tony Marsh, I can only agree. We will get relegated if Unsworth stays in charge, it's simple. The stick Big Sam got was bad.
Brent Stephens
177
Posted 18/11/2017 at 23:31:49
Tony Marsh 18 November 2017 : 15:02:54 - "4-0 coming up. Unsworth is a joke".
And the score was?
Peter Gorman
178
Posted 18/11/2017 at 23:34:35
So Tony, just to clarify, you wanted Allardyce?
Jay Harris
179
Posted 18/11/2017 at 23:35:16
A point I would like to make is that, when we sacked Koeman, we didn't just get rid of him but the whole coaching and fitness setup – including the goalkeeping coach. This puts Unsworth and his guys under enormous pressure and we cannot carry on like this.
The lack of decisiveness in bringing a manager and support staff is is beginning to look like the Sigurdsson saga – totally embarrassing the club and causing unrest in the dressing room.
For me, something has stunk at Everton for a long while and the team spirit and harmony throughout the club that Moyes built up has disintegrated into a collection of individuals that look like they have never played together before and, as long as the ball is kicked up the other end of the pitch, it's okay.
It is sad and worrying when a young kid at right back is your best defender and your £30m buy at centre-half looks like he hasn't played a senior game before.
I hate to say it because I have been hoping (dreaming) that we might be able to persuade Ancellotti or Tuchel to take the "project" on but, after today, I believe we need someone like Dyche who can organize and cajole this team to at least give us something to build on.
IMO it will take us a couple of years now to get back to the level Moyes had us at – never mind the top 4.
Tony Marsh
180
Posted 18/11/2017 at 23:37:19
Brent, if you're happy with that shite today, you need therapy, lad. We were absolutely outclassed by the team propping up the table. We got lucky yet again.
I like Unsworth as reserve team coach but he is a joke at this level. Today proved it. Go pop your champagne now, Brent we got a draw at Palace. Jesus, no wonder Kopites laugh at us with fans like you around.
Don Alexander
181
Posted 18/11/2017 at 23:38:51
The scary thing to me is that Moshiri might just have no ability at all when it comes to running, personally, a football club. If he has any, why would he persist with Kenwright?
Given his ambition to make us one of the top clubs in the country, persisting with Kenwright is like expecting the skipper of the Mersey Ferry to successfully captain an ocean-going cruiser because he'd always got his vessel to the right destination after all.
So, as desperate as the need for a proper manager is, Moshiri might just be more concerned with finding somebody right now to successfully chair his boardroom and limit his financial vulnerability, which'll be obviously massive if we drop a division (or two!).
Tony Marsh
182
Posted 18/11/2017 at 23:42:11
Peter @178,
Why would I want Allardyce? At the time, 3 weeks ago, there was a possibility of 3 names being manager: Unsworth, Dyche, Allardyce. Both the press and bookies had only these in the running.
After Unsworth fucked up at Lyon, I said get Allardyce in before it's too late. I'm hardly going to ask for Ancelotti or Tuchel like the other deluded fans do... No, I didn't want Allardyce.
Brent Stephens
183
Posted 18/11/2017 at 23:43:18
Tony, I never said any of that. You're talking your usual shite.
"4-0 coming up" – what a fecking joke.
Brent Stephens
184
Posted 18/11/2017 at 23:45:12
Tony, go get your man, Allardyce.
Tony Marsh
185
Posted 18/11/2017 at 23:46:04
Ha ha, Allardyce would be a massive step up from this shite.
Brent Stephens
186
Posted 18/11/2017 at 23:46:53
So you still want him.
Bobby Mallon
187
Posted 18/11/2017 at 23:49:41
There is one thing: Arron Lennon is shite, Alan shearer is a tit and Phil Neville is a knob. Let's not keep Unsworth and let's get Sam now.
Tony Marsh
188
Posted 18/11/2017 at 23:49:42
Brent, I ever did want Allardyce – read three posts above, there is your answer.
Brent Stephens
189
Posted 18/11/2017 at 23:50:22
Allardyce isn't coming. Get over it.
Soren Moyer
191
Posted 18/11/2017 at 23:53:10
Well, don't worry fellow Evertonians, Tony Pulis will be available soon!
Andy Crooks
193
Posted 18/11/2017 at 00:01:33
Tony, you said you wanted Allardyce. Now don't make stuff up. You wanted Allardyce, that is a fact.
How about addressing another comment I made. How about providing a link to one, just one, positive comment you have made about our club in the last 15 years?
How about addressing my response to your comment that I said "How great Koeman was". You can't address it, Tony, because you made it up. It was a lie. You don't engage in debate; you engage in "I told you so," self-righteous, blinkered bile.
Provide a link when you ever admitted you were wrong. You can't because you don't have it in you.
Soren Moyer
194
Posted 19/11/2017 at 00:05:44
I didn't want fat Sam anywhere near Everton FC. However, in the event of recent performances, I would gladly have him as manager just to save the Premier League status of the club.
Mike Oates
195
Posted 19/11/2017 at 00:05:53
Can someone tell me how Vlasic, who played for Croatia this week, ended up today playing in our U23s vs Liverpool over at Tranmere? Why isn't he in the team ahead of Schneiderlin, Gueye, Lookman et al?
Unsworth, open your eyes, for Christ's sake, Vlasic and Pickford are the only decent buys Koeman & Walsh made. The lad must be thinking, "Who the hell have I ended up playing for!?! Unsworth Who!?!"
John Pierce
196
Posted 18/11/2017 at 00:11:20
I think the team selection was fair enough. Recognition that both Rooney & Sigurdsson doesn't work especially in a team low on confidence.
However all the players were in there rightful position. A platform for them to work from.
The biggest question mark was the pairing of two players who are woefully out of form: Gana & Schneiderlin.
Unsworth got the selection right and the tactics off beam. The real issue with that performance was how deep we sit. It nullified the players who can hurt the opponent.
Sigurdsson, Lookman and Kenny all playing too far from the opponent's goal. The one time we did so we forced the turnover, and scored.
That's were defensive midfielders should play, breaking up play higher up not sitting on the back four's toes and clogging up the pitch.
Confidence does play a part but if and Unsworth needs to drag that side up the park. People will point to a slow back line but we are conceding anyway by lying deep.
At least a team playing higher up would turnover the ball more, and the oppo would be further from the goal. We gave Palace 65/70% today, all from staying too deep.
Next week is a similar fixture against a goal-shy Southampton side, I would play the same formation and press much higher. For 10 mins today post half-time oranges, we did just that. Created the chance for Calvert-Lewin and forced the cock-up from Sahko.
Hey ho.
John Daley
197
Posted 19/11/2017 at 00:17:04
"
All of Unsworth's team selections so far have been terrible. He should utilize the options he has got."

Having previously said Tom Davies wouldn't start another game for Everton under "a decent manager", if Schneiderlin and Gueye also "shouldn't be anywhere near this team" and Baningime is injured, who does that leave to occupy your midfield berths? A dynamic duo of Klaassen and Sigurdsson? Two of the slowest, poorest performing, most heavily panned players to have turned out for us this season? I've long thought there was no need for the negative handbrake of two defensive midfielders in every single game, but we're not exactly overflowing with other options at the moment.
There's no simple quick fix or 'fail safe' starting line up that will suddenly remedy the shortcomings of this squad and see them start firing again instantly. You yourself slated Unsworth for bringing Lennon back into the side, whilst screaming for Lookman to play instead. Well, one was among the very few players to come out of today's game with any credit whatsoever and the other was practically anonymous and deservedly got pulled at half-time.
Figuring out which of these perpetually underperforming players can be relied upon to actually turn up on the day and what combination will accentuate our attacking play, whilst simultaneously cutting down the plethora of defensive cock ups, is clearly not the piece of piss you suggest it is.
There are no eleven players Unsworth can name that will lead to a universal nodding of heads because, by and large, they've all been fairly shite and had their confidence thoroughly sapped. Almost every single one of them.
I'd love someone to tell me what "the right line-up" actually is (and no, "Well, a winning one" doesn't count), along with why they are so sure it will work when it hasn't before, as we seem to have witnessed almost every permutation of formation and personnel possible this season and still pulled up short.
Seriously, how can you have such confidence in any side cobbled together from this current, unbalanced, Koeman barfed bunch?
How many goals conceded this season have come from Baines being caught out of position or failing to prevent a cross coming in? Yet, he simply has to play because Koeman, in his wisdom, decided to ship one left-sided cover out on loan and never bothered his arse to register the other. The couple of times Martina has been asked to fill in, he's looked about as comfortable as a singing telegram turning up at a senior citizens house to be confronted by a 'crumpet out' Joan Collins commanding him to get his kit off and croon "Cleopatra Comin' Atcha'". So, what exactly do you do about that?
Jags and Keane haven't gelled as a partnership and have been at panic stations for large portions of the games they have played together, but who is there to turn to as an alternative? Ashley Williams and/or Mason Holgate, who many would say have been just as bad, if not worse. That's it. It's basically plump for any two (or three) out of the available four and futilely cross your fingers they don't cock up. The fact people are now counting down the minutes until 'munch on your finger nails' Funes Mori comes back shows how ropy the rest have been.
Out wide, Mirallas has been typical Mirallas. Flattering to deceive one minute, going missing the next, before flinging shit from his pram, then saying "sorry" he only did it because he was pushed and promising it won't happen again. Lookman, when given his chance, has made things happen in certain games, but has struggled to even get going in others. Lennon has typically worked his arse off, offering invaluable cover for Kenny but at the cost of any consistent threat at the other end. Vlasic? Yes, he looked lively when others looked like they would be more at home roaming the Land Of the Dead, but there's surely something more gone on there than Unsworth simply deciding he's not done enough to warrant a sniff.
Similarly, it's not clear-cut who should get the call to start up front. Calvert-Lewin clearly has talent, causes a nuisance of himself, but is too callow to convert enough of the chances that come his way. Rooney has scored several goals, but seems utterly reluctant to sacrifice his own need to be at the hub of things for the shape of the team, consistently drifting further and further back during games to get in the way/get on the ball and then wondering why there's no outlet up top to buy them a breather. Sandro has looked too eager to make an instant impression (which shouldn't really be a negative, I suppose) and clearly needs time to settle, but it seems his composure never caught the flight with him and he never really played as an orthodox centre forward in Spain anyway (often operating out wide or dropping deep).
Thank fuck for Niasse showing he's not the least natural thing to be lobbed up top since Nic Cage's last hairpiece.
I thought he would be one of two nailed on starters for almost everybody, along with Pickford, but it seems even the much praised young goalie should now be given the push as well? So, just the guy who many said should be melted down to make glue that we can all agree on then?
Improvement was only ever going to come incrementally given the state this squad was left in. Step by step.
First order of business was surely to put some fucking fight back in their bones. Second, put a stop to a crippling run of defeats and start picking up some points, any way possible.
Whilst still woeful to watch and riding our luck, we've at least ticked off the first two boxes needed to drag us up from the bones of our arse.
Chad Schofield
199
Posted 19/11/2017 at 00:39:24
John Daley #197, spot on.
Carl Allan
200
Posted 19/11/2017 at 00:40:09
I see we lost the mini derby 4-0 as well today. Can't beat the twats at any level, even last season when the U23s won the title, they managed to get doubled by their RS counterparts. Let's just accept that these days our season consists of 36 games – not 38.
David Barks
201
Posted 19/11/2017 at 00:40:35
Who to play instead of Gana and Schneiderlin? First of all, never play them both together ever again. Second, if one must be selected, partner with Davies, or Klaassen, or use Besic as the holding player instead of both of them.
Sam Hoare
202
Posted 19/11/2017 at 00:52:32
John@197 darned right. There's a lot of 'why doesn't he play Lookman' followed immediately by 'why did he play Lookman?!!'
Our players all look mediocre at the moment. At best.
There is no 'right' team selection.
Unsworth has got 4 points in last 2 PL games and I'll take that return rate for the next 2. Or 20.
John Pierce
203
Posted 19/11/2017 at 01:02:59
David,
I think whatever the merits and distractions of any defensive midfielder pair, any combination will struggle when sat on the edge of their own box watching the world go by.
Place Davies & Klaassen there – both forward driven players capable of pressing, what use is that to us when the whole team sits so deep? Agree?
Place the 'undynamic' duo high up the pitch and I'd think they would be a lot better. I won't pretend neither are playing well but they are set up to fail sat back there.
Any manager can get that side up the pitch, last 20 minutes last week, will get more out of those sorry set of players.
Fook, if I was in charge and any of those fookers sat back, I'd shoot them with an 'effing air gun.
Depth is killing us both ways.
Nicholas Ryan
204
Posted 19/11/2017 at 01:17:10
When you're in a relegation fight [and we are], the first thing you need is character; well, we've got 4 points in the last 2 games, by coming from behind, so we can [tentatively] tick that box.
Second, you need to win your home games, and draw your away ones. Well, since we tasted the bottom 3, we've won one home match and drawn one away. Again, [tentatively] tick that box.
Third, you need to hold your nerve; 'Don't Panic' as Corporal Jones would say! We will have to grind out some results, while playing dismal garbage; but that's just the way it is.
Fourth, you don't heap vitriolic abuse, on the poor guy who's had the poison chalice thrust at him, but is at least, beginning to steady the ship. I don't think Unsworth is the medium or long-term answer; but let's support him while he's here.
Couldn't help imagining a conversation last season: Niasse: 'Listen Ronald, you may think I'm rubbish, but in 12 months time, you'll be history, and I'll be a Premier League goal machine'!!
Finally, it was Napoleon Bonaparte, who said: 'Don't give me generals who are good, give me generals who are lucky'.
Bill Watson
205
Posted 19/11/2017 at 01:44:33
Just got back in time for MotD after a nightmare journey home!
Schneiderlin put in another totally ineffective performance. Why he keeps getting selected is beyond me and he constantly puts the back four under pressure by losing the ball in dangerous areas. Poor performances by Keane, Sigurdsson and Lookman.
I'm not a great fan of Lennon but at least he puts in a shift, exemplified by his dash the length of the pitch to help out Kenny in a Palace break in the first half.
All-in-all, another disjointed first-half performance; Palace should have been out of sight by half-time.
Don Alexander
206
Posted 19/11/2017 at 01:48:52
John Daley (#197), you again assert, with others, that it's basically all Koeman's fault yet you then go on to quite rightly point out that our most deficient areas are centre-back, left-back and centre-forward.
I'm not defending Koeman's performance with us but surely you remember him, and the club, saying that transfers were the responsibility of others, not him? Surely you remember he said as the last two weeks as the summer window unfolded that we need signings in the three areas you now rightly cite? You therefore have to realise, as I do, that someone other than Koeman fucked up our season (and, if it continues much longer, ours seasons to come) by the time September began.
Therefore the problem individual/s is/are still at the club, playing a significant part in our prayed-for survival. That's the real worry, and not that the skills of a new permanent manager are by any means trivial worries by the way.
David Barks
207
Posted 19/11/2017 at 02:08:42
Whoever started this trend of two defensive midfielders being a requirement in England needs to be shot. Honestly, I hate it. The central midfield pairing should not be defensive players, it's a complete myth that has been allowed to take hold.
Just look at United today. And yes I'll ducking compare us to United because the last time I checked we're both playing football. They had Matic in the middle. He was joined by Pogba and Mata, with Lukaku up top and Rashford and Martial on either side of him. You do not need two defensive players in the middle of the park. In fact, it's a detriment. All it does isn't hurt you in attack and allows the opposition to keep pushing forward knowing you have started the match short in attacking numbers.
Neither Gana or Schneiderlin offer a fucking thing in attack. They don't play decisive passes, offer zero goal threat, and are both trying to do the same job of just breaking up play. If you want to play one of them, I guess, OK. But together, you might as well just start with 10 men. It's idiotic. I'm not saying we have a Matic in our team. But trying to get two players to do his job doesn't make us better, it makes us worse.
Peter Barry
208
Posted 19/11/2017 at 02:19:18
We have to face up to reality and that is – crap as Koeman most certainly was – the tools he had at his disposal were crap too.
Oh and I know he must bear some but not ALL of the blame for the incoming transfers too. The much vaunted closed season incoming transfers have, almost to a man, been completely useless and lacking in backbone, ability and desire. In fact you could not have chosen a better bunch to ensure relegation if you tried.
We have another – and traditionally difficult – January transfer window coming up and we need a new Manager too of course. Success in both are crucial to Everton's continued Premier League survival – fail and we WILL be relegated and, with the current state of the club from the top down, who knows where we will end up.
Peter Barry
209
Posted 19/11/2017 at 02:42:31
There is a whole lot of 'Titanic deck chair rearranging' going on on here and the Live Forum. But the reality is this bunch of players are in the most part spineless wimps or end-of-career old men just going through the motions to pick up their grossly inflated paychecks.
The last transfer window was a disaster and, apart from the goalkeeper, who has not been too bad, the rest of them are gutless untalented wonders who WILL get us relegated unless drastic action is taken.
The January window and the next Manager are crucial to Everton's Premier League survival. Oh and all those who were involved in the last Transfer window debacle should be given the 'bums rush'. Koeman of course has already paid the price but he was not the ONLY guilty one.
Anto Byrne
211
Posted 19/11/2017 at 04:37:54
Fuck, what happened to Beni? Davies needs to run off Gana. Back 4 are a big problem, and Pickford or Robles? I think the Spanish offers at bit more?
Our middle has to be Rooney and Sigurdsson and of course Niasse needs a partner, so who? Mirallas in the middle and a winger – we need Lennon or Lookman.
Then Calvert-Lewin really should start for 60 mins. Unsworth has a bit problem and 23 is okay but for me needs a high profile manager and get it sorted out. Time to get on, Everton.
John Daley
212
Posted 19/11/2017 at 04:57:04
Don (@206),
When Koeman was (rightly, in my opinion, absolutely no doubt about it) sacked, my response on here was "half a job", as I felt Steve Walsh should, at the very least, be coming under severe scrutiny for the part he too has played in helping to assemble a seriously unimaginative, strangely unbalanced, massively overpriced squad.
On the one hand you had Koeman saying he didn't have full control over which players would be signed for the first team and, on the other, Steve Walsh saying he didn't have the final say because he always had to get the nod off Koeman before he could bring a player in. Conflicting messages from two guys supposed to be working in tandem might go some way to explaining a total cluster fuck of a transfer window?
Then, of course, there's Kenwright who is allegedly still taking point on negotiations and Moshiri who, for some reason, thinks it makes sense to phone his mate at Sky while sounding like he's sunk a bottle of Merlot and is speaking through a rolled up magazine for shits and giggles.
It's like Cluedo. You can make a case for any one (or all) of them having left sticky fingerprints on the big fuck off elephant gun that shot Everton FC in the foot this summer.
Doesn't change the fact Koeman was the closest man to the corpse though. He was being paid £6m a year to breathe life into it on the pitch, yet he couldn't even bloody pull it to it's feet and drag it about 'Weekend At Bernies' style. He just kept shovelling more soil on the poor bastard, before shrugging his shoulders and pissing off to play golf.
If he wanted another striker so badly he should have been in the faces of those who could make it happen right up until the transfer window slammed shut. If his entire game plan for the season ahead revolved around a target man up top, he should have gone for one of super scout Steve W's alternative selections instead of saying "Giroud? No go? Fuck sake. Where's me five iron?". He could have made clear to the club that a forward was his number one priority instead of insisting they persist with getting him Gylfi Sigurdsson, no matter how prolonged the pursuit. He could have refrained from publicly telling the star striker he just had that he would look back on his career with regret if he remained at Everton for the duration.
If he was so acutely aware of how short we were of cover at left back he could have remembered to register a second, just in case.
He could have tried implementing an actual playing style and getting the message across to his players, instead of constantly preaching vague buzz words like 'pressing' and 'productivity' that rarely materialised out on the pitch. He could have tried selecting players in their proper positions, remembered there were such things as pace and width, and held his tongue instead of issuing utterly hollow ultimatums in public to a popular player he foolishly thought it would be a piece of piss to replace.
Harry Catterall
213
Posted 19/11/2017 at 05:18:37
Everton FC have to take a radical decision. A change of manager is required now. David Unsworth has just struggled to live with the Premier League's bottom team and we are faced with a once-in-a-generation slip into the abyss.
We need a leader that we can get behind, a fighter that we can move forward with together. If Marco Silva is willing to join the fight, he must be appointed immediately. Even Allardyce will not join us.
I pray that the board will deliver the pop star managers don't want to know. It is time to fight as a club and community.
Andy Crooks
215
Posted 19/11/2017 at 05:20:32
Right now, the admirable David Unsworth is playing every match as a trial. It is unfair. He is being put in an impossible position. He cannot plan for the future, he can only think that the Southampton game might save his job.
This is no way to prepare our season. Back him now or appoint a new coach. In my view, we should give him the job, set targets and prepare for the future.
If the board have any doubt, then get a new manager and back him. We are in limbo now. It is not working. We have winnable games ahead and we either need a confident Unsworth or a new coach with a long-term plan. We do not need "interim", we need decisive direction from the custodians of the club.
Clive Mitchell
216
Posted 19/11/2017 at 05:32:04
Whatever else he's done, Unsworth has got a team fighting. Koeman was an utter disaster who will be judged the worst Everton manager ever when the dust has settled.
As Paul (#131) said, we are in deep trouble. It's because we have young professionals like Kenny, Baningime, Davies and Calvert-Lewin necessarily being asked to carry a man's load.
It's because we failed in the summer to replace a left-back and two centre-backs who wouldn't cut it at Premier League level this season.
It's because in Schneiderlin we have possibly the worst excuse for a professional footballer ever to take the club's money.
It's because we had three stand-out Premier League players last season and none of them have kicked a ball for us this season.
And it's because we made a monumental cock-up of spending 𧵄 million in the summer. We may well need someone other than Unsworth in charge to have a chance of steering clear of the mess we're in. But it's Koeman's mess; whoever else owns a piece of the blame, it's not Unsworth.
James Byrne
217
Posted 19/11/2017 at 07:16:33
Yesterday, we saw some positives (not many) in our youngsters and new recruits, but they're not going to get us survival this season. As it stands, we are getting relegated without doubt unless a miracle happens! Although I do think we have the players to survive the drop.
I think we've bought an outstanding goalkeeper and the display by Kenny yesterday was top drawer; both of these young lads are getting some good experience, albeit in the wrong environment. But they're both learning fast.
Now I hold the highest respect for Unsworth but he's not going to keep us from the drop and it's not fair that he ends up with the huge responsibility of avoiding relegation from the mess left by Koeman and the board!
The new manager will come in and identify where we need a balance of experience from the older players and pace from the youngsters. The likes of Jagielka, Rooney, Baines, Keane, Pickford, possibly Lennon and Sigurdsson should be providing some balance – is there a place there for Barkley?
In the younger lads, Kenny, Clavert-Lewin, Davies and Lookman will combine pace and turn chances into goals. Niasse is a raw talent but he doesn't have 90 minutes in him, either physically or mentally.
I wouldn't allow Schneiderlin, Mirallas or Gueye to even get on the bench – all three are shite, at present anyway!
Let's hope a credible manager is brought in soon before we are doomed.
COYBs.
Bob Parrington
218
Posted 19/11/2017 at 07:23:01
John Daley (#197) Wow! This is two of your recent postings I have generally agreed with. Some on here are never happy with certain players' consistency. Agreed.
I think some others' comments about Pickford are ripe. Admittedly, there have been several goals from him saving but pushing the ball away. But, the defence in front of him, particularly from his left, has been atrocious and, a common fault with our team for some seasons is, our right side defence and midfield is often not in place to support and defend what might really be considered a great save.
On the lighter side – my missus picked me up on a comment today. I said "some of the comments on here are shit". She said, "What's the difference between shit and shite?" (she's not from the North West). I had told her about me being in the Main Stand a few years back, where one guy was constantly shouting "You're shit Jagieka!"
So, I explained – we're playing shit this season but we're never shite. We reserve the use of "shite" for those across the park. Shit has a certain body to it whereas shite is like it sounds a bit like diarrhoea! Wet and horrible and massively irritating. But, we were getting close to shite with Koeman but I thing we're closer to shit just now.
I reckon this sums up where we are! We have the squad we have, full stop... until January! Let's just get enough points by January to make the position recoverable by the end of the season!
Bob Parrington
219
Posted 19/11/2017 at 08:06:46
Glad we started with Niasse as striker instead of Rooney. Can't fault his heart and soul effort, which brings him results,.
Somebody on here wrote Niasse is just a 2nd half player. In this game, whoever it was was proven wrong!
How do we stop leaking goals? This is the first question. Some on here are turning on Keane but, hey, the lad is young and playing with some crocks. Give him a break. 2 defence signings in January, even if short term. 1 x LB, 1 x CD. 1 x striker, too!
Get rid of Schneiderlin and Sigurdsson in midfield plus Mirallas, unfortunately, who could have been useful if he had been handled well by our former two managers.
Peter Lee
220
Posted 19/11/2017 at 08:13:03
Shambles – again. It's as if Unsworth hears the need for defensive solidity but his heart isn't in it.
Set out 4-5-1, good in my view. Looked to get the wingers and Niasse forward quickly when we could break, again sound stuff. Needed Sigurdsson to dictate the play from the centre – didn't work, hasn't worked, can't work. Rooney should have started in that position.
To make it all work, remember it's about keeping a clean sheet, Schneiderlin and Gueye need to sit in front of a back four and to allow the full backs to go wide, covered by the wingers, by slotting into a back six if need be and by covering the runners. They didn't do it. They weren't expected to. The back four played narrow. This is a deliberate choice of the manager and it is nonsense.
Kenny was caught out for both goals on the far post looking across the play whilst scorers came behind. He's done it before. He'll carry on doing it whilst we play the way we do.
Unsworth's heart isn't in this essential defensive stuff and, when it doesn't work, he makes the ridiculous substitutions, as yesterday, and it all becomes shapeless schoolboy football.
We need a permanent manager who can organise this stuff and get us another 10 points by Christmas whilst he is finding his feet and planning for some new personnel in the window.
We already have better players than the likes of Burnley but they are organised, keep clean sheets and sneak wins that put them in the top seven. The manager is the difference.
Charlie Dixon
221
Posted 19/11/2017 at 08:30:47
Get Dyche in now!!! It's not rocket science. I would probably take Tony Marsh's choice Big Fat Sam as well over this shite.
Steve Brown
222
Posted 19/11/2017 at 08:31:03
Poor performance, particularly in the first half. BUT, we have earned four points from six, scored five goals, are creating more and the effort and commitment is improving. And most of all, this might help the team build its confidence as it is rock bottom,
The question has been posed all season how have we got so bad and it is simply the poor form of a large number of senior player at the same time, multiple new buys to assimilate and the erosion of confidence because of defeats.
I want a top manager in, not someone how has got a team relegated or never won a trophy in a top league. With the wealth we have, that is the level we should aiming at hence no decision after three weeks. I actually think Unsy has steadied the ship by picking players who are up for a fight so confirm him in role until January earliest and let him build the confidence up of the squad.
Tommy Carter
224
Posted 19/11/2017 at 08:40:42
A crazy team selection really. I appreciate the need for pace but Lennon and Lookman in the same team away from home is not the answer.
I'm surprised at the complete exclusion of Vlasic. I actually think he played well in the last few Koeman games. He's the only player in the squad with any kind of craft or creativity.
It seems like Unsworth doesn't know his best XI.
Phil Walling
225
Posted 19/11/2017 at 08:58:18
Just watched the re-run on Sky. Everton were appalling against the league's bottom team. Howard or Robles would have been 'murdered' for goalkeeping like that. And Unsey brought in a new goalie coach – I'd give him his cards along with the useless Walsh!
Bobby Mallon
226
Posted 19/11/2017 at 09:04:06
Phil, you're correct – why this insistence on punching the bloody ball? Just catch the bloody thing.
Paul A Smith
227
Posted 19/11/2017 at 09:17:15
David Barks (#207) spot on again. Two defensive midfielders every week is dreadful.
Watching us is getting worse every week knowing there is very little chance of seeing a good level football played.
Oliver Brunel
228
Posted 19/11/2017 at 09:22:51
Phil (#225), I believe honestly we are the worst club in the Premier League. I believe we have been asset-stripped for the entirety of The Emperor's pantomine reign. The truth will come out soon enough.
As Plato said, some people need to be dragged from the Cave of Darkness kicking and screaming, to see the light of truth. The Emperor must be thinking what an easy ride he has had, no opposition from the fan base as he tries to outmanouevre Usmanov into the bargain, our only hope of a renaissance.
Phil Walling
229
Posted 19/11/2017 at 09:30:07
Oliver @228. It is easy to blame it all on Kenwright and if it makes you feel better so be it. But the disaster that was Koeman/Walsh was all of Moshiri's doing. He may have money but, in football knowledge, he is a dunce – a second Randy Lerner. Gawd help us!
Ciarán McGlone
230
Posted 19/11/2017 at 09:41:39
We clearly wasted a lot of money on the wrong players previously. Arguing about whose fault it is is irrelevant to our current plight. We still have some very good players who a decent manager should be able to organise into a decent attacking threat.
Unsworth got it wrong today. Selection, formation and substitutions. Why Baningime and Vlasic are in the U23s is a worrying mystery.
However in hindsight, we should cut him some slack – managers are allowed to make mistakes. It's whenever they repeat the same mistakes repeatedly that they become dangerous.
Tony Marsh
231
Posted 19/11/2017 at 09:51:20
Steve @ 222,
So you would like only a top manager next up here? Well, wouldn't we all, Steve! At this moment in time, we couldn't attract flies to a dump mate!!!
You say you only want a manager who has won a trophy?? So you wouldn't take a Pochettino type from Spurs then would you because Pochettino has won nothing?
"With all this wealth we have"!!! What wealth, Steve? We squandered the Lukaku and Stones money on shite but massively increased the wage bill doing so. There is no wealth within the club – we are still skint and still selling off our best players. The TV money goes on the ludicrous wages we are paying the likes of Wayne Rooney and the rest walking dead...
In short, we don't have any proper clout financially and we are not in any position to attract a top coach who bulges the trophy cabinet. I just wish Evertonians like yourself would take a dose of reality pills, mate. It's very worrying how naive some of us are. We all need to get real and realize we have all been Kenwrighted yet again.
Derek Thomas
232
Posted 19/11/2017 at 09:54:49
Phil @229; To my mind the blame falls on all 4. But until we really know just who had responsibility for what, we can't say, who didn't do what and to what degree.
It could said that the 3 stooges are now 4 (Unsworth replaces Koeman) but the same Prof Codman – or is that Conman – is working the puppets.
I think the Board have gone all in on getting a big name in the summer. I hope this Plan A (no Plan B?) works.
Rob Baker
233
Posted 19/11/2017 at 09:56:51
After sitting in the main stand with Palace fans, here's my thoughts.
We are going to be in relegation trouble all season. Offensively as a creative unit, we are abject. The cause of the problem is Gueye, Schneiderlin and Sigurdsson. As a midfield trio, they offered nothing.
I thought Lennon worked his socks off defensively for us. Lookman hardly had a touch. Keane and Jagielka did not inspire much confidence. Kenny did okay with the defensive side but offered zero at an outlet further up the field.
Baines did very little, Niasse, like Unsy said was a nuisance. We were gifted that second goal by Dann and the pen was never a pen.
Kim Vivian
234
Posted 19/11/2017 at 10:16:33
Nicholas Ryan – #204. I like that post. I just wouldn't describe Oumar as a 'goal machine' just yet but whatever, never mind Russia, he has to be edging our player of the season so far this year.
David Barks – #201. Agreed – I'd play Besic before Schneiderlin every day of the week. At least we would know he's on the pitch. And he uses up a fuck lot less typewriter ribbon.
Don Alexander – #206. Koeman did the best job of opening our sea-cocks and scuttling the ship since the orders were given at Scapa Flow. He was in charge of the team and he has to drive the acquisitions forward, not be a bystander, and his chase for Klaassen and Sigurdsson were akin to leaving the portholes open to continue the analogy.
Williams looks a better risk than Keane at the mo' and... ..fuck it - Out if time. I'm off to watch a West Kent Sunday Football league game now and get my entertainment threshold raised.
John Keating
235
Posted 19/11/2017 at 10:18:35
I think whoever comes in must keep Unsworth as his number 2 for the rest of the season. He can do what he wants in the Summer, backroom staff wise. The new manager will take a while to get any sort of sense with our present squad and at least Unsworth will be able to give him the best available advice.
The only remit any manager should get from our incompetent board is to do anything and play any way, shite or not, to ensure survival this season.
We can all see what we need next transfer window, getting rid of the dross we have and have recently bought should go some way to pay for the new arrivals.
Once people accept the situation our Club is actually in and stop talking about this shit 2 wins and we're top half, no need to panic, too good to get drawn into a relegation battle etc etc etc the better.
We have shown a bit more fight recently but let's be honest we are still abysmal and a bit more fight will not be enough to get us out of this mess.
Steve Cotton
236
Posted 19/11/2017 at 10:20:18
Just a couple of questions...
Have you ever seen anyone booked, like Niasse was, for jumping with an opponent and falling forward too easily?? I think the ref had been told the penalty was a dive and he was taking retrospective action.
Also, Loftus-Cheek was injured and received treatment but was allowed to stay on the pitch afterwards?? Is this the new law??
Bobby Mallon
237
Posted 19/11/2017 at 10:28:18
John Daley, it's not the personnel, it's the formation. 4-3-3 does not work for us and never will. But I can assure you if this team plays we will win more than we loose; however, it has to be this formation and players:
Formation: 4-4-2. Players:
Pickford
Kenny Keane, Williams, Jagielka
Vlasic, Klaassen Davies Baines
Niasse Calvert-Lewin.
Baines should have been pushed forward years ago and Klaassen, if given a run, is that missing link between midfield and the forward line. He has a quick football brain.
Peter Gorman
238
Posted 19/11/2017 at 10:32:14
It is hard to see how any manager can improve the side without vast changes of personnel.
The defending by Keane and even Jags was comically amateur. But the alternative is the even worse Williams. The way Keane flapped about the ball and let Benteke (I think) push past him for one of their last chances was absolutely amazing for a professional defender. People talk rightly about lack of confidence but what about lack of pride.
The plus side is the team doesn't give up as readily as under Koeman and I'll take that plus for now. Niasse is a shining example of graft but the others need to take a long look at themselves.
These are no dogs of war. January should be an expensive month.
Kim Vivian
239
Posted 19/11/2017 at 10:34:42
No way was the penalty a bookable dive. He clearly got sufficient of a nudge/slight obstruction to constitute a foul and made a meal of it. If he had stumbled but stayed on his feet, it would still have been a minor foul but would have been allowed to go. I have seen more blatant fouls not given because a player stayed upright and I don't sanction the melodrama – but good for him on this occasion.
Paul Kennedy
241
Posted 19/11/2017 at 10:36:17
Dyche... Silva... are we really that bad that we are happy to take a manager who over a season took their respective teams from the Premier League to the Championship? Where is the ambition, the 5-year plan? (Not that I think we have got a week by week plan!!!)
Brent Stephens
242
Posted 19/11/2017 at 10:42:40
Bob (#218) – you're analysis of the different connotations of "shit" and "shite" is wonderful! And I agree with your comments about Niasse and Keane.
A new manager is appointed and we always say "he must be given time". Unsy steps up and he's judged within a handful of games!
Is Unsy having to adapt to the Prem and the level of managerial ability he's confronting every week. I guess so. But he's also having to adapt to a group of players he's not worked with or even seen in training before now, if it's true that Koeman locked him out of training sessions.
I have no choice in giving him more time. Every week that passes with him still in charge, he is getting more time. So I'm interested in any sign of improvement he can bring over the coming weeks or months if he's in post that long. Out of my hands.
A steep learning curve for him.
James Marshall
243
Posted 19/11/2017 at 10:44:26
Unsworth said: "That was a well-fought point. I am delighted with a point."
He truly IS one of us.
God help us.
James Marshall
244
Posted 19/11/2017 at 10:47:03
Also from Unsworth: "We conceded two poor goals – our own downfall. To concede so early is always a blow but we came back strongly and this team has shown they have fight and desire."
Well if they showed some fight & desire before conceding shitty goals, maybe they wouldn't concede shitty goals.
Sorry, but Unsworth shows the Evertonian mentality through & through – a perennial underachiever with his heart in the right place – the very essence of Everton.
I'm sick to death of it.
Tony Abrahams
245
Posted 19/11/2017 at 10:48:02
It's too depressing to think about at the minute, and I'm going to make matters worse for some people because I think John Daley talks a lot of sense when he's being serious!
I'm not saying you're not funny John, but I think you know your football, and I enjoy what you've got to say when you talk about our team, but with nothing much to laugh at, at the minute, I'm probably better keeping my opinions to myself!
James Marshall
246
Posted 19/11/2017 at 10:51:27
Apologies for posing yet again in short order, but this from the BBC...
"Everton have made eight changes at half-time in their past 10 games.
Ademola Lookman and Morgan Schneiderlin were replaced on Saturday, but it is a revolving cast of underwhelming players who are contributing to the Merseysiders' malaise.
Unsworth has continued former boss Ronald Koeman's habit of trying to remedy the problems created by his starting XI after 45 minutes."
So basically he also has no idea what to do with this squad, exactly the same as Koeman – to me that says he is clearly NOT the right man for the job.
Peter Gorman
247
Posted 19/11/2017 at 10:55:02
James, nobody, literally nobody has any idea what to do with this squad. I cite every thread on TW.
Walter Smith once quipped he couldn't turn shite into honey. That is what we are asking Unsworth to do.
James Marshall
248
Posted 19/11/2017 at 10:58:32
Oh absolutely Peter - I entirely agree and have said it on many threads that I don't think it actually matters who our manager is at this point. What I'm saying is that I don't thin it's Unsworth long term because he's just doing that same things Koeman did, but with slightly different formations/personnel.
I don't understand this mentality of sending out a team to be 'solid' first half, then change it at half time and 'have a go'. It's negative, reactive management. We need a forward thinker, not an Evertonian.
Peter Gorman
249
Posted 19/11/2017 at 11:03:46
Indeed James. The only solution is to throw a lot of money at the team and a forward-thinking manager in January.
I absolutely hate Koeman at this point in time.
Chris Gould
250
Posted 19/11/2017 at 11:12:57
Ciaràn (#230),
I have the very same concerns. I actually believe that Beni and Vlasic were left out of the squad to help out the U23s in their mini derby. That is absolutely crazy.
Is it possible that Unsworth has got one eye on a return to the U23s, and that his desire to close the gap on the current leaders came at the expense of the first team?
Sounds ridiculous to even suggest it, but the decision just doesn't make sense to me.
John Barnes
251
Posted 19/11/2017 at 11:22:46
Havent read all that's gone before here or on other threads regarding a new manager but if Watford lose again... 4th on the bounce wouldn't Silva be in line for the axe?
Tony Everan
252
Posted 19/11/2017 at 11:24:27
Anyone else worried that we won't be buying in January until we have sold a few?
Get ready for a deadline day standoff and more "he was in the building" stories.
Any messing about after January 1st will see us seriously in danger.Terminally so.
Steve Brown
253
Posted 19/11/2017 at 11:26:25
Sky sports reporting that Silva is not available and they will not entertain any offers regardless. Good
Lawrence Green
254
Posted 19/11/2017 at 11:28:19
Oliver #262
You insist on referring to Mr Moshiri as USM unless of course the sponsor of Finch Farm is responsible for appointing the next Everton FC manager? You have had lots of fun with your Jabba the hutt etc but seriously you are no wiser about the machinations inside the club than the rest of us, unless you have access to a Holocron.
Mire deep Everton in. May the force be with us!
Steve Brown
255
Posted 19/11/2017 at 11:29:00
Has anyone else noticed how poorly matched we have been against Palace and Watford in terms of size, athleticism and pace? We are so easily out-muscled and out-paced in the premiership now Lukaku has gone.
Oliver Brunel
256
Posted 19/11/2017 at 11:29:40
Tony (264) absolutely. Does anyone else feel we are like a rudderless Titanic heading for the iceberg? I don't blame Usmanov for losing interest, this could be catastrophic.
Martin Nicholls
257
Posted 19/11/2017 at 11:29:47
Oliver - I assume your repeated use of "USM" is a reference to Usmanov. You give the impression of having inside information that the rest of us are not party to. What is it? Or are you making it up?
PS - I will add my voice to those of others and ask you to stop your repeated references to Star Wars(?). They are not funny and to those of us who have never watched the films, simply tiresome.
Frank Crewe
258
Posted 19/11/2017 at 11:33:21
There isn't a manager on this planet who could make anything of our current squad. We only have one player who is showing any sort of consistency and that's Niasse. Everyone else is devoid of confidence and has lost form for one reason or another. Players are good one game and rubbish the next. They get picked for one game and dropped for the next. What's happened to Vlasic? Why doesn't Besic get any games? Is Barkley fit? Why is Williams and Shneiderlin's form so lousy? Where's Klassen? Why didn't Beni play? When will McCarthy be fit? It just goes on and on. It feels like every game they just pick 11 names out of one hat and the formation they are going to play out of another and then change it all at half time because its all gone Pete Tong again. Any manager who takes Everton on in our current state will need to be a tactical genius on a par with Alexander the Great or Napoleon.
Oliver Brunel
259
Posted 19/11/2017 at 11:33:31
Lawrence, I have never ever said I was privy to any real special knowledge about the club.
Raymond Fox
260
Posted 19/11/2017 at 11:37:42
Tony 23, as far as being decisive about the managerial position is concerned who is a good bet to improve our squad of pretenders.
Silva is a big gamble in my opinion, he's done ok, but only over a short period, much too short for my money.
Koeman appeared to do a good job at Southampton, look what he turned out to be, I cant think of any aspect of his job that he was good at apart from 'pissing' players and us supporters off!
Offering Watford £10m or whatever it is for Silva smacks of out of the frying pan into the fire to me.
Lets tough it out with Unsworth, footballs hardly rocket science is it, he knows what the games about, plus he has Joe Royle in the background who has a ton of managerial experience if he wants his imput.
Our number one problem is our players, the truth is that they are bunch of good Premiership players, perhaps good is stretching the truth in some cases, their good but not good enough for a team that expects to be challenging up towards the higher reaches of the League!
Having said that I think its too soon to panic yet and employ a Silva or a Dyche, we have enough to stay up even though the team has its limitations.
Obviously thats only my opinion and its an old cliche to say we are too good to go down, but I think we are.
Dave Williams
261
Posted 19/11/2017 at 11:44:01
Great post John Daley! Absolutely spot on- there is no magic formula here. There is a lack of confidence, a lack of fight in some players and too many of the experienced players unwilling to grab the squad by the throats and lead them forward. Progress will only come in small steps. I recall HKs team in 1983 couldn't score a goal to save its life but eventually it started to keep clean sheets and slowly the great players started to emerge. Yes, we had the likes of Reid and Gray to lead us forward but in 1983 they weren't doing that- they only started to have an effect gradually.
This squad is inferior to that one but there is plenty of potential and we have shown in the last week that it can score goals. What we have to learn is how to stop conceding stupid early goals and someone has to get a hold of the defence and DMs to drill them. Good defence comes from knowing what your fellow defenders are going to do and where they are going to run. Allardyce,Dyche and Pullis would drill them to within an inch of their lives to properly prepare them for a game- we must get someone to do this.
As for us fans we have to keep behind the team, remember how we helped in the Watford game and slowly but surely we should start to get better- there is no quick fix!
Paul A Smith
262
Posted 19/11/2017 at 11:46:47
New stat on Silva.
Hull 3 points adrift when he took over.
6 points adrift when the season finished.
Oliver, sack listenening to people who pretend they know billionaires. This emperor thing is not a story its just you assuming roles for people you make assumptions against.
Only facts will get us to the bottom of what we need to know.
Eric Paul
263
Posted 19/11/2017 at 11:48:42
I don't know how many first team games Unsworth got to see during the Koeman era but surely someone has told him Schneiderlin and Gueye can't play together.On another note the players we signed during the summer were all top performers for their clubs some were captains.
Tony Abrahams
264
Posted 19/11/2017 at 11:56:03
It's a fucking Massive worry, because what James Marshall writes about in post 255, I could have told you as soon as I saw the team to play Leicester.
Hugh Jenkins
265
Posted 19/11/2017 at 11:56:28
Here is something I posted on the live feed yesterday.
"All managers seem to get categorised very easily. I am not a fan of Allardyce, but although he now has a reputation as a "go to " man for saving clubs fighting relegation, when he was at Bolton, he brought them up , consolidated them in the premiership and took them into Europe over the passage of several seasons where he improved their position, year on year. He left for a new challenge because , on the funds available, he said he had taken Bolton as far as he could - and I think that was very fair comment. With regard to Dyche, admittedly he has taken Burnley down, but he has also brought them back up again. As with Allardyce, he has improved them year on year on a very limited budget. Everyone immediately jumps to the conclusion that these managers play a style of football that appeals to them. No one stops to think that they play a style that fits with the personnel they have available to them and with the personnel they can afford to bring in. Who know what Allardyce might have achieved at Newcastle, if the fans hadn't turned on him form day one, because of his reputation up to that point? Who knows what Dyche might achieve, if he were to come to Everton and be given a big budget? It may turn out, as many predict - useless. On the other hand, it may turn out wonderfully. Finally, I believe the same thing apples to Unsworth. What precisely, do Everton supporters expect him to achieve, with the hand that he has been dealt? His back four choices are a rookie, three others that are past their best due to age and a new centre back, who's confidence seems to be shot because of the state of the team he is playing in. Midfield choices are either rookies, misfits or "stars", such as MS or KM who can't really be bothered to put in a shift. Strikers, again we have a rookie, a golden boy in rapid decline and Oumar - who by the grace of God, did not manage to get transferred out on deadline day, otherwise we would be even further in the mire than we are now. Who - (be it Unsworth, Dyche, Silva, Allardyce, Tuchel - or anyone else you care to name apart from the man who 2,000 years ago could work miracles, bit who isn't currently available), is going to come into the club and turn this lot into a winning combination over night? Until we get a lot more work on the training pitch, some of our injured players back in play (Coleman, Bolasie - possibly Ross), I doubt if anyone - whether new appointee or Dave Unsworth, is going to get a better tune out of this lot, than we are currently getting. It's sad, it's worrying, it's a fact."
I still think it's just as relevant this morning.
Let's have a good look at our club and what we have, where we are and what we are trying to achieve?
Moshri was hailed as a saviour - but the influx of money has made us worse!!!
Until we get a professional management team at the very top of the organisation - i.e. Board level - we are never going to improve - no matter how much money we have at our disposal.
Ray Roche
266
Posted 19/11/2017 at 12:07:01
Paul#274
They were 2 points behind Sunderland and 6 behind Boro when Silva took over. They finished 10 ahead of Sunderland and 6 ahead of Boro. With more time they would have had a fighting chance of staying up. They also won twice as many games under Silva as they had when he took over. They had won 3 in 20 games and six in the remaining 18 games after Silva.
Hugh Jenkins
267
Posted 19/11/2017 at 12:07:47
Following on from my last post, I also posted on this thread about DU's "tightrope walk" at the moment.
He has said he speaks to the Chairman "everyday".
He really wants the job - so he has to "please" the chairman.
I asked the question " How many of his current "team choices", are based on the Chairman's "recommendations"?
I believe that if DU is given the job and is therefore allowed to be his "own man", we may see a very different team selection and strategy on the field.
After all, he didn't do such a bad job with the U23s - did he?

Tom Bowers
268
Posted 19/11/2017 at 12:34:13
Whilst we all have our nominations for the next boss we really have no idea how he will pan out. It's very much a lottery and nobody can blame the top brass.
They don't have a crystal ball. Manure thought they had a perfect replacement for Sir Alex and look how that failed.
How can anyone blame Moshiri ?
When Carey was sacked by Everton the appointment of Catterick was bemoaned by most fans but look what he did in his first 8 years.
After that was disaster after disaster, Bingham, Lee, Walker before Kendall weaved his magic and then Royle got an F.A. cup win. After that, more mediocrity with Smith, Moyes and Martinez followed by the short reign of Koeman.
The next one will be just as a big a gamble even a man with the apparent qualifications and past success.
Julian Exshaw
269
Posted 19/11/2017 at 12:39:27
I think Unsworth is in an impossible situation as others have commented. He has limited time to impress the board and no room to manoeuvre which is why he goes for the safe option of Gueye and Schneiderlin. Basically, he has had to stop the rot which he has done to a certain extent because rot is what we have become since Martinez's first season at the club.
With the exception of Leeds United 15 years ago, it is hard to think of a club which has fallen so far. We are a million miles away from being anywhere near the top 6. We have no manager, players who have no confidence, no clear objective and a style of football which is bordering on archaic. The board, meanwhile, is doing serious damage to our reputation as a club. What they are doing with Silva stinks of desperation and does us no favours. Even pundits these days seem to be sick of us, constantly criticising our style and even calling for our players to be punished ( and this from a former player of ours, Mr Saint Lineker on MOTD). I love this club ,as every contributor on this site does, but at the moment and for the first time I can remember as an Evertonian, there is a negative vibe which goes beyond bad performances. I have no idea who the next manager should be but the board needs to stop their bloody dithering and get it sorted while there is a semblance of dignity left involving this great great club.
Oliver Brunel
270
Posted 19/11/2017 at 12:45:13
Hugh (#279) – stop talking sense; you are wasting your time.
Of course, if Kenwright (I am not allowed to use 'The Emperor' any more – so says Mr Nicholls) is interfering in team selection, then we are truly doomed.
Brian Harrison
271
Posted 19/11/2017 at 12:49:10
I don't know what some of our fans expect from Unsworth, he didnt buy any of this team, and probably knows that a lot of the recent buys are not good enough. He is stuck with DCL who although promising doesn't strike me as a natural goalscorer, Niasse is a willing runner but has his limitations. I think its also beginning to dawn on people just how slow Michael Keane is and thats a major worry wnen you want to play a high pressing game he just hasnt got the legs for that game. I would also question his positional play and for an international player its pretty poor.
I think we all knew Rooneys days have long gone, and despite spending all summer pursuing Sigurdsson I have yet to see anything that makes me think he will come good anytime soon. I hear many saying why isn't Vlasic playing, I think when you are in the position we are you need people to do the hard side of the job which is chasing back and helping your fullback. On many occasions we have had a 2 v 1 against our fullback because Vlasic failed to track back with his opposite number.
So how Unsworth is suppose to fix all these problems in a dozen training sessions I don't know. Seems Barkleys hamstring is taking forever to heal. I have seen at least 7 players who have picked up hamstring injuries during the season and been back playing. But maybe his agent doesnt want him to play and is waiting till the window opens so he can get the move he wants. So those who thought if Koeman was sacked he would be back playing, well time will tell.
Ray Roche
272
Posted 19/11/2017 at 13:04:31
Brian, didn't Barkley's hamstring injury require surgery? If so then it will take longer to heal than a strain.
Paul A Smith
273
Posted 19/11/2017 at 13:05:54
Kenwright is picking the team now, my word. Wouldn't Rooney start if he did? Ray 278 fair enough mate I don't have anything against his time at Hull he was up against it anyway. Just thought the sunday supplement brought up an interesting stat for a change.
Paul A Smith
274
Posted 19/11/2017 at 13:10:32
This thread in summary, Unsworth could be the next manager although Kenwright is picking the players for him or advising him who to pick.
So the man who could get the permanent job can't be trusted by the 'emperor' to pick 11 players?
What a nonsense club we have become. Top to bottom.
Kim Vivian
275
Posted 19/11/2017 at 13:18:48
USM and Everton.
Can someone please explain to me in clear detail what, if any, salient connection there is at this time besides the Finch Farm naming rights sponsorship.
Paul A Smith
276
Posted 19/11/2017 at 13:25:38
Kim (#287) I wouldn't worry. Unless your a legal expert or computer hacker you are very unlikely getting to the bottom of any off field business that is not yet in public domain. If it is in public knowledge you won't have to ask on here.
Don't become one of these gossip fans mate you will only end up thinking you know someone at Finch Farm while your actual game knowledge and common sense drags you into thinking Man Utd sell us class players.
Bobby Thomas
277
Posted 19/11/2017 at 13:43:39
Kenwright's interfering in team selection. Yeah.
From Tony Marsh to Oliver Brunel, with some fine examples inbetween, there's peoples chatting bubbles all over this thread.
What John Daley said.
Brian Wilkinson
278
Posted 19/11/2017 at 13:45:01
For our next match against Atalanta, I would bring in Robles, try Davies, Klaassen and Sigurdsson in the middle, along with Vlasic and Sandro, in attack Calvert-Lewin, shame we cannot give the likes of Henen or Sambou game time due to not being registered, nothing game to us, time to give some of our squad a run out freshen things up a bit.
Here's one for the regulars, talk of Niasse getting a two game ban for simulation, only talk but if he does get a two game ban, would that include the Atlanta game, even though he is not registered for it, I am pretty sure it would still count as a game.
Paul Tran
279
Posted 19/11/2017 at 13:50:46
Moshiri is learning how to run a football club on the hoof. An industry unlike anything else he's probably encountered. He's learning to run a club with huge vested interests in mediocrity and excessive sentimentality. His 'big name' manager didn't work. I suspect he's delegated running day to day matters to Kenwright. That must change. He'd better start learning fast, because winning this battle is more important than his choice of manager.
Neil Copeland
280
Posted 19/11/2017 at 13:55:17
Bob 218, love it and now consider myself educated in all things shit!
Kim Vivian
281
Posted 19/11/2017 at 14:56:11
Paul - pretty much as I see it (or not as the case may be).
I'm just getting tired of how often USM gets mentioned on here as though there is something we might know.
Damn....! - I've done it again. Won't happen again.
Pete Clarke
282
Posted 19/11/2017 at 15:00:18
Our defending for both of The Palace goals yesterday was piss-poor. The keeper was not protected enough but as the last line he has to do better than parry a soft shot and the low cross for the second was his all day long despite the proximity of our sliding defenders. I would give Robles a little run. Southall became a great keeper probably because he had a decent back-up in Jim Arnold.
I would also, as much as it pains me, drop Keane and rely on experience at the back. Keane was very poor yesterday at almost everything he did in defence. Even his headed clearances were dropping for Palace players. Jags and Williams are indeed nearing the end of their careers but we have nobody else and experience is crucial right now.
Gueye has not got anything going forward but in what he does best which is hunting for the ball he is much better the Schneiderlin so he has to stay in there. There has to be a ball player in the middle and It can be Rooney or Sigurdsson with Mirallas out left to offer some hope for goals. Lennon offers little going forward but he was my MotM yesterday for getting back and helping.
I think it's time also now to try Sandro with Niasse or Calvert-Lewin. He has lots of running in him and can be the outlet for the midfield to try putting him through and Niasse to cause the opposition to panic. Take your pick with the subs but we need an experienced backbone here.
I am feeling more nervous now after yesterday's performance than I have been all season. I don't try to kid myself that we're too good because I truly believe, the way we are playing, we are the worst team.
Discipline and organisation has to be drilled into the players and I don't envy David Unsworth as he's been left a mess. I would like to think that Joe Royle is helping him out but yesterday's game did not have a hint of A big Joe team.
It's fingers crossed for me that something clicks or we find a new hero (Niasse is trying) and I wish you all well for the rough ride ahead.
Joe McMahon
283
Posted 19/11/2017 at 15:10:50
Kim (#281). 100% agree. I'm also getting tired of hearing about the Kevin Brock moment, how Howard Kendall turned in around in 83-84, the team of the 80s etc. This is 35 years ago, I remember it too, I saw Andy Grays headers against Sunderland but I was 15, and I'm now 48, can people please move on.
I honestly think that as we are still playing in the same clapped out dump it feels like it is the bloody 80s.
Paul A Smith
284
Posted 19/11/2017 at 15:17:08
Kim (#281) – its a pointless subject until the board announce total clarity for the future. I prefer to talk about the team which I find really easy to assess and have the evidence to choose from.
You won't be too disappointed when it's realised a player is poor if you just stick with what you see.
Joe (#283) – your first line I could repeat time after time mate.
Kim Vivian
285
Posted 19/11/2017 at 15:35:56
Paul - I wish I could find it so easy to assess. The evidence I see is contradictory in the extreme leaving me, together with most on here at a bloody loss as to what's going on.
If anyone had told me a couple of years ago we would implode to this degree I would have laughed in their face.
Confused?... Me?...I'd say - and I don't think I'm alone reading the breadth of opinions here.
Colin Metcalfe
286
Posted 19/11/2017 at 15:49:42
Ray#280 Barkley had a grade 3 hamstring tear which I had myself back in January and basically that was me out for the season , took me about 6/7 months to come back after lots of physiotherapy and gym work however a young professional footballer should be back in 3/4 months , I am surprised he not back in training with first team yet .
Kim Vivian
287
Posted 19/11/2017 at 15:50:45
Changing the subject - I see Niasse is still sporting that wrist bandage which 'prevented him from playing' for his first few months!
Paul Smith
288
Posted 19/11/2017 at 15:54:00
Joe McMahon .took the words right out of my mouth (no bad Meatloaf gags).
Constant harking back fiils out almost every thread.
Moyes is constantly argued & debated, like he'd never fucked off.
Paul Kelly
289
Posted 19/11/2017 at 15:58:40
Well, here it is. I shared a taxi home with a Palace fan to my humble abode in the SE and he commented how he couldn't believe how poor of a side we'd become, (as did the Danes in the taxi office, top fans by the way, come over every game to watch Palace, no glory hunting there) was shocked and felt sorry for our fans.
You know times are bad when when the team below you shows sympathy.
Derek Knox
290
Posted 19/11/2017 at 16:07:41
Says a lot Paul, but the really sad bit, is that having spent a sum which many Clubs would drool over, we appear actually worse than before.
There is not one area really, you could say if a certain player was to be dropped it would make a difference, the whole ethos and balance are amiss in general.
Having said that, Schneiderlin and Martina, are two total liabilities, and should never be picked, let alone should never have come to Everton at all.
Neil Wood
291
Posted 19/11/2017 at 16:07:53
Pickford is a really good prospect but by no means a top goalkeeper yet.
Robles is twice the keeper and he should be our number 1.
This isn't by any stretch our main issue but it's still important !!
Paul A Smith
292
Posted 19/11/2017 at 16:15:23
Kim 289 I shouldn't say easy to assess so lightly I know. I just mean its easier than taking the off field rumour route.
I do think football is over complicated by coaches trying to be that 'genius' and pundits/journalists trying to assess as if they are coaches.
As a fan I only believe I am only there to back the team and see us win hopefully.
Anything but a win drives everybody into deeper analysis but I do think standards have dropped amongst club and fans.
Too often the players actually capable of doing their thing to win games get terrible stick while average performers who get dirty shorts are idolised until everyone realises the dirty shorts are from performing in vain.
Thats where it becomes easy for me to assess.
Anyone below the standard of Arteta ( who also wasn't amazing) is simply not good enough for Everton.
So the likes of Gana Schneiderlin McCarthy Besic etc and all those other midfielders we have are not a patch on Barkley.
Whether their roles differ is irrelevant. The evidence clearly shows under 2 managers and 3 in some cases, the roles they play have done nothing but see us slip and become worse as a team
Unsworth is stuck trying to find a way of blending shit players together.Thats a big task and while 2 of his more capable performers are injured, it will continue until unless players come in january.
Alasdair Mackay
293
Posted 19/11/2017 at 16:29:15
Neil Wood - This comment astounds me.
Pickford is the present and future of our Goalkeeper position. He has been a marked improvement on any keeper we have had since Southall. The only possible exception being Nigel Martyn.
He is not going to be perfect every game – Neville wasn't. Peter Schmeichel wasn't, Buffon hasn't been.
Still – these 3 names are the potential of Pickford. We have to get behind him and he has to be our keeper. Robles potential extends to somewhere between Paul Gerrard and Thomas Mhyre. He is not and will never be a legend. Pickford might just be,
Paul Wyndham
294
Posted 19/11/2017 at 16:31:48
Get Schneiderlin and Sigurdsson out of the team immediately, neither has the stomach or desire for the obvious fight for our Premier League survival.
I'd also drop Gueye who has become a liability. Bring in Besic to play in front of the back four in a seek and destroy role, the much maligned Rooney back in as captain as we're desperate for some passion and leadership on the pitch.
Davies has the legs to support Rooney in a slightly deeper roll with Vlasic and Calvert-Lewin the outlet up front, Calvert-Lewin getting right up to support Niasse when we're in possession.
We need to play as a solid 4-1-4-1 when out of possession with Vlasic and Calvert-Lewin, both young players, helping out our full backs.
Back to basics in defence,don't care if it's Keane or Williams next to Jagielka both have been awful. Is it too much to ask that we work on ball retention in training? The constant concession of the ball is shocking and just leads to us being under constant pressure.
Kenwright Out.
Paul A Smith
295
Posted 19/11/2017 at 16:42:01
The price of Sigurdsson to Salah sickens me. And to think people "who know more than you" put their heads together and thought it was a good idea.
Productivity was the word. Sell your best goal scorer, don't replace him and were willing to let the man with most assists go with him. Until that failed. How productive is that for starters?
Oliver Brunel
296
Posted 19/11/2017 at 16:50:27
Bobby (281) There are a lot of rumours circulating re: Kenwright and his team interference. Not saying it's true, neither is anyone else. But the rumour is out there, Bobby.
Kim Vivian
297
Posted 19/11/2017 at 17:09:42
Money wasted in the summer was ridiculous. I have no idea why anyone thought Siggy was worth 㿙m, or anything over about 㿅m really. I mean, how much competition was there to get him?
He seems to be struggling also but I don't think we have seen enough of Klaassen to pass final judgement tbh - I think there may be a decent piece there in the right jigsaw.
And also - what was all that bollocks from J White about an announcement of some sort by the weekend? I didn't personally see/hear it but assuming it actually happened the silence is making someone appear increasingly desperate (or optimistic).
Chad Schofield
298
Posted 19/11/2017 at 17:28:53
I think we're in danger of losing Unsworth too. The fact all we've done is let speculation carry on over the international break has not only meant we've looked sill but also not given anyone, including Unsworth, a chance to coach anything into our beleaguered squad. I just feel sorry for him as he's the front man and whatever he does he doesn't get any credit.

Soren Moyer
299
Posted 19/11/2017 at 17:35:03
Some stats from yesterday's game posted on the web:
Everton committed 26 fouls during the Palace game, the most of any team in Europe's top five leagues on Saturday.
Adding insult to injury, Everton's passing was far from satisfactory in south London.
Everton only completed 164 passes against Palace. Only one in the last seven seasons have Everton had a worse record.
Sticking with Everton's passing stats, the final data point of note was that Jordan Pickford was Everton's top pass completion player against the Eagles.
It's the third time this season the goalie has topped Everton's passing stats.
Oliver Brunel
300
Posted 19/11/2017 at 17:38:37
Soren, very few of those were actually fouls though. Twat of a referee.
John Pierce
301
Posted 19/11/2017 at 17:45:12
Chad, Unsworth was ambitious, dare I say avaricious enough to want the job. He knew a good audition would land him the role.
As much as it pains me if we lost him post an appointment of a permanent manager, he rolled the dice. And good on him!
I'd hope he finds a lower division job and builds towards managing Everton permanently one day.
Soren Moyer
302
Posted 19/11/2017 at 17:45:27
Oliver, I know. The stat I was interested in was the poor passing and how easily we lost the ball.
Also, regardless of whoever they appoint, get rid of DoF. Was not a good idea to begin with!
Brian Williams
306
Posted 19/11/2017 at 18:27:28
Understand from a contact on Tatooine perhaps?
Colin Metcalfe
308
Posted 19/11/2017 at 18:36:07
Ray it hasn't been the same since! No surgery but if it doesn't clear up that might the last option!
As for the rumor about Silva, I think he is a risk in fact apart from his time at Hull and Watford I honestly don't know much about him but we do have a big squad and some talented players. I just hope he can fashion out a decent team. Also, please please scrap the 2 defensive mids, it's an awful system.
Morris Kruger
309
Posted 19/11/2017 at 18:53:54
Basically a poor performance against a guaranteed relegation candidate team. Unless there's a new spirit among the players and they are motivated to fight and play with their hearts, I'm afraid the writing could well be on the wall in bold capitals. We won't pick up lucky penalty decisions and gifted goals from any half-decent team in the Premier League.
I stare at the league table and can't see where we gonna make 40 points from... We could be canon fodder for the better teams. Hmmm... worrying days for us Toffees fans.
Jack Convery
310
Posted 19/11/2017 at 18:58:31
I am sick and tired of hearing all this 'blue blood' nonsense. The club is permeated with blue bloods and it's in a fucking mess – or have I missed something?
Did Shankly or Ferguson have red blood when they walked into Liverpool and Man Utd? – No! They saw an opportunity to build something that would last.
I want the next manager of Everton FC to walk into Goodison and say, "I may not be a blue blood but I hate losing. I may not be a blue blood but winning is all to me – I hate not winning. Within me beats a heart and a desire to take this club back to where it should be and I will do everything in my power to achieve that.
"Those within the club who like life comfortable should fuck off now. Those who won't give 100% every day in training, away from Goodison and in matches should leave – there's the door.
"Those who get pissed off when they are not in the team and are not prepared to support those who are picked should empty your lockers. I am here to win – those who don't mind losing as long as they get paid, follow the others out the door.
"Those of you with me, let's get down to Finch Farm and get going – we have work to do. Oh, and by the way, if we ever lose at Liverpool again, you are all sacked."
Jack Convery
311
Posted 19/11/2017 at 19:05:29
Just one other thing – juvenile behavior as with Rooney will not be tolerated. You are here to play for EFC and anything that brings this club into disrepute will result in your transfer out. You are professional footballers at all times whilst you're on our books – it's not too much to ask, is it? After all, we are paying you £millions.
James Stewart
312
Posted 19/11/2017 at 19:11:40
@314. Nail head. Too long habitual failure has just been accepted at this club. Mostly by "blue blood."
I don't mean this as any kind of personal dig at Unsworth, but I find the fact a youth coach was put in charge for such a crucial period embarrassing. The board doesn't have a clue what they are doing. No surprise we exited two competitions during their dithering.
Soren Moyer
314
Posted 19/11/2017 at 19:18:38
Colin #311; Why not google him!?
Kim Vivian
315
Posted 19/11/2017 at 19:22:19
Jack 314. I sincerely hope they did have red blood.
Dave Williams
316
Posted 19/11/2017 at 19:27:17
Nine teams have scored fewer goals than us but only one has let more in. Clear where the work has to start and it is also the area where we have fewest options to change personnel.
If Unsy is not a defensive coach then we need someone who is!
Colin Metcalfe
317
Posted 19/11/2017 at 19:31:52
Soren (#318) yeah, sorry, I have been snowed under at work.
I should know a bit more about him, I promise I will do my research (that's if we get him).
Clive Rogers
319
Posted 19/11/2017 at 19:38:56
Kenwright is harder to get rid of than Mugabe.
Jay Woods
320
Posted 19/11/2017 at 19:43:55
Chad Schofield: How will I sleep tonight knowing that we might "lose Unsworth"?
Clive Rogers: Kenwright is harder to get rid of than AIDS. That's the only potential silver lining I can see in us getting relegated, though: Blue Bill's departure from the club.
Jeff Spiers
321
Posted 19/11/2017 at 19:52:24
Jack @314/315. We can only wish all at EFC read your posts. Send a fucking shiver down their spines. Your comments can't be challenged by any of them. Boss, mate.
Soren Moyer
322
Posted 19/11/2017 at 20:01:18
Colin, lol. Sorry to hear that mate. Hope you get more time for yourself soon.
Brian Williams
323
Posted 19/11/2017 at 20:07:03
If he wants the Everton job, his agent would have to quietly let Everton know how much it would cost to buy him out of it. Everton would then have to agree to do reimburse him once he'd done so.
Not complicated... but our club would have to tread very carefully for "legal" reasons.
John G Davies
325
Posted 19/11/2017 at 20:14:24
We need to get Unsy back to where he has proved himself. Done a great job with the Under-23s.
We also need to get Silva in ASAP. Whatever the cost.
Brian Williams
326
Posted 19/11/2017 at 20:36:45
I think Monk did that with Leeds didn't he? Resigned from Leeds and took the Middlesbrough job. I don't know all the ins and outs though.
Jack Convery
327
Posted 19/11/2017 at 20:53:14
There's a medicine for Aids and Mugabe has gone but Kenwright still clings on.
Chad Schofield
328
Posted 19/11/2017 at 21:11:03
Jay #320, the "careful what you wish for" Moyes lot were annoying in my eyes.
I don't have crystal ball, but I do worry that the break up of Unsworth and then quite possibly the rest of our old boy network could lead to us having very little differentiating features to a Stoke, Villa, Oldham, Leeds , Notts County, Oxford Utd, Accrington Stanley etc, etc, etc. All who have history.
Any manager, regardless of anyone's ridiculous wishes, is going to need time. By the time a new manager's coaching comes to fruition we could have skipped past a lot of very winnable games... Only to hit another tough run of games. Maybe then we can just sack another manager, and get in Pullis, Allardyce, Harry, or Big Ron. Then we'll just need a manager to get us out of the Championship to wake the sleeping giant.
It might not (and I bloody hope it won't) pan out like that... But I'm sure you'll be hamfistedly demanding instant results and claiming the world's not fair the moment things don't go as you expected.
Ray Roche
329
Posted 19/11/2017 at 21:12:48
Colin Metcalfe (#308),
Unlucky Col, I take it you're still playing then?
Like you I only know about Silva what I've read on the net and his exploits with Hull and Watford. But I like the way he tries to get his teams to play.
Jim Hardin
330
Posted 19/11/2017 at 21:14:25
Sam,
Déjà vu for me. Imagine my surprise to see you again claiming Watford are playing better than Burnley as a fact. This is the same thing you claimed as a fact on the Silva thread.
Run of form since October 14th- Watford: W-L-L-L-W (6 points), other notables; 23 goals conceded this season and a 6-0 beatdown by Man City, a 4-2 beating by Chelsea, and a draw to Liverpool.
Burnley: D-L-W-W-W (10 points), other notables; 9 goals conceded this season, draw to both Liverpool and Tottenham, win versus Chelsea, and a 3-0 loss to Man City.
Burnley has conceded 3 goals one time this season while Watford have conceded 3 or more 4 games out of 12.
I am not convinced by your facts.
Derek Knox
331
Posted 19/11/2017 at 21:15:12
Jack, always had my suspicions, which you have confirmed, Kenwright is a Klingon. :-)
Laurie Hartley
332
Posted 19/11/2017 at 21:31:54
Colin # 308 - regarding your hamstring issues - find yourself a physio who is also a Feldenkrais practitioner.

Chris Kelly
333
Posted 19/11/2017 at 22:28:17
How do people see it? Surely the same way that I do?
What happened today was no different than the last... and the time erstwhile. It's not a manager/coach problem – it's a team problem!
Yes, getting rid of Koeman was necessary; I believe we had fallen into a severe and septic rut but did any realistic person think we could U-turn back to our best? What was our best?
Well, recently, it was the worst football I had ever seen. A hoof to the lazy and persecution of our best. We (and I mean them) can't keep the ball. They can't see the picture and play a decisive pass. We sit back, we let them attack, we look feeble.
This can't be a management thing: I'm pretty sure any professional player knows how to advance with the ball and I hope they can all be at it for at least an hour. But… we don't seem to have even the fundamentals of the game in our (their) locker.
I'm not an "Unsy Out" man but I am a person with eyes. These players are not bothered. They don't care and they won't help.
The second half had a bit of guile but that was tempered by a card or two. I heard the commentator say he was amazed that Rooney was not brought on? How can people not see it?

Peter Jansson
334
Posted 19/11/2017 at 23:25:33
I am so fed up with this manager discussion.
I have said it before. No manager in the world will make gold with the bunch of players we have now. Why? Because the mix of players does not fit well together!
Whoever that will run Everton NEEDS to BUY new players and ship some away. Before that happens we will struggle no matter manager we have.
If you are to rate Unsworth you need to let him have a couple of windows to see what he can do.
Derek Thomas
335
Posted 20/11/2017 at 00:53:12
*Goes out on limb; If Silva doesn't come in this week, nobody will until June... Plan A; no Plan B. It's the Everton way.
Gary Hughes
336
Posted 20/11/2017 at 01:17:28
We're so bad that I have absolutely no idea how we get out of this mess.
I would love to pick a team without Jagielka, Baines, Gana & Schniederlin but who replaces them? Throwing kids like tom Davies & Beni Baningime into a desperate failing team is unfair and could set them back years. Kenny & Keane already look like a couple of nervous wrecks.
At this moment in time, I genuinely believe Allardyce is the only feasible option... and I can't stand the man, but that is how desperate we are.
We need someone to drill this pathetic defence & put Niasse & Calvert-Lewin upfront in an old-fashioned 4-4-2. Get Lennon & Lookman down the flanks and pump long balls and crosses into the box and hope for the best because this team is not capable of anything else.
Bill Watson
337
Posted 20/11/2017 at 01:44:35
Brian (#278)
Niasse can't be done for simulation as there was actually some contact. Yes, he over-egged it and it was a really poor decision but the referee was only yards away and he decided there was enough contact to warrant a penalty.
Right through the game, the referee was blowing for fouls for the slightest contact, so at least he was consistent.
Ernie Baywood
338
Posted 20/11/2017 at 01:59:54
To be honest, I still think that's a penalty. Dann doesn't lean into him, he cuts across him for a ball he can't reach. And it's impact rather than obstruction.
Had Niasse not thrown himself to the ground (which he clearly did), it's very likely Dann would have got away with it... so I don't have a problem with Oumar – just refs who have brought the game to this position where you don't get it if you don't go down.
Jamie Sweet
339
Posted 20/11/2017 at 02:33:13
If the Niasse dive is worth a two-game ban, then there won't be many players available for selection around the country soon.
Alan J Thompson
340
Posted 20/11/2017 at 05:54:39
A two-game ban for diving? When would Dele Alli ever get a game? It is something that needs removing from the game but so too is poor refereeing and I've not seen any move on either. Perhaps with the money in the game they might start with four linesmen. Oh, sorry, there has been a change (but not an improvement): Referee's Assistants.
Kim Vivian
341
Posted 20/11/2017 at 06:52:39
Ernie 339. Agreed wholeheartedly. I was saying something similar back at 239 on this thread. It seems often (not always), and particularly in the penalty situation that a foul only becomes a foul when the player actually goes down. Personally I (along with most I'm sure) detest all the play acting and pretend injuries and attempts to get opposition men booked or sent off that go on these days, but it seems increasingly - possibly because of improved and more effective defensive strategies - that the best or only route to goal for some comes through set pieces hence the amount of theatrics we see as soon as a team moves in to the opposition half.
We have all seen far worse fouls committed than this one and not given because the fouled player remains on his feet and it begs the questions "when does a foul become a foul?" or "when is a foul not a foul?"
Now I don't condone Niasse's Tom Daley moment, and I would have been properly pissed off of it had happened to us but it was a (pretty innocuous) foul seen through my eyes but a foul none the less and no way bookable, but to talk of potential match bans for simulation in this case is absurd.
So yes Ernie - I deviated a bit along the way, but a long winded way of saying spot on, I agree 100% with you.
Mike Berry
342
Posted 20/11/2017 at 08:29:42
Niasse made the difference to get us the points, a menace and outlet.
And on to the penalty, slow replay shows Dann's shoulder went into Niasse, with running at speed, it's is only natural for the player to fall. To say he dived is nonsense, defenders get away with murder and won't accept when they make a mistake.
The lost Niasse monster has really submerged, and already on his way to be player of the year. I hope he is on all your Christmas card lists?
Tony Everan
343
Posted 20/11/2017 at 09:14:27
Jack Convery (#311),
Bang on the money, no two ways about it.
There needs to be a realignment of power and authority from top to bottom. There are people and their management at the club who are not fit for purpose.
Moshiri and/or Usmanov need to get total control of the club and shake off the ineffective and stale old guard. They need to create new structures and systems in the club which have clear lines of power and responsibilities.
At the moment they all seem to be in separate offices doing their own thing. Meeting up on match days for a prawn sandwich.
There's more to it than just a new manager.
Paul A Smith
344
Posted 20/11/2017 at 09:15:39
I couldn't give a shit about Niasse playing an extra in Rambo for a minute. We have been robbed enough times and it wasn't exactly robbery in this case.
Had Zaha fell the same way, I would have been fuming that our centre-backsomehow had to make his feeble arm disappear for a second.
I'd take an own goal 1-0 win every week with this shit team.
Brian Wilkinson
345
Posted 20/11/2017 at 11:41:12
If it is not bad enough about the penalty incident, they now bring in Clattenberg who has viewed it from three angles and stated "simulation".
Not sure when he is going to review the Goodison Derby incidents but could turn out to be a series lasting longer than the lost series if he does.
Brent Stephens
346
Posted 20/11/2017 at 11:45:45
Brian – who has brought in Clattenberg? The FA?
Lawrence Green
347
Posted 20/11/2017 at 12:02:13
It's not enough for certain officials to screw Everton over on the pitch, now they are trying to do it from the sidelines. Clattenberg wants Niasse to be the first to be retrospectively banned for conning the officials into awarding a penalty. It was a dubious penalty award there's no doubt about it, and I was amazed that Anthony "I hate Everton me' Taylor awarded it, even if it had have been stonewall.
Standby for another 12 months without a penalty given in Everton's favour and for our best striker to be booked and suspended for many games as the officials look at his every action as a potential 'dive'.
It's beginning to look a lot like the early 2000s when Everton were deemed a dirty cheating team as the bookings pile up and the Everton haters form a disorderly queue to show the club in a bad light. We obviously are pretty poor at this 'cheating' lark because it hasn't helped us to storm to the top of the table like Leicester City did with Vardy et al 'winning' penalties, week-in & week-out.
I've said it before and I'll say it again, the only people who like to see Everton do well are the fans and I wish people on here would remember that when they lay into every aspect of the club and they inadvertently help the outsiders to hammer the club at every opportunity.
Brent Stephens
348
Posted 20/11/2017 at 12:13:21
Okay, I see Clattenberg has said something to The Times. He's not on the panel, so stuff him.
Christine Foster
349
Posted 20/11/2017 at 12:15:08
Lawrence, sorry but that is a load of tripe. The club has a great reputation with Everton in the Community, but when it comes to the board, to management decision-making, commercial decision-making over the years, to the handling of players, to transfer deadline management... need I go on?
We have been lied to, spoken down to, ignored and taken for mugs by this board and in particular Bill Kenwright. The lack of planning, foresight and actions, even this year in the transfer market, are staggering. So please, do not tell me, as a fan on here, to be quiet.
The current situation is directly a result of a dreadful manager and a dreadful transfer management situation that had no plan, no structure and no Plan B. Never mind a Plan A.
We are in a situation now, a month on from sacking a bad manager, with an almost comical situation of inaction. Unsworth is not the manager to get us out of this mess and the longer it goes on, the bigger the problem. Rome burns while the board plays on...
After Christmas, we have the same run of fixtures we started the season with, if we don't sort it now, not wait, then we will go down.

Lawrence Green
350
Posted 20/11/2017 at 12:25:56
Christine, I think you're getting confused in my defence of the club. I too don't like the shenanigans at the important positions within the club and I have questioned those in charge for many years.
The point I was trying to make was that only the Everton fans really care about seeing Everton win football matches. The very fact that the list of issues you highlight isn't very often reported on by the media shows how little they care for our club.
I'm not saying that the club is beyond reproach on this platform but calling every single player – young or old, new recruit or seasoned professional – 'excrement' or similar doesn't to my mind serve any useful purpose other than self-gratification. It's very easy to play the blame game and those who can see nothing of value in supporting the club should perhaps look for a new hobby.
Steve Cotton
351
Posted 20/11/2017 at 12:35:08
Pure irony for Clattenberg to even have a comment to make, he has been repeatedly poor in anything Everton related throughout his career… Look at the 'penalty' against Palace from the angle of the referee and Dann raises his arm to block off Niasse and makes contact with Oumar's shoulder... As Alan Hanson once said on MotD "if there is contact in the box the striker has every right to go down!"
There was a game earlier in the season where Can threw himself to the ground on 3 occasions trying to get his opponent sent off, funnily enough Clattenberg didn't think he should comment on that one...
As somebody also said earlier in the thread, Dele Alli would not play 2 consecutive games for his theatrics.
Dale Rose
352
Posted 20/11/2017 at 14:36:35
There is no way we are going to be in a relegation fight or go down. The performances are improving. Its all about time and selection, we have a good pool to pick from, but could do with a couple of defenders and a striker. If the money is there then no problem.
As many have said the club is a poisoned chalice at the moment and will be for the next month. Unsworth and none of this is his fault, is in there doing his best with what he has. Its not going to be a great season, but how could it be? We wasted a fortune pre-season.
From the Europa League qualifiers, it was apparent we were not up to the mark. The work should have been done then, extra training and planning particularly for the youngsters. It wasn't done, so we are where we are.
We are getting there and things are improving, there are a lot of green shoots coming up. What we need now is a steady hand, and some bottle.
If Bill Kenwright needs some inspiration for a new musical, I'd like to suggest "Oumarella". A tale about a young footballer who is badly treated by an evil foreign prince, but then when you think all is lost, he comes good, and becomes our top scorer. I just love that guy, would love a jump start off him.
Michael Kenrick
Editorial Team
353
Posted 20/11/2017 at 15:54:07
Sorry, Lawrence (#350), but I've got to pull you up on this one:
"Those who can see nothing of value in supporting the club should perhaps look for a new hobby."
Being judgemental about your fellow supporters based on strawman edifices like this do no-one any favours – least of all, you. I can't stop you thinking it, but I can ask you not to put it on our forum, please.
Kevin Prytherch
354
Posted 20/11/2017 at 21:11:51
I've not read every comment on here so excuse me if this has been brought up already but...
The more I see of Pickford, the less I'm impressed. If that was Robles or Stekelenburg in goal at the weekend, they'd have been slated.
The first should never have been parried across the box and for the second, if you dive forward like that you have to be sure you'll make it. He didn't and left an empty net.
Has Pickford actually been better than Robles this season?
Steve Ferns
355
Posted 20/11/2017 at 21:16:01
Kevin, did you see Pickford in goal for England? How did you think he performed in behind a decent and confident defence?
Did you see his distribution? With clear movement ahead of him, was his passing more successful?
Did you know he has been one of our top passers on 3 occasions this season.
Have you read the analysis of Pickford by the likes of David Preece, or seen Southall's verdict on him?
Kevin Prytherch
356
Posted 21/11/2017 at 10:22:16
I'm not saying he's not going to be good, however he escapes criticism whereas the likes of Keane, Davies and some other young players don't.
The last two games, he should have done better for both goals against Palace (got a rating of 4.5 by Sky Sports!!), and gave away a penalty that almost cost us the game against Watford. That was the result of a poor initial parry then a lunge that brought him down.
Did I know he has been one of our best passers on 3 occasions? The same could probably be said about Schneiderlin, but his are usually sideways.
Have I read what Southall says – yes I have and I agree that he's got massive potential. He's made 3 big mistakes in the last 2 matches in my opinion. While I try not to criticise young players, he needs to cut these out straight away before it starts affecting his confidence. Robles or Stekelenburg would have been slated for these last two games.
Lennox Lewis said that David Price would be a heavyweight world champion... just because Southall said it doesn't make it true, although I hope it is.
David Booth
357
Posted 21/11/2017 at 13:12:07
Niasse just picked up a two match ban for 'successful deception of a match official' – how ironic that that is such potentially devastating news right now.
Great news for Southampton and West Ham though – and David Moyes' first lucky break as new manager.
Because for all his clumsiness on the ball, this man can score goals with aplomb if given half a chance and never lets defenders settle from start to finish.
Where will a goal come from now?
Were it not for him, it is us who would be bottom of the table.
Worse, it probably means Rooney will be back in contention. What a ridiculous, sentimental folly bringing him back – and paying him 𧵎,000 a week for the embarrassing privilege. Sums up Everton.

Dale Rose
358
Posted 21/11/2017 at 15:40:41
I wonder if this would have happened at Man City or Man Utd. Sterling can't stay upright for five minutes.
---
Add Your Comments
In order to post a comment, you need to be logged in as a registered user of the site.
Or Sign up as a ToffeeWeb Member — it's free, takes just a few minutes and will allow you to post your comments on articles and Talking Points submissions across the site.
© ToffeeWeb