Report
Solid win for Big Sam sets the tone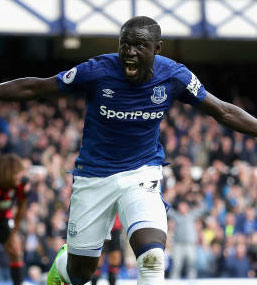 Oumar Niasse is on the bench after serving a two-game ban
EVERTON 2 - 0 HUDDERSFIELD TOWN
Sam Allardyce took charge of his first match since agreeing to become Everton manager as Huddersfield Town came to Goodison Park for the first time in the league for 45 years.
And Allardyce named an unchanged side from the one that performed so well on Wednesday night to put four goals past West Ham United. Still no sign of Davy Klaassen or Sandro Ramirez, with Michael Keane back from injury and on the bench.
Oumar Niasse had completed his two-match ban for supposedly deceiving the match officials at Crystal Palace and he was also on the bench.
A polite round of applause greeted the introduction of the new manager to the Goodison faithful before the visitors kicked off and Everton lobbed a few long balls forward for good measure. Davies was upended by Malone but Sigurdsson delivered the arcing free-kick direct to Lössl. Davies went down again in an unequal aerial challenge.
Holgate had trouble early on, missing a clearance, giving away a free-kick and a corner, while his colleagues proceeded to implement the long-ball hoof up field at every opportunity. Davies won another free-kick that Sigurdsson expertly fired in again directly into Lössl's arms.
The game was ugly with Everton formless and scrappy 15 mins in, Huddersfield starting to dominate possession and push the Blues back, with the mindless long-ball clearances playing perfectly into their hands.
A defended ball fell nicely for Rooney whose fierce volley smacked into a defender. Lennon got the chance to run with the ball and Malone hacked him down, earning the first yellow card and another Sigurdsson opportunity... this time played wide to Lennon, ending with a turnover and a poor challenge from Kenny and a yellow card for the youngster.
Davies was next to show needless and mindless aggression that earned him a really stupid booking. Calvert-Lewin inadvertently set up a surprise shot on target for Martina that was batted away – the only attemt on the visitors' goal in the first half. Rooney usurped free-kick duties and fired in a wicked ball for Calvert-Lewin, who had strayed offside.
Everton finally started to look a little better but Lennon kept running the ball into trouble and the visitors took over control again, albeit with no better quality. A hopeful move forward through the middle, with ground balls through Rooney, ended abruptly when the ball spun off Sigurdsson's heel, summing up the frustrating nature of the football on show.
Rooney was dropping all the way back to try and control things but it wasn't really working and a dangerous free-kick in form Moe needed heading behind for a corner that saw Everton survive a goalmouth scramble, with Pickford reacting quickly to save a goal against.
Kenny put in some good crosses but there was insufficient quality on the end of them to forge anything by way of a real goal attempt, which had been ominously lacking for much of a very poor first half, which ended appropriately enough with a shockingly poor forward ball form Sigurdsson.
But less than 2 minutes into the second half and a slick move with some fine passing ended with Sigurdsson firing home instinctively off a brilliant flick from Calvert-Lewin. A moment of quality at last!
The goal instantly changed the impetus of the game and Everton should have scored a second from a corner but Huddersfield scampered forward and Ince lashed a shot just wide, into the side netting. But the effect was short-lived as the quality of Everton's passing and ball-retention reverted to previous levels.
The hour mark approached and Big Sam looked at Little Sam, thinking about a sub as Calvert-Lewin finally got a rare chance to fire at goal but gave the keeper too much of a chance to push it away.
Davies and Calvert-Lewin so nearly combined with some clever flicks that just failed to click, and another better-looking exchange saw Sigurdsson cross too close to Lössl. The chosen sub was Morgan Schneiderlin on for Tom Davies, a very conservative move to retain that one-goal lead with 25 minutes left. Lookman replaced Lennon 5 mins later.
An opportunistic turnover forced by Gueye was pounced on beautifully by Rooney and played forward superbly for Calvert-Lewin who kept his cool and got a nice deflection to take the ball high into the roof of the net for a fine second goal.
No place for Oumar Niasse in the last 10 minutes as Michael Keane replaced Wayne Rooney, to the sound of a good chant from the Goodison fans who had not decided to stay away in protest against Allardyce's appointment. The second half was played out with growing confidence and competence in equal measure for a solid and vital win (and another clean sheet) that would take Everton back into the top-half of the Premier League table.
Scorers: Sigurdsson (47'), Calvert-Lewin (73')
Everton: Pickford, Martina, Williams, Holgate, Kenny [Y:21'], Davies [Y:25'] (65' Schneiderlin), Gueye, Rooney (80' Keane), Sigurdsson, Lennon (71' Lookman); Calvert-Lewin.
Subs not Uesd: Robles, Niasse, Vlasic, Baningime.
Huddersfield Town: Lössl, Malone [Y:20'] (71' Mounie), Smith, Schindler, Zanka, Williams, Quaner (46' Palmer), Kachunga, Mooy, Ince, Depoitre.
Subs not Used: Hogg, Cranie, Lowe, Green, Hadergjonaj.
Referee: Chris Kavanagh
Attendance: 39,167
---
Reader Comments (323)
Note: the following content is not moderated or vetted by the site owners at the time of submission. Comments are the responsibility of the poster. Disclaimer
Sean Callaghan
1
Posted 02/12/2017 at 14:10:07
Football management 101 – don't change a winning side. A good start to the new era for me.
Phil Smith
2
Posted 02/12/2017 at 14:29:50
I guess so but I'd start with Niasse every game. Must be champing at the bit after that bullshit ban imposed on him.
Jay Harris
3
Posted 02/12/2017 at 14:34:03
I would have given Calvert-Lewin a rest after all that selfless running the other night but can't argue with not changing a winning team.
Kris Boner
4
Posted 02/12/2017 at 14:37:15
You build form by letting a winning side try and win again. Don't change when you don't have to.
Oumar can earn his way back into the team when it stumbles. Probably around the sixty minute mark.
Frank Crewe
5
Posted 02/12/2017 at 14:43:50
Would have gone with Niasse in place of Calvert-Lewin myself.
Ciarán McGlone
7
Posted 02/12/2017 at 15:41:01
We are second-best in midfield... the trio of Lennon, Davies and Sigurdsson are yet again having poor games. There's no link-up with Calvert-Lewin.. who might as well not be on the pitch.
Davies is a red card waiting to happen, his preoccupation with wrestling is getting very frustrating. Industry is not enough at this level... as for Sigurdsson, I wouldn't have him in my five-a-side team.
Ernie Baywood
8
Posted 02/12/2017 at 15:55:03
Will be interesting to see what our new manager does. We haven't played well, can't keep the ball and only managed one shot of note... but Huddersfield haven't created any real chances.
He may be happy with that.
Christy Ring
9
Posted 02/12/2017 at 15:57:38
Niasse has to come on for 2nd half, and play off Calvert-Lewin.
Alex Mullan
10
Posted 02/12/2017 at 16:55:50
Good result. Sort of game we'd have lost 0-1 last month. So relieved.
Mark Morrissey
11
Posted 02/12/2017 at 16:58:17
Well done, Mr Allardyce. You just need to mastermind a win for our next game and you'll do very nicely.
So glad Mr Koeman has gone, it feels very refreshing to have a no-nonsense Englishman in charge of our players. With Seamus, Ross and others to come back and a bit of investment in January, it could just turn our season on its head.
John G Davies
12
Posted 02/12/2017 at 16:58:24
That's Big Sams first win under his belt.
The table looks a lot better now.
Aggado do do push pineapples up the tree.
To the left to the right .
Jamie Tulacz
13
Posted 02/12/2017 at 17:04:08
Functional but comfortable win. Though Huddersfield had little goal threat I'm sure a couple of weeks ago we'd still have managed to ship at least a couple against them.
A few boring wins is good in my books at the moment, after the last few weeks!
Ernie Baywood
14
Posted 02/12/2017 at 17:05:57
Well Sam's influence was pretty clear in that last half an hour. Don't think I've ever seen us play a flat back 5 with 2 defensive midfielders!
Before that it was pretty much the same story.
Up to 10th. Maybe Ron was right - the fixtures were against him... since he left we've won our last three home games and moved up to 10th!
Jay Wood
15
Posted 02/12/2017 at 17:10:49
Me like clean sheets.
Oo-er missus.
Joe McMahon
16
Posted 02/12/2017 at 17:12:31
Ernie (14) but we also lost at home to Burnley and embarrased by Spurs. We won and kept a clean sheet- cheer up
Sam Hoare
17
Posted 02/12/2017 at 17:13:38
A gentle start for Sam but you can't ask for a lot more than than a win and clean sheet.
I can't help but feel frustrated that the board acted prematurely. Unsworth won on Wednesday and the same line up he picked won today. We're now 10th and talk of 'inevitable' relegation seems even more like desperate panic.
Still. What's done is done. A good day with harder tests to come. Well done Allardyce on your first win at Goodison. Let's hope there are plenty more.
Dave Williams
18
Posted 02/12/2017 at 17:15:44
Solid start. Saw the game out at 2-0 which is what we need to do. Can't expect champagne football in Sams first game!
Next week will be one hell of a test but Sam won't be scared going to Anfield and he will have a game plan in mind.
Whether we can implement it is yet to be seen but at least we look much further away from relegation now.
Jamie Evans
19
Posted 02/12/2017 at 17:16:39
Congratulations blues. Young guns go for it today. Holgate, Dominic and Jonjoe all deserve a lot of credit in particular. 7 wins needed and a draw or 2 and we'll be safe. Then we can put all this behind us and move on. Altogether now, "We found love in a hopeless place."
James Marshall
20
Posted 02/12/2017 at 17:22:21
The amount of criticism is amazing – we won 2-0 and it's still complaints about the game. When will people start to look at results and realise that they're the ONLY thing that matters?
That's 6-0 over the last 2 games. Heady days considering our very recent past.
Barry Williams
21
Posted 02/12/2017 at 17:22:31
Everton win 2 games on the trot, no goals conceded and Sammy Lee on the touchline. Have I entered a parallel universe?
We had 5 English youngsters on the pitch today (not including Keane and Pickford), is it just me or would teams like Spurs and Man Utd etc. be lauded to the rafters if that was the case?
Oh, and the goals were really good moves too!
Len Hawkins
22
Posted 02/12/2017 at 17:24:40
Ernie you and Ciaran really need to get together and chew the fat. What's done is done no matter how much you me or anyone else don't like it the die is cast.
Sit back enjoy the ride because no matter how much you whinge whine and protest the Big Sam / Little Sam combo are trying to make things work and won't be changed unless a catterstrofe occurs.
I know it's catastrophe but I don't want to look like a smart ars5e.
Matthew Williams
23
Posted 02/12/2017 at 17:25:36
Another win and Sam's first at home... Can he get us to win away? That is the key for me.
Next Sunday would be the perfect place to start!
COYB
Lee Brownlie
24
Posted 02/12/2017 at 17:27:26
'Solid win for Big Sam sets the tone' says the 'headline, but the adjectives 'mindless', 'needless', and 'stupid' pretty much deny that, certainly regarding how this match reporter reckons we played until we scored!! WTF?
Some balance, please!! Yes, we're still far from where we really want to be, but those words absolutely DO NOT go with ANY report on a 'solid' win!!!
Bill Gienapp
25
Posted 02/12/2017 at 17:33:01
I'M DRINKING THE BIG SAM KOOL-AID!!!
But seriously - first half was frustrating, yet there seemed to be more of an air of self-assurance about the team. We kept our composure, took our chances in the second half, closed Huddersfield down defensively and saw out a textbook win and a clean sheet. I'll take that all season long.
John Pierce
26
Posted 02/12/2017 at 17:34:08
Rooney, Calvert-Lewin & Kenny we're very good today. Rooney pointed and cajoled everyone.
That was almost leadership. Shape, all three versions in that game was very clear.
Yet again, Davies booked for stupidity, as is pointed out. Such an impetus player, unnecessarily so. Once booked, he is neutered nowhere near the player he can be. He must learn to play on a booking, needs to give GazBaz a call.
Michael, the report is on the money, functional and solid, but a lots of booting it up in the air, but what did we expect?
A very tactical approach to close the game down. A tick In the box for using Lookman for the counter, on a better day the space he had would be exploited.
Some confidence in players all over the pitch, Sigurdsson especially.
Goals aside, a turgid watch. Kopites everywhere running for cover?
Ernie Baywood
27
Posted 02/12/2017 at 17:37:02
Len, I'm very comfortable chewing the fat. It's the reason I come on here. Happy to watch the games, discuss the performance, offer an opinion and read an opposing one.
I try to keep myself above 'opinions' like:
"we won so you can't discuss the performance"
"we lost so you can't take any positives from the performance"
Or
"we didn't concede against Huddersfield; Sam's got us organised defensively in two days"
James Marshall
28
Posted 02/12/2017 at 17:38:30
Was there really lots of booting it up in the air? I watched the game and didn't feel like there was any more than any previous games this season.
I think the perceived notion of Allardyce as a long-ball manager is undeserved, but that's just my view.
We've been humping it out from Pickford and the defenders all season, so why it's suddenly become an Allardyce trait seems like bullshit to me. No offence.
Derek Knox
29
Posted 02/12/2017 at 17:41:38
Good start and win for the new manager, couldn't understand Schneiderlin coming on though. He would be a last resort for me, been crap all season.
Still a lot of sloppy play that went unpunished, but It's a platform to build on, we have received a bit of breathing space, but must push on for safety.
Roman Sidey
30
Posted 02/12/2017 at 17:41:42
Not the most exciting match I've seen but I'll take three points any way these days.
Also, apologies if this has already been said but it's good info -
Connolly and Dowell both scored in the match between Ipswich and Forest today.
Ernie Baywood
32
Posted 02/12/2017 at 17:42:26
For the last 20 minutes maybe, James. We only had 3 non defensive players by that time so it was diagonals ahoy.
The rest of the game I reckon we were about as direct as normal.
Ian Riley
33
Posted 02/12/2017 at 17:42:42
What do people want on here? This time last Sunday we were kicking the arse of the bottom three and I couldn't see then two wins, two clean sheets and six goals scored.
Yes, today was a solid win. We limited Huddersfield to one real chance. Scored two and a clean sheet. Sam saw what was needed at half-time because he sits in the stand like we do.
Tougher games lie ahead but this is something to build on. Let's enjoy our Saturday evening for a change.
James Marshall
34
Posted 02/12/2017 at 17:44:59
I'd call that sensible game management – something we've lacked in recent years. 2-0 up with a recently fragile defence so get it up top sharpish seems like a sensible way to play.
That said, I still think we played the ball on the deck for the most part, and mixed up our longer balls – nothing wrong with that.
Stan Schofield
35
Posted 02/12/2017 at 17:51:06
James@28: Good point. There's a possible major irony in all this. When we hired Koeman, we thought maybe we'd get exciting free-flowing attacking football based on his Dutch total football and Barca pedigree. Instead we got mainly hoof-ball.
Now that we've got Sam Allardyce, a lot of people are expecting hoof-ball based on his perceived old-fashioned British pedigree. If we do get that, it'll just be a continuation of Koeman. But it's possible that we get better attacking, even attractive, football. Well, it's unlikely to be any less attractive than Koeman's.
Ernie Baywood
36
Posted 02/12/2017 at 17:51:17
Ian "what do people want?"
Wins. Goals. Clean sheets. And to talk about the performance afterwards, which is exactly what is happening here.
Sam was on the line for the first half, by the way. Shakespeare in the stand. Didn't notice where they were in the second but I'm assuming the same place.
Oliver Brunel
37
Posted 02/12/2017 at 17:53:30
It was a professional performance against a decent team. I thought Sigurdsson played well. I'm still not sure about DCL although he was better than normal today. Lets see how this goes. The problem for Sam is when the players stop playing for him, then it will be toxic. New managers always have a honeymoon period usually 4-5 games.
Michael Kenrick
38
Posted 02/12/2017 at 17:58:21
Lee (#24), it was a game of two halves. My report reflects that. The first half was abysmal to watch; the words you cherry-picked come from that portion of the report. No doubt the tacticians will praise the cunning way in which Big Sam built the platform for what happened in the second half...
The second half was transformed inside 2 minutes by an excellent goal. Haven't you heard the cliché? – "Goals change games"? That one certainly changed this game. And the second goal was also superbly worked by Rooney.
Some will fault Big Sam's game management in the second half but there is no doubt it was 'solid' as it consolidated the advantage, secured the win with a clean sheet.
I challenge you to identify anything I wrote that does not correspond directly with what actually happened this afternoon at Goodison Park.
Ernie Baywood
39
Posted 02/12/2017 at 17:58:56
Well that takes in the Derby at least, Oliver!
Mind you, he's got a decision to make for Thursday. Should be an easy call to rest players but there's a bit of momentum right now that you wouldn't want to damage. Atalanta didn't really matter but it still dented our confidence when we got twatted.
Stan Schofield
40
Posted 02/12/2017 at 17:59:18
Oliver, those last two sentences are so focussed on an imagined negative. This is the trouble with the perception of Sam Allardyce, too much focus on imagined negatives before he's had a chance to show what he can do at Everton. This didn't happen with Koeman, it was all 'trust in Koeman, he was a great player'.
Allardyce wasn't my choice, but ffs, give him a chance.
John Pierce
41
Posted 02/12/2017 at 18:00:05
Stan, I think that's exactly what we will get! The similarities between Koeman & Allardyce are striking, pragmatic football.
Ego driven hard man management. Ross deffo not unpacking that bag of his.
Didn't we just utterly reject that?
Mark Tanton
42
Posted 02/12/2017 at 18:04:17
John let's have some nuance here, shall we? Allardyce isn't a walking caricature, he is more subtle than that. Koeman was a disaster, Allardyce knows he has to make our squad feel good about playing football again.
I think Allardyce will be far more nuanced than just a massive kick up the arse, and I think we will see Everton players laying their bodies on the line for him, not through fear but out of respect and out of motivation.
Ernie Baywood
43
Posted 02/12/2017 at 18:05:36
Time will tell John. One thing I took from Sam's press conference is that he wants everyone pulling in the same direction. Ronald didn't seem to care who he fell out with and there were constant rumours of rifts.
If he can get everyone aligned he can do well. Even if it's only 'relative achievement'.
Paul Tran
44
Posted 02/12/2017 at 18:06:45
Stan, I think you're right. An ego driven 'hard man'. The difference is that he's a good communicator. The players will know what he wants and will look better as a result.
Today was the kind of functional win we got used to last season. Just what we need right now. The defence looked desperate not to concede, rather than just desperate.
It's a given he'll make us harder to beat. Just like the last guy, it's whether he can do any more than that. In that regard, I'm firmly on the fence. We'll see.
Ian Riley
45
Posted 02/12/2017 at 18:09:24
Correct, Ernie (#36), my apologies, Sam was in the dugout. Shakespeare's input was correct. Clean sheets have been in short supply at Goodison Park.
I for one couldn't care less about the performance for now. Sam is pragmatic about three points and performances. He knows what needs to be done. What I do know is winning brings confidence and, with the quality we have in the side, it will only improve performances.
John Keating
46
Posted 02/12/2017 at 18:10:55
Michael. Spot on a game of 2 halves.
Well the rebellion against Allardyce did not materialise. No booing or banners, polite applause before the game. The usual number of empty seats you would expect at any game.
First half was dreadful from both teams and nothing of note.
Second half early goal created a better game and although Huddersfield had a lot of the ball they rarely threatened.
The youngsters all had good games and I have to admit Williams was solid in defence and had no stupid challenges in dangerous areas.
Another 3 points and a clean sheet. However we will have to up our game and concentration 100% to have any chance of a point next week.
Think I might look look for a week away in Greenland, do not fancy being around next week
Gary Grant
47
Posted 02/12/2017 at 18:12:43
Fair to say that there was probably very little Allardyce influence in that result, and I agree that those reading this, that or the other into today's game as to the "Allardyce effect" are making mountains out of molehills. A few days in charge just isn't enough to make sweeping changes.
But still, we won. We won with a crook in charge of the team, and with signings bankrolled by an investor whose money was obtained in, at very best, a dubious way. Not sure that this is the Everton Football Club I first fell in love with any more, but hey, who cares about your manager being a money-obsessed, corrupt crook when he you've just got three points and a clean sheet?
Gerry Quinn
48
Posted 02/12/2017 at 18:12:50
I had some work to do tactically at half time, mainly on Sigurdsson and Lennon not running too far back. I have to say, it got us the first goal. Sigurdsson was further up the pitch than he would have been. It was something we really needed.
Paul A Smith
49
Posted 02/12/2017 at 18:14:25
Don't know about yourselves but I looked at the desire from the bench today and felt some pride. 3 men you wouldn't want to mess with stood in the technical area coaching like professionals. I think we have missed that big time and we felt like one big team again.
I have to give credit to players I have criticised too. Williams, Davies, and Martina never ever hide. Nobody can accuse them of not wanting it.
Jonjoe Kenny I am made up with. 3 weeks ago, I said he wasn't ready. Today, he played like he's been around 10 years. Credit to Unsworth for sticking with him.
Mark Tanton
50
Posted 02/12/2017 at 18:16:45
Gary, perhaps should spend your weekends doing charity work instead, if you're so disillusioned with the club.
Brian Wilkinson
51
Posted 02/12/2017 at 18:20:34
Pitchforks and burning torches put aside for another week, must be some glum faces around who wrote Sam off before he even entered Goodison.
Get behind the guy and give him a chance.
Like I have always said, give me ugly wins over excellent football with no end product every time.
Time we fans stood up as one and get behind everybody.
James Marshall
52
Posted 02/12/2017 at 18:21:21
Can I put forward a ban on players celebrating goals by dancing? I think Calvert-Lewin did something bordering on dancing today, and I would like to see this outlawed throughout the game.
Thank you.
Tony Abrahams
53
Posted 02/12/2017 at 18:21:48
Who was on our bench Paul A, was Duncan Ferguson? Too far away for me to see, and it's not something I concentrate on that much anyway, but I am interested in what Duncan, is doing now though.
Simon Dalzell
54
Posted 02/12/2017 at 18:23:35
I very much agree with James (#28). At least from the final third of last season, we had no game plan and hoofed it. At the end of the season, we were among the worst teams, and continued this season.
I didn't see much hoofing today, just a tidy hard-working win. It was good to see Allardyce communicating with Shakespeare and Lee, who I think will be good additions.
Sam seems to 'get' Everton, and punching the air at the end shows more emotion than Koeman ever did. With the right players, I think he can change the way a lot of people perceive him.
Mike Powell
55
Posted 02/12/2017 at 18:24:19
Happy with the result but not getting carried away. We have beaten two poor teams in our last two games but we can only beat who is in front off us.
I'm still worried about playing the RedShite next week, they look good going forward. But much happier now than I was a couple off weeks ago. COYB
Stan Schofield
56
Posted 02/12/2017 at 18:26:12
John@41: Neither you nor I knows what the future holds. That's why I said give him a chance, just as we gave Koeman a chance. Every new manager should be given a chance.
Steve Cotton
57
Posted 02/12/2017 at 18:26:27
I noticed big Dunc on the touchline shouting commands to the players on a couple of occasions I think he will now have to be vocal to stand up against Sammy Lee or he may be on his way...

Paul Kelly
58
Posted 02/12/2017 at 18:27:04
James @ 52, I hope he gives us a rendition of Saturday Night Fever next week after his fourth.
Then outlaw it.
Paul A Smith
59
Posted 02/12/2017 at 18:27:11
Tony, it was Allardyce, a very busy Sammy Lee, and Big Dunc all geeing players up and helping them out. It certainly helped Martina.
I didn't want Sammy Lee near the club mate but we can't question his winning mentality. I go to see us win or at least give the intention and men like them three are known for influencing big wins. From my own point of view, it looked like every pass meant more with some passion coming from the touchline.
Dave Williams
60
Posted 02/12/2017 at 18:27:37
Gary – get real. If you want a moralistic sport to follow then move away from football as there is way too much money involved for everyone to be whiter than white.
As far as Moshiri is concerned, you haven't a clue what is the truth and neither has Panorama. Moshiri was known to be a billionaire long before he sold his Arsenal shares and had the money to buy his EFC shares without selling his stake in Arsenal but he had to do that to meet FA rules.
Just savour the points.
John Pierce
61
Posted 02/12/2017 at 18:29:56
Paul.
It's a very interesting point that. I bet those three, especially Sam cannot believe they're here. They normally are picking over a relegation carcass they need to 'Lazarus'.
Instead they've landed a old Rolls Royce, that needs clear work but could really be something. No wonder they were keyed in. They do carry that professional edge. Granted. Even Dunc was allowed off his seat today.
Compare that to Koeman, which is compelling. Poached, and never totally convinced about the job, except the money. Irwin barely ever left his seat and Ron did truly look like he couldn't give a fook. Dunc gaffered taped to his chair.
Perception hey, very close to reality. Deffo on the money there Paul.
James Ebden
62
Posted 02/12/2017 at 18:30:57
2 wins, 2 clean sheets, into the top 10. Hopefully the squad can start playing with some belief now instead of the nervy performances of a few weeks ago.
Next weekend is a whole different test though. Hopefully Sam can have a few decent training sessions before then so we can at least have a solid defense to work with.
John Keating
63
Posted 02/12/2017 at 18:31:57
Gary (#47),
I'm not sure when you fell in love with Everton but if it was since Harry Catterick then you don't know what you're talking about.
I would suggest you find something else to pass your time.
Paul A Smith
64
Posted 02/12/2017 at 18:32:08
Steve Cotton – are you kidding? He's survived 2 failed regimes and you think Sammy Lee may oust him?
After a nice win, why would you talk about stuff you have no substance for. I wish fans would sack the ciggy break chit-chat and stick with what's important.
Stan Schofield
65
Posted 02/12/2017 at 18:33:56
Gary @47: Maybe you could enlighten us all with the 'dubious way' that the investor obtained his money.
Frank Sheppard
66
Posted 02/12/2017 at 18:38:12
2 wins in a row, opposition was poor, but we had been shipping goals to poor teams!!
Paul A Smith
67
Posted 02/12/2017 at 18:38:53
John (#61), I just think it represents us better mate. If the staff look like they mean business it should rub off.
Unsworth I couldn't knock for the same reason but he looked alone out there.
Not to say this is a better man in charge I just like the team affect it showed today.
Paul A Smith
68
Posted 02/12/2017 at 18:47:20
You can sense the fact some fans feel Duncan Ferguson cannot possibly be a good coach. How odd or petty pathetic is that?
Considering Mourinho had to retire at 24 without playing a great level and Houllier was a school teacher, I would have thought it may have dawned on grown ups that coaching takes different qualities.
And considering one of our most vocal fans on here thinks Steve Walsh (the former PE teacher) is some sort of football genius, I find the resentment of Ferguson shocking and selective.
Also calling Allardyce corrupt while their minds are corrupted by pre-concieved opinions that turn to gossip.

James Marshall
69
Posted 02/12/2017 at 18:55:14
Sam Allardyce has never been convicted or proven to have been involved in any wrongdoing – I'm not entirely sure how many times I can say this.
Jim Wilson
70
Posted 02/12/2017 at 18:57:34
Well said, Paul Smith. Totally agree.
Jason Wilkinson
71
Posted 02/12/2017 at 19:05:25
I can't see any of us complaining next week if by hoofing the ball up to Calvert-Lewin we score and end up not losing.
Sam might be perceived as a purveyor of long ball football. If you look back at the Kendall Mk 1 team we scored a lot of goals by gaining yardage then winning the second ball.
Arsenal are probably the best team in the division for playing "pure football". If this is the best way then why have Chelsea, Leicester and Man City all beat them to the title? Liverpool don't always play "pretty football" but they score lots of goals. Spurs are good to watch as opposed to Man Utd who bully teams into submission.
I don't really care how we play as long as we start scoring more and conceding less.
Chris Watts
72
Posted 02/12/2017 at 19:11:41
Anyone think Sam will ask Unsy to take the U23s to Limassol on Thursday?
I can't see any benefit in any of the first team going over there and surely better to keep the players rested and use all days on the training pitch.
Tony Abrahams
73
Posted 02/12/2017 at 19:12:02
Thanks Paul A, I'm made up Sammy Lee has come to Everton, he has done almost everything in the game, even if most of it was for them red fuckers.
He knows the game inside out, he knows the value of the 5-yard pass, and he knows that if he doesn't give us his all, he will be found out in 5 minutes! I actually don't think that last sentence matters to Sammy, because he came through at Liverpool when you had to be a 100% winner to play for them.
Ferguson I'm not sure about, but I wouldn't wish anyone out of work, so I hope he learns off the other three, who have a wealth of experience on the other side of the fence, and this will only help the man to get better.
George Cumiskey
75
Posted 02/12/2017 at 19:16:00
Just got back home to Manchester after the match – great result; poor performance. Good job Huddersfield didn't have a goal scorer because they had most of the possession.
Nobody in the ground could believe it when he brought Schneiderlin on, the worst player all season. And then later on, when Calvert-Lewin was knackered, instead of bringing on Niasse to run at the defence, he brings on a centre-half... unbelievable!
You can bet your bottom dollar next week he will play three centre halves, two full backs and two defensive midfielders. So if you go to Anfield next week, expect us to not venture out of our own half!

William Cartwright
76
Posted 02/12/2017 at 19:16:36
Shakespeare up in the stands with an overview of the pitch, passing 'real time' information down the the team on the touchline? Simple, effective, dare I say innovative? Doesn't sound too stupid to me. Wish I'd have thought of it!
Joe Foster
77
Posted 02/12/2017 at 19:22:10
2 wins 2 clean sheets. Time for a Peroni.
James Marshall
78
Posted 02/12/2017 at 19:22:50
People still slating the manager after we win 2-0.
That means we scored 2 goals, and the other team scored zero goals.
Which in turn means we win the game with a perfect record of scoring more than the other team - who scored zero goals.
Slag him off if you like, but as I might have mentioned, we scored 2 goals, and the other team didn't score any goals at all.
Charlie Lloyd
79
Posted 02/12/2017 at 19:30:44
George @ 75
Firstly I'm not a massive Allardyce fan but even I must say it was more organised and the defenders were obviously told "If in doubt, kick it out" then the team reshaped.
Yes, it was only Huddersfield but you could see the plan was not to let the opposition have chances. I've no issue with that.
As for presuming that next week he will set up as you suggest. Just park your presumption for now and be happy we got 3 points and a clean sheet.
Damian Wilde
80
Posted 02/12/2017 at 19:31:21
We still need more pattern and balance, but it was a dam site better; it's a start. Rooney was quieter, but still good. What a pass for the second. We just look more settled. Pickford commanding. Williams, does he ever pass forwards? Rubbish.
I liked Sam's post match interview I read on the BBC site, he said we needed more attacking football, but we could build upon that, great to hear!
Anyone moaning today – ridiculous. Go and watch a Koeman game.
Oh and Schneiderlin – poor when he came on. I think Lookman and Niasse need to start, at times Calvert-Lewin looked isolated up-front on his own.
Joe McMahon
81
Posted 02/12/2017 at 19:41:44
George Cumiskey - fully agree about Schneiderlin, but we'll just have to see about next week. Sam was though the last away manager to win a Premier League game at Anfield, in April.
Steve Jones
82
Posted 02/12/2017 at 19:44:26
We just managed a halfway decent 45 minutes against genuine relegation fodder.
Can we haul back the plaudits about a 2-0 win?.
We've had a couple of matches that we couldn't lose and for 45 minutes today we seemed to be trying for that regardless. Sam's going to be getting us to play low-risk, percentages, football. We accept that, because the alternative is worse, and move on.
Bill Gienapp
83
Posted 02/12/2017 at 19:48:20
"And then later on when Calvert-Lewin was knackered instead of bringing on Niasse to run at the defence he brings on a centre-half... unbelievable!"
Bring Niasse on to do what, exactly? Needlessly chase a third goal over the last ten minutes? That's the sort of stunt Martinez would have pulled. Lock down the win, preserve a clean sheet, continue building confidence – that was the priority here.
Paul Doyle
84
Posted 02/12/2017 at 19:50:00
Firstly Sam and for that matter Sammy Lee were not on my list as manager and coach, but when was the last time we enjoyed back to back wins? And with clean sheets to boot!
As for the bench, it was great having people constantly down the ears of the fourth official arguing the toss over every decision and even giving it to the ref on the way down the tunnel, well done Sammy Lee. In the past we have been too nice and just played the game and accepted everything.
I can't wait to see Sam, Sammy and Duncan upsetting the apple cart next week at the tin mine...
Oh and Allardyce joining in with the singing of Grand Old Team at the end!! Whether you wanted him or not, up to now he has bought into Everton and conducted himself unlike any manager we have had in my memory.
Christy Ring
85
Posted 02/12/2017 at 19:50:05
Another huge 3 points today, 2 wins after probably our lowest point at Southampton, and we're now 10th in the table, which is huge.
I'm not a fan of Lee, but he wears his heart on his sleeve, and you could see him motivating the players today, also Shakespeare in the stand, watching the bigger picture for Sam, have to say, I'm impressed.
James Marshall
86
Posted 02/12/2017 at 19:50:20
You want people to play-down a 2-0 win when we've been getting stuffed every week for ages? Bollocks to that – if I'm not allowed to be excited about winning 2-0 what's the damn point in having any interest in the game at all?
Why should anyone have to temper their enthusiasm? Football is about results, so celebrate them when they come along!
Joe McMahon
87
Posted 02/12/2017 at 19:51:28
On Sammy Lee, I mentioned on another thread a few days ago.
Friend of mine I used to work with with and life long season ticket holder (since Adam was a lad), always said that in the early 80s Sammy Lee turned up at a local junior amateur cup match, 4 days after the European Cup final, that he played in and won. Not making a fuss he helped set up the Goal posts/nets etc.
Sammy Lee is a down-to-earth decent guy.
George Cumiskey
88
Posted 02/12/2017 at 19:51:32
Steve Jones – I agree low risk percentage football against top teams, but Huddersfield? Come on, mate.
Mike Doyle
89
Posted 02/12/2017 at 19:58:25
#72) I was thinking the very same thing Chris.
Tony Stanley
90
Posted 02/12/2017 at 19:58:56
We won 2-0 despite Allardyce being the new manager.
Andy Ellis
91
Posted 02/12/2017 at 20:01:31
I don't post that much but have been following the debates every day and have been firmly in the anti-Sam camp. However, as an earlier poster said he is clearly a good communicator, unlike his predecessor, which is so vital at any level of management. He's talked the talk so far so lets get behind him and hope he succeeds
. Koeman was a disaster, so many embarrassing away performances. Let's hope Sam can at least stop that, starting next week.
Brent Stephens
92
Posted 02/12/2017 at 20:02:23
A win. 3 more points. But you would have thought that after all that time in charge, Sam would have had us playing better! Week-by-week. Let's see.
Kenny again a solid game. Williams better than recent games. Lennon non-stop.
Terry White
93
Posted 02/12/2017 at 20:05:05
Damian (#80), just who would you leave out to enable us to start Lookman and Niasse in addition to Calvert-Lewin? 3 up front at Anfield next Sunday? I don't think so.
Mark Taylor
94
Posted 02/12/2017 at 20:06:04
Haven't watched it yet, will do so on Match Choice later this evening, but right now, however we got them, I am just thankful for 3 points and having the bacon slicer moved to a point a little less adjacent to our arse.
George Cumiskey
95
Posted 02/12/2017 at 20:07:10
Yes Bill @85 unbelievable, bring him on to keep their defence occupied and give us an out ball. Not sit back and invite pressure.
Let's see if those tactics work next week.
Terry White
96
Posted 02/12/2017 at 20:07:56
Chris ($72) and Mike (#89), as has been said previously, we can't do that. We can only play registered players in the Europa League game much as we would like to give the first XI a rest. Niasse cannot play for the same reason.
Mike Hughes
97
Posted 02/12/2017 at 20:08:04
Great and much-needed result.
Those who didn't want Allardyce and consider him beneath us will probably never accept him. They will likely post cynical comments and it will get very tiresome and dull. If he'd have won 6-0 today we'd have heard that "it wasn't his team" or "we should have scored 9 so he's crap" or "yeah 6 goals but if we were lousy at 0-0 and lucky to score first." Et bleeding cetera.
Those prepared to at least give him a chance – including me – will be hoping the Everton manager and his fellow employees (former RS or not) succeed because the fact of the matter is that if HE succeeds then WE succeed.
If he was a convicted criminal I might have an issue – but he isn't.
If he had a record of playing terrible football with well-resourced and successful clubs, I might also be cynical – but he hasn't.
Sam Allardyce will never get a fair shout with some. They will continue to grandstand and play drama queen and talk crap about "the way the game should be played". Just look where that approach has got us these past 3 years.
But I think the majority of Evertonians will give him a chance and accept winning football if it happens. I wish him luck.
Simon Dalzell
98
Posted 02/12/2017 at 20:08:35
"2-0 win against relegation fodder"
Yes, but only 6 days ago, we were just that ourselves!
Let's walk before we can run. 6 vital points, and management that is showing signs of life.
Hugh Jenkins
99
Posted 02/12/2017 at 20:09:20
Gary (47) - I'm sure that, like many of us, when you fell in love with "Everton", you weren't even old enough to consider the financial machinations that went on behind the production, on a Saturday, of 11 men , in Royal Blue and White on the turf at Goodison Park. If you were, I am astounded.
Nowadays, being older, and no doubt wiser to the ways of the evil world, nothing should surprise us any longer about the main motivation in modern football – it is money!
If, as it seems, you are seeking a hobby that is dripping with saintly virtue, I suggest you put behind you any association with modern football and look at something like croquet, because that is probably as close as you are going to get.
Meanwhile, if what you want is to see "Everton", return to its days of former glory, then I suggest you embrace the revolution and be prepared to mask your ethical concerns by getting behind Sam Allardyce and his team.
After several false starts and false dawns, hopefully, this is his chance at redemption – and ours.
If you find yourself struggling with that concept, bear in mind the words of the late, great, Groucho Marx, when he said: "Those are my principles and – if you don't like them – I have others".
Brian Hennessy
100
Posted 02/12/2017 at 20:09:27
Just listened to Sam being interviewed by the BBC after the game.
Good to see he had plenty to say about the players we have out injured and specifically how important is is to get Ross Barkley back.
That kind of talk will certainly make Ross feel wanted and he looks to be very much part of Sam's plans
Colin Malone
101
Posted 02/12/2017 at 20:11:02
Sammy Lee was instrumental to this win today. Never since Harvey and Kendall have I seen the coach as well as the manager throw instructions to the players.
I'm now happy drunk in The Thomas Frost.... Sammy Lee is a Evertonian!
Eric Paul
102
Posted 02/12/2017 at 20:14:35
George,
They already abandoned defence when they brought a forward on for a defender and went to a back 3 so we sacrificed a midfielder for a defender it's called game management something we haven't seen for a long time.
Terry White
103
Posted 02/12/2017 at 20:14:47
George (#95), give it a break please. The Allardyce crew has been in place for 2 days, we get a comfortable win, understandably not taking any chances, and you still go on about the substitutions and the quality of the performance. 2 days!
Next week is a very different matter and we have to hope that Sam et al can come up with a plan that will enable us to get something out of the game.
Mike Hughes
104
Posted 02/12/2017 at 20:24:49
Hugh (#99),
I wouldn't be too sure about croquet. I used to know someone at work who played it. Bribery and corruption are rife with up to ٣ regularly being back-handed behind the scenes. And it was all long punts up field. No flair at all.
(Admittedly most of the performance-enhancing drugs were to stop people either nodding-off or becoming incontinent).
Other than that, I agree with your post.
John McFarlane [Snr]
105
Posted 02/12/2017 at 20:25:23
I can't believe some of the negative comments that have been expressed regarding today's game, I know that we all attend [those of us who actually do attend] the same match but we don't all see the same game.
As I saw it from my seat in the Park End, Huddersfield Town were much quicker to the ball in the first half, and as soon as an Everton player won the ball, he quite often returned it just as quickly. I felt that it was going to be a case of "After the Lord Mayor's Parade", but the early goal in the second half led to a more confident performance.
The second goal obviously led to a more relaxed attitude on and off the pitch, and the only long-ball style of play I saw, came from our opponents in a desperate attempt to get back into the game.
As I stated at the beginning of this post, I believe we all see a different game, I have been critical of Cuco Martina in previous games, but today I thought that he, Jonjoe Kenny, Wayne Rooney, and Gylfi Sigurdsson put in a good performances, but the lad who sits next to me may have an entirely different opinion.
I hear so many fans say we need to 'win ugly', but when we do, [which I don't think we did today] the team are slated on various threads. And a word to Oliver [#74] the name of the Everton Manager is "Sam Allardyce"; a little bit of respect wouldn't go amiss.
Paul Birmingham
106
Posted 02/12/2017 at 20:37:15
A good win, and the work in progress under Sam, has started well.
Let's get behind the club and stay solid and embrace the future. More passion and sincerity from the new coaching staff than in 16 months of the Dutch crews reign.
Let's face the RS with conviction and belief. They already think they are gonna win the League, and it would bechandy to bring them down to earth next week. I'm not sure who the ref is but I hope it ain't Atkinson..
Have a good weekend All and enjoy the bevy tonight.
David Barks
107
Posted 02/12/2017 at 20:38:35
It was a professional performance that resulted in a solid 2-0 win. Unlike the previous match, we were never really under any threat. The first half was poor, but we were organized.
One thing I immediately noticed in the opening 10 minutes was that each man had their personal responsibility and space to control. Players weren't looking over their shoulder to see if someone else was going to go for a ball or close down a man. They just immediately took control of their responsibility. It was nice to see, even if we didn't string any passes together or generate any real offense.
Second half, we started passing it better right from the start. Before Calvert-Lewin set up the goal, he had a nice bit of hold up play, something he didn't do well in the first half. From there, the team seemed to get some of that feelgood factor back we got the second goal.
It's two wins on the bounce against poor sides that we should beat, but we were not beating before. Like him or not, Allardyce is the manager for the remainder of this season at least. I'm not expecting him to take us to the next level but I'd love to be surprised.
Jay Harris
108
Posted 02/12/2017 at 20:39:25
I've just listened to Sam's post-match interview where he says he was unhappy that we were playing so deep in the first half; he told Sigurdsson and Lennon to push higher up the pitch and consequently we scored 2 goals.
He also waxed lyrical about Holgate and Kenny in particular, saying they don't just have potential – they are ready now.
Also, Michael and Lyndon, can we please ban use of the words 'crook' and 'convict' from posts.
This should really be about Everton and two wins and clean sheets on the bounce – not about someone's opinion of an employee's character.
Roger Helm
109
Posted 02/12/2017 at 20:41:04
Just back from the game and very happy with the second-half performance.
I thought the stand-outs were Jonjoe ( who looks very like Seamus, and I think Seamus may well have a problem getting his place back when he is fit) and Calvert-Lewin who led the line well, won aerial balls and had good link-up play, and of course got a goal. Williams and Holgate looked a solid pairing, albeit against an offensively very poor side.
A good start for Sam and Sammie. (Btw I think Duncan's job is safe, because who would dare tell him he's sacked?)
David Israel
110
Posted 02/12/2017 at 20:42:27
Delighted with another win and yet another clean sheet. A week ago we were as desperate as can be, but the dawn, false or otherwise, has arrived.
As for the Limassol game, we should play the Klaassens and Sandros of this world, as far as possible.
Bob Graham
111
Posted 02/12/2017 at 20:43:04
I suggest a chant, sung to the tune of paradise city by guns and roses:
Take me down to the Allardyce City,
Where the ball is hoofed,
And we're like Stoke City.
Oh won't you please keep us up!
Darren Hind
112
Posted 02/12/2017 at 20:43:41
Those saying they didn't see any hoofball today are either stupid blind or delusional. I've got a stiff neck.
I think it would be wrong to point the finger Allardyce, Yes, he is renowned for getting his team to hump the ball forward at every opportunity, but we were doing it for a year before he got here,
It was obvious he would go with the team Rhino selected on Wednesday he'd have been a fool not to, but I think anyone getting excited about today needs to look at their lives, They must be a wow in the bedroom. You are a little premature darlings.
I also think the claim that the players jumped to attention at Sam's very presence in the stand on Wednesday night, was knocked so far out of the park it will probably end up somewhere in Cornwall later tonight. The players who bubbled and fizzed for Unsworth were as flat as a witch's tit today. The first half being a clear demonstration that Sam simply doesn't command that sort of respect from players who have played under better... I don't think I have ever seen such a lethargic first half from a team playing its first game for a new manager.
There were some positives: Three points, a clean sheet and a crowd who eventually cheered after some fine pieces of individual skill gave us what was eventually, a deserved win.
Special merit to the much maligned Dominic Calvert-Lewin. This kid doesn't do quitting and his endeavours were rewarded by a goal and a fabulous assist.
As for the manager: he will now know the size of his task. Like I say: he can't be blamed for the zombie football we saw in the first half. That presumably is one of the things he is expected to fix.
A win, a clean sheet and a couple of very nice goals is a perfectly acceptable start.
Mike Hughes
113
Posted 02/12/2017 at 20:53:31
Darren (#112),
Aren't those being cynical also "a little premature darlings" to use your expression?
As for "the first half being a clear demonstration that Sam simply doesn't command that respect" – nothing about a settling-in period given it's his first game in charge after being appointed 48 hours ago?
Some positives towards the end of your post – and recognition that zombie football at EFC preceded Sam Allardyce despite huge levels of investment – so let's be thankful for that.
Michael Kenrick
114
Posted 02/12/2017 at 20:57:48
Jay requests:
"can we please ban use of the words 'crook' and 'convict' from posts? This should really be about Everton and two wins and clean sheets on the bounce – not about someone's opinion of an employee's character."
Not sure I can agree that your opinions should restrict the terms of discussion on here, Jay, and I'm quite certainly dead set against banning words that you don't happen to like.
You can do your best to sanitize his reputation, Jay, but it's not going to magically eradicate people's knowledge of the Telegraph's "bung sting". Nor his ignominious removal from the England post after just one game. Nor the fact that his career has been spent mostly managing the dross at the lower end of the Premier League.
A number of fans don't think he's the right man to be Everton Manager. That's not going to change magically overnight, whatever you post to the contrary. I expect it's going to take some people a while to get past that.
Simon Dalzell
115
Posted 02/12/2017 at 21:01:05
What a coincidence, players bubbling and fizzing all of a sudden on Wednesday, from being the worst team ever for the previous half dozen games. Nothing to do with Allardyce being there?
Today's first half proves this? Do me a favour!!! My necks not stiff because I was in Top Balcony. It is possible however, I'm blind, stupid and delusional.
Ashley Roberts
116
Posted 02/12/2017 at 21:01:55
I have to say I have some sympathy with Unsworth this evening. It just took him too long to find the winning formula because, in reality, today's team was his team as big Sam made no changes from Wednesday.
It was a big task to take over from Koeman but I think if you have any coaching ability you see very early the formation and the best personnel for those positions. It was clear to me that Rooney should have been trying to dictate play in midfield as he does not have the same energy to play up front anymore.
Why could Unsworth not see this until his last game in charge instead of playing the failed duo of Gueye and Schneiderlin in that role??? If he had seen that role a couple of games sooner then he might still have the job.
All water under the bridge now. I would much sooner Big Sam over Koeman any day and while not my first choice I am willing to give him the benefit of the doubt and if he can get Ross to sign a new contract that would be the icing on the cake for me because with him alongside Rooney would be a great combination.
Andy Walker
117
Posted 02/12/2017 at 21:07:16
Michael, the words 'crock' and 'convict' describe someone who's been convicted of a crime. Sam hasn't. Get it?
Darren Hind
118
Posted 02/12/2017 at 21:07:22
Mike Hughes,
That is not being Cynical. that is telling it like it is,
If you think you can make a case for the players getting anywhere near their performances on Wednesday at any stage of that first half the get it up there.
You wont of course, You can't.
Damian Wilde
119
Posted 02/12/2017 at 21:13:31
Steve (82) and Darren Find (112), yes we weren't very good at times, but we've gone from being the most utter dog shit team getting wacked by four or five a week to...WININNG!!
We're not quite Brazil, bit it's better ffs and we've won a few. Also at times we played some nice footy.
Darren Hind
120
Posted 02/12/2017 at 21:13:47
John @ 115
Here's the clue... listen carefully. he changed the team, He ousted the shirkers and brought in the workers... Do you see? Did you even notice?
That's why big Sam decided to copy him; granted not with the same effect, but he got a similar result.
John McFarlane [Snr]
121
Posted 02/12/2017 at 21:13:52
Hi Darren,[112] I may be one the stupid, blind, or delusional people that you refer to, but I maintain that the only systematic long ball style of play, [that I saw] came from Huddersfield.
The long ball option that Everton employed came from Jordan Pickford, and if you're inferring that this tactic is a Sam Allardyce introduction I beg to differ, because Pickford has been doing it since the beginning of the season.
I don't know if you viewed the game from Goodison Park or from some TV source, but I think it adds strength to my theory that we as supporters, watch the same match but see a different game.
Mike Hughes
122
Posted 02/12/2017 at 21:13:54
Darren (#118)
Yes, I can. Off the top of my head.
On Wednesday we played a poor West Ham team beneath us in the league – with a man who had been in charge for more than 48 hours.
Today, we played a team above us in the league – with a man in charge for less than 48 hours.
Other variables included the nature / length of tenure of opposition management; strategies; formations etc.
I won't argue the toss as about to watch a movie. Have a good evening.
Mike Hughes
123
Posted 02/12/2017 at 21:20:07
Andy (#117),
Totally agree. Clearly defamatory.
And we didn't have "Fat Ronald" or "Fat David" so why ....
Not that there would be any bias against the man like. I wouldn't dare suggest that.
Chris Corn
124
Posted 02/12/2017 at 21:20:27
Don't the word 'crock' and 'convict' suggest that he's been found guilty of a criminal offence though? I believe he hasn't.
However, they are better than the stock phrases oft used on these forums such as 'snake oil salesman' and 'charlatan' which make my blood boil and reflect keyboard warriors trying to sound intelligent.
Chris Corn
126
Posted 02/12/2017 at 21:23:18
Normally agree with you, Darren Hind, but to be fair neither of the goals were hoofball were they?
Andrew James
127
Posted 02/12/2017 at 21:30:02
Well we are not getting relegated. Football is a funny old game. Unsworth comes up with a line-up that thrashes West Ham and the players look like they have some self-belief which was mostly present today. Sam Allardyce takes over and we put in another win (although I suspect this is one we would have won under Unsworth or Koeman, so woeful are Huddersfield on the road).
It isn't games like today that will make my mind up about our new manager. It is the matches against the likes of Arsenal and our style of play that will reveal him.
He has no real excuse not to play with a certain amount of style given the personnel. If he can fix the porous defence, I expect a half decent finish with goals spread amongst Niasse, Calvert-Lewin, Rooney and Sigurdsson.
Sandro and Klaassen are in trouble. I'd like to see both prevail but cannot see either fitting into this system now or being preferable to what is in there. As for Mirallas, think he might be struggling for game time.
Gary Grant
128
Posted 02/12/2017 at 21:30:48
Totally with Michael (114) about using the word "crook". Sam was caught in a bung sting, and although nothing was ever conclusively proven, there was enough smoke that there was clearly a fire. The man was pocketing cash for himself while at Bolton, often cited as his best job. And then he's sacked by the FA for being, at very very best, a money-grabber, at worst, actively corrupt. And the rumours and whispers within football have, for years, pointed to the latter.
I got brickbats for a comment around 47 where I called him a crook myself. I just don't want this character managing our club. I think he puts a stain or our reputation. I think he's here, no matter what he says, for the cash, and all this crap about "It's Everton, how could I say no?" is just flannel for the gullible. After all, he didn't say Yes the first time he was offered "Everton", did he?
When he was first appointed, the verdict on here was about 50/50 and it just strikes me that, two good results later, all is forgiven and we'll take a "dodgy" manager if it means the team does well. Maybe I'm too sanctimonious, maybe I expect too much, maybe modern football is just a totally corrupt, money-obsessed business with Big Sam no better or worse than most, but I just thought EFC were better than this.
I will always be a Blue, I'll always want us to win and do well, I'll always want us to beat the opposition, but while this guy is in charge, things will never quite sit well with me, and all the dull, dogged 2-0 home wins over relegation fodder in the world won't change that.
Raymond Fox
129
Posted 02/12/2017 at 21:32:42
Can we talk some sense about what style of football we want to see?
In a perfect world, we would have a team full of De Bruyne, Aquero, Mane, Salah, Silva, Ozil, Pogba, de Gea, Sanchez, Coutinho.... (I could go on) in our team and we could play the opposition off the park.
Face the facts – we don't have players that the top 6 teams covet except maybe Barkley and a fit Coleman – and that's stretching itl; he two we had that they wanted have gone, predictably.
Allardyce has already said that every match is different and we will play in a way that gives us the best chance of winning. That's perfect logic to me; against the top 6 sides you're going to have to be very fortunate to beat them at their own game. By all means play a more expansive game against the rest of the Premier League when it suits us to play that way.
Until we are able to afford and attract the very best players to our club, I would suggest that winning football is the first priority, however it is achieved.

Darren Hind
130
Posted 02/12/2017 at 21:35:59
Sorry Mike
I didn't make myself clear. I meant a proper case.
This is a team who were spanked for five going on ten last week. A team who were spanked by the shite, a team who will do well to win an away game between now and May. West Ham have better players and like us have been mismanaged.
You see this is the problem with you happy clappers; I give a fair assessment of the game, I exonerate the manager of blame for poor play and I state very clearly that it was a "perfectly acceptable start". I even praise the quality of the goals... but it's not enough for you. Unless people post they are "deliriously happy" and "excited" with an infinitely forgettable performance, you are labelled as "prematurely cynical".
I have spent a year trying to fend off people trying to sell me grass skirts and kites... I didn't buy then and I won't be buying now
Jay Harris
131
Posted 02/12/2017 at 21:41:23
Michael,
He wasn't my choice either but given that Ancelotti, Tuchel, Simeone et al were either disinterested or unavailable I believe we've made the right decision.
Sir John is held in the highest reverence but was well know for passing brown envelopes around the dressing room after every good game. And I'm sure most ToffeeWebbers haven't been saints all their lives so a little bit of tolerance wouldn't go amiss now would it.
Mike Hughes
132
Posted 02/12/2017 at 21:42:22
Darren #130
Commercial break in movie - so last comment until tomorrow.
Not convinced by your response at all.
Very, very lame.
Thanks for the 'happy clapper' comment though.
That's a first for me and cheered me up.
I wish you a similarly pleasant evening. Cheers!
LOL.
Ian Bennett
133
Posted 02/12/2017 at 21:43:40
Solid today, and reminded of a routine Moyes type victory in the second half.
Kenny, Calvert-Lewin and Pickford a big plus in recent games. Something positive for the season at least.
Lev Vellene
134
Posted 02/12/2017 at 21:44:04
Mike (#104)
I hate you! I have some bruised ribs and you made me laugh when I wasn't expecting anything funny! This is TW, after all...
Ian Burns
135
Posted 02/12/2017 at 21:48:02
John (#105) – you (like myself) have obviously been watching Everton for many more years than we care to remember. I hope many of the negative contributors read your reasoned and sensible comments from a true blue and take note. Good post, sir.
James Marshall
136
Posted 02/12/2017 at 21:53:36
For anyone that still hates Sam Allardyce, go and watch some of his YouTube videos of him laughing at Chico Flores or taking the piss out of Mourinho.
He's more like us that you dare imagine!
James Marshall
137
Posted 02/12/2017 at 21:54:01
PS I quite like him.
There, I said it.
Guy Rogers
138
Posted 02/12/2017 at 21:55:27
Raymond Fox – spot on!
Terry Underwood
139
Posted 02/12/2017 at 22:08:29
40-yard pass from Everton right back to left wing = route 1 long ball game. Same pass by Arsenal = sublime defence-splitting pass DILLIGAF?
Nice football is always a bonus, but the result is everything.
Don Alexander
140
Posted 02/12/2017 at 22:13:24
Darren, you little tinker... I'm going to struggle getting to sleep tonight with that picture of you in a grass skirt in mind!
Chris Corn
141
Posted 02/12/2017 at 22:16:05
Gary 128, we've been subject to questions in the media both due to Kenwright's alleged involvement with Green, then more recently Moshiri and Usmanov. Apparently all these relationships whilst questionable, are legal and above board. Pretty much the same as all the allegations levelled at Allardyce.
And to any older Evertonians who are affronted by Allardyce regarding his off field issues, I will just say 'Tony Kay' who has long been painted as a victim of a media stitch up.
If you think Allardyce is a shit manager, just say so because all this 'stain on our reputation' is bullshit because we seem to have plenty of dirty laundry. In fairness to Sam, his actions have never led to the loss of peoples's livelihoods and their pensions (allegedly!)
Dave Older
142
Posted 02/12/2017 at 22:33:22
Well I don't think many of us would have thought Sam Allardyce would be our manager at any time in our lives, or that Sammy Lee would be his assistant. It is like living in an alternative universe to be honest. I am still trying to get my head around the whole idea.
However, a clean sheet on his first game is progress as we have shipped way too many goals this year. We have seen a lot of dross this season and we can play like the Crazy Gang of 1988 for all I care if it gets us away from relegation. I am not expecting Sam to ever get us playing like City but we need a bit of stability and Sam might just be the answer...for the moment.
We cannot be relegated... Pure and simple. We should be aiming for the top six of course, but we have been awful for most of the season. I don't think I will be getting my grass skirt out just yet...it's not really the time of year for it anyway. However, I may just stick on my Bermuda shorts in celebration of 6 goals and 2 clean sheets in 2 games.
I don't care if the opposition were not all that and, yes, I do worry for the derby. However, as it stands right now, I feel a whole lot better than this time last week. For that reason, Sam, I raise a glass to ya and I wish you well for the rest of the season. COYB.
Dave Abrahams
143
Posted 02/12/2017 at 22:40:11
Not a great game or performance by any means, but we battled for a win and that is what we need at the moment. No manager could change the miserable way we have performed for most of the season, so one step at a time with three points to move us up the table will do for me at present.
Some good performances with Kenny continuing to improve along with Calvert-Lewin, Lennon putting in another good shift, Williams improved and organising vocally, Gana full of energy; it wasn't pretty but it was effective.
Lots of room for improvement but give this coaching team time and let's see what they can do little by little; they might just surprise us.
Don Alexander
144
Posted 02/12/2017 at 22:55:09
Well said Dave Abrahams (#143). Whatever his past Allardyce is with us, with Shakespeare and Lee. Those last two encourage my hopes that we can at last start looking like a well-coached, fit team again before pondering the abilities of its members.
With that in mind I hope Allardyce has been allowed to nominate who he wants in January with the board's assurance that he'll get what he requires. If he does he'll have to show what he's all about by May.
Frankly I think it's a little daft to start laying into Allardyce as some have said they will in the event we get another shite result against our neighbours next week. Unsworth was rightly mostly supported for over five weeks given his difficulty in transforming a squad he was hugely aware of before he started so to hammer Allardyce for failure next week, if it happens, is gratuitous as far as I'm concerned.
If we get a shite result against them at our place in April it'll be a different matter though.
Grant Rorrison
145
Posted 02/12/2017 at 22:56:29
Darren 120. If Unsworth is such a good coach why did we concede so many goals during his short time in charge? If Wednesday night was all about removing the 'shirkers' as you put it. Why didn't he do this before his final game in charge? Why didn't the 'workers' produce for him prior to this game? Why didn't he use Rooney in a deeper role before West Ham instead of sitting him on the bench?
The West Ham result was just one of those things. They could have easily have scored twice after the break when they missed a pen and hit the bar. Rooney will never score another hat trick for us and certainly wont score a goal like his third which he claimed to be the 'best' that he's 'ever hit a ball'.
We looked much more solid today against Huddersfield. They never had a sniff of a chance really. You can question the quality of their team but we've already conceded twice to a side that managed only 4 goals prior to playing us and 4 to a team that like Huddersfield today only had 9 goals from their previous fixtures. If you are bad enough you can concede to just about anyone.
I would back us to be much more resolute and concede less goals from the same number of fixtures under Allardyce than we did under Unsworth.
Peter Roberts
146
Posted 02/12/2017 at 23:19:48
Gary
Who says he was offered Everton first time round? If memory serves, he took himself out of the running as we were hedging our bets
Fact is he's here and while he's our manager I will support him. His interviews speaking about our club as if he's one of us is far more than Koeman or Martinez managed.
(Moyes I felt was bitten by the Everton bug as served by all his games against us since. 😀)
Jim Burns
147
Posted 02/12/2017 at 23:21:17
Sam and Peter Reid are good mates – that will do for me folks.
Andy Williams
148
Posted 02/12/2017 at 23:31:52
I am sure it has already been said but we looked much more organised defensively today. We sat back quite deep in the first half soaking them up and killed them off in the second. Looked like good if unspectacular management to me.
The last thing we needed was to ship a goal early on. The players look to be gaining some confidence thanks to Unsy and Sam and some of the interplay (not a lot of it ) was good. Few mistakes. Onwards and upwards.
Considering a couple of weeks ago I was expecting us to ship double figures in Mordor; then (whilst not expecting a win), I am a lot happier
James Marshall
149
Posted 02/12/2017 at 23:37:58
Not a good performance? We won 2-0, what more do people expect?
Do you want 8-0? Players scoring from the halfway line? Cartwheels? Maybe a streaker would make your day more appealing?
I never understand the mentality behind the comments when we win games without conceding a goal – personally I don't see what could be better about a performance when you win with a clean sheet, and evidently having watched the managers interviews, neither can he!
Phil Bellis
150
Posted 02/12/2017 at 23:43:24
Many posts ago... "a couple of matches we couldn't lose".…rewind 2 weeks: Pantomine response.
Tony Stanley
151
Posted 02/12/2017 at 23:44:00
Totally agree with Michael (#114) – you can't just ban words you don't like or agree with.
Hugh Jenkins
152
Posted 02/12/2017 at 23:47:36
If I remember correctly – the man who first started to take the "Mickey" about appointing Sam Allardyce as manager was a certain "Fat Spanish Waiter", who was himself under pressure at the time due to poor performances, where he said (paraphrasing), "who will they appoint instead of me – Sam Allardyce?"
Unless I am very much mistaken, the self same Sam Allardyce then beat said FSW's Liverpool team, with his much maligned Bolton Wanderers team
No doubt someone on here will be able to confirm / clarify / debunk this story... However, that's how I remember it.
Ever since then, everyone has derided Big Sam's credentials – without (in my opinion) any foundation, other than that emanating from the mouth of TFSW.

Frank Crewe
153
Posted 03/12/2017 at 00:09:06
Amazing. I'm comment 153 or 4. If we had lost today no doubt we would have been on comment 350 by now. Surprising how we'll criticise a defeat far more than praise a win.
Hugh Jenkins
154
Posted 02/12/2017 at 00:09:28
Gary (128) - I was , (undoubtedly), one of the people who "brick-batted" your post at 47 - in my post at 99.
My reasons are simple, in so far as it strikes me that you do not live in the "real" world.
In your post at 128 you say " I don't want him managing "OUR" club.
How many shares do you own in "OUR" club , Gary?
We can speak about "our" club , in euphemistic terms, but, in reality, it is a football team of whom we chose to follow the fortunes.
We may be STHs or members of any number of other myriad organisations connected with the club or its supporter organisations.
However, whatever else it is, it is not "OUR" club.
Until you or I, can stump up 1/5th of a billion pounds, to take your / my seat on the board, the choice of manager, or any other member of staff, is never going to be yours (nor mine).
If I were you, I would therefore stop troubling myself about these decisions and either get behind the team ( in its widest sense) that we have chosen to support, 0r, as I said earlier, find a pursuit that sits happier with your conscience.
Simon Dalzell
155
Posted 03/12/2017 at 00:14:25
Grant # 145 Well said. Exactly how I see it, but, a lot more eloquent than me.
Derek Knox
156
Posted 03/12/2017 at 00:19:35
Hugh@ 152, It's like the old saying that mud sticks, if someone makes a statement whether it be true or not, or difficult to ascertain the actual facts, and that person has some degree of credibility, it is believed.
Human nature being what it is, people will more readily accept and digest bad news, as opposed to the contrary.
I am not defending Sam, but wasn't the bung sting operation, recorded him saying basically it goes on in football, I can tell you how to get round third party ownership, or something to that effect, he wasn't actually caught doing it.
I may be wrong, but that was my interpretation of what went on.
No doubt someone will clarify or dispute this.
Steavey Buckley
157
Posted 03/12/2017 at 00:27:49
Huddersfield rested 6 players during the week against Arsenal, as their Everton game was to be one of their winnable matches. So Huddersfield were bound to have more energy than Everton when 60% of their outfield players returned for a must-win game.
Nicholas Ryan
158
Posted 03/12/2017 at 00:48:40
When you're in a crisis, the first thing you have to do, is stop losing. Well, that's Stage 1 dealt with!
Steven Jones
159
Posted 02/12/2017 at 00:59:29
Loved all of Big Sams Interviews and press conferences post match.
I also like the size and depth of the new coaching team and as others have commented Sammy Lee and Duncan getting on the pitch and shouting and motivating players all as Big Sam is on the blower to Shakes in the stand.
I also liked his comments on some of the younger players dismissing the words when asked about their potential and replacing it with this is reality they are doing it now, they are very impressive kind of messages.
He is also talking great things about Everton and the pride in this being his dream job – fantastic to hear and with no little emotion in his voice. There is echoes of Reidy, Brace and Andy Gray who are close friends of his having wound him up.
Would it not be great to see Sammy Lee punching the air if we score next weekend! Imagine the reaction of the other half – they would be in meltdown.
The other thing that has dawned on me is that we are going to have a ring side seat to see what a top professional manager does and after the well documented weaknesses of messers Koeman, Moyes, Smith and Martinez – it will be a refreshing and hopefully inspirational to see Sam and team do their stuff and leave us to be united behind them and to really get behind everyone at the club.
COYB's!!!

Steven Jones
160
Posted 03/12/2017 at 01:04:55
Bob 111
Perhaps more positive take . :-)
Take me down to the Allardyce City,
Where Rooney's Rockin,
And the footballs pretty
Oh won't you please Win the Cup!

Sure others can think of better lyrics and a couple more verses .
Jason Davenport
161
Posted 03/12/2017 at 01:22:11
Can anyone please tell me what happened to Tyias Browning?
Barry Williams
162
Posted 03/12/2017 at 01:25:42
Jason Davenport – 161
On loan to Sunderland along with Galloway. Sunderland have the aforementioned 2 players on loan from us, plus Oviedo, Gibson, Rodwell, McGeady and Vaughan. 7 current/ex-Everton players, plus last season they had Lescott and Anichebe, not to mention Moyes. I spent quite a lot of time in Sunderland so often check on their results!
Kase Chow
163
Posted 03/12/2017 at 01:28:33
Glad we won and glad we have Big Sam as our manager
The last few haven't been up to much and Sam has some progressive coaching philosophies (first to used Prozone etc)
Let's get behind the new management team.
Jason Davenport
164
Posted 03/12/2017 at 01:33:32
Thanks Barry Williams 162. I want both Galloway and Browning back asap.
Barry Williams
165
Posted 03/12/2017 at 02:01:31
Jason Davenport – 164
They would have been more than useful additions, Jason, considering all the fixtures we had early season with the Europa League and the fact that Williams, Jagielka and Baines are veterans who needed to be rested to get the best out of them.
Barry Williams
166
Posted 03/12/2017 at 04:45:39
Calvert-Lewin's slightly deflected goal as described by Sky, 'with the ball ballooning off the defender into the net'
No wonder I am a paranoid Evertonian!
Echo headlines: 'Everton Verdict - Big Sam presents his calling card as Allardyce era begins with a win against Huddersfield'
Suggesting Long ball tactics, it really really wasn't. The two goals were really good moves!
Hey ho!
Barry Williams
167
Posted 03/12/2017 at 04:56:38
As posted before, we had 5 English kids playing today in Kenny, Holgate, Davies, Calvert-Lewin and Lookman, but not a mention of it. Imagine if it was one of the trendy clubs doing this!
Oh, and 9 English players overall! I know we have been crap, but last season we were much less crap, similar situation, but never really mentioned! Yes, paranoia is alive and well here!
Just because you aren't paranoid doesn't mean they ain't watching you!
Steve Brown
168
Posted 03/12/2017 at 06:30:58
Stolid and functional rather than solid. It is probably the right approach given the situation we thought we were in when we decided to hire him. But it will be the only approach we get regardless of league position, because that is how he always sets his teams up.
In reality, this job is already too big for him now that we are 10th - his "strength" is to steer teams towards those giddy heights then leave or get sacked. I am sure that if he could sign Kevin Davies to solve our striker problems he would! Just limited in every sense of the word.
As for him being tagged a 'crook' or 'convict', it's maybe too harsh so I will stop tagging him as crooked. Dodgy Sam is a better and more appropriate.
Mark Daley
169
Posted 03/12/2017 at 06:41:59
The test is Anfield, where RS winning 4-0 is only 13/1. We need an even bigger miracle than usual. Get praying.
Hugh Jenkins
170
Posted 03/12/2017 at 08:02:40
Derek (156) - Exactly! It's like someone being asked - "Do you know how to commit the perfect murder?". The subject answers "Yes, I believe so" and the next thing, the subject is accused of murder.
If the case ever came to court, the judge would throw it out, particularly as the question had been asked by an "agent provocateur",
For some reason , the newspapers in this country felt the need to discredit SA, when he became England manager, and managed to do it in this most underhand way.

Hugh Jenkins
171
Posted 03/12/2017 at 08:14:57
Steve (168) - On the basis of what evidence (other then "hear say"). have you decided that he is "dodgy"?
I am fed up with the trial of "everybody" by the gutter press in this country.
For God's sake, let's move away from the Jeremy Kyle, school of thought, for once, and make our own decisions on the evidence before us.
Furthermore, why would he sign Kevin Davies now - Kevin is past it?
I appreciate that this is an "illustration" on you part, but he has Oumar at his disposal - someone else that has been pilloried, denied a locker and generally vilified by all and sundry, on the word of a man we eventually sacked for incompetence.
Perhaps he can become the "new" Kevin Davies?
If he is half as effective, I, for one, will be delighted.
Steven Jones
172
Posted 03/12/2017 at 08:44:54
Steve 168 - You obviously do not know what makes up a modern progressive manager.
Mr Allardyce is renown for his innovative, ahead of the rest adoption of science, data, innovation and progressive approaches.
He has stated he wants more technical skilful styles of football and he will try to bring that forward.
Some are exaggerating potential subjective styles or approaches of SA's past teams. Some on here shouting the death knell of our youth program. Yesterday when one commentator suggested potential he jumped back at them and said no they are delivering now for real.
One of his traits is he likes top top quality up front and the goals that were scored yesterday had flair, movement and passing. SA talked about more give and go's, passing and technical football being the way he would like to get the best out of this squad.
The negative angst types on here will use any device and in particular subjective miss truths delivered with spite, anger and hyperbole to make their positon and their disturbance on our blue community.
Next week in the derby is going to be full off opportunities for this bunch of non supporters. These detractors will point to a defeat and then heap more negative hyperbole. I have already heard derogatory toned predictions that SA will start with five defenders and two midfielders Blah Blah Blah.
The top sides often Park the bus, set up defensively away from home. Look at UTD and Mourinho who PARKS THE BUS regularly.
It will take to the end of January for SA to sort the jigsaw out and have a plan for the rest of the season.
Ross may be part of that, so will new additions, so will the foreign fringe players if they take up the challenge, so will the youth, so will his new coaching, fitness and performance teams.
Lets all bring positive support to our great club, which I believe is set up for success with Mr Allardyce and our new coaching team in charge.
Great times ahead! COYB's

Mark Murphy
173
Posted 03/12/2017 at 08:53:01
"Wayne Rooney will never score another hat-trick for us."
Why not, Grant??

Peter Lee
174
Posted 03/12/2017 at 08:59:47
Football has been/will continue to be "shady". Too much money, too many agents, too many fingers in the pies.
Those older followers of the club will remember that Joe Royle's tenure ended in a dispute with Johnson over murky Scandinavian transfer dealings.
Nobody calls Joe a crook so leave it out, support the club or bail.
Peter Mills
175
Posted 03/12/2017 at 09:00:52
I left the game satisfied with the result, pleased that the 2 goals were well created, and happy that our goalie had little to do throughout the match.
The referee was poor. He let 5 fouls go in the first few minutes (3 by Huddersfield, 2 by us) then started to penalise everything and yellow-carded several players. Tom Davies was particularly unfortunate, being treated very roughly in the those early stages then being booked for a fairly innocuous challenge.
We had 4 free-kicks in promising positions in the first half, from about 35m out from goal. Huddersfield held an extremely high defensive line and we were suckered into being offside or hitting the free kick into their goalie's hands. It would have been nice to see the players thinking about the situation, telling the attackers not to be offside, and getting someone to run from deep, through the defensive line, to receive the ball in the gap between the defenders and the goalie. It was pretty obvious to see from an elevated position in the Main Stand, let's hope our man in the stand can start passing messages to the earpiece of our man on the touchline.
Andy Osborne
176
Posted 03/12/2017 at 09:12:28
After the last few months of poor performances and demoralising defeats, I am more than happy to get two wins, six goals and zero goals against. Was this down to Unsworth "finally" getting it right, or the "new manager" effect of Allardyce, I don't really care, I'm just happy that we are restoring confidence. I believe we have good players, but whatever happened under Koeman, their ability and confidence appeared to disappear.
Regarding the coaching team, and where they have played or coached previously, again I don't care. They are employees of the club, and the club pays them to do a job. If they do it, great, if they don't, they will be sacked. I don't expect them to "lie" to us by claiming they have always loved the club, or have secretly worn Everton pyjamas. I don't need them to be passionate about our club, I need them to be passionate about doing their job.
Turning to Sam Allardyce, we are his 7th Premier League club that he managed. I would be confident in saying that the previous six were a very different scenario. Not much money, not a great squad of players and more often than not, in the relegation zone. He had to do, what he had to do, with the budget and players he inherited.
I think this job is different, yes we are struggling at the moment, but we have money and quality players. If he gets those players playing to their potential, he won't have to resort to "hoofball".
Allardyce is an English manager and as such, is unfashionable with the "Big" clubs. I wonder what he would have done if he had been given the job at Chelsea, or Man Utd. I dare say he would have done a better job than Mooyes or Van Gaal.
So in saying that, I think the Everton job is the biggest he has had (England job aside), and we might see him playing in a way that a big club can allow him to.
I wish him luck. If he succeeds then the club will succeed, and we, as supporters will be happy.
Win first, win with style second. I hope he does both.

Eddie Dunn
177
Posted 03/12/2017 at 09:19:18
Peter, I watched it on a stream and it seemed that Shakespeare in the stand was in contact with Allardyce throughout. It is refreshing to see communication between the coaches, like Unsworth and Ebrell.
It was very different to the arms folded, solitary figure of Martinez and the singular, isolationist Koeman.
Also interesting to see Sammy Lee shouting instructions too. Big Duncan was very keen to use the timing facility on his big watch.
Peter Mills
178
Posted 03/12/2017 at 09:26:04
Thanks, Eddie – refreshing indeed.
Steve Cotton
179
Posted 03/12/2017 at 09:26:55
We were all worried about Niasse being out for 2 games but we go and win the both...
Dale Rose
180
Posted 03/12/2017 at 09:55:58
#164. Quite agree on that point about those two. I thought it was a good game. We looked confident and that came out in the play. Not a fan of Big Sam and his team, however we are looking better. So will reserve judgement.
Derby Day next week. Sadly the RS are looking good. This will be our most pivotal game for a long time. I think this will also be a massive test for Big Sam. Closing down Salah and Couthino, is the priority.
Dale Rose
181
Posted 03/12/2017 at 10:03:55
#164. Quite agree on that point about those two. I thought it was a good game. We looked confident and that came out in the play. Not a fan of Big Sam and his team, however we are looking better. So will reserve judgement.
Derby Day next week. Sadly the RS are looking good. This will be our most pivotal game for a long time. I think this will also be a massive test for Big Sam. Closing down Salah and Couthino, is the priority.
Colin Malone
182
Posted 03/12/2017 at 10:22:53
Sammy Lee played his part yesterday. Getting in the technical area, to motivate and direct the players, having a go at the fourth official. The last time I saw that was the Kendall and Harvey reign. Very impressed with Sammy Lee.
Grant Rorrison
183
Posted 03/12/2017 at 10:30:29
Mark 173. It was more a probability position than anything. He is 32 years old, long past his best. No longer plays as a striker. Instead occupying a role that isn't really conducive to scoring lots of goals. It's been 2272 days between his 7th and final United hat-trick and his first Everton one. He wont get that length of time here to score another one.
Top strikers in Premier League history like Shearer and Owen continued playing for years after their final hat-trick and couldn't manage another one. And again, Rooney is no longer a striker. We aren't even a free flowing, goal scoring team, which would make it easier for someone to score a hat-trick.
He doesn't normally takes pens (Baines does) and his third goal isn't something you see very often. Maybe the statement should have read 'In all likelihood Wayne Rooney will never score another hat-trick for us' ? Do you think that he will?
Phil Walling
184
Posted 03/12/2017 at 10:55:18
I have to confess that my viewing of the week's two wins was restricted to TV edits so I may not have got an ideal view of how we performed. But be that as it may, we garnered six points and looked well capable of leaving the lower reaches of the Premier League behind.
However, when it comes to games against the top sides, I suspect it will be a very different challenge and Little and Large may well have first sight of the problems that so challenged their predecessor. Ignoring the arse end of the Europa League in midweek, next Sunday's trip across the park will be the real test in discovering just what needs to be done to re-establish us as a regular '7th place plus' team.
My big fear is that the backbone of this squad is so weak that a couple of early Red strikes could well see us on the wrong side of a 4- or 5-niller and thus seemingly back to square one. But that won't necessarily be the case – only presenting the challenge of how quickly the new management team can repair the damage as well as recognise what needs to be done in the winter transfer window.
Despite these fears, I shall, as usual be risking my money on a Blues victory but with absolutely no expectation of a return.
Tony Everan
185
Posted 03/12/2017 at 11:22:13
While I was making bacon and egg butties this morning, I was thinking, what a difference a week makes.
was it really only 7 days ago were were playing Southampton in the 1:30 pm Sky match?
What next? An away win? ... I dare to dream.
Brent Stephens
186
Posted 03/12/2017 at 11:24:39
"The first half being a clear demonstration that Sam simply doesn't command that sort of respect from players who have played under better... I don't think I have ever seen such a lethargic first half from a team playing its first game for a new manager".
Breaking news – a team fails to perform as well in a game following one in which they performed quite well. When did that happen before?!
And "Sam doesn't command respect..." Based on what evidence? Ah, 45 minutes of poor football. Well that's a solid argument.
We know the agenda. We get it.
Brian Harrison
188
Posted 03/12/2017 at 11:31:41
I didn't want Allardyce but I hope to be proved wrong and we get back to challenging the top 6.
I thought we struggled in the first half but, as we know, goals change games, and we improved after Sigurdsson's goal.
I thought Rooney was the best player on the park and seems to be revelling in the role that Unsworth played him on Wednesday and Allardyce kept him there. After the second goal, they started to play with confidence and on Wednesday and yesterday we got to see glimpses of why Koeman wanted Sigurdsson.
I just think he might have been better playing in Tom Davies role rather than being played wide left. Tom's form seems to be in and out at the moment but we should remember how young he is to play in centre midfield. Kenny and Holgate impressed again, and it looks like both might now become regulars.
I understand Allardyce wants to have a look at everybody in a game, but I couldn't understand why he took Rooney off with 10 minutes to go. Had Huddersfield scored then, he might have regretted that substitution.
I hope he doesn't revert back to Schneiderlin back in midfield, he has lost a yard of pace and has become totally ineffective. I was pleased to see Allardyce giving Lookman more game time.
So, all-in-all, a good steady start. Not quite sure how having Craig Shakespeare in your ear from the stands while having conversations with Lee and Ferguson is going to work. But time will tell.
Dale Rose
189
Posted 03/12/2017 at 11:35:57
Having read a lot of the posts on here today. I must say Rome wasn't built in a day. Things are on the up at last, but our position is tenuous.
Next week will be a hell of a game. It's going to take a lot of discipline to come out of it with anything at all.
Stan Schofield
190
Posted 03/12/2017 at 11:42:04
Steven Jones @172: Spot on. The trouble with those who are incessantly negative, rather than merely occasionally disappointed and negative, is that, eventually you start not reading their posts. You skim over them instead, because of the sheer tedium, the repetition.
In this sense, such incessant negativity is self-defeating, often appearing self-parodying. I do wonder at the motivation for it.
Darren Hind
191
Posted 03/12/2017 at 11:46:04
Grant @145
Easy answers to your questions... in fact very easy.
The shirkers of this team have been the experienced players. I don't think anybody will question the effort of people like Davies, Calvert-Lewin, and Kenny. The problem is, they are kids and just about any manager in top flight football would prefer to put this kind of responsibility on experience players. Unsworth was no different. But after giving them a fair crack, he ditched them and turned to the youngsters – the workers.
Playing Rooney in a deep role was a good call and it was a little disappointing to see him running round trying to win the game from everywhere yesterday. Big Sam wisely followed Rhino's lead by sticking with his team... pity he didn't give them the same instructions.
You "claim" the result against West Ham was just "one of those things"... You`re right, it was, one of those times when one team thrashes another. We won 4-0... FOUR NIL!!! And we could very easily have had more. Sure, West Ham had a spell, that generally happens in this league.
You also want to convince people that we looked more solid defensively, but that was against a side which has created the fewest chances on the road in the league. Not since the opening day have they breached an opposition defence on the road. It's very easy to defend against a team which doesn't attack... I'll reserve judgement on how solid we look when we go to Mordor.
You open your post questioning if Unsworth is a good coach? Well he managed to beat off some fierce opposition to be given an award for his coaching skills this week... I wonder why that was? I also wonder what the chances are of Big Sam wining an award for his primitive caching skills???
As far as I am concerned, the ungracious claims made about our best performance of the season on Wednesday were washed away down the drain and I don't feel I have any more to say on the matter.

John McFarlane [Snr]
192
Posted 03/12/2017 at 11:47:39
Hi Ian [135] I have been attending games since 1948, I don't claim to have seen every game in the early days, as I had a spell playing for Anfield Boys club, [no Sunday League organisation at that time] in fact it was against the law to play football in the parks.
I'm trying not to generalise, but I believe that today's supporter is in the main, less tolerant than we were, possibly because they're kept more up to date via the excellent technology, and where you and I had an audience of maybe six or seven in the pub, they can now exchange opinions on a world-wide scale.
In fairness, the vast majority of contributors to ToffeeWeb debates offer sound constructive observations, but it's my belief that a minority have the bigoted bullying attitude of, "If you don't agree, with me there's something wrong with you."
The love of football in general and Everton in particular should bring us all together; it's obvious we can't agree on everything, but let's disagree in a civilised manner, and leave the mudslinging to outsiders.
"So endeth the sermon" best wishes to all, as we all want the same thing.
Kevin Tully
193
Posted 03/12/2017 at 11:49:14
Let's be fair, in 48 hours the arl fat feller should have us playing like Brazil. Useless.
I do know one thing: this squad, that cost over 𧶀m to assemble, has to be the most workmanlike I have ever seen play at Goodison Park. How have we built a side that doesn't posses a single player who will get you off your seat? Utterly joyless.
I am actually thinking of giving it a miss next season, Koeman & Walsh have turned us into West Brom. We are the definition of a mid-table side who play like a Sunday League side. The only player who could turn a game with a moment of magic can't wait to leave.
Teerrrrrrrrnnnnn, Rossss. God help us next week, we are in for a proper hiding. Deservedly so.
Jay Griffiths
194
Posted 03/12/2017 at 12:10:57
The majority on this thread, probably 99% are in the "Let's give them a chance and see where this goes" category.
The couple who exude that constant negativity, must be exhausting, are now the pavement proclaimers. You know, the one in town shouting, "Jesus is the answer" and "Repent or you'll be forced to wear red". We hear them, smile, then continue on with our obligations.
Keep proclaiming though, it keeps things interesting.
Mark Murphy
195
Posted 03/12/2017 at 12:13:39
Simon Smith
196
Posted 03/12/2017 at 12:15:33
@ Steve Cotton (#179),
Niasse was available for yesterday's game, he just didn't get on the pitch. He was banned for the loss at Southampton and win against West Ham.
Chris Gould
197
Posted 03/12/2017 at 12:33:27
Darren, you don't need to say any more on the matter. You'll see what suits your opinion of Unsworth. You championed him for months and are slightly biased in your appraisal of him.
The team was clearly a little fatigued and jaded yesterday during the first half after playing on Wednesday night. You can't expect the same eleven to have the same energy after working their socks off 66 hours earlier.
In any job, if you get a new boss and he observes your working standards and ethics, you up your game. Of course you do.
The argument is pointless. Unsworth has been replaced and we should all get behind his replacement. John's post at 192 says it all.
Rick Tarleton
198
Posted 03/12/2017 at 12:45:58
I'm very much with John (#192) being of the same generation, we "should not dispute and assert but whisper results to our neighbours." One or two people on ToffeeWeb are very personal when anyone disagrees and it is a style that is unnecessary and uncalled for.
Sam Allardyce was never my choice for reasons that had more to do with his off-field activities, but he's now the manager and he deserves a chance and time to improve the team.
A word of caution though: yesterday's result was most welcome, but Huddersfield have not scored an away league goal since the first day of the season, so perhaps a little perspective is needed.
If he integrates Ross Barkley back into the team, I'll see that as a positive first step.
Bill Griffiths
199
Posted 03/12/2017 at 12:53:52
Anyone know why we haven't had a report from Ken Buckley for a while?
Ray Robinson
200
Posted 03/12/2017 at 12:54:01
Well said, John (#192), Chris (#197) and Rick (#198).
I don't have a problem with those who have an opinion contrary to mine (wouldn't be much fun on a forum would it if everyone agreed all of the time) but I do take issue with those that use condescending comments such as "Let me spell it out for you", "take a good look at yourself", " let me join the dots for you", "Here's the clue, listen carefully" etc. No fellow Evertonian should be patronised like that.
As for constant negativity, Jay, Kevin (#193) reckons we going to get a deserved hiding at Anfield, next week. And we haven't even set foot on the pitch yet!
Danny O'Neill
201
Posted 03/12/2017 at 12:55:54
Very well put, John (192).
Darren Hind
202
Posted 03/12/2017 at 12:58:10
John McFarlane - way back @ 121
Sorry John I suspect I was typing myself when you addressed me at 121, whatever the reason I didn't see it.
To answer you question John; No I don't think you are blind or delusional and having read most of your posts, I know for a fact that you're not stupid.
If you read my post again, John, I do state that I didn't hold the new manager responsible for the long balls yesterday. As you rightly say, the main culprits have been doing it all season. Young Pickford is a hell of a prospect, but in my opinion he simply has to stop booting the ball as far as he can.
People like Williams are a lost cause regarding this issue. I saw the ball go from back to front on numerous occasions yesterday; whilst I can accept your point that it has been happening all season, I can't for the life of me understand those denying the evidence of their own eyes and claiming it didn't happen.
Chris Gould
Yes, you're right, it is pointless – now, a week is a long time in football and it's already yesterday's argument.
Brian Williams
203
Posted 03/12/2017 at 13:04:20
I can't get my head around the "supporters" who, rather than breathe a sigh of relief and enjoy the fact that we've kept two clean sheets and won the last two games, still want to piss on everyone's chips.
There's a couple on here who I genuinely believe are almost willing us to get battered next week just so they can smugly tell everyone "I told you so". They need to have a word with themselves.
I didn't cheer for Sam Allardyce yesterday, I didn't cheer for Unsworth during the game on Wednesday, I cheered for the players on the pitch for the 90-odd minutes of the game. And I tell you what: I came away from both those games feeling a lot happier than I've felt for what seems a lifetime.
No, we weren't perfect; no there weren't any/many De Bruyne type moments but if you can't feel a bit more positive than you have done lately, then there's something wrong with you.
Some of you seem to have forgotten what supporting their football club entails. And don't give me the "we set our standards higher than you" bollocks. We all want displays of free-flowing faultless football with goals going in all over the place. That's not going to happen any time soon, and we all know that.
But those "supporters" who can't wait to get on here next week and revel in defeat, and you know who you are... well I can't even think what to say to you.
Dermot Byrne
204
Posted 03/12/2017 at 13:04:29
I think you might find Sammy Lee becomes a key contributor to improvement.
And of course you are right John (#192). It is so obviously right to most on here.
Brian Williams
205
Posted 03/12/2017 at 13:08:28
On a different tack, I think Allardyce's words with regard to Ross were very telling yesterday.
I suspect he said he "didn't know" what I fear he suspects, or does know with regard to there already being a deal in place for Ross to leave.
If that's the case, I think it was a very clever way of airing it.
Jim Bailey
206
Posted 03/12/2017 at 13:14:45
Brian @203, I'll second and third that, well said. Too often these threads degenerate into personal slanging matches with the usual suspects determined to get the last word in, it gets very monotonous at times.
Gary Russell
207
Posted 03/12/2017 at 13:30:55
Brian (#203)...
I would say Calvert-Lewin's backheel for Sigurdsson to score was De Bruynesque except it didn't get a mention on MotD, so I guess it wasn't. Of course, if De Bruyne had done it... well, we can imagine the fanfare.
The same as Pickford's save was commentated on as him spilling it, when I saw a brave save. Perspectives, eh...
Jim Wilson
208
Posted 03/12/2017 at 13:36:00
Nice one, Brian (#203)!
Nicholas Ryan
209
Posted 03/12/2017 at 13:36:47
Sam Allardyce is unlikely ever to win the Champions League. What he will do for a club, is: Take relegation out of the equation, then slowly but surely, get you to upper-mid table. So far, he seems to be on track. What happens after that, is a question for another day.
John McFarlane [Snr]
210
Posted 03/12/2017 at 13:39:07
Hi Darren,[202] as I said in my post, we all go to the same match and see a different game, and in a follow-up post I said that criticism of another's opinion is perfectly acceptable; what I find unacceptable, is the manner in which some criticism is delivered.
I suspect that much of it is directed from one person to another, where neither are acquainted. I feel that the language and implied tone, might be suitable for a barroom discussion with mates, but certainly not with unseen and unknown people.
I don't know if it's a generation thing, but as boy I was told that "Manners Maketh The Man" and I have always attempted to adhere to that principle. Another thing I find distasteful is the use of some of the swearwords , I'm not a prude, in fact I know most of them [and I even know what some of them mean].
It's just that I'm mindful of the fact that this site is accessible to youngsters, and young ladies, who may find it offensive; for that reason, I tend not to use that kind of language in any comment I may post. I apologise for veering off course, but sometimes I get carried away.
John G Davies
211
Posted 03/12/2017 at 13:52:50
Very well said, John (#210). Some of the stuff on here is the behaviour of fools. Personal comments to other ToffeeWebbers make the poster look a fool. Disagree by all means but name calling to anyone who does not agree is childish.
Jim Hardin
212
Posted 03/12/2017 at 14:08:01
John McFarlane [Snr],
I very much enjoy reading your posts. I think the impatience comes from being able to see more games of other leagues, and teams within your own league, these days. Being able to watch more games and styles of play leads to comparing your own team to those teams and wondering why your club isn't getting results or playing some other way (even if your players don't fit other styles).
Everton is not the only game in town so to speak when a TV or computer screen can bring Juve, Bayern, FC Cincinnati, and Real Madrid right into your own living room, and information on the club and players is easily and readily accessed. That plus the money in the game and the press and player rumors has impacted the patience of the fans.
As for Big Sam being credited for this win, well I am not so sure that the credit doesn't go to David Unsworth. I am not an Unsworth supporter but it seems to me that he finally found the right combination for the present that works in the handful of games he was given to sort out the Koeman mess.
Is Big Sam really a genius because he could white-out the date, opposing team, and manager's name from the West Ham line-up sheet and fill in the corrected information? I am pretty sure a random fan or maybe even a five-year-old could do such a task competently. You all will excuse me if I wait to place the olive wreath on his head. I may have to enlarge it anyway should he actually earn it.
Paul Tran
213
Posted 03/12/2017 at 14:08:09
Big differences yesterday were that we didn't get the relatively early goal and I thought we looked a bit tighter in defence.
We have just beaten two pretty poor teams. The real test is going to be when we go a goal behind. We'll learn plenty then.
Morris Kruger
214
Posted 03/12/2017 at 14:29:30
A few of us are asking where Ken Buckley articles from my seat are. Does anyone know the answer or perhaps have his e.mail address? I am sure you all agree, we loved reading his articles on the home games.
Jay Wood
215
Posted 03/12/2017 at 14:35:43
I'll echo the comments expressing concern at the absence of Ken Buckley's outstanding 'From My Seat' match reports.
I recall a couple of years ago Ken had a 'sabbatical' due, I think, to health problems.
Whatever the reasons for recent silence, I'm sure I'm not alone in wishing Ken well and good health and a speedy return to his seat from where he pens his always erudite, insightful, humorous, just, balanced and entertaining match reports.
They are sorely missed by this poster at least.
Colin Glassar
216
Posted 03/12/2017 at 14:38:00
Brian (#203), on the way home last night from the game, I saw a comment on the live forum from a guy (Chris?) who pleaded with fellow Evertonians to lay off our younger players. I'd like to support that as, in recent weeks, almost all of them (Holgate, Davies, Lookman and especially Calvert-Lewin) have been ripped apart (Kenny has escaped so far) and condemned to the Championship.
These lads are our future and if some Evertonians can't recognise their talent and see their potential, then I really do despair. Like you said, some people on here are just waiting for any excuse to rip the players/club apart which is quite sad really.
Brian (#205 – yes, you again). I think not only has Ross already been sold but Onyekuru as well. I doubt we will ever see this lad play for us.
Stan Schofield
217
Posted 03/12/2017 at 14:52:12
Colin, I thought Onyekuru was possibly returning in January from Anderlecht, sooner than the date of the end of the loan, subject to agreement from the FA. Or has that changed?
Brian Williams
218
Posted 03/12/2017 at 14:53:43
Hiya Col (#216).
I know exactly what you mean, mate. Went on NewsNow after yesterday's game and saw one of the headlines "He must be drunk." Clicked on it to see that it was taken from Twatter where a supposed Evertonian had made the comment with regard to Holgate's performance.
Apart from one or two stray passes, the lad was outstanding. Can't understand some people!!
Brian Williams
219
Posted 03/12/2017 at 15:01:30
Gary (#203).
I would agree mate. Sublime touch from Calvert-Lewin who I thought was outstanding throughout the game. Couldn't believe Sigurdsson questioned whether Dom meant it when he (Siggy) was interviewed after the game. Think if Siggy watched MotD he'd owe Dom a bit of an apology.
There was another "moment" which I thought stood out too and that was when Jonjoe got the ball around the halfway line and drove forward and then very quickly changed direction which wrong-footed at least two of their players near him. It was subtly done but it's the little things like that that "do" get some of us off our seats. Another youngster playing really well for us.
John Keating
220
Posted 03/12/2017 at 15:02:16
Colin (#216), Excellent post and correct in every way.
Maybe you can express those sentiments to those who are pillorying our manager. No different.
Kevin Tully
221
Posted 03/12/2017 at 15:10:25
Lads, it may be seen as negative to point this out, so I'll apologise now.
We are 5 weeks away from going a full calendar year without a win away from home. Stop kidding yourselves we are a good side. I'm disgusted at the waste of hundreds of millions, when we had a chance to actually build something. Sorry about that.
I enjoyed the three points (and pints) yesterday, to end on a positive.
John Pierce
222
Posted 03/12/2017 at 15:14:38
Colin,
Can't completely agree. If any player is selected for Everton they are subject to both the glory and ire of any poster, regardless of age.
Where I do agree is when the criticism isn't framed within the context of a game or period of time. Criticism for the sake of is pointless.
Calvert-Lewin is a good case in point. His last two games have been pivotal to our performance and he should be lauded for it.
The perfect Everton combo; heart endeavour and no little skills. Love a fancy flick me.
But prior to that he had been poor in a number of games, and proportionate criticism would be fair imo.
Like anything, rough with the smooth, and let's face it, when you set a high bar as a player, that criticism comes quickly because expectations are high.
Is that the ultimate back-handed compliment?

Lev Vellene
223
Posted 03/12/2017 at 15:38:19
Brian (#219)
You must have read that on some other site that either hurriedly, or maliciously (...), misquoted the original interview. This is what it read like on the OS:
"I'm not sure if he meant it – he said he did so we'll go with that" Sigurdsson joked. "No, it was a good assist and it was nice to get the first goal, which set us up for the rest of the game."
Steven Jones
224
Posted 03/12/2017 at 15:42:04
Analysis and criticism of a display is one thing – but pillorying an Everton player, risking the dive in their confidence, is acting for the enemy.
We as fans do a have a role to play – yes, enjoy banter, analysis and sharing different aspects from different points of view... but do not let selfish, indolent, bigotry-led, abusive, ill-disciplined and rude behaviour spill over to creating a negative environment where our players feel we are not on their side and then they lose confidence and fear playing for fear of unjust criticism.
It is tenfold worse when it is done to young talented players that are learning their trade and developing in front of our eyes. If we do love our club, then we have a duty to support those players with "Good try" when they try something positive and it does not come off or run back and do a goal-saving challenge – not shout negative abuse and break the confidence and risk them failing to make it at EFC.
As Mr Allardyce has underlined in his initial interviews, the players' confidence needs to be rebuilt and football is largely in the mind; it is a psychological sport and mental strength is as important as physical strength. We as fans have a duty to our club and to our fellow supporters to create a supportive environment where our players – and especially our younger ones – can flourish.
It would be amazing if we the body of Everton supporters took this watershed moment in our history and properly got behind our players and really helped transform our fortunes. As Sam Allardyce has said – we are all in this together – let us, as the supporters, do our bit – not work for the enemy! COYBs
Clive Mitchell
225
Posted 03/12/2017 at 15:45:26
Colin (#216) – well said! For many observers, Calvert-Lewin was the MotM yesterday, and every single one of our youngsters – Kenny, Holgate, Davies, Baningime, Calvert-Lewin – has performed well and looked to be an excellent prospect.
John (#222) – you want to subject a 19-year-old who looks like an outstanding prospect to your ire? Takes all sorts.
Colin Glassar
226
Posted 03/12/2017 at 15:53:22
John (#222), I understand that people are angry over our performances this season but these lads have been thrown in the deep end and have had to play alongside seasoned professionals like Jagielka, Williams, Schneiderlin, Baines etc – who have been atrocious.
None of these kids would have been expected to start so many games but injuries and loss of form have forced our managers' (plural) hand(s) this season. Not all of them will make the grade but they've shown a lot of courage imo.
Brian Williams
227
Posted 03/12/2017 at 15:54:09
Kevin (#221).
I don't think any of us are kidding ourselves we're a good side. All we're doing, mate, is being happy that we're not quite as shite as we've been.
You've got to be happy with improvement, with winning games, with not conceding... haven't you?
I'm certainly going to enjoy the wins as and when I can; that's why we go the game!

John Pierce
228
Posted 03/12/2017 at 16:01:44
Clive, behave lad!
Read again. I described appropriate, contextual criticism for any player, as well as the appropriate compliments as I outlined. What's his age got to do with it? If he's good enough to be selected, then age is irrelevant; he could be more mentally robust than Mirallas, for example.
You are placing you own confirmation bias that young players should be protected. Why?
Look at Jonjoe Kenny, thrown in and looked at all at sea, that's not unfair or over the top. Yet, in the space of 5/6 weeks, he has come on with every game. If he had been protected in the way you think, then Unsworth would have not selected him. That would have only held him back.
Character is what counts, and testing it is often the way you find out. The criticism, framed correctly, would be fair. Praise alone lacks balance; appropriate criticism helps too.
This is part of a bigger narrative on here at the moment that the forum is just an echo chamber, with the opposing views just getting stronger.
Balance is everything.

Brent Stephens
229
Posted 03/12/2017 at 16:17:10
I did read John P (#222) as referring to "proportionate criticism" (only).

John Pierce
230
Posted 03/12/2017 at 16:29:08
Colin,
The way you frame that, I would agree. Courage is right, impressive in my book. Way better than others with more experience.
I have strong, often hard-formed opinions in life, mostly because I grew up in a "sink or swim" environment. Age was no protection; character was key. Criticism was real and often hard but never unjustified; it made me better. There is a grain of truth in every opinion.
Our young players are in a very similar situation. So I believe, if criticism is valid, then fair dos.
What I don't believe in is agenda-based bashing of any player. There has to be the evidence and context to build an arguement.
I'll go back to Jonjoe Kenny: in the frame of the game at Leicester, he was poor; he struggled, as did most of the team, but a tough day for him and no denying his error compounded it.
Balance that with the performances since and the mistake not being repeated – he has been really good. Solid in the tackle, and we are just starting to see his attacking intent. The criticism though was fair.
I think that's accurate? Don't you? That's what this forum should be about.
Mike Jones
231
Posted 03/12/2017 at 16:39:36
West Ham not looking the cannon fodder people think. Puts Wednesday's result into a little more perspective. We didn't just beat garbage.
John Pierce
232
Posted 03/12/2017 at 16:39:38
Brent, you're right a little too verbose for my own good. A touch of the auto-correct.
You catch my drift though? Appropriate or proportionate.

Colin Glassar
233
Posted 03/12/2017 at 16:41:31
Absolutely agree, John.
On another note, some people on here (and I'm not a huge Big Sam fan btw) were saying Sam's appointment meant the end of the road for many of our youngsters this season as he'd go for a bunch of old pros to see us safe.
I disagreed at the time and now I feel vindicated by Sam singing the praises of the likes of Kenny, Davies, Calvert-Lewin and Lookman. I honestly think he will be excited by having so much young, local talent at his disposal and will use them sensibly.
Brian Williams
234
Posted 03/12/2017 at 16:45:06
Mike Jones. Prophetic post mate!!
Yaaay we're better than Man City!!!!
Sam Hoare
235
Posted 03/12/2017 at 17:00:06
John @210
Very good post.
Debate and criticism is all part of the wonderful tapestry of football but the arrival has seen such debate stray into profanity and name-calling a little too often lately and many people being declared as 'bad supporters'.
I know familiarity breeds contempt but ultimately we're all on the same side. Everyone is entitled to their own opinion and to disagree with others but to claim someone is not a proper supporter because they strongly differ from your stance is over the top.
Mike Jones
236
Posted 03/12/2017 at 17:07:16
Brian Williams – that's some jump in interpretation, but if it fits your narrative, go with it.
Brent Stephens
237
Posted 03/12/2017 at 17:07:35
John (#232),
I was actually trying to say that you weren't calling for over-the-top criticism but restrained, proportionate... and so acceptable.
Darren Hind
238
Posted 03/12/2017 at 17:11:46
You maybe right, John.
The site is treated as a bit of a cyber pub. Many, myself included, have been guilty of addressing people as you would in the pub. It doesn't always translate well.
There is undoubtedly a difference between the generations. I can see a very marked difference between the way the likes of you Rick and Dave A conduct yourselves and the way most of the rest of us do.
I personally don't have a problem with the gloves coming off. I have a far bigger problem with the hypocrisy of those who can be pretty vindictive and abusive one day and full of pious indignation the next, or those who can be really critical of one manager then try to pigeon hole others as being "negative" for criticising the next.
As a senior Blue, your views should be respected. Your own conduct and that of other posters (unsurprisingly mainly from your age group) is exemplary and this is why your point carries a powerful message. A plea for civility (not the first I've heard today) and positivity would sound pretty hollow coming from one of the resident hypocrites.
I can't speak for others, John, but as somebody who has often been guilty of leaving a foot in, I will, for my part, endeavour to stop doing it.
Who knows? I may even make it to Chrimbo without being banned again.

Brian Williams
239
Posted 03/12/2017 at 17:14:18
Mike (#236).
If only eh??? :-)
Having said that, they're not at the races as yet.
I really want them to win ALL their games so we're the only club to take points from them this season. Not gonna happen, but I can hope.
Ahhh... this is the last of my five so adding to it while I can:
Like you, Mike, I'm feeling much happier than of late and the dog's happier as well. He has stopped running away when I come in from the game!
Mike Jones
240
Posted 03/12/2017 at 17:20:21
I think they are looking good to go unbeaten Brian. I suppose all I'm saying is that we have been critical of our team when we've been hammered (pardon the pun), so give them some credit when they can do the same.
Anyway, regardless, I feel better this Sunday night than I did last Sunday. I'm 47 and never known relegation; I don't want to know it now.
David Hallwood
241
Posted 03/12/2017 at 17:51:25
Watching the Man City game is a perfect example of you will always come unstuck defending too deep, and you always must have an outlet ball.
That being said, I hope Allardyce doesn't set us up next Sunday with a 5-man back line and 2 holders in front, we need to be a bit braver than that – he who defends everything, defends nothing
Geoff Lambert
242
Posted 03/12/2017 at 17:59:31
Kevin (#221) should change that on Sunday!!!
COYB
John McFarlane [Snr]
243
Posted 03/12/2017 at 18:13:01
HI again Darren, [238] your response to my post was exactly what I had hoped for, I'm sorry that you consider there are some contributors who are hypocritical, and if that is the case and I was in your position, I too would take umbrage, but as I have pointed out, and you readily agree, there is a proper way of getting your point across, one that would cause less animosity. [Then everyone's a winner!]
I look forward to a more sedate, but equally forceful approach from you, and I've no doubt that we will lock horns once or twice, but that's what these forums are for.
On a lighter note, I recently had an article accepted by the "Webmaster" entitled, "Favourites aren't always the best - Part One], it featured the career of Gordon West, but unfortunately because of the Managerial warfare [that seems to have abated] not many appeared to have viewed it.
It gave me an opportunity to put forward my favourite, eleven players [but not necessarily the best] that I have seen playing for Everton. As it has been removed from the site, I'm going to chance my arm and submit Part Two, and with a little luck it should be available in a day or two.
Anyway enough about me, I'm looking forward to reading posts from a more discreet Darren Hind,
Geoff Lambert
244
Posted 03/12/2017 at 18:19:18
Barry #167
You forgot to add Pickford!!
David Barks
245
Posted 03/12/2017 at 18:20:22
Also during the Man City match, we should expect Delph to pick up a retroactive 2-match ban for deceiving the official to set up the free kick that eventually led to the goal. There was no contact, he dived, they scored after the initial free kick was saved.
Andy Crooks
246
Posted 03/12/2017 at 18:21:57
Darren, Wednesday was down to the admirable Unsworth, I have no doubt of that. His influence was there to see yesterday, no doubt, in my view.
However, we are in a new era and I am prepared to welcome it. So far, it has been positive. I believe that Sam Allardyce has been given the chance of a lifetime and I am optimistic that he will take it.
I now ask you and Steve Ferns, both respected posters, what are your expectations? How long will you give him? By whose standards will you judge Sam Allardyce? Do you put style before points?
The most important question, which concerns me and others like Sam Hoare, is; has Moshiri put the "project", on hold for pragmatic reasons? Is Sam Allardyce part if it?
I would suggest that a step back has been taken. Foundations will be laid and, despite the Jim White shite, our new owner is not the football fool some see him as.
I feel pretty positive right now.
Steven Jones
247
Posted 03/12/2017 at 18:33:04
Darren (#238) – lovely post, mate.
I like the "leaving the foot in" – made me smile. (Or should I say it was the honesty I liked?)
TW is like you say, a Pub, but it is also a family with people that know when to say hello and to say sorry. It is also like Shanks (the great Evertonian) said: "It is more than that" when some asked if it was more important than life and death...
I always think of this in the context of the generations that support our great club, those with us and those that have gone.
Welcome to the family, Darren – you always have been part of it ,I know! ;-)
Tony Marsh
248
Posted 03/12/2017 at 18:47:03
Any Everton supporters who think Sam's arrival didn't spark the result on Wednesday and yesterday better wake up. We were kack under Unsworth – just look at the results a week before Allardyce arrived.
Players knew this week the game was up and a proper hardcore personality was watching their every move. The Anti-Allardyce brigade will stop at nothing to undermine him.
At this present moment in time – and I deal in the now moment – Allardyce is a blessing and we are lucky he was available... Roll on the derby... Not many would be thinking that before Wednesday and BigSam signed on.
The amount of Evertonians who do not grasp our reality continue to astound me. I'm more embarrassed by our own fans and not by what Kopites think.
Brent Stephens
249
Posted 03/12/2017 at 19:00:50
John #243 your article is still on the website, just archived at:
Link
You can see the archive of fans' articles by going to the bar at the top of the TW website and selecting Articles, then Fan Articles.
Simon Jones
250
Posted 03/12/2017 at 19:03:11
Andy (#246),
"I believe that Sam Allardyce has been given the chance of a lifetime and I am optimistic that he will take it."
Er... wasn't that supposed to be the England job? As the teenagers in my house have a habit of repeating... "Just saying."
Tony Heron
251
Posted 03/12/2017 at 19:15:13
David @245
Was thinking exactly the same about the Delph "foul". A clear dive that "deceived the referee". Wasn't it this that Niasse was found guilty of, even though the ref in that instance said he wasn't deceived!!
There were other dives in the game so I guess the retrospective panel are going to be very busy this week. Yeah right!
Phil Walling
252
Posted 03/12/2017 at 19:22:35
I have to say that I am hopeful that Sam will, at last, forget 'the nice little earners' and take up ownership of 'The Project' that is Everton - whatever that involves.
It's almost certainly his very last opportunity to manage a leading club and, if he balls it up, he will ride into the sunset a rich man but one who never quite made it!
Paul Tran
253
Posted 03/12/2017 at 19:30:31
Come on, Darren, I've had a few two-footers off you, and given them back!
Rick Tarleton
254
Posted 03/12/2017 at 19:34:44
Thank-you, Darren, for your comments at 238. the banter must always be to refute the argument, not belittle the arguer.
Everton and this site need healthy and vigorous debate. We don't need to feel that if we disagree we are open to personal insult.
I grew up in Liverpool 7, two of my uncles were world boxing contenders, Nel Tarleton and Ernie Roderick. I've never been a shrinking violet, but there's a difference between the printed word and the banter amongst mates in the pub and that difference needs to be observed.
Allardyce has started well. I hope he continues to do well, especially against Liverpool. I will support him, but I repeat, never would he have even made it on to my long list for the Everton job. Now he's there, he deserves time and support.
Stephen Brown
255
Posted 03/12/2017 at 19:38:05
Andy (#246),
I'm with you, the more I listen to Sam, the more I think he's talking sense. I hope he grasps the chance with both hands!!
I did chuckle though in one of his interviews he called the Europa League the Uefa Cup!! Very up-to-date!!
Dave Abrahams
256
Posted 03/12/2017 at 19:49:10
Stephen (#255), maybe the fact that Sam is dyslexic might have something to do with it. Not being funny – I have read he has this problem.
Sam Hoare
257
Posted 03/12/2017 at 19:51:37
Andy @246, as is often the case, I concur.
Whilst this does feel like step back, it is at least a sensible one and the short contract makes it clear that Moshiri sees this a short term move, at least initially. Despite the bizarre Jim White stuff, he has at least shown that he will not suffer failure for as long as his predecessor and is prepared to pay for a better solution.
Personally I had my heart set on Silva and suspect I will glance frequently his way as 'the one that got away' but for now it will just be glances. Allardyce is in the marital bed so to speak (have lost control of this analogy) and am happy to have him there so long as the results keep us in or around the top half where we should be.

Keith Monaghan
258
Posted 03/12/2017 at 19:55:56
DIVING
I look forward with interest to MotD tonight (re comments on Delph) not having seen the Citeh game.
Whilst I agree with the idea of trying to stamp out diving, I think the current method is ridiculous.
I am not Niasse's greatest fan and accept he may well have exaggerated the effect of Dann's challenge – however, the latter was not an attempt to play the ball – as judged by the ref, it was a deliberate, cynical & successful attempt to stop Niasse getting the ball. Niasse's ban was sick – the panel have said the ref was deceived when he clearly believes he wasn't.
So what will the arrogant Shearer and his sidekick Murphy have to say about the Delph incident? Or will the BBC conveniently pretend it didn't happen? Not long to wait.
Surely we should be coming down heavily on the regular serial divers in the Premier League, eg, Silva, Sterling & Aguero – and also those who have no hesitation in using other forms of cheating like, as the awful Gary Neville would say "taking one for the team"?
IMO, the success or otherwise of a dive is immaterial – recognised attempts should be penalised – the current approach doesn't really deter, since punishment will only arise if the dive was (?) successful in deceiving the referee! Surely, we should be deterring players from trying it on – it's not difficult to imagine circumstances in which it could be worth diving and winning a game-saving/winning penalty!
Paul Tran
259
Posted 03/12/2017 at 20:02:37
Andy (#246), I wonder if this a less of a departure from the project than we think.
Perhaps Moshiri took the view that Koeman was a fake 'strong man' with poor communication/motivation skills? Might he see Allardyce as a credible tough manager with decent communication skills?
I'd love to know what happened behind the scenes this summer between Koeman, Walsh, Moshiri and Kenwright. Perhaps it was so toxic that they felt they had to sack him without a replacement? Will Sam's relationship with Walsh make more a more effective team?
More questions than answers right now. All about results now and good business in January.
Dave Abrahams
260
Posted 03/12/2017 at 20:05:33
Darren (238), good post, I've always had you down as an open honest supporter regarding your points of view.
John McFarlane [Snr]
261
Posted 03/12/2017 at 20:08:35
Hi Rick, I remember the game, my memory of it was that John Willie Parker scored four goals, and that Jock Lindsay got one from the penalty spot. I had to go to what I call my research department to determine that the other scorers that day were Dave Hickson [2], and Cyril Lello.
Another thing I remember Is that Plymouth Argyle had a debutant that day, a lad named Neil Langman, he must have replaced the regular centre half Jack Chisolm, who was famous for being a lookalike to the bloke on the Players cigarette packet. Isn't it sad that I could remember that, and not the Everton scorers.
That was the season we were promoted, and Sheffield Wednesday in knocking us out of the F.A. Cup, interrupted a run of where we scored 20 goals in three games, Derby County [away] 6-2, Brentford [home] 6-1, Plymouth [home] 8-4. You were one of a crowd of 44,496 happy days.
Don Alexander
262
Posted 03/12/2017 at 20:16:17
Good on yer, Darren (#238). You've always come across as a 100% Evertonian but, as others have said, the way you've spoken to other posters, and me, has sometimes been way too personal. In a pub with mates, we all get away with it, but in print it's different.
For what it's worth, one of your recent inputs was in my opinion one of the best I've ever read on here. It was bob-on re what's wrong with the club, and I complimented you on it. I agree with a lot of what you write even if I thought your take on Koeman was too OTT.
I just hope for all our sakes, and even yours if I can be so presumptive, that you allow Allardyce and Co two or three months before we all rush to judge. He needs that time to sign and embed all the players in a system that, hopefully, brings us top six minimum by the end of next season.
"He's here, he's dear, he kills off all the fear" is my effort for a chant in his, erm, honour.
Rick Tarleton
263
Posted 03/12/2017 at 20:16:32
I only saw that one game in our promotion season, John, and I'm still waiting hundreds of games later to see another 12-goal thriller!
My first ever football game was earlier in the 1953-54 season when I was taken to Anfield to see Stanley Matthews, because my dad and uncles, all reds, thought he'd retire soon. Liverpool won 5-2, but it was Dave Hickson in the Plymouth game who captured my 7-year-old imagination – that and the fact Everton got promoted and Liverpool were relegated.
My family were of the kind you got in those days, every Saturday they went to the match: Liverpool one week, Everton the next. So, over the next few years I watched both clubs regularly, but by the early sixties I had my own paddock season ticket and the Young, Vernon era was when I was most involved and the team I most admire.
John G Davies
264
Posted 03/12/2017 at 20:19:24
Great stuff. I look forward to debating without the personal insults.
Let us hope it lasts more than a day or two.
John McFarlane [Snr]
265
Posted 03/12/2017 at 20:20:34
Hi Brent [249],
Thanks for the information, it will benefit anyone who wishes to catch up on it, Rick Tarleton has already taken advantage of it.
I was two thirds of the way through my next article when my laptop crashed, it will have to wait until tomorrow... I'm going cross eyed, thanks again.

Dave Abrahams
266
Posted 03/12/2017 at 20:31:02
Rick (263) and John (261), don't know if post should be on this thread or on John's own thread. ''Favourites are not always the best''. Anyway here is a poem about that 8-4 victory over Plymouth.
You should hear the crowd all roar Everton eight and Plymouth four One from Lindsay, one from Lello Two from Hickson a dashing fellow You may think this rhyme is silly The other four came from Big John Willie Now you'll hear the crowd all shout Passing Liverpool going out! But Everton have kept marching on And now the're in Division One Liverpool's in a hell of a state Spent 㿞,000 years too late But alas they were not meant to roam 'cause they'll get Jackie Balmer from the Kirkdale Home.
Rick Tarleton
267
Posted 03/12/2017 at 20:38:57
Thanks, Dave, I hadn't heard that before. Now I always think it was strange that it was Hickson who captured my childish imagination rather than the perpetually under-estimated John-Willie Parker. But Hickson it was.

Grant Rorrison
268
Posted 03/12/2017 at 20:39:16
Darren 191 'Turned to the youngsters' ?! You're talking as if he dropped half a dozen senior players and brought in a bunch of kids. Kenny has started every game under Unsworth. Davies and Calvert-Lewin have started quite a few too. The only other kid to play against West Ham was Holgate. Unsworth had no choice but to play him as he only had 3 other fit defenders!
Some of the 'youngsters' that came in for that game include Rooney (32), Williams (33) and Martina (28). Hardly supports your claim that he ditched the experienced 'shirkers' and 'turned to the youngsters'.
Rooney was 'everywhere trying to win the game'? That's a good thing surely? He played that way against West Ham too. I remember him covering at left-back a few times. Are you implying that the reason he didn't score against Huddersfield, let alone get a hat-trick, was because of this? Which instructions did Sam Allardyce fail to give him? 'Score from the halfway line' or 'Get a hat-trick'?
Which coaching award did Unsworth receive last week? You're not talking about that LMA performance of week thing are you? I doubt the competition was that 'fierce'. Leicester got a good result but who else?
I didn't know that Huddersfield hadn't scored a goal away from home since August. Fair point. But then we've played other sides that have been struggling to score goals and it didn't stop them from scoring easily against us.
Performance of the season (against West Ham)? That's not saying very much but I agree. Obviously.

Dave Abrahams
269
Posted 03/12/2017 at 20:53:54
Rick (267), you are correct, John-Willie Parker had a good football brain that made up for his easy going languid style. He scored plenty of goals that promotion season as well as assisting with a few.
Many a time John-Willie, Davie Hickson and a couple of other players would be on the No 3 bus when I got on in St Anne Street going to the match. They were always very sociable and engage with 'cheeky Charlie' kids like me and my mates, happy days.
Mike Hughes
270
Posted 03/12/2017 at 20:54:50
To elaborate a little on the debate between John and Darren above, I've been on TW for years and have always enjoyed the banter. Because that is all it is at the end of the day. 99% of the time we agree to disagree. If there was no difference of opinion, TW would be as bland as the OS which would be a nightmare. Or as dumb as RAWK for anyone who has taken a peek over there.
I've been called all kinds of offensive names on TW over the years including a poster on this very thread several years ago expressing a desire to hit me. (No names!!!) Any intelligent and mature person is going to take context into account and let it go.
If someone disagrees with me, I genuinely try to see their point. If there is no logic (eg, clear bias) or the post doesn't make any sense (eg, contradictory) – I'll tend to either point that out or ignore it and move on. If someone has to have to have the last word, let them have it – TW might be all they have.
Some subjects are, however, more complex and / or emotive than a 2-2 draw away at Palace.
Three that have featured on TW over the years have been:
(1) the Kirkby ground move;
(2) the Man City game at Goodison Park when winning might have handed the dark side a chance of winning the title; and
(3) the appointment of Sam Allardyce.
As everyone on here, by definition, is a Blue and actually cares about our fortunes, I think divisions are magnified on those highly emotive occasions.
Name-calling is out of order, of course (almost as out-of-order as threats of violence, particularly against poor old me) but, again, the more intelligent and mature will take context into account and get over it.
(If name-calling is, however, so offensive, why haven't more people protested about some posters' use of "Fat Sam" – a phrase, I for one would never stoop to? Or the equally liberal use of the word 'crook'?)
I think highly emotive topic Number 3 has resulted in temporary strained relations these past couple of days. For me, it's nothing personal. I don't bear a grudge one way or the other. It is true that my blood has been close to boiling point with some expressing a preference for relegation over Allardyce etc, which I find ludicrous.
On swearing, I certainly don't resort to or enjoy reading gratuitous bad language. I don't object to the odd swear word on here for emphasis but it just grates with over-use and loses its intended impact anyway.
Whatever, unity and normal service should be restored with the run-up to next weekend's fixture.
Surely the most ardent anti-Allardyce fan would want a result there?
Wouldn't they???
Paul Mackie
271
Posted 03/12/2017 at 20:59:47
Fucking hell. 15 years I've been reading ToffeeWeb and I think tonight is the first time I've seen Tony Marsh (#248) defend an Everton manager.
Dermot Byrne
272
Posted 03/12/2017 at 21:04:44
Lol Paul (#271) but bless.
I couldn't resist "I'm more embarrassed by our own fans..." Just got to have someone in his sights!
Neil Wood
273
Posted 03/12/2017 at 21:09:45
Mike @ 270 - best post I've seen in a long time. So very true especially the "we are all blue" element.
Sam would not have been my first choice – far from it. But – and it's a strong 'but' – I genuinely feel he is out to prove a point. I think he thinks it's his biggest gig yet, which it is, and he wants to Show the mockers what he's all about.
I was against the appointment but I'm quickly being swayed. He's the sort of character that will get three points away at those lot and I'm not sure many would.
I back him. I back Everton, and I back the fact we will start to move forward

Andy Crooks
274
Posted 03/12/2017 at 21:10:20
Tony (#248), so, you think Wednesday was down to Sam, nothing to do with Unsworth? I think it was a bit of both.
I think the shameless fuckers feared Sam, but surely you can acknowledge that Unsworth got it right. Sam agreed, he picked the same team.
John Boon
275
Posted 03/12/2017 at 21:44:36
Never judge a book by its cover. If Sam Allardyce was a book, he would probably be found in the "Horror" section of the library.
I really do think we need to forget almost anything that he has done in the past and hope that he brings something new, preferably classy to the Blues. Unlike many of TW readers I don't know, but hope for the best.
If he is to make any future signings, he will need to be very very careful and even cautious. Koeman ruined his position as manager by making very hasty and unwise signings. Allardyce should not announce who he would like to sign publicly so soon, although by reports he already has...
I am always suspicious and very worried when managers sign players who have played for them in the past. Remember, they are now older and if it is a January signing, it is very likely that their present team is just glad to get rid of them. That is why top teams have great scouting systems. Please, Sam: "Look before you leap!".
I hope the latest talk is just gossip. We don't need stop-gap signings. We need great players if our beloved Blues are to make the progress that we expect. He acknowledges that he is coming to a great club with historic traditions and achievements. That is what he must remind himself every day as he earns a far better salary than he must have ever expected when he started his life in Football.
You are a new Evertonian. I am not. I was supporting Everton long before you were born. This is the best chance you will ever have to become a hero. Actually, you can do that very quickly by beating "them" next weekend.
Hugh Jenkins
276
Posted 03/12/2017 at 22:15:41
John-(275). Who have you heard he wants to sign?
My understanding was that he had said what positions he wanted to fill, e.g. left back,cover, centre half cover and striker, but also said that he had no identified targets in mind at present.
Has he made some announcement since yesterday, about who his targets might be for those positions?
Dan Davies
277
Posted 03/12/2017 at 22:23:45
Sam picked the same team because he picked it and dictated the play – how else do you explain the performances under Unsworth beforehand?
Must have had an epiphany or something right?
Unsworth and the Burning Bush. Hahaha!
John Keating
278
Posted 03/12/2017 at 22:34:27
John 99.9% of newspaper stories are just rubbish, especially regarding potential signings.
Look at the gossip columns every day so and so is going to sign this guy, no he's not says the next paper. Most clubs keep things quite quiet. Unlike our ridiculous Sigurdsson saga!
We have to support Allardyce as we should all our managers until the writing is truly on the wall. It was quite obvious our last 2 permanent managers had reached the end of their shelf life.
I think John McFarlane might be right regarding a generation thing. Some of the comments regarding Allardyce have been completely over the top.
Like most people, I did not want him here but the fact is he is and as such we should respect him regarding his position in the club. Unfortunately some cannot.
Colin Glassar
279
Posted 03/12/2017 at 23:00:05
Just seen the Big Sam interview in the Echo and I must admit, he's saying all the right things ie confidence, psychology, players playing in their proper positions, new (foreign) players needing time to adapt etc... Not one "phenomenal" or "dat ish football". I think he's starting to grow on me.
Derek Thomas
280
Posted 03/12/2017 at 23:13:01
When Koeman went I spoke to my RedShite brother-in-law (decent sort for all that) about replacements. Rafa was mentioned, he wasn't too happy about that. "Why?" I asked, "because he knows what he's doing?"... No comment.
Recently, I asked him who would he rather see leading Everton in the derby – Sam or Ron?
"Ron all day long, that fat count (i think that's what he said) is was too canny."
Colin Glassar
281
Posted 03/12/2017 at 23:29:23
Luke Shaw at £20m would be a perfect replacement for Bainsey.
Seamus McCrudden
282
Posted 03/12/2017 at 23:37:23
No more Man Utd cast-offs please, Colin.
Jim Hardin
283
Posted 04/12/2017 at 03:05:13
Tony Marsh,
In reference to Big Sam, you posted, "we are lucky he was available." Are you kidding me? He was available because Big Sam got stung and made to look like a greedy unethical scumbag. He wasn't trying to clean up English football by pointing out ways around the rules, instead he was trying to line his pockets with more cash, while being paid pretty well by the FA. Let us at least keep a little perspective on this please.
Big Sam used Unsworth's winning line-up and got a win too. Unsworth did the work and suffered the beatings until he found a possible combination of players that provided balance and that worked. Big Sam, no dummy as a manager, decided to use the same line-up with good results again. So how exactly is this down to him and not Unsworth?
Laurie Hartley
286
Posted 04/12/2017 at 04:17:19
Mike (#270) – I agree with your comments but regarding this line:
"I don't object to the odd swear word on here for emphasis but it just grates with over-use and loses its intended impact anyway."
You're probably correct but swearing is part of life and while I have tried to kerb the use of what is often called "colourful language" I must say I got a terrific laugh out of Paul Mackies post @ 271 which immediately followed yours.
Perhaps I have got an unusual sense of humour.
Or maybe I'm just feeling happy?
Up the Blues
Gary Russell
287
Posted 04/12/2017 at 04:51:14
Elements of this thread got me thinking of Fireman Sam
https://www.youtube.com/watch?v=jQWL_JViGIU
Dave Speed
288
Posted 04/12/2017 at 05:18:47
There goes my insomnia kicking off again! Very interesting collections of diverse views.
I was more impressed with Big Sam avoiding the words "phenomenal" and "productive" in his interviews. It says a lot about him that he was visibly touched by the reception he received at the start of the game, and how he let Rhino take the credit for the West Ham result.
As much as I, like most Blues, think the world of Rhino, the '5 minutes' with Big Sam must have had an effect on Wednesday.
Will Mabon
289
Posted 04/12/2017 at 05:37:02
Tony has tried to imply pragmatism as driving his support for Allardyce, as a safety-first measure to avoid relegation... but I think he's struggling with a man crush.
Laurie Hartley
290
Posted 04/12/2017 at 06:22:58
By the way, Tony Marsh, that laugh I mentioned in post 286 wasn't meant to be at your expense. If it came across that way, I apologise.
As it happens, I am looking forward to Sam Allardyce taking us to Mordor. They will be thinking that they only have to turn up to get the three points, as has been the case since I don't know when.
A week ago, I was dreading going there.
John Keating
291
Posted 04/12/2017 at 06:51:27
Laurie, I must admit I'm still dreading going there.
Their attacking options, movement, fitness and strength from the bench is frightening.
If they manage to get a decent goalie and centre half not many teams will live with them.
I hate to say it but Klopp is slowly getting there with them. Thankfully Man City are well ahead or we could be having a real shitty time at the end of the season!
Rahman Talib
292
Posted 04/12/2017 at 07:54:33
I am with Sam for only one reason:
That he can bring us back to the standards we once were when Moyes left especially from the perspective of defence.
Only then we can progress and challenge the top 4.
Laurie Hartley
293
Posted 04/12/2017 at 08:08:23
John (#291) – it is a huge test for both Sam Allardyce and the players. He said he is looking forward to it!
Two wins and two clean sheets have changed my mindset from how many will we concede? to maybe we can get a result... Hopefully the players have gone through a similar transition.
He knows how to beat them (because he has this year).
He will have a game plan; he and the new coaches will have had 8 days and the Limassol game to decide which players fit in with the plan.
I will be well on edge before the game but I won't be without hope as in recent times.

Rahman Talib
294
Posted 04/12/2017 at 08:41:23
All I know, Laurie, we can't beat Liverpool in Anfield with a leaky defence.
Laurie Hartley
295
Posted 04/12/2017 at 08:53:04
Agreed Rahman – that is what he has to sort out. But that is supposed to be his speciality.
John Keating
296
Posted 04/12/2017 at 09:24:37
It might be, Laurie, but 2 games in when others have failed miserably in the past is some big ask.
No doubt it will give the haters more ammunition if we don't get something.
Brent Stephens
297
Posted 04/12/2017 at 09:37:50
I feel slightly less anxious about the RS game with Sam in the seat, but only slightly less. We both have dodgy defences – ours might have been tightened slightly by the weekend. Their attacking capabilities far outweigh ours.
Stan Schofield
298
Posted 04/12/2017 at 10:27:15
There's another thread about Sam Allardyce using a psychologist to help the players' confidence, which seems sensible. But it starts, surely, with a belief that we can win against any opposition, including Liverpool. If we don't have that belief, we won't win. If we do have that belief, we might win.
This business about Liverpool is frankly ridiculous. Other teams, often lesser teams than us, beat them at Anfield, and we can beat them. We should respect them, even their shaky defence, but not fear them!
Their attack is in very good form, but they can struggle when put under pressure by an organised side, and that's when we see how vulnerable they are in defence.
I can't believe some posters thinking we've already lost. With that kind of thinking, there's no point in playing football.
John Hammond
299
Posted 04/12/2017 at 10:29:21
A much needed 3 points and second clean sheet in a row. That's taken a lot of pressure off the players. The fixture list was kind to us at just the right time.
West Ham are one of 2 or 3 teams actually worse than us and Huddersfield are in freefall and haven't scored away since the opening day. Add in a bit of new manager bounce and things look a bit better but let's not kid ourselves: The same players have been mostly terrible all season, no matter what position or formation they've been in, so Sam's going to have his work cut out.
Sunday ain't going to be pretty. If we have a go, they'll destroy us. Sam will have spent the week working on his game plan so let's see if we can pull it off!
Brent Stephens
300
Posted 04/12/2017 at 11:05:23
Stan #298 my fear about losing derives from what I can only guess is the long-standing players' fear about losing. As fans we can be as positive as we want but unless the players...
And that's my fear. Game after game after game we've, no they've, just crumbled, despite any sort of confidence I've had going into the game. I can't do it any more, or not yet – building up my positivity and hopes, just to be dashed even more.
But as I've posted, I feel slightly less anxious than I did a couple of weeks ago. Okay, you got me, Stan – COYB!

Dave Wilson
301
Posted 04/12/2017 at 11:25:59
John G Davies 264
I suspect you are one of the hypocrites Darren Hind is referring to.
I once posted on this site on a daily basis, but due to getting myself involved in the sort of nonsense John McFarlane talks of, I found myself getting what in hindsight, was a deserved lengthy ban. I have read these pages every day and often cringe because the battles remind me so much of the stuff I was involved in. I know an agent provocateur when I see one.
Several times last season, you were ribbed by different posters for lying in wait for Mr Hind's posts, often jumping on them seconds after they were posted and always niggling. I thought you would be embarrassed, but you simply carried on. Even when voicing your approval @264 you can't resist having a dig. You constantly try to get a reaction and do nowt but complain when you get it.
Darren Hind is without doubt a spikey character. His often brutal assessment of Ronald Koeman earned him plenty of enemies on this site. Some simply could not handle his, err... "forthright" views. A small group of people would go out of their way to engage him. Mr Hind's dismissive aggression hardly endeared him to this group. He made no effort at all to hide his belief that they were wrong. The fact that he turned out to be right all along makes his arrogant contempt seem all the more unnecessary.
I don't think John McFarlane was for one minute singling out any individual when he was calling for civility... but it's highly amusing to look at the posters who clearly feel he couldn't possibly be talking about them.
One of those "he cant possibly mean me" characters launched into the most angry abusive attack I have ever seen on TW on Saturday's Live Forum. One day later, he is one here nodding his approval of John's calls for civility, claiming they are "So obviously right to most of us" – Hypocrisy in its purest form, poster #204. Comedy gold.
John McFarlane clearly has a lot of respect on here. His gentle request has drawn a demonstration of that from a guy many of us believed respected nobody, but If John's call for a more serene website is to have any effect, it's going to take more than one man to hold is hands up and accept his guilt.
Sorry to use poster #204 as an example again, but a lot of the complaints about aggression seem to come from the very people who have deliberately sought that sort of reaction.

James Lauwervine
302
Posted 04/12/2017 at 11:38:49
James (#52). I wondered about that too but then my son told me Dominic Calvert-Lewin had been on Sky this weekend talking about his lawnmower celebration. The interviewer made him promise to do it the next time he scored, so he did.
It's a bit silly but I'm a fan of unusual celebrations. Timmy Cahill's became legendary. Who remembers Mick Shannon's? Football is supposed to be entertainment after all.
Stan Schofield
303
Posted 04/12/2017 at 11:48:24
Dave, it's really the personal nature of the some of the posts which makes them not worth reading. I raised an issue about incessant negativity. By that, I don't mean just being down about Everton and the pessimism that goes with that (you'd have to be an Evertonian Gandhi not to get down about Everton). I mean the personal nature of some of the negatively critical comments.
Someone recently called me a 'closet Kopite' in response to what I thought was a comment of substance. I just responded, you're wasting your time getting personal with me, if you want to engage with me then stick to matters of substance, not personal remarks. In other words, as soon as someone gets personal, I ignore them (apart from advising them not to get personal) because they don't know me personally.
I'm not really bothered about personal comments (sticks and stones, and all that), but it is an issue when folks don't stick to the substance of the debate. Maybe some folks don't mean any insult, like when you have banter with your mates in the pub, but I think it's different on a site like this.
Raymond Fox
304
Posted 04/12/2017 at 12:18:32
As regards the game with the reds, Brent (#297) states my thoughts exactly. Logic says we will get beat, their attack is on fire, but hey ho hope spings eternal and I fancy Sam will have a cunning plan, lets hope it works.
With regard to the forum, I for one am very opinionated and I suspect that to post you need to be. I think it's also fair to say that we all think that our opinion is the correct one and I very often find when I log on and read some of the posts that my blood pressure goes sky high.
I'm not talking about when posters get abusive to each other, more when some spout nonsensical stuff or are using abusive language towards players and managers.
I have to admit that I have tried to quit the site on numerous occasions but still get drawn back in. I only use this site, so I'm not comparing it with others.
Stan Schofield
305
Posted 04/12/2017 at 12:44:10
Brent @297 and Raymond @304: I agree totally in a sense, we've got so used to getting beaten by them. But surely there's no curse hanging over Goodison, or law of physics, that says we can't beat them.
We've changed the playing staff a lot, so surely they've got no psychological baggage about Mordor, and I can't imagine Allardyce fearing them. As you indicate, if he's got a plan, attention to detail, it increases our chances, their attack being on fire or not.
Tony Abrahams
306
Posted 04/12/2017 at 12:50:20
The derby, Raymond? Rahman states the obvious and says we won't win at Anfield with a leaky defence. I was thinking that's why Saturday's first half was that poor, because as a team we were concentrating a lot more on our defensive shape.
Same on Wednesday against West Ham, although getting the penalty helped us settle down a lot earlier, and we only really looked in trouble when Rooney wasn't getting close enough to their midfielders at the start of the second half.
It's a big ask going to Anfield to try and defend for 90 minutes but who knows? I'd play 8 behind the ball and leave two up but then I'd worry about our midfielders' lack of creativity.
Maybe I'd swap Sigurdsson for Rooney, and play Calvert-Lewin out wide and just leave Niasse up. Either way, we are going to be organised, hopefully to create organised chaos for the horrible fuckers across the park!
Dave Abrahams
307
Posted 04/12/2017 at 12:56:18
I am expecting Sam to frustrate Liverpool on Sunday, the longer we do the better it will be for Everton, make the crowd even more frustrated with their team. Sam will love the kopites giving him loads, he'll smile back and his gums will be chewing in rhythm with them.
Burnley and Dyche frustrated them and could have won with two good chances near the end. Our team Everton frustrated Man City and could / should have done better against their 10 men. Nothing is impossible if you have the belief; Sam, Sammie and Shakespeare – the three S's – might just give us that belief.
Scott Hall
308
Posted 04/12/2017 at 13:16:08
Dave, the three S's? That's what I call my morning bathroom routine...
Kevin Tully
309
Posted 04/12/2017 at 13:35:22
12/1 to win at Anfield. I don't think I've ever seen those odds! This game could ruin a few of the younger players. I would go for experience wherever possible, not because they merit a starting place, I would just rather not expose the likes of Kenny to a mauling at Anfield. Koeman and Martinez set up defensively over there, that went well, didn't it?
The ultimate insult, when Klopp said he 'felt sorry' for us.
Tony Abrahams
310
Posted 04/12/2017 at 13:55:18
I usually agree with you Kevin, but how can you play players who don't deserve to play? what do,you say to Kenny? I think you've got a big future in the game, and I think you are doing great, but I'm not sure about Anfield though, By the way where do,you live son?
I live five fuckin minutes from both grounds Sam and I've been at Everton, since I was 8. I want to play in these derby matches, it's something every scouse kid, who likes football, has dreamed about at least 1000 times in his life, and I can't wait to get stuck right in to those red bastards!
I know he's not that experienced just yet, but he helped Oxford gain promotion 18 months ago, then he won the reserve league and then the World Cup. Look at his response to his terrible mistake at Leicester to see what type of personality this kid has got.
I thought Martina done great against Huddersfield, but I reckon Kenny has got the much bigger heart, which is something Everton, are going to really need on Sunday afternoon.
John McFarlane [Snr]
311
Posted 04/12/2017 at 14:01:32
HI Dave (#301) I too have been a regular reader on "ToffeeWeb", but not for as long as yourself, what put me off was the fact that there were contributors who were experts in Football management, Man management, stadium design and construction, and knew everything there was to know, about running a successful club.
It was often the case as I recall, of "If you don't agree you must be a moron", I personally believe [like all fellow "Webbers"] that I know a little bit about football, in general, and Everton FC in particular. I trust that this doesn't come across as appearing boastful, that's certainly not the intention. I am particularly aware that there are some on this site who can, to use an old expression "Buy and sell me".
The point I'm attempting to make, is that if you read something that you don't agree with, and you wish to address it, then do so in a non aggressive manner. I don't understand the need to make personal remarks, to someone you don't know personally.
I know that the world has moved on, and the internet has opened up all sorts of avenues that didn't exist in my youth, but in those far off days Evertonians didn't attack Everton FC, we left that to our "Friends from across the park" and to tell you the truth, we gave as good as we got. Best wishes to you, and all "ToffeeWebbers" John.
Dave Wilson
312
Posted 04/12/2017 at 14:11:31
Kevin @ 309
I think Kenny, Davies, Calvert-Lewin and Holgate should all play.
I think we came unstuck through Unsworth trusting the more experienced players. Jagielka looked shot to me at and Mirallas and Schneiderlin looked as if the couldn't care less. We have looked far better since the youngsters were brought back.
Experience would normally be the better choice, but they are either not up to it, or can't be bothered. I agree, a mauling would be damaging to the boys, but a decent performance or result will do wonders for their self-belief.
Sam Hoare
313
Posted 04/12/2017 at 14:30:52
There's no way you can drop the kids for the derby. if we get well beat (a definite possibility given their red hot attack) then it will leave them with a taste they will never want to repeat again. It will hopefully make them stronger. If it ends up scarring any of them and destroying their confidence then that is a pity but perhaps they are not cut out to be Everton player.
If we win then imagine what it will do for them! To win against the odds in a match where most of the press is imagining we will crumble.
Win, lose or draw then I expect it to be a useful learning experience and regardless of that you have to play your best team which at the moment definitely contains the likes of Kenny, Holgate, Davies and Calvert-Lewin.
Kevin Tully
314
Posted 04/12/2017 at 14:35:20
I've long since given up hoping our players will somehow find the courage to play at the pit. They just go there trying to keep the score respectable these days. It's even more galling to think that we have to start with half a team of reserves, after throwing all that money down the drain.
A 㿂m signing can't even get in the matchday squad in front of the kids. Someone needs hanging from the Kop by their balls for that one.
Raymond Fox
315
Posted 04/12/2017 at 14:51:14
What do you do this Saturday, I don't think all out defence will succeed. I would set the team up as if we were playing a middle of the table team, and if we get beat, we get beat.
You have to think they will score at least one, so like Tony I'd give Niasse half a game if not more, he must be raring to go. As for the rest of the team, that's what Sams getting paid for, its a tough task sooner him than me.
John Keating
316
Posted 04/12/2017 at 15:06:10
I agree with playing the youngsters.
To a certain extent they can play without fear and I would rather have a 100% Beni playing than a "don't give a shit" Schneiderlin.
At the end of Saturday's game I watched Calvert-Lewin, Holgate and Kenny arms over each others shoulders laughing walking to applaud the Gwladys Street. It was just 3 mates having a good time. Good to see.
Form and sense tells me we will come away from Mordor with nothing but even in defeat these kids will learn far more than sitting on the bench watching Schneiderlin and Mirallas go through the motions.
Dermot Byrne
317
Posted 04/12/2017 at 16:03:44
The Echo are saying tonight that we are on same number of goals as after 15 games last season and on 2 points less. If that is true, it surprises me but makes me a bit more relaxed. Over to some nerdy statistician.
Michael Kenrick
Editorial Team
318
Posted 04/12/2017 at 16:39:22
Some great posts on this thread about the perennial problem of posting styles and content, and where they "cross the line".
John's gentlemanly persona has certainly been refreshing since he started posting more often. We do our best to intercept and remove the more egregious personal abuse, but each individual's threshold is different, so there is no chance of keeping everyone happy and unoffended, especially in this day and age where the slightest thing can send people over the edge.
I appreciate your interest, John, primarily in the on-field stuff, which should of course take precedence. But in those days between games, when things hit the news that relate to off-field themes – club ownership, new stadium, etc – anything in fact to do with the footballing side of EFC, is I think fair game for this website in terms of providing information and discussion. If it doesn't interest you, fine. But it's there for those Evertonians who are passionately concerned about where we are headed as a club.
And I'm with you on the 'amateur management' aspect that drives some posters to pick line-ups (when they can't even spell the names of the players), chose our next transfers, and decide that so-and-so "should never ever wear the shirt". That "I know better" conviction is only a blurred line away from cogent post-match analysis but I blame the prevalence of Football Manager type gaming that spills over these unrealistic expectations into the real world.
I just want to confirm, Dave (#301) that you are fingering Dermot Byrne. I can only see one poor post of his on the LF, lashing out more in frustration at another spikey character in Tony Marsh.
For some who post here, there is a desire to be right above all else, and that seems to be a long-running theme for his and Darren Hind's posts. They will never admit to being wrong, and will always twist and squirm if responding when they have been shown up.
One recurring weapon I'm seeing is the cry of "hypocrites", which seems to be a source for lengthy arguments about what is ultimately down to semantics and context. To me, that's another unnecessary personal insult in the "labelling" category, rather than engaging in an exploration of the differing viewpoints, and I would be glad not to see it flung around so easily.

We do have the Flag Comment facility, which I know seems like crying to teacher, but it does help us to rapidly identify the posts in need of review, and it helps if you add a word of explanation in the box provided. However, at the end of the day, we consciously let a lot of stuff go because we do not want to stifle debate – although I have to agree that Lyndon's recently imposed 5-post limit per thread does not seem to be in keeping with that ideal.
Andy Crooks
319
Posted 04/12/2017 at 17:54:06
Michael, I really think Lyndon should reconsider this 5-post limit. In a thread of 300 plus comments it stifles debate and must be extremely frustrating if a poster cannot respond if challenged. Fair enough if a point is tediously labored over dozens of posts but 5 is too few in my view.
David Barks
320
Posted 04/12/2017 at 18:00:24
The limit on posts per thread isn't perfect. But it's necessary right now with certain individuals completely taking over the site. This site isn't designed to be a personal insults debate. There are forums for that.
The comments should be focused on responding to the points made in the original article, agreeing or disagreeing, and stating your own thoughts. Of course that will at times include responding to another comment. But it doesn't need to be a back and forth.
Eddie Dunn
321
Posted 04/12/2017 at 18:12:56
David, I agree, I get fed-up when two protagonists get into a personal argument and take-up long and tedious alternate views, but perhaps 5 posts is a bit mean. I would think perhaps 8 would be better.
Frank Eardley
322
Posted 04/12/2017 at 18:17:12
Does anyone know how many tickets are left for Newcastle next week?
John McFarlane [Snr]
323
Posted 04/12/2017 at 18:52:20
Hi Michael [315] Firstly, thank you for your kind words, and regarding the 5 posts "Red Card" rule, could it not be possible to isolate threads, that are not experiencing the kind of behaviour that merits such a limit.
You are no doubt aware that I am in my 80th year, and have been dragged into the 21st century kicking and screaming, technology is just a word to me.
I appreciate that it may not be possible to do what I have suggested, but so much interest has been shown in my "Favourites aren't always the best" article, and I find it hard not to be able to discuss it with fellow Blues.
I am not seeking sole immunity, its just that the very thing that inspired me to write an article, [the "vicious and vitriolic" managerial debate] is now preventing me, and other posters' from expressing their views, on a variety of subjects in a civilised manner.
I would urge you and your colleague to give serious thought to the problem, and as I have said, I'm not seeking special treatment, I just feel that it's unfair that the many should be punished for the behaviour of the few.
Dermot Byrne
324
Posted 04/12/2017 at 19:27:39
Dave Wilson (#301).
Well, as the one singled out, guess I should reply as honestly as I can.
Yep, sometimes I lose my rag. Not that often. But sometimes sure. Mostly during a live game but would say attempts at humour are far more common. Funny? Not the point.
But one thing me and others "ashamedly" know on here... and in life: a way to respond to an persistently angry or aggressive character is to laugh at them. Risky though sometimes.
Does that mean I feel less about the club and game? No idea, as has nobody else. Just a different character with my own strengths and flaws.
The agent provocateur line is interesting – bit of a chicken-and-egg conundrum that one.
But as the risk of that labelling again, let's hope I have your road to Damascus moment again... as have a few of my own along the way already!
Still a fellow Blue.
John G Davies
325
Posted 05/12/2017 at 06:35:29
Dave Wilson (#301)
Apologies if I have offended your genteel nature. No offence intended.
Dave Wilson
326
Posted 05/12/2017 at 08:37:03
Dermot, Profound apologies.
I did not mean to single you out, It just happened that both your posts were within a day of each other and made for a perfect example of my point. Unfortunately I didn't have a Damascus moment. I am still prone to get a little hot under the collar which is why a generally choose to read rather than post these days We are cut form the same cloth, my friend, and because we are prone to outburst, we (imo) forfeit our right to act with indignation towards others.
I think it's wrong that D Hind and Tony are being portrayed as the chief antagonists here. For me the worst abuse comes on the live forum and you seldom find either of them on there.
I don't see an angry man when I read Tony Marsh's post. I see a very excited fan who changes opinion every day – "I want Sam" ... "I don't want Sam" ... "I never said I wanted Sam" ... "You seeee – Sam is the man". This is a passionate guy who reacts to the there and then, but angry? For me he comes across as being permanently exasperated.
"Dazza" is a different animal. He is razor sharp. He is occasionally wrong, but he is so often right it's annoying. For me his problem is his intolerance of those he "knows" are wrong. He is supremely confident in his judgment. When Darren saw flaws in the last two managers, he didn't simply give an opinion: he told us. When many were claiming the two defensive midfielders were top class, Darren didn't simply disagree, he told us, labeling them"tackling machines". He didn't simply disagree when people were delighted with our summer signings: he told us they were substandard and we would struggle because we are not signing the right type of player. He dismissed critics of John Stones as "Philistines". A diplomat, he is not.
The reaction to John's call for civility is fascinating. So many past offenders lining up to support him. He didn't confront the TW's most intolerant poster, as so many have tried to do; he completely disarmed him (and many others) with a charm only gentlemen posses.
I'm not sure I totally agree with John McFarlane, although of course I respect his intention.
I log on to this site every day and I love the passion and I see in posts from the likes of Marshy and Dazza; I love posts from others who are not afraid to rattle a few feathers, it keeps things "real". Eugene Ruane would give John nightmares with his killing put-downs, but they are achingly funny and, even though I have been on the receiving end, I miss them when they are not there.
Good luck in finding that perfect balance, Michael.
Dermot Byrne
327
Posted 05/12/2017 at 12:46:25
No rage from me for that, Dave!
Andy Crooks
328
Posted 05/12/2017 at 20:59:23
Dave Wilson, who has hijacked your ToffeeWeb account? I do not recognize this imposter. Back in the day we had quite a few debates, heated at times. You were a hell of a lot spikier than Darren, you booted Tony Marsh into touch, you challenged the admirable Eugene Ruane... (Where are you, by the way?)
Frankly, the new Dave Wilson is a shadow of one of the best posters ever to visit this site. Do you recall your spat with Mike K over the Liverpool semi, who was in whose half? The MOB arguments?
Come back, the old Dave. The site was better with robust debate.
Dave Wilson
329
Posted 06/12/2017 at 10:50:31
Hi Andy
Long time no speak. Yes I remember those times vividly. I certainly remember some epic battles with Eugene. I remember one poster calling us Ali and Frazier – Eugene's wit and intellect against my "street fighting" debating style. The strange thing being, even then Eugene was my favorite poster.
I cringe when I look back on the absurdity of the long drawn out battle over the semi final nobody really gave a damn if the players were on the half way line or 5 yards off it, but we all thought we hated each other back then and these minor details were "crucial".
Back then Michael would take a much more active role in the debates and would often get embroiled in what seemed like the longest Scouse wedding ever. He used to have the infuriating habit of really attacking you, then blocking your response. and I in turn would attack him privately. I was out of order. I deeply regret my part in it.
I get what John Mac is saying, but compared to then, TW is in a far better way than back then, Most of the people who wanted to settle their differences in the virtual car park are a little older and a little wiser – I most definitely include the editor in that.
Michael is clearly impressed with John's call for civility, but credit where credit is due. He and Lyndon have clearly been chipping away for years to improve the quality of these threads – Incredibly difficult when providing an open forum, but they are getting there. They are definitely getting there.
John G
Genteel? thank you, I'm not there yet but, I'm working on it.
Anyway that my posting done for as while, fascinating thread, but I think I prefer to observe more than participate.
John G Davies
330
Posted 06/12/2017 at 11:36:17
Dave,
No problem at all, you're welcome.
Your hard work is paying off.
All the best
John
---
Add Your Comments
In order to post a comment, you need to be logged in as a registered user of the site.
Or Sign up as a ToffeeWeb Member — it's free, takes just a few minutes and will allow you to post your comments on articles and Talking Points submissions across the site.
© ToffeeWeb