Report
Rooney penalty saves a vital derby point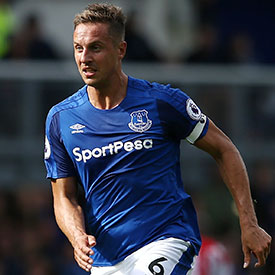 Phil Jagielka is fit enough to return to but only has a place on the bench
LIVERPOOL 1- 1 EVERTON
Sam Allardyce names an attacking side for his first Merseyside with Oumar Niasse leading the line.
He takes across Stanley Park a team that was, until very recently in a tailspin, seemingly headed for a relegation battle but which has now won three games on the bounce with three clean sheets and can start looking upwards again rather than over their shoulders.
Allardyce chooses an attacking side with Calvert-Lewin, Rooney, Sigurdsson and Niasse, who replaces Lennon, named to start; Schneiderlin is on the bench. Liverpool start with Coutinho, Can and Firmino named only as substitutes with Solanke getting a start upfront.
Everton kicked off in falling snow with a hoof upfield and out of play. Liverpool replied in similar fashion, but then pressured Williams and forced a turnover, Henderson firing well over. Davies was caught late by Milner; Kenny fired the free-kick a little too deep.
A pattern developed with Everton clearing long, lossing possession, Liverpool building slowly and not getting much change from the Everton defence. Everton's biggest failing was not even attempting to play the ball out of defence. Man got into space but slipped at the crucial moment.
A long ball from Sigurdsson saw Mignolet out a long way to just beat Niasse to the ball. When Niasse did try to play forward, he lost the ball and allowed more pressure on Everton, whose defending was becoming increasingly desperate with wave after wave of red attacks, Niasse getting back to defend well. Liverpool's first corner repelled easily enough.
Calvert-Lewin did well to win the ball and hold off Lovren but was wrongly called for a foul. Mane got to the by-line but fired at Pickford. Gana then tackled Mane brilliantly on the edge of the Everton area but the red wave kept coming with the long hoof back upfield not sticking.
Gomez followed in on Martina, raising his knee,but not being cautioned. The long Everton free-kick form deep was turned over immediately, Kenny was having to work like a Trojan and missed one clearance but the Blues had survived the early onslaught and finally started to play the ball on the ground, a sharp ball in too strong for Calvert-Lewin.
Milner drew a foul from Kenny, Oxlade-Chamberlin whipping the ball way across goal and out. Rooney was struggling to make any impression on the game, with rare opportunities to pass the ball. At the other end, Milner thought he could shoot but it was deflected behind for a second corner, defended away. Rooney then did well to force Milner into the advertisements.
Jonjoe Kenny was becoming imperious in defence, stalling, stopping, tackling and blocking like a man possessed. Salah tried to dribble his way through four players and just ran into a wall of Blue and White. Rooney finally got a chance to play in Niasse but his first touch was poor.
Sigurdsson slipped and caught Henderson's ankle and picked up the first yellow card from Craig Pawson. Another spark of forward play form Niasse and Calvert-Lewin was snuffed out quickly and Kenny again lashing the ball clear on the next Liverpool attack. Liverpool then tried one over the top, straight to Pickford.
Gana was the next in the book for a tackle form behind on Gana, and from the free-kick, Salah did his magic, beating Martina and Gana to curl an unstoppable shot into the far top corner of the Everton net. So much for the first-half gameplan, which had almost worked.
Salah tried another one that deflected away off Williams's head. Shots then from Oxlade-Chamberlin and Henderson were blocked. Mane then got loose and ran at Pickford but drove his shot across goal with three red shirts in space. Sigurdsson came up with Everton's first shot, a weak effort easily saved, summing up the huge imbalance of the first half.
Allardyce changed things after the break, pulling off Niasse and Davies, with Schneiderlin and Lennon replacing them. Surely that should have been the starting line-up?
Liverpool threatened from the off and a cross to the far post required the brilliant intervention of Kenny. But a repeat ball form the right from Milner found Salah who incredibly headed wide of the open Everton goal.
Rooney picked out Calvert-Lewin's run but his finish was poor, missing Sigurdsson's supporting run. At the other end, again Kenny with a vital touch as the screws were turned even more, Liverpool winning a corner, Lovren ready to score when Holgate flicked the ball cleverly away from him. Salah almost repeated his trick, then from a corner, he skied it miles over into the kop.
Everton had nothing to show in terms of out-ball, more like turnover-ball each time they had a rare chance to play forward, exemplified by a hopeless ball to no-one from Martina. More desperate defending, and a very poor clearance from Martina led to another corner, the red pressure relentless.
Oxlade-Chamberlin put in a wicked cross that somehow was not converted, Pickford getting a vital touch for the 11th Liverpool corner, Pickford picking the deliveryoff the top of Man's head. Lennon gave away a foul that Salah curved in well and Gomez headed onto the roof of the Everton net. Everton got forward but could only do ridiculous head-tennis until they inevitably lost the ball.
Everton really had absolutely no idea what to do with the ball when they did cross the half-way line, and posed zero threat to the supposedly fragile Liverpool defence. Gana did well to stop Firmino inside the Everton area.
For the first time, Everton strong togethr 3 or 4 passes, Kenny swung on a superb cross and it was headed behind for a corner. Sigurdsson's delivery was good enough but Mignolet punched it out, then plucked the return cross out of the air to deny Calvert-Lewin.
Kenny did brilliantly to pick out Rooney who delivered a superb ball to Calvert-Lewin, under pressure from Lovren, he went down...PENALTY! Wayne Rooney absolutely rammed it home straight down the middle!!! No doubt the review panel will be looking to ban Calvert-Lewin for successfully deceiving the match official.
The goal was just what the game needed, with Liverpool suitably furious, Lovren going in the book for his protest. They attacked again and again into the final 10 minutes, with Phil Jagielka replacing a slow-walking Wayne Rooney.
Schneiderlin went in late on Milner, setting up a dangerous free-kick that Coutinho fired toward the top corner but Pickford was perfectly positioned to grasp it out of the air.
The Blues were tiring and presumably under instruction not to press for a second goal that could win this game, poor passing continuing to invite the home side onto them. But Sigurdsson got a chance to deliver a fearsome free-kick that needed defending away.
Into four minutes of added time, Robinson delivers a fine ball to the far post where Firmino was inches away from scoring. More Red attacks followed, Henderson firing well high and wide in the last minute after Coutinho could do nothing.
And so it ended, Everton with a thoroughly undeserved point after an awful football performance... but that won't matter to the Blues who expected to be slaughtered by free-scoring Liverpool.
Scorer: Salah (42') Rooney (pen:77')
Liverpool: Mignolet; Gomez, Lovren L:, Klavan, Robertson; Oxlade-Chamberlain (78' Coutinho), Henderson, Milner; Mane, Solanke (82' Ings), Salah (67' Firmino).
Subs not Used: Karius, Wijnaldum, Can, Alexander-Arnold
Everton: Pickford; Kenny, Holgate, Williams, Martina; Gueye [40']; Calvert-Lewin, Davies (46' Schneiderlin [Y:85']), Rooney (79' Jagielka), Sigurdsson [Y:36']; Niasse (46' Lennon).
Subs not Used: Robles, Keane, Vlasic, Lookman
Referee: Craig Pawson
---
Reader Comments (261)
Note: the following content is not moderated or vetted by the site owners at the time of submission. Comments are the responsibility of the poster. Disclaimer
Jay Wood
1
Posted 10/12/2017 at 13:23:16
So, the only change from the Huddersfield starting XI is Niasse coming in for Lennon.
Klopp trying to be too clever? No Coutinho or Firminho in their starting XI.
David Pearl
2
Posted 10/12/2017 at 13:26:30
Not too clever Jay, I'd say it was a lack of respect. That gives us a shout imo
Dan Davies
3
Posted 10/12/2017 at 13:28:08
Niasse to bag the winner. Fairy tale complete. Happy days.
John G Davies
4
Posted 10/12/2017 at 13:28:46
Looking to get Calvert-Lewin on the end of crosses from wide left? Hopefully isolated against full back.
Derek Knox
5
Posted 10/12/2017 at 13:32:20
Very disappointed that Martina is included, this is giving Liverpool a one-man advantage straight away.
I do hope the useless waste of space proves me wrong, and scores, but Nelson has more chance of getting his back!
Stan Schofield
6
Posted 10/12/2017 at 13:34:23
Jay: All four played midweek, and Solanke has started recently, so it's no surprise to put two of the usual four on the bench to come on later.
David: Klopp isn't stupid enough to take chances by showing a lack of respect in that way. He would do it in words, but not in that way.
John G Davies
7
Posted 10/12/2017 at 13:35:57
Derek,
Who would you play left back?
Stan Schofield
8
Posted 10/12/2017 at 13:40:20
Jay, all of the usual four played midweek, and Solanke has started recently, and it's no surprise that two would be benched to come in later.
David, Klopp isn't stupid enough to do that. He'd attempt to show a lack of respect in words, because they cost nothing, but not in that way.
Les Martin
9
Posted 10/12/2017 at 13:45:38
Cant fault this, Sam is going to contain but also realizes the potential outlet and threat of Niasse, the point that he will keep Liverpool defenders busy and also pose set-piece opportunities.
Lookman and Vlasic is a good one to as two fit quick energetic lads could be very useful in the latter stages.
I smell a win for us today.
Ciarán McGlone
10
Posted 10/12/2017 at 13:45:48
Too many under-performing players in the starting XI... Davies, Sigurdsson, Williams and no natural width at all.
This could be a bad day to be a blue.
Parking the bus is about the best we can hope for.
Jay Wood
11
Posted 10/12/2017 at 13:48:28
Understood Stan. But any one who has watched the pinkies also know Coutinho is their main man.
For whatever reason, Klopp hasn't selected him; I am happier he is sat on the bench rather than starting.
John Smith
12
Posted 10/12/2017 at 13:53:05
Firmino and Coutihno on the bench. Let's have it!!!!
Big Sam doesn't need much clue to rev up our team. Something like this would do:
"Boys, they're not fielding their best team. They think you can't compete. Go out and prove 'em wrong."

Stan Schofield
13
Posted 10/12/2017 at 13:57:14
Jay, I watched Sam's pre-match presser, and he mentioned their attack a few times, but never mentioned the weak defence. It seemed deliberate, their frailty being obvious there. Our line-up looks to be aimed at exploiting it. Interesting.
John Smith
14
Posted 10/12/2017 at 14:03:06
As much as I love Baines, and with Seamy still out, the fullbacks he has picked are our best two.
Christy Ring
15
Posted 10/12/2017 at 14:03:27
Sam has picked a compact team with our wide players on the bench, to stiffle Liverpool. He has to play Martina on the left, with Baines injured.
A bit surprised with Klopp's selection, he's either afraid of us, or lack of respect. But either way, it gives us a great chance today.
Barry Pearce
16
Posted 10/12/2017 at 14:04:56
Disappointed Beni is not in the squad. Would have had him over Schneiderlin.
Lennon also unlucky not to make the starting eleven.
Mick Conalty
17
Posted 10/12/2017 at 14:06:45
Martina & Williams???
Hope I am wrong!!!
Darren Hind
18
Posted 10/12/2017 at 14:13:04
COYFB'S!!!!!!
Christy Ring
19
Posted 10/12/2017 at 14:32:14
Martina is getting a roasting already, and Rooney is too slow on the right wing.
Spencer Glaze
20
Posted 10/12/2017 at 14:35:26
Do we ever get to play offense?
Ciarán McGlone
21
Posted 10/12/2017 at 14:36:42
We've come to park the bus... our bus however is full of holes.
Hannes Eerola
23
Posted 10/12/2017 at 14:41:10
Football-wise this is as bad as you'll ever see from us... I'll take a 0-0 and run.
Paul A Smith
24
Posted 10/12/2017 at 14:51:04
Tom Davies is all over the place again. And not in a good way. Siggurdson running like he's been smoking all week.
Pickford needs to stop showing off with his kicking.
Peter Hughes
25
Posted 10/12/2017 at 14:55:02
This must be the most one-sided derby in the world!
Paul A Smith
26
Posted 10/12/2017 at 14:58:06
This would have been easier just sacrificing 3 points..
What are we doing?
Jon Withey
27
Posted 10/12/2017 at 14:59:38
Pathetic – you'd think Salah was Lukaku. The lack of strength and sharpness in our players – being bullied again.
Paul A Smith
28
Posted 10/12/2017 at 15:02:46
We're not even trying to play. That midfield is absolute dreadful.
John Smith
29
Posted 10/12/2017 at 15:09:06
Years ago, I thought that eventually Baines could be played at as a deep playmaker (centre-mid), and to be honest, he'd do better than Schneiderlin or Davies right now.
George Cumiskey
30
Posted 10/12/2017 at 15:11:33
We've only got three problems a centre forward who can't hold the ball up, a team who can't pass and a left back who hasn't got a clue how to defend.
Besides that we're great!
Christy Ring
31
Posted 10/12/2017 at 15:12:24
Shocking defending by Martina for the goal, how we only have one left back at the club is a disgrace. Need to change it, we are getting battered all over the field.
Our midfield is non existent, disappointed Beni is not on the bench, and Rooney and Sigurdsson are not wingers, and offer no help to our fullbacks.
Jay Wood
32
Posted 10/12/2017 at 15:15:17
How can anyone judge and condemn the midfield when basically they are set up to primarily protect the back four?
Nothing is being played out or through the midfield. The ball is simply being hoofed 50 m over their heads to be easily mopped up by the 'poo's rearguard.
And Pickford's kicking has been absolutely woeful!!!
The one player in midfield who has shown any composure and willingness to bet himself to retain and pass the ball to a team mate is Tom Davies.
And yet, only a piece of individual brilliance has undone the game plan. Yes, the pinkies dominated possession but Pickford was not really threatened once.
We now need a goal to have any hope of getting anything from this game. Set up as we are, I have no idea where it is going to come from.
This is where Sam and his coaching team earn their corn.
Clive Rogers
33
Posted 10/12/2017 at 15:16:32
Martina badly at fault. Keeps falling over when he tackles leaving Salah free. Niasse has not played the ball to a blue shirt yet, awful.
Tony Abrahams
34
Posted 10/12/2017 at 15:19:41
The size of the job is there for all to see, we are a long way off as an attacking threat, but at least the holes are starting to get plugged from a defensive point of view.
Liverpool are a good side because not many teams can match their great intensity and if this was two weeks ago I'm sure we would be at least four down now?
I know Mane should have doubled their lead just before half-time, but it was a blatant push on Kenny in the build-up, fouls that only Liverpool seem to be getting up to now.
Jay Wood
35
Posted 10/12/2017 at 15:20:17
To reinforce what I was saying about the midfield and how we are set up:
Jordan Henderson completed 60 passes in the first half – six more than the whole Everton side who collectively made just 54.
That is APPALLING!!!
Darren Hind
36
Posted 10/12/2017 at 15:20:34
It's all about staying in the game now. Anything can happen while it's still only 1-0.
George Cumiskey
37
Posted 10/12/2017 at 15:29:32
Good old Sam, true to form: we need a goal so what does he do?
Brings on the worst player at the club and a so-called winger who doesn't score.
Colin Malone
38
Posted 10/12/2017 at 15:31:31
Get Vlasic on for Rooney and put Sigurdsson in middle.
Ernie Baywood
39
Posted 10/12/2017 at 15:36:47
Only 1-0 but I just can't see how an Everton goal could possibly happen.
Peter Hughes
40
Posted 10/12/2017 at 15:42:29
That's because it won't, Ernie!
Ernie Baywood
41
Posted 10/12/2017 at 15:50:21
Well what do you know!!!
Bob Hannigan
42
Posted 10/12/2017 at 15:52:01
Neville said he never touched him – on the contrary, he PUSHED him. 😡
Jay Wood
43
Posted 10/12/2017 at 15:52:34
Let's win this now!!!
Why the feck not???!!!
Christy Ring
44
Posted 10/12/2017 at 16:11:49
I'll take that gladly!! Yes, a massive point!
Tony Hill
45
Posted 10/12/2017 at 16:12:12
Thank you very much. The mad German dentist ranting at the end makes it even sweeter. 2 weeks ago I thought we'd lose 8-0.
I thought our defence was excellent. I know they missed chances but that was inevitable. Considering he's playing on the wrong side, Martina was top notch. But Gueye was absolutely outstanding.
Really, really pleased. That's a platform now.
Jay Wood
46
Posted 10/12/2017 at 16:12:18
Let's not try and Avon-cosmetic over that one. We were largely awful.
But doesn't that taking a draw from the game all the more sweeter?
ps: Can someone check in on Derek Knox after that performance by Martina? Maybe he has keeled over and can't reach the panic button to call for assistance.
Jay Wood
47
Posted 10/12/2017 at 16:13:48
"Martina was top notch."
WHAAAAAAAATTTTTTTT????!!!!
Stan Schofield
48
Posted 10/12/2017 at 16:14:28
Jay, when you are awful, but still don't lose, especially against them in their current form, that's a good sign.
Jason Broome
49
Posted 10/12/2017 at 16:14:37
Make no mistake. A point at Anfield is huge!

Ste Traverse
50
Posted 10/12/2017 at 16:16:41
They had all the possession but in reality Pickford was barely troubled. I can't think of too many good chances they created.
We've pinched a point we hardly deserved but I'll take that.

Tony Hill
51
Posted 10/12/2017 at 16:18:54
Jay, yup. He was playing on the wrong side against the player most in form in the Premier League, who was substituted. Watch it again.
Ernie Baywood
52
Posted 10/12/2017 at 16:19:46
I'll agree Gueye was top notch but Martina was fairly poor. Nothing against him – he's the only thing approaching a left back that we have. I thought Kenny put in another good performance.
Not sure Liverpool were particularly profligate. Did they have that many chances for all their possession and threat?
We offered next to nothing. The goal came because of an inch perfect ball by Rooney, some decent play by Calvert-Lewin, but mainly because of poor defending by Lovren and then a ridiculous decision to put contact on him. I'd say it was a soft one but it was there.
Klopp looking very silly with some of his decisions.
Brian Williams
53
Posted 10/12/2017 at 16:20:09
Any of us would have settled for a point before today's game. Up until a week or so ago ,we wouldn't have been surprised to get beaten by five or six.
It's not our responsibility to play an open attacking game there just so they can play their game.
Lastly, I'm fucking made up they think it's a soft penalty (which it wasn't) – the more it hurts and rankles with 'em, the better. They'll be fucking pig sick and that makes me happy.
Bitter? You'd better believe it. :-))))
Tony Ateman
54
Posted 10/12/2017 at 16:20:17
Nice to see the ref penalising Lovren for a solid push on Calvert-Lewin. Shame he didn't penalise Salah for two solid pushes on Martina. We might have won that then!
Peter Anthony
55
Posted 10/12/2017 at 16:20:46
For most of the season, it was obvious the team were folding after conceding first. Today we showed fight and determination and, whilst it was not pretty, we gained a hard-fought point at our former ground against what has been lately an irresistible attacking force.
We can and will play better football but we must take that today, stand tall and move on with ever stronger resolve.
Onward Evertonians.

Stan Schofield
56
Posted 10/12/2017 at 16:23:16
The result was fully deserved. The penalty was absolutely clear. And there was a push, which the ref let go, leading to their goal. I'd say the RS were lucky to come away with a point.
Paul A Smith
57
Posted 10/12/2017 at 16:23:46
Thank god that's over. My heart couldn't take it once we scored.
Have faith blues. Allardyce will sort us out. We all saw today what we lack but, if the board back him, we will be sound.
Jason Wilkinson
58
Posted 10/12/2017 at 16:25:02
Who's telling Klopp that Santa doesn't exist?

Adrian Byrne
59
Posted 10/12/2017 at 16:25:24
Newcastle next and I don't care how we get a point at Anfield. Sam set it to park the bus and we got a result. Happy!!!!
Gary Russell
60
Posted 10/12/2017 at 16:26:10
I want some of what you are on, Stan. Wow!
Phillip Warrington
61
Posted 10/12/2017 at 16:27:01
A lucky result but there is that fear factor whenever we play Liverpool. Martina and Niasse have shown again against good teams they become liabilities, continually giving the ball away and constantly putting Everton back under pressure.
Maybe just me but I can't understand why Sandro doesn't get the same game time as Niasse, he has played at a high level and just needs game time
Lee Brownlie
62
Posted 10/12/2017 at 16:28:10
If this had been such an 'embarrassingly poor' Everton display as claimed then there's not a chance in hell we'd even have still been in it by the 2nd half, never mind doing enough to give Rooney a chance to score an equalizing pen pretty late on! So BOLLOCKS!!!
Lev Vellene
63
Posted 10/12/2017 at 16:29:06
Liverpool had 28 shots, I think, but only 3 on goal. So I'd say Everton played a good defensive game, even if we sucked on the attack. Can't wait to meet my 3 oh-so-Blue LFC supporting work mates tomorrow! Very nice point, after all!
James Royston
64
Posted 10/12/2017 at 16:29:51
Kenny was MotM; if only we could find a left back as good to either push or replace Bainsey. If we are honest 95% of us would have chosen that result before the game. We don't look great; we still need some new faces but at least we are starting to get stuck in.
Peter Lee
65
Posted 10/12/2017 at 16:30:40
"Embarrassingly poor".
Can't agree. Apart from a shambles for fifteen minutes after half-time the lads played a disciplined game to the manager's plan. Got a penalty off the best pass of the game and conceded after the scorer twatted Martina across the back of his neck and pushed him in the chest as he tried to make the tackle.
Roles reversed and their Bugs Bunny of a manager would have screamed for a penalty. ( Do you think his not getting his teeth fixed, given what he earns, is a sexual thing? Just speculating.)
David Connor
66
Posted 10/12/2017 at 16:30:43
Absolute dogshit performance from the girls in blue yet again against the Red Shite. All too predictable every time we play them. When are we going to grow some balls and have a fucking go at the bastards?
Sigurdsson is an absolute waste of money for me. Pickford is the best signing of the summer by a mile.
Massive changes needed in the next two transfer windows because the squad we have simply isn't good enough, that's plain to see. Mirallas and Sandro look as though they are gone in January. Hopefully at least 6 more to follow in the summer.
That said, a point off the Red Shite is at Anfield is better than sweet fuck-all.
George Cumiskey
67
Posted 10/12/2017 at 16:30:53
Great result but if he ever picks Schneiderlin and Martina again, he'll have a hell of a lot to answer for!
Fred Charters
68
Posted 10/12/2017 at 16:31:09
What the hell is Kendrick talking about – Calvert-Lewin deceived the ref – he was pushed, fell, so a penalty!!
Steve Brown
69
Posted 10/12/2017 at 16:31:16
Martina had a new one torn for him by Salah... then Klopp took him off!
Peter Mills
70
Posted 10/12/2017 at 16:32:31
I like to take a measured view of things. So firstly, I had no problem with the tactics, needs must and everything, but our failure to carry out the basics was embarrassing. Our passing and ball retention was dreadful.
Secondly, hahahaha, that was brilliant. Absolutely loved the penalty and seeing the ground empty towards the end.
Steve Brown
71
Posted 10/12/2017 at 16:33:15
Doesn't matter if we were poor or that the gameplan didn't work. We drew and it will build our confidence no end.
Scott Hall
72
Posted 10/12/2017 at 16:33:44
Klopp got his eye wiped there for trying to show that Liverpool can beat Everton while resting star players. Never mind, mate.
The time will come when we can go there and take the game to them but we don't have the players to do that yet. So until then, frustrate and snatch is the best we can do. We did it well today.
Chris Gould
73
Posted 10/12/2017 at 16:34:16
A great defensive performance. How many shots did Pickford actually have to save?
We were dreadful in possession and seemed to panic whenever we had the ball. They pressed so quickly and we struggled to deal, but our defenders were excellent. Of course Martina struggled against Salah. Right-footed playing on the left against one of the in-form players in the league.
Overall, very happy to get an unlikely point. Confidence will grow now.
Simon Harris
74
Posted 10/12/2017 at 16:34:56
Made up we've not rolled over as per normal and shipped goals like recent capitulations at Anfield, it's a welcome change.
Effort and desire in abundance, well done boys and the coaching staff.
Show the same fight and organisation, coupled with a decent forward and left back in January with injured players returning, may mean a less stressful 2nd half of the season.
Amit Vithlani
75
Posted 10/12/2017 at 16:35:34
Big Sam won't be here forever but would it not be marvellous if he was the manager when we started a long unbeaten run against the Shite.
I hope he continues to work on the players mentally to say we got out without losing, we can hex these from now on.
On such games and performances do foundations get built. I was looking back at our results and I think the McCallister free kick was when the current disastrous run started. There was also the game where Fowler scored late and Hutch had a goal wrongly disallowed.
We have had grotesque injustices piled on us, not least Mane's cruel winner last year so about time we got one over them.
Ron Sear
77
Posted 10/12/2017 at 16:36:47
Now just watch the Match of the Day 'Pundits', having lost their smug Red Shite brown-nosing, trying to get a ban on Calvert-Lewin.
Terry Underwood
78
Posted 10/12/2017 at 16:37:05
We were largely outplayed, but we expected that ,didn't we? Sam Allardyce knew we would be hard pushed to better them one for one and set his game plan accordingly. Klopp's team selection was perhaps disrespectful and dismissive (suspect he had been reading RAWK too much) In the final analysis, they hardly had more shots on target than we did and Pickford was hardly overworked. An ugly point, but a point.
ps: Kenny was immense.
pps: Carragher, you red cunt, whose Christmas is fucked now?
Lee Brownlie
79
Posted 10/12/2017 at 16:38:05
Stan Schofield Yes, absolutely deserved!.. fuck em!! They scored, we scored... nothing mystical or supremely fortunate in that! In fact, I'm pretty sure that's just how the goals tally system works!!!
Why should we be bowing down, counting our 'blessings' for keeping this 'acclaimed' attacking side down to so few real opportunities, whilst also then earning a penalty for our own proper Blue man to slam the ball into the back of their net??? Like I say, fuck em!!
Paul Mackie
80
Posted 10/12/2017 at 16:41:40
This was exactly the dull 'Big Sam' football that I was dreading having to sit through. Embarrassing stuff, saved only by the softest of soft penalties.
Jamie Crowley
81
Posted 10/12/2017 at 16:42:31
Whether a pen or not, Lovren is a jack ass – Calvert-Lewoin was moving away from goal – why push him? Which he did.
Stupid, brain-dead defending which they were punished for.
Mike Dolan
83
Posted 10/12/2017 at 16:44:32
Embarrassingly poor? I would take this 'embarrassingly poor' performance every away game for the rest of the season. It was a brilliant defensive performance that held them to just three shots on goal from 78% possession.
Embarrassingly poor headline. Who wrote it – Phil Neville?
Tony Abrahams
84
Posted 10/12/2017 at 16:44:45
I've only got one thing to say to any Liverpudlian who wants to try and take the piss. DON'T PUSH ME!
Brent Stephens
85
Posted 10/12/2017 at 16:47:55
Odds were against a win at the start. And after a lengthy period of good defending but limited possession and poor passing, I feared the worse, even more so after the first goal. So in that context, I'm a very pleased blue tonight.
Jonjoe Kenny was MotM. Gets better every game. And we played as a unit again, not 11 individuals. Before Sam, we would have collapsed after that goal.
So sweet is the fact that they couldn't break us down apart from the one goal, even when Coutinho and Firmino came on.
So happy for Klopp!
Dave Abrahams
86
Posted 10/12/2017 at 16:48:42
Jay (46), never saw the game so I'll go along with your first two paragraphs, I don't mind us being awful so much when we get something out of the game!!!
Took your tip from the other day, had a bet on Liverpool (that drove my grandson, Sonny, up the wall) so my losing run continues and those bastards lost two points, as well as a bit of face., I must have another bet on the cup game.
Craig Walker
87
Posted 10/12/2017 at 16:49:55
Felt like a victory. My lad is 7 today and had never seen us beat them in his lifetime. His party was cancelled today because of the weather. We get a draw and he says "best birthday ever dad!" That'll do me. Would like to hear an apology from the RS and Gary "I know everything about football but was shit at managing" Neville. If we were so poor, the RS should have sewn it up. We're shite but you could only draw with us at home.
Adam Luszniak
88
Posted 10/12/2017 at 16:49:59
Paul Mackie – do you not think Calvert-Lewin was pushed in the back by Lovren?
Paul Doyle
89
Posted 10/12/2017 at 16:50:28
I couldn't care if we stunk the house out, the Red Arrows? Fab Four? Keone and Jenus gearing for our lives on football focus, All I have to say is fuck the lot of them, how dare we have the temerity to not roll over for Salah and friends.

Brent Stephens
90
Posted 10/12/2017 at 16:51:54
We didn't crumble after the first goal. And we come out of that game with further impetus, having pulled one back Psychologically an immense result.
Stan Schofield
91
Posted 10/12/2017 at 16:52:11
Lads, to those saying we played awful football and they played all the football, I grew up with the Blues in the 60s. We were the superior football side over Liverpool, playing flowing fancy football, which culminated in the 1970 title. But we still lost some derbies.
And reds would say, your fancy football is all very well, but if you don't score more than us, tough shit. Well, the boot is on the other foot now. We didn't play great football, and they had 90% of the possession, but they couldn't score more goals than us. So tough shit.
James Newcombe
93
Posted 10/12/2017 at 16:52:49
Yes Paul (#83), I suppose we should have gone there, played the expansive, attacking football we're so famed for this season, and got turned over 6-2.
This squad needs some serious surgery before we can come close to playing decent football against the Sky 6, so we need to be picking up points like this at the moment.
Darren Hind
94
Posted 10/12/2017 at 16:54:02
Okay, we didn't offer much and there is much work to be done, but we already knew that.
I'm not going to celebrate a draw anywhere but, somewhere amongst a performance which didn't really rise above the grimly determined, I saw some wonderful moments and that warrants a decent drink.
Mason leaving one on Henderson was the start of my day; the look of agony on Henderson was funny enough but Mason's look of innocence was priceless.
Klopp's histrionics when the ref waved away the gobshites' hysterical claims for hand ball right outside our box properly made me laugh out loud.
The blues singing Z-Cars to a stunned Anfield.
The faces on the silent Kopites when they knew they had blown it.
Half the shite team remonstrating with the ref after the whistle... What complete fucking tools they made of themselves.
But what has made me swerve the Jim Beam and go straight to the Remy Martin was the sight of Rooney and Kenny celebrating in front of the faithful – neither one of them would have looked out of place on the other side of the wall.

Jason Wilkinson
95
Posted 10/12/2017 at 16:55:12
Seen us batter them and lose. Today we set up to stop them play and it worked. It's not always the beautiful game and derbies are very rarely good games to watch.
For a team lauded as the best attack in England, I was disappointed. Surely MotD will put us on last and gloss over the fact luvverly Liverpool were not good enough to beat lowly Everton.
Well done to Sam and his backroom staff. Tactically superb today and denied the form team in the division an easy 3 points.
Derby day over, let's go to St James' and piss on another RS parade.
COYB
Stan Schofield
97
Posted 10/12/2017 at 16:56:56
Gary@60: I had a cup of hot Ribena before posting that.
Seamus McCrudden
98
Posted 10/12/2017 at 17:00:10
Singing "Merry Xmas, Everton" towards the end when just a goal up got my blood boiling. At that moment, I thought "The cheeky smug bastards think they are winning five-nil!"
Merry Xmas indeed... you arrogant fuckers, yeooooo!!
Rob Dolby
99
Posted 10/12/2017 at 17:01:59
It's a funny old game.
Next to no possession means jack. We have all walked out of derbies feeling robbed, well today Klopp robbed his own fans by playing a weakened team and we dug in for a point.
Our off-the-ball shape and organisation has improved dramatically in 3 weeks. Expansive football has got us into this mess so to show some resilience is heartening. Pickford hardly had a save to make.
It was a tough ask for Martina but he deserved his place after the last couple of games. I just wish he would show some aggression, bottling out of tackles in the last 5 mins of a derby is unforgivable.
Roll on the next game. COYB.
Colin Glassar
100
Posted 10/12/2017 at 17:04:37
This was a bigger heist then even the great train robbery!!
David Barks
101
Posted 10/12/2017 at 17:05:20
Okay, in defense of Martina, which I can't believe I have just typed, I think some of those late game tackles that he's being accused of bottling was more to do with him not wanting to give up a dangerous free kick or penalty.
Derek Wadeson
102
Posted 10/12/2017 at 17:10:19
Interesting point, Wayne Rooney has eight Premier League goals this season, at this moment in time in the Manchester derby that's as many as our former centre-forward who I don't think has touched the ball yet (after 40 mins).
Jon Withey
103
Posted 10/12/2017 at 17:14:19
I was furious with Martina letting Salah through. Kenny and Rooney played well, Calvert-Lewin worked hard and Pickford doesn't flap. Sam also made the right subs because Niasse just couldn't hold the ball and Davies looked aimless.
I don't understand why our midfield has to concede almost every 50-50 though – we need more nasty competitive footballers .
Brian Furey
104
Posted 10/12/2017 at 17:16:18
Had a great time chatting to 4 very passionate Blues at our Irish Goodison Blues Xmas party today in the Mercantile.
I learned loads of new words including a Mong. #98 and #99 sum up exactly my feelings. Big Sam will do to us what Moyes did years ago but with a lot more money to spend. Can't wait to see MotD2 tonight
Salah needs to go to Barca too.

Rick Tarleton
105
Posted 10/12/2017 at 17:16:26
Klopp's selections showed contempt and he deserved to be the victim of a very poor piece of refereeing. Terrific to get the point when so often we've deserved at least a point in a derby game and been robbed. Kenny was outstanding as was Pickford and Williams did his bit.
Les Warham
106
Posted 10/12/2017 at 17:16:34
Bookies having a great Xmas now, taking all the RS dough! Merry Xmas Jurgen, thanks for the early prezzy. Pure arrogance.
Hopefully moving forward we will be able to go to Anfield with a team that can compete and create chances. Well done, Sam; we rode our luck but Koeman and Bobby brown shoes would have lost that game. COYB
Clive Rogers
107
Posted 10/12/2017 at 17:18:34
Williams and Holgate are looking our best CB pairing at present. Gueye is playing better just doing what he is best at in front of the back four and not being pushed forward a la Koeman. We need the three players that everyone knows we need in January.
Paul Thompson
108
Posted 10/12/2017 at 17:19:59
'This was exactly the dull 'Big Sam' football that I was dreading having to sit through'. (#83)
Results before Sam's appointment: 2-5, 1-2, 3-2, 2-2, 1-5, 1-4.
Clear priority was to produce some defensive organisation. Job done. We'll get to the other stuff.
Paul Birmingham
109
Posted 10/12/2017 at 17:23:43
A welcome point, and confidence booster, but until Rooney's pass, in my view ,we weren't at the game.
Massive gap in psyche and dynamic between us and the RS, but three weeks ago we'd have collapsed I'm sure, and this would have been another hiding. God only knows what Koeman was doing in training, but at least the two Sams will instill some guts, dignity and self-respect in the players for the rest of this season.
A good point but for me I think it will be the end of the road at Everton for some who played and didn't make today's squad, and I think Tom Davies needs resting as it seems he's been sussed but I also think he's had over burden due to the senior players going awol in most games this season.
Klopp's selection was interesting and his subs even more interesting. Game changers but made up. Here's to a win at the bar codes on Wednesday night.
Si Cooper
110
Posted 10/12/2017 at 17:25:20
Call it tactical genius if you want but the reality is we only had one rational option of how to approach this game and we just about made it work.
The penalty was equally as soft as Niasse's against Palace; Calvert-Lewin made sure contact would occur rather than Lovren actually trying to give him a shove. As Gary Neville said, the defender has to expect that and look to avoid it. I don't think Niasse deserved a retrospective ban and nor does Calvert-Lewin but we would also be annoyed to concede such a soft penalty.
Our attempts to keep hold of the ball in their half were largely pretty awful and that must have been part of the game plan.
The point / result is a confidence boost but the amount of recruitment (registering players, recalling loans as well as investment in first team ready purchases) necessary to get us to the point where we can go toe to toe with the likes of the RS remains daunting.
Alan J Thompson
111
Posted 10/12/2017 at 17:28:49
Pleased to get a point but I thought we were awful, set up in the way of Moyes and Koeman. It cried out for someone out wide, for the midfield to move into midfield not the first line of defence.
I thought the substitutions were to get Rooney out of playing right back. Kenny had Robertson, was it, in his back pocket until Rooney decided he wanted to play there. Later he turned up at left back which is where Sigurdsson had spent most of the game while Martina failed to work out Salah has only a left foot.
I'd just commented that the referee was giving us nothing when we got the penalty. Yeah, he did have his hand in his back and that Calvert-Lewin went down convincingly but a soft penalty and it will be interesting to see what three former players nobody has ever heard of make of that!
I just hope that is not what we have to look forward to every week.
Colin Glassar
112
Posted 10/12/2017 at 17:28:54
I don't know if it's been said before (I'm on my second bottle of Port and can't read straight) but, have we fucked up Carra's crimbo?
Eric Paul
113
Posted 10/12/2017 at 17:30:55
I'm with Stan, it was a foul on Martina for their goal but Martina is by far the worst payer I've ever seen in an Everton shirt.
Colin Glassar
114
Posted 10/12/2017 at 17:33:47
To be fair to Martina, he's a crap right-back but possibly even the world's worst left-back.
Neil Copeland
116
Posted 10/12/2017 at 17:38:26
Colin, yes someone said it earlier but well worth saying again and again...
Merry Christmas, Jamie lad! Love it!
Tony Abrahams
117
Posted 10/12/2017 at 17:40:34
Agree with a large portion of your post Si @118, but not the bit about Lewin, making sure there was contact though mate. He was going away from the goal, and the defender never had to touch him at all.
We got the benefit of the doubt tonight, and although I thought it was 100% stupid defending, and Calvert-Lewin was blatantly pushed, I would love to see the indirect free kick brought back into play for such offences in football.
Look at Stoke the other week against Liverpool? A certain goal was stopped because of a blatant foul, but because it was just outside the box, they only got a free-kick, whilst there was pretty much little danger today, until Lovren lost his composure!
Bringing back the indirect free kick, might also help to eradicate a lot of diving?
Barry Thompson
118
Posted 10/12/2017 at 17:40:37
By "Carra", do you mean that fucking red shite twat Carragher?
Darren Hind
119
Posted 10/12/2017 at 17:43:11
Anyone complaining about the selections since Koeman left need to take a serious look at the options. Especially defensively. They have been limited to say the least. Hopefully this will be addressed in January.
It's really important we beat the Geordies now and put proper daylight between us and those in the dogfight.
Raymond Fox
120
Posted 10/12/2017 at 17:43:47
Dave Ganley
122
Posted 10/12/2017 at 17:45:35
The display was pretty dire from us to be honest but whilst I'm never happy going there to pinch a draw I guess given the circumstances it was a good result. However what is great is listening to all the bleating RS fans and Klopp about how awful we were and we didn't deserve a draw blah blah blah. All week all I've heard is how they're going to destroy us and they couldn't even given the amount of possession they had. Couldn't happen to a nicer bunch of fuckwits as the so called RS tourists. And what's with all the empty seats near the end? The game nicely poised, they're attacking and they're all heading for the exits? Probably going to miss they're flights home. The self styled best supporters in the land? My arse
Brian Williams
123
Posted 10/12/2017 at 17:46:27
If anybody truly believed that we should go there and try to take the game to them, play open football and allow arguably the best front three/four in the Premier League to run riot then you're living in cloud cuckoo land.
We're in the very very early stages of a resurrection/recovery, call it what you will, and to deny one of the form teams in the league a win, let alone a drubbing, is a positive.
Yes, we were poor, yes we were unadventurous, but we did what we had to do, and there've been too many times when we haven't got anywhere near doing that.
At present I think it's all about points and confidence. The time for going toe to toe with the top four/six is not now, but that time will come. I know I'd rather have a point, having played like that, than get battered.
Do I think Allardyce intends to play this way all the time? Course not, and those who are saying "This is what I feared" need to put things into context.
They're gutted, that's enough for me for today!!

Peter Lee
124
Posted 10/12/2017 at 17:46:56
Brian Furry, unlearn "Mong". It is a horrible hangover from the days when people described Downe's Syndrome people as " Mongols". Only excuse is youth, possibly.
We have been crying out for discipline and organisation since Moyes left. Don't knock what has been achieved in three weeks. Williams has been panned here. In a system where everyone one knew what they were doing he's a different player. My MOTM was Holgate. Didn't notice him, well there you go then.
In today's papers Burnley's CBs are being touted for England. They are no better than ours, the difference is that they look better in a team that is organised. We had that under Moyes. He made Jags and Lescott into England players. We now have a manager who can do the same. Watch what he does for Keane and Mori on his return. (We desperately need left-sided players, and quickly.)
Apart from a shambles for fifteen minutes after half-time (largely down to Schneiderlin's lack of discipline) the lads played stuck to a solid game-plan. Got a penalty off the best pass of the game and conceded after the scorer twatted Martina across the back of his neck and pushed him in the chest as he tried to make the tackle.
Roles reversed and their Bugs Bunny of a manager would have screamed for a penalty. ( Do you think his not getting his teeth fixed, given what he earns, is a sexual thing? Just speculating.)
Paul Tran
125
Posted 10/12/2017 at 17:49:46
Darren, Michael's put it on a separate thread. Enjoy!
John Smith
126
Posted 10/12/2017 at 17:50:21
Jay Wood, you sound like Roberto going on about who won the passing.
Peter Lee
127
Posted 10/12/2017 at 17:53:06
In a PC world I'm bound to have comments about talking about Downe's syndrome and Klippity's teeth. You can sort your teeth out, especially if you are a multi-milionaire
Choose not to and look like Bugg's Bunny. I respect your right to do so. Looking like a scut at a presser doesn't help.
Brian Wilkinson
128
Posted 10/12/2017 at 17:53:09
If any of your deluded red mates ask when was the last time we got a win there, just come back with "Probably more recent than Sammy Lee last lost a derby match" -- hit the fuckers while they are down.
Anyway backs to the wall today but got a result, we will get better, whereas they have reached their peak, roll on the cup game.
Tony Abrahams
129
Posted 10/12/2017 at 17:57:56
I agree with you about Williams and Holgate, Peter, both played really well, as did Kenny, and I couldn't believe not one Everton player was at the ref, when Martina, was shoved away from the ball by Salah, just before he scored?
Watching this game, and although Sigurdson, is trying like fuck, and also improving, I think it's time he got the chance to play in a more central role. He's not quick, but he's got a prodigious work-rate, and I definately think the team will benefit once Sam, makes this change, especially if we can get little Lookman, involved a bit more on the left?
Derek Knox
130
Posted 10/12/2017 at 18:13:32
Happy with the point in the end, typical derby in many ways, scrappy for the most part, lot of mistakes. Hopefully Sam will have noticed that Martina, and Schneiderlin are wastes of a position but we didn't have a lot to choose from.
Couldn't believe how much possession they had throughout, but the result made up for it. I suppose we were a bit fortunate, but it's not before time.
Liam Wilson
131
Posted 10/12/2017 at 18:16:53
"Allardyce changed things after the break, pulling off Niasse and Davies". The mind boggles at the thought of this scenario. Kleenex, anyone? I'm sure that this was an additional and unexpected bonus for both of them. COYB!!
John Smith
132
Posted 10/12/2017 at 18:43:05
How about ex-Manure player Phil Neville going on and on about it not being a penalty. Literally within a row he said these two sentences. There's absolutely no contact and then says, there's a minimal push in the back, lol. What a knob.
Marcus Leigh
133
Posted 10/12/2017 at 18:43:11
Three, even two weeks ago, I think we'd all have taken today's result over the 5-0 drubbing we were expecting. (Well, at least I was expecting.) Onwards and upwards, Blues.
Colin Glassar
135
Posted 10/12/2017 at 18:43:56
Only two penalties at Mordor since 1937. The last one was in 1988. The refs union should be proud of that record.
Christopher Nicholls
136
Posted 10/12/2017 at 18:52:39
I'll take that as a very disciplined performance. The team may not have been high pressing in their half, but they defended space brilliantly and that takes a lot of concentration.
Credit where due for Williams and Holgate, but Kenny is simply just growing in stature. Calvert Lewin gave another selfness and tireless performance and year or 2 from here, will be a very good striker. A little sad that some on here are so eager to right off a young player in the circumstances under which he is currently playing. His attitude is impeccable.
Not pretty, but definitely needed. It was a penalty, all day long and Lovren made a mistake. Its very easy to put a player on the floor, when they are moving at speed and off balance.
What is disappointing is listening to the so-called media 'blues' of Phil Neville and Roberto Martinez putting the boot in as so called pundits. they should both be ashamed of themselves. Martinez is truly an imposter and I sincerely hope we destroy his World Cup pretensions.
Neil Copeland
137
Posted 10/12/2017 at 18:52:46
Our defensive record is the best in division over the past 4 games whereas it was the worst prior to that. I was not in favour of Big Sam but more than happy to eat humble pie.
I really don't give a shit about the performance, in lots of ways it makes the result all the more satisfying. The RS from fans through to pundits really do look like complete bell ends now.
Looking forward to Christmas actually, Carragher you knob.

Peter Howard
138
Posted 10/12/2017 at 18:52:47
People keep banging on about how much possession the Shite had but it means fuck all if it only results in three shots on target to our two.
In any event, as Lyndon says in his report, we ceded possession to them. In other words, that was our tactic and it worked.
Will Mabon
139
Posted 10/12/2017 at 18:53:52
John, a different level of
minimal
to the contact on Niasse at Palace, I guess.
One day, perhaps one of those genius pundits could outline the exact point where "Minimal" becomes "Significant", and how we can all recognize it. The FA can't do it, so have hidden behind a panel to sidestep the can of worms they've opened, since the actual definition in the FA's own rules is simply "Contact".
Alex Mullan
140
Posted 10/12/2017 at 18:59:13
I'd much rather play shite and draw vs Liverpool than somehow deserve more. It makes me smugger. Good point and a toxic fixture passed for another season.
John G Davies
141
Posted 10/12/2017 at 19:00:28
Any of the members of the devils club ask you do you think it was a pen. Your reply: "No chance, blatant dive"
Does there fuckin' heads in.
Back to the game. We must be the weakest team in the league physically.
Knocked off the ball consistently, a few exceptions.
To use a coaches terminology.
We need a cunt in midfield.
Christopher Nicholls
142
Posted 10/12/2017 at 19:00:52
The coward, Martinez, actually said after the Manc game that in Italy or Spain it was a penalty, but not in England! Seriously, I wasn't aware that either FIFA or UEFA gave out localized rule books. Martinez, a coward as a manager and a coward as pundit. Nice shoes, shit attitude.
:-)
Kevin Tully
143
Posted 10/12/2017 at 19:04:42
We went there and played like a non-League outfit in the Cup. It was embarrassing to be truthful. We couldn't string 2 or 3 passes together. Pleased with a point, but surely a Premier League club should be aiming to compete? I'm not saying play them at their own game, but some of that was the worst tripe I've ever witnessed. Koeman & Walsh still need stringing up, they've ruined this club between them.
Jay Woods
144
Posted 10/12/2017 at 19:05:08
Jamie Carragher... Once a Toffeeman but now a red; that is something I can't understand unless it really is true: blood might be thicker than water, but money is thicker than blood.
Our tactics just about worked today and for once, Sidewayserlin actually did okay. That kid Davis, though, should be playing in the Championship and nowhere near our first team for a long time. I have no idea why he is so highly rated, other than he is a born-and-bred Blue.
Hopefully we'll have Barkley, Bolasie and Coleman back for the return fixture (plus a proper striker) and maybe next time we'll be able to give them something to think about defensively.
Nicholas Ryan
145
Posted 10/12/2017 at 19:05:53
When I see the phrase 'Martina was top notch...' I presume we're talking about Navratilova?!
James Byrne
146
Posted 10/12/2017 at 19:14:50
Thank you, Sam Allardyce, and well done to the Blues for a disciplined performance. A very rare penalty at that "hole" and it's great to see that arrogant prick Klopp implode with his shite tactics.
I've said for years that if we can take 2 points or more a season from that shower we'd be a top six side year in year out. We have to get over the psychological barriers of playing Liverpool, so today was a massive result.
Mark Andrews
147
Posted 10/12/2017 at 19:15:20
The luck we're getting this season! Long may it continue. If you'd have told me a few short weeks ago that we'd get a point away to the RS, I'd have laughed in your face then had you sectioned.
Sam set the team up just to spoil and that's the best we can hope for at the moment. Klopp got his selection wrong, maybe through arrogance or maybe incompetence, who knows, but his lauded charges huffed and puffed (a blew some guilt edged chances) but in the end the points are shared.
Nicholas Ryan
148
Posted 10/12/2017 at 19:15:54
Goals conceded in 4 games under Allardyce - 1; goals conceded in 4 games before he arrived - 13. Nothing more needs to be said.
Hugh Jenkins
149
Posted 10/12/2017 at 19:20:03
Paul (83) - I expect you would have been happy for us to take the game to them and lose 5-0?
Brian Denton
150
Posted 10/12/2017 at 19:20:05
I had to wrack my brains to remember the last penalty we won at Anfield, and who took it. It's a good quiz question.
(Spoiler Alert. It was Wayne Clarke)
Clive Mitchell
151
Posted 10/12/2017 at 19:23:12
That'll do. RS having a go at Henderson and Klopp; what's not to like? Rooney's composure in those post match interviews made denying them all the sweeter.
The penalty was a penalty - you can tell if you apply the 'top 4 test'. Would it have excited any comment if given to a top four club? None at all.
Those saying Martina is our worst ever player are so wide of the mark. We had a whole team of players worse than Martina in 1998. Marc Hottiger for goodness sake.
Rick Tarleton
152
Posted 10/12/2017 at 19:24:34
I'll tell you what, Happy Kloppy won't make the same mistake of leaving his best players on the bench for the cup game.
Sam Hoare
153
Posted 10/12/2017 at 19:24:48
I think those who wanted us to go there and go toe-to-toe with them must have be masochists. That is how they destroy teams. Better teams than us.
The tactics were relatively spot on for today i'd say and the defense performed admirably for the most part but the problem was that we were absolutely woeful in possession. I think in the first half our passing completion was something like 38%! There's not much your tactics can do for you offensively if only one in three passes is finding a teamate.
I was not one who wanted Big Sam but I think today showed what he can and hopefully has brought to us which was much needed and that is organisation and defensive solidity. Perhaps we were a tad lucky at times but despite their vast amount of posession they actually created very few clear cut chances and their only goal was a top class piece of brilliance from the form player in the league.
The question will be whether he can make us more of a threat offensively. We got out of jail today with the penalty a bit and I think he sounded frustrated in his interview that we had been so poor on the ball. We created nothing bar the penalty.
But the foundation was always going to be the defense. We looked solid enough today against one of the best attacks in Europe and that is a great place to build from. So although we were unbelievably poor with the ball I feel happy that Sam and his team have tackled their first task with some success and we have seen in the games against West Ham and Huddersfield that we do have goals in this side potentially. We can be much better on the ball than we were today and that will be the next task for Allardyce and his team.
A win against Newcastle on Wednesday would be a perfect next step and would go some way to putting some distance between us and the relegation battle. Fingers crossed we can maintain the solidity of tonight and add a bit more coherence and composure on the ball to the mix.
COYB.
Neil Copeland
154
Posted 10/12/2017 at 19:29:16
Rick, I am not so sure about that because he was happy with their performance and according to Klippity the RS were only a ref and better finishing away from victory. He is very arrogant don't forgot so may go the same way.
Hopefully we will continue to improve and have one or two injured players back plus maybe even a new face. I am quite looking forward to that game now.
John McFarlane [Snr]
155
Posted 10/12/2017 at 19:33:10
Hi everyone, I haven't seen the game, I listened to it on Radio Merseyside.
I would like to make three points:
Point [1] For weeks now I've been reading on various threads, how bad we are as a team, and that some people were going to hide behind the couch, because they were expecting a drubbing, so I suggest, that their expectations never materialised. As some have said [and I fully agree with them] that, had this fixture taken place four or five weeks ago, we may well have been thrashed.
I have both played and watched, football long enough to know that sometimes you don't get what you deserve and at other times you don't deserve what you get.
Point [2] I also believe that the football supporter wants his team to play first class football, and reap the rewards, but if the first class football is not possible, he'll settle for reaping the rewards. Today appears to be one where we should be accepting the latter.
Point [3] I don't believe that we should be castigating individuals, we all know that we are some way behind Liverpool, and in my opinion to come away with a draw is a step in the right direction.
Mike Hughes
157
Posted 10/12/2017 at 19:41:25
Results are far more important than performances right now – especially at Anfield.
The nice thing about today is that they will be fuming (see Klopp interview) at the ref; how EFC 'parked the bus' etc. Anything except their own poor conversion of 70+% possession into shots on-target (3) and goals (1).
Sam had a plan today and succeeded in frustrating them. It's not his team but he's making a far better fist of things than his two predecessors (excluding DU). Rome was not built in a day but I see far more positives than negatives. Under Martinez / Koeman, we would have been thrashed today.
When Martinez was appointed – harping on about 'philosophy' – I remember posting on here that being able to adapt / mix things up to win was more important.
I think Sam Allardyce will be more effective at that and will get far more out of this squad of players than many might think he is capable of.
Koeman's legacy left only one useful resource. When RS moan and complain tomorrow, just adopt your best Dutch accent and shrug, "Thatsh football!"
Phil Walling
158
Posted 10/12/2017 at 19:43:07
Ì can only say if that's all Big Sam can offer to my club, I'm glad I'm going back to Cyprus in the New Year!
Appalling tactics and football that would be disgraceful at Toolstation League level. I see many on here are prepared to say the end justified the means, so I'm glad they are happy. But playing that shit will not satisfy Evertonians for long, believe me.
God help you all!
Colin Glassar
159
Posted 10/12/2017 at 19:49:50
It was horrible Phil, there's no denying it. It would've been even more horribler if we had had a go and lost 7-0. Would you have preferred another gallant, heroic defeat?
George Cumiskey
160
Posted 10/12/2017 at 19:50:18
Well said Phil @ 162.
Peter Lee
161
Posted 10/12/2017 at 19:50:42
Phil Walling, I despair for you. But won't miss you. Hope you enjoy a very long stay in Cyprus, with no WiFi. Give us all a break from such misanthropic nonsense. Klopp is following you on Twitter apparently.
George Cumiskey
162
Posted 10/12/2017 at 19:54:59
Let's just hope we are not watching a performance like that every week.
Mark Murphy
163
Posted 10/12/2017 at 19:55:16
Bon voyage, Phil! Enjoy Cyprus. As I recall they show lots of Arsenal, Man Utd and Liverpool games over there so you won't need to bother with us until we're successful again.
Thick and thin and all that... Kalispera!
Andy Meighan
164
Posted 10/12/2017 at 19:55:29
Grow up, Phil. He was left a shit squad by that other wanker, Koeman, and even this early, he's steadied the ship. Did you want us to go gung-ho and let them tear us to pieces? He's been here 5 minutes and you're calling him... Under Koeman, we'd have been buried by half-time.
I can only praise him so far. Come the cup game, we might have one or two signings and a couple of injured players back. Until then, I'll take every point we can get regardless of how it's earned This stigma attached to the man is fucking pathetic.
Kevin Tully
165
Posted 10/12/2017 at 19:55:36
It wasn't the defensive set-up that annoyed me most, I actually enjoyed watching us looking like an organised outfit.
Niasse and Calvert-Lewin couldn't hold up the ball in their final third once that I can remember. The balls played down the flanks to both these players were also awful. We could have easily threatened more, it was the quality up front that killed us – there was none.
No, it's the summer transfer policy that's going to take years to put right. Guardiola with Mourinho as his assistant couldn't shape this team into anything resembling a top 6 side.
Mike Allen
166
Posted 10/12/2017 at 19:57:46
After 3½years of total claptrap, at last some honest-to-goodness football speak from Big Sam; he didn't gloss over the performance. Like him or not, the guy is not frightened to do what he thinks we need to do not to lose a game.
We are still only a couple of defeats away from the bottom three after spending a fortune on mediocrity. Frustrate the so-called Big Six instead of rolling over is what is needed for now. We don't have the players we thought we had to go toe to toe, so expect a few more games like this.
Backs to the wall for most of the game; in the end, we scored one and they scored one with neither keeper needing to make a save other than the goals.
Brian Williams
167
Posted 10/12/2017 at 20:00:51
Phil, you're right, it won't satisfy Evertonians for long. In fact if we use the same tactics on Wednesday against Newcastle, I'll be horrified. But there's the rub – we won't.
At the moment, we're recovering from Storm Koeman. At the stage we're at, we can't go and play expansive football there and win well but we can use tactics that make us hard to beat.
Allardyce himself said he was disappointed in our play. I'm prepared to wait and see.
James Marshall
168
Posted 10/12/2017 at 20:02:08
Allardyce said it midweek – he'll adapt and play differently against different opposition. I weirdly enjoyed us defending the way we did – I didn't enjoy the rubbish attempts to keep the ball like the rest of you but, aside from that, we've become really fucking hard to break down in a very short space of time.
Sammy Lee and Big Sam know how to drill a side to defend properly, and that is exactly what we needed – we've been a shitshow all season, rudderless with no set plan, but now we have one and it shows.
Liverpool are one of two free-scoring sides in the Premier League, and we limited them to 3 shots on target in the whole game – that's what we needed to achieve and we executed it pretty well in my view.
Yes, it was ugly at times, but I would much rather go there and pick up an ugly draw than go there wide open like in recent seasons and get turned over 3/4/5-0.
I said it pre-match on the forum that I'd be happy with a draw, and so it turned out. Yeah, we should have kept the ball better when we had the chance to do so, but ultimately it didn't matter – I also just watched Klippety Klopp's interview and he was fucking furious! Ahahaha!
Christy Ring
169
Posted 10/12/2017 at 20:04:42
Phil @162 Totally disagree, Sam can only work with the team that Koeman left him. We have only one left back at the club, Lukaku was never replaced, and we have 5 of our first team squad injured. Give him a chance to put his stamp on it, and that includes him signing the players he wants in January, then judge him.
Grant Rorrison
170
Posted 10/12/2017 at 20:08:27
Kevin (#169). Yet, strangely, a few good results between now and the end of the year and we'll be back primed and ready to challenge for exactly that.
We've been playing with half a team missing all season. We currently use two right-backs as our full-backs and a kid playing alongside Williams who has only a handful of appearances in his natural position. Himself being more used to operating as a right-back (ironically) when in our first team.
We are without our first choice full-backs in Baines and Coleman. Our best Number 10 in many people's eyes, in Barkley, and our best winger and former record transfer in Bolasie. Throw in Funes Mori and McCarthy and there's half a team of first team starters. That's without the small matter of our board not signing anyone to replace our former top scorer.
It was a valiant effort and well-deserved point today against one of the form attacks in the whole of Europe. I can't believe that they're moaning about a couple of players being rested given what we could put out.
Andy Crooks
171
Posted 10/12/2017 at 20:14:36
The foundations were laid today. Solid at the back.
The comments of the appalling Martinez are meaningless. I called him the worst coach ever to be paid as a professional, and I stand by that. I called him a second rate money grabber as well. He turns my guts.
Paul Birmingham
172
Posted 10/12/2017 at 20:17:27
Good result and it's work in progress but it's gonna take a massive wedge of dough to get to where we could be and should be. The current squad, based on the last preseason buys, tells me that, Pickford aside, the rest have failed to deliver.
Lucky? We always need luck in life, and especially football; today, the foe were high on their invincibility theory...
As for EFC, we can't live in the past, the past builds the future aspirations, which for generations (and myself included) has failed systematically to deliver.
Onto the Barcodes.
Well done, The Sams, dire straits was the whole game for me, but at least we didn't capitulate. And we got a point via the best pass of the game by Rooney.
Lessons learnt! Let's see on Wednesday v sThe Barcodes. Hope Eternal!
David Owen
173
Posted 10/12/2017 at 20:17:51
For all their possession, how many saves did Pickford have to make?? I thought Kenny, Holgate and Williams superb.
After Klopp's rant on Sky – never call us bitter blues again!!!
Colin Gee
174
Posted 10/12/2017 at 20:18:04
I was absolutely dreading today, one half of me was thinking "We'll do these today", the other half was thinking "We're gonna get twatted again".
I was wandering around the house like an expectant Father, couldn't sit down, up every two minutes so much so that at two o'clock, I decided to go and do my Christmas shopping.
I deliberately didn't take my phone as I knew I would be looking at it every two minutes; didn't have the radio on in the car, kept having to stop myself trying to put in on and tune into Radio Merseyside; eventually trying to find the right Peppa Pig toy took my mind off things...
Got back home just after 4 o'clock, turned my phone on... Beep Beep, didn't really want to look, only looking through one eye...
I will take a draw at that shithole anytime and judging by the reports it was a soft penalty... good; how many have the RS had over the years and Allardyce wound up Klipperty, good!
Andrew Clare
175
Posted 10/12/2017 at 20:21:45
I'm glad we got the point and I'm sure Allardyce will make us hard to beat but I wish we were the team that had 28 shots instead of the desperate defenders. It's been such a long time since we were a top team.
We really need to start buying a much higher level of player than the journeymen that we have in our team.
Andrew Presly
176
Posted 10/12/2017 at 20:23:58
Happy to deny them a win but sad that a draw feels like a win to us & a loss to them.
Hopefully this mentality will change in the next few years. We can be proud tonight.
James Marshall
177
Posted 10/12/2017 at 20:24:06
1-1 is way better than 4-0.
At the end of the day, playing the RS is just another game in a long season.
They're irritated by us tonight, and that'll do for me.
Kim Vivian
178
Posted 10/12/2017 at 20:37:21
Phil, Colin - Smell the coffee. What precisely were you expecting to see this afternoon? We were woeful because the RS made us woeful, but we stuck to a rehearsed drill and came away with a point despite our woefulness. Would you have preferred a 3-5-2 display with attacking intent and a 4-0 or 5-0 drubbing as Salah and Mane took us every which way described in the Karma Sutra plus some. I, for one, am delighted that we could play like that and yet still bring a point away from Mordor. In my mind, memories of Martinez's and Koeman's auditions vs the RS are temporarily exorcised.
We did not set our stall out like that against Huddersfield or West Ham and I do not expect to see us set our stall out like that against the Geordies or Swans. Allardyce has landed his best job to date potentially with resources he has only dreamed of previously. He is not totally stupid and will be well aware of our fans' expectations, and that expectations at our club are not the same as Bolton, Palace, Sunderland etc. Newcastle maybe but that club is currently a cesspit compared to ours.
We have moved away from that threatening position in the league, will be enjoying the psychological benefit of moving up the table – enhanced by today's result – and I genuinely expect to see a more entertaining brand of football than most are expecting under Sam.
I was quite strongly against his appointment until the alternatives dried up but now he is with us and I am behind him. I do not expect to see him remain for the long haul, whatever his results show, if someone like Simeone comes available and I think Sam anticipates stepping aside amicably in that event. At the end of the day, he is not a youngster (not a geriatric either) and he has already announced his retirement once.
I am quite sure he will remain close to football but whether he relishes the long-term prospect of front-line managing for many more years remains to be seen.
But to cut back to the chase – Sure, if we see today's type of football enduring consistently over the coming weeks, I too will be sorely disappointed, but gentlemen, I do believe your fears and rantings this evening are demonstrating unnecessary concerns.
Jay Woods
179
Posted 10/12/2017 at 20:39:08
Phil Walling is talking utter rot. We have a shockingly bad defence, so what were we supposed to do, leave it exposed to one of the best attacks in world football just so that we could try to play a bit?
Sitting deep was the only answer and the end – the "result" that we got – justified the means.
Maybe when we can go toe-to-toe with them in terms of attacking assets we can do it your way, but until we possess such players we can only play to what limited strengths we have.
Si Cooper
180
Posted 10/12/2017 at 20:39:55
Tony (#121), okay, I'll moderate it to say Calvert-Lewin was clever enough to move tangentially to the ball's path and Lovren was stupid enough to simply blunder into him. I don't believe the defender was actually looking to engage the attacker at that moment, just that he did a very poor job at avoiding him.
Contrast that with Dann who was completely sucked in to stepping into Niasse's path and the contact was only minimised by the forward taking spectacular evasive action.
Both pens, both 'soft' (with defender making a poor choice of movement and attacker not making an effort to stay upright) but it seems (rightfully) that Calvert-Lewin will avoid public denigration for this one.
Anyone know how our injured players are progressing? I had hoped to see Ross Barkley on the pitch before the January transfer window in an attempt to win him over, and the likes of Bolasie, Coleman and Funes Mori simply to rebalance the team.
James Marshall
181
Posted 10/12/2017 at 20:51:44
Let's be honest, we expected to get twatted today – they expected to twat us.
It didn't happen so we have to be happier than them -– plus we stopped one of the most potent attacks in Europe from having any meaningful attempts on our goal and that's a big 'fuck you' to all RS – ha! :)
Tony Abrahams
182
Posted 10/12/2017 at 20:52:21
It would be nice to have a midfield enforcer John G, but the way the games gone I don't think he'd last that long?
Agree with Kevin, it was the complete lack of quality to begin with, and Rooney was also getting destroyed because of his lack of pace out wide. He must have been fuming having a player he would have tied in knots, not to long ago having a field day against him, but when the legs have gone a bit, a player of his quality needs a bit of protecting.
Robertson, wasn't the same player after the break, because Lennon, has got more pace, but that is the thing which catches most teams out against Liverpool (IMO). They play with so much intensity, that if you haven't got enough quality on the ball, then they keep getting it back, and eventually wear you out?
We should be better for the experience in the cup, I hope so anyway, because if you can just keep the ball a bit better against Liverpool, (something we can't do worse) you will always get chances, and after getting under their skin for Christmas, it would be fucking lovely to finish them off in the new year!
Two fuckin pens in 80 years, John G? Surely Even them phoney bastards couldn't accept it was a dive!
Si Cooper
183
Posted 10/12/2017 at 20:56:11
Do none of those saying better 1-1 than 4-0 think we could actually have been beaten quite comfortably today? I'm happy with the result but it didn't look like the brilliant containment job that some are portraying it as. If we had lost 2 or 3 nil and not had a significant attempt on target, surely there would be much more muttering about simply minimising the defeat.
I agree that the manager doesn't have a lot of options at the moment, but let's not castigate people for pointing out that our performance today was far from revolutionary.
In further pursuit of balance, does no-one else think that Cuco Martina defended Mane's attempt to score pretty well, not giving up the easy square pass initially and then actually managing to pressurise the shot once the attacker had actually decided to have a go himself?
Dermot Byrne
184
Posted 10/12/2017 at 20:56:20
Draw. End of. Rest just media. Get a grip.
We draw...now guilt?
Phil Parker
185
Posted 10/12/2017 at 21:00:00
Don't know how some of you people see these games, but in old 70s derbies both teams would sit back, and a lot of them would finish 0-0. Guess why? It is important not to lose to your city rivals. Understand? Not go over there wide open and be lucky to only lose 4-0. Twice, Roberto.
Well done to Sam and the boys. We can all go to work and discuss the game instead of being embarrassed by a hiding. Anyone who doesn't get this has no idea about football in this city.
James Marshall
186
Posted 10/12/2017 at 21:01:01
We're a team that could easily have been torn apart today – people want us to 'have a go' but if we'd done that today I think we would have lost by a cricket score.
It wasn't the greatest viewing, but it was ultimately effective and we got a point out of a game we would have (a few weeks ago) otherwise lost easily.
Allardyce said he needed to make us hard to beat, and he's doing that already. Baby steps.
Laurie Hartley
187
Posted 10/12/2017 at 21:04:34
That result today represents a major change in the mentality of the players.
I was ashamed of teams wandering through our defence like they were a bunch of school girls.
If it means we have gone from the easy-beats to the hard-to-beats in the course of 3 games I see that as huge step in the right direction.
Watching an Everton manager being interviewed at Anfield after a game with a smile from ear to ear warmed my heart but that does not compare with the warm glow I feel thinking about how miserable all the RS including Carragher are feeling this morning.
To reiterate Darren Hind's pre-match comment – they don't like it up them, those RS.
Up the Blues.
Rob Halligan
188
Posted 10/12/2017 at 21:04:37
I was never in favour of Allardyce becoming our manager, but I thought our defensive set up, which was all down to Allardyce, was spot on. Okay, they had well more possession, but as far as I remember we restricted them to one shot of note, that went in. There were one or two others on target which Pickford just plucked out of the air.
That Klopp by the way is one moaning piece of shit. No mention at all of the horrendous tackle on Martina in the first half. I also thought the foul they were awarded that led to their goal wasn't even a foul. I will have to wait to see it again though.
It was a definite penalty for us, as Calvert-Lewin was definitely pushed. All-in-all, a good point, when most thought we'd get hammered.
David Hallwood
189
Posted 10/12/2017 at 21:09:45
Just finished watching the game for the 2nd time. A couple of points. 1) Sam was spot on in his post match in that in possession we were awful, but defensively, especially after the Southampton game. I'll take especially the fact that Pickford didn't really have a save to make.
The penalty I've watched a dozen times and what is everyone going on about, from Klopp downwards. Rooney pings a great pass for Calvert-Lewinto run onto, he beats Lovren in a foot race, who pushes him in the back because he's been beaten by the quality of the pass and his own defensive limitations.
Did he attempt to play the ball? Was it shoulder to shoulder? It's a no to both questions – stonewall penalty.
It's horrible to see us play like that, but not as horrible as Southampton, Arsenal etc etc.
Tony Hill
190
Posted 10/12/2017 at 21:15:42
Si Cooper (187) well said about Martina. My "top notch" comment above was an exaggeration (in fact, my son has just told me I was talking bollocks) but I don't think Cuco was as catastrophic as so many are insisting. Apart from the goal, did Salah get a clear run at us or threaten us seriously?
Anyway, what matters is that we've really pissed off the RS and Allardyce's comment that we "mastered" them was hilarious. The other thing I loved was seeing him swearing and screaming at our players. Just what the doctor ordered.
Paul Birmingham
191
Posted 10/12/2017 at 21:20:34
Well done, all considered to the new team management and all Evertonians, we've come through a nut buster, and at least we can tonight look positively to our next game...
Ale kicking in and hopefully the club can continue the massive, 2-year possibly more, work in progress.

Max Murphy
192
Posted 10/12/2017 at 21:21:12
Absolute disgraceful behaviour by Klopp, Lovren and others towards the referee after the end of the game. Will they be disciplined? Certainly not!
The match was shown around the world and they are bringing the game into disrepute. But this is Liverpool, and they are beyond reproach.
As other contributors have also stated, they'll be queueing on MotD2 to have a go at Calvert-Lewin for diving, and no doubt suggesting he should face a ban.
Well done Everton! You spoilt the RS party! Get in!
Andy Crooks
193
Posted 10/12/2017 at 21:21:32
James Marshall (#181), you sum it up for me. They hated that today. We are building something with our young players but we need something on the way.
Seeing their odious coach, players and supporters feeling hard done by is pretty good. They really are a loathsome bunch of specimens. "This is Anfield" – how utterly sad is that fucking sign.
Dave Pritchard
194
Posted 10/12/2017 at 21:27:17
Have just been on BBC website and listened to the two managers interviews about the penalty. Whatever your views on Sam and our style of play you have to admit that Sam does a great interview and has succeeded in getting their backs up.
I recall a couple of other instances in the past. One interview where he wound up Mourinho who had moaned about one of Sam's sides parking the bus. After slamming Mourinho's comments as sour grapes Sam ended with a grin and 'Hard luck Jose'
The other one was when standing on the touchline and an opposition player went down under an innocuous challenge right under Sam's nose. The player started writhing about in feigned agony. Sam went into tucks of laughter, ridiculing the play-acting.
I'm not saying this makes him a great manager but they are traits I like about him.
David Metcalf
195
Posted 10/12/2017 at 21:29:53
Of course it was a lucky point, but who cares??! And the idea of going there taking them on toe to toe was laughable. Every Blue I know knew that it would be a containing exercise for much of the game.
Allardyce himself said before the game that they knew Liverpool would have much more possession than us, and so it proved. But we hung in there, despite their domination, and despite the fact we were limited in our team selection in certain areas.
The only downside for me,and also Big Sam I strongly suspect,was that when we did have the ball we just did not retain it for any length of time. But as I said, we hung in there,which I don't think we'd have done a couple of weeks back.
And what's not to like about giving the most arrogant club in Britain a nice kick in the balls just before Xmas??!!
Tony Hill
196
Posted 10/12/2017 at 21:30:22
ps: Salah did have the header he should have scored with but that was on the other side.
John Raftery
197
Posted 10/12/2017 at 21:30:39
Having seen 97 consecutive league derbies, I have become immune to defeat after defeat and enjoying only 16 league wins against the Red Shite. A fortnight ago people who follow the team regularly away, said on the way home from Southampton they were dreading this match, predicting a landslide defeat. It was hard to disagree. The great news for me is that, after less than a fortnight, Sam has instilled discipline into the team with players doing their jobs and making themselves difficult to beat. We know longer look a soft touch.
I had an animated discussion after an hour today with a fan in front of me who said he would prefer us to have a go and lose 5-0 than play the way we were. Well, if that is how some people feel, we can welcome back Martinez and Koeman who were experts in leaving things open at the back and losing heavily.
I thought all our back line did well today and that includes Martina. Salah, reputed to be the best signing of the summer, has scored 19 goals this season but Martina dealt as well with his threat as any defender has so far.
Obviously this was not the perfect performance with players including Davies and Kenny being caught in possession in their own half, but Sam has made a good start. We can now perhaps start thinking about winning an away game for the first time in nearly 11 months. That was Koeman's legacy.
Adrian Townsend
198
Posted 10/12/2017 at 21:32:58
The priority today had to be not to lose, and we not only did that but did it pretty well. That was a superb backs-to-the-wall performance and because our out-play was very disappointing that suggests all the more credit is due to the defence for holding out when the ball was coming back at us wave after wave.
As for the penalty, all the Sky pundits agreed that it should have been given and for my money the view from behind shows that Calvert-Lewin did not simply drop to the ground when touched but there was enough lateral movement to show that there was a clear shove.
The result and the sour grapes after made for a very pleasing afternoon.
Rob Tedford
199
Posted 10/12/2017 at 21:41:11
We got more from today than most people thought we would so let's enjoy today and worry about tomorrow.
Big point I'd like to make is people moaning about Davies, have a day off ffs, he's bound to have a dip in form and at his age he won't be the finished player so give him time to grow.
The same fools moaned about how stones Barkley and Lukaku weren't good enough to play for us. That probably helped them with thinking they'd be better away from EFC, it's embarrassing.
Jay Griffiths
200
Posted 10/12/2017 at 21:43:51
Been a few years since I've seen the final whistle at their gaff. Got no problem with our set up. Tight and narrow was pure good sense and prudent.
I feel the stick given to Martina is down to historical repetition rather than today's display. He played out of position against one of the leagues in-form players. Definitely shielded the square ball well enough to convince Mane to shoot.
Have to say, Jonjoe was outstanding today and right up for it. Dominic fought a hard and lonely battle too. Big marks for both of them in my opinion.
Sammy Lee used more energy than any player today . Constantly commanding and cajoling.
Watched the two Sams at the final whistle. Little Sam was roaring his box towards us and Big Sam shook a few hands walked about 15 yards onto the pitch and gave a slow, deliberate arm punch to the away end too.
This management team, for their faults, have a plan, and what seems a good one at that. Passionate winners. That's a good start, now on to the northeast, Wednesday. We all know about the relationship Sam has with Rafa. All these sub plots. Kenwright will be taking notes.
Colin Glassar
201
Posted 10/12/2017 at 21:46:41
With Shaw, Nzonzi, Gameiro and Aubameyang in January we should be okay.
Tim O'Connell
202
Posted 10/12/2017 at 21:51:19
Delighted with the point but, as we all know, we need to be a lot better to reach the aspirations of real challengers.
Kenny was the stand out but also I thought Holgate was very solid and definitely better as a centre half, although I have seen some knocking of Williams I thought he was very solid and looks a lot better under Big Sam.
Martina struggles in the big games and clearly we need to invest in a quality left back. Gana is crucial at the moment but unfortunately Tom is below par and I am unconvinced with Schneiderlin who has had a poor season.
Wayne was lost on the flank but more key in the middle. Calvert-Lewin struggles to retain ball but full credit for the effort and the one good ball to him he got a deserved penalty.
From August to most of November was a shock and horrendous but at least now we looking organised and on the way up. COYB
Jon Withey
203
Posted 10/12/2017 at 22:16:11
Very pleased that Allardyce gets under Klopp's skin – dreadful football but good to see the defenders growing in confidence and the rest will improve around that.
Brent Stephens
204
Posted 10/12/2017 at 22:16:15
Pickford, young lad.
Kenny, young lad.
Holgate, young lad.
Calvert-Lewin, young lad.
Davies, young lad.
Half the team!
And Rooney, bit of a lad.
How quickly Sam has 11 players playing as a unit. I could see more of a cohesive defensive unit than previously, keeping their shape much more.
Brian Hennessy
205
Posted 10/12/2017 at 22:17:07
I honestly could not care less how we played today; when it comes to a match against them, the result is all that matters. I have seen us play decent football at Anfield on a good few occasions over the years but it mostly ended in defeat.
While our football might not have been good, at no time today did we look like we were going to be cut to shreds, and that's some feat by big Sam considering what we have witnessed for most of this season against much weaker opposition than today.
As for the post-match interviews, that just made today's result even sweeter. I shall go to sleep tonight with a big grin on my face, the same grin that will greet every Liverpool supporter I bump into over the coming weeks.
Goodnight fellow Blues... Santa has come early... and I feel another present coming our way in the cup come January.
Hywel Owen
206
Posted 10/12/2017 at 22:29:51
Many pluses and minuses. Minuses include the total inability to hold the ball and to pass accurately. Pluses include the defensive organisation, team spirit and the result.
Best bit of the afternoon was some of the reds players having a minor scuffle after the final whistle.
Stan Schofield
207
Posted 10/12/2017 at 22:30:45
To those who say our squad isn't good enough to compete with the top-6, I beg to differ, and believe we need to get some perspective. We've been incredibly badly organised tactically, hence the managerial upheavals of the two years. In contrast, Liverpool have had a chance to settle under Klopp, and are in good form because of that. The settling has enabled Klopp to identify and sign players to fit into his system, particularly Mane and Salah, plus he's managed to get Coutinho and Firmino to rid themselves of the inconsistent form they showed under Rodgers. But despite all this, they are shaky when rattled and especially shaky in defence.
Our squad is NOT significantly inferior to theirs. We just need a system that works, to make best use of the available players. We might now have some of that under Sam. We might not, but only time will tell, and so far we've at least made some progress. Contrary to what some say on here (which I take as natural pessimism of Evertonians who have got used to disappointment), we can challenge the top-6. So long as the will and effort are there, to make best use of the skills we have.
Today was a big hurdle overcome, which will give massive impetus and confidence for coming games. Indeed, after today, I think it's safe to say that we now can't wait for the next game, instead of dreading it as we did previously. One thing's for sure, Liverpool and Herr Klopp will not be relishing the next encounter.
Tony Abrahams
208
Posted 10/12/2017 at 22:36:24
You might just have explained the Juergen Klopp mentality, down to a tee, in your last sentence of the first paragraph there Stan!
Colin Malone
209
Posted 10/12/2017 at 22:43:42
Vlasic would have caused some damage today.
Phil Walling
210
Posted 10/12/2017 at 22:47:01
Amazed at how many on here are welcoming back the alehouse football Moyes indulged in at times. Are our players so lacking in talent that they have to resort to this appalling level to avoid defeat?
The ill-judged appointment of the School of Sams has done for the School of Science in less than a fortnight!
Kevin Tully
211
Posted 10/12/2017 at 22:53:36
Stan, it's incredible that you think we aren't far off a top 6 team, even with all our injured players back. Today was akin to the plumbers and accountants of San Marino playing England. Don't confuse not getting beat with being on a par, or near to any of the usual suspects.
We are a few weeks from a year without an away win. We don't have a player of note in the whole squad, just average, workmanlike players who are mid-table in talent. Poor buys worth around 㿲m can't even get in before the kids. Still rubbing my eyes in disbelief at your post, mate. But good on yer for keeping the faith.
Mike Hughes
212
Posted 10/12/2017 at 22:55:38
Phil – no offence but you have to be deluded to refer to School of Science given the last few years. Allardyce has only been here a couple of weeks. Give him a bleeding chance, FFS.
Liam Carlen
213
Posted 10/12/2017 at 22:58:13
Absolutely staggered by some of the negativity on here! And also by Stevie Wonder who thinks our squad is as good as theirs. It isn't.
We therefore have to make do with what we have for now. Under Martinez, Koeman, or I'm sorry to say, Unsworth, we would have lost that game by a cricket score, but Allardyce has got us organised, which everyone was bleating about before, but now it's happened people are still bleating.
Had we attacked the RS we would have been hammered. In time and with better players coming in, I'm hoping that that will change and we can go to places like Anfield and take the game to them, but with the squad we've got that would be suicide.
I stayed to the bitter end when we lost 4-0 there and I know what I'd prefer.
You don't go from being crap to world beaters over night – give them and Sam a break.
Mike Hughes
214
Posted 10/12/2017 at 22:58:16
"Klopp seems fascinated by Sam Allardyce"
LOL.
(Yes, Sam has a comb, a suit and has had a wash in the past week.)

David Barks
215
Posted 10/12/2017 at 22:59:01
Phil,
I agree with you. My only joy is that we somehow got a point and having to watch Klopp lose his mind. But the reality is that football is about much more than just defending for 90 minutes.
It is one thing to accept that the home team will come out with more fire and have the better of the game. But 20% possession and a complete lack of any attacking gameplay is nowhere near good enough.
I think Guardiola has proven that you can win in England while playing beautiful attacking football, the Barcelona way, which so many said would fail. We do not and should not have to accept playing the way we did today. 99 Times our of 100 it would have ended with a big loss. Today just happened to be that 1 out of 100. But it was a solid game defensively and again, I just can't get enough of Klopp's meltdown.
James Flynn
216
Posted 10/12/2017 at 23:05:42
Glad for the point. We're a work in process needing work.
If Salah's goal wasn't class, no goal is. A club running rampant over opponents several games in a row, had to depend on that goal to get a point.
More important, Klopp was out-managed.
Tony Hill
217
Posted 10/12/2017 at 23:07:11
Allardyce was clear that today was nowhere near good enough in terms of midfield or attacking quality. He has, though, shaped us defensively and will build from that.
Some astute buys in January can change things quickly. We have younger players maturing before our eyes. There's reason for hope.
Stan Schofield
218
Posted 10/12/2017 at 23:14:14
Kevin@211: As you'll see if you look again at my recent posts before this match, my comments @207 (apart from the final para.) are independent of today's game.
Don't get me wrong Kevin, I'm not wearing blue tinted specs, I've had too much disappointment and realism instilled into me for that. I'm looking at the actual squads, the individual players. Analogously to the way I've analysed the actual league results over the last 15 years, the figures for which you labelled 'semantics' even though they are hard facts.
It's not a case of keeping 'the faith', not for me, because I never trust faith by itself. It's a case of analysis. And I said before this game, that Liverpool (for example) are fragile as soon as things go a bit out of kilter,mand can hit bad form easily. Just as easily, we can hit good form.
It's a case of realism, not pessimism or false positives.
Len Hawkins
219
Posted 10/12/2017 at 23:14:51
80% possession = 3 shots on target Red Shite
20% possession = 2 shots on target Everton
So, Phil Walling – Allardyce (who I didn't want) has not only improved the defensive set-up, he has also improved the attack – the figures are indisputable! For Christ's sake, take a cooling powder will you.
Chris Leyland
220
Posted 10/12/2017 at 23:15:47
Phil, what would your strategy have been for today? Gung-ho attacking football, going toe to toe with the shite? Allardyce has been here a few weeks and we have played 4 games, conceding 1 goal.
Beforehand, we were leaking like a sieve. He is doing the basics, and sorting it out from the back first. If you can't see progress, particularly in the context of some of the abject results at Anfield over the past few years, then you are sadly deluded.
David Hallwood
221
Posted 10/12/2017 at 23:16:08
James Flynn (#216),
You're spot on, it was a class finish, but Martina; dear oh dear...
Eddie Dunn
222
Posted 10/12/2017 at 23:19:44
Considering who he was up against, playing out of position, I thought Martina did okay. At one stage Salah popped up on the other side and ghosted past MotM Jonjoe as if he wasn't there.
Sam has got Williams and Holgate looking 5 times better than just a few weeks ago.
I have seen us go to Anfield in the past with sides on a good run, above them in the league and still manage to lose despite plenty of the ball, so I will take today's performance merrilly.
When we play the buggers at Goodison, the onus will be on us to attack and they will exploit all of the space and probably give us a pasting, so all of you imploring more attack from this bunch should just be thankful that this time we ground it out.
Brent Stephens
223
Posted 10/12/2017 at 23:31:37
Phil (#210) "The ill- judged appointment of the School of Sams has done for the School of Science in less than a fortnight!"
Not in the results it hasn't! And if you mean performance, not results, delusional to expect Sam to go to Anfield after a couple of games with his new charges and go all gung-ho. Did you really expect that?! No, you didn't.
And you're making a judgement after so few games?
Phil Walling
224
Posted 10/12/2017 at 23:32:13
Chris: How can a team progress to the level of shite football our team played today?
That display was not worthy of being in the name of Everton. Standards of acceptance have sunk to a new low on this day!
Shame on all of you claiming 'needs must' – it was no more than kick and rush, often without the rush, particularly from that apology for a left-wing back Sam likes so much!
Brent Stephens
225
Posted 10/12/2017 at 23:37:23
"How can a team progress to the level of shite football our team played today?"
Compare goals and points before and since Sam appointed.
And good to see Murphy and Shearer on MotD both agreeing that was a clear-cut pen and Klopp got it all wrong in selection. So much for media bias.

Chris Leyland
226
Posted 10/12/2017 at 23:46:46
Because Phil, football is a results game. That display won us a point rather then the usual loss at their place. I'll take pragmatism over whatever far-fetched fantasy you envisage. The results are getting better and the football will follow.
Rob Dolby
227
Posted 10/12/2017 at 23:55:18
I don't get the negativity about being able to defend and coming away with a point in a game we knew would be hard.
Man Utd parked the bus at Anfield earlier in the season with millions spent on the team and didn't take any criticism. It was a Jose master class!
Looking back on the highlights, Martina should take credit for the way he defended the Mane chance, he has improved over the last few games playing out of position – though I don't think Baines has much to worry about getting back into the team.
Kenny Smith
228
Posted 10/12/2017 at 00:09:25
We did what we had to do today. That squad is not capable of expansive free flowing footy and anyone on here who thinks it is is as deluded as Klopp.
Yeah it wasn't pretty but at one nil we were one chance away from getting a point and that's how it proved to be.
We dug in when we needed but the 80% possession to them look worse than it actually was. The first half especially they were allowed to pass it amongst themselves at the back and into the centre of midfield. We let them do that rather than let them get it to the wings. That's why some stats are shite.
As for Klopp, what a tit. They dropped two points because we played with 2 banks of 4 throughout and did what we were asked to by Sam and he picked the wrong team.
Barry Williams
229
Posted 10/12/2017 at 00:09:40
Wayne Rooney - 134 mins per goal - 8 premier league goals
Shots on target = Total 58% of 19 total shots = 11 on target
Romelu Lukaku - 180 mins per goal - 8 premier league goals
Shots on target = Total 58% of 43 total shots = 25 on target
Everything I wanted to say about today's game has sort of been said on here.
Just thought I'd post the above stats. Not making a statement, interesting reading though!

Carl Allan
230
Posted 11/12/2017 at 00:10:45
Two more cracks at the bastards (barring replays) this season to end that horror run of 16 derbies without a win, our joint worst in our history.
Now to end that winless away record since January at Newcastle on Wednesday.
Raymond Fox
231
Posted 11/12/2017 at 00:24:41
Can we just enjoy the result?
It was never going to be pretty if we were going to get anything out of this game. Our players are good players but are not of top 6 quality, it's obvious, it has been for the last 6+ years with the odd exception.
If we try to play open football against the usual top 6 sides we get thumped more often than not. It's playing into their hands.
All the neutral fans were convinced we were going to get murdered; a draw is more than I was expecting, I can tell you.
Jerome Shields
232
Posted 11/12/2017 at 00:38:05
Hope Klopp reports Calvert-Lewin for diving to the FA. Could do with another laugh at Klopp's expense.
George Stuart
233
Posted 11/12/2017 at 00:50:40
So the RS got their pockets picked by an inferior team. Well diddums. Maybe the soccer gods are turning.
Klopp went ballistic! Ha!
Perhaps he's feeling a little bitter?
Don Alexander
234
Posted 11/12/2017 at 01:13:39
I thought we'd be beaten, again, so a point is pleasing. The "style" in which it was won wasn't though.
Today it was again shown that without the extra left-back, centre-back and centre-forward Koeman said would be signed and needed in summer we are going nowhere in terms of top four, or even six, aspirations.
I would like the club to explain why such needs were allowed to become manifest, bolloxing our season before it really started, at least by making a statement by way of signing/s in the January transfer window.
That said, I don't want them to jizz £gazillions on some lazy, self-adoring (the posh term for a wanker) prat/s like Lukaku who is now showing for weeks on end at United that the only thing for which he can be relied upon when the wheels start wobbling is to pretty much disappear, leaving it up to others to put right.

David Pearl
235
Posted 11/12/2017 at 01:26:44
I don't believe we are so many players away from a top 6 side. Especially as we have a good 5 injured that will be back within 6 weeks. Add to that a couple additions in January. We are some way short of confidence away perhaps.
I think that Walsh could of and should of been concentrating on buying first teamers first and foremost. How many U-23s did we buy?
Anyway... let's see how better Big Sam (I should change that to Sam Allardyce) gets us playing in the coming weeks.
Martin Clark
237
Posted 11/12/2017 at 02:31:07
I am chuffed with a draw as we defended really well. I was frustrated throughout the match by our inability to control the ball or put a few passes together which would have made defending a little easier.
I feel the pressure got to Davies who had an off game and was a major culprit who was rightly withdrawn at halftime but the worst player on the pitch was easily Martina. I don't usually like to slam our own but he's just so frustratingly bad!
If you were Garbutt or any other left-back at the club, you've gotta fancy yourself to be better than Martina. It doesn't seem to be a lack of effort he just looks like he's totally out of his depth. I wish they'd just stop trying him and give someone else a go! Shame Robinson is out on lone.
Well done Everton – it's more impressive to get a result with such a poor performer in the team.
Jamie Crowley
238
Posted 11/12/2017 at 02:47:11
Rob Halligan @ 188-
Exactly.
The tackle on Martina was shin to knee high and didn't even draw a card.
The foul just prior to their goal was not a foul (for me anyway...).
Jurgen conveniently left that part of his narrative out.
Geoff Lambert
239
Posted 11/12/2017 at 02:50:25
Phill (#224) "How can a team progress to the level of shite football our team played today?"
Because we didn't get beat 3-0, 3-0, 4-0, 3-0, 5-2, 3-0, 5-1, 4-1, like the results here from the last couple of months.
I will take a 1-1 at Anfield as a start all day long. Horses for courses as they say.
Jay Harris
240
Posted 11/12/2017 at 03:50:43
I was delighted with today's result and the way all the lads were punching the air to the away supporters.
Sam is gradually restoring some pride and team spirit to the club but when interviewed he said the same as us that he was pleased with the effort but not the lack of ball control and incisiveness.
He also said with Liverpool's poor defence he wanted our guys to attack more and that is something he will be working on with them.
We are now starting to lay some foundation for a solid side and the football will come.
Eric Myles
241
Posted 11/12/2017 at 05:26:27
If it had been a Mourinho team our performance would be hailed as a masterclass of defending inspired by an exceptional manager.
Steve Solomon
242
Posted 11/12/2017 at 06:31:24
I have no problem with the way we played. I think it's a great result against a team that scores 5 or 7 against other teams. They are miles ahead of us at the moment there is no denying that.
I thought the players worked hard and held their defensive shape really well. Rooney was outstanding as captain, the way he marshalled the team. He also created the goal with a sublime pass.
We are still recovering from Koeman's nonsense and the injuries. Let's get Bolasie, Barkley and Coleman back and get a striker. I'll take Aubamayeng but why should he come here? I'm hoping for Benteke actually. Maybe Walcott too.
Raymond Fox
243
Posted 11/12/2017 at 08:37:44
This coaching team will take us as far as the players' ability will let them. Is there a better more solid experienced managerment/coaching team anywhere in the League? I doubt it.
If the owners can afford and attract 3 special players we might be able to talk with confidence about being a genuine top 6/top 4 side.
For now I can only see us going one way and it isn't down. Players confidence must be on the up too, we are getting our mojo back.
Steve Pugh
244
Posted 11/12/2017 at 08:38:30
Phill (#224) "How can a team progress to the level of shite football our team played today?"
Are you honestly saying that you preferred the performance against Southampton? What about the Atalanta game?
Craig Walker
245
Posted 11/12/2017 at 09:12:52
I saw a bit of the Manchester derby. Will Jesus and Herrera receive two match bans for simulation and trying to win a penalty by diving? It's a rhetorical question by the way. I know the answer. When Niasse was suspended, you just knew that it wouldn't affect the so-called bigger teams.
Great to rob them of 2 points and it'll feel like a defeat for them. Klopp losing it was superb. We weren't great in possession and I got sick of Pickford kicking the ball out or through to Mignolet. At least we showed some character and our position in the table is looking a lot healthier. Well done Blues.
Phil Walling
246
Posted 11/12/2017 at 09:27:50
You asked me a question, Steve, and I hope Ted's will allow me licence to reply.
Perhaps the answer to your poser is that Sam and his acolytes are cut from the same stone as his predecessors and actually coach players to play crap football.
Apparently, when he wasn't at the quacks he and his merry men were drilling massively expensive stars to 'get shut of it anywhere'. How well they stuck to their task, gawd help us!
Paul A Smith
247
Posted 11/12/2017 at 09:36:18
Tom Davies is getting absolute roasted since yesterday's game and I cannot believe it has come to this for the lad. For weeks now, I have said on here he is way off the pace. This is why he continues to be behind the play and constantly giving fouls away.
One positive from yesterday's performance is we know even more so what we need. That was the kind of set-up that told a lot about the team.
We can't go back there with the same 11 and expect a good result again. It's vital we improve in January.
Andy Meighan
249
Posted 11/12/2017 at 11:22:11
No, Phil (#246), God help you. We were leaking goals at an alarming rate before Allardyce came in and – all of a sudden – he's getting us organised.
We used to hail Moyes and to a lesser extent Royle when they came away from there with a point by frustrating the life out of them, and that's what we did yesterday. They might have had all the ball but Pickford hardly had a save to make.
Hope it's more of the same in the cup, that'll get right up their noses. Enjoy your stay in Cyprus We really wont miss you.
Colin Malone
250
Posted 11/12/2017 at 11:25:23
Tom Davies is playing in a more advanced roll, that does not suit him. Tom normally plays alongside a holding midfielder and drives forward, which for a youngster, he does well.
Rooney and Davies have swapped positions, with Rooney playing the deeper of the two. The advanced roll is not Davies's proper position.
Barry Williams
251
Posted 11/12/2017 at 11:44:35
Craig Walker - 245
Exactly what I thought when I saw these players go down so easily and so dramatically. Makes you wonder!
Tony Abrahams
252
Posted 11/12/2017 at 12:22:02
Dembele please... Wilshere maybe... and a quality hardworking wide man, which might also help us to play our record signing in a more central position?
Kim Vivian
253
Posted 11/12/2017 at 14:51:47
To every one who keeps banging on about bans for simulation – the salient difference is that Niasse's ban was for supposedly successful deception of the official (who actually sticks with his original decision btw).
As abhorrent as it is, it's not the simulation itself, but when the simulation results in a penalty and no action is taken, that the protests should start.
Dale Rose
254
Posted 11/12/2017 at 15:33:42
That was a very good performance. The shite are a goal machine with some quality players and we almost kept them out. Few weeks ago we would have been four or five down at half time.
Lots to consider for the future. I had great doubts about Sam but I suspect he may surprise us.
No two ways we have been left in the shit by Koeman. There is a lot of work to be done. Things are coming along. The gulf in the Premier League is now a yawning chasm. Everyone including ourselves is playing catch up.
Dave Abrahams
255
Posted 11/12/2017 at 16:23:47
Liam Carlen (213), great post to go with all the others who realise what Sam Allardyce and his team of coaches have been left to deal with since he came here five minutes ago.
The squad is still unbalanced but in those five minutes they are more organised than they have been all season. As another poster said ''Give him a bleedin' chance''. We will get better under Sam and his coaches.
Antony Matthews
256
Posted 11/12/2017 at 16:24:14
I don't know if anyone mentioned it but the chance Liverpool had when Mane had the chance to square it and instead drilled it wide was a foul from the throw. Kenny was pushed in the back when he went to head it. When Mane shot wide Kenny gave the ref a volley full and if you watched the replay you can see why.
Clive Mitchell
257
Posted 11/12/2017 at 16:52:21
Everyone who's having a go at Tom Davies needs to reflect on the fact that he's 19, and the fact that a manager like Allardyce – as hard-nosed a judge as you could hope to find – is picking him ahead of a 28-year-old midfielder in Schneiderlin who should be at the height of his powers.
In other words, Allardyce rates Tom very highly; support him for god's sake.
John G Davies
258
Posted 11/12/2017 at 17:00:20
It always happens with young players, Clive. Second season syndrome. Problems are he has been built up to be something he is not.
Pressure has been placed on him from the start of the season. He's a young kid learning his trade. Have no fears – he will come good.
Paul A Smith
259
Posted 11/12/2017 at 17:21:31
Clive, I don't think Davies is not getting support. I think people are supporting him by saying take him out. Nobody is holding a grudge – he's been well over played.
Your point about why he plays is very valid as far as Schneiderlin goes but there are other things that can be done to rest him. Like the half-time changes for instance.
Christine Foster
260
Posted 11/12/2017 at 17:31:59
There is a significant portion of posters who are unhappy with Allardyce and his tactics. But the truth is we are where we are. What was needed is what we got: organised and hard to beat. The number one priority is to stop the goals, second is to score goals... how we do depends on the quality of what we have got and the form of the players.
Given we have a jigsaw masquerading as a team, players injured and out of form, we did well yesterday. End of.
Depending on your perspective, it was a dreadful attacking performance or a great defensive one; either way, it was needed at this point in time. This game is about winning, you can be fantastic when you are safe.
He got the team organised and they fought for each other; all they need to do now is learn how to play together!
Johnny Rainford
261
Posted 11/12/2017 at 19:11:35
...which just about nails it I would say. A team which scored seven in the week were reduced to three shots on target. Job done.
Three weeks ago, a lot of posters on TW were panicking... So we stop shipping goals and it still ain't good enough...!?
Despair.
David Currie
262
Posted 11/12/2017 at 19:12:18
Barry (#229), interesting stats – don't forget to add Lukaku's assist for City's winner.
Phil (#246), you are clueless and don't understand football obviously you have never coached a team. The first thing any new manager had to do with us is get us to defend as a team and be organized.
We have conceded one goal in the last 4 games. Position in the league 17th to 10th, the players are fighting and are harder to beat. We have to get the basics first before anything else.
Chris Corn
263
Posted 11/12/2017 at 19:28:51
Isn't this just the same sort of shit Roy Evans came out with in 95 following an Anfield draw. "If that's the school of science, I can't see it etc, boo hoo"?!
In fairness like most people I thought we were woeful in possession, but the job got done. We were conceding for fun a fortnight ago, we've conceded one in four now and scored 10 in the process.
Whatever your thoughts on Allardyce he has completed his first task quite solidly. There are those who will say his style of football is shit and they may not be wrong but, then again, so has EFC's for a good portion of the last 30 years and we've payed some managers tens of millions already for that privilege.
George Stuart
264
Posted 11/12/2017 at 20:49:36
How dispicable of the manager to go to Anfield and defend. Yes, Liverpool are scoring for fun but to deliberately go there and play for the draw. What is football coming to?
Oh, I'm talking about José Mourinho by the way.
Dennis Ng
265
Posted 11/12/2017 at 21:04:31
Spot on, George (#264). Were we thinking of anything better when we were 17th about 2 weeks back? Solid point, back to basics and when we get on a roll, then we can dream for better.
Peter Laing
266
Posted 11/12/2017 at 22:06:32
Allardyce was able to gain a psychological advantage over Klopp and the mind games certainly unsettled the German with his mask slipping and his true character being laid bare for all to see.
The acid test will be the Cup game and in the weeks ahead the team will hopefully be fitter, more confident and well drilled. With the addition of returning players from injury and the possibility of a more prolific striker being brought in there will never be a better time in our recent history to go there and get under their skin and come away with a victory.
Steve Little
267
Posted 11/12/2017 at 22:26:59
I've not read the previous 256 comments but I hope Allardyce has been praised for our organisation and match plan.
Two weeks ago we would have had a hiding, whereas now Pickford hardly had a save to make.
Played for 0-0. Got 1-1. Not pretty but so much better than the beatings of the previous few years.
Well done, Sam!
John Smith
268
Posted 12/12/2017 at 06:50:14
I watched the game again today and I was surprised to see how well Cuco Martina did. He got a lot of interceptions and did more than a few completed tackles where he won possession. One of his clearances was badly miss hit, but he got rid of the ball more than a few times.

Anthony Flack
269
Posted 12/12/2017 at 07:54:27
John it is a funny old game as different people watch the same players and have opposite conclusions
Coco was often in the right place and therefore partly in the way, but repeatedly not strong enough – resulting in his attempts at tackling amounting to an assist to the RS
On one occasion he bottled it and Williams actually told him to grow a pair
I was preying they'd take him off and was surprised to see Jags replace Rooney
Cheers
Greg Hasbrouck
270
Posted 12/12/2017 at 16:17:50
Anyone who takes issue with Big Sam's tactics really needs to explain how they would have set up differently and how those tactics would have resulted in a better outcome for us. This is how you play Liverpool. This is how teams better than us stop Liverpool.
Yes, it would be wonderful if we could play them the same way Man City does. And if, at some point in the future, we stock our squad with Champion's League caliber players, we can do so. Until then, we have to play with the players on the squad.
Great job by Big Sam and the lads. Three weeks ago, no-one thought we were going to grab a point at Anfield. Assuming we can grab at least 4 from the next two matches, we'll be in a real solid place.
Jack Farrell
271
Posted 12/12/2017 at 22:41:06
Sorry if this is the wrong place lads, but, I don't come on here too much, however, there was a guy, Ken Buckley I think, who did a post called "from my seat". What has happened to him? I don't see him posting any more.
David Johnson
272
Posted 13/12/2017 at 03:05:11
Our boot room were tactically spot on. Jose Mourinho couldn't have done a better job with our squad. The execution of the plan fell short of what we'd expect but there are mitigating circumstances like injuries and the summer recruitment fiasco.
Someone mentioned we had half a team of lads out there. Yes, it was dire, but we've now won three and drawn one scoring quite a few goals while conceding only one.
I think Allardyce and his excellent backroom team could do well if given the financial backing ,but we all know that's unlikely to happen, so Mourinho will continue to be Mourinho and I guess Sam will just carry on being Sam.
---
Add Your Comments
In order to post a comment, you need to be logged in as a registered user of the site.
Or Sign up as a ToffeeWeb Member — it's free, takes just a few minutes and will allow you to post your comments on articles and Talking Points submissions across the site.
© ToffeeWeb