Report
Walcott brace celebrates Coleman's winning return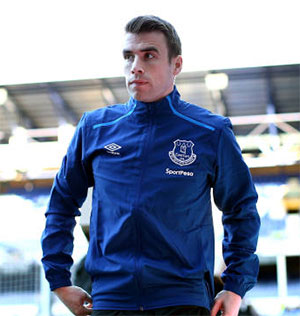 Seamus Coleman started his first senior game for Everton in 10 months
Refreshed from a 10-day hiatus enforced by their early exit from the FA Cup, Everton were back in action under the lights to face resurgent Leicester City at Goodison Park.
Seamus Coleman made his return to first-team action as he was handed a start against The Foxes. Having played an hour for the Under-23s in their Premier League Cup tie against Portsmouth last week, Sam Allardyce has seen enough to put him straight into his starting line-up.
Coleman has missed the past 10 months after breaking his leg against Wales playing for Republic of Ireland back in March 2017. He replaced Jonjoe Kenny, who dropped to the bench, one of six changes made by Blues boss Allardyce.
Tom Davies returned to the starting line-up which featured supersub Niasse up-front with Rooney and Sigurdsson on the field together again. Schneiderlin, Williams, Bolasie, and new signing Cenk Tosun, all joined Kenny on the bench as Allardyce continued to search for a winning formation. Holgate not involved.
No Riyad Mahrez for the visitors, with massive transfer attention from Man City supposedly 'unsettling' the Foxes star.
After a massive roar for Seamus, the game kicked off with the requisite hoof, turnover, Leicester attack, defensive scramble, poor clearance, corner, headed over.
Walcott tested Schmeichel with a nice ground shot forcing a corner that was cleared. Leicester forced another corner and Ndidi managed to hit the bar! An incredible let-off for the Blues, showing their all-too accustomed-incompetence in defence.
It was horrible scrappy sloppy formless nonsense football from Everton, which should be no surprise as that also is what we have sadly become accustomed to as the new 'normal'. Walcott caught himself trying to tackle.
Everton won a corner with some attacking play, Walcott and Coleman combining well, but nothing from the corner. Coleman was showing some real vitality in winning another corner.
But from a Foxes corner, Everton broke with speed and Walcott converted off a fine ball from Sigurdsson, with Martina playing a critical part in the build-up to dispossess a defender.
The goal completely changed the complexion of the game, with Rooney starting to control the midfield. Niasse got barged off an aerial ball but not really a penalty call. Walcott was in the wars, needing attention after trying in vain to play himself into space.
Kenny was sent to warm up after 35 minutes, Coleman showing signs of strain on his right side. Davies looked to beat Ndidi and was fouled, setting up a deep set-piece for Sigurdsson to deliver. He then set up Niasse in the follow-up and a dreadful miss, his shot skinning the outside of the post from 7 yards and the goal gaping.
A hopeful re-feed by Rooney found Keane who set it up nicely for Walcott running around the defence to fire home from a narrow angle for his second of the night, a splendid determined first-time finish.
Niasse did brilliantly to dispossess Maguire and gallop forward only to overplay a golden chance to make it three. Everton very much in control and probing forward with intent as the half drew to a close. But a Rooney giveaway to Vardy had hearts in mouths.
Another free-kick set-piece for Sigurdsson, this one on the left, where he was fouled. This one curled in dangerously and some good goalmouth scrambling ensued, Rooney unable to reach the bouncing ball.
Leicester City won a late corner that was repelled before the break.
No changes as hostilities resumed, with The Foxes making the early running. A sweeping move from the back, Walcott to Rooney to Niasse showed promise.
Walcott almost created a third, beating two men, but with Sigurdsson and Niasse unable to connect as Schmeichel intervened. Better forward play was spoilt when the ball would come back to Gana and be played backwards until Davies tried to play in Walcott with a lovely chip forward.
Walcott was caught by James, Sigurdsson swinging in another set-piece that Schmeichel batted away, Jagielka's cross back in a little wayward. Coleman had a great run from the back, playing in Niasse, and winning a corner, delivered by Sigurdsson all the way through to Niasse but he fumbled it after Rooney had missed it.
Walcott looked to shoot but almost played in Niasse at the back post as Everton looked for a third goal. The game lost impetus somewhat until Walcott and Coleman surged forward but Niasse could not convert, with Cenk Tosun no doubt watching these chances created rather jealously.
Out of nothing, Rooney was penalized for holding an attacker, penalty converted by Vardy. This gave The Foxes a new lease of life and they attacked with new-found persistence, with a quarter of the game left in the pouring rain.
More nervy play saw Rooney give up a corner that caused absolute chaos in the Everton box, Leicester hitting the woodwork twice more! Pickford doing well to deny Iheanacho space and time to finish.
The next attack came all the way through to James but somehow he could not convert a golden chance, Everton really rocking on their heels giving Goodison a collective heart-attack. Time for some changes: Rooney and Sigurdsson off; Schneiderlin and Calvert-Lewin on with less than 10 mins left.
Maguire fouled Walcott, Davies unable to create anything from the set-piece. Schmeichel came out and was left stranded but Walcott's shot was cleared of the line, Keane coming close from the corner, beaten by Schmeichel.
Coleman got a chance to run in at Schmeichel but screwed his game-winning shot well wide. Williams replaced Niasse in an attempt to hold the lead for the last few minutes.
Albrighton dived in on Davies from behind, earning a yellow card but the Everton free-kick was poor. Another free kick, and a yellow card for Ndidi before the end as the clock wound down to a very precious if ultimately nervy Everton win.
A late corner for Leicester was totally messed up and Coleman scampered forward but could not shoot or find Calvert-Lewin. Everton held on to win a vital 3 points.
Scorers: Walcott (25', 39'); Vardy (pen:76')
Everton: Pickford, Coleman, Keane, Jagielka, Martina, Gueye, Davies, Walcott, Rooney (81' Schneiderlin), Sigurdsson (81' Calvert-Lewin), Niasse (88' Williams).
Subs not Used: Robles, Bolasie, Tosun, Kenny.
Leicester City: Schmeichel, Amartey (75' Fuchs), Dragovic, Maguire, Chilwell, Ndidi [Y:92], James, Gray (75' Iheanacho), Okazaki (58' Diabate), Albrighton [Y:90'], Vardy.
Subs not Used: Hamer, Adrien Silva, Iborra, Benalouane.
Referee: Chris Kavanagh.
Attendance: 38,390
---
Reader Comments (194)
Note: the following content is not moderated or vetted by the site owners at the time of submission. Comments are the responsibility of the poster. Disclaimer
Joe Duffin
1
Posted 31/01/2018 at 18:52:31
Just seen the team - I agree with most posters - madness to play Coleman from start and that's just happened.
Also - Rooney + Sigurdsson together with Niasse up front.
Personally if Coleman was going to play, why not try Kenny at left back - he sure as hell couldn't be any worse than Martina.
A slightly perplexing setup for the off!
David Pearl
2
Posted 31/01/2018 at 18:58:34
Fantastic news... and as a bonus we might actually hear a song and have anatmosphere coyb
Danny Halsall
3
Posted 31/01/2018 at 18:59:10
Dogshit team selection, no Tosun - Sigurdsson and Rooney, no Lookman or Vlasic on the bench. I give up.
Mike Kehoe
4
Posted 31/01/2018 at 19:00:13
Welcome back you have been sorely missed. I hope our glorious leader is rushing him back too soon.
Neil Cremin
5
Posted 31/01/2018 at 19:00:16
Just seen the team....
Coleman picked to start, foolish gamble of a desperate man.
Sigurdsson and Rooney on same team after saying they cannot play on same team.
Tosun on bench after only two games. What message does that give to the player?
Only one recognised winger. Limiting options to right hand side.
If we lose tonight, then I believe that we are in big trouble. Look at Swansea beating Liverpool and Arsenal, this team under this leadership and management up until now could not aspire to that. Tonight is or real benchmark. We can compete with Leicester or we are competing with the Strugglers and at that level I would fear for us based on performances to date.
Christian Watson
6
Posted 31/01/2018 at 19:02:12
Very negative. Looking to get nil-nil after 80 mins and bring Tosun and Calvert-Lewinon to nick it. That said, we could be 2 down at half-time ffs.
Big Sam needs to do one. Unsworth had more about him than this twerp.
Roman Sidey
7
Posted 31/01/2018 at 19:06:31
Two matches must be all SA allows in assessing players then? Tosun straight back to the bench.
Colin Malone
8
Posted 31/01/2018 at 19:08:56
Nice to see Davies along side one holding midfielder but there again Sam might put Rooney there, which will leave Davies out of position again.
Ray Smith
9
Posted 31/01/2018 at 19:11:00
What must Luke Garbutt be thinking, he doesn't even make the bench!
Great to see Seamus back, but surely not in the starting line up?
The team looks totally unbalanced to me.
Even if we do win (and I sincerely hope we do) Allardyce will have us camped in our own half. Do it away but not at home, totally negative. Pay him off at the end of the season, and Steve Walsh.
Tony Everan
10
Posted 31/01/2018 at 19:15:34
It is a worrying team selection at first look but maybe there is a method in the madness.
Leicester are all about Vardy's pace in attack but I think this team will sit a bit deeper to nullify that.
We will be all about quick passing out to Theo Walcott. Niasse can get on the end of one of his low crosses. Also, Sigurdsson and Rooney will be attacking the 18 yard line waiting to bury any loose ball or reversed cross.
I think we will win this one and play well .
Bill Gienapp
11
Posted 31/01/2018 at 19:16:28
Let's hope Leicester will be left unsettled by Mahrez's antics.
Tosun needs consistent gametime to get settled and he's already being sat for Niasse, who's far better off the bench anyway?
PG Malcolm
12
Posted 31/01/2018 at 19:17:08
Welcome back Seamus. Absolutely dog shit team selection though
Christian Watson
13
Posted 31/01/2018 at 19:17:19
Ray #8. Couldn't agree more. It's a shambles top to bottom. We need a win big time tonight because Arsenal will batter us on Sat. Then we're back in the sh1t big-time. Hope VAR are standing by to double check if we have a shot on target!!
Brian Porter
14
Posted 31/01/2018 at 19:20:42
Awful team selection. Tosun dropped after two games? We all know Niasse is better as an impact substitute. Garbutt not even on the bench. I am now firmly in the anti-Allardyce camp. I was prepared to give him a chance. As far as I'm concerned he's had that chance and he's blown it, big time. He's as clueless as Koeman.
John Hammond
15
Posted 31/01/2018 at 19:25:20
Same shit, different week. Its unreal. Judging by how our new recruits have been treated this season Tosun will probably not even make the squad next game. King Rooney though gets his guaranteed game time as usual. Good times.
David Pearl
16
Posted 31/01/2018 at 19:29:10
Of course all the medical staff and experts know nothing compared to ToffeeWebbrs, and Niasse deserves his shot. Negative line up my arse
Ernie Baywood
17
Posted 31/01/2018 at 19:33:10
Has Kenny deserved to lose his place? Can anyone really say Seamus is ready to start a game?
Can Rooney and Sigi play together?
Are we ever going to put some faith in a striker we sign?
It might all turn out great but it feels like there's no plan. We're just throwing players onto the pitch and hoping for the best.
Tommy Coleman
18
Posted 31/01/2018 at 19:33:12
Unbalanced again. Clueless.

Karl Jones
19
Posted 31/01/2018 at 19:33:42
Didn't Allardyce state last week Siggy and Rooney can't play in the same team due to a lack of legs?...Irrespectively, a huge gamble to make seven changes including three of the back four. To say I'm not confident would be an understatement.
Dean Cooper
21
Posted 31/01/2018 at 19:37:38
I don't see the same negative lineup as everyone else. Schneiderlin dropped in favour of a more attacking Davies and Niasse deserves to start after scoring with his first touch last week.
COYB
Rick Tarleton
22
Posted 31/01/2018 at 19:39:00
Unbalanced, Kenny would be better at left back than Martina, Tosun must be puzzled and If Rooney and Sigurdsson do manage to combine what happens to him in the future fixtures?
Garbutt should be at least on the bench as should Lookman.
Does anyone else think Allardyce has been told he's out at the end of the season and he's playing games, because this selection is bizarre?
Paul Smith
23
Posted 31/01/2018 at 19:42:04
Niassie deserves a start. Gana should start; Davies not good enough but he couldn't have started Sneids (toxic), mental putting Seamus straight in, Holgate before Keane.
Anthony A Hughes
24
Posted 31/01/2018 at 19:42:06
Full of shit is our Sam
Geoff Evans
25
Posted 31/01/2018 at 19:42:46
Desperation and experimentation seems to be the words with this team selection.
Is Seamus ready? New striker on bench... No sign of Lookman again.
Worried.

Thomas Surgenor
26
Posted 31/01/2018 at 19:44:14
Lookman at RB in Germany apparently
Michael Williams
28
Posted 31/01/2018 at 19:53:47
I have no problem with Seamus starting. Let him play his 45-60 minutes from the start. Without Lennon last week Kenny was very exposed. Kenny is still learning. For confidence sake I keep the rookie in his natural position.
Peter Gorman
29
Posted 31/01/2018 at 19:53:55
Coleman starting is just plain reckless bordering on a complete failure of duty of care.
Other than that, as good a lineup as can be expected and finally the tosspot Schneiderlin is dropped. Still, would rather Baningime on bench in his stead but we can't have it all. Keane with it all to prove.
Max Murphy
30
Posted 31/01/2018 at 19:59:58
They've hit the bar already. Just waiting for the first Leicester goal. Won't be long.
Oliver Molloy
31
Posted 31/01/2018 at 20:11:36
Jesus lads, a few on here going on about Coleman selection!
If Coleman wasn't ready to play he wouldn't be fucking selected - Seamus Coleman is no mug.
Clive Rogers
32
Posted 31/01/2018 at 20:11:47
That team is shocking selection. Holgate could have played LB. Niasse is poor when picked from the start. Jags can't play 90 mins, his legs go after 70. Sigi and Rooney together doesn't work. It must have been decided Tosun is another bad signing.
Liam Reilly
33
Posted 31/01/2018 at 20:17:04
Seriously. Just fuck off SA; what is that team selection about.
Peter Gorman
34
Posted 31/01/2018 at 20:39:12
Oliver - what are YOU talking about. Coleman is not the type to say no because he is great, but is it wise to play him so soon after a leg break. Literally a brief run out for U23s under his belt? FFS, it is not difficult to fathom what point people are making.
Here's hoping he comes through unscathed. 2-0 to the good so far.
Jay Wood
[BRZ]
35
Posted 31/01/2018 at 20:41:35
Could have been 2-0 down after 10 minutes.
Could be 4-0 to Everton at the interval.
What a difference it makes when the team's most talented players - Rooney, Sigurdsson and Walcott - all play well and in harmony, even though Rooney played the best defence-splitting ball for Leicester close to half time.
Very nice to see Seamus linking up so well with Theo already. Two very tidy finishes. Niasse showing he will never be top drawer, but still very game.
High pressing and closing down right on the edge of the visitor's penalty area is causing them problems and rewarding us.
And...many of the pre-match posts in this thread are looking a tad silly, doncha think..?
Richard Mason
36
Posted 31/01/2018 at 20:42:43
We're 2 up, should be 4. Niasse missed two sitters.
Coleman and Theo linking up well.
Paul Williams
37
Posted 31/01/2018 at 20:46:56
2-0 up. Seamus back. Schneiderlin out. Two for Walcott. I'm not complaining.
John Graham
38
Posted 31/01/2018 at 20:49:27
Great first half from the lads. Seamus doing well, Keane playing better and Walcott getting in on the goals.
Shame Niasse hasn't got his shooting boots on.I expect to see Tosun on in the second half and maybe Kenny replacing Seamus
But all going well at the moment. COYB
Geoff Evans
39
Posted 31/01/2018 at 20:52:57
Press on from here.

Chris Gould
40
Posted 31/01/2018 at 20:53:50
Peter, are you in a better position to decide if it's wise to start Coleman than the medical staff, Seamus, and the coaches?
Broken bones are not the same as serious ligament injuries. The bones will be fully heeled and as strong as ever. The only concern with Coleman would be a serious lack of football and the potential of psychological damage. So far there have been no such issues and he has come in and inspired the entire team!
That was a very enjoyable half of football. The boys are hunting in packs and harassing the Leicester players every time they are in possession. It's been a joy to watch. Martina has also been very good and deserves some praise. Was it his tackle that led to the first goal?
Every player is getting the ball forward quickly, and more often than not, it's actually going to a teammate!!
Hopefully more of the same this half.

Peter Gorman
41
Posted 31/01/2018 at 21:02:18
Chris, obviously the 'Coleman question' is nothing at all to do with his ability to inspire us, there should be little debate there.
It is entirely to do with risking further injury. Do I know more than the medical staff? No.
Can I think of many precedents for players recovering from serious injury starting a game with so little match practice? No
Can I think of precedents of re-occuring injury because our wise medical staff and management cleared players too early? Yes
Oliver Molloy
42
Posted 31/01/2018 at 21:06:11
Peter Gorman, you haven't a clue.
Coleman is and would say NO if he thought he wasn't ready.
Seamus Coleman is and has been stamping at the bit to get back on the pitch and I know that for a fact.
If he wasn't fit enough to play he wouldn't be on the fucking pitch, most likely won't play 90 mins given his time out.
David McMullen
44
Posted 31/01/2018 at 21:43:04
That was fuckin' hard work. Gutted Burnley equalised.
Great stuff! Coleman back!! Walcott MotM!!!
Up the fuckin' Blues!
Jay Wood
[BRZ]
45
Posted 31/01/2018 at 21:43:26
In total control until Rooney's brain fart to cough up a soft pen.
Leicester were gone by that stage, but the goal gave them a huge lift. Everton, so long without a win, tightened up and wobbled for 10-15 minutes, but saw the game out well in the end.
Lots of good performances. I think we can put to bed that Coleman is unlikely to return as fine a player as he was before his double fracture.
But for Theo's brace, Seamus was MotM.
David Hallwood
46
Posted 31/01/2018 at 21:45:10
If I was the FA, I'd be giving Seamus a drug test. Cos he's on something.
Get in, Seamu,s we've missed you and how good are you???
Chris Gould
47
Posted 31/01/2018 at 21:50:15
Peter,
Coleman was just fucking fantastic. Absolutely the best player on the pitch and an inspiration. It was a heroic display and his inclusion was fully justified. You can bet that was the happiest he has been in the last 10 months and clearly his leg is fully healed. Your post at 32 was way OTT. You were wrong and should just happily admit it.
Welcome back, Seamus. You are a fucking legend!
Michael Lynch
48
Posted 31/01/2018 at 21:50:20
Hilarious if you read this thread from the start, bearing in mind how the game panned out in the end.
Seamus magnificent, Theo absolute class. What a great transfer window - Walcott the signing of the month, Seamus the "like a new signing" of the month.
COYB!
Jay Woods
[LAT]
49
Posted 31/01/2018 at 21:50:32
Rooney's self-destructive tendencies continue to vex.
But enough of that; Coleman showed what a top class attacking asset he is, and of course Walcott was also superb. Pace is devastating; maybe we should give Usain Bolt a trial after all.
Ray Smith
50
Posted 31/01/2018 at 21:50:34
Is Tosun injured/carrying a knock.
Why is a £27m striker on the bench.
He was bought to solve the striker shortage and warms the bench.
Will he start Saturday?
Tonight would have been a good game to show what he can do, but no, Allardyce replaces Niasse with Dom, priceless.
Lookman going nowhere 2 days ago. Can we believe anything Allardyce says???

Michael Lynch
52
Posted 31/01/2018 at 21:53:49
Ray @53, I take it your glass is always half empty then? We just won a game, played some great attacking football, saw Coleman look like he's never been away, and watched Theo produce the kind of performance none of our other players have been able to come up with all season.
What do want, jam on it?
Chris Gould
53
Posted 31/01/2018 at 21:54:08
Ray, this is not the time to whine. Enjoy what was a much improved performance.
You can't criticise the team selection when we played with such energy and commitment – and won!!
Ray Smith
54
Posted 31/01/2018 at 21:55:13
Oliver 54
You need to calm down.
Your post is bordering on the offensive.
Ray Smith
55
Posted 31/01/2018 at 21:58:26
Michael (#55), Chris (#56),
You're both right, I'm going to sit in a dark room for 5 mins.
Joys of being an Evertonian...
Tommy Meehan
56
Posted 31/01/2018 at 21:58:26
A very welcome 3 points.
Coleman was absolutely immense on his return from that horrible injury and Walcott already looking like a bargain.
Tommy Coleman
57
Posted 31/01/2018 at 22:00:39
Phew! A game of mistakes but important win.
Most pleasing parts were Walcott & Coleman link up and our high pressing.
Si Cooper
58
Posted 31/01/2018 at 22:02:51
We didn't play anything like the starting line up suggested we might so credit to the manager and players for that. Managed to pressurise them in their own half without leaving space for them to exploit - well that was the impression that the first 20 minutes of the second half gave. Was relying on forum reports and commentary off OS before that. Would love to see extended highlights to confirm, will see what the match goers post.
Peter Warren
59
Posted 31/01/2018 at 22:02:53
Chill out guys. Thank goodness we got a win
Derek Knox
60
Posted 31/01/2018 at 22:05:42
Rode our luck a bit there, early on and late in the second half after Vardy's penalty, but got a victory in the end. I noticed after they settled down, how much better the general play was without Schneiderlin.
Seamus excelled considering it his first game back, surprised he left him on for ninety minutes, Niasse tried but should have been subbed earlier for Tosun.
We are only 34 points behind City now.
Brian Hennessy
61
Posted 31/01/2018 at 22:08:09
As Tommy mentioned, the Coleman - Walcott partnership looks incredibly promising – we were so dangerous down the right tonight.
A moment of madness from Rooney, what on earth was he thinking. Looking forward to MotD for the first time this season.
Peter Gorman
62
Posted 31/01/2018 at 22:08:43
Chris Gould - believe me I am ecstatic with the win, with Coleman's performance and with him finishing the game with rude health. But why should I apologise for worrying about him being further injured? Presumably, heaven help us, he had been injured I should be gloating all over the thread?
Not how I roll, prefer to leave that to certain other TW blowhards. Like my good friend Oliver Molloy.
Carl Allan
63
Posted 31/01/2018 at 22:09:15
Can we please do what Bournemouth can do now and twat one of the big boys away from home? Arsenal are there for the taking if only we would show some ambition at one of those venues.
Niall McIlhone
64
Posted 31/01/2018 at 22:13:38
We broke 30 points, it's all downhill from here hope the high pressing game tactic is used at the Emirates, a bit of pressure off after that result. As for having our talisman back, Seamus, you are an absolute inspiration, and what an example you set.
Roman Sidey
66
Posted 31/01/2018 at 22:14:27
Ray, to be fair to Allardyce, Dom was brought on for Siggy. Not the sub I would have made but leaving Niasse on wasn't too bad.
Credit to the players, they did most of the things we've been missing from them for the past season or so. Pretty much every loose ball looked like it could be gathered up by a blue shirt. It's those types of things that add up to a winning team.
John Pierce
67
Posted 31/01/2018 at 22:18:20
As an ardent anti-Samist, fair dos well done large Samuel.
Feared for Seamus, but it really was his night. He single-handedly put a grin on my face.
He was so good to watch, just energy and drive and effective, made Walcott look way better by just being there.
To Walcott's credit he played inside, similarly to Barkley at this time last year.
The pen was nonsense but Wayne was utterly stupid. The subs and change of tactics just invited them on and we were very very lucky. He took the two players off who could bring composure to a game slipping away from us.
They were ripe for the counter but failed to seize the moment.
I think the side had more legs and energy tonight, but just imagine if they'd scored?!
David Graves
68
Posted 31/01/2018 at 22:20:32
"Coleman starting is just plain reckless bordering on a complete failure of duty of care."
How wrong can one person be?
Jay Harris
69
Posted 31/01/2018 at 22:23:50
Tonight's performance and result put paid to the theory that Sam is just a negative defensive coach.
Up until Rooney's lack of pace caught him up and he stupidly gave a penalty away, we should have been 4 or 5 up.
That is the best we have played all season and although it's only 1 game it looks like Sam having had the last 10 days to work with the lads and Seamus return has paid huge dividends.
Geoff Evans
70
Posted 31/01/2018 at 22:25:55
Seamus back fit and three much-needed points against an in-form team.
Room for improvement yes, but I'll take it. COYB.

John G Davies
71
Posted 31/01/2018 at 22:26:06
Great 3 points for the boys tonight. Walcott MotM. Keane vastly improved performance.
Our future skipper brilliant on his comeback.
An added bonus was Martina didn't get the widely predicted ripping.
Jim Bennings
72
Posted 31/01/2018 at 22:29:08
Coleman and Walcott were brilliant, Walcott is a quality player and again, without meaning to bring Tosun up, if you bring in proven class Premier League players you get displays of quality.
I did hear on the grapevine earlier in the week they aren't too impressed by what they have been seeing from Tosun in training, but hey, let's just wait and see what develops over the coming games but it's strange playing big money for a striker only to bench him after three games?
Good win tonight though, much much better in the work ethic department!
Peter Cummings
73
Posted 31/01/2018 at 22:29:44
MotM: Seamus Coleman, by a mile!!!! Not to forget the rest who put a real shift in but our passing still needs major surgery.
Peter Gorman
74
Posted 31/01/2018 at 22:31:22
David Graves - do you know what the word 'reckless' means? I can post a link if you need.
David Pearl
75
Posted 31/01/2018 at 22:33:02
Well I hope all those negative commentators above at least have some ice cream to go with the humble pie. Words fail me with the lack of footballing knowledge displayed on here sometimes. And in other news... bones heal stronger didn't you know?
Love it when a plan comes together... now where's me cigar?
Colin Malone
76
Posted 31/01/2018 at 22:34:45
I felt sorry for Tom Davies getting played out of position again. Every time he received the ball around the Leicester area, he looked for the square or back pass, instead of driving forward.
Trevor Peers
77
Posted 31/01/2018 at 22:47:45
Walcott looks like a player, and delivers goals... isn't that what we have all been praying for?
Andy Meighan
78
Posted 31/01/2018 at 22:48:01
Those at the start of this thread... Morons berating the manager for picking Coleman from the off. Think you're all feeling a bit silly now...
Him and Walcott were outstanding in a game which, after a nervy first 15 minutes, we dominated.
We should have been 4 up at half-time and only the idiocy of Rooney giving that pen away spoilt the night. A far better display and a well deserved 3 points.
Peter Mills
79
Posted 31/01/2018 at 22:49:36
It was an entertaining game, some decent football and moments of idiocy, but 3 points, and seeing Seamus play as he did was an absolute joy.
Chris Gould
80
Posted 31/01/2018 at 22:53:23
Jay #74
The way the players pressed in packs and forced mistakes was clearly a tactic they have been working on. Also, the players were moving it forward quickly. It was a display full of energy and Sam has clearly drilled the players. He deserves credit for tonight but we must see the same against Arsenal.

Tony Williams
81
Posted 31/01/2018 at 22:56:30
Seamus was superb.
Barry Williams
82
Posted 31/01/2018 at 22:57:56
Well, I enjoyed an Everton game! That was much better tonight performance wise, attitude wise and just all round better.
Coleman, wow. To play like that with so much energy, lack of fear and skill after 10 months or so out, I will say it again, wow! He'll be aching the morrow!
Walcott was excellent too, added composure and class not seen very often recently. 2 games, an assist and 2 goals!
As for Niasse, maybe I see things, rightly or wrongly, a bit different to other Evertonians. I thought he had a really good game tonight. The 'sitter' he missed came at him really quick, and for a change we had a striker in a dangerous position in the box offering an option. His control let him down for the his second 'sitter' of the night, a chance made purely by himself, his speed, energy and enthusiasm. He really is an outlet. He is a pain in the arse to the opposition defenders and keeper, chases so much and causes panic resulting in the opposition putting the ball out or losing possession. He won quite a few headers and you always felt he was a threat! He is an outlet!
I don't want to go through the whole team tonight, but that is the thing, we looked like a team. I was unsure with the line-up before the game, but it shows what I know. The much maligned Martina (unfairly maligned in my book) was excellent tonight too.
I actually enjoyed a game of football!!!!????!!!!
Tony Hill
83
Posted 31/01/2018 at 22:58:51
Jay Harris (#74), absolutely correct. We thoroughly deserved the victory, could have had 5, played with intensity and fitness, passed and moved well, and looked like a proper Everton team against decent opposition. We had a couple of rocky patches but the style and manner of our overall game were very encouraging.
Coleman was extraordinary, Walcott is a truly class act and got stuck in apart from his goals – the threat from them together could be very considerable. I thought Gueye was outstanding and a word for Martina who played well and made a goal-saving clearance at a crucial time.
Oh and a word for the hoofball dinosaur criminal too, perhaps? Maybe not.
Andy Crooks
84
Posted 31/01/2018 at 22:59:09
I didn't mean to submit that post without saying this.
I have admired and supported Seamus since he was at Sligo. He is a top man and a top player. His inclusion and performance tonight gave me huge enjoyment. To be honest, I was anxious for him but I trust the coaching team to do what is best for him.
Tom Bowers
85
Posted 31/01/2018 at 23:01:20
Allardyce will mould the squad he wants and much as some players have great potential and others have been at the club for some time he will ferrett out those who don't cut the mustard.
Obviously results will show if he is making the right moves but today was a move in the right direction against a talented Foxes side who started the first 20 minutes well.
Seamus was a big influence as was Keane early on whilst Niasse never stopped running although Walcott could have played closer to him for the long high balls.
Once they weathered the early pressure they got a reward for keeping their discipline and knocked Leicester out of their stride.
Going to be very difficult at the Emirates on Saturday but if they can win 3 or 4 more games including the RS game then perhaps the season won't have been a complete debacle of poor performances.
Brian Denton
86
Posted 31/01/2018 at 23:09:21
Well, that was fun apart from the rain. Seamus was amazing – you'd think he'd never been away. He should be our captain.
Mike Keating
87
Posted 31/01/2018 at 23:12:42
Great to see Seamus back but thought Walcott was outstanding.
Not sure what Davies was supposed to be doing (nor did he) but couldn't understand why Rooney and Sigurdsson went off and Tom was kept on. Then we had to watch Schneiderlin and Williams come on to defend a score that hadn't looked in doubt until then.
Good result but we should have been 4 up before the penalty.
Oliver Molloy
88
Posted 31/01/2018 at 23:13:21
Peter Gorman,
I tell you who you should apologise to: Seamus Coleman, for insulting his intelligence on his decision to play tonight, and you could add the medical team as well.
And if you look up the word 'reckless' as you suggested you might find you eat your words with your silly comments!
Seamus Coleman will be our Captain soon.
George Cumiskey
89
Posted 31/01/2018 at 23:19:28
I thought Davies had a very good game. I can't understand Mike Keating's post.
He brought Rooney off because he was Leicester's most dangerous player.
Mike Hughes
90
Posted 31/01/2018 at 23:27:11
Very reassuring performance as indicated by the comments of Tony Hill, Michael Lynch and both Jays (above).
Well done to SA and the team.
Excellent winning team selection (see earlier comments on this thread for how smart some people really are when it comes to EFC).
Sam's first transfer window yields a match-winning brace against a team above us in the league and PL champions the season before last.
Still, the glass half-empty, anti-SA, Victor Meldrew miseries will find something to whinge about.
Darren Hind, Steve Brown, Peter Gorman - where are you? Sulking somewhere because we won? Only sing when we're losing?
Get behind the Mighty Blues!!!

Peter Gorman
91
Posted 31/01/2018 at 23:27:46
I'll leave it there Oliver, this is weirdly personal to you (not that it is any of my business obviously) and you also seem incapable or unwilling to understand the point people were making.
And really do look up the meaning of 'reckless' (a comment btw, aimed at the club not the player before you get further outraged). You may even learn something.
Mike Hughes - care to explain that rather bizarre namedrop?
Christy Ring
92
Posted 31/01/2018 at 23:31:14
Welcome back Seamus, absolute magic, we missed your passion, and never-say-die attitude. It has to rub off on the rest of the players. A true blue.
Tony Hill
93
Posted 31/01/2018 at 23:42:28
Credit due also to Martina for winning the ball to set up the first goal. What character that man has; he was howled at when he overhit an early pass, to go with all the other flak he has taken. And yet he just carries on, doing his very best in very difficult circumstances.
Well done to him.
John Charles
94
Posted 31/01/2018 at 23:44:18
Better display. Seamus and Theo were great. Keane and Gueye much improved. Niasse ran his socks off.
Wayne decent till his brain seizure, then hopeless. Tom and Siggy very poor.
And Pickford very worrying handling (though conditions were awful).
We were the better team and deserved the win. There was even some noise in the ground for the first time in weeks (months)?
Brian Williams
95
Posted 31/01/2018 at 23:45:41
A performance that, although not perfect, had effort, spirit and belief. A coincidence that it happened on Coleman's return?
I don't think so!
Kevin Tully
96
Posted 31/01/2018 at 23:52:14
Where have you been Everton! A big sloppy kiss from me my old lovely pal. Haven't seen you for months, hope the family is well? Seems the old times just haven't been the same since the that life & soul lad we used to know did his thing.
Seamus you say? I'll send him an invite next time I'm over
Dave Abrahams
97
Posted 31/01/2018 at 23:53:30
I watched Seamus playing for the U23s last week and thought he was three or four weeks from playing for the first team, so to see him tonight playing as he did for 94 minutes without coming up for air was just absolutely amazing. I doubt if Theo would begrudge him the MotM award even though he contributed hugely to Everton's win.
I thought it was Everton's best performance of the season (maybe the only really good one) until Leicester got that stupid penalty and MotD didn't show what happened clearly, although the referee seemed to be telling Rooney what he had done.
At last, an attacking performance and one that merited a bigger and clearer margin. Keep it up Blues, just nine more points needed.
Andy Crooks
98
Posted 31/01/2018 at 23:53:49
Mike @ 98 can you not just enjoy a good win without some kind of weird gloating at Evertonians who have done no more than express their disdain for some of the shite served up under Sam Allardyce's stewardship?
I don't rate him, don't care for much for him but I will enjoy our victory and when he gets it right, like tonight, think well done, Sam. The time for humble pie is some way off.
Mike Keating
99
Posted 31/01/2018 at 23:58:53
George – it's not difficult to understand – I thought Davies had a poor game and you didn't.
Rooney was frustrated after the penalty and maybe you're right, he needed to come off, but to say he was 'Leicester's most dangerous player' will not get much support from those who went to a waterlogged Goodison tonight.
Don Alexander
100
Posted 31/01/2018 at 23:59:28
I've gone on before about not really seeing Allardyce as the ideal manager but today we saw what we've been missing all season long, but only on the right. If we ever get the left side of the team sorted as well we'll genuinely have a chance of top six because the defence and midfield won't be getting overrun at will by an opposition not even having to be bothered containing the non-existent threat we've posed so far this season.
Allardyce has had 10 straight days to impose some sort of difference at Finch Farm before this evening and it shows with fairly good improvement. That said, there's lots more serious work required there to put a basis down for next season, but will Allardyce be bothered given the length of his contract?
If he isn't it points to further short-sightedness by whoever amongst Kenwright, Moshiri and Walsh is responsible for recruitment.
Paul Smith
101
Posted 31/01/2018 at 00:04:34
Thought the best thing we did tonight is pressed and harried as a team winning the ball back in their half quite a lot tonight. The win should of been a bit easier if Oumar puts them chances away. That was probably the first time all season we looked to play as a team.
There was a lot of good performances tonight Keane and Martina doing well, Gueye superb and Oumar gets chances every time he plays. The best was the two lads on the right, Walcott is a breath of fresh air with him always looking to get in the box. Bolasie should take a leaf out of his book when he plays next. What can you say about Seamus though an absolutely lung busting performance after 10 months out superb.
Seamus should take on the club captaincy for next season as this will probably be Jags last season. In one performance gives you hope from the dire stuff we've watched all season. Well done tonight our best team performance of the season, we have to produce more consistently between now and end of the season.
Kevin Tully
102
Posted 01/02/2018 at 00:06:02
Going to puke at the thought of a 'defensive midfielder' as a favourite player of any manager of EFC.
You can shove that bollocks right up yer hoop.
Mike Hughes
103
Posted 31/01/2018 at 00:09:06
Tony Hill #101 - good point about Martina. I think he made a decent goal-line clearance as well.
It was good to see a bit of character all round tonight. It's still a salvage job for this season but Seamus and Theo look very promising.
Glass half-full for me given the shambolic backdrop to what Allardyce inherited. I think we'll get a result against the Arse as well.
Andy Williams
104
Posted 31/01/2018 at 00:14:34
Best game I have seen all season (missed West Ham). Apart from Siggy on the wing thought the selection was good and positive. Shaky start but we played with true confidence for most of the game. Captain Coleman - what a man he is. That run at the end after coming out of a crunching tackle, heading upfield and having to pass because he just couldn't run anymore - he had given everything and reminded everybody of his class. Him and Theo were magnificent. Everybody played well - no exceptions. Still errors in there but fight and some panache and walking away from 'The Old Lady' with a smile on my face despite the horrendous weather. Just for a few days everybody enjoy it and please try and stop moaning.
Tony Hill
105
Posted 01/02/2018 at 00:14:55
Agreed, Don (#108), we have to take it steady but I thought that we looked tight and cohesive tonight in a way which has been absent for a long time (though there were signs in the cup game at Anfield which have been rather forgotten).
That suggests to me that i) the players want to play for the manager (a big doubt before tonight) and ii) there is a plan or model which Allardyce is trying to put into place and which can just be discerned in outline. A plan which will eventually have us playing fast, competitive and, yes, attractive football. The caricature of him presented by the majority on here is false.
I have no doubt there will be further setbacks, very possibly on Saturday, but I do hope that this manager is given a serious chance at our club. What some of us find difficult to accept is that he has been totally written off by many (not merely criticised for bad performances), and had been written off before he started. I repeat my view that he has a great deal to offer this club and that the mood should be supportive.
Paul Birmingham
106
Posted 01/02/2018 at 00:15:37
Made up, but the time must come soon, when the team learns to close the game. The pen turned the game and we got whacked and were lucky but could have had 3 more, nearly.
Oumar could, should have at least 3.. could have been 6 -5. Its-a big game Saturday, but perhaps we can do the Gunners
Scary were time goes and our last away win at Highbury. Draws at the Emirates, and time to break the duck.
Brian Wilkinson
107
Posted 31/01/2018 at 00:16:30
Back from the game, what a performance from Coleman,, I thought we would give him around 70 mins, ran his socks off and still running well into stoppage time, great link up play with Walcott, hard to slit the motm between Coleman and Walcott.
Still say Niasse is better coming off the bench than starting a game, scuffed 2 great chances but hurried and made their defence panic at times.
A soon as the penalty went in we lost our flow and sheer panic set in for a while, probs got screams of wtf when Schnids and Williams came on but they steadied the ship and the panic eased off.
Still say Davies looks nothing like the player he was last season, time is on his side so not too worried just yet.
Overall I thought we played a lot better with more zip going forward than we have for a long time, but on tonight's evidence, we look good with Coleman and Walcott linking up nicely.
Paul Birmingham
108
Posted 01/02/2018 at 00:19:47
If we stay up, then Coleman should be made Captain... Commom sense after tonight's game.. Led by example rarely seen in modern times at Goodison Park.
Gordon Crawford
109
Posted 01/02/2018 at 00:29:27
Yes, great game and we controlled it until Rooney's madness. Should have been four before that. Coleman was immense and Walcott was very good too.
Ernie Baywood
110
Posted 01/02/2018 at 00:30:01
Here we go again... we win, all discussion regarding the selection is apparently irrelevant. We lose, everyone's shite.
I'm thrilled with a win, and was happy with the pressing and tempo in large spells. But surely everyone can see that it wasn't underpinned by any great plan? The selections and gameplan don't seem to have any relationship to past performances. We do things sometimes, then we ditch it and do something else.
Who is confident that the next selection will show any learnings from the game? Not me, I suspect it will just be a collection of players thrown on the pitch and then we hope for the best.
Soren Moyer
111
Posted 01/02/2018 at 00:39:58
Why did we let Lennon go, then kept so many dead wood at the club? Who is in charge of the transfers anyway? Why did we keep Keane?
Colin Glassar
112
Posted 01/02/2018 at 00:43:08
His wife, Kristian?
Lawrence Green
113
Posted 01/02/2018 at 00:51:03
Soren #120 We allowed Lennon to leave because Walcott is vastly superior and to those who think that Keane is hopeless think again, he was pretty good tonight and don't forget that for a large part of the season he was playing with an injury, whether that was his own doing or because he was being forced to do so I don't know but he looked a proper Centre-back tonight and hopefully will continue to do in the coming months and years.
Sam should, if he does nothing else give the captaincy to Seamus Coleman because he embodies what an Everton captain should be as he leads by example. If confidence spreads throughout the team in the coming weeks, we might just sneak a EL spot but for now the three points won against Leicester are most welcome.
John Pierce
114
Posted 01/02/2018 at 01:00:19
Ernie, you are right to point out the win and mainly Coleman's superb display has etched out a poor first 20minutes and a hairy last 15minutes.
In between we did well, a more mobile team, that pressed well and played a higher tempo. Something that really helps the crowd get into it.
I believe the substitutions were the point which altered things. The defensive nature fed the anxiety in the team and crowd alike. Sam removed the two best passers when one would have sufficed. Leicester were already over extended and we had them on the break, yet Williams and Schniederlin offered us nothing other than sitting in.
We just booted the ball back to Leicester.
I was thankful to Davies pissboiling at the end pointing out 10 yards at the referee for almost 90seconds.
Again a free swing at a questionable Arsenal defence Saturday, will Sam get us to turn up?

Soren Moyer
115
Posted 01/02/2018 at 01:01:05
Agree on giving the captaincy to Seamus. However, have to disagree on Keane as he is error-prone, slow to react and is not very good in the air. Even Okasaki! was winning the headers against him tonight.
Jerome Shields
116
Posted 01/02/2018 at 01:06:24
We did well tonight getting a win. We rode our luck, played higher up the pitch, and created more support play for the attack. Coleman played well. Niasse got into good positions and was a threat that occupied the opposition defenders. The goals will come.
Tosun was the victim of negative substitutions. Sigurdsson performed well and should be ahead of Rooney in position selection. Walcott, the advocate of playing higher up the pitch, benifited with two goals (well done!).
Same old inconsistent weaknesses very much present:- in losing and not maintaining possession and defensive organisation and some individual performances (I'm not looking forward to the Arsenal game).
Well, he has got the points tonight to fulfil his relegation promise and keep his contract and big wages going. Kept Moshiri's mooning smile going, as he thinks everything is going hunky dory.
Robin Cannon
117
Posted 01/02/2018 at 01:17:15
Really good game, generally really good performance after a slow start.
The difference just playing one defensive midfielder, holding for a central two with license to attack, instead of two defensive mids! Add that to a genuinely excellent looking right flank now with Coleman and Walcott. I think that was the biggest single difference, and why we looked so much more threatening.
Even Martina wasn't bad. Pressed for the tackle to make the first goal, saved a goalbound shot late on.
Niasse...I've never seen a player with so many good qualities combined with so many bad qualities, and nothing that's just "ok".
Last fifteen minutes after stupid Rooney foul were tense. I don't think it was the substitutions, though, so much as just a general lack of confidence. The team retreated into its shell immediately after it became 2-1, before any changes were made. Substitutions actually calmed it down a little (mainly for slowing things down, rather than for the personnel changes).
All in all, though, exciting match and I came out feeling pretty positive.
Oh...and I got a starring role on Match of the Day with a nice close up of me clapping Seamus before the game, while looking pensive. :D
Mike Dolan
118
Posted 01/02/2018 at 01:49:12
It feels so good to be happy with an Everton performance. I have to admit that I agreed with Peter Gorman it a bit reckless to start Coleman but what a heart this player has. How can anyone not love the sight of him after almost a year out, galloping 70-80 yards to stick the dagger into the heart of Leicester. Just brilliant the stuff of legend. He has to be our captain its Seamus time. A lot of small things happened tonight that could bode well for the future. Most important was the presence of Walcott as a goal scoring threat from the wide right we were suddenly playing on a bigger field tonight . We had more room. Apart from the time immediately after the ridiculous penalty the defense looked more solid with Kean looking more like the player we hoped we were getting when he was signed.
After all we have been through this season its great to feel great after a game. Its great not to have to read the endless deserved negativity about the team that wear OUR jerseys. One win doth not a winter make but this is one Evertonian that is going to bed to night hoping beyond hope that Sheamus' glorious comeback marks the beginning of our come back and the very beginning of the road to glory
Jamie Crowley
119
Posted 01/02/2018 at 02:16:04
Huge 3 points desperately needed.
Count me in the camp that absolutely thought Fat Sam was out of his mo-fo mind starting Seamus!
The rationale is simple. He's been out for over a year, our medical staff would clear someone just let out of the intensive care unit if they thought they'd improve the squad (ask James "hammy" McCarthy), and I fucking adore Seamus Coleman and don't want him to be hurt by being "rushed back".
So there ya have it.
We played well. Leicester a bit unlucky as they hit a crossbar, and then later in the game a crossbar-post two banger. But we thoroughly deserved the 3 points.
Roll on Saturday.
Oh, and continuing my confession, I'd have never signed Theo Walcott. And I'm clearly no judge of talent because the kid based on tonight's game is an exceedingly good footballer.
John Boon
120
Posted 01/02/2018 at 02:20:07
Great to feel great. Apart from the first and last fifteen minutes I felt that every player made a valued contribution. It took a while for us to realise that we could actually play as a team. We could have had a four goal lead by half time. Recently we haven't even had four shots on goal over six or seven games
Coleman was superb and his link up play with Coleman was something we haven't seen since Baines/Pienar on the left. It almost made me forget that Allardyce is still our manager.
Despite an OK display Rooney must have had a brain freeze. He just cannot afford to do something that was ridiculous, to say the least. The last fifteen minutes were a complete turn around and we could have lost a game that we had sewn up.
Colin Gee
121
Posted 01/02/2018 at 02:29:46
I have forgotten what it feels like to win a game! I can't sleep, I am so excited!
Great to see Seamus back, like many others I was surprised to see him start, even more surprised that it looked like he had never been away!
Looks like there's a bit of a partnership starting on our right with Seamus and Theo!
Derek Knox
122
Posted 01/02/2018 at 03:08:57
I would definitely keep the same starting eleven, or very near to it, for Saturday, keep Schneiderlin on the bench, best place for him.
Arsenal will be geed up with their new signings but having said that Swansea showed no fear, we should copy their attitude.
Darren Hind
123
Posted 01/02/2018 at 03:27:07
Mike Hughes
Sam abandoned what you have been constantly apologising for and made your claims that we don't have the players to play look really daft.
Leaving Schneiderlin on the bench and introducing a little energy was a big factor tonight out. Lets hope that particular penny has finally dropped.
Play with tempo and energy and try to win and you have half a chance. Play with ten behind the ball and you will not win.
Being a lover of the beautiful game, I'm delighted that the thousands of football-loving Evertonians who have been calling for this, have been proved right.
I don't know where Peter Gorman and Steve Brown are, but I would bet five years of my life they are in a much happier place tonight than they have been for months.
Sam now needs to abandon idea's of trying to please the "glass half-full" brigade with his spoiling tactics and realise that he as a far better chance of winning over the overwhelming majority by being a bit braver.
When a ToffeeWeb matchday thread is quiet, it generally means all is well with the world. Chances are more people are celebrating. Try to enjoy the performance. Everyone else seems to be...

David Barks
124
Posted 01/02/2018 at 04:11:21
Darren,
It's crazy isn't it? We're told week after week that we can't try to play football, we have to be defensive and play for draws, even at home. Then he does what you and me and many others have been saying, bench Schneiderlin and play with a single holding midfielder. And what do you know, we are more dangerous and got 2 goals and a 3 points!!
Jay Harris
125
Posted 01/02/2018 at 04:48:25
I guess it must be cos he reads ToffeeWeb then, eh, David? Not that he had the squad for 10 days and showed them videos of the rights and wrongs of their play and then chose "his" team for tonight having gone through drills with them at Finch Farm.
Can all the Sam knockers and haters please give it a rest for once and let us all enjoy what was a really good game, performance and essential win. Thanks!
David Barks
126
Posted 01/02/2018 at 04:55:47
Jay,
So he needs 10 days between matches, got it. Pretty sure that had nothing to do with finally dropping Schneiderlin after we all watched him stink the place up for the entire season. Does Sam not have a DVR, not watching the previous matches?
We're hapoy with the result. Happy we didn't line up with Gana and Schneiderlin in the middle. Happy that we didn't set up to just defend. It's all we've been asking for, to go out to try to win!
Jay Harris
127
Posted 01/02/2018 at 05:09:54
David there have also been numerous calls to drop Martina and Sigurdson and a number of posters including myself have said Keane is not fit to wear the shirt.
Well I'm glad to say the manager got his team selection and tactics absolutely right tonight because for me that was our best performance since we beat City 4-0 last season.
All I'm asking is that we stop the nitpicking criticism of the manager at least until the end of the season.
At least we can enjoy the moment.

David Barks
128
Posted 01/02/2018 at 05:23:12
Jay,
The funny thing is neither Darren or myself were nitpicking the manager in our posts. We were actually calling out the fact that some people on here insisted we could not set a team out to go for the win. To quote Darren:
"Sam Abandoned what you have been constantly apologising for and made your claims that we don't have the players to play look really daft."
The people calling for us to stop being so defensive haven't been calling for Gilfy to be dropped. It's actually been calls to put him in the middle. But hell, he did well as part of that front 3 tonight on the left but with a bit of a free role, so we'll done. Absolutely helps having somebody with quality on the right, no doubt about that.
So let's all just agree that we can and should send the team out to win. And that there is no reason to start Schneiderlin alongside Gana.
Steve Solomon
129
Posted 01/02/2018 at 06:12:12
When I saw the team selection and then watched the first 20 minutes, I was really worried, but suddenly things seemed to click into place.
A flatlining season suddenly had a few blips in it.
I love the Walcott/Coleman combo down the right. I love that Walcott switched to the left now and again, kept them guessing. Niasse was a fucking machine up front and even though he may not have the quality needed, he certainly has the heart and the legs.
Now we have a basis to work from.
Onwards and upwards.
COYB!
Christopher Timmins
130
Posted 01/02/2018 at 06:36:04
A big win and hopefully a result to put some confidence back in the team. Lets hope we put a run together and start looking up rather than looking down!
Paul Tran
131
Posted 01/02/2018 at 06:39:30
We pressed them into mistakes, which, surprise, surprise, created space and openings. We even took two of them.
Was it an epiphany, or just a bit of time on the training ground? Either way, proof that this team can attack, especially when Seamus, surely our real captain, is back.
I enjoyed seeing us attack and win.
Stephen Bird
132
Posted 01/02/2018 at 06:49:25
From the age of 4 I dreamt of playing for Everton.
I finally conceded defeat at 55 when my pre season beep tests fell short of my stiffest expectations.
Still at 59 I dream that if I had played for Everton I would have been Seamus Coleman.
A one man advert for what it really means to be a blue
Steven Jones
133
Posted 01/02/2018 at 08:03:51
Stupid comments on team selection before the game - you should be embarrassed with yourselves.
Great combination with Coleman and Theo . Sam deserves great credit getting Theo to sign .
Sam and the coaching team see all the players and have all the stats in training - they have good reason to pick Seamus from the off and it was the right decision from all aspects.
Good team selection Sam!
John G Davies
134
Posted 01/02/2018 at 08:17:51
Great performance great three points let's all enjoy it. Sam set them out well last night, a good performance all round.
Talking of formation, David (#128). Did we play a front 3?
Brian Williams
135
Posted 01/02/2018 at 08:47:15
An excellent hard-fought win... and no drop off in attendance either despite some horrendous weather!
Mike Hughes
136
Posted 01/02/2018 at 08:51:33
Darren Hind #123
Once again you are talking rubbish but I realise it is your default position as a perennial glass half full, know-all whiner.
To correct you, I have never been an apologist for anything, certainly not for any single manager or "philosophy".
My position was to give Sam Allardyce a chance as the EFC manager. End of story. Try getting behind the Mighty Blues. You might enjoy it.
Comprende? (Probably not... LOL).
I'll be back on here after the next match.
Brian Williams
137
Posted 01/02/2018 at 08:58:49
Soren#111.
The reason (I believe) we kept Keane is that other than one stray pass the lad had a very good game and has the potential to have more like it.
In particular (and I said to the lad next to me at the time) Keane played a ball through a couple of Leicester players to Gana (I think) which nobody in that position would have dared play as recently as last week. It would have been, and I fully expected it to be, a sideways or backward pass but he passed it through two Leicester midfielders and gained about fifteen yards and allowed Gana (I think) to turn and then we were well into their half and looking to go forward.
Simple? Yes.
Have we been doing it for most of this season? No.
Why not? In my opinion, confidence, pure and simple!
There were times when that confidence wavered last night but it was a great win and one I readily admit I didn't see happening before the game.

Ernie Baywood
138
Posted 01/02/2018 at 09:58:18
Steven 133 - you really need to get to grips with the concept of hindsight.
Mind you, even with hindsight I'll stand by my comments. There is absolutely no plan to anything we do.
No plan to managerial appointments, transfers, team selection, or gameplan. We lurch from one thing to the next. Some work, some don't. Doesn't matter, we'll lurch into something else next time.
I could handle our position and general performance level if I could see that we were aiming at something. I don't think we're aiming at anything.
So, yes, thrilled with the win as I always will be. But you don't judge anyone on 90 minutes. The problems haven't gone away - we just had one of the peaks that will inevitably accompany a series of troughs.
Phil Parker
139
Posted 01/02/2018 at 10:06:31
Blimey, that result and performance upset a lot of the house haunters on here. Some contributers on here are like the loon who stands at the end of the bar that nobody goes near because he talks complete negative shite. Then I have a look on this site and... there he is!
In future I am just reading the article and not bothering with comments from experts who are only on here before they are taken on as advisors to Barcelona or Real Madrid.
Well done, everyone connected with my club last night, best performance of the season and safe now to prepare for next season.
Andy Williams
140
Posted 01/02/2018 at 10:09:46
The plaudits have rightly been aimed at Shay. But I have to say Theo looks bloody great. And I am not one to gloat but . 'no improvement on what we have?' Yeah right.
Jay Wood
[BRZ]
141
Posted 01/02/2018 at 11:27:15
Ernie @ 138.
So the defeatist worst case scenario comments by many a poster before a ball was kicked were legitimate and anyone highlighting the folly of them can only do so with the benefit of hindsight?
As opposed to people like yourself whose explicit pre-match declarations and precognitive powers proved way wide of the mark.
Right. Got it.
Peter Gorman
142
Posted 01/02/2018 at 11:49:49
In fairness Jay, if you are too cautious to make a prediction yourself prior to a game (very wise) then yes, you can only highlight the folly of them with hindsight.
That's how it works. I'll give you an example; not making any comment prior to the game, posting at halftime that the pre-game predictions are silly = hindsight.
Peter Mills
143
Posted 01/02/2018 at 11:58:47
One very pleasing sight last night was, when Seamus was off on one of his gallops very late in the game, Walcott dropping back to cover at right back.
Stan Schofield
144
Posted 01/02/2018 at 12:02:39
Good performance last night, with Coleman making a great impact, especially after such an injury. Lionhearted doesn't even begin to describe him.
Although the performance was good with a valuable three points, I'm not getting my expectations raised. I might do that after a trend of decent results is established.
Colin Malone
145
Posted 01/02/2018 at 12:31:14
My post @8.
My fear before the game come to fruition. Rooney playing in Davies's role, Davies playing in an advanced role, which Davies is clearly uncomfortable with.
Siggy and Tom, two square pegs in round holes why? To keep Rooney in the side.

Jay Wood
[BRZ]
146
Posted 01/02/2018 at 12:31:20
Peter @ 142.
There is a fundamental difference in, for example, the concerns you and others expressed about playing Coleman from the start, and the negative defeatist predictions as to how the game would play out, dripping with rancid vitriol.
It was a legitimate observation some made about Coleman and I thought Oliver Molloy unnecessarily worked himself up into a right lather with you over it last night.
But that wasn't what I (and others) were calling out about some pre-match posts.
The irony is that Sam Allardyce is accused of being a meek surrender monkey, playing for draws rather than wins, but many an early poster had conceded the game before a ball was even kicked.
The team was not just thrown together and told to get on with it without a plan (as Ernie is claiming). There was a very clear strategy in place last night for anyone with the wit to see it, which worked very well.
Leicester were in fine form. They had not lost or even conceded a PL goal in January before last night. We twatted them. 2-1 flattered them. Their only shot on target was Vardy's Rooney-gifted penalty. We now have a shout at overhauling both them and Burnley in the league.
No hindsight or precognitive powers claimed or required.
Franny Porter
147
Posted 01/02/2018 at 13:20:27
Amazing what a win can do for my fickle confidence lacking brain. Id pretty much given up on yesterday before a ball was kicked, now I'm looking forward to Saturday and hoping we can do enough to get into Europe again.
Soren Moyer
148
Posted 01/02/2018 at 13:50:51
Brian # 137,
I hope to god you are right about him.
Peter Gorman
149
Posted 01/02/2018 at 14:41:50
Jay - I must have misunderstood the point you were making. We are more or less on the same page with this one.
Regardless of the circumstances prior to any match, for me hope springs eternal.
Michael Kenrick
150
Posted 01/02/2018 at 14:54:40
Brian, good point about the crowd. Very robust.
The thousands of empty seats didn't materialize... despite expectations that the Goodison faithful would react to the dreadful fayre they were being forced to watch. A significant number obviously didn't get Darren's message that they should be staying home!
Michael Kenrick
151
Posted 01/02/2018 at 15:39:15
The latest nuggets I have been listening to are explaining to me that people's perceptions, beliefs, attitudes are largely driven by
fear
... With that background, I guess I can begin to understand the otherwise incomprehensible comments at the beginning of this thread, going way overboard on faux concerns for Coleman's welfare on the field of play – get this – "so soon after a leg break".
A "foolish gamble of a desperate man"?!? Let's think for a moment about that. So soon so soon?!?! It's been TEN MONTHS. Did you really think, Peter, that the medical and coaching staff would not have monitored with extreme care and caution every step of Coleman's recovery for the past THREE HUNDRED-ODD DAYS??? A foolish gamble, Neil?? Really???
And that they may have actually had good reason to be fully confident that he would do exactly as he did coming back and playing a full game?? Honestly, there's justifiable fear... but I think this goes well beyond.
John Keating
152
Posted 01/02/2018 at 15:42:55
Wasn't going to watch it last night but got finished early and went. Now "back up North"
I'm glad I went as they all did quite well. I see some of the haters are still peddling their wares but I suppose that will never change until Allardyce leaves and someone else comes in to hate.
I didn't know the team until just before the game and like many was surprised by Coleman starting. I thought he might come off the bench if possible last 20 minutes or so. But hey what do we know. The manager and staff see him every day. They were happy and so was he and we all got a treat to a great display from him.
Once the penalty went in we showed we are still "fragile" defensively when under pressure, hopefully Mangala starts at Arsenal and shores up that left side.
I thought the substitutions were spot on. Though I was hoping Schneiderlin would have been shown the door during the window I must admit he and Williams settled things down a bit.
A guy near us started screaming from kick off how shit we are and all that hoofball nonsense, halfway through the second half when he slagged a "hoofball" clearance it was pointed out it was Coleman who made it, well it shut the arsehole up for the rest of the game thankfully.
Some people are only happy when they're moaning and hating. No doubt they'll be waiting excitedly for Saturday night to continue their told you so's
Dave Abrahams
153
Posted 01/02/2018 at 15:55:16
Jay (146),
I was / am very happy with the result and like you thought we deserved to win by a bigger margin, but I have to agree with Ernie, that for the first 20 minutes or so, there didn't seem to be any recognisable plan. As you said yourself, in an earlier post, we could have been 2-0 after the first 10 minutes.
After we got the first goal, you could see the confidence pour into us and drain out of Leicester. We didn't appear to be in any sort of trouble until the penalty fiasco, then the panic started until the subs were made and we got ourselves together again.
Why Rooney was kept on after the 70-minute mark was a question I bet many were asking, he was well gone. I am amazed at the favourable way he is treated by the media, still a handicap to Everton the further he comes back on the pitch.
ht.
David Barks
154
Posted 01/02/2018 at 15:56:31
I thought Keane looked very good. He seemed very composed in defense, good positioning and dealt with balls well. His passing was also good and not just aimless balls up top. He played quite a few passes from the back, but they were at the player and to his feet or chest. I hope he is given a run in the team now, no chopping the back line.
James Marshall
155
Posted 01/02/2018 at 16:00:08
I love all the posters at the top saying it was 'madness' to play Coleman from the start. The live forum was rife with it too last night, everyone baying for the backroom staff's blood and calling Allardye all manner of things.
Then Seamus goes out there and is probably one of the best players on the park, and plays the full 90!
Everyone's an expert, the club knows nothing.
Peter Gorman
157
Posted 01/02/2018 at 17:13:00
"Did you really think, Peter, that the medical and coaching staff would not have monitored with extreme care and caution every step of Coleman's recovery for the past THREE HUNDRED-ODD DAYS???"
I don't want to go on like a broken record Michael, so I'll try to be brief and make this my last post on the matter.
Jamie Crowley sums up the sentiment pretty well in post 119.
Personally, I was less concerned with Coleman having his leg snapped than incurring another injury due to lack of match practice which happens. Has happened in my own experience in fact. Our club has form for 'rushing' players like this as do others.
I called the decision reckless because that was and still is how I see it; reckless as in, paying no regard to the danger or ignoring the risk. A mere opinion, which is totally irrelevant to Coleman's fantastic performance or the end result. Unless anyone cares to argue there is no risk of injury in a league as robust as the Prem, be my guest.
I thought it unfair to ask a player like Coleman to peform at personal risk of injury hence described it a lack of duty of care. I don't want to see our best player further sidelined because he is not the type to turn down the team. Like a good boxer, sometimes players need protection from themselves.
I was a bit perplexed that some found this so controversial but many a post on TW seems to be a response to something not actually written or conceived.
Now regardless, I am off to catch some match highlights. All the best.
Barry Jones
158
Posted 01/02/2018 at 17:35:03
"All we are saying.... is give Sam a chance!"
Jay Harris
159
Posted 01/02/2018 at 17:40:22
Amen to that, Barry. Some people are so anti-Allardyce, they will find anything to fault the man on and it becomes tedious to read a thread.
Paul A Smith
160
Posted 01/02/2018 at 18:36:29
Along with Tim Cahill and Duncan Ferguson, Seamus Coleman has got to be up there with my favourite Everton players of the last 20 years.< Players like these 3 have no respect for big names. I love that about them all and they are the type of mentality every player needs.
Say what you want about Ferguson, he bullied top names. Maybe not enough but enough evidence to make this claim. It's no coincidence Coleman has missed the last 5 derbies at Anfield.
Paul A Smith
161
Posted 01/02/2018 at 18:40:46
On the subject of the game, I thought the team played well and the fans were awful. Quiet until the boos over subs started. The way the screams and moans start as soon as a misplaced pass is made is just sheer embarrassing.
Goodison must be really hard for a player to settle in. Where is the support? Listen to Swansea and Palace fans. 2-1 up whining and booing at subs. Get a grip.
When our support is good, you can't separate it from the best. Let's hear some fight and support from the stands.

Dave Evans
162
Posted 01/02/2018 at 18:52:47
We won. The players gave their all. We deserved it. I'm happy. Now if I can just think of something to winge about like some experts on TW, I will be clued up as well.
It's all about opinion you know.
Lawrence Green
163
Posted 01/02/2018 at 19:11:30
Paul (#161),
I was there last night and what you describe is miles away from what I experienced, I suppose it all depends on what part of the ground you are in.

Darren Hind
164
Posted 01/02/2018 at 19:49:53
Lets get something clear here..
I did NOT send a message. I simply stated I would not be surprised if there was a couple of thousand empty seats due to the poor fayre that has been served up (after praising the faithful for their wonderful loyalty).
Anyone who wants to question how many empty seats there was need only subtract last nights attendance from capacity. Anyone disputing a fall need only compare last nights attendance to the previous game.
A break in fixtures to sharpen the appetite. Two new signings, The return of Seamus, The away team taking up their allocation. A reported lengthy waiting list for Season tickets are all reasons to hope for an increase or at least a match on the last attendance.
And for further clarity...I would hardly suggest others should stay away from a game I attended myself.
At the end of the day who really cares whether I was right, wrong, partially right or even partially wrong?
Mike Hughes
You have apologised/ praised and accepted the performances.
Last time you came on calling others out was after the Swansea game when you were telling us how "The deaf could hear and the blind could see" and how we would all worship Sam and his "Beautiful best ever start"...but those nasty people who criticised BS didn't seem to listen did they mate. They wanted more for our club and still called it as they saw it – pug ugly anti football.
Now after all those games where a shot on target was so rare, that when one did materialise the crowd made mocking ironic cheers. You are back, Not to celebrate, but to turn a pleasant thread by calling out people who had rightly criticised the dross that had gone before. Unlike the rest of us you seemed unable to simply enjoy the win.
If this thread has turned into a bun fight its because some people have actively sought to make it so.
After one of those humiliations between your attempted gloats Sam openly declared we would become more boring.
So here's a little question for you; What do you suppose steered Sam away from his threat?
Was it A) Your unstinting support and criticism of other fans when they railed against his crime against football?
Or B) The crescendo of Boo's which would have been ringing in his ears for days after the West Brom game as thousands of football lovers left him in no doubt that they were not prepared to take anymore of the cowardly shite people like you have been letting him get away with.
"And lo the masses spoke" ... "And the infidel relented!"

John G Davies
165
Posted 01/02/2018 at 19:57:39
http://www.soccerstats.com/attendance.asp?league=england
300 down on seasons average crowd.
On a night with a monsoon forecast.
Darren Hind
166
Posted 01/02/2018 at 19:59:50
Oh dear me... They really are going to make a song and dance of this too.
Monsoons... In Walton
Jay Harris
167
Posted 01/02/2018 at 20:00:07
Darren, I think Sam is too thick-skinned and been around the block too much to take any notice of the booing.
I think it is more a case of him having 10 days with the squad to get some enthusiasm and motivation into the players.
The noticeable thing for me last night was the movement off the ball – something we haven't seen in a long time from the team.
Whether you put that down to Walcott's and Seamus's enthusiasm rubbing off or using only one defensive midfielder, or whether you give the manager credit for putting a rocket up the players arses, doesn't matter to me.
What matters is that we saw the best performance in a long time from a bunch of players we had written off – and long may it continue.
Jay Wood
[BRZ]
168
Posted 01/02/2018 at 20:00:40
Dave @ 153.
"...for the first twenty minutes or so there didn't seem to be any recognisable plan, and as you said yourself, in an earlier post, we could have been 2-0 [down] after the first ten minutes." (or 4-0 up, to complete the reference you made to my half time post).
There is a difference Dave between being slow out of the traps (a common theme by Everton this season, whoever the manager has been) and the claim the team had no plan. You are also too generous to Leicester in implying they dominated us for 20 minutes at the start.
They had 2 good chances in the opening 5 minutes. Thereafter, we settled. We had already had them at 6s and 7s, pressing high, forcing them to cough up the ball around their penalty area, before we scored. It was a plan that was rewarded with 2 goals (and it could have been more) before half time.
They weren't laying a glove on us until Rooney gifted them the penalty. Incidentally, the only shot on target the visitors had all game.
Our frailty in confidence is still there for all to see, demonstrated by how the team played for 10 minutes following their penalty. A more confident side would have shrugged it off and carried on playing as they had been.
The substitutions of Schneiderlin and Calvert-Lewin for Sigurdsson and Rooney might have come a tad earlier. They were not out and out defensive moves as some try to portray it as we retained two central attackers and the considerable threat of Walcott.
A case could have been made to sub out Davies rather than Sigurdsson, but possibly Sam had one eye on the Arsenal game at the weekend. The Williams substitution for Niasse was so close to the end as to make no difference, but some in this thread post about it as if it came 20 minutes from the final whistle rather than the 2 minutes it actually was.
And as I keep telling you, Dave – and I'm genuinely surprised at someone of your vintage and knowledge of Everton and, as a betting man, someone able to read 'form' – we were not and are not in danger of relegation.
Stop looking at Everton in isolation. Check on the form of other teams. Look at the remaining fixtures of ALL the clubs below us: the majority of ALL their fixtures are against other clubs below us.
Conclusion: all will drop points against each other, making the task of overhauling Everton as you and others fear an even more unlikely one.
I'm still anticipating teams with as few as 35-37 points this season will avoid the drop, let alone the mythical 40 points worriers hanker for. And 7th is not beyond Everton, rather than worry about finishing 18th, 19th or 20th.
John G Davies
169
Posted 01/02/2018 at 20:02:29
*1,300
John G Davies
170
Posted 01/02/2018 at 20:04:24
The weather in Walton is notoriously bad.
A large black cloud persistently follows one particular inhabitant 😁
Neil Copeland
171
Posted 01/02/2018 at 20:06:24
Lots of positives from last night; vocal support (what a difference Seamus made in this respect), a team playing 10 yards further up the pitch, a more attacking formation (which like many others I thought looked an odd selection at the start of night), a team that seemed to have balance on the pitch, Seamus, Theo, Keane and Martina. There is is definitely the makings of a good team in there.
I still think we are better served with Niasse coming off the bench but got to love his sheer tenacity. I would like to see Cenk start against Arsenal and keep the rest of the team the same.
Hopefully, Mangala will provide some much needed left hand cover, but I would have him on the bench to start with.
I thought the game was really enjoyable and probably our best all round performance of the season to date. As Darren highlights above I sincerely hope Sam has learned the lesson that we expect an Everton team to play half decent football and he continues with the more positive approach.
Tony Hill
172
Posted 01/02/2018 at 20:23:33
Jay (#159), too tedious for me now, I'm afraid. The lack of honesty is depressing and represents a strange departure from the type of Evertonian debate I grew up with.
Jay Harris
173
Posted 01/02/2018 at 20:55:05
Tony,
I know. It has turned into a completion for experts to prove they know better than each other and a lifelong professional at the top level rather than a genuine debate about the welfare of the club.
Dave Williams
174
Posted 01/02/2018 at 21:08:39
This was one of the most enjoyable games this season – entertaining and whilst clearly there is still much work to be done there was plenty to be optimistic about.
Seamus was unbelievably good showing fitness, commitment and an absolute determination to win and last the whole game.
Martina had an excellent game as did Keane and Walcott.
Rooney continues to concern me – capable of delivering a brilliant pass but he has a propensity to pass straight to the opposition when not under much pressure which I find curious in a player of his experience and ability. At the moment he may just about be worth his place but he is someone who we need to replace if we are to develop the team. It's sad to see how his game has deteriorated.
I thought Sam did a good job last night and it will be interesting to see if we can turn in a good performance on Saturday.
Paul A Smith
175
Posted 01/02/2018 at 21:26:48
Lawrence, that's a fair point mate. Maybe it was more prominent in the Upper Gwladys. The reaction after Leicester scored was awful though. The groans when we came under pressure never helped and never do.
Jay Harris – spot on. There is actually a lot of people above fan level and some very good footballers that really rate Allardyce.
If we were signing a player today and had the same views as they have about Allardyce they would say the professionals know better.
www.chroniclelive.co.uk/sport/football/football-news/ex-newcastle-manager-sam-allardyce-141
Dave Abrahams
176
Posted 01/02/2018 at 21:35:03
Jay (168), I think we saw the game the same way, just some minor differences, honestly didn't see a plan early on, and if we had them at sixes and sevens we only had a shot from Walcott on goal. As I said in my post I thought we well worth our win and deserved a bigger margin of victory, thought Rooney should have been hooked well before he was, he was gone.
As for all the stats you produce Jay, it hearten me that you think we have no chance of going down, then I see them perform and believe my own eyes,
After the cup game versus Liverpool I was encouraged by that performance and of course last nights game has confirmed that belief we will be completely out of trouble earlier than I thought, but Jay this is Everton and the few minutes after the penalty showed how frail and all over the place we become in a matter of minutes.
However you might be glad to know I have stopped lighting candles to preserve our premier league status: saving a few bob there!!!!!!
Michael Kenrick
177
Posted 01/02/2018 at 21:41:28
Really, Peter, you're conceding to someone who says:
He's been out for over a year. — No, sorry, fake news. He was injured in March 2017. He plays again in January 2018. So under a year. I know Jamie is a yank, but really, that's not a valid excuse for spouting such an egregious "alternative fact".
Continuing... "Our medical staff would clear someone just let out of the intensive care unit" — for gawd's sake, what utter hyperbolic nonsense. Listen to yourself!
I don't want him to be hurt by being "rushed back". — He's not being "rushed back", FFS. He's been in recovery for TEN MONTHS!!!
He's now fit and able to play a full Premier League game. Accept you are both wrong and stop talking utter and complete nonsense!!!
Jay Wood
[BRZ]
178
Posted 01/02/2018 at 21:52:52
Dave @ 176.
"you might be glad to know I have stopped lighting candles to preserve our premier league status: saving a few bob there!!!!!!"
And there's me thinking you were a well-to-do with electricity in your house, Dave... ;-)
John G Davies
179
Posted 01/02/2018 at 22:05:14
Dave, how much is it per candle? A lot of churches abroad have the electric version nowadays. Put €1 in and the bulb lasts just long enough before you walk away...
Tony Abrahams
180
Posted 01/02/2018 at 22:10:06
He charges his iPad, and makes a flask of tea, in his next door neighbors every morning, Jay!
Peter Gorman
181
Posted 01/02/2018 at 22:16:27
Michael, please - there is a world of difference in being 'rushed back' into first team football and being able to walk.
If you don't get that the point, is entirely to do with the risk of exposure to the Premier League without match fitness, I can't say any more.
Jay Wood
[BRZ]
182
Posted 01/02/2018 at 22:25:42
I just knew you'd put your two-penneth worth in, Tony!
Not in the lekky metre, mind!
Oliver Molloy
183
Posted 01/02/2018 at 22:47:02
Peter Gorman and Jamie Crowley.
There is a major difference between breaking a leg and hamstrings, ligaments injuries regards rehab etc etc.

Both of you obviously know better than the player himself, our medical team AND the surgeon who carried out the operation on Seamus who has been closely involved in the player's recovery.
Seamus Coleman wanted to play against Liverpool in the cup but was told no way – that's how ready Seamus Coleman is, that's showed a duty of care from the club. I wouldn't be surprised if Coleman doesn't play against Arsenal and wouldn't be surprised if he does.
Last night was the perfect game to introduce Coleman back into the team and if you two can not see that I would like to know when the fuck would you put Seamus back in the team.

He could have broke his leg again last night, that's football!
Darren Hind
184
Posted 02/02/2018 at 05:35:42
Jay Harris
"What matters is we saw the best performances in a long time from a bunch of players we had written off."
WE??? What you really mean Jay is YOU had written them off.
You and a few others have bought into Allardyce's claims that we are not good enough to play any other way than the cowardly negative manner he has made a living from. You have adopted this truly bizarre stand point where, in order to defend one truly awful manager, you will write off a whole squad of international players... and anyone who doesn't follow suit is "negative" and should really spend time "getting behind the team" – A team full of players you so readily and regularly write off... Do you see an irony ?
I don't care how thick-skinned Allardyce is. He knows which side of his bread is buttered. A few more reactions like the one after the West Brom game would virtually guarantee he won't be here next season... and he knows it.
So it would appear you people who have repeatedly berated fans for not accepting the worst football being played anywhere in the country are now in a bit of a corner... and Sam's in there with you. The players you have consistently written off have just outplayed a team many regard as the best of the rest. Your claims have been laid bare.
The best thing about Wednesday's performance is, that this pathetic excuse can never be used again
I would love to have heard Big Sam's advice to Seamus before the game.
Big Sam – "Listen Seamus, We don't do this swashbuckling stuff with full backs imposing their will on the opposition anymore. We like to get everyone behind the ball because we are not good enough to attack. Just sit tight and give nothing away."
Seamus – "Step aside, fat boy, this is a team, a group, one body and you're about to find out who is the bollocks."
Darren Hind
185
Posted 02/02/2018 at 05:50:44
Oh and can we please put aside this childish "haters" nonsense. It's the language of the school yard.
99% of Evertonians have not and will not ever meet Allardyce... They couldn't possible hate him. However, those who love the beautiful game are perfectly entitled to hate his approach to it...
Dave Abrahams
186
Posted 02/02/2018 at 09:22:09
John G (179), you could have built a cathedral with all the money I've spent over the years buying candles in church (get that Jay!!!), most of it spent on praying for Everton.
David Graves
187
Posted 02/02/2018 at 15:15:10
Peter Gorman;
Have you seen the direct quotes from Seamus?
"I found out a couple of days ago from the manager [that I was starting]. I had been preparing for that moment for the last 10 months. The manager said at half-time to give them a nod when I started to fatigue, but I just told him there was no way I was going to get tired.
"He told me to use my head and be sensible but I'd been waiting 10 months so there was no chance I was going to tire - although I did blow up a little bit at the end!"
Makes your original statement that the manager was "reckless bordering on a complete failure of duty of care" a little ill-informed doesn't it?
Peter Gorman
188
Posted 02/02/2018 at 15:28:38
Not really, David, reckless is my opinion on the risk involved in starting a player with so little match fitness – a grand total of 60 mins in 10 months (interesting fact, less time than Seamus spent in a hospital bed 'preparing' for the match). Seems odd that so many posters refuting the 'rushed back' claim seem to think lying in bed with a cast on your leg counts as preparation for a Premier League fixture.
You are entitled to disagree by all means, but my opinion is only informed by precedents and personal experience. I don't know quite at what point it became so personal with you.
Paul A Smith
189
Posted 02/02/2018 at 15:34:25
The lengths people will go to just to make their post sound correct is staggering.
I, as well as thousands of others, have been delighted with Coleman's performance but I am not hell bent enough to say it won us the game. It was a big help, along with Allardyce's signing, Walcott being lethal in front of goal.
What won us the game effectively was Martina clearing off the line at 2-1. The luck before that of Ihenacho hitting the woodwork.
To suggest as Darren Hind does that this was some spiritual effort from Coleman to go beyond Allardyce's methods is like hearing a WWF commentator. It's so contradictive too.
The approach without Coleman will always be different. If you think Allardyce will be putting checks on Coleman's game to not go beyond a defence, I think you'll be badly mistaken. But when it doesn't happen, you will suggest Coleman is ignoring him anyway.
John G Davies
190
Posted 02/02/2018 at 15:51:10
Like this lad Paul?
http://prowrestling.wikia.com/wiki/The_Undertaker
John G Davies
191
Posted 02/02/2018 at 15:53:02
You're right, though, mate. What manager would nullify the great attacking strength of a player like Coleman?
Steve Carse
192
Posted 02/02/2018 at 15:57:50
Darren (164), just a few observations on the attendance on Wednesday.
I don't think there had been any sharpening of appetites in the 10 days since our previous home game; quite the opposite I would suggest. And Leicester did not take up the full away allocation – the Upper Bullens was sold to home support.
Darren Hind
194
Posted 02/02/2018 at 16:57:00
Paul A Smith
At no time did I state Coleman won us the game, never even come close to suggesting it. I said that the players proved all those really negative people who have insisted all season that they couldn't play, completely wrong.
I also said Allardyce's excuse for the tripe we have churned out has been knocked out of the park.
When I put up a make-believe conversation between Sam and Seamus, I assumed nobody would actually think the conversation took place. I certainly didn't expect to have to explain that
It was a piss-take to illustrate the huge conflict between Seamus's swashbuckling style and Sam's vow to make us even more boring.
I know we rode our luck with the woodwork being struck 2-3 times, but we too could have scored a few more. It was much more my type of game. I was actually pleased with the performance and the result. but it would appear some can't get their heads around the fact that people don't stop loving the club simply because they don't rate the manager.
Paul A Smith
195
Posted 02/02/2018 at 17:01:17
John (#191),
I couldn't imagine Coleman in a parked bus formation against 14 teams in the league away and I can't imagine him sat back against most teams at home. He will be pegged back by quality opposition in a few games, like he has been under every other manager including Ireland's.
That to me makes it no different to any other game plan. But that is also me assuming. Maybe he will be bombing past Bellerin and Bailly next season and Allardyce is then guilty of being too naive.
To me, its just give the man a chance. I have always liked his football analysis and like every other manager that arrives here I keep an open mind due to the personnel they have and also what they have done in the past.
When I summarised Allardyce coming here I decided for my view that he has gained great results with players you wouldn't dream of having at Everton. He turned Bolton from a little FA Cup team to a team with a lot of quality.
The football he likes is direct. Mindset fans call it hoofball. I would look at the averages before I made that call. How many of our goals since he arrived have come from hoofball? If hoofball is smashing the ball from your own half in defence. Great.
Paul A Smith
196
Posted 02/02/2018 at 17:20:46
Darren I knew exactly what you meant and it still rings true with contradiction and mindset. Your pointing out Coleman's brilliant mentality vs Allardyce tactics but in the same breath having a pop at his excuses for lost points.
Well to me, you can't win every game with poor players and the most obvious phase of this debate is Allardyce didn't have Coleman an Walcott together in these games so his excuse is bang-on true.
Darren Hind
197
Posted 02/02/2018 at 17:34:16
Ha Ha, Paul so it's you who is claiming Coleman won us the game – you were dead against that in post.
How about admitting that most of the other players played well and Sam now looks a mug for claiming they couldn't play?
What Sam didn't have, was Schneiderlin on the pitch after picking him repeatedly throughout the dreadful run when we could barely get a shot on target.
The penny finally dropped... so was Morgan, and suddenly there was energy and tempo.
Sam finally dropped the disinterested fella and suddenly there was light. Weird that.
Paul A Smith
199
Posted 02/02/2018 at 17:53:55
Darren, your obsessed. He's been trying to give them a kick and it still wasn't a vintage performance – or maybe it was to you.
Poor players put more effort in which has been demanded and we scraped a win.
John G Davies
200
Posted 02/02/2018 at 18:49:44
To be fair, Darren, Paul didn't say Coleman won us the game.
He correctly pointed out Sam hadn't had the benefit of Coleman and Walcott in the side together.
David Currie
201
Posted 03/02/2018 at 02:43:37
Darren is right like many on here have been saying, drop Schneiderlin and we will be a more attacking outfit. Sam needs to be braver with his selections and try to win games by having a go instead of sitting back. Hopefully he will just play Gana as the defensive mid. Was refreshing to see the team attack and have players with pace that we have to have if both Rooney and Sig play.
Ernie Baywood
202
Posted 03/02/2018 at 03:10:20
Jay Wood - you've misquoted me here. And possibly misunderstood what a plan looks like.
It goes beyond 90 minutes.
Maybe the whole season was setup to lull Leicester into a false sense of security and then suddenly play a pressing game and emerge with a glorious 2-1 home win? Quite a masterplan that one.
Or maybe we'll just continue to lurch from one setup to the next. Different selections, different tactics.
My money is on the latter. I'm bold enough to make that prediction based on what I can see happening in front of me. Our club is completely directionless. A total shambles.
Or I could just come online after every game and take potshots at fellow fans. Every time we lose I'll criticise anyone who was positive before the game and say how obvious it was that the selection was wrong. When we win I'll take on the whingers who just don't have the footballing knowledge to understand that the selection was clearly going to work.
That'll make me feel important, won't it Jay?
---
Add Your Comments
In order to post a comment, you need to be logged in as a registered user of the site.
Or Sign up as a ToffeeWeb Member — it's free, takes just a few minutes and will allow you to post your comments on articles and Talking Points submissions across the site.
© ToffeeWeb