Report
Win provides fine retribution for Oumar Niasse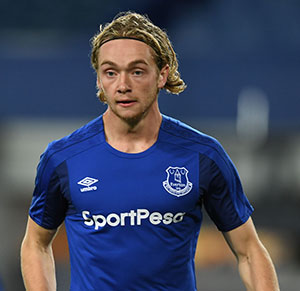 Tom Davies is retained in midfield
Everton 3 - 1 Crystal Palace
With a goal and an assist against Crystal Palace this afternoon, Oumar Niasse extracts retribution for that gross injustice back at Selhurst Park where he became the first Premier League player to be punished for unfairly winning a penalty supposedly fooling the referee.
Eliaquim Mangala got his Goodison Debut, with Cenk Tosun still on the subs bench.Seamus Coleman is back in the team after being rested against Arsenal. Rooney and Sigurdsson (who "can't play together")... play together. Bolasie and Schneiderlin were on the bench.
Niasse tried to burst through in Everton's first attack, winning a corner that was defended away. Rooney set Walcott free down the right with a brilliant ball but the Everton layer was wrongly ruled offside.
A horrible back-pass from Mangala sucked Pickford well out of his area, and Cabaye spurned the chance, looping his distant drive across the goal. At the other end, a fine lay-back from Walcott off a great ball from Rooney saw Sigurdsson fire a decent shot just beyond the far post.
Davies was released down the right but rather lashed at his cross, well overhit.> Another mistake from Mangala let Sorloth through and the follow-up saw Milivojevic drive a thunderous shot a foot or two wide.
An Everton attack down the middle saw Gueye fouled and Sigurdsson deliberated with Rooney before firing the set-piece chance off the wall for a corner, Benteke heading it away. Everton were attacking brightly with Niasse released but he was well wide of the goal and could not convert.
Everton had dominated the early play but things went a bit flat around the 20-minute mark with too many errors coming back in and Everton's forward intent became unnecessarily hesitant, Palace winning corner.
Gueye played a difficult crossfield to Walcott who could only cross it to Hennessey at the near post. Walcott did better with a cross that Sigurdsson threatened, winning an Everton corner but once again Benteke was the first man, however, Geuye put in a decent shot, forcing a good save from Hennessey.
Walcott drove through four players and won another dangerous set-piece, this time Rooney hitting the wall for a corner but again nothing came of it.
Better ball retention from Everton came at the cost of slow and too deliberate build-up passing until Davies passed to a defender. But a move down the right came so close, Coleman feeding Walcott and the loose ball came to Davies but his shot was blocked.
Great play form Sigurdsson saw a fine low cross that somehow Walcott could not control and a glorious chance was gone. Cabaye fired in a dropping shot that Pickford shovelled behind for a corner. Benteke bundled it in off Pickford but was called offside.
Everton won anther corner, this one getting beyond Benteke and causing some danger but Mangala went down in pain on the Palace goal-line trying to reach an unorthodox cross from Niasse, falling awkwardly, the play eventually being stopped. Mangala needed more treatment off the pitch and went down again after resuming, Ashley Williams eventually replacing him just before half-time with 2 added minutes.
Sorloth came so close to setting up Benteke for a goal as the big Palace nemesis mis-directed his header between McArthur and the goal, a very dangerous chance.
Coleman was withdrawn at the break, replaced by Jonjoe Kenny. From a nothing hoofball, Niasse cleverly played in Sigurdsson who fired home from near the dee with possibly a slight deflection inside the first minute of the second half.
Some ugly sloppiness at the back had Evertonians sweating as they seemed determined to set up Palace with an equalizer. But at the other end, Martina in space picked out Niasse whose very accomplished header was directed nicely inside Henessey's post.
A great run through the middle by Walcott and exchange with Niasse almost paid off as Everton looked suddenly a lot more comfortable thanks to two quick goals. Van Aanholt was booked for very little. Cabaye delivered a fine cross onto Benteke's head and he overpowered Kenny to direct it just an inch outside of the post with Pickford stranded.
Rooney once again showed his brilliant vision and execution picking out Walcott with a fantastic diagonal cross-field pass but the exchange with Kenny was defended away and Palace set up their nbest move, Van Aanholt whipping in a fine cross for Sorloth to power goalaward forcing a good stretching save from Pickdore to keep it out.
Palace attacked with determination, winning a corner that caused panic, Walcott committing the foul in the midfield and getting a yellow card from John Moss. Fosu-Mensah gifted Everton a corner with a poor clearance, delivered a little better by Sigurdsson but still not ending in a decent chance.
Everton seasled the win with an attack down the right , Kenny playing a nice low ball for Oumar Niasse to scuff his a shot towards the corner of the goal and as Wayne Hennessey palmed it away, Gylfi Sigurdsson raced in to turn the ball back into the 6-yard box where Tom Davies was on hand to slot home the third goal in front of the Gwladys Street.
Gana, who had played well, was clapped off only for Schneiderlin to be loudly booed onto the field as the third and final substitute with 10 minutes left.
Van Aanholt fired in a wicked shot Pickford had to push behind for a corner that caussed havoc, Kenny raising his arms and handling it amidst the goalmouth mayhem, and Moss giving the penalty that Milivojevic drove hard past Pickford, despite him getting a touch.
Sigurdsson delivered a great curling free-kick to the far post where Keane was denied by Tomkins. Palace pushed hard for another goal but smart intervention by Rooney pushed them back up field and let Davies run time down in the corner.
Another above-average crowd went home happy after witnessing an above-average performance by Everton that only served to underline how poor the effort had been last weekend against Arsenal at The Emirates.
Scorers: Sigurdsson (46'), Niasse (51'), Davies (75')
Everton: Pickford, Coleman (46' Kenny), Keane, Mangala (44' Williams), Martina, Davies, Gueye (81' Schneiderlin), Rooney, Walcott [Y:68'], Sigurdsson, Niasse.
Subs not Used: Robles, Bolasie, Tosun, Calvert-Lewin.
Crystal Palace: Hennessey, Ward, Fosu-Mensah, , Van Aanholt [Y:54'], Townsend, Cabaye, Milivojevic, McArthur, Sorloth, Benteke.
Subs: Henry, Souare, Riedewald, Delaney, Lee, Wan-Bissaka, Rakip.
Referee: Jonathan Moss
Attendance: 39,139
---
Reader Comments (172)
Note: the following content is not moderated or vetted by the site owners at the time of submission. Comments are the responsibility of the poster. Disclaimer
Mike Kehoe
2
Posted 10/02/2018 at 14:14:59
A bit worried about Mangala but glad to see no Schneiderlin, other than that looks decent.
Chris Gould
3
Posted 10/02/2018 at 14:15:44
Let's hope that Keane and Mangala can forge a formidable partnership (as unlikely as it sounds, I'm trying to be positive). We need to be solid and patient today, but we MUST have a proper go at them!
Press like we did against Leiscester and hope the chances fall to Walcott.
Fran Mitchell
4
Posted 10/02/2018 at 14:20:48
Expected line up. Think Holgate should be above Keane, Keane just not good enough. Mangala, we can only hope comes good.
Schneiderlin should be not even near the bench.
Niasse shouldn't be starting. Give Tosun a chance, ffs.
No sign of Vlasic, who should be on the bench. No point in both Tosun and DCL on the bench when we will only play one. Vlasic would at least offer another option.
Robin Cannon
5
Posted 10/02/2018 at 14:28:50
Basically the team vs Leicester, with the addition of Mangala.
At least it means only one defensive midfielder, then Davies and Rooney as the central midfield two. Niasse might occasionally have a midfielder running into the box to support.
Jay Harris
6
Posted 10/02/2018 at 14:32:26
I'm happy with the team – except for Keane and Mangala – both mistakes waiting to happen and both lacking concentration and awareness.
I hope we are on the front foot enough for that not to be a problem.
Bobby Thomas
7
Posted 10/02/2018 at 14:37:21
Keane and a debutante at centre-back. I'm not optimistic.
At least in signing Mangala, the management have recognised the lack of strength and pace in the centre of the side.
Problem with Keane is I can't make out what kind of centre-back he is. He isn't quick, so a reader/sweeper is out. He's not overly strong or aggressive, so that's out. I'm hoping the injury means he has been playing injured or been unfit all season.
Bill Gienapp
8
Posted 10/02/2018 at 14:44:39
The Keane/Mangala pairing could go either way, and I'd prefer Tosun to Niasse, but otherwise pretty close to the optimal lineup I'd like to see out there.
Ciarán McGlone
9
Posted 10/02/2018 at 14:55:27
Mangala is so error-prone he makes Williams look lucky. Can't see us winning this.
Ajay Gopal
10
Posted 10/02/2018 at 14:56:04
Garbutt should have been on the bench instead of Schneiderlin. And is Baningime now banished? He is neither in the Senior squad nor in the U23s.
Ciarán McGlone
11
Posted 10/02/2018 at 15:01:02
As for Tosun...
We appear to have a policy of spending £20 million or so on players who are either not good enough or are not rated by the manager.
Garry S
12
Posted 10/02/2018 at 15:53:51
I'm still scratching my head.
Mangala was shit at Manchester City from the day they bought him. He wasn't a once-good player who hit a bad spell of form and just needed new surroundings. He's shit. Not good enough for the Premier League.
Who on earth at Everton looked at him and thought that's the best central defender we could get? I'd rather we recalled Galloway!
I know it's just a loan deal but it stinks. Feels like a favour to an agent or something like that.
Jay Wood
[BRZ]
13
Posted 10/02/2018 at 15:59:54
Decent enough half and a marked improvement on last week's effort.
Need to work the keeper more. And lumping corners into the area is just gifting the ball back to Palace, given the size of their defending players.
Walcott and Rooney the cleverest footballers on the pitch. Hopefully the breakthrough will come with a touch of guile from one of them.
Trevor Lynes
14
Posted 10/02/2018 at 16:00:16
Why is Bolasie on the bench? He has to play if he is to get full fitness back. He is a dangerous player and may well open Palace up.
Rooney must be subbed at the hour mark otherwise we will be in trouble.
Phil Smith
18
Posted 10/02/2018 at 16:41:30
Sorry but I don't agree that we should boo any of our players when they enter the field. Shameful.
Dean Cooper
19
Posted 10/02/2018 at 16:52:43
Sigurdsson was class today. And Walcott looks a steal at £20m. Davies worked hard, didn't think he played well today but took his goal well. Rooney plays how Morgan should, but I'm worried that once teams find out he doesn't use his left, he'll be nullified.
Really beginning to like Niasse. Won't be the man to take us forward, but his energy and knack of putting the ball in the back of the net means there should always be a spot on the bench for him.
Ernie Baywood
20
Posted 10/02/2018 at 17:00:56
I disagree Phil. He's had his chances. No Evertonian wants him picked and there was no benefit to bringing him on when we've got players like Tosun who would surely benefit from actually getting some game time.
We're not talking about booing, say, Martina or Davies here. It's a bloke who has hidden all season.
How else do you get to have your say?
Sam dismisses Internet discussions as "15 people who probably didn't even go to the game". Well matchgoers gave him an opinion today.
Ernie Baywood
21
Posted 10/02/2018 at 17:04:51
Dean, agree regarding Davies. His hard work was a factor for us but he had a bad day on the ball. Just seemed flat footed whenever it was played to him, struggled in possession. Kept on going though and pleased he got some reward.
Ian Hollingworth
22
Posted 10/02/2018 at 17:04:54
3 points and 3 goals so gotta be pleased with that.
Walcott looks a great buy.
Now Sam, please stick to picking the best players in their best positions... so no more Schneiderlin!!!
Colin Glassar
23
Posted 10/02/2018 at 17:05:37
No-one really knows who was getting booed – Schneiderlin or Big Sam. Maybe they can use VAR on MotD tonight to clear that up.
Isn't it nice to win? I'd forgotten how it felt.
Ernie Baywood
24
Posted 10/02/2018 at 17:06:02
Wonder if Sam sees Watford away as worth turning up for?
Ciarán McGlone
25
Posted 10/02/2018 at 17:06:50
Happy to eat my pre-match words.
Decent performance with most players putting in a good shift. At times we looked very good. Rooney and Walcott ran the show.
I was glad to see Managala go off... I have no idea what he was doing in their six yard box during open play. The guy is an absolute calamity.
As for Schneiderlin. I wouldn't boo any player on the pitch... and he didn't pick himself... but he's been awful and supporters have the right to make their opinions known.
Colin Glassar
26
Posted 10/02/2018 at 17:09:11
That depends on Moshiri, Ernie. Are they one of the teams he expects to lose to?
Anthony Flack
27
Posted 10/02/2018 at 17:11:24
I'll cheer him when he plays well or even tries hard – he does neither.
If he is so sensitive and delicate that he needs encouragement, he should be doing something else.
If he tried and wasn't much good, he would be fine. Until then, boo all you like.
Jay Harris
28
Posted 10/02/2018 at 17:16:28
Shout for Martina, he kept Townsend quiet and laid the Niasse goal on in their penalty area!!
Hope Seamus is okay and it was just a precaution, similar for Gana.
Paul Ellam
29
Posted 10/02/2018 at 17:17:22
Typical Allardyce. Rested our "best" players against a team he predicted we would lose against – and did. Brought said players back in to play against a team he thought we could beat – and did.
That is his formula. It will be the same while ever he is in charge here.

Jimmy Hogan
30
Posted 10/02/2018 at 17:21:12
Yes, Sam. Not 15 people slagging you off on the Internet but 38,000 booing you to your face.
Dennis Ng
31
Posted 10/02/2018 at 17:24:17
Any team 7th and below should be teams Moshiri expects us to beat this season I guess. Can't get into Europe if we're not even 7th. Safety first sure but that would be a great departure from Moshiri's initial goal and I don't think he's a fickle person when it comes to targets.
Michael Lynch
32
Posted 10/02/2018 at 17:24:23
If 38,000 fans were booing Sam for bringing on Schneiderlin instead of an attacking player... well, a fella who sits by the dugout just said on Radio Merseyside that Sam was about to bring on Bolasie until Rooney gave him the nod that Gana was struggling, so that's why he brought on Schneiderlin.
Though to be fair, I could only hear about 15 people booing.
Jay Wood
[BRZ]
33
Posted 10/02/2018 at 17:24:38
Very solid, comfortable and expected win at home to a bottom half team.
Mistakes were made, but nobody had an out-and-out bad game, though Mangala tried!
The performance epitomizes why we are where we currently are. Against better teams you get punished pretty much every time you cough up cheap possession or don't close down effectively enough around your own penalty area.
When teams like Palace did the same against us today, we have enough to take advantage of their generosity.
Wayne Rooney was my MotM. Orchestrated so many good things from deep, but special mentions also to:
* Cuca Martina – defended well, supported the attack well, and laid it on a plate for Oumar's goal
* Tom Davies – yes, still too easily knocked off the ball at times and then gives away a cheap foul in trying to win the ball back, but he was closer to last season's form today than perhaps at any time this season. The energy and constant effort he offers is so much more than a certain Frenchmen brings to the team. Nice finish for his goal and played a part in Oumar's goal
* Theo Walcott – some worried about losing Aaron Lennon because of the extra protection he offered to Jonjoe Kenny in particular. Theo has surprised me how much (and well) he supports his full back partners defensively. He is also currently our most threatening forward with his pace, passing, movement and awareness
* Gylfi Sigurdsson – you can't fault his effort and he knows how to finish from all sorts of positions and situations. Would like to see more consistency from him on his famed dead ball play
As for the booing of the entry of Morgan Schneiderlin onto the pitch, I am struggling to recall such a negative reaction from the Goodison faithful to a player's introduction. Not nice to hear, but understandable.
It's hard to know if it was directed at the manager, or the player himself. I hedge more towards the latter.
A 7th place finish looking very attainable.
Eugene Kearney
34
Posted 10/02/2018 at 17:24:59
Why did we buy Tosun?
Why does he not get on the pitch at all????
Bill Gienapp
35
Posted 10/02/2018 at 17:25:02
The real test will be our next match against Watford, to see if Allardyce sticks with this positive, successful lineup or reverts to cautious negativity on the road.
Agree that booing one of our own isn't a great look, but if that's what it takes to get it through Allardyce's thick skull that Schneiderlin shouldn't be playing, so be it.
Nice game by Niasse, happy to admit I was wrong in calling for Tosun to start (then again, maybe I was attempting a reverse jinx – all part of my master plan).
Roger Helm
36
Posted 10/02/2018 at 17:33:34
It wasn't Kenny who handled for the penalty it was Williams.
As for the booing, if Scheiderlin tried harder, he wouldn't get booed.
Dave Williams
38
Posted 10/02/2018 at 17:35:26
I thought Tom played very well and the goal will do him good.
Wayne and Theo were class as was Siggy. Deffo Wayne's best position and he ran the game in similar fashion to the FA Cup Semi-Final against us a couple of years ago.
Keane and Williams both decent and I thought Martina was excellent.
As for Niasse, he is a complete nightmare for defenders. He was all over them for the entire game and scored a good goal.
I thought it a shame to hear our own player booed – Everton fans used to be better than that regardless if how poor the player has been. If he has a blue shirt on, we should at the very least not abuse him though I do understand why people feel so inclined.
Jim Hardin
40
Posted 10/02/2018 at 17:39:16
Jay,
No mention for Niasse? Really? Didn't do much then I guess. As for Rooney, wonder if his name was Smith if he would get such praise for being so ordinary?
Lori Fekete
41
Posted 10/02/2018 at 17:41:43
As soon as we went 3-0 up, he should have immediately brought Tuson on. Does he want Tuson to fail?
If Gana was injured then fair enough, but I would have played Robles in holding midfield ahead of Schneiderlin.
Jim Bennings
42
Posted 10/02/2018 at 17:43:13
Fair play that was much much better today, key points for me though are...
1) Why didn't we play like that last week/ don't play like that against the top six?
2) Martina is too often made scapegoat but his form lately has been steady and two assists on two weekends running!
3) If Gueye is injured then it's a perfect opportunity to partner Rooney with Davies and please please let's see more of Sigurdsson in the middle at Number 10, he's shown he's more than capable of playing and scoring in that position.
4) Niasse is limited but he will forever be loved with that work ethic.
5) I didn't agree with the substitution bringing Schneiderlin on but equally I was very very disappointed by the boos from our fans.
6) We need to seriously start winning away from home to start building momentum, is it asking all that much to beat one of Burnley or Watford really??
Even win one and lose one better than drawing both.
George Cumiskey
43
Posted 10/02/2018 at 17:45:53
What a difference putting out an attacking team makes; do you think the penny's dropped with Allardyce now?
I see he just couldn't resist bringing Schneiderlin on, and of course Williams gave his usual penalty away.
I can't understand people slagging Davies off, I thought he played really well higher up the pitch and he scored a goal.
MotM for me was Walcott, followed closely by Niasse.
Mark Andrews
44
Posted 10/02/2018 at 17:46:07
I'm confused. We spend 㿇M on a striker, Allardyce says:
"I'm more likely to feed him slowly and give him a bit more time over the next few weeks and hopefully by the end of the season he starts games."
Then, 3 goals up, at home, he brings on Schneiderlin.
I fear Big Sam is a bit of an idiot.
Jay Wood
[BRZ]
45
Posted 10/02/2018 at 17:51:43
Jim @ 40.
Right off the bat, I indicated all the players (who played for the majority of the game) had decent games.
I named those who impressed me the most.
Alternative opinions are permitted.
And I judge players by their performance, effectiveness and commitment within a single game, not by their name, reputation or previous form or history.
Out of interest, are you intending to offer any actual personal insight on the game any time soon, Jim, or just post personal swipes at fellow posters?
Carry on, matron...
Ian Linn
46
Posted 10/02/2018 at 17:53:09
No problem Schneiderlin being booed in my book, doesn't try and when he does he's bang average.
Shame he didn't go in the January transfer window.
Jeff Armstrong
47
Posted 10/02/2018 at 17:55:31
Even if he was planning to bring on Bolasie, it should have been Tosun; even when Gana got injured, it still should have been Tosun.
Allardyce could have endeared himself a little to a fanbase that is clearly getting fed up with him, but no – he brings Schneiderlin on and spoils what could have been a really positive afternoon.
By the way, l booed and it was aimed at both of them, Schneiderlin is the most cowardly player we have ever had; a couple of big moves have made him for life... and it shows. He just goes through the motions.
Viv Sharma
48
Posted 10/02/2018 at 17:56:33
On the booing thing, who would you class as the more proficient player (both physically and technically): Schneiderlin or the Stracqualursi?
Morgan for sure. Yet the Stracq was a hero. A legend. Do you think Ode to Morgan Schneiderlin is being penned as we speak? Ha!
He came on, popped himself into his hunched defensive pose (you know the one) and stood off Townsend as he smashed a decent effort at Pickford which ultimately lead to the goal. No passion or heart. No try. Boooooooo!
Brian Williams
49
Posted 10/02/2018 at 17:56:49
I wouldn't boo an Everton player coming on unless he'd done something absolutely unforgiveable (can'think of an example) but my "next seat neighbour" at the match said that he'd (Schneiderlin) brazenly strolled round, not made an effort, and not raised a sweat against Arsenal and that's what it was all about. The booing was, without doubt, for Schneiderlin.
John Pierce
50
Posted 10/02/2018 at 18:01:45
Palace were atrocious, we were okay in patches. The first half was so bad the brothers Grimm have produced more cheerful fayre.
The first half started with a hoof and ended with a hump from us. Peak Allardyce that.
So enthused was Sam he encouraged the long ball further and hey ho we won the 2nd & 3rd balls from consecutive Pickford punts and hey presto 2-0! Right out of the Allardyce book of goals.
But there is credit, we were clinical, Walcott was dangerous and commits players. Davies similarly so. We had four players always looking forward. Rooney tied it all neatly together.
As for the notorious substitute, well he really symbolizes the displeasure many Evertonians feel towards the manager.
Overly defensive like his manager and depriving others of game time he himself doesn't merit. Perhaps the boos were more for Allardyce than the Frenchman.
A win and still so little joy, so very, erm... 'perfunctory'. Not my Everton that.
George Cumiskey
51
Posted 10/02/2018 at 18:02:40
I only saw Schneiderlin actually touch the ball once after he came on, and that was to kick it out.
Did anyone see him touch it more?
Paul Thompson
52
Posted 10/02/2018 at 18:05:27
Rooney and Walcott were a cut above the rest. Such skilful, intelligent players. The thing I liked about Wayne's performance was that it was much more disciplined than some of his other deeper efforts. He patrolled a defined area and pulled the strings.
Others played well, especially Gueye, but along with Davies, it was more energy than invention. Sigurdsson was solid. Palace have a lot of big lads and balls into the box were always going to be difficult, but we predictably didn't look comfortable.
Keane looked less painicky than normal, which was something, and all the fall backs did a decent job. One of these days, we will turn our decent home displays into a half-decent away one, but I won't be holding my breadth.
Derek Knox
53
Posted 10/02/2018 at 18:10:13
A much-needed three points, and a better all round performance, not as good as the Leicester City game, but welcome still the same. I just hope they can carry on now at Watford, after the jaunt to warmer climes.
I would not normally condone booing, but in Schneiderlin, and Allardyce's seeming obsession with bringing him on as sub, if not playing him from the start, it is almost forgivable.
If all the fans were to cheer when they brought him on, he would think he was a crowd favourite. Also after Allardyce's comments to the media, it also initiated the torrent of boos in response.
Dave Abrahams
54
Posted 10/02/2018 at 18:12:22
Elated with the result, I still don't see any real plan, more a case of individual performances from Walcott, Gueye, Sigurdsson, Coleman in the first half... Great effort from Niasse throughout the game plus a valuable goal.
I thought Kenny had a good game up and down the pitch; the defence, especially the centre-backs, doesn't inspire any confidence, but we won and that is all that matters at the moment.
I think the booing (I didn't join in) was a case of two for the price of one: Schneiderlin for getting the shirt and Allardyce for giving it to him.
More breathing space on the way to six more points.
Jamie Sweet
55
Posted 10/02/2018 at 18:19:16
I think that footage of Schneiderlin strolling at the Emirates, showing no effort at all while Arsenal launched another attack, was the final straw for a lot of Evertonians.
Let's face it, he's been stealing a living off us for quite some time now, so I feel a decent boo from the Goodison crowd was fully justified, and had I been there, I would have joined in.
Tony Abrahams
56
Posted 10/02/2018 at 18:20:49
Just after Sigurdsson scored, the fella in the next seat asked me why Schneiderlin was warming up? I didn't know, but then it looked like Gana was limping, so I wasn't surprised to see him come off once the game was safe.
Maybe explains the sub, and although I'm not condoning it, it really does show how much Schneiderlin has agitated the crowd this season.
I thought Kenny did well, Davies got his reward for loads of effort, same with Niasse, but it's a good job Sigurdsson scored when he did because this poor game could have gone either way, and we are very, very fragile at the minute.
George Cumiskey
57
Posted 10/02/2018 at 18:27:49
Niasse was not only the first player to be penalised for so-called trying to con the ref, he's been the only one.
Especially after all the diving we've seen lately, I wonder if that's all been kicked into touch now the Sky Six don't like it.
Barry McNally
58
Posted 10/02/2018 at 18:32:05
George, you're bang on.
Jeff Armstrong
60
Posted 10/02/2018 at 18:42:07
I believe Lanzini at West Ham was also banned. It's a farce.
When Alli dived at Anfield last week, pats the ref and says it's a fair cop, yellow card and that's it... plays today, but is a proven, convicted, diver. Yet Niasse gets banned for two games in a contentious decision that even the ref said was correct after viewing it again, it's ridiculous.
Ali should get the yellow during the game, then at least a one-game ban afterwards... justice is then served and the inconclusive Niasse decision is a little more palatable.
Phil Walling
61
Posted 10/02/2018 at 18:43:15
Injuries to Coleman, Gueye and niggles suffered by others will provide good reason to bring back the 'B' team at Watford.
The man we love to boo will be immediately re-instated in the Fat Man's latest 'up yours' to the the crowd as, with only six points needed to bank that mega bonus, he knows Moshiri will give him anything for saving his bacon. Even a new contract, maybe?
Craig Walker
62
Posted 10/02/2018 at 18:43:45
What Jim said @42. Sums it up perfectly.
Barry Williams
63
Posted 10/02/2018 at 18:44:44
George Cumiskey - 57
Yes, the bans are conspicuous by their absence. I mentioned to my friends when Niasse was banned that no 'top teams' i.e. media darlings, would have any players banned. This is why I have stopped watching anything football related that doesn't involve Everton.
Do people still think Niasse isn't worth a start? A goal and an assist, he is much more than nuisance value! He is a good all round player, despite being less than aesthetically pleasing on occasions!
George Cumiskey
64
Posted 10/02/2018 at 18:53:37
I personally think Niasse's first touch and lay off play have improved dramatically.
Added to his work ethic and eye for goal, he's become a very important part of the squad.
Len Hawkins
65
Posted 10/02/2018 at 18:54:06
I was going to call Klopp 'two-faced', but the other one must be a real munter if he uses this one, after all the whining he did last week about easy penalties after that one the Llama got in the cup against us. Niasse got banned whilst the Red Shite get away with it.
Jeff Armstrong
66
Posted 10/02/2018 at 18:55:54
Niasse is the new Stracq... but with more goals. I love him!
Nicholas Ryan
67
Posted 10/02/2018 at 18:57:27
I don't care how limited Niasse may be, so long as he keeps hitting the back of the net!
George Cumiskey
68
Posted 10/02/2018 at 19:01:30
Jeff @ 60 yes your right I'd forgotten about Lanzini, then again they're like us not among the Sky darlings.

Arild Andersen
69
Posted 10/02/2018 at 19:18:39
Michael (32),
I wasn't at the game so I don't know about the booing – but anyway, if putting Schneiderlin on was not his original plan, why put Bolasie on? If there was a time to give our new striker a much needed run-out, it is surely when 3-0 up at home to Crystal Palace.
It seems very much that we have a manager with different standards for different players.

Denny Kerr
70
Posted 10/02/2018 at 19:27:04
I watched the game on NBCSN, but listened to the official radio commentary. They were pretty upset with the booing of Schneiderlin, saying it was not the Everton Way.
What is the Everton Way? Do we accept abject mediocrity from a player, week after week after week, with absolutely no effort to contribute to the team?
We Evertonians put up with a tremendous amount of incompetence, both at the leadership level and on the field, but one thing we have never put up with is a player not giving his all for team.
Unfortunately, Schneiderlin falls well and truly into that category and, as fans,we have a right to let our feelings known. My goodness, what other avenue do we really have?
As for affecting his confidence, I'm sorry but I don't think he has enough feeling for the club to care.
One other point.The decision by Allardyce to bring him on, and ignore the positive options he had at his disposal, speaks volumes on the manager, and I wouldn't be surprised if the boos were for him too.
Dave Evans
71
Posted 10/02/2018 at 19:33:59
Not as good a team performance as Leicester. Very happy with the win.
Seem to remember people slating Rooney mob handed a while back.
Some people on here must be sick of eating their words.
John Hammond
72
Posted 10/02/2018 at 19:36:43
The only reason I can find for us buying Tosun is that the new manager we have lined up in the summer wanted him.
John Charles
73
Posted 10/02/2018 at 19:51:33
A relatively easy win. Niasse has come a long way whilst Theo is a class above anything else we have.
I was surprised at the amount and vehemence of booing for Schneiderlin around me in the park end. Whilst I didn't boo I must admit I wanted to. We were winning 3-0 at the time; Gueye looked like he had a knock.
Options - move tom back a bit and play Tosun up top, or even Bolasie though surely giving our new striker a run for 15 minutes in a game we were definitely going to win would be sensible.
No, put on Schneiderlin who touched the ball maybe 5 times and contributed nothing. Whilst I sincerely don't like Schneiderlin and his inane jogging around trying to look busy whilst doing nothing, my boos would have been squarely directed at Fat Sam.
Good win though against a very poor side.
John Daley
74
Posted 10/02/2018 at 19:54:48
If we're winning and scoring three goals in the process, then Allardyce has earned the weekend off from any criticism from me. In fact, I'm going to aim a little praise his way.
I don't know if it was actually he, or Steve Walsh (or the two working together, symbiotically, like a shaggier-browed Statler and Waldorf), who targeted and then tempted Theo Walcott, but initial signs are he represents the most sensible bit of transfer business for a long while.
I'll admit that I wasn't overly enthused when I heard he was on his way to Everton. He had always reminded me of Jack Rodwell for some reason. Not in physical appearance, ability or playing style, but more his general demeanour and a seemingly utter absence of mongrel/'edge'/street 'wisdom' while out on the pitch.
He had been the perfect embodiment of modern Arsenal in that regard. Could look decent enough when on form and in full flow, but far too often flattered to deceive, could be knocked out of his stride by those stubbornly prepared to stick to the task and was simply not ruthless enough when required.
I remember Wenger saying (quite a few years ago now) that Walcott was a boy on the cusp of becoming a man and when that transformation finally occurred he would find himself with "a monster" on his hands. Well, as fright inducing motherfuckers go, Walcott had generally been way too 'Twilight' and nowhere near enough 'Nosferatu'.
He's basically the same player now as he was when he was the new kid on the scene. Older, more mileage on the clock, much fuller muzzy maybe, but not a lot else has changed, or so I thought.
Since he arrived, I've been very impressed with what he brings to the side, especially in comparison to Bolasie, Lennon, Deulofeu, McGeady and others who have previously been tasked with performing a similar role in recent years.
His pace is obviously a potent weapon, but the sheer amount of work he gets through has come as something of a surprise. I lost count of the number of thankless runs he made today, tearing forward to offer an outlet, or support, if a teammate wanted it (or would only lift their head to look), before immediately bombing back to pressurise and harry those looking to make headway toward the Everton box.
Well timed, intelligent running as well, not just aimless, head down, huffing and puffing, with no awareness of what was going on round about him. That the work rate is backed up with real quality on the ball and a desire to drive forward toward the box, whether from out wide or through the middle, means opposition defences actually have something to be wary about once more when we pick it up in midfield and look to mount an attack.
That nagging 'threat'... the ever present potential to suddenly pounce and punish teams on the break... is something that has been sorely missed this season.
It's good to see it back.
Jamie Evans
75
Posted 10/02/2018 at 19:55:02
Tom Davies though. 👏👏👏👏👏
Andy Crooks
76
Posted 10/02/2018 at 19:56:57
I thought we were much improved (not difficult) but flattered by being 3 up. The selection of Mangala was bewildering, he is really, really poor.
I have never booed a player as I have always thought it only ever had a negative effect.However, today I was glad to hear it. In more than fifty years supporting our team there are very, very few players I have seen fail to try. Schneiderlin is one. Allardyce deserved it not only for constantly picking him but because the sound of boos should be the soundtrack of his career.
We beat a poor side devoid of their best players. I am well pleased with the result and aspects of the performance but the humble pie is staying in the freezer.
John M Boon
77
Posted 10/02/2018 at 20:08:07
Much better. We did actually deserve to beat Palace. Having watched Arsenal v Spurs earlier today I am also sure we would have done better last week if we hadn't just sat back and allowed them to run all over us. Basically Allardyce told Arsenal that they would beat us.
Hope Seamus isn't badly injured. However I thought Kenny did a good job when he came on. He is a young prospect with lots of potential. It is probably better for his future if he doesn't have to play every week.
Mangala looked like a nervous wreck for the first ten minutes. Apart from that I felt that the rest of the team all put in a good shift. We still have a long way to go, and we still need a "real" manager. I am sure he will take all the credit in the forthcoming couple of weeks. He should still consider naming the fifteen supporters who don't like him.
John Charles
78
Posted 10/02/2018 at 20:11:29
I am one of the Fat Sam 15!
John G Davies
79
Posted 10/02/2018 at 20:21:23
Saw 15 ToffeeWebbers in the Wilmslow after the game.
5 wanted a fight
5 wanted a bevvy
5 were in the middle saying "leave it.Its not worth it"
Dave Abrahams
80
Posted 10/02/2018 at 20:22:24
John Daley (74), a great post on Theo Walcottt and Theo deserves every word of praise, like you John I wasn't over the moon when we signed him but if he keeps the form up, since he came, he will be cheap at double the price we paid for him.
Brent Stephens
81
Posted 10/02/2018 at 20:24:05
Agree with John #74, Walcott really is impressing. Tireless, skillful. And always turns towards the opposition goal when he receives the ball! No shying away from responsibility with him.
Managala, on the other hand, is a weird loan acquisition. His body shape when on the ball is always inwards towards the other CB and looking to offload across defence - yet he's a left-footed player we've been short of in defence.
Rob Hooton
82
Posted 10/02/2018 at 20:30:31
I thought Walcott was excellent again and looks to be a great signing at this stage, lots of effort from everyone on the pitch which was just what we needed.
I would have booed Schneiderlin if I was at the match. Me and me arl fella booed at the screen when we saw him coming on and some offensive (to some) language was muttered 😂
Good win, now for that second away win in 13 months please...
Tony Marsh
83
Posted 10/02/2018 at 20:32:40
What an amazing home record we have under Sam Allardyce. 17 points from a possible 24 – only 4 goals conceded, two of which were dodgey penalty decisions..Why don't any of you talk about this rather than finding new ways to slag off the manager?
According to Andy Crooks we only beat a poor side in Palace today yet after last week's loss at Arsenal one or two on here were saying we would lose today??
Forget the Arsenal results last week and enjoy our new found resilience at home... Every Everton manager we have had here since Joe Royle has seen his team's dismantled by the Gunners.
Welcome aboard, Sam Allardyce. You'er not the only manager at this club to suffer a heavy beating at Arsenal. It's the Everton Way!!!
Well done today, lads... and well done Sam Allardyce for the bold team selection. We are only 2 points behind Burnley tonight – the team and manager everyone raves about?!?
Tony Abrahams
84
Posted 10/02/2018 at 20:34:00
Agree Brent, I don't think the ball is Mangala's biggest strength, but it was looking like Keane's best attribute until the injury.
I would like to see Mangala, get a run though, because he's coming into a shaky squad, and he might just be able to defend?
Graham Blakeman
85
Posted 10/02/2018 at 20:34:49
Walcott is easily our best player, at last we have made a signing who looks great value for money. Technically excellent, absolutely committed and looks to be a great addition.
Niasse, for all his short comings has a fantastic attitude, gives everything he's got. Some of his colleagues should take note,. He seems a great lad also, so good on him.
I'm worried about Touson though, surely we haven't signed another dud. EFC cannot afford to pay out big money for players who aren't ready. This again is a massive oversight in recruitment.
No fucking way we go into the close season with the same disastrous transfer strategy. Steve Walsh – your time time is up. You're fired!
Peter Mills
86
Posted 10/02/2018 at 20:41:34
George McKane, I put on a fiver for you at 66/1 for us to win 4-0. It looked as though it was on the cards at 3-0, but sadly someone put their hands up in the Park End penalty area. If it was Jonjoe Kenny I will forgive him, if it was Ashley Williams I shall be less forgiving.
Hope the win has provided you with some positive vibes.
Tony Abrahams
87
Posted 10/02/2018 at 20:44:55
I'm sure loads of supporters could have come up with a much better strategy than the one that Everton have used since Walsh came to the club, Graham. If Allardyce never understood why Schneiderlin was booed, then maybe it would be a good idea for him to invite a few fans to Finch Farm every Monday, because he might just learn something.
He said its his job to know because he's the manager, then hopefully he's starting to learn what Everton supporters expect from both the players and their manager. 100% or leave, surely that isn't too much to ask?
Tony Abrahams
88
Posted 10/02/2018 at 20:54:27
Peter, I put a tenner on us and got 80/1 in Hills, and left the bet in my dads because it was gonna be a three way split, with him and George. So 𧸇 of yours and 𧶊 of mine, that sub has cost George. I'm not blaming Schneiderlin though, I'm blaming Sammy Lee!
Seriously though, I remember Lee when he played for the other crowd and one of his greatest attributes was effort, so I can't believe he agrees with the manager when he keeps picking Morgan Schneiderlin.
Dave Abrahams
89
Posted 10/02/2018 at 21:05:58
Tony (88), when it was 3-0 I was racking my brain thinking of excuses to tell you how the bet had gone missing if the score went to 4-0!!!
Incidentally the bet would have paid 𧿢, so divided by three equals 𧷆 each, mind you I would have given my share to the church!!!
Peter Mills
90
Posted 10/02/2018 at 21:14:06
Tony, Dave, I think the posso vibes were coming through loud and clear, and George just flagged in the last 15 minutes!
Brent Stephens
91
Posted 10/02/2018 at 21:19:32
Tony #84 - I'm sure Mangala will get an extended run. Fingers crossed. And I think Cocu Martina is looking somewhat more solid. Now he doesn't shirk responsibility by offloading the ball to somebody else!
Tony Abrahams
92
Posted 10/02/2018 at 21:31:33
It was a shame, Peter, because as I said earlier today, a lot of George's pre-match posts are often much better than the game. It proves what he said about Everton being one big family is correct, though, and I hope the little kid who used his ticket, had a really great day.
I'm a bit relieved the bet never came in now though, because it won't have been the first time Dave has lost a betting slip, and he's a terrific forger!
Tony Abrahams
93
Posted 10/02/2018 at 21:34:49
Fair point, Brent, and its one of the reasons I was saying that I would prefer us to play a lot more direct, to Darren the other day.
Andrew Presly
94
Posted 10/02/2018 at 21:42:01
Wouldn't have minded us drawing this one to hasten the departure of that fat oaf. Thanks a lot for making me feel that about you, Everton.
Jamie Tulacz
95
Posted 10/02/2018 at 21:44:30
Peter (86) – get your big stick out – it was Williams (again)!!
Michael O'Brien
96
Posted 10/02/2018 at 21:47:30
Like had been said above, Schneiderlin wasn't the first pick for a sub, it was Bolasie. But even that sub is ludicrous, why in God's name would you bring him on?
When you have a lad there that we payed £27 mill for and is desperate for some game time to help him fit in...
Doesn't really matter anyways as it didn't happen but what sort of mentality is that?
Mike Jones
97
Posted 10/02/2018 at 21:48:42
Watching extended highlights on Sky. Martina seems okay.
Darren Alexander
99
Posted 10/02/2018 at 21:58:20
Well, I was delighted with the points and the win today, and extra pleased for my son as I'd taken him to the mauling at Spuds a few weeks back; this somewhat made up for it.
Still, I found it a nervy experience as we always have a knack of making it tough on ourselves - I was glad that time was ebbing away when they pulled one back, and was very relieved at the final whistle.
Schneiderlin's reception was understandable, even if it isn't something I'd do. The guy hasn't tried a lick for as long and his attitude is terrible - would Klaassen have really been a worse option? He would at least have tried for those ten mins or so.
I think a real turning point came when Mangala went off - the guy is a total bombscare and a year was shaved off my life every time the ball came his way. Perhaps he was codding and wanted off? Anyway, Williams, who takes some stick, really shored things up. The partnership of Mangala and Keane was as bird-brained a decision as any thus far under Sam. Jags, Holgate and Williams all available, and you go with those two? Perhaps the same logic of Bolasie > Lookman, as the former cost more, applied? But today's starting centre halves - a staggering £60M+ worth of "talent" - were a joke.
The upsides, however: Walcott, whose close control really is something; Rooney, deftly pulling the strings from a deeper role; Gylfi, more involved than many times this season, and his goal was cleverly taken even if his corners were awful; Gana and Kenny both put in good shifts, and although much of what Niasse and Davies tried didn't come off, they both kept going and it was nice to see each rewarded with a goal.
While there are still plenty of things to sort out, it's nice to see us get three goals and as many points, and start to create some chances again. Let's hope Gana and Seamus will both be OK. COYB.
Jamie Crowley
100
Posted 10/02/2018 at 22:12:12
Michael O'Brien @ 96 -
We were going to sub Ludacris?? When did we sign him? Or is he on loan?
Goodison just got a LOT more fun.
https://www.youtube.com/watch?v=Q4dPrjh9wCc
Jim Hardin
101
Posted 10/02/2018 at 22:14:30
Jay,
I believe I did comment on what happened in the game. Rooney was average but at least he kept his temper this game. I do not reward dead bang average performances with an honorable mention.
Niasse, not sure if you knew, scored a goal and had an assist and was active and involved the whole game. I would have assumed you could see that, but have pointed it out as my observation.
Carry on and try to untwist your knickers.
Mark Wilson
102
Posted 10/02/2018 at 22:31:26
Today I realised just how old style an Evertonian I am. My brand of being a bluenose is way too tribal to write off the loud and repeated booing of an Everton player coming on as a sub when points could still have been lost. It clearly helped nobody, including the team.
I'd always been taught that you don't do the opposition supporters job for them. Anything from us that threatens to undermine the people in our shirts is wrong. Old school it may be and I'm hardly short of opinions once the whistle blows for the 90 plus minutes. But today was just plain wrong and more, it was pathetic.
Pathetic? How? Schneiderlin is a poor, poor, player. Or at least he has somehow contrived to go from hugely impressive one season to utterly dire the next. I hope he and his apparently bad attitude are not here next August. But fans' payback for a training ground episode and a shit season so far, well as expected the "we pay so we will hate as loudly as we want when we want" defence has a degree of democratic credibility, but it's still weak from my tribes point of view.
Worse, the "pathetic" assessment is based on an amazingly simple assessment of the substitution, for which the manager or player can have no blame attached to them. We are winning but the fragility hasn't disappeared. An attacking substitution, Bolasie, was seconds away, but the captain spotted that our ultra defensive midfielder Gueye was struggling, injured and knackered. He advised replacement. The manager agreed.
So boo boys, what did you expect with a quarter of the game left? If Allardyce had replaced Gueye with an attacker, Tosun seems to be the popular shout, and we'd shipped two goals to lose the win, what would your reaction have been? There was no real choice? Surely you see that? He had to bring Schneiderlin on. It was the obvious and correct call.
Yet you boo, loudly from the main stand behind us, the player? He had been selected and placed on the bench. He's been playing crap and is clearly not totally at one with the mission. But, despite being the victim of some disgusting hate filled moronic bile on social media by the brave keyboard warriors, he was there on the bench. Not his fault and not a mistake by the manager.
Whether he should ever be anywhere near the team is a fair debate, for here, I think and places like it... or the pub or office lunchtime rant. But today the boo-boy logic was impossible for me, it was just rubbish, and may have made the booing haters feel better but it did nothing for the team.
That's my tribal take on it and I accept the player is not showing us he deserves support but then I'm amazed at how this desperate need to focus the hate and frustration and anger and feelings of betrayal always seems to find its way to one particular player at Everton. Ironically one of the worst victims of this was a player who never, ever, gave less than 100%, David Unsworth. Even Lukaku, as he scored 20-25 goals a season, was loudly criticised for the same fault as Schneiderlin, or one of his many faults, laziness.
Today wasn't about Schneiderlin's apparent lack of "I give a toss". It was not about how crap he is. It was about Evertonians venting at another disgracefully lost season and a lost decade. I just think booing one of ours about to go on the pitch in the shirt that matters so much to us – and yes obviously not as much to him – well that's an own-goal and my tribe hates it: right or wrong, that's us. Hides iPad so as not to be tempted to see the response.
ps: A crazy win today. Crazy that we are right back in the fight for 7th!! Yay. Crazy that the booing debate centres on only one, when so many have been an absolute disgrace but somehow escape the fury because they are trying their best. Maybe that's all we can expect for 𧶙m these days. Sigh.
Tony Hill
103
Posted 10/02/2018 at 22:59:16
Well said, George Cumiskey and John Daley, critics of Allardyce who have guts and honesty.
We played very well in parts today, on the floor and with attacking instinct. He's building a hard, precise, attacking side. It will take some time, time which the hysterical bigots on here want to deny the manager.
Wake up. Back this manager heart and soul and you will reap the rewards. He offers you the arrogance, the "it's never my fault" cocksureness (when did Ferguson or Mourinho last admit they were to blame?) that our dim club has lacked for decades. Support him and see what follows.
I had some dickheads behind me today at 3-0, just desperate to blame Allardyce for something. Schneiderlin's arrival was the answer. The fucking idiots. You fucking idiots on here who can't bear the idea that Allardyce might succeed.
John G Davies
104
Posted 10/02/2018 at 22:59:44
Mark Wilson 👍
Andrew Presly
105
Posted 10/02/2018 at 23:15:49
Tony, we all love Everton so this is said with the respect that should be taken for granted on ToffeeWeb but you're championing the PE teacher from Kes here.
The guy is a proven fraud, doesn't give a single shit about our club, and if I can or had to search for a positive somehow, it would be that he's the perfect fit for this Trump, Brexit, Tory nightmare we're currently living in. Other than that, I've got nothing that adds any sense as to why he's our manager.
It's bizarre and completely shameful he's Everton manager. Soul destroying.
Get with it Moshiri, quick!
Terry White
106
Posted 10/02/2018 at 23:20:38
Peter (#86), it did look as if the ball was going in anyway so the 4-0 outcome was unlikely. Still no reason to forgive Williams but he and Kenny both had their hands up.
Jon Withey
107
Posted 10/02/2018 at 23:20:39
Still remember that guy handing Nyarko his shirt – lack of effort only gets tolerated for so long.
Kind of funny spitting poison about our managers 24/7 and then getting sensitive to vocal criticism of a player who is paid just as much.
Paul A Smith
108
Posted 10/02/2018 at 23:23:11
Tony Hill well said. I don't believe for one minute the fans were booing Schneiderlin. In fact I know the booing was because the fans wanted to see Tosun at 3-0 up.
I wanted to see either Tosun or Calvert-Lewin myself but to boo the manager's decision while a player is coming on shows the mentality and level of our support I have spoken about for ages.
Just because I didn't like a decision in one moment doesn't justify any assessment I have of the manager. I think overall we look far more likely to win than we did before he arrived.
Gavin Johnson
109
Posted 10/02/2018 at 23:24:11
Has anyone got a link for the footage of Schneiderlin strolling around at the Emirates? Been trying to find it but haven't seen it yet.
Paul A Smith
111
Posted 10/02/2018 at 23:27:07
I hate seeing Rooney play like Gareth Barry in our half but, let's face it, we all wanted a player with an eye for a pass that makes himself available all the time.
Schneiderlin, Gana, McCarthy can't provide them things so I can live with Rooney being there. Until we buy a real midfielder, it's got to be done.
Andrew James
112
Posted 10/02/2018 at 23:30:37
Tom Davies was quality although he needs to work on the inevitable when fed by defenders who don't pass perfectly to him.
Rooney was boss. Martina deserves a mention for his attitude and attempts in their half. Walcott was good. Williams and Keane looked better together although Jags and Holgate are my preferred pairing.
Tony Hill
113
Posted 10/02/2018 at 23:33:02
Andrew, thank you for your courtesy but I disagree profoundly because I think he's exactly the truth-teller we've lacked for so long. What's important is that he has the players wanting to play for him.
Any intelligent observer of football can see that there are the beginnings of a very good side under his management, the prejudiced twaddle parroted on here notwithstanding. Above all, he has no sentimentality, he knows we've been shite and largely remain so in comparison with the very best.
Abandon your fixed views, the truth is what, honestly, you see before your eyes. Otherwise, follow your fantasies to our doom. If we sack Allardyce, we will regret it. Very much.
Jerome Shields
114
Posted 10/02/2018 at 23:48:03
Allardyce has still not sorted out the defence. Mangala not great, we don't need another defender prone to mistakes. Playing up the pitch takes the pressure of the defence a tactic we abandon away from home.
Walcott helps a lot keeping us up the pitch. Niasse is always creating problems for the opposition. His shots on target are excellent and is a good provider. Can't see Tosun replacing him, even Cailvert-Lewin won't be first choice. Rooney played well in the role Unsworth found for him. Sigurdsson and he a great number 10. Gueye played well.
I still don't think that Allardyce is the Manger to take us to the next level. Schneiderlin was a victim of Allardyce's perceived negative substitution policy.
Jay Harris
115
Posted 10/02/2018 at 00:08:51
We are two points behind the "Ginger Mourhino's" side despite being third from bottom when Allardyce took over. Enough said.
Andy Crooks
116
Posted 11/02/2018 at 00:15:19
Sorry, Jay, but actually not enough said. What on earth is your point?
Gavin Johnson
118
Posted 11/02/2018 at 00:38:00
Jay (#115),
If you're comparing Big Sam to Dyche, you're not mentioning the money each manager spent in the last window. Did Burnley sign anyone apart from Lennon on a freebie?
Derek Thomas
120
Posted 11/02/2018 at 00:41:23
Mark Wilson @102; Spot on - "Lost season and lost decade"...and if you'd take 25 years as a generation, I'd add 'lost generation'.
As for booing; Schneiderlin is only the focus, the front man, taking one for the team... the team of Moshiri, Walsh, Koeman plus others, who have stood around, both on and off the field, as we slowly morph in to a slow motion Leeds. Not forgetting of course, Boys Pen Billy Kenwright.
But it's water off a ducks back to him (always was) especially now, when he can look over and raise an questioning eyebrow in the direction of Mr 49.9% and pass the blame.
Si Cooper
121
Posted 11/02/2018 at 01:04:37
Tony Hill, your one and only true Messiah of a manager wasn't even aware that a huge majority of Evertonians haven't been happy with Morgan Schneiderlin's contribution for a long time now and apparently doesn't share that view!
Don't you dare use phrases like 'intelligent observers' when you are merely insinuating that no other manager could have achieved as much as Big Sam and his mates have. You have no proof that another manager couldn't get the players organised and playing for him, and ignore the likes of Lookman and Vlasic who are obviously much more unsettled since he took charge. It is purely your opinion.
Rather than be a 'truth teller' I find much of what he says is either patently obvious or incomprehensible. He has undoubtedly contradicted himself at some stage with "Rooney and Gylfi can't play together" being the most obvious. The most important truthful thing he has said is that he literally only had to reinforce a few basics to get that run of positive results at the start of his stewardship. His improvements seemed to plateau alarmingly quickly after that.
It is fine that we have different opinions. Just don't question people's intelligence if they don't see things as you do.
For instance, aside from a couple of poor mistakes (no-one was perfect today and he is still settling) I thought Mangala showed promise today. In my opinion he was very mobile, made himself available for passes, looked to play the ball forward when he could (both long and short) and put in a valiant attempt to get to the ball to score when it was obvious he would take a hit in doing so.
Incredibly, I earlier read a post that berated him for getting injured because he'd wandered into the opposition box during open play when the fact was he was there because we had a corner.
Clive Mitchell
122
Posted 11/02/2018 at 01:17:22
Tom Davies, Oumar Niasse and Theo Walcott get top marks today, Sigurdsson was also very good, and Gueye.
Derek (#120) – I'm trying to get my head round the idea of Schneiderlin taking one for the team. I suppose it is theoretically possible, but I'm not sure any of us will live to see it.
Si Cooper
123
Posted 11/02/2018 at 01:51:20
I'd say overall I enjoyed viewing the match today because it sounded so much duller in the live radio commentary. I guess because I knew Eliaquim Mangala hadn't given away a goal before watching the game, unlike some I didn't have kittens every time he received the ball. Instead he seemed quite composed and positive to me most of the time.
Perception is a strange thing. I would say most views of the game that have been expressed on here are much more positive than the reports I've heard and watched on the BBC, and chime with mine and the commentators on Sky. I have seen one post which seemed largely dissatisfied with the overall performance, but that does seem to be a minority view of it.
I was really surprised to see the stats displayed on MotD which would suggest a very close contest with Palace 'outscoring' us. Mind you I am not a particular fan of simple statistics exactly because you need to be accurately weighing an awful lot of variables in order to remain objective.
Tony Hill
125
Posted 11/02/2018 at 02:20:40
Si Cooper (#121), I have no idea what you're talking about. Carry on like that and you might actually explode, just like Rumpelstiltskin. Gosh, what will you and your rambling anti-Allardyce colleagues do if Sam wins some more games? Perish the thought.
William Cartwright
126
Posted 11/02/2018 at 02:58:03
Lots of holier than thou ToffeeWebbers here today..
I was watching from 4,000 miles away and was booing at the top of my voice (nearly got kicked out of the pub).
Yes, booing isn't 'nice' and it has to be a pretty extreme set of anti-social circumstances to prompt a response like that, but well, in my god-forsaken opinion, Schneiderlin deserved every negative decibel.
I would proudly step forward and claim to be one of the famed 15 if it would wake Allardyce up. How, I repeat, how can he be 'surprised' at the reaction unless it was because of the notion that nice supporters simply don't partake in that sort of thing! Lot of trash...
The Stracq was idolized for his effort and sincerity as a human being more so than his footballing skills, and deservedly so.
Schneiderlin has all the skills, but is letting his team mates, the club, the fans, everyone around him down by simply not being arsed about the game and drawing a king's ransom every week.
Boo Hoo. Let him sod off to another Club and let us compete with 11 v 11 for a change.
Si Cooper
127
Posted 11/02/2018 at 03:28:53
Tony Hill, your one-eyed post at #113, with its obvious insults directed at anyone who doesn't share your view, raised my blood pressure I'm afraid.
I'm not anti-Allardyce, I'm just not pro-Allardyce, or 'Allardyce-ambivalent' if you will, and reserve the right to highlight the man's positives and negatives as I see them. I'm sure there are plenty on here who would say the same. In case you don't understand I can explain.
I have seen nothing, before or since he became our manager, that proves to me that we were destined to be relegated this season unless we appointed a specialist relegation-avoider called Sam Allardyce. That decision set us on a particular path and ruled out a host of alternatives.
I have seen nothing, before or since he became our manager, that proves to me that no other manager could have achieved at least the same as he has done at our Club. That includes attracting, retaining, inspiring and coaching players and communicating effectively with the fans.
I would expect becoming harder to beat and sneaking a few draws against the top 6 clubs, and getting more positive results over clubs outside the top 6, as a minimum requirement, so I'm not getting out the bunting for that.
I don't care how much regard you have for bluff, straight talking, straight-from-the-hip press conferences unless you can prove that Big Sam has the monopoly on them and that they make any sodding difference other than appeasing some weirdly judgemental types. For me, it is very much a case of actions beat words.
If the team is performing, only a nutter would get hung up on the particular words or delivery of a man who is paid to get results on the pitch (for me, that applies to opposition managers as well). It seems to me that any manager would understand that this very well-paid job was available precisely because of how shite we have been, and still are, are in relation to the very best.
As far as I am concerned, we already had the beginnings of a very good team and he has done nothing amazing yet. It is pat on the back time (for Theo Walcott in particular) with no justification for statements like "If we sack Allardyce we will regret it. Very much." Any 'intelligent observer' will tell you that is only promoting conjecture as fact..
Jay Harris
128
Posted 11/02/2018 at 06:02:50
Andy, my point is that all those that want Allardyce out immediately and that we should have got Dyche instead should look at the comparative positions in the table pre- and post-Allardyce's appointment.
Do I want Allardyce after the end of the season? No – but nor do I think Dyche is the calibre of manager we should be looking to bring in.
Darren Hind
129
Posted 11/02/2018 at 06:34:19
The whole incident was provoked by Allardyce himself – what a charmer he is.
I agree with those who claim that there was sections of the crowd waiting for their chance to vent their feelings, but that's what happens when you dismiss the dissatisfaction of thousands and thousands as "15 people who haven't been to the game arguing on the internet".
If the crowd wanted to have a go at Schneiderlin for an incident that happened at Finch Farm or for his lack of heart, they'd have done it weeks ago.
Make no mistake, the boos were more for the substitution than the substitute – unless of course the player was being described as a stupid fat fucker.
I disagree with the claim that we had no other options. Tom Davies grew up as a defensive midfield player. Only last season was his energy utilised and, in the absence of alternatives, was he pushed further up. He's been so unselfish with his I'll-play-anywhere commitment to the cause, that people have forgotten his natural position. A far better option than the player whose form has dived out of an aeroplane.
Tony Hill
These fans who you rather ironically refer to as "fucking idiots"? Do you really think they don't want Sam to succeed? Really??? You do realise you are suggesting that they don't want success for a club they have supported all their lives? That they support the club, not the manager.
It's the certain knowledge that we can't succeed whilst employing this primitive game-spoiling philistine to impose his primitive game-spoiling tactics on each game which drive them to calling for his removal. As an "intelligent observer", did last week's mauling strike you as "the beginnings of a very good side"? Really? You "intelligent observers" do realise we were the team playing in blue?
Jay Harris
You know for a fact that we were not in the bottom six – let alone the bottom three – when Sam took over. Why do you peddle this stuff... do you think the rest of us weren't watching?

Jamie Crowley
130
Posted 11/02/2018 at 06:43:22
It's the certain knowledge that we can't succeed whilst employing this primitive game-spoiling philistine to impose his primitive game-spoiling tactics on each game which drive them to calling for his removal.
Yep and Amen. Spot on Darren.
It's 1:42 a.m. I'm off to bed, sleeping more soundly knowing someone just encapsulated my feelings in a nutshell.
Andy Walker
131
Posted 11/02/2018 at 07:27:02
Well done the players for a decent performance with loads of commitment. An important win. Also well done Allardyce for deflecting attention away from the players pre game and onto him by creating the 15 internet warrior story, great management.
Reading this thread though is just depressing. We won and played pretty well.
Bob Parrington
132
Posted 11/02/2018 at 08:01:21
Not perfect but, IMO, this was a massive improvement in performance; better passing, more composure, greater energy, more movement off the ball, greater intent etc etc.
Mangala was nervous early on but, okay, the back pass was terrible, he added balance and some composure to the left-hand side. Cuco played a far better game than we're used to.
Gana had a great game along with Rooney (hardly caught on the ball in this game), Sigurdsson (lively and imaginative), Davies close to last season's level. The Walcott effect is a stand-out and Oumar looked lively and, dare I say it, a little more balanced.
Hopefully, other than those forced by injury, it would be good to see the same selection against Watford.
Good team effort!
Christopher Timmins
133
Posted 11/02/2018 at 08:37:44
A very important win, hopefully, we will hit the 40 point mark in mid March and be in a position to manage the game time of the returning injured between then and the end of the season.
I am not the manager's biggest fan but he deserves credit for the second half performance and for keeping us up. That dreadful Sunday when we lost at Southampton is not that long ago!
Paul Smith
134
Posted 11/02/2018 at 08:55:57
The boos where for Schneiderlin, I hope. Although, let's be honest, Sam is playing us. He loves to provoke the fan base – he suggests in his after-match presser that he had no idea Morgan would get a reception like that. My arse.
Darren Alexander
135
Posted 11/02/2018 at 09:13:34
Gavin (#109): motion-sensitive cameras were employed to film last week's action at the Emirates, therefore there is no footage of Schneiderlin.
Brian Porter
136
Posted 11/02/2018 at 09:40:42
Am I alone in believing that, with more game time, week by week, Oumar Niasse is looking better with each passing game?
Now our second leasding scorer with far less game time than Rooney, his current statistics for goals per minutes played puts him up in the top 6 in Europe, in front of Messi, believe it or not. With 8 in the Premier League plus one in the League Cup he will soon be in double figures for the season. He also has three assists so far.
If he continues at his current strike rate, if given the game time, he could conceivably end up with around 15 for the season. Imagine if he'd been a regular from the start of the season? He could have had 20!
So, I can see why Allardyce is choosing him ahead
Brian Porter
137
Posted 11/02/2018 at 09:44:20
Grrr, edit function not working. Meant to say in my earlier post that I can see why Allardyce is choosing him ahead of Tosun at present. Sam is doing what Koeman should have done and is giving him time to grow into the team, and it appears to be working.
Terry Farrell
138
Posted 11/02/2018 at 09:51:15
Two good wins at home; now let's see the same attitude and drive in the next two away games! Rooney, Sigurdsson and Walcott add the extra quality and they link up well. No wholesale changes needed!
I didn't like the boos for a player in blue!
David Price
139
Posted 11/02/2018 at 09:58:06
I just watched MotD and heard Lineker describe Oumar's header as lucky!! If that had been any other team, it would have been described as brilliantly placed! Oumar is a credit both to himself and EFC – keep scoring and shut these jokers up!!!
Nigel Munford
140
Posted 11/02/2018 at 10:05:44
David, and Cuco set it up. 😊
Jon Withey
141
Posted 11/02/2018 at 10:10:17
Wasn't Niasse described as 'The Lucky One' in Russia? Long may it continue.
Anthony Murphy
142
Posted 11/02/2018 at 10:18:42
I'd like to know what is going on with Tosun? Reports this morning that Moshiri and Allardyce are unhappy with his work rate in training... is he yet another dud or is he still adjusting?
Remember Allardyce saying how important his first signing would need to be? It seems a bit mad that, on the back of an awful season with so much made of the lack of strikers, that this guy is not even given 10 minutes when cruising at home 3-0 up.
Ajay Gopal
143
Posted 11/02/2018 at 10:25:03
Crystal Palace has us under the cosh when we were 3-0 up, probably due to so many players running on empty – because of the forced substitutions. Rooney, Davies and Niasse had run their socks off and Gueye was obviously not running freely.
Niasse, Walcott and Sigurdsson make a fine front 3 and I wouldn't change it for the next game. As also the mid-3 of Rooney, Gueye and Davies if everyone is available and fit.
I thought Pickford gave a very shaky performance – he was beaten 2-3 times, but was lucky to see the ball go wide of the post on 2 occasions – both headers by Benteke. And he was saved by the offside flag when Benteke managed to bundle the ball in the net because Pickford had not held on to the ball. He needs to up his game big time, which he has potential to.
The back 4 is the most concerning – Coleman, seems to have suffered another muscle injury (hopefully not very serious), and we still don't have a settled central defensive partnership almost three-fourths into the season. And Martina, in spite of his best efforts, is nowhere close to the quality we need in a left-back.
In spite of his mistakes, I would like Holgate to be given more game time until the end of the season. He is athletic, good on the ball, tackles well and fearlessly, and does not hide when under the cosh. Him and Keane should be allowed to form a partnership, and hopefully they will have Coleman and Baines next to them soon to give them the experience and encouragement.
Andrew Clare
144
Posted 11/02/2018 at 10:58:34
Terry (#138),
Unfortunately we won't see the same line-up for the next game. Allardyce will set the team up defensively and Watford will overrun us.
Our poor away record is entirely down to our negative approach.

Andy Meighan
145
Posted 11/02/2018 at 11:10:24
David (#139), It was that little turd Murphy who said that about Niasse's header. He also made a sarcastic jibe about us not being in the Champions League. One odious bitter little potato-headed prick.
Terry Farrell
146
Posted 11/02/2018 at 11:27:48
Andrew, you may be right but Watford and Burnley are two teams we should dominate and let them worry about us. Ajay agree with you about Holgate as CB. Is he injured or keeping his head down due to the social media issue?
Brian Harrison
147
Posted 11/02/2018 at 11:37:39
I have been a huge critic of Allardyce, but I have to say his decision to buy Walcott was the best thing he has done by a long way. He looks a class act and he gets people of their seats every time he gets the ball.
I also think that deeper midfield role is made for Rooney; if he gets time and space his passing is on a par with Pirlo. He cant get about the field as he used too but put legs around him and he is a massive asset.
I thought Allardyce's interview with Lineker on MOTD was a little concerning, when asked why neither Rooney or Sigurdsson were used against Arsenal Allardyce said "legs". Now we had a 10-day break before the Leicester game, yet he deems that neither our biggest transfer buy nor our top money earner can play 3 games in 14 days is worrying to say the least.
Although he has been very good so far I was disappointed in Pickford's performance yesterday and especially for their goal. he was rooted to his goal line while the ball was in the air well inside the 6-yard box. A keeper has to come and help his defence in that situation as any touch from an attacker that close usually ends up in a goal.

Dave Ganley
148
Posted 11/02/2018 at 11:40:01
Well it's no wonder we are as bad as we are when Evertonians condone Allardyce, his methods, his "sterling" home record and castigate the fans who demand better. Who have we beaten of any note?
We soon forget about awful displays at Bournemouth and West Brom. That's to say nothing about Arsenal and Spurs. Someone suggested we "forget about Arsenal". Well that's just why we will never win anything. Too ready to ignore the dreadful and to ready to extol victories over poor palace sides and other also-rans.
I'm glad we actually won yesterday and anybody who thinks Evertonians don't want to win then you're obviously not a true blue. Where I draw the line is trying to kid myself and others that we are any good. We're not really, we are average at best. We have become a team that sacrifices games at the so called better clubs. Is that progress? Not for me.
We are a shambles of a club. Our recruitment of players and management has been shocking since Moyes left. Random players who don't fit in to whatever pattern we are trying to play. I don't necessarily blame Allardyce for where we are, he's just another symptom not the cause. He's another random appointment that should never have been here in the first place.
We are in the top half of the league because it's a poor league. We are poor but there's so many other poor teams around. As far as the "great" home record goes, do we forget the awful display against the Mancs? The shocker against the Arse? The siege against Chelsea? We have only beat shite. That's hardly fortress Goodison. That's the least we should expect.
We are a million miles away from the half decent teams. Arsenal are a million miles from the top 4 and they annihilated us last week. Allardyce shows contempt for the Everton support base by claiming on my 15 or internet warriors are unhappy. Straight talking my arse, bullshit talking more like.
Allardyce has no right to be here. He's not good enough and never has been. He plays shit footballand always has done. The fact that he is here says more about our apathy to allow this shit than anything else.
How anyone can criticise the match-going supporters is beyond me. I never booed yesterday but can understand why they did. Even forgetting some supporters' ire for Schneiderlin the negative intention at 3-0 up was shocking.
All is not rosy in the garden after one win against a poor palace team and won't be until we actually have a plan in place to take this club forward and have a manager in place who has a plan himself. Something we've not had for a long time.
It's just painful being back at the stage where we are looking for 40 points and anybody who finds the need to try and put a positive spin on that needs to have a word with themselves. It's tolerating this shite that gets us into this mess in the first place.
The way we are free falling it's going to be another 24 years to see our next trophy. Guess some are very very easy to please.
Dave Speed
149
Posted 11/02/2018 at 11:40:26
We only had one major flaw yesterday that fortunately didn't cost us. Hesitation. Everyone put in a shift, yes there were a couple of loose passes and decision making could have been better in some situations, and there was a lack of good use of set pieces.
The hesitation was there in Pickford's lack of dominance of his area (I am sure this will come with time), nobody really in command of the defence and 'leaving it to each other', due to the constant chopping and changing, and finally a hesitancy to press as a team, due to being caught out up the pitch too many times this season.
All-in-all, happy overall of course and I hope this serves as a reminder to Sam that the best form of defence is to attack, admittedly not in a gung-ho style, and to not play a back 5 with 2 defensive mids in the away games.
Rick Tarleton
150
Posted 11/02/2018 at 13:14:45
Pickford is a shot-stopper not a complete goal-keeper, he doesn't dominate his area, few do nowadays, and is hesitant about coming out. Butland made the same kind of error yesterday on MotD when he failed to come out for a cross.
Hart and Forster aren't any longer first choice for their clubs. It doesn't augur well for the World Cup when England are struggling to find three competent keepers. At the moment, Pickford, for all his faults, looks the pick of them.
Johnny Rainford
151
Posted 11/02/2018 at 13:40:34
Jon (#141), you make your own luck, mate, and Niasse never stops. Fair play to him, he is a handful and took his header well yesterday.
Also Ajay, looks like Keane is off, mate, if today's reports are anything to go by.
Alasdair Mackay
153
Posted 11/02/2018 at 13:40:39
I read somewhere that we had limited mistakes, but it isn't true – Mangala's back-pass at 0-0 against a top-6 team would've seen us 1-0 down. Other than Idrissa Gueye's long range effort, I can't remember ever thinking we looked like scoring in the 1st half.
In the 2nd half, we did well capitalising on Palace's mistakes, but we didn't pass the ball that well and Benteke missed the best chance of the game with that header.
We need to play better. It worries me that Allardyce thinks that was a great performance. It wasn't. That was a solid performance, where we got away with a few things because of the quality of the opposition.
It wasn't as bad as Arsenal or some of the other dire performances we have had this season, but there is still a long way to go before Evertonians are "leaving happy".
Mike Barrett
154
Posted 11/02/2018 at 14:03:43
Dave Ganley, yours is the most sensible post I've read on here for months. Cheers, mate, for restoring my faith. The mentality of this club needs to change from top to bottom... especially at the top!
Paul Tran
155
Posted 11/02/2018 at 14:14:35
A few points were clear yesterday.
There's enough talent in that side to swat aside every team around and above us. It's a matter of attitude and how the team is set up.
Against a poor side, Gana looked better on his own, Davies & Rooney's habit of giving the ball away was surpassed by Palace, the forward driving of Davies, Walcott & Coleman made a huge difference. Sigurdsson's workrate and attitude were exemplary, despite being played out of position again.
Some continuity would make a welcome change.
I was interested in Allardyce's comments, to the effect of; "We have the players to go and attack Palace." Does that means he lacks confidence in our players taking the game to the top six? Or lacks confidence in his ability to set them up that way? Either way, I disagree; Allardyce has had good results against the top six with worse teams than ours.
A manager with realistic confidence in these players would be welcome this summer, please.
Dave Williams
156
Posted 11/02/2018 at 16:10:52
Ref the substitution, didn't Martinez get crucified for bringing on an untried striker when 2-0 up against West Ham who then drove through our undermanned midfield and scored three late goals?
I'm just delighted with the points – Tosun can be risked once we are safe and if the reports today about his poor work in training are true, I can understand the reluctance to play him.
Why we signed him if that is true is another matter!
Bill Watson
157
Posted 11/02/2018 at 16:32:09
It's symptomatic of our unbalanced squad that in the final quarter of the season the manager is still shuffling the pack in an attempt to find the best combination.
What's very clear to everyone, except Allardyce, is that setting the side up with 5 at the back, away from home, just doesn't work and usually results in a drubbing so let's have no more of that.
He should stick to yesterday's line up with the exception of Mangala, and possibly Tosun, and stop chopping and changing.
I don't subscribe to the not booing our own players thread. Players who have shortcomings, but put in a shift, never get booed!
John M Boon
158
Posted 11/02/2018 at 16:55:36
Find it mind blowing that there are those who not only support Allardyce and his tactics but feel that he deserves praise for his accomplishments since he arrived. Managers are judged by more than results, and they also haven't really been any more than mediocre.
We played well against Palace without being outstanding. I have just watched Newcastle put in a sterling display against Man Utd. I am no fan of Benitez but he must have told his team before the game that they could win. Newcastle's positive attitude and a willingness to attack was there for all to see.
I may support Allardyce when he shows Everton players that they have the capability of beating a top six team. Instead he prepares them to lose by not even being able to pick the right players or use the best tactics to even give the slightest chance of even drawing.
However, what is most galling is that he continues to spout drivel before and after games. Football is very much a "mind" game. A good manager can make ordinary players look good and can use strategies that make individuals play as a team. Fans have every right to be disappointed and vocal about what he brings to our club. A loud mouth and a Donald Trump ability to blame glaring errors on others!!
James Marshall
159
Posted 11/02/2018 at 17:19:42
He should setup away from home the same as at home. We can't be any worse. Use a system that suits the players and him give them confidence by setting them up to best teams not make it difficult for them.
Allardyce's interview with Sky was dreadful when he talked about merely containing teams away from home. What a pile of shit.
Good to watch at times yesterday though. Rooney is made for the central role with Gana and Davies. He spent all game telling them what to do, and Walcott knows it all as well.
When they're setup right, they can be a decent side, even with the jippy centre-halves.
Mark Wilson
160
Posted 11/02/2018 at 17:30:18
Dave, #148 why didn't you boo yesterday? It's okay isn't it? Why were you not on your feet bellowing your boos loud and long? What stopped you?
You pay your money, your post at 148 is, as has been said in this thread, a very well written one, realistic and practical and I totally believe in what I take to be your analysis that this club of ours is a mismanaged shambles and one win, one positive etc is just a bit of respite care when so much needs to be addressed. So why didn't you boo ?
Tony Cheek
163
Posted 11/02/2018 at 19:18:02
think there was only one fan who booed Scneiderlin, the rest were booing the fan that booed!!
Jay Harris
164
Posted 11/02/2018 at 19:39:21
Darren,
Here is the league table at the beginning of November which I do believe was prior to Allardyce taking over:
Position Club Pl GD Pts
1 Man City 10 +29 28
2 Man Utd 10 +19 23
3 Spurs 10 +12 20
4 Chelsea 10 +8 19
5 Arsenal 10 +6 19
6 Liverpool 10 +1 16
7 Burnley 10 0 16
8 Watford 10 -3 15
9 Newcastle 10 +1 14
10 Southampton10 -1 13
11 Leicester 10 0 12
12 Brighton 10 -1 12
13 Huddersfield 10 -6 12
14 Stoke 10 -9 11
15 West Brom 10 -4 10
16 West Ham 10 -9 9
17 Swansea 10 -5 8
18 Everton 10 -13 8
19 AFC Bournemouth 10 -8 7
20 Crystal Palace 10 -17 4
Dave Ganley
165
Posted 11/02/2018 at 19:43:48
Mark #160 I didn't boo when Schneiderlin came on mainly because I didn't want to give the impression that I was booing for Schneiderlin and not for Allardyce for his negativity. It was a toughie really, if it was anybody else coming on then I probably would have as it wouldnt have been aimed at the player, but I don't like the idea of booing a player before he's actually kicked a ball in the game. I don't have a problem with any of our fans showing displeasure at the game for any reason, we have had enough cause over the years and I totally understand fans booing Schneiderlin as he has been very poor this season in every department. Personally I just think singling a player out before he's kicked a ball counterproductive, but that's just me. The fact that when Schneiderlin was announced he was roundly booed suggests that the booing was mainly for him and not Allardyces negativity and that is why I didn't boo yesterday.
Darren Hind
166
Posted 11/02/2018 at 19:57:51
Nice try Jay
We gained another seven points and climbed 5 places before Sam took over.
What you are showing there (8 points) is the situation Rhino inherited.
You really do your argument no good at all by continuing to peddle this nonsense

Frank Thomas
167
Posted 11/02/2018 at 22:33:39
Two points.
First, Schneiderlin. I sit in lower Bullens and have been watching this player since he arrived noting that he creates havoc in our defence and midfield by moving in and out of them without disrupting our opponents attacks. Today I realised he is scared of looking poor at tackling and slow.
Today he went forward to actually physically tackle an opponent who went past him but in forcing the opponent to move we actually gained the ball via Tom Davies who was covering him. If he learns anything from today it is go in for the tackle and have confidence that you are being covered.
Second Sam needs to realise that the people at the top can see through total BS and so can the commentators. So when all the commentators on the Radio and TV question why he played 3 at the back when they had never played together or in that formation and why he chose to make 5 changes from a winning team he should know his exit clock has started.
Also on MotD when he replied to that question "the players were tired" he did not look at the camera he looked all round the room rather than face the fans via the TV.
We have got the basis of a very good team yes we do need some more players but we have a lot of very very good players who are simply not being used.
I do get the impression that the great link ups with Davies, Walcott and Kenny/Coleman have come about despite the tactics of Sam rather than because of them.
John Reynolds
168
Posted 11/02/2018 at 22:40:37
#102 Mark Wilson
Well said that man. Post of the season. A distinct lack of perspective on here much of the time. I made an intemperate remark on here about Schneiderlin after McCarthy's broken leg and I'd be happy to see him moved on, but the mob mentality of booing any player like that is wrong.
Gavin Johnson
169
Posted 11/02/2018 at 23:09:09
Good post, Darren Alexander. It did make me smile.
Jay Harris
170
Posted 11/02/2018 at 23:11:05
Darren,
my point was how much better Allardyce is doing than Sean Dyche over the same period.
I don't like Allardyce as much as the next Evertonian but please stop constantly trying to blag other people and for the record Sam actually took over when we were 16th and therefore in the bottom 6.
Jack Convery
171
Posted 11/02/2018 at 23:18:10
Really pleased for Niasse. Danny Murphy reckons his header was lucky – typical bitter RS comment. Another never was giving us his opinions. As far as BS is concerned good riddance in May. If he's still here come August god help us and god help Moshiri and Kenwright if that's the case. Even they can't be that thick. Can they?
Darren Hind
172
Posted 12/02/2018 at 00:48:06
Jay Harris
When you say something wrong once, it could be a mistake, but when you say something repeatedly which is demonstrably untrue, it demonstrates an unwillingness to face facts
Allardyce did not take over a bottom three club as you falsely claimed, nor were we in the bottom six when we took over the reigns, that's another false claim.
If you don't know this, do a little research, but stop peddling this foolish nonsense. nobody is buying it

John M Boon
173
Posted 12/02/2018 at 01:16:51
While the bickering about the pros and cons of having Allardyce as our manager continues, I have far better things to do as I await in eager anticipation for him to name the other fourteen people who he thinks might not like him.
Steven Jones
174
Posted 12/02/2018 at 01:38:17
There is a team developing here, there is a style and fast pressing and energy is coming piece by piece.
Positives: Rooney, Theo, Niasse, Martina, Tom, Sigurdsson
Negatives: Booing, negative remarks on Allardyce, Walsh, Moshiri, Kenwright and anyone else doing their best for EFC. I hate the entitled bile.
Momentum now building and a much deeper younger squad than we have had previously. 7th is more than doable and with 10 days rest we can see a proper attacking away selection from Allardyce.
Chooo Choo . COYB's!
David Barks
175
Posted 12/02/2018 at 02:47:02
Jay,
When Sam Allardyce managed his first match, Everton were sitting 13th in the table on 15 points, 5 points above the drop, equal on points with Newcastle who were 12th.
We are now 8 points above the drop. So.... what does that mean exactly?
I don't know and I don't care because overall the football has been shite and his words have been incredibly arrogant and dismissive of the supporters I know.
Jay Harris
176
Posted 12/02/2018 at 04:06:59
David and Darren,
Allardyce was appointed before the West Ham game which having witnessed the shambolic performances preceding that would argue that, his appointment had some influence on the performance and the outcome.
As I have tried to outline previously, my argument is not that Allardyce is a great manager just that he has performed better than Sean Dyche in the period he has managed the club.
Now you can both pick the bones of that but I have emphasised that that was my point and Darren you are correct I should have said "prior" to Allardyce's appointment we were in the bottom three.
Darren Hind
177
Posted 12/02/2018 at 06:29:12
Stop digging, Jay.
You are embarrassing yourself by desperately trying to give your hero credit for something he had nothing to do with.
Some of the performances under Sam have been as bad or even worse than anything under Koeman. The game spoiling against Man Utd and West Brom (twice) were shaming; capitulations against the two North London clubs unacceptable.
Apologise all you want for Sam, but making up nonsense about his starting position to try to show him in a better light will fool nobody.
You constantly come on here calling for everyone to unite and get behind your man... it's not happening. By treating fellow fans as if they were born yesterday, you are beginning to even sound like him.
Paul Tran
178
Posted 12/02/2018 at 08:45:55
Interesting report in The Times today, focusing on how Tom Davies made a point of upping his game in training to get back in the team, hopefully to stay.
What a top lad, others would benefit from taking note, especially Saturday's final substitute, who made up the other half of the report.
Simon Jones
179
Posted 12/02/2018 at 09:11:22
We played reasonably well against a team ravaged by injury. Our goals came from being "at it" and harrying a defence, but don't kid yourselves, Palace were in that game and looked capable of scoring a couple against us.
It's a poor league this year, except for Man City being magnificent. I genuinely think most teams in league positions 2 to 6 are beatable (but not by Everton) and apart from West Brom, no team is adrift at the bottom. I'm struggling to see who will go down, I can make a case for everyone from Burnley downwards.
Seventh is now likely to be the limit of our ambition, but it's so tight from 10th to 19th.
Zack Yusof
180
Posted 12/02/2018 at 11:29:33
"It's the certain knowledge that we can't succeed whilst employing this primitive game-spoiling philistine to impose his primitive game-spoiling tactics on each game which drive them to calling for his removal."
Thanks Darren! Couldn't have put it better myself. That is totally spot on, 100% how I feel. I'm really incredulous that any Evertonian watching us attempt to play football at the minute can think differently.
I'm referring to the likes of Tony "all hail the truth teller" Hill, he of absolute gems like "you fucking idiots on here who can't bear the idea that Allardyce might succeed", "any intelligent observer of football can see that there are the beginnings of a very good side under his management" and my personal favourite, "we will regret it if we sack Allardyce. Very much."
I mean, where to begin? The "performances" against Spurs, Arsenal, Man Utd, Bournemouth; parking the bus against bottom of the table West Brom; the way we start every match that we kick off these days with an aimless hoof down the park; the leaky as fuck defence; the zero confidence among the players; the primitive, dull as dishwater football; the arrogant general demeanour; the absolute waffle spouted at press conferences; the bus parking to play for a point against teams we could be beating or a least having a go at; the shite tactics, poor man management and baffling team selections; the throwing of players under the bus whenever things go wrong...
This is really how you want Everton to function Tony?!! Give me Moyes, Martinez, Koeman or Rhino Unsworth any day. Fat Sam Allardyce, the Walter Smith / Mike Walker / Donald Trump / Boris Johnson incarnate.
Clive Mitchell
181
Posted 12/02/2018 at 12:01:23
Mark, (#102) – a reasoned argument, well made, but I have to say I take a different view.
I've supported Everton for over half a century, like you have; it's forgiveable to be useless if you try your heart out; no one ever turned on the likes of Stracqualursi.
Schneiderlin's is a different case. He's become this season a personification of the club's perceived complacency and lack of ambition. There are pundits who want to tell us that it's not easy for fans to see that a defensive midfielder is having a major impact on a game, but Everton fans are not fools and we know what we've seen from Schneiderlin game in game out.
So on Saturday thousands of fans booed when Sam brought him on. As you say Mark, that was absolutely the correct substitution for the manager to make. So why did so many boo?
That was a reaction to him, Schneiderlin, and the contempt for us his displays this season have expressed; it was a reaction directed at the whole club; it was a reaction saying:
How dare you settle for second best?
How dare you decide that there are 'expected losses' and percentages to be played?
How dare you regard a defeat like a shower of rain?
ow dare you set this example of numbing mediocrity to dazzling and spirited talents like Tom Davies and Unsworth's other youngsters?
How dare you walk on that field with a blue shirt and fail to demonstrate that you know what a massive privilege it is to do so?
If the fans don't let them know, how can they ever expect things to change?
Tony Hill
182
Posted 12/02/2018 at 16:45:56
Darren (#129), we were garbage against Arsenal and indeed against Tottenham. But against Liverpool in the Cup, against Leicester and against Palace there were good signs. A failing manager does not have the players performing as they did on Saturday and showing proper spirit.
Zack (#180) – yes, I see your point, now I come to think of it.
Peter Mills
183
Posted 12/02/2018 at 17:26:52
Paul (#178), Clive (#181).
I'm pleased to see your comments regarding Tom Davies. I thought he made quite a few mistakes on Saturday, and lost possession a number of times, according to the statistics and the computer programmes this would probably mean he had a poor game.
However, he had great energy, harried, did an awful lot of Rooney's running for him, and generally contributed well to a winning performance. The algorithms do not always tell the full tale.
Brian Porter
184
Posted 13/02/2018 at 00:43:37
Totally off topic but did anyone else notice our old boy Ross Barkley can't even make Chelsea's bench at the moment?
Nice move eh, Ross?
Ian Jones
185
Posted 13/02/2018 at 01:03:50
Brian, I have a feeling Ross is injured again. If so, doesn't seem to be having much luck.
David Barks
186
Posted 13/02/2018 at 01:55:56
Brian,
He reinjured his hamstring a couple weeks back. That was met with criticism toward Conte for throwing him back into action after being injured for so long as well as the large number of hamstring and muscle injuries his squad has had during his time there. So no it wasn't noticed because he's injured and not available.
Brian Flack
187
Posted 14/02/2018 at 11:04:48
One way of making certain a player has no future at a club is to plaster it all over the social media, some of which he may well see, and of course booing the player before he gets on the pitch. Not that anyone knows how many people were booing their own player in an Everton shirt, or how many were booing the decision.
Probably many wanted a sight of the Turk and maybe a 4th goal. None or few were aware that Gueye was hobbling, so like for like etc.
I'm getting tired of this campaign against one player, as if he is the only one who has performed badly since August. During play it is a different matter; Jagielka, Martina, and Gueye in particular have all been booed for continually passing backward and slowing our momentum.
---
Add Your Comments
In order to post a comment, you need to be logged in as a registered user of the site.
Or Sign up as a ToffeeWeb Member — it's free, takes just a few minutes and will allow you to post your comments on articles and Talking Points submissions across the site.
© ToffeeWeb