Report
Tosun secures important Blues victory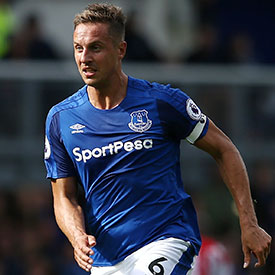 Phil Jagielka returns to the starting XI after recovering from injury
Everton 2 - 0 Brighton & Hove Albion
Cenk Tosun starts against Brighton, with Leighton Baines finally returning at left-back to give the defence an older flavour with Coleman and Jagielka partnering Keane.
Davy Klaassen is on the bench, Funes Mori is deemed not ready, Idrissa Gueye and Morgan Schneiderlin are out with illness, and Ashley Williams is suspended after last week's stupid red card.
Everton kicked off and followed with the now requisite hoof upfield. Rooney slid in for a poor tackle. Duffy gave up an early corner that Sigurdsson delivered well enough, Coleman ran forward but screwed his shot across goal. Another corner was nmet well by Jagielka but directed at Ryan in the Brighton goal.
Everton pressed forward well enough, with Brighton reasonably sold in defence, tempting Bolasie to fire from distance, but well off target. Rooney was looking to control the game but overhit a wide drive to Davies, but did better for Walcott to win Everton's third corner, which produced the fourth, two Everton attackers getting dragged to the ground.
More Everton pressure forced a fifth corner, recycled via another marvellous out-ball from Rooney to Walcott but Bolasie was not sharp enough to profit from it. Baines crossed well and Walcott failed to attack the ball.
A sixth corner went past Ryan but Bolasie should have done better, his improvised strike hitting the side netting. Sigurdsson needed treatment and after the restart, Murray lashed a decent shot at Pickford.
Bolasie and Baines were supporting eachother reasonably well but Bolasie just taking too long and wanting to show off too many tricks. Davies got sandwiched after the ball had left him: no penalty. Walcott won corner number seven, recycled to Sigurdsson who lashed a tricky shot at Ryan and Bolasie again miscued the rebound.
More slow build-up, Davies the most conservative in playing it safe. A lofted ball let Bolasie in to only head wide when he should have done a lot better. Tosun was having a torrid time, seeing nothing of the ball.
The Everton pressure eased a little until the eighth corner, Duffy getting it away and Rooney firing well wide. Tosun finally saw some ball but caught his marker with a late clip. That free-kick for Brighton set up a rare threatening move.
Davies was getting worse with some just horrible backward plays, showing no intent whatever to play forward. More scrappy play led to another Brighton attack as the Blues' almost shameful inability to score in a half they had dominated began to play on the mind. The ball was worked to Sigurdsson whose fierce shot was blocked well by Duffy. before the half-time whistle.
Brighton restarted the game and continued to limit the Blues while feeling they could now threaten the Everton goal. Walcott ran forward well but Davies could do nothing with the ball played slightly behind him as signs of frustration started early on.
Baines linked well with Bolasie but his cross to no-one was hugely frustrating. A Jagielka free-kick bounced through harmlessly to Ryan as the lack of direct threat to the Brighton goal continued.
Bolasie was blocked by Schelotto and from the free-kick Rooney fired a decent shot that was again blocked. The ninth corner came to naught as the rain started and the quality of the football further deteriorated.
But it suddenly opened up for Bolasie who picked out Walcott ghosting in at the far post but it was Bong who fired it into his own goal.
The Brighton gameplan was torn up as they needed to open the game now, hopefully giving Bolasie and Walcott more space, but it may still not be enough for Tosun to make any impression.
Bolasie won a free-kick in a central position that Sigurdsson delivered well enough but it came back off Duffy's head and Boalsie had to pull off a fine tackle on Schelotto. Coleman had to block a dangerous shot with his hand at close quarters. Tosun did fire at goal but unfortunately it was his own... thankfully Pickford alert to it as the Blues rocked a little with Brighton's first two corners.
Walcott went down, holding his calf, Calvert-Lewin replacing him. Baines and Bolasie linked up well down the left, Baines rolling the ball across the are to set up Tosun for a fine strike, in off the bar, to seal the win for Everton in the final 15 minutes.
Knockaert went in on Baines, studs high, foot extended, and was immediately shown the red card. Davy Klaassen came on for his first appearance under Sam Allardyce, replacing the 'industrious' Tom Davies.
Calvert-Lewin did well to get behind Duffy and draw a penalty but Rooney's decent enough penalty was saved very well by Ryan.
A mistake by Holgate allowed Brighton to run at Pickford but he was well up for Gross's fine shot. Everton played out the 4 mins of added time to register a vital home win and their first clean sheet of 2018.
Scorers: Bong (og:59'); Tosun (76').
Everton: Pickford, Coleman, Jagielka, Keane, Baines, Sigurdsson, Davies (84' Klaassen), Walcott (72' Calvert-Lewin), Rooney, Bolasie (78' Holgate), Tosun.
Subs not Used: Robles, Martina, Niasse, Baningime.
Brighton: Ryan, Schelotto [Y:55'], Dunk, Duffy, Bong (82' Suttner), Kayal (69' Locadia), Propper, Izquierdo, Gross, Knockaert [R:80'], Murray (77' Ulloa).
Subs not Used: Krul, Bruno, Goldson, March.
Referee: Roger East
Attendance: 39,199
---
Reader Comments (242)
Note: the following content is not moderated or vetted by the site owners at the time of submission. Comments are the responsibility of the poster. Disclaimer
Andrew Keatley
1
Posted 10/03/2018 at 14:09:01
No Gana. Funes Mori not even worth a place on the bench.
I imagine Brighton will defend deep, and there won't be much space for Bolasie and Walcott to take on full-backs and get crosses in for Tosun (who Allardyce openly trashed a few weeks back and now expects to get us out of trouble). Hopefully they will at least give us some width.
Hope I am wrong but I see another 90 minutes of struggle ahead.
Christy Ring
2
Posted 10/03/2018 at 14:12:55
Gueye is injured, surprised Beni didn't start, as he's our only defensive midfielder. An attacking lineup, but Rooney and Sigurdsson in midfield together?
Brian Wilkinson
3
Posted 10/03/2018 at 14:17:38
Decent starting line-up, 3 in attack, no excuses with that starting 11.
Brian Wilkinson
4
Posted 10/03/2018 at 14:19:00
Cannot argue with that starting 11.
Dermot Byrne
5
Posted 10/03/2018 at 14:22:20
Sacrilege Brian!
Mike Gaynes
6
Posted 10/03/2018 at 14:23:03
Just the 11 that I was hoping for. So happy to see Bainesy back in.
Ian Jones
7
Posted 10/03/2018 at 14:26:39
And no Schneiderlin!
Jackie Barry
8
Posted 10/03/2018 at 14:27:41
It's an all-out attack, at home.
Nathan Snell
9
Posted 10/03/2018 at 14:29:49
It would appear that Sam is trying to appease the crows with that line up (and With Klaassen on the bench).
We don't want you to play all your best players, Sam! I want you to play your best team with a foundation and strategy that complements their best attributes and mitigates their weaknesses. Simples... ;)
Chris Gould
10
Posted 10/03/2018 at 14:30:38
Wow, even our one defensive midfielder isn't particularly defensive!
Phil Sammon
12
Posted 10/03/2018 at 14:33:54
Can't argue with the lineup. Trouble is they aren't playing for the manager.
Kim Vivian
13
Posted 10/03/2018 at 14:34:28
Hopefully they will play for us, Phil.
If we lose this today, he'll blame the fans for forcing his hand.
Mike Gaynes
14
Posted 10/03/2018 at 14:34:34
Chris, I assume Davies will be entirely defensive today.
Brian Murray
15
Posted 10/03/2018 at 14:37:33
I've ever seen a decent set-piece from Baines in over 3 years. Garbutt should be well in before him. No time for nice guys in Blue. Ditto Jags.
Paul Columb
16
Posted 10/03/2018 at 14:38:16
The line-up at least stirs some interest. The pressure on Sam Allardyce obvious from the line-up. Bolasie has to show some product today; ramp up period over and IMO he's been dreadful since return but early days after an ACL injury.
3 points and nothing less. Goodison will be acidic if they don't show up for the shirt today.
Stephen Jones
17
Posted 10/03/2018 at 14:40:04
Anyone got a live link please?
Sean McCarthy
18
Posted 10/03/2018 at 14:41:57
I'm away this week. Are there any streams??
Christy Ring
19
Posted 10/03/2018 at 14:42:03
I don't think Rooney has the stamina for midfield, and Sigurdsson beside him, hope I'm wrong.
David Nicholls
20
Posted 10/03/2018 at 14:43:41
Delighted to see Baines, Jags and Coleman back in! 3 of my all-time faves.
Big responsibility on young Tom's shoulders in the Carsley role. COYB!
Phil Greenough
21
Posted 10/03/2018 at 14:44:27
If Brighton beat us today, it will be their first win at Goodison. Well let's hope it's not another afternoon for firsts.
Mike Gaynes
22
Posted 10/03/2018 at 14:44:48
Hey Paul, you watching online this morning or carrying Liam off to breakfast at the Toffee Club?
John Nugent
23
Posted 10/03/2018 at 14:49:00
Streams please, anybody?
Brian Porter
24
Posted 10/03/2018 at 14:49:23
Funes Mori not even on the bench. Allardyce's favourite Martina preferred. Big joke, Sam. No expectations today.
David Hallwood
25
Posted 10/03/2018 at 14:49:29
This is the first time in 5 seasons we haven't played with at least 1 DM
Gary Fenton
26
Posted 10/03/2018 at 14:49:56
http://www.eplsite.info/stream13.html not live yet
Mike Gaynes
28
Posted 10/03/2018 at 14:52:17
Brian, if your expectations are based on Funes Mori being on the bench, I think you're gonna need some magic mushrooms to get through this game.
Andrew Keatley
30
Posted 10/03/2018 at 14:52:40
If Brighton press with energy and force in midfield then I hope Rooney and Davies do not leave our back four totally exposed.
Paul Columb
31
Posted 10/03/2018 at 14:52:49
At home Mike. Liam still crashed. Hopefully he'll wake to a lead .for once in his short life.
Mike Gaynes
32
Posted 10/03/2018 at 14:53:30
I'll call you right after kickoff. I can't watch this alone.
Phil Sammon
36
Posted 10/03/2018 at 15:05:14
Kickoff drilled at corner flag. You don't get up in the middle of the night to watch this shit
Stephen Jones
37
Posted 10/03/2018 at 15:12:25
In Canaries. Any streams please?

Ernie Baywood
38
Posted 10/03/2018 at 15:51:58
Feels a bit like the middle of Martinez reign this one. Loads of possession, loads of territory, but not really creating anything. And you just know we've got a mistake in us at the back.
Must be a temptation to go two up top to give their centre halves a bigger problem.
Michael Kenrick
39
Posted 10/03/2018 at 15:52:28
Eight corners... was Cenk Tosun anywhere near a single one of them? He seems to have the opposite ability of Niasse when it comes to being a ball-magnet.
Jay Wood
[BRZ]
40
Posted 10/03/2018 at 16:03:27
Decent enough half without creating any really clear-cut chances.
Most playing well. Bolasie, as enigmatic as he can be, may be the one to finally unlock Brighton's rear guard. Not that his finishing is very reliable, mind...
Tosun showing well again, but as Michael notes, he needs to do more in the box.
As long as it remain goalless, you are always vulnerable...
Don't give us a tepid 2nd half as you gave us last week, Everton.
John Graham
41
Posted 10/03/2018 at 16:40:03
Great goal!
Hopefully with Baines and Coleman back, the team will start to gel together.
COYB

Phil Smith
42
Posted 10/03/2018 at 16:54:00
I'm sorry, but if Baines plays, he takes ALL the penos!!!
Ernie Baywood
43
Posted 10/03/2018 at 16:55:43
Well that's 37 points. Important win so the players can start winding down for the summer.
Hard to get too excited about a decent home performance when we'll probably throw in the towel at Stoke .
George Cumiskey
44
Posted 10/03/2018 at 16:57:19
Good three points, not a great performance.
Made up for Tosun seeing as he was isolated for most of the match.
Still, Allardyce out! !
Chris Gould
45
Posted 10/03/2018 at 17:00:53
In fairness, Phil, it was a very well struck penalty heading right into the bottom corner. The keeper guessed right and pulled off a fine save. Bit of a soft penalty anyway. Looked like a dive to me or maybe just a well timed tumble.
Very pleased for Tosun and Bolasie today. Jags is far and away our best and quickest defender. Rooney is never going to be Paul Scholes... or even close, sadly.
Jay Woods
[LAT]
46
Posted 10/03/2018 at 17:02:50
Glad of the win, but we need a new manager and 21st century coaching staff pronto.
And that was an attempted leg break on Baines and the guy who did it should be arrested for assault, never mind red-carded.
Chris Gould
47
Posted 10/03/2018 at 17:09:03
Yes, Jay, it was disgraceful.
Baines handled it exceptionally well. Knockaert was upset because the ball hit him in his massive nose and so he decided to try and break Baines's legs. Nice to see Coleman giving him a mouthful as he went off. No doubt explaining what it actually feels like to have your leg snapped.
I hope he gets a lengthy ban.
Trevor Lynes
48
Posted 10/03/2018 at 17:10:43
Why is Baines not taking the penalties? He has proved to be our best penalty taker since Roy Vernon. It is really perplexing and could have been costly.Is Rooney looking at personal stats? There should be a fan lobby for Baines to take ALL our penalties.
Jay Wood
[BRZ]
49
Posted 10/03/2018 at 17:12:17
Comfortable win. Rooney (again) played well in his deep-lying midfield role, but he needs to be relieved of penalty taking duties.
Isn't that 3 penalties he has missed/had saved this season alone for Everton?
OK. It didn't cost us today, but it could in the coming weeks.
We have far, FAR more reliable penalty takers in the team than Rooney. Baines and Sigurdson the obvious candidates. I believe Tosun takes a mean penalty, also.
I wonder what the odds on relegation for Everton this season have drifted out to now.
Brian Wilkinson
50
Posted 10/03/2018 at 17:16:10
A good report Michael but no mention of Tosun goal or the build up to the goal.
Jon Withey
51
Posted 10/03/2018 at 17:17:16
Thought we were pretty solid at the back - and that is seemingly without a 'defensive midfielder' like Gana or Schneiderlin.
We don't really miss Williams, Martina or Schneiderlin - is the kind way to put it.
Tosun looks like he is still finding his feet in the league but is doing ok.
Poor Moyes must have had a pretty terrible day.
Brian Wilkinson
52
Posted 10/03/2018 at 17:17:24
Agree with Phil, Baines has to take the penalties if he is on the field.
Amit Vithlani
53
Posted 10/03/2018 at 17:20:35
Relieved. Pleased for Tosun. Disappointed for Rooney
John G Davies
54
Posted 10/03/2018 at 17:21:49
A big improvement on recent games. A great finish from Tosun.
That's us safe now. Some very poor teams below us.
An added bonus for me is West Ham's continued decline and the demise of Moyes. I had to chuckle a few weeks ago when one ToffeeWeber told us Moyes would finish above Allardyce.
Michael Kenrick
55
Posted 10/03/2018 at 17:26:04
Thanks, Brian. The wife had me multi-tasking and I think I lost an update.
John Pierce
56
Posted 10/03/2018 at 17:26:45
The win and other subsequent defeats should be enough for the surprisingly many who think relegation is still a possibility.
A regulation win which we struggled to get rhythm in but got the job done.
A very nice 2nd goal, crafted by Baines, finished by Tosun, the deflection embellished the strike.
The penalty was bought, DCL yet again initiating contact. Rooney, well he's escaped my ire mostly this season but ego got the better of him. Very poor that Wayne lad.
All done and dusted, give Sam the heave ho and look forward to better days without him, please Farhad don't dither.
Chris Gould
57
Posted 10/03/2018 at 17:26:57
Jay Wood, I agree that Rooney has put in some good performances in the centre of midfield, and I don't think we have better options at the moment...but...even when he plays well he gives the ball away needlessly, and often in dangerous positions. He did it again today and it almost cost us our clean sheet. His casualness alarms me.
He's good in the role, sometimes very good, but only in games where the opposition allow us to dictate the pace. So basically at home against the bottom half teams. Even then he's liable to gift the opposition chances with sloppy passes or casual control.
Not that it's relevant today. He passed well and we won. But for me, I'd like to see some competition for his place in the summer.
Si Cooper
58
Posted 10/03/2018 at 17:29:28
I had a good feeling about today ever since I saw Eugene Ruane and John Daley in tandem on the manager's matchday eve presser thread this morning.
I listened to the game on the OS audio service and it all sounded fairly straightforward but I am no closer to unravelling why we had a much better performance today.
A few things spring to mind. Keane and Jagielka work together better than most of our pairings (barring the odd unnecessarily risky pass), Walcott and Coleman will terrorize a lot of teams, and we really don't need to rely heavily on two orthodox defensive midfielders.
With St Helens flying at the moment, I just need England to find an epic second half against France to make this a very pleasant weekend.
Phil Walling
59
Posted 10/03/2018 at 17:32:30
The team probably needs another £200 M or so spent on it if we are to challenge for seventh next season. The money won't be a problem, it's the shit they'll spend it on which will see us continue to struggle !
Andrew Keatley
60
Posted 10/03/2018 at 17:35:37
Massive win. Coleman, Baines and Jagielka made a big difference - making us more resolute and giving us a much better defensive shape. Bolasie was a nuisance for the Brighton players throughout, even if his composure and decision-making let them off the hook a few times, and Rooney, Sigurdsson and Davies moved the ball around the middle of the pitch pretty well.
I do think we are very lucky that Brighton got it entirely wrong tactically.
Si Cooper
61
Posted 10/03/2018 at 17:36:06
John Pierce, there is a huge difference between likely (which it never was) and possible (which it might still be). Irrespective, the whole subject could, and should, have been put to bed ages ago which is why the debate has been inflamed.
Andrew Keatley
62
Posted 10/03/2018 at 17:36:54
Chris Gould (57) - Couldn't agree more.
Mike Price
64
Posted 10/03/2018 at 17:39:31
I'm happily on the wine for the night!
Massive relief that we won that match and unbelievably, we look like avoiding the drop. We've been very fortunate this year and I'm still not relaxing until it's mathematically impossible but it's been the worst season in living memory and survival will be a blessed relief.
We've not had many weekends where blues win and reds lose so let's enjoy tonight before getting the pitch forks out for Sam in a few months!
Jay Wood
[BRZ]
65
Posted 10/03/2018 at 17:40:31
Chris @ 57.
I would agree with you in previous games, and on too many occasions for a player of his quality, Rooney has coughed up the ball too cheaply playing this midfield role.
But not today. Indeed, his stray passes and having his pocket picked by turning into the opposition, or from lack of awareness of being closed down, has diminished in recent weeks.
Other than his penalty miss - and it was a very good save from a well-hit ball - he orchestrates things so much better than, say, a certain Frenchman in our ranks who has largely occupied Wayne's current position for most of the season.
Given his age, naturally it would be healthy for the club to have a younger player capable of doing the same to add competition for places.
But that's for the summer, not the here and now.
Roberto Birquet
66
Posted 10/03/2018 at 17:43:30
Everton scored two. No reporting of it here, and altogether negative of an ineffectual Tosun. Hello, he scored a bloody goal
Christy Ring
67
Posted 10/03/2018 at 17:44:13
A huge 3pts, and delighted to see Tosun score again. I still think Rooney hasn't the pace for midfield, watched the game and he gave the ball away to easily. Hope Wallcott recovers quickly, and after the Jag and Keane's performance today, can Sam get it into his thick skull Williams is finished.
Danny Broderick
68
Posted 10/03/2018 at 17:44:22
Credit where it's due. Good team selection and good team performance. We were in control throughout and it was much improved.
Fran Mitchell
69
Posted 10/03/2018 at 17:47:50
Much needed. Tosun just might be a decent centre forward afterall.
Davies was poor, what on earth are they doing with him at finch farm, but Baningime should play ahead currently imo. Davies is a top talent, but his control has vanished.
Klassen looked tidy, imo.
Baines is back. And Jags is still our best defender by a long way.
Jamie Crowley
70
Posted 10/03/2018 at 17:50:21
What a difference Coleman and Baines make! My goodness.
Paul Tran
71
Posted 10/03/2018 at 17:51:16
A routine win against a poor side determined to give us time and space. I loved the way Tosun timed his run, found the space and finished so well.
Gio Mero
72
Posted 10/03/2018 at 17:54:13
Jag was superb. In my opinion he should play with Holgate. Sig played very well so did Rooney; the way he took his penalty 9 times out of ten it's in.
I personally think Bolasie was poor apart for a 10 minutes spell.
Hope Walcott is fine
Jon Withey
73
Posted 10/03/2018 at 17:56:42
Very harsh to criticise Davies, he's 19 and helped us control the midfield - sure, he wanted too much time in striking positions - but he gets there.
Derek Knox
74
Posted 10/03/2018 at 17:59:22
What a difference a win makes, it seems ages since won, oh it is ages since we won. While the performance was better, I am not totally convinced it was all down to us, but rather Brighton were poor today.
I will reserve judgement till next week, to see if they can carry on from where they left off. Stoke away is always an awkward fixture, but nevertheless winnable.
I was disappointed with Tom Davies, he still holds on to the ball too long, before passing, and when he does pass it usually goes to the opposition. A couple of times today, Theo tried a one two, and sprinted towards the box, Tom turns and passes the ball backwards, Schneiderlin style.
Speaking of Theo, I do hope he is okay for next week, because without him, we are a bit light upfront.
Roberto Birquet
75
Posted 10/03/2018 at 18:00:40
good update, thank you
Jerome Shields
76
Posted 10/03/2018 at 18:05:24
Good win. Hope they are not playing to get Big Sam an extended contract. Playing higher up the pitch brings dividends.
Jim Bennings
77
Posted 10/03/2018 at 18:11:30
Comfortable win, if you like an "Everton win".
By that I mean it's a win at home to a rather limited side but I'm not going to knock it because wins these days are pretty rare aren't they?
Defence was always comfortable with a far more balanced look to it, Jagielka proving that even though the legs aren't there like they were but he's still our best defender.
Bolasie was unpredictable but pretty decent to be honest and at least he was willing to have a go and made a goal with a delicious cross.
Sigurdsson was decent, Walcott a threat but I think it's time for the following two things .
Davies needs time out while Klaassen stakes a claim and Rooney needs relieving of penalty taking duties, thank him for that one he got at Anfield in December but missing three and staying on them is taking the piss a bit now.
Very pleased to see Tosun score a beauty and maybe just maybe there's a Premier League quality player in there bursting to come out?
All in all a comfortable win to relieve pressure but it's whether we can turn up at Stoke next week isn't it?
Jeff Armstrong
78
Posted 10/03/2018 at 18:25:53
Walcott had cramp and Allardyce has said Rooney is no longer on penalties.
John Graham
79
Posted 10/03/2018 at 18:29:13
Great win against an in-form team whose manager has just got Manager of the Month and who we have now moved above in the table.
We had most of the possession. We created most of the chances. We totally outplayed them.
Not sure what anyone on here is after but, if you can't be happy with that, then best you come off the Valium.
Brian Hennessy
80
Posted 10/03/2018 at 18:56:40
Everton win, Liverpool lose and Ireland win the Six Nations with a game to spare - the perfect weekend!
Dave Abrahams
81
Posted 10/03/2018 at 18:57:35
I thought Jagielka and Baines made a big difference today, Baines gave the team much more balance up and down the pitch, Jagielfa gave the defence a more solid look and Keane appeared a bit more relaxed with Jagielka alongside him.
Colman gave another all action game and Walcott was always on the go and gave us someone to break out with.
Siggurdsson was man of the match for me he was behind most the attacking play and is a tireless worker for the Blues.
I was glad Brighton were so poor, never really threatened, expected them to come out attacking after their good run, but offered little.
Made up with the victory, another one should ensure safety and then with the pressure off maybe the team will really try and entertain us, we deserve much more than they have shown all season. Very relieved at the moment.
Danny Baily
82
Posted 10/03/2018 at 19:00:55
With the exception of West Brom, Sam is getting us the necessary results at Goodison.
Beat Southampton at home and we're over the line.
With a few personell changes we should reach this point with less difficulty next term.
Phil (Kelsall) Roberts
83
Posted 10/03/2018 at 19:05:16
I know this is a stat attack - over the last 2 seasons, the team 3rd from bottom has always projected to get between 32 and 34 points. It has risen to 35 on a few occasions.
As of tonight in the same fixtures last year - WHU got 2 points, WBA 12, Saints 5, Newcastle 1, Stoke 8,
Take you pick of 3 from those 5. We are safe now.
David Hallwood
84
Posted 10/03/2018 at 19:08:32
Oh the irony; the first time we've played without at least one DM and we keep a clean sheet!!
Colin Glassar
85
Posted 10/03/2018 at 19:10:03
Made up for Tosun, still want Big Sam out asap.
Johan Elmgren
86
Posted 10/03/2018 at 19:10:06
Great to get the three points. With the quality we have in the squad these are the games we just should win, home and away, if the players are allowed to play some attacking football.
Although three points and two goals, much is left to be desired in the attacking play. Things a competent manager could turn around with some adjustments, a positive mindset and a few well though out recruits in the summer... Allardyce hasn't got the knowledge to get this team playing the football I, and I think most Evertionans, want to see...
Allardyce out now!
Rob Halligan
87
Posted 10/03/2018 at 19:11:54
I said yesterday that my back four should be Coleman, jags, Funes Mori and Baines. Three out of the four started, and it would have been an ideal game for Funes Mori to have started and ease back into the team, as Brighton were piss poor and offered next to no threat up front. I was slated for suggesting such a back four, as no manager would start with four players returning from injury. It was a stroll in the park for our back four today, but of course, people on ToffeeWeb know best.
Colin Glassar
88
Posted 10/03/2018 at 19:20:07
Rob, I heard Keane played well today. Is that true? I still think once this kid has a regular partner next to him he'll be class.
Rob Halligan
89
Posted 10/03/2018 at 19:24:42
He was better than he has been lately, Colin. I agree, I think he will be an excellent centre back for us in time, with, as you say a regular partner. The problem is finding a regular partner.
Derek Knox
90
Posted 10/03/2018 at 19:25:03
True Colin, one swallow doesn't make a summer, and all that, noticed our favourite Gobshite taking all the credit, in the post match interview.
Just hope Theo is okay, and we can play virtually the same side next week.
Brian Wilkinson
92
Posted 10/03/2018 at 19:28:22
Mike@55 how dare your wife have you multi taking, does she not know us men cannot multi task like they can, I cannot read or watch anything when the other half speaks, well I do but do not have a clue what she said until Days later, when the famous I told you the other Day quote comes out with the slowed down speech you never listen.
Anyway Mike good in death report, did not get to see any of the game, but sounds like Tosun hardly set the game on fire, was it lack of service or a bad Day at the office, baring his goal for him.
John Charles
93
Posted 10/03/2018 at 19:34:20
Brighton were woeful, I settled in my park end seat with virtually no worry. I really don't like or want FS. However it was a better display. Jags made a massive difference, as much on Keane much improved performance as his own. Tosun played well all game and took his goal well. Siggy was my motm, worked his socks off - what a difference not stuck out on the left. Thought Davies was generally poor and until his cross for Walcott Bolasie was our worst player.
Dave Pritchard
94
Posted 10/03/2018 at 19:37:52
Rob, you are a genius and should be our next manager. Happy now?
Tony Hill
95
Posted 10/03/2018 at 19:43:49
Good, solid performance. Things will come together if we are patient. The players have not given up on Allardyce even if the fans have. Incidentally, I didn't see the manager claiming credit for the victory, he has been very clear how delighted he was with the players.
Above all, I am delighted to see Baines playing with zest again. His part in Tosun's goal was like the Leighton of old. He looked as though he was enjoying himself. If he can recover form consistently then that will be priceless for us.
Jay Wood
[BRZ]
96
Posted 10/03/2018 at 19:46:24
Brian @ 92.
Tosun was very good. He challenged for and held up the ball well. Linked up play well, as epitomised by his goal which he helped create with Baines as well as finish. And it was a cracking finish.
He also won loud and frequent applause for his enthusiastic and tireless chasing of the ball as Brighton played out of defence.
He didn't see much of the ball in the penalty area, but the one time he did - WHACK! GOAL!
He has impressed me every time he has had decent game time. Considering he only arrived in January, into a shambolic set-up, he is doing more than just fine.
Brian Denton
97
Posted 10/03/2018 at 19:53:03
Homing in on a positive goal difference before the end of the season!
Rob Halligan
98
Posted 10/03/2018 at 19:58:36
No Dave I'm not, because Funes Mori didn't play.
Do people seriously believe a player gets off the treatment table one day and expect to play the next? Or course not. They have been in full training for 2, 3 or 4 weeks, probably played an U23 game of two, and know themselves whether they are fit to play or not. Funes Mori said he was fit and ready to play.
Keane has been awful the last few weeks and I think today would have been an ideal game to rest him and start Funes Mori, and ease him back into the first team fold, because, as I say, Brighton were no threat at all.

Christy Ring
99
Posted 10/03/2018 at 20:19:13
Rob @98, I think Keane will come good, the problem is Sam keeps putting Williams beside him. As for Funes Mori, he's the only leftsided centreback we have, and probably deserves a chance, if he has improved on last season.
Darren Hind
100
Posted 10/03/2018 at 20:21:44
At times we were perilously close to playing some football today . . and not a tackling machine in sight.
Slightly better movement today, which is the key to playing the good stuff, although we have a long way to go. It's worrying that we still relied heavily on the long diagonal from Rooney.
The Night King will of course give himself the credit for the win. When we win, it's down to him; and when we lose, it's down to the players.
Fact is, we have better players than every single team in the bottom half and results like today's should be a given.

Rob Halligan
101
Posted 10/03/2018 at 20:24:03
I agree Christy. I also think Keane will be an excellent centre back. I'm not knocking him in any way, other than the fact he probably needed a break. As it turned out, today he had a decent game probably due to the fact Jags was alongside him.
Len Hawkins
103
Posted 10/03/2018 at 20:33:28
Si #58
Two out of three, pity England can't play a good game like they talk a good game.
Jon Withey
104
Posted 10/03/2018 at 20:36:25
Our goal difference is a reminder of just how bad we were we are at least 'less bad' so some credit to Allardyce for doing his short-term job even though he isn't an inspiring choice for the future. I also think that Tosun and Walcott have been better purchases than we were making under Koeman.
Paul Tran
105
Posted 10/03/2018 at 20:38:45
You're right, Darren, but Brighton were very poor, just sat back and gave us all the time and space. That team and formation needs a few games for a bit of continuity, but that just isn't Allardyce, is it?
George Cumiskey
106
Posted 10/03/2018 at 20:44:09
Danny @ 82 are you saying keep Allà rdyce and change a few players ?
Geoffrey Williams
107
Posted 10/03/2018 at 21:07:24
What a difference having Baines, Coleman and Jags in the back four. Keane was made to look like a footballer.
Brian Wilkinson
109
Posted 10/03/2018 at 21:13:48
Cheers Jay@96, had prior engagement so missed any action or updates; I will have to watch MotD tonight.
I said a few weeks ago Jags makes a big difference in our defence, I still think before his injury, Baines was playing through the pain barrier and lost a bit of zest because of it, I think Baines still has it and not ready for the knackers yard just yet as some think.
Brian Wilkinson
110
Posted 10/03/2018 at 21:16:57
I would like to see most of that lineup against Stoke, only changing Bolasie for Vlasic and possibly Davies for Baningime.
Jamie Crowley
111
Posted 10/03/2018 at 21:22:17
Keane reminds me of Duffy.
Duffy is a very solid, good CB I feel we should have never let get away. When he was with us he was very young and often came under criticism - just the way Keane is now.
We need to be patient with Keane I feel. There's a good player in there, he needs a partner and time to develop more as Rob Halligan says.
Jerome Shields
112
Posted 10/03/2018 at 21:30:51
The problem with the defence is it's the oldest in the Premier League.
John Hammond
113
Posted 10/03/2018 at 21:32:40
I was at the game today; all-in-all, it was pretty comfortable. First 20 mins, it was all one-way traffic but we lacked that cutting edge in the final third.
Tosun showed some nice touches and put himself about, constantly chasing down the keeper. Second half he was dropping deeper to get involved. Scored from what I thought was his only shot of game. Bodes well. If we can get decent service to him then we might have a player on our hands.
Bolasie was horrendous in the second half apart from the cross for the goal. Davies seemed void of confidence today and spent the game mostly passing to Rooney who was decent but still did the now usual getting tackled on the edge of our box to give them a goalscoring opportunity.
Biggest cheer of the day was when Klaassen came on. Still doesn't seem to fit and getting the final 10 mins isn't really going to help him much. My hope is he stays, gets another preseason under his belt and starts to show what he can do.
Sigurdsson ran his socks off today, really put in a shift.
A badly needed 3 points!
David Barks
114
Posted 10/03/2018 at 21:37:28
If Allardyce would have been taking this approach to go out to win the game since he has been here, as opposed to the performances against West Brom and so many others, my opinion of him staying would have been totally different.
Having said that, I've never believed in getting caught up in the moment not being unwilling to have my mind changed. If he goes the rest of the season with the mindset to win games, to instill that mindset into the players I don't know what I would think.
Today was in no way some brilliant performance, it was Brighton. But a good sign at least.
William Gall
115
Posted 10/03/2018 at 21:52:06
Impressed with Tosun today; he controls the ball well and is aware of who he is going to pass too instead of stopping and looking around.
Still not a fan of Bolasie even though it was his pass that got the first goal. The game was an improvement from last week but did not get the pulses racing and hopefully Fat Sam will not chop and change for the next game. The back 4 looked the strongest formation we have had this season and hopefully will be kept together (barring injuries) for the next number of games.
We are most probably safe from relegation, and even if we only lose 2 games till the end of the season, I hope Moshiri has made up his mind now, and gets shut of Fat Sam at the end of it.
Chris Gould
116
Posted 10/03/2018 at 21:53:27
David, if we got an away win at Stoke and then got a win/draw against City and a win against the RS, then that 95% could possibly become....94.9%!
It would take something phenomenal for him to turn the fanbase.
Although, like you, I could potentially be swayed. My views are not entrenched and I prefer to be supportive where possible.
The next 3 games may well decide his fate.
We're football fans and fickle by nature.
Dennis Stevens
117
Posted 10/03/2018 at 22:13:35
Chris (#116). I think Allardyce would have to have the team playing with some sense of style, as well as getting good results, in order to win folks over – but I think the chances of that are somewhere between nil & zero!
Ian Riley
118
Posted 10/03/2018 at 22:28:19
Good win and performance against one of the form teams in the league. Yes we shouldn't be losing to Brighton with our squad of players. In reality football doesn't play out that way. Our home form under this manager has all but kept us in the league. He brought in Walcott and Tosun whom have quality.
Sam is taking credit for this performance? Well, why not? It was an attacking line-up today and a brave one. At home, we should be more adventurous against teams like Brighton who sit back. Play the same team against Stoke next week to build continuity. Sadly, Stoke at home need the win, like we did today, but let's have a go. Better all round performance today.
Brent Stephens
119
Posted 10/03/2018 at 22:32:22
A significant improvement in performance today. They looked more like a cohesive team than most games this season. Having Seamus and Leighton, together with Jags, gave us a more solid back four.
I was impressed with the number of times the ball was hit early and long – not a hopeful punt but a purposeful pass to player or space.
Tosun worked hard, and has a good touch. But I still miss Lukaku – he caused Liverpool problems today.
David Barks
120
Posted 10/03/2018 at 22:43:44
To echo Dennis, it wouldn't be just a few wins. Any manager can scrap together a few wins. It's the fact that he finally sent a team out that was clearly under the instruction to attack and win, to impose ourselves on them and not try to just pinch a 1-0.
A few wins won't do anything to change my opinion. If he however has us attacking and trying to dominate the opposition, then that's all I've ever wanted.
I continue to refuse the notion we don't have talent in this team. It's the mentality, tactics, formation and lineup that needs to show that. We could have started with Rooney sitting deep alongside Davies with Sigurdsson in the Number 10 all damn season.
Chris Jones [Burton]
121
Posted 10/03/2018 at 22:44:02
Why shouldn't the manager claim credit for today's win? Sure as eggs is eggs, if we'd lost he'd have got the lion's share of the blame (if not all of it). I know I'm talking to football fans here, but please let's have a modicum of balance.
Tony Everan
122
Posted 10/03/2018 at 22:54:44
I am shocked that Lyndon says on the other report that this eases the pressure on Sam Allardyce. It does no such thing.
It was a home match against Brighton and Hove Albion.
We were largely unconvincing. We were poor. Brighton were worse.
In my mind no pressure has been eased. At the moment, I feel we are a million miles away from the top 6. Sam will not take us there, he is not capable.
Paul Welsby
123
Posted 10/03/2018 at 23:20:24
Well a little win against the mighty Brighton and all is forgiven and forgotten?? Maybe if Sam had done this or done that? Well he didn't did he.
Do you remember the mighty Brighton away? I do – they were shit then and they are shit now. The table doesn't lie contrary to what some people on here would have you believe.
Brighton are below us in the league, so in my book they are worse than us or am I missing something here? As far as I can see, 95% of people on this site alone wanted this twat out of our club before kick-off today.
He deserves no credit at all because he has thrown these players under the bus every time we have lost and crowed about himself when on the few occasions we have won. His favourite line is "The players carried out my instructions when we win or they never when we lose."
If anyone softens there view on this rat because of a home win against a shit team then more fool you. I want us to win every game but will not accept this twat as our manager. If this carries on and we accept this vile creature then he will be with us next season.
Won't it be great on our last home game clapping this twat round are pitch like he has done us a favour and saved us from relegation. No thanks! I want this rat out before then no matter the results. What a manager?
James Flynn
124
Posted 10/03/2018 at 23:23:08
All those camera-shots of Seamus, Jags, and Baines gave me my old confidence back. Keane looked perfectly fine bracketed by those three.
If we can keep them healthy thru to the finish, we'll be alright. I'm guessing having them in was the difference in Sam's 1st Eleven selection.
If they can hang on these last 8 games, we can get after some clubs.
Roger Helm
125
Posted 10/03/2018 at 23:45:53
Much better today. For me, Bainesy made all the difference with the quality of his play down the left. Hopefully this will improve Bolasie's game. Jags also I think made Keane more comfortable.
Now we are safe, maybe the players can play with a bit more confidence, starting with a result at Stoke.
David Barks
126
Posted 10/03/2018 at 23:48:55
No, Paul, in no way is all forgiven. Speaking for myself, I am only being fair in saying that the way that we went about that game against a poor Brighton side is what we expect. Not even that performance was anything to shout about. But it was at least clear from the time the team sheets were announced that we were going out to win.
That's what I and many others have expected and what we should demand. Who knows what we'll see the rest of the way, but I certainly howl for that mindset to close out the season.
John M Boon
127
Posted 10/03/2018 at 23:55:13
I just can't be bothered spending time discussing our manager. His Evertonian experience has been all of a few months. He is just an unfortunate blip on our history. As a seven-decade supporter I am just as happy with a win today as I was when I was 10 years old.
Victories have been scarce this season so I am just glad to get three points. A number of people remind us that we were only playing Brighton. Brighton are a Premier League team who had not lost for six games. Their manager was awarded "Manager of the Month". They have had a gallant ride to get to the top division. Having lost to Watford and Burnley, we are in no position to demean any team. When we beat Liverpool in a few weeks time I will be ecstatic but for now I can relax for at least a weak because we beat Brighton.
We played okay today without being magnificent. At some times in the past, we have all seen Everton play supremely with flare serving up sumptuous football and winning the league. It would be great if it comes about again. Today, I am just satisfied that we beat Brighton.
Chris Gould
128
Posted 10/03/2018 at 23:55:53
I agree, James (#124)
We have some very winnable games if we can keep those players fit.
I'm hoping we hit the 40-point mark against Stoke, as then we will see if the players want to play for Sam or not. Once we're safe, will they have a right go at Man City and Liverpool? Will they roll their sleeves up for the run-in against teams fighting for their survival?
Or, will they put in half-arsed performances and get Sam sacked, safe in the knowledge that we're not going down?
If they give it their all then they are very capable of catching Burnley in 7th. That would almost certainly guarantee Sam another season.
Gavin Moss
129
Posted 11/03/2018 at 00:07:45
Leighton Baines, how do we ever replace this guy? Recent weeks, months with Martina at left back was a nightmare
I was happy with back 4 today, but with exception of Keane; who is going to replace these players??
I personally think Van Aanholt could be a possibility?? Big Sam has connections with him.
Paul Welsby
130
Posted 10/03/2018 at 00:13:11
David Barks fair play mate. Today and I was there was not a good performance. Yes a win and I am made up we won but now we are safe bar some sort of major disaster we should be aiming to get shut of this rat.
I have an idea what's going to happen? We will just fade away into the background happy in the knowledge we aren't going down. Moshiri will think we are happy and the rat has done a great job. People will say he's not stupid he will get shut. Are we prepared to take that risk?
I'm not so confident and think we all should still make our feelings known just in case he is going to be allowed to carry on. It will be a disaster if he's allowed to carry on, David, and it scares the life out of me. This is not the time to let up because we won the game, there is a chance we may regret it.
Gavin Johnson
131
Posted 10/03/2018 at 00:15:27
What a difference having a proper LB makes. We looked balanced for the first time in what feels like forever. Baines looked good today. Maybe we can put that down to the rest of the new signings settling to some degree in his absence. On his return he looked better than at any other time earlier in the season and he gave Bolasie a foil to work off.
I agree with Darren Hind that we looked better without having the classical holding player of Gana or Schnielderlin. They are both tackling machines that offer little else. Gana has an important role in the team. But it shouldn't be a given he plays every game. Schneiderlin should never put on Everton blue again. Rooney can lose the ball but he at least try's to find a pass.
Tosun is starting to justify the fee. He looks like he'll be good signing at 㿇m, but I'm not sure he'll give us more than 15 goals a season and we still need to make a statement in the transfer market. How's about a 㿨m bid on Rashford this summer?! United probably wouldn't sell, If not, sign Vardy as the 1 old player in the next window.
BS still needs to go. I see Chelsea aren't going to make the top 4 at this rate. Could we pursued Conte to stay in the premier league? He's a marquee manager and circumstances at other clubs might just work in our favour. Conte as manager, sign Vardy, and spend big on Sessegnon from Fulham.
James Flynn
132
Posted 10/03/2018 at 00:21:06
Love Davies for his commitment and effort.
Doesn't look much of a footballer, though.
Season ends, hope he's out on a pitch somewhere developing his game. Not on a beach, chilling.
Laurie Hartley
133
Posted 11/03/2018 at 00:38:10
Who gets the credit for this win? Going by this it's the players:
I am very relieved we got the three points.
Chris Gould (#128) – I think we will win at Stoke next week.
Ernie Baywood
134
Posted 11/03/2018 at 00:42:05
"
Who knows what we'll see the rest of the way
"
We know by now don't we? We'll have a go against "the rest" at home. Completely surrender the big games. Aim for 0-0 in the other games.
Sam's not changing. So knowing all of that, it's difficult to get too happy about a reasonably straight forward home win against Brighton, just as you can't be too shocked when we go to Stoke and do something completely different.
My displeasure is reserved for the overall plan. The plan that says we do nothing more than stay up then write off the season. We publicly courted and ultimately hired the man who brings that plan. There are no surprises here.
Just wake me up in July.
Clive Mitchell
135
Posted 11/03/2018 at 00:48:09
No it wasn't that great a performance today, we didn't commit in support of the front four for the first hour. A lot of great effort from our lot though, with special mention for Siggy who matched talent with commitment.
No Schneiderlin – bliss!
Paul Welsby
136
Posted 11/03/2018 at 00:52:12
Laurie Hartley, I give up!!! What a manager!!!!
David Barks
137
Posted 11/03/2018 at 00:53:48
Just to make myself clear, I'm only saying that the way we set the team out today was available for months now. If Sam suddenly took that mentality and built on it for the rest of the season it would maybe, just maybe, make me think again.
But in all reality, I want us to go for the quality manager that we need, that could sign a few top quality players to build on what we currently have and take us to the next level.
Conte will be going back to Italy so no reason to even think about that one. But there are many exciting managers in Europe that we should be looking at and not another premier league retread.
Johan Elmgren
138
Posted 11/03/2018 at 01:08:12
The manager must go, it's as simple as that... We will never be more than a mid-table team with him. He hasn't got the knowledge to take us any higher...
Allardyce out now!
Laurie Hartley
139
Posted 11/03/2018 at 01:20:30
Paul - Sam Allardyce has been called every name under the sun on this site.
He has indeed taken the credit for wins previously and been lambasted for that.
By all means correct me if I have misinterpreted his comments but on this occasion I don't think he took the credit for the win – I think he gave it to the players.
I thought It was fair to point that out. Do you think it was out of order for me to do that?

Gavin Moss
140
Posted 11/03/2018 at 01:22:34
People say Sam should go. Maybe I agree; maybe I don't. Jury out for me...
Who is the ready made replacement??
Chad Schofield
141
Posted 11/03/2018 at 01:51:16
Having just listened to Lardiola's comments on the BBC, he doesn't take credit... illness does – because otherwise Gueye or Number 2 would be in. He mentions the players getting stick, but then that's because he's completely passed all the blame on to them after taking all the credit for points when he arrived.
He has noticed our home form was good and away form poor since Martinez, yet set up much the same as Koeman in the hope things would change.
Month's in and he's not assessed our squad?!
We played better – not great, but better. But then having a left back and not having buffalo soldier stuck in centre-back would help that... not that the defence got a mention other than a nod to a clean sheet.
I hope Allardyce does try. I hope he does stand by his players... but unfortunately I think it will always just be about him. Hopefully I'm proved wrong.
James Hill
142
Posted 11/03/2018 at 02:51:50
Well done, Big Sam. Good win: 3 points in the bag. Back it up next week. 7th is still there.
Steve Brown
143
Posted 11/03/2018 at 04:56:38
There are eight better managers than Allardyce in the premier league alone. Interesting that one or two on here still call him Big Sam... I thought his new nickname was 'Useless Cunt'. Usually prefixed by 'Why don't you just fuck off out of our club?'
Does make you wonder how truly abysmal we need to be for some folk before they push back on mediocrity. That's why we haven't won a trophy in over 20 years.
John Hughes
144
Posted 11/03/2018 at 06:59:12
Eight better managers than Allardyce? Plus at least sixty on ToffeeWeb alone!
Danny O'Neill
145
Posted 11/03/2018 at 07:58:12
Can he go now? I don't care who the replacement is; I just don't want and never did want Sam Allardyce at Everton Football Club.
Peter Lee
146
Posted 11/03/2018 at 08:25:30
David Barks, you're at it again. Nobody could dispute that the team could have been set up to play 433 as we did yesterday at any point earlier in the season.
Last time you argued for this I asked you to name the team that could have done this before January and you declined. Although I might have missed it?
Since the turn of the year the manager has gradually been able to bring Coleman, Jagielka and Baines back into the team. He has bought Walcott and Tosun and Mangala would have been a good, balanced addition. McCarthy would have played alongside Rooney yesterday.
The team had balance, ability and experience yesterday. The test for Allardyce is what he manages to do with that moving forward.
Prior to Christmas those available were not up to the job. Hansen was right. You win nothing with kids (unless they are the most talented group of players ever to emerge at a club, integrated into a team already the strongest in the league) and you certainly don't stave off relegation with them.
With regard to changing the manager, the only sensible choice is to do it now. I wouldn't, I'd back the man in charge and not even think about it until October.
A manager appointed after the end of this season won't be in a position to assess the full squad until late July, given the World Cup. He'd then have less than a month to move out the half-dozen or more that need to go and the replacements desperately required to turn the current squad into one that can compete at the level we all want to see.
Paul Ritchie
147
Posted 11/03/2018 at 08:28:39
I might be wrong but I don't think it will take 40 points to stay up this season. Even if we lose our next 5 games, it would take all the teams below us to win 4 out of their next 5 for us to be in trouble - not possible when they've got to play each other and unlikely when they visit the top 5. No reason not to set out an attacking team for the rest of the season. Get a stable back 4 of Coleman jags Baines and Holgate or Keane. Let Gana mop up on his own without schniderlin getting in his way. Give Tosun the rest of the season up font and Theo Tom Siggy and Davy have a go together as a settled midfield 4.
Peter Lee
148
Posted 11/03/2018 at 08:36:47
Paul, I thought you'd gone mad when you mentioned Davy. I know that the Canonball Kid is dead.
Then I realised that you meant Davy Klaasen and I knew you were bonkers.
Paul Ritchie
149
Posted 11/03/2018 at 08:41:42
Peter, not suggesting anything other than; he was good once, never had a decent run in this team, and we've not a lot to lose. At least we can sell him on with confidence in he summer knowing he didn't cut it.
Trevor Peers
150
Posted 11/03/2018 at 08:56:24
All those who promised a mass demonstration against Allardyce what happened ? Nothing of course, Everton supporters just aren't made that way, thankfully. The scenes at West Ham were a disgrace, it didn't help, in fact it just made made things even worse, the hammers totally folded.
A change of manager in the summer is almost certain, the only thing that could save Sam is victories over City and the RS plus a few away victories with an attacking formation. That may be enough to persuade the owner to give him the extra 12 months on his contract.
Allardyce has done the job he was brought in for, we were in free fall when he arrived. The pathological hatred is hard to understand, but every manager we get seems to suffer this on TW, to a greater or lesser extent and this will no doubt continue, no matter who is appointed next.
Ajay Gopal
151
Posted 11/03/2018 at 09:00:03
Fair play, David Barks, as a fierce critic of SA, you are big enough to accept that if we play attacking football and be competitive for the rest of the season, you might reconsider your stand on SA as manager of EFC. Bravo!
Same here, as one who was bitterly disappointed and angry that Unsworth was not given support by the board and hung out to dry, never wanted SA appointed as Everton's manager, and voted against him in all the TW polls so far, I might reconsider my stand if most of the following were to happen:
* Finish in 7th place and qualify for Europe
* Get to 50+ points
* Goal difference below -5
* Derby win
* Draw against Man City
* Get us playing competive, attacking football
* At least 2 away wins until the end of the season
Coming to yesterday's game, I see an emerging 'team':
A left sided trio of Baines, Siggy and Bolasie
A right sided trio of Coleman, Walcott and 1 of Davies/Gana
A spine of Pickford, Keane, Jags, Rooney, Tosun
If Klaassen and Funes Mori get some game time until the end of the season, and show us what they have got, then maybe, MAYBE, we have the making of a good squad next season with:
McCarthy, Onyekuru coming back from injuries
Schneiderlin, Martina, Williams (possibly also Besic, Klaassen, Sandro) being moved on
Lookman, Dowell, Besic, Sandro, Browning, Pennington, Connolly coming back from loans
Then we may need to strengthen in only a few key areas - Left Back, Box-to-box midfielder and a world-class striker - to mount a challenge on the Top 6 next season.

John Charles
152
Posted 11/03/2018 at 09:05:44
Surely there is no one advocating giving FS more time on the back of a routine victory over an abjectly poor Brighton. Yes we were a bit better yesterday but make no mistake the fat ones hand was forced by Williams red card, gueye being injured and the crowds reaction to Schneiderlin. He is a dinosaur of a manager who will take us precisely nowhere whilst celebrating the awesome achievement of keeping us in the division.
Phil Walling
153
Posted 11/03/2018 at 09:06:41
Amazing what a home win will do to public opinion, isn't it ? Sam is acceptable, after all !
Paul Welsby
154
Posted 11/03/2018 at 09:08:07
Peter Lee not even thinking about changing the manager until at least October because the new manager won't have enough time with them?
Well by your logic the new manager in say October wouldn't have had anytime with them so how does that work? Surely if you are to change the manager you give them a pre-season even if it is a short one?
If you're going to say he will have the rest of the season, then surely it would be more beneficial to have spent time to assess what he has in the squad and be able to bring his own players in, as the transfer window is not open again until January.
Plus this manager the worst in the history of Everton football club should go today never mind October.
Dave Speed
155
Posted 11/03/2018 at 09:15:52
Today, dare I say it, Keane looked comfortable with players around him who know what their job is, i.e. Coleman, Jags and Baines. He has all the skill of John Stones but Stones played in a settled defence and his regular, yes regular, errors were mostly covered, but were sometimes costly. If Sam leaves well alone from now on regarding the defence, we have a fairly sound base for more 'expansive' football.
I think some comments on here are too harsh about our performance. Brighton not playing well is down to our harrying and pressing. Davis got unfair stick, because he put himself about and disrupted their rhythm. Yes, his first touch is not the best and he holds on a bit too long, but I'd live with that. My advice to Tom would be to find Siggy, Rooney, Walcott or Bolasie a bit quicker and carry on with the rest.
Bolasie deserves more praise. He had one bad cross I think, but he put himself in positions to score, and could have bagged a couple on another day. He also chased back quite a bit to help Baines ease back in, tackling that Mexican Bandit when he got clear down the wing.
Tosun? Not quite sprinting clear like Lukaku but he has more than Jelavic, say. He will score regularly for us as his movement and touch is intelligent when we are on the front foot, which is critical for any striker.
I am no Sam fan, never have been never will be. However, We need the team finishing higher up the league, even if he gets the credit. A 'big name' manager will not come to overhaul the club. He will want to see that tweaks and a few quality additions are all that is needed.
Come on Blues, you have your heads up now! Only 6 points behind Burnley (can't believe I just wrote that), who were dead lucky not to be out of it by half time last week against us, and the same against WHU this week. They won't be that lucky too many times, and we have potentially one of the best run-ins for picking up points. IF Sam doesn't flock it up.
Paul Welsby
156
Posted 11/03/2018 at 09:26:12
John Charles there is they have crawled out the woodwork after we won yesterday. I never seen sight nor sound of them before yesterdays result. There either on the wind up or accept mediocrity because that's what's been fed to us for over 20 years.
It's funny every blue I speak to at work, in the boozer, in the gym or at the ground are embarrassed, angry, and totally fed up with this manager and board, but some people on here are jolly and prepared to give this twat a chance.
Not for allowing he only picked the team yesterday because of illness to Gana and Schneiderlin. If you listened he told you all in his interview so you can guarantee one or both will be back in next week.
He grinned when taking deserved stick from are away fans who have every right to take him to task when producing utter shite every week. This man couldn't even look at them but smiled with his head down. He laughed at the mere suggestion that the fans who pay there money earned through working 5 days a week weren't happy he took off Sigurdson.
I could go on but it seems that whatever this bastard does some people will see a chink of light. Fuck me no wonder we are little old Everton sometimes punching above are weight.
Jamie Evans
157
Posted 11/03/2018 at 09:26:44
Sam must stay !
So that's what some are saying now is that right ?
No no no.
Don't be fooled my brothers and sisters.
Enjoy our laboured win over the mighty Brighton yesterday by all means.
Enjoy your Sunday morning thinking about how Michael Keane, Cenk Tosun and Davy Klaasen must be feeling right now.
Be thankful for the returning Baines and Jagielka, of course.
But don't for 1 minute be fooled by big undies and his cronies. The sooner he is gone the better. You know it, I know it, Paul Welsby DEFINITELY knows it and so do another 95% of us.
1 more win and we are safe.
Altogether now, we found love in a hopeless place.
Chad Schofield
158
Posted 11/03/2018 at 09:26:48
Peter Lee, so you knew everything would come together (against Brighton), know Klassen (Ajax captain) is completely rubbish, and that October is definitely the best time to change the manager regardless of how we're doing and when a new man can't make any purchases or sales until Jan. I think you should take those tablets you've obviously skipped.
Paul Welsby
159
Posted 11/03/2018 at 09:34:18
Laurie Hartley, if you listened to all the interview he goes on to say the substitute Calvert-Lewin was great in winning the penalty???? Why not just say Calvert-Lewin was great winning that penalty?
Not a chance as he wants everyone to know it was down to him. But look, each to their own if he is here next season then good luck.
Darren Hind
160
Posted 11/03/2018 at 09:41:30
I cant believe I'm saying this, but there is clearly a downside to yesterdays victory. it has encouraged the anti football apologists to come back out from the woodwork and start beating the drum in favour of the shite we have had to endure. Anyone who is this easily pleased should find themselves a broken watch, give themselves something to applaud a couple of times a day.
David Barks is on the money; This more adventurous approach has been available to Allardyce all season, but time and again he has opted to cower behind a packed defence using 2-3 DM's in an attempt to spoil the game. Yesterdays more adventurous formation was forced upon him and he now looks an even more of a twat.
Those claiming he has done the job he was brought in to do are deluding themselves. His cowardly approach has not only brought shame and ridicule upon our club, it has actually delayed the day we could say were are mathematically safe.
Well done to the players for the improvement, but zero credit to the football criminal from me.
Eddie Dunn
161
Posted 11/03/2018 at 09:45:14
Could Sam have had a "Bobby Robson" when Bryan Robson got injured and Wilkins got banned and he had to play Peter Reid?
No! Sam (who I was willing to give a chance to) would have played Gana and possibly Schneiderlin. He revealed his true outlook when he brought on Holgate.
It was down to the old heads being back that the team had the stability to play better, and even then it was a stuttering performance. There are good signs with Tosun linking well and my man of the match, Rooney pulling the strings.
Sam should be shown the door as soon as the season is over. It would be ungentlemanly to do so sooner if we achieve safety. The club still like to pretend we have some old school values.
Paul Tran
162
Posted 11/03/2018 at 09:46:48
David Barks Darren Hind, hear hear. Talented players show their talent when the right selection plays with the right mindset. Great that we did it against a very poor team yesterday, Can we expect the same at Stoke? Don't hold your breath.
Johan Elmgren
163
Posted 11/03/2018 at 09:49:46
Peter Lee. You are right about one thing. Allardyce needs to go now! Wait till October? No no no! That would be another season down the drain!
Allardyce out now!!
Dave Speed
164
Posted 11/03/2018 at 09:52:20
Jamie #157 I was ready to shout back after your first line! You're absolutely right once I realised you were taking the mickey. I think the 5% in the poll (and commenters on here) are red shite 5th columnists who want Fat Sam to stay. 100% of the Blues I know want him out. We should never have appointed him in the first place. The only disagreement is now, when safe or at the end of the season.
Putting that to one side (just for a minute, please), no Blue would really want us to drop points in any game, unless it was unimportant to us (is that possible?) and it cost the red shite the title or a CL place for example.
I believe and hope that Moshiri will kick Fat Sam out. We know that the team picked itself, Fat Sam had no choice. So let us kick on and bag as many points as possible, and I don't give a fuck if he tries to take the credit. None of us are stupid. Including Mr. Moshiri.
Christopher Timmins
165
Posted 11/03/2018 at 10:02:00
We are almost at the 40 point mark and safety. Hopefully, we can put this dreadful season behind us and make the necessary changes for 2018/19. However, no matter who is in charge I want the team to win, nothing will ever get in the way of that.
Steve Brown
167
Posted 11/03/2018 at 10:23:58
John 144, in fact why limit the comparison to managers above us? If we look below us, Howe, Hughton, Gracia and Benitez would all do a better job. And then there's the Championship.
As for giving the footballing antichrist till October, I almost had to call in the crash team after reading that. We've all seen enough since he arrived to confirm what we knew before he was hired - technically he is a football neanderthal, his midset and attitude is arrogant and ignorant, his behaviour is boorish and contempuous. He stumbled into a positive team selection yesterday because Gueye and Schneiderlin were taken ill and for no other reason. That's all.
If we do not perform radical surgery on this club in the summer I fear we will see scenes like West Ham here soon. Big few months ahead.
Paul Welsby
168
Posted 11/03/2018 at 10:46:35
Eddie Dunn I agree with all you say mate but for one thing. We owe this man nothing. We panicked and Moshiri was given some shit advice by a very good friend of Sam's, Steve Walsh. Well the less said about him the better.
It wasn't even Christmas when this cowboy rode into town. I was in a state of bewilderment, embarrassment and shame that we had actually hired this tool.
He has continuously and cowardly shifted any blame from him for a defeat at the players feet. He mocks us with his laughter if we dare to question his team selection, formation or substitutions like we haven't a clue how football is played.
None of us as far as I can see profess to be a manager but as paying or by that matter none paying supporters as hundreds of thousands of Evertonians around the world for one reason or another can't attend we have a right to voice are opinions and concerns without being laughed on television for all to see.
I would sack him today! I wouldn't afford him the satisfaction of walking around are pitch like he has saved us. We are safe barring a disaster. Like Darren Hind said he has made a pig's ear of getting us to this point when it should of been done sometime ago but he refused to do so with his anti football style.
Until we shed this tag some fans give us of doing things the Everton way, we will always be little old Everton. We have to start being ruthless because I for one want to see Everton winning for starter's against the top 6-7 then winning trophies being in the champions league.
The teams in the top 6-7 apart from Arsenal are ruthless! If it's not working with the manager's they are sacked players who aren't good enough moved on with no sentiment. I would rather be that Everton than this one.
Colin Malone
169
Posted 11/03/2018 at 11:14:23
If we are going to be a top team, we have got to have a Plan B with corner kicks. We had 10, it was after the ninth one, we done the right thing but it never came off. They where food and drink for Duffy and Co.
Jon Withey
170
Posted 11/03/2018 at 11:25:38
Interesting to see Liverpool in for Butland at £40m (only a rumour today) - if true, Pickford a good buy by comparison.
Jon Withey
171
Posted 11/03/2018 at 11:32:50
Personally don't think Howe and Hughton would handle the expectation at Everton - they do well as underdog which isn't where we are supposed to be headed.
The extrapolation that a manager over-achieving with limited resources will do better with more money and bigger names doesn't often seem to work out.
Darren Marsh
172
Posted 11/03/2018 at 11:36:53
Regardless of yesterday's win that was engineered by Hippo Head over the mighty Brighton,let him take all the credit.
It makes a pleasant change of him throwing the player's under the bus.
He needs to be got rid of at the earliest convenience, because quite frankly he is shite.
Whoever is sat with todge in hand shouting "This is our year" like some deluded sister smasher from across the park because we won a game with this envelope snatching knobhead in charge needs to have a reality check,win at Stoke next week and get him and his mini midget fucked right off.
Adam Scott
174
Posted 11/03/2018 at 11:45:27
Fair play to the lads yesterday, and Allardyce. They played with a degree of aggression and swagger missing through most of the season.
I thought Gylfi had a better game, I thought Tosun and Walcott also showed glimpses of being astute signings. Cenk certainly lacks pace, and maybe outside the box he is limited, technically good though, with more physicality than SA gave him credit for. Will stand up to the rigours of the PL.
I am still a bit concerned that he could be a pricier Jelavic, got to be honest. That may be me comparing him to what we had in Rom though. I don't see him topping the scoring charts, or playing for a top CL team, but he is an improvement on what we, or many of the other teams in mid table, had/have.
Still no question in my mind that Sam is not the right man for this club though. For me, Silva or Fonseca. With Walsh gone as well. Give it someone to build a team and an ethos. At a push, I would consider also Howe. I am just not convinced I have seen enough from him to warrant a shot at Everton yet though.
Andrew Clare
175
Posted 11/03/2018 at 11:47:55
It's great that we won and are 3 points from safety but at the same time it is sad that I am making such a statement.
Get Allardyce out ASAP along the rest of the useless so and so's at our club.
A club with this lot involved will never ever aspire to anything.
Chris Gould
177
Posted 11/03/2018 at 12:21:39
Darren #160,
I've been as frustrated in recent weeks as the rest of the 95%, but I don't agree that Sam has previously had the option for the adventurous/attacking approach we had yesterday.
Having Baines, Jagielka, and Coleman fully fit has made a huge difference. The defence was so poor without those 3 playing together that defensive midfielders may have seemed a necessity? I'm sure Gueye would have played yesterday if fit but whether that would have been to the detriment of the team is anyone's guess.
Having Baines and Bolasie on the left and Coleman and Walcott on the right gave us some much needed balance.
Not to say that I've agreed in any way with how he has been setting us up to play, and I know you only said that he could have been 'more' adventurous (which is an understatement) but I don't think he had the options that David suggests.
His tactics and defeatest attitude have been dreadful, but maybe with these players back we'll continue to be a little more positive.
I'm not going to continue to deride Sam if he sets us up to win and the players put in effort for him. I am firmly with the 95% but he is here until the end of the season and has time to win me over. It will take several wins and us having a right go at City and Liverpool AND picking up points against one or both of them.
However, even if he wins me over, I would still hope to have him replaced in the summer. He's just too divisive and not the man to challenge for the top 6.
Tony Everan
178
Posted 11/03/2018 at 12:26:58
I am 100% convinced that Sam will be gone in May, with a thank you and cheque for a slap up meal for two.... million people.
Keeping him on is not an option, 96% of fans do not want him to build the club for many reasons. A downturn in form starting a new season would leave us managerless in October again. The club would endure a groundhog season in 2018-19.
Jim Marray
179
Posted 11/03/2018 at 12:29:33
Watched a bit of the game on my regular stream and listened on the radio. Not a brilliant performance, still lacking a cutting edge a lot of the time. Big Sam has pretty much done the job I wanted from him (get us safe) and has the chance to push us up the table to reasonable 8th or 7th. However, come the end of the season I expect him to be gone and a new more progressive manager who understands the modern game to be given a chance.
In terms of performance, Baines shows why our other left backs will never be as good. His positioning, control and most of all his collection of tricks that enable him to perform so well are things that our current crop of LBs just don't have. If Garbutt wants to make it as a player he needs to start watching every part of Baines' performance including knowing when to nudget when to draw the foul, etc.
Rooney, his central midfield general role is developing (too late in the day) and he does not necessarily need to be the fasted player (who can remember Reidy winning that many sprints). What he does need however is to sharpen his performance. He still gives the ball away too much and he needs to play the ball faster at times.
Bolasie is hard working but lacks finesse at times and some of his performance yesterday was cringeworthy. He needs to learn how to cross as the minute it goes more than a couple of feet above ground level he loses control of the cross and it just flies wildly in to the distance.
Keane needs both consistency with respect to the defense around him (so play the same back 4 as much as possible) and importantly Jagielka. Keane is still learning watching Jagielka (a defender whose positional play is in the main streets ahead of his peers) will help him immensely.
My biggest wish, even greater than the desire to see Allardyce leave at the end of the season, is to say goodbye to Williams. His last great game for Everton was about 18 months ago. He is slow, poor positional performance and gives away needless free kicks. The fact that he was not able to play yesterday is to my mine one reason for our improved performance.
Role on next Saturday. a difficult but emminently winnable game.
Brent Stephens
180
Posted 11/03/2018 at 12:45:07
Chris #177 I agree. Yesterday showed just how much we'd missed the combined impact of Coleman, Jags and Baines. God, we played a bit more like a team again y'day! A solid base to have a go City and Liverpool. I'll start (foolishly?) to build some hope for those games!
Paul Welsby
181
Posted 11/03/2018 at 12:47:01
Darren Marsh @172; I have to say your post is hilarious mate, especially the sister smashes from across the park. Brilliant!
Darren Marsh
182
Posted 11/03/2018 at 12:57:21
Chris #177.
I understand that Hippo Head hasn't had the options as he did have yesterday,but all teams get injuries.His blueprint of making us more defensively solid was made harder by not having cover at left back,granted.
But he picks the team so he should take the flak when it goes tits-up,not throw the players under the bus. Fifteen minutes into the West Brom game and we had gone four and a half hours YES four and a half hours without a shot on goal ffs.
His anti-football and lack of tactical knowledge is as clear as his gravy stained T-shirts.
The bloke is a fraud,whose so morally unstable regarding brown envelopes that to me it goes against all this Peoples Club tag.
His pre/post match interviews are fuckin unbelievable to watch with his yawning,gum chewing, smug grid spewing bull shit.
How 4 or 5% of fans like him and want him kept on is probably why we've won fuck all for nigh on a quarter of a century,mediocrity at its most evident.
The sooner he's fucked off, the better me and 95 or 96% of Evertonians will sleep.The last thing I want is to see him walking round Goodison on the last home game with that smug grin on his fat head.
Tony Everan
183
Posted 11/03/2018 at 12:58:05
Brent, No need for the ?
Amit Vithlani
184
Posted 11/03/2018 at 13:07:49
Following last week's shellacking, I felt happy Keane was part of a backline that kept a clean sheet. He was surrounded by our 3 longest serving players and it took the pressure off. I think he is a very good centre half who suffers from nerves and needs leadership around him.
As for Bolasie, we did over pay for him and he has not done anything to justify a price tag higher than Walcott. But I still think he is a good player who will need a few more games to get fully match fit. He brings a very good dimension off the left, especially if we can consistently deploy an overlapping full back. As he showed yesterday, he can cut in and deliver telling crosses.
Should he be picked ahead of Lookman? Not in my book, as Lookman is quicker and can beat a man. If I were calling the shots in January, Bolasie would have been loaned out to regain match sharpness whilst Lookman given a run in the team. But anyway, here we are, and I sincerely hope Yannick can become a meaningful threat for the remainder of the season.
Danny O'Neill
185
Posted 11/03/2018 at 13:08:27
Darren Marsh, I salute you sir!!
Eddie Dunn
186
Posted 11/03/2018 at 13:09:48
Paul Welsby (#168). I wasn't suggesting that Sam should be kept till the end of the season, just that I predict that our club, with their "honourable" image will want to be seen doing the "right" thing.
The fact is that it would just be a hassle for the club to have to juggle people around for the rest of this season before getting the new guy in. I think that the club see this as an ordeal that will run it's course, but not for Sam's full contract.
I would be amazed if he was still here for the start of next season.

Matthew Williams
187
Posted 11/03/2018 at 13:17:51
Two in two for Tosun! He's just warming up, Blues.
The best Striker we have,s o play to his strengths & support him up top, eh, Sam!
Brent Stephens
188
Posted 11/03/2018 at 13:19:29
Tony #183 quite right(?)!
Paul Welsby
189
Posted 11/03/2018 at 13:40:45
Eddie I only hope that they see it wouldn't be wise parading this twat around are pitch for the last home game. I have said this on many occasions but you're probably right Eddie and they will.
John Keating
190
Posted 11/03/2018 at 13:45:52
One game and three points. Nothing to shout or get excited about other than we are getting some long term injury victims back.
We are still extremely nervous defensively and against a very poor Brighton side got away with it.
A couple of errors we made would have been punished by a better team. The main thing is at this stage are the points and not embarrassing ourselves over the next 3 games.
As most said since the day he arrived I doubt Allardyce will be with us after the last game of the season. He was brought in for one reason alone. However, it would be great if we could string a few good performances together, gain a bit of confidence as a team and individually, Keane, Tosun, to set us in good stead for next season.
Danny O'Neill
191
Posted 11/03/2018 at 13:47:11
Liked the look of Tosun. Not just a target man, he makes some good touches and looks like he can play a bit too. Born and seemingly raised in Germany (first club very briefly Eintracht Frankfurt), being technically good as well as physical will be no surprise. Here's hoping he settles and does well for us.
No more English / British managers at this stage please. Sadly, none of them are good enough. This generation has either grown up knowing survival as achieving a target and "success". Not good enough if we are to show ambition. Most of them at some point have even failed that, yet still get recycled and continue to land plum jobs because "they know the Premier League". Did Ferguson? Did Klopp? Did Mourinho? Did Pochettino? Did Wenger? Did Conte? Did Guardiola? Or Mancini before him?
Those that have been given the opportunity to "imagine what they could do with the resources" have been found out of their depth and failed once winning became the expectation vice not losing.
Even those not quite in that category yet (Dyche, Howe), I don't see the situation changing; we would be setting them up for failure. It's a British football thing; the system needs overhauling from the bottom up and will take a generation before we are producing players and subsequently coaches who are technically adept enough to challenge at the top, both nationally & internationally on a consistent basis (not just the odd cup success or winning a high profile fixture or 2).
I don't say this with satisfaction; quite the opposite. We are unfortunately a generation behind in terms of technical ability & winning mindset; current British managers go out not to lose. That's why none of the "6" have gone down that route or would do tomorrow if they had to. United tried and got spectacularly burnt; City arguably with Hughes, Tottenham with Sherwood, Liverpool with Rogers (although pearly whites did nearly spawn it until Stevie G fortunately fell over!!).
Any chance of breaking the glass ceiling and being seriously ambitious about doing so requires a coach / manager from outside of these shores at present. In my humble opinion obviously.
Pete Clarke
192
Posted 11/03/2018 at 14:12:36
It was good to see Baines back as he more than anyone gave us a semblance of balance. I thought Bolasie was painful to watch but then had a purple patch for ten minutes but overall I thought I was watching a second division game in the olden days.
We beat a very poor Brighton and it is the other teams in the premier league of this poor quality that see us sitting 10th.
Any talk of the shit manager being here longer than the safety mark of 40 points are ridiculous regardless of his contract.
If Moshiri does not fire him at that safety mark he will be giving all indications of another poor leader who is happy to play with the big boys. Yesterday's win takes us one step closer to that important moment in our history.

Ed Fitzgerald
193
Posted 11/03/2018 at 14:23:20
Just get Alladyce and his entourage out of our football club ASAP. Today would not be too soon. Those who were championing his appointment and berating those who said it would be a disaster need to have a word with themselves for getting behind a fraudster, an arrogant self-serving knob and most importantly a recognised loser. (what other club with aspirations would have appointed a manager with a 33% win percentage - FFS).
Appoint Howe, Arteta, Silva, Fonesca, Emery or anyone else whose default setting is to play attractive football. Equally importantly somebody who looks and behaves like they give a fuck about our club, its fans and wants to build something for the relative long term rather than trousering a big fat contract a la Koeman, Alladyce
Tell the appointee they can have 3 Million a year - not a pittance and another 3 Million if we finish in the top six or god forbid win something.
Tony Stanley
194
Posted 11/03/2018 at 14:47:43
We need a manager that reflects the values of Everton Football Club, and the man in charge does not.
Vinny Garstrokes
195
Posted 11/03/2018 at 14:49:10
Ed - Thats what Martinez tried and look where it got him!

John G Davies
196
Posted 11/03/2018 at 15:03:58
He was brought in to keep us in the division, by hook or by crook. He has achieved that.
Enough is enough. He needs to leave asap. Probably be May though.
Dave Lynch
197
Posted 11/03/2018 at 15:38:50
"We need a manager that reflects the values of Everton Football Club, and the man in charge does not".
Bollocks!
We need a win at all costs, ruthless, no nonsense bastard of a manager who will win us trophies.
I bet any of you would be lording BS if we where top of the league.
Stuff values and all that crap, I want a team that will go out and beat/compete with the best, regardless of "values of the club".
That's why where in the mess we are in.
Peter Lee
198
Posted 11/03/2018 at 15:39:10
Is anybody prepared to name an attacking, attractive team that could have been picked before January?
Tony Everan
199
Posted 11/03/2018 at 15:42:20
John #190
We were very shaky at times in defence, even when Brighton were down to 10 men they were finding acres of space. A good job we had a 2 goal lead or it would have been soiled undies time.
Against Man City or Liverpool, maybe even Stoke !, if we make as many mistakes or give away so much space around the box we will be put to the sword. Fortunately for us Brighton were rubbish , the worst I've seen play this season at Goodison.
All in all though we were a lot better with Jags and Baines back. Those stalwarts are getting older and will not last out the rigours of another season.
Yesterdays incremental improvement highlights the necessity of getting them both adequately replaced in the summer with as best quality as we can possibly get.
Paul Welsby
200
Posted 11/03/2018 at 15:47:43
Pickford,
Kenny, Holgate, Jagielka (Williams), Martina
Lookman, Rooney, Davies (Gana), Vlasic
Calvert-Lewin, Niasse
Peter, not my ideal line up but eh, this is before January and it doesn't have Schneiderlin in it, so more attacking straight away.
Peter Lee
201
Posted 11/03/2018 at 15:52:04
It would get battered by most teams. It wouldn't see enough of the ball to attack. Next?
Darren Hind
202
Posted 11/03/2018 at 16:03:13
"I bet you would be lording BS if we were top of the league"
That's a bit like saying "I bet you would be praising the integrity of Philip Green if he was honest"
Paul Welsby
203
Posted 11/03/2018 at 16:04:01
Here we go Football manager live on ToffeeWeb. We should of hired you Peter as you seem to know a lot being a manager. If you have been watching Everton you would know that we have been getting battered before and after January
You asked for an attacking team? I didn't know I was being judged by you? Fair play if you are a professional manager? But i've got this little feeling your not. Next.
Raymond Fox
204
Posted 11/03/2018 at 16:06:32
Well said Dave (#197) Anybody would think player wise we were on par with the top 6 clubs.
All this "we want winning football and free-flowing attractive football" also, as has already been pointed out, that was Martinez's aim. If you don't have good enough players to win that way, you have to win any way you can.
As a club unfortunately that's where we are at, and its as certain as can be, that it will be the same for any new manager we employ. That is unless we can find a 5 times billionaire with no regard for money!
Danny O'Neill
205
Posted 11/03/2018 at 16:11:39
I wouldn't Lord Sam Allardyce no matter what. If he ever managed to get a team top (and I don't think he ever has), it would be a fluke and short lived because his negative approach to football had ground out a few lucky results.
Paul Welsby
206
Posted 11/03/2018 at 16:12:55
Don't mess, Peter, turn it in. You like Sam or you want to make an excuse for him? Either way please stop pretending to be some sort of expert on football team selection and tactics. I should've known better and left well alone.
Peter Lee
207
Posted 11/03/2018 at 16:15:38
I have had a season ticket since 1966 Paul. I have watched poorer teams than we have seen lately and suffered watching the results of the tactics of some very dodgy managers. I have a coaching qualification and have coached and played.
None of that should convince anyone that I know what I am talking about. I offer an opinion on your team. I can back it up by what I have seen from those players in your team.
Congrats for sticking your head over the parapet though. Nobody else has risen to the challenge when I have asked previously.
Next anyone?
Danny O'Neill
208
Posted 11/03/2018 at 16:16:40
Win at all costs Dave? There lies the problem with British football.
You win by being the best. Win at all costs gets you so far; will temporarily win you the odd feel good game.
City currently don't win at all costs with no nonsense. It's because they are the best.
All comes down to ambition.
Pete Clarke
209
Posted 11/03/2018 at 16:27:48
On the subject of Baines being back and how much I like him as a person and a player – can anybody name another player who would have dealt with that dangerous tackle on him as he did? Most others would have been rolling around on the ground whilst a melee occurred.
A top professional and a pity he's nearing the end of his career.
Darren Hind
210
Posted 11/03/2018 at 16:32:41
Peter Lee,
The question is; what did you get your coaching qualification in? It certainly wasn't football.
Simply by omitting the tackling machines, we would have become more attractive, attacking.
Rooney and Davies offer so much more going forward, it also allows Sigurdsson to go to Number 10 without competing for the same space as Rooney. This option was open to Sam all along but, like you, he didn't see it.
Oh and BTW do you really think the question of us being ugly and defensive stopped being asked in January?
Whatever you took those coaching courses in, they did nothing for your eyesight... or your memory
Danny O'Neill
211
Posted 11/03/2018 at 16:38:52
I've coaches (FA Level 2) and played to a fairly decent standard too Peter but I'm on here as a fan commenting on Everton as a supporter on a forum amongst other supporters. No requirement to throw coaching credentials around because clearly Allardyce trumps us on that every time.
What's your point?
Ian Bennett
212
Posted 11/03/2018 at 16:39:30
I thought Tosun put in a good shift, and was good value for a goal. I thought he might get replaced, so pleased he scored.
Our defensive and attacking capabilities look so much better with Baines and Coleman. Man of the Match for me was Jagielka. I thought he was quite excellent – just wish he was 10 years younger.
Darren Marsh
213
Posted 11/03/2018 at 16:52:33
Peter Lee (#198).
As regards to naming a more attacking, attractive team before January, to be fair, we could name a few (you didn't mention which year).
Joking apart, but well done to Paul Welsby for having a go. It would suggest by the way you have replied that what you witnessed yesterday was an Allardyce masterstroke.
I think most Evertonians would want that kind of football, let's see how Hippo Head sets up against Man City and Liverpool. His attacking, attractive limitations will be there for all to see.
We've had the worst defensive record since 1977 under Koeman and Fat Head. The 4% or so that think Hippo Head should stay should lay off the crack pipe. He needed sacking for giving Williams the armband ffs.
James Hill
214
Posted 11/03/2018 at 17:14:15
Steve Brown, irrational hate. You are right mediocrity for the past 20 years. Bet that's Sam fault too in your eyes. Sam wasn't my first pick neither but he's here. We could have could have got worse like, Silva, and really be facing a relegation battle a this stage of the season and don't give me the "Sam hater" shit, "we were never in danger of going down" – we most definitely were in danger.
The guy has been here just over two months and almost got us safe. He's brought in Tosun and Walcott which is a statement in itself, especially if Tosun is the player I think he's is. I am prepared to give him a chance with his own players.
You're right, it's a mess... but you can't blame Sam. Frankly we have been lucky the Premier League has been at such at low standard this season, probably a result of too many foreign managers like Silva in the lower clubs.
Just my opinion but happy to be called a few names –it goes with the territory these days. COYB
Danny O'Neill
215
Posted 11/03/2018 at 17:24:53
Sorry James, if you want to give Allardyce a chance then you accept mediocracy and survival. That's all he's ever done "with his own players" and that's all he'll ever do. He's had over 20 years to prove otherwise.
If survival is your ambition then Allardyce is your man.
I want more.
Paul Tran
216
Posted 11/03/2018 at 17:26:27
Peter, how about this team:
Pickford
Kenny, Jagielka, Keane, Martina
Rooney, Davies or Gana, Sigurdsson
Vlasic or Lookman
Calvert-Lewin, Niasse
There's a few options there. I think that team may have got the odd pasting from the top sides (we've had that anyway), but would have been good enough to get more wins than we've had.
Imagine a team like that playing regularly, then strengthened by Coleman, Baines, Bolasie, Walcott and Tosun?
John Daley
217
Posted 11/03/2018 at 17:31:16
"Is anybody prepared to name an attacking, attractive team that could have been picked before January?"
"Attacking" and "attractive" in comparison to the teams Allardyce chose to select, you mean?
Piece of piss.
I would simply have omitted two of Gueye, Schneiderlin and McCarthy, instead of fielding all three against fucking Bournemouth on December 30th. Any two of Rooney, Niasse, Bolasie, Lookman, Davies, Sandro and Vlasic, who were all available to start instead, would have injected a little more attacking impetus from the off in comparison to the triumvirate of defensive Daleks Allardyce decided to 'dig in' with from the first whistle that day.
Regardless, Peter, ever considered there may have been few takers to your 'challenge' because the question itself is complete and utter queef? What exactly is the point you are trying to make by posing it?
Forget hypothetical team selection. Are you seriously suggesting it would have been impossible for any line up Allardyce (actually) named and sent out, prior to January, to have offered greater attacking threat, or played more joined up stuff, if operating under completely different instruction from a more adventurous coach?
Brian Harrison
218
Posted 11/03/2018 at 17:32:12
Delighted with the 3 points which nearly makes Premiership football guaranteed. Just a pity the 3 best players yesterday were also the 3 oldest Rooney Jagielka and Baines. I am sure now that we are virtually safe the talk will be of where do we go from here. Well I have not anyone at the ground or anywhere else as the poll shows nobody wants Allardyce here next season.
I just hope our board are as emphatic as our fans on this point, despite the dross that has been served up I think our fans have been very tolerant. There was no demonstrations or banners against Koeman and the same under Allardyce. But surely the board can be under no illusions as to the wishes of the fans.
Johan Elmgren
219
Posted 11/03/2018 at 17:35:05
Peter Lee.
Attacking football is more a mindset-issue than it is a playerquality-issue. We beat Leicester at home playing pretty good attacking football, then reverted back to defensive-minded negative football the awaygame after. It's a mentality brough on by the manager.
Sure having Martina at left back isn't optimal, but he could have chosen Garbutt for instance who is way better at attacking. Regarding Williams, he's not a player I deem having enough quality to play for us, but if we would have played a more possession-based football with an attacking mindset, he wouldn't have been so exposed as he have been. The defensive setup have had us pegged back and allowed teams pinging in crosses from left to right. No defender will look good in those circumstances. And this against teams we really could have beaten.
There are teams out there that don't have as good players as we have, but are playing with an attacking mentality, and they are doing pretty good, based on their squads. Bournemouth and Watford spring to mind. Can you honestly tell me you think those teams have better squads than us?
There are a lot of games this season that has been there for the taking but that we have drawn/lost because of Allardyce's negative setup. We won't win every match with an attacking mindset, but at least we will give it a go. I'd rather see us try to win, than not try to lose.
Allardyce out now!!
Danny O'Neill
221
Posted 11/03/2018 at 17:48:13
Eddie Howe's naievity being exposed; the English Martinez. Referring to my earlier post, look outside these shores for the next manager once we get rid of the fraudster.
Johan Elmgren
222
Posted 11/03/2018 at 17:58:43
Well Danny, to be fair to Howe, they gave it a try. Were leading 1-0, had chances to go 2-0 and then had 2-2 in the net in the 84th minute, but it was dissallowed for a small, almost invisible push. Then a blitz in the final minutes, 2 goals when they tried to get the equaliser... Small margins... All credit to Bournemouth for trying though... and it wasn't WBA or Burnley they were playing either...
However I agree totally with you... We should appoint a foreign manager, just for the reasons you described in your earlier post. Fonseca would be my choice!
Allardyce out now!!
John G Davies
223
Posted 11/03/2018 at 18:00:35
If Howe is the answer... what is the question?

Darren Hind
224
Posted 11/03/2018 at 18:06:27
"because the question itself is complete and utter queef"
My Mrs is out and so is everyone else. I don't remember laughing so loud when I`ve been on me own.
.
John Hughes
225
Posted 11/03/2018 at 18:10:46
James Hill. Well said. What I find the most disturbing aspect of the largely subjective opinion expressed on this thread (and others) is the hateful and personal stuff aimed at the Manager of Everton Football Club. "Fat Sam""Hippo Head" and "Big Undies", to name but a few.
In all my fifty-odd years supporting Everton, I have never experienced such a juvenile and ill-informed response to matters. I've no idea what Michael or Lyndon make of it but for me it somehow dilutes the level of the debate to such a degree that I find if difficult to connect or respond to such diatribe.
I used to consider ToffeeWeb a cut above the usual platforms but recently my appetite to tune in and get involved has diminished somewhat. Somebody here referred to Allardyce as the "worst manager in Everton's history". That, frankly, is just plain silly. Evertonians on the whole have always been acknowledged as an educated football audience. If this behaviour is typical then sadly, no more I'm afraid.
Patrick Fennell
226
Posted 11/03/2018 at 18:18:04
Was great seeing Baines back today. He played great as did the entire team. When Tosun scores I screamed so loud I scared the wife in the next room! You can tell he is so proud to play for Everton. Keep him in the starting lineup Sam for God's sake! And a big shout out to the fans for giving Davy a loud cheer when he came on... it made me feel good inside so I can just imagine how he must of felt... had to warm his heart. 💙
Paul Tran
227
Posted 11/03/2018 at 18:19:36
I had to look 'queef' up and now I'm in a pub on my own pissing myself
George Cumiskey
228
Posted 11/03/2018 at 18:35:47
Why are people saying Allardyce has done the job he was brought in to do? Surely any of the coaching staff or senior players could of got us to were we are now, with the squad full of internationals at their disposal.
And by the way he didn't play a 4-3-3 lineup he played a 4-1-4-1 set up, and that's why Tosun was isolated again.
So please stop giving credit were it isn't due
Paul Welsby
229
Posted 11/03/2018 at 18:48:23
Then don't John Hughes?
William Cartwright
230
Posted 11/03/2018 at 18:50:12
John, (22).
I respect and share your 'old school' values, without intending to be patronizing at all. However, probably sadly, times do change. At the start I was very against Mr Allardyce as our manager for a variety of reasons; genuine shock that Unsy was replaced by such a character, primarily his bung expose and his obsession with defend at all costs approach.
However, I took an early stance that Sam and Sam should be given some time and to my surprise their early impact was extremely fruitful. However, when the team lost their way after Christmas, the Lookman and Schneiderlin debacles, I was extremely pissed off. Again however, there was never, and nor should there ever be a resort to personal insults. But it has to be acknowledged, his gum-chewing and spitting it out (onto the field of play observed on one occasion), and his style of delivery coupled with his insufferable ego do make for an easy target for mockery and abuse, whether unmerited or not.
I posted a comment on another thread a couple of days ago querying how much (or little) do we actually know about the operations of the staff and players behind the scenes, and it could be that Allardyce is actually performing miracles in a genuinely toxic work position that we do not see? For example the performances of Tosun and Walcott look to becoming seriously good business compared to last summer. It could also be that Klaassen works his way back into contention to contribute to the closing games? Martin Dobson could be a positive to the departure of Joe Royle from the Club (great loss whatever the circumstances) and so on.
However, I am still looking forward to seeing Allardyce replaced in the early summer and a new manager who is the complete package taking center stage. Perhaps it's just a sign of the times; less patience, aggressive electronic communication, lack of the human touch, more emphasis on image and wrapping and so on. Whatever it is I don't think it is unique to ToffeeWeb.
It is also interesting that, however expletive-driven (including myself on occasion?), most ToffeeWebbers have been consistently accurate in their concerns over Allardyce's general management decision making such as too defensive, Schneiderlin, Lookman, Williams, Martina, etc. and seriously low aspirations in getting the team to play on the front foot.
Keep the faith. With Premier League status looking more certain, I think there is a lot to be learned from this season, not least how and where to prune and improve an already skillful squad and how to manage their game time to improve team spirit and results.
COYB
John Hughes
231
Posted 11/03/2018 at 19:07:47
Sorry Paul - not sure what you mean?
Joe McMahon
232
Posted 11/03/2018 at 19:13:52
John Hughes (225) I also tend to agree with you, I do think some of the personal insults are pathetic and juvenile. Those related to Sam not being skinny, well I'm not as thin as I want to be either. What I do think interesting though is Sam (that's Fat Sam/Hippo Head to many), is a lot slimmer than everyone's fave David Unsworth.
Roger Helm
233
Posted 11/03/2018 at 19:22:26
Pete #209 totally agree with you - no theatrics, he just stood there and looked down at him with the contempt he deserved. Top bloke and top professional, also he seemed to have regained his pace and energy; the layoff may have done him good.
Paul Welsby
234
Posted 11/03/2018 at 19:34:47
You said you find it difficult to connect or respond to such diatribe. Why John and now Joe do we have to respond or vent are frustrations the way it suits you?
You both must have snow on your barnets looking down on us mere mortals. Anyone can type what they want and i'm sure like you put it John, if Lyndon or Michael thought it was unacceptable they would do something about it? They don't need anyone digging them out like you just have so we all conform to how you think is the right and proper way.
Get a grip! If you don't like these names Huge Head is being called don't read it, that tends to work.
John Hughes
235
Posted 11/03/2018 at 19:56:41
Paul. You don't have to do anything just to suit me, that is fairly obvious by your response. My point is simply that the personal stuff, in my opinion, is juvenile and doesn't do anything to enhance the discussion or debate.
I am interested in what Lyndon and Michael think because they rightly consider themselves as serious commentators. I wasn't asking them to censure anything.
Also, why do you infer that I am taking some sort of moral high ground – a ridiculous conclusion to make just because I don't engage in personal insults to make my point.
As it happens, for the record, I am not Sam Alladyce's biggest fan either but I stopped calling people names when I was about 13. To conclude, yes I probably will stop reading these pages, which is a shame really.
Jamie Evans
236
Posted 11/03/2018 at 20:14:45
John (#225), I've used the term 'Big Undies' to describe our current manager on numerous occasions previously, but I don't think it's personal or hateful.
Is it?
If so, my apologies to anyone that may have been offended, including yourself.
Paul Welsby
237
Posted 11/03/2018 at 20:23:04
See this is exactly my point with anyone who wants to take the moral high ground, which you just did John by claiming you stopped all the name calling at Thirteen like it's so above you now John. You are saying since the age of thirteen you stopped calling people names? Well I just don't believe you as at thirteen and for a lot of teenagers there was always name calling. But for John Hughes who was so mature at thirteen, he thought no I will rise above that.
Like I said before get a grip shit happens not everything is the way we want it or think it should be? Is it really that bad that it takes you away? Has someone died? Is anyone seriously ill? For fuck sake John lighten up everyone is different, if a post is not to your liking skip past it.
Have dialogue with people of your ilk you don't have to read my posts and others like it? Just like I don't have to read yours but it wouldn't take me away because of a bit of name calling of are manager with the fucking massive head.
Michael Kenrick
Editorial Team
238
Posted 11/03/2018 at 20:31:33
John,
I think you'd find we by-and-large agree with you. The name-calling is rather juvenile and pathetic. But the challenge in this day and age of free internet expression is the speed with which punters will scream "censorship", and the practicality of imposing limits on such things that becomes very arbitrary. So we are not inclined to do much about it.
The name-calling reflects mainly on the name-callers, at least that's the way I'd want it to be. Part of our reason for wanting real names and working emails is that posters take personal responsibility for what they post. But we try to enable most people to post who want to and can express themselves to a fairly minimal level of literacy.
We set a pretty low bar on here to minimize the posting delay and workload from message review, but Lyndon raises the bar somewhat on his 1878 Magazine pieces ostensibly to promote a better class of respondent.
Which model would you prefer?
Christine Foster
240
Posted 11/03/2018 at 20:46:31
Michael, the problem is a crime of passion: we all love Everton and indeed at times vent in the best way we can. Name calling or swearing is and should be accepted, to a point! Frustration does get the better of all of us...
However, and here is the but, when it takes the form of continually repeated forms in subsequent postings, it goes beyond mere frustration and becomes insulting to the person aimed at and at those who got it the first time around! There is a line to be crossed and that's the one of good taste rather than degenerating a debate to insults. That takes a debate to mud slinging and personalisation of individuals which ends many a good thread.
As a point of interest, Allardyce cannot win – no matter what he does or says, with many in this forum. We win, he is blamed for taking credit; we lose, he is blamed for every incident; he says nothing and condemned anyway. Personally, I find that absurd but it doesn't really matter because, at the end of the season, I hope he will be gone... Right now, I just want to support the team and see the season out.

John Hughes
241
Posted 11/03/2018 at 21:02:58
Thanks your response, Michael. My point was really that the debate or discussion is diminished somewhat when the name calling becomes so personal – that's all.
Having re-read my original comment in light of Paul's response, I can see that I might have come across as priggish but that wasn't my intention in expressing my view. I take your point on where you set the bar and I can see that there is room for both models and that we all have a choice. Come on (all) you Blues!!
John Hughes
243
Posted 11/03/2018 at 21:09:56
Christine - I wish I could have articulated my point as well as you have because that's exactly what I wanted to say!
Darren Marsh
244
Posted 11/03/2018 at 21:14:16
Paul Welsby.
May I thank you wholeheartedly for being the voice for us guilty of juvenile,Ill-informed response to matters as was put in a previous post.
I am personally guilty of calling our manager Hippo Head,so in future posts he will be referred to as 'Double-H', so as no one can be offended,that is not my intention.
No animals were hurt in the making of this post.
Once again, Paul, we salute you.
Eddie Dunn
245
Posted 11/03/2018 at 21:15:09
Joe McMahon rightly points out the size of Unsworth compared to the slimmed-down Allardyce. I disliked Joey Barton having a go at Unsie and although I have no particular affection for Mr Allardyce, I agree that the man should not constantly be refferred to as "Fat Sam" or "Hippo Head".
"Big Undies" though, is very funny!
Laurie Hartley
246
Posted 11/03/2018 at 21:18:16
John Hughes (#235) – if you stop reading these pages and posting your point of view, you will have been silenced.
George Cumiskey
247
Posted 11/03/2018 at 21:22:33
My god our beloved team is going down the drain and people are splitting hairs about the manager who's taking us there being insulted.
Nero and a fiddle come to mind with with some of the posts.
Paul Welsby
248
Posted 11/03/2018 at 21:33:34
Yes, John Hughes, I am with you on that mate COYB! John I think some of us find it really hard to hold back as it's just knock after knock with Everton. We support them come what may and, to be honest, John, we don't get much in return, barely nothing.
Sam just makes a rod for his own back with his arrogance and demeanour amongst other things in his character. He makes it extremely hard to warm to him when he just smiles after serving up utter shite.
When we as Everton supporters are getting laughed at by our own manager live on TV, he is going to get it, even if some supporters think it's over the top. On top of that, he just isn't a good manager as his record tells you long before he came to us. Some people on here will try to say he hasn't had a chance or they're not his players blah, blah, blah.
Supporters are just frustrated, John, and taking the piss out of him like he has us is just banter, granted sometimes personal but eh I don't think he is bothered when he picks up his very large pay cheque, do you, John? All-in-all, we just want success for Everton? We are on the same side so no offence mean't, John.
James Hill
249
Posted 11/03/2018 at 21:37:01
John Hughes
Sorry for getting you into a moral discussion. Michael is of course right about freedom of speech, for now anyway an important part of our way of life and unfortunately name calling is a big part of social networking. I love reading different opinions on ToffeWeb and other sites. It often makes me wonder if I watched the same game.
Just sometimes, especially around Sam Alladyce ,it gets a bit irrational and irritating and, like you rightly pointed out, stifles the debate. I would love to see him succeed; it would be great for all of us and, for some funny reason, I think he might given the support. Just an opinion.
I try to read some of the more rational and a lot of the time very good points and ignore the ones that don't really contribute much.
Please keep reading – there are some good and passionate blues on this site that often results in some great and enjoyable banter. COYB Think we will do Stoke this week.
Paul Welsby
250
Posted 11/03/2018 at 21:38:38
Darren Marsh you are welcome mate! I'm still laughing at your earlier post it was brilliant! It has been sent via text to many a bluenose who responded with laughter, so thank you!
John Hughes
251
Posted 11/03/2018 at 21:49:15
No offence taken Paul and as I alluded to, when I re-read my original post it did come across a little "high-handed", shall we say.
I get the frustration with Allardyce and like you say, we are all certainly battle worn as Blues!
James (249), no problem mate and I certainly will continue reading as, despite the knee-jerk response, I'm addicted to it!
Tony Williams
252
Posted 11/03/2018 at 21:55:21
Please someone tell me if by any chance we beat Stoke on Saturday it won't keep this clown at Goodison. Please give me some assurance.
Phil Sammon
253
Posted 11/03/2018 at 22:04:05
My thoughts exactly, Tony. One win against Brighton and the dark clouds seem to have shifted. A victory against Stoke will see Allardyce given a new contract and Steve Walsh ordered to seek out three more number 10s.
Brent Stephens
255
Posted 11/03/2018 at 22:12:15
Michael #238 - very good. Very good.
Brian Wilkinson
264
Posted 11/03/2018 at 22:51:48
MIchael@238, you and the other Editorial teams do a fantastic job on here, on many occasions us Blues get frustrated, myself included at times and on odd occasions rattled off a bit through frustration.
We are Evertonians, we are passionate and one thing we will not stand for whether it being playing staff or personel is someone taking our club for a ride.
Frustration gets the better of us, but through all that, you allow us all to have our views, others may have a different opinion, but this fans forum allows every single Evertonian to have their views.
Using big fancy words and name calling to make another poster sound inferior does go on, sometimes trying to make a previous poster look he was back in the headmasters office, we are better than that, if we do not agree fair play have an opinion, but cut out the belittling, date time other posters name followed by shooting that poster down.
I myself have posted, then after reading other comments have thought, they have a point there.
But we are all Evertonians, we care about our club, that is why it is great to hear other posters views.
Keep up the good work and thanks for putting up with our odd rant or two.
Clive Rogers
285
Posted 12/03/2018 at 09:57:59
An Irishman, Englishman and a Scotsman go into a pub and each order a pint of Guinness. Just as the bartender hands them over, three flies buzz down and one lands in each of the pints.
The Englishman looks disgusted, pushes his pint away and demands another pint.
The Scotsman picks out the fly, shrugs, and takes a long swallow.
The Irishman reaches in to the glass, pinches the fly between his fingers and shakes him while yelling, "Spit itout, ya bastard! Spit it out!"

source: http://www.jokebuddha.com/Spit#ixzz59Wk9L1rx
Steavey Buckley
286
Posted 12/03/2018 at 10:10:51
The Everton team last weekend does prove that Allardyce can pick the strongest team at his disposal. But he can't pick a team of his own makings and choosing. That was done for him before becoming the Everton manager. So the jury is still out if he goes or stays.
Although after stating that, Everton still have 4 away games against teams below Everton in the Premier League. That may prove too difficult to get even 1 win out of all of them, which does prove that Everton have wasted millions on the wrong type of players ever since Koeman became manager.
Bobby Mallon
288
Posted 12/03/2018 at 22:45:18
Peter Lee, here's a team:
Pickford
Kenny
Keane
Jagielka
Holgate
Vlasic
Rooney
Gana
Mirallis
Sigurdsson
Calvert-Lewin
---
Add Your Comments
In order to post a comment, you need to be logged in as a registered user of the site.
Or Sign up as a ToffeeWeb Member — it's free, takes just a few minutes and will allow you to post your comments on articles and Talking Points submissions across the site.
© ToffeeWeb