Report
City Slickers humble Bumbling Blues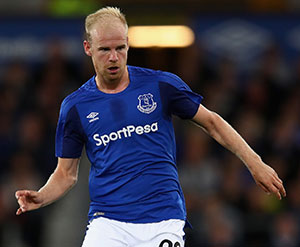 No place for Davy Klaassen despite injuries in Everton's midfield
Everton 1 - 3 Manchester City
After another seemingly interminable International Break, Everton take on Champions-elect Manchester City at Goodison Park with an injury-hit line-up with Schneiderlin starting.
The midfield is particularly hard-hit with additional injuries to Idrissa Gueye and Tom Davies hampered with a neck injuryt on top of long-term problems for James McCarthy and Gylfi Sigurdsson, with Mason Holgate missing from the defence. Ashley Williams serves the final game of his 3-match suspension.
Walcott, Schneiderlin, Rooney, and Bolasie make up a four-man midfield behind Calvert-Lewin, and Tosun, with Davies, Funes Mori, Vlasic and Baningime on the bench, were Davy Klaassen is conspicuous by his absence in the circumstances.
Everton were forced to kick-off playing against the Gwladys Street and were on the back foot by the time City fired in the first goal on 4 minutes, a brilliant volley from Sane.
The Blues eventually got on the ball and won a free-kick wide right for Rooney to deliver deep, headed wide by Jagielka. Calvert-Lewin chase down a lost ball and crossed perfectly from the byeline for Bolasie who incredibly headed over when it was easier to score.
City showed how to do it from the goal kick, a fantastic sweeping move, De Bryune crossing brilliantly and Gabriel Jesus showed how to head the ball, burying it past Pickford. 2-0 inside 12 mins!
Sane and Sterling were invited to score in the next attack. At the other end, Laporte fouled Walcott, setting up a chance for Baines from the set-piece, curled over the wall and away from goal.
Everton were getting slaughtered in midfield, Rooney intent on helping City build new attacks, win corners, and threaten a cricket score in response to their now rather distant 4-0 defeat in this game last season.
Calvert-Lewin got behind the City defence but his pass inside was simply awful and possession returned to the side in maroon for more silky passing by way of painful contrast. Bolasie's attempt to dispossess De Bryune was simply pathetic, giving away a needless free-kick leading to another City corner, their total dominance now leading to a relaxed pace and a totally deflated atmosphere in 'Fortress Goodison'.
Everton actually had a spell of possession around the City area but nothing came of it. City swept forward, Silva looking offside, galloping ahead and laying the third on a plate for Sterling.
A few more City corners before half-time, a few more practice potshots, before an enforced break in the football exhibition, City having had 82% of the possession.
Baines did well to disrupt the one-way traffic after the break and Tosun won a corner. Bolasie did better to dispossess Otamendi but his cross was hopeless. Another City attack needed a desperate block to stop the final shot. Pickford did well to keep out a horribly deflected shot from Fernandinho. Davies was soon introduced as a replacement for Rooney.
Out of very little, Bolasie was able to drive a shot in off the post following good work by Davies and Calvert-Lewin to get the ball to him. A consolation goal that would "win the second half" in Allardyce's demented view of the game.
Everton won another corner that Tosun headed just wide as Keane barged him, and the Blues finally started to show a little fight, rousing some belated interest from the diminishing crowd. But it did not last long as the game was played out at a much reduced intensity, apart from a little flurry in the final minute of added time.
Scorers: Bolasie (63'); Sane (4'), Jesus (12'), Sterling (36').
Everton: Pickford, Coleman, Keane, Jagielka, Baines, Walcott, Schneiderlin, Rooney (56' Davies), Bolasie, Calvert-Lewin (75' Baningime), Tosun (79' Niasse).
Subs not Used: Robles, Martina, Funes Mori, Vlasic.
Manchester City: Ederson, Kompany, Laporte (87' Danilo), Otamendi, Walker, Fernandinho, De Bruyne (77' Gündogan), Silva, Sane, Sterling (64' Bernardo), Jesus.
Subs not Used: Bravo, Adarabioyo, Zinchenko, Nmecha.
Referee: Paul Tierney
Attendance: 39,221
---
Reader Comments (254)
Note: the following content is not moderated or vetted by the site owners at the time of submission. Comments are the responsibility of the poster. Disclaimer
Brian Wilkinson
1
Posted 31/03/2018 at 16:44:54
Decent line-up; I'm not a fan of Schneiderlin but hopefully being left out of the side will give him a kick up the arse, he's due a decent game.
Enough backup on the bench so fingers crossed.
Neil Lawson
2
Posted 31/03/2018 at 16:45:23
The result will now be crucial for the Fatman. Davies out. Schneiderlin in. That will be so very popular!
It is hard to see how this team will stand up to the silky skills that will face them and our enlightened and courageous manager has done nothing to instill hope.
Not exactly optimistic.
Brian Wilkinson
3
Posted 31/03/2018 at 16:46:10
If we can stop De Bruyne, that's a start.

Alan J Thompson
4
Posted 31/03/2018 at 17:18:37
Davies on the bench despite possibly having an injury but how many thought he wouldn't start Schneiderlin anyway? Oh for an imaginative man at the helm.
John Graham
5
Posted 31/03/2018 at 17:19:14
Not much defensive cover in midfield. Hopefully that means we will have support for our forwards.
Good to see Vlasic on the bench. I hope for a good performance.
COYB
Ernie Baywood
6
Posted 31/03/2018 at 17:27:46
Do we really think DCL will be up front?
Chris Gordon
7
Posted 31/03/2018 at 17:37:08
Seems to be going to plan! 1-0 down and we've not touched the ball yet.
Joseph Murphy
8
Posted 31/03/2018 at 17:54:41
Schneiderlin chasing shadows again, trotting over to players then stopping in front of them – gives us nothing.
Surprise, surprise, Schneiderlin gets back in and we start conceding goals. Didn't track Silva's run for the first and nowhere in the middle for the second.
We're not good today but we're a man down with him in the team – no pressure on the ball.
Ernie Baywood
9
Posted 31/03/2018 at 18:19:47
Feels like we're more than one man down.
Hurts watching us dismantled so easily, but you've got to acknowledge how good City have been. I can't think of many better teams I've seen.
Brian Williams
10
Posted 31/03/2018 at 18:30:26
Is anyone REALLY surprised?
Peter Cummings
11
Posted 31/03/2018 at 18:34:06
Could be a cricket score by the final whistle, there has been little or no opposition from us – totally outplayed in every way. City will never have it so good and will be worthy title winners.
The least said about Sam Allardyce, the better... although limited options for selection, he has put out the worst combination possible with no ability, fight or cohesion, and so it goes.
Mike Kehoe
12
Posted 31/03/2018 at 18:37:07
This could easily end up being very embarrassing.
The moronic Rio Ferdinand critical of Everton fans before the kickoff saying we should be satisfied with Allardyce, Koeman and Martinez said he's baffled at what we actually want in a manager. I imagine Rio is often confused but even he should be able to discern the man is incompetent.
I would be happy with a manager that has a clue. No changes at halftime... suppose it's all going to plan?
Steve Bingham
13
Posted 31/03/2018 at 18:52:38
Good old Sam, he's the man. I am glad I have stuck to my word and never gone from the day he was appointed.
I will say it again, the only way to make the board listen is to boycott the game – nothing like an empty Goodison to drive home the point. Yes, we are clear of relegation but we are no more competitive than we were under Martinez and Koeman.
Gary Willock
14
Posted 31/03/2018 at 19:23:14
Playing Rooney and Schneiderlin together in the middle. Playing Dom as a 'Number 10' and we pay this buffoon how much a year? The time for change is now, not the summer.
Andy Crooks
16
Posted 31/03/2018 at 19:25:09
Poor team coached, and by fuck there are a good few candidates, by the second worst coach in our history. He will be our coach next season because the current custodians of our club are a pack of money-grabbing, second rate twats.
Lennart Hylen
17
Posted 31/03/2018 at 19:25:46
Sadly, it was men against boys today. Outplayed.
Colin Glassar
18
Posted 31/03/2018 at 19:31:46
Complete and utter humiliation. If Allardyce had an ounce of shame he should resign tonight.
Trevor Peers
19
Posted 31/03/2018 at 19:31:52
That's why we will get relegated next season Andy maybe we deserve it !
David McMulllen
20
Posted 31/03/2018 at 19:33:59
Was an awful start it's all about what a manager impresses on the team and we were limp. Very similar to Koeman. Over there and then really. Too little from the players but I blame the manager and the team selection. One thing playing the Champions elect but to roll over is just not acceptable.
Philip Braithwaite
21
Posted 31/03/2018 at 19:35:25
Mr Kenrick. We are all waiting for the season to end. If you cannot put anymore effort, enthusiasm, positive input on performance or players, then fuckin give up.
Man City will be Champions, the club who has been shit far longer than we will ever be. Your reads are not something I look forward to. Should we ever win 5-0 every week, you will find a fault no doubt.
Karl Jones
22
Posted 31/03/2018 at 19:39:12
Just no aggression or determination. We accept defeat far to easily these days and it's getting worse season by season as the squad ages.
You only have to look at the determination that Wigan and Bristol City showed against Man City to see what a difference that makes. To play like that in front of your own supporters is unacceptable really.
None of the squad have the winning mentality. They need selling but you just can't see any takers other than loans next season. The future is looking bleak for years to come.
Kevin Tully
23
Posted 31/03/2018 at 19:39:21
Okay, I'm going to take some well deserved criticism here (feel free to take a shot).
I left after the 3rd went in, mainly because I was in danger of wind induced hypothermia. Went home, broke out a fine cognac, much like the Everton. midfield, and I'm looking forward to the fight.
We should be fined for bringing the game into disrepute. Seriously.
Len Hawkins
24
Posted 31/03/2018 at 19:41:06
Lennart #17

Perhaps men against woodlice would be more accurate. Bolasie cost 㿅 million and hasn't got a bloody clue how to head a ball.
I in my younger days I used to DREAM of playing for Everton; I am now 68, if I could not have made a better attempt than that clown at having a free header in front of goal then I think I may have topped myself.
All-in-all, I think that realisation has to hit home soon EVERTON ARE SHITE v nothing more, nothing less, absolute shite!
Eric Paul
25
Posted 31/03/2018 at 19:45:46
Not one booking tells you all you need to know.

Jay Woods
[LAT]
26
Posted 31/03/2018 at 19:46:19
One team was playing football, the other was indulging in some kind of new sport called chasing shadows. Surely, in such instances, we should have some kind of compromise rules arrangement?
Karl Jones
27
Posted 31/03/2018 at 19:48:27
18% possession at home! 2 shots on target and 2 corners.. Those players should be ashamed..Absolute rubbish. Allardyce out... and most of those players need sacking as well. Did we put a tackle in all game? Alan Ball will be turning in his grave.
Michael Kenrick
28
Posted 31/03/2018 at 19:48:52
Haha, Philip (#21) – at least you made me smile!
But yea, we were so awful – let's just shoot the messenger and be done with it.
David Barks
29
Posted 31/03/2018 at 19:50:38
These foreign managers will never succeed in the English game. Never.
Dermot Byrne
30
Posted 31/03/2018 at 19:50:47
What annoys me, Kevin Tully, is your money is now in their pockets. That annoys me so much. Could have had a second bottle of Cognac and just watched Bake Off repeats on TV and felt a greater sense of a day well spent.
James Lauwervine
31
Posted 31/03/2018 at 19:53:01
Is that now 9 times this season we have conceded 3 or more goals in one half? And it will more than likely happen again next week.
Dermot Byrne
32
Posted 31/03/2018 at 19:56:43
James: always bet on RS on derby. Quids up
Jeff Armstrong
33
Posted 31/03/2018 at 19:58:33
We get one back and what does Allardyce do? Bring off a forward and put on a defensive midfielder! FFS... any impetus building from crowd and players was simply taken away in one foul swoop.
Then, he compounds it by taking off another forward for a forward, instead of two up top and moving the midfield up 20 yards.
It always has and always will be damage limitation with this buffoon; he's not got one offensive attacking idea in his head or soul... he makes Moyes look like Zagolla.
Danny Broderick
34
Posted 31/03/2018 at 19:59:25
I knew it would be tough today when I saw the team lineups. Their midfield 3 of Fernandinho, Silva and De Bruyne were up against Rooney, Schneiderlin and Calvert-Lewin. I like Rooney, but he needs legs alongside him if playing there. Not Schneiderlin, who just jockeys and doesn't offer anything else. And Calvert-Lewin is not a number 10.
We were beaten by the better team today. In fairness, I don't think there was anything we could have done to beat City today. I don't think I have ever seen a team play as well as they did at Goodison in the first half today. Their passing and movement, and more importantly the tempo of their passing, was incredible.
Whatever happens with Allardyce, it was horrible watching that laboured midfield today. Some big decisions required in the summer regarding the players we buy and sell, as well as the manager.
Derek Knox
35
Posted 31/03/2018 at 20:00:12
Allardyce should be given a choice at the end of the season, Gallows, Iron Maiden, The Rack, Immersed in Boiling Oil, or Disembowelling.
So what's your choice Sam?
Jerome Shields
36
Posted 31/03/2018 at 20:00:54
Same old tactics by Big Sam, which are unsuccessful. Only good news that his talks with Moshiri, to extend his contract, are dragging a bit. A good result, which even Moshiri can't be bullshitted about.
Trevor Peers
37
Posted 31/03/2018 at 20:01:17
David (#29);
We've just had two foreign managers, how many do you want to prove your wrong? Without the billions to back them up, it will always be a disaster.
Name one foreign manager who would come to the Blues and win a trophy?
Peter Fearon
38
Posted 31/03/2018 at 20:01:18
I am not sure what Phillip Braithwaite is complaining about. There were no positives to take from that performance other than it wasn't the 6-0 it looked like it was going to be at HT.
I don't agree with Michael Kenrick on a number of things but negativity isn't one of his flaws. Everton are dreadful under Allardyce, much more so than under either Martinez or Koeman who each has their own faults.
Nobody in blue looked as if they cared what happened today except perhaps for Tom Davies, the lowest paid player on the field.
John Keating
39
Posted 31/03/2018 at 20:06:24
Totally outplayed, outfought and out thought by a team and manager on a different planet to us.
We have to look at that and accept how far we really are behind not just City but the other top 4.
When City are allowed to play like that then there will only ever be one outcome. The tactics were wrong and the players attitude were a disgrace.
Playing two up top against City is asking for a walloping. How many posters have been on about always playing two up front at home ? Well there's the answer.
Next week will be no different. We just do not have the players to compete with the top teams unless they are having a real off day.
David Barks
40
Posted 31/03/2018 at 20:07:18
Trevor,
Name one English manager to win the Premier League. Or, one English manager to win any league in the last decade or so.
Jim Bennings
41
Posted 31/03/2018 at 20:12:46
Men against boys, no rephrase that, men against toddlers!
City didn't get out of first gear and sadly we made it that they didn't have to.
Sadly two years on from coming in to the Moshiri millions we look as bad a team, with the mentality of losers as we did in the dark days of the 90s.
No winners in the team no genuine top quality and every time we play a top 6 side it's always the same old story, a total no show and lack of self belief!!!
Same again next week against Liverpool in all honesty no matter how we attempt to dress it up with all the usual optimistic chest beating blah blah.
Paul Tran
42
Posted 31/03/2018 at 20:15:08
The mindset of this team is shocking. No zip, no get up and go, no belief.
For the whole season, good players have looked like a directionless, sluggish mess. Nothing will change till the mindset shifts.
Don Alexander
43
Posted 31/03/2018 at 20:15:29
Dubai for some "quality time" to fine tune the coaching and fitness, two weeks since the last game during which the manager had time to formulate a plan to exceed what the likes of Wigan recently did to City, and what is delivered to us?
20% possession at home, only one fifth of the successful passes in the entire match, a complete failure to press them when they had the ball, visible frustration and anger (and I genuinely congratulate all three of them) from Seamus, Jordan and Tosun, and no bookings.
It's so bad that merely replacing Allardyce gets something of a free ride from me because today's spineless performance has been the hallmark of Finch Farm coaches and players for seasons.
Paul Kelly
44
Posted 31/03/2018 at 20:18:24
David @ 40, Steve McClaren, Eredivisie, FC Twente. 09-10
What do I win?
David Barks
45
Posted 31/03/2018 at 20:20:41
A shiny gold star, LOL.
Brian Denton
46
Posted 31/03/2018 at 20:21:38
David (40) that's a bit of a cheat by limiting the question to 'English' managers, because it leaves out Ferguson and Dalglish. Although Continental managers are obviously better, they haven't had it all their own way, which is the point you are trying to make.
Jamie Crowley
47
Posted 31/03/2018 at 20:22:31
A decade ago at my Blue birth, the general question around Everton was:
"Can they break into the Top 4?"
Chelsea, Man U, Arsenal, thoseotherfolk
The last few years the question has changed to:
"Can they break into the Top 6?"
Chelsea, Man U, Arsenal, thoseotherfolk, Man City, Spurs.
We are currently at the point where the new question will be:
"Are Everton currently a top half side?"
We have fallen so far, and attainable heights have fallen in kind. Today we witnessed one of the best teams I've ever seen (all credit to them they are simply wonderful to watch those light Blue creatures) dismantle us. In more stark terms, were Everton and Man City personified, and both in jail, Everton would be the fella dropping the soap in the shower.
We are a shell of ourselves within a decade. Moyes, Pienaar, Arteta, Cahill, Osman, Hibbo, Howard, and fucking Donovan on loan with Captain Pip hugging him chanting, "USA! USA!" would run circles around this group.
It's so damn depressing.
We need to hold on to our young talent - Beni, Davies, Pickford, Holgate (get healthy kid), Vlassic, and any other young gun I forgot or didn't mention, and turn the page as fast as possible.
And that means, above all else:
Fire Sam Alardyce, and pray Moshri (whom I like) gets us in a new stadium pronto.
Or else the end is nigh. Today we saw the 10 year trend drop us down another notch; we are LIGHTYEARS away from the top sides.
William Gall
48
Posted 31/03/2018 at 20:24:57
What I could not understand is that watching the game from the start City dominated the midfield and even the commentator on the T.V. said after 10 min, the manager has make a change and bring someone else on to help, and yet it took the 60th min to make a change. I do not possess to be a manager but even I could see that Rooney and Schniederlin were being overrun and needed support.
We are definitely Cities bogey team as they were that frightened of us they wouldn't let us have the ball, and when we did win it, we gave it back to them. City have a wonderful team but you make them look a lot better standing around admiring them
Allardyce said the supporters were behind him but maybe after this performance the 7% may drop back to 5%.
Trevor Peers
49
Posted 31/03/2018 at 20:25:21
Scottish maybe though David, whiskey nose was good at winning trophies. Moyes is proving to be our best bet since the great Howard Kendall. But most on TW hated his guts.
Maybe we've missed the boat regarding success since the 80s but at least we're still in the Premier League. I'll settle for that until we get a proper billionaire.
John Boon
50
Posted 31/03/2018 at 20:28:05
We started off looking timid and afraid. While I expected to lose, I felt that we made a great team look even better than they really are. Players were given far too much space and, against City, that means a certain walloping. Against the top teams we seem to have given up before the game has hardly started. Wigan demonstrated how you need to play against City. Hard, in your face tackling was totally missing today. We were far too nice.
I will be delighted if Allardyce leaves at the end of this awful season. We had a dreadful game plan but, to be fair, I don't think it would have mattered who was in charge. We are miles behind the top four teams, but City are even more miles ahead of the four teams nearest to them. I hope they smash Man Utd next week.
We have to have a different strategy for next week. Still a "Blue" forever. COYB
Paul Birmingham
51
Posted 31/03/2018 at 20:30:32
The Easter miracle didn't happen. The first half was a rip-off and, for such a big game, and the aim to "put a dent in" as per Roberto Martinez before the game, it was as Moyes's quoted "knife to a gunfight"... but this was just "stand back and watch".
There's been very piss-poor Everton teams in the past but, for such a game, the basic human requirements – passion, belief, leadership – were nowhere to be seen. Gave over at half-time and we started with a Dad's Army midfield: an Olympic Gold-medal jogger who just can't be fucked, and Wayne, when playing in such a combination, knows it ain't gonna happen.
Tom Davies did well when he came on but today was another false dawn. Next week, I hate to say, will be worse. There's dude mental coaching issues at the club and it seems we don't have any cohesive strategy for youth development, nor for the leadership of the club.
This is the pits and I'm sick of the ale now... there's no buzz any more and I fear we will dissolve very soon, to a teaspoon in terms of leadership ambition and belief.
Only my view and I respects all other views; it's in my time and seeing even bad times before this is the worst...
Next week, we need a miracle for sure. Jordan Pickford has more chance of scoring than Cenk Tosun, and nothing against him, he is living off poor scraps, such is the very piss-poor service he gets... basically nothing each game.
The game moves fast and EFC will decline in time very fast if the club doesn't build a plan soon.
No more bull, lies and false hopes – just straight answers, so people can build and set their own hopes, and manage their hopes for EFC.
.
Colin Glassar
53
Posted 31/03/2018 at 20:34:18
Allardyce – "We won the 2nd half." Sack him now!!!!
John Pierce
54
Posted 31/03/2018 at 20:34:53
The utter sadness of my team not even willing to engage. The antics of an overpaid, self congratulating oaf to give us nothing more than a team who sits off, and complete disengagement.
It almost felt like he wanted us to play dead and maybe Citeh would go away.
The fact the game was lost in the manager's mind before we kicked a ball is enough on its own to rip him from cushy seat.
His selfish one-eyed nature to limit the damage, was exposed just after we surprised the crowd by scoring. A fleeting touch of momentum and he robs the crowd of any succor by making a defensive substitution.
A horrid man and a dark chapter in the history of this club. Shame on you, Moshiri.
Peter Cummings
55
Posted 31/03/2018 at 20:39:29
I was glad City didn't capitalise on their complete domination today. We were marginally better in the second half but stood back from real challenges as we let them play possession without raising a sweat. We played hoofball all afternoon, mainly to their defenders, so got exactly what we deserved in the end.
Jim Bennings
56
Posted 31/03/2018 at 20:40:12
Has Goodison ever been more half-interested and lacking in genuine self-belief and noise than this season?
The atmosphere against Man Utd on New Year's Day was the quietest I've ever heard for an Everton - Man Utd game.
Same at home to Tottenham, Arsenal, and today after 10 minutes it's resignation of defeat again.
I get the feeling the lack of interest and genuine Goodison roar next Saturday for our biggest game of the season will speak volumes to Moshiri about how the fans are feeling about this truly false dawn despite splashing out shit loads of cash.
And to think the cheeky bastards are going on about April 6th being the deadline for season ticket holders to renew, a day before a highly likely derby defeat!!!!
Just shows the board don't understand or really care about loyal supporters.
William Gall
57
Posted 31/03/2018 at 20:41:21
Colin, I think Allardyce's comment should read "City let us win the second half."
David Hallwood
58
Posted 31/03/2018 at 20:44:03
No surprise, didn't even watch it, yet another gutless spineless 1st half.
This season our record against the teams above is as follows: P15 W1 D2 L12 F9 A 35 Pts 5. Conceding 5 twice, 4 twice 3 twice and 2 twice; so a bit of consistency there then.
We are so far back from the front pack that I cant see us closing the gap in most TWebbers lifetime.
Peter Thistle
59
Posted 31/03/2018 at 20:48:02
It's just sad, embarrassing. I give up.
Ian Burns
60
Posted 31/03/2018 at 20:48:20
I believe Allardyce went to see Pep after the game and complained:
"Pep you can't come to our home and not give us a touch of the ball for 90 minutes, You were our guest and you treat us like that. People will see that on television and you have made me look a fool in front of all those people. How did you manage to play football where your players pass to each other and not let us get a touch?"
"Sorry Allardyce, I didn't mean to be rude but you know what you English say, you can't teach an old dog new tricks."
Neil Lawson
61
Posted 31/03/2018 at 20:52:08
I gather that the Fatman believes the turning point in the game was Bolasie's miss at 1-0. I think the turning point was earlier.
The team he selected should have turned around at the tunnel and watched Pointless in the dressing room.
The man is deluded and utterly incompetent. I am too much of a gentleman to swear and give a really accurate description of the knob.
Peter Fearon
62
Posted 31/03/2018 at 20:53:08
The one positive here is that every spineless performance, every defeat, from here on in is another nail in the coffin of Sam Lardiola. Allardyce Out!

Rick Tarleton
63
Posted 31/03/2018 at 20:57:10
Next week? I'm dreading it. What Salah will do to our lack of a defence doesn't bear thinking about. I'm fed up with losing games against any of the better teams and Liverpool in particular. A miracle will be needed for us to get a draw.
John G Davies
64
Posted 31/03/2018 at 20:57:45
The booing at half-time surprised me. Played off the park by one of the best sides in Europe, one-touch passing at high speed, movement to create space that was adoration to watch.
A great side demolishing an ordinary one-paced side.
Paul Welsby
65
Posted 31/03/2018 at 20:59:30
Kevin Tully
At least you got the game. I gave up my seat once we were safe! I got a bit of stick for it but I can't be there until Sam has been legged. I take my hat off to those who still brave that shit that is served up every week, but I just couldn't do it anymore.
Sam has driven me away from my beloved Everton. To watch the likes of Schneiderlin walk his way through every game he plays for us whilst getting paid 𧵎k a week makes me sick. Also witnessing Ashley Williams captaining Everton equally turns my stomach. I'm just flabbergasted, confused, embarrassed, sick and clueless as to what has become of our once great club.
If our owner doesn't expect anything from these games, the manager and players can't be made accountable for selections, tactics and performances! The club is a mess, and it's heartbreaking. I honestly can't remember being so miserable, devoid of any hope for our once great club.
The good times are so far away, part of me thinks we will never see the likes of what I witnessed in the Eighties. I count myself a very lucky man to be part of that era, but equally feel sorry for the thousands of Evertonians who have never witnessed any success. 39 years of going the game and I'm at my lowest ebb.
Roger Sunde
66
Posted 31/03/2018 at 21:00:36
What the actually fuck happened to Morgan Schneiderlin?
A potential midfielder for France in the upcoming World Cup, and he couldn't care less.
Peter Fearon
67
Posted 31/03/2018 at 21:03:28
Rick, Sam will put ten men behind the ball for 90 mins and congratulate himself when we lose 1-0.
Frank Crewe
68
Posted 31/03/2018 at 21:04:38
You can go on blaming the manager as much as you like. This guy is rubbish, the guy before him was rubbish, the guy before him was rubbish ad infinitum. But no doubt the next guy will definitely be the manager we have been waiting for. Maybe we should try slagging off the players for a change.
Did Allardyce tell Bolasie to miss a sitter? Shouldn't someone tell clapped-out Rooney it's time to retire and stop making a fool of himself week after week? Did Allardyce tell the Everton players to stand off the City players every time they had possession?
There is only so much any manager can do but, when your players can't or won't try, then it's time to get different players – otherwise, a year or two from now, the next manager will find himself in exactly the same position Allardyce is now and Koeman, Martinez, and Moyes did before him. Getting the blame for overpaid, underperforming players.
Lawrence Green
70
Posted 31/03/2018 at 21:11:05
All of the chickens have come home to roost and unfortunatley I can't see how Everton FC can stop the slide into the abyss. We have been fortunate this season in that we had more than enough to stave off relegation, but dreams of challenging for the top four or even the top seven are as far away as we can imagine.
Manchester City have some fine players and are a very good side, but do you think they will waltz around the neighbours' home with such ease and without a glove laid on them?
Today, added to those other lessons we've been given by Spurs, Arsenal and Manchester United, shows how far off the pace we really are. Blame the manager, the players all you want but this demise runs far deeper than that. Everton FC can no longer count themselves as a big club as we are in the same boat as Newcastle, West Ham et al.
Merely throwing money at the issues or relocating to a new home by the docks will not be enough to rescue our club from being an also ran club, a club that was once great but is no longer. Next Saturday means nothing, win or lose as the club we all love has lost its way and I can't foresee how we can salvage our once good name in the English game.
In the last 20 years, the only thing that has ensured that Everton FC are recognised as a big team has been the supporters who have stuck by them, through mostly thin times – the people who run the club say they have ambition but, from my perspective, they do not have a scooby as to how to realise that ambition. We ain't dead yet but the chances of us all witnessing a trophy coming to Goodison in the decades ahead are as remote as they were in the early years of this century.
Chad Schofield
71
Posted 31/03/2018 at 21:13:59
As others have said, the one positive is that Sam might be shown the door... but next week could be an absolute humiliation.
Jeff Armstrong
73
Posted 31/03/2018 at 21:17:01
Frank Crewe,
Who picked clapped-out Rooney (again)?
Who never lifted a finger to change the standing off and lack of tackling?
You're right, the players do have a responsibility once they go out on the pitch, but it's up to the manager to root the slackers out, and not keep picking them!
Tony Stanley
74
Posted 31/03/2018 at 21:17:40
Whoever thought hiring Sam Allardyce was a good idea has a brilliant sense of humour.
Peter Fearon
75
Posted 31/03/2018 at 21:32:18
Frank, the manager sets the table. Yes, individual players have to take responsibility but the manager has the primary responsibility. You can bet his next ten-course dinner that he would be taking credit if we had won. It was a spineless performance from a team with spineless incompetent Neanderthal leadership.
Paul Birmingham
76
Posted 31/03/2018 at 21:35:52
Next week, I sense most don't won't to admit, but the truth is this is the culmination of 33 years of neglect.
Allardyce was sworn in and had a challenge to stay up this season. God only knows what the Klegg regime done but it enhanced an already rapid decline of a once very proud club.
It's beyond my knowledge but it's safer backing Everton to lose than win. I've hit the road, fibbed work etc but this season has worn thin my thimble of hope..
I don't have a clue any more, but it hurts and next week, it's almost a routine joke now, even, with the RS.
The club is "in despair" and needs a miracle.
Andy Crooks
77
Posted 31/03/2018 at 21:40:27
I have a horrible feeling that the odious Allardyce and his crew of second raters will be polluting our club next season.
I challenge any Evertonian to put up an article offering a defence of this money-grabbing prehistoric thief. His appointment was, in my view, the lowest point in our history.

Jim Bennings
78
Posted 31/03/2018 at 21:46:09
Everton have no hope of winning next week.
Do the players even believe it's an important game? Or are they just happy to coast through the final few games now ambitions of survival have been reached and they can all slope off on their lavish holidays again in good health?
I'm personally sick of seeing continued failure at Everton Football Club simply lauded as stability.
Finish 7th last season in a mediocre league? Pat yourselves on the back and despite spending 𧶨 million pound Moshiri is settling for more of the same in summer rather than have sky-high ambitions of challenging for a Champions League spot.
Same this summer no doubt won't it? Sam keeps us up that's what's he was paid to do, wow great yes, so what do we do just keep him for another year, hope in blind faith we amble to 40 points by April by dragging out players past their sell-by date like Jagielka, Williams, Baines, Rooney etc.
All this while failing to lay a glove on any of the top 6 sides home or away and trying to hope for a dour draw if luck is on our side.
We really are a rudderless, leaderless club from top to bottom.
Ray Jacques
79
Posted 31/03/2018 at 21:46:59
Lawrence, spot on. This is no longer the proud club I have supported for 45 years. The rot comes from the buffoons at the top and has been festering for years.
Managers will now come and go every year, players will keep changing and results will still disappoint. We are run as a hobby. The RS don't even bother when they beat us as we are pitiful. I despair about the whole sorry mess.
Dave Abrahams
80
Posted 31/03/2018 at 22:00:56
Allardyce has limited players to choose from but only an idiot or someone taking the piss would have picked that midfield set-up today.
Everton were very embarrassing without the ball but much more so when in possession of it; City won in a canter, they never even broke sweat.
Not many of us really expected us to win against such a fabulous team, and City were brilliant to watch, but Everton just sat back and admired them instead of doing what every team should do, fight back, roll up their sleeves and get stuck in. Hardly any of our players showed any fight or pride, just sat there and accepted that City were going to win.
Allardyce is laughing up his sleeve at us and the club. Much better if we give him his money now and let him go, he's not interested. Today proved that to me.
Paul Birmingham
81
Posted 31/03/2018 at 22:01:27
Going to Goodison Park now is no longer special in that the menu hasn't changed and basically the club has no proper plan and leadership and no defined strategy.
33 years ago, we were in the frame and now we don't have a game plan. Cruel and tough love, so-called... but we could all be very truthful in our views of the decline of Everton FC.
City were wiped out 20 years ago in terms of prowess and have no history... Please get the shrinks and what is needed to turn the tide at Goodison Park & Finch Farm.

Stephen Davies
82
Posted 31/03/2018 at 22:10:04
They say every cloud has a silver lining...
Well today the board surely saw how far behind we are and the plan has to be redrawn. The Board must see that BS is not the answer and they must do everything possible to get Fonseca or someone of similar calibre who has the will and vision to progress this club. And get that right man in place at the earliest opportunity!
Otherwise fans will vote with their feet and those that are there will get use to shrugging their shoulders and accepting regular losses at home.
We want ambition, fight, vision, the will and know how to succeed and that is embodied in the Manager... all good teams reflect their manager... we want and need a manager who wants to be the best and is not afraid of the rest.

Andrew Clare
83
Posted 31/03/2018 at 22:13:25
I thought eleven years of Moyes was bad but I was wrong; what we have now is disastrous.
Andrew Heffernan
84
Posted 31/03/2018 at 22:23:02
David (40) - John Gregory just lifted the Indian Super League... just saying!
Ian Edwards
85
Posted 31/03/2018 at 22:26:59
We just lost to the best team the Premier League has ever seen. Some fans need to keep a sense of proportion.

Andrew 83 is way off beam. 11 years of Moyes was far worse than anything. Allardyce has taken us from 17th to 9th. He's had one January transfer window. Stop the bullying.

Yes, that's what it is... all the 'gravy' insults.
Paul Taylor
86
Posted 31/03/2018 at 22:28:09
Today was, as expected, a complete disaster. Not because of the score, as many teams better than us have succumbed to the dominance of Man City this season. But for the lack of personal and club pride, devoid of any fight and any passion as a team. The type of attitude you find in a cup tie where smaller teams upset the big fish. With Everton you get maybe 2 or 3 players per game with this philosophy, what stops the others having a similar outlook as they pull on our Royal Blue?
Like many have said on here, the club needs rebuilding from top to bottom. A new manager and a board shake-up would be a good start as soon as possible... then progressively everything else. This will no doubt take some time, so, apart from maybe a good FA Cup run, I do not see any challenge for the top honours for many seasons. 
In the meantime, to the players, can you please just forget the money, your wife, lifestyle, holidays, managers instructions and give the supporters a minimum of 110% effort and earn some pride in your individual performance and show some pride in the team that pays you... just for 90 mins per week... maybe sometimes 180 mins... is this too much to ask?
Probably...
Colin Glassar
87
Posted 31/03/2018 at 22:36:34
Paul B, that's the sad truth, mate. Despite our love and passion for the club, the bitter reality is that we are a broken club full of broken dreams.
Ever since the European ban, we've been in a slow but steady decline. We are now looked on with a mixture of empathy and disgust by the football community. We are a bit like the old slag who holds up the bar in your local. She was once a looker but now everything is drooping and the fags and booze have taken their toll.
I thought Moshiri was the answer but he's proven himself to be an even bigger tit than the fella who bamboozled him into buying his shares. I ain't got a clue where we are heading to but it's going to take a titanic effort to turn this ship around with the captain and crew we've got at present.
Brent Stephens
88
Posted 31/03/2018 at 22:52:37
Philip (#21),
"Man City will be Champions, the club who has been shit far longer than we will ever be."
I don't really see the relevance of that in the context of today or in the context of the thread. I think we have more grace than that.
Barry Thompson
89
Posted 31/03/2018 at 23:00:40
Colin G – 'I ain't got a clue where we are heading to but it's going to take a titanic effort to turn this ship around with the captain and crew we've got at present'.
How about a fucking big iceberg, Colin?
Brent Stephens
90
Posted 31/03/2018 at 23:01:02
Schneiderlin has played some poor games for us but today was disgraceful – looking for space to move into when the opposition had the ball so he didn't have to tackle an opponent; moving towards an opponent who was in possession but again so slowly he didn't have to commit to a tackle. Cowardice of the highest order. Hang your head in shame, Schneids, and Allardyce for picking him again.
Do we really think Davies would not have closed down opponents with more commitment, nay more honesty. Disgraceful. Fraudulent.
Chad Schofield
91
Posted 31/03/2018 at 23:08:55
"You can win the league without beating each other as long as you beat the bottom 10 home and away. You want to do your bread and butter games, the games that get you up there."
Just please go Hippo Head. You set us up to draw against West Brom... You're a fool, a conman, a dinosaur and deluded.
Mike Price
92
Posted 31/03/2018 at 23:09:11
We should have tried Dyche, no one could be as bad as Allardyce. He has the afront to treat the club and support with complete disdain, he doesn't like us and is laughing all the way to the bank.
The next appointment is utterly critical to our and Moshiri's future.
Eddie Dunn
93
Posted 31/03/2018 at 23:22:05
The team sheet with Rooney and Schneiderlin suggested that City would waltz straight through us, and they did. With cover as piss-poor as Bolasie, Calvert-Lewin and Walcott, the defence were always going to be in for a battering. Allardyce clearly hasn't a clue.
The crowd seemed unhappy but understood we were playing the Champions-elect, a lovely blended team who have thrashed far better sides than us this season. However, there will be no such patience when the Shite come to play.
If we have the same lack of commitment, energy and passing skills, then another reverse is coming, by a similar score.

Justin Doone
94
Posted 31/03/2018 at 23:24:03
Cheer up. We lost to the Premier League Champions – just like most teams this season. That is at least what I try and console myself by saying. The biggest problem is the manor of defeat and continuing lack of team cohesion and tactics.
All 3 managers have failed to improve this. They all tried different players and tactics (apparently but its hard to tell) without once looking like a team with a plan.
My opinion since early in the season is that Schneiderlin and Williams should never play for our club again. Both should be ashamed of their woeful displays. Neither good enough to be the driving force or leaders we need.
With the squad we had it should have been 5-4-1. Midfield should have been Davies and Beni along with Rooney and Walcott. Youthful energy and Rooney's experience. Bolasie should be a surprise sub because he's hit and miss at best. Calvert-Lewin upfront.
Midfield is the driving engine for all successful teams. We have a lawnmower engine in a double-decker bus. Lacking power, speed, creativity and manoeuvrability. The bus driver and operator lack ideas, understanding and seemingly don't know how to go about fixing or improving the situation.
We need change, we need Mancini.
Ray Roche
95
Posted 31/03/2018 at 23:26:58
Shite as we were, and it's difficult to remember a more spineless, incompetent bunch of fraudsters masquerading as footballers wearing the Royal Blue, but sometimes you just have to put your hands up and say "City were great".
They were like visitors from another planet, a planet where football is King and Allardyce would be in the stocks for the amusement of the proletariat. His idea of football is so far removed from what we want to see at Goodison, the slimy, crooked tool should not be allowed anywhere near our club again. Shameful.
Danny Baily
96
Posted 31/03/2018 at 23:27:25
Dead rubber anyway. We won't be kicking a ball in anger for months.
I'm hoping for a cup run next season to boost everyone's spirits.
Mike Keating
97
Posted 31/03/2018 at 23:37:49
Kevin Tully @ 23
Hang your head in shame.
As we left the ground, Speedo Mick was still mincing about in swimming trunks and cap! Just reaching for the Mountgay rum, BTW.
Jon Withey
98
Posted 31/03/2018 at 23:39:35
Agitates me to see Davies and Niasse dropped again when they bring so much energy to the team – seems that this doesn't show up on Sam's stats.
That said, the impasse at the end where we were just watching them pass in front of us without making any attempt to hassle or press was embarrassing and clearly coached.
City are great and I didn't expect a win – but the fight and spirit seems to be eroding from the club since Moshiri – is that the effect of money? Mercenaries?
Michael Lynch
99
Posted 31/03/2018 at 23:42:34
City were wonderful, as will be the Shite next week, and we were woeful. Miles behind, as others have already said.
It would be great if we could find a decent manager and replace 80% of the squad, but it will take time. I can't really see next season being much better than this season, whoever is in charge... Fucking hell.
Mark Wilson
100
Posted 31/03/2018 at 23:49:20
A lot of posts since Sam Allardyce arrived have started "I didn't really want him but thought he might keep us up and I would give him a chance". I've done several like that. Sorry. It's irritated a few of you. But it was the truth. I even accepted Sammy Lee for pity's sake and, to be honest, I'm surprisingly impressed by the guys clear commitment and think he really wants to win with us. So where the hell have we got too ?
Allardyce, his management team, and possibly Duncan cannot sustain. The fan base is so heavily against the manager that he gets blamed for every defeat, every word he utters post match is dismissed as rubbish. He surely won't be here after the last game, maybe even sooner. But as to whether he's responsible for the mess, and defeats like this one today? Well, for some it's clearly enough, Allardyce it is; Allardyce out. If only it were that easy, that simple.
Why does the owner escape so lightly? He was meant to be the saviour. He has money but not quite enough. He has made a whole slew of awful decisions. Koeman, Walsh being the worst. He's looked naive, incredibly inexperienced, soft and vulnerable. Most have focused on his stadium activities and loan repayments and even buying the bloody Cunard building at the Pier Head.
Mr Moshiri appointed Koeman after the Martinez disaster then had to sack him after he watched him and Walsh lead the worst player acquisition plan in the clubs history. Then we dawdled over the replacement, then he embarrassed himself appointing the guy he initially passed over then he embarrassed himself at the AGM amid his Jim White rubbish.
He may well be a great businessman. He may well be doing well progressing the new stadium. But leading a football club and understanding what his priorities should be ? Not impressed at all and I don't care how much money he's alleged to have put in. He's escaping real criticism somehow and I've no idea why.
Bill Kenwright? No idea what the hell is going on there. Hoping he's not ill again, but when things are as bad as they are now you need leadership and it's not happening, is it?
The players? Never, ever, have they too escaped as much whilst the short term manager gets all the heavy stick. Few of them are exempt in my view. Allardyce gets smashed for saying what every fan should have seen. Bolasie's terrible miss was pathetic and may have changed things, who knows? But nope, the 㿊m man is still coming back from a serious injury. He's going to be doing that for years now, trust me.
We don't have any real quality at centre back and it doesn't take the best to show that, any club in the professional leagues will run them ragged. Left side of the team is pretty much non existent... and forwards? Sorry but Tosun's work rate is not going to hide anything. Selling Lukaku with no plan to replace him is a Titanic-scale disaster for the club and will take many years to put right, if ever we do.
Shameful lack of effort, dire lack of quality. A leaderless club. I've just not seen it this bad for ages but we look like we are staying up thankfully and even next week's likely disgrace won't change that. I still cannot believe it's ended up this bad and only took less than a year to see the hope collapse.
Phil Walling
101
Posted 31/03/2018 at 23:58:42
Mark, thank you for expressing all I feel about the mess, muddle and Moshiri. All-in-all, the club is a fucking disaster!
John G Davies
102
Posted 01/04/2018 at 00:06:16
Doom and gloom abundant. Not sure what game some watched tbh.
Watch it back and post how many tackles you think were there to be won but were shirked. They moved the ball too quick for us, one touch, rapid movement football. We were chasing shadows all night.
Joe McCormick
103
Posted 31/03/2018 at 00:08:41
I agree, the most damning statistic – and there were a few tonight – was no bookings. I appreciate it's a different game but the number of times they were taking the piss was ridiculous. The space given to their players was unforgivable.
You can't blame Moshiri – he has spent decent dosh. Let's hope for a bit more of a backbone next week.
Andy Meighan
104
Posted 01/04/2018 at 00:08:43
I couldn't believe the first half I witnessed today... a total an utter embarrassment. We never laid a glove on them. Yes, they're a good side... but Burnley and Palace proved you can play them, ie, press them high up the park, give them no time on the ball etc.
But no, not us. We let them completely stroll round and play in and around us. Easy. And by the way... expect more of the same next week. Goodnight!

Andy Meighan
105
Posted 01/04/2018 at 00:16:06
Mark Wilson (#100),
Absolutely brilliant!! Best post on here for years.
Derek Thomas
106
Posted 01/04/2018 at 00:22:26
Some people are hard to please, I thought it was an excellent game, really pleased to see true School of Science football back at Goodison, it was like going back to 69-70.
Gavin Johnson
107
Posted 01/04/2018 at 00:34:39
It was like watching men against boys! 1-3 really doesn't do City justice.
As soon as I saw the teamsheet, I could see trouble. If Wayne Rooney is playing central midfield we need a high-energy player like Tom Davies starting. If he's carrying a knock, try Beni, Klaassen, or even Vlasic. Any of those those would offer more energy than Schneiderlin who has to leave this summer, alongside Williams.
Ian Smitham
108
Posted 01/04/2018 at 00:39:46
Ian Edwards (#85) and Ray (#95), sadly you are so right. I went today and after 30 odd minutes the game was over and the guessing amongst us was how many City would score.
Sometimes I set aside passion and try to look each season at the best opponent I have seen at Goodison. I think back now at the best teams I have seen at Goodison, seen Man Utd win the League, the Arse with Ian Wright, also, too often Liverpool. Chelsea too and Spurs.
Citeh, today were simply the best side I have ever seen, (aside from our 1985 team-obviously) the game of football is what it is for most, they are at a different level, playing a different game. We were poor and Jags, Tom, Baines and Pickford were the only ones who even seemed bothered.
For those that doubt Guadiola, look at the improvement in their players, who cost a fortune anyway, De Bruyne is unplayable, Raheem Sterling is light years ahead from when he left the neighbours, and I know Johnny was not playing, but when I watched him play for England last week, wow.
To end, Sane. Simply fantastic. Glad I have seen him again. I felt so proud of our fans clapping then off at the end, true sportsmanship and class, unlike their fans when I went to fill up the Emptihad at the semi-final, when they were photographing suspected Everton fans and getting them ejected.
Ernie Baywood
109
Posted 01/04/2018 at 00:47:01
That was a bigger injustice than when we managed to only lose at Spurs by one goal.
City are just light years ahead of us. For as much as we were poor, they were incredible in that first half.
Foot off the gas in the second and a 3-1 home loss was incredibly flattering to us. I suspect if we'd somehow scored 3, they would have bagged 5.
The only question for me is why we waved the white flag prior to kickoff. If they're that much better than you, then you're going to have to chase and fight. No Gana but players like Davies and Niasse will at least give their all. The team we sent out looked like it had no real plan except to just coexist on the same pitch as City for 90 minutes. That's not good enough.
John G Davies
110
Posted 01/04/2018 at 00:48:28
Ian Smitham,
Perfect summation. I posted it earlier, the best side I have seen since the Premier League started.
One-touch passing, movement to create space beyond anything I have seen in modern-day football. Barcelona at their very best excepted.
Matt Woods
112
Posted 01/04/2018 at 01:09:09
As hurtful and embarrassing as it is, the season ended at Stoke. Fatman had already stated, the quicker we get to 40 points the better and draw a line under the season. These were the words of the manager of Everton Football Club. In his mind, his job is done. He is a raging narcissist.
Anthony Murphy
113
Posted 01/04/2018 at 01:11:06
When we had no money, we had more unity, more fight, and an "us versus the world" mindset. We made up for what we lacked in quality by working hard and making Goodison an intimidating place.
We've now spent a few quid and the atmosphere around the place smacks of frustration due to lack of expected progress on the field. Off the field, we are (it would appear) making headway, but going to Goodison this season is like something I've never witnessed before
No-one seems to give a shit anymore.
John Boon
114
Posted 01/04/2018 at 01:19:40
Other than satisfaction at being able to express concerns about how badly we played today there is little relief on the horizon. We just don't have the players that City have. We also have a manager from the dark ages.
The general tone of posts on TW is of total confusion. Everton today reflected that confusion. I am sure Allardyce fully expected to lose and basically prepared the players to lose.
As disappointed as I was about every aspect of the game, I don't think the players were deliberately playing badly. They were given a lousy game plan and, although it was obviously not working, we are saddled with a manager who really demonstrated that he didn't have a clue on how to change things.
I am always hesitant to complain about Moshiri. He is spending his money on very poor players who Koeman decided would turn our team around. Why should Moshiri know any more about who to sign than the regular supporter does? Hopefully he has patience as well as deep pockets. He definitely needs to have people around him who actually know about signing the right people, whether they be managers, scouts or players.
Koeman was a disaster. Allardyce was dealt a lousy hand. Unfortunately he is not the person to right a sinking ship. He is about as inspirational as a traffic light. However, he is very adept at managing to always say idiotic nonsense when he is interviewed.
Clive Mitchell
115
Posted 01/04/2018 at 02:26:04
John G Davies (#102) – exactly.
We were totally outplayed today, but were a lot less awful than we were under Koeman, and he is the second worst manager in Everton history.
Soren Moyer
116
Posted 01/04/2018 at 02:54:49
Love the ever optimist analysis of the line-ups before the games!
"Calvert-Lewin is better play there"... "The line-up looks good"... "If we stop De Bruyne, we win" etc.
We never learn. This team, the manager and the board need replacing ASAP if we want to progress.
Tony Abrahams
117
Posted 01/04/2018 at 03:21:34
Very good post that Ian@108, and shows that Evertonians will always appreciate real quality, and which is why, this present time is just so hard to accept?
On holiday, I saw the team and never even bothered to watch. The complete lack of thought about trying to make us competitive against so much quality never made no sense and I'm glad I wasn't at Goodison to see it.
Brent, if Snides was that bad, I'm even gladder I wasn't there, but what can you seriously expect playing him with Rooney? No legs and no heart, what a fucking combo that was.
I live in hope though and hope to be singing at Goodison next week "Were shite, but we've fucked the Shite" because, after witnessing this starting eleven, I'm sure Allardyce was already targeting next week!
Pete Clarke
118
Posted 01/04/2018 at 03:31:32
Watching from the other side of the world, I could not keep my eyes open any longer in the early hours and went to bed at half time.
To wake up and see that result of 1-3 was like a victory given what I had seen in the first half and City obviously took it easy with the game already won.
How on earth is Schneiderlin allowed to play for us again, I don't know, let alone alongside the pensioner. Obviously Sam thinks he knows best or he simply doesn't give a toss!
Admittedly, our team of '85 would have had a battle keeping City at bay in this form; so expecting anything other than defeat seemed like lunacy. The way we go about defeat is another thing and we are so Short of quality and intelligence that it will take many years of astute leadership to put things right.
Given what I've seen in the past two seasons does not bode well for the future.
David Barks
119
Posted 01/04/2018 at 04:18:17
Clive,
You're joking right? You realize we never lost to them under Koeman, right? No?
Derek Knox
120
Posted 01/04/2018 at 04:54:44
In all honesty I never expected a win against City, even if they had fielded a weakened team.
What really gets me, and I'm sure I'm not alone in this thinking, is the manner in which we meekly surrendered almost. There was very little joined-up anything, from passing to thinking, to fighting spirit.
I am sure the only ones leaving Goodison with genuine remorse and regret were the fans.
I noticed towards the end there were a lot of empty seats, which is a sad indictment, but hopefully not lost on the members of the Board who were present.
I also didn't notice or see if Moshiri was there, surely he must have watched this mismatch in some capacity, and hopefully he is spending most of the oncoming days sharpening and honing his axe.
Brian Porter
121
Posted 01/04/2018 at 06:55:22
Allardyce has no love for Everton and even less respect for our fans. His pronouncement the other day that he believes the fans are behind him is the biggest joke of the season.
As for Moshiri, he might be the majority shareholder but he doesn't 'support' Everton and has no idea how to run a football club.
We have Steve Walsh, a PE teacher, being given millions to spend on player recruitment and failing miserably. It's like the blind leading the blind, and yesterday we saw the result of a mish-mash team selection from a manager who couldn't give a toss and who made no attempt to instil some fight into the team.
Bolasie was useless, why not give Vlasic a call, Sam? He would have put more effort in. And Niasse could have come on much earlier and at least would have run at their defence and given them something to do. Schneiderlin as usual made it look like we were playing with ten men from the start. Possibly the worst selection of the Allardyce era.
I think even Klaassen might have been more effective than Wayne yesterday. He has the same kind of skills as some of the City squad and would probably be doing better for them than he has been for us purely because we have never given him an opportunity to shine over a period of time.
Finally, congratulations to City on showing Allardyce up for what he is, a total dinosaur, out of touch with the modern game and a white-flag-waving coward unprepared to even try something different in an attempt to take the fight to our opponents on home ground. I never expected us to win yesterday but it would have been nice to say we tried to give them a game.
Allardyce Out!
Brian Dagnall
122
Posted 01/04/2018 at 07:20:30
Well my opinions are a little different from many on here. I do not consider our players play with zero passion, like some folk say, but we do look like second-class players when being outclassed as we were by a superb Man City team.
Comments like "Get rid of the whole lot, sack the manager, and change the board" are just stupid. People on the board own the club, they are not there because of a popular vote, but because of their ownership of the shares. You wanted a billionaire... you got one, so what next?
I am disappointed with the playing system of the team which looks so dated. Can't expect Guardiola sophistication just yet, but surely we need to pass the ball about with some purpose rather than hoofing it hopefully to the forward men. Midfielders make opportunities by running at defenders allowing frontmen to find space. We pass the ball back too often from where the ball is hoofed forward.
This is a cultural change in the management of the club. Whether older guys like Allardyce and Lee are able to do that, I have real doubts. I do feel that some of our players could respond well to a cultural change like that, whereas others could not; that's life, we have to move on.
For me, the first step is to get a new management culture in our club with a young manager. Second step is for us to be patient while he does his job.
Stephen Brown
123
Posted 01/04/2018 at 08:22:29
I'm sure we've all played football at differing levels against much better sides. When you do there are some simple rules:
1) Make the game awkward;
2) Get tight/ close down/ leave a foot in;
3) Get a tackle in early;
4) Don't concede in first 10 minutes;
5) Get in their faces.
Etc etc etc
In fairness to City they are an excellent team but we did none of the above! Not helped by the ridiculous decision to pair Rooney and Schneiderlin against probably the best midfield in Europe!
It truly was hard to watch from an Everton perspective but can only think that from a City perspective it must be a dream to watch!
I'd be happy to take Arteta as manager if he's learnt anything from working with that squad ! And tell him to bring his boots!!!
Gio Mero
124
Posted 01/04/2018 at 08:47:59
Sure we could have roughed 'em up a bit to test how much they were up for it yesterday but, with this personnel, we could hardly intimidate a youth team.
Now is it just me or with all the criticism thrown at Allardyce, Koeman, Kenwright, the players and so on, the elephant in the room is that, since Moshiri's arrival we've gone into a downwards spiral which doesn't really bode well for the future?
It doesn't bring any football competence (in the form of good advisors obviously); didn't really spend that much money (and spent it poorly); the managerial saga was farcical, so are his communication strategies.
What on earth is going on?
Terry McLavey
125
Posted 01/04/2018 at 08:49:27
I watched, not unsurprisingly, Schneiderlin move to the side to let a City player have a clear shot on goal!
The "man" is a disgrace to the shirt and should never wear it again, what sort of person puts in a "performance" like he does and deems it acceptable? The money he grasps for this is obscene!
Ron Sear
126
Posted 01/04/2018 at 08:56:02
Only two words come to mind about that team, with the exception perhaps of Baines and Davies – Abject Cowardice.
Mike Kehoe
127
Posted 01/04/2018 at 09:04:08
Reality is that this result will be unremarkable to everyone who is not a blue, and I include Allardyce in that group. Man City were fantastic and their style of football breathtaking; next week we face another team with frightening attacking threat where defeat is routine and particularly painful.
Many have stated we want two up front at home and use yesterday as evidence that wouldn't work. Hardly seems fair really as Schneiderlin and Rooney are hardly first choice, and more attacking formations would surely have overcome many very average sides where we set up defensively and squandered points.
Also, Moshiri will have no idea what Goodison can be like when the oxygen of optimism hasn't been incinerated by incompetence and apathy. History is just that and counts for nothing in practical terms.
We have been stagnating for decades and the halcyon days of Moyes are long past and we are in the same group as Newcastle, West Ham, etc. As much as that hurts, it is true. Who would of thought we would look back at his tepid tenure with warm nostalgia?
The difference I feel is the potential we have: I saw stats about Allardyce being relatively successful in terms of the league position from when he was appointed, he would be 6th or 7th.
For me the only thing I take from that stat is if a manager with any kind of tactical acumen was in charge we could easily be the best of rest, better than even the mighty Burnley. Yes, dare to dream my friend, and be pushing hard against the top six.
The actual squad is better than it has been for many years but the spirit and passion has gone. For me any manager who can develop a strong team spirit and has a clue about tactics will be more successful.
The season is over and, on the evidence of absolutely everything Allardyce has 'achieved' this season, we will be absolutely twatted next week: ask yourself what would a drubbing mean to a man of Allardyce's calibre and integrity; for us it's more than three points but defeat for him will be an acceptable aspect of the plan.
Get rid now and end this disgraceful chapter.
John Charles
128
Posted 01/04/2018 at 09:29:45
First things first – City are miles better than us or anyone else in the league. A joy to watch. We are not.
Having been bombarded all week with the reminder that the need to renew before Friday I was looking forward to watching De Bruyne & Co and seeing how an upbeat, aggressive Everton knocked them off their stride and gave them a game. I never thought there would be any other result than a City win. I also never thought there would be such an abject, lifeless, spiritless performance from us.
I truly dislike Fat Sam and believe most of the blame for our piss-poor showing lies at his feet. But my god we have some truly shit players – Bolasie and Schneiderlin being stand-outs.
If, god forbid, Fat Sam survives into next season, I believe we will go down.
Ken Kneale
129
Posted 01/04/2018 at 09:37:21
Incompetence at the top, gutless and guileless on the pitch, and coaching staff with no heart for what this club was, should be, or could be. Honestly, what do we all expect with that mix?
We have been mugged by frauds for decades and now have the club they deserve, leaving us bereft week on week. It is an absolute scandal that we are in this position but, as Mike and John above point out, unless something happens, worse is to come.
Peter Mills
130
Posted 01/04/2018 at 09:44:07
Ian (#108) – Nice post. I said to a pal before the game that I feel I am now attending Goodison as an observer rather than a supporter, such has the hope been drained away.
Putting the passion aside, as you did, it was entertaining to watch a masterful display of football, and I was one of those who waited at the end to applaud the City players off the pitch. Having seen Everton players similarly saluted by opposing fans in the 60s and 80s made the experience very rueful; we are a long way away from it now.
Pete Clarke
131
Posted 01/04/2018 at 09:51:11
All of you season ticket holders and the regulars should be given a total freebie next season based on the shite you have had to endure this season.
As mentioned somewhere above, if we keep this clown as our manager, then his relegation-free CV may come to an end as I don't see the any decent players coming to work for a caveman.
If Sam stays, then we should should fight to have the both of them removed.
Where does our misery end??

Clive Rogers
132
Posted 01/04/2018 at 09:58:14
Pete, I don't know where the misery ends, but it started with Kenwright.
Andrew Presly
133
Posted 01/04/2018 at 10:27:49
18% posession for the Home team. Lowest in the Premier League era apparently.
Where is the leadership to deal with this lack of direction? Appoint a manager now!
Mike Kehoe
134
Posted 01/04/2018 at 10:39:09
If Allardyce is retained and given a contract extension, I don't think we will be relegated but will remain the same mid-table ambitionless club with a horrible 'style' of play.
What we are seeing now is the limits of his ability. The full backs have returned so Martina can no longer be blamed. His limitations are there for anyone with eyes to see: tactically inept and unable to muster any kind of determination or fighting spirit.
Young players will be overlooked and seek out moves to further their careers as his special recipe for mediocrity will be stuck to without deviation. The days of Moyes with his 'knife to a gunfight' will seem like a golden age as we settle for survival and we become irrelevant.
Or not; get shut now.
Mark Dunford
135
Posted 01/04/2018 at 10:45:45
Very strange game, flat atmosphere throughout. Moyes's defence and Tosun aside, I thought the balance of starting midfield plus Keane were lacklustre. Rooney bypassed, Calvert-Lewin out of position, Bolasie and Walcott ineffective, etc. Allardyce was clearly out of his depth when it came to this fixture.
Davies made a big difference by bringing energy to the team and Beni looks a really good prospect. It was telling that these two came over to acknowledge those of us left in the Street End after the final whistle.
Other than that, the really depressing thing was the acceptance of the result before the kick-off... and the sense on the train back into town after the game that it hadn't been as bad as it could've been.
Tony Everan
136
Posted 01/04/2018 at 11:02:31
Ian (#108), Peter (#130)
I am the same, an observer, where is the passion?
Yesterday, unfortunately, the players were standing off and observing too.
We didn't touch the ball, just stood back and watched David Silva knock it about.
Okay, Man City are streets ahead, but that doesn't mean that our players can just watch them and not harry, close down, or make a tackle.
Ray Said
137
Posted 01/04/2018 at 11:04:59
Any truth in the rumour that Dignatas are sponsoring us next year?
Brian Harrison
138
Posted 01/04/2018 at 11:20:04
Mark (#135)
The reason the atmosphere is so flat is because we all know that we are watching a poor Everton side that is being managed appalingly. I heard a fan walking out of the game yesterday say to his mate "Looks like the school of science has moved 30 miles down the East Lancs Road." How right he was as painful as it is to watch Everton how nice to see the game played in the right way by a very watchable Man City. I am lucky enough to have seen us in the 60s when we played in a similar style.
I know speaking to many of the fans around me, they all seem to think that Allardyce has done his job and Moshiri will pay him off in the summer. I wish I could be certain of this; last week, I read Shakespeare had moved his family up here. Then, this week, Jagielka saying Allardyce had a tough job when he came in, and then Allardyce when asked about disgruntled fans, said its only a handful that aren't happy. I just hope Moshiri has a more ambitious view of our club than what we have been served up this season.
The stats say we had the lowest amount of possession of any club since the Premier League started, and add the fact that we were at home says everything about Allardyce's style of management. We set out to get as many players behind the ball in and around our 18-yard box. We very rarely tried to take the game to City, and it was obvious that Calvert-Lewin was picked to track Sterling, rather than be an attacking threat.
Schneiderlin and Rooney in midfield against a pacy team like City was always going to be a problem. Why anybody would think that Schneiderlin is ever the answer in midfield baffles me.
You would have thought by getting to 40 points this was a free hit, no pressure nobody expected anything other than a defeat, so at least have a go at City. Bristol in the FA Cup had more attacking ideas against City than we did. Instead we waved the white flag from minute 1 and yes we scored in the 2nd half but it was more a hit and hope shot than a well worked move. And at any point City could have moved up 2 or 3 gears if they needed.
Finally, I think maybe as fans we need to in some way show Moshiri that we may as I have renewed my season ticket, but this in no way endorses what this manager serves up. My renewal of my season ticket is my love for Everton.
Brent Stephens
139
Posted 01/04/2018 at 11:33:42
Tony (#117), "Brent, if Snides was that bad, I'm even gladder I wasn't there, but what can you seriously expect playing him with Rooney? No legs and no heart, what a fucking combo that was".
Yes, I agree, Tony. Both too slow. But I'm more pissed off with Schneids – he hides whereas at least Rooney tries to get stuck in. But, yes, a woeful combination.
Tony Everan
140
Posted 01/04/2018 at 11:42:05
Fonseca, Marco Silva, Eddie Howe, Sean Dyche – all young hungry and could take the club forward. We need some stability and to unify behind a passionate young manager.
I can't see Mr Moshiri sleepwalking into another dead season. The fans have had enough of being totally devoid of hope.
Start afresh, June 1st. Get the man on board no later.
The million dollar question is, who out of those 4 (or others) would do the best job?
I bet a TW poll would be inconclusive.
Phil Walling
141
Posted 01/04/2018 at 11:44:48
Whoever is manager of Everton next season will face a huge challenge. So many of the current playing squad are inadequate – many lacking any semblance of determination, spirit or guts to say nothing of ability – that managing the club has become a veritable curse.
True, it is a pathway to riches few of us can hardly imagine and the fact that the rewards on offer enable those who fail here to coach national teams on a near 'freebie' basis shows how screwing money out of the football idiot 'owner' is a doddle.
We are now truly without hope. Damned to suffer forever more!
Grant Rorrison
142
Posted 01/04/2018 at 12:04:51
I don't think I could watch Burnley style football here. I would go for Eddie Howe personally out of those four. Whether he could make the leap up from managing Bournemouth to us is another matter though. Bit of a commute from the south coast too.
Fonseca manages in a two-horse league. Failed at Porto. Silva didn't really do anything at Watford. They were middle of the road before, during and since Silva's time there. Dyche has made tangible improvements at Burnley but at a price I wouldn't be willing to endure if he was here. Largely the fact that they are absolute shite to watch. Howe has got Bournemouth up through all the divisions to the Premier League and stabilised them. This while staying true to his attacking philosophy.
While Burnley are doing better than Bournemouth this season so I am guilty of a bit of style over substance. Football isn't just about results, it's supposed to be entertaining as well. Who wants to sit through 90 minutes of dross week after week? Might as well keep Allardyce if that's what you want.
But, I would have kept Martinez... so what do I know?
John G Davies
143
Posted 01/04/2018 at 12:18:00
Phil,
Whoever is manager of Everton needs to look at three attributes when considering signings: Pace, pace, pace.
We are the slowest team in the league.
Pete Clarke
144
Posted 01/04/2018 at 12:22:27
Moshiri has to start speaking to the fans and not via some third party. In his short spell as the main man, he has taken us a giant step backwards with his ill judged appointment of two managers and also allowing the very poor recruitment of massively overpriced players.
The ground move is well and truly in the hands of others and his next decision could make or break him. That decision of course being stick or twist with our present mercenary caveman of a manager.
The fact that he is still here is getting under my skin because I am starting to believe our leader likes Sam. That would be a catastrophic scenario for us!

Paul Birmingham
145
Posted 01/04/2018 at 12:26:52
Colin, agreed, mate. The club has no sense of shame and no pride.
It's Easter and fresh hope and rejuvenation, but for EFC, I'm not sure anymore the club is going.
The piss-taking by the RS is absolute but even many of them now don't take the derby seriously..
it's the young fans I really fear for.. .Hope...?
James Marshall
146
Posted 01/04/2018 at 12:34:25
I think it's fair to say that, however we setup yesterday, we would have lost anyway. They scored two when we sat back and one when we pressed them high up the pitch.
Personally, I want Lardiola to leave ASAP but I also think we would have been beaten no matter who played yesterday.
Allardyce is a rubbish manager, but I do partly agree with his comments post-game. City are better than us, in fact City are better than everyone in the division and the majority of Europe too.
We don't have the squad, team, or manager to compete with them so it isn't all down to Allardyce.
David Hallwood
147
Posted 01/04/2018 at 12:35:02
The key word is meekly. Yes, City are an astonishing team but yet another surrender; how many have we seen this season. Call Lardiola all the names you like but all three managers have seen their team collapse without a whimper – deeply,deeply worrying.
Evertonians of a certain vintage have seen some shite, but I'd put Pembridge, Gemmill in front of that waste of a shirt Schneiderlin is; and don't forget he's an international. At least they made up of their obvious deficiencies with work rate and commitment-something sadly lack it throughout this team.
On another note. Whoever the manager is next season should sit down with Bolasie and Lookman for that matter and show them videos of Sane and Sterling. "Use your pace to get into the final third. No check backs, stepovers, trying to beat players three times etc, then bring out the tricks."
Players can improve under great coaches. Look what Guadiola has done for Sterling, and it would be interesting if Lookman was under his coaching.
Tony Abrahams
148
Posted 01/04/2018 at 12:36:11
Brent, I could never question Wayne Rooney because he his first class in everything he does (on a footy pitch) but too much top level football will always leave its mark eventually, and especially when a player plays the game with so much heart and commitment the way Rooney does.
Sncheiderlin is the complete opposite and I wouldn't be surprised if Rooney, coming to Everton, was the beginning of the end for this complete fraud? I bet you Morgan hates getting dug-out and finds it easier to just sulk, which is not something a player could have ever got away with before the game became awash with so much money.
I'm glad I never watched yesterday because Schneiderlin is the first Everton player I have ever despised, simply because of what you said Brent, he tries to play "snide and seek" every game, which is an absolute embarrassment for a player who is earning so much fucking money and can go and cheat the fans, so easily...
Paul Tran
149
Posted 01/04/2018 at 12:53:27
3 words, John G: pace, mindset, identity.
Damian Wilde
150
Posted 01/04/2018 at 13:12:09
The idiot actually said 'we won the second half.' You can't take someone serious who says that.
So many poor players. Bolasie and Rooney have to go too, dreadful. Plus Keane, Niasse, Schneiderlin, Williams, Baines, Klaassen, Sandro, Martina at al. Plus Sams, Shakes, Walsh... Basically, most of the entire staffing.
Worst set-up in decades. Better under Walter Smith.
Dave Abrahams
151
Posted 01/04/2018 at 13:20:22
Tony (#148), I'm surprised you didn't watch the match, I know how much you enjoy cultured football as it is meant to be played.
City were excellent, every player knew his job and the role they were meant to play, with most of them adding a little bit more. It hurt watching an Everton side playing with not a semblance of pride, to even give that little bit more. But it still never took away the pleasure of watching an outstanding team full of artistic talent, surely one of the best performances by an away team at Goodison Park, even if it was against a woefully poor opponent. (I was going to say 'side' or 'team' but we were nothing like a team.
I agree with you about Rooney, always tries, but giving everything for 90 minutes over numerous years have made him a very poor shadow of the brilliant player and athlete he once was.
Wayne, it sorrows me to say it (and it should be someone very close to you saying it) but hang up your boots at the end of the season; how you perform now is making a mockery of the truthfully world class player you once were.
Paul Welsby
152
Posted 01/04/2018 at 13:23:04
I can't see any posts after this match from the people who openly gave it large before a ball was kicked about how we were going to win or nick a draw? Says it all really! How the fuck do you nick a draw but expect a win?
Anyway, I still don't understand all the optimism before this game when their has been no evidence to suggest we would get anywhere near Man City or any other top 7 side.
People said on here "What is the point of going the match if you have no hope?" Well, if are owner tells us not to expect anything from playing these sides, and we have a manager who clearly, unless your blind is a dinosaur who plays anti-football. Insists on playing Schneiderlin, Williams before his suspension and Martina when it was so obvious he just wasn't capable. He openly laughs at us, yep us the supporters who were here before him and will be after he has long gone, because we dared to question his managing ability.
So what does it take for us the supporters to do something about it? Apart from the deluded 7%, we have to make Moshiri see and hear, this is not acceptable anymore. Being an Evertonian is much more than just going the match – it's making sure we are run the right way, we are managed the right way, and we have players who leave everything they have to give on the pitch. At the moment, we have none of the above? To do nothing is a dereliction of duty imo. We all pay hard-earned money to go the match and buy the merchandise, so we have the right to do something about it!
Someone said in an earlier post that they would attend the match, no matter who was the owner or manager, and regardless of what division we're in! Great, brilliant... but wouldn't a part of you think to yourself "If only, as a group of supporters who want the very best for our great club, we had just all stuck together and done something? We wouldn't be sat here in the Championship watching Everton vs Barnsley, Preston and the likes."
For some people, Everton going down will never happen. Well, the speed we are imploding, I wouldn't bet against it next season! Especially if this clown is in charge and our owner keeps on making disastrous choices. If you keep filling the ground and buying season tickets to fill the coffers of our board, you will only get more of the same!
Look, I am not criticising anyone who does keep filling the coffers but doesn't it drive you mad that they just keep delivering utter shit every fucking season? What is your breaking point? Relegation? Well, if it is, then we truly are fucked. The evidence shows us it's getting worse and fast so the optimism and hope some supporters have is like putting your head in the sand and praying it won't happen. I hope for your sake it doesn't! But I definitely wouldn't put a penny on it – we are a sinking ship, and it's sinking fast.
Nicholas Ryan
153
Posted 01/04/2018 at 13:29:06
Sam's remark about "We won the 2nd half" made me chuckle, 'cos it reminded me of an Aussie friend, who said the same thing, about a rugby match between New Zealand and Western Australia. WA did indeed 'win' the 2nd half 3-0. Unfortunately for them, the score at half-time had been: All Blacks 100 WA 0!!
Clive Rogers
154
Posted 01/04/2018 at 13:58:18
We may have made another poor signing in Tosun. He may be able to finish, but was poor yesterday and it is clear that he lacks pace in his general play.
Mike Powell
155
Posted 01/04/2018 at 14:15:02
Well it was nothing more than I expected, Man City are on a different planet than us. Nothing will change at our club until Hippo Head leaves or gets sacked. To tell the truth, he should've gone after the Arsenal game.
I say the same thing every week – we need an overhaul, starting with the two Sams, then get rid of most of these players. We should never have brought Rooney back – he is getting worse by the game.
I could carry on ranting but what is the use because nothing will change.
David Hallwood
156
Posted 01/04/2018 at 14:22:30
Dave (#151), I agree with you about Rooney, but he's the same age as David Silva and it proves how much lifestyle affects a player at the top level.
William Gall
157
Posted 01/04/2018 at 14:27:31
Yes, you have to agree with Allardyce in his assessment of Man City's performance, but what you have to disagree with, is putting two of the slowest midfielders we have against them, this demonstrates how far behind the times this manager's thinking is, for modern-day football.
I cannot believe that any supporter will want this manager at the club any longer with ideas that went out 10 years ago. He also demonstrated that he was more interested in watching City's style of play that it took him nearly 60 mins before coming out of a daze and making a change. We never won the second half; City took their collective foot of the gas and humiliated Everton with their ball retention.
Another ridiculous quote that is on the same level as that one, was when he said that it was just a minority of the fans that were against him, and that the majority were behind him. Beware of people behind you – they usually stab you in the back.

Derek Thomas
158
Posted 01/04/2018 at 14:29:07
William @157; Can't run and won't run.
Grant Rorrison
159
Posted 01/04/2018 at 14:33:22
If we don't sort player recruitment out, we can forget about making any progress. City didn't become a dominant force because they got rid of Hughes and brought in Mancini. They did it by signing Aguero, Silva, Kompany, etc.
If the money and ambition is truly there then we need to stopp wasting it on run of the mill premier league players from little clubs like Swansea and Palace or splashing £20-30 million on some fella that's done okay in an obscure league like Turkey or Holland and instead find a way of attracting genuine talent.
Tom Bowers
160
Posted 01/04/2018 at 14:51:31
We all have to admit that Everton have many players who are not performing apart from the second-rate ones they have signed. We all have a list of players we believe are not performing but sometimes we have to look at the broader picture.
The coaching staff and the manager devise the methods and strategy of how the team plays and if that is good then the players themselves are to blame for not doing the business.
It is pure conjecture about what is really wrong behind the scenes but when the season started with an £11 million pound player not even being given a number, the red flags were raised and Koeman was under severe scrutiny.
Signings like Klaassen, Sigurdsson, Keane and Martina have for the most part been a bust with some others not far behind.
Allardyce is a journeyman manager but not the answer and quite honestly they should have left Unsy in the job a while longer.
We need more tackling ability from midfield with more speed to boot but Davies, Rooney & Co just don't have it.
Kevin Tully
161
Posted 01/04/2018 at 15:12:26
We have gone from signing a few decent players over the past 20 years, to signing anything that moves (see Vlasic).
It's time for honesty,: when did this club last sign a truly great player? The likes of Arteta and Cahill were decent, but don't kid yourselves about how good they were. The fact is, we won nothing whilst they were here.
How many players have Southampton found or produced over the same timeframe? A full team of great players, at least.
Our scouting is either totally useless, or non-existent. How haven't we found a few top-class players in 20 years? It's fucking nigh on-impossible not to unearth some great players in that time for a club this size.
Who has been the Chairman / owner overseeing this shambles? Coincidence? I think not.
Tom Bowers
162
Posted 01/04/2018 at 15:38:40
I disagree with one or two points, Kevin.
Arteta and Cahill were exceptional; in their prime and with the right team, I am sure that team would have had success.
Sometimes, however, a team such as Leicester comes along with a squad of no-names and does the business. That may just be sheer luck but it didn't come without management, coaching and sheer graft throughout to obtain what they did.
Everton, this season have shown no graft, no spirit and a total lack of inspiration for the most part, even Rooney has been far too subdued.
Man City have spent billions of Arab money to get where they are but, without a class management team, it could all have been wasted.
Colin Glassar
163
Posted 01/04/2018 at 16:35:43
I'm not sure about not buying decent players, Kevin. Our main problem, imo, is the laissez-faire attitude of our board and their complete acceptance of mediocrity and shiteness over the last two decades.
If there's no ambition at the top (Moshiri gets a pass so far) and no insistence on a modicum of effort then the majority of overpaid ponces who sign for us don't have to give a toss do they? Why bother to put in a shift (or even turn up see Van der Meyde, Gibson, Pistone etc) if the tossers at the top don't appear to give a fuck?
The reign of Boys Pen Bill will be remembered (by many) as a Dark Age in Everton's history. He is our Chamberlain when we need a Churchill. His acceptance of just being one of the sheep has permeated throughout the club and it needs to be lanced like an abscess if we are to ever have any chance of returning to some sort of normality.
Kenwright and Allardyce out!!!
Craig Walker
164
Posted 01/04/2018 at 16:37:04
I saw Wigan knock Man City out of the FA Cup with a bit of luck but some effort, belief and a striker who took his only chance. We were beaten before we even kicked off.
Maybe we won't win anything for a very long time but if we can't even compete against a good team or anywhere away from home then what is the point? I don't like that lot across the park but they hounded out Gillette and Hicks when they were fed up of how the club was being run. We just turn up and moan on TW.
I don't know what the answer is but it must be possible to find players across the globe who have ability, a hatred of losing, and want to compete for us. I can see dozens of players in this country alone who would perform better than most of our squad.
We won't even compete in our cup final next weekend. At least the Peter Johnson era meant we had some derby pride.
Raymond Fox
165
Posted 01/04/2018 at 16:43:19
It's the same old story when we meet the top 6 clubs, we are outclassed.
While I agree that the club needs a complete overall from the owners down, unless we can field a team or squad that matches the top teams in ability, we will always find ourselves as runners up.
How do we do it? The only way I can realistically see us achieving that, is by throwing tons of money at the recruitment. Yes, we have spent more than we have ever done before but it's still nowhere near enough to bridge the gap that exists.
A super rich, big spending owner like at Man City is the only way I can see it happening.
Original? No... but it's the only way in the money-powered game that now exists in football.
Kim Vivian
166
Posted 01/04/2018 at 16:45:18
152 — I will help you out here. I posted that a win or draw at 8/1 or 4/1 respectively might be worth a shout. That was because, with our survival pretty much nailed-on and likewise Man City it's Championship, and with the Champions League games imminent, our relatively more relaxed mentality, City's complacency and an eye on Europe we might, just might, produce something. And of course, I am an Evertonian and you have to have that hope.
As it was, the game turned out pretty much as one would more realistically expect, with a submissive performance, no creativity in the tactical approach and the much anticipated spanking.
I watched the game back this morning rather more objectively and there were periods when we put together some decent passages of play, inevitably let down by a final ball or stray pass, but it reminded me that football is a game of 11 vs 11 and we have footballers capable of good play.
City are good, no mistake, but the mental subjugation that our players demonstrate is frustrating beyond belief. I have read about the recruitment or appointment of a so-called sports psychologist and wonder what has happened to him. Does he exist? Are we still looking? Is he there but impotent?
Fair does – it was always going to be be an ask to get something out of a game like this but, using the Wigan analogy again, that final was won as much in the mind as on the grass so surely we must concentrate on addressing the increasing mental frailty of our playing staff.
Frustrated – I am as much as anyone on here... but there must be some hope somewhere.
Pete Clarke
167
Posted 01/04/2018 at 16:49:28
Man City, Chelsea, Man Utd and Spurs probably have more quality in the reserves than we have in our first team. Whoever we get in will always have their hands tied as far as buying quality players goes because there are 20 or so more clubs worldwide who for one reason or another are more attractive to players than we are.
It is a double-edged sword where we either throw endless money at getting the right manager and players in just to compete with the top 6 or we suffer for years in hope that somebody comes along and somehow builds the club up a la Alex Ferguson.
It's not looking good right now but I guess we can keep on talking about our history while stubbornly watching our team every week. The neglect that Billy Bullshit has shown over the past 20 years is bearing fruit.
Lennart Hylen
168
Posted 01/04/2018 at 17:07:24
I really hope Mr Allardyce is not our manager in the not to distant future (read next month). My shortlist would be:
1) Antonio Conte – I think Abramovich will replace Conte after this season's failure but, with a winning rate of 65%, I would more than welcome him at Goodison.
2) Carlo Ancelotti – He has said he wants to come back to the Premier League. With a win rate of 70% at Bayern, that would be nice having him.
3) Paulo Fonseca – no Premier League experience but with a win rate of 78% at Shaktar Donetsk and out of contract soon. It would be more of a gamble, but ...
At the job interview, Mr Moshiri should (among other things) ask if they have a vision of how to play the game. The strategy regarding recruiting new players as it seems we bought whoever was interested in coming to us – regardless if we needed them or not.
Also ask: "Where will Everton FC be with you at the helm in 3 years time?" A "no cure, no pay" clause in the contract (if that is possible) if it is terminated.

David Hallwood
170
Posted 01/04/2018 at 17:24:04
Just watching the Chelsea v Spurs game. To think it was a toss-up between us and Spurs who was best of the rest. To quote Trump: Sad
Phil Walling
171
Posted 01/04/2018 at 17:51:22
Hey, Pete Clarke @ 167, wasn't Muddler Moshiri supposed to be the antidote to all Blue Bill's ills? Instead, he's made things a fecking sight worse... although, by sticking around, 'soft lad' is still copping the flak!
It will surely take more than a couple of managers a season and a complete clear out of players and coaches to go with them to see things back to the normality of Moyes's time.
Sad to say, Kenwright is the only calming interest on the Russian's errand boy and 'his' money these days!
Ken Kneale
172
Posted 01/04/2018 at 18:18:52
Colin (#163),
We as fans have accepted as well and I plead guilty. We should hound out as our neighbours have done. Instead we have been faithfully loyal.
I endorse Peter Mills comments earlier that sadly I am worn down to observing at time which deeply saddens me. God help Peter whose family are steeped in the club it is hard enough for me as a first generation. Sadly I introduced my son to continue the dynasty and at times I feel genuine guilt these days.
I was no lover of Moyes or his rhetoric but we had few occasions under him where, unlike recent seasons, faint hearts and capitulation on the pitch are the norm. We need to find a way to rid the club of money grabbing heartless managers, overpaid coaches and staff who because they played for the club are employed irrespective of ability to inspire or improve the stock. If we do not do so, Sunderland Mk II beckons for us.
Colin Glassar
173
Posted 01/04/2018 at 18:31:52
It hurts me to say it, Ken, but with each season I feel a growing acceptance of just playing for Premier League survival.
I've always fought these pernicious thoughts but after a lifetime of supporting Everton they are finally starting to wear me down. Week after week, I see overpaid gobshites, on and off the pitch, destroy the club I love.
When I see multimillionaires not even try and show some fight, when I hear our "owner" say we expect to lose these games, when I hear our fat bastard of a manager say we won the 2nd half, when I hear numerous Everton captains say we are gutted and must improve for the next game only to be even shittier – then I start to despair and slowly but surely fall out of love with the club of my dreams.
Fuck off Everton, you're not worth it (until next Saturday).
Gio Mero
174
Posted 01/04/2018 at 18:58:29
"Let's try win the second half" is something managers do say at half-time when there's little chance of a comeback.
To say "we won the second half" when talking to the press? Only an idiot...
Phil Walling
175
Posted 01/04/2018 at 19:12:07
Hey, Colin, it looks like you and I have reached rapprochement. At last!
Colin Glassar
176
Posted 01/04/2018 at 19:14:57
Looks like Phil and I say that with a heavy heart. I despise the people who've run our club into the ground.
Phil Walling
177
Posted 01/04/2018 at 19:28:15
Leyton Orient in September 1962 was my first ever game, Colin, And look where they are now!
ps: I just looked up the date and noticed Man City got relegated from Div 1 with the Os that season!
Frank Crewe
178
Posted 01/04/2018 at 19:58:30
The top six are the only clubs who expect to have any chance of winning a trophy next season. The rest, including Everton, start off with the sole intent of avoiding relegation.
To get to City's level would cost a billion quid. Does anyone have a billion quid going spare?
Phil Walling
179
Posted 01/04/2018 at 20:02:27
Well, Frank., Putin's mate has stuck over a billion in Chelsea and they will win nowt this season!
Colin Glassar
180
Posted 01/04/2018 at 20:20:10
It wasn't so long ago that it was a top 4 Frank, now it's a top 6. Soon it could be a top 8. We are 9th.
Paul Kelly
181
Posted 01/04/2018 at 20:25:51
Ian @ 108, Unplayable.
1. Unable to be played. "he thinks the ball is unplayable"
2. (of a sports pitch) too poor to play on."
So you think De Bruyne is shit? Strange.
Thought he was a good player to be honest. What do I know, hey!
Phil Walling
182
Posted 01/04/2018 at 20:26:34
You can get to 9th playing shit, Colin, and the team in 8th is no better!
Brian Harrison
183
Posted 01/04/2018 at 20:34:58
I agree that money plays a big part in how successful a team is, but I look at Spurs and Liverpool and – maybe with the exception of Van Dyjk – we could have bought any of the players at either of these clubs. Salah cost 㾶 million less than Sigurdsson, and comparing top 5 teams Spurs must have spent less than us in the last 3 or 4 years.
The most important choice for Moshiri is make sure you get rid of Allardyce as soon as the season finishes and get the right man in. Someone who won't be afraid to have a go at the top 5 teams home and away. Someone who realizes that strong pacy players is the way to go, and not just in attack. Someone who has a vision to play the game with intensity like the top managers do.
When Southampton hired Pochettino, they were ridiculed especially by Sky's panel on a Saturday. I don't hear too much criticism from any of them about Pochettino now. Just do your homework Moshiri there are good managers out there.
Seems the only thing that excites some fans is moving to a new ground, well without the right man in charge it may mean moving into a new stadium to watch Championship football if the next appointment doesn't work out.
Roger Helm
184
Posted 01/04/2018 at 20:37:28
I have been saying for years that our players, home grown or bought, are too small, slow, weak or quiet, or a combination of the above.
Small players are okay if they have the skill of Silva, Sane, Salah, Hazard or Aguero, but we shall never afford that level of player. We need players with size, pace, good attitude and strength. I am sick of seeing Everton out-muscled and out-paced by all and sundry.
John G Davies
185
Posted 01/04/2018 at 20:41:19
In a nutshell, Roger.
A large part of the modern game is pace and power. We haven't got either.
Dermot Byrne
186
Posted 01/04/2018 at 20:41:48
Brian (#1): "Decent line-up; I'm not a fan of Schneiderlin but hopefully being left out of the side will give him a kick up the arse, he's due a decent game."
Evidence we can all be mostly sensible on TW and then contribute that post.
Sympathy, mate, we have all done it!
Craig Walker
187
Posted 01/04/2018 at 20:50:53
The day we took on Big Sam is the day we admitted we just want to be in this division and make up the numbers. I said it then and it's true now. Nothing but mediocre is good enough.
Tony Marsh
188
Posted 01/04/2018 at 22:07:14
The problems at Everton are deep-rooted and nothing new.
Allardyce is proving to be out of touch and clueless but Sam didn't buy the shite squad he has or invent our terrible away record or the record versus the top 6 sides.
As long as our fans think the likes of Calvert-Lewin or Tom Davies are world beaters, we will never progress. Neither are top end Premier League quality. Just like Bolasie, Schneiderlin, Niasse, Williams etc, the youngsters at the club aren't up to it.
Nothing has changed at EFC for the past 20 years since Kenwright took over the club Still more bullshit and broken promises. It appears Moshiri isn't what we were led to believe either. Example the stadium fiasco and funding problems.
I used to think I had answers or knew the way forward but I don't anymore. I am lost and becoming less attached to it all.
We have been missing the boat for years with all the fucking about from the men at the top and now I fear it's too late. The last ship has sailed over the horizon. We are now left behind with the mid-table cannon fodder that we have now become ourselves. When or if we ever do get a new stadium, it will be to late also as those above us will of pulled even further away... We will be similar to Sunderland – too little too late.
These Muppets in charge of EFC won't change a thing. Blame Allardyce as much as you like but it is not his fault. We planted these seeds way back in the 1990s... I see no hope right now.
John G Davies
189
Posted 01/04/2018 at 22:25:27
One common denominator in the 20 years of decline, Tony. A few hail him as the saviour of our club.
As a fan of 50 plus years, he is the worst thing I have seen that our club has had around it in all of them years.
Ian Tunstead
190
Posted 01/04/2018 at 22:30:33
Tony Marsh, there I was thinking you would finally be coming to your senses but you can not bring yourself to admit that you were wrong yet again. You are now becoming a Sam Allardyce apologist. Some might say it's ironic.
Tony Marsh
191
Posted 01/04/2018 at 22:59:43
Ian, Wrong about what? I didn't want any of the managers we approached after Koeman was sacked. Unsworth or Dyche or Silva... When it came down to the list narrowing down to Moyes or Allardyce, I would pick Allardyce every time. I don't apologise for getting behind Sam Allardyce when he first arrived, like I would do any one.
I would never in a million years have thought the choices we had after Koeman would've or could've been so bleak but no-one decent wanted us. In an ideal world, I would not have had Allardyce anywhere near the club. In the end, we had to go cap in hand to get Allardyce here.
I'm no apologist, I say it how it is. I read the delusional names being touted on here and didn't know if I should laugh or cry... In the end, we got the type of manager that reflects what we are at present. We've stayed up another year and that's all we are – a survival club now. I am wrong about nothing as my idea of an Everton manager was never an option.
Trevor Peers
192
Posted 01/04/2018 at 23:37:03
I agree with a lot you have written, Tony, hyping up youngsters has been self destructive and damaging; only Rooney, out of all the home produced local players has been the real deal in recent times.
Allardyce is not to blame for the position we find ourselves in, how can he be he's only been here a few months and at least we're safe. Obviously he's not the answer to our predicament either. He looks totally knackered now and should be replaced in the summer.
Moshiri has one last chance to get the right man in. If he gets it wrong, I imagine, he will lose interest and his funding will dry up. It looks like Fonseca is his man. I'm not convinced, but who ever is appointed, we have little choice other than to give the guy our full support and hope for the best possible outcome.
Don Alexander
193
Posted 01/04/2018 at 23:45:23
In all fairness to Tony and others, there's loads of us seeing it as a problem way deeper than Allardyce alone. We constantly say it on here as well. That said, when we appointed Moyes I was pleased and supported him until boredom grew in me as we so consistently failed to even once do what lesser teams than us sometimes did, namely defeat a "top" team anywhere. Our European exploits were usually humdrum at best too.
I supported Martinez despite huge misgivings that became all to real to me as his first season fizzled out, as did my respect for him. I supported Koeman because of the record he had at Southampton. I supported Unsworth because he became our manager despite the fact, to me, that the board chopped him off at the knees before he started by making him so very temporary.
And then, through the most gritted of teeth, I've tried to support Allardyce. The link between them all is that they've been our manager. The further link is that they've all had to come up short under the tenure of the one person in operational control of the club for the past 20 years.
And he's the one we still have to rely on, the one who's had sufficient alleged faith in Moshiri to lead us to the promised land, as well as trousering the mega-wedge he received from him in the process of course.
Bill "Ker-Ching" Kenwright folks, perhaps even now developing a plot-line for a best-seller musical called "Armageddon... Outta-Here" (respect Spike), involving a cast of tens of thousands perishing on some northern river with a decades-long derelict waterfront. Should earn millions for him. He's the Wayne Rooney of the boardroom, except that he never hit the heights at all but is long since well past it to any sentient being.
"What?" "A Chairman??!!!" Ha-ha-ha! Wasn't he reportedly buggering off by this month? Ha-ha-ha again!
Eric Paul
194
Posted 02/04/2018 at 00:32:41
Colin @163,
Kenwright didn't and never would have employed Al-lardarse. Moshiri did.
Nicholas Ryan
195
Posted 02/04/2018 at 01:04:20
When I saw Schneiderlin on the team-sheet yesterday, I groaned. But, I thought, I'll keep a careful eye on him for the 90 minutes, and, putting any prejudice aside, I'll just analyse calmly, what he does.
90 minutes later, I'm still none the wiser. Some players have pace; some have trickery; some tackle hard; some have an eye for goal; others can inspire those around them. Schneiderlin does none of those things.
So, can someone please put me out of my misery: what DOES he do?!
Ernie Baywood
197
Posted 02/04/2018 at 02:55:52
Nicholas, he hides. From the first time Silva left him for dead and exposed his lack of awareness, he slotted himself into a position where he couldn't be blamed.
Typically that means he appears to be in midfield before dropping back between the centre halves when the attack comes.
You don't get blamed in that position. Defenders cop it for any ball into the box and whoever fails to track a runner gets blamed in midfield.
Even at his 'best' he was a coward.
Ernie Baywood
198
Posted 02/04/2018 at 03:00:51
Don (#193), I agree with you that's it's a much deeper problem than just players or the manager. We don't appear to have any kind of plan. The managers you list only have Everton in common – otherwise they're all very different. We don't have a 'type'. There's no consistency. What are we trying to be when we appoint these guys?
Where I'll disagree is putting the current decisions solely on Kenwright. If Moshiri isn't in control then he bloody well should be. He can't blame Allardyce on anyone but himself.
David Currie
199
Posted 02/04/2018 at 03:35:45
Nicholas (#195),
What he does is earn a boat load of money, goes home to his mansion, and laughs at the Premier League. Two clubs paying him a fortune for fuck all, he won the lottery twice.
Justin Doone
200
Posted 02/04/2018 at 08:36:07
What comes first? the chicken or the egg? In footballing terms money, players or coaches.
The answer, all or nothing. Why, because it doesn't matter. Is it even a chicken egg or a crocodile egg?
We know something is broken and together, they can all play a part to improve it. The more we have or the better we have isn't the same as improving. It will not just fix itself.
Hard work, experience and natural talent help but, at some point, a leader with a plan, an ability to get ideas communicated and turned into processes and actions are what is needed to improve things.
As a club, we have failed... but we must learn from our mistakes and carry on. A new leader is needed, money will help and improved quality in the right places can make a huge difference.
Patience. We must crawl before we run. I believe Mancini would be the best next move. NSNO.
Tony Everan
201
Posted 02/04/2018 at 09:04:44
I agree with all the comments that the problems run much deeper. I feel the club is resigned to tread water until the big move. I can't see any Man Utd, Man City, Chelsea levels of investment in recruitment in the short term. Any fleeting success will be down to fantastic player recruitment and a new manager. At the moment we are bottom of the league recruitment wise.
What a new manager will bring is some vision. Our team has been spineless and without a leader for too long. We need a dominant Central Defender and a leader of a Central Midfielder. Organisers and Enforcers.
Like Pochettino has done at Tottenham, get some organisation and motivation into the whole set up. Tottenham used to be a toy poodle of a team . Not any more, they are tough and efficient and we should be trying to emulate it.

Michael Lynch
202
Posted 02/04/2018 at 09:21:06
You don't have to be an Allardyce "apologist" to agree with much of what Tony wrote in his post @188. He's not the manager any of us want, but it's not solely his fault we're shite. In fact, his record is not the worst of the three managers we've had this season. But that's like quibbling over which is better, kidney failure or liver failure.
Realistically, look at Chelsea and Arsenal this season – world class managers, more cash than they know what to do with, but the fans are still moaning as much as we are. There are no simple answers. I mean, after we'd signed a couple of decent looking players at the start of last summer, and with a world renowned figure as our manager, I stuck a tenner on us to win the Premier League. Optimistic doesn't come into it. Deluded more like.
Dave Abrahams
203
Posted 02/04/2018 at 09:29:20
John G (189), I agree entirely with sentiments about Kenwright and yet the sad thing about Kenwright and the role he has played at Everton is, if you get into company with fellow Evertonians I think a bigger proportion of those fans think he is a great fella "one of us" and also think he has done a great job for Everton, and some of those fans are what I call street wise.
As Everton's chairman for far too long his whole demeanour makes my skin crawl.
Charles Brewer
204
Posted 02/04/2018 at 09:50:30
Allardyce claiming to have "won the second half (of the match)" is about as risible as Hitler claiming to have "won the first half" of World War 2.
John G Davies
205
Posted 02/04/2018 at 09:54:44
I know a few with a similar take on Kenwright, Dave. Intelligent people who can usually spot a phony with their eyes closed. This particular phony has got them kidded though.
Eugene Ruane
206
Posted 02/04/2018 at 10:08:20
Obviously the 'things wrong' list is as long as 'Big' John Holmes' member
I understand and appreciate that things won't be 'fixed' by listening to simplistic brain-droppings deposited on TW by me.
But I know for 100% certain and darn tootin' that football isn't a complicated game and success or failure is (ultimately) down to managers buying or selecting the right/wrong players.
With that in mind, when I look at future (summer) transfers, it's really simple imo.
Any midfield or attacking player who is bought or brought in, who is lacking real pace and touch, will be throwing money away and will increase our chances of being relegated.
Any central defender who is bought or brought in, who wouldn't elbow his nan's dentures out of her head to get his head on a ball, will be money down the bog and will increase our chances of being relegated.
Any full back who is bought or brought in, who can be out-sprinted by any other players at the club, will be burning cash and will increase our chances of being relegated.
Any keeper who is bought or brought in, who is under 6'-2" and who stays on his line and wouldn't plough through a bunch of toddlers with one knee dangerously high, to get to a ball, will see us wiping our collective arse with banknotes and will increase our chances of being relegated.
And any manager sitting in his office with his feet up, covered in flakey pastry crumbs, watching videos of players from Jibrovia, rather than going to games five nights a week to actually fucking watch players, will definitely increase our chances of being relegated.
Yes I understand completely that the money usually wins in the end, but I'm also aware that Leicester beat the money with a small squad, playing fast, simple, committed 4-4-2 football. Because they had pace and strength and because they gave a fuck.
We need 1) a plan, 2) players who can carry out that plan, 3) a manager who can motivate them to do so.
Currently we have none of those three and what I saw on Saturday was City actually use the game (us!) as a training session for Wednesday.
I was shocked before the game to see an Everton side, at home, quoted at 9/1 (against Brazil 1970 I wouldn't expect more than 6/1) but as it turned out, nines was being conservative.
Up the fucking Toffees!
Trevor Peers
207
Posted 02/04/2018 at 10:15:14
Charles, all managers cover their backs with nonsense, Roberto, being the master of BS. His assertion that Barkley was one of the 'top midfielders in Europe' for instance, pure fantasy, Allardyce is just doing what he's paid to paint a rosy picture of an awful performance.
Brian Harrison
208
Posted 02/04/2018 at 10:21:54
Eugene
I absolutely agree with every word, but the worrying thing is if we can see that all the top teams have pace and power, why cant our owners and manager see that. I would add to your list if Swansea and West Ham are interested in a player then we definitely shouldn't be. The papers are reporting today a player who all 3 are after. Or is the problem that I have delusions of grandeur and my club is just a very poor club who should be grateful we can play in the Premier League.
I am sure if any of the top 5 had hired Allardyce and were playing non-football, I am sure hours and hours would have been dedicated to ask why. But its just Everton... so who in the media cares?
Derek Thomas
209
Posted 02/04/2018 at 10:32:58
Eugene @206; I actually think that the 1970 Everton team would give the 1970 Brazil team a decent game... in fact a third of them did... but I don't think you mean them.
John G Davies
210
Posted 02/04/2018 at 10:40:45
Eugene,
Simple isn't it.
You see it, I see it and everyone in the pub after the game sees it.
I would put a tick or a cross against every player the scouts recommend.
PACE? Tick.
NO PACE? Cross
Tony Everan
211
Posted 02/04/2018 at 11:26:52
Pace, Pace, Pace v and how to use it effectively wins matches and is a must for a top 4 challenge.
Look at Man City, about 10 seconds from our penalty area to scoring a great flowing goal. Liverpool do it week in week out with Mane and Salah.
If you watch Man City, Pep will not allow that flow of pace to be restricted in any way. He is drilling the players to make glancing passes and deflected passes so the movement is not slowed in any way.
He understands the broader team needs to be aware of channeling that pace without slowing a move down.
Frank Crewe
212
Posted 02/04/2018 at 11:29:06
"I have been saying for years that our players, home grown or bought, are too small, slow, weak or quiet, or a combination of the above."
This I agree with. Football has become a game for athletes. There is no room for the old warhorse anymore. This is why Rooney, Jagielka, Williams etc need to be gone. Any lack of pace will immediately be targeted by sides like Man City, Liverpool, Spurs. Then we'll either concede goals, yellow/red cards or both.
I have no doubt that Klopp's side will try to do exactly what City did. Push up on us from the start and use their pacey players to over run our slow midfield and defence. If we pick the players I've already mentioned we'll get battered again.
BTW. It's no coincidence that the bottom four sides all have British managers. Palace – Hodgson; Saints – Hughes; Stoke – Lambert; West Brom – Pardew. All Brit managers, including Allardyce, have become fire fighters. The only way they can get a job in the Premier League is trying to pull clubs out of the relegation excrement they find themselves in. Other than that, it's lower division jobs. Until a good young British manager with modern ideas this situation will continue.
Tom Bowers
213
Posted 02/04/2018 at 12:06:36
Frank Crewe you have hit the nail on the head regarding pace.
Everton are severely restricted and I can only say Seamus and Theo really have any.
Jags used to be a lot quicker and Bainsey but all the others are very one paced and it is evident when the midfielders try to close down the opposition.
It's RS's pace on offense that has netted so many goals this season and will get more this weekend unless Everton put 11 across the box.
Mike Doyle
214
Posted 02/04/2018 at 12:46:10
Our best hope for the weekend seems to be that after the 1st leg, the RS are still in contention with City. Then hope that Klopp won't risk some or all of his key men in a game which, frankly, is unlikely to affect his chances of a top 4 finish.
Unfortunately even if Klopp plays a weakened team they'll probably still have too much for a manager/club that seem to consider the likes of Schneiderlin, Keane and Bolasie worthy of places in a Premier League side. Of course we'll help by playing a long ball game.
Danny Baily
215
Posted 02/04/2018 at 12:56:37
Do yourselves a favour and give the game this weekend a miss if you can.
The next fixture with something at stake will be our first League Cup tie next season. The Premier League is just a slog to 40 points.
John G Davies
216
Posted 02/04/2018 at 13:18:08
Mike, 214
My best hope is that they get twatted at Anfield.
Fuck the derby.
Rob Halligan
217
Posted 02/04/2018 at 13:29:48
Is right John. I don't want them bastards having even a sniff of a chance of getting through come the second leg. Though of course, I don't want to be getting hammered by the RS come Saturday either.
Jeez, hurry up May 13th.
Don Alexander
218
Posted 02/04/2018 at 13:32:28
Eugene's list (#206) is excellent but should have been dictated to him by Walsh, but it obviously wasn't. Instead it should now be framed and hung in Walsh's office, bog, car and bedroom if Moshiri's got any sense.
Ken Kneale
219
Posted 02/04/2018 at 13:34:40
Derek Thomas – nice link – what a way to bring us back to our nostalgia. Catterick had his faults but he was a committed Evertonian and his sides played football that we can only dream about under this shower. Given the deafening silence from all levels within the Club expecting for more ridiculous if true comments from Allardyce this morning – does anyone within Goodison actually see what they have done to the club and its fans?
Tony Abrahams
220
Posted 02/04/2018 at 13:45:36
David @156, I was thinking Rooney could have looked after himself better, simply because he's been on a downward curve for years, but to be fair to him, even when Ferguson played him on the wing (which was an absolute sacrilege imo) the kid has always tried to be the most involved player on the pitch, and even above all his talent, it was his absolute honesty, which could never make me hate him, once he had left us.
If he's honest now, he's got to do what Dave says and retire.
Dave, the writing was on the wall once I saw that midfield, and as much as I love watching pass-and-move football, I just knew Everton were going to get embarrassed, and wouldn't have it in them to go and fucking compete.
Four managers this lot have downed tools on now, and by doing this they are treating us, the fans like the biggest tools in the world, and the bastards have got to be made to realise how fuckin important Saturday's game is to us, because we are the only ones that seem to really care right now.
Paul Doyle
221
Posted 02/04/2018 at 13:50:14
Why be arsed over the derby? Winning would only paper over very deep structural cracks and prolong the bollocks going on; losing would only highlight even more the shite we have.
So fuck them all, the players, club and board – they all stink to high heaven and always without fail let us down. If a new manager isn't in place a week or so after the season ends, then be prepared for Operation Goodison meltdown!!!
Paul Doyle
222
Posted 02/04/2018 at 13:55:22
Needing players with pace and power is all well and good.
Fuck! We can't even take a decent corner!
What do they do at Finch Farm?
Brian Williams
223
Posted 02/04/2018 at 13:57:20
Today I had an epiphany. It came about while listening to Talksport.
The guys involved weren't even talking about Everton or Everton supporters. They were talking about Newcastle supporters who they (the Talksport guys) believed were delusional to expect to be up there challenging for things. Talksport said they'd done nothing for years and had no real right to expect better.
After years of being in a poor financial situation and years of under performing on and off the field, we're basically no different. For Newcastle supporters substitute "Everton supporters."
Sean Patton
224
Posted 02/04/2018 at 14:35:39
Newcastle haven't spent over £200M on their team – it is not delusional to spend that sum of money and expect improvement it is basic common sense.
God forbid we should actually hope to be above the mighty Burnley and be closer to the top 6 than the year before after the biggest spending spree in the club.s history, nil satis eh, Brian?
Pete Clarke
225
Posted 02/04/2018 at 15:08:44
I have just been reading a piece about the relationship between The Sevilla manager and the Director of Football. Both of them know their roles and even though Sevilla play top football and have had great success over the past few years, the two men seem at odds with each other.
Sevilla would have thumped Barcelona at the weekend with better finishing but two last-minute goals by Suarez and substitute Messi meant they got only a draw which they were not happy with.
In a nutshell, Sevilla are not loaded with great players but play good football. They believe they can beat any opponents they face regardless and that is down to top level coaching and management.
We have amateurs – from Bullshit Bill and Moshiri all the way down to the manager. The players can and will work for those they respect.

Darren Hind
226
Posted 02/04/2018 at 15:54:26
"I can't see any posts after this match from people who openly gave it large before a ball was kicked about how we were going to win or nick a draw."
Anybody who wants to know what a load of pap that is, need only revisit the match thread. Some hoped we could win, some expressed disdain for people surrendering before the teams were named, one even pointed massive odds saying he may have a go... but "give it large"?
I'm with the people who expressed disdain for anybody surrendering before the teams are on the pitch, it's bad enough having a surrender monkey for a manager, but fans openly running up the white flag before the game are simply offering the management and the players a free pass for a "respectable" defeat.

John G Davies
227
Posted 02/04/2018 at 16:16:31
13/1 best odds on an Everton win. And a free bed and breakfast in Broadmoor for anyone who backed it.
5/6 City half-time / full-time was buying money.
Danny O'Neill
228
Posted 02/04/2018 at 16:57:50
Is he still here? West Brom got rid of Pardew today. Can't we do the same? We need to start planning for next season and identifying transfer targets now. We can't do that with someone who isn't going to be here.
Act now now and let him claim it on his CV even though anyone would have kept us up this season; Koeman & Unsworth included. But that wasn't the original target or ambition.
Mike Dolan
229
Posted 02/04/2018 at 17:23:54
Looking forward to this season being over. The only thing to lift us from despair is the knowledge that we are just a miserable season and a half into a complete transformation and have played most of this season without either a centre-forward or a left back or a reliable center half or right back.
It was never a formula for success but we have added some really good young players this summer will be perhaps the most crucial in determining our future. With the World Cup a fly in the transfer ointment and yet another managerial change on the near horizon it will not be easy. I'm just grateful that we managed to survive this worst season in memory .

Brian Williams
230
Posted 02/04/2018 at 17:27:43
Sean. Nil Satis is now merely a soundbite we haven't lived up to since the mid-80s.
Yeh we spent 𧶀M and improvement would be expected, but to challenge Man City, Man Utd, Chelsea etc
........
John G Davies
231
Posted 02/04/2018 at 17:35:32
Brian,
We used to be a big club. We haven't been a big club for the last 30 years. Sad but true.
When I hear or read people saying "Get Simeone", I despair. Why would he come here?
Andrew Clare
232
Posted 02/04/2018 at 17:44:26
Anyone saying that we were going to be outclassed before the game and would lose were not putting up the white flag or surrendering before a ball was kicked – they were just stating the truth based on previous performances. We know with this board, this manager and these players we are going nowhere fast.
As stated above we don't even come into the equation when discussing who is going to win this or that. We have been in the doldrums for so long that we are now just there to make up the numbers. A very average mediocre mid-table Premier League team. Boring to watch and expected to lose. Even duff teams expect to beat us at home. Thanks Kenwright for wrecking my club – you've done a brilliant job.
John G Davies
233
Posted 02/04/2018 at 17:52:55
Careful Andrew,
The players will read your post and have a ready-made excuse to lose the game. 😁😁
Tony Marsh
234
Posted 02/04/2018 at 18:03:13
The moment Farhad Moshiri spoke the words ''We don't expect to beat the Big clubs'' earlier on in the season, that was the "Get out of jail free" card and the excuse for players and manager to not give a fuck... What a pathetic statement to make when, months before, you are telling the world what a huge club we are going to be.
Where did Kenwright get this buffoon from?? Moshiri reminds me of Peter Swales at Man City only without the dodgey sheepskin – or, even worse, that dickhead Micheal Knighton who pretended to buy Man Utd and ran out on to the pitch at Old Trafford taking shots at the keeper before a match. It turned out the prick was a fraudster who was skint.
When your owner (or whatever Moshiri is) tells the press we can't beat sides in the top six in the Premier League table, then we will never beat them – regardless of what manager or players we have at the club.
The players here have not downed tools – they just never picked them up in the first place. No need to do any work; they get paid anyway. The whole place is a shambles from top to bottom.

Darren Hind
235
Posted 02/04/2018 at 18:17:38
People win the lottery jackpot every week. Hundreds of people win the lottery against all odds every week, under-dogs win in sport every day.
Every year, every single year, a team will knock out a vastly superior team from the FA Cup – see what happened when Man City went to Wigan! Punchers will beat superior boxers; old nags will be top class racehorses. It's called sport; some get it, some clearly don't.
One thing is absolutely certain. The car, horse, boxer, footballer, or swimmer who raised a white flag before the game will always win nothing – see Moyes and Allardyce.
Give me the romantic shoot-for-the-stars sportsman over the realistic cant-win-don't-try losers all day long. How can anybody bleat about the team having no heart when they are so ready to hoist the white flag themselves?
Keith Harrison
236
Posted 02/04/2018 at 18:20:31
I backed both to score, us to win. Shite tipster me although I believed it at the time. Having a great view of Sane's opener, you could only admire some of their footy, while being embarassed for the husk of Wayne Rooney who appeared to be as lithe as I now am.
Doesn't mean I won't be there this week, expecting at the very least to match those increasingly hated reds for effort, fitness and commitment.
Sacking Jabba this week to get a 'new manager lift' and ensure Schneiderlin doesn't start would be shrewd on Moshiri's behalf. I would also renew my season ticket.
See you in The Winslow, Darren, Peter, Terence, Kev and anyone else who won't be waving white flags next week. Come and meet the madcap Kev T, ToffeeWebs's Everton ambassador Rob H, and other frequenters of the ToffeeWeb Tavern.
Christy Ring
237
Posted 02/04/2018 at 18:22:11
Next Saturday, either start Rooney beside Tosun, or leave him on the bench. As I said numerous times, he hasn't got the legs for midfield, and Sam may grow a pair of balls and start Beni if Gueye is not fit, because Schneiderlin is finished.
Darren Hind
238
Posted 02/04/2018 at 18:45:27
When the RS slipped into the Champions League through shear fucking poxy luck,we didn't care. They were shite and nobody give them an earthly... except them. They made a big fuck off banner demanding that the team "make us dream" – I remember laughing at it.
They dared to dream... demand... expect... that's why they won the fucking thing.
Perhaps we should make one simply stating: "Can't win / Don't try"
Bill Gienapp
239
Posted 02/04/2018 at 19:04:30
Hopefully this loss will cut the burgeoning pro-Allardyce support off at the knees.
Look, there's no shame in getting trounced by City – it's happened to most. And not all of our issues can be laid at Allardyce's feet. But it's so overwhelmingly obvious he's not the man to lead us forward.
Substitutions, as usual, are very telling. The second Bolasie scored, he should have brought Niasse on. It was exactly the sort of situation where he seems to thrive – generate a bit of chaos and unpredictability amidst City's back line, maybe nick a second goal and then who knows? Well, in actuality, if City felt even vaguely threatened, they likely would have just carved us open for a couple more, but that's beside the point.
The point is, Allardyce brings on Baningime, to... what? Help lock down a 3-1 defeat? So he can point to the scoreline afterwards and pretend we didn't get annihilated (which is basically what he did, with his laughable "we won the second half" comments). I mean, that's pretty pathetic.
Andy Crooks
240
Posted 02/04/2018 at 21:27:57
Tony Marsh, I have disagreed with you vehemently and often on this site but your posts on this thread are, sadly, spot on. You seem to be downbeat and lacking your usual mad passion. That is worrying.
Mark Wilson
241
Posted 02/04/2018 at 21:45:03
Eugene (#206) that's a great post. I particularly liked the role description for central defenders. Having discovered to my naieve surprise that we don't actually have a single quality centre back at the club I realise that your description is why.
There's room for a cultured ball playing defender but only alongside a Mick Lyons or a Labby type character. We need a better version of Shawcross or to be honest a John Terry at his best. Some will scoff but surely we are at the moment when "back to basics" is a large part of the answer?
Andy Williams
242
Posted 02/04/2018 at 23:12:05
A thought (don't know if anyone else has had it - too depressing to read all the comments).
Fat Sam sets us up to lose easily (and save the hungry, pacey young mids for next week). Man City, fresh and confident for Wednesday to stick it to the RS. Klippety puts out weakened side.
Our best chance of a win and the best chance of Fat Sam to save his job. Only reason I can come up with for yet another debacle.
Tony Abrahams
243
Posted 03/04/2018 at 02:53:56
Eugene's post was so good because it was so simple, and just highlights how many people are getting away with murder and making an absolute fortune out of Everton Football Club?
Paul Doyle, I agree with everything you say mate, but think about it? It's those horrible red bastards we are playing next, although Chelsea's capitulation means they are going back into next season's Champions League, whatever the outcome on Saturday.
Peter Gorman
244
Posted 03/04/2018 at 03:14:52
http://www.bbc.co.uk/sport/football/43623626
Olympiakos players have been fined €400,000 (𧸖,000) and ordered to go on holiday by the club president following poor results.
Shipping magnate Evangelos Marinakis, who also owns Nottingham Forest, was quoted in the Greek media as telling the players: "I and the rest of the fans have tolerated you enough. You will leave today and go on holiday."
He said very few players in the current squad will be retained for the remainder of the season, with replacements to be called up from the Under-20 team.
Thoughts? I would love Moshiri to follow suit.
Tony Abrahams
245
Posted 03/04/2018 at 06:18:42
The Mirallas effect?
Paul Doyle
246
Posted 03/04/2018 at 07:34:17
Tony, I know it's them mate and I would never refuse a victory against them. My point is I don't know where we go here, win, lose or draw, as the way the place is run annoys me so much.
It's as if Kenwright and Co love putting us through as much grief as possible. And it's all down to the amateurish way they run the place. They all have to go.
David Booth
247
Posted 03/04/2018 at 12:00:10
Predictable result and abject performance to one side, can anyone tell me what that free-loading has-been, Wayne Rooney, offers to the team? Having been vehemently against him coming back, I paid particular attention to him at the game and the sheer folly has surely now been exposed?
He couldn't play striker any more for the Mancs, so they tried him in midfield – and it failed. So they dropped him. Then along come soft arse Everton with their money-laden sentimental bandwagon and offer to take him off their wage bill – and break their own salary structure to pay him a staggering 𧵎,000 per week.
𧵎,000 PER WEEK. And what do we get for that? A front line goal threat. Nope. A foil up front for Tosun. Er, no. A latter day Pirlo, Zidane or Zola. That'll be a no too.
Someone whose experience, leadership, winning mentality and influence catalyses the whole team? Not seen any of that whatsoever.
No: what we got was a player who has been past his best for at least two years. The Rooney the Mancs were amazed someone wanted to get off their hands. A washed-up, clapped-out, facsimile of the most exciting footballer we have produced for a generation.
And now, because he has failed in every position we have played him in, in this disastrous season, we're trying one final re-invention as a deep lying midfielder who sits in front of the back four. I'll say that again... Wayne Rooney in front of the back four. And with Schneiderlin for company!
This while Davies and Baningime – who would have got amongst City's creative midfielders and at least not given them time to settle – were left on the bench. Double you, tea, eff!
We bought him because he is Wayne Rooney. We play him because he is Wayne Rooney. There is no other footballing reason whatsoever.
I'd wager no other team in the so-called Premier League would even consider him. Certainly no-one with any top six expectations. He is the epitome of why we have swapped ambition and aspiration for mediocrity. A meaningless PR gesture that is fooling no-one.
A disgrace on Saturday when he offered absolutely NOTHING. An embarrassing physical metaphor for this once great club of ours. Schneiderlin and Williams, he should never play for Everton again.
Alan J Thompson
248
Posted 03/04/2018 at 12:23:46
Eugene (#206); I agree that pace should be on the list of talents a player should have but if it was the be-all and end-all then we might never have bothered with Peter Reid (I'm not sure I've seen anyone slower as a high level midfield player) and the bloke who for me ran the Brazil 1970 side and allowed others to flourish was Gerson who also was no greyhound. I could go on with the likes of Puskas but that might just suggest that they are all too rare.
John (#231); Simeone would be my preference but if you despair because some want us to at least try for those who might be the best what level do you suggest we look at for future managers, Unsworth in partnership with Arteta? I despair (probably too strong a word) when the likes of Howe and Dyche are mentioned, if we can't attract the likes of Simeone then what sort of players do you think they would attract?
Lawrence Green
249
Posted 03/04/2018 at 12:28:10
Peter (#244),
I think the board told our players to go on holiday in June last year... unfortunately they forgot to give them a return date; I'm still waiting patiently for that to happen.

Ken Kneale
250
Posted 03/04/2018 at 13:35:29
David (#247). Absolutely bang on the nail although you could have added in we got rid of our only genuine goal outlet in the opposite direction as part of the ludicrous deal that made us look weak and not in control which in fact is what we are.
This board are worse than the tepid leadership displayed when Sir John Moores was incapacitated but still controlling before his death and we spun around in circles when our rivals were gearing up to the start of Sky and the Premier League.
Even worse, the lack of comment or direction from the club currently does not give the impression they have the ability to correct.
John G Davies
251
Posted 03/04/2018 at 13:41:21
Alan, 248.
Howe? Dyche?
You haven't read my previous posts.
Steve Ferns
252
Posted 03/04/2018 at 14:31:47
David (#247), you come out of that game and give all your criticism to Wayne Rooney?
The team selection was the worst team selection of all time. You couldn't pick a worse formation. 4-4-2 does not work. It belongs back in the 1980s. What we all saw is Man City play like they had 2 extra men than us. Because Allardyce got the formation wrong. Had he gone for Davies and (a fit) Gueye, then perhaps we'd have looked a bit better, but instead he went for Schneiderlin and Rooney. This meant we had two against three, and the two were guys who cannot run.
Now, I could envisage what Allardyce was thinking. Hit it long and quickly over the top to the two strikers, get on the front foot and cause them problems in the air. But we did not get the ball forward quickly, and yes David, Rooney had a dreadful game.
But, it was a failure of tactics. Allardyce realised that his mistake and that his plan was not going to work, and he pulled Calvert-Lewin deep to a midfield position and his legs made things a little better, but we still were outnumbered and outfought. Quite why he didn't immediately throw Davies on haul off Bolasie (so he can keep the long ball to Calvert-Lewin's head option he so clearly wanted to use) I don't know.
If anyone ever asks to see two strikers up top, I will insist they watch this game again, and then tell us how it will be better. Sure, against a weaker side two strikers can be devastating, but you must control the midfield in modern football. The fact that this dinosaur looks to bypass it, at every opportunity, shows what a terrible manager and terrible tactician he actually is.
As for Rooney, to answer David's question, 11 goals. As terrible as you think he is, he's scored 11 goals, and that's having played more than half the games now in a deep role.
Rooney can do a job deep in midfield, and he can do it very well, but only if he is surrounded by legs. That means two players from Gueye, Davies and McCarthy. In the absence of Gueye and McCarthy, Allardyce should have gone for Baningime. Rooney seems to be better when playing the responsible role and having to help the youngsters through the game, it's like it makes him concentrate better.
We were always going to play long balls from deep, and running after lost causes was always going to be a big thing for us, so I would have played Calvert-Lewin wide, as he has pace to chase those lost causes, and he's also our best forward player in the air.
Quite how anyone can think Rooney and Schneiderlin can play in the middle of a 4-4-2, as box-to-box midfielders, is beyond me. This dinosaur needs to be made extinct. Get the next manager in now. Whether it's Fonseca, Silva or someone else, appoint someone currently out of work (ie, Fonseca, Silva, or Tuchel) and get them assessing the squad and ready for the transfer window.
John G Davies
253
Posted 03/04/2018 at 16:02:43
Alan J.
Just for clarity. A list of managers I want as next Everton manager:
Guardiola
Pocchetino
Simeone
Mourinho
Allegri
Ancellotti
Zidane

A list of managers who won't be Everton's next manager:
See above
Alan J Thompson
254
Posted 03/04/2018 at 16:10:14
Nice one, John G, but not altogether sure I said you wanted either of those two, but it's just nit-pickin',
Steve Brown
255
Posted 03/04/2018 at 16:28:44
Why would Klopp go to Liverpool? They had not won the league in decades? It's called ambition. Everyone associated with that club is determined to get back there – they think they are a big club so they think like a big club.
Read Darren (#238) as his post is spot on the money. If we don't aspire as fans then what is the point! Fucking aim for Simeone, we might not get him but at least for once we'll be showing ambition.
Dyche, Howe, Fonseca, Silva? For god's sake – think bigger than that bunch of done-nothings.
Lawrence Green
256
Posted 03/04/2018 at 16:38:57
Steve #255
I totally agree, the leadership of the club either want to see Everton FC return to former greatness or they don't. A continuance of the pragmatic approach will see a continuance of the club's decline. Obviously there are limits but the hierarchy should at least try to get the best people available to them.
Steve Ferns
257
Posted 03/04/2018 at 16:45:12
Steve, we reached for the stars last Autumn. We were a laughing stock and ended up going cap in hand to Allardyce.
What wold be worst case scenario for us this summer is for us to aim big, and end up missing our top targets, then the next targets, and then the level below that.
Say Paolo Fonseca is keen, he won't be keen for long if we start sounding out "bigger names". Say it's Marco Silva who is most likely, he's not going to wait for us, if we're going to work down the list of names of world class managers named above. None of them will come. Nor will Unrai Emery, or Sarri of Napoli. We're not in Europe. Our club is a mess on and off the pitch.
Let's get this right and get the very best we can. No dithering, don't lose what we can get, by trying to overreach. The manager needs as much time as possible this summer, there's a lot of work to do.

John G Davies
259
Posted 03/04/2018 at 16:55:41
We go for one of the top managers mentioned by plenty.
We don't get any of them, you can bet your last pound none of them will come to a club in the state Everton is.
Result? The same fans frustrate themselves because the top-of-the-shop managers won't come here.
"Fuckin shite this club, they went in for (insert name) and fucked it right up..."
Mike Kehoe
260
Posted 03/04/2018 at 17:31:42
Steve Ferns,
I have called for 4-4-2 plenty of times instead of 1 forward chasing shadows trying to get on the end of fighting balls with the midfield ambling 50 yards away. Setting up defensively against shit teams and throwing away points, especially at home, is unacceptable and Dyche outmanoeuvred Lardiola with it and Leicester did okay with it not so long ago.
To play Rooney and Schneiderlin in a 4-4-2 against a side of that quality is ridiculous: with them two it was more like 4-2-2. Any formation with them both in midfield will be shredded by any quality team.
Anyone looking forward to Saturday?
David Booth
261
Posted 03/04/2018 at 17:39:39
From the Everton player ratings on the ESPN Sport website today (in which Rooney ranked joint bottom with Schneiderlin with 2/10):
No amount of dreaming is going to turn a fading striker into an effective defensive midfielder. No tackles or interceptions defined a miserable outing in which the game went on around him.
And we pay him 𧵎,000 a week!
That, in a nutshell, is all that is wrong with the way Everton is run, managed and motivated.
A Catherine Cookson novel of a football club where typically, just as one is about to give up hope, the hero appears on the horizon... but sadly he's bald, pissed, overweight, impotent and ends up running off with the heroine's 60-year-old mum!
Ron Marr
262
Posted 03/04/2018 at 23:09:23
Another dreadful game-plan and performance against a top 6 team. Two draws and 5 losses against the Top 6. I'd be happy if Unsworth took over now until the end of the season. Make Allardyce the Executive in Charge of Bacon Butty Consumption.
Some horrific stats from the game courtesy of F365:
Schneiderlin (French for "can't be arsed') did not complete a pass until the 36th minute.
In 57 minutes on the pitch together, Schneiderlin and Rooney completed a combined 8 passes. Schneiderlin and Rooney's heatmaps resembled the North Pole. Beni completed 8 passes in 16 minutes, Tom D. 8 in 33 minutes.
F365 Story
---
Add Your Comments
In order to post a comment, you need to be logged in as a registered user of the site.
Or Sign up as a ToffeeWeb Member — it's free, takes just a few minutes and will allow you to post your comments on articles and Talking Points submissions across the site.
© ToffeeWeb