MFK Ružomberok vs Everton

126 Comments [Jump to last]
Thursday 3 August 2017
Europa League Preview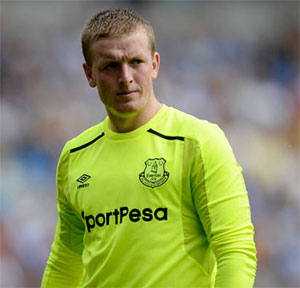 Jordan Pickford is in line to make his first competitive start for Everton
Everton take their narrow 1-0 lead into the second leg of the Europa League Third Qualifying Round, second leg, hoping to finish the job in Ružomberok this evening.
Leighton Baines's deflected strike meant that the Blues edged their unfancied Slovakian opponents at Goodison Park a week ago but Ronald Koeman is confident that with another week of training under their belts, his charges will be more convincing than they were in the first game.
The Blues were somewhat lethargic in that first leg and struggled to impose themselves in a system that had Wayne Rooney as the focal point up front and newcomer Davy Klaassen driving from midfield alongside Idrissa Gueye.
All three are likely to start again in the second leg after Rooney was passed fit despite a minor groin problem but Sandro Ramirez, another debutant last Thursday, is set to make his first start in an Everton jersey after coming on to spark the Toffees into life midway through the second half.
Jordan Pickford, another of Koeman's summer signings, will make his debut appearance now that he has had the benefit of a further week of pre-season work, replacing Maarten Stekelenburg in goal.
Further changes beyond those could be dictated by the manager's chosen formation for the second leg, with some suggestions having been made in the media that the Dutchman has been mulling a five-man back line with three centre halves and two advanced fullbacks.
Baines would be the obvious candidate for the left-sided role and with James McCarthy seemingly out of favour based on last week's squad selection, Tom Davies could be tasked with playing on the right flank. Jonjoe Kenny, an obvious choice for many supporters, has not travelled with the squad as Koeman weighs up whether or not to send the youngster out on loan.
Ružomberok showed at times in the Goodison leg that they weren't overawed by their hosts and, bolstered by their second-leg success in the two previous rounds and spurred on by the obvious need to score, they are sure to be more adventurous this time around.
For Everton, having kept a clean sheet last Thursday, they will know that they could hand themselves a significant advantage with an away goal, particularly an early one that would draw the Slovakians out and create space in their half as they are forced to come forward in search of goals of their own.
As the superior side, the Blues remain the favourites to progress to the playoff round later this month but they can't rest on their laurels and expect to coast through. As Koeman has found out to his cost in this competition before, the job is there to be completed and that underdogs can bite.
Kick-off: 7.45pm BST, Thursday 3rd August, 2017
Predicted Line-up: Pickford, Martina, Keane, Jagielka, Baines, Schneiderlin, Gueye, Klaassen, Mirallas, Rooney, Sandro
---
Reader Comments (126)
Note: the following content is not moderated or vetted by the site owners at the time of submission. Comments are the responsibility of the poster. Disclaimer
James Watts
1
Posted 03/08/2017 at 05:40:01
I see Kenny hasn't even gone to Slovakia. Massive black mark against Koeman on this from me. That lad deserves a chance in these type of games at the very least but he would rather play his useless old pal from Southampton who can't defend or a centre-back out of position who can't attack.
Atrocious decision. Let's hope he at least doesn't play Calvert-Lewin as our winger again. Not a great start, Ron.
Tony Hill
2
Posted 03/08/2017 at 06:48:54
I am not confident but then I rarely am. Our slowness and lack of guile against a tight side on a tight ground are a worry.
The hope, of course, is that we get an early lead which would kill the tie. Despite my nervousness, we should get through.
James Watts
3
Posted 03/08/2017 at 06:51:57
Sending Kenny on loan but keeping Martina as first choice? Koeman, you moron.
Alan J Thompson
4
Posted 03/08/2017 at 07:09:59
Why bother signing young players if you are not prepared to give them an opportunity? No opportunity means no competition. Cue the excuse he is too young or the other that at 23 you can't be good enough as you haven't made it.
I have doubts that we will progress in this competition but probably draw this game 0-0 or go through on away goals rule.
Liam Reilly
5
Posted 03/08/2017 at 07:22:32
Don't understand the Kenny omission myself but Koeman sees them every day in training and to him he is clearly not ready for these games.
Game 2; and another "must not lose", so I guess we've got to respect the Manager's decision and just get behind the players in the squad.
Kim Vivian
6
Posted 03/08/2017 at 07:27:20
Following the disappointment after all the anticipation last week, I have a little bit of a bad vibe about this game.
We should pull it off easily and I hope we get up and at them but, if we couldn't do that at home I think tonight's game could be a bit dour. I can see 0-0 or 1-0 which would get us through okay but unlikely to get the pulses racing, but equally I can see them pulling off a 1-0 win and taking it to pens. Alan thinks maybe a 2-1 win to Ruzo, giving us the away goal advantage, but I can't see them scoring twice frankly.
I hope we've been practising our pens.
Clashes with the England ladies so a bit of media stacking will be called for tonight. Hopefully a good evening all round.
Will Mabon
7
Posted 03/08/2017 at 07:33:34
We'll surf right through this game atop a tsunami of high productivity and pressing, I reckon.
Chris Watts
8
Posted 03/08/2017 at 07:36:46
This game has all the hallmarks of a massive banana skin. To use the cricket adage, where you can't win a test in one session but you certainly can lose it, our whole season is deflated if we go out tonight.
Don't care if it's pretty – all about the result
Kim Vivian
9
Posted 03/08/2017 at 07:38:05
Well that's what I am hoping for, Will. Just as I did last week.
Will Mabon
10
Posted 03/08/2017 at 07:49:14
I see us realists have got here early. The optimists will be here soon to balance things up a little...
Douglas McClenaghan
11
Posted 03/08/2017 at 07:49:23
This has banana peel written all over it. I am actually really concerned.
Gordon White
12
Posted 03/08/2017 at 07:51:39
They came to stop us scoring and possibly sneak one and they failed. Different game tonight. We're going to beat them. It will just be whether it's entertaining or not.
If we get an early goal the lads will relax and confidence and belief will give us a good game. If not – it may be dire. But we'll win.
Will Mabon
13
Posted 03/08/2017 at 07:54:40
Get to the bookies and stick a few dollars on, Gordon!
Gordon White
14
Posted 03/08/2017 at 07:55:05
I see the the Martinez effect is still strong. Visualise and expect the win. Positive Karma.
Will Mabon
15
Posted 03/08/2017 at 07:56:18
Phenomenal!
Gordon White
16
Posted 03/08/2017 at 07:59:34
I would Will. But the odds are awful. The bookies, like me, are expecting us to win. So I'm spending it on beer instead.

John Audsley
17
Posted 03/08/2017 at 08:09:03
We will be fine.
It's my birthday today so we've got to win!!
If we play 3 centre-backs, I hope Martina doesn't play as the wing back as that simply isn't his game.
Dean Johnson
18
Posted 03/08/2017 at 08:14:00
Clearly some people on here know more about the abilities of our youth team than Ronald and Rhino.
Yes, I want to see the kids, but if they're not ready, they're not ready. The last thing I want to see is kids getting picked just because of their enthusiasm and energy, they have to have everything else as well.
Currently, only Tom Davies, Ademola Lookman and Dom Calvert-Lewin fit that description.
We threw Francis Jeffers in nice and early, look what happened to him?
Sorry for bringing that up but we have to be patient with kids or we burn 'em oot!
Stewart Lowe
19
Posted 03/08/2017 at 08:17:37
I don't understand the downer people are on???? Koeman sees what this lad does day-in & day-out and if this game isn't right for him then so be it.
We are fortunate to have a manager that has already been stung once in this competition so it's not like we are putting out a 2nd string as a lot of managers might. Stay positive, the quality will come through. I think we will go through either 3-1 or 4-1 on aggregate.
Adam Luszniak
20
Posted 03/08/2017 at 08:20:59
Whilst Kenny would be a welcome addition to the team from my point of view, I have to agree with those above deferring to Koeman's first hand knowledge of our youth players. Hard to criticise the man when last season he gave opportunities to Davies, Lookman, Calvert-Lewin and Pennington that I can remember.
How many other Premier League managers did that? How many academy products will even make the bench for Chelsea, for example, in the coming season?
Will Mabon
21
Posted 03/08/2017 at 08:22:26
Interesting about the odds, Gordon. I wouldn't know how to call this one, myself.
Will Mabon
22
Posted 03/08/2017 at 08:24:24
"
I don't understand the downer people are on????
"
Stewart, it's called "Last Thursday".
James Watts
23
Posted 03/08/2017 at 08:24:28
Dean (#18). It's not about knowing more than Koeman although a one-legged blind donkey without any hooves is a better right back than his new favourite. Heck, I'd even choose Coleman with his broken leg on crutches over Martina.
But these are the games some youngsters should be playing in to see what they are made off in competitive games. Davies & Lookman only got a few mins in the last game, but we know they are good at least, and he played Calvert-Lewin as a right winger! Not even a sniff for Kenny. If we had a good or even decent right back then fair enough. But we don't.
Dave Speed
24
Posted 03/08/2017 at 08:38:08
I can just see it now – Koeman says "Okay, I put the kids in because this is the type of game to give them a chance, but OK we got beat. But Okay the Europa League isn't that important because all the PL teams get shafted except Man U who were dead jammy. But Okay everyone is happy because I did it their way."
AS IF! If he puts the kids in when it's a must win and we lose he would get castrated by most on here. He will go with experience and maybe one young one at a time.
The time to blood the kids is in the Premier League where we can recover if they screw up. If we have aspirations of winning cups we have to put out strong teams because there are no second chances. Maybe if we get to the group stages and have already won the group would be a good time.
Ciarán McGlone
25
Posted 03/08/2017 at 08:41:00
Those who think this is simply about the result are wrong. Koeman has shown very little evidence that he is a top manager at this club so far. His probation is over.
Charlie Lloyd
26
Posted 03/08/2017 at 08:42:51
Martina over Kenny is a strange one for me. I've seen Kenny play about a dozen times now and he has impressed me.
I get the opinion that Koeman sees them everyday in training so I suppose I have to defer to the greater exposure of the manager. Maybe he feels he needs the experience of Martina at the moment.
I don't want Kenny loaned out though. We are short at right back. McCarthy! Holgate! So he should get his chances throughout the season.
Dave Speed
27
Posted 03/08/2017 at 08:44:48
Ciarán (#25) – Really? It's ALL about the result. The time for pretty football is when the business is done. As I said in my last comment, if we don't get through there will be hell to pay.
Nothing has gone really wrong at the moment and half the TW posts have Koeman hanging by the nads! Get real lad.
Jerome Shields
28
Posted 03/08/2017 at 08:45:44
The reason that so many supporters are apprehensive is that they don't have confidence in the Manager. His performance so far hasn't reflected a project that is up to speed.
The transfers he has chosen or the ways they have been used have emphasised the weaknesses, rather than the strengths of the Manager, which where apparent last season. Some of the players on are out transfer list are better than what is available out there or in some cases what we have bought.

Barry Pearce
29
Posted 03/08/2017 at 08:47:05
I get Koeman gets to see them in training. So he obviously doesn't think Jonjoe is ready, but come on... seriously? Martina. Is he really better than Jonjoe? I for one think not.
Geoff Williams
30
Posted 03/08/2017 at 08:48:13
If Martina, Williams and Mirallas play, then I would be very unsure of a victory.
Tony Abrahams
31
Posted 03/08/2017 at 08:54:07
I would call your realists, pessimists Will, because realistically this game should not pose Everton too many problems!
Ciarán McGlone
32
Posted 03/08/2017 at 08:54:53
Dave,
We are playing a pub team. Platitudes about their fitness are mealy-mouthed nonsense that distracts from the issue. Koeman has spent a lot of money, this is his team.
Bad selection, formations, substitutions and a general continuance of the poor management and insipid performances of last season will be rightly ripped to shreds on these pages. It is NOT about the result. It is about the manner of the result.
John Hughes
33
Posted 03/08/2017 at 08:56:14
O ye of little faith! Come on you Blues!!!
Gordon White
34
Posted 03/08/2017 at 08:58:02
James (#23), if you don't like Martina – just say so. Don't beat about the bush. Lol!!
James Watts
35
Posted 03/08/2017 at 09:04:04
Gordon #34. I think he's a great player. Can't understand why City didn't go for him over Walker. Perhaps he turned them down to join our revolution? ;)

Will Mabon
36
Posted 03/08/2017 at 09:04:14
"
I would call your realists, pessimists Will, because realistically this game should not pose Everton too many problems!
"

Too optimistic, Tony!
Martin Nicholls
37
Posted 03/08/2017 at 09:05:24
I can just imagine tonight's team talk if it were to be given by the many would-be managers on here: "You're all shit and you've got no chance against these. Might as well go home now."
Inspirational stuff, eh?
Will Mabon
38
Posted 03/08/2017 at 09:07:04
Dave & Ciarán – you're actually both right, really.
Martin Nicholls
39
Posted 03/08/2017 at 09:11:05
Ciarán – on the contrary. This is a cup game and it most certainly IS about result rather manner of result. What "distracts from the issue" is people who relentlessly concentrate on anything negative to the exclusion of all positives about our Club and team. COYB
Thomas Lennon
40
Posted 03/08/2017 at 09:12:48
It's a potential banana skin. We have struggled in the past in games like this and we have an incomplete team that is far from having found its feet yet with more than a bit of pressure to get through.
The opposition have shown themselves to be well organised, very fit, great at breaking up play. Bit of pace up front.
A recipe for more than a few squeaky bums at 9pm if it's still 0-0. Enjoy!
Len Hawkins
41
Posted 03/08/2017 at 09:14:15
Pessimist =
Optimist =

=EVERTONIAN

Glass half full =
Glass half empty=
Tony Abrahams
42
Posted 03/08/2017 at 09:15:48
Get the knives out, and start boiling the pot now, Ciaran!
Colin Grierson
43
Posted 03/08/2017 at 09:16:31
John #17
Happy Birthday lad!
What is Martina's game? Judging by last weeks performance, it's certainly not football. Is he a decent golfer who knows a few card games? Maybe he's a bit of a joker and is good for morale? If he plays then I hope he proves us all wrong.
Anyhow, I'm an optimist. I think the lads felt a bit of pressure last week and will relax more away from home. I think Sandro will win this for us. I reckon he's gonna be a star. 0-2 tonight COYB!
Chris Watts
44
Posted 03/08/2017 at 09:18:06
Of course it's about the result. When the season starts, we can moan if the football is stodgy but going out of the competition before it even starts will smash morale to bits. We simply must get through tonight.
Squeaky bum time indeed. Let's hope we get an early goal.
Dave Speed
45
Posted 03/08/2017 at 09:28:33
Ciarán, of course it would be great to see everything fit together. Will is correct as we both make good points. P>My main point is that, ignoring the fitness excuses and so on, Koeman is going to pick a Koeman team because we
have
to get through. He is going to stand or fall by his
own
choices. If that means Cuco, Williams etc then so be it.
Maybe my sarcasm rankled a bit because I am not good at it (obviously!) but Chris Watts makes an equally good point about morale. If Williams makes a bad pass and they score, or if Cuco scores an own goal and we get through anyway, I am sure that Koeman will deal with it later.
But tonight is about him. You are right, probation is probably over and that is my point. Now, where's that blunt knife...
Ciarán McGlone
46
Posted 03/08/2017 at 09:30:34
I'll give my honest assessment after the game, Dave. Hopefully I'm pleasantly surprised.
Dave Abrahams
47
Posted 03/08/2017 at 09:32:35
Dean (#18), it is not about kids in the youth team. Jonjoe Kenny is 20, he's ready, he's good enough, he's earned his chance, and he is not even on the plane,as to Koeman sees him every day in training, well he must be wearing bleedin' blinkers.
I think we will win tonight, I am more concerned about the Stoke game; if Kenny isn't getting picked against this team he will not be playing versus Stoke and I hope Martina proves a lot of us wrong. To be honest he wasn't poor last week, but he didn't inspire any confidence either.
Jonjoe, if you don't get your chance at Everton, you will somewhere else and it will be in the Premier League. You should be getting plenty of confidence by the coaches at Finch Farm and maybe you are; doesn't look like it from here.
Jon Withey
48
Posted 03/08/2017 at 09:34:25
They were pretty organised last time and managed to find some space in attack a few times.
Looking forward to more from Ramirez and to see Pickford in goal.
Expecting we'll muddle through like last time.
Phil Walling
49
Posted 03/08/2017 at 09:37:50
Putting the Kenny issue to one side – he'll be out on loan by season's start, anyway, you have to question Koeman's judgement if he genuinely rates Martina enough to sign him!
Rather like his other bessie, Stekelenburg, he had long enough to recognise their 'crapness' at their previous clubs before burdening Everton with their wages and inadequacies!
We'll win tonight, though!
Dave Speed
50
Posted 03/08/2017 at 09:38:35
Ciarán, yes, I agree. I am just as much a nervous Evertonian as the rest as I have had half a century of mostly heartache with a few good seasons here and there with some success.
I wish I could be as confident as some on here but I will be watching in my incontinence pants to save running to the toilet. The only confidence I have is that I am confident that we all want the same thing.
John Hammond
51
Posted 03/08/2017 at 09:40:59
While we'd all like to see Kenny and it's disappointing for the lad, I thought Martina did okay. My biggest concern though is Rooney – he has to be nowhere near the starting 11 for this game.
Dennis Stevens
52
Posted 03/08/2017 at 09:49:30
Get an away goal and they suddenly need three; I can't see us conceding that many. Let's not bottle it again in Europe, as has happened so often during the last 15 years, or more.
Barry Pearce
53
Posted 03/08/2017 at 10:08:32
Dave (#47). I'm with you 100% on your take about Jonjoe.
Koeman said if Jonjoe hadn't have been playing in the Under-20's World Cup, he would have played the last couple of games instead of Holgate, as he thought he offered more offensively. A blind man could have told you that.
So what's suddenly changed this season, with Jonjoe not even in the squad?
Stan Schofield
54
Posted 03/08/2017 at 10:10:20
Looks a strong team on paper. Should be able to wrap this one up.
Kris Boner
55
Posted 03/08/2017 at 10:13:47
I remember us playing a certain team by the name of Metalist Kharkiv under Moyes, early on in a season.
The team was one of his better ones, during the time Anichebe actually scored a good haul in the Uefa Cup, I think.
We looked awful during those games as the team hadn't gelled, the tactics were struggling to be imposed and the general miasma that surrounded our starts under Moyes.
We've had a tonne of new signings, who have never played together properly, trying to impose a new 'interchanging' style of attacking play, which please Lord some of you have to say you witnessed the basics of being displayed by the Rooney - Klaassen partnership last week.
All of these things, I'd have thought after years of Moyes, people would have noticed take time to make natural and instinctive. This is the second competitive game of the season, I expect better fitness and a better attempt at what Koeman is asking them to do, against a team that can no longer sit back and defend because if they do, they will be staying at their 4,000-seater stadium whilst we leave it winners, heading to bigger and better things.
It really makes me wonder what people actually think happens when an athlete goes into their off season and they reduce to a lower leave of training to let their body recover from the stresses of a season. Do they think that peak fitness happens instantaneously or something?
David Milner
56
Posted 03/08/2017 at 10:14:32
Lyndon, I hope Koeman does not see your predicted line-up.
Jags in at centre-back? It's bad enough having him on the bench. Jags may be a good guy but he has been on the decline for the past 2 years. Remember Phil Neville!!!!!!
All Jags is doing is keeping a youngster off the bench that might have an effect on the game in the final 10 minutes.
Martina is also a strange one. He was not bad in the first leg but did not inspire confidence. Jonjoe Kenny was excellent last season for the U23s & also for England U20s, but was not very good going up against men in Tanzania. Mason Holgate in the second half in Tanzania was a vast improvement.
Young Jonjoe probably needs another year on loan in the Championship playing regularly. Martina, if he gets selected, will only be keeping the seat warm for Seamus anyway.
Was it not Jags that was partnering Alcaraz when we got hammered in Kiev? Both were diabolical. If we need to play a 3-man defence then it has to be Holgate, Keane & Williams. If a flat back 4 then 2 of those 3. We need to win this game remember.
The Club Captain should not be an automatic choice.
Chris Gould
57
Posted 03/08/2017 at 10:17:40
Martina is a worry but will hopefully have improved with another week's training with the team. The lad has only been with us for 2 weeks.
I figured we must have signed him to bring us a bit of pace on the right but he didn't once have the confidence to push it past the defender and try and get into dangerous positions.
He was also highly suspect when they nearly scored in the last 10 mins. He should have challenged the cross that led to the chance they should have scored from. Instead he just stood and watched without challenging a free header. He looks shaky and I am as confused as the next fan as to why we signed him.
Clearly cover for right back was not a position we were prepared to spend money on. I just hope Coleman has a speedy recovery.
Mark Taylor
58
Posted 03/08/2017 at 10:33:25
I think we'll win this handily. We are a week fitter and they won't be able to park the bus as they did a week ago.
I take the point about Kenny v Martina but having watched a fair bit of Jonjoe, I don't think his defensive abilities quite match his attacking qualities. Reminds me of an early version Seamus. In any case, my bigger concern is the quality and pace we have up front. Rooney is too slow to play through the middle, I don't see Calvert Lewin as a winger and if Mirallas gets to be a first team choice, I wonder how we can say we have improved as a squad.
Someone on here said he thought Calvert-Lewin lacked pace. Can't see that at all myself, it is one of his big assets. I would be tempted in this game to play a front two of Sandro and Calvert-Lewin, with Rooney operating as attacking midfield and three midfielders behind. Fast counter-attacks will be our likeliest route to goals.
Peter Gorman
59
Posted 03/08/2017 at 10:55:23
"We threw Francis Jeffers in nice and early, look what happened to him?"
He scored lots of goals, moved on for a big fee and became a full international?
Odd analogy...
Barry Williams
61
Posted 03/08/2017 at 11:07:06
We are a week fitter and won't be giving debuts to 5 new players tonight. So fingers crossed.
As for Jonjoe Kenny, I would like to see him in the squad, but let's just think of the facts for the moment. He is only 20. How old was Coleman before he made a real impact? He was initially used as a winger, he was also sent out on loan to Blackpool, which arguably was the making of him.
Also, how many of the 6 teams that finished above us last season had a 20-year-old untested right back? Maybe they all did, I am not sure. I would be surprised if any did to be honest. Sending him out on loan seems a sensible thing to do. But as said, I'd be happy to see him in the squad.
Far from being anti-youth, I am sure Koeman gave more playing time to youngsters than certainly anyone in the top half of the league at least. Has anyone noticed how many players have been brought in to the youth set-up so far this summer?
Am I the only one who thinks Davies would make a good right back? I remember Snodin went from centre-mid to right-back, but different times and circumstances though.
I reserve judgement on Martina until I have seen him enough times in a blue shirt.

Franny Porter
62
Posted 03/08/2017 at 11:10:11
PESSIMISTIC POST ALERT!!!
I have to say, I'm not convinced by Koeman. We don't play very attractive football, the pressing game he talks about just doesn't happen either.
For some reason, I just haven't taken to Koeman and cant see us doing anything with him at the helm. He's made some awful decisions – that derby team, Martina, the way he uses Calvert-Lewin.
I'd take Unsworth over him today if I could.
Peter Gorman
63
Posted 03/08/2017 at 11:10:26
Barry, Davies would make an adequate right-back, played well there in last season's friendlies but less so in one competitive game. It would be a complete waste of his talent though, like putting Rooney in goal.
Barry Williams
64
Posted 03/08/2017 at 11:13:23
Peter Gorman (#63),
Yes, it may not utilise his talents as much but it would give him more game time as the midfield is rather congested at the moment. But, I can see your point. I think McCarthy is another shout. In modern day football I am not a fan of using centre-backs at right-back, maybe it is just a hangover from the Smith era!
Jay Wilson
65
Posted 03/08/2017 at 11:14:52
Apparently Davies has. Even training as right wingback this week. Good call? I think it could be a master stroke.
Jer Kiernan
66
Posted 03/08/2017 at 11:35:03
Last week was hard to watch, but I am hoping for a brace from Sandro and easy passage through. I am still not sold on the Rooney thing, I am thinking we are just indulging this guy and I note a lot of the toffees especially the younger supporters have pinned their hopes on him producing.
I am hoping he is taking this responsibility on board but judging by his waist line I have my doubts. Very few players can produce at this level unless they are in tip top shape I have been proved wrong in the past and hope to be on this occasion.
Hate to kick a guy when hes down but I have to agree with most of TWebbers that Martina looks like a dreadful player that will be torn apart in the Premier League again maybe he is rusty. I am trusting Koeman on this one and am unsure if he had the final say on the Rooney deal.
Here's hoping for a couple of early goals and a relaxing night!!!
Barry Williams
67
Posted 03/08/2017 at 11:43:56
Jer Kiernan 66
I am hoping he is taking this responsibility on board but judging by his waist line I have my doubts
It's all about opinion, but for me Rooney looks thinner than he has done for years!
Stu Gore
69
Posted 03/08/2017 at 11:49:39
Blues will score tonight. They won't get three.

Gordon Crawford
70
Posted 03/08/2017 at 11:58:12
We have played one competitive game and some people are panicking. Let's give it a few months and then we can start the Koeman Out posts.
As for tonight, I'm hoping we will put this team to the sword. But I'll happily take one-nil.

Mike Berry
71
Posted 03/08/2017 at 12:03:20
We will need a massive improvement from last week's game, being there we were very poor and I am assuming it was down to new players and fitness levels. We will need at least two goals and early to put this to bed.
I hope we put in good and competent performance being in the media eye, and the fans behave and show respect, which I am sure they will.
Jer Kiernan
72
Posted 03/08/2017 at 12:08:32
Hi Barry
You're right it is all about perceptions. I know he was never the thinnest but he is carrying bulk, the older you get the harder it is to carry, he looked laboured when actually kicking the ball, ballooned a shot at goal into orbit and his touch on the ball looked to me like somebody who was struggling to just keep pace with the game, It is very early but if you looked at the post match interview last Thursday he had actually turned purple.
I am hoping he can influence games without having to cover too much ground, my gut (no pun) says that Koeman had no say in this and that Kenwright thought it just too good a story line to pass over. He will cost us £12 million over 2 years; I am going to try to stay dispassionate and judge him on this alone whatever happened in the past will / can have no relevance to how he succeeds or fails with Everton 2017-19
Only time will tell...
David Hallwood
74
Posted 03/08/2017 at 12:15:55
About Koeman playing the kids last season. Was that out of a desire to give them a chance or out of necessity?
I'm with the general consensus about Kenny. Obviously Martina's his guy and you can forgive his defensive lapses it may be first night nerves but he showed little overlapping potential when he had acres of space to run in to.
I must admit, now that he's got money to play with, I'm concerned that our own golden generation will be loaned, sold and generally ignored. Don't forget the great Man Utd side and Barça sides were all built round their youth team.
To quote Donald Trump. Sad
Barry Williams
76
Posted 03/08/2017 at 12:38:15
Jer Kiernan (#72),
It's too early to tell what impact Rooney will have, I am keeping an open mind and certainly was expecting the second coming. I just don't feel that Koeman would have entertained the move if it was mostly about a good story line, he just doesn't strike me as the sentimental type whatsoever.
We have a lot of new players and the promise of more players to come, so I can see Rooney occupying different roles and he is capable of doing this; only time will tell if he proves to be a good signing on the pitch, we are in agreement here. Off the pitch, I think he does offer a lot of things that the rest of the squad don't have.
It's all about opinions!
Kevin Tully
77
Posted 03/08/2017 at 13:04:31
ToffeeWeb has become a strange place to visit of late. There seems to be a general consensus that most of our youth players are better than established Premier League players. I'm also guessing most of these posters have never watched more than a couple of youth or reserve games, if any.
Looks like we've just wasted over £200m, when we could just have just got Unsy & the kids in. Stupid, eh?
Tom Bowers
78
Posted 03/08/2017 at 13:07:55
Whilst it would be nice to do well in this second-rate competition, I wouldn't be pulling my hair out if they didn't. It's more important to get the performance right and the fitness level to the maximum at this stage but I really don't see Everton losing this tie today.
It was so important that the opposition didn't grab an away goal.
Thomas Surgenor
79
Posted 03/08/2017 at 13:13:07
David (#75),
I tend to agree with you. Us fans were demanding Davies to be played long before Koeman put him in. In fact IIRC Koeman only put him in due to an injury crisis. So in reality, he got 'lucky' with Davies due to circumstances.
I can't believe Kenny isn't playing tonight.
I believe the problem is that football is such a cut throat business in England. Managers can't afford to risk their jobs on the gamble of a kid so prefer to rely on the (perhaps less talented) seasoned professional that will guarantee you a 7/10 performance that gamble on a kid who could give you a 10/10 or a 4/10 while developing.
Unfortunately this is standard across the Premier League. An average but experienced player from a foreign league will always be preferred to youth due to the risk of the manager's job.
When Moshiri first took over, the sensible fans knew his first few years would be spent primarily sorting out the business side of the house – we weren't going to do a Man City or Chelski. As such, I felt he missed a golden opportunity to put trust in Unsworth and the kids. If it failed, we could still pump the money in as the business side would be sorted.
Phil (Kelsall) Roberts
80
Posted 03/08/2017 at 13:18:02
I was one of the ones who posted some very negative stuff about Martina's performance last week and I have nothing to change my mind.
The real frustration was his slightly dodgy defending but, more significantly, that he gave us nothing going forward. We have been spoilt by Seamus. But all the calls on here for Jonjoe Kenny are based on his attacking flair and that this is better than Martina and he should be picked over him.
However, the main responsibility of the right-sided defender is to defend and attack is secondary. How would we all feel if Jonjoe made a couple of complete howlers at the back and we lost 2-0 or 2-1? Because maybe, just maybe, the Everton management do not think his defensive qualities are good enough yet. And in such an important game as this, a team talk which says guys we need to draw or win and can't let a goal in, he would not play his normal game (a la Seamus)?
Maybe his experience is not enough to know when to bomb forward and arrive at the back post to score or take on their full back and so he will stick to his defensive requirements only and in this atmosphere perhaps Martina will have greater experience and therefore less chance of a mistake.
I'm not saying he will, based on last week and the Genk friendly, but maybe that is Koeman's thinking.
And I do think it was Seamus's time at Blackpool that made him. He did play left-back against Benfica in 2009 in a Europa League match and was awful as we lost 5-0. Yes, this team are not Benfica, but putting in a guy for his debut on such an important match is maybe not a wise move. But if Jonjoe becomes the next Seamus – fantastic!
Paul Tran
81
Posted 03/08/2017 at 13:30:17
Beckham was sent to Preston on loan. And that team of Man Utd kids had been preceded by title-winning sides, so it didn't come from nowhere. They had a foundation of winning role models in the dressing room to learn from. Not the case with us.
For now, in this respect, I'll go along with the judgement of the manager who played more young players than anyone else in the league last season.
If they're good enough, they'll break through, just like Tom Davies.
Steavey Buckley
82
Posted 03/08/2017 at 13:40:48
The predicted line-up may be good enough to beat MFK Ružomberok but is definitely not good enough to beat any of the top 6 Premier League sides. The team has no width or real attacking threat. The defence on paper looks shaky even with Keane in it.
Steve Carse
83
Posted 03/08/2017 at 13:50:44
Kevin (#77), you're probably right in that many posters probably haven't seen more than a handful of U23 games – the unfortunate thing is, neither has Koeman (3 to be precise).
Mike Allison
84
Posted 03/08/2017 at 13:51:20
I was unhappy last week that Martina played instead of Kenny. However, I seem to be better at getting over stuff than some other posters. The assumption now has to be that, like Dowell, Kenny isn't really part of this season's plans.
As someone else mentioned above, surely he's going to spend this season out on loan playing regular first team football in games where the result really matters, without it being in the absolute glare of the Premier League spotlight. For your own sakes I suggest many of you join me in simply accepting that the plan for our youngsters is a longer term one and that we won't see them in blue this season.
We can then move on to whether or not Martina is good enough on his own merits, rather than having Kenny there as a comparison. For this, I suggest we need to give him more than the one display last week. Only five to ten games in will a judgement really be fair.
Ray Robinson
85
Posted 03/08/2017 at 13:59:05
Kevin (#77) – I totally agree with you!
Steve Ferns
86
Posted 03/08/2017 at 14:00:12
I'm fuming that Koeman hasn't even taken Kenny. He is 20 years old. Next pre-season he will be 21. For me, that's too old. This is his big chance to break into the side.
He was the best player as they won the U23 Premier League 2 title. He was arguably England's best player as they won the U20 World Cup only a few weeks ago. But he has barely played him, despite Jonjoe looking good in the two halves of games he has played so far.
Imagine if we had signed the Venezuelan U20 world cup finalist right back, we'd be clamouring for him to be straight in the first team. What's the difference? We have a player that everyone in the Youth team setup says is ready. The fans all want to see him. We are playing a side who would get beat by Marine. Why the hell are we not playing Kenny? Why is he not even on the plane?
What is it with Koeman and kids? This smacks of his refusal to play Davies for 6 months last season. Hopefully something happens to give Kenny his shot, like Davies, and he grabs it with both hands. Not that I want to wish injury on anyone.
On an aside, anyone ever hear about Zirkzee again?
Gordon Scott
87
Posted 03/08/2017 at 14:02:30
For all those baying for Kenny to play, can I remind you about how well Pennington fared, especially last season, when 'youth' was called upon to step up to the plate. I am sure that many of you were of the opinion that he was ready for first team action and should have been playing.
I hope the lad has a good season on loan, which is exactly what we should be doing with Kenny.
Steve Ferns
88
Posted 03/08/2017 at 14:08:03
I disagree Gordon. It's different to compare a game against no-marks from Slovakia to a game against Liverpool.
I think Pennington did well in the League Cup games, despite being forced to play as a right back and to get forward and put crosses in.
If Kenny played and did absolutely shite, he'd still have played better than Martina did last week.
James Watts
89
Posted 03/08/2017 at 14:10:42
Kevin (#77). You seem to have a few things incorrect.
"There seems to be a general consensus that most of our youth players are better than established Premier League players." Not at all. I, with few others, only wanted Kenny to be involved over a no-mark third-rate shite right back in Martina. Unless you're asking Koeman as he has a new favourite by the looks of it.
Kenny deserves a chance based on his performances. Martina doesn't. Oh and Martina is hardly established as he was third choice at Southampton. I don't think that's too much to ask. I really question Koeman's judgement if he continues playing Martina.
And we haven't spent £200m in fees. Not even £100m yet this summer.
Michael Burke
90
Posted 03/08/2017 at 14:12:24
I'd happily take a drab game tonight and we go through.
Ciaran, it is fanciful to think it is about the performance and not the result. Unfortunately, it is the result that matters to Koeman and his hierarchy. That's because it's the result that keeps us in Europe, the Premier League etc.
Fans passing through the turnstile do not have the power they once did as they now provide a very small part of the clubs income. The money on offer from TV deals means that it will take a very brave manager to blood many youngsters at once. Something Everton are actually very good at.
I think we have the highest number of teenage scorers in the Premier League (possibly on par with Arsenal – who seemed to have dispensed with youth and buy in now).
James Stewart
91
Posted 03/08/2017 at 14:13:51
It will be:
Pickford
Martina Keane Williams Baines
Gana Schneiderlin Klaassen
Calvert-Lewin Sandro Rooney
I would rather see Calvert-Lewin only used as a target man but Koeman doesn't really deviate.

James Watts
92
Posted 03/08/2017 at 14:14:49
Gordon (#87). Dropping Pennington in was dumb. Especially against them at their place. Pennington wasn't ready for a game like that. That was a special Koeman master stroke.
But we are playing a Div 2 standard side, at best. I would argue this is the perfect time to play him, just as much as the home tie was as well as was the Genk friendly. Instead, you'd rather see Martina play?
James Stewart
93
Posted 03/08/2017 at 14:15:58
Davies should also be starting, in my opinion; none of our other midfielders are as dynamic.
Ed Fitzgerald
94
Posted 03/08/2017 at 14:18:19
Kevin Tully @ 77,
As that wise old sage Alan Hansen once said you will never win anything with kids – especially those who have grown up at the club.
I admire Koeman's policy of fucking off young local talented players Kenny, Dowell, Barkley to buy Dutch players who couldn't get into Southampton's team. Apparently we are chasing another defender who is Dutch as well, surprise. At least he brought Rooney home, FFS!
If Moshiri Is the hard-headed leader he claims to be, then – unless Koeman delivers a marked improvement on the points total and a trip to at least one semi-final this season – he should be fucked off. He is richly rewarded and financially supported in the transfer market; time to deliver and cut out the excuses.
Jay Harris
95
Posted 03/08/2017 at 14:37:57
I almost didn't post on this thread.
The amount of negativity just before an important game is beyond belief.
People are making an issue about a kid who has played 2 top level games not being picked for this game.
FFS, lads – get behind the team and the manager and give them a chance instead of carping like spoiled kids on Football Manager's amateur hour.
Thomas Surgenor
96
Posted 03/08/2017 at 14:38:52
Gordon (#87),
I disagree. I don't think there was as many people wanting Pennington to get an opportunity as there is with Kenny.
For me, Pennington was already behind Browning, Holgate and Galloway in the picking order of centre-backs.
Kenny has put in some great (and consistent) performances and is IMHO our first choice youth right-back (despite Holgate getting opportunities there). Pennington was never (again in my opinion) first choice youth centre-back.
Gordon Scott
97
Posted 03/08/2017 at 14:43:00
James (#92).
I do agree that this is a Div 2 Standard team that we are playing against, but if Kenny were to drop the ball or not be up to standard, would you still see him starting our first game of the season against a tough Stoke side?
Surely Martina will be starting that game, and given his lack of time at the club, these are the sort of games he should be playing in order to gel with his teammates, and get up to speed.
Not an ideal situation for either player I guess, Kenny has looked good against the standard of opposition he has currently faced; and yes, unless you throw some game time to these younger players, we will never know if they are up to it or not, but surely that is what the loan system is for?
Let's just hope that we can hold it altogether with whoever holds down that position until a fully fit Coleman can come back and reclaim.
Andy Crooks
98
Posted 03/08/2017 at 14:48:12
I expect us to win comfortably. I think the coach is using these games as part of pre-season. The fitness levels last week were abysmal and I hope for better tonight. This is Koeman's team and I think there can be no excuses. Defeat would be indefensible.
Lee Jackson
99
Posted 03/08/2017 at 15:00:41
By putting players in their correct positions, I'd go with:
Pickford
Martina (unfortunately) Keane Holgate Baines
Lennon Schneiderlin Klaassen Lookman
Rooney Sandro
The above was based on quick counter-attacking so I went with pace where possible but also it left me thinking that we are clearly short on the right until Bolasie comes back (and I even prefer him on the left!).
An alternative with 3 at the back (trying anything to get Martina out of the line-up) and going 3-4-3, with Lennon and Baines able to drop back and cover the flanks if needed:
Pickford
Holgate Keane Williams
Lennon Schneiderlin Klaassen Baines
Sandro Rooney Lookman
For either, Gueye could be swapped with Schneiderlin.
Anyway, COYB – 2-0 tonight!
Mike Doyle
100
Posted 03/08/2017 at 15:01:34
Koeman is doing what most managers building a CV are doing – seeking to minimise risk by opting for experienced players. He has been tasked with delivering a top 4 place in a short period of time and is adopting a fairly standard approach.
How many youth players have broken through at Chelsea since John Terry? Zero. If John Terry was aged 19 or 20 today, how likely is it that he'd be given a chance? Low/probably zero.
If the Sky money holds firm, expect to see few youngsters breaking through at most Premier League teams. Every now and again, a Rashford or a Tom Davies will break through... but they'll be rare exceptions – most won't get the chance.

Kevin Tully
101
Posted 03/08/2017 at 15:08:42
Just swap Unsy for Giggsy and we've cracked it...
Kevin Tully
102
Posted 03/08/2017 at 15:16:06
Just picturing a few posters waiting for the first misplaced pass or poor challenge from Martina later... sweaty palms hovering over the keyboard.
Enjoy!
Sam Hoare
104
Posted 03/08/2017 at 15:24:14
James @93 – I reckon Gana is as dynamic, no? He's non-stop movement. But his passing and dribbling is not as good.
Dave Abrahams
105
Posted 03/08/2017 at 15:30:50
Jay (95), I have been making an issue of Kenny not being picked for the last few months not just tonight's game.
Take it for granted Jay, that we are all behind the team in every game they play; we also want the manager to be a success as that makes Everton successful.
Jay, and I stress again, it is not about a kid; Kenny is 20 years of age, it is a football game we want him to play in. He is not going to fight a war, even though he would be well old enough to fight in one.
Jer Kiernan
106
Posted 03/08/2017 at 15:45:07
Kevin @102
I will try to refrain as it's early in the season but let's just hope he doesn't have a performance that could crash the TW Servers!!
Dan Davies
108
Posted 03/08/2017 at 15:48:20
25-yard screamer for Martina tonight then!
John Pierce
109
Posted 03/08/2017 at 15:52:41
Ron, are you out there? Please speak to me! Please just show a tiny fraction of adventure.
Pickford,
Martina, Keane, Williams, Baines
Davies, Schneiderlin, Klaassen
Rooney, Calvert-Lewin, Sandro
Please play the young lad in his correct position! Not beyond the wit of man is it?
No need to play both Gana & Schneiderlin – it smacks of a defensive mindset against a bunch of farmers.
Round pegs, Ron lad, rounds pegs...
Dan Davies
110
Posted 03/08/2017 at 16:04:31
In all seriousness though, this is probably the most exciting time as an Evertonian in a long, long while. We have a number of new signings we could be talking about.
Yet this thread is dominated by singling out the weakest link – we all know who! How's about talking up our other players? Rather than focusing on the negative?
Let's hear some positive posts about Pickford, Sandro amongst others? Let's be positive, ay?
I'll take Dave's comments on board as I understand he's watched the Under-23s and Jonjoe and fair play to him for that but others just seem to be jumping on the bandwagon.
Adam Luszniak
111
Posted 03/08/2017 at 16:08:38
Thomas Surgenor, post 79. I have to take issue with your assertion that Koeman 'got lucky' playing Davies.
If Koeman has a player injured, and chooses to take a punt on a youngster, in what sense is that lucky? I mean unless he just picked a player totally at random It seems to me he made a decision that Tom was ready, and was vindicated by Tom's performances.
If Koeman had picked Mattheus Hewelt by random, played him at centre half and watched him score a hat trick in the Anfield derby on his debut, I would consider that 'lucky'. Otherwise it's just good decision making from the manager.
Stephen Ashton
113
Posted 03/08/2017 at 16:39:00
If we do go through tonight, looking at the teams that are definitely seeded from the Champions League losers, we are absolutely not guaranteed to be seeded in the next round which brings up the possibility of a rematch with our friends from Kiev.
Also had me thinking would Yarmolenko be a better bet than Sigurdsson – a year younger and still banging them in. Would not cost anything like £50m.
Rozemberok's Uefa co-efficient is about the same as Derry City's and Sligo Rovers', which gives you an idea of the size of the task facing us tonight!!!!!
Tony Everan
114
Posted 03/08/2017 at 16:49:25
Sandro scores 2 or 3 tonight? The chances will come for him tonight and I think he will score at least one. He looked lively last week, some of the others looked like slow motion.
If he can just "calm down" a bit and add a smidgen of composure, I think we have a top player on our hands.
Raymond Fox
116
Posted 03/08/2017 at 17:25:49
Like Tom 78, I'm not keen on this competition.
Its more likely to balls up our League campaign than be of benefit. Yes there's definitely two ways of looking at the competition and many will disagree, but for me there's more negatives involved than advantages playing in it if we are hell bent on a high League finish. Risk of injuries to key players, traveling time and disruption to League campaign being some drawbacks.
We should turn the opposition over tonight, we are going to field our best team and will out class them no problem.
Can we lay off the over the top criticism of Martina, he wasn't great but he wasn't that bad either.
Terry Maddock
117
Posted 03/08/2017 at 17:46:23
Any Blues currently in Krakow know where the match is being shown.. GF doesn't fancy 3 hours on a bus... :)
Andrew Thompson
118
Posted 03/08/2017 at 17:50:32
Kevin #77
Started reading ToffeeWeb to get some informed opinion on my loved Blues. Have enjoyed some great features from the members, and some much missed optimism.
Having had time to look over the opinions on here today, I feel like giving up.
Neil Thomas
119
Posted 03/08/2017 at 17:52:20
Were forgetting some of these players ain't been with us long and still settling in so let's give them a chance and just get through this game.
Alex Parr
120
Posted 03/08/2017 at 17:58:25
Just bewildered about the absence of Kenny again, not even travelling, yet that useless-looking joker Martina is likely to stink the place out again. Very annoyed.
Kim Vivian
121
Posted 03/08/2017 at 17:59:22
I agree, Martina wasn't dire last week against that level of opposition and I saw some intelligent play from him going forward.
However he is meant to be a defender and having watched that last week, what bothers me is what the likes of Hazard, de Bruyne, Coutinho, Sane, Pedro and a few others might do to him.
Dave Pritchard
122
Posted 03/08/2017 at 18:05:47
Jonjoe Kenny is a young player with virtually no first team experience. I would have been happy for him to be in the squad. The fact that he isn't suggests that Koeman feels he is not ready.
I had to smile when I read Stephen's post at 113 seeing Yarmolenko being suggested again. Had forgotten all about him.
Mike Gaynes
123
Posted 03/08/2017 at 18:06:07
Thomas Surgenor
124
Posted 03/08/2017 at 18:11:04
Adam (#111).
All I meant was his hand was forced. He had no other option but to play one of the kids! It could just have easily have been Liam Walsh that got the opportunity (if he had not also been injured at that time).
It was either play Davies or put Jags into midfield. So okay... I'll give him credit for picking Davies over Jags. His hand was forced with the youngsters!
Phil (Kelsall) Roberts
125
Posted 03/08/2017 at 18:11:29
Stephen Ashton #113 -- WRONG. We are seeded in the 4th round.
https://kassiesa.home.xs4all.nl/bert/uefa/seedel2017.html
We now know which clubs got knocked out of the 3rd Qualifying Round of the Champions League. It took place last night.
In the 3rd Qualifying Round of the Champions League, there were 8 clubs with a higher seeding than ours who got knocked out so we are down to 19th out of 22 so still a seeded team. Kiev are seeded 2. We cannot play a seeded team.
We will play one of the unseeded teams - if we get through.
We need to keep our eye on the 11 teams playing tonight who could go out and are above us in the seeding. PSV are 1-0 down having lost at home, Gent are 1-1 from their home leg, Krasnodar are only 2-1 up and the same for Bordeaux before their away legs and Sparta Prague lost 2-0 away. So we are likely to be more highly seeded.
Our concern will be that at the moment we are the last seeded team in pot 2 for the group stages. There are 4 teams coming in straight to the group stage with a better rating and 12 with worse. There are also 10 teams from the Champions League 4th round. There are 7 teams who have a higher rating than us (plus one match where both teams have a higher rating) and if one of them loses, we go to pot 3. Of course if one of the 5 teams in the previous paragraph lose, then we can afford 2 to lose and so on depending on the numbers who lose to a lower seeded team in the CL 4th round. I would quite happily give up a place in pot 3 if it meant Liverpool had gone into pot 1.
Now just relax and enjoy the game.
Stephen Ashton
128
Posted 03/08/2017 at 18:16:33
Phil, I bow to your superior web site. The official UEFA site is not nearly that detailed.
William Cartwright
129
Posted 03/08/2017 at 18:19:33
Guys, lets all take a step back and give Martina a break. He is known and trusted by Ron. Fair enough. Managers often have players they trust alongside them. Nothing wrong with that.
He is a squad player, capable of playing across the back four and midfield (we are advised) and he may well prove to be a very solid professional. He is still settling in and probably like most of the squad not yet fully fit. He is being selected by Koeman he is not selecting himself.
Jonjoe is immensely popular with Evertonians, rightly so. He is a fantastic prospect and like most of us, I feel his time will come this season. perhaps sooner than later I hope. However, subject to the manager's selection criteria he will be introduced when he feels the time is right, or possibly sooner in emergency circumstances.
With the hectic high-pressure start, perhaps Ron wants experience and youth to be available, and Martina needs the playing time? Meanwhile we need to wind down the negative aggression and let the games unfold.
Cuco is entitled to a decent respectful Everton welcome at least, and to be given a chance to show his worth. If he doesn't fit the bill, he will be found out soon enough.
COYB
Dermot Byrne
130
Posted 03/08/2017 at 18:26:32
I think Sandro playing well and scoring a couple is very important to help him gain confidence, support and put the Lukaku ghost behind him. He needs to be saying to Ron "Hey, buy a striker but he either is in team or he has a big fight to get in it." before any potential new striker comes, Sandro needs to really make his mark.
Dan Davies
131
Posted 03/08/2017 at 18:29:33
Shite.... after all that, he's on the bench!
Jay Harris
133
Posted 03/08/2017 at 18:39:36
Well said, William.
It is like some posters are willing Martina and Koeman to fail so they can say "I told you so".
Alex Parr
135
Posted 03/08/2017 at 18:39:40
Pickford
Baines
Jags
Williams
Keane
Davies
Morgan
Idrissa
Davy
Rooney
Sandro
David Booth
136
Posted 03/08/2017 at 18:50:49
Happy with that.
I would have liked to see Kenny in and Williams out, but at least there's no Martina and Davies has been given a start.
Get into them blues – don't take 30 minutes to wake up and concede the initiative.
Let is be us that grabs a quick goal for a change and then just close the game out – like a top, professional (so-called) Premier League side should do.
A lot riding on this result tonight, so play like you mean business from the kick-off and impose your class. No more of this ridiculous European inferiority strategy.
John Pierce
137
Posted 03/08/2017 at 18:54:10
Well fook me, 3-5-2... almost impressed with that.
Davies is a very positive selection but clearly says waaay too much about our options at right-back. Square peg & that, but he's good enough.
Still shudders at playing Gana & Morgan in the same team. But Klaassen running on is good.
Koeman forced himself into width albeit from wingbacks.
Phil (Kelsall) Roberts
138
Posted 03/08/2017 at 18:54:31
Stephen (#128). I may be a bit of numbers geek/nerd, but Bert takes it to a whole new level. He has updated the site already from the games played last night.
BTW the co-efficient is made up of a country number plus a club number so we get the 14-15 season performance plus the English number.
So as Slovakia is a lousy league and Ruzomberok have never been in Europe, that is why their ranking is low. Celtic's is high from a lousy league and being in there every year and winning the odd game.
Add Your Comments
In order to post a comment, you need to be logged in as a registered user of the site.
Or Sign up as a ToffeeWeb Member — it's free, takes just a few minutes and will allow you to post your comments on articles and Talking Points submissions across the site.