Everton vs Stoke City

233 Comments [Jump to last]
Friday 11 August 2017
Match Preview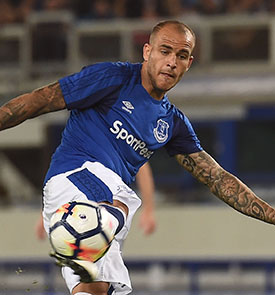 Sandro Ramirez will carry the goalscoring hopes for the Blues against Stoke in Romelu Lukaku's absence
Paul Ellis/Getty Images
A new season rolls around and Everton begin another quest to break into the top four as Ronald Koeman embarks on his second season in charge at Goodison Park.
In the context of the Dutchman's initial three-year project with the Blues, he comes into 2017-18 with what is arguably a stronger squad in all departments except in the areas that could really make the difference this time around.
Romelu Lukaku, the man on whom Everton were hugely reliant for goals has left for Manchester United but despite making a £62m profit on the Belgian, the club have yet to sign his replacement.
Sandro Ramirez, an exciting but untried entity, is the kind of signing Evertonians would have wanted to see drafted in to replace Enner Valencia; in terms of the focal point of the attack — even more so if Gylfi Sigurdsson ever becomes an Everton player — supporters are waiting to see who is identified to partner the Spaniard in a new-look attack.
In terms of the season opener against Stoke, such concerns will have to be put on the back burner because Koeman will be going with what he had for the two Europa League games against Ružomberok when it comes to team selection.
Along with long-term absentees Ramiro Funes Mori, Yannick Bolasie and Seamus Coleman, Ross Barkley and James McCarthy are out of contention but other than that it is "as you were" in Slovakia where the Blues did enough to advance to the play-off round where they will meet Hajduk Split.
Both legs against Ružomberok were underwhelming to say the least but the friendly curtain-raiser against Sevilla last Sunday offered more encouragement for Blues fans searching for evidence that the team can improve on last season's seventh-place finish. Sandro notching a quick goal in front of his new home faithful was perhaps the most exciting aspect of the game, his composed finish hopefully indicative of what he can bring to the team this term.
Equally encouraging has been the form of Michael Keane in pre-season and in Europe, together with the promising early glimpses of Jordan Pickford. Together with Davy Klaassen, who has the potential to be a significant addition to midfield, at around £80m the English duo represent the vast majority of Everton's summer expenditure and form a new long-term spine to the team.
All three should make their Premier League debuts for the Blues against Stoke, with Sandro joining them at the spearhead of a team that should also feature Wayne Rooney.
Koeman will have decisions to make at right-back, centre-half and up front, though. Assuming that the manager doesn't opt for a back three (unlikely given how unsuccessful it was in Slovakia) and that Jonjoe Kenny isn't deemed ready to start — had he done so against Sevilla and played, he would be in with a shout — it will be a straight choice between Mason Holgate and Cuco Martina for the role.
In the centre, it's likely that either Phil Jagielka or Ashley Williams will get the nod to partner Keane while further forward, it could be between Kevin Mirallas and Dominic Calvert-Lewin if Koeman deploys a forward three. The competition in central midfield, meanwhile, might mean Tom Davies is edged out, a situation that underscores just how strong the Blues are in that area of the pitch.
For their part, Stoke have made modest moves in the market, with the loan acquisition of Kurt Zouma from Chelsea arguably Mark Hughes's best move of the summer so far. The 22-year-old will further beef up what is always a robust Potters back line in much the same way as 6' 3" tall striker Eric Maxim Choupo-Moting will add strength and physical presence at the other end of the pitch in the wake of Jonathan Walters' departure for Burnley. Darren Fletcher will add experience and solidity in midfield but Stoke are unlikely to be pulling up many trees in the Premier League this season.
They remain a tough proposition, however, and Everton won't be expecting any easier a task than the one they had against Hughes's men almost a year ago when a solitary goal, an own goal by Shay Given at that, handed Koeman his first home league win as the Toffees' boss.
Everton will need to call on the formidable strength they displayed on home turf from the start of 2017 on last season while hopefully demonstrating the benefits of a further 10 days' pre-season preparation since the second leg in the Europa League.
While the management and recruitment team lines up their final targets of the window to put a more complete complexion on the close season's business, this first game of the new campaign is all about the result. That is particularly true given the brutal run of four games that follows against Manchester City, Chelsea, Tottenham and Manchester United before the relative comfort of a home game against Bournemouth towards the end of next month. A good start could be huge, psychologically speaking.
Kick-off: 3pm, Saturday 12 August, 2017
Referee: Neil Swarbrick
Last Time: Everton 1-0 Stoke City
Predicted Line-up: Pickford, Holgate, Keane, Williams, Baines, Schneiderlin, Gueye, Klaassen, Rooney, Calvert-Lewin, Sandro
Full details: ToffeeWeb Match page
---
Reader Comments (233)
Note: the following content is not moderated or vetted by the site owners at the time of submission. Comments are the responsibility of the poster. Disclaimer
James Watts
1
Posted 11/08/2017 at 07:22:13
Yep, think you're bang on with the predicted line-up. Except swapping Williams for Jags.
Personally I'd still like to see Kenny play as I think we'll need that attacking element out wide for this game.
I would also like to see Davies play too instead of Gana or Schneiderlin. But I don't think either will happen.
But whatever the team, COYB!! Let's get the first 3 points in the bag!
Henry Lloyd
2
Posted 11/08/2017 at 07:23:35
Let's hope we start with a bang against Stoke who have a pretty dismal record at Goodison Park. I am looking forward to see our new signings working well together and a nice 3-0 or 4-0 win will be exactly what we need to give confidence to the players.
I hope Barkley stays; I have never wanted him to leave – this is the Season that could actually define him as the player we know he is... COYB!!
Frank Sheppard
4
Posted 11/08/2017 at 07:49:46
Looking forward to this, only general concern based on what I have seen so far is we seem a bit too pedestrian and predictable in midfield. Ross Barkley would change that and make a strong squad even stronger.
Kase Chow
5
Posted 11/08/2017 at 08:00:21
No chance of improving on last seasons 7th place with the current squad. We've lost c 25 goals in Lukaku and have no recognised / proven goal scorer. It's absolutely negligent
We have many more games (up to 19) due to the Europa League and two untried strikers (Calvert-Lewin and Sandro), plus a has-been in Rooney.
I was so excited for once and now I'm left thinking and feeling 'same old Everton'.
Hope I'm wrong...
Kunal Desai
6
Posted 11/08/2017 at 08:03:15
I'd take a scruffy 1-0 win against this lot. Their bruising centre halves in Zouma and Shawcross will no doubt kick us around throughout the game. Have to play it around the ground and hoping Sandro's pace can get the better of them.
I can see Barkley leaving on deadline day. No way would the club let him leave on a free. It would be just like Levy to get him for around £20 million.
Anthony Hughes
7
Posted 11/08/2017 at 08:09:07
Made up to have the footy back but I'm expecting a dour affair tomorrow. A Stoke team coming to snatch a point and us lacking any creativity or invention to pick them apart. An early goal is a must for us to open them up.
Gareth Clark
8
Posted 11/08/2017 at 08:12:14
I'd go for an attacking option – although, being the first game of the season, I think we might start our team that will likely play the next 5 difficult games.
I'd like:
Pickford
Kenny Keane Williams Baines
Davies Schneiderlin Klaassen
Rooney Sandro
Calvert-Lewin
But I'm expecting:
Pickford
Holgate Keane Williams Baines
Idrissa Schneiderlin Klaassen
Rooney Sandro
Calvert-Lewin
Subs: Stekelenburg, Jagielka, Martina, Barry, Davies, Mirallas, Lookman.
Brent Stephens
9
Posted 11/08/2017 at 08:22:01
Also think Jags should be, and will be, in before Williams.
Quick, intelligent and incisive passing needed to beat that defence.
Relatively strong options to bring on from the bench.
Steven Higgott
10
Posted 11/08/2017 at 08:26:11
Great to see the season is back. I agree, a 1-0 win will do for me tomorrow – a goal from Keane off a corner. Any win will give us confidence going into a tough start to the season.
Phil Sammon
11
Posted 11/08/2017 at 08:28:39
Surely Lookman or Mirallas has to start. The team is packed full of players who gravitate towards the centre circle.
Some great signings, Keane and Pickford in particular, but I'm still not sure Koeman knows how to break a team down.
John Roberts
12
Posted 11/08/2017 at 08:32:59
Kase @5, I feel exactly the same. Was really excited but I think we are weaker this season so far. No pace, no goals... not good. Rooney will try hard but he's off the pace big time.
Normally I'm over optimistic and we don't deliver, hopefully the opposite this season.
Tony Graham
13
Posted 11/08/2017 at 09:13:11
Cannot understand why a good hitman wasn't targeted early doors, and got in...
We badly need a goalscorer, so I'm going 1-1 against a pub team.
Dean Johnson
14
Posted 11/08/2017 at 09:17:28
Aye, I would never ever pick Williams over Jagielka. I hope Koeman doesn't either...
Franny Porter
15
Posted 11/08/2017 at 09:20:31
I think I was spoilt by all our early business, but right now I don't think we have done near enough in the transfer market for us to do anything in the few games after Stoke.
I'm unsure exactly how Sigurdsson will fit in this team and can't help but think we really lack pace up top.
After those two Europa League games, I have to say I'm not as confident as I was a month ago.
Jason Ingham
16
Posted 11/08/2017 at 09:26:47
Please start Tom Davies. He's our best midfielder.
Eddie Dunn
17
Posted 11/08/2017 at 09:28:23
This is going to be such a depressing start to the bright new season. The ugly Stoke menagerie will go home with their point and we will bemoan the loss of our big striker. I like the look of Sandro, but he will need a target man to reap the rewards and where is his strike partner?
I find it galling that we are about to kick off the new campaign without a proper centre forward. The deadline on transfers should be the night before the season starts- it is ridiculous that the business is not concluded during the close season.
The club has been caught with it's pants down – take a look at all of the other teams who will be challenging for the top 7. They all have recognised strikers.
Saegaran Kana
18
Posted 11/08/2017 at 09:38:38
1-0 to us. We'll need time to mature as a team but it'll be a good 3 points in the bag.
Kim Vivian
19
Posted 11/08/2017 at 09:41:05
I think Jags will start but otherwise that line-up seems pretty likely. 8 defensive players vs Stoke at home, ffs.
Expect nil-nil unless we get Davies and/or Lookman and/or Mirallas on in time to make a difference. But I'm predicting 1-0 the Blues.
Gerard Carey
20
Posted 11/08/2017 at 09:44:03
The question remains, have we introduced any pace with our new signings. I would like to see Kenny get a run. Klaassen could be the difference to unlock what will be a stubborn defence. 1- 0 will do.
Robert Leigh
21
Posted 11/08/2017 at 09:50:24
The only chance for the team to express themselves before the tough run, I'd like to see Lookman and Kenny running at Pieters, Fletcher and Shawcross from minute one; but agree with other posters that it'll be the lineup predicted.
Also, I think if Calvert-Lewin can get a goal starting up front again, Koeman will stop playing him out wide, given his comments last week.
John Raftery
22
Posted 11/08/2017 at 09:54:47
This is a game we should win but it probably won't be comfortable. Many Stoke fans are fearful about the season ahead. We need to increase their fears. I'll gladly take a 1-0. I guess we will enjoy plenty of possession but struggle to penetrate so a goal from a set-piece will do nicely.
Geoff Williams
23
Posted 11/08/2017 at 10:07:33
Just can't understand how anyone who watches Williams on a regular basis can include him in their team. This goes for Koeman too.
James Stewart
24
Posted 11/08/2017 at 10:08:02
Pickford
Kenny Keane Jagielka Baines
Gana Barry
Davies Rooney Lookman
Sandro
Schneiderlin and Williams have been god awful for awhile now so it's the bench for them and Rooney needs to be surrounded by runners with pace.
Phil Walling
25
Posted 11/08/2017 at 10:12:37
I see we are 6/4 to finish 7th and that's about all we can expect as we go into the new season arguably weaker than we ended the last one.
The failure to sign a replacement for Lukaku, tie up a deal for Sigurdsson and the likely rejection of places for Davies and Kenny makes this opening fixture a real challenge but, with more than two weeks until the closing of the window, we must be careful not to over-react if we fail to garner full points.
Prediction: 1-1 and the first point towards that 7th spot.
James Watts
26
Posted 11/08/2017 at 10:39:23
Phil, ever the optimist eh? Surprise you didn't put us down for a defeat, 3 or 4-0. Let's see what happens before September 1st, eh, before all the typical bullshit we get from you?
Phil Walling
27
Posted 11/08/2017 at 10:43:44
Yes, James, we've spent all this century (and more) waiting for 'tomorrow'! And the wait will go on, unfortunately.
Mark McParlan
28
Posted 11/08/2017 at 11:06:09
The optimism for this new season, the talk of a top 6 finish has well and truly vanished – destroyed by the battles against the Slovakian Sunday league team, the Gylfi saga, and our apparent inability to secure the services of a striker capable of netting 10 goals in a season.
Pickford and Keane both appear solid acquisitions hitherto, and should help to reduce the amount of goals conceded even further. We're still waiting on more from Klaassen and Sandro, yet they have now an assist and goal for Everton respectively. Rooney is still somewhat of a puzzle, mostly concerning his role playing for the team, but he should surely be a net positive.
My ideal line-up for this match would be as so (4-3-3):
Sandro
Mirallas Rooney
Klaassen Davies
Schneiderlin
Baines Williams Keane Kenny
Pickford
However, I believe Koeman will opt to play with two defensive midfielders (Gueye for Davies), and Holgate or Martina will play ahead of Kenny.
Roger Sunde
29
Posted 11/08/2017 at 11:07:29
I'll take 1-0 all day, if we don't win we could end up with 1 point after 5 matches.
Just hope Butland doesn't have a good game.
Patrick Eimsman
30
Posted 11/08/2017 at 11:12:04
Ronney is an inpact sub now at best. Joke playing him from the off.
John Wilson
32
Posted 11/08/2017 at 11:23:19
It was quite negligent to let our one-man-one-machine-goal scorer go to our competition. It was even worse to let said person go without a Lukaku replacement. I thought we easily would have had Lukaku's replacement now but if the Sigurdsson fiasco is anything to go by I am not sure I have trust in Everton's scouts or negotiator/s.
I am only a fan but even I know a cock-up when I see one. We have let Valencia go, too. The pressure is left on our young potential: Sandro; Lookman; Calvert-Lewin, to dig us out of this mess. We face Stoke tomorrow, a team that sends shudders up and down the spines of the top 4, never mind the top 6 or7.
Cue the media, has been professional footballers, deriding Everton as mid-table mediocre, at best. One small consolation is we still have Bark's, for a time. Our new young-blood goalie, Pickford will be like déjà vu, as he was with Sunderland last season, but this time a record number of shots on target with be against Everton. I think we'll struggle without a pacy striker to stay in the mid-table never mind the top 7.
I think Pickford was worth paying the 30 odd million for him; as now that lad will really have to prove his mettle. Let's hope our defence are up to much because, let's face it, we know Stoke's defence is virtually impenetrable
Mark Andersson
33
Posted 11/08/2017 at 11:38:52
Just to add the doom and gloom my mum passed away a few days ago. She came from a family of blues.
She took me by the hand down Scotland Road with my big blue and white rosette
James Watts
34
Posted 11/08/2017 at 11:46:23
Phil (#27).
My point is, as you probably know, the window still hasn't closed therefore it's too early to have these whinges. The Premier League hasn't even started and a few people like you have written us off. That's incredible, even for the pessimists!
We still have time to finish off our squad. We're overall stronger than last season, no matter what you think. We should have got a leading striker in, of course, but there is still time to rectify the situation. If, come September 1st and we're in the same boat, then I'll be jumping overboard with you. But right now? Come on, give them a break.
Mark (#33). Really sorry to hear that and I hope she's watching down on us tomorrow when we're smashing Stoke. :)
John Wilson
35
Posted 11/08/2017 at 11:48:08
Sorry to hear about your mum, Mark Andersson. It's horrible when you get to a certain and lose parents.
John Wilson
36
Posted 11/08/2017 at 11:53:20
James @ 34, do you think Everton should have sold Lukaku before getting his replacement in, is the question.
Gary Edwards
37
Posted 11/08/2017 at 11:55:14
Based on the predicted line-up: 0-0
I think Shawcross and Kouma (possibly Indis too) will see off our powder puff attack with Butland mopping up anything that trickles through. As Arnautovic has gone I think Stoke are also lightweight upfront. Stoke the more likely team to score from a set piece.
I'd have liked to have seen Lookman start with his pace and guile constantly run at their giants, inevitably get knocked down by them and someone (Baines, Rooney ???) bang in a free kick resulting from one of those fouls.
A dour affair lost in the middle third.
Martin Nicholls
38
Posted 11/08/2017 at 11:56:58
John#32 - Stoke defence "virtually impenetrable"? They conceded 56 league goals last season! And why will
Pickford face a "record number of shots on target" this season? Do you not think that with the addition of Keane, our defence despite injured absentees is likely to be better than previously?
Raymond Fox
39
Posted 11/08/2017 at 11:57:24
I'm decidedly underwhelmed by our squad at the moment.
We will do well to get a win tomorrow, is my opinion. Lukaku going has certainly weakened our attack, unless I'm in for a pleasant surprise.
I can see us finishing 7th or below unless we are substantially strengthened up front.
Gordon Crawford
40
Posted 11/08/2017 at 11:59:16
Mark Anderson (#33), so sorry to hear about your mom. Thoughts and prayers for you and your family.
James Watts
41
Posted 11/08/2017 at 12:16:03
John (#36). We should have had someone lined up back in March, I think it was, when Lukaku turned down the contract. It's a big issue, no doubt. But we can't do much about that now. It's imperative we get someone good before September 1st, and at this moment I still have hope.
I also believe our squad is overall stronger than last season, sure with gaps but hopefully, we'll fill most of those. But people are writing us off after two semi-pre-season competitive games is just mind boggling, even for Evertonians.
Jer Kiernan
42
Posted 11/08/2017 at 12:30:13
Here's to a good season!! We definitely need another 7-10 goal-a-season striker to help Sandro. I have high hopes for this lad but am weary we may run him into the ground.
I hope I am wrong on Rooney but I feel we could end up carrying him this season, whether his influence in the dressing room will outweigh this...only time will tell.
John Charles
43
Posted 11/08/2017 at 12:39:08
Fingers crossed that next 3 weeks see some serious transfer activity but as we speak we are weaker than last season.
Defensively Pickford and Keane are improvements but evened out by the loss of Seamus, Williams being awful and Jags & Baines slowing down
In midfield Morgan has been awful throughout preseason and Europa League and the loss (not being played maybe?) of Davies hinders the dynamism of the whole team.
Klaassen is as yet lost and not a patch on however good or bad Barkley was; Sandro and Rooney do not equal a Lukaku.
As said, there is time to put it right but, as we sit, it has been a depressing window and we are weaker than last season.
I still think we will win.
Brent Stephens
44
Posted 11/08/2017 at 12:40:12
Mark (#33) – feel for you; been there. Here's hoping for tomorrow.
David Pearl
45
Posted 11/08/2017 at 12:46:05
Davies and Gana play a very similar role, both closing down further up field. So swapping one for the other doesn't mean we go from 2 to 1 defensive midfielder.
I'm still waiting for the Schneiderlin we thought we were getting to turn up. Without Barry we have nobody to pass out from the back.
I'm thinking we might start with a back 3 so that both Davies and Gana can play. It would also allow Calvert-Lewin to play through the middle.
I'm guessing Walsh went to Italy to get some chianti. The most important position to fill was a replacement goal scorer...
Shopping List:
Milk
Angel Delight
Van Dijk
Mahrez
Giroud
Paul Mackie
46
Posted 11/08/2017 at 12:51:47
We desperately need Calvert-Lewin and Sandro to get off to a flyer.
Jerome Shields
47
Posted 11/08/2017 at 12:52:04
I am back after a Summer of not following Everton transfers, only commenting once on Rooney. I feel better for it. I predicted that all I would get is bullshit and no change since Koeman hadn't shown much promise as a manager.
The initial transfers were promising (probably inspired by Walsh), but later transfers started to show the weakness of Koeman. That his managerial capabilities don't inspire confidence was confirmed by the preseason (Walsh input Sandro being the exception, if played).
What we are left with is depleted attack, a mixed-up midfield, and a weak back line. Rooney in attack has reverted to his previous failed roles at Man Utd. (He will prove a defensive problem getting caught in possession.) We have no centre-forward.
Barkley, who wants away, is now a requirement to inspire midfield. Sigurdsson may not happen and Gods knows how he would shape up if he did. Jags may be better than Williams (God help us) and up-and-coming players are being messed about. I hope the goalkeeper is good, he is going to need to be.
No top-four finish (never achievable in slow motion, resulting from no pace and Europa League flight fatigue) and calls for a new manager in January. Anything otherwise is delusional and I am not delusional.
James Lauwervine
48
Posted 11/08/2017 at 12:53:41
I can't understand this idea that we are weaker than last season, it's simply not true. The only significant departure has been lazy-arsed Lukaku who only scored against shite opposition and usually when the game was already won. I'm absolutely delighted he has gone so I never have to watch another of his cocky bullshit goal 'celebrations' for us.
Meanwhile we have gained Pickford, Keane, Klaassen, Sandro and Rooney, plus there's three weeks to go. Stoke are shit, Hughes is a knob and we'll win – so there!
James Marshall
49
Posted 11/08/2017 at 13:06:01
David @45 – that's what I call a shopping list! Bravo. Sir.
Just heard the great news that Coutinho has handed in a transfer request!
Eric Paul
50
Posted 11/08/2017 at 13:18:57
Kase @5
We will score more goals than we did last season and Man Utd will score less.
Eric Paul
51
Posted 11/08/2017 at 13:21:13
David @45,
I hope that's not Brett Angell delight!
Denis Richardson
52
Posted 11/08/2017 at 13:37:17
Have to say I don't have too much confidence if Calvert-Lewin starts. A few cameos off the bench for the kid might be better to build his confidence up. Stoke would batter him and then we're playing 4 games against teams who finished in the top 6 last season.
Also could do with more pace in the starting line up as Stoke aren't the quickest.
I would swap Mirallas for Calvert-Lewin and try to inject more pace and experience. Sandro will be making his debut and Calvert-Lewin is still just a kid.
Schneiderlin, Gueye and Klaassen should mean we keep things tight but scratching my head as to where the goals are going to come from. Not holding my breath on Rooney rolling back the years.
Brian Williams
53
Posted 11/08/2017 at 13:45:35
Denis. Build his confidence? The lad has more confidence than almost any other player in the team. He tries tricks to get round people in the box (Ruzomberok at home), isn't afraid to go at people, and scored the goal to put the tie to bed away from home and also the goal to win young England the World Cup.
One thing he's not lacking is confidence.
Denis Richardson
54
Posted 11/08/2017 at 13:45:46
Mark (#33) – my sincere condolences.
Denis Richardson
55
Posted 11/08/2017 at 13:48:06
Brian – I understand where you're coming from but he'll get battered by the Stoke centre-backs, he's still only a kid after all.
A bruising opener plus getting (probably) nowhere in the following 4 games isn't the best way to start his season off imo. Let him come on around the hour mark when the defenders are a bit tired and if things don't pan out for the team, he won't be the one being shouted at by the fans.
Dave Lynch
56
Posted 11/08/2017 at 13:52:23
Ffs. What's with the negative vibes.
We'll smash these for Mark's mum.
3-0 to the blues.
John Raftery
57
Posted 11/08/2017 at 13:52:55
James (#48) The top teams will doubtless be trembling at the thought of having to play an Everton team without Lukaku. I know you are far from the only supporter delighted he has gone. The sunny uplands of the post-Lukaku era seem to look very promising to those who share your opinion. We shall soon see if that optimism is justified.
At present we do not have anyone capable of scoring 25 goals per season against any opposition, shite or otherwise. Indeed it will be a welcome surprise if Rooney and Ramirez reach that total between them. As for the rest of the squad, we will be lucky if any of them get anywhere near double figures.
Unless a quality front-line striker arrives in the next three weeks, we will struggle for victories against most Premier League teams.

Derek Knox
58
Posted 11/08/2017 at 13:53:14
I have got to concur with fellow posters who are raising the point of playing Gana and Schneiderlin together; okay if we were playing away, maybe, but not at home.
Where is the creativity and forward runs, and support to our lightweight front runners, going to come from?
Furthermore, where are the goals coming from?
I sincerely hope we are proved wrong tomorrow –both in team selection and the goal department.
I know it's early days, but with the fixtures we have ahead, this has got to be won.
Tanvir Akram
60
Posted 11/08/2017 at 14:08:16
I would like to see Davies at wing back. Slow start in first half like last season, but predict a 3-0 win.
Rooney, Sandro and Klaassen
Eric Paul
61
Posted 11/08/2017 at 14:11:45
Sorry for your loss, Mark @33.
David Young
62
Posted 11/08/2017 at 14:21:51
Tight game, their giants vs our front line Diddymen, it's got to be played to feet. Prediction: 2-1 Sandro and Lookman off the bench.
I would like to see Rooney get one on his return home.
Gordon Scott
63
Posted 11/08/2017 at 14:37:47
John (#57) And exactly how many goals did Lukaku score against those top teams again?? I'm not sure they would really notice!
I think his premier league stats (against top 6) are something like 57 Games, 15 Goals, 9 Wins.
Are we really going to miss him that much?!
Iain Johnston
64
Posted 11/08/2017 at 14:40:49
Come on, Lads... take away Lukaku and where would we have finished last season? 7th.
Where did we finish for the 2 seasons before with a combined 28 league goals and a total of 45 from him?
11th.
We're not totally buggered without him.
We have a Spanish striker who out scored Neymar last season and the Ajax & Man Utd former captains not to mention England's U20 World Cup winning forward plus bags of pace in Lookman.
Yes we need another striker & yes we need another left footed defender but with the points & performance differential last season to those who finished below us we're still looking ahead and not over our shoulders.
As for Stoke...Choupo Moting has a conversion rate comparable with Stuart Barlow, Crouch is a year older, they no longer have Walters or Arnautovic, Fletcher makes Barry look pacey, Xaquiri turns himself inside out , and if Zouma was the beast some believe he'd still be at Chelsea filling the gap Terry left.
The future is bright, well more royal blue with darker bluey bits under the arms anyway... Hey, and no more Chang, what's not to love, eh?
Steavey Buckley
65
Posted 11/08/2017 at 14:46:59
Tanvir, many Evertonians think like you about wing backs. But that is to mask over the deficiencies elsewhere in the team. For wing backs to work really well, the rest of the team has to be on top of their game. Everton at present are not really there.
John Pierce
66
Posted 11/08/2017 at 14:49:24
I'm sure our master tactician will think that the big physical Stoke side need to be fought with the same bludgeoning hammer.
I would have given Lookman a start. The front three of him Rooney and Sandro, should be waaay too much for immobile Shawcrow and Martins. More rapier less mace.

The harder more vital game is Thursday were a good lead is paramount. Save your players for that one Ron.

Stoke have had a poor window. Much less of side than they used to be. Much less 'Stokelona' more 'Stokeminster Harriers'

Despite the incomplete nature of the side, I think we'll win easily. 2-0.

Remember despite our gloom we are actually better than everyone else.

Jay Harris
67
Posted 11/08/2017 at 15:20:46
First of all, condolences to Mark and family for your loss.
On the subject of the Blues we are all reacting to some pitiful preseason performances but we have to remember we were unbeaten throughout pre-season.
I am finding it as difficult as Koeman probably is to decide on our best team. Schneiderlin and Klaassen did not look impressive in preseason and a number of others looked average to say the least. I was concerned about Rooney's fitness and suitability for a team with top 4 ambitions but thought he looked a bit sharper against Seville so he is a definite starter. Jags and Bainsey know each others game inside out so I would start them. Gana would be one of the first names on the sheet for me so here goes with my pick:
Pickford
Martina Keane Jagielka Baines
Davies Gana Klaassen
Sandro Rooney Mirallas
With Lookman and Calvert-Lewin to come on second half and get the 3rd and 4th goals.
4-0 to the Blues to get us off to an optimistic start.
Dave Abrahams
68
Posted 11/08/2017 at 15:25:56
Deep sympathy to Mark and family for your very sad loss.
Derek Thomas
69
Posted 11/08/2017 at 15:30:37
Anybody sent Stoke a copy of the script for Saturday... you know, the one were they're gash, we're great and Rooney gets a hat-trick?
No, didn't think so... Potential banana skin here.
Henrik Lyngsie
70
Posted 11/08/2017 at 15:36:19
I think the predicted line-up in the OP is how Koeman will start. It might be a good line up away to Man City. But at home against Stoke City, I find it lacks creativity and the right balance between offensive and defensive players.
Holgate as right back and both Gueye and Schneiderlin is fine defensively. But we really struggle in creativity. Holgate offers nothing going forward and neither do Gueye and Schneiderlin.
Hopefully Baines has got a bit left of his offensive qualities. But either he is getting a big old or he misses a proper partner because he appears to have lost the last 10%. Likewise Williams is really poor in his passing. Keane looks much better but is still a classic center back.
So basically we leave all attacking to be between our 4 front men. No matter who is playing where if these four they are asked to perform miracles. When we fail to score or score just 1 after another match with slow build up, these 4 front men will be blamed. Rooney will be too old, Calvert-Lewin too young, Klaassen too Dutch and Sandro too something. In reality it is the tactical setup to blame in that case.
I really hope he plays another right back than Holgate and that he plays only one Schneiderlin and Gueye and then plays either Davies or Klaassen as the defensive midfield partner. In fact, he could also play Barry since his forward passing is excellent.
Danny Halsall
71
Posted 11/08/2017 at 15:36:35
Just seen Koeman's comments on the OS, sad to see that he has all but ruled out Jonjoe Kenny as right-back.
Steve Ferns
72
Posted 11/08/2017 at 15:48:21
Bas Dost? Seriously? He's a poor man's Duncan Ferguson. Big yard dog who scores at lower levels and struggles at the highest level – see his international record for example.
He would find the Premier League could handle his height easily, and then he's got nothing else. He's like a dinosaur from the 1970s.
Jon Withey
73
Posted 11/08/2017 at 15:53:26
Yeah, clearly Kenny isn't under consideration this season; I hope he gets a top loan.
Paul Smith
74
Posted 11/08/2017 at 15:55:41
For what it's worth, here is the team I would start with tomorrow:
Pickford, Kenny, Keane, Jagielka, Baines, Schneiderlin, Davies, Rooney, Mirallas, Sandro, Lookman.
Schneiderlin only starts ahead of Gueye because of his extra height as I'm worried about us defending set-pieces. Against the top 6 teams. Gueye would start as well. Personally think Klaassen needs integrating slowly and possibly as sub for Rooney.
At least that front 3 looks mobile but I wouldn't be playing it away from home. We're still desperate for a pacey striker and, as I keep saying, that would be Inaki Williams for me who also works hard.
Andy King
75
Posted 11/08/2017 at 16:34:38
Are we stronger up front this season compared to last? I think the answer is No. Almost definitely really as we've just lost our all time Premier League goal scorer. BUT, are we a stronger team overall compared to last season? I would say the answer is Yes.
Our defence has been vastly improved by the addition of Keane and Pickford. Our defensive midfield remains exactly the same but I think Klaassen will score more than Barkley's 5 league goals last season.
So we get to the sharp end, and the loss of Lukaku is great, have no doubt about it. Again with the but, BUT what do we really need to replace?
His hold up play and movement were not the best so it's his goals, 25 of them. Although that will be difficult I think Koeman's whole plan is to not replace them with a single player but shared out amongst the team.
Can Rooney, Sando & Siggurdsson (if we get him) score 8 or 9 each? It's not beyond the realms of possibility in my mind. Add in another striker who can bang in 10 and we're suddenly looking at a positive comparison...
Shaun Wilson
76
Posted 11/08/2017 at 16:47:12
Sorry for your loss, Mark @33.
I love the optimism of the predicted 3- or 4-nil wins but let's be honest, we may not have 3 or 4 total by the time we play our 6th game.
I'm praying I'm wrong, but unless we strengthen the squad soon, I can see us struggling. But I guess being a lifelong Everton fan, this isn't exactly alien to me.
That being said, I'll hope for the best, like every season, and cheer the boys on regardless. COYB

Jeff Armstrong
77
Posted 11/08/2017 at 16:57:01
Most of the fans on here would like to see Kenny given a run, you'd think some of the coaches like Unsworth, Ferguson even brother Erwin would have a word and say, "You know what boss,this kid is the nearest thing to Seamus at the club right now, give him a run" – surely that's got to be happening?
But you feel the more this guy gets told something, the more stubborn and determined he becomes not to follow the popular consensus, he'd rather play a young centre half at right back, than a young right back at right back,...because it was his choice – whether it's for the good of the team or not, that appears to be irrelevant.
Lee Jackson
79
Posted 11/08/2017 at 17:22:43
I'd go with an attacking line up with players in their correct positions – you know, round holes/pegs etc:
Pickford
Kenny
Keane
Williams (better in the air than jags I feel so better for those lumbering stoke beasts)
Baines
Gana (more mobile than Schneiderlin who I think has had an unimpressive pre season).
Davies for his energy
Rooney
Sandro out right wing
Calvert-Lewin
Lookman to terrorize their slow turning defenders
We will be a bit narrow but we aren't going to be getting crosses in so its quick feet and passes around their 18-25 yard line that I would hope does for them.
Anyway, heart says 3-0, head says a scrappy, uninspiring 1-0 with the ball going in off Rooney's arse.
Bill Griffiths
80
Posted 11/08/2017 at 17:47:14
My choice would be:
Pickford, Kenny, Jagielka, Keane, Baines, Barry, Davies, Klaassen, Rooney, Sandro, Calvert-Lewin.
Given Koeman does not seem to want to play Kenny, I would prefer Holgate to the other options.
I'd also replace Barry with Schneiderlin after an hour.
Paul Tran
81
Posted 11/08/2017 at 17:47:53
I hope Lookman starts, otherwise we will be too predictable.
Still, for anyone waiting to talk about 'worst start ever', here's a few first day shockers:
1975: Coventry 1-4
1978: Forest 1-3 (no-one thought they were going to win the league)
1984: Spurs 1-3 (punctured first day optimism after winning the cup)
0-1 Palace. Can't remember the year, Bilic scored a disallowed early debut goal, we lost to a dreadful Palace side.
1-6 Arsenal. Lescott. Oh dear.
Hope that cheered everyone up. We'll win tomorrow!
Phil Walling
82
Posted 11/08/2017 at 18:03:45
Just as predicted, Kenny isn't even in the frame for the right-back spot. No doubt he will soon be plying his trade in the lower regions as he'develops his game further '
Holgate only got half a game last weekend so I guess 'our leader' will opt for his former Saint's lummox to get the gig. After all, he knows his qualities.
Robin Cannon
83
Posted 11/08/2017 at 18:06:39
I wonder how many of the calls for Kenny to play come from people who've seen him with any kind of regularity. He's turning into those "the longer he doesn't play, the better he is" type players.
He's made two substitute appearances for us. His only lengthy first team experience is in League 2 on loan to Oxford. A lot of his reputation at this point comes from playing successfully in the U-20 World Cup. But let's remember the "U-20" part of that.
That's not to say he's a bad player, or that he won't be a good or great player for us. But it's not like Koeman is just wilfully overlooking some completely unquestionable claim for a first team place.
Thomas Surgenor
84
Posted 11/08/2017 at 18:30:36
Jonjoe Kenny starting for the U23s tonight so won't be in the panel tomorrow.
Phil Walling
85
Posted 11/08/2017 at 18:38:05
Perhaps it because we like to encourage 'our own', Robin. Seems to me, the young bucks only get a chance if Koeman or Walsh signed them – or injuries leave no other option (Davies).
Frank Crewe
86
Posted 11/08/2017 at 18:50:37
I think we should go 4-1-4-1:
Pickford
Holgate Keane Williams Baines
Gueye/Schneiderlin
Davies .Klaassen .Rooney Lookman / Mirallas
Calvert-Lewin
I don't like us playing with 2 defensive midfielders's as I think it makes us too defensive. One is enough and I don't care which one. I go with Williams and Holgate because we will need all the height we can get.
I'm pretty positive. I don't see any reason we can't win.

Santosh Benjamin
87
Posted 11/08/2017 at 18:55:16
My condolences in your loss, Mark. I hope that we can win tomorrow as a tribute to her.
About the game, I really hope we can start with a win of any kind to dispel some of the negativity on here. I agree that our pre-season has been uninspiring but we have got better defensive cover and nobody can match the support that the Goodison Park crowd and our overall support brings. Let's get behind the lads. COYB
Jeff Armstrong
88
Posted 11/08/2017 at 19:02:00
Robin (#83), I've seen him lots of times for the Under-23s – he's class, mate, believe me.
Robin Cannon
89
Posted 11/08/2017 at 19:02:55
Phil (#85) – Seems to you, in the sense that you'll take what seems the most critical interpretation of Koeman's actions?
In this case, one "young buck" would be getting blooded at the expense of another, also not signed by Koeman or Walsh, in Holgate.
Players 23 and under last season who weren't signed by Koeman made 56 league appearances. Players who were signed by Koeman made 19 league appearances.
I'm delighted to encourage "our own". Define that. Is Mason Holgate our own, or do we just ignore anyone who was signed from anywhere except school? And does encouragement equate to demanding their selection, or simply wanting to see them succeed and integrate into the team at an appropriate point?
Ian Bennett
90
Posted 11/08/2017 at 19:09:06
Pickford
Kenny
Jagielka
Keane
Baines
Schneiderlin
Davies
Klaassen
Rooney
Sandro
Calvert-Lewin
Raymond Fox
91
Posted 11/08/2017 at 19:10:22
Andy 75, our defence is
vastly
improved because we now have Pickford and Keane.
Vastly is stretching it somewhat Andy I'd say, maybe a little stronger.
Our defence was pretty solid last season, the reason we trailed the top 5 teams was mainly because we didn't score enough goals.
With the players we have at the moment, I'm struggling to see how we are going to score as many as last season, a season in which we were 15 to 20 goals short!
Chris Leyland
92
Posted 11/08/2017 at 19:13:04
Paul Tran – if my memory serves me right wasn't it 4-1 to Spurs in 1984? I remember going to the game full of optimism and then thinking it was going to be a shite season. How wrong I was! I'd take a 4-1 loss tomorrow if we end up with a repeat of 84-85 by the end of the season.
Andy Riley
93
Posted 11/08/2017 at 19:18:04
Not sure overall how much Lukaku's goals will be missed. I think he got multiples many times when we won well. Can't recall that many singles in scrappy 1-0 or 2-1 victories.
I may be wrong but I think his scoring percentage overall was excellent and probably similar to Tony Cottee in both respects.
Paul Tran
94
Posted 11/08/2017 at 19:22:37
You're right, Chris, it was 4-1, then we got beat at WBA. Imagine what ToffeeWeb would have been like after those two games! We scraped a 1-0 at Chelsea on the Friday and didn't look back.
Ray Robinson
95
Posted 11/08/2017 at 19:26:09
Robin (#83), common sense comment! Restores my faith in TW!
Ron Marr
96
Posted 11/08/2017 at 19:29:23
1978: Forest 1-3 (no-one thought they were going to win the league)
I was at that game. Back in those days, it seemed Everton didn't lose at home to newly promoted teams on Day 1 of the season. The brilliance of Brian Clough.
Ray Robinson
97
Posted 11/08/2017 at 19:30:27
Chris (#94). Yes definitely 1-4! And we lost the second game 2-1 at WBA!
Jeff Armstrong
99
Posted 11/08/2017 at 19:33:47
Ah 1-4 v Spurs, then Terry Curran came on and changed our season, wingers Howard,... it's the future.
Well, multi task wingers like Tricky or Sheeds, Curran lasted a few games but he got the crowd going. What a tache and perm. I'm sure he turned up in Brookie a couple of years later!
Andy Riley
100
Posted 11/08/2017 at 19:40:47
Ron (#96) – imagine how our history may have been different if we'd have appointed Brian Clough instead of Bingham in 1973 or Lee in 1977.
I think his best quote ever was "I'm not saying I'm the best manager in England but I think I'm in the top one."
Phil Walling
101
Posted 11/08/2017 at 19:42:38
Robin @89: Without doing the research, I assume you are including token cameo appearances rather than 'starts' in those figures? If the latter, I bow to your superior knowledge.
Having said that, I suspect we shall again start the season without a single Academy graduate in the team which will hardly say much for this much vaunted establishment, will it?
As far as Holgate, Stones, Lookman and Calvert-Lewin are concerned, they only bear out my belief that, if you want to be an Everton first-teamer you don't do your apprenticeship here!
Ron Marr
102
Posted 11/08/2017 at 19:53:13
Definitely Andy. Another fave quote from Clough:
"If God had wanted us to play football in the clouds, he'd have put grass up there"
– On the importance of passing the ball to feet.
Very relevant when getting a centre-forward to replace Rom, Costa/Kane types, Yes; Benteke types, No thanks!
Robin Cannon
103
Posted 11/08/2017 at 20:09:26
Phil (101) - Works out at 40 starts, 16 sub appearances for non-Koeman signings, 8 starts, 11 sub appearances for Koeman signings (this is just taken from TW http://ToffeeWeb.com/season/16-17/appearances.php)
I think we'll start with Davies on Saturday, which means at least one Academy graduate (well, technically two, as Rooney will also start) in the first team. We've had at least one Academy graduate make 20+ league appearances every season for more than the past decade (Hibbert, Osman, Barkley). That's actually pretty outstanding in terms of consistent success for an Academy providing first-team players.
On Holgate, Lookman, Stones, etc...while I take your point, I think that's the nature of the game these days. Academies don't just look at the local area; promising youngsters are identified and bought at a much earlier age, before they've fully broken into other first teams. Still better that, and to "home grow" them from an earlier stage, than to not.
Phil Walling
104
Posted 11/08/2017 at 20:09:26
Only yesterday, I read about a player who, after weeks of procrastination, dared to ask Cloughy for a raise.
'Pass me that newspaper,' said the great man, pointing to the Daily Mirror which he carefully laid on the floor.
'Now stand on it' was the order -– which was immediately carried out. 'Right, young man, that's the only raise you're going to get – so bugger off!'
Martin Mason
105
Posted 11/08/2017 at 20:10:24
To transition the U23 players into the first team, we need to accept a long period of reduced performance. To be honest, modern fans just won't accept this, they demand success even when this means buying foreign stars to achieve this.
I see Liverpool are getting loyalty problems with Couthino. Surely it's time to look at ending long contracts and stamping out these greedy players and their greedy agents?
John Pierce
106
Posted 11/08/2017 at 20:14:35
Problem with big contracts is clubs get to control the cost more over a longer period. They'd never go for it.
More worrying is the buy back clauses on players that the selling club aren't sure will make it and 'lend' to the buying club.
Thats not a transfer but a glorified loan
Phil Walling
107
Posted 11/08/2017 at 20:16:31
Martin, I just knew it would be our fault! But, of course you are right. The trouble is some of the signed players are not much better than the academy graduates!
Martin Mason
108
Posted 11/08/2017 at 20:18:15
John, there would also be no transfer fees, footballers would just be treated the same as normal employees which they should be. The rules for the employment of soccer players is like people trafficking.
Marcus Leigh
109
Posted 11/08/2017 at 20:19:35
Not a ball kicked in the new season and as usual it's glass three-quarters empty for so many commenters here. Maybe someone should just start an Everton Therapy Group forum. I mean, if you spend your entire life so full of negativity it might prove therapeutic to have an outlet where you can share your pessimism endlessly with a few soulmates - and best of all without trying to depress everyone else with your dour melancholy.
Yes, we need to be honest and realistic about where we stand right now in relation to the so-called 'big clubs'. But when was the last time we went into a new season with so many new signings already under our belt? When was the last time we weren't scrabbling around on the last day of the transfer window trying to pick up other clubs' rejects on a loan? And importantly, when was the last time we had a management team with a clear and ambitious vision for the future of our club with the resources to finance it?
When Koeman was appointed manager I remember reading a post here by someone that went something along the following lines regarding his plans for 'the project'.
'Season 1: steady a seriously unstable ship;
Season 2: start building a squad in line with the manager's vision;
Season 3: push on to break into the top four.'
At the time I thought that was an astute observation. And I honestly believe it still stands. This is work in progress. Progress like we really, seriously haven't seen for nearly three long decades.
So here's a word or two of advice from an old fart who's been a Blue for more than half a century – a half century which has included some wonderful highs and some seemingly eternal lows. Please, just get behind your team and stop being so effing negative. COYB!
Dave Abrahams
110
Posted 11/08/2017 at 20:32:08
Robin (#103), in your post and two previous posts you make valid comments about the right back position at Everton and Kenny's right to have a game there.
Just as a matter of interest, have you seen Kenny play a lot or just the fleeting minutes in the first team? If you have seen him a few times, how do you rate him?
Phil Walling
111
Posted 11/08/2017 at 20:41:07
Dave, are you just provoking someone to say 'Kenny is shit' to prove a point?
Will Mabon
112
Posted 11/08/2017 at 20:45:41
Optimistic, pessimistic, unsure, nervous, rational, interesting - a full range of views here.
The one thing we have in common: everyone's dying for tomorrow's game to kick off...
Dermot Byrne
113
Posted 11/08/2017 at 20:47:17
Kenny is a great player. And you know it. I am right and you are...
Umm.
Well he could be good?
Colin Glassar
114
Posted 11/08/2017 at 20:48:35
A hard earned 0-0 draw methinks. I think it's going to take us a few more weeks to gel properly. I hope I'm wrong.
Don Alexander
115
Posted 11/08/2017 at 20:51:19
Brian Clough at the press conference where he introduced his new signing Trevor Francis, the first £1mill player, listened to a journo asking Francis if he was looking forward to making his debut on Saturday.
Francis blurted out that he very much was, when Cloughie leant forward and unsmilingly said, "If selected, young man!"
The look on Francis's face! And bugger hurt feelings.
Darren Hind
116
Posted 11/08/2017 at 20:52:41
I'm not arsed whether we finish top seven – I think Leicester will – I just want to see a couple of dozen entertaining football games this season with us winning most of them.
I would sacrifice the entertainment for top four, But I can't see any way of that happening.
Darren Hind
117
Posted 11/08/2017 at 21:03:11
Talking of Leicester, they've just gone 3-2 up at the Emirates.
You can still get 12/1 with Black Type on oddschecker for them to finish top six. Decent bet.

John Malone
118
Posted 11/08/2017 at 21:04:08
Finding it hard to be optimistic about the opening fixture even against Stoke after the shite that's been served up in Europa League and pre-season!
I want to see Sandro and Calvert-Lewin start up top and I want to see Davies playing midfield and then I will fancy us to get something from the game!
I'd play a 4-1-3-2:
Pickford
Baines, Jagielka, Keane, Holgate
Schneiderlin
Gueye, Rooney, Davies
Sandro, Calvert-Lewin
Klaassen doesn't deserve a start on watching his first few performances; Rooney knows what's required in Premier League!
Christy Ring
119
Posted 11/08/2017 at 21:08:11
It's going to be tough tomorrow – we still have no width, we're lacking a target man, and Stoke will be in our faces. I hope we play with a back four, but Gueye and Schneiderlin are not gelling. Would Davies, Klaassen and one defensive midfielder give us a better shape?
Dave Abrahams
120
Posted 11/08/2017 at 21:09:38
Phil (#111), no not provoking at all, just interested if Robin < has seen Kenny other than in the times he has played in the first team.
It is all about opinions; just because I think Jonjoe is ready and good enough doesn't mean that he is. My udgement is based on watching the lad over the last three or four years, agreed mostly in the youth and U23s, but he looks to me he is well deserving of a chance to prove how good he is.
Not to be at least on the bench tomorrow is a bit depressing to me; I don't know how it feels to Jonjoe.
Phil Walling
121
Posted 11/08/2017 at 21:17:00
Totally agree, Dave. Not to be even 'in the frame' must be a right sickener for the guy!
Robin Cannon
122
Posted 11/08/2017 at 21:19:31
Dave (#120) – No, I haven't. And I'll take your opinion as someone who has seem him regularly over the last 3-4 years of his development.
My argument isn't that he isn't good enough. But rather that 90% of the people making a big deal of how it's terrible that he isn't playing have –like me – really seen very little of him play.
Darren Hind
123
Posted 11/08/2017 at 21:29:35
4-3 Gooners.
What a game this is!
Dave Abrahams
124
Posted 11/08/2017 at 21:33:51
Robin (#122) fair enough, good honest answer.
I honestly think he has earned his chance, because of his ability and, in the absence of Seamus, he is entitled to prove it.
At this stage of his career, he is twenty, to be in the position of being third choice behind a reserve centre back and a free transfer who couldn't get a regular game at his previous club is below the belt to me. The future will prove whether he should be playing now rather than waiting for his chance.
Mike T Jones
125
Posted 11/08/2017 at 21:34:31
By my reckoning, Arsenal are top of the League at the moment.
Paul Tran
126
Posted 11/08/2017 at 21:35:37
Thanks Darren, that's a good bet. I'll put some of my Barkley winnings on that one.
David Barks
127
Posted 11/08/2017 at 21:38:03
Must be nice to have a striker like Giroud to come off the bench. Not to worry, we have ... Gareth Barry??
Phil Walling
128
Posted 11/08/2017 at 21:38:58
So Arsenal top the Prem before it's even started!
James Stewart
129
Posted 11/08/2017 at 21:42:44
Not a snowball in hell's chance we are signing Giroud now. He's their best striker.
Darren Hind
130
Posted 11/08/2017 at 21:44:34
That was played at such a tempo.
Hope we've made big strides since last week. We looked some way behind those two teams in terms of fitness and sharpness.

Sam Hoare
131
Posted 11/08/2017 at 21:49:55
Compare Giroud, Lacazette, Sanchez and Welbeck to Rooney, Sandro, Calvert-Lewin and Mirallas and it's pretty clear how far we are behind.
I suspect that we haven't bought a striker yet because we have been waiting for Giroud to make up his mind. Move on. He's not leaving.
John Pierce
132
Posted 11/08/2017 at 21:51:33
Martin,
Many think that the next evolution in football transfers is coming. Not so much of a revolution but normality with the freedom of movement.
Actually, a player should be able to give notice at any time in their contract as per a regular employee. If that's 6 months then fine etc.
Otherwise its pretty close to trafficking as you suggest. But it's their registration they hold right? They can leave but can't play!
As prices have no relation to the the players ability and are just the supply/demand market value, it has to end. Because eventually like Bosman, someone will get so fed up it goes to court. Its a cycle I guess, but it has a rather distasteful side to it all.
Ray Robinson
133
Posted 11/08/2017 at 21:55:46
I share Robin's view of the Kenny situation but respect Dave's opinion #120 based on his actually having seen the lad play regularly. Too many people on this forum are basing an opinion on Kenny's potential without enough actual evidence.
Another lad who I have seen play who I reckon has got what it takes to make it is Baningime but I'd be premature to be pushing for his inclusion in the first team right now.
Chris Leyland
134
Posted 11/08/2017 at 21:59:35
Darren – agreed, both teams moved the ball at pace whereas we seem to be ponderous in possession thus far. I'm hoping that it will transform in the next few weeks but the pessimist in me says otherwise.
Christy Ring
135
Posted 11/08/2017 at 22:02:59
That's Giroud gone off our list then, I was hoping he wouldn't get a game, was my No 1 choice, Vardy will have to do. Big bo bo by Shakespeare, taking off a midfielder for a striker, 3-2 up and 8 mins left.
Ray Robinson
136
Posted 11/08/2017 at 22:04:21
I get what people are saying about players being tied into long-term contracts flying in the face of conventional employment rules, but to compare the situation to "trafficking", c'mon!
No player, as far as I'm aware, has ever been forced to sign a lucrative contract against his will!
People who are trafficked have no contract, are subject to threats and earn little or no money! Not your typical footballer!
Chris Leyland
137
Posted 11/08/2017 at 22:06:49
The comments above about people trafficking are way off the mark. How any of the men or women who are genuinely people-trafficked are on £100 grand a week for 4/5 years? Answer: none of them.
If footballers want freedom to move as they wish, then they should also accept freedom for clubs to terminate their contracts too but they don't. That is why Niasse continues to get £50/60 grand a week.
Ciarán McGlone
138
Posted 11/08/2017 at 22:14:56
There's absolutely nothing contrary to employment law in signing a contract which requires you to stay for the length of that contract. Parties are free to contract whatever notice they want, and if that's the length of the fixed-term contract, then so be it.
David Barks
139
Posted 11/08/2017 at 22:15:43
You know, the contract is more to protect the player, right? The players could choose to only sign a one-year-at-a-time contract. The 4-5 year contract guarantees their salary if they get a career ending injury. It benefits the clubs because of the transfer system, protecting an asset.
And it benefits the employee, guaranteeing them that salary if they have a devastating injury or if they just turn out to be not as good as originally thought.
Martin Mason
140
Posted 11/08/2017 at 22:18:35
Normal employees are not on long contracts and they can change jobs when they want. Why not footballers?
Brent Stephens
141
Posted 11/08/2017 at 22:20:40
They can if a club agrees to such a contract, Martin.
Ciarán McGlone
142
Posted 11/08/2017 at 22:21:29
Because they sign lucrative contracts to that effect Martin. Simple really.
Dave Abrahams
143
Posted 11/08/2017 at 22:21:38
Ray (#133), I think Kenny's energy, movement and ability especially going forward will be missed tomorrow but it is no use crying over spilt milk, see what transpires in the next few weeks.
Agree with you Beni Banginime is a great prospect and one for the future. Beni is 18, Jonjoe is 20 and ready now.
Mike Green
144
Posted 11/08/2017 at 22:23:52
Well said, Chris Leyland.
Long-term contracts protect the player against injury and being dropped. They agree terms of contract freely and when push comes to shove get their move if they want it anyway.
At the top they live a gilded existence and to compare it to people trafficking is as about as obscene as the rewards that these young men get.
Ray Robinson
145
Posted 11/08/2017 at 22:29:25
Martin #140 and would Darren Gibson ever have been paid for re than 12 months?
Tony Abrahams
146
Posted 11/08/2017 at 22:36:47
Phil, @111, Dave isn't interested in provoking anyone, unless he's taking the piss, which is something he obviously feels is happening to Jonjoe, simply because the kid isn't getting a real chance.
I'm made up with Everton's crop of youngsters, but the thing with winners is they usually don't give a fuck for anyone, so if we are not careful with how these kids are treated, then I'm sure they won't give a fuck for the people that are in charge, and we might be the losers in the end?
Darren, 12/1 might have just gone out a bit, but I think,that would be a really sensible bet anyway, simply because Leicester are,definitely one of the most competitive teams in the league.
Mike Gwyer
147
Posted 11/08/2017 at 23:23:57
Chris Leyland (#137).
When you sign a contract, be it 2, 3 or even 10 years, then that is the deal you sign into.
If Everton Football Club believe you are worth £60k a year for 5 years, then put that piece of paper on the table and ask you to sign it, then who is at wrong? It most definitely is not Niasse.
Let's leave other players out – arguments that do not involve them.
Clive Mitchell
148
Posted 11/08/2017 at 23:30:00
Anyway, if the team had the pace to match the backpedalling done by Koeman and his lieutenants in their eve-of-season messages, I'd fancy our chances.
Clive Mitchell
149
Posted 11/08/2017 at 23:31:11
Sorry, I meant COYB
Mike Gwyer
150
Posted 11/08/2017 at 23:31:23
Yeah, right. £60k a year, which could be the IT dreamland contract but I meant the Premier League dreamland of £60k a week.
Jay Harris
151
Posted 11/08/2017 at 00:04:56
What I can't understand is if we sold Lukaku for £75 to 90m why we couldn't just go and offer Leicester £60m for Vardy or Celtic £50m for Dembele. Arsenal got LAcazette for £45m so, instead of looking at £25 to 35m has-beens or cast-offs, why don't we show some real intent and go for a top class goalscorer? Hey, we could even try to temp City with a £70m bid for Aguerro with a buyback clause.
Gordon Crawford
152
Posted 12/08/2017 at 00:25:55
So Ronald is hinting that we won't do any better than finish 7th this year. Why is he getting £6m a year? He deserves a chance, but I'm starting to think he will never be a top manager. Defeated before we have even kicked a ball, fantastic.
I hear the dark side are looking at Aubameyang, Costa, Sanchez and Lewandowski as potential targets, but who are we looking at?
As for today, I hope we get a great win to start this Premier League campaign.

James Watts
153
Posted 12/08/2017 at 00:32:35
Was just reading that too Gordon. Although it's probably true that with the present team we'll finish 7th surely it wouldn't be too much to ask for a bit of optimism? Give us something to look forward too?
He's making Moyes look chipper, I'm just waiting for the "knife to a gunfight comment" when we play Man City!
John Wilson
154
Posted 12/08/2017 at 00:46:11
From EFC's viewpoint, it makes sense to close up shop as they know that this hyper inflated market will mean for them that players will be valued many millions above their actual worth. I can see us getting another Valencia on loan for the season.. This is why Koeman is alluding 7th place finish; I think this 7th position is rather ambitious if we have no real fire power.
The only reason we managed 7th last season is because we had several soft games earlier on; this season we do not have that safety cushion. It was therefore football suicide to get rid of Lukaku (£75-90 million) as it should have been foreseeable that it would lead to hyper inflation, where every striker is temporarily valued at least £20 million more than their actual value.
Every game this season will be a struggle more likely than not... as we can only stop so many goal attempts without proven on-form strikers.
John Pierce
155
Posted 12/08/2017 at 00:50:12
So okay, the language is colourful and provocative but a player should like anyone regardless of their earnings be able to serve notice on their contract. When us mere mortals agree to a job we sign a contract, that's open-ended.
I dare say a player could leave a club but that club retain his license/registration. That's the bit that is perverse. You might say players are complicit in the whole thing, as both parties get very rich from it.
Don't care, plenty of mega earning people have contracts and civil way to dissolve them in place. Footballers and sportsman sit outside of this.
Clubs survive off television money to run their club, use the crazy transfer system & dodgy commercial deals to generate profit outside of those regulations such as Premier League Sustainability and FFP that they have no need to sell and effectively tie a player the club.
In the past, there were other reasons why a player might move on. Under these circumstances, a player is effectively trapped. He cannot work were he wants unless his 'Bondsman' says so.
Trafficking? No. Provocative? Yes... but restraint of trade? Deffo!
Colin Metcalfe
156
Posted 12/08/2017 at 00:52:13
What – with Rooney in the team? No chance and especially at Man City where he took them to the cleaners on many occasions. One of things I like about Rooney in the team is that he has no fear of the top teams because he's beaten everyone one them and got the medals to prove it!
Don't be too quick to write us off – we may surprise a few top teams this season. COYB!!
Fran Mitchell
157
Posted 12/08/2017 at 01:18:40
Stoke City
Man City
Chelsea
Spurs
Man Utd
By no means an easy start. If all goes tits up, we could enter October bottom of the league with 2/3 points.
But ever the optimist, I see this as a real opportunity. Liverpool last season started with tough games at Arsenal, Spurs and Chelsea and this was the catalyst to their (albeit short lived) title challenge and Champions League qualification.
the target should be 10 points from these five games, and I believe victory at Stoke is a given (while we can complain at some of our deficiencies, if we were in Stoke's boots we'd be much more pessimistic – lost best player, little investment, ended last season in woeful form, Mark Hughes).
So seven from the other 4 games, essentially 2 wins and a draw. Doable. Spurs could be stagnant. Man Utd under Mourinho are worth a point at least. Chelsea, who knows how the morale is. And Man City, well Guardiola is over-rated, and their keeper is suspect. We are not doomed.
New Season! We all start with the same points.
Lookman and Davies are gonna take the Premier League by storm. Sandro is gonna rip up the league. Rooney gonna find that fire and find his form. Klassen is gonna be like a Dutch Lampard and score from all over the place. Pickford is gonna be such a wall that Trump will try and buy him to patrol the Mexican border, and Keane is the new Terry.
It's the first game of the season. Football is supposed to be fun. Let's be optimistic
Come On You Blues!
James Watts
158
Posted 12/08/2017 at 01:44:46
Fran (#157). Best post on here. Bravo!!! So nice to read that than all the "we're doomed" crap too many people are spouting before the Premier League has even started and the window has 3 weeks to run!
Maybe you should give Koeman a pep talk too ;)
Eric Myles
159
Posted 12/08/2017 at 03:48:18
Martin (#140), I know many normal employees that are on fixed-term contracts and can't change jobs when they want.
Darren Hind
161
Posted 12/08/2017 at 04:38:58
I think that's one for the grass-skirted kite-flyers and the hard-of-thinking, Fran @157.
Koeman forgot football was fun 20 years ago. He is already managing expectation and telling the world how difficult it's going to be to make the next step.
£85 million for a striker who (to be fair to him) gave plenty of notice he was leaving... and Koeman spends a fraction of it on a replacement.
I said weeks ago that he wasn't paying enough attention to attack; I got shouted down. I'm saying it again at the start of the season and will get shouted down again. I will still be saying it when the window closes.
As football lovers, we want to see players do things with a ball that we can't/couldn't do ourselves, we want to see invention, guile, imagination... He's spelling it out for you before the gates have even opened.
I'm praying I'm wrong about Rooney and he does still have plenty of life left in his legs. Natural-born footballers will always rise above dour negative tactics.
Ernie Baywood
162
Posted 12/08/2017 at 05:13:50
Can't believe that people are acting like footballers don't have a choice.
They clearly do have a choice. They choose to enter into a situation where their registration is held by a club for a defined period of time in exchange for extraordinary amounts of money.
They can choose not to do that at any time. They don't though, just as I wouldn't.
I do wonder whether a player could propose a clause in their contract that says they can move where they want in any window? They'd have to accept that their wages would drop substantially but some teams might go for it on that basis.
Ajay Gopal
163
Posted 12/08/2017 at 05:33:18
I am loathe to play Cuco Martina – a virtual unknown entity. I am gravitating to a 3-3-3-1:
Pickford
Holgate Jagielka Keane
Davies Gana Baines
Sandro Rooney Klaassen
Calvert-Lewin
Davies, Gana, Baines offer additional protection when Stole are attacking, and they initiate the attacks when they get the ball – Davies down the right flank, Baines down the left, and Gana down the middle. Sandro, Rooney, Klaassen and Calvert-Lewin offer enough pace, guile, interchangeability and attacking diversity to trouble the Stoke defence. Dead ball threats will come from Baines and Rooney.
Impact subs would be Schneiderlin and McCarthy to see out the game if we are leading, Mirallas and Lookman to break a deadlock situation.
James Watts
164
Posted 12/08/2017 at 06:07:54
Darren (#161), I don't normally bother trying to converse with you but I'd personally much prefer reading about some optimism and someone actually looking forward to the season than your constant negative posts. Just because you disagree and it goes against your 'moan first no matter the situation' mantra it's hardly a post for 'grass-skirted kite-flyers and the hard-of-thinking'.
Yes, you are right we should have got a good striker in, but you always forget there is still time for that to happen. Maybe we had one or two lined up but they didn't pan out? Who knows?
But if we were on Sept 1st, then absolutely your posts will have some merit. Whatever your opinion of Koeman, he is no mug. He knows we need a striker. But I have a feeling unless we get in Ronaldo or Suarez or Mbappe you'll be on here moaning about the striker we brought in any way! Then again, even with all of those 3, you'll find some thing to whinge about.
I have my worries too. I'm a little bit nervous about the season. I'm nervous about Koeman's ability; however, I feel optimistic & excited as we seem to have bought pretty well and we can hopefully push on.
You have been to over 1,000 games but you also seem to hate everything Everton or Koeman do, why do you bother? If something made me as miserable as Everton / Koeman obviously do with you, I would find something more enjoyable to do with my time.
James Watts
165
Posted 12/08/2017 at 06:13:46
I like that line-up, Ajay. Although in a back 3, he'd be playing Williams I think. And you've forgotten Morgan is Koeman's golden boy, no way will he get dropped!
David Barks
166
Posted 12/08/2017 at 06:20:48
James,
Wind your neck in with judging other Evertonians. It's getting old.
Chris Leyland
167
Posted 12/08/2017 at 06:34:48
Mike Gwyer – you make my point perfectly whilst trying to refute it. Contracts are mutual and therefore work both ways. The Niasse contract is a good example and this is why I used it.
Everton made a mistake in signing him but they are contractually bound to pay him for the duration of his contract. He is protected because of this.
If footballers want to have freedom to move as and when they see fit, then maybe the price they pay is to lose the contractual protection afforded to them in return?
James Watts
168
Posted 12/08/2017 at 06:50:24
David (#166). So Darren stating 'I think that's one for the grass-skirted kite-flyers and the hard-of-thinking, Fran @157' is perfectly acceptable to you?
I don't have a problem with you, David. I agree with a lot of what you say. I also agree with the odd thing Darren says but when he starts talking like that, then well, this is a forum where I can defend Fran, myself or anyone else I see fit. And in my opinion, Darren deserves to be questioned as such.
Also one question to you, David. What other Evertonians have I 'judged'? If I disagree with an opinion over the team/tactics/manager/etc I'll say it. If I agree, I say it. I rarely make it personal or judgemental.

Rob Birks
169
Posted 12/08/2017 at 07:07:33
I'd love a Paxman or Marr to ask, and continue asking Koeman why he hasn't brought in a Lukaku replacement. Really make him squirm... Not good enough!
James Watts
170
Posted 12/08/2017 at 07:09:07
Rob (#169). Shouldn't that be a question for Walsh & his team? We know Koeman doesn't look for players, he simply signs off on them.
Darren Hind
171
Posted 12/08/2017 at 07:19:02
I've finished work, Alarm set for 12:00. Will meet up in town with very dear friends who I've been going to the game with for decades. Taxi to County Road for a beer with my lads. Then on to the stadium I love to watch the team I love.
Been doing that for over 50 years before this manager got here and I will be doing it when he's gone. No manager has stopped me doing this – and we have had a few beauts down the years – nor will any dumb-arsed post from somebody who can't quite understand the difference between loving the club and criticising a manager you feel is very wrong for it.
John G Davies
172
Posted 12/08/2017 at 07:29:48
Walton Road for my pre- and post-match pint.
Full of optimism for the new season, glass is always half-full for this Blue... otherwise, what is the point?
Looking forward to the game with the usual butterflies even after all these years.
COYB
James Watts
173
Posted 12/08/2017 at 07:36:51
Darren (#171). Your posts go way beyond just criticising the manager. Your posts criticise every facet of the club. Hence my questioning.
But I too remember some god awful managers and players. I was also a season ticket holder for over 10 years. I share the amount of love you have for this club.
Unfortunately living in Australia now means my Goodison days are now few and far between but I'll be watching, and raising a beer to the team when Z-Cars ring out. And I'll be bloody excited and positive about it too!
COYB!!
David Johnson
174
Posted 12/08/2017 at 07:56:46
Darren (#161),
You say Koeman is managing expectation, but I don't see it like that. I think he's simply holding the board to the promises that were undoubtedly made when he signed his contract and I find that refreshing.
You say he's dour and, yes, I too struggle with two holding midfielders but he's changed a culture where players weren't even fit enough to complete a game and where many were not giving 100%. With time and the right backing from the board, he'll have a wonderful team. The fact he doesn't carry passengers is a bonus.
Mike Gaynes
175
Posted 12/08/2017 at 08:15:00
Darren, love ya man, but would you PLEASE stop whining?
You seem to complain in every string that you're being "shouted down"... you are not. You're being disagreed with by considerable numbers of respondents. That's all.
The deal with being a contrarian is that the majority of people will argue against your minority viewpoint. You embrace that contrarian role – hell, you give it big wet kisses – and then you complain about feeling persecuted when you get the expected response. And let's face it, you're frequently less than generous with your assessments of those who disagree with you ("baying handful" comes to mind).
So please stop portraying yourself as being under siege. Ain't happening.
Colin Glassar
177
Posted 12/08/2017 at 08:27:16
Is Darren being a drama queen? Ffs Darren lad, chill out man and enjoy life for once, you miserable old get.
George McKane
178
Posted 12/08/2017 at 08:52:07
Just sitting at my desk - - waiting and waiting - - some CSNY in the background - - just brewing up them "posso waves man" - - there is little logic in our dreams regarding football - - just dreams - - I am with Blanche Du Bois on this one - - and Oddball - - and more importantly with my friend Mr Lennon:
Well we all shine on
Like the moon and the stars and the sun
Yeah we all shine on
On and on and on on and on.
Ciarán McGlone
179
Posted 12/08/2017 at 08:52:31
Mike,
The point you and your ilk appear to be missing is that responses to Darren (and others who criticise Koeman) is invariably tainted with ad-hominem... you know, classic phrases like "whining", "negativity" "hating Koeman"... "Contrarian" etc. Only yesterday you went on the offensive about the number of games he's been at, resulting in a fairly cringeable U-turn.
Here's a helpful rule of thumb, if you can't (or don't want to) address the points he's making about Koeman, then don't respond. Darren clearly doesn't have a problem engaging with and responding to points which are "contrary" to his... (He is not the only entrenched position in this argument about Koeman.)
Hopefully we'll see a cracking display today and the resulting match thread will be a veritable orgy of joy. Personally I can't see it myself. Underprepared, lacking in crucial personnel and a manager whose abilities are up for sensible and reasoned debate.
Paul Tran
180
Posted 12/08/2017 at 08:53:16
Some of us were saying all through last season that Lukaku would be hard to replace. First you've got to find a goalscorer, then you have to persuade them to come here.
Contrary to the popular view on here, there aren't that many of them. That means that they can pick and choose clubs, which means that it'll probably go close to deadline day.
People's distaste for Martinez blinded them to the fact that our squad needed a wrecking ball. Their distaste for 'shit' Lukaku blinded them to the fact that if top strikers grow on trees, its a very rare tree. I suspect we have looked/asked about plenty of strikers, who will be a very expensive gamble or will be taking Giroud's view; looking at their options near the end of the window.
Koeman will have failed if he doesn't bring at least one decent striker in, but these are the hardest players to find and I'm not expecting them to be banging on the gates at Finch Farm yet.
Darren Hind
181
Posted 12/08/2017 at 08:54:04
Mike
Don't do whining, don't do "being persecuted" would allow myself to be a victim. Some people will engage and argue against the points I raise about the manager, I enjoy that.
Then there are some who don't have an argument and will simply get upset because I criticise him. They are the shouter downers, just because they don't succeed, doesn't mean they don't try.
Can we get back to talking about the match?

Chris Williams
182
Posted 12/08/2017 at 09:01:54
George, Happy New Year!
Long time coming but now the snow is gone.
Joe Foster
183
Posted 12/08/2017 at 09:08:52
Well, after all the arguing and speculation, here we are – first game of the season. COYB!!!!!
Martin Mason
184
Posted 12/08/2017 at 09:18:10
Ciaran, excellent points and ones we should follow. Darren is entitled to his views; not agreeing with him doesn't mean he's wrong or deserving of the ad hominem.
James Watts
185
Posted 12/08/2017 at 09:21:09
Ciaran (#179). Not that Mike needs my defence but 'resulting in a fairly cringe-able U-turn.' was very magnanimous I thought. He questioned the 1,000 game plus remark, and people explained how it would be possible. He said opps, sorry you're right. Hardly cringe-able. Or when you're wrong is apologising beneath you??
Anyway, as Darren said, let's get back to the game. I'm personally going for a 4-1 win, Rooney hat-trick and a tactical masterclass from Koeman. And we'll all be asking 'who needs a striker?' COYB!!!
Dave Abrahams
186
Posted 12/08/2017 at 09:21:47
George (178) welcome to the new season, hope you have a great day along with a 4-0 victory.
Nothing wrong with dreams, George, we all have them, especially daydreams. I wasn't too fussy on Blanche du Bois, all she seemed to do was dream, got to have a bit of action with your dreams, George.
Then again, I'm dreaming we are going to have a much better season starting today. Will we?
George McKane
187
Posted 12/08/2017 at 09:31:13
Absolutely right Dave – need dreams linked to a bit a bit of reality. I love Marlon Brando (when he was young)... also love Tenesse Williams. might be better centre half than his brother Ashley.
Ciarán McGlone
188
Posted 12/08/2017 at 09:38:55
Couldn't help yourself, James, could you.
Ciarán McGlone
189
Posted 12/08/2017 at 09:40:12
ps: I have money on that hat-trick, James.
Ray Roche
190
Posted 12/08/2017 at 09:52:33
Ciarán , James, Mike etc,
I thought that the whole point of ToffeeWeb is that it provides a forum where we CAN all argue with the likes of Darren, who is a bit of a Pantomime villain on here... or is it a Pantomime Dame?... whatever, it would be a duller place if we couldn't get a bit red in the face and all General Melchett now and again when Darren gives Koeman some stick.
Darren out!
Paul Setter
191
Posted 12/08/2017 at 09:54:42
I hate Stoke; such a team of cloggers. 1-0 slog and I would take that now as I see very few points over the next 4 games.
Tony Abrahams
192
Posted 12/08/2017 at 09:57:29
I prefer Shine On You Crazy Diamond, George, and genuinely wish I could dream a bit more!
Gonna get a lift home in a minute and get ready to go to my second home, which always brings a little tear to my eye, on special occasions, simply because of how much Everton football club, means to me.
I'm not dreaming though, honestly not expecting that much, and just playing with a bit of drive and pace, will do for me right now, and might even help give me time to reminisce, which is what going to Goodison for the start of a new season always makes me do.
I will think about the characters, that are no longer with us, and hope that the team, makes us proud! COME ON YOU FUCKIN BLUE BOYS!!!

Fran Mitchell
193
Posted 12/08/2017 at 10:01:09
We're gonna Win the league, we're gonna Win the league, eee aiiii aggio we're gonna Win the league.
This is my final post of the day. I shall spend the rest of it drinking shite watered down beer on a Brazilian Beach, telling ALL the Brazilians that Everton are better than Manchester City and How we're gonna Win the league, bofore finding a dodgy stream to watch us Put 7 past stoke.

Fuck opinions. Fuck our obvious problems. Fuck the debate about por manager. Its the First day of the season. Let Optimism reign!
We've got 9 months to moan. For at least one day, let's be positive.
Eric Myles
194
Posted 12/08/2017 at 10:02:11
Darren Hind is to Keoman
As
Phil Walling is to Martinez
As
Tony Marsh is to Moyes
Solve the equation.
George McKane
195
Posted 12/08/2017 at 10:10:12
First Saturday game of a new season - - wow - - feeling great - - back into those cosmic grooves - - absolutely love Saturday 3.00pm KO's - - and especially first game syndrome - - the whole feeling from getting up in the morning to walking to my seat and looking around The Old Lady and smelling the grass and touching the sky (Thanks Van) and hearing Z Cars and then the entrance of the gladiators - - truly brings a tear to my eye.
Back into the wonderful Saturday Match Day Magical Mystery Routine. Early morning second coffee in my lovely large white bowl - - French, bought in Montmartre, many years ago, no handles - - I'd seen someone drinking coffee in a bowl in an old Truffaut film many years ago - - The 400 Blows - - I think - - at that time I was a bit of a Francophile - - remember getting a black duffle coat and white chinos from TJ's and a pair of red socks and believe it or not a pipe from the shop opposite woollies in Church Street - - never ever put tobacco in it - - never ever smoked - - trying to look cool -- you know what it's like when you are about 16 and searching for a look to try and catch the girls eye - - I will go to TDH and Goodison via Scottie and Smith Street - - walking past Athol Street and remembering Mary Martin walking along to our House in Smith Street with "Otis Blue" under her arm and her paisley mini-dress on and thinking she was the coolest girl I had ever seen - - she was a great dancer as well - - past Lambeth Road - - and my eyes and heart drift up to Harcourt Street to Mary Walsh - - wowww - - Mary Walsh - - fantastic - - we loved to dance - -tried to find somewhere to dance almost every night - - Mondays at Reeces (Soul Music) - - Thursdays at The Babaloo (West Coast Hippy stuff and Free and Steppenwolf and stuff) - - The Mardi for soul and Sunday nights at The CI - - Curtis Mayfield and "Its alight" - -
"When you wake up early in the morning
Feelin' sad like so many of us do
Hum a little soul, make life your goal
And surely something's got to come to you
And say it's all right
Say it's all right
It's all right, have a good time
'Cause it's all right, whoa, it's all right"
Ox blood comos (from Saxon) - - green shot silk suit - - made to measure by Mr. Harrison on Kirkdale Road - - yellow Ben Sherman button down shirt - - silk hankie in top pocket.
Preparing myself now to leave - - listening to music and reading some poetry to get myself into that state of somehow floating to the game - - seeing those faces sitting in their places in TDH - - walking to me seat and shaking hands with old friends - - united in our Joy of everything Blue - - bit of CSNY:
"Saturday morning
Football in the afternoon
What have we got to lose
I've got an answer
I am going to fly away
What have I got to loose
Will you still come and see me
Thursdays and Saturdays
What have you got to lose"
Thinking about those times with Mary - - loved Marvin Gaye:
"And I don't have time to think about
What makes the flowers grow
And I've never given it a second thought
To where the rivers flow
And I ain't got time for nothin' else
I ain't got time to discuss the weather
And how long it's going to last
And I ain't got time to do no studying
Once I get out of class
I'm telling you I'm just a fellow with a one track mind
And when it comes to thinkin' about
Anything but The Blues
I just don't have the time"
Along Wessie Road - - passing The Old Baths - - well gone now - - and into TDH - - Tony and Sandra behind the bar - -that little movement of the lip - - into a knowing smile - -"we're back are we?" - - the usual jokes and catch phrases about each other - - I am so happy - - I can hardly contain myself - - and it feels so good - - makes me wanna play my harmonica - - "Way, way back, way back
When you walked, in a green field, in a green meadow
Down an avenue of trees
On a, on a golden summer
And the sky was blue
And you didn't have no worries, you didn't have no care
You were walking in a green field
In a meadow, through the buttercups, in the summertime
And you looked way out over, way out
Way out over the city and the water
And it feels so good, and it feels so good
And you keep on walking
And you look out on the water
And the big ships, and the big boats
Came on sailing by, by, by, by
And you felt so good, and I felt so good
I felt I want to blow my harmonica"
I feel the absolute privilege of being born when I was, and having such a youth on Scotland Road and of Being A Blue: "Cause everything felt, everything felt, everything felt
Everything felt, everything felt, everything felt, everything felt
Everything felt, everything felt, everything felt so right, ha
And so good"
"Rave on down through time and space down through the corridors
Rave on words on printed page 
Rave on, you left us infinity 
And well pressed pages torn to fade
Drive on with wild abandon
Uptempo, frenzied heels 
Rave on, Walt Whitman, nose down in wet grass
Rave on fill the senses
On nature's bright green shady path 
Rave on Omar Khayyam, Rave on Kahlil Gibran
Oh, what sweet wine we drinketh
The celebration will be held
We will partake the wine and break the Holy bread 
Rave on let a man come out of Ireland
Rave on on Mr. Yeats,
Rave on down through the Holy Rosey Cross
Rave on down through theosophy, and the Golden Dawn
Rave on through the writing of A Vision"
So here's to you gang TWebbers, Blues and friends - - have good season - - enjoy it - - I am always optimistic at the beginning of each season and believe that we will win something.
I did another recording for French TV this morning about Rooney - - will keep you in touch.
Finally from Mr. William Blake - - a great Evertonian - - I know - - I knew him well - - "The person who does not believe in miracles surely makes it certain that he or she will never take part in one".
Bon Voyage my friends.

Peter Gorman
196
Posted 12/08/2017 at 10:20:01
George, thanks for the grooves as always. With all said and done, footie is around the corner and that is indeed cosmic and too easy to forget sometimes.
John G Davies
197
Posted 12/08/2017 at 10:23:37
Fuck me... the alarm has gone off early.
😀
Peter Gorman
198
Posted 12/08/2017 at 10:29:17
What can I say John, places to see and people to be.
John G Davies
199
Posted 12/08/2017 at 10:30:36
Some people are positive; some aren't. Glass half-full or glass half-empty. That's life.
I went to watch a Tyson fight in Las Vegas with the lads. Top hotel, great bars (including The Crazy Horse) best of everything. One lad with us moaned every morning for the full week about the state of the bacon at breakfast.
It's in some people's nature to be miserable even in the best of circumstances, other people's nature to be happy in the worse circumstances. That's life.
You could put Miss World on a plate for them and it old be "I'm not going near that, the fuckin state of her earrings!" 😀
James Watts
200
Posted 12/08/2017 at 10:32:30
Ciaran (#188, #189). lol, yeah I'll have to now I've said it! Damn me and my mouth. *grumble grumble grumble*
Phil Sammon
201
Posted 12/08/2017 at 10:35:19
Rooney hattrick. Sandro hattrick. I'm going for a few quid on both just to be absolutely safe.
Laurie Hartley
202
Posted 12/08/2017 at 10:39:07
Definition of Yin & Yang - George @ 195 and John @ 197.
It's a grand old team to play for, it's a grand old team to support .
PS - Rave on George!
James Watts
203
Posted 12/08/2017 at 10:46:01
Wise words, Phil (#201). Don't forget Klaassen.
John Wilson
204
Posted 12/08/2017 at 10:47:56
I don't think Koeman is to blame; as he says, I say which targets I want but I don't get involved in those decision beyond that (paraphrasing). Koeman is a breath of fresh air as he means what he says and says what he means.
It is not Koeman 's fault that we have not been able to get our striker targets up to now. We still have a slim chance but letting Lukaku go without suitable replacement/s was not negligible but negligent.
John G Davies
205
Posted 12/08/2017 at 10:53:40
Not your alarm, Peter. 👍
Phil Sammon
206
Posted 12/08/2017 at 10:54:22
James (#203),
I've got a tenner on him scoring 4...
John G Davies
207
Posted 12/08/2017 at 10:55:46
Laurie (#202),
You didn't read all of the posts?
John Wilson
208
Posted 12/08/2017 at 11:00:42
Sandro could turn into something special; I really hope he does.
John G Davies
209
Posted 12/08/2017 at 11:07:04
George,
Read your post at 195 three times.
It got better every time.
Onwards and upwards COYB
Peter Mills
210
Posted 12/08/2017 at 11:21:24
Marvellous, George. May your soul and spirit fly into the mystic.
Nigel Munford
211
Posted 12/08/2017 at 11:25:19
George, thank you.
Darren Murphy
212
Posted 12/08/2017 at 11:27:50
Finally we're ready to start another season! Yes, I'm hoping for a new striker to replace Rom, a new centre-back to partner Keane and cover for Baines, along with a winger before the window shuts... but, until it is, it's let's get going lads with a nice 2-0, 3-1 win depending on line-ups. COYB.
Laurie Hartley
213
Posted 12/08/2017 at 11:28:34
John – Actually I have read all the posts – my yin & yang comment was about size rather than content. For the record I enjoyed both posts – It' just that I have a weird sense of humour.
Up the Blues!
Colin Glassar
214
Posted 12/08/2017 at 11:32:47
Let the show commence. COYB!!!
Dave Abrahams
215
Posted 12/08/2017 at 11:33:07
John G Davies (199), the thing about moaners is you get used to them and wait for them to get it all out and it wouldn't be the same if they didn't moan, you even feel left out if they don't moan you.
And the thing about moaners is, everyone of them I've met, they all have a brilliant smile, they just don't do it often enough.
Phil Walling
216
Posted 12/08/2017 at 11:34:10
It's all too simple to see us as either 'glass half-full ' or 'glass half-empty'. Usually perceived as a pessimist, my usual forecast is of seventh place. And usually it's not far out. So I'm in the money and contented with my team. Above 'half-full' then.
Anyway, seventh of 20 is nigh top third and thus my glass is two thirds full. And I'm no pessimist. Just a realist who over nearly 60 years has learned to be so.
A point today will be a good start.
Brent Stephens
217
Posted 12/08/2017 at 11:38:40
Dave (#215) – fair comment about the moaners.
"And the thing about moaners is, everyone of them I've met, they all have a brilliant smile, they just don't do it often enough".
Imagine my smile behind that!
Laurie Hartley
218
Posted 12/08/2017 at 11:40:57
Back to this particular game. I, like many of us, think we desperately need a big target man to complete our transfer business.
However, the Stoke game represents a significant opportunity for our current crop of forwards to stake their claims for a first team spot. Against the Stoke back four, perm any three from the five of Rooney, Sandro, Mirallas, Calvert-Lewin, and Lookman, and they could have a field day if we keep the ball on the deck and our midfield players fire up.
Personally I hope we start with a front three of Sandro, Rooney, and Mirallas. I think Rooney's experience will stand us in good stead for this particular game.
George McKane
219
Posted 12/08/2017 at 11:41:18
Thanks for very pleasant comments. My cosmic grooves to All Evertonians Everywhere.

George McKane
220
Posted 12/08/2017 at 11:43:33
Just leaving for TDH - - just posted this on TDH FB Page - -
Link
Dave Abrahams
221
Posted 12/08/2017 at 11:46:26
Brent (#217), there is always an exception to the rule!!!
Tom Bowers
222
Posted 12/08/2017 at 11:47:43
We long suffering fans live in hope that the opening day will be the start of an Everton season that finally puts them up with the elite. The reality is that many opposing sides hope for the same thing and will put up stiff resistance.
Jobs and reputations are on the line both on and off the field as the rewards can be financial windfalls. We all feel the passion and a decent start is what we wish for.
Hopefully the atmosphere and the impetus will be there from the first whistle and they beat one of the most boring teams in the Premiership.
COYB.
Laurie Hartley
223
Posted 12/08/2017 at 11:48:11
Phil (#263) – fair enough.
John G Davies
224
Posted 12/08/2017 at 11:48:52
Apologies Laurie, I thought you meant I was having a pop at George, felt obliged to point it out. Same wavelength humour wise as yourself.
Dave, A gang of the greatest Evertonians and men you could ever meet went under the name of "The Groaners". Fantastic company non better a pleasure to be in their company so I take your point.
You know the lads anyway.
Eddie Dunn
225
Posted 12/08/2017 at 11:49:02
Good to see that there are some optimists still out there! The first game of the season often throws up unusual results.
It would be fabulous if the team gels for the 90 odd minutes and we find a way of getting some goals today.
It is a tough job against Stoke and the realist in me suggests a draw is likely, but whatever happens it is our first chance to see how this team deal with a proper game.
We will learn more today about our hopes for the new season than from any of the warm-ups and Europa ties.
Koeman must be as anxious as the rest of us to get in a good front man.
I wonder if the pace of Sandro and the guile of Rooney will be able to open the door against the Stoke bouncers?
John G Davies
226
Posted 12/08/2017 at 11:55:10
I should add the lads only groan about The Blues. Any other subject they will have you in tears laughing. 😂
Brent Stephens
228
Posted 12/08/2017 at 12:13:39
Dave (#221) – I hope you're not accusing me of being a smiler! Miserable to the core me, kitted out in my grass skirt.
James Watts
229
Posted 12/08/2017 at 12:41:57
That Okaka looks decent for Watford. He's making me laugh my tits off anyway.
Eugene McLoughlin
230
Posted 12/08/2017 at 13:08:40
Who is that no 8 for Watford? Looks decent, LOL!!!
Eugene McLoughlin
231
Posted 12/08/2017 at 13:11:31
Watching Watford... why do the shite play crap against them... yet cunts always raise their game for us? Or we just fucking pissing our pants?
Peter Gorman
232
Posted 12/08/2017 at 13:15:16
The latter, Eugene
Brian Wilkinson
233
Posted 12/08/2017 at 13:25:12
Let's hope we can shake off our opening day draw syndrome and land 3 points.
Eugene McLoughlin
234
Posted 12/08/2017 at 13:27:59
The 2 Jamie's!!!!! Comedy gold!! Arseholes!!!
Sam Barrett
235
Posted 12/08/2017 at 13:35:44
Brilliant as usual, George,
Tony Abrahams
236
Posted 12/08/2017 at 13:44:20
Just because you moan, doesn't mean you're miserable... me? I'm just glad I got home to read George's post, and just hope Everton, can show as much purpose today?
Kieran Kinsella
237
Posted 12/08/2017 at 13:48:30
Beglin and the other twit make no effort to hide their bias. They sounded suicidal at 2-1 and now they're like excited kids. I literally had to turn the sound off.
Sam Hoare
238
Posted 12/08/2017 at 14:03:55
The neighbours showing how some express pace up top can get you out of trouble even when you're playing like crap. Wish we'd got Salah or someone of his ilk.
Jay Wood
239
Posted 12/08/2017 at 14:04:42
Place me firmly in the George McKane camp of excited kid.
Nearly 3 months without league football. Opening day of the season. First game at Goodison. New signings aplenty. Everyone starting on equal footing.
If you didn't wake up this morning with a tingle in the bones in anticipation of the game, when can you?
Put the razors away and save the slit wrists for now.
At least --- until around 5pm.
Gerinto 'em!
COYB!
Dave Abrahams
240
Posted 12/08/2017 at 14:11:17
Just had a very quick glance at the team before it flashed off, is it three at the back?.
Jay Woods
241
Posted 12/08/2017 at 14:25:13
Get in Watford!
I would take a 1-0 today for us, scored in the 9th minute of injury time at the game's end.
Add Your Comments
In order to post a comment, you need to be logged in as a registered user of the site.
Or Sign up as a ToffeeWeb Member — it's free, takes just a few minutes and will allow you to post your comments on articles and Talking Points submissions across the site.