Everton vs Hajduk Split

89 Comments [Jump to last]
Thursday 17 August 2017
Match Preview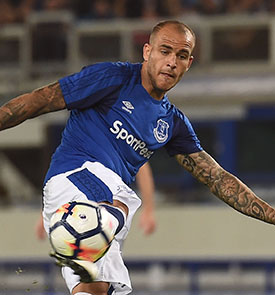 Sandro is doubtful with an injury
Everton's two-part quest to qualify for the Europa League group stage begins this evening as they take on Hajduk Split at Goodison Park.
The Blues welcome the Croatian side for the first leg which could be crucial to their chances of progressing given that the return leg in Split is likely to be a tricky assignment in a more intimidating atmosphere than was the case in the small environs of Ružomberok's home ground in the last round.
Indeed, Hajduk should pose a sterner test all the way around for Everton. Though they are not the force they were in the mid-1980s when the Toffees were also enjoying a heyday, they come from a country with a rich tradition of producing impressive footballers.
While most of the superstars of the Vatreni played for Dinamo Zagreb, Ivan Perišić was born in Split and started out in their youth system before making his way to the top in Italy via France, Belgium and Germany; reported Everton target Nikola Kalinić spent four years with Hajduk from the age of 17; goalkeeper Danijel Subašić played almost 100 games for them; and both Slaven Bilić and Nikica Jelavić started their careers with the club.
Ronald Koeman's men should be better prepared now than they were in the two drab Third Qualifying Round games when they were still in the throes of a truncated pre-season programme, although they could be two men down in terms of numbers. Gareth Barry, a late substitute in the second leg has left for West Bromwich Albion (he would have been ruled out with a minor injury anyway) while Sandro Ramirez is doubtful because of a knock he took in the Premier League opener against Stoke last weekend.
Koeman spoke in his press conference as if he expected the Spaniard to miss the game which would leave him with just two striking options in the form of Wayne Rooney and Dominic Calvert-Lewin. The latter will feel he earned his spot by grabbing the winning goal in Slovakia earlier this month and, if he is picked, supporters will feel he has a better chance of justifying his selection by playing in his natural position at centre-forward.
James McCarthy is still not fit while new signing Gylfi Sigurdsson won't feature in the game but is almost certain to be paraded before the home fans either prior to kick off or at half-time.
Perhaps one of the most eagerly anticipated aspects of the game is whether Koeman will have another crack at trying to make the three-man central defence with wing-backs system work and, if so, who will get the nod on the right flank. Tom Davies was given the brief against Ružomberok with limited success while Calvert-Lewin was, somewhat surprisingly, tried there against Stoke.
Given the attacking instincts he has shown in his two outings so far, Cuco Martina looks like he could slot into the role, as could Mason Holgate just as easily, but it remains to be seen whether the manager will opt of a flat back four with the Curaçao international at right back.
Up front, Kevin Mirallas could be the beneficiary of Sandro's misfortune by starting for the first time in three games.
Hajduk, meanwhile, will be without their main striker Márkó Futács. The Hungarian, who has had spells in England with Portsmouth and Leicester City in the past, has scored 22 goals in 29 games for the Croatian club since last year but misses this first leg through injury.
In any case, Hajduk's Spanish manager, Joan Carrillo, is expected to adopt a very defensive posture for this one which is typical in away legs by unfancied teams hoping to keep it tight in the away leg and spring a surprise in the return game on their home turf.
Everton should, on paper, have enough for the side that finished third in what is a league dominated by Dinamo Zagreb and Rijeka but they will probably have to again be patient and take their chances when they fall their way.
Kick-off: 8.05pm, Thursday 17 August, 2017
Predicted Line-up: Pickford, Martina, Keane, Jagielka, Baines, Schneiderlin, Gueye, Klaassen, Davies, Rooney, Calvert-Lewin
* The game is being shown only in Croatia on HRT 2 and in the Middle East by beIN Sports but Everton look set to stream it live on their YouTube channel
Full details: ToffeeWeb Match page
---
Reader Comments (89)
Note: the following content is not moderated or vetted by the site owners at the time of submission. Comments are the responsibility of the poster. Disclaimer
Tony Everan
1
Posted 17/08/2017 at 08:31:39
That's the line up I would go with , they will be debating Mirallas's inclusion. More and more I am looking at DCLs progress and really willing him to do well.I think we have a diamond in him. Good luck to the lad tonight.
Hoedt, I thought we were interested.
Southampton offered 15m for him , are we out of the running ? Maybe he wants guaranteed 1st team football.
Tony Everan
2
Posted 17/08/2017 at 08:45:08
With regards to the TV coverage I have noticed that you can watch it in South Sudan , but not South Port.
I can't help thinking that if it was Liverpool playing a qualifier BT and their Liverpool heavy employees would be all over it.
Gary Hegarty
3
Posted 17/08/2017 at 08:46:08
On BEIN sports beyond the Middle East. Also showing in Australia on beIN 2 so at least that should guarantee a stream somewhere
Gordon White
4
Posted 17/08/2017 at 08:51:28
I'd go with that line up too. Would be good to see lookman at some point.
Charlie Lloyd
5
Posted 17/08/2017 at 08:56:33
I believe the game is live via the Everton YouTube channel.
Neil Wood
6
Posted 17/08/2017 at 08:58:42
Want to see Lookman from the start. We need to just go at them from the get go and pile pressure on.
The away leg will be a tricky tie so we need to be going over with a minimum 2 goal cushion.
Brian Hill
7
Posted 17/08/2017 at 09:07:09
cricfree has the game in their listings:
http://cricfree.sc/watch/live/everton-vs-hnk-hajduk-split-live-streaming
It can be a very hit and miss stream but for me it has worked more often than not.
David Ellis
8
Posted 17/08/2017 at 09:08:42
It may be a bit negative to say so but what's really important is not to concede in these home games (unless we score a hatful...which we won't). 1-0 will do. 2-1 would not do.
I am hoping for 2-0 .but I am nervous. This is a MASSIVE game for our season and progress generally and we're not firing on all cylinders at all at the moment.
Dave Abrahams
9
Posted 17/08/2017 at 09:16:01
I've got a feeling I will be watching Jonjoe Kenny at Goodison Park tomorrow night for the U23's game, if so Jonjoe will be going on loan very soon, wish him well whatever happens.
Phil Walling
10
Posted 17/08/2017 at 09:27:31
Everton 1/3, Draw 9/2, Hajduk 13/1.
No value in backing Blues but the draw might yield a decent return !
James Hughes
11
Posted 17/08/2017 at 09:31:57
I find it very odd that the club did not manage to sell the rights to this game. I know we were poor in the second leg but to have no takers for this is strange. Were we asking too much money ?
Sam Hoare
12
Posted 17/08/2017 at 09:48:15
Feel pretty nervous about this tie. Our lack of goal threat concerns me and I can see it being 1-1 tonight or something similarly unhelpful. Despite having no idea of how good Split are. Just typical Everton nerves I guess!
John Mckay
13
Posted 17/08/2017 at 09:51:09
Everton are showing the game on YouTube.
Only other place I could find it is HRT TV2 which is a public Croatian tv channel good luck getting that lol.
YouTube is good tho.
Didn't see it getting shown on any of the bein sports channels but that may have changed last couple of days.
Tony Abrahams
14
Posted 17/08/2017 at 10:06:04
Back the draw then Phil, and then think of something it rhymes with!
I had a dream the other night that we was actually drawing 1-1, (47 years of age an am still dreaming about the toffees?) I was actually playing in this game but couldn't get a kick, and then the final whistle blew. I was gutted with both the result and my own performance, and then I heard the commentator say that it was a very convincing 4-0 win for Everton!
We don't look like we have got many goals in us, but tonight I'm going with "Guitar George" and hope he's playing the harmonica, to celebrate his bet coming in!
Alan Bodell
15
Posted 17/08/2017 at 10:07:48
It's live on BT Sport2.
Derek Knox
16
Posted 17/08/2017 at 10:12:18
I feel a bit edgy depending on who he picks. I have been reading on the OS that they have at least three players who can be very dangerous.
As David Ellis so correctly stated, it is imperative not to concede at home, as the away tie will be a cauldron of majority hostile home support.
Like someone else mentioned, I can't see loads of goals from us, hope I'm proved wrong on that one.
Which is why I said I was edgy, please, please do not play Schneiderlin and Gana at home, I'd go with Gana all day, and drop Schneiderlin to the bench. Also do not play the dodgy Martina at right-back, go for Kenny or even Jags.
I can't see him risking Sandro, if he's carrying a minor injury, with the City game 5 days away either, but hopefully we should have enough experience and firepower from other areas.
John Dingle
17
Posted 17/08/2017 at 10:32:15
I have a flight and hotel for the away leg in Split but. as a member with one credit, I am unlikely to get a ticket from the club. Does anyone have a spare that I could buy?
Thanks, John
07771932572
James Ebden
18
Posted 17/08/2017 at 11:11:27
Dave Ellis #8
totally agree. very important game to shape our season. Can't afford an away goal, as I don't think we have the firepower to win games more than 2-0 at the moment.
happy to be proved wrong though
Michael Burke
19
Posted 17/08/2017 at 11:18:18
Alan, you sure about that? I've got Major League Baseball on my time line then.
Derek Knox
20
Posted 17/08/2017 at 11:20:26
At risk of being labelled a dinosaur, could someone please explain how this Everton youtube works, ie; how do you access it etc, be grateful if someone could enlighten me!
Paul Thompson
21
Posted 17/08/2017 at 11:20:38
A Sandro injury merely brings home how short we are in the striker department. 2-0 would be a very good result.
Alan #15. It's not on any of the BT Sport schedules I can see.
Ray Roche
22
Posted 17/08/2017 at 11:21:37
Michael, I said the other day that the Sunday Times show Europa League football on BT Sport2 (or 2extra). Don't know if that's correct, though.
Ray Roche
23
Posted 17/08/2017 at 11:23:42
Derek, try the link below, it also shows Siggy interviews.
https://www.youtube.com/Everton
Gareth Clark
24
Posted 17/08/2017 at 11:28:40
4-3-1-2
Pickford
Cuco Keane Jagielka Baines
Idrissa Schneiderlin Davies
Klaassen
Rooney Calvert-Lewin
Stek, Williams, Holgate, Kenny, Besic, Mirallas, Lookman
I'm hoping Kenny comes on to add some pace & quality delivery.
Lookman & Mirallas on to cause some trouble in the second half.
John Maxwell
25
Posted 17/08/2017 at 11:30:43
First leg is vital, would be worried to go with a draw or 2-1 win for us, not going to be easy over there at all.
Wasn't too convinced against Stoke, I can see DCL becoming a good player but he's not ready to lead the line yet and doesn't work on the wing.
Hoping to see Rooney's experience play its part.
Tough opponents !
James Stewart
26
Posted 17/08/2017 at 11:40:28
I expect a comfortable win, 3-0.
I don't want to hear excuses about the squad being light when we have just spent 45m on one player.
Anything other than a comfortable win is unacceptable considering the finances Koeman has had at his disposal.
Mark Andersson
27
Posted 17/08/2017 at 11:45:00
Im surprised at the amount of nervous posts.
2..0 Everton away leg scrappy 1..0
Loads of moaning about how boring we are to watch.. Koeman out
Alan Bodell
28
Posted 17/08/2017 at 11:45:36
Michael, since Tuesday the betting website Oddschecker has our game on BT Sport 2, the bookies never get things wrong do they ?
James Ebden
29
Posted 17/08/2017 at 11:45:53
Nothing on BT's website or their own guide about this game, so suspect the earlier listing was wrong.
Looks like dodgy stream it is :(
Colin Grierson
30
Posted 17/08/2017 at 11:47:08
I'd be happy to see DCL up front tonight. I think he has come on a lot from what we saw of him last season. The injury to Sandro and lack of any other strikers means its a must anyway unless Rooney is played up there. Rooney was good coming from deep and pulling the strings on Saturday. It could be the making of DCL while we're waiting to see who we can sign before transfer deadline day.
James Lauwervine
32
Posted 17/08/2017 at 11:57:16
Hoping for:
Pickford
Kenny, Keane, Jags, Baines
Gana, Davies
Klaassen, Rooney, Lookman
Calvert-Lewin
Don't think RK'll go for starting with Lookman and Kenny though so probably Schneiderlin and Martina instead.
On a separate point, which may have been mentioned elsewhere, did anyone notice Pickford's reaction to the low shot by Fletcher that just missed the post on Saturday. He did this half-dive where he ended up on his knees, then looked at the Stoke fans and crossed his arms as if to say 'Whatever'. I'm falling in love with the man, he really could be our next Big Nev.
Derek Knox
33
Posted 17/08/2017 at 12:02:28
Thanks Ray !
Craig Walker
34
Posted 17/08/2017 at 12:34:07
If it is on YouTube, then it'll be the first time I've had chance to see this Blues team. I flew out to New Zealand on holiday as the first leg was kicking off and was flying back during the Stoke game.
Can anyone briefly let me know how Klaassen is doing. I had high hopes for this lad. From what I've read, he seems a bit underwhelming and appears to be another one who picks the simple pass. Keane and Pickford seem to be doing well, as is Rooney in patches from what I gather.
Also, I'm really surprised by stuff I've read about Schneiderlin. I thought he was excellent for us when he first came in. Has he been terrible so far? I would be interested to get people's thoughts.
Brian Williams
35
Posted 17/08/2017 at 12:45:08
Just having a wander round town in the lovely sunshine. Groups of Hajduk supporters wandering round. Have to say they look like paramilitary hit squads on their day off!

Derek Knox
36
Posted 17/08/2017 at 12:52:39
Craig @ 34, to be honest, he has been a bit disappointing, but having said that, you can see he has got a footballing brain, but still adjusting to the Prem, needs to quicken up a lot, I think he will come good.
Schneiderlin, seems to have gone off the boil, and Koeman insists on playing him and Gana together, it simply isn't working. Gana is still covering every blade of grass, but his passing needs to improve, but Schneiderlin has somehow gone negative and is slowing, already slow buildups, with sideways or backwards passing.
With so many new faces, I don't think any of us, expect instant transition and success, but there are some good signs, notably Pickford in goal, and Michael Keane, they seem to have bedded in so easily, and play as if they have been with us for us for ages.
I do hope we all get to see the game, from whatever source, hope you enjoy too Craig, and the ones I have exalted, don't have a stinker, likewise, Klaassen and Schneiderlin, should they play, both have blinders.
Dermot Byrne
38
Posted 17/08/2017 at 13:05:57
Re TV. Just so you know, got this reply from ITV 4: "We won't be showing the match tomorrow as it clashes with the existing schedule but the second leg on 24 August will be live on ITV4."

Craig Walker
39
Posted 17/08/2017 at 13:08:39
Thanks ever so much Derek. Hope we can put in a good performance and get a good result tonight. COYB!
Clive Rogers
40
Posted 17/08/2017 at 13:10:55
Win this one lads for Joe Wright, new blues fan from Tampa, Florida.
Paul Mackie
41
Posted 17/08/2017 at 13:27:58
I have a feeling this is going to be an exhibition in 'bus parking'.
We need DCL and Lookman for their pace and Rooney for his brain if we're going to get any chances in this one.
Andy Walker
42
Posted 17/08/2017 at 13:38:32
Re TV the game is live on Fox Sports 2 NL. See
https://www.foxsports.nl
Derek Knox
43
Posted 17/08/2017 at 13:41:45
Good shout re; Lookman, and DCL, I have been calling for Lookman all pre-season, at least Dominic has been given a decent run, and in all fairness, is showing he is capable of being the real deal.
I don't think he is ready for the role on a permanent basis, and likewise, I don't think Prem games should be used to blood him in.
I am fairly confident, or should I say, optimistic, that a decent front man will be with us before the window closes, albeit, a tad late, but better late, than not at all.
James Ebden
44
Posted 17/08/2017 at 13:49:38
Andy, is there a stream for it though? most streams don't specify country, so Fox2 could be America or anywhere.
Steve Ferns
45
Posted 17/08/2017 at 14:03:24
Just watch it on YouTube, it should be in HD. Log on to the official Everton Channel. I haven't looked myself as I have taken advantage of cheap tickets in the People's Club.
What I would like to know is where to watch the away leg. Edit: just spotted above that it's on ITV4
Andy Walker
46
Posted 17/08/2017 at 14:08:21
James it's Dutch. The webpage I posted seems to have a link to it, it may stream, I guess we'll have to wait and see at KO. I use a 'viewtvabroad' box and Fox Sports 2 NL is a channel on it too.
Steve Ferns
47
Posted 17/08/2017 at 14:09:08
What's wrong with YouTube?
Anto Byrne
48
Posted 17/08/2017 at 14:37:43
At home with a good crowd a couple of early goals to ease nervous there is nothing to stop them putting this tie to bed at the first leg. KM might have a point to prove and DCL in a more central position has to be the way forward. My prediction is 4-0.
Steve Morley
49
Posted 17/08/2017 at 14:38:56
Two free tickets available for tonight if anyone is interested?
one adult one junior (11 and under).
The tickets are printable so I can email. If you want them just email me... steven dot morley dot uk at gmail dot com - steven.morley.uk@gmail.com
first come first served. Unfortunately going to have to watch on youtube tonight due to a quickly arranged family holiday.
Paul Birmingham
50
Posted 17/08/2017 at 14:41:18
Tonight is going to a defining game and we must learn from the last leg.
Tonight we must be lethal and hopefully no Keystone Kops defending, from the defence.
In adversity we can find strength and I really do hope he plays DCL up front from the start and he continues his development and grows his confidence and also Lookman gets a decent chance as well.
Confidence boosting is key and let's look forward to the match with genuine optimism.

Jay Harris
51
Posted 17/08/2017 at 15:09:10
I understand all the nerves and hope it doesnt get through to the players because this is a game where we need to do a Celtic and blow them away before the second leg.
I would play Lookman Mirallas and DCL up front and tell them to go for it every time they see a chance.
James Ebden
52
Posted 17/08/2017 at 15:23:26
do you need to be an Everton member or anything to use the youtube channel?
I always thought youtube was just for 12 year olds to post crap videos of minecraft etc
Soren Moyer
53
Posted 17/08/2017 at 15:24:24
http://sport.hrt.hr/uzivo/ with very good quality free streaming.
James Hughes
54
Posted 17/08/2017 at 15:27:15
Dermot #38 . well done sir and a big thank you from me for that news.
Matt Traynor
55
Posted 17/08/2017 at 15:27:28
James #11 "I find it very odd that the club did not manage to sell the rights to this game."
The club don't have the rights to sell. UEFA do. And sell as a package.
Brian Williams
56
Posted 17/08/2017 at 15:30:30
Could be a bit of a mixed atmosphere tonight.
On the positive side I reckon Sigurdsson will be introduced at some point, hope so anyway.
On the negative side the club will be marking the 10th anniversary of poor Rhys Jones' tragic death. I say negative only because even after 10 years the senseless loss of life of someone so young under such awful circumstances always makes me feel so angry.
Derek Knox
57
Posted 17/08/2017 at 15:35:21
Soren @ 53, would that be in Croatian, or English?
I have watched games before in Arabic, with the sound turned down, but somehow, it never seems to be the same, although a silent stream, is better than no stream at all.
Dermot Byrne
58
Posted 17/08/2017 at 15:48:52
Brian- like most tragedies, it bring folk together.
Soren Moyer
59
Posted 17/08/2017 at 15:49:58
Derek Knox, I'm affraid it is in croatian.
BeIN sports 11 has it with English commentary but I guess you need a paid iptv sub for it.
Derek Knox
60
Posted 17/08/2017 at 16:07:47
Thanks Soren I may get Bein 11, I have a (shush) kodi firestick, but sometimes it's hit and miss, but thanks again, enjoy, I hope.
COYB
Charlie Lloyd
61
Posted 17/08/2017 at 16:09:39
James @ 52.
No membership or anything. Just search for Everton FC. You need to change your perception of YouTube have a search through there's lots on there. When I pine for the glory days I can even relive them via YouTube!
Dermot Byrne
62
Posted 17/08/2017 at 16:23:20
There are thousands of Split fans outside Lime Street! (Well 100 or so).
They all look really nervous as they sup beer in the sun. I think they are expecting to be massacred and are only here to say they had been to Goodison!
Derek Knox
63
Posted 17/08/2017 at 16:42:14
Have you had a few too Dermot?
I've heard of 20/20 vision, and besides, I must have told you a million times, not to exaggerate.
Hope you're right about the massacre, but think unless they show a video of Culloden at half time, can't quite see it, then again I might need to go to Specsavers.
Steve Hogan
64
Posted 17/08/2017 at 17:04:58
Dermot (62)
Just come out of Lime St station, where 2-300 very well behaved Had Split fans are sitting quietly in the sun, surrounded by a handful of police.
Didn't see one person drinking ANY alcohol, wonder whether it's a religious thing, or simply too expensive in the UK?
Answers on a postcard please...
Ray Roche
65
Posted 17/08/2017 at 17:13:21
Steve, maybe if there's going to be a ruck you're better with a clear head?
Brendan Fox
66
Posted 17/08/2017 at 17:54:15
Everton website currently 'undergoing routine maintenance' in the middle of the day in the UK, seems very strange!
Let's hope for those that cannot get to the game this isn't an ominous sign for the live broadcast on the Everton YouTube account going tit's up...
Brendan Fox
68
Posted 17/08/2017 at 18:01:28
Steve @ 64 could be down to the price of a pint given the price of a pint as per the link below:
http://www.pintprice.com/region.php?/Croatia/EUR.htm
Split €1.84 EUR
or
As Ray @ 65 has eluded to no drinking = clear head if it kicks off!
The Eastern European Ultra's love a good ruck and a lot of the time they do it sober to ensure they give a good showing...
Paul Tran
69
Posted 17/08/2017 at 18:07:01
Derek Knox, just type in www.youtube.com, type Everton FC in the search bar and there's already a link.
YouTube also has a fabulous array of highlights that I often watch when I'm away from home, you can bask in all our former glories!
Martin Mason
70
Posted 17/08/2017 at 18:11:30
Paul, do you need to subscribe to the official site?
Paul Tran
71
Posted 17/08/2017 at 18:19:13
I just went on YouTube itself. I could watch everything on the official EFC channel. Don't think you need to subscribe for this.
Mike Gaynes
72
Posted 17/08/2017 at 18:19:46
https://www.youtube.com/watch?v=qE3d4UUtCss
Brendan Fox
73
Posted 17/08/2017 at 18:26:33
Nice one Mike!
Brendan Fox
74
Posted 17/08/2017 at 18:28:59
Anyone heard whether Sandro has been passed fit for the game?
David Booth
76
Posted 17/08/2017 at 18:35:57
Is it me, or do many other Evertonians share a ridiculous sense of uncertainty about tonight?
We seem to crash and burn against anyone we feel a weird sort of inferiority complex to: notably the five goal collapses against Dinamo Bucharest, Benfica and Dynamo Kiev.
It's time we shook off this 'we are not worthy' mentality and started making our mark in Europe. We have captains, international captains, a squad packed full of multi-million pound internationals and even a world cup winner - and still I detect a low level of confidence about these two next Europa games amongst fellow Evertonians. Why?
Is it just a heightened awareness of our own capabilities and fallibilities, or do the likes of Liverpool and United get these jitters too? They don't appear to and always seem to use their reputation to give them a psychological edge over any opponent.
Sadly, we cannot seem able do that yet and have had 50 years - half a century - of almost constant under-performing in Europe (1985 excepted). But we've got to start somewhere. Let's do it tonight?
Hajduk Split are a known name, but should we be in awe of them? Respect yes... trepidation NO.
They certainly haven't boosted their squad by £150m so far this transfer window have they!
So I hope the team are mentally up for this and realised that we are a multi-million (so-called Premier League) powerhouse and they, with all due deference, have earned their reputation by constantly being amongst the best of a low-grade eastern European league.
That has enabled them to qualify for 214 games in Europe, including every Europa League competition since its inception in 2009/10.
That's three times as many games overall as us, but let's put that into perspective.
They've only once got as far as the group stage in all that time. And they finished bottom - winning one and losing their five other games.
Stoke beat them home and away in the qualifying round in 2011/12 and they have also been dispatched by such luminaries as Zlina (Slovakia), Dila Gori (Georgia), Dnipro Dnipropetrovsk (Ukraine), Slovan Liberec (Czech Republic), Maccabi Tel Aviv (Israel) and Inter (Italy).
Of those 14 games, they have won just two, drawn two and lost the remaining ten.
I'm not suggesting our track record is any more meritorious, but if we don't impose ourselves from the kick-off tonight and for the 180 minutes that follow in both games, there can be no excuses.
They have a reputation far above their actual status and the likes of Rooney, Klaassen, Shchneiderlin, Keane, Baines, Pickford, Jagielka, Gueye and whichever other high-profile, fabulously paid colleagues join them need to be fully mindful who we are, and who they are. And appreciate the gap in ability, expectation and reputation.
Make this the first of a very big series of steps Blues and start putting Everton back on the map.
Let them do all the worrying about us for once and let's get people in awe of us for a change - starting tonight.
Mike Gaynes
77
Posted 17/08/2017 at 18:41:35
Club website is down at the moment.
Julian Exshaw
78
Posted 17/08/2017 at 18:48:27
I think the uncertainty is justified David, to a certain extent. We were dumped out of two cups at home last season and we huffed and puffed a bit against the Slovakian side ( albeit in pre-season effectively). I agree that they should be in awe of us, absolutely, but we never seem to do things the easy way. We have the players to get it done tonight, though. COYB!!
Tony Everan
79
Posted 17/08/2017 at 18:48:31
David you are right .
For me today I think any jitters come from an uncertainty in our attack. After the first three games we have yet to develop a cutting edge. We all hope DCL can stamp his authority but he is so young it almost feels mean to expect too much of him. Rooney is a natural born scorer and may pick one off from around the box , but even he isn't a focal,point any more.
With all,the games to come I will continue feel jittery without a recognised top striker .
Anyway here's to DCL scoring and (another) clean sheet !
Jay Wood
80
Posted 17/08/2017 at 18:55:10
Williams for Jags at the back. Martina plays.
Lookman and Mirallas in for Sandro and DL-C.
Some pace in the side at least.
Duncan McDine
81
Posted 17/08/2017 at 18:58:40
Looking at the starting 11 I'm glad to see Lookman getting a chance, but I'm baffled as to why Tom Davies is being left out again. Either way, we need a clean sheet and at least a goal tonight. Come on then Blue Boys
Allan Barratt
82
Posted 17/08/2017 at 19:03:11
Agreed Duncan, he should be starting ahead of Klaassen. He's shown nothing so far.
David Barks
83
Posted 17/08/2017 at 19:06:56
Klaassen was brought in to be a key player in midfield for us, being the captain of Ajax and nearly winning this competition last season. I'd be fairly angry if he wasn't getting a game. Davies hasn't shown much either, which is in line with just about the entire team.
David Booth
84
Posted 17/08/2017 at 19:06:58
I agree with you too Julian (78), the uncertainty is justified. Sadly, our domestic and European cup record proves it.
But we've got to banish it for good and break the shackles permanently sometime?
If we don't do it tonight, when will we do it?
Mark Gardiner
85
Posted 17/08/2017 at 19:09:28
After the weeked game how the heck does Schneiderlin keep his place.

Mike Gaynes
86
Posted 17/08/2017 at 19:12:01
Because he had a great defensive game, Mark. And Koeman is emphasizing that over attack.
Allan Barratt
87
Posted 17/08/2017 at 19:13:09
DCL should be leading the line, with Rooney behind him.
Matthew Quinn
88
Posted 17/08/2017 at 19:14:50
How are Ashley Williams, Cuco and Mirallas and Schneiderlin getting games????? Unbelievable line up by Koeman! Surprised he's not playing Steklenberg too!! It's team picks like this that really concern me about Koeman!!
Brendan Fox
89
Posted 17/08/2017 at 19:16:01
I think Koeman potentially risk's damaging the relationship with some of the U23's the likes of Kenny and Dowell by not showing any faith in them with some minutes in some of these competitive European games. The fact that they were both part of the U23 League Winning Team and England U20 WC Winning Team seems to mean nothing to Sherlock...
Brendan Fox
90
Posted 17/08/2017 at 19:28:17
Schneiderlin is one of Sherlock's favourites who can do no wrong ATM. Let's hope Sherlock's blind faith in him pays dividends...
Mike Gaynes
91
Posted 17/08/2017 at 19:36:47
No idea what you're talking about with 'sherlock'... and Schneiderlin took the ball away from Stoke eleven times on Saturday, so the faith isn't blind.
James Morgan
92
Posted 17/08/2017 at 19:38:27
The officials are from Slovakia, let's hope they aren't Ruzomberok fans!
John Otway
93
Posted 17/08/2017 at 19:39:19
Maybe you're so much smarter than me, sonny jim Brendan #90 but who's Sherlock and what's the derivation of this frightfully amusing nom de plume??
Add Your Comments
In order to post a comment, you need to be logged in as a registered user of the site.
Or Sign up as a ToffeeWeb Member — it's free, takes just a few minutes and will allow you to post your comments on articles and Talking Points submissions across the site.