Manchester City vs Everton

185 Comments [Jump to last]
Sunday 20 August 2017
Match Preview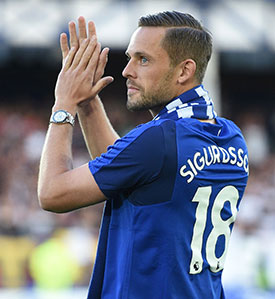 Will Gylfi Sigurdsson start or make his debut off the bench?
Everton begin a difficult sequence of fixtures both at home and abroad tomorrow evening as they make the short trip the Etihad Stadium to face highly-fancied Manchester City.
Pep Guardiola's side are one of the favourites to win the Premier League this season as the Spaniard has strengthened an already impressive squad with some targeted acquisitions this year and he will be operating with the benefit of a season's worth of experience under his belt.
They represent the first of three successive away games that will see Everton travel to Split on Thursday and the home of defending Champions Chelsea next Sunday before they host Tottenham and then visit Manchester United.
Ronald Koeman is under no illusions about the strength of tomorrow's opponents but says he will be looking at way to exploit their weaknesses.
The Dutchman says he knows the Spaniard well and while he acknowledges that City look stronger than last season when the Blues took four points off them over the two games, he says that the Premier League can be an inhospitable place teams that only play one way.
"I am a good friend of Pep and I know the way he likes to play," Koeman explained. "It's the most difficult way. It's really a pleasure to see his teams playing football, with a high defence and a lot of offensive players in the team.
"But the Premier League sometimes is strong and physical, plus if you play with a high defence there is always space behind. When we played City at home we punished them for that but I think with the business they did in the summer City are stronger than last year.
This will be Everton's fifth game of the season already but only their second in the Premier League following last weekend's 1-0 win over Stoke City. They have yet to concede a goal so far, although Koeman admits retaining that record after tomorrow might be a tall order.
Everton's last trip to the Etihad was a difficult one where the Blues were set up to defend and frustrate City while hoping to hit them on the break. It was a strategy that worked well when Yannick Bolasie sent Romelu Lukaku away on one of his trademark gallops towards goal and he earned Everton a point in a 1-1 draw but Koeman admits his team were fortunate.
Neither player will be on the field, of course, and Koeman is still looking for a No.9-style striker but he is confident that with his team's defensive solidity, they have a foundation from which to get something again on City's home turf.
"When we played at City last season I mentioned that we were really lucky to get one point out of that game. On that day they played fantastic football and I spoke about them being the big favourites to win the league. After that they started to struggle but that's football, you never know, it's difficult to make predictions about who is the strongest.
"If we get a clean sheet on Monday I don't know if it will be a miracle — maybe it will but we do know we are strong defensively, our defensive organisation is strong.
"The key to getting a good result is what we do when we have the ball and that's what our preparation will be about. You have different ways to play, we will look at the best way to get a good result."
With no Lukaku, any counter-attacking strategy would perhaps rely on the pace of Kevin Mirallas or Sandro Ramirez, if the latter is passed fit after missing the first leg against Split with a heel injury. Everton lack speed in other areas of the squad but after two frustrating performances against Ružomberok in the Third Qualifying round of the Europa League, there have been signs over the past three games of an understanding and cohesion between the forward players.
Then there is the addition of Gylfi Sigurdsson to the equation and the likelihood that he will feature at some point at the Etihad following his record-breaking move from Swansea City. The Icelandic midfielder's threat from set-pieces and from distance in open play could be important if the game is level or close in the second half. He is an unlikely started given his lack of pre-season preparation but his new manager appears very keen to get him involved so it wouldn't be a huge surprise to see his name in the starting XI.
Manchester City, for their part, will be close to full strength, with Ilkay Gundogan able to play some part as he returns from a long injury layoff. Bernard Mendy and Fabian Delph are set to miss out through lack of fitness but Guardiola's side look ominously strong otherwise.
In players like Sergio Agüero, Kevin de Bruyne, David Silva and Gabriel Jesus they already had threats all over the field but with the likes of Kyle Walker, Danilo and Bernardo Silva signed over the summer, they look better equipped to make a sustained tilt at the title than last season.
The key for Everton could be to press and harry them into having an off day that could sew frustration in the crowd and then use the savvy of a player like Wayne Rooney — having scored one of the best goals in recent memory in a Manchester derby, the ex-Red Devil is no stranger to the spectacular in this fixture — to unlock them at the other end.
What would be the first win for the Blues on City's turf since December 2010 feels beyond optimistic heading into this one but stranger things have happened in the early part of the season and, as Koeman says, it's difficult to make predictions in football!
Kick-off: 8pm, Monday 21st August, 2017
Referee:
Last Time: Manchester City 1-1 Everton
Predicted Line-up: Pickford, Martina, Keane, Williams, Baines, Schneiderlin, Gueye, Davies, Klaassen, Rooney, Mirallas
---
Reader Comments (185)
Note: the following content is not moderated or vetted by the site owners at the time of submission. Comments are the responsibility of the poster. Disclaimer
Mike Berry
1
Posted 20/08/2017 at 16:21:25
I am sure Ron will look to nullify Silva/DeBruyne to cut off their supply line, if we do this we have a good chance, they have no real aerial big striker threat.
Also we have a very hard working midfield that will close them done at every opportunity.
We can definitely get something from this game
Mark Morrissey
2
Posted 20/08/2017 at 16:33:46
I'm sure Ron will be heading into this game only thinking of a draw. It's not a game we can hope to win will be his philosophy tomorrow. Me, I'd be looking to win and that's why I'm not the Everton manager. I personally think we won't get a better time to play them and I'd be going for their their throat but we'll see. I would like to see Tom Davies start week in week out but I'm sure he won't get a look in tomorrow. I hope to be proved wrong
Eddie Dunn
3
Posted 20/08/2017 at 16:40:29
if you try to punish them for playing a high defence, you need Sandro and DCL to catch them with their pants down. Please let's see Lookman on for more than ten minutes!
Ajay Gopal
4
Posted 20/08/2017 at 16:59:33
Defensive solidity will be good – I would not meddle with the back 5, but maybe, just maybe Koeman will be tempted to play Holgate instead of Martina. That will truly tell us what his intent is – it it is KITANO, the team will probably be:
Pickford
Holgate Keane Williams Baines
Gueye Schneiderlin Davies
Klaassen Rooney Sandro
With Sigurdsson, Lookman, Calvert-Lewin and Mirallas potential substitutes to change the game and Besic or McCarthy to see out the game if we are leading.
Kieran Kinsella
5
Posted 20/08/2017 at 17:17:00
Watching Spurs and looking ahead my concern is the offense. Spurs, Chelsea, Man U and now even City have strong back lines. We do too but they also have great attackers. Statistically speaking if you play enough football, are equal defensively, but the other team create more chances then over time you're likely to lose more games.
Dermot Byrne
6
Posted 20/08/2017 at 17:18:52
No knives to a gun fight anymore. Manager is no fool.

Gordon White
7
Posted 20/08/2017 at 17:19:54
It's one of 38 games. We all hope for a win, or perhaps an away draw. But the result may be less important than the way we play against a top 6 team and the bookies favourites for the title . If we play like the first half of the last match, it will be a good game and we will have confidence. And the following teams will approach us differently, regardless of the final result. But if we play like we did in the second half, .
Tony Abrahams
9
Posted 20/08/2017 at 17:51:10
Kieran, I'm watching this game, and shouldn't really be on my iPad, because as much as I slag the EPL sometimes, this is a really good game of footy?
Speed, strength, skill, and a great desire to run off both teams. Chelsea, have just gone in-front, but this Spurs look like a very good team, so maybe the standard is improving?
Tom Bowers
10
Posted 20/08/2017 at 17:56:43
Two amazingly tough games on paper coming up with the long trip to Split in between followed by two more tough games. Certainly an acid test for this new look Everton squad and the worst case scenario could be unbearable in the next month.
However, this Everton squad is much stronger defensively than it has been for years and they may come to rely on that in a big way during these next few weeks.
So far it appears that Koeman may have to rely on the new offensive players Rooney, Sandro and Gylfi to replace the goals tally of the departed Rom. but can't see that happening in these next 4 Premier League games.
Football is a funny game though and we may just get some surprises after all who would have thought Albion and Huddersfield would have 6 points each and Burnley to have won at Chelsea.
Geoff Evans
11
Posted 20/08/2017 at 18:00:25
Everton are good enough to take Man City any day of the week, just go for it. Good to play them before they've signed a decent centre half.

Gareth Clark
12
Posted 20/08/2017 at 18:03:21
Pickford
Keane Williams Jagielka
Martina Idrissa Schneiderlin Baines
Klaassen
Rooney Calvert-Lewin
Subs: Stekelenburg, Holgate, Besic, Davies, Mirallas, Sigurdsson, Lookman

Lookman, Sigurdsson & Davies to come on in the second.
Colin Glassar
13
Posted 20/08/2017 at 18:05:54
We have a decent record against city so I'm not too worried. A draw will do but I can see us nicking all three points.
Mike Gaynes
14
Posted 20/08/2017 at 18:13:27
Colin, I think you're wearing rose-colored binoculars!
John G Davies
15
Posted 20/08/2017 at 18:34:03
Tough game tomorrow. Two ways to play it imo. < He will play Gana, Schneiderlin and Tom Davies in a midfield three. Rooney, Klaassen and Mirallas or Sandro dependent on fitness.
Or, he may go three centre-halves, Cuco and Baines as wing backs with the same three in central midfield. Klaassen behind Rooney.

Gordon White
17
Posted 20/08/2017 at 18:39:16
Mike #14
I know there have been changes since our last game with City earlier this year. But let's not forget that we beat them 4-0. And 3 of the scorers will be available tomorrow. Yes, it will be at the Etihad. Nevertheless, I agree with Colin. COYBs
Tom Bowers
18
Posted 20/08/2017 at 18:41:22
No matter what the line-up is you just know it will be tough going as City can conjure up goals from a few spots and in Aguerro they have a world class striker.
I agree that they have to bottle up De Bruyne and Silva as the first order of the day so good tackling is needed and then some controlled passing. No cheap giveaways.
Josh Barber
20
Posted 20/08/2017 at 19:00:12
I'd like to see Lookman and Gylfi used as our impact subs until we get a proper striker on the team. Lookman should be used every game.
David Pearl
21
Posted 20/08/2017 at 19:08:15
I think that's the team Gareth. Though I'd like to see Davies in place of Klaassen. In a game of opinions, I'd send Lookman on loan.
I doubt Costa would join us... but if he does we will be a couple players short of challenging top four seriously.
Tony Hill
23
Posted 20/08/2017 at 19:13:59
City's defence is their weakness. Kompany, Otamendi and Stones all have errors in them and I'm not convinced by their goalie either. If we are terrified of their attacking force then we will not give ourselves the best chance of getting at them.
I would like to see us play an organised counter-attacking game. That's where our lack of outright pace is a concern but we can still hit them if we're slick enough.
Courage, intelligence and fitness - the way to a good result, not only tomorrow but in every game we play this season.
Christy Ring
24
Posted 20/08/2017 at 19:17:23
I hope it's a back four with the Jag ahead of Williams, Davies in midfield, and Rooney playing off DCL.
Jim Knightley
25
Posted 20/08/2017 at 19:23:48
I'm not too hopeful - I think City will win the league this season. Their attacking players are on another level. We will have to stay strong defensively and hopefully get a goal from a set piece or on the break.
Why are we playing away on Monday though? When we are away on Thursday in Croatia and play Chelsea on Sunday. That leaves so little prep time and little recovery time. For that reason, I think we need to rotate. I'd give Rooney a rest in one of the Prem games - sandro for tomorrow makes sense and he has the pace to get in behind.
The schedule is a joke - 3 away games in 6 days (less really as we play Sunday afternoon)
Darren Hind
26
Posted 20/08/2017 at 19:40:45
As a negative pessimist, I think we can and will do them.
I Hate this, talking up the opposition bollocks, its the language of the defeatist. This crew have never ben formidable at Home. Martinez was unlucky not to win there and Moyes made a habit of it.

fuck the customary foetus position. This crew are beatable. Lets go for the jugular

Michael Kenrick
27
Posted 20/08/2017 at 19:52:22
It would be great to see Sigurdsson start, assuming he's been keeping himself fit, but a second-half sub is the best we can expect.
I don't think you'll be seeing McCarthy in this one, Ajay (#4) – he's out with a knee injury.
And can't we quit this cry-arse moaning about the schedule, Jim (#25)? This is what happens if you play in Europe. It's a pathetic excuse as the fixtures are known in ample time for Koeman and the players to plan for – and it's their bleedin' job, FFS!
Iain Love
28
Posted 20/08/2017 at 19:53:49
Man City will be swarming all over us from the off, they will want to make a statement of intent in their first home game. The only way I can see us getting something is by matching their energy and movement.
Klaassen is still adjusting and should sit this one out in place of Davies; likewise Rooney should be used from the bench until the game calms down – his place taken by either Calvert-Lewin or Sandro, if fit.
Sigurdsson would be great to start, he lacks a bit of pace but doesn't half cover some ground, and his set-piece skill might be the deciding factor.

Phil Walling
29
Posted 20/08/2017 at 19:56:53
Knowing what we know (shh,,,,), there's some good value about. A huge 11/1 against an Everton win and a generous 5/1 against the draw. Don't be put off by 4/13 on a ManCity victory. Just wont happen !!!
Andy Crooks
30
Posted 20/08/2017 at 19:57:32
Darren, good post. I think we will win and I hate the fear that often stifles us. They are fragile and we can absolutely damage them if our coach instills belief.
Paul Tran
31
Posted 20/08/2017 at 20:00:13
You can't deny they're a side full of quality that's strengthened. Nothing wrong with stating the obvious. I'd say we've strengthened too. I think we're a lot stronger at the back, though that theory is going to get well tested in the next few weeks. And I think we'll get better going forward, if we press with purpose and have some width.
When City are good, they're very good, but they have a soft underbelly. We've exposed it before, so let's do it again tomorrow. I'm expecting one point or three, an attitude we need to adopt if we're going to progress.
Sam Hoare
32
Posted 20/08/2017 at 20:04:51
I don't think we will win. I think we will lose by a few goals. Our ball retention is not good enough. I very much hope I am totally mistaken.
Nitesh Kanchan
33
Posted 20/08/2017 at 20:10:36
If we can win at Chelsea then they have difficult set of fixtures after that.That will be one more team out of harm's way to top 4 after Arsenal and Spurs.
It may be early days but it was the start in 2005 season that helped us finish in the top 4 since then we have only been chasers.
Sigurdsson should start that game.We need just 1 goal in Split to finish off that
tie.
Ian Bennett
34
Posted 20/08/2017 at 20:13:19
I'd go:-
Pickford
Holgate
Jagielka
Keane
Baines
Schneiderlein
Gueye
Davies
Mirallas
Rooney
Sandro
Iain Johnston
35
Posted 20/08/2017 at 20:14:53
They struggled to break down Brighton for 70 mins needing an own goal to make it safe.
If their defence is so strong why are they looking to spend stupid money on a 29 year old defender who was deemed not good enough for their neighbours?
I have a gut feeling that we'll play well and come away with a very credible draw, or possibly nick it late on which will trigger mass hysteria on TW.
Eric Paul
36
Posted 20/08/2017 at 20:15:19
I hope the players don't have the defeatist attitude of some of the posters on here. An overwhelming self-belief and will to win is the best weapon in any contest.
Darren Hind
37
Posted 20/08/2017 at 20:19:36
Careful Phil Walling. You will be giving pessimism a bad name.
Elevens you say ? Got to be worth an Ayron of anyones.
If we go with an intent to win and we lose . .so be it, they are a decent outfit, but if we go expecting and accepting a tonking, we deserve all we get
Paul Tran
38
Posted 20/08/2017 at 20:26:53
I've got stuck into both win and draw at those odds. Cheers Phil.
James Peter
39
Posted 20/08/2017 at 20:27:58
If we're ever going to do anything in this league, I don't believe it's as much the personnel we have to change, it's the winning mentality. As much as I despise the RS I have to admire how they always raise their game and compete toe to toe with the big boys. We have to gain a bit of arrogance, understand our opponents strengths and weaknesses but play our game, aiming to win every one and be gutted and disappointed if we don't. Especially now we have spent a load of money, teams (and pundits) will try and keep us down in our place and we have to start making statements in the same way Liverpool and Spurs have done in the last few years. Heart and desire can bridge any perceived gap between our quality and the rest of the leagues. Are you telling me Rooney, Sandro, Siggy haven't got quality? The difference this year and the next few years with us will be decided in the head! COYB's
Jim Knightley
40
Posted 20/08/2017 at 20:28:32
Michael - what is cry baby about it? Do you think Mourinho or Conte or Wenger would accept this situation, without complaining about it? It is weaker for us to merely accept a state of the affairs that is clearly wrong, and benefits City over us.
This isn't what happens when you play in Europe - Can you give an example of a similar six day turnaround for a team playing in Europe in recent years? This isn't the Christmas period, and even if it was, most teams wouldn't play 3 times in 6 days, especially not all away from home. Monday, Thursday, Sunday is a joke - we cannot perform at our best, and it will not happen to Arsenal this season, and it did not happen to United last. If you've got examples to the contrary, I'd love to hear them.
This is because of Television - there is no reason we should be playing on Monday. We should have been on Sunday, as Europa league teams customarily are after one game, and before the next. No other team in the Europa League is playing on Monday - questions demand to be asked. Rotation was a feature of many, and it will be of us too, even more so.
Chris Gould
41
Posted 20/08/2017 at 20:31:28
If Sandro is fit then I would hope he starts alongside DCL. I would also definitely start Klaassen.
We need someone who can pick a quick pass to fleet footed forwards, as without doubt we will be looking to soak up pressure and counter attack.
Klaassen showed glimpses of what he's all about on Thursday and now I expect him to step up and show it in the league. I think he has got the qualities we need against a team like City.
I would love to see Sigurdsson start, but very much doubt he's ready, and a player is more at risk of injury if he isn't fully match fit. Dream scenario would be that he's an unused sub and not at all required as we close out a much deserved win.
Kevin Tully
42
Posted 20/08/2017 at 20:43:04
I wasn't keen on the prodigal son's return, but he will bring a winning mentality with him and get that dressing room believing. That alone could be worth his wage. Watching Rooney berate the ref is so satisfying for me, after watching the so called bigger sides scare the ref into giving them the rub of the green. John Terry, Gerrard, Ferdinand all intimidated the ref whenever we played them.
Why should we fear these tomorrow? Our midfield can match anyone's. The defence and keeper haven't conceded yet. I'm confident. I want to match them on the pitch, no excuses! Jagielka giggling in the tunnel is hopefully a distant memory...good player, nice fella, but epitomised our loser mentality. That may upset a few, but Carraghet couldn't believe their mindset before Derby games etc..
Mark Tanton
43
Posted 20/08/2017 at 20:49:01
I wasn't too happy about Rooney's return either - I was worried it was a retrograde step. It made me think about Gazza and Ginola - but that was plainly daft. Rooney is an absolutely class, inspired signing. He's nowhere near finished and perhaps he just needed to come home to rediscover his love of the game.
I am actually looking forward to the usually dreaded trip to Anfield this season. Here we have a player who's actually won there.
Mark Tanton
44
Posted 20/08/2017 at 20:50:25
Kevin what did Carragher say about our mentality pre derby games?
Darren Hind
45
Posted 20/08/2017 at 20:54:40
I think we are all at the mercy of TV company's, Have been for years.
No point in bleating about it after accepting Murdock's hush money all these years.
While most EPL clubs represent our country in Europes elite competition, we are still trying to qualify for the minor one. Lets do that first and people might start to respect our chances . .The TV company's may even give us the nod ahead of women's rugby.
Back to Monday evening: We have spent around 70m strengthening our defence. We play with two insurance policies in front of them . If we are still gonna worry about the opposition what was the point ? Rooney is past his best, but he still has a few cameos in his locker.
Gordon White
46
Posted 20/08/2017 at 21:02:35
Darren #26. I hope our team think like you. James #39 is basically saying the same thing. I have to agree. It's largely about confidence, teamwork, hard work and self belief. Rooney, Pickford, Davies, Keane and Sigurdsson all have this confidence and self belief.
I would like Sigurdsson to start rather than come off the bench. I really, really rate him. Him and Rooney could put city on the back foot. We have to, have to, press.

Raymond Fox
47
Posted 20/08/2017 at 21:02:39
Phil W 29.
How many drinks have you had Phil?
No, I think your right actually, the odds are too big.
I cant see us winning though, a draw maybe, now if that is too defeatist for some of you, tough.
It doesn't make any effing difference to the result, I'm not planning to play on Monday!
Bobby Mallon
48
Posted 20/08/2017 at 21:07:04
My Team
Pickford
Martina
Kean
Williams
Baines
davies
Ganna
Sniederlin
Klassen
sigurdson
Rooney. With DCL lookman Mirralis coming on later. Forget width to begin with we need to stifle them and control midfield
Kevin Tully
49
Posted 20/08/2017 at 21:13:06
Mark - amongst other things, (negative mentality) he said this:
Carragher picked up on that plucky little Everton mentality.
"When you shake hands before the game, I'd be like a lunatic, steam coming out of my ears, wanting to get stuck in," he added "but the Everton players would be saying hello and 'Hiya Carra!' I'd be thinking, the game's kicking off in a minute, why are you even saying my name? Why are you even speaking to me?
Fran Mitchell
50
Posted 20/08/2017 at 21:19:03
All games are winnable.
Our two centre mids have a big job of disrupting their passing game, of covering ground and frustrating the City players.
Rooney, as an ex-Utd player, will also have a task of getting in their faces.
We need to make Stones uncomfortable, a couple of early fouls will help. We only need one mis-placed pass from him and we can go 1-0 up.
Sandro's energy will be necessary, also think he will have a role with long range shots. Their keeper will remain under the spot-light, and just may be vulnerable. Klassen also knows how to hit the ball, this sort of game can be won by a long range screamer.
Davies, Lookman and Sigurdsson as subs to give us energy for the final 30-20 mins.
0-2 or 1-2. COYB.
Pickford
Cucu, Williams, Keane, Baines
Gueye, Schneidelin
Klassen
Rooney, DCL, Sandro
Stek, Holgate, Jags, Mirallas, Besic, Davies, Lookman
Michael Burke
51
Posted 20/08/2017 at 21:22:32
Darren, it's the World Cup. if you've never watched women's rugby, I suggest you do. Then you will see why it was put over a bunch of men cheating and feigning injury over the slightest of touches.
Mark Tanton
52
Posted 20/08/2017 at 21:24:46
That explains a lot Kevin. Thanks for sharing that, surprisingly never seen it before.
Paul Holmes
53
Posted 20/08/2017 at 21:33:38
As we saw in the Spurs v Chelsea match, Spurs, like Man City tomorrow had 70 per cent possession, but Chelsea won. Chelsea played Route One football when they got the ball with fast players on the counter-attack.
Sandro and Lookman need to start, with Rooney finding them quickly once Gueye and Schneiderlin win the ball back from Man City. City play a high line so we need Route One passes from Rooney to stand a chance of getting a result. As Chelsea showed today, possession football is not everything!
Dennis Stevens
54
Posted 20/08/2017 at 21:35:51
It's less than ideal, Jim, but it's not three away matches in six days - it's three in seven. The matches need to be played & to have the extra rest day you desire we would lose one of the rest days we've just had since the last match.
Brian Foley
55
Posted 20/08/2017 at 21:40:45
Fookin hill Bobby 48 you need spillchock you spilt arf the teem wring made me larf tho.

Mike Oates
56
Posted 20/08/2017 at 21:41:07
Little bit of realism coming up - I cant see us coping at all with the attacking options City have. The likes of Walker and Danilo will get round the back of Baines an Cuco, the likes of Silva , De Bruyne will weave magic circles around our centre midfield and upfront Aquero and Jesus will take Williams to the cleaners. The question is can we ever have enough of the ball to exploit their back 3 - Rooney will give it a go, Klassen will find it all too quick. Last year we had Bolasie and Lukaku counter attacking with pace and it paid off, this year we haven't got that pace at all .
Sorry chaps even though I think we are improving and will do even more with Sigurdsson, this game is just too soon for us. Forecast 3-1 to City
Peter Cummings
57
Posted 20/08/2017 at 21:49:35
While some may sneer at the North American football league (MLS), it is currently delivering some really good games with little or none of the play-acting as we saw today at Wembley with the so-called prima donnas of the Premier League 'writhing in agony' after being tackled, only to leap to their feet seconds later when a foul is called.
John Mckay
58
Posted 20/08/2017 at 22:02:26
I'd setup the team to absorb the city attack and get Pickford to bypass their whole midfield with long balls up to their defence, without a target man their defence will mop up pretty much all the long balls but we'd need Rooney, Klassen and DCL/Sandro to win the second balls after their 3 at the ball will most likely win every time.
If the ball goes up to say Stones, then we need 1 player on his pressuring him, and another player nearby to mop up the scraps.
I remember United playing Liverpool last season and they long balled it and took Liverpool's midfield completely out the game.
City look good but they looked good last year and we still battered them. These top teams are there for the taking we just need to have the believe, energy and desire to get at them. No point sticking 10 players behind the ball and trying to sneak it because they will score if they have enough chances.
Let them have the ball just press the shit out of them and give them nothing to do with it and hit them on the break.
Eric Paul
59
Posted 20/08/2017 at 22:04:53
Michael @51
It's rugby but not as we know it
Paul Rimmer
60
Posted 20/08/2017 at 22:06:12
I'd start Sigurdsson and think our best chance is to score from set pieces. I reckon City are likely to score so hoping for a 1-1. Something like :
Pickford, Holgate, Williams, Keane, Baines, Gueye, Schneids, Klaasen, Rooney, DCL, Siggy.
They're bound to dominate possession so we'll need to keep it tight. DCL /Rooney will need to hold it up well and draw fouls to get a foothold in their half. Backs to the wall I'm afraid.
Dave Abrahams
61
Posted 20/08/2017 at 22:28:10
Got to go with the tone of plenty of posts on here, go there tomorrow night with the belief we can win and we have a chance, go expecting to lose and there is every chance we will.
I hope Sigurdsson comes on for the last twenty / twenty five minutes when the game has slowed down, I think it will be too fast for him at the start, only because of his fitness levels at the moment, if Phil Walling thinks we have a chance and is betting on us doing that then we definitely can pull a win off, I'll be in the Sovereign Cross (Ned Kelly's ) willing them to do it.
Denis Richardson
62
Posted 20/08/2017 at 22:33:31
Daunting place to go with the attacking players they have but it's 11 vs 11 at the end of the day.
In Pickford and Keane we've signed two players who are easily good enough to be in the city team. Schneiderlin and Gueye are also quality in front of the defence.
We really need some pace to offer something on the counter so hopefully Sandro and one of Mirallas or Lookman will be in the starting line up. Lookman is so unpredictable, he might just be a surprise but I think RK will probably go with an older head.
Looking forward to it and hope the boys put in a good shift. Worry about Split on Tuesday.
At least if we lose tomorrow we will hopefully be on a high again on Thursday.
Anto Byrne
63
Posted 20/08/2017 at 23:23:37
My team is going to hit them on the counter. No place for Calvert-Lewin or Kevin Mirallas. It's 4-5-1 with Sandro leaving the line Rooney deep and Sigurdsson, Gana, Klaassen and Schneiderlin.
So set pieces and a strong defensive display to frustrate Man City. If this tactic works... 2-0 and Everton have arrived.
Ian Smitham
64
Posted 20/08/2017 at 23:27:22
Game is closest to where I live, looking forward to it, sickened at the semi a bit ago, their fans taking photos of our fans and getting them kicked out by stewards. I am there tomorrow, in the "family" enclosure. Will be having a couple in the best pub I know, Mary D's, they serve using a machine, 20 pints at a time, no queues, anyone going in there, I recommend it, and it is near our fans entrance and a chippy, don't wear colours as the guys on the door don't allow it. As for the game, I'd take anything we can get. Am going with a Citeh fan, he still goes on about how much he hates tiny Tim. I was there for that too. Let's hope
Dan Davies
65
Posted 20/08/2017 at 23:33:42
Michael @ 51. Great post that. You won't see women rugby players 'cry-arsing' like they've been shot every time they get a little tap.
No pretentious bullshit from them.
Andrew Keatley
66
Posted 21/08/2017 at 00:29:33
Think RK will set us up incredibly defensively for this one, sit deep, and hope to get the odd chance on the counter and from set-pieces.
Could see Besic starting and being given a man-marking assignment - either on Silva or De Bruyne.
I'd be pleased to see Sigurdsson (if he is fit enough to play 70 mins) given the start over Klaassen. Rooney will play, and will need to do a lot of running.
Could be a long evening; doubt we'll get more than 33% possession.
Steve Carse
67
Posted 21/08/2017 at 00:36:38
Two reasons why we'll likely get a good hiding. One, they have far superior players. Two, this season they look like they are pressing opposition back lines with great intensity and we've still to come to terms with sides who do that to us. I don't think we'll have any option if we want to get out of our half than to knock it long. Unfortunately we have no pace up front for that to be productive.
Don Alexander
68
Posted 21/08/2017 at 00:44:21
Rule one; do not concede. Rule 2; do not lose. Rule 3; If we have anything left, try to win.
This season will of necessity be mostly frills-free as our hard-ass manager pursues the mission spelt out to him, and us, by Moshiri.
I hope and believe he and the players deliver the required goods but, as anyone will surely acknowledge, we've been delivered one bitch of a start-to-the-season.
Others (even Darren) have alluded to the need for us to at least look the part regardless of the result. That'll do for me too, as a last resort.
Jay Wood
69
Posted 21/08/2017 at 00:55:45
If last Thursday's game is anything to go by, RK can prepare and set up the team for the next two games in similar vein.
Why? Because like City, Hadjuk Split play a very high defensive line. And like City, they play it very well. It takes discipline and well-synchronized movement by 4-5 different individuals to move as one to squeeze the space for the attacking side and catch them offside. How many times did Everton fall into the trap, particularly in the second half last week?
Select the right personnel. Prepare with the right tactics (for both games). Execute the plays and moves correctly at the right time in both games and we can get a result.
Oh! And continue with the defensive rigidity and resolve we have displayed until now.
Optimistic. Always.
Mark Andersson
70
Posted 21/08/2017 at 02:07:41
If Darren Hind can be optimistic then that's good enough for me.
Ron is a play it safe manager first. Some good shouts on here for team selection and tactics.
As fans we need to change our mentality to believe we can beat anyone on the day. Hoping for a win or being happy to scrape a draw is just defeatist.
Our away fans are the best in the country so give them something to sing about..
City 1 Everton 2
Laurie Hartley
71
Posted 21/08/2017 at 02:12:52
If Williams had his best game for us last week I wouldn't be dropping him as some have suggested. We have some very strong personalities in this group so this game is winnable.
I am tipping Klaassen to have a blinder.
4-4-2 for me so one exception to Lyndon's line up – Sandro instead of Mirallas
Pickford
Martina, Keane, Williams, Baines
Davies, Gueye, Schneiderlin, Klaassen
Sandro, Rooney.
Feeling nervous - that's usually a good sign.
David Ellis
72
Posted 21/08/2017 at 02:36:57
Can't believe some of the "respect" given to City here. Yes they have a team stuffed full of great players. Yes we have no Lukaku or Bolasie. But last time we played them they were just as impressive and we put 4 past them without any of Bolasie, Scheiderlin, Gana, Keane or Pickford - to name a few. We are much stronger than the team we put out for that match.
I think our team is very well designed to defend deep against the top sides - it plays directly to our strengths. I think Koeman will ensure we have pace up top to work the counter attacks and I think there is a good chance we will get a point from this one. There's goals in that City defence - the players they have added are wing backs who won't be there when we are counter attacking.
Joseph Terrence
73
Posted 21/08/2017 at 02:45:35
These matches are where Koeman has to show his £6m salary is deserved. He knows exactly how Pep will set his team and Koeman has 'his' players. Up to him to set up our boys correctly and pick up the three points.
John Owens
74
Posted 21/08/2017 at 03:43:10
Pickford
Martina Keane Williams Baines
Schneiderlin Gana Davies
Rooney Klassen Sandro (or Calvert-Lewin) if Sandro not fit
Subs: Stekelenburg, Besic, Jagielka, Sigurdsson, Lookman, Calvert-Lewin, Mirallas.
2 1 to the Toffees
Sandro and Sigurdsson to score.
John Pierce
75
Posted 21/08/2017 at 06:09:33
This game offers an early insight into whether Koeman has progressed from being 'handcuffed by his predecessors signings' and will set the team up to attack.
I often read and do see on these pages that last season was a means to an end. The dour, turgid offerings of last year were personnel driven and just pure pragmatism to get us by. I have never bought that argument and I felt very short changed from the joyless football we had last year.
You rarely win at grounds like this with poor players, we have a burgeoning squad, personnel is not an excuse.
You also rarely win at top six grounds sitting in and bunkering down, too often once the rearguard is breached you have neither the energy or mindset to get something from the game.
I expect to see a change from the manager, to attack and occupy players who are in the main not used to defending for long periods. That is their biggest weakness.
You have to attack and land the knockout blow. Many times I've seen Everton score first in a game like this and then immediately sit back, no! A second goal is the killer psychologically.
If we set up 3-5-2 then he's hoping to nick something, there is no reward in that. I hope we go for it against a talented but undercooked City side.

Rob Hooton
76
Posted 21/08/2017 at 07:20:06
I'm hopeful that the extra few games we've played might be to our benefit at this stage of the season and that we will be a bit sharper than City (as there is an unusual amount of optimism on this thread!).
Gonna stick a couple of quid on a win and draw if the odds mentioned above still available and go for a confidence boosting 2-1 to us. Looking forward to it and have a feeling Rooney and Klaassen are building a good understanding which will provide the goals.
John G Davies
77
Posted 21/08/2017 at 07:24:05
John,
If he sets up 3-5-2 could he not be looking to stop one of their min attacking threats, which is the full backs creating two on one's in the wide areas.
Stephen Wissett
78
Posted 21/08/2017 at 07:40:59
I think to keep their wing backs occupied we need to play two wide men, Lookman and Sandro (if fit) with Calvert-Lewin up top Rooney in behind Gana and Schneiderlin in the middle with the same back 4 as the split game. Pickford between the sticks. Also well capable of bagging a goal or two ourselves.
Subs and to mix it up if needed, Klaassen, Sigurdsson, Mirallas, Davies, Holgate, Besic, Stekelenburg.
COYB

Kim Vivian
79
Posted 21/08/2017 at 08:02:40
This'll go down like a lead balloon on here but it may be good to try and find a berth for Mo Besic in this game.
Dave Ganley
80
Posted 21/08/2017 at 08:08:32
Well I guess we shall soon see if the mentality has changed at the club or not. You don't need to go stupidly at the attack a la Martinez but you do need to show intent to actually win the game but not leave us wide open. We have the players to win but do we have the bottle to go there not scared to death? I'm hopeful we will and we come away with 3 points. What's the point of football if you don't go to win every game you play.
Vijay Nair
81
Posted 21/08/2017 at 08:26:29
Kim (79) I think you may be on to something. Mo just might be the man to shut down the threat from Silva who I think is their biggest threat.
Anyway I just hope we go for the jugular and take the game to them. No more knives to gunfights.
James Watts
82
Posted 21/08/2017 at 08:28:38
Kim #79. In another Koeman tactical masterclass expect him to play as a target man up front!
Michael McCarthy
84
Posted 21/08/2017 at 08:33:43
Does anyone know if EFC will have a live commentary?
Neil Wood
85
Posted 21/08/2017 at 08:43:54
For me Lookman simply has to start this game. We need to exploit their defence and run at them. I would start with the wee man given a somewhat free role:
Pickford
Holgate Keane Williams Baines
Schneiderlin Gueye
Klaassen
Lookman Rooney
Sandro
With a cameo from the new man after 60 minutes.
Michael McCarthy
86
Posted 21/08/2017 at 08:52:37
Couldn't get onto the website, all sorted. The answer is YES.
Jim Lloyd
87
Posted 21/08/2017 at 08:54:46
Dave Ganley has said what I want to see. For years...decades! We've gone to the homes of the top 4, 5 and now six; and too many times been beaten before we start. Kevin Tully repeated Carragher's views on us and that' above all, is the most imprtant thing we have to change. We go out to win, we go out to showe the opposition and their crowds, that is what we do.
I don't know how we'll get on but as long as the City players...and their crowd, come away thinking, "Bloody Hell, that was one hard game against that lot."
That's what I hope Ronald Koeman, Fergie and Wayne Rooney bring out in our players. We're in the process of knoitting a team together and we're still short of a couple of quality players but I think that will come and we'll get the players sooner or later, hopefully sooner, but those who go out there tonight I want to see them harry a City player as soon as he gets the ball. I want to see them win therir individual battles, not sit back in admiration of the quality (undoubted though it is) of so many of the City players.
I think someone said about going to Anfield during Shankly's reign was "All you go away with is a cup of tea!"
Well, we've got a number of hard games coming up (they're all going to be hard I suppose) but the thing I'm looking for is that the opposition are as wary of us, as we used to be of them.
I think it was
Phil Walling
88
Posted 21/08/2017 at 08:55:56
Given that Koeman usually takes a defensive approach to' top six games', I've placed my £20 on the draw to win £100.
But forever the optimist!!!, I've had a £10 saver on Everton to triumph and return me a similar amount!
COYB!
Neil Wood
89
Posted 21/08/2017 at 09:39:39
10/1 in a two horse race is a must!
Phil Sammon
90
Posted 21/08/2017 at 10:15:25
10/1 is fantastic odds. I've emptied my Will Hill account...all $27.50 of it. Just a shame it's on at an obscene hour over here.
Paul A Smith
91
Posted 21/08/2017 at 10:23:21
I agree with Darren and Michael 26 & 27. Its 11 men v 11 men. Shame theirs are faster in every position but we will never break the divide while we are fearful of these places.
Hopefully Sigurdsson will give Rooney the freedom he could do with over the next few games. Then we should have the striker we are desperate for by the end of the window.
Graham Mockford
92
Posted 21/08/2017 at 10:26:27
Neil / Phil
The last time we beat a side away that would finish Top 4
was actually City 7 years ago.
24 games have passed since then so that probably puts your 10/1 into perspective.
Nitesh Kanchan
93
Posted 21/08/2017 at 10:27:54
The strong point of Man City is midfield and weak point is defence. It is not rocket science to figure out what to do. Easily winnable if we want to win.
Paul Smith
94
Posted 21/08/2017 at 10:31:48
My team for tonight would be as follows in a 4-3-2-1 formation fitness permitting.
Pickford
Holgate, Keane, Jagielka, Baines
Schneiderlin, Gueye, Davies,
Rooney, Lookman
Sandro
This will hopefully give us the solidity needed but also a threat going forward. Then in the second half we introduce Gylfi to replace either Lookman or defensive midfielder depending on the score. I agree with other posters its our intent to win rather than just survive I'm most looking for.
Nitesh Kanchan
96
Posted 21/08/2017 at 10:48:08
Man City will be most vulnerable at the back during the opening 20 minutes and closing 20 minutes where they will try to attack the most and bring that defence up.
Paul Thompson
97
Posted 21/08/2017 at 11:04:50
Our mentality has not been right for games against the 'top' teams, but you cannot merely think your way to success.
We also struggle, as Sam (#32) points out, because our ball retention is not good enough and that's down to skill, mobility and organisation. Ron is building a team that presses more and moves the ball quicker.
At the moment I don't see any real advance in ball retention, other than Rooney. That's why we are likely to struggle, or at least have to focus on defence.
You can't just press a button called 'attack', you have to have the ball. With limited possession, swift counter-attacking is necessary and if Sandro is still out, our options are not great.
This will be a real test of our new-found defensive solidity.
Alan Bodell
98
Posted 21/08/2017 at 11:07:08
I don't get it that Williams is ahead of Phil Jagielka in the pecking order, I see that Phil has lost some speed but his overall play is far superior in my humble unimportant opinion.
Clive Rogers
99
Posted 21/08/2017 at 11:21:11
Alan, 98, I don't think he is. Jags was rested against Split and will start. Koeman took Williams off against Stoke when he changed the system, rather than Jags.
James Lauwervine
100
Posted 21/08/2017 at 11:28:24
Can get 12-1 on Ladbrokes (with their 'boost' facility) so had a swift fiver on that. Not that I'm feeling particularly optimistic about this one but that's probably due to recent experiences against the top teams.
Ciaran O'Brien
101
Posted 21/08/2017 at 11:30:01
My team would be :
Pickford
Holgate Keane Jagiellka Baines
Gana Davies
Sandro Rooney Lookman
Calvert-Lewin
That way we have a bit of pace up front which will allow Rooney to have decent runners to play to. This means we don't have to play with two holding midfielders in that Davies doesn't sit and both he and Gana can press them.
If it is still deadlocked at the 60-70 minute mark, we bring on Sigurdsson.
Rob Dunleavy
102
Posted 21/08/2017 at 11:44:13
Looking forward to going the game tonight. I've seen a few comments about starting Lookman tonight, I couldn't agree more. Yes, he loses it sometimes and passing can be a bit suspect, but in a match where we will be on the backfoot for most... his pace, youth and fearlessness to run at the opposition would be great on the counter for us surely????
Away from home against the big clubs I think is the best way to bed the young lad in, we're not expected to get much out of tonight so nothing to lose. I for one think we're in for a tough match, but our defence looks superb and with Gana, Schneiderlin, Davies in in front, I'm hoping their energy will make it equally as tough getting through to our defensive line, as let's face it aerially they aren't a great threat outside of set-pieces.
Lookman and Sandro with the pace up top and Rooney picking out their runs on the counter. I'm hopeful we can get something out of this. COYB
Joe Clitherow
103
Posted 21/08/2017 at 11:55:45
I really don't understand why anyone would push for Besic in this game.
Apart from the fact I think we have better players to start than Mo, I also think he has shown he is an ill-disciplined hothead far too often and has not addressed this part of his game.
The last thing we would need in the atmosphere at this 'fake news' plastic big club is for one of our players to give a pressurised referee an easy decision for a red card or a penalty - that's happened far too many times in this fixture already. If we go to ten men it is game over but I have to agree with the sentiment that we go there seeking the win. Anything else sets the tome for defeat, including looking for a draw.
PS Don 68
"Rule one; do not concede. Rule 2; do not lose"
Have a think about that one if you make Rule 1, Rule 2 is quite easy .
Laurie Hartley
104
Posted 21/08/2017 at 12:07:04
Graham # 92 - don't dampen Phil's enthusiasm. If he is willing to risk money on us we must be in with a chance.
Derek Knox
105
Posted 21/08/2017 at 12:10:50
Tough game, no doubt, but, like a few have said, we have fared well against City in recent games.
I hope he doesn't play the Martina at right-back, he'll get ripped defensively, not bad going forward, but too risky in defence.
Looking forward to it.
COYB
Jim Lloyd
106
Posted 21/08/2017 at 12:20:22
Paul, 97 I think you're stating the obvious ther. Yes we do have to have better players and we, imo, will take time to knit as a unit. We certainly can will our way to success, in fact without that will, we are not likely to be successful.
They have the better players than us, I think but for too long, except for the likes of Tim Cahill, Seamus, and others, as a team we've been beaten before we start.
Like I said earlier. We might get beat and propbably the odds show what the bookies think what the results going to be. What I want to see though is that we are combative, we fight for every ball and we get on the ref's back if he ghives anything like 50/50 decisions to the opposition.
I think we will getter better as the season wears on and the players get more accustomed to each other; and we get the other tweo players at least, that Koeman wants.
I'm not predicting the outcome but I want to see our players attitude be a never give in one.

Clive Rogers
107
Posted 21/08/2017 at 12:35:26
We should go for Mahrez if a suitable striker can't be found. He is proven PL quality and the chances he and Sigi would create, some of them would go in!!! We have Rooney, Sandro, DCL and Lookman who could all lead the line. His price has dropped and you can't afford to let top quality pass you by.
Barry Jones
108
Posted 21/08/2017 at 12:49:07
There is a great mentality throughout this thread. Darren #26 and Phil #88, its really heartwarming to read these kind of posts. Dave Ganley #80, as ususual, I concur with your thoughts on this one. Its time to show that we are willing to go to these venues and show our mettle.
I believe that we can make the step up and bridge the gap to the top six, if not immediately and consistently this season, then definitely over the next two or three seasons. It was interesting that Moshri quite clearly stated at the AGM that league position is the "gold standard" and not the FA Cup (which I would support), even though he said that he loves the FA Cup as a competition.

I do hope that we put a good focus on the Europa cup though. The first half against Hadjuk Split was really encouraging. The team is gelling. People often refer to Koeman as being a great player in his time. What they overlook is that Koeman also played in great teams for both club and country (so called total football) with great team mentality and spirit, and coached by top people. He knows what it takes to build a successful team in this fashion and I feel that he is applying this to Everton. A great team will defeat a bunch of talented (and expensive) individuals any day of the week.
Colin Glassar
109
Posted 21/08/2017 at 12:59:59
When Phil and Darren start showing signs of optimism I don't know whether to applaud or hide. Maybe they are seeing something and don't want to let on.
C'mon you two, where does all his come from? Been on the ale?
Kim Vivian
110
Posted 21/08/2017 at 13:37:32
Thinking of opening a betting account with this game (for the first time). Any recommendations from experience, guys?
BetVictor look good offering 11/1 The Blues 5/1 the draw and £40 free bets for new accounts
1-0 the Blues tonight btw.
And will we be in our 3rd kit maybe?
Tony Marsh
111
Posted 21/08/2017 at 13:41:37
Really worried about tonight. Regardless of the first half against Hajduk, we have been awful this season. Hajduk Split are a poor outfit.
When I look at the type of players Man Utd have been signing compared to the players we have brought in, my heart sinks. Utd now have a team full of young tall athletic physically imposing lads with pace in key areas. This manager of ours has gone the Everton way, bringing in small paceless players and some lads a little too old for my liking. We lack pace, a physical presence and height all over the park.
It's not good enough for the Premier league. These days, it's power and pace football in England. We are plodders.
Some of our signings have been dreadful. Davy Klaassen looks about 50 years old and as if a good pan of Scouser would kill him. Very slow and not good enough for this level I'm afraid. Rooney is to old and slow. Sigurdson is nearly 30, we didn't really need another midfielder above a striker, did we?
We let Romelu go too soon and replaced him with an unknown Spanish kid costing £5 million?? WTF... We're now playing Calvert-Lewin up front!!!
Come on, guys, anyone can see Calvert-Lewin isn't good enough for the Premier League. How many club's above us in the League would play him?
I think we have definitely been short-changed this summer, not really spent any money, sold too cheaply, and paid over the odds for Sigurdsson.
I don't rate Koeman. Dutch football is on it's arse, so are Dutch coaches across the world. The Total Football era has long gone and we have a relic of that era at our club. The football we play is abysmal and lacks a focal point.
Not going the game tonight and don't think I have the stomach to watch what's coming either. If we start with Calvert-Lewin up front, we are doomed. We should go and get Benteke right now. He is big and strong good finisher and also available. It's a no-brainer we need strikers...
Brian Harrison
112
Posted 21/08/2017 at 13:47:15
Too often gone to top 4 teams and been negative in approach and therefore lacking any belief of winning. Hopefully that will change tonight because if we have any hope of challenging for a top 4 spot we have to play with a belief that we are every bit as good as our opponents.
Tonight could define our season play well and try and take the game to Man City and get nothing worse than a draw and the team will start to believe. Loose badly and it could be back to same old mindset we cant beat the top teams away so 7th will be the norm again.
Michael Penley
113
Posted 21/08/2017 at 13:58:38
Don't waste your money betting. We'll lose 2-0 tonight. But I think we will put up a good fight and play reasonably well.
Charlie McCann
114
Posted 21/08/2017 at 14:00:09
Like a few other posters, I would be happier if Martina wasn't playing tonight. If Koeman is not going to play Kenny then Holgate would be a better option.
I also feel that it's important that we don't break up the centre pair from last night out of Keane and Williams. They were both very strong together and we will need a strong defence tonight against city's excellent attack.
I am quietly confident that we can keep another clean sheet and maybe nick a goal or two tonight if Koeman gets his team selection right.
Paul A Smith
115
Posted 21/08/2017 at 14:03:12
I would love to know why Darren gets labelled as negative in here? Because one doesn't agree with another one is negative? And while calling him optimistic today because he feels we can win, do they call themselves negative for the day?
Very tedious and cowardly is the negative phrase. Anybody who can back their own theory like I have seen Darren do on here quite often is just normal for me.

Sam Hoare
116
Posted 21/08/2017 at 14:09:03
Brian@112. What if you're not every bit as good as your opponent? How many of our players would get into their XI? Into their squad even? A handful perhaps.
I think if you go to City and try to just attack them then you are probably asking for a spanking.
Press them. Counter them. Frustrate them. Have a plan whereby you stop them scoring and get one yourself by all means but let's not kid ourselves that we can match them at their own game. They have Aguero, Jesus, Sane, De Bruyne, Sterling, Silva, Bernardo Silva. We have Rooney, Mirallas and a couple of kids.
Naive enthusiasm only gets you so far.
Our best shot is to contain them and hope we can catch them on the break. Or grab a set piece. For that reason I hope we give Mirallas/Lookman a start and that Siggurdsson gets some minutes.
John G Davies
117
Posted 21/08/2017 at 14:11:26
Paul 115,
It has the same amount of credibility as posters with the opposite view to Darren's being labelled as grass-skirt wearing happy clappers.
None.
Drew O'Neall
118
Posted 21/08/2017 at 14:22:58
Man City's players are technically proficient but physically weak. They have no tall centre forward option and so like to, and have to, play their way forward.
To maximise our physical advantage and mitigate their technical superiority we must create a high tempo to the game. We want crash, bang wallop. We want their flair players to be rushed in possession.
We want our creative players to receive the ball in space. The spaces in Man City's breakdown comes behind full backs.
I expect a 4-3-2-1 formation with Rooney and Klassen behind Sandro and Davies supplementing Schneid and Gana.
We'll keep our fullbacks deep and play in to Rooney and Klassen in the turnover who will in turn look for Sandro's run while the centre backs are up on the halfway line.
Just my view.
Kevin Tully
119
Posted 21/08/2017 at 14:46:15
Hate to mention the feckers, but even when the RS have been dire, and sometimes finished below us, they never went to any ground thinking they couldn't win. They had a cockiness about who they were, this is something we need to get back, or we will be suffering for another 22 years.
Suddenly we've got lots of leaders on the pitch - that has the makings of a side with the right attitude. The manager just needs to instill the belief (and right tactics) now. even if we lose, I expect us to try and match their footballing abilities. No hoofs, and no sitting back if we a take the lead. It will soon become apparent if we are up for it. We are only 8/1 for a top 4 finish, so the bookies must think we're in with a shout!
Stan Schofield
120
Posted 21/08/2017 at 14:53:54
Many of the posts on here about how superior City are to us are very similar to posts last season in the same vein. But we took 4 points off them last season, scoring 5 and conceding 1. How we do depends on how we're set up by Ron. Get it right, and we can win.
I predicted that Hillary Clinton would be the US President, and that we wouldn't vote for Brexit. On that basis, I predict we'll lose 1-0.
Jay Harris
121
Posted 21/08/2017 at 14:59:28
I hate the expression but it will be important not to give the ball away cheaply.
City will look to dominate possession and I think it will be critical to minimise that and enjoy some possession of our own.
Fran Mitchell
122
Posted 21/08/2017 at 15:08:21
If we let City play, then we Will lose. But play 'dirty' and we pull off a win. We must frustrate them, but maintain discipline. No silly red cards (i.e. No Besic). Our 2 centre mids Will both need to run a marathon Today, but they are up to the task and have the ability to make even the best midfields have a difficult game.
A question hangs over our 3rd midfielder. Davies, Klaassen or Sigurdsson?
Personally, I'd go for Davies as our midfield will be more about energy and pressing than creativity. Klaassen maybe on as sub as a striker, or if Sandro ain't fit. Sigurdsson on for 30 mins where we will have more chances through set-pieces.
Upfront I'd go for Calvert-Lewin as the target man, with Sandro and Rooney playing off him.
Mirallas is just too lazy and ineffective recently.
Amit Vithlani
123
Posted 21/08/2017 at 15:23:17
Very tough game, and last season we should have been beaten in this fixture but for Stekelenburg.
I fancy us to grind out a draw, PROVIDED that there are no early yellow cards / the ref is fair.
This is the type of game where two DMs like Gana and Schneiderlin earn their corn.
I can see us gaining a win if we are on our game on set pieces. I think Man City are poor at defending these, and with Keane you fancy he will outjump someone to nod in.

Laura Round
124
Posted 21/08/2017 at 15:23:39
I've got £3 on 1-3 100/1 on coral coyb!
James Hughes
125
Posted 21/08/2017 at 15:31:20
A nice early season upset for us, three points and a clean sheet to boot.
Pre-season we were poor and that can't be argued, but against Stoke and Split (first 45 at least) we played more coherently. We seem to have a bit of steel about us and have players who will argue decisions instead of just going "Yes, Ref". That for me is big change in mindset and indicates we will scrap for a result.
Going for a 'George' tonight and us to win handsomely. Get on here, George, give us some cosmic grooves please!
Mick Quirke
126
Posted 21/08/2017 at 15:35:48
Wrong about last time we won there, Lyndon. 1.2 - 2010, Baines and Cahill. Cahill scored there 3 years running, I think.
Kiern Moran
127
Posted 21/08/2017 at 16:03:41
I imagine we will win one-nil, that seems to be this seasons trend. Koeman will come out afterwards. Apologies for Everton's performance for one half, when didn't score and Everton will march on.
I would go with: Pickford; Jagielka; Keane; Baines; Schneiderlin; Gueye; Holgate; Davies; Klaassen; Rooney; Calvert-Lewin.
Subs: Stekelenburg; Lookman; Williams; Ramirez; Mirallas & Sigurdsson.
Paul A Smith
128
Posted 21/08/2017 at 16:19:50
Tony 111 thanks for that post. Being real and not afraid of going against trend. Spot on I think. If we get the striker we need then things could look better but if we don't get one? Everything you say is clear as day.
Jamie Crowley
129
Posted 21/08/2017 at 16:23:59
I'll be watching in the dark from a place on earth that's 90.4% solar eclipse coverage...
Pretty cool I think.
Neil Wood
130
Posted 21/08/2017 at 16:28:23
Like it Laura!
Tony Abrahams
131
Posted 21/08/2017 at 16:30:05
What's it like Jamie? pitch black! It looks like you're all getting into this solar eclipse mate, let's just hope things are brightening up for the toffees!
Daniel Lim
132
Posted 21/08/2017 at 16:30:27
Siggy is nearly 30?
Ok, I'm almost a grandfather then.

Daniel Lim
133
Posted 21/08/2017 at 16:32:31
Hope you are £100 richer in a few hours time, Laura.
Eddie Dunn
134
Posted 21/08/2017 at 16:33:43
Despite us looking defensively sound so far this season, I think that our lack of firepower will enable City to throw more men forward . We may hold out for an hour or so, but I think we will lose by a coupe of goals.

This game, followed by the likes of Chelsea ,Spurs and Man Utd will be a considerable reality check for our new look team.

At least we won't be complacent and have false hopes.

For all of the tactical talk from Koeman, once we run out we will see that he only hopes to grind out a draw.

His reluctance to give Lookman game time is indicative of his outlook.

I see no reason to expect us to nick a win.
John Pierce
136
Posted 21/08/2017 at 16:38:23
Jamie its been dark in the USA since November.
Phil Walling
137
Posted 21/08/2017 at 16:42:32
Great to have Tony Marsh back in the fold. Sounds as though Koeman is a No Man as far as he is concerned.
I wonder if anyone in the Freshy has seen anything of Doddy lately -I loved their mutual obsession with Moyes (opposite ends of love and hate spectrum !) but both seemed to retire when the miserable bugger moved on !
Stephen Brown
138
Posted 21/08/2017 at 16:49:25
My problem is at the moment ( and I'm sure it's Koemans too) is that I try to pick a team with as many as the star names in it as possible. The focus should be on picking a winning team and that team needs to contain width and pace therefore a few of these 'name' players have to miss out!
John G Davies
139
Posted 21/08/2017 at 16:51:26
That Keane reminds me of Jimmy Clitheroe the size of him.
Siggurdson? Jimmy Krankieesque.
Joe Clitherow
140
Posted 21/08/2017 at 16:52:14
That's right we have no "young tall athletic physically imposing lads with pace" brought in. Michael Keane and Jordan Pickford are figments of my imagination then.
What's that? They weren't mentioned? I wonder why that is.
It doesn't actually matter that Klaassen is actually 24, because he "looks about" 50, and that's all that matters.
Same old same old .
John G Davies
141
Posted 21/08/2017 at 16:53:42
Joe, 140.
Apologies to your Jimmy.
Joe Clitherow
142
Posted 21/08/2017 at 16:55:36
None needed John, I am enormously tall
Dave Abrahams
143
Posted 21/08/2017 at 16:59:52
Sam (116), Sam you are not usually as pessimistic as that, City had a good team out at Goodison last season and we won 4-0, with a couple of kids getting a goal apiece, we don't have to go berserk attacking but do it sensible and City do leave plenty of space at the back for Klaassen, Rooney and Sandro ( if he plays) to exploit, the main point is to go there really believing we can win, even Moyes believed we could win at City.
John G Davies
144
Posted 21/08/2017 at 17:00:07
Joe,
👍
Matthew Williams
145
Posted 21/08/2017 at 17:02:32
Back the draw tonight folks... Thursday night is MORE important.
Tom Bowers
146
Posted 21/08/2017 at 17:10:51
Most fans can honestly say they don't think winning today is probable however it is possible given that a strong defensive performance can produce a shock especially with a proven campaigner like Rooney around and Gylfi with his prowess for a goal.
Anything is possible as long as every player gives 100% and limits the amount of poor passes .
There is nothing worse than giving the ball away cheaply to a team like City who will punish you with the firepower they have.
Jay Harris
147
Posted 21/08/2017 at 17:14:57
John G you forgot to mention that 6' 2" dwarf Scneiderlin and that quiet as a mouse Gana too.
Rob Dunleavy
148
Posted 21/08/2017 at 17:18:14
I've seen a few people on here stating that DCL should be playing up front tonight, do these people actually watch Everton ? Agree hes a young kid with some potential and gives 100% but Man City Away in the 2nd game of the season? Really??? Id rather have lookman on his own up front. I cant think of anyone else in last seasons top 10 that DCL would get into.
We haven't one recognised "No.9" in the football club. I think we've made some great signings and really pleased with the squad but how can we not have a single out and out striker at the football club. Sandro looks great, got some pace and Rooney can unlock any defence but we need a Target Man! If we have DCL upfront tonight I think thats a statement we really do not want to be making at this point in season. Good lad, not top 6 material. Hope he proves me worng if he gets the chance.
Anyway, hopeful for tonight. Look very strong throughout the middle and at the back. Lets nick a point!!! COYB
Max Murphy
149
Posted 21/08/2017 at 17:27:34
Please win Everton and cheer us all up.
Drew Shortis
150
Posted 21/08/2017 at 17:45:13
In previous seasons we have usually done well in these runs of tough games and we are definitely Man City's bogey team. I would be happy with 5-6 points from the four PL matches and progression to the group stages. If we get through these games with a decent point tally and some good battling performances then we can head into the following games against teams we should be beating with real confidence. By that time we should have a few more signings and I hope one of them will be a surprise (think Lukaku on loan on deadline day a few years back) that will really give us a boost to step it up to the next level.
Far from dreading these tough runs, I relish them. Better to have them now while were fresh and teams are still settling than later in the season when injuries and tiredness have set in.
Denis Richardson
151
Posted 21/08/2017 at 17:48:05
Fk me - StanJames offering 11-1 on an away win! 11-1, on a two horse race?
Have they bought off the ref?
Jamie Crowley
152
Posted 21/08/2017 at 17:51:07
Tony A and John P -
Yes, it's been dark in the USA since November. We've an ass-clown in the white house...
And yes, it's really weird it's getting dark here... odd thing. We do have a LOT of cloud coverage so hopefully I get to actually see the eclipse.
Darkness in 'Merica. Hopefully blinding joys of light for Everton today.
Colin Glassar
153
Posted 21/08/2017 at 17:53:09
We will concede goals, eventually. We will lose games, eventually. We will be outplayed, eventually.
I just hope it doesn't happen tonight. COYB!!!!
Paul A Smith
154
Posted 21/08/2017 at 17:53:51
I can't believe how many arguments there are for Martina and Holgate.
Martina looks shaky with too much time on the ball but can put a great ball in the box under pressure.
Holgate plays Right Back like a Centre Half playing Right Back. He is never a full back.
Its one of the toughest jobs in the premiership to give what Coleman gives so imagine what Koeman is trying to claw back.
Do we miss Colemans defensive work or his creative style from wide areas in the last 3rd? Probably both but neither of these players will give us both back.
Either way, none is good enough so its a case of averages and who can give us more of what we miss.
John G Davies
155
Posted 21/08/2017 at 18:02:44
Jay 147,
Seems like the majority of Koemans signings are 6ft plus.
Always better to check before posting
Trevor Peers
156
Posted 21/08/2017 at 18:05:46
Intriguing game tonight, can we build on the form we produced last Thurs night, or was it just a flash in the pan ?
Sigurdsson can make an instant impact, I think his link up play with Rooney could be the key to this game. Both are excellent footballers and it gives us a great chance of hitting them hard on the break.
If we work hard, we can produce a performance and a result that will give us hope.

Andy Dempsey
157
Posted 21/08/2017 at 18:08:25
The predicted line up is fairly negative looking but I expect Koeman to go one further and play a back three with Jags, and then have Martina right wing back, or even Holgate. We'll lose.
I think this system could be remedied with Davies as the right wing back though, giving us more of a threat, and not being pinned back for ninety minutes.
If it is a back four, I expect Davies and Lookman to be on the bench, and for me (every pundit's favourite phrase) that is negative.
It is tricky though, whether to go for it or sit back, or a clever mixture of both? Tough one for Koeman. COYBB's !
Denis Richardson
158
Posted 21/08/2017 at 18:17:48
Tony 111 - your post is so over the top negative that I actually started laughing reading it. You have certainly been missed.
You don't rate RK and think dutch football is 'on its arse and has been for years'. Well RK did get us from 11th to 7th in his first season. got rid of a ton of dross from the squad and Ajax happened to reach the EL final last year (and we signed their captain, who you say is shite and looks about 50 years old - that opinion based on less than 5 appearance!).
Lukaku went too soon? He wanted to leave a year ago and has been banging on about moving to a 'bigger' club practically every day he was at Everton. £75m plus £15m in add-ons, thank you very much and good riddance. Sandro btw is not his replacement. He's an additional striker and the club is aiming to get a target man in. Would maybe save the commentary for the 1st Sept, not when the window still has 11 days to go.
Additionally, you're not impressed with the signings even though two of them will probably be long term starters in the national side and neither would look out of place in any of the top 4 sides (never mind top 6!).
We've also played 4 competitive matches so far, won all of them whilst keeping 4 clean sheets. Admittedly, we didn't look like world beaters but half the squad have only known each other for a few weeks.
I can certainly see we're a work in progress but your negativity at this time is true comedy value. It's certainly made me laugh this Monday.
Get yourself down the local and grab a pint...world might look bit better after.
Steve Cotton
159
Posted 21/08/2017 at 18:32:46
Denis spot on.
Darren Hind
160
Posted 21/08/2017 at 18:58:50
Gana, Rooney, Sandro, Klassen, Lookman. Onyekuru all fall short of 6ft and Williams has to wear his camping socks to reach that height.
Height doesn't matter a fuck if a guy can play, So why do people dispute even that ?

Andrew Keatley
161
Posted 21/08/2017 at 18:59:46
Rob (148) - You'd rather play Lookman up front on his own than DCL? I understand you may not think DCL is ready - or equipped - to really threaten the City defence but he works hard, is good in the air, is a general nuisance, and closes down very intelligently.
DCL is probably not going to pick the ball up wide, beat three men and then unleash a howitzer from twenty-five yards into the top corner. I'd say Lookman is more likely to do that. But up front we need to play someone who has a chance of making the ball stick - competing for 50/50 balls - and drawing the odd foul. DCL is probably the best option we currently have to do this.
John G Davies
162
Posted 21/08/2017 at 19:03:09
https://en.m.wikipedia.org/wiki/Ashley_Williams_(footballer)
Nah.
Chris Williams
163
Posted 21/08/2017 at 19:09:04
3 centre backs
Holgate, Baines out wide
Davies Schneiderlin Gueye
DCL Rooney
John G Davies
164
Posted 21/08/2017 at 19:10:49
3-5-2.
The correct formation for tonight's game.
COYB
Tony Hill
165
Posted 21/08/2017 at 19:12:47
Bizarre team selection. How does that present any attacking threat at all?
Mike Allison
167
Posted 21/08/2017 at 19:18:32
If we were going to play 3 at the back then Browning and Galloway would have been serious first team options all season and shouldn't have gone on loan. Holgate is struggling at full back let alone wing back, this selection just hands City all the momentum and offers no threat. Very disappointed.
Here's hoping I'm completely wrong.
Darren Hind
168
Posted 21/08/2017 at 19:20:43
6ft plus is the new 6ft ? fuck me that's a load off

Chris Williams
169
Posted 21/08/2017 at 19:26:53
Galloway is not playing so well for Sunderland so far and got pulled early on Saturday. Not impressed by all accounts.
Christy Ring
170
Posted 21/08/2017 at 19:27:12
He changed to a back four for the 2nd half against Stoke, because the 3 centre backs didn't work, and tonight he's playing the same again? I know it took a while to finally sign Sigurdsson, but a left sided centreback is an absolute must now.
John G Davies
171
Posted 21/08/2017 at 19:27:35
Gana, Rooney, Sandro, Klassen, Lookman. Onyekuru all fall short of 6ft and Williams has to wear his camping socks to reach that height.
Nah.
Laura Round
172
Posted 21/08/2017 at 19:38:13
Thanks Neil. Daniel, I bet £3! £300! Coyb!
Steve Ferns
173
Posted 21/08/2017 at 19:40:48
We need a No 9 more, Christy. As Carragher said, we should have spent the Sigurdsson money on a striker.
Daniel Lim
174
Posted 22/08/2017 at 02:23:21
Too bad you lost the 3 quid, Laura.
I remember the 2006 WC I placed a lot of 3-1 bets and made some small money, but it's more for the fun of it.

Darren Hind
175
Posted 22/08/2017 at 06:50:33
Its official: Apologism is back and its back with a vengeance.
if Koeman reached into a babies pram and stole his toys I suspect we have people on here who would blame the baby.
To listen to those down at the excuse factory, You would think we were playing one of the greatest teams of all time. I wonder which Manchester City they were watching ? The one I saw had a Goalie who gives their fans heart attacks every time the ball goes near him. They had a captain who is struggling to get back to anywhere near the form he showed a few years back. They had John Stones, still trying to play football with people who couldn't control a bag of cement. On one side a galloper, who had conveniently got himself red carded and on the other, the lamentable Otamendi.
Any manager with an ounce of common and a modicum of courage is going for the jugular right ? wrong. Koeman decides its a good idea to sit back and invite their wonderfully talented attacking players to show us what they can do. what a fucking Moron !
I'm still fucking seething about this. what an opportunity.
WTF was he doing ? He was saying one thing and doing another. he calls for width, but decides to narrow things up by asking his wingbacks to stay home and switch to an orthodox back four . . .who was going to proved the width he was calling for ? Gana ? Shneiderlin ? You'd have to release them from their chains to do that.
we didn't need to "pin City back" we needed to get Rooney off when he was clearly running on empty after an hour and we needed to get somebody up top with DCL. we needed to stop them feeling confident enough to push more and more men forward. We needed our tackling machines 5 yards further up the pitch to stop them gaining what at times felt like total possession.
Its easy to point the finger at the mistake by Holgate and say "but for that error. . " but fatigue had set in right across the defence. they were getting no respite. Young Mason was badly let down by a managers inability to see whats happening in front of him
"Masterclass in defending" ? . . fuck me.
Anybody and I do mean ANYBODY, could break all club transfer records on defenders and DM's and ask them to defend for their lives . .but it takes a rare degree of stupidity to do it to the point where exhaustion poses as big a threat as the opposition.

James Watts
176
Posted 22/08/2017 at 06:54:01
Yawn Darren. Very little point in reading what you've got to say as so predictable. So much for never commenting on Koeman eh? Man of your word I see and thought it'd be too good be to true.
Question, would we have heard your inane crap today if we'd won? About as likely as you never commenting about Koeman I guess.
John G Davies
177
Posted 22/08/2017 at 07:01:28
I know you have made a decision not to comment on Koeman any more Darren but this one needs clarification.
We needed our tackling machines 5 yards further up the pitch.
Thats 15 foot.
Can you explain please.
Derek Thomas
178
Posted 22/08/2017 at 07:07:12
Darren @175; I feel a smidgin of sympathy for your views. Koeman still needs to move his approach a little further away from the Moyes end of the spectrum...but that will mean a few more players need to come in yet. So more time, more windows and more importantly, more money required.
200M for 7th is looking like gross under funding.
Darren Hind
179
Posted 22/08/2017 at 07:10:01
Just checked . .Yep its a match day thread.
Still it does make me smile to see people continue to "yarn" . . "take with a pinch of salt" and generally "not be interested" in my posts falling over themselves to respond to them . .within minutes.
Maybe if they were able to form their own opinions . .they too would get a responses ? Yeah . . . of course they would

John G Davies
180
Posted 22/08/2017 at 07:24:54
And the 15 foot?
James Watts
181
Posted 22/08/2017 at 07:53:59
Unfortunately for me Darren I'm stuck at work bored and happened to be browsing through the site. I say unfortunately as I see you name and see the same boring crap you always post and blame everything on Koeman. So hardly falling over myself trying to respond.
So you say my opinions don't get responses? Well shows how little you pay attention. I'm happy with my contribution and the debates I have with fellow posters. But even if they didn't get responses the ONLY reason your posts get attention is because they are utterly moronic. Id rather be anonymous than moronic. But there you go.
'I'll never speak about Koeman again' . Anymore words of wisdom you can share?
Darren Hind
182
Posted 22/08/2017 at 08:39:48
Jim Watts
You are "Just browsing" every time I post.
Time and again you pop up and you never, not ever, have an alternative argument. Just the same half witted personal attacks. They wont wash. I wont be shouted down by people who don't have the intelligence to put up a counter argument. understood.?
I've just gone through all my previous posts and you are there every time telling me how "you dont have any interest" in them Have you ever noticed that I ignore everything foolish little dig ? . . ever wonder why ?
I stand by my post @175. Some will agree (as always) and some wont. Those who disagree with my views may put up a reasoned argument. those who don't care, will move on . . . Only the complete idiots will keep coming back and spouting personal nonsense to let me know how "not interested" they are. . .You do understand that don't you ?
Here's what I said.
"Don't worry John"
"I will post on this site as long as my posts are published. You will get your opportunity to say "I told you so" I should have said I wont post on Koeman related threads"
I said that because there are a small group of people who simply cant bear Koeman to be criticised and like you they don't have enough about them to counter my arguments . .so they take the time and trouble to make childish personal attacks and tell me how much my posts don't interest them. . .truly absurd.
The personal attacks don't bother me, but pleeeeeeese. at least have a coherent counter argument to g with them.
This is a match day thread - The clue is in the title and the manager has IMO mismanaged this match. Disagree ? I don't care . .but stop embarrassing yourself with this "I was "just browsing" nonsense, You are always "just browsing" trying to shout down views you are incapable of countering
Dermot Byrne
183
Posted 22/08/2017 at 08:52:28
Better to be anonymously moronic?
Or maybe moronically anonymous ?
Will ponder and give considered view later.
James Watts
184
Posted 22/08/2017 at 08:53:53
Daz Hind.
Luckily (?!) for me you normally post whilst im at work. So I get to see the majority of your posts.
I have debated with you several times in the past, with which you have replied, but you probably don't remember as my opinion and counter argument disagreed with yours.
The personal attack uncalled for. Agreed. Won't happen again. Apologies for that. Sometimes (?!) you're so bloody frustrating and it's easy to let my emotions kick in before my brain does.
But Ok, next time I can be bothered reading one of your posts, I will counter and debate with you to see if I'm 'capable' if reaching such lofty heights of the Daz-meisters attention.
You know the funny thing is, I don't actually rate Koeman that highly. Its just your constant negative drivel drives me to defend him as believe it or not, not everything is actually his fault.
James Watts
185
Posted 22/08/2017 at 08:56:13
Hahaha, will look forward to it Dermot!
Joe Clitherow
186
Posted 22/08/2017 at 08:57:19
Rob 148
Looks to me like DCL proved you wrong last night then?
Darren Hind
187
Posted 22/08/2017 at 10:46:39
James Watts
I don't mind personal stuff, water off a ducks back.
Its the empty headed fuck-all-to-say brainless stuff which leaves me cold . .so I ignore it
These debates you have had with me ? Perhaps they took place in your own head.
John G Davies
188
Posted 22/08/2017 at 15:05:02
Darren,
I can't answer for others, but in my case if you quote something I have posted, which you do in the vast majority of your recent posts, it is only civil to respond.
David Graves
189
Posted 22/08/2017 at 15:30:58
I had to sit in the East Stand with a City fan from work who got me a ticket and had a bet on Rooney 1-0 so I believe I have a right to feel as aggrieved as anyone on here!
Regardless of the massive difference in playing staff I think Koeman got it wrong last night. The double substitution didn't work and I'm afraid Sigurdsson was well off the pace. Quite how he thought that he was going to offer the width and outlet that we clearly needed.
Yes, I would have accepted the drawer from the off but what a massive opportunity to win at a team who will be top 3 this year.
To be honest, I'm not critical of the style of play because a win would have been more important to me. Two points dropped not one point gained.
Mike Hughes
190
Posted 22/08/2017 at 15:35:40
I haven't scrolled through all of the posts so apologies if someone has commented on this.
I'm so glad our manager isn't a sulky primadonna like Pep G.
Anyone hear his post match interview? Pathetic. How old?

Dermot Byrne
191
Posted 22/08/2017 at 15:39:25
I love spell checkers.
Surreal quote of day:
"Yes I would have accepted the drawer from the off..."
So would I mate.

David Graves
192
Posted 22/08/2017 at 15:47:35
Just had to get that off my chest (of)
Pete Clarke
193
Posted 22/08/2017 at 15:57:05
Woke up at 3am in Oz to watch this match and was pleasantly surprised without being overjoyed at our first half show. Our ball retention is piss poor though and this is what let us down in the game. I also get irritated and embarrassed at the number of times we passed the ball back to Pickford to welly up the park. This has to stop as it's painful.
We need a calm head in there like Gareth Barry to get us through matches and hopefully one of the new boys will become that player.

Add Your Comments
In order to post a comment, you need to be logged in as a registered user of the site.
Or Sign up as a ToffeeWeb Member — it's free, takes just a few minutes and will allow you to post your comments on articles and Talking Points submissions across the site.