Manchester City vs Everton
Match Preview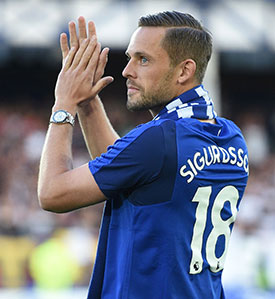 Will Gylfi Sigurdsson start or make his debut off the bench?
Everton begin a difficult sequence of fixtures both at home and abroad tomorrow evening as they make the short trip the Etihad Stadium to face highly-fancied Manchester City.
Pep Guardiola's side are one of the favourites to win the Premier League this season as the Spaniard has strengthened an already impressive squad with some targeted acquisitions this year and he will be operating with the benefit of a season's worth of experience under his belt.
They represent the first of three successive away games that will see Everton travel to Split on Thursday and the home of defending Champions Chelsea next Sunday before they host Tottenham and then visit Manchester United.
Ronald Koeman is under no illusions about the strength of tomorrow's opponents but says he will be looking at way to exploit their weaknesses.
The Dutchman says he knows the Spaniard well and while he acknowledges that City look stronger than last season when the Blues took four points off them over the two games, he says that the Premier League can be an inhospitable place teams that only play one way.
"I am a good friend of Pep and I know the way he likes to play," Koeman explained. "It's the most difficult way. It's really a pleasure to see his teams playing football, with a high defence and a lot of offensive players in the team.
"But the Premier League sometimes is strong and physical, plus if you play with a high defence there is always space behind. When we played City at home we punished them for that but I think with the business they did in the summer City are stronger than last year.
This will be Everton's fifth game of the season already but only their second in the Premier League following last weekend's 1-0 win over Stoke City. They have yet to concede a goal so far, although Koeman admits retaining that record after tomorrow might be a tall order.
Everton's last trip to the Etihad was a difficult one where the Blues were set up to defend and frustrate City while hoping to hit them on the break. It was a strategy that worked well when Yannick Bolasie sent Romelu Lukaku away on one of his trademark gallops towards goal and he earned Everton a point in a 1-1 draw but Koeman admits his team were fortunate.
Neither player will be on the field, of course, and Koeman is still looking for a No.9-style striker but he is confident that with his team's defensive solidity, they have a foundation from which to get something again on City's home turf.
"When we played at City last season I mentioned that we were really lucky to get one point out of that game. On that day they played fantastic football and I spoke about them being the big favourites to win the league. After that they started to struggle but that's football, you never know, it's difficult to make predictions about who is the strongest.
"If we get a clean sheet on Monday I don't know if it will be a miracle — maybe it will but we do know we are strong defensively, our defensive organisation is strong.
"The key to getting a good result is what we do when we have the ball and that's what our preparation will be about. You have different ways to play, we will look at the best way to get a good result."
With no Lukaku, any counter-attacking strategy would perhaps rely on the pace of Kevin Mirallas or Sandro Ramirez, if the latter is passed fit after missing the first leg against Split with a heel injury. Everton lack speed in other areas of the squad but after two frustrating performances against Ružomberok in the Third Qualifying round of the Europa League, there have been signs over the past three games of an understanding and cohesion between the forward players.
Then there is the addition of Gylfi Sigurdsson to the equation and the likelihood that he will feature at some point at the Etihad following his record-breaking move from Swansea City. The Icelandic midfielder's threat from set-pieces and from distance in open play could be important if the game is level or close in the second half. He is an unlikely started given his lack of pre-season preparation but his new manager appears very keen to get him involved so it wouldn't be a huge surprise to see his name in the starting XI.
Manchester City, for their part, will be close to full strength, with Ilkay Gundogan able to play some part as he returns from a long injury layoff. Bernard Mendy and Fabian Delph are set to miss out through lack of fitness but Guardiola's side look ominously strong otherwise.
In players like Sergio Agüero, Kevin de Bruyne, David Silva and Gabriel Jesus they already had threats all over the field but with the likes of Kyle Walker, Danilo and Bernardo Silva signed over the summer, they look better equipped to make a sustained tilt at the title than last season.
The key for Everton could be to press and harry them into having an off day that could sew frustration in the crowd and then use the savvy of a player like Wayne Rooney — having scored one of the best goals in recent memory in a Manchester derby, the ex-Red Devil is no stranger to the spectacular in this fixture — to unlock them at the other end.
What would be the first win for the Blues on City's turf since December 2010 feels beyond optimistic heading into this one but stranger things have happened in the early part of the season and, as Koeman says, it's difficult to make predictions in football!
Kick-off: 8pm, Monday 21st August, 2017
Referee:
Last Time: Manchester City 1-1 Everton
Predicted Line-up: Pickford, Martina, Keane, Williams, Baines, Schneiderlin, Gueye, Davies, Klaassen, Rooney, Mirallas
---
---