Hajduk Split vs Everton

102 Comments [Jump to last]
Thursday 24 August 2017
Europa League Preview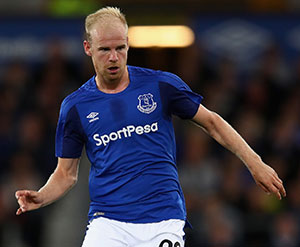 Davy Klaassen stayed at Finch Farm with Sandro Ramirez has both nurse foot injuries
Everton's hopes of qualifying for the group stage of the Europa League and guaranteeing their involvement in the competition until at least December rest on their ability to protect a two-goal first leg advantage in Split this evening.
Ronald Koeman lamented his side's inability to pad the 2-0 lead they had established over Hajduk by half time in the first leg but he knows that a disciplined display and the kind of defensive solidity that has been a characteristic of their season so far should see them through.
Once again, the Dutchman won't be able to call on Sandro Ramirez who continues to battle a heel injury and is therefore a doubt for Sunday's trip to Chelsea as well.
Another new signing, Davy Klaassen, has also stayed behind on Merseyside after picking up a knock in Monday evening's 1-1 draw at Manchester City. James McCarthy, a potential deputy for the former Ajax man, is also ruled out, with Koeman not expecting to see him back in contention for a place until after the upcoming international break… that is assuming he isn't thrown back into action prematurely again by Martin O'Neill.
The rest of the squad should remain unchanged, although Jonjoe Kenny joined the first-team on the plane to Croatia offering another back-up option at right back.
How Koeman approaches the game, both in the context of containing tonight's opponents but also with another tough away assignment in the Premier Leaque just three days later, will be interesting. Sandro's absence means that both Dominic Calvert-Lewin and Wayne Rooney could end up playing three times in the space of a week leading the line.
Idrissa Gueye, meanwhile, will likely be called upon to do the same, with the added responsibility of partially covering for Morgan Schneiderlin on Sunday given the Frenchman's suspension and importance in defensive midfield.
It opens an opportunity for Mohamed Basic, perhaps this evening against Split, while the likes of Kevin Mirallas and Ademola Lookman will be hoping to get a look in after being overlooked at the Etihad on Monday. And will Gylfi Sigurdsson be deemed fit enough to make his first start or will he be kept in reserve for Stamford Bridge?
Hajduk, who have lost only one of their last nine home games in European competition, showed in the first leg that they can be accomplished in moving the ball around and are comfortable in possession to a much greater degree than was the case with Ružomberok in the previous round.
In Hamza Barry they have an industrious midfielder who looked to cause the Blues problems at Goodison last week but they will be without the injured Franck Ohandza, himself a deputy for main target man, Márkó Futács. His replacement, Ahmed Said, helped himself to a hat-trick in Hajduk's 4-0 win over Rues this weekend, however.
The key for Everton will be remaining patient and keeping the ball as long as possible to manage the clock, control the tempo and frustrate their hosts in what promises to be an intimidating atmosphere inside Stadion Poljud.

Kick off: 8pm, Thursday 24 August, 2017
Predicted Line-up: Pickford, Holgate, Keane, Williams, Baines, Gueye, Schneiderlin, Davies, Rooney, Mirallas, Calvert-Lewin
The game is being televised live on ITV4 in the UK and on ESPN in the US, Caribbean, Latin America, New Zealand and Australia
---
Reader Comments (102)
Note: the following content is not moderated or vetted by the site owners at the time of submission. Comments are the responsibility of the poster. Disclaimer
Mark Rankin
1
Posted 24/08/2017 at 06:52:51
When we signed Gylfi, I was wondering where he would fit in but already the injuries and suspensions are demonstrating why it is so important to have such a strong squad, COYB stand tall in the bear pit.
Lenny Kingman
2
Posted 24/08/2017 at 06:57:14
Sandro can be gainfully employed keeping the Split thugs from bothering our travelling fans and biffing a few early doors as an advance warning. After all with his tatts, hair style and general demeanour he wouldn't have looked out of place amongst those morons last Thursday evening.
Tough first half with a 0-1 second half winner to follow once more would be pleasing. A celebrating England-less Wayne to orchestrate our entry into the group stage.
Christopher Timmins
3
Posted 24/08/2017 at 07:06:02
Important game tonight, if we can see it through then we can go a long way in this competition.
McCarthy's injury issue and Koeman's response, as reported above, indicates to me that he is staying. After looking at the performance of the mid field sector to date that is no bad thing. Hopefully Besic gets a run tonight, he has gone through hell with injury and deserves a break.
James Watts
4
Posted 24/08/2017 at 07:11:59
6-0 (8-0 aggregate) tonight. Koeman tactical masterclass of free flowing one touch attacking football, combined with solid defensive work. Martina 2, Sig 3 and Rooney sprinting 70 yards to dink over the keeper in the last minute. Trophy is pretty much ours already.
Thought I'd get in early before all the negativity starts. COYB!
Anthony Hughes
5
Posted 24/08/2017 at 07:21:59
No sitting back tonight let's attack them and get an early goal to ease any potential jitters. None of that dropping back and inviting pressure negative football and trying to hold to what we have.
Thomas Surgenor
6
Posted 24/08/2017 at 07:25:29
Surely Gylfi isn't in contention? He wasn't registered before the first leg.
Anthony Hughes
7
Posted 24/08/2017 at 07:35:33
A couple of injuries and the squad looks abit light. Let's getting moving with those strikers and wide men please. One week to go

Duncan McDine
8
Posted 24/08/2017 at 07:46:59
Lets hope Ronald doesn't make another tactical cock up when in complete control of the tie. That double substitution at City will take a while for me to forget.
Good luck to everyone in Croatia for this one (team and support), it could get a bit messy.
Andrew Clare
9
Posted 24/08/2017 at 07:48:00
I just hope we don't go there to defend. If we get a goal early on it will take the wind out of their sails and we will cruise home.
Darren Hind
11
Posted 24/08/2017 at 08:00:55
I worry about the lads and girls going over there. Their reception from the locals will be a warm one, if my experience is anything to go by, but this game will attract more than its fair share of crackpots who will not be interested in football.
I'm usually very big on performances. they are often as important as the result to me. Not tonight.
Get in... get the result... and get out.
Dave Rusk
12
Posted 24/08/2017 at 08:06:38
Currently in Amsterdam waiting for 2nd of 3 flights to Zagreb then onto Split.
I worry about Besic given the ethnic tensions which came to a head in the region 20 years ago.
Paul Smith
13
Posted 24/08/2017 at 08:21:14
I can't see there being any changes from the starting line up from Monday myself. This is an important game to qualify for the group stages and resting players will happen after international break.
The important thing for me is playing on the front foot as surely us scoring ends the tie. If we score in the first half we can then take players off in second to protect them.
Phil Walling
14
Posted 24/08/2017 at 08:25:31
Everton always break your heart so no good being too positive, James @4 . Forget silly dreams and settle for a draw of any score.
Just have to hope that Koeman leaves his 'crazy tactics' manual at home and lets the lads get on with it !
Stephen Brown
15
Posted 24/08/2017 at 08:30:35
I feel it has to be freshened up a bit especially with Sunday's game in mind!
Mirallas and Lookman to come in and maybe Gylfi for an hour.
Hopefully go 1 or 2 up as early as possible then give key players a rest.
James Watts
16
Posted 24/08/2017 at 08:30:43
True Phil. They always break my heart so may as well go down in style!
Bit seriously, I echo some of the other posts. Get through, leave as quickly as possible and most importantly, every Evertonian comes home safely and without incident.
Eddie Dunn
17
Posted 24/08/2017 at 08:34:35
Besic can make rash tackles and daft decisions at the best of times, but with a hostile crowd on his back ,I fear he may do something silly.
I would have left him at home.
Another solid performance will see us through and I hope that there are no unsavoury incidents off the pitch too.
Philip Jeffries
18
Posted 24/08/2017 at 08:40:29
Koeman isn't stupid. We will play deep and have DCL and maybe even Lookman on the pitch tonight on the break. The rest will defend and first chance release the two kids. Any free kick outside the box may just see Sigurdsson start repaying his fee. COYB and prayers for all the fans who have gone over there. I wouldn't trust the police to provide too much protection.
Martin Nicholls
19
Posted 24/08/2017 at 08:59:02
Philip#18. Don't know about the police providing "protection" - based on what I've seen in some previous European always (e.g. Lille) it wouldn't surprise me if they're the main aggressors!
Colin Glassar
20
Posted 24/08/2017 at 09:09:43
I hope Mo Besic plays. I just hope he doesn't start a new Balkan war.
Colin Grierson
21
Posted 24/08/2017 at 09:16:56
I hope he plays Lookman from the start as his direct approach will make them nervous and affect the way they push forward (which of course they must do). If we approach the game as we did the second half against Citeh then I fear for the result. These are by no means the quality of City though and therefore we should try to get an early goal and then enjoy it. Be safe Blue travelers. COYB!
Tim Sharpe
22
Posted 24/08/2017 at 09:33:39
I'm going for 1-1 tonight. Split to score in the first 10 minutes, then pound us like Jamie on Cersei for 75 minutes before Rooney deflects one in of his left ass cheek and we all breath again
Tony Everan
23
Posted 24/08/2017 at 09:35:13
Eddie 17
My sentiments too , Besic could get sent off for a rash tackle.
They will be diving all over the place clutching their knees and holding their faces.
They will be waving their hands in front of the referee and using the full repertoire of histrionics to get men booked and sent off. The crowd will be screaming at the ref to take action.
We need to be ultra professional , hard and fair. Lyndon's predicted line up looks about right .
Additionally we need to hope the ref is not a bottler!
Paul Tran
24
Posted 24/08/2017 at 09:43:23
They need to attack, so we can do them on the counter-attack, if we have an outlet. So play Lookman from the start. Let's create our own havoc, instead of focusing on the other team's.
Brent Stephens
25
Posted 24/08/2017 at 09:45:17
Given the absence of Klaassen and Sandro, and the demands on players from so many games in a short span of time, maybe we need players up front who can hold the ball up (no, not Lukaku), not giving the ball away cheaply and putting continual pressure on midfield to run their balls off to win it back.
Sam Hoare
26
Posted 24/08/2017 at 09:53:32
I'll go for:
Pickford
Holgate Keane Williams Baines
Gueye Schneiderlin Siggurddson
Rooney DCL Lookman
If Siggurddsson is not eligible then its between Davies and Besic with the former being the safer option!
Paul Thompson
27
Posted 24/08/2017 at 09:54:21
I said 2-0 would be a good result last week, so can't complain. We score and the tie should be put to bed. As others have said, it will be a counter attack game with either Lookman or Miralls up front with Rooney. Casn't help feeling a littel nervous, but think we'll go through. Just hope the fans will be ok.
Tony Everan
28
Posted 24/08/2017 at 09:56:37
I thought Lookman was great in the 1st half last week , but at the moment a full on 90 mins is too much?
I am sure he will play some part tonight , but we need to consider how we can get hold of the odd long ball clearance and keep it in their half . In games like this I feel not having the slightly more experienced striker is a defeciency and a missing link for us. DCL and or Lookman will find it hard work. It will be a massive boost to them if they have a good game.
Kim Vivian
29
Posted 24/08/2017 at 10:28:51
Sure - much of the recent history in that region has been barbarous, but Mo Besic is not a half wit.
IF he plays..... having lived there and having learnt much, he will be well aware of any potential hostility, and I would expect him to be man enough and mature enough to ride it out. He also has the benefit of some thoroughly experienced and influential guys around him who will be sure to keeping an eye out.
What worries me is if they manage to grab an early goal, and it will all then get a bit squeaky. However, we grab a goal it's game over - can't see them scoring 4. Then just see it out calmly and get home without incident. Whatever the result we must get home without incident, of course, but hopefully with a safe pass into the group stages.
Looking forward to the game as always. COYB
Mark Robson
30
Posted 24/08/2017 at 10:51:14
Keep it sensible and tight and pick them off on a break. We only need 1 goal here to secure the tie. No way will they be able to put 4 past us. Different team and ethos to the one that buckled in Bucharest against Dinamo. Get the job done minimum drama and prepare for Sunday. Keep safe fellow blues.
Stephen Brown
31
Posted 24/08/2017 at 10:51:22
Pickford
Holgate Keane Williams Baines
Schneiderlin Gana
Lookman Sigurdsson Mirallas
Calvert-Lewin
Simon Jones
32
Posted 24/08/2017 at 11:10:36
I'd be happy to see Lookman start over Rooney, only because I'd prefer Wayne to start in the league. Also, I'd like to see Lookman and DCL be given a go at occupying their defence.
Craig Walker
33
Posted 24/08/2017 at 11:25:23
Just hoping we don't concede an early goal tonight. With an intimidating atmosphere and a keep-it-tight approach, it could be a long night. Above all else, I really hope our fans don't get involved in anything stupid tonight. Their fans look like crackpots looking for trouble.
James Marshall
34
Posted 24/08/2017 at 11:31:24
All this talk of Besic being in the team from the start bothers me - he's not exactly set the world alight aside from a couple of good games, one for us and one in the Euro's.
Much as I understand the attraction, he does seem to me to be something of a cult player. He's more often than not injured, and when he does play he's a bit of a liability, likely to get himself booked, give the ball away, or do something rash.
Also, where does he actually play? He's one of those players that doesn't really have a defined role/position. Us Evertonians are a romantic bunch, and Besic is one of 'those' players
Frank Wade
37
Posted 24/08/2017 at 11:59:24
As Thomas #6 above quite rightly points out, Sigurdsson is not eligible for tonight's game.
Regulation 42.07 includes the following cut-off dates for registration of Player lists.
d. 7 August 2017 (24.00CET) for all matches in the play-offs;
e. 1 September 2017 (24.00CET) for all further matches from the first match in the group stage up to and including the final.
The Transfer Window closes this year at 23.00 on 31st August, so we have a day to add any latecomers to the list for Group Stages. As far as I know, we can register up to 3 players for knockout stages, who weren't registered for Group Stages.
The regulations state that the lists be compiled by a competent club official !
James Morgan
38
Posted 24/08/2017 at 12:22:25
Split need to come out and try and win the game so we should just try and keep the ball and make them chase it. When they do get it sit tight and look to hit them on the break at pace. I would rest DCL, Rooney, Davies and Jags. Something like:
Pickford
Martina Williams Keane Baines
Schneiderlin
Gueye Besic
Sigurdsson
Mirallas Lookman
Frank Wade
39
Posted 24/08/2017 at 12:25:39
After posting above re Sigurdsson, I have been listening to the Koeman press conference on the official site. It's hard to hear the questions, but I think he was asked around 10mins about Sigurdsson starting and he answered that the decision would be made tomorrow (i.e. today). Maybe we were able to add a player to the list after the Registration date. Perhaps, we were allowed to leave a space available on our list submitted on 7th August and registered just 24.
I see Sigurdsson in a training photo from yesterday's session. Sorry for all the 'fake' news. Just hope we don't get excluded for playing a 'banger' .
Bill Watson
41
Posted 24/08/2017 at 12:45:10
James (#34).
I totally agree; Besic has done little to justify the faith some people appear to have in him. His game is unstructured and he's always a wild tackle away from a red card.

Tony J Williams
43
Posted 24/08/2017 at 13:18:21
Most important game of the season so far.
I don't care about the weekend, we should only care about getting through to the group stages.
Full team, but I expect 5 at the back and Lookman/Mirallas in there for a quick break.
Tony J Williams
44
Posted 24/08/2017 at 13:20:54
On Besic, I am one of those fans who want him to do really well.
However, he was a stupid tit on Monday when DCL and him were 2 on 1 near the end of the game, soft ollies trying an elaborate back heel when the thick twat should have just squared it.
There is certainly a time and a place for that shite (read Bolasie too) and the arse end of a game that is 1-1 isn't it.
Sam Hoare
45
Posted 24/08/2017 at 13:50:06
I'm not a huge fan of Besic but he is one of our first team squad players and if we are to survive a long season in Europa then he is going to have to contribute. This match against a limited team and with a 2-0 cushion seems like a decent time for him to be given a shot especially as we have a very tough game against Chelsea this weekend. His discipline is a concern but surely he has to be expected to be able to control himself in hostile atmospheres or else what is the point of us keeping him as a player.
Craig Walker
46
Posted 24/08/2017 at 13:50:16
Besic reminds me of Gravesen. He was a fan favourite with his enthusiasm and fist-pumping but never really justified his reputation.
Clive Rogers
47
Posted 24/08/2017 at 13:53:33
Besic is reasonable in the middle of the pitch, but is lacking in the last third. In his time at EFC, he has zero goals and zero assists.
Tony Marsh
48
Posted 24/08/2017 at 13:56:01
Is there anyone else out there like me who wish to God we were not in this ludicrous completion? I mean just look at this week FFS. City away on Monday 3 days later Split away then home and straight down to London for early kick off at Chelsea. We might as well give Conte the 3 points now. We cannot sustain this type of strain on the players for any period time.
The Champions League is the holy grail just ask Lukaku and if we are not in it we don't exist. Throw everything at a 4th place finish and swerve the Europa League like the plague. Please don't say the winners of the Europa League get in to the Champions League. Can you honestly see us winning it after playing around 900 games with this squad? No me neither. Hope we get knocked out.
John Pierce
49
Posted 24/08/2017 at 14:15:49
Koeman looks to have packaged the games.
I'd expect the same line up as last Thursday. Rooney up top and with Lookman and Mirallas.
Sigurdsson will come in for Klaassen as he's injured and as you were.
DCL will be kept back as an option. Expect to see Everton set up exactly like City away at Chelsea with Sigurdsson in for Schniederlin.
A clear plan. Not a particularly exciting one but thats his way.
Daniel Lim
55
Posted 24/08/2017 at 14:55:27
Comparing Besic with Gravesen? The latter was instrumental in the 4th-place season. Besic has done nothing. I'm not criticising Besic here but more because I couldn't agree with the criticism of Gravesen.
Colin Glassar
56
Posted 24/08/2017 at 14:58:17
It's sad, in a way, how England continues to pick very young players for the senior team only to discard them after a game or two and then throw them to the media wolves.
Thomas Surgenor
57
Posted 24/08/2017 at 15:04:37
Frank (#37), That was my understanding also.
Is there anyway we had 'signed' Glyfi before that cut off? á la Man City and Stones? I remember it only hit the press that City signed Stones when he was recorded in their squad list.
Drew Shortis
58
Posted 24/08/2017 at 15:05:12
Split have to be respected, but we have more than enough quality to see them off. All the pressure is on them to attack and score at least two and we can hit them on the break if needs be and grab that vital away goal that would mean they have to go for four, meaning they give us even more opportunities.
I'm not necessarily predicting a huge aggregate win as they are a gutsy team and playing on their home patch, but they have to attack us and can't just sit back and this will open up space. Looking forward to this one!
Jay Harris
59
Posted 24/08/2017 at 15:07:26
I do worry about sitting back against these 'cos when we did that in the first leg they looked pretty dangerous.
I would go for a controlled game but higher up the pitch and look for an away goal.
2-0 is no lead to sit back and defend for 90 mins in a hostile pressure cooker environment.
Steve Ferns
60
Posted 24/08/2017 at 15:18:02
We need a goal to kill the game off. They won't put four past Pickford.
Rob Dolby
61
Posted 24/08/2017 at 15:24:53
Let's hope that Koeman doesn't want to play the expansive football he tried to deploy against Man City in the 2nd half the other night. Sit tight behind the ball and hit them on the break. The 1st goal will make a big difference either way.
Let's hope that the travelling blue army have a safe and enjoyable time.
coyb
Tony Abrahams
62
Posted 24/08/2017 at 15:25:25
Just because Calvert-Lewin had a good game on Monday night, doesn't mean he couldn't have played a better pass to Besic, Tony J.
Running forward at near full pelt, didn't really leave him with many other options, other than trying to get hold of the ball with City defenders, streaming back. On another night, possibly after a run in the side, he might have got that ball back to Lewin, and everybody would have been rejoicing with a fantastic bit of improvisation?
That's how I saw it anyway, and think if we can learn to pass the ball better all over the park, then we will become a good team?
Tonight won't be easy, but when we do get through, I'm not convinced are squad is big enough to cope with the demands that have come with this extra spending. Let's hope it isn't finished yet.
Colin Glassar
63
Posted 24/08/2017 at 15:38:09
One Everton fan already injured. I hope there aren't any more.
Tony Abrahams
64
Posted 24/08/2017 at 15:43:12
Where have you heard about that Colin?
Craig Walker
65
Posted 24/08/2017 at 15:51:26
Daniel @55 - I thought Gravesen would be a great signing for us. To my mind though he spent too much time gesticulating to the crowd and looking like he was up for it. He was a fan's favourite more for his reputation as mad dog For those reasons, he reminds me of Besic, admittedly Tommy achieved more and bagged 11 goals for the Blues but I still think he was a disappointment.
Tony Abrahams
66
Posted 24/08/2017 at 15:51:54
Just saw that now mate on Echo website, and think, it's going to get really naughty later on?
Don't know how true it is, but I've heard there is a big Serbia flag, flying round, with the words Everton Youth, in the middle of it.
If that's true, then all's I can say is... I predict a riot.
Colin Glassar
67
Posted 24/08/2017 at 15:54:41
If that's true Tony (flag bearer) he'll be lucky to get out alive. There's no love lost between the Ustashi and Chetniks.
Geoff Williams
68
Posted 24/08/2017 at 16:10:00
I do struggle to understand why, when predicting the team, people choose Williams ahead of Jagielka.

Kim Vivian
69
Posted 24/08/2017 at 16:15:23
I'm a bit apprehensive about tonight even without the added political spice.
Just reading on the beeb site. Hadjuk Split sitting second in their league after a 4-0 win over bottom club Rudes. Their striker, Said, in for the injured Ohdanza scored a hat trick and starts tonight evidently.
Hope Ron's got our back line up to speed. I predict they will come at us after that second half last week' so a nervy night - but we should be ok. I predict 1-1, maybe 1-2 but that will be enough. If we play like we did first half against City, we'll coast it.
Steve Ferns
70
Posted 24/08/2017 at 16:16:06
Craig #46,
Thomas Gravesen single handedly took us to 4th place and the cusp of the Champions League. He left in January of that season, and we had 43 points. Afterwards we scraped 18 more and finished poorly with a 7-1 hammering at Arsenal and total of 61 points. He also joined Real Madrid such was his form.
I fell in love with the player when I saw him against Preston NE in a pre-season friendly just after he signed. He came with a reputation of a tough-tackling defensive midfielder. A tag he never quite shook off. In the Preston game, he scored a lovely dink over the keeper, which highlighted his technique and control.
Gravesen had the most exquisite touch, he could control anything hit in his direction and his long passing was exemplary. His signature move was the disguised reverse through pass, wrong footing the defence and creating many goals.
Gravesen came from HSV (Hamburg) and in those days most sides played the old fashioned German formation. This meant use of the sweeper, the Beckenbauer role. To be precise, the great Lothar Matthaus retired from international football only in the summer when Gravesen joined us (2000).
This is very significant. The germans had one of the greatest ever passers of the ball in Matthaus (remember a young Matthaus was part of the Bayern side who we beat in our greatest night). The idea was he would play as a playmaker who operated behind the defence and would hit 80 yard passes to the channels or to the striker. Because Matthaus was who he was, the position was still effective, although it has long since been confined to the history bin.
Gravesen was HSV's sweeper. When we signed him we struggled to find a position for him. He played as a central midfielder, a central defender, a sweeper (once), and then a defensive midfielder. The problem was what he was used to, that is time on the ball, less condensed space, people to pass too much further away, and an opposition defence sat very deep. He also played in a side that would use David Unsworth at left back, and David Weir at right back. Unsworth loved to hit a crossfield pass of his own, 70 yard scud missile passes. I recall reading the press report of one game in either the independent or the guardian where it said the problem with Unsworth was that he "insisted on playing 70 yard passes to the ghost of Duncan Ferguson"! It makes me laugh even to this day, and it was not wrong. Gravesen would run around like a headless chicken because Everton and often the opposition would smash long balls over his head. Tommy didn't like for games to pass him by and he would do whatever he could to get himself in the game and so often picked up silly yellow cards, or got himself the ball in places that he could do nothing with it.
Moyes identified Gravsen's stregths, and set the blue print in that one great season he had, for what was to follow. A luxury player, supported by hard running players who were designed to get the ball to him and then move into space to receive it.
We played a 4141 formation, with the hard working Marcus Bent upfront, James McFadden operating from the bench. Tim Cahill frequently broke from a central midfield position and ran as much as anyone. Cahill and Gravesen were central with Carsley sweeping up behind them as a defensive anchor. Kilbane was usually left and Osman right and they would play narrowly.
Gravesen was a flawed footballer, rash in the tackle, poor at timing them, tempestuous and lacking in positional play. But when he worked in tandem with Stig Tofting or Lee Carlsey and could concentrate on his attacking side of the game, then we saw a sublime player who elevated an average side to great heights.
Henrik Lyngsie
71
Posted 24/08/2017 at 16:20:47
Clive 47. As far as I remember Besic had a back heal assist in his debut. Unfortunately it was tô a Chelsea player.

Craig Walker
72
Posted 24/08/2017 at 16:29:09
Fair play Steve. Maybe time has clouded my memory of him. I do remember being in the Park End and him scoring the winner against Allerdyce's Bolton in that season. Big Dunc scored one in that game too. That was one of the best games I went to in the Moyes era.
Let's hope if Besic does play then he has his best game in a blue shirt.
COYB!
Steve Ferns
73
Posted 24/08/2017 at 16:31:39
What about the game where Besic abandoned his post in front of the back four to chase down a pass to the opposition keeper that the "lazy" Lukaku did not bother with. Some fans cheered him and made reference to that is how it is done Rom, only for the keeper to find a player unmarked, where Besic should have been and the inevitable goal was scored.
Besic charges all over the pitch, kicking anything that moves. He cannot pass short. His passes long go out of play. His tackling is passable, but he is too reckless and concedes far too many fouls. He's not bad in the air defensively, but he is too small to be really effective (he lacks a Cahill leap). His control is poor. His decision making is atrocious. He does not read the game well. He is often out of position. He does not comprehend his role in the team. He does not follow the orders of his manager. He panics in possession and is easily dispossessed.
He's simply not good enough, and never will be.
Alan Bodell
74
Posted 24/08/2017 at 16:41:25
I love Besic and if he could just tune down his rash tackles, when fit he would be a great help, he hasn't really had a chance to show what he can do since he got here but hopefully this season he will get a lot of Blues changing their negative views on him.
Mainly it's for Bosnia I've been impressed with his energy and decision passing against top international teams when he has not been lacking in any area.
Having said all that I hope he doesn't play tonight as that is just another likely reason for the scum that have managed to get us a charge by the corrupt bastards that run Uefa, to really flare up on their own turf as they crash out of the tournament.
Colin Glassar
75
Posted 24/08/2017 at 17:04:03
Henrik, Besic almost fed DCL a wonderful back heeled pass against Man City. Pity it didn't come off.
Bobby Mallon
76
Posted 24/08/2017 at 17:04:24
Steve Ferns, that goal was not Besic's fault. Football is simple, so when a player leaves his position to chase down, another player should drop into his place to cover... simple.
Bobby Mallon
77
Posted 24/08/2017 at 17:06:02
Steve Ferns, you obviously don't know a top player
Tony Everan
78
Posted 24/08/2017 at 17:07:43
Besic is admired for his unbridled enthusiasm and commitment to the cause. It cannot be faulted. Unfortunately his footballing ability falls way short of these qualities which is, and always will be, a disappointment.

Mike Gaynes
79
Posted 24/08/2017 at 17:10:53
Trouble in Split. Everton fans attacked. One injured.
http://www.liverpoolecho.co.uk/news/liverpool-news/everton-fan-suffers-head-injury-13524549

Brian Williams
80
Posted 24/08/2017 at 17:15:13
There have been several incidents where small groups or individual Evertonians have been found and targeted. Probably get worse nearer kickoff and after the game.
Isn't it a sad state of affairs when you've got to hide your allegiance instead of celebrating it and enjoying a jolly!

Henrik Lyngsie
81
Posted 24/08/2017 at 17:28:46
Colin 75. I actually thought it was a poor decision and it reminded me of his debut.
He is a brave player when he dies things like that and I respect that. I feel sorry for Besic and his injury record. I hope he will have a long spell without injuries. He deserves that.
But I am still not convinced that he has got the skills needed. Hope he proves me wrong. And I hope that Gana is rested tonight and Besic plays next to Schneiderlin. I think that would be good squad management.
John Davies
82
Posted 24/08/2017 at 17:52:11
Couldn't give a shit about the performance tonight. Just want the win on aggregate and everyone home safe. Hope the second part of that wish list is not more difficult than the first.
Neil Thomas
83
Posted 24/08/2017 at 17:53:40
Win or lose they should be kicked out of European football with a least a couple of years ban. When do you ever see violent scenes at Goodison during the season you don't. So us being disciplined for this would be a disgrace.
Graham Mockford
84
Posted 24/08/2017 at 17:53:57
Tony Marsh
85
Posted 24/08/2017 at 17:58:08
All those who think its a good idea for our club to play games in these backward, racist, fascist countries that we come across in the Europa League
be carefully what you wish for. The behaviour we are hearing about and witnessed at Goodison Park would not be tolerated by Uefa in The Champions League. Trouble is no-one gives a shit about this competition. Hope the lads all get home safe.
Nicholas Ryan
86
Posted 24/08/2017 at 17:59:56
Interesting comment on tonight's game, from a friend of mine, who breeds and trains pedigree pooches:
'"There won't be any trouble in Split tonight."
"Why not?"
"Because Dogs don't shit where they eat!!"
Neil Thomas
87
Posted 24/08/2017 at 18:03:06
Graham, I agree – what's the point in making comments like that? Would people prefer us to finish 17th or even go down cause next season we could win the Championship? How great!
Don Alexander
88
Posted 24/08/2017 at 18:05:11
Well said Tony Marsh (#48). Like you I never want Everton to lose but if we have to lose I'd opt to be out of this joke competition asap.
Being in it always bleeds the life out of every club's league challenge and it brings in peanuts even if you're relatively successful, unless you win it.
Add that to the fact that because it later becomes a consolation prize for clubs not good enough to do well in the CL, thereby bloating an already bloated number of participants, and it really is only a piss-take of an effort by a voraciously greedy UEFA.
I mean ffs, there must be football fans in their own country who like us have never heard of teams like Ruzomberok, Siroki Brijeg, Differdanga and many other such clubs among the 190 (yes, 190!) qualifiers for this season's effort.
Dave Bowen
89
Posted 24/08/2017 at 18:07:17
Got to agree with Graham's sigh at #84. Mourinho targeted the EL as a way to CL. He knew Manure weren't going to qualify through the league & the Europa was the easier option. Lukaku might have signed for Chelski if he hadn't done so. Despite our squad overhaul, I believe we'll have to do the same as the top 4 is a tough ask.
Brian Williams
91
Posted 24/08/2017 at 18:12:42
I'm torn on Tony's (48) comment. I can see where he's coming from in that we'll suffer injuries and tiredness for hard Premier League games soon after a long journey and match in the Europa League, and our Premier League form will suffer because of it IMO.
On the other hand, there should be some great chances of Euro jollies (they won't all be like tonight's).
I can see both sides of the argument.
Paul Kelly
94
Posted 24/08/2017 at 18:24:58
Don, I've never heard of "some" of the teams in Champ league group stages, Qarabag? Celtic? . Maribor-where they from?
But seriously wanting Everton to lose if we had to lose? Don't think we have to lose'anything. I hope we go all the way, as been pointed out many times Champions League is Wed-Sat, Europa Thu-Sun, it's no excuse for poor league form, that's what the squad is for. I just hope Ronny boy is up too the task.
Also, I reckon the 1,400 fans out there may disagree a little bit more with you than I have.
Marsh- "hope we get knocked out".
I'm not even getting started on this one.
James Hughes
95
Posted 24/08/2017 at 18:31:27
I have read today Sandro and Klaassen have not travelled and Sigurdsson is not eligible to play, makes team selection interesting.
I will echo Graham's sigh as well. If we are playing more games it means we are doing well. The Europa can be a hard slog but also excellent experience.
What is the difference between playing Wednesday & Saturday or Thursday & Sunday? In either league, it is two games a week.
Don Alexander
96
Posted 24/08/2017 at 18:40:07
Paul, it might not be a viable excuse but it is a reality that league form notably diminishes for just about every English participant, to the tune of a few league positions, every one of which is worth way over £1mill.
I know it's now a few years ago but when Moyesy got us to the quarter-finals after travelling all over Europe to do it the net profit to the club was all of £400K, and that's all (but maybe I have too much faith in the published accounts admittedly!). By way of comparison Sunderland got £98mill for coming bottom last season.
Will Mabon
98
Posted 24/08/2017 at 18:48:04
Don, what you say is true, but how sad - sad that things have so developed to tarnish the excitement to some, of European competition. It comes with its costs, outside of money, but if we can't look forward to nights like this, and hopefully subsequent nights, that's a shame.
David Ellis
99
Posted 24/08/2017 at 18:50:55
Don- it's changed since then. Europa League is now quite lucrative and critical for us to pull away from the West Ham's of this world
Will Mabon
100
Posted 24/08/2017 at 18:54:35
David, you just made me realize I haven't even looked at the prize/reward structure of the competition for ages - so I will!
Brian Williams
101
Posted 24/08/2017 at 18:55:14
£12.7m if you win the final. Possible £25m in total.Lucrative?
Aidan Baker
102
Posted 24/08/2017 at 18:59:29
No Gueye in the starting line up or on the bench.. is he also injured?
Michael Lynch
103
Posted 24/08/2017 at 18:59:52
Strong looking selection tonight. Interesting to see Lookman starting.
Frank Wade
104
Posted 24/08/2017 at 19:00:21
Pickford, Martina, Keane, Williams, Baines, Besic, Schneiderlin, Sigurdsson, Lookman, Rooney, Calvert-Lewin
Dermot Byrne
105
Posted 24/08/2017 at 19:01:35
I bet the calculation isn't that simple knowing Eufa Brian
Martin Mason
106
Posted 24/08/2017 at 19:02:16
I agree that the rewards for winning the cup are small but the boost to self respect could be massive and I think that the squad needs the high number of matches to gel over the year with players getting competitive games when they would otherwise have been on the bench.
Raymond Fox
107
Posted 24/08/2017 at 19:03:53
Going to defend is not the answer, its asking for trouble.
What gives with Besic in practically every post, I didn't know he was that popular.
I mentioned a few days ago that I would target this Comp. because I think that we have more chance of winning it than coming in the top 4 in the Prem.
Doubt very much that we can play our first team in both competitions and do well, its not an easy decision to make I admit, but I think the right one.
Phil Walling
108
Posted 24/08/2017 at 19:10:33
Does the inclusion of Siggy mean that Everton had actually signed him before the qualification date but just hadn't told us ?
John Daley
109
Posted 24/08/2017 at 19:11:01
"The Champions League is the holy grail just ask Lukaku and if we are not in it we don't exist. Throw everything at a 4th place finish and swerve the Europa League like the plague. Please don't say the winners of the Europa League get in to the Champions League." 
You can't very well not mention it when Lukaku's current team only landed a Champions League place (and, by extension, landed him) by virtue of winning the very same competition you say we should sack off straight away.
For my money the Europa League represents our best chance of qualifying for the Champions League ahead of schedule. I don't see how finishing fourth is a more realistic proposition with our current squad, no matter how much we narrow our focus this season.
Then again, I never understand why we get the exact same whining about fixture congestion and fatigue every time we compete in Europe. Yes, it means more games, but surely to fuck the manager and players have all cottoned on to that fact if the fans have. The news hasn't exactly been dropped on the club out of the blue.
European qualification was Koeman's stated aim at the start of last season. He achieved it. He's had the close season to plan, prepare and strengthen the squad to compete on multiple fronts. Time to show he might actually be worth the multi-million pound salary and make a start changing the 'merely making up the numbers mindset' Everton have been saddled with for far too long, by going out and having a serious fucking go at every single competition this season.
If we truly want to compete in European competition on a regular basis then we have to learn to handle the load at some point.
Sam Morrison
110
Posted 24/08/2017 at 19:12:48
Don't want to tempt fate but as far as I'm aware Besic has never been sent off while playing for Everton. So the oft-quoted red-card-waiting-to-happen thing is really taking its time!
That's not to say he's never rash, of course. Hopefully we'll see the best of him tonight.
Jay Wood
111
Posted 24/08/2017 at 19:13:02
Decent line up, rotating where obvious. With Schneiderlin suspended for the Chelsea game, makes sense to play him tonight and rest Gueye.
Besic is a conundrum. There is obviously some fight in the dog, but he is inclined to do some daft things, at the wrong time.
As Siggy was displayed to the crowd last Thursday, I assume he was registered before any UEFA deadline, contrary to some opinions on here. The club must have checked and double checked not to place us in any jeopardy.
We have to manage Rooney better. He can't be expected to play every minute of every game.
A nice mix of youth and experience on the subs bench.
6 Jagielka
11 Mirallas
12 Lennon
22 Stekelenburg
26 Davies
30 Holgate
43 Kenny
We score once, they have to score four. Ain't gonna happen.
Brent Stephens
112
Posted 24/08/2017 at 19:16:45
Phil, Europa Regs:
List A has to be submitted by the following fixed deadlines:
a. 19 June 2017 (24:00 CET) for all matches in the first qualifying round;
b. 7 July 2017 (24:00 CET) for all matches in the second qualifying round;
c. 21 July 2017 (24:00 CET) for all matches in the third qualifying round;
d. 7 August 2017 (24:00 CET) for all matches in the play-offs;
e. 1 September 2017 (24:00 CET) for all further matches from the first match in the group stage up to and including the final.
42.08 For the three qualifying rounds and the play-offs, a club may register a maximum of one new eligible player on List A after the above-mentioned deadlines, provided the quota of locally trained players is respected. Such registration must be completed by 24:00 CET on the day before the relevant first-leg match and the club's association must confirm in writing that the new player is eligible to play at domestic level at this time.

Frank Wade
113
Posted 24/08/2017 at 19:16:53
Jay, as I posted earlier today the deadline was 7th August as per UEFA site. Maybe as Phil says, we were so confident of getting Sigurdsson, we included him on our list on 7th August OR we only submitted 24 and so could add another.
Ah thanks Brent, I didn't read down that far. Well done. Legal job for you.
Jay Wood
114
Posted 24/08/2017 at 19:20:01
I think Brent's copy-paste - especially 42.08 - covers it Frank.
Paul A Smith
115
Posted 24/08/2017 at 22:13:21
Bit selective to say Besic does stupid things (which he does) but not have the same theory for Schneiderlin's stupid tackle at City leaving himself hanging on a yellow for how long?
I think in the modern game a lot of daft things happen in games even from the better players. It's hard to judge Besic at times but I have a feeling Koeman seems to be finding a place for him.
Martin Nicholls
116
Posted 25/08/2017 at 07:40:13
Brent#112 - thanks for clarifying.
Add Your Comments
In order to post a comment, you need to be logged in as a registered user of the site.
Or Sign up as a ToffeeWeb Member — it's free, takes just a few minutes and will allow you to post your comments on articles and Talking Points submissions across the site.