Sigurdsson and Pickford see Blues past Hajduk in Split

205 Comments [Jump to last]
Thursday 24 August 2017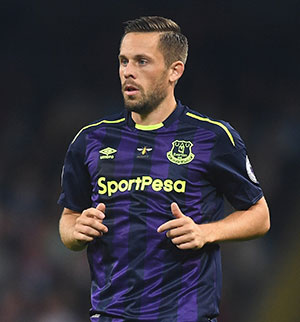 Gylfi Sigurdsson made his full debut and an immediate impact with a long-range shot that effectively ended Hajduk's hopes of turning the tie around
Everton secured their place in the Europa League group stage, Gylfi Sigurdsson's sublime equaliser and Jordan Pickford's penalty save shutting the door on the Croatian side's attempted comeback in the second in Split.
The Icelandic international made his first start since joining the Blues in a club-record £45m deal and he made a crucial intervention just seconds into the second half with a goal from 40-plus yards.
That cancelled out Radosevic's own spectacular strike that had sent Hajduk into the half-time interval with hope at 2-1 on aggregate. But having been dealt the blow of an away goal for Everton when Sigurdsson scored, they saw their hopes effectively die when Ahmed Said was foiled from the spot by the visitors' new goalkeeper later in the second period.
In addition to Sigurdsson's debut, Muhamed Bešić made a long-awaited return to the starting XI after overcoming a long-term injury that ruined his 2016-17 campaign. He lined up in a midfield that is rounded out by Morgan Schneiderlin and Ademola Lookman.
Dominic Calvert-Lewin, scorer of the winner in the away leg in the previous round, started up front with Wayne Rooney playing off him.
Everton had an early scare when Erceg sprung the offside trap and was taken out by Pickford but was flagged offside, incorrectly as it tuner out from TV replays.
The visitors were looking to retain possession and try to patiently wait their chance, the first of which fell to Rooney but he couldn't get enough purchase on Martina's right-wing cross.
Shortly afterwards, Sigurdsson went close with a volley that he sliced a yard wide.
Back at the other end, Pickford was forced into the game's first meaningful save as Hajduk finished the half strongly. The young 'keeper made a fine stop to deny Erceg from the angle and keep it goalless on the night.
Everton were undone in spectacular fashion, though, when Radosevic slammed a 30-yarder past Pickford to make it 1-0 in the 43rd minute.
Aaron Lennon came on at the start of the second half in place of Lookman and the Blues were level within seconds of the restart thanks to another belter of a goal. Sigurdsson spotted Stipica off his line and swing a right boot onto a loose ball that floated over the 'keeper from miles out.
That increased the size of the mountain facing Hajduk, meaning they would need to score three times within the regulation 90 minutes to win the tie.
Rooney could have put the contest to bed in the 47th minute but he couldn;'t steer a header on target while Radosevic despatched another shot from outside the box that arced wide of the post.
Sigurdsson found himself in oceans of space behind the Hajduk defence but his cross for Calvert-Lewin in the centre was cut out, crucially for the home side, by Nizic for a corner.
Hajduk had a vital chance to reduce the arrears when Ashley Williams scythed through his man and the referee awarded a penalty but Pickford was equal to Said's spot kick, diving to his right to push it away Keane who cleared.
A couple of minutes later, Calvert-Lewin was put in one-on-one with Stipica but the 'keeper made an excellent save to prevent him killing the tie before Said rattled a left-footer wide for Hajduk.
With six minutes of the 90 to go, Keane sent Rooney away but he cut back on his right rather than going for it with his left and his shot was blocked by a recovering defender.
Periods of disciplined keep-ball by Koeman's men helped see out the final few minutes, with Everton assured of a place in tomorrow's draw in Nyon.
Full details: ToffeeWeb Match page
---
Reader Comments (205)
Note: the following content is not moderated or vetted by the site owners at the time of submission. Comments are the responsibility of the poster. Disclaimer
David Ellis
1
Posted 24/08/2017 at 19:07:03
Positive line up
Steve Ferns
2
Posted 24/08/2017 at 19:15:43
Everton have tweeted it themselves as a 4-4-2 with Sigurdsson out on the left. Curious.
Say it is a 4-4-2 and Rooney drops, then it quickly becomes a 4-2-3-1 as the middle two are defensive midfielders. Schneiderlin should sit, allowing Besic to chase and harry in the Gueye role.
Ciarán McGlone
3
Posted 24/08/2017 at 19:18:10
Let's see how they line out. Would expect Rooney to be roaming about the left and lookman from the right with Gylfi playing the central 10 role behind DCL. Frankly I'd have dropped schneiderlin, and not Gana. But not overly concerned with that line up. Looks solid enough.
Hopefully everybody stats safe..
Jay Wood
4
Posted 24/08/2017 at 19:22:23
Sensible to play Morgan today (who is suspended on Sunday vs Chelsea) and rest Gueye.
Joseph Terrence
6
Posted 24/08/2017 at 19:22:36
Ciarán, I'd wager that Schneiderlin hasn't been dropped is because of his suspension this upcoming Sunday. Gana could do with a rest and it'll be interesting to see how Besic does with his first start in a year or so.
Overall, I like the lineup.
Dean Cooper
7
Posted 24/08/2017 at 19:22:58
Strong squad for the return leg and more importantly, a good rotation of players. Gueye rested given Schneiderlin's absence against Chelsea.
I would've liked to see Rooney rested in favour of Mirallas to save him and allow us to counter attack with pace.
Keith Monaghan
8
Posted 24/08/2017 at 19:23:49
Ciaran @ 4. I know Scheids has been generally poor this season, but that would have been crazy - he gets an enforced rest at Chelski on Sunday where Gana will be needed more than tonight surely!
Looks a decent line-up to me - expect to see Mirallas start at Chelski.
Bill Gienapp
9
Posted 24/08/2017 at 19:42:10
I like this lineup. Curious to see how Besic does. At some point, Koeman's going to have to start managing Rooney's minutes.
Peter Cummings
10
Posted 24/08/2017 at 19:46:03
I can't help feeling a bit queasy about this game in front of a rabidly intimidating crowd which includes members of the 'Ultras' maniacs. I just hope we don't park the bus with our two-goal lead and hope for the best, fingers crossed. COYB.
Alan Bodell
11
Posted 24/08/2017 at 19:49:30
Richard Dunne on ITV4, great Evertonian that with Michael Ball after losing away to Bristol Rovers in the then League Cup and laughing on the coach both of them, that sticks in my mind, wtf is he doing here when he left without grace back in 2001 or so? No shame some twats.
Stephen Brown
12
Posted 24/08/2017 at 19:50:25
1-0 up asap sub Rooney and Baines!
Julian Wait
13
Posted 24/08/2017 at 19:51:04
I thought Rooney should have been subbed earlier on Monday as well, he looked gassed after 70 minutes. There's no way he's making it pas 60 minutes here - if - he's to start Sunday against Chelsea.
Paul Smith
14
Posted 24/08/2017 at 19:51:08
Not sure about Mo. Really surprised he's in koemans plans. My guess he's hooked after a poor show.
Negative I know but it's my sense.
Mike Allison
15
Posted 24/08/2017 at 20:00:02
Have I missed some news about Klaassen? Not in the 18.
Tony Kost
16
Posted 24/08/2017 at 20:03:20
Steve Ferns
17
Posted 24/08/2017 at 20:07:55
Foot injury mike.
Lined up in a 4-2-3-1. Looks quite fluid. Rooney and Calvert-Lewin are rotating, Lookman has stayed on the right and Sigurdsson and Calvert-Lewin popping up on the left.
Andy Walker
18
Posted 24/08/2017 at 20:19:16
Why don't we have our usual sponsor on our shirts tonight?
Christy Ring
19
Posted 24/08/2017 at 20:20:42
Would have preferred to rest Rooney, play Calvert-Lewin upfront and Mirallas on the left.
Ciarán McGlone
20
Posted 24/08/2017 at 20:23:58
Point taken on the Schneiderlin inclusion. Forgot about that.
I see DCL is on the wing again. Koeman loves an aul tinker.
Steve Ferns
21
Posted 24/08/2017 at 20:28:17
He loves to tinker in game too. He'll be on the right soon.
Sigurdsson is showing some nice touches in the number 10 role. Nice and busy. Linking up well with rooney.
Besic has been nice and calm so far. Let's hope he continues.
Joseph Terrence
23
Posted 24/08/2017 at 20:40:30
I think that it is now clear that Martina has something to offer. Not a world beater but certainly a useful depth piece.
Ciarán McGlone
24
Posted 24/08/2017 at 20:43:45
Oh bollocks!
Ian Lloyd
25
Posted 24/08/2017 at 20:45:04
You guys must be watching a different game to me. We are poor, not just tonight... but in general.
Richard Reeves
26
Posted 24/08/2017 at 20:47:50
Koeman should take off Martina and put Kenny on.He has a better understanding with Lookman and will provide some decent crosses.
John G Davies
27
Posted 24/08/2017 at 20:49:10
Never mind what position Dominic is playing, he is having a great game. What a player this kid will be. Reminds me of a young Kluivert
Jay Wood
28
Posted 24/08/2017 at 20:50:16
The tie just got interesting.
Let's see how Koeman and the team react to that goal in the 2nd half.
Could be a very educational 45 minutes for many.
Lookman needs to show more, or got hooked.
DC-L continuing his very fine form.
Jack Ledwidge
29
Posted 24/08/2017 at 20:51:42
I know a great strike but the warning signs were there. 3 mins earlier they fired way over from 5 yards nearer and totally unmarked. Come on, one goal will do us.
Geoff Williams
30
Posted 24/08/2017 at 20:51:49
Weak down the right. Lookman disappointing
Christy Ring
31
Posted 24/08/2017 at 20:54:05
Game on, why did Baines turn his back? We have to buy a striker, there's no presence upfront, can't see where a goal is coming from. If we don't replace Lukaku, all the money spent will be fruitless.
Ernie Baywood
32
Posted 24/08/2017 at 20:54:28
Can't understand two dads being picked on the wing again. He's doing well but we need something up front.
The game overall has been fairly even but that wonder strike has made it interesting. I wouldn't be trying to hold out with the crowd pumped and the ref already looking a bit of a homer. Need to go for a goal... reckon Mirallas is the man for it.
John G Davies
34
Posted 24/08/2017 at 20:56:50
Lookman is a young player learning his trade, give him a break.
Imo he loses his position and shape at times.
This is the reason he wasn't brought on at City.
At the same time the kid can play off the cuff in and around the box, create a chance or shot.
Bear with him.
Darren Murphy
35
Posted 24/08/2017 at 20:59:27
Shambles. Their fans are a joke, how that team are still in it due to their bullshit is wrong. We got blamed at ours when they first met up, imagine after tonight's game? They should be gone regardless. Croatian cunts.
John Pierce
36
Posted 24/08/2017 at 20:59:33
When you seek just 'to control' a game you are prone to a mistake or a moment of brilliance. Standard Koeman.
Defensive 'dourpuss'
Sure we should go through but come on these are poor and we have the match intensity of a wet sponge.
Only DCL & Rooney look anything near decent.
Tony Abrahams
37
Posted 24/08/2017 at 21:00:42
When you listen to Darren Hind, slag Koeman, for his lack of adventure, then the best way to see it, is through the complete lack of movement when we just have a simple throw-in, in the attacking third. So many men behind the ball, we have one striker, plus our wide man, surrounded by five or six defenders. It's way to rigid, and so easy to defend against.
Jack Ledwidge
38
Posted 24/08/2017 at 21:01:58
Geoff (#30) - you are right about Lookman to an extent but Martina behind him is far too indecisive. Lookman needs quick thinking passes for him to latch onto. Twice yes twice Martina took ages to take throw in and then fires the two throws at Lookman's neck both given as handball. We'll do it though. Not sure about Mo and what he contributes.
Christy Ring
39
Posted 24/08/2017 at 21:04:51
That's what we get for £45m!!!. Superb.
Jay Wood
40
Posted 24/08/2017 at 21:05:01
Genius!
Ernie Baywood
41
Posted 24/08/2017 at 21:06:24
Our goal of the season sorted in August. Incredible!
John Pierce
42
Posted 24/08/2017 at 21:06:52
Oh my lordy
Bob Hannigan
43
Posted 24/08/2017 at 21:09:10
I love Lookman but I'm glad Aaron is in.
Ciarán McGlone
44
Posted 24/08/2017 at 21:10:35
I guess that shuts those of us up who didn't see the £45 million being well spent. Take a bow Mr Sigurdsson... instant hero.
John Newman
46
Posted 24/08/2017 at 21:16:42
Just spilt two fresh bevvies over... what a fucking goal!!
We need to put this to bed now and shut their knobhead fans up. Glad to see Lennon on the pitch direct and pacey which is what's needed now. COYB!
Jack Ledwidge
47
Posted 24/08/2017 at 21:23:20
Pickford, you beauty!
Christy Ring
48
Posted 24/08/2017 at 21:24:24
Well done Pickford, but is it just me, I have no faith in Williams whatever.
Steve Ferns
49
Posted 24/08/2017 at 21:25:47
No-one doubted Sigurdsson, Ciaran. It was the logic of signing Sigurdsson for massive money, letting Barkley leave for cheap, not trying harder to keep him (i.e. Koeman showing him some love in public), trying to fit Klaassen, Rooney and Sigurdsson into our best eleven and most importantly for me, still not having filled the most important position for me, the number 9.
Good penalty save by Pickford. Clumsy foul by Williams. Calvert-Lewin doing well still.
John Smith
50
Posted 24/08/2017 at 21:26:17
At the risk of sounding controversial, it's nice seeing Mo Besic (a Bosnian) upending players that represent Croatian thugs.
Bob Hannigan
51
Posted 24/08/2017 at 21:32:42
May not be a lot on "the score sheet" but I love Rooney's contribution, overall.
Great addition back to his boyhood club.
John Newman
52
Posted 24/08/2017 at 21:33:38
Calvert-Lewin is an absolute beast.
Ian Lloyd
53
Posted 24/08/2017 at 21:37:58
We've spent £150 million on average players when the first and most important signing should have been a striker – it's not rocket science!
Jack Ledwidge
54
Posted 24/08/2017 at 21:38:19
Surprised Besic not substituted. DCL off for Davies. Obviously Sunday in mind. Still a lot of questions. Williams not convincing tonight. Positionally he is not at the races.
John Smith
55
Posted 24/08/2017 at 21:40:47
I've just seen Williams stop 5 of their crosses, passes etc toward our goal in the last few minutes. What game are you watching, Jack?
Neil Cremin
56
Posted 24/08/2017 at 21:50:55
This is the best exhibition of keepy football I have ever seen from Everton. Superb!
Ciarán McGlone
57
Posted 24/08/2017 at 21:52:09
Loved that keep ball for the last 15.. one touch, intricate..
Next.
Chris Williams
58
Posted 24/08/2017 at 21:53:59
Would have been shouting Ole! at Goodison with that great possession play.
Brian Williams
59
Posted 24/08/2017 at 21:58:54
Slagging Williams?
He made a mistake for the penno admittedly, other than that he made some great tackles and interceptions.
Tony Hill
60
Posted 24/08/2017 at 22:00:41
Joyous from Sigurdsson. So much for my theory that he's poor value.
I was pretty pleased generally. To manage that game as we did was impressive, especially 3 days after a really hard match. Credit to the manager who I thought selected well tonight and made sound substitutions.
Pickford excellent again. We will come to expect it.
Jay Wood
61
Posted 24/08/2017 at 22:05:08
The last 10 minutes apart when HS barely touched the ball, Everton made heavier weather of that than necessary.
The stunning strike by Siggy so early in the 2nd half effectively put the tie to bed, but too many players on the park retreated too deep, much to Koeman's annoyance.
Now if we could play keep ball as we did at the close further up the pitch and be more clinical in finishing the chances that come our way (where is that striker?!) then we could be purring.
Because there is great movement and intercharge emerging between the players.
Oh! And other than the penalty, I thought Williams had a very solid game. Better than Keane on the night. And Martina also continues to shine.
Rooney brings so much craft to the team, but he needs to be well managed in terms of game time or risk burn out or injury.
Another test to look forward to Sunday.
Loving it!
Brent Stephens
62
Posted 24/08/2017 at 22:07:44
Tremendous goal from Split but as Joe Clitheroe said when Siggy scored "call that a long shot? now that's a long shot"!
Steve Ferns
63
Posted 24/08/2017 at 22:08:15
Rooney looked fit for the first time tonight. He was still running at the end. Great to see.
Tony Twist
64
Posted 24/08/2017 at 22:08:24
Excellent result in what I am sure would have been a toxic atmosphere. We seem to have a class goalie for the first time in ages, I just hope he gave Baines an earful for turning his back on the shot that resulted in their goal. Come home safe all you blues.
Stephen Brown
65
Posted 24/08/2017 at 22:08:38
Got to stick up for Ashley Williams, penalty aside he was very good and led the defence really well!
Oliver Molloy
66
Posted 24/08/2017 at 22:09:54
I've said it before and will say so again. Williams reminds me of Distin. Like our former big French centre half, Williams can be very steady in the game, playing well but you just know he is always capable of making a bad decision, lose concentration or whatever.
Williams is a committed player and from what I see gives it and takes it which I like and tonight he made an error. I'm sure Koeman will be having a word or two.
Tony Abrahams
67
Posted 24/08/2017 at 22:14:03
That goal has probably kept us in this competition because we looked very tired for the first twenty five minutes of that second half, and didn't pick up until after Pickford saved the penalty.
A spectacular goal like that usually puts everyone on the front foot, but we looked like we had nothing left. if we can find a good centre forward now, then once we gel, then we do,look like we have got some real quality in the squad now?
Richard Dunne, has just called Pickford right then saying he just seems to have that aura, that he just knows he's good.
Philip Yensen
68
Posted 24/08/2017 at 22:14:07
I thought we were lucky tonight. Our passing in general was sloppy. We kept getting the wrong side of players. Williams is so flat footed. Martina is shite at defending and not that good going forward. Too many passes going backwards. Possibly our best player was Rooney he was looking for the forward pass or an intelligent pass.
Besic? I don't know why he's got a shirt before Davies or Mirallas. We defended in numbers but with confusion of whose job was whose.
I don't think we've played that well this start of the season but hopefully we will get better.
John G Davies
69
Posted 24/08/2017 at 22:14:10
Williams got caught on the wrong side of the forward a few times tonight.
I don't think we have got a really good centre half partnership when we play a back four. Back three may be the way forward until we sign a left sided centre half.
Jack Ledwidge
70
Posted 24/08/2017 at 22:15:53
Ok on Williams just my opinion. Clumsy on the pen but the same type of tackle was made by him outside the box in first half which led to free kick- gets too close to their player. Baines had words with him when they also had free header in first half. Anyway onwards and upwards Blues
Sam Hoare
71
Posted 24/08/2017 at 22:19:46
Surprised we didn't go for Hoedt who just signed for Soton for £15m. Dutch left sided CB, very tall, fairly quick and good passer.
I'd say we are a good LCB and a top striker away from a very good team/squad once Bolasie, Coleman and Barkley(?) return.
Stephen Brown
72
Posted 24/08/2017 at 22:20:16
You could say lots of negatives about the team at the moment yet that's 6 games unbeaten!
A result at Chelsea and in the words of Arthur Daley 'the worlds our lobster'!
Paul Windrum
73
Posted 24/08/2017 at 22:20:45
Job well done at a tough away venue. On to the next round.
COYB
Jamie Sweet
74
Posted 24/08/2017 at 22:21:28
£30m too much for a young keeper we said.
£45m too much for an ageing midfielder we said.
Then today happened.
Tony Abrahams
75
Posted 24/08/2017 at 22:22:05
John G, Name me a Spurs defender who,is not good on the ball? And still,they are signing two more.
The way Koeman, is shaping his squad, looking to bring in a lot of players who are better playing inside, rather than staying out wide, then as well as a top centre forward that we desperately need, then we need another defender who is comfortable with the ball?
John Pierce
76
Posted 24/08/2017 at 22:25:18
It was pretty scrappy from us tonight. I'm sure to many the result will be enough.
Come on though, they were not great, yet we as per usual sought to contain a side and in the end, like Monday gave them momentum in the game.
A stroke of breath taking skill from Sigurdsson, covered over cracks which weren't terminal but 'splitting' at the edges.
Lookman was by any standards poor, although he was hoofed the ball several times, erm thanks Ash!
The 2nd half was a non event, so any control we had was given to us as they became sporadic and disinterested.
The penalty. We all knew Pickford would save it, Said channeling his inner Mirallas as they scrapped over who would take it. Chortle.
Rooney and DCL the best of an average lot.
Through and unscathed. Moving on to another Koeman tactical master class at Chelsea on Sunday .yawn!
Barry Williams
77
Posted 24/08/2017 at 22:26:32
6 games, no defeats, plus unbeaten pre-season, all this with a plethora of new players. It bodes well. I was as disappointed as anyone against City as I think we could have won that, but there you go. My biggest concern against Chelsea are energy levels, this is were the squad use and substitutions will take on more importance.
Tonight's game, we were playing very professionally until they scored a worldly. Then we scored an even better one. Sigurdsson's vision, balance, contemplation and darn right cheek was something to behold. His all round game considering his lack of preseason was excellent.
A mention for 2 players who divide opinion. Besic, his first game in ages, did some lovely defence splitting passes tonight. Schneiderlin, his close control, coolness under pressure and ability to find himself space and execute passes very quickly is a sight to behold.
Possession play was excellent tonight too, as was Williams, I don't think it was a penalty, but there you go!
The one thing I don't want to see in an Everton side though is too much gamesmanship, that is just my personal thing.
All in all, still work in progress, but the progress is there to see IMO. There will be bumps along the road, but we are going in the right direction at a decent pace.
Dave Abrahams
78
Posted 24/08/2017 at 22:27:50
Glad we got through, I know it is early days but that was another uninspiring performance unless you wanted to go to sleep.
Gordon Crawford
79
Posted 24/08/2017 at 22:28:21
What a goal to put us through, truly amazing. The team played very well in spells. We need 3-4 more players and then we can have a real crack at this tournament and the domestic cups.
David Price
80
Posted 24/08/2017 at 22:29:48
Betting suspended on Everton signing VVD.
Two tough games that in four days. Think the boys deserve some credit.
Another test on Sunday. Keep fighting Blue Boys. Great team spirit at the club.
George Cumiskey
81
Posted 24/08/2017 at 22:32:13
Great result but typical dour Koeman performance, anyone who enjoyed watching that is anti football. Bar for the Siggy wonder goal of course.
John G Davies
83
Posted 24/08/2017 at 22:33:39
Tony,
Alderwierald not signing new contract because of low wages.
In top 3 centre half's in Prem for me.
Offer Barkley and cash and give him the wages he is looking for.

Tony Abrahams
84
Posted 24/08/2017 at 22:35:06
I'm made up we are through anyway, even though not everyone will be feeling the same way.
Big difference from the last time we was in this competition is that we have a totally different mindset within the squad now. Martinez, concentrated on Europe, at the expense of the league,but I don't think this will happen this time around, although it's going to be tough unless we get another two top players in.
I'm hearing that betting has been suspended on Van Dyke, joining the toffees, although I haven't got 100% proof of this though!
John Pierce
85
Posted 24/08/2017 at 22:35:52
Surely only Howard and Stevie Watson have scored from further out in recent times??
Jay Harris
86
Posted 24/08/2017 at 22:36:48
Good point Jamie.
I thought Sigurdson in particular showed us what Ross has not been doing.
He was back in defence one minute, scoring spectacular goals and breaking through the oppositions offside trap with ease,
I thought everyone but Lookman played OK which is a shame because I would love Lookman to come good and actually picked him in my starting lineup.
Also thought Michael Keane has looked a bit less solid the last 2 games too.
Jay Harris
87
Posted 24/08/2017 at 22:36:48
Good point Jamie.
I thought Sigurdson in particular showed us what Ross has not been doing.
He was back in defence one minute, scoring spectacular goals and breaking through the oppositions offside trap with ease,
I thought everyone but Lookman played OK which is a shame because I would love Lookman to come good and actually picked him in my starting lineup.
Also thought Michael Keane has looked a bit less solid the last 2 games too.
Brian Wilkinson
88
Posted 24/08/2017 at 22:37:52
Cannot fault that performance tonight, I hope those who wrote Martina off after just one game will now give the guy some slack, same with the new players who have come in, give them time to gel, called it early doors last week and stick by my wow factor on Pickford, he's going to be one hell of a goalkeeper.
Job well done Everton and a special mention to dc Lewin who is looking better and better.
Anto Byrne
89
Posted 24/08/2017 at 22:38:16
Rooney wants minutes to bring up his stamina, The last 2 seasons has less play time and Jose had him on the bench. Yes he was out of gas at 70 minutes and had great chance to make it 2-1. He gets better with every game and at 31 he uses his head and experience more so than when he was 18. Gylfi was all over the pitch and I thought it was a hit and hope first time I saw it but the replays tell a different story as the keeper was way off his line. Need to get a centre forward in quickly. Shane Long is available although is a bit short for a no9 at at 5ft 10 ? age 30 . Koeman likes him and Celtic want him. Stop gap ?
Gordon White
90
Posted 24/08/2017 at 22:38:34
£45 Million? Cheap. Hate to say it. But what did I tell you?
Gordon Crawford
91
Posted 24/08/2017 at 22:46:43
George (81) anti football! Seriously what were you watching? We controlled most of the game. Yes we had a rough spell for about 30 mins, but after that it was keep ball.
Mike Hughes
92
Posted 24/08/2017 at 22:47:38
Pickford looks like a real class act. A rock.
I thought the fee was just part of the inflated market this year but he does look like the real deal. Very promising for the future.
Our squad looks so much better equipped for all competitions than for years. We've got Coleman and Bolasie to come back as well.
The performance tonight was competent / professional. I thought we saw out the last 20mins really well. WR played well again.
What a goal by Siggurdson! For the Split player's goal to be second best on the night is saying something. (And that was some strike).
I am changing my nickname to Siggy now.
I suspect he's going to become a real cult hero.
And the best stadium in this vicinity - on the banks of the Royal Blue Mersey (we should trademark that)'is still to come.
The future is Blue.
Paul Thompson
93
Posted 24/08/2017 at 22:49:39
Some sages on the live forum calling them a pub team. Far from it. That was a tough game in a hostile atmosphere. Our performance patchy. We were conmfortable, if a little uninspiring when they scored tjhat great goal. The second half was shaped by our incredible equivalent goal, but they threw everything at us and though we missed some good chances on the break, we didn't gain control until ater the penalty save. The last 15 minutes of smart possession football was great to watch. Pluses: Sigurdsson wroked so hard and played intelligently throughout; Rooney ditto; Lennon did well when he came on, holding the ball up well; Pickford again; Baines, another enrgetic peformance. ANyway, job done, let's hope we have some energy left for Sunday.
Colin Glassar
94
Posted 24/08/2017 at 22:54:10
We never really got out of 2nd gear but then really didn't have to as I never felt really threatened by them.
Great to see the likes of Pickford, Keane, Schneiderlin, Siggurdsson, Martina, DCL growing in confidence with every game.
Rooney and Baines maintaining their high standards. I'd give some slack to Lookman and Besic as they're still rusty and need games under their belts.
Andy Crooks
95
Posted 24/08/2017 at 22:54:40
Some really good signs tonight. Pickford looks special as does Keane. Rooney was excellent and we saw the game out well. One man will be gutted, though, Tony( I hope we lose ) Marsh.
Tony Abrahams
96
Posted 24/08/2017 at 22:55:22
I'm thinking about all the Evertonians who have gone over there to watch our team now, and for the first time in years I'm going to say a prayer before I go to bed tonight.
I hope they enjoy the rest of the evening and can find a nice friendly place that is bouncing, where they can have a few bevies, in peace!
Andy Crooks
97
Posted 24/08/2017 at 22:56:42
Nice post Tony.
Jerome Shields
98
Posted 24/08/2017 at 22:59:32
Sigurdsson: I said that we were getting some who may not workout.
Rooney: I thought he would be a liability. He seems to be trying to make up for the years he was gone and is really motivated.
I was wrong on both counts. So glad.
Danny Broderick
99
Posted 24/08/2017 at 23:00:00
Professional.
The team is starting to take shape. We are by no means the finished article, but there were some very assured performances again, particularly from Schneiderlin. We just need to get the balance right up front, because we are looking strong in defence.
A striker is imperative. I would also like a winger, as we can't always rely on the ones we currently have...
Kevin Tully
100
Posted 24/08/2017 at 23:01:00
Sincerely hope Koeman is building from the back, and he intends to play more expansively once the system is in place and working well. Can't really grumble at the results, but we are still incredibly shy at getting numbers into the box when we go forward. It doesn't make for pleasant viewing or exciting football.
The fact we knew Lukaku was going six months ago and we still haven't signed a replacement is driving me nuts!
Paul A Smith
101
Posted 24/08/2017 at 23:01:05
Tony, speaking of throw-ins. Sounds mad and maybe some would find pointless discussing but ours have been awful for ages. Lukaku didn't offer much to improve them either.
Holgate threw one back 40 yards the other night. I reckon Koeman and Walsh with their statistical knowledge will surely sort that out over time. Loads of different advantages come from throw-ins and corners.
Dave Williams
102
Posted 24/08/2017 at 23:01:10
I thought Williams was MotM tonight. Solid, first to the ball and quick thinking in covering gaps. Siggi was decent and what a goal. DCL and Tom played well and Martina showed again how crass the critics were were when he signed and no one knew a thing about him other than that he hadn't played much at Saints. He looks a good addition to me.
Job done and I think we are at the beginning of a very good team.
Andy Meighan
103
Posted 24/08/2017 at 23:01:16
Tony (#77), if that's true about Van Dijk, I'll be shocked. I thought he had is heart set on joining them bastards Oh can you imagine it if he's paraded in a blue shirt? I'd love to see that cretin John Aldridge's face... Go on strike, Virgil. I don't think he 'll be uttering them same words about Couthino, will he? Oh make this happen. Can you just imagine our loveable neighbours . That's made me smile, that. Goodnight.
Jay Wood
104
Posted 24/08/2017 at 23:01:23
I can't stop replaying Siggy's goal.
The way he harried the player in the first place to turn over the ball...
How quickly he computed the situation...
The vision to know what was 'on'...
The technique and ability to carry it off...
How cleanly he strikes and places a high falling ball, to volley the ball as he does before it hit the ground...
The distance it travelled and the aesthetic beauty of the ball only bouncing AFTER crossing the line, perfectly placed in the corner...
Name me a better first goal for your club than that.
Genius. Pure genius.
That's paid off around £5m of his transfer fee right there. Literally. That's a minimum teams earn in prize money from qualifying for the group stage.
Colin Glassar
105
Posted 24/08/2017 at 23:05:13
The iceman cometh!! Brilliant goal by Siggy.
Trevor Peers
106
Posted 24/08/2017 at 23:06:39
Good result, it was always going to be a tough tie. Until we get a decent striker we're always going to struggle to score enough goals.
On the plus side we now have two marvelous footballers, Sigurdsson and Rooney in the side, at least there will be moments of brilliance and pure class to savour.
The defence looks solid, Pickford is much better than we could of hoped for.
Paul A Smith
107
Posted 24/08/2017 at 23:08:20
Tony Abrahams – spot on analysis I thought. Our midfield gets played through far too often and their isn't much link between midfield and attack. Even in games we win. I honestly think if he sorts that out we can be great.
Besic got stick for the failed back heel the other night but in his favour I was delighted to finally see a midfielder follow the move he started and dash past the front man. That's the way to open teams up. Watch Pogba do it time an time again just by gambling.
If Koeman is prepared to break up the static part of midfield and find a box to box footballer, along with the new striker he wants., this team can go places.
John Dingle
108
Posted 24/08/2017 at 23:08:22
I was in with the Hajduk fans as the club were unable to provide me with a ticket even though our section of the ground appeared to be 80% full. The atmosphere was not toxic. The Hajduk fans were very committed to their team and sang for the full 90 mins. At 1-1 with 10 mins left no fans left the stadium. At full time they sang their hearts out in a lost cause. Could teach us a few things about loyalty and commitment. I did not hear the sort of abuse Ross and others have suffered at GP.
Keith Monaghan
109
Posted 24/08/2017 at 23:08:23
What a time & way to score your first goal!!! Poor pen but vital save.
Good selection & subs by the manager. Felt sorry for Lookman, but he needed to be hooked - he'll get & take further chances.
DCL very good again, but we still need another decent striker and a left-sided centre half - I've never rated AW and see no reason to change my view now - slow, thuggish & poor distribution - it was a pen without any doubt.
Good to see Besic get 90 - did well considering apart from another yellow - we need him to get truly back - will be very valuable this season if he does. Think it'll make a big difference if we can get Bolasie & Coleman back quickish as long as they're fully fit & ready. Can't see Macca ever being fit long enough.
We're still work in progress, but going in the right direction COYB.
Colin Malone
110
Posted 24/08/2017 at 23:08:30
I can see why Koeman let Gareth Barry go, after watching Mo Besic. I thought he done really well. His distribution was very good.
Rooney must be glad he's got a player like Sigurdsson near by. Well done, Blue Boys.
Ian Hams
111
Posted 24/08/2017 at 23:09:47
I've been thinking for a few weeks now that now this hurdle is out of the way the final couple of signings will arrive.
A couple of decent players just waiting to be sure of some sort of European football to be involved in.
Interesting the comments above regarding VVD I realy hope that ones true.
Paul A Smith
112
Posted 24/08/2017 at 23:14:07
Take Van Dijk now, then offer him to Liverpool for all the little Phil does, then take Sanchez and Ozil off Arsenal. Sorted.
Win the Premier League, the Europa League, The Caramello Cup an finish runners up in the FA Cup coz we'll be knackered by then...
John Dingle
113
Posted 24/08/2017 at 23:16:12
I was in with the home fans tonight. Hajduk reminded me of Watford away last season. Direct and some powerful runners. Last season we would have lost here, as we did at Watford, sign of the vast improvement from last season?
Andy Crooks
114
Posted 24/08/2017 at 23:22:15
Jay # 104, if you were to edit that post, do a bit of work on it, add a couple of adjectives, well we would have a fucking sonnet to a great goal. Good post.
Barry Williams
115
Posted 24/08/2017 at 23:24:22
Brian Wilkinson - 88
Agree 100% Brian, whether a player is a new player to the club or a youth who has experienced only a few 1st team games. there is a period of bedding in to be done. We are work in progress at the mo, but we are doing it well.
Mike Kennedy
116
Posted 24/08/2017 at 23:29:51
Ideal draw for me would be Viktoria Plzen, Zulte Waregem and Vitesse Arnhem. All relatively close and not too difficult.
So we will probably get Zenit St P, Partizan Belgrade and Instanbul Basaksehir
Tony Marsh
117
Posted 24/08/2017 at 23:30:25
Andy Crooks, you are missing my point, lad. We've won now so the Europa League it is but when we get knocked out in the deep rounds and we are about 10th in the Premier League table with a squad full of knackered and injured players and a chance of Champions League gone probably forever ,come back and be a smart arse then.
The top 4 is wide open again this season with two slots between 5 clubs to fight for. I would rather be in the mix for that than getting 6-hour flights every Thursday night in a Mickey mouse farcical completion.
The only way to progress as a club is to attract the best players; to do this, we must crack the top 4 or at least try. We don't stand a chance playing in this format and 3 games a week.
We couldn't win a game away from Goodison last season and we were out of all the cups and no Europe. Watch the slide begin very soon, the more we play in the Europa. Big clubs set the bar higher than us and our fans – that's why we will never catch them up.
Billionaires and new stadiums are all well and good but the mindset throughout the club is all wrong. We are not winners – we don't have real ambition. As long as our fans can have piss-ups in the sun, you're happy. Look at the way Liverpool swatted Barcelona away over Coutinho. We couldn't wait to sell Lukaku to Man Utd for a pittance. Lack of ambition, you see. Just like it's always been.
Andrew James
118
Posted 24/08/2017 at 23:41:55
Firstly I hope our travelling support is ok tonight. Going through might provoke some of their fans to cause trouble.
We are still a work in progress and there's a lot to come back from injury. We will need the likes of Besic, Lookman, McCarthy and Lennon over the coming months.
As many have observed, we need another striker - somebody who can hold the ball up and get 15-20 goals a season.
But Pickford...I felt hopeful when it came to the penalty and he didn't disappoint. Loving him in the side.
As for the Sigg, well he's set the bar high because he's not renowned for feats like that. It's become a mad mix of faces old and new, of Moyes era defenders, youngsters, Martinez signings and the signings from this summer.
Tough start and I suspect Chelsea away will be too much with the injuries we have but I think we'll be going great guns by late September.
David Pearl
119
Posted 24/08/2017 at 23:44:31
I'm hoping for some sun. A nice draw as south as possible.
Lots of positives tonight. What a goal. Besic played great all things considered. Lennon playing also brilliant for lots of reasons. We are going to continue to get better as the season progresses.
Pickford. Best we've had in years. Such confidence. let's see if we can keep this team together.
John Mckay
120
Posted 24/08/2017 at 23:53:23
Job done, was always going to be edgy.
Just concerned about our attacking okay, ok we had a few good chances with DCL close and Rooney but want to see us having at least 5-10 attempts on target. Maybe this team was better than I think who know. Next game can't come quick enough. Think might get done by Chelsea but who knows.
Paul Kossoff
121
Posted 25/08/2017 at 00:15:14
The goal they scored came of Baines fat arse, doing his party trick of not closing the man down, instead he does his ballet twist and shows his backside, well this time it didn't work and the shot flew over Pickford from his but! Great effort from the blues.
Clive Mitchell
122
Posted 25/08/2017 at 00:17:12
Well done lads. Decent performance in the middle of a tough week. Interesting that many (most?) of us are seeing why Koeman wanted Martina at the club. Agree with those who want to cut Besic some slack. Given the decent game Williams had, do you have to put the penalty (and several dozen previous offences in his time at the club) down to him occasionally having the presence of mind of a dog?
Paul Holmes
123
Posted 25/08/2017 at 00:19:34
The way Everton knocked the ball around in the last 20 minutes shows the team has more quality than last season. Hajduk could not get the ball off us. Last season ,we gave the ball back to the opposition after three or four passes!. Koeman knows what he is doing – buying quality not quantity footballers.
Andrew James
124
Posted 25/08/2017 at 00:22:51
Paul Kossoff
I have noticed he does that, not sure why he doesn't put his thigh in the way or even try heading it.
But it was a good strike and worthy of deciding matters until...!
Shaun Lyon
125
Posted 25/08/2017 at 00:24:25
Jay at 104 – hyperbole, I know and I need to see it many more times... but honestly I'm trying to think of a better goal I've seen. Ever. Just a ridiculous strike, not in control of his body entirely but anticipating where he might get the ball, seeing the keeper off his line... their goal was fantastic and then Siggy topped it. Incredible!
James Watts
126
Posted 25/08/2017 at 00:27:19
Paul #107. You do realize that's exactly why he brought Klassen? Whether he's good enough to be that link, is another matter.
James Watts
127
Posted 25/08/2017 at 00:38:34
Overall happy we're through.
Difficult place to go but jeez we made it hard work. Got extremely lucky in the first few minutes when Pickford took out their player who was clearly not offside.
I can't for the life of me understand why Koeman stuck DCL out on the left after his best game for us and clearly his best position is through the middle. Thought that was dumb. Swapping Sig and Rooney around behind DCL would make much more sense.
Other than that, I was ok with team selection. Koeman tactics? Well same as always. Safety first and hopefully nick a goal. Worked tonight, just.
Great strike from Siggy and Pickford penalty save deserve special mentions. Martina surprised me again, in a good way. Definitely a different player to what was as southampton.
On to Chelsea and the transfer market. We know what we need so fingers crossed someone comes in who is at least decent.

Jay Harris
128
Posted 25/08/2017 at 00:39:52
Kevin (#100).
I don't think it was Koeman's plan to sit back. He was on the touchline constantly berating them to push forward.
Dennis Ng
129
Posted 25/08/2017 at 00:48:19
I actually thought we played poorly until Siggy's goal and that calmed the nerves. Even after the goal we were a bit complacent and had to be bailed out by Pickford's penalty save. Definitely many areas to improve on but a good result should never be discounted.
Again, there are many factors to the performance so I'm not naming anyone for blame. Good result and march on. Chelsea next. Schedule is tough, with nearly no rest time. I would almost want to discount that game but hope we win at Stamford Bridge. The Spurs game will be the one I would start to judge Koeman on. Ideally we'll be adventurous and slick. Again, march on.
Rob Halligan
130
Posted 25/08/2017 at 00:58:43
Just got back to hotel. To say it was fucking scary after the match is putting it mildly. Anyway everyone I know is OK. Need a few drinks to calm our nerves but wasn't taking a chance on going to any bars.
Joseph Terrence
131
Posted 25/08/2017 at 01:18:54
Glad you're safe Rob. Best wishes.
John Raftery
132
Posted 25/08/2017 at 01:21:15
Rob - I made it back to mine as well, nearly three hours after the final whistle. Ended up with three of us being escorted by about ten coppers. The police took ages to get themselves organised with some of them seeming to have no idea what they were supposed to be doing. Total shambles. Nice city, pity about the few hundred idiots.
See you in the morning!
James Flynn
133
Posted 25/08/2017 at 01:21:44
Betting on VVD
NOT
suspended. He's still 33/1 to come to Everton.
Was a photoshop hoax.
Brian Wilkinson
134
Posted 25/08/2017 at 01:26:13
Glad you got back ok Rob, you must have balls the size of King Kong going out there.
Brian Furey
135
Posted 25/08/2017 at 02:02:54
I've watched most of the game tonight with the rest of my Goodison Blues fans here in Dublin. Do many of us have the usual negative Everton fearful attitudes but if you can wake up from that and open your eyes to what is REALLY happening to our club.
Bill Kenwright has taken his time and chosen very carefully a rich billionaire who will take us in the right direction. He in turn has brought in a manager who with money in his pocket will take us in the right direction.
He, who has fuck all emotional background to OUR club brought back Rooney, sold Lukaku but has basically replaced 80% of our team with better players. I trust this guy and his boss and we are on the way back to the top
Andrew Presly
137
Posted 25/08/2017 at 02:38:47
Well done and thanks to all Blues out there tonight. Get back safe and let's see where the draw takes us next.
Good times.
Barry Jones
138
Posted 25/08/2017 at 02:39:03
I am really happy to see Evertonians, at least TW Evertonians, embrace what is happening at the club. There were many doubters, but that has morphed into optimism. Yes, it will take time. Rome was not built in a day and we need to realistically accept that all improvements will be incremental, but we have a proficient management which is capable of delivering that.
It is obvious that under new management and with the addition of many new players, we will not perform, overnight, in the silky smooth fashion that both the management and fans would prefer. It will take time. What is more important now is garnering points, victories under our belts and establishing a confidence and winning mentality. The pretty stuff will come in time. Be patient and believe.
Shaun Wilson
139
Posted 25/08/2017 at 02:40:45
Damn straight Brian #135
Rob and John, don't know either of you lads ,but I'm glad yous are safe. True blues for making the trip
Kristian Boyce
140
Posted 25/08/2017 at 02:53:46
After booking our place in the group stage, I bet we'll see a flurry of players being signed. Getting to the group stages provides the exposure many players look for.
Mike Gaynes
142
Posted 25/08/2017 at 04:35:14
Big Rob, my man, I was thinking about you after the game. Glad all is well. Have a great trip home.
Gio Mero
143
Posted 25/08/2017 at 04:35:23
The season could not have started any better. Okay everybody is well entitled to their opinion but one must be deluded to have hoped for much more at this stage.
For someone who didn't have a proper pre-season Gylfi's 90 minutes were outstanding. Besic over Davies? Midweek only please.
I would be curious to know why Koemanonly made two substitutions while well aware of the crazy schedule. (Give Rooney a little rest maybe?)
Mike Gaynes
144
Posted 25/08/2017 at 04:36:32
And John, glad you and your mates are well... condolences on the rough trip, but look at it this way, it'll be a great story to tell in the years to come.
Jamie Crowley
145
Posted 25/08/2017 at 04:42:38
I couldn't watch the game this afternoon, work ya know.
Just got done watching the 20 minute highlights.
Yelled out, "you gotta be fuckin' kidding me!" when Siggy scored.
That was just ridiculous. The vision and skill to pull that off? Amazing.
And I have to say, I absolutely love watching Wayne Rooney playing for Everton. He seems so driven to win with his Club. It's just a joy to watch him.
Brave souls get home safe!
Jamie Crowley
146
Posted 25/08/2017 at 04:51:39
For the Group Stages I'm hoping for Sporting Shit Stain, Mickey Mouse FC, and Luxembourg Pub Club.
I just want to get through top of our group and dodge the Champions League drop-outs!
There's a route to Champions League football if we win this thing. Good draws are key.
James Owen
148
Posted 25/08/2017 at 05:35:35
Rooney seems to have improved tonight on stamina, and was able to spring the offside trap unlike against Man City. But I thought, certainly in the City game that he often slows moves down too much, breaks the flow of the attack, checks back on to his right foot and passes backwards, often giving the ball away.
On 150 grand a week and with his experience, surely he shouldn't give ball away so easily with stupid mistakes.
And often when a quick first time ball or a square or through pass is required he takes 2 or 3 touches too many. Would expect him to have more vision and be able to pick people out better with 1 or max 2 touches.
I know he's getting on a bit, but hopefully we add another striker and Rooney can be a bit sharper
John G Davies
149
Posted 25/08/2017 at 06:20:23
Mission accomplished.
Signs of a good team developing here.
Jim Harrison
150
Posted 25/08/2017 at 06:56:14
Very important match that. Had we lost the good progression from last season would have been wasted in many ways.
Task professionally carried out. Didnt need to go the and run them ragged, just needed to get the job done and get home without any injuries.
As someone else posted above, this may influence who we are able to sign. 6 guaranteed european matches.
Terry Farrell
151
Posted 25/08/2017 at 07:17:25
First off, I hope all the magnificent blues who travelled are safe and managed to have a few beers. We aren't even in September yet and some on here are complaining about the manager and style of football. Make no mistake we would have lost that game last night with Roberto in charge.
Ron is starting on a solid base and building from that with results first and foremost. After yet another capitulation with Roberto, I remember many on here saying just give me a boring one-nil win! Patience and support from the terraces not moaning will give us the best chance of getting where we all hope to be.
Williams is a case in point. He is committed to the cause and had a great game last night but some on here say he was awful? Some on here would have sacked Kendall before he came good. Give Ronald Koeman the time and opportunity and show him the love!
Darren Hind
152
Posted 25/08/2017 at 07:25:58
Rob
Nice one lad. Made up you got back to your hotel in one piece. Hope the rest are okay.
I said before the game that I would settle for going in, getting a result and getting out. We did that with a wonder goal thrown in for good measure.
I've been a critic of Williams in the past, but think he's getting unfair stick here. I thought he played very well.
In hindsight, I was even glad they got a penalty (although I panicked a bit at the time). It was comedy gold. First, three of them argue about who takes it, then the guy who wins the argument looks at Pickford and wishes he'd left well alone. (Have you ever seen a player so clearly psyched out?) He didn't even take it from the spot! He must have felt bad enough, but when he asked their fans for their support, they fucking slaughtered him!
Tony A @96
Touch of class. It's not always just about the match – we sometimes forget that.
James Hughes
153
Posted 25/08/2017 at 07:27:46
Jamie, sorry to disappoint mate but Sporting Shit Stain are in the CL and face Spartak, Sevilla and Maribor
Jim Harrison
154
Posted 25/08/2017 at 07:28:42
152. Darren, I think when you use the word hindsight you shout capitalise the HIND, kinda make it your own, perhaps a future column
James Watts
155
Posted 25/08/2017 at 07:32:18
Darren #152. I'm nearly as stunned as I was when I saw Sigs goal reading that. I was certain you were going slate the performance. It's nice to be wrong!
James #153. Beat me to it but still made me chuckle reading it 😂
Peter Mills
156
Posted 25/08/2017 at 07:50:42
Rob#130, John#132, really glad you got back to your base camps safely. It's a great shame you have to worry about such a fundamental right.
It would be interesting to read more about your trip.
Guy Hastings
157
Posted 25/08/2017 at 07:51:18
Have to say that Leighton is looking to be back to top form - still my favourite player at the club. Rejuvenated after Martinez and injury.
Keith Gleave
158
Posted 25/08/2017 at 08:14:04
I have tried to be positive after getting through this banana skin but it showed many of our problems.
We started brightly with what I was surprised to see, a positive line up. Rooney had chances to put the tie to bed but failed and from there we reverted to Everton of old, dropping back and defending. Other than splits bad finishing it was only a matter of time until a goal came. Again it was an old frailty, giving the opposition too much time at the edge of the box and the time to get a shot off.
Gilfi's goal was sublime and boy how it was needed because we then defended far too deep on our own box. Pickfords first penalty save was also of great importance. I do also wish that when we want to see a game out by keep ball we do it high up the pitch.
IMO I think DCL should have been the central striker dropping Rooney behind. Lookman, although young was bypassed in the game and when he did get the ball constantly gave it away cheaply when possession was required. The attack generally stops when the ball reaches Martina which is disappointing as he rarely puts a foot wrong. Besic tired badly towards the end and we had nobody who could hold the ball up front to take any pressure off.
We still need a quality striker and some pace on the flanks and this confuses me as Koemans previous teams were counter attacking with pace, I have not forgot that Bolasie and coleman are injured.
Paul Tran
159
Posted 25/08/2017 at 08:17:37
You're right, Darren, Wiiliams had a good game up until the penalty, as did the much-maligned Martina.
I was watching the game, saying that what I like about Sigurdsson is that he does the simple & effective things very well, consistently, then he goes and scores that goal.
Good professional performance. Job done.
Dermot Byrne
160
Posted 25/08/2017 at 08:34:58
Trying to be negative or even a realist this morning but can't quite do it. I accept issues up front but believe these will be solved this week. The promise of Siggy, Rooney leadership, Klaassen getting settled, DCL learning with every game, the improving defence, the great goalie, the size of the squad and all this lit up by a goal that they wouldn't have drawn in Billy's Boots as too unrealistic.
So until I hear a convincing argument for pessimism (and non from the usual doom mongers have done it yet) , the sun is shining still in the la-la land I love to inhabit. Life too short otherwise.
Steve Cotton
161
Posted 25/08/2017 at 09:08:52
Anyone else agree the purple kit is the best if the 3?
Daniel Lim
162
Posted 25/08/2017 at 09:13:46
Me, Steve #161.
Decided to buy this for Christmas after the match last night.
Dave Rusk
163
Posted 25/08/2017 at 09:14:14
Writing this from Split airport waiting for flight home.
Made up with result but want to complain about the (lack of) organisation for Everton fans after the game.
Before the.match the Fanzone and escorted coaches worked well. However, after the match was shambolic. I could see the justification for keeping us in for 40 minutes after the game but then we were kept in a fenced off area for a further 75 minutes without explanation. Rivers of piss like the 1970s. There were no visible stewards from EFC or any other club liaison. At 12,45 am local time some buses turned up but ours wouldn't start. A copper said "too many. Ten get off" but this was the last bus and none of us wsnted to be Captain Oates.
We then walked the mile into town through a gauntlet of pissed up Hajduk fans but that took an hour as the police kept stopping our convoy to clear the bars. Hotel at 2am. Way past my bedtime but who cares after Siggy's goal ?
Daniel Lim
164
Posted 25/08/2017 at 09:16:02
Glad you are sound and safe, Dave.

Brent Stephens
165
Posted 25/08/2017 at 09:35:42
James #153 - very good!!
Dermot Byrne
166
Posted 25/08/2017 at 09:40:13
Great perspective Dave 163. Hope flight is better
Clive Rogers
167
Posted 25/08/2017 at 09:44:15
Very disappointed with Lookman's performance, he seems to have gone backwards after such high hopes. It may have been better for him to go out on loan as I doubt he is going to get much playing time in that form. He is young enough to still come good fortunately.
Paul A Smith
168
Posted 25/08/2017 at 09:56:22
James 126 I do realise thats why he bought Klaasen. I didn't see Klaasen do that at Ajax though and I can't see him being a box to box midfield general. I think he has qualities but its not hard to see what he can't do. He's not skipping past men and dragging the ball over the park in my eyes.
Hope I am wrong.
Steve Ferns
169
Posted 25/08/2017 at 09:58:36
I disagree Clive. He was poor last night, but he terrorised Hajduk in the first leg, particularly in the first half. He was great in the u20 World Cup and he carried the form on into pre-season.
He's a young lad and so he's entitled to a bad game now and again. It's not dented my expectations of him. Also, you'll have noted how much he has bulked up. I think we'll see more of him in the Premier League this season.
Dan Kemp
170
Posted 25/08/2017 at 09:59:29
Lookman was disappointing, but I was impressed with Besic. Not as solid defensively as Gueye, but able to play the kind of forward passes that Gueye never would. I think Besic offers an important alternative.
Jon Withey
171
Posted 25/08/2017 at 10:00:42
Would be very happy with a Scrappy draw at Chelsea and no injuries. Good we will have a fresher Gana back and hopefully Davies with something in the tank. Could do with Mcarthy back really.
Surely we can't play Rooney and Siggy the whole game. Sandro ? Mirallas ?
It's going to be almost impossible to give Baines a rest ! We still have Connolly right ?
I wonder if we will sell Mirallas and loan Lookman - suppose it depends if we can get anyone in. Can we afford to sell McCarthy ? Again, maybe if we get somebody else.
Shame
Steve Ferns
172
Posted 25/08/2017 at 10:06:34
Gio Mero, Koeman only used two subs for a reason, and Sigurdsson appears to say why. Apparently, he was looking over to the bench to come off, and Koeman kept saying 10 more minutes, and then it was 85 minutes gone and so he knew he was seeing out the game. Koeman told him he needed the 90.
So Koeman didn't make the sub as it was held in reserve for Sigurdsson and Koeman managed him well by getting the full 90 out of him.
Niall McIlhone
173
Posted 25/08/2017 at 10:07:10
Just watched Siggy's goal on You Tube and noticed that the (presumably) Croatian cameraman behind the goal was chatting with another bloke when the ball dropped into the net, and he barely reacted and didn't bother taking at shot at all . I think his editor will be calling him into the office this morning!
Baines performed fantastically well last night, he was out of position when trying to close down their player for the goal , but others were guilty of not closing down. To see him, and Rooney, playing close to their best is a massive bonus. Good to see Mo back also, I felt he gave up possession too easily sometimes, but he will be an asset when he regains match fitness. COYB

Ajay Gopal
174
Posted 25/08/2017 at 10:20:34
Glad with the result, but can't say I was comfortable until the final whistle was blown. Koeman also kept Rooney much longer (in fact the full 90 mins) than he would have liked, and this shows that RK was also not a 100% confident of the result until the final whistle. We got massively lucky with the offside decision in our favour, otherwise things could have been horribly different. Anyway, we have survived and live to fight other battles in Europa.
Slightly concerned about the upcoming Chelsea trip, and hoping that the travels and the tough game has not taken too much out of players like Rooney, Baines, Besic, Williams.
I would rest Rooney for Chelsea (just for the sheer number of minutes he has played this past week) and my team would be:
Pickford
Holgate Keane Jagielka Baines
Gana Davis
Klaassen Sigurdsson Mirallas
DCL
Subs: Stek, Kenny, Williams, Besic, Rooney, Sandro, Lookman
Brian Harrison
175
Posted 25/08/2017 at 10:30:42
I cant understand why Koeman cant see what both Van Gaal and Mourinho realized the days of Wayne playing as a lone striker are well gone. Another game were we lacked being a threat in the final third, for heavens sake go and get the striker you should have got 3 months ago.
I disagree with some posters apart from the challenge for the penalty I thought Williams had a good game, looked like Michael Keane wasnt at his best last night. Same as Lookman but keep him in and around the first team he will be an asset. Pickford immense again I would have been fearful of the result had they scored the penalty.
Tony Abrahams
176
Posted 25/08/2017 at 10:41:52
Darren, Siggy, showed the touch of class mate, I was just posting out loud!
Made up Rob, and John, got back safe, hopefully everyone did, but those buses were probably late for a reason Dave, "HAJUK BRICK-THROWERS" needing to get bored waiting maybe?
Paul A, the throw-ins are a disgrace, and sometimes I wish we would just throw it straight out for a goal-kick to the opposition, because at least the ball would be safer back there?
I actually pointed it out to show how unadventurous we are at times, so rigid with 9 men behind the ball, and was trying to maybe point out that this is what Darren is alluding to when he criticises the manager, for the manner of our style.
Andrew Ellams
177
Posted 25/08/2017 at 10:56:45
Brian, I think as soon as a new CF comes in you will see Wayne and Gylfi playing off than person.
Ajay, the moment Gylfi scored they needed 3 more. It was a walk in the park from then on.
George Cumiskey
178
Posted 25/08/2017 at 11:08:48
Gordon@91 if that's the type of football you like to watch, passing across the middle then back ,then across the middle again,then back again. Without trying to attack, that's up to you mate, but it's not for me I'm afraid.
Martin Nicholls
179
Posted 25/08/2017 at 11:21:32
George#178 - you're not on your own in wanting to see our team playing scintillating attacking football. We all do but I'd venture to suggest that first and foremost, the vast majority want to see winning football.
Shane Corcoran
180
Posted 25/08/2017 at 11:28:14
Great result last night.
This is sort of out of context but I just don't like Ashley Williams. Did you see when the second ball came on the pitch last night? He wouldn't let the Split player kick it off. I know you'll all laugh but that shit annoys me. He started squaring up to another lad in the box after pushing him to. I just find it hard to like him.
Anyway, great result, great goal and I believe we have a lucky manager.
Gary Edwards
181
Posted 25/08/2017 at 12:19:12
Great result and very promising for the season.
Many positives as identified by many above, couple of not-so-positives too.
Thought Lookman looked out of sorts. No flair, no energy, invariably lost the ball and frankly was a bottleneck down the right. There have been stories of family issues (settling etc.) off the pitch. He needs to quickly resolve whatever is affecting his form or he'll get left behind. Lennon fared no better 2nd half so in fairness maybe their LB was 'that good'.
Besic - love the bloke and am one of those who hope he pushes on . woeful touch at times and way down in the pecking order based on current form. C'mon Besic, shape up.
George Cumiskey
182
Posted 25/08/2017 at 12:47:39
Martin@179 Like I said last night great result but not a great performance.
Craig Ashton
183
Posted 25/08/2017 at 12:49:27
Lookman looked intimidated and really made no impact at all. Besic played some lovely balls, but some of his tackling/defense was worrying. I'll try to not be too harsh as he's been out for such a long time. We are crying out for a target man though.
Derek Knox
184
Posted 25/08/2017 at 13:55:59
Just got the internet back on, hence the late post. I was pleased that we got through, although we lived so dangerously, during periods of the game, some of the possession tip tapping back and sideways, was precarious.
A better side, would have taken advantage, we can't play like that on Sunday, or it's game over.
Very disappointed with many of our players last night, apart from Siggy, nobody really showed much idea, DLC, and Rooney were okay but faded as the game went on.
Think the suspension to Schneiderlin, may do us a favour, apart from Man City, he has been off the boil.
Brian Williams
185
Posted 25/08/2017 at 14:33:52
http://www.liverpoolecho.co.uk/news/liverpool-news/everton-fans-breathalysed-arrested-hajduk-13528732
Ivan Corstakov
186
Posted 25/08/2017 at 14:44:23
Hajduk is my club since I was born, and Everton for the last 30 years. I'm sorry for Evertonian who had trouble with Torcida but there are stupid fans in all clubs.
I do not know how some people may be happy with this Everton game. It is shameful to defend all 90 minutes against a team like Hajduk (3rd in the Croatian league?!?!). Hajduk is not Barcelona or Real Madrid that you have to park the bus... you have to attack.
Most of all I was disappointed with the fans of Everton. I was in many matches, and I've never seen that the visiting fans are sitting the whole game?!?!?! They are for theaters and they should be banned from entering the stadium.
Darren Hind
187
Posted 25/08/2017 at 14:44:46
Come on, Shane.
If Williams kicked the ball out of play and they scored with the other, he would have been murdered for his "naivety".
Shane Corcoran
188
Posted 25/08/2017 at 14:48:12
Darren, all he had to do was leave the ball alone. The Hajduk striker was trying to get rid of it and Williams stopped him.
Rob Halligan
189
Posted 25/08/2017 at 15:25:26
Now in Zurich airport. Been here for about 90 minutes but in the business class lounge. Ale and champagne flowing. Flight in 50 minutes to Manchester then train home. It's been a tiring last few days but well worth it to see the mighty blues in Europe.
Colin Glassar
190
Posted 25/08/2017 at 15:31:17
You must be loaded Rob!! But I do love business class.
Ivan, sorry your impression of us wasn't the best, we are usually a rowdy lot. As for the football, I think the aim was to get through with the least effort possible. Big game on Sunday.
Joe Duffin
191
Posted 25/08/2017 at 15:42:19
Niall (173), I completely disagree with Baines out of position for the goal. If you look at it again, Baines is trying to get Williams to pass on the man behind so he can pressure the ball – at this point Baines is nervous of leaving that man, he goes out too late to stop the shot.
I think the hesitancy of the back 3/4 to step out and press the ball either comes from manager, or is ingrained. In last 3 games, same thing – ball could be about 20-35 yards out, but expectation is always for midfield to track the player on the ball even if defence on marking a single player.
Personally I think Williams is not a patch on Jags, but just an opinion.
I think Dunne's comments are true when he said, we need to believe we are a bigger team and go and dominate teams like this.
I was glad to see Lennon on and making a positive contribution – I think he still offers more than Lookman until Lookman matures a bit more.
I used to like Besic, but think he is a walking booking/sending off and more a liability.
Schneiderlin has definitely gone off the boil, and passes are too frequently back and side ways – bring back James McCarthy if that is all he plans to do. He can offer so much more going forward.
Would loved for team to try and score a few goals at end, many people were making good runs etc, but just seemed happy for a draw.
Overall, happy to get to next round, but still think we are a long way off.
Darren Hind
192
Posted 25/08/2017 at 15:44:27
That's the point Shane. They had possession. I know a goal would have been unlikely, but Williams knew there was no way it would have counted with two balls in the penalty area.
Now if it was a beach ball!
Darren Hind
193
Posted 25/08/2017 at 15:46:59
Business class eh Rob?
Like it.

Tom Bowers
194
Posted 25/08/2017 at 15:58:21
Whilst it wasn't a classic performance it was a task completed as expected.
Split are a decent side and could have been a real problem if Everton had allowed an early goal.
They played sensibly for the most part as most teams do in Euro competition and went down a goal against the run of play. Luckily the got the away goal soon after and basically the tie was over.
I agree Lookman looked like a fish out of water and Besic looked very rusty but didn't prove costly.
Sadly however, the injuries are piling up and with Morgan also out for the Chelski game the defensive midfield will come in for a really stern examination.

Steavey Buckley
195
Posted 25/08/2017 at 16:08:33
Everton need a replacement for Williams he is an accident waiting to happen.
Geoff Lambert
196
Posted 25/08/2017 at 16:12:34
Darren 187 totally agree with you.
John G Davies
197
Posted 25/08/2017 at 16:12:34
Bit unfair Steavey.
I agree he struggled last night but he was very good at City.
John G Davies
198
Posted 25/08/2017 at 16:12:34
Bit unfair Steavey.
I agree he struggled last night but he was very good at City.
Steavey Buckley
199
Posted 25/08/2017 at 16:22:25
Everton have been bolstered by Keane, but the defence still is not strong enough to deal not just with the top 4 teams but the top 6 teams as well. Everton should not rely upon Jagielka or Williams partnering Keane, because the centre of defence is the most important, because they provide vital cover to the 2 full backs, who can't get caught out when venturing upfield.
Andy Meighan
200
Posted 25/08/2017 at 16:27:53
Ivan (#186), So you were really disappointed with the Everton fans? Well, not as disappointed as we were with yours last week when your morons frightened the life out of young kids attending their first game> Think you need to look closer to home, lad...
Paul A Smith
201
Posted 25/08/2017 at 16:39:44
Tony 176 I like the idea of the big strong side Koeman is building but it needs pace and skill.
I think this is why he plays so safe. There is no natural attack in Gana or Schneiderlin so its down to the front 3 really. He is never going to use 2 wingers a bit like Moyes never and his caution was the reason I couldn't stand watching Moyes' Everton after 2 or 3 years.
Time will tell but that approach usually brings too many drawn games.
John G Davies
202
Posted 25/08/2017 at 16:40:34
I hope you bunker in Rob.
If not it's still the best £20 you will ever spend at an airport.
All your ale free for hours before the flight.
For anyone who has never tried it you should.
Paul Kelly
203
Posted 25/08/2017 at 17:02:43
Didn't think Baines covered himself in glory in regards to blocking that shot for their goal, should be throwing himself in front of the thing, not turning his back on it. Poor defending in my opinion.
Tony Abrahams
204
Posted 25/08/2017 at 17:13:10
Another one to cross off the list Rob, and I hope you have got someone sorting out cheap flights for your next jaunt into Europe mate.
I stayed in Bergamo, when we played Fiorentina, and the historical,old town was really nice, if it's the same place that is. I can imagine it will be really good in September, but I'm already booked on a lads jolly to Benny, which probably kept me from crossing Croatia off my own list last night.
John G Davies
205
Posted 25/08/2017 at 17:46:34
There's none left Tony, you know what it's like. Unless you travel from airports far and wide.
Rob, great supporter mate, hats off to you.
Hope I didn't do you a disservice earlier, are you flying business class or just using the lounge.
Anyway, I would have my last nicker you will be at Chelsea.
Darren Hind
206
Posted 25/08/2017 at 19:34:39
Steavey
You are right of course. He was an awful buy, but he played well last night.
I just find the fact that those who roundly applauded his signing are the ones giving him stick when he finally play's well... very strange.

Rob Halligan
207
Posted 25/08/2017 at 20:27:01
Finally home lads. F'king knackered. I think the business class was a mistake by the booking agency, as we didn't pay for it.
In the lounge at split airport. few bottles there. Then business class on the plane to Zurich. Couple of bottles. Then in the lounge at Zurich, few bottles and few glasses of champagne. Then finally couple of bottles on the flight to Manchester. Meals in the lounges and on the planes.
We've stuffed ourselves full of food and drink all day and not spent a penny, apart from the train fare from Manchester airport to Liverpool.
Terence Tyler
208
Posted 25/08/2017 at 20:30:33
Great stuff Rob, Welcome back, beats free butties in the Winslow
Dermot Byrne
209
Posted 25/08/2017 at 20:30:45
Fantastic Rob.
Simon Bates
210
Posted 25/08/2017 at 20:44:16
I think it was a case of result over performance last night.
Just get in the group stages with minimum physical exertion and no needless suspentions , and especially no new injury problems , to go with Sandro and Klaassen, both out on sunday as is Scheiderlin .
Job done , we needed that extra quality at pivotal times with the team refusing to get out of second gear ,happy to contain Hadjut, and boy did we get it.
75 million pounds worth of extra quality in Pickford and Syggurdson, extraordinary goal and an extraordinary keeper.
John G Davies
211
Posted 25/08/2017 at 20:45:26
Get in there Rob. Even better.
You and the lads deserve a private jet never mind business class the way you back the Blues.
Made up for you mate 👍
Rob Halligan
212
Posted 25/08/2017 at 22:47:25
John # 205. On the coach with Everton. Leaves at 6.30 am. Feel like I've had no sleep this week, and not much over the weekend either.
John G Davies
213
Posted 26/08/2017 at 12:42:02
Rob.
Nap, knew my nicker was safe.
Enjoy it mate. 👍
Add Your Comments
In order to post a comment, you need to be logged in as a registered user of the site.
Or Sign up as a ToffeeWeb Member — it's free, takes just a few minutes and will allow you to post your comments on articles and Talking Points submissions across the site.