Chelsea vs Everton

60 Comments [Jump to last]
Saturday 26 August 2017
Match Preview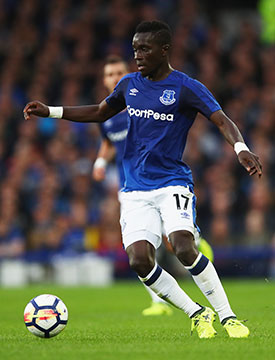 Ronald Koeman will be hoping that Idrissa Gueye is passed fit given Morgan Schneiderlin's suspension
Everton are in the Capital for a third successive away game, taking their five-match unbeaten run to Stamford Bridge to face Chelsea in a Sunday lunchtime kickoff.
For Ronald Koeman, it's a return to the scene of his worst result as Everton manager so far, a 5-0 drubbing at the hands of a team that opened the floodgates once it had capitalised on the Dutchman's unfamiliar five-man defence.
That same formation formed the bedrock of last Monday's strong defensive performance at Manchester City, one that almost held Pep Guardiola's much-vaunted attack at bay, and it could be employed again at Stamford Bridge this weekend now that it's a more tried and trusted system.
Indeed, it would be no surprise to see Koeman try to counter Antonio Conte's three-man central defence in this way with the same back five that started at the Etihad Stadium. That could mean a return to the starting XI for Mason Holgate — that would be harsh on Cuco Martina who had a good game in Europe on Thursday — and Phil Jagielka, both of whom sat out the Europa League qualifier in Split.
It's a defensively-minded setup that, if used, will potentially offer protection in the absences of the injured Davy Klaassen and Morgan Schneiderlin who serves a one-game suspension and the latter especially will be a big miss in front of the defence.
Even bigger still given his industry and tenacity would be Idrissa Gueye who didn't travel to Croatia as a precaution over a minor hamstring complaint after the draw at City. With scans on the muscle revealing no damage, there's a good chance the Senegalese will play; if not, it leaves the manager with just Tom Davies and Muhamed Besic as fit options in the middle of the park as James McCarthy and Ross Barkley remain absentees through injuries of their own and Gareth Barry has departed for West Brom.
There is scope, of course to play Wayne Rooney or Gylfi Sigurdsson in more withdrawn roles to cover but it would deprive Koeman of the counter-attacking options he will no doubt be relying on as he plots Chelsea's downfall.
"It's tough playing Monday, Thursday, Sunday and we had to travel," Koeman said in his pre-match press conference yesterday. "We've been a little bit unlucky with some injuries and that makes it even more difficult but we'll do a session tomorrow to see which players are the most fresh to start.
"I don't like to make changes but maybe it's about freshness for Sunday.
Regardless of freshness concerns, the likes of Rooney, Leighton Baines and Dominic Calvert-Lewin will be asked to play a third game in the space of six days. The international break will afford two of the three a two-week break but Calvert-Lewin will have to draw on youth to power him through these early weeks of the campaign given that he has been called up by England U21s.
The 20-year-old was a revelation against City and Koeman will send him out at Stamford Bridge to unsettle a Chelsea defence that will be missing Gary Cahill and is still bedding in new signing Antonio Rüdiger. And as Burnley showed on the opening day, the Londoners' defence is one that can be ruffled by energy and power in the front line.
The other weapon that Everton will be hoping can make the difference is Sigurdsson who announced himself as a Blues player in the best way possible against Hajduk Split on Thursday and whose set-piece deliveries and crosses could provide the key to the visitors' chances.
Although they will be missing Eden Hazard and top goal poacher Diego Costa is on his way out, the reigning Champions have plenty of threats all over the pitch. And while it's too early to draw conclusions, unlike the implosion in Jose Mourinho's last season at their helm, last weekend's win over Tottenham at Wembley appeared to have nipped any collapse in the bud after that shock at Burnley's hands.
As such, the obstacles in Everton's way as they bid to win on this ground for the first time since 1994 are as significant as ever but with some help on the injury front, some run of the green and a successfully implemented game plan they also stand as good a chance as they have for most of those 23 years.
Kick-off: 1.30pm, Sunday 27 August, 2017
Referee: Jonathan Moss
Last Time: Chelsea 5-0 Everton
Predicted Line-up: Pickford, Holgate, Keane, A. Williams, Jagielka, Baines, Gueye, Davies, Sigurdsson, Rooney, Calvert-Lewin
---
Reader Comments (60)
Note: the following content is not moderated or vetted by the site owners at the time of submission. Comments are the responsibility of the poster. Disclaimer
John G Davies
1
Posted 26/08/2017 at 17:52:17
Not a bad side you have gone for there Lyndon.
3-4-2-1?
Paul Tran
2
Posted 26/08/2017 at 18:23:22
I'd go with that team, Lyndon. I do hope Gueye is fit enough that he won't cause any lasting damage.
Gareth Clark
3
Posted 26/08/2017 at 18:32:30
100% agree with the team!
Pickford
Keane Williams Jags
Holgate Idrissa Davies Baines
Sigurdsson
Rooney Calvert-Lewin
Stek, Cuco, Kenny, Besic, Lennon, Mirallas, Lookman

I'd Idrissa isn't up for a full game - then I think Besic will have to start & Idrissa can come the bench.
I wouldn't mind seeing Niasse on the bench... although, I doubt that will ever happen.
Martin Mason
4
Posted 26/08/2017 at 18:42:39
I read that the RS have agreed that Origi can leave. Would he be worth a sniff?
Mike Gaynes
5
Posted 26/08/2017 at 18:45:13
I'm chanting and burning incense for the good health of Gana.
The idea of Besic on the pitch with Chelsea's midfield gives me chills, and not in a good way.
Off-topic, hope everybody enjoyed watching Rom miss a pen just now!
Neil Lawson
6
Posted 26/08/2017 at 18:45:38
Mo is the natural replacement for Schneiderlin and he does tend to perform in the big games. He may also rake a few shins which is no bad thing against some of the overpaid primadonnas at Chelsea. I would like to see him start and to become an integral and reliable member of the squad.
John G Davies
7
Posted 26/08/2017 at 19:00:02
Tell you what, we missed out on this Maguire lad at Leicester.
Mike Gaynes
8
Posted 26/08/2017 at 19:06:39
John G... Maguire is good. Keane is better.
Geoff Williams
9
Posted 26/08/2017 at 19:07:34
Agree John we missed out thete
Jamie Evans
10
Posted 26/08/2017 at 19:13:43
Raking the shins of the champions and Jon Moss would not help us at all. Also Besic is absolutely woeful. Oh for a fit James McCarthy.
John G Davies
11
Posted 26/08/2017 at 19:17:42
Agree Mike.
But alongside Keane?
Kevin Tully
12
Posted 26/08/2017 at 19:18:01
The international break couldn't have come at a better time for us really. With such a hectic start to the season, we can take a breath and it gives us time for a few niggly injuries to heal.
One game at a time, build up a head of steam.
Mike Gaynes
13
Posted 26/08/2017 at 19:20:36
Interesting timing on the Maguire comments... he just made two mistakes leading to ManU's second goal. Late on a step-up and then got caught ballwatching and lost Fellaini, left him completely alone in front. Made a couple of similar ballwatching errors against us back in March.
I repeat, he's pretty good... but we got a much superior player in Keane.
Mike Gaynes
14
Posted 26/08/2017 at 19:22:39
John G... they're similar kinds of players. Personally I prefer to have a great tackler next to a tall at CB. And that's Jags. I think the way he's playing this season shows him to be a better choice. And he never makes the kind of mistake we just saw from Maguire.
John G Davies
15
Posted 26/08/2017 at 19:27:07
Playing well Jags.
I like him to do what he's very good at Mike. Pure defending.
Problems start when he does the step overs and dummies. My type of player though.
Jamie Evans
16
Posted 26/08/2017 at 19:27:08
Keane is not as heavy as Maguire. As my Dad would say, "He's carrying some chuck. "
Matthew Salem
17
Posted 26/08/2017 at 19:29:00
I would like to see Kevin Mirallas introduced in some capacity vs Chelsea . As frustrating as he can be , he still is a quality player with a lot to offer and it's annoying to see him wasted on the bench
Jamie Evans
18
Posted 26/08/2017 at 19:31:08
Keane is not as heavy as Maguire. As my Dad would say, "He's carrying some chuck. "
Brent Stephens
19
Posted 26/08/2017 at 19:55:12
I'd go with Lyndon's team. Besic would worry me soft. I think he'd be left for dead against their midfield - or leave one of them dead and red-carded.
Kim Vivian
20
Posted 26/08/2017 at 20:03:43
Yes Mike (5) the lump. I enjoyed that. Not a shocking pen (first time I've seen him not scuff one, actually), pretty average - but average is no good against the likes of Schmeichel/Pickford (ask the Hadjuk fella).
Also off topic - just watching the Women's Rugby WCF...Jeez those girls make most prem footballers look like a bunch of Nancys. Hard as fkn nails.
I've predicted a goalfest (by our standards) tomorrow. Another point in the bag at 2-2.
And Besic will be ok against these. Won't be phas
Paul Holmes
22
Posted 26/08/2017 at 20:19:31
Jamie Evans (#10), football is a game of opinions and me and Ronald Koeman (two Evertonians) disagree with you. Mo Besic played well on Thursday in his first 90 minutes for over a season. His long-range passing was fantastic, and as a young player, he will improve.
I remember the game when he did a man-marking job on Messi in the World Cup and he stood out. This will be the Mo Besic we will see if he stays injury-free imo.
Dave Abrahams
23
Posted 26/08/2017 at 20:27:57
Lyndon, shouldn't that be 'Taking their SIX match unbeaten run to Stamford Bridge'.
Mark Morrissey
24
Posted 26/08/2017 at 20:43:45
I'd take Origi, Slimani, Troy Deeney and we did miss out on Maguire. Would like to see Ben Gibson alongside Keane
John Malone
25
Posted 26/08/2017 at 21:00:03
I won't be surprised to see Lennon get some game time; his speed along with Calvert-Lewin's running in behind could be a decent outlet for us when were soaking up pressure.
If Schneiderlin was playing alongside Gueye, I'd be quietly confident going into this one but, as soon as he is not in the middle pulling the strings and protecting the defence, we look average at best. I'm fearful for tomorrow they have the speed and the power to hurt us all over the pitch. I'd take a draw right now!
Steavey Buckley
28
Posted 26/08/2017 at 21:00:51
The last time Everton visited Chelsea with a back 5, Everton lost 5-0. Everton played the same formation against 10-man Man City and still drew after leading 1-0. Tomorrow, groundhog day?
Everton do need to show quality tomorrow even if they do eventually get beat. This is a good time to play young Walsh from the Under-23s. He did get the better of Hazard who played for Chelsea Under-23s, as Everton won 3-0.
Brent Stephens
29
Posted 26/08/2017 at 21:16:16
Steavey, I'm a big fan of Liam Walsh but I can't see how you could possibly play the lad for the first time against Chelsea away. His time will come.
Mike Gaynes
30
Posted 26/08/2017 at 21:20:44
Steavey, Walsh played 90 minutes one day ago. Hardly the moment for a debut I'd say.
Frank Wade
31
Posted 26/08/2017 at 21:23:16
There are media reports that Mo Besic' father has been shot in Bosnia and was brought to hospital... so, if true, Besic would most likely be unavailable tomorrow.
John Daley
32
Posted 26/08/2017 at 22:03:12
Just read that story myself, Frank. Apparently shot in the hand and leg (with a feuding neighbour being blamed in some quarters), so...thankfully...not life-threatening but, as you say, I would be very surprised to see him have any involvement tomorrow.
Stephen Brown
33
Posted 26/08/2017 at 22:08:34
Wish Mr Besic well!
Rooney in midfield tomorrow if Gana not fit?
Frank Wade
34
Posted 26/08/2017 at 22:17:05
John, I've read the whole story now from the local paper via Google translate and it seems too far fetched. I guess/hope it's a case of mistaken identity and it's another Besic. The Besic family moved from Bosnia to Germany and Mo was born in Berlin, so unlikely they would have moved back to Bosnia 5 years ago to harass the neighbourhood.
Jay Harris
36
Posted 26/08/2017 at 23:27:14
If the story is true and Besic is unavailable that leaves us in the lurch.
Only one thing to do go for all out attack with Mirallas and Lennon on the wings, DCL in the middle and Rooney just behind..
I hope we don't go for another deep defensive occasion and we really take it to Chelsea who are without a number of their first choice players themselves.
Kieran Kinsella
38
Posted 26/08/2017 at 23:38:54
Does anyone know what's wrong with McCarthy? Is it the magic hamstring again that can only be cured by wearing an emerald shirt? The *** report Besic has gone to Bosnia to see his Dad. If the "doubtful" don't recover that leaves just Sig and Davies. It's ironic considering central midfield is the one area where we are well stocked. If we had a similar injury crisis with front men we'd be playing Byrne and Henen I guess. I wonder if he will stick either a defender or Rooney in midfield? Neither is a good option but what else do we have? A tired Liam Walsh? Jose Baxter?
Gordon White
40
Posted 26/08/2017 at 23:47:29
DCL, Rooney and Siggy. Odds for 2 of the 3 to score?
Perhaps more importantly - will Jordan keep em out?
COYB!

Nigel Munford
43
Posted 27/08/2017 at 08:44:18
How can we go from claims of being overloaded in midfield to only having two available?
Colin Glassar
44
Posted 27/08/2017 at 08:52:10
As the 'Rumour Mill' rarely gets updated nowadays on TW, what about all these Barkley to Chelsea rumours?
Apparently, the deal will be sorted today and Costa might be coming the other way on loan until January although there are rumours about a £30m plus permanent deal.
I, tbh, would prefer Batsuyahi (on a permanent deal) for Ross. I know we are being linked with a massive bid for Vardy but I think, long term, Batsuyahi makes more sense as he's going to be the next Lukaku..
C'mon editors, we're in the last few days of the window and it's going to get mental and we need to be informed. Get a transfer rumour thread going like in the olden days,
Chris Williams
45
Posted 27/08/2017 at 08:58:23
Colin
The other one is Deeney!
Costa on loan and either Batsuyahi or Vardy would do me nicely thank you very much.
Colin Glassar
46
Posted 27/08/2017 at 09:05:05
Deeney would bring a lot of baggage with him Chris. Ronald appears to like big fellas as forwards hence his interest in Giroud, Costa, Slimani etc for their aerial ability and hold up play. That's why the likes of Vardy and Wellbeck don't appear to fit the pattern as they are very mobile strikers.
John G Davies
47
Posted 27/08/2017 at 09:09:18
Morning Colin,
Not with you on Deeney and the baggage?
Graham Mockford
48
Posted 27/08/2017 at 09:38:17
Seeing reports that Mirallas not in squad. Pictures of him on social media heading to Brussels at Manchester Airport.
At this rate Niasse will be on the bench
Steve Ferns
49
Posted 27/08/2017 at 09:42:19
Why do people keep pointing to besic v Argentina as proof besic is really a great player. Bosnia lost. Messi got away from besic at least twice. Therefore, he failed in his job twice.
We used to point to Hibbert v Ronaldo, but at least in that game, Ronaldo never got past Hibbo once and changed wings to have a go down our left instead.
As for today. It's the team that has to be picked. I think it'll be a 343, 523 or 541 depending on how you read it:
Pickford
Keane Williams jagielka
Holgate Gueye Davies Baines
Sigurdsson Rooney Calvert-Lewin
Tony Everan
50
Posted 27/08/2017 at 09:44:35
Slimani fits the profile I think Koeman is looking for, but I am not convinced by his attitude Or consistency In the prem.
Whether Leicester would do business is another thing altogether as it looks like Chelsea will sign vardy.
I like Deeney , but he hasn't go the quality. Origi not good enough for Liverpool.Raul Jimenez is an expensive risk.
Of all,the names bandied about Batsuyahi is one that may develop into a top player. Costa on loan would be good fun! , and may set us up for the run in.
Wilfred Bony doesn't get a mention , but fit and fired up could come good. Swansea want him so we need to move fast if we're interested. Llorente is 32 but top class , may get a season out of him , but seems a hit injury prone , not a good thing at his age.
Oh dear , I'm rambling on...but so is this striker saga
Colin Glassar
51
Posted 27/08/2017 at 09:53:45
John G, doesn't he have like a shady past?
Ajay Gopal
52
Posted 27/08/2017 at 09:56:28
I think we have left it too late to sort out the striker situation, but stranger things have happened in the last few days of the transfer window.
Half decent strikers who might be available and willing to be let go by their present clubs (on sale or loan):
Slimani
Vardy
Costa
Origi
Batsushayi
Dembele
Wellbeck
Otherwise, Koeman has to swallow his pride and give some decent playing time to Niasse.

Derek Knox
53
Posted 27/08/2017 at 10:01:40
Someone posted a picture of Kevin Mirallas, in Manchester Airport, on his own, so where was he going?
Costa, is a beast, and would be ideal for us, can't see them going for Vardy as well, don't think Troy Deeney is good enough for us, but he certainly scores goals.
John G Davies
54
Posted 27/08/2017 at 10:05:49
Don't know Colin, thought you may have.
Colin Glassar
55
Posted 27/08/2017 at 10:08:38
I've heard things John. Anyway, I don't think he is good enough. Now, Costa, Batsuyahi, Vardy etc . now we are talking.
Chris Williams
56
Posted 27/08/2017 at 10:20:18
Colin
Deeney doesn't set my old heart racing sadly. Didn't he have a bit of a chequered record with misdemeanours as a young man, a bit like Vardy I guess? Nothing detrimental about him reported in recent times that I've seen, the opposite if anything .
Steve Hogan
57
Posted 27/08/2017 at 10:27:32
Mirallas flying to Belgium this morning from Manchester Airport. Not even in the squad today, probably well pissed off that Lennon, who hasn't played for months, got the nod over him at Hadjuk Split in midweek.
As ever, the problem being his sheer inconsistency, which has dogged almost the whole of his Everton career. Probably a parting of the ways is inevitable.
Rumours in the press of a loan deal with Olympiakos.
Phil Walling
58
Posted 27/08/2017 at 10:31:30
A bit too hasty to divest of Barry, methinks !
Derek Knox
59
Posted 27/08/2017 at 10:38:03
Phil, Koeman didn't want Barry to go, but at the same time, couldn't guarantee him regular game time, so out of mutual respect he said he would allow him to talk to WBA.
I understand what you mean though, a class player, and brilliant reader of the game, RK couldn't have predicted so many players out of frame so early.
Thomas Lennon
60
Posted 27/08/2017 at 10:45:08
In for Vardy according to Sunday Mirror, competing with Chelsea. Makes sense and fits with our attempted pattern of play so far, but we really need to transition faster. Big lump Costa or whippet Vardy. Or both?
Gary Carter
61
Posted 27/08/2017 at 11:29:15
Football never fails to amaze me in how people see things differently 😂
Someone wrote on here that Besic played well on Thursday and his long range passing was good.
Besic was constantly out of position, ran around like a headless chicken, went clean through and when all he needed to do was run forward he attempted a back heel and actually managed to trip himself up without touching the ball, his decision making is woeful and he has no discipline both in tackling and positional sense.
People talk about three things when it comes to Besic, one game in a World Cup three years ago, a game against city 2 years ago and how passionate he is. So two good games in three years and people mistaking him being an imbecile for passion, do me a favour! Sorry but Besic simply isn't good enough for us, he even moved up a place when Barry left because I guarantee if Barry was still at the club on Thursday Besic would not have started.
Frank Crewe
62
Posted 27/08/2017 at 11:39:56
Leicester wouldn't let Mahrez go so I would think they would be even more resistant to letting Vardy go. Especially since there appears to be interest in Slimani from Monaco. Sell them both and they would only have Okazaki left and not much time to buy anyone else.
Personally out of the two Slimani would be the forward I would go after anyway. He's younger than Vardy and would be cheaper. If I remember rightly before he moved to the foxes a lot of people on this forum were keen for Everton to sign him.
Jack Convery
63
Posted 27/08/2017 at 11:40:41
Vardy and Van Dijk to complete my new fantasy spine. Got Siggy so two to go. Vardy is a winner who gives his all and Van Dijk is class. Alongside Keane with Pickford behind them and Scnieds in front - oh my !
Nick Lacey
64
Posted 27/08/2017 at 11:47:47
Hello everyone, I've been an avid reader of ToffeeWeb for many years but this is my first time posting.
At the beginning of the season, I was beginning to wonder whether we had too many midfielders to fit into the team. Going into only our 3rd Premier League game, and with so many of our midfielders missing, really goes to show the importance of having not only quality players but also the depth.
Neil Thomas
65
Posted 27/08/2017 at 12:02:18
40m for a 30 year old no way. As for Deeney why would we want a player who can't even get into the Watford team? Batsuyia would be my first choice nearest and cheapest option to filling Lukaku's boots. Slimani could be another good option as for the Mexican with the shit goalscoring record Nooo
John Wilson
66
Posted 27/08/2017 at 12:10:45
Look at this: RK is speaking openly with Gary Lineker on the 'Premier League show' published December 2016. RK first discusses a getting into Europe of several year long project, which in his view will improve Everton to Champions League. I think RK said he sees it as a project over 3 years. https://www.youtube.com/watch?v=xKVRyj5h3NY
Neil Thomas
67
Posted 27/08/2017 at 12:17:47
And why are we still banging on about Van Dijk? He's clearly out of our reach right now, financially and playing wise.
Ian Lloyd
68
Posted 27/08/2017 at 13:59:09
Set up to try and grab a draw again and as soon as they score we're screwed.
The most negative manager in the league, even more so than Pulis!
Add Your Comments
In order to post a comment, you need to be logged in as a registered user of the site.
Or Sign up as a ToffeeWeb Member — it's free, takes just a few minutes and will allow you to post your comments on articles and Talking Points submissions across the site.