Blues confirm Adeniran capture for U23s

44 Comments [Jump to last]
Friday 1 September 2017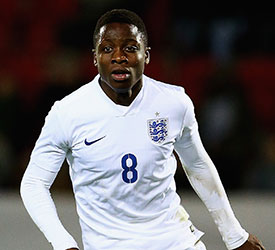 Everton added another promising youngster to their U23 development squad yesterday with the arrival of midfielder Dennis Adeniran from Fulham.
The 18-year-old was a deadline-day acquisition that will bolster David Unsworth's options as he and his team defend their Premier League 2 crown.
Born in Southwark, London, Adeniran made his senior bow for Fulham a year ago in a League Cup tie, scoring in a 3-2 win over Leyton Orient and then made his only first-team appearance in the Football League to date the following month.
He is now an England U18 international having represented his country at U17 level in this summer's European Championships.
---
Reader Comments (44)
Note: the following content is not moderated or vetted by the site owners at the time of submission. Comments are the responsibility of the poster. Disclaimer
Don Alexander
1
Posted 01/09/2017 at 18:29:42
Maybe this sort of signing is what Steve Walsh does best. Welcome to the young man!
Brent Stephens
2
Posted 01/09/2017 at 18:38:53
Yes, welcome, lad. Too early to say whether or not Walsh is unearthing some gems but here's hoping.
Raymond Fox
3
Posted 01/09/2017 at 18:42:18
Good luck young un, I hope you do well.
Our policy of buying promising young players seems a sensible strategy given the barmy prices now wanted for even moderate players.
Dave Abrahams
4
Posted 01/09/2017 at 18:48:30
Never seen or heard of him, wish him well, only eighteen, nineteen in January, 5ft 11ins, so time to grow, welcome to the club, you and the £8Mcapture from Split are the only good news today, maybe you'll lift our spirits in the near future.
One very good young central midfielder going out on loan and a young lad coming to play in his place for the U23's, hope they know what they are doing at Finch Farm and Goodison Park.
Dermot Byrne
5
Posted 01/09/2017 at 18:48:40
Do you believe me? This is a strategy that goes to a brill team in new stadium. Until then we moan.
Derek Knox
6
Posted 01/09/2017 at 18:57:08
Welcome on board Dennis, hope you turn out to be our Dennis the Menace, where the opposition are concerned.
Was watching the England U 21's away to Holland, score 1-1, Dominic got the England goal!
Martin Mason
7
Posted 01/09/2017 at 19:08:45
Exceptional, what a positive sign of vision for the club but how to make sure the many wonderful youngsters we have don't fall through the cracks.
We failed to get a striker but so did everybody but United all in all this was a very good window and with lads like this and the lad from Split surely we will have pace. All we need to do is gel those strengths.
Rob Dolby
8
Posted 01/09/2017 at 19:21:19
Stockpiling potential talent is no substitute for capturing the final product. We have all been looking to Walsh for Lukakus replacement and have nothing to show for it. All that this doing is pushing another youngster out of the club and off to lower league clubs. Dont get me wrong I hope that all new signings make an impact, I just don't get why we are hoovering kids up who aren't going to make it and push local talent away from the club.
Daniel Hutchinson
9
Posted 01/09/2017 at 19:23:10
@7 Martin
Pretty sure Chelsea and Arsenal signed strikers too...
Joe O'Brien
10
Posted 01/09/2017 at 19:59:09
Rib@8
Why do you think these players aren't going to make it?
Joe McMahon
11
Posted 01/09/2017 at 20:10:01
Martin (7), off the top of my head following Daniel, so did Swansea, Watford, Burnley, Huddersfield, WBA. I have a feeling that WBA will finish 7th this season.
Eric Paul
12
Posted 01/09/2017 at 20:12:38
Dave @4
I hope the process is to replace successful Under-23 players with promising younger players allowing Under-23 players to gain experience on loan and come back into the first team squad.
In the current mad market, saving a fortune if successful.
Daniel Hutchinson
13
Posted 01/09/2017 at 20:33:09
Following Joe, don't forget West Ham and Spurs.
Bill Gienapp
14
Posted 01/09/2017 at 20:36:47
Fulham fans seem to really rate him and were upset to see him go. Keeping the U23 larder stocked with young talent is never a bad thing.
Thomas Surgenor
15
Posted 01/09/2017 at 20:37:26
Lookman, dowell, Kenny and Dominic all started for England U21
Martin Mason
16
Posted 01/09/2017 at 20:43:47
Sorry, I meant strikers somewhere near the class of Lukaku.
Daniel Hutchinson
17
Posted 01/09/2017 at 20:45:56
Morata, Lacazette...
Martin Mason
19
Posted 01/09/2017 at 20:52:49
We'll see.
Dermot Byrne
20
Posted 01/09/2017 at 21:07:50
Rob 8. He could be star of future. Think about that

Bill Griffiths
21
Posted 01/09/2017 at 21:42:34
Does that mean you have us down for 6th Joe?
Ian Bennett
22
Posted 01/09/2017 at 21:49:07
We can't sign the best now, but the best of tomorrow seems a good move.
Was half expecting David Hirsts lad, but not sure where he is in terms of ability and appearances.
Derek Knox
23
Posted 01/09/2017 at 22:11:23
Off topic here, but watched most of the Scotland match against Lithuania, we really missed out on Andy Robertson (who went to RS for small fee) he was like a Seamus Coleman on the left.
Also scored a good goal, just saying.
Mike Allison
24
Posted 01/09/2017 at 22:28:05
Everton signed two strikers in this transfer window, Wayne Rooney and Sandro Ramirez.
And we haven't suddenly become a bad team because we didn't sign a target man. Last season Lukaku was shite, lazy and toxic according to ToffeeWeb, this season we're doomed without him.
Even for internet football chat, this is becoming hysterical.
Ben Howard
25
Posted 01/09/2017 at 22:37:28
We've certainly made some good acquisitions for the youth set up.
How about selling the all of the first team, sacking Koeman and promoting Unsworth and the kids?
Of course this is the disappointment talking and proof (if it were needed) that I'm probably not chairman/owner material.
Ben Howard
26
Posted 01/09/2017 at 22:43:48
Probably...
Tom Bowers
27
Posted 01/09/2017 at 22:59:18
The future, the future, the future. That's what we keep saying to ourselves and it always comes but with no progress. The youngsters they have now appear to be the best they have had in a long time but will they make the grade as top class first teamers or continually be locked out by big name signings.
Lookman burst on the scene last season as did Dowell but neither seem to be rated this season by Koeman.
Lookman should have improved but hasn't yet.
Players at the age of 19/20 should be up to the task and not getting sent out on loan.
This happened twice to Barklay who never really became consistent with the first team upon his return.
We all know what Rooney was doing before he was 17.
Alan Bodell
28
Posted 01/09/2017 at 23:00:11
Saw the 1-1 draw with our national U21 at Holland tonight and all our lads played well, Kenny, Dowell, DCL and Lookman all excellent.
Lookman was all over the place causing havoc.
Along with Tom Davies and Mason Holgate this underage bunch could hold their own in the EPL, the future for us has never looked better in my 50 yrs of ups and downs.
Jack Convery
29
Posted 01/09/2017 at 23:06:36
Robertson is agoodun.
Alan Bodell
30
Posted 01/09/2017 at 23:22:57
Tom, I saw the whole game with our U21 side on Dutch tv and Lookman ran them ragged, he is still developing physically so I know we paid big for a young lad but here I think we got a proper super kid
on the books and yes, I think he will develop as good as Rashford has about their same age.
Paul Kernot
31
Posted 01/09/2017 at 23:41:21
We missed the ideal #9 on deadline day. In his intro after joining us, Vlasic said he stayed in Croatia to support his sister through the Olympics. Blanca Vlasic is a 6'2" high jumper. Come on Walshy, it was obvious. Her turn to support her brother.
Tony Waring
32
Posted 02/09/2017 at 09:43:12
A good acquisition hopefully and for those blaming Walsh for failing to unearth the next Lukaku think again. The next Lukaku, whoever he is, is/are already knocking in goals for leading teams throughout Europe and they happen to be either beyond our financial clout or unwilling to play for EFC. Walsh - IMHO - is about discovering young talent which will eventually blossom into first team material. Off the cuff I can 't think of any premiership sides with 17/18 year olds playing consistently in the first team but I am open to correction. Having been a "blue" for more than 60 years I've got used to waiting for the next big season although admittedly I've seen a few already . I just hope younger supporters will soon have a similar experience.
Geoff Evans
34
Posted 02/09/2017 at 10:42:23
Lots of potential at the club, needs to be taken to the next level.
Alan J Thompson
35
Posted 02/09/2017 at 10:54:16
What is the point? Last season our U-23s won the EPL2 which, arguably, means they were/are as good as any in the land but what opportunity have they been given? So we end up with the best 30 youngsters in the country but to what end if they are not given the opportunity. I've said it before, opportunity has to come before competition.
Please, don't answer the first sentence with the bleedin' obvious.
Brian Harrison
36
Posted 02/09/2017 at 11:44:19
I see he has just posted this message to Fulham.
" After 8 incredible years I left Fulham to join Everton. I have had some unforgettable memories and would like to thank everyone at the club. He goes on to say " Now its onto the next stage of my career with Everton a club with so much history and has had many great players. I am delighted to sign for such a huge club and cant wait to get started.
Welcome to Everton.
Damian Wilde
37
Posted 02/09/2017 at 12:05:26
Re: Lukaku, just waiting for the highly vacuous 'we'd have finished no lower without him' line. Yrah, we won't miss him, agree. We look brilliant upfront with our two goals in three games and four points.
Tony Everan
38
Posted 02/09/2017 at 12:22:45
A warm welcome to Dennis , you have come to the right club.
I'm sure most of us will be following his progress with the hope of him breaking into the first team at some point.
Good luck to the lad.
Bob Parrington
40
Posted 02/09/2017 at 18:01:07
Welcome Dennis to the School of Science - Football Science, that is.
We hope you become "Dennis the Menace" to the opposition.
Good Luck!
Paul Tran
41
Posted 02/09/2017 at 18:37:34
Martinez watched Robertson countless times. Didnt sign him, presumably because we had Baines and Garbutt at the time. We could have and should have gone in again. He also watched Van Dijk countless times. I'm guessing we went for Funes Mori because he was a lot cheaper, until the 'mystery payments' appeared.
Typical Everton, eh?
Peter Howard
42
Posted 02/09/2017 at 23:43:36
Re:Lukaku
We'd have finished no lower without him.
Dave Bowen
43
Posted 03/09/2017 at 01:00:39
Mike @#24. Sandro a striker you say? Whilst I know it's too early to judge & everyone is entitled to bad game now & again etc etc, his 'performance ' at Chelski was nothing short of abysmal. Now don't get me wrong, I was pleased by his signing, especially at £5 mil or so, but that was poor last Sunday. I'll give him the benefit of the doubt (that Niasse was never given) & say he needs time to adjust to PL football. Any more performances like that though & Niasse may be needed. BTW this new signing from Fulham, not another midfielder is he, by any chance?
Dave Williams
44
Posted 03/09/2017 at 11:22:36
Dave Abrahams, I have assumed that Liam has gone into the Championship to get some more games with the option to recall him in January to beef up the first-team squad. This seems to be working so far with Dowell and these two are seen as the two who should make it above anyone else.
Peter Roberts
45
Posted 04/09/2017 at 17:34:29
Think a lot of people need to get into context the fact we have pretty much signed half a new team this summer and as such, the team will be disjointed in its performance as it needs time to gel.
So far we have played 7 competitive games, won 4, drawn 2, scored 7 and conceded 4. Our only loss came at the home of the Champions while one of the draws was away at the title favourites and away in a very hostile atmosphere.
You cannot expect a team with so many new components to hit the ground running. Give it 10 games and, if we're still as disjointed and ineffective as we have been, then maybe the argument holds some merit.
Martin Mason
46
Posted 04/09/2017 at 17:37:12
Peter, it's also true that people are wanting us to play in a style that you can only see through rose-tinted spectacles now.
Brent Stephens
47
Posted 04/09/2017 at 17:42:15
Peter (#45), I agree totally with that.
Add Your Comments
In order to post a comment, you need to be logged in as a registered user of the site.
Or Sign up as a ToffeeWeb Member — it's free, takes just a few minutes and will allow you to post your comments on articles and Talking Points submissions across the site.