Baines focused on giving his all for Everton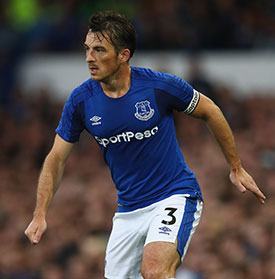 He plays in one of the most vulnerable areas in the Everton team but Leighton Baines doesn't take his place for granted and he isn't overly concerned at no longer being an England international.
10 years after joining the Blues from Wigan Athletic in a £6m deal, the 32-year-old is the only senior left back on the club's books, making him one of the most important players in Ronald Koeman's side.
The Dutchman made signing a left-sided defender to cover Baines's position and that of Ramiro Funes Mori a priority for the end of the transfer window but, ultimately, he was unable to bolster the squad further before the deadline.
That makes Baines's continued fitness an important factor in Everton's hopes for the season and his lack of international commitments something of a relief.
"Honestly, I am happy with the way things are set up now," Baines said on evertonfc.com with regard to the fact that he is no longer being considered by England, having represented his country in both the World Cup and European Championships in the past, "and that I can give everything to this football club.
<
"Honestly, I am happy with the way things are set up now — and that I can give everything to this football club.
"Whatever is left in me to give, I am more than happy to give it to Everton.
"Ultimately, decisions [affecting your future] are made by other people. They will probably let you know when you are not required. You keep giving yourself the best chance, look after yourself… and just relax about it.
"It's only nature, people are going to get older and it comes to everyone. You have to enjoy it while you can."
A decade at Goodison Park hasn't yielded any silverware but Baines has no regrets and instead takes a pragmatic view of what constitutes relative success.
"While I am playing, I tend not to stop and dwell on any achievements for too long," he acknowledges.
"But it depends where you are coming from. I was a kid on the street playing football, so in that respect, every day is a success.
"I watch my son play football on Buckley Hill and at Walton Hall Park. They are the places I grew up playing, the same fields, hundreds of kids with all their hopes and dreams. So, when you look at it that way, I was one of those kids… and I ended up here.
"If you take a moment to look at it like that, it is pretty special."
Full interview: evertonfc.com
---
---