Everton vs Bournemouth

117 Comments [Jump to last]
Friday 22 September 2017
Match Preview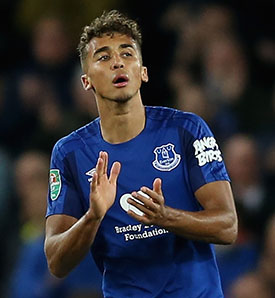 Top-scorer in all competitions, Dominic Calvert-Lewin has made a strong case for being deployed in his natural central position
Everton are back at Goodison Park for the second in a run of four consecutive home games that Ronald Koeman is hoping will provide a belated springboard for his team's season.
The optimism that had been engendered by big spending early in the summer, progress to the Europa League group stage and two positive matches to start the Premier League season may have evaporated by what became an increasingly dispiriting run of results after that but Wednesday's win in the League Cup rekindled some hope for 2017-18.
Thanks to Dominic Calvert-Lewin's double and a first goal in Everton colours for former outcast Oumar Niasse, Koeman's men easily brushed Sunderland aside with their first win in over a month. The reward may have been a daunting trip to Stamford Bridge in the next round but it was clear from his press conference yesterday ahead of the visit of Bournemouth this weekend that that will be a challenge for another day.
"Easy one," the Dutchman quipped when asked for his reaction to the fourth round draw. "If you like to win a title, you have to beta all the teams. Of course, it's away at Chelsea but, okay, it's not important for now.
"Let's hope [last night's result] will be positive and what we need. The first step was yesterday and this Saturday is really important. Every game is important and you play to win every game but with the last (recent) results, of course, we need a win at home.
"[N]ow we need to show we are still strong and I'm confident after what I saw yesterday because the best medicine to get that confidence is good performances. You need a good feeling and that comes from winning games."
Short of facing winless Crystal Palace, a home date against 19th-placed Bournemouth could be as welcome a game as Everton could hope for as they seek to pick up their first Premier League points since the 21st of August. The Cherries lost all of their opening four fixtures but registered their first victory in the League last weekend with a 2-1 win over Brighton and Hove Albion and then beat the same opposition after extra time on Tuesday in the League Cup.
They, too, could becoming into the weekend with a bit of confidence, particularly given the fact that forwards Jermaine Defoe and Josh King are off the mark, but they have yet to come away from Goodison Park with a point, having lost 2-1 and 6-3 on their previous visits to L4.
It would be hard to see a repeat of last season's goal-fest, however, given Everton's struggles in front of goal this season. Averaging a paltry two shots on target per game in the League so far, the Blues have been worryingly toothless in attack but Calvert-Lewin, currently the team's top scorer, has made a strong case for leading the line as a conventional striker.
The 20-year-old has been deployed wide in an attacking three, as a wing-back and as a centre-forward with mixed results but he is showing that when played in his natural central position, he can score goals. Koeman is reluctant to place too much of a burden on his young shoulders but with Niasse still something of an untried quantity and Sandro Ramirez still adapting to England, Calvert-Lewin looks to be Everton's best goalscoring hope at the moment.
Koeman's problem, of course, has been one of formation and personnel — namely, how to shoe-horn his varying No.10s into a coherent starting XI that will improve the team's woeful offensive production without undermining the individual talents of its component parts.
Gylfi Sigurdsson has been largely anonymous since he arrived in a club-record deal last month and while he has scored the Toffees' only two League goals so far, Wayne Rooney hasn't really provided the leadership and influence that Koeman would have been hoping for when he signed him from Manchester United.
Whether the manager can accommodate both players in the same line-up remains to be seen but he has been given a further option by the form thus far of Nikola Vlasic who was impressive against Sunderland in the cup. Like Tom Davies and Calvert-Lewin, the Croatian has been showing Koeman that youth should be no barrier to more consistent selection in the starting XI, particularly if the older guard aren't producing.
While inconsistent with his line-ups, Koeman can be conservative in his approach which makes predicting the team for this weekend challenging. Phil Jagielka's reported injury in midweek might preclude his involvement and see Ashley Williams and Michael Keane continue as a partnership. Jonjoe Kenny was given a belated first start of the season on Wednesday but may have to be content with a place on the bench, with Mason Holgate replacing him either as a wing-back or conventional right-back.
Much of the talk around Everton's poor form has focused on the failure to replace Romelu Lukaku but it's the lack of fluidity through midfield, service to the forward line and an over-reliance on two holding midfielders that have been the bigger issues and that is where Koeman needs to focus his energy over the next few months.
While the team lacks pace, there are goals in the side if he can get his charges moving the ball forward effectively rather than lumping it forward or passing it aimlessly from side to side trying to find an opening. Eddie Howe is famous for his own emphasis on passing football and his team isn't especially renowned for "parking the bus" but the Blues should expect them to come to Goodison looking to keep it tight, especially with them knowing how hard Everton have found it making chances.
Kick-off: 3pm, Saturday 23 September, 2017
Referee: Martin Atkinson
Last Time: Everton 6-3 Bournemouth
Predicted Line-up: Pickford, Holgate, Keane, Williams, Baines, Schneiderlin, Gueye, Davies, Sigurdsson, Rooney, Calvert-Lewin
---
Reader Comments (117)
Note: the following content is not moderated or vetted by the site owners at the time of submission. Comments are the responsibility of the poster. Disclaimer
Mark Morrissey
1
Posted 22/09/2017 at 17:52:30
If he doesn't put Niasse on the bench, he needs to flog himself and write 100 lines "I must eat more humble pie".
Derek Knox
2
Posted 22/09/2017 at 18:06:36
That will probably be near enough the line-up, Lyndon, but, and I doubt if I am alone on this, Schneiderlin should be dropped to the bench.
His displays have been lethargic and negative, with too many sideways and back passes. Besides, I fail to see why he persists with two defensive midfielders at home, Gueye plays better when he is not shackled to Koeman's shoo-in.
Come on, Blues – start playing with better tempo, joined up thinking and passing, and start getting back up the table.
Tom Bowers
3
Posted 22/09/2017 at 18:30:27
No matter what side he starts, if they have no plan, no speed and no confidence, then it will always be a struggle.
We all know that Everton have many talented players and it may have been bad luck that they came up against some top teams these last few weeks whilst still bedding in the new boys.
Being beaten is one thing but playing without any conviction is unacceptable. Had they managed to hold out against Man City then that may have turned things the other way but they didn't and from what we have seen since not many teams will get in that position against Guardiola's bunch.
Hopefully it's water under the bridge and that tomorrow's game will prove Koeman still has a future moulding this squad into top six material.
Lee Jackson
4
Posted 22/09/2017 at 18:33:31
Definitely not alone Derek, I agree for starters. Lyndon's team looks like its spot on but Koeman does seem to also like Vlasic (which is good).
I would go with a good old fashioned 4-4-2:
Pickford
Kenny
Keane
Williams
Baines
Gueye
Davies
Vlasic
Sigurdsson
Rooney
Calvert-Lewin
Bench: Lookman, Niasse, Lennon, Mirallas, Schneiderlin, Jagielka, Stekelenburg
Robin Cannon
5
Posted 22/09/2017 at 18:38:44
Depressingly, I expect much the team that Lyndon suggests.
No real width, Sigurdsson shoved out wide-ish to destroy his effectiveness. Two defensive midfielders at home to Bournemouth... Sigh.
Mike McLoughlin
6
Posted 22/09/2017 at 18:44:16
I would like to see him play Jonjoe Kenny at right back with Vlasic on the right. They look as though they could be a pair in the making. Would like to see Lookman starting on the left.
So my team for Saturday would be:
Pickford,
Kenny, Keane, Williams/Jagielka, Baines
Schneiderlin,
Gueyes Rooney
Vlasic. Lookman
Calvert-Lewin
I realise-no Davies, Sigurdsson or Klaassen but we need some penetration and width. I just think that would work.
Subs: Stekelenburg, Jagielka, Sigurdsson, Klaassen, Davies, Holgate, Niasse.
Mark Murphy
7
Posted 22/09/2017 at 18:49:42
Yeah Robin,
We were rubbish; tomorrow won't we be?
Sigh indeed!

Dermot Byrne
8
Posted 22/09/2017 at 18:56:37
I look at Klopp and watch a manager who is a bit like an older brother to the team. Look at Koeman and he appears to be like a manager. Neither doing great so far.
I suspect if the boss turned up in a pinny, had a hanky to wet and rub on a face and a pair of hugely developed breasts to hide in, we may then have a leader to bring out the best of our spoiled and pampered pains in the arse we call Premier League stars either side of the Park. (And worse will be fucking watching tomorrow!)
Clive Mitchell
9
Posted 22/09/2017 at 18:58:41
Whatever the team, Koeman had better deliver a vast improvement on the Spurs performance. Spirit, effort, courage, commitment for the fans - and why not do yourself a favour and put Niasse on the bench and, winning or losing, get him on after the hour mark.
Jay Harris
10
Posted 22/09/2017 at 18:59:22
I would go for
Pickford
Kenny Keane Williams Baines
Gana
Davies Sigurdsson
Rooney Calvert-Lewin Vlasic
I believe Schneiderlin needs a rest to rediscover his motivation and form.
Second half, bring Niase and Lookman on for Rooney and Vlasic.
Geoff Williams
11
Posted 22/09/2017 at 19:00:06
As bad as Jagielka has been, he is still a better player than Williams. Schneiderlin shouldn't play at the expense of Vlasic. I don't think Kenny did enough on Wednesday to justify selection over Holgate.
Lee Jackson
12
Posted 22/09/2017 at 19:11:39
Whatever team he picks, if Sigurdsson and/or Calvert-Lewin play then he has to play them centrally. Either on the wings is an utter waste.
Kim Vivian
13
Posted 22/09/2017 at 19:14:48
I don't usually do this but after Weds, and for Bournemouth at home, I'd go
Pickford
Kenny (Try him this weekend rather than against one of the top half sides)
Keane
Jags
Baines
Vlasic
Gana
Davies
Rooney
Lookman (or Niasse – see Kenny)
Calvert-Lewin
By the way if anyone's interested Everton Gals vs Liverpool live on TV tonight. Tough game for Everton newly promoted back to the top flight but Liverpool a bit off their past pace. Something Everton to watch live anyway.
Steve Ferns
14
Posted 22/09/2017 at 19:20:04
For those of you who want a 4-4-2, I note Rooney regularly features. So what happens to your 4-4-2? He drops deeper and plays more like a No 10. This means the wingers need to come forward more. In doing so the midfielders are prevented from coming forwards as the wingers and the No 10 are in the way, also for balance they have to drop a bit deeper.
Oh wait, we're actually playing a 4-2-3-1.
The 4-2-3-1 is the natural successor for the 4-4-2. It is underpinned by the double pivot. That is two "defensive midfielders". They don't have to actually be defensive. one of them should sit and shield of course, but the other is meant to press higher up the pitch. The deeper one is actually meant to be the less defensive of the two, and actually registers less tackles. He is meant to be playing between the line of defence and midfield to find time and space to be creative.
It's not defensive, and yes you do need two. One to press, ie Gueye, and one to pass, ie Schneiderlin. We don't have another player in the team capable of passing like Schneiderlin can. Barry from three or four years ago was better than Schneiderlin has been for us so far and shows how this role is actually meant to be played, and I think McCarthy from the same time period (before injury after injury) was also better than Gueye.
There is a couple of things going on for me right now. Firstly, Williams is killing us. I actually think he's a decent defender and when you watch him as an individual he's not our worst player. Yes he makes some mistakes and a couple have cost us goals, but it is not his actual performance that is killing us. It is the way the team has to play to accommodate him. Williams is actually playing so deep, just on the edge of the box, that Schneiderlin is being forced really far back to shield him and the whole side is just dropping far too deep. This means we are condensing the play upon ourselves.
I would like to see us just try Holgate at centre-back alongside Keane. This would be a pacy backline and should allow the two midfielders to operate higher up the pitch and mean when they drop back they find the space and time to make decent passes.
Williams looked more like his old self on Wednesday as Sunderland were dropping deep to allow him to gallop forward and show the ball skills he employed at Swansea but has rarely showed at Everton. It all comes down to the fact that he is too slow to play at Everton's level, but he would probably look great in a slower international match, or playing in the middle of a backs-to-the-wall relegation dogfight.
Thinking about Williams during the Sunderland game made me think back to what happened to Martinez in his second season. I don't know if anyone has mentioned this before but, that first season, we mostly played Distin, and Distin for the first 3/4 was as good as ever. He was pacy and he was fast before starting to fade and then he got released. Second season, we were similar to now in that the defence was slower and much deeper than it had been the previous year.
A lack of pace in the middle of defence can make a massive difference to the side.
As for Bournemouth, I'd try to retain the stars from Wednesday and show the players that if they play well they stay in the side:
Pickford
Holgate Keane Jagielka Baines
Davies Schneiderlin
Vlasic Rooney Sigurdsson
Calvert-Lewin
Jamie Evans
15
Posted 22/09/2017 at 19:32:34
Good Luck tomorrow, Blues. Let's make some noise at the old lady and hopefully leave all the negativity for the phone-ins and forums.
Similar to Wednesday, any kind of win will do. Performance, passion, etc can all follow over the coming weeks. For now, in our position, it is quite simply about the points.
David Booth
16
Posted 22/09/2017 at 19:34:24
If Dominic Calvert-Lewin isn't first name on the teamsheet tomorrow – and at centre forward, not right wing back – it will be the most significant indicator so far that Koeman is not the man for the job.
And stop playing six defenders every time, you Dutch dunce.
Charles Brewer
17
Posted 22/09/2017 at 19:35:29
Surely we should be looking at something like:
Pickford
Kenny, Hogate, Keane, Baines
Davies Gana
Lennon, Rooney
Niasse, Calvert-Lewin
However, I expect something more like:
Pickford
Martina, Williams, Jagielka, Baines
Schneiderlin, Sigurdsson, Klaassen, Rooney
Sandro.
I expect a reversion to super-defensive, but disorganised.

Lee Jackson
18
Posted 22/09/2017 at 19:37:42
Hmm, it seems we US-based blues have a dilemma for tomorrow's game. This is the first league game not on NBCSN or its affiliates. So, do we go dodgy pirate stream or shell out the $50 for the NBC Gold streaming package? Decisions,decisions.
Gordon Roberts
19
Posted 22/09/2017 at 19:38:22
A very balanced article, Lyndon, and great to see you raise the point that you're trying to second-guess the team that Koeman will put out.
Eugene Kearney
20
Posted 22/09/2017 at 19:41:48
We need to totally forget/ignore the (still) continued bits of "juicy news" about the fall-out from Rooney's late night out and include Niasse on the bench (with the intention of giving him a decent run out) and then knuckle down to keeping the ball, getting it forward and creating chances for Calvert-Lewin - or Niasse.
He is a very humble and decent sort of a guy and has to be given a decent chance.
Steve Ferns
21
Posted 22/09/2017 at 19:45:18
Charles, you can't play Davies and Gueye in the same side. That is too defensive and neither of them can pass long. They both do the same job, it's one or the other. Unless you play Davies in a false 10 role.
If you think of the double pivot as being Masherano and Alonso, both are Mascherano, neither are Alonso.
Lenny Kingman
22
Posted 22/09/2017 at 19:53:45
I don't care who plays tomorrow, they are all passing phases in the historical adventure of a great club and founding member of the game we follow. And love I suppose. Home win.
William Cartwright
23
Posted 22/09/2017 at 19:55:34
The 'benefit' of a big squad of relatively comparable and complimentary players, apart from injury cover, is the manager can select horses for very specific courses. The team selection, and the pre-game preparations take on more of a empirical rather than an emotional team spirit approach.
I don't know if that's a good or a bad thing? It depends on the skill of the manager and his team and the willingness and ability of the players to respond and perform accordingly on the pitch.
I haven't got an opinion or even a clue as to how it is going to develop from hereon. I just hope that the empirical approach doesn't kill the team spirit and that an attacking selection, accompanied by imaginative use of substitutions will win the day.
Both Calvert-Lewin as central striker, and Niasse as a mid 2nd half sub, would benefit from a repeat experience, and Sandro may need to step aside, with Rooney or Sigurdsson but not both would be a logical change. Gueye not Schneiderlin should get the call, but Davis should keep his place, Vlasic too?
I expect Kenny to be given the chance to step up, but in fairness to Martina, he was good against Man Utd, so perhaps Kenny will get a look-in the Euro game next week.
COYB

Lee Jackson
24
Posted 22/09/2017 at 19:56:47
Steve, I find it funny that you keep calling out faults with everyone's teams/formations and then go and pick our most out of form player (Schneiderlin) in yours...
John Daley
25
Posted 22/09/2017 at 19:59:52
Davies and Gueye played almost the entire second half of last season in the same side, once the latter had returned from the African Cup Of Nations.
Brent Stephens
26
Posted 22/09/2017 at 20:03:26
Lee #24 – I see the point you're making. But I think Steve is looking not just at the 10 individuals (plus keeper) on the pitch but the formation played. Do you pick the best players and then decide on formation, or vice versa?
If the formation is to be 4-2-3-1, then the best players we have to fill each position might be as Steve suggests?? I guess Steve needs to speak for himself!
Eddie Dunn
27
Posted 22/09/2017 at 20:03:46
About an hour before kick-off we will see if the midweek game had any influence on Koeman's mindset. I expect to see Calvert-Lewin keep his place but Schneiderlin back.
Mike Berry
28
Posted 22/09/2017 at 20:05:42
I hope he sets us up to actually try and win a game and get at opposing defences.
Calvert-Lewin must play at centre and not to the right to accommodate Rooney, as the latter's "must" inclusion is what is ballsing everything up for others and us not playing players in their correct positions!!
Also if Niasse does not play a part and we lose, I would not like to be in Koeman's shoes, he must realise that Niasse is far more popular than he is at the moment, and the fans will let him know about it.
Charles Brewer
29
Posted 22/09/2017 at 20:07:46
Steve, I don't really see Gueye and Davies as playing similar roles. Gueye is more of a destroyer while Davies I see as a more creative and active player. They both run around a lot (which is good) but I think the differences are enough to warrant both playing.
One change I might make would be Lookman replacing Niasse (or Lennon) at some appropriate point to keep the energy levels at the front high. Rooney I'd like to see playing a bit behind the front because I think his creativity is outstanding still and with a couple of whizzy forwards he could cause mayhem.
Steve Ferns
30
Posted 22/09/2017 at 20:08:14
There is no-one else in the team to play the Schneiderlin role. We criminally let Barry go. Otherwise he'd be in my side right now. Especially as he is in good form.
Steve Ferns
31
Posted 22/09/2017 at 20:09:35
John, Davies played ahead of Gueye and Schneiderlin, or instead of Gueye alongside Schneiderlin. They never played as the pivot instead of Schneiderlin, except a couple of games where he was injured and it was noted by all on here how much he was missed.
Ashley Roberts
32
Posted 22/09/2017 at 20:10:06
I agree with Lee. I cannot believe Steve likens Schneiderlin to Alonso!!! Talk about chalk and cheese.
I only ever see Schneiderlin pass the ball sideways 6 yards. It has to be Davies for me over Schneiderlin.
I also do not see how you can play Rooney and Sigurdsson in the same 11 unless you play one of them out of position. Sigurdsson has been anonymous out wide so far. It is one or the other for me in the number 10 role.
I would also like to see Maralis and Lookman or Vlasic to start out wide to give some pace and penetration. I just do not see it happening.
When the team sheet arrives, we will have two defensive midfield players, Schneiderlin and Gana, as well two Number 10s, Rooney and Sigurdsson in the line up. I just hope I am wrong because it hasn't worked so far.
Andy Crooks
33
Posted 22/09/2017 at 20:10:45
In my view, the team selection is as important as the result. If Koeman decides to shoehorn his favourites into the team, I will just about have had enough.
Lampard and Gerrard should never have played together but they were squeezed in. Does anyone remember back in the day when Wales had three big target men: Ron Davies, Wyn Davis and John Toshack. I can recall them being put in together because they were all good at what they did, even though it was the same thing.
Koeman's main duty tomorrow is to show the guts to leave someone out. Each man to his position and the others on the bench.
Steve Ferns
34
Posted 22/09/2017 at 20:11:27
Charles, I would agree that Gueye cannot do everything that Davies can do, and Davies has much more quality in and around the box. But Davies is so good that he can do nearly everything Gueye can do.
The problem is neither of them can do what Schneiderlin is capable of, or should I say, should be doing.
Mark McParlan
35
Posted 22/09/2017 at 20:12:58
I would like to see something like (4-3-3):
Calvert-Lewin
Rooney Sigurdsson
Davies Gueye Klaassen
Baines Holgate Keane Kenny
Pickford
I'm always of the opinion that players should be played in their natural positions. For me, then I'd have Holgate played at centre-back alongside Keane... neither Jagielka nor Williams really convince. Holgate and Keane are the future of Everton's defence – let's play them together!
Baines is a shoo-in at left-back. With Holgate out of the right-back picture I'm far more inclined to play Kenny there ahead of Martina. He's going to be great, and he deserves a spot in the team. He's done everything to stake a place that he could conceivably have done. Won the U20 World Cup, the Premier League 2 title, etc.
It's been proven time and time again that the two defensive midfielders of Schneiderlin and Gueye together don't work. Gueye is in better form – start him. Klaassen and Davies completing the midfield 3 – Davies drives forward with power, pace and energy (always getting involved), and Davy is a brilliant intricate passer (if you actually watch him closely).
I know there's a few that cannot wait to get Rooney out of the team, but there is no way you can drop the player who has scored 100% of your league goals for the season. Calvert-Lewin has to start following the brace against Sunderland, and I think we have to persist with Sigurdsson, he has to come good soon. Vlasic definitely deserves a place on the bench at the very minimum after Sunderland.
Charles Brewer
36
Posted 22/09/2017 at 20:14:56
Steve, I take your point, but I'd rather have the pair of them playing well than what we've seen from Schneiderlin this season.
Brent Stephens
37
Posted 22/09/2017 at 20:15:32
Ashley (#32), I didn't see Steve as making a comparison with Alonso in terms of ability. I saw his use of Alonso and Mascherano as just to distinguish types of role, not to make comparisons of ability in role between Alonso and Schneiderlin.
Steve Ferns
39
Posted 22/09/2017 at 20:17:17
A lot of Schneiderlin's problems come from Williams's and Jagielka's lack of pace making the defence sit so deep. If we played Funes and Keane, then I think you'd see him much further forward, as the defence would not be sat on the edge of it's own box.
Meaning that Schneiderlin would have more time and space on the ball to get his passing going. He is hitting sideways passes because he is not getting the time or space to be able to get his head up and play the long passes.
One of the best passers in world football was Juan Sebastian Veron. Yet most people in this country judge him on his time here, when he was frequently played out of position, because when he was played in position, he could not find the time and space to get his head up and hit his trademark long passes. It's a very difficult position. I would say it is probably the most key position in any team.
I was hoping that we could have swapped Barkley for Dembele in the summer and he could have played the position for us.
Paul Kossoff
40
Posted 22/09/2017 at 20:19:02
Just watching Bayern v Wolfsburg, my God the difference in them to us. Bayern one nil up, attacking with ten men at the Wolfsburg defence, all looking forward, all running off the ball looking for the forward pass, lovely to see, sigh. 😥
Steve Ferns
41
Posted 22/09/2017 at 20:19:04
Of course Brent, Schneiderlin couldn't hold a candle to Alonso. He was still exceptional last season. He goes down as one of the best deep lying playmakers of the modern era for me. It's just a pity he played for the dark side.
Steve Davies
42
Posted 22/09/2017 at 20:19:25
Why wasn't Ross sitting with fans at Man Utd, injury permitting? We love an underdog and I would love Niasse to prove Koeman wrong. Made up for the lad. Attitude reminds me of Amokachi. Good luck to the lad.
Paul Kossoff
43
Posted 22/09/2017 at 20:24:34
http://buffstream.com/watch/soccer.php
Raymond Fox
44
Posted 22/09/2017 at 20:47:53
Koeman will probably go with his usual safety-first team, that is unless he has finally got wind of fans wishes for a more attacking formation. If I had to bet on which one he will choose, I would say the safety first.
Whatever team he picks I don't think Bournemouth will be a walkover by any means; the way we have been playing, there is no such thing.
Mark Frere
45
Posted 22/09/2017 at 20:49:44
I would like to go back to basics and see a balanced team with width and plenty of work-rate.
4-4-1-1:
Pickford
Kenny Keane Jagielka Baines
Lennon Gana Davies Mirallas
Rooney
Calvert-Lewin
Steavey Buckley
46
Posted 22/09/2017 at 21:22:41
4 Everton players who are not really part of the future, Williams, Rooney, Baines and Schneiderlin, will start tomorrow. That's where the real problems begin.
As for Sigurdsson, why was he bought, because £45 million is a lot of money that could have gone towards those Everton really need.
Mark Frere
48
Posted 22/09/2017 at 21:29:17
Steve,
It is a nice luxury to have a deep-lying midfielder that can create from deep. We've had Barry, before Schneiderlin came here, and Darren Gibson beforehand. But I don't think it's working this season; some of our best performances last season – our 2-1 victory over Arsenal – were when we had Gana and McCarthy playing together in the middle. You couldn't get two more similar players than them.
Schneiderlin is not in good form at the moment – whether that is due to lack of pace behind him, is irrelevant. We need to find a balanced team that works hard and has some pace and width.
Mick Conalty
49
Posted 22/09/2017 at 21:42:00
Mark (#35), I hope Koeman agrees with your thoughts and team line-up cause I think you have got it pretty well spot-on.
Brian Wilkinson
50
Posted 22/09/2017 at 21:44:11
Are you still sighing at Bayern, Paul?
2-nil up... and they end up drawing 2-all.
Eric Paul
51
Posted 22/09/2017 at 21:50:12
Only 3 changes required from Wednesday, Williams for Baines and put Holgate next to Keane.
Besic for Gana and Klaassen for Sigurdsson.
Tony Hill
52
Posted 22/09/2017 at 21:59:45
Andy (#33), and the biggest decision, the most releasing for the team, would be to leave out Rooney. He won't do it; he will again play Sigurdsson on the left.
Lee Jackson
53
Posted 22/09/2017 at 22:06:18
Steve, having read your first post again, one thing I would agree with is Holgate does need to be given a chance at centre-back. Wednesday would have been a perfect chance for that of course but oh well.
Still cant agree to play our most out of form player though despite your good arguments for it.
Maybe another thing that could be tried here (a little out of the box thinking) – how about Rooney in that deep lying midfield pass master role. He can tackle reasonably well, pick decent long range passes better than anyone else in the side and his lack of pace wont be so obvious. He would probably not have to make as many 'runs' too so he wont be blowing out of his arse after 60 mins. It would also free up Sigurdsson to play his natural #10 role.
Tom Bowers
54
Posted 22/09/2017 at 22:06:45
The question is does Koeman have an attacking plan or does he have another plan which demands a slow keep-ball build up, hoping for a break that gets a goal without a plan ''B'' if the opponents score first?
Another disappointing show tomorrow will only add to the pressure which will surely follow him to the Euro game next week. He has to show through the players he picks that he know's what he is doing and that they are turning the corner.
Ian Bennett
55
Posted 22/09/2017 at 22:17:56
I predict Koeman will pick the below
Pickford
Martina – should be Kenny
Keane
Williams – should be dropped and add Lookman
Jagielka
Baines
Schneiderlin – should be Davies
Gueye
Rooney – needs to deliver or add Niasse or Mirallas from bench.
Sigurdsson
Calvert-Lewin
Shaun McGough
56
Posted 22/09/2017 at 22:22:11
Does anyone know what time Wayne wants picking up or is he getting a taxi?
Drew O'Neall
57
Posted 22/09/2017 at 22:27:36
If you haven't got a striker you play two up front.
One is Calvert-Lewin and the other is Rooney or Sandro. I'd like to see Sandro get a run in the team because I think he has something and if he's not encouraged he could become another Mirallas.
Then you are left with the question: does Rooney play at all? Well it's a 'Yes' from me because he's our best player so he has to play in the advance midfield role (there can be only one unless you play wingers and we have none of them).
Now you've got the 'What do you do with Sigurdsson?' Question and the answer is you drop him or create an unusual formation to get all your best players on the pitch. I'm not a fan of overloading the centre of the pitch up top but intelligent players, especially those who like to come and get it, can play together.
So far we've got a rather unusual
X-X-2-2 formation with two mobile, willing strikers and two blokes to 'load the gun'.
Our next best player, if not actually our best player, is Gana and he's the first name in behind.
The next player you have to find a home for is Tom Davies, one of, if not our best player last season. I'd have to have him at right back because we can't squeeze him in anywhere else without messing things up.
Sadly, there is no alternative to Baines at left back so that one takes care of itself.
Then you have 3 positions left to fill so it has to be three centre halves or else it's 4-2-2-2 which would be very weird... or would it? Could you coach a Dutch total football rotating diamond (see YouTube Johan Cruyf explanation) in to our fine midfield players?
You would like to think there is a place for Scneiderlin when he regains form, I haven't even mentioned the former Ajax captain and Davies is more than capable too..
We've really got the squad in to a mess in my opinion but I would be enthused, excited and supportive of a manager who actually innovates and creates a system which gets the best players at the club out on the field together.
Playing two mobile strikers who can stretch the game (not to mention our aging centre-backs who stretch it the other way!) does leave a lot of space for midfielders and boy do we have a lot of midfielders.
Maybe 4 centre-midfielders is the answer.
Andrew Edwards
58
Posted 22/09/2017 at 22:37:58
Mark (#45), why in earth would you pick Mirallas? He should have been drove to Greece a month ago...

Trevor Peers
59
Posted 22/09/2017 at 22:54:09
Whichever team Koeman picks, there will be some players playing out of position, he didn't buy too wisely. The result will probably be the same, with little goalmouth action and a stagnant midfield with no shape or pace.
He needs to show some newly found imagination, and pick a more balanced team with a real goal threat. Is Koeman capable of that? Not so far this season in the league.
I'd play Niasse up front with Calvert-Lewin – they can both score goals;, Davies is a must, he adds pace in midfield.
Tony Abrahams
60
Posted 22/09/2017 at 22:59:23
Lee, if you read Steve's first post again, you will see that he's got Holgate down as a fullback! The one thing that has really frustrated me about Koeman, this season, is that when he plays 3 centre-backs, Holgate still can't get a look in. Fucking madness if you ask me, especially considering how poor both Jagielka and Williams are with the ball at there feet?
You explain yourself well in that post Steve, but I would actually prefer to see a 4-5-1 formation, with just one defensive minded midfielder out on the pitch?
4-3-3 seems to work well for both Liverpool and Spurs, but they both have loads of pace in their team, and in Tottenham's case, centre-halves, that are very good on the ball.
When Everton play it at the minute we have too many gaps in the team, because our players are very rarely close enough to each other, to help each other out, and when this happens it soon becomes every man for himself?
Go back to the basics to get everyone playing for the team, and then hopefully expand on it, once everyone gets to know each other a bit better. Stop being easy to play against, and the confidence should start to return, especially for the manager whose team look like total strangers at the minute. Over to you, Ronald?

Brent Stephens
61
Posted 22/09/2017 at 23:08:12
Lee (#53), in the context of Steve's formation, that one change of personnel from his side (Rooney in the Schneiderlin role) is really interesting.
Andrew Keatley
62
Posted 22/09/2017 at 23:15:19
The pace and movement of the Bournemouth front players – King, Defoe, Ibe, Fraser (if fit) – are likely to cause our defence problems.
But I hope that it doesn't mean Koeman sets us up with 3 at the back andtwo defensive midfielders, particularly since our full-backs never play like wing-backs, which ultimately means we're effectively reduced to attacking with only three players. No wonder our attempts on goal numbers are so low. Calvert-Lewin has to start.
I'd also like to see Vlasic start. And Lennon (or Lookman) – we could use their energy and pace, and give Daniels a threat in behind him to make him think twice about marauding forward. Sigurdsson to pull strings from an advanced central position with Davies and Gueye as the deeper central midfield duo – with Davies given licence to roam.
I'd be wanting the ball to be passed into the attacking four (attacking midfielder and front three) quickly rather than continue our current timid passathon between the defenders and goalkeeper that saw Pickford completing more passes than any outfield player in one of our recent games...
I'd play a four at the back, and ask them to play as a classic old-fashioned back four. Kenny, Jagielka, Keane and Baines for me - although Kenny is probably 50/1 to start the game tomorrow.
Players I wouldn't want to see starting include Schneiderlin, Klaassen, Rooney, Sandro, Besic, Niasse and Mirallas. Rooney has shown some decent moments but I think he unbalances the side. We need to find a style of play and a shape that works, and although it's not his fault I think the Rooney sideshow has hindered us.
The rest have either been slow to acclimatise, below-par, lacking in application, or all three - with the exception of Niasse, who it is just too soon to suddenly throw a start to. Sigurdsson is the lucky exception who gets a start despite being markedly below-par thus far.
So, for me, it's 4-3-3
Pickford
Martina (Kenny)
Jagielka
Keane
Baines
Gueye
Davies
Sigurdsson
Lennon (Lookman)
Calvert-Lewin
Vlasic
Trevor Peers
63
Posted 22/09/2017 at 23:20:00
Lee (#53); While we're thinking outside the box, why not try Gueye at right back? He's quick, can tackle and uses the ball effectively.
Eddie Dunn
64
Posted 22/09/2017 at 23:35:02
William Cartwright (#23), I agree entirely. Well said.
John Malone
65
Posted 22/09/2017 at 23:39:58
Drew 57, did you just say play Tom Davies right back???
Time for bed!
Rob Dolby
66
Posted 22/09/2017 at 23:43:54
Whoever Koeman picks should be strong enough to beat Bournemouth at home. My concern are the tactics deployed, 4-3-3 with no width whatsoever may play into their hands and has made a lot of our players look pretty awful this year.
Be interesting to see who he picks.
Paul Kossoff
67
Posted 22/09/2017 at 23:48:39
Brian, It's the way Bayern play, attractive attacking football, not the crap Koeman comes out with. I would rather see Everton play like Bayern, wouldn't you?
Derek Knox
68
Posted 23/09/2017 at 01:00:28
Sorry Andrew @62, why oh why would you choose Martina?
He has proved himself to be a useless defender, I can never understand why Koeman brought him in, he has very little to offer in defence, in fact he is a liability, what's more, he gives him a three year contract, as cover for defence.
I totally despair at how inept Koeman is at both team selection, and identifying players who will make us better.
Personally, I will be surprised, if he is still with us by Christmas. I cannot for the life of me, understand either, why he was 'chosen over other, better candidates for the job.
James Stewart
69
Posted 23/09/2017 at 01:14:51
I'll start with the players I do not want to see starting:
Rooney, popular on here with many but I'm just not drinking the Kool-aid. Always a yard too slow and just as wasteful with possession in key areas as Barkley was. I have no problem with him as a sub to come on and see games out, but that is all he should be doing. I don't want to see him left-wing or keeping our £45M playmaker out of position.
Williams, shit.
Jagielka, great servant but no longer the level we need. Poor distribution so barely an upgrade on Williams.
So, with that said, I would like to see a high-pressing 4-3-3 our best formation.
Pickford
Kenny - Keane - Holgate - Baines
Davies - Gueye - Sigurdsson
Niasse - Calvert-Lewin - Lookman

Bill Gienapp
70
Posted 23/09/2017 at 01:24:09
Ha ha. Yes, Paul. Let's all pine for playing attractive football while casually throwing away 2-0 leads. It's not like that wasn't *literally* the last two seasons of the Roberto Martinez era in a nutshell.
Nathan Osborne
71
Posted 23/09/2017 at 01:42:04
4-3-2-1:
Pickford
Kenny Keane Williams Baines
Davies Gana Sigurdsson
Vlasic Rooney
Calvert-Lewin
Subs: Stekelenburg, Holgate, Jagielka, Mirallas, Schneiderlin, Lookman (for Vlasic, 65'), Niasse (for Calvert-Lewin, 80')

Dennis Ng
72
Posted 23/09/2017 at 02:37:23
James (#69), I like your line-up. Might play Sandro over Niasse but Niasse definitely deserves a chance in this game.
Michael Penley
73
Posted 23/09/2017 at 03:02:06
Bill (#70) – Attractive football, Martinez? You've got to be joking. I had to pinch myself to stay awake most games.

Colin Metcalfe
74
Posted 23/09/2017 at 04:54:28
Come on, Michael, it was a lot more attractive than than the absolute shite we have had to endure under Koeman!!
Give me tika taka over the abomination that we have witnessed over the last 12 months!!!
Paul Ward
75
Posted 23/09/2017 at 05:55:47
Steve, I just can't understand how you hold Schneiderlin in such high regard. He looked good for Southampton, then was a complete failure at Man Utd. Last season, I don't recall even 6 good games from him.
This season, he is not only a liability but he is keeping better players out of the team, and creating a imbalance when he plays.
William Cartwright
76
Posted 23/09/2017 at 06:08:59
You're dreaming, James, posting a line-up like that. Mind you, it would probably outplay anything Koeman will be offering this afternoon!
Danny Halsall
77
Posted 23/09/2017 at 07:06:00
I'd love to see:
Pickford
Kenny. Keane. Holgate. Baines
Gueye
Davies. Sigurdsson
Mirallas. Calvert-Lewin. Lookman
Subs: Stekelenbeurg, Martina, Williams, Schneiderlin, Vlasic, Rooney, Sandro.
Steve Croston
78
Posted 23/09/2017 at 07:38:38
Danny (#77), love that line-up with just one holding midfielder, although he's more likely to put Rooney in somewhere, probably at the expense of Mirallas.
I'd just love a solid 2-0 win today. A clean sheet would be fantastic and a goal from Gylfi would go a long way to repaying back, what looks like at the moment, a bit of a waste of £45 million!
Up the blues. 😀
Chris Gould
79
Posted 23/09/2017 at 08:11:49
I don't understand the apathy towards Martina. If he hadn't come from Southampton with a poor reputation, and was solely being judged by his performances with us, then surely everyone can see that the lad has some positive attributes?
I think he was one of our better performers against Man Utd, and he is starting to get forward with more confidence. His end product is very good, and he picks out his man more often than not.
He's tall and strong and quick and has the physicality to be a good right wing-back. He does have defensive frailties and struggles more when playing right back, but he has hardly littered the pitch with errors, and has been asked to come in with a short pre-season and perform in a team that is struggling to find form. He has been switched from right wing back to right back and then back again. Occasionally he has had a lapse in concentration, but I think everyone would have been far more forgiving if it wasn't for preconceived judgements of the lad.
Jonjoe Kenny has had 2 substitute appearances in the league and everyone is calling for him to start as if they know for sure he's going to be great? The boy is 5' 9" and 10.5 stone. I would imagine Koeman is concerned about him coping with the physicality of the premier league. No doubt he is going to be a very good player but I can understand Koeman being reluctant.
He looked assured against a poor Sunderland team, but nothing more. I think we'll see a lot more of Martina until Coleman's return, and we should really give the lad a chance.
Will Mabon
80
Posted 23/09/2017 at 08:18:11
Okay, so finally the real team's emerging from the gloom. First two on the list: Martina and Niasse.
Oliver Molloy
81
Posted 23/09/2017 at 08:34:18
Chris,
I agree with a lot you say, but wouldn't be concerned with Kenny's weight or height. There are and have been loads of full backs around this (including our own Seamus Coleman) who are very capable .
I don't say this in support of Kenny's inclusion today as I think you are correct that Koeman will slowly bed this young player in over the season. Nor am I saying that young Kenny may not play well in today's match if picked.
Three points is a must today for Koeman and whatever team he picks!
Roberto Smith
82
Posted 23/09/2017 at 08:41:11
2-0 up again with 60 minutes gone. Niasse prepares to come on against Bournemouth!
To the tune of Monster by The Automatic.
"Whose that coming off the bench?
Is it a monster, a lost Niasse monster" x3
Paul Rimmer
83
Posted 23/09/2017 at 09:09:49
4-2-3-1 for me. Which needs full backs who can get forward:
Pickford
Kenny Holgate Keane Baines
Gana Schneiderlin
Vlasic Rooney Sigurdsson
Calvert-Lewin
Subs: Lookman Williams Davies Klaassen Sandro Niasse Robles
Darren Hind
84
Posted 23/09/2017 at 09:12:52
"Rooney in the Schneiderlin role"?
He is a natural footballer who could probably play anywhere, sees danger as well as he see's a pass.
Interesting shout – know if I Iived long enough...

Oliver Brunel
85
Posted 23/09/2017 at 09:17:22
New here and I would go for:
Pickford
Kenny Keane Jagielka Holgate
Vlasic Gueye Davies Lookman
Rooney
Niasse
Subs: Calvert-Lewin, Sigurdsson, Sandro, Williams et al.
Some width and pace with Vlasic, Lookman and Niasse. No-one has put Schneiderlin in their team, he has been very poor in the last few matches.
Dave Evans
86
Posted 23/09/2017 at 09:38:35
Danny (#77),
Agree with your formation and line-up; however, I would swap Vlasic for Mirallas myself. I feel the lad has shown enough to start today. I doubt however Ronnie will be so bold and will probably revert back to 2 holding midfielders.
Kevin Prytherch
87
Posted 23/09/2017 at 10:22:31
I remember the game against Man Utd where we lost 1-0, United had just been thrashed by Man City and Fergie set the team up to win by one to get some momentum going again.
Rooney started off up front, but the more the game wore on, the deeper he dropped and he ended up playing in midfield and stopped anything we tried to create before it happened.
He was awesome that day and it had nothing to do with his physical prowess, he saw everything a second before anyone else did.
Used correctly, Rooney could do a job in Schneiderlin's role.
Iain Johnston
88
Posted 23/09/2017 at 10:23:15
Any chance that Koeman might entertain the diamond formation that surprised him so much from Spurs?
I fully appreciate the calls for Kenny but, against teams like Bournemouth, I'd start with Martina bringing Kenny on later in the game for his better defensive ability when closing the game out. you could even bring him on, push Martina up, Vlasic behind the front two when Rooney tires.
Pickford
Martina, Keane, Holgate, Baines.
Gana
Vlasic Sigurdsson
Rooney
Calvert-Lewin Niasse
Subs: Stekelenburg, Jagielka, Kenny, Schneiderlin, Davies, Sandro, Lookman.
James Hughes
89
Posted 23/09/2017 at 10:33:53
I wouldn't have Baines in the team at the moment; Lukaku walked past him for their third while Baines stood and looked at the ball. But we don't seem to have an alternative.
Good luck to those going and I am being delusional and saying 3-0 to the mighty blues. I will be pulling pints until 3:30 so hoping to catch the second half.
Kim Vivian
90
Posted 23/09/2017 at 10:38:03
James – If we don't have an alternative, seems you would have Baines in your team! :-)
Bournemouth to score, us to win 3-2 or grind out a 1-0 borefest.
Iain Love
91
Posted 23/09/2017 at 10:45:23
Pickford of course;
Kenny, as mentioned before, try him out against a weaker side;
Holgate and Keane, a bit more pace;
Baines, no-one else;
Gana sitting;
Sigurdsson, doing a Pirlo alongside him;
Vlasic and Lookman wide.
Rooney and Calvert-Lewin up front.
At least there's a bit of balance and pace.


George McKane
92
Posted 23/09/2017 at 10:54:07
Morning Blues - - hope you are all feeling a little better after the "crack in the grey skys" on Wednesday - - now we have to take a few more strides forward - - looking past the grey - - way beyond those old "neggo waves" - - we are just like Maurice Maeterlik in search of The Blue Bird - - another great Evertonian - - amazing how many of us there are:
"Remember that happiness is as contagious as gloom. It should be the first duty of those who are happy to let others know of their gladness . . . to be happy is only to have freed one's soul from the unrest of unhappiness".
Saturday 3.00pm KO's - - Christmas Eve for me - - excited as a child - - up early - - started a new idea on The Dark House Blues FB Page - - did a Live Link from my top floor - - looking across The River to The City - - like Wordsworth on The Bridge overlooking London in The Prelude - - "Earth has not anything to show more fair…. a sight so touching in its majesty…. this City now doth, like a garment, wear the beauty of the morning; silent, bare".
Old Mc Enerney (Fat Jack as we called him - - terrible really) from Cardinal Godfrey will be spinning in his grave to think that a little scally wag like me would be quoting Poetry 50 years after leaving school and causing constant conflict in his class - - but I tell you their teachings are in me - - never ever forget Cardinal Godfrey - - 33 bus from Whittle Street - - but walked home - - so we could spend the bus fare on sweets - - along Breckfield Road - - down Mere Lane and then down to Everton Road and home to Great Mersey Street - - me and Peter Walsh, Lenny Mc Cluskey, Frank Clarke - - scallywags all - - my childhood, adolescence and Cardinal Godfrey days are unusually important - - if there has ever been a time that I developed a uniqueness and sense of humour and the ability to organize, it was then - - my thoughts, my heartbeats my very dreams are with those old friends who made me - - Ahhh - - Woww - - Yeaa - - Mmmm - -Ahhh Take Me back Way Way Back - - Listen Listen Listen - - "When you hear the music ringin' in your soul
And you feel it in your heart and it grows and grows
And it comes from the backstreet rock & roll and the healing has begun" - - just leaned into my drawer and put my harmonica in my match bag - - Yea gonna blow my harmonica - - just for you - - and yea man The Healing Has Begun - - a thought -- because that is what happens when you allow yourself to float about on the Astral - - let your thoughts and dreams lift you out of this world and take you where you want to go - - a thought - - it's not about Koeman or losing or indeed winning - - it's about me and you - - it's about who we are as Blues - - as unseen but close friends brought into our field of dreams - - our mutual Arcadia - - by Being Blue - - we were at Old Trafford - - at Goodison last Wednesday and will be there today and Thursday and Sunday - - either in person or in spirit - - We Are There - - We Are the People
"You know what we're writing about
you know what they're writing about
It's a thing called love down through the ages
Makes you wanna cry sometimes
Makes you feel like you wanna lay down and die sometimes
Makes you high sometimes
But when you really get in it lifts you right up
Ain't it a wonderful game
Ain't it a marvelous game
And when there's no more words to say about love I go.
Meet me, meet me, I want you to meet me - are you there
And know, know, know, know
I want you to meet me - are you there
I want you to meet me - are you there
And know, know, know, know, know
I want you to meet me"
Eahhhhhhhh - - you know what I'm writing about - - meet me down by The River - - meet me by The Water - - I want you to meet me - - are you there - - I want you to meet me - are you there – are you there - - are you there.
Put your heart, mind, and soul into even your smallest acts. This is the secret of success … my mission in life is not merely to survive, but to thrive; and to do so with some passion, some compassion, some humor, and some style.
Just letting myself float into the ether - - getting ready for my journey from grey to light - - from mediocrity to joy - - today Gosia will take me to The Dark House and I will do a few Live Links on The FB Page from there and then back after the game for banter and debate and humour and the Everton quiz.
I need to do this - - fill my heart, spirit and soul with beauty and joy and poetry and lyrics - - surrounded in my House and Room by walls full of postcards and prints and quotes from my journeys - - I only have to raise my eyes above the keyboard and I see a drawing I made of Van Gogh more than 40 years ago - - next to it a hand written quote by The Beatles - - "The Love You Take is Equal to The Love you Make" - - surrounded by photos of me over many years as Van Gogh - - posters of Chagall, Chaplin, Vincent, Ruskin, Florence, Michelangelo, Leonardo even Diagalev - - a film poster from La Dolce Vita and above it old Randle P Mc Murphy - - Raphael - - Dickens - - a Shakespeare Plate - - my good old friend Josef's Badge (Number 95902) from Auschwitz and of course Everton - - books everywhere - - on coffee tables - - next to my bed - - on bookshelves in every room - - note books and pens spread everywhere so when a thought enters my head I can write it down and not forget it - - I have such notebooks going back to 1980.
And we sailed, and we sailed, and we sailed
All around the world
And we sailed, and we sailed, and we sailed
Looking for a brand new start
And we sailed
And we sailed, and we sailed
All around the world, a brand new start
Looking for a brand new start
Looking for a brand new start
Looking for a brand new start
Been a Van The Man day today - - sitting listening all morning - - Listen To The Lion - - love to play it to All Blues - - And I shall Search My Very Soul - - Listen to the Lion.
My heart and my soul are forever open to you all - - any Blues ever want to call into The House for a Cuppa - - just let me know.
And voices echoing late at night over The River
And it's always being now, and it's always being now
It's always now
Can you feel the silence?
At half past eleven on long summer nights
As the wireless played Radio Luxembourg
And the voices whispered across The River
And in the quietness we sank into restful slumber in silence
And carried on dreaming in God.
Up The Blues - - cosmic grooves floating to you all from this side of The River and its always being now - - its always now.
With a firm handshake - your friend - George.
Tony Twist
93
Posted 23/09/2017 at 10:58:59
I would play the same team as I suggested for the Man Utd match:
Pickford,
Holgate, Keane, Jagielka,
Kenny, Davies, Rooney, Gana, Baines,
Calvert-Lewin, Sandro.
I think the subs should be used much more with Lookman, Vlasic and Niasse having game time in the second half.
Derek Knox
94
Posted 23/09/2017 at 11:03:22
Tony @ 93, interesting team selection, but we both know, he will go with two defensive midfielders at home; after all, we are facing the mighty Bournemouth.
I think we all want Jonjoe Kenny at right-back, but again I doubt whether he will choose him.
Mark Murphy
95
Posted 23/09/2017 at 11:05:43
Erm...
What George said...
I think.
John G Davies
96
Posted 23/09/2017 at 11:08:48
"This is the secret of success … my mission in life is not merely to survive, but to thrive; and to do so with some passion, some compassion, some humor, and some style."
You got all of them in abundance, George.
Not forgetting the class you have.
Mark Murphy
97
Posted 23/09/2017 at 11:10:16
Not as intellectual as George, maybe,nor as tactically insightful as the rest of yers, but we have to beat Bournemouth...
If for no other reason than their club crest is by far the crappest club crest I ever saw and must have been designed by a day release at Prostar!!
Coyb
George McKane
98
Posted 23/09/2017 at 11:17:41
My goodness John G - thank you for such nice words - keep it cool but mainly keep it cosmic.
Christopher Timmins
99
Posted 23/09/2017 at 11:23:56
I want to see the a continuation of the situation which pertained on Wednesday evening. Calvert-Lewin up top and Vlasic out wide. I also want to see returning players play in their proper positions
Sigurdsson in the hole behind Calvert-Lewin and Baines at left back. I would prefer Jags / Keane combination rather than Williams / Keane combination but my first choice would be a Holgate / Keane partnership.
We need to play with more energy and less fear, the way we set up at Old Trafford was "con miedo".
Glad to hear that McCarthy will be back training with the first team next week. He brings a greater level of energy to the team when he plays. Hopefully, his injuries are now behind him.
We need three wins between now and the International break to put things back on track.
Steve Brown
100
Posted 23/09/2017 at 11:32:51
A poet is a professional maker of verbal objects. That's you, George.
Chris Williams
101
Posted 23/09/2017 at 11:44:25
George,
Lovely.
What oft was thought but ne'er so well expressed.
Brian Harrison
102
Posted 23/09/2017 at 11:47:19
Like all managers who are under pressure, Koeman will bring back his experienced players for this game.
I would hope he will play Calvert-Lewin up top rather than out wide but unless he leaves Schneiderlin out and plays Rooney a bit deeper with Gueye. Then he will play Calvert-Lewin wide right which again leaves Rooney to play as the front man, which is not his best position.
I guess with bringing Rooney, Gueye and Sigurdsson back there will be no place for any of our natural wide players in Vlasic or Lookman. When the top teams have gone for pace and power, we have gone for players with no pace.
Joe Edwards
103
Posted 23/09/2017 at 11:47:37
If Koeman doesn't play Kenny he is a clown.
If he doesn't drop Williams, he's a total clown.
If he doesn't drop Schneiderlin, he is a total and utter twat of a clown.
Brent Stephens
104
Posted 23/09/2017 at 11:52:15
George (#92) – ah, the smell of fresh coffee and the sound of George on matchday.
"Remember that happiness is as contagious as gloom. It should be the first duty of those who are happy to let others know of their gladness... to be happy is only to have freed one's soul from the unrest of unhappiness". Lightens a sometimes gloomy TW.
I'll be listening out for that harmonica!

Peter Mills
105
Posted 23/09/2017 at 11:53:04
George, through that crack in the grey skies, some of us occasionally catch a glimpse of the crescent – you always manage to see the whole of the moon.
John Pierce
107
Posted 23/09/2017 at 12:14:30
Please set us up to attack.
Pickford
Kenny Holgate Keane Baines
Davies Gana Sigurdsson
Vlasic Calvert-Lewin Lookman
Mobility and energy in that team.
Vijay Nair
108
Posted 23/09/2017 at 12:19:23
John (#107), that was the exact same line-up I suggested on the other thread! Here's hoping eh?
Derek Knox
110
Posted 23/09/2017 at 12:30:32
John and Vijay, I think most would go for that, but somehow I can't see him leaving Wayne out,...but stranger things have happened.
Nitesh Kanchan
114
Posted 23/09/2017 at 13:06:02
Steve (#42), I think Ross has already made up his mind; either Koeman stays or him. He didn't even congratulate the team on their win against Sunderland, unlike Bolasie did.

Darren Hind
115
Posted 23/09/2017 at 13:20:03
George,
As a former Cardinal Godfrey pupil myself. I often wonder how such a decrepit old building could churn out so many crazies.
You my friend are blessed. Not simply for seeing life the way you do, but by being able to show others what you see.
4-0 today lad. Hope you've got your bet on.
Charles Brewer
116
Posted 23/09/2017 at 13:54:27
So it would appear that there is consensus that Klaassen was a total waste of £24 million, and that Sigurdsson is at best "uncertain". £70 million would probably have bought us a decent striker.
Paul Tran
117
Posted 23/09/2017 at 13:58:35
No consensus here, Charles. I think Klaassen will be a cracking signing when he gets used to the pace here.
Sigurdsson will benefit from being played in the right position. It worries me that Koeman has apparently pursued him for a year and now plays him out of position. That's telling me plenty.
Tony Abrahams
120
Posted 23/09/2017 at 14:11:55
George and Darren, both Godfrey boys, no wonder I feel as though I know yers, even though we've never met!
I didn't fancy going to that school when I passed the eleven plus! But I can't argue with Darren (for once) because from the minute I went in, alls I met was happy lunatics.
George, I can see where your education began now mate, in amongst the lunatics, and the Christian brothers from Ireland, Great memories indeed!
Dave Abrahams
121
Posted 23/09/2017 at 14:13:33
George, you keep beating your last post, lovely, enjoyed it has usual. Peter Mills put it best, we see glimpses but you always see the whole of the moon.
I kept your school seat warm for you George, I went to that school when it was De La Salle made great mates like you,.
Billy McKeown and Alec (Ben) Forster both sadly gone, along with a few more, they have gone but come back from time to time, in my mind's eye, and always cheer me up. Memories... can't beat them, George.
I hope Everton give us all some more great ones before long.
Mike Corcoran
122
Posted 23/09/2017 at 14:18:43
May has well have Van Morrison in midfield with that team George
William Cartwright
124
Posted 23/09/2017 at 14:27:40
We could always 'park the Van' instead of parking the bus ... (sorry about that)
Ashley Roberts
125
Posted 23/09/2017 at 14:28:19
Danny (#77), John #107
For me this has to be the formation. We can argue if it should be Rooney or Sigurdsson in the # 10 role or Vlasic or Mirallas. It would appear that while not football coaches a lot of us can see a balance line up with some pace which will compete in this league.
I also agree with Charles (#116) as I do not see where Klaassen fits at all. I have read many posts that there is a footballer in there with a footballing brain!!!! I believe that many of us posting links have a footballing brain but not sure this is quite enough to play in the Everton first team
Laurie Hartley
126
Posted 23/09/2017 at 14:55:39
And may I say George I am glad to be one of the "people".
When I woke this morning I heard a mysterious sound. It was the sound of our George blowin' his harmonica.
Up the Blues!!!!!
Jamie Evans
127
Posted 23/09/2017 at 17:20:12
Congratulations Oumar. What a fantastic cameo and so well deserved. Enjoy your Saturday evening young man... Thanks to you, I certainly will.
Add Your Comments
In order to post a comment, you need to be logged in as a registered user of the site.
Or Sign up as a ToffeeWeb Member — it's free, takes just a few minutes and will allow you to post your comments on articles and Talking Points submissions across the site.