Everton vs Apollon Limassol

118 Comments [Jump to last]
Wednesday 27 September 2017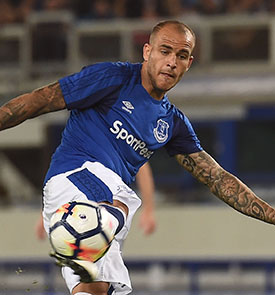 Overlooked against Bournemouth, will Sandro Ramirez figure in the absence of Oumar Niasse?
Everton resume their Europa League campaign tomorrow evening with a home fixture against Apollon Limassol needing to get three points on the board following the debacle against Atalanta.
The Blues' 3-0 reverse in Italy has increased the pressure on them to win their three games at Goodison Park in order to have the best chance to progress to the knockout phase but, unlike their last European match, they come into this clash with the Cypriots in a better frame of mind.
Back-to-back wins against Sunderland and Bournemouth have lifted the mood at Finch Farm and provided a timely confidence boost for the players.
"We had a difficult run of games at the start of the season but I think as a team we were never worried that we wouldn't get back together," Mason Holgate said in a joint press conference with manager Ronald Koeman today.
"We know we're a good strong team and we've got the ability, once we're firing, to cause any team trouble. So I think we've got ourselves back together now and we're looking forward to moving on.
"That's what football's all about — once you'e got a few wins, confidence starts coming in and it looks like things start dropping a little bit for you and I think that's what's happening now."
Koeman echoed the young defender's sentiments regarding the two positive results. "Of course, it's really important," he said. You like to play full of confidence and the confidence of the players — they get it from themselves first and, secondly, they get it from good results.
"I think the wins in the last two games, against Sunderland and the last one against Bournemouth, are important but this is a different competition. We need to react because the final result in Italy was not the Everton we like."
Everton will have do without Saturday's two-goal hero, Oumar Niasse, however, who is ineligible for this phase of the Europa League because he wasn't included in the squad the club submitted to Uefa prior to the registration deadline.
The Senegal striker took the chance offered him in the League Cup last week to put the cherry on top of a 3-0 win over Sunderland by scoring the third goal and his first in Everton colours. But he was vital to the Blues at the weekend when he rescued the side with a brace to beat Bournemouth and ease the growing pressure on Koeman following a poor start to the new season.
"We had to make that decision a long time ago and at that time his situation was not the situation [as it is] now," the Dutchman said of Niasse's omission from the squad for Europe.
Focus will switch back to Koeman's chosen formation, how he uses Dominic Calvert-Lewin, a hero in his own right in the last two games with a brace against the Black Cats and a good performance leading the line against the Cherries, and perhaps to Sandro Ramirez who has yet to catch fire in England since making the switch to Goodison from Malaga over the summer.
The Spaniard was an unused substitute on Saturday, the first time he has been fit but not played since he arrived, but, like another new signing Nikola Vlasic, he will be hoping to be involved at some stage against Limassol.
As usual, Koeman has plenty of options in attacking midfield where much attention will be devoted to how many "No.10s" he can fit into his starting XI and how much he rotates of personnel with one eye on another important league game on Sunday against Burnley.
His options are fewer in defence, where "[the injury situation has not changed]," according to Koeman. "Still Michael Keane and Phil (Jagielka) are not available for tomorrow and they are doubtful for the weekend." Both players trained separately from the main group this morning, as did James McCarthy who isn't scheduled to resume full training again until Friday. That will almost certainly see Mason Holgate continue alongside Ashley Williams at centre-half and leave the choice between Cuco Martina and Jonjoe Kenny as the only real decision.
In goal, Maarten Stekelenburg was the chosen cup 'keeper in Atalanta and he is likely to be named as the starter between the posts again.
Presumed to be the underdogs in the group, Apollon secured a draw in their opener against Lyon two weeks ago and Koeman's comments at the presser suggested that he won't be underestimating them.
"It's a team who like to play football, that's really comfortable on the ball," he said. They had a point against Lyon which was a good result for them.
"We have analysed the team. It won't be easy for us. They're an aggressive team, they like to press but, more important, it's about ourselves. You respect the opponent but we need to play better. We need to be more aggressive. We're playing at home and we need the win."
Anything short of that, of course, would put Everton seriously behind the proverbial eight ball and put significant pressure on them to get a victory in one of the two remaining away games as well as getting favourable results at home to Lyon and Atalanta.
If they can take the confidence gleaned from the last two games, employ the passing that was a feature of some of their play against Bournemouth and create enough chances, then they should have enough to claim the points. Therein likes the rub, though — Koeman's Everton simply don't fashion enough goalscoring opportunities and he has yet to settle on a line-up that resolves that significant handicap.
Kick-off: 8.05pm, Thursday 28 September, 2017
Predicted line-up: Stekelenburg, Martina, Holgate, Williams, Baines, Schneiderlin, Gueye, Vlasic, Sigurdsson, Rooney, Calvert-Lewin
---
Reader Comments (118)
Note: the following content is not moderated or vetted by the site owners at the time of submission. Comments are the responsibility of the poster. Disclaimer
Derek Knox
1
Posted 27/09/2017 at 18:45:09
Apart from Martina, not a bad projected line-up. I would like to see Jonjo, look at Saturday; I arrest my case,m'lud.
We really need a convincing win for several reasons: firstly, to get much needed points; secondly, to boost confidence; thirdly, to send a message to the other teams in the group.
They are probably looking at us, after the dismal performance against Atalanta, as an also-ran.
Christian Watson
2
Posted 27/09/2017 at 18:48:49
Recent 'excitement' aside. I am struggling to understand Koeman's myopic and frankly ignorant exclusion of Niasse from the Europa League squad. Just demonstrates beyond doubt that Oumar was never in his thoughts whatsoever.
I suppose a public apology is out of the question, but Niasse deserves one.
Lee Jackson
3
Posted 27/09/2017 at 18:55:50
Christian, the squad had to be submitted before transfer deadline day and it was expected he would be sold to Palace. In fact, the squad was named before we signed Sigurdsson BUT UEFA rules allow one addition – before the group stages start I think(?) so that's how Siggy got in. Or maybe it was Vlasic – Bugger, old age catching up with me, cant remember.
Dave Abrahams
4
Posted 27/09/2017 at 18:59:19
I'm glad the two victories over Sunderland and Bournemouth have given the players a lot of confidence. I'm afraid they haven't given much, especially the last game; I will need a few more wins and a lot of good performances before I'm convinced Koeman has got us on th right track.
I've been bored stiff with almost all of the team's efforts up to now, the first half versus Split and the last 20 minutes of the Bournemouth games have given me any satisfaction. I feel we are back to hoping for the best and being prepared for the worst.
Lee Jackson
5
Posted 27/09/2017 at 18:59:37
Yes, this is a must-win game but at home to a Cypriot side I would risk what may be perceived by Koeman as a weaker side:
Pickford
Kenny -- Holgate -- Williams -- Martina
Gueye -- Davies
Vlasic -- Sigurdsson -- Lookman
Calvert-Lewin
Andy Peers
6
Posted 27/09/2017 at 19:07:30
I will be watching, it's just hard to get excited with Koeman in charge. You just know team selection will be wrong and annoying. Always hope to win, and if so, it won't be by design it will be by fortune like Bournemouth.
Rob Esteva
7
Posted 27/09/2017 at 19:08:39
Essentially Koeman decided on the registration deadline (2nd Sept) not to include him and only name 23 players rather than the 25 allowed.
It is what it is unfortunately, but it has backfired. Man Utd named Zlatan even though he'll likely miss the group stage, as they had the space.
James Marshall
8
Posted 27/09/2017 at 19:21:58
If we qualify for knockout stages, Niasse can be added to the squad.
John G Davies
9
Posted 27/09/2017 at 19:23:54
Koeman took a decision on Niasse; the majority of Evertonians agreed with him. He's come back into the fold and done well. Let's hope he continues. He may or may not.
He is improving in every game he hasn't played... according to some. Best to wait and see.
Lenny Kingman
10
Posted 27/09/2017 at 19:24:36
Anything less than 6-0 will be an insult to Blues worldwide.
Lee Jackson
11
Posted 27/09/2017 at 19:24:37
That's right, James, we can register three new players apparently:
43.01 For all matches from the start of the round of 32, a club may register a maximum of three new eligible players for the remaining matches in the current competition. Such registration must be completed by 1 February 2018 (24:0 CET) at the latest. This deadline cannot be extended.
Drew O'Neall
12
Posted 27/09/2017 at 19:27:17
Two up front please:
Goalkeeper
Defence
Gana
Midfield
Sandro and Calvert-Lewin
James Marshall
14
Posted 27/09/2017 at 19:37:14
Lee -– I posted that exact same extract from the Uefa rules a few days ago :)
Lee Jackson
15
Posted 27/09/2017 at 19:57:05
I thought I saw someone do that. ;-)
As an aside, did you read some of the other rules? Bearing in mind this is for the Europa League only, one that I found odd was that from the group stages the defending champions (Title holders) wear a different 'Europa' badge on their sleeve to the rest of the teams. Of course the fact that the defending champions are not even in the Europa group stage has nothing to do with it!
There are also lots of other bureaucratic bullshit rules... glad all we have to do is watch the footy.
Mike Berry
16
Posted 27/09/2017 at 20:18:11
I trust Koeman will go for goals with width and pace or two upfront, and not retype the same teamsheet as for the first half against Bournemouth. If he does, the fans will hang him!
John Malone
17
Posted 27/09/2017 at 20:48:39
I'm sorry I don't want to see Davy, our new £26 million version of the anonymous Tom Cleverley, in the team!
This game is a must-win and we need to be at it from the off!!
I'd play 4-1-3-2:
Pickford
Martina, Holgate, Williams, Baines
Schneiderlin
Gueye, Rooney, Davies
Calvert-Lewin, Mirallas
Christy Ring
18
Posted 27/09/2017 at 20:53:45
All I want is a team, with players in their proper positions, and stop playing the three No 10s together. It gives us a completely unbalanced team with no width and pace.
He should give Garbutt a run out at left back. He played the last two games for U23s, especially as there's no-one else to challenge Baines.
Anish Dosani
19
Posted 27/09/2017 at 20:53:52
Why not a 4-4-2 which would give us much more balance and width. I'd go:
Pickford
Martina Holgate Williams Baines
Sigurdsson Gana Klaassen Lookman
Calvert-Lewin Sandro
This side has pace, width, skill and balance.
Paul Tran
20
Posted 27/09/2017 at 21:21:32
Very interesting piece
from Royal Blue Mersey
, giving sound reasons for Niasse's omission from the squad, due to the complicated process instigated by Uefa. Well worth a look.
John G Davies
21
Posted 27/09/2017 at 21:28:51
Jon Withey
22
Posted 27/09/2017 at 21:36:47
Not Schneiderlin or Klaassen please.
Charlie Lloyd
23
Posted 27/09/2017 at 21:52:11
Davies should start.
Andy Meighan
24
Posted 27/09/2017 at 22:10:05
Listening to Holgate, you'd think we'd had a string of wins. Truth is we beat a shit – and I mean shit – Sunderland, who are languishing near the foot of the Championship, and an ordinary Bournemouth side, who are next to bottom of the Premier League. And if Defoe had got his lines right, he could well have put us out of the game.
I'm expecting us to beat these tomorrow but I'm also expecting us to revert back to type against Burnley – by that, I mean it'll be Koeman and his "square peg, round hole" routine Not convinced.
Clive Mitchell
25
Posted 27/09/2017 at 22:24:19
Since Koeman wants to give Klaassen time and lots of chances, better play him in this one because he sure as hell shouldn't be starting against Burnley.
Tom Bowers
26
Posted 27/09/2017 at 22:52:43
We all have our opinions on what tomorrow's starting eleven should be but, no matter who he starts they have to be motivated with the desire to win, and that means going at the opposition with some authority and not play the tippy-tappy slow passing game we have seen so far with this manager.
The team needs to be adventurous and we know he has some younger hungrier players who have some zip but he won't use them from the start. There is no way we should expect them to have any trouble against a Cypriot side that in no way compares to the Prem. despite their draw with Lyon.
Calvert-Lewin is improving nicely and I would like to see more from Sigurdsson in the supporting role and Kenny playing at fullback.
Iain Johnston
27
Posted 27/09/2017 at 23:14:39
Look on the bright side: Niasse will be as fresh as a daisy to face Burnley.
I'm tempted by the 4-4-2 tomorrow having Mirallas and Lookman wide with Gana & Davies in the middle and Calvert-Lewin & Sandro up front.
2nd half, we could look at pushing :Lookman up if Sandro backfires, bringing Sigurdsson on. Possibly Martina in front of Kenny 2nd half too?
I'd keep the rest fresh for Sunday.
Danny Broderick
28
Posted 27/09/2017 at 00:00:36
We have some players who could do with some game time – Kenny, Sandro and Klaassen. It's a chance to rest Baines and possibly Gueye, Schneiderlin & Rooney also. I am hoping for something along the lines of:
Pickford (but it will probably be Stekelenburg)
Kenny Holgate Williams Martina
Besic Davies
Vlasic Klaassen Mirallas
Sandro
We should beat this lot even with a weakened team. We need some of these players to get up to speed so I hope they get a run out. If it's going well we could give Lookman a run out. If it's not going well, we could bring on Rooney, Calvert-Lewin etc if required...
Mark Wilson
29
Posted 27/09/2017 at 00:05:23
It's a vital game, surprisingly, given it's only round two of the group stage but hey, that's what happens when you embarrass yourselves away to Atalanta.
Given its importance, and surely the need to deliver more than one goal-scoring opportunity, I'd go for:
Pickford
Kenny, Holgate, Williams, Baines
Sigurdsson, Davies, Gueye, Vlasic
Calvert-Lewin, Rooney
Never happen as it's just too attacking and balanced and we are of course playing the Cypriot equivalent of Barcelona, apparently. Incidentally, I'd play exactly the same team on Sunday against a Burnley team who will lay deep, be superbly organised and solid but will not like a team coming at them with width. Niasse from the bench again makes sense and we'd also have Sandro and the much maligned tho slow starting Klaassen.
I accept Baines may struggle a bit and Williams but ffs they should be able to manage given the game is on Sunday and hopefully v Limassol we will be three up,at half time and Koeman can rest some of the pensioners in the second 45.
Okay, brain, you can wake up now... I said wake up, you're dreaming, you stupid git.
Derek Knox
30
Posted 28/09/2017 at 03:30:37
This squad rotation ethic is fine if you have a strong squad to start with, and; they are all singing from the same hymn sheet, and playing well.
I don't think Koeman knows what his strongest team is, to be frank, but nevertheless, I would play Pickford in goal, unless he is injured. I have nothing against Stekelenburg, but he is unpredictable.
I would never under-estimate this team either. Lyon are the the team to beat, allegedly, being considered the strongest, and may I remind everyone, that our next opponents drew with them and by all accounts, could maybe have nicked it.
Basically, what I am saying is these are not mugs, so should be treated accordingly.
Darren Hind
31
Posted 28/09/2017 at 03:38:00
It'll be interesting to see how many attend tonight.
There was a clamour for tickets when Moshiri was giving the manager that magnificent backing early in the summer, but that seems to have subsided very quickly. I wonder if the standard of play has been a factor in the increasing number of empty seats we are witnessing after just a few home games?
I hope the cameras go on the manager if Niasse scores. Just to see if he can manage to take that "I'm having my farmers removed" look of his face.

Phil Smith
32
Posted 28/09/2017 at 03:43:16
Isn't Nikola Vlasic cup-tied?
Will Mabon
33
Posted 28/09/2017 at 04:05:28
No Niasse – not eligible, group stages at earliest.
Lee Brownlie
34
Posted 28/09/2017 at 04:12:53
As we need to win, then let's send out a team, our best players, set up to win. This means, for a start, Pickford in goal.
Unfortunately, this manager is seeming more and more clueless in setting up any team to win, and clearly thinks its up to the players to find their way, some proper formation, not his own coaching and tactics!
I always have too much patience with managers as I remain hopeful as long as possible, as I did with Roberto most recently, but if we lose tonight, Koeman really should walk!!
Darren Hind
35
Posted 28/09/2017 at 04:19:59
Oh, of course, Will. I was forgetting... He didn't include him.
Pity.
Ajay Gopal
36
Posted 28/09/2017 at 04:29:40
I like Lee Jackson's (#5) side:
Pickford
Kenny -- Holgate -- Williams -- Martina
Gueye -- Davies
Vlasic -- Sigurdsson -- Lookman
Calvert-Lewin
I would probably swap Gueye for Besic and maybe Sandro for Lookman, with Lookman, Mirallas and Klaassen to come off the bench.
My team::
Pickford
Kenny Holgate Williams Martina
Besic Davies
Vlasic Sigurdsson Sandro
Calvert-Lewin
Subs: Stekelenburg, Baines, Rooney, Klaassen, Lennon, Lookman, Mirallas.
Jerome Shields
37
Posted 28/09/2017 at 06:00:20
I hope Koeman isn't as bad as I think he is. If he goes for the defensive-type side he usually goes for, who can't defend, we are snookered. No Niasse to save his bacon. Hopefully Calvert-Lewin has learned something from the former Russian Player of the Year.
I worry about Rooney slowing the attack and getting caught in possession. The Cypriots will see that as the best chance of a counter-attack.
Koeman selection for defence will also determine a lot; Davies needs to be included. We also need wingers.
Alan J Thompson
38
Posted 28/09/2017 at 06:07:16
Now that we've seen all the Everton teams we would like to see, can anyone tell me what Apollon's strengths and weaknesses are, other than being the Cypriot Barcelona, whatever that means.
Where's Phil whatsisname who lives over there, can he shed any light?
Brian Porter
39
Posted 28/09/2017 at 06:28:50
Well said, John G Davies (#21). For Koeman to have included Barkley in the Europa League squad when he knew he was likely to be missing till Christmas anyway and that Barkley obviously doesn't want to play for us as well, and not include Niasse, one of our few striking options, was sheer folly that as you put it, qualifies Koeman for the twat of the year award.
He has effectively left us a man short in the squad, and that in itself is an example of sheer incompetence. Why couldn't he have named Niasse who he must have known was eager to impress, instead of a player he told to sign a new contract or be sold? Especially as that player is out with a long term injury and who wouldn't be available for the group games anyway, and oh yes, he didn't sign the contract did he?
What would he have done if Barkley had gone through with the move to Chelsea? I really am struggling to try and work out how Koeman's mind works. My only conclusion is that somewhere along the way, our manager has had his entire sense of logic amputated or undergone a frontal lobotomy that has left him with a single train of thought that he is now incapable of deviating from.
To put tonight's game into perspective, we face the might of Apollon Limassol, currently 9th in a league of 14 teams, mostly based in Nicosia and a couple in Limassol. With respect to our opponents, the Cypriot league is hardly a hotbed of European football and most people would struggle to name half a dozen teams from their first division.
Here are a few of the teams currently above Apollon in early season, Anorthosis, Doxa Katokopia, Omonia Nicosia, Alki Oroklinis. Get the Picture? If we can't run up a decent score against these giants of European football, Koeman should resign and let a competent manager be appointed to take us forward.

Alan J Thompson
40
Posted 28/09/2017 at 06:38:47
Brian (#39); Are you sure that isn't their backline; AN Other, Dogsya Kat, Nicky Ammonia and an Alki? Or was that a Sunday side I used to play for? Fair description.
Tony Everan
44
Posted 28/09/2017 at 08:02:54
I think Sandro will start and be replaced by Lookman in the 2nd half. Personally l would like to see Lookman start up front with Calvert-Lewin.
I'd like to see an early goal for us to settle the lads down. If so, we will go on to win by 2 or 3.
Brian Wilkinson
45
Posted 28/09/2017 at 08:03:00
We can add three new players if we get past the group stages. What baffles me is the group stages will finish in December, we are not expecting Barkley or Coleman to be fit before then, so why the hell did we include them in the group stages, when we could have at least put two players in the squad that was fit, adding Coleman and Barkley if still here in the new squad in January.
Just a thought but if Barkley does leave in January, will that free up a spot in the squad?
If Giroud did come in January, we would not be able to add him anyway, unless group stage matches do not cup-tie a player in the knock-out stages.
Tony Hogan
46
Posted 28/09/2017 at 08:03:21
Brian (#39)
'Barkley obviously doesn't want to play for us'.
No!!! Barkley doesn't want to play for Koeman, and I suspect neither do other players.
John G Davies
47
Posted 28/09/2017 at 08:36:39
Expecting a gate in the 20,000 plus figure tonight. We historically don't get big gates in the early games in Europe. Even our great side of 85 had maximum 25,000 gates apart from the semi-final v Bayern.
Tony Everan
48
Posted 28/09/2017 at 08:59:26
John, these games could be more subsidised than they are. Kids free with an adult, all adult tickets £10.
35,000 better than 20,000 for the team, the atmosphere and getting the bluenoses of the future hooked.
John Keating
49
Posted 28/09/2017 at 09:18:04
Please no 2 defensive midfielders and please 2 up top:
Pickford
Kenny, Holgate, Williams, Baines
Mirallas, Gueye, Davies, Lookman
Calvert-Lewin, Sandro.
Martin Nicholls
50
Posted 28/09/2017 at 09:27:56
Darren (#31) – I thought you knocked the constant criticism and negativity on the head on matchdays? #35 – I suggest you read the links at 20 and 21.
Brian (#39) – did you read the link to John's post at 21?
Tony (#48) – the pricing (in particular concessions) for this and other home cup games is extremely reasonable and cannot be used as an excuse for not attending by any locally based supporter.
Rob Young
51
Posted 28/09/2017 at 09:32:05
Tony, fair shout – although I must say I am quite pleased with the prices as they are. Going with my cousin and his two lads to the game and paying £55 for the 4 of us.
Taking the lads to all three Europa League games probably as they love the evening games and it is affordable.
Don Alexander
52
Posted 28/09/2017 at 09:54:50
John G Davies at #21 brings light onto the situation re Niasse's omission from the Europa League squad, in the shape of the truth, to the probable chagrin of the anti-Koeman brigade.
Steve Bingham
53
Posted 28/09/2017 at 10:03:27
Lookman should start as at the moment he desperately needs game time. His obvious talent is being stifled by being nothing but a bench warmer.
Joe Edwards
54
Posted 28/09/2017 at 10:36:19
What is it with Koeman's persistence with Schneiderlin? Along with Sandro and Klaassen he has been our stand out worst performer this season (and the last 6 of last season come to think of it) and doesn't warrant a place in the starting line-up.
Lookman should definitely start as his pace and manoeuvrability cause no end of problems for defenders but Koeman is thick-headed and will revert to type again, playing a defensive formation with 2 holding midfielders who don't hold.
The omission of Niasse from the Uefa squad will haunt Koeman and his refusal to admit it being a mistake is systematic of his pig-headed refusal to admit when he is wrong.

James Stewart
55
Posted 28/09/2017 at 10:44:58
Pickford
Kenny Holgate Williams Martina
Davies Gueye Sigurdsson
Vlasic Calvert-Lewin Lookman

Rahman Talib
56
Posted 28/09/2017 at 11:13:15
Pickford
Kenny Holgate Williams Garbutt
Rooney
Lennon Sigurdsson Vlasic
Calvert-Lewin Sandro

Charles McCann
57
Posted 28/09/2017 at 11:59:17
I don't understand why anyone would want to see Martina play tonight or in any future match for that matter. Surely Kenny is the better option?
I don't rate Stekelenburg either so would like to see Pickford play in goal. I feel Robles is the better back up option too.
As some others have commented it would be nice to see Lookman get some game time tonight. At the weekend, it looked with his substitutions that Koeman is finally learning something! About time.
James Morgan
58
Posted 28/09/2017 at 12:02:05
I'd like to see a strong side with Davies and Kenny in there. Maybe Vlasic and Lookman too but I won't hold my breath.
James Hughes
59
Posted 28/09/2017 at 13:09:22
James (#55 & #58) – Vlasic is NOT in our Europa League squad and played against us in the qualifier. So two reasons why he can't play.
Liam Reilly
60
Posted 28/09/2017 at 13:22:07
Actually, Vlasic is allowed play in the Group games, James. The preliminary rounds are treated separately.
Just reading the OS; apparently these guys have a red on loan: Allan Rodrigues de Souza – a Brazilian 20 player.
Surely he can't ruin our night; could he?
Chris Gould
62
Posted 28/09/2017 at 13:35:39
James Hughes,
Vlasic played against Atalanta, so is eligible to play. I would like to see him start along with Sandro, Sigurdsson and Calvert-Lewin in the 4 attacking roles.
David Young
63
Posted 28/09/2017 at 13:37:06
Lee (#5). I like that line up; pace and youth. "You won't win anything with kids" as the RS Hansen stated once upon a time. Yes, we will. We have fantastic young players in and around the squad. Three-Nil Everton. We will score and we will win. COYB
James Hughes
64
Posted 28/09/2017 at 13:48:54
Liam & Chris, I stand corrected. He is still not a named player is he allowed to play due to his age.
Daniel A Johnson
65
Posted 28/09/2017 at 13:54:43
How Koeman can say Stekelenburg is a better keeper than Robles baffles me. Is it another example of him having his favourites?
George McKane
66
Posted 28/09/2017 at 13:58:45
I am sitting at my desk in Yellow House with Dan - - he has his Everton Shirt on - - we will be going straight to the game this evening - - so here are a few fine words for The Everton Management Team:
"Tonight, 'neath the silvery moon, tonight
Tonight, 'neath the silvery moon, tonight
And the leaves, shaking on the trees, in the cool, summer breeze
And the people passing, in the street
And everybody that you meet, tonight
You will understand the oneness
Tonight, you will understand the one
Tonight, 'neath the silvery moon, tonight
Tonight, let it all begin tonight
You will understand
The Oneness,
The Oneness,
The Oneness,
The Oneness,
The Oneness,
The Oneness
The Oneness,
The Oneness
And it's real, what you sing about in your song
And it's real, what you sing about in your song
I say, Come back, baby, can we talk it over?
One more time, tonight
Tonight
You will understand the oneness
The oneness
Tonight, beneath the silvery moon, tonight
Tonight, let it all begin tonight
You will understand the oneness
The oneness
The oneness
The oneness, inside
And the truth."
Enough said and to think about.
Cosmic grooves all the way - - George
Amit Vithlani
67
Posted 28/09/2017 at 13:59:38
George - you are a lyrical gangster.
Chris Gould
68
Posted 28/09/2017 at 14:14:54
James,
Vlasic is a named player in the Europa League squad. He was the last one added. Check the Uefa website. It lists all of the squad.
Gareth Clark
69
Posted 28/09/2017 at 14:15:00
Stekelenburg
Kenny Holgate Williams Baines (c)
Davies Besic
Sigurdsson
Vlasic Sandro Lookman
Subs: Pickford, Feeney, Martina, Schneiderlin, Besic, Lennon, Calvert-Lewin
Tony Marsh
70
Posted 28/09/2017 at 14:32:02
It both tickles me and baffles me at the same time why some of our fans do would-be team sheets... WHY? What is the point?
All you do under Ronald Koeman is pick a keeper, 5 defenders and 5 number 10s... Job done!
No doubt tonight's team will lack width, pace and attacking intent. I mean it – the Cypriot giants must be wary of them. The whole thing is a joke.
Michael Kenrick
71
Posted 28/09/2017 at 14:55:30
I know you think the whole competition is a joke, Tony, but here's a thought: if we as a club are to one day compete effectively in the Champions League, then couldn't you look at this run in the Europa League as essential training for that momentous assault on the Big Monied sides?
As a club, we need to get used to playing in Europe, playing midweek fixtures, mastering the travel schedules, and the finer points of effective squad rotation.
Baby steps, if you like. I hope you're going tonight to cheer them on!
Will Mabon
72
Posted 28/09/2017 at 15:20:00
Tony, I love us being in European football, this or Champions League is fine by me. Great nights at home, and I used to love travelling to the away fixtures in times past. I hope Koeman doesn't take the shine off it.
Like the confidence, Michael: we need to get used to it! Steady on there.
James Marshall
73
Posted 28/09/2017 at 15:20:47
I see Bayern have just sacked Ancelotti – maybe he'd like a crack at the Everton hotseat?
Rob Young
74
Posted 28/09/2017 at 15:27:59
Ha, James.
Maybe this would the be a good time for the club to approach the Dutch FA and offer them Koeman? Surely when the Dutch are not qualifying for the World Cup they'll need a new coach.
It's one of Koeman's remaining ambitions after all. That and Barcelona... Yes.
James Marshall
75
Posted 28/09/2017 at 15:31:13
Michael is entirely correct – you have to learn as a club/team/player to cope with the demands of European football in the modern game.
The Europa League is a good competition these days, and anyone bemoaning the opposition tonight would do well to look at some of the teams in the Champions League as well.
I love European games – they feel less pressured than the Premier League games, which are mainly quite hellish to watch!
James Marshall
76
Posted 28/09/2017 at 15:32:27
Rob - well the Belgians took Bobby of our hands so why not Ronnie for the Dutch?
I tell you what, I'll give them a bell myself.
James Hughes
77
Posted 28/09/2017 at 15:32:33
Yes please, sacked despite winning the league, which he has in all top leagues in Europe.
James Flynn
78
Posted 28/09/2017 at 15:33:19
Ah, Van the am an. Excellent choice.
Brian Harrison
79
Posted 28/09/2017 at 15:35:45
Michael,
It doesn't matter how its dressed up – the Europa League is a very inferior competition compared to the Champions League. Also, the fact that the 3rd worst group in the Champions League are allowed to enter this competition, then Uefa have rendered their own competition a joke.
I wish I could get excited about it but I can't. Yes, I will be there tonight, as normal, but excited? Definitely not.
Whenever any of the top 6 end up playing in the Europa League, they invariably play some youngsters – can you imagine that happening in a Champions League group match?
Trevor Lynes
80
Posted 28/09/2017 at 15:41:10
Drawing with Lyon is a result we would like so do not under estimate any side we play at the moment. Our attack is powder puff and I am not confident about playing any side.
Brian Abbsey
81
Posted 28/09/2017 at 15:42:01
Gareth @ 69,
You seem to have Besic playing and warming the bench at the same time. Now that's what I call versatile!
Grant Rorrison
82
Posted 28/09/2017 at 15:43:25
What's the betting Klaassen, Rooney and Sigurdsson all start tonight?
Les Green
83
Posted 28/09/2017 at 15:49:09
Brian Porter @ 39
Read the link from Paul Tran @ 20 to understand why Barkley is in the squad. Niasse doesn't qualify under the same rule that Barkley does so couldn't fill that spot even if Barkley had left the club and it left the slot open.
It also explains why we didn't submit the full 25 players due to the different pots/lists of eligible players
James Marshall
84
Posted 28/09/2017 at 15:54:18
It seems a lot of fans are still a bit snobbish about the Europa League. Everton haven't been a top club for 25 years so it's our current level, and I embrace it for that reason.
Yeah, we all want to play in the Champions League, and win titles, but we're Everton, a traditionally (in the last 25 years) mid-table team.
Lee Jackson
85
Posted 28/09/2017 at 15:56:43
Ajay (#36) and David (#63) – the one thing that is blatantly obvious with my side is that we have no suitable coverage if we want to give Baines a rest. Garbutt is mentioned but he struggled out on loan, can't get in the England Youth/U21/U23 squads anymore and frankly/unfortunately we seem to be hearing less and less about him.
I went for Martina because we don't have any other defenders (failed transfer window item #2) and he had a reasonable game for us out there earlier in the season. Besic for Gueye may be a good shout and I also pondered Lennon on the right – as much as anything I think he would work well with Kenny as they could effectively interchange should the need arise. The new Bainar? Kenon or Leny?
In any case, not long to go and whatever side we put out we should still have enough to scrape a 1-0 win!!!
Matthew Williams
86
Posted 28/09/2017 at 15:57:13
Any Trophy this great club of ours has NEVER won is no joke in my book...
2-0 Blues...onwards!

Oh yeah, win this "Useless" Cup & Champions League awaits after the Super Cup Final... Another pot we've NEVER won!
Jon Withey
87
Posted 28/09/2017 at 16:14:35
Really not convinced by Besic – much that I want him to succeed.
Alasdair Mackay
88
Posted 28/09/2017 at 16:15:03
We need a win and a performance tonight to put that awful Atalanta game behind us.
I remain hopeful that we see at least one of Lennon, Lookman or Mirallas in the side and that we start Kenny at right-back. I would also start Besic as he needs games and he is aggressive and can drive us forward with his passion.
I would also start Klaassen as he is not ready for the Premier League, but he needs games and has loads of Euro experience.
Pickford
Kenny, Holgate, Williams, Baines
Besic, Gueye
Davies, Klaassen, Lennon
Rooney
Subs: Stekelenburg, Feeney, Martina, Schneiderlin, Sigurdsson, Lookman, Calvert-Lewin
Paul Tran
89
Posted 28/09/2017 at 16:21:12
I'd take Ancelotti. Plenty on here won't like the idea as he 'isn't one of us' and won't 'get the club'. Has a habit of winning trophies wherever he goes though, which ticks the right boxes for me.
Steavey Buckley
90
Posted 28/09/2017 at 16:25:29
The likely team chosen for tonight looks unlikely to score against a Cypriot team that drew with Lyon.
I watched Man Utd last night, who always looked like scoring while Lukaku was on the pitch.
Joe McMahon
91
Posted 28/09/2017 at 16:31:03
James Marshall – sadly it's more like 30 years.
Huh in those days Russians weren't buying London West End clubs, Arsenal had season tickets under £2000, Man Utd & LFC weren't American owned, City had Platt Lane, the Kippax and Peter Swailes, and Everton (the then Champions) did not have a certain Bill Kenwright. It was more of a level playing field wasn't it?
30 years later we are still in shitty Goodison and with him (Kenwright). Sorry about all this, but every now and then you realise how far we have fallen behind. Just wish we had Benitez spending the £140 million and not who we do have.
John Pierce
92
Posted 28/09/2017 at 16:38:08
Paul,
If, and as they say, it's a big word, Ancelotti was both available and willing, Moshiri's ambition would be in no doubt should he go for him. He is better than what we have. I say that regardless.
At least have a word, although he was sacked by Chelsea on the steps in the Main Stand at Goodison.
Liverpool sacked Rogers on the very same basis once Klopp was available.
It is fanciful but got to talk the talk Everton if you wannabe considered a 'player'.
Lee Jackson
93
Posted 28/09/2017 at 16:39:23
Hows everyone feeling before the match? My several day pre-match swingometer for what should be a win goes something like this:
3 days before match – High hopes, confident of easy comfy win.
2 days before match – reading ToffeeWeb, doubts creep in, hope we can scrape a win or at least a draw.
1 day before match – Negativity becomes overwhelming, doubt we'll win. Praying for a draw.
Match day – Confidence comes back, thinking of the great games gone by. Fully expect a comfortable win.
Koeman announces team – FFS, two defensive midfielders at home against this shower!! Its all doom n gloom – again.
Anyway, I guess its a roller-coaster for us blues even before the game starts.
Will Mabon
94
Posted 28/09/2017 at 16:48:21
Joe, excepting arguments about Johnson, Kenwright and so on, what you posted basically shows that our
failure
was not to be bought out as early as those other clubs. Not sure how much of a failure that actually is in the scheme of things.
Goodison is not shitty. A new one may be nice, but it takes a long time to develop a soul.
Will Mabon
95
Posted 28/09/2017 at 16:51:50
Lee, that pre-match feel is always there regardless... not always the expectation.
David Barks
96
Posted 28/09/2017 at 16:54:42
But wait, you can't sack a manager right now!! Those Bayern supporters must be fuming that they are now going to magically turn into Newcastle. What a sad day, it's game over for Bayern.
Or is that just what we've been told about having to stick with Koeman?
John Pierce
97
Posted 28/09/2017 at 17:01:21
I took an opportunity yesterday to tag in with a match-going Evertonian friend who was over in the States on business.
We met up for dinner and got stuck into all things Everton. We reminisced about better and worse says, including a trip to Elland Road in the fag end of the '94 season. Unable to get tickets for the away end, we got some in the home end, walloped 3-0, never been as scared!
But it gave this exile a chance to take the temperature of a regular match goer.
Often from afar now and down the rabbit hole of social media and forums the view points, including my own, can feel extreme and myopic.
My mate has never been the rabid kind of Evertonian, more the patient reflective kind, as was I until the back end of Moyes's years.
I said "So what's the temperature like, is he really under pressure?"
He looked at me as if I was from another planet and said. "It's his team, no doubt, and he's clueless, the Spurs game changed many people's view".
I followed up, if he thought it would go full fume on him.
He said "Probably not" ... but his 10 year old Eve said to him in the Spurs game, "This is crap, Dad, isn't it".
From the mouth of babes...

Laurie Hartley
98
Posted 28/09/2017 at 17:03:56
George -- 66, I can see Dan sitting there in his Blue shirt.
Very cosmic George -- very cosmic.
Up the Blues!!!
Dermot Byrne
99
Posted 28/09/2017 at 17:33:32
Lee: same with me in the build-up. Day before I feel optimistic and hopeful. Towards the end of the day I come on TW to join other Blues and get their views.
I am usually talked down from the top of a tall building by about 3:00 am and manage to shake off the suicidal thoughts by dawn.
Match day I rebuild my psychological health with a few Optimism Recovery Sessions and by now I am back in the same mindset as most fans.
So a quick check for the Live Forum and oh God, it's starting again. Mummy!
Mark Smith
100
Posted 28/09/2017 at 17:34:08
My wife knows nothing about football but does know TW. If it's been a bad day, she says "Go on that TW as some of the posts really make you giggle" and so I do.
I bypass the considered and pragmatic posts as they are too sensible. The windbags with their way too long posts also get a swerve and I search for my favourite bits. They are.
(1) Delusional. This lot often can be heard muttering."Top players should be crying out to join Everton" or "Why do young millionaires prefer London to Liverpool" or "Let's play the Under-23 team" or "I told you Niasse was a winner". "Cavani is coming" (should we choose to have him) is next – what a laugh!
(2) Experts. All areas are covered with this lot. Team selection, billionaire financial advice and I cannot wait for their advice on stadium design and construction.
My favourite group are however: (3)Morbidly pessimistic. Fresh from renewing their subscription to Dignitas, this band of happy blues are doom, gloom and unquestioned disaster. Relegation is a certainty if a point is dropped.
My advice to the majority is never get into an elevator with a category 3 as it will be curtains for you! .
COYB 3-0 tonight!
Brian Wilkinson
101
Posted 28/09/2017 at 17:44:27
Yes, I read the link in regards to Europa League squad. Again, I ask why after we had not landed another striker and Niasse already called back to train with the first team squad, did we not include the guy but included 3 injured players in McCarthy, Coleman and Barkley.
Ronnie had time to register Niasse, we registered Vlasic to the squad and held back two slots, so in all one slot and three injured players in that submitted squad.
We registered all three goal keepers just for the group stage yet for all the weaknesses we have in attack, we neglect that very area manning limited options in attack. Paint the picture as pretty as you like, but it was one big clanger not putting Niasse in the squad.
Brian Wilkinson
103
Posted 28/09/2017 at 17:52:19
Anyway off to Goodison, will catch the reports and comments when I get back but three points a must tonight.
Frank Crewe
104
Posted 28/09/2017 at 17:58:32
Brian it's nothing but negligence. Koeman simply isn't doing his job.
Darren Hind
105
Posted 28/09/2017 at 18:03:29
Cardinal Godfrey has a lot to answer for, George, and be proud of.
You my friend fall into both categories.
Yet another nice post.
John G Davies
106
Posted 28/09/2017 at 18:05:25
Paul Tran
107
Posted 28/09/2017 at 18:11:31
Dead right John (#92). Someone on Twitter had a dig at me for suggesting Ancelotti a couple of weeks ago.
If Moshiri is really serious, he'd have to at least have a go for him, wouldn't he? Dereliction of duty if he doesn't, if you ask me.
Anton Walsh
108
Posted 28/09/2017 at 18:26:29
I see someone mentioned Garbutt. Glad to see him back. I think Baines needs a blow.
Clive Mitchell
109
Posted 28/09/2017 at 18:28:23
Mark (#100) – I think I'm developing symptoms of being in your favourite group. What can I do?
John G Davies
110
Posted 28/09/2017 at 18:34:42
Clive,
You're not on your own mate. 👍

David Barks
111
Posted 28/09/2017 at 18:45:23
Mark,
That sounded like a very long winded "Shut Up And Get Behind the Team" post. Essentially, you seem to question the purpose of ToffeeWeb in general, other than to come on here and say how great things are. No posts analyzing performances or decisions by the manager as apparently these people are delusional experts that just make you laugh. Okay.
Rumour Mill. I guess you want that section removed from the site. I'm sure the editors will make note. How silly of people to call for us to sign a player like Cavani when clubs like Man City did similar in order to establish themselves before they had won anything.
I can't wait for you to lead the parade for another 7th place finish. But you're right, I and others really should have focused on the positive in our last Europa League match. There was so much to praise, wasn't there?
Mike Dolan
112
Posted 28/09/2017 at 18:50:19
Just reading through all of your team selections for the game and as they are all different, I can predict that almost all of you will be very unhappy when the actual team is announced.
Hopefully you will all overlook the managers selection shortcomings when we get a convincing result with the team you evidently would not have chosen. Such is the fantastically fickle finger of football fate.
Tony Abrahams
113
Posted 28/09/2017 at 18:57:27
I'm lucky, I can make my mind up with just over an hour to kick-off, and still be able to go to Goodison tonight.
I've been humming The Clash, song in my head all day, but George has just swung it for me, and I can't wait to see the famous old stadium all lit up now!
Darren, I used to play for Godfrey myself, loved it even though I had to wear my school uniform on the bus, every Saturday morning, and felt like a right divi, but it was always worth it though.
Now let's hope Koeman can pick a side that makes it worth it tonight!
Nigel Munford
114
Posted 28/09/2017 at 18:59:23
Kenny is in the starting 11, excellent news.
Kiern Moran
115
Posted 28/09/2017 at 19:04:07
Good side, happy with that. Four-nil.
Kim Vivian
116
Posted 28/09/2017 at 19:05:42
That look like 4-4-2 to anybody else?
Ajay Gopal
117
Posted 28/09/2017 at 19:09:59
No Calvert-Lewin, no Vlasic, no Lookman?
Positives are Pickford in goal, Kenny at right-back:
Pickford
Kenny Holgate Williams Baines
Gueye Schneiderlin Davies
Rooney Sandro Sigurdsson
Subs: Stekelenburg, Martina, Klaassen, Vlasic, Lookman, Mirallas Calvert-Lewin
John Pierce
118
Posted 28/09/2017 at 19:10:14
Pickford, Baines, Williams, Holgate, Kenny, Schneiderlin, Gueye, Davies, Sigurdsson, Rooney, Sandro
Absolutely nothing learned in that selection. Kenny and Holgate out of necessity and pressure.
Two DMs ugh!
Our dynamic duo of sloth No 10s. Poor Calvert-Lewin.
Nigel Munford
119
Posted 28/09/2017 at 19:12:54
Arsenal are 1-4 up and it's only 55 minutes.
Oliver Brunel
120
Posted 28/09/2017 at 19:20:05
This is my team for the Apollon match:
Pickford
Kenny-Holgate-Wiliams-Baines
Vlasic-Gana-Davies
Rooney
Calvert-Lewin-Lookman
Lookman should play; with his pace, he can cause trouble. Davies had a brilliant match against Bournemouth and changed the game with Niasse.
Nigel Munford
121
Posted 28/09/2017 at 19:20:54
Let's see if we can better that score eh?
David Barks
122
Posted 28/09/2017 at 19:21:52
Oh thank God we have Gana and Schneiderlin in there. Can't be too safe, gotta have those defensive players covering the defense when going up against these European powerhouses.
Nigel Munford
124
Posted 28/09/2017 at 19:25:07
David, Gana must be due a hat-trick soon though, eh?
Mark Smith
125
Posted 28/09/2017 at 19:55:26
Clive (#109) and John (#110) – I find a few stiff drinks normally dulls the pain after a poor result which must mean I am a heavy drinker having supported the team since 1963!
David (#111) – sorry I did move into "windbag" territory but unless you reconsider your views that Cavani is ready and willing to join "the project" you are certainly heading for Category 1!
COYB
Add Your Comments
In order to post a comment, you need to be logged in as a registered user of the site.
Or Sign up as a ToffeeWeb Member — it's free, takes just a few minutes and will allow you to post your comments on articles and Talking Points submissions across the site.