Koeman cites fear as Everton's biggest enemy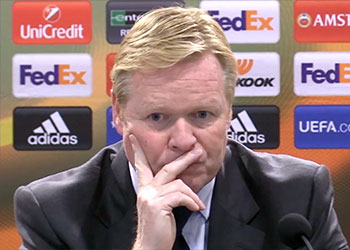 Ronald Koeman put the blame on what sees as his players' chronic lack of confidence and an insistence on backwards passing for their failure to see off Apollon Limassol in last night's Europa League Group E game.
At a goal and man up with two minutes plus stoppage time remaining, Everton were heading for a vital win in their second group fixture but conceded an equaliser when Hector Yuste atoned for an awful error in the first half by heading home to make it 2-2.
It represented a significant setback for the Blues who remain in contention to qualify for the group thanks to Atalanta's draw in Lyon which means they are currently just a point off second place, but it puts added pressure on them to start putting wins together in the competition.
Koeman named a strong if narrow starting XI where perhaps the inclusion of Sandro Ramirez at the expense of in-form Dominic Calvert-Lewin was the only real surprise but Everton were easily hustled out of their stride by the Cypriots in the early going.
And it was their pressing that harried Ashley Williams into a terrible pass outside his own box that handed possession to Maglica who crossed for Adrian Sardinero to convert at the second attempt.
Yuste's dreadful backpass allowed Wayne Rooney to tap home the equaliser nine minutes later but it wasn't until Koeman dispensed with one of his two defensive midfielders by replacing Idrissa Gueye with the energetic Nikola Vlasic that Everton markedly improved and it was the young Croatian who put the home side ahead by finishing a nice move with aplomb.
The Blues couldn't build on that, however, and it allowed Limassol to be in the position to grab a point near the end despite Valentin Roberge's sending off.
"We started poor, without any confidence," the manager said afterwards. "I think that is, in my opinion, the key problem at the moment. We have difficulties in our possession; most of the time, the first option is playing a backwards ball.
"We made incredible mistakes for [Apollon's] first goal and then we got a big present to make it 1-1 through Wayne. After that, better, more aggressive.
"Second half: okay, good football, good goal [to make it 2-1], chances for the third goal and even at 2-2 we had maybe the biggest chance to win the game and that's also football.
"If you are struggling and maybe a little bit afraid, maybe you don't get that luck behind you to win the game."
Fear factor
Asked how he can restore confidence in his team, Koeman insisted that his players were fighting but if they continue to start slowly and are always looking for the backwards pass, they are going to struggle to score goals and win matches.
"It's in the head of the players," Koeman explained. "As a manager, you can help him, you can support him, you can make it clear for everybody and give them confidence but, finally, by the whistle…
"I don't play the ball backwards. It's up to the players. Give the players options. But we are scared. We are afraid to play forwards and that makes it difficult. Maybe sometimes there are not enough options to play forwards but even if there are no options, play the ball in the channel instead of playing back to the goalkeeper.
"We know what the fans like — that you go forwards. They don't like to see a team playing back, back, back. The first 20 minutes, every ball was back and then it's really difficult to create chances.
"There's a lot of expectation and we're fighting against that," the Dutchman continued, after acknowledging that the home fans were audibly frustrated at what they were seeing, particularly in the first half. "The team is not flowing. Yes, they showed good character again after going 1-0 down.
"Of course we got a big present [with the goal for] 1-1 but the second half was much better. But we are also unlucky because even nine against eleven, it's a free kick. They can score with a free kick.
"And we had at 2-2, maybe the best chance of the night with Dominic and we don't score. So we also have things against us and that's normal. If you are afraid, if you are scared, you don't get that luck."
---
---