Koeman cites fear as Everton's biggest enemy

71 Comments [Jump to last]
Friday 29 September 2017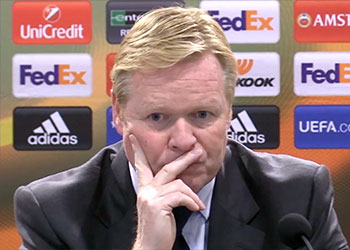 Ronald Koeman put the blame on what sees as his players' chronic lack of confidence and an insistence on backwards passing for their failure to see off Apollon Limassol in last night's Europa League Group E game.
At a goal and man up with two minutes plus stoppage time remaining, Everton were heading for a vital win in their second group fixture but conceded an equaliser when Hector Yuste atoned for an awful error in the first half by heading home to make it 2-2.
It represented a significant setback for the Blues who remain in contention to qualify for the group thanks to Atalanta's draw in Lyon which means they are currently just a point off second place, but it puts added pressure on them to start putting wins together in the competition.
Koeman named a strong if narrow starting XI where perhaps the inclusion of Sandro Ramirez at the expense of in-form Dominic Calvert-Lewin was the only real surprise but Everton were easily hustled out of their stride by the Cypriots in the early going.
And it was their pressing that harried Ashley Williams into a terrible pass outside his own box that handed possession to Maglica who crossed for Adrian Sardinero to convert at the second attempt.
Yuste's dreadful backpass allowed Wayne Rooney to tap home the equaliser nine minutes later but it wasn't until Koeman dispensed with one of his two defensive midfielders by replacing Idrissa Gueye with the energetic Nikola Vlasic that Everton markedly improved and it was the young Croatian who put the home side ahead by finishing a nice move with aplomb.
The Blues couldn't build on that, however, and it allowed Limassol to be in the position to grab a point near the end despite Valentin Roberge's sending off.
"We started poor, without any confidence," the manager said afterwards. "I think that is, in my opinion, the key problem at the moment. We have difficulties in our possession; most of the time, the first option is playing a backwards ball.
"We made incredible mistakes for [Apollon's] first goal and then we got a big present to make it 1-1 through Wayne. After that, better, more aggressive.
"Second half: okay, good football, good goal [to make it 2-1], chances for the third goal and even at 2-2 we had maybe the biggest chance to win the game and that's also football.
"If you are struggling and maybe a little bit afraid, maybe you don't get that luck behind you to win the game."
Fear factor
Asked how he can restore confidence in his team, Koeman insisted that his players were fighting but if they continue to start slowly and are always looking for the backwards pass, they are going to struggle to score goals and win matches.
"It's in the head of the players," Koeman explained. "As a manager, you can help him, you can support him, you can make it clear for everybody and give them confidence but, finally, by the whistle…
"I don't play the ball backwards. It's up to the players. Give the players options. But we are scared. We are afraid to play forwards and that makes it difficult. Maybe sometimes there are not enough options to play forwards but even if there are no options, play the ball in the channel instead of playing back to the goalkeeper.
"We know what the fans like — that you go forwards. They don't like to see a team playing back, back, back. The first 20 minutes, every ball was back and then it's really difficult to create chances.
"There's a lot of expectation and we're fighting against that," the Dutchman continued, after acknowledging that the home fans were audibly frustrated at what they were seeing, particularly in the first half. "The team is not flowing. Yes, they showed good character again after going 1-0 down.
"Of course we got a big present [with the goal for] 1-1 but the second half was much better. But we are also unlucky because even nine against eleven, it's a free kick. They can score with a free kick.
"And we had at 2-2, maybe the best chance of the night with Dominic and we don't score. So we also have things against us and that's normal. If you are afraid, if you are scared, you don't get that luck."
---
Reader Comments (71)
Note: the following content is not moderated or vetted by the site owners at the time of submission. Comments are the responsibility of the poster. Disclaimer
Mark Dunford
1
Posted 29/09/2017 at 07:52:53
And, so, everyone is to blame except the leader who selects the team. More round pegs in square holes last night (as the paper put it) – and as usual too many Number 10s – this might all end in December if we're knocked out of the Europa League and still languishing in lower reaches of the league.
I suspect the upper echelons won't want Koeman to be given another transfer window, even though he will blame Walsh for failures in market despite openly courting a number of the under-performing signings.
Koeman has always felt like a short term appointment – his ambition means success will see him head elsewhere quickly and quick failure almost certainly leads to a different exit. Either leaves us without a long term plan - no strategy, just guided by pragmatic ambition.
Clive Thomas
2
Posted 29/09/2017 at 07:56:32
Why don't you play the best team possible then, Koeman?
It's probably our only chance of silverware this year and you play players like Williams and Sandro then take off Davies and bring on Klaassen.
Time for you to fuck off. Ancheloti is available. Or give Unsworth a chance! Anyone but this pretender
William Cartwright
3
Posted 29/09/2017 at 08:07:03
"I don't play the ball backwards, it's up to the players . . "
WTF does that mean? Is he acknowledging that he hasn't got the wit, wherewithal, character, authority, nouse, understanding, options, alternatives, awareness, humility, comprehension, nerve, willingness, self-confidence, imagination etc., to impose himself onto the situation?
He is a poor excuse of a manager whose self-centered blame culture approach will drag us down. The upcoming opponents will be preparing thoroughly to deal with a team in apparent turmoil will make it more difficult to turn it around.
Anthony Jones
4
Posted 29/09/2017 at 08:20:24
It's not simply fear. It's the midfield set up.
Colin Glassar
5
Posted 29/09/2017 at 08:24:12
STFU Koeman you tulip brained idiot. It's everyone's fault except your own? Whenever I've had people working for me who've blamed everyone else for problems they've been, usually, the first ones to get the boot.
Get rid of him now before he causes further damage.
Phil Sammon
6
Posted 29/09/2017 at 08:33:18
A truely sickening racist slur, Colin.
Denis Richardson
7
Posted 29/09/2017 at 08:38:58
I was a big Koeman fan but think there has been something wrong behind the scenes since preseason.
It doesn't seem like the players are 100% behind him and the choice to start matches with all our pace on the bench is just bizarre.
This should have been a straight forward 3 points and two central defensive midfielders were not needed. Burnley game is make or break for Koeman now. Lose and I think that's it. Draw and it may also not be enough.
Mike Berry
8
Posted 29/09/2017 at 08:40:20
The definition of insanity is doing the same thing over and over and expecting different results. Einstein never said that but Keoman is a practitioner of this theory.
When will he ever learn we don't want two defensive midfielders, three number tens in a game we must win. We need pace, width and support to the striker. Is anything ever going to change with this bloke?
Jamie Morgan
9
Posted 29/09/2017 at 08:40:43
Anchelotti is available!!! Unsworth to assist?
John McGimpsey
10
Posted 29/09/2017 at 08:49:43
Unsworth or Roy Keane, could be eithers time to take centre stage after a staff clearout.
Oliver Brunel
11
Posted 29/09/2017 at 08:51:45
To be fair to Koeman (and I think he is a very poor manager) there has been a 'coasting' culture at Everton for years and years ever since we accepted mediocrity after the 80s. The culture is endemic to the club in all its aspects (amateurish management, organisation, transfers, etc).
However there are quite a few players there who don't want to rock the boat, aspire to greatness, because coasting along with the occasional win against a 'top' side will suffice. After all, Kenwright knows the game is just to remain in the Premier League (he doesn't have any other ambitions).
I thought Moshiri would break this up … I'm now not so sure… If he were to act now decisively before Christmas if results continue to be shambolic then we have a chance but the whole culture needs to be destroyed. Moshiri needs to act and placate a fan base which is tolerant but highly knowledgeable re: footie. Except me like…?!
Anthony Hughes
12
Posted 29/09/2017 at 08:54:22
Yes, it's fear, Ronald, your fear of setting up an attacking team that would consist of one defensive midfielder, a couple of natural wide players and having 1 no 10 on the pitch who will have the space to work in with out bumping into his no 10 team mates.
Two centre halves, fullbacks with energy who can get up and down the flanks. A midfield three that consists of a defensive player, a box to box player who will push on past the strikers and a no 10 who can float about.
Three players up top including a centre forward as a pivot with pacey wide players either side of him. Width, pace, attacking intent and threat. Stop setting your teams up to worry about the opposition and go out to win the game.
Kunal Desai
13
Posted 29/09/2017 at 09:09:39
Keep blaming the players Ronald and your only going in one direction. That is our gutless board of no option to get rid if you because the fans have now turned on you with banners hanging down from the Gwladys Street calling for your head.
If I were a player I would stop playing for you. I'd think to myself fuck you. You cannot get the basics in management right.
Steve Croston
14
Posted 29/09/2017 at 09:14:54
The clock is definitely ticking for him and his negative set-up... at least with Martinez we got an initial flourish of good results... this guy's tactical nous is non existent. As I've previously stated, I just think he's a bit thick. Move over for someone else (Unsworth, Ancelloti, anyone but Koeman!)
Derek Knox
15
Posted 29/09/2017 at 09:17:37
Colin, a bit unfair there mate, to tulips!
I think after reading the many posts, over the last few weeks, we all, apart from a small minority, recognise that Koeman is at the root of all the problems.
Like I have said time and time again, many of the players we have, are really good players, they don't just suddenly become clueless bad players overnight.
Last night for instance, I thought if there was a player who needed to be subbed, it was Schneids, who does he take off again, Gana?
Then Schneids starts getting over the halfway line and forward passing, but it must have been Gana's fault!
Sorry, but before it's too late, something at Board level has to be actioned, although I would rather he, man up, and resign, and for once admit, that he is to blame.
Steve Cotton
16
Posted 29/09/2017 at 09:22:50
I think Schneiderlin has got a guaranteed first team clause in his contract. And what does Lookman have to do???
Shane Corcoran
17
Posted 29/09/2017 at 09:30:53
Rooney is also blaming the referees this season. "We're picking up knocks because we're not being protected". What a joke. I guess that's all bases covered.
If I was a ref I'd have his arse off the pitch. I've never seen such a mouth on a football pitch as that lad.
Jamie Evans
18
Posted 29/09/2017 at 09:32:18
Hard to disagree. Anyone who goes to the game can see the players are scared. But whose fault is that ? The Manager ? The crowd ? The players themselves ?
Tony Abrahams
19
Posted 29/09/2017 at 09:46:03
I remember playing for Cardinal Godfrey, and are manager, Mr Melia, played rugby for Liverpool. He never used to say that much, except he was big on kids having the right attitude, and he harnessed a great team-spirit.
He had one tactic, and it must have been good because it resonates in my head every time I watch Everton play.
When we have the ball, make the pitch big, and when they have the ball, make the pitch narrow, I can still hear him now, a rugby playing school-teacher, offering more of an idea, than a footballing legend, who's getting paid £6 Million a year, to both frustrate and baffle me in equal measures.
I just read on another thread that Paul Setter, drove from Exeter, to watch this un-imaginative fucking drivel. He's spent a lot of time, effort, and money, to drive in traffic, just to get stuck in a traffic jam, at Goodison Pk.
Football has long since stopped being an entertainment game at Goodison, and if something doesn't change soon, then the supposedly ten thousand people who are on the waiting list for a seat, will have no fucking trouble next season.
Tony Hill
20
Posted 29/09/2017 at 09:46:12
Oliver (#11), I think there is a lot in what you say. Koeman isn't getting it anywhere near right, of course, but there are deeper problems of culture and approach, built up over years. We are badly directed throughout the club.
That said, a serious manager with real clout would drive things through regardless, and the public buffoonery of Moshiri and Kenwright & co. would cease to be so depressing.

Kevin Prytherch
21
Posted 29/09/2017 at 09:54:41
"Maybe sometimes there are not enough options to play the ball forwards, then play the ball in the channels rather than back to the goalkeeper"
Are these the channels without any of our players because they're all in the centre of midfield??
Peter Gorman
22
Posted 29/09/2017 at 09:57:36
We have too many mentally weak players and unfortunately Koeman brought many of them to the club.
We've debated about Sandro and Klaasen and I believe they will come good in time but it hasn't escaped my notice how piss-poor they've begun their careers here and how their confidence is non-existent. The inability to self-motivate separates the good from the great.
Compare them to Vlasic. Now there is a player with a strong mentality and no surprise to see him hitting the ground running.
In any case, buck stops with the manager. No sign he can change things so no sense keeping him a moment longer.
Oliver Brunel
23
Posted 29/09/2017 at 10:05:18
Yes, Tony have to agree with you. I thought that person was Koeman, the initial signs were good, I kind of sensed a plan, some progress but things have unravelled, I don't know why.
I think Koeman has bought poorly and alienated a lot of the other players; McCarthy, Mirallas, Barkley etc but the ancien regime is still in place methinks. I really admire Niasse for coming through what is probably a rotten culture.
Ciaran O'Brien
24
Posted 29/09/2017 at 10:08:43
That was an absolutely appalling SHITE result. It's up there with Shrewsbury. They were the 3rd or 4th best team from Cyprus and we couldn't beat them. Cyprus has a tiny population compared to England and have a shite international side. Koeman and Everton should be ashamed at that result and the results and performances since the start of pre season.
I've been okay with Koeman up until the City game which was a pathetic surrender. I was skeptical when we hired him because it took ages to hire him and for his records at Valencia particularly and Benfica.
People said that our team needs to gel which may be slightly true and that we had a tough start playing four title contenders, but we were outclassed in them and have been dogshite against the so called weaker teams. We struggled against Ruzomberok and Hajduk Split. We were trashed by a mediocre Italian side.
It looks like to me Koeman has lost the dressing room with his treatment of Barkley, Niaase and Mirallas. We have no style of play and too many midfielders. The fact he knew Lukaku would be leaving and not sounding out a replacement is criminal.
Only one of his signings have been great and that is Gueye. Rooney will get double figures but will get nowhere near the golden boot. Schneiderlin has been shit for ages and with the £120k pw wage he's on is disgraceful. Look man has barely played and Stekelenburg and Williams are old and shit.
Williams is nothing like the player at Swansea and Wales. Keane and Pickford have great potential but we vastly overpaid for them. Klaassen doesn't know what his role is and is too lightweight who was also expensive. Sandro is in the same bracket but he was at least cheap.
Why did we sign Sigurdsson as a central number 10 but play him out left where he is ineffective and has no pace. Vlasic however looks like that he is gonna be good. Why we didn't sign a striker, winger and left back/left centre back is beyond me.
There were lots of good players at good prices but we seem to only shop in the English market. Milan picked up Ricardo Rodriguez and Calanoglu for cheap.
If we have poor results and performances in the next 3 to 5 games, Moshiri needs to grow some balls and swallow his pride and sack Koeman. Give the job to Unsworth on a short term contract to see how he gets on and let him play some of his u23 champions.
If not Rhino, Ancelotti, Tuchel, Enrique and even Big Sam are available. I'm just sick of being let down by shit results and boring football.
Martin Nicholls
25
Posted 29/09/2017 at 10:09:13
Shane – Rooney a!so said that Apollon "are a good side"! These people must think we're all blind – what I saw last night was two poor teams, not to be confused with a poor team (Apollon) and a poor team full of decent players! Hope that makes sense!
Richard Reeves
26
Posted 29/09/2017 at 10:09:45
"But we are scared."
Really? It's that simple? Nothing to do with coaching,formation or team selections? And if the team are scared then why and who's fault is it?
I hope he has a plan and is telling the players something different than what he say's in front of the cameras.
"We are scared" and the classic "We're too nice and need to be more aggressive" are about as simplistic as the football he's producing.
Martin Nicholls
27
Posted 29/09/2017 at 10:17:27
To y#20 - your "public buffoonery of Moshiri" comment struck a chord with me because on first seeing a picture of him I thought he bore an uncanny resemblance to Vic Reeves!
Paul Jones
28
Posted 29/09/2017 at 10:38:42
So many have said it but Koeman's refusal to adapt his starting formation to match the quality of the opposition gives us the following problems -
* We're predictable, so opposition coaches can drill their charges all week to play the best tactics that suit the strengths and weaknesses of their squads to get the best result.
* We sit too deeply and play too much of the game outside our attacking third. This results in the back 4 having far too much possession with no outlet ball so mistakes are happening.
* We have no width and nobody to run at the opposition to put them on the back foot. Hence the turgid sideways and backwards passing that we've had for 18 months now.
* Players are shoehorned into the side based on neither their strengths nor their form but on their salaries or who brought them to the club. So we resemble a schoolboy side where we are all drawn to the ball and not to the starting positions; we need to make our play more expansive.
The number of times Koeman has had to change things at half time is the real indication of his biggest flaw. And he's one of the top earning managers in the Premier League.
The photo at the top of this article might as well be him giving the whole club the two fingers, because he's out of his depth but he can not – will not – change. The board's recent apparent efforts at raising the profile and stature of the club looks like lip service while he remains in charge of the team.
Stan Schofield
29
Posted 29/09/2017 at 10:48:34
Koeman is a bullshitter of the highest order, and should be sacked.
Alan J Thompson
30
Posted 29/09/2017 at 11:03:30
Koeman says the players lack confidence. Would that have anything to do with him selling or calling out those players who dare to show pace and try to beat their opposite number.
Players who do nothing seem to be picked every week and guess who was manager when they were signed. How many of the current players are double manned? No, we sold them.
Bring back pace, skill and audacity and support it, then we might see improvement but for mine, Koeman is not and has not shown to be that man.
Gary Carter
31
Posted 29/09/2017 at 11:38:37
Koeman was the best we could get when we appointed him. He's messed up the team this season. If we want to take a step up and Moshiri is serious about us competing then it's simple. Sack Koeman and appoint Ancelotti – that would be more of a statement of intent than any player signing we can make.
Quite simply, as a manager Ancelotti's track record is superior to Koeman's so it would be another step forward for Everton Football Club, would rejuvenate the players and fans and show we are no longer the soft touch we were under Kenwright.
Darren Murphy
32
Posted 29/09/2017 at 12:39:34
Bench Rooney FFS and this 2 defensive midfielders bullshit, play Kenny, Lookman and with Calvert-Lewin and Niasse/Sandro up top.
Ancelotti should be available now and let Rhino be his number 2 before we hear anymore pathetic excuses.
Tony J Williams
33
Posted 29/09/2017 at 12:47:24
Strange game that.
Missed the first half so can't comment but the second half we didn't look in any real danger of conceding until the daft free kick from Klaassen. Calvert-Lewin was unlucky and it's a game we should have won.
Williams is a worry, so many times his attempted pass just hit opposition players, not just being cut out but actually hitting them.
Sigurdsson looked so much better when utilised in his correct position of No 10 and Rooney is still a class act and pulled out several brilliant passes.
Trouble is that we have no-one marauding down the wings anymore; Vlasic may change that. It's good because he is young and cocky, I like that.
In regards to Koeman, he's actually right but what doe she supposed id the route cause of this fear? Potentially being dropped, fear of speaking out, fear of playing in a narrow packed midfield with no pace?
It's not pretty at the moment but with Bolasie and Coleman hopefully to return sooner rather than later, it should get better.
Ugly to watch at the moment, good job I don't go the match anymore as my daughter would be growing up without a dad after my heart exploding with the rising blood pressure.
Liam Reilly
34
Posted 29/09/2017 at 12:48:27
Martin:- Rooney a!so said that Apollon "are a good side"
What's he supposed to say, they are shit and we should be thrashing them.
There was again no pace in his starting line up and they grew in confidence as the game wore on because we were no threat with the ball.
He needs to start with pacey players on Sunday and Niasse and Calvert-Lewin upfront, which means that Sigurdsson and Rooney can't start (but we all know they will).
Andrew Keatley
35
Posted 29/09/2017 at 13:04:14
"Keatley cites Koeman as Everton's biggest enemy."
George Cumiskey
36
Posted 29/09/2017 at 13:10:19
Koeman has stated earlier that he won't change – the players must change. So he goes out and buys or sanctions the buying of players who physically or mentally can't adapt to his methods.
So what do we do now, meander along waiting for a light bulb to come on in the players heads, or do something decisive like Bayern Munich? I wouldn't hold my breath waiting for the latter.
Martin Reppion
37
Posted 29/09/2017 at 13:30:10
Cards on the table. Koeman wasn't my idea of a good choice. He was always going to leave within 3 years. Either he is successful and Barcelona come calling or he fails and we are in the mire. So far its looking like the latter.
What he has given is some credibility in the transfer market. With him at the helm players were prepared to come to the club. Forget the price tag, Pickford, Keane, Sigurdsson and Vlasic are here for the long term. No manager gets it right every time, and even Martinez got it right occasionally.
We now have, or will have when the treatment room quietens down, as good a squad as I can remember. Bolasie and Coleman to come back along with the short term absentees. But mistakes have been made.
The self denial that meant we thought we could hang on to Lukaku when we all knew he was going so no replacement was brought in. The treatment of players not in the manager's ideas for his team. The reluctance to play certain younger players when those that have been given their head have, on the whole, performed.
So where do we go? We all seem to think on this forum that we could manage this squad and win games. That's promising. It shows that we aren't too far (a class centre-forward and cover at left-back) away from turning a corner. We just need a positive attitude and to instill it into the players.
I'm not usually for managerial change as soon as the mob starts baying, but unless the current manager shows a remarkable change of attitude on Sunday, I'll be prepared to pay for the taxi myself. I don't think we need to look far for the man to step up. David Unsworth has earned the right to have the job. With the backroom staff including Big Dunc motivation shouldn't be an issue. I'd throw in a left field coaching appointment. People forgot because Steve McClaren was such a poor manager that he is a top coach.
All this may not be necessary. Lookman and Vlasic start on Sunday, the midfield and back four stop making silly errors and we dispatch Burnley with ease... As an ex-blue and legend once said, Dream on.
Matthew Williams
38
Posted 29/09/2017 at 13:34:25
As for Sunday, for me it's 4-4-2:
Pickford
Kenny Holgate Jagielka Garbutt
Lookman Sigurdsson Davies Vlasic
Niasse Calvert-Lewin
Sadly, won't happen... but a Blue Boy can dream!!!
Sean Patton
39
Posted 29/09/2017 at 13:37:03
Haha, his ramblings are getting worse. How can he claim the players are scared when he picks 6 or 7 defensive players each game.
Dave Williams
40
Posted 29/09/2017 at 13:43:02
I can't quite believe what I heard last night in his interview.
In the first half in particular, we had possession of the ball and were faced with two banks of four plus the strikers (who closed down very well). Because we had no width their players were able to compress the available space and they gave us nowhere to go. That's why we had to turn backwards and start again.
Okay, the confidence might be low but its because he is continually trying to find success by playing his big buys rather than see what the fans ,the media and the opposition can all see, ie, that without width and without pace we are very easy to play against.
We have good players but not that good that they can pick their way through a well organised defence in the way that Messi and Iniesta did in their prime at Barcelona. We need to stretch the pitch which in turn will open up gaps in which we can play.
Vladic showed what can be done with a wide player – he looks good and also aggressive – and we do have others who can play wide, admittedly they are inconsistent but they will stretch the defence just by being there.
I am not knocking Davy as he clearly has to settle in some more yet, but why bring off our most energetic midfielder for a player who is struggling for form and who has had no impact yet in the games he has played? Tom was by no means great last night but he is a grafter, he presses and the substitution made no sense to me.
To blame it on the players "being scared" is probably the most divisive thing a manager can say. I would be furious if I was a player and would be resentful of my manager embarrassing me on TV and in the papers when the fault lies in his team selection.
I found it pretty nauseating to sit in front of the TV and listen to commentators slagging us off for being so boring and negative. I am proud to be a supporter of Everton but it is difficult to hold my head up after performances like this followed by such a bizarre interview.
Koeman appears to have been Moshiri's choice and one can only hope that he is decisive and willing to see that his man is not living up to expectations and needs to be changed. With our crop of youngsters I would love to see Unsy given a try perhaps with Joe by his side.
Man Utd built their success around their youth team and we must not throw away the opportunity we now have by shelling out more ridiculous fees on players with no feel for the club. These youngsters have bonded and will fight for their club unlike a foreigner who cost mega-millions and is not that bothered.
Of course we can't fill the side with them -– Man Utd bought well to give the team a strong and experienced spine – but it is surely worth a try.
Koeman is not "one of us" and never will be and I don't see how he can inspire players to improve when he falls out with some, slags the rest off in public, refuses to take the blame himself and shows no affinity whatsoever with this great club.
Russell Smith
41
Posted 29/09/2017 at 14:02:44
What I just cannot understand with Koeman is that the two teams he built at Southampton both had quick wide/inside forward type players like Long, Tadic, and Mane playing off a strong but mobile centre forward like Pelle. He only played one defensive midfielder with his other midfield players getting forward to support the forwards. He did not appear to care about reputations and if a players form dipped he just benched them and brought in another player.
So why is he not trying to build on that successful formula here? Why is he not playing Calvert-Lewin every game with Vlasic and Lookman either side? On the evidence of the previous 2 games you could also add Niasse to that little mix. Play Gueye as the protection to the back four (Carsley did that for years) play Davies as the "box to box" midfielder with Sigurdsson playing just behind the front three.
As someone else stated above Vlasic could drop back to form the two lines of four when we are under pressure. This would mean benching Rooney, Klaassen, Schneiderlin and Sandro to get the team balance corrected. Against Burnley it might be better to play Schneiderlin rather than Gueye because they are a big physical side who will play long balls all day, so his extra height and strength may just shade his inclusion, but surely not both again.

Seb Niemand
42
Posted 29/09/2017 at 14:17:05
As Marx said of the two Emperor Napoleons Ist and 3rd – "Hegel remarks somewhere that all great world-historic facts and personages appear, so to speak, twice. He forgot to add: the first time as tragedy, the second time as farce."
We endured the tragedy of Martinez far longer that we could be reasonably expected to bear. The farce of Koeman's will hurt more, but surely it can't endure as long?
Neil Lawson
43
Posted 29/09/2017 at 14:18:39
I wonder just how much of the invective directed at Koeman on this and other sites, and elsewhere, gets back to him?
If he is taking any notice, then Sunday may be telling. If it's more of the same with another poor performance and result, then he will be the author of his own misfortune.
If he changes things significantly and does include pace and width and shows some bravery by leaving out several of HIS players, then it's his recognition that his players and tactics don't work. Either way, he is shown to be inadequate and unsuitable.
Ray Smith
44
Posted 29/09/2017 at 14:28:32
You cannot play Sigurdsson and Rooney together, it doesn't work. Rooney stifles Sigurdsson. If I can see it why can't Koeman?
Williams should be banished from the squad, not just the starting 11 and subs bench. I don't advocate treating him like Oumar was (disgraceful) treated, but he doesn't have a need for a locker on current form.
We have to face it that Koeman is here to stay for this season at least. However, he needs to stop slating the players publicly, it doesn't help anyone. It certainly doesn't help his image.
When you run/supervise a team (call it what you will) you are accountable for the actions of your team. They are responsible, but you never lose your accountability.
Brian Cleveland
45
Posted 29/09/2017 at 14:47:29
If they are looking for a backwards pass, maybe that's because there are 6 defensive players out of the 10 outfield players?
What has Lookman done to deserve the cold shoulder lately? If you're looking for positive forward passes, he'll do that and I've have thought that yesterday was a good opportunity for him to weave a little magic in and around a tight defence.
But it wasn't only our backwards passing, for large parts we couldn't even keep the ball for more than a couple of passes, Rooney looked like he'd been taking ball control lessons from Lukaku. And whenever we lost the ball, they got forward quickly and looked like they could create something because we weren't organised in defence or midfield.
Basically a shambles, and rather than fear, I'd suggest it's indecision leading to the back passes and losing the ball because they haven't got a clue about the supposed set up leading to them wandering around like lost sheep with no outballs and no runners.
Bloody depressing... we seem to have got to the same pathetic point we were under Bobby Brown Shoes and in a shorter space of time...
Winston Williamson
46
Posted 29/09/2017 at 15:16:23
I'm bored of this guy now. I try not to listen to any manager talking as it's usually the same soundbites, excuses etc .Looks like the players feel the same way!
It's an ugly mess. I agree with posters stating the squad is better than it is currently displaying. We have strength in depth in a number of positions, yet thin in others (if players are played in their preferred position).
However, he shoehorns players into positions due to a perceived belief they are better than other players.
I was bored of Moyes; Martinez (other than his first 6 months) drove me even further to disinterest; and now Koeman has completely sapped my interest. I stopped watching at half-time last night and did not check for the result until I got to work this morning – that's how interesting he has made it to support Everton!!
Dave Richman
47
Posted 29/09/2017 at 15:39:28
As is always the case when the wheels are falling off, the desperate cry of "Who would we get in?" comes to the fore.

Here is the link to the list of available managers in the world, which is constantly updated:

https://www.transfermarkt.com/trainer/verfuegbaretrainer/statistik

I would be willing to bet that there are quite a few managers on the list who would be able to set up a side – from the current squad, injuries and all – capable of beating the team that is currently 7th in the Cyprus league, probably for a hell of a lot less than £6 million a year too.
Jim Wilson
48
Posted 29/09/2017 at 15:43:23
Well the idiots who never learn (including Koeman) got what they wanted.
We had a clear out (and it would have been more if Koeman had his way and got rid of Jagielka, Barkleys, McCarthy and Niasse) and we started the season with a whole new team, nearly, and – surprise surprise – we have bombed!

The manager is yet another thick fool. He doesn't realise that continuity, balance, settled team is the way forward.

Instead of making one or two big signings (and bringing in a proper striker who wanted to play for us was the priority) he has brought in a load of players we didn't really need, has expected them to gel immediately, despite changing the team for each game and incredibly constantly changing the formation. They will never gel as a team with this manager. It's like defying gravity!

Results aside, this is the reason Koeman should go, he is completely stupid.

The team that hammered City 4-0 showed how good they were and this team should have been kept together. Coleman's injury should have been handled better, there was no need to antagonize Barkley (but Koeman clearly has an arrogance that is not helpful) and Lukaku was the only other player who needed replacing.

The treatment of Tom Davies is yet another sign of Koeman's incompetence. This lad was instrumental in keeping last season alive. He pushed us on as soon as he was introduced into the team but the manager has to keep leaving him out the side while almost all of his new signings are struggling. Is Davies the next youngster to be fucked up at Everton?

Barkley could have been a top class midfielder (you only have to remember the first half of Martinez's first season to know that) but incredibly the management of this cub turned him into a hesitant indecisive bad decision making inconsistent footballer. Nothing a decent manager couldn't sort out.

McCarthy is head and shoulders above any of Koeman's signings. He just needs to sort out his hamstring problem, which all stemmed from Martinez playing him when not fully recovered. Yes, it goes that far back. When fit I would hope McCarthy and Barkley would be back in the team and I would play Davies, Lookman and Mirallas now.

Koeman is an arrogant fool; he needs to go now and replaced by someone who knows most of the players well, loves the club and will get the basics right. Unsworth with Big Dunc for me. They cannot do as bad and they will make a better job of it.


Jeff Spiers
49
Posted 29/09/2017 at 15:47:51
Oliver Brunel#11. Absolutely spot on. This coasting HAS been there for years, and, nearly every manager to come to us has been swept into the whirlpool. Has to be fuckin sorted.
Michael Morgan
50
Posted 29/09/2017 at 15:51:26
I kind of hoped that when I woke up and checked the sports news that the top story would be Koeman resigns or has been sacked.
Simon Bates
51
Posted 29/09/2017 at 16:45:23
I really don't think he understands the terminology behind the word 'manager'.
It's as If the players don't get their hunger, heart, desire, will to win, tactical nous, lack of fear or bravery, shape, system, teamwork, passion and knowledge of how to defend and how to pass forwards from him, the 'manager'.
Add the fact he doesn't have anything to do with transfers, then just what the fuck does he think he's getting paid for? Is he really just a world famous football name put at the helm for show?
My theory for Moshiri wanting him so badly was partly due to the fact he was nailed on for Arsenal, making them look elsewhere and sticking with Wenger. He probably thought he was stealing a march on them, but who's laughing now?
Let's hope Moshiri realises his error sharpish. In that, I do have faith as I really doubt a billionaire would sit back and let a Dutch clog (in the machine) waste his fortune.
Martin Nicholls
52
Posted 29/09/2017 at 18:32:29
Liam (#34) – if he's to say anything, then yes he should be truthful. Apollon are not a good side and if Koeman had come out with that bullshit (along with the rest) he would quite rightly have been castigated for it.
Joe Moran
53
Posted 29/09/2017 at 19:08:27
In my opinion, Koeman does not want the job, why else would a Manager keep denying responsibility & blaming the team, if he was in any other industry he would have been sacked last May when he & the players put there flip, flops on & decided that they had done enough to finish in a Europa League position, instead of having a real go at a top four finish.
If I was a betting man I believe he will be sacked or works a deal to resign before Christmas & then takes over the Dutch National Team (slow boring football will suit him down to the ground). What a odds would you get for that double?
Will Mabon
54
Posted 29/09/2017 at 19:11:40
Jim @ 48,
You explained the whole situation very well, I think. Koeman needs to be dispensed with at once. Sod the expense, it's not our money as we are (were) sometimes reminded, right?
Scarily, if he's let near another transfer window, of course he'll buy more players, it's all he has. Not necessarily the right players or number of players, just – players. It's a certainty he'd finally drive Barkley out and very possibly, Niasse.
I wonder now whether an early niggling doubt growing "Higher" in the club, was responsible for the less than decisive efforts at getting a centre forward in, maybe also the left back cover. I still believe there was and will be more book balancing going on than we were led to believe, but still.
Jim Wilson
55
Posted 29/09/2017 at 19:40:10
Well said, Will.
This situation is so worrying and so unnecessary. Any new prospective manager must show he understands the importance of continuity and keeping a settled balanced team or he doesn't get the job!

Robert Hughes
56
Posted 29/09/2017 at 20:24:31
What other industry would support a huge capital outlay and get a negative outcome without consequences? Ronald Koeman has secured a bag full of talent and does not know what to do with it.
The fans can see it the players must be frustrated as they have come to us because they are good performers yet the common denominator being the manager cannot sort out a workable formation or tactics. Surely there must have been a plan before all these players were brought?
Football is not that complex and while it does help to have good forwards we have had plenty of years where we have had to make the best of what we have got, everyone to these players are capable of playing good football in a number of positions the manger needs to provide the direction and make the necessary strategic corrections, that is not happening.
Time to get back to the basics and revisit the things that were bring results rather than doing the same thing over and over expecting a different result.
Ian Hollingworth
58
Posted 30/09/2017 at 13:01:48
Lack of confidence and fear may well be the problem on the pitch but surely this is driven by the tactics etc from the manager.
The real problem is the lack of the right kind of fear within the club. We should be driven from the top by fear of failure but sadly everything is about plodding along.
Steve Ferns
59
Posted 30/09/2017 at 13:08:01
Fear is pouring off the terraces. Every time a player gets the ball he fears the jeers, the groans and the boos. That is affecting their game.
It happened with Martinez and there he was like "Comical Ali" (the Iraqi spokesman for Saddum Hussein) telling the players how great they were and pouring every ounce of confidence and positivity into them he could. Koeman is right that once they cross the line, it is up to them. And I say that we, the fans, are the ones putting the fear into them.
George Cumiskey
60
Posted 30/09/2017 at 16:14:04
Fear is crippling the players before they cross the white line. The fear starts when the manager announces his team. When he tells the players they will be playing out of position, with no pace in the team and in a system they don't or won't understand.
So please not that old chestnut about the fans feelings dripping down to the players.
Stan Schofield
61
Posted 30/09/2017 at 20:34:27
Steve @59: I believe you are wrong there. It's all down to the manager getting the tactics and player selection right. When that happens, commitment from the players is far more likely to yield results, the crowd gets galvanised, and there's a positive feedback effect.
When the tactics and team selection are wrong, commitment from the players is far less likely to yield results (an uphill battle), the crowd are unlikely to get galvanised, and the whole thing spirals down.
Don't blame the fans. Blame the manager. He's the one who gets paid to get the tactics and team selection right.
Raymond Fox
62
Posted 30/09/2017 at 20:50:42
It's very simple: the manager is not good enough and the same goes for the players.
Have we progressed in the last 20 years?
If we have, it's very little.

Martin Mason
63
Posted 30/09/2017 at 21:09:07
Mathew @38
You don't have even one defensive midfielder. We would be annihilated.
Jim Wilson
64
Posted 30/09/2017 at 21:46:36
Spot on, Stan. The buck stops with the manager.
If we ever have a great team,Goodison would be buzzing; it has been starved of any success and sensible management for the last 20 years.

Paul Birmingham
65
Posted 30/09/2017 at 22:45:47
Tomorrow, never comes, and if, we can't beat Burnley with a team, that tries and is set up to win, over 90 mins, from start to finish, then, what's the point?
Too many games, this season, we start at a half time. We are the best team to play against.
Dire Straits...Why?
Paul Birmingham
66
Posted 30/09/2017 at 22:52:22
This season's stature is up in the next few weeks. It can't get any worse, it is the pits.
It's a different level and I fear, has become an excuse. Ronald Koeman – time to show your true colours?

Paul Birmingham
67
Posted 30/09/2017 at 22:56:39
Roy H, or what? We need a miracle.
John Crawley
68
Posted 01/10/2017 at 10:11:15
Russell 41 I think the answer to that question is fairly straightforward – Les Reed. An established Director if Football who appointed Koeman and has control over who they signed.
He asked Koeman what type of players he wants, system he wants to play and then signed players to fit this. I think it's very clear that Koeman has been given his head on who he wants to sign at Everton – hence this mess.
Colin Glassar
69
Posted 01/10/2017 at 10:27:58
Sunday supplement just tore Koeman a new one. Sounds like he's in trouble.
Paul Birmingham
70
Posted 01/10/2017 at 10:36:08
Like the weather these days, no-one knows what team or tempo, will show. Sean Dyche will have Burnley going for a kill today.
I hope the players show some guts and pride at least today... let's hope we win.
Drew O'Neall
71
Posted 03/10/2017 at 11:43:50
The players wouldn't fear making a forward pass if they weren't sure our pedestrian defence was going to get turned as soon as we gave the ball away. Get that sorted then you can work on the 'creativity' if you still need to.
Lee Brownlie
72
Posted 08/10/2017 at 05:49:44
As with Roberto, and Moyes too to a lesser extent, I think this incumbent manager of ours thinks the job stops at chucking his players out on the pitch (players he obviously rates!) and thinking THEY will simply take care of the rest, regardless of whether there is a genuine, 'coherent', formation and style of play in operation!
And where's the motivation? Where's the passion to succeed being instilled into our men-on-the-frontline? There's clearly no 'hairdryer treatment' being used to at least instill some 'fear' of letting your boss, and of course fans, down, and thereby promoting determination in each and every player not to fail, nor is there any apparent 'firing up' of those same players go get out there and do the business, week in week out. Yes, that means, the old NSNO, which this guy is clearly smirking at right now!!
SIX MILLION a year??? What are we seeing or getting for that? Some obstinate and arrogant no-personality Buzz Lightyear lookalike (who is clearly no less lost!) but who happens to have previously done 'okay' at Southampton, and now evidently thinks that he's worth that six mill as he can also buy much more expensive players and.. again.. just send them out there in the hope all will come good despite his own very clear inability to inspire them in any way to such 'heights'!
And, when it doesn't (as we all know it hasn't!) work out, indeed falls totally flat, he shrugs, says 'What did you really expect at Everton?', 'The players are just scared', and then goes off golfing in the Spanish sunshine at the first opportunity! I always hope upon hope, wish upon wish, regarding my beloved Everton team, which means every manager gets a fair crack and a very very fair amount of patience from me, to get the job right also. But, as of my feelings right now, the words 'Out Now!' are all that come into mind about this clueless article of a manager!!!
Add Your Comments
In order to post a comment, you need to be logged in as a registered user of the site.
Or Sign up as a ToffeeWeb Member — it's free, takes just a few minutes and will allow you to post your comments on articles and Talking Points submissions across the site.