Keane plays in England win

25 Comments [Jump to last]
Sunday 8 October 2017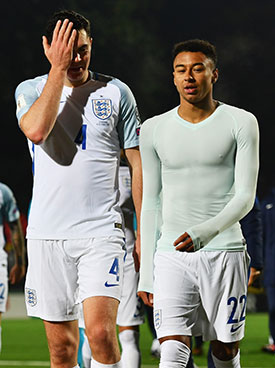 Michael Keane's blushes were spared by Jack Butland as he almost put through his own net
Dan Mullan/Getty Images
Michael Keane played the full 90 minutes in Vilnius this evening as England edged Lithuania 1-0 to round out their World Cup qualifying campaign.
The defender was named in the starting XI while his Everton team-mate Jordan Pickford watched on from the bench but he almost made headlines for the wrong reasons.
Keane inadvertently steered the ball towards his own goal in the second half and had to be rescued by starting goalkeeper Jack Butland who ensured the clean sheet was preserved.
Harry Kane's penalty proved to be the difference following an England performance that has once again attracted criticism but they easily topped Group F to book their place in next summers Finals.
---
Reader Comments (25)
Note: the following content is not moderated or vetted by the site owners at the time of submission. Comments are the responsibility of the poster. Disclaimer
Steve Cotton
1
Posted 09/10/2017 at 09:20:44
One of the worst games I can remember watching...
Phil Walling
2
Posted 09/10/2017 at 09:23:39
England crying out for a Ross Barkley. At his best.
Martin Nicholls
3
Posted 09/10/2017 at 09:51:26
After four senior appearances for his club Harry (who he?) Winks makes his England debut thus equalling the joint number of caps won by Kendall and Harvey, two of the greatest English midfielders of all time and two-thirds of the greatest midfield trio of all time. Says it all really doesn't it?
Len Hawkins
4
Posted 09/10/2017 at 10:09:21
Martin it has happened as long as I have been alive as you mention Howard Kendall how the hell did Peter Storey get in the England team before him. Storey was a yard dog calling him a footballer is an slur on footballers everywhere
Stan Schofield
5
Posted 09/10/2017 at 10:31:01
Martin and Len, yes, the starkest sign of the England set-up being shite, which it's continued to be for nearly 50 years. We could have won the world cup in Mexico if the world's finest midfield had been chosen, to compete with the comparably wonderful Brazil midfield of Gerson, Rivelino and Cloadoaldo.
Rob Newling
6
Posted 09/10/2017 at 10:44:10
And Gordon Banks was n't poisoned Stan #5 !
Tony J Williams
7
Posted 09/10/2017 at 12:21:46
Didn't watch the game, thank God but turned over to see the score and it seemed that they wanted to bollock Keane for his almost own goal, played it to death and showed him out of position.
Too unfashionable for the media?
Anthony Hawkins
8
Posted 09/10/2017 at 12:28:32
Keane wasn't out of position. Our #6 (I think it was) got skinned and Keane had to run back to cover.
Edit - just checked and how ironic that #6 was Stones!
Anthony Hawkins
9
Posted 09/10/2017 at 12:36:50
I don't get how Joe Hart can conceivably be considered England's #1.
Butland or Pickford should have the jersey .
The England midfield is shockingly bad but I don't see who could step in and make that much of an improvement. I agree it's weak and a player like Barkley, when fit, could make something of a difference but the whole team is short of star players.
The main consolation I take is that Kane and Rashford seem to be linking up well together. It's the only time I'd recommend fielder a player out position - Rashford on the wing!!
James Ebden
10
Posted 09/10/2017 at 14:36:08
watching England is a bit like watching Everton at the moment. set up with 2 holding midfielders in Henderson and Dier, who can't play a decent pass forward and have zero creativity.
The only player in the team who could be considered world class is Kane, and we have no one that can pick a pass to him.
I don't think we will get out of our group next year. Sad, but true.
Biggest, richest, most competitive league in the world and yet we can't scrape 11 half decent players together.
Roger Helm
11
Posted 09/10/2017 at 15:15:28
We will never win anything internationally because all English players excepting Harry Kane are just not very good. Not a single Englishman playing for any of the top European clubs says it all. Only one world-class player (Rooney) in the last 20 years. Historically, other than 1966-70, we have never been very good.
Why are we no good? Many reasons including poor coaches, low intelligence (an English dressing room is still a hostile environment for any lad with education and brains), pampering at Academies, not partaking in schools football, poor diet and conditioning, too much competition from overseas players at ages 18-21 when they should be breaking into first-team football - I'm sure other TWers can supply many more reasons. It may even be racial/genetic - perhaps Anglo-Saxons are just not blessed with the mental and physical attributes needed for top-level football (though on reflection Angles and Saxons came from Germany, didn't they?)
William Cartwright
12
Posted 09/10/2017 at 16:25:52
Pretty comprehensive summary there Roger . . . . . .
Shane Corcoran
13
Posted 09/10/2017 at 16:48:34
Slight hijack admittedly but essentially a playoff between Wales and Ireland tonight. Winner makes the playoffs. Loser is out. Wales can't chance playing for a draw as it might not be enough.
As much as the style of football that O'Neill's teams serves up annoys the shit out of me, I can't help but get excited when these games come around.
That is multiplied by one hundred when I watch this. I literally can't hold the tears back Link
Another thread bemoans the state of football today, and with good reason. It still does it for me at times like this though. COYBIG.
Brian Harrison
14
Posted 09/10/2017 at 16:53:00
Well for an England manager our system is badly floored. Southgate correctly stated that there are on average 70 English players playing every week in the Premiership. Not only is the Premiership full of overseas players, but even worse the academies of the top 6 clubs have more overseas kids than home grown.
The England teams of Under21 and the Under 19s and Under 17s have just had the best tournament results ever. But how many will play in their Premiership teams over the next 3 years, not many I guess. So yes the performances by the senior team in Tournaments have been very average, but how many supporters would back a cap on overseas players playing in the premiership. What if you had to have at least 4/5 English born players in each team. But with the money floating around the premiership which most are owned and managed by people from overseas the chance of a cap is unlikely.
So yes criticize the England team, but lets not turn a blind eye to the causes. I think the England managers job must be the worst job in International football.
Dave Abrahams
15
Posted 09/10/2017 at 16:56:12
Shane (13) I'll be rooting for the lads in Green, plenty of passion there, just hope they will be good enough tonight.
Oliver Brunel
16
Posted 09/10/2017 at 17:14:52
Shane Long out for Ireland?!
Shane Corcoran
17
Posted 09/10/2017 at 17:23:14
He is. Heard a funny stat on Friday. Harry Kane has scored 36 goals since Shane Long last scored. It's now 37 goals.
Darren Hind
18
Posted 09/10/2017 at 18:43:35
Love to see Wales do well, but I'll be rooting for the boys in green myself tonight. The Irish fans illuminate any tournament.
Colin Glassar
19
Posted 09/10/2017 at 19:24:27
Love to see the Welsh go through even though none of them play for us.
Ray Said
20
Posted 09/10/2017 at 19:30:09
Colin (19) Williams picks up wages from us, but I agree, he doesnt PLAY for us.

Joe McMahon
21
Posted 09/10/2017 at 19:33:44
Roger Helmm - I mainly agree, but Colin Bell, Bryan Robson, Glen Hoddle, Peter Beardsley, Gary Lineker, Trevor Brooking, Rio Ferdinand, Kevin Keagan and Alan Shearer were not bad players. We have had a lot of very good players over the years, just not enough. And as for the managers! (Bobby Robson aside)
Colin Glassar
22
Posted 09/10/2017 at 19:40:13
Touché Ray
David Barks
23
Posted 09/10/2017 at 19:53:02
Roger,
I'm a bit confused by your post. At first I thought you meant no English players playin for top clubs in Europe, excluding England. But then you include Rooney as the only exception.
So if it is English players at top clubs, England have clearly had plenty of those. Hate to say it bu Gerard was captaining his club to the Champions League title. Lampard and Terry winning everything with Chelsea, for years. There have been plenty of English players at Arsenal, who despite not winning the league for quite a while, were still elite and competing for Champions League titles until very recently.
So let's not paint with too broad a brush. Sterling and Stones are at City, who are a top European club. Beckham and Owen went to Real Madrid. And United had plenty of English players while they were competing with the best around Europe.
There has been a lot of talent and a lot of underachieving. This current crop, doesn't impress me very much compared to the past 20 years.
Andy Crooks
24
Posted 09/10/2017 at 20:16:55
Martin (#3), good and interesting post. Ramsey was his own man, caps were hard to come by. Does anyone recall the "Osgood for England", chants. Charlie George, Tony Currie, Rodney Marsh, Stan Bowles. Alf liked A yard dog in the team; Stiles, Storey, Hunter, Hughes. And it served him well.
England could have won the World Cup in 1970. They should have qualified in 1974 after totally outplaying a superb Polish side who went on to finish third.
Alf Ramsey did not shoehorn his best players into a team. He was strong enough to leave out class players and play journeymen who fitted what he wanted. He might have been completely wrong. Perhaps, England could have been great.
One thing for sure: Shilton and Clemence would not have shared the job. Gerrard and Lampard would not have been in the same team. Keeping players happy did not matter to Alf Ramsey.
Darren Hind
25
Posted 10/10/2017 at 05:01:37
Indeed, Andy,

Individual talent meant nothing to Ramsey. The clamour for Jimmy greaves (a wonderful talent) fell on deaf ears. It took tremendous courage for him to stick to his guns... but he did deliver.
I'm amazed you posted without mentioning the best centre half on the pitch last night.

Add Your Comments
In order to post a comment, you need to be logged in as a registered user of the site.
Or Sign up as a ToffeeWeb Member — it's free, takes just a few minutes and will allow you to post your comments on articles and Talking Points submissions across the site.