Brighton & Hove Albion vs Everton

140 Comments [Jump to last]
Saturday 14 October 2017
Match Preview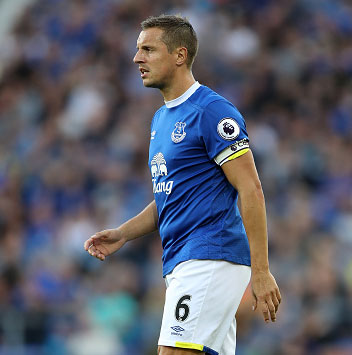 Phil Jagielka is expected to walk back into the side
Everton's season resumes this Sunday with a run of games to close out October that could have a huge bearing on their season.
The visit of Lyon in the Europa League and a trip to Chelsea in the League Cup loom as vital games but this weekend's match against Brighton and Hove Albion on the south coast carries huge importance as Evertonians look for a reaction to the dismal home defeat to Burnley last time out.
The Blues go into the match, their first league meeting with Brighton for 34 years, level on points with the newly-promoted side but two places lower because of goal difference, a worrying statistic given how Ronald Koeman appeared to have, for the most part, shored up the defence he had inherited from Roberto Martinez last season.
The Dutchman's side have shipped 12 goals in seven games and it is hoped that the anticipated return of captain Phil Jagielka following a hamstring strain can help instill some solidity at the back while the issue of who will score the goals at the other end continues.
Jagielka will provide a boost to Koeman's squad, which is still without the services of long-term injury absentees Seamus Coleman, Ramiro Funes Mori and Yannick Bolasie, while Ross Barkley and Aaron Lennon are also ruled out.
The manager was able to report better news with regard to James McCarthy, though, telling reporters at his pre-match press conference that the Irishman, having been allowed by Martin O'Neill to return to Finch Farm rather than be pressed back into international action prematurely, is back in full training.
On the assumption that Jagielka does start, perhaps in place of the beleaguered Ashley Williams or in a defensive three with the Welshman and Michael Keane, the biggest question marks will be over how Koeman lines up his attacking unit in the wake of much criticism of his formation in recent weeks.
Will Oumar Niasse start after failing to make the desired impact against Burnley, likewise for Nikola Vlasic, and what of the No.10s conundrum?
Gylfi Sigurdsson excelled for Iceland over the international break in his more natural central role and there is a clamour among supporters for Koeman to play him there rather that deploying him in a wide left role. It would mean dropping or re-accommodating Wayne Rooney in the side but he left the veteran on the bench for the start against Burnley and could do so against Brighton.
If there is pressure on the manager's shoulders, he doesn't seem to be betraying any effects of it or any acknowledgement of the shortcomings of his line-ups. Rather, he pointed again to an abbreviated pre-season and tough run of fixtures and the need for patience as his squad gels.
"We need to win, we need to change our situation in the table and that starts this Sunday," Koeman said. "That is priority for me for the long term.
"One reason why we're struggling is that we don't [often] have training sessions and that started in the pre-season
"We did not have a normal pre-season. We had to play really [quickly] competition to qualify for Europe and the schedule is so tough that you don't really have time to train and to improve.
"We don't have one new player, we have right or nine new players and that takes time. It takes time.
"That is why I'm thankful that we are playing on Sunday. At least today we had a normal training session with a lot attention and focus on Sunday."
Brighton began their first Premier League season with a creditable draw at Watford on the opening day before the harsher realities of the top flight took hold with back-to-back defeats to Manchester City and Leicester.
Since then, Chris Hughton has managed to engineer home wins against West Bromwich Albion and Newcastle before they lost in predictable fashion to Arsenal before the international break.
The veteran boss will be without Tomer Hemed, who is suspended, Sam Baldock and Beram Kayal.
Hughton, like some commentators have suggested during the recent analysis of what's gone wrong at Goodison Park, believes that Koeman has the ability to turn things around so, "as with all good players and good teams they will turn it around."
He expects a difficult game against Everton but that will require a level of cohesion, fluidity and determination that has been sorely lacking from the Blues for much of the season. Hopefully the fortnight's break has allowed some more of the manager's methods, direction and approach to sink in and the renaissance can begin at the Amex Community Stadium this Sunday.
Kick-off: 1.30pm, Sunday 15 October, 2017
Referee: Michael Oliver
Last Time: Brighton 1 - 2 Everton, April 1983
Predicted Line-up: Pickford, Keane, Jagielka, Williams, Martina, Baines, Schneiderlin, Gueye, Sigurdsson, Rooney, Calvert-Lewin
---
Reader Comments (140)
Note: the following content is not moderated or vetted by the site owners at the time of submission. Comments are the responsibility of the poster. Disclaimer
Kenny Smith
1
Posted 14/10/2017 at 08:57:28
Easily Koeman's biggest game so far for us. His team selection is all important especially at centre-half, centre-mid and up front .everywhere really.
We've got to win this one or I think that'll be it for him. I'm not one for sacking him but the pressure will be too great. An own-goal by Duffy in a one-nil win would be great but he'll need more than the 3 points to keep the wolves from the door. There's got to be a performance cos spunking £100+ million to scrape a win at Brighton would be shocking.
Calvert-Lewin, Kenny and Davies must play but I don't think they'll start. Don't start me on Lookman, who was clearly bought by Walsh as I don't think Koeman had even heard of Charlton.

Christopher Dover
2
Posted 14/10/2017 at 09:08:56
I always thought playing matches was better than training, so if you cannot train enough then put out a settled side to get to gel – not keep chopping and changing and putting players in unusual positions for them.
You wanted and got the number of new players, in fact you wanted (needed) two or three more, so it's down to how you set them up, you could have done it differently and fed fewer players in at the start. So please start taking your share of the blame for a truly abysmal start to the season with no entertainment and no expectation of getting better.
Please prove me wrong.
Christian Watson
3
Posted 14/10/2017 at 09:19:10
Given recent form and fall out as well as our inability to beat one team. What chance do we have against two? Brighton AND Hove Albion. Doesn't seem fair!!
Geoff Williams
4
Posted 14/10/2017 at 09:27:39
It is a terrible indictment on Koeman as manager that few go into this match with any expectation other than a defeat.
I simply cannot see how or when we'll get a victory. I have absolutely no faith in Koeman's ability to turn things around.
Paul Welsby
5
Posted 14/10/2017 at 09:33:25
Just read a few comments made by Koeman in The Echo. It doesn't bode well for Sunday. He thinks Ashley Williams can play through his bad form, Sigurdsson is not playing out of position, and he is going for experience against the MIGHTY Brighton. I lose all the will to live with this man.
Andrew Clare
6
Posted 14/10/2017 at 09:37:59
We know that Koeman expects to lose to the top six teams so he will probably be expecting a draw from this match. That must mean that we will lose.
One thing's for sure – we won't win. I am totally disillusioned with Koeman and his lack of tactical flexibility.
Clive Mitchell
7
Posted 14/10/2017 at 09:51:07
It's almost astonishing that we're now so weak that we can't see a good result away to Brighton. I've a lot of respect for Brighton, having watched a couple of their games on TV, but I don't expect them to finish above the teams I've seen at Goodison – Stoke, Spurs, Bournemouth and Burnley. Which tells you how dire their and our situation is.
Lyndon's predicted line-up is hard to disagree with. Koeman can't play Vlasic, Lookman, Mirallas because we're so lightweight anyway. Schneiderlin and Sigurdsson have done nothing to merit selection this season but we know Koeman will play them both. Williams is unbelievably crude but he's probably been the best defender at the club this season. I would though say that he HAS to play Tom Davies, in for Sigurdsson in Lyndon's team.
Kevin Tully
8
Posted 14/10/2017 at 10:17:58
The only other team in the League who start without a recognised No 9 is those feckers across the park, but that's through choice and having a collection proven midfield goalscorers.
Never mind, we've got a drunk Rooney in exchange for Lukaku. Well done, Everton, you have surpassed anything that's been laughable mismanagement in the past 30 years.
Over £200m blown by this feller and no striker. Absolute bunch of goons.
Ajay Gopal
9
Posted 14/10/2017 at 10:20:08
To be honest, I don't like your predicted line-up one bit, Lyndon. Eight defensive players against mighty Brighton & Hove Albion! With only Rooney, Sigurdsson and Calvert-Lewis who can be classified as attack minded. I hope Koeman reverts back to a 4-4-2 with:
Pickford
Kenny Keane Jagielka Baines
Lookman Davies Sigurdsson Vlasic
Rooney Calvert-Lewin
Subs: Stekelenburg, Williams, Gueye, Schneiderlin, Klaassen, Niasse, Sandro.

Clive Mitchell
10
Posted 14/10/2017 at 10:27:15
Lyndon, the notion that Chelsea away in the League Cup is a vital game for this Everton falls a long way below your usual analytical standard!
Alan J Thompson
11
Posted 14/10/2017 at 10:33:15
This clown has to be joking! He now blames his own inefficiency for not starting pre-season to be ready for Europa League which we'd only known about several games before the previous season had finished!!!
But, as we all know, it's a bugger getting a decent tee-off time in summer.
Mike Kehoe
12
Posted 14/10/2017 at 10:44:52
Given the dreadful results and even worse performances, it must now be evident to Koeman that his determination to focus on defence has proved to be horribly counterproductive and may well cost him his job; wasn't he seriously linked with Barcelona before joining us?
It would be great to see a balanced team with pace up front, any combination of Lookman, Mirallas, Lennon, Vlasic on as wingers with Calvert-Lewin up front. He has got to make big decisions that I feel are simply too big for him; so far, I have nothing to suggest he has any kind of humility or even insight into what is required of him. If he refuses to make the changes that are so glaringly obvious he can fuck right off and rebuild his career elsewhere.
I have been reluctant to jump on the bandwagon and clamour of most of the posts on here to sack him because I assume he must have had a thorough interview and put forward a plan that must have captured the imagination of the board; despite what many rant I hardly think the multimillionaire Moshiri is a fool. Also the tension at Goodison is toxic at times and that effects the players. What we've had so far has been dire but is not a million miles away from being something different.
This is the best squad I have seen since the 90s. If he is too obstinate to accept his defensive focus is not working, then it is time for a change – Unsworth would be my choice.
John Audsley
13
Posted 14/10/2017 at 11:02:01
God, Clive...
If Williams has been the best defender this season, I hate to think who has been the worst.
Jack Convery
14
Posted 14/10/2017 at 11:13:45
Pickford
Kenny Keane Jagielka Baines
Gueye
Davies Rooney
Sigurdsson
Calvert-Lewin Niasse
It's the best I can come up with and I still doubt it's good enough... Very Sad.

Tony Marsh
15
Posted 14/10/2017 at 11:21:09
I mentioned on another thread that I watched Lyon beat Monaco 3-2 last night playing a style of football that will blow us away on Thursday. I remember pre-season some of our fans thinking that Lyon and Co was an easy draw in the Europa?
Defeat in France is a good a certainty you will ever see and, if we lose at Brighton tomorrow, then surely the axe will fall on Koeman?
Colin Glassar
16
Posted 14/10/2017 at 11:22:46
Kevin, unless a miracle happens, I can see our season being a complete write-off. The board, and manager, deserve a huuuuuge pat on the back for being able to squander countless millions on a bunch of (talented) misfits.
I don't think we'll be in a relegation struggle but our season could be effectively over by mid-January.
A point away to Brighton is probably our best bet tomorrow.
Christopher Timmins
17
Posted 14/10/2017 at 11:35:45
I am hoping for a change in fortune tomorrow; however, it is hard to be optimistic. I hope the manager takes the necessary actions and that Williams, Schneiderlin and Rooney don't start. I would also prefer if Niasse started on the bench as he has more impact coming on in the last quarter of games. I would be going with:
Pickford
Kenny
Holgate
Keane
Baines
Gueye
Davies
Vlasic
Lookman
Sigurdsson
Calvert-Lewin

It maybe one of the youngest teams in the Premier League but we desperately need pace and energy and players playing in their natural positions.

Colin Malone
18
Posted 14/10/2017 at 11:48:51
Forget about the centre-forward problem. We have to stop playing two holding midfielders. If you had a young Gareth Barry, yes you can.
Gueye and Schneiderlin are very good holding midfielders but we need a Jack Wilshere, who can play along side one holding midfielder, a creative player with guile, which we are missing big time. So it's got to be one holding, with Davies.
Steve Bird
21
Posted 14/10/2017 at 12:14:48
For once, I'm hoping the international break works in our favour !
It's allowed a little of the sourness of recent games to dissipate. Hopefully its allowed players and staff to re gather and focus on turning things around. It will have given fans a chance to re energise and shake off the disillusionment of recent weeks and get behind the team.
I'm glad it is an away fixture, our away fans are a little less inclined to jump on players' backs early on in the game for mistakes.
All will be revealed; I'm backing us to start a run of decent results leading to an increase in confidence.
COYB
Phil Walling
22
Posted 14/10/2017 at 12:14:49
It will hardly take a miracle for us to see off Brighton. Two very average sides playing to get away from the dross at the bottom of the league.
No evidence, no rhyme nor reason but I fancy Everton will win this one and begin the re-birth of Koeman as a credible manager. It won't last ,of course.
Kunal Desai
24
Posted 14/10/2017 at 12:58:55
For me he has 3 strikes. The first one starts tomorrow; the second against Arsenal at home; and the third against Leicester away.
A minimum of 5-6 points return – anything less and he MUST be sacked after the Leicester game. Enough will be more than enough for Koeman and the supporters by then.
Oliver Brunel
25
Posted 14/10/2017 at 13:02:28
Exactly, Tony. I watched an Atalanta - Juventus game recently and the football is light-years ahead of us. We have bought dour players who have zero pace; Klaassen, Sigurdsson, Williams. I personally am very suspicious of these signings – especially the Klaassen one.
Kim Vivian
26
Posted 14/10/2017 at 13:08:11
Because we are Everton, I cannot bring myself to predict a loss. I think we might shade it and was thinking a low entertainment 1-0 (not surprised Sky have passed on this encounter in favour of the East Midlands derby). I also struggle to see us keeping a clean sheet, so maybe 1-1. Could we manage 2 at the Amex and finish 2-1? If Vlasic plays with Calvert-Lewin, I would say yes, we can.
For what it's worth:
Pickford
Kenny (Martina)
Keane
Jagielka
Baines
Gueye
Schneiderlin
Sigurdsson
Rooney
Vlasic
Calvert-Lewin
Subs to play: Davies, Klaassen, Niasse.
Derek Knox
27
Posted 14/10/2017 at 13:27:49
Chris Timmins, I like your side, but no chance Koeman, would go for anything as positive as that.
Because Schneiderlin is in such outstanding form, he will build more negatives round him, players out of form, confidence and not to forget, out of position.
When we lose, or perhaps draw, he will blame the seagulls, the weather, or any other non contributory factor, anything, but himself.
I would normally be trying every link possible to see the match, or at the very least listen to the radio commentary.
As long as Koeman is there, I can't bear to see how he is destroying Everton, and the reputation of the club.
Let me know when he's gone.
Raymond Fox
29
Posted 14/10/2017 at 14:01:04
Brighton on their ground wont be a pushover even if we were playing well. The betting is 9/4 Brighton; 11/5 the draw; 6/4 Everton, the odds compilers have more faith in us than we do.
When you look at our squad we shouldn't be struggling like we are. We don't have top 6 players but their certainly top 8 quality. If we can get our injured players back as well, we should climb back up the table no problem. We want Barkley back in the fold too, I'm hopeful that he will sign a new contract.
I think we will see an improved performance tomorrow, because if Koeman and Co cant see that how they want us to play is not working, they must be blind. I think we will win or draw tomorrow.
Richard Lyons
30
Posted 14/10/2017 at 14:28:50
I can't see us scoring more than one flukey goal... So the best I'm hoping for is a very drab 0-1 victory.
Whatever happens, Koeman will describe the first half performance as poor ("We lost a little bit the passion, desire, confidence") but will hail the second half, after he's made changes, as much improved. I think that's going to be his version of "phenomenal".
Dave O'Connell
31
Posted 14/10/2017 at 14:33:32
Pickford
Kenny Baines Holgate Keane
Gana Davies
Sigurdsson Lookman Vlasic Sandro
No chance of Koeman playing a attacking team, though...
Phillip Warrington
32
Posted 14/10/2017 at 14:37:01
I've never heard a manager with so many excuses as to why his team is not playing well. This is not his first season at Everton and has spent around £200 mill.
This team and manager are becoming a joke, just like Martinez was. Do we make the mistake and wait a whole season to do something about it? I don't know about Brighton... they will play for their lives – will we???
After watching Lyon a few times this season, I fear for Everton; they are very fast and skillful.
Has anybody got any news on the lad from Switzerland? He looked a good prospect when we first bought him; he played well for his national team.
Phil Smith
33
Posted 14/10/2017 at 14:55:53
Sorry but Niasse HAS to start, for me. He (and to a lesser extent) Calvert-Lewin are the only ones who look like scoring for us at the moment. If he doesn't, I'll not watch them again this year...
Who am I kidding? I'll be infuriated to no end though.
Nicholas Ryan
35
Posted 14/10/2017 at 15:18:43
Whatever people say about Niasse and his (very obvious) failings; his current season reads thus:
Premier League: 1 start; 2 goals.
League Cup; 0 starts; 1 goal.
So, this season, he's started just one game, but found the net, 3 times.
Looks like he's making the very most of what talent he has!
Tony Kost
36
Posted 14/10/2017 at 15:23:05
Christopher Timmins (#17) – I like that team selection. Some pace and excitement guaranteed. Sadly Koeman will think differently and play the 'unholy trinity' of Sigurdsson, Schneiderlin and Rooney!
Neil Lawson
38
Posted 14/10/2017 at 15:25:39
It's desperately sad, but many of us will not be devastated if we lose tomorrow. A few more points down the drain may speed the departure of our hapless manager.
Oh to see my team play again with pace and pride and passion. Mid table and a cup run under a new man is all we can seriously hope for. How sad Is that?
Rhino for me. What is there to lose?

And if Lyndon's team selection is correct, I hope we do get done over again.
Phil Davies
39
Posted 14/10/2017 at 16:28:47
I've given up on experience now with this team, play a youthful quicker team and let's see if the opposite of the dour, boring older team can play better.
My team:
Pickford
Kenny, Feeney, Keane, Garbutt
Gueye, Klaassen
Lookman, Sigurdsson, Vlasic
Calvert-Lewin
John Keating
40
Posted 14/10/2017 at 16:55:46
I'm just amazed this fool is still here. I thought we would have binned him at the beginning of the break. I just hope we don't leave it too late as we don't have the players or experience to dig us out of a bottom of the table scrap.
4-4-2 for me:
Pickford
Kenny, Keane, Jagielka, Baines
Lookman, Gueye, Sigurdsson, Mirallas
Calvert-Lewin Niasse
Geoff Lambert
41
Posted 14/10/2017 at 17:04:55
It is unbelievable, I know... but, if we can sneak a win tomorrow, we will be only 3 points behind Liverpool and Chelsea.
George Cumiskey
42
Posted 14/10/2017 at 17:08:09
After the Palace result today, l think he's under even more pressure. I still think he should've gone for Sahko from Liverpool.
Martin Mason
43
Posted 14/10/2017 at 17:08:49
We will win tomorrow despite Koeman; I'm going for the first time in a while and I'm lucky.
Just watching the exceptional England U17 side, we have a good lad called Gibson at left-back.
Martin Nicholls
44
Posted 14/10/2017 at 17:09:11
Oliver (#25) – I'm intrigued! What exactly are your suspicions about the signing of Williams, Sigurdsson and Klaassen and why in particular do you find the Klaassen signing as even more suspicious than the others?
Neil (#38) – "if Lyndon's team selection is correct, I hope we do get done over again". Shame on you for wishing defeat on our team, whatever the circumstances.
Martin Nicholls
45
Posted 14/10/2017 at 17:10:31
Geoff (#45) – don't you mean "title chasing Liverpool"?!
Martin Nicholls
47
Posted 14/10/2017 at 17:13:22
Off topic I know but whilst our Ross is frequently described in the press as a "contract rebel", the same words are never used about Emre Can who is in an identical position. I wonder why?
Kevin Prytherch
48
Posted 14/10/2017 at 17:14:34
"We didn't have one training session!!"
Last year, we didn't have a pre season because he didn't sign until late after going on holiday.
This year, we don't have a pre season because we're in Europe.
Next year ,we won't have a pre season because of the World Cup.
Let's hope we don't qualify for Europe in 2019-20, imagine what we could do with a training session that year!!!!
Martin Mason
49
Posted 14/10/2017 at 17:21:09
Oliver @25, I also found the Klaassen transfer very suspicious. How could anybody with a brain cell pay £20M for him?
Peter Anthony
50
Posted 14/10/2017 at 17:21:47
Re the predicted line-up, 7 outfield players whose primary role is defence.
Walter Smith-esque. 'Disappointing' the usual outcome.
Déjà vu. Painful.
Tony Everan
51
Posted 14/10/2017 at 17:38:53
Chris Timmins's team at #17:
It would be a million-to-one that Koeman would pick such a balanced attacking youthful side. Brighton would shit themselves if they saw such confidence.
I fully expect a slow defensive set up which will concede a goal and go to pot.
Above all, I want to see a motivated side, and players who know their roles. The best players in their best positions, with a formation they fully understand.
Just like I was expecting before the Burnley match!
Neil Copeland
52
Posted 14/10/2017 at 17:57:03
Surely anything other than a positive approach in each of the next 4 or 5 games will see the end of Koeman? I am not sure whether he actually realises it but, to me, he has nothing to lose now.
Although I doubt he will go for it, my team for tomorrow would be:
Pickford
Kenny, Keane, Jagielka, Baines
Gueye, Davies
Lookman, Sigurdsson, Calvert-Lewin, Vlasic
Whatever team he picks, I still expect us to win –just like I do every week, regardless of the opposition. And yes, I know I am completely deluded but what the fuck.
Tony Hill
53
Posted 14/10/2017 at 17:59:43
If we lose tomorrow and Leicester beat WBA on Monday then we will go into the bottom three, with Arsenal and Leicester (away) to come.
It's a very important game indeed. I think we'll win.
Andy Dempsey
54
Posted 14/10/2017 at 18:02:59
Sung in the style of a 40's musical..
'Schneids and Gana will never fucking work!
But they'll be the first names on the team-sheet,
This guy is such an astonishing berk!
I can't believe that he used to be a an athlete,
Lookman, Kenny and Davies won't get a look-in!
Yet they could be our best bloody players,
Jags and Williams should be thrown in the bin!
And then we might finally win away-yeh,
Oh then we might finally win awaaaaaaaaaaaaay!!!!!!!!

(I do apologise for that)
Eric Paul
55
Posted 14/10/2017 at 18:10:31
Buying an international midfielder who has scored 44 times in 126 games, very fishy!!!
Martin Nicholls
56
Posted 14/10/2017 at 18:13:23
Exactly Eric – still waiting to hear exactly what the voiced suspicions are!!
Derek Knox
57
Posted 14/10/2017 at 18:18:33
Andy @ 54 thought someone had stood on TW's cat's tail. I take it it was all your own composition.
Don't give up your day job!
Phil Davies
58
Posted 14/10/2017 at 18:19:18
I love Klaassen and genuinely believe he could be an incredible player for us, but he's being strangled in every game he's played because of the lack of any pace or movement around him.
Personally I'd play him a bit deeper and allow him a box-to-box role in midfield and let Gueye play as a defensive midfielder.
Brent Stephens
59
Posted 14/10/2017 at 18:20:13
Got a ticket for this – and sent it to my lad for him to go and watch the game! That'll teach him to diss his old man!
Neil Copeland
60
Posted 14/10/2017 at 18:21:36
He does look suspiously like Steven Naismith...who is Scottish of course so based upon Gordon Strachan's recent comments, maybe some genetics involved!
Andy Peers
61
Posted 14/10/2017 at 18:22:22
Koeman said no more excuses right before the Burnley game. Since that game, he has made nothing but excuses.
He should have been sacked after the Man Utd game.

David Barks
63
Posted 14/10/2017 at 18:28:40
I don't know if the question should be whether we will win tomorrow. I'm more worried about whether we can score a goal, period.
Martin Mason
64
Posted 14/10/2017 at 18:29:39
Eric, in what is now one of the weakest leagues in Europe. Best wishes but he doesn't cut it here.
Mike Berry
65
Posted 14/10/2017 at 18:37:08
Looks like Ronald has been found out already and the mess he made at Valencia was similar to what's now happening here. Blaming the team as having "self doubt" when we went one down against Burnley, now I have heard it all – he must have been reading Martinez's post match phrase book.
The self doubt is in his team selection, having a £45m No 10 and playing him out of position, its like recruiting a head chef for a top restaurant and having him wait on tables!
Come on, Ron, surprise me... play Calvert-Lewin at centre and Sigurdsson behind him, Rooney? Well, the bench; his transfer is what has messed things up trying to accommodate him, so some width and pace please? I can dream, can't I?
Neil Copeland
66
Posted 14/10/2017 at 18:39:10
Mike, spot on
Tony Hill
67
Posted 14/10/2017 at 18:42:22
I don't know, Martin (#64). I understand that view, of course, but I don't think he's got started yet for whatever reason. He looks to me as though he has a good football intelligence and might do very well under a proper manager. He lacks pace but, if he gets confidence back, I can see him being a clever asset to us.
Neil (#60), he's better than Naismith, though I continue to have great respect and affection for that player too.

Neil Copeland
68
Posted 14/10/2017 at 18:45:42
Tony (#67), yes agreed - it was meant as tongue in cheek only. No offence intended.
Tony Hill
69
Posted 14/10/2017 at 18:50:29
Of course, Neil.
William Cartwright
70
Posted 14/10/2017 at 18:55:00
Martin @47 – Tongue-in-cheek comment surely, one plays for Liverpool and one plays (or used to) for Everton. There's the rub.
Neil Copeland
71
Posted 14/10/2017 at 19:08:50
Come in Ronald, surprise us all with a positive line up and handsome win
Phil Walling
72
Posted 14/10/2017 at 19:26:00
Mike Berry, they can't sack Koeman for the Rooney signing when from first to last it was engineered by Kenwright.
I suspect his next sleight of hand will see a return for 'Our Davey'!
Neil Lawson
73
Posted 14/10/2017 at 19:26:50
Martin (#44). Read my complete post in context.
Only 2 ways to see the back of Koeman. Either he is appointed as Dutch manager (more fool them) or Moshiri wakes up to the woeful inadequacies being displayed week in week out. It is Koeman's team.
Lyndon has forecast Koeman's team starting. Painful as it is, only another poor defeat to another second-rate team will hasten his departure. Followed, hopefully, by new dawns and renewed excitement.
So prepared to accept the shame of not wanting to see his team win and wanting to see my team return.
Tony Hill
74
Posted 14/10/2017 at 19:34:34
If we can win tomorrow we are 5 points off 4th. That Watford result, and the Palace result, show what can be achieved when the team plays for the manager and when the manager hasn't got his head up his arse.
This season (including the Europa League) is not lost. We must, all of us (and that includes radical sceptics like me), find our courage and self-belief. Are we to be shamed by teams like Palace and Watford, and their fans? Surely not.
Max Murphy
75
Posted 14/10/2017 at 19:35:31
If a defeat means the sack for Koeman, then come on you Seagulls!
Paul Holmes
76
Posted 14/10/2017 at 19:38:35
Everton's season could finally be kick-started if they win tomorrow. They will only be 3 points behind Liverpool, Chelsea and Arsenal... unbelievable!
If we can win tomorrow and beat Arsenal at home next Sunday, then the pundits will start asking "Crisis, what crisis? Everton are doing well!"
Over to you, Mr Koeman and the players – show some determination to put things right.
Kim Vivian
77
Posted 14/10/2017 at 19:41:30
Next up after tomorrow, then – this Arsenal team on the rebound likely will stuff us next week. If tomorrow goes badly I fear for the next 3 weeks. Starting with Brighton tomorrow, with Chelsea and Lyon (2x) we've also got Arsenal, Leicester and Watford – that's 7 games crammed in to 21 days. Then a resurgent C Palace coming up in the league. I can seriously only see maybe 3 points there.
Who thinks Ron will see that out? Could be grim but I did say a while ago that I thought mid Nov could spell the end for him if he can't turn it around.
Just read Tony's post while typing mine. Sure I'm hopeful and would obviously love to see a metamorphosis but I'm not optimistic to be truthful. I'm also aware of where 3 points will shift us up the league but also very mindful that if we lose and Leicester win we are in the drop zone.
Peter Cummings
78
Posted 14/10/2017 at 19:54:26
We will win tomorrow, at least 2-0, might even get a pen, happy days are just around the corner. just saying. ?????
Raymond Fox
79
Posted 14/10/2017 at 19:56:48
With regard to the fixtures I think we will get something out of tomorrow's game, but like you I'm not too optimistic about the other fixtures.
Lawrence Green
80
Posted 14/10/2017 at 19:58:11
Kim (#77) It might go the way you envisage but on the other hand the team may get positive results in all of those games, I can live with Ronald for another 3 - 6 months as long as the team is winning games.
If you are proved correct and the wheels well and truly fall off in the next few weeks, it may take much more than the removal of the manager to fix it and Everton could be facing a very long and arduous campaign.
There is still some room for hope – granted not much – but if Watford and Palace don't treat Arsenal and Chelsea with much respect and win against those teams, surely we should be able to do the same thing against many of the teams in the Premier League, or am I being far too optimistic?

Christy Ring
81
Posted 14/10/2017 at 20:16:54
Tomorrow is D Day. If Koeman picks the team tomorrow with pace and width, players in their proper positions, I'd give him more time. But if he continues with the same formation, slow and pedestrian, and includes Williams, it's time to cut our losses.
Colin Glassar
82
Posted 14/10/2017 at 20:20:50
Lose tomorrow and the gallows will have to be built quickly.
Tony Marsh
83
Posted 14/10/2017 at 20:22:10
Lawrence @ 80
The wheels are already off mate. The tyres were on worn tread last season and now the axle is scraping along the floor. If we as supporters can still not see that Koeman has lost the players and lost the plot then there is no hope for the Evertonian fan base.
We as fans need to be more ruthless and less forgiving. Some times I wonder how we the Blue half are from the same city as the Red half. Kopites just don't take the crap we do. As for 4-6 weeks more for Koeman, that is asking for trouble. See if you think this way after Thursday at Lyon. As far as I'm concerned, Koeman should of been gone after Atalanta battered us.
Eric Paul
84
Posted 14/10/2017 at 20:22:29
Martin,
That's why he will need time like most foreign players. 4 in 16 for his country, Ross has 2 in 22.
Neil Copeland
85
Posted 14/10/2017 at 20:30:11
Colin (#82), I will get myself to B&Q in the morning.
Tony Twist
86
Posted 14/10/2017 at 20:43:45
Expect us to win easily tomorrow, in the end, 2-1 but I expect us to do our usual trick of conceding at around 20 minutes. Things won't change until Koeman is gone and we have people with pace and directness on the wings and two centre forwards. Koeman is not a man for turning.
Martin Mason
87
Posted 14/10/2017 at 20:44:41
Tony
What are you going to do that's ruthless? Complain on TW like Darren? You have one weapon and that is to stop paying to watch the rubbish or perhaps just destroy the players by putting them down at the game.
Michael Kenrick
Editorial Team
88
Posted 14/10/2017 at 20:44:56
Jeez, you guys are all over the map today.
Most off-topic posts (Silva, Watford, Man City, Arsenal Chelsea, Palace etc) have been moved to the Premier League Week 8 thread.
Sorry for any inconvenience.

Peter Fearon
89
Posted 14/10/2017 at 20:50:24
Are there no Everton supporters contributing to these threads anymore? I have never, even in the dark days of Walter Smith, read such negative and pessimistic posts. We are going to take Brighton apart. That's the only way to approach this situation. COYB.
Colin Glassar
90
Posted 14/10/2017 at 20:53:29
Are you Unsy in disguise Peter? There's a great piece in the Echo about Unsy and his boys. Unsy says he prepares his team to win every game because we are Everton.
If he's not the next manager then I hope he's the next Chairman!
Michael Kenrick
91
Posted 14/10/2017 at 20:55:10
And you can knock that "no Everton supporters" shit on the head, please, Peter.
Paul Kossoff
92
Posted 14/10/2017 at 20:55:47
Clive 7, "Williams is unbelievably crude but he's probably been the best defender at the club this season." What dimension are you in then, 3rd, 5th? He is a cart horse with no obvious skill, mental or physical, he is a liability. If he is our best defender then God help us!
That he is actually paid to play professional football when he is no better than a part timer just shows how desperately poor our Mr Magic Walsh is at his job.
Lawrence Green
93
Posted 14/10/2017 at 20:56:53
Tony, I don't know if Koeman has lost the dressing room or not, but I'll admit that the signs aren't very good, and as much as I don't like his style or demeanour or indeed the way he sets his teams up, I still want Everton FC to win as many games as possible even under his stewardship.
We are sometimes guilty of going overboard when we have a good run and often times fall into deep despair when we have a bad run. I just want Everton to get as many points on the board as soon as possible, as I don't think I could handle a season of not winning enough games and going into the New Year languishing near the foot of the table or worse going into the final fixtures needing points to avoid the dreaded drop.
I believed that, if the Board were going to get rid of Koeman, it would have been during the recent International break, however, they may well be keeping their powder dry until the next international break.
As it happens, I don't think Koeman will last the full term of his contract – regardless of Everton's results – and he may well fail to see this season out or indeed this calendar year.
I've never wanted Everton FC to lose any game, even when the other lot could have won the league a few years ago, if we had beaten Man City at Goodison.
As for what the other lot do, it is of little concern to me, they have won once in eight matches, I'm led to believe, so they do put up with some set-backs on occasion. All of their demonstrations aided and abetted by the local and National media led to those changes of manager but they haven't exactly gained the prizes that many of those demonstrators may have thought that they would.
It may seem strange that so many of us trudge, it used to be with a skip in our step, to Goodison Park, week-in & week-out and I agree that there hasn't been much joy in doing so in the last few seasons but if we all stop going now, who will give a toss about the club and its results? Certainly not the media, and perhaps not the custodians of the club to the same degree as the supporters, and without the media's help, any campaign to oust the manager will fall on deaf ears.
Paul Kossoff
94
Posted 14/10/2017 at 20:58:02
Peter 90, I'll support Everton no matter what league we play in, I think that makes me a supporter!
Neil Copeland
95
Posted 14/10/2017 at 21:07:35
Paul 94, well said that man.

Neil Copeland
96
Posted 14/10/2017 at 21:11:00
Positivity it is then: Brighton 0 Everton 4, I will save my B&Q visit for another day perhaps.
Marcus Leigh
97
Posted 14/10/2017 at 21:12:51
Hugh Jenkins @87
I remember watching Unsworth being interviewed the day that Martinez was sacked. As well as showing his humility by repeatedly saying that 'a good man has lost his job today', when asked if he would like to replace Martinez he also said, 'Who wouldn't want to manage this club?'. Unlike some, it's in his blood. He feels it. He wants it. Give me passion over bloody intransigence any day.
Tom Bowers
98
Posted 14/10/2017 at 21:31:26
In retrospect, we can all bemoan the managers and players who have departed in light of the current poor run. Methinks Everton got really lucky in the Man.City game considering the shellackings they have been laying on other clubs. Poor Stoke!
Back to tomorrow and what's going to happen. Whilst we all hope there will be a big upturn in the performance of the team as a whole (á la Palace today) it's easy to expect pessimistically more of the same crap given the weak offence. However, it is Brighton and Koeman has had a chance to review what he has been doing wrong.
We all have our permutations for the starting eleven but no matter what it is, if they come out lacking any intensity like they have been doing in many games this season then it will be another long afternoon.
The squad has seemed a long way from becoming a team to be reckoned with and the road back may not be possible until Koeman leaves. Somehow, even if they get one or two decent results between now and January and the man is not fired, I am not sure he has the wherewithal to get the right players in even at that time.
Darren Hind
99
Posted 14/10/2017 at 21:42:51
Martin will you please stop this fucking idiotic "What are you going to do about it?"
It's incredibly stupid (even by your standards) to tell people to stop paying... Do you even know how it works??? Most people have already paid. They paid before a ball was kicked this season. They were playing long before this manager got here and they will be paying long after he is gone... that's what they do!!!
Many paid more than they could afford and went into debt, because they have to. This may be a fucking hobby to you but to many it's their life's passion... we're fucking addicts.
Tell me: I'm all ears. How does the guy – who has paid a bag of sand for him and his son to carry on the family tradition – stop paying? Think the club will be giving refunds to all those disgruntled fans who feel short-changed? ... Think they could cope with the fucking queues???
You were on here just a couple of weeks ago proclaiming you see "nothing but positives" ... I can only conclude that you are too simple-minded to be miserable. The kite sellers will never starve with people like you about.
No-one person can do anything (especially those who live in different parts of the world ) but they can voice their displeasure and they can listen to others voicing their displeasure. They can hope a movement grows. They can hope that others will see they need to join the movement. They can hope the displeasure of the overwhelming majority reaches the ears and therefore puts pressure on the board to act.
You sound like the barroom lawyer who sits in the corner pompously telling anyone who will listen to him not to vote. "It won't make any difference."
Every time our club leaves the pitch with boos ringing in Moshiri's ears, it's another step closer to this incompetent getting the boot.
You are a proven accepter of mediocrity. Thankfully, most fans have a bit more about them.
Stephen Brown
100
Posted 14/10/2017 at 21:47:31
How about:–
Pickford
Kenny Holgate Keane Baines
Gana Klaassen
Lookman Sigurdsson Mirallas
Rooney
Attack!!!! A must-win game!!!
Jerome Shields
101
Posted 14/10/2017 at 21:49:51
I have no confidence in Koeman. It will be probably Niasse to the rescue, if he is selected for the bench. The selections he is hinting at don't bode well.
I have never known the Everton supporters to be so disillusioned before a game. With Moyes and Martinez, though inconsistency reigned, there was at least some hope.
You may guess the effect Koeman is having on the players who have to deal with him, day-in & day-out.
Koeman is destroying Everton.
Darren Hind
102
Posted 14/10/2017 at 21:56:46
Come on, Jerome.
He may be destroying the club, but only by pleading for more time for him to finish the job can you proclaim yourself an optimist.

Andy Crooks
103
Posted 14/10/2017 at 22:03:03
Darren, I have voiced the same stuff as Martin. "Start your petition and I'll sign it, what are YOU doing about," etc. I am happy to admit I got that badly wrong.
You do what you can, and if it means coming on here and changing one person's view, then that is a start. I used to take the view that this where we are, let's make the best of it. Now I don't. My views are not so entrenched.
If it is shite, say it. Nothing may change but we still must say it. I take no pleasure in eating humble pie but something stinks around our club.
John G Davies
104
Posted 14/10/2017 at 22:14:31
https://www.azlyrics.com/lyrics/johnlennon/powertothepeople.html
Get the placards out.
John G Davies
105
Posted 14/10/2017 at 22:19:19
http://m.imdb.com/title/tt0075492/
Gercha.
Put yer money where your norf 'n sarf is.
Tony Hill
106
Posted 14/10/2017 at 22:27:21
I want Koeman out. But I am very worried about the threat of relegation and we must be very careful indeed that we don't help to dig the grave and then lie down in it. It's a very fine balance: if we surrender to the thought that we're doomed while Koeman is here then we may fulfil our own prophecy.
It always pisses me off when people have a go at the Goodison atmosphere and present it as an excuse for the awfulness of the players and tactics, but we have to be alert to the dangers of creating a climate in which the whole club resigns itself to defeat. Given the history of our Board in despatching managers, we should assume that Koeman isn't going soon and I suggest that we should also assume that we're already in a fight to stay in the Premier League.
I don't know how we square the circle of expressing alarm at our poor performances and wanting shut of our apparently clueless manager, while at the same time boosting the volume and getting behind the team to try and raise their game – but I think we're going to have to start trying our very best.

Paul Rimmer
107
Posted 14/10/2017 at 22:39:12
Koeman is living on borrowed time. Whilst I think Rhino would be a great choice to replace him, I was just watching MOTD and could see Mr Arteta on the Man City bench. Obviously learning from one of the best – could he do a job for us?
Neil Copeland
108
Posted 14/10/2017 at 23:22:59
Tony (#106), agree. We need to pull together and support EFC. Personally, I don't think Koeman will be with us for long but that is not the point really, we need results fast regardless of who is in charge.
Ross Edwards
109
Posted 14/10/2017 at 23:54:53
We've basically been saying the same thing before every game, haven't we?
"Hopefully he'll give people like Lookman starts, bit of pace in there", "Williams needs dropping, get him out of the firing line", and so on.
Yet you can almost guarantee that he won't change anything at all. We'll still be playing 6 defensive players, trying to fit 3 Number 10s into one side in a narrow, slow system. We'll either huff and puff to a draw or we'll get a scrappy win to temporarily give him a stay of execution.
This is what I want him to play:
Pickford
Kenny Jagielka Keane Baines
Gana Davies
Vlasic Sigurdsson Lookman
Calvert-Lewin
But we all know full well we won't see that. Don't get me wrong –I'll still get behind the team and hope we get wins in this next month to turn things round.... but realistically, this manager is on borrowed time.
Clive Mitchell
111
Posted 15/10/2017 at 00:13:14
Paul (#92) – so if you disagree you'll be able to tell me who has done more to defend our goal this season than the crude and error-prone Williams?
I suspect you're not going to nominate Martina or Baines – sadly Leighton doesn't cut it at this level any more as a defender. You can't nominate Jags as he hasn't played enough. I doubt you'll say Holgate. So you're down to Keane. Seriously?
We're so bad that Williams, who has at times looked incapable of actually being a professional footballer, has done more than any other defender to defend our goal. Pitiful isn't it?
Will Mabon
112
Posted 15/10/2017 at 00:31:12
Our record is same points as Brighton with a goal difference worse by four. We're the away team. Form says a 1-0 loss or a draw. A win is unlikely unless it goes against form.
Anto Byrne
113
Posted 15/10/2017 at 01:36:33
I went to Brighton to see Sharpy get his first game... must have been 1980? Blew up the car on the way home. Think we should get a win here. If Palace can win, it's a formality.
Damian Wilde
114
Posted 15/10/2017 at 02:05:34
I've gone for 1-1. Fourth bottom. Grim times with the Dour Dutchman.
I won't make the game as have been touring the US & Canada on holiday. Watching The Vancouver Whitecaps tomorrow though, a welcome change from watching Koeman's boring outfit.
If we lose, I think he's gone.
Barry Williams
115
Posted 15/10/2017 at 02:34:22
Jerome Shields (#101),
I can certainly remember being as resigned as I am now under Moyes and Martinez! WBA at home with Neville and Heitinga in midfield springs to mind. Watching Martinez's sides knowing that although you were in front, we'd lose.
It's not good at present, but it has been at least as bad in the last decade!
Really, Martinez and some hope? Really!!??
Soren Moyer
116
Posted 15/10/2017 at 03:14:01
Why was he blaming players and fans for the state of total disorder we are in, at the press conference yesterday!!!?
Damian Wilde
117
Posted 15/10/2017 at 03:24:38
Really? What did he say, Soren? He needs to look at himself! No six-man defence, three No 10s and lack of width!!!
William Cartwright
118
Posted 15/10/2017 at 03:40:23
Pickford. Martina, Keane, Williams, Baines, Schneiderlin, Gueye, Rooney, Calvert-Lewin, Vlasic, Sigurdsson.
Not my team, but probably Ronald's ...
Rick Tarleton
119
Posted 15/10/2017 at 04:34:07
Lovely to see Garbutt scoring that goal for the Under-23s against Man City. It isn't so long since he was pushing Baines and being talked about as the next England prospect. Maybe like Niasse he too could become a member of the squad again.
Vijay Nair
120
Posted 15/10/2017 at 05:48:12
Ross (#109), the team you've named is exactly what we should be playing... but everyone knows Koeman will set the team up for the same dross again. I expect to see all of Williams, Martina and Rooney, with Sigurdsson played out of position again.
David Johnson
121
Posted 15/10/2017 at 08:58:44
The team has been disjointed with the defence sitting almost on the goal-line because they're so terrified of their own lack of pace. The midfielders then drop off and the forwards too. If either press the ball we end up with huge gaping holes and class acts like Schneiderlin are left exposed.
I'd like to see us play as a unit today. We somehow managed this in the first half against Split. Manage this again but for 90 minutes and we'll get an easy win.
Eddie Dunn
122
Posted 15/10/2017 at 09:18:30
There are some similarities between the Moyes, Martinez and Koeman tenures. When injuries occurred, the squads were too thin in certain areas and players were played out of position. At transfer windows, all of them would suggest how many players were required but would find fewer taken on.
The club may well have brought in 8 or 9 new faces, but with others leaving we still see it paper thin in some departments, and obviously over subscribed in one particular position. Things usually go wrong when the team lacks balance. Left sided players on the left, width on the flanks.
We moaned when players were shoe-horned into unfamiliar roles under all three of these coaches. The club now have more resources but they decided to wait for Bolasie and Coleman to recover rather than spend money.
We needed another striker even when we had Lukaku and, with Valencia departing, we needed three new front men. Even if we include Calvert-Lewin that still leaves two more required.
We bought Keane, but needed another with Funes Mori out long term. Instead we are relying on Jags and Williams. The other teams in the top six would not be waiting on players with long term injuries. New faces would be ushered in as soon as possible.
I blame the club for not investing in the right positions. I would love to know who made the decisions. Koeman also makes baffling choices with what he does have available, which suggests he would get it wrong even if Bolasie and Coleman were fit.
Karl Jones
124
Posted 15/10/2017 at 10:02:10
Can't even see us scoring these days, let alone winning. A big opportunity missed to bed in a new manager during the break.
Eric Myles
125
Posted 15/10/2017 at 10:07:52
What's happened to the 'international coverage' link that usually appears with the match preview threads?
I'm away from home and want to check my viewing options.
David Johnson
126
Posted 15/10/2017 at 10:14:57
http://www.liveonsat.com/quickindex.html
John G Davies
127
Posted 15/10/2017 at 10:16:43
Try for Hatim Ben Arfa on loan in January. He signs for a club and is very good for the first season then falls away. A good option for second half of the season.
Paul Smith
128
Posted 15/10/2017 at 10:16:43
I'm not going to ask about him playing wingers today as there is no point. So here is my team in a 4-4-2 with a diamond midfield.
Pickford
Kenny, Keane, Jagielka, Baines
Schneiderlin
Gueye Davies
Sigurdsson
Rooney Niasse
At least this team has everyone playing in their correct positions and hopefully we start on the front foot. I think Schneiderlin is a lucky boy to be playing but I can't ever see him being left out.
Paul Smith
129
Posted 15/10/2017 at 10:21:40
Sorry, I forgot I would personally leave Schneiderlin out and play Vlasic in his place with Gueye sitting. This would be a bit more attack-minded although still needing a proper striker.
James Marshall
130
Posted 15/10/2017 at 10:23:14
I've stayed away from TW for a week or so because life is stressful enough without the bickering and misery on here. And today I'm actually happy that I have an 11 hour work day and will miss the game Yep, it's come to that.
Up the Blues (half-hearted cheer...)
John G Davies
131
Posted 15/10/2017 at 10:27:49
James, I know where you are coming from there, it does get a little doom and gloom at times. < Alleviate it with a touch of humour mate, some engage in it, some ignore it and some are fyooooimin.
Brightens it up now and again though.
Paul Kennedy
133
Posted 15/10/2017 at 10:31:21
Painting... anyone want to watch it dry? Got to be livelier than watching us play at moment.
Bring on Rafa, as reported at BBC!
David Booth
134
Posted 15/10/2017 at 10:49:17
Like Ross (#109) and Vijay (#120), I fear it will be déjà vu from the Dutch dunce: five across the back, with Williams and Martina; both Schneiderlin and Gueye in front of them; Sigurdsson pushed out to the left to accommodate a huffing, puffing, sweating, red-faced Rooney and Calvert-Lewin hung out to dry up front.
No Kenny, no Davies, no Lookman, no Mirallas, no width, no inspiration, no leadership, no belief and even before we start – no hope.
If he doesn't learn, he has to go.
Jack Convery
135
Posted 15/10/2017 at 11:25:30
I'm so down on EFC at present that I suspect Lookman and Gueye will leave before the 2018-19 season. £31m for Cleveland lookalike Carvalho doesn't impress me either.
Terry Underwood
136
Posted 15/10/2017 at 11:35:52
Jack (#14). I like your lineup, especially playing Davies alongside Rooney. Tom to do the running and Rooney to play the passing game with Siggy playing the #10 role behind Oumar and Calvert-Lewin.
There can be no excuse for playing a defensive formation. This is Brighton, FFS. Anything other than a win and I really fear for our season.
Forget home or away. The game is still played on grass and there are always enough travelling Blues to make a racket; away support is usually louder than library Goodison.
Paul Thompson
137
Posted 15/10/2017 at 11:40:32
If anyone can tear themselves away from Koeman-bashing for a moment, the link below is informative about how Brighton set themselves up:
They've played quite well at home, are a very compact team and dangerous at corners and free kicks. Given our lack of confidence (and often ideas), this could well be a war of attrition, illuminated by a flash of brilliance (hopefully in blue).
Matt Muzi
140
Posted 15/10/2017 at 11:58:02
Anyone know how to watch this game?
Alan McGuffog
142
Posted 15/10/2017 at 12:01:01
Dunno, Matt... but, if you want to come round to ours, I've just put a coat of emulsion on the wall.
David Connor
143
Posted 15/10/2017 at 12:01:48
Come on, you boring Dutch bastard, show less negativity and go all out for the win. You would expect Brighton to be around bottom 3 but not us. Let's get out of the rut we are in. Lose to these and we are in shit street big time.
Roll your sleeves up lads and get stuck in. I would run through a brick wall for what these so-called players are on. Show some heart, you spineless twats.
Brian Williams
145
Posted 15/10/2017 at 12:11:25
Yeh Matt, you sit on the couch with a cushion on your lap ready to hide yer eyes at the scary parts, of which there'll probably be many!
Colin Glassar
146
Posted 15/10/2017 at 12:11:30
If he starts with two defensive midfield players he should be sacked in the tunnel. Even better, in the changing room.
My favoured scenario is we scrape a 0-1 win and he's sacked after the game. I'd love us to play well and knock in 6 but I can't see it happening with this guy.
Tony Marsh
147
Posted 15/10/2017 at 12:23:13
Colin, we can only win this game if Brighton are on Moshiri's tick list of winnable games. Moshiri is as much to blame for our current plight as anyone. By his own gormless football formula, Burnley and now Crystal Palace are bigger clubs than Everton??
I expect nothing other than a home win and us to roll over meekly. Koeman has lost the plot; there is no way back now.
Soren Moyer
148
Posted 15/10/2017 at 12:24:55
Damian Wilde (#117)
He said when we go behind one-nil at home, the crowd gets quiet and the negativity being transmitted to the players!!!
That, however, doesn't explain his odd team selections and tactics. Not to mention his substitutions.
Derek Knox
149
Posted 15/10/2017 at 12:34:11
Colin, what do you mean, "if he starts with two defensive midfield players"?
You know full well he will, but I agree about the sacking bit though. I would normally be really looking forward to the game, searching for links, on the live forum etc, but recently with this charlatan, I have lost interest.
Sad, but true.
John Hammond
151
Posted 15/10/2017 at 12:56:21
So hard to stay positive nowadays... I think this would've been the perfect game for Niasse but no let's instead bring Rooney back in.
Oscar Huglin
152
Posted 15/10/2017 at 13:02:13
John @160 - Niasse over Rooney? Seriously?
Yes, there's a massive hype around Niasse at the moment, but he's a fraction of the player Rooney is.
Niasse can stick to being an impact sub for now.
Jamie Evans
153
Posted 15/10/2017 at 13:07:52
Woe is me and woe is ToffeeWeb. No point turning up here today with that team, Strachan is available, etc, etc. Bollocks. Come on you blues, lets get behind them. 💪💪💪
Colin Glassar
154
Posted 15/10/2017 at 13:18:30
Well, Brian, we will know today if the players are with him or not.
John Hammond
155
Posted 15/10/2017 at 13:33:42
Oscar #152: The same Rooney who'll be played upfront but drop deep and just generally play poorly and effectively waste 2 positions. His passes are pretty though. I'd rather Niasse given a run of games than Rooney.
David Connor
156
Posted 15/10/2017 at 18:30:42
Should he stay or should he go? Personally I'd sack him strait after we get smashed against Arsenal...wot a letdown he's been. £140 million more or less totally wasted with the exception of 1 or 2. Get rid of the gobshite ASAP for all our sakes.

Supporting the group of twats he sends out game after game should come with a government health warning. Do the right thing, Ronald, and just go while you still have some little credibility.
Add Your Comments
In order to post a comment, you need to be logged in as a registered user of the site.
Or Sign up as a ToffeeWeb Member — it's free, takes just a few minutes and will allow you to post your comments on articles and Talking Points submissions across the site.