Everton U23s defeated by Wolfsburg
Tuesday 17 October 2017

30 Comments [Jump to last]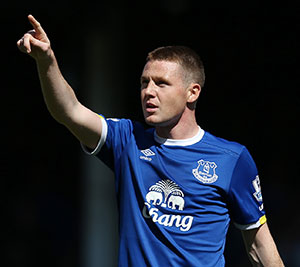 Everton U23s lost 3-1 to Wolfsburg in the opening fixture of their Premier League International Cup campaign at Southport.
This was the fist of the group games, which will see David Unsworth's men also face Derby County and Dinamo Zagreb, and it marked the return to action of James McCarthy.
The Republic of Ireland midfielder has been sidelined with a knee injury since July but he came through the first 45 minutes against Wolfsburg before making way at half-time.
Everton were ahead at that point thanks to Boris Mathis's opener and a brilliant stop by Louis Gray at the other end to deny Julian Justvan.
The German side were the stronger in the second half, however, and goals from Murat Saglam and substitute Abdallah El-Haibi turned the game on its head. Blaz Kramer added a late third to seal the win.
"McCarthy is doing full training but it's too soon to bring him in," first team boss Ronald Koeman had said of the midfielder last Thursday. "He will do some more training sessions, he will get more game time next Tuesday in the U23s and then I think he is back for the first team
"I'm not interested in [Roy Keane's] comments," Koeman continued when asked his thought's on saracastic remarks made by Ireland head coach, Martin O'Neill's assistant suggesting that Everton's "scientists" should take more responsibility for the treatment of their player.
"The player had several problems physically. We tried to solve that problem and he's now back. For the first time they (Ireland) did a good thing by not playing the player in his current state of fitness.
"OK, we'd like to bring him back. He's an important player for us but we don't like to take risks and that's good for us and let's hope he'll be totally fit for next weekend."
Everton U23s: Gray, Markello, Foulds, Ouzounidis, Garbutt, Adeniran, McCarthy (46' Bowler), Denny (66' Donkor), Charsley, Broadhead, Mathis (57' Lavery).
Subs not Used: Hilton, Byrne./p>
---
Reader Comments (30)
Note: the following content is not moderated or vetted by the site owners at the time of submission. Comments are the responsibility of the poster. Disclaimer
Tim Locke
1
Posted 16/10/2017 at 21:44:45
Great to hear James is on the mend; he might add some drive from the back.
Alan J Thompson
2
Posted 17/10/2017 at 05:40:34
Is there anyone coordinating all these European fixtures? Doesn't seem quite right playing this on the Tuesday and having a Europa League game on the Thursday.
Apart from the obvious of players possibly being involved in both (or neither for the likes of Kenny), I'd have thought there would be an attraction playing at a club's main stadium.
Phill Thompson
3
Posted 17/10/2017 at 12:21:38
Alan, it's not so much the Europa League it clashes with but the U23s PL2 League. We have another game this Friday so Unsworth has indicated he will give a chance to some players who don't play regularly.
It seems he's targeting the PL2, but I'd have thought some of our better players would have relished playing against Wolfsburg for the experience.
Alan J Thompson
4
Posted 17/10/2017 at 14:07:07
Phill (#3, no relation, that I know of); I'd have thought the whole idea of European competition at this age level was to compare playing styles and progress but it seems it may be more a test of depth and stamina. Doesn't seem very well thought out or organized unless the aim is to get as many players as possible a game.
Charlie Lloyd
5
Posted 17/10/2017 at 19:02:52
Team is:
Gray, Markello Foulds Ouzounidis Garbutt, Adeniran McCarthy Denny Charsley, Broadhead Mathis
Subs: Donkor, Byrne, Lavery, Bowler, Hilton
Charlie Lloyd
6
Posted 17/10/2017 at 19:22:04
1-0 22 mins Mathis.
Dave Abrahams
7
Posted 17/10/2017 at 19:26:59
Charlie (#6), thanks for that. Are you at the game or watching a link? If you are at the game, can you keep an eye on James McCarthy and let us know how he is playing?
If it is on a link, can you post the link? Thanks, Charlie.
Charlie Lloyd
8
Posted 17/10/2017 at 19:29:23
I'm at the game. I'll update on McCarhy at HT.
Charlie Lloyd
9
Posted 17/10/2017 at 19:49:17
McCarthy started off chasing their players down and using the ball well. He looked a cut above, as he should have.
He calmed down a bit about 20 mins in, he was nearly booked, then was steady.
Could do with his tenacious play in the first team. He's executing the pressing game Koeman apparently favours.
Charlie Lloyd
10
Posted 17/10/2017 at 20:02:41
McCarthy off at HT. Bowler on.
Still 1-0
Dave Abrahams
11
Posted 17/10/2017 at 20:03:47
Thanks Charlie, that's the way James was playing last season versus Arsenal and Liverpool, then he was injured. If he can stay fit,I think he can do a great job for Everton starting on Sunday, either by starting or coming off the bench.
Charlie Lloyd
12
Posted 17/10/2017 at 20:15:08
Mathis off. He's done very well. Held it up and has a trick in him. Lavery on.
Wolfsburg just equalised. 60 mins. It's been coming. They have more joy in midfield since McCarthy departed.
Dave Abrahams
13
Posted 17/10/2017 at 20:20:11
Charlie, how old is Mathis, is he a local lad?
Charlie Lloyd
14
Posted 17/10/2017 at 20:21:23
65 mins. Denny off. Donkor on.
Charlie Lloyd
15
Posted 17/10/2017 at 20:30:13
73 mins. 1-2.
It's been coming. Too much room on the right side. Markelo and Bowler are struggling to contain them.
Charlie Lloyd
16
Posted 17/10/2017 at 20:32:53
Markelo has just stopped a certain third with a goal-line clearance. Bit of redemption for him.
Lee Jackson
17
Posted 17/10/2017 at 20:33:27
Interesting that Donkor can play – he is still a Wolfsburg player on loan until 31 December. I guess loaned players can play against their parent club at Under-'x' level?
Charlie Lloyd
18
Posted 17/10/2017 at 20:39:30
1-3. They've just walked right through and scored.
Charlie Lloyd
19
Posted 17/10/2017 at 20:51:02
FT 1-3. Could have been worse to be fair.
Lots of usual U23 players missing tonight though.
Dave Abrahams
20
Posted 17/10/2017 at 20:54:04
Thanks for your reports, Charlie.
Charlie Lloyd
21
Posted 17/10/2017 at 21:12:24
Boris Mathis is a French lad they picked up from one of the French academies. It may have been Metz. He hasn't played much for the U23s. Injury maybe. He looked decent. Not that big, maybe 5'11' but held it up well with decent touch. He's pretty quick and puts himself about. I was impressed. Maybe he was taken off with one eye on the U23s game on Friday.
Ajay Gopal
22
Posted 18/10/2017 at 01:45:33
Hello Charlie, what were your impressions about Garbutt today? Did he do any good to his cause of 1st team recall?
William Cartwright
23
Posted 18/10/2017 at 03:35:48
If Kenny is not playing at all for the 1st team or the U23s, surely his lack of game time is detrimental to his development? Any thoughts, Koeman?
Charlie Lloyd
26
Posted 18/10/2017 at 08:13:13
Ajay @ 22,
Not for me.
Garbutt was okay defensively. He kept it fairly tight first half but didn't get as close second half as they chased the game from going behind. Towards the end he was done a few times with simple give and goes.
More worryingly, he offered little going forward. He had Charsley in front of him first time and they just didn't play off each other. He resorted to pumping a few aimless balls up the wing and didn't make it up the line too often to cross.
He was on corner duty and his delivery was pretty decent.
It's not the first time I've watched him this season and I just don't see him having enough to challenge Baines. He should be consistently standing out at this level and he just doesn't.
Let's not forget that he's had two patchy loan spells at Wigan & Fulham also where over the season he never nailed the left-back position. He's 24 now not 19. I reckon his time has passed.
Paul Mackay
27
Posted 18/10/2017 at 08:13:49
#22 Ajay. Garbutt can't play for the 1st team until at least January as he was not registered on the squad list that EFC submitted at the start of the season to the Premier League. All Premier League teams get the chance in January to resubmit a new squad list for the second half of the season, so they could add his name then.
Paul Smith
29
Posted 18/10/2017 at 08:21:21
Garbutt really wasn't thst good when he had his chance. Good corner taker mind but nothing to get excited about in his general play.
Deserves another crack though.
Bob Skelton
30
Posted 18/10/2017 at 09:15:05
Pleased that McCarthy played well. It's a pity that the defensive midfield role he plays is not one where we lack cover – even though Schneiderlin needs replacing, the way that he's playing.
David Booth
31
Posted 18/10/2017 at 09:48:03
Koeman will be chomping at the bit to get McCarthy fully fit – so he can play three defensive midfielders in front of a back five!
Terry Underwood
32
Posted 18/10/2017 at 10:59:00
Good to see any injured blue back playing, good luck to the lad.
Michael Stevenson
34
Posted 18/10/2017 at 12:51:55
Unsworth out!!
Add Your Comments
In order to post a comment, you need to be logged in as a registered user of the site.
Or Sign up as a ToffeeWeb Member — it's free, takes just a few minutes and will allow you to post your comments on articles and Talking Points submissions across the site.