Unsworth starts with narrow cup defeat

333 Comments [Jump to last]
Wednesday 25 October 2017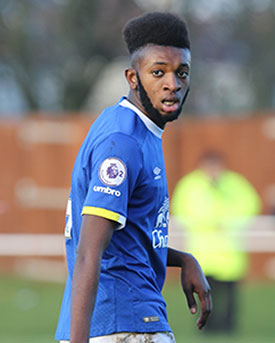 Youngster Beni Baningime makes his Everton debut in the absence of Idrissa Gueye and Morgan Schneiderlin
Everton were eliminated from the Carabao Cup at the hands of Chelsea but there was plenty of encouragement to take from a spirited second-half performance in which the Toffees dominated at Stamford Bridge.
Everton were understandably tentative in the first period but their strategy of containment came very close to succeeding in getting them to the interval on level terms. A lapse in marking for a Chelsea corner allowed Antonio Rudiger to put the home side ahead, though, making caretaker boss David Unsworth's task that much harder.
His side grew in stature, confidence and threat after half-time, however, and but for Willy Caballero, who made some vital saves in the Chelsea goal while also watching Ademola Lookman strike his crossbar, might have at least forced extra time.
Unsworth made a big decision with his first starting XI by naming rising Under-23s star Beni Baningime in midfield in place of the injured Morgan Schneiderlin who was a late scratch from the line-up, presumably due to a recurrence of the injury that kept him out of the weekend defeat to Arsenal.
That gave 19-year-old Baningime, who has been compared to the likes of N'Golo Kanté, the chance to impress.
James McCarthy returned to the team for his first appearance of the season, replacing the suspended Idrissa Gueye. Gueye missed tonight's game after picking up two yellow cards in the 5-2 defeat to Arsenal at the weekend.
Unsworth's selection also offered Aaron Lennon the opportunity to stake his claim after falling out of favour with Ronald Koeman but the chosen formation didn't have room for Dominic Calvert-Lewin or record-signing Gylfi Sigurdsson, both of whom are on the bench.
Nikola Vlasic, one of the brightest spots of Koeman's tenure this season, wasn't in the squad after picking up an injury against Arsenal. He underwent an x-ray on Sunday that revealed no damage but he likely sustained bruising that will benefit from the rest.
Also missing were two Koeman acquisitions in the form of Maarten Stekelenburg, overlooked in favour of Joel Robles, and Cuco Martina, as well as Davy Klaassen and Sandro Ramirez.
The two sides began in fairly even fashion, Rooney seeing the first opening in the fourth minute but he didn't do anything with it.
Chelsea began to assert themselves with about 10 minutes gone but the Blues were holding a disciplined back line and they too settled, winning the first corner of the contest in the 22nd minute.
The home side earned a corner of their own with 25 minutes gone when Jagielka could only scuff a cross behind and when the set-piece was taken short and a cross swung in, Rudiger found himself unmarked at the back post where he looped a header over Pickford.
A minute later, Zappacosta was cynically blocked off by Williams who picked up another yellow card for his trouble but Willian's free kick was cleared.
While Everton battled to carve out opportunities at one end, with Rooney isolated and unable to hold the ball up effectively when he had it, Batshuayi held off his man to get a shot away at the other 10 minutes before the break but Pickford wasn't troubled.
A giveaway by Williams just inside the Chelsea half set up a counter-attacking chance for Antonio Conte's side but Zappacosta lashed his shot into the side-netting with the visiting defence scrambling to get back.
No changes were made by either side at the break, but Mirallas seemed to have a wide brief to roam and support Rooney. Davies was shown a yellow card for one foul too many early in the second period and McCarthy followed him into the book shortly afterwards for a high boot on Kenedy.
The Blues carved out their best move of the match so far after 53 minutes when Baningime thundered into a tackle on Ampadu, the ball broke to Rooney but Kenny arriving on the overlap made a mess of the final shot, slicing well wide of goal.
Everton better was to follow a minute or so later when Kenny crossed, Mirallas cushioned a header to Rooney but he was foiled at point-blank range by Caballero.
The Chelsea keeper almost made a catastrophic error, though, passing the ball straight to Lennon but his touch was heavy and Caballero charged him down.
Another Everton corner arrived in the 59th minute but a lack of height meant they couldn't make it count. They stayed on the offensive, though, and Mirallas whipped a ball in that Lennon almost turned in, a defender getting a vital touch to guide it over the bar.
Chelsea countered quickly from the resulting corner and Jagielka ended up in the book when he scythed down Musonda.
Cesc Fabregas's introduction for Drinkwater with a little more than an hour gone gave Chelsea a more daunting look and Unsworth responded by bringing McCarthy off and throwing Calvert-Lewin into the fray.
And the young striker won a quick corner, again down the Everton left but Williams couldn't get enough on his header. Rudiger, meanwhile, took umbrage at Calvert-Lewin's challenge, hacked down Mirallas and picked up a booking of his own.
From that free kick, Jagielka looked to have flicked Baines's ball home but Caballero was there to push it away and the Argentine repeated the feat seconds later to parry Mirallas's shot away as it searched out the bottom corner.
With 17 minutes to go, Lennon made way for Lookman came within inches of finishing a patient probing Everton move but fired into the side-netting off Davies's pass.
Near calamity followed, though, at the other end. Rooney sold the defence short with a poor backpass, Batshuayi toed it past Pickford but Jagielka recovered brilliantly to hold the Belgian off and slide the ball behind.
Everton remained unbowed, however, and Lookman went even closer than before, grazing the crossbar with an excellent left-footed shot after cutting in from the right.
Chelsea effectively killed the tie in stoppage time when Willian exchanged passes with Fabregas from another short corner and the Brazilian raked a shot off the far post and into Pickford's net.
Determined work by Niasse allowed Calvert-Lewin to bundle in seconds later to halve the deficit but Unsworth and his side had run out of time.
Full details: ToffeeWeb Match Page
---
Reader Comments (333)
Note: the following content is not moderated or vetted by the site owners at the time of submission. Comments are the responsibility of the poster. Disclaimer
David Hallwood
1
Posted 25/10/2017 at 19:00:45
Not a bad lineup obviously 4-3-3 let's hope Schneiderlin finds some form and actually plays a forward pass
Richard Lyons
2
Posted 25/10/2017 at 19:01:45
Bold. I like it. We're going to win! COYB!
Steve Ferns
3
Posted 25/10/2017 at 19:02:59
4231 I think
Pickford
Kenny Williams Jagielka Baines
Baningime Schneiderlin
Lennon Davies Mirallas
Rooney
It certainly has width.
Dave Abrahams
4
Posted 25/10/2017 at 19:03:08
I think this team has been picked with one eye on the Leicester City game, made up Aaron Lennon has been selected, a good experienced player who will help Johnjo down the right hand side, and Johnjo will help him, I'm surprised but delighted Beni Banginime is playing, big ask of him but Beni reads the game well, can tackle and when he has the ball he seldom wastes it.some of the others haven't performed up to now this season, let's hope the new manager brings a new focus to the whole staff from tonight, not expecting miracles but you never know.
Ciarán McGlone
5
Posted 25/10/2017 at 19:03:13
Haven't been excited about a game as much in years.. looks like the basics are there.. players in their preferred positions, width and the expensive underperformer benched.
Win or lose, I expect us to give them a game and show some much needed passion.
Good luck Rhino, we're all behind you.
Steve Ferns
6
Posted 25/10/2017 at 19:04:14
any links?
Bill Griffiths
7
Posted 25/10/2017 at 19:06:12
OS shows McCarthy playing not Schneiderian.
Gary Mortimer
8
Posted 25/10/2017 at 19:07:05
According to official site, McCarthy is in stead of Schneiderlin.
Bill beat me too it!
Brent Stephens
9
Posted 25/10/2017 at 19:07:34
http://watchsports.live/1445-chelsea-everton/

Clive Rogers
10
Posted 25/10/2017 at 19:07:39
Not keen on that line up. Jags and Williams are too slow, would have had Holgate in his proper position. There are few goals in that team and no real striker.
Duncan McDine
12
Posted 25/10/2017 at 19:18:50
Best of luck Rhino and the lads. Lets hope the players are right up for it and prepared to fight... I have a strong feeling they will be.
Come on Blue Boys!!
Steve Ferns
13
Posted 25/10/2017 at 19:21:05
It's gotta be a 451 with McCarthy instead of Schneidserlin. Him and davies will be ahead of Beni Who will sit behind. And Lennon and Mirallas wide. Rooney will have space behind to drop in to. I just hope we have people running past him.
Paul Holmes
14
Posted 25/10/2017 at 19:21:38
Good team,at least Unsworth is trying,wingers with pace.Keane and Holgate are the worst defenders we have on current form so leave them out until they get up to premier league standard.
Thats the best we can muster at the present time until January or until Coleman,Bolasie,Barkley and Mori walk back into the team imo.Its all about opinions.
Richard Lord
15
Posted 25/10/2017 at 19:25:22
Very excited by the line up, maybe not the best players on paper but feels like a proper team and formation on the pitch...
Raymond Fox
16
Posted 25/10/2017 at 19:27:08
I thought he might play Lennon.
Hope McCarthy doesn't get injured again, he's only just started training hasn't he, I'm not sure if that's right though?
Difficult decision for David who to play tonight, he obviously wants to make a good start but the Prem. has to be the priority.
So I doubt this is his perceived best starting team and squad.
That's not counting the players who are injured.
David Johnson
17
Posted 25/10/2017 at 19:27:51
Like the shape good luck Davie.
Steve Ferns
18
Posted 25/10/2017 at 19:28:50
Agree there Richard. I'm very interested to see the energy in midfield. All 5 have pace and can get about the pitch. Which makes sense if the defence is old and slow. They need to get past Rooney and into the box.
Robin Cannon
20
Posted 25/10/2017 at 19:34:42
It's nice to look at a team sheet and at least think "yeah, I can see what we're trying to do there"!
Gordon Roberts
22
Posted 25/10/2017 at 19:35:53
Surprised to see Macarthy in the starting line up to be honest. Can't recall if he's been included in any of the squads so far this season?
Joe McMahon
23
Posted 25/10/2017 at 19:39:47
Gordon (22) I'm also suprised. Lets hop he deosn't get red carded leaving us a man down and leaving the competition (won't be the first time). I may be in the minority, but I did want him to be sold, sideways passes and he's a bit of a thug.
Danny Broderick
24
Posted 25/10/2017 at 19:45:29
It's a similar line up to what I would have picked, if I was in charge, except for the lad in centre mid, who I have never seen play. So I am reassured by the team, and I am pleased to see the injection of youth. Fingers crossed!
Gordon Roberts
25
Posted 25/10/2017 at 19:46:36
Joe #23.
Is this his first match for the senior side this season??
Joe McMahon
26
Posted 25/10/2017 at 19:49:31
Gordon - it is. Wasn't many appearances last season either.
Gordon Roberts
27
Posted 25/10/2017 at 19:52:25
Cheers Joe
Mark Morrissey
28
Posted 25/10/2017 at 20:02:45
Who dares wins. I'm rooting for you Rhino
Steve Ferns
29
Posted 25/10/2017 at 20:35:37
Was very much a 451 there. Some sloppy passing, and we were overrun in midfield. Kenny and Baines are getting skinned at will and the midfield trio can't stop them coming through the middle.
It was nice to see a proper shape for once. Players had easy to identify roles and we seemed to get better as the game went on. We need better more precise passing though. Hopefully we can grow into the game. Nice to see a manager with passion on the touchline and trying to influence what was on the pitch.
Andy Crooks
30
Posted 25/10/2017 at 20:36:09
Stop calling our new coach Rhino.
Ernie Baywood
31
Posted 25/10/2017 at 20:39:07
As others have said, it's nice to see a proper shape. Looks like a football team.
Effort has been good but the same problem in that it's hard to see where the goals are going to come from.
Jay Wood
32
Posted 25/10/2017 at 20:40:32
Better balance and shape to the side than in recent weeks.
How cool and composed on the ball does Baningime look? He seems to always have plenty of time, even when seemingly hemmed in on all sides. Just so neat and tidy in everything he does, and seemingly never gives the ball away. Good peripheral vision. Always aware of his and others position on the field. Impressive.
The goal too easily given up. Not alert to a short corner routine and the scorer peeling off the back off Williams for an unchallenged header.
But better signs from the side than they have been offering in recent weeks.
Now, what have you got for the second half Davie boy?
Clive Rogers
35
Posted 25/10/2017 at 20:45:48
Poor first half, not got anywhere near their goal and our wingers not in it.
Steve Ferns
36
Posted 25/10/2017 at 20:47:39
There's a better shape though Clive, more energy, more fight. I think we can grow into this game, and have been doing so.
Keith Monaghan
37
Posted 25/10/2017 at 20:50:03
A headed goal from a corner - no surprise there.
Nobody in the back 4 big & strong enough with any spring to get off the ground and head a ball.
Williams is the worst central defender in the premier league - sadly, Jags is little better - doubt if Keane would have made a difference.
And no striker in the team!
Us needing to re-build in the championship is a serious possibility.

Ron Marr
38
Posted 25/10/2017 at 20:53:33
Poor defending on the corner. Rhino will have his work cut out with these guys
John Roberts
39
Posted 25/10/2017 at 20:58:58
Totally agree Keith , I keep posting , williams is done! He is having a complete shocking season!every single game he makes mistakes!! I know a striker is a must but I think we need a new back four too, very much ageing.
Christy Ring
40
Posted 25/10/2017 at 21:02:51
A lot more positive selection, at least he has picked a team with better shape and formation. The sad thing is, we badly need to replace Williams and Baines, as well as a top striker.
Ernie Baywood
41
Posted 25/10/2017 at 21:13:08
Incredible effort so far. Just need the ball to go in.
John Hammond
42
Posted 25/10/2017 at 21:24:17
Much better second half, pegging Chelsea back and having a right go. Actually playing with purpose. Niasse on in a minute, no doubt will score!
Anthony Jones
43
Posted 25/10/2017 at 21:31:40
Give Unsworth the season. On team selection alone.
Mark Morrissey
44
Posted 25/10/2017 at 21:34:16
Listening on 5 Live. Proud to be an Evertonian once again. A shame we can't level but the comms has been very positive second half. We've had a go.
Steve Ferns
45
Posted 25/10/2017 at 21:40:37
ok we lost, but that's the most effort I've seen all season. Beni was man of the match. Dom finally scored after a drought, Niasse came on and made something happen. The team had shape, the players had fight. I'm looking forward to Leicester and if we play with the same amount of effort I think we will win.
Nice one Unsworth, you're making a difference already. Remember folks, there's no magic wand. You can't turn an oil tanker on a six-pence.
That's 3 goals in the last two games, so we can score. The Defence looked more solid, but we still need everything better. I think we can.
Christian Watson
46
Posted 25/10/2017 at 21:41:52
Gutted but proud. Well done Unsy and the lads. Spirited effort, deserved better. At last a bit of passion showed from a team clearly hell bent on performing for the shirt.
Peter Laing
47
Posted 25/10/2017 at 21:42:29
Spirited performance tonight. Unsworth and the young lads restored pride. Major question marks about the Senior players - Jags, Baines and Rooney, but every man and his dog knows that.
Ray Jacques
48
Posted 25/10/2017 at 21:43:22
We lost, but we created chances which hasnt been done all season.
Lots of positives, much to put right but its a step forward.
Usually when Everton lose I am unhappy but tonight I can see some little shoots of recovery.
If only we had a centre forward,doh
Ernie Baywood
50
Posted 25/10/2017 at 21:44:25
I don't want to get too excited by a defeat but there were finally some positive signs there.
Team setup was spot on. Wasn't exactly the team I would have picked but it was functional and put players in their best positions. I wasn't sure if we had the players to be setup to be 'hard to beat'. The first half showed we can be. Davies and McCarthy were tireless and Beni played the holding role beautifully.
Second half we opened up and dominated. Wide players scared them and DCL gave us more of a focal point up front. That side can be exciting to watch!
So unlucky to lose that but highlights the need for a goal scorer. Can't complain about the start by Unsworth though.
Drew O'Neall
51
Posted 25/10/2017 at 21:45:43
Agree with the points about the senior pros, there's a few guys pinching a living out there.
Davies and the new lad Benni the standouts but Lennon and McCarthy tried hard and Mirallas had a better second half.. at least there was some endeavour.. Rooney looks an absolutely spent force and if he is he should offer to walk away from his contract.
George Cumiskey
52
Posted 25/10/2017 at 21:46:00
Hopefully that match has shown the players who haven't got a future at Everton. Lennon, Mirallas, Williams, Baines ànd maybe Jags.
Rooney would be top of the list if I thought uncle Bill would let him go.
Jay Wood
54
Posted 25/10/2017 at 21:48:00
Another loss. Another cup exit.
But I'm not feeling forlorn or despondent as I have for pretty much every game this season.
Unsworth's selection was innovative. It was bold. We were clearly the better side in the 2nd half and their keeper was their saviour.
Their 2nd goal at the end you have to doff your cap to. Well crafted, a goal of high quality. Our goal created by the persistence and nuisance value Niasse brings to the position and deft feet by DC-L with the finish.
Baningime for me was head and shoulders our best player on the park, but more than a few played well.
And who wooda thunk it? Double up on players to attack down both flanks (Kenny with Lennon/Lookman, Baines with Mirallas) and - surprise! surprise! - it puts the opposition on the back foot, pulls players out of position and gives you a chance to actually deliver the ball into the penalty area to create chances. And create them we did.
A honourable defeat and - yes - of course we need wins. But this Blue for one is a helluva lot more cheerful about my team, my club, than I have been all season.
Encouraged.
Andy Williams
55
Posted 25/10/2017 at 21:49:00
Well done Rhino. Had them under the cosh second half. We were unlucky
Tony Hill
56
Posted 25/10/2017 at 21:49:15
Yes, an improvement, at times a big improvement. The lack of finishing edge at critical moments remains a big problem and we have 13 Premier League games before we can think of putting that properly right.
I'm sorry if that sounds negative but our second-half performance makes it all the more infuriating that we have neutered ourselves this season in attack.

Tony Twist
57
Posted 25/10/2017 at 21:49:53
Unlucky blues, a lot of heart shown in the second half. Tonight was a given, Unsworth now needs to use all the hours available to mould this group of individuals into an attacking side that won't concede ready for Leicester because we need wins and we need them now. No pressure! Good luck.
Andrew Wayne
58
Posted 25/10/2017 at 21:51:33
Best 45 minutes of the whole season. Even on a dodgy stream the effort and intensity came across compared to the tripe served up at the weekend. Players looking like they wanted to play. Only real negative was that we haven't shaken off giving the ball away even when unforced and how many goals has that led to this season. Biggest culprit is Rooney who is far too casual and often doesn't look before laying off a pass, usually a 10 yarder but he is not alone. Defensive lapse for the first goal and a brilliant finish by Willian for their second to be fair. Feeling a lot more cheerful.
Ciarán McGlone
59
Posted 25/10/2017 at 21:53:44
Form, shape, purpose, pride. Absolutely played Chelsea off the park in the second half. Scoreline flattered them and we can actually see what the manager is trying to do. These players will grow into this regime. All hail rhino.
Clive Mitchell
60
Posted 25/10/2017 at 21:54:00
Drew, 51 - 'a spent force' doesn't score four goals in nine Premier League games.
That looked like a great effort from our lads. As far as I could see on the TV, real positives in terms of Baningime, Davies, McCarthy, Pickford. Only Leighton had a truly poor game. 'Bang 'em in Benny' was absolutely superb. They need to follow it up on Sunday now, but they were unlucky to lose tonight.
Tony Abrahams
61
Posted 25/10/2017 at 21:54:31
Unlucky in the end, but that has still got to be the best we have played so far this season?
Better energy, better shape, better to watch, and better things to look forward to. Niasse or Calvert Lewis, have got to play centre forward, and Baines needs someone as disciplined as Lennon, to help get his game back onside.
I've said it before but I'd play Rooney, out there because he's still one of the cleverest players around but he doesn't have the physicality to lead the line anymore.
And what about that little Benny kid, first time I've ever saw him play, but isn't it great watching someone who wants to do just that? He's calm, he's quick across the ground, and he's full,of energy.
Colin Glassar
62
Posted 25/10/2017 at 21:57:24
First time in ages there was a positive vibe on the live forum (except for one) . Thank you Unsy.
Michael Lynch
63
Posted 25/10/2017 at 21:58:02
Great second half, much better balanced team than under the Dutch fella, and lots of passion and aggression. You could hear Unsy shouting "quicker quicker" and that says it all. Davies and Beni were a great little team in midfield, fair play to Unsworth for trusting them to play the entire match. Very excited at yet another player breaking through from the U23s, and I reckon Beni could be the next Tom Davies coming through into the first team.
Feel a lot more optimistic after that.
Clive Rogers
64
Posted 25/10/2017 at 21:58:08
Much more spirit, but some of the same problems remain. Jags and Williams are too slow and cant play the ball out. Lennon only looked half interested, Mirallas has never been quite good enough and we still need a striker.
Christy Ring
65
Posted 25/10/2017 at 21:58:17
Even though we lost, a lot of bright spots from the performance. A totally different attitude and spirit. Dave should be proud of his selection, a lot more balanced, plenty of heart, and a lot more optimistic going into Sunday's game at Leicester.
Kevin Tully
66
Posted 25/10/2017 at 21:59:47
A dead rubber tonight for the new management team, couldn't really expect anything but a defeat with a demoralised squad and only a day or so to prepare a side who hadn't played together before. Encouraging signs despite all that.
Tough away trip on Sunday now, especially with Leicester having a new manager in position. We need to regroup as we still don't have a striker of note, and somehow pick up a few points between now and January. Whoever let that particular scenario unfold over a period of months should hang their heads in shame, they've pissed all over our season before it started.
At least it looks like the players understood where they needed to be on the pitch, which is a massive improvement on the last fella in charge.
Still concerned we've spent £150m this summer to go backwards.
Brent Stephens
67
Posted 25/10/2017 at 22:00:08
Shape, width, pace, passion. Beni.
Brian Wilkinson
68
Posted 25/10/2017 at 22:01:01
Didn't get to see the game but hilights are on c5 at 10.30pm tonight if anyone is interested.
Jay Woods
70
Posted 25/10/2017 at 22:02:44
So much better already.
Liked that new kid with the crazy hair.
Lookman needs to start starting games.
Best we played all season.
Unfettered.
James Stewart
72
Posted 25/10/2017 at 22:03:42
Got the starting 11 wrong for me. Rooney up top, just doesn't work, stuck in the past with that kind of thinking. Lennon, ditto. Finished at this level. Where was Vlasic? Why not play DCL and Lookman earlier they caused havoc.
That said, his subs were good. Should have got something from the game but for poor finishing. Rooney, Lennon, Mirallas I'm looking at you!
I still don't think Unsworth is the answer but it was certainly an improvement on recent performances. That is really saying much though. Leicester will tell us a lot more.
David Milner
73
Posted 25/10/2017 at 22:04:31
Watched it live on Bein Sports 2. We started a bit slow but as the players got used to the formation we were a lot better. Players seemed willing to play for Unsy & buy into his way of thinking.
Beningime is used to Unsy's formations & it showed. Kenny got better the longer the game went on. McCarthy's return was very welcome. Even Jags was marking players instead of standing in free space. Much better system.
Roll on Sunday.
Barry Williams
74
Posted 25/10/2017 at 22:08:25
Very encouraged. The team that lost against Arsenal would have been annihilated tonight. We had two players who hadn't played for a long time in Lennon and McCarthy, a debut given to a 19 year old and a rookie right back. However, we had width, passion and more shots on target. We hit the bar, their goalkeeper made some good saves and overall I thought we at least matched a Chelsea team away. With a bit more rub of the green we could have won.
On a side note, what horrible bunch of snides Chelsea are, feigning injury, trying to get young lads sent off and the like, lamentable.
And the biggest sign for me was that Pickford wasn't our busiest player!
Niasse, how many goals and assists compared to minutes played? It has to be right up there with the best in the league!
jason wilkinson
75
Posted 25/10/2017 at 22:08:28
Great to hear the boys played with some passion. Stats show we had more attempts than Chelsea and more on target. A bit of luck and growing confidence will see us winning very soon.
Mr. Moshiri, take your time before spending your hard earned on a project manager. Evertonians don't want a project. Passion, pride and commitment. Get it?
Eric Paul
76
Posted 25/10/2017 at 22:10:11
Clive
Lukaku has 3 more league goals than Rooney, one is seen as the best striker ever in the history of everything now he plays for urinals and one is seen as a shot fighter now he plays for EVERTON
We shall see in may
Peter Anthony
77
Posted 25/10/2017 at 22:10:20
An impressive improvement within 48 hours, well done to the new gaffer and the lads. Hard luck tonight, deserved more.
James McPherson
78
Posted 25/10/2017 at 22:10:30
Colin (62) when alternative views are run out of town and objective criticism is viewed as heresy - you generally are left with your own kind...I stopped tuning into the forum when some bright spark called our manager an f'g c't - more likely than not because Jagielka shanked another "pass" See the same happened tonight - under Unsy it's now honest endeavour...
Tony Hill
79
Posted 25/10/2017 at 22:11:36
James (#72), agreed generally.
Rooney has scored some goals and is still capable of isolated brilliance but his all-round contributions and role in the team are serious ongoing problems which any new manager must address. For so long as he is a default selection, we will be unbalanced.
Peter Gorman
80
Posted 25/10/2017 at 22:14:04
One swallow doesn't make a summer but Everton played (in the second half) exactly as I thought Unsworth would make them.
I am so relieved, if we keep this effort up we won't go far wrong.
Eric Paul
81
Posted 25/10/2017 at 22:14:08
James@ 72
Rooney is 3 league goals behind lukaku and if unsworth isn't the answer who is
Dave Abrahams
82
Posted 25/10/2017 at 22:14:11
Never saw the game, read the live forum, got by with that, made up for Beni, knew he was a good player but a big difference moving up to the first team, most seem happy with his performance.
Sorry we lost but not too disappointed, only for the fact that the main focus should be staying up, but a lot of us will take a lot of heart from tonight,
Peter Gorman
84
Posted 25/10/2017 at 22:17:30
Dave, you of all people would have been proud. In the dying minutes he even skinned some players to set up one of our last chances. The boy has a future at this level and no surprise that Unsworth is the one to bring him on (and others too).
Paul A Smith
85
Posted 25/10/2017 at 22:18:58
The desire to win was far better tonight. We still lack the obvious things and its hard to say how Unsworth can push us on at this point with Chelsea being under strength.
One game at a time but the basics looked much better and the players looked like they had more freedom?
Beni in the middle had a great game. His calmness was great to watch and although its one game he showed the regular 2 how to control the ball and move after a pass.
Ernie Baywood
87
Posted 25/10/2017 at 22:19:16
I thought Rooney did a good job in the first half and was very unlucky not to score early in the second.
He faded playing up front on his own and the change could have come a bit sooner.
For all that we love seeing young players in the team, it's not reasonable to expect them to shoulder all the burden. Rooney is a very experienced player and, while experience may not appear to come to the fore, it's valuable. And who knows what will happen on the pitch that will require a wise head to get involved.
Again, whether you agree or not, you can surely at least see what Unsworth was doing?
Thomas Surgenor
88
Posted 25/10/2017 at 22:20:11
Very honest interview from Unsi there.
I want him to be a success and get the job. He genuinely loves this club
James Stewart
89
Posted 25/10/2017 at 22:22:48
@81 Rooney isn't a striker. Hasn't been for years. He can't lead the line he is too slow. That isn't to say he doesn't have a role to play. Just not up front.
As for Unsworth, I will repeat what I posted on other threads. No other club of our statue would give the job to someone who has never managed before. Spurs did it with Sherwood and Leicester with Shakespeare, both failures. If we truly have ambition to be in the top 6 we should make an appointment to match. Tuchel, Silva or Dyche.
jason wilkinson
90
Posted 25/10/2017 at 22:24:12
Will Unsy stick to his guns in the EPL?
Or will all the crocs come back into the team?
I for one would like to see the same line up (pretty much) kept for our next 3 matches.
Danny Broderick
91
Posted 25/10/2017 at 22:24:18
Really positive performance tonight. Round pegs in round holes, and the young lad in midfield was immense. 2 crunching tackles in particular, the fans are going to love him, and he dovetails well with Davies. That is the best I can remember us playing away at Chelsea in donkey's years.
The players looked better, and played with more intensity. I'd be happy with that team again on Sunday. Considering Lennon, Mirallas and McCarthy haven't had much game time, they put in a great shift. We pushed Chelsea all the way tonight, with Lookman hitting the bar, and Caballero blocking a Rooney shot. I must say also that Jags and Williams looked rock solid also - one last ditch challenge from Jags really was incredible.
Unsie appears to have got the players playing for him already. Long may it continue!
Ernie Baywood
92
Posted 25/10/2017 at 22:24:45
I also get that people don't see that Unsworth is the answer... but doesn't it depends what the question is?
If it's "who is the man to lead us, long term, into the Champions League?" then he obviously doesn't have that pedigree.
If it's "who is the manager who can get us back to competing and get the club feeling positive again?" then his very tough first audition just went pretty well.
Possibly depends on your perspective (or maybe acceptance) of our current situation.
Those questions aren't necessarily mutually exclusive either.
Tony Abrahams
93
Posted 25/10/2017 at 22:24:59
Hardest thing for any player to achieve is consistency, especially when they are young, but we finished the game with 5 really young players on the pitch, and if they are allowed to keep gaining experience like tonight, then the future could become a lot better, and it looks like we already have the right man in charge to take us forward?
Very Early days, but we have gone from showing no signs except frustration, to a team that looked like they were actually starting to enjoy there football tonight.
Chris Beech
94
Posted 25/10/2017 at 22:25:16
BENI, BENI, BENI, BENI...
Paul A Smith
95
Posted 25/10/2017 at 22:26:12
Lookman needs what Unsworth done tonight, gaining more minutes each time and even the odd start.
Start him now while the club is under pressure and every error will be highlighted by the same people on Barkleys case.
Clive Mitchell
96
Posted 25/10/2017 at 22:26:58
Ernie, 87 and 92 - well said.
Thomas Surgenor
97
Posted 25/10/2017 at 22:27:39
James #89
Yes they would.
Madrid did it with zidane.
Barce with Pep.
Danny Broderick
98
Posted 25/10/2017 at 22:28:44
James (89),
Liverpool appointed from within for donkey's years, and Barcelona have done also. Why can't Unsie be the right choice for us? He couldn't have done more at under 23 level, winning the league and beating all the under 23 teams in the land. He managed us for one game, which we won 3-0, he has also coached elsewhere.
He commands respect within the club, which is where it matters. Did you watch tonight's game? It was like a ray of sunshine in what has been a disappointing season so far, none of the names you suggest could have got more out of the players tonight.
Thomas Surgenor
99
Posted 25/10/2017 at 22:29:20
Even the great Mourinho got the Benfica job with no prior experience.
George Cumiskey
100
Posted 25/10/2017 at 22:29:30
One thing Unsworth wants to do is tell Tom Davis to cut out the silly fouls, he had a great game but those daft yellow cards are going to catch up with him.
If he keeps flying in after getting a yellow it's going to end up red, and that could land us in deep doo doo.
David Hallwood
102
Posted 25/10/2017 at 22:33:46
Slightly off piste. How is Coleman & Bolasie coming along.
Christy Ring
103
Posted 25/10/2017 at 22:35:47
What pleased me most tonight, was the midfield of Davies, Mccarthy and Beningime, worked there socks off, and protected our back four a lot more. I would prefer to see Keane beside Jags though, but a lot more optimistic.
Onwards and upwards.
Ernie Baywood
104
Posted 25/10/2017 at 22:36:13
Does anyone know what Joe Royle's usual role at the club is (when not supporting caretaker managers)? Watching the pre and post match interviews - I'm seeing so much of Joe in Unsworth.
Sam Hoare
105
Posted 25/10/2017 at 22:38:21
Back from the match and left with a smile on my face despite the result.
The first half was tight with very few chances in it and poor marking at a set piece followed by a very good header for their header. We were tentative and still suffering Koemanitis I suspect.
Second half was a breath of fresh air, we pressed, we passed, we moved and we were comfortably the best team. With a touch more luck and composure we'd have scored 3 or 4.
Beni great both with and without the ball and Davies and McCarthy provided great energy with the former in particular getting forward to good effect. Kenny overlapped to great effect in the second half and showed what a proper full back with pace and energy can do.
Jags and Williams did ok though their distribution was poor.
Rooney was pretty mediocre I thought. He really struggled to hold the ball in the first half and though better in the second he just withdraws too much to play the lone striker role.
Pace, purpose, organization and some fight. More of that and I'm pretty confident we'll be heading up the table soon enough.
James Stewart
106
Posted 25/10/2017 at 22:39:49
@97 Barcelona, Real be serious. Almost any coach is going to do well with Ronaldo and Messi in their team. No correlation to our current predicament there.
@98 Under 23 level is a different sport. I did watch the game yes. See my first post. I wouldn't call any game we lose a ray of sunshine but I take your point after recent results. I think appointing Unsworth would be a small club mentality thing to do, but if he gets it I will be 100% behind him. I don't think he has a cat in hell's chance though. Moshiri will want someone proven.
David Pearl
107
Posted 25/10/2017 at 22:42:27
Thanks Brian, 68.
Confusing trying to find highlights sometimes.
I didn't think we'd be quite good enough with tonight's team, a bit small and first starts of the season for a couple of them. Unsy owes the players nothing and hope he continues to pick on what he sees. I'd like to see Rooney deeper, he's our best passer.
Liam Reilly
108
Posted 25/10/2017 at 22:45:16
Watched the game on Bien and for the first time this season the team had pace and balance.
Chelsea were ruffled second half, hence they brought the big guns on.
This is certainly progress and great to see youngsters getting a chance. More of the same required on Sunday.
Jay Wood
109
Posted 25/10/2017 at 22:48:47
Dave @ 82 - I know like me you take a particular interest in our young bloods, and derive a great deal of pride when they step up to the first team.
It's a pity you didn't watch the game because Beni was outstanding.
Remembering that it was his first team debut, on the ground of the reigning league champions, he was coolness personified. Showed total composure on the ball in the most contested area on the pitch, in midfield.
Even when seemingly hemmed in on all sides, he always seemed to have plenty of time. Neat and tidy in all he does. It's a real surprise if - on the rare occasion - when he gives the ball away.
He showed good peripheral vision. Always aware of his and others position on the field. And as David Unsworth just said in his after match comments "he likes a tackle!"
Tom Davies could learn a lot from Beni on that front. Tom had some good moments in the game. His tackling - or rather, his forlorn attempts at tackling - were not among them and he deservedly picked up a yellow card for multiple missed tackles.
David Unsworth has just said: ""Morgan Schneiderlin was taken ill so I had no hesitation in playing Beni Baningime, he's been terrific for the U23s and that was some debut tonight. He likes a tackle!
"He's very humble and we're all proud of him tonight. You have to have the confidence to play young players, and I know them."
And more.
"Nobody likes losing games, I'm a bad loser but I have to say I'm proud of the performance, they were terrific.
"We are disappointed to lose, we think we had chances to get something from the game.
"We knew James McCarthy could only play for 60 minutes so we were always going to change things then. We limited Chelsea and then opened it up.
"We were camped in the Chelsea half, there is loads to work on."
I really like his last sentence: "there is loads to work on."
A man with a plan.
Stephen Davies
110
Posted 25/10/2017 at 22:49:30
Sam #105
Thanks.
Yes Rooney is a concern his days as a CF have gone.
I wonder if Unsie will address this and perhaps use him in a more deeper role.
Sundays game will be a very interesting and I suspect the team will be different from tonights lstarting line up (DCL to start).

Chris Beech
111
Posted 25/10/2017 at 22:50:10
Christy (103) spot on... Williams just isn't good enough. Surprised Rhino gave him the nod. Almost 100% predicatable (in a bad way) in possession. Nervous, negative and creates pressure. He might boss Wales but he hasn't got the bottle for us. Wish it was different but it isn't. Needs to go.
Colin Glassar
112
Posted 25/10/2017 at 22:50:53
Hopefully, more good news might be around the corner. Kroenke has issued a statement tonight saying he will never sell his shares and he wants his family to rule Arsenal for generations.
Time to come on board Usmanov before BPB finds the money to buy out Moshiri.
Paul Thompson
113
Posted 25/10/2017 at 22:53:29
Width and balance gave us a better shape and a player shake-up gave us more energy. It took time to settle - the first half was, let's face it, not much of an advance. BUt it clicked in the second and you could see the confidence return and grow. Beni might actually be preferbale to Gueye for a few games and I'd continue with Lennon, who gives us greater solidity down the right (with Lookman coming on for the final quarter). Scoring oals will still be our short-term problem, but encouraging signs.
Kunal Desai
115
Posted 25/10/2017 at 23:01:44
Created more in 45 mins than the last dozen odd games of this season under Koeman.
What gave me comfort and hope is that Unsworth said after the game 'we have loads more work to do' That is refreshing and endearing to hear that from a manager knowing that they will work on the negatives of tonight and look to put them right in the next game, instead of churning out pure rabble.
John Pierce
116
Posted 25/10/2017 at 23:05:48
The first half was very poor from both sides. The goal we gave away was dreadful. But some one touch play and the odd well constructed break, halted only by a team lacking in confidence.
Better second half, well structured subs and we got gack into the game. We still lost, not so good but it felt better.
Thats my sentimental side creeping in. I'll have a rewatch but the energy was good, and there was a formation and a plan.
A lot of ordinary players in that side delivered more than the sum of its parts. A team!
It feels less bleak and maybe we've just bounced off the bottom.
Peter Mills
117
Posted 25/10/2017 at 23:07:39
This being TW I'm sure someone will plough in with criticism of all those congratulating a losing team. But this was such an improvement on what we have seen so far this season.
Chelsea were the better team in the first half, they looked bigger, stronger and better organised, but still only had one chance (which they scored). We struggled as we had no real presence up front.
But 2nd half was all Everton, and the young lads in particular did a great job. There is, indeed, a team in there, and Pickford, Kenny, Beni, Davies, Lookman and DCL can be the backbone of it.
James Marshall
120
Posted 25/10/2017 at 23:09:43
I missed the game and kept up on the BBC feed - from reading that it was all us in the second half. Just watched some brief highlights and looked like we could have won it.
Comments on here backing up the BBC feed as well - encouraging.
Although Rudiger was unmarked for the first goal you have to give him credit where it's due, that was a brilliant header falling backwards like that - their second was pure class so nothing could be done there either.
All in all I guess we can be happy with the improvement, if not the result.
Carl Allan
122
Posted 25/10/2017 at 23:12:17
How sad that some of our fans are happy with that. 23 years without a win
at Chelsea in 90 mins and even when they put a shadow team out we can still only manage a consolation in injury time.
Why is it that we can never do what all those leading lights in the premier league, such as Watford,West Ham,Burnley and Palace can do by winning away to the top sides ? We have become a small club over time and now have easily pleased fanbase.

Denis Richardson
124
Posted 25/10/2017 at 23:15:25
Just back from the game. Certainly was the cliche game of two halves.
First half totally bereft of ideas, movement and confidence. Training session for Chelsea. Second half totally different team, playing with bite, pace and purpose, putting Chelsea under a lot of pressure. I guess Unsworth gave them a right bollocking at half time.
Highlights for me was a mature debut start from Beni in the middle. Looks lightweight but certainly got stuck in and was not afraid to look for the ball. Good touch and didn't seem phased at all. Davies gave a good stint and Lookman looked dangerous when he came on (why on earth RK didnt use him more is beyond me). Mirallas also put in a decent shift.
As for some of the others. I still have no idea what McCarthy brings to the team. Completely forgot he was playing for most of the game. Lennon also isn't up to scratch and Rooney isn't the answer for us up front.
Pickford also needs to sort out his kicking. The number of times the ball went out for a throw to his left was a joke. The Jagielka hoof was also regularly seen but I guess passing was never his thing.
Pleased with the second half and we really should have brought it back to 1.1. Created a couple of really decent chances.
In Mirallas and Lookman we have pace upfront amd wide and Vlasic also looks like he could be really good. Definitely a time to be a lot more optimistic than a week ago.
Onto the weekend. Next team sheet will be interesting.
Robert Leigh
125
Posted 25/10/2017 at 23:17:54
Actually thought Baines had his best game for a long time - having Kev in front of him gave him someone to give it to and over/underlap for a change.
A few games like that and he'll be back to being the 7 or 8 our of 10 player he normally is, and with an energetic midfield of three of Davies / McCarthy / Gana / Beni / Barkley he'll have a year or two left in him.
His intelligence at left back has been rarely seen in the game.
Hywel Owen
126
Posted 25/10/2017 at 23:19:59
Did not see the game tonight but very encouraged by a narrow defeat which, by all accounts , would have been different with a bit of luck.
I am surprised at the paranoia shown by some on this web site. We have eight points after nine games and the talk of relegation is pure and absolute hysterical drivel. We have played more top flight seasons than any club anywhere in the world - just remember that and be absolutely proud of it. No other club's supporters in the world can say that.
COYB
Jay Wood
127
Posted 25/10/2017 at 23:20:56
Peter @ 117, may I introduce you to Carl @ 122?
Didn't take long, as you said!
Tony Williams
128
Posted 25/10/2017 at 23:23:05
Positive start, wanted to go forward all the time, none of this awful passing back.
Phil Hoyle
129
Posted 25/10/2017 at 23:23:11
Without seeing the game I detect lots of optimism in here. The stats looked good (bar the scoreline).
I have a feeling Unsworth will do the job for us. He has had no time with the team. I love how bold he has been putting Baningime in. He could have easily gone very safe but no.
He knows the club top to bottom. I would say give him 2 - 3 weeks and see what happens. It sounds a short period but there are lots of games in that period.
Give him the job full time if the results and performances come along.
Damian Nolan
130
Posted 25/10/2017 at 23:23:25
To all those who applaud "the effort" tonight; am I the only one thinking that each player who has played previously this season should be asked to account for the disgraceful lack of effort previously. This group of players still need to be held to account for the season so far. I hope there isn't a litany of "it was all RK's fault" after this as it wasn't. I feel for DU who has to rely on this bunch for his managerial audition. He deserves better.
Mark Riding
132
Posted 25/10/2017 at 23:31:32
Unproven manager. Team in trouble. Getting plaudits for putting in a shift in a cup match ? Williams and Jags starting ? What a joke we are. Get Kenwright out and all the old boys ( Snake Jeffers now slithered his way back in ) and sweep the whole club clean Moshiri.
Derek Knox
133
Posted 25/10/2017 at 23:31:35
Taking all things into consideration, and the amount of time Unsy had to prepare, not only as caretaker manager, but to assemble a team capable of giving the current Champions, a game in the Carabao Cup.
Not only but also at their home, I think the team played with more passion and purpose than we have seen for a long time. Even the last few games of last season were passionless turgid efforts.
I really and honestly think Unsy has done marvellously well, and should be congratulated on doing so.
I suppose the $64,000 question can it be carried on to the next league and Europa games, I certainly hope so.
There were, apart from the performance, some encouraging signs, the emergence of Beni for one, and the signs of players actually trying to play for each other.
Okay we didn't win but came very close.
Drew O'Neall
134
Posted 25/10/2017 at 23:31:46
Clive 60
I was at the game, don't know if you were but I testified what I saw and that was that Rooney looked a spent force.
It comes on quick and maybe Rooney was scraping what was left together based on the exuberance of returning to his boyhood club and perhaps the events of the last few weeks have taken the wings out of his sails.
Whatever it is, he should have been taken off 20 mins before his short backpass gave them a 1-on-1 to seal the game and he should be dropped until he can prove he's the best player in any of his positions.
Danny Broderick
135
Posted 25/10/2017 at 23:33:31
Carl (122),
Unsie has had 1 day to work with the team. Based on that, what we got tonight was praiseworthy indeed. That was still a good Chelsea team we faced, they brought on some big hitters second half too.
Compared to the rest of the season, there are ground for optimism in tonight's performance. It's a fresh start for everyone, you should try it!
jason wilkinson
136
Posted 25/10/2017 at 23:34:05
Just watched the highlights on 5. WOW!!! more going for us in one half than the last 6 matches. It is pretty obvious Koeman stifled any creativity.
Jonjoe Kenny needs more help at right back, Beni and Tom looked sharp in the middle. Gana and Morgan take note. I wouldn't be rushing either back into the starting line-up.
DCL, Oumar and Lookman need to start ahead of Rooney, Siggy and Vlasiç. Do we have any central defenders to replace Williams and Jags?
It's such a shame we didn't sack Koeman straight after the Atalanta defeat. Who knows how different the season would be looking.
Andy Williams
137
Posted 25/10/2017 at 23:39:10
Christ on a bike . It must be hard to have no optimism and hope. How anyone cannot take some pleasure from that performance is beyond me. We were unlucky to lose to the champions away. Okay it wasn't their strongest team but they ended up bringing more of their big hitters on as they were getting battered. A win would have been incredible considering were we were a few days ago and we could easily have won it. Very positive steps in the right direction.
Colin Glassar
138
Posted 25/10/2017 at 23:44:33
Just seen the highlights on YouTube. Two worldies from them. Their goalie saved them from a drubbing in the 2nd half. More effort and cohesion then seen all season.
Despondents despair. Most of us can see some light in the distance.
Phil Hoyle
139
Posted 25/10/2017 at 23:44:49
For once I don't think you can blame the players. The more I read Koeman is a self-centred bully. We can say these stars are paid enough and should be able to handle it but that is crap. We forget they are all still relatively young and if you are in an environment of fear it will stifle you.
I saw against Arsenal players that could not pass a simple 10 yard pass. Why is Barkley really wanting to leave?
I think he used Niasse as an example of his power and people had to toe his line. If I saw a work colleague being treated like that (at my age I would say something) but 30 years ago my transfer request would have gone.
Glad he has gone! Long time since I have written or said those words!
jason wilkinson
140
Posted 25/10/2017 at 23:53:39
Who has gone along with Koeman? I presume his brother and Jan Kluiten whatever his name is?
Anyone know?
Lawrence Green
141
Posted 25/10/2017 at 23:57:04
Dissapointing result but encouraging performance and Unsworth must be one hell of a motivator as I didn't see anybody hiding out there tonight and it's clear that players who aren't interested or feel that they don't have to work for the team will not be included in Unsworth's teams - something perhaps that should have been expected from Ronald Koeman.
It appeared to me in hindsight, that Koeman gave up on his team's chances before a ball had been kicked, due to the difficult opening fixtures and the lack of a striker. That defeatism seeped into the squad and once the manager indicates he has little faith in the chances of his team, it doesn't take long for that to seep into performances and ultimately results.
Unsworth may not be fortunate enough to get the job full time, but don't underestimate his input for the next however many games that he is in charge. Altering the players psychology isn't easy but at least those out on the pitch tonight were responsive to his demands and if they continue to perform with that level of commitment they will eventually pick up the victories they require.
The players tonight, in the second-half at least, have set a bench-mark for themselves and it's one that they will have to match in the coming games and for the rest of their careers at Goodison if they are to prove worthy of wearing an Everton shirt.
The issues that the team has won't go away overnight, but at least we can feel that they are trying for the club and at this juncture that's about as much as we can expect.
Damian Nolan
142
Posted 25/10/2017 at 23:58:48
Colin and Phil, players will tread water when someone else will take the flak. Are you both seriously suggesting the Koeman is wholly accountable for Williams, Mirallas (to mention two) and Barkley's attempt to financially shaft the club? I read your posts regularly and I doubt you mean that. I want to see positives but we have to identify the weaknesses and some of the players are the direct cause.
Phil Davies
143
Posted 25/10/2017 at 00:04:38
7 days ago i'd have had us down for losing by a few goals and Chelsea being comfortable, for us to lose 2-1 and feel that we could have won it, especially after a poor first half, shows there is fight and spirit in this team.
the younger players played well, rooney had a better second half but is clearly not a striker, McCarthey isn't up to standard im afraid.
but honestly im happy, not for the result but for the performance because we haven't had a good performance this season.
Peter Cummings
144
Posted 25/10/2017 at 00:12:45
Said on TW this morning if we started giving them problems they would introduce some of big name 'reserves' from the bench to get the result and that's exactly what happened, but by then we should have put the game out of sight with five glorious chances in the second half alone but sadly the old story of finishing haunted us, mainly due to the heroics of their 'keeper it has to be said
But make no mistake, we are now on the right track up the table if we can produce the fight and will to win we showed tonight on a consistent basis then all will be well, Lets Do It Lads
Nicholas Ryan
145
Posted 25/10/2017 at 00:20:49
As for Unsworth not being a 'big-name' manager; I remember some Arsenal friends, 20 years ago, being absolutely outraged, that the club had hired some unknown no-mark, from the Japanese League. A bloke called Arsene Wenger!
Bill Gienapp
146
Posted 26/10/2017 at 00:22:51
The big question - beyond putting in the necessary level of effort - was whether we could generate genuine goal-scoring chances. In the second half, we did. Definitely an encouraging display.
Neil Copeland
147
Posted 26/10/2017 at 00:23:49
What is it with the naysayers on here? Jesus guys, we have moved overnight from one of the most dogshit teams we have had in a long time that looked nailed for relegation to one that based upon the second half tonight, looks capable of beating at least 50% of the Premier league teams.
Is that good enough long term, is it bollocks no, but it is a damn good start and gives us hope at last.
Perhaps it's a flash in the pan but I very much doubt it as we have a manager, albeit short term, who is clearly on a mission. Personally, I can't wait for the game at Leicester now.

Gordon Crawford
148
Posted 25/10/2017 at 00:30:58
If the board are reading this, please give Unsy the job. He is my number one choice. :) Put up a great performance tonight. Roll on Leicester
Raymond Fox
149
Posted 25/10/2017 at 00:32:25
George 52, cheer up mate.
The board or whoever makes the final decision, (when do we ever know what happens within the club, we are only the customers!!) need to give David time.
Yes we lost, did anybody really expect us to get a result pre match?
We have just had a 'fancy Dan' manager who was terrible in every aspect of his job, do we have to risk getting another dud.
Time and results will tell the story of course but I like what DU has developed into, I cant see why he cant become a first class Everton manager.
Tony Twist
150
Posted 26/10/2017 at 00:33:51
I hope we can get any sort of win against Leicester as that will make all the difference. I hope we get Tuchel as boss with Unsworth assisting and obviously learning the ways of the German. I hope Unsworth does get his chance to be full time manager but when the club is on a steadier footing just think it's not his time yet. At that time, hopefully, we are regulars in Europe and just moved in to a new stadium.
Paul Birmingham
151
Posted 26/10/2017 at 00:36:28
For the first time in ages we played and and reacted like a team, and played with belief.
Well done Unsy, and it raises values and expectations, for the rest of this season.
Early, early days burst this was miles better than what we had on th Dutch style menu?
Ernie Baywood
152
Posted 26/10/2017 at 00:40:43
Some question marks about the players suddenly looking like they're putting in effort compared with previous months?
I guess that's fair. But anyone who has ever played will know that they're are times when you just can't get going, regardless of how much you care.
This season under Koeman was a great example. You can't press on your own. You can't find space to run into when the team is too narrow. You can't throw yourself into tackles and headers when the opposition are being given so much time on the ball.
Tonight was a great effort generally, but mostly it was just about being functional rather than dysfunctional. Playing all of the positions on the pitch. Pretty simple stuff really.
Ernie Baywood
153
Posted 26/10/2017 at 00:43:03
And Carl, you won't find anyone here happy at losing... just encouraged at seeing green shoots of recovery. Accepting that we've been bloody awful recently isn't the same as discarding our history and status.
Chris Corn
154
Posted 26/10/2017 at 00:48:11
Only Evertonians can advocate dropping our highest scorer because he's a spent force and carry on whinging about not replacing Lukaku!!
Phil Hoyle
155
Posted 26/10/2017 at 00:53:04
Damian the point I am trying to make is more around an environment created by a manager.
Take out the crap situation we are in I think some players have really let themselves down in general. The problem is we al react to different personalities in different ways.
We see these guys on match day. Can you imagine going into an environment every day where you might be bullied, insecurities played on etc...
All these guys have won the lottery but the way he treated Oumar is not on. That will rub off and have an impact. The players were playing with fear.
I am not sure there is a ransom anywhere by any of the players. They are just saying no thanks!

Don Alexander
156
Posted 25/10/2017 at 00:53:38
Well said Carl Allan @ #122. Your comments in no way denigrate the effort the team put in tonight, and that's the least we should expect as far as I'm concerned by the way, but they do rightly point to an attitude of mediocrity always being accommodated in the club providing the Premier League money keeps rolling in of course.
For me mediocrity is embodied by Wayne Rooney. Yes, he can still score every now and then but his contribution otherwise is not only slim but actually detrimental to others in the team in that he keeps getting in their way by seeking to do their job for them without regard to the fact his body simply can't do the required running. That's why he's physically spent after an hour at most. Years and years on the piss does that to people Wayne, if you're wondering owd man.
Innate mediocrity is Moshiri's particular problem. How to purge such a shitty attitude from top to bottom?
If Unsworth is the answer I'll be surprised and delighted but the much vaunted "three year project" has long since been flushed down the bog courtesy of the amateurish fannying about in summer re recruitment.
And which of those who did sign will now fancy knuckling down to a new regime? Some of the latest signings might now just wanna flee the Farm rather than "get stuck in" and we'll lose even more money in the process.
If he has any hope at all of top six, never mind top four, NEXT season I suggest Mr Moshiri will have to spend hugely in January to merely prepare for it and up to now he's been very averse to net spend on players.
On top of that he also needs to employ a manager with magical powers if he's daft enough to still harbour any hope at all of Champions League qualification before 2020.
But hey, we weren't hammered at Chelsea. "Trebles all round eh Bill!!!!"
David Israel
157
Posted 26/10/2017 at 00:57:03
I didn't see anything, and am just relying on the opinions of those who watched the game.
While a defeat is always a defeat, the signs appear to have been positive. But let's not get carried away: nobody can change a team in merely a couple of days, although psychology and a different formation can have an impact, obviously. Not just the psychological nous of the new man in charge, but also the psychological boost a team tends to get when there's a change of manager following a dire period.
But there is certainly a great deal to look forward to, on Sunday (yet another Sunday game!).
Ernie Baywood
158
Posted 26/10/2017 at 01:11:53
Don
"Moshiri will have to spend hugely in January to merely prepare for it and up to now he's been very averse to net spend on players"
Net spend? How exactly does one 'net spend'? You either spend or you don't... we spent. We spent quite a bit.
Exactly how many players did you expect us to sign? (or net sign).
Chris Corn
159
Posted 26/10/2017 at 01:35:05
Ernie , 'net spend' is a bullshit phrase that ToffeeWebbers like to use to counter the fact that Everton , even under Moyes, spent quite a lot of money on transfers but also sold players as though they were the only club in the football world to do so.
Rob Hooton
160
Posted 26/10/2017 at 01:36:32
James, 89 - didn't Guardiola, Miruinho and Klopp come from a similar setup to Unsworth? They are all non progressive and crap I guess?
Paul Holmes
161
Posted 26/10/2017 at 01:38:21
That was the best 45 minutes imo this season and the irony is that apart from the goalkeeper all the 140 million we wasted on players did not play !.
Everton need to build the team like Utd did with their class of 92 youth team players,and we all know how that went (Neville,Butt,Scholes,Beckham,Giggs).We have U20 world cup winners which is better than youth team players.Lookman,DCL,Kenny,Dowell and Davis !.Once we get back Coleman,Bolasie,Mori and Barkley we should recoup our 140 million and spend it on a centre forward,what a team we would have managed by Evertonians Unsworth,big dunc,joe royal and ebrell !.
David Tennant
163
Posted 26/10/2017 at 01:46:27
David Unsworth still for me based on the following:
His work with u23's speaks for itself and he plays an attractive style. He is a good coach.

He is an evertonian and the importance of that cannot be underestimated-it means he won't look at us as an outsider a la Koeman and accept where he thinks EFC should be but rather aim for where we want to be. He won't be going into big games thinking if we get beat 1-0 it's acceptable, he'll hurt like us and work for us to break that ethos and crash the monopoly as that s what he wants us to be and more importantly where he AIMS us to be. He will work with the sole purpose of victory. He won't just accept 7th and then move on to another job. This is his DREAM, he's in for the long haul. Therefore we will get the most out of him and he will push Everton and god help us we need that.
Finally, he has already come across as a great ambassador for the club with a good knowledge. He already knows the players, the resources, the strengths and limitations and probably has a fairly good idea how he wants to play. there will be no long settling in period i.e. he is ready!
(side point there will be no long drawn compensation package or contract negotiation with telease clauses leaving us in limbo for weeks-not a big point but still a positive)
I'm ready to give RHINO a go. He is the man for this situation.
Julian Wait
164
Posted 26/10/2017 at 02:17:03
I think it 95% comes down to having a game plan they believe in, and 5% a manager they like. Koeman was clearly considered to be a bit of a tw@t around the club, rightly or wrongly, and didn't have a plan they believed in.
Rhino comes in with a plan, and gets his players who believe in him into the side. He'll feel even more empowered after Bang-em-in's performance and the overall performance.

Don Alexander
165
Posted 26/10/2017 at 02:24:09
Ernie (#158) and others, "net spend" is what United, City and Chelsea did to win titles this century. Check the facts by all means but it enables you to spend more money on players than you recover by way of selling your own players to do it.
As we can all see, Moshiri is nowhere close to being that rich and he doesn't deserve criticism on that basis but in my opinion it does mean that unless we now appoint a manager with Messianic qualities we'll probably wait quite a few more years before achieving CL qualification because we'll have to sell to buy unless a mega-billionaire comes on board.
Ernie, to answer your question I believed, given Moshiri's pronouncements about the three year project, that we'd sign a meaningful centre-forward this summer to replace (and hopefully improve on) Lukaku. How delusional was I? I also thought we'd sign a talented left back and centre back because Baines, Williams and Jagielka are getting on to say the least and their performances last season were visibly dwindling by way of age alone. I didn't think we needed as many as three new "no 10's" either but, as said, how delusional was I?
To pose questions back, how many players did you expect in the summer, and why?
Phillip Warrington
166
Posted 26/10/2017 at 03:15:55
Wow, never seen or heard of Baningime. It just goes to show if we had a manager who believed in the great bunch of youth players Everton are producing supplemented with say 4 top professionals ie GK, CD, AM and a striker the season might have been so different.

You know all these so called great managers all had to start some where. Please let Everton be the club that gives Rhino a start, and back him 100% in the way he wants the team to play and in the transfer market. We had a so called top manager at 6m a year and where did that get us
Steve Carter
167
Posted 26/10/2017 at 03:43:18
I'm with those saying at least give Unsey a go. No, he has no track record in a top league. Nonetheless, first, he's a familiar face, and that, to me, is better than yet another unfamiliar outsider being parachuted in with yet another "phenomenal" "project" of their own; second, whilst, yes, the U23 comp is nowhere near par quality-wise with the Premier League, you've still got to get your team to beat the opposition in front of you, and that is what Unsey has demonstrated he can do.
Michael Kenrick
168
Posted 26/10/2017 at 04:47:24
Good job, Unsy. Two brilliant finishes from Chelsea to win that, so no complaints.
Great post-match reaction vid from Unsworth on Everton TV:
Darren Hind
169
Posted 26/10/2017 at 04:56:13
David Unsworth has not just been tasked with restoring confidence and turn around results.
He has to turn us from being a shocking team full of unhappy, confused players playing below par almost to a man.

He has to get the whole squad back on board. He has to reignite the natural passion of the Evertonian, bring joy back to Goodison, put an end to the zombie football which has regularly sent 40,000 people filing out of Goodison in almost total silence. He has to give our wonderful travelling army something to hang on to. He has to restore our standing in the game, stop us from being a laughing stock.
David Unsworth has been tasked with the job of restoring the very soul of this club. There is only one candidate, a mercenary wouldn't have the wherewithal.

He should be able to set about his monumental restoration job in the certain knowledge that he has the complete backing of everyone who loves this club

Paul Ward
171
Posted 26/10/2017 at 05:06:28
Ernie Baywood @152/153, Some very good points.
In my humble opinion, I was very pleased with our 2nd half display after the crap we have had watch so far this season. There was some good performances and one of the best Everton debut's I have seen by Beningime.
I am not getting carried away, it is early days, but if more Twebers had seen the actual game they may have been more optimistic with there views.
I hope Rhino can overcome the giant hurdle of turning this club around but he will need time support and patience from fans.
John Pierce
172
Posted 26/10/2017 at 05:21:20
I posted in the preview he'd pick the most mobile, high energy players.
In the main he did, Rooney perhaps the outlier. Interestly when DCL came on he only really looked dangerous when Niasse joined him.
Can Everton geniunely play 4-1-4-1? Because if they can then I believe we have some potential. I think Sigurdsson could play behind DCL in that triangle of midfield, and two geniune wingers.
I thought the line up had Sunday in mind a touch. I think DCL will play instead of Rooney , Siggy instead of McCarthy who is unlikely to play twice in a week.
Energy and mobility will be the blocks Unsworth will lay first, better players will add to it.
I think retaining Mirallas and Lennon would be wise, Lookman has to get a-bit longer with each game. Eventually you want Bolaise & Lookman as your wingers.
But the inverted triangle in midfield was excellent, those three positions can be rotated rather since we have a surplus of players there. The only thing it lacked was a creative passer, not quite Davies night.
Immediately I see balance across the pitch and crucially up and down it. 5 defensively minded players, five attacking players.
If he sticks with that approach for all four games I think we will see improvement quickly.
David Ellis
173
Posted 26/10/2017 at 05:44:20
Don - not to dilute your overall point (which is fair) but we did buy a centre half over the summer. I guess you meant we should have bought a pair of them. Which clearly (at least in retrospect) now seems a priority.
I think we are slightly undone by the rapid decline of Baines, Williams and Jags - all at the same time, but the signs were there last season. And unfortunately Holgate (or Browning, Pennington or Gallagher) hasn't made the step up.
But what wins title is not "net spend" its wages - and no individual is rich enough to pour wages into the club and the FFP rules would prevent it now anyway. But it is what it is - we need to compete as best we can and the better we do on the pitch (Euro league etc) the more we will be able to close the revenue gap off the pitch. Moshiri is clearly helping us do so - particularly if we get Bramley Moore built (and so far so good on that front)
Alan J Thompson
174
Posted 26/10/2017 at 05:45:51
How could Baningime be M-o-M?
Didn't "Honest" Ron tell us that none of the "kids" were ready and here we have Unsworth using five of them in this game and giving time to one who was told he had no future at Everton.
Sorry, what are the qualities we want from a Manager?
Eugene Kearney
175
Posted 26/10/2017 at 06:00:43
Darren, #169 - Excellent post.
Lev Vellene
176
Posted 26/10/2017 at 06:16:44
I think what Unsworth is aiming to do, is to first of all install some real spirit in the team by using 'old' players who know him and each other well, mixed with the youngsters who know his system and expectations by heart. Gradually he'll bring our new players into that brave new world. I expect we will soon see some very different performances from the summer acquisitions if Unsy is allowed an extended run with the first team.
Eric Paul
177
Posted 26/10/2017 at 06:19:24
Tuchel is probably waiting for the Bayern Munich job silva and dyche have both been relegated that's great experience of top flight management
Neil Gribbin
178
Posted 26/10/2017 at 06:23:36
Last night there were definite signs of an uplift. Keep that up, and we will be sorted. Need another good showing on Sunday.
Christopher Timmins
179
Posted 26/10/2017 at 06:38:58
A much improved show from what we have seen so far this season other than patches from the City game away. Green to see so many of the outcast players getting a go! The selection for Sunday will be very interesting!
Let's hope for more improvement on Sunday and 3 points.
Steve Solomon
180
Posted 26/10/2017 at 07:07:51
The 2nd half was like watching a coma patient open his eyes after 6 months.
I loved how the combinations started to work down the flanks particularly. Lennon and Kenny and also Baines and Mirallas. Jags and Williams looked good together also
I think Niasse and DCL will do well together.
Rooney should be playing midfield, he made a couple of sublime long passes to Mirallas.
I'd like to see Rooney, Davies and Sigs in the mid with 3 quick lads up front. Gana and Schneiderlin dropping in for defensive purposes when needed.
Well done Rhino!
Jamie Crowley
181
Posted 26/10/2017 at 07:34:49
Watched on ESPN3 - TYVM Derek Knox - and I was very pleased with what I saw overall.
This Beni kid is a player.
Great to see McCarthy back as well.
I was very encouraged by our steel in midfield. I never saw us back out of a single tackle, and we were not afraid to make a hard challenge.
Only negative:
The 70s porn-look-a-like on Chelsea torched Kenny more than once. I think Kenny needs more experience and help back there.
And their keeper had one hell of a game. On another day we could have won that game.
If we were a stock, we'd be a solid buy currently as based upon what I saw we will definitely be on the up.
Well done Unsy. Keep at it.
Dave Wilson
182
Posted 26/10/2017 at 08:09:14
"Restore the very soul of the club"
Does kind of feel like that Dazza. I just wish I could find your confidence and conviction as to who is right and who is wrong for the club.
Unfortunately my world isn't quite so black and white. I have to many grey areas.
As usual your colors are nailed early. I sincerely hope you are right this time
Dale Rose
184
Posted 26/10/2017 at 08:14:07
Time to unite and get behind Mr Unsworth. There's a change coming .
Peter Larkin
185
Posted 26/10/2017 at 08:17:56
For the first time this season I was proud of the players and the gaffer. Pass move. Aggression and high press!!
It does amaze me that koeman tried to get the team to high press and failed. Yet lastnight the Whole team pressed and we won the ball high up the park. Id settle for top 10 this year and a cup run under unsworth. If unsy dosnt get the job id like him to be the number 2 of the next guy, he has somthing about him. Coyb
Gavin McGarvey
186
Posted 26/10/2017 at 08:30:38
Echoing the thoughts of others, I was encouraged by last night's game. It's early days, but, particularly second half we looked a lot more aggressive, purposeful and organised. I thought the new guy in the middle looked strong and did well to perform a key role in the formation Unsworth set them up in.
That being said, this is early days, and the key will be, as ever, goals. We conceded dreadfully and at a dreadful time. Where was the marking on the corner? And we very nearly gave away another. It's difficult to build confidence when your lack of confidence has you making silly mistakes.
At the other end, Lookman did well, and I thought Mirallas looked a threat too. I was pleased with Calvert-Lewin getting his goal and also at Niasse's part in setting it up. Of course the Elephant, not in the room, is Lukaku. That being said, if Unsworth can get them playing like he did last night then I think he'll turn things round by Christmas. Well done to the away support too, they sounded great on my ropey internet link.
Paul Smith
187
Posted 26/10/2017 at 08:42:56
Second half was good as posters have already stated.
Sunday will be tough, Leicester will be up for it. Interesting to see who he goes with we need a settled 11. If we lose I fear for oir fragile confidence.
Martin Reppion
188
Posted 26/10/2017 at 08:55:34
An intresting team selection and after a torpid first half a good revival in the second.
The team was set up in the same was against Lyon, where bookended by 2 soft goals, we played some decent stuff. However, I am amazed that Sygurdsson was omitted. His ability to find a killer ball and his running off it would be ideal in that formation. He also scores goals from midfield.
This at least shows we have options. With the 4141 shape we can play Rooney/DCL/Niasse up top. We have a options in central midfielders, Sygurdsson/Davies/Klaasen (maybe)/Barkley; wide options and more holding players than you can shake a yellow card at.
This squad is solid. I trust the club to do the right thing and let Unsworth get it working. Forget the Lyon game, another chance to give players an opportunity. But as even 3 wins doesn't guarentee progress. If we win the 2 league games, and continue to play at a higher tempo, then the manager's office is filled.
Tony Everan
189
Posted 26/10/2017 at 09:14:25
Best performance this season , in the 2nd half at least. Unsworth and the players deserve credit. But it's a bit too early to be getting carried away.
Chelsea's lowest priority is the Cara cup and in the 2nd half the onus was all on us to score , and we didn't .(until it was too late).
The league is what matters , and what Moshiri cares about is league results.
The big big question now is whether David and the players can turn that second half real Everton performance into 90 mins against Leicester, and Then Watford .
The second half Everton will see us win against these inferior teams.
These games are Unsworth's golden ticket for the top job.
Nitesh Kanchan
190
Posted 26/10/2017 at 09:17:53
Martin,win against Lyon and Draw or loss for Atalanta in Limassol will put the qualification fate in our hands. Unsy will have to rotate well here to get fresh legs for do or die Lyon game.
I would still fancy us in Europe league to qualify for Champions league next season if we have nothing to play for in April and May with a huge squad we will have with Funes Mori, Coleman, Bolasie and Barkley coming back. One perfect striker and the fortunes will change completely. Hoping Walsh has already started looking for more than one option.
Ray Roche
191
Posted 26/10/2017 at 09:22:29
Jamie Crowley #181
Jamie, interesting that you think that Kenny struggled, Unsworth, in his post match interview available on the OS, thought he'd had his best game in an Everton first team shirt. Lennon helped with cover, to be fair.
I thought he acquitted himself well against the waiter we had in Corfu in 1982, he's just as tricky with a bottle of Ouzo
Rick Pattinson
192
Posted 26/10/2017 at 09:24:37
Bloody good show chaps. Bags of determination bags of passion nice to see Mirallas and Lennon back in the picture. Koeman EFC are waving KFC are calling
Tony Hill
193
Posted 26/10/2017 at 09:35:38
Unsworth's only task for now is to keep us in the Premier League. I don't think we are presently superior to Leicester or Watford and this season is going to be a slog, or certainly until January when we can reinforce.
Like us all, I pray he can do it and then we can build again. We must get at least one win from our next two league games.

Derek Knox
194
Posted 26/10/2017 at 09:41:20
Jamie Crowley, you are welcome my friend, as it transpired ironically, I couldn't get it myself but managed to watch most of the match via Bein 2HD, in Arabic.
My throats a bit sore but I should be fluent in a couple of months, joking apart; I was glad I did see most of the game; what a difference with the attitude, determination and passion, so sadly amiss with Koeman at the helm.
Okay, we didn't win, but acquitted ourselves admirably, and can walk away; both team and fans alike; defeated, but not humiliated.
Like many have said, the acid test will be the Leicester game; and again I am looking forward to that.
COYB
Andy Williams
195
Posted 26/10/2017 at 09:45:01
One of the most pleasing aspects was that the team in the second half played in the same manner as in the Norwich match that Unsy was in charge for. I haven't been fortunate to watch enough to watch his youth teams but if that's his style then we won't go far wrong
Phil Walling
196
Posted 26/10/2017 at 09:46:41
If they couldn't get it right with £140M to spend no reason to believe that the January window will be any more successful. There is now an overload of 'below par'so called 'star 'players who have to be played to justify the genius of the DoF who remains with us.
I somehow believe that Unsie would prefer to have only the squad he had round him last night !
John Graham
197
Posted 26/10/2017 at 09:51:04
Yes probably the best team performance of the season and don't want to put too much of a downer on it because the team showed a lot of fight in the second half. But this was mostly Chelsea's second team in a cup most of the top teams aren't interested in.
Some positives with the young players, who I hope will get another run out in the next game against Leicester where we can better judge what level we are at.
Must win game if we are going to get away from the relegation zone.
Derek Knox
198
Posted 26/10/2017 at 10:01:03
Michael Kenrick@ 168, just watched the link you supplied with Unsy's post match interview, which I thank you for; what a difference, in comparison to you know who, long may it continue.
That is the attitude we want from both manager and players alike, disappointed we didn't win but magnanimous and determined to do better next time.
Let's face it, Unsworth has not had long to adjust from U23 coach to Manager and to prepare for a Cup match too; so credit due there I feel, a bit early I know, but a few more of those, hopefully with a win; I would have no qualms about Rhino being made El Supremo.
I still can't quite believe the transformation of the players attitudes and determination during the game, in comparison to Saturday against the Arse, after they had drawn level; the towel went in seemingly.
Clive Rogers
199
Posted 26/10/2017 at 10:02:27
Not one outfield player who cost money in the summer featured last night, including the subs. An indication of what Unsworth thinks of our summer signings.
Clive Rogers
200
Posted 26/10/2017 at 10:04:17
Jonjo Kenny played much better when Lennon, who had a poor game was taken off.
Stan Schofield
201
Posted 26/10/2017 at 10:05:35
John@197: Yes, it's true that the Chelsea side wasn't their strongest, but we need to play with the right attitude and set-up against all teams, regardless of who they are. And that was a good start. Take each game as it comes.
Kim Vivian
202
Posted 26/10/2017 at 10:14:32
As a so called second string side that was a petty fair Chelsea team. When they started to get rattled and bring on Pedro, Fabregas, Morata we continued to press them back. I missed the first goal as it happened because my link went down but the second was a good goal. Chelsea man of the match was surely Caballero imo, although I think it went to Willian.
The post match interview was a tonic. How refreshing to hear someone who speaks English (well, the scouse version anyway) and can articulate what he is thinking and what the fans are wanting to hear. I had real trouble understanding RK's speech.
Unsworth I feel has a huge future ahead of him although it remains to be seen how quickly he grows into the role but from the evidence of Norwich 18 months ago, the U23s and last night he has the ground running and no reason to suspect he will not keep going. There will inevitably be disappointments, trips and falls along the way but I can't remember feeling this optimistic for ages. I guess midway/two thirds of the way through RM's stint before it all started to fall apart was the last time. I never really embraced the Koeman appointment although wishing him every success (with us of course), so we move on.
Bring it on Rhino, keep up the good work, and good luck for Sunday and the rest of the season - which I hope you earn and get.
Kevin Tully
203
Posted 26/10/2017 at 10:19:27
Unsworth is stuck between a rock and a hard place as regards to playing the players he trusts from the U23's. How can he leave Sigurdsson out after the club paid £45m for him? When Barkley comes back next month, we'll have 4 players for the same position, what an absolute shambles of a transfer window.
Unsy is due to meet the board this Friday apparently, but the comment below sends shivers through my spine regarding how heavily involved soppy bollocks still is at the club. It looks as though nothing has changed at all regarding the day to day running of the club. This was the same line every manager has trotted out since dour Davey was in the hotseat:
"I'm scheduled to meet [Kenwright] on Friday afternoon. I speak to the chairman three or four times a day. The communication is brilliant. I've got a great relationship with the board. What will be will be. There's no points return or games total that they've set. I just have to be committed. We have to try to win some games and take it from there."

Derek Knox
204
Posted 26/10/2017 at 10:25:37
I felt compelled to add to my posts of before; I have just astonishingly read on another site; that Koeman has had the audacity to blame his sacking solely on the failure to get Oliver Giroud during the transfer window.
How totally arrogant is that? No mention of the unbalanced team selections; players morale at an all time low; buying overpriced players ill suited to the Prem; failing to play promising young players; etc, etc, etc.
I for one, was not that keen on Giroud coming anyway, not that he is not a good player; but that clown would have paid £30M for a 31 year old, who is let's face it, erratic.
His attitude with Niasse too was deplorable and further adds to his bombastic attitude, with public condemnation of the lad; and this all before he had to play him out of necessity almost; the lad scores and gives him a temporary stay of execution.
I sincerely hope the Board have closely heeded all this, coupled with the turn-around last night, and don't make another managerial blunder by going for a high profile arrogant mercenary.
Paul Tran
205
Posted 26/10/2017 at 11:00:54
Peter #185, it didn't surprise me at all. We've had two consecutive managers unable to get their messages across to the players, now we have, at least, a temporary one. As a result, we did most of the basics very well, bar our finishing and Williams losing Rudiger for the goal.
I've always said that any half decent manager would get us in the top seven and I'm sure Unsy would do the same. Astute selection last night. Lots of games coming up, Lennon, Lookman & McCarthy need game time. If the 'Stalag 6' story is true, he was wise to pick the players he knew.
Despite the result, an encouraging start. I hope Unsy gets enough time for us all to make a more accurate judgement on his capabilities. Unless they've already 'got' someone, I'd like them to announce he's got the job for the rest of the season. At least then, he, the players and we know where we stand.
Kim Vivian
208
Posted 26/10/2017 at 11:23:43
Derek (204) If you've not already done so, read the comments thread on the "Koeman on losing Giroud..." piece. You will find you are on common ground. I don't know if the interview referred to in that piece is the same one as you read but it is quite horrible.
This has been a considerably higher profile debacle than the one at Valencia but the parallels seem pretty clear. Whatever sort of spin/cop out/excuse or bleating he wants to sound off with in his home country I think most of Europe has probably seen it clear as daylight.
I am starting to like the bloke even less since he left. The sound bites coming out of many corners are painting a pretty bleak picture of the man.
John Smith
209
Posted 26/10/2017 at 11:31:09
I'm so glad Beni Baningime got a chance to show what I've liked about him for a couple of years now. He's deserved his chance, especially being part of the young Everton team that destroyed Liverpool u18 a year ago (we scored four goals against them if I recall).
Everton U18 4 - Liverpool U18 1
https://www.youtube.com/watch?v=zJXM5Q_tKrs
Rob Davies
210
Posted 26/10/2017 at 11:33:09
Fact is we didn't sign a striker. Koeman is liable for that...but so is Walsh, Elstone and Kenwright. They seem to all get a light ride in this – if I was Moshiri at least one of those would be gone all well.
Joseph Edwards
211
Posted 26/10/2017 at 11:35:15
Although it was a much-changed side for Chelsea, we certainly took the game to them particularly in the second half.
There was a much more positive mentality to a much more balanced squad and if we would have had a quality striker up front I think we could have easily won the game. Baningime looked assured and confident in his role and Gueye and Schneiderlin now have competition for their places.
Please, Unsy please, please never play Williams again – he is nothing more than a lard-arsed accident waiting to happen.
Brent Stephens
212
Posted 26/10/2017 at 11:48:02
Derek #204 Koeman is also quoted as saying that Moshiri and the board were behind him but fired him just as a sop to the fans who were shouting for him to go. Delusional (him not you!).
Brent Stephens
213
Posted 26/10/2017 at 11:52:19
Kevin #203 "How can he leave Sigurdsson out after the club paid £45m for him?"
It's a sunk cost, in economists' terms. The rational thing now is to do what's best for now and the future, not just use a resource because we've paid for it.
Mind you, emotion can overtake rationality. That woman I married, I'm still with her.
Rob Davies
214
Posted 26/10/2017 at 12:00:18
I don't know whose responsibility it was – but the fact we didn't sign a striker to replacement Lukaku in the summer was in my mind negligence.
I think that Walsh, Elstone and Kenwright need to be held accountable for every dollar and every decision.
Christy Ring
215
Posted 26/10/2017 at 12:02:18
Paul 205# Can you enlighten me about the 'Stalag 6'?
Derek Knox
216
Posted 26/10/2017 at 12:07:39
Brent 213, I bet you hide your posts from your missus, come on now, fess up. :-)
Curious myself about Staley 6 hmmm.
Shane Corcoran
217
Posted 26/10/2017 at 12:08:58
Who has taken over the U-23s job?
Ernie Baywood
218
Posted 26/10/2017 at 12:11:21
Don, Utd, Chelsea and the likes did win titles with a net spend but think for a second what that looks like...
Assuming you keep your squad about the same size it means buying high (ie proven league winning quality) and selling low (ie they go when they've served their purpose).
With our current reputation we'd have to be throwing money around that just couldn't be turned down in order to get those players. Not for one second do I think we should (or could) do that.
Our model seems to be that we get them before they're fully proven and reluctantly sell when we can't hold them anymore. Every now and then we might get a proven second tier kind of player.
That's about all we can attract right now.
How many did I think we'd sign? Certainly not as many as we did! Yes we should have signed a striker but that doesn't change how many cheques got signed. And there's reasonable evidence that we would have signed another fat one for Giroud (or similar).
Not for one second do I think that we were not ambitious in terms of player acquisition. Our net spend over a selected period of time doesn't affect that at all.
Len Hawkins
219
Posted 26/10/2017 at 12:15:49
All season (all 2 months of it) Siggurdsson Schneiderlin Klaassen have had the ar5e ripped out of them for the crap they have produced and now people want to know WHY Unsworth didn't play them.
My theory is he probably reads ToffeeWeb and can see as much as everyone on here can see.
Paul Tran
220
Posted 26/10/2017 at 12:27:58
Christy, in Unsworth's pre-match presser, he was asked about the morale of the players. He answered that he didn't know, because they trained in a different building to the U23s.
I saw an article on Twitter from the Daily Mail, where a 'high ranking official' at the club was asked about morale/training methods under Koeman and he responded, 'No-one was allowed in Stalag 6'.
If nothing else, this gives us an idea of the morale within the club, if it's true.
George Cumiskey
221
Posted 26/10/2017 at 12:33:01
Raymond Fox I wasn't criticising Unsworth, I was criticising the players he has to work with.
He was the one I wanted to come in to at least steady the ship, let's hope is ruthless in his selection and doesn't have any loyalty to the old guard.
And isn't forced into playing people because they have a big price tag.
Kim Vivian
222
Posted 26/10/2017 at 12:39:30
Shane - 217. Franny Jeffers, I think.
David Morgan
223
Posted 26/10/2017 at 12:51:18
I am unconvinced that Unsworth is the right man, though I don't see who is right. I would like to add that I am a massive fan of the Dogs of War side but...
Are we going to revert to battling? what is the plan for Everton? The managerial choice should be based on playing style in my opinion. This summer we were to believe that more money and more ambition would lead to more success . Now in October are we are happy losers again and will take 7th. Dream over?
If we are to win anything in a league with stylish teams like Man City, Chelsea and Spurs, I am not sure battling is going to be enough. Perhaps if we had speed and skill upfront and a top striker to add to the battling we could turn into a Leicester title winning type team but we don't have that right now.
Either Unsworth was happy to go out of another cup playing a weakened side against Chelsea B or he believes that; Williams Lennon and the young kid are better than, Keane, Lookman and Gueye and that was his best team that lost...either way not a sign of a smart manager.
I accept its one game and early days but we just flopped out of another cup to a standing ovation vs a b team?
On the plus side in the second half I saw our back line 10 yards inside the Chelsea half, so that's 10 in the opponents half as opposed to Koemans 1 to 4. If Unsworth picks the best players and not his chums or whatever that selection was, then that offensive attitude may work.
In conclusion, Unsworth needs to show ambition, brains and tactical awareness or we need to find that elsewhere.
Ian Hollingworth
224
Posted 26/10/2017 at 12:54:26
The constant referral to the chairman also worries me. His involvement in day to day running of things gives me concern over how ambitious we are to progress.
We are all happy with Unsy because he is one of us etc. Some posters have also said we have a team capable of 7th and Unsy could get us there.
We need to ask ourselves how ambitious are Everton FC, how ambitious are we as fans? Do we want to stay in our blue bubble and be content with 7th place finishes?
Is this what we have come to? If we are happy with this then don't be surprised when we are viewed as a small club by the football world.
I want Everton to win trophies, I want us to win derby matches, I want us to compete. I am definitely not satisfied with where we currently are and where our current ambitions seem to be.
I don't know the answers and I do not know if David Unsworth can lead us to those ambitions or if the club will provide the ambitious backing required. Football is a global game now and I still believe we would need a global name with a good proven track record to make us winners again along with an ambitious backer of course.
Without that then we may need to be very patient to build a young team and also accept that our better and ambitious players will always be getting poached.
Steve Bird
225
Posted 26/10/2017 at 13:02:00
In line with a lot of what I'm hearing from the masses. I too think that Unsy should be given the job to at least Christmas.
This gives a decent run of matches to make a mark.
If a new manager was to come in now he would have to wait till January anyway before he could change out personnel, so is he likely to do much better than Unsworth with these players ?
Gives us time to do due diligence and find the right guy to take over should things not improve.
Im looking forward to Leicester, the atmosphere among the fans at the end of the game last night was at an emotional high for the season, something to take on to Sunday!! COYB
Ray Jacques
226
Posted 26/10/2017 at 13:04:17
We created chances, not done that in 12 games this season, that in itself is an improvement.
Unsworth may not be the long term answer, but he is already an improvement on the previous incumbent
Mark Fitzgerald
227
Posted 26/10/2017 at 13:04:18
Watched the game online, very encouraged even in defeat. The second half was ours and I thought we deserved at least a share of the spoils.
Some observations/suggestions for the weekend game: bring Keane back in for Williams. Change the starting wingers from Lennon & Mirallas to Lookman & Vlasic. Absolutely keep Beni in the team, thought he was the class act for our side. Rooney can no longer play the lone striker role but still has quality to offer.
Seems to me that our poor defensive record may be down to the fact that we have not been retaining possession and therefore putting our back-line under constant pressure. Amazing when we were dominating & attacking last night that our defenders looked more assured and were mopping up Chelsea's clearances.
Keep it up Rhino.
Ray Roche
228
Posted 26/10/2017 at 13:07:58
David, #223
Gueye was suspended for last night's match and I would imagine Unsworth thought that Lennon would give Kenny a bit more defensive cover than Lookman would, rightly in my opinion.
As for Chelsea's 'B' team, we had finished with Lookman, Kenny, DCL, Baningime, Davies, all Under 23 players yet we had them on the back foot for the second half. Along with Lennon and Mirallas, you could hardly call it OUR 'A' Team yet we more than gave them a game.
I watched all the match and we deserved whatever ovation came our way for the manner in which we took the game to Chelsea in the second half. Not "happy losers" but fans appreciating a tremendous fighting performance, especially considering the crap we've witnessed this season.
Ray Roche
229
Posted 26/10/2017 at 13:09:48
Brent, #213, when did you get so brave?
Tony Marsh
230
Posted 26/10/2017 at 13:19:32
Good signs last night my only gripe was Rooney up front on his own. It's never going to work playing Rooney in that role he need runners to play in.
We showed fight and determination after going a goal down something which has been lacking all season. No shame in Losing at Chelsea especially with a good performance. Benigime looks a decent prospect I would keep him in on Sunday.
David Morgan
231
Posted 26/10/2017 at 13:19:36
Ray why isn't it our A team though? (theme tune in head). Chelsea B were beatable and its a cup? I thought we wanted those?
Unsworth says he wants the best for Everton, that equals a cup. He wants the job and see's Leicester as more important for his job application, that's best for him not Everton. I would do the same mind. We would all like to manage Everton. My mistake on Gueye, just illustrating that wasn't a first choice side.
Colin Glassar
232
Posted 26/10/2017 at 13:20:59
Ian 224, I read somewhere (can't remember where) about clubs like Everton, Arsenal, rs, Spurs etc.. are quite content to be in the top third and challenge for the occasional cup final appearance.
It's part of their business plan ie stay in the black making a nice little profit and just keep things ticking along nicely.
If you want to challenge, really challenge, for the title then you have to spend 100's of millions every season and get the best players on the market.
As a dreamer I hope that that isn't the case (see Leicester) but it's becoming next to impossible to compete with these super rich teams who are in a different financial dimension. That's why I'll be cheering on Spurs this season to win the title.
Jonathan Miller
233
Posted 26/10/2017 at 13:27:51
For the first time last night since April I was excited watching Everton. Unsworth has got a "Massive job" on his hands to turn 18 points from the last 19 Premier League games into a winning force.
For me Everton were on the front foot second half so whatever Unzy said at halftime made a difference which is more than I can say for any of Koeman's half-time talks!
Unzy has said he wants to play the Everton way, he knows what the fans expect and for him this would be the best job in football. Joy to my ears...
Brian Wilkinson
234
Posted 26/10/2017 at 13:28:48
Couple of comments saying not Chelseas strongest team which is a fair comment, but Chelsea have enough to even have a third team, the side Chelsea put out last night was still a strong second 11.
Have a good look at the Everton team, two youngsters in midfield and the third coming back from a long term injury, add to that two fringe players in Lennon and Mirallas, both not played a lot of games this season, so anyone saying Chelsea did not play their first team, add to that Unsworth only had just over a Day to-sort a team out, he did bloody well with the team he put out.
Going back you look at Arsenal when they played a second string in the old league cup, they had some decent youngsters, same as Chelsea have now, so I would dismiss this Chelsea did not play their strongest 11 and instead put cart horses and crocks in.
Unsworth like I have said previously needs to be given time before we jump into a new manager.
Said it Monday and will stick by my comment that We already have the manager here in Unsworth, all he needs is time and he will get Everton back competing and going for wins.
Have a good feeling one I never had when we got Martinez and even Koeman, but with Unsworth, we have someone within the club who knows what Everton is all about and will bust a gut to get this team winning again.
Winston Williamson
235
Posted 26/10/2017 at 13:37:02
Personally, I hope Unsworth keeps the same team for Sunday (fitness permitting). We must need consistency? instead of continually chopping and changing?
Players who did not play yesterday must now earn their place back in the team. On merit, not reputation.
I'd be very happy for Unsworth to continue in the role of manager, should we continue to improve like yesterday.
The best bit was our heads not dropping after going a goal down. Even at two down we kept going and deservedly got a goal back.
Andrew Keatley
236
Posted 26/10/2017 at 13:55:44
Find myself in agreement with David Tennant (163) about Unsworth.
Getting a proven manager makes a lot of sense. But proven managers all had a first management job where someone took a risk on them, and I feel like we would be in good hands if we took a risk on Unsworth. He is largely thought to have done a fantastic job with the Under 23s, has been part of this football club for a long time, and is a local lad. He ticks a lot of boxes - but being permanent manager of the first team at a professional club is not one of them. He has been part of management teams at Preston, Sheffield United and Everton - and has been involved in coaching for the last seven years.
I can understand the appeal of trying to attract an experienced and successful top-level manager like Tuchel, Silva, Ancelotti, Bielsa, Pellegrini, Mancini etc, but in my mind that would be another sort of risk. I feel like we need someone who, if they make a success of the job, will still be here in five years. I don't believe that any of those other managers would - they'd be chasing bigger jobs as and when they came into view (or be retiring). It was going to be the same with Koeman; he was already salivating at the prospect of moving on from us to Barcelona when he accepted the job.
Unsworth might not be the fashionable name in the frame, but he might just be the right one for this club right now.
Derek Knox
237
Posted 26/10/2017 at 14:01:17
Have watched that goal by Rudiger several times and although it appeared a good goal, which it was, he was falling backwards, when he made contact, otherwise the ball would have gone over the bar.
Not making excuses post mortem, but I think when all things taken into account, we did not so bad, can only improve.
I agree that Rooney looked a spent force after the first half, should have been subbed earlier, imo, Siggurdson and others obviously kept out with next game in mind, good managerial move by Unsy, you don't put all your eggs in the one basket.
After all, a Cup would be nice, but Prem is the bread and butter, and will also be a good indicator of how Unsy can adjust from one competition, to a slightly different one.
Apart from the striker situation; which had nothing to do with Unsy; no matter who was in charge; would have the same problem till January.
It wouldn't bother me if Schneiderlin, Klaassen and Martina; never played for us again; but what a waste of money that could have gone elsewhere.
Ray Roche
238
Posted 26/10/2017 at 14:03:54
David#231,
I doubt very much if Keane, Holgate, Martina etc would have improved the performance considering the way they've performed recently. Sigurdsson might have been an option but I also think Unsworth was showing some of the 'regulars' how it's done using the young players as an example.
Saying that, Banigime played as well as any of our midfielders has this season and I would certainly start him ahead of Schneiderlin or even Gueye on Sunday.
Last night, Chelsea got lucky, we hit the bar and had one kicked off the line, they brought their big guns on second half because they had to. They're still Champions remember and were on their own pitch
Derek Knox
239
Posted 26/10/2017 at 14:07:44
Colin@ 232, forgot to mention, I had never had you down as a turncoat. :-)
Ray Smith
240
Posted 26/10/2017 at 14:09:50
Unsworth for me.
He above anybody else will know whether or not we need a proven goal scorer, and if so get one lined up now for the January window.
Ross would sign his new contract.
Even Graeme Souness says he's the right man!
Neville Southall all but naming him is (my interpretation) suggesting him.
It's win win in my book. Money cannot buy what Unsworth has.
It's worth giving him the job for the rest of the season at least. What is there to lose?
Christy Ring
242
Posted 26/10/2017 at 14:26:05
Dave 223# Get a grip Dave, it was his first match for God's sake.
In Guardiola's first match as manager of Barcelona, they were beaten by Numancia, who were relegated that season!, the rest is history. I'm not comparing both, but to say Unsworth is not a smart manager, because he didn't play the players you wanted, and you didn't know one of them was suspended, enough said.
Ernie Baywood
243
Posted 26/10/2017 at 14:47:52
Do we actually need to make a definitive call on Unsworth right now?
We can go through a process but if he's doing well there's no urgency at all.

David Morgan
244
Posted 26/10/2017 at 14:47:54
I said I didn't want a manager who would just battle, have no ambition and have no brains. Going out of cup playing some squad men is not as ambitious as I would like, in comparison to the summer spending and new targets.
It's not about picking my fave players, its about picking the strongest team and it had Williams in it, so it clearly wasn't. I am asking will he have the brains to add to his battling nature, showing some tactical nous? Yes it's game one, so he gets time to show us all and I want him to do well.
Just because I don't agree with you doesn't mean you have to be rude. Alan Shearer was Mr Newcastle and took them down, lets not get clouded by our liking of the man.
Ray Roche
245
Posted 26/10/2017 at 14:50:39
David, do you think that any of the players who were left out would have improved the performance last night?
Who would you have played, and who would you have dropped from last nights team.
Bearing in mind the second half was the best I think we've played this season.
Sam Hoare
246
Posted 26/10/2017 at 14:53:37
I don't think there many (if any) players missing last night who have merited a certain first XI place. Siggurdsson and especially Keane have been very disappointing and Holgate is not as good a RB as Kenny in my opinion.
Brian Murray
247
Posted 26/10/2017 at 15:03:14
Unsworth has to realise and fast that any call he makes be it selection subs or management has to be spot on if he's to really impress. No dithering like the last 3 idiots. Case in point: Rooney should have been hooked a lot sooner... if on at all.
David Morgan
248
Posted 26/10/2017 at 15:10:30
Keane for Williams, Lookman for Lennon, Vlasic for Mirallas. Rooney perhaps isn't best in striker any more too...errr thats off the top of my head based on last nights shape.
I was happy to see no Martina and is Schneiderlin injured? I am not a fan of him either. Perhaps there is a striker or centre back in the u23's I don't know of, who could have come in for either Rooney or Williams if the alternatives aren't good enough.
We need to sell and recoup some cash in Jan but I worry we wont buy speed and skill and buy battlers. I hope I am wrong.
Brent Stephens
249
Posted 26/10/2017 at 15:15:26
Ray 229. Not brave, Ray. Being held captive.
Paul Holmes
250
Posted 26/10/2017 at 15:21:15
The old saying 'you cant beat youth' may ring true for the future of Everton.After Koeman proving that money does not guarantee sucess Everton should adopt the Unsworth model that won the U23 league beating the top youngsters of City,Utd,Chelsea,Arsenal etc.. .We have 5 players that have a U20 world cup medal.The team needs to be built around these kids,and get Dowell back from Forest as he's too good for the championship,he should be our number 10.
Dave Abrahams
251
Posted 26/10/2017 at 15:29:22
Jay. (109), I like Tom Davies, as I think you do, but he could take a look at how Beni reads the game, cool, calm and collected, no mad diving in and rarely wasteful when parting with the ball, like Colin Harvey he will not score a lot of goals but will bring class and steadiness to the side, Tom brings energy and movement to the team and he will get better the more he plays, and the better the team gets so will Toms improvement.
I managed to catch the highlights, thanks to a fan on here, and saw Beni's tackle ball control and pass, loved it and long may he stay and show his football ability with the Blues.
A defeat but we showed some pride and the confidence level should rise after that second half performance.
Jay Wood
252
Posted 26/10/2017 at 15:32:42
David Morgan (various).
Surely you are applying flawed logic to your thinking when continuing to argue "going out of cup playing some squad men shows a lack of ambition" by David Unsworth?
Have you seen us play this season up to last night? The very players you are seemingly arguing to be included against Chelsea are the very same players who, by and large, have been absolute DROSS!
The Gueye and Schneiderlin changes were forced on DU. The players he called in to replace them didn't do half bad, did they? He played 4 of the regular defensive back 5 and played Kenny as his 5th option. The alternatives, presumably, were Holgate or Martina. Not too radical there then.
He addressed the lack of potency that has been so evident in the side all season, ensuring throughout the 90 minutes there was a 'doubling up' of players down either flank. Kenny with Lennon/Lookman, Baines with Mirallas.
He brought on timely subs which were like for like and so didn't adversely affect the balance or momentum of the team. Rather, they gave even greater impetus and threat.
Unsworth achieved all this in less than 48 hours, in which time they also travelled down to London, leaving him little or no time to prepare or work with the team.
As such, it was a performance to encourage and restore some much lost hope and pride in the team, the club, the players.
I 'get' the argument we may benefit from a proven, higher profile manager.
I also consider there is nobody - nobody on the entire planet at the moment - who has as much in-depth working knowledge of the players in both the senior and junior ranks and who could best step up and do a job for us than David Unsworth.
A couple of links worth viewing.
Beni Baningime speaking about his debut. This lad appears to have his feet very well-grounded, but also exudes a quiet self-confidence in his own ability. See his eyes light up at the end when told Joe Royle told the interviewer he thought Beni's was one of the best debuts he had seen in his 50 years association with the game.
Kevin Mirallas speaking positively and contrasting life under Koeman compared to working under Unsworth.
These are both available on the official club site and you may have to register/login to view them. There are also two post-match interviews with DU himself.
ALL are making the right noises about the team, IMO.
Ray Roche
253
Posted 26/10/2017 at 16:04:23
Brent, are you trying to tell me she wants you for your body?

I remember one girl telling me she dreamt of my body.

She dreamt the Police were asking her to identify it
Ray Roche
254
Posted 26/10/2017 at 16:15:21
David#248
Schneiderlin was 'sick' , Keane has been below par...see? Running out of options. Unsworth picked probably the best team at his disposal, and one which put up our best performance of the season so far. I don't think that there can be any criticism of him.
The under 23 central defender is Pennington who is on loan at Leeds and has done well for them. He has been injured and came back last weekend.

Raymond Fox
255
Posted 26/10/2017 at 16:16:14
David is 2/1 favourite for the managers job, but built into that price is if he is caretaker boss for 10 competitive games he is deemed the winner.
Looking at the market there are nobody being gambled on yet with money from in the know/insider information, so its pretty safe to say that the powers above have not yet made their mind up or squared it with any other potential Everton manager.
Our match on Sunday- Leicester 11/10 Everton 5/2 draw 11/4.
Anyone really fancying us I think 5/2 is a semi decent price.
Having said that King Power Stadium will be bear pit, which could be good for a goal start for them!
Vardy and Mahrez take some marking so its bound to be a difficult day.
Christy Ring
256
Posted 26/10/2017 at 16:22:59
Jay 252, Good post.
Guardiola was elevated from Barcelona B coach, to take over the first team, a huge ask, especially a massive club like Barca', so isn't it great to give David a chance. The change in 1 game has been massive, a lot more positive approach from a man who has so much knowledge of the club he loves. Don't underestimate Unsworth, he won't be afraid to make big decisions, and like last night, pick the team he wants. I was very impressed with his comments about Barkley, and come January, with him still the boss, a left sided centreback, a left back if Garbutt doesn't make it, and a No.9 will be on his wishlist.

Mark Riding
257
Posted 26/10/2017 at 16:25:21
Jay #252. All carefully scripted videos and tweets from the club. Stinks of Kenwright. Unsworth coming out pre Chelsea with loads of 'we need to win games' etc. Then he goes and starts Williams and Jags.
None of the big clubs in this league, who apparently we are now competing with money wise ( our net spend doesn't reflect this, but let's go with it anyway ) would even dream of giving the managers job full time to an untried manager. We are still plucky little small time Everton, and always will be until Kenwright and Elstone do one.
Brent Stephens
258
Posted 26/10/2017 at 16:26:48
Ray 253. She doesn't want me for my mind, she tells me. She can have my body, sans teeth, sans hair, sans everything!
Brent Stephens
259
Posted 26/10/2017 at 16:30:04
Type or paste your comment here. PLEASE capitalise initial letters of proper names and use proper grammar. No txt-speak; all-lowercase posts are likely to be deleted
Robert Workman
260
Posted 26/10/2017 at 16:45:07
Our last 3 games at Stamford Bridge have see us hold them for 20 minutes then, on each occasion, concede a goal before the half hour. In the previous 2 games we never looked like getting back into it. Last night was completely different and with a bit of luck, better finishing and a lesser goalie, we would have made that statistic irrelevant.
Mick Davies
261
Posted 26/10/2017 at 16:47:54
Denis Richardson @ 124. What a ridiculous assessment of McCarthy: he hasn't played for nearly a YEAR, yet was more influential than Schneiderlin has been all season. His defensive stability in the 1st half gave us the increasing confidence and a platform to build on in the 2nd. He was tackling like he'd been playing all season and his shouting at others to mark up and get into position makes me feel he has more right to the captaincy than Jagielka, who meanders around at corners, not telling anyone to mark up (hence the unmarked Chelsea player for their opener) or to stay on the line. If you think all team members should be playing Messiesque passes to the front players, or scoring like Kane, then you have a very immature of the game.
It's a good job Unsworth values players like James, who leave everything on the pitch, despite their lack of goals and 60 yard pinpoint passes. I also think Tom and young Beni were grateful to have someone as determined to not let the opposition play as he was beside them

Phil Walling
262
Posted 26/10/2017 at 16:49:52
After the last two comedians, I've had it with so-called 'high profile' experienced managers. Projects, philosophies, possession and pressing have all been tried to little or no avail - certainly in the longer term - and it's good to get back to some ordinary bloke whom we 'know' and relate to.
More importantly, he knows us, respects our traditions and is not just here to make a killing on the way to Barcelona.He may not be what some of the 'Johnnies come lately' will take to but on what we've seen of them so far, hurrah to that and on yer bike !
Everton just got back to basics and about fecking time, too !
Clive Mitchell
263
Posted 26/10/2017 at 16:59:29
Mark, 257, who's your favourite comedian?
John Pierce
264
Posted 26/10/2017 at 17:05:11
Phil I'm going tack on from rhe endof was hat post.
We should as a fanbase realise we've taken several steps back. I think the depth of damage Koeman did, is yet to be uncovered.
Sure the board are accountable too for not holding Koeman to higher standards. That has to change, the DoF whether or not the relationship is good or bad needs the coach to report to him as the boards representative.
In the light of the fiasco but thats being polite, we need to return to a more fundamental approach. I guess that why Unsworth feels the right choice.
He knows the squad and is likely to gain trust/buy in much more quickly that a domestic manager (Dyche), and certainly more than a brand new foreign coach (Tuchel).
I will say I'd have no issue with Tuchel, I hope if thats the case Unsworth is promoted to first team coach.
Mark Riding
265
Posted 26/10/2017 at 17:05:36
Clive. Ashley Williams makes me laugh. You ?
Andy Meighan
266
Posted 26/10/2017 at 17:12:30
I'm afraid I've got to agree with Carl (122). Yes, this season has so far been abysmal but it's like we are celebrating a 2-1 defeat. Is that how small we've become? Getting away with a narrow defeat means some sort of progress? No, sorry, not for me.

Yes, the 2nd half was a big improvement on this season's performances but we still lost the game to Chelsea's second string. I could weep when I see the mess Koeman has left and the money he's pissed away.

The clocks haven't even gone back and our season is shot to bits Believe me, it's going to take a Herculean effort to pull away from the foot of the table with this squad.
Gary Edwards
267
Posted 26/10/2017 at 17:53:32
Didn't get the chance to watch the game but reading lots of positives on TW and general footie sites.
Early days but I hope the "managing the U23's is a far cry from managing the 1st team" brigade reserve their negativity, perhaps even get onboard the Unsie train and bring their much needed bon homie.
As a long time observer of Unsworth's work I feel that given time he will implement the same system that the U23's play and it will be effective. Siggurdson will not fit in that system, we'd be best served selling him on. I see Bolasie thriving under Unsworth until he gets injured again. We still need a top quality striker but Niasse thrived under Unsworth before, maybe he can do again.
Also those that constantly bleat "he's still a kid" or "1st team is a different game" . sssh. Beni has been worthy of his opportunity for some time wait for Unsworth to get the buzzing midfield going with Beni at the helm, there will be points.
Also look out for Geithin Jones partnering Kenny on the right then see the best of Kenny. Also get Antonee Robinson back from Bolton pace, lots of it at LB / LWB. Henen looks hungry and deserves a chance . and Liam Walsh. Feeney for Williams every day of the week. I can't help feeling that we need Funes Mori back quickly as he gives the back line a more balanced look and a threat at attacking corners.
it may also be that the time is nigh for some of the senior pros to step aside and let youth have its chance. Jagielka and Baines have been average at best, sometimes a liability for 2 seasons plus. I'm not convinced that there's is a positive presence any more.
I feel optimistic now . happy that Koeman has gone. The icing on the cake would be Kenwright cashing up.
Ray Roche
268
Posted 26/10/2017 at 18:03:20
Brent#259
There doesn't seem much of you left
Lawrence Green
269
Posted 26/10/2017 at 18:04:57
Everton are not the only 'plucky little club' in the Premier League, it is sadly the truth that only six clubs have any real chance of having trophies displayed in their cabinets or of attaining a place in the over-rated yet much sought after Champions League. Leicester City did show what can be achieved when everything falls into place, but where are they now?
When the draw was made for the Carabou cup or whatever it's called and Everton landed Chelsea very few if any of us thought that we would make it to the fifth round, whilst it's dissapointing that we aren't, it isn't exactly a shock. It'll be the same in 2018 when the FA Cup begins for the Premier League teams, if Everton manage to avoid the big six and manage to beat any of the minnows they may face along the road to Wembley, it will be in the knowledge that an away tie at one of those big six will signal the end of the Wembley dream.
Had our European campaign seen better results it would only have delayed the inevitable knock-out via one of Europe's powerhouses.
It's all very sad but without extremely serious money and the ability to spend it the game has no place for glory hunting romantics.
The only thing that has put me off David Unsworth being made full time manager at Goodison is his reference to the Chairman being on the phone to him at such regular intervals. Does Levy talk to his manager on the phone all the time? How about Abramovich and Conte, does the Oligarch interrupt the Italian's family meals? Perhaps Wenger has to put down his very interesting French novel in order to satisfy Kroenke's need for constant updates? Mourinho no doubt has to leap in and out of his luxurious bath to ensure that the Glazer's are fully informed of which United players are training and which aren't.
If anything makes Everton look like a 'plucky' little club it is the Chairman and his inability to leave the manager to get on with things. Have planned formal meetings or even an update once a week, that should be enough Mr Chairman, leave the football to the professionals.

The band plays on but dissatisfaction with the Premier League is growing
Brent Stephens
270
Posted 26/10/2017 at 18:13:43
Ray all that's left of me is hope and stupidity.
Phil Walling
271
Posted 26/10/2017 at 18:14:30
From what I've seen of Farhad's football knowledge, so far, I'm happier with Unsy talking to BPB every day rather than our so called moneyman.
Never thought I'd say that !
Mark Riding
272
Posted 26/10/2017 at 18:19:32
Our 'moneyman' and ex big shareholder in Arsenal Football club ? Aye, he must no nothing about the game Phil.
Phil Walling
273
Posted 26/10/2017 at 18:33:14
Moshiri had absolutely no voice or part to play. He was merely an Usmanov proxy voter !
Mark Riding
274
Posted 26/10/2017 at 18:35:28
Well let's hope he becomes an Usmanov proxy voter at Everton Phil.
Ray Roche
275
Posted 26/10/2017 at 18:40:01
Brent, I've got one of those
Derek Knox
276
Posted 26/10/2017 at 18:40:03
Brent @270 that's one more than Pandora was left with, however I don't think the latter is an admirable quality, please tell me It's one that you've worked on, and doesn't come naturally. :-)
Brent Stephens
277
Posted 26/10/2017 at 18:48:57
Derek, I'm working on it! Little comes naturally these days or when you want it.
Dave Williams
278
Posted 26/10/2017 at 18:56:19
James # 89- Bob Paisley had never managed before. Add in Dalglish for that matter.Mourinho was an interpreter for gods sake. They all have to start somewhere and I'd prefer an enthusiastic young manager who has proved himself at U 23 level ,was a vastly experienced top division player and knows the club inside out to some other mercenary who couldn't give a toss about the club.
Dave Williams
279
Posted 26/10/2017 at 19:01:02
Has anyone posting about BK ever actually talked football with him?
I have and believe me he has a vast knowledge of the game and how it all works.
Fair criticism please not fiction based.
Mark Riding
280
Posted 26/10/2017 at 19:06:34
Nice one Dave. Did Bill tell you resigning Rooney was a good move as he was the best striker available this summer for £150k a week ? Or did he well up, and start talking about Dave Hickson ?
Dave Williams
282
Posted 26/10/2017 at 19:16:01
Everyone can make mistakes Mark. That said he is our top scorer with five goals in around ten or eleven starts so not a total disaster. I'd reserve judgement on Wayne until we can field a decent balanced team around him. At present I'd say he's been one of our better players though admittedly that doesn't say an awful lot.
Mark Riding
283
Posted 26/10/2017 at 19:22:31
Dave, I never suggested he was a mistake. I will say that his resigning stinks of sentimentality from Kenwright and maybe, just maybe appointing Unsworth will as well. Jobs for the boys. We are now full to the brim of ex players. The boss centre forward coach Ferguson, Everton midfield maestro Ebbrell.. And who can forget the ever loyal Everton record goalscorer Francis Jeffers
Dave Williams
284
Posted 26/10/2017 at 19:24:26
Fair comment Mark- I guess time will tell.
Christy Ring
285
Posted 26/10/2017 at 19:26:42
Mick @261 Great post, couldn't agree more, and the extended break should have him back to his best.

Jamie Morgan
286
Posted 26/10/2017 at 19:37:35
Hmmm 8 teams in the hat and the sky darlings all conveniently miss each other!!!
#warmballs
Joe McMahon
287
Posted 26/10/2017 at 19:38:40
I thought David Unsworth (don't like the Rhino name) shown some imagination with team selection last night, certainly best he could with what we have. However if it's David or not our next permanent manager not only has to address the lack of goals but the defence is awful. Without Coleman (who may never be the same) they are pathetic. Phil J is still useful in the squad but Baines is nothing but a liability, and has been since the last world cup (he never have been there either). Yes good in the days with Pienaar it was superb, but that's years ago. Leighton Baines should also be at Sunderland, and Galloway back here.
Will Mabon
288
Posted 26/10/2017 at 19:41:10
"
After the last two comedians, I've had it with so-called 'high profile' experienced managers. Projects, philosophies, possession and pressing have all been tried...
"
...and not to forget "Productivity".
I agree, Phil. As far as I'm concerned, a period of consolidation and repair of the basics, even if it means several months at just 17th or above in the table, is preferable to jumping back on the bandwagon for a "Top" manager.
Mark Riding
289
Posted 26/10/2017 at 19:48:10
The last 'comedian' finished 7th, got us into Europe and until last night we were still in the league cup.
We are playing shite like, but let's not be silly.
Tony Hill
290
Posted 26/10/2017 at 19:52:47
I don't think Unsworth is tough enough for the job now (though I was initially in favour) but if he can build a team despite the gushing shite of Kenwright then he will have done the club a massive service. That's what we need; a hard bastard who will ignore the nonsense from on high.
Is David that man?
Our model should be Atletico Madrid: cool, tough, self-contained, and mixing home-produced with young foreign talent. In fairness to Walsh, I think that's broadly his programme. But, above all, we have to become much harder-edged in our culture, with a manager who doesn't give a shit about the theatricals.
Beningime, fantastic prospect. He just looks like a footballer, like Colin Harvey did as soon as you saw him as a kid (as Dave Abrahams notes). Lovely balance and movement and exactly the sort of toughness we need.
Win against Leicester and we just might be on to something. Come on Unsy, drive a stake through the vampire's heart.
Mark Riding
291
Posted 26/10/2017 at 19:56:22
Tony. #290. Bang on. That's our perfect model. Moved ground as well.
Tony Hill
292
Posted 26/10/2017 at 20:21:10
It would have helped if I'd spelled Baningime's name correctly. Apologies.
John Keating
293
Posted 26/10/2017 at 20:25:26
I don't know about a striker but another priority is left back. Love Bainsey but he was skinned time after time last night. The young Celtic kid, Tierney in as soon as the window opens.
Steve Ferns
294
Posted 26/10/2017 at 20:31:53
What about Luke Shaw, he'd be available for a knockdown price and Utd owe us a favour or two.
Tony Everan
295
Posted 26/10/2017 at 20:33:14
when our boys get some wind in their sails they will become unstoppable.
Pickford ,Tom , Vlasic , Beni , DCL, and Dowell are top players in the making. Lookman stands out to me as being a special footballer, will be a fantastic signing for us .We are looky to have him . No wonder Wenger is sniffing.
We have got the making of an outstanding young team , in a couple of seasons time these lads can win the league.
I am warming to the reasoning that David Unsworth maybe the man to harness this young talented force and combine it with experience into the first team.
We lost against Chelsea , but something was different , the players had an attitude. A belief. It is infectious.
I am optimistic we can push on in the same vein, and get some good results.
Steve Ferns
296
Posted 26/10/2017 at 20:36:51
I agree Tony, and as long as he picks up enough wins to put us safely in midtable, who cares really if he doesn't quite deliver what we hope, IF and only if, he does a Tim Sherwood and leaves the next manager with a good young side to build on. We'd just need to find a Pochettino, which could well be Silva. Doesn't look like Silva will come now, but maybe Unsworthy until the summer and get Silva in then if he comes up short. We can also get big Sam, Sean or some other relegation dog fighter in January if we keep losing.
John Pierce
297
Posted 26/10/2017 at 20:46:56
Mark, if you think last season was acceptable from that comedian then maybe you're playing the funny man?
Lets not be silly?! I can't agree with that.
Two cup exits at home to poor teams? Two embarrassing Derby defeats.
We didn't 'get' into europe that would be fifth/and higher or a cup win. We scraped in via others successes.
Everton's 7th is the MINIMUM we should have expected as we are the 7th best resourced team.
The team performance wise were moribund, Lukaku saved his ass, he said as much in his interview yesterday. Yet had Lukaku been handled well he's have scored 35 not 25 goals.
Man City & Arsenal home the only memorable games of the season.
The bar is far higher than that at Everton, we got 16 months of joyless 'defensive shithousery'.
Can't wait till that fella brings a side to Goodison.
Tony Hill
298
Posted 26/10/2017 at 20:56:22
Tony (#295), I agree about the youngsters. I would add the name of Onyekuru. I will be really pissed off if he's just sold on. Surely not? Imagine him and Lookman working together.
It is indeed exciting potentially, we just have to batten down the hatches and scratch the points together for now. A cup run would be lovely but if we finish mid-table from here, and start to show some Everton style eventually, then I'll be very happy.
I was seriously thinking about whether to renew my season ticket for the first time ever if Koeman stayed; but not now. There's too much to look forward to.
Mark Riding
299
Posted 26/10/2017 at 21:01:44
John, Koeman got a shite team, inherited from Martinez into Europe last season. This is a fact. Was the footy shite ? Maybe. If you want to be entertained, go to the cinema. Watch a movie. I want to win games and trophies. Not arsed how. There's lads who are in their 20's now who've seen us win fuck all. Should Koeman have been sacked ? Yes. Is Unsworth the choice to paper over the cracks for our board. Yes. Cos he's a blue like, gets the club and everything.
Dave Abrahams
300
Posted 26/10/2017 at 21:05:40
I don't know if David Unsworth will get the managers job permenantly and I wouldn't worry if he speaks to Kenwright ten times a day as long as he stays his own man.
Yes I've spoken to Kenwight, asked him (politely) a simple question about transfers, he tried to browbeat me, I wouldn't have that, asked him again, more waffle, and then he got onto Dave Hickson, saying he wished Davie was eighteen again, I asked him why as Davie never made his debut for Everton until he was around twenty one, a bit more nonsense out of him until I left him to it, he was acting all the time I spoke to him, never ever met an Evertonian like him in the long time I have followed the Blues, not appologising for this rant but Kenwright makes me want to vomit whenever I see his face or read about his love for the Blues, not one of us, or not like any of the thousands of genuine Evertonians I have met.
Tony Hill
301
Posted 26/10/2017 at 21:14:29
Brilliant, Dave (#300). Gets to the heart of the falseness and patronising bullshit we've had to endure for far too long.
Kevin O'Regan
304
Posted 26/10/2017 at 21:30:01
For some reason I'm not as pessimistic anymore about our lack of striking options. If we have DCL, Lookman, Niasse and Rooney working hard it gives us options and of course if and when Sandro gets going then there is plenty of goals in the final third.. obviously still not able to replace Rom but it should never be down to one person to score goals anyway.. we relied far too much on Rom and now we need everyone apart from the keeper to be able to play their part in the scoreline. Nice tackling from Beni last night.
David Johnson
306
Posted 26/10/2017 at 21:53:07
Unsworth's credentials are good having won PL2 with an inferior squad. Some will argue with that but it's a fact that the City's, Utd's and Chelsea's of this world scoop up the best kids as well as the best first team players. No disrespect to Lewin but he's still learning the game and Rooney's best days are behind him. The board failed Koeman big time and now Unsworth will have to live with the consequences too. Our board flirted with a big time manager but couldn't hack it cos basically they're just cheap bastards. Give it to Unsworth if anyone can make a silk purse from the sow's ear our board provides it will be him and he'll do it with passion.
David Johnson
307
Posted 26/10/2017 at 21:53:34
Unsworth's credentials are good having won PL2 with an inferior squad. Some will argue with that but it's a fact that the City's, Utd's and Chelsea's of this world scoop up the best kids as well as the best first team players. No disrespect to Lewin but he's still learning the game and Rooney's best days are behind him. The board failed Koeman big time and now Unsworth will have to live with the consequences too. Our board flirted with a big time manager but couldn't hack it cos basically they're just cheap bastards. Give it to Unsworth if anyone can make a silk purse from the sow's ear our board provides it will be him and he'll do it with passion.
David Israel
308
Posted 26/10/2017 at 21:56:15
On the subject of Unsworth's continuity, I'll make a couple of points:
If Bill Kenwright was still running the show on his own, I am pretty sure he would either appoint Unsworth, or someone like Dyche/Howe/Silva (if he could poach them);
Given that Bill Kenwright is certainly no longer running the show on his own, my hunch is that Farhad Moshiri will prefer someone with a better pedigree, like Ancelotti or Tuchel (if they're willing to listen to him, of course).
I am sitting on the fence on this one. The arguments against Unsworth, because he is untried, or that nobody with his profile has ever been successful, are not that strong. Not wishing to give examples from across the Park, Bertie Mee, if I remember correctly, was Arsenal's physio before becoming a very successful manager (no, I'm not suggesting we appoint the physio). But, a club's ambition is also shown by the sort of manager it appoints, or at least tries to appoint. I doubt if Tuchel would even consider us, and Ancelotti, I'm pretty sure, doesn't want to be bothered with a rebuilding job at an underperforming club. That, I think, will open the door to someone else from the Continent, perhaps Fonseca of Shakhtar Donetsk.
Paul Tran
310
Posted 26/10/2017 at 22:08:39
John #293, if/when Tierney leaves Celtic, I'd love it to be for us, but he'll set his sights higher. One of the best young defenders I've ever seen.
Hope we try, though!
Phil Bellis
311
Posted 26/10/2017 at 22:16:56
Tony, 290
In what way "not tough enough"?
Obviously you are questioning his mental/dealing with millionaire players toughness
For the other attributes, ask Mark Hughes, Wembley Stadium '95

Stan Schofield
313
Posted 26/10/2017 at 22:47:24
There is definitely a lot of hype surrounding so-called elite managers. They are no doubt decent managers, but to get teams to the very top in a sustainable way, these managers all need large inputs of cash. Without that, they tend to be hit-and-miss. Decent, but hit-and-miss.
I'm sceptical about the prospect of any 'elite' manager getting us significantly further than Unsworth. We've just had a so-called elite manager, and he was shite. Klopp across the park is over-rated by the media, who fall for his showmanship, which also fits with their desperately clinging on to the idea that Liverpool are a top club, when in fact they have been also-rans for years.
Unless we get someone like Usmanov to provide the resources to attract top players, we won't get to the very top, whether we have an 'elite' manager or Unsworth. Rather than commit to paying an 'elite' manager mega bucks when there is large uncertainty about the extent to which he'd progress us, let's just give Unsworth a chance, and see how it goes, one game at a time. If it isn't working, then review the situation and act accordingly.
Neil Copeland
314
Posted 26/10/2017 at 22:55:21
I think and hope that EFC will give Unsworth a fair crack of the whip. IMO his credentials are as good as anyone mentioned when taking overall risks into account. Obviously his biggest asset is that he is an Evertonian and will give everything for the club he loves. If that is not enough then so be it, but as I stated at the start he needs to be given a fair chance to shine.
Personally, I think he will do well and am really looking forward to the next few games when tteam selection is going to be fascinating.
Tony Hill
315
Posted 26/10/2017 at 23:00:56
I think he may be too embedded in Kenwright-Everton, Phil (#311). All the soggy stuff. Really good managers now have to be able to override millionaire dressing-room cliques and sulkiness and indolence. I'm not convinced David is like that - I suspect he's an instinctively thoughtful and generous man who will come up short in the premier league.
I profoundly hope that I am wrong because I would love to see a man of Unsworth's good character succeed. But he's expected to do so in an especially nasty environment and at a very nasty time for the club.
Mark Morrissey
316
Posted 26/10/2017 at 23:08:23
Paul Merson said tonight he hated playing at Goodison. It was always blood and thunder, the crowd were on you from the start and you never got time on the ball. He said we should give the job to would Unsworth, he's a blue and he knows the players from top to bottom in the club. He spoke admirably about us and it would seem most pundits are now warming to the idea of Unsy. I also saw the piece to camera that Claude Puel did for the Leicester fans. Fuck me, I nearly fell asleep and they can have him. Give the job to Rhino, forget you Puels, your Cappuchinos and your Garribaldis. Lets go British and show Klippetty who's Boss !!!

Jamie Crowley
317
Posted 26/10/2017 at 23:13:16
Ray all the way back @191 regarding Kenny -
Yes, Unsy was complimentary of Kenny. I hadn't seen his comments when I posted.
I did notice on my stream, I heard Unsworth audibly say (it was picked up on the microphones) something akin to, "good ball Jonjoe" multiple times.
I think Unsy "likes" Kenny as a person and player. I've no quantifiable evidence to back that up at all. Just a feeling based upon multiple "atta boy(s)" I heard from him, and how he speaks so positively about the young man.
Here's the thing. I think he needs more experience. If Unsy trusts him, that's good enough for me. And quite honestly I thought the right mid for Chelsea - dude with the 'stache - was absolutely fantastic. So he was up against one hell of a player, and one I think (?) Chelsea just brought in, so the 70s porn-look-a-like was looking to impress. It was a difficult assignment for a young player in Kenny.
He did fine. He's got a future. He has to improve though. Settle down. Fluffing that golden opportunity with that shot as an example.
But under the circumstances he did just fine. Just has to improve.
Jamie Crowley
318
Posted 26/10/2017 at 23:22:17
One absolutely massive sign of hope in my opinion.
We didn't give up.
When we went down 2 goals late in the game, we didn't just pack it in. We didn't give up and say, "well, good effort let's get 'em next game."
We actually went and scored.
That's the commitment and effort and never-give-up attitude I want to see.
And I think that goal alone shows everyone that a David Unsworth lead squad will not lie down and quit.
And that's all I ever want out of my team. As Dory and Marlin in Finding Nemo said perfectly -
Keep swimming. Keep swimming!
https://www.youtube.com/watch?v=ulucJnxT7B4
Gerry Ring
319
Posted 27/10/2017 at 05:38:05
John #293 Dead right about Tierney. Perfect fit for Everton.
Ian Hollingworth
320
Posted 27/10/2017 at 07:46:58
Will the board back the manager whoever it is?
Unsworth will get more backing and longer from the fans and therefore the board will get away with it for longer.
Harsh facts are we have not won a trophy since 1995 and do not look like competing at the top of the prem for the foreseeable future with current squad.
Kenwright is the real problem at our great club and we are kidding ourselves if we think it will change whilst he is still running things.

Phil Walling
321
Posted 27/10/2017 at 08:25:41
Tony @315 . Of course we don't know how Unsy will fare over time but that is just as true of the more experienced managers given a different club and players.
I'm not sure that these highly paid geniuses have to do much more than keep a lid on things as most of the problems they encounter seem to be of their own making.
So many on here said you couldn't judge Koeman until he had his own team. And a load of shite that turned out to be !
Derek Knox
322
Posted 27/10/2017 at 09:33:22
Well said Phil, it always seem to be fashion for a top Club to go for the most high profile, and huge salary demanding Manager.
In some cases Guardiola, Conte and Mourinho this is more than justified, as they have achieved at different Clubs in different countries.
How many other pretenders are there? We have just got rid of one.
Let's face it, even the ones I mentioned as being the best, must have started somewhere, and probably not with instant success either, they have learnt as they have progressed.
I am all for giving Rhino a decent run at it, what have we got to lose? If we did appoint someone from outside, he couldn't do anything Rhino hasn't done with terms of motivation, look at the different attitude against Chelsea.
Besides, a new man always wants to build his own team, we have just overspent massively on some good, some bad buys. He would be tied until January the same as Rhino will.
Having said all that, despite the overspend, and mismatches, I think intrinsically we have a good group of players, with a couple of key areas addressed (striker and defence) in January, coupled with the introduction of our home grown talent, we will be more than okay.
An outsider too, would have little knowledge or compassion, about what Everton is all about, and fully understand what young talent we have, another reason why Rhino should be the Man for All Reasons.
Colin Glassar
323
Posted 27/10/2017 at 09:37:09
I recommend everyone read the Jacob Steinberg article, in The Guardian, "And the band plays on" for a bit of perspective and realism (however distasteful).
John Raftery
324
Posted 27/10/2017 at 09:44:20
Unsworth is not the typical number two fall back option who has been shoved uncomfortably into the leading role. He brings experience of being the manager of a successful Under 23 team which has won silverware. He has shown ability to lead and mould groups into winning units, while improving and motivating individual players, whatever their age and status within the club, Niasse being perhaps the most obvious example.
Above all, he meets one key requirement: he wants the job. He wants it not for the money or as a stepping stone to greater things. He actually wants to be the manager of Everton FC.

Tim Taylor
325
Posted 27/10/2017 at 09:52:27
Colin Glassar #323: what an excellent article, if thoroughly depressing.
Len Hawkins
326
Posted 27/10/2017 at 10:15:07
John #324
SPOT ON!
Why get yet ANOTHER "TOP" manager who fails and takes his lottery winners bank account with him. I'd rather see someone who actually feels pride and excitement at being asked to do the job. Rhino did not need £6million a year wafting under his nose to make him interested.
Colin Glassar
327
Posted 27/10/2017 at 10:32:30
Tim, I wrote something similar the other day. Sadly, the elite clubs will (can) just outspend everyone else if they feel threatened. If we spent £140 on our squad Man City can spend a similar amount on TWO fullbacks!
I will never give up hope of winning another league title but when we compare squads, and financial clout, against the top 3 (Man U, Man City and Chelsea) we haven't got a snowballs have we?
Our best hope is cracking the second group but even that is looking like a distant dream unless Unsy becomes the next HK.
Paul A Smith
328
Posted 27/10/2017 at 11:07:54
Colin (#327), that post is nail on the head really. Sadly this is football now. We seriously do need an Usmanov to change our fortunes.
We will be lucky to see a Derby win away for the next 30 years nevermind a trophy A massive club like ours even with a billionaire owner can be cast aside for clubs with no great history and smaller fanbase.
I will look for the article you mentioned. I love a bit of realism thanks.
Tony Abrahams
329
Posted 27/10/2017 at 11:38:50
We live in hope, and that's why I think it should be Unsworth right now. He's played for Everton, and knows what it takes, and he's the one who has worked with these younger talented kids, since he came back to Everton, three years ago.
He came through the ranks, and left Villa, before he kicked a ball for them because he had a chance to rejoin the club he obviously loves. He turned Stubbs down, when he left for Hibs, probably because he was back at Everton?
Jamie C, I like your posts mate but the fella with the tash, was giving Baines the hard time, and I thought Jonjoe was well protected by Aaron Lennon, who must be great to play with from a defensive point of view.
I think Unsworth will like Jonjoe, because he can probably identify with him. A scouse kid who has been with the blues since he was 8/9 years old? Hard worker, doesn't hide, and most importantly doesn't look to pass the buck, which is also something Tom Davies, also possesses?
Hard work will always beat ability, but only if the hard worker also possess ability. I love the attitude of these young kids who are also full of honesty, and think they really need somebody like Unsworth, who appears the same way.
Dave Williams
330
Posted 27/10/2017 at 11:59:25
Tony #329- great post!!
Colin Glassar
331
Posted 27/10/2017 at 12:28:42
Paul A, Usmanov would be our only hope. Only investing £200-300m pa in the squad to catch up with the top 3 is what it will take.
Ash Moore
332
Posted 27/10/2017 at 12:30:20
I usually agree with Colin Glassar, but not this time. You saw what Leicester did. And I've seen Alaves, Bayern Leverkusen, AZ Alkamar and others do similar things. That's the beauty of the game it's eleven men a side and that's it. Rotten Ron's one memorable positive result was a tonking of City! Anything is possible in football.
Basically, Colin, it is difficult and improbable and unlikely...but it can be done. It has been before, it will be again. It can be done. On that happy May day in 95 Colin did it seem possible that the Foxes would win three major trophies including the league before we won a bean?
Did it seem possible when Southgate blasted over that would be the highpoint of the national team for 20 years and counting? Things can happen if you can catch lightning and believe. Unless, unfortunately, you have that sort of Moyes glass ceiling thing happening in which case no it can't.
Dave Abrahams
333
Posted 27/10/2017 at 12:33:00
Tony. (329), I think David Unsworth would have just as much chance of making the Everton job a success as Sean Dyche to be honest. I'm not sure if either is right for Everton, but it is looking more likely that it will be between them as other managers in the running are ruling themselves out.
I wouldn't be upset if Unsy get the job and a plus is he would give more youngsters a chance as you point out in your post, I worry that whoever comes in has been left a very unbalanced squad by people who are supposed to know better.
Colin Glassar
334
Posted 27/10/2017 at 12:43:06
Ash I want to believe, I really do. The teams you named all did the "impossible" or came close but did they maintain it? Where they able to build on their success and repeat it? The simple answer is NO.
Whenever a Valencia, Seville, Villarreal, Dortmund, Leicester, Napoli etc... start to challenge the big boys what happens? The big boys just go and buy their best players!
I want long term, sustainable success and that takes time and money, lots of money.
Derek Knox
335
Posted 27/10/2017 at 12:52:57
Colin, while I agree with a lot of what you say regarding good players costing a kings ransom, they don't just start out as superstars, although having said that, some have innate ability, while others can be late developers.
I still firmly believe there are players out there, who need someone to spot their potential, when they are relatively unknown, ie, Seamus Coleman.
Which brings me to Steve Walsh, I thought he was supposed to be the new Messiah of talent spotting, apart from free jollies abroad, I fail to see what he has added to the system.
I am not sure whether Lookman, who I think is a cracking player; and who can only get better; is attributed to Walsh; or one of the tea ladies who has a cousin in a similar job at Charlton.
I, like you was getting to the stage, where I couldn't be bothered about the next game under Koeman.
I am looking forward to the next game, more particularly who he selects, and furthermore what attitude those he has chosen, display.
Tony Abrahams
336
Posted 27/10/2017 at 12:56:36
Agree Dave, but at least we have only played 9league games upto now.
I think Dyche, would sort the defence out, and he looks like he's got similar values to Unsworth. People say his teams aren't that easy on the eye? But you can only work with what you've got, and the fact that he brought Burnley, straight back-up, shows that he knows how to make his teams competitive. (That's why I want him if it's not Undies!)
Colin posts a lot of realism, but I'm with Ash, and that's why I would prefer Unsworth, because of the work he's already done with our very good group of youngsters. I look at our accademy, and a lot of great work has gone on behind the scenes for years, with another boyhood blue, called Martin Waldron.
He got his chance because he took a talented group of kids into Bellefield years ago, and Everton wanted a few of his kids. He worked his way from there, right through the accademy, and it's probable that Everton, have now got one of the finest academies in the country?
The reason I've gone around the world is simple, it's to say that sometimes it's better to give your own people a chance, because if they get it wrong it won't be because of a lack of effort, and sometimes all's they need is a chance because they can do a better job than anyone else?
Ciaran O'Brien
337
Posted 27/10/2017 at 13:21:33
I've been thinking.
David Unsworth will bring back passion to the cause and play with the youngsters but if he doesn't get the job permanently why not wait till the end of the season and go all out for Diego Simeone. I know he just signed a new contract but as we know, contracts mean jack shit these days. He still has to compete with the darlings at the Bernabeu and the Nou Camp.
I bet he isn't on much more or less than the Dutch fool was on plus the idea of roughing up the big boys here might be appealing.
I personally believe that Simeone is the best coach in the world. He has won La Liga and the Europa league with Atletico and gotten to two Champions League finals on a much tighter budget than the other big European clubs.
Plus he won the title in Argentina with two clubs, River Plate and Estudiantes.
He is also a coach who doesn't go on about fecking "philophosies" and plays it simple, keep it tight and counter quick against the big boys and dominate matches against the lesser teams.
Also Everton are like Atletico in that they have a horrible arrogant club as their city rivals.
Unsworth can be his assistant or on the first team coaching staff too.
But if Unsworth gets the job, I hope he does well and brings back the glory days.
Derek Knox
338
Posted 27/10/2017 at 13:32:50
Ciaran, would he bring Diego Costa with him?
Apparently we have a load of shirts with his name and number 19 on them. :-)
Tony Abrahams
339
Posted 27/10/2017 at 13:34:22
Interesting Ciaran. The one common denominator with most of these top coach's, is simplicity, and this is something that will never change. It's no good knowing about football, if you can't get your players, to do what you want them to.
It's not easy when most of your players have got millions in the bank, but all the best managers, instil their own personality onto their team, and I just think Unsworth's will, makes him the best man for the job right now?
Sam Hoare
340
Posted 27/10/2017 at 13:49:49
Simeone could probably manage any team in the world if there was a vacancy or wobbling incumbent. Can't see Everton being high up his list sadly though guess there's no harm in trying.
Tom Bowers
341
Posted 27/10/2017 at 14:13:35
It's early days after the demise of Koeman and the speculation about what happens next is varied. It would be nice if Unsy was to change things around. He hasn't anything different to work with at the moment but he may be able to instill a belief in the squad that they can compete better.
Managers are not miracle workers and club owners have little patience when the results don't happen regardless of injuries and other bad luck stories. Most sacked managers will claim they could have turned things around given time but when relegation or even a mid-table position looms, the loss of profit becomes a big concern to the shareholders. There is no guarantee that a new manager, no matter of his pedigree will succeed so I assume Everton will be very careful this time.
The problem for Unsy and any other new man is the lack of a goalscorer. Rooney is arguably the only man with an eye for a goal but his best days in that department are gone although we know he may still grab a goal or two. Niasse, DCL, Sandro and Mirallas are not up to the task it seems although we could make a case for DCL.
Ross Barkley can score goals but his position remains unclear and who knows what Bolasie will be like when he returns? I am sure we can't wait for things to change for the better but we may still have to wait a couple of months.
Derek Thomas
342
Posted 27/10/2017 at 14:17:23
Tony @336; I'm with you and Ash, but I give a nod to Colin too. Leicester have been, apart from the Premier League win - Crap...or have they?
Since we won the FA Cup in 95, They've been in 3 League Cup Finals, winning one. They've won Promotion FOUR times...yeah they were relegated 4 times but In 27 yrs they've given the supporters something to cheer FIVE TIMES. Do we hate that 5 times thing? yes we do for a reason, but I digress.
What have we had to cheer about...We won a Semi and lost the final.
I had a discussion with an Ipswich fan back when Unsworth was on his short loan that fell through due to funding issues. He asked me about Rhino and potential management. I told him that with Unsworth, what you see is what you get and top, top, players mostly don't make good managers, so yeah, why not.
I've read stuff since...and I think it was Martinez who appointed him to coach the kids on the back of Unsworth's - and I hate to use the word - Philosophy.
I had hope (short lived) with Moyes, why not lets see with Martinez. Koeman; like many I believed (for 4 months) in the glamour of the name.
But with Unsworth, I actually think he has it in him to do something, something not seen for 30+ year...It will take time and luck, we all know we can't count on unlimited money...Fairy tale stuff, yeah I know. But fuck it, I vote Fairy Tale - and let the card fall where they will.
Kevin Tully
343
Posted 27/10/2017 at 15:07:53
We should be aware that at 44, Unsworth was happy to carry on coaching an U23 side, and not strike out on his own a few years ago to prove himself. I doubt his job came with much pressure, or a huge salary to reflect the importance of such a role. It doesn't exactly point to an ambitious coach who has great faith in his methods if we are looking at his record from an outsiders point of view.
I've never seen such praise heaped on someone who has been knocked out of a Cup. Carried away, much? At this rate, he'll be up for the Real Madrid job if we beat Leicester on Sunday.
Mark Morrissey
344
Posted 27/10/2017 at 15:31:45
I'm surprised the club have not made some sort of announcement today, I thought they might simply say "something".
I guess it must simply be a case of wait and see what happens over the next few games with Unsy at the helm.
I can't help but sense that if we get a foreign name he'll be given money to spend in January but if Unsy is given it until the end of the season then he won't.
Does that make any sense ?
I also thought that Ross might put his head above water and say " let me sign a contract" ie make a statement
Stan Schofield
345
Posted 27/10/2017 at 15:35:38
Kevin, I don't think the praise for Unsworth is exaggerated. It's simply praise for his apparent ability to organise and motivate a team, not praise for any potential for getting us near or at the top of the PL.
We've been playing shite under a supposedly elite manager, and his predecessor, who also cost a lot. We could get another one in, but there's no guarantee he'd do much better than the previous two. It's a risk.
Unsworth is also a risk. But at least it's worth a go, at least in the short term, during which the situation can be reviewed, and someone else (another 'elite' manager) the brought in if necessary.
There's more than one way to skin a cat.
Kevin Tully
346
Posted 27/10/2017 at 15:51:52
Stan, if Unsworth can make a go of it a bring about some success, or even manages get us playing exciting football then I'll be happy he has been given a go in the big chair. Obviously he'll need a couple of months to get his ideas across, and hopefully a decent number nine in January.

We all have to judge him as we would any new manager though, we cannot afford to all go into Kenwright misty-eyed mode because he's 'one of our own.'
If he can turn around this slump with the players Koeman couldn't get playing, then he obviously has something we can all cling on to. Here's hoping.
Steve Ferns
347
Posted 27/10/2017 at 16:26:59
What do you need to win a league? A team of top players. How do you get a team of top players? Well you buy them or you develop them. It would cost about £1,000,000,000 to buy a complete first XI to win the league, including Neymar, Mbappe and Messi level players. We aren't able to do that, not in anyone's dreams.
So we have to develop our own. Of course you cannot turn Niasse into Messi, no matter how good your coaching is, or how eager the young lad is. But Pochettino has shown the way into the top 4 at least. Bring through a load of top quality kids, add in a few promising young signings, and develop them slowly and with patience.
Do you recall in the summer, some were saying that Everton had stolen the march on Spurs. That we had signed a load of players to bridge the gap, and that Spurs had signed no one. They ended up getting in a couple (Llorente and Sanchez). Quite simply, they didn't need signings. They just needed to keep developing what they have.
Of course we do need signings. But we have a league winning youth side that included 5 kids that won the kid's world cup. It's safe to say that we should have a load of quality kids. The five were, as we all know, Calvert-Lewin, Lookman, Dowell, Kenny and Connolly. Add in Davies who is the same age, but deemed too important for that England side, Liam Walsh who had been England Captain but was out injured and Mason Holgate who was slightly too old, and suddenly we have 8 players that could be Premier League quality for the next 10 years or more. If they all do achieve their potential then we do not need to make a load of signings. We simply allow them to grow old together, bring through a few more, and bring in a big player or two each year, if the right guy is available.
This is the blueprint for the top. It's the only way that we, Everton FC, can win the league (barring a Leicester style season), and stay at the top (which Leicester couldn't). So, the board needs to ask themselves which manager out there is capable of doing this. For me there's only a few candidates, as this is a 5 year plus job, immediately ruling out the likes of Ancelotti and Allardyce.
I'd say Dyche, Unsworth, Tuchel, Nagelsmann, and Silva are the ones. But Unsworth should get first crack. Nagelsmann is almost certainly Bayern manager in the summer, and Dyche doesn't quite fit the bill. Tuchel is the only real alternative, and we would really need to persuade him to come.
There is another way to the top, of course. That's to do something similar to what Watford have done. They identify a manager to gain promotion, they did it and sack him. Then they get a guy in to keep them up, Job done and sacked. Then they get a guy in to get them midtable, job done and sacked. Now they have a top young coach and have aimed a little higher, and maybe he might get a bit of time. But we could follow this very short-termist approach, by getting in managers and players with a view to season-by-season goals. first, to push back up the table. Second to regain our slot as best of the rest. Third, to crack the top 6. Fourth, to break into the top 4. Fifth to win the league. Sixth to win the Champions League.
As someone said to me, Dyche is a great manager at what he does, but you wouldn't get the best kitchen specialist to build your conservatory. Is Dyche capable of getting us all the way to Champions League glory, probably not. Is Ancelotti capable of keeping us up on the final day of the season in a relegation dog fight? Watford's view is identify the task and get the right man in to achieve it, and keep resetting the goals and hiring the best man to achieve it.
Personally, though, I would follow the Pochettino method and build myself a young team that you can keep building up and up and try to mould them into a league winning side. That's what we did in the past. That's the Everton way.
Eric Paul
348
Posted 27/10/2017 at 16:31:40
Kevin most managers get their first managers job in their 40s because most don't do their badges til they finish playing they. Do a youth team as part of their badges then a first team assistant and so on. I don't think you can blame unsworth for the cup defeat after 2 sessions with them
Steve Ferns
349
Posted 27/10/2017 at 16:38:11
Kevin, I believe Unsworth is on a big salary. He is not the u23s coach. He is the Director of Coaching, a fancy title to give him a promotion and payrise. I believe he would be in complete charge of the Academy, only that he does want to be manager and so is essentially managing Everton u23s like it's its own club. His role has changed over the last few years, so it's not like he's stagnating. He's been honing his craft and developing his skills, as well as the boys he's coached. 18 Months ago he came in as caretaker with Royle, and Royle was the top dog at Academy level, now he's in on his own, and he is the top dog in the Academy.
Stan Schofield
350
Posted 27/10/2017 at 16:40:52
Steve@347: Compelling argument, and cracking post.
John Pierce
351
Posted 27/10/2017 at 17:13:03
Steve 347. You put forward, as always some thought provoking points.
The stability you suggest though is hard too find. Any manager you cite staying five years? In the current climate it is difficult to see. Should such a manager do very well in the first 2/3 years then Everton will lose them to a mega club, no?
Even within that cycle the manager has to be held to minimum expectations, I know that is contradictory but Everton have budgets to meet and we cannot finish lower than 7/8. Its just not acceptable. A prominent, well respected DoF directly accountable for on field results would help there hugely.
I agree we are in a position to profit from your notion at this very point, and maybe thats why Unsworth has big appeal? Our squad and academy is well stocked with potential. That hard bit of getting good youngsters has been done.
But the germ of that idea will never take root unless a clear organisational structure is outlined by the hierarchy.
The DoF needs to be a board appointment, the chief executive a more forward-thinking innovative position, a communications officer to promote & spin everything Everton. Oh, actually we need to know who is in charge!
As it is all board members and the largest shareholder get to hide behind the opaque veil of Goodison.
The vision you paint is one I could jump into feet first! At the moment the lack of organisational structure means that any manager will have both their hands and feet tied.
Eric Paul
352
Posted 27/10/2017 at 17:15:52
Steve
Yes we have our own class of 92 and koeman tried his best to fuck them up unsworth knows all about them,in my view he is the best man to bring them into the first team and the future is ours
Don Alexander
353
Posted 27/10/2017 at 17:35:35
Unfortunately folks, I think the "class of '92" scenario bringing success to us is quite unlikely. United back then had only our beloved neighbours as consistent champions to contend with, not Arsenal, City, Chelsea and Spurs as well. United even in those times also had more cash than any other team and never skimped on signing top players to add to their youngsters. The future for us and others outside the top six of last season is very different.
I hope a number of our lads make the top grade but to get CL qualified on a consistent basis is either gonna take way more cash than has been spent to date or, without it, a manager with the magic touch. Do I like it? Not a lot!
Steve Ferns
354
Posted 27/10/2017 at 18:17:28
Yes John. It's very hard to do. That's why most take a short cut, the easy way or don't last the course.
We need to be patient and Give Unsworth time and the players time. If Unsworth can be pochettino and the players are local lads, then we have more chance to stop them getting stolen away.
Eric Paul
355
Posted 27/10/2017 at 19:19:39
As much as I don't like allardyce as a person or manager he had one thing right if his name was allarderci he would have got a top job. I think it's time to start giving jobs to young British managers instead of crap foreigners who get sacked and a kings ransom pay off
Lev Vellene
356
Posted 27/10/2017 at 19:28:41
Give Unsworth an extended run. If he makes us look good, keep him! There has to be one actual point in time when British second-string managers stepping up will finally succeed long-term, so please let that be Unsworth! He's done real first-team managing before, and he outsmarted the U23-teams assembled by our better-moneyed competitors in that competition!
Oh, and he's real close with Joe Royle, so he's got experienced advice he'll willingly consider before finally making his own decisions!
Paul A Smith
357
Posted 27/10/2017 at 20:11:24
After reading about Steve Walsh addressing the squad during the week I personally want him out of the club. I am certain he has bought a few of them players since he arrived.
If I am right? How does this affect the next manager? And the one after that. Chances are if we spent £150 million in the Kenwright reign we would have signed players the manager wanted.
Now I know that wasn't the case and there was no DoF but that's my point. Koeman wanted Depay. Got Bolasie. I don't know how many times this happened during their time together but do we need more of this?
I always thought a Director of Football sort of undermines a managers role and if a manager doesn't want to be a workaholic I don't want that manager.
Dave Williams
358
Posted 27/10/2017 at 20:43:15
It's quite simple for me- we have a cracking group of youngsters so must take the opportunity of trying to build a first team around them. Strengthen the spine with a couple of expensive buys and let's see how far we can get.
As Colin said unless Usmanov comes on board we will not outspend at least three of the top 6 in which case develop our own top class players playing as a true team.
Okay it might well not work but I'd love to see us give it a real go. Get as many of the loanees back as we can: Walsh, Dowell, Robinson and one of the CBs plus poor Galloway who needs some TLC and start to build with Unsy the man in charge because he has brought them this far and knows them better than anyone.
I'm done with the "Spend, spend spend" philosophy of many supporters; as Colin says, unless you get the very best it doesn't work... and we need a manager who understands the club. Unsy for me!
Jamie Crowley
359
Posted 27/10/2017 at 22:56:09
Tony you're spot on about the 'stache Master on Baines.
I was so impressed with the guy and felt as if JJK needs some "polishing" that I probably lumped the two together!
My bad... It's been a very long week.
Points regarding Kenny still stand... he'll come good in time. He looked rough to me.
Cheers.
Tony Abrahams
360
Posted 27/10/2017 at 23:08:54
But not as rough as the fella with the tash though Jamie!
Jamie Crowley
361
Posted 27/10/2017 at 23:13:22
Hahaha! Right?!
Brent Stephens
362
Posted 27/10/2017 at 23:31:59
Steve #347 - stimulating post! Gets the juices flowing for what we might have coming through from the "junior ranks".
Tony Everan
363
Posted 28/10/2017 at 07:14:25
Steve , yes the ingredients are there , but their development can head in many ways. The choice of manager will directly affect the progress.
I like Dyche but he's not for us surely. Strike me as being a Moyes school of management. Dour efficient stifling. 8 goals in 9 games this season from his Burnley team doesn't get may loins toasty.
I would narrow it down further to Unsworth or Benitez , or Benitez with Unsworth as his assistant. The Germans maybe too leftfield at this tricky moment.
I really think it is down to Our league performances .The next 2 games. If David can prove himself and get a couple of wins I think he will get the job and we will all be behind him. It's all to play for for him (and the players who want him to get it!).
If not it could be Benitez, best experience and a class manager.
Reading between the lines of his presser yesterday he has left the door open. He would prefer to live with his family on Merseyside. Calls us a "great club" believe it or not.
Probably the safest bet of what's on offer if DU falls short ?
Add Your Comments
In order to post a comment, you need to be logged in as a registered user of the site.
Or Sign up as a ToffeeWeb Member — it's free, takes just a few minutes and will allow you to post your comments on articles and Talking Points submissions across the site.