PIckford: Blues won't be in bottom 3 for long

85 Comments [Jump to last]
Saturday 4 November 2017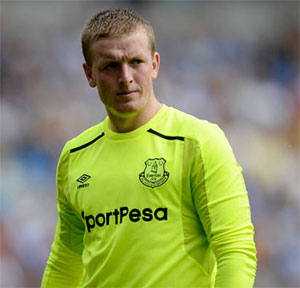 Jordan Pickford insists that Everton's situation is different to the one he experienced at Sunderland and that a change in luck could make all the difference to their season.
The 23-year-old goalkeeper was a member of the Black Cats team that was relegated from the Premier League last season so he has first-hand experience of a side struggling at the bottom of the table.
Pickford says that he doesn't feel the Blues aren't far away from putting another win on the board — hopefully tomorrow against Watford — which could lead to better results.
"It's not been ideal but we are not far away from winning games," the Washington-born player says. "We're not a club that is going to be in the bottom three for long I'd say. It's just that the luck hasn't come our way yet
"It's a totally different scenario for myself from last season. I think one win will get us to 13th or something in the league. Then that one win can become back-to-back wins, and that is where the confidence grows, and it starts Sunday.
"We have had a bad lot of games. I love playing games week in week out, but it has been a change with the Europa League. That may have affected us.
"But we can't be making excuses. We have to just move forward, dig in and get the win."
---
Reader Comments (85)
Note: the following content is not moderated or vetted by the site owners at the time of submission. Comments are the responsibility of the poster. Disclaimer
Mike Gaynes
1
Posted 04/11/2017 at 05:54:48
Well, when we do get back on track, young man, you'll be the biggest reason.
Not only have you been our best new signing, you have quite literally been the only player on the pitch who has never let anyone down this season.
When your mates and your manager (whoever he may be) start performing up to the standard you are setting, we'll be Everton again.
Frank Sheppard
4
Posted 04/11/2017 at 07:23:05
A good rallying call, let's hope he is right, and we actually move UP the table on Sunday, which is a very unfamiliar feeling.
Martin Nicholls
7
Posted 04/11/2017 at 08:29:20
"Its just that the luck hasn't come our way yet" followed by "but we can't be making excuses"! Another meaningless soundbite from the latest player to be paraded in front of the media. Like others, I don't believe Jordan Pickford is in any way responsible for the mess we're in but to infer it's "just" down to bad luck is ludicrous.
Sam Morrison
8
Posted 04/11/2017 at 08:30:22
Having watched the last few games I don't share his confidence in the slightest, and I wouldn't put the results down to luck either. But I'm glad he feels that way.
Tony Twist
9
Posted 04/11/2017 at 08:41:03
Our best buy and will get better but suspect on a number of goals against us this season. He needs to stop palming the ball back into open play. He is not tall enough also, don't suppose they have a rack to stretch him out at finch farm! Hopefully we get some better defenders in front of him and he will then go from strength to strength.
Rick Pattinson
10
Posted 04/11/2017 at 08:51:16
Pass your confidence to the other ten useless fxckers on the pitch
Stewart Lowe
11
Posted 04/11/2017 at 09:08:20
We have 11 league games left until January.
In my opinion we need to grind out the I'd draw and rare win at home.
We have to be working tirelessly right now to bring in 2 strikers, 1 pacy winger to compliment Lookman on the other flank to give us balance and competition for Bolasie when he is fit. A left back with pace is a cert, and also a centre back.
I say 2 strikers because it would be the luck of Everton to buy 1 striker and he break a leg two games in. That would certainly take us down.
This has to be whatever we need to pay for the strikers as getting relegated could have far more crushing ramifications.
This season has set us back two years.
Dave Evans
12
Posted 04/11/2017 at 09:08:47
Rick
Are you a motivational speaker?
Derek Knox
13
Posted 04/11/2017 at 09:15:46
I watched the Wolves match last night, mainly because of a tip off from Kim Vivian; to have a look at what Nino Espirito Santo, (who's been linked) has done with Wolves.
I was very impressed by the teamwork, passing and running from them as a unit. It was only after thinking about it; they were almost in freefall (Wolves) not so long ago after a succession of manager's had all failed.
Now they are top of the Championship, and although it's early days, look like the best team I have seen in that Division.
I am not advocating going for Nuno, but just drawing a comparison; that from a seemingly hopeless position, success is not that far away, with the right personnel in place, whoever they are.
Eric Paul
14
Posted 04/11/2017 at 09:18:43
Tony
He's the same height as little Neville Southall and he was half decent
Tony Everan
15
Posted 04/11/2017 at 09:25:51
Jordan is top class . Our best signing of the summer . He will improve with experience as he is still very young for a keeper.
Our defenders need to drag themselves up to his level or be shipped out.
John Keating
16
Posted 04/11/2017 at 09:36:23
Just the latest in the usual long line of players saying exactly the same thing.
Less talk more winning
Tim Locke
17
Posted 04/11/2017 at 09:41:14
Pickford aside the players in front of him are worse than what we had under Moyes. The new signing Koeman has brought in don't seem to be up to the pace of the prem. The two players who are better are both injured Keane and Coleman.
Which leaves the following:
The new signing come good.
The youth step up and pull one out the bag.
We get a manager who can make the team greater than the sum of its parts.
Feet up till Jan and hope the window brings in someone good.
Eddie Dunn
18
Posted 04/11/2017 at 09:42:17
Of course he is tall enough- there have been plenty of good keepers a couple of inches shorter than him.
He does have a habit of palming shots back into the danger zone, but there seems to be a trend these days for not trying to catch the ball - perhaps it is due to the tendency of these modern balls to deviate in flight, making a keeper look a mug if he tries the catch, therefore leaving him with an easier option of parrying it.
As for his sentiments about lady luck. You make your own.
Mark Daley
20
Posted 04/11/2017 at 09:55:29
He's dead right, soon it will be the bottom 2.
John Davies
21
Posted 04/11/2017 at 09:58:32
Glad he's feeling confident about the future because there's plenty of us who aren't. Hope he's right and we're wrong.
Clive Rogers
22
Posted 04/11/2017 at 09:59:32
I notice he doesn't mention who is going to start putting the ball in the net, or who is going to add a bit of pace in the centre of defence. Until those two in particular are sorted our poor results will continue.
Phil Walling
23
Posted 04/11/2017 at 10:14:11
I'd go as far as to say that Pickford and Rooney are the only new signings to contribute anything positive to this appalling Everton side.
Pickford still has much to learn but is a great improvement on Howard, Robles and Stek whilst Rooney has ,at least, found the net !
Very confident of a win today but then what the hell do I know about football !
Phil Walling
24
Posted 04/11/2017 at 10:14:48
Sunday of course !
Colin Metcalfe
25
Posted 04/11/2017 at 10:58:01
I sense an upset tomorrow that we are going to win COYB
Jer Kiernan
26
Posted 04/11/2017 at 11:20:09
This guy has potential but definetely needs to learn to push the ball behind if he cannot hold
@Eric 14 &Tony
Agree on the height , I don't believe height is his issue but footwork and positioning ,he has made himself look small this season on quite a few goals looping over him but this is more down to poor positioning and slow footwork
This is making him look small in the goals hence "Big Nev" is same height. Cannot remember him having a quiet game this season and that is saying alot

Rick Pattinson
27
Posted 04/11/2017 at 11:35:19
Dave @12. It'll take more than motivational speaking to save us.
David Morgan
28
Posted 04/11/2017 at 12:44:13
Motivating, battling, passion...yeah yeah yeah we need a tactic and identity. We have tried to push into the top 4 by buying players with no tactic. Koeman has left us in the shit.
Plan A) Push the back-line up nearer to half way line and let the full back's attack. Play one defensive midfielder press with 4 or 5 in their half always and attack, attack, attack, attack. (to be top 4) Guardiola
Plan B) Counter leaving fast wingers high up to support a striker, drop off deeper with full backs staying narrow. Play direct and high tempo (top 6) Ranieri
Plan C) Deep defending with wingers playing as midfielders rather than attackers, Moyes style, you don't need a description of this one, we watched it for 10 years. (top half)
Plan D) Mix these together and get relegated...because you don't attack without belief and numbers, you can't counter without tempo and speed and you cant defend without protection and cover. We need to pick were we want to be and choose a suitable manager.
And to be fair to the board they have tried up until this point to do the right thing, their choice of manager will show our ambition and then as fans we can adjust our expectations accordingly (probably back to how we were). Pick a plan and do it properly.
Ian Lang
29
Posted 04/11/2017 at 13:06:40
If we fail to beat Watford tomorrow and Crystal Palace next week then 100% we'll get relegated. What happens when you spend an absolute fortune on shite, average players who don't have a winning mentality and who are nowhere near the prices we paid except for Pickford our best summer signing by a mile. Without him these results would have been far more embarrassing than what they have been. About time our £45 million, £30+million signings who are raping the club £100,000+ per week pull their fingers out of arse and start putting effort, energy and desire and start fucking winning football matches to get us out this complete mess.
Mark Burton
30
Posted 04/11/2017 at 13:21:10
Maybe Pickford is cursed and we bought it. Imagine how much the minus goal difference would have been if hadn't of been in the goal. He may stop the shots against us but to get out of the bottom three we need someone to take shots FOR us.
Karl Jones
32
Posted 04/11/2017 at 14:01:15
I pray he's right, but I just cant see a PL club in a worse situation. You need to score to win games and only having two different players score in 10 games tells its own story. Thats before you put the awful embarrassing performances and joke defensive displays into the mix. One of the worst Everton sides I've seen in 50 years of watching them in terms of fight and spirit if nothing else.
Sunday could be our 4th consecutive home defeat and I cant ever remember seeing that before.
Derek Knox
33
Posted 04/11/2017 at 14:06:26
Mark @30, 'Maybe Pickford is cursed' by that; I presume you mean having crap defenders and ball-watching DM's, in front of him. :-)
Ian Riley
34
Posted 04/11/2017 at 14:13:12
Look we need organising. Go and get Sean dyche. The guy is a top manager with realistic analysis. Tomorrow's result should not change anything. I do hope talks are going on behind the scenes about compensation for dyche.
Mark Taylor
35
Posted 04/11/2017 at 14:22:29
I do not agree with Jordan's optimism. So bad do we now look, we are as bad as anything I've seen in 5 decades, including the dire years at the end of the 70's/early 80's, the early 90's and the late 90's/early 2000's, all periods when we were abysmal.
So I have concluded that rather than kid ourselves that we should get a hot shot manager to chase trophies, what we actually need right now is a proven scrapper against relegation with the ability to turn a rubbish side into one that is at least a challenge to beat.
In other words I fear we need an Allardyce before we can even think of a Tuchel.
Paul Tran
36
Posted 04/11/2017 at 14:39:51
No doubt our luck will change at some point. We'll make it change quicker when we have a settled side playing on the front foot.
I'm struggling to get a strong view on the next manager. Strong whispers for Dyche, who I'd be happy with. Gets the best out of his players, good man-manager, good organiser. Even bought a striker in the summer. Liked the fact that he didn't whinge about his budget when Burnley got relegated, then took them straight back up.
Mark Burton
37
Posted 04/11/2017 at 14:39:54
Derek you are right. Managers like Moyes and Koeman don't help either. All I hope is that we get somebody who knows where the opposition net is.
Tony Abrahams
38
Posted 04/11/2017 at 14:42:39
I agree with the headline and think we just need someone to organise us properly.
Not one Martinez signing was in our starting eleven on the opening day of this season, and only a couple of starters had actually played for the man.
We have changed too much of the squad way too quick, and we just need someone to settle us down, and start playing the same formation, with most of the same players every week.
Simon Dalzell
39
Posted 04/11/2017 at 14:45:14
Thank goodness Jordan, and here's me worrying !!!
Terry Underwood
40
Posted 04/11/2017 at 14:45:56
Can't believe we are odds on with the bookies. Still, the fans can make a difference tomorrow, make Watford wonder WTF has hit them. Remind the cheeky sods, Z cars is fuckin ours. First home game since the septic ones departure. Let the sun shine through.
COYMB
Neil Cremin
41
Posted 04/11/2017 at 15:28:50
Tony and Jer@26
When I raised doubts about Pickford on the live thread for the Lyon game I was nearly devoured. He should learn to shove tha ball around the post rather than back into play. Cost us a few goals already. Secondly, he needs to improve on his kick outs especially since we tend to play backwards instead of forward. Thirdly, what was he doing saving with his legs instead of smothering with his hand for Lyons third goal. Finally and most controversially, I don't think he is organising the back four in front of him. He has the best view, to me he is not calling or commanding his area. Hence he clattered into Williams on Thursday. On Thursday everybody blamed Williams for not Getting out of the way, l am no fan of Ashley but he has neither eyes in the back of his head nor a magician who can vanish. To me it was evidence to support my claim he is not organising his defence ala Southall. It would be interesting to test Robles instead.
Robin Cannon
42
Posted 04/11/2017 at 16:56:18
"It's not been ideal but we are not far away from winning games..."
...I definitely don't share his assessment. Honestly, even the couple of games we've won we didn't really look like winning. :)
Paul Kossoff
43
Posted 04/11/2017 at 16:56:32
Sorry Jordan, we are bottom two now! Bournemouth beat Newcastle! Other results went our way. If.. IF we beat Watford tomorrow we will move up to 15th, surely incentive enough for these over paid unfit prats we call our team!
Mike Doyle
44
Posted 04/11/2017 at 16:59:29
Slightly off topic . I see K Dowell scored again today.
Michael Penley
45
Posted 04/11/2017 at 17:00:42
Jordan was right! And we didn't even have to wait until Sunday!
John Keating
46
Posted 04/11/2017 at 17:00:43
Sad days when you want the Orcs to win.
Paul Kossoff
47
Posted 04/11/2017 at 17:03:32
Come on you red bastards! Never thought I would want those evil gets to win!
Paul Birmingham
48
Posted 04/11/2017 at 17:29:49
Must win tomorrow...
Eddie Dunn
50
Posted 04/11/2017 at 17:34:29
David Morgan #28. Succinctly summed-up.
Derek Knox
52
Posted 04/11/2017 at 18:15:35
Watford will be really worried now, wounded kitten, and all that, or should it be tiger? :-)
Rick Tarleton
54
Posted 04/11/2017 at 19:11:40
Jordan, you're wrong. We've got problems.

Mike Jones
55
Posted 04/11/2017 at 19:12:52
We will still be in the bottom 3 this time tomorrow. I've never known a more inept side apart from Mike Walker's.
Peter Gorman
56
Posted 04/11/2017 at 19:24:51
I sincerely hope the situation is different than Sunderland.
Their lack of cohesion and spirit is so bad they are now bottom of the Championship too!
Ron Marr
57
Posted 04/11/2017 at 19:40:42
Things look bleak. If West Ham fire Bilic they'll probably get first pick in the new manager hunt. Liverpool look 100 times better than Everton, and worst of all Moyes says he would accept the job.
Tony Hill
58
Posted 04/11/2017 at 19:57:06
As one of the most pessimistic people on here, I think we must now just get behind the side at all costs. Whatever manager is appointed, including possibly Unsworth, has to be absolutely supported. We have to play our part in getting ourselves out of the shit and we can do it.
There is no point grumbling on and on about the inadequacies which are obvious, we have to turn it around by force of collective will as Everton supporters. It may take time, it may not happen tomorrow, but in every game we must outshout the opposition fans home and away for 90 minutes.
It sounds a bit cheesy but it has to be done. This is our club, not Kenwright's or Moshiri's or anybody else's, and it's up to us to make that very clear indeed. Nobody else is going to do it so we have to rediscover Everton's soul ourselves, and I am sure we will. Week after week after week.
Paul Kossoff
59
Posted 04/11/2017 at 20:03:25
What's the bet West Ham sack Bilic and get Dyche. We will be left with conman Sam, Moyes or, God forbid, Harry fkg Redknap!
Colin Glassar
60
Posted 04/11/2017 at 20:07:33
What happens if we win tomorrow, and convincingly? Will Unsy be given more games to see if it was a one off or will he be replaced anyway?
Colin Glassar
61
Posted 04/11/2017 at 20:10:05
Harry Redknapp with Jamie as assistant manager, Paul? I think that could finally end my lifelong love affair with EFC.
Rob Halligan
62
Posted 04/11/2017 at 20:19:33
Tony # 58, you're right mate. We ALL have to get behind the team. Whether you are a pessimist or an optimist, a glass half full or glass half empty type, everyone must get behind the team to give our full support.
The thing that pisses me off most, is those who say "I'm not going to anymore games, or renewing me season ticket until things improve, or if this manager or that manager is appointed". Well do you know what, you won't be missed. It's almost like you want the club begging you to carry on supporting them. Let someone else have your ticket who will give the team their full support.
Oliver Brunel
63
Posted 04/11/2017 at 20:21:31
The Emperor Kenwright has probably written the script for the BBC documentary. Him and Kroenke are soul brothers on the gravy train, USM has been taken to the cleaners and Kenwright knows the clampdown from Usmanov is coming so he goes public. Kenwright's last throw of the dice.
John Pierce
64
Posted 04/11/2017 at 20:28:08
Neil. 41.
The concerns over Pickford are valid. He has some excellent skills, but he is often too eager to affect the game.
Perhaps he could confine his kicking, especially on his right foot to percentages rather than an arrowed pass which often loses possession.
He can be rash, the first goal on Thursday a case in point, and rightly pointed out he goes hard at the ball so his rebound control needs work.
A young goalkeeper, with improvements to make. He needs to walk before he can run. Goalkeepers need to be calm not hyper, he often is. The greatest ever, big Nev was a calm and assured, it transmitted to his back four.
Its fair to acknowledge the changing cast of rubbish in front of him, and he has often kept the score at bay.
But the results & performances should not disguise the improvements he needs to address.
As for the team settled side, drilled formation and keep with Unsworth until Xmas. The readily available candidates are poor. Mancini would be my choice.
If desperation sets in of all the dourness out there, Moyes over anything Sam or Dyche have to offer.
Whatever people say about the sour end to his reign, he would be better than a firefighter.

Paul Holmes
65
Posted 04/11/2017 at 20:29:47
As long as Unsworth does not play Klassen as the centre forward to give Sigurdsson a rest,i will be pleased !.Looked at the stats and Lyon have been conceding goals as much as scoring them in the french league,but our mastermind management decided in that must win game to play Sigurdsson as the centre forward (no shots on target).We need a clear out of the first team coaching staff because lets face it,they have not got a clue.Hopefully a new manager with his own staff and new ideas takes over after the international break regardless of the result tomorrow.Coyb lets get back on track !.
Paul Welsby
66
Posted 04/11/2017 at 20:44:17
I think Jordan is right everyone panicking after 10 games. I know the football is dire but come on there are 28 games to go so don't panic and go for Big Sam or Dyche, start with Marco Silva and work your way up from there.
If I remember rightly Newcastle and West Ham fans where saying how bad the football was with Sam in charge and alright he keeps teams up but we are know where near that situation yet. Dyche's Burnley are terrible to watch, so if we get either of those two know one who doesn't like the style of play can moan because you already know what your getting.
I pray everyday our club does not employ won fuck all and done fuck all Big Sam or Sean Dyche.
Steve Ferns
67
Posted 04/11/2017 at 20:52:57
The height thing is overrated.
Southall was interviewed a couple of years back. He predicted the end of the 6'6" keepers. He said they would get smaller again.
His reasoning was that the height was only needed to pluck crosses out of the air and that part of the game was gone. Southall said that footballers don't hang crosses into the box anymore (except for Martina) they're hit flatter and so the keeper doesn't need to be as big.
I've not seen Southall evaluate Pickford but he may was well have been predicting him with his analysis.
I think Southall knows a thing or two about keepers as well.
Peter Warren
68
Posted 04/11/2017 at 21:02:23
Goalkeeping is mostly mental. Pickford undoubtedly has supreme confidence but as others have said the decisions he makes he needs to improve as well as his calmness. For his age I am really impressed by him
Steve Ferns
69
Posted 04/11/2017 at 21:05:34
https://youtu.be/t05cShAqOj0?t=17m59s
https://youtu.be/t05cShAqOj0?t=17m59s
Tried to find the interview. This is not it. But this is a perfect example of a winning mentality. The video is all about goalkeeping, but being big Evertonians, I'm sure some of you will find it as fascinating as I did. Especially the bits where big Nev says keepers should still be getting better and better at 36!
Steve Ferns
70
Posted 04/11/2017 at 21:27:50
Found it. Big Nev interviewing Shay Given and they discuss crossing before Big Nev gives his prediction. Both agree on the height issue.
Big Nev and Shay Given discussing height

Watching those two videos back reminds, the lack of big Nev as a coach or manager for anyone is a massive loss to football. The guy is such a deep thinker on so many aspects of the game. And he really should have had a role in the game. So what if he's a bit outspoken, footballers need that, they're all too mollycoddled now anyway.
Enjoy the vids fellas.
Dave Evans
71
Posted 04/11/2017 at 21:48:11
Off topic. Many on here saying Dyche not good enough for us. Now it seems he has a decision to make. Stay with his high placed, fighting team or leave and try to sort out our shambles.
If Dyche had an Italian or Spanish name and accent his achievements would not be so under valued.
Jay Woods
72
Posted 04/11/2017 at 21:52:58
John Pierce, you're talking utter tosh about Moyes being "better than a firefighter".
Has Moyes recently presided over a relegation? Yes.
Has Allardyce recently presided over an escape from relegation? Yes.
Those 2 metrics are all that matters in this micro debate.
Steve Ferns
73
Posted 04/11/2017 at 21:55:03
Allardyce is not fit to be England manager but is fit to manage Everton? Have you no standards?
Ian Riley
74
Posted 04/11/2017 at 22:12:06
Dyche or allardyce not good enough for Everton. Give me a break! A club won sweet fa for over twenty years. Tell me who we are going to get? We are in the the relagation zone. Only ten games gone!
We have spent £145 million with no premiership striker and we ship goals. Let's face it we are in no position to question, who's not big enough for Everton?
Relagation is not an option with our wage bill. Let's get safe and start again. It's not going to be pretty but give me mid table and then move on from there. If that's allardyce then so be it.
Tim Locke
75
Posted 04/11/2017 at 22:12:22
Tony Hill (58) is spot on we support Everton not the directors, players or manager/coach. We stand behind the team, we are born blue. We have no choice. We might not agree with the directors, we might not like the players, we might not agree with the manager. But we still support, we still sing and we help turn this situation round. So we go back to what we all know we are the best club in world.
John Pierce
76
Posted 04/11/2017 at 22:22:24
Jay,
Tosh maybe but Sam is nothing more than a walking megaphone for his own services. And overrated ones at that.
I'm afraid 'the debate' is wider than the metrics you cite.
His one chance at a job compromable to Everton was Newcastle, that was an abject failure.
Everton are not Palace nor any of your regular relegation candidates, if thats what you believe we truly are.
Everton require a longer term view.
On to Moyes, derided in part for the way he left sure, why not kick the boot in? I've no issue there for a chance at something better. He owed us nothing. His record for in the premier league is vastly better than Sam's. Several top 6 finishes to that of Alladyce, and throw in a couple of relegation survivals himself.
Sam, has never built anything not worth ripping apart, perhaps at Bolton but that fell apart like the preverbial house of cards soon after.
Not relegated? Is he ever around long enough to see something through? Maybe not I'd suggest.
And even if his fabled powers are to bebelived its more likely he won't succeed. Trying to revive a club after club in disarray is like Russian roulette.
He's due a bullet. No thanks.
Steve Ferns
77
Posted 04/11/2017 at 22:31:10
Fat Sams idea of building is to sack off the youth system and sign a load of overpaid 30+ guys. He gets them on big contracts with payments to a certain agent, I think we can all guess who that is.
Name a club that he saved and wasn't a mess after he left. Look at palace, West Ham and Sunderland. He might have kept them up but there was nothing long term but debts for the successor to work with.
He's a crook. He's not fit to be our manager. His football is utter shite and it will take years to undo the mess that he will leave us in. We've got enough mess to sort out thanks to Ronald.
We need a coach. We can turn this around by good coaching and that is tuchel or silva. If you want defensive and English then Dyche is better than Allardyce and he's no crook.
Rob Halligan
78
Posted 04/11/2017 at 22:35:25
Big Sam on MOTD. Let's see what he's got to say?
Stewart Lowe
79
Posted 04/11/2017 at 22:37:43
Is there any reason everyone is discounting Antonio Conte for Everton???? Lots of media saying he could be 1 or 2 losses away from the sack. Now he would be quality in his prime
Rob Halligan
80
Posted 04/11/2017 at 22:43:14
Stewart, if Conte is sacked and we approached him, I think he would turn us down, as I'm sure I read somewhere that he was going to return to Italy at the end of this season anyway. Though I suppose a six month contract might appeal to him.
Steve Ferns
81
Posted 04/11/2017 at 22:44:39
Conte is a juve man. He wants to go back there. He'll take time off and wait for his opportunity.
Stewart Lowe
82
Posted 04/11/2017 at 22:48:29
Juventus are doing brilliantly without Conte so they would have no reason to pursue him right now. Everton aren't trigger happy like Chelsea so it could be a good fit. Has to be better than Dyche and Allardyce.
Steve Ferns
83
Posted 04/11/2017 at 22:52:40
Juve are Italian, any manager there is three games from the sack. As I said, he will want to rest for a bit, and wait on Juve be that 12 months or more.
Grant Rorrison
84
Posted 04/11/2017 at 23:16:31
I'd take Allardyce until the end of the season personally. I think we're in a lot of trouble currently and our next two games. Watford tomorrow and then Palace away in a fortnight will tell us a lot about our chance of staying up.
I cant believe that some people think we're really good and just waiting to a get a couple of good results and then we'll climb right up the table. Make no mistake about it, we are shit. We are in big trouble and relegation, currently, seems pretty inevitable.
Stewart Lowe
86
Posted 04/11/2017 at 23:33:33
For me the next manager has to be one of the best or what's the point when all the best English teams have the best? Dyche us just another Moyes getting the best out of a very small squad because there are no better players on the bench to push them. Just as was the case with Everton and Moyes.
I have dreamt for Everton to find a wealthy owner for decades. Now that we have one We can't make it count because every other club has money and the best managers aren't interested. I feel cheated.
The money has come 5 years too late to build a dominance and begin a legacy. So more of the same then, league position 5th to 17th, and a couple of thumpings by Liverpool each year.
After supporting Everton for 35 years, I'm very very close to calling it a day. I think I have stressed enough over that time to now call it a day supporting Everton, I'm genuinely beaten.
Neil Copeland
87
Posted 04/11/2017 at 23:46:59
Tony 58, spot on mate. We can make a big difference and need to give tomorrow the same support as we did for the Bayern game in the 80s, fantastic noise that will have Watford absolutely crapping themselves.
COYB
Grant Rorrison
88
Posted 04/11/2017 at 23:52:00
Moyes in 'pole position' to take over at West Ham. Maybe there are (or will be) worse teams than us after all.
David Currie
89
Posted 05/11/2017 at 03:07:06
Would rather Eddie Howe get the job before Fat Sam, has done well at Bournemouth and is a good young coach who plays good football.
Arnez Desmond
90
Posted 05/11/2017 at 06:07:42
Moyes a better option than Dyche, Big Sam, Nuno, Marco...before he's off to West Ham...get him in...he's already stated he'd be keen to return. I'm sure Baines, Jags, Coleman, etc...will be pleased with a familiar face to rebuild confidence.
Derek Knox
93
Posted 05/11/2017 at 11:00:16
Don't want Big Spam, and I don't agree with a lot of the suggestions, whoever it may be, just till the end of the season.
I can understand why people are saying it; but I think we have had enough disruption of late, and another short term fix would only increase that disruption.
Hypothetically, should that route be adopted; we stay in the Prem; whoever managed goes; we get another appointment; he wants to get rid of certain players and bring in his own choice; more settling in and disruption again.
Whoever gets the job should have a plan; be allowed to implement it, and let it mature.
There are a lot of ageing players who are showing signs, that their best playing days are well behind them, coupled with the deadwood, which all amounts to considerable change anyway.
Let's make sure the next choice is the right choice, and not a sticking plaster, where stitches are needed.
James Watts
94
Posted 05/11/2017 at 11:09:57
Please, guys, stop it with the Moyes calls. It's embarrassing. Sacked three times since he left us. His time has been and gone. You're deluding yourself if you think different. Hopefully West Ham will get him sooner rather than later.
And as for Allardyce? That would just about break me. After Moyes, would be the worst appointment we could make. The football 'entertainment' would be worse than Koeman. I'd be embarrassed to call my self an Everton fan with this guy in charge.
Dyche, I could just about cope with. Just. Even though I don't want him either.
Fingers crossed the board have been busier than just 'talking to Sam' and they have a German ace up their sleeve . or are confident Unsy can progress.
Richard Lyons
95
Posted 06/11/2017 at 12:51:25
He was right! Anyone care to ask him about this week's lottery numbers?
Paul Burns
96
Posted 07/11/2017 at 16:20:09
Based on what?
Cheap words.
This is the worst team and squad in Everton FCs history.
Can't see 3 teams worse than the overpaid, overpriced garbage dragging the club through the filth we're witnessing.
Kenwright is the biggest disaster to ever infect our club. A curse on the smug phoney and shame on anyone who can't see through him and his lies.
Steve Ferns
97
Posted 08/11/2017 at 14:07:58
Kirkland is pushing for Jordan to start for England. He's been very complimentary about him for some time. They were teammates during a brief loan spell I believe, so the compliments seem genuine. Kirkland says that Jordan has "everything" and there are no flaws.
Pickford had been great for the first 10 games or so, but little things had started to annoy me. He flies off his line too much, particularly against Lyon and Watford. He seemed better placed to stay on his line as there were still defenders around to make tackles.
He seems to get beaten at above head height too easily. I don't mean out of jumping reach, I mean at a height of around 7 feet, were he could easily get an arm up to it. I am keeping an eye out to see if it is a thing or just how the goals have gone in.
Kirkland has a much better eye than me, he's seen far more than Pickford than me. Pickford has been by far our best signing, and seems a massive upgrade on Stek and Joel. He might just need a clean sheet and to get some confidence to settle him back down.
Add Your Comments
In order to post a comment, you need to be logged in as a registered user of the site.
Or Sign up as a ToffeeWeb Member — it's free, takes just a few minutes and will allow you to post your comments on articles and Talking Points submissions across the site.