PIckford: Blues won't be in bottom 3 for long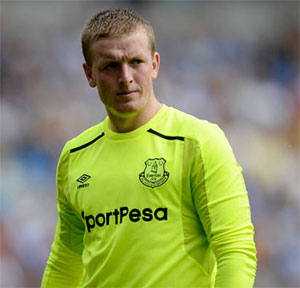 Jordan Pickford insists that Everton's situation is different to the one he experienced at Sunderland and that a change in luck could make all the difference to their season.
The 23-year-old goalkeeper was a member of the Black Cats team that was relegated from the Premier League last season so he has first-hand experience of a side struggling at the bottom of the table.
Pickford says that he doesn't feel the Blues aren't far away from putting another win on the board — hopefully tomorrow against Watford — which could lead to better results.
"It's not been ideal but we are not far away from winning games," the Washington-born player says. "We're not a club that is going to be in the bottom three for long I'd say. It's just that the luck hasn't come our way yet
"It's a totally different scenario for myself from last season. I think one win will get us to 13th or something in the league. Then that one win can become back-to-back wins, and that is where the confidence grows, and it starts Sunday.
"We have had a bad lot of games. I love playing games week in week out, but it has been a change with the Europa League. That may have affected us.
"But we can't be making excuses. We have to just move forward, dig in and get the win."
---
---