Shocking Everton humiliated in a deluge of goals

365 Comments [Jump to last]
Thursday 23 November 2017
Everton 1 - 5 Atalanta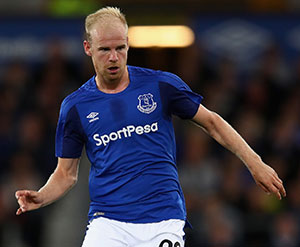 Davy Klaassen gets a rare chance to press his claims for more first-team involvement
Everton were out-played, humbled and then outright humiliated at Goodison Park as shocking defending condemned them to a 5-1 thrashing at the hands of by Atalanta.
What began as an opportunity for some of the players who had been relegated to the fringes of the first-team picture since David Unsworth took over from Ronald Koeman a month ago to stake a claim for greater involvement ended in shambles as the Italian side ran riot in the closing stages, shortly after Sandro Ramirez had given the Blues hope at 2-1.
Everton were trailing 2-0 with 20 minutes left following a brace by Bryan Cristante and a penalty save from Joel Robles early in the second half when the Spanish striker scored his first competitive goal since signing from Malaga over the summer.
Any hopes of the Toffees completing a comeback were cut off at the knees by a spectacular effort from Robin Gosens which made it 3-1 before his fellow substitute and former Cardiff flop Andreas Cornelius plundered two more late goals. Like Arsenal, the last team to register five goals at Goodison a month ago, it was Atalanta's first away win of the season.
With Everton's interest in the Europa League already over, this penultimate group game was, for them at least, a meaningless fixture but Unsworth handed chances to impress to Joel Robles, Davy Klaassen, Sandro Ramirez and Kevin Mirallas who all started while Cuco Martina returned after recovering from a neck injury.
Beni Baningime got another opportunity in central midfield and Ashley Williams replaced Phil Jagielka in defence but there was no place in the starting XI for Nikola Vlasic.
Playing in front of vast expanses of empty blue seats, Everton made a purposeful enough start with Rooney attempting to pick Sandro out in the centre with a good, low cross early on but it was all-too familiar failings at the back that saw Unsworth's side concede the first goal before a quarter of an hour had elapsed.
Castagne breezed past Martina and Klaassen down the right, easily evaded Michael Keane as he drove into the box and while Williams got a foot to his square pass, it fell straight to Bryan Cristante who easily converted.
The Blues offered almost nothing in attack by way of response until Mirallas got in behind the Italians' back line, eventually shot and was foiled by the goalkeeper. The rebound fell invitingly for Sandro who had most of the whole goal to aim at but he snatched at a half-volley and sliced it well over.
Eight minutes before the break, Martina picked up Sandro's backheel, his cross was beaten out to Davies but his quick shot was headed off the line impressively.
Williams picked up his customary yellow card when he clattered through just before half time but Atalanta wasted the resulting free kick.
And Everton had the last real chance of the first half when a defensive header dropped to Mirallas just inside the box but his first-time effort was saved.
Everton's evening almost got worse early in the second half when Williams scythed Cristante down and conceded a penalty but Robles kept the deficit at one by guessing the right way and making the save and then foiling Alejandro Gomez again on the rebound.
Atalanta came at them again, though, and this time it was Kenny to the rescue when he cleared a header off his own goal line.
A foul by Mirallas just outside the area handed Rooney a free-kick opportunity in the 57th minute which was headed behind and the subsequent corner came to nothing.
At the other end, Keane was barged off the ball outside the area but Robles got a touch to the resulting shot that flew over the crossbar.
Atalanta did double their lead in the 63rd minute, however, as more poor defending let the Blues down. Williams was out-jumped as the ball was flighted in and it was headed home from close range by Cristante.
Everton finally found the net with 20 minutes to go with a fine finish from Sandro. Mirallas collected a long pass into the channel, found the Spaniard and he cut a shot across the 'keeper and inside the far post.
And Sandro forced a double-handed save from the 'keeper six minutes from the end with a stinging shot from 20 yards out before Keane was adjudged to have fouled his man before planting a header off the bar and on to the line.
Any chance of saving face with a late equaliser evaporated when the ball was cleared as far as Gosens on the edge of the area and he lashed a shot off the post and in.
A minute later, his fellow substitute Cornelius turned Everton's own recent introduction, Morgan Feeney, and fired between Robles's legs to make it 4-1 and the big forward completed the rout when he headed in with effectively the last touch of the game.
Full details: Match Page
---
Reader Comments (365)
Note: the following content is not moderated or vetted by the site owners at the time of submission. Comments are the responsibility of the poster. Disclaimer
Paul Goodchild
1
Posted 23/11/2017 at 19:09:44
That looks a pretty decent team to me and dare I say better than the one put out on Saturday. I think that is part of the problem this season. It is so difficult to pick a first 11 and the formation from the options available.

The 2 managers have struggled here and all fans have picked infinite permutations and combinations for a team on this site for the last few weeks and that is with 4 or 5 key players not being available as yet all season.

It will not be easy for the new manager whoever it is to (unless it is Unworth to assess all the players) and decide who and how to play.
Jack Convery
2
Posted 23/11/2017 at 19:16:23
Would have liked to have Besic at centre half and Vlasic for waste of space Mirallas.
Paul Kossoff
3
Posted 23/11/2017 at 19:17:17
Apparently a lot of ultra trouble makers in Liverpool for this game, some of them not even Atalanta fans. Hope Everton fans don't get involved. £27,000 fine for the idiot Everton supporter from the Lyon game, we don't want anymore bad publicity.
Phillip Warrington
4
Posted 23/11/2017 at 19:18:54
I would love to know what Vlasic has done wrong. He has been one of Everton's better players.
This shows where Everton are – they want to compete in the Champions League but can't even get out of the group stages of the Europa League and yet this would have been Everton's best chance of qualifying for the Champions League, like Man Utd did last season.
Clive Rogers
5
Posted 23/11/2017 at 19:21:44
It looks like Unsworth doesn't rate Besic, Lookman or Vlasic.
Colin Glassar
6
Posted 23/11/2017 at 19:24:42
They're being rested for the derby, Clive.
Steve Ferns
7
Posted 23/11/2017 at 19:26:58
Paul. I walked past the away fans. They looked decent normal fans. Don't believe the hype.
Also, there's going to be less than 10,000. More than half them. There's no one outside the stadium.
Danny Baily
8
Posted 23/11/2017 at 19:28:04
Looks like our most balanced side so far this season. Good to see Klaassen, Sandro and Robles getting game time. I would like them all to feature more heavily as the season progresses.
Steve Ferns
9
Posted 23/11/2017 at 19:28:46
Clive he played him last match. And he'll play him on Sunday. He's giving Mirallas a chance as he is Lookman's backup.
Vlasic is a worry defensively. He's a luxury player for now. Big future for sure. But he needs time.
Besic, does anyone rate him? He's terrible.
Chris Gould
10
Posted 23/11/2017 at 19:31:17
Why the hell play Mirallas instead of Vlasic?
It's a game of zero significance. Mirallas wants to leave and has a bad attitude. Vlasic had been the one bright spark and has a great attitude.
What the hell is Unsworth's problem with the lad?
Steve Ferns
11
Posted 23/11/2017 at 19:35:04
He has about three great moments each game but twice as many defensive lapses. He's a lot to learn.
Raymond Fox
12
Posted 23/11/2017 at 19:36:43
I'm thinking Vlasic has been a naughty boy Chris, something must have gone on.
Steve Ferns
13
Posted 23/11/2017 at 19:51:06
Maybe it was blanka.
Clive Rogers
14
Posted 23/11/2017 at 20:01:38
Steve (#9), Lookman was very poor last game and was taken off at half-time. He looked lost.
Ashley Roberts
15
Posted 23/11/2017 at 20:02:04
I actually like the set up. Agree to rest Barnes and Jags as they cannot cope with 2 games a week now. I was hoping Rooney would play in a more deeper midfield role to see how he gelled with Davies.
I have to admit I am not a fan of Klaassen and do not think he will cut it in the Premier League. This is his last chance as far as I am concerned.
So ideally I would have swapped Rooney for Klaassen and played Calvert-Lewin up front. So glad to not see Gana or Schneiderlin in the line -up.
Bill Gienapp
16
Posted 23/11/2017 at 20:08:53
Lookman's main issue last game was he was forced to defend way more than attack in that first half. That's never going to turn out well.
Clive Rogers
17
Posted 23/11/2017 at 20:23:55
Bill, he's been poor all season really. He's drifting out of things.
George Cumiskey
18
Posted 23/11/2017 at 20:32:23
How the hell did Mirallas get in before Vlasic, unbelievable.
Simon Dalzell
19
Posted 23/11/2017 at 20:35:03
Vlasic should play. His attacking ability outweighs any defensive worries. Lookman had no chance against Palace, as we played ultra defensively. Unsworth hasn't much idea. Praying for a manager before West Ham. (Can't see it.)
George Cumiskey
20
Posted 23/11/2017 at 20:38:58
I'll have to agree with you on that, Simon.
Simon Dalzell
21
Posted 23/11/2017 at 20:40:32
Thanks George, it makes a change, somebody agreeing. Ferninho will be on my case soon!!
George Cumiskey
22
Posted 23/11/2017 at 20:48:08
I see Beni has caught the Everton disease of giving the ball away.
Karl Jones
23
Posted 23/11/2017 at 20:49:02
Conceded the statutory early first goal yet again. They seemingly don't have an answer to that. Some really poor Everton players out there tonight. Weak, lightweight and clueless in front of goal (On the rare occasions they get there). Getting easily beaten. How did it come to this?
Martin Clark
24
Posted 23/11/2017 at 20:52:04
We're just not used to having options. Our sides through the years have almost picked themselves with only a few options to change. No we have no idea what our strongest team is and have an unusual problem of having options that we have no plan.
We need to work out our best team soon so we can start playing with more consistency and awareness of each player's strengths
Clive Rogers
25
Posted 23/11/2017 at 20:55:00
Unsy must have realised he has picked the wrong team.
John G Davies
26
Posted 23/11/2017 at 20:57:48
Keane is a big disappointment. I will give him time to improve but one thing he can't improve is his lack of pace. He also turns like a bus.
There were two English centre-halves on the market this summer who we could realistically sign. We signed Keane. We missed out on the other one who is twice the player at half the price.
Gavin Johnson
27
Posted 23/11/2017 at 21:02:32
The absence of Vlasic looks ominous. Hopefully some game time once Unsworth is moved back to U-23 duties.
Jimmy Salt
28
Posted 23/11/2017 at 21:03:18
All I remember of Keane before he joined us was Lukaku tearing him a new one.
Not a bad player but a bit over-hyped and might need more time to develop.
Gavin Johnson
29
Posted 23/11/2017 at 21:08:07
Hopefully Sean Dyche will be brought in and we'll see the Michael Keane we saw last season under his management.
Clive Rogers
30
Posted 23/11/2017 at 21:08:53
Robles wasn't even in his goal when the ball went in. Shambolic goalkeeping. He should never play again.
Steve McNally
31
Posted 23/11/2017 at 21:10:57
Apart from Pickford the money spent during the summer looks like it's been wasted. That said, I'm hoping Keane will improve with time because he looked decent at Burnley. Klaassen still looks a complete passenger and needs to be offloaded asap.
I think David Unsworth's heart is the right place but, I don't think he's got the know how to get this team performing to a decent level. A proven manager is needed asap, otherwise this could prove to be a watershed season in Everton's history – for all the wrong reasons.
Jay Wood
32
Posted 23/11/2017 at 21:15:51
Hey-ho! The more things change, the more they stay the same 'n all that.
Another example of Michael Keane looking like both feet are stuck in a bucket of cement when a player runs at him, easily passing him on either side.
People knock Williams, but Keane has gone from looking like a 7-8 out of 10 player pre-season to a 2-3-4 out of 10 player now and looks the most vulnerable of our centre back options.
Worrying.
John Hammond
33
Posted 23/11/2017 at 21:22:10
Trying to think of a Premier League defence as comical as ours...
Mike Hughes
34
Posted 23/11/2017 at 21:22:16
The second worst thing about this situation is that it makes the Martinez period look pretty decent. And it really was not.
The worst thing is that we really do have the look and feel of genuine relegation candidates.

Justin Doone
35
Posted 23/11/2017 at 21:28:48
Get Mancini in
Only pride to play for but the players and Unsworth should understand we need to learn how to defend as a team.
I would play 5-3-1-1 every game but I don't mind trying a 4 man defence at home against weak opponents or a game with nothing to lose there than pride and confidence, which is my point. We need to build some.
We needed to play to keep a clean sheet whatever formation.
All players getting tight and compact in our own half. No room for them and counter attacks for us. Boring but effective as they drop deep to find space.
When we counter attack we send 3 players away playing balls into space for us to run into. Everyone else stays back, defending, getting tight to their players so we don't get turned over.
Not great football but can you imagine the optimism what keeping 3 clean sheets would do for us and NOT losing!
I don't want Pulis but for 6 months to organise and bring through young defenders it's getting to the point that I'm almost in 2 minds..
No. Just get Mancini
Steve McNally
36
Posted 23/11/2017 at 21:29:34
Jesus Christ, I hope the board have got something up their sleeves because at the moment we are dire and are nailed-on for relegation.
Lee Atkins
37
Posted 23/11/2017 at 21:33:07
If a member of an obscure tribe were plucked from a remote village (in the depths of the Amazon basin) with no command or understanding of the English language and had never witnessed a game of football (as they were blind at birth) and was suddenly thrust into the hot seat at Goodison Park with £150m to spend on new players, I doubt they could've managed to fuck it up quite as badly as this!
This is the most depressing Everton team I have witnessed in the last 30 years!!!
John Roberts
38
Posted 23/11/2017 at 21:46:26
Williams has been the standout dreadful player since day one this season. It's like clockwork he hacks a player from behind trying to nip in front for the ball but gets it horribly wrong and gets booked. Plus all the other novice errors in giving penalties away etc when no need. I see him in the line-up and think "Here we go again".
Christy Ring
39
Posted 23/11/2017 at 21:48:02
Very worrying, because the game tonight, gave players the chance to impress. At least we now know that was a waste of time.
What are the chances of getting David Blaine in the hot seat.
Mike Price
40
Posted 23/11/2017 at 21:52:24
As bad as I've ever seen this club. The ongoing disaster is unbelievably shite players, bought for fortunes on ridiculous contracts that we couldn't give away.
Even billionaires don't like to lose hundreds of millions and this whole situation is becoming a sickening nightmare.
Unsworth is completely out of his depth; we're a 'job for the boys' club and are bleeding so much money we've thrown any chance we had to take a step forward.
Unless we get a quick change we are relegated we would be in danger of relegation from the Championship.
Dermot O'Brien
41
Posted 23/11/2017 at 21:57:05
Apart from Beni and the subs, that team stunk the place out. Williams Davies, Rooney, Keane, Sandro, Klaassen.... Jesus Christ. Absolute rubbish.
Dermot O'Brien
42
Posted 23/11/2017 at 21:58:39
I was in favour of David Unsworh getting a chance but the chance is gone now.
Alan McGuffog
43
Posted 23/11/2017 at 22:00:07
And if anyone truly believes we will have a sparkling stadium on the docks when we are plying our trade in the Championship or worse they are delusional.
I have not seen a worse outfit this season. Will take a miracle for us to stay up. Gutless, clueless , slow, unfit, talentless. Never ever seen an Everton side like this. Heading one way only...
Steve McNally
44
Posted 23/11/2017 at 22:01:00
Shocking.
Trevor Peers
45
Posted 23/11/2017 at 22:25:55
Fat Sam not good enough? We'll be relegated by February if we don't get an organiser in to sort out this shambles.
Rick Pattinson
46
Posted 23/11/2017 at 22:27:57
Expect a new manager tomorrow only cuz it's fucking Black Friday!!!!! Absolute fucking disaster of a team... not one fucking positive. Gutless cowards. Fuck!!!
Liam Reilly
47
Posted 23/11/2017 at 22:29:29
Can't see how this side can get 40 points right now. I seriously fear we are going down.
Most of them are not fit to wear that shirt.
Tony Williams
48
Posted 23/11/2017 at 22:30:22
Where on earth do we go from here?
John G Davies
49
Posted 23/11/2017 at 22:31:06
We need a manager in the next week. It's not going to happen for Unsy.
No pattern, no shape, no movement. No defensive stability. Time's up for David, I'm afraid.

Derek Knox
50
Posted 23/11/2017 at 22:32:13
The site went down for me, who got MotM?
What an embarrassing shambolic display, you can understand one or two players maybe having a mare, but this team had nine changes and they were all equally bad.
Lack of confidence is one thing, but there is something else here. I often watch lower league games, and I have never seen a group of players, play that ineptly.
John Keating
51
Posted 23/11/2017 at 22:34:08
What can anyone say to that? We are not only a laughing stock but a fucking national embarrassment. We all know what we need here and as long as people think we can bring in some foreign manager with a 3 year plan then we really are in the shit.
We urgently need a short term quick fix. Forget all this 2 wins and we're mid table crap until we stop shipping goals we will be continually scrapping near the bottom.
The board have been derelict in their duty and poor Unsworth put in a terrible situation not of his making. Time to stop pissing about make the phone call and hope he can keep us up so we can rethink things in the close season.
Brian Wilkinson
52
Posted 23/11/2017 at 22:35:50
Not sure about MotM, Derek; for me, I would say Beni for Everton.
Anthony Hughes
53
Posted 23/11/2017 at 22:35:52
Chop and change, chop and change every game different players formations and players played out of position. Pick a settled side with what shite we've got and try to get some form of stability. Its all over the fucking show
Joe Clitherow
54
Posted 23/11/2017 at 22:35:52
Not home yet. Every chance I will smash up the house like "Golden" Gordon Olthwaite shouting "Eight-One!! Eight bloody One!!!"
Jay Wood
55
Posted 23/11/2017 at 22:36:13
This is getting dangerously cancerous now.
The senior players are not stepping up to the plate and the younger players are in danger of being seriously scarred by the experience of this rudderless season.
I so wanted David Unsworth to step up and stake a claim for the post. It just ain't happening.
Is the deliberation of appointing a new manager now prudent, or reckless?
Whoever is finally appointed has a serious, SERIOUS task on their hands.
What a clusterfuck of a season this has been reduced to.
Gavin Johnson
56
Posted 23/11/2017 at 22:36:57
So much for a 2nd wind or turnaround under Unsworth. Let's not kid ourselves – it's no better under him than it was under Koeman... New manager asap, please!!
Michael Lynch
57
Posted 23/11/2017 at 22:38:20
The perfect storm – a squad made up entirely of:
1. Players past their sell-by date
2. Players not ready for (and possibly never will be ready for ) top-flight football
3. The worst bunch of new signings in the history of the club.
The scary thing is we haven't even had any bad luck in games. On the contrary, where we've picked up points against Watford and Palace we've had incredibly good luck.
Can't see any manager who can turn this around. Just need to hope we don't get relegated, get a bright young manager in at the end of the season, and sign 25 new players.
Colin Glassar
58
Posted 23/11/2017 at 22:39:02
That "performance" was up (or down) there with the likes of the games against Bucharest, Benfica, Arsenal etc it was not only humiliating but embarrassing and painful to watch.
A couple of decent(ish) efforts by Kenny, Rooney, Beni and Robles. Williams, Keane, Martina beyond pathetic. I feel sorry for Unsy but he needs to return to his former job.
Frank Sheppard
59
Posted 23/11/2017 at 22:39:27
Dark Dark days, beaten at home 1-5 by a team without an away win this season, and 1-5 flattered us.
Paul A Smith
60
Posted 23/11/2017 at 22:39:33
Working with these players will make most managers look bad.
We need a miracle worker and a striker.
As someone stated to me earlier, if Allardyce and Pulis took over at 2 relegation battling sides we would be doomed.
Joseph Murphy
61
Posted 23/11/2017 at 22:39:45
If I never see Williams, Klaassen or Martina in an Everton shirt again, it'll be to soon. And there are a few more following closely behind!
Williams is finished as a footballer, he knows it and so does every opposition player, so why don't Everton. Klaassen and Martina were never footballers in the first place.
We look like QPR from a few years back, loads of money spent on loads of mercenary footballers. Please get them out of my club.
I'm saddened to be an Everton fan at the moment.
Kim Vivian
62
Posted 23/11/2017 at 22:40:06
I feel so sorry for Rhino trying to sort out this mess (not of his making). I fear he will even struggle back with the U23s after this. Some of those players should hang their heads in shame.
Joseph Edwards
63
Posted 23/11/2017 at 22:40:11
Make no mistake, we are getting relegated this season, the club is a total and utter mess from the top down. Unsworth is totally out of his depth, making the same bizarre team selections and substitutions as Koeman ever did .
The lack of direction and indecision from the board is nearly as worrying as the lack of organisation or quality on the pitch. The team look disinterested, unbalanced and lacking any fight. If things don't change, and quickly, we are totally fucked.
Mick Conalty
64
Posted 23/11/2017 at 22:40:14
The vultures are circling headed by Fat Sam no doubt. The only way is up after that. We need a statement from Moshiri or Kenwright ASAP. There is no doubt now that those two and Keoman have fucked the club.

Ash Moore
65
Posted 23/11/2017 at 22:40:31
Torn to shreds again.
Unbelievable. I don't normally call players out individually but I have to say that Williams and Keane were nowhere near the standard required at this level. They both deserve a total bollocking for that display.
Twelve games since our last clean sheet – and that was a League Cup tie against Sunderland. In the Premier League and Europa League, we have not kept a clean sheet since August.
Are we in a relegation battle yet, Steve Ferns?
Colin Glassar
66
Posted 23/11/2017 at 22:41:08
Rick (#46), does that mean we'll get one on the cheap?
Anthony Hughes
67
Posted 23/11/2017 at 22:41:31
Beaten at home 1-5 by a team that are 12th in their domestic league.
Joe Clitherow
68
Posted 23/11/2017 at 22:42:57
Barnstoneworth!! Barnstoneworth!!
Neil Copeland
69
Posted 23/11/2017 at 22:43:12
Colin, perhaps Watford will have a fire sale and we get Silva for £20m!
Colin Glassar
70
Posted 23/11/2017 at 22:43:18
Koeman, what have you done?
Paul A Smith
71
Posted 23/11/2017 at 22:43:31
Keane is another we obviously didnt scout properly.
Phillip Warrington
72
Posted 23/11/2017 at 22:43:43
Unfit spineless bunch of players on their holidays, they have raped Everton and are now waiting to be shipped off to the next club at a discount to shore up their retirement fund.
Say what you want about Rooney but at present the only player on the field for Everton with skill and a football brain – just a pity probably 2 years too late.
Tom Bowers
73
Posted 23/11/2017 at 22:45:18
Another disaster. They cannot even play tight and at least get some some semblance of decency.
The management have to face facts. Koeman brought in a load of trash, sub-par players who are not complimented at all by what was already there. I just hope that this mess is sorted soon as no decent players will want to come to this club come January.
I didn't expect a win today firstly because I knew we didn't have the personnel to threaten a team like Atalanta but this was just an embarrassing debacle.
God only knows what will happen when they play RS. They must be licking their lips even now. They keep showing how bad they are at defending by conceding first in most recent games which then leaves the onus on the non-existent offensive prowess.

John Pierce
74
Posted 23/11/2017 at 22:45:35
A shambles tonight, several players disgraced themselves, with their lack of application.
Old, young, veteran or novice, good or bad so many failed to just get stuck in.
Many subscribe to resting players in this situation, not I. Momentum, and being able to practice a formation is the key to stability and gaining confidence.
I don't care if someone is injured that's part of football and should not be the first consideration.
I still believe we should have a short term appointment but tonight Unsworth threw together a team as poor as the team thrown together by Koeman in Atalanta.
It's blatant dereliction of your duty to the people who pay to see that muck. A refund should be issued forthwith.
In other games I've seen a plan this was wholly without preparation. Awful times.
John Graham
75
Posted 23/11/2017 at 22:46:27
Diabolical.
Absolutely no structure to the team... Players all over the place. The amount of times defensive players were caught out in attacking positions shows a total lack of discipline. We are playing as a bunch of individuals.
I don't think it's the individual players, we are just not playing as a team. The sooner we get a good manager in to give the team some organization and belief, the better.
I don't want any of the old dinosaurs like Allardyce, Pulis, or Pardew. We need a young manager with new ideas to sort the players out. The sooner the better.
Harry Catterall
76
Posted 23/11/2017 at 22:46:46
What happened to Ancellotti? He was favourite to come here. It's got to be Pulis till the end of the season, when we can get a major player like Guardiola or Hiddink.
This season can not happen to a club as massive as Everton.
Tony Abrahams
77
Posted 23/11/2017 at 22:48:48
A culmination of total mismanagement, which was started by Koeman, and is too big for Unsworth, to rectify. Steve Walsh said Keane and Pickford, will be mainstays of the England set-up for years to come, which makes me want to really question his ability, to do the job, he was brought to Everton for?
Stability is needed, Unsy hasn't given us it, and I just hope this result doesn't give us any long term damage, even if I'm really worried that it will do.
Really cool heads are needed now though, we have changed too much too quickly, and we now need someone to come in and stabilize the players, both on and off the pitch, before this situation becomes irreversible.
Kim Vivian
78
Posted 23/11/2017 at 22:49:01
Tommy Shelby 'd sort them out.
Anthony Hughes
79
Posted 23/11/2017 at 22:49:05
Keane and Williams were particularly disgraceful tonight, I think even soft shite Chris Sutton said in commentary that Williams is finished at the top level of football.
Joe McCormick
80
Posted 23/11/2017 at 22:50:11
Let's start with putting a poor right-back at left-back. Disaster!
Then play a Number 10 low on confidence wide on the left!
Then play Abbott and Costello at centre-half. It's not just that we haven't got a spine – we are spineless!
Ray Robinson
81
Posted 23/11/2017 at 22:51:21
Right now – irrespective of who comes in to manage – the only thing that is going to turn this disaster around is for the fans to make Goodison a seething cauldron every home match.
I'm convinced that the reason I've never seen Everton get relegated is because of the sheer will of the crowd to keep the team up. As bad as it was tonight, there have to be no mass walkouts a la Sunderland and no singling out the players for abuse.
Confidence is a massively fragile thing and, without it, nothing will improve. It's early enough in the season to turn things around. The next manager has to be a master psychologist as much as a coach / tactician but the role of the crowd will be equally decisive.
Iain Love
82
Posted 23/11/2017 at 22:51:25
I hope this ends talk of Unsworth till the end of the season. Why am I not reading stories about us going for Dyche?
Another awful night for us... something needs to happen.
Les Martin
83
Posted 23/11/2017 at 22:51:25
Williams, Keane and Rooney were a disgrace. Williams responsible for 3 goals and tried to wrestle the 5th goal scorer to the ground, and he couldn't even do that!
Keane responsible for the 1st and 3rd, slower than the Titanic, we have paid £25m for a dud on tonight's showing, and he ducked out for the 3rd.
Rooney couldn't pass wind, ship him out on a quick boat to China!
Robles and Beni played well.
Kevin Prytherch
84
Posted 23/11/2017 at 22:51:41
Those calling for Unsworth out...
He gave fringe players a chance to shine in a dead rubber...
Martina, Williams, Klaassen, Rooney, Sandro, Mirallas, Robles. 5 out of 7 were Koeman's buys.
His focus is the league and I don't think most of these will get near the first team for a while, especially now.
Andrew Wayne
85
Posted 23/11/2017 at 22:51:47
This is now an alarm bells ringing, blue lights flashing emergency and needs that level of response from the Board. Enough of the bollox about "showing resilience" and "proud of the players" malarkey that we get after every rubbish display, someone needs to get a grip and say we are in it deep and respond accordingly.
There needs to be action now to appoint a manager to save our Premier League status and if that is Big Sam then so be it. We are a total shambles and a laughing stock – can we just declare for the derby now?
Paul Birmingham
86
Posted 23/11/2017 at 22:53:22
On this performance, even with 9 changes in the starting line-up from last weekend, we look defeated and doomed. The confidence is shot and we must be the easiest team in the Premier League to play against.
No shape, no belief, and aside from a few of the kids, Sandro scored but done little else as he had no service and Joel's saves, it's another Key stone Cops defensive show. It's become very despairing the last few years, and for me this is the worst ever in the last 40 years.
I don't blame Unsworth, but some lack of belief and confidence – inferiority complex has set in. The defence is a shambles and will cost what was out laid in the summer to replace. Which so called top class players will come to EFC in the current plight?
One day the truth about last summers transfers policy etc I'll come out. Koeman was dire as a coach and leader, but there's more and the club must heed time as this season we look certain to go down.
For me that was Williams's last game, Keane should be playing cricket as he's not a footballer in my book... the lethargy in the team is criminal, God help up and coming players at EFC, in the next few months.
Southampton away, the joys of life, these days suffering watching EFC..
Who will be the manager? Soon I hope, it needs a bold and brave and experienced manager to save the club... this season we must stay up and the next two years concentrate on the basics. God only knows what's going on in Finch Farm at training...
Hope, and hope.

Guy Hastings
87
Posted 23/11/2017 at 22:53:29
Keane is simply dreadful. Krøldrup lite, and that's being generous.
Jim Lloyd
88
Posted 23/11/2017 at 22:53:48
If you're thinking about Sam Allardyce John, then I see him as our only hope. If we don't get him in now, before this weekend, we will find it harder and harder to keep get out of the danger of relegation.
It isn't a popularity contest. It is a short term solution to stop us going down. If a top class manager can be persuaded to come, then even he will need to get in at least 3 good defenders with Premier League experience, probably four. It looks to me that Keane isn't as good as we hoped. It might be that with a couple of decent men around him, he'll eventually come good. But can we wait?
We also need a midfielder who can orchestrate our attacks and a left winger who is better than any we have at the moment. Then there's a centre forward who we are in obvious need of.
In my view, Williams should not be looked on as a first team regular, ever again. Jags is not fast enough now and Bainsey is not able to defend and attack anymore. We don't know how long, if ever, Seamus can come into the side, so that's the whole back line that needs replacing.
To me, Sam Allardyce is the best candidate in the short term to try and keep us in this division. He knows who will do a job in each of the positions mentioned, who are good enough to give us a chance of staying up.
We've got some good and decent players; but not enough in my view to keep us up.
If Sean Dyche is picked as a permanent manager, then we need him now, as he is another who at least can identify the weakest positions and bring players in who will give us a good chance of staying up.
If anyone believes we have time to decide, I certainly hope they are right. My fear is we will be in a deep trouble if we leave a decision until December or January.
We are in deep trouble now, and I think we need a manager in by the end of the weekend.
I've just edited this top say that I think Unsy has done a fine job in awful circumstances, so no blame attached to a man to leapt into the breach when EFC asked him to.
Neil Copeland
89
Posted 23/11/2017 at 22:54:05
Given the constant changes in team selection from game to game by Koeman initially and now Unsworth I seriously wonder whether the players think what the fuck! It doesn't matter how I play, good or bad I may or may not be in the team next week, I will just keep my head down and take the money.
Ian Linn
90
Posted 23/11/2017 at 22:54:50
It would be interesting to hear the reasons why Keane, Sandro, Klaassen, Vlasic and Martina were bought because on the strength of their performances – it's hard to see them in a Championship team.
An all time low for me, no doubt, I'm 48 and I think it's the worst I've ever seen – and we have served up some utter shite over my years.
Dyche for me.
Steve Hopkins
91
Posted 23/11/2017 at 22:55:02
If I never again see Ashley fucking Williams using our shirt to hide his embarrassed face following another monumental fuck-up, it'll be too soon.
Anthony Hughes
92
Posted 23/11/2017 at 22:55:29
You're right, Ray, but I think the atmosphere could become quite toxic at Goodison.
Ian Riley
93
Posted 23/11/2017 at 22:55:49
Anyone thinking now the board are right to be patient over appointing our next manager? This has been coming since January or before that and the signings in the summer have made no difference.
The most important person at a football club is the manager. No-one is sailing the ship and the players know it. The owner needs to appoint quickly and be realistic we are are shit at present and need saving from relegation. This is not pre-season but nearly half way through the season.
Unsworth needs to go back to the Under-23s. It's not his fault. This has been coming way before he came in. Sadly we may be beyond saving but the board must appoint a manager now to give us a fighting chance.
Mike Hughes
94
Posted 23/11/2017 at 22:58:00
Allardyce or Dyche.
Or relegation.
It's that desperate.

Simon Dalzell
95
Posted 23/11/2017 at 22:58:24
Joe @ 68 Do you think we should try playing without shorts? (And i haven't heard any rumours!!!)
Carl Taylor
96
Posted 23/11/2017 at 22:58:29
Is there anyone who still thinks there are 3 teams worse than us in the Premier League? Is there anyone who thinks Williams and Martina should ever wear the shirt again?
Is there anyone who still thinks Unsworth until the end of the season is a good idea? If you are that person you are either fucking deluded or the Chairman of Everton Football Club!
John G Davies
97
Posted 23/11/2017 at 22:58:37
Tony Abrahams,
Bang on the money. It's too big for Unsworth. Sad to see a good servant to the club going through this but if we keep him in the job relegation is a real possibility.
Anthony Hughes
98
Posted 23/11/2017 at 22:59:47
I felt sorry for Unsworth tonight, it really looked like he was devastated on the touch line.
Raymond Fox
99
Posted 23/11/2017 at 22:59:58
Meaningless game, I don't give two hoots for the result quite honestly.
We talk about the Premier League being the best in the world, most competitive maybe, but best never. Most of the other Euro teams play a better brand of football than the also-rans in the Premier League. These Europa fixtures were always going to be a pain in the ass for us, and I said so before the competition started.
As far as Unsworth is concerned the lord above couldn't make our squad into a class side, so I don't blame him for the score. It was almost our reserve team tonight, who was expecting a win or even a draw, yes a better display but everything that can go wrong is doing at the moment.
I'm more worried about Niasse missing the next two games than I am about this result.

Kevin Tully
100
Posted 23/11/2017 at 23:00:35
This is all down to our summer recruitment. Sometimes, you can unearth a gem or two, but it seems we've been conned out of £200m.
How can you let Lukaku leave at his leisure for all that money and not bring in a replacement? Absolute criminal mismanagement on every level. This is what happens when you have too many cooks adding their own ingredients. All laughing as they blow hundreds of millions thinking they will lap up the glory for their signings as we march into the Champions League. It's turned into an utter farce, with people at the top going into hiding – their usual MO.
I have never seen an Everton side so devoid of any joy or flair, every goal seems to bundled over the line with an element of luck.
This is as serious as it gets. Watching all the old boys scrambling around on the bench sums us up as a club I think. All the players who were involved in those famous relegation scraps have come full circle. This malaise is not their fault, but they are a symptom of a chairman who has surrounded himself with his idea of his perfect Everton. All topped off with our highest paid ''star player" who was finished 3 years ago.
Ray Robinson
101
Posted 23/11/2017 at 23:01:46
Anthony (#94), if that happens it'll be a downward spiral – a self-fulfilling prophecy. We need more of the type of support that we got against Watford when 2-0 down.
Andy Meighan
102
Posted 23/11/2017 at 23:02:32
Disgusting. And to think there's someone on here who think we are over-reacting whenever the R-word gets mentioned. Yes, you know who you are. No-one is over-reacting or panicking – some of us are looking at the bigger picture.
Unsworth is out of his depth and (discounting tonight ) some of his team selections and substitutions have been moronic That said, Koeman left him a complete mess
Maybe the only decent thing that might come out of this joke tonight is that the board now might act quickly. Let's face it, it can't come quick enough
Ash Moore
103
Posted 23/11/2017 at 23:02:57
Raymond, when your team gets battered 5-1 at home and you don't give a fuck you know things are bad.
The body language was revealing. We are in deep shit.
Steve Hopkins
104
Posted 23/11/2017 at 23:02:58
Raymond, the fact that you (and everyone else) is worried about Niasse being suspended is a damning indictment in itself.
Ray Jacques
105
Posted 23/11/2017 at 23:03:42
We need a Dyche or Allardyce style of manager who will kick the players up the arse but was that not Koeman's style? Unsworth puts an arm around them and that makes no difference. I think it's as simple as the players are just shite at the level of football they are employed to play in.
We are in crisis and falling fast to the Championship. We dodged it in the past but I don't think the club as a whole can cope this time and rally around as it's flawed top to bottom.
Simon Dalzell
106
Posted 23/11/2017 at 23:04:04
Mike @94 I agree. Its a downward spiral NOW !!!
Mike Price
107
Posted 23/11/2017 at 23:04:35
Robles is rubbish, the 5th goal was laughable. I don't want to pick on him but he was as bad as the rest.
Just watched the highlights show and players throughout Europe look like physical specimens and professional footballers, our squad look like misfits, young or old, the recruitment is a dereliction of duty, a total disgrace.
Even the so called future players like Kenny, look Sunday league to me. Why do young players at Arsenal or the dark side instantly look like proper superstars in the making what the fuck is going on!?
Tony Abrahams
108
Posted 23/11/2017 at 23:04:35
Neil (#89), I'm not sure you are 100% right with your thoughts on the players, but I would bet you are at least 50% right though.
New players getting pulled from pillar to post will be thinking what the fuck have I come here for because these cunts haven't got a fucking clue. They won't be blaming themselves anyway because you can see that by their body language.
When you give people the chance for excuses, then most of them will take it, and that's how at least half of our squad will be feeling right now, I'm sure.
Geoff Evans
109
Posted 23/11/2017 at 23:05:18
I saw my first game at Goodison in 1958. Enough is enough, that's me finished, it's become too heart-breaking and sad to watch this once great club dragged down to the level of also-rans whose sole purpose is to survive and make up the numbers.
I wish the club every success in the future and hope they can be brought back from the abyss they now face.
To every Evertonian out there, I'd like to say it's been an honour to be counted among your number and hope that you get the kind of club you all deserve in the very near future.
Regards
Steve Hopkins
110
Posted 23/11/2017 at 23:05:34
I actually told my other half that I was reasonably happy with 5-1 as it could've been 8!!!
David Connor
111
Posted 23/11/2017 at 23:05:38
Fuck the lot of 'em. Just hope someone has the balls to run on the pitch to confront these overpaid overrated fucking wasters. We are an absolute bloody disgrace. They don't even seem to care.
Peter Mills
112
Posted 23/11/2017 at 23:05:45
I am not going to form too many conclusions about David Unsworth from tonight. It was a patchwork team for a dead rubber, with 3/4 of an eye on a much more important game on Sunday.
It was uncomfortable to sit through, and Williams in particular played like a dog. Keane and Martina were not far behind him. The one bright spot was Beni Baningime, certainly not faultless, but when everything else became shambolic he stuck to his role, played his football, never hid.
An aside. When Robles saved his penalty he was at least 2 yards off his line before the ball was kicked. Good on him, but what is that extra linesman, standing a few yards away on the goal line, paid for?
Tony Williams
113
Posted 23/11/2017 at 23:05:52
I will be taking my seat when when we play West Ham, in my armchair. I think you are bad supporters going when they put in performances like that.
John Keating
114
Posted 23/11/2017 at 23:08:56
We need an outsider who won't take any shit from anyone regardless of their name or experience. We need someone to stabilise the horrendous downward spiral we are in. We have not deserved to win any of the games we've lost or got points from! That's how bad we are.
The main priority I'd defence so a defensive organiser. The new manager must be experienced especially in these situations. I think you know who we have to turn too in the short term.
Even then I have doubts even he could turn this disaster around.< The whole Club from top to bottom are a disgraceful embarrassment.
Chris Watts
115
Posted 23/11/2017 at 23:12:14
Where to start? The stadium looked empty on the TV. Anyone actually there who could confirm how many attended?
I've never felt so pessimistic as an Everton fan it's almost impossible to see where to go. This season has been a total disaster. I watched the first pre-season and European qualifier games and the signs were there. No width. Painfully slow. No goals. And it just never improved. We were relegation candidates after 5 league games and now it is more probably than possible. What on earth has happened to good players this season it is a bigger mystery than JFK and Roswell
Sorry, lads, wish I had something more positive to say
Sean Patton
116
Posted 23/11/2017 at 23:12:54
I know it was a dead rubber but some things are unacceptable the effort from the senior players tonight was pathetic and I would fine them a week's wage because they can't be paid for that display.
Don Alexander
117
Posted 23/11/2017 at 23:13:38
Tonight Atalanta managed to score the same number of goals as they have in six away games combined this season in Serie A.
Unsworth has rightly earned a good reputation as our youngsters' coach. He's had a month to graft some defensive know-how into the team and he was a defender with know-how. Tonight should therefore embarrass him by way of the manner of goals conceded and, sadly for him, end any hope of permanent appointment despite the opinion of our captain telling everyone how much more "the lads are enjoying training now".
Robles showed tonight that we have two very good goalkeepers, and yet we concede an average of two goals per game in the league. As in just about every game this season we could all see weakness in centre-forward, left-back and centre-back positions in particular, re-emphasising the mess of the summer transfer window. Any selling club in January will now more than screw us fee-wise for anyone merely competent in these positions so desperate is our need.
Given the total shambles of the "search" for a new manager so desperate is our need that the next guy in will be able to write his own contract because, after all, who would have any respect at all for the board of club like us?
If there's one single person of integrity on our board they should resign or, if there's nobody, Moshiri needs to start sacking, and then for his and all our sakes start doing something right.
Jim Lloyd
118
Posted 23/11/2017 at 23:13:49
Geoff lad, I've been going since around that time and it is so saddening and dispiriting to see the way we are now, with the chance of a stadium in a few years and the mess that might lead us to relegation.
All we can do, I suppose is hope that someone in the Board will get a grip (and I think it should be Moshiri) and let Bill Kenwright retire gracefully upstairs. Right Now!
Sir John Moores would not have stood for this muddle of a Board.
Hang on a bit, Geoff, and see what happens in the next few weeks. If we just keep stumbling along, I don't think you'll be alone but just hold on a while and see what happens.
Remember what we were like before Sir John, yet within a couple of years we were privileged top see some of the best footballers we've ever seen wearing a Royal Blue shirt, so hold lad for just a little while.
All the best
Colin Metcalfe
119
Posted 23/11/2017 at 23:14:59
Tony#113 what a disgraceful thing to say !
Andy Williams
120
Posted 23/11/2017 at 23:15:14
I really wanted Unsworth to do well and think he could with a balanced squad but we need someone to solidify us. Get Dyche in now.
I still believe we have a decent squad minus the obvious but Unsy is desperately trying to find something that works because he knows he has limited time resulting in him chopping and changing. We need somebody who will drill defensive solidity into the team and I'm afraid we need them now.
Ray Robinson
121
Posted 23/11/2017 at 23:15:47
Attendance was 17,431
Lewis Barclay
122
Posted 23/11/2017 at 23:16:11
I said before the season started we'd be bottom six at Christmas. I didn't expect the wheels falling off in the Europa quite so badly! However... It's possible that we could get wins against Southampton, West Ham and Huddersfield in the Premier League and have Bolasie and Barkley back within two weeks.
We should offload Mirallas and Schneiderlin and sadly, maybe, Klaassen in January and get some good loan deals for strikers and across the back line. I'm fairly sure Chelsea, Man Utd and Man City will have players we could use, sadly.
Meanwhile, Moshiri should break the bank on a stand-out striker and manager who can build a team of players.

Dave Evans
123
Posted 23/11/2017 at 23:16:12
Burnley spent in net terms no money this year. Their squad, who would probably not compare man for man with our squad, is one point from 4th in the table.
Dyche may or may not be for us but he is obviously an example of a professional coach and man manager who is. Their is something of the 'jobs for the old blue boys' about Finch Farm. This would be fine if the end result of the coaching was not so woeful.
We need a manager who can ring difficult changes in methods and possibly personnel. I think Unsworth is too close to things to do what is probably required.
Tony Abrahams
124
Posted 23/11/2017 at 23:16:27
Ray (#105), I've been saying it for weeks mate, these players really need to be managed, because they haven't got a leader in the ranks.
Steve Ferns
125
Posted 23/11/2017 at 23:16:36
That was an absolute shambles. An utter humiliation. It was embarrassing.
Nothing about tonight was good, I was looking forward to seeing Kevin Ratcliffe tonight, but I couldn't be bothered hanging around after the game and got off. I even called up talkshite I was that mad!
But some perspective. We played a weakened team. It was like we were playing a friendly away. They played like it was a cup final. No wonder we got hammered. Also, Everton have never beaten an Italian side (think Moyes "won" a leg but we lost on aggregate).
The defence was a shambles. The midfield was dire. That attack was toothless. Some said Pickford should be dropped, well who thinks that after watching Robles? I hope Unsworth changes 10 players for West Ham, the only one I would stick with is Kenny. I suppose we have to play one of Keane or Williams, but they were both dreadful tonight.
Some have asked where Vlasic has been. Well you saw why he's not played tonight. He strolls around the pitch and contributes little when not on the ball.
There were some positive spells. We were the better team until the goal. Their keeper made a couple of good saves and there was an awesome clearance off the line and Sandro hit a couple of awful shots and missed one you'd have put your mortgage on Kane scoring.
I'm not giving up on Unsworth yet. As I said, shocking, awful, humiliating performance, but we played it like a friendly and they played it like a cup final.
One question is though, when the opposition fans outnumber you, in your own stadium, and no one turns up, then you can't expect a blood and guts encounter, full of fight.
Peter Jansson
126
Posted 23/11/2017 at 23:18:00
It is meaningless to get so depressed after a totally meaningless game. You cannot be saying Unsworth is a bad manager after throwing in this team he did today.
Face the fact: we do not have players good enough! That is Koeman's fault. As I said before, no manager in the world can save us with this team.
We need to buy a couple of new players at Christmas and here we need to focus on a couple of good defensive players, a quick left winger, a creative player in the midfield and a striker. If we manage this we will not go down.
Then we need to use the strength we have. If we put a creative midfielder next to Gana maybe we will look good in the midfield. Gana is good at ball-winning but useless at passing forward. With a good midfielder with offensive qualities we might be able to attack more quickly than now. I say Rooney should be played in the midfield or Bani with Gana.
We desperately need a good left wing. Someone with speed and the ability to score and distribute.
We need a striker. It's pretty obvious.
About the defense. Here we need a complete overhaul. Williams is finished. Michael Keane needs his confidence back, was good at the start but has been horrible lately. Jagielka is still decent. Baines is okay and the right back has been a big problem all season. I say we need 3 new players here (right, mid and left) quickly.
Christy Ring
127
Posted 23/11/2017 at 23:19:46
We need a new manager in Now. I like Unsy, but the job is too big ,it's a huge step up from U23's. After missing out on Silva, Dyche is the only option, and we need him in place after the weekend, hopefully he won't turn us down because he wasn't first choice.
Clive Rogers
128
Posted 23/11/2017 at 23:20:05
Kevin #100, agree with what you say. The biggest blunder was the Sigurdsson deal. Swansea saw Kenwright coming. Beforehand it was being talked of as a £30M deal and we offered £27M initially. How the hell did it end up at £45M. He looks just an average player worth about £10M. Unbelievable incompetence from top to bottom of our club.
Gavin Johnson
129
Posted 23/11/2017 at 23:21:52
Allardyce isn't going to come on a short deal so he is out of the race. He isn't good enough to be a manager of Everton in the long term.
Sean Dyche will keep us up and as potential for so much more. I'm not a fan of David Moyes but I'll give him his dues. He was really good up to the 2009/10 season. After that he believed his own hype and promoted himself at the expense of the club.
People keep comparing Dyche to Moyes. Well wouldn't most people like the young David Moyes with money, which is what we'd have with Sean Dyche if you believe the Dyche & Moyes comparison??
Lets get over football snobbery and bring in a bright young British manager. The ginger Mourinho is the perfect fit.
Dan Davies
130
Posted 23/11/2017 at 23:22:00
All the Unsworth supporters where are you tonight? C'mon let's be having you. Hello?
Steve Ferns
131
Posted 23/11/2017 at 23:22:15
Peter the defence starts with the midfield and there is no protection. Unsworth got it completely wrong going with two kids. He should have played some experience alongside them.
Using the line up he started with, why not drop Rooney as deep as Baningime and Davies and have him conduct the game and use their legs to supplement his lack of legs. That said, Rooney was fit enough to still go charging about at 3-1.
Steve Ferns
132
Posted 23/11/2017 at 23:23:08
Hi Dan.
Sandra Williams
133
Posted 23/11/2017 at 23:23:52
Totally agree with you Kevin, in fact you've kind of stolen my thunder! So many things were done wrong in the Summer, from not replacing Lukaku, bringing in mediocre players and also letting the Rooney 'circus' roll into town.
I don't believe Koeman ever 'cared' for our Club, he merely chased the pound here. As do many players. That's the way of the footballing world now, unfortunately.
I've been going to Goodison since 1975 and was at the Wimbledon and Coventry games. The latter we only survived on goal difference we wouldn't even do that at the moment!
We need a new manager now because Unsworth isn't it, no matter how much he loves the Club. We need someone who hopefully has a clue what to do! And to tell players that once they cross the white line then they are all responsible for defending AND attacking! It ain't rocket science surely?!
My best friend of 45 years is a West Ham fan who is going to the game tomorrow with a heavy heart. I am not sure who is the most depressed or demoralised at the moment me or her! I am dreading next Wednesday.
Pete Clarke
134
Posted 23/11/2017 at 23:24:52
This club has two leaders. One of them knows very little on how to run a successful club and the other (Moshiri) knows nothing.
Moshiri has been brought in by Bill as a pal and business partner but even though he owns a majority of the club he is being told what to do.
They allow a manager to come in and ask no questions as he throws big money at overrated players and players clearly not good enough.
Williams has only been here a short time and he's done. He is one that we should have been relying on for fuck's sake.
But this is not the time to keep harping on about whats happened as we need massive decisions made to appoint a team who can quickly organise this club.
Unfortunately to do this, blue Bill would need to go first.
Sam Hoare
135
Posted 23/11/2017 at 23:25:08
The reserve team, who have barely played together, got dispatched in the deadest of rubbers by a team who actually needed a result. Disappointing but unsurprising.
Play like that against Southampton and West Ham and then I'll be properly worried. Tonight was an unfortunate and ultimately very prickly hedge that needed to climbed before we got back onto the Premier League racecourse. That is the 100% focus and Unsworth prioritised giving his first team a rest over giving them more playing time together. Hopefully Sunday proves this a good decision.
Charles McCann
137
Posted 23/11/2017 at 23:27:34
Worrying times indeed. Unsworth is clearly out of his depth and a new manager needs to be found immediately. Someone that can give us some organisation and give the players confidence. I would have liked Eddie Howe but we're in such a crisis now the safer option maybe Sean Dyche.
I still believe we have enough good players to get us out of this mess. Very few positives to take from tonight but have to say Baningime and Kenny are both excellent and can hold there heads up high. Please Kenwright wake up and do something about this mess that Koeman left us in. Unsworth is not the answer.
Ash Moore
138
Posted 23/11/2017 at 23:28:18
Steve, the utmost respect to you and every other Blue there, particularly if you were there until the end.
We are suspect at the back and just don't seem to have a midfield at all. As early as the twentieth minute Rooney was playing right full back. We don't retain the ball or bring it out at all. There's no discernible defensive shape, and the "marking" tonight was just ludicrous.
Klaassen has been anonymous in every game he has featured. Keane looks like his confidence has entirely gone.
We need to stop digging the hole and start climbing out of it.
Andy Williams
139
Posted 23/11/2017 at 23:28:50
Peter #126. I don't think Unsy is a bad manager and I would love him to get a result on Sunday but I agree with John #114 and Dave #123 that we need somebody external. I think we just need somebody to take an entirely fresh look and organise them defensively.
Steve Ferns
140
Posted 23/11/2017 at 23:28:51
Yes Sandra, the summer looked so great, and then it all turned with the Sigurdsson transfer. It dragged on and on. And we were (mostly) saying what about the striker. Then the window shut.
To make things worse, Koeman shifted from high tempo and pressing to low tempo and no pressing. From direct to short passing. From a high defensive line, to a deep defensive line. From having Barkley and Mirallas who did go wide but also cut inside (remember Barjkley's sublime cross for Lukaku?) to having Sandro, Rooney, and Sigurdsson. We went from not having a number 10 to trying to play three number tens.
This is all Koeman's fault. How can Unsworth be blamed? He's not had any time to train the players and we do have a weeks break between games until 13th to 20th January. So whatever Super Manager we hire will not be able to fix it either, not unless they have a magic wand.
Mike Hughes
141
Posted 23/11/2017 at 23:31:58
Peter #126
No offence but we've just had a complete overhaul and we are in the shit. And it is deep shit, so shitty smelling that if you have such a complacent attitude to that smell of rank, foul shite then you have sadly lost perspective.
I know I sound like Corporal Jones but there is nothing positive about EFC right now. From the boardroom to the management to those on the pitch – we are shite and sinking fast.
We don't have a need for some hot-shot Michelangelo manager. We need Bob the Builder right now because the roof is caving in and the floorboards are rotten. And there's a foul smell of shite all around.
The panic button needs to be pressed quickly.

Steve Ferns
142
Posted 23/11/2017 at 23:32:48
Thanks Ash. I was in the People's Club. One of the lounges. I paid £120 for my three tickets. Tonight, the club let a load of Italians in, and I had to sit next to a few. I was on my own as none of my mates came, even thought they had paid and I couldn't give a spare ticket away.
I said to the guy on reception as I left, there was loads of away fans in there. His response was yes there was. Another said, they were very well behaved. That does not matter. I am in my home stadium and in a so called luxury part of the ground and I should not be sat next to loads of away fans. There was loads of room in there for the club to round them up and put them in a little area together. They just ignored it and counted the cash.
Dave Evans
143
Posted 23/11/2017 at 23:32:59
I think the Unsworth supporters need to ditch the blue tinted specs and swap them for a pair that works.
Phil Provencial
144
Posted 23/11/2017 at 23:33:56
Another shocking result but we must stay calm. A Newcastle style backlash from the fans will only make matters worse.
The sole objective now for this season is to retain our Premier League status and the Board needs to take action now.
We need stability by way of a permanent manager, whether that's Rhino or someone else – we keep dithering and I'm fearful we will go down this time.

Steve Ferns
145
Posted 23/11/2017 at 23:35:18
Dave his Premier League record is the one that matters. Played 4, won 2, drew 1, lost 1. Goals For 8 goals against 6. Points 7.
Jay Wood
146
Posted 23/11/2017 at 23:35:34
Steve @ 125:
"... some perspective. We played a weakened team. It was like we were playing a friendly away. They played like it was a cup final."
Der-what?!
A weakened team?! It was full of players who have been regularly playing for the first team this season, or with players many have canvassed to play more.
Yes, it was a dead rubber in that we couldn't progress, but a meaningless one? This was an opportunity for fringe players to secure a place in future starting XIs.
Where was the hunger, the desire, the skill, to demonstrate to not just the caretaker manager, but to the supporters, from everyone of those players: "I merit a regular start. I'm the player to get us out of this poo!"
The fact, as you say, that we played like an away friendly whilst they treated like a cup final, doesn't call for 'perspective.' It calls for out and out condemnation, not acceptance.
It was a total, total disgrace.
Steve Ferns
148
Posted 23/11/2017 at 23:38:24
It was an away friendly because the Bullens Road was absolutely rocking. They were bouncing up and down and making a lot of noise, all game long. Our fans were defeated before we kicked off. There was no atmosphere from our fans. It was like a friendly from us.
Len Hawkins
149
Posted 23/11/2017 at 23:40:37
Yes Dan Unsworth bought all that shite didn't he just because he's misplaced his magic wand and can't turn them into footballers it's all his fault is it. If you used your brains and put the effort you use vilifying Unsworth into getting at the real cancer that is the Board the Director of Football and the worthless dross that are stealing a living impersonating footballers.
Boys Pen BullShit Bill is the figurehead the blame for everything that is wrong with this club stops with no one else but Kenwright. He might look good blubbing about Hillsborough over the park but as a Chairman of a club in "the best league in the world???" he is clueless and the blame stops at his feet.
Who the hell do you think could come in and turn this lot round. And if they get your manager in and he fails, what then, Dan??
Whilst the hierarchy stays the same, nothing will change at this club.
John Keating
150
Posted 23/11/2017 at 23:41:55
Those talking about "building a team" and bringing in such and such and so and so in January are, in my opinion, on another planet. By January it could all be too late.
We should have acted weeks ago, just bit the bullet, got you know who in short term and by now we would at least have seen some signs of an improvement.
Okay, we never acted but now it is imperative we act. It doesn't matter if this was a dead rubber or not, it was a disgraceful embarrassment and another nail in the confidence coffin.
We are in deep shit and if Atalanta can knock in 5, could have been 10, think what the RS are going to do. Me I'm emigrating that week to Greenland. Bite the bullet get him in and start again, hopefully, next season.
Declan Burke
151
Posted 23/11/2017 at 23:42:17
Unsy was a defender in his day. However we have conceded 16 goals in the 6 games he has been in charge. Reminds me of the season Walker was sacked.
Get a manager in now who can get a team to defend and not concede an average of 2.66 goals per game. Otherwise we are heading for the championship.
Dave Evans
152
Posted 23/11/2017 at 23:44:42
Steve, I refer you to my post at #123. I'm sure you've read it . I, err, read all of yours.
Steve Ferns
153
Posted 23/11/2017 at 23:45:00
As I said, no manager can change anything before 20th January, because this is the first time anyone will have had more than a full day to actually get the players on the training pitch and organise the defence, drill them, train them, set them up, or however you think Big Sam, Tony Pullis, Sean Dyche, or whatever saviour you think can fix the club. The fix is not happening until then, and even then, there is little that can be achieved in a week.
Take Palace as an example. Allardyce took 8 games and 6 weeks. He even had a week in Dubai. He also had a transfer window.
What's unsworth meant to do, get a hypnotist in? Sweet talk them all? Be realistic.
Clive Mitchell
154
Posted 23/11/2017 at 23:46:21
Ronald Koeman, the worst Everton manager of all time – he sowed the seeds, tended the plants and we're reaping the harvest.
We're angry, but we have to make Goodison a bear pit in every league game from now on. Pickford, Kenny, Keane, Jags, Baines, Gueye, Davies, Baningime, Calvert-Lewin, Sigurdsson, Niasse, Lennon, Lookman. That's our core now, with hopes of cavalry arriving in Coleman, McCarthy, Barkley, Bolasie, and reinforcements in January – a decent centre half and left back are essential imo. Robles and Ramirez are worth a place on the bench. But permanently ditch the rest.
Jim Wilson
155
Posted 23/11/2017 at 23:46:33
John Keating – Can't agree more. There are so many deluded Evertonians on here, it is frightening. We need a safe pair of hands to get us out of the shit that is piling up fast. The team has never looked so shot as it does right now.
Peter Jansson
156
Posted 23/11/2017 at 23:47:50
Mike (#141). What we should not do now is panic.
But seriously. I think Koeman brought us this shit. It is pretty obvious that Koeman gave us stinking players that cost more than £100 million. That's just a fact. They have contributed to almost nothing. And we will not get out of it unless we buy at least 5-6 new players.
Than we need to work on long term strategy. What kind of football we like to play etc. You do not know anything if Dyche or whoever will come in will do better than Unsworth in the long run.
It is meaningless being angry at Unsworth loosing this game when we have been showing signs of improvement in the Premier League. The only thing that counts now is to not be relegated. That's it. Forget about the cups. They should be used as training.
Steve Ferns
157
Posted 23/11/2017 at 23:48:45
Jim, I refer you to every game in September and up to the 22nd of October this season. We looked far worse then.
Dan Davies
158
Posted 23/11/2017 at 23:50:42
Chill out, Len. Not worth the heart attack, mate, try and get some sleep.
Maybe dream of Simeone?
(Please God!)
Steve Ferns
159
Posted 23/11/2017 at 23:50:54
Peter Jansson, Koeman's total spending was £200m. If you total up the amounts spent on the current squad it passes £250m. Go to the ToffeeWeb squad page, get your calculator out and use the values ToffeeWeb gives. £250m for this squad.
Brent Stephens
160
Posted 23/11/2017 at 23:51:40
A cold night at Goodison Park. Haven't seen so many police around the away section for along time. Like a morgue inside. And like watching a corpse twitching.
I feel sorry for the young lads. Davies has gone backwards. Kenny has been finding his feet in the Prem but this won't help him. But I do think Beni was good – again.
And I liked the way Feeney brought his confidence from the U23s into the Premier League – shouting at his fellow defenders – just a dreadful way for him to be introduced to the Premier League.
On reflection, too experimental a side.

Mike Hughes
161
Posted 23/11/2017 at 23:53:08
Peter (#156),
No we do not need a long-term strategy right now.
We need a short-term one.
Survival.
Then take it from there.
(And I am not angry at Unsworth. But I doubt he is the answer to this horrible situation.)

Steve Ferns
162
Posted 23/11/2017 at 23:53:21
Brent, Unsworth has doubled down on Southampton and West Ham. Win both of them and it's all fine. Lose them both and he's done and we're writing Dyche a blank cheque.
Peter Jansson
163
Posted 23/11/2017 at 23:56:16
Seriously, Unsworth is not the problem here. It goes much deeper than that. Take a look at who is running the club. I don't trust any outsider to come and fix this mess.
Does anybody know who is the only English manager in the European leagues right now and what team he manages?
Dave Abrahams
164
Posted 23/11/2017 at 23:56:29
Most fans who watched the game either live or on TV have every right to moan. We didn't play at all, even though it was only 1-2 with five minutes to go. So, instead of joining in with the moans I'll go along with Charles McCann (#137) and say I was more than happy with Jonjoe Kenny and Beni Banginime who kept going and tried to play football.
Sandro didn't have a great game but tried (maybe too much) and didn't have much luck but took his goal well and I still believe he will come good. The others unfortunately will know how poor they were.
Steve Ferns
165
Posted 23/11/2017 at 23:57:50
What do you mean by the only English manager in the European Leagues? Do you mean who the only English manager on the continent? And if so, you mean Graham Potter?
Peter Jansson
166
Posted 23/11/2017 at 23:58:22
Mike (#161). So you think to get 5-6 new players in the cChristmas window is a long-term strategy????
We need BOTH a short term and a long term strategy. It seems like the long term part is what is causing the short term problems.
John Keating
167
Posted 23/11/2017 at 23:58:30
Peter we can't get 5 or 6 players in until January. We will pay top dollar for second rate players other teams don't want. They will take time to settle in.
We really don't have time. We should have had this sorted out weeks ago. Whoever comes in will have to more or less work with what we have. A thankless task that would tax anyone.
We can't afford to bring in a Fancy Dan manager who wants zillions to spend on a 3-year plan. We need a short term firefighter who can at the very least give us a chance to stay up.
Peter Jansson
169
Posted 23/11/2017 at 00:01:30
I mean Graham Potter.
Do you know how Østersund came to become a good team so quickly?
He was asked if he would like to take a job at a club with about no potential in the dark forests of northern Sweden.
Steve Ferns
170
Posted 23/11/2017 at 00:01:59
I would not expect a number of signings in January. I would expect 1 or 2 at the most. I bet Moshiri thinks we won't go down. He will point to the £250m squad and he will hire a new manager who tells him he can get top 10 this season with the same squad a new striker.
I'm willing to put a charitable bet on signing no more than one player who will play 10 games or more this season.
Peter Jansson
171
Posted 24/11/2017 at 00:03:54
John (#167),
To me, it seems like Unsworth is finding his core players. And most of them did not play today. We have looked better in the Premier League under Unsworth than under Koeman.
We have to get some new players in if you want quick solutions, I am afraid.
Jim Wilson
173
Posted 23/11/2017 at 00:04:01
Spot on again, John Keating. Can everyone please wake up to our massive short-term problem. Bringing in 5 or 6 players would only compound the problem. One really good influential player would be far better.
Dave Evans
174
Posted 23/11/2017 at 00:04:59
Steve,
Apparently people who have doubts about Unsworth do not have them based on play on the field but because of a belief in saviours who are sweet talking hypnotists.
According to your analysis all judgement has to reserved until the end January. By the evidence of my eyes tonight it is going to be a long wait.
David Israel
175
Posted 23/11/2017 at 00:06:05
I regret having to say this, but Unsworth has nothing to offer but blood, toil, tears and sweat, unlike the great man who made the phrase immortal. When he came in, it was Koeman's team and Koeman's problem. Now, it is firmly his problem.
I don't buy the concept that most of the players wouldn't play in a Championship team. They clearly lack direction, a proper coach, a leader.
No time to lose.
Brent Stephens
176
Posted 24/11/2017 at 00:07:18
Steve (#162) – I can see the doubling-down on the next few games. But it really was a risk to throw Feeney in – a risk for his confidence. There are safer contests to initiate him perhaps? I hope he's as mentally strong as he comes across on the pitch.
Jack Convery
177
Posted 24/11/2017 at 00:07:28
Where is Peter Reid Mk 2 and Andy Gray Mk 2? – boy do we need them.
Jim Wilson
178
Posted 24/11/2017 at 00:08:00
Well said, David – there is no time to lose.
Steve Ferns
179
Posted 24/11/2017 at 00:08:58
Dave Evans, it was woeful tonight, up there with the shite Koeman served up at his worst. No, your eyes are correct.
The point is, he can do nothing to change it until January. That is the first time he can have two days in a row of full on training. Until then, how on earth can anyone fix this?
Nicholas Ryan
180
Posted 24/11/2017 at 00:09:03
SAAAAAAAAAAAAAAAM!!!
Jack Convery
181
Posted 24/11/2017 at 00:13:42
Oh Everton how you let us down time and time again. Good night all.
Peter Jansson
182
Posted 24/11/2017 at 00:15:14
If you are to judge Unsworth, please do it in the Premier League. It was pretty clear to me that he gave everyone who has not played very much under his leadership the chance to show what they are good for.
Unfortunately, only a few took the chance. Bani was pretty good and Sandro was okay, I think.
Mike Hughes
183
Posted 24/11/2017 at 00:16:34
Peter (#166),
You seem confused. Getting 5-6 players in January were your words, not mine.
And we need a short-term strategy right now (ie, a manager who can organise and rally whatever he has to work with). Because – if we don't get that right with survival in the Premier league – then the long term strategy may well be borrowed from SWFC.
Jason Wilkinson
184
Posted 24/11/2017 at 00:23:20
Nice finish by Sandro. Good double save by Joel. 92 minutes of utter shite either side of those rare moments.
Steve Ferns
185
Posted 24/11/2017 at 00:23:25
Mike Hughes - a manager who can organise? When can this manager organise.
You do realise the players are off tomorrow, Friday. It's a match rest day.
Saturday is a low intensity match preparation day.
Sunday is match day. Saints away.
Monday is a rest day.
Tuesday is a low intestity match preparation day.
Wednesday is a game day. West Ham at Home.
Thursday is a rest day.
Friday is a low intensity match preparation day.
Saturday is a match day. Huddersfield at home.
Sunday is a day off.
Do you see the problem here? There's no time to train. Especially if you want to drill the back four. You need 22 players for that. When is anyone going to get time to fix it. The only chance we get is when there's a Saturday - Thursday week, and we get a one, two training sessions max, but don't forget we travel on the day before the game in away matches.
Peter Jansson
186
Posted 24/11/2017 at 00:26:23
Anyway if I compare Østersund with Everton. I follow Østersund just because it is one of the few shining stars in Swedish club football the last 20 years.
Østersund have a smart and bright owner who personally cares about what is going on at the club. For example when the ice machine was broken he went to fix it personally.
He brought Graham Potter to the club. And he says that he wants him to stay for the rest of his life.
Also they have a theory that playing and traing football should be fun. They train with the ball about all the time.
Østersund cannot compete with a fat wallet so they need to think outside the box. When you have fun at work you don't like to leave. It seems the players enjoying beeing at the club so much that they do not really want to leave. That makes the club more stable.
They have a clear strategy of how they play. It is pretty crazy. Østersund has a English manager and Swedish players and the actually play football. Atletic Bilbao was shocked, they said that Østersund looked like Barcelona in the first half up in Østersund.
Well here is strong ownership, dedication, a long term strategy and pretty much everything we seem to lack. As long as we do not have this we will continue to struggle. Moshiri seriously looks totally lost. Maybe his ownership is the worst thing that happened to us? Do we need to discuss Bill Kenwright? Without a clear definated longterm strategy you will face the risk of frequently running around like a headless chicken.
Mike Hughes
187
Posted 24/11/2017 at 00:28:08
Steve Ferns #185
So you'd do what?
Wave the white flag?

Brent Stephens
188
Posted 24/11/2017 at 00:28:13
Steve, your point about lack of time for proper training sessions is well made. We're living hand-to-mouth, as it were. A point at Southampton, 3 each against West Ham and Huddersfield, and then brace for Anfield. After which Newcastle and Swansea (before Chelsea!). I live in hope!
David Barks
189
Posted 24/11/2017 at 00:29:34
That defense is one of the worst I've ever seen. Martina, that one goes without saying. I was sick to death and furious when we signed him, but was shouted down on here that we needed good cover. Yeah, he's fucking shite and should have never been acceptable at Everton. Add Williams to the mix and my God, what a catastrophe. Keane, I have no idea what is up with that guy.
Unsworth chopping and changing the team every single match is inexcusable. It helps nobody and only causes more and more errors and stale attacking play, since no chemistry is able to be developed. He is so out of his depth.
There should never be changes to the back line other than in cases of injury. Right now, it should be Kenny, Jagielka, Keane/Holgate and Baines. Williams and Martina should never see their names on the team sheet ever again.
This is the lowest point this club has seen in decades, many decades. It's scary with the performances we see on the pitch. And yes, the performance has gotten worse. But more worrying is the lack of leadership at the top. There is no direction and nobody can honestly say who is running the show. Tonight was horrific, but perfectly symbolized the state of this club. I don't want to hear another damn word about a stadium until they sort their shit out and get the team a fucking manager!!
Simon Dalzell
190
Posted 24/11/2017 at 00:30:30
Steve Ferns. Vlasic has no chance with you. You've made up your mind. He had 28 minutes tonight, among that crap and did okay, showing good energy and defending well. Give him a chance.
Steve Ferns
191
Posted 24/11/2017 at 00:32:01
Peter, Moshiri is the money man. He's in it to make money. His goal is to buy the club cheap, to build a stadium, to change the club into one of the top 6, 5th or 6th will do for him, and then sell the club at a price for more than he paid for it, more than he spent, and more than the stadium cost.
He's got no love for Everton, he's only in this to make money. He will see the £200m+ he has spent as an investment, and the stadium too. But he will want to turn a profit.
This is his clearly defined long term strategy. And he will not get more involved in the day to day stuff as he has a full-time job. Perhaps though, he can find a better CEO to run the club.
Steve Ferns
192
Posted 24/11/2017 at 00:34:35
Simon, I will give him a chance. I like the guy. He will come good. Now is not the time for him, Klaassen, or Sandro.
I really do like Vlasic and Klaassen. But right now, we need grafters. Lennon is quick and goes back as well as forwards. He's a solid 7/10 every game. He won't get many 8s and probably not a 9.
Of course Vlasic can be better, and probably will be better. But later in the season, once we've turned the corner and have room to breathe.
Steve Ferns
193
Posted 24/11/2017 at 00:38:29
Mark I would let Unsworth get on with it. I would expect it to be shite for a little while longer and bear it with gritted teeth. If no one else wants the job (Tuchel, Fonseca, Simeone, Ancellotti, or Mancini) and Silva will not resign, I would wait it out with Unsworth and see if he can get a tune out of the team come December. Ideally, I want to wait to the end of the season. I could take a 12th on the chin, if we can get the right manager in the summer. I would hope Unsworth can really do a job and lift us back to 7th, and give me a proper headache.
I would not expect a miracle out of nothing. But our luck has started to change, tonight aside, and I would hope that can help us turn the corner in the league.
Peter Jansson
194
Posted 24/11/2017 at 00:38:46
Steve (#191), I don't like to say it but I do not think he will succeed since I am afraid he knows nothing about football.
So Bill is the brains and Moshiri the money. It cant go wrong can it? How are they ever going to figure out what are the best solutions for us?
When I speak about long term strategy I mean football strategy, what you do on the pitch.
Building a new stadium is not football strategy, that is business strategy. A totally different perspective. If you play shit football you don't get a new stadium.
Paul Holmes
195
Posted 24/11/2017 at 00:39:46
Believe it or not, that 'friendly' was the best wake up call Everton hierarchy ever had. The game meant nothing but if it happened against West Ham at home next Wednesday in the Premier League (live on BT Sport) then it would be headline news.
Everton will have a new manager in by Wednesday! He will have money to spend in January and the most important thing is that he can have a clear-out as he did not buy the players (sell all Koeman's and Walsh's buys this season).
Welcome back Bolasie, McCarthy, Coleman, Funes Mori and hopefully Barkley – plus new signings in January – and we can finish mid-table and start again next summer, post Koeman and Walsh!
John Boon
196
Posted 23/11/2017 at 00:40:10
In the past, as a 70-year supporter of Everton, I have often been disappointed with results and a bad sequence of games. It is always hard to handle. However, this is probably the first time that I have been ashamed.
Atalanta are really no great team and I know we were trying out some different players and formations. However, we were dreadful. We are an embarrassment to the football fraternity. I think Koeman really got us in this mess but I don't know who is going to get us out of it.
It doesn't seem to matter who we play or who plays in which position. We are simply not a team. Some players have a good run one day and someone else the next. We badly need someone who can inspire teamwork!!
Unsworth inherited a bunch of players who lack confidence and need direction even if is a kick up the arse. I really don't think he can do it, but I don't know who can. However, no matter how bad it gets, I will always support my beloved Blues.
Those who now want to desert a sinking ship are not Evertonians. We don't have some special right to win just because it makes you happy. I have lowered my bar.
One goal is to escape relegation. I think Unsy may be too much of a buddy to many of the players. Please get someone who can create a team and instil confidence. I really don't know who that might be.
I am merely an old man who loves Everton... I am a supporter, not a manager or a coach. "Blue for Ever"... no matter how bad.
Steve Ferns
197
Posted 24/11/2017 at 00:40:49
Bill is the brains! Tony Marsh would be spitting out his tea right now. No, I don't think Old Bill is the brains. We need a proper CEO in my opinion. Elstone needs a bigger personality and should be the one talking not Bill.
Mark Riding
198
Posted 24/11/2017 at 00:43:40
Has a caretaker manager ever been sacked?
Steve Ferns
199
Posted 24/11/2017 at 00:44:32
I dunno John, it's not worse than Walter Smith or Mike Walker. Kendall Mark III was embarrassing as well. I remember being utterly distraught that season. The 1994 season, I believed we would stay up, I believed in a few of the players. Smith had a couple to believe in as well. But Kendall mark III was utterly bad. Just look at the team that stayed up that last day when Farrelly scored.
https://toffeeweb.com/season/97-98/reports/coventry_h.htm
That said, what I would do for even a 37-year-old Dave Watson right now. He would not have let us perform so badly at the back. Where was a captain's performance from Williams this season?
Gary Russell
200
Posted 24/11/2017 at 00:50:08
I read this yesterday. Not making excuses but this Italian team deserve some credit, too, going by this BBC article...
http://www.bbc.com/sport/football/42085438
John Pierce
201
Posted 24/11/2017 at 00:51:29
A couple of odd motes from the game. Several times I saw both Klaassen and Mirallas visibility frustrated as they pressed and others sat on their arses.
I'd have to believe they both knew it was a chance to get in the manager's thoughts. Klaassen especially needs the team to function as a unit for him to shine.
Unsworth sadly had to coach Sandro through the game, as the stadium was empty I could here every word. Despite the goal, just too eager and waaaay off the pace.
Colin Gee
202
Posted 24/11/2017 at 00:52:14
Been at work on lates, couldn't go, no lieu days left, so kept getting the updates off the BBC App. I never thought I would ever say it but I was glad to be at work rather in in my seat in the Lower Gwladys tonight. First home game I have missed in ages. Looks like I picked a good one to miss.
That's how bad it's got. Can it get any worse? Hopefully not as I am off to Southampton for the weekend on Saturday morning. Up the fucking Toffees.

Bobby Thomas
203
Posted 24/11/2017 at 00:56:17
This squad, which is an unbalanced, disparate rabble of misfits, will sleepwalk us into relegation if we do not appoint an experienced gaffer that knows the drill asap.
Steve Ferns
204
Posted 24/11/2017 at 00:56:50
Just read that left-footed Managala will leave Man City in January. Surely he can fix a problem? On loan if necessary.
John Smith
205
Posted 24/11/2017 at 00:57:41
One positive was Sandro scoring a good effort, with Rooney setting it up. Hopefully that might spark something between the two.

Gerry Western
206
Posted 24/11/2017 at 00:59:42
Unsworth was brave tonight he needed to find out who was up for the fight, regretably very few. Was pleased for Sandro, the lads confidence must be at at an all time low, however his goal really seamed to give him a lift and he look energised afterwards. Rooney was shocking, young Baningime showed maturity beyond his years and was an example for others to follow. Williams was a complete embarassment.
Koeman has so much to answer for. To think that Martinez was hounded out for achieving mid table finishes and his failure to progress beyond cup semi final stages only to be replaced by a an absolute clown and possibly the worst manager in our history, they do say that one should be careful what they wish for I'm fast believing that has a certain ring of truth to it.
Steve Ferns
207
Posted 24/11/2017 at 01:00:36
Good night fellas. Keep the faith. It's all about Sunday and Wednesday. Two wins there and who will remember this one? Lose both, and all it means is we'll break the bank for Dyche and stability. Long way to go yet, so no need to panic or get depressed about it.
Simon Dalzell
208
Posted 24/11/2017 at 01:01:41
I would not let Unsworth get on with it. I would expect the shite to continue. We deperately need a manager, now. Someone with a fresh, outside view, to give us some glimmer of hope. More importantly, a manager with experience. Unsworth should never have been put in this position. Gritting my teeth is not a preferred option.
Dennis Stevens
209
Posted 24/11/2017 at 01:03:06
All those calling for immediate action from the Board may well be disappointed with the result. If they do act soon, it won't be to bring in whoever they'd really like – that won't happen before the summer.
If they decide not to stick with Unsworth, the likely outcome is an experienced manager until the end of the season. Maybe Bill's been on the 'phone this evening: "Welcome home, David Jones!"
Don Alexander
210
Posted 24/11/2017 at 01:07:24
Steve (#185), if your info on the many rest days is correct I'm astounded. Any sort of manager needs to tell the board that he needs more time on the training pitch to limit their financial losses by ending the calamitous results that resulted in his appointment in the first place. This means that the board, if they were serious in appointing him, must support him even if it means certain players, bone-idle spongers as they may be, will spit their dummy out and engineer a move elsewhere through their leeching agent, to the potential financial cost of the club.
The reason they must support him is that as unwelcome as a financial loss on a player or two, or three, or four may be, the cost of relegation dwarfs it and then some. So our board, having failed to provide Unsworth with the sort of backing that resonates all round Finch Farm, have shown themselves to the entire football world to be a bunch of incompetent twats.
The way they're behaving I expect Bramley-Moore, if it ever comes to pass, to have superb stands, catering, car parking, changing rooms etc but, erm, no apparent pitch.
a
Ernie Baywood
211
Posted 24/11/2017 at 01:17:14
Like most supporters, I usually have my version of the world. What's I'd do, what I think... etc.
Right now I'm as clueless as those in charge. There's no real obvious solution; the club's just falling apart in front of us. We just turned a meaningless game into some sort of apocalyptic moment. Empty seats, poor performance, calamitous scoreline.
Fuck. Just fuck.
John McFarlane [Snr]
212
Posted 24/11/2017 at 01:17:33
Hi John [196] from one John to another and with a similar history of support, I echo your sentiments. I sat with my 13-year-old grandson in the Park End tonight (and yes I do know it's actually Friday morning now) and the thought ran through my mind what must the team (who are admittedly not living up to expectations) think of the stay-away supporters, and I don't mean those unable to attend for whatever reason.
Like you, my wish is for Everton to survive in the top flight, so that my grandson can see the Club that he and I both love, compete at the highest level.
I believe there's a song "When the going gets tough, the tough get going," I'm afraid that in our case the going can't get much tougher, but it's the tough who stay behind.
Like yourself 'Blue Forever'.
Derek Thomas
213
Posted 24/11/2017 at 01:17:46
Steve @ 128; I take the point re the number of games, but fuck it, desperate times call for desperate meaures. Get the poor pampered overpaid snowflakes in on their 'rest day'
I'm not saying get them to Ainsdale carrying a pack up and down the sandhills (save that for July) get them doing 'theory' in the shape of repetitive drills on how to defend as a unit. Get them back to basics (trite I know) get them re-learning their footballing 'times tables'...the percentage plays. In situation 'a' always do this, never that.
...I think it's called Coaching, or is that too simple and beneath them. If they can't take it on board explain, that the only thing beneath them at the moment is the championship.
Bob Parrington
214
Posted 24/11/2017 at 01:28:22
Sad night! Can't say much about the performance that hasn't been said already. A little surprised at the praise for Beni but perhaps this is because he was best of the rest. He was regularly caught out marking thin air in the first half at least.
If we were each allowed to select a choice for the chop out from the team it would be Williams. Past it completely. Now a waste of space and money.
Good to see Sandro get a well taken goal and some good work by Robles. IMO Davies looks like he needs a rest – mentally! Keane needs a tall, strong, fast CD partner. Kenny put is a good effort.
The omens for Unsworth are looking really bad! Atalanta made us look like rank amateurs, which is sickening!
Victor Jones
215
Posted 24/11/2017 at 01:58:18
Yes tonight was poor. But we have been poor since July. We have been poor all season. Koeman bought all wrong . He set up all wrong. Everything is wrong.
And I suppose being honest Unsworth is not really helping matters. I thought that he would. But he doesn't seem to know his best starting eleven. And these players just stumble from one disaster to another. We are a soft team. We have been for years. Now we are soft and slow.
Experienced defenders? Who now need trained again on how to defend. Midfielders who now cannot string any forward passes together. Our midfield is just not fit for purpose. Wingers who have now lost the skill of running at defenders and crossing a bloody football. And a couple of forwards who couldn't hit a cows arse with a banjo. Our players (barring Niasse and a few others, mainly youngsters) are a bloody disgrace.
How can Unsworth mould a bunch of players who have downed tools into any sort of semblance of a football team. How can any manager work with this useless bunch? A number of this squad IMO are now finished with Everton FC. They are not good enough. Its always the same old suspects when we collapse. Its always the same players given yet one more chance. And they always come up short. They always let everyone down. We now have players letting Unsworth down. But most of all, they are letting themselves down. And I don't think that they give one flying shit. We have far too many players who just don't give a shit.
Survive this season. That's what everything is now all about. November and we are all just hoping that we survive to May. That's Koeman's legacy.
And we then need one hell of a clear out. Far too many rubbish players masquerading as footballers on the Everton payroll. I don't want Everton Football Club starting next season with this current squad. About half need to be culled. They are useless.
On a plus side. Surely Unsworth will now not be playing most of that bunch that disgraced the shirt tonight. Only a few deserve to keep their place. And youngsters at that. Surely Williams, Klaassen and Mirallas will not feature in the next upcoming games. Rooney also.
I don't want to tempt fate. But we have to just hope that something clicks with our players. We have to try and be positive. We have to try and eek out a few wins.The next three games would have all been marked down at the start of the season as winnable matches. But not now.
I just hope that Unsworth has his starting eleven in mind. That he sets up balanced. That he sets up with some youth and pace. And that he plays Calvert-Lewin as a target man in Niasse's absence.
And that our defence somehow remembers how to defend. We need to get our defending right. And god only knows how that is going to happen. Is training the answer? When the legs and will and heart are just not there.
Anyhow wouldn't nine points from our next three games be just the tonic. Do we believe in miracles. Christmas bloody miracles. I do. We need to keep believing. Rant over.
Phil Smith
216
Posted 24/11/2017 at 01:59:43
Truly lost for words. Now I know a little how Leicester fans must have felf after winning the league and then playing shite. We're a lot worse than them at the moment though. Very worried indeed...
Teddy Bertin
217
Posted 24/11/2017 at 02:01:41
Let's be honest. Koeman is a much better manager than David Unsworth at Premier League level. He had his chance and then poor Rhino has had to pick up the pieces of a disjointed, unbalanced team. This was a chance to look at the players who haven't cut on the training ground but came with a big reputation. It ended worse than anyone could have imagined.
Basically a 1-0 win to Everton would have been seen as a poor result considering the moneybwe have spent and the experience that even our worst players have.
The reality is that this team is so devoid of confidence that we'll be lucky to stay in the EPL. Let alone beat a European team that are up for the game
Jack Cross
219
Posted 24/11/2017 at 02:26:47
Well I think the score flattered Atalanta. Unfortunately for us we had a mixture of good saves and bad misses except for the exellent Sandro goal. And they were more savvy when it came to scoring.
Ok, our defense let us down once again, but our downfall was the bad misses, that not only would have put us infront but I felt we could have even went on to win the game.
As for Unsy, I cant see how he was to blame for that result. Once on the pitch it's in the players hands.
I've still got confidence in Unsy turning this around and I think we will beat Southampton and possibly draw with West Ham.
I'm fed up to the back teeth earing all this relegation shite. It will never happen.
Soren Moyer
220
Posted 24/11/2017 at 03:23:42
So much money wasted! Unbelievable!
John Boon
221
Posted 24/11/2017 at 03:36:34
Hi John (212),
Glad to see a real Evertonian... over many years of ups and downs. This season is about as down as we can go. The fans are frustrated and this obviously filters to the players...More support is needed when the chips are down.
I am as fed up and disappointed as any fan. However, I am certain that the players are not deliberately playing badly. They just aren't either fit enough or skillful enough. Their coaches seem to be clueless or basically incapable of organizing them as a team.
However bad they are, I am still a Blue and I will still continue to watch them but please find us a Saviour... and soon.
Graham Mockford
222
Posted 24/11/2017 at 03:44:39
12 months ago, most of the arguments on here were about Lukaku's work rate and Barkley ball retention.
Fucking glory days in hindsight.
Rudi Coote
223
Posted 24/11/2017 at 03:50:56
All the summer signings, so much money and not one – NOT ONE new signing – worth a penny and utterly useless. I'd say they are shite but, let's face it, they are worse.

Bring in the derby then our noses will be well and truly rubbed in. On TalkSport's after-match phone-in the bastards played canned laughter whenever they could, taking the piss. Absolutely no need for it, no need whatsoever. Maybe if the club played a recording of it, it might just might make the so called professional "footballers" take notice.
Gary Gibson
224
Posted 24/11/2017 at 05:06:31
In recent years some of our fans have behaved counterproductively in that they have been too quick to abuse/jeer our own players. That's one of the reasons why I think we tend to perform better away from home.
Having said that, there can be no excuses for the way the players acquitted themselves against those minnows from northwest Italy last night. We are as poor as we have been this century.
In early September I told my pals that I thought we were in big trouble and that we were likely to get relegated this season. They all scoffed at me. They aren't scoffing now.
Ideally we need to make a managerial appointment post-haste, but at the same time we can't allow this situation to pressurise us into making a poor appointment like Pulis. Believe it or not we are being linked with him in some of today's 'red tops'.
David Barks
225
Posted 24/11/2017 at 05:16:11
Oh, the poor players didn't have a full stadium to compete in? Oh how sad, those poor little boys. We should all bring blankets and warm milk to the next match.
Are you ducking kidding me!!! Goodison has been filled and had to watch that shite. You're honestly tying to say that there people who stayed away from the match tonight are somehow to blame for that pathetic performance. Sorry mate, your sentimental bullshit is why Everton have been graves for theee decades and Kenwright is able to continue to serve as Chairman.
Morris Kruger
226
Posted 24/11/2017 at 05:24:42
I felt like a masochist in front of my TV last night in Johannesburg South Africa It was horrific. The players never seemed to care. Williams one can see only enjoys fouling or having a fight. This club at present I fear wouldn't survive in the Championship.
People at the office don't talk about British soccer to me as they feel sorry for me and don't want to embarrass me. Not sad times. Better word tragic times for our beloved Everton club. How we get out this mess???
It'll need a retirement of Kenwright a new dedicated component manager and a whole clean out of the rotten deadwood players and the steady purchase of players not rejects. Can it be done before we relegated??? Time will tell. I personally doubt it. I hope I'm wrong.
Darren Hind
227
Posted 24/11/2017 at 05:24:42
Let me just point something out. THIS WAS A DEAD RUBBER !
The guy who has been tasked with raising the phoenix from the ashes and who has been shamelessly rounded upon by some people who supported proper dross for 18 months because he hasn't performed the miracle – yet,
I thought people were panicking, but its beginning to get a little hysterical. The guy could have played an unchanged team and those who want to be right would have moaned about that. He did what ANY manager with any sense would do and that is to get some match practice into his fringe players.
Koeman paid a fortune for substandard defenders and snail paced midfield players whilst allowing the kitty to be squandered without bringing in a striker... it doesn't matter how we set up, we don't have enough players to field a team without them... and you guys come out with the minor classic that the jobs "too big for Unsworth"?
Whilst you lot tear your hair out over a game that was rendered meaningless a long time ago through Koeman's total ineptitude, I will be throwing my full support behind the guy charged with moping up the mess.
Next, I will be at my first away game since Koeman's Zombie football force me to abandon any ideas of traveling and I fully expect Rhino to ditch those he now knows he cant rely on and a different approach to a game which actually has some meaning.

Chad Schofield
228
Posted 24/11/2017 at 06:06:41
I've tried to take something from the more balanced comments and ignore the "the world's on fire" headless posts.
It's very difficult to take positives from last night. While there's an element of demonstrating why certain individuals aren't being trusted in the league games, I'm really concerned we may have burned the confidence of a few bright young things - and maybe even Unsworth's hope too.
I thought about writing a rating for each player out the last night, but the big problem is we need most of them in the coming weeks.
The only excuse I can see for the Feeney sub on for Kenny was to protect Kenny, and that if he'd taken off either Williams or Keane, they might have got booed so much by the few home fans that did show (still unforgivable Steve Ferns 145) as to never want to play for us again.
Regardless of the irrelevance of the fixture, that was really hard to take. At least Sandro scored, because if he'd have continued blazing everything over I'd be even more depressed now Niasse is banned for Sunday and Wednesday.
Again though, those hoping for the managerial equivalent of the Pied Piper, exactly where do you see them affecting our squad before the Huddersfield game? The only thing I can think of is to send U23s or, complete reserve team, to Cyprus... But we might have swallow another defeat like last night at the hands of Apollon. Better that than conceding 5 or more in the derby?
Steve Solomon
229
Posted 24/11/2017 at 06:21:03
We are in big trouble.
I never expected any magic last night. We all called for giving the fringe players a shot, but omg that was awful. The trouble runs really deep. There is no way that we can rebuild the entire squad, which it appears is what's needed.
Rhino's selection showed that he lacks the experience necessary to coach at this level, maybe one day. I doubt if any managerial shifts can help us avoid the bottom 6 this year, maybe even relegation is a possibility.
Besides, what manager with any aspirations of moving upwards would take on a club with so many problems? So journeyman manager it is.
Paul A Smith
230
Posted 24/11/2017 at 06:37:01
This is what happens when you sell a superstar and buy relegation battlers (which most were happy to see) then don't replace the one man that had to be replaced.
This shit is fully deserved except on Unsworth.
Steve Solomon
231
Posted 24/11/2017 at 06:40:15
Having said that, I think it's clear to Unsy now which players are deadwood and which are not. Unfortunately it appears to be many of them.
John G Davies
232
Posted 24/11/2017 at 06:52:32
Having slept on it I still have the same opinion regarding Unsworth not being the man to take us forward. Gives me no pleasure to say that.
I recall some posts saying "they knew after a few weeks" that Koeman was not the man. To be honest I could not work out how you could come to that conclusion that quick. I can now.
Mark Murphy
233
Posted 24/11/2017 at 06:55:04
I work in Kent in a mostly female office (yay) and the blokes are not big on football and there are NO gobshites BUT I'm dreading going in. God knows I feel for you lot back home having to go in today! I'd throw a 2-month sickie if was still up there!
Embarrassing!
Paul Smith
234
Posted 24/11/2017 at 07:11:04
Woke up & straight on TW. Love to manufacture more pain after last night, also find it cathartic. Can't agree with some on here blaming stay away fans for a dead rubber and saying our away form is better due to feeling safe from the dogs abuse they get at Goodison.
Err we've not won away in a year!!
Given I was at Palace Saturday, listening to one fan abuse Leighton, but its a minority, and other fans called him out for it.
How bad was Rooney?? ffs, sentimental tripe is destroying us. What does Duncan Ferguson add? Never seen anything as bad as I am witnessing now and some people are calling for more time for Unsworth. Jesus, no wonder Talktrash is taking the piss out of us, fuckin hilarious to everyone else.
Saints on Sunday, my favourite away. Can't see any improvement whilst he's still the manager. If he loves the club, tell the board they need someone who knows what they're doing. Then again they're clueless too, what a mess.
Sam Hoare
235
Posted 24/11/2017 at 07:20:22
As Steve F says there's very little point changing Unsworth before West Ham as the new man would barely have a whole day to get his point across.
I think with Silva looking unlikely to resign (good on him) that all roads now point to Dyche. Not my first choice but the best available.
Having said that Unsworth has 4 points from last two games and if he repeats that vs Soton/West Ham then perhaps we can afford to wait a little longer to find the right long term manager.
To think that Klaassen, Siggy, Keane and Schneiderlin cost £125m!! Criminal waste of money.
Will Mabon
236
Posted 24/11/2017 at 07:28:11
"...no wonder Talktrash is taking the piss out of us, fuckin hilarious to everyone else."
I wouldn't worry about that, Paul - they do it all the time, just about every club gets a dose of it at one time or another, even such as City if they lose a game, complete with the hilarious canned laughter track.
We know the score ourselves. Their opinion of us means nothing.
Kim Vivian
239
Posted 24/11/2017 at 07:45:43
Dan Davies (130) - Not necessary mate. I just read your first comment and jumped straight to write this so you may already have been pulled up. Apologies to all if I am repeating stuff.
Anyway - that debacle tonight was the result of RK's destruction of our club since midway through last season not simply Unsworth's failures.
In a game with no material significance and a more important fixture to be faced in 3 days at Southampton he was sensible to put out a weakened side. A full strength team we know is not much better but the confidence of these players (and remember, however much they are getting paid, and however much esteem top proffessional get held in, they are young - very young in some cases - and impressionable men) is at an all time low.
Likewise D Unsworth will be taking a massive psychological hit from all this and I worry about how he will integrate back into the U23s. Quite who of any real substance we can attract in to pull us back into shape I cannot anticipate but we do I believe have the personnel to build from - not premium material but they are all better than they are currently demonstrating.
To dig at and berate Unsworth serves no useful purpose given the chalice he was handed and whoever does come in has to have the sincere belief they can do a decent job on both the morale and skills of the players, NOT just be chasing the money and the board have to recognise this.
I believe Martinez did think he was that man and had us all believing for a few months before demonstraing his shortfalls. Koeman was a mercenary - pure an simple - took a hell of a lot of money and does not in my opinion have an ounce of guilt as to the mess he left behind. Worst thing to happen to our club in some good time.
So I say to you (and others) try and get behind Unsworth and support him for the remaining few games of his horrible tenure and hope and trust that we can get a real fixer in place.

Ray Jacques
240
Posted 24/11/2017 at 07:50:23
The farcical and failed search for a manager tells you all you need to know about the club I was once proud of. We are a cowboy outfit as the old RS joke punch line used to say. Sadly it has come true.I couldn't give a toss about dead rubber shite, a professional team should be playing to win every game.
I think we are at an impasse with ownership similar to Lerner and Deadly Doug at Villa and it's scary. The whole place needs an overhaul as it's heading for the iceberg.
Colin Glassar
241
Posted 24/11/2017 at 07:52:27
The only "positive" that might come out of this game is the fact that our board have been well and truly exposed for the amateurish frauds they really are.
They've allowed the club to enter a death spiral due to their inaction over appointing a new manager and their disastrous summer spending. No longer can Kenwright hide behind the Mr Evertonian mask, no longer will farthead be able to justify himself to Jim White. These two are fucking useless and are destroying the club from within.
Peter Murray
242
Posted 24/11/2017 at 08:04:05
So now we can concentrate on the battle – and battle it will be – to avoid relegation. We shall rue the day we did not appoint Allardyce.
Will Mabon
243
Posted 24/11/2017 at 08:05:30
Farthead!
Kenny Smith
244
Posted 24/11/2017 at 08:16:51
Well just when you thought it could get any worse!
We're a disgrace. There's no excuse for what happened last night and for Rooney to come out after and say everything's better with Unsworth... fuckin really?
In a way, I'm glad that happened to ensure that Kenwright and Moshiri could see that Unsworth will ultimately take us down if left in post.
I despise Allardyce and the way he does business but he's looking like the only real option. I for one wouldn't cut off my nose and risk relegation because we could end up like the rest off the big clubs relegated over the years who never surfaced again.
Justin Doone
245
Posted 24/11/2017 at 08:20:15
C'mon blues. Two-thirds of the season left to turn out around. Stop messing.
I know everyone still talks about Leicester and there miraculous turn around and rightly so.
We would all love to win the Premier League but I just don't think we need to sail this close to the utter tripe and follow in their relegation escape act before our mighty revival next season.
When we win the league or will all be a distant dream. Get real, get Mancini in!
Hugh Jenkins
246
Posted 24/11/2017 at 08:20:27
Darren (#227), at present you seem a "lone voice in the wilderness". I, however, agree with you.
Last night was an opportunity for DU to see what the "fringe" players could do, in a game that had no other value to Everton. Regrettably, it turned out far more embarrassing than we would have hoped.
But, at least, David Unsworth now knows clearly who/what he has to work with in the coming few games. Whether he is given the job permanently, or not, whoever is the manager, only has this squad to chose from until January. Whoever it is, must attempt to make silk purses out of sows ears as far as some positions are concerned.
The burning question, of course (and one nobody can answer) is, "can anyone else, do better, with the players currently at their disposal"? We can all speculate, but we can never "know".
Having now been in charge for a few games, having had more time on the training ground and having had an opportunity to see what he really has to work with, perhaps Unsworth will now start to pick a settled team playing a settled system, with the players in their correct positions, based around the "better" players at his disposal.
One thing is for certain, the remit of whoever the manager is for the rest of the season is simply, "keep us in this division".
Peter Lee
247
Posted 24/11/2017 at 08:21:36
It must now be obvious to all those who wanted a manager who "got the club" and who wanted someone who would "play the Everton way" that we are in dire straights.
Last night might have been a dead rubber but it was another opportunity to set up the team in the way that you intend to play for the foreseeable future. Drill the defence and midfield in the past three days and test them against a real team. Unsworth has had six games to do this never mind training.
Unsworth has mucked about without a clue about what we need tactically both before and within games. Once you have a secure base you can tweak for individual games. We aren't, he shouldn't, he does. Obvious in his approach after first two games in charge.
The changes he made in game, Mirallas moved up front from the wing, Rooney back to CMF, Davies out right at a time when we were making chances were unbelievable. His sub's totally screwed any shape on top of that.
Giving Feeney a debut was romantic nonsense.
I said from early on this season that Koeman had to go and we needed Benitez or Allardyce in to make the best of a totally unbalanced squad until it could be reshaped in January as far as it could. We needed to organise and scrap to put 24/5 points on the board for the Xmas half-way point. We've blown that and 20 is looking hopeful now.
We've pissed of Allardyce and the chances of Benitez must fade if the Mags get taken over and real money to spend. Fortunately, the owner is holding out for a bigger payday so there may be a chance with Benitez but otherwise we are stuffed. Can't wait 'til Christmas, need experience of being in the Premier League mire.
Answers on a postcard to Moshiri. Send it first class. Mine has three names on it, Benitez, Dyche and Pulis. And yes, that is how bad it is.
Bob Parrington
248
Posted 24/11/2017 at 08:22:13
Whoa! Did somebody say "the game was irrelevant because it was a dead rubber". Totally disagree with this as each game has consequences for the next game.
Fact is, we were out-played from start to finish by a team with some spirit and a desire to win. Both of these were missing with Everton.
Watching it on TV in Adelaide, I looked at the camera shots of the support crew and of the players as they came down the tunnel. Each one, to a man, except for Unsworth, looked shit scared or otherwise disinterested.
I don't know how much "positive" is available in lucky dip bag but FFS we need a shit load of it and quickly!

Ed Fitzgerald
250
Posted 24/11/2017 at 08:28:40
Those on here laying into Unsworth should get a grip of themselves, the people to blame are Koeman and Walsh for a spending millions on players who have thus far shown themselves to be well short in all areas with the most important missing facet being desire. The much maligned and ridiculed Niasse has demonstrated more energy and will than all of the recruits combined.
I will be under siege from the kids in college today and to some extent will both endure and enjoy the stick I will rightly get. Perhaps in the grand scheme of things the most important event of yesterday was securing the leasehold on the dock site rather than the hammering we took last night.
Whoever is appointed as manager or indeed if Unsworth remains in temporary charge we need to get behind the team. So what if we are being ridiculed on talk sport, or by RS fans at work etc. we were ridiculed in 1983 six months later we had won the cup, and 12 months after that the league, same in 1994 six months later won the Cup. We need to make Goodison as hostile for the opponents as possible, we have a part to play. I'm not some happy-clappy Bill Kenwright enthusiast but I know our commitment and support makes a positive difference.

Denver Daniels
251
Posted 24/11/2017 at 08:29:39
Williams and Martina deserve all the criticism they get. They are both donkeys and amongst the the worst ever signings to wear the Everton jersey. I'll go as far to say Martina is the worst player I have ever seen play for us.
I don't get some of the comments defending Keane. He is just as bad. It's not a confidence thing. He is slow, get's caught out of position and doesn't see or react to things quick enough. A tremendous waste of money.
In short, he is just as shite as Williams and Martina and hopefully all three can fuck off. And take that waste of space Schneiderlin with them.
Thank you Mr Koeman.
Kim Vivian
252
Posted 24/11/2017 at 08:37:46
Peter Jansson. I read about Graham Potter. A brilliant story. He's done great job and looks to have found himself a lovely job in that beautiful part of the world. Some of the the ways he's achieved it would simply not work with the mentality of premiership prima donnas unfortunately. But a great story so far.
Phil Walling
253
Posted 24/11/2017 at 08:37:51
Good news this morning is that in an attempt to make himself a more attractive candidate for the Everton job, the Burnley manager has changed his name to Van Dyche!
Tony Everan
254
Posted 24/11/2017 at 08:40:16
At the moment any team will want to play us, any team will fancy their chances. Wolverhampton Wanderers would take us apart if we drew them in the FA Cup.
No 1 thing for us, and Joe Royle would agree, is to get right into the face of every opponent.
We must become a bastard of a side to play against, tough, uncompromising, and tenacious dogs of war. Send the players to train with Tony Bellew and then the army. If a team wants to beat us they must be prepared to take heavy losses and leave the battlefield bloodied and weary. Too weary to enjoy any glory.
Fuck the football. Fight first, football 2nd.
Do not choose players who are not drilled , not trained to fight to within an inch of their life.
They must be like foaming starving hyenas chasing after a red meat kill.
Kunal Desai
255
Posted 24/11/2017 at 08:42:29
I'll leave you all with this:
Aston Villa sold Benteke and the following season they were relegated.
Everton sold Lukaku and the following season they were....

Anthony Hughes
256
Posted 24/11/2017 at 08:42:50
I think what a lot of us may have expected with Unsworth taking over the reins was some stability and a tightening up of the back four to stop shipping goals in the short term. Somehow he needs to try and get a settled defense (a thankless task I know) and some clean sheets so we can at least get a point from games.
Every game is chop and change and young players thrown into the mire which is doing them no favours at all. We're in a huge relegation battle now and I think in the transfer window we may have to sign some experienced players along the lines of a Gareth Barry, who know what a relegation battle is about.
Promoting youth is great but you don't want them fighting to keep you up.
Paul A Smith
257
Posted 24/11/2017 at 08:44:49
(#251). Keane moves like a tank. He's not good enough for Everton. John Stones was (to those who like a footballer). Now he's a mainstay in the best side in the Premier League.
Why is that? They have real ambition and add to the quality they have.
This is a lesson learned for thousands not just the embarrassing board we support with our hard-earned money.
Anthony Hughes
258
Posted 24/11/2017 at 08:46:53
Agree on Stones. To think some on here couldn't wait to get rid of him and were over the moon with Williams coming in.
James Watts
259
Posted 24/11/2017 at 08:48:00
Some much hysterical shite on here, it's beyond a joke, even for TW. I'm with Darren H (never thought I'd say that a few months back!). I stood by Koeman until about a month before he got the boot, but 80% of this mess is a result of him. Unsie is doing all he can to sort it out.
Last night meant sweet FA in terms of the result. Unfortunately, Unsie had to go with a team similar to what he did last night. I don't believe we can blame him one bit for Williams being an absolute yard dog or Keane being a complete shit house or any other of the non-performances by so-called professional footballers. Each and everyone who played last night should be donating this weeks wage to a charity as they didn't fucking earn it.
The good news is, as long as he's in charge, players like Martina will simply not get near the team again. Which isn't a bad thing. And seriously, how did that guy ever get a 3-year contract?
And seriously, the people calling for Pulis, get a fucking grip of yourselves.
Peter Lee
260
Posted 24/11/2017 at 08:50:10
End Fitzgerald, pointing out Unsworth's deficiencies is entirely correct while there are some still saying he should have the job until Xmas/end if season.
He has had a shot at his dream job. He has done nothing that suggests he can hack it.
Ultimately the responsibility lies with Moshiri. He let him take the job in in the absence of a planned replacement for Koeman but the shambles we have seen over the past seven games is down to one man, Unsworth. Yes, the players have done themselves no favours but he sets the team up and decides shape, tactics, etc.
Eddie Dunn
261
Posted 24/11/2017 at 08:50:32
As shocking as the late capitulation was, we have to take a deep breath and consider what the reaction of the media would have been had we just lost 1-2. The last 5 minutes have made things look a lot worse and given the headline -writers more ammo.
Unsworth did the right thing resting players for the league game. Imagine if Baines, Jagielka or Calvert-Lewin had been injured last night.
There is an argument to build momentum but if our first 11 had also lost, we would be moaning at him not resting them.
I suspect that this scoreline will push the board to make an appointment sooner rather than later and Unsworth's hopes of getting the job till the end of the season have gone.
For me, it is simple - the Italians had something to play for and we didn't. We already knew that Martina is incapable of covering at left-back and it is clear that Williams has fallen off the proverbial cliff compared to the man who performed so heroically in the Euros.
How we miss Barry and Barkley. Both caught lots of flak on here, but now they would be like manna from heaven.

Amit Vithlani
262
Posted 24/11/2017 at 08:50:51
I was deeply upset by last night's result. I thought Unsy's goose was cooked. No manager could survive this mauling, as it was a clear signal the players who went on the pitch would not play for him.
Williams, Keane, Mirallas, Martina and to a lesser extent Klaassen simply gave up.
Then I saw his press conference and two statements set off the alarm bell. First, he said he learned a few things about those players on the pitch. Second, he said that if they were not hurting as much as him (and he looked totally gutted) they should not be at the club.
This was a wake up call to Walsh and the Board. No fucking manager will succeed at Everton, because the 4 fuckwits – Moshiri, Kenwright, Walsh and Elstone – have not united behind the manager and given him authority over the players.
It explains why Unsworth is not being given a set mandate. He is operating game to game. That was fine for 2-3 matches but 7 games later it is a joke. This is not the way.

It explains why the senior pros lay down and allowed the team to be fucked yesterday. The only players who put in a shift were Robles and Ramirez who I think are good pros (co-incidence that both are Spanish? Always thought Spanish players had professionalism in their DNA). Meanwhile Davies, Beni and Kenny tried hard too and clearly have some affinity towards Unsy from the U23s. I also think Niasse fits in this category.
With such a fucked structure, no manager can succeed under the present set up.
Walsh has to go, and, given he is writing the cheques, Mosh should have final say (and hence final blame) for the disastrous managerial search. Meanwhile, as he is the only man around, give Unsy full backing with a fixed term until January (surely we will have a new manager by then) and allow him freedom to pick any team he wishes. The prospect of being in the U23s for the next month may motivate some of the fuckwits to try harder.
ps: The collective capitulation last night felt like the players were bewitched by black magic. Did the team bus run over a black cat earlier in the season?
Alan McGuffog
263
Posted 24/11/2017 at 08:51:17
Peter (#247). Last night was a "dead rubber". What a great new nick name for that shower of shite who turned up last night The Dead Rubbers.

Denver Daniels
264
Posted 24/11/2017 at 08:52:28
I agree, we need some battle-hardened, experienced pros to shore up the defence and 2 strikers that can score maybe 20 goals between them. What we wouldn't give for Gough, Weir and Campbell right now.
Christy Ring
265
Posted 24/11/2017 at 09:00:53
I feel sorry for Unsy, he changed the team last night, to see if certain players were good enough for first team action, and he certainly got his answer.
The sad facts are that Moshiri and Kenwright thought Koeman was the man, and he bought complete shite. I'd put him on a par with Mike Walker, and that's what Unsy has to work with.
We need Barkley, McCarthy, Bolasie and Coleman back quickly, and a centre-back left back, and a No 9 in January to salvage our season.
Dave Ganley
266
Posted 24/11/2017 at 09:08:10
Having had time to digest last night and not post as soon as I had come back from the game, there is no escaping the fact that it was a disastrous game all round. There are no silver linings to take. All this bollocks that it was only a dead rubber, ffs such a loser attitude.
Every game is important. We had virtually a squad full of first teamers out there last night. It was a pathetic showing. Couldn't pass, couldn't defend, could barely hit the target at all. No shape no cohesion and definitely no understanding between the players. The players are an embarrassment, the people who run our great club are an embarrassment.
Until last night I have steadfastly resisted the feeling that we could be relegated. Last night changed my mind we were so bad. It wasn't as if Atalanta were that good, they weren't. We were just bad. It was amazing we were still in the game with just a few minutes left. The only positive from last night were the Atalanta fans who were great.
Those sat around us were respectful of the fact of how shite we were. We had a laugh with them. Everything else was just awful and if the club don't start to make some tough decisions soon then we really will be in trouble.
Kenwright has to go. Rooney coming back has been a disaster. That has Kenwright's mucky prints all over it. Same as hiring Martinez. The man is just a fool who should never be making decisions at our club. He has no idea. The only saving grace is that it is all still salvageable as it's still early in the season but only if we get a proper manager in who knows what he's doing. It's anybody's guess if that is what we actually will do though.
Peter Murray
267
Posted 24/11/2017 at 09:09:04
Once a blue, always a blue. Good – bad – rubbish – regardless!!!
Chris Gould
268
Posted 24/11/2017 at 09:13:30
Colin, calling Moshiri 'Farthead' is so ridiculously immature that I can't help but laugh!!
Thanks for that, it really appeals to my infantile sense of humour. He would make a great character for South Park.
Allan Board
269
Posted 24/11/2017 at 09:20:06
So then, that's 16 goals conceded in 6 games – project Kenwright not working then!!
I coach at one of the largest grassroots clubs in England – a wonderful place for kids of all ages and abilities to come and play football in leagues that suit their ability. I am a volunteer.
Before training last night (and before Everton kicked-off) I asked one of my lads who his team, Southampton, were playing at the weekend, knowing it being us, but just having a gentle jest with him.
He replied "Oh Everton Al, I think we will draw, but I think it's a real shame what's happening to Everton."
Those who are not laughing at Everton are pitying them now. I'd rather be disliked.
Everton 2017 – washed up; useless board; mercenary players; useless staff; finished in British football.
I'm going to stick with my kids and enjoy my football.
Brian Harrison
270
Posted 24/11/2017 at 09:27:46
Whether David Unsworth is the man for the job is not the question we should be asking this morning, the question should be about the gutless performance from a lot of seasoned players.
Unsworth did what 90% of us suggested he do play the fringe players, Martina, I wonder if Koeman signed him just to highlight his frustration at not buying a left back.
Keane what a massive disappointment he has been he is so slow and people go past him at will.
Mirallas this guy has never delivered over a period of time, he has had 20 minute spells over his time here which makes you think he might become a player but he never does.
Rooney what a shame to watch a once great player just not be able to do the things he did so naturally even 3 years ago.
Williams I have always had the opinion that he was never as good as Jagielka.
Sandro must be difficult for a young player to come to a different culture, but the lad looks way out of his depth.
Klaassen just nowhere near what we need from a central midfield player in the Premier League.
Sigurdsson another who hasn't stepped up to the plate and to think we spent our whole summer obsessed with signing him.
So even if we appoint a new manager in the next few days please don't expect a dramatic turnaround as this is a group of at best journeymen players.
Barry Williams
271
Posted 24/11/2017 at 09:34:03
Unsworth is being held out to dry in my opinion. He has taken over a very bad team, I think we can all agree on that. But, he looks like a man alone in the wilderness. Where is the public and vocal support of Moshiri, Kenwright and Walsh? Not to mention the coaching staff! I bet if we were 4th they'd be a lot more visual!
I can't blame Unsworth at all. Look at how many goals came from set pieces last night. Defenders and midfielders have spent a career learning how to defend these, it is a basic. Even if they haven't trained on them for a season the basics should be there. How do you coach a side that can't even perform the basics?
David Midgley
272
Posted 24/11/2017 at 09:41:37
Phil (#253).
We should sign him as a centre-half!!!

Paul A Smith
273
Posted 24/11/2017 at 09:44:36
Barry 271 a mate has just texted me the same thing. Plus sadly these youngsters are not ready. How can people not see how far back Tom Davies has come? He can't win a tackle now and not long ago their saying hes better than Barkley. It's got so ridiculous its scary. Some serious truths need telling at every level.
This was easy to spot months ago with the standards we brought in and while myself and a few others gave that honest view, the general consensus was lets back each other against these negative minded people talking honestly because while their making complete sense they forget the odd comma or capital letter.
John Keating
274
Posted 24/11/2017 at 09:47:45
The scary thing is... I don't think we've hit bottom yet!
Ray Robinson
275
Posted 24/11/2017 at 09:48:00
Since it's Black Friday today (very apt), I've been expecting yet another e-mail from Everton announcing a knockdown sale – only this time of several players.
I'm in the camp that it's too big a step up for Unsworth to be managing at the moment but I don't blame him one bit for the fiasco. He had to play the fringe players last night to protect what he considers the core players for the much more important game on Sunday. Besides, the "fringe" players should all have been good enough. There may well be some players who don't give a monkey's about the club but I believe, apart from the imbalance in the side and lack of a striker, that the issue is still about confidence. Anyone who has played the game at any level will understand that touch and ball control go completely when you're having a bad time. Hiding from the play and passes are also symptoms.
Here's the rub though. If you can get a manager in who instils confidence and defensive organisation, the attractiveness of the play diminishes. You either grind your way out of trouble like Pulis, Big Sam and Dyche would do (Burnley have scored a mere 12 goals this year) playing what some on here describe as "zombie" football or you outscore the opposition despite defensive frailities, like Bournemouth try to do under Howe. We haven't got the defenders to do the first and we haven't got the attackers to do the latter.
So big spending again in January I'm afraid with all the risks that that involves. God help the next manager.
Clive Rogers
276
Posted 24/11/2017 at 09:54:49
It's time for Kenwright to stand down. He is the chairman and has presided over this shambles for nearly 20 years. If Moshiri can't see that he is not up to the job, this debacle will continue.
Jon Withey
277
Posted 24/11/2017 at 09:56:01
The whole Koeman era from Williams onwards just feels like negligent spending for the sake of it. Let's be honest – the proof is in the pudding and so far the Moshiri era has been a bit farcical regarding player recruitment, coaching and management.
Wasn't Walsh at Newcastle before they collapsed ?
You get the feeling there is something rotten in the club anyway.
Raymond Fox
278
Posted 24/11/2017 at 09:58:11
We won't go down, at least in my eyes we won't.
If you check the betting, there are 9 teams, yes 9 teams deemed more likely to be relegated than us! The odds makers know what there talking about, their not infallible granted, but don't get it badly wrong that often.
We are a mess at the moment but I'm not blaming Unsworth, the people to blame are Koeman and the other decision makers at the club, they have 'cocked up' big time in the ins and outs of players.
It's not a time to get a foreign manager in for me, that would make the situation even worse. Either stick with Unsworth or now try to get Dyche in, although I have to say I'm not sure he is the answer.
We have enough to survive, especially if we can get the injured players back as good as ever. The most depressing aspect at the moment for me though, is having no Niasse leading the attack for the next two games.
Matt Butlin
279
Posted 24/11/2017 at 09:59:32
Brilliant Colin. "Farthead".
John Hammond
280
Posted 24/11/2017 at 10:03:50
As a former defender I thought Unsworth would have been able to do something to sort out this defence. I've said this loads of times but It should have been the first thing did. It affects the whole team when they know it takes minimal effort from the opposition to score against us. I actually laughed out loud several times last night. No one seems to have a clue what they're doing.
It can be fixed with the right manager... we just have to find him.
I can't agree with those calling for Rooney to play in a deep lying midfield role. He's not disciplined enough and gets caught in possession too often. How many times do we see him drop deep when upfront and get robbed of the ball?
Alan Bodell
281
Posted 24/11/2017 at 10:05:47
Anyone having a pop at Unsworth needs a good arse kicking, he has been left with a bunch of recently purchased over priced players who look like the Samaritans hotline would hang up on.
Ashley Williams, Michael Keane? I'm not being wise after the event but I never rated either of them before they came and now they are both a fucking embarrassment and need to donate a weeks wage to local charities.
Who the fuck thought it was a good move to sign these two snail-paced tackle dodgers? Walsh or Koeman? A total crime against human sanity.
Kim Vivian
282
Posted 24/11/2017 at 10:06:22
It's all "what-ifs" and all that but if Davies shot had not been cleared off the line, Keane's(?) header had crossed the line and we had played 90 mins instead of 80 we would all be writing a different script today. He sighs!
Tony Everan
283
Posted 24/11/2017 at 10:07:51
We have to play the senior players. This is just too much to be introducing the youngsters to. Use One Under-23 per per game.
Drill the seniors and tell them to fight to the death.
We have to become hard to play against, we are too weak and easily brushed aside. We cannot hold onto the ball for 10 seconds. Even rock bottom Palace had nearly 70% possession.
Brian Hennessy
284
Posted 24/11/2017 at 10:10:37
I think Williams covering his face with his shirt after the game sums him up perfectly. Many of his performances have been cowardly. For me he has been the biggest let down of all our recent signings.
Keane looks a much better player when he plays with Jagielka and is suffering from huge lack of confidence spending so much time in a team with Williams.
Tony Everan
285
Posted 24/11/2017 at 10:18:38
A team of senior players bar 1 and a goalie for Sunday.
Pickford
Kenny Keane Jagielka Baines
Mirallas Schneiderlin Gana Sigurdsson Lennon
Rooney
The boys need to be taken out of this, and used as impact and energy from the bench.
Opposition will fear a motivated senior side more.
Dave Williams
286
Posted 24/11/2017 at 10:23:30
Tony # 283 it is the senior players who are letting us down!
I agree it was unwise to play Feeney when the rest of the defence was so poor but Beni and Tom were decent and Kenny was okay. Calvert-Lewin has been good and will play at the weekend.
The fault lies with Rooney – why can't he pass to his own team-mates? – Williams, Keane (who looks scared stiff), Davy, Martina (he just isn't a good defender) and Mirallas who as ever flatters to deceive and will never be a first team player. Senior players who don't show that they can do the basics of control/pass/move, who don't show desire – who was rallying the team last night on the pitch??
Poor Unsworth took a real hospital pass with this bunch.
Raymond Fox
287
Posted 24/11/2017 at 10:25:15
Just to add to my last post 278, if anyone does think we will go down we are best priced 12/1 with plenty of 11/1.
Kim Vivian
288
Posted 24/11/2017 at 10:25:24
Spot on Tony, I believe you're right, if they turn up. The youngsters must be shot mentally just now.
Paul A Smith
289
Posted 24/11/2017 at 10:26:06
Does the season feel like a sad narrative is running the theme for us?
First the window. Koeman sacked, Usmanov conspiracies, Niasse punished, worst record in Europe...
Where does this end?
Keith Gleave
290
Posted 24/11/2017 at 10:29:10
Last night was a pure embarrassment and we have become a laughing stock. There are so many things wrong with the team (confidence, constant change, wrong positions, heart, guts etc.) and no manager.
I am going to say something that might upset people: we are in deep trouble, everyone knows this. At the game we now need to start to get behind the team.
Goodison goes quiet when things aren't going well and then we get onto the players; they may deserve it but it doesn't help the confidence. I hate to say it but look across the park, lets sing and chant, clap and cheer, let's play our part.
Kim Vivian
291
Posted 24/11/2017 at 10:30:24
Ray – I might have a punt £100 at 12/1. Not because I want to go down but I won't be unhappy about losing my money if we don't and £1200 consolation if we do.
The way my luck goes I would lose the money so maybe I should put a bet on so we stay up!
Dennis Heaton
292
Posted 24/11/2017 at 10:33:18
We must be a good team – took 2 points from Man City, the only points they have dropped... We have just been unlucky since. [joke]
Kevin Prytherch
293
Posted 24/11/2017 at 10:34:05
Tony...
Davies took an age to be given a chance because 'experienced players' were favoured.
Martina was bought because he was 'more experience than Kenny'
I remember us playing the oldest combined team in premier league history against someone under Martinez (Hibbert, Barry, Osman etc). They had 'experience' and we got battered.
If they're old enough they're good enough. Let them make mistakes this season, we won't go down and we'll be in a far better position in the future.
We've had countless promising youngsters who haven't had the opportunity to make mistakes (Galloway, Garbutt, Browning etc). They've instead been sent on loan, not got a game and slowly faded. If we let the kids make mistakes now and learn from them, they might actually fulfill their potential.
I do agree with limiting to some extent, letting them go back to the Under-23s occasionally, but not limiting to just one player.
Stan Schofield
294
Posted 24/11/2017 at 10:34:52
Definitely need the senior players to step up, and give the youngsters a break. Onto the next game, it's got to be a win. I reckon we need to average 2.4 points per game from now on, to be confident of being in the Champions League next season. Come on you blues, you can do it!
Rob Dolby
295
Posted 24/11/2017 at 10:36:07
Unsworth is using this time as a job interview rather than dealing with the task in hand.
Back to basics, get the ball away from our penalty area and fight for the 2nd balls. Its not rocket science and its not pretty but it needs to be done.
I would take Big Sam now and I even would consider Pulis.
Joe @ 68 classic I love the old ripping yarns.

Ciaran O'Brien
296
Posted 24/11/2017 at 10:40:33
Does anyone think when and where we will get our next clean sheet, let alone a win, because I simply can't. Southampton who are playing shite too and are boring the place out down in St Mary's will probably score two or three against. We could then be on the wrong side of a record score against the Red Shite.
We literally look like Sunderland last year or Derby when they were last up. The difference is we spent close to or over £200million in the last 18 months. 80% on absolute dross. Williams £12m, Klaassen £23.5m, Keane £30m, Schneiderlin £24m, Sigurdsson £45m (WTF?), £Lookman 11m (from League One).
Raymond Fox
297
Posted 24/11/2017 at 10:44:21
Kim, my old man used to always have a few quid on whoever we were playing as some consolation if we lost.
He still wouldn't eat his tea though, when his bet was up.
Paul A Smith
298
Posted 24/11/2017 at 10:47:03
Ciaran. Glad you see that Lookman thing as dross. Look at how much has been spent on this left side and we cant get a cross in. Sigurdsson and Lookman come to £55 million.
So while Walsh buys the future as someone told me here. He blocks the progress of one of our youngsters while waiting for his 'shrewd' buy to come good.
What a guy.
Mark Dunford
299
Posted 24/11/2017 at 10:59:55
It is hard to blame Unsworth for inheriting such a disjointed and dispirited squad. Apart from Baines, we don't have a single outfield player who is naturally left footed in the first team squad. Besic is nearest thing and he isn't a realistic starter. There is no left sided centre half though we have four on right – Jags, Keane, Williams and Holgate.
Last week at Palace, every attack came from their right and down our left where we were continually shown to be wanting. Any team with a half decent right winger will find similar opportunities. These two gaps need to be filled urgently - Lookman is enthusiastic, talented, naïve and not a left winger and none of the four I've named is comfortable on the left.
Someone should answer for the terms of the Dowell loan – assuming Koeman hasn't already. No need to repeat the criticisms of multiple midfield players in same roles, etc.
Mark Morrissey
300
Posted 24/11/2017 at 11:01:31
Offer the job to Benitez. I'm sure he would come. Why are we not considering him? Because too many Blues are too sentimental and stubborn, nee childish because of something he said.
I'm sure Kenwright won't consider him because of these reasons and that is precisely why we are being held back, all too sentimental and bitter.
Bite the bullet, Mr Moshiri, and save our club. Get Benitez.
Hugh Jenkins
301
Posted 24/11/2017 at 11:12:59
Tony (#285). I took one look at that team selection and despaired.
However, you never can tell.
Having said that, with a few exceptions, that is a list of the major causes of our problems this season – not, in my opinion, the solution to those problems.
Kim Vivian
302
Posted 24/11/2017 at 11:13:17
Raymond – wise old man, your old man. I don't bet, actually, so it's a bit hypothetical but I don't think I would be totally consoled with £1,200, and my tea would go cold as well.
Still debating whether to go on Sunday – it's only 2 hours from me and I think I can blag a ticket somewhere. Just don't fancy it on my Tod Sloane because my lads can't make it.
Clive Rogers
303
Posted 24/11/2017 at 11:20:53
Mark, the other thing Lookman is, is small. Possibly too small and not strong enough. He has been really poor this season. He's not going to make it IMO.
Ciaran O'Brien
304
Posted 24/11/2017 at 11:33:46
Lookman is a striker, not a fucking wide player, yes he is small and lightweight but isn't that what weight training is for. The main thing his passing is awful and awareness is bad.
I'm a believer in if your good enough you start, fuck experience. Most of our shite players have loads of experience domestically, in Europe and on the international stage. Look at Dele Alli, he immediately became one of the Spuds best players despite coming from League one and he cost only £5million.
Now Lookman might come good but we always seem to have these players.
Our attack and defense may be shite but it's our midfield which is the main fucking problem. We have no general in there, too many defensive midfielders who can't control possession or pass forwards plus they can't really defend either.
We play too deep which invites pressure and can't counter because we have fuck all quality attacking players.
William Cartwright
305
Posted 24/11/2017 at 11:36:45
I watched the highlights; oh dear...
I watched Unsy's after match comments; empathized with every word;
Read the posters' comments – general view being a 'root and branch' clear-out and a new manager urgently – understood.
Koeman and his approach was exactly that, or supposed to be; do we need that again, and can we accept the short term pain for potential long term gain?
I think apart from the obvious transfer balls up of heroic proportions, the attempt to create a larger than normal pool of players which were capable of being interchanged from game to game to cope with the schedule of Thursday and Sundays games has backfired. The solution is not too far away:-
Persevere with Unsy (or a soon-to-be-appointed alternative); replace at a great cost the bunch of past it / can't be arsed brigade; and build for the future with selected mature personalities in key roles:-
1. Out and out now:- Martina, Williams, Keane (yes Keane), Besic, Schneiderlin, Klaassen, Rooney, Mirallas.
2. Bring in 2 solid central defenders and a left back (Galloway and Garbutt may come good but why take the risk).
3. Bring in a big solid striker (Mr X) and play with said striker and a No 10 (Sigurdsson ) and rotate the striker support between Niasse, Calvert-Lewin and Sandro (there is a player in there I think, if not ship out).
4. Play 4-4-2 with Lookman, Vlasic, Lennon and Onyekuru and Bolasie the wide men options.
5. A solid defensive midfield pairing selected from Gueye and Tom and Beni.
6. Kenny and Coleman as the right back.
7. Review the position of Ross – see what the options are to complement and hopefully strengthen the above.
8. Monitor the performances between now and the summer and organize an upgrade with 2 new faces after the World Cup. No specific position, but bring in quality and class, to step up and over the existing quality to establish an upwardly mobile trajectory. It's what most clubs do and we should be no different.
9. Respect and accommodate the youth set-up but don't gamble on it. The youngsters will all earn a good living. One or two may make the grade which would be great, but take off the romantic blinkers and expand the scouting network.
10. Improve our marketing and take on the press. Enough bullshit from the media and their favorites; adopt a siege mentality if you like.
11. Promote Kenwright upward and beyond to a position where he can do no more harm.
12. Lose the old boy network and family club claustrophobia that smothers us (which does not mean undermining the strong Club and Community relationship).
13. Maintain the momentum of the stadium but it will require solid visible progress from 1 - 10 to be worthwhile.
The above actions, in close order coupled with a much harder approach form Unsy or another is the only way. Results are everything for the next 6 months. Confidence? You drive it into the players and / or you buy it. The Club mentality has to change or we are on the way down and out.
If anyone says "you can't just get rid of 8 non performing players, I'm sorry, but yes you can. Its simple. They stay at home. Call it gardening leave or whatever. They are no use to the club and they simply use up resources and attention from where efforts should be made. Remove them from the equation.
Paul A Smith
306
Posted 24/11/2017 at 12:04:53
Lookman is a striker? Who for?

James Flynn
307
Posted 24/11/2017 at 12:07:51
Tony (306) – Thanks for thew Stracq note. I went and read it. We could use some of that kind of effort and sheer will these days.
Mark Dunford
308
Posted 24/11/2017 at 12:14:54
Lookman is young and certainly worth hanging on to. He has much to learn – not least, that he can't shoot at every glimpse of goal, but, then again, it is a better problem than not shooting at full sight of goal.
I agree with William (#305) but the list is a little long though at the moment any on it could go without weakening the squad. Harsh on Rooney, and Keane was good last season for Burnley – he may just need an extended run in his best position. I wouldn't ditch Besic until we have a left-footed replacement
Kevin Moorcroft
309
Posted 24/11/2017 at 12:15:54
The thing is, we are not likely to break the top 5 teams in any foreseeable future. In effect Man Utd, Man City Liverpool, Chelsea, and Arsenal are likely to break away into a super league including all the Big European Clubs and then of course the rich get richer, the poor get poorer scenario. Sky will force it.
We have been badly handled since Kendall's Era, apart from Moyes's stability without resources. The fact will remain, until wholesale changes are made, we will be an average team for a long time. You can't sell your best if you've ambition and we sold Lukaku, Arteta, and Ball just to mention three. Fancy selling the top man in the Premier League as regards to goalscoring and not replacing him. It would never have happened across the park, lads.
Yes, until wholesale changes are made, the crowds will dwindle and the pulling power just will vanish. It's a great shame and terrible for the supporters. We can talk about it til the cows come home but it's fact.
Jay Wood
310
Posted 24/11/2017 at 12:17:17
As ever on TW some posters are mistakenly pigeon-holing anyone questioning continuing with Unsworth in the managerial role as some how holding him singularly responsible for the mess we find ourselves in.
Not so.
I am sure, like many, I desperately wanted it to work out for Unsworth. He is a good man. A good coach. A good Evertonian (and when has the latter ever been bad, as some posters attempt to portray it?).
He was the logical choice to step into the manager's shoes when Koeman got the bullet. His first selection and tactics away to Chelsea seemed to immediately address many of the issues that had afflicted the team this season.
He has been dealt a really tough hand, with both the state of the squad he inherited and their evident physical and mental frailties. The fixture list has been brutal. There has been little time between games to work with and prepare the team in his image.
That said, if he has ambitions to become a club manager, rather than an academy coach, all the above goes with the job description. Very much part of his remit is to maximize whatever time and players are available to him and achieve results, no matter what.
You DON'T have (sometimes) weeks to prepare between games as he is familiar with with the U-23s.
With all the best will in the world, wishing, praying, hoping for him to make a success of the opportunity presented to him, it isn't working out.
Our results since he assumed the role read:
A l Chelsea 1-2
A l Leicester 0-2
A l Lyon 0-3
H w Watford 3-2
A d Palace 2-2
H l Atalanta 1-5
P 6 W 1 D 1 L 4 F 7 A 16
We failed to score in two of those 6 games and are conceding at nearly 3 goals a game.
Dismissing last night's SHAMEFUL capitulation to a modest Atalanta side as an insignificant 'dead rubber' has no validity whatsoever.
Yes, it was a dead rubber in that Everton had no chance to progress in the competition. It was not a dead rubber for every one of the selected players, or indeed the caretaker manager.
It was an opportunity for all concerned to show their credentials. That for Unsworth he merited the full-time appointment as manager. For the players, an opportunity to show why they should be part of the starting XI every week.
Most were abject failures last night. Abject.
It is not hysterical over reaction to express concern at our current form and plight under Unsworth.
It is, however, a tad rash to claim Unsworth 'has got this' and we are in safe hands.
As I said in this thread last night, the situation is getting dangerously cancerous now.
The senior players are not stepping up to the plate and the younger players are in danger of being seriously scarred by the experience of this rudderless season.
Is the deliberation of appointing a new manager now prudent, or reckless?
Because whoever is finally appointed has a serious, SERIOUS task on their hands.
Dennis Stevens
311
Posted 24/11/2017 at 12:41:47
Jay, at the point Koeman was sacked I was already seriously concerned we were doomed to relegation & so view Unsworth's results from the perspective of whether they will contribute to our survival. So far, in terms of Premier League matches, he has one loss, one win & one draw.
I should be more bothered by the other matches than I am but, as heartbreaking as it is to witness, survival in the Premier League is my over-riding concern. I believe Unsworth is laying the foundations for that and, assuming he won't be in position for more than another match or two, the next permanent manager will inherit a better position than the one Unsworth himself has been dealing with.
Derek Thomas
312
Posted 24/11/2017 at 12:46:25
Jay @ 311; over the last 10 or so years, I have, in times of trouble, called Everton; Leeds in slow motion, well who ever has their hand on the button... which in itself is part of the problem... the finger has now slipped on to the FFW button.
William Cartwright
313
Posted 24/11/2017 at 12:48:16
Darren @ 227; You are absolutely right. My recent post was a general round-up response after fully digesting the shit sandwich, but we do need clarity of the situation regarding Unsy.
He is dealing with, and hopefully will be successful with cleaning up someone else's mess. Big time. I have not agreed with all his team dynamics and substitutions, but he has instilled some belief into me that he cares about the Club and he is sincere when he says he has learned a lot from last night. I just hope it is not too late for him at the helm.
No words can describe the sheer awfulness of Koeman's performance and the damage he has inflicted on the Club. A total waste of time, money and space.
Unsy's team for Sunday will play better, no doubt. But will we get a result? Who knows. I doubt if we will get a penalty and that together with donating a 1 or 2 goal first 45 minute starting point will make it difficult!
I would like to see Pickford, Kenny, Holgate, Jagielka, Baines, Gueye, Baningime, Sigurdsson, Vlasic, Sandro, Lennon. Niasse will be missed.
John Keating
314
Posted 24/11/2017 at 12:52:35
We have to be realistic in signings in January. We are going to have to pay mega bucks for dross that teams don't want as they're not good enough for their team or pay mega mega bucks to try and get someone half decent and try and persuade them to come to a shit heap of a Club having major issues.
I've mentioned it before but short term and possible Gibson from Boro as a left sided defender and young Tierney from Celtic at left back. Up front, well that's impossible to guess. Whoever comes in is going to have to basically work with the crap we have here already.
Mind you, Williams, Martina, Schneiderlin, and Klaassen should never be allowed to wear the shirt again this season; Mirallas to play if everyone else has a broken leg.
Jim Lloyd
315
Posted 24/11/2017 at 12:54:45
Jay, well said. Evidently, those who have a different viewpoint from themselves, have been labelled as headless as one poster put it.
As Dennis has just written, I wrote on here weeks before the sacking that we were as bad as any of the bad times and that view hasn't changed.
Unsy has steadied the ship to but there's pitifully thin playing choices for him. It seems now, that Moshiri has said that Everton are close to getting a manager. Tomorrow would not be to soon.
It's no reflection on David Unsworth as, he volunteered to to a job for us in a desperate situation. But he has no experience at all as a manager. I'd hope he'd become a manager but he should get to a club and learn all the ropes of managing and not be expected carry the responsibility of keeping this club in the Premier League.
Paul A Smith
316
Posted 24/11/2017 at 12:58:13
According to the Echo, through Moshiri, the new manager is close.

Jay Woods
318
Posted 24/11/2017 at 13:07:24
The players are not properly coached, that's why they can't even do the basics right – never mind advanced level things like, you know, tactics.
Sure, they're not all world beaters, but somehow all those who had something "a bit special" suddenly, at the same time, lost it.
My blame matrix, in order:
1. The top brass.
2. The fans – for applauding Bill Kenwright instead of horsewhipping him out.
3. The previous two managers.
4. The players.
Mark Murphy
319
Posted 24/11/2017 at 13:10:15
Paul, is that Glenn or Brian?
John Keating
320
Posted 24/11/2017 at 13:10:54
If Moshiri is close to appointing a new manager, I hope for our sake it's a no-nonsense Brit. I just couldn't bare to see another foreign "fancy dan with a 3-year plan" come here and continue our downward spiral. Just a hard-arsed Brit who only has one plan and that's keeping us up, then, maybe in the Summer can make some sort of long term plan.
The only thing everyone should be concentrating on now is survival. Me, I'd be quite happy to see 5 at the back and 5 in midfield for the rest of the season if we could guarantee a point a game but, with the crap we have, they'd fuck that up too.

David Pearl
321
Posted 24/11/2017 at 13:13:06
Bizzare at Goodison last night. Not one song sung. Empty.
I was sat amongst groups of Germans that didn't celebrate any of the goals and Italians than did. Thankfully they behaved themselves. Although they did complain about the pies.
I'd prefer us to sort out the pies before we sort the team out. It's a knock-on effect
Mark Murphy
322
Posted 24/11/2017 at 13:15:54
I'm confident that the next home game will see Silva lead out his team with Z-Cars ringing in his ears!
Stephen Davies
323
Posted 24/11/2017 at 13:21:11
Mark (#323),
What gives you that confidence? It was reported by The Times that EFC had received a cease and desist letter from Watford... basically fuck off or there will be trouble.
Watford holds all the cards... if Silva was to walk, they will put him on gardening leave.
I will lay my cards on the table... I want him but this situation looks like a no-go and we've hit a brick wall.
Fonseca is my outside bet.
We're in a mess.
Kim Vivian
324
Posted 24/11/2017 at 13:24:38
Link to the Straq piece, anyone?
Ray Robinson
325
Posted 24/11/2017 at 13:29:28
Mark (#323), you mean Watford's next home game, don't you?
Sean Patton
326
Posted 24/11/2017 at 13:29:37
All wrong, Jay.
These are – despite evidence to the contrary – seasoned professionals, many of whom are international players who cannot even show basic effort and pride in performance.
A disgrace to the club and I say again, they should have their wages docked and given to charity.

Steve Solomon
327
Posted 24/11/2017 at 13:31:13
I believe a team should be built from the back.
I like Pickford. Good start. Keane, Jagielka and Williams do not compliment each other at all, the combo is worthless. When Coleman and Funes Mori come back, they should play with Keane and Baines. This back 4 should drilled until they fucking get it. Or buy another centre-back. The potential is there.
The midfield also has potential but the combinations aren't working at all. Gana for me is the only decent defensive midfielder we have and, if he gets support from the two centre-backs, then it could work playing just him deep.
I think Sigurdsson is class, but again no decent combinations to work with. Bring in Barkley or Vlasic and Bolasie around him for pace and guile and that could work.
Striker: I like Benteke for this role with this setup. Big strong pacy and can score goals as well as hold up the ball. Calvert-Lewin, Lookman, Niasse, Jagielka, Davies, Vlasic and Baningime on the bench. The rest can join Sunderland or go to China.

Ray Robinson
328
Posted 24/11/2017 at 13:32:34
Bilic rejects WBA job. Anyone else thinking what I'm thinking?
No, I don't want him as manager but I'll bet he's one of the three candidates. Many ToffeeWebbers wanted him last season (along with de Boer) in preference to Koeman.
James Marshall
329
Posted 24/11/2017 at 13:50:35
So Moshiri has been telling the media they're close to making an appointment – I have a sinking feeling the managerial merry-go-round is about to being a certain Mr S Bilic to L4.
John McFarlane [Snr]
330
Posted 24/11/2017 at 13:52:49
I am bitterly disappointed with last night's performance, and it's obvious that the squad as a whole is not good enough, but the level of abuse directed at certain players is inn my view totally unacceptable. Displeasure can be illustrated in a more dignified way, and vitriolic comments and character assassination are uncalled for.
The only contributor to ToffeeWeb debates who I know personally, is Dave Abrahams who shared a pot of pre-match tea with my Grandson and I. Our chat regarding bygone days was the highlight of an eminently forgettable evening; it would be interesting to know how many of the people posting today were a part of last night's attendance of 17,431.
I was told that the estimated number of visiting fans was 7,000 but, from my vantage point in the Stanley Park End, I would place it at 4,000 or 5000; whichever figure is correct there were still roughly 20,000 regulars missing.
As I hinted at the beginning of this posting, I do not object to constructive criticism, it's the nastiness directed at some individuals, on and off the pitch, that I find distasteful.
I anticipate that I myself, as a result of my comments, may receive one or two less than complimentary observations, reminding me of "Free Speech" and all that. Nonetheless best wishes to all.
Henrik Lyngsie
331
Posted 24/11/2017 at 14:00:54
David (#322). It is far easier to sort out the team than to have Italians like English pies.
John Smith
332
Posted 24/11/2017 at 14:12:59
John McFarlane [Snr]
Agree with you.
Kevin Tully
333
Posted 24/11/2017 at 14:19:31
There seems to be a few posters placing their faith in Unsworth to turn this around. They also say, he is not to blame for the current mess we find ourselves in. I completely agree.
So, when do we start to judge him? That's one win in six attempts and we're still shipping goals like a pub team. My guess is, we will continue our dire away form this Sunday. I haven't seen one passage of football, not even a 10-minute spell, which points to an upturn in performances.
If he says he is ready for a £3-4m per season gig, then he's put his head on the block, the same as any other manager. He should also be judged the same as any other manger, on performances and results. He's failed on both counts so far.

John Smith
334
Posted 24/11/2017 at 14:20:57
Dennis Stevens (#312),
Under Unsworth we have 1 win, 1 draw and 2 losses – not 1 loss.

Ognjen Mojovic
335
Posted 24/11/2017 at 14:31:52
OMG! WTF! Luckily I didn't watch the game.
I hope that we can get a point on Sunday.
Pete Clarke
336
Posted 24/11/2017 at 14:59:48
We are in an absolute mess and it's on show for the world to see (if they can be arsed watching or reading about us).
Kenwright has worked his horrible little way out of the firing line but, for me, he is the biggest culprit in our 20-plus-year barren spell from success. At the same time, he is hiding behind Moshiri.
I think this is our supporters' opportunity to make the calls loud and clear to get him out because, as long as he is with us, we will have "amateur" written all over us.
And if Moshiri has a proper business head on his shoulders, then he has to push him out of the door. If he does not, then we may have another Kenwright... albeit with a bit more money.
Dave Wilson
338
Posted 24/11/2017 at 15:23:07
Kevin Tully,
That's a very good question. When should Unsworth be judged? Not now surely?
This is a unique situation. Unsworth inherited possibly the worst team in the Premier League, in free fall. It's a poisoned chalice which nobody seems to be interested in accepting at this juncture.
You would think the guy who stepped up to the plate would be getting universal support, especially as we know he hasn't been able to get his players on the training ground, but that's not the case; he is getting incredible criticism for a situation he didn't create. I'm not sure if that's even logical, let alone fair...
I cant agree with the likes of Simon Dalzell, who never seemed to post before Unsworth was here, but who is on 3-4 times each thread when Unsworth is taking stick, simply to criticize him in different ways (apologies if not true, Simon).
That said, I can't go along with the likes of Dazza Hind either; he seems to think the situation Unsworth inherited exonerates him from all responsibility (again, apologies if I have misrepresented you, Darren).
I guess we can start to gauge the job Unsworth is doing when he has been able to spend some time in training with his boys. In the meantime, as Evertonians, we have to support him. Don't we?
If you can't be with the one you love, love the one your with.
Andy Crooks
339
Posted 24/11/2017 at 15:46:31
Dave, I think that David Unsworth is in an appalling position. If a new manager is appointed, he will know that he has the confidence of the board and will have time. Unsworth's job would have been made a lot easier if he had been given the job until at least the end of the season.
He has been undermined and can't possibly have the same influence and authority over the players as a new man. That is not his fault. I think he should be backed. He should not, though, be left in limbo.
Dennis Stevens
340
Posted 24/11/2017 at 15:47:46
John Smith (#335),
Really, John? How's that when we've only played three League matches under Unsworth this season? We're losing far too many matches without you adding in imaginary ones!
Kevin Tully
341
Posted 24/11/2017 at 15:52:11
That's a fair post, Dave. What I can say though, is that nothing has changed during his six-game spell. That would indicate he is either not getting his message across, or he is unable to motivate most of these players. We still look clueless as to what our style of play is, or what the tactical instructions should look like on the pitch, which is borne out by all these half-time substitutions.
Are we meant to be playing counter-attacking football? Possession based football? A 4-5-1, two banks of four with a lone striker running the channels? (Hi, Moyesy!) I can't work it out, and it was the same under Koeman. We have no identity. Rooney is strolling around like a playground bully, taking up whatever position he wants.
Probably not Unsworth's fault to be fair, but it doesn't mean he should be exonerated just because he can't fix it. As I said, he's made it clear he wants the job, so he simply has to improve our performances.
Jim Lloyd
342
Posted 24/11/2017 at 15:56:00
The risk of leaving David Unsworth in charge is looking like a risk the Board is not willing to take. That is if the reports of Mr Moshiri saying "We are close to appointing a new manager" are not meant to indicate Unsworth has the nod.
Spot on, Dave, regarding your point that we back Unsworth while he's doing the job. He's the one who volunteered to pick up poisoned chalice in making the group of players into something resembling a reasonable side.
If the club need to take even more time in bringing a manager in, then Unsy should get our wholehearted support. Everything the club does now, represents a gamble, whoever they put in charge, if indeed this time, they get their man.
If, for arguments sake, no-one else would take the job, then David Unsworth would have the massive task of keeping us in the Premier League, including diving into the transfer window to get players in who can fill the bloody great gaps there are in this team, especially in defence and goalscoring areas.
It is a terrible thought that we could face going into the Championship. I don't think that is unduly pessimistic and whatever is done regarding the manager, it must be done soon.
I look at Sunderland and Aston Villa, and Newcastle, all big clubs who probably thought they were never in danger of the drop. Newcastle at least had the sense to get one of the best managers available in Benitez and got back in the first attempt. Look at the other two.
Paul Kossoff
343
Posted 24/11/2017 at 16:05:07
Dave (#339),
The indefensible is something which is indefensible. To argue otherwise is trying to defend the indefensible.
Unsworth, by his success as a player for Everton and coach of the Under-23s should be able at the very least of bringing some stability into a senior squad. The fact that he seems to so far be totally incapable of any improvement at all means he is indefensible in his position, unless he is not picking the side or is being told to play certain players.
These over-paid lazy shameless prats we call a team have downed tools over two managers and are still here! Kenwright and Moshiri have to bite the bullet and pay whatever it takes to bring in a coach who will save us from relegation; we can't afford to wait any longer. A chant of "why are we waiting?" at the West Ham game would help.
Paul Holmes
344
Posted 24/11/2017 at 16:34:26
Fuck me, the next person who posts a team with Keane at centre back, I swear I will scream the house down! He is the worst defender at the club – and that is saying something.
He needs to be taken out the team asap.We will have to play with Jags & Williams until we buy some players. I know they are both finished but Keane is Roger the Dodger out the Beano playing football!
Paul A Smith
345
Posted 24/11/2017 at 16:36:26
I honestly thought when Koeman went that anyone who is going to get any joy from this rabble would be a man within the club. Somebody who can fire them up, get them to sort the basics out, make them believe they are important and convince them their futures will be better once they raise some confidence.
If Unsworth can't do that, it shows how bad either these players attitudes are or the actual standard they can play to. Either way tells us the players are wrong for us here.
I thought vs Burnley we tried in vain to change the game. Bournemouth we showed fight and won. I am not seeing this so-called renewed fight people can see from Unsworth's teams because we beat Watford and drew away to Palace but I don't hold any blame on him either.
I have the feeling Dyche will be announced soon because it seems so easy to do?
Julian Exshaw
346
Posted 24/11/2017 at 16:43:58
I have heard it said by many people who know much more about football than I do that the easiest thing for a good coach to get right is defending. The creative side is far harder.
I have no idea if Unsworth is a good coach but, after last night, one would wonder what goes on at Finch Farm. As for bringing on that poor lad Feeney for his debut, I am all for giving the young ones a run out but last night was not the time and in all honesty it should have been for Keane or Williams.
We are punch drunk now, against the ropes. Every Atalanta goal was like another blow to the stomach. Time to throw in the towel and start afresh from top to bottom.
Oliver Brunel
347
Posted 24/11/2017 at 16:51:55
I was ridiculed when I said we were relegation certainties.
I was ridiculed when I said the players were second rate and couldn't compete against a mid-table Slovak team (Ruzemberok were better than us).
I was ridiculed for suggesting that Koeman was an abysmal Dutch fraud.
I was ridiculed when I said Kenwright was asset-stripping the club. I was ridiculed when I said the only hope was if USM invest heavier.
I was ridiculed for saying they were trying to get Silva in (they were, but failed).
I am not ridiculous now.
Martin Nicholls
348
Posted 24/11/2017 at 16:56:33
Steve Ferns (#185) – assuming your "timetable" to be correct one wonders how other clubs find the time to coach their players!
Also, surely players who haven't been part of a matchday squad should make themselves available for training when others are having their rest days?
I'm afraid this explanation just doesn't wash – if it did, then there's little point in employing coaches when your scenario suggests there's never anyone available to be coached!
John Pierce
349
Posted 24/11/2017 at 16:56:41
Paul, do you not think the senior players have looked at Unsworth and just thought he aint gonna be here for more than five minutes, not arsed about this and gone through the motions?
If you can characterise anything from his six games, the senior players, albeit short on confidence have been dreadful. They all know Unsworth won't decdie their future.
Sensing that, or maybe even knowing that Unsworth has gone with players he knows and youngsters in the league games who have at least tried but ultimately the quality is not there. When you play more than 2/3 u23 in a team there's simply no way you can cover all the bases, there simply has to be more experience on the field. Tellingly I believe that experience couldn't give a fook.
All of a sudden players not playing look way better than we ever remebered them, the sepia like nostalgia of Bolaise, Barkley & Coleman.
With media noises suggesting an appointment is imminent, it will only serve to exacerbate Unsworth being undermined at every turn.
Poisoned Challice is so true.
Jim Lloyd
350
Posted 24/11/2017 at 17:07:49
Well Oliver, a lot of what you've said is right but I would say we're in danger of relegation, though not quite certainties... yet. If the club doesn't get it's act together fairly quickly, the more rapidly we'll go downhill.
Let's hope the statement regarding a new manager is completed soon.
Joseph Edwards
351
Posted 24/11/2017 at 17:15:56
I was at last night's game and it was an utter embarrassment. The only entertainment for us was the Atalanta fans bouncing up and down trying to bring down the roof of the Upper Bullens on their compatriots below.
There was, again, no balance to the side, no commitment, no movement and no passion – which has been the same since the season began. If anyone watches the game on replay, notice how Atalanta moved as a unit both offensively and defensively; we didn't. We were sloppy in possession, fractured in our play, and there wasn't the slightest sign of any players understanding what to do. It was a shambles and painful to watch.
There are far too many sub-standard players in the squad who really don't give a flying toss. Williams simply cannot play for Everton again – he is a total liability, and I feel so sorry for Keane having to play next to him as he is being dragged all over the pitch, covering for the immobile lard-arsed Welsh captain. One small bit of light was I thought Sandro looked more dangerous with Vlasic on the pitch and took his goal well .
I really don't know what to add to this comment other than it is obvious we are in deep deep trouble on the pitch and off it. We have an owner who undermines his own communications team, a chairman who is clueless, we're managerless, have a Director of Football who has totally fucked up the balance of the team (yes, it is your fault, Walsh), an undertaker manager who seems intent on making the same bizarre team selections and subs as the Dutch twat, and a squad of half-arsed journeymen who don't give a flying fuck.
I am sad beyond belief.
Oliver Brunel
352
Posted 24/11/2017 at 17:24:03
Does anyone believe that this team, that Williams, Klaasen, Sigurdsson and Bainesy will get us out of the Championship (as that is where I fear we are going) ?
Colin Metcalfe
353
Posted 24/11/2017 at 17:26:41
Jim (#351), one of the sensible posts on here, we do need a manager in but I glad we have taken our time and not made a rushed decision.
We have had a dreadful start to the season but with Barkley, McCarthy, Bolasie, Funes Mori and Coleman to come back into the fold. We are not doomed to relegation as some posters here seem to think; however, we must pick up points on Sunday and win our next 2 home games to slowly start to pull away from the bottom 6.
I really believe we have a decent team for our big squad its putting it together that's the problem for Unsy or the new manager to come in. One thing I think most of us can agree on is that our defense is a shambles with the likes of Williams, Martina, Keane, Jagielka and Baines to be moved on next year and Williams and Martina not to play in the first team again.
David Pearl
354
Posted 24/11/2017 at 17:27:20
Oliver (#348), if you have ridicules go the doctor. I've seen ridicules before and you can't let it get out of hand. Ridicules can often turn into the bleats and I wouldn't wish that on anyone.
Oliver Brunel
355
Posted 24/11/2017 at 17:36:22
David, I've got the bleats already with Everton!
Jim Lloyd
356
Posted 24/11/2017 at 17:37:37
Not a chance Oliver! At least Sigursson might come along, when, or if, we get reinforcements in during the January window. The way I see it, there's a need for a man to come in, choose at least four defenders,who are hard men and know their jobs and will do that, for the manager. Williams I hope will not wear an Everton shirt again and Keane looks lost to me. Bainsey needs to have a man in front of him who'll come back and help him out.
We need a man to replace Sneiderlin. Whatever happened to him, he doesn't look up for a battle, Mirallas has had his chances and is way too mercurial and needs replacing; and we all know we need a goalscorer;
I just hope, if we get a new manager ion in the very near future; he knows who he wants to shjore up this squad; and Walshy is left to look for younger talent who may well come good in the future.
Instant surgery is required, not a course of therapy for the players.
Oliver Brunel
357
Posted 24/11/2017 at 17:42:25
Jim (#357) I agree with your assessment. I just fear that these players are so poor that not even a Bielsa could sort them out.
Jim Lloyd
358
Posted 24/11/2017 at 18:08:25
Amen to that, Don.
Mark Murphy
359
Posted 24/11/2017 at 18:26:15
Stephen (and Ray) here's another sure thing I know! That Brendan Rogers will soon be hearing the strains of an old musical dirge ringing around his ears again!
Paul, re Keane I totally agree – I don't think I've ever seen a centre back duck out of the way of a shot like that before. BUT I wouldn't play Williams ever again! He's a yard dog! If I was Unsie I'd drop every one who played last night apart from Kenny, Baningime and Davies plus Calvert-Lewin from the squad!
Shocking!
Jim Lloyd
360
Posted 24/11/2017 at 18:38:10
I agree we've quite a few Oliver and no one can't make a silk purse out of a sow's ear.
There is a desperate need for at least five players come in' but better if we had six, who know what they're doing and are fighters. That, in my view is not to win us anything, not to shoot into the top six but to stop any chance of us getting relegated. That's all I see that we can achieve this season.
Jay Harris
361
Posted 24/11/2017 at 18:43:32
We have a cardboard cutout defence, a powderpuff midfield and a totally anaemic front line that together with a backroom staff that are all Kenwright accolytes and a board that varies from the incompetent to the fantasist.
Kevin Tully hit the nail on the head there is something drastically from top to bottom of the club.
I don't believe Koeman is solely to blame for this mess but whoever agreed to let Lukaku go and bring Rooney back should shoulder a lot of the blame.
I also get the feeling that the "new" pay deals will have upset some of the older pros who have been told for years "we have no money" and operated under a wage structure that was sensible. This was smashed to accommodate Rooney and no doubt some of the other new recruits and from my own playing days the players would normally give them stretching passes and say if youre that good go and chase that. I'm not saying that has happened here but pay is a sore point in any industry and may explain some of the disharmony.
I feel sorry for Unsy because he was doing so well with the U23's and for now that is his level and this experience will do him no good at all.
We need a strong NEW management team (not just a manager) who can work with the players closely and get them organized collectively and tactically.
Although I respect Steve Ferns posts and knowledge I cant agree that Unsy has had no time to improve performances.
When they are playing like this Moyes would have not given them days off or put his arm around their shoulder he would have let them know in no uncertain terms that this was unacceptable at EFC.
I would hope that under the new manager we will start to see dramatic improvements in 6 weeks.
Paul A Smith
362
Posted 24/11/2017 at 18:52:09
Joseph, I can't believe you feel for Keane. Hes been dreadful. The way he moved or couldn't move when the player ran at him for the 1st goal was utterly shocking for a defender who has England hopes. Williams we know is pooh.
47 goals somebody told me we have conceded this season. (Is that true?) It's November. No defender is innocent.
John Pierce maybe that is the case. I also think Unsworth has known since day one the job was temporary so you could well be right mate?
Paul A Smith
363
Posted 24/11/2017 at 18:57:36
Unsworth keeps telling us he is in daily contact with the chairman. He tells us he still doesn't have anymore idea on who the next manager is. I believe everything he says because I believe Kenwright has told him Moshiri wants a big name but its his chance to win Moshiri over.
Sadly I think he probably has to work miracles with no-hopers to win Moshiri over.
Darren Hind
364
Posted 24/11/2017 at 19:19:00
Dave (#339),
I don't think Unsworth should be exonerated of all responsibility, but I do think some of the criticism is meant to deflect blame from Koeman and that it's worth emphasising who got us into this mess.
I want Unsworth's loyalty and willingness to grasp the nettle rewarded. I want him to win at Southampton. I want him to be able to look his critics in the eye and tell them he has almost matched Koeman's points tally after just 4 games.
Wonder what they'll come up with if that happens?
Fraser Auld
366
Posted 24/11/2017 at 21:00:32
Having had a skim through the posts the general consensus is that all departments were inadequate. The defence seems to be getting the majority of the stick though.
The defence isn't just the back four and the keeper, yes they were shite but they were embarrassingly exposed time and time again.
At that level if you let midfielders and attackers get a head of steam up and run straight at the back four, time and time again, then any team in the world would concede goals – regardless of who makes up the back four.
We aren't defending as a team or organised unit, until we do we'll concede goals. Singling our the back four and ignoring the wider issue we have of defending as a team is entirely unfair on our defenders. I'm not saying they are blameless but recognising the protection they receive from midfield has been non existent should be receiving as much debate.
Paul Wyndham
367
Posted 24/11/2017 at 21:48:06
Just watching West Ham v Leicester, looks like Dithering Dave has got some organisation and effort into the West Ham team, they are below us but have much better players and look stronger and fitter than our overrated assembly of technically inferior mercenaries.
I can only see Swansea as being on a par with us but even they play as a more cohesive unit than our current shambles. There's a saying in football that young players shouldn't be blooded when a team is struggling, well we've totally ignored that and dropped these kids in at the deep end, this blend of over-the-hill, inexperienced youngsters and new additions is an absolute recipe for disaster.
I have read on various posts people saying we wont get relegated, god knows what they're watching, we are nailed on for relegation. We have become the laughing stock of English football and it all stems from years of atrocious leadership from the very top, we were in need of a rebuild after the 2009 FA Cup Final when the process of fazing out the senior players gradually should have begun.
Back to last nights game,think it's all been said already but I would hope Williams is never allowed to pull on the Royal Blue again and I'd also like Schneiderlin to be sent to train with the kids and never play for our once proud Club again,his arrogance was appalling last night as he sat in the stands looking smug and laughing while the heart is ripped from our Club.
Kenwright Out!
Jay Wood
368
Posted 24/11/2017 at 23:23:26
Paul @ 364.
Now, now...don't be too hard on the poor dears.
You exaggerate. We haven't conceded 47 goals in all competitive games this season.
Just 42.
Whoopee-do-dah!
Steve Ferns
369
Posted 24/11/2017 at 23:37:10
Martin Nichols (#349) – read about Chelsea and Conte. He cannot adapt to having the rigours of the Premier League and the Champions League. His players are too tired and there's lots of trouble reported in the press these last few days.
As for other clubs, there's only 7 in Europe. The others all have a nice long rest from Saturday to Saturday. Which will be us come the end of January. Plenty of time thereafter to get ourselves sorted and turn things around.
If you read what fitness coaches are saying, they have to take 48 hours to recover after a game. They will come in on their rest day and do some "recovery work". I expect they will also do some video work and have some meetings.
The point is there is little, if any time for full gas training. Which is why teams in the Europa League struggle so badly, because they have small squads, or squads with small numbers of quality players, and fatigue takes it's toll.
Tony Everan
370
Posted 24/11/2017 at 23:38:46
Maybe he was including Sunday's game, Jay.
Jay Wood
371
Posted 24/11/2017 at 23:45:38
I wish I could laugh at that Tony, but you may be frighteningly close to the truth.
Sob!
Peter Lee
372
Posted 25/11/2017 at 08:52:12
Not defending Williams but in the first half hour he was given pass after pass from the midfield, mainly Tom Davies, that bounced in front and up around his knees whilst he was under pressure.
Difficult to do anything at all with those.

Paul A Smith
373
Posted 25/11/2017 at 15:02:21
Jay (#370), I haven't counted – it was just something I was told. I was too scared to check and haven't added to my misery by looking at the table.
I'm not as worried now I know it's only 42... ha.
John Smith
374
Posted 25/11/2017 at 16:51:06
In two weeks, Leighton Baines will be 33. And by then, Barkley will be 24. Just sayin'.
Ian Hollingworth
375
Posted 25/11/2017 at 18:19:48
A Man Utd team that everyone said were bang average didn't struggle too much in Europa League last season
Joseph Edwards
376
Posted 26/11/2017 at 11:09:00
For a light-hearted summary of the game, watch Sir Stevo Timothy talking about Everton and willy Rooney. Moshiri should hire him as manger.
https://m.youtube.com/watch?feature=em-subs_digest&v=rN7GG3S1OTY
Add Your Comments
In order to post a comment, you need to be logged in as a registered user of the site.
Or Sign up as a ToffeeWeb Member — it's free, takes just a few minutes and will allow you to post your comments on articles and Talking Points submissions across the site.